Disclosure: This post may contain affiliate links, meaning I get a small commission if you decide to make a purchase through my links, at no cost to you.
Learn more...
The client consultation is the most important stage of any hair appointment.
Spend time talking with your client to understand what they want and need. Consider their hair type, texture, color, condition, and lifestyle.
This is vital to manage their expectations and arrive at the right decision together.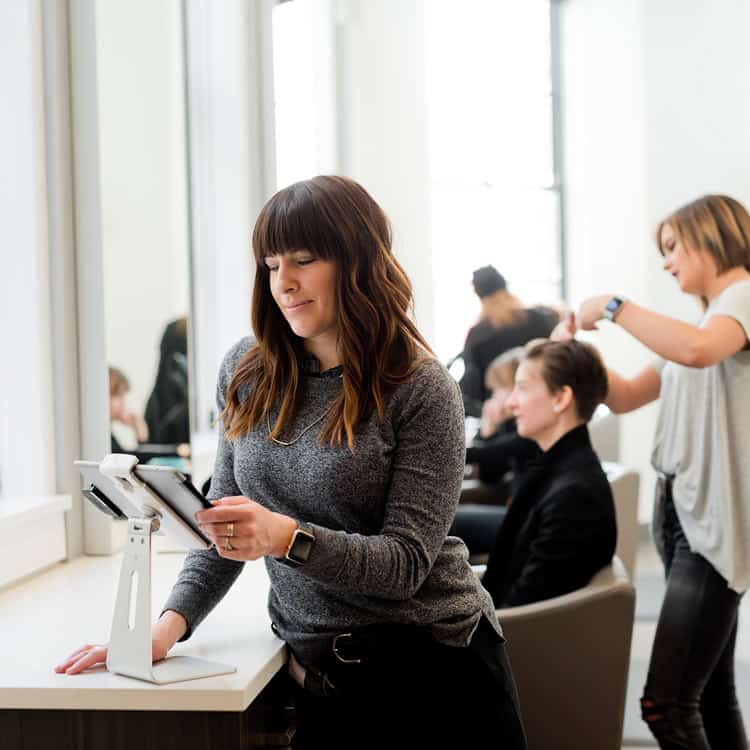 Ask the Right Questions, and Listen
Asking the right questions, listening properly, and reaching an agreement with the client about what you're going to do sounds easy enough, but it takes skill to get right.
Consultations must be sensitively and respectfully conducted, and they must be led by you, the stylist.
When clients assume control, it can lead to unrealistic expectations on the hairdresser or colorist, so you must manage the consultation without being perceived as overbearing or bossy.
Discovering how the client felt about their last appointment, addressing any issues, and making sure this appointment leaves them feeling and looking sensational is vital.
But you must also probe politely into their lifestyle to make sure what they want suits their work, home, and social life too. And you must also fully examine their hair and head and face shape to recommend a style that will work for them and advise on color and conditioning to achieve the perfect outcome.
This will also alert you to any underlying conditions which may effect client treatments.
Consultation forms are crucial as they give you past and present records to document this discussion. Upon completing the consultation process, you should revisit the document and confirm all the key points, so you and the client agree on the outcome you're going to work towards and make sure they're aware of how much this will cost.
So, how can you conduct consultations expertly and avoid any complications during or after the appointment? And how can you make this process easier for you and the client?
Consultation forms are a legal requirement that protects you, your business, and your clients – they also capture important information, help you to build trust, and create a stronger relationship between you and the client.
Filling in a client consultation form takes time – but if a client is running late, it might make them feel more rushed, eat into their treatment time and potentially make you late for your next appointment.
In an ideal world, consultation forms would be done in advance so that the client could deal with them in their own time, giving you more time to read through the form and prepare ahead. 
What is the Best Salon Software for Creating Automatic Consultation Forms?
I would recommend trying the automatic consultation forms from Fresha?
Fresha is a leading salon software in the UK, US and around the world. (See my full Fresha review).
Fresha can bring you new business as clients search for and book nearby hair, beauty, and spa treatments. In fact, any beauty and wellness business that requires a booking system can benefit from Fresha.
You can personalize your settings so that any client who books an appointment through Fresha will automatically receive a client consultation form – saving you the effort of sending one by yourself each time.
The form is accessible on mobiles and desktops so clients can enter their details on the go – wherever and whenever!
Consultation Forms Easily Customized for Your Business
The digital consultation forms from Fresha are easily customizable and can be done and ready to send in minutes. Log on, create your form and add in your own questions relevant to your business. Once you're finished, save your form, and it will automatically be sent to each customer who books through Fresha. It is that easy.
After the client has filled in the form, it will then be securely held on the Fresha platform for you to check at any time.
Protect Your Customers with Safe Data Storage
In this digital world, data protection is a worry for us all. Fresha's salon software helps you protect sensitive information with a booking and data storage system that securely holds all of your client information – saving you from the time-consuming task of manually entering data, reducing the risk of incorrectly entering details, and offering a secure place to store and protect confidential files.
Fresha promises they will never use the data and not share it with third parties. Extensive security features also cover the Fresha app and website, so you can relax knowing that your business is in safe hands.
All of This and More with Fresha Plus
It's entirely free to sign up to Fresha. The free side of the platform allows clients to search for services near them – but it also gives businesses the tools to attract new customers, manage bookings and engage clients.
However, upgrade to Fresha Plus, and you can get even more features to take your business to the next level. Fees to upgrade are minimal, with no subscription charges… Just a one-off 20% fee for a new client booking via the Fresha website or app, payment processing fees (the lowest in the industry), and a fee for Blast marketing campaigns sent by email and text message.
Fresha Plus is also so easy to use. There are step-by-step instructions to help you through, and the team at Fresha is always on hand to answer your questions. Ready to get started?
Sign up to Fresha's free salon software or Fresha Plus here.
Finally, I recommend the following related posts: