Having a good clientele is critical to the success of any salon business.
So it is important that you have the right marketing activities in place to attract new clients to your business constantly.
But maybe you don't have the time and need to build a clientele fast. If so, you've come to the right place. I'll here give you the proven shortcuts to building your clientele fast.
I will share what I've seen to be the simple, yet powerful, activities that immediately can start building your clientele.
The activities I share here are what I call no-nonsense marketing. Marketing you can start running over the coming 5 days and that can start attracting new clients to you already today.
I will take you through all you need to know but let's start by looking at what they are.
How to Build Salon Clientele Fast
Run a limited time, for you only, intro offer
Create street visibility that disrupts
Activate your already existing network and ask for referrals
Make your salon visible in ALL search results already today
Setup win-win partnerships with other local businesses
Have the local paper write about you
Offer superior service and give the unexpected extra
Encourage your clients to recommend their friends by rewarding it
Always re-book clients
I want to reinforce that the activities above are the ones I have seen to be the fastest to implement that also give the most immediate result. If you are just opening a new salon or you have seen a drop in customers and need to instantly build your clientele, these are great tactics for you.
There are of course more marketing activities you should be doing; like revisiting your salon's brand image, building your optimal salon website, and putting in place your social media strategy. But this will take a little bit longer time to do so we'll focus on the immediate clientele-boosting activities for now.
First, a Little Word of Caution Regarding Deal Sites
Before we get into the details of the activities I recommend you implement, I want to mention something about all the deal sites that are out there. What I am talking about are sites like Groupon, Let's Deal, Gilt City, etc. There are hundreds of them today..
It can be tempting to join one of these networks when you are in desperate need to build your clientele fast as they can surely drive a lot of clients through your door fast. However, I have not yet seen any really successful cases of using those. The reason is that the sites attract the wrong type of clients, the "deal hunters", who'll come to you when you have the offer out but go to someone else as soon as it ends.
You are also expected to give a very high discount on those deal networks which means you may lose quite some money as you still need to cover your cost for staff (including yourself) to perform the services. So unless your strategy is to attract "deal hunters" by always running with low-price offers, I would avoid these networks.
If you have a positive experience with such networks, I would love to hear which network and mechanic you used and would be very grateful if you can share your experience in the comments field at the end of this article for others to see as well.
There's a lot happening in this space right now so there could certainly be providers out there that work that I just haven't seen yet but my recommendation would otherwise be to avoid these completely.
Now, let's start getting more salon clients through your door.
1. Run a Limited Time, For You Only, Intro Offer
The new clients you need to attract to your salon are often referred to as "cold". They are "cold" because they don't yet know anything about you. However, now you need to be able to attract these "cold" customers and show them what great service you provide, in order to turn them into "warm" customers that later become your loyal clientele.
As you have not yet had the chance to prove to them the great value you deliver, a powerful way to get them into your salon is via some type of Limited Time Offer (LOT). Without an existing relationship and trust, it will be very difficult to sell them one of your more expensive services/ products so you should keep the intro offer at a low absolute cost so that it doesn't require much commitment from them to try you.
Remember, you are only doing the intro offer to get the person to know the value you provide and so your objective is not to make a big profit here but rather to turn those "cold" customers into "warm" and later loyal customers.
You'll want to make sure the offer doesn't make you come across as desperate. No one wants to buy from someone who's desperate for people to buy. You'll also want your offer to create a sense of urgency with the potential new customer. Basically, a feeling that they need to act now in order to get access to it or they will miss the chance. Smart ways of doing this can be via:
a) A salon opening offer: Associate the offer with the fact that you are just opening and that the clients now have a limited-time opportunity that they will never see again. People do understand that when you are just setting out, you need to build a clientele, and even the most premium brands and retailers use this type of mechanic. This could be a "20% on haircuts during the salon opening month".
b) A local community offer: Limit your offer to your neighborhood. A "neighborhood week" offer makes the people in your area feel selected because it is only for them and not everyone. It will also be seen as a nice gesture from you to your local community rather than a desperate call for new clients.
Ideally, you tie it to something happening in your neighborhood if you can and you also drop a flyer in the mailbox of people living nearby. This is powerful also because people living in your area are the ones who are most likely to become loyal clients with you in the future.
c) An event offer: You can tie your offer to a seasonal event – Black Friday, Halloween, Easter, etc. People are used to seeing premium retailers do this and it does not make you sound desperate.
On top of the above, to strengthen your intro offer for cold clients further, you can also include any credentials you have in your communication. By "credentials" I mean things like "certified" or "award-winning".
If you don't have any official credentials, you can still use your own internal credential like "by our top stylist". This will help provide reassurance that you do offer high-quality services even if they have not had the chance to get to know you yet.
As you bring all these elements together, you'll have an offer with low commitment, a high sense of urgency, and reassuring credentials, without making you sound desperate.
Example

"New salon opening offer! 20% on haircuts for people on Richmond st. Available first month only with one of our certified stylists".
Run Gift Card Promo
A smart way to run promos that people can purchase immediately is using digital gift card promotions. Below images shows how easy it is to set this up in Mangomint.
This is probably the best way to run promotions with the goal of getting new clients in.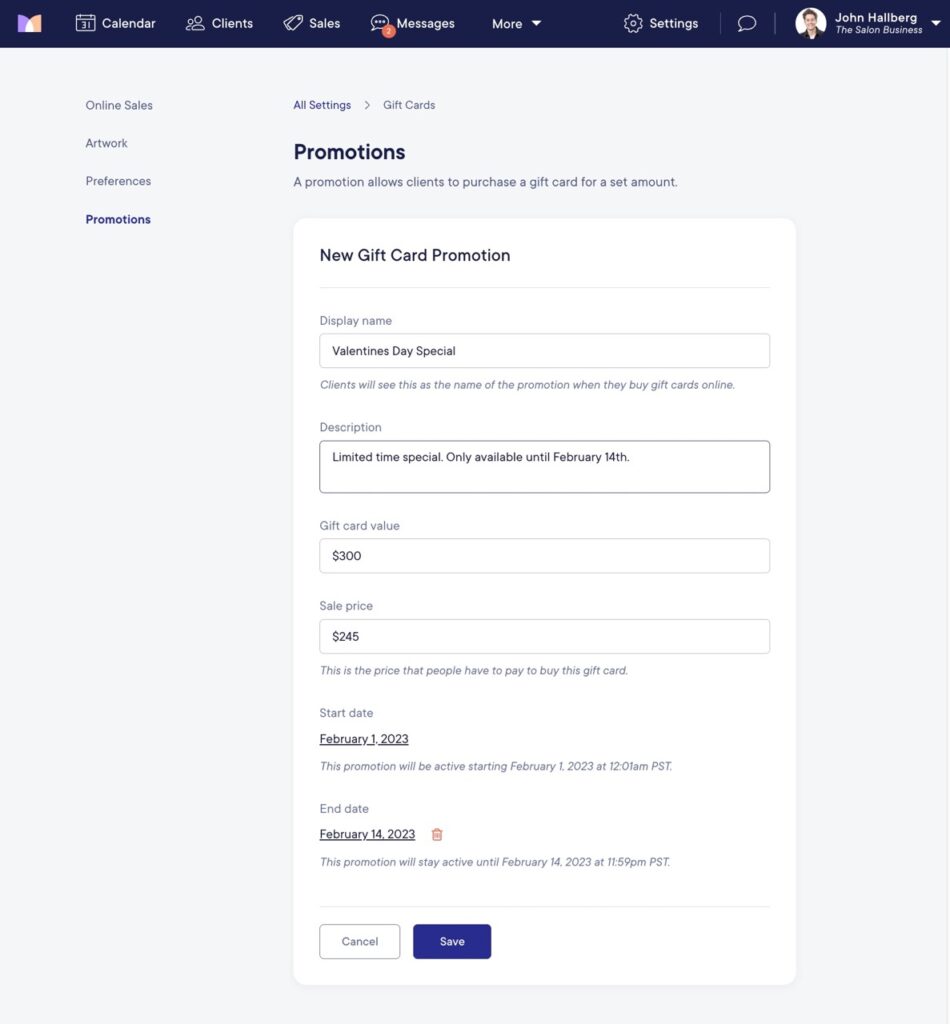 2. Create Street Visibility That Disrupts
You are in fact already paying for an excellent media channel – your physical salon itself! Make sure you make the absolute most out of this, in particular as you want to attract new clients.
As you set out to rapidly build your clientele, your goal should be that no one can walk by your salon without paying attention to it. Ideally, you also combine this with your Limited Time Offer so that after potential clients notice your salon, they are also confronted with a message that makes them feel they need to take action NOW and book an appointment.
We're all surrounded by a lot of noise today so it can be hard to cut through the clutter. You need to do something that disrupts the person walking by so that she pays attention to you. Here are some examples of how you can grab the attention of people walking by:
a) Play music: Put your speaker in the door, and play loud music
b) Street communication: Invest in a "street talker", a sign that you can place on the street. Show your Limited Time Offer, and place it where people walk so that they need to walk around it as they walk by.
c) Step outside your salon: You can also stand outside your salon and hand out something for free during hours of high traffic. This could be something at a very low cost but people will still appreciate it, and you may give them the chance to introduce yourself (and hence start turning cold clients to warm).
d) Use lights: Install some lights outside your salon or project your salon logo onto the street. Just something that grabs the attention. Ok, I would be a bit careful here so that your salon does not look like a complete circus, but you get what I mean...
Start working on this already today, just move your speaker around and turn the volume up, you will soon see what happens ;).
3. Activate Your Already Existing Network and Ask for Referrals
Recommendations from others are among the absolute most powerful things when you want to attract clients to your salon. When the client is recommended to see you by someone else, the client is not completely cold but will be much easier to convert to a loyal client.
"People are 4 times more likely to buy when referred to by a friend."
Source: Nielsen
If you do not have a clientele or any established social channels for your salon today, you can turn to your existing private network. Your existing network is also a good place to get clients from in the beginning. By providing your services to family and friends you can also get early feedback on what is working well in your salon and what you can do better. As these are your friends they will care for you and should hopefully give you honest opinions.
Make sure you tell everyone you know about your salon. You should not be shy here. As an entrepreneur you're setting out on an adventure and people around you will admire you for this and be wanting to help you in any way they can. Make use of all your existing social media accounts – Instagram, Facebook, LinkedIn, Twitter, Snapchat, Pinterest – wherever you have some following, make sure they all know about the journey you are on.
Ask your close friends and family to tell other people about you. To make this process more efficient you should develop an "elevator pitch". This is a very short story that captures people's interest while it communicating what makes your salon unique and sharing the reasons why people should book their appointment in your salon. It's called the elevator pitch as you should be able to tell your story to someone during the limited time you get with the person in the elevator.
Spend some time crafting your story so that it is interesting and makes people want to book you. You should be able to tell it in 30 seconds. When you have crafted the story, rehearse it until you know it by heart and can tell it fast. The interesting parts of your elevator pitch, what's unique about you, is what will stick with people. It is the part that will travel via others and over time get you more clients coming in on recommendations.
Salon Elevator Pitch Example 1

I have opened a new express service salon where you can get your manicure and brows done at the same time as your cut & color. This means you'll leave with a full makeover in just 90 minutes.
Salon Elevator Pitch Example 2

I am opening the first 100% organic hair salon in Chicago. We're only using organic products and when you have your service done with us, you'll help contribute to a greener planet.
4. Make Your Salon Visible in ALL Search Results Already Today
The first thing people do today when looking for a new salon is to get their phone out of their pocket and google for a salon in the area. If you are not clearly visible when people in your area are doing this today you are missing out on a big opportunity to get more people to your salon.
Be Visible When People are Looking For Salons in Your Area on Google
In order for you to show up with all your contact details in the search result, all you need to do is to set up a Google My Business account. This is completely free and allows you to add your salon to Google.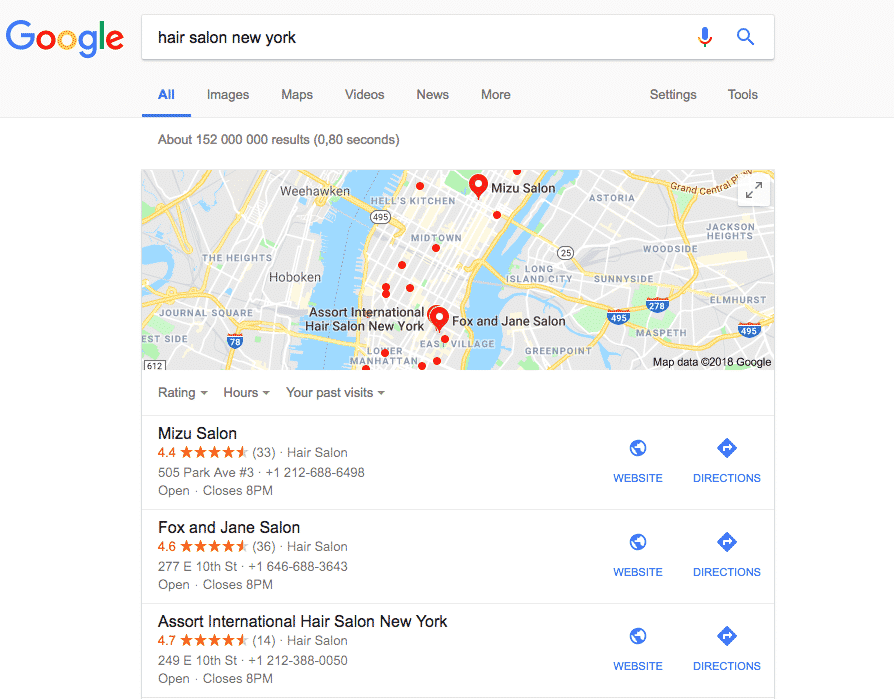 Search results for salons in New York on Google showing salons using Google My Business on the map first
Google My Business also allows you to add information about your salon that makes it easy for potential new clients to find you. Make sure you add all your information in opening hours, your contact details, a link to your website and why not also some images that show potential new clients what your salon looks like and what type of services you offer. There are a lot of things you can add in here and I would strongly recommend that you invest a little bit of time into your Google My Business account in order to give that great first impression to people looking for salons in your area.
Google My Business also enables people to give you a rating and review of their visit to your salon. Having good ratings and reviews for your salon is a very powerful way to convince more new clients to pick your salon so you want to make sure you have this enabled.
You can register your free Google My Business account here.
Show Up in All Relevant Online Listings
There are many different places on the web where people are looking for salons. Google search is a common one but you also have places like Yelp, Yell, Yahoo, Facebook, Foursquare, Bing, Amazon Alexa, etc. and you need to make sure your salon is visible in all the places where potential new clients may be looking for you. In order to check how you show up in the listings you can use the free tool from Yext.com.
Be the First One Visible When People Look for Salons in Your Area Using Paid Search Advertising
Thousands of people are searching for a hairdresser every day. You want to make sure you show up at the top of the page when people perform a search in your area by typing something like "hairdresser near me" or "best colorist in Denver". If you have a very good website that is optimized for search engines you can have the chance to show up at the top. However, very few salons have websites that perform that well and it is more likely your salon website will not be visible.
Paid search advertising allows you to increase your chances that your website is shown at the top of the page when people are looking for salons in your area. As you only pay for people who actually click on the link that goes to your website you want to make sure that you only show your ad to people that are highly likely to actually become new clients in your salon.
To enable this you can set criteria to only show the ad when the person searching is in your area. You can also be very specific on the search terms you want to show for so that you only show up when people are looking for the specific services or skills that you offer in your salon.
Google offers a great advertising program for this purpose. To learn more about how to advertise with Google you can read their Google Ads guide. Bing is also a good alternative to Google.
It is not as many people searching using bing but it is still big. They also regularly run offers for advertisers where you can get up to 75% discount on your first $100 advertising spend which means you can attract a lot of potential new clients for only $25. You can get started with Bing Ads here.
5. Setup Win-Win Partnerships with Other Local Businesses
There are more business with a similar challenge to you who also wants to build their clientele. If you take a walk around the area where your salon is based you will likely find other salons, health clubs, cafés, etc. These can all be potential sources of new clients for you.
Try to identify the ones that are in geographically close proximity to your salon and that have a similar clientele to your salon. You want to avoid directly competing salons of course but it is only good if what they offer is similar to you. For example, if you offer skin treatments, a nail salon could be a very good partner.
You probably do not want to just walk in and ask for a partnership. Maybe you want to start by actually buying a service from them to learn more about their business. You should also start networking actively with them so that you get to know them and their business challenges while you also share information about your business.
When you are not a complete stranger to them anymore you can propose a partnership. This could for example be that you give an offer to your hair clients on nail services in their salon while they promote your services to their clients.
You can also get a bit more creative here. Maybe you have a juice bar next door and let's say you propose to them to offer a Vitamin D smoothy on their menu (that help provide stronger nails) and that all who buy get a 10% off a manicure in your salon next door. In return, you'd offer this smoothy to your clients during their visit.
Now you probably do not have a juice bar next door or even may think this is a stupid idea. What I am trying to say is just that if you get a bit more creative with your joint offers, you will both become more interesting and give people more reason to care and talk about you, which in the end will be a win-win for both parties.
On a final note to this, as you go out of your salon, always carry some business cards with you. You never know who you'll meet and it could be a potential new client or business partner.
6. Have the Local Paper Write About You
Now you might wonder… Wasn't this an article about no-nonsense marketing activities that can be put in place over the next 5 days?
Yes, it is, and I agree that getting newspapers to write about you is a more long-term strategic marketing effort than only a short win to attract clients fast. However, if done right, getting the right exposure for your salon in credible magazines and newspapers can have a tremendous effect.
If you feel you have the more basic steps at the top of the list in place, I would encourage you to spend some time also on this over the coming days and weeks. If you are looking to build your clientele fast because you are just starting a new salon, you are sitting on a good story already.
Many local papers want to cover stories about new businesses that are opening and flourishing in the local area so you are sitting on a unique opportunity now to get coverage in the local paper.
Similarly to the point on activating your local network, before you approach local newspapers and magazines, you need to be clear on your story – your elevator pitch. This will give the journalist the unique nuggets of your business that is interesting for them to write about.
If you are already a reader of the local paper, you might already have an idea of the type of content that they would be interested in writing about. Try to put yourself in the shoes of the journalist and think about what story would be interesting to them.
Just saying here's a new salon in the area will not do the job. You need to have an angle to your story that makes your salon unique and worth writing about.
When you are clear on your story you can give the journalist a call, or send him/her an e-mail, and tell your elevator pitch. Tell them that you would like to invite them over to your salon where you'll take them through your full story and show them how you work. If they accept to do this, you should also ask them to bring a camera :).
Most papers also publish their articles on the web so make sure they also include a link to your salon website (if you have one).
Not only will this help drive readers directly to you where they can book their appointment but having good links to your website also helps improve Google's ranking of your overall website. Making it more likely that you also show up higher in search results when people are looking for salons in your area which will benefit your business in years to come.
Alright, I admit that this is not the most simple, "no-nonsense", activity but if you manage to succeed to get coverage in the paper you have a lot to win. It is doable, many salons do this, and you can do it too.
7. Offer Superior Service, and Give the Unexpected Extra
It is always easier and cheaper to keep an existing client than it is to acquire a new one. When you set out to build your clientele you need to focus equally much, if not more, on the experience, you give your new clients – in particular during the first visit. This is where you build the loyalty that will bring you a flow of revenue in years to come.
Not only is the experience in the salon critical to keep the new client you have just acquired coming back, but this is also where you build the foundation of a long-term word-of-mouth reputation of your salon that will be a core source of new clients for you in the future.
First and foremost, you need to offer a high-quality client consultation and service that at minimum is in line with what the person paying for it would expect.
Assuming this is in place, you should add also something unexpected that goes beyond what the client had expected when they booked the appointment. Trust me, this will make all the difference...
The extra you offer should not be a discount, this is very important. By discounting your service at this stage you are only setting the tone that your service was not good enough and you are also setting the client's expectations for the future where they will continue to expect a price below your list price.
Neither does it need to be something expensive. It should just be something that was not at all expected and ideally also something that communicates the unique character of your salon.
Even if the client is paying $100 for their service, the unexpected extra value they received is likely what will be stuck in their head after the visit. It is also what they will be talking to their friends about when they recommend you. This is why it should be something that is in line with what you want them to say about your salon.
Some good examples of what extra you can give:
a) Offer a whiskey when you sit down for your barber shop appointment
b) Let your client listen to a sound meditation while you wait for your color service to complete so they can de-stress and avoid listening to hair dryers and other stressful noise
c) Give not only a head massage in the shampoo station but also a 5 min shoulder massage
d) Greet your client with a snack while they wait for their appointment
e) Keep notes about personal stories about the client after the visit so that you can ask personal follow-up questions on the next visit.
The above are just some examples, I am sure you can think of ideas that would fit your salon better. The point is that it can be something very simple, and low-cost, but you should see a significant difference in your client retention rate if you do this systematically.
8. Encourage Your Salon Clients to Recommend Their Friends by Rewarding it
Having your salon clients recommend you to their friends is a very powerful way of building your clientele. In fact, according to a Nielsen study, people are 4 times more likely to buy when referred to by a friend. So you want to make sure you make the absolute most out of this.
But how do you make people recommend you? It is not obvious that just because they are happy with your service they will start recommending you. The solution: a recommend-a-friend salon scheme.
"83% of consumers are willing to refer after a positive experience—yet only 29% actually do"


Source: Texas Tech
When running a recommend-a-friend program you reward the person who recommends a new client to your salon. Typically you would also include a benefit for the new client that comes in on recommendation as well as this then incentives both parties to get the person to sign up.
A Wharton School of Business report also proved that people who become customers based on recommendations are more likely to also become long-term loyal clients with a high lifetime value. So you can also afford to give a bit more discount to get those people in as you will most likely enjoy long-term value from these new clients.
Examples of Recommend-a-Friend Offer Mechanics

20% discount to new client and 20% on existing clients next visit
Charity donation of $20 when client comes on referral
The program should certainly help you accelerate the speed of growing your clientele while also doing it in a way that attracts the right type of clients to your salon.
9. Always Re-Book Clients During the Visit
Your clients live busy lives and they will not remember to book their next appointment with you until they have gone longer than they should since the last appointment.
By making sure your clients are booked for their next appointment before leaving the salon you also avoid them buying a service from another salon than yours. You also make the life of your client easier by providing this service.
More frequent salon visits x more loyal clients = more business for your salon!
Make sure your receptionist or team of staff are trained on that they always should book the client in for a next visit before they leave the salon and ensure they adopt this habit. This is a simple habit that will help grow your business but it is too often overlooked.
Mangomint makes the process easier by allowing stylists to schedule repeating appointments, track client visits, and send automated reminders.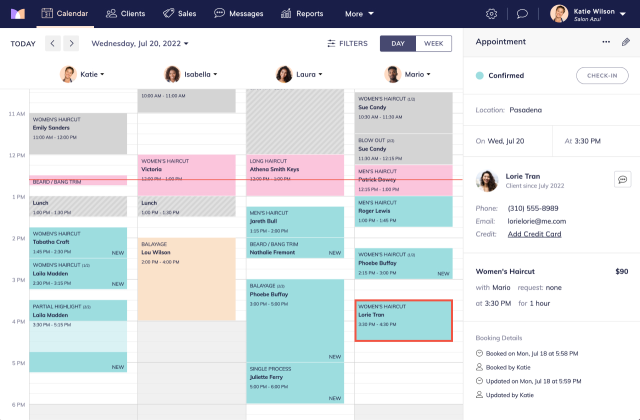 To improve rebooking rates, stylists should educate clients on its importance, offer incentives for repeating appointments, and personalize the experience. Following up with clients and leveraging automated reminders are best practices to ensure success.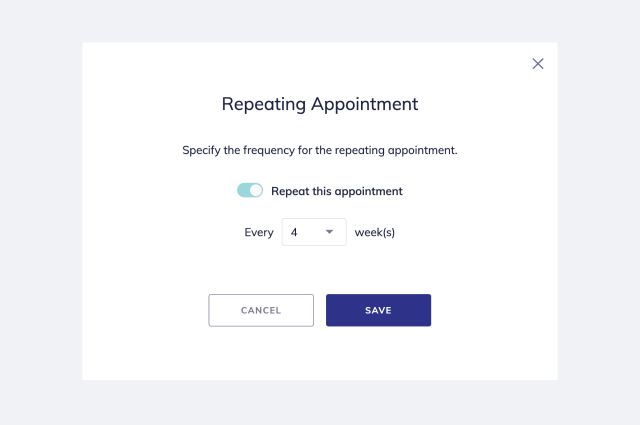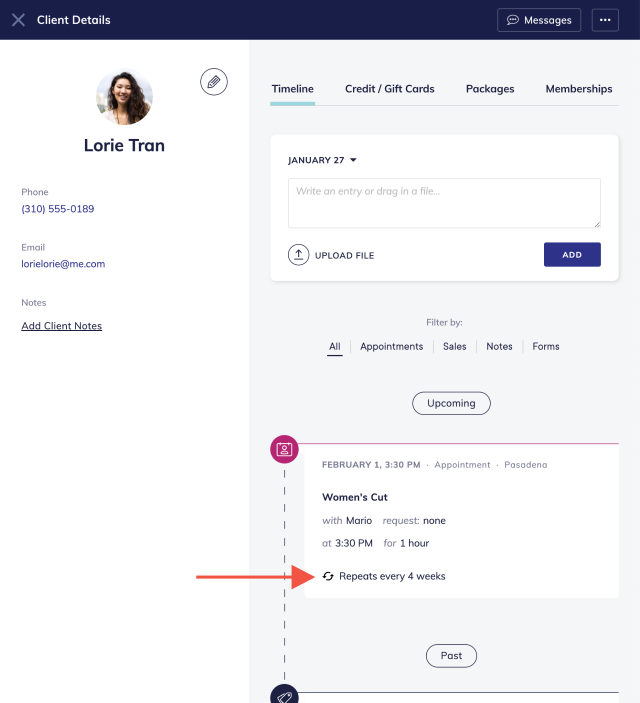 With Mangomint, stylists can streamline the process and focus on providing excellent service.
Conclusion
You want to build your salon clientele fast but you also want to do it right. Avoid discount programs that will only attract the wrong clients and focus on the proven activities below.
This will take some time but by following these activities you are set out on the right path. How long will it take? Check out my article on how long it takes to build a salon clientele.
Just to recap, below are the 9 marketing activities to attract new clients fast.
Run a limited time, for you only, intro offer
Create street visibility that disrupts
Activate your already existing network and ask for referrals
Make your salon visible in ALL search results today
Setup win-win partnerships with other local businesses
Have the local paper write about you
Offer superior service and give the unexpected extra
Encourage your clients to recommend their friends by rewarding it
Always re-book clients
I hope you found the article helpful. I would love to learn more from you. How have you built your salon clientele? What's your experience of the activities outlined here?