Are you on the hunt for an all-in-one appointment and business management software for your salon, spa, or health & fitness business?
Then this is probably not the first time you hear about Vagaro Pro.
Vagaro is a top-rated salon software that comes with complete support to manage your total business. It's incredible how they have managed to include so many features into this platform while still keeping pricing very affordable.
Vagaro is also one of the salon software on my list of the best salon software in 2023.
In this Vagaro software review, I'll be breaking down everything about this platform so you can fully see its strengths, limitations, and pricing.
Let's dive into the Vagaro Pro review!
Vagaro Review at a Glance
Description
Vagaro is a complete system for salons, spas, barbershops, health, and fitness businesses.
It's one of the most feature-rich platforms on the market and comes with POS, online appointment scheduling, email/SMS marketing, credit card processing, subscription payments, video streaming, website builder, eCommerce, payroll, hardware, and advanced business reporting just to name a few.
In fact, they even offer agency-type services (like logo design) for their customers.
Despite the incredible amount of built-in features, they are keeping their pricing affordable. Making it one of the options on my list of the best salon software.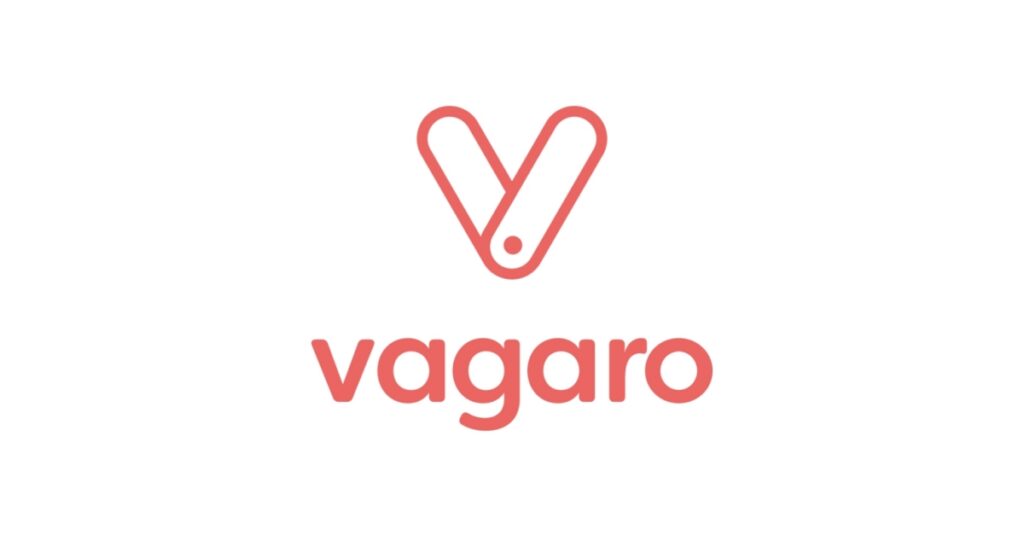 Overall Score
4.0
or browse Vagaro alternatives
Vagaro Pricing
Vagar's base plan is very affordable, and you can choose which add-ons you want to activate at an additional fee.
Below is a summary of all the costs you can expect with Vagaro so you can plan out what the total cost would come to for you.
Free 30 day trial
Monthly subscription fee: $25 for individuals, and $10 for every additional user. Everyone after the 7th user is free.
Add-on features

Automated text marketing: $20/month
Website builder: $10/month
Forms: $10/month
Cloud storage: $10/month
Check-in app: $10/month
Additional visibility at the Vagaro client marketplace: $10/month
Branded app (pretty cool huh..): $200/month
SMS marketing: $20/mo for 500 sms and they offer plans up to $400/mo for 20,000 sms.
Email marketing: 1000 emails/mo are included in your plan. If you need more, you pay $10/mo for 5 000 emails up to $90/mo for 100 000 emails.
Credit card processing fees

Small merchants (less than $4000/month): 2.75% per swipe, 3.5% + $0.15 per keyed in transaction. No monthly cost.
Multiple merchants (less than $4000/month): 2.5% + $0.10 per swipe, 3.5% +$0.15 per keyed in transaction. No monthly cost.
Large merchants (more than $4000/month): 2.2% + $0.19 per swipe, 3% + $0.19 per keyed in transaction. Monthly cost $10.
You can compare Vagaro's card transaction fee to other salon software in my list of the best credit card processors for salons and spas.
Vagaro Review Breakdown
Appointment Management (5.0)
Online Booking (5.0)
Ease of Use & Design (3.0)
System Stability (3.0)
Client Data Management (5.0)
Point of Sale (5.0)
Customer Service (5.0)
Inventory Management (5.0)
Mobile Apps (4.0)
Pricing (5.0)
Vagaro gets a lot of high scores on its features.
The platform has an ok interface that is fairly ok to use. However, the sheer number of features and customization options available makes the learning curve when starting with Vagaro slightly higher than other options. You may also experience some page load time and glitches when navigating around the tool.
You can compare Vagaros features vs. other alternatives in this salon management software comparison.
Review Summary
I was quite impressed with Vagoro when I first tested out the tool.
In particular, the number of features available under one roof.
You can tell that they have been around for a while and are constantly adding new features to the platform. I've been trying to identify missing features without success.
All the features you expect from a salon software are there.
And, of course, a client marketplace that allows you to market your salon to potential new clients.
I would be highly surprised if you found features to be a limitation. If anything, the many features and customization options make the learning curve slightly bigger and the user experience not as good as if you were using a more "locked down" and limited salon software.
The features you'll find in Vagaro are rich, and I think it will be enough for 90% of businesses.
However, the one area I found particularly limiting is the website builder. It's a good solution to spin up a site quickly using information already stored in Vagaro. But my recommendation for most salons would be to use a dedicated website builder like Squarespace and then embed a Vagaro widget whenever you want to allow for bookings or show other information stored in Vagaro on your website.
Pros
VERY rich in features
Affordable price
Integration with other software ( QuickBook, Xerox, Facebook, Zoom)
Integrated payments (inc. recurring subscriptions)
Client marketplace that help you attract more new clients
Advanced payroll and team support that also allow you to charge rent to booth renters
Cons
Slight learning curve in the beginning
Pages could load faster and you may find some glitches as you use it
Clients need to create a Vagaro account when booking (could also be a pro if they already have a Vagaro account)
Watch my Video Review
or browse Vagaro alternatives
Who is Vagaro For?
Vagaro is ideal for busy salons with a team that needs rich support but still the simplicity of managing everything in one place at an affordable rate.
Even if you are not tech-savvy, you will be able to get marketing campaigns, online booking, and a lot of more advanced features up and running without having to integrate a whole bunch of different tools.
Which Countries is Vagaro Pro Available in?
Vagaro is available with all features in the US, Canada, Australia, and the UK. As the software is cloud-based, people from other countries also use it but will not be able to benefit from integrated payments and local support.
Vagaro Features
Vagaro truly shines with its richness of features. The remainder of this review will walk you through more details of how things work inside Vagaro
My Top Salon & Spa Software Alternatives
Here's my salon & spa software top list for 2023.
To see more alternatives, visit my complete list of salon and spa software recommendations here.
Appointment Management
Easy to use, drag and drop appointment schedule

Create recurring appointments

Color appointments for easy overview

Sync with Google, Apple or Outlook Calendar
Online Booking
Create a full website using Vagaro website builder

Embed a booking widget or popup on your existing website

Let clients can find and book you on the Vagaro client marketplace

Facebook and Instagram integration
Appointment Notifications
Email, SMS, and App notifications

Notify client ahead of appointment, after appointment, or if any changes to appointment

Notify responsible staff for new appointments or changes to existing ones.
Client Data Management
Store information, photos, PDF, video on each client

Track client history and store SOAP notes (Subjective, Objective, Assessment, and Plan)
Inventory Management
Store all needed information and images about products and services

Setup categories and product/service variations to effectively manage a large inventory

Receive low stock alerts
Point of Sale System
Manage check out in dedicate Pay Desk, web interface, iPad app, iPhone app, or Android app

Support of all type of payments
Appointment Apps
Android App

iOS App (iPhone/ iPad)

Cloud hosted (access from any web browser)
Vagaro POS, Checkout & Payments
You can access the POS using the Vagaro hardware, web browser, Android, or iOS app.
Their "Pay Desk" is beautifully designed and comes with dual screens – one for the client and one for you. This is something you need to purchase separately from your Vagaro plan.
However, you get the card reader (which you see next to the screen below) for free when you sign up for their merchant service.
Vagaro is also one of the options on my list of the best POS systems for salons and spas.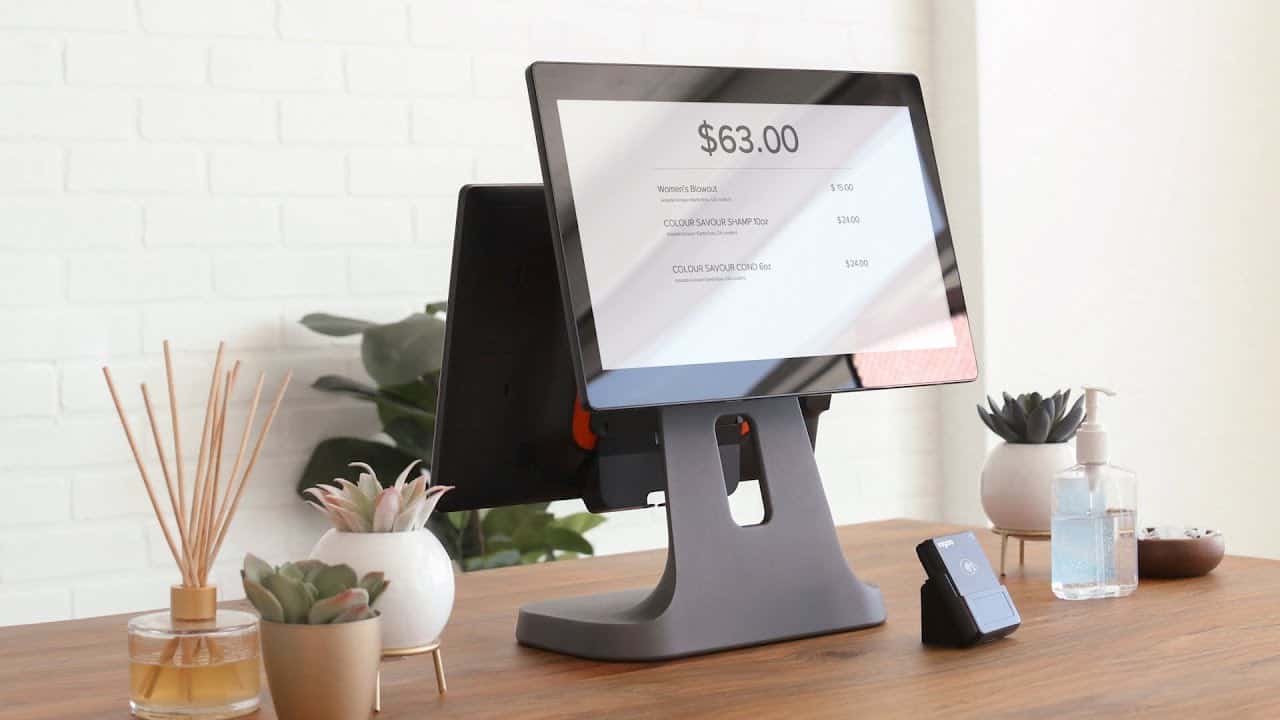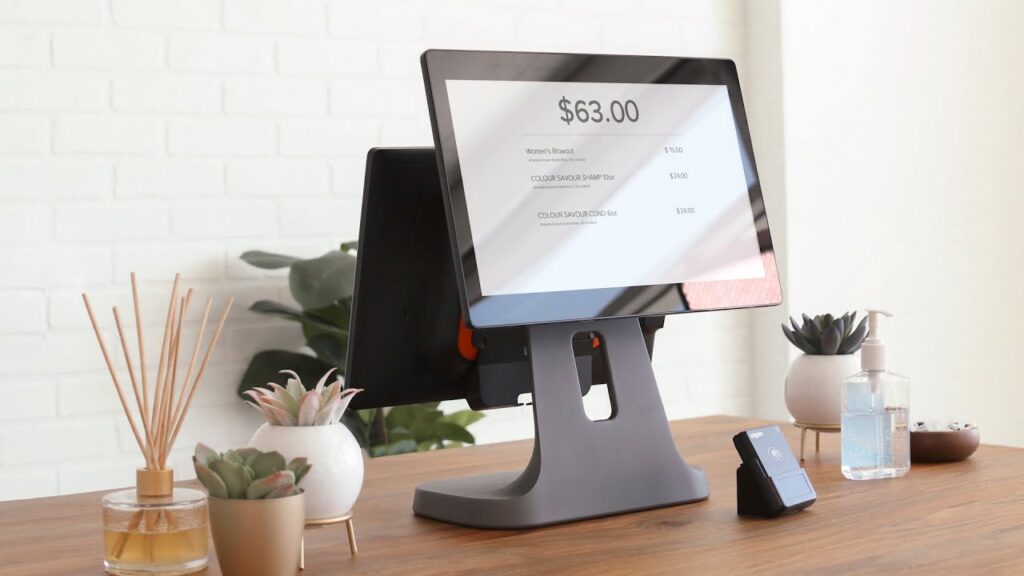 You can check out the customer directly from the calendar or by going to check out in the top navigation. The below image shows an overview of what the checkout looks like.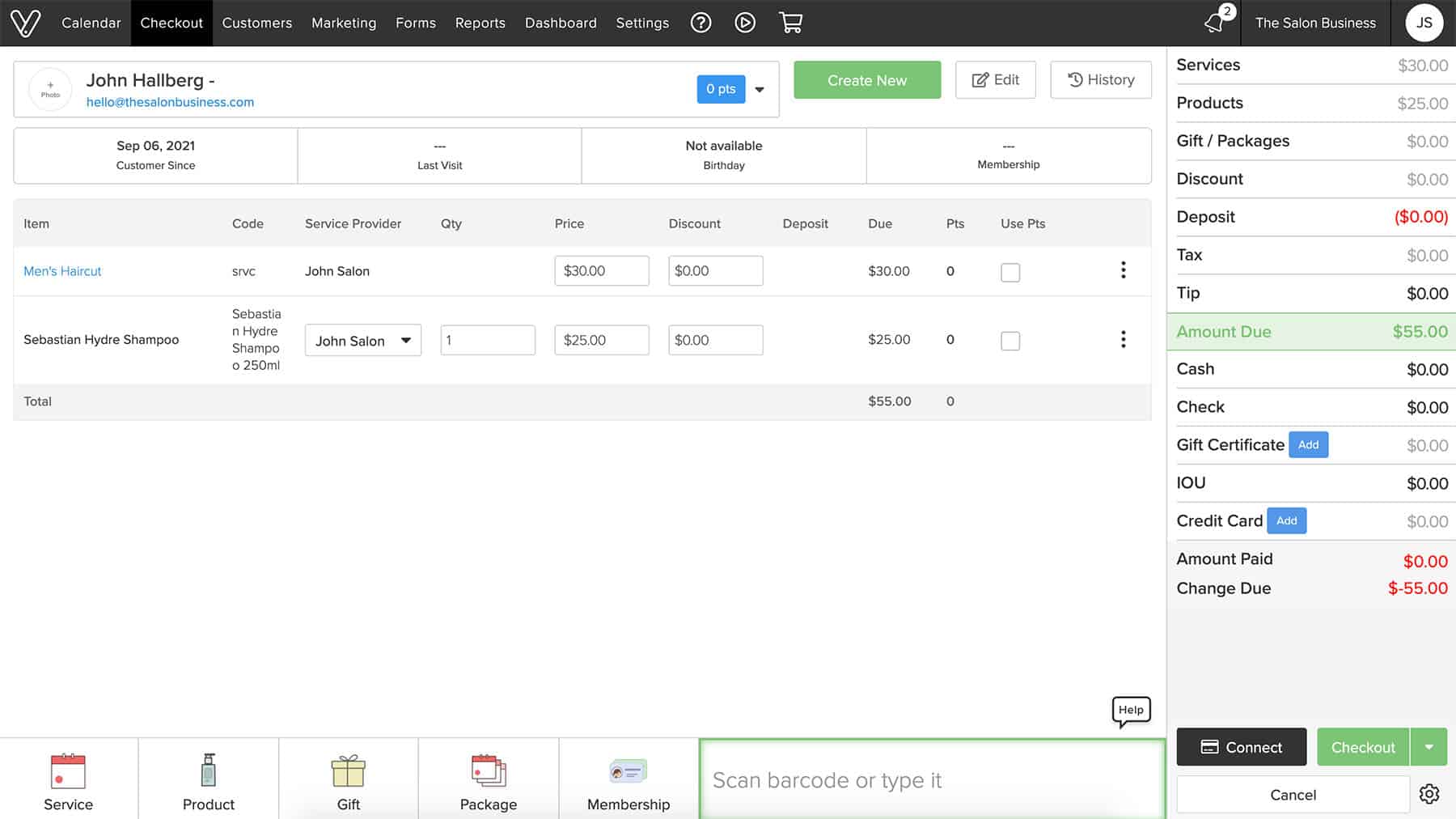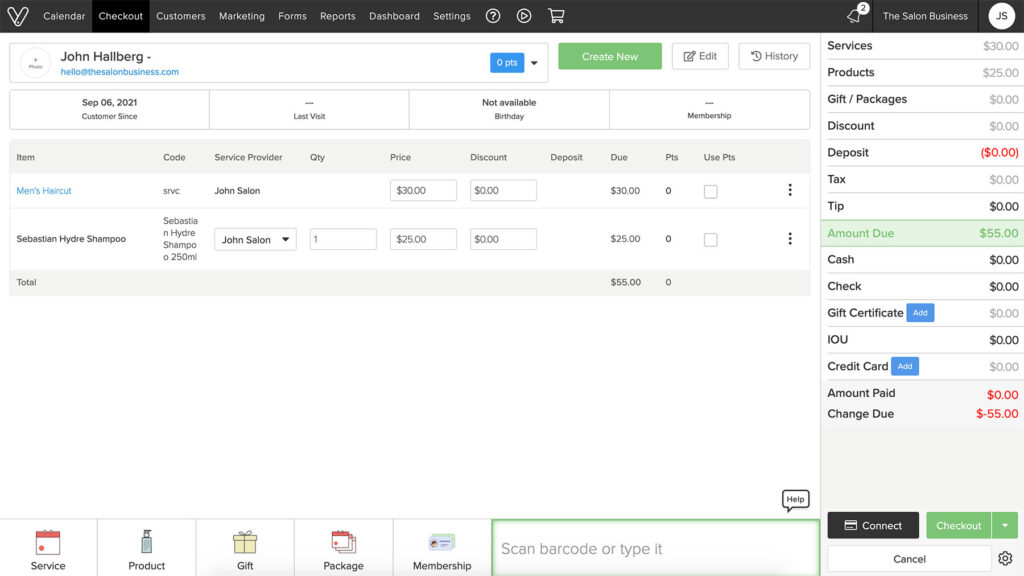 Vagaro supports all the major credit cards as well as Apple Pay, Google Pay and other contactless payments.
Vagaro Credit Card Processing Fees
Small merchants (less than $4000/month): 2.75% per swipe, 3.5% + $0.15 per keyed in transaction. No monthly cost.
Multiple merchants (less than $4000/month): 2.5% + $0.10 per swipe, 3.5% +$0.15 per keyed in transaction. American Express swipe 2.75%+$0.19 and type 3.5% +$0.19 . No monthly cost.
Large merchants (more than $4000/month): 2.2% + $0.19 per swipe, 3% + $0.19 per keyed in transaction. American Express swipe 2.75% + $0.19 and type 3.5% + $0.19. Monthly cost $10.
You can compare the fees of Vagaro with other salon software alternatives in my list of the best credit card processors for salons and spas.
Vagaro Appointments Calendar Management
The Vagaro calendar is intuitive and easy to navigate. You can drag and drop appointments to change the time.
Hover an appointment with the mouse for more details. Color code the appointments for an easy overview. Switch between team view, day view, week view, or month view.
You can also use the new agenda view which gives you a simple list of all your upcoming appointments.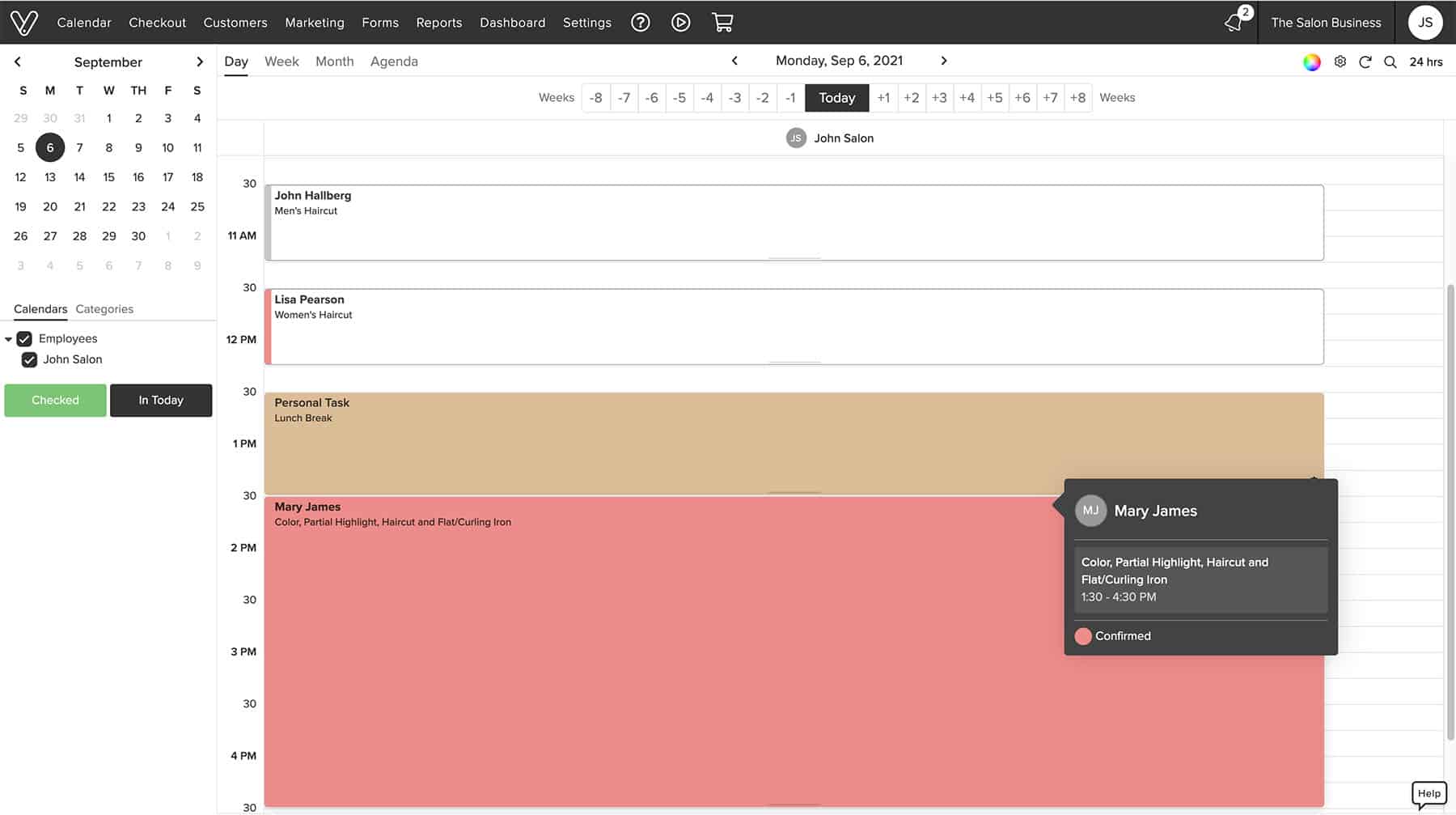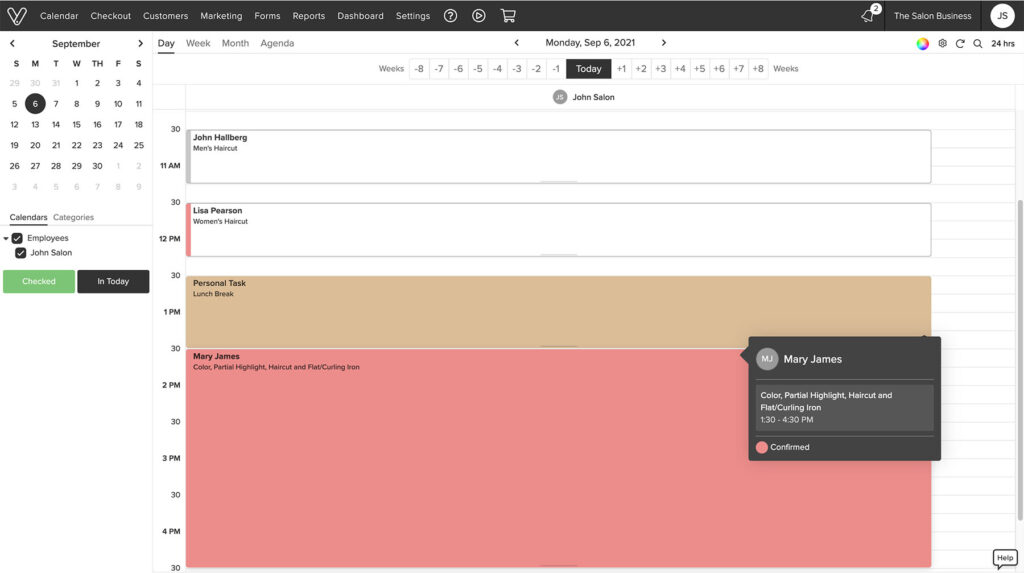 Vagaro Online Booking
Vagaro offers multiple ways for clients to book you. You can create a full website using the Vagaro website builder, embed a booking widget on your existing website, integrate appointment scheduling with Facebook, and allow clients to find and book you on the Vagaro marketplace.
You'll find rich website embedding options. You can choose if you want it on your website, in a separate pop-up, or if you want the booking to open in a new browser tab.
Vagaro is in fact also listed on my list of the best appointment-scheduling software.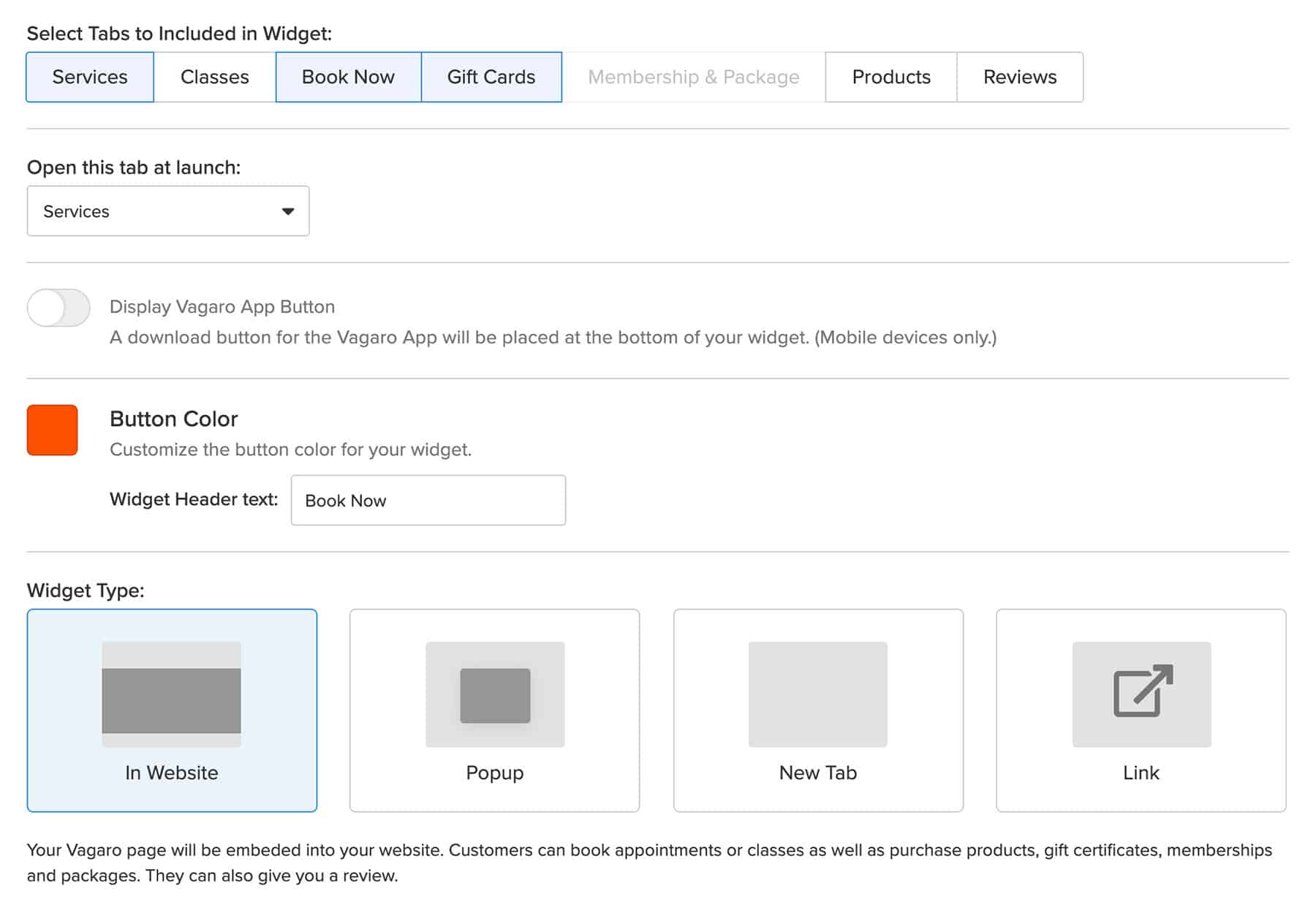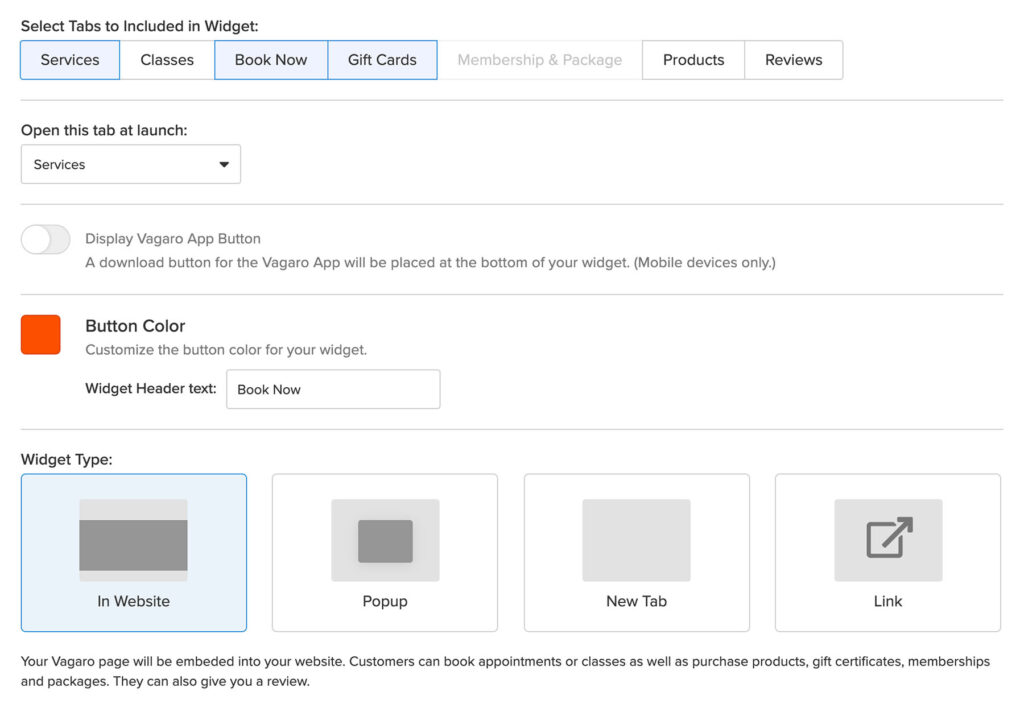 You can also customize multiple widgets that you can embed on different pages. For example, you can have your services bookable on your service page, show products on your product page, and show reviews on your home page.
This gives you more options than most other online appointment scheduling apps. However, design customization is currently limited to color changes.
Below is an example of what the booking experience would look like on a mobile phone.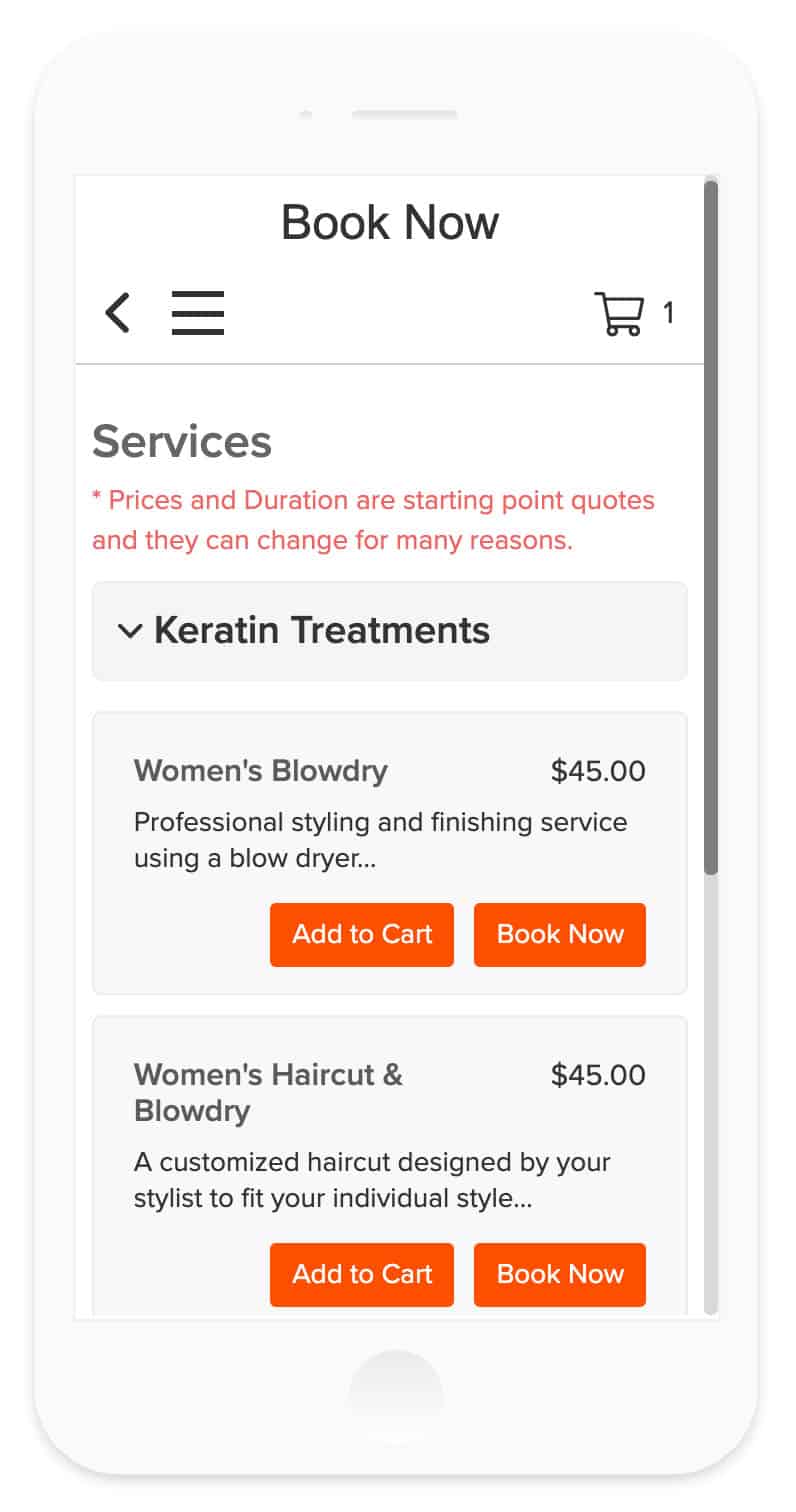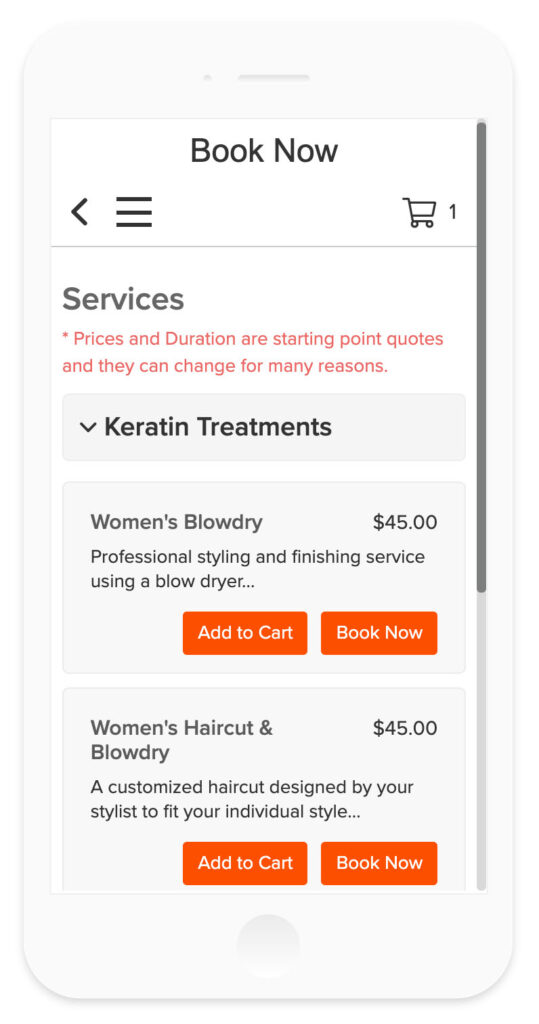 Vagaro Notifications & Alerts
Vagaro can notify clients about new appointments, remind them about upcoming bookings, and send appointment confirmation requests. Notifications are sent as SMS, e-mail, and an app notification (in case the user has the Vagaro app installed).
Note that SMS notifications will be an add-on to the standard plan.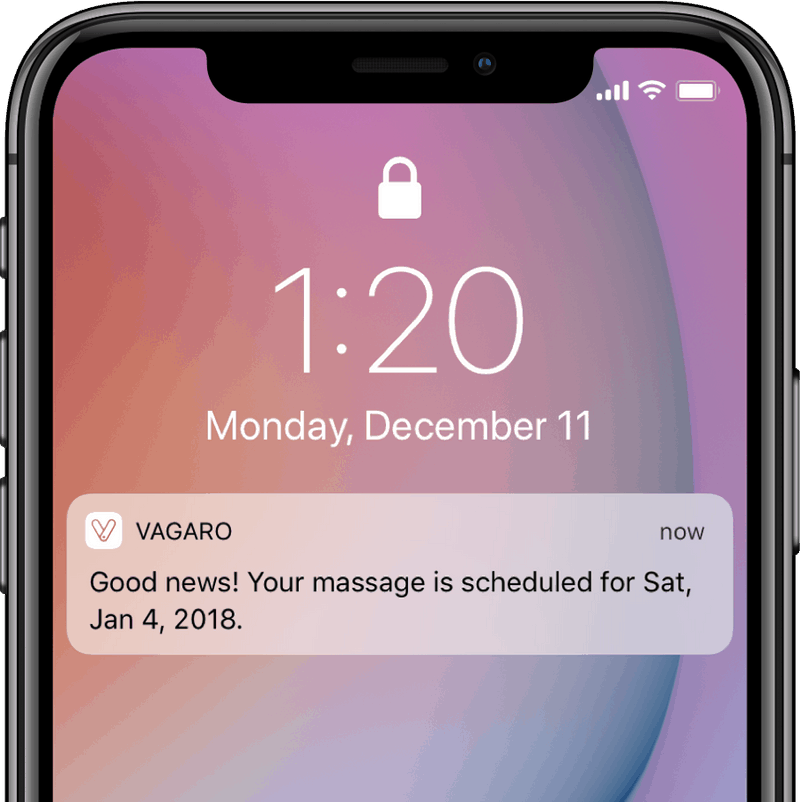 You can also choose to notify the staff member and business owner.
The information included in the notification is set by Vagaro but you can add additional information to appointment notifications.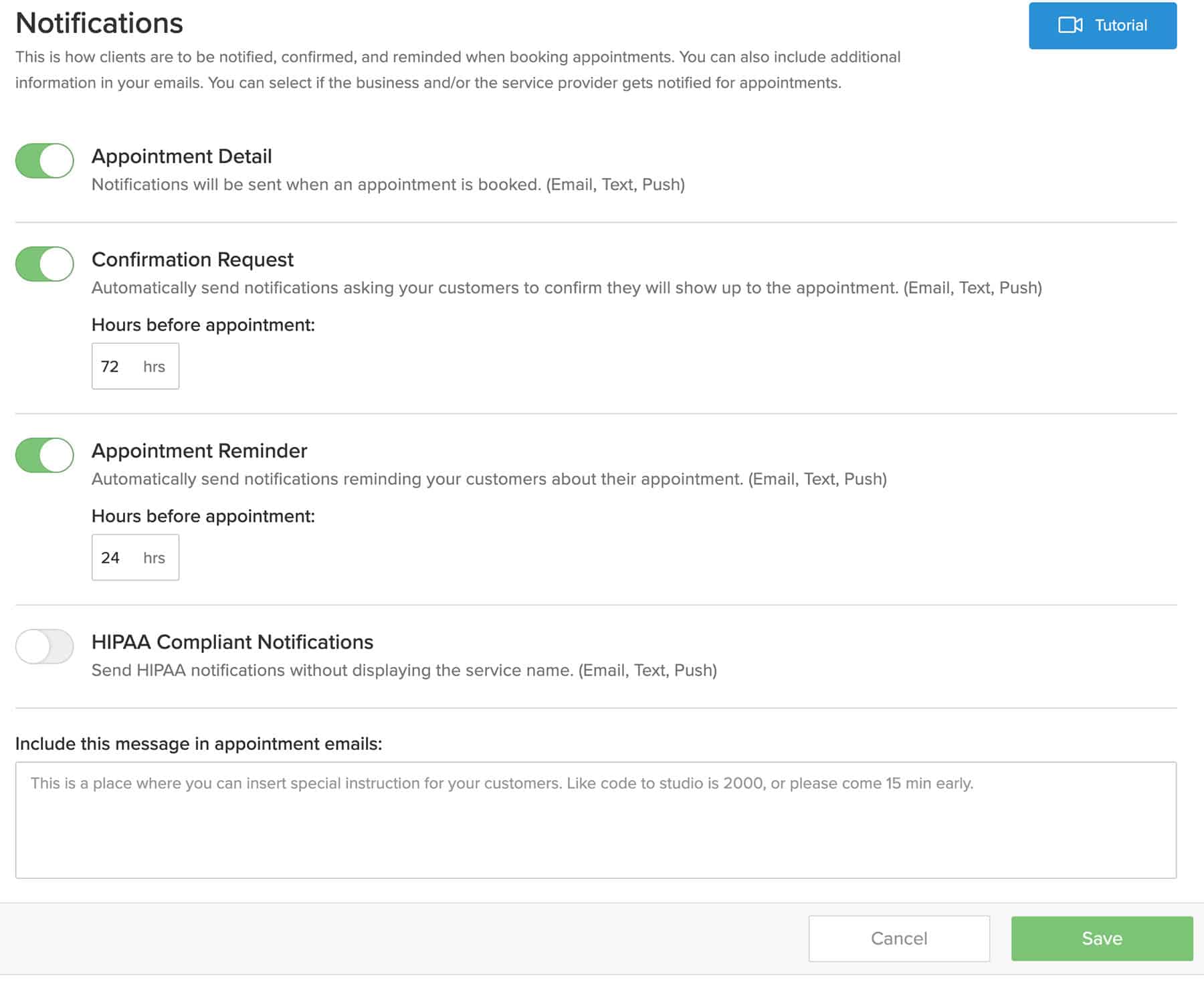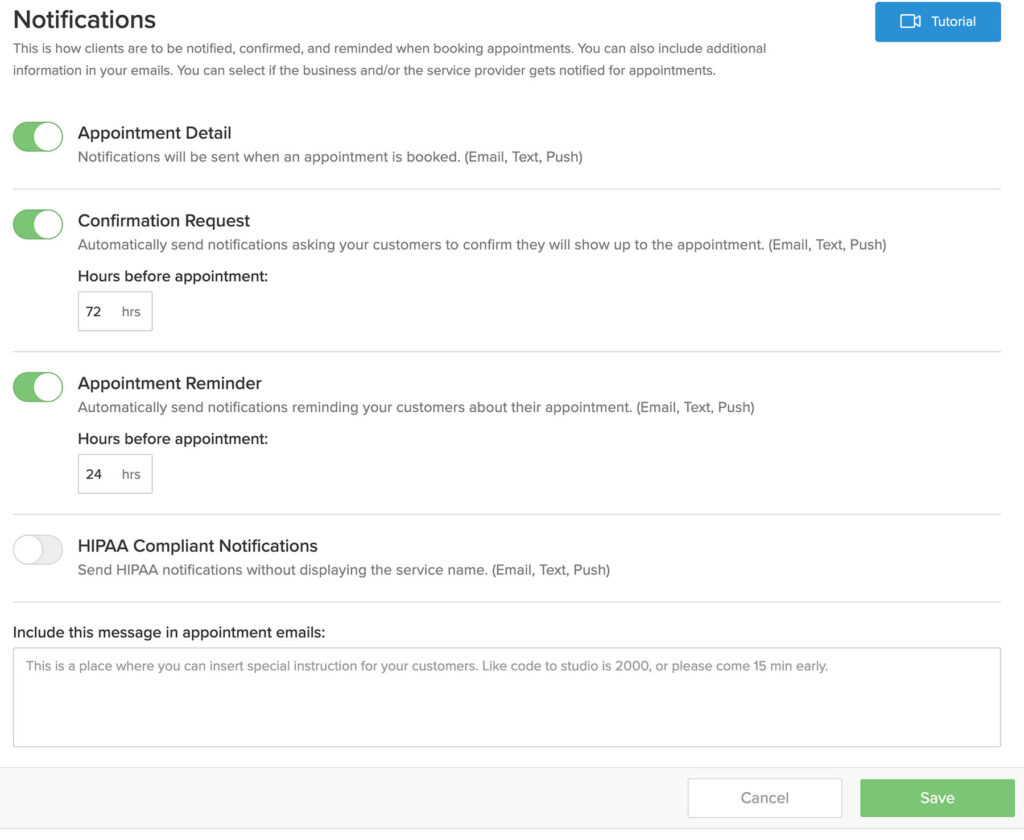 Vagaro Client Data Management
The Vagaro client directory really sets Vagaro apart from most other platforms out there. The amount of information you can store and track on your client is incredibly extensive.
You can store multiple notes on each client and upload PDF files and images to the client profile. Just be aware that you have to purchase additional cloud storage space for images and documents.
Vagaro supports advanced SOAP forms which make the tool very powerful for chiropractors and other similar practices.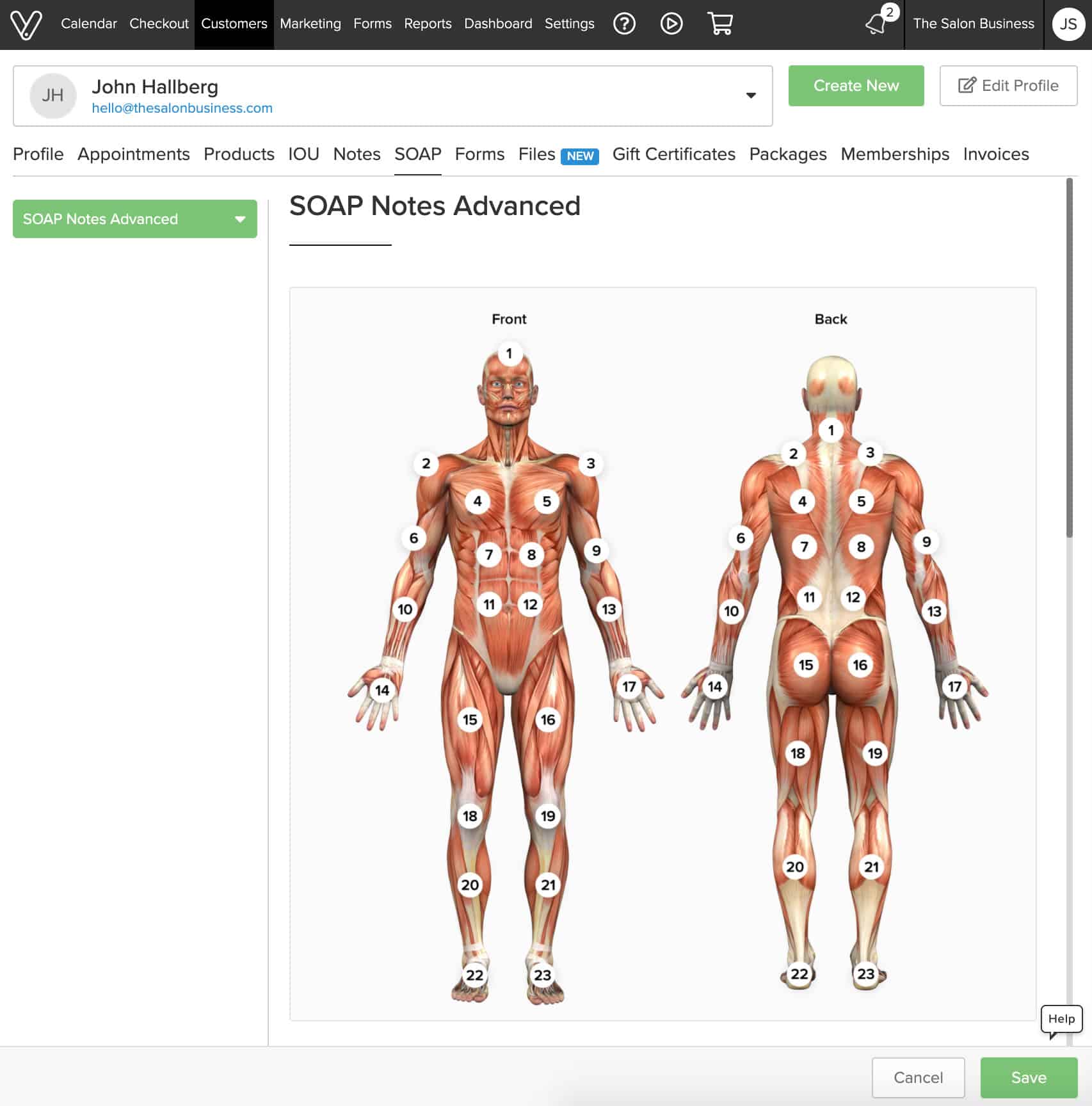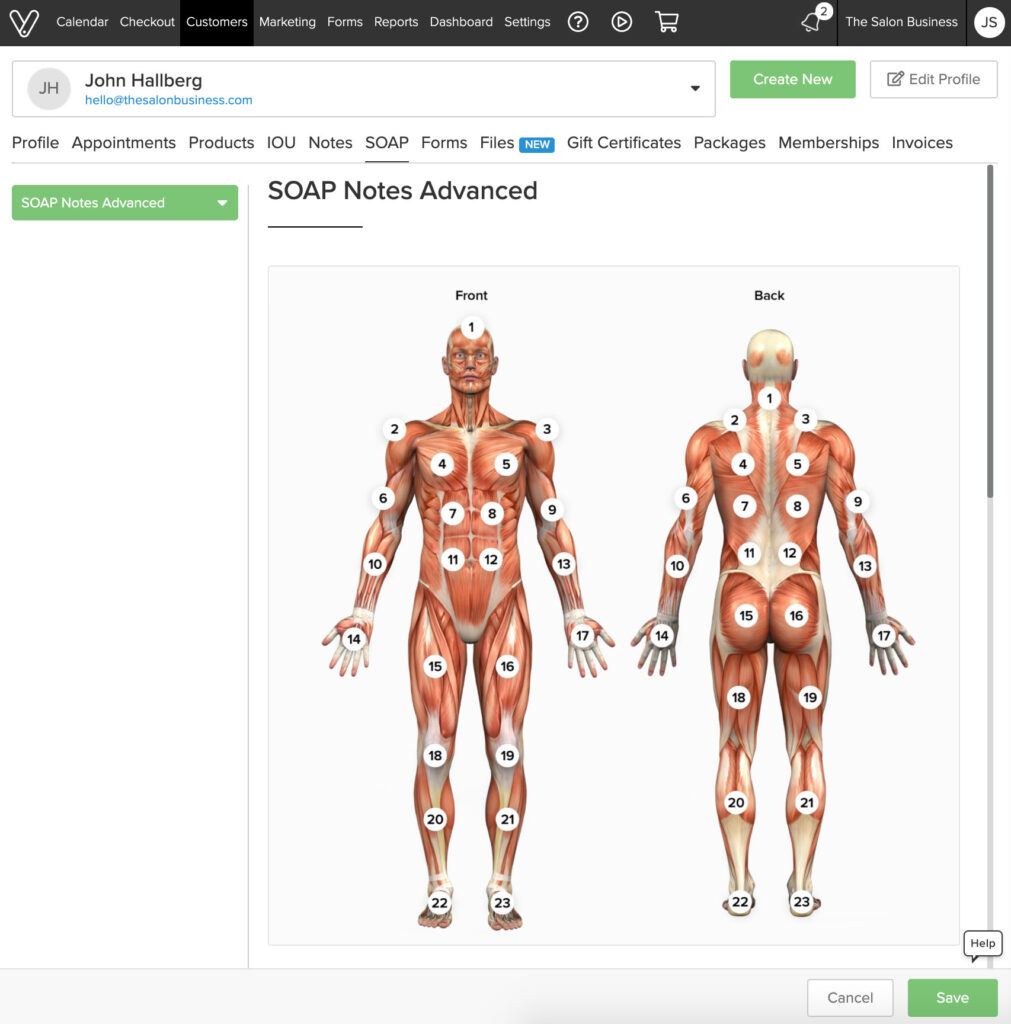 Vagaro Inventory Management
Vagaro allows you to manage vendors, brands, and products. You can set up inventory tracking and notifications so that you're in control of any stock levels. Really, you'll find all the support you need to effectively manage your product inventory.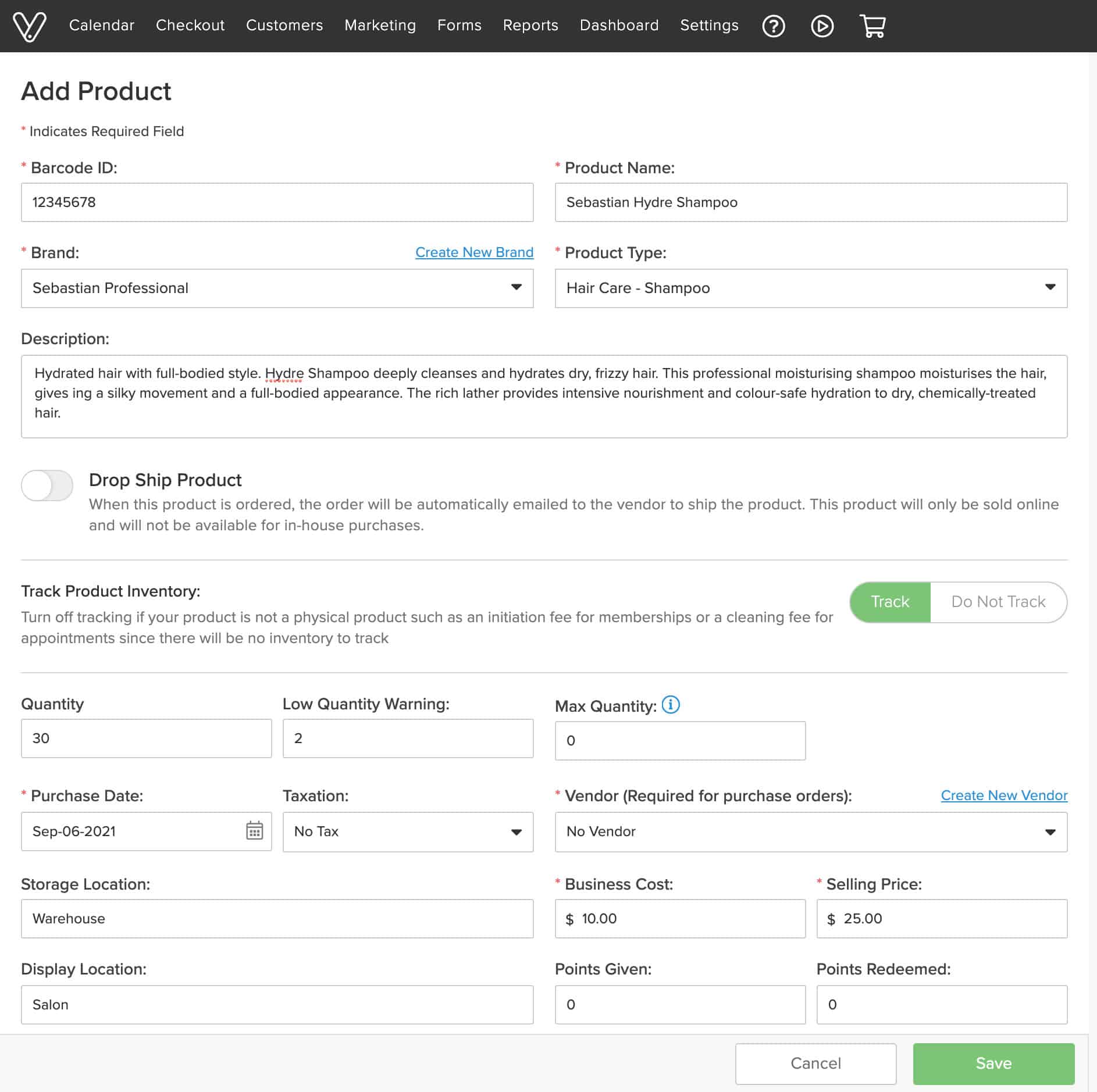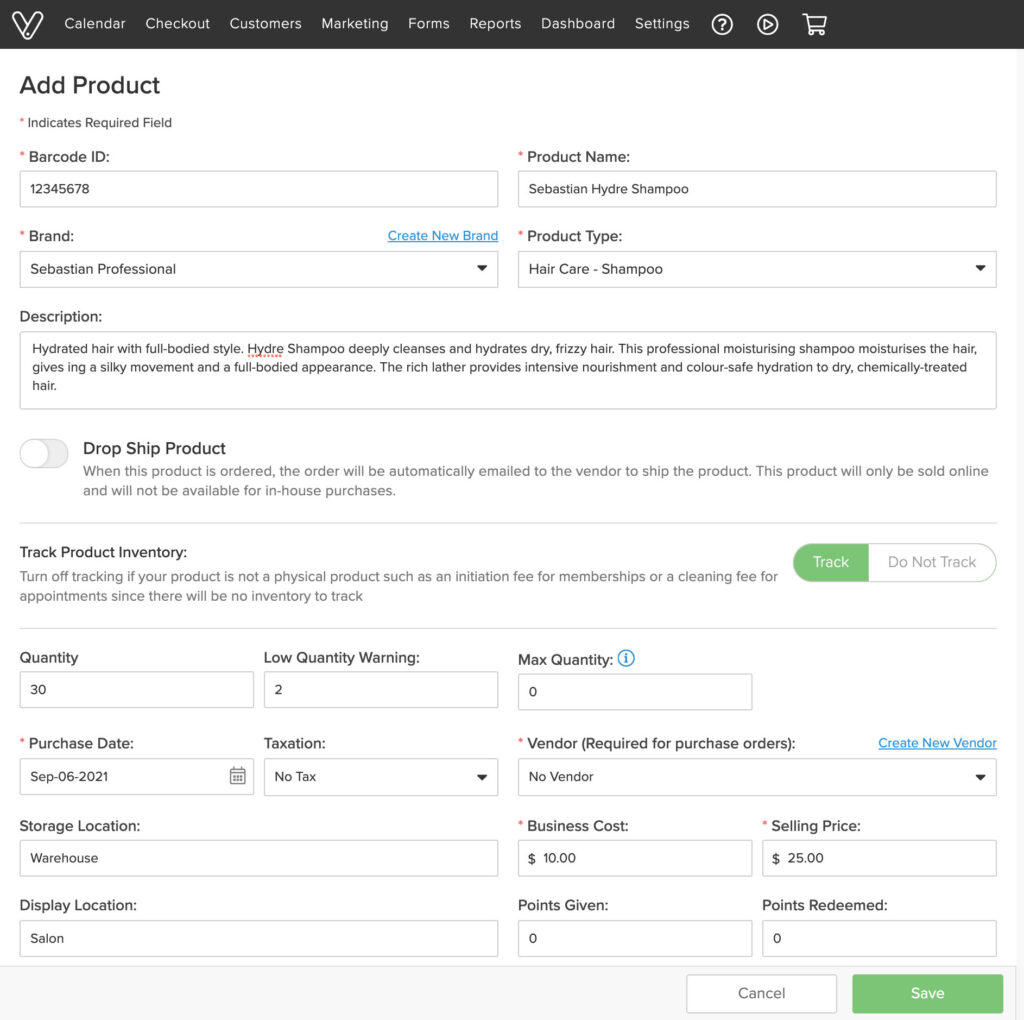 Vagaro Staff & Payroll Management
Vagaro is a tool that I recommend firstly to salon businesses with a team as it comes with great support in this area.
The Vagaro payroll software comes with complete support to simplify all aspects of paying your staff. For more advanced payroll services, it also integrates with QuickBooks, Xero, and Gusto.
The payroll report allows you to configure commission rates down to service and product level. It supports both flat-rate commission and percentage.
You can also customize detailed user access levels for all the groups shown below.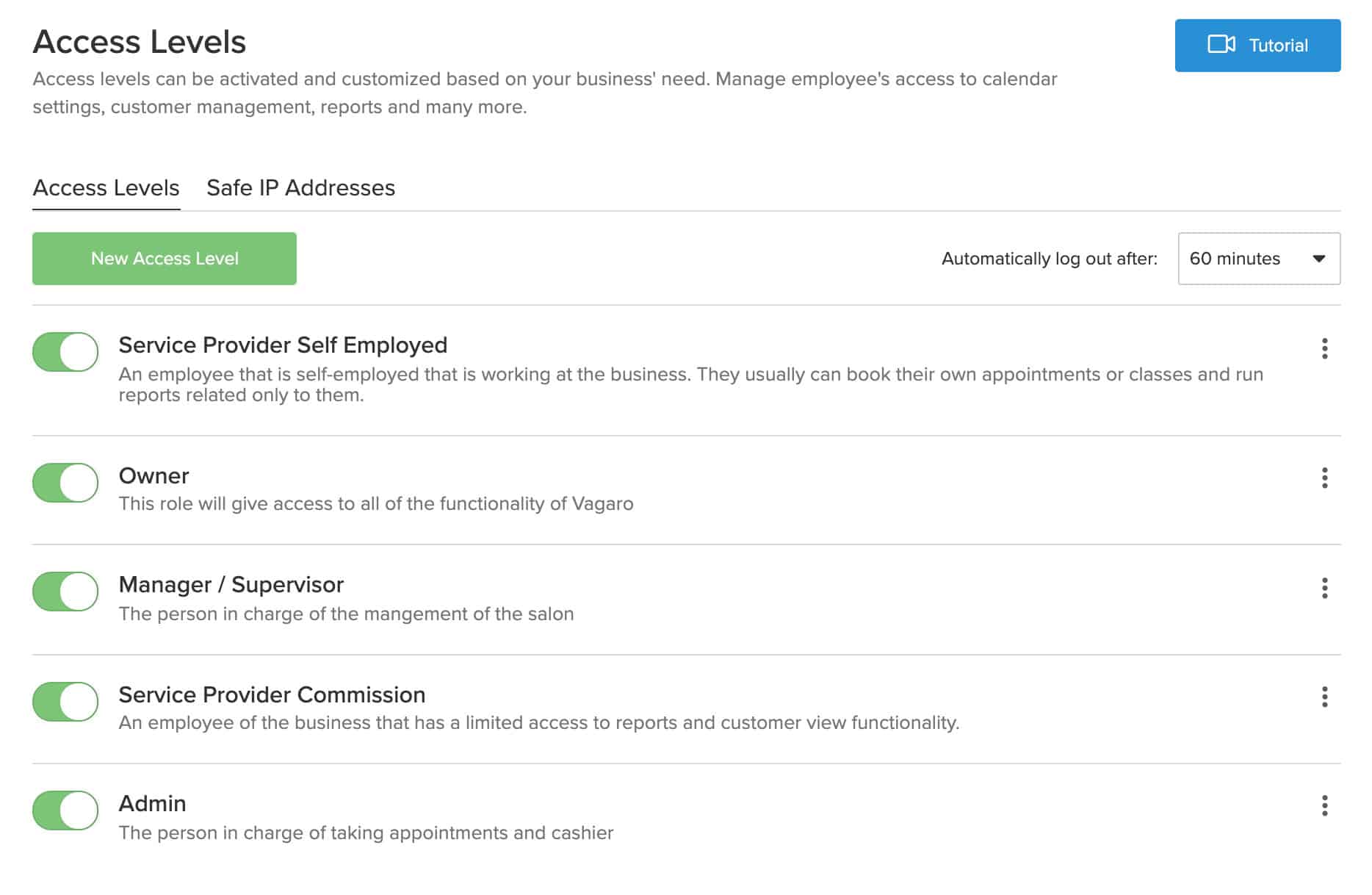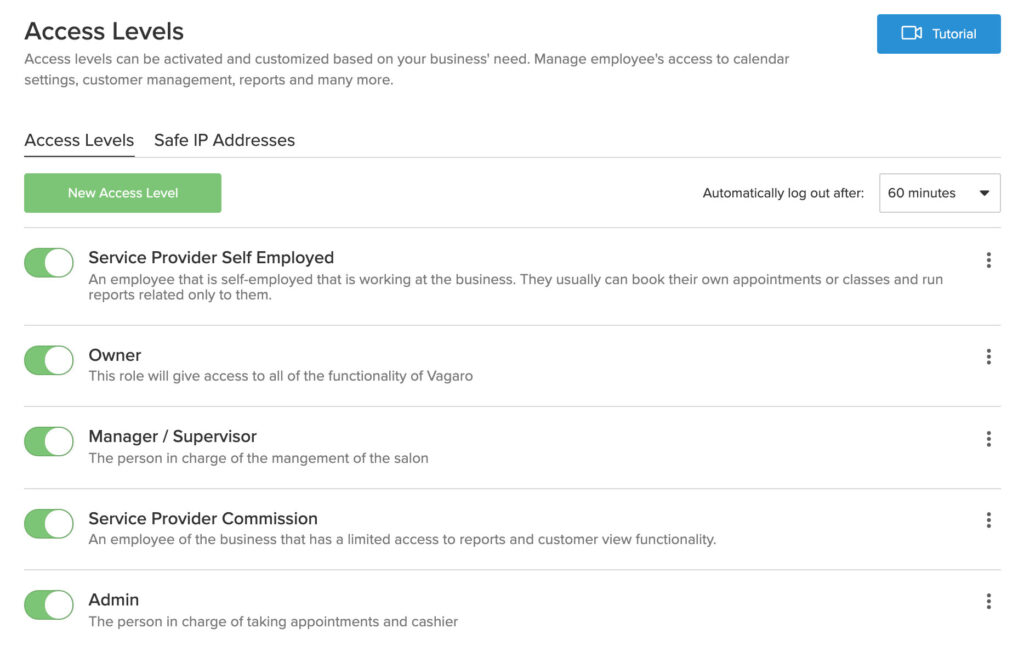 Charge Rent and Fees to Booth Renters
Another unique feature that Vagaro offers is the ability to charge rent and fees to booth renters.
I haven't seen any other software offering this which makes it super easy and allows for the renter to automate payments from their bank account or credit card.
You can also set up a commission for product sales to be automatically deducted from the rent.
This means you don't need to manage it the old school way is using cash, checks, or Venmo which can be a nightmare to keep track of.
Vagaro Email & SMS Marketing
Vagaro offers advanced support for email and SMS marketing.
You can design rich HTML emails using the drag-and-drop email builder and you can target your campaigns to very specific segments of your clients. For example, you can send an email specifically to clients who haven't visited you for a certain time.
You can also leverage automated communication so that SMS/email is sent out on your client's birthday or a certain number of weeks after their appointment.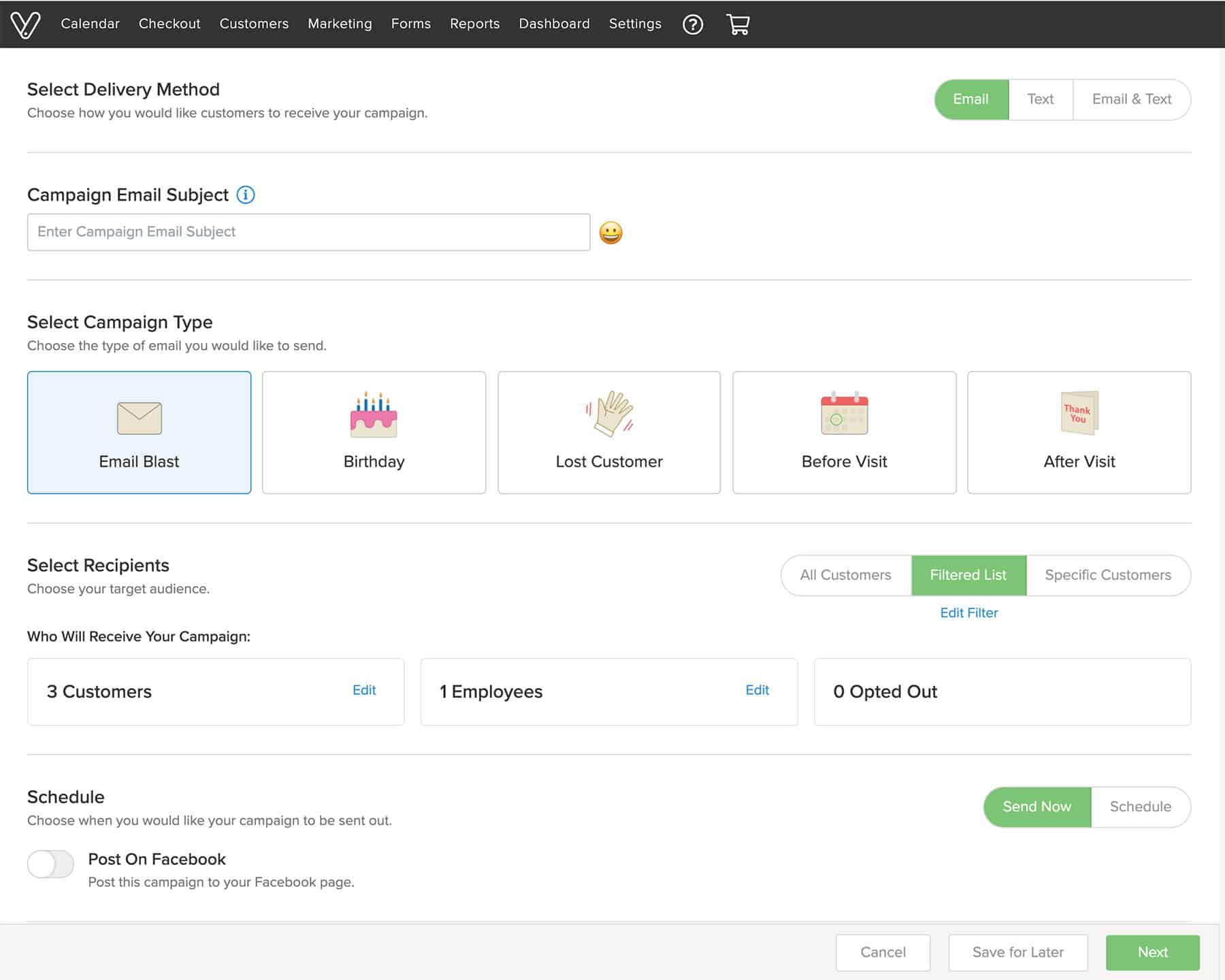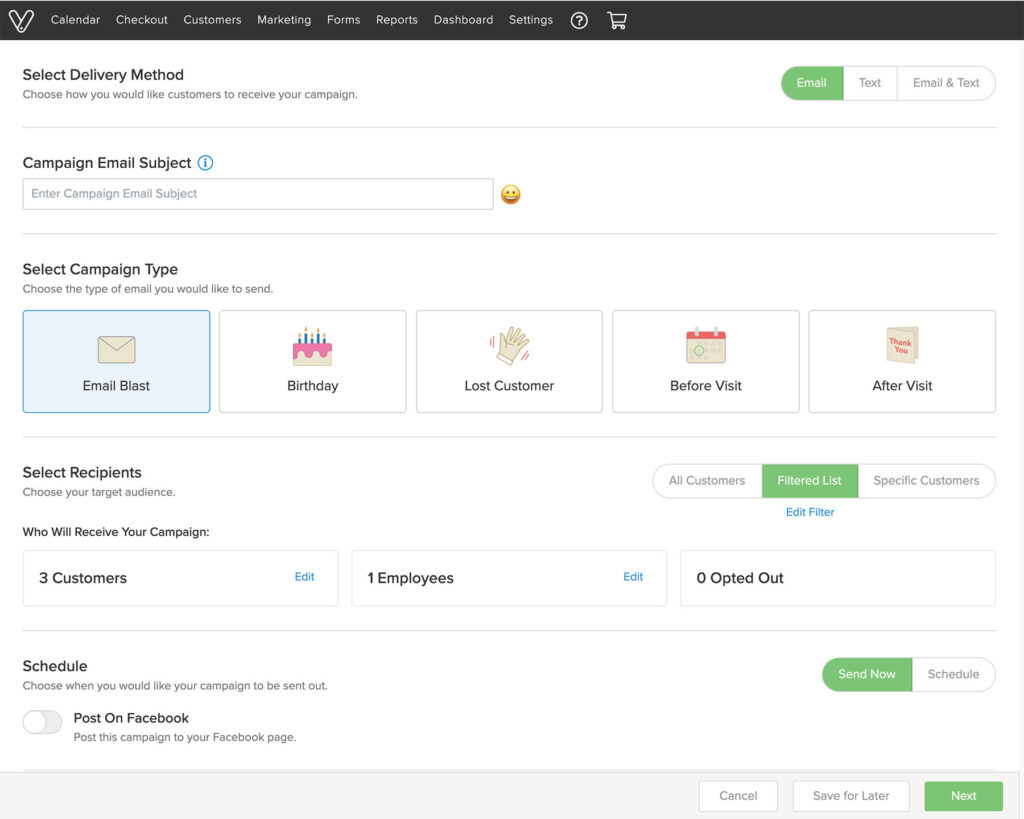 Cost for Vagaro SMS & Email Marketing
Vagaro Text Marketing costs $20/mo for 500 SMS and they offer plans up to $400/mo for 20,000 SMS.
You'll get 1000 emails/mo included in your plan and pay $10/mo for 5 000 emails up to $90/mo for 100 000 emails.
Vagaro Social Media Integration & Reputation Management
Vagaro integrates with Facebook, Instagram, Yelp, and Google. These are the platforms all salon businesses should have some level of presence on.
This means people can book you directly from these platforms and that you can feature your gift cards for sale directly on your Google My Business profile.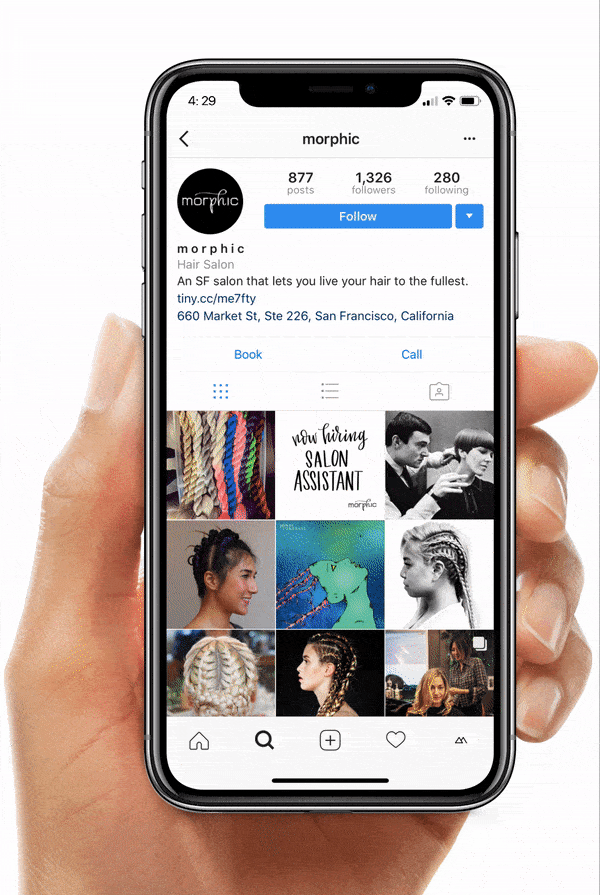 You can also have your users leave a review of their visit on your Vagaro marketplace profile. The website widget also allows you to show these reviews on your website in order to strengthen the credibility of your business.
Of course, if you prefer to have reviews collected on your Google Business Profile, you can also change links in your emails, etc. to go to your Google profile instead of Vagaro.
Vagaro Apps
Vagaro offers two apps – one for professionals and one for clients. They are available for both iOS and Android devices. Unless you purchase the hardware from Vagaro, you'll likely be using the professional app a lot 🙂
The Vagaro Professional app holds a 4.5 (5.0) user rating on the Apple App Store with close to 5000 reviews (as of writing this). It has the same 4.5 (5.0) user score on Android with close to 7000 reviews.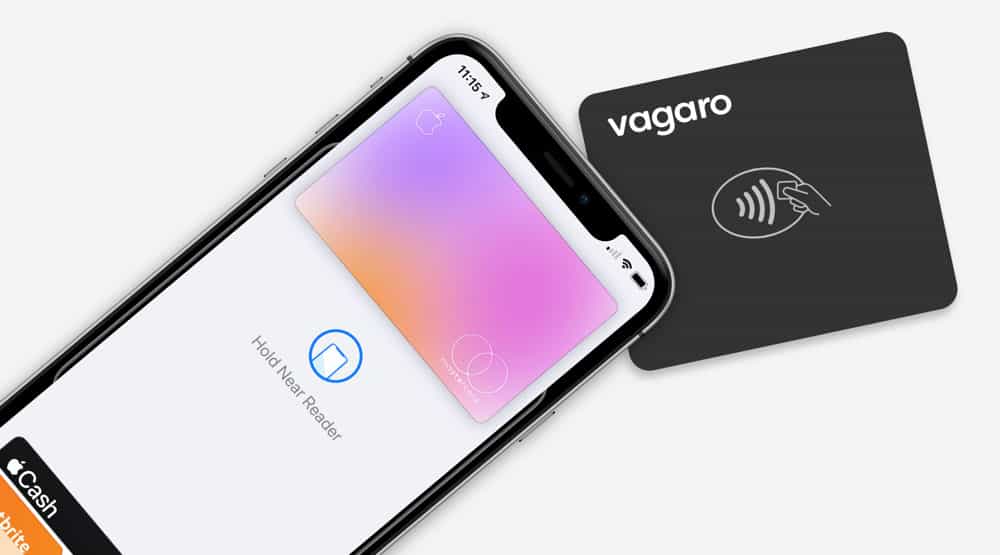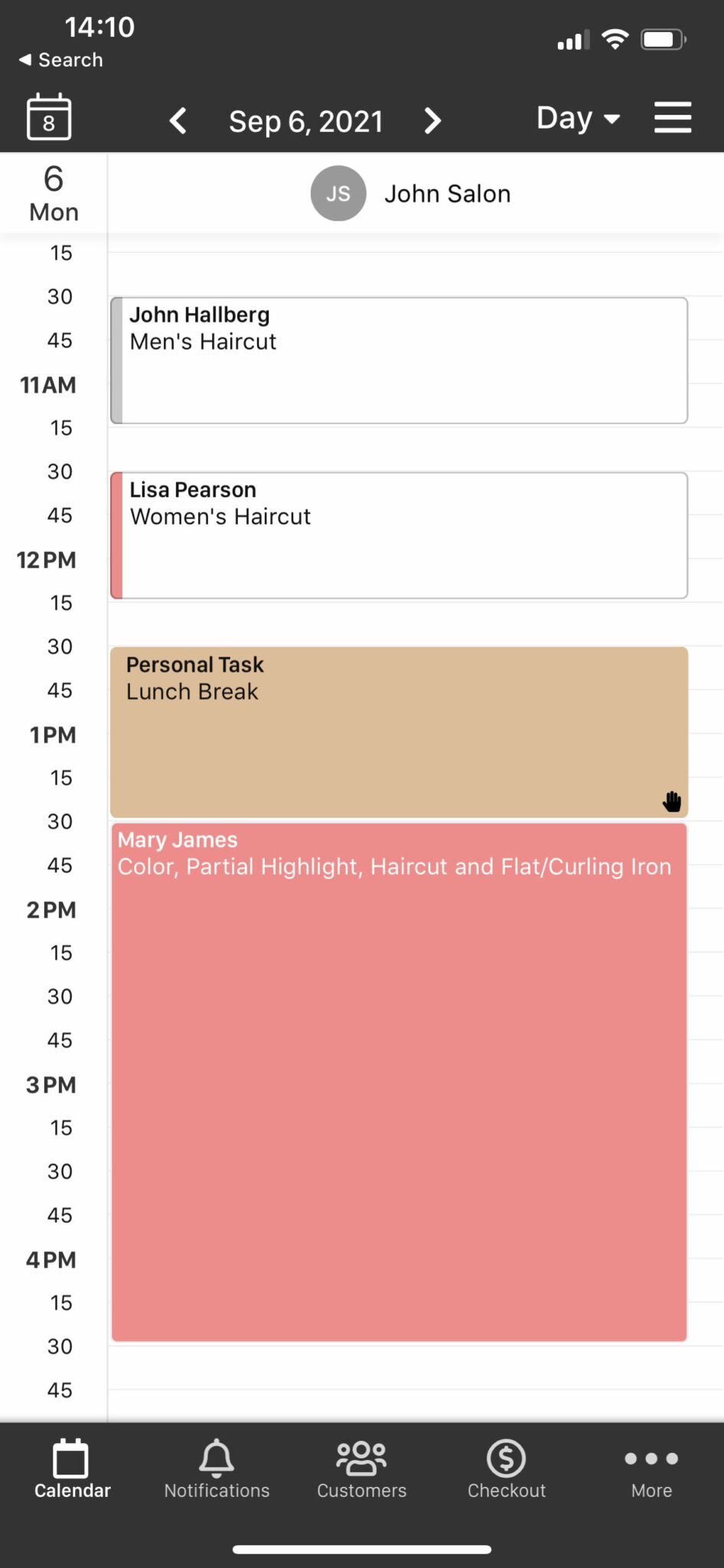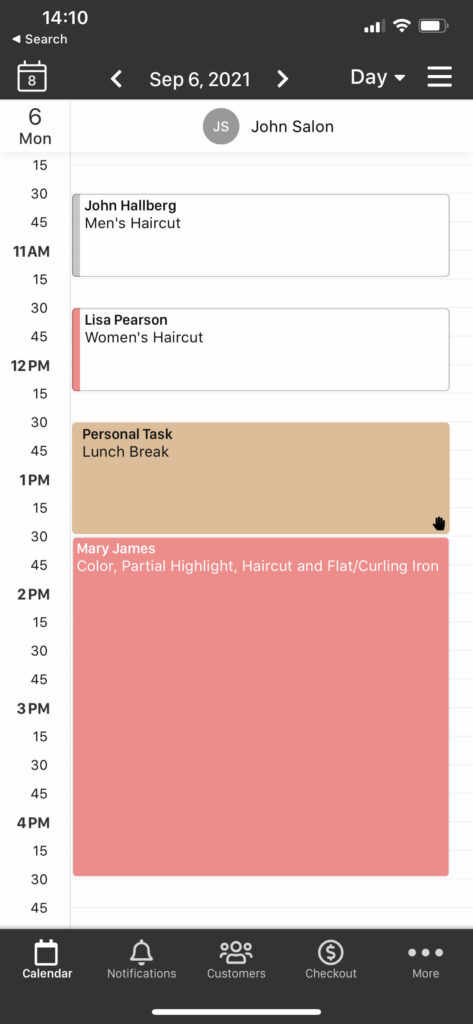 Summary & Conclusion
I hope you found this Vagaro salon software review helpful.
As you can tell, Vagaro is a potent salon software and appointment scheduler for salons and spas.
The incredible amount of powerful features you get at a very affordable rate makes Vagaro stand out vs. any other competitors in the area.
If you want to compare Vagaro to other alternatives, I recommend you review my list of the best salon software in 2023.