Are you running a salon or spa and are looking for a modern and sophisticated platform to save you hours of time in your day-to-day work?
Then I have something for you that may change how you run your salon business forever.
In this Mangomint review, I'll be going over one of the most well-designed salon & spa software platforms available today.
I'll break down all the pros and cons of Mangomint as well as the features you get access to when running your business through this platform.
I must admit, I'm really excited to dive into this platform, especially since it's got such rave reviews and is sporting a nearly perfect customer satisfaction score on G2.
If you're like me and care about design, client experience, and intelligent automations that save you time, you'll be impressed with what you are about to discover.
So buckle up, and let's dive into this review of Mangomint.
Mangomint at a Glance
Mangomint is one of the most modern and well-designed salon software platforms available in the United States & Canada.
The platform offers exceptionally strong support across the core features you would expect from salon & spa software (calendar scheduling, online booking, POS, inventory, reporting).
And if you are looking to go beyond the core features, Mangomint allows for integration with your favorite marketing and business systems.
This makes it an incredibly powerful and flexible solution.
What makes Mangomint unique is the range of smart automations that is designed to cut down on time spent managing your business while creating a more personalized experience for your clients (I'll cover this in more detail later).
Mangomint is my #1 recommendation for salons & spas with a team who want the best design experience, smart automations, and the flexibility to integrate with other systems.
My Video Review of Mangomint
If you prefer video over text, here you go 🙂
Mangomint Feature Review at a Glance
Ease of Use (5.0)
Design (5.0)
Appointment Management (5.0)
Online Booking (5.0)
Marketing Support (3.5)
Client Data Management (5.0)
Point of Sale/ Check-out (5.0)
Customer Service (5.0)
Inventory Management (5.0)
Business Reporting (5.0)
Team Management & Payroll (5.0)
Mobile Apps (5.0)
Pricing (3.5)
Review Summary
Everything about the Mangomint platform feels modern, intuitive, and easy to use.
There is no clutter. No buttons or links that you don't need.
The interface is smooth and easy to navigate while it still goes deep on all the core features you need to operate a salon. It also offers a few premium features that make it the most valuable option for larger teams.
I review a lot of salon software here at The Salon Business. And Mangomint is the most clearly positioned platform I've come across.
They do not try to be everything for everyone.
It's obvious that they want to be the best for the larger salon (5+ employees) where they focus all their attention on the core features (appointments, POS, payments, staff management, inventory, product/service offer, client data, and reporting) and go beyond everyone else to provide the most innovative support on the core features that truly simplifies the salon owner's life.
This includes smart automations that allow clients to check in themselves, pay from their phones, and much more…
For marketing features, online stores, and other "non-core" features, they give you the ability to easily integrate with the best instead of giving you something half-cooked.
I find this incredibly refreshing.
It allows you to be the best in all areas of your business.
So my lower score on marketing above is simply because you don't have as much built-in marketing support as you'd find in other solutions. But given you have the ability to use other marketing tools that integrate with Mangomint this could equally be called a strength.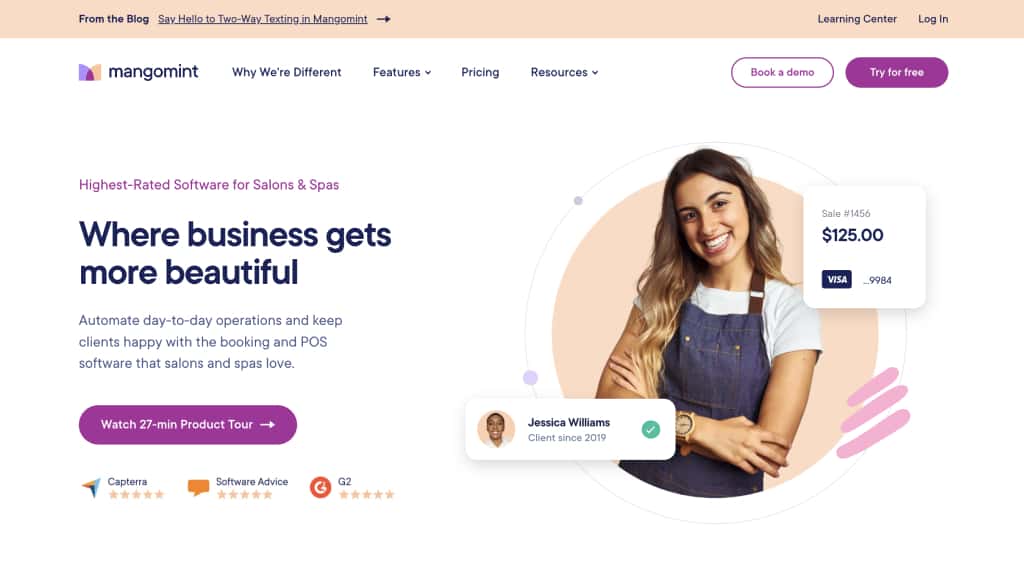 Mangomint is the perfect choice for the bigger salon with 5+ employees who want smart automations to help streamline their operations while doing all this in a modern, well-designed interface.
Something they do not communicate much about, but that I think is a big deal, is their "data openness". If you want to export your client data for some reason, you can export everything. You are in full control of your client data with Mangomint.
Finally, they offer top-rated customer service, and you get to talk to a real person when you need help.
Pros
Modern, easy-to-use, interface
Smart automations that help cut down on time spent managing business operations
Open data ownership and no contracts (you're not locked into anything)
Can integrate with any other platform who allow for integrations
Integrated payments
Memberships, packages, gift cards
Intelligent Waitlist that matches waitlist entries to fill schedule gaps
Sophisticated reports
Fully-integrated two-way client texting feature available as a paid add-on
Strong customer services & help documentation
Cons
Higher entry-level price than most other salon software
Limited marketing support built-in (need to setup integration for email service, loyalty program, reputation management etc.)
Only available in the United States & Canada
User Ratings
Mangomint is a newer option than some of the veteran competitors, but it has quickly garnered top scores on the bigger user review websites.
As of 2023, Mangomint is rated the #2 highest-rated salon and spa software on G2, with a considerable lead over competitors like Vagaro, Boulevard, Phorest, and Mindbody.
Capterra: 4.9/5
Software Advice 4.94/5
G2: 4.8/5
Mangomint Pricing
At first sight, Mangomint may look expensive compared to the other options available to you.
And it is if you are a solopreneur.
But if you have a larger salon and you look at the cost per employee as well as the time savings that are possible with Mangomint, it is not expensive.
As we go through this review, you'll also see how Mangomint is a very open and transparent company. This also shines through in their pricing where you have full visibility on what you are paying upfront rather than being surprised later about the actual cost.
Here's an overview of all costs you can expect with Mangomint.
Monthly Plans
Free 30 day trial (60 day free if you sign up using this link).
Entry level plan: $165 per month

Up to 10 service providers (admin users like front desk or managers do not count to this)
Unlimited SMS & email notifications
Integrations available as add-on

Standard plan: $245 per month

Up to 20 service providers (admin users like front desk or managers do not count to this)
Advanced features (like Express Booking™, Waiting Room, Memberships)
Standard integrations included (like Mailchimp and WaiverForever). Advanced integrations available as add-on.

Unlimited: $375 per month

Unlimited service providers
All advanced features
Advanced integrations included (Shopify, QuickBooks and more…) Custom system integration setup available as add-on.
Credit Card Processing
In-person transactions: 2.4% + 15¢
Virtual transactions: 2.8% + 20¢
Businesses with over $50k/mo can qualify for custom transaction rates
Bluetooth card-reader: $100/ device. One card reader included for free in the Standard and Unlimited plans.
Add-ons
Mangomint also offers premium add-ons that are designed to make client communication easy and eliminate the need for frustrating third-party applications.
Two Way Texting
Full-featured two-way client texting via MMS.
All Mangomint customers can send 5 free messages per month.
To add unlimited messaging, the Two-Way Texting add-on must be added to your subscription.
Two-Way Texting can be added to any plan for $75 per month.
For businesses with more than one location, each additional location is priced at $25 per month.
Integrated Forms:
Customizable feature for creating, customizing, and automating fillable forms.
Integrated Forms can be added to any plan for $50 per month.
For businesses with more than one location, each additional location is priced at $25 per month.
Other Costs
The only other cost you should expect is if you run a multi-location business and need to set up more physical locations which come at an additional charge.
Also if you sign up for a lower-tier plan and want to enable specific integrations, this may come at an extra cost.
View full pricing details on the Mangomint website.
Who is Mangomint For?
I recommend Mangomint to salon and spa owners who manage a bigger team and are looking for a sophisticated platform that can save them time in their day-to-day.
Mangomint is not for the solopreneur. In fact, if you try to sign up for it and select that it's only you on the team, they will recommend GlossGenius for you.
Which Countries is Mangomint Available In?
Mangomint is currently only available to salons and spas in the US & Canada, although I do expect that they will be expanding to more countries in the future.
Switching to Mangomint
This is a big one for any salon software option you consider.
In fact, the number one thing holding salon owners back from jumping ship to a new booking and POS app — no matter how much they may hate their current platform — is uncertainty.
How hard is it going to be to get our entire business migrated over into a new booking system, and how long will it take to get up and running?
You can't just pause your business, so any scheduling software should be able to get you fully integrated and ready to book with no downtime.
Fortunately, this is an area in which Mangomint excels.
Mangomint offers the most comprehensive get-started guide I have ever seen in a salon software suite, complete with an interactive checklist and video walkthroughs that make nailing the basics simple.
Beyond that, they have a detailed Learning Center that's full of step-by-step instructions for just about every function you can imagine within the app.
Mangomint's onboarding and support teams were extremely helpful in our experience and do a great job of walking you through the switching process and giving a ton of hands-on support to get your data ported over properly.
In fact, getting all your data into Mangomint is surprisingly fast and friction-free due to their seamless data import — your onboarding specialist will import data from your old system on their end (even manually, if needed) and ensure everything is properly in place before you go live with Mangomint.
Depending on which salon software you're switching from, they can even automatically import your data with the click of a button.
All things considered, the switching process with Mangomint is the best we've seen in the space, offering a fast, easy, and painless onboarding that takes, on average, 30 days or less.
Mangomint Features
The remainder of this article will walk you through a brief tutorial of the main features offered by Mangomint. This is to allow you to experience what it's like and for you to better understand if the tool offers what you are looking for.
You can use the links below to navigate directly to what is most relevant for you.
Smart Automations
Mangomint offers a range of smart automations that is meant to cut down on time spent booking appointments, managing the waiting room, checking people out, and following up in a personalized way.
An example of one such automation is their popular Express Booking™ feature, which combines the convenience of online booking with the flexibility of booking over the phone. It solves the pain of collecting email addresses, credit card information, deposits, and cancellation policy consent over the phone when booking a new client, and speeds up traditional booking for your existing clientele.
To use this feature, simply add the booking to the calendar, select the client and service, and toggle on "Use Express Booking". The client will then receive a text with a link to where they can complete their booking.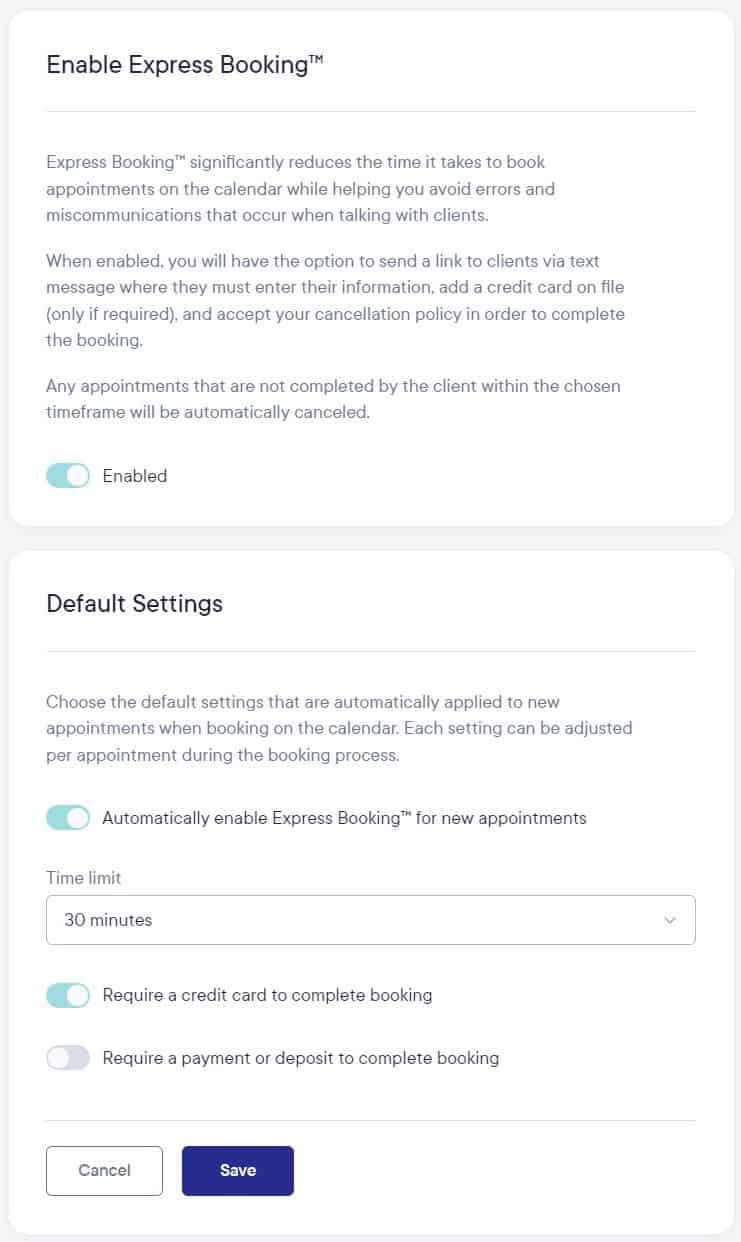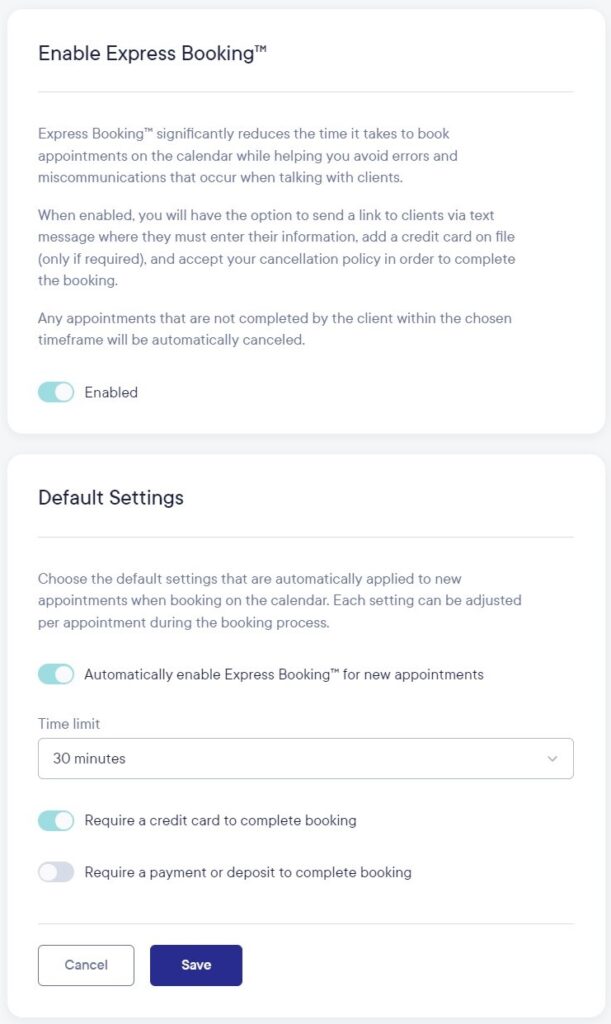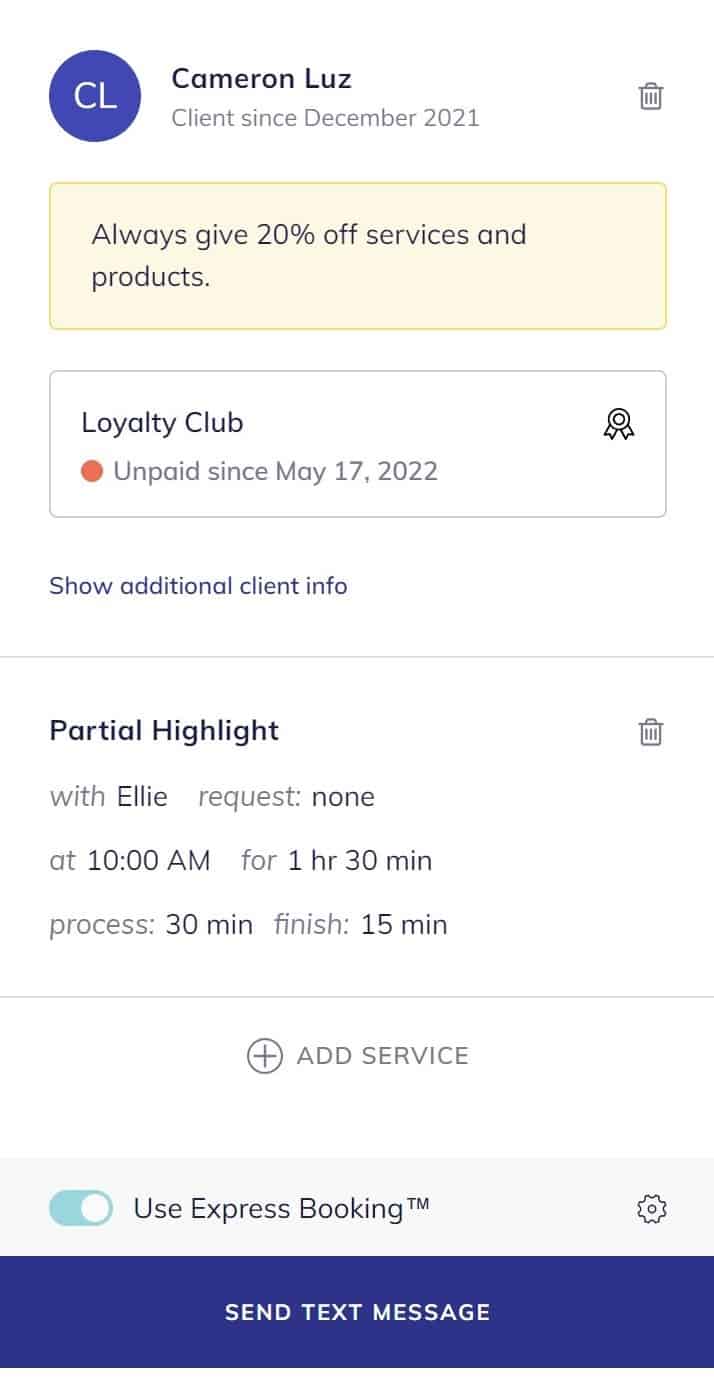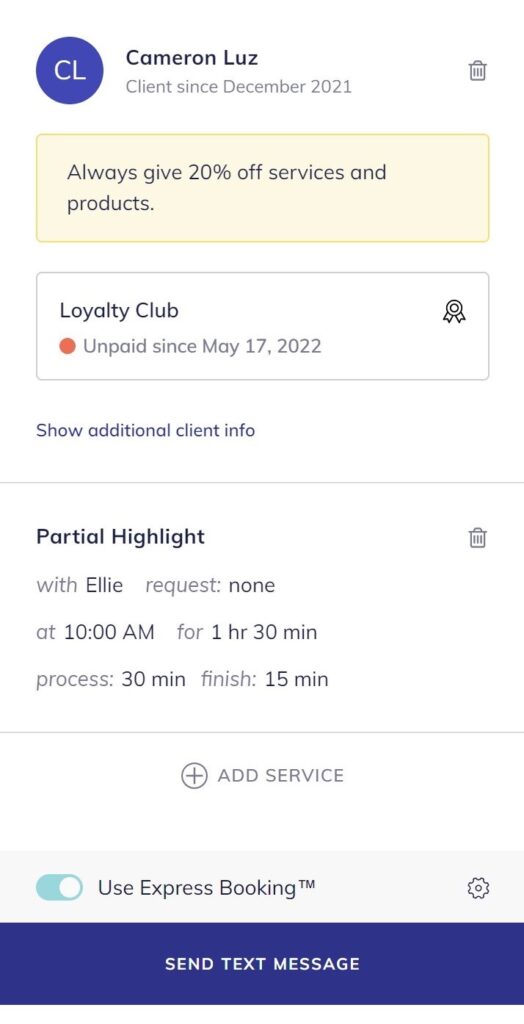 The Express Booking feature is just one example of smart automation.
There are other examples of how Mangomint automate more aspects of running a salon:
Virtual Waiting Room: This allows clients to check themselves in from their own mobile phone via a text message link and makes the experience safer (in times of covid) and faster for the business
Client Mobile Checkout: This allows clients to pay directly from their own personal phone, which can be used in addition to a traditional front-desk checkout, or in some cases completely replace the front-desk altogether
Multi Payment Accounts: For salons that have a hybrid environment of both booth-renters as well as commission-based or hourly stylists, this feature is a game changer. It basically allows the salon to take payments on behalf of booth renter and have the money go directly to the renters, limiting liability and tax compliance issue
Intelligent Waitlist: This allows staff to add clients to a dynamic waitlist that automatically checks for available slots and notifies the front desk or stylist if an appointment request from the waitlist might be fit to fill in for a recent cancellation.
Integrations
One of my favorite aspects of Mangomint is that it allows you to integrate with other systems.
This is a more advanced feature that may not be relevant for you but I just love when your tool doesn't limit you to only using the functionality offered by the platform itself but allows you to expand with whatever functionality you need.
By leveraging integrations, you could, for example, manage all your email marketing in a dedicated email marketing platform (like Mailchimp).
As Mangomint integrates with Mailchimp, people who book with you will automatically be added to your email list in Mailchimp. You can also automate emails to be sent out from Mailchimp whenever clients book or check out from their appointment.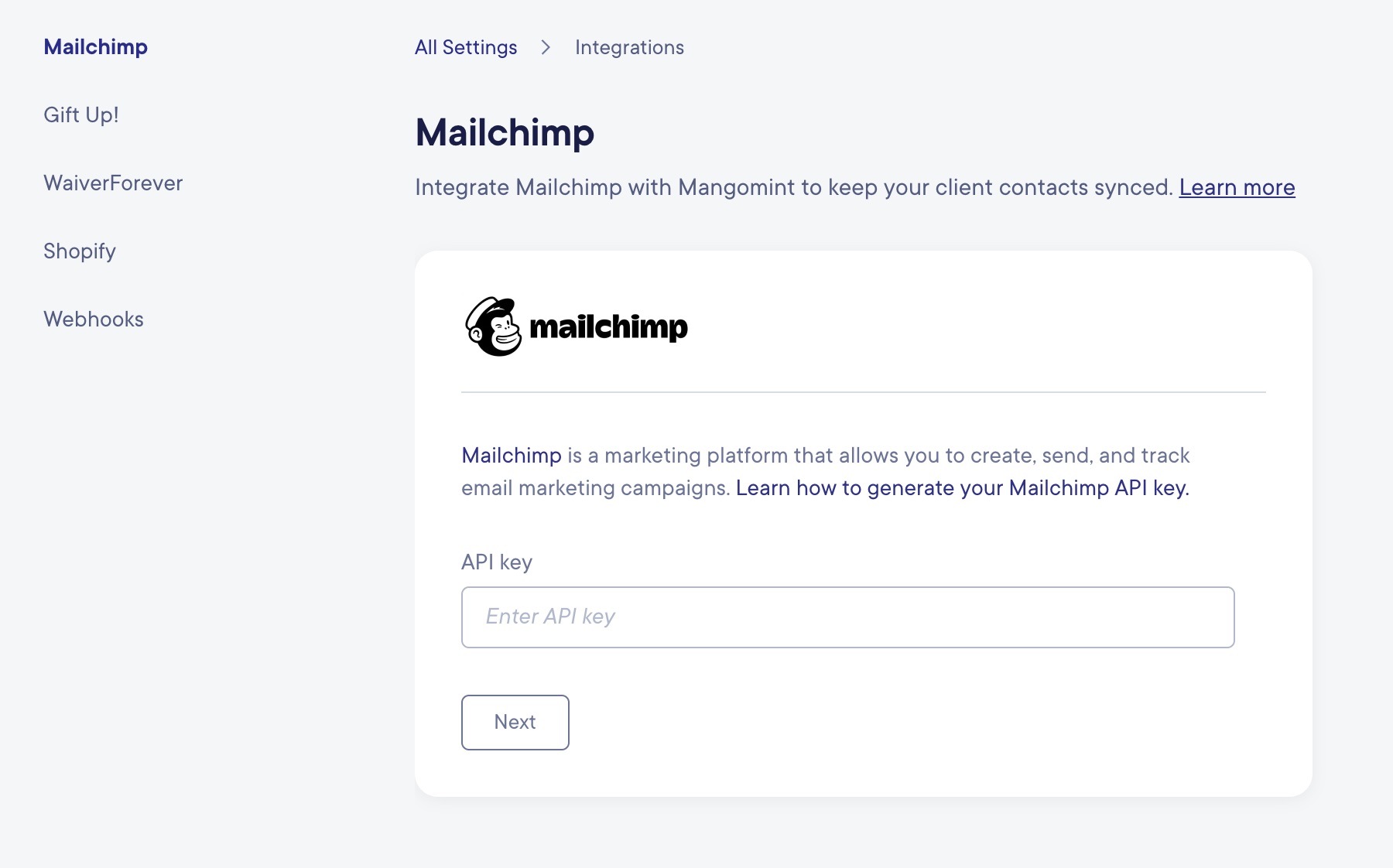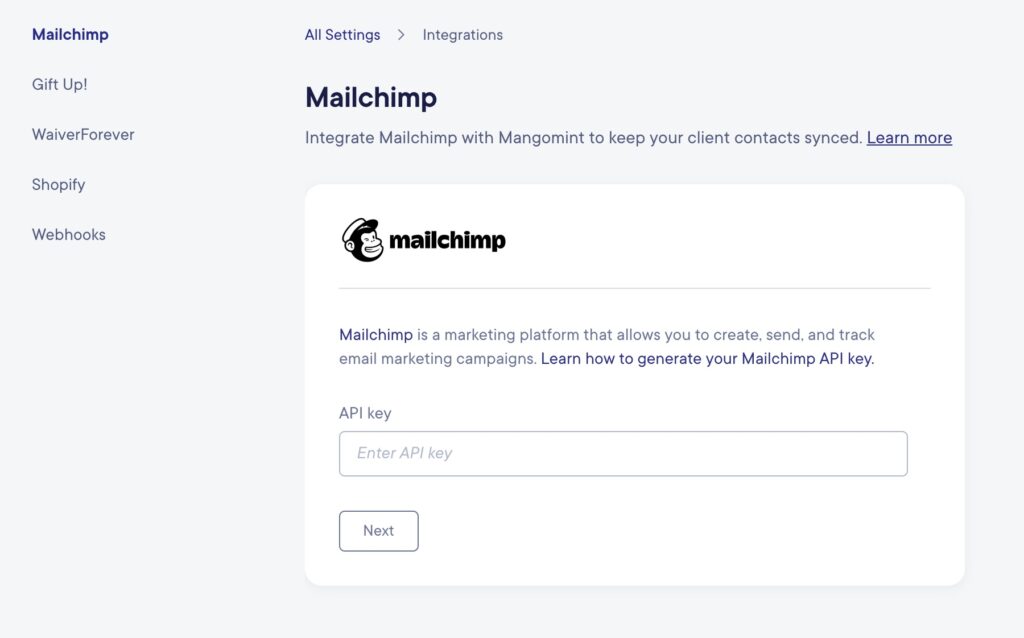 Mangomint integrates directly with Mailchimp, WaiverForever, Gift Up, Shopify, and Quickbooks.
But they don't stop there.
You can in fact integrate with any other software out there using what's called webhooks.
Tech alert! If you're not into technology you can skip to the next section and just let whoever helps you with technology know that Mangomint can integrate with pretty much everything 🙂
Webhooks are a way you can integrate the platform with a tool like Zapier, opening up a nearly endless amount of advanced integrations with marketing tools, external databases, inventory management systems, and more.
An example of this would be an automated sequence of follow-up emails and text messages, that is customized to the specific service or product a client purchased. This can be a great way to increase loyalty and retention with email and text messages that feel personalized and useful to your clients.
Another example would be an automated welcome message that gets sent to new clients a few hours after they book for the very first time.
In general, setting up these advanced workflows requires an understanding of marketing automation tools and you will most likely also need to have access to a developer.
That said, the Mangomint team is very helpful and can set up this for you and also discuss ideas for automation so that you can decide ahead of time what the best approach might be.
Online Booking
Mangomint allows you to customize an online booking page that you can link to from your website or social media. You can also choose to integrate the booking widget directly on your website and customize it with your logo and brand colors.
The website booking widget is super intuitive and clean and fits on every website as it nicely slides in from the side whenever someone clicks your "book now" button or link.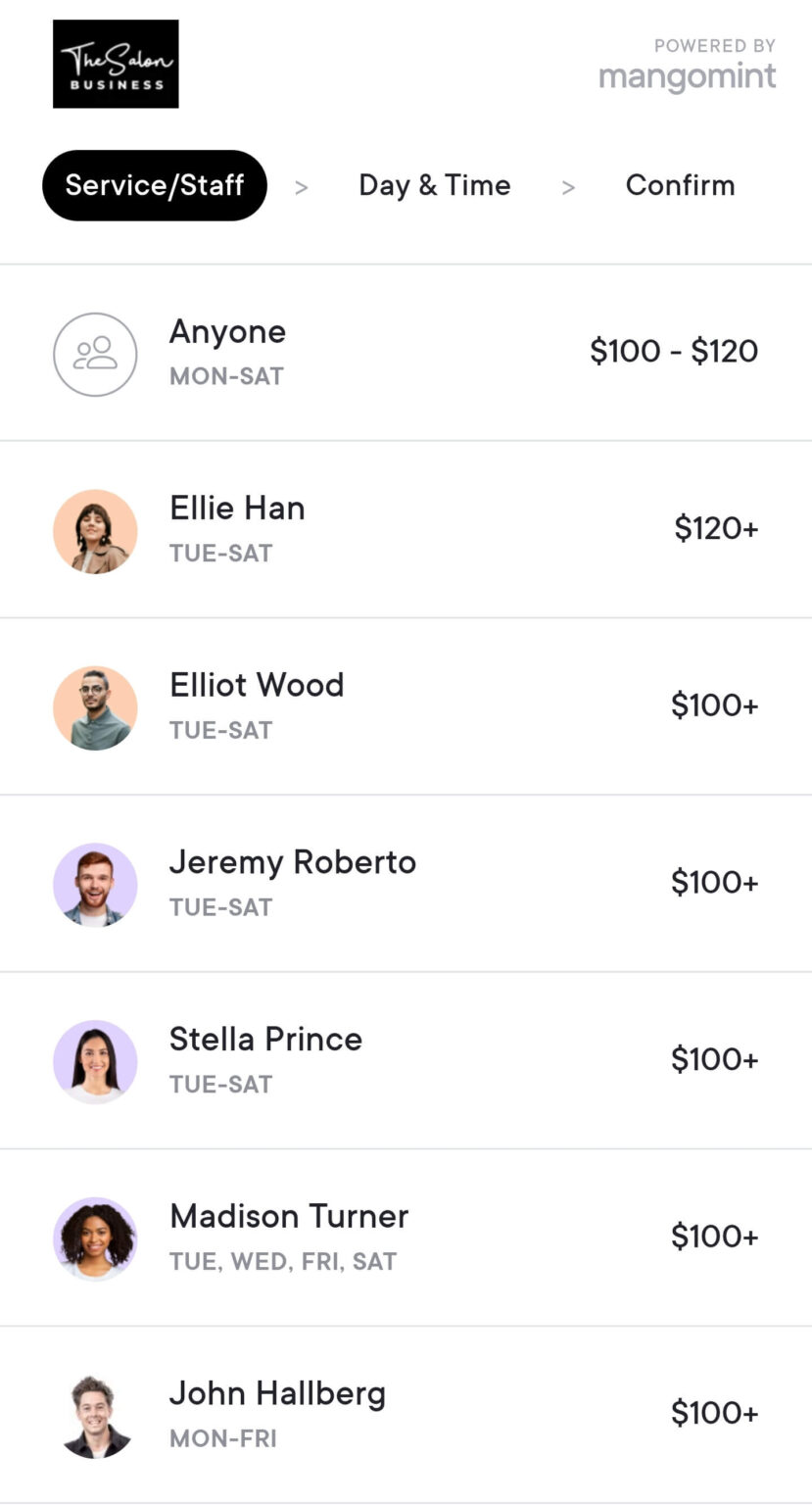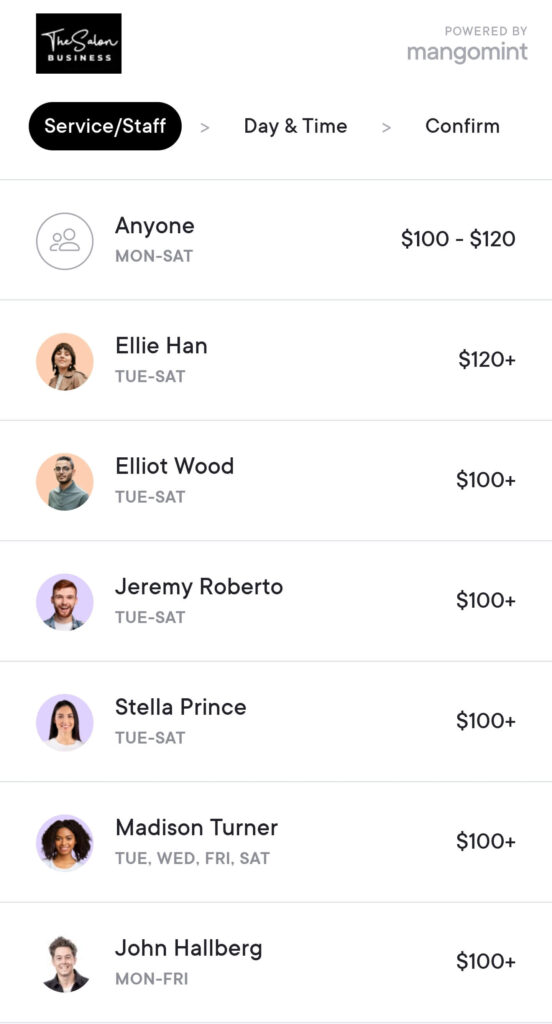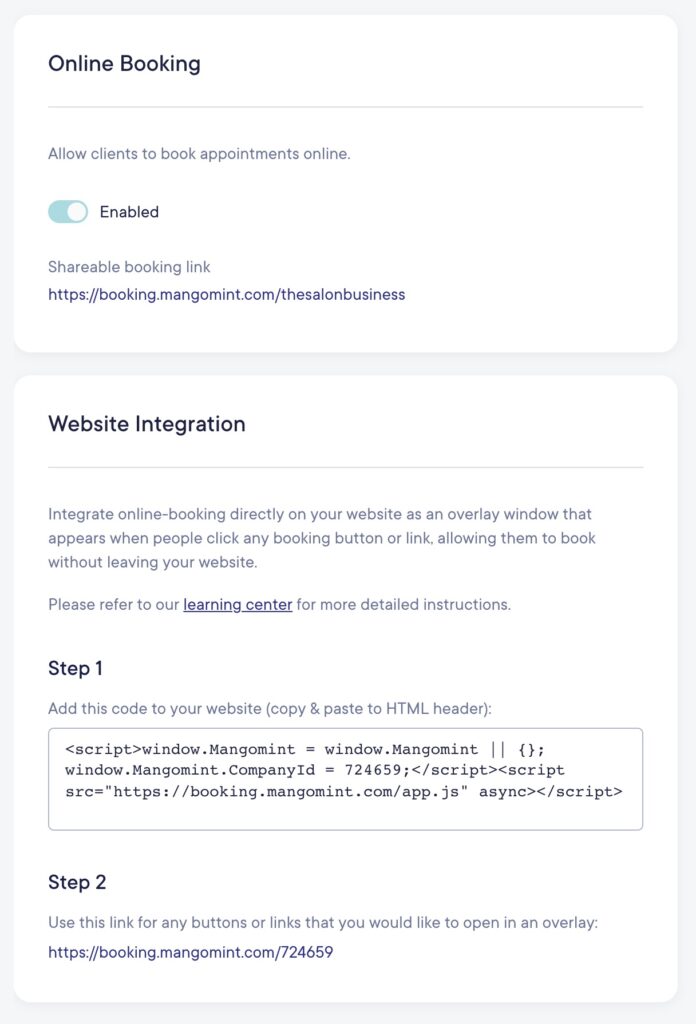 Appointment Calendar
The Mangomint appointment calendar is uncluttered and easy to use. You can color-code appointments based on appointment status to get an overview at a glance.
Drag and drop appointments to change time. Switch between day view and week view. Navigate between different members of staff or view them all at once in the day view. Click an appointment to check out the client.
Everything is super intuitive and it's impossible to go wrong.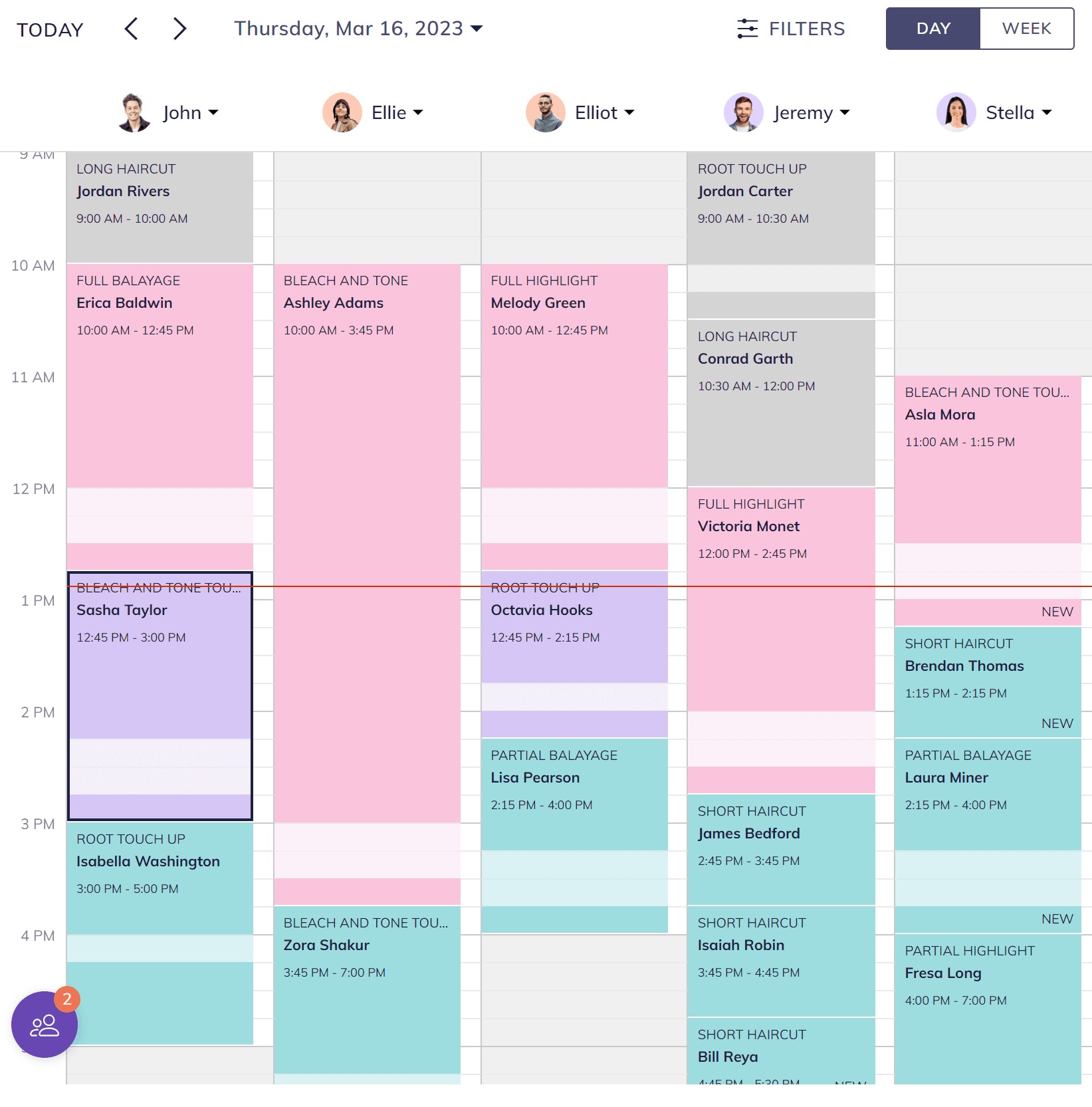 Client Data Management & Reminders
Mangomint offers strong support for managing your client data. Access information about the client on the Clients tab or directly from the appointment on your calendar.
Here you get a full view of client history and you can make notes or upload files directly to the client.
With Mangomint you are also in full control of your client data. You own your data and can export all your data at any time.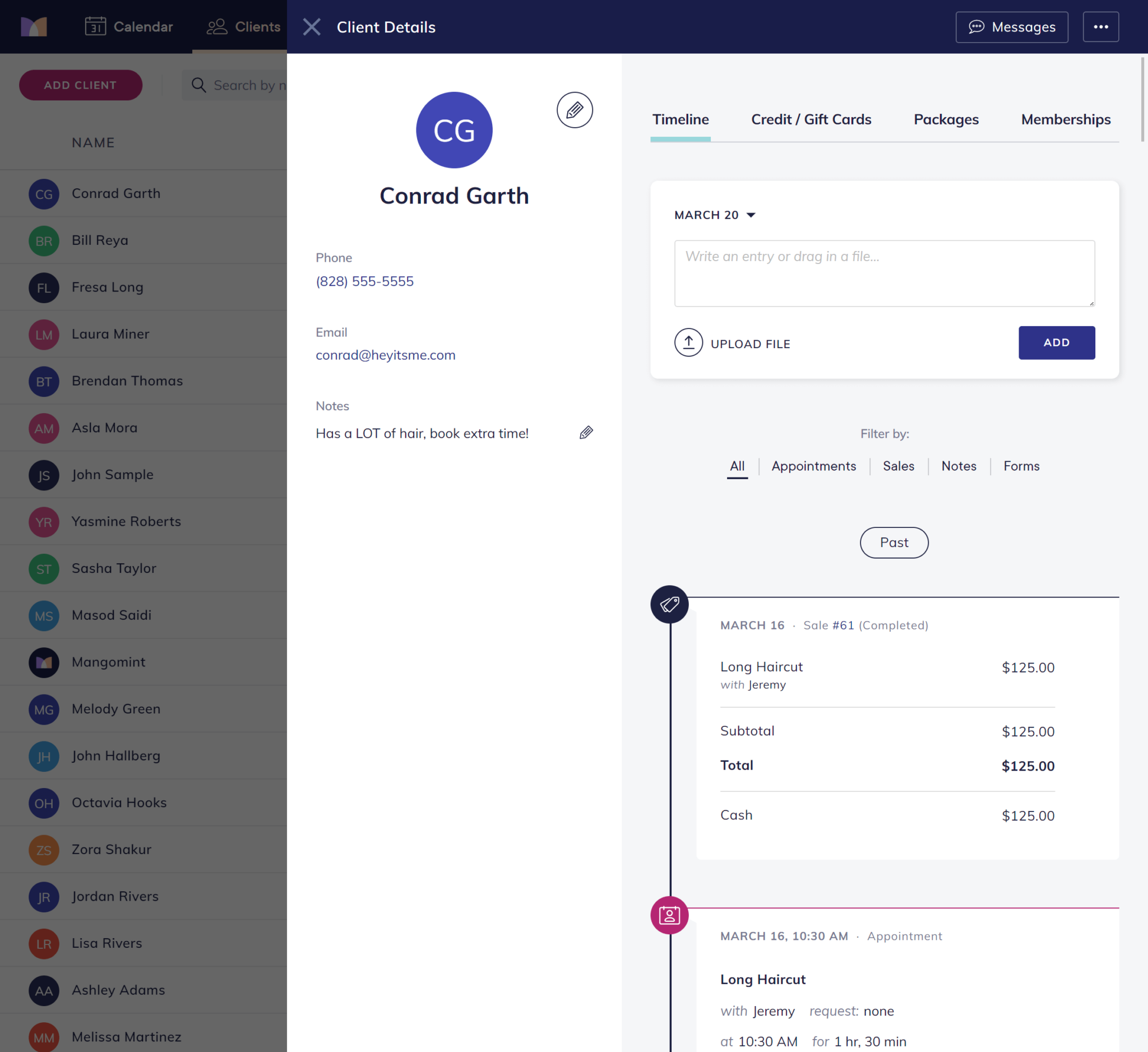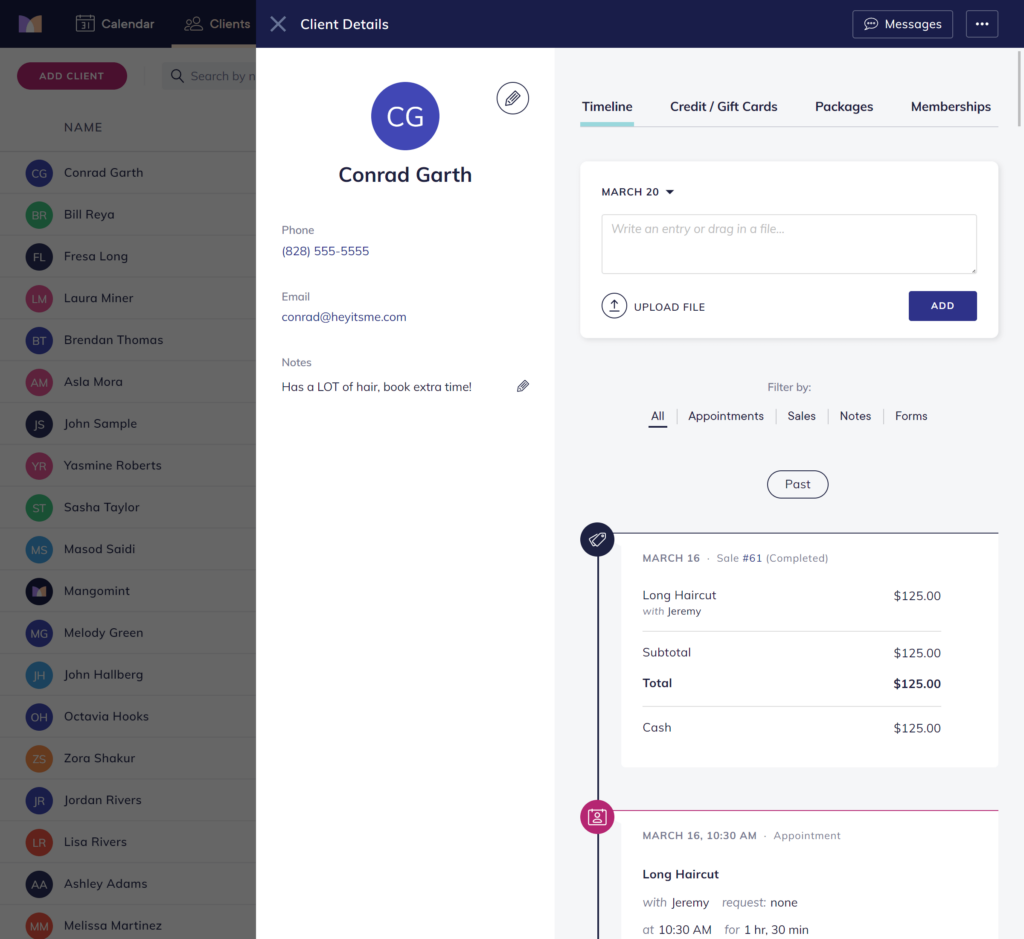 The platform supports appointment-related notifications using both email and SMS. And, as you can expect from a system that stands out with smart automation, you can customize what you want the client notification experience to be like.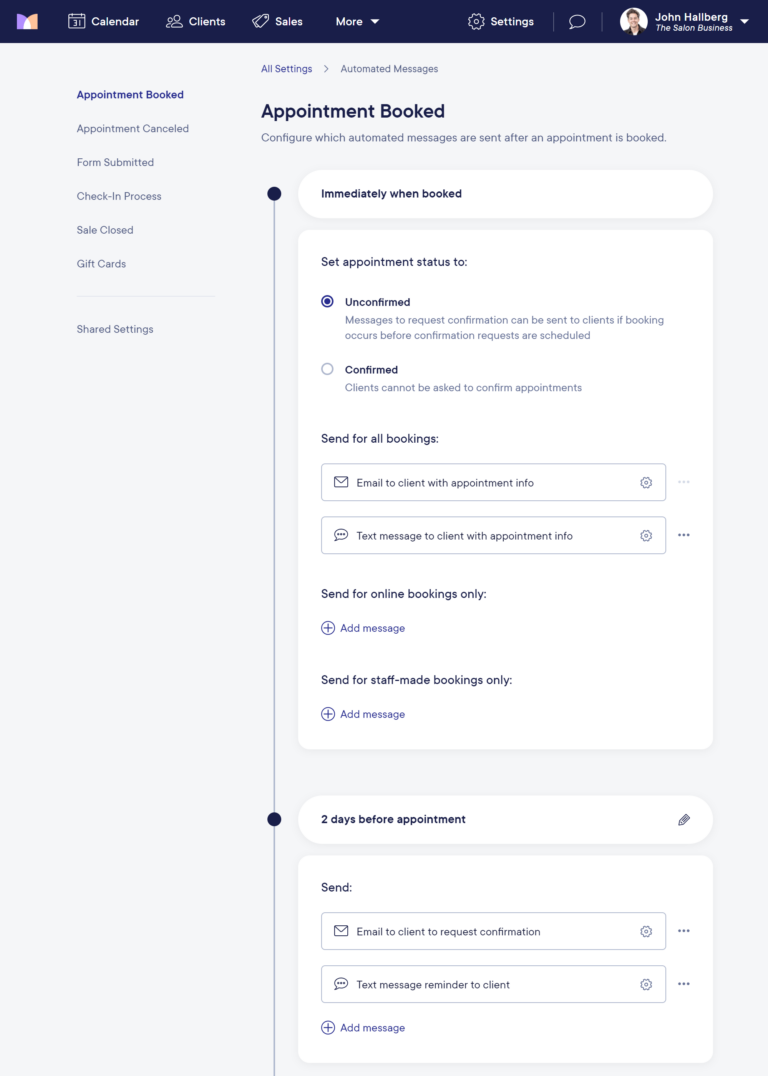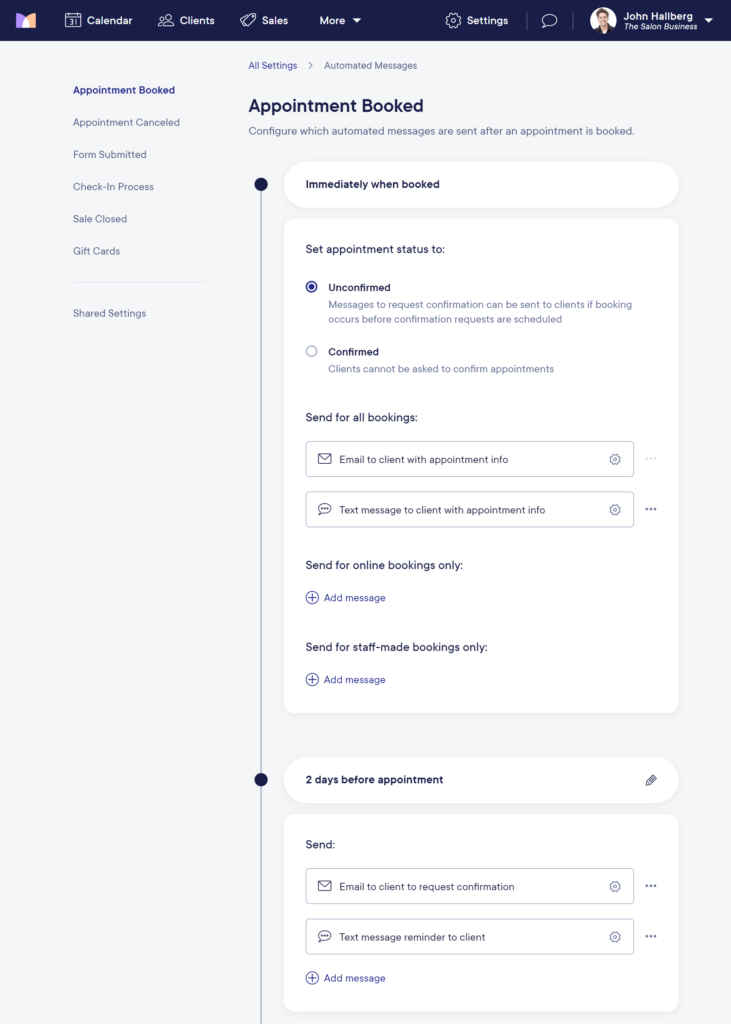 You can also send your clients to their dedicated client portal. You can change the look of this page to fit your brand and allow your clients to view, manage and book their services at your salon.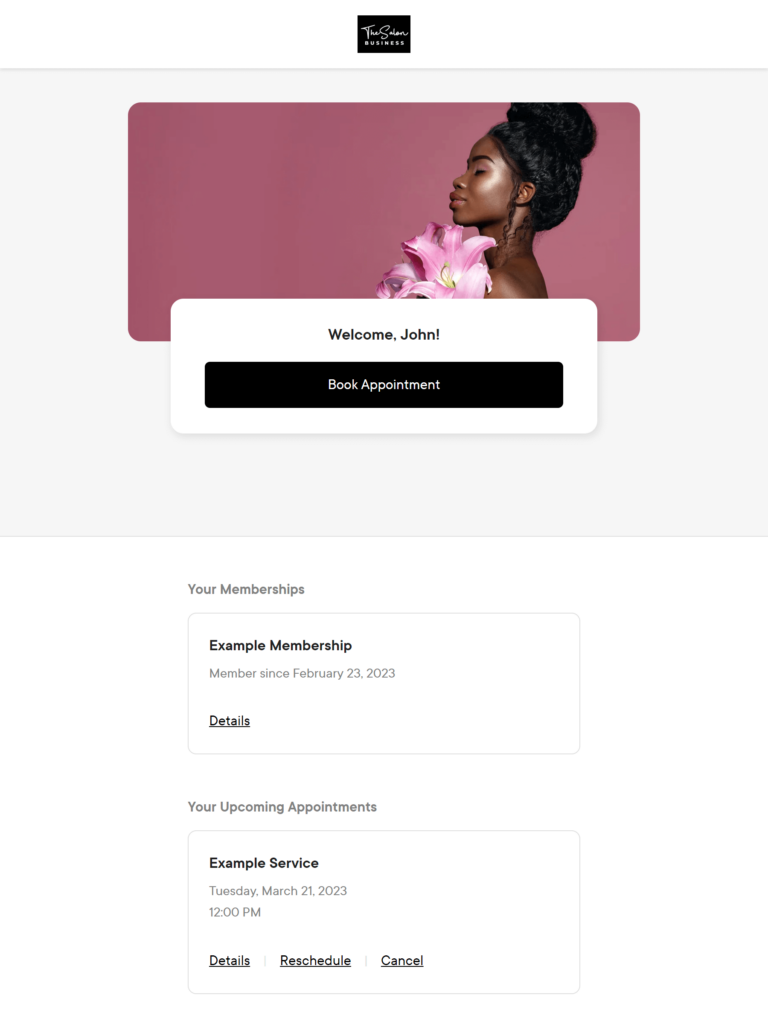 Team Management
Mangomint allows you to manage all aspects of your team. Each team member has their individual account where you can configure exactly what they should have access to or not.
Manage each staff member's working schedule and enable the time clock to keep track of working hours. You can also customize each service's duration and price for each member of staff.
As shown in the image below, you can also configure specific compensations structures and commissions for each member of staff.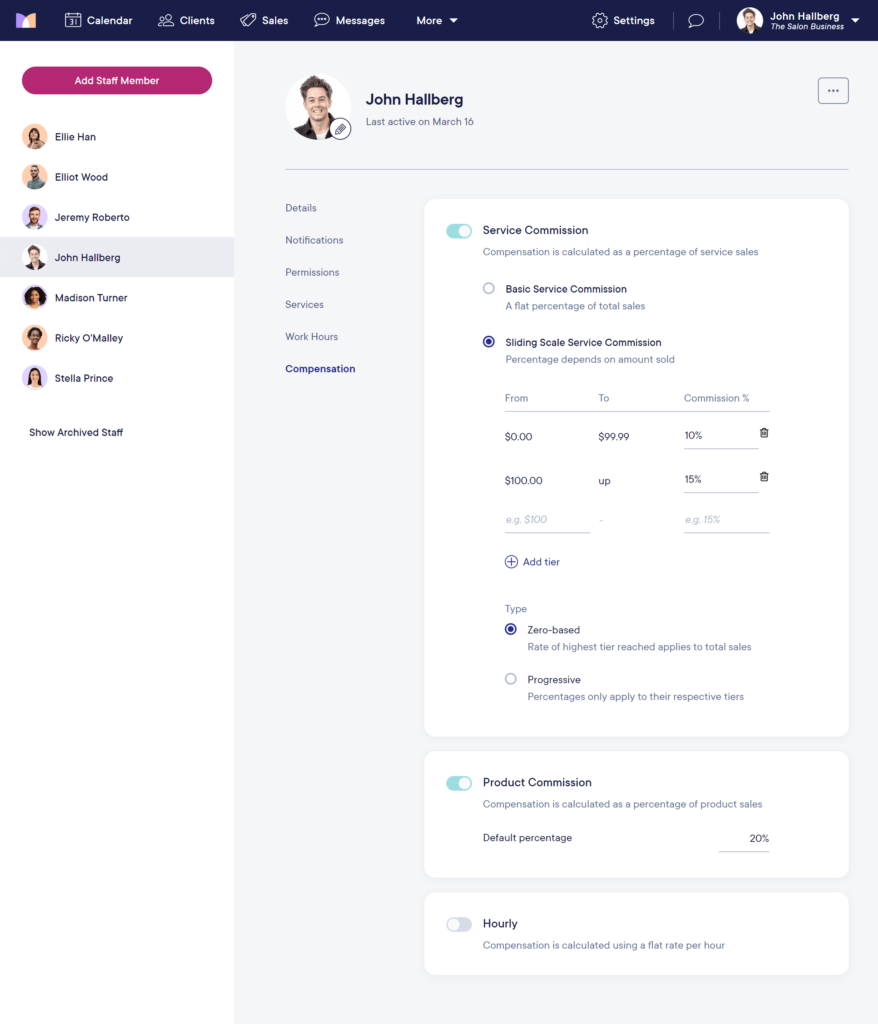 The Mangomint payroll reports include revenue by staff, total hours worked, commission amounts, product sales, tips, and everything you need to run payroll reports that you can export to PDF or Excel.
Business Reporting
The Mangomint business reports are very comprehensive and provide you with all the possible business insights you need to make informed decisions in your business.
This includes payroll, sales, client retention, and much more.
The reports are predefined by Mangomint but you can of course adapt them in Excel after exporting.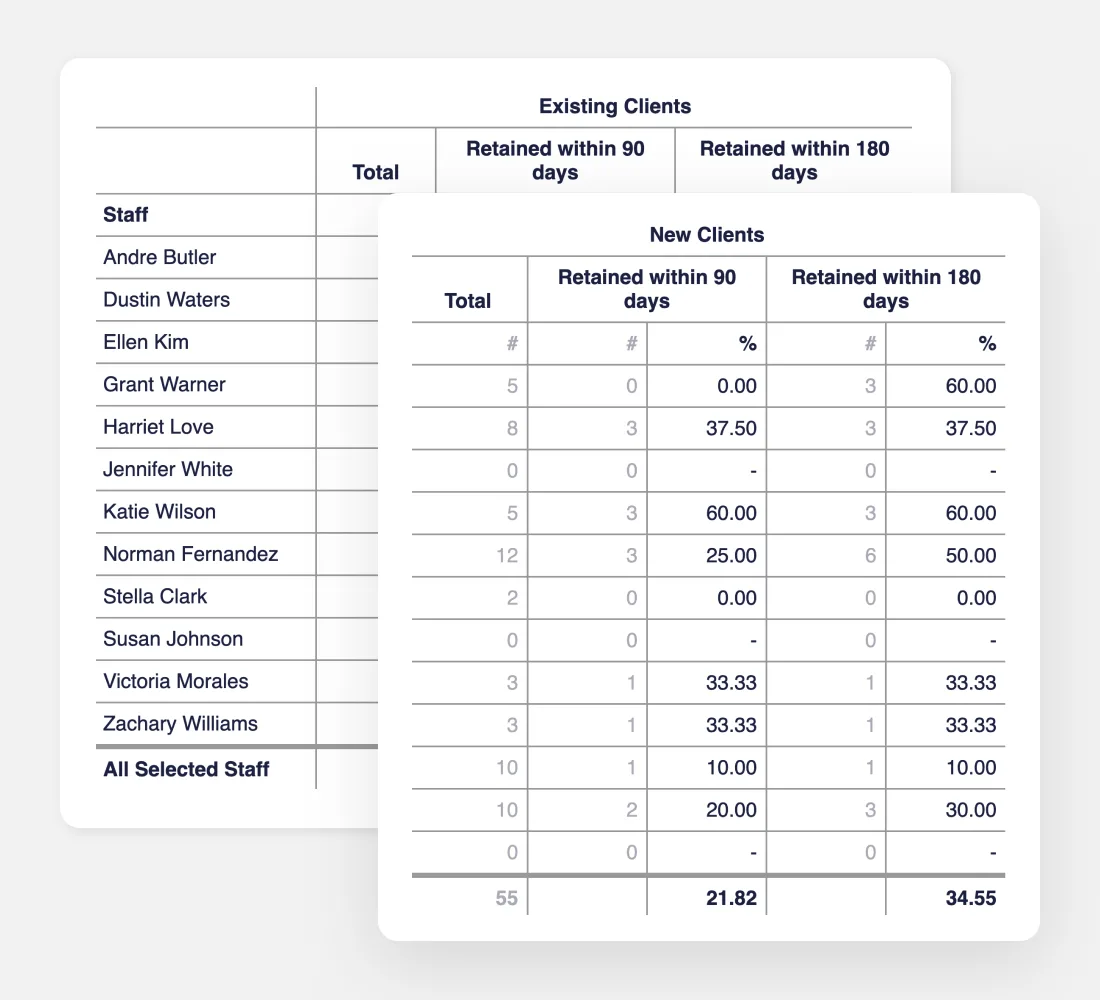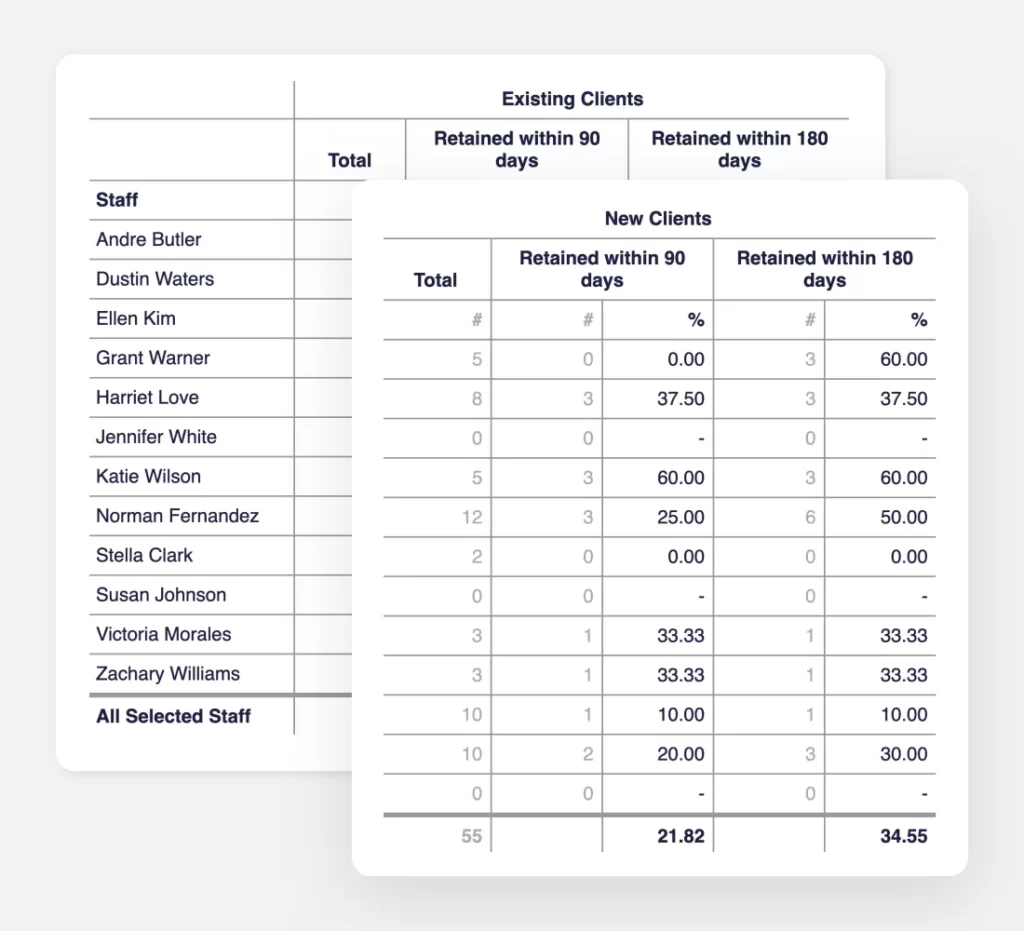 Inventory Management
You can set up and categorize products in the Mangomint inventory and track your inventory level. Mangomint also offers support for purchase orders so that you can streamline the ordering process from suppliers.
You can manage detailed settings on each product – like tax charges, commission, and more.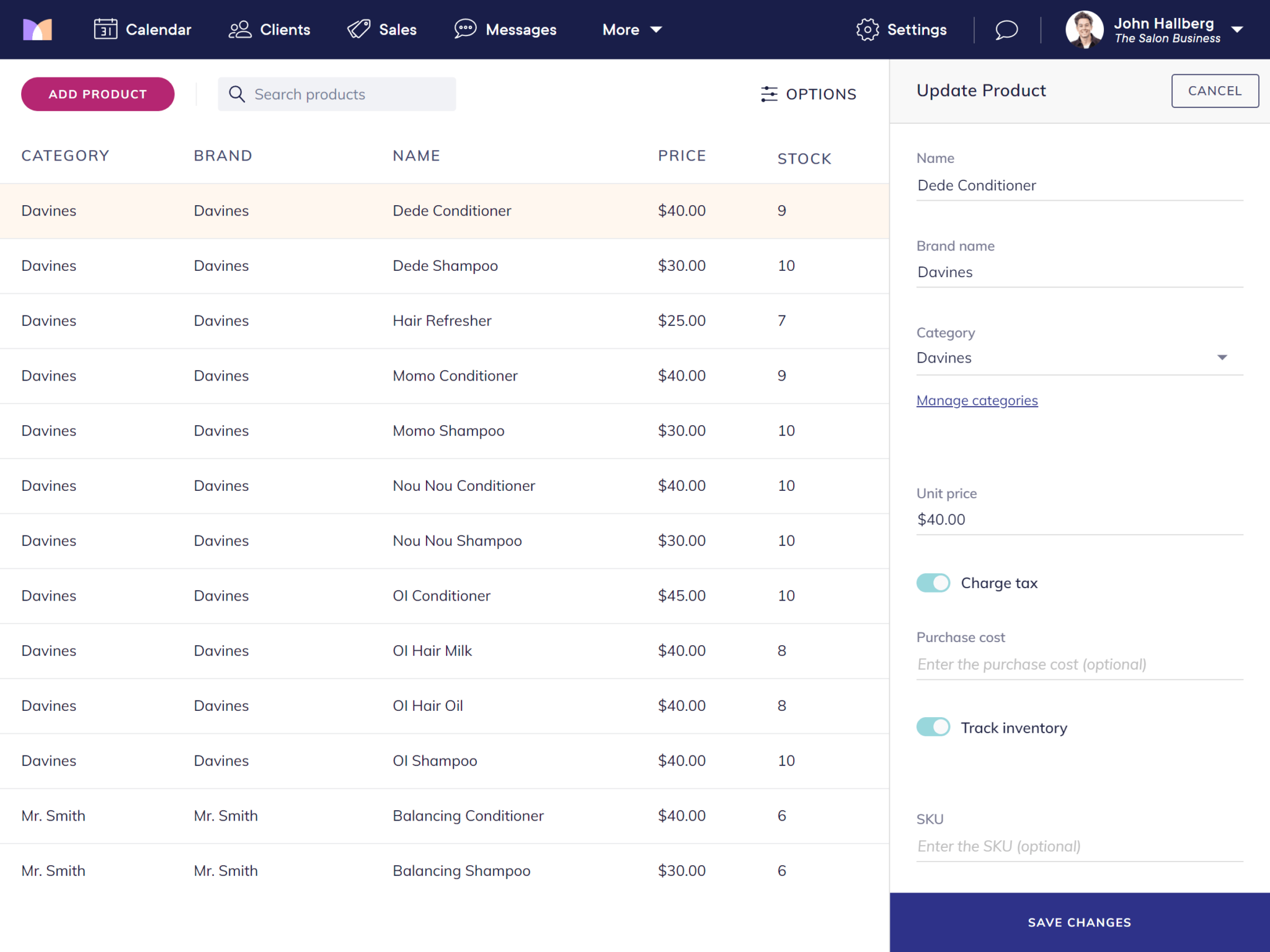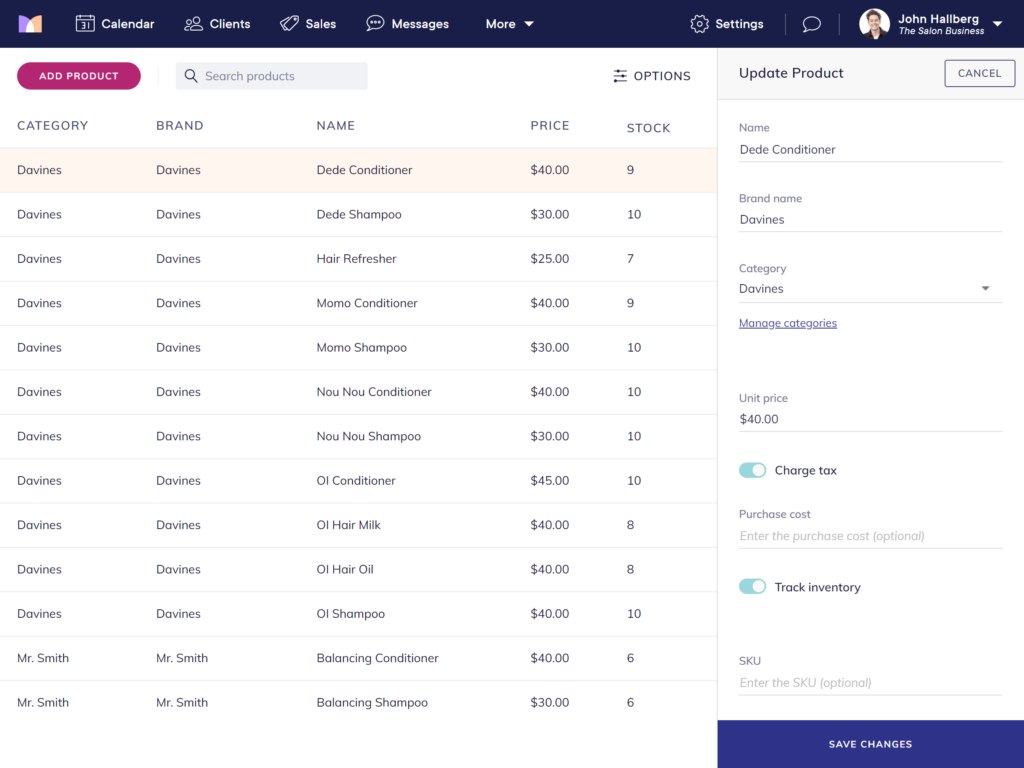 Membership, Packages, and Giftcards
Mangomint offers robust support for memberships to help you create recurring revenue in your business. You can also bundle services in packages and offer gift cards to your clients.
The membership feature supports both manual and automatic payments if the client's card is stored on file. Your clients can view their membership and updated payment info on the dedicated client portal.
Memberships can be used to provide benefits like discounts on services or free add-ons while remaining a member.
Packages are easy to set up – just add the services you want to include and set the price that you want to offer the bundle at. This is a great feature for running new client promotions or really any promotion where you want to offer more value to clients rather than pure discount promotions (which isn't very good for the image of your business).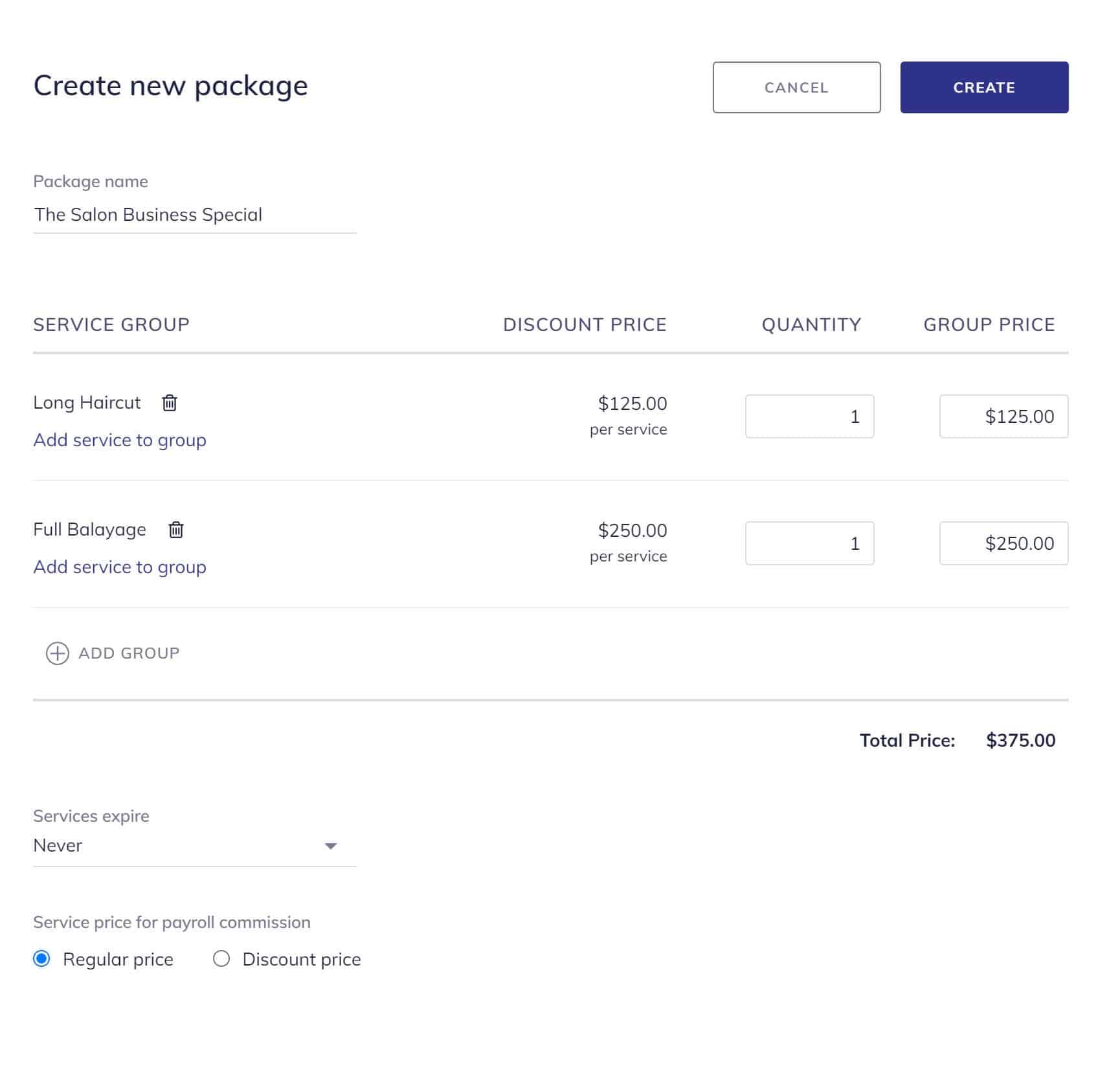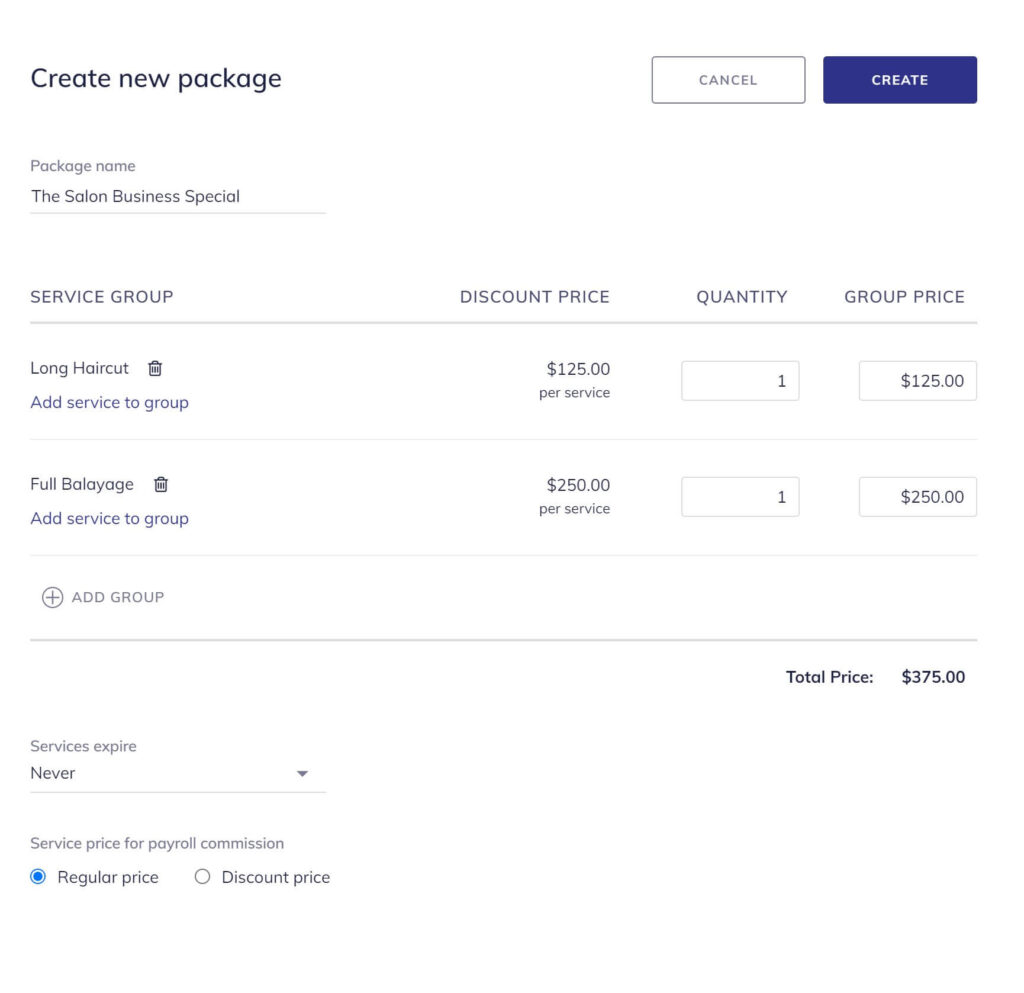 Mangomint allows you to sell your gift cards on your website by linking to a dedicated page or by embedding the check out on a custom page. You can choose from the pre-designed gift card layouts or upload your own.
Mangomint also offers the ability to sell limited-time gift card promotions online. Simply select the start- and end-date of your promotion along with the gift card value and discounted sale price, and the promotion will run automatically.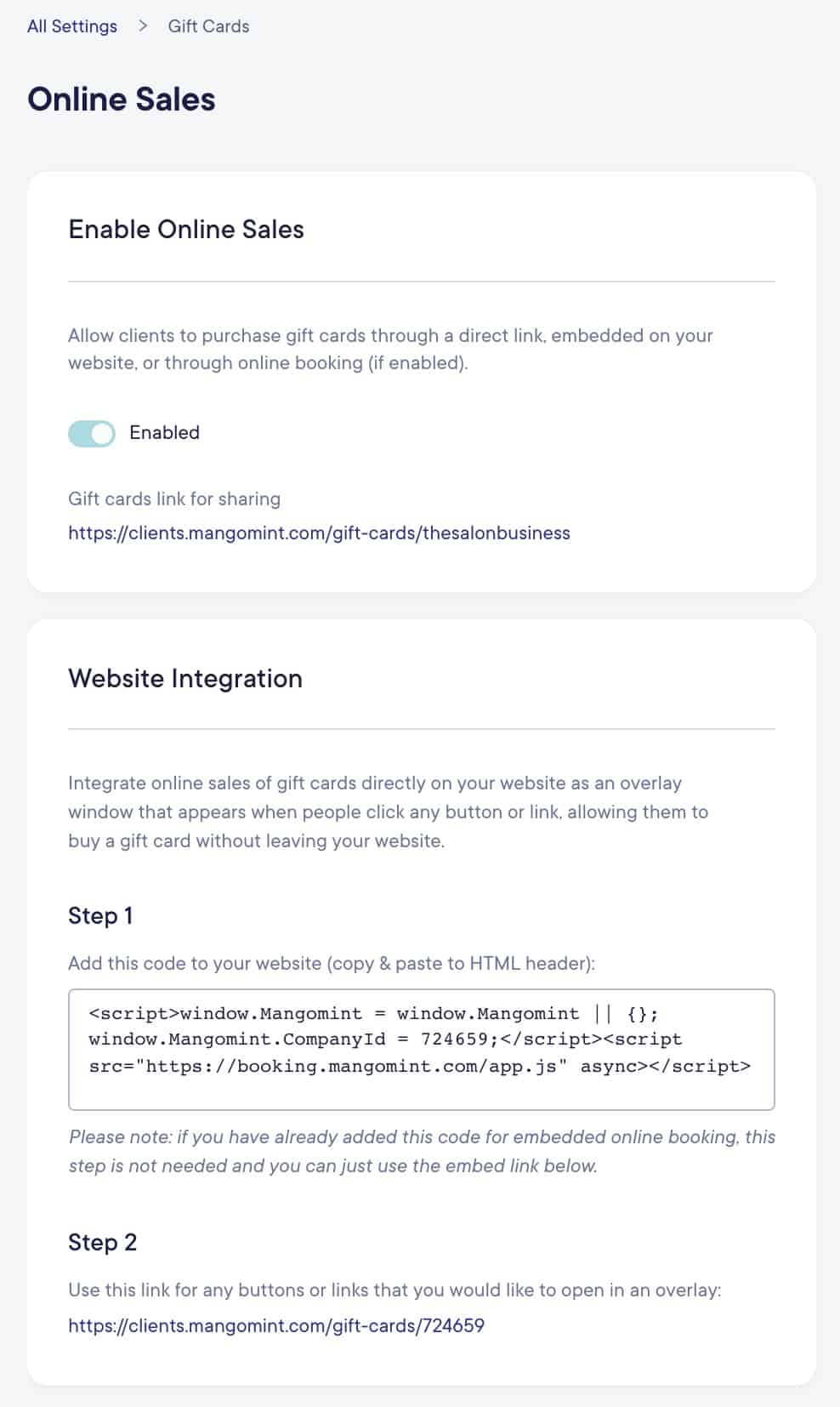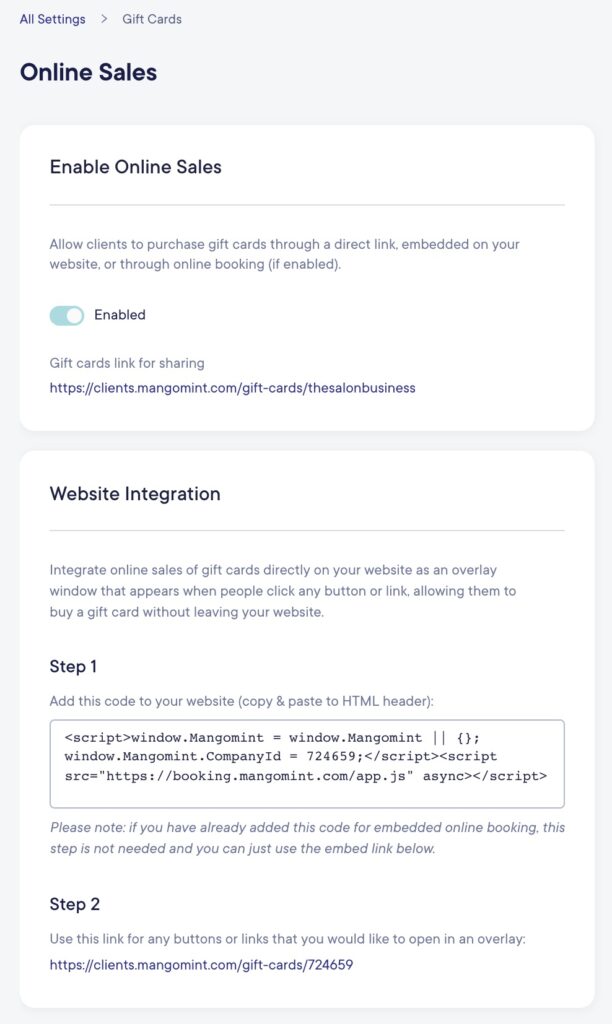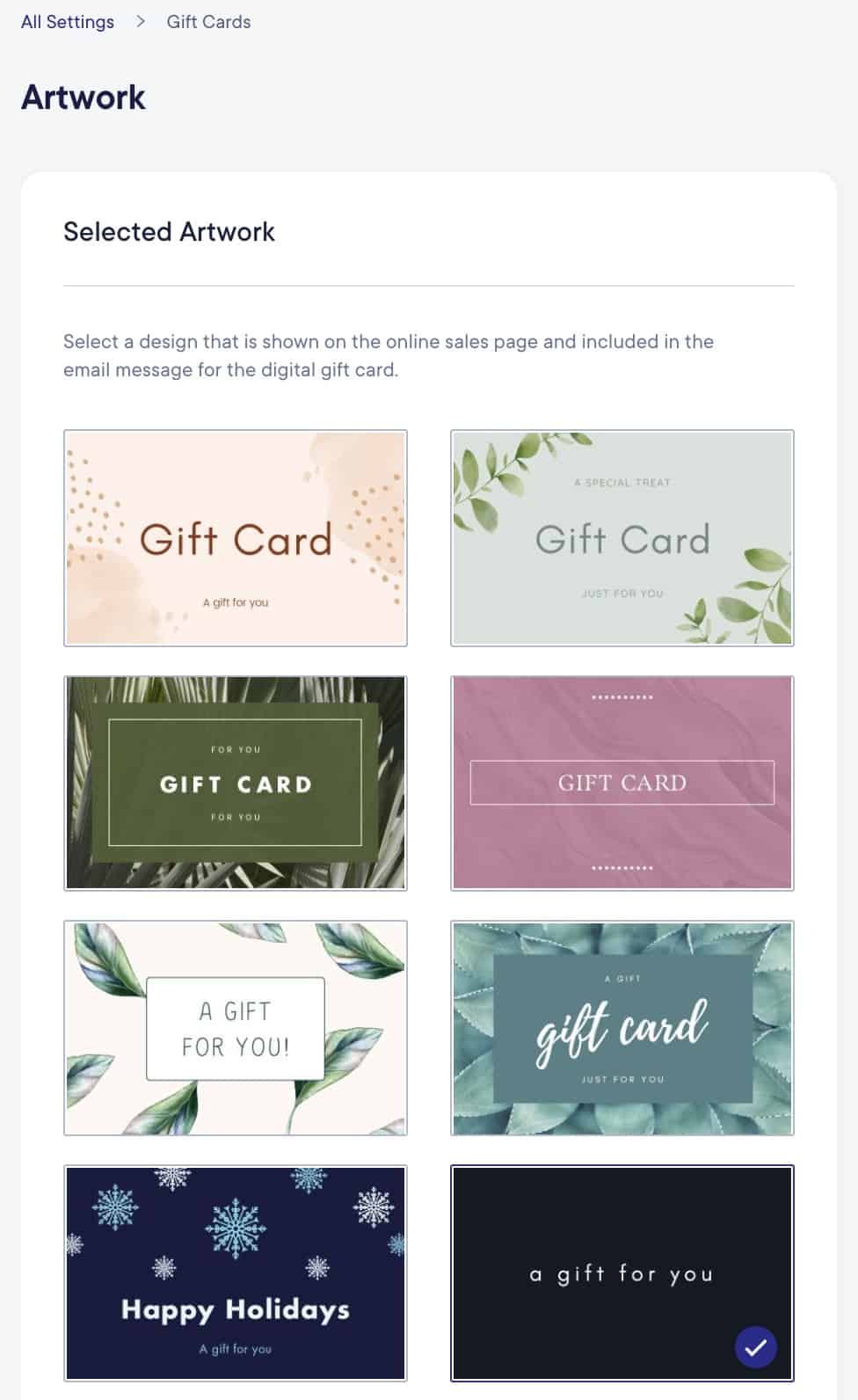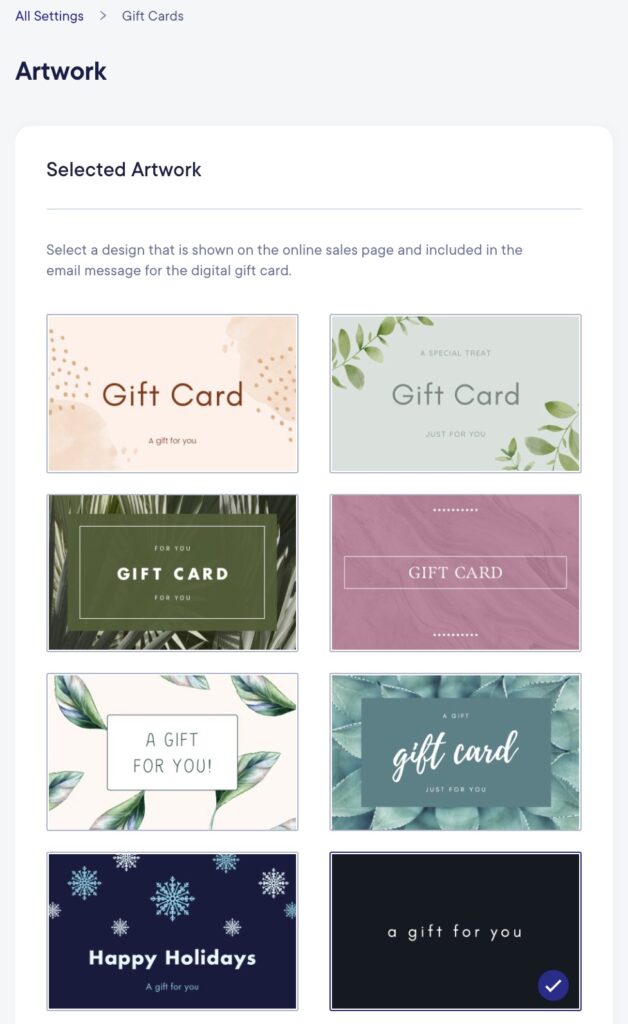 Premium Add-ons
Mangomint has expanded their core offerings to include some additional paid add-ons that increase the functionality of the platform.
These features focus on eliminating the need for some of the more frustrating third-party software out there by creating first-party solutions directly within the app.
Two-Way Texting
This is Mangomint's newest feature, and it's a game-changer. Think of it like iMessage for salons.
Two-Way Texting is a two-way communication feature that allows salon owners to assign a business phone number to their salon and communicate with their clients via text messaging through the Mangomint platform.
This is huge.
This feature means stylists no longer need to give out their personal phone numbers to accommodate clients' off-hours scheduling requests and late-night cut and color ideas.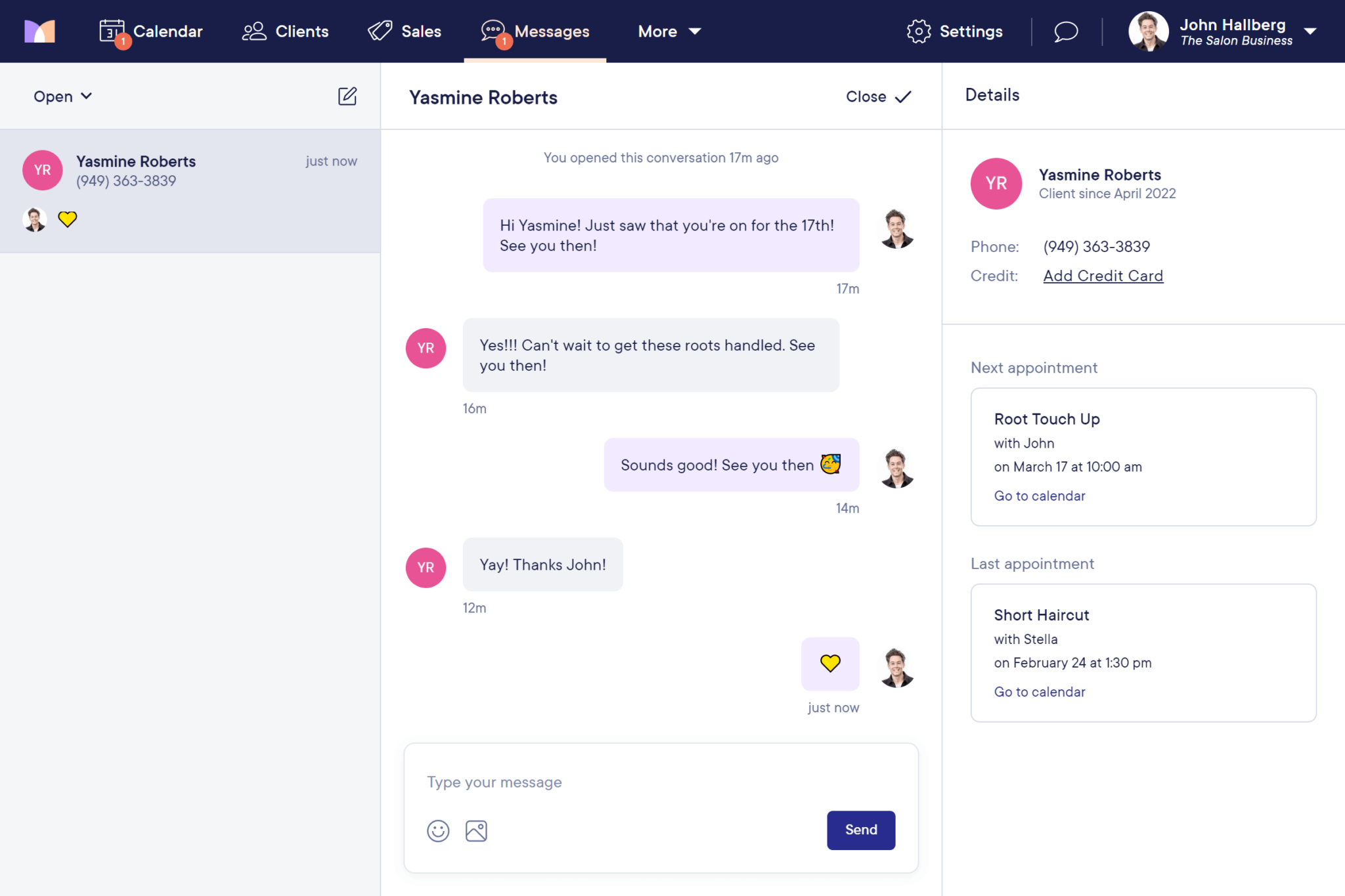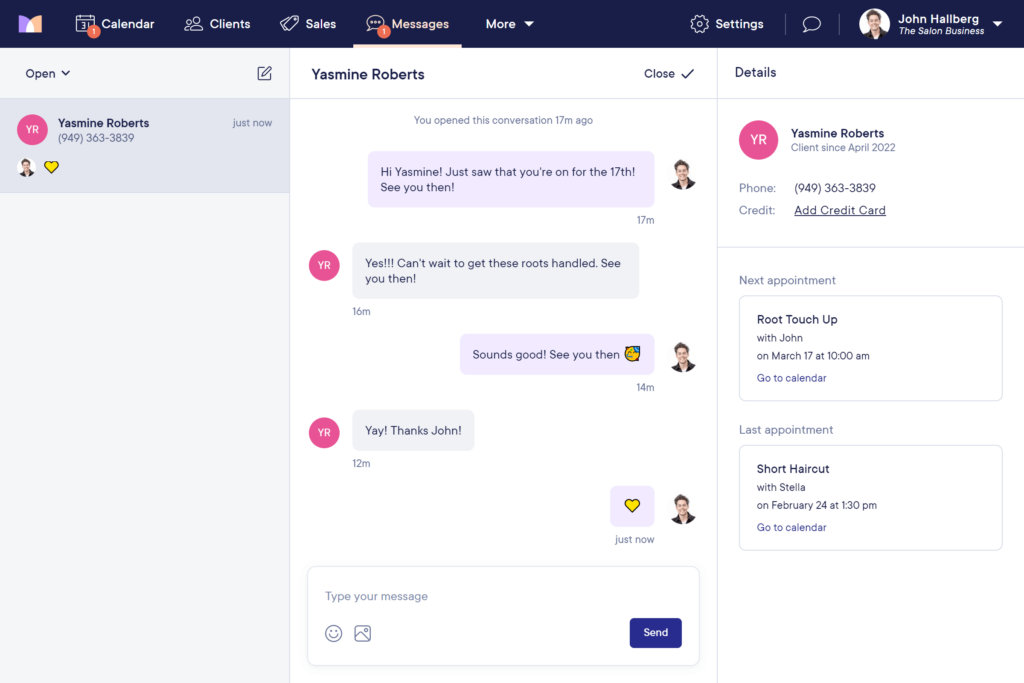 From the new Messages tab in the app, salon staff can send text and multimedia messages to- and receive them from clients. Anyone with permission enabled can view the conversation and respond.
Salon owners can also set permissions to show or hide client contact info and allow stylists to respond to messages from their clients directly through their app.
The integration goes pretty deep here, too.
All automated messages and email communications sent from the business show in the conversation chat window with a timestamp.
Any forms the customer submits also appear in the chat and automatically attach to the client profile.
Pricing:
All Mangomint customers can send 5 free messages per month.
To add unlimited messaging, the Two-Way Texting add-on must be added to your subscription.
Two-Way Texting can be added to any plan for $75 per month.
For businesses with more than one location, each additional location is priced at $25 per month.
Integrated Forms
Integrated Forms is Mangomint's first paid add-on, and it kind of sets the bar for the quality of service offerings the brand is known for.
This feature replaces the need for third-party forms services like Jotform, Typeform, or Waiverforever right inside the app.
I don't think I even need to say why this is such a win for salons…
Put simply, this feature eliminates the need to use one of these other forms platforms to create and send forms.
Salons can template, customize, and distribute forms to clients directly though Mangomint.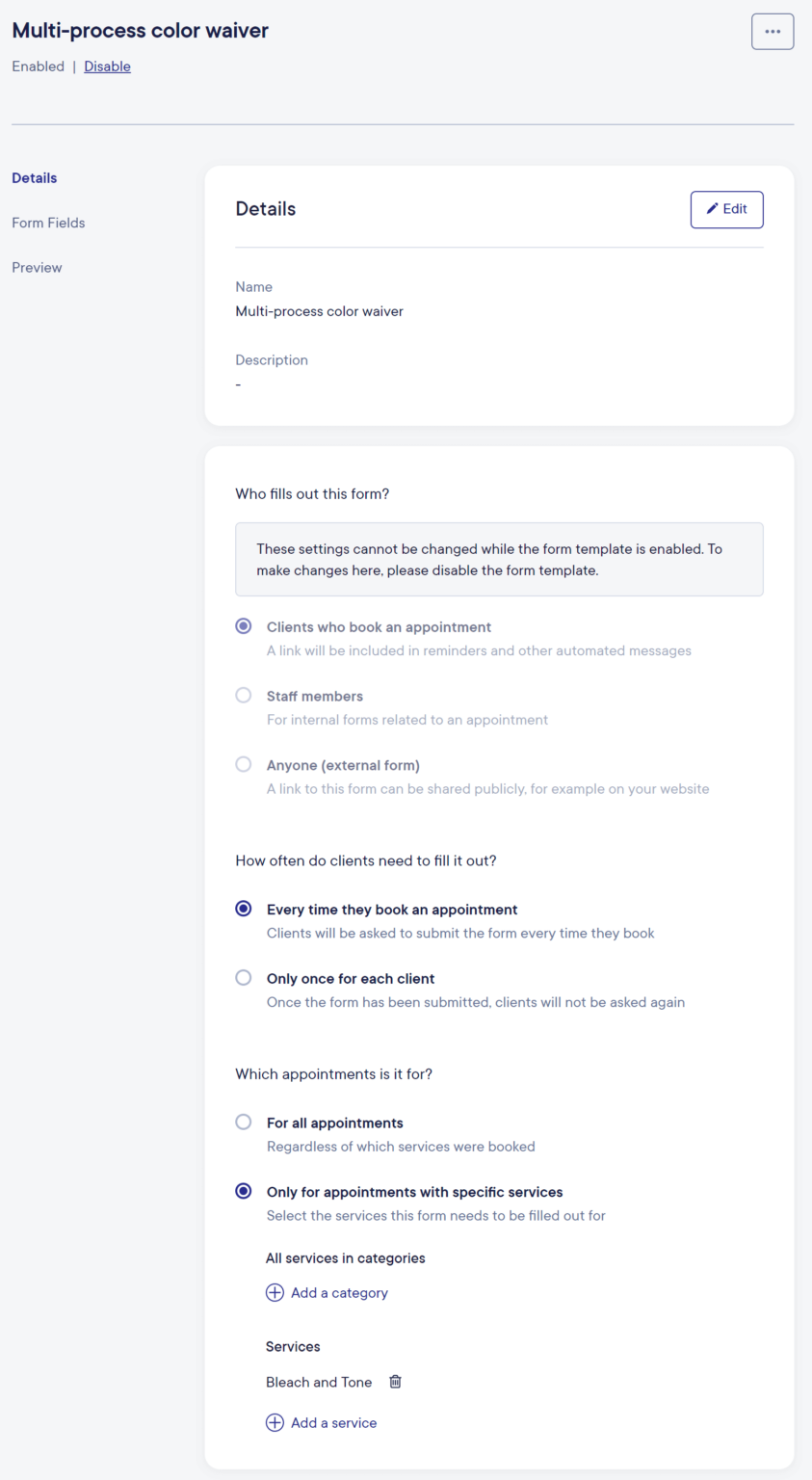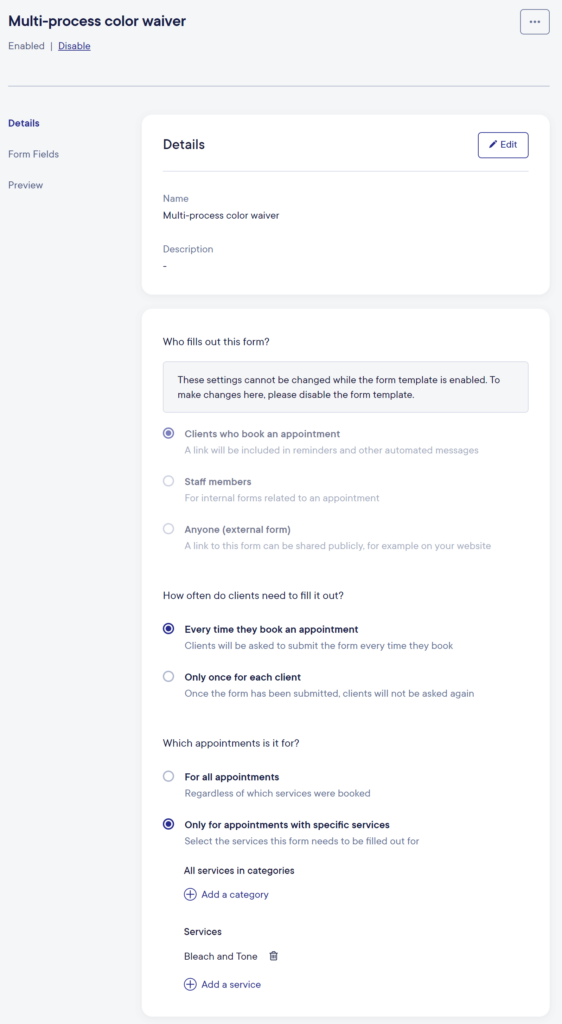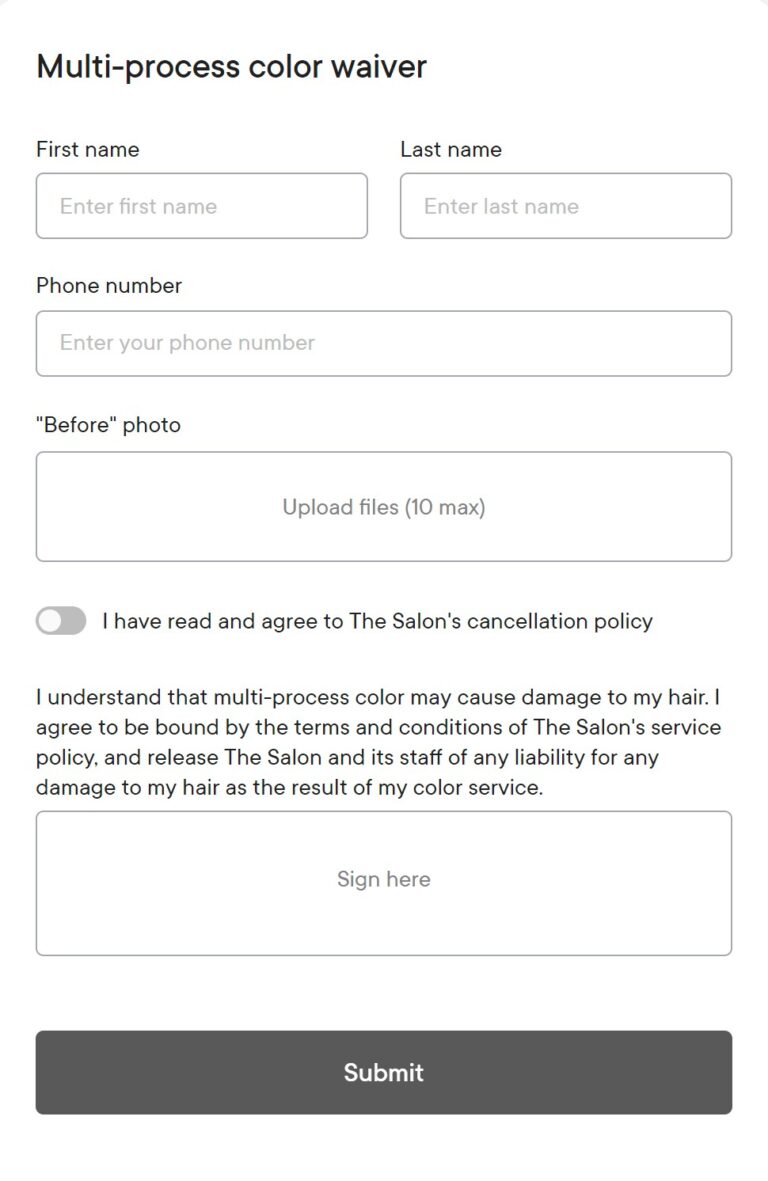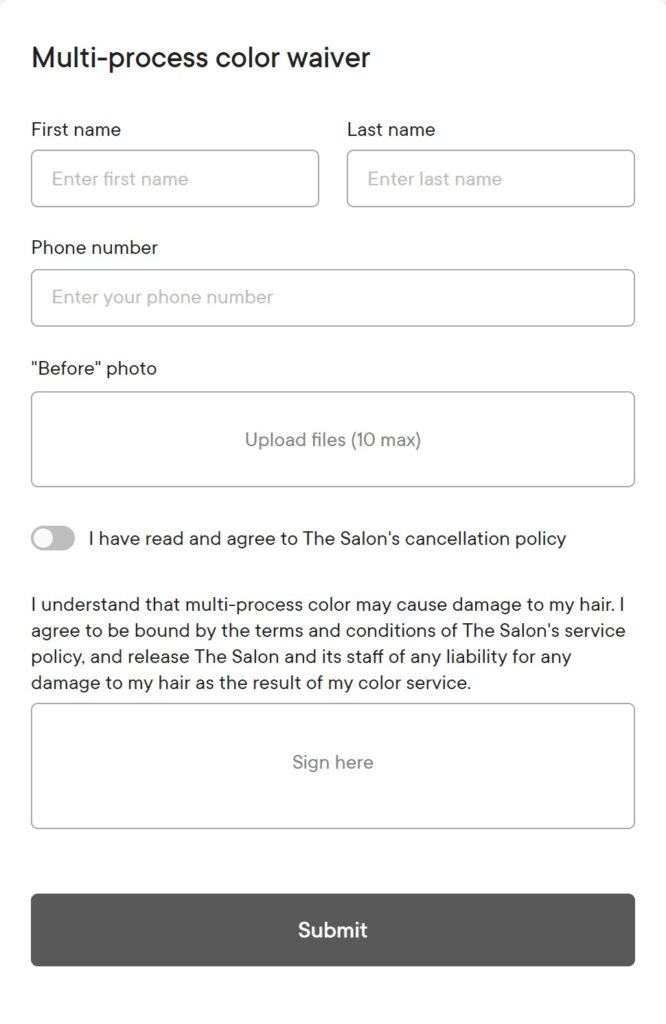 The feature can also be used to create internal forms for staff to complete pre- or post-service, or external forms that can be linked-to on your website or social media for appointment requests or surveys.
Forms can be automated to send to a client or staff member whenever a specific service or service-category is booked, as well as anytime a first-time client books.
Here's the best news.
It's fully integrated with the Express Booking feature as well. That means your first-time clients can book their appointment, agree to your cancellation policy, put a card on file, and finish their intake form all from their mobile device in a matter of just a few minutes.
Here are some of the things you can create with Integrated Forms:
Client intake forms
External forms for appointment requests or job applications on your website or socials
Hair extension contracts
Liability forms / waivers for color makeovers
Internal forms for treatment notes
Pricing:
Integrated Forms can be added to any plan for $50 per month.
For businesses with more than one location, each additional location is priced at $25 per month.
Point of Sale (POS)
You can access the checkout directly from the calendar by just clicking on the appointment and adding any additional products or services that the client has purchased during the appointment.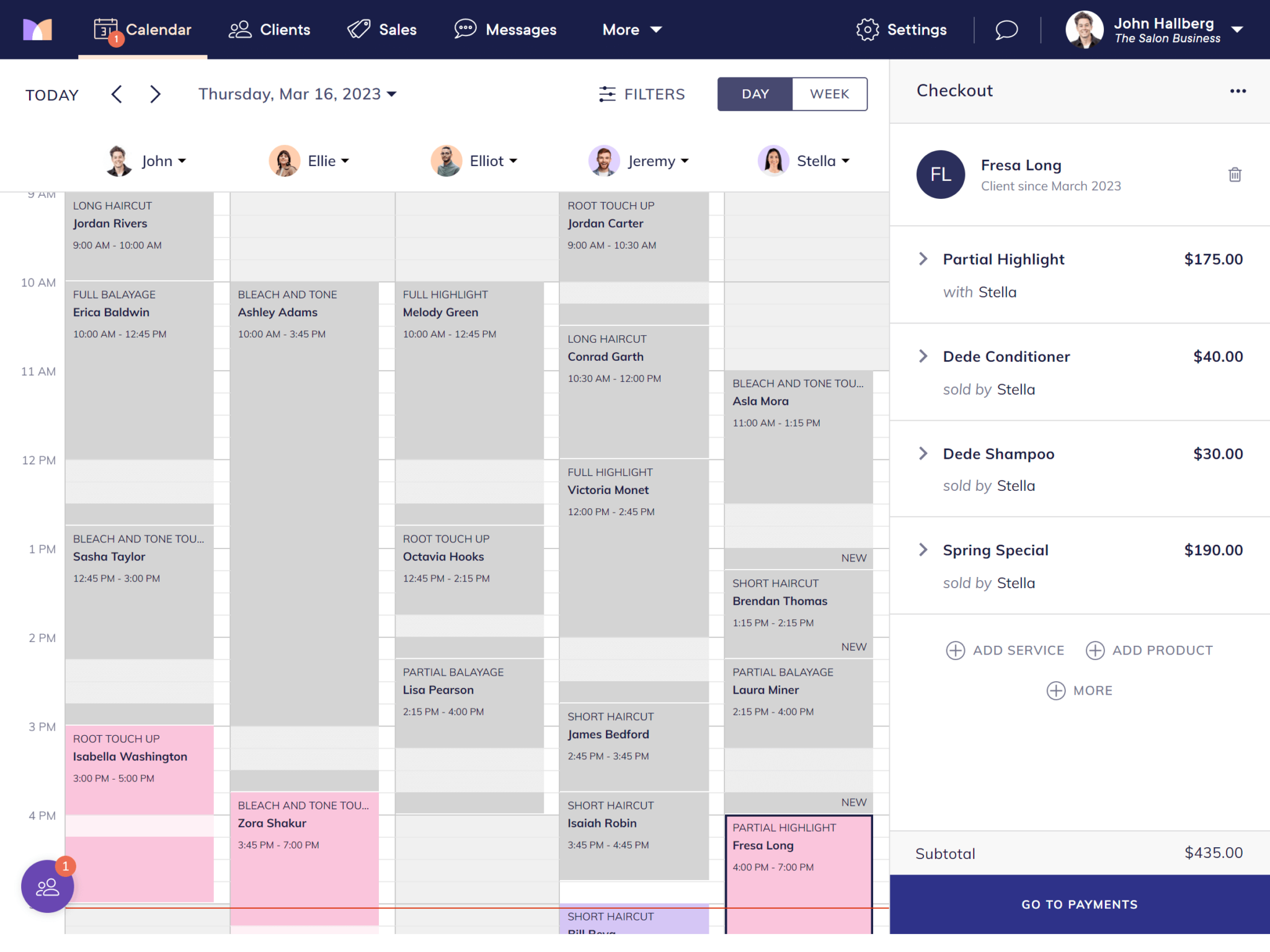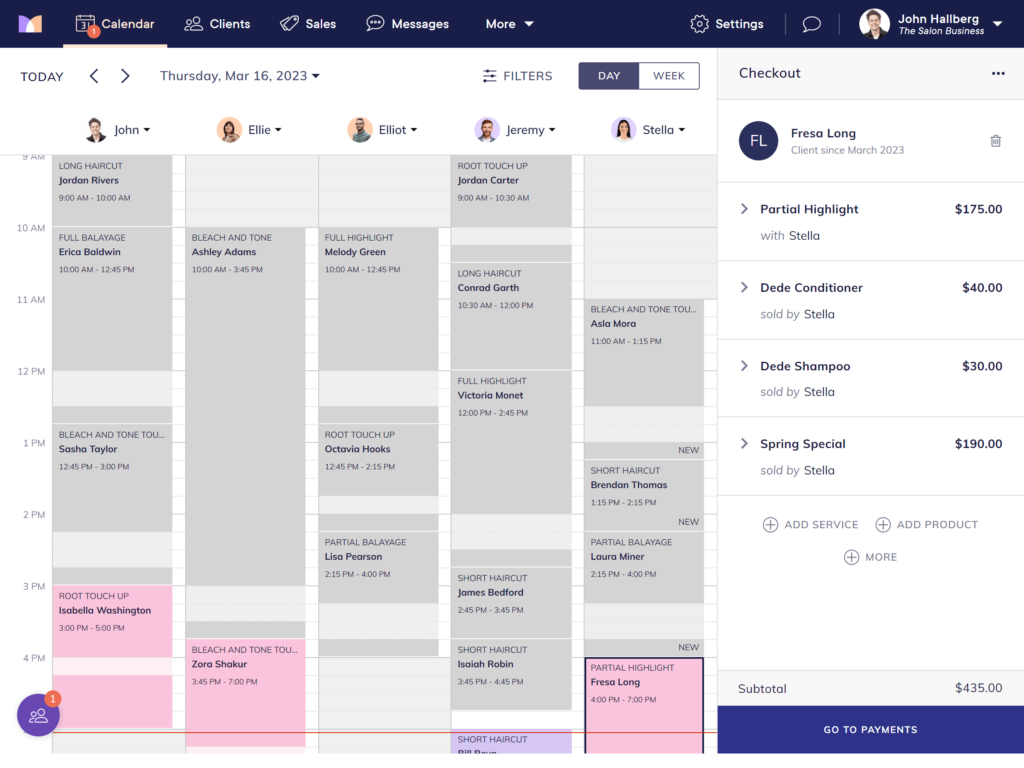 The POS hardware offered by Mangomint is the compact Bluetooth card processor and Front Desk Display that turns your iPad into a client-facing screen where clients can pay.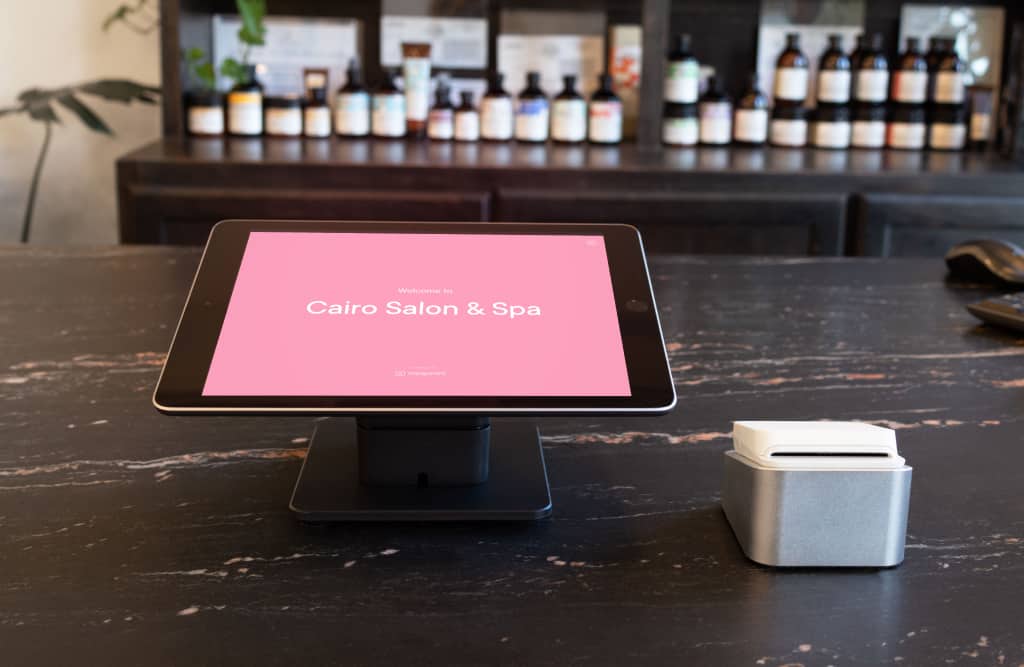 Payments
Mangomint Pay allows you to charge credit cards both online and using the physical card reader.
You can also allow your clients to pay from their own device by sending them a link for where to pay using their Self Checkout feature.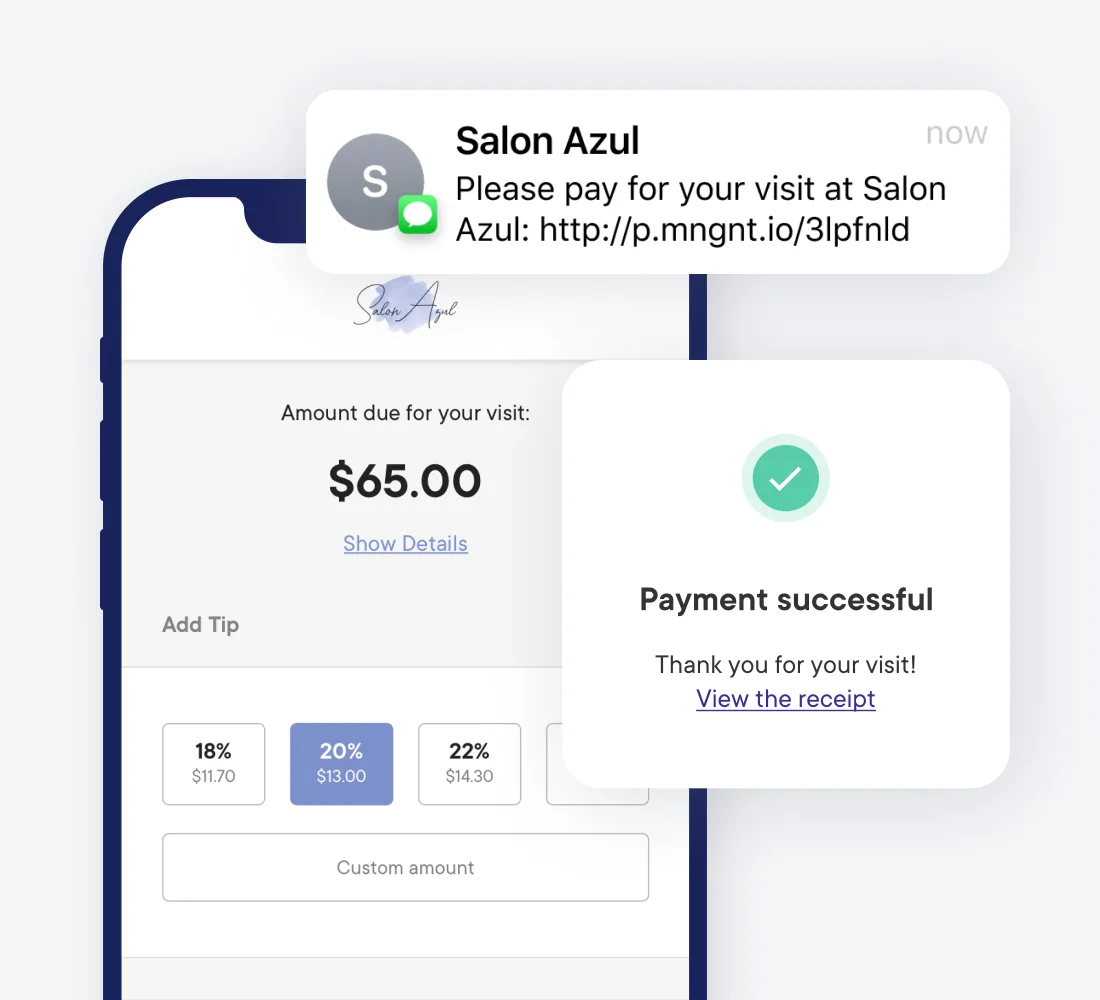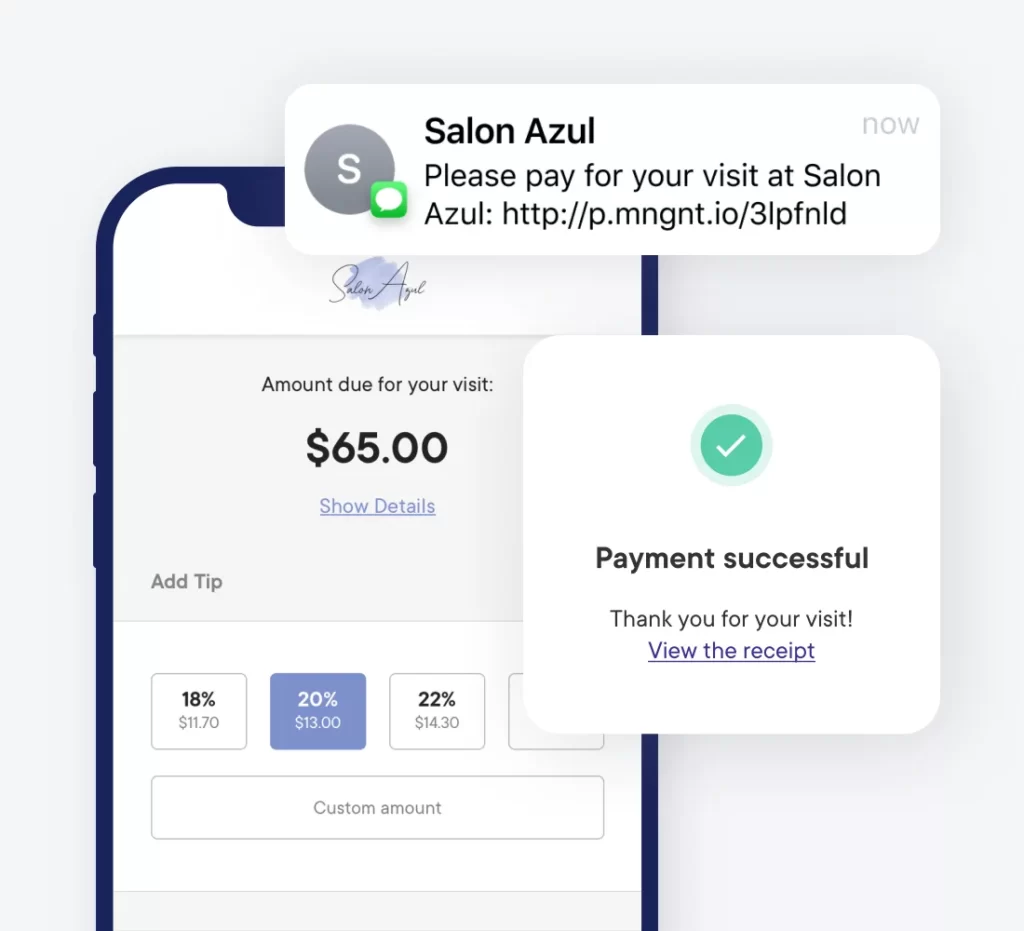 Another really powerful feature is that you can connect multiple merchant accounts to Mangomint and connect them to different service providers. This can be a major help for businesses with a more complex structure.
Credit card payment pricing:
In-person transactions: 2.4% + 15¢
Virtual transactions: 2.8% + 20¢
Businesses with over $50k/mo can qualify for custom transaction rates
Bluetooth card-reader: $100/ device. One card reader is included for free in the Standard and Unlimited plans.
Booking Apps
Although you can run Mangomint in any web browser, they also offer mobile apps for both Apple (iPad/iPhone) and Android devices.
As you would expect from Mangomint by now, the app is very intuitive and well designed.
You'll likely be using this app a lot.
The app has a 4.9/5 user rating on Apple Appstore with 32 reviews as of the writing of this review.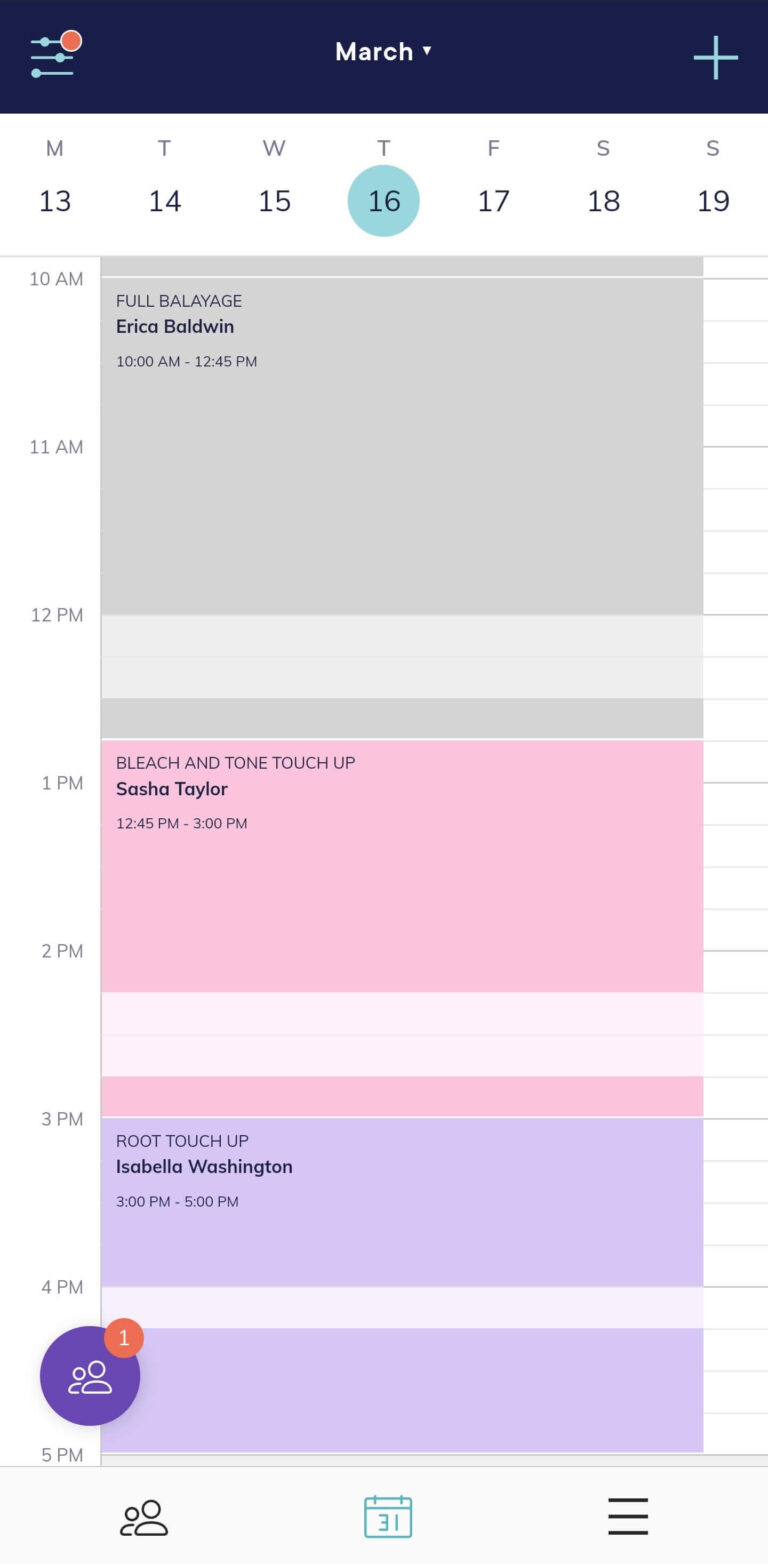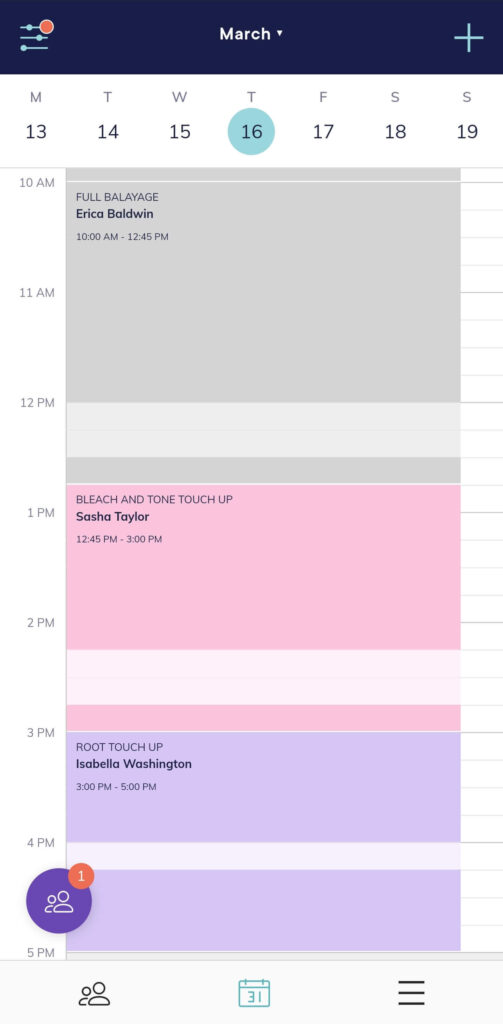 Summary & Conclusion
I hope you found this review and demo of Mangomint helpful.
As you can tell, I'm really excited about this tool.
In particular, the easy-to-use modern design, integration support, and smart automation make this stand out from everything else out there.
If you run a salon with a team, this may very well be the tool you've been looking for.
I expect to see much more from the team at Mangomint over the coming years.
Now it's time for you to experience it for yourself.
Start your free trial or request a demo of Mangomint here to get an extra month for free.