Disclosure: This post may contain affiliate links, meaning we get a small commission if you decide to make a purchase through our links, at no cost to you. TheSalonBusiness.com is a subsidiary of Mangomint.
Learn more...
Vagaro Pro or Mangomint?
You're not the only business owner trying to decide between these two U.S.-based salon and spa software platforms.
Vagaro, founded in 2009, has become one of the industry's most well-known software brands. Mangomint, founded in 2017, is the newer kid on the block that has quickly become the highest-rated software for salons and spas by its users.
If I were to translate "Vagaro vs. Mangomint" in one sentence, it would be "Quantity vs. Quality".
Vagaro is "more" in several ways. It's one of the most feature-rich platforms that serves a very broad range of businesses. From independent professionals to growing teams. From hair stylists to fitness businesses. They even serve consumers via their marketplace, where you can create a profile and use that when booking with any businesses that use Vagaro.
Mangomint has chosen a different direction here.
It is for salon and spa businesses with a team only. You cannot even join as a solo business.
You'll not find as many features inside Mangomint as inside Vagaro. But what you find goes deeper than anything else. Is more thoughtful and intelligently designed than anything else. Looks better and is more intuitive to use than anything else. This thing is freakin' perfection.
And if you don't find what you need, you can integrate and share your data with other tools. With Mangomint you're not limited in any way.
This, together with exceptional customer service, is why users are raving about it and why it's risen to the top in all rankings over the last few years.
There's much to say about these two platforms and their differences.
To help you find out which one is right for you, here's what I'm going to cover in this Vagaro vs. Mangomint comparison: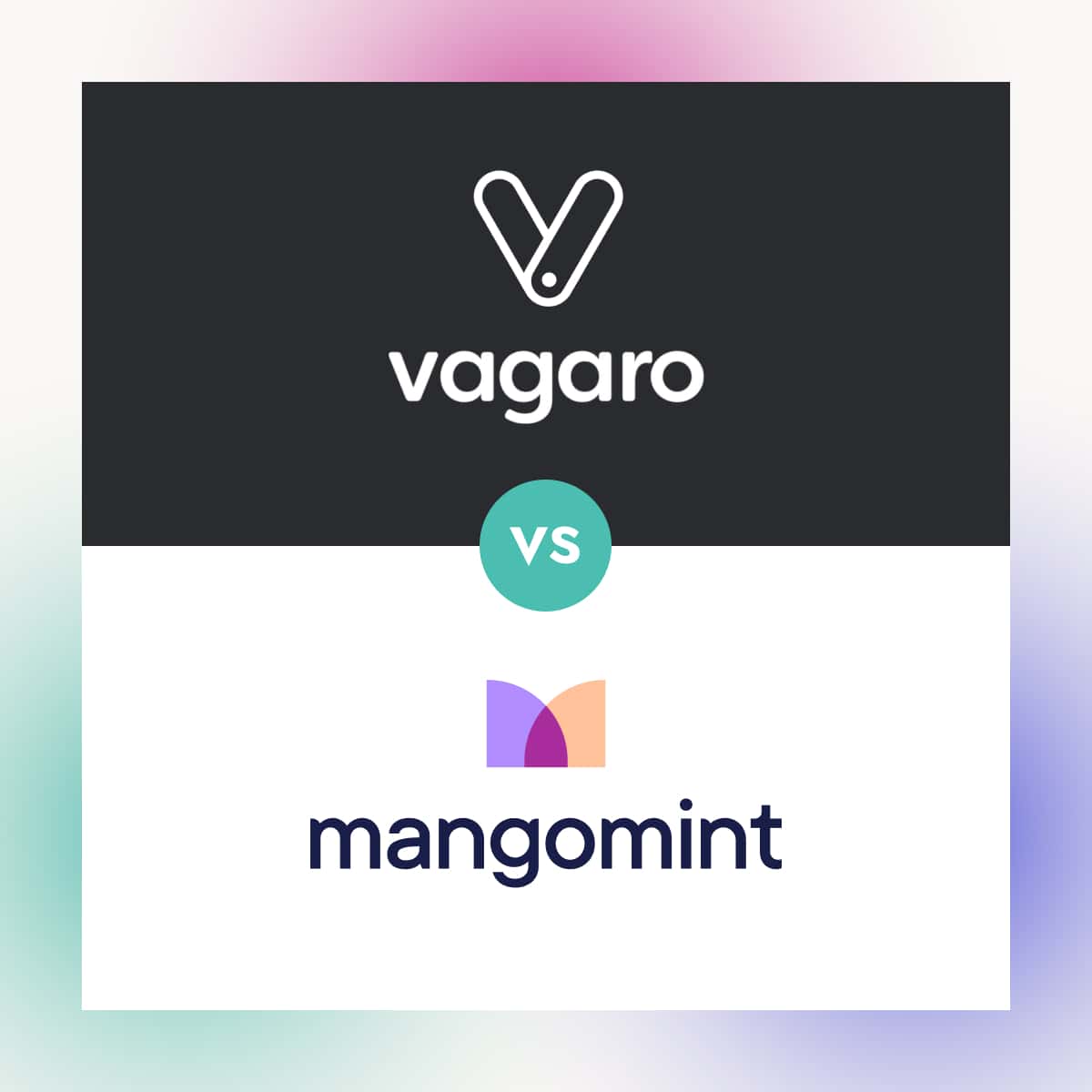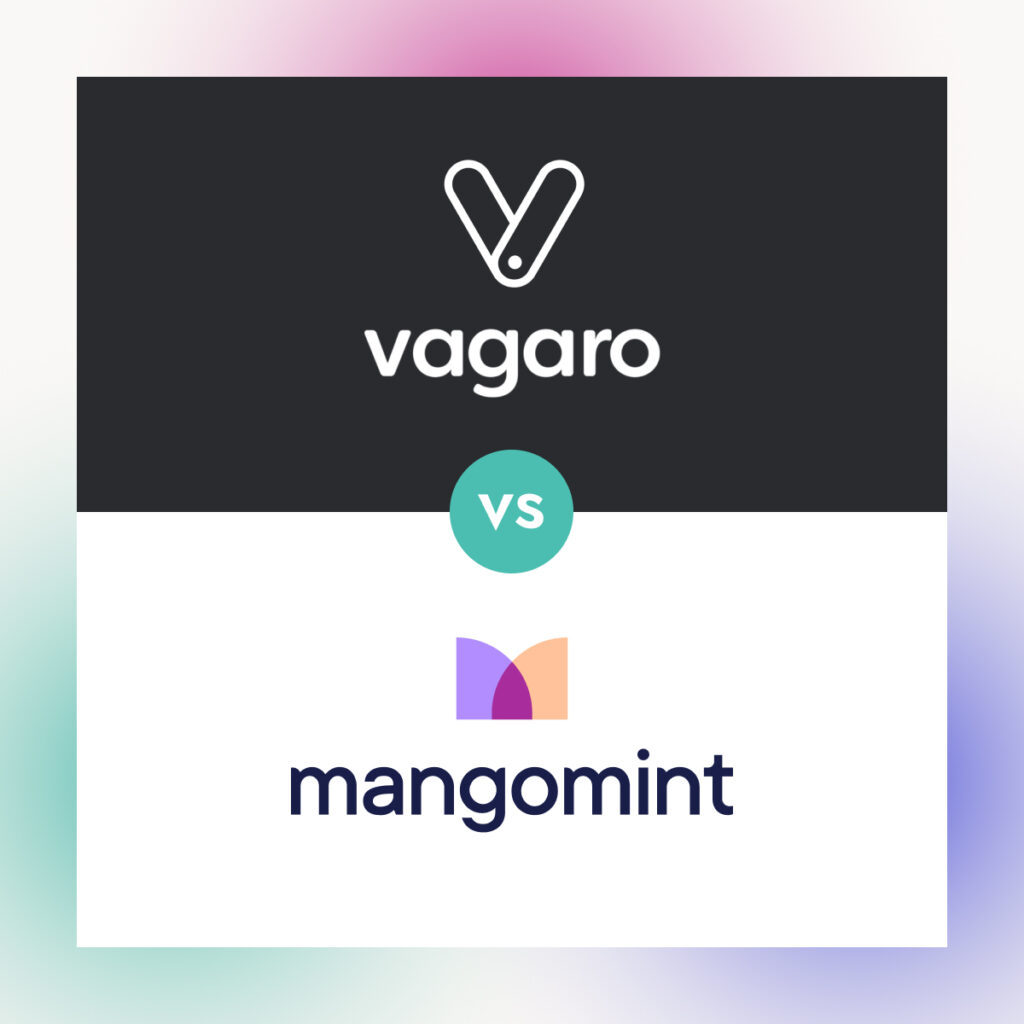 Vagaro
vs

Mangomint

Let's kick off with an overview of the two platforms we're diving into today.


Average price
Note
Assumes you run a business with a mid-size team and have activated the more common add-ons. What you will pay will be lower or higher than this. See the separate section about pricing for full details.
For cost conscious solopreneurs or smaller teams who are looking for an all-in-one software, with a lot of features, to support their salon, spa, or fitness business.
The highest-rated software for salons & spas. Designed for businesses with a team who want the best design experience, smart automations, and the flexibility to integrate with other systems.
U.S., Canada, Australia, and the UK
A client marketplace where they can browse and find your business
Very comprehensive marketing suite.
Vagaro branded POS hardware
Support for classes (as also used by fitness businesses)
Modern, intuitive, and easy to use
Smart automations that help cut down on time spent managing business operations
Open data ownership and no contracts (you're not locked into anything)
Can integrate with any other platform who allows for integrations
Highest-rated customer service on the market
A Double-Click on Each System
Let's quickly review each system before we compare these two platforms head-on.

Vagaro At a Glance
Vagaro, headquartered in the US, is one of the most popular salon software options. It is a complete system for salons, spas, barbershops, health, and fitness businesses.
It's one of the most feature-rich platforms on the market and comes with POS, online appointment scheduling, email/SMS marketing, credit card processing, subscription payments, video streaming, website builder, eCommerce, payroll, hardware, and advanced business reporting just to name a few.
Despite the large amount of built-in features, it's one of the cheapest platforms on the market. So if you want to spend as little as possible for as much as possible, Vagaro could be the right platform for you.
Pros and Cons
Rich in features
Affordable price
Client marketplace that could help you attract more new clients
Integrations with other software (QuickBook, Xerox, Facebook, Zoom)
Pages could load faster and you may find some glitches as you use it
Clients need to create a Vagaro account when booking which some find annoying
Quantity over quality: There's a lot of features but some are pretty poor in quality (like the website builder)
Slight learning curve in the beginning as a lot of features

Mangomint At a Glance
Mangomint is the most modern and well-designed salon and spa software platform in the United States & Canada.
It's the platform with the most buzz around right now that beats all competitors on user review websites.
Every little detail of this software has been designed to perfection – making it incredibly intuitive and easy to use. It also offers intelligent automations that reduces time spent managing your appointments and business operations.
Mangomint's vision is to make salon software invisible—so smart and easy to use that it essentially disappears into your day-to-day operations. And boy, is this software a pleasure to use for both you and your clients, which is why it is now, in 2023, my #1 recommendation.
Pros and Cons
Modern, easy-to-use, interface
Smart automations that help cut down on time spent managing business operations
Open data ownership and no contracts (you're not locked into anything)
Can integrate with any other platform that allow for integrations
Highest-rated customer service on the market
It doesn't allow independent business owners to use the platform
Higher entry-level price than most other salon & spa software
Only available in the United States & Canada
Limited marketing support built-in (relies on integration for email service, loyalty program, reputation management etc.)
How Do They Compare? Strengths and Weaknesses
Vagaro and Mangomint are different.
Again, quantity vs. quality.
Vagaro stands out with all its features, which they make available at a very affordable rate. If you're on a budget and want a lot for your money, it makes sense to look to Vagaro.
You should, however, be prepared that with everything they have put into Vagaro, users a reporting it becoming buggy, glitchy, and slow. And I also started to get quite annoyed with the loading animation when navigating around the software.
Mangomint will not beat Vagaro on the number of features, but it is blazingly fast and reliable, and every pixel is exactly where it should be. It's just much more beautiful to look at compared to Vagaro. Now, you will also pay more for Mangomint than Vagaro. But with that, you get more sophisticated features, the highest-rated customer support, and a user experience that is a level above.
Geography will also be a factor, as Mangomint is currently only available in the United States and Canada. If you are outside of this region, you may still be able to use Vagaro or another option on my salon and spa software top list.
But let's double-click on this and review how they compare the different aspects of the software.
Vagaro
vs

Mangomint

Let's kick off with an overview of the two platforms we're diving into today.

Vagaro

Mangomint
Calendar and appointment management
Point of sale and check out
Let's Talk Features
Vagaro is incredibly rich in features and offers an established marketplace where you can promote your business to clients who have signed up with other Vagaro businesses.
I'm leaving it up to you to decide whether a client marketplace is desirable. The benefits are obvious: you can promote your business there and attract clients.
The drawback is that clients must create a Vagaro profile before booking with you. And just like you can market your business to other clients on the marketplace, different businesses can promote themselves to your clients.
Mangomint is firstly focused on the core features you use daily in your business. The software is designed to simplify these ongoing tasks to reduce friction and help you save money and time. Thus, if you, for example, double-click on how the automated checkout, client waitlist feature, and two-way client communication work, you'll see that there's just another level of sophistication that you don't find in other similar platforms.
Where these two platforms' features differ the most is the marketing support. You get a lot built into the Vagaro platform, whereas with Mangomint, you will integrate with your favorite marketing tools instead.
Generally speaking, Mangomint either does something well or allows you to integrate with someone who does it well. You will not find features that are "kind of ok" with Mangomint. It's either the best, or they let you use whoever is the best.
Take the website builder, for example. Vagaro allows you to build a website and store using their platform. Great if you're on a budget and want something up quickly using what you already have. It will not look great, but you can do it.
Mangomint instead offers a native integration with Shopify. This means you will need to learn a separate tool, but you will also be able to create the absolute best online store experience.
Let's take a lot at what is there and not.
Vagaro
vs

Mangomint

Vagaro offers more features and but Mangomint offers a higher level of feature sophistication. But let's go through what's there and not.
Vagaro

Mangomint

Online Booking
Vagaro
Mangomint
Website booking widget

Note

Can you integrate the entire online booking experience directly into your website?

Branding control

Note

Can you customize the look and feel of the booking experience to fit your brand?

Note

Very limited: Change accent color but all else is Vagaro standard.

No-show protection

Note

Can you store credit card details and charge deposits to reinforce your cancellation policy?

Service customization

Note

Can clients adapt their service when they book, and can this change the price and duration of the booked appointment?

Free from account creation

Note

Can clients book without having first to create an account with the software?

Integrated gift cards

Note

Can you sell digital gift cards as part of the booking process?

Calendar and Appointment Management
Customize notification messages

Note

Can you change the text sent to your clients as part of appointment reminders and other messages?

Customize notification timings

Note

Can you change when reminders and other messages go out to your clients?

Client waitlist management
Rooms and resource scheduling

Note

Can you manage equipment, rooms, and other resources required to complete a service?

Repeat appointments

Note

Can you schedule clients for recurring appointments?

Time block

Note

Can you block out time on your calendar?

Processing time

Note

Can you allow for double booking of service providers by accepting appointments during service processing time?

Duration and price by staff

Note

Can you adapt the price and time needed for a service based on who is performing the service?

Automated check-in

Note

Can clients check in to their appointments themselves?

Point of Sale/ Check out
Tablet compatible

Note

Can you run the POS on any tablet or do you need special hardware?

Dedicated POS hardware

Note

Does the system provider offer hardware to improve the check out expereince?

Self check out

Note

Can clients check out from their appointment themselves?

Route payments to renters

Note

If you have booth renters in your business, can you route payments directly to them?

Cards on file

Note

Can you store credit card details and charge the customer later?

Integrated payments

Note

Does the software offer a first-party payment processing solution?

Client Data & Communication
SMS Notification
Email Notificition
Dedicated business SMS number

Note

Do you get a business phone number that your messages and notifications are send from?

Two way SMS communication
Forms

Note

Can you create intake forms, store SOAP notes, and have clients sign your forms?

Client notes

Note

Can you store notes about clients on their profile?

Client files and images

Note

Can you store files and image on in the client's profile?

Inventory and Product Types
Inventory tracking

Note

Will the system keep track of stock levels, notify you when it's time to re-order?

Purchase orders

Note

Can the system create automatic purchase orders for you?

Retail
Memberships
Packages
Gift cards
Team Support & Payroll
Fully integrated payroll

Note

Can you run payroll and cut paychecks directly through the software?

3rd party payroll integration

Note

Does the software allow you integrate and share data with a 3rd party payroll solution (e.g. Gusto, ADP, Paychex, etc)?

Payroll reports
Commission support

Note

Can you track and report on commission for service, retail, and other product types?

Multi-location support

Note

Does the system have specific support for businesses with multiple locations

Booth renter support

Note

Can the system help with rent collection, payments, and other booth renter management tasks.

Marketing Support
Email marketing

Note

Integration with Mailchimp, Klaviyo, or marketing platform of choice available

SMS marketing

Note

Supports integration with SMS marketing platforms

Website builder
Client marketplace

Note

Does it offer a platform where potential clients can browse businesses using the software?

Add-on offers

Note

Can you promote service add-ons/upsells as part of the online booking flow?

Cloud & Mobile App Access
Full-featured mobile app

Note

Can you access all software features in the mobile app?

Web browser
iPad
iPhone
Android
Integrating with Other Platforms for Additional Features
Both Vagaro and Mangomint offer the ability to integrate with other platforms. However, Mangomint goes beyond a set of native integrations and enables custom integrations with whatever system you need to integrate.
Vagaro
vs

Mangomint

These platforms both have integration support yet Mangomint is superior.
Vagaro

Mangomint

Custom integrations

Note

Does the platform allow you to create new integrations to support your business-specific needs?

Native integrations

Note

Built-in integrations that you can activate as needed

Gusto
Quickbooks
Zoom
Xero

Shopify
Mailchimp
WaiverForever
GiftUp
Custom integrations: Offers the ability to build custom integrations to fit your business
Pricing
Vagaro has taken the low-cost position on the market. I honestly don't think they have ever increased their base tier pricing. Mangomint, however, doesn't even offer a single-user plan. Their lowest tier already supports a big team, making their entry price higher than Vagaro's.
Vagaro
vs

Mangomint Pricing

Both Vagaro and Mangomint pricing is based on a montly plan and add-ons which makes it easy to understand what you will be paying.
Vagaro
Mangomint
Average Price
Trial Options
Minimum contract length
Plans
Add-ons
Credit card fees
What do Users Think of These Platforms?
So, you've read what I say about these two systems. Now, check out a summary of how users rate these platforms.
Vagaro
vs

Mangomint

Let's compare scores for these systems on the major user review sites.
Conclusion
I hope this comparison of Vagaro and Mangomint has helped you choose the right platform.
You can learn more about each platform in my individual reviews that you can access here:
Looking to explore further? I highly recommend you read my top list of the best salon and spa software.