Are you looking for salon software that could get your business in front of thousands of potential new customers and net you new clients every week?
Then you're going to want to see what I'm about to show you.
Booker is one of the most well-established and well-known salon software companies in the industry.
They paved the way for a lot of the newer software options on the market and helped move the industry forward in their earlier years.
Since then, Booker has been acquired by wellness software juggernaut, Mindbody, who has merged several aspects of the businesses, including sales, support, and at least some aspects of development.
To be honest, I don't know what I expected going into this review.
I used Booker for several years as a salon manager in the 2010s.
I managed a team of roughly 20 stylists, plus an esthetician and a handful of makeup artists.
Booker was… functional. It worked most of the time.
There were several occasions when the system went down.
Inevitably, in those cases, we would have to contact Booker support to attempt to resolve the issue.
Sometimes there was a fix.
Many other times, there was not – we simply had to leave a voicemail and hope for the best, apologize to our clients, and take only cash or ring up services manually on our trusty Clover POS device, only to reconcile them later (manually) on the backend, all while waiting for an answer and a fix.
It happened more often than I'd like to admit, unfortunately, especially considering the hefty monthly price we were paying.
Regardless, we felt as though we were stuck with Booker.
Switching to another software was a time-luxury we felt like we didn't have, being as busy as we were.
We didn't want to risk being without a booking system for any length of time, and switching to Booker had already required us to copy hundreds of pre-booked appointments out of our old system to drag them over.
Looking back, sure, there were options, but we didn't want to risk leaving.
In 2023, the salon and spa software landscape is completely different.
Switching is easier than ever, and new and exciting software suites are making waves in the industry rapidly, giving the old guard of salon software a run for their money.
That's why it's time to take an even closer look at what Booker has to offer in late 2023.
Has the experience gotten better? Is Booker a reliable choice for businesses right now?
I'll break down all the pros and cons of Booker and look at its features and benefits in depth so you can find out whether it's a worthwhile investment for the success of your salon.
Booker is just one of our handful of top salon and software picks for this year. To see our choices for the best salon software of 2023, check out our full list here.
So without further ado, let's get into the Ultimate Booker Salon Software Review.
Booker at a Glance
Booker is a pillar of the salon software world, and to be fair, they've done a lot right over the years.
Their features set a blueprint for how salon software should function, and their stable of big-name customers is a pedigree very few other options on the market can boast.
However, the space is rapidly evolving, and the standards of salon software along with it, making the landscape far more competitive than it's ever been and establishing small businesses in the space as disruptors to the status quo.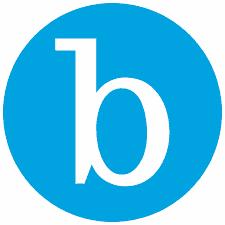 Overall Score
3.9
Right now, there are dozens of salon software options on the market and each one excels in one area or another, but very few offer no-added-cost marketing tools that actually bring brand new clients in your door from an online search.
Sure, Google ads and Facebook might draw some eyes, but what about the legitimacy of an established salon booking platform that connects potential customers with businesses on a marketplace they trust?
That's rare.
And that's what Booker claims to offer businesses like yours (in addition to its full software suite of salon booking and management features, of course.)
In this Booker software review, we'll dive deep into one of the oldest and most talked-about software suites in the salon and spa industry, and I'll show you things Booker won't without forking over hundreds of dollars per month and signing a year-long contract!
Our Video Review of Booker
Booker Feature Review at a Glance
Ease of Use (4.0)
Design (3.0)
Appointment Management (4.0)
Online Booking (4.0)
Marketing Support (5.0)
Client Data Management (4.0)
Point of Sale/ Check-out (4.5)
Customer Service (3.5)
Inventory Management (4.0)
Business Reporting (4.5)
Team Management & Payroll (4.0)
Mobile Apps (3.0)
Pricing (3.0)
Review Summary
Booker is one of the oldest and most venerable pieces of salon software on the market today.
Their pedigree and stable of big-name businesses have influenced thousands of salon and spa owners to jump onboard, sight unseen (often without ever clicking a single button inside the software).
This is partially because Booker does not offer a trial of their software.
No free trial, no paid trial. You have to sign a contract before you ever get access to the Booker software.
And when you look at the stable of clients Booker has, you might not flinch at signing up for a year or more…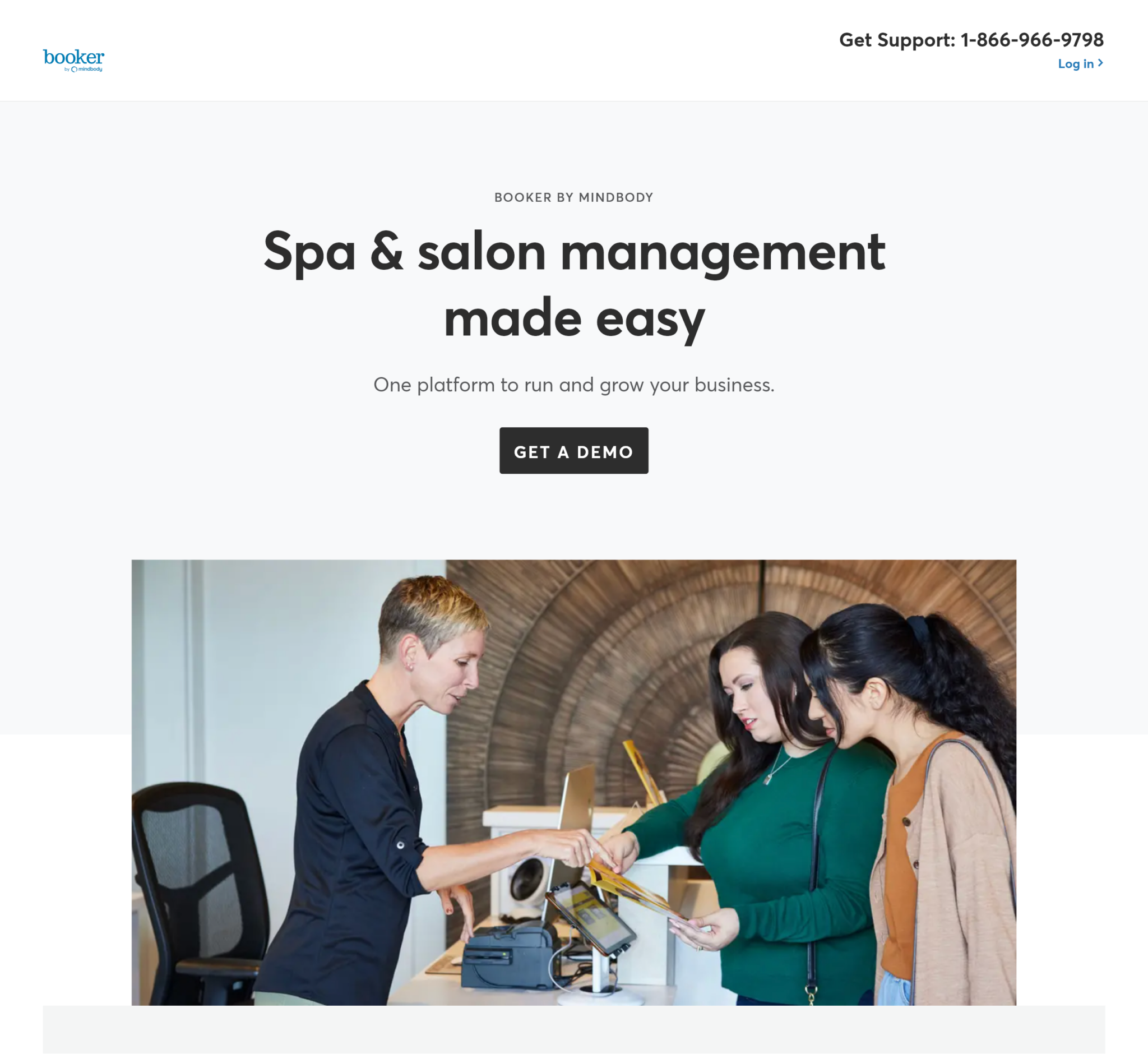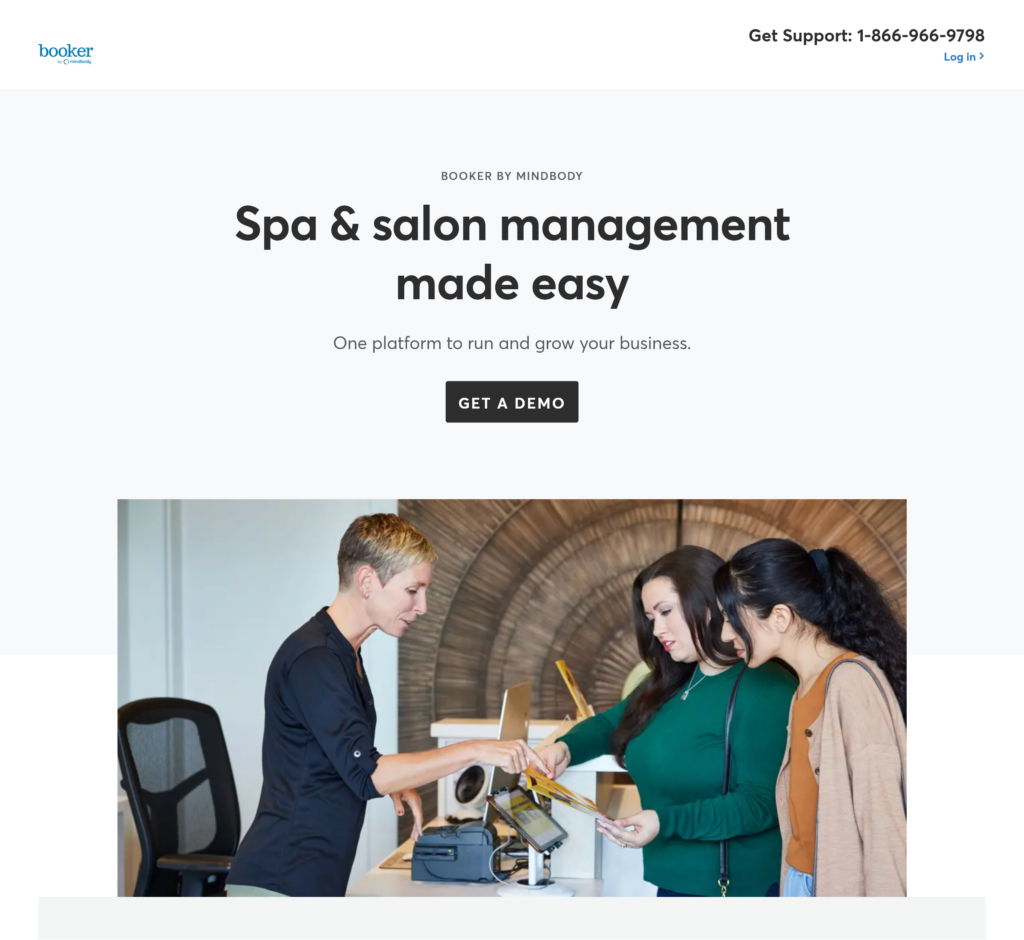 Big businesses trust Booker, and their software suite has all the major headline features of smaller and equivalent competitors in the space.
Core features like appointment booking, reporting, inventory management, POS, and online booking are all there on the checklist.
And Booker even has some standout extra benefits like its built-in email marketing suite and Mindbody Explore integration, giving you access to a huge, highly motivated audience of potential clients that trust the platform to find businesses that provide the services they want.
But that's not the whole story.
There are some issues lurking beneath the surface – some major flaws that we'll cover that have driven away salon and spa owners in droves after discovering how they affected their businesses.
Today, we'll take a look at every bit of Booker — the good, the bad, and the ugly — so that you can decide whether it is the right software for your business or a risk you'd rather not take.
So, Is Booker the Best Salon Software for Me?
Booker is my recommendation for new and growing salon and spa businesses with overhead to spare that need integrated marketing tools and must have a first-party online marketplace to drive new client acquisition.
Booker is just one of our many top salon software picks for this year. To see our full list of the Best Salon Software of 2023, check it out here.
Pros
Straightforward pricing
Enhanced new client acquisition opportunities through MindBody Explore marketplace
Integrated payments through MindBody Payments (US & Canada only)
Memberships, packages, gift cards (physical & digital)
Waitlist capability
Two-way messaging available (only on Ultimate and Ultimate Plus)
AI chatbot feature to help with scheduling (only on Ultimate Plus)
Integrated email marketing suite (on higher-tier plans)
Cons
No free trial
Must commit to a minimum 12-month contract before ever using the software
Lack of a-la carte add-on features – must bump up to higher tier plans
Stateside customer support only available to Ultimate and Ultimate Plus plans (outsourced on Starter and Accelerate plans)
Starter plan lacks staff notifications and 2 way SMS appointment notifications
Marketing Suite only available on Ultimate plan and above
Appointment reminders capped on Starter plan
Menu system is a bit clunky and outdated
Mobile app reviews are largely negative
My Top Salon & Spa Software Alternatives
Here's my salon & spa software top list for 2023.
To see more alternatives, visit my complete list of salon and spa software recommendations here.
Booker User Ratings
Capterra / GetApp / Software Advice: 4.1 stars (963 reviews)
Booker is edging out its parent company, Mindbody (4.0), but losing by a considerable margin to every major competitor in the salon software space, including Vagaro (4.7), Glossgenius (4.6), Boulevard (4.6), Zenoti (4.4), Acuity Scheduling (4.8), and satisfaction ratings-leaders Fresha (4.9) and Mangomint (4.9).
Booker currently does not place on Software Advice's Salon Software Front Runners list for 2023, but does land on Capterra's 2023 Salon Software Shortlist with a popularity score of 44/50 and a ratings score of 43/50.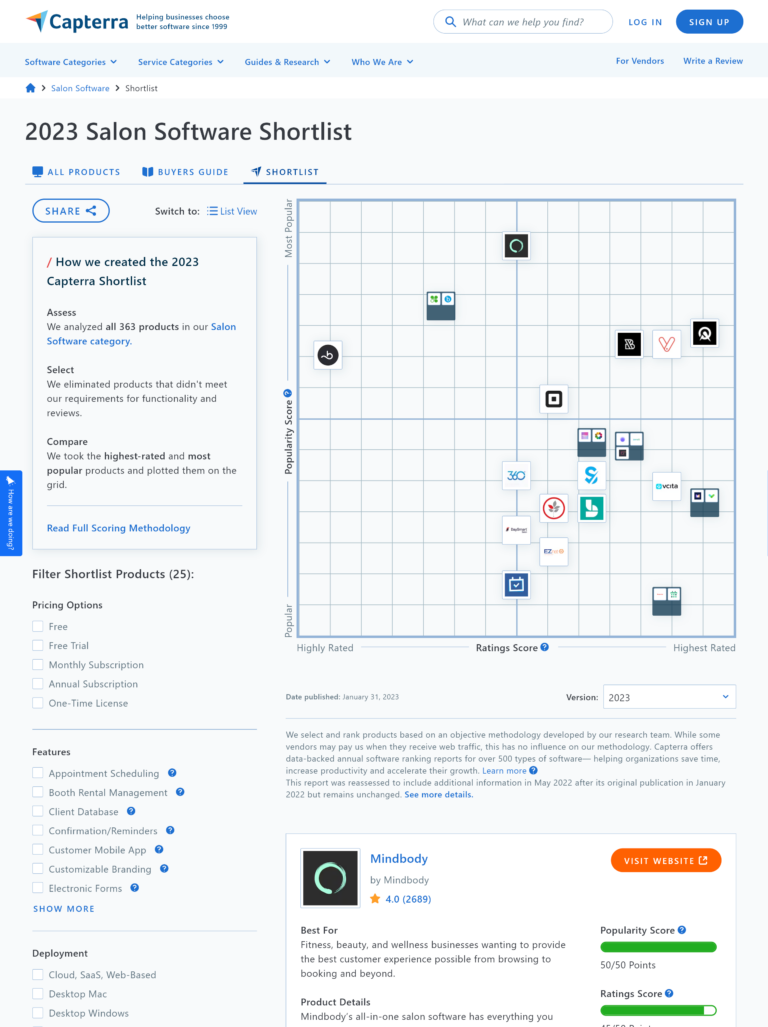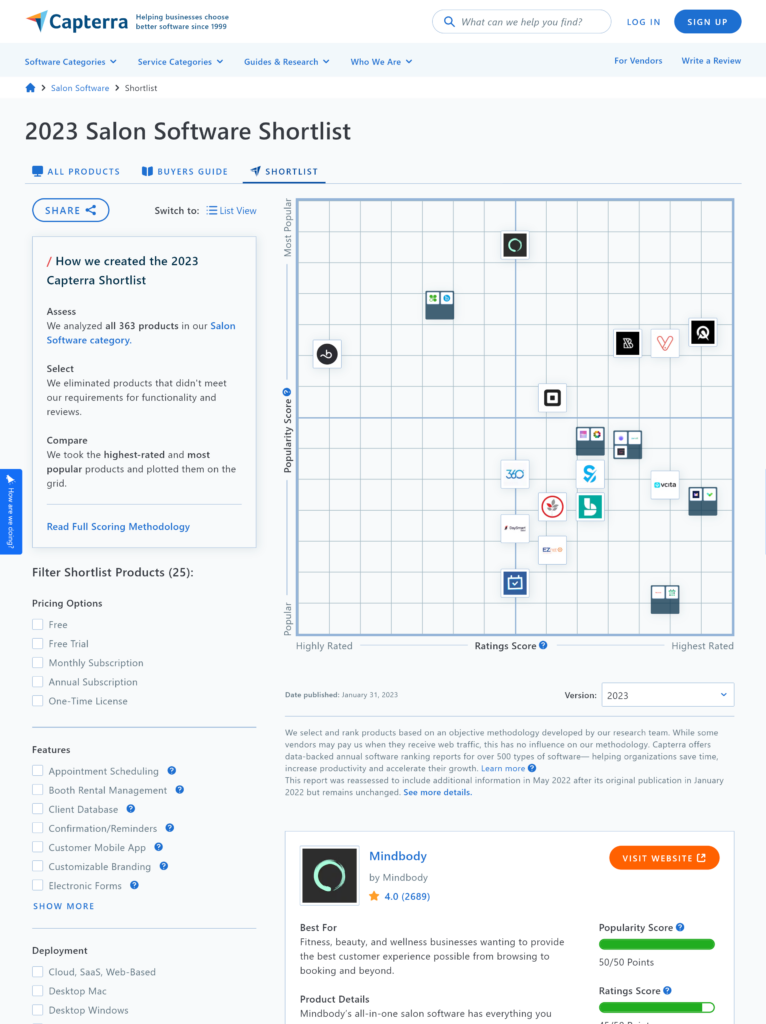 Capterra, GetApp, and Software Advice are owned by Gartner Digital Markets', however they are referred to as "stand-alone subsidiaries" by Gartner. Ratings and number of reviews are consistent across all three sites, which is why they have been grouped together here.
G2: No longer listed
As of Summer 2023, Booker has been pulled from G2's Highest Rated Spa and Salon Management Software list. When searching for Booker or clicking a link with their logo, an error message is displayed at the top of the screen, stating, "Sorry but Booker Software is no longer valid. Check out other Spa Management products."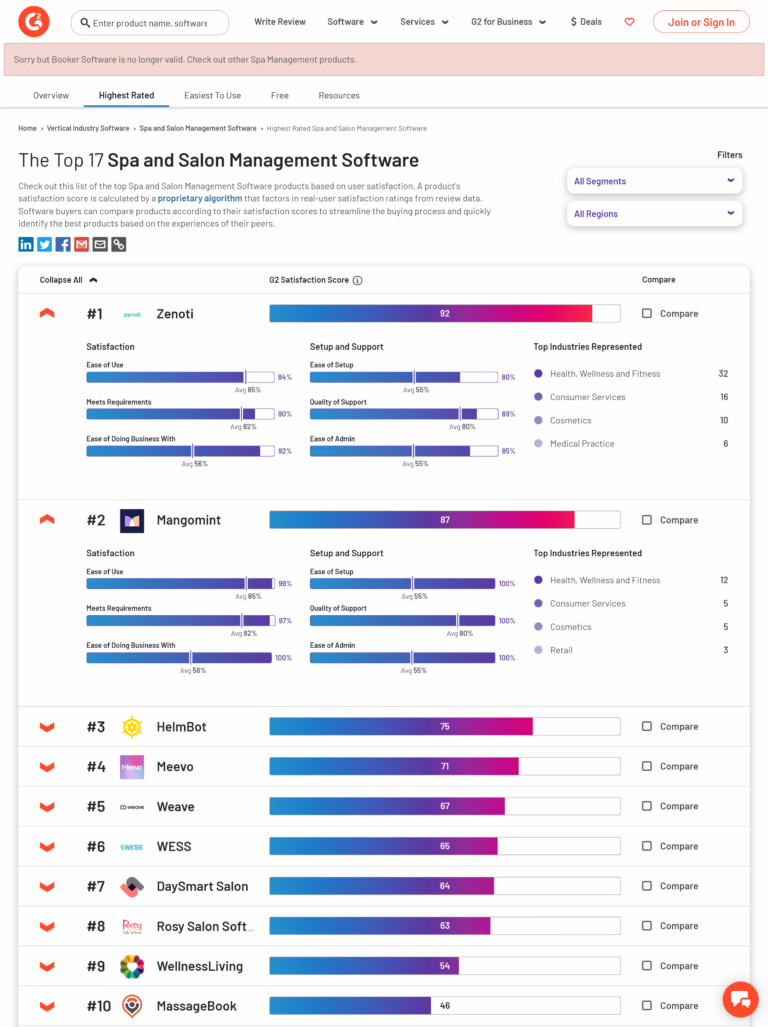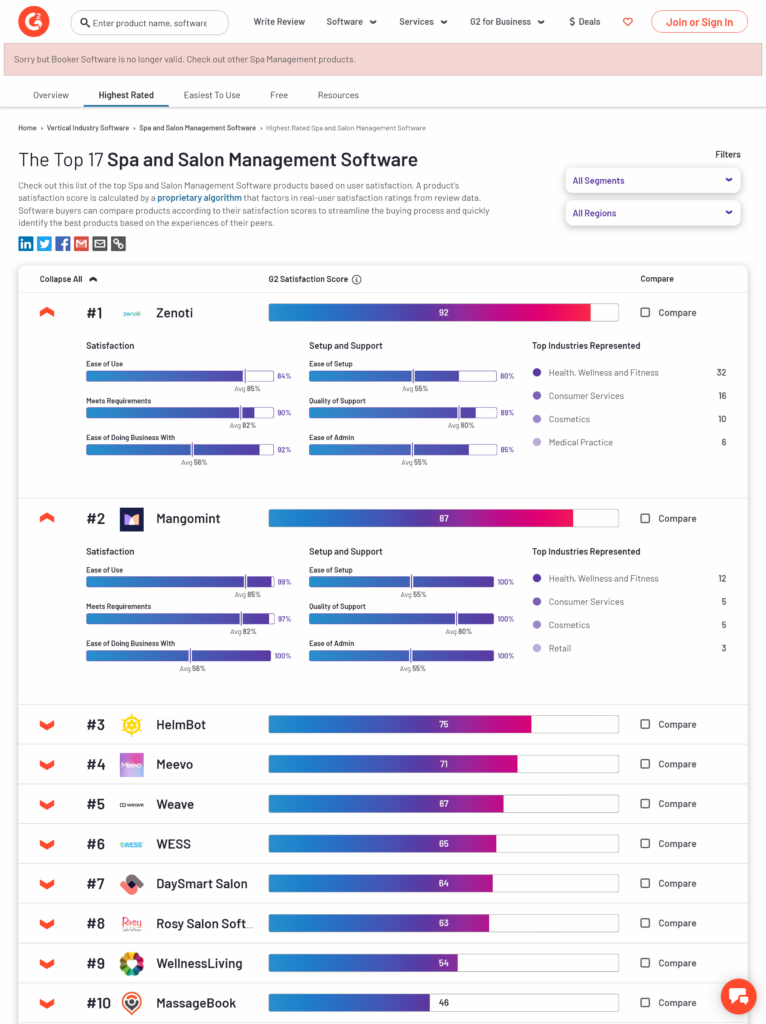 Booker Pricing
Booker Monthly Plans
Booker is a highly competitive salon software option, offering a stable of modern salon management tools and even some AI add-ons with their monthly plans. The brand has a wide range of monthly plans, starting from $129 for their entry-level "Starter" tier all the way up to $549 for their maxed-out "Ultimate Plus" plan.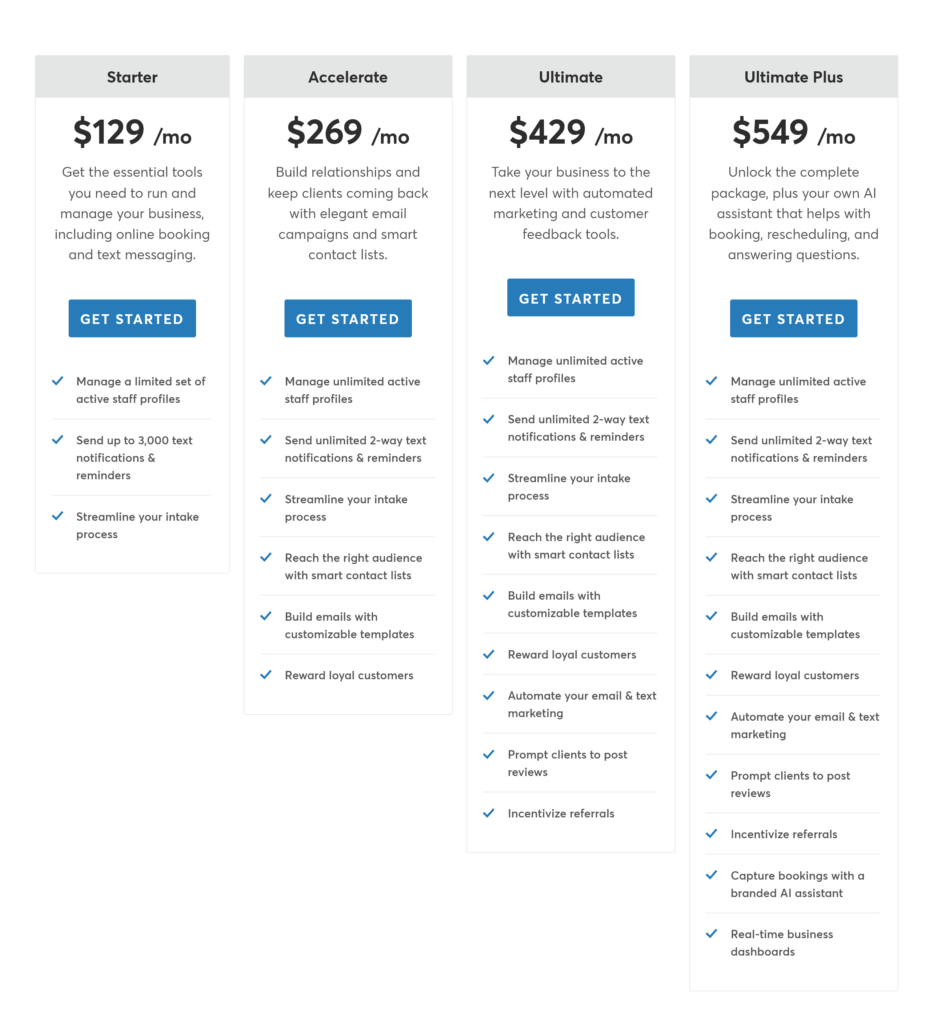 Here's an overview of the costs you can expect with Booker's monthly plans:
Starter
Booker's entry-level plan – starting at $129 per month
Manage a limited number of active staff profiles (15 active profiles)
Send up to 3,000 text notifications & reminders
Online booking
Individual staff pricing and service durations
Resource scheduling
Online store support
Client forms
Their most affordable Starter plan starts at $129 per month, and is described as providing "essential tools you need to run and manage your business". The basic feature set is intended for smaller businesses or solopreneurs with simple operations.
Included are core features like online booking, text notifications and reminders, customizable per-staff-member pricing and service timing, however, I was pleasantly surprised to see that resource scheduling was included as well.
With this plan, you will be missing out on useful features like two-way client text messaging, custom client fields, and email marketing, so keep that in mind if those are must-haves for your salon.
Accelerate
Booker's mid-tier plan for the "budget conscious" – starting at $269 per month
In addition to everything included with the Starter plan, you also get:
Manage unlimited active staff profiles
Send unlimited 2-way text notifications & reminders
Smart contact lists
Email builder with customizable templates
Rewards and loyalty program support
Advanced staff notification via text message
Booker's Accelerate plan takes the cap off the number of service providers you can have active and starts at $269 per month – a 108% price increase over the Starter plan.
It also removes limits on the amount of text message notifications and reminders you can send per month and includes rewards and loyalty program options in the software.
This plan is focused on building client relationships and remarketing with an email campaign builder and smart contact lists, as well as loyalty program support.
Ultimate
Booker's most popular plan with improved marketing tools – starting at $429 per month
Manage unlimited active staff profiles
Send unlimited 2-way text notifications & reminders
Streamline your intake process
Reach the right audience with smart contact lists
Build emails with customizable templates
Reward loyal customers
Automate your email & text marketing
Prompt clients to post reviews
Referral incentive options
Booker's Ultimate plan comes with everything you get on lower tiers and expands the marketing toolkit offerings with automations that help fill slow days and last-minute openings, for a 60% price increase over the Accelerate plan.
Your marketing efforts can be tracked via campaign analytics captured via the platform.
This tier also includes the ability to prompt and collect reviews via an online review widget that can be placed on your website, as well as referral incentives coordinated in the software.
Booker's Messenger feature is also included with this plan, allowing you to assign a dedicated SMS number to the business and respond to messages from clients via a live chat function directly from the front desk.
Ultimate Plus
Booker's most expensive, premium-tier plan – starting at $549 per month
Manage unlimited active staff profiles
Send unlimited 2-way text notifications & reminders
Streamline your intake process
Reach the right audience with smart contact lists
Build emails with customizable templates
Reward loyal customers
Automate your email & text marketing
Prompt clients to post reviews
Incentivize referrals
Capture bookings with a branded AI assistant
Real-time business dashboards
Booker's top-tier Ultimate Plus plan includes absolutely everything they have to offer and is marketed as "the complete package" for a whopping $549 per month.
It includes everything you get on lower tier plans, as well as your own AI assistant (also known as a chatbot) through Booker's upgraded Messenger feature, Messenger[ai], to help you answer basic client questions and help with booking and rescheduling via a chat module on your website, as well as use call forwarding.
You also get access to real-time business dashboards that offer improved reporting capabilities.
Booker POS & Credit Card Processing
As with all Booker features, there differing options available to the customer based on which "version" they are using.
Booker has both a "Version 1" and "Version 2" of the application. Version 1 is a legacy version of the software that lacks modern POS features that Version 2 offers, like the convenient "slide-out" side panel that allows you to complete a transaction without leaving the screen you are currently on.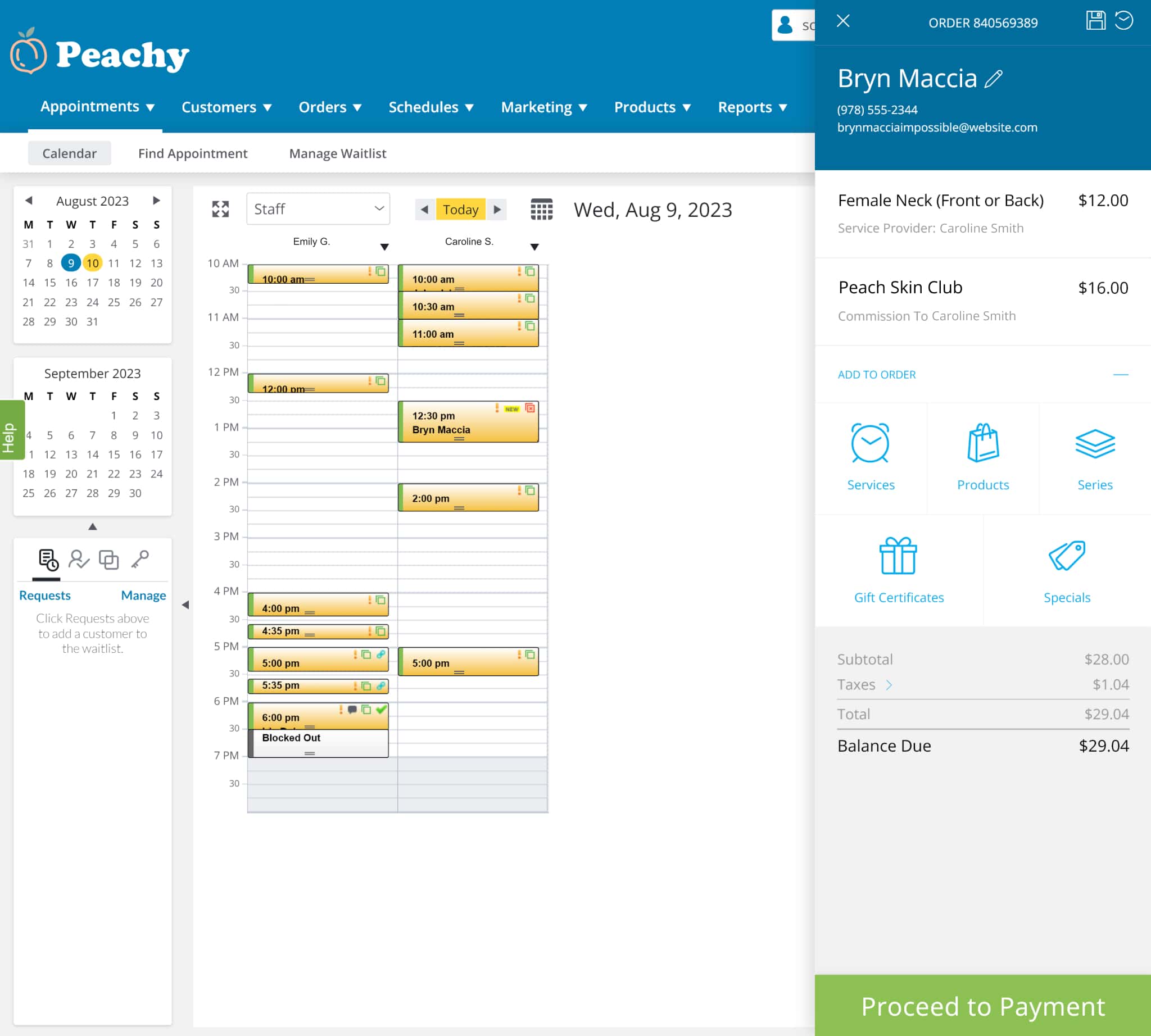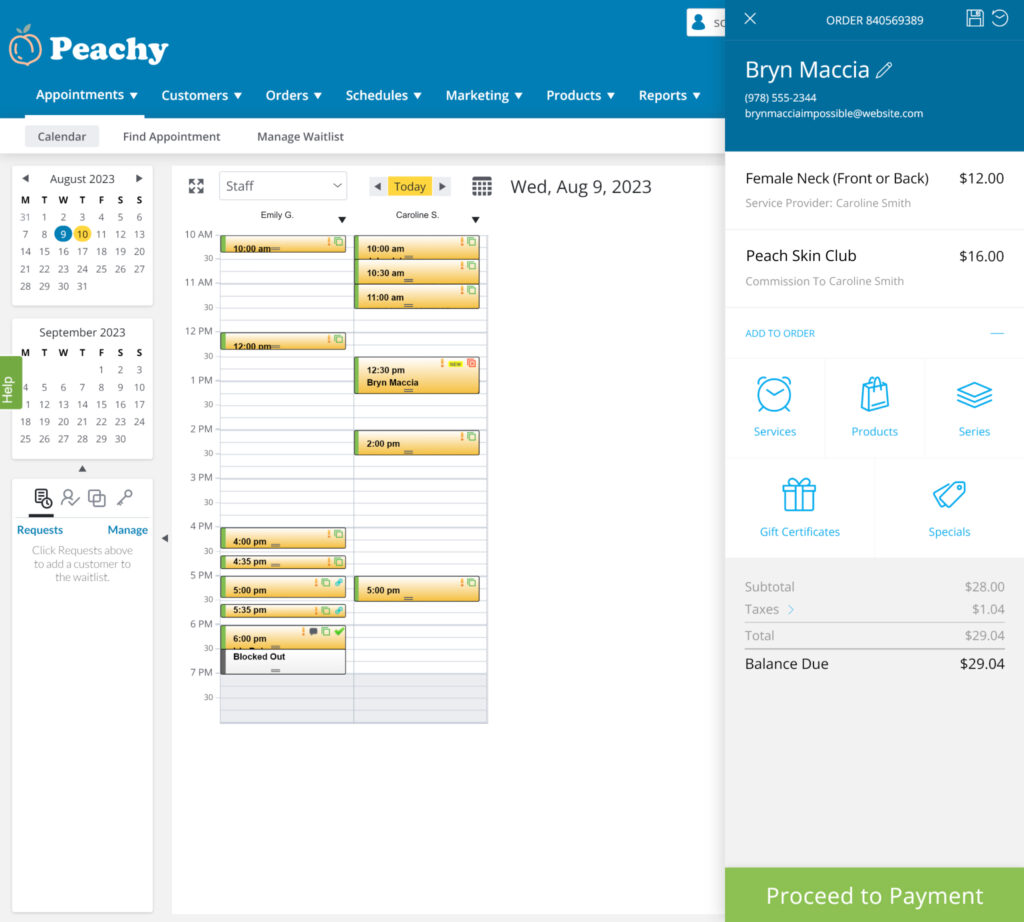 Booker is compatible with a range of credit card processors, which means you can effectively shop around for the lowest price for a card reader and credit card processing fees – competition is on your side.
Compatible partners include First Data, Bank of America, Payroc, 3C Payments, Worldpay, Sublyme Payments, and more. PayPal can also be accepted online and in-store. A variety of card readers and terminals can be used with Booker to accept payments.
Booker's tight integration with payment processors will automatically link payments to inventory and update the system inventory accordingly when items are sold.
The platform also offers industry-standard features like multi-merchant accounts and direct deposit.
For a closer look at the best salon POS and credit card processing options available right now, take a look at our list of the Best Spa and Salon POS Systems and check out the Best Credit Card Processors for Salons & Spas.
Booker by Mindbody also offers a first-party integrated payment processing service called Mindbody Payments (available in the US & Canada only).
This service collects payments through your Booker system and organizes payouts that are deposited into your bank account, similar to offerings from competitors such as Boulevard Payments or Mangomint Pay.
Credit card processing rates listed below are what customers can expect if they decide to sign up for Mindbody Payments:
| | | | | |
| --- | --- | --- | --- | --- |
| Region | Online or on-file: Card-not-present (CNP) | In-person: Card-present (CP) | ACH/DD/SEPA/EFT | Chargeback fees |
| US | 3.5% + .15 USD per transaction | Desktop terminal or mobile card reader: 2.75% per transaction | Not yet available (ACH can be added by contacting support) | $15 |
| Canada | 2.89% + .25 CAD per transaction | 2.39% + .10 CAD per transaction. Interac: .15 CAD per transaction flat fee | Not yet available | $25 |
Premium Add-ons
Booker doesn't use an a la carte model for premium add-ons aside from the Messenger[ai] feature, which can be added on to Accelerate and Ultimate packages. Instead, they bundle their more advanced features together with higher tier plans and bump up the price accordingly.
For instance, Marketing Suite tools are very limited on Starter and Accelerate plans, with the full suite only available on Ultimate and Ultimate Plus tiers.
That means no email marketing, no automated text message marketing, no drip marketing campaigns, and no automated loyalty tracking, amongst a whole host of other features.
While some may prefer this method, I believe many business owners would prefer the opportunity to add on only the features they find genuinely useful to their business without footing the bill for a far more expensive plan that tacks on several other features they may have no use for.
As I mentioned above, Messenger[ai] is the only a-la-carte add-on available through Booker (although it is included on the Ultimate Plus plan), and can only be added to the Accelerate or Ultimate plan.
Other Costs
While some other competitors do charge onboarding fees to get you up and running, Booker claims there are no additional fees to get started outside of the monthly package price listed and the credit card processing fees that are charged when using Mindbody Payments.
I made sure to clarify this point with a Booker representative, who confirmed that statement.
In addition, our representative informed us that there are no data import fees charged for migrating your information from your previous system, however, there is no full white-glove service offering like some of the best modern salon software platforms offer.
This means you will still have to export your data from your old system (in CSV or Excel format) yourself and send that to your onboarding specialist to clean up and import.
Client credit card information is a little more complicated to import – you or your onboarding specialist will need to contact your old salon software company to transfer that credit card info via an encryption token or other secure method.
View full pricing information on the Booker website.
Who is Booker Salon & Spa Software For?
I recommend Booker to salon and spa owners who are running a new or up-and-coming business, need the ability to bolster new client acquisition through their salon software's included features, and who also need built-in email marketing support.
Which Countries is Booker Available In?
Booker is available internationally across several countries. The full list of countries where the Booker app can be downloaded can be found here.
Switching to Booker
This is a big one for any salon software option you consider.
In fact, the number one thing holding salon owners back from jumping ship to a new booking and POS app — no matter how much they may hate their current platform — is uncertainty.
How hard is it going to be to get our entire business migrated over into a new booking system and how long will it take to get up and running?
You can't just pause your business, so any scheduling software should be able to get you fully integrated and ready to book with no downtime.
Booker doesn't offer a full white glove data import option, but they do assign you a dedicated onboarding specialist to guide you through the "Onboarding Conversion" process.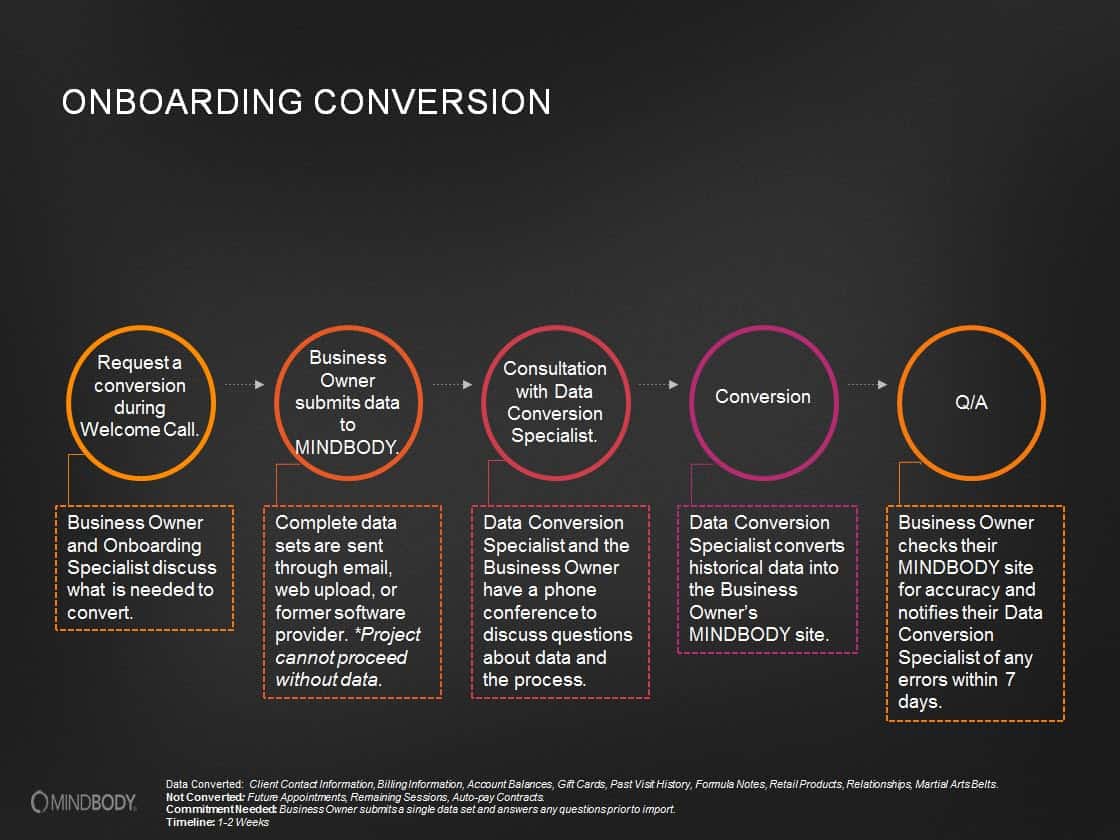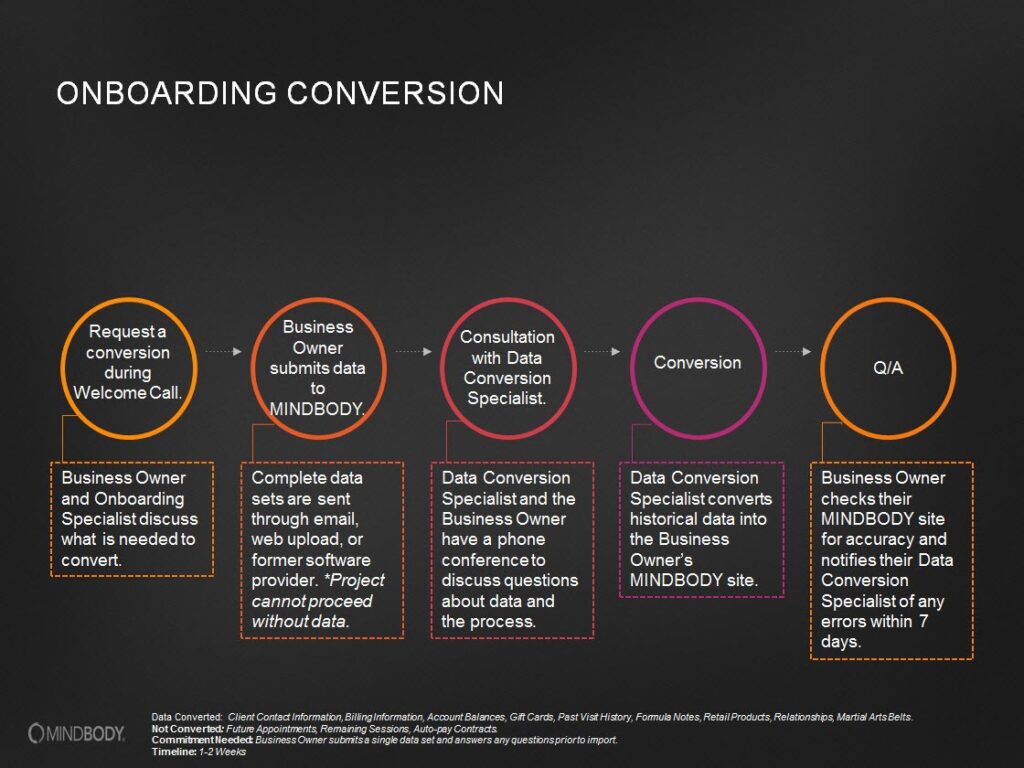 Onboarding conversion is a one-to-two-week process that kicks off with an introductory call, followed by the onboarding customer downloading and sharing their data with their onboarding specialist.
From there, a Data Conversion Specialist will meet with the business owner to go over any questions they may have about their data and the process before then converting historical data into the Booker app.
Finally, the business owner will need to verify that their data has correctly been transferred and notify their Data Conversion Specialist if there are any errors within 7 days.
What Data Can Be Imported Into Booker From My Old Booking System?
The following data can be imported into Booker:
Client contact information
Billing information
Account balances
Gift cards
Past visit history
Formula notes
Retail products
Relationships
Not everything from your old system can be imported into Booker, however. In fact, some important information cannot be imported, meaning you will have to re-enter this information manually once you have access to Booker as a customer:
Future appointments
Remaining sessions
Auto-pay contracts
Does Booker Make You Sign a Contract?
Ahhhh the contract thing.
Booker requires a minimum 12-month contract.
This isn't uncommon in the industry – in fact there are several other competitors that require contracts.
However, there are also several competitors who don't require a contract to use their software.
Perhaps the hardest sell on signing a contract with Booker is that you don't even get to try the software before you buy it.
That's right – you have to sign a year-long contract before you even log in to Booker for the first time.
No kicking the tires. No test drive. No trial.
When I brought up to the representative how hard of a sell that would be — how difficult it would be as a salon owner for me to convince my business partners and stylists to sign on for a 12-month contract without ever trying out the software to see if it is a good fit — they responded…
"Big businesses go with us for a reason. Trust those big businesses."
For business owners who are entrusting the livelihood of their salon or spa to a booking system, Booker's trust us because others do argument isn't exactly confidence-inspiring, nor is it a good justification for gatekeeping access to the platform behind a year-minimum contract.
Business owners deserve the chance to confirm that a financial decision this large is the right one for their salon or spa before committing to that kind of investment.
With so many other salon and spa software options on the market right now that do offer the opportunity to try their software out for free, it's just a shame that a company as established and mature as Booker refuses to provide their potential customers the same courtesy.
Booker Support
According to our representative, Booker offers 12-month one-on-one support included with any plan.
You can contact Booker support on your Booker site by clicking your initials in the upper right-hand corner and selecting the Support option.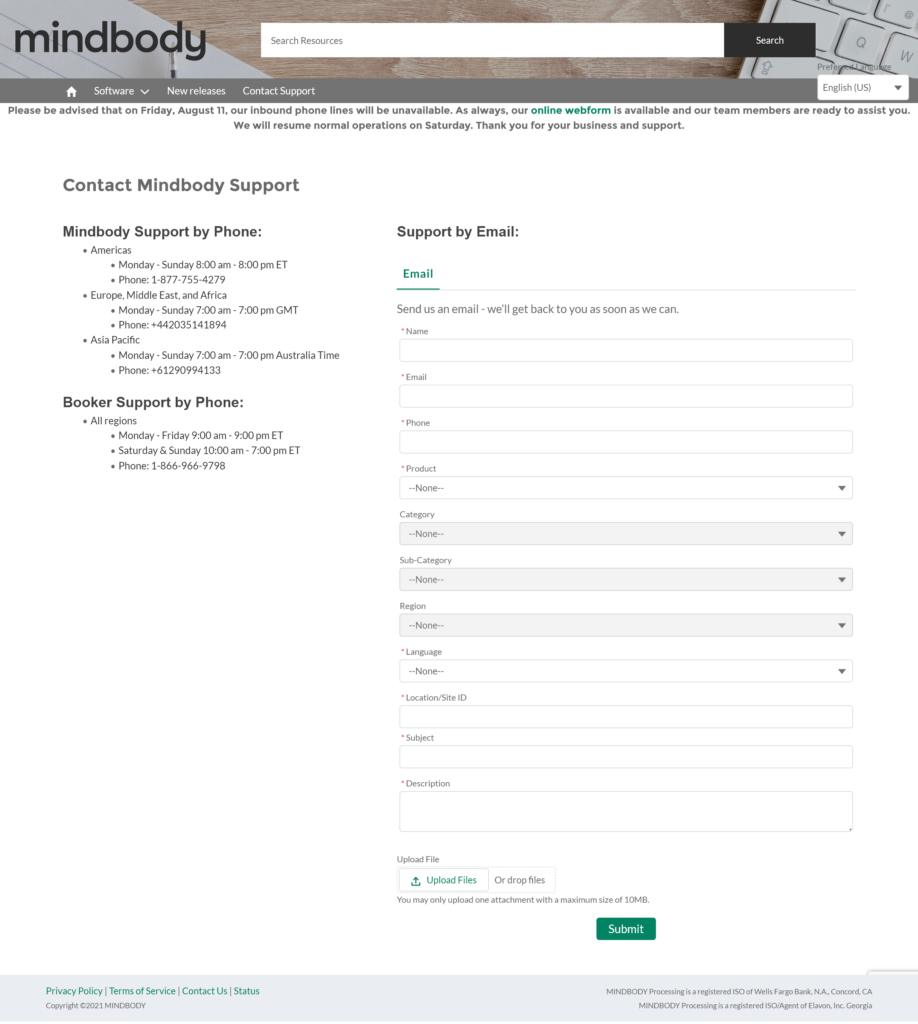 This will take you to the Support Center, where you can choose your software, and be directed to an online contact support web form where you can type out your issue and submit it to Booker's support team.
Booker by Mindbody Phone Support Contact Info
You can also contact Booker by Mindbody support at the corresponding phone number:
All regions
Monday – Friday 9:00 am – 9:00 pm ET
Saturday & Sunday 10:00 am – 7:00 pm ET
Phone: 1-866-966-9798
Booker Software Features
The remainder of this article will walk you through a detailed look at the features and tools offered by Booker.
The intent of this review is to allow you to experience what it's actually like for your business as a Booker customer and to better understand if the platform offers the tools and support you need to grow and succeed.
You can use the links below to navigate directly to the topics that are most relevant to you.
Booker Integrations
Custom Online Booking
Custom API integrations can be set up in Booker by Mindbody… if you are willing to work with a developer to develop said custom integration and pay for API access ($11 per month per location gets you up to 2000 API requests per day per location).
Booker's API allows you to design custom booking sites for your business instead of using Booker's standard online booking experience: A "Book Now" button that lives on your page and redirects to Booker's online booking site. API access is not required to use online booking through Booker.
You can also sync your iCal or Google calendar with the Mindbody calendar so that new appointments booked through the Mindbody app appear on your calendar app of choice.
Marketing Integrations
Mailchimp integration is no longer supported in-app. Since the inclusion of the Mindbody Marketing Suite, third-party marketing integrations like Mailchimp are no longer available in Booker.
That's not exactly a surprise – the Marketing Suite is a premium feature bundled in with Accelerate and Ultimate plans, so dangling the carrot $140 above the awkwardly positioned, entry-level Starter tier tracks as an upsell tactic.
For details on third-party POS hardware integration, see the Booker Point of Sale (POS) options section.
Overall, Booker has — intentionally — limited customizability. It is a simpler platform than its sister system, Mindbody, and as a result, offers far less flexible integration options and custom functionality.
Booker Software Online Booking
As we touched on in the section above, if you want to have a custom booking experience on your own website, you can.
Booker's API allows you to design custom booking sites for your business instead of using Booker's standard online booking experience if you're willing to shell out the extra $11 per month on top of your monthly subscription fee.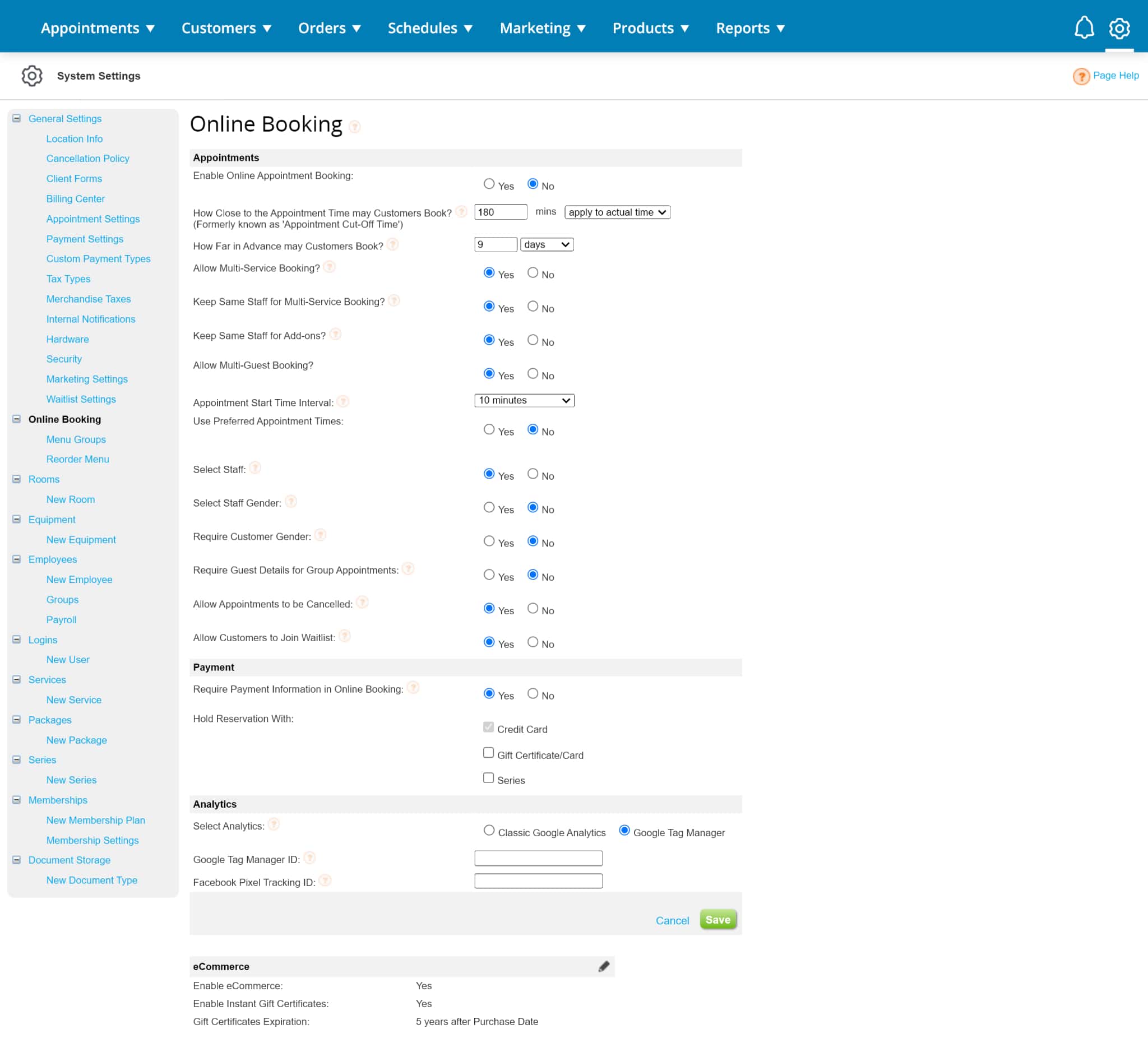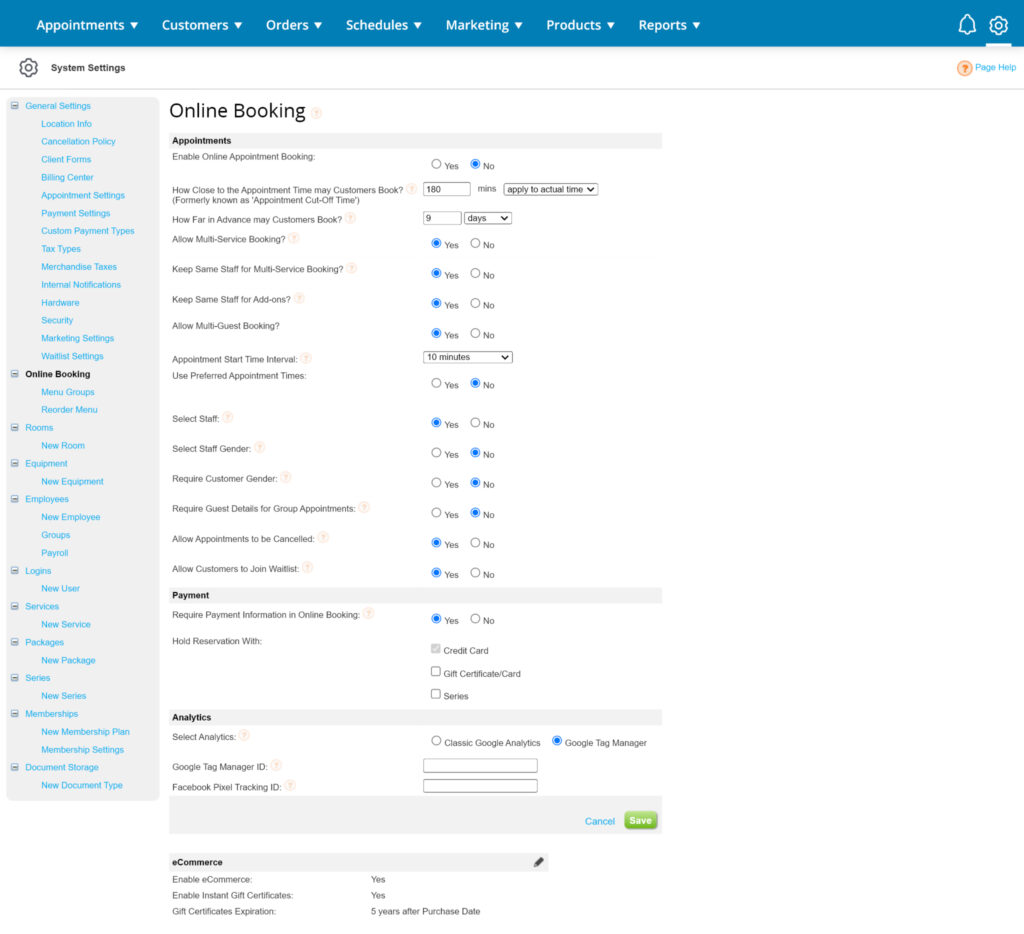 Otherwise, your online booking experience will take the form of a "Book Now" button that lives on your page and redirects to Booker's online booking site (rather than on your own website).
While API access is not required to use online booking through Booker, the online booking experience without it is not quite on par with the robust online booking widgets that live on your website and offer a much more seamless client experience which most of its competitors now offer (often at a better price).
Mindbody Explore and the Mindbody App
Booker by Mindbody offers access to Mindbody Explore: an online marketplace and mobile app where potential clients can discover and book services with businesses in their area.
Owners can list their business and services in the Mindbody app, as well as share promotions and other details with users looking for related services.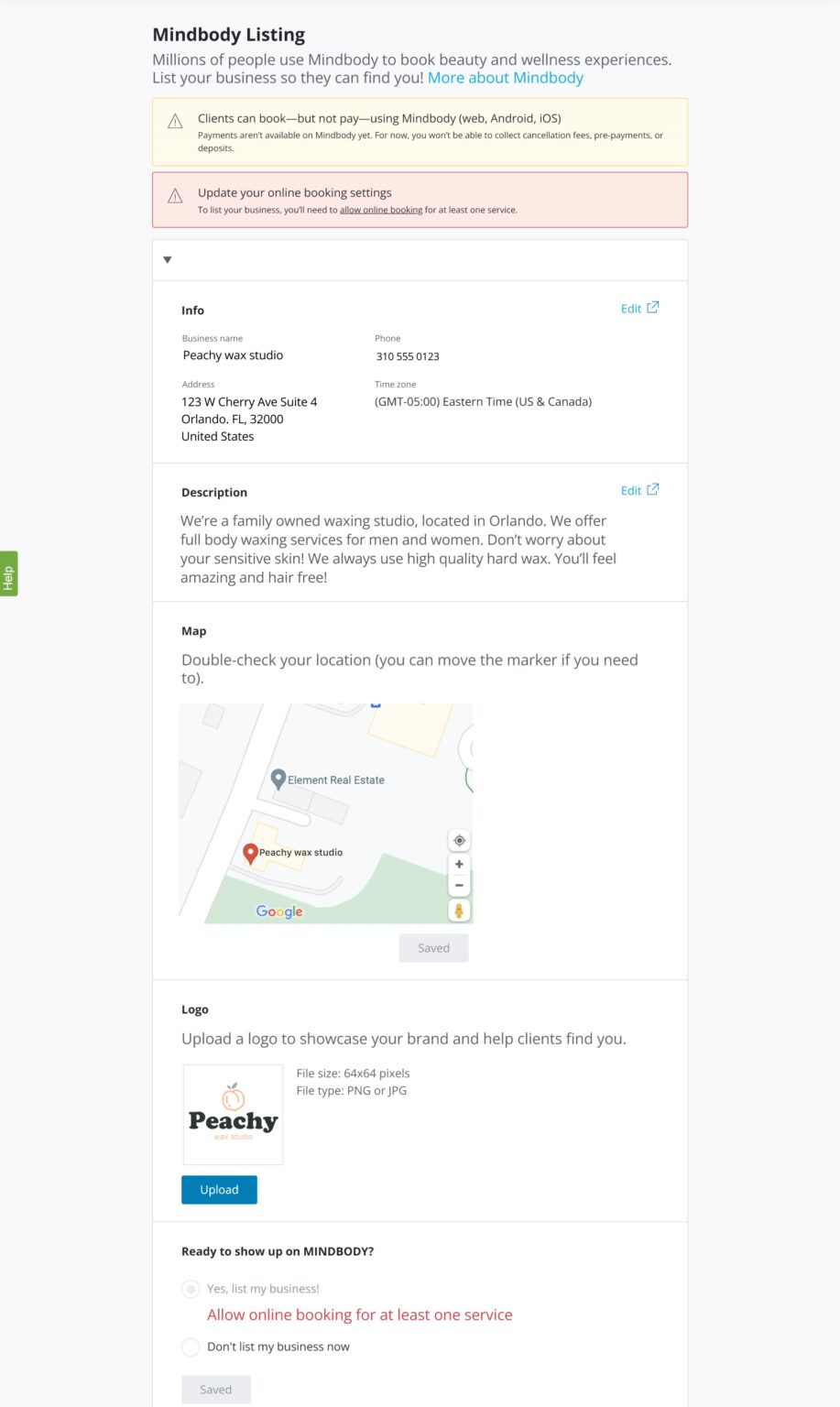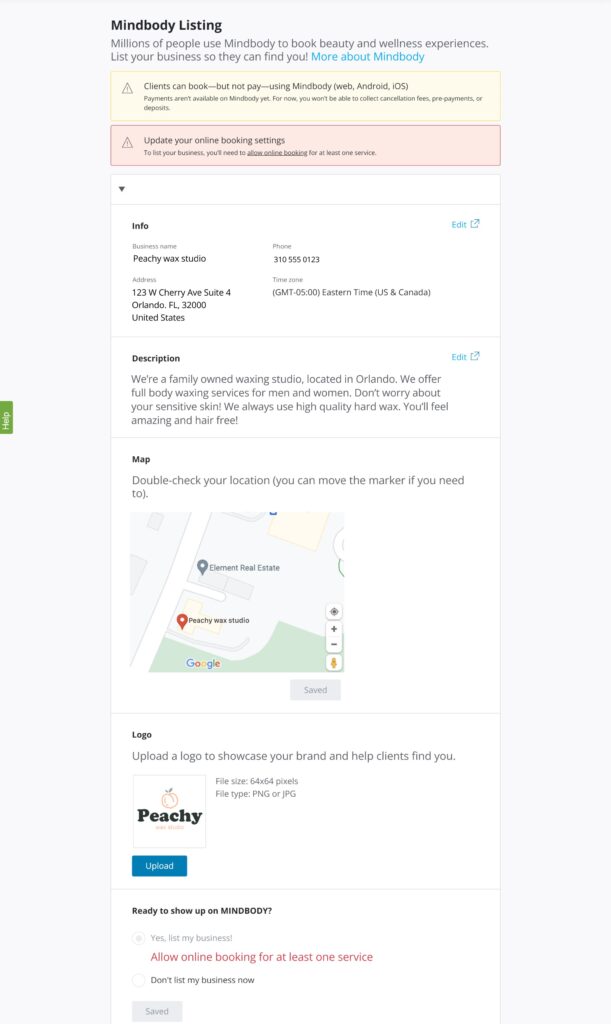 To create a Mindbody Listing, business owners can navigate to the Marketing tab in their Booker account and select the Mindbody Listing submenu.
From there, you can edit your business information, confirm your location on Google Maps, upload a logo, and agree to opt-in to listing your business on Mindbody's marketplace on the Mindbody Explore site and customer-facing Mindbody app.
Booker Software Appointment Calendar / Scheduling
Booker's calendar is simple and utilitarian, if a little uninspiring.
In a way, that's both a pro and a con.
Details of the calendar screen are easy enough to distinguish with grey and bright yellow appointments, and booking icons (for confirmed, checked-in, same-day appointments, etc.) are easily visible on the top right corner of the appointment itself.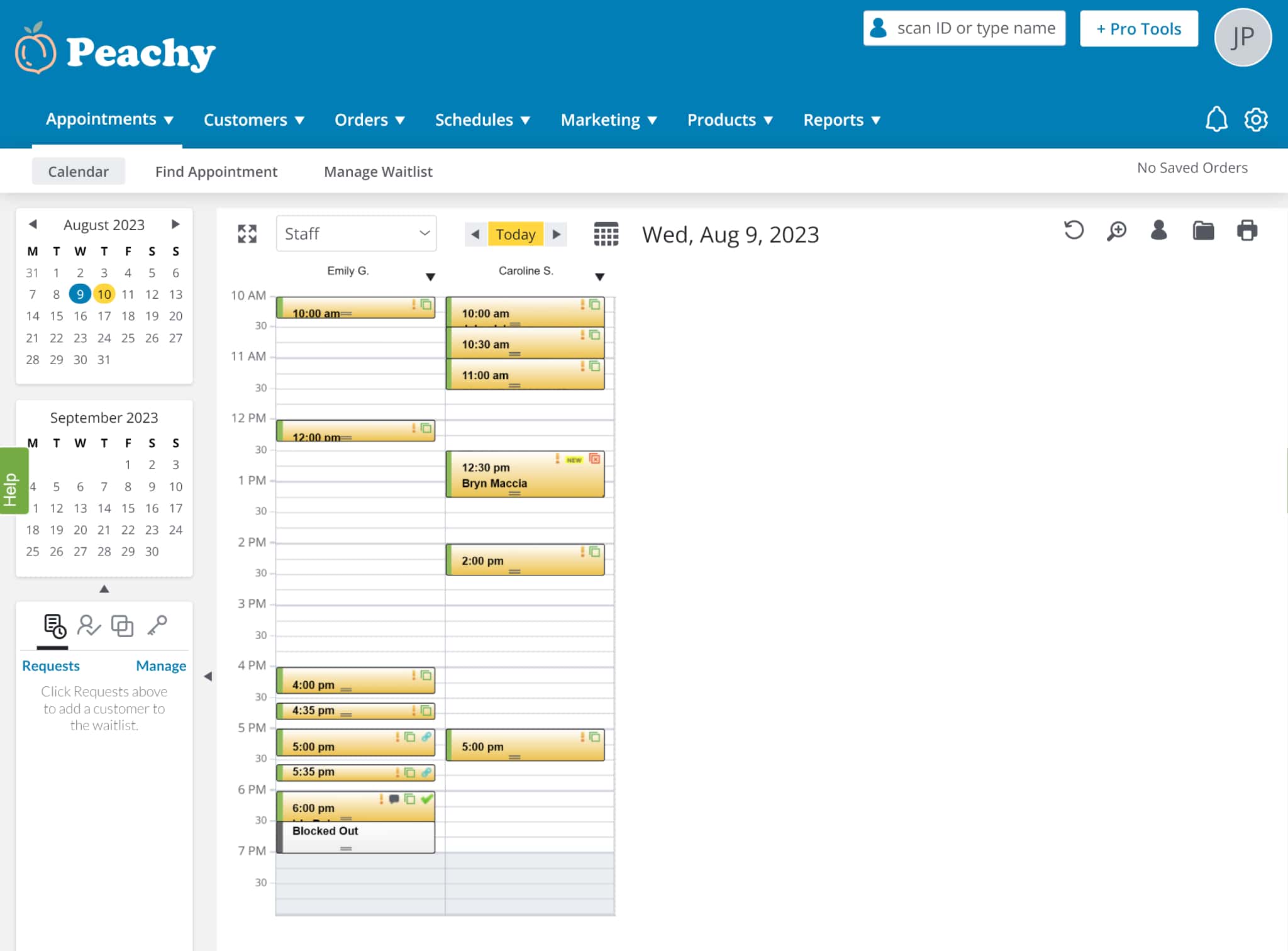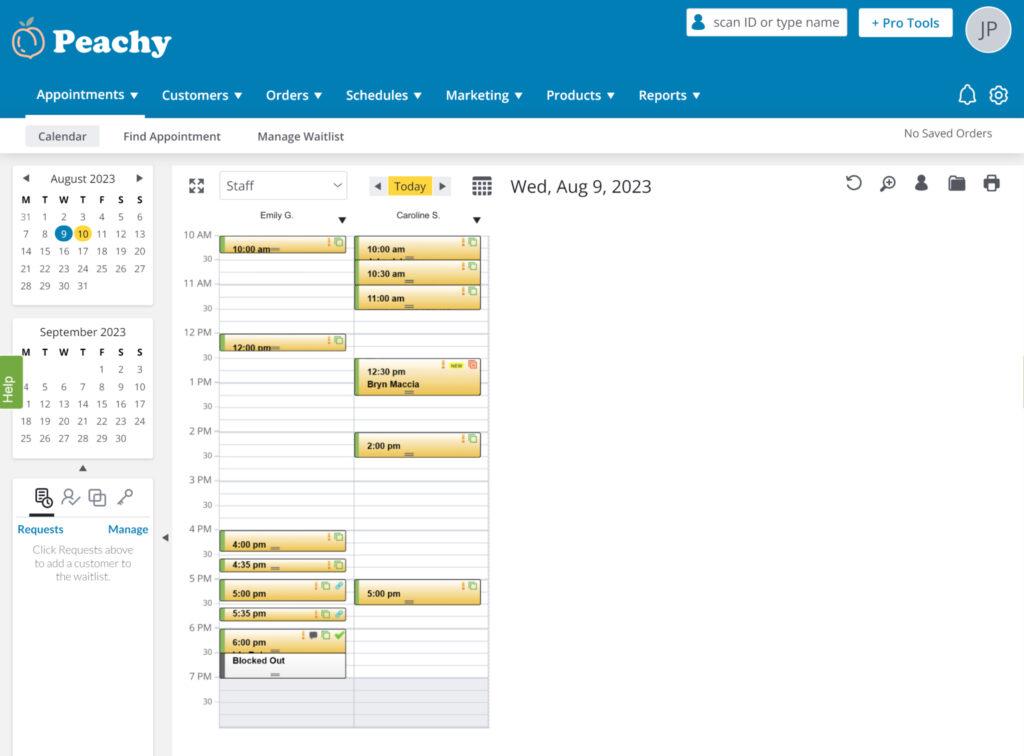 By the default 15-minute-increment view, the calendar looks a little cramped and may easily obscure client names and appointment info for shorter appointments. In this case, hovering over the appointment with your mouse cursor allows you to see a bubble view of all the details.
Likewise, you can adjust the calendar time zoom level so that you can more easily see appointment details at a glance, however this will change the increments of time the schedule is broken down by, so keep that in mind when booking.
You can right-click (or Control-click on Mac) on an appointment to open a contextual dropdown menu with options to confirm, check-in, check-out, cancel, or edit the appointment. You can also move an appointment to the clipboard, view or print invoices, add to a group, and more from this menu.
The calendar features several view options in a dropdown menu at the top left of the schedule. You can filter by staff, by room, and by other more intricate custom view options such as by staff per week.
You also have the option to print appointments and staff itineraries in the upper left of the screen.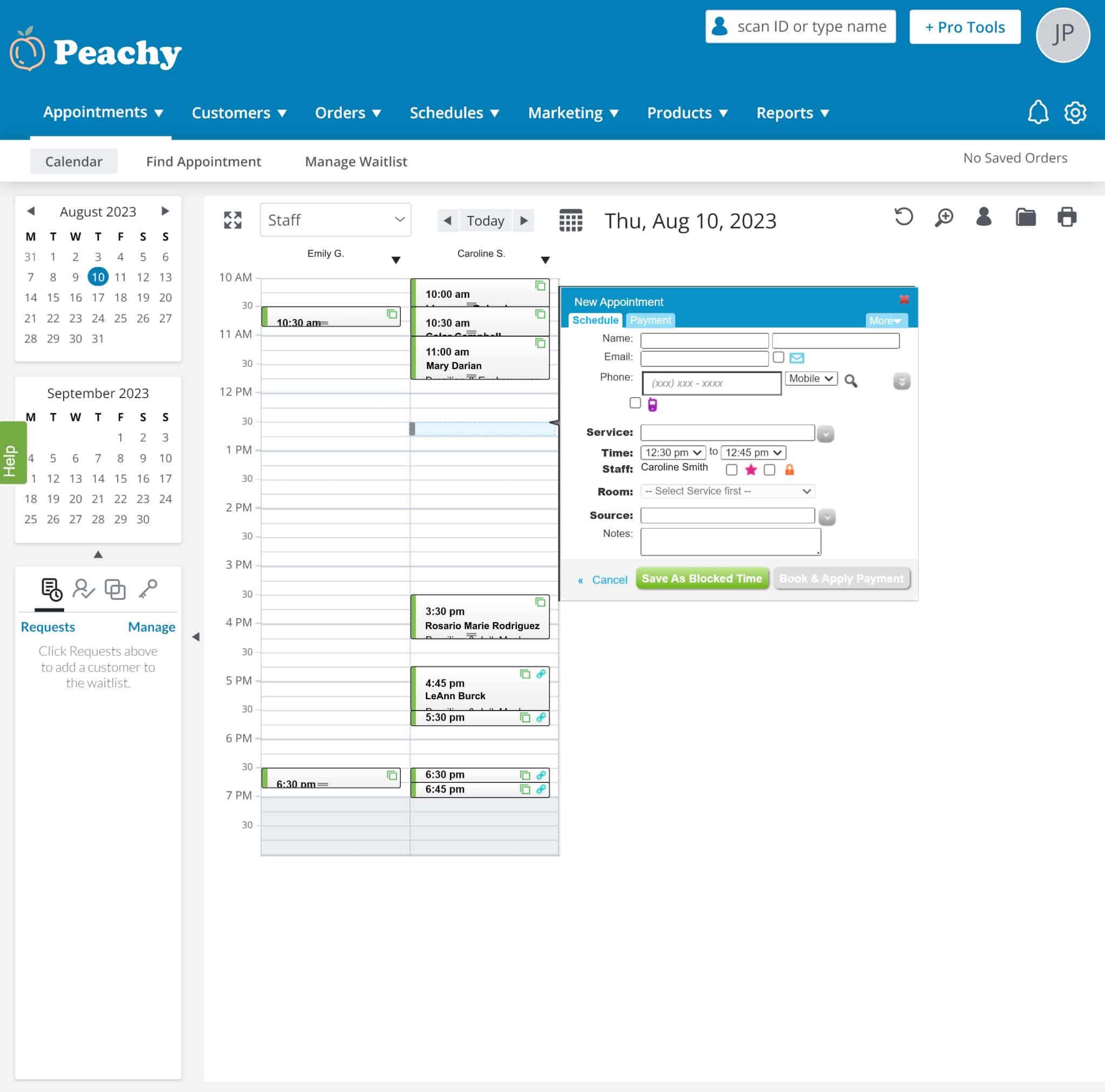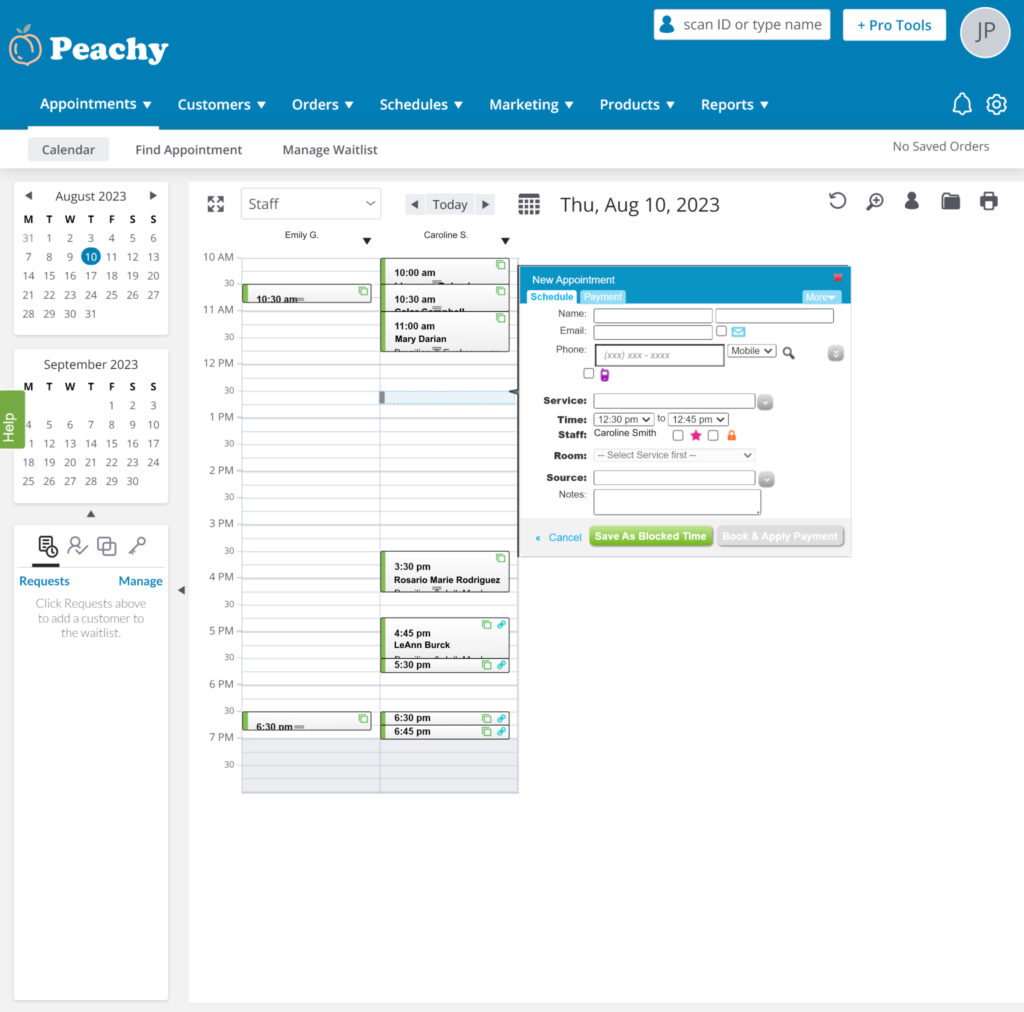 Booking a new appointment can be done by clicking on the time you wish to book or by creating a new order via the Orders tab – however, I discovered that the same quirk I first encountered back in 2016 still exists in Booker, just as it did back in my days of using it in the salon.
When attempting to add a new client into the system via the Order pane on the right side of the screen, any name you type into the Enter Customer field does not carry over once you press the New Customer button.
This means that even though you are required to type in a name to access the (add) New Customer button, that name will need to be immediately retyped in the New Customer window once you click that button.
Every time you add a new customer this way (for instance, by selling retail products to a walk-in customer), you will have to enter their name twice.
Not a deal-breaker by any means, but it is surprising to see that such obvious and ever-present bugs have not been fixed after several years.
Booker Client Data Management
Booker's client management tools within the app look a little bit old-school but offer quite a bit of information that can be filtered and searched by almost any criteria.
On the Manage Customers screen, you can search by customer name, email, phone number, or member number, export client data via CSV, and browse your entire client list in column format.
You can also add or remove columns and customize the view to filter by any criteria you collect for your clients by clicking the wrench on the top right of the pane.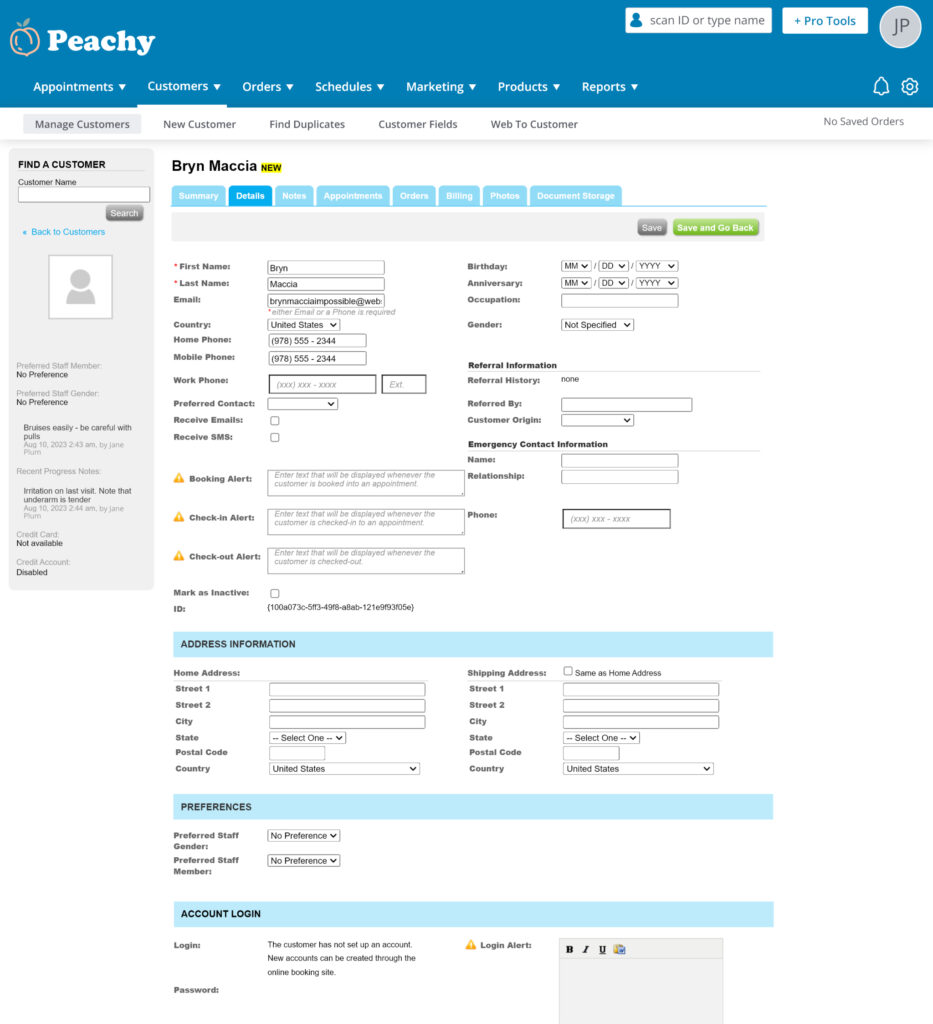 Inside a client record, you can view progress notes, recent appointments and transactions, product purchases, and active entries that the client currently has on the waitlist, as well as a total lifetime sales summary for that client.
Managing Client Reviews and Feedback
Let's talk about client review management.
Booker offers some genuinely helpful tools for prompting, gathering, and sharing client reviews through its Marketing Suite.
With it, you can enable settings that automate the relationship management process by scheduling automatic ratings request emails or texts that get sent to clients shortly after their visit.
You can also configure settings to ask clients to post their feedback to social media sites after submitting their review, and you can configure Booker to auto-publish any review with 4.5 stars or higher to the review widget on your website.
Booker also offers the ability to automatically flag reviews with low scores so you can reach out to the client and attempt to recover the situation.
Booker Software Appointment Notifications & Alerts
In the Marketing tab, Booker customers can set up automated emails and SMS notifications to remind, confirm, and cancel appointments, send "thank you"s, notify clients on the waitlist when they've been booked, send birthday communications, and more.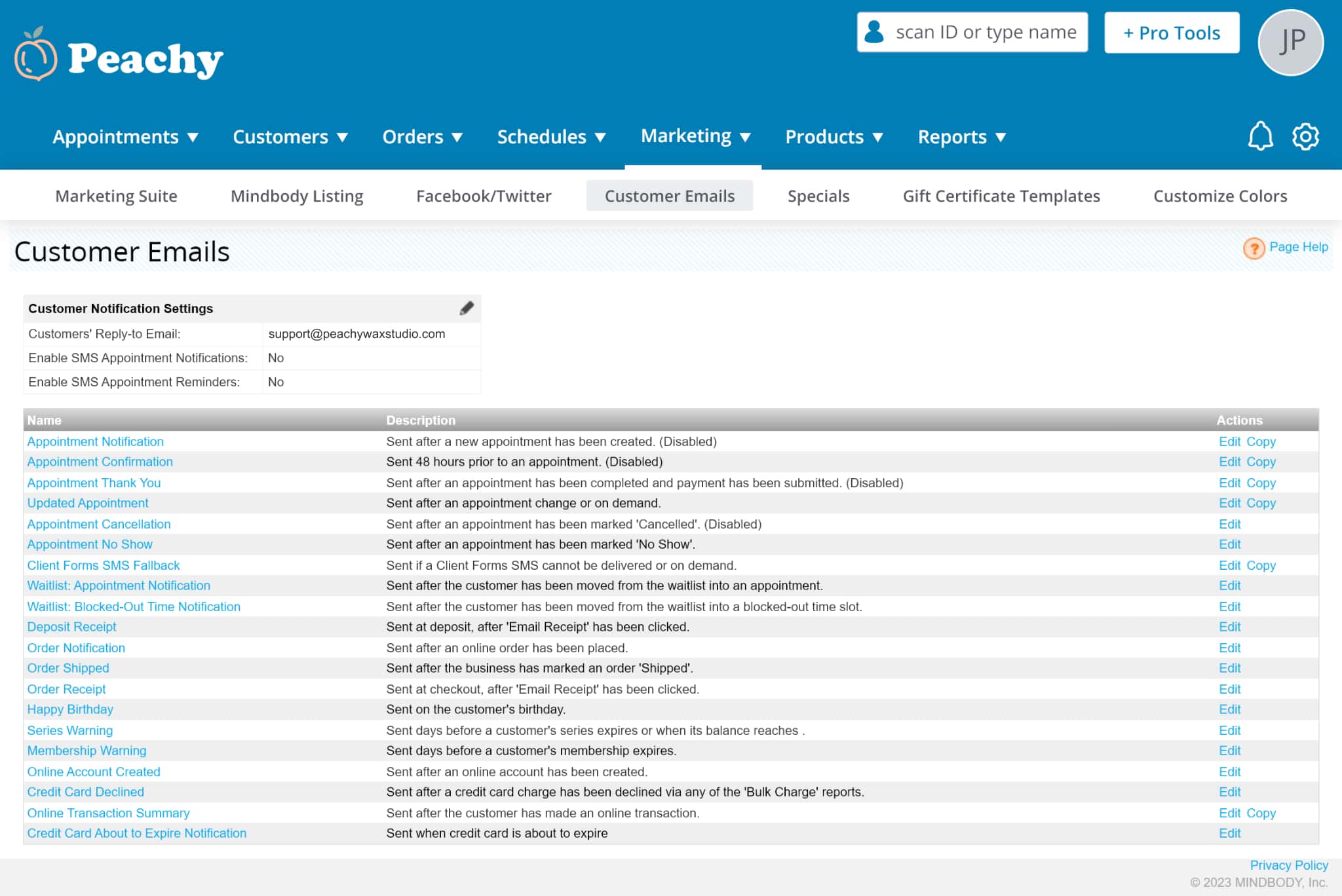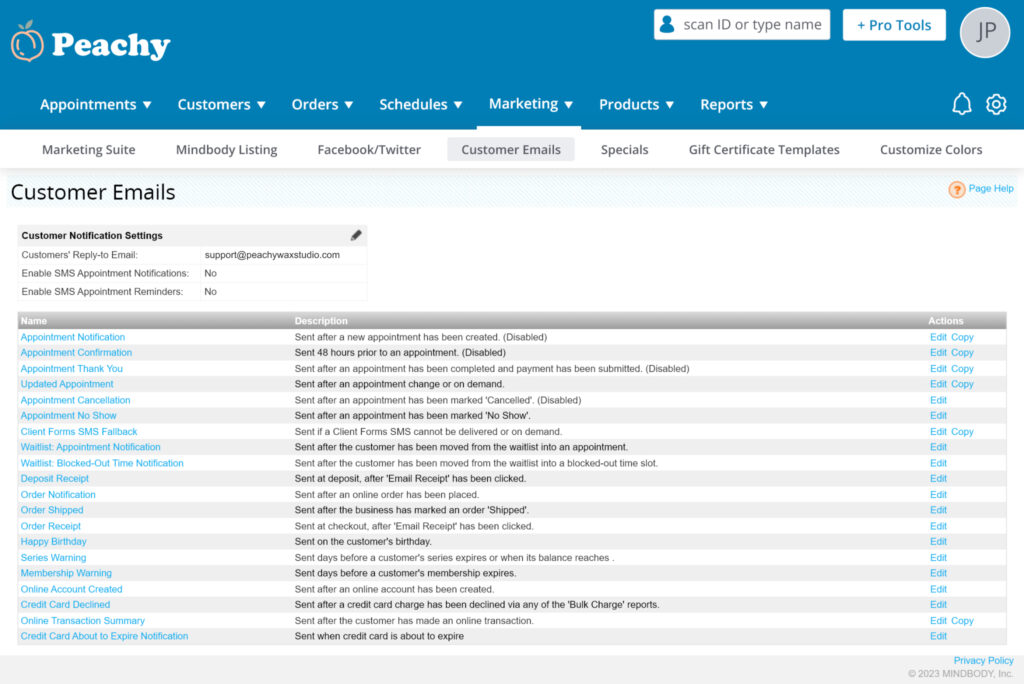 While some email communications can be customized, you cannot currently edit the content of your SMS communications in Booker. This means that you are limited to the prewritten scripts created by Booker for all automated communications.
Likewise, text and email communication features are currently limited on some plans, so consult with your representative to verify messaging limitations for the plans you're considering before committing to the mandatory 12-month contract.
At the time of this review, 2-way appointment confirmations and cancellations are not available on the Starter plan, and SMS appointment reminders are limited to 3000 SMS communications per month.
Starter
Accelerate
Ultimate
Ultimate
Plus
Customer Profile, Schedule,
Visit and Purchase History, Account Balances
X
X
X
X
Customer Staff / Gender Preferences
X
X
X
X
SMS Appointment Reminders
3000 SMS
per month
Unlimited
Unlimited
Unlimited
Advanced Staff Notification via SMS
X
X
X
2-way SMS Appointment Confirmations
X
X
X
2-way SMS Appointment Cancellations
X
X
X
Booker 2-Way Client Communication
Booker also offers 2-way client communication through its Messenger and Messenger[ai] feature.
Messenger is available on Booker's Ultimate software package and Messenger[ai] is available on the Ultimate Plus package.
Software package
Features available
Ultimate software packages include Messenger
What's included:
• The account owner has their own login
• An assigned SMS number
• Messages are in Live Chat status so all responses are made from the front desk

Not included:
• Messenger[ai] bot, web widget, or Call Forwarding.
Ultimate Plus software packages include Messenger[ai]
Ultimate Plus packages include all the basic features of Messenger and these additional features:
• Messenger[ai] bot
• Web widget
• Assigned Call Forwarding and SMS numbers

Set up for these features are covered during your onboarding training.
For Accelerate and Ultimate packages
• Messenger[ai] can be added to your package as an add-on.
Booker Software Email Marketing Tools
Booker's Marketing Suite includes a modular email builder – a very similar (if a bit less elegant) feature to the one we covered in our Boulevard Salon Software review.
Like that feature, Booker's Marketing Suite features a simplified three-step creation process for email campaigns and communications.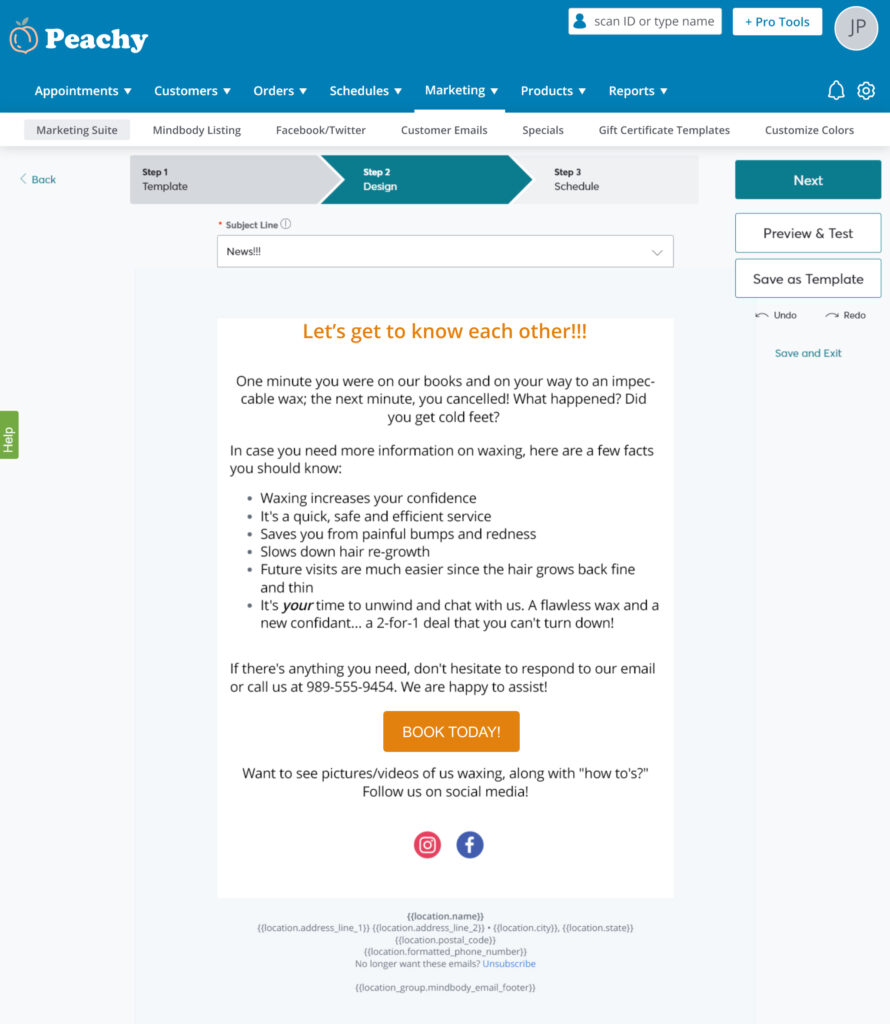 Step 1 features a customizable template library where premade and previously-made email designs can be loaded for editing.
Step 2 is where you can access the built-in email editor, where you have the ability to drag and drop text, image, and formatting blocks to build out your communications easily, with no need for coding or HTML experience.
Step 3 allows you to name and schedule your email campaign and send it with just a couple of clicks.
Overall, Booker's email marketing suite is a bit less robust than some of the other offerings from competing salon and spa software suites, but it is functional and allows you to create audiences and communicate with your opt-in marketing list with its tools.
Booker Software Staff Management
Booker defines employee profiles by active and inactive statuses.
On Accelerate and higher-tier plans, there is no limit on the number of active employees, but the Starter plan is limited to 15 active employees at one time. All plans can have unlimited inactive employees.
Employee schedules can be created and managed in the Schedules tab.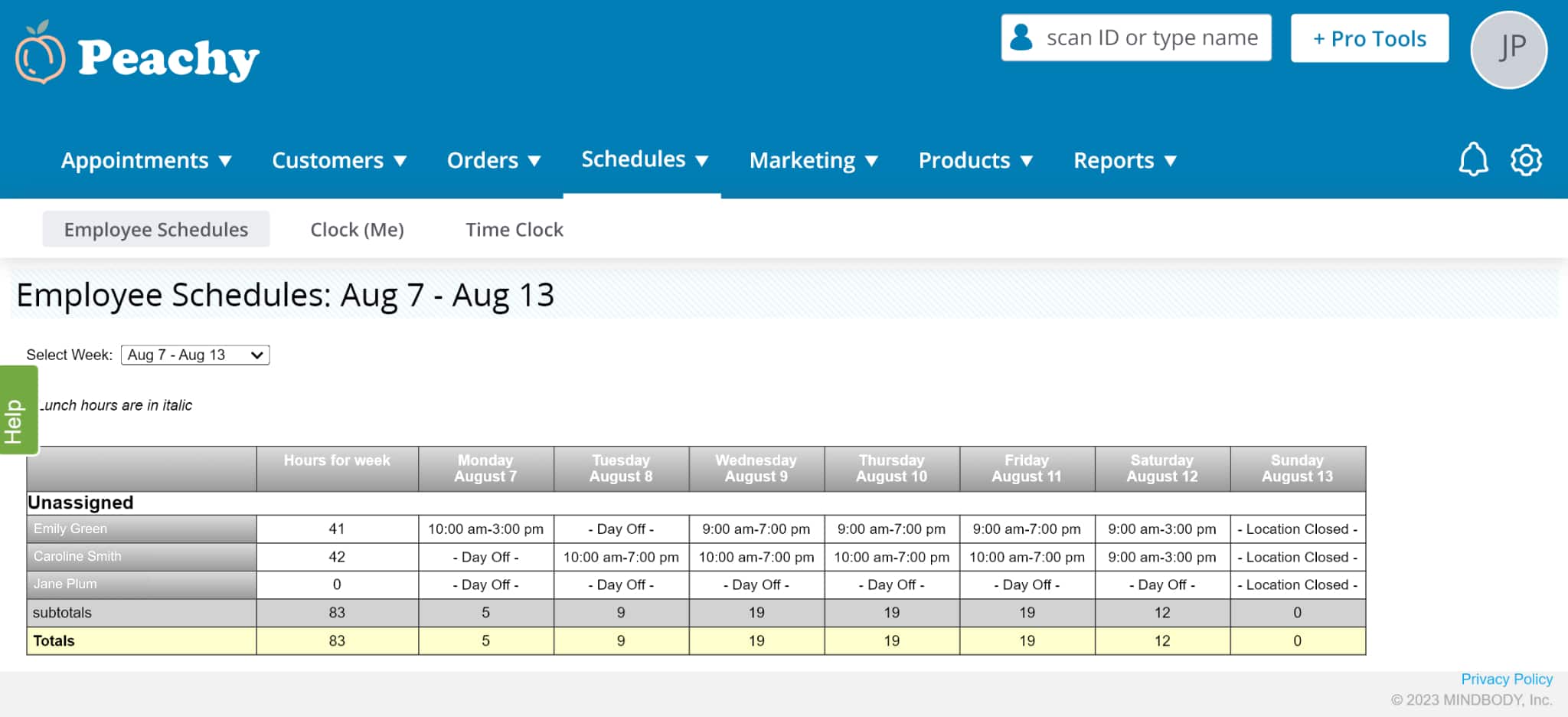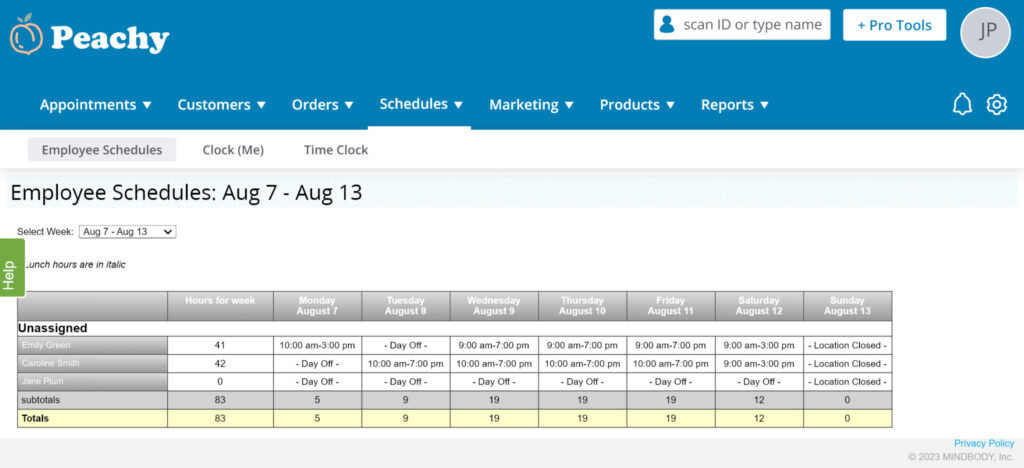 Schedules can be specified by date range (by calendar week) and a regular weekly schedule can be set as well, however, the regular schedule is limited to a one-week interval, so more complicated work schedules that involve odd weeks off or monthly variations are not an option in Booker currently.
Payroll can also be managed in the system, and Booker offers the ability to run a mixed-compensation-model business across commission, booth rental, and hourly pay models.
Booker Software Business Reports
Reporting is broken down into two primary categories in Booker's system: the Business Intelligence Dashboard and the All Reports screen.
Booker's Business Intelligence Dashboard gives at-a-glance metrics to help categorize sources of sales revenue, customers/clients, and appointment bookings.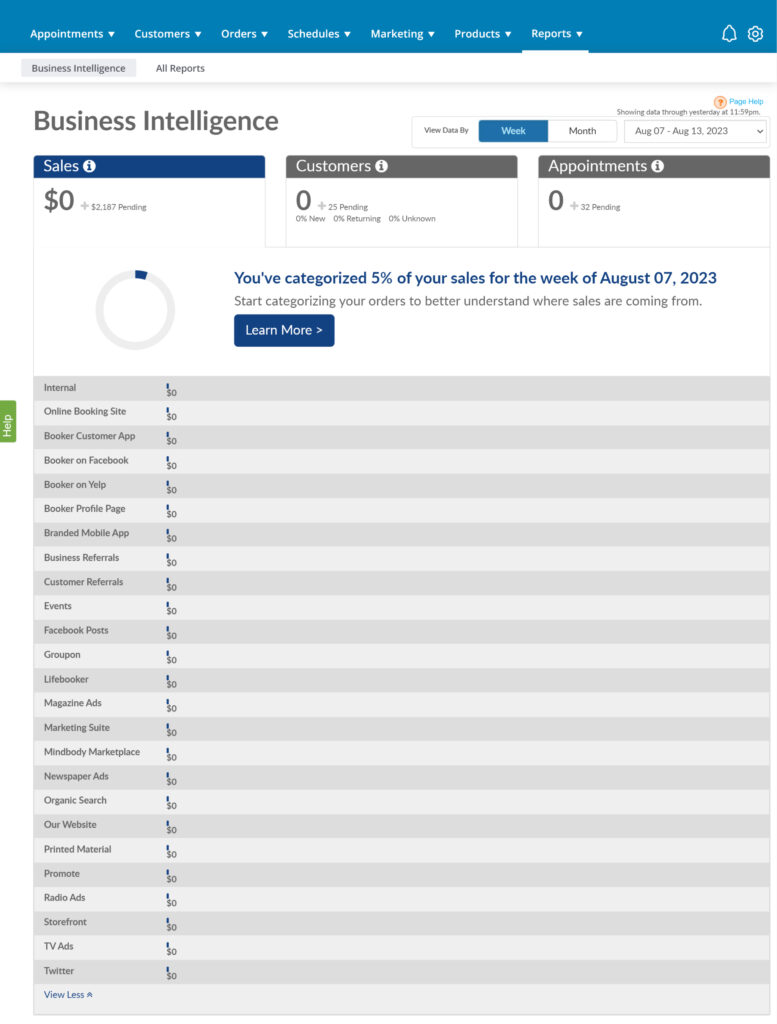 The Business Intelligence Dashboard will automatically aggregate data based on appointment and order "Sources" entered when booking an appointment so that you can keep track of customer acquisition, attrition, and retention on weekly and monthly schedules.
The All Reports screen is your hub for detailed reporting. Everything from cash register- and deposit summaries to product and service sales, inventory, and accounting can be detailed in the reports centralized here.
Reports data can be run by the current or the previous day, week, month, or year. Custom date ranges can also be entered.
As with several other features we've covered in this review – not all reports are available on all plans.
The Business Intelligence Dashboard, Service Sales report, and nearly two dozen other reports from product sales to refunds and even daily tips are not included in the Starter plan. All other plan tiers have full reporting access.
Booker Inventory Management
Booker offers inventory support for products, purchase orders, and vendors.
While the interface looks rather plain, the amount of product detail available in the record is more than adequate, making running reports and pulling data based on specific criteria possible.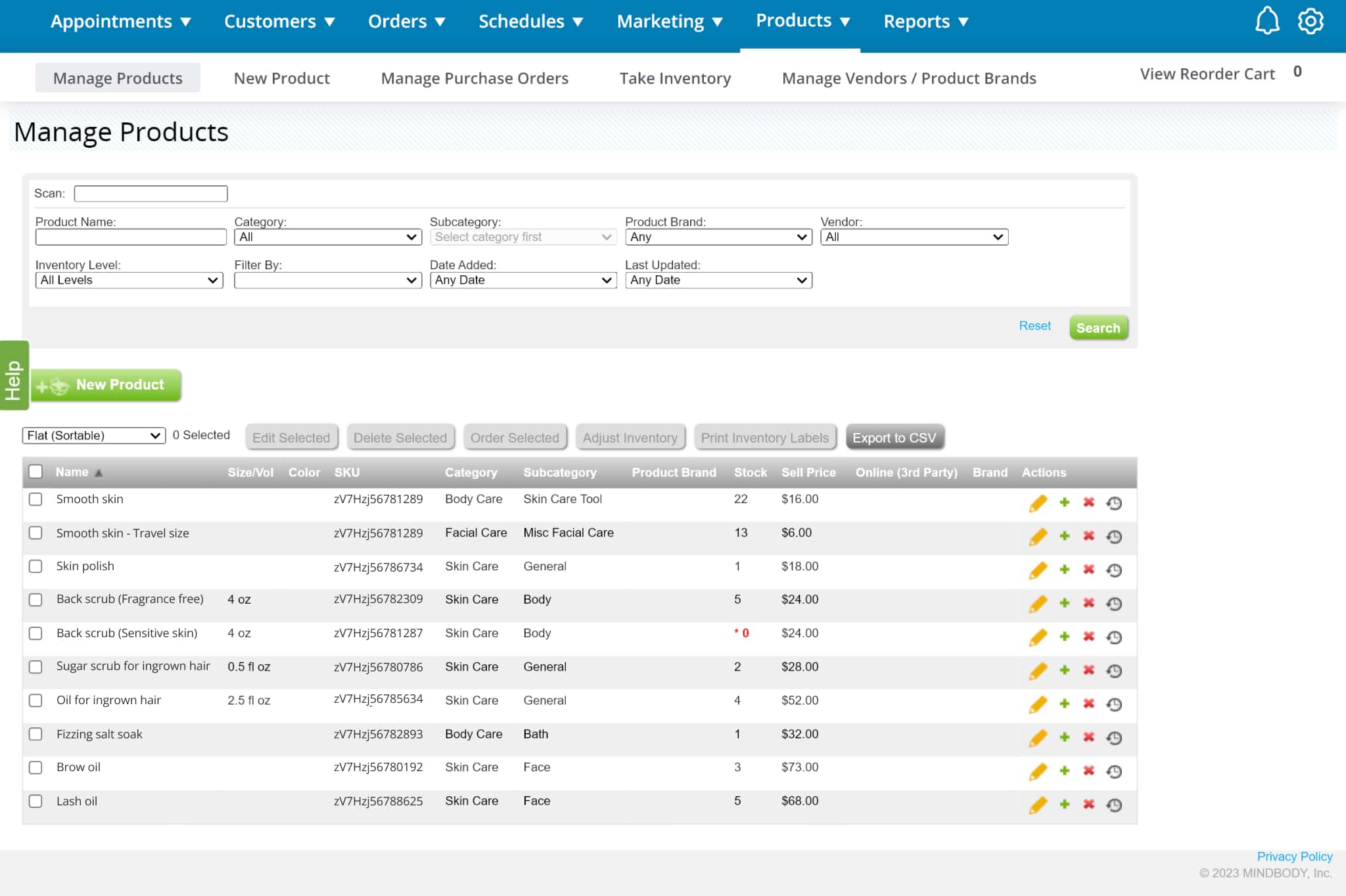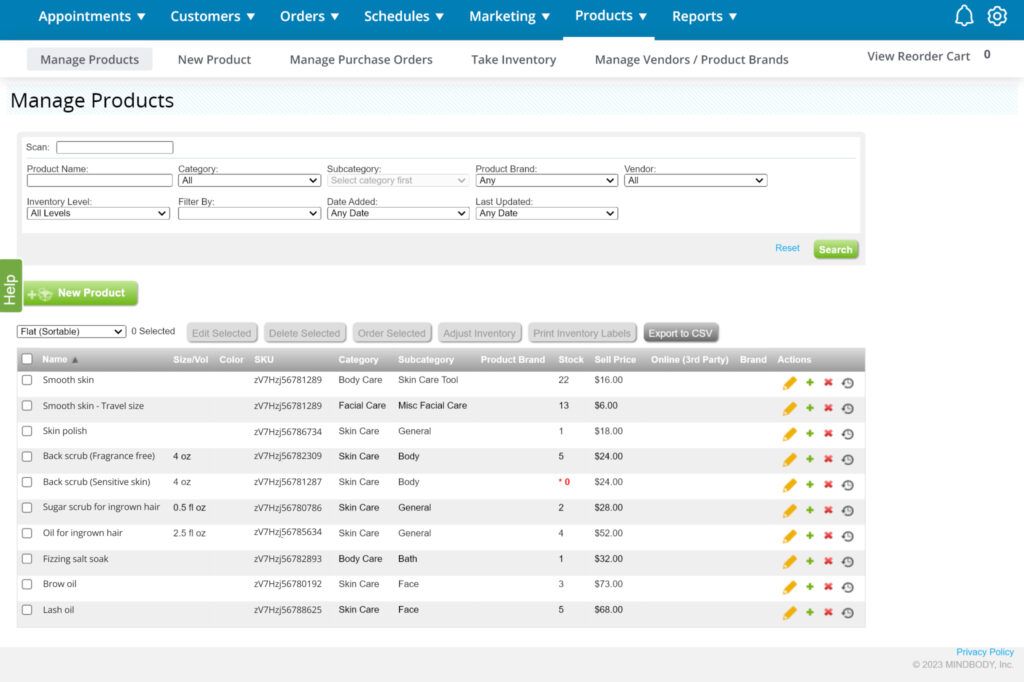 Products can also be sold online through third-party integrations that can be denoted in the Edit Inventory screen.
Standard reorder amount can be specified here, and alerts for low stock, reorder, and out-of-stock can be set up to notify you when specific stock quantities have been reached.
Booker also offers the ability to take inventory, either by using a barcode scanner and scanning barcodes and counts into an Excel spreadsheet or by entering quantities manually (with or without printable inventory forms).
Memberships, Packages, & Gift Cards
Booker has support for gift cards, packages, and memberships in the software.
Memberships can be created in Booker on all pricing tiers and can be sold on your website and in-store.
You can choose whether you wish to accept loyalty points, allow memberships to be shared between clients, and assign benefits.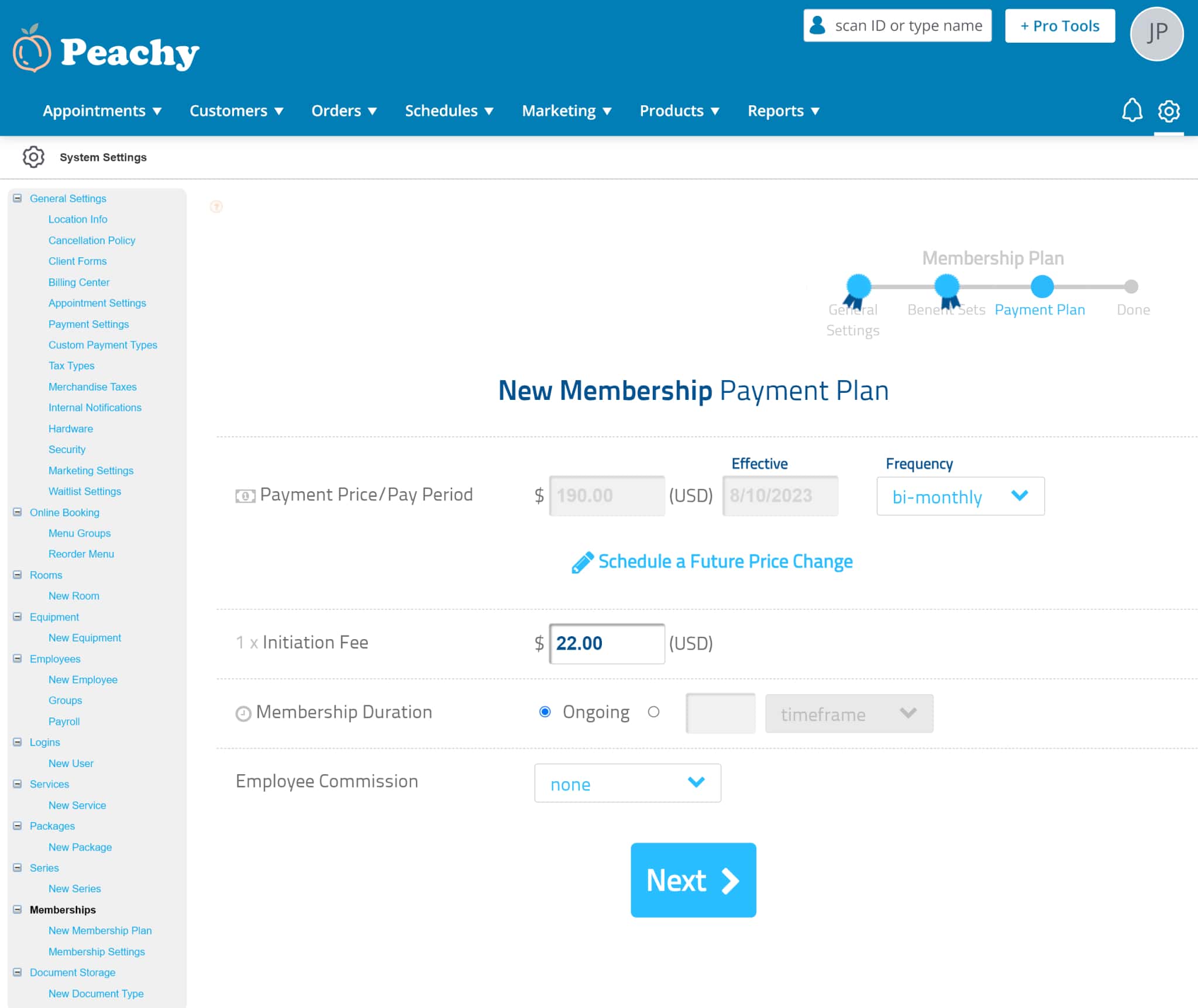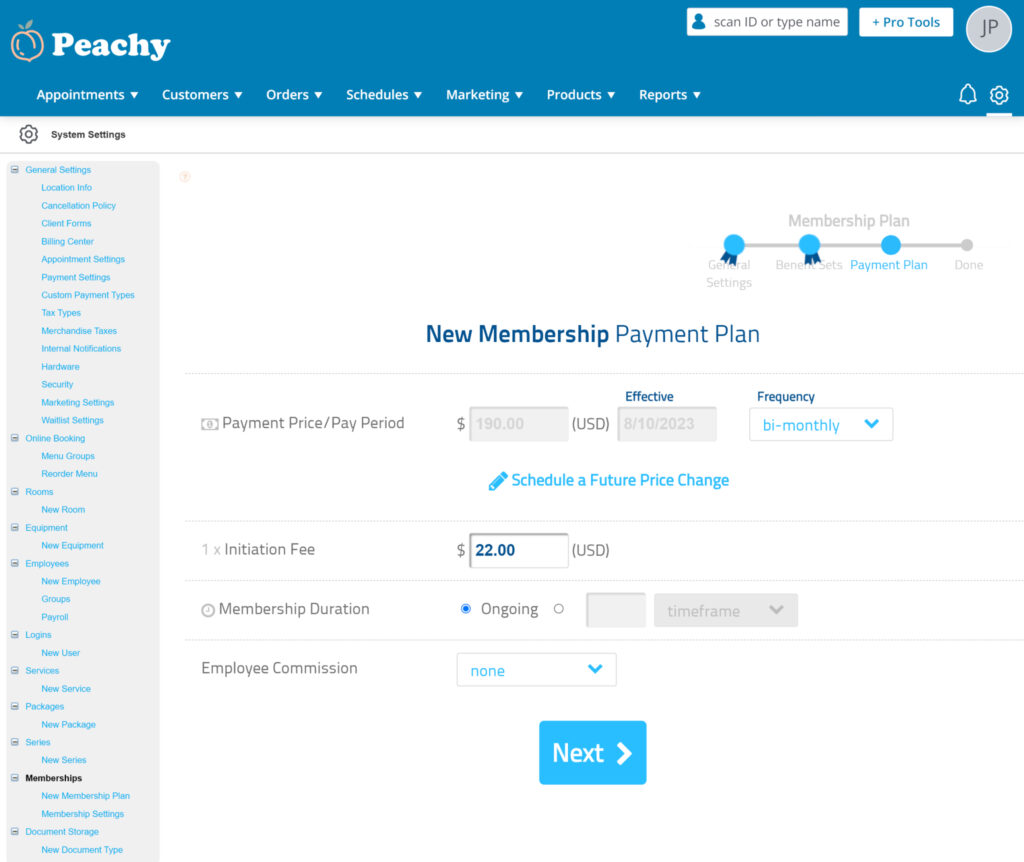 Payment plans can be set up with regular reoccurring payments (monthly, annually, etc.) and expiry dates can be specified to be immediate or a certain number of days after a membership ends. Payment plans can also be frozen for a period of time.
Memberships can be managed from the Membership tab of the corresponding customer's profile once purchased and associated with their account.
Packages are available in Booker, but there are very strict limitations on how a package is defined and how it can be redeemed.
In Booker, a package is a "combination of products or services that can be booked back to back for the same day and purchased as a single item on that day."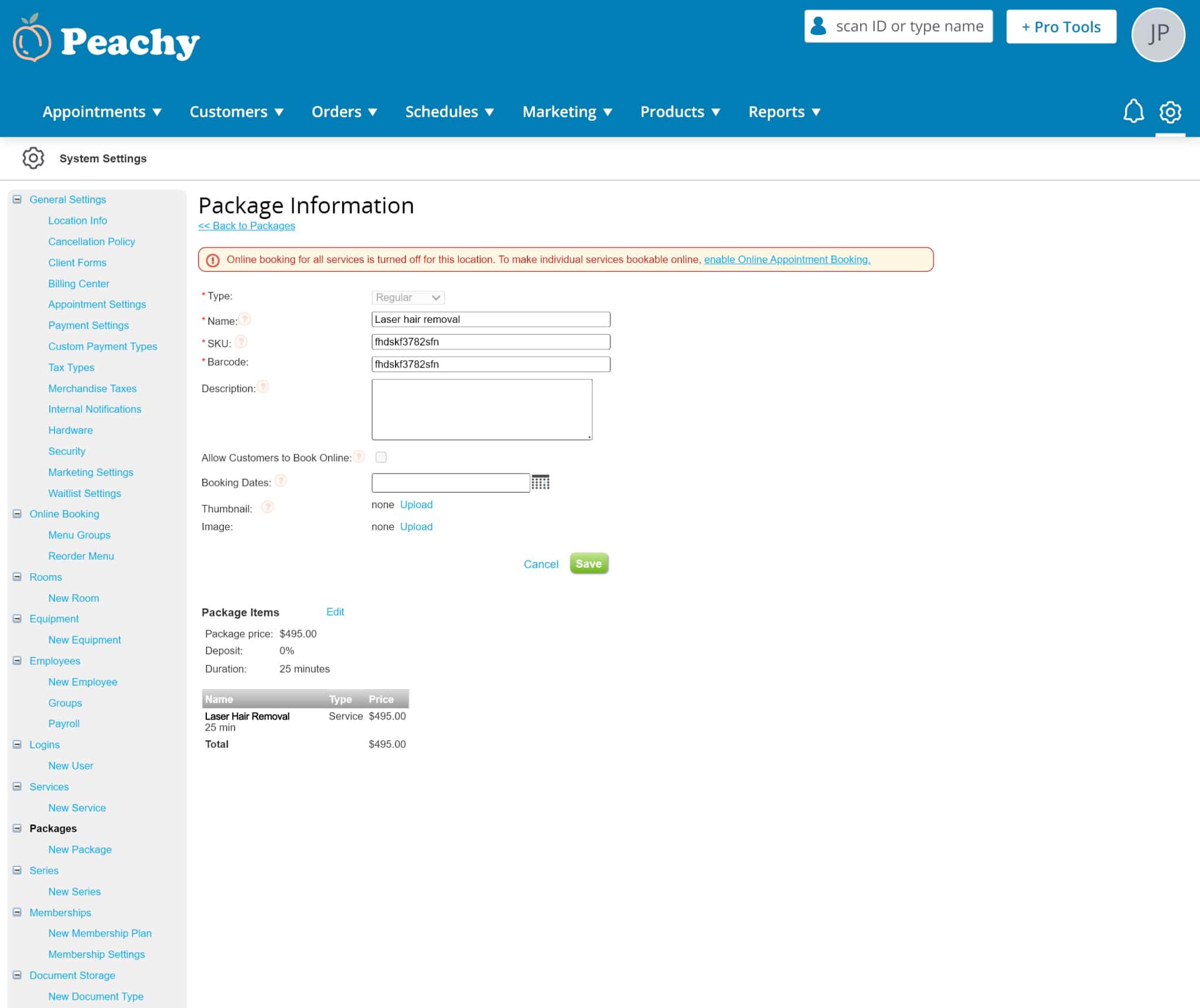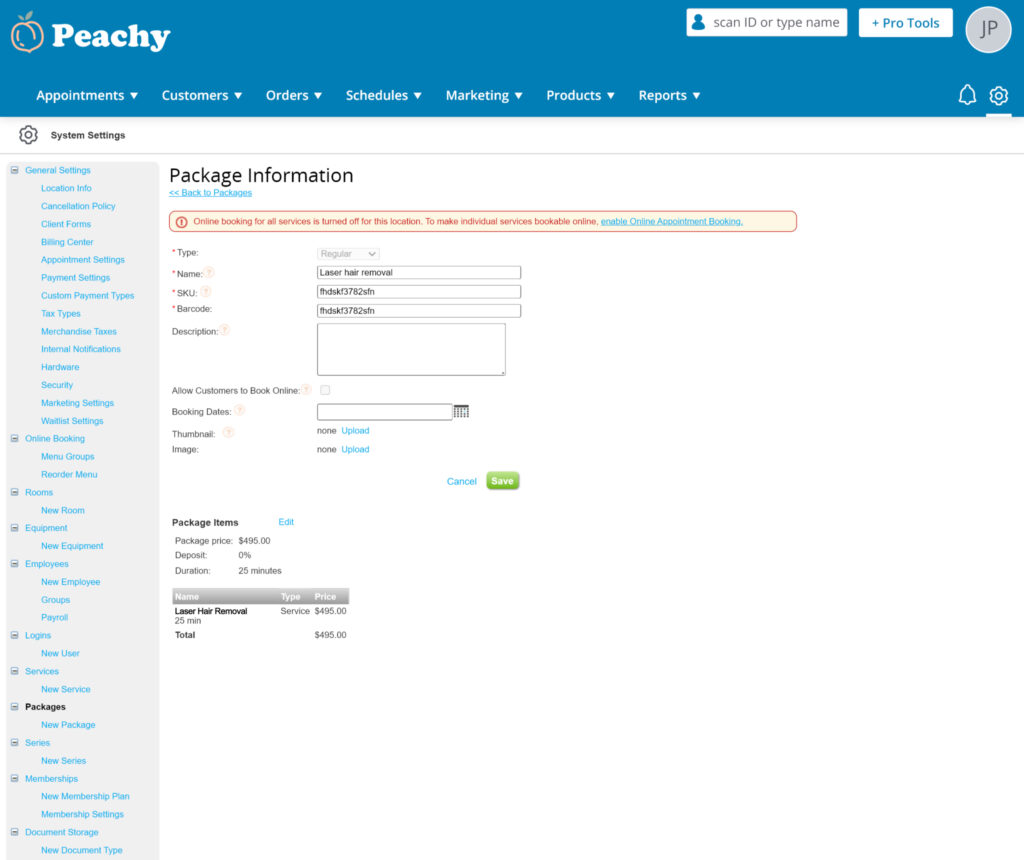 This means that the appointment must be booked with all services to be rendered at once on the same day, such as a Mani-pedi, cut and color, or hand and foot massage – essentially a combo service, rather than a more traditional package that can be redeemed over a set period of time.
However, Booker also offers what they refer to as "series" which more closely resemble how a traditional package functions in other software suites.
Booker Point of Sale (POS) Options
Mindbody Payments POS Hardware Compatibility
The optional integrated Mindbody Payments system is only compatible with the recommended WisePOS E desk terminal and Stripe Reader M2 mobile swiper or the P400 desk terminal and BBPOS mobile swiper (no longer offered through Booker).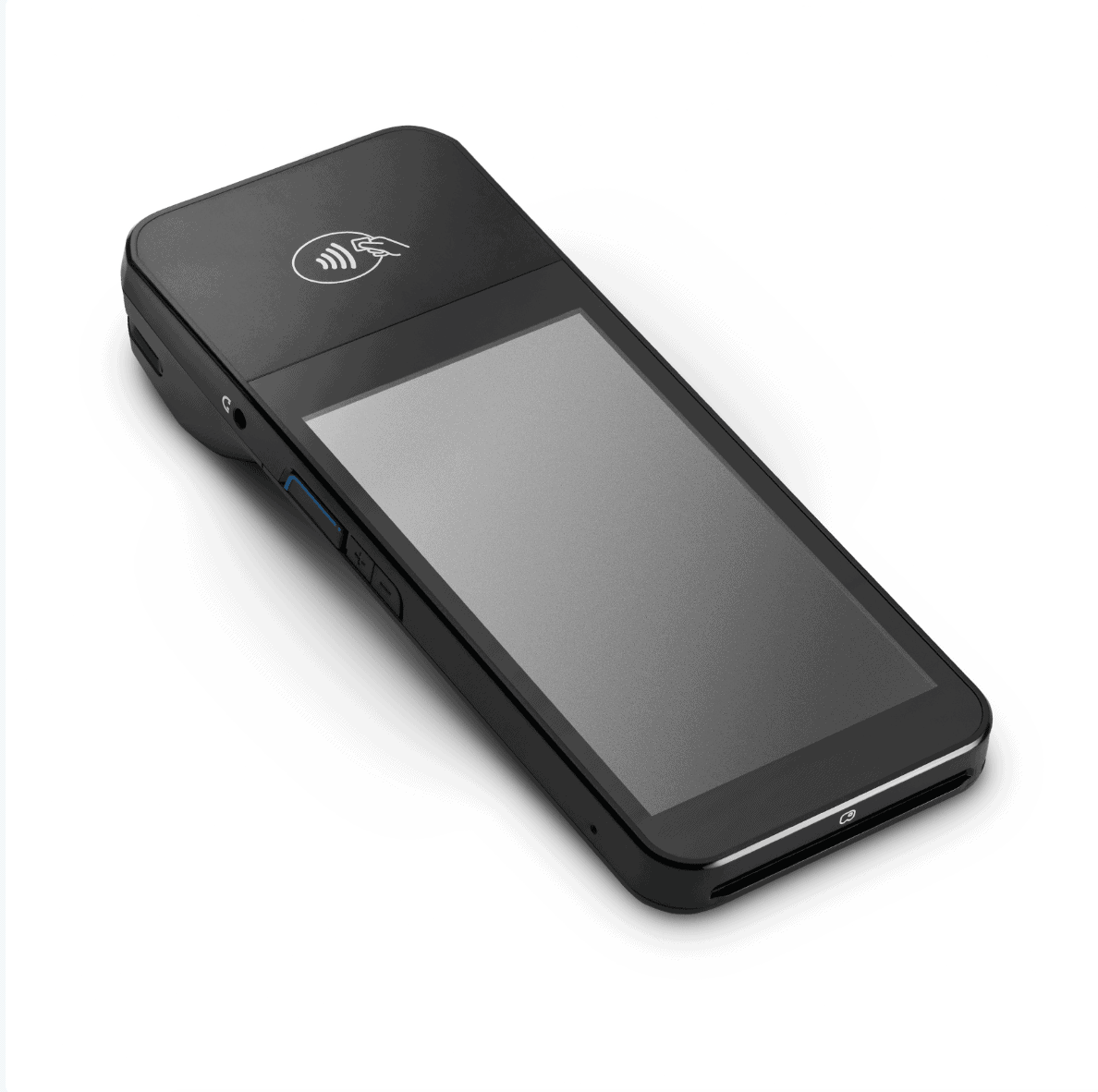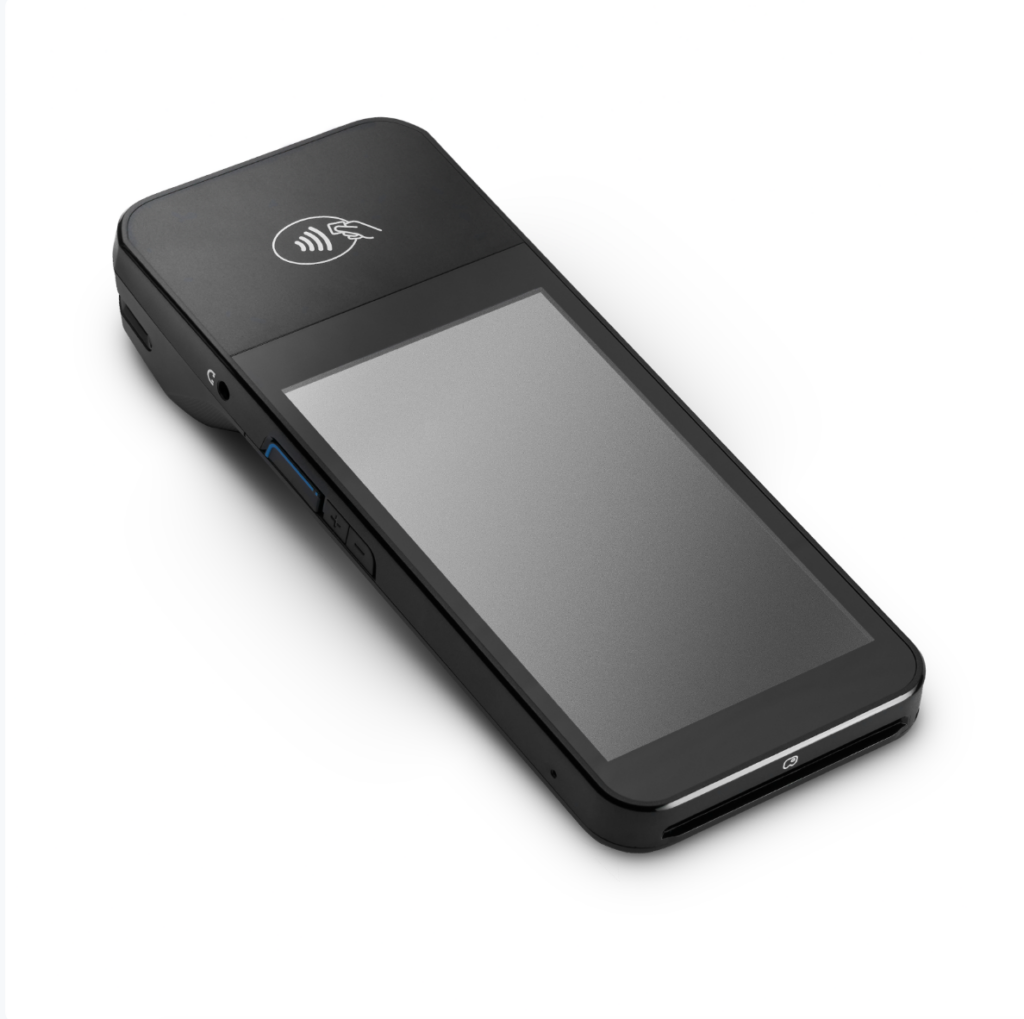 Which card reader can you use with Booker?
You can use some third-party POS & card reader devices such as the Clover Mini terminal relatively seamlessly with Booker as well.
All currently supported hardware at the time of writing is listed below:
| | |
| --- | --- |
| Desktop/Laptop Hardware | Account version required |
| Star Receipt Printer | Version 1 |
| Star LAN Printer | Version 1 |
| STAR TSP 100 Eco Receipt Printer | Version 1 |
| WisePOS E Reader | Version 2 |
| Stripe Reader M2 Mobile card reader | Version 2 |
| BBPOS Chipper 2x Mobile card reader | Version 2 |
| Clover Mini | Version 2 |
| APG Cash Drawer | Available to both |
| MagTek DynaMag Card Swiper | Available to both |
| MagTek iDynamo Mobile card reader | Available to both |
| Barcode Scanner | Available to both |
Booker Mobile Booking App
Booker does offer a mobile app.
The Booker Mobile app can be used to view and manage the calendar, book appointments, edit customer profiles, create services, add employees, and more.
The app is much more full-featured than some of the other, more stripped-back mobile apps we've seen from competitors, allowing users to do most things on mobile that they can on the desktop app when it works, that is…
Booker Mobile App Reviews
Booker Mobile is available on iOS and Android, but there appears to be quite a difference in its reception on the two platforms.
Booker Mobile has a user rating of 3.7/5 stars (with 687 reviews) on the Apple App Store and a rating of 1.7/5 stars on the Google Play Store (with 922 reviews) as of the writing of this review.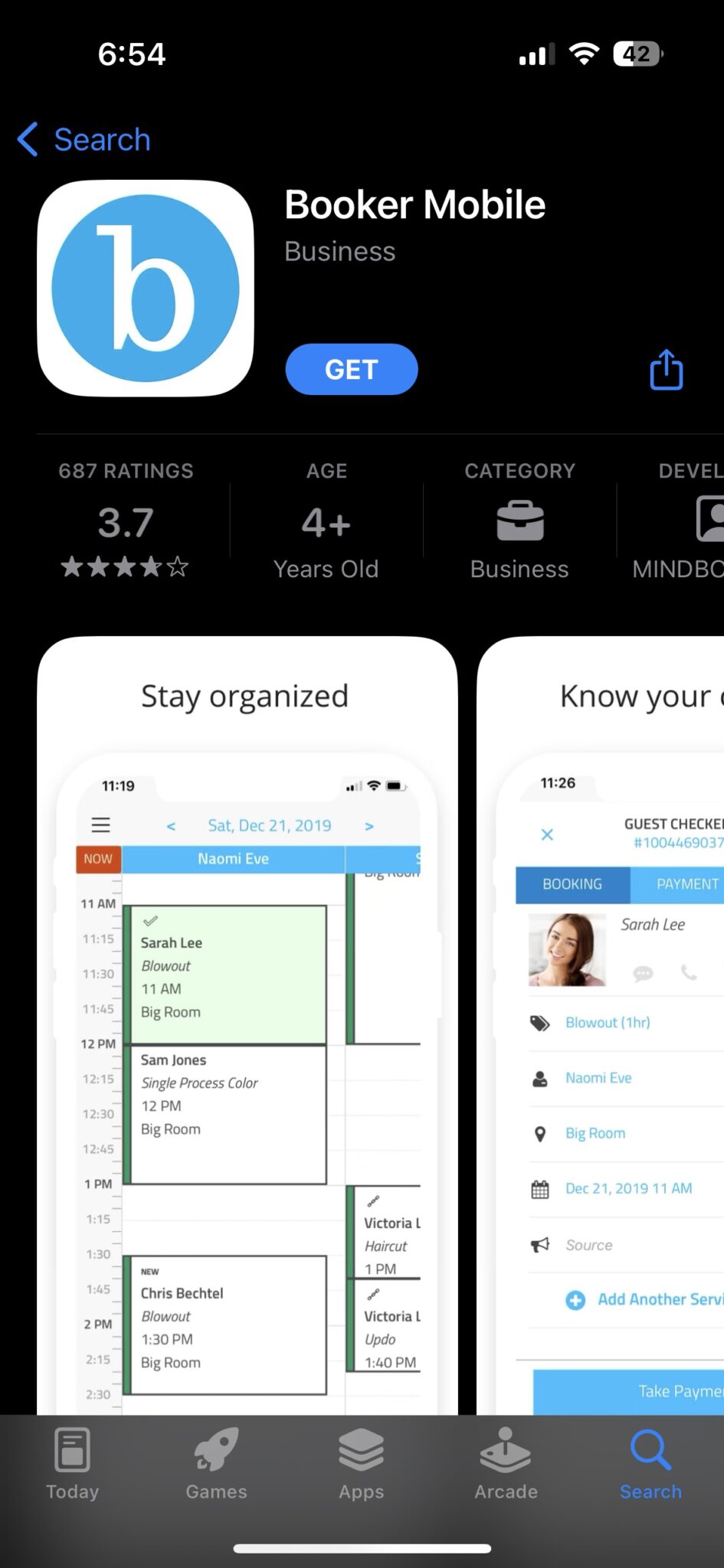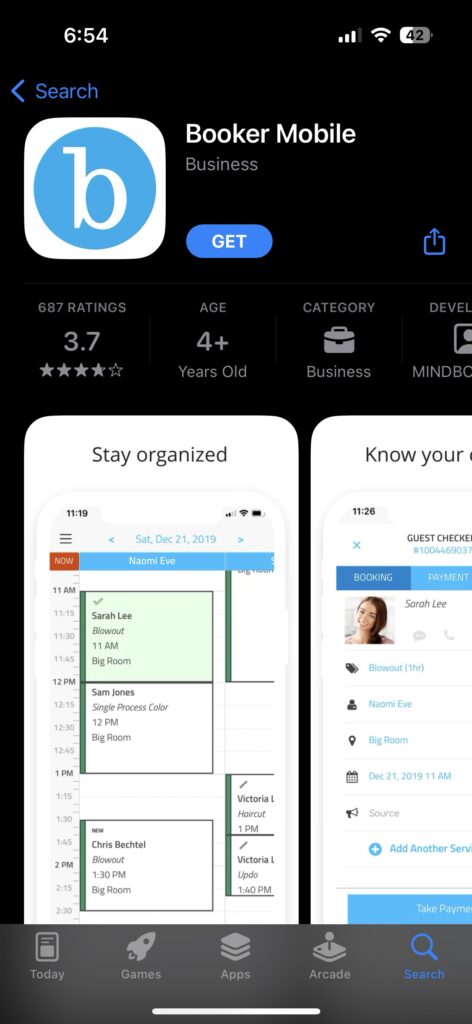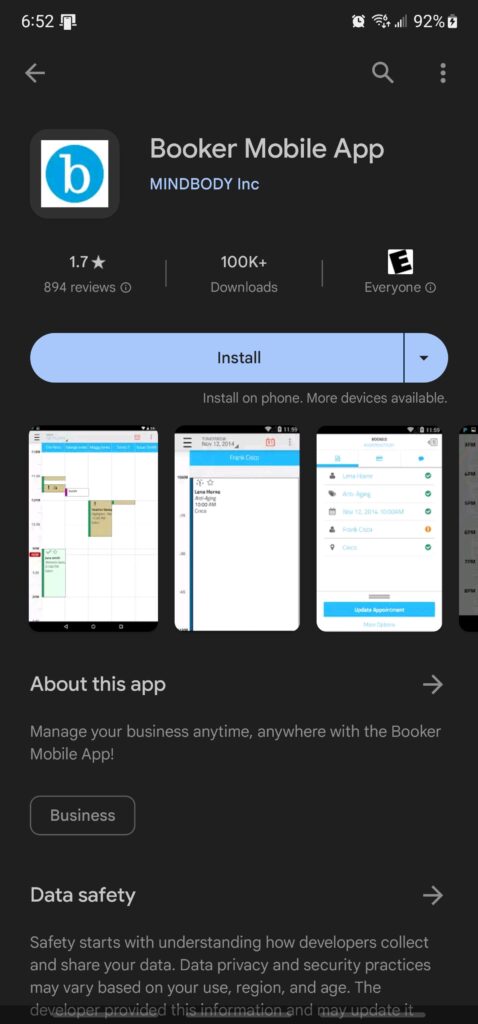 Many reviewers across both platforms cite the app as glitchy and unintuitive to navigate at a base level, with several reviews listing complaints about more complex tasks (such as canceling a single appointment in a series) being either far more complicated than the desktop version or simply impossible on mobile.
As with the majority of salon software mobile booking apps, negative feedback is far more prominent on Android, with users citing random logouts followed by the inability to log back in, inaccurate appointment schedules, crashes, long periods of app downtime, and more.
These same issues are reported several times over the course of many years of reviews, indicating that—unfortunately—these bugs and glitches appear to be long-time, known problems that have not received fixes for multiple years in some cases.
I can confirm that at least one of these reported issues is still a problem at the time of writing.
In my time testing Booker for this review, I was unable to log in to the Android app at all, despite using verified login information and attempting many times over the course of several days.
More than ever, service professionals rely heavily on their phones to conduct business and manage their schedules. The inability to manage appointments, check out clients, or even log in to the app is not an optional benefit for them.
In my conversations with friends and community members who use Booker as their salon and spa management system, many admit that they have chosen to forego the mobile app entirely after several poor experiences with it over the years – instead relying on the front desk staff to fill in the gaps.
For such a big player in the salon and spa software space in 2023, providing such a poor mobile app experience for business owners and service providers is simply unacceptable.
I would very much like to see Booker contribute considerable, dedicated effort to fixing bugs in their app and making meaningful upgrades to Booker Mobile's functionality and stability.
Business owners that pay top dollar for Booker's premium-priced booking and management system deserve a tool that makes their days in the salon easier, rather than adding more work to their already-busy schedule.
Summary & Conclusion
Congratulations! You made it to the end.
Thanks for sticking around!
I genuinely hope you found this review of Booker helpful in your search for the right salon and spa software. Let's talk final conclusions.
Overall, Booker's (desktop) experience is functional but undeniably unremarkable.
Let's start with the good:
Booker's Marketing Suite is one of the few major innovations to come out of the software in the last few years, and, although it lacks the polish and design chops of some other software suites, it is a very useful tool to grow your business.
Likewise, Mindbody's Explore marketplace is an incredible opportunity for new and growing businesses with a focus on new client acquisition. The visibility that Mindbody's marketplace offers for those businesses as an included perk is of considerable value and should not be glossed over.
However, despite Booker being one of the most mature and well-established options on the market, not one element of the software is particularly intuitive, well-crafted, or unique in a sea of competitors that offer a far better user experience and feature set, often for a considerably lower price.
As a piece of software so long in the works, I have to admit that I was left rather unimpressed by its features and options, and I cannot recommend the Booker Mobile app in good faith due to its lack of reliability and the years-long backlog of neglected reported bugs and glitches.
Moreover, my years of experience with Booker as a salon manager with a large team of stylists track with the poor experiences I've read in countless reviews and listened to from dozens of other service professionals.
To that end, the software still looks, feels, and runs the same as it did back in 2016. That is to say, it was outdated and clunky to use then and, tragically, remains that way to this day.
Years of neglect and a lack of consistent innovation make Booker a hard recommendation for salon and spa businesses in 2023, but that's not to say that it isn't the right choice for any business.
If the marketing opportunities afforded by the included Mindbody marketplace capabilities could make a major difference in establishing or growing your clientele, and an AI assistant to handle inquiries and help you schedule appointments around the clock could move the needle in filling your books, Booker might be a good option for you.
Request a demo of Booker here or check out our complete list of the Best Salon and Spa Software of 2023 and see how Booker stacks up to the best options on the market today.