Disclosure: This post may contain affiliate links, meaning we get a small commission if you decide to make a purchase through our links, at no cost to you. TheSalonBusiness.com is a subsidiary of Mangomint.
Learn more...
Are you trying to find the best spa software to run your business?
Then you've landed in the right place.
With so many options on the market, understanding which spa management and booking software is best for you can be overwhelming.
At least, that's how I felt at first.
It's a big decision.
This is why I've spent months researching and reviewing all the best spa software options – all the systems with the highest user ratings and best reviews.
I've tested all of them, and in this article, I'm sharing the results.
Here is what I'm going to cover:
Let's dive in!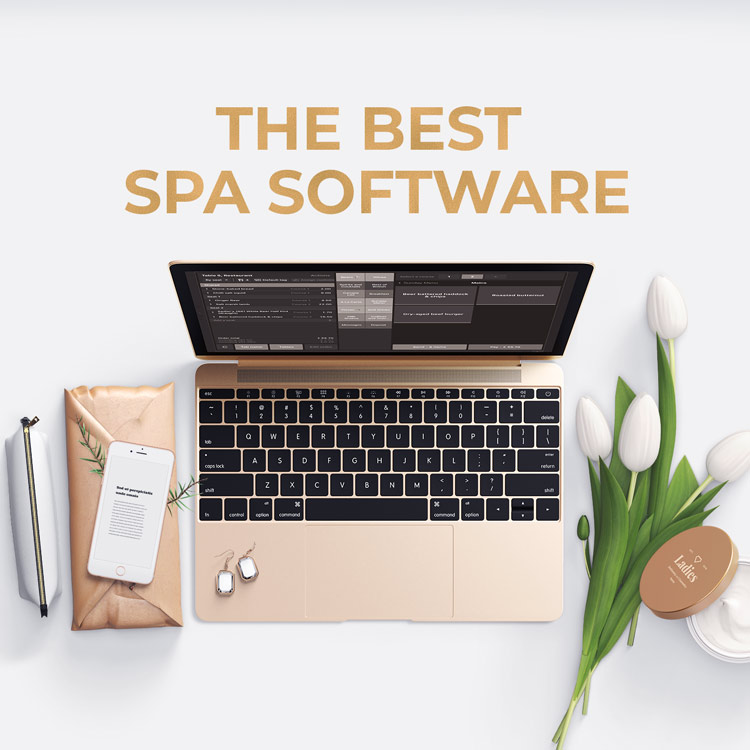 My Top Picks for Best Spa Software (October 2023)
Below are my top 8 spa software options right now.
Each system has its advantages and disadvantages, and the one that you'll decide to go with will likely depend on the size of your team, specific features supported by the platform, and factors like interface design and ease of use.
I'll do my best to call out the big differences between each platform, and I strongly recommend you go through the overview of each platform before you decide.
Here we go:
1. Mangomint: The highest-rated, most well-designed spa software with the best customer support (HIPAA compliant)
2. GlossGenius: The best alternative for independent professionals
3. Vagaro: The feature-rich and affordable spa software
4. Fresha: The 100% subscription-free spa software alternative
5. Square Appointments: The popular POS & appointment software
6. AestheticsPro: The medical spa software with HIPAA and e-prescribe compliance
7. Boulevard: The luxury spa booking software with built-in email marketing tools
8. Zenoti: The spa-oriented booking software with top-notch reputation management
9. Booker: The most established spa software with the best new client marketplace
10. Mindbody: The education-focused spa software made with marketing in mind
Feature Review: The Best Spa Software Systems (October 2023)

1. Mangomint: The Smartest, Most Well-Designed Spa Software with the Best Customer Support (US & Canada)
If you're looking for a sophisticated platform that helps save you time in your day-to-day, look no further.
Mangomint is not only the most well-designed platform on this list, but it also offers smart automations that reduce time spent on managing appointments and business operations.
Mangomint is beautifully designed and super intuitive to use. The attention to detail here is impressive – everything is exactly where it should be.
It also offers unique features where this platform goes beyond any other. Examples would be fully featured two-way client texting, an intelligent waitlist that recommends appointments from the waitlist when a matching spot opens up on the calendar, self check out, and service customizations that allow your clients to add on treatments to their service when booking online.
And if you want more than what's available inside Mangomint, the spa software allows you to integrate with pretty much any other system. Something that not many other platforms will let you do.
It is also HIPAA compliant, so you can securely store sensitive data such as contact details, birth dates, detailed treatment notes, client forms, messages, and appointment history.
This makes it an incredibly powerful and flexible solution, and my first recommendation on this list.
It is designed for spa businesses with a team so, if you're a solopreneur, you'll most likely not be able to benefit from the full power of Mangomint and therefore not be able to justify the starting price compared to alternatives that are priced per user.
Key Features
Modern, easy-to-use, interface
HIPAA compliance
Smart automations that help cut down on time spent managing business operations
Open data ownership and contracts (you're not locked into anything)
Can integrate with any other platform that allows for integrations
Embeddable website booking widget & online gift card shop
Integrated payments
Memberships, packages, gift cards
Forms, two-way client texting, waiting room management, intelligent waitlist, and many other smart features
Sophisticated business & payroll reporting
Strong customer service & help documentation
iOS & Android App
Special Offer on Mangomint: Get 2 months free when you sign up for a free trial or book a demo using this link.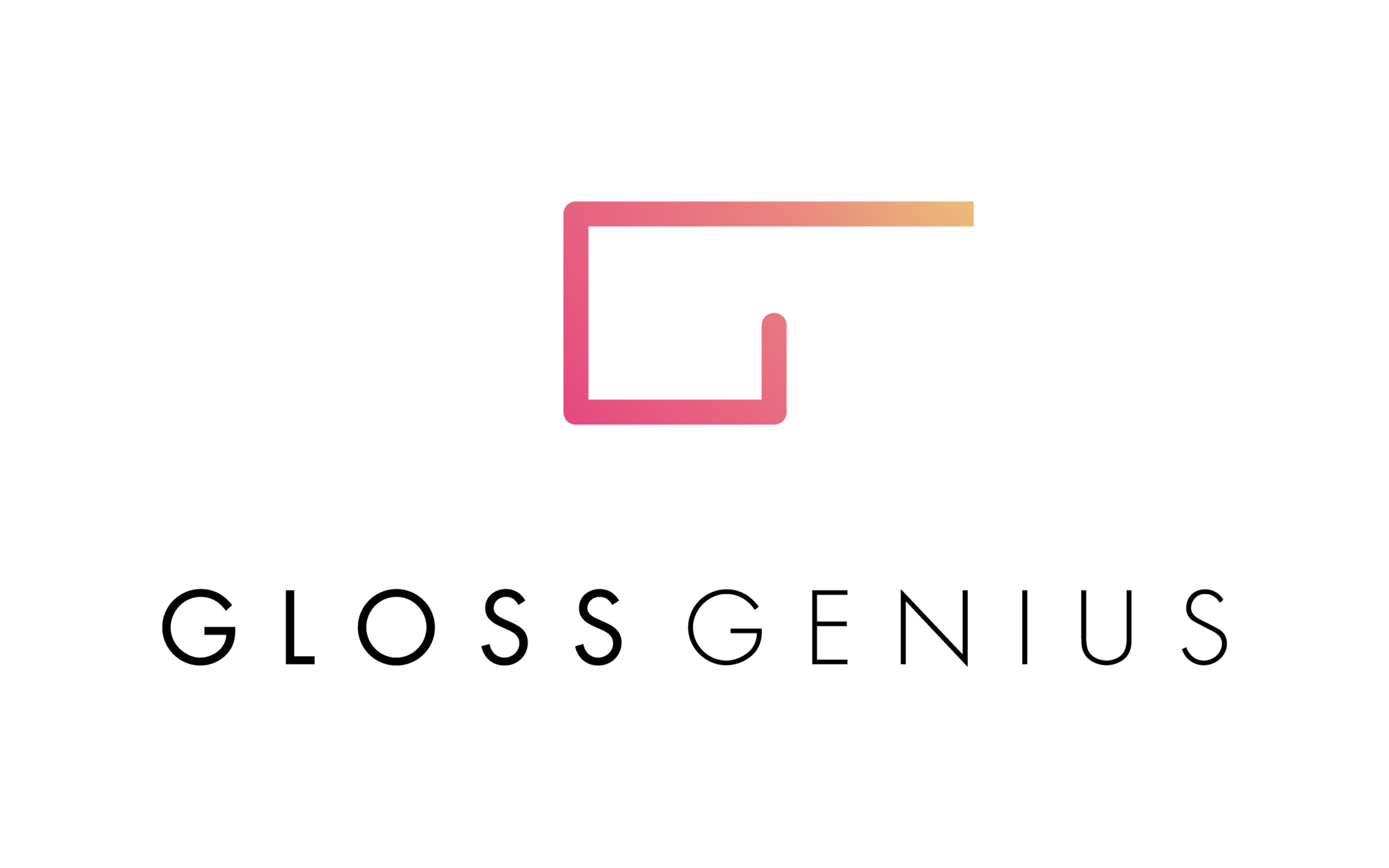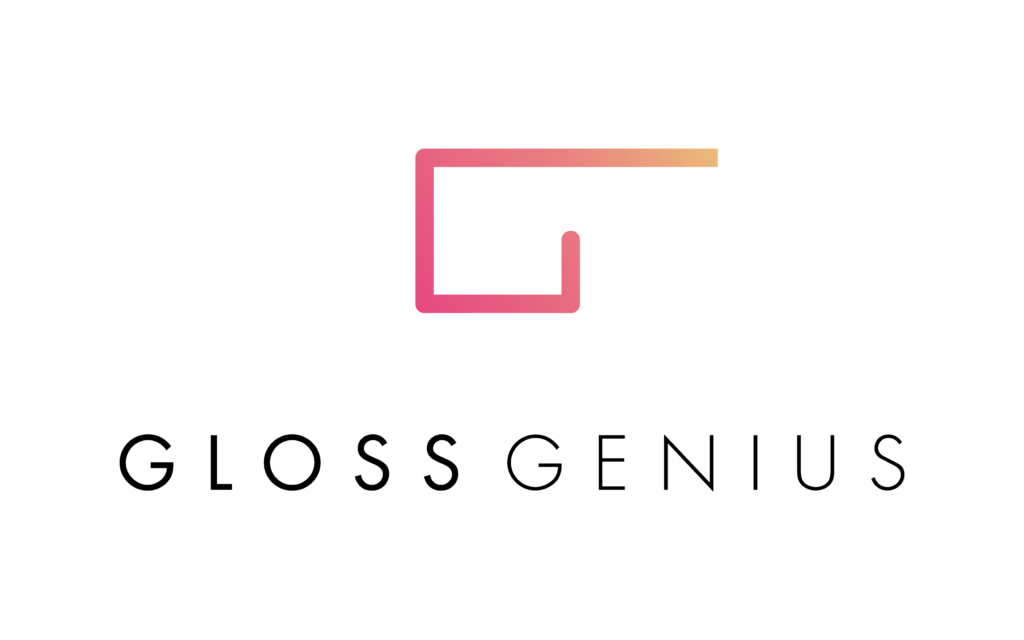 2. GlossGenius – The Spa Sofware Alternative for Independent Professionals (US Only)
Are you a solopreneur and want something that's simply easy to use and looks good? Then GlossGenius might be the answer.
GlossGenius is an appointment, payment, and marketing software for independent spa professionals in the United States. With GlossGenius, you can manage your total business out of a simple yet attractive mobile app.
GlossGenius exudes high-end beauty. Everything from the website to the card reader is created with premium client satisfaction in mind. And it's the integration of a beautiful design and ease of use that I feel is what makes this tool stand out.
GlossGenius is the tool I suggest to independent professionals who are looking for a beautiful internet booking experience and useful marketing tools without having to deal with technical difficulties.
Bigger businesses will likely require more flexibility and team support than the app offers. A good option for solo business owners but businesses with a team should go with something like Mangomint.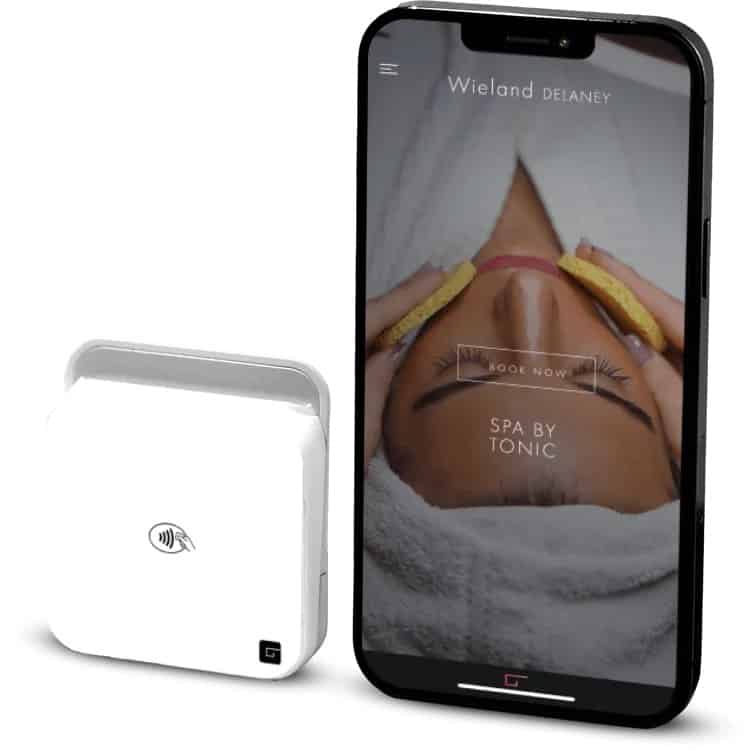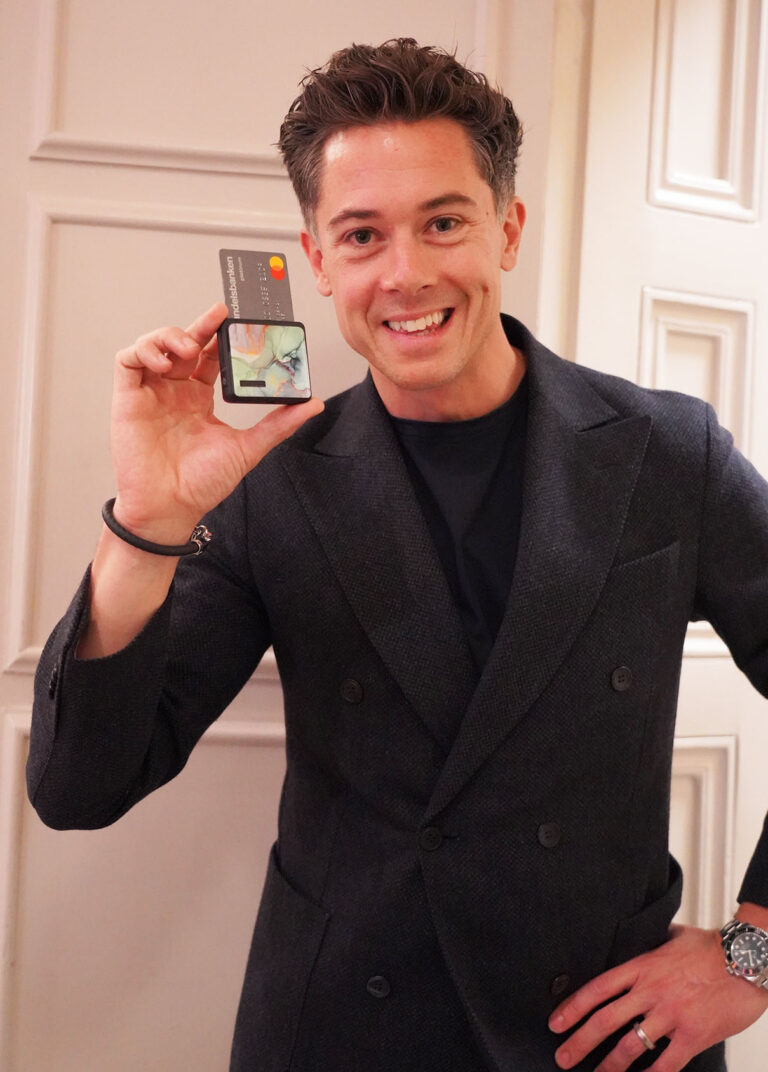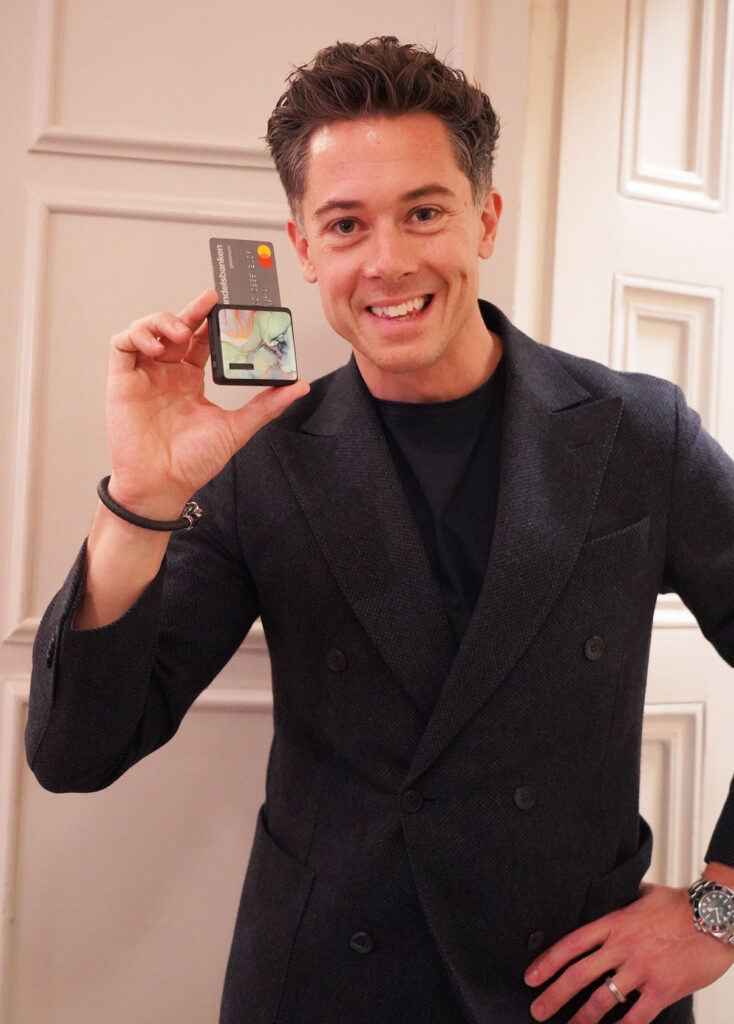 Key Features
Generate a beautiful website in just a few clicks
Multiple card reader design options to fit your brand
Intuitive features that are easy-to-use
Integrated payments
Synchronize clients and calendars with your phone
Easy-to-use email and SMS marketing
Manage everything inside the GlossGenius app (iOS & Android)
Advanced business reporting
Affordable, transparent, pricing and free 14-day trial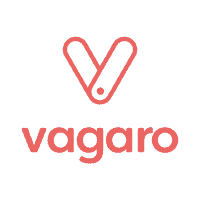 3. Vagaro – The Feature Rich and Affordable Spa Software (US, Canada, UK, and Australia)
Do you want a feature-rich yet affordable spa software? Then Vagaro may be a good option for you.
It's amazing how much they've crammed into this software while still keeping the pricing low.
You'll likely find all the features that you'll need inside Vagaro.
Vagaro is what I would recommend if you are on a limited budget but still want to be able to run email marketing campaigns, build a website, run payroll, and manage your appointments – all under one roof.
Where Vagaro gets some negative user reviews, those are typically around service outages and smaller glitches in the platform. I have tested it quite extensively and haven't experienced any major challenges, but it's something that will want to consider and may want to test out yourself before making the switch.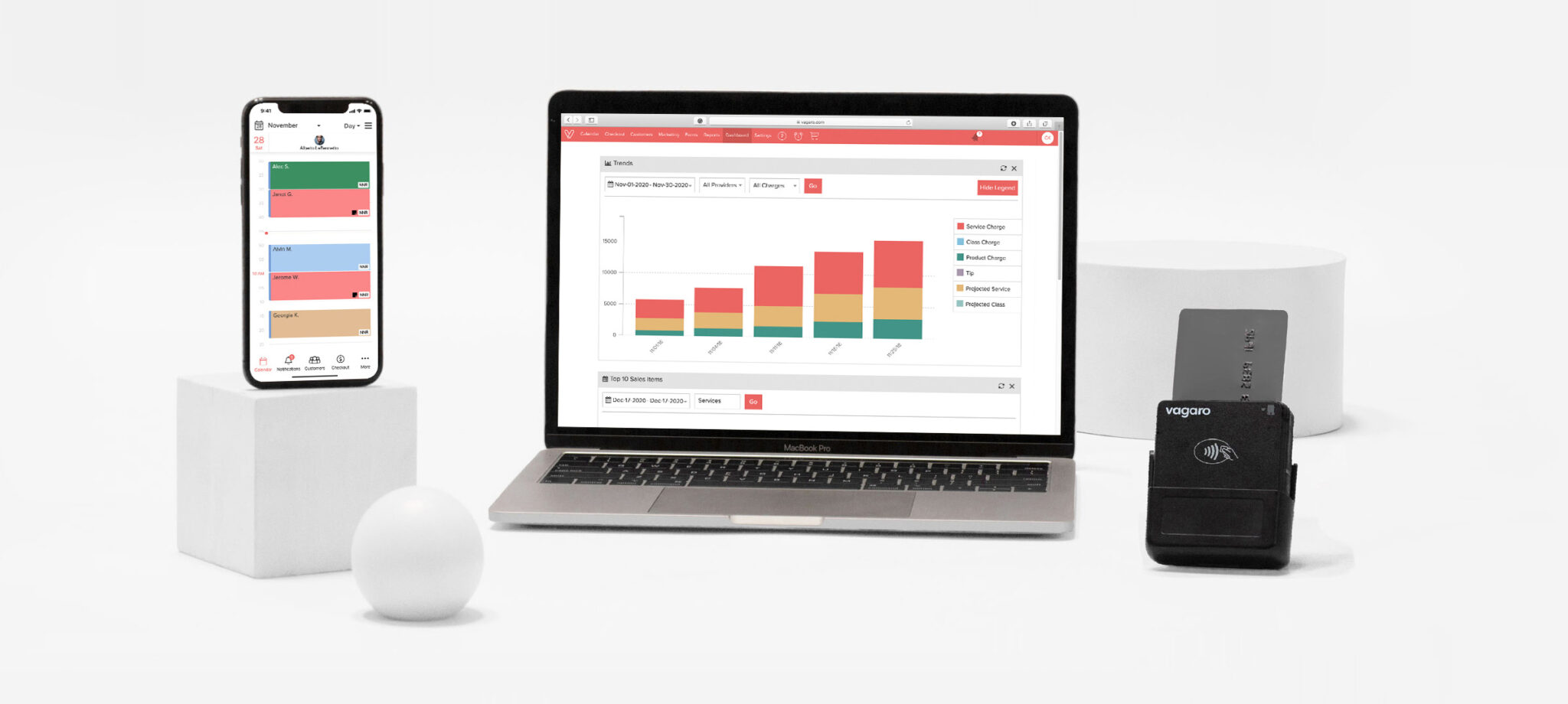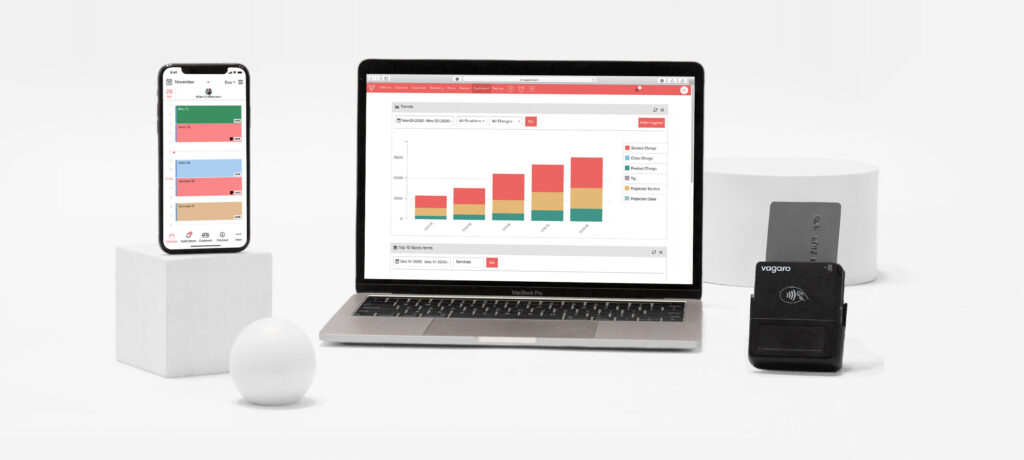 Key Features
Dedicated POS hardware
Client marketplace to help you attract more new clients
Subscription payments and membership features
Built-in payroll software and support to charge rent to chair renters
Built-in website builder
Advanced client data tracking
Drag and drop, easy-to-use, calendar
Sophisticated email and SMS marketing tools
Advanced business reporting
Affordable, transparent, pricing and free 30-day trial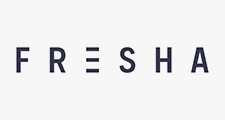 4. Fresha: The 100% Subscription-Free Spa Software (Available Worldwide)
Fresha is the only subscription-free software without usage limitations. Despite being subscription-free, it does offer rich features.
The strengths I see with Fresha is the ease of use, subscription-free plan, and the fact that it continues to develop with new features announced regularly.
Naturally, this platform is ideal for a budget-conscious spa owner. Also, if you're not technologically savvy, you won't have to deal with a steep learning curve. It just works. The end-user market on the Fresha side may also help your business.
The drawback you'll want to consider is that it's pretty limited when it comes to customization choices. It works well out of the box so, hopefully, this should not be an issue. But, for example, you won't be able to change the appearance of your booking page or enable booking that integrates with your website. You're limited to linking out to the Fresha-designed booking page.
You should also be aware that, even if it's subscription-free, you'll be charged for each appointment and up to 20% of the appointment value if it's a new client that finds you on the Fresha marketplace.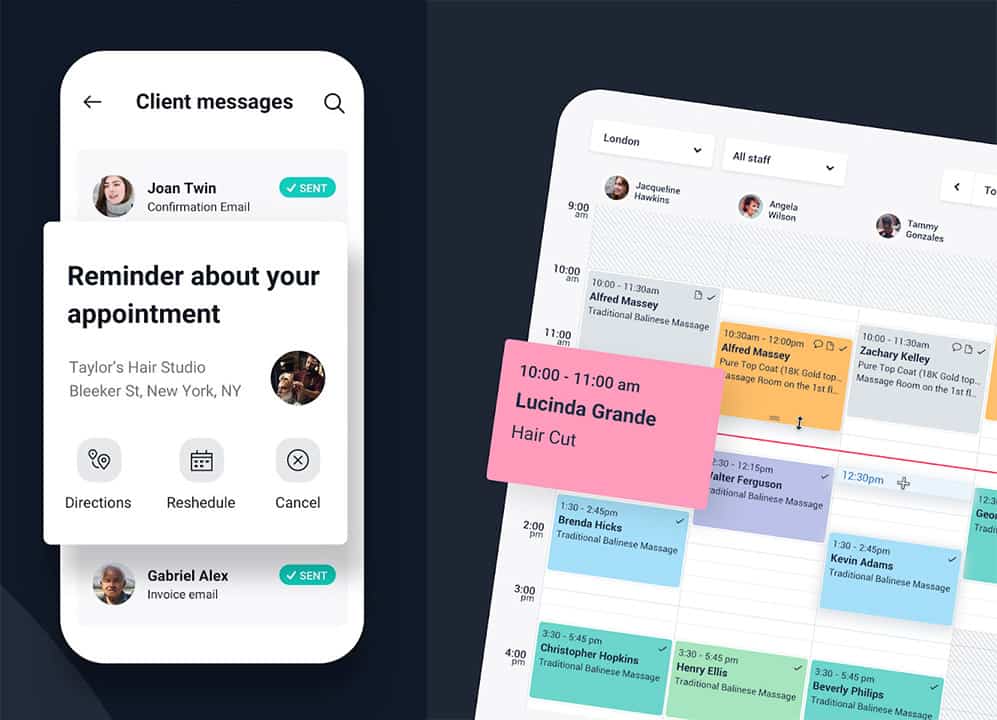 Key Features
Free subscription with unlimited staff!

20% New client fee – applies only to the first appointment of new clients via the Fresha marketplace website and apps
2.19% + $0.20 Payment processing fee per transaction across all payment methods

Fresha marketplace where more clients can discover your spa.
Super easy-to-use with a modern minimalistic design interface.
iOS and Android Apps
Instagram, Facebook, and Google integrations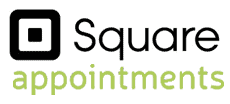 5. Square Appointments: Popular POS & Appointment Software with a Subscription-Free Plan for Individuals (US, Canada & Australia)
If you're looking for a simple, effective, and affordable appointment scheduler, then Square Appointments is a good option for you. It's super easy to use and includes all the features you need to manage your appointment book effectively.
This system also works with Square's other products (such as a POS system, credit card reader, and marketing suite) to provide a complete solution for the larger spa business.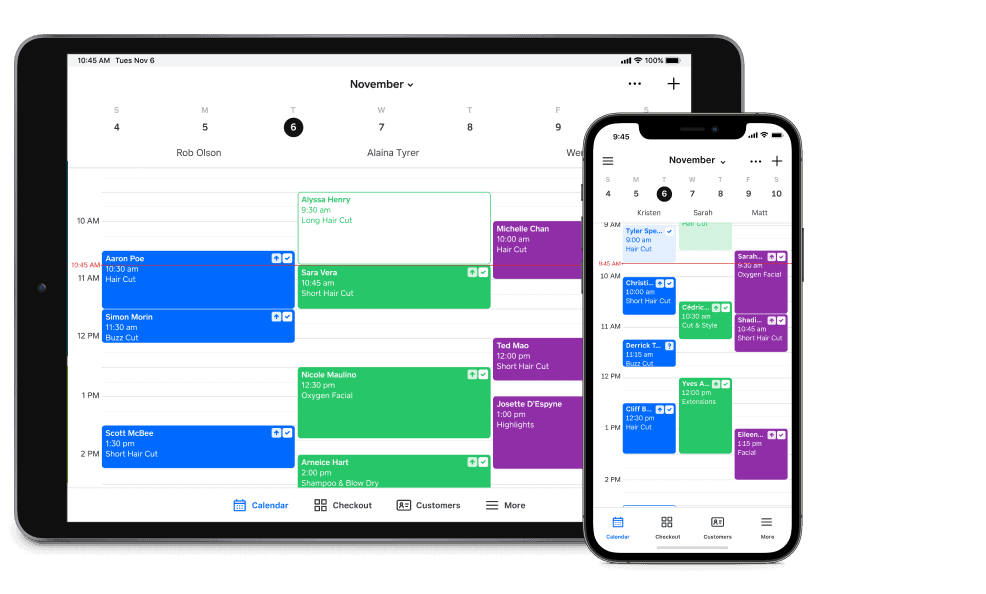 Key Features
Free subscription for individuals. You only pay a credit card transaction fee (2.6% + $0.1) when you accept payments through the platform.
Integration with all other tools from Square
Dedicated booking website
SMS & Email Reminders
Easy-to-use, drag and drop calendar
Advanced client data (with images)
Booking widget for website integration
Advanced inventory management (with stock alerts)
iOS & Android App

6. Aesthetics Pro: Medical Spa Software (HIPAA Compliant + E-Prescribe)
If you run a medical spa with strict requirements for safeguarding patient data, you'll want to ensure the platform you use for storing personal information is compliant with HIPAA.
Most of the spa software choices recommended above have some form of HIPAA compliance. However, Aesthetics Pro goes even further when it comes to protecting client information while offering med spa-specific features.
Aesthetics Pro includes a POS system with payment processing, booking, scheduling, marketing tools as well as functions like E-prescribe, EMR, E-records, and other tools important to med spas.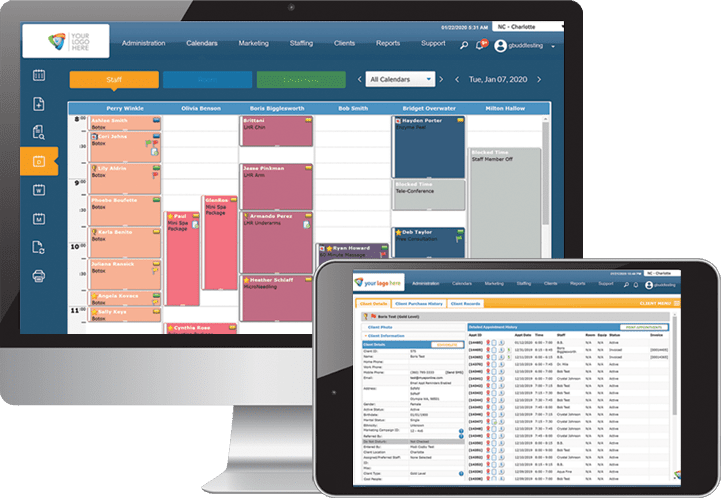 Key Features
Customer management – View e-Records, charts, notes, prior and after photographs, purchase history invoices, outstanding balances, services still owed to the customer, and other information in one client profile.
Point of Sale (POS) – Set up and operate auto-billed subscriptions. You can keep track of the financial performance of items and services as well as employee sales.
EMR, E-Records Management for improving the client intake experience.
E-Prescribe – E-prescribing allows healthcare providers to send prescription instructions directly to pharmacies via the internet.
Marketing tools that provide complete campaign management with email marketing in the HIPAA Cloud Compliant CRM.
Loyalty – Create a list of the best clients, give out gift cards or incentives as rewards, create customized subscription plans for repeat customers, track and reward outstanding consumers, and establish recurring customer relationships with flexible subscription options.
Reputation and reviews management for sharing positive reviews online. Create landing pages that provide online booking and enhanced features to your website.
Service management, scheduling, and online Booking – Organize and keep track of all your appointments by provider, room, and equipment.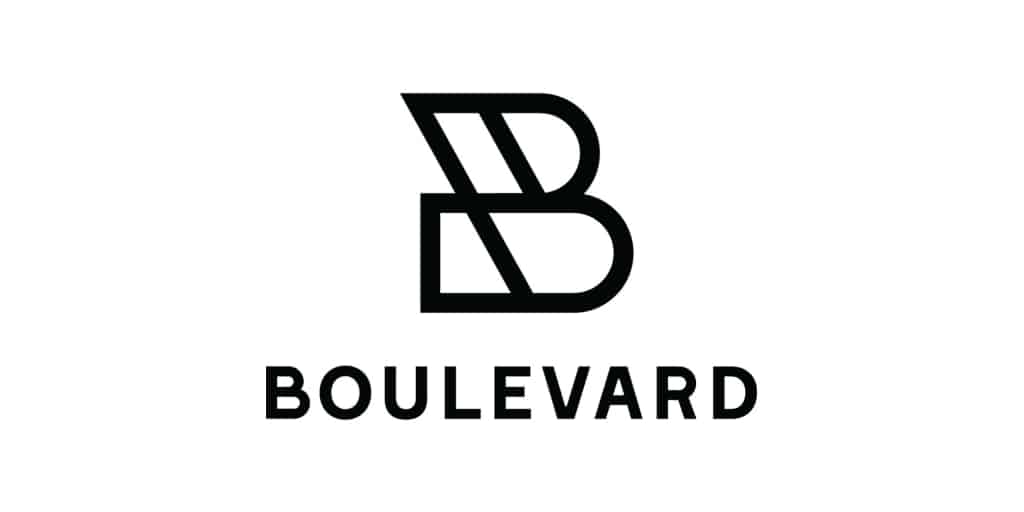 7. Boulevard Software: The Luxury Spa Booking Software with Built-in Email Marketing Tools (US Only)
If you're the kind of spa owner that needs a strong marketing tool kit to grow repeat clientele and brand presence in your area, Boulevard might just be a good option for you.
Building off of its core feature set (calendar scheduling, POS, online booking, reporting), Boulevard also offers a handful of premium add-on features aimed at email marketing and two-way messaging so that you can stay in touch with your clients and keep them coming back more often.
Boulevard is another option that offers HIPAA compliance with, albeit with a more attractive system and user interface than AestheticsPro. However, a lack of other EMR related features make it a poor fit for businesses that require medical charting.
The up-and-coming luxury booking platform really is the everything-and-the-kitchen-sink option for bigger businesses that need just about every feature available in a piece of spa management and POS software, as long as they're willing to pay a premium for it (and are willing to sign on for the mandatory 12-month contract).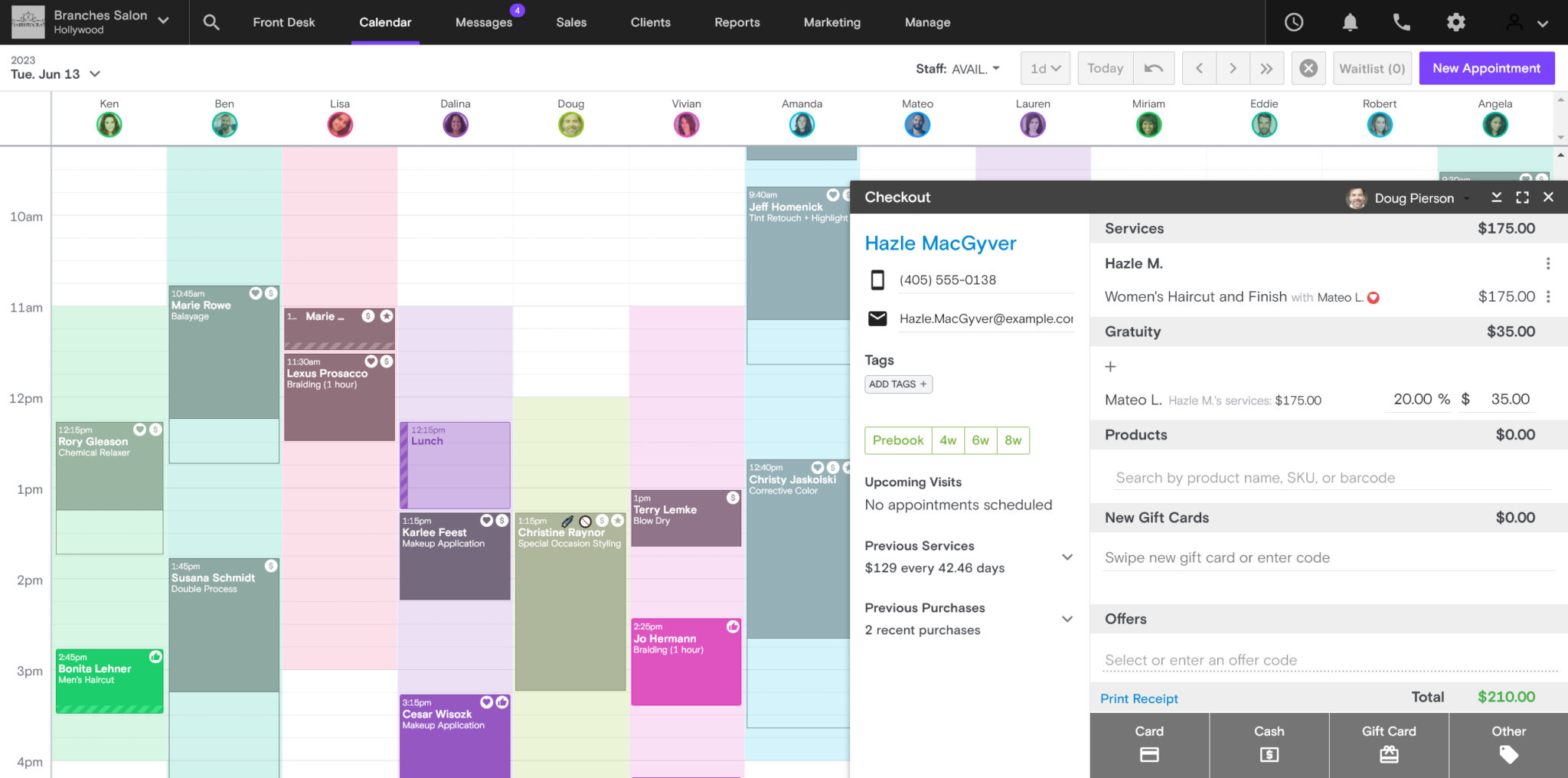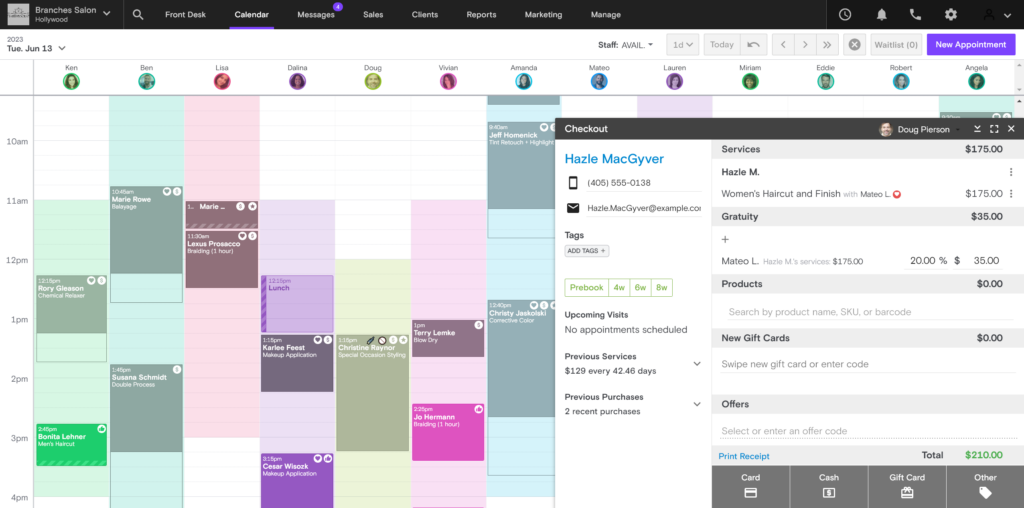 Key Features
Easy-to-use interface
Excellent online booking
Integrated email marketing suite
Impressive client data management
Can integrate with a large number of third party applications
Memberships, packages, & gift cards (physical & digital)
Precision Scheduling™ tech to fill the best gaps on the calendar first
Highly detailed custom reports (on Premiere plans and above)
Two-way messaging & Caller ID available as a paid add-on
Easily-searchable online support website
iOS and Android mobile app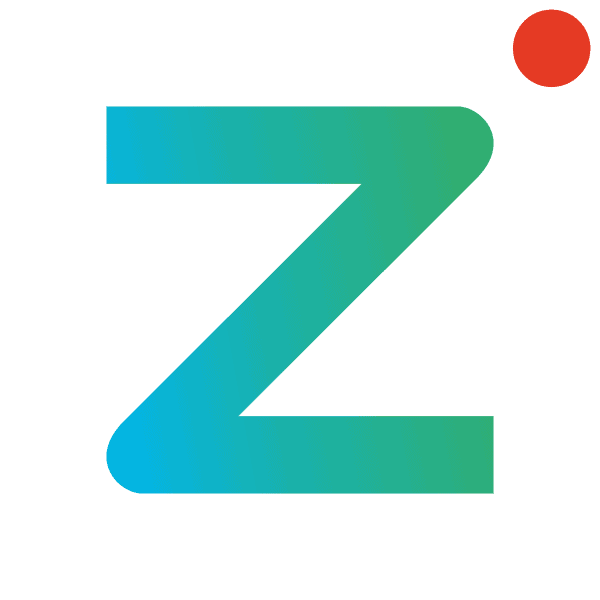 8. Zenoti: The Spa-Oriented Booking Software with Top-Notch Reputation Management (Nearly Worldwide)
When it comes to the core nuts and bolts of Zenoti, it's all there.
Zenoti is feature-packed and competitive with its contemporaries, sporting online booking, POS, mobile apps, product and inventory support, memberships, packages, and gift cards, and even a marketing suite akin to the ones you'd see in Booker, Mindbody, or Boulevard.
There are even some extra KPI and reporting add-on features that make gaining business insights through the data you already collect every day possible (as long as you're willing to pay a little extra).
Zenoti's features build on the blueprint established by businesses like Booker and Mindbody, and expand the customizability and capability of those features with control over even the most minute details.
I mean it – the level of granularity with which you can specify even employee details is mindboggling and a little intimidating at first glance.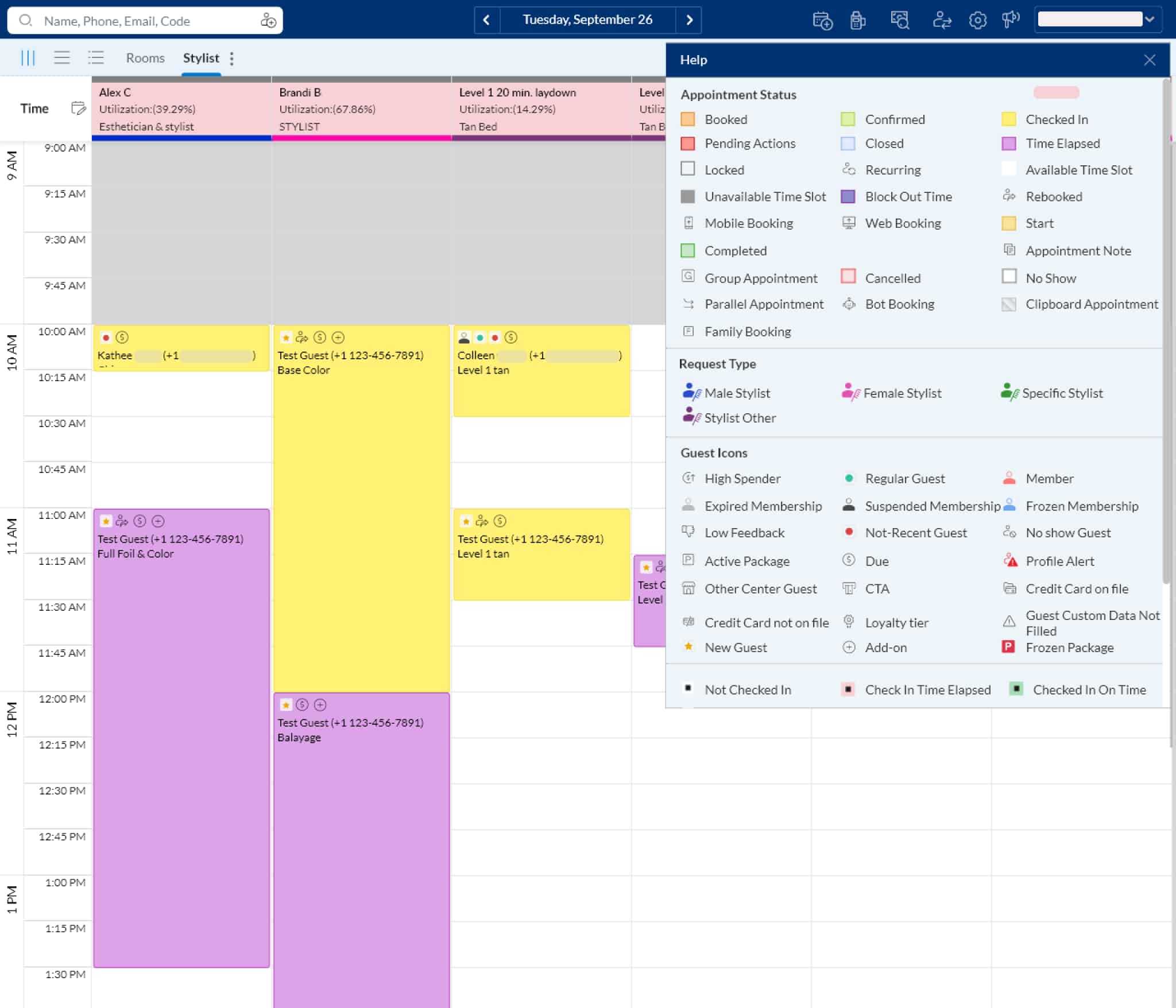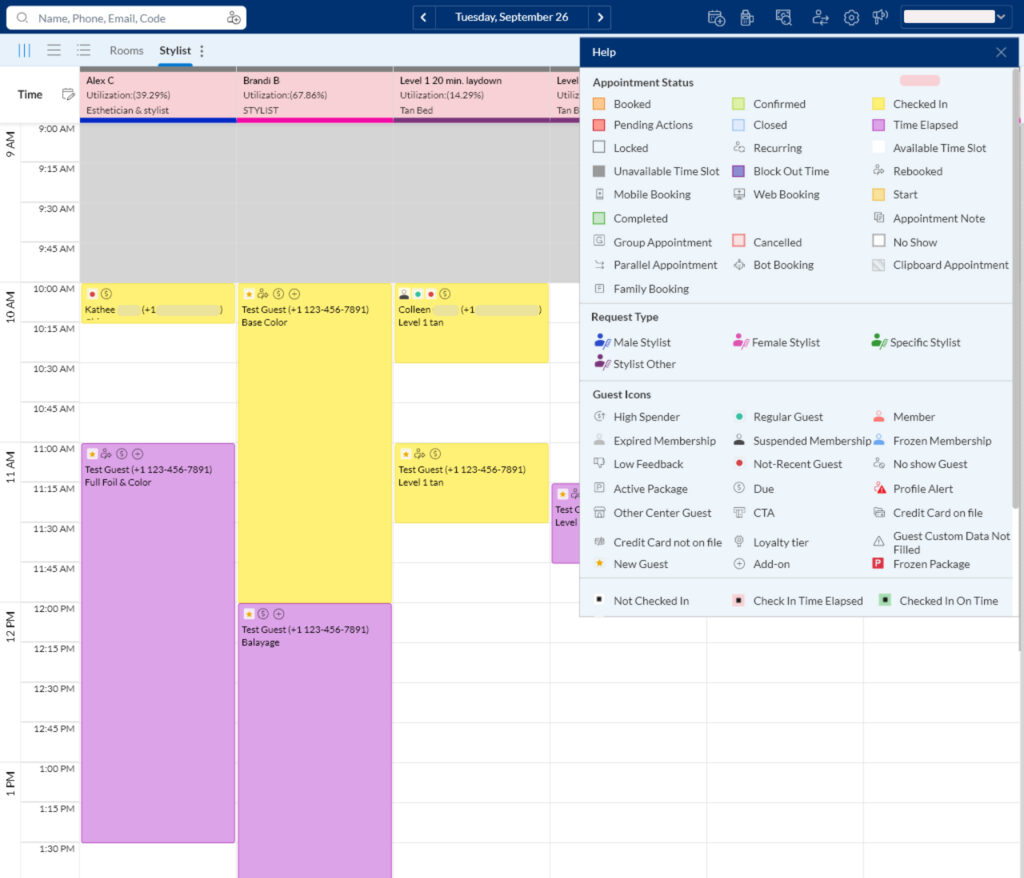 With that level of detail, it's easy for menus to get bogged down and hard to understand, as was the case with Mindbody's labyrinthine mess of menus and disorganized calendar interface.
While Zenoti doesn't necessarily avoid those pitfalls, it does navigate them with a little more grace than Mindbody, and aside from a few notable user experience blunders on their end (more on that in the full review), I was able to find every menu I needed to set up a business in the software and handle daily tasks.
That said, Zenoti also falls prey to some of the same mistakes that veteran salon software companies like Mindbody and Booker are still making to this day.
During our recent Ultimate Mindbody Salon Software Review, I was starting to get an uncanny feeling that major salon software companies are operating on a bit of a set-it-and-forget-it model:
Build the user interface once, make sure it doesn't break that often (optional), bolt on a new feature every few years, and market the hell out of it. JOB DONE.
I say that because it genuinely feels like a lot of the software suites I've reviewed in the past few months have made almost no changes to the user experience of their software since it was conceived ten, twenty, or more years ago.
Booker, Mindbody, and Zenoti all suffer from the uglies of bad, outdated user interface design, sporting plain, drab menu systems that tuck away important features in layers of nested menus and strip out crucial information (such as icon labels) you need to find the tools you need at a moment's notice.
For my money (and yours), there are definitely more streamlined, straightforward, and modern salon software options available at that $300-$600 price point that offer the same or better features and don't require you to be locked in for a year.
But, if you want a salon software option that gets the job done, rarely goes down, and has all the tools you need to run your business, then Zenoti might be a good choice for you.
Key Features
Custom online booking
Can integrate with a large number of third-party applications via an open API
Integrated payments through Zenoti Payments
Memberships, packages, gift cards
Service customizations
Custom reports
Two-way texting available (as a paid add-on)
Help center and Zenoti University (training) available
Integrated email marketing suite
iOS & Android App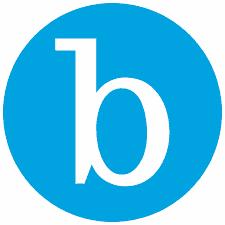 8. Booker: The Most Established Spa Software with the Best New Client Marketplace
If you're a spa owner with a new or growing business with overhead to spare that needs integrated marketing tools and must have a first-party online marketplace to drive new client acquisition, Booker is right up your alley.
Big businesses trust Booker, and the software suite has all the major headline features of smaller and equivalent competitors in the space.
Their pedigree and stable of big-name businesses have influenced thousands of spa owners to jump onboard, sight unseen (often without ever clicking a single button inside the software).
This is partially because Booker does not offer a free trial of their software.
Many businesses are willing to throw their hat in the ring with Booker due to its built-in email marketing suite and Mindbody Explore integration, which both offer considerable marketing opportunities for growing their revenue.
However, as a piece of spa software so long-established, I have to admit that I was left rather unimpressed by the features and options available in the desktop app itself, and I cannot recommend the Booker Mobile app in good faith due to its lack of reliability and years-long backlog of neglected bugs and glitches.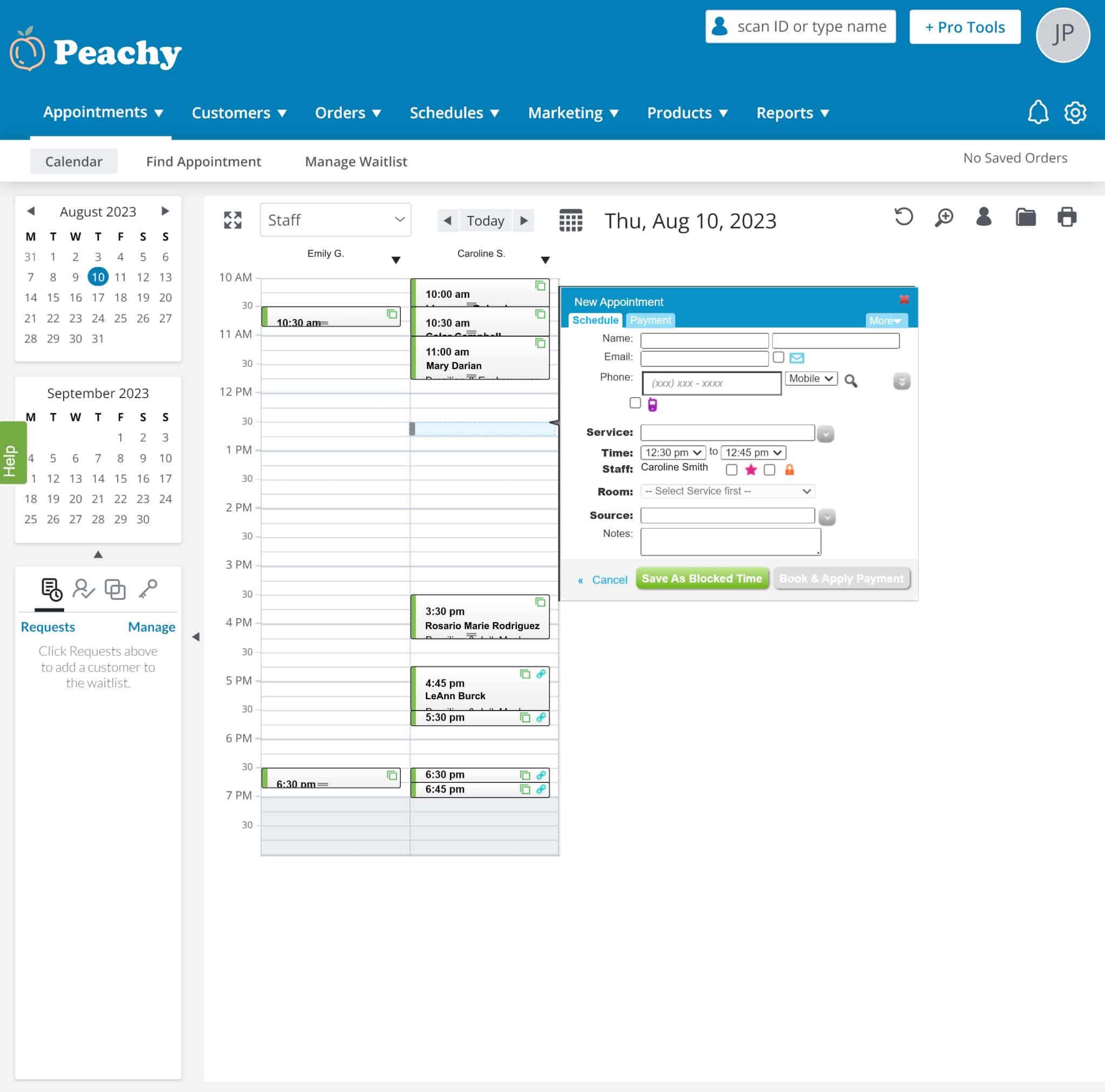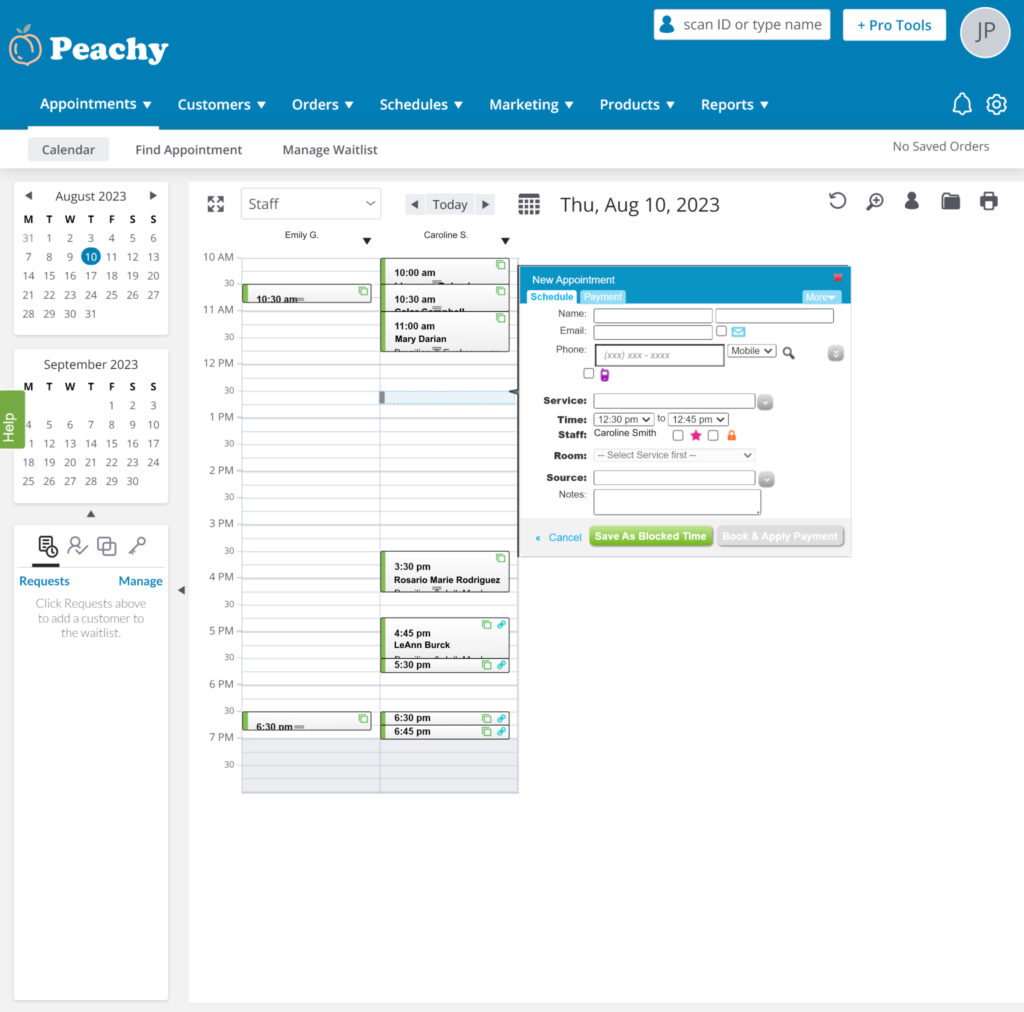 Key Features
Straightforward pricing
Enhanced new client acquisition opportunities through MindBody Explore marketplace
Integrated payments through MindBody Payments (US & Canada only)
Memberships, packages, gift cards (physical & digital)
Waitlist capability
Two-way messaging available (only on Ultimate and Ultimate Plus)
AI chatbot feature to help with scheduling (only on Ultimate Plus)
Integrated email marketing suite (on higher-tier plans)
Inventory management (with stock alerts)
iOS & Android App


9. Mindbody: The Education & Engagement-Focused Spa Software Made With Marketing in Mind (Nearly-Worldwide)
If you're the kind of spa owner who has a major focus on client skincare or wellness courses and education, Mindbody offers you something no other software suite does — the ability to host and monetize your classes in the spa and online.
All the core features that a spa software suite needs to have (like appointment booking, reporting, inventory management, POS, and online booking) are there, and there are even some nice-to-have add-ons that make the prospect of signing on (and I literally mean signing on) a more attractive prospect.
Just like its sister company Booker, though — you can't try out Mindbody before you buy. They do not offer a trial (free or paid).
Mindbody requires a minimum 12-month contract to even try the software for yourself.
Just like Booker, Mindbody offers a custom email builder and campaign manager, as well as Mindbody's Messenger and Messenger[ai] features to communicate with clients, respond to missed calls, and field client inquiries during- and after-hours.
What Mindbody offers that Booker does not, however, is the ability to sell classes in-spa and online and livestream them. For spas that teach health, skincare, and wellness courses, this is a major opportunity to gain attendance and engagement and build your spa's reputation and brand online.
In other areas, Mindbody offers a functional experience, but not necessarily a pleasant or intuitive one.
The user experience in Mindbody's desktop and mobile apps is just that: functional.
Mindbody does what it says on the tin, but it definitely isn't going to wow you in the process.
In fact, it throws a couple of curveballs your way that somehow make the experience worse than what its subsidiary and sister app, Booker, offers.
Booking and checking out are the two clearest examples of where Mindbody makes even the simplest of everyday tasks more challenging than the competition, requiring additional steps and extra clicks to do two of the things you will be doing the most for at least the next 12 months.
While features like the ability to livestream educational classes or create a branded web app may be important to some fitness and wellness businesses, they may not necessarily offer a whole lot of added value for most salons and spas.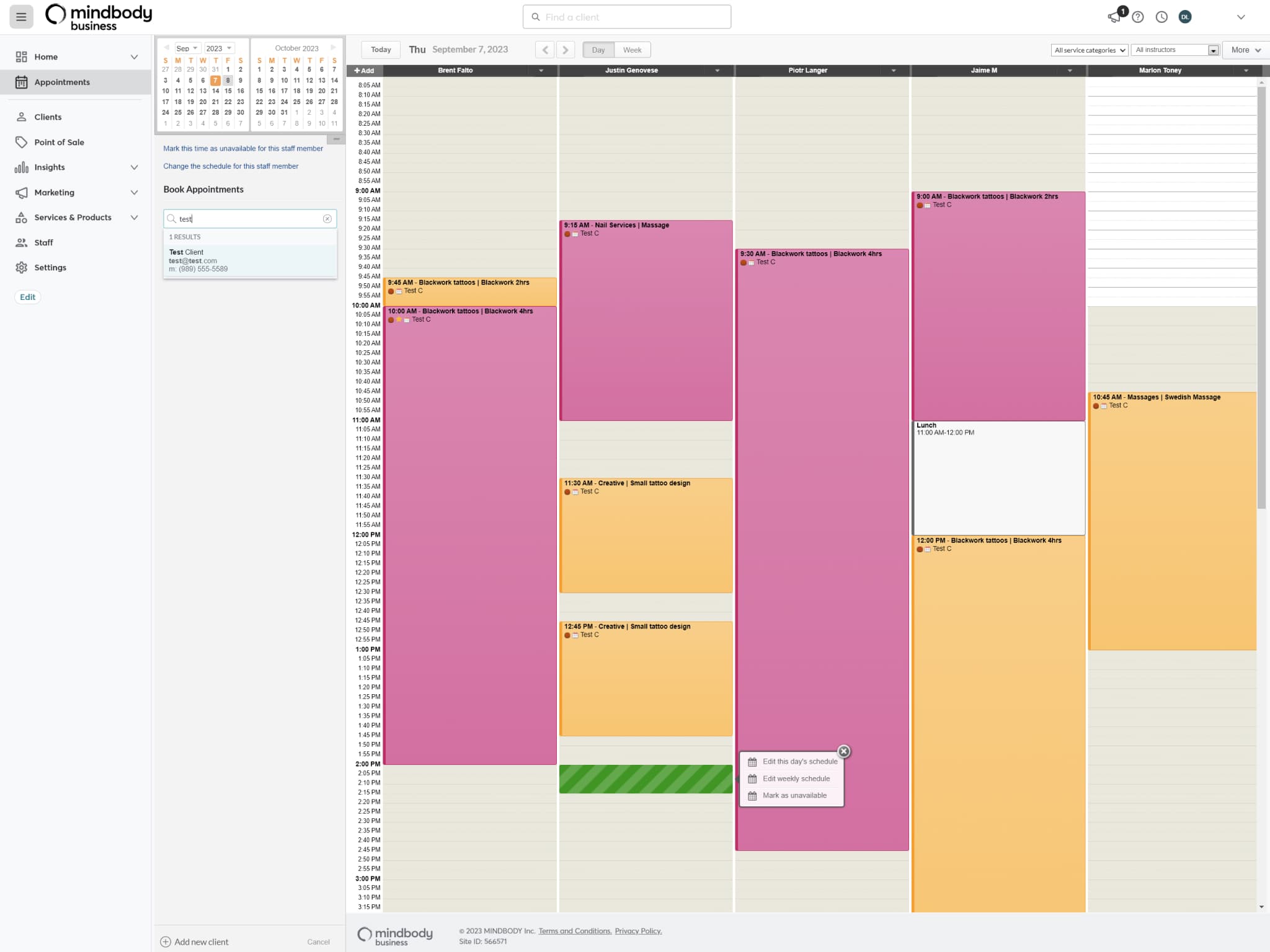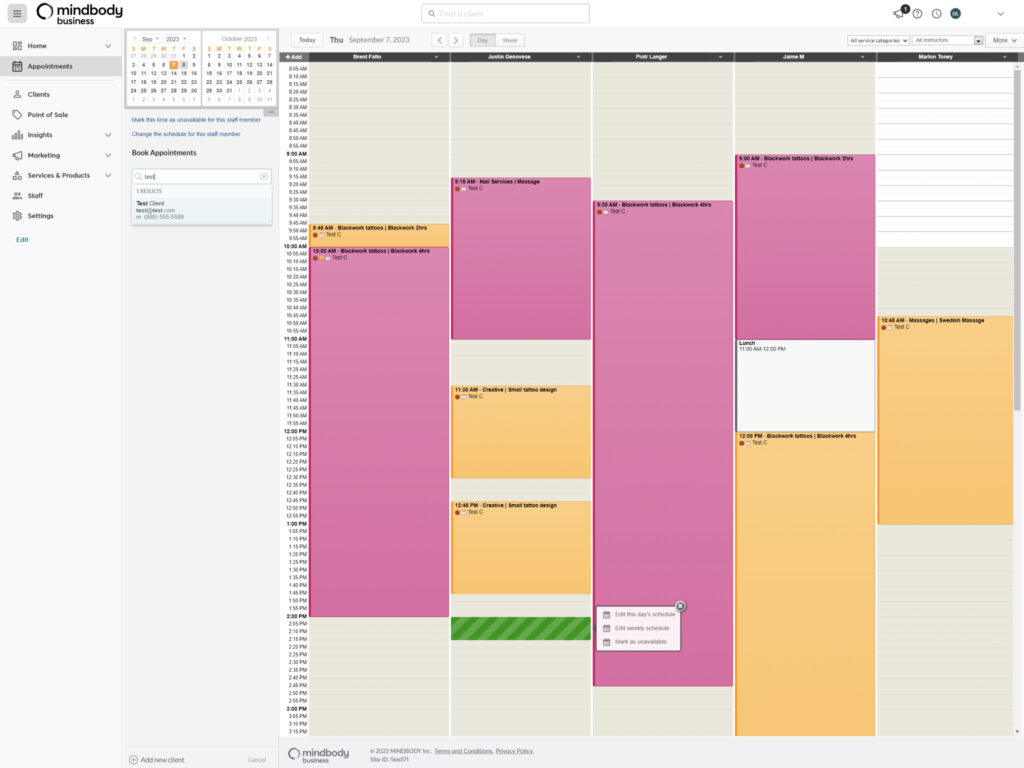 Key Features
Enhanced new client acquisition opportunities through MindBody Explore marketplace
Integrated payments through MindBody Payments (US & Canada only)
Memberships, packages, gift cards (physical & digital)
Waitlist capability
Two-way messaging available (only on Ultimate and Ultimate Plus)
AI chatbot feature to help with scheduling (only on Ultimate Plus)
Integrated email marketing suite (on higher-tier plans)
Inventory management (with stock alerts)
iOS & Android App
My Verdict and Comparison of the Top Spa Software Alternatives
Still not sure?
Let me give you a quick rundown with more perspective to consider when deciding on the right platform.
I have also started to record videos where I demo the platforms and share even more details about each one. When available, I'm including them below as well so that you can get the full details on the platform you're considering.
Mangomint – The Best Option for the Bigger Spa Business with High Demands
Mangomint is for you who want flexibility, modern design, HIPAA compliance, and smart automations that help simplify your business.
I just love the fact that you can integrate the platform with pretty much anything else. If you want to connect to a Shopify store or use MailChimp for your email marketing, you can. In fact, you can even use what's called webhooks to connect with any other app that allows for integrations.
So if you're running a bigger business (5 or more service professionals) and need more flexibility, Mangomint is the way to go. Although the platform itself is super easy to use and doesn't require any help to get started with, they have exceptional customer support that will help you with all the more advanced things (like setting up integrations and importing data from any system you are using today).
Mangomint also now offer full HIPAA compliance, meaning you can sign a Business Associate Agreement (BAA) with them and protect your clients' Personal Health Information (PHI) as well as your business and reputation and avoid costly fines and penalties.
If there are things you don't feel I am answering in the video above, you can also book a meeting with support (typically replies within minutes) so that you get someone to walk you through your specific questions.
GlossGenius – The Most Beautifully Designed All-in-One Spa Software
GlossGenius distinguishes itself from the competition by combining stunning design with simple operation. It's my first pick for solo practitioners who want to avoid any technical hassles while still maintaining a high level of professionalism.
They also provide white-glove service to new clients to guarantee you don't get stuck on the way. For bigger businesses, the tool may be too limited in flexibility and features when compared to other choices presented here, but for small spas, it's a strong and affordable alternative.
Vagaro – The Most Feature Rich All-in-One Software for Spas
The number of features you get with Vagaro is what I see as the main reason you could land on Vagaro. You get a ton of value here at a very affordable cost.
Another distinguishing feature of Vagaro is its client marketplace, which offers simple marketing tools to help you get your spa in front of more new people. And in contrast to Fresha, they won't charge you anything for referring new clients from their marketplace.
Fresha – The Only 100% Subscription Free Spa Software
It's incredible how much value you get for free with Fresha. They offer so much valuable support on their free plan that the first thing you'll probably ask is, "How do they make money?" "
Fresha provides a marketplace that allows clients to find salons and spas in their region. If you advertise your business on Fresha and result in a new client, they will demand 20% of the transaction. You'll also pay a credit card transaction fee of 2.19% + $0.2 for every appointment made through the platform.
The advantage is that there are no fixed expenses; all you have to do is pay when you earn money.
The free subscription is not the only advantage of Fresha, as I'm showing you in the video, it provides many useful features and is super simple to use. But if you want to be able to customize your client experience rather than using out-of-the-box designs etc., you'll want to turn to a system with more flexibility.
Square Appointments – The Free-for-Individuals Spa Appointment Scheduler
I typically recommend Square Appointments in two different situations.
Either you're an independent professional looking for a subscription-free yet powerful appointment scheduler.
Or, if you're a bigger business and want to go all in with Square. That is, use their POS unit, website builder, credit card reader, marketing tools, and payroll software and you want to have that all integrated together.
Boulevard Spa Software – The Marketing-Focused Spa Management Software for Larger Businesses
Overall, Boulevard is a rather sophisticated and feature-rich tool for running a spa business.
Their everything-and-the-kitchen-sink approach to features and options means you can really dig in with tools that are designed to help you bolster your marketing efforts and aid you in building revenue, tracking progress, and laser-focusing on the reporting that matters to your business.
But – and this is a big "but" – there is a pretty narrow niche of businesses that I would actually recommend Boulevard to.
Ok, down to brass tacks. Is it the right choice for your spa or med spa?
I wouldn't recommend Boulevard to solopreneurs and most smaller spas (less than 5 service providers).
The premium price-point paired with the inevitable incidental costs that come with onboarding, data migration, and other get-started fees make this a potentially cost-prohibitive option for those leaner businesses.
Boulevard is a good choice for established spa businesses with several service providers who want flexible reporting options and also need an all-in-one marketing suite baked right into the software.
Outside of that, there are several other options on our list that might make a better choice and offer almost all the same features at a better price.
Zenoti Spa Software – The Detail-Oriented Spa Management Software with Top-Notch Reputation Management Features
Overall, Zenoti's desktop experience is serviceable, but it's ugly, old, and just as unintuitive as its long-standing competitors.
Let's start with the good first:
Zenoti is mostly feature-complete and offers every feature that its competitors do. From the marketing suite to two-way messaging and even an AI chatbot, it has those elements available to you (usually for an additional fee).
Where it shines above its competitors is with legitimately better reputation management tools that allow business owners to take control of the conversation around their business online and make client satisfaction their top priority.
They also have a decent help center and offer a series of best practice courses on their Zenoti University site. That's always something we like to see.
However, despite Zenoti being a veteran in the salon software space, they fail at the same weak points as each of their competitors.
This starts with the terrible mobile app experience on offer across both iOS and Android. Reviews are awful across both platforms going back at least five years, indicating a lack of innovation and improvement to one of the core pillars of any booking software.
I wish I could recommend Zenoti more highly, but honestly, they're barely outdoing Mindbody and offer a broadly similar experience (albeit with a worse UI) to Booker at roughly the same price once you factor in comparable add-on features.
But that's not to say it isn't the right choice for any business.
If you absolutely have to have in-depth reputation management features built into your software and can benefit from the marketing tools, customizable reporting functions, and AI tools available from Zenoti, then it may be a good choice for you and your business.
Booker Spa Software – The Longest Running Spa Software with New Client Acquisition Tools
If you've got money to spare and need a brand name you recognize, Booker is a fine recommendation for new and growing salon and spa businesses that need integrated marketing tools and must have a first-party online marketplace to drive new client acquisition (as long as you avoid the Starter plan).
Core features like appointment booking, reporting, inventory management, POS, and online booking are all there on the checklist.
And Booker even has some standout extra benefits like its built-in email marketing suite and Mindbody Explore integration, giving you access to a huge, highly motivated audience of potential clients that trust the platform to find businesses that provide the services they want.
However, despite Booker being one of the most mature and well-established options on the market, not one element of the software is particularly intuitive, well-crafted, or unique in a sea of competitors that offer a far better user experience and feature set, often for a considerably lower price.
If the marketing opportunities afforded by the included Mindbody marketplace capabilities could make a major difference in establishing or growing your clientele, and an AI assistant to handle inquiries and help you schedule appointments around the clock could move the needle in filling your books, Booker might be a good option for you.
Mindbody Spa Software – The Longest Running Spa Software with New Client Acquisition Tools
Overall, Mindbody's desktop experience is functional but a bit messy and unintuitive.
Let's start with the good first:
As it was in Booker, Mindbody's Marketing Suite is one of the few major innovations to come out of the software in the last few years, and although it lacks the polish and design chops of some other software suites, it is a very useful tool to grow your business.
Likewise, Mindbody's Explore marketplace is an incredible opportunity for new and growing businesses with a focus on new client acquisition. The visibility that Mindbody's marketplace offers for those businesses as an included perk is of considerable value and should not be glossed over.
However, despite Mindbody being one of the most mature and well-established options on the market, the software feels old, clunky, and a bit half-baked, especially for use in a spa, despite the fact that it offers HIPAA compliance.
I say that because while features for fitness and class-oriented businesses have bloomed within the app, those oriented toward helping salon and spa businesses succeed have seemingly not improved or expanded at all in several years.
And as a piece of software so long in the works, its user interface and experience are somehow even worse and less intuitive than that of its subsidiary (Booker).
Even simple actions within the app, like booking an appointment or checking out a client, are overly complicated and require several extra steps to accomplish — an issue that Booker has seemingly avoided with its more streamlined experience.
And I hate to sound like a broken record, but just as was the case with Booker, years of stagnation and a lack of innovation in spa-centric features make Mindbody very hard to recommend for spa businesses in 2023…
But that's not to say that it isn't the right choice for any business.
If the ability to book and sell educational courses is important to you, Mindbody might be a good option for your business. If neither of these features is on your must-have list, I would recommend choosing nearly any other salon software option on this list instead.
Time to Decide
I believe the differences between the tools should start to clear now.
The bigger spa business with higher demands on integrations, automations, ease-of-use, design, and HIPAA will probably want to go with Mangomint.
GlossGenius is for the independent professional who wants simplicity and great design.
If you want a simple and free alternative, I recommend Fresha.
Vagaro is the most feature-rich option at an affordable entry price.
Square is for you who are just after a cost-effective appointment scheduler or a complete solution where you activate more of the apps from Square.
Aesthetics Pro is for when you need specific med spa features that you cannot find in the other alternatives.
Boulevard is for larger businesses who absolutely need built-in marketing tools and custom reporting options.
Booker is for medium-to-large new or growing single-location businesses that want to place a focus on new client acquisition.
Mindbody is best suited to medium-to-large single-location businesses that need to book and livestream educational courses to expand their reach online and boost their brand.
If you want a more detailed comparison of the features of several of these systems, you can take a look at my post on the best salon software.