Disclosure: This post may contain affiliate links, meaning I get a small commission if you decide to make a purchase through my links, at no cost to you.
Learn more...
Are you trying to figure out which point-of-sale system is right for your salon or spa business?
Then you've certainly landed in the right place.
As you've probably already realized, there are endless options when it comes to POS systems for salons and spas.
And it can be super confusing trying to understand what the best choice is for your business. At least that's how I felt when I started my research.
So today, I will share what I learned when researching and testing all the top salon pos systems. This should save you many hours (or even weeks in my case :)).
I will cover solutions specializing in your type of business and offer full software support for businesses such as hair salons, nail salons, beauty salons, barbershops, and spas. And I will also take you through other, more general, POS options that are considered the best and that I believe you may find interesting.
Are you ready?
Let's dive into the best point-of-salon systems for salons and spas.
The Best Spa and Salon POS (Point-of-Sale System) 2023
Below is my list of the 7 best salon POS systems in 2023. The system that best fits YOU will depend on things such as your team size and the specific needs you have. So I strongly recommend you look through all options before you decide on the one to marry.
---
1. Mangomint: The Smartest, Most Well-Designed POS for Salons and Spas
Available in the USA & Canada
Mangomint is the most modern and well-designed POS system (and complete salon software) I have ever seen.
This thing is freakin beautiful and a pleasure for you, your team, and your clients to interact with.
Its innovative POS experience leverages smart automation to streamline all your processes surrounding your checkout.
Features such as self-checkout, intelligent waitlist, and waiting room management take the client experience to a new level. Mangomint also allows you to charge deposits, route payments directly to any chair or room renters, and keep cards on file for recurring membership payments.
Mangomint is designed for salons and spas with teams and high demands. It can integrate with pretty much every other platform out there which also makes it the most flexible solution here if you want to leverage other tools in your business (like Shopify or Mailchimp).
The POS hardware offered by Mangomint is clean and leverages a compact Bluetooth card processor and Front Desk Display that can turn an iPad into a client-facing screen where clients can pay.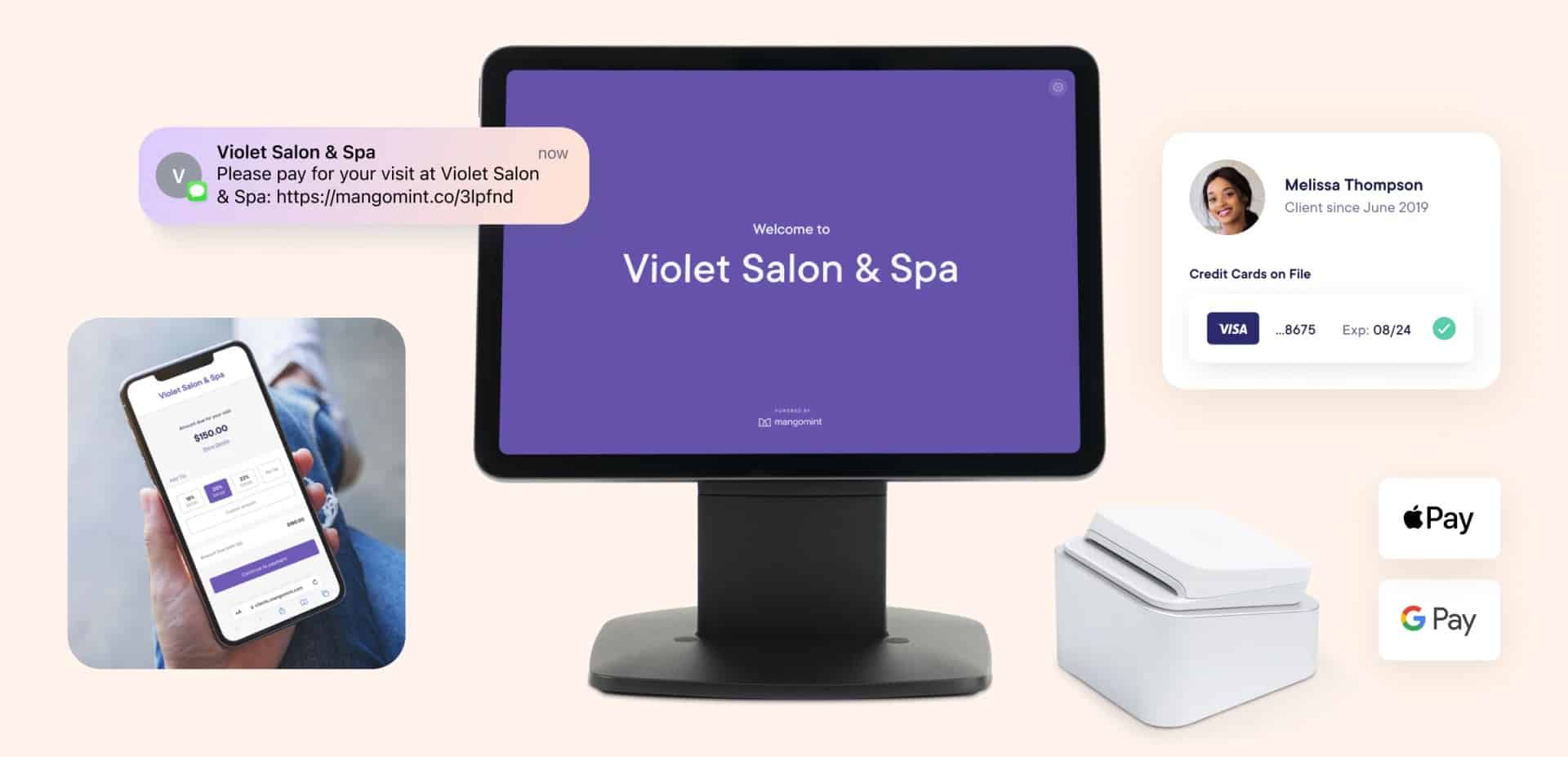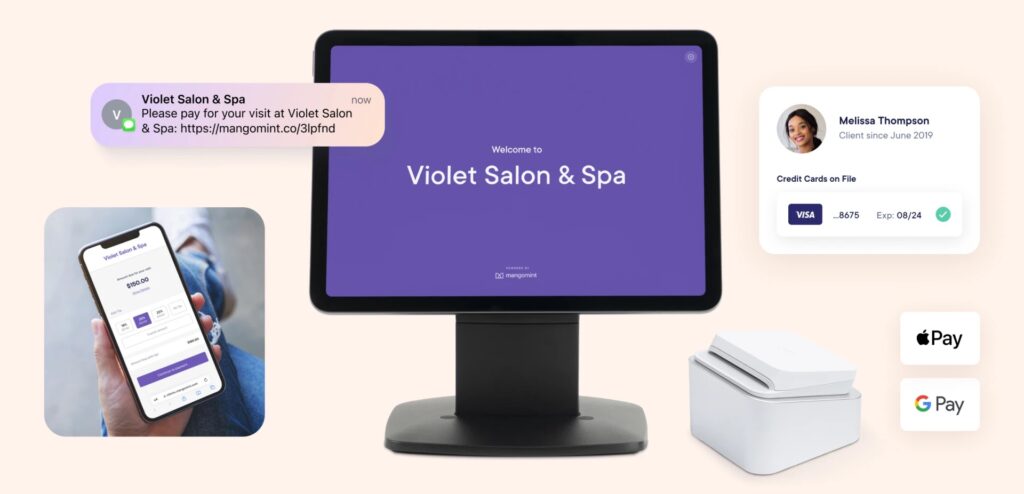 Key Features
Modern, easy-to-use, interface
Smart automations that help cut down on time spent managing business operations
Open data ownership and contracts (you're not locked into anything)
Can integrate with any other platform who allows for integrations
Integrated payments
Memberships, packages, gift cards
Forms, two-way client texting, intelligent waitlist
Sophisticated reports
Top-level customer service & help documentation
Limited-time offer: Start using Mangomint for free for 60 days when you sign up using the link below.
---
2. GlossGenius: The Easy-to-Use Alternative for Independent Beauty Professionals
Available in the USA only
GlossGenius is an all-in-one appointment, payment, and marketing app for independent beauty professionals in the USA.
It offers rich support for solopreneurs, and I believe it's one of the best options if it's only you in the business and you are looking for something easy to use that just looks good out of the box. Here you manage your total business out of a beautifully designed app.
Everything about GlossGenius breathes premium beauty. Even the card reader is designed for a high-end client experience. And it's the combination of nice design and simplicity that makes this tool truly unique.
I recommend GlossGenius if you value the design and the appearance of your business and need a simple POS that you can manage out of your phone, wherever you are.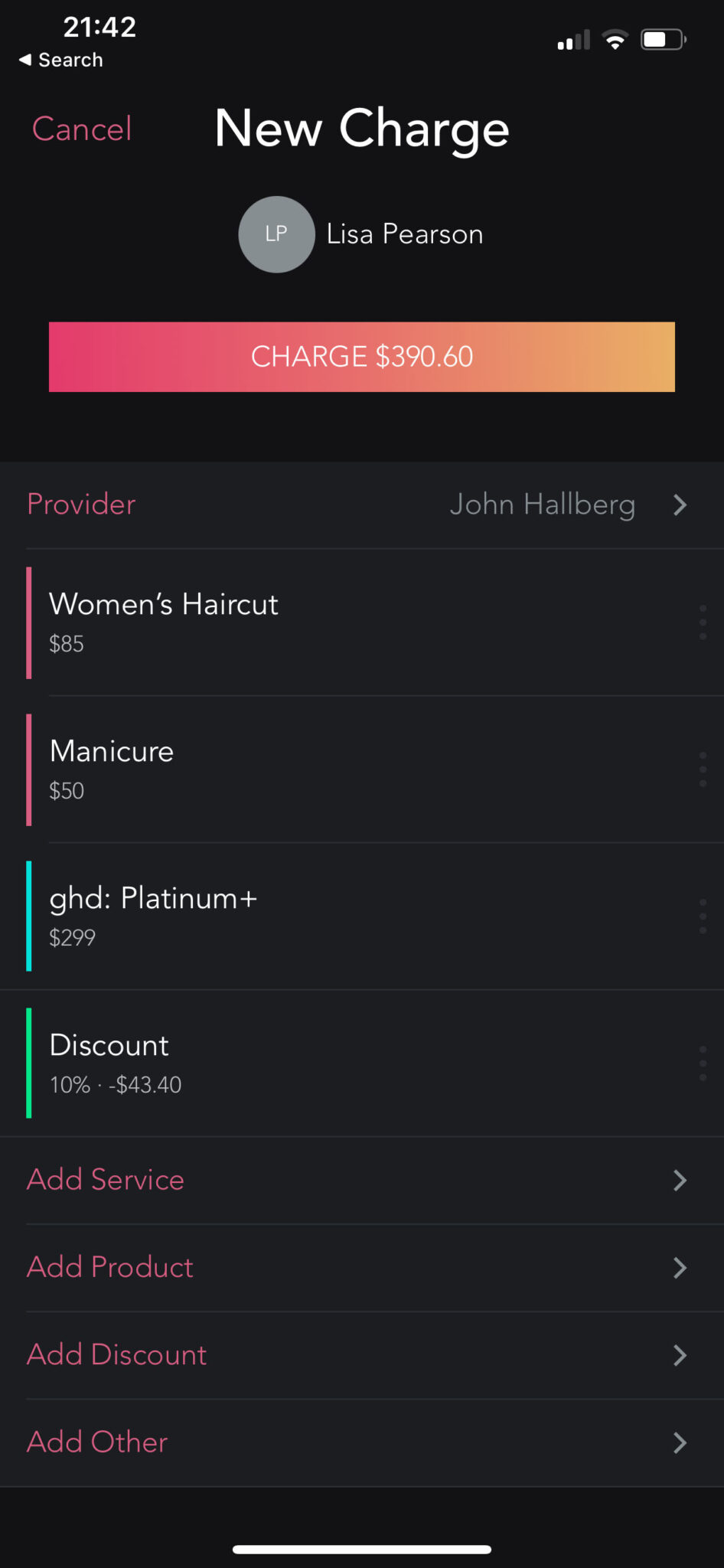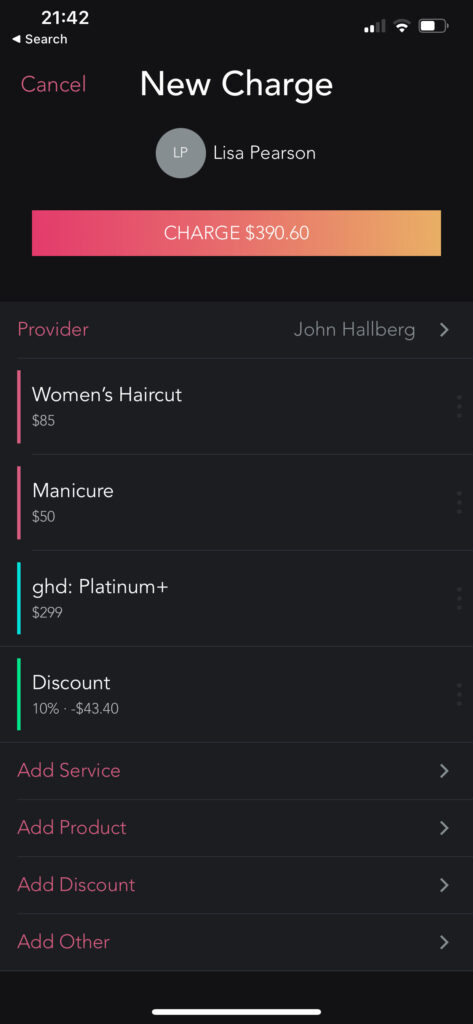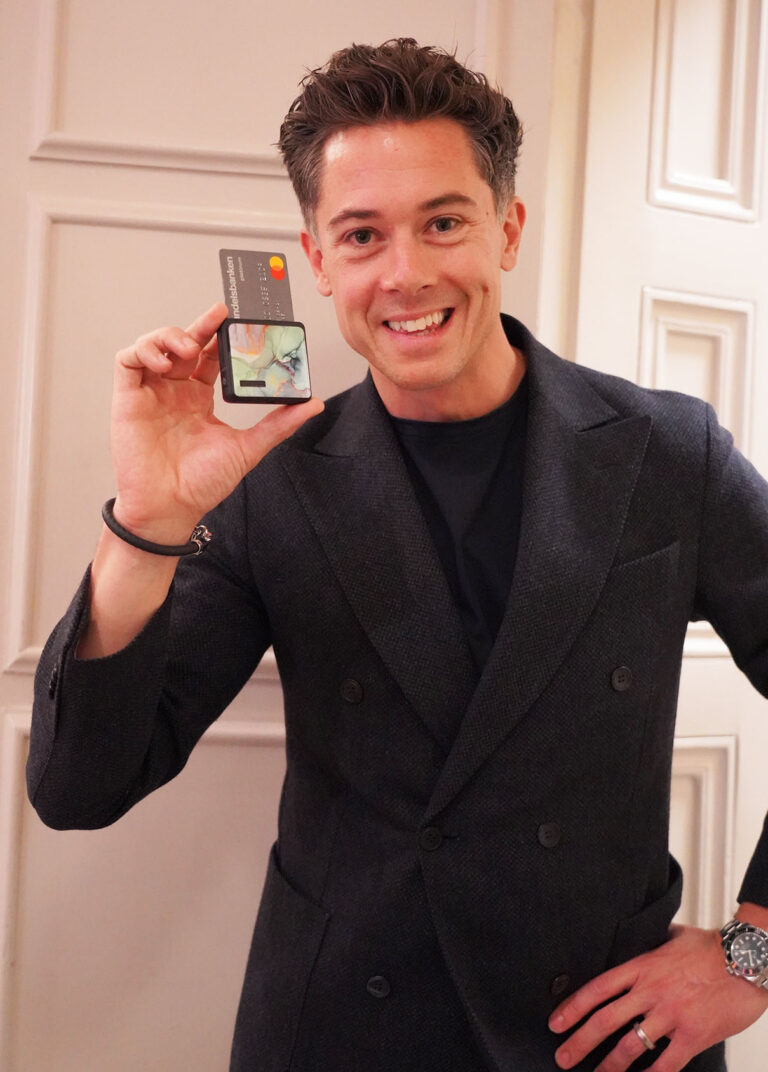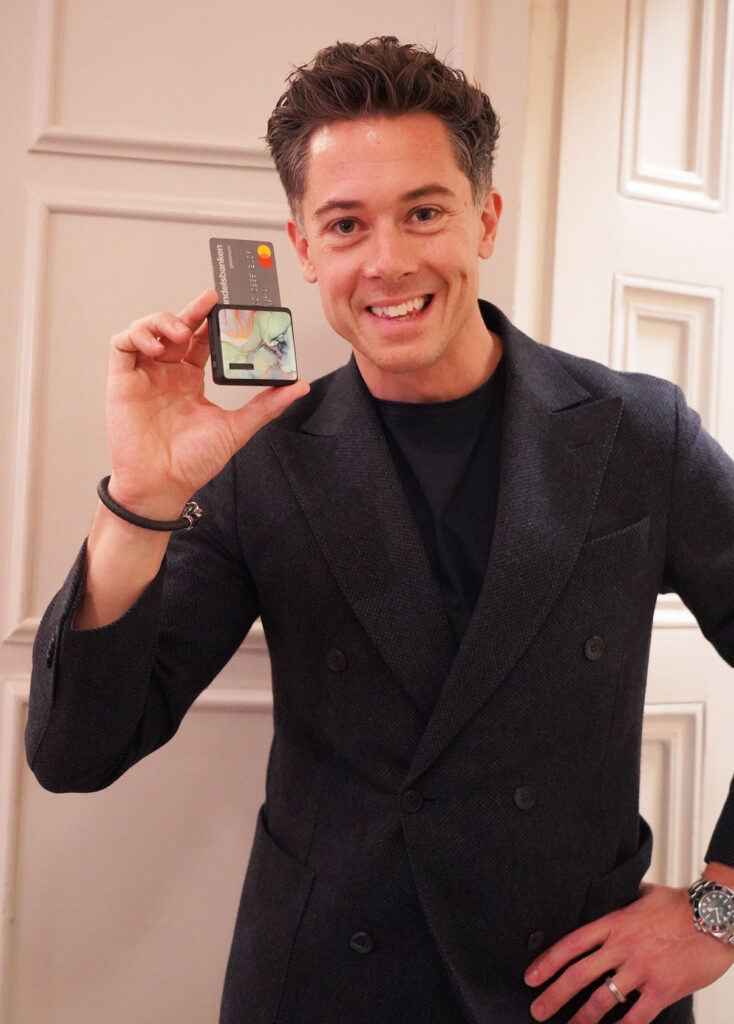 Key Features
Beautiful design
Multiple card reader design options to fit your brand
Fully integrated with salon appointments and client data
Works on Apple devices (e.g. iPad), Android platforms, and web browser
Smart and intuitive features that are easy-to-use
Integrated payments
Affordable pricing
---
3. Square POS: Popular POS & Appointment Software with Subscription-Free Plan for Individuals
Card processor available in US, Canada, UK, Japan and Australia
The Square POS system is one of the most popular POS systems out there. I'm sure you've used it many times at your local café or shop. And what makes it particularly interesting for salons and spas is that Square also offers appointment software that integrates with their POS.
In fact, Square offers quite a few products – like a website builder, a marketing suite, and payroll which all integrate. And all their products are built with simplicity in mind so that, even if you are not super tech-savvy, you can get a full suite of business tools that works together to support your business. To me, this is the biggest advantage of Square.
The Square POS is also subscription free. As Square is also a card payment provider, they earn their money on credit card transactions as well as if you decide to purchase their additional software products that work together with the POS. Also, Square Appointments (which is their appointment management software that you'll likely use) is subscription free for individuals.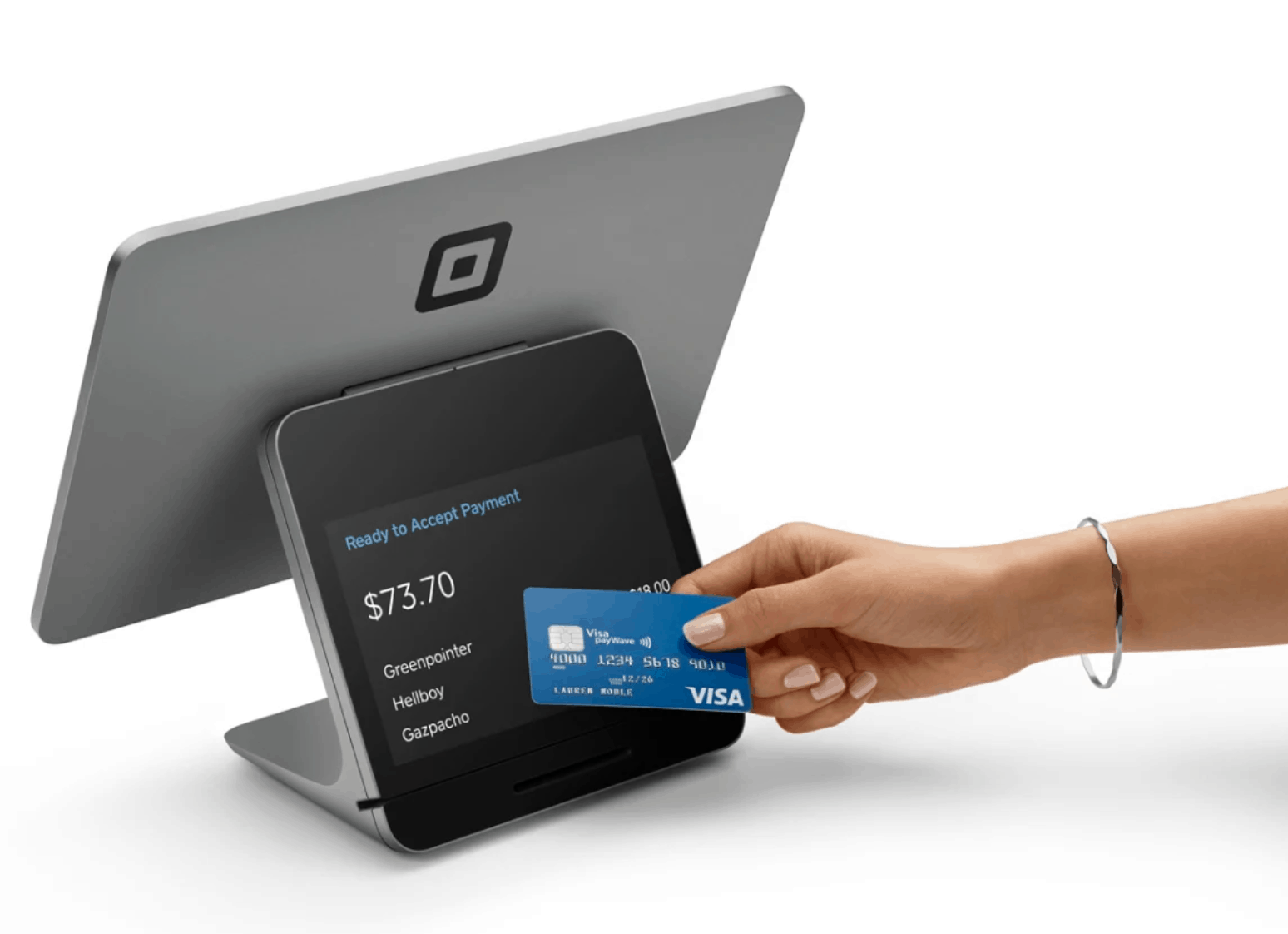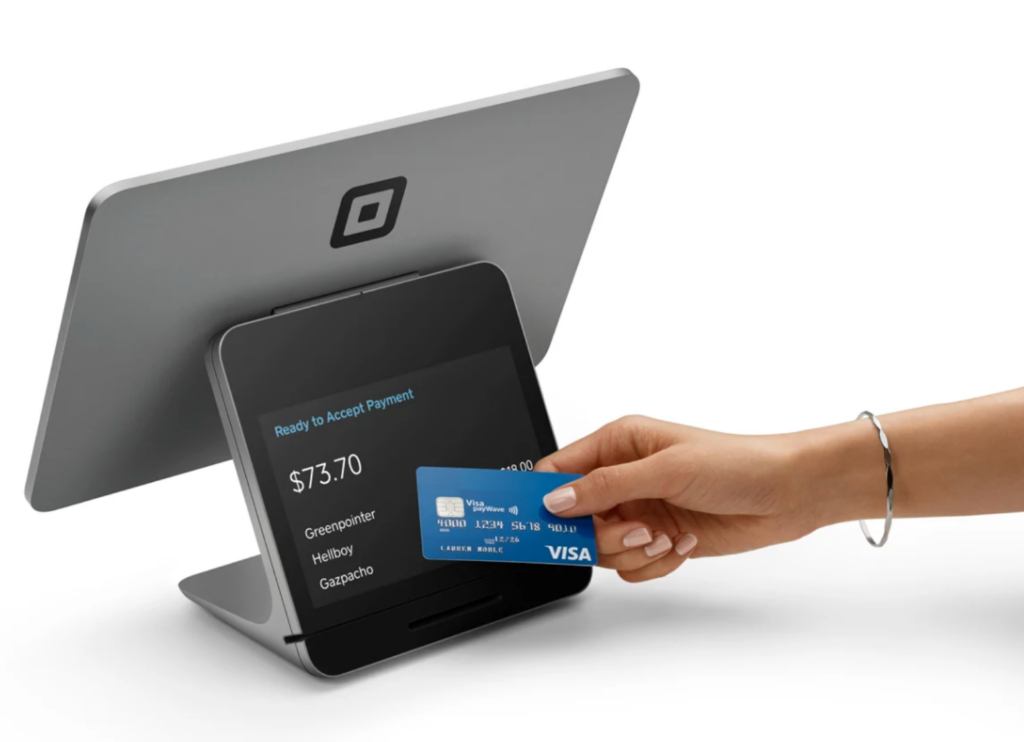 Key Features
Free

subscription
Only pay credit card transaction fee
Fully integrated with salon appointments and client data
Works on Apple devices (e.g. iPad) and Android platforms
Beautiful, minimalistic, hardware design that fits all salons & spas
Intuitive and easy-to-use
A rich selection of hardware (including mobile credit card readers, complete cashier terminals)
Accept payments wherever your client is (perfect for mobile salons)
Get access to Square's broad selection of business tools (website builder, loyalty program, email marketing, payroll, and much more)
---
4. Vagaro: The Feature Rich and Affordable POS for Salons & Fitness Businesses
Card processor available in US, Canada, UK, Australia
Vagaro is an all-in-one system for salons and health & fitness businesses. The Vagaro system comes with an enormous amount of features, whereas POS is only one of the many tools you get.
You can run Vagaro in a web browser, on your phone, or on the dedicated pay desk hardware. The pay desk is beautifully designed and will fit the interior of any beauty-destination.
Despite the significant number of features, Vagaro keeps its pricing at very affordable rates. You can start using Vagaro for as low as $25/month and simply add the features and hardware your business needs.
This is for you who want strong business support, with many features, but still want to manage everything under one roof at an affordable rate.
Vagaro is available in the US, Canada, UK, and Australia.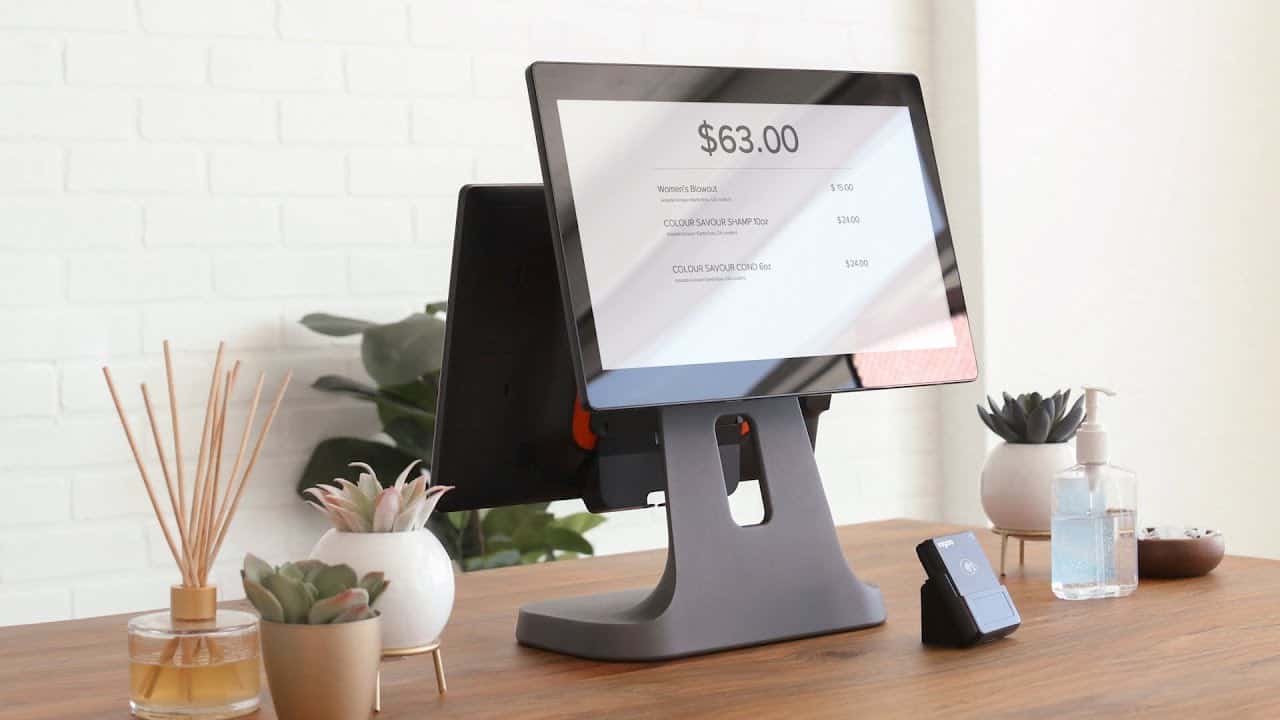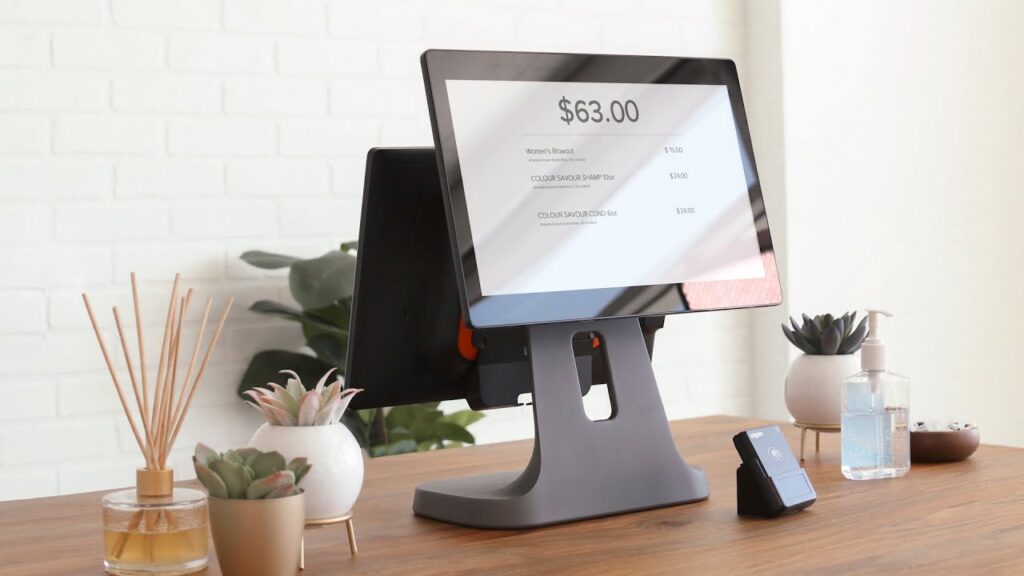 Key Features
Fully integrated with salon appointments and client data
Works on Apple devices (e.g. iPad) and Android platforms
Well-designed hardware that fits all salons and spas
Payments and card processing integrated
Intuitive and easy-to-use
A broad selection of hardware
Accept payments wherever your client is (perfect for mobile salons)
Access to all tools you need to run your salon business (beyond POS)
Get visible on the Vagaro client marketplace

---
Lightspeed is a powerful cloud-based POS system. Its intuitive interface makes it easy to use and a good choice also for salons and spas.
I love how they have powered the platform with strong integration capabilities which makes it possible to use with a lot of other specialized tools. In fact, for a salon or spa business, this is crucial as the tool itself does not come with appointment management but integrates with other solutions (like Booxi).
Compared to other options in this list, Lightspeed has a global presence and is supported in most countries. This makes it a good alternative to Square, with more limited geographical support.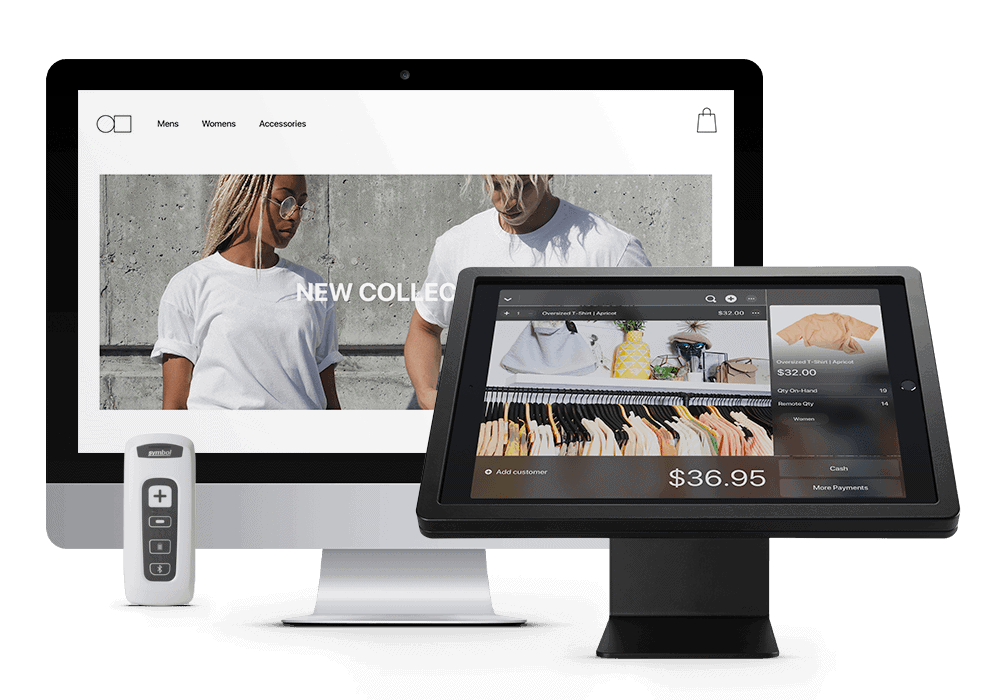 Key Features
Strong integration with other tools (including Booxi for appointments)
Rich online store
Intuitive and easy-to-use
Global availability
---
6. Fresha: The Subscription-Free Salon Software
Fresha is an all-in-one solution for salons that includes point-of-sale. The strength of Fresha is that it's the only 100% subscription-free all-in-one salon software that gives you access to appointment management and marketing tools without any monthly fee.
The POS solution offered is simple, easy to use, and has the basic functionality you will need. It does not offer any POS hardware (other than a card reader), so you will rely on your iOS or Android device to run the system.
I'm including it in this list as it is subscription-free and comes with a lot of other features relevant to salons. It's also available in many more countries than the other options on this list.
Fresha is a good POS option for individual stylists and salons on a budget who want to avoid a monthly subscription and, most likely, doesn't need all the bells and whistles of the other POS systems listed here.
This is what the check-out experience looks like in the Fresha POS web browser view.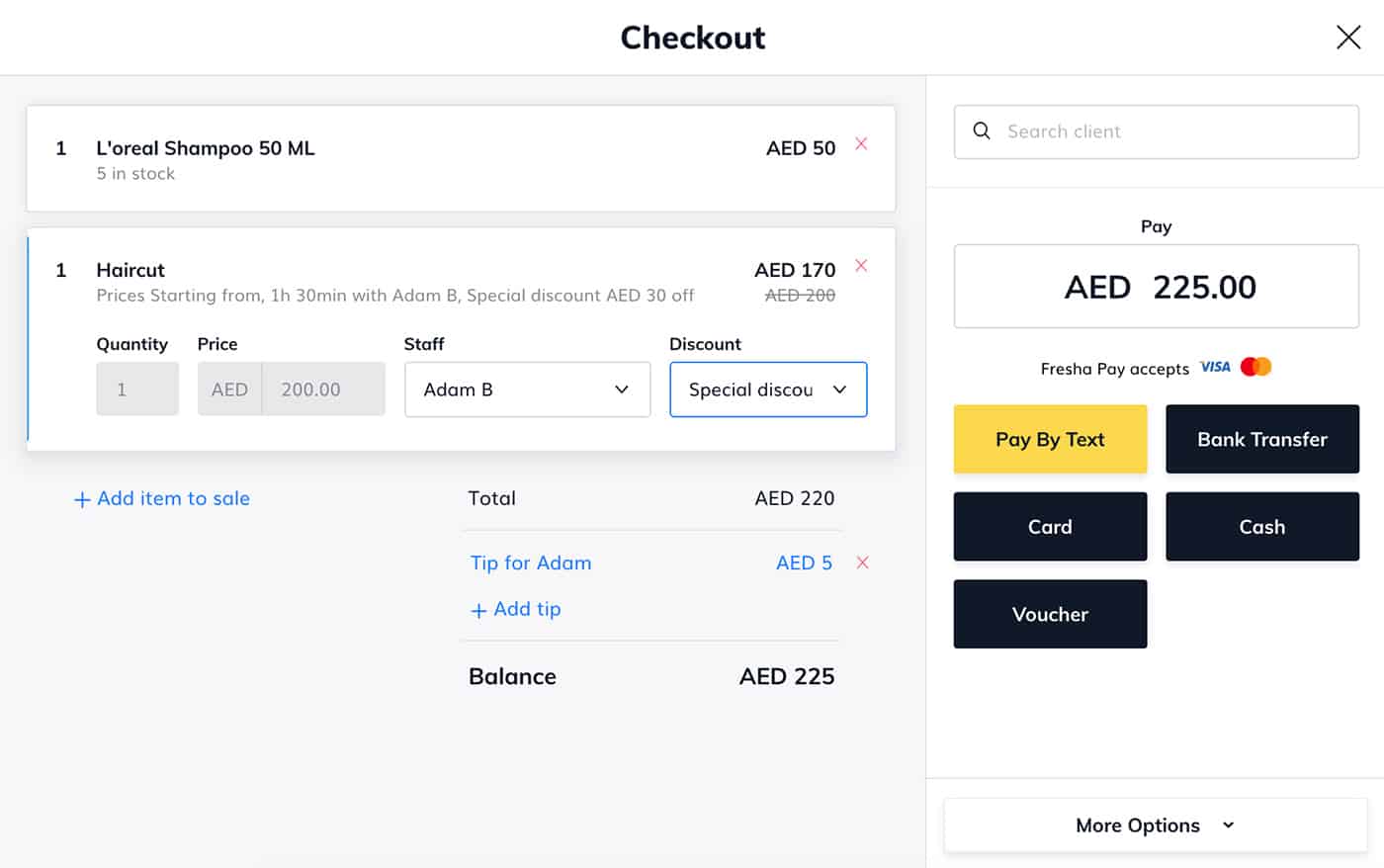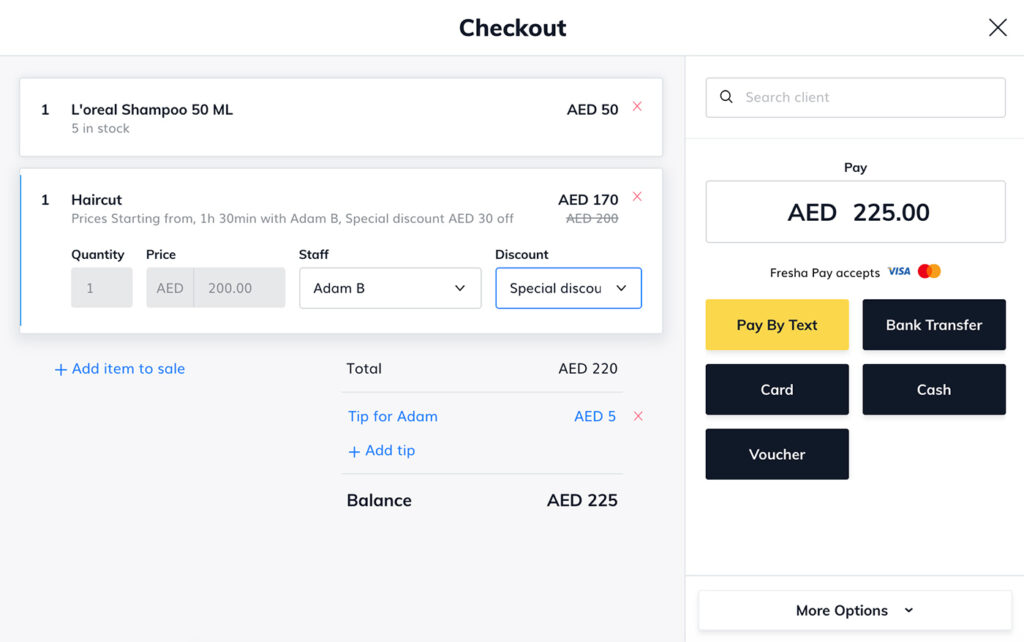 Key Features
Free subscription
Only pay credit card transaction fee and for acquiring the first client on the Fresha marketplace
Fully integrated with salon appointments and client data
Works on Apple devices (e.g. iPad), Android platforms, and web browser
Intuitive and easy-to-use
Get visible on the Fresha client marketplace
Get access to business and marketing tools available for free within Fresha
Fresha Countries
Fresha Pay is available in Australia, Austria, Belgium, Canada, Croatia, Czech Republic, Finland, France, Germany, Greece, Ireland, Italy, Lithuania, Luxembourg, Netherlands, Polan, Portugal, Spain, Switzerland, United Arab Emirates, United Kingdom, and the United States.
You can still use Fresha Worldwide but you won't be able to process card payments within the platform outside the listed countries.
For an up-to-date country list, visit the Fresha Partner website.
---
Vend POS is well known, powerful, and easy-to-use point-of-sale system. They have been around for 10+ years and shipped with all you can expect from a leading POS system. It integrates with the Timely appointment scheduling platform to also allow salon bookings to be managed directly in the POS system.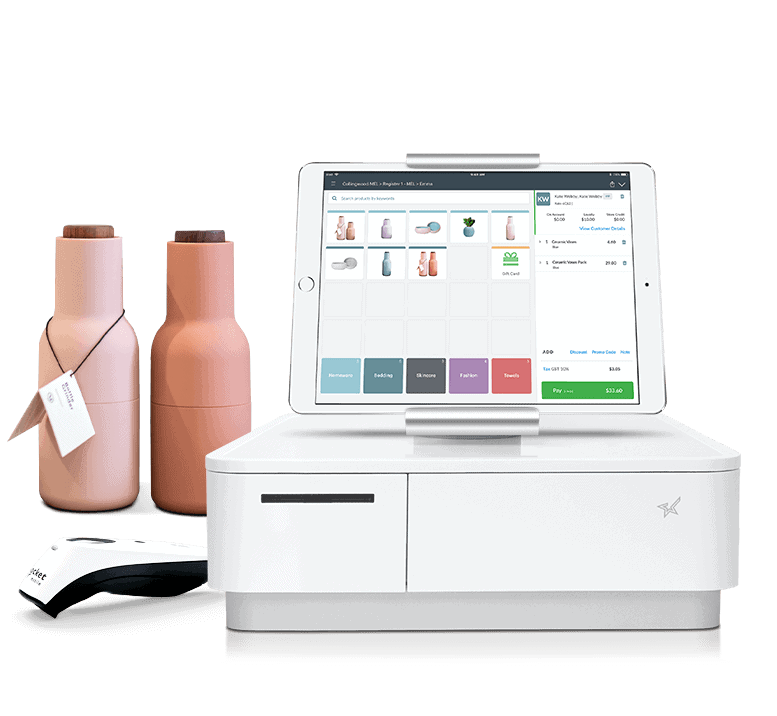 Key Features
Global, award-winning, customer support
Integration support with other tools (like Timely for bookings)
Intuitive and easy-to-use
Salon and Spa POS Comparison Table
It can be overwhelming with all the different features offered by the point-of-sale software listed here so to help you make an informed decision I've summarized an overview of all the features below.
Scroll right to see full table →
Mangomint
Square
Vagaro
Fresha
Gloss Genius
Lightsp.
Vend
Key Facts






Starting Price (/mo)
$165
Free
$25
Free
$24
$69
$99
Countries
US & Canada
Global Cloud Access. Payments & Hardware in US, Canada, UK, Australia, Japan
Global Cloud Access. Payments & Hardware in US, Canada, UK, Australia
Global Cloud Access.
See countries for payments.
USA Only
Global
Global
Service Appointment
Yes
Yes
Yes
Yes
Yes
Via Booxi Integration
Via Timely Integration
Dedicated Hardware
Yes
Yes
Yes
No
Card Reader
Yes
3rd Party










Platforms








Web/ Cloud
Yes
Yes
Yes
Yes
No
Yes
Yes
iPad App
Yes
Yes
Yes
Yes
Yes
Yes
Yes
iPhone App
Yes
Yes
Yes
Yes
Yes
Yes
Yes
Mac
Web Browser
Web Browser
Web Browser
Web Browser
No
Web Browser
Web Browser
Android App
Yes
Yes
Yes
Yes
Yes
Yes
Yes
PC
Web Browser
Web Browser
Web Browser
Web Browser
No
Web Browser
Web Browser








Payment Types






Credit Card
Yes
Yes
Yes
Yes
Yes
Yes
Yes
Cash
Yes
Yes
Yes
Yes
Yes
Yes
Yes
Gift Cards
Yes
Yes
Yes
Yes
Yes
Yes
Yes










Online Store
Shopify Integration
Yes
Yes
No
Yes
Yes
Via Integration










Product Types






Services
Yes
Yes
Yes
Yes
Yes
Yes
Yes
Retail
Yes
Yes
Yes
Yes
Yes
Yes
Yes
Memberships
Yes
Yes
Yes
No
No
Via Vinstream Integration
No
Packages
Yes
Yes
Yes
Yes
No
Yes
Yes










Report






Business Reports
Yes
Yes
Yes
Yes
Yes
Yes
Yes
Quick Books
Yes
Yes
Yes
No
No
Yes
Yes








More Features






Website Builder
No
Yes
Yes
No
Yes
Yes
No
Loyalty Program
Via Integration
Yes
Yes
No
No
Yes
Yes
Email Marketing
Via Integration
Yes
Yes
Yes
Yes
Via Integration
Via Integration
SMS
Yes
Yes
Yes
Yes
Yes
Yes
Via Integration
Payroll
Yes
Yes
Yes
No
No
Via Integration
Via Integration
Team Support
Yes
Yes
Yes
Yes
Yes
Via Integration
Via Integration
Start Free Mangomint Trial
Start using Square for Free
Start Free Vagaro Trial
Start using Fresha for Free
Start Free Gloss Genius Trial
Start Free Lightspeed Trial
Start Free Vend Trial