Are you trying to figure out which point-of-sale system is right for your salon or spa business?
Then you've certainly landed in the right place.
As you've probably already realized, there are endless options when it comes to POS systems for salons and spas.
And it can be super confusing trying to understand what the best choice is for your business. At least that's how I felt when I started my research.
So today, I will share what I learned when researching and testing all the top salon POS systems. This should save you many hours (or even weeks in my case). 🙂
I will cover solutions specializing in your type of business and that offer full software support for hair salons, nail salons, beauty salons, barbershops, and spas. And I will also take you through other, more general POS suites that are still fantastic options for many businesses and that I believe might still be a great fit for you.
Are you ready?
Let's dive into the best point-of-sale systems for salons and spas.
The Best Spa and Salon POS (Point-of-Sale System) October 2023
Below is my list of the 11 best salon POS systems in late 2023. The system that best fits YOU will depend on things such as your team size and the specific needs you have. So I strongly recommend you look through all options before you make your final decision.
---
Mangomint is the most modern and well-designed POS system (and complete salon software) I have ever seen.
This thing is freakin' beautiful and a pleasure for you, your team, and your clients to interact with.
Its innovative POS experience leverages intelligent automations to streamline all your processes surrounding booking, check-in, and checkout.
Features such as self-checkout, intelligent waitlist, and waiting room management take the client experience to a new level. Mangomint also allows you to charge deposits, route payments directly to any chair or room renters, and keep cards on file for recurring membership payments.
Mangomint is designed for salons and spas with teams and high demands. It can integrate with pretty much every other platform out there which also makes it the most flexible solution here if you want to leverage other tools in your business (like Shopify or Mailchimp).
The POS hardware offered by Mangomint is clean and leverages a compact Bluetooth card processor and Front Desk Display that can turn an iPad into a client-facing screen where they can add tip and complete their transaction.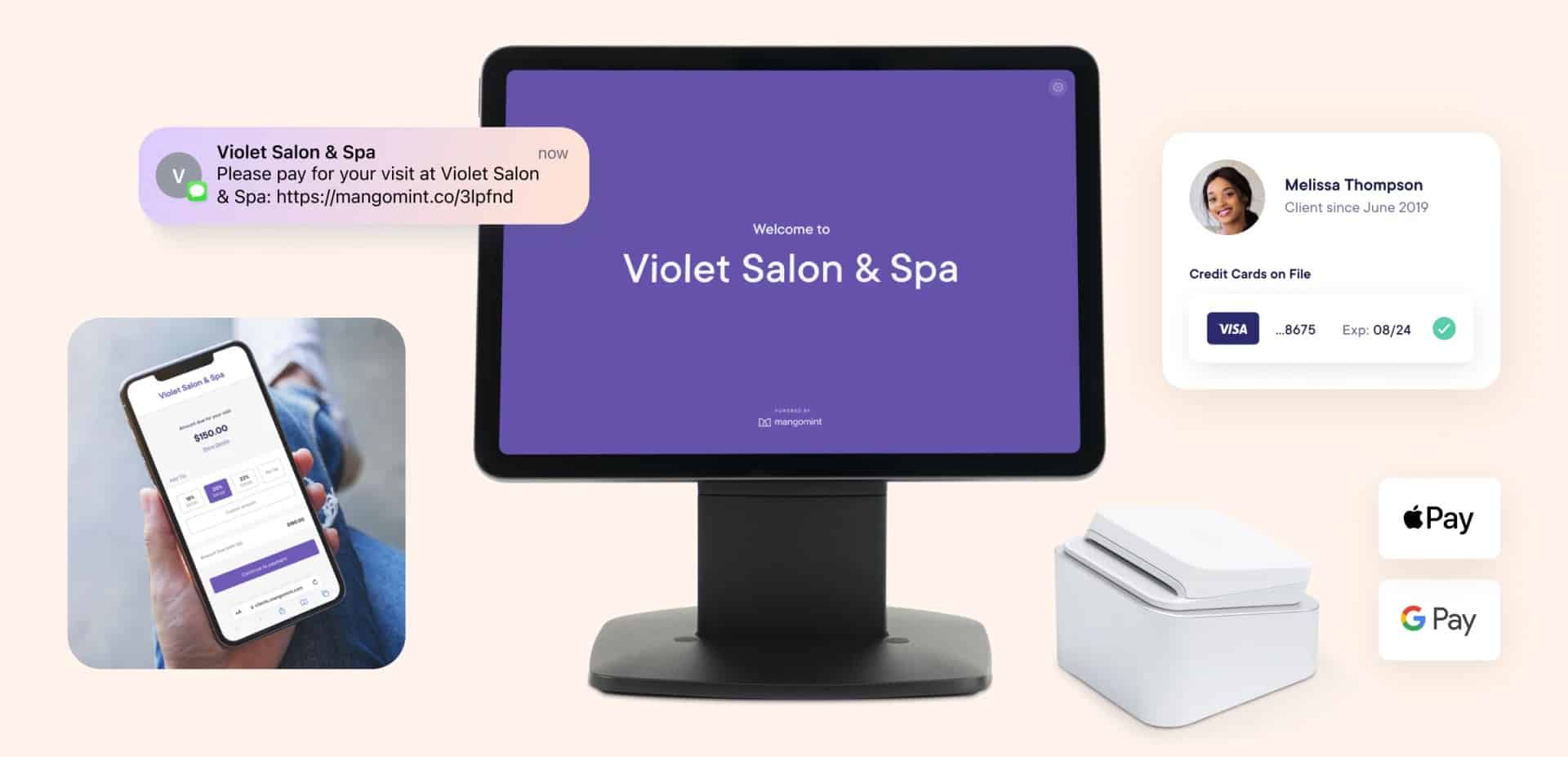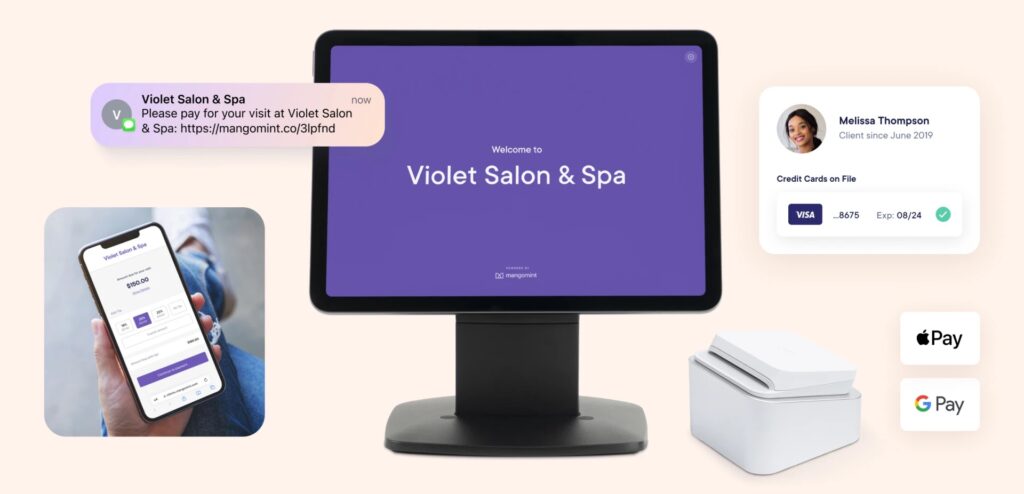 Key Features
Limited-time offer: Start using Mangomint for free for 60 days when you sign up using the link below.
---
GlossGenius is an all-in-one appointment, payment, and marketing app for independent beauty professionals in the USA.
It offers rich support for solopreneurs, and I believe it's one of the best options if it's only you in the business and you are looking for something easy to use and that looks good out of the box. Here you can manage your total business out of a beautifully designed app.
Everything about GlossGenius breathes premium beauty. Even the card reader is designed for a high-end client experience. And it's the combination of nice design and simplicity that makes this tool truly unique.
I recommend GlossGenius if you value the design and the appearance of your business and need a simple POS that you can manage out of your phone, wherever you are.
Key Features
---
The Square POS system is one of the most popular POS systems out there. I'm sure you've used it many times at your local café or shop. And what makes it particularly interesting for salons and spas is that Square also offers appointment software that integrates with their POS.
In fact, Square offers quite a few products – like a website builder, a marketing suite, and payroll which all integrate. And all their products are built with simplicity in mind so that, even if you are not super tech-savvy, you can get a full suite of business tools that works together to support your business. To me, this is the biggest advantage of Square.
The Square POS is also subscription-free. As Square is also a card payment provider, they earn their money on credit card transactions as well as if you decide to purchase their additional software products that work together with the POS. Also, Square Appointments (which is their appointment management software that you'll likely use) is subscription-free for individuals.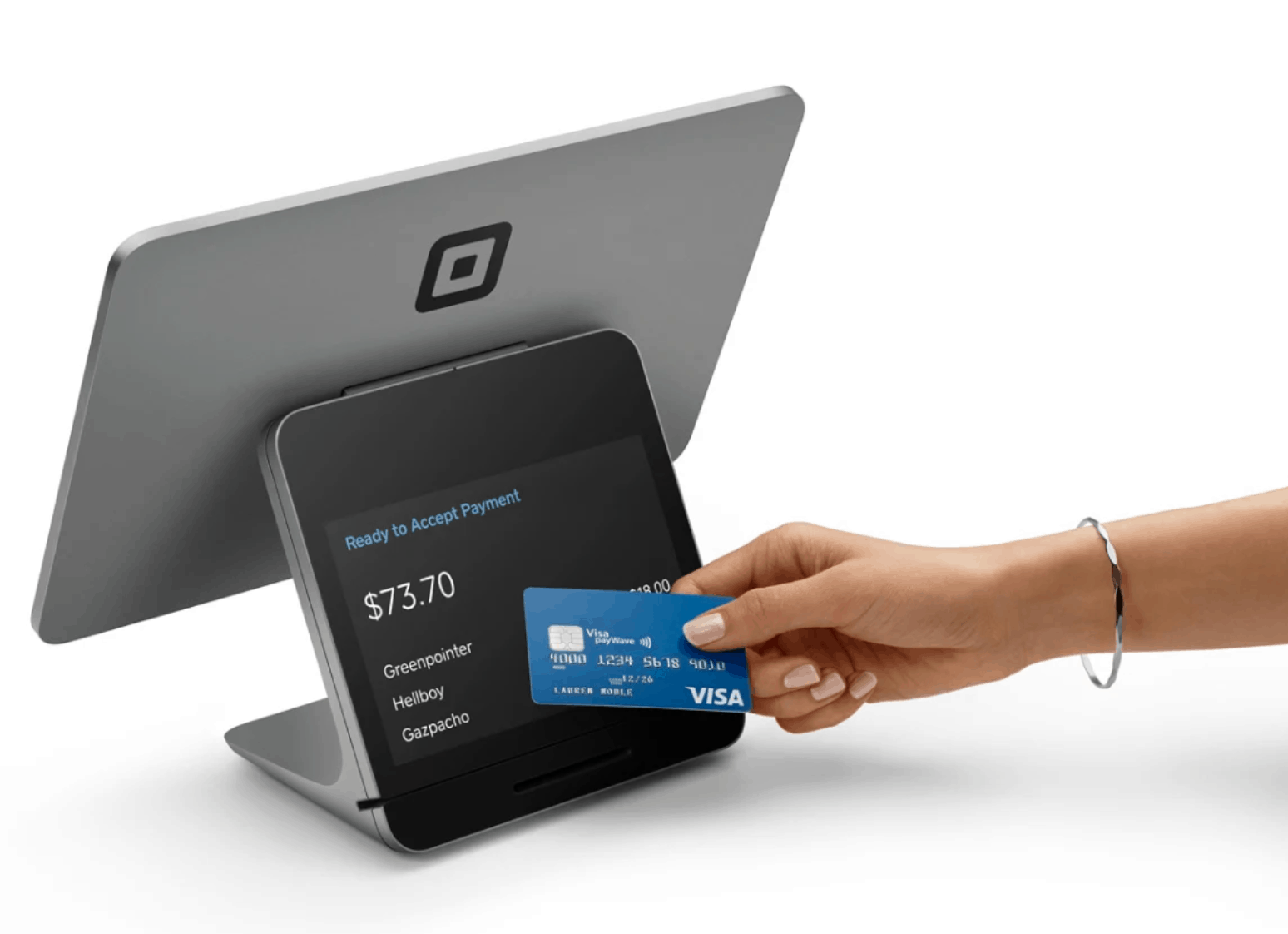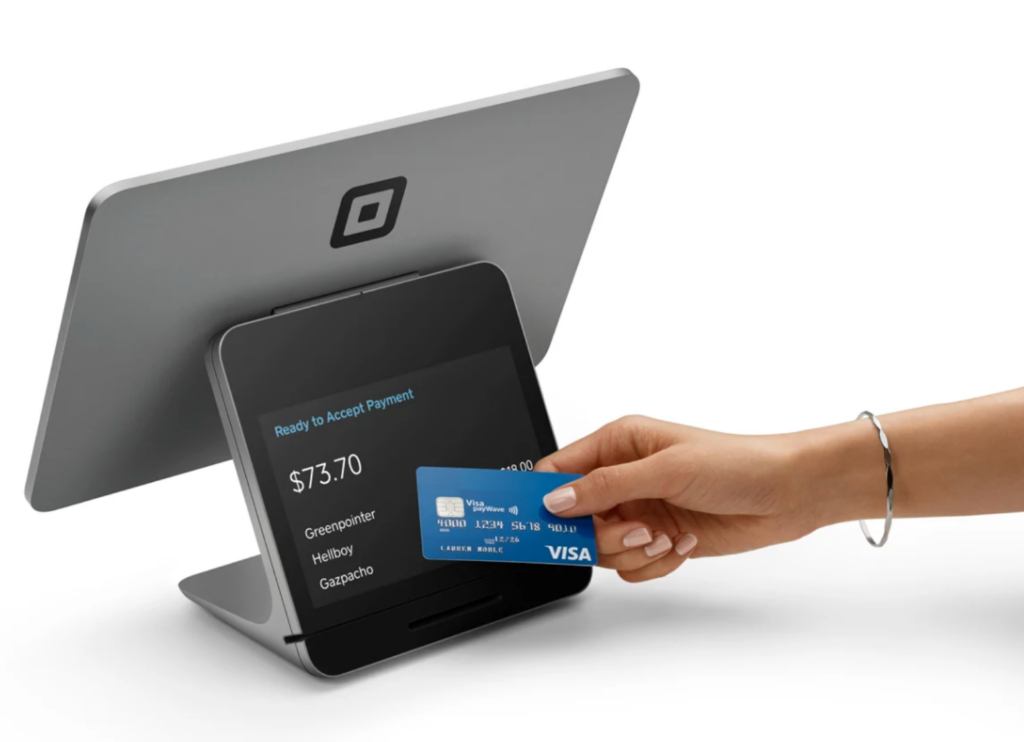 Key Features
---
Vagaro is an all-in-one system for salons and health & fitness businesses. The Vagaro system comes with an enormous amount of features, so a fully-integrated POS is just one of the many tools you get.
You can run Vagaro in a web browser, on your phone, or on the dedicated pay desk hardware. The pay desk is beautifully designed and will fit the interior of any beauty destination.
Despite the significant number of features, Vagaro keeps its pricing at very affordable rates. You can start using Vagaro for as low as $25/month and simply add the features and hardware your business needs.
This is for those of you who want strong business support, with many features, but still want to manage everything under one roof at an affordable rate.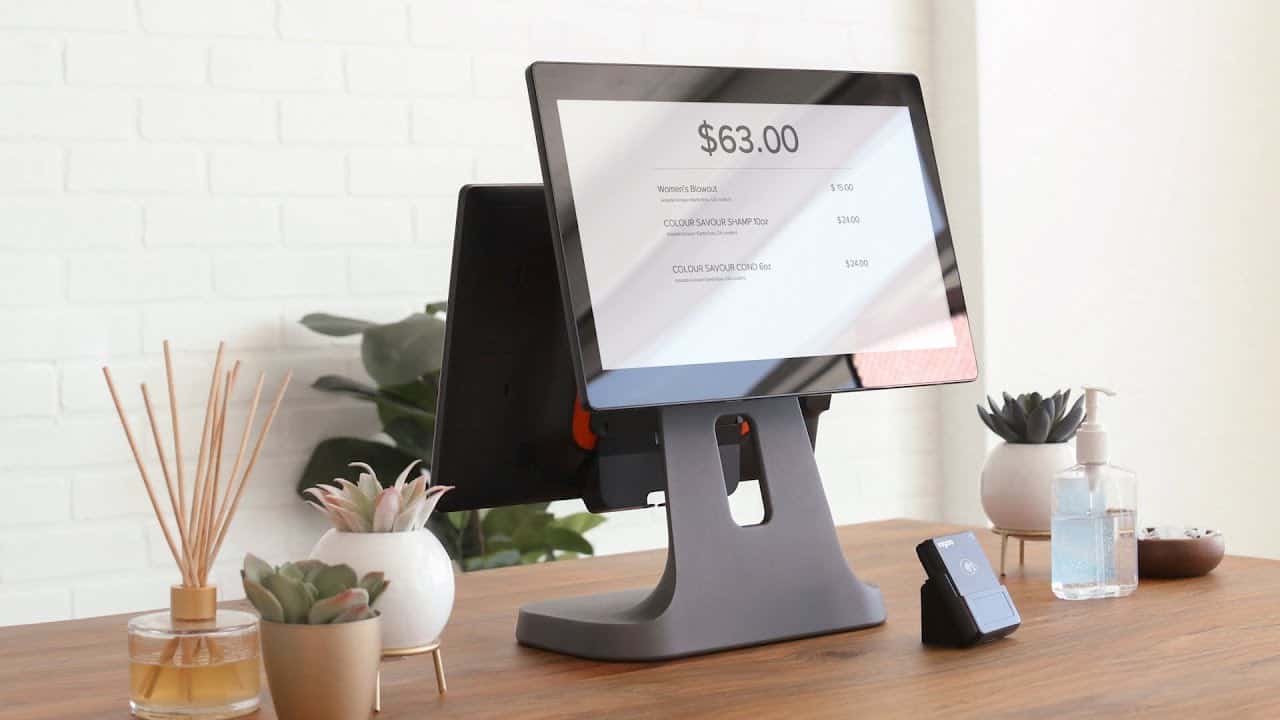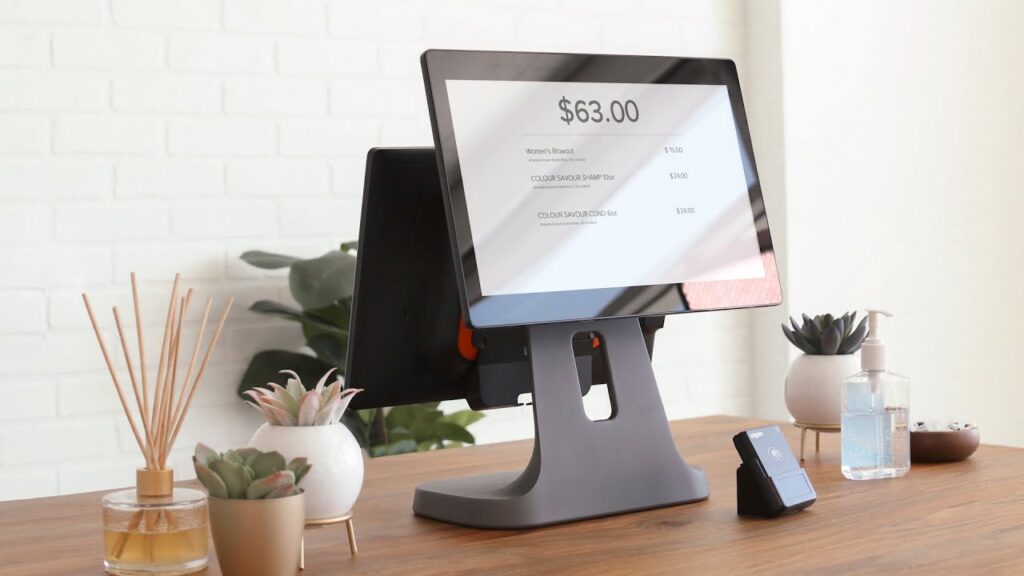 Key Features
---
Lightspeed is a powerful cloud-based POS system. Its intuitive interface makes it easy to use and its features make it a solid choice for salons and spas despite not operating as an all-in-one platform.
I love how they have powered the platform with strong integration capabilities which makes it possible to use with a lot of other specialized tools. In fact, for a salon or spa business, this is crucial as the tool itself does not come with appointment management but integrates with other solutions (like Booxi).
Compared to other options in this list, Lightspeed has a much more global presence and is supported in most countries. This makes it a good alternative to Square, with more limited geographical support.
Key Features
---
Fresha is an all-in-one solution for salons that includes point-of-sale. The strength of Fresha is that it's the only 100% subscription-free all-in-one salon software that gives you access to appointment management and marketing tools without any monthly fee.
The POS solution offered is simple, easy to use, and has the basic functionality you will need. It does not offer any POS hardware (other than a card reader), so you will rely on your iOS or Android device to run the system.
I'm including it in this list as it is subscription-free and comes with a lot of other features relevant to salons. It's also available in many more countries than the other options on this list.
Fresha is a good POS option for individual stylists and salons on a budget who want to avoid a monthly subscription and, most likely, don't need all the bells and whistles of the other POS systems listed here.
This is what the check-out experience looks like in the Fresha POS web browser view.
Key Features
Fresha Countries
Fresha Pay is available in Australia, Austria, Belgium, Canada, Croatia, Czech Republic, Finland, France, Germany, Greece, Ireland, Italy, Lithuania, Luxembourg, Netherlands, Polan, Portugal, Spain, Switzerland, United Arab Emirates, United Kingdom, and the United States.
You can still use Fresha Worldwide but you won't be able to process card payments within the platform outside the listed countries.
For an up-to-date country list, visit the Fresha Partner website.
---
Boulevard offers an integrated payments system through its premium Boulevard Payments platform.
With it, businesses can store cards on file, checkout via the dashboard or iOS Professional App, set up multi-merchant accounts, and utilize the Offset credit card processing feature.
Boulevard's Offset feature allows you to push the majority of the transactional cost to your clients that use credit cards. Essentially, 3% of any transactional cost will be charged to your clients, and your business takes on only 1%.
While it is technically possible to use third-party POS hardware and credit card processing, it is much more of a challenge to set up and will add more work on the backend when it comes time to reconcile payments and allocate payments for service providers.
Customers check out via an iPad through Boulevard's Duo iOS app, and can make physical payments via the Boulevard Duo Bluetooth card reader.
Boulevard claims that the Offset feature saves their average customer $9,600 a year, but obviously that figure will vary depending on the volume of your business and the percentage of your client base that uses cash vs cards.
Boulevard is a good POS option for larger salon teams who are willing to invest heavily in a salon and spa booking and POS system and who want a full-featured premium software suite that offers an everything-and-the-kitchen-sink approach.
I included them on this list for their salon- and spa-focused feature set, but they fall to their current spot because of the high overall cost and commitment (12-month minimum contract), as well as the limited region- and third-party POS hardware support.
This is what the check-out experience looks like in the Boulevard POS web browser view.
Key Features
Boulevard Countries
Boulevard is currently only available to salons, spas, med spas, barbershops, nail salons, and other self-care and wellness businesses in the United States.
Their team has stated that their focus is currently on perfecting their offerings in the U.S. market before expanding to other territories.
---
Booker is compatible with a range of credit card processors, which means you can effectively shop around for the lowest price for a card reader and credit card processing fees – competition is on your side.
Compatible partners include First Data, Bank of America, Payroc, 3C Payments, Worldpay, Sublyme Payments, and more. PayPal can also be accepted online and in-store. A variety of card readers and terminals can be used with Booker to accept payments.
Booker's tight integration with payment processors will automatically link payments to inventory and update the system inventory accordingly when items are sold.
The platform also offers industry-standard features like multi-merchant accounts and direct deposit.
Booker by Mindbody also offers a first-party integrated payment processing service called Mindbody Payments (available in the US & Canada only).
This service collects payments through your Booker system and organizes payouts that are deposited into your bank account, similar to offerings from competitors such as Boulevard Payments or Mangomint Pay.
The optional integrated Mindbody Payments system is only compatible with the recommended WisePOS E desk terminal and Stripe Reader M2 mobile swiper or the P400 desk terminal and BBPOS mobile swiper (no longer offered through Booker).
Its salon- and spa-focused workflows and first-party integration make Booker a natural fit for medium-sized teams, but the overall stunted and clunky software experience compared to its competitors and poor mobile app paired with severely cut-down feature options on lower-tier subscription plans mean it slips down the list to its current spot.
This is what the check-out experience looks like in the Boulevard POS web browser view.
Key Features
Booker Countries
Booker is available internationally across several countries. The full list of countries where the Booker app can be downloaded can be found here.
The Mindbody Payments service is only available in the US & Canada at this time.
---
Vend POS is well known, powerful, and easy-to-use point-of-sale system. They have been around for 10+ years and shipped with all you can expect from a leading POS system. It integrates with the Timely appointment scheduling platform to also allow salon bookings to be managed directly in the POS system.
Vend offers hardware through their POS portal, but also integrates well with third-party scanners, printers, and credit card readers.
Vend was purchased by Lightspeed in 2021 and operates as a subsidiary of that business as Vend by Lightspeed.
Key Features
When it comes to the core nuts and bolts of the software, it's all there.
Zenoti is feature-packed and competitive with its contemporaries, sporting online booking, POS, mobile apps, product and inventory support, memberships, packages, and gift cards, and even a marketing suite akin to the ones you'd see in Booker, Mindbody, or Boulevard.
There are even some extra KPI and reporting add-on features that make gaining business insights through the data you already collect every day possible (as long as you're willing to pay a little extra).
Zenoti's features build on the blueprint established by businesses like Booker and Mindbody, and expand the customizability and capability of those features with control over even the most minute details.
Zenoti does fall prey to some of the same mistakes that veteran salon software companies like Mindbody and Booker are still making, though.
Booker, Mindbody, and Zenoti all suffer from the uglies of bad, outdated user interface design, sporting plain, drab menu systems that tuck away important features in layers of nested menus and strip out crucial information (such as icon labels) you need to find the tools you need at a moment's notice.
Zenoti, in particular, falls prey to pop-up syndrome, forcing many menus (including the checkout screen) to pop out into a separate browser window by default and making a mess of your screen.
That said, Zenoti offers rather flexible POS and processing options.
You can choose from a range of terminals directly through Zenoti, or you can use third-party POS hardware solutions such as a Clover POS device. Either way, you can process payments through the Zenoti desktop web app without the need for manual reconciliation at the end of the month.
Third-party POS devices are not technically accessed via direct integration, but they process the same as standard payments and pose no additional work (outside of a couple extra clicks at checkout).
You can also use an iPad or Android device as a POS terminal by connecting it to your system and using Zenoti's customer-facing iOS app to allow clients to checkout.
Key Features
Zenoti Countries
Zenoti is available in nearly 50 countries worldwide:
---
Like its sister company, Booker, Mindbody is compatible with a range of credit card processors, but at the time of writing, a full list of compatible hardware is not readily accessible on the Mindbody website or its support pages.
Mindbody also offers its first-party integrated payment processing service: Mindbody Payments (available in the US & Canada only).
Mindbody Payments is only compatible with the recommended WisePOS E desk terminal (an Android-based POS device) and Stripe Reader M2 mobile swiper or the P400 desk terminal and BBPOS mobile swiper (no longer offered through Mindbody). Unfortunately, there is no customer-facing tablet app or other large POS screen device comparable to what Vagaro, Square, or Mangomint offers.
In terms of POS, payments, and checkout, Mindbody offers a functional experience but not a pleasant or intuitive one.
Booking and checking out are the two clearest examples of where Mindbody makes even the simplest of everyday tasks more challenging than the competition, requiring additional steps and extra clicks to do two of the things you will be doing the most for at least the next 12 months.
The POS experience on Mindbody is a marked step down from Booker (and all the other options on this list) due to its basket-full of extra menus and options, most of which are unnecessary time-wasters for your average salon or spa.
This is what the check-out experience looks like in the Boulevard POS web browser view.
Key Features
Mindbody Countries
Mindbody is available internationally in several countries across the world.
The Mindbody Payments service is only available in the US & Canada at this time.
---
Salon and Spa POS Comparison Table
It can be overwhelming with all the different features offered by the point-of-sale software listed here, so to help you make an informed decision, I've summarized an overview of all the features below.
Scroll right to see full table →