Disclosure: This post may contain affiliate links, meaning we get a small commission if you decide to make a purchase through our links, at no cost to you. TheSalonBusiness.com is a subsidiary of Mangomint.
Learn more...
Picking the right salon management software is crucial.
You know that.
And, if you're anything like me when I first started researching salon software alternatives, you're about to go crazy with all the alternatives to choose from 🙂
In fact, "What's the best salon software?" is one of the most common questions I get from members of The Salon Business community.
I wish I had found a post like this when I first started.
This is why I've spent months reading user reviews, comparing features, and testing out all the highest-rated options available today.
And in this article, I'm sharing all my findings with you.
You'll get:
My top salon software list.
Detailed feature comparison of the top 9 systems.
My guide on how to choose the best salon software.
Are you ready?
The Best Salon Software October 2023
Below is my list of the top 9 salon software right now. There are some significant differences between these platforms, and the right solution for YOU will depend on your business size and specific needs.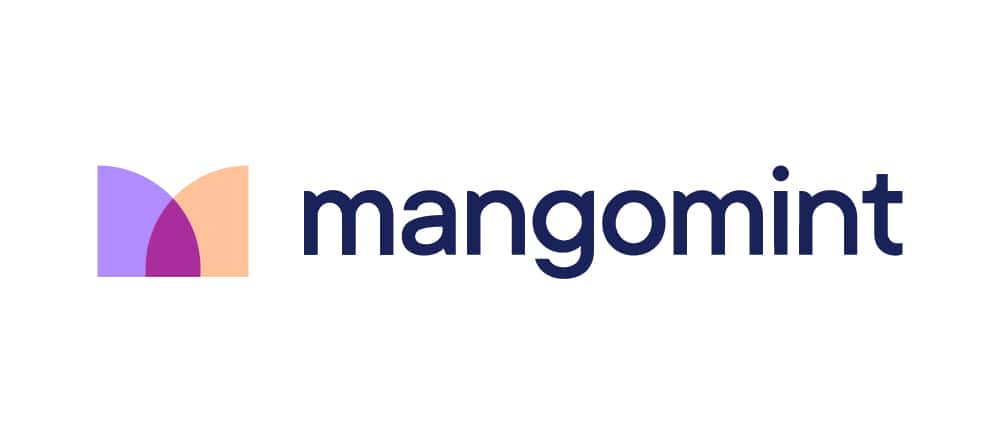 1. Mangomint | The Highest-Rated, Most Well-Designed Salon & Spa Software (US & Canada)
I first heard about Mangomint at the start of 2022 and was taken by storm by this beautiful and intelligent piece of software. Finally, salon software that is fast, intuitive, smart, and beautiful to interact with was my feeling.
And a lot has happened at Mangomint since. New industry-leading features are introduced every month, and I've never seen a community of users as engaged as users of Mangomint.
It's the platform with the most buzz around right now that beats all competitors on user review websites.
So, if you're looking for a sophisticated platform that simplifies your work, saves you time, and makes your business more beautiful, look no further.
Mangomint is the most well-designed platform on this list. Every little detail of this software has been designed to perfection – making it incredibly intuitive and easy to use. It also offers smart automations that reduce the time spent managing your appointments and business operations.
Mangomint delivers exceptionally well on all the core features you expect from a salon software (calendar scheduling, online booking, POS, inventory, reporting). And if you are looking to go beyond the core features, Mangomint allows for integration with your favorite marketing and business systems.
This makes it powerful, flexible, and arguably the most aesthetically pleasing option on this list.
Mangomint's vision is to make salon software invisible—so smart and easy to use that it essentially disappears into your day-to-day operations. And boy, is this software a pleasure to use for both you and your clients, which is why it is now, in 2023, my #1 recommendation.
Key Features
Modern, easy-to-use, interface
Smart automations that help cut down on time spent managing business operations
Full data ownership and no contracts (you're not locked into anything)
Can integrate with any other platform that allows for integrations
Dedicated POS hardware
Embeddable website booking widget & online gift card shop
Integrated payments
Forms, memberships, packages, gift cards
Sophisticated business & payroll reporting
Strong customer service & help documentation
iOS & Android App
Special Offer on Mangomint: Get 2 months for free when you sign up for a free trial or book a demo using this link. Just tell the support team to extend your trial.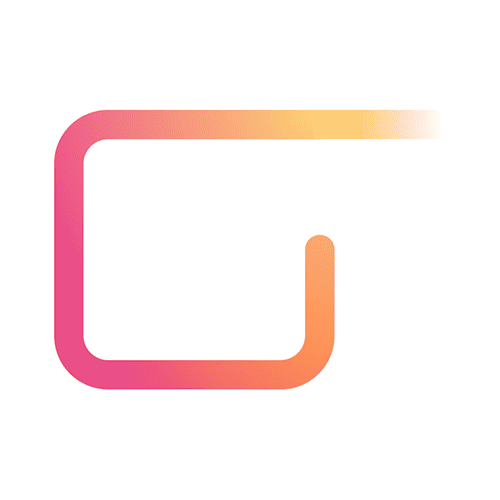 2. GlossGenius | The Easy-to-Use Alternative for Independent Professionals (USA Only)
Are you an independent professional looking for all-in-one salon software but want to avoid technical complexity and boring design? Then GlossGenius may be the answer for you.
GlossGenius is an all-in-one appointment, payment, and marketing app for independent salons in the USA.
Here you manage your total business out of a mobile app.
GlossGenius breathes premium beauty. Everything from the website to the card reader is designed for a high-end client experience. And it's the combination of nice design and simplicity that makes this tool truly unique.
GlossGenius is the tool I recommend to independent professionals who want a good-looking online booking experience and smart marketing tools without having to spend time on technical issues.
Salons with a team can use this tool even if most bigger businesses need more flexibility and are probably better off with Mangomint.
Key Features
Generate a website in just a few clicks
Multiple card reader design options to fit your brand
Smart and intuitive features that are easy to use
Integrated payments
Synchronize clients and calendar with your phone
Easy-to-use email and SMS marketing
Manage everything inside the GlossGenius app (Apple & Android)
Advanced business reporting
Affordable, transparent, pricing and free 14 day trial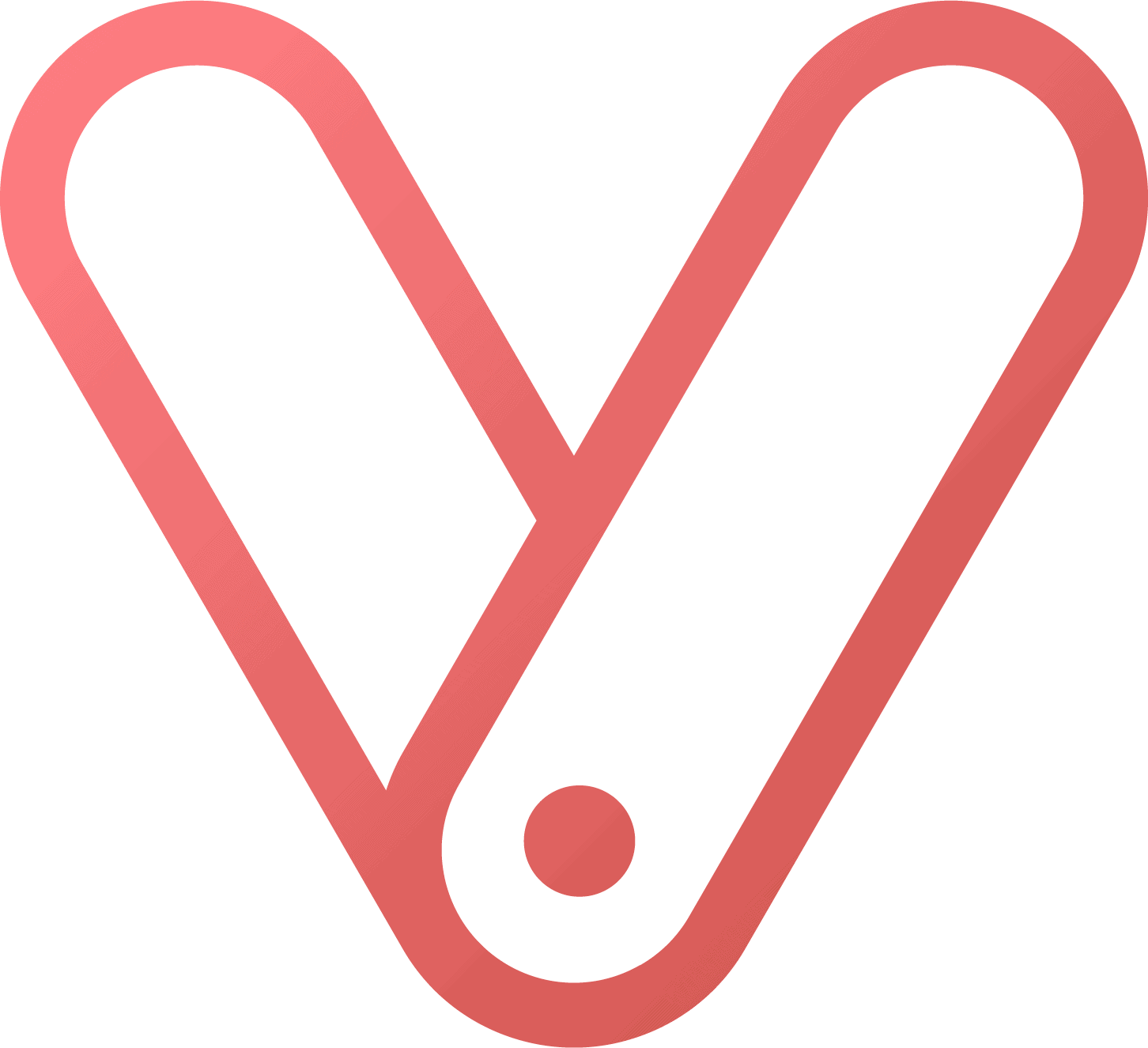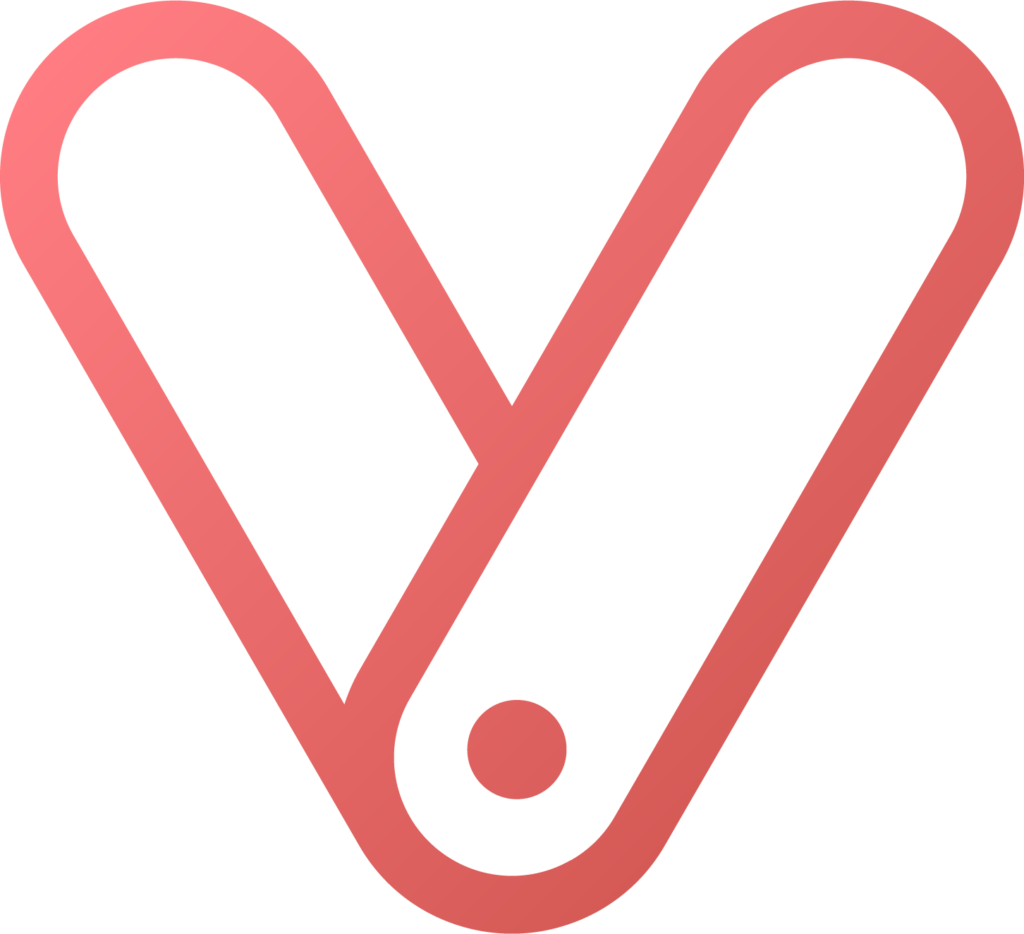 3. Vagaro | The Feature Rich and Affordable Salon Software (US, Canada, UK, and Australia)
Are you looking for a complete, all-in-one salon software platform to help you manage all aspects of your business without breaking the bank?
Then Vagaro is a strong alternative on this list.
It's incredible how much they've fit into this software while still keeping it at a very affordable rate.
Dedicated hardware, integrated payments, full payroll support, native booking & online store integration with your website, a client marketplace, and marketing support.
This is for the cost-conscious salon or independent professional who still needs software that offers more than the standard salon software features.
It's a bit slower and clunkier than some of its competitors, but you do get a lot of functionality at a very affordable rate.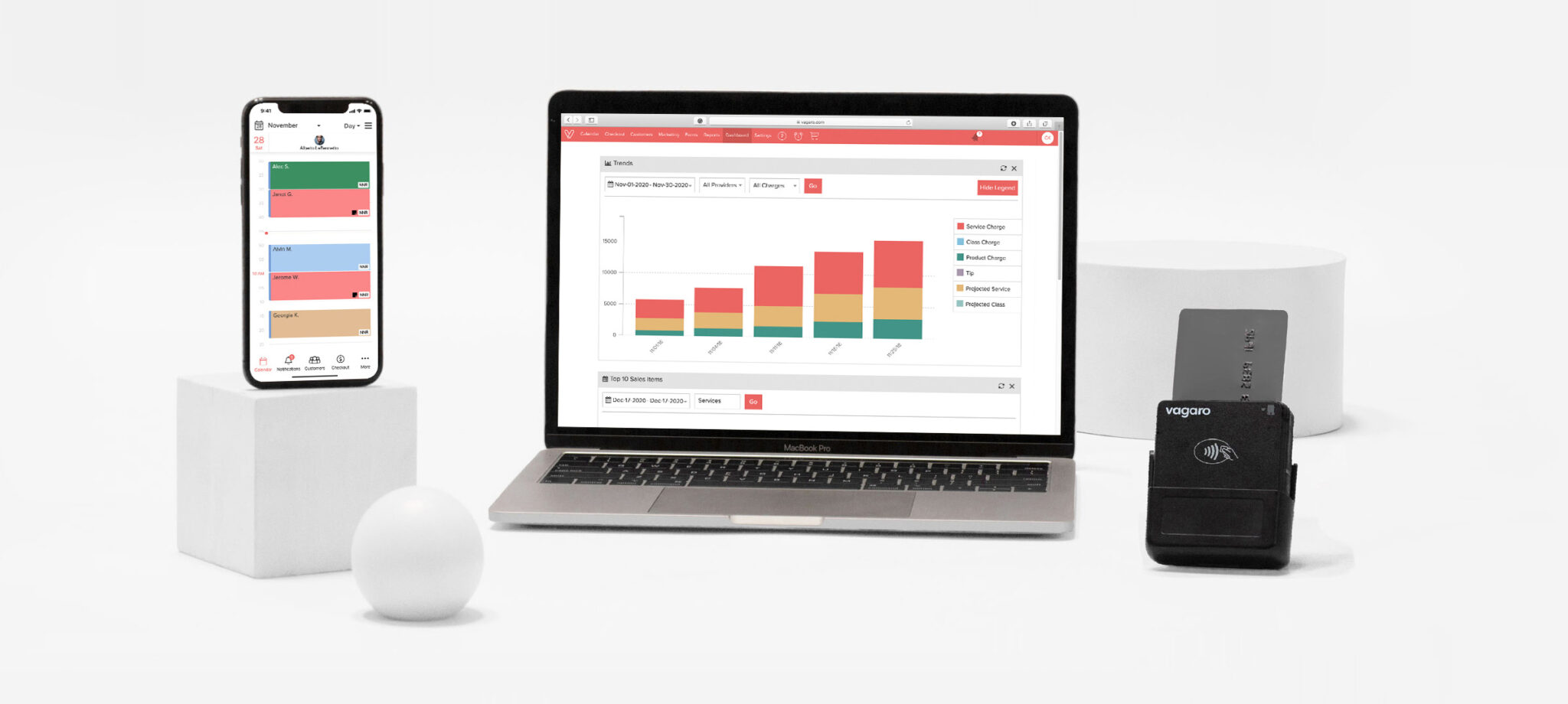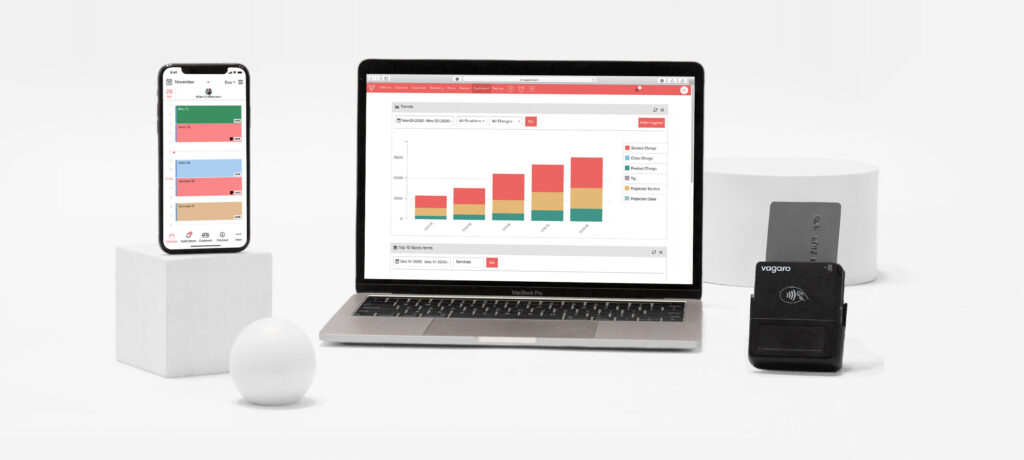 Key Features
Integrates with your website, Quickbooks, Xero, Gusto, Google, Facebook, Yelp, Instagram
Dedicated POS hardware
Client marketplace to help you attract more new clients
Subscription payments and membership features
Built-in payroll software
Built-in website builder
Advanced client data tracking (including SOAP forms)
Drag and drop, easy-to-use, calendar
Sophisticated email and SMS marketing tools
Advanced business reporting
Affordable pricing and free 30 day trial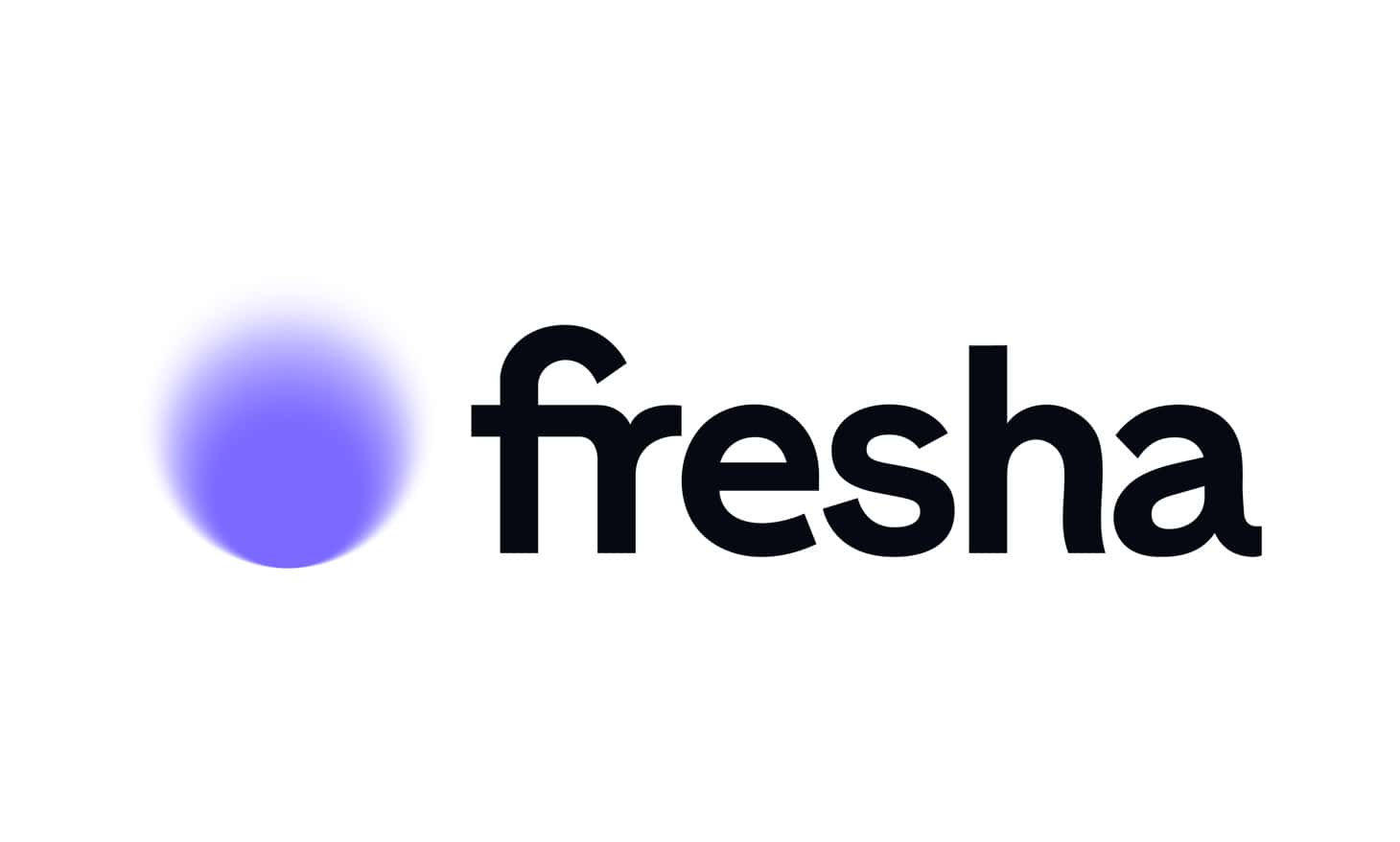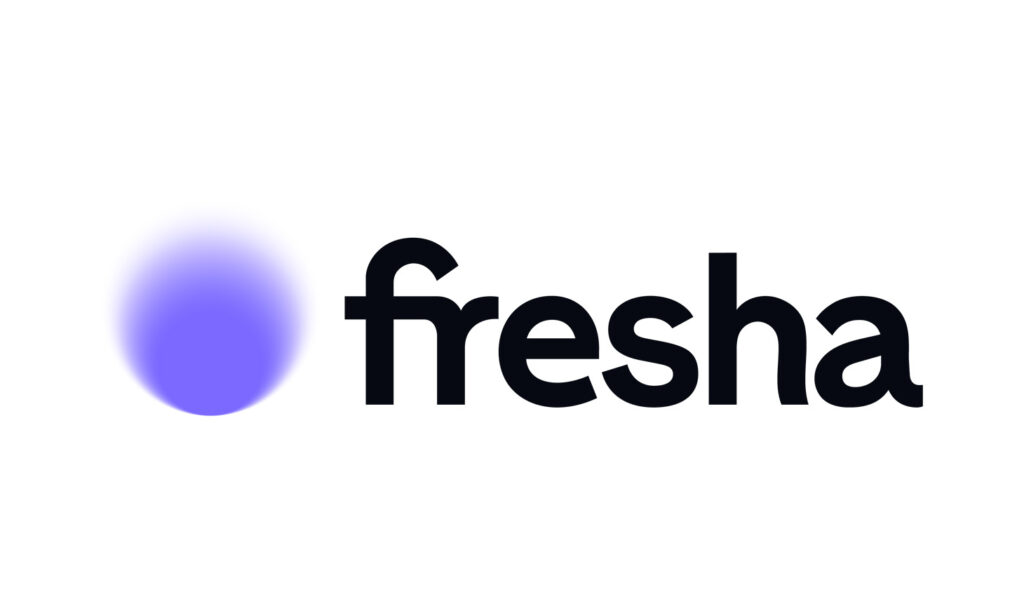 4. Fresha (formerly Shedul) | The Subscription-Free Salon Software (Available Worldwide)
Fresha (formerly known as Shedul) has been growing rapidly and serves more than 120 countries, 70,000 beauty businesses, and 250,000 stylists and therapists.
It is the only subscription-free software with no trial period and no limits on usage.
The strengths of Fresha lie in the ease of use, the subscription-free plan, and the continuous development of the platform.
It's important to note that subscription-free is not the same as free. You're paying for each transaction, and when new clients find you on the Fresha marketplace.
I kind of like the idea that you only pay when the software brings value (client transaction). It's, however, a bit difficult to understand what you'll be paying, and I have heard a few stories of pretty bad surprises here, so make sure you familiarize yourself with the actual cost.
Fresha is a good alternative for the independent stylist or salon on a budget as it's subscription-free. Also, if you're not technically savvy, you don't need to worry about a steep learning curve to get going.
Your salon can also benefit from visibility on the Fresha client marketplace. But again, you should know you will be charged if a new client books you via the marketplace.
The limitation you may find with Fresha is the lack of customization options. It looks good out of the box, so this will likely not be a big issue. However, you will, for example, not be able to change the design of your booking page or have bookings integrated into your website.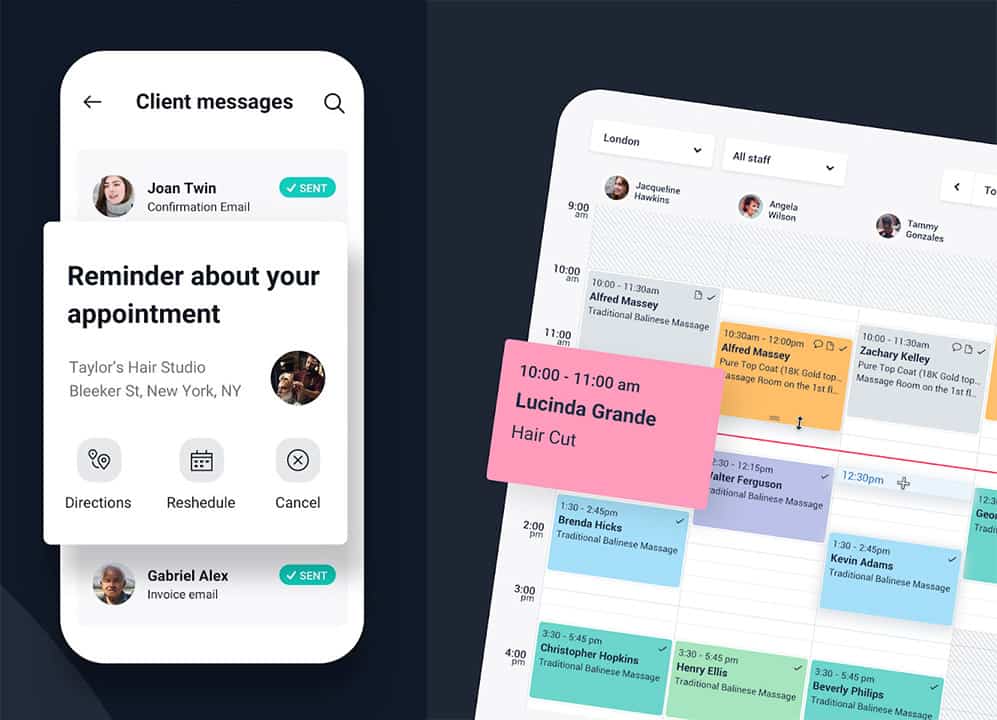 Key Features
FREE subscription with unlimited staff!
20% New client fee – applies only to the first appointment of new clients via the Fresha marketplace website and apps
2.19% + $0.20 Payment processing fee per transaction across all payment methods
Fresha marketplace where more clients can discover your salon.
Easy to use with a modern minimalistic design interface.
iOS and Android Apps
Instagram, Facebook, and Google integrations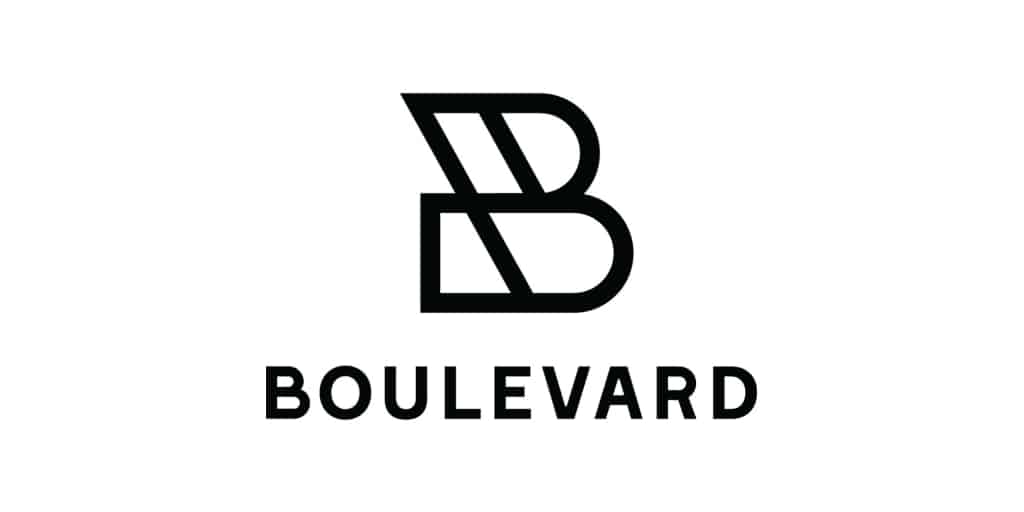 5. Boulevard | The Marketing-Focused Salon Management Software for Larger Businesses (US)
If you're the kind of business owner that needs a strong marketing tool kit to grow repeat clientele and brand presence in your area, Boulevard might just be a good option for you.
The up-and-coming luxury booking platform really is the everything-and-the-kitchen-sink option for bigger businesses that need just about every feature available in a piece of salon management and POS software.
Building off of its core feature set (calendar scheduling, POS, online booking, reporting), Boulevard also offers a handful of premium add-on features aimed at email marketing and two-way messaging so that you can stay in touch with your clients.
It also features integrations with over a dozen apps, including Shopify, Instagram, Quickbooks, and more.
While Boulevard is a solid choice, it's not without flaws – the mobile app lacks functionality, and fiddling around with settings and permissions can get complicated and tedious rather quickly, especially if you have a large staff.
Boulevard is a pricey option, so it caters best to established salons that have a larger staff and can absorb the cost of the mandatory 12-month contract.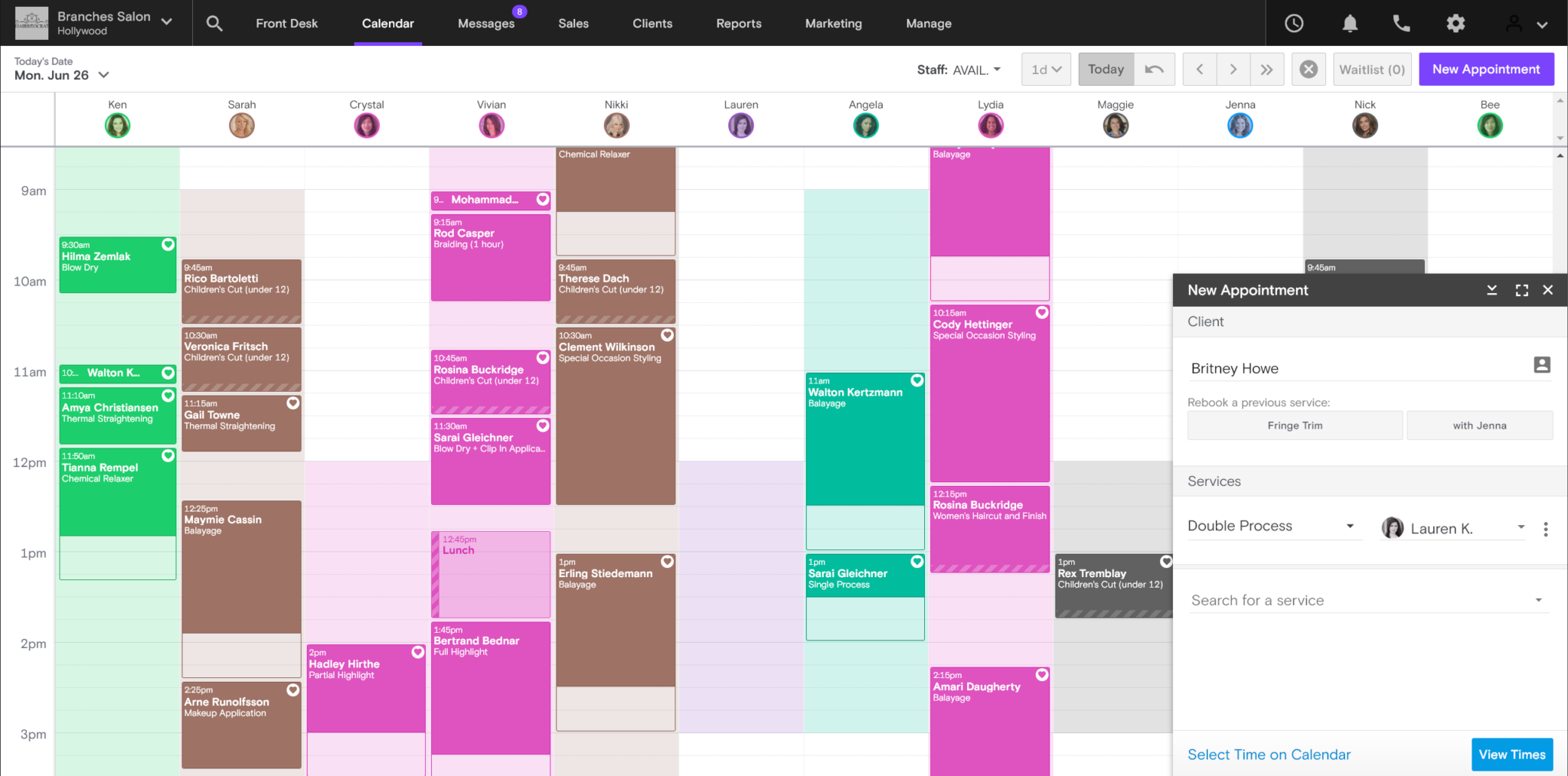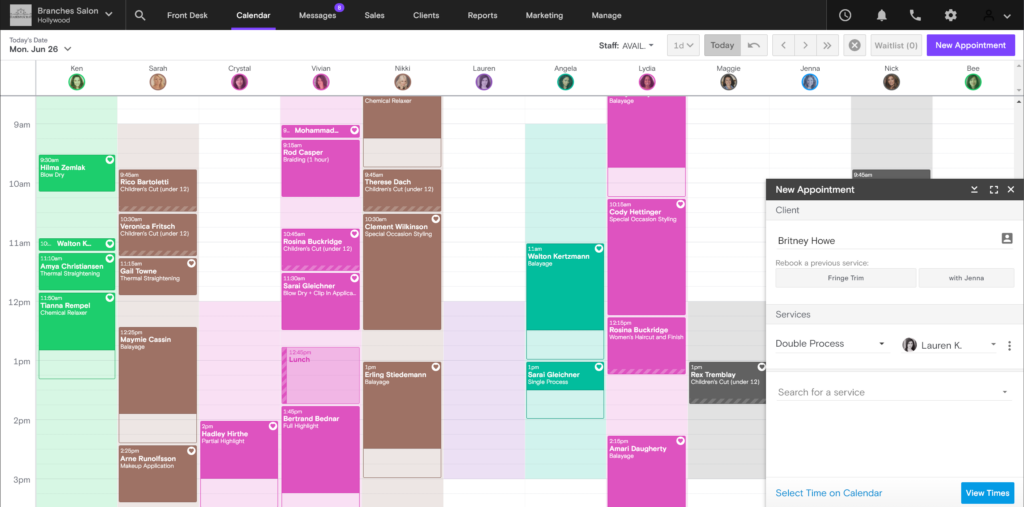 Key Features
Easy-to-use interface
Excellent online booking
Client data that you can actually use to boost client retention and sales
Can integrate with a large number of third-party applications
Integrated payments through Duo
Memberships, packages, & gift cards (physical & digital)
Waitlist capability (clients can add themselves)
Precision Scheduling™ tech to fill the best gaps on the calendar first
Highly detailed custom reports [on Premiere and above]
Two-way texting & Caller ID available as a paid add-on
Well designed & easily-searchable help center
Integrated email marketing suite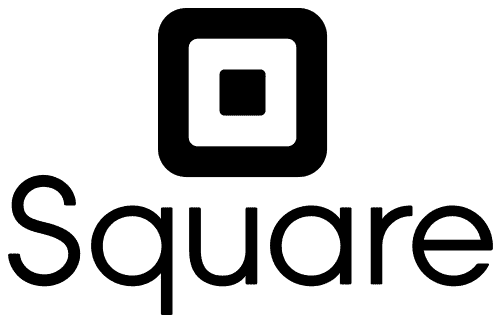 6. Square Appointments | The Complete POS & Appointment Software with a Subscription-Free Plan for Individuals (US, Canada & Australia)
Independently of if you are looking for an affordable appointment scheduler or a full-blown POS system and business management system, Square Appointments is a great alternative.
Given it's free for individuals, the appointment scheduler is a great option for booth renters and individual stylists. However, the real power of Square Appointments lies in its integration with all marketing and business tools from Square.
Even if you only need an appointment scheduler today, you can grow with Square and add their professional POS unit, payroll tool, the Square marketing suite, and even build a website and online store using Square Online.
This makes Square a great alternative for any size salon or spa business, with strong support across all areas of your business.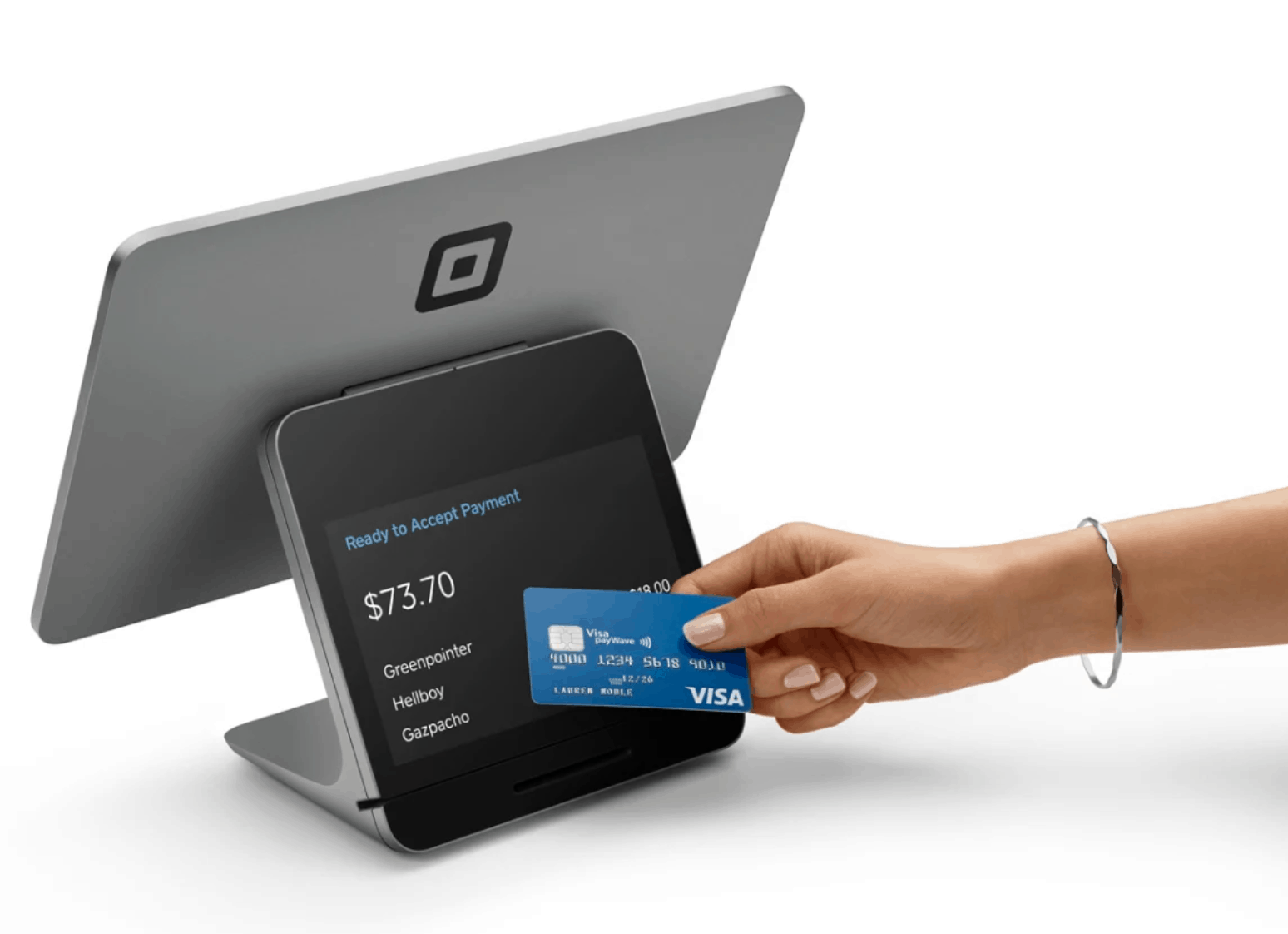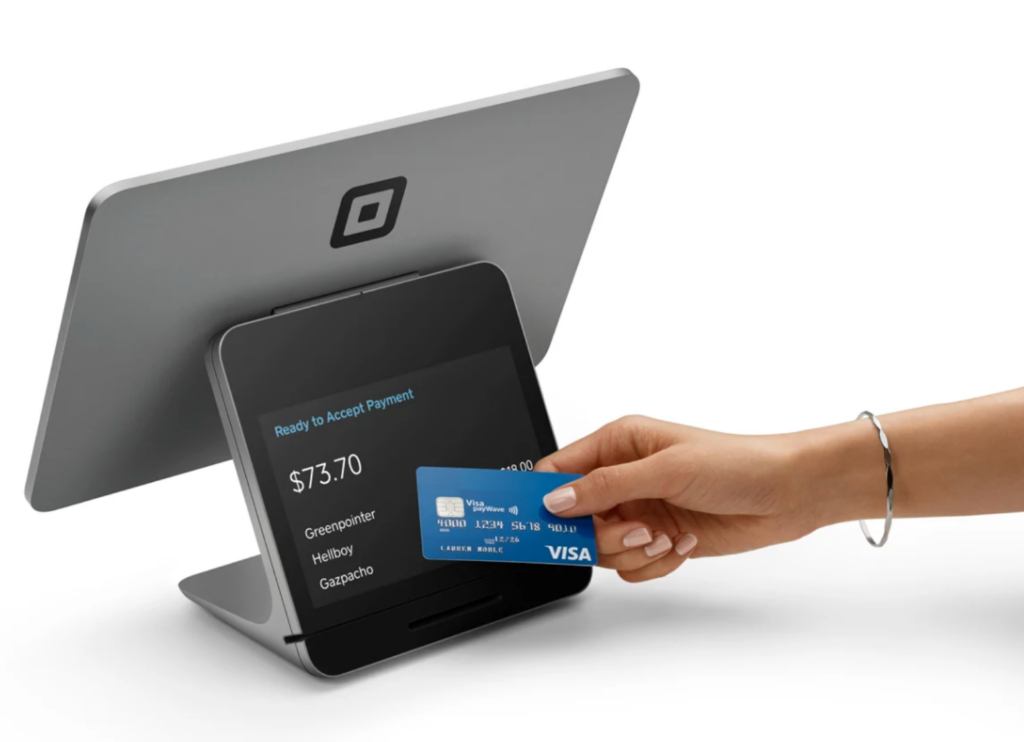 Key Features
FREE subscription for individuals
Individuals only pay credit card transaction fee (2.6% + $0.1) when you accept payments through the platform
Dedicated booking website
Booking widget for website integration
SMS & Email Reminders
Seamless integration with all tools from Square
Easy-to-use, drag and drop calendar
Advanced client data (with images)
Advanced inventory management (with stock alerts)
iOS & Android App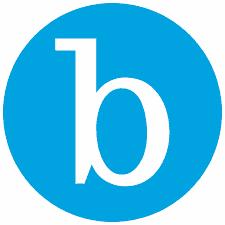 7. Booker | The Most Established Salon Software With the Best New Client Marketplace (Nearly-Worldwide*)
If you've got money to spare and need a brand name you recognize, Booker is a fine recommendation for new and growing salon and spa businesses that need integrated marketing tools and must have a first-party online marketplace to drive new client acquisition (as long as you avoid the Starter plan).
Core features like appointment booking, reporting, inventory management, POS, and online booking are all there on the checklist.
And Booker even has some standout extra benefits like its built-in email marketing suite and Mindbody Explore integration, giving you access to a huge, highly motivated audience of potential clients that trust the platform to find businesses that provide the services they want.
However, despite Booker being one of the most mature and well-established options on the market, not one element of the software is particularly intuitive, well-crafted, or unique in a sea of competitors that offer a far better user experience and feature set, often for a considerably lower price.
If the marketing opportunities afforded by the included Mindbody marketplace capabilities could make a major difference in establishing or growing your clientele, and an AI assistant to handle inquiries and help you schedule appointments around the clock could move the needle in filling your books, Booker might be a good option for you.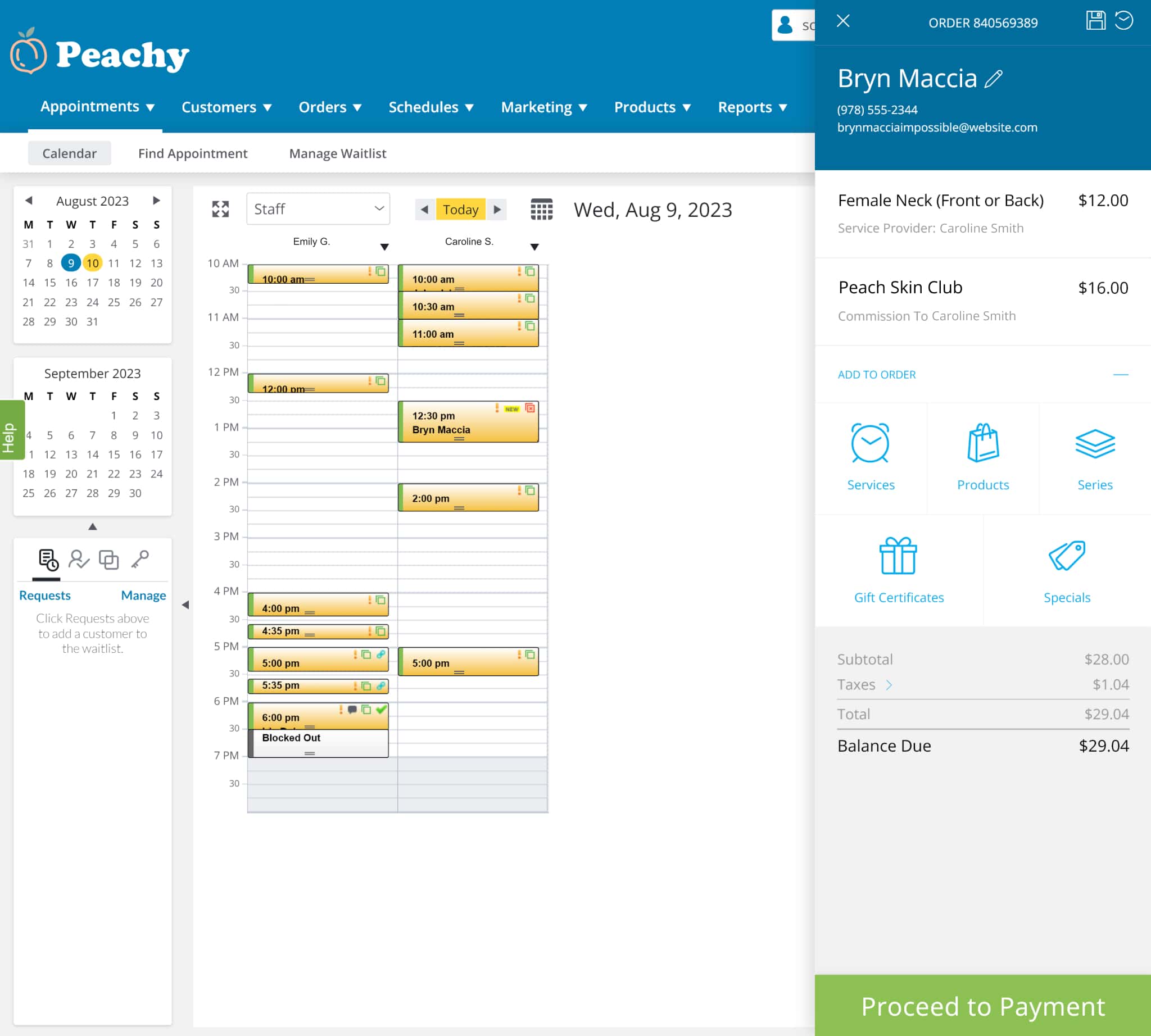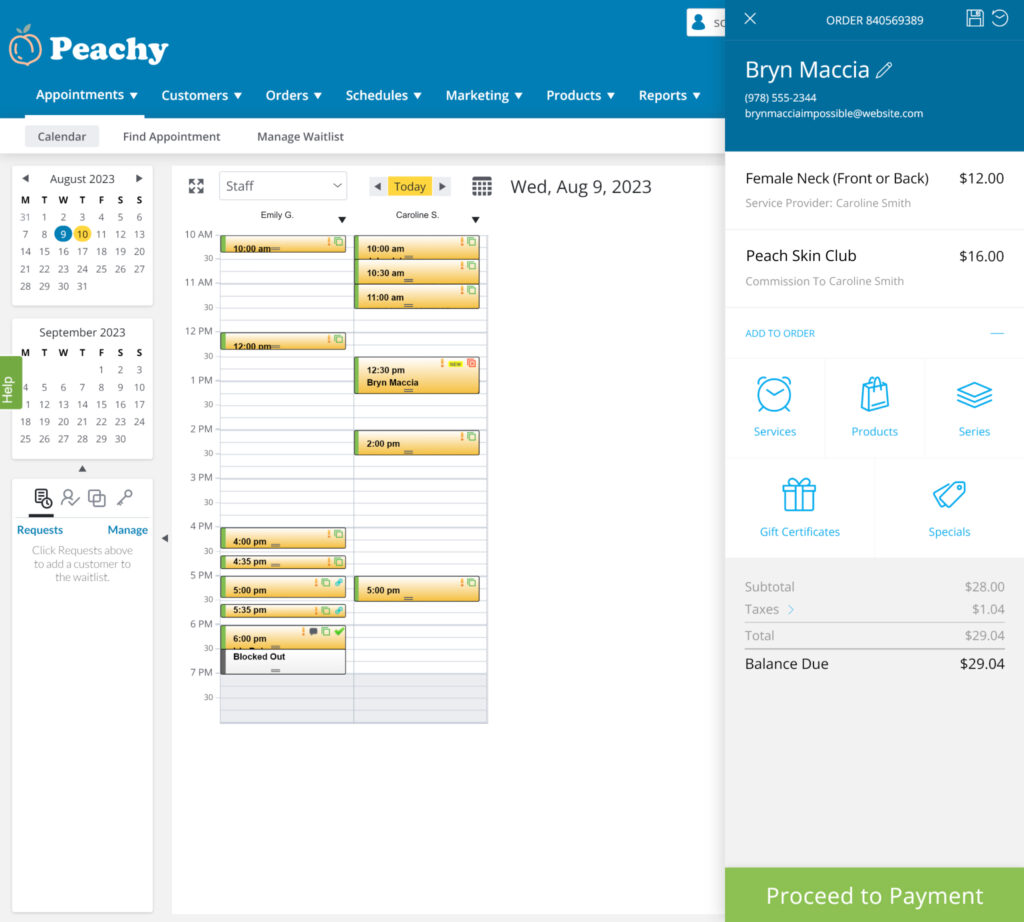 Key Features
Straightforward pricing
Enhanced new client acquisition opportunities through MindBody Explore marketplace
Integrated payments through MindBody Payments (US & Canada only)
Memberships, packages, gift cards (physical & digital)
Waitlist capability
Two-way messaging available (only on Ultimate and Ultimate Plus)
AI chatbot feature to help with scheduling (only on Ultimate Plus)
Integrated email marketing suite (on higher-tier plans)
Inventory management (with stock alerts)
iOS & Android App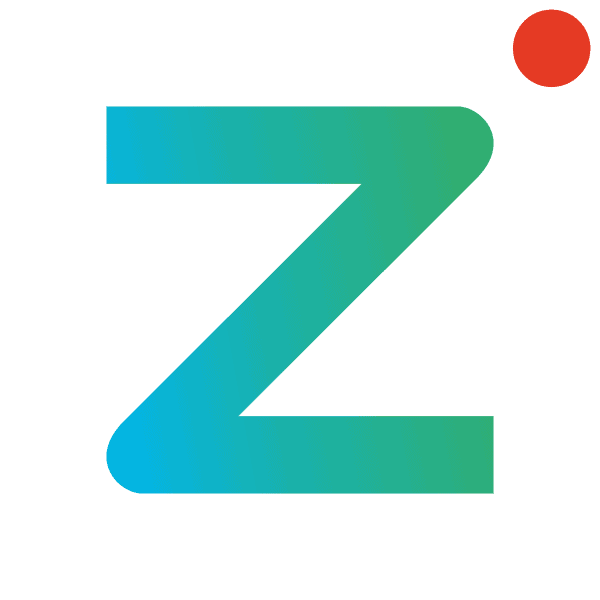 8. Zenoti | The Spa-Oriented Software that Focuses on the Details (Nearly-Worldwide*)
When it comes to the core nuts and bolts of the sofinstware, it's all there.
Zenoti is feature-packed and competitive with its contemporaries, sporting online booking, POS, mobile apps, product and inventory support, memberships, packages, and gift cards, and even a marketing suite akin to the ones you'd see in Booker, Mindbody, or Boulevard.
There are even some extra KPI and reporting add-on features that make gaining business insights through the data you already collect every day possible (as long as you're willing to pay a little extra).
Zenoti's features build on the blueprint established by businesses like Booker and Mindbody, and expand the customizability and capability of those features with control over even the most minute details.
I mean it – the level of granularity with which you can specify even employee details is mindboggling and a little intimidating at first glance.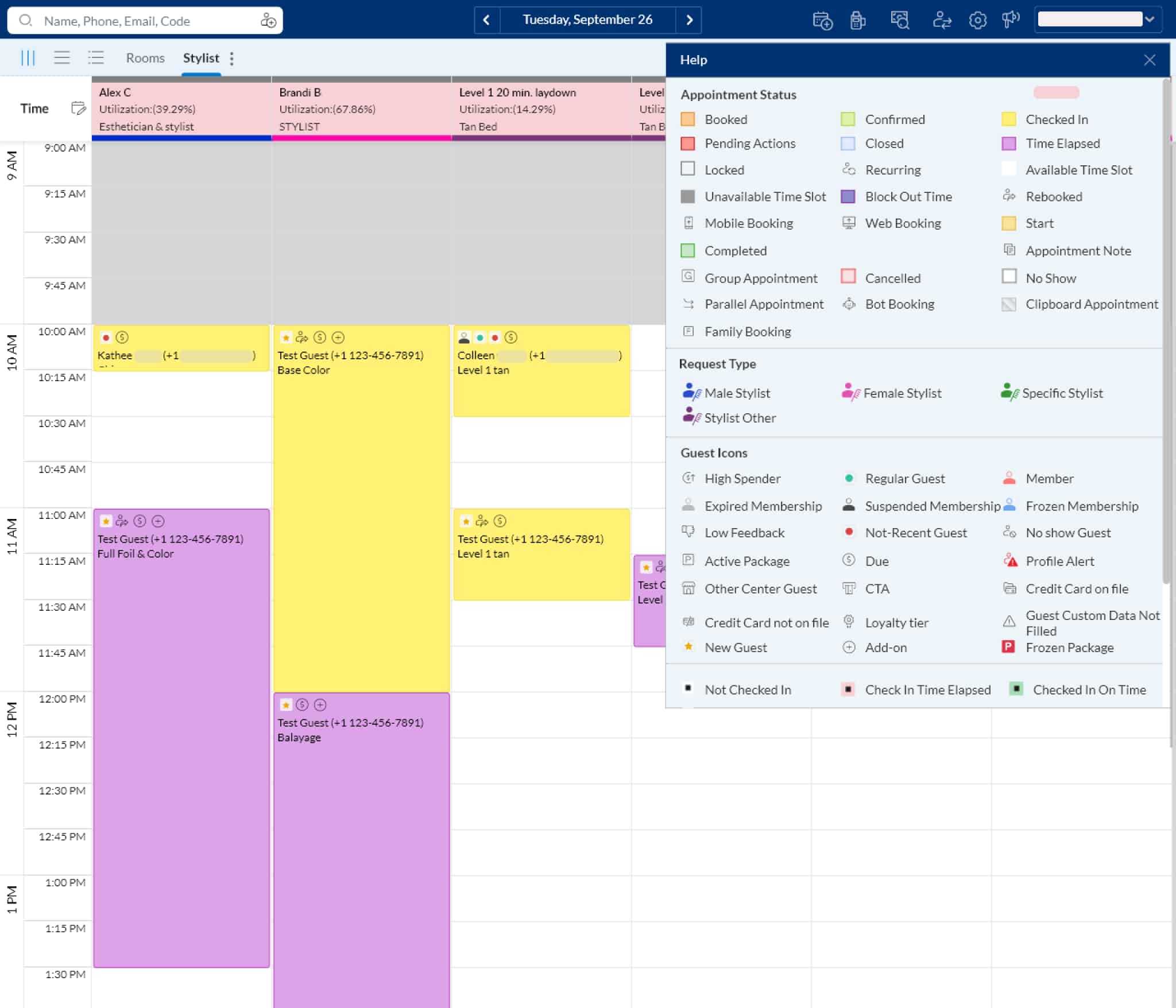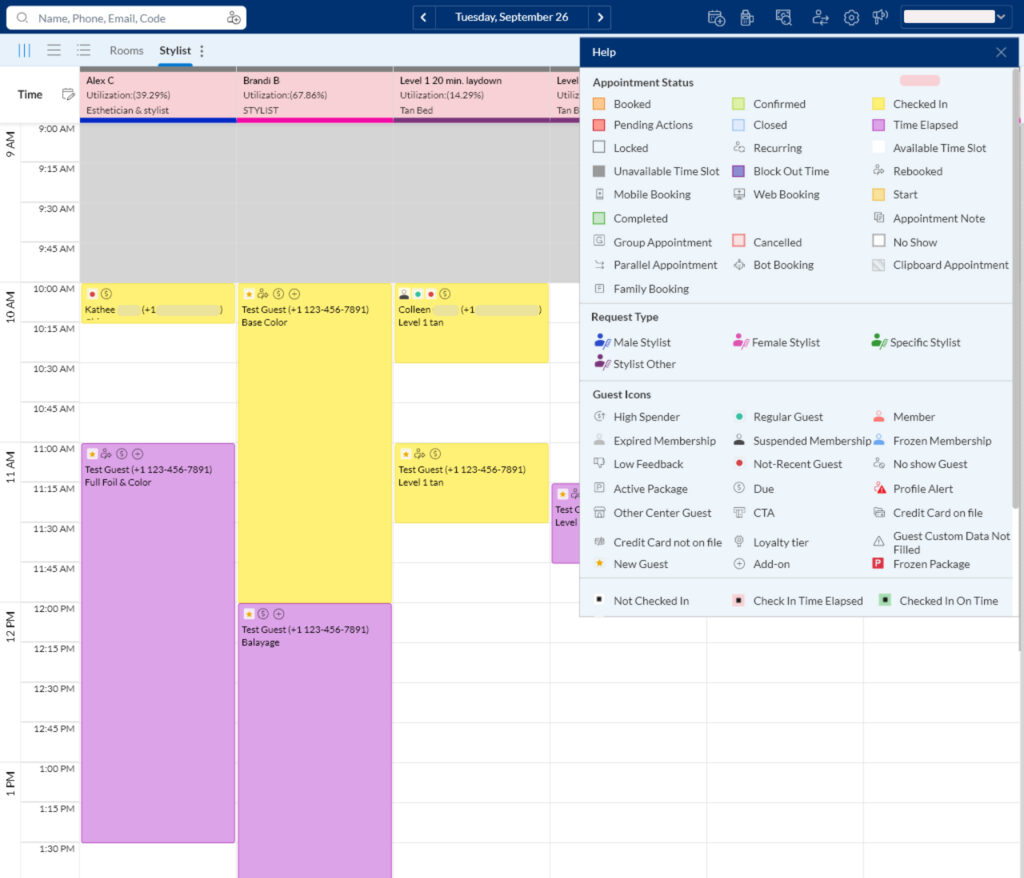 With that level of detail, it's easy for menus to get bogged down and hard to understand, as was the case with Mindbody's labyrinthine mess of menus and disorganized calendar interface.
While Zenoti doesn't necessarily avoid those pitfalls, it does navigate them with a little more grace than Mindbody, and aside from a few notable user experience blunders on their end (more on that later in the review, so buckle up!) I was able to find every menu I needed to set up a business in the software and handle daily tasks.
That said, Zenoti also falls prey to some of the same mistakes that veteran salon software companies like Mindbody and Booker are still making.
During our Ultimate Mindbody Salon Software Review, I was starting to get an uncanny feeling that major salon software companies are operating on a bit of a set-it-and-forget-it model:
Build the user interface once, make sure it doesn't break that often (optional), bolt on a new feature every few years, and market the hell out of it. JOB DONE.
I say that because it genuinely feels like a lot of the software suites I've reviewed in the past few months have made almost no changes to the user experience of their software since it was conceived ten, twenty, or more years ago.
Booker, Mindbody, and Zenoti all suffer from the uglies of bad, outdated user interface design, sporting plain, drab menu systems that tuck away important features in layers of nested menus and strip out crucial information (such as icon labels) you need to find the tools you need at a moment's notice.
For my money (and yours), there are definitely more streamlined, simple, and modern salon software options available at that $300-$600 price point that offer the same or better features and don't require you to be locked in for a year.
But, if you want a salon software option that gets the job done, rarely goes down, and has all the tools you need to run your business, then Zenoti might be a good choice for you.
Key Features
Custom online booking
Can integrate with a large number of third-party applications via an open API
Integrated payments through Zenoti Payments
Memberships, packages, gift cards
Service customizations
Custom reports
Two-way texting available (as a paid add-on)
Help center and Zenoti University (training) available
Integrated email marketing suite
iOS & Android App


9. Mindbody | The Education & Engagement-Focused Salon Software Made With Marketing in Mind (Nearly-Worldwide)
If you're the kind of salon owner who has a major focus on cutting, coloring, or extensions courses and education, Mindbody offers you something that no other software suite (except Vagaro) currently does — the ability to host and monetize your classes in the salon and online.
All the core features that a salon software suite needs to have (like appointment booking, reporting, inventory management, POS, and online booking) are there, and there are even some nice-to-have add-ons that make the prospect of signing on (and I literally mean signing on) a more attractive prospect.
Just like its sister company Booker, though — you can't try out Mindbody before you buy. They do not offer a trial (free or paid).
Mindbody requires a minimum 12-month contract to even try the software for yourself.
This isn't uncommon in the industry – in fact, there are several other competitors that require contracts, but there are many more who don't.
Just like Booker, Mindbody offers a custom email builder and campaign manager, as well as Mindbody's Messenger and Messenger[ai] features to communicate with clients, respond to missed calls, and field client inquiries during- and after-hours.
What Mindbody offers that Booker does not, however, is the ability to sell classes in-store and online and livestream them. For salons that teach classes, this is a major opportunity to gain attendance and engagement, and build your salon's reputation and brand online.
In other areas, Mindbody offers a functional experience, but not necessarily a pleasant or intuitive one.
The user experience in Mindbody's desktop and mobile apps is just that: functional.
Mindbody does what it says on the tin, but it definitely isn't going to wow you in the process.
In fact, it throws a couple of curveballs your way that somehow make the experience worse than what its subsidiary and sister app, Booker, offers.
Booking and checking out are the two clearest examples of where Mindbody makes even the simplest of everyday tasks more challenging than the competition, requiring additional steps and extra clicks to do two of the things you will be doing the most for at least the next 12 months.
While features like the ability to livestream educational classes or create a branded web app may be important to fitness and wellness businesses, they may not necessarily offer a whole lot of added value for most salons and spas.
If the ability to book and sell educational courses is important to you, Mindbody might be a good option for your business. If neither of these features is on your must-have list, I would recommend choosing nearly any other salon software option on this list instead.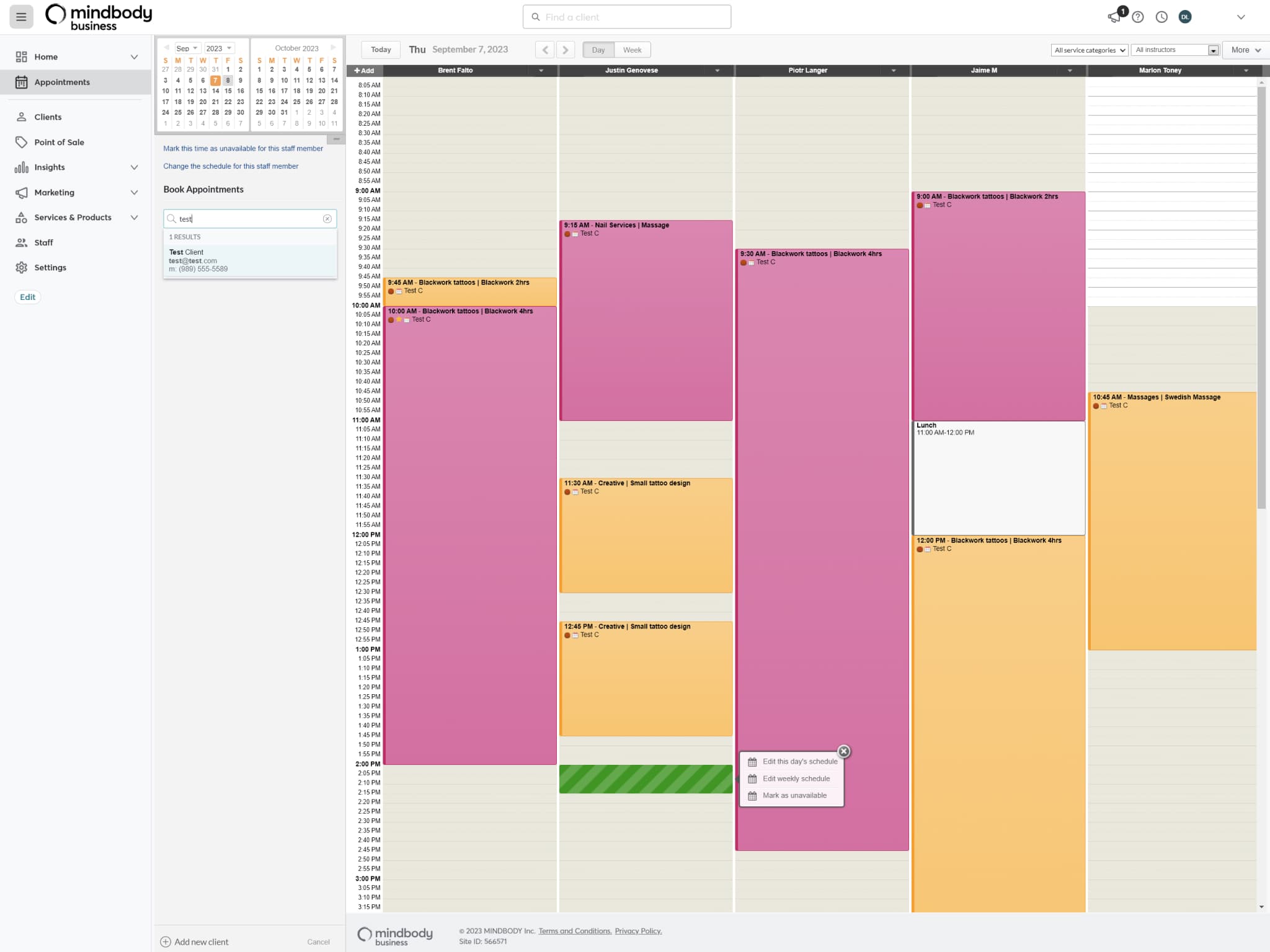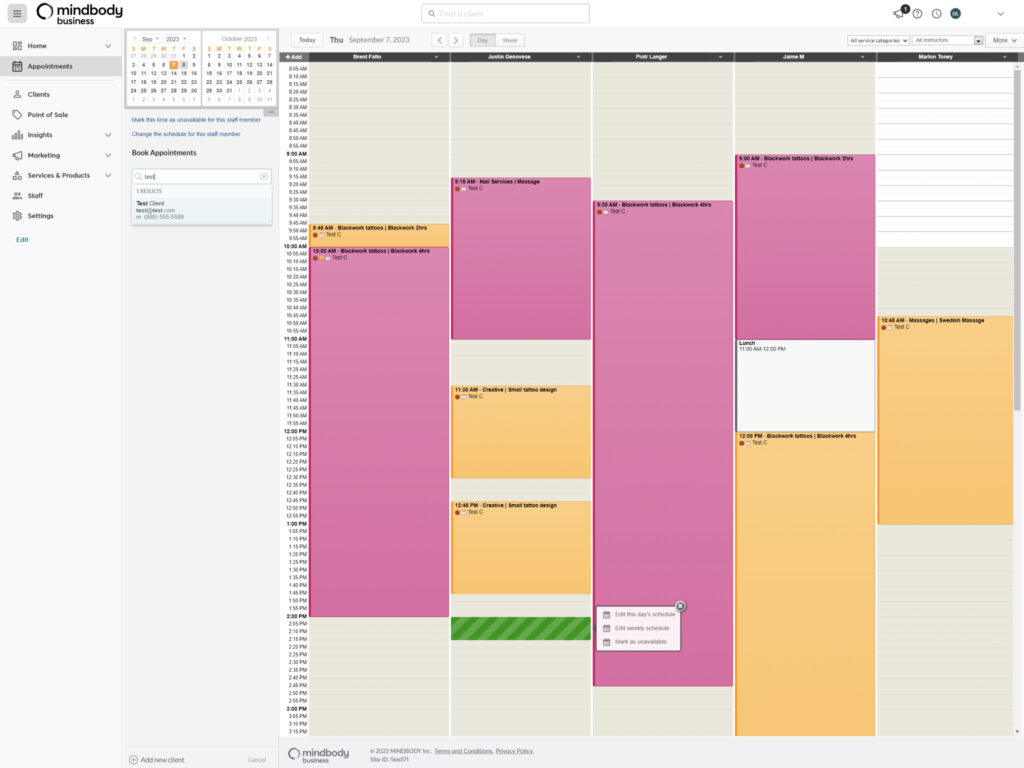 Key Features
Enhanced new client acquisition opportunities through MindBody Marketplace
Integrated payments through MindBody Payments (US & Canada only)
Memberships, packages, gift cards (physical & digital)
Waitlist capability
AI booking assistant chatbot can help schedule appointments
Two-way messaging available (on Accelerate, Ultimate, and Ultimate Plus plans)
Integrated email marketing suite (on Accelerate, Ultimate, and Ultimate Plus plans)
Ability to monetize educational classes and content
Finding the Best Salon Software for You
Now you have my top list of salon software.
This should give you a good overview of the best salon software options for 2023. But you may still be wondering which one is right for you. And this is what the remaining part of this salon software guide will help you discover.
We'll dive into each of the most important features and compare the systems to each other to ensure you can choose the best platform to support your business.
I wanted to capture everything here and leave no stone unturned.
This means this guide is rather long. If you're in a rush and want to quickly understand if the software you are considering delivers what you need, you can jump directly to the overall comparison or dive into the specific feature you want to understand better in the feature-by-feature comparison.
This is what I'm going to cover next:
Let's get to it.
What is a Salon Software?
Salon software is a suite of software tools designed to help assist salons in running and growing their business. Features span client & appointment management, salon marketing, point of sale (POS), salon business operation management, and salon business reporting.
In this article, I am focusing on "all-in-one" solutions. Meaning that the platforms provide support across all areas that would be needed to run a salon business effectively.
This is, however, not the only way to set up the systems to support your business. You could use separate systems that all specialize in their different areas and then integrate them together where it's needed.
This would, however, add a lot of complexity and cost, and my recommendation for 95% of businesses is to find a tool to support the majority of needs and only add separate tools when there is a clear business need for it.
As we go through the feature-by-feature review of the salon software platforms listed here, you'll learn more about where it makes sense to complement the all-in-one salon software with another, more specialized tool.
Salon Software Terminology
You'll find different names used interchangeably to describe a salon software. Commonly used terminology is salon appointment software, salon booking software, salon management software, salon point of sale (POS) system, and salon booking apps.
Most of the time, I hear people use these words to describe the same thing – a salon software.
You may also be familiar with salon marketplaces. In fact, Fresha, Booker & Mindbody (via the Mindbody app), and Vagaro, which are listed here, are four examples of this. But there are many more. Other examples would be Styleseat or Treatwell, just to name a few.
A marketplace is an online portal where clients can browse salons in their area, and they would typically also offer salon software that connects to the marketplace.
The benefit of using a platform that also has a client marketplace is that you can get your salon featured on its client-facing platform, which helps you get visible in front of new clients.
Typically, salon software suites that are connected to a marketplace are also offered at a lower price. However, you should consider that some may charge you extra for promoting your business on their marketplace or when new clients book you there. You may also lose some control of your client data, as your clients' profiles are created with the marketplace rather than your salon.
What to Consider when Deciding on the Right Salon Software for Your Salon or Spa
There are many factors to consider when deciding on the right salon software for your salon or spa. You probably already have some "killer points" in mind that the software needs to deliver on.
But to ensure you're making an informed decision today, below are some important considerations I want you to have in the back of your head.
Supported Countries
Unfortunately, most salon software platforms today are local and limited to a few countries only. This is because taxes, payroll, and payments are managed differently in different countries.
And to ensure good local support, many platforms focus on a few countries to have offices and presence in.
Naturally, whether your country is supported or not will be a deal-breaking factor for you. Out of the options listed here, Fresha, Mindbody, Zenoti, and Booker are the platforms available to most countries. I'm also calling out supported countries for each system in the overview at the start of this article.
Design & Ease-of-Use
Depending on who you ask, some will say design is important, and others will focus on e.g. the number of features supported.
I believe design is crucial.
And that's for two reasons.
1) Everything communicates your brand. If your clients perceive your booking system old and clunky, that will carry over into the perception of your business and the services you offer. It's not logical, I know. But this is how our basic minds work, and if you run a modern beauty business, you want the first interaction people have with you to reflect that.
2) It makes you more efficient. If your system is intuitively designed, you'll have a much easier time getting team members up to speed, and you'll not waste your time trying to figure things out. This can save you a lot of time.
All the systems I have listed here are doing a decent job at design. Or else, I wouldn't list them here 🙂
However, Mangomint is the star that is pushing the boundaries when it comes to design and ease of use. Even though it is a sophisticated platform with a lot of features, it's somehow also the most intuitive platform to use, in my experience.
However, given that design is subjective, I'm including images of all the important features in the feature-by-feature review below.
Integrations
Is it important for you to be able to use specific accounting software (like Quickbooks) or an external email marketing service? Then you want to pay attention to how well the system supports integrations with other platforms.
Mangomint is the only platform in this list that supports integrations with nearly any other integration-enabled software. They have some standard integration support and if you reach out to their team, they will help you get set up with whatever other platform you want to use (through a feature called webhooks).
Square has a rather long list of partner software that is easy to integrate with. And Vagaro also offers integration with some of the more popular tools used by salons.
Boulevard offers a couple handfuls of integrations with tools like Shopify and Quickbooks.
Zenoti offers an open API that can be integrated with nearly any other app you'd like and supports some direct integrations with Quickbooks, Xero, Smartkart, Wisely, Oracle Netsuite, and a few others.
Mindbody offers a partner store that features officially recommended partner apps that integrate with the Mindbody platform.
Fresha, Booker, and GlossGenius do not directly support integrations as of today.
Price
We cannot ignore price.
You'll be paying for your software every month, and how much you need to pay will, of course, influence your decision. And the pricing difference between the salon booking and POS systems listed here is huge.
You'll see Fresha and Square offer subscription-free plans, Mangomint starting at $165/ month, Booker, Mindbody, and Boulevard offering their lowest-tier plans (which they don't recommend) at $129, $129, and $175 respectively, Vagaro somewhere in between, and GlossGenius coming in at a low fixed fee. The outlier here appears to be Zenoti, coming in at a starting price of $300 minimum, according to their sales staff (no pricing is listed on Zenoti's site).
What's important to consider when looking at the price is your number of staff, other fees that are separate from the subscription (like credit card transactions and add-ons), and the features and customer service support you get at the subscription price.
I believe all tools listed here will give you good value for money (or they wouldn't be here) even if the subscription fee does differ quite a bit, but I do encourage you to think this through using your particular business needs what makes the most sense for you.
Features & Functionality
Finally, you want to ensure that the specific features you want your software to support are there. And what they are will vary from business to business. This is why I'm going over and comparing the most common features offered by salon software in depth through the second half of this guide.
Mangomint vs. GlossGenius vs. Vagaro vs. Fresha vs. Boulevard vs. Square vs. Booker vs. Zenoti vs. Mindbody
So what should you consider when deciding between the top 8 salon software listed in this post?
Let's begin with Mangomint and GlossGenius. Two platforms that are clearly positioned in the salon software market.
Mangomint is for the larger salon (5+ service providers) that wants smart and well-designed salon software that allows you to integrate with other systems.
And GlossGenius is for the independent professional who wants a good-looking platform without any technical challenges.
Vagaro is maybe the most feature-rich platform salon and spa-specific software on this list for its up-front cost. Despite offering a lot of business support, it's offered at a very affordable price.
The most similar platform to Vagaro would be Square. Square also caters to both small and big businesses. And when you use Square Appointments together with all the other tools from Square you get a complete business support tool for all areas of your business.
Boulevard stands out from the pack with its host of built-in email marketing features, catering to bigger salons focused on growing their online presence. Its large selection of features positions the software in competition with Vagaro and Mangomint in terms of functionality, albeit at a heftier price.
Zenoti is interesting. Mostly because of how feature-rich the platform is, how detailed the reporting can be, and because they charge by the number of locations rather than the number of employees, it makes sense for single-location businesses with large teams. However, considering the high starting price point, it is likely not a great solution for small salons and spa teams with simpler operations.
Booker and Mindbody are well-known and trusted in the salon and spa software industry, and their massive business roster and client-facing beauty and wellness marketplace make them a natural fit for young businesses looking to invest heavily in new client acquisition.
Mindbody offers an additional benefit over Booker — the ability to book and livestream classes. So if education and engagement online is priority for your business, Mindbody is currently the platform to beat.
Naturally, the fact that Fresha is subscription-free and you're only charged per appointment makes it a particularly good alternative for the small growing business.
As you look into the details of these platforms, you'll see other differences that may be important to you. Thus, if you're still not sure which platform is right for you, I recommend you walk through the feature-by-feature comparison below to get into the weeds of the differences.
If you already have an idea of which platform you should go with, I recommend you read my specific review for the platform.
Individual Salon Software Deep Dive Reviews
If you want to go deeper into a specific salon software, read our in-depth reviews below.
For the salon with a team:
For any size salon business:
For the smaller salon business or independent professional:
Best Salon Software – Feature Review
The best salon software for your business will ultimately be determined based on the platform's features and whether it supports your needs.
But just reading a feature list does not give you the full story of how the software delivers the functionality.
To help guide you on the choice of salon software, I have compiled a list of the most important features and compared how the salon software I recommend here delivers it.
You can jump directly to the feature you're most interested in using the links available here.
Best Salon Appointment Software/ Salon Booking Software
The most important part of a salon software is how well it helps you manage your calendar and client bookings. In fact, I've created a separate review of the best salon scheduling software that only looks at this.
But let's look at how my recommended salon software delivers on this.
Online Booking
The ways to accept online bookings vary across the platforms and so does the level of design customization ability.
Mangomint Online Booking
Mangomint allows you to customize an online booking page that you can link to from your website or social media. You can also integrate the booking widget directly on your website and customize it with your logo and brand colors.
The website booking widget is super intuitive and clean and fits on every website as it nicely slides in from the side whenever someone clicks your "book now" button or link.
A feature that I found particularly impressive is the intelligent waitlist feature. This shows a "join waitlist" button if your calendar is full. It then automatically detects any changes on the calendar and notifies the user.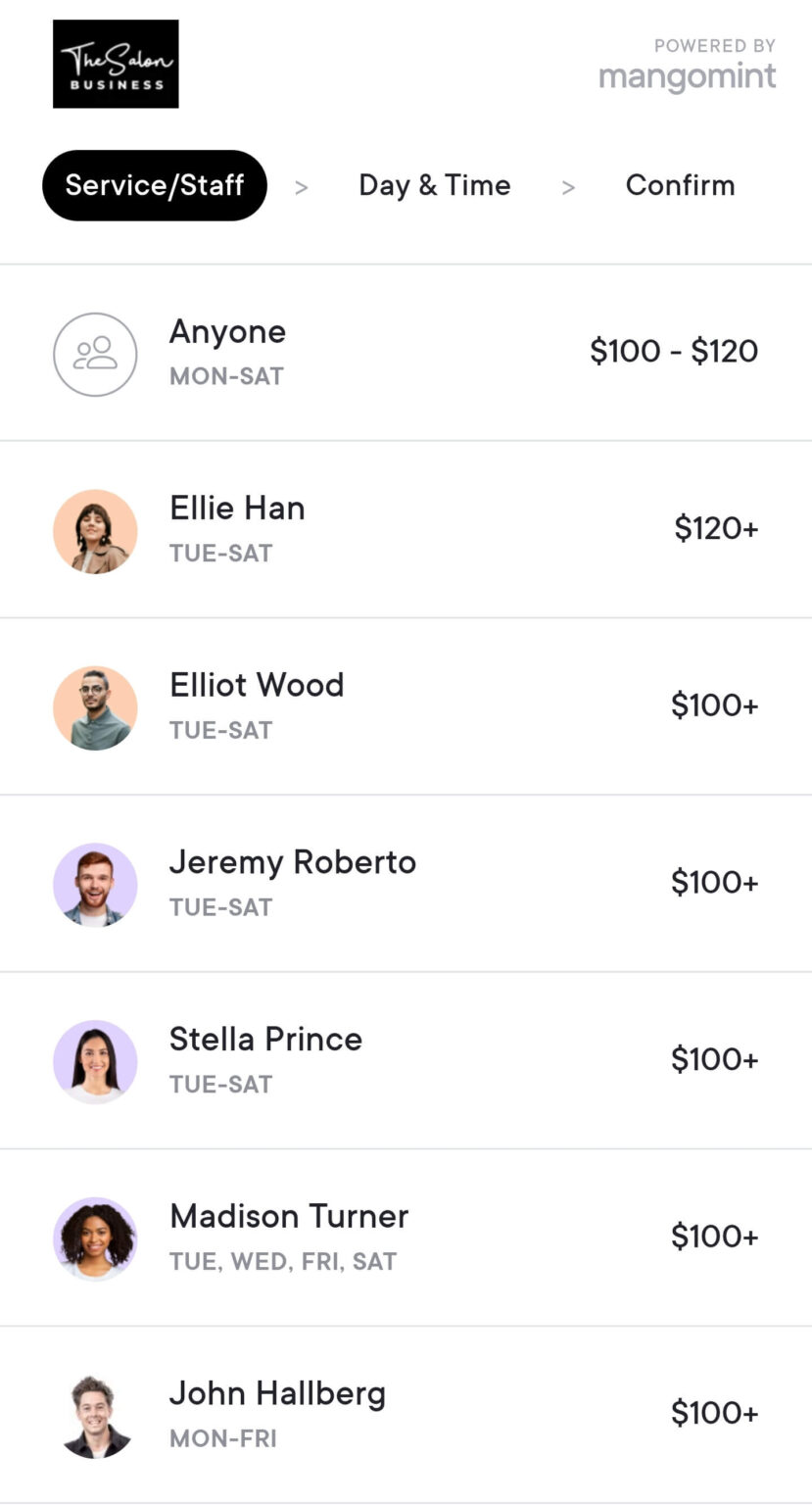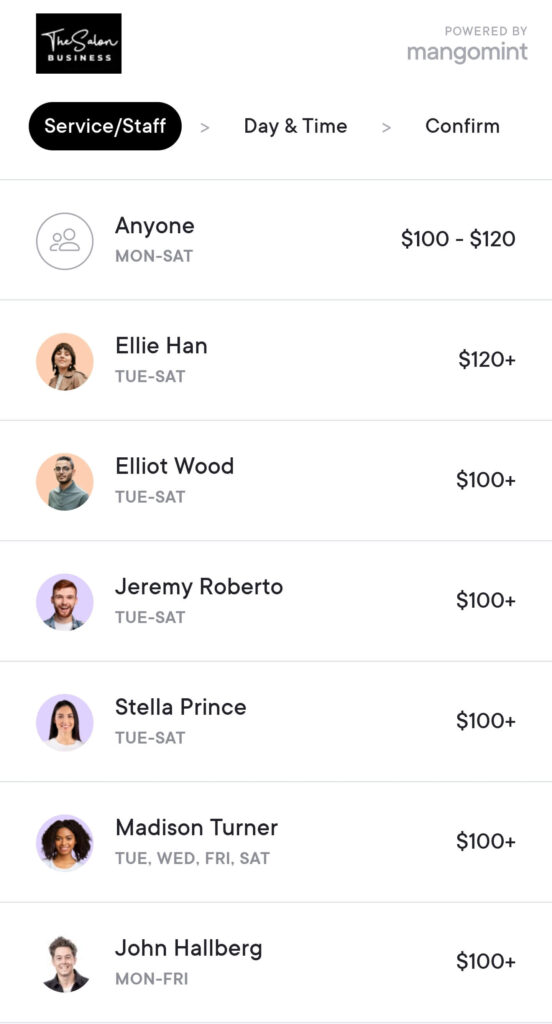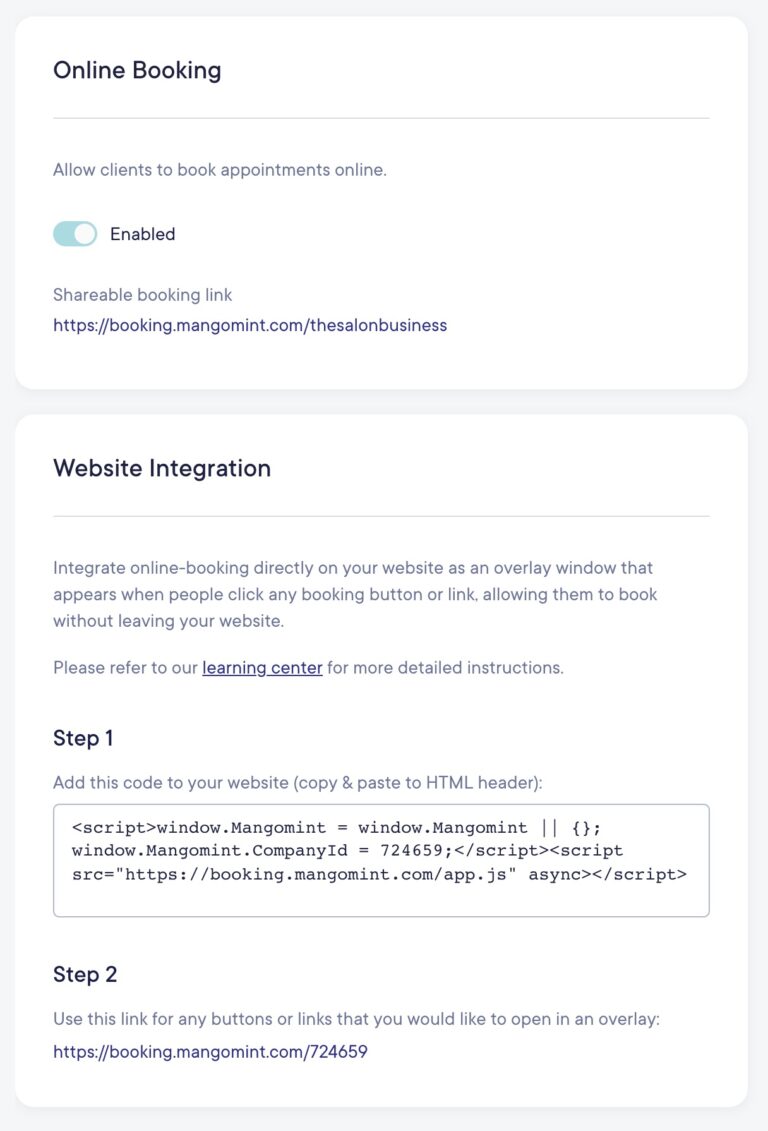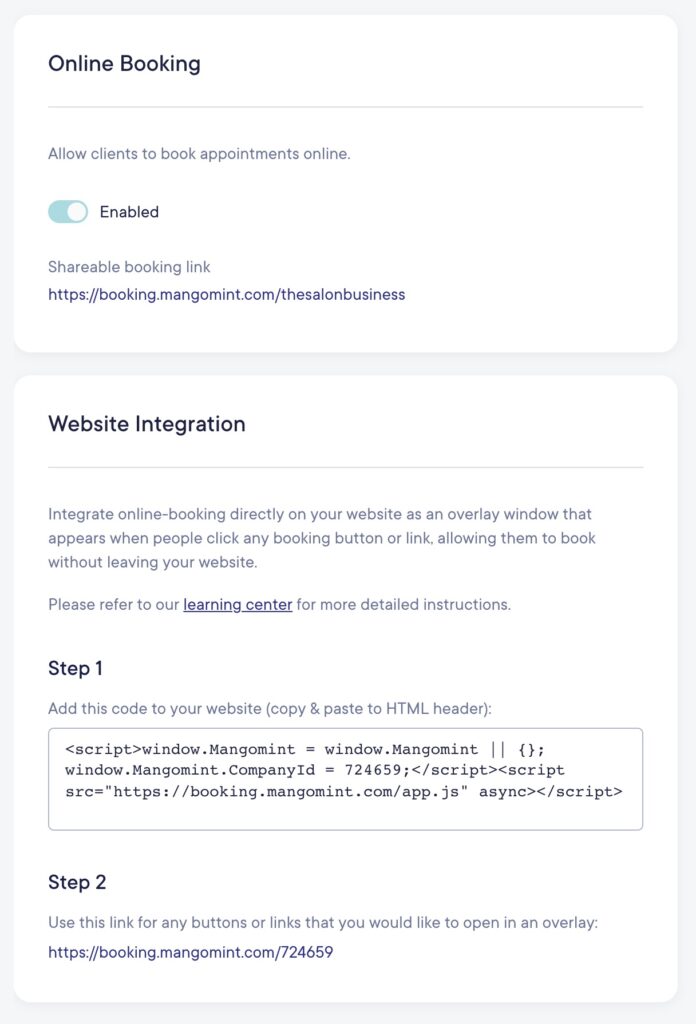 GlossGenius Online Booking
GlossGenius allows you to create a good-looking website in just a few clicks. The below image is from the example website I created using only the out-of-the-box material available inside GlossGenius. If you already have a website, they do not offer support for integrating a booking widget. You'll need to link to your separate GlossGenius website to accept bookings.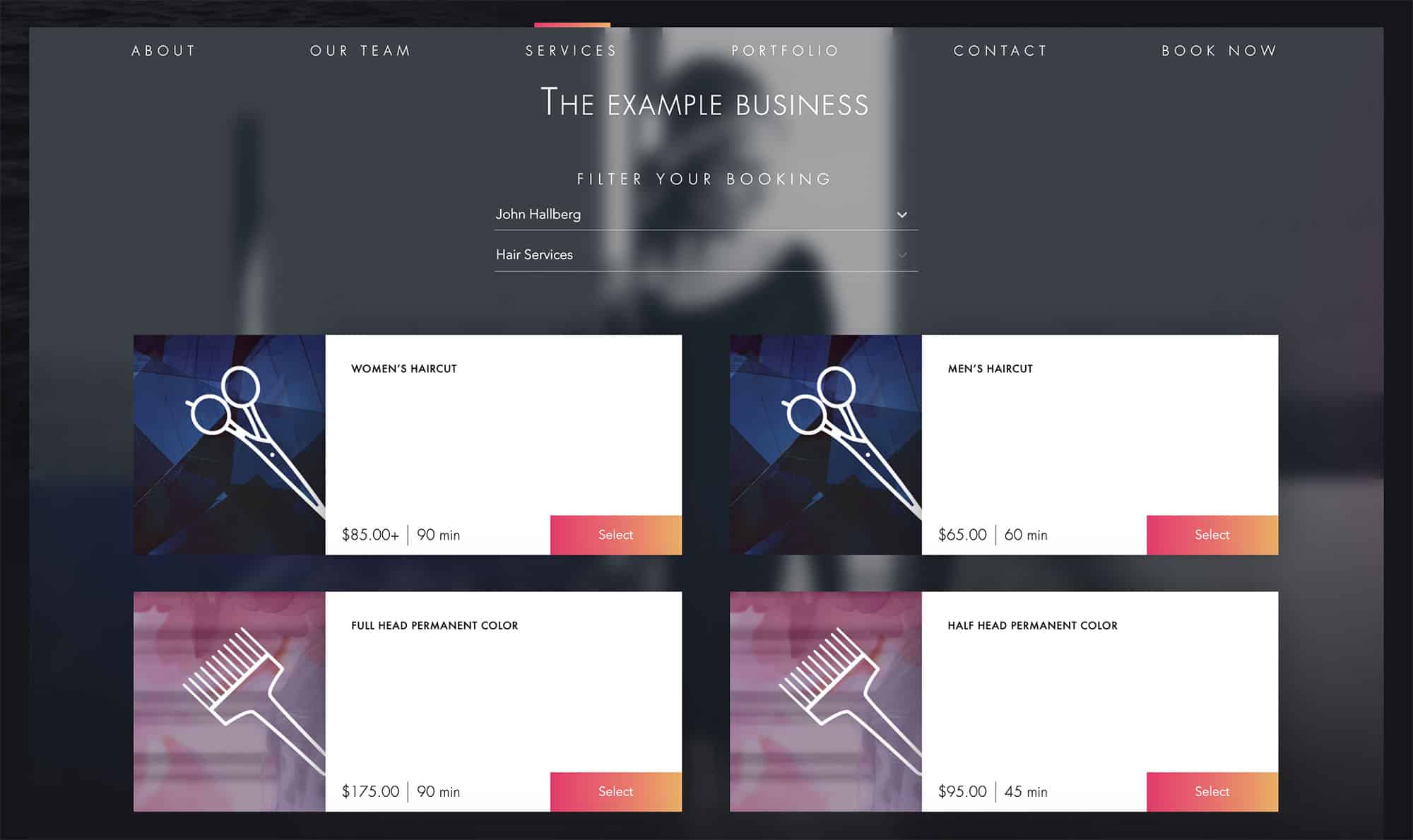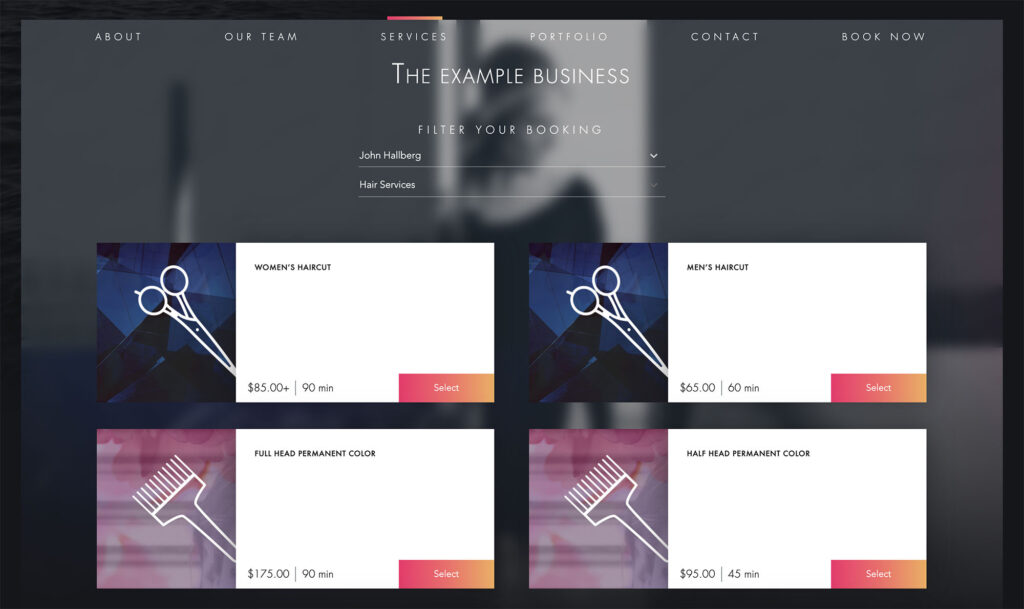 Vagaro Online Booking
Vagaro allows you to integrate a booking widget on your website, run a pop-up, or send the visitor to a dedicated booking page. You can change the color to match your brand, but it is otherwise limited to the design from Vagaro.
What's cool is that you have multiple widgets. One for bookings, one to show products you sell, and another for gift cards. This makes your ability to integrate Vagaro with your website very robust.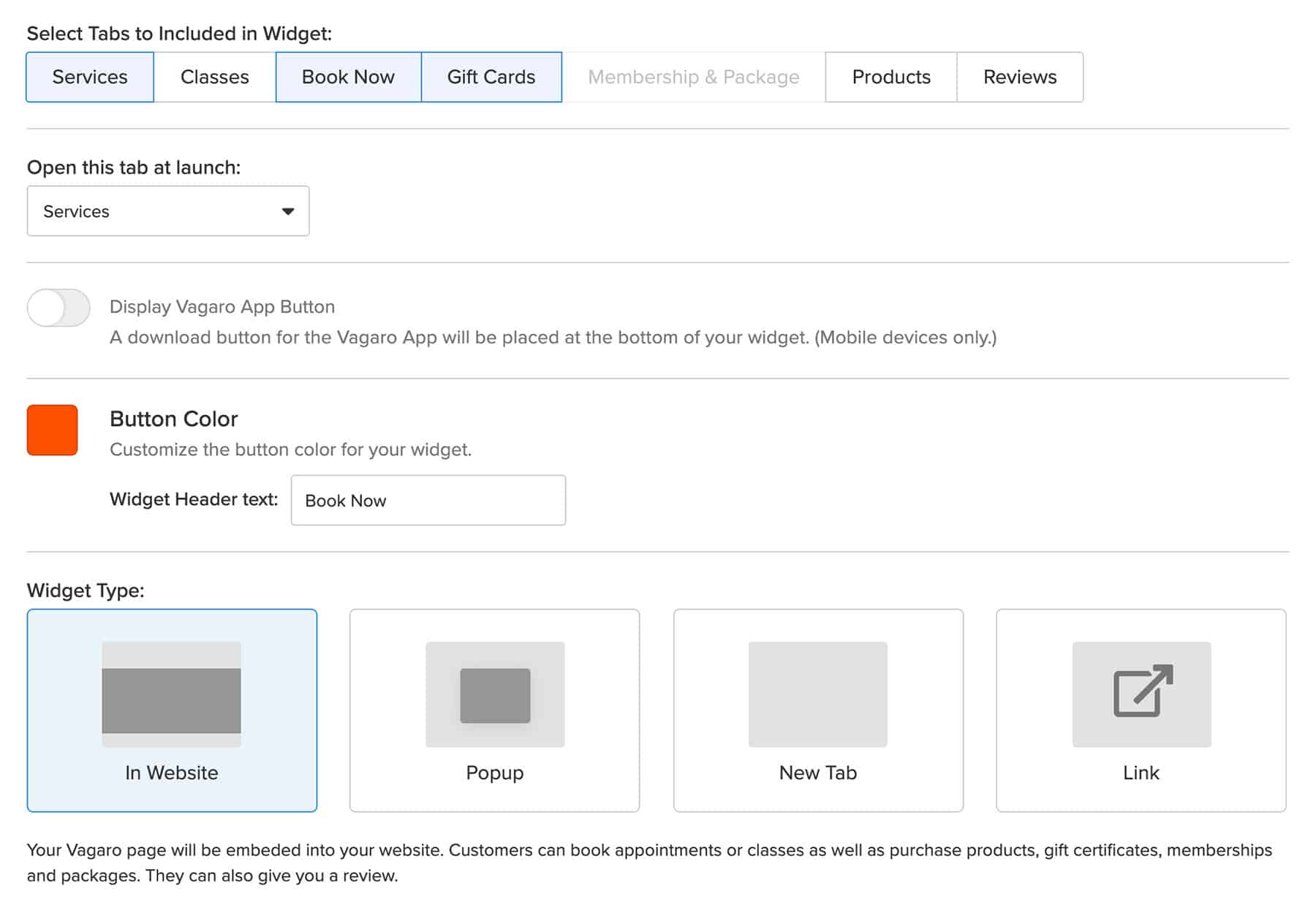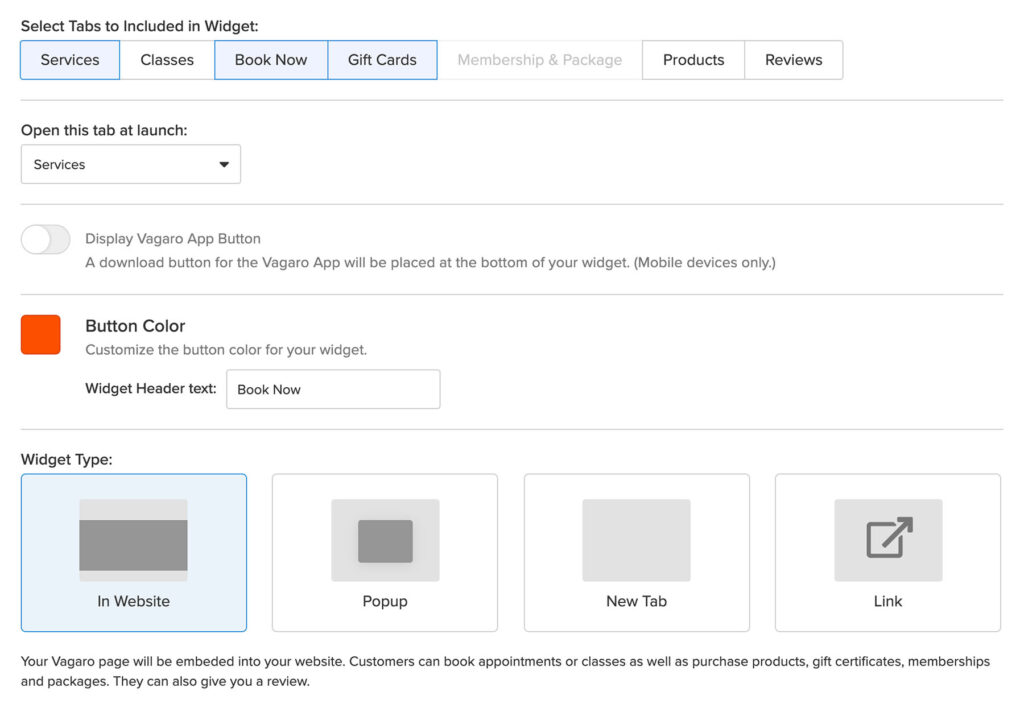 Fresha Online Booking
Fresha provides you with an online booking page that you can link to from your website. You can, however, not integrate a booking widget on your website. The generic booking page you're provided looks okay (see example image below). However, you cannot customize the design to reflect your branding.
You can also have your salon featured for bookings in the Fresha Marketplace.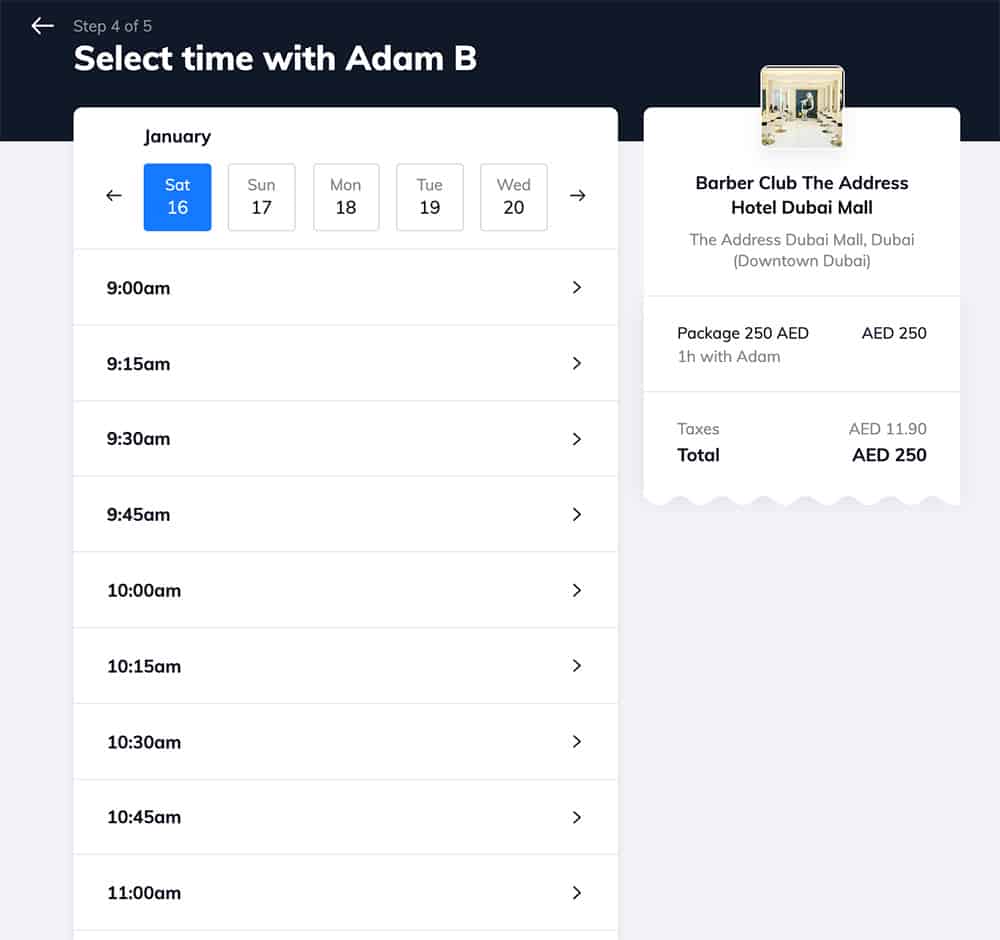 Boulevard Software Online Booking
Boulevard's online booking feature page boasts advanced features such as "on-brand online self-booking" through an overlay that can be integrated into your website.
Clients can also reschedule themselves online without having to call in and take time away from your front desk.
Boulevard has also trademarked its Precision Scheduling™ feature — a piece of tech that only shows clients the "best" time slots first. If the client doesn't find any of these initial slots acceptable, they can choose to view all available slots from the menu by selecting that option.
If none of the available time slots work for the client, they can waitlist themselves directly from the online booking interface so the business can review and notify them if one of their preferred days and times opens up on the schedule.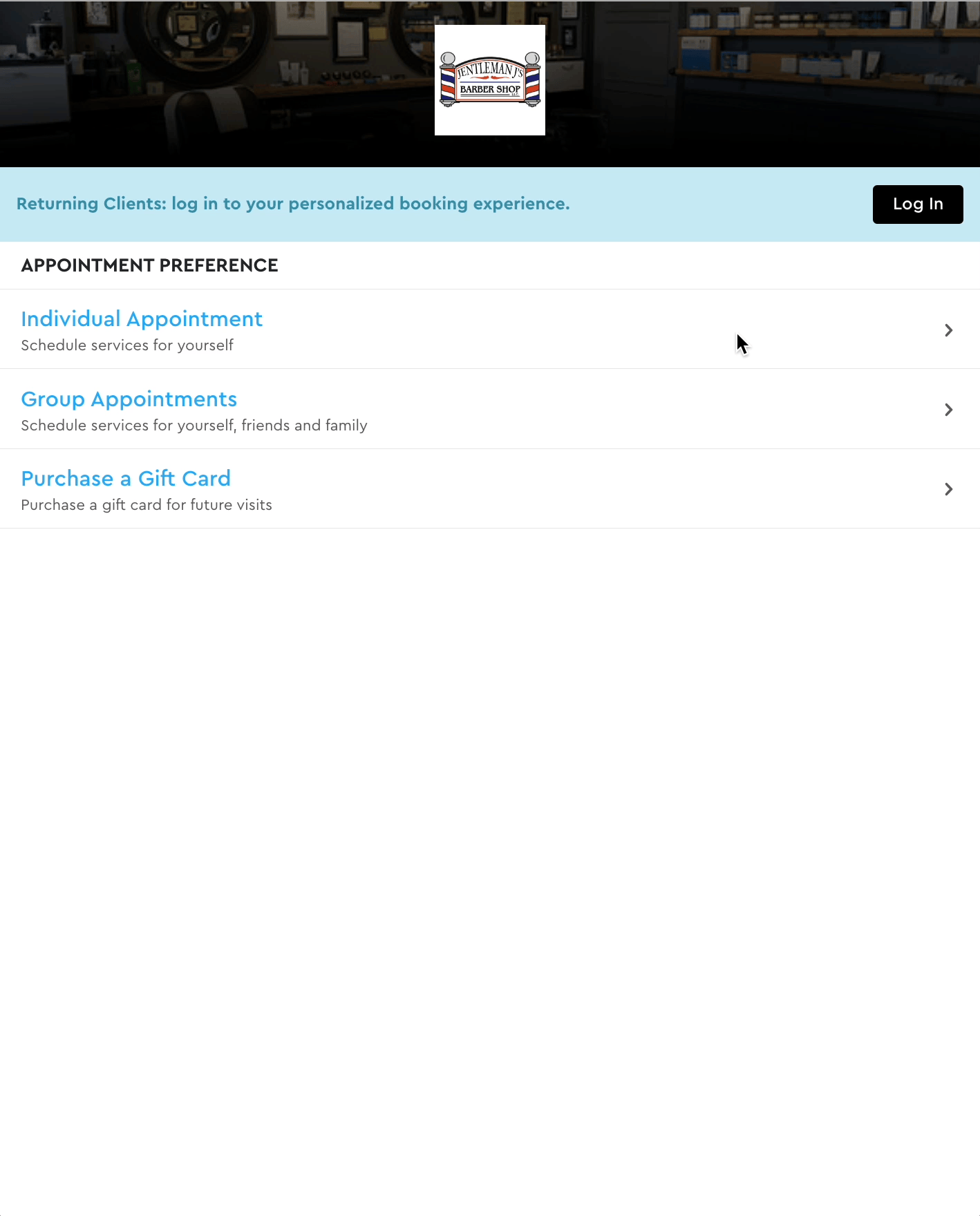 Square Appointments Online Booking
With Square Appointments, you can create a booking website or generate three types of widgets to embed on your website. You can, however, not customize the design of the widget, it will look "Square".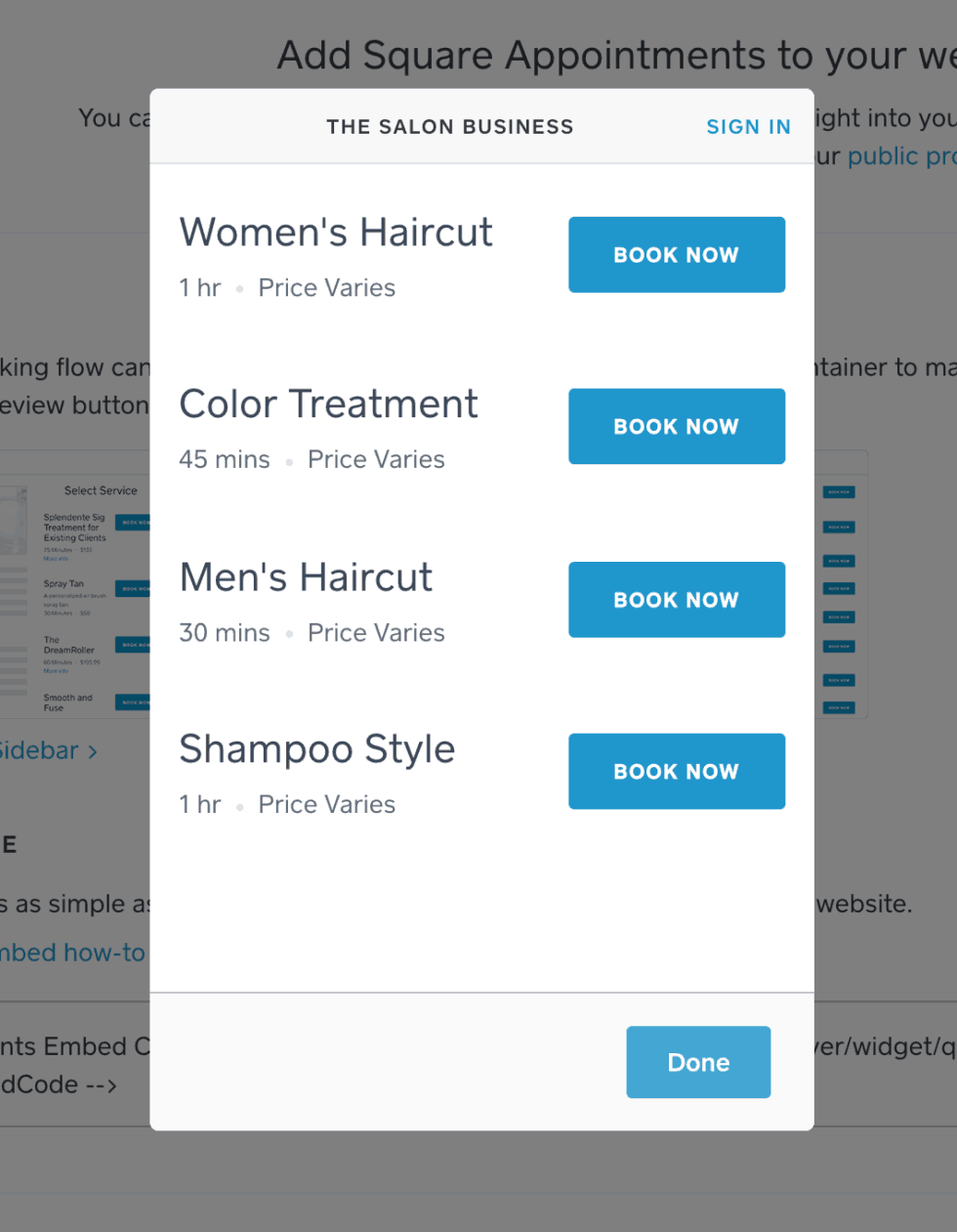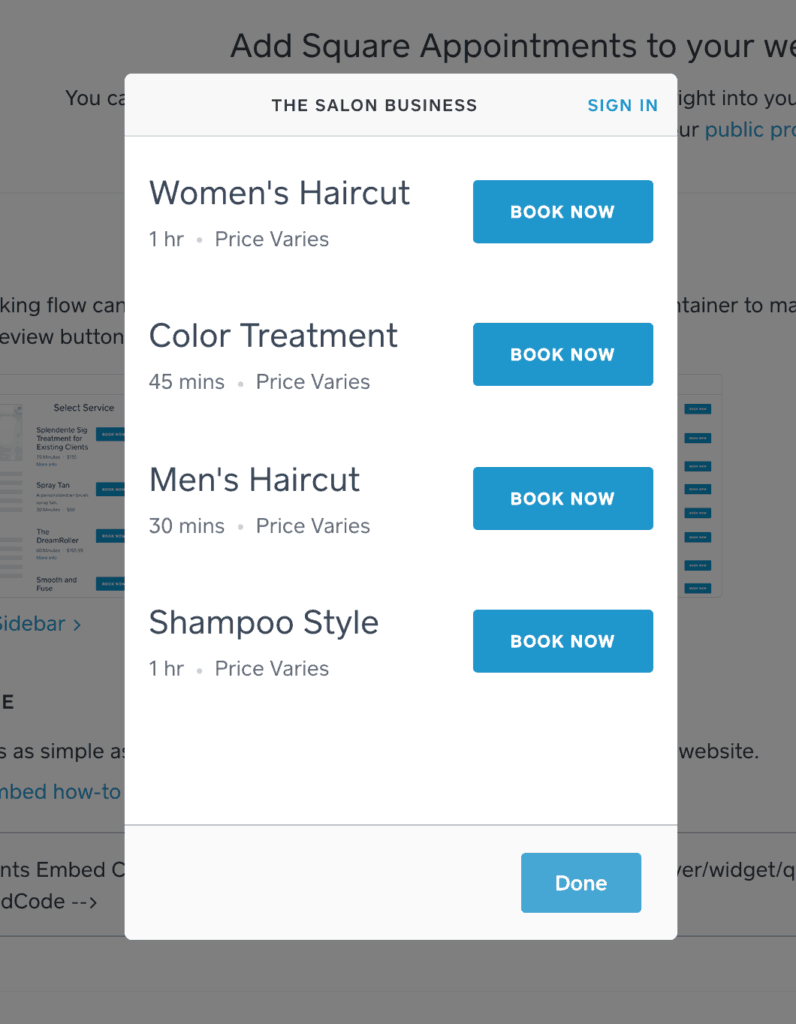 Booker Online Booking
Booker's API allows you to design custom booking sites for your business instead of using Booker's standard online booking experience if you're willing to shell out the extra $11 per month on top of your monthly subscription fee.
Otherwise, your online booking experience will take the form of a "Book Now" button that lives on your page and redirects to Booker's online booking site (rather than on your own website).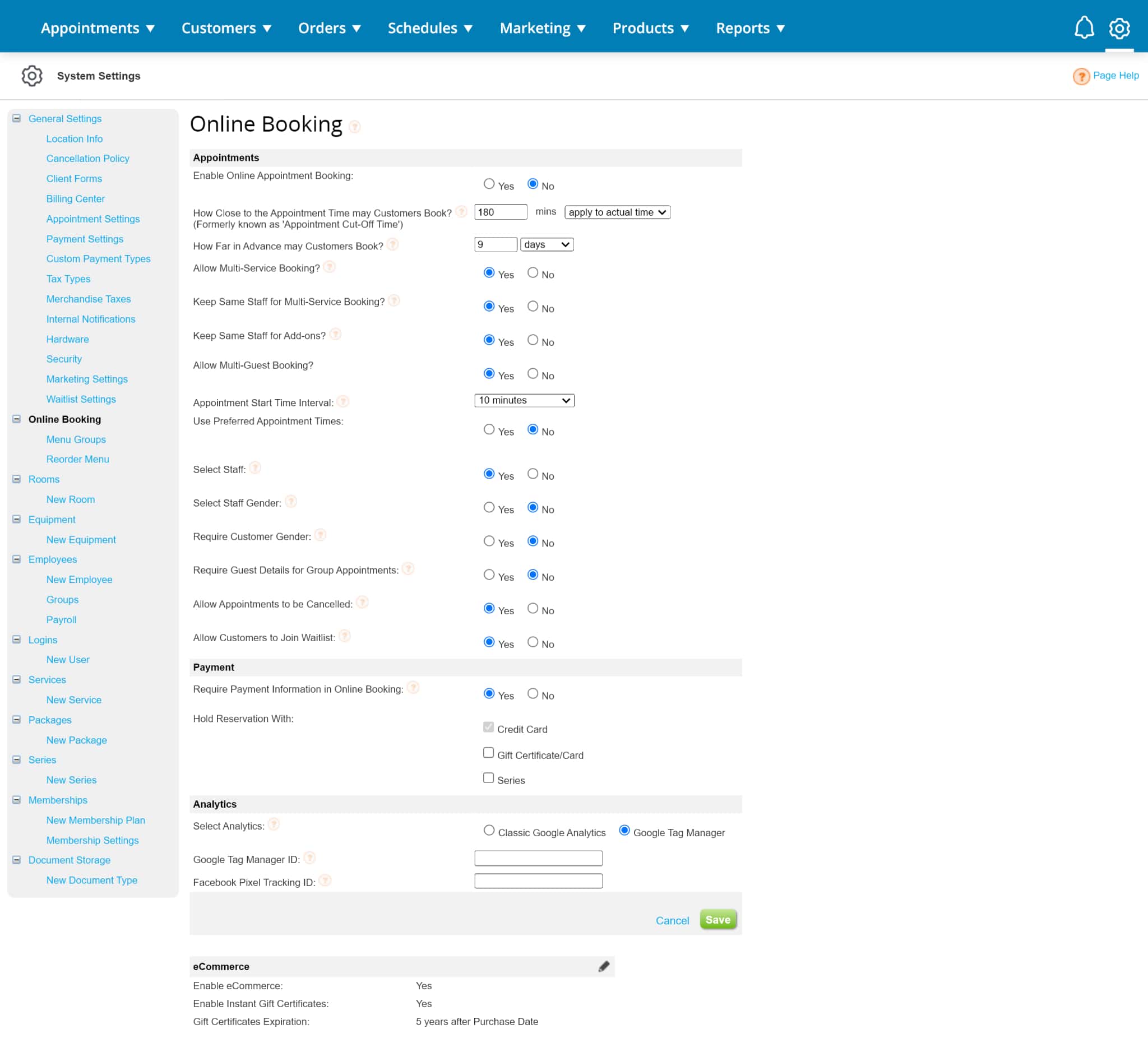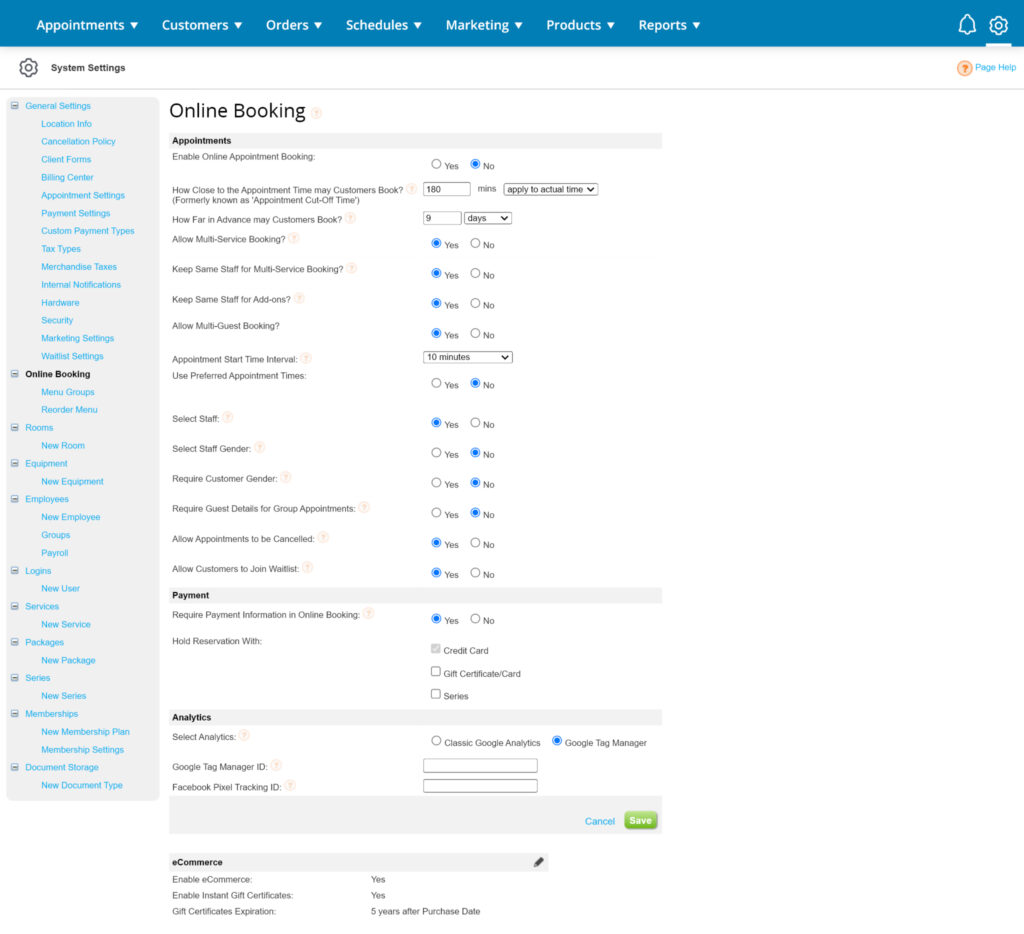 Zenoti Online Booking
One of my sticking points with some of the other salon software options I've reviewed recently was how online booking was implemented.
Booker's standard online booking experience is a "Book Now" button that lives on your homepage and redirects to Booker's online booking site — an underwhelming and clunky experience that feels a bit hacked together, especially for a software suite so mature.
With Zenoti, online booking is streamlined as an included feature that you have some customizability and control over.
In the online booking settings menu, you can customize fonts and color codes, add your logo and other basic details, as well as choose which services and staff members you want to be bookable online. You can also choose whether you wish for products, memberships, and packages to be purchasable online.
Zenoti also offers service customizations so that clients can add on and customize their services when booking online. Add-on services can be specified and customized in the settings.
You can easily set up an online booking widget that lives on your website so clients can book directly from your webpage without being redirected to a seemingly random (or suspicious) URL – at least, that's what I was led to believe on the sales call.
What actually happens is very VERY similar to what Booker and Mindbody do – redirect from the Book Now button on yoursalonname.com to yoursalonname.zenoti.com/webstoreNew/services/4647649a….. where the client is presented with an online booking menu.
It's branded, but it definitely does not live on your website.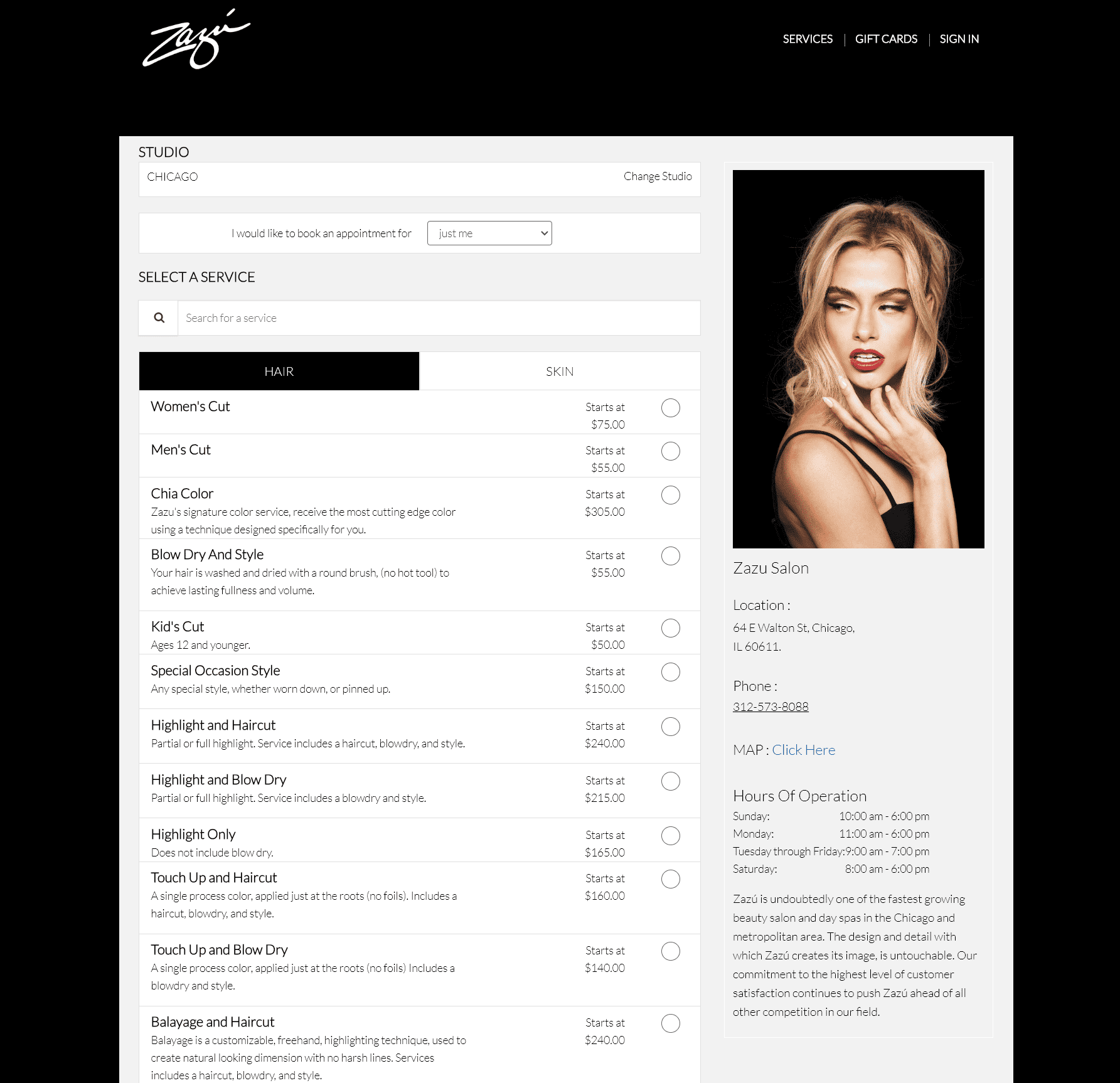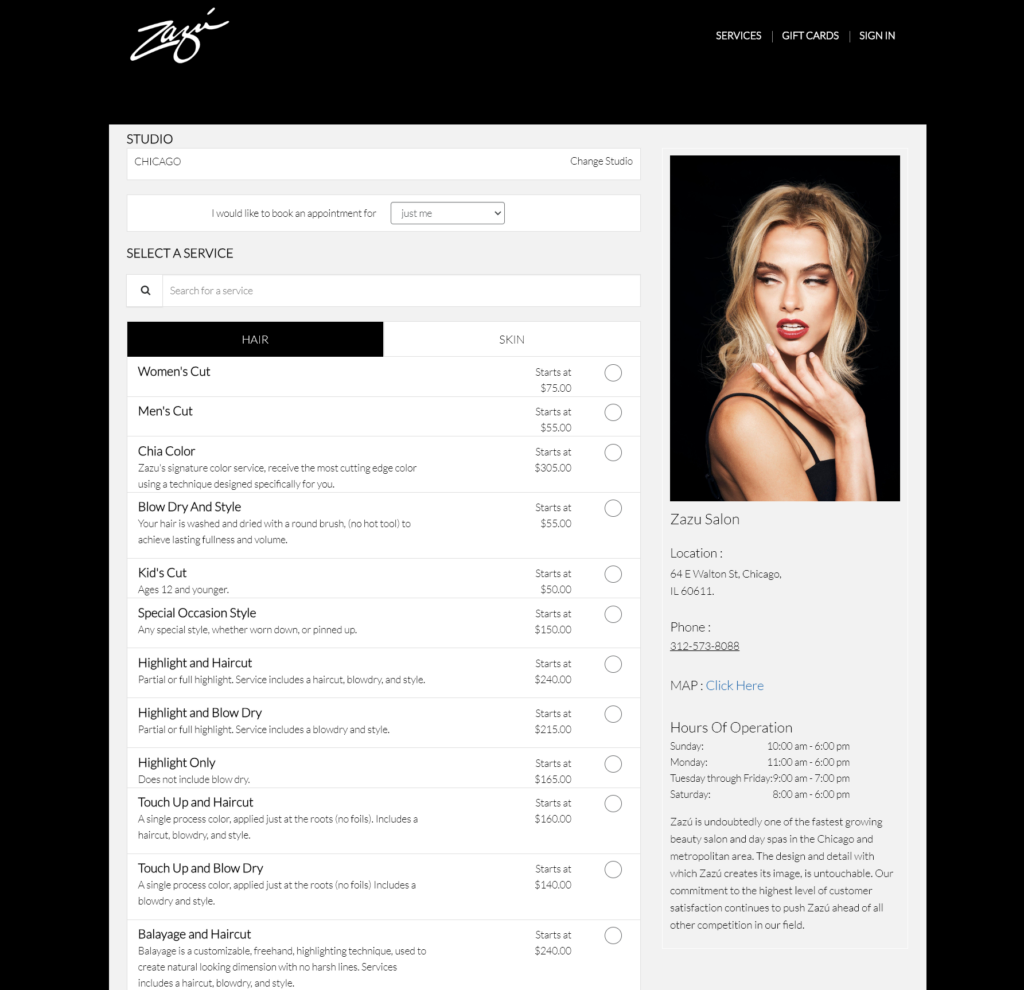 Mindbody Online Booking
If you want to have a custom booking experience on your own website, you can.
To do so, you will need to sign up for and log into Mindbody's "Branded web tools" to set up the appointment widget.
What is most confusing about Mindbody is that there appears to be no other direct way for your business to offer online booking.
Unlike Booker, there is no Online Booking Settings menu where you can set up your information and generate a simple Book Now button.
From my research and several hours of digging, it appears that online booking is only available through Mindbody's "Branded web tools", which are included with Accelerate, Ultimate, and Ultimate Plus plans but are a paid add-on for the Starter plan.
That means that — to the best of my knowledge, after poring over dozens of support pages — online booking is not included with the Mindbody Starter plan.
Salon Appointment Book & Calendar
The salon appointment calendar works in a similar way in all of the salon software listed here. They all allow for drag-and-drop and have invested in making it as user-friendly as possible. After all, it's probably where you will spend most of your time in your day-to-day.
What varies is rather the features surrounding the calendar. If calendar and appointment is the only feature you are in need of right now, you may also want to check out my review of the best salon appointment software here.
But let's dive into the platform comparison.
Mangomint Calendar
The Mangomint appointment calendar is uncluttered and easy to use. Appointments are color-coded based on appointment status so you can get an overview at a glance.
Drag and drop appointments to change the time. Switch between day view and week view. Navigate between different staff members or view them all at once in the day view. Click an appointment to check out the client.
Everything is super intuitive, and it's impossible to go wrong.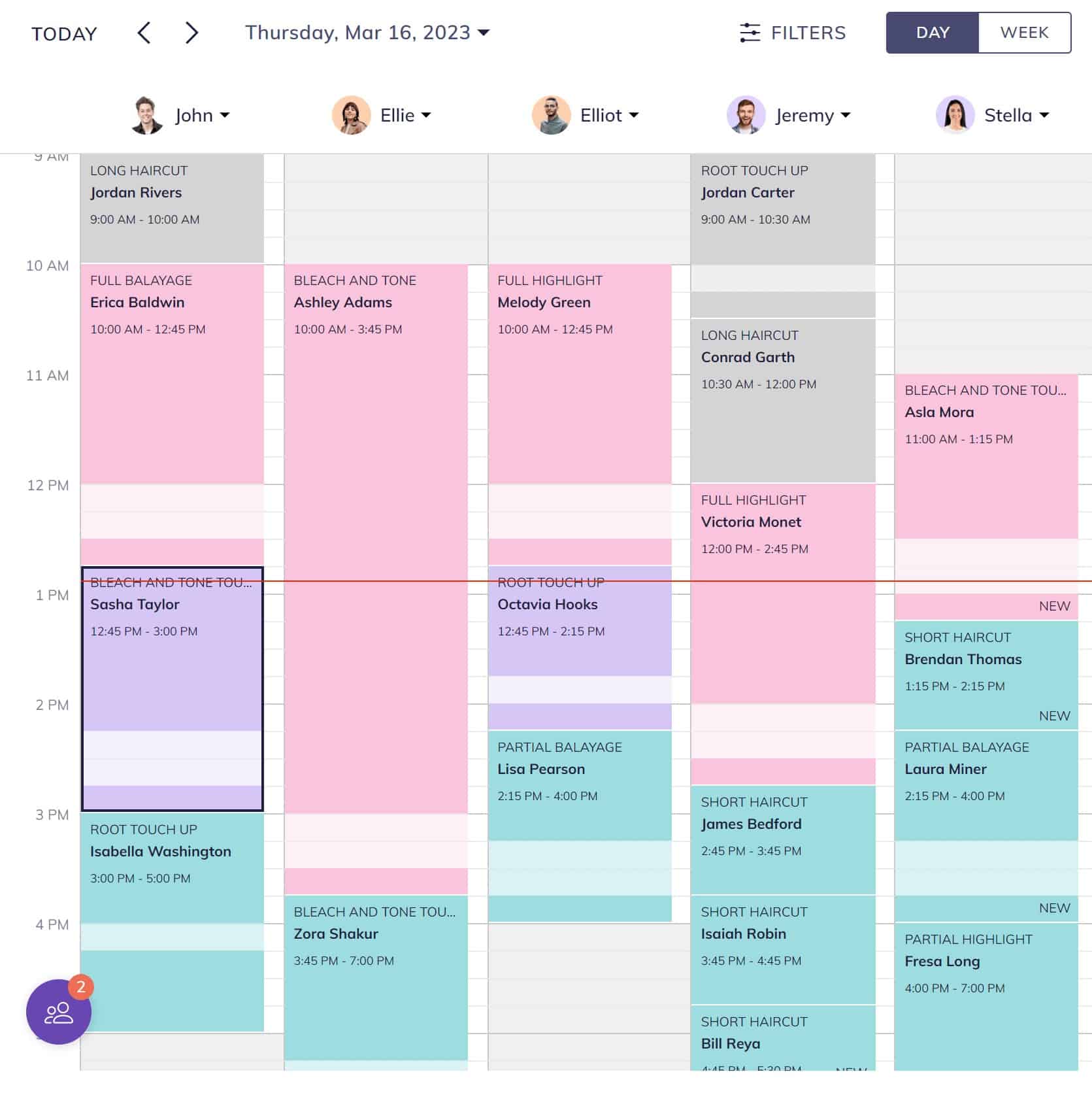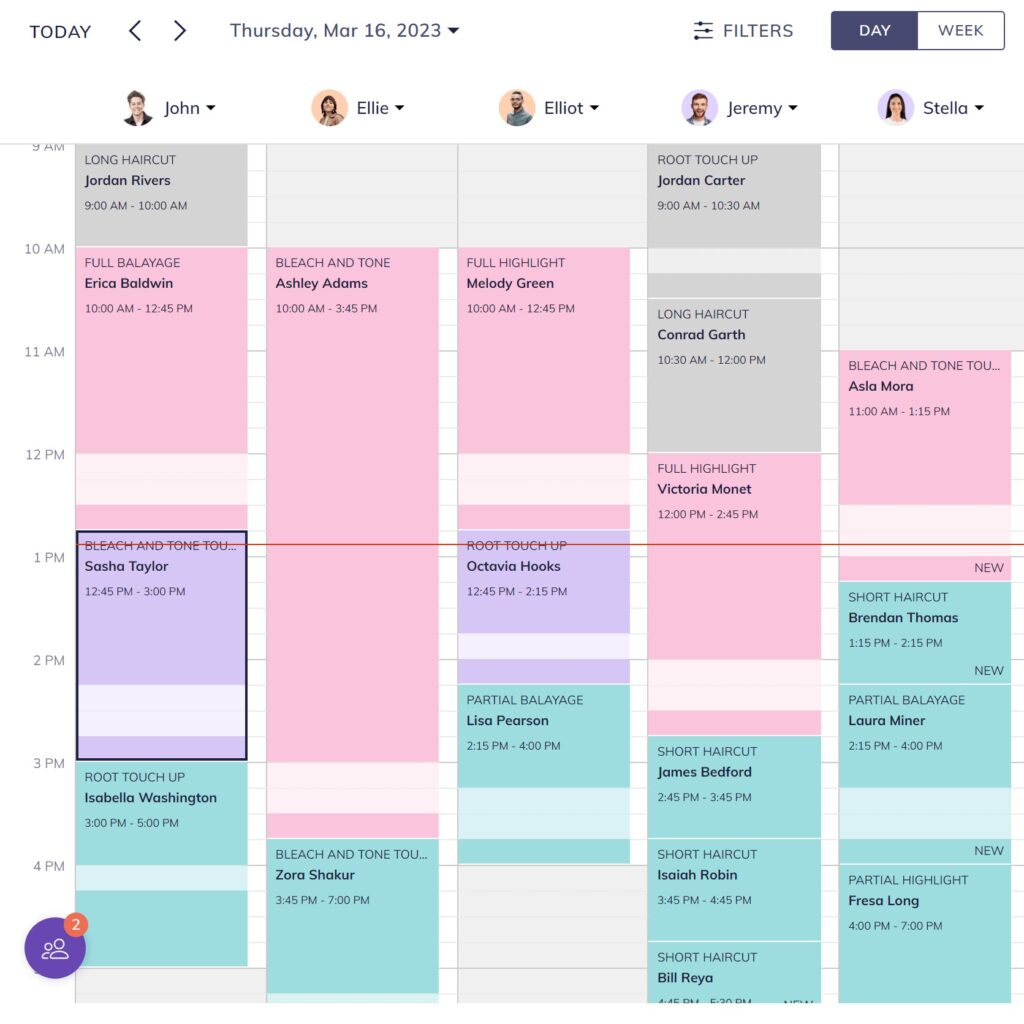 GlossGenius Calendar
The GlossGenius calendar is intuitive and easy to use. Appointment colors are based on the service category booked. You can switch between day view, week view, and month view. You can switch between staff or show multiple staff calendars in the same view.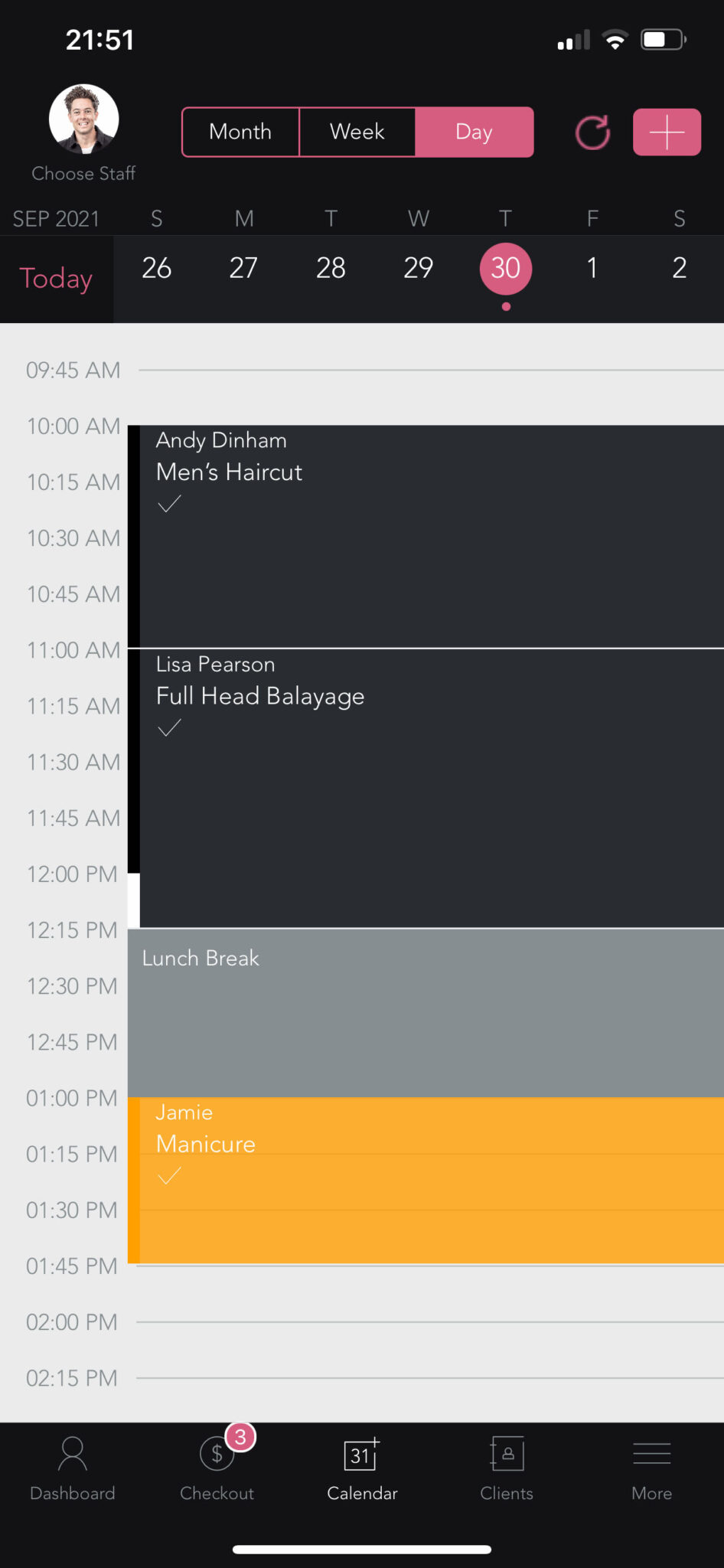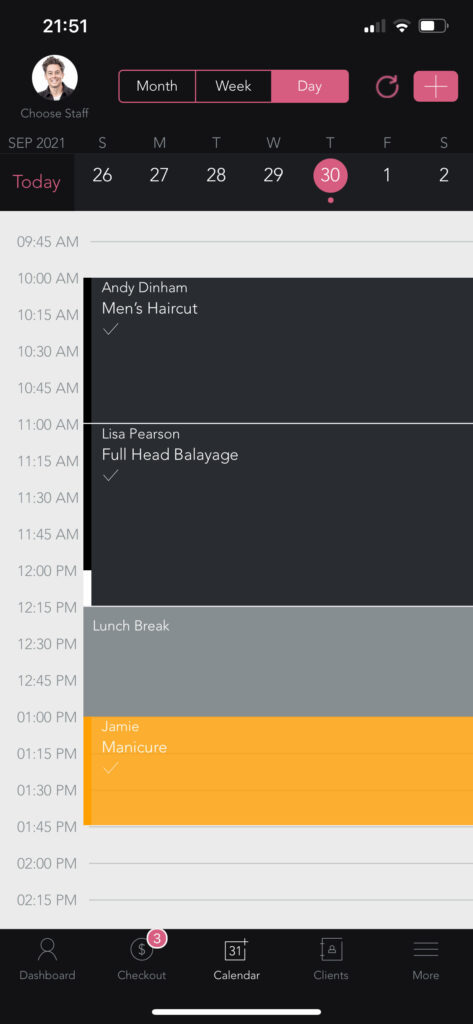 Vagaro Calendar
The Vagaro calendar is intuitive and it's easy to manage multiple calendars, color code appointments, and drag-and-drop to change.
They also offer an "agenda view" of the calendar. I like this format, especially on mobile, as it makes it easy to see what's coming up next without having to page through the full calendar.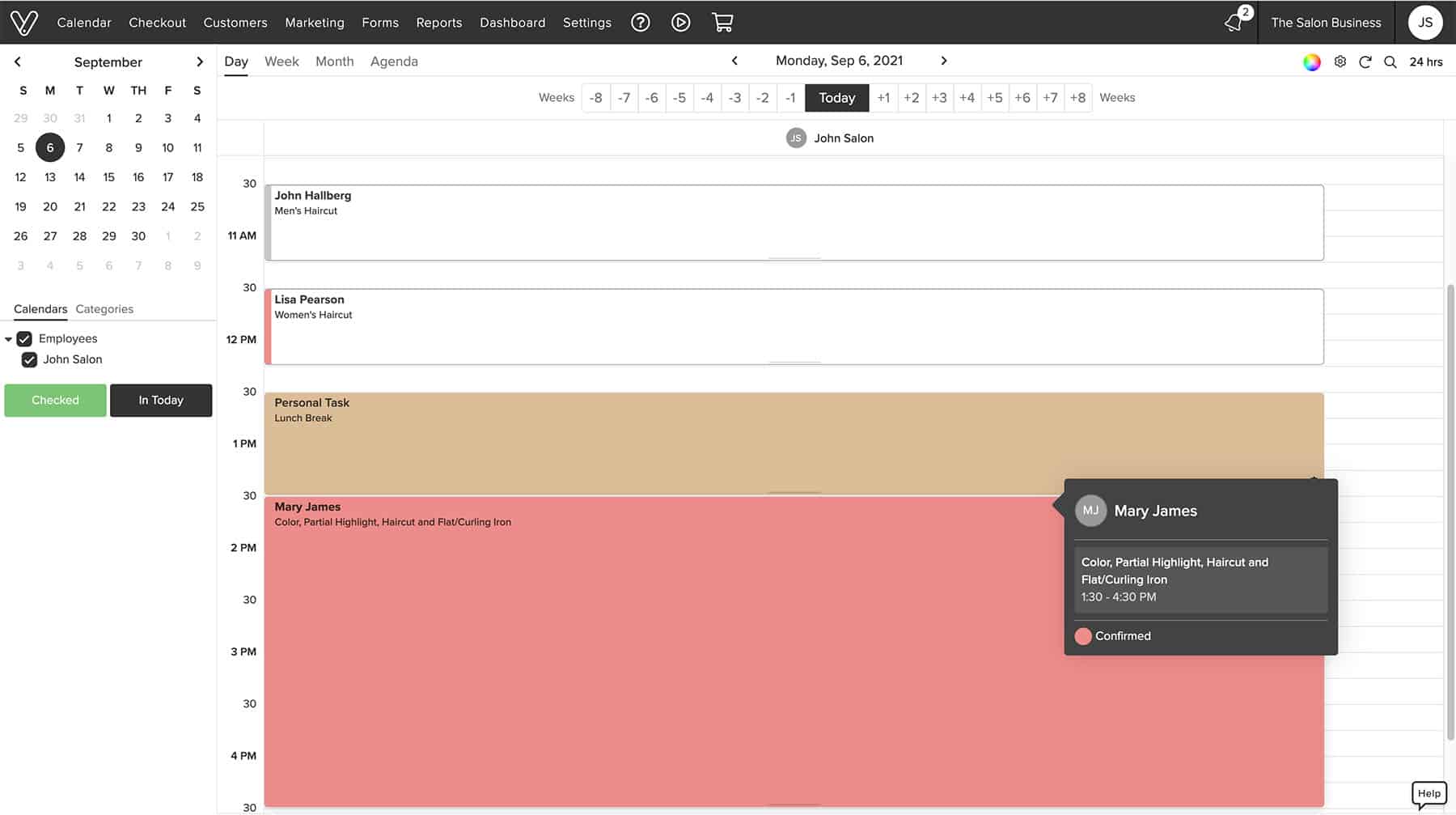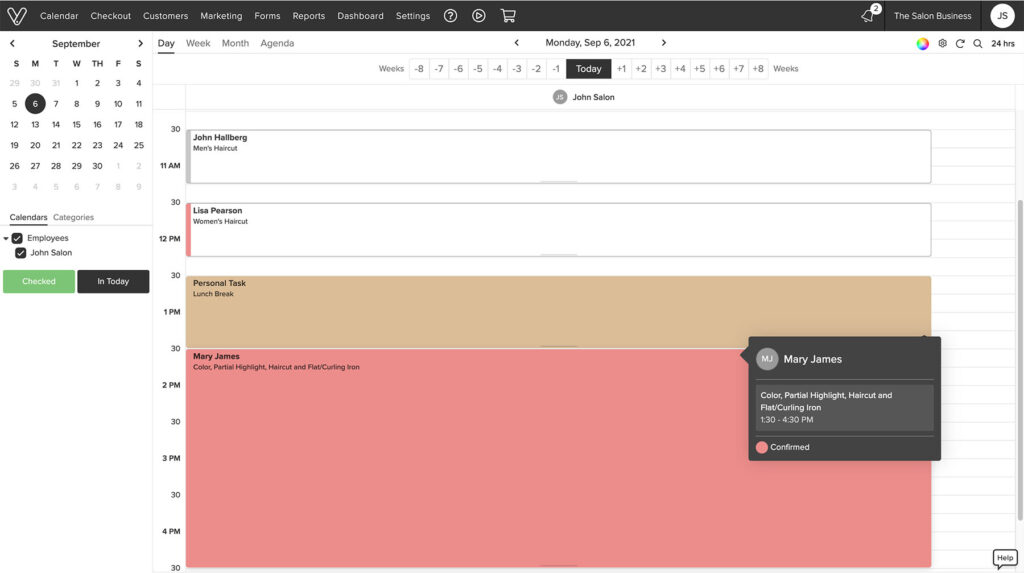 Fresha Calendar
The Fresha calendar is intuitive and easy to use. You can drag and drop appointments to change the time. Just hover over the appointment to see the full details. Quickly change the view from day view to week or month. Show multiple staff in the same view.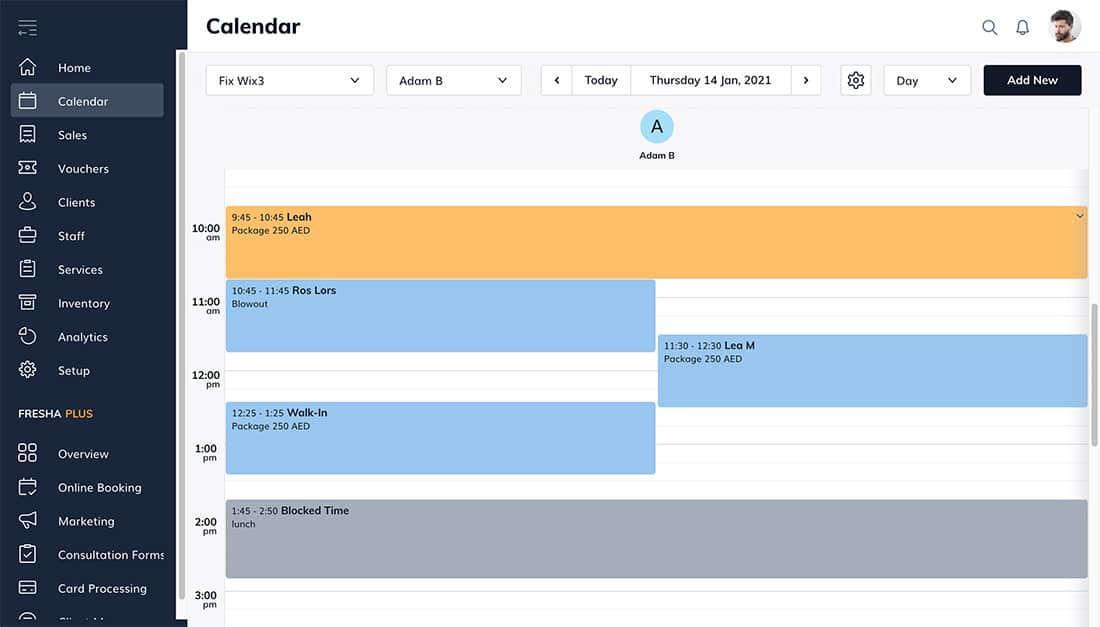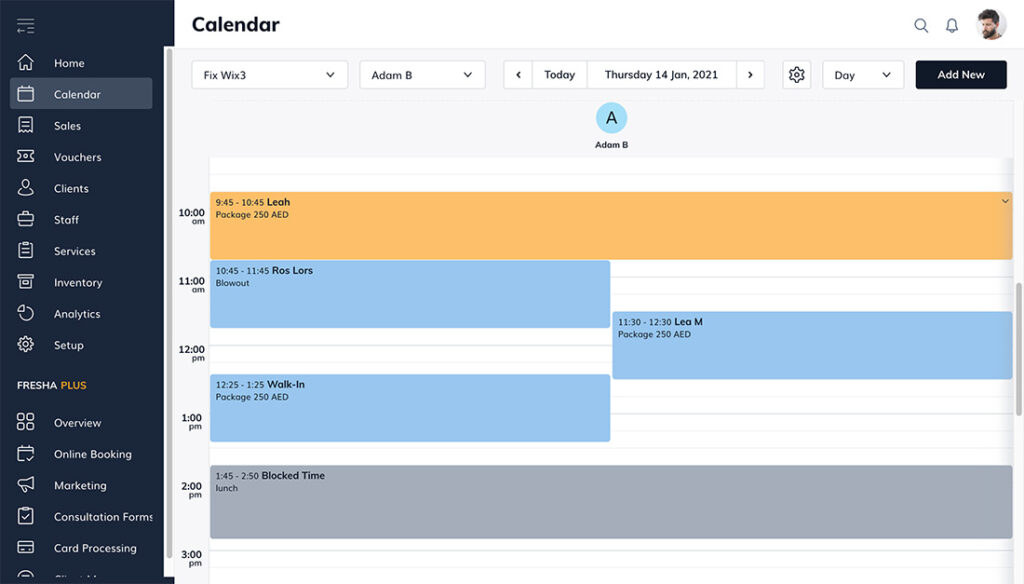 Boulevard Software Appointment Calendar
Boulevard has opted for a more maximal approach to its calendar interface, with a variety of options available right at first glance.
In the menu bar at the top of the screen, the calendar features several day view options, including Day, Today, 4 Day, and Week views, as well as filters to select the individual staff member (or members) whose schedule you would like to view.
The unique Front Desk View allows you to see all of your daily appointments at a glance, separated into columns by appointment status.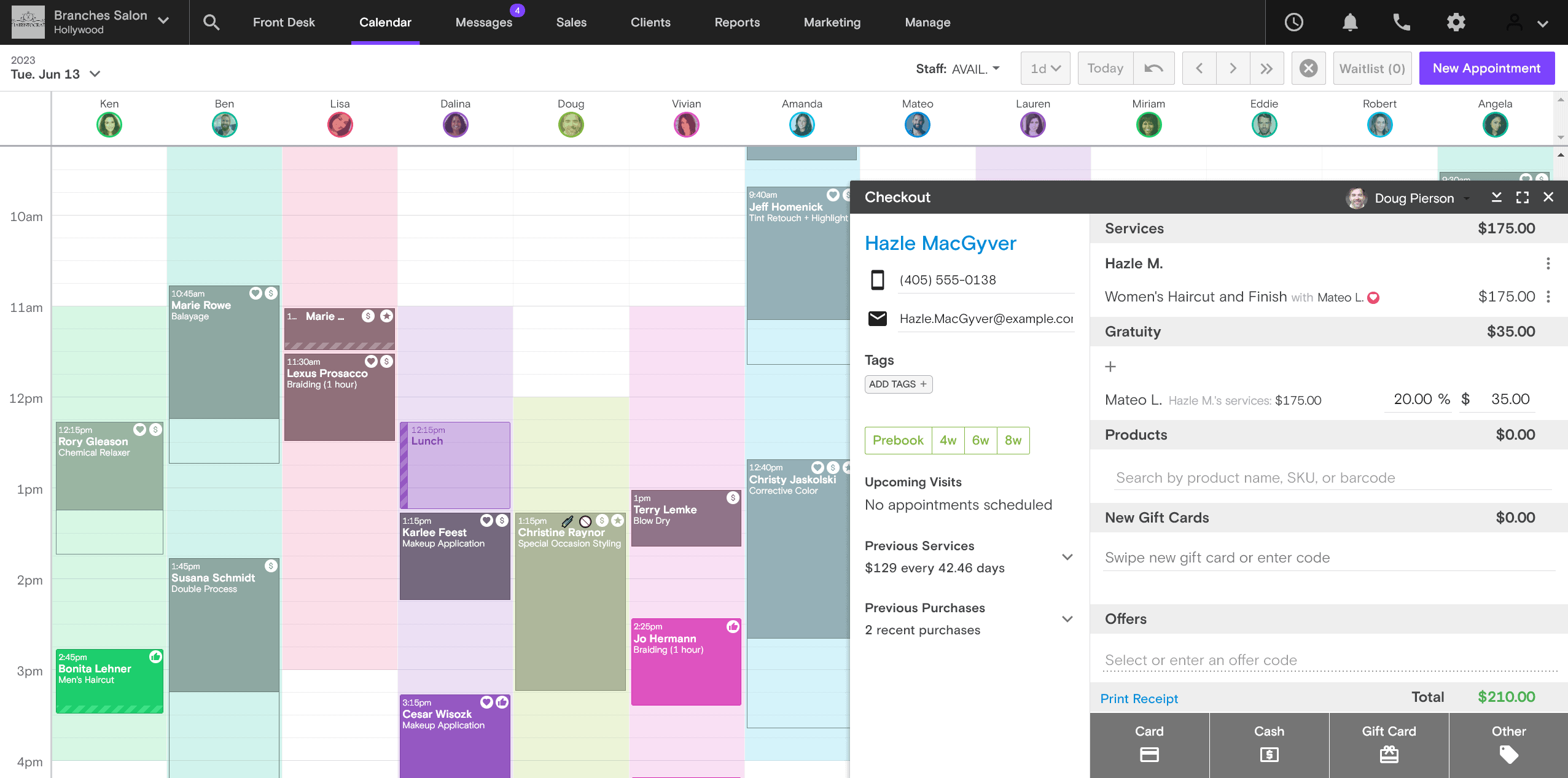 Square Appointments Calendar
The Square Appointments calendar is fast and easy to use. Drag and drop your appointments and switch between different calendar views.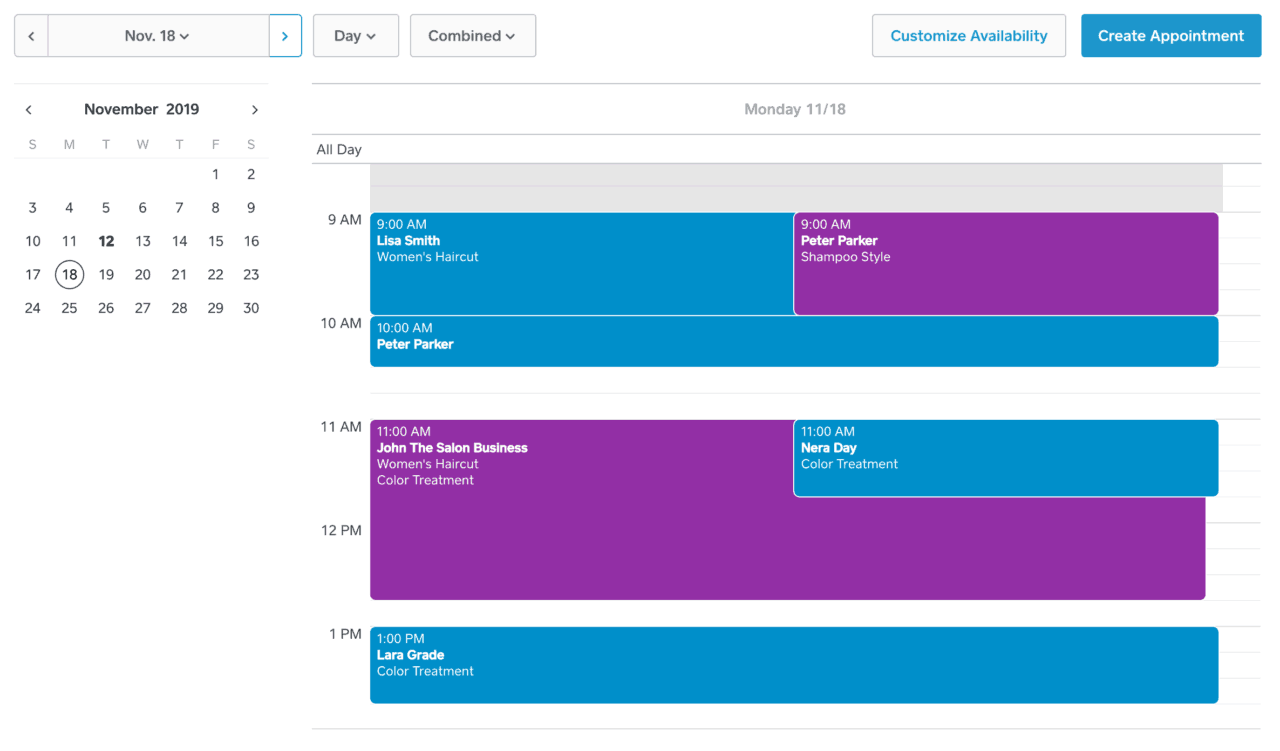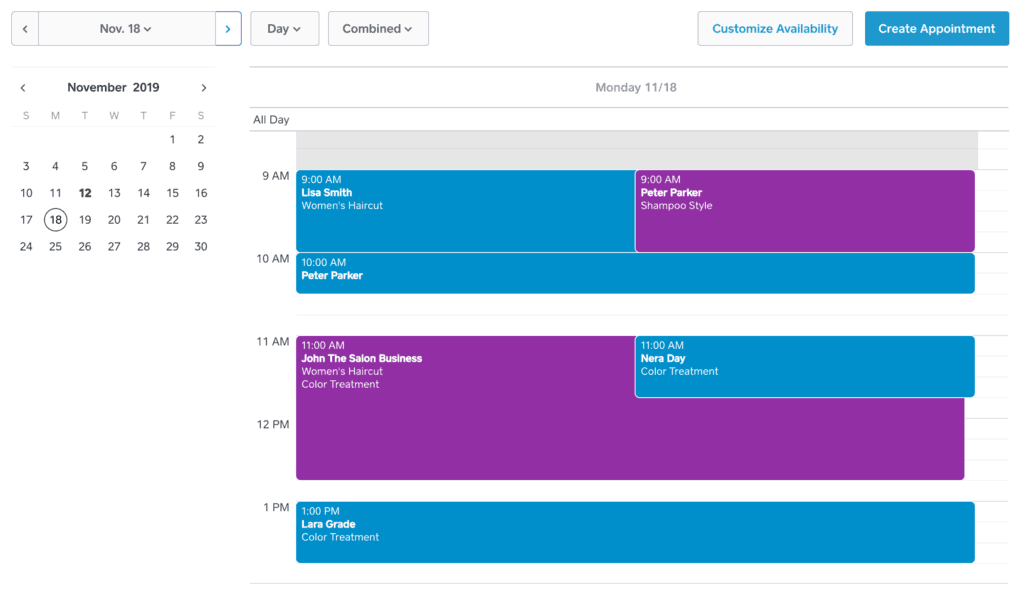 Booker Appointment Calendar
Booker's calendar is simple and utilitarian, if a little uninspiring.
In a way, that's both a pro and a con.
Details of the calendar screen are easy enough to distinguish with grey and bright yellow appointments, and booking icons (for confirmed, checked-in, same-day appointments, etc.) are easily visible on the top right corner of the appointment itself.
Booking can be done with a click on the corresponding timeslot and entering client information, and you can right-click (or Control-click on Mac) on an appointment to open a contextual dropdown menu with options to confirm, check-in, check-out, cancel, or edit the appointment.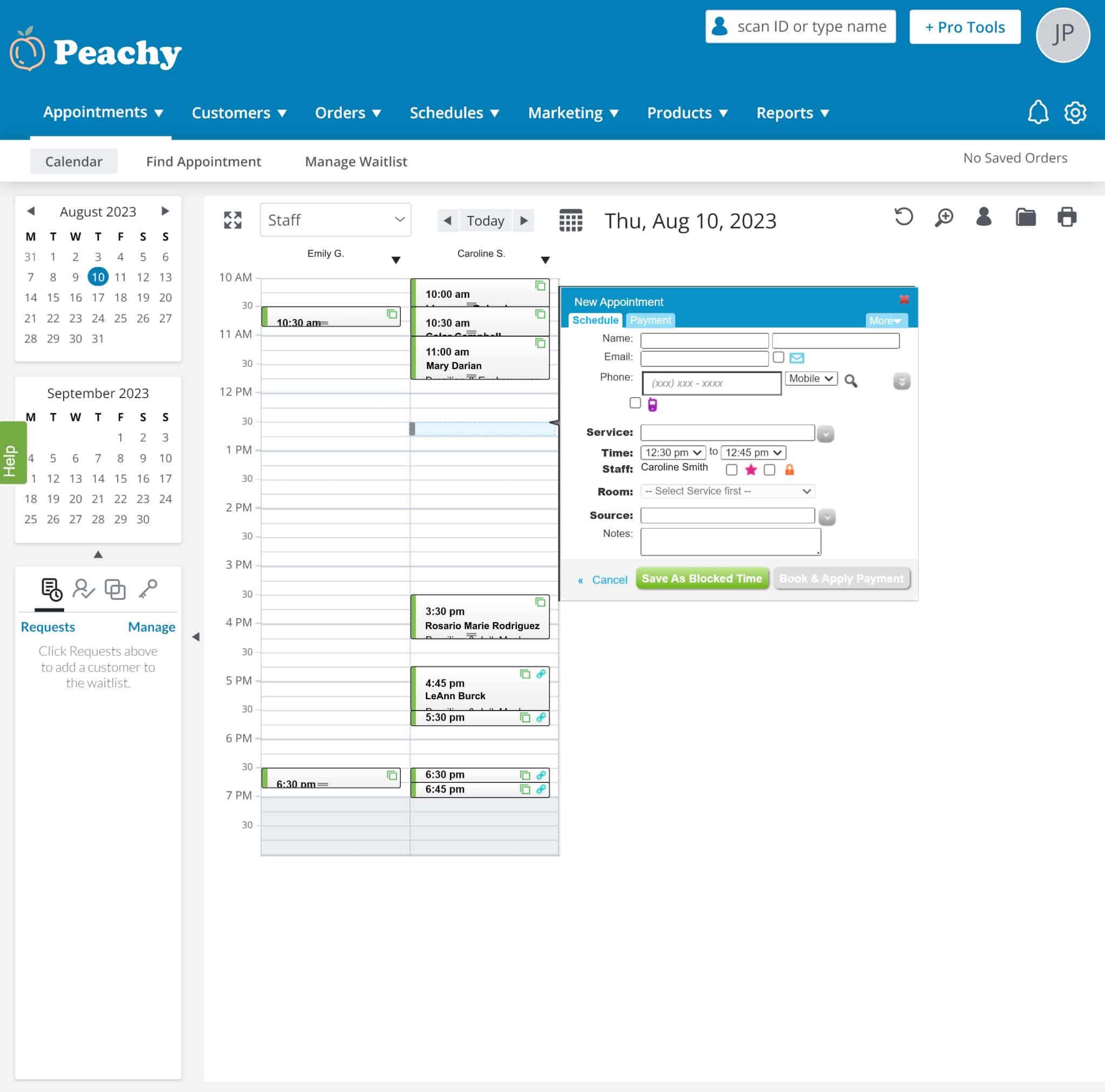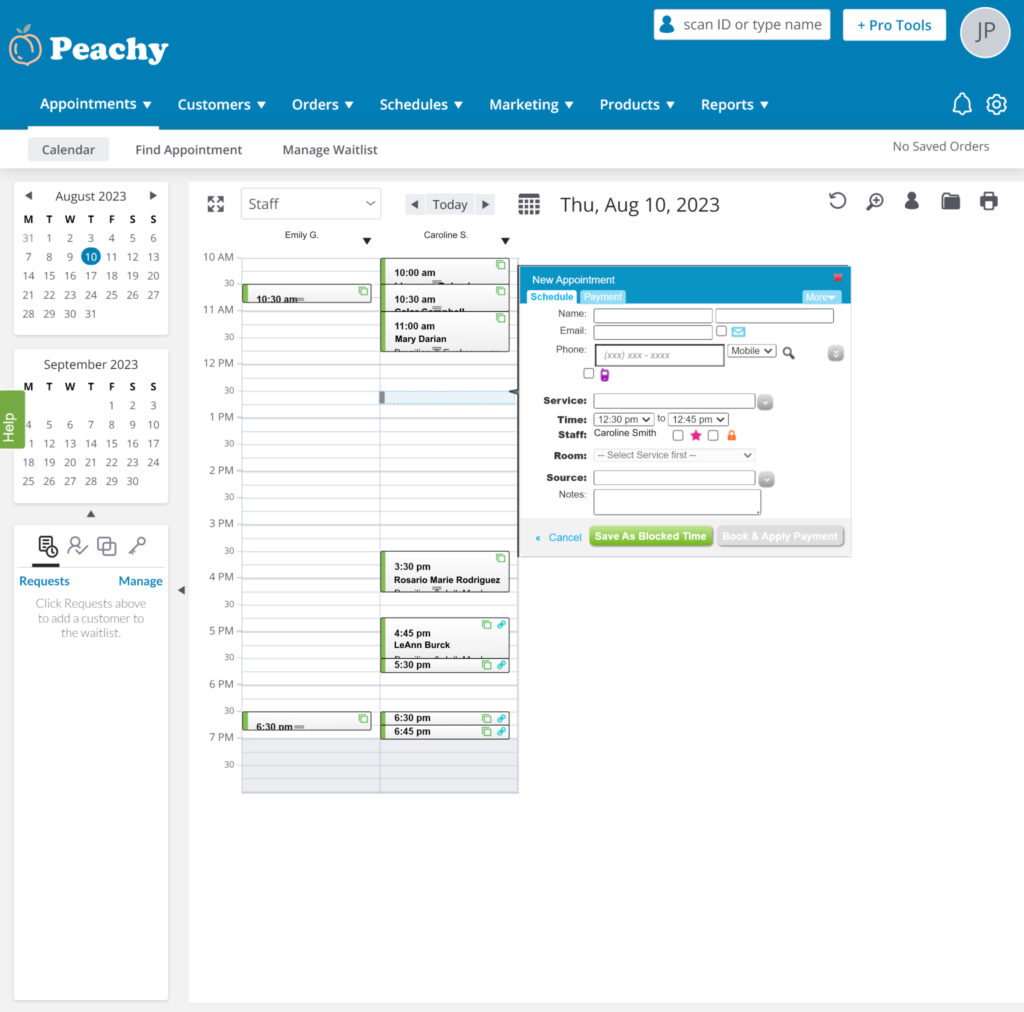 One of my sticking points with some of the other salon software options I've reviewed recently was how online booking was implemented.
Booker's standard online booking experience is a "Book Now" button that lives on your homepage and redirects to Booker's online booking site — an underwhelming and clunky experience that feels a bit hacked together, especially for a software suite so mature.
Zenoti Appointment Calendar
As was the case with Booker and Mindbody, Zenoti's calendar screen, menus, and overall user interface look drab, boring, and outdated, even by the standards of the previous decade. The humdrum navy blue navbar and Excel spreadsheet-looking calendar don't exactly scream "modern" or "chic."
My real issue is how unintuitive Zenoti is to navigate.
For starters, none of the navbar icons are accompanied by text, so new Zenoti users are up against a learning curve that includes memorizing each (inexplicably tiny) icon's meaning while hovering over the icon for the pop-up text label. It's not a dealbreaker, but it's also an oddly frustrating choice that made navigating to the menus I needed more of a chore than it should have been.
Zenoti also falls prey to pop-up syndrome.
So many menus open into an entirely new browser window, forcing you to juggle tasks in separate places with a real mess on your hands (and screen).
For some reason I have yet to understand, the default view of the calendar is arranged horizontally instead of vertically.
This means that the timeline of appointments runs from left to right, with each fifteen-minute increment broken down into its own column, and each staff member's schedule occupies a row, making employee and appointment information impossibly cramped by default.
I have never seen this approach to a calendar in a piece of booking software before.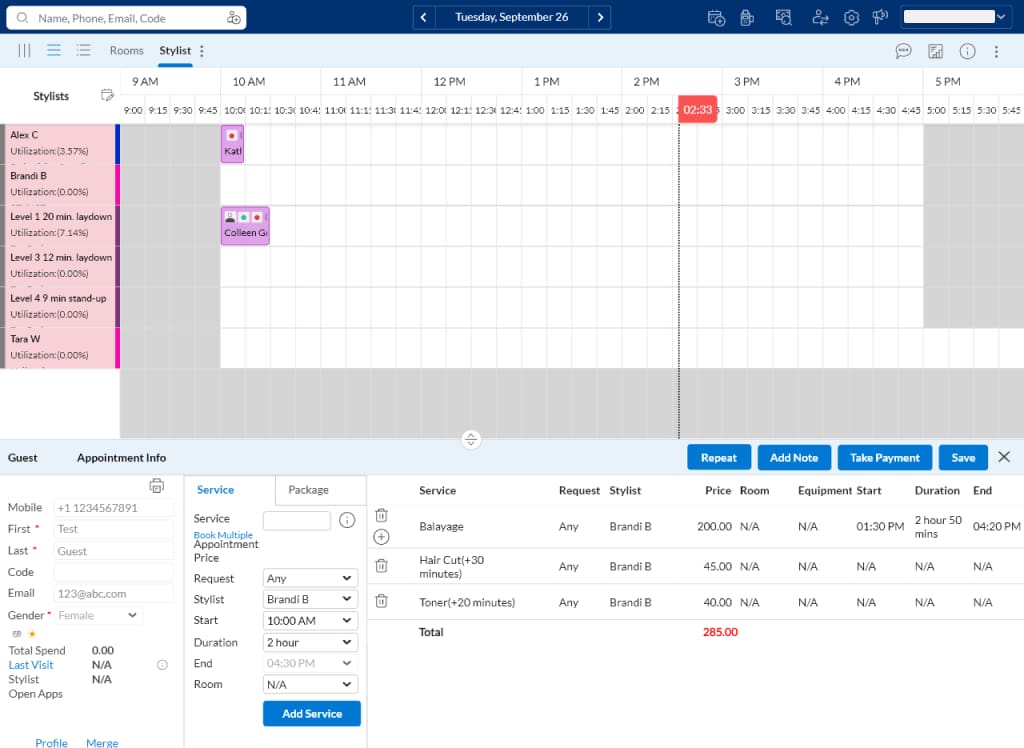 The standard view operates similarly to other software suites we've covered here on The Salon Business, but with some unique quirks that I have mixed feelings about.
To book an appointment, you must double-click on the calendar or enter the client's name into the search bar in the top left of the screen, locate their contact details on the dropdown menu, and select "Book Appointment."
You can also select the "Booking Wizard" button at the top of the screen if you want to take the longest and most convoluted route to appointment town.
That said, it is functional, if less convenient than the other two booking methods mentioned above.
There is one final view option for the calendar: List view.
The List view forgoes a calendar entirely and instead lists only the appointments booked for the day in rows broken down by start time. From this view, you can expand and collapse each hour as well as each appointment and see the booking details and client information for each.
Mindbody Appointment Calendar
Mindbody's calendar is simple, utilitarian, and a bit drab. Dressed in a modest and almost militaristic palate of khaki, coal, ash, and parchment, the interface is bland but clearly understandable.
In stark contrast, the details of the calendar screen are vibrant and almost garish, with bright green, teal, orange, and fuschia appointment blocks.
Booking icons (for confirmed, checked-in, same-day appointments, etc.) are underdeveloped, and unless you know what each tiny, esoteric symbol displayed in the top right corner of the appointment means, may be confusing, with their lack of hover-over explanations or tool tips — quality of life features offered by sister-software Booker.
Also, unlike Booker, there is no right-click (or Control-click on Mac) functionality to open a contextual dropdown menu with options to confirm, check in, check out, cancel, or edit an appointment. Instead, you can only left-click on the appointment, which both opens the dropdown menu and expands the left pane to show appointment details simultaneously.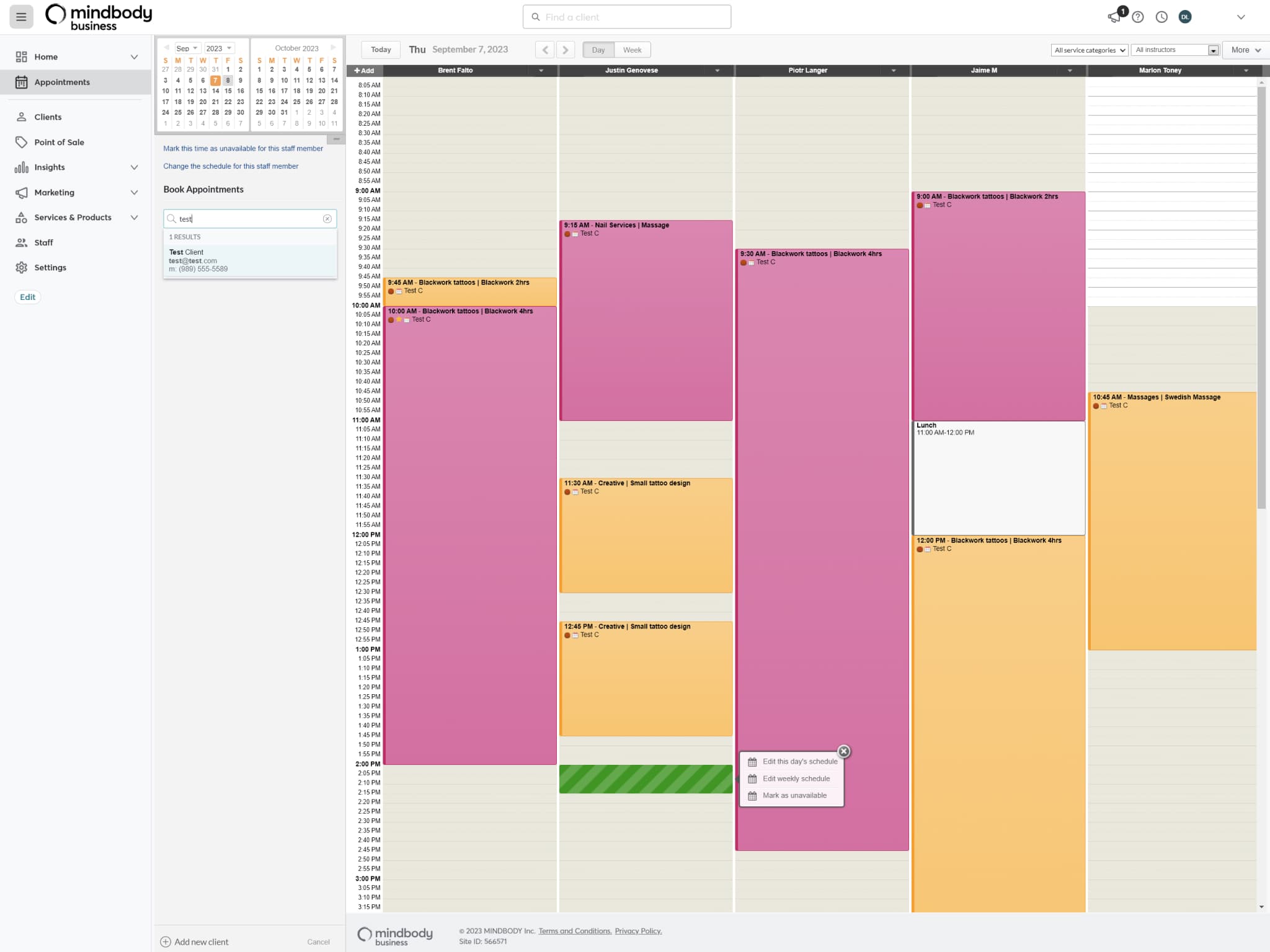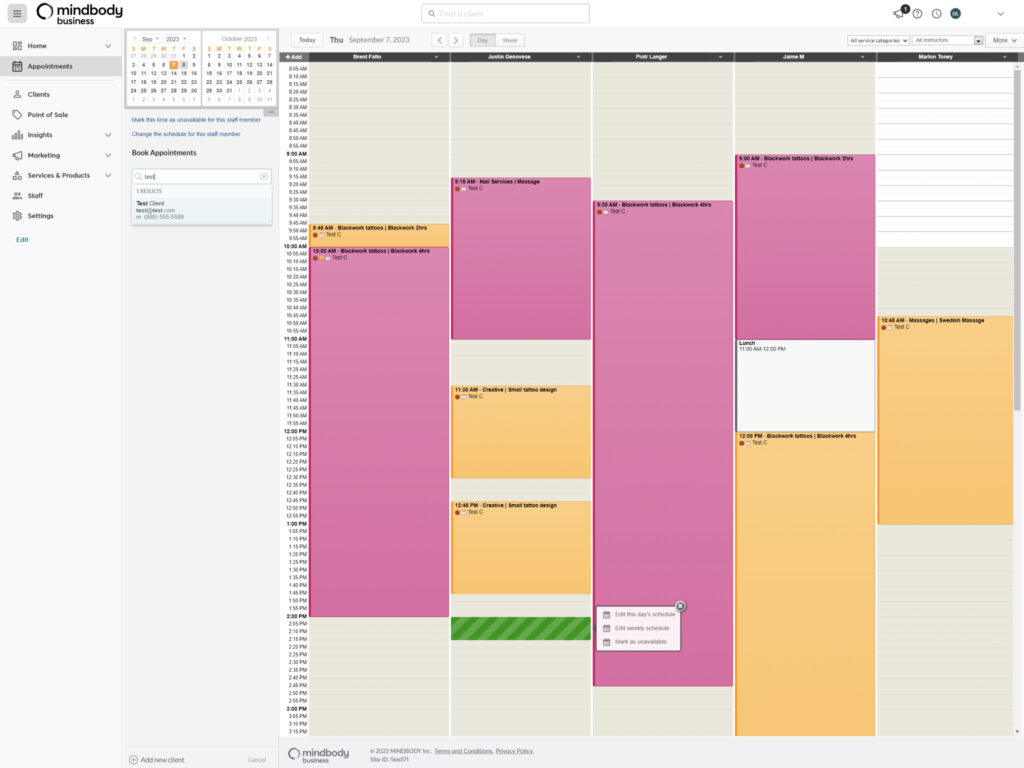 Client Data Management
Managing client data and history is an important part of salon operations management. All the software I'm recommending here does a good job in that regard and supports storing all the information you need.
Mangomint Client Data Management
Mangomint offers strong support for managing your client data. Access information about the client on the Clients tab or directly from the appointment on your calendar.
Here you get a full view of client history on an, as you would expect from Mangomint, a nicely designed timeline where you can make notes or upload files directly to the client.
With Mangomint you are also in full control of your client data. You own your data and can export all the data at any time. They don't try to hold you hostage and make it hard for you if you, for example, want to change the system in the future. Everything is exportable.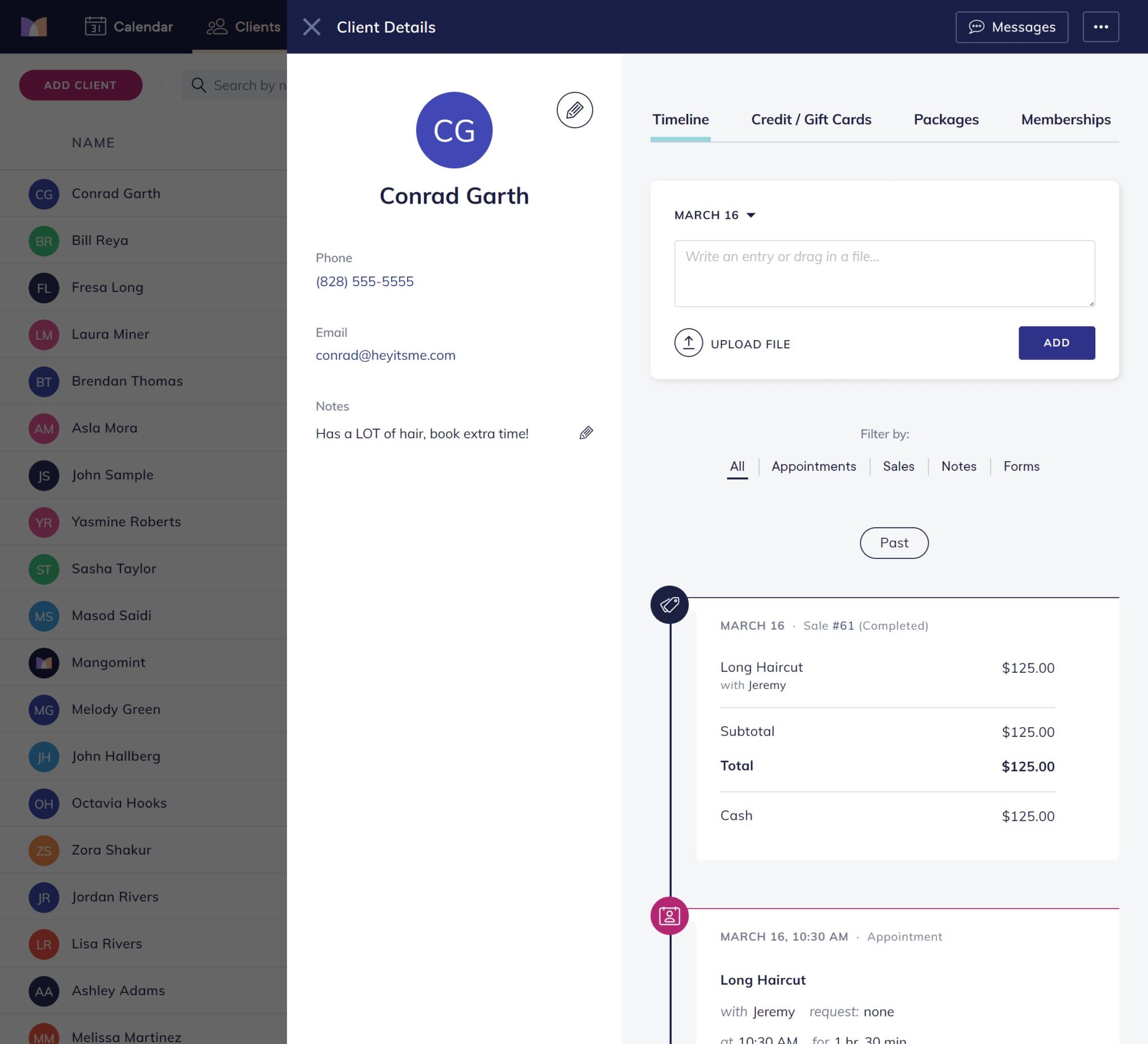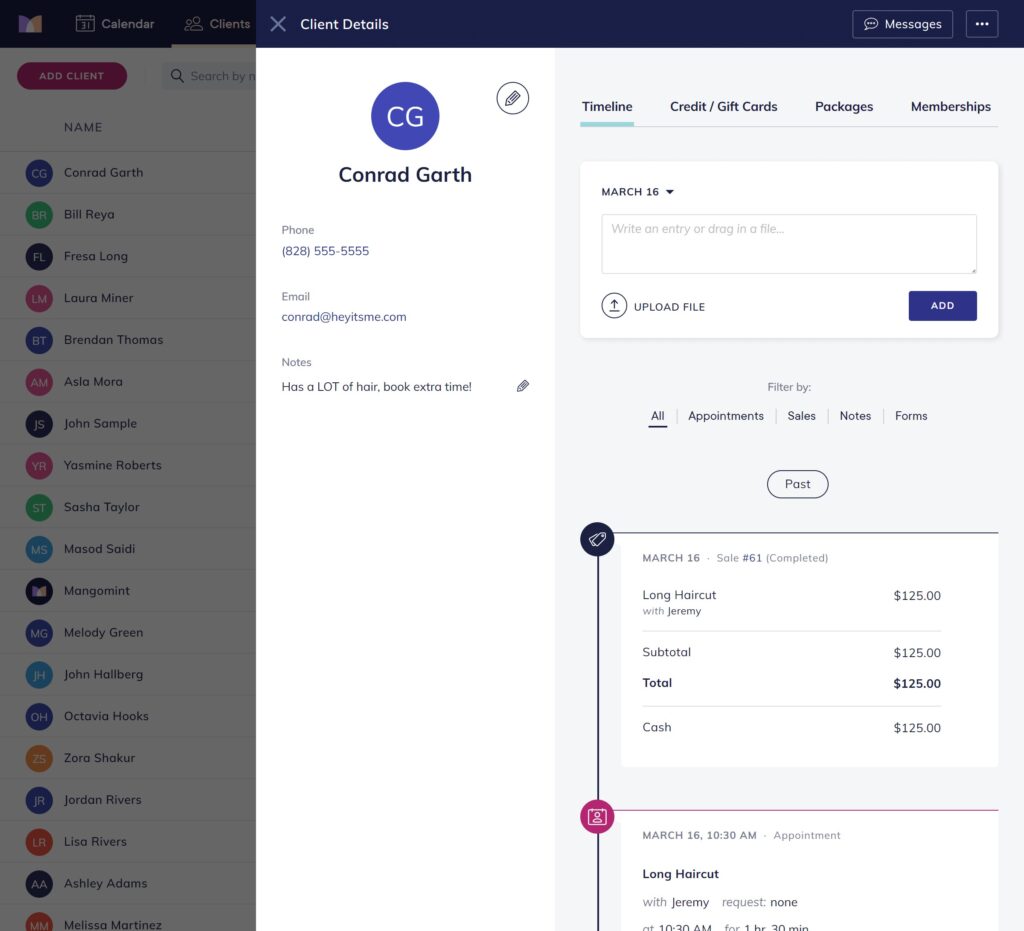 GlossGenius Client Data Management
You can store notes on clients as well as "portfolio images" like before and after pictures. What's also cool with GlossGenius is that you can also book and manage clients in your phone's address book. Perfect for independent professionals. You'll also be able to access client history and upcoming appointments directly from the client's profile.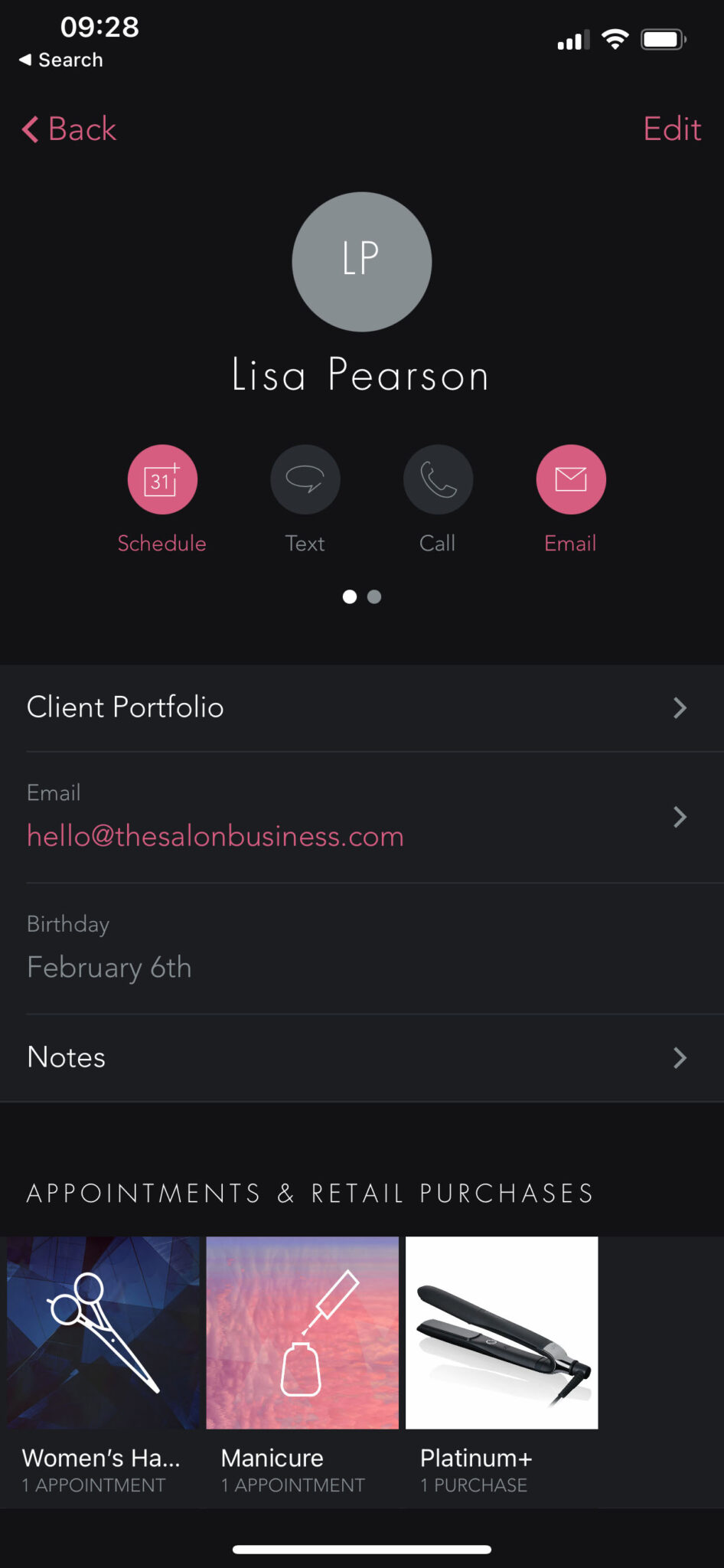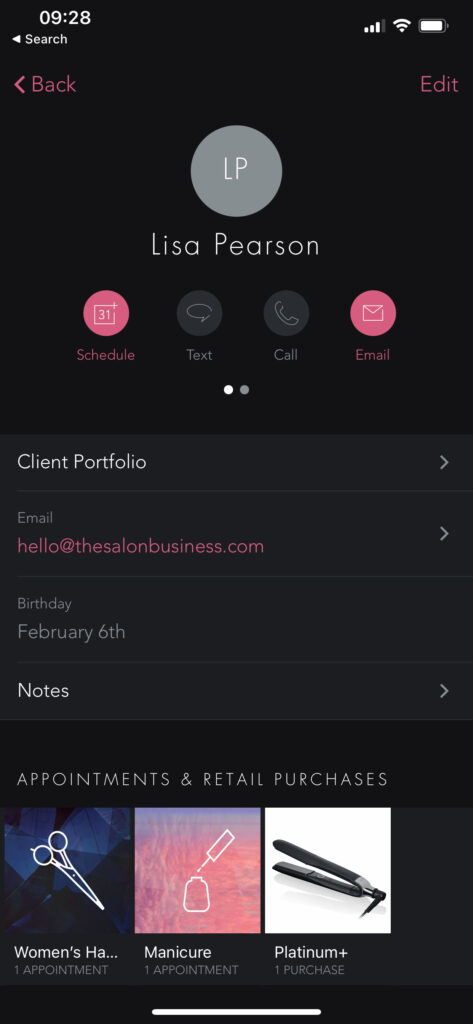 Vagaro Client Data Management
Vagaro allows you can store multiple notes on each client and upload PDF files and images to the client profile.
Vagaro supports advanced SOAP forms which make the tool very powerful for chiropractors and other similar practices.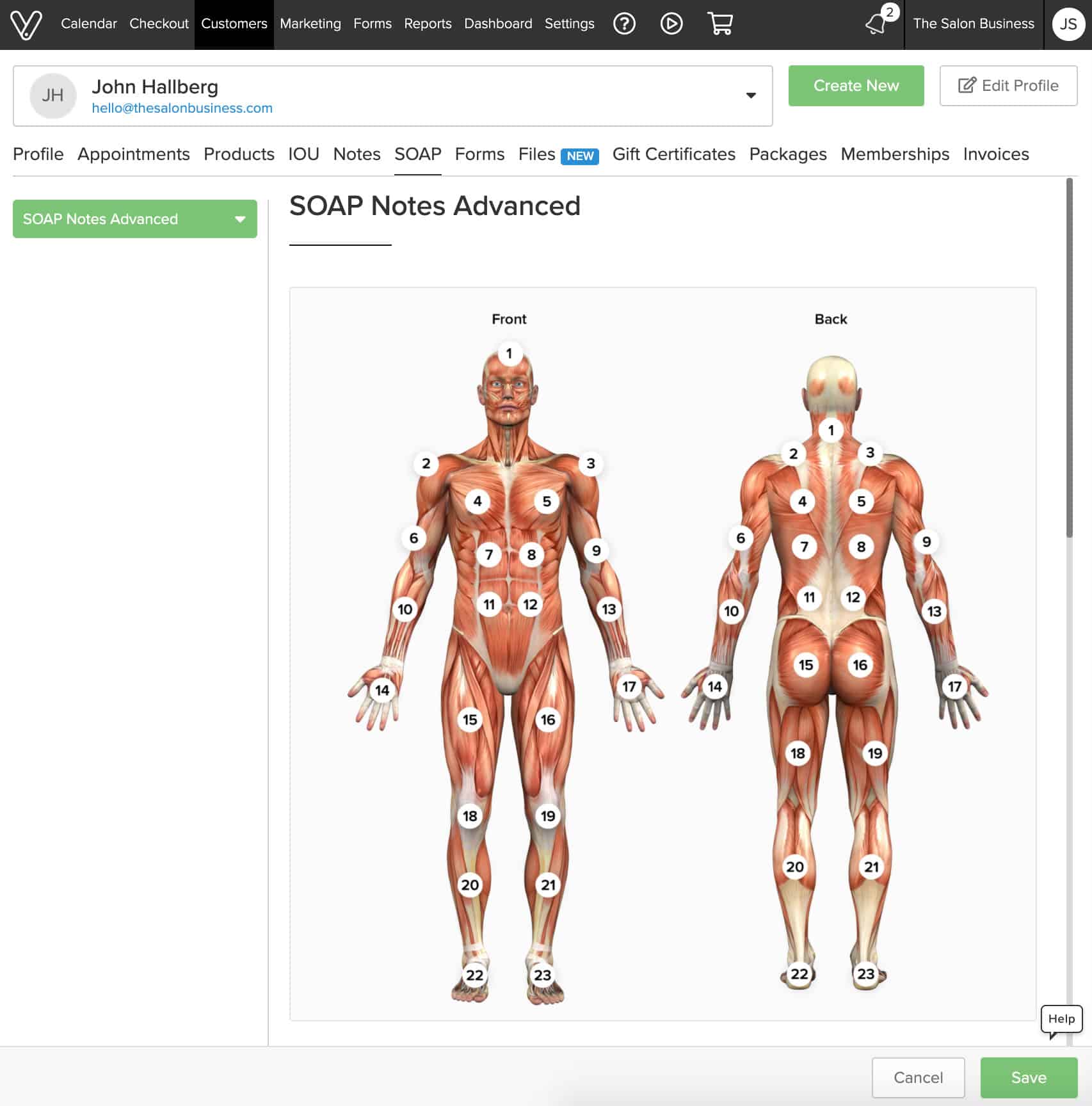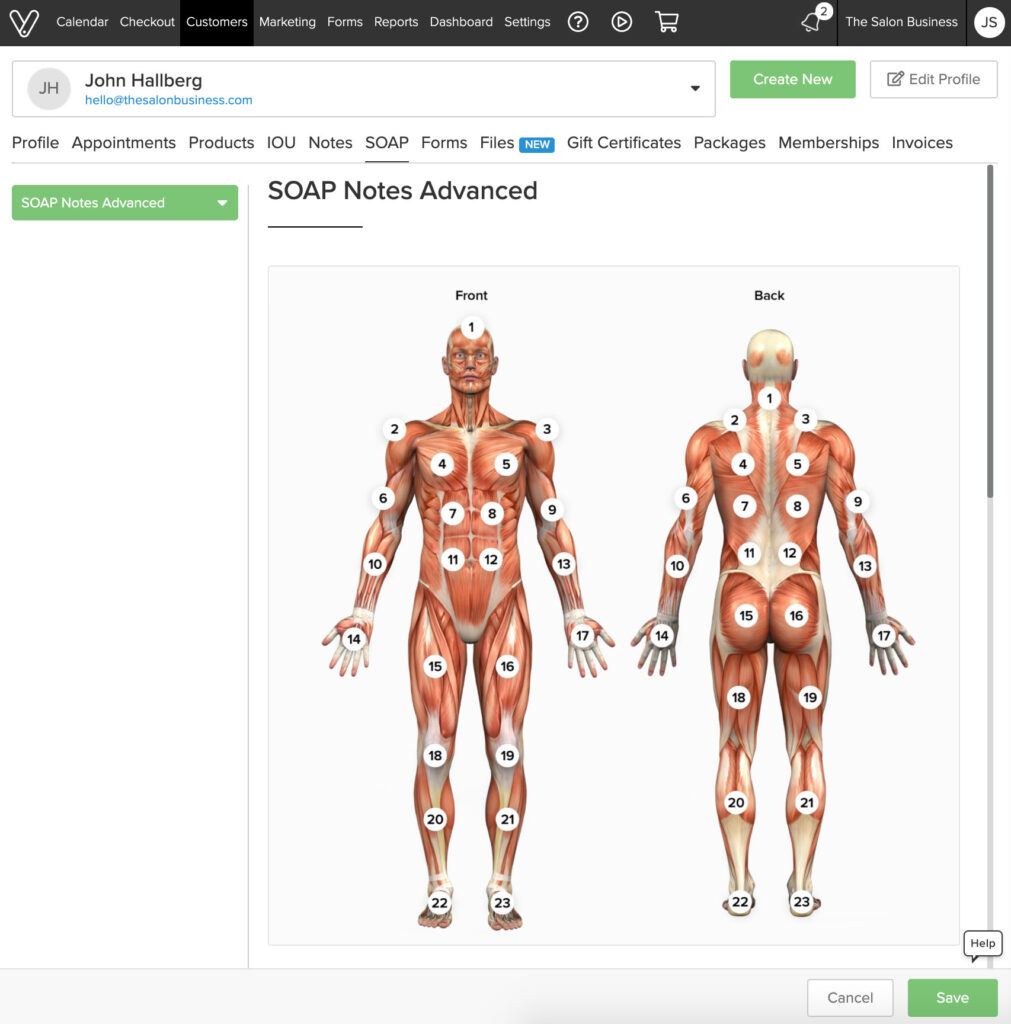 Fresha Client Data Management
Fresha offers a simple client directory that allows you to search your clients, view upcoming/past appointments, and store basic information about the client.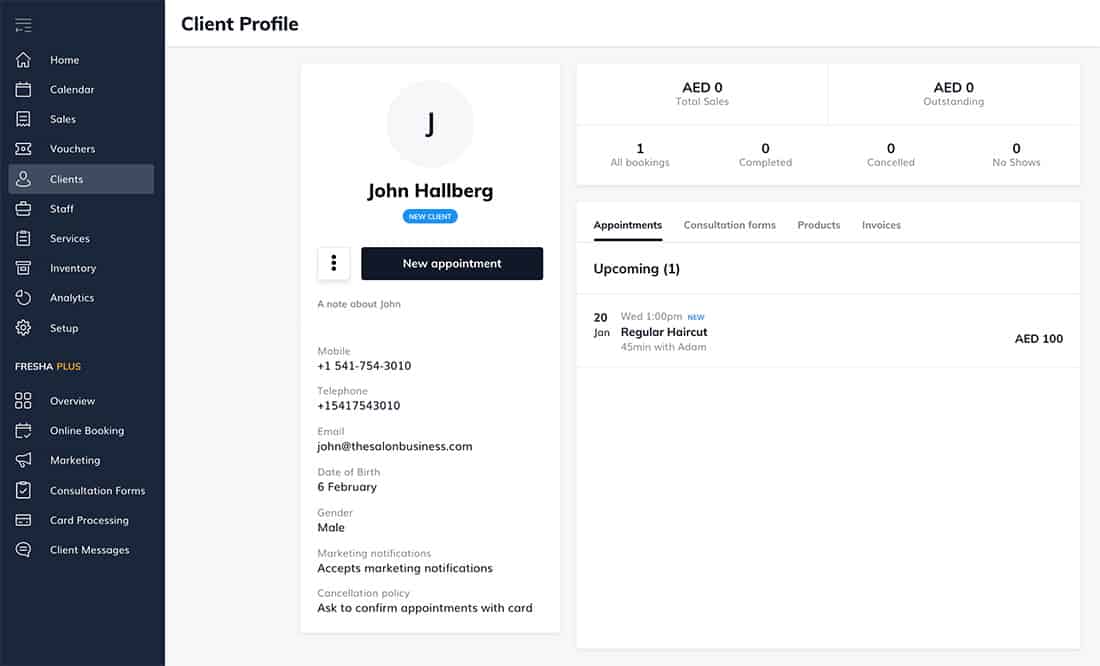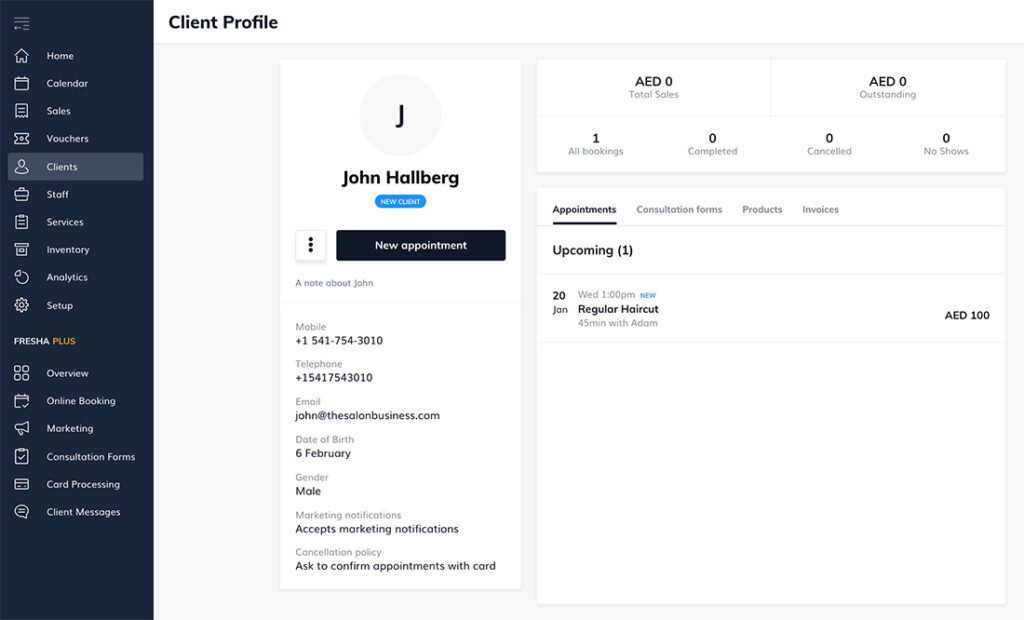 Boulevard Software Client Data Management
Boulevard has some pretty robust client management options.
The software does this through the use of client profiles, which include details on past visits, previous purchases, and can even include social media profiles of your guests.
The client profile tool lets you enter notes and add attachments so you can keep track of before-and-after and inspo-photos, as well as important at-a-glance information like client tags so you can easily spot your loyal, no-charge, VIP, and—God forbid—banned clients.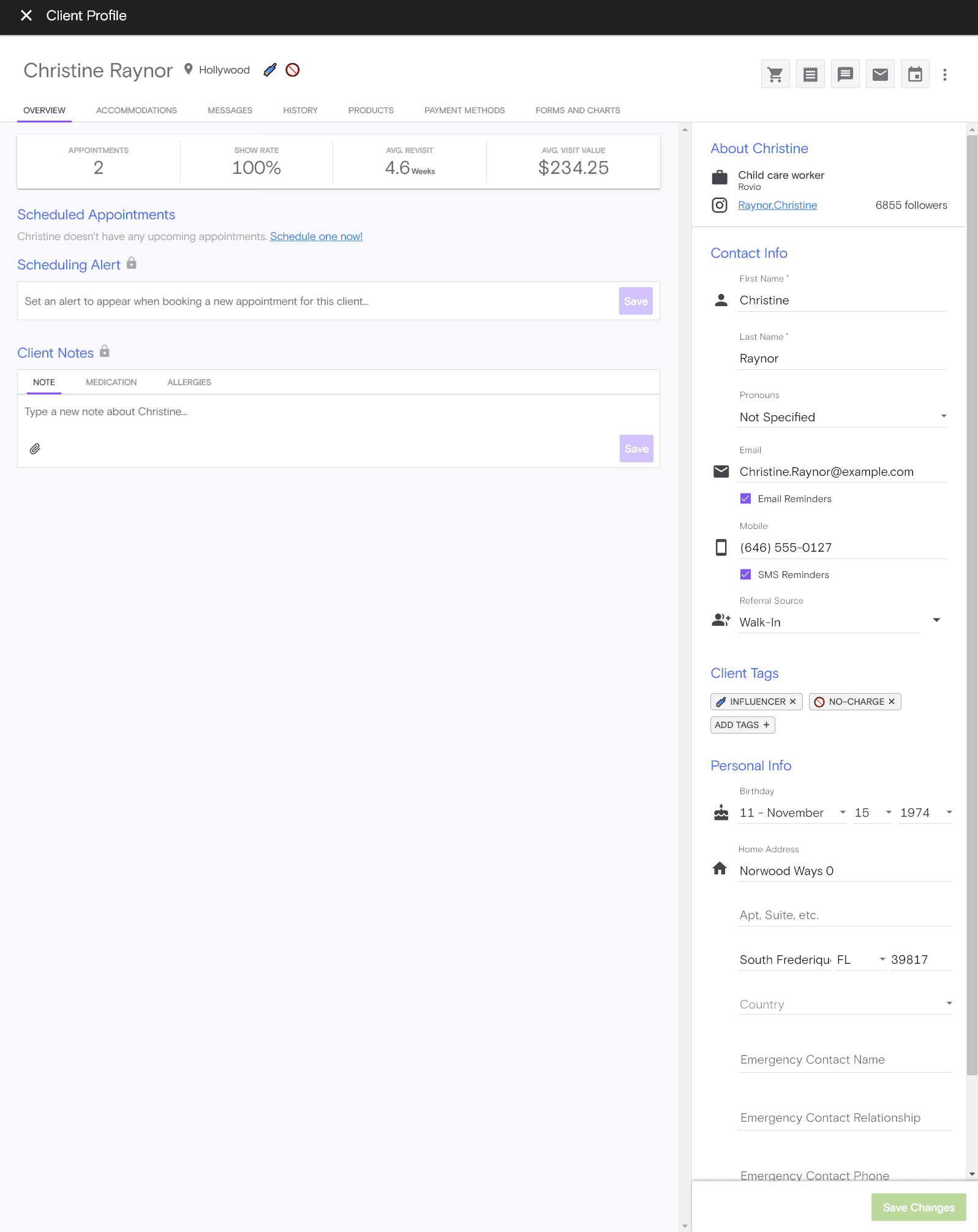 Square Appointments Client Data Management
Store all information you need, get a quick view of past and upcoming appointments. You can store media files but Square Appointments doesn't have specific before/after image support.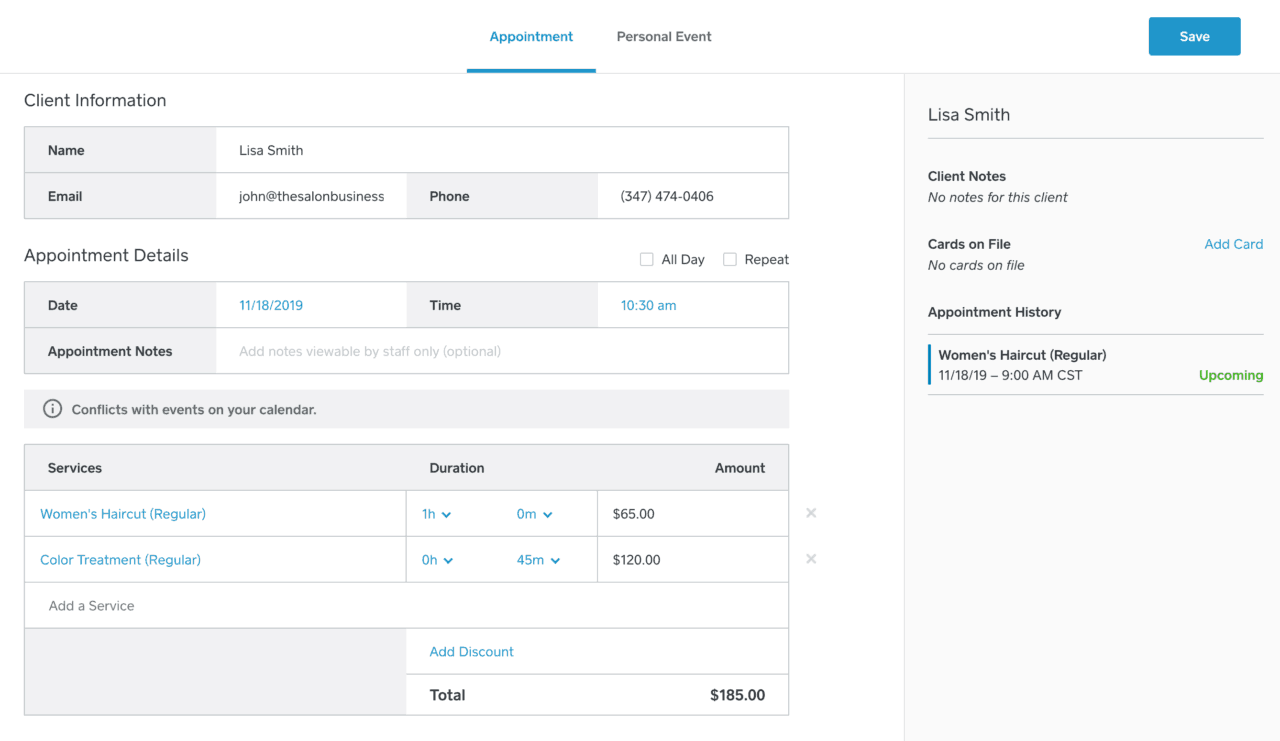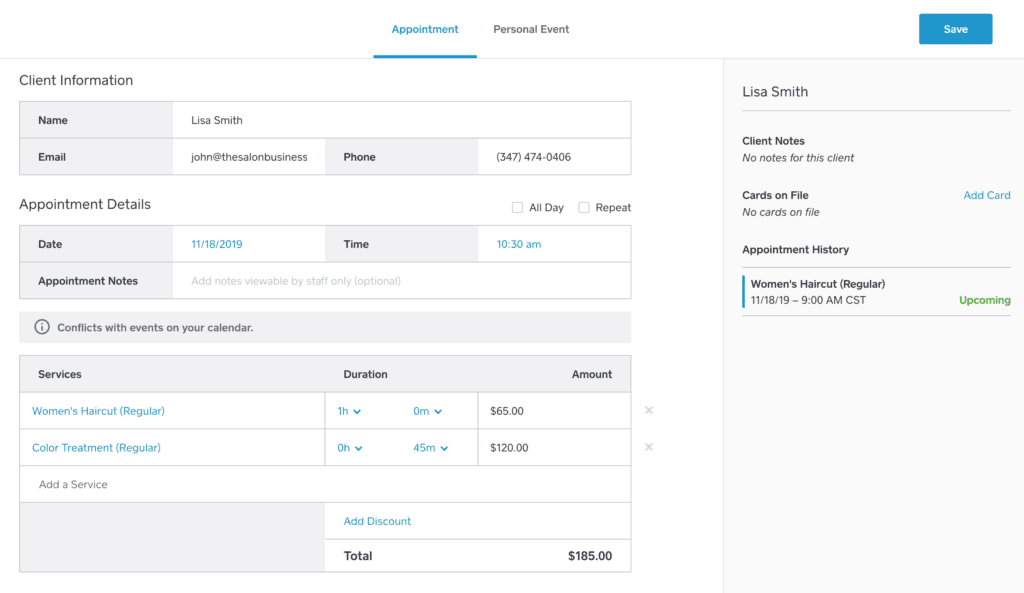 Booker Client Data Management
Booker's client management tools within the app look a little bit old-school but offer quite a bit of information that can be filtered and searched by almost any criteria.
On the Manage Customers screen, you can search by customer name, email, phone number, or member number, export client data via CSV, and browse your entire client list in column format.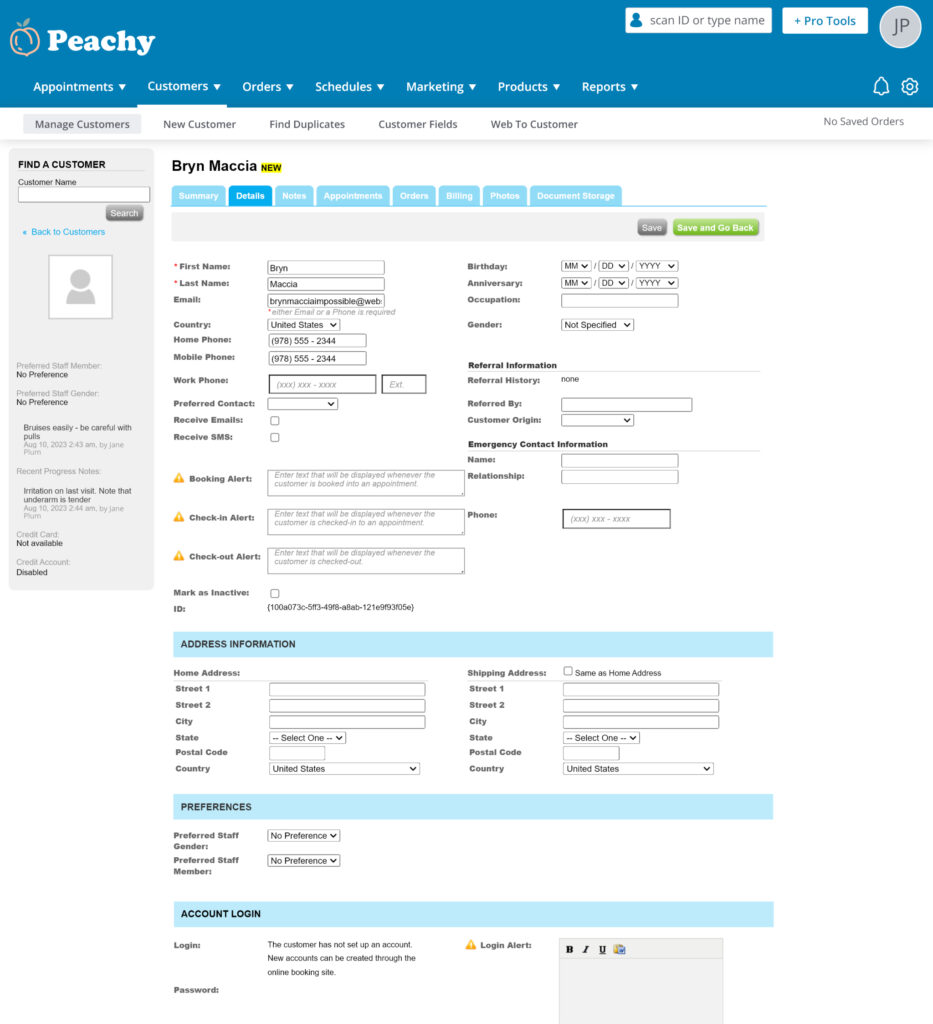 Zenoti Client Data Management
I'll be honest, managing client data is a pain in Zenoti.
Just finding my client information was a nightmare. There is no easily available "Clients" tab or menu from the calendar.
Digging further into the settings menu (referred to as "Manage mode"), there is no clear "Clients" or "Customers" button or tab dedicated to clients or client data.
In fact, I had to click through the entire list of menus and submenus on the "Manage mode" navigation bar twice before I finally figured out that the only way to view your client database is to select the "Loyalty" menu option, then select the "Guest" option, followed by the "Manage Guests" option.
What appears to be a Loyalty program menu is actually your client database… why???
Ok, now that we've clarified how confusing just finding your client database is, let's move past the rant and talk about the actual features on offer here.
Client information is laid out pretty simply, with columns for categories for first and last name, phone number, last visit, membership affiliation, category icons (for "new guest", "package purchase", etc), and the business location(s) they visit.
There are also three buttons above the database to export your client data to an excel spreadsheet, PDF, or CSV file.
You can search for a particular client by any of their criteria in a search bar above the database.
There are also client feedback management options available in the Loyalty menu that allow you to review and make notes based on poor client feedback.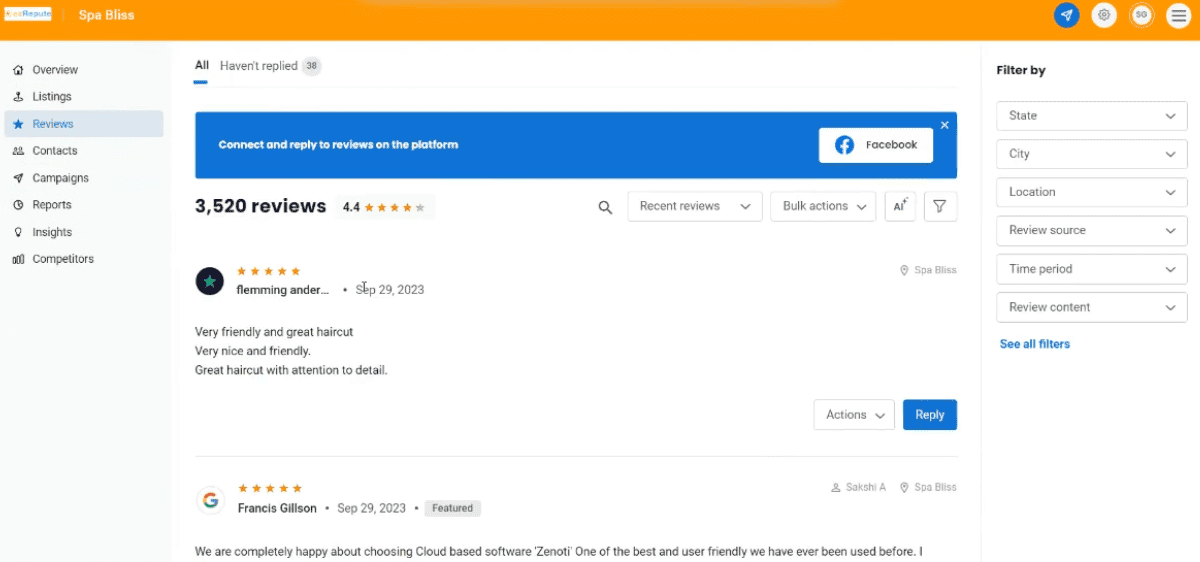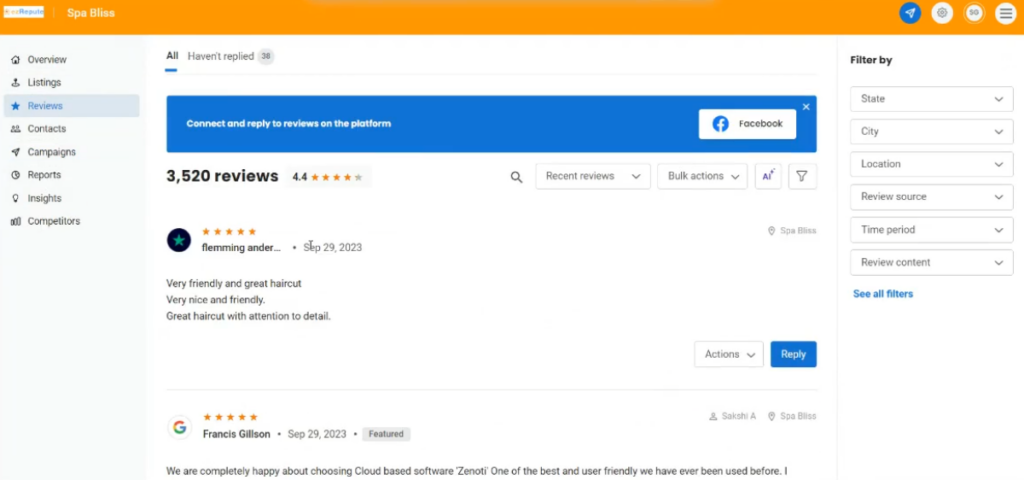 Zenoti offers more in-depth reputation management features via the ezRepute feature – a paid add-on that allows you to prompt reviews through email or SMS, automate posting your best reviews to your social accounts, and manage your reviews across all platforms through Zenoti's marketplace tools.
Mindbody Client Data Management
Mindbody's client management tools within the app look a little bit old-school but offer quite a bit of information that can be filtered and searched by almost any criteria.
On the Client Directory screen, you can search by name, email, phone number, city, state, postal code, and ID, among other options.
Likewise, you can filter by client type (child, adult, parent, or senior), gender, membership status, allergies, hair color, and even beverage choice.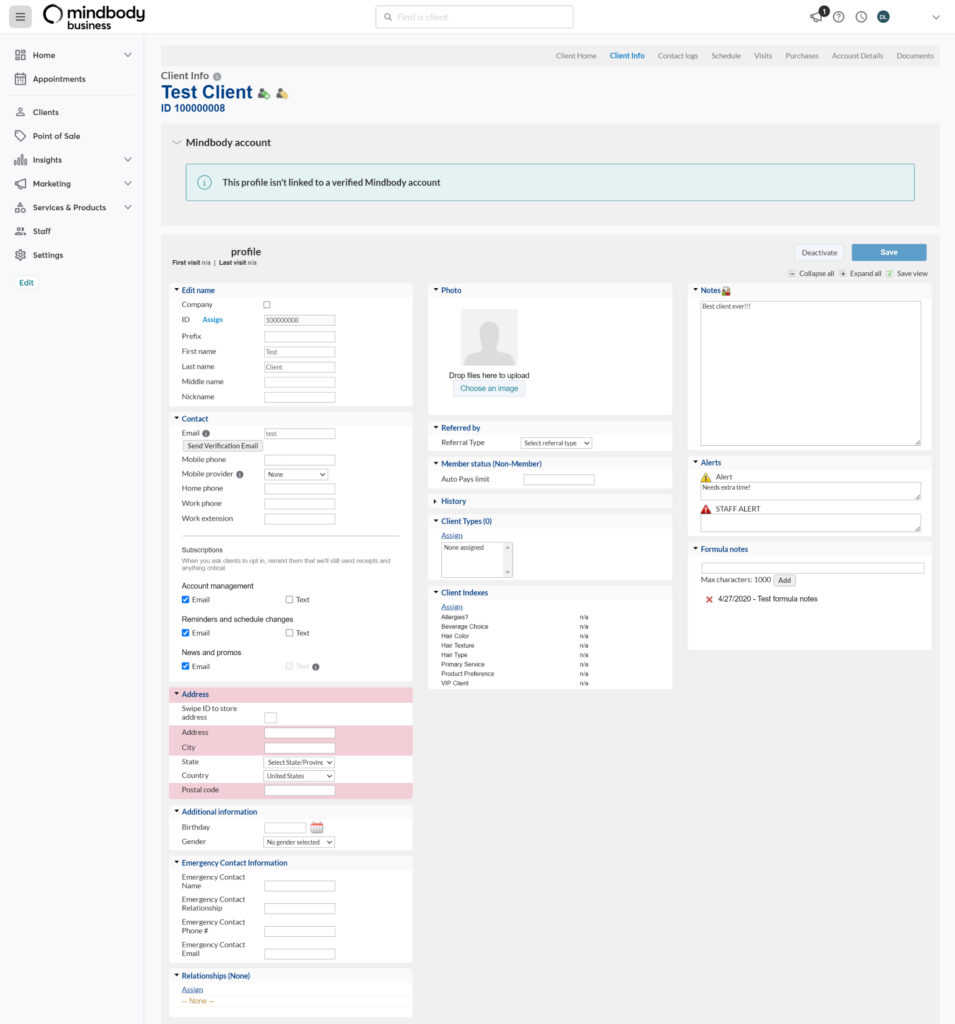 Client Reminders
Reduce no-shows and stay in touch with your clients using automatic reminders and notifications. Supported by all recommended tools here.
Mangomint Reminders & Notifications
The platform supports appointment-related notifications using both email and SMS. And, as you can expect from a system that stands out with smart automations, you can customize what you want the client notification experience to be like.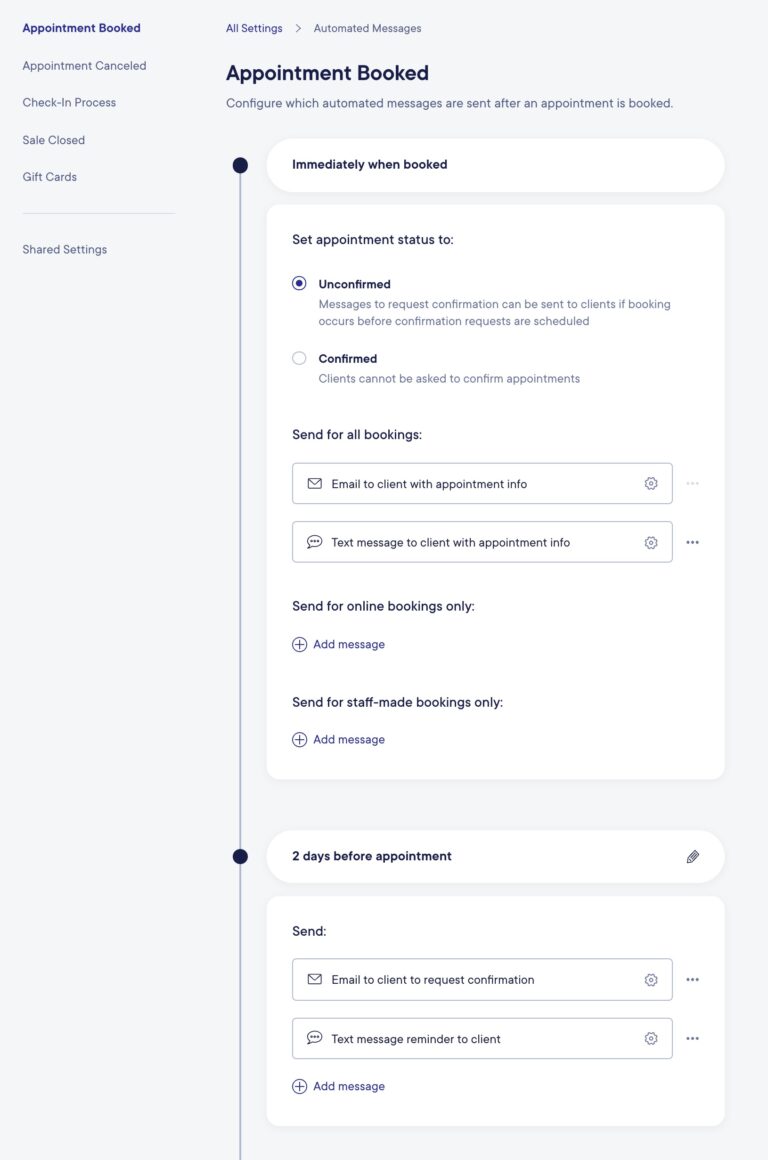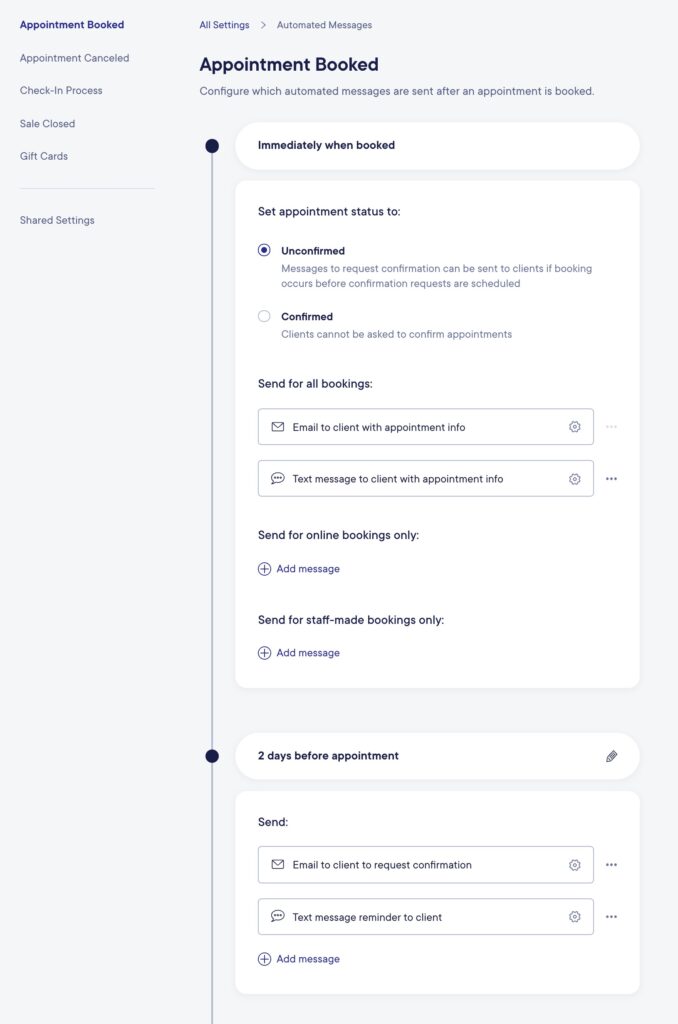 GlossGenius Reminders & Notifications
You can set up 6 different automated client notifications as shown in the image below. The information inside the notifications is pre-defined by GlossGenius. You can however append additional information even if the design cannot be changed.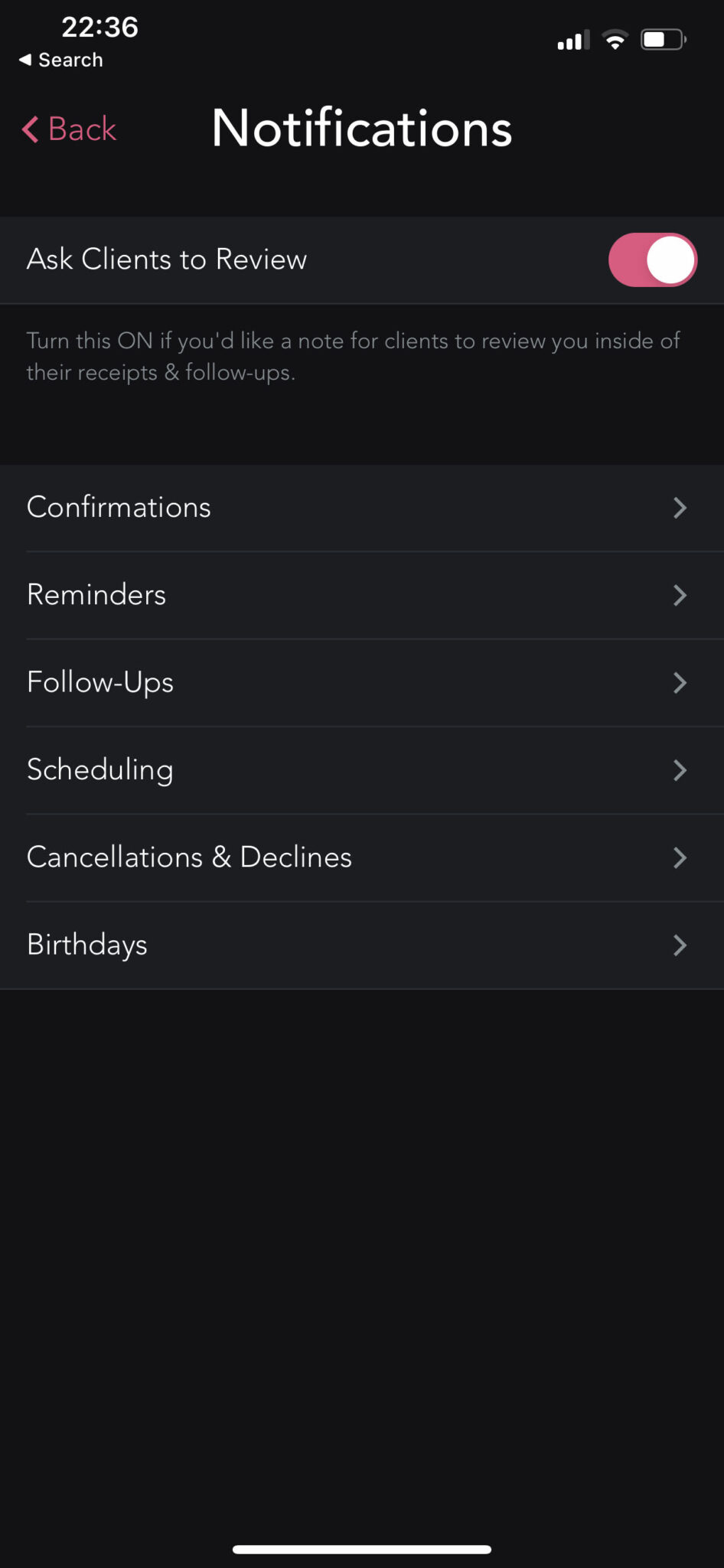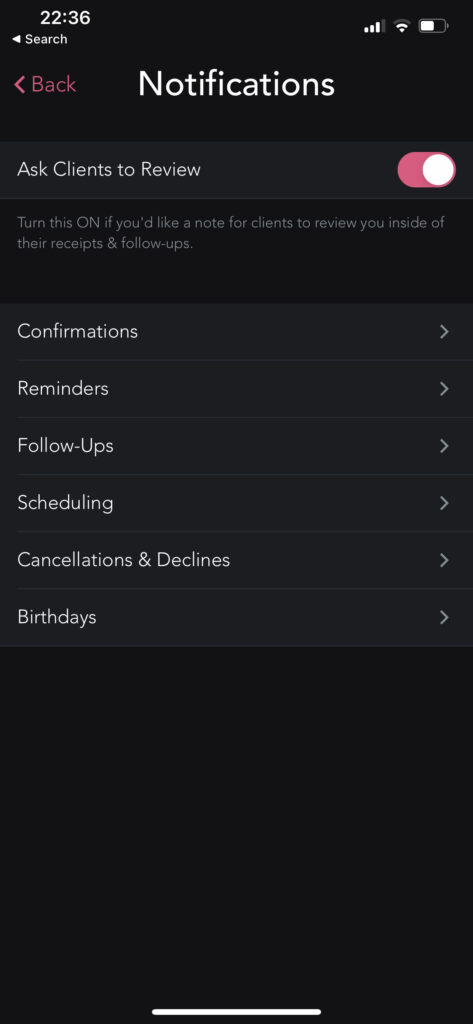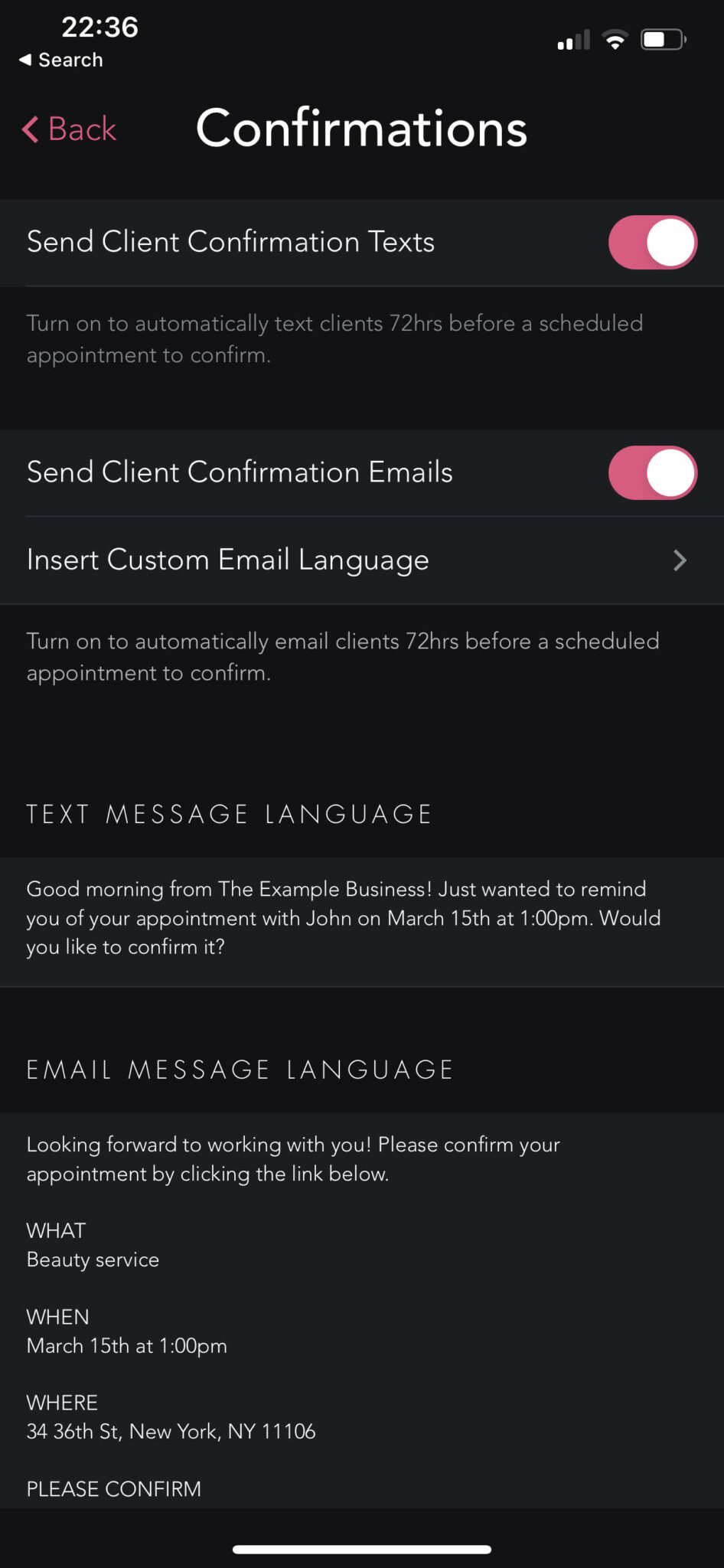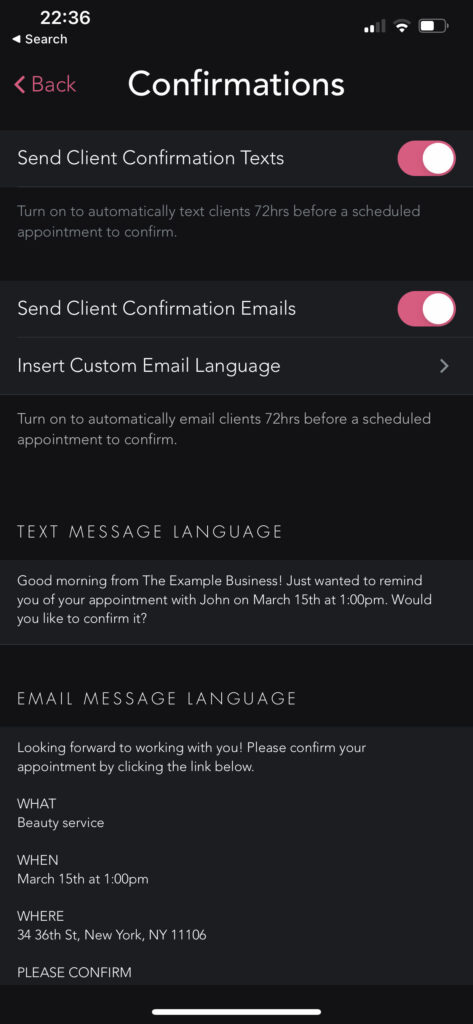 Vagaro Reminders & Notifications
Vagaro supports client notifications through sms, email, and app notifications. What the notifications say is defined by Vagaro but you can compliment the message with additional information.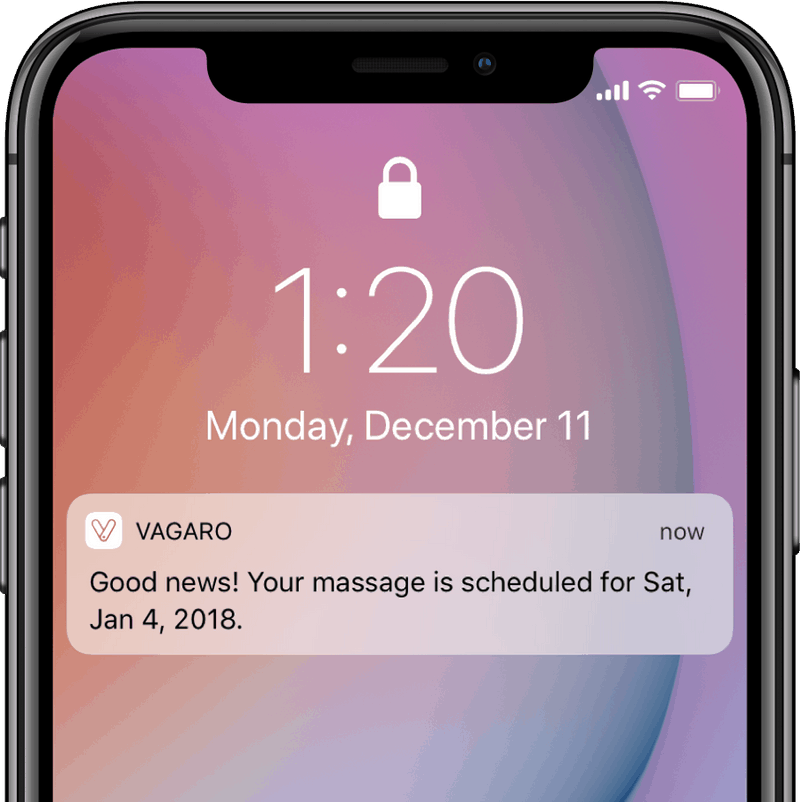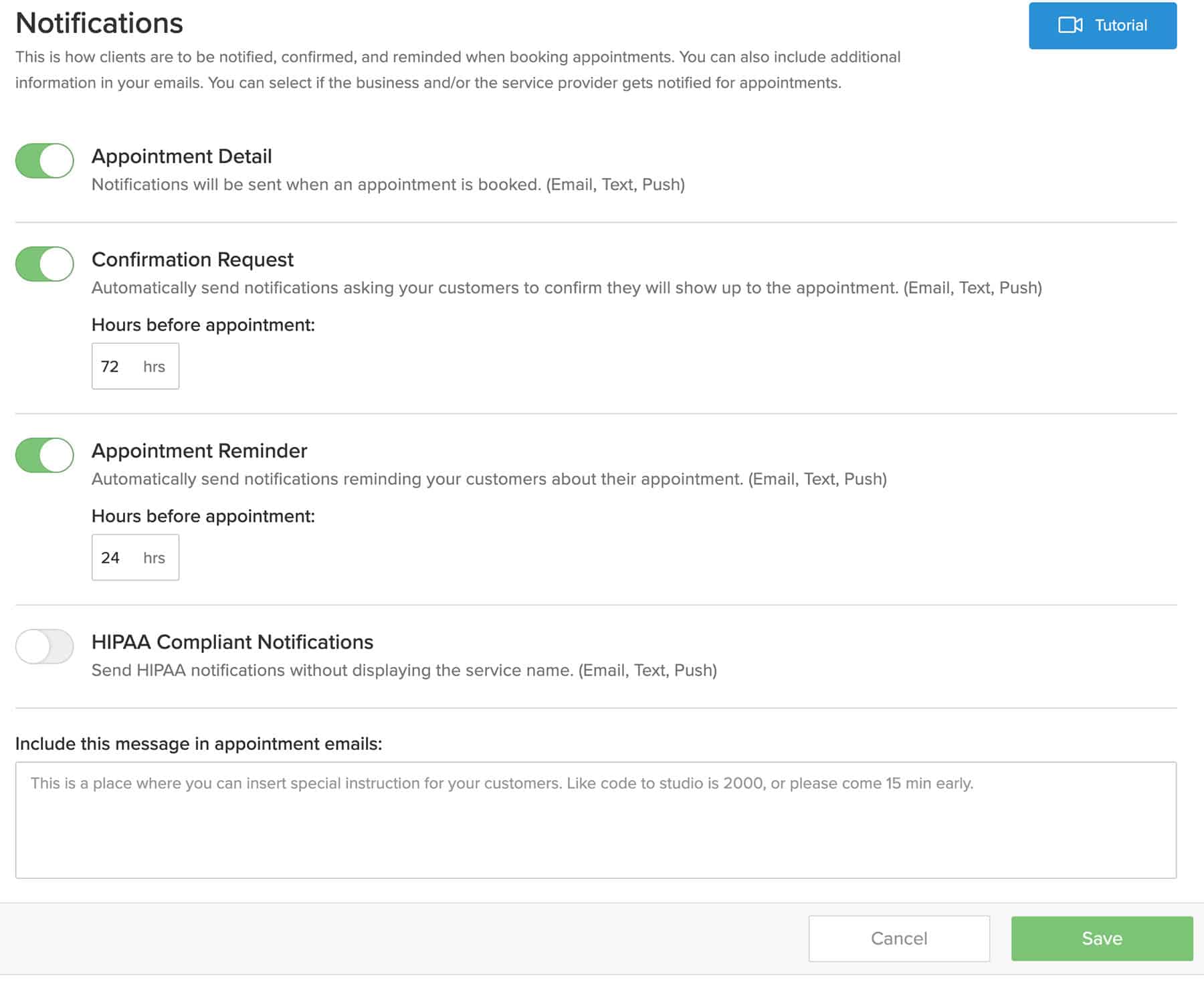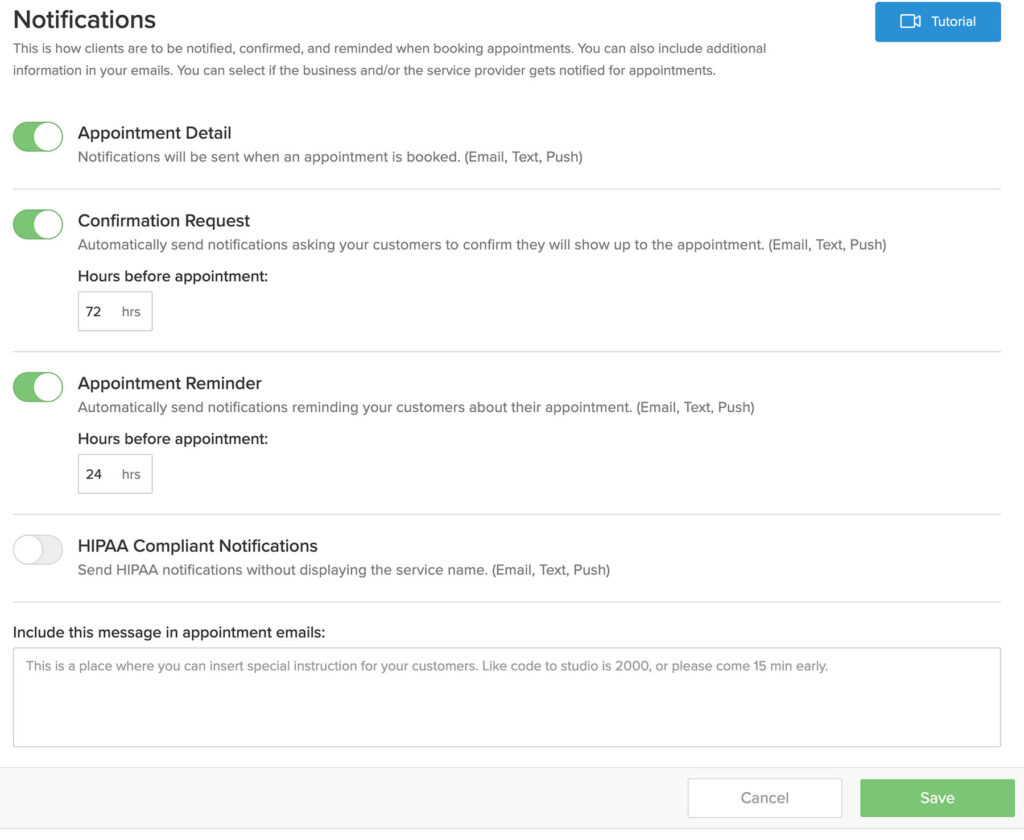 Fresha Reminders & Notifications
You can notify clients about new appointments, remind them about upcoming bookings, send thank you messages, and much more, using Fresha. Notifications can be sent as SMS, e-mail, or app notification (in case the user has the Fresha app installed).
Fresha gives you unlimited free SMS notifications.
You can personalize each message (as shown below). However, you cannot change the design of the notification which will always follow the pre-defined Fresha design (which looks really good btw).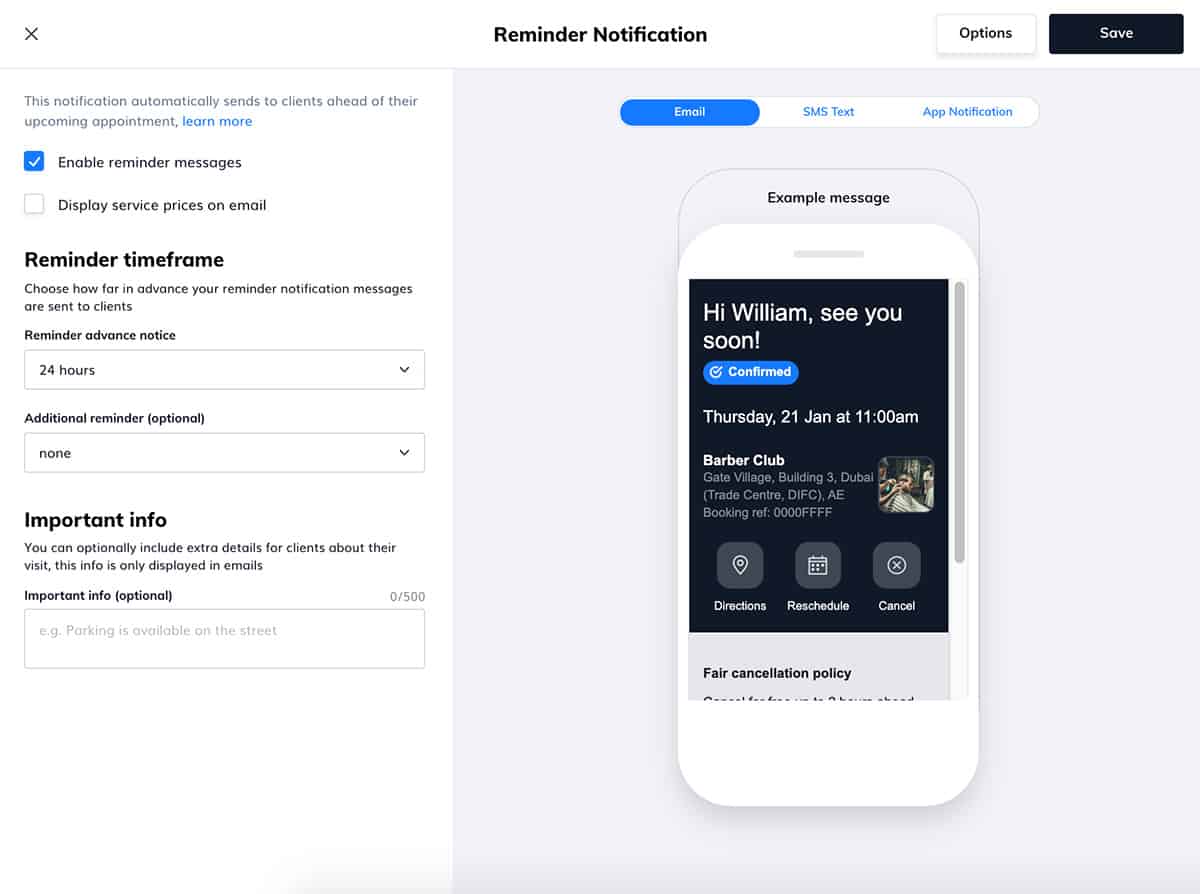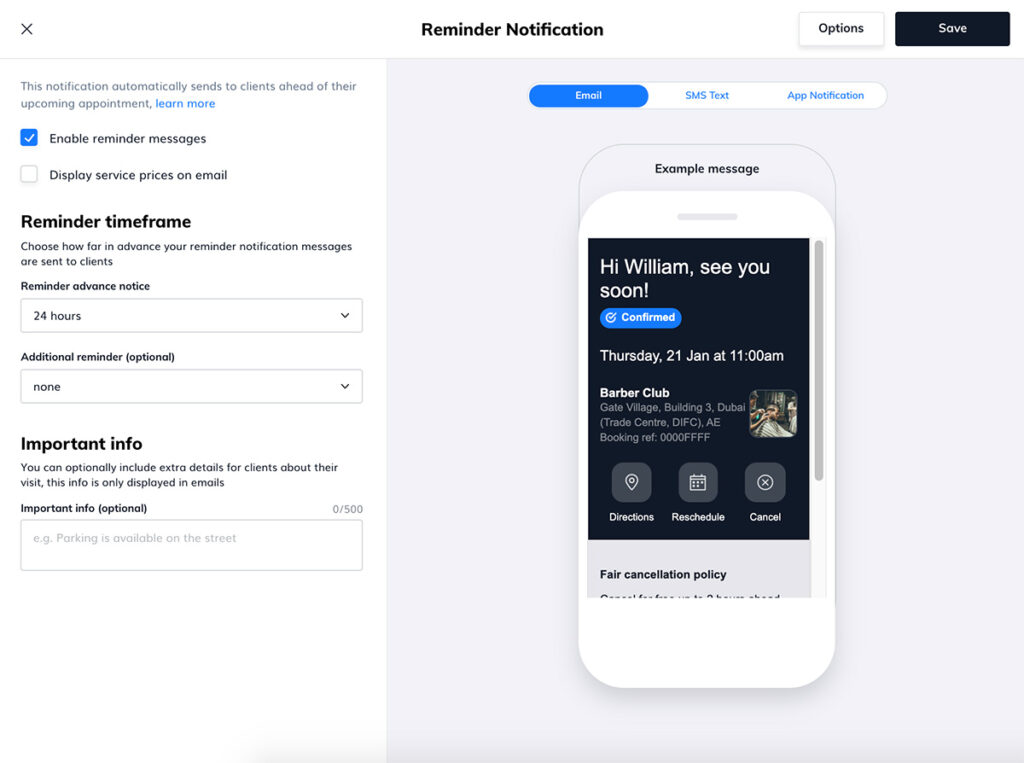 Boulevard Software Reminders & Notifications
Boulevard supports appointment-related notifications using both email and SMS.
When a new appointment is booked, the client receives a booking email that shares the details of the appointment and Client Instructions.
If the client has not responded to the reminder email, a reminder text will be sent later the same day. SMS reminders are not currently customizable, according to Boulevard's Support Center.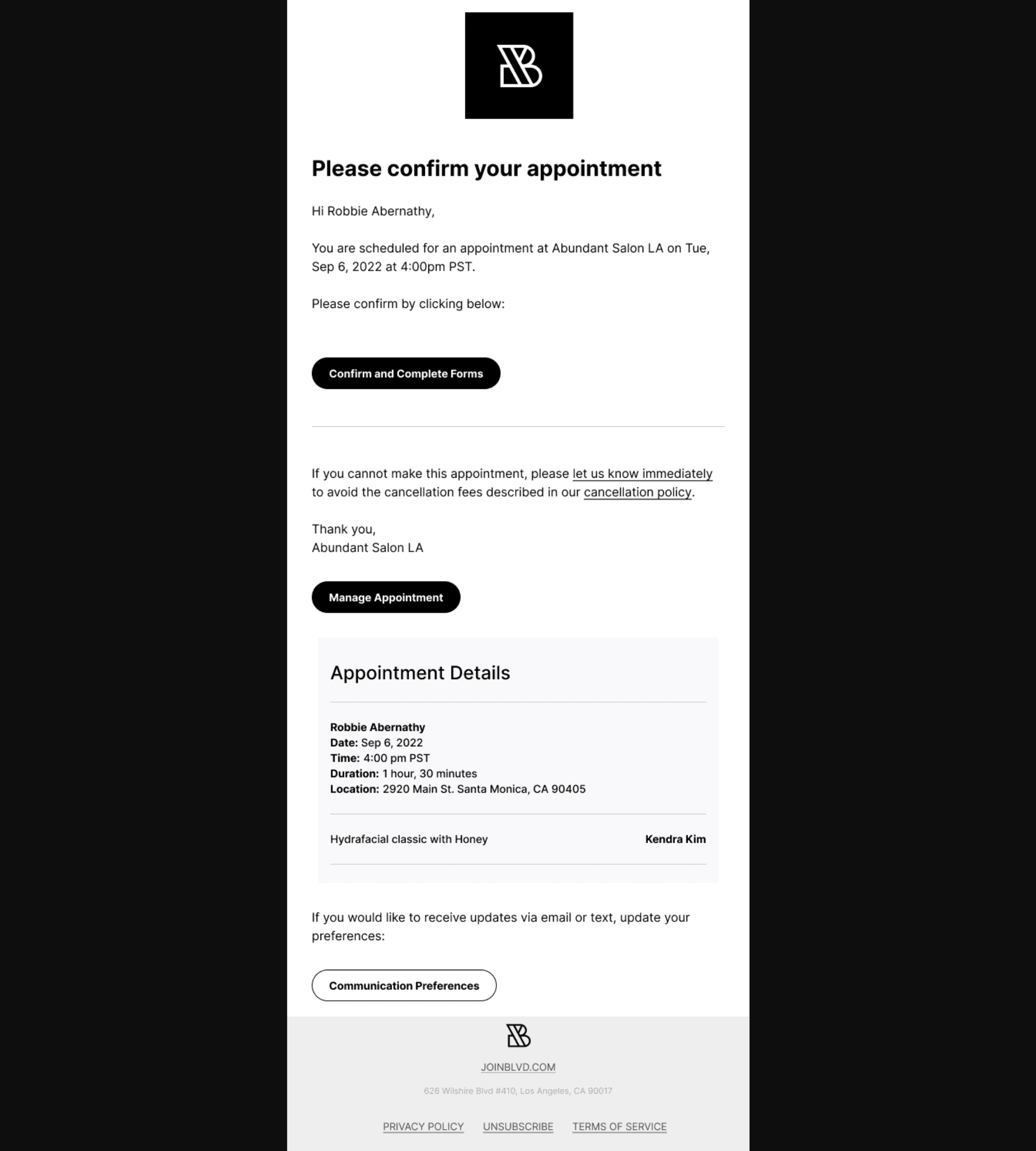 Square Appointments Reminders & Notifications
Very rich notification and reminders support for both clients and employees. On top, you can have your clients reply and confirm bookings, etc. via SMS which is a really helpful feature Square Appointments offers.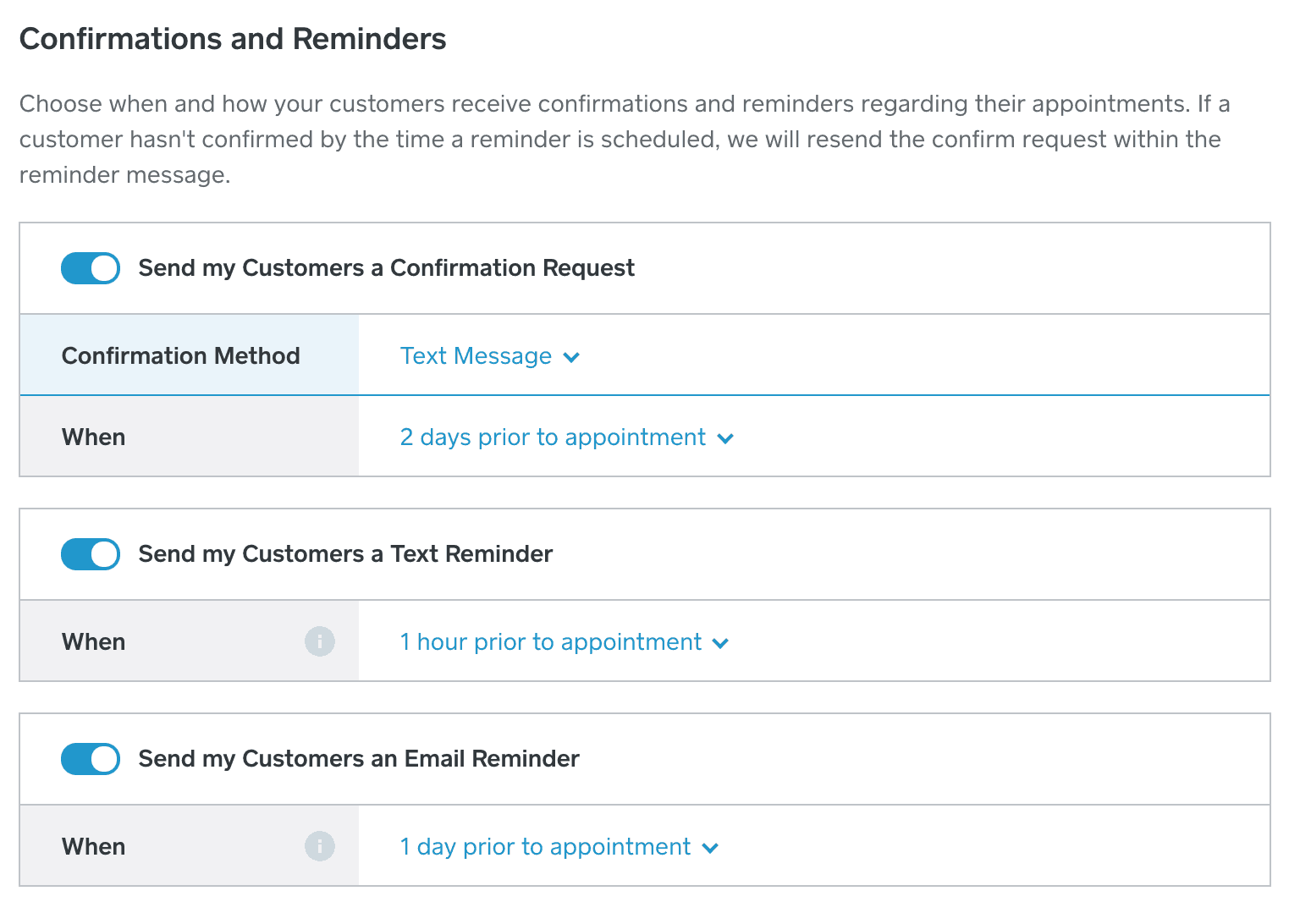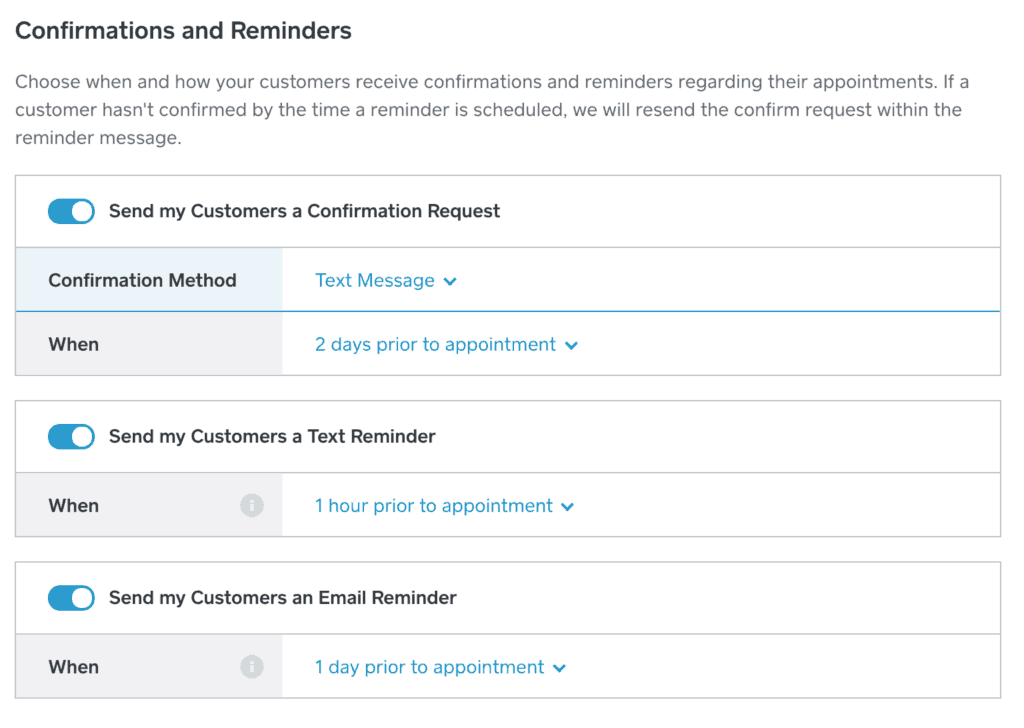 Booker Reminders & Notifications
In the Marketing tab, Booker customers can set up automated emails and SMS notifications to remind, confirm, and cancel appointments, send "thank you"s, notify clients on the waitlist when they've been booked, send birthday communications, and more.
While some email communications can be customized, you cannot currently edit the content of your SMS communications in Booker. This means that you are limited to the prewritten scripts created by Booker for all automated communications.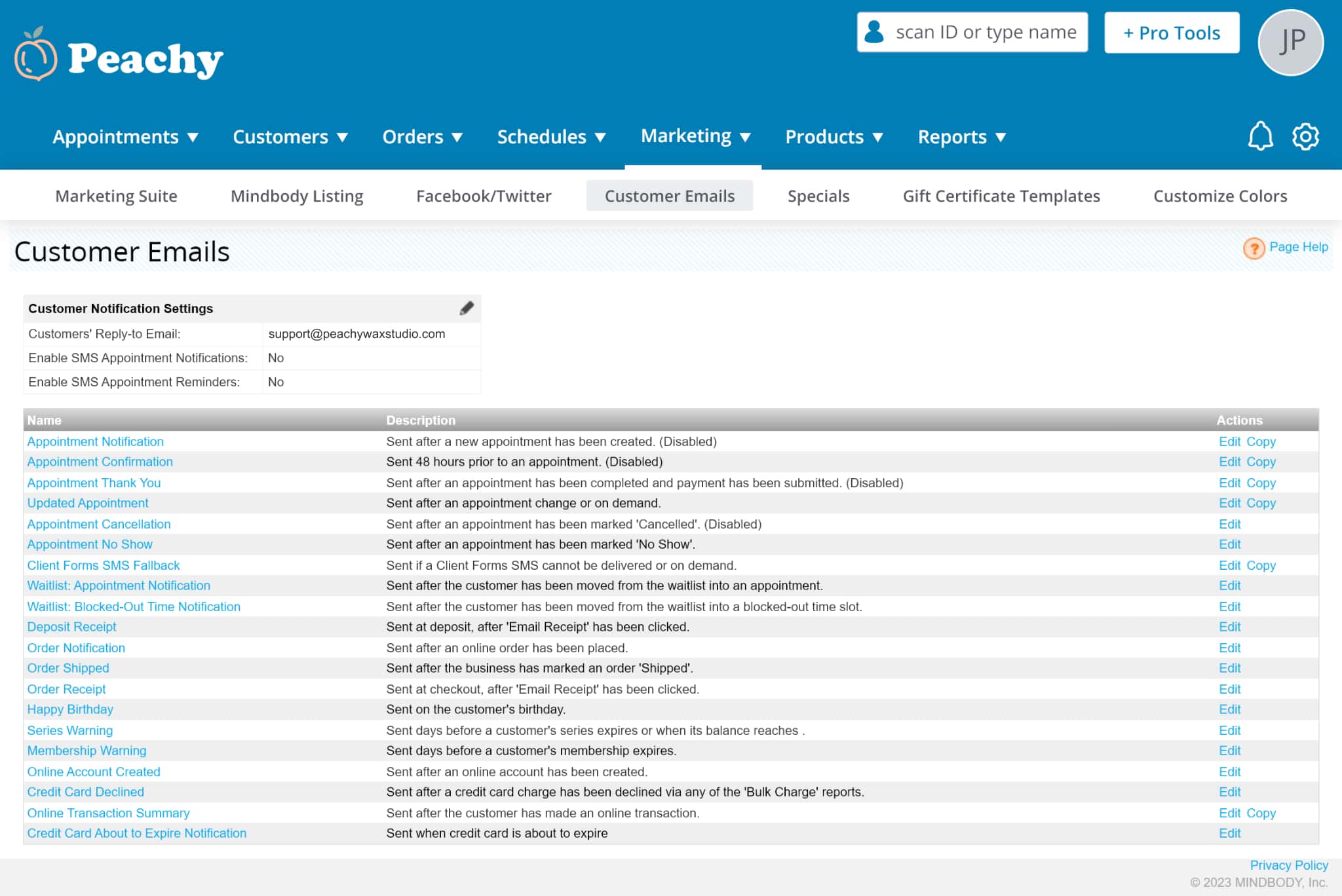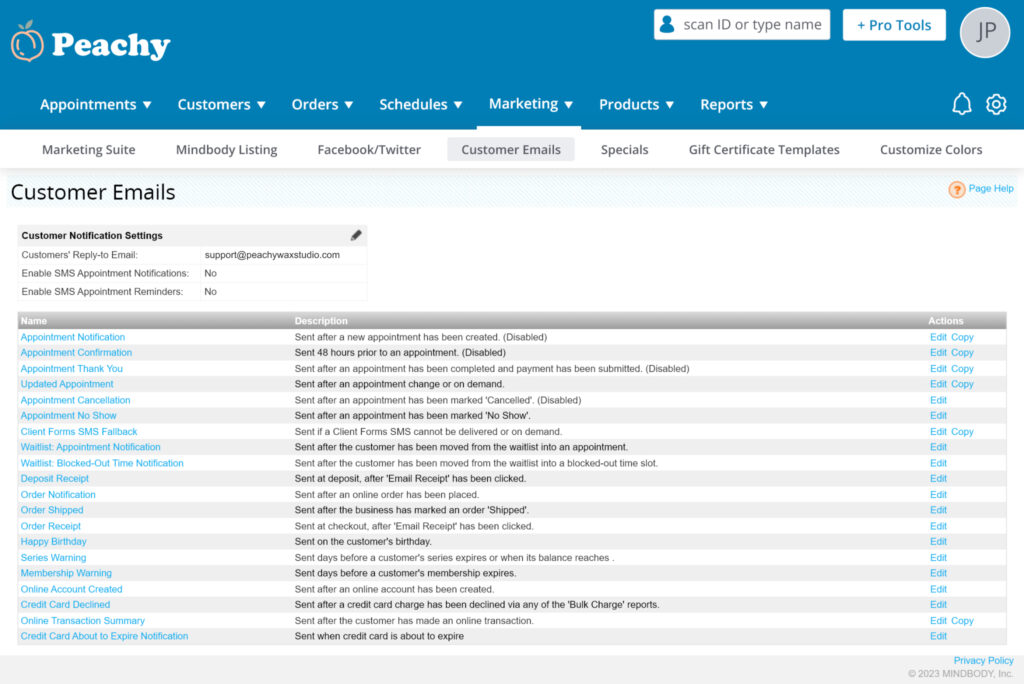 Zenoti Reminders & Notifications
Zenoti supports email and text communications for customers and staff via several triggers, including:
Appointment cancellations
Appointment confirmations
Rescheduled appointments
Appointment reminders
Referrals made
Thank you messages
Waitlist notifications
Payment disputes
Appointment checkins and completions
Password resets
Birthday messages
Coupons
Loyalty points status
Membership statuses, balances, and collections
Package payments and updates
Online booking notifications
Password resets
Auto-pay updates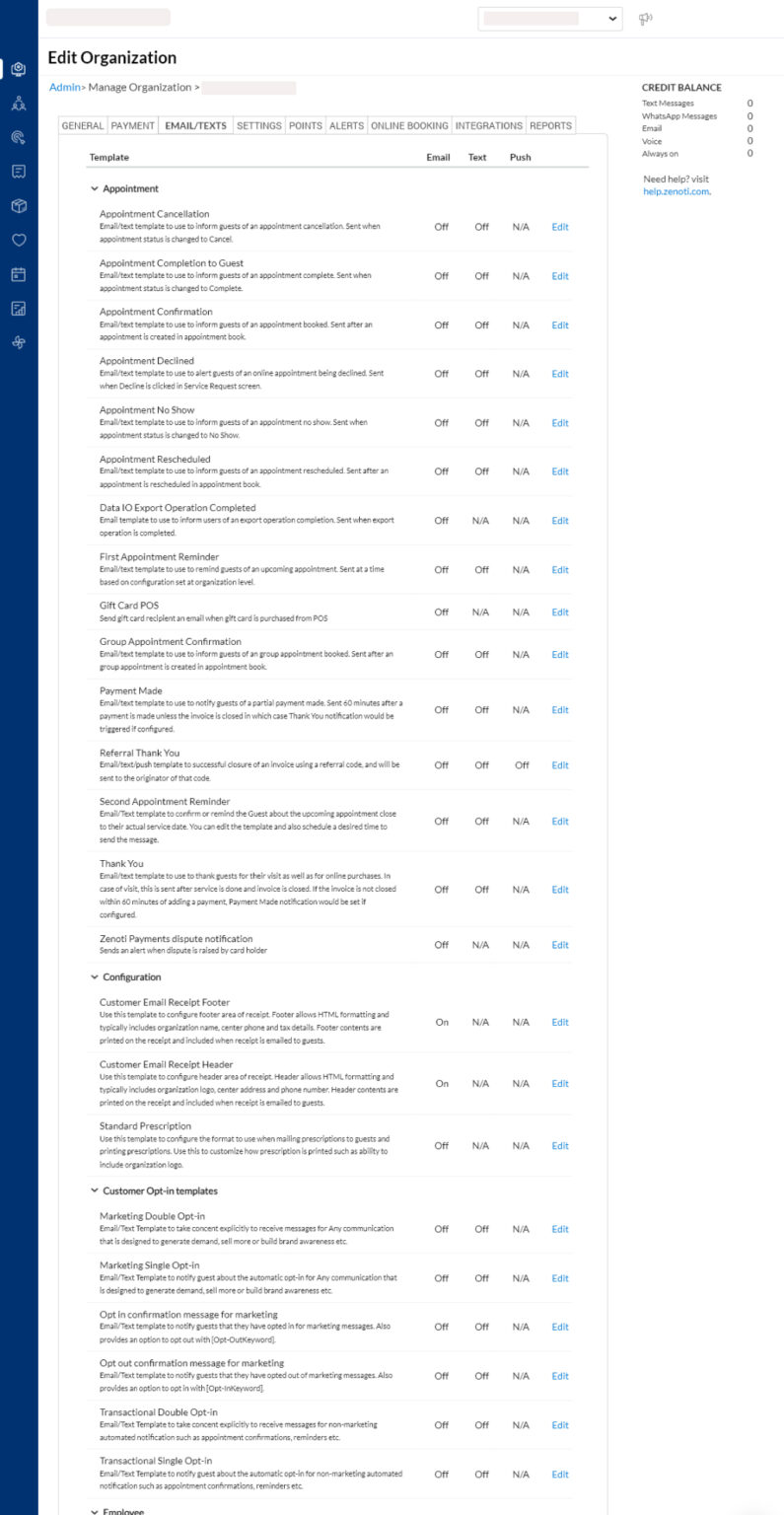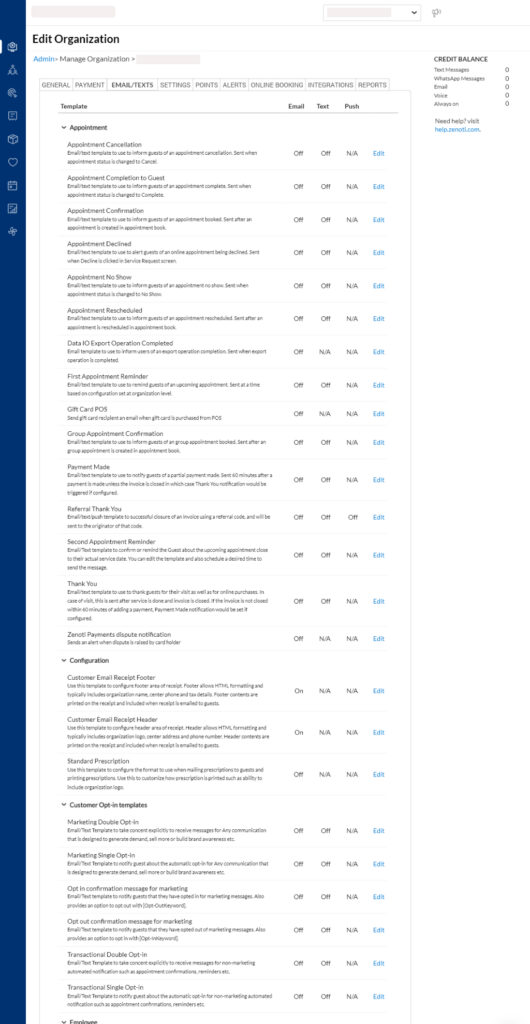 Mindbody Reminders & Notifications
Similar to Booker, in the Marketing Suite, Mindbody customers can take advantage of automated emails and SMS notifications to remind and confirm appointments, send one-off communications, and more.
At the time of this review, 2-way appointment confirmations and cancellations as well as notification customization are not available on the Starter plan.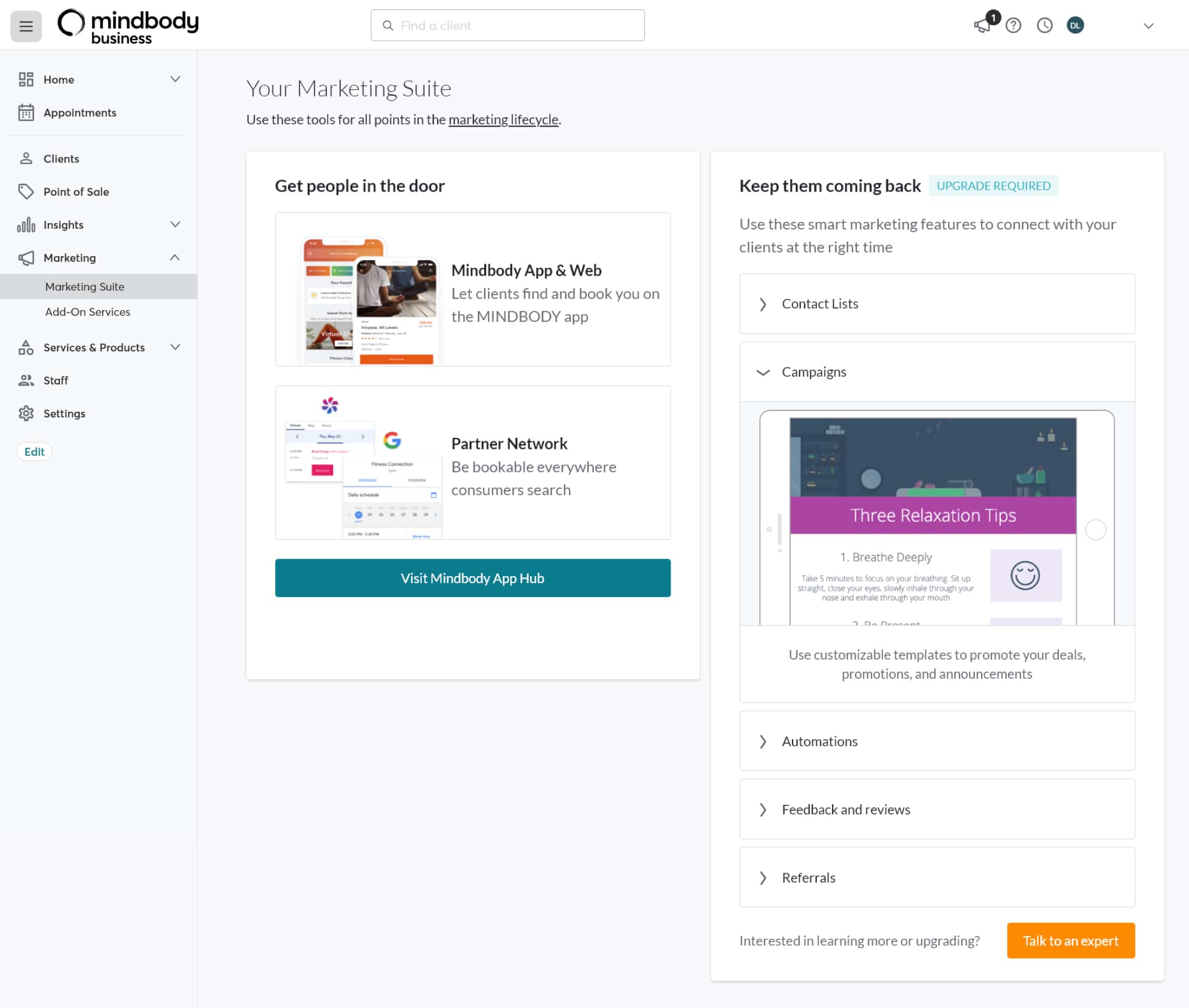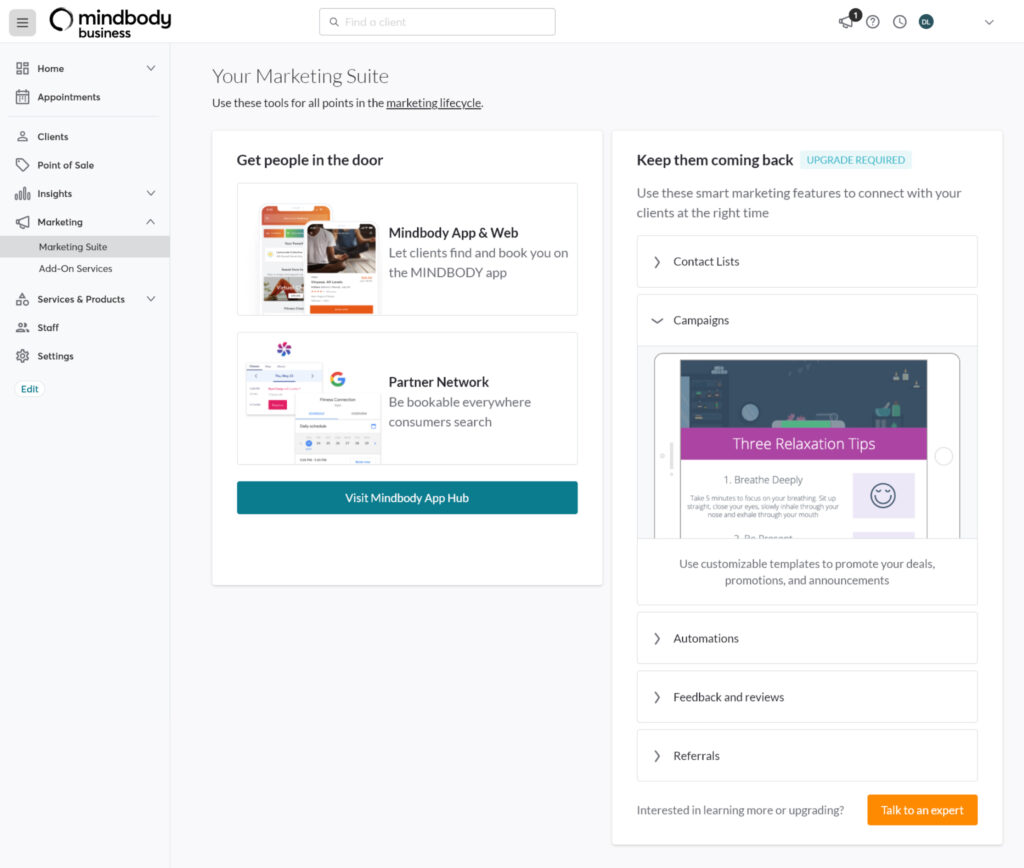 Best Salon Management Software
A good salon software should help you with more than just appointment management. It should help you manage your operations so that you can save time and reduce costly mistakes.
Let's look at how the salon software platforms I recommend help you be more productive.
Salon Payroll & Employee Management
The biggest expense a salon has is staff wages. But it's also your most important asset and you of course want your team to be as productive and motivated as possible. The salon software platforms I recommend here have different ways of supporting employee management.
Below are some of the highlights of how the different salon software support payroll and employee management.
Mangomint Team Management
Mangomint allows you to manage all aspects of your team. Each team member has an individual account where you can configure exactly what they should have access to and not.
Manage each staff member's working schedule and enable the time clock to keep track of working hours. You can also customize each service's duration and price for each staff member.
As shown in the image below, you can also configure specific compensation structures and commissions for each staff member.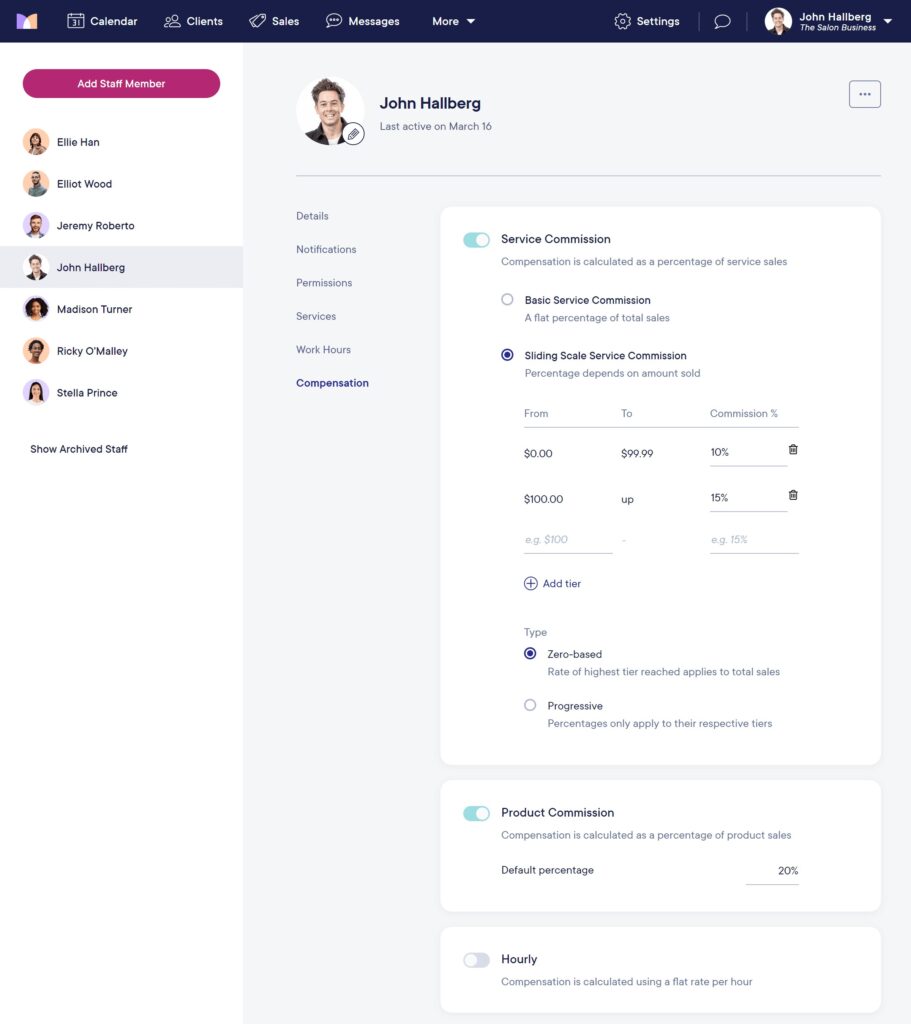 The Mangomint payroll reports include revenue by staff, total hours worked, commission amounts, product sales, tips, and everything you need to run payroll reports that you can export to PDF or Excel.
GlossGenius Team Management
GlossGenius allows you to manage multiple team members and assign them different roles with different access levels. However, you do not have a full payroll system or integration with other external payroll systems so you'd need to manage that part separately.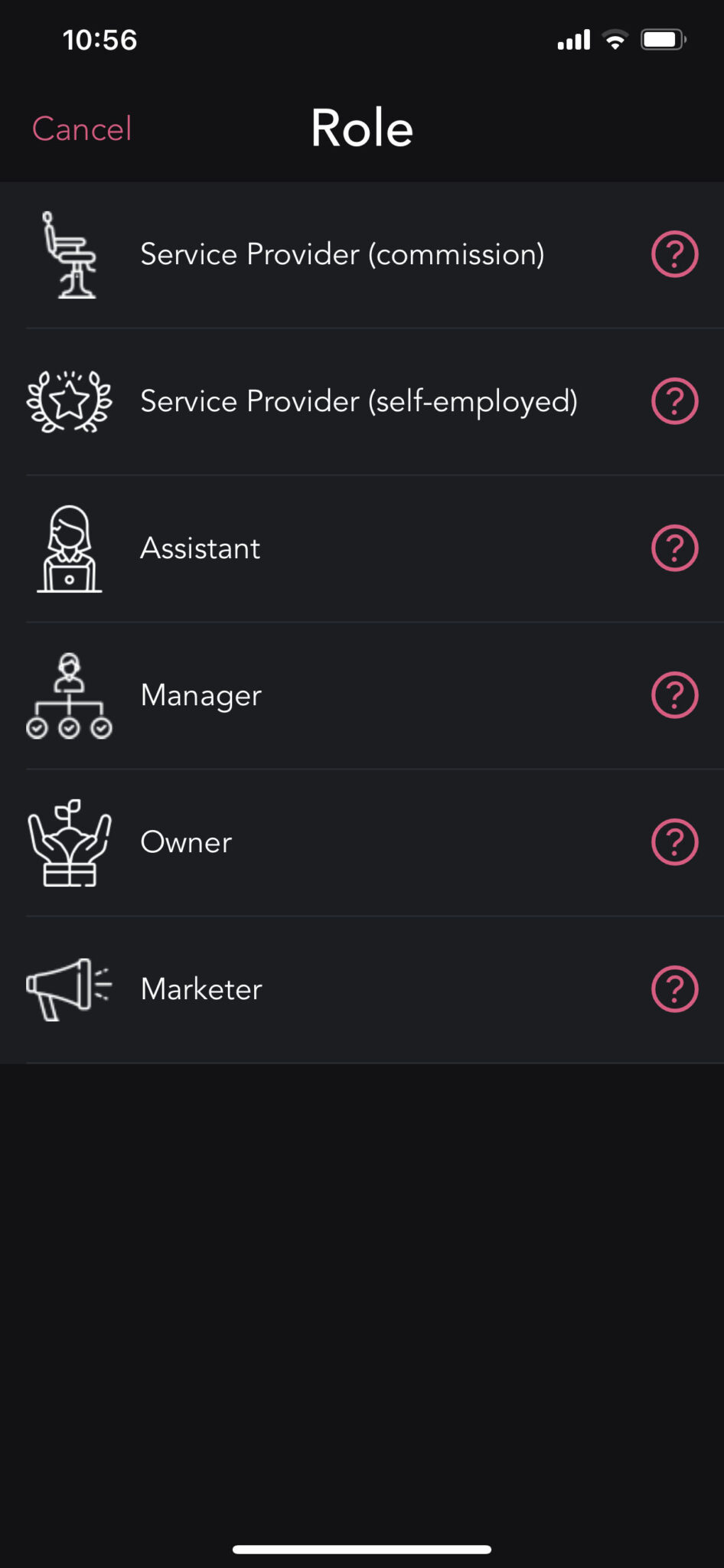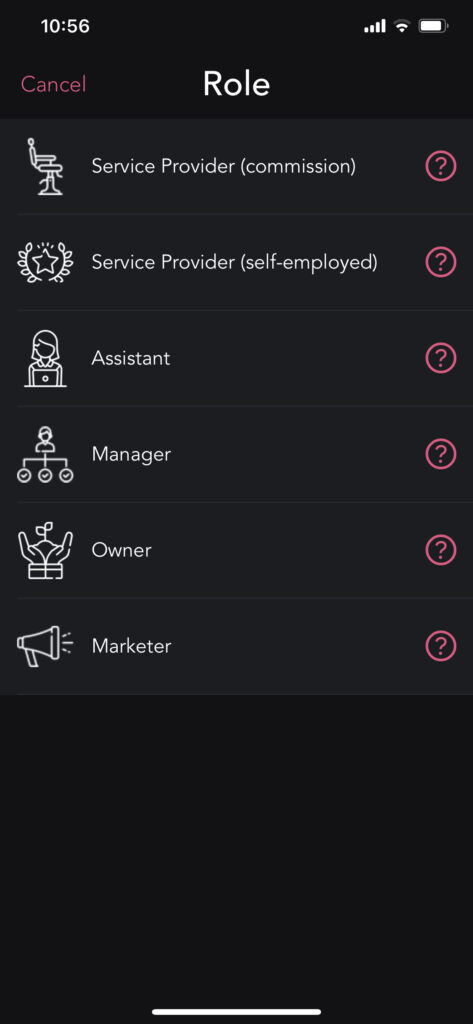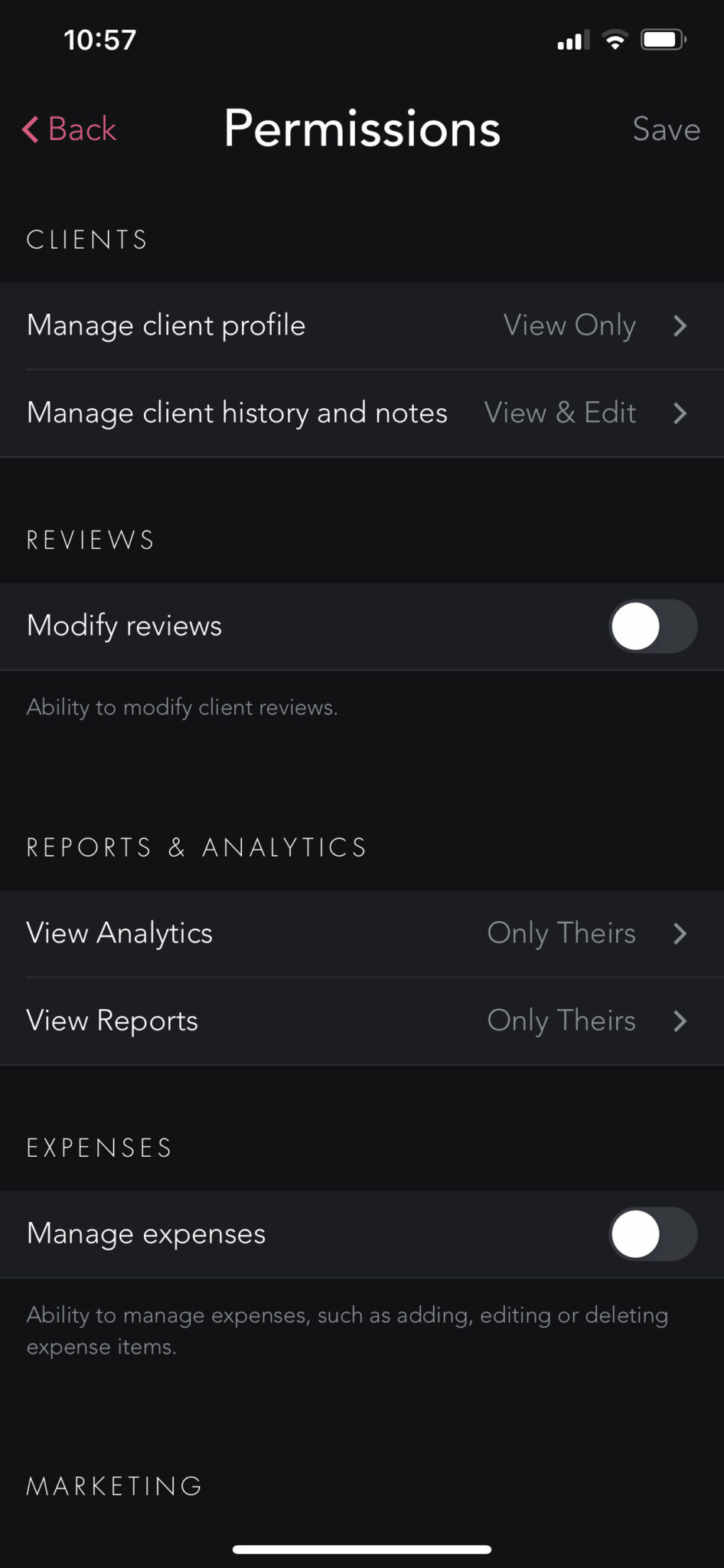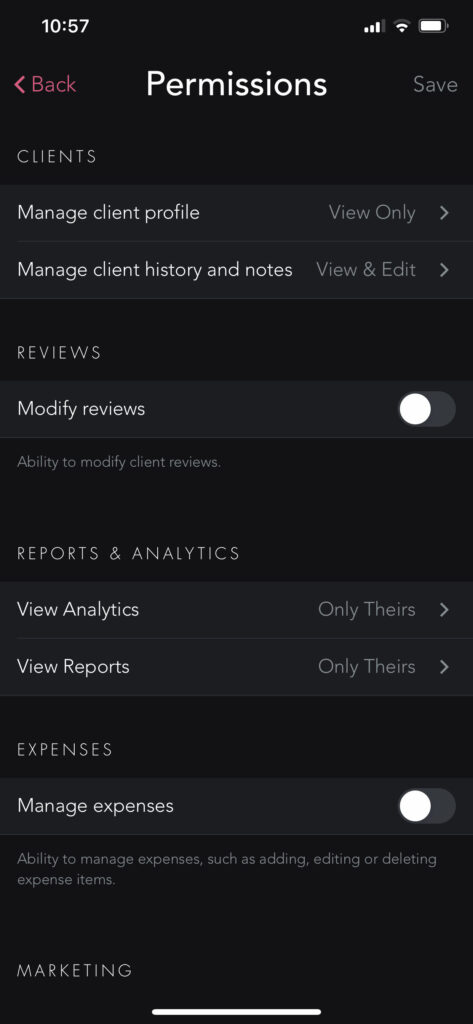 Vagaro Team Management
The Vagaro payroll software provides complete support to simplify all aspects of paying your staff. For more advanced payroll services, it also integrates with QuickBooks, Xero, and Gusto.
The payroll report allows you to configure commission rates down to service and product levels. It supports both flat-rate commission and percentage.
You can customize detailed user access levels for all the groups shown below.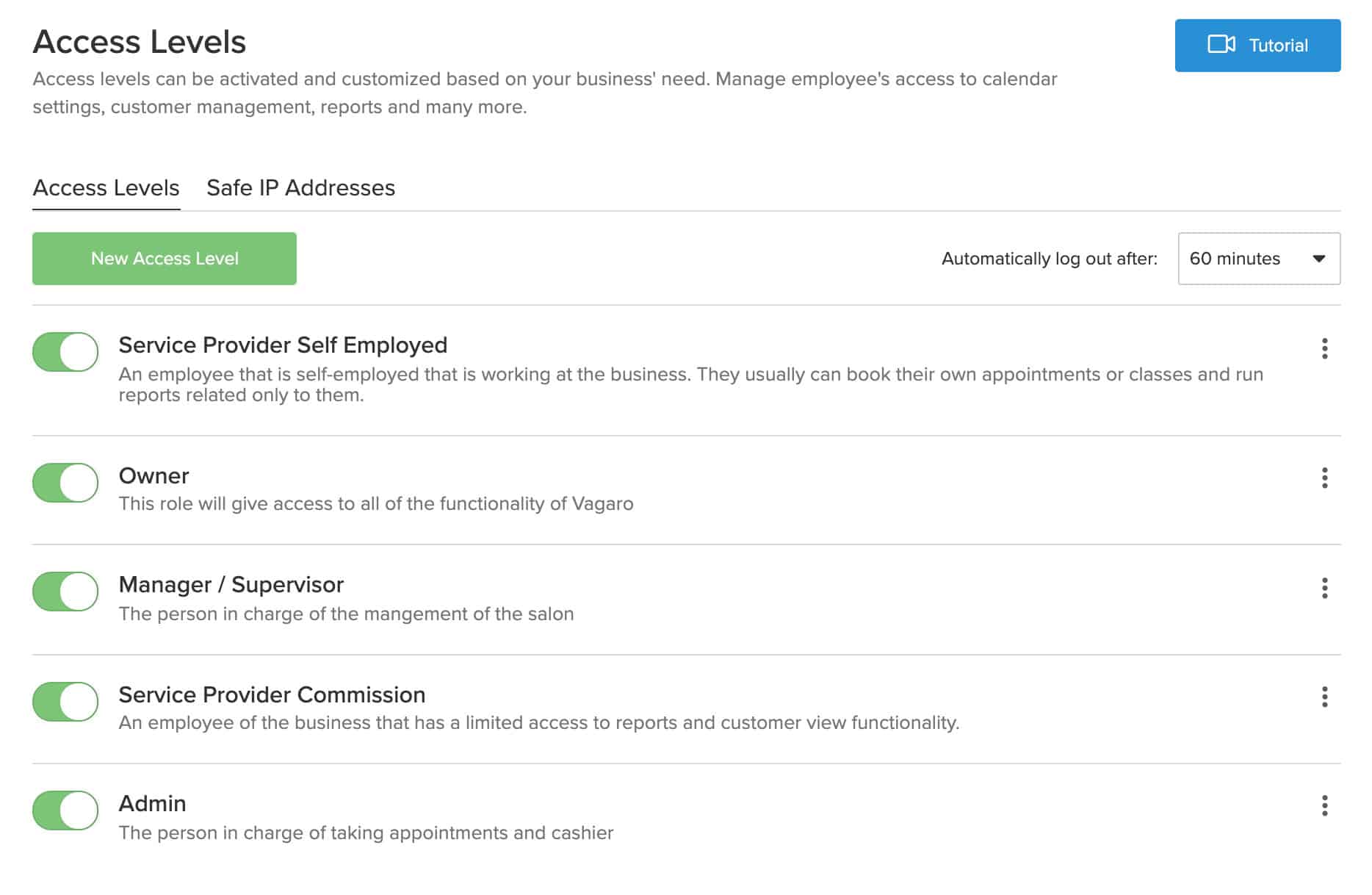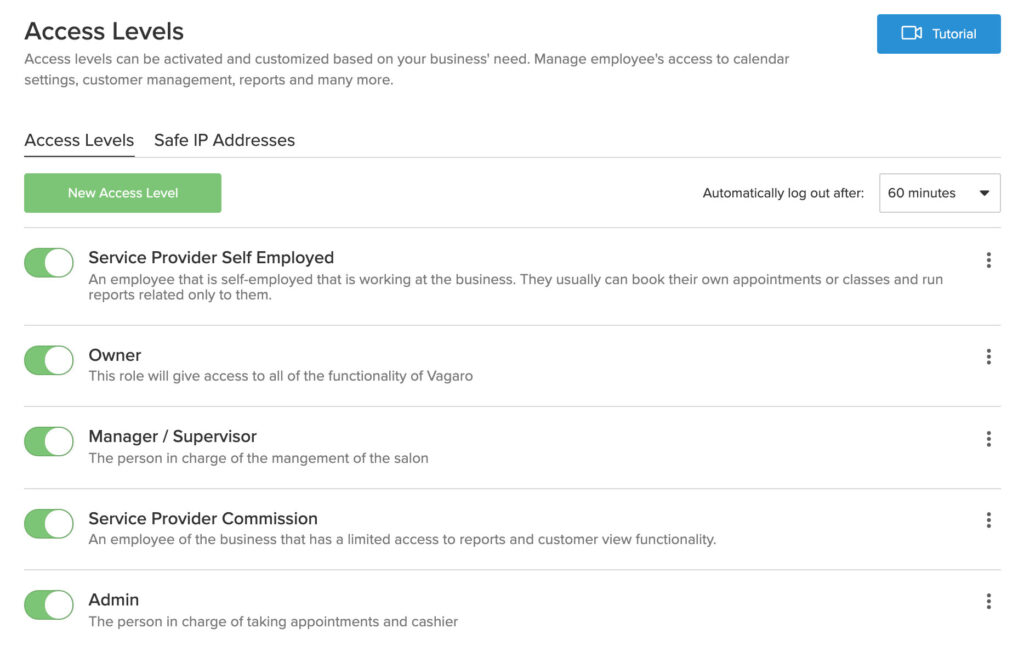 Fresha Team Management
You can have multiple staff members at multiple locations in Fresha. The tool offers pretty advanced user permission levels so that you have full control over what different staff members should be able to access or not.
It does not have a payroll tool built-in, but you can configure commission and pull monthly reports for staff members so that you can manage payroll effectively.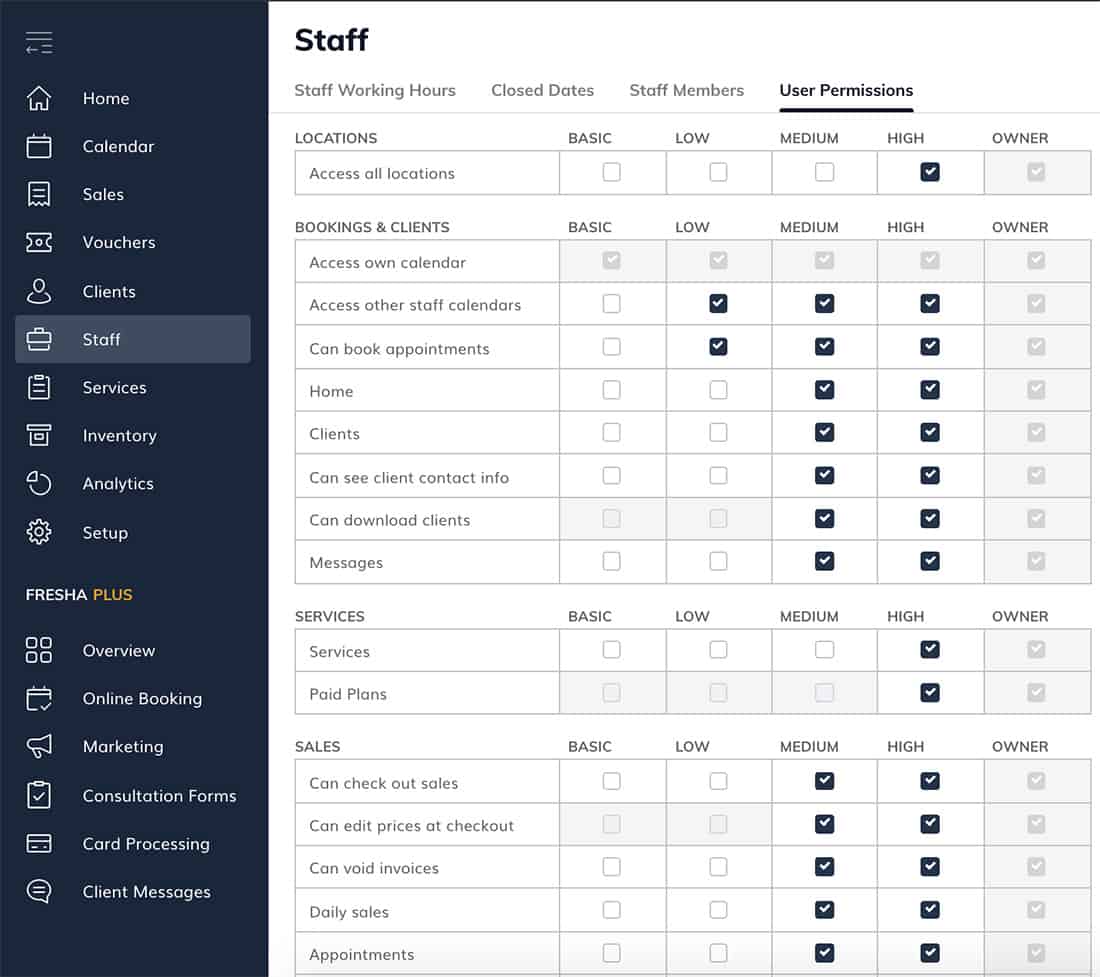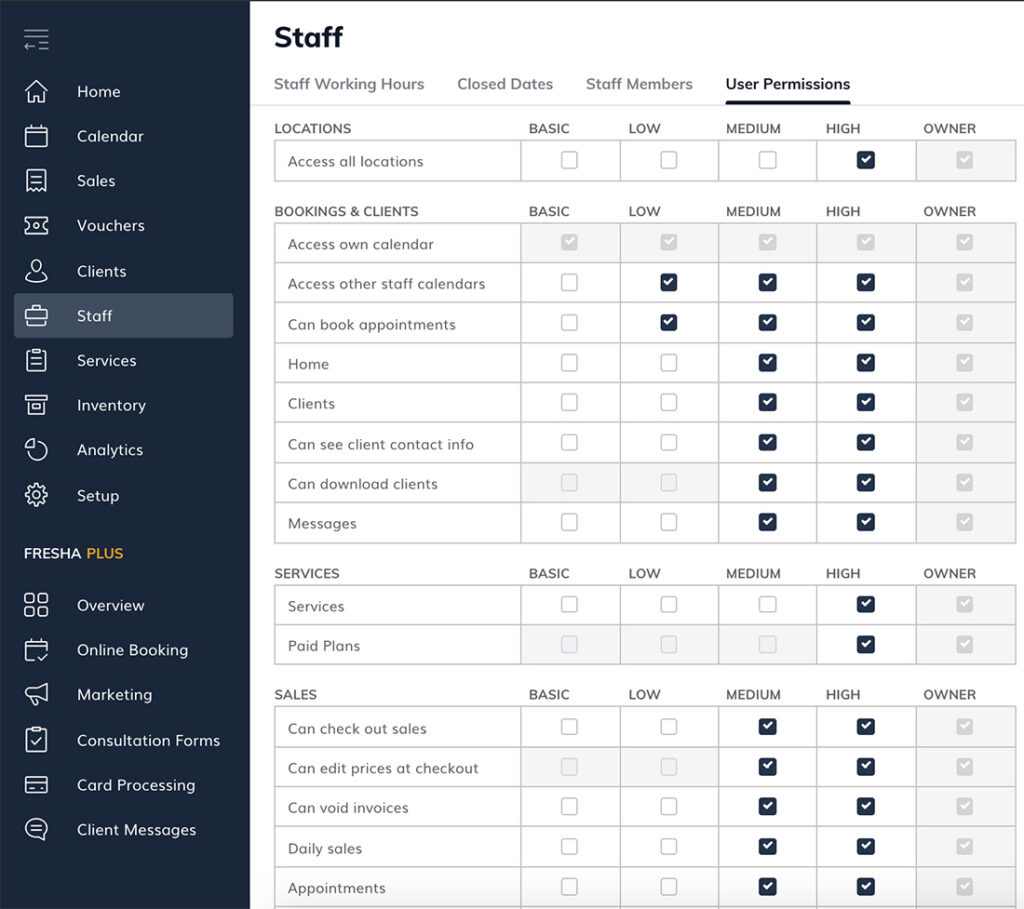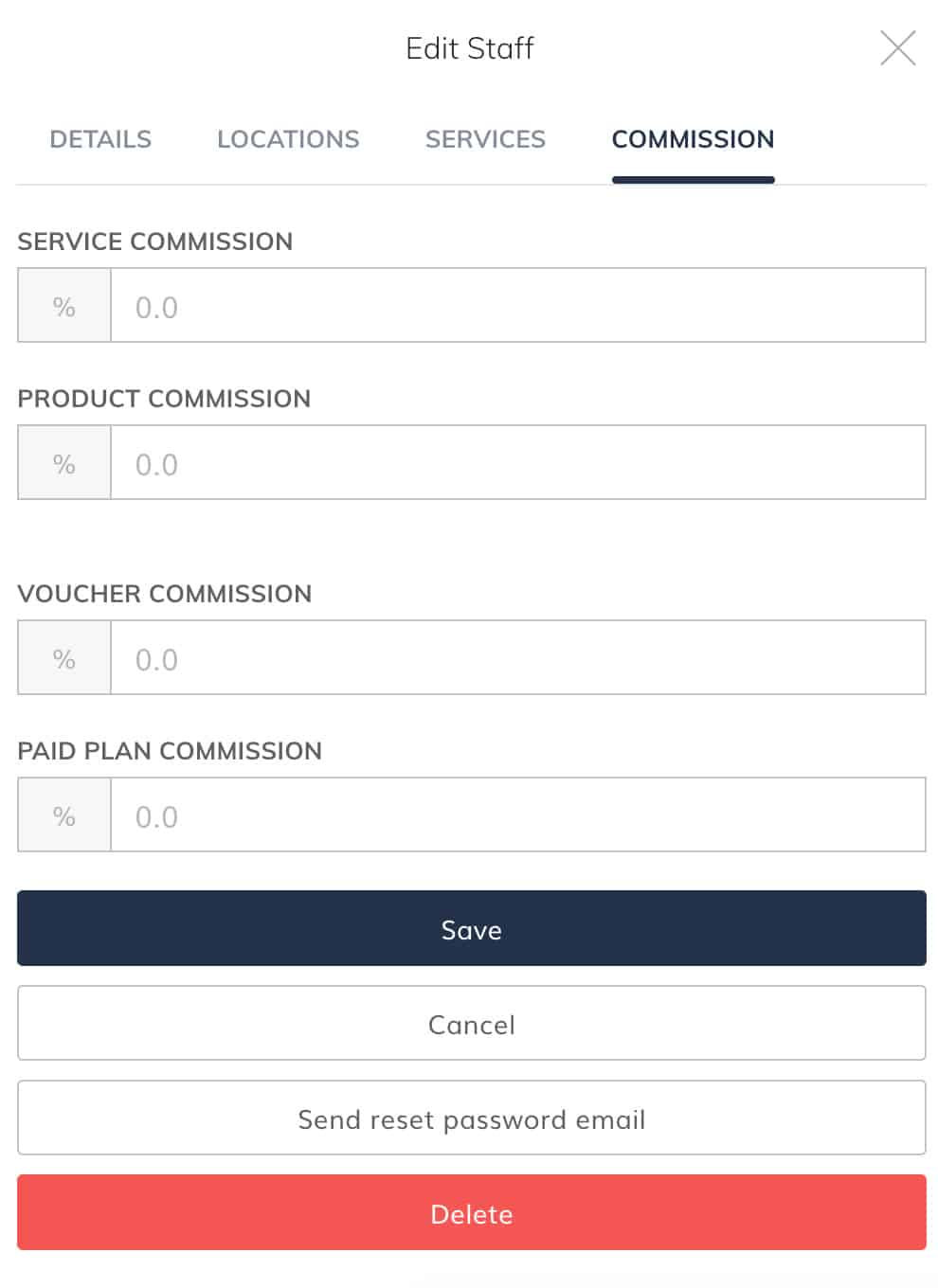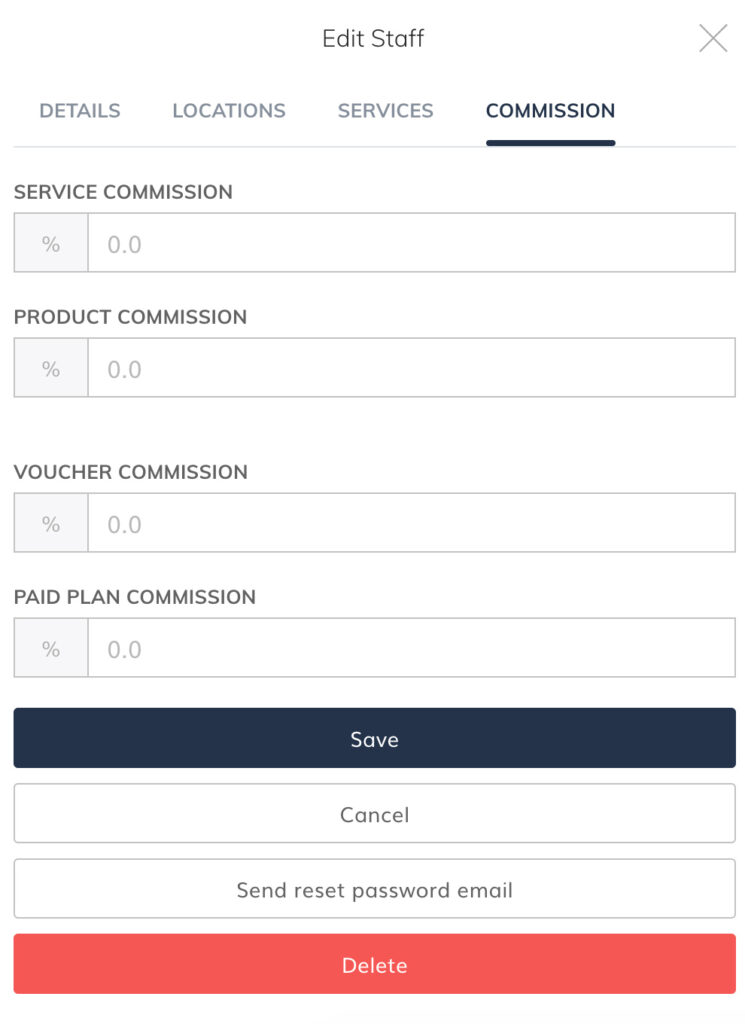 Boulevard Software Team Management
Boulevard allows you to manage staff information at a pretty detailed level.
Staff members have individual accounts that can be customized to have the exact permissions and privileges you choose to give them access to.
You can distinguish between Privilege Groups in Boulevard to allow or disallow access and administrative privileges within the app.
An admin is required to go through and enable each service they wish to be bookable for a particular staff member one-by-one, however, which is very tedious.
Overall, the staff management options on offer in Boulevard are extensive, but quality of life improvements to assigning services would be a major benefit to usability, especially for larger businesses with several services providers.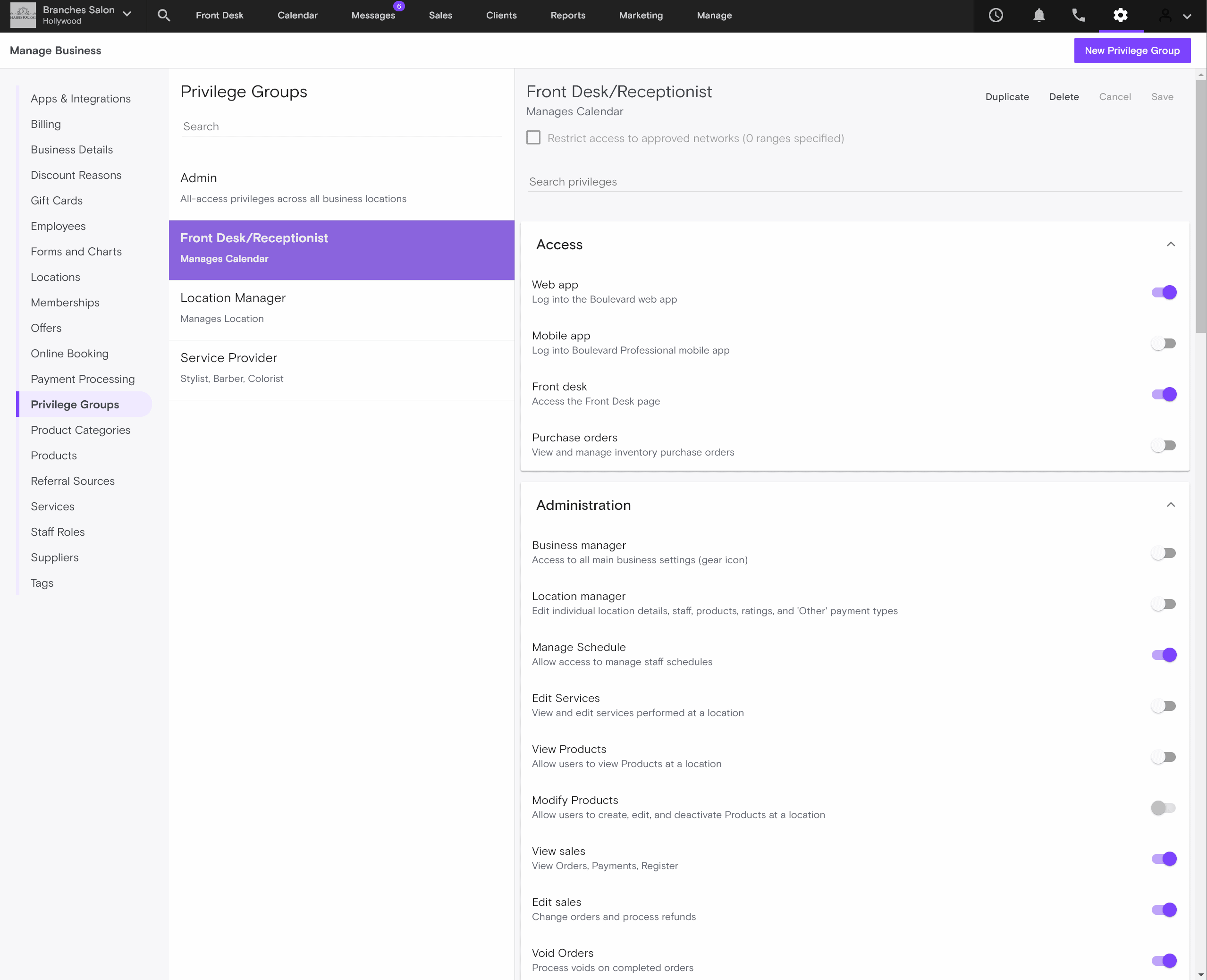 Square Appointments Team Management
Square Appointments allows you to manage multiple staff schedules and system access as soon as you upgrade to their paid plan.
You can get really advanced payroll support with Square but this is managed in another solution called Square Payroll which also comes at an additional cost.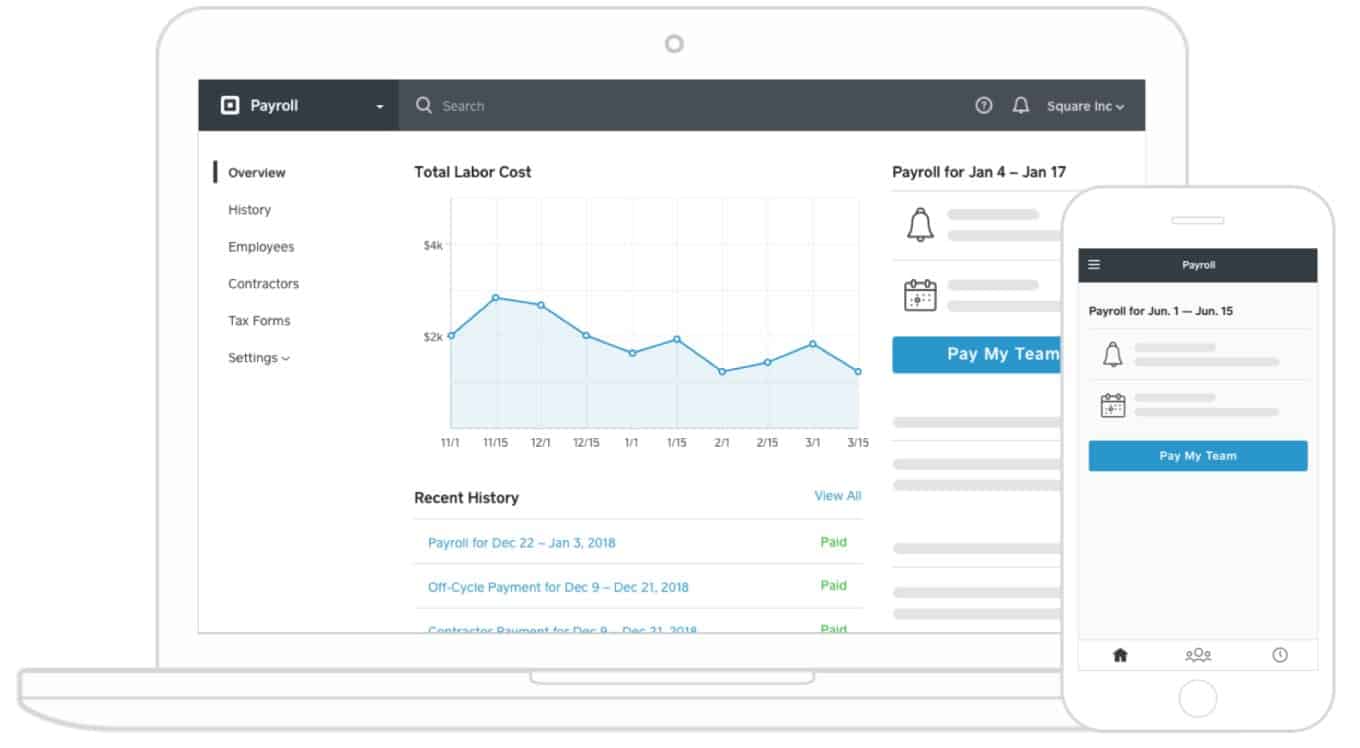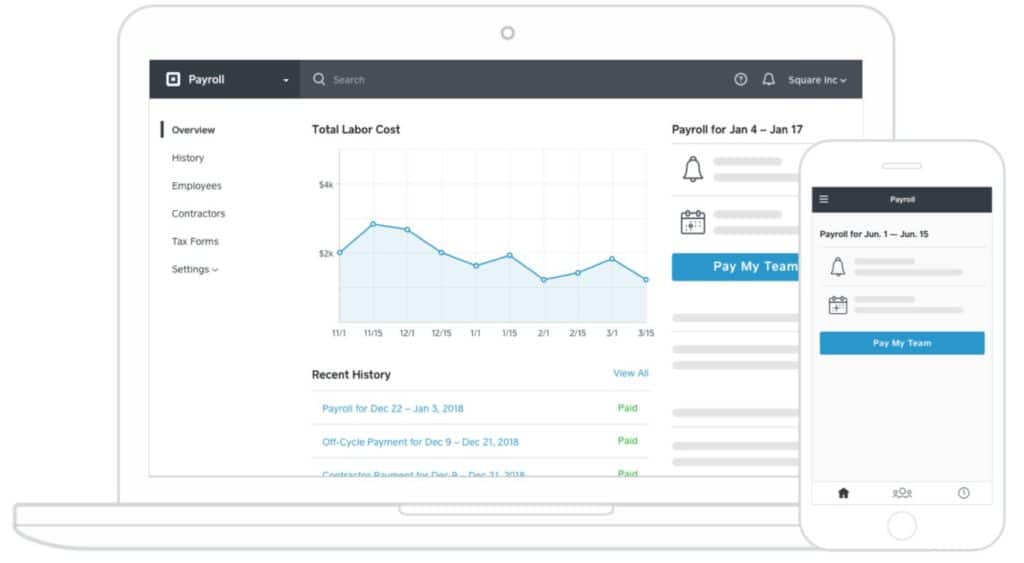 Booker Salon Software Team Management
Booker defines employee profiles by active and inactive statuses.
On Accelerate and higher-tier plans, there is no limit on the number of active employees, but the Starter plan is limited to 15 active employees at one time. All plans can have unlimited inactive employees.
Employee schedules can be created and managed in the Schedules tab.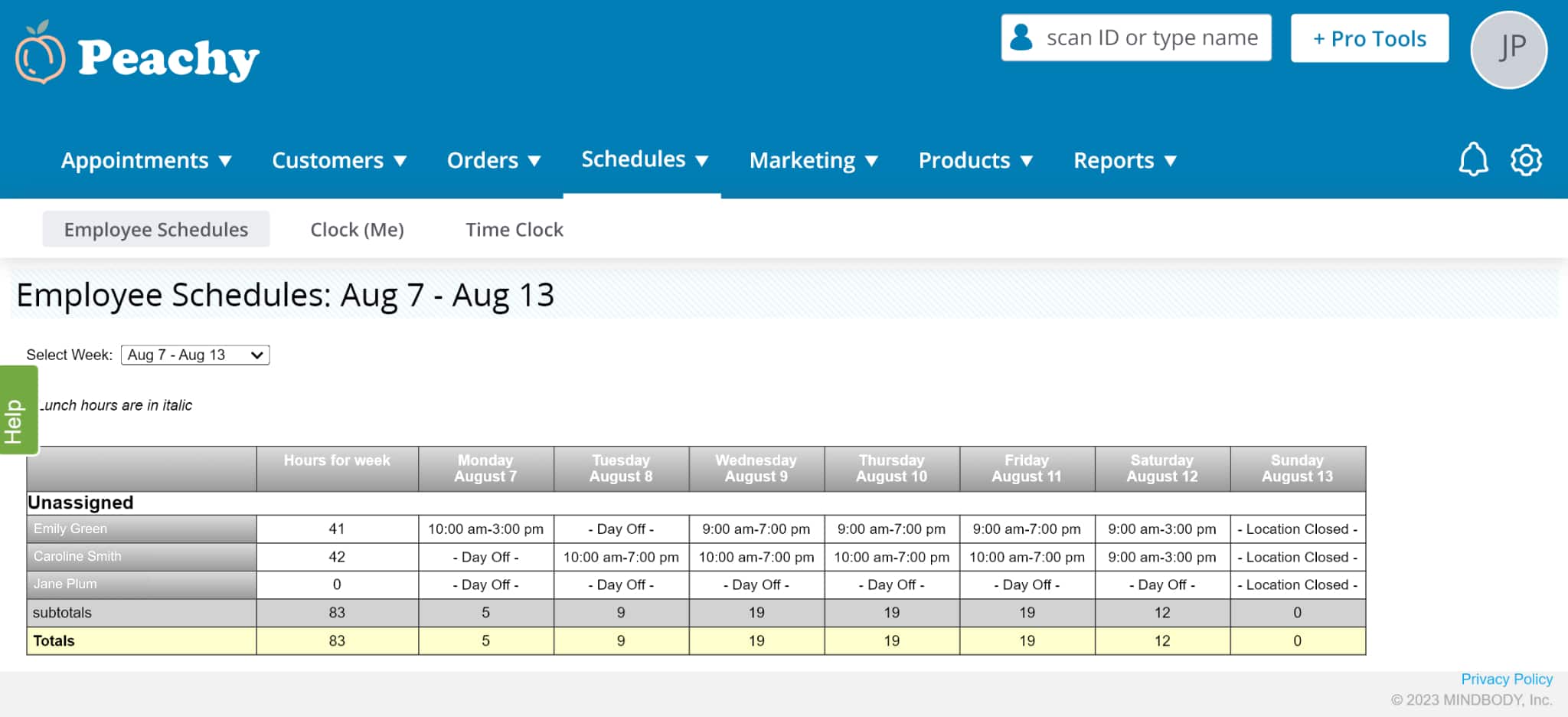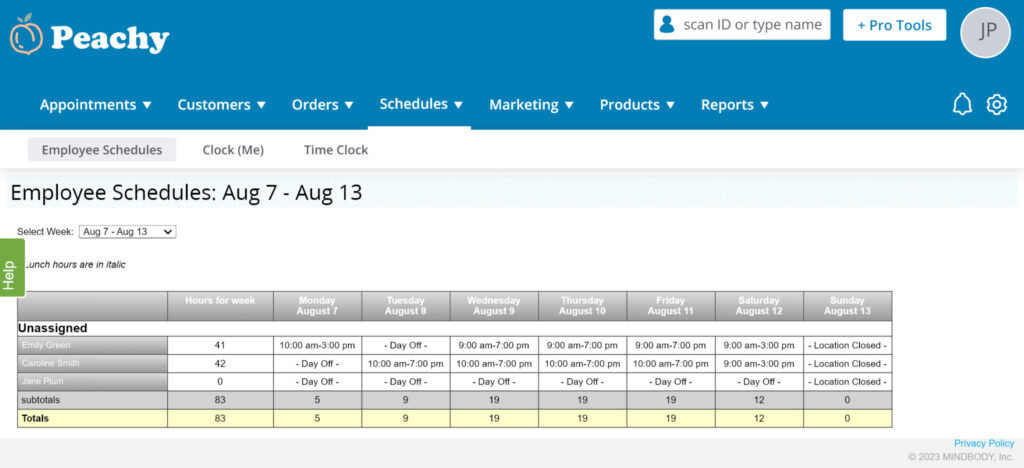 Zenoti Salon Software Team Management
Zenoti's staff profiles are extensively customizable, including fields to detail everything from basic info to mandatory break intervals, special leave days, salary and compensation details, and culture and language preferences.
All these details can be edited in the Employee tab of the Manage Mode screen.
You can also set permission levels and roles for each of your employees so that access is only granted to certain menus, functions, and information (including client data).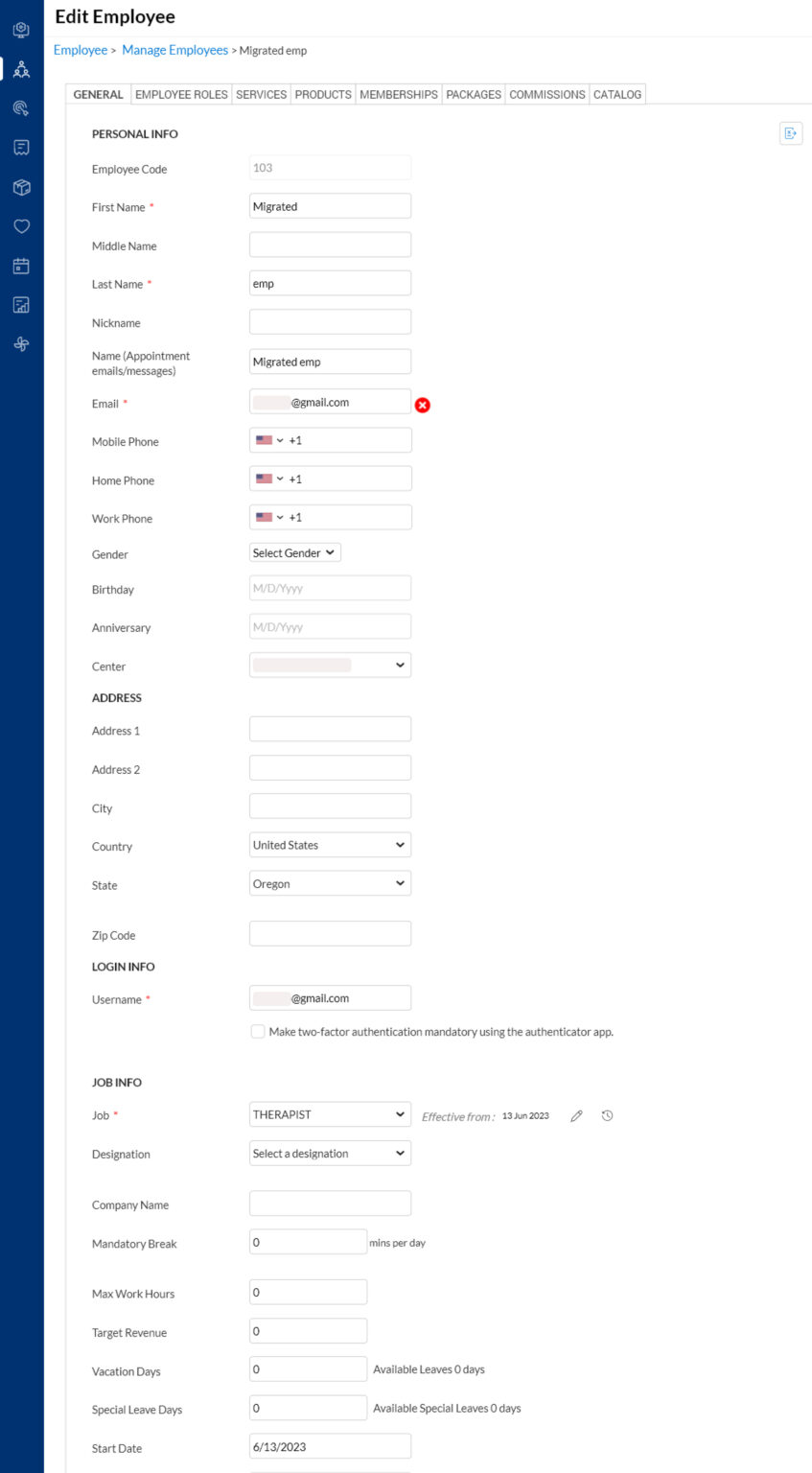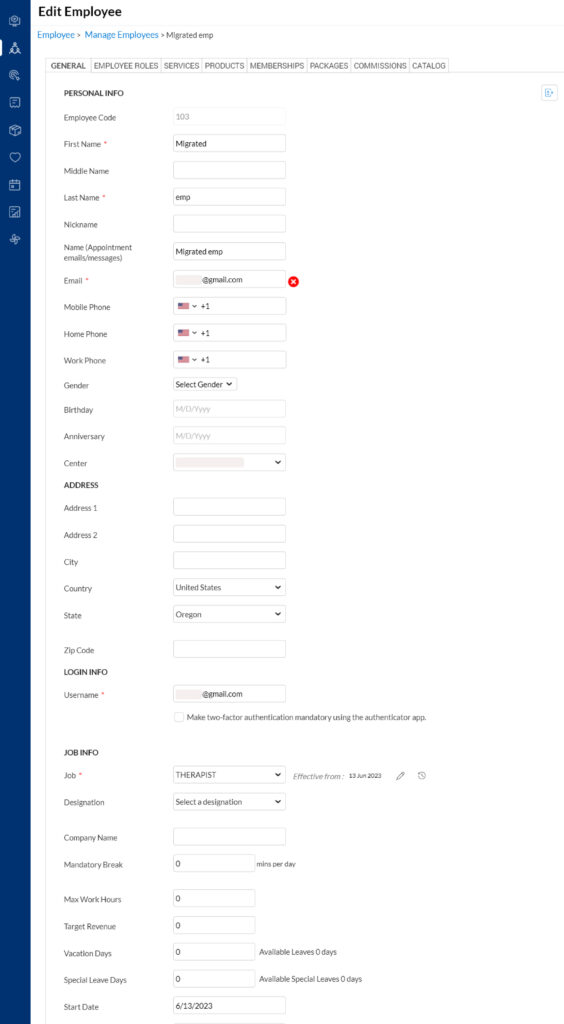 Mindbody Salon Software Team Management
Mindbody enables most staff management features on all plans, but some are unavailable on the Starter plan.
Customizable staff permissions and groups are not available on the Starter package, and neither is Mindbody's payroll integration.
Employee schedules can be created and managed in the Appointment Availability tab of the Staff menu.
Schedules can be specified by date range (by calendar week), and a regular weekly schedule can be set as well.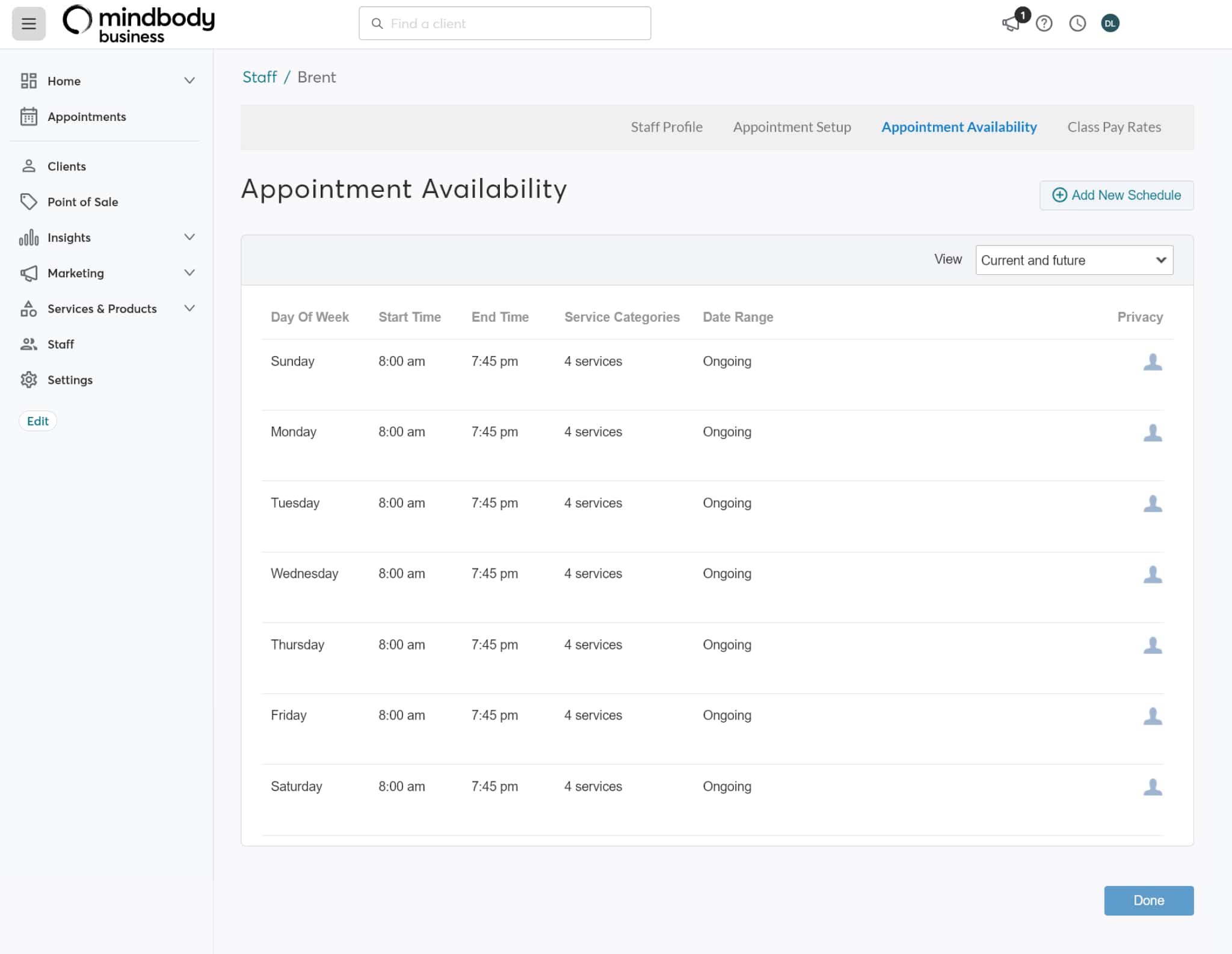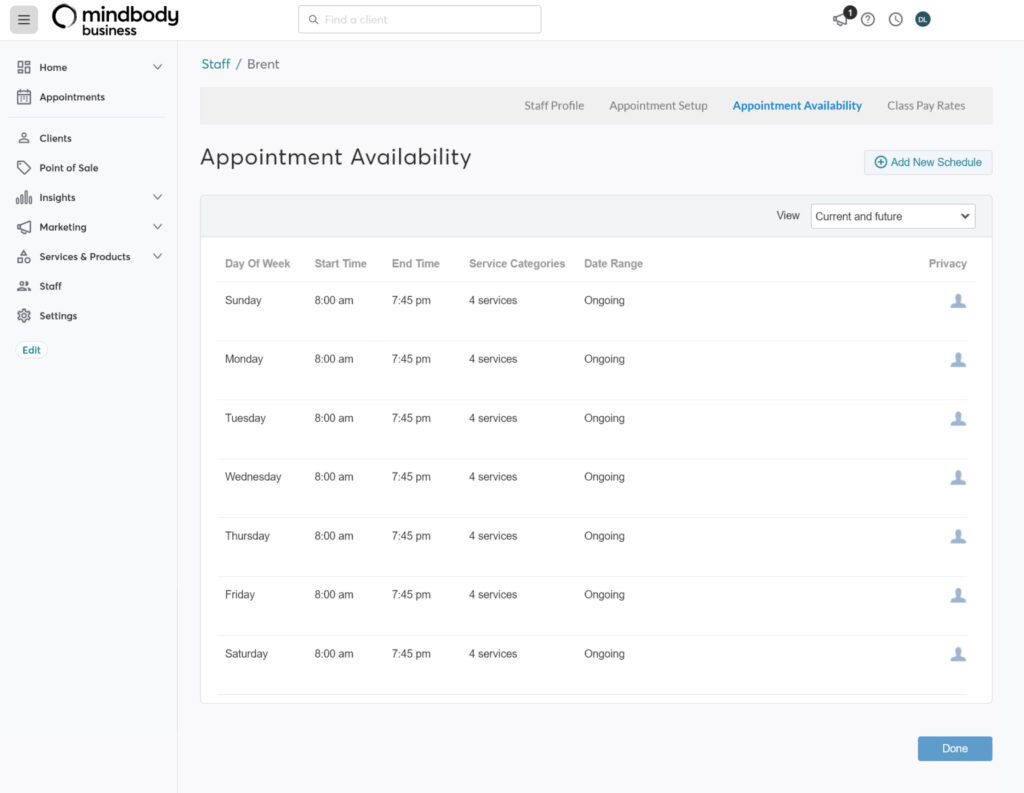 Salon Business Reporting
"You get what you measure" – that's an old saying but so true. If you're serious about growing your salon business, you need to define business targets and have a good reporting system to help you track your progress.
Mangomint Business Reporting
The Mangomint business reports are very comprehensive and provide you with all the possible business insights you need to make informed decisions in your business.
This includes payroll, sales, client retention, and much more.
The reports are predefined by Mangomint but you can adapt them in Excel after exporting.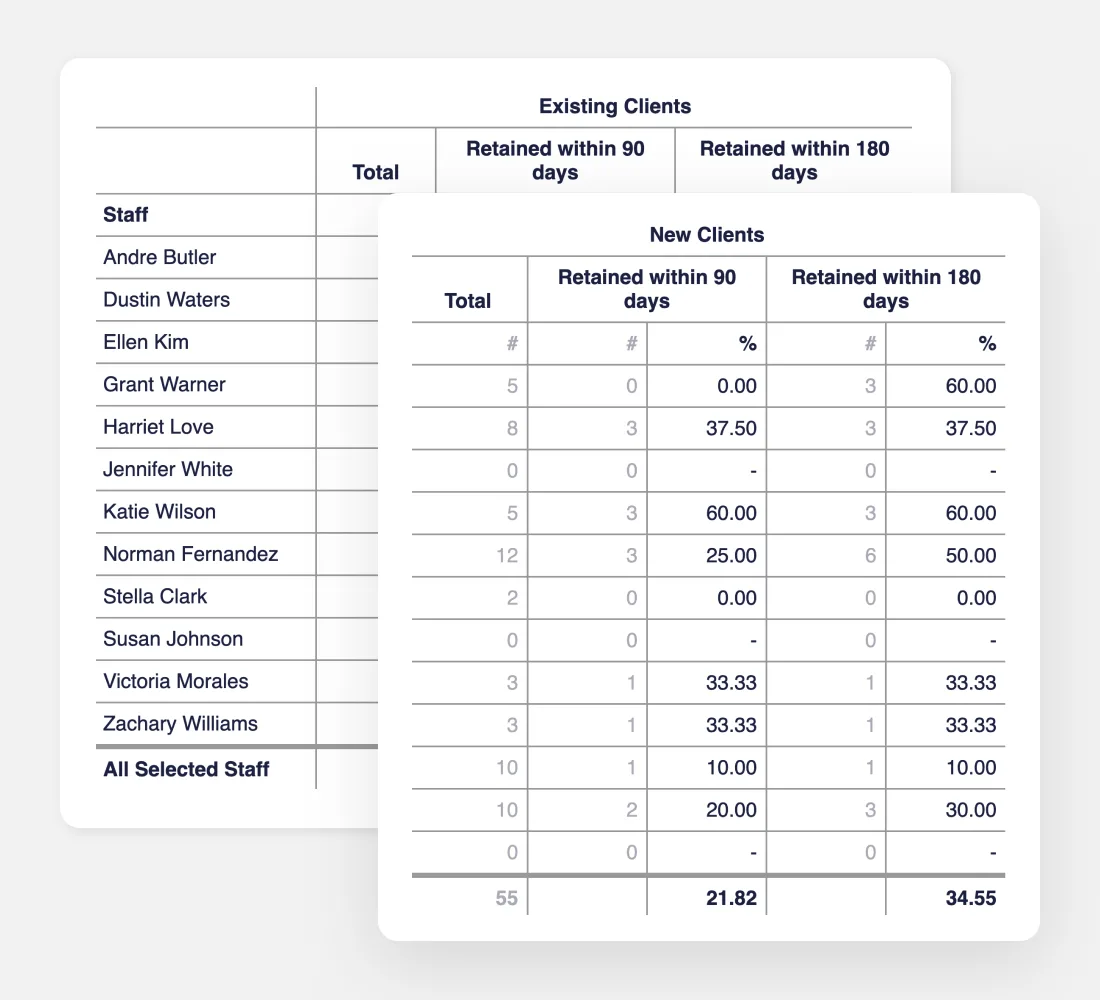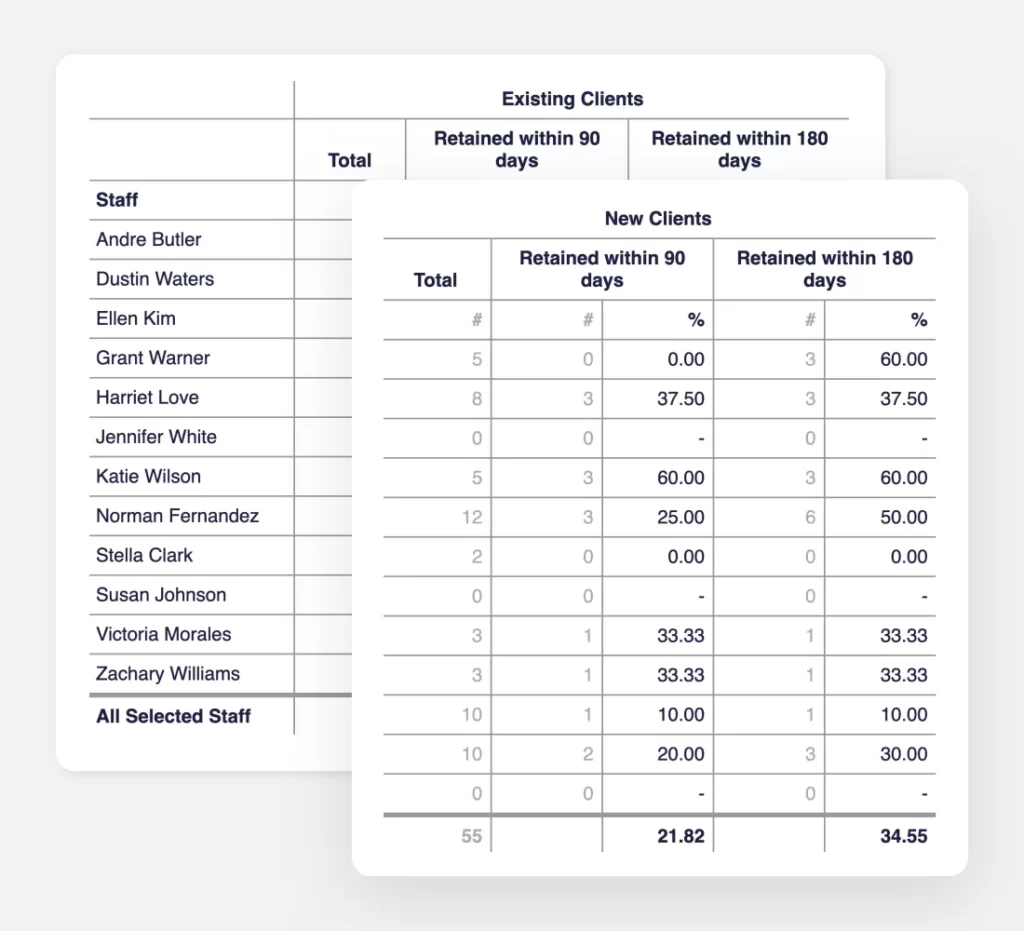 GlossGenius Business Reporting
GlossGenius offers business analytics and reporting. As you log in to the platform, you'll get immediate access to the Dashboard which gives you a snapshot of the day. You can then pull detailed reports and export them to PDF format.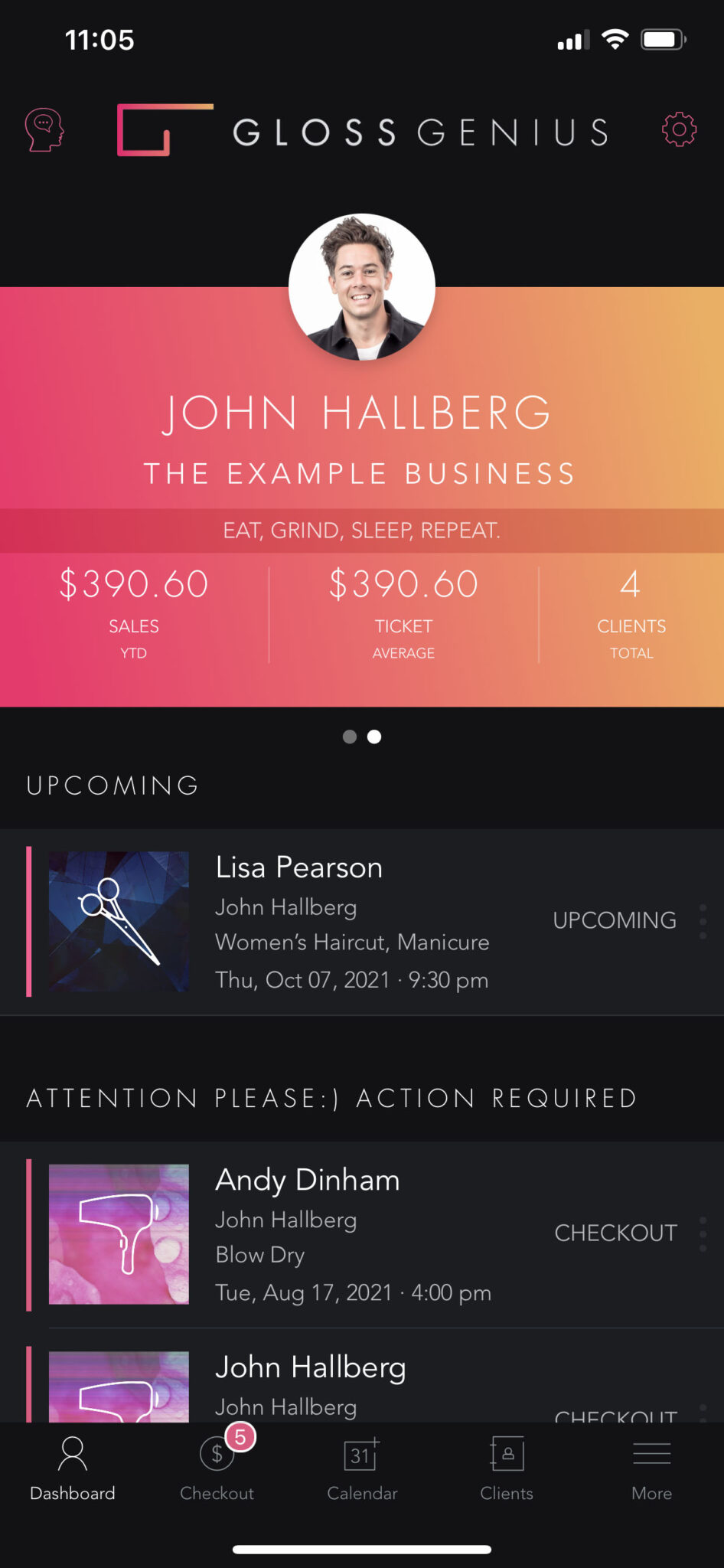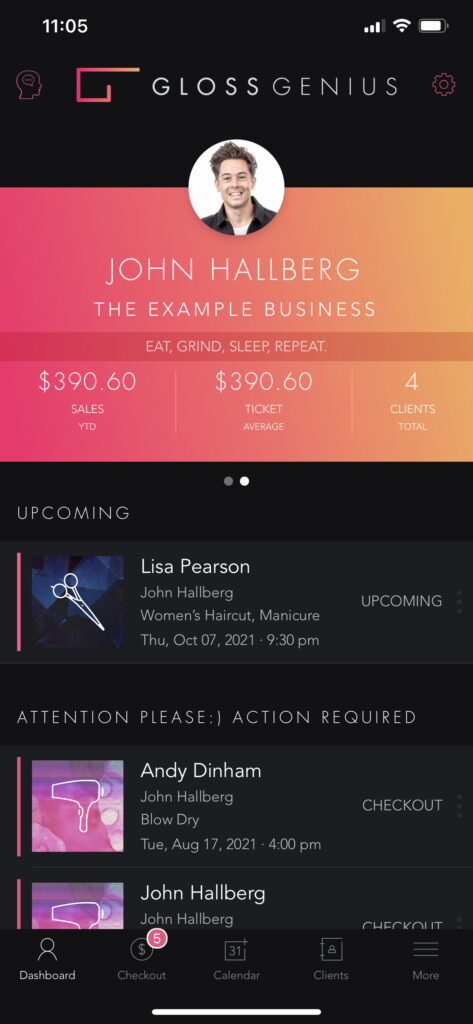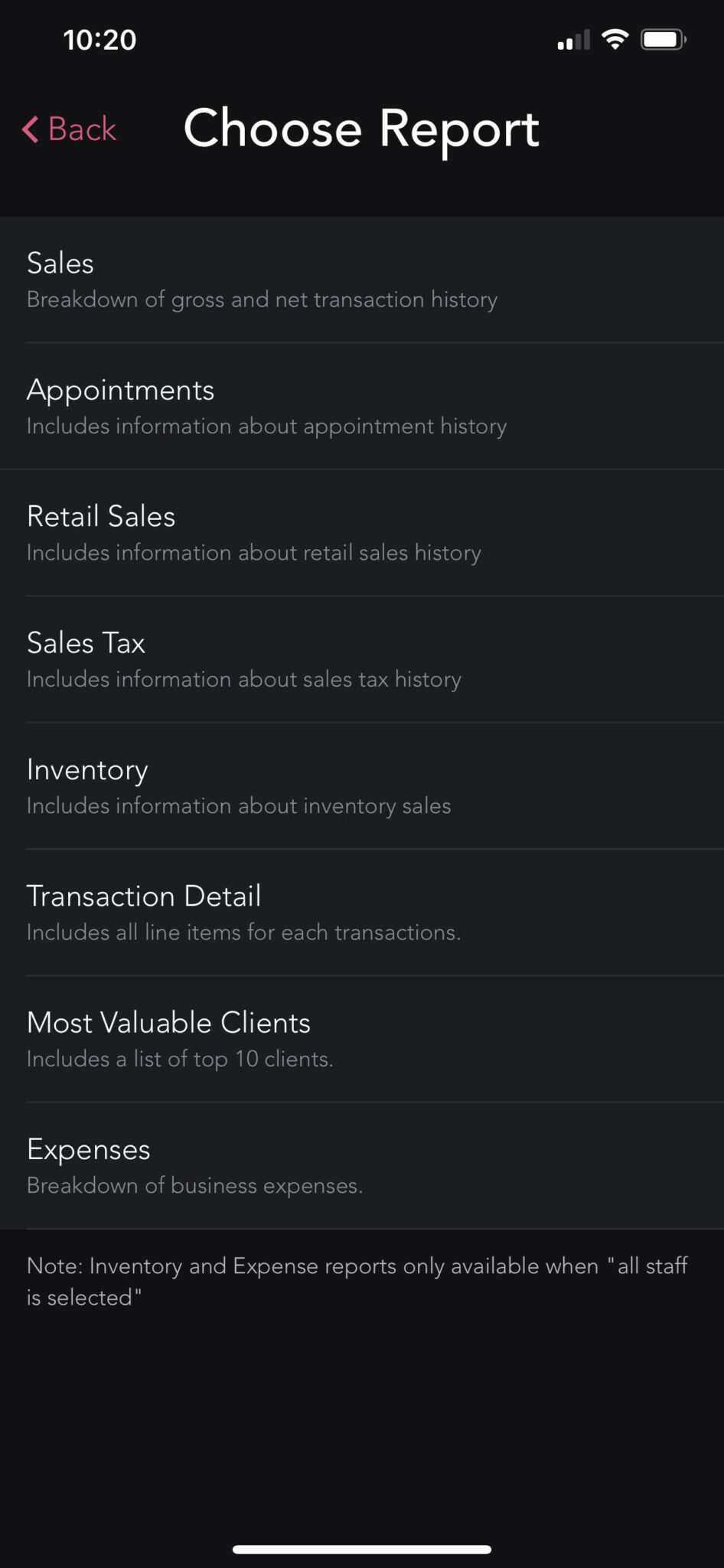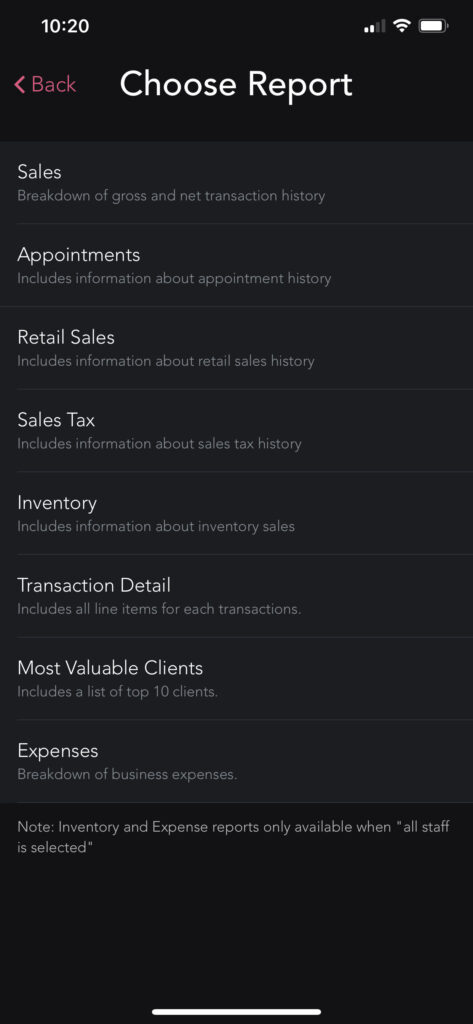 Vagaro Business Reporting
Vagaro provides advanced reporting for sales, employees, customers, appointments, inventory, and messaging. You can export all reports to CSV or PDF format. The support you get is very rich and will certainly cover your needs.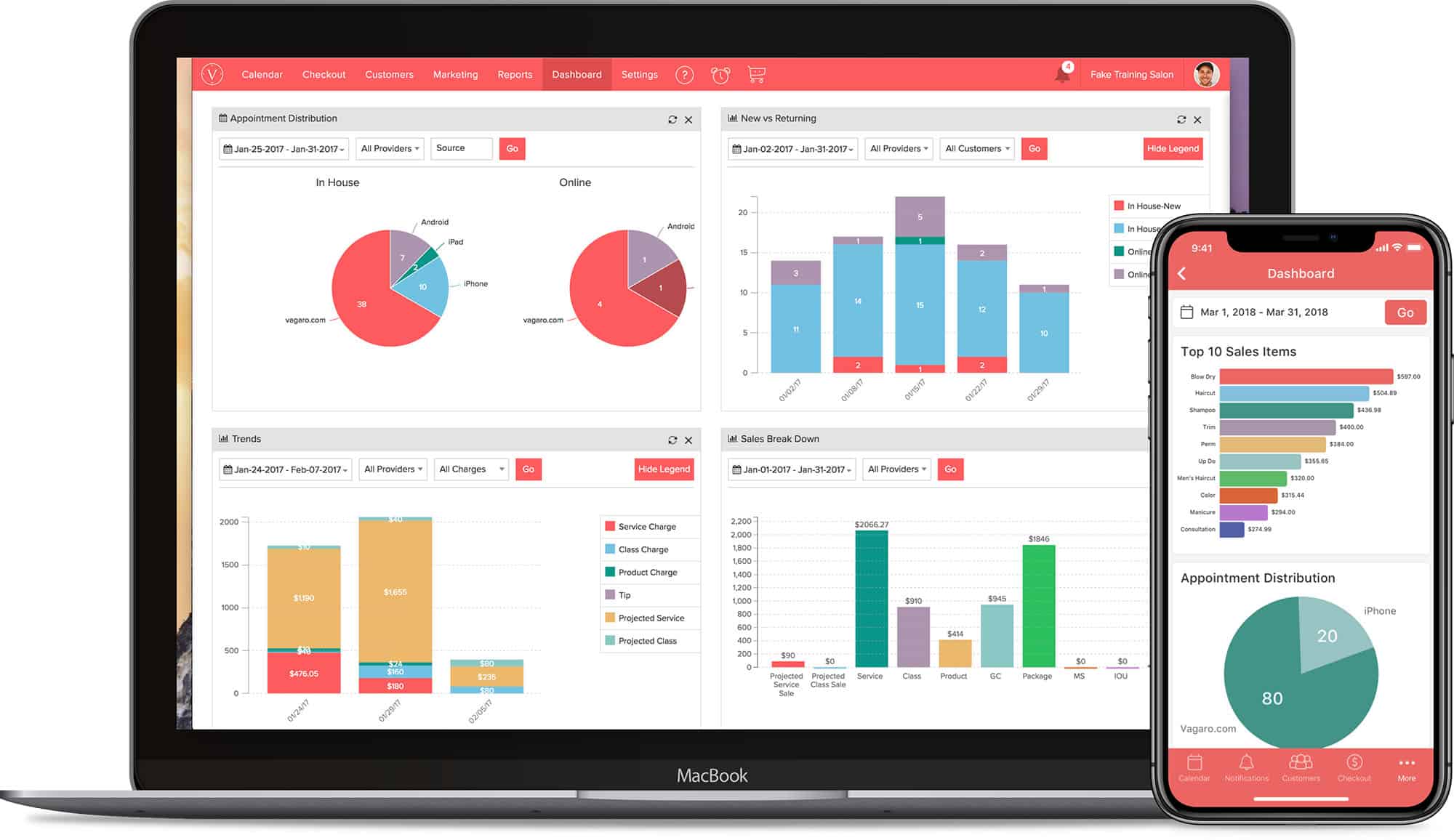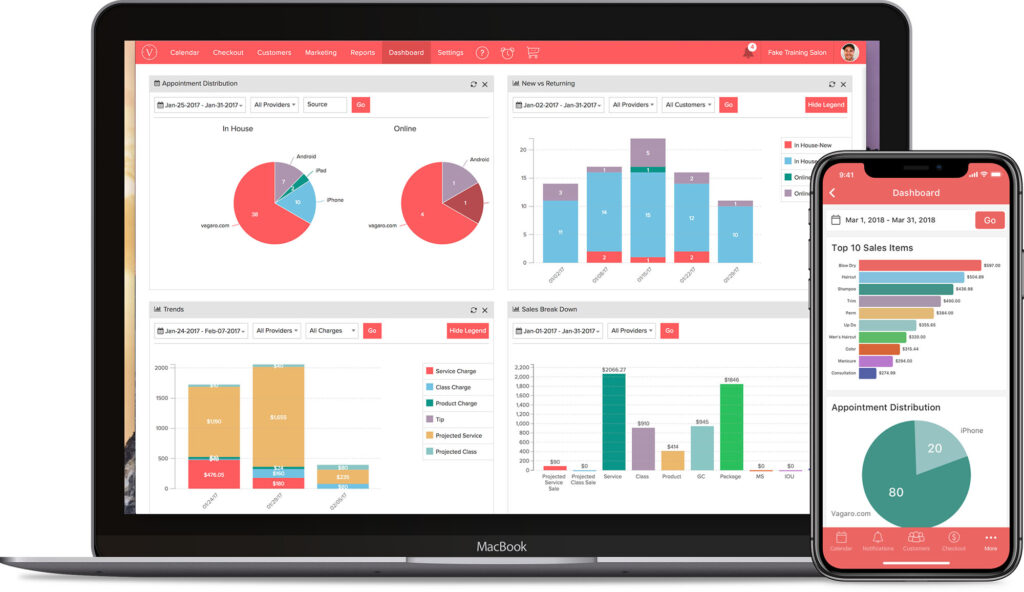 Fresha Business Reporting
Fresha provides rich reporting options so that you can stay on top of your business.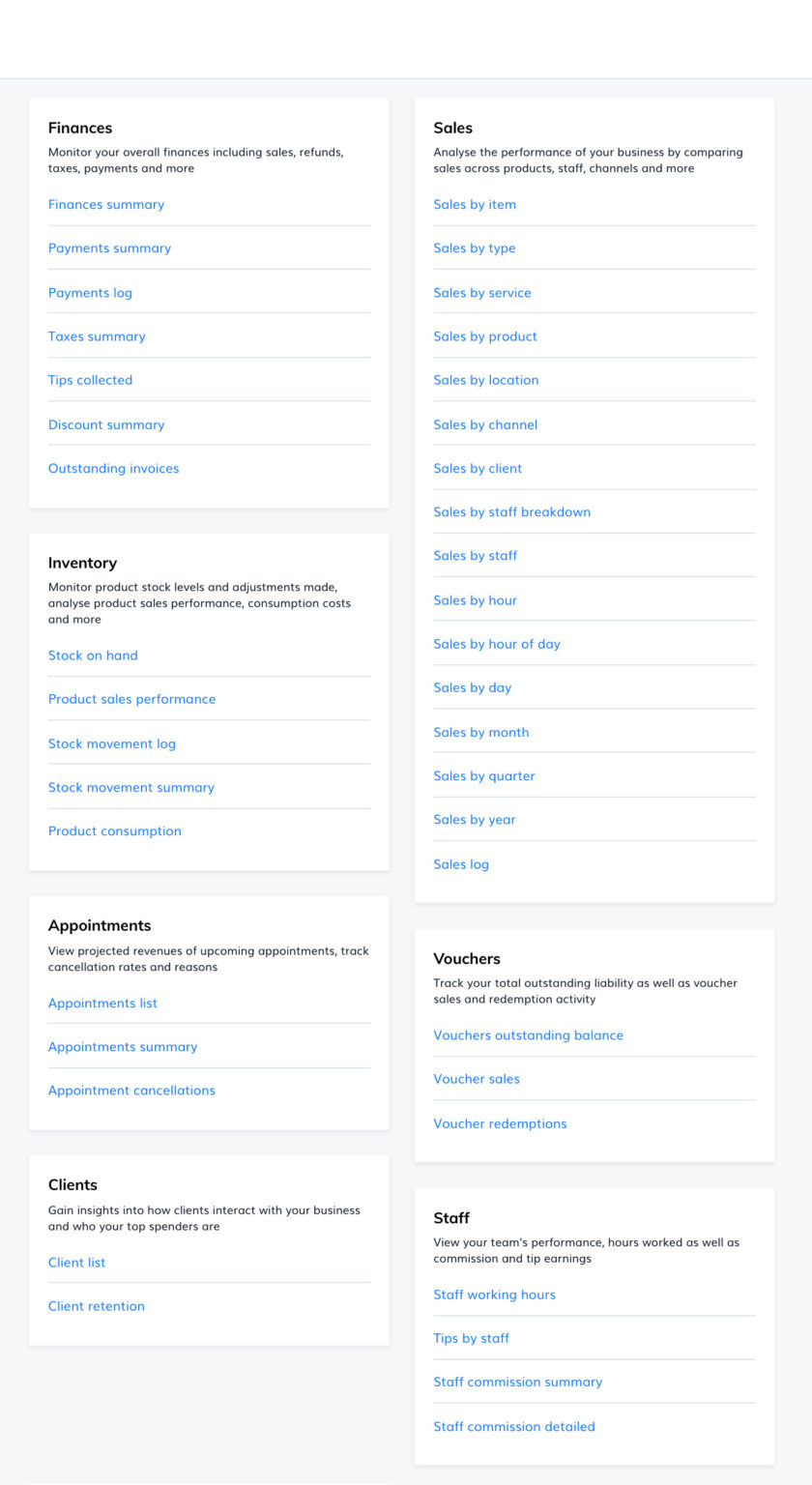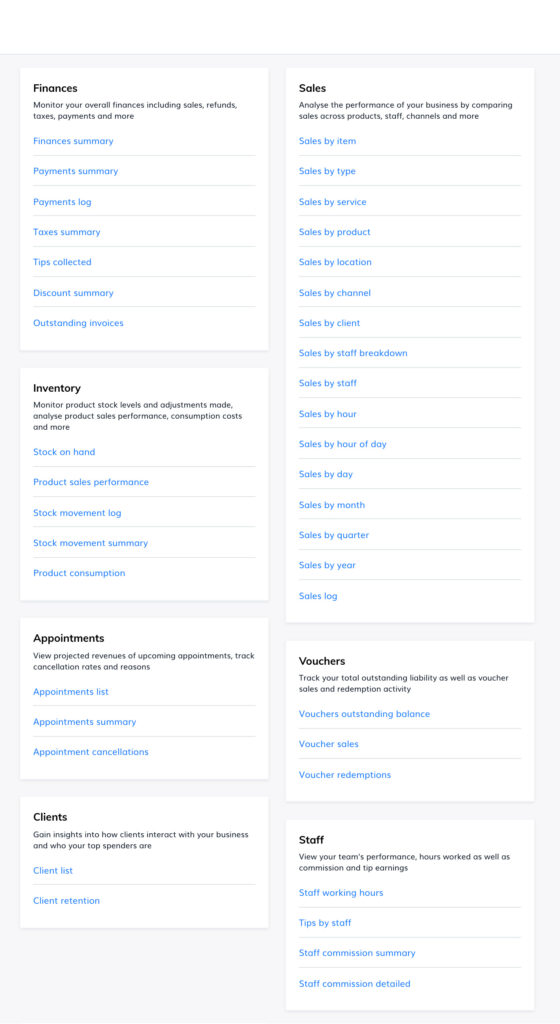 Boulevard Software Business Reporting
Boulevard offers dozens of reports, covering standards like sales summaries, staff performance, and inventory on-hand, as well as more complex business insights reports for things like booking forecasts, account liability, and more.
On higher-tier plans, you also have access to custom reports to allow you to drill down on specific data that is relevant to your business objectives.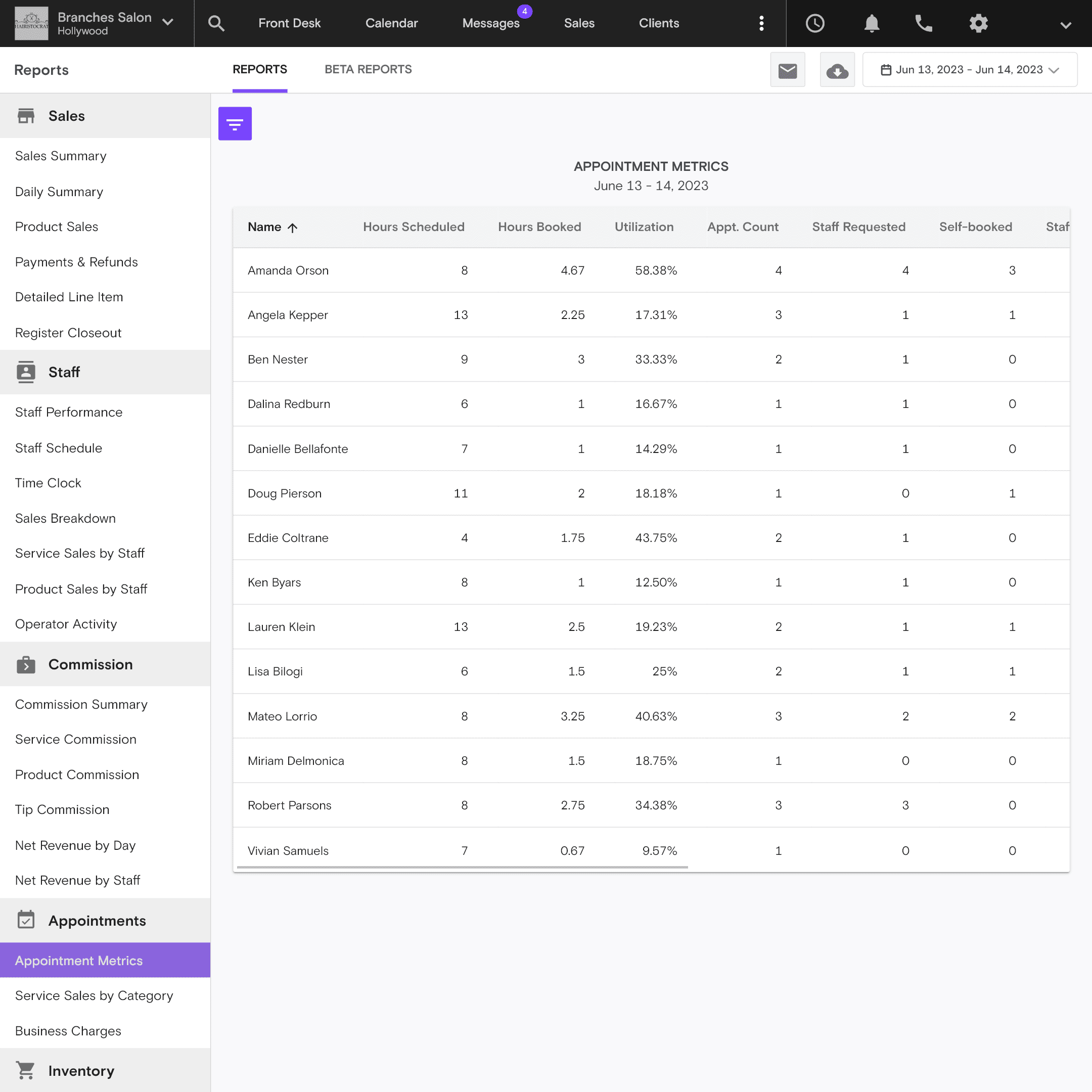 Square Appointments Business Reporting
When you sign up for Square Appointments, you also get free access to their reporting app.
As shown in the list below, you'll find several predefined reports available and you can also create custom salon business reports.


Booker Business Reporting
Reporting is broken down into two primary categories in Booker's system: the Business Intelligence Dashboard and the All Reports screen.
The Business Intelligence Dashboard will automatically aggregate data based on appointment and order "Sources" entered when booking an appointment so that you can keep track of customer acquisition, attrition, and retention on weekly and monthly schedules.
The All Reports screen is your hub for detailed reporting. Everything from cash register- and deposit summaries to product and service sales, inventory, and accounting can be detailed in the reports centralized here.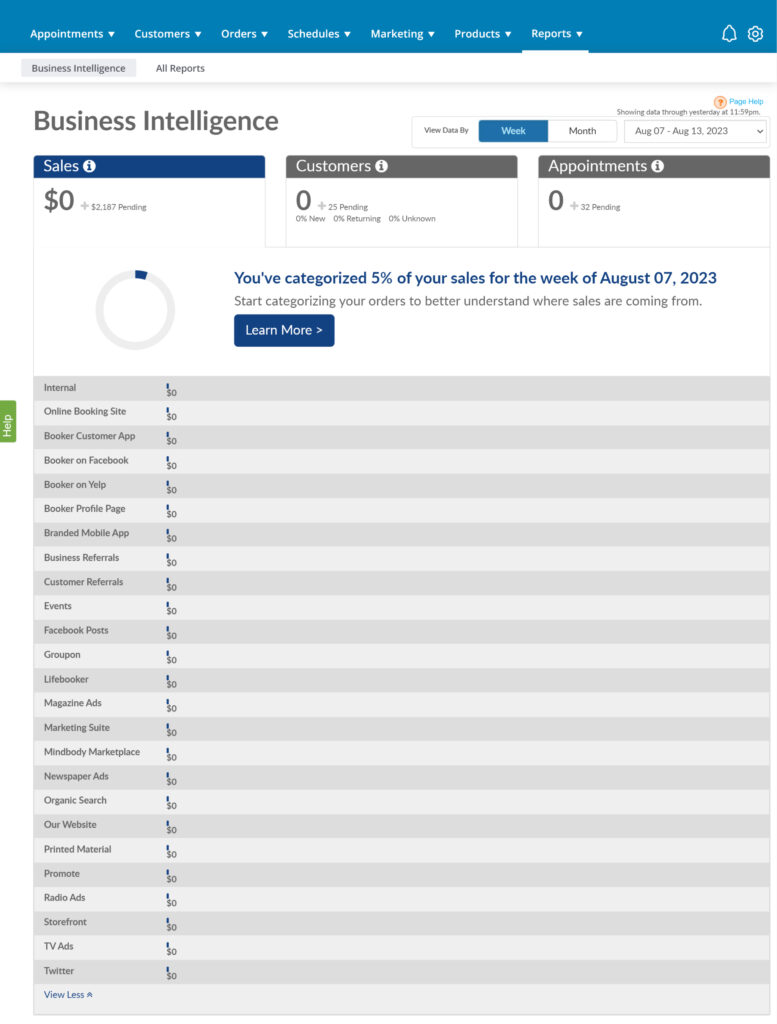 Zenoti Business Reporting
Zenoti has quite a robust set of reporting options, with more than 400 reports available.
Zenoti's reporting tools allow you to bookmark the reports you want quick access, show and hide columns, and create and save custom views, filter information, and add columns (with custom calculations if you want).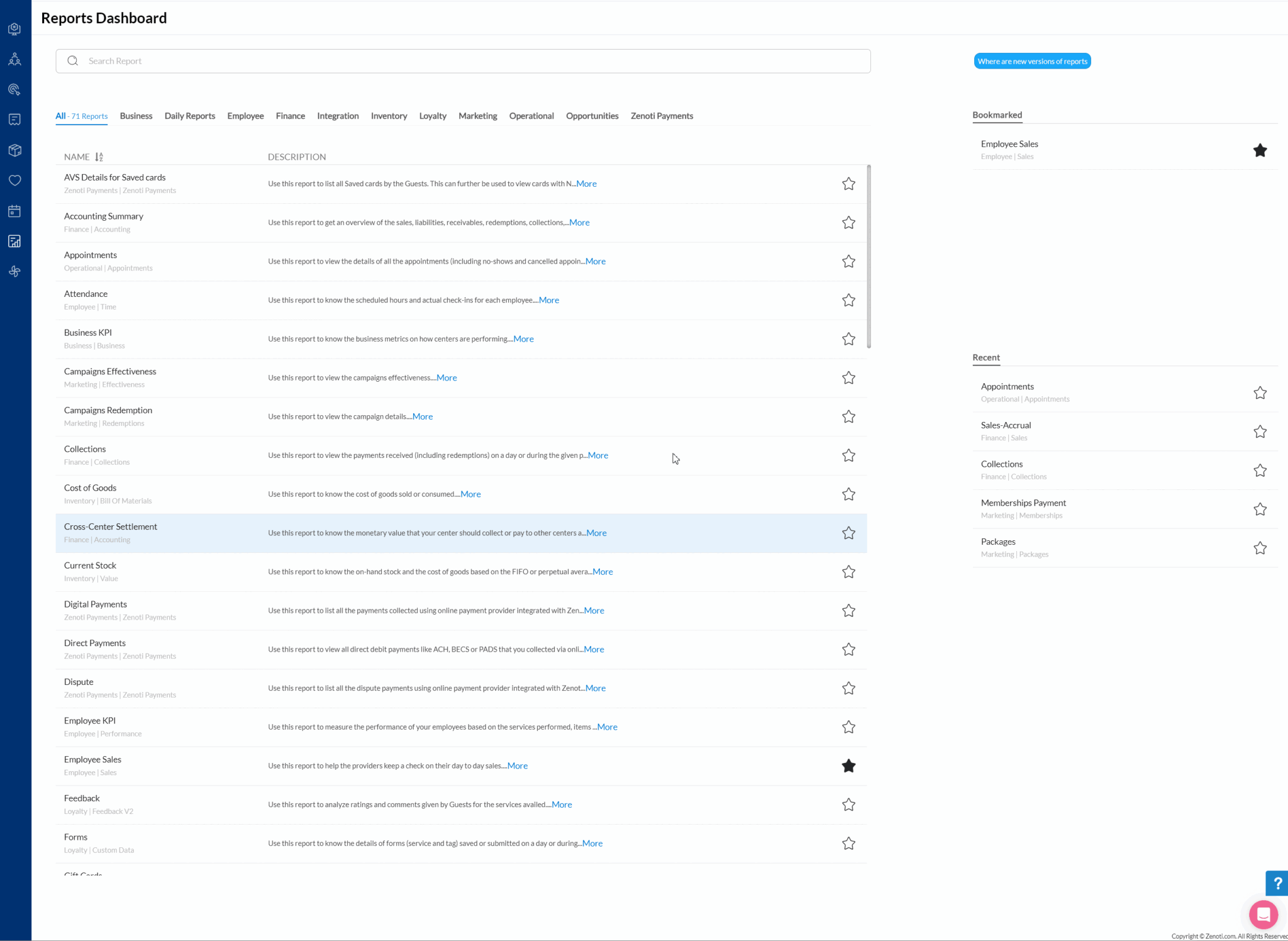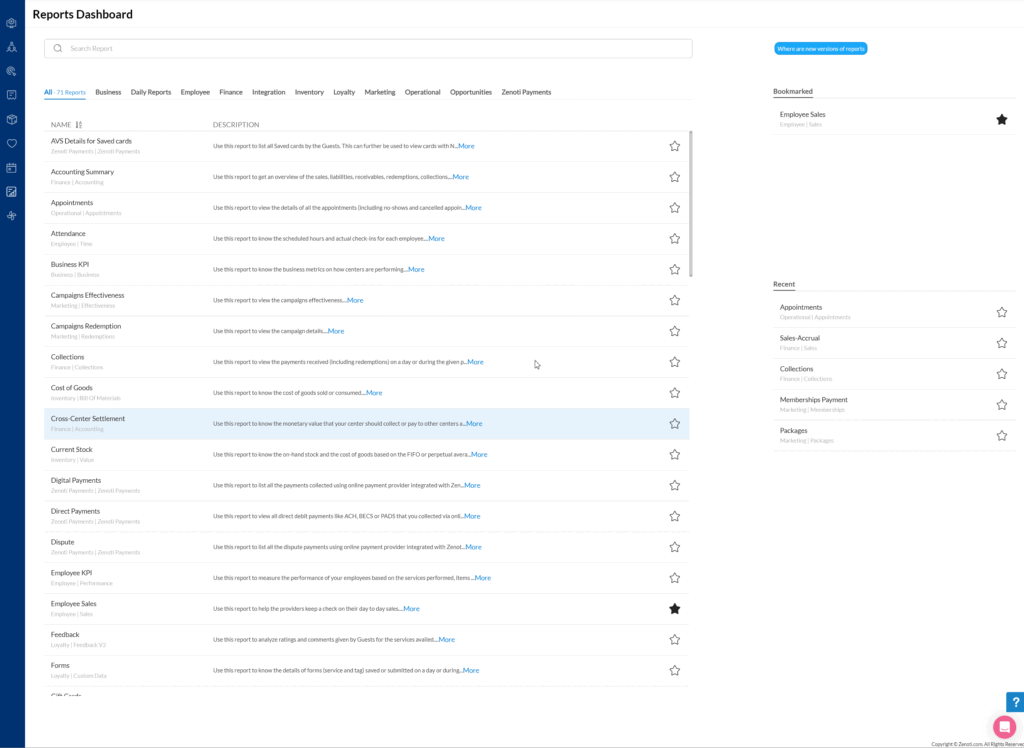 Mindbody Business Reporting
Reporting is another feature limited by which subscription you choose.
On the Mindbody Starter plan, basic reporting is included. This means you can access standard sales reports such as your daily closeout report, gift cards, and invoices reports, as well as voids and returns.
Basic client and staff reports are also available on the Starter plan.
All plans have access to the analytics dashboard, which breaks down sales figures, online booking metrics, year-over-year sales charts, as well as membership and attendance metrics.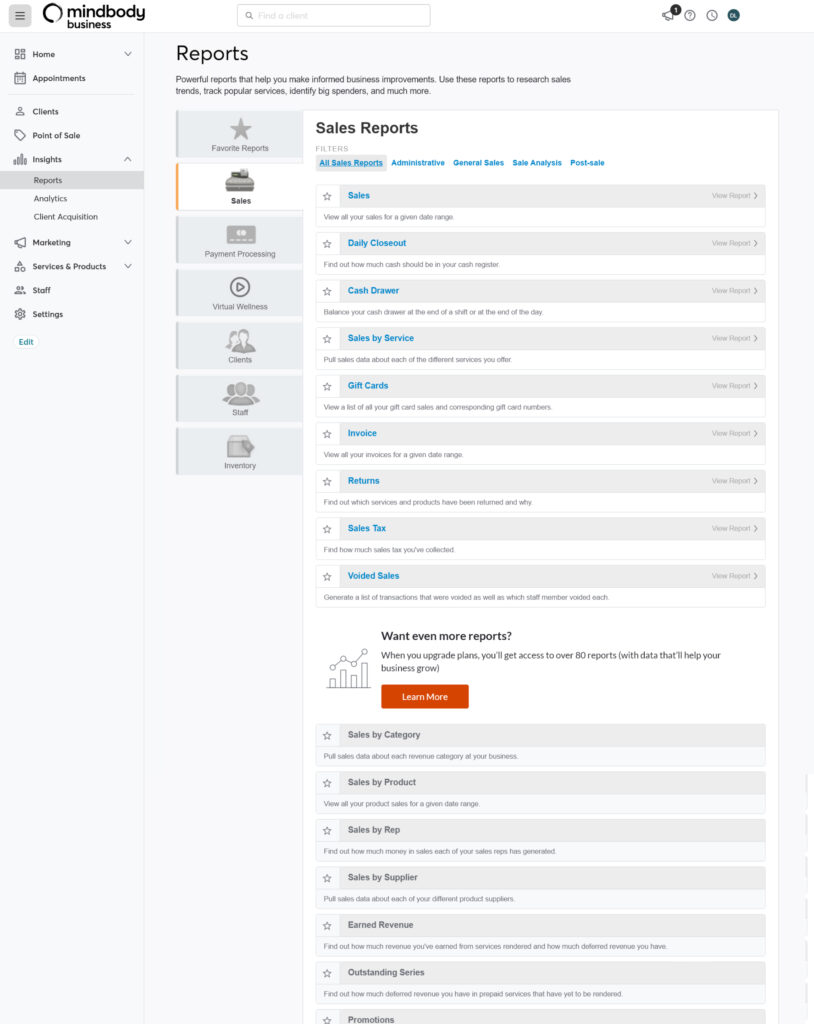 Salon Inventory Management
Optimizing your inventory can help you save costs while ensuring you have what you need in stock to avoid losing sales. All the software I recommend in this review offers good inventory support, and you'll get the support you need whichever you choose.
Mangomint Inventory Management
You can set up and categorize products in the Mangomint inventory and track your inventory level. Mangomint also offers support for purchase orders so that you can streamline the ordering process from suppliers as purchase orders can be automatically pre-filled based on your stock levels.
You can manage detailed settings on each product – like tax charges, commission, and more.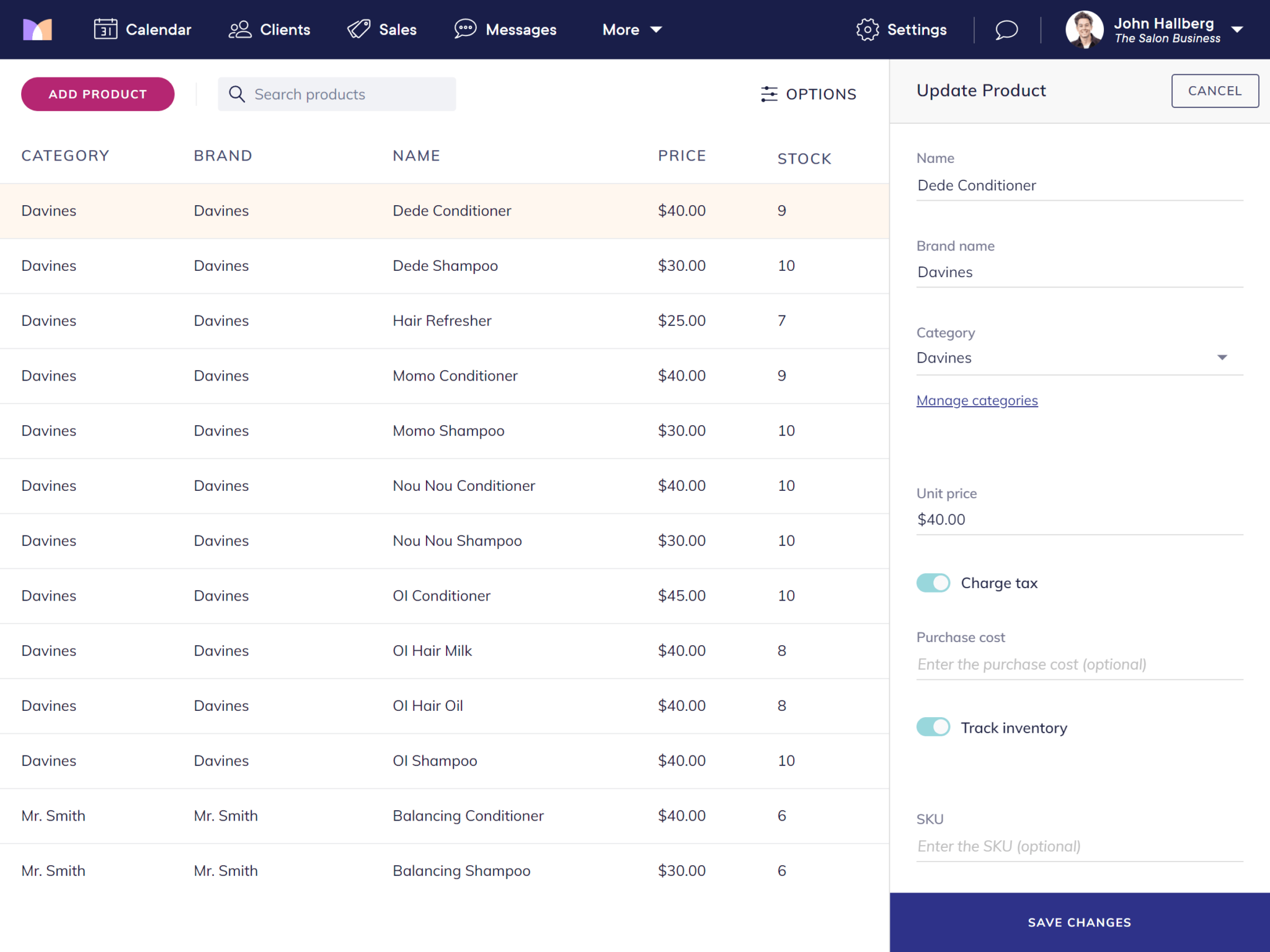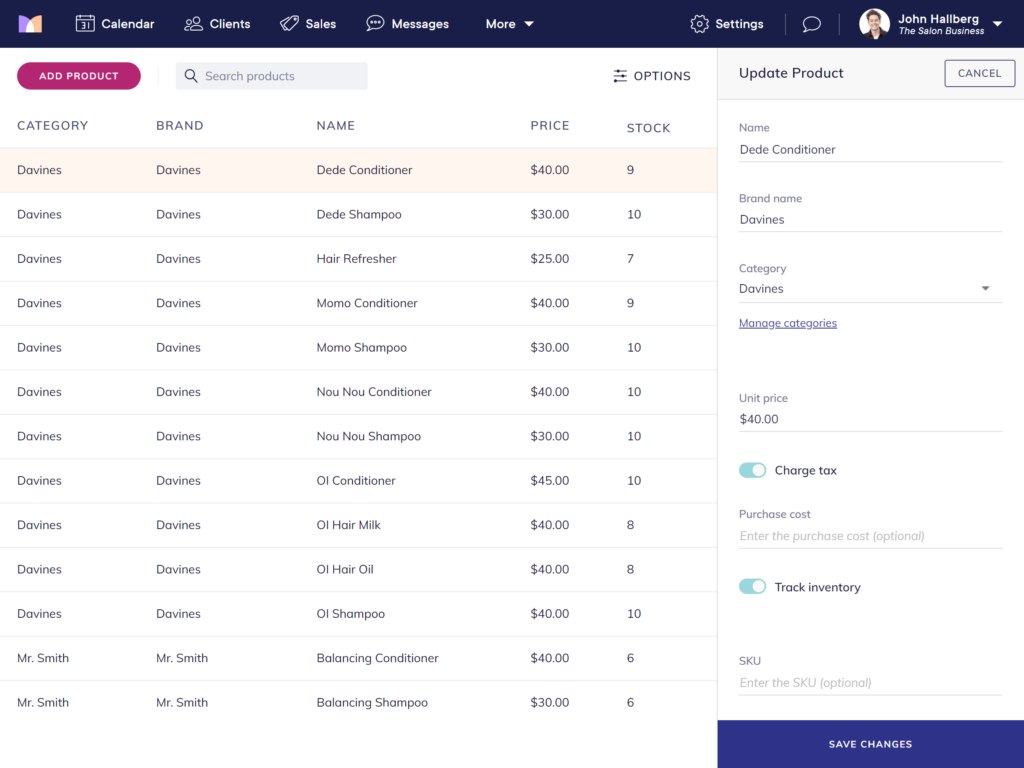 GlossGenius Inventory Management
GlossGenius offers standard support for inventory management. You can keep track of stock levels and pull reports that indicate where stock is low.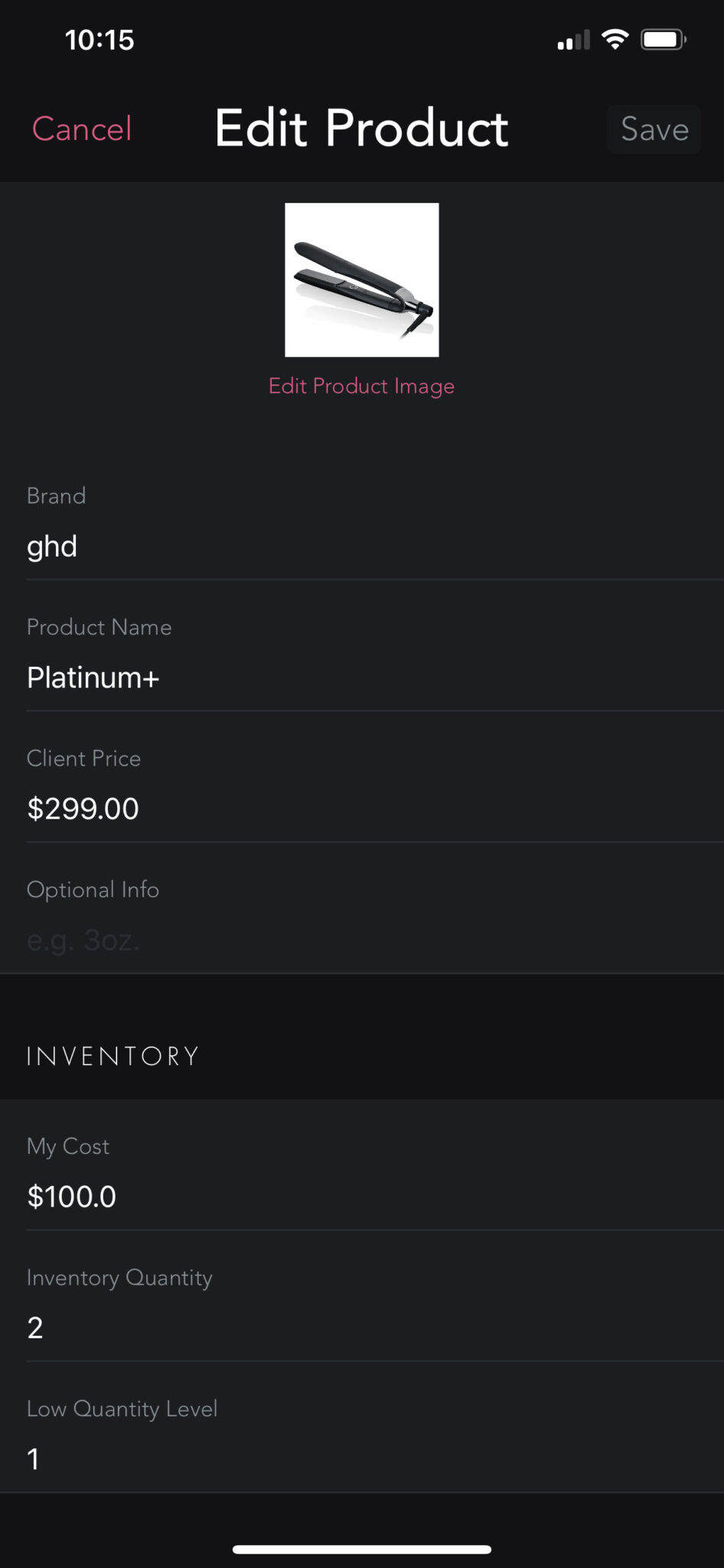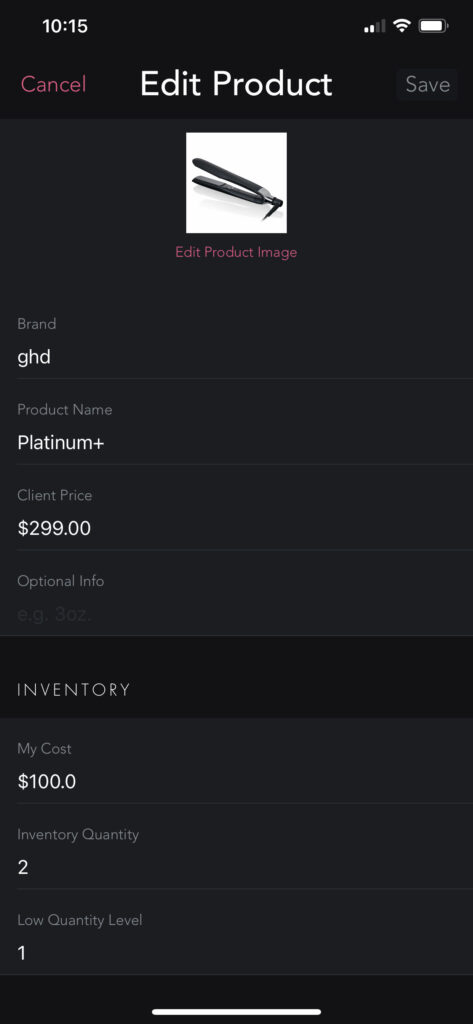 Vagaro Inventory Management
Vagaro allows you to manage vendors, brands, and products. You can set up inventory tracking and notifications so that you're in control of all stock levels. You'll find all the support you need to manage your product inventory effectively.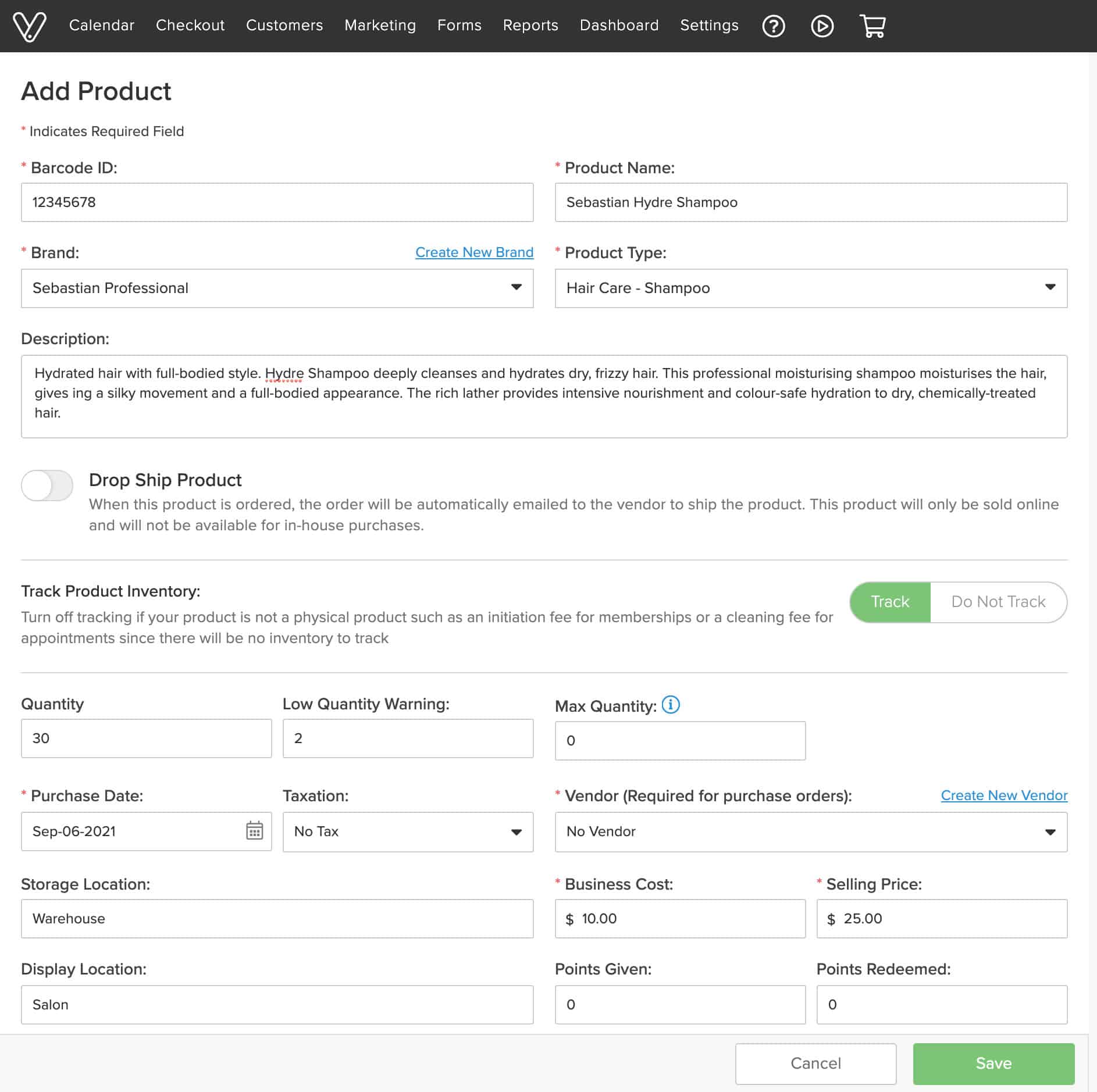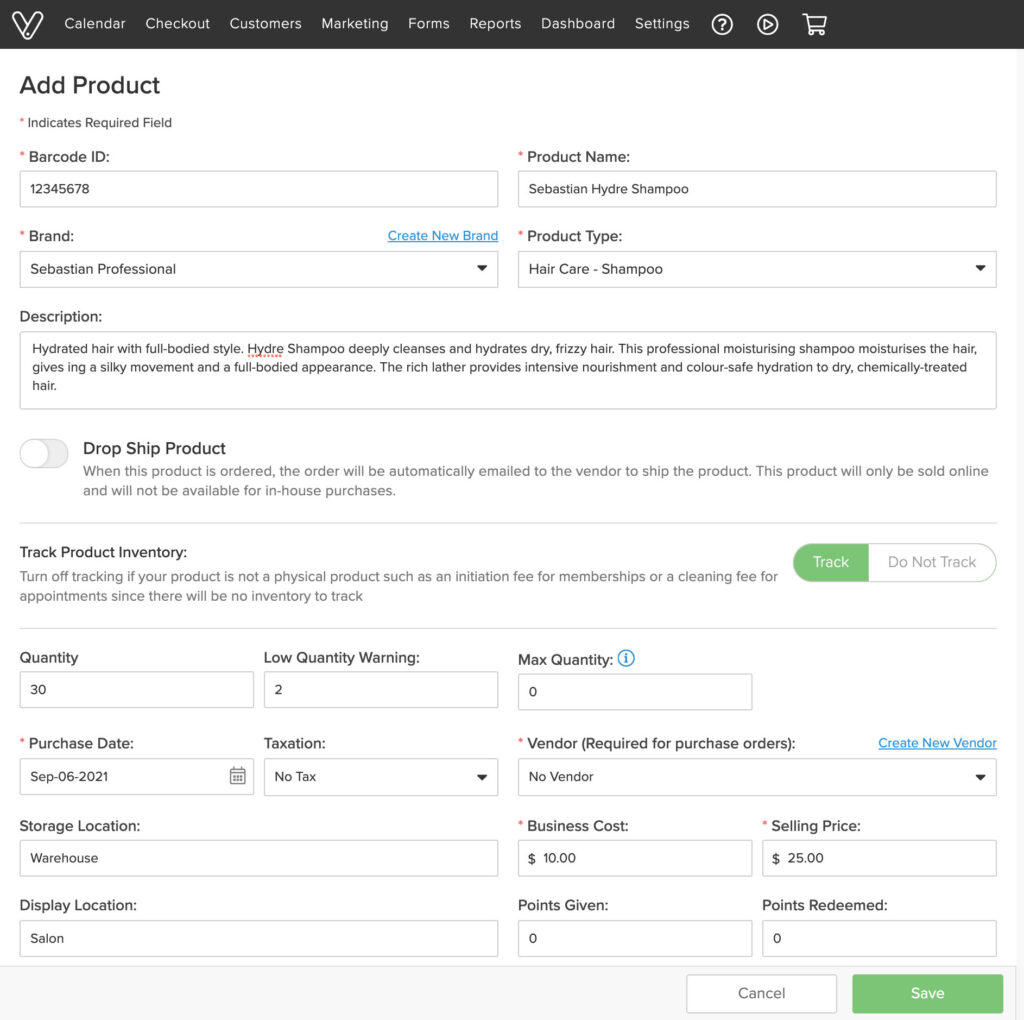 Fresha Inventory Management
Fresha has good support for inventory and supplier management. It's not as advanced as the Vagaro, Mangomint, or Square inventory tracking and stock notifications but more than enough for most salons.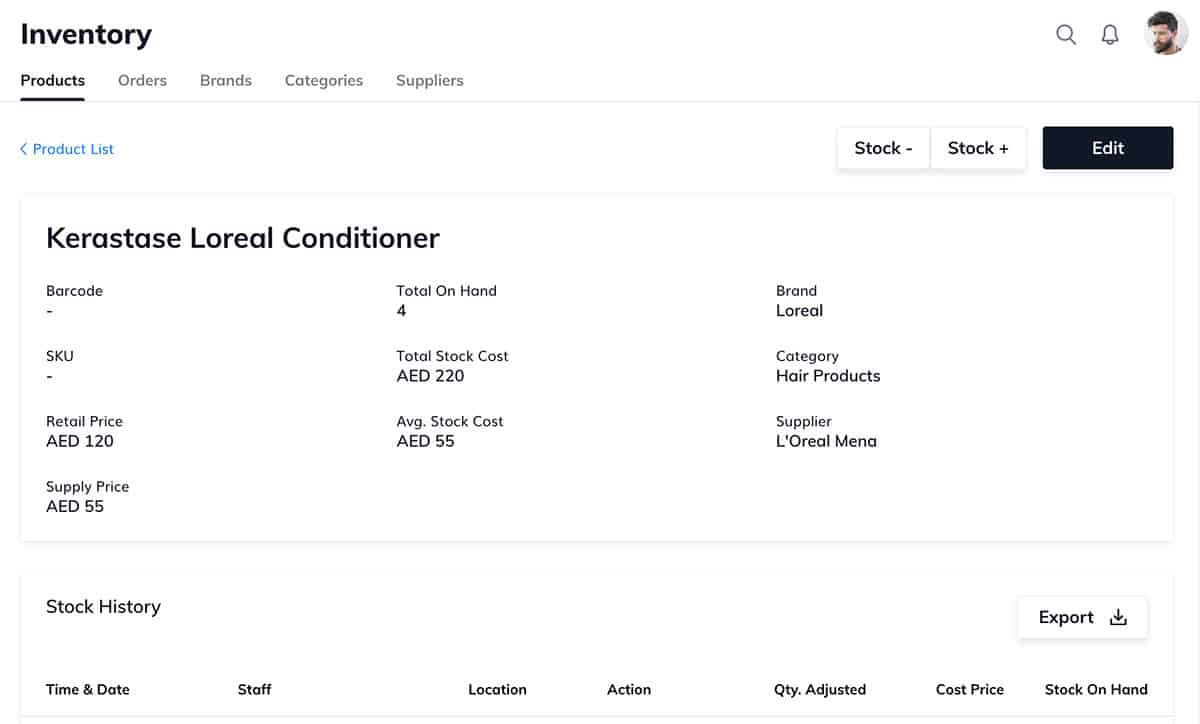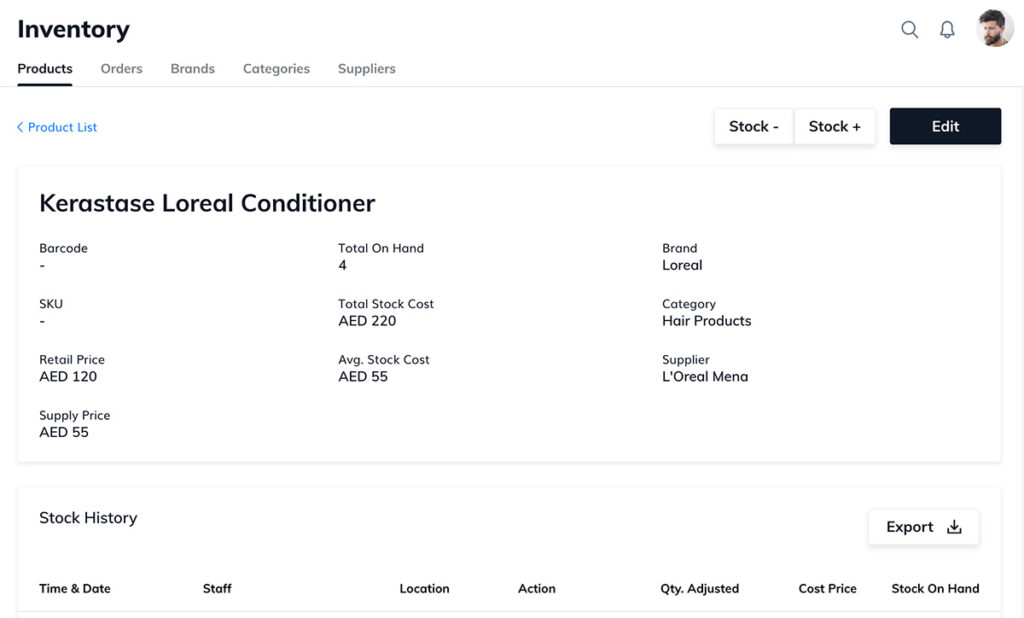 Boulevard Software Inventory Management
Boulevard allows you to manage product details like size, color, suppliers, brands, and categories within the app from the Boulevard dashboard.
Purchase orders can be created and managed on Premier, Prestige, and Enterprise plans only.
For Premier and Enterprise customers, usage-based pricing is available.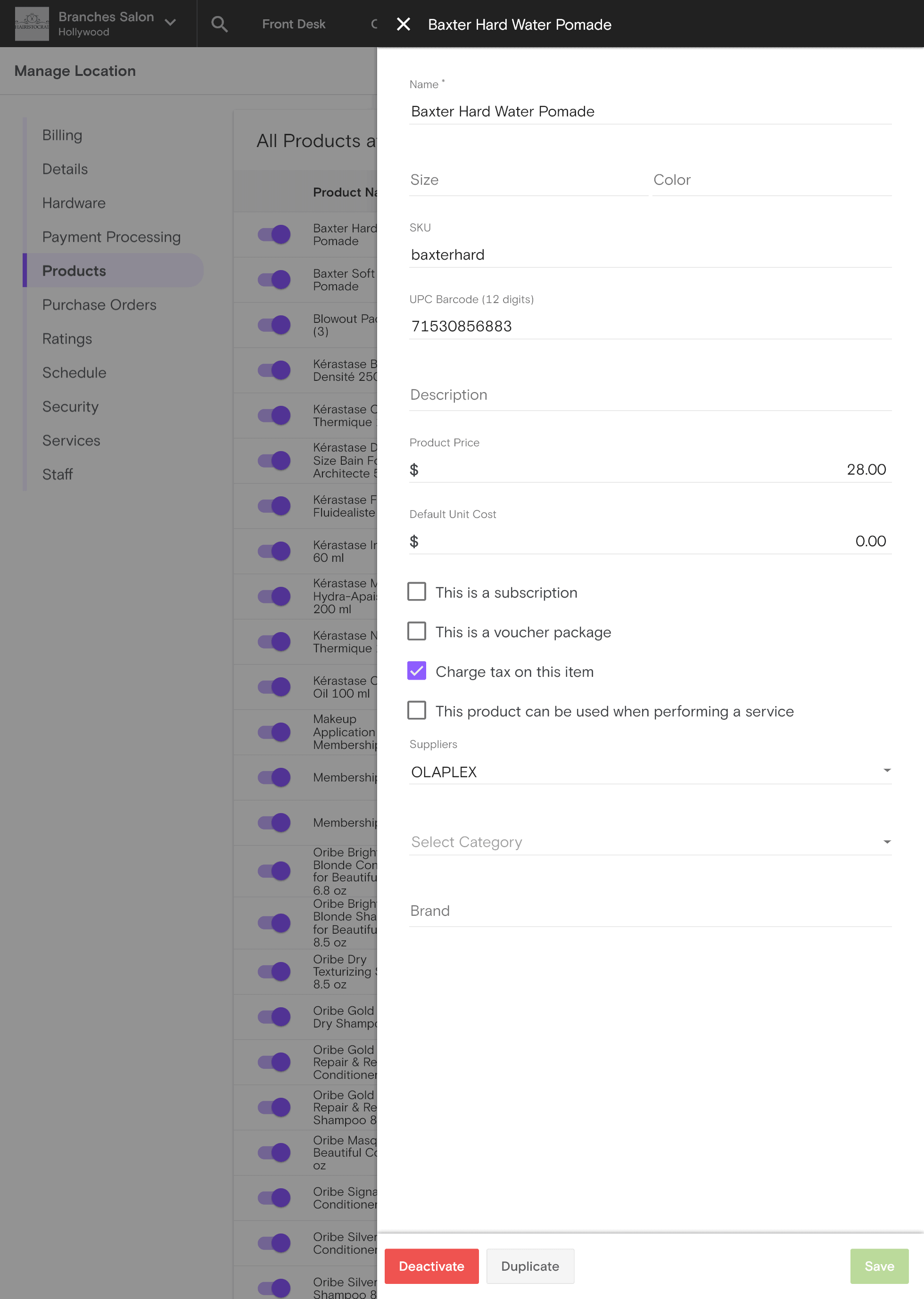 Square Appointments Inventory Management
Square Appointments comes with the accompanying "Items" app where you manage your inventory of products and services. The product inventory support you get with Square is very rich and allows you to manage product variations (e.g. sizes) and it gives you out-of-stock alerts.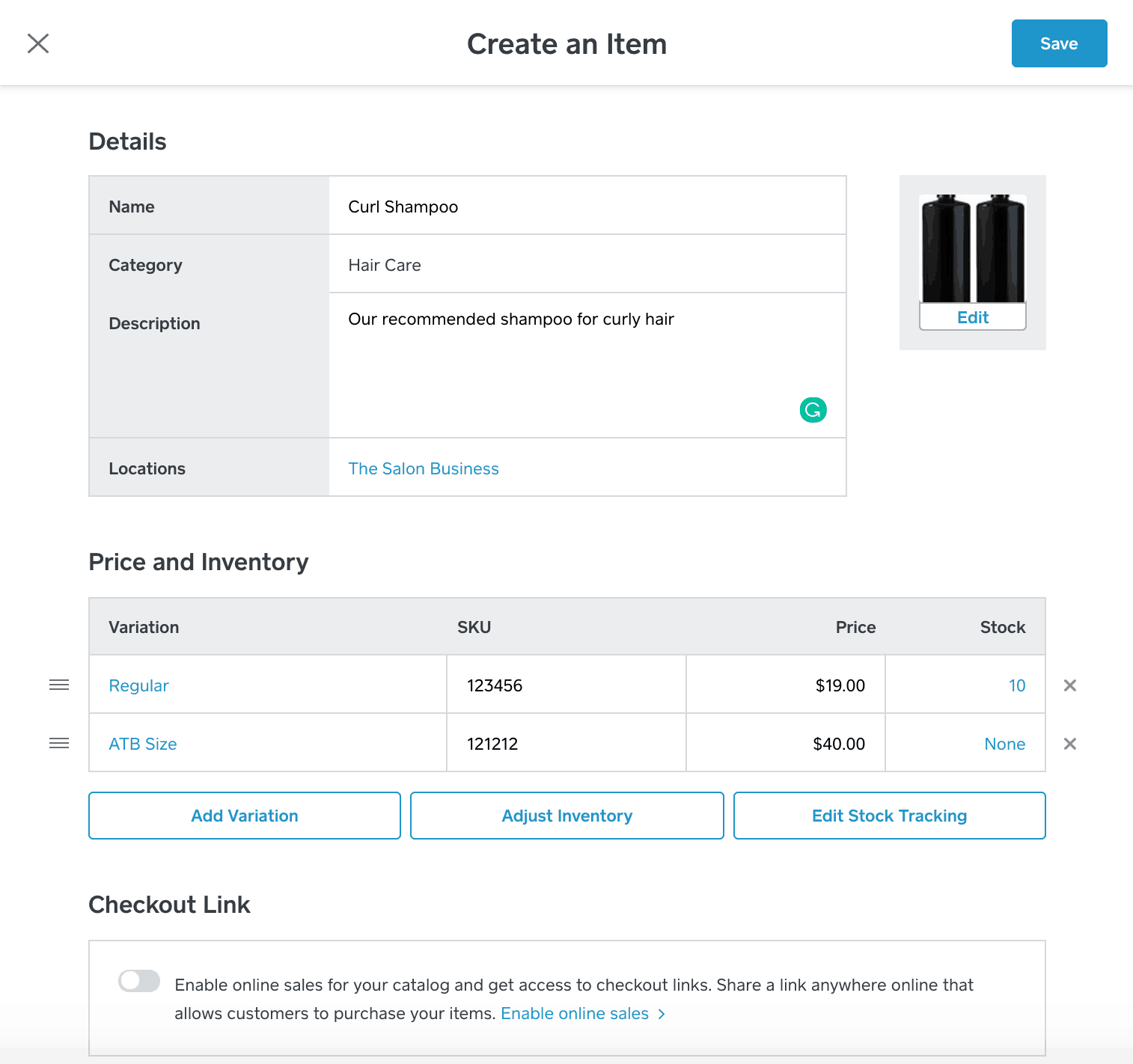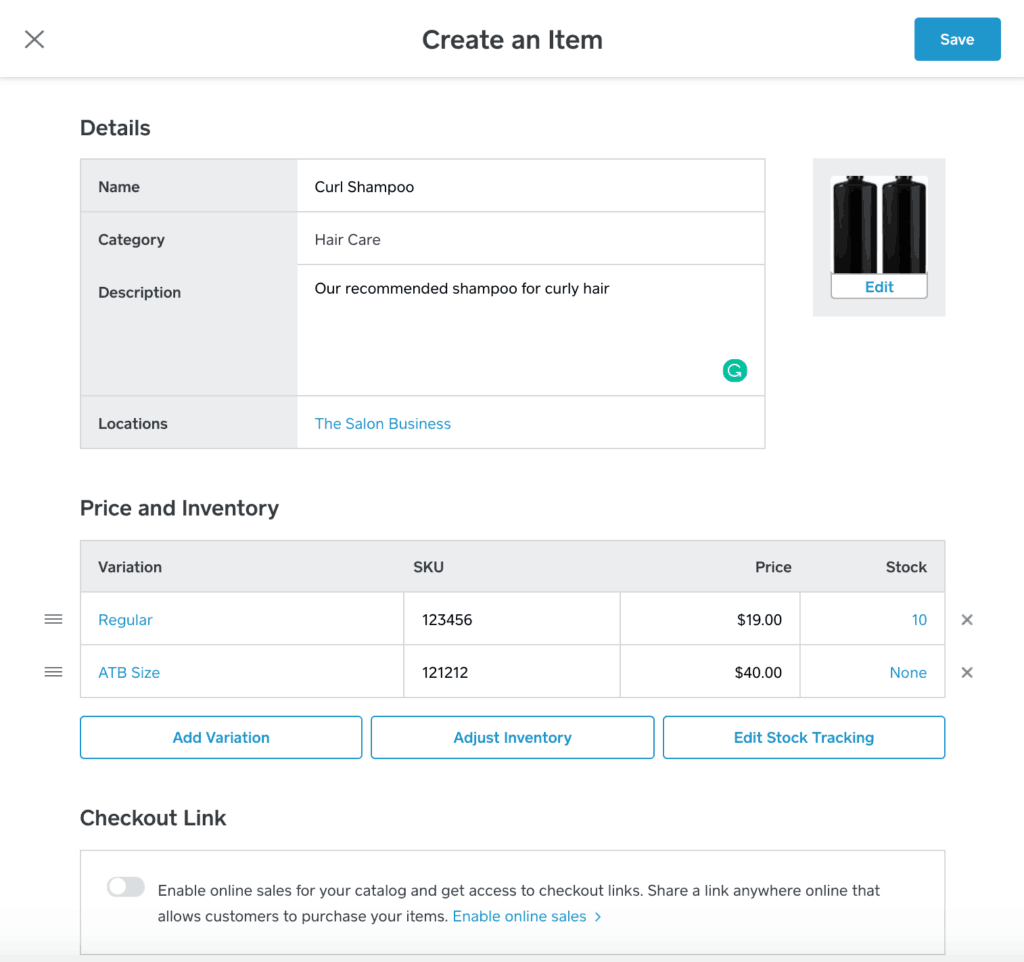 Booker Inventory Management
Booker offers inventory support for products, purchase orders, and vendors.
While the interface looks rather plain, the amount of product detail available in the record is more than adequate, making running reports and pulling data based on specific criteria possible.
Standard reorder amount can be specified here, and alerts for low stock, reorder, and out-of-stock can be set up to notify you when specific stock quantities have been reached.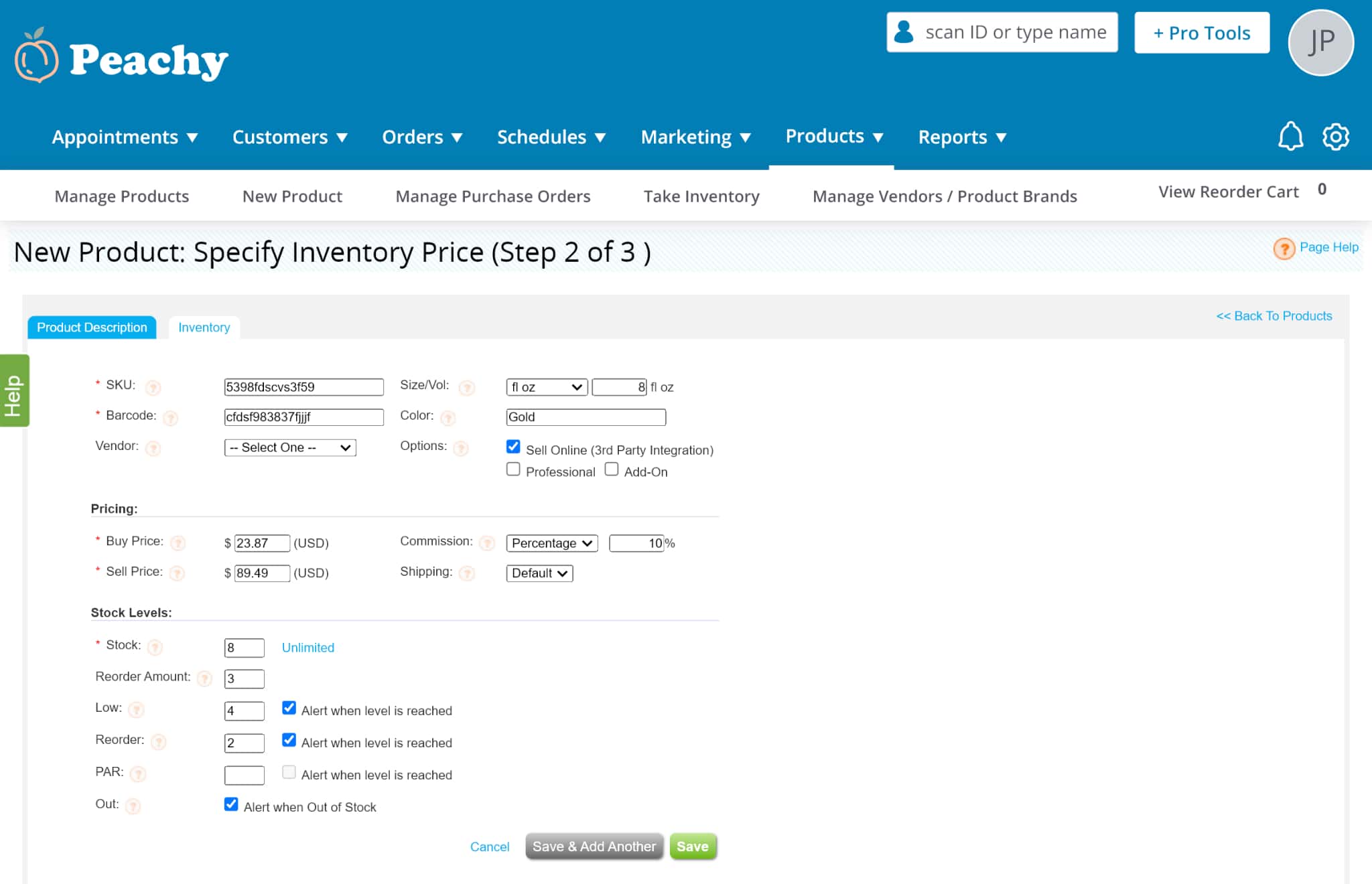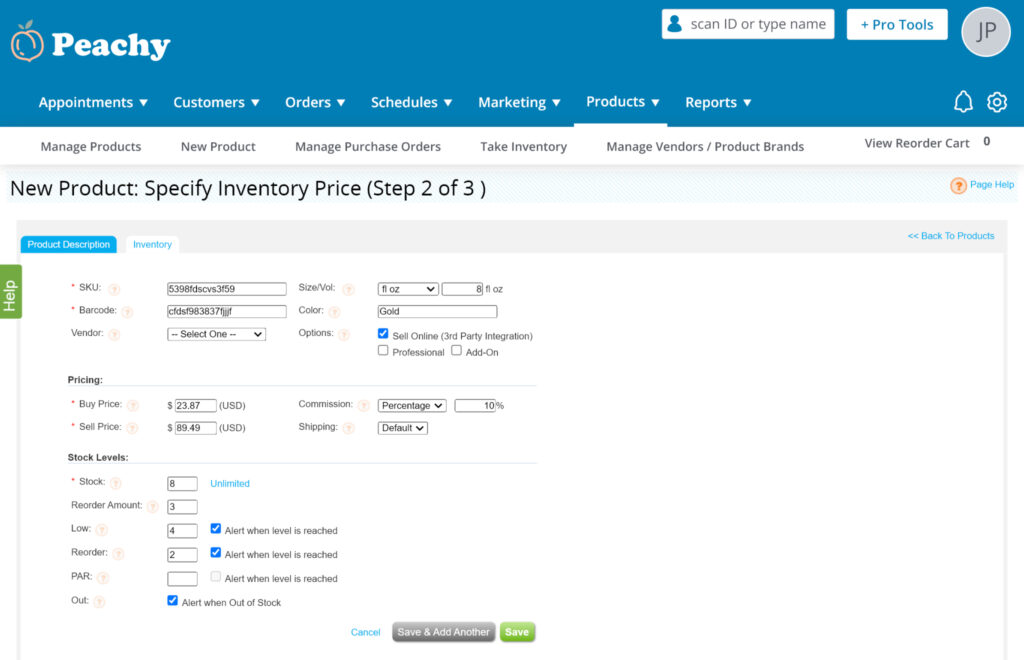 Basic client and staff reports are also available on the Starter plan.
All plans have access to the analytics dashboard, which breaks down sales figures, online booking metrics, year-over-year sales charts, as well as membership and attendance metrics.
Zenoti Inventory Management
Zenoti has product controls that allow you to create and edit vendors, SKUs, online webstore catalog entries (with fields to specify meta keywords, page titles, meta descriptions, and YouTube video IDs), product variants, product barcodes, commission types, and more.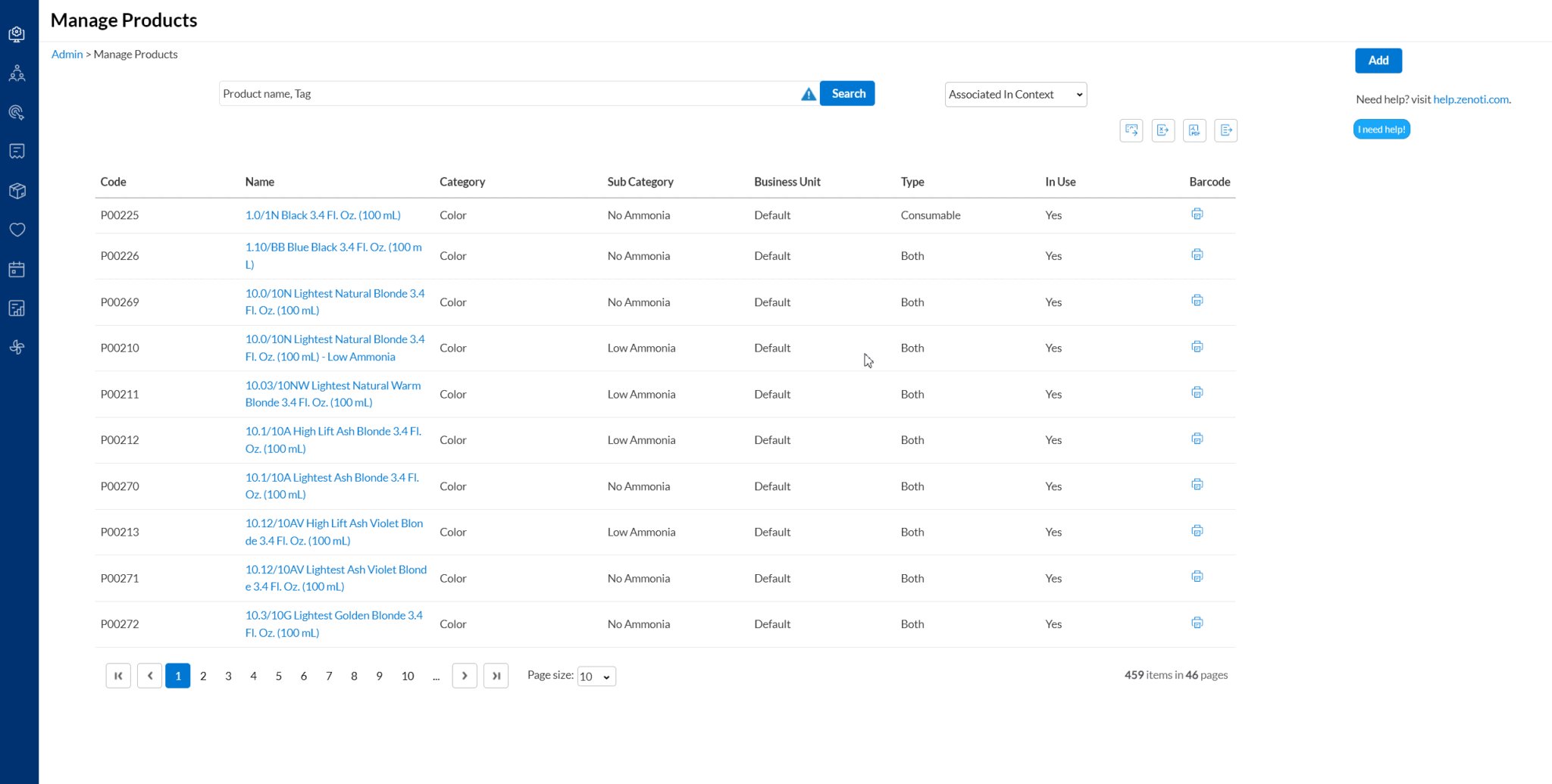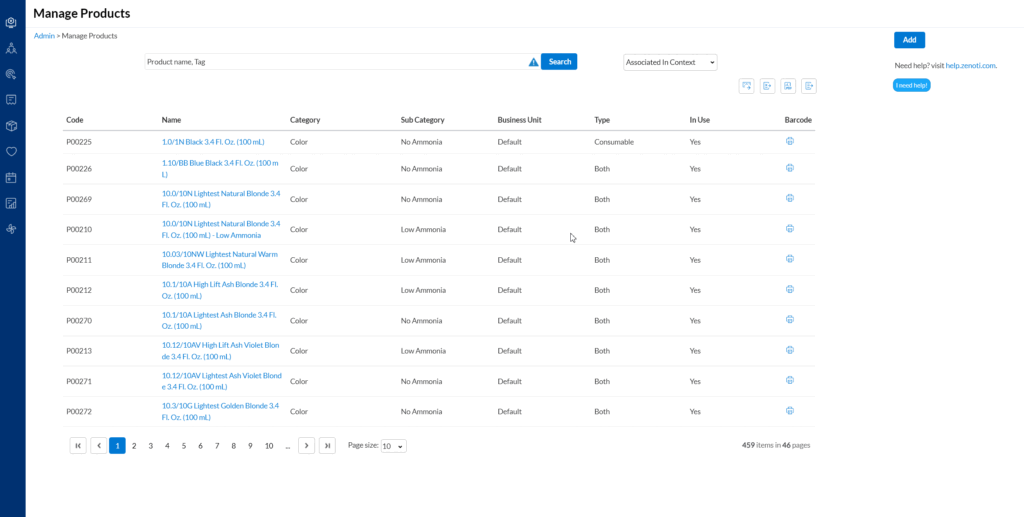 You also have the ability to create and receive purchase orders and transfer orders, as well as set low-stock alerts.
Inventory can be run, and partial and full audits can be conducted within the software as well.
Mindbody Inventory Management
Mindbody offers inventory support for products, purchase orders, and vendors, but your access to these features will be determined by which plan you choose.
As with nearly every other feature, the Starter plan is limited to basic inventory management features, while higher-tier plans get access to advanced inventory tools and reports.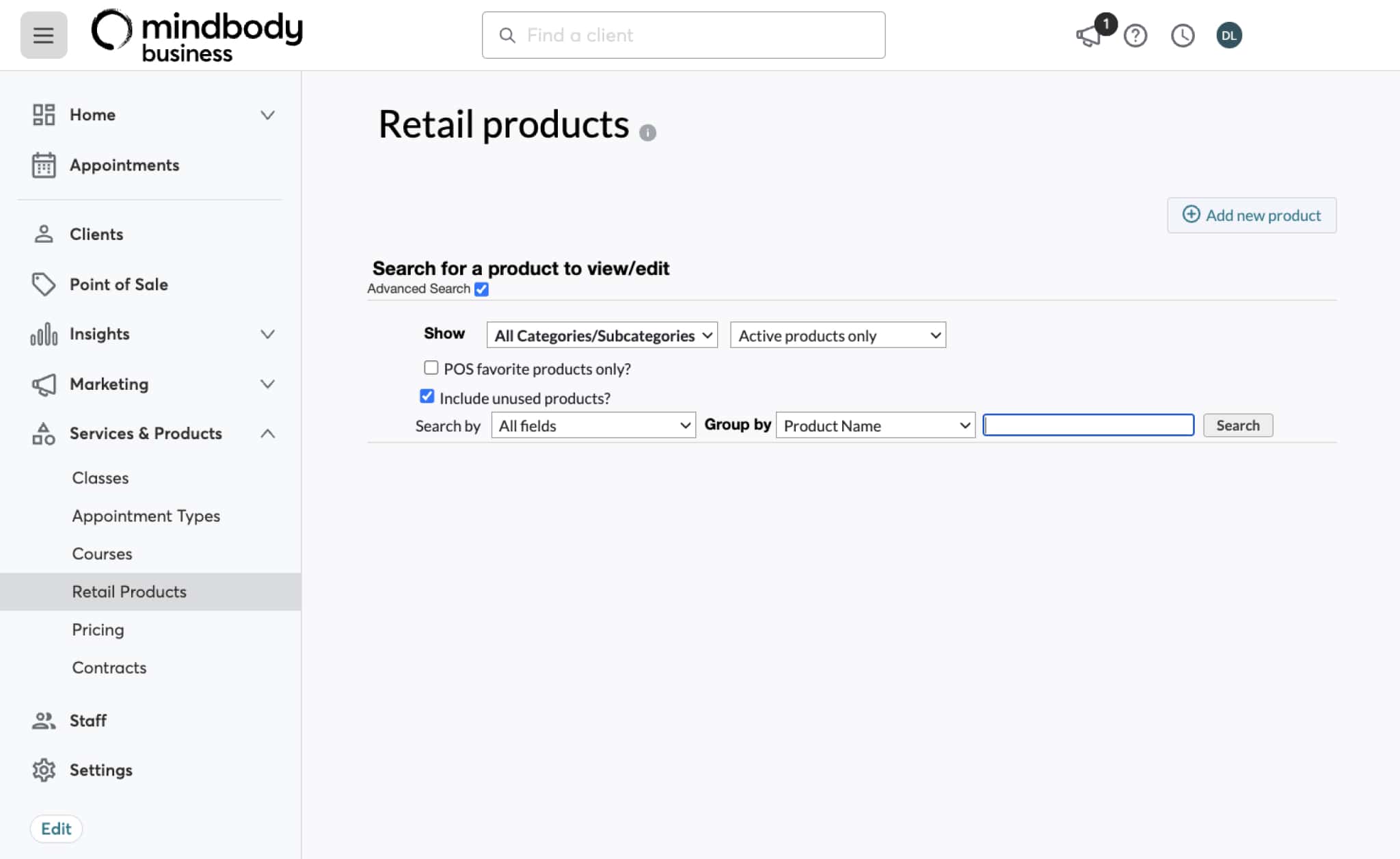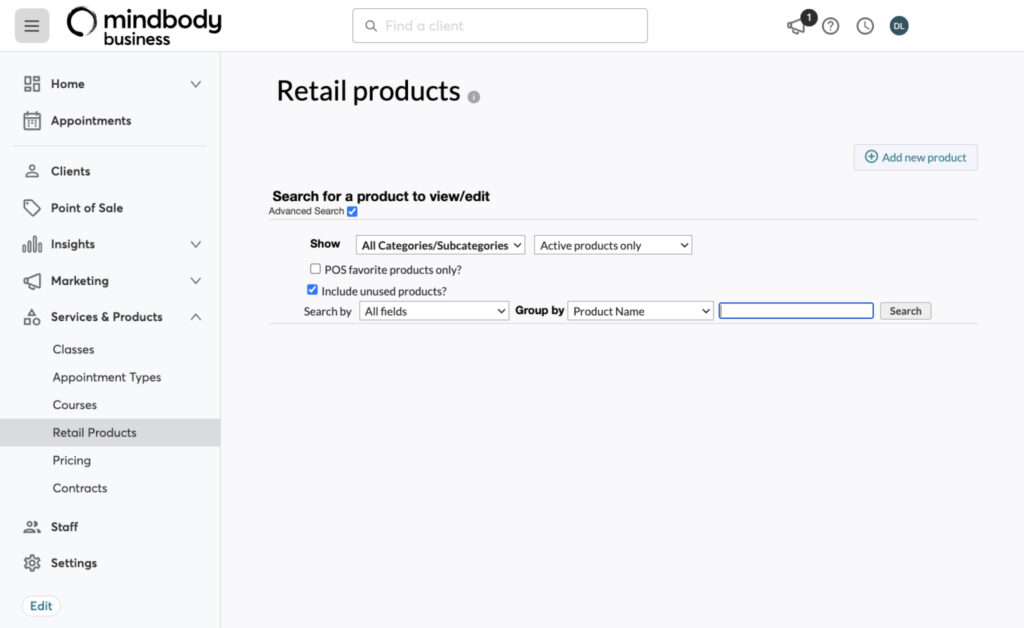 Best Salon Marketing Software
You should expect more of your salon software than just support for salon operations. A good salon software suite will also help grow your business via effective salon marketing. Let's go through how each solution supports your marketing efforts.
Email & SMS Marketing
Even though email and SMS are old technologies that have been around for a while, they're still the most effective ways for you to keep in touch with your clients (as well as potential new clients) at scale.
Mangomint Marketing Support
Mangomint doesn't offer any built-in marketing tools. They focus on the core salon software features.
But this is not a bad thing.
Quite the opposite.
In fact, one of my favorite aspects of Mangomint is that it allows you to integrate with other systems.
By leveraging integrations, you could, for example, manage all your email marketing in a dedicated email marketing platform (like Mailchimp).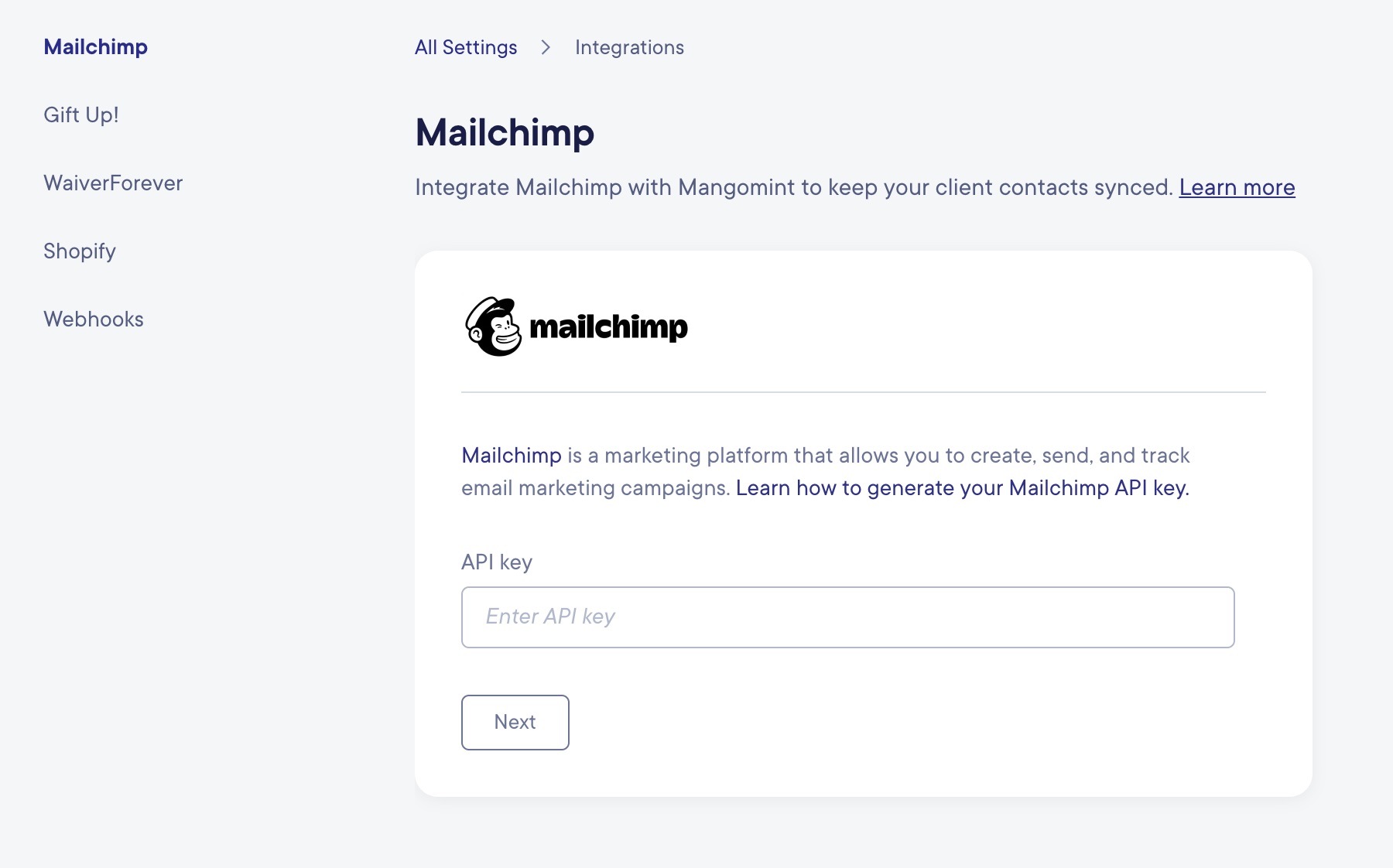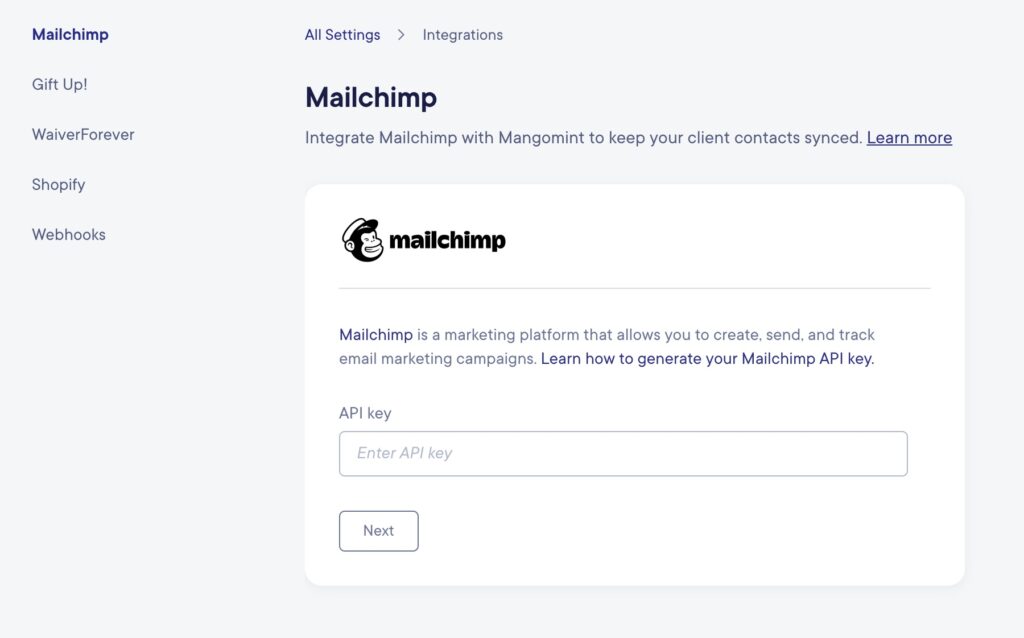 Mangomint integrates directly with Mailchimp, WaiverForever, Gift Up, Shopify, and Quickbooks.
But they don't stop there.
You can integrate with any other software out there using webhooks.
This is a more advanced feature which I'm not going to go into here. If you're interested in learning more about it I suggest you book a demo call with the Mangomint support team.
GlossGenius Marketing Support
It's super easy to run smart SMS and email campaigns from GlossGenius. You have access to smart segmentation so that you can create specific campaigns targeted at a specific group of your clients.
You do not have any flexibility when it comes to the design of your campaigns however but need to follow the predefined templates and just modify the ones you want to send. This will be a bit limiting for some but it also makes things very easy for you.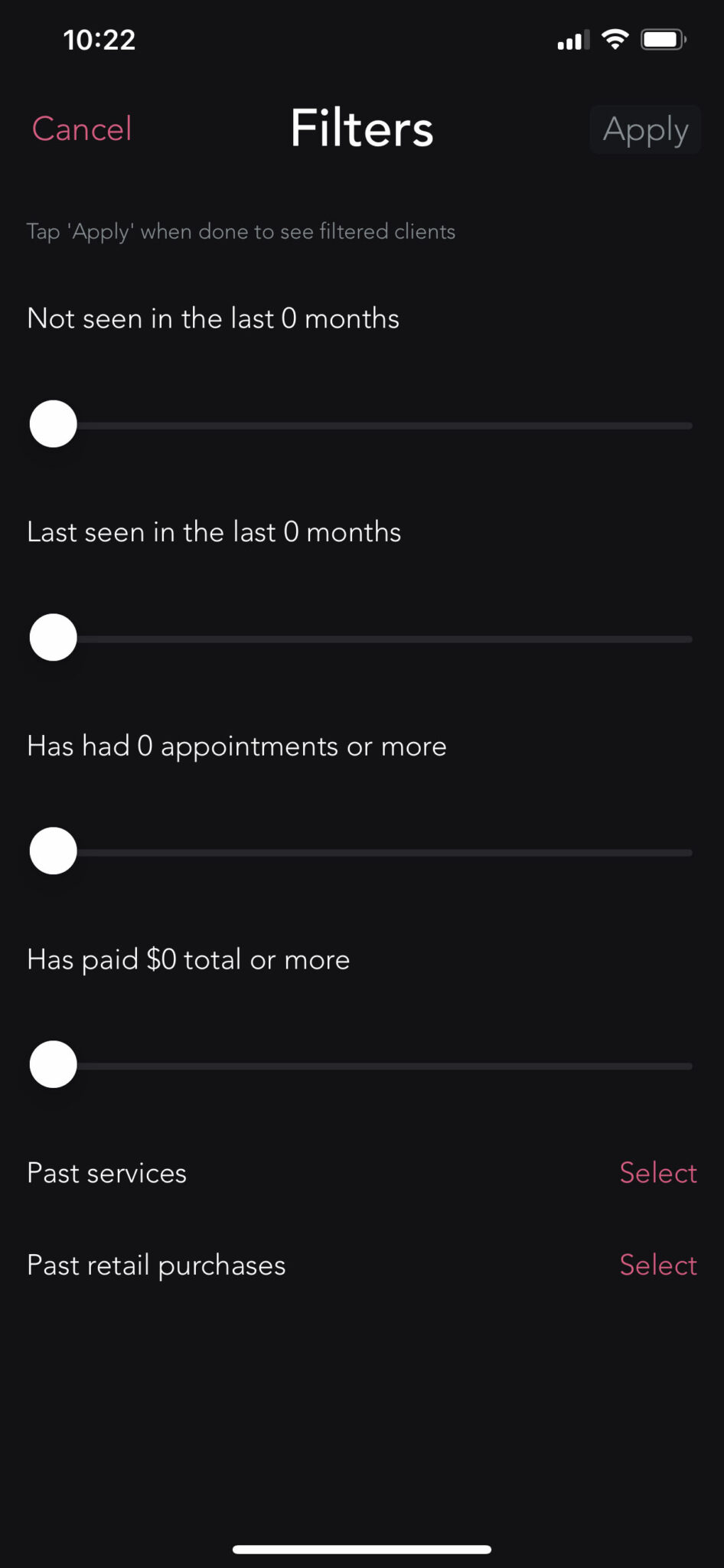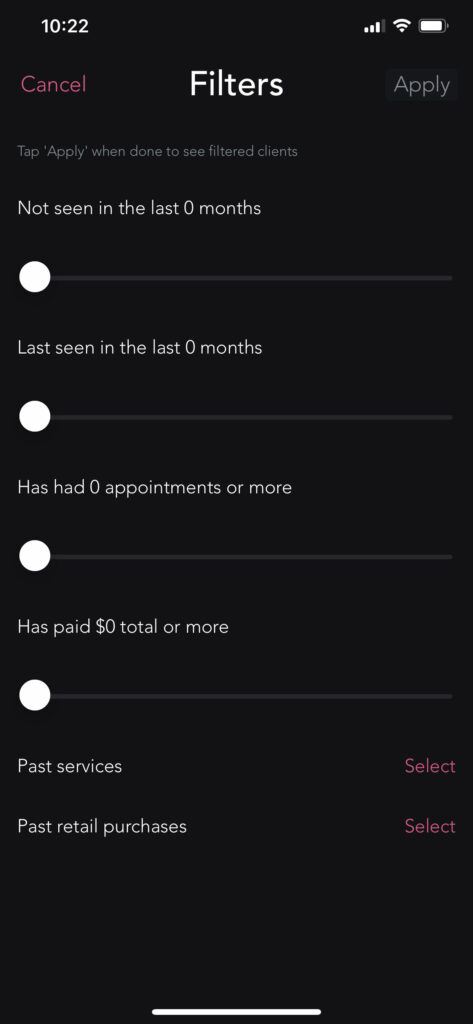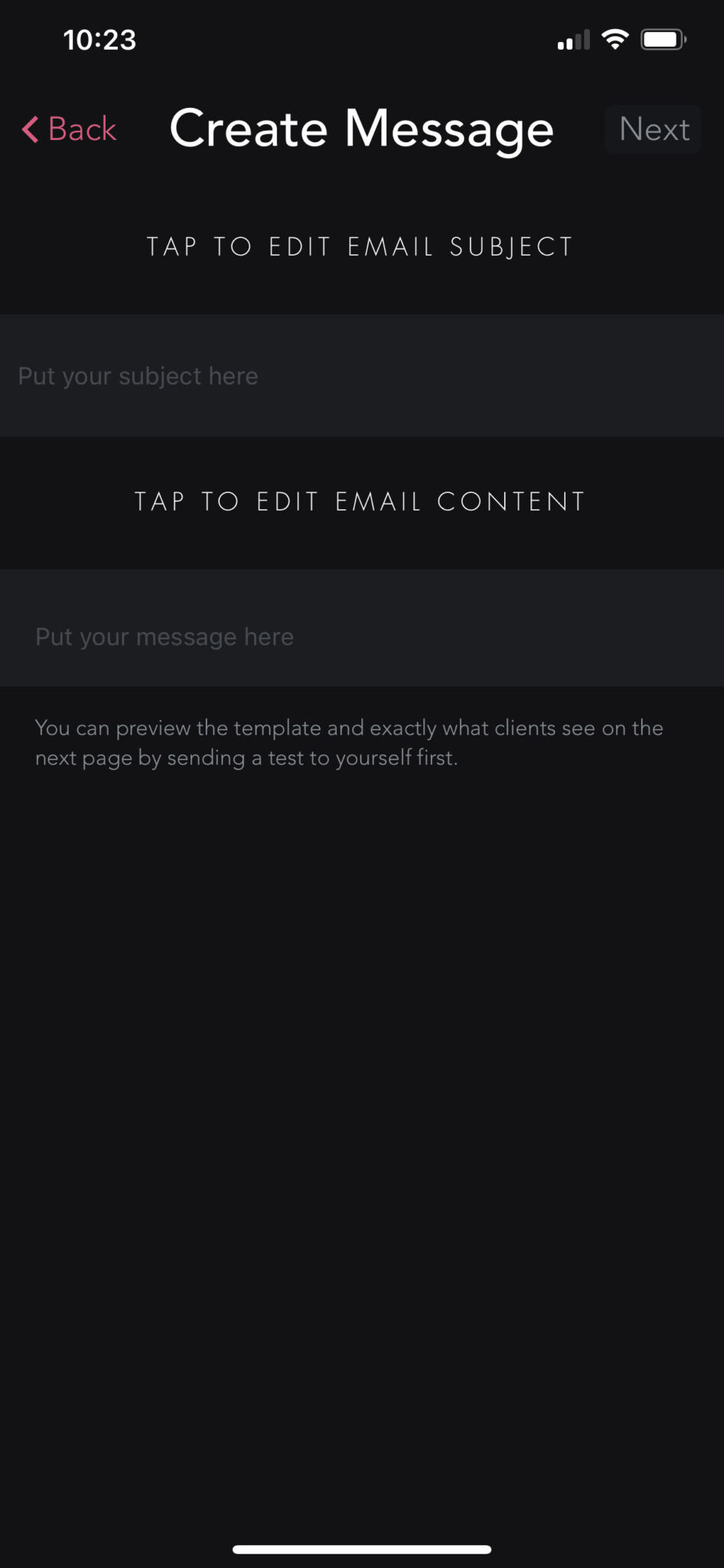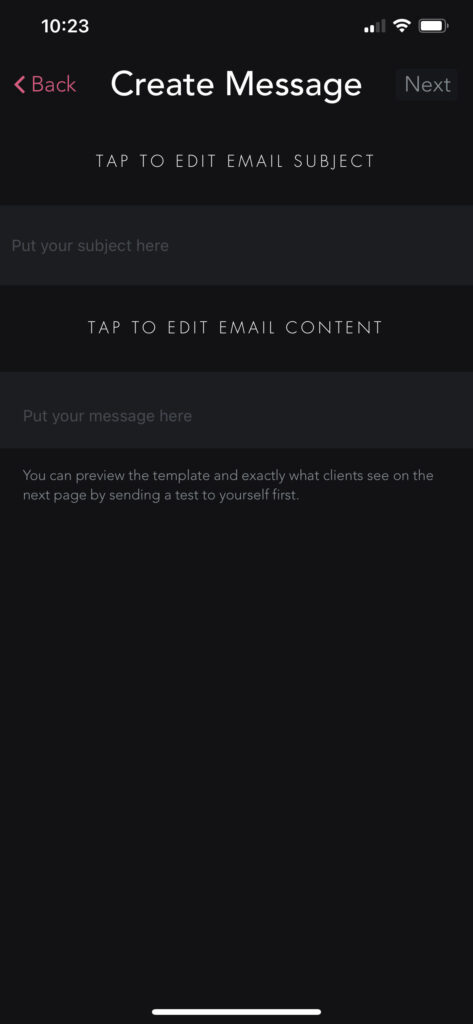 Vagaro Marketing Support
Vagaro offers advanced support for email and SMS marketing.
You can design rich HTML emails using the drag-and-drop email builder and you can target your campaigns to very specific segments of your clients. For example, you can email clients who haven't visited you for a certain time.
You can also leverage automated communication so that SMS/email is sent out on your client's birthday or a certain number of weeks after their appointment.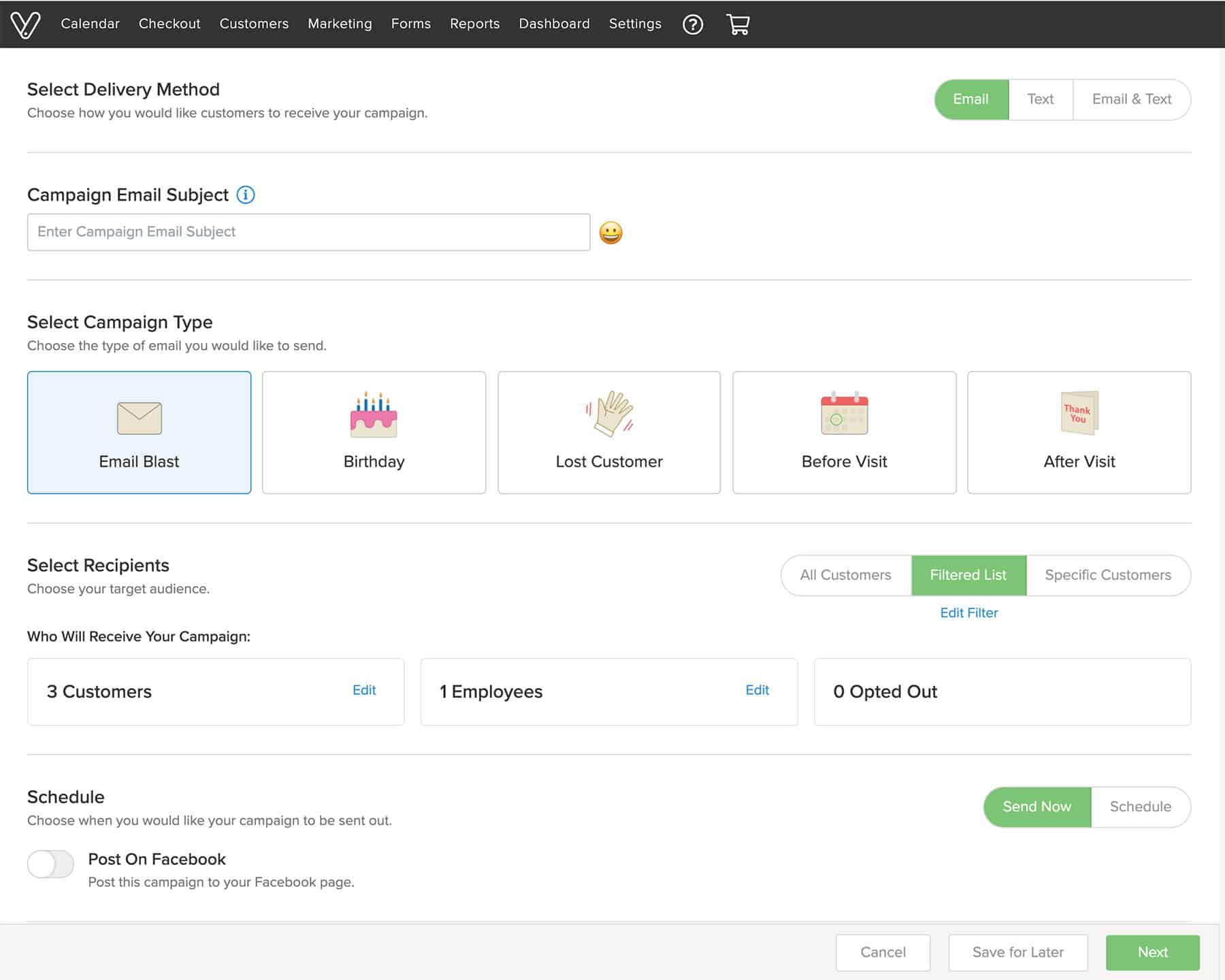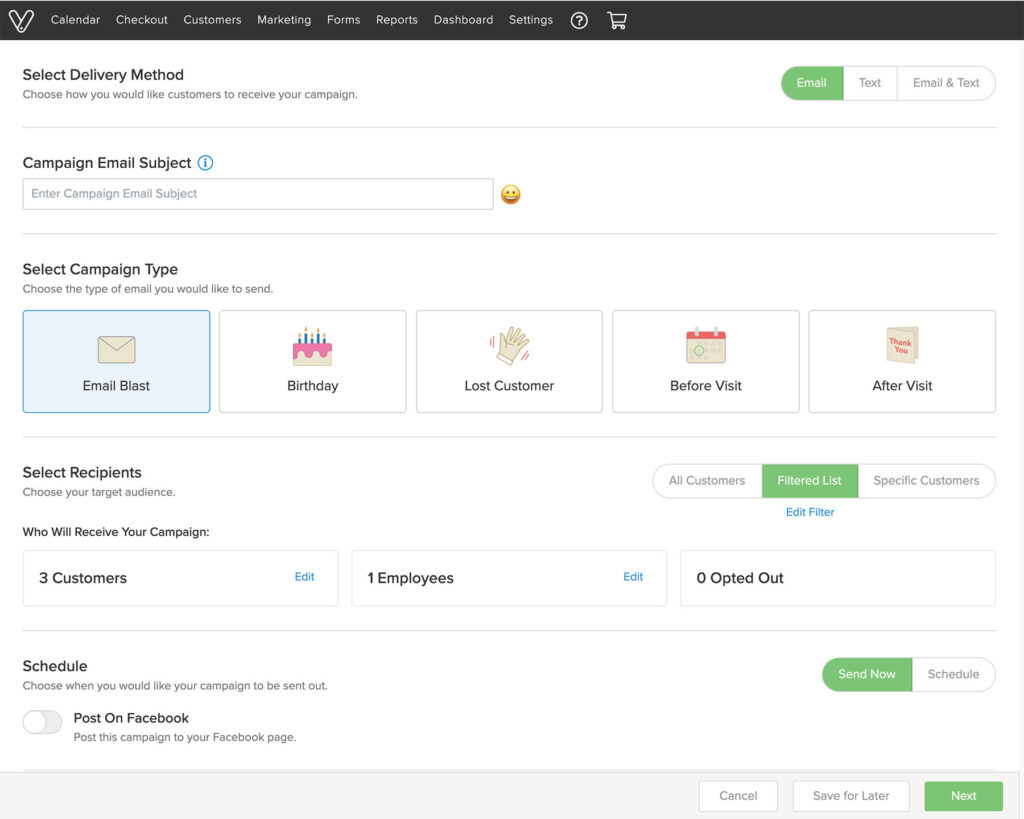 Fresha Marketing Support
Fresha gives you access to built-in email, and SMS marketing campaigns. You can send custom blast messages or leverage the smart campaigns to, for example, reach people on their birthdays or before you lose them.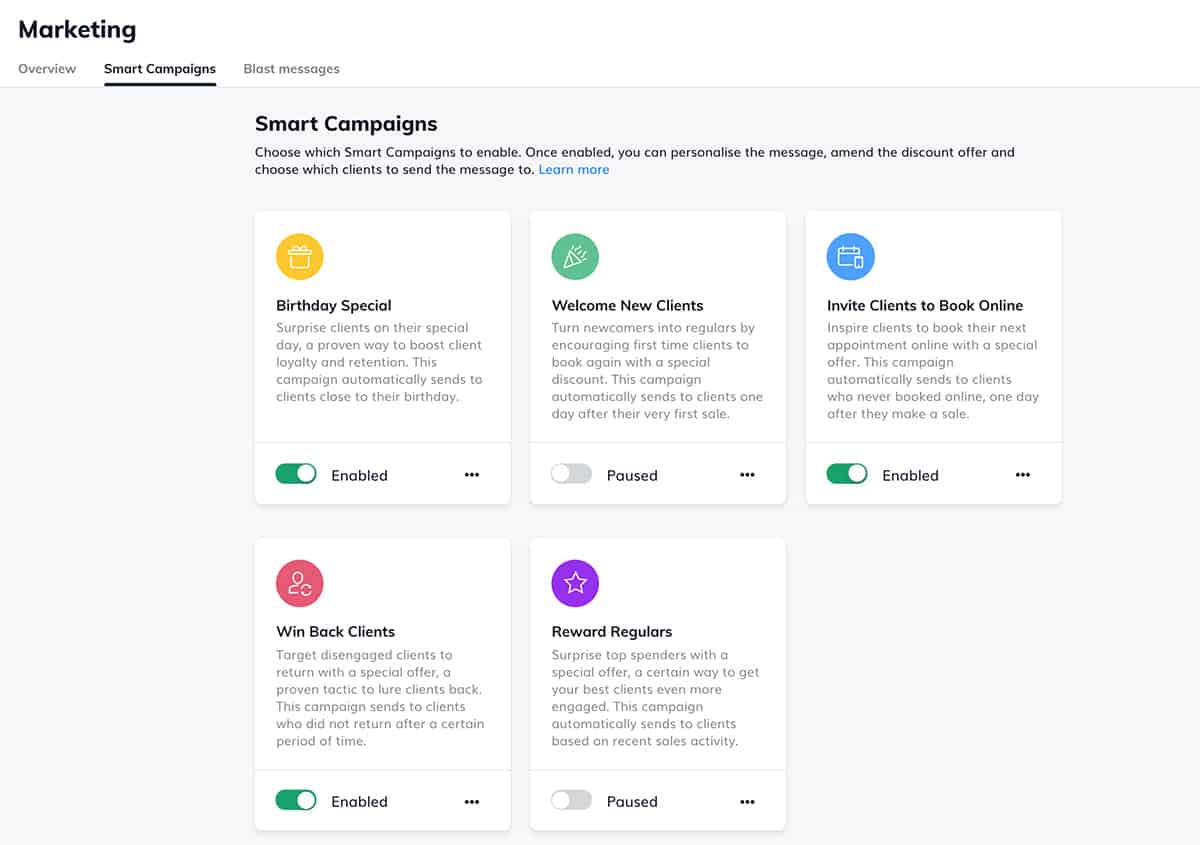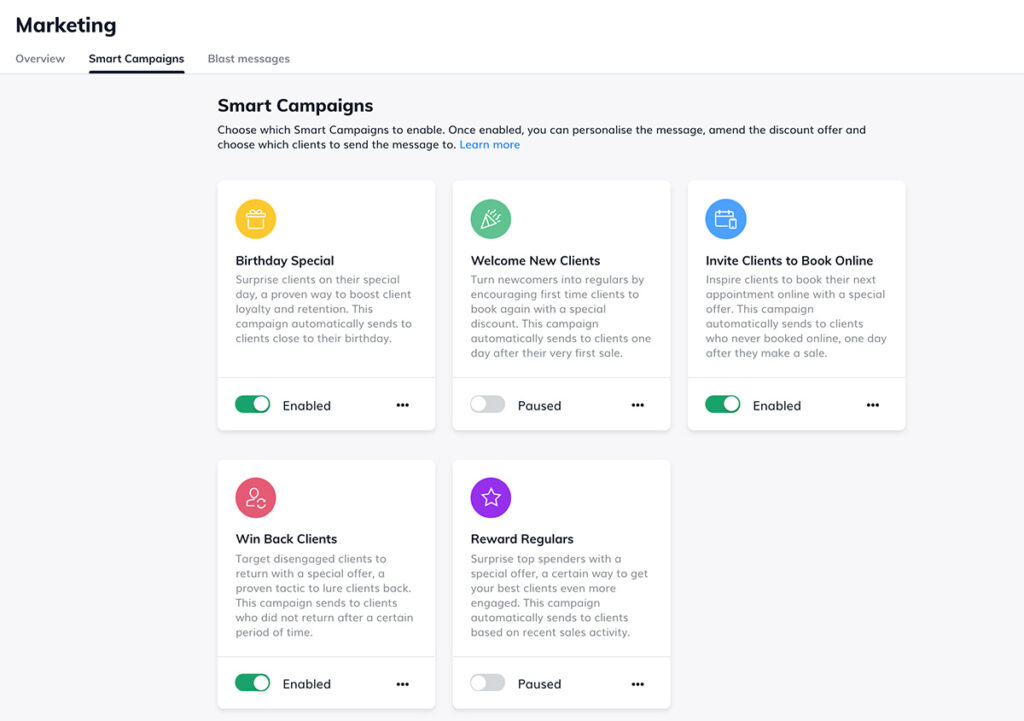 Boulevard Software Marketing Support
Boulevard features two-way texting and built-in email marketing tools that can be bundled as paid add-ons.
With automated campaigns, premade email templates, and direct access to your client data, you can quickly create marketing emails that look great and appeal to the right clients in Boulevard's drag and drop email builder.
Boulevard's Contact Center offers two-way texting and a custom booking line with Caller ID.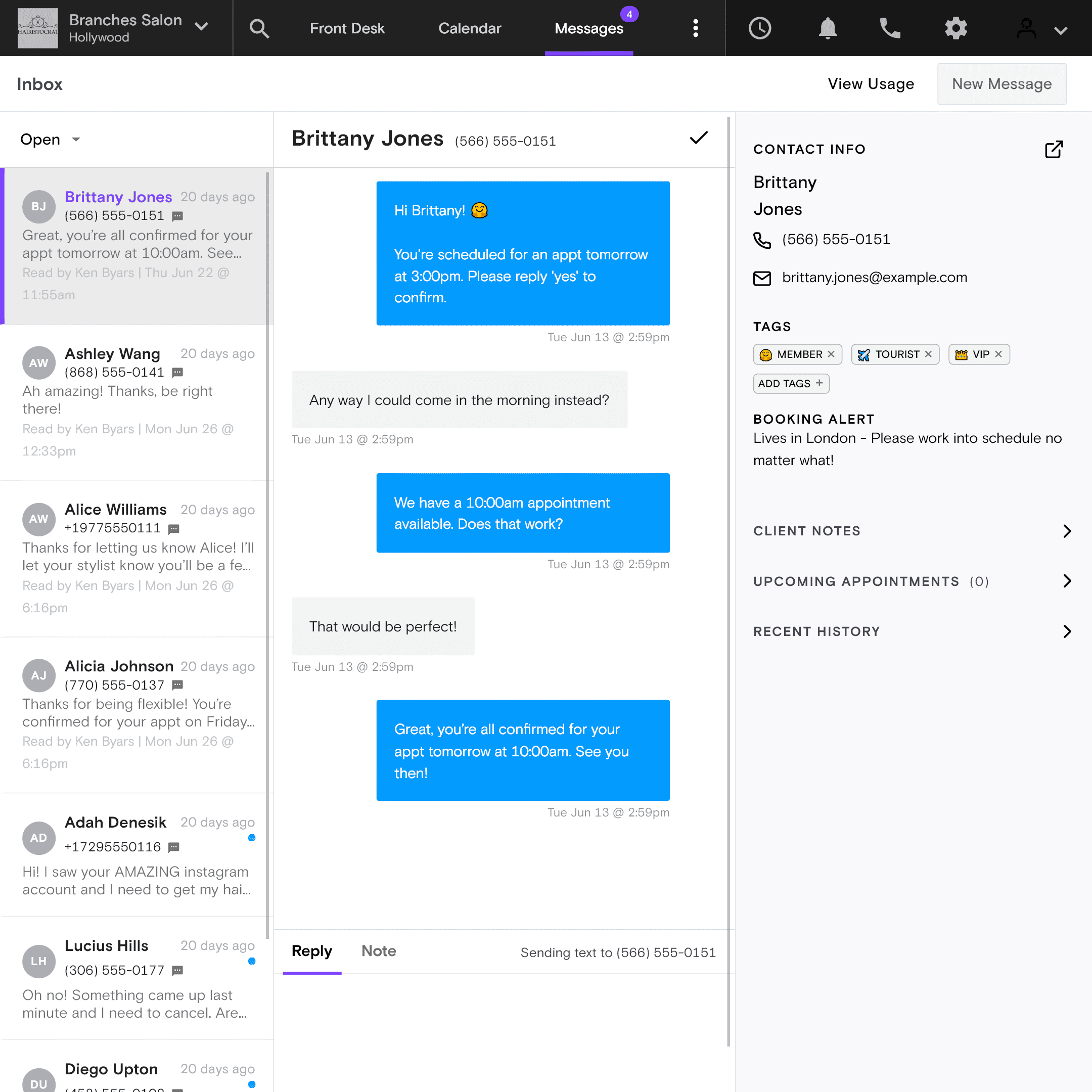 Square Appointments Marketing Support
Square Appointments does not have email marketing built-in (only appointment notifications). However, they have other Marketing products that integrate seamlessly with the appointment app.
This is a dedicated email marketing solution for which you'll pay an additional fee.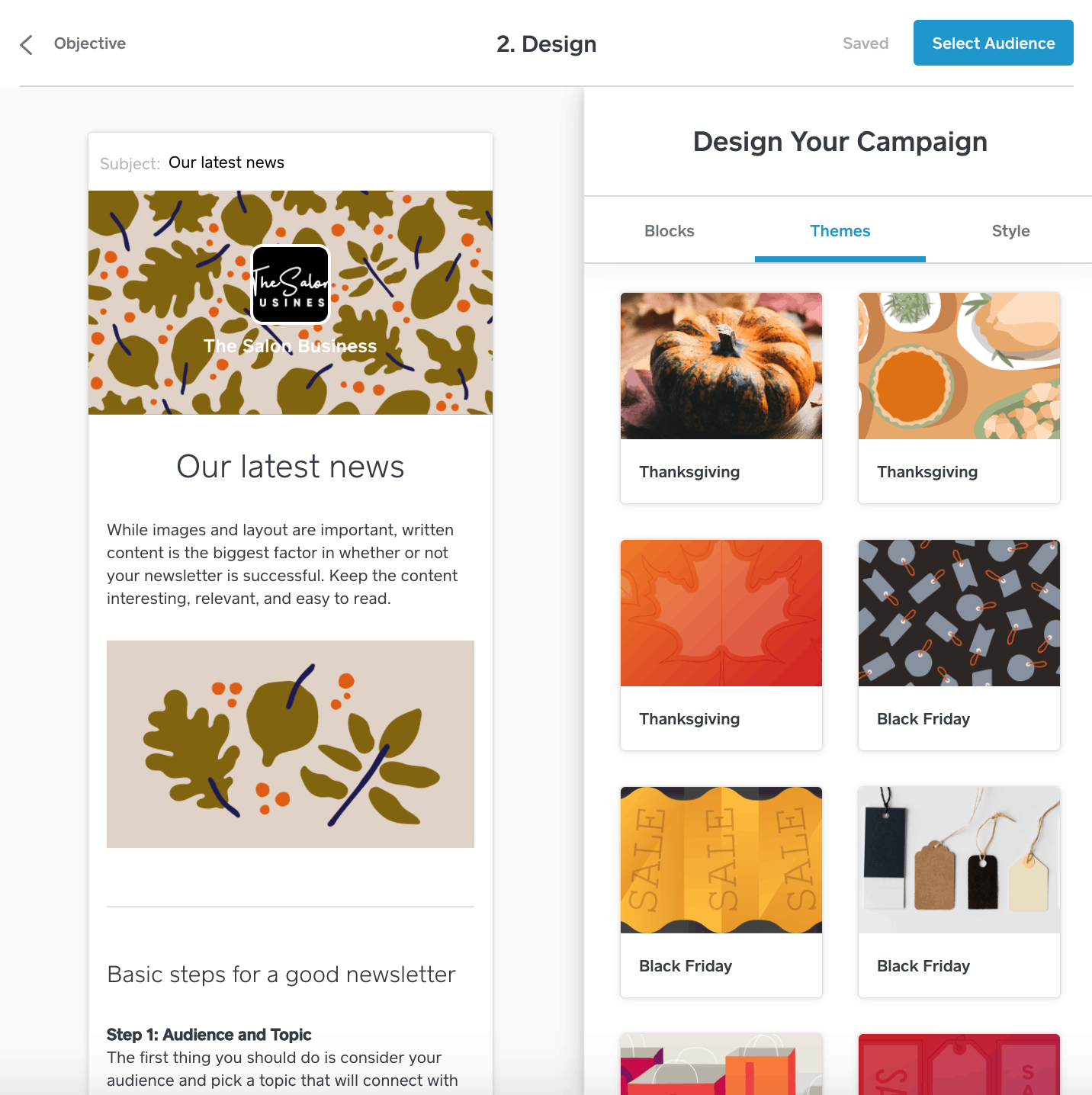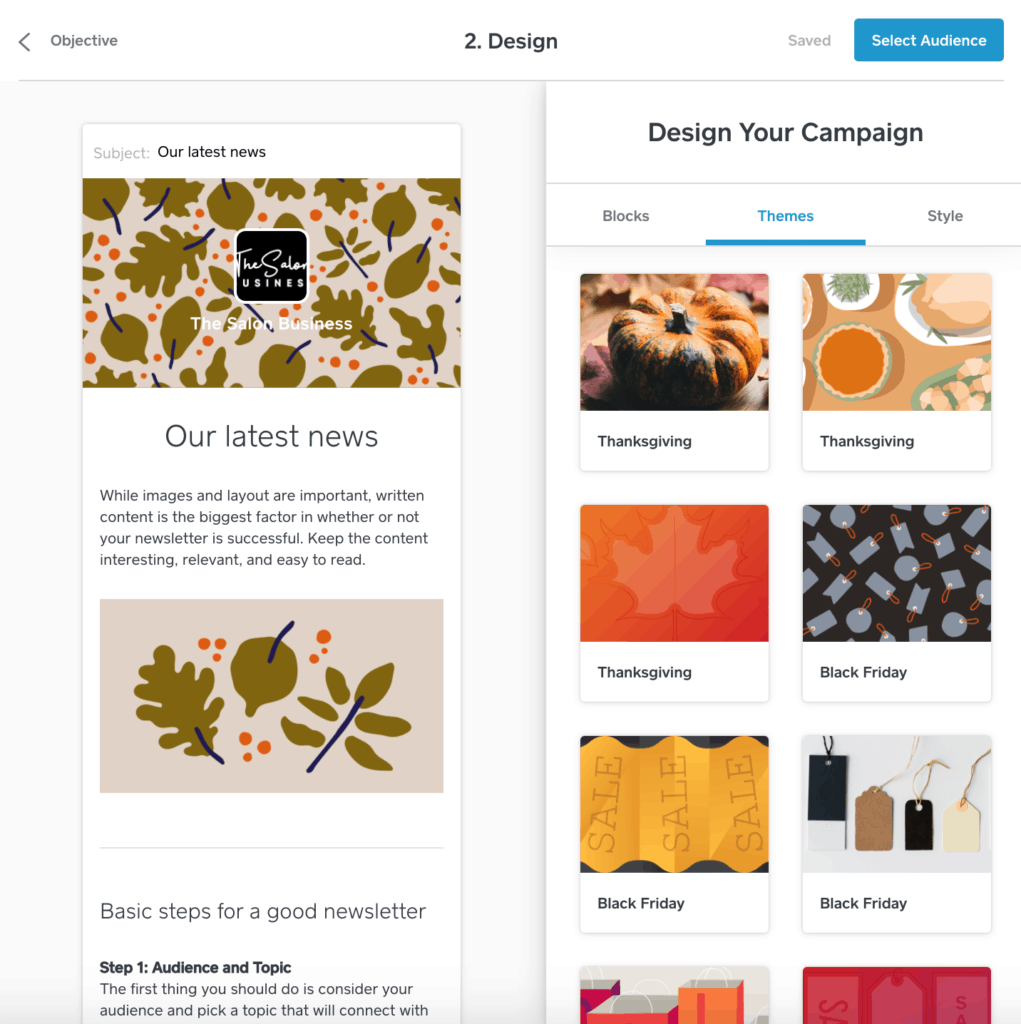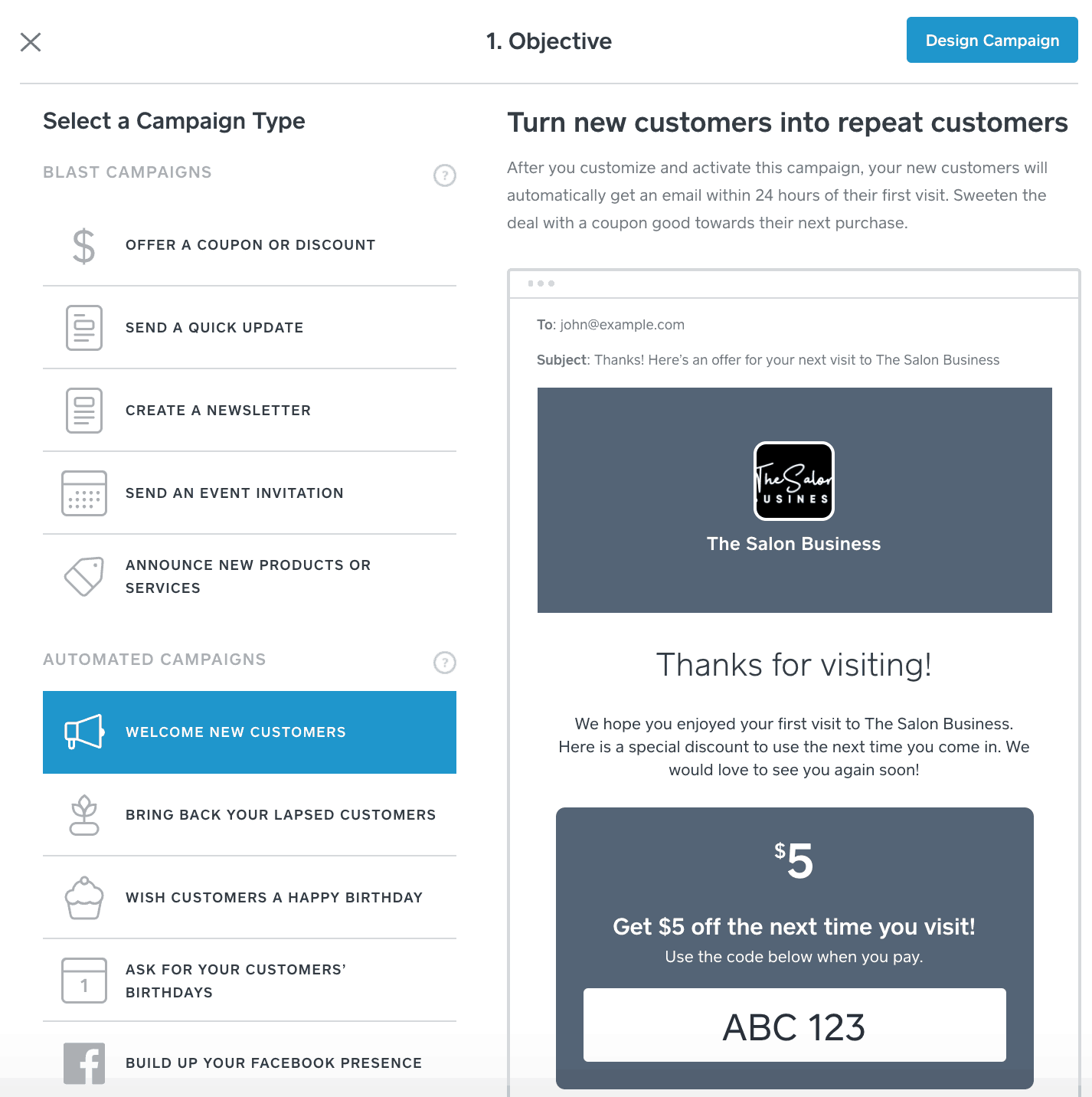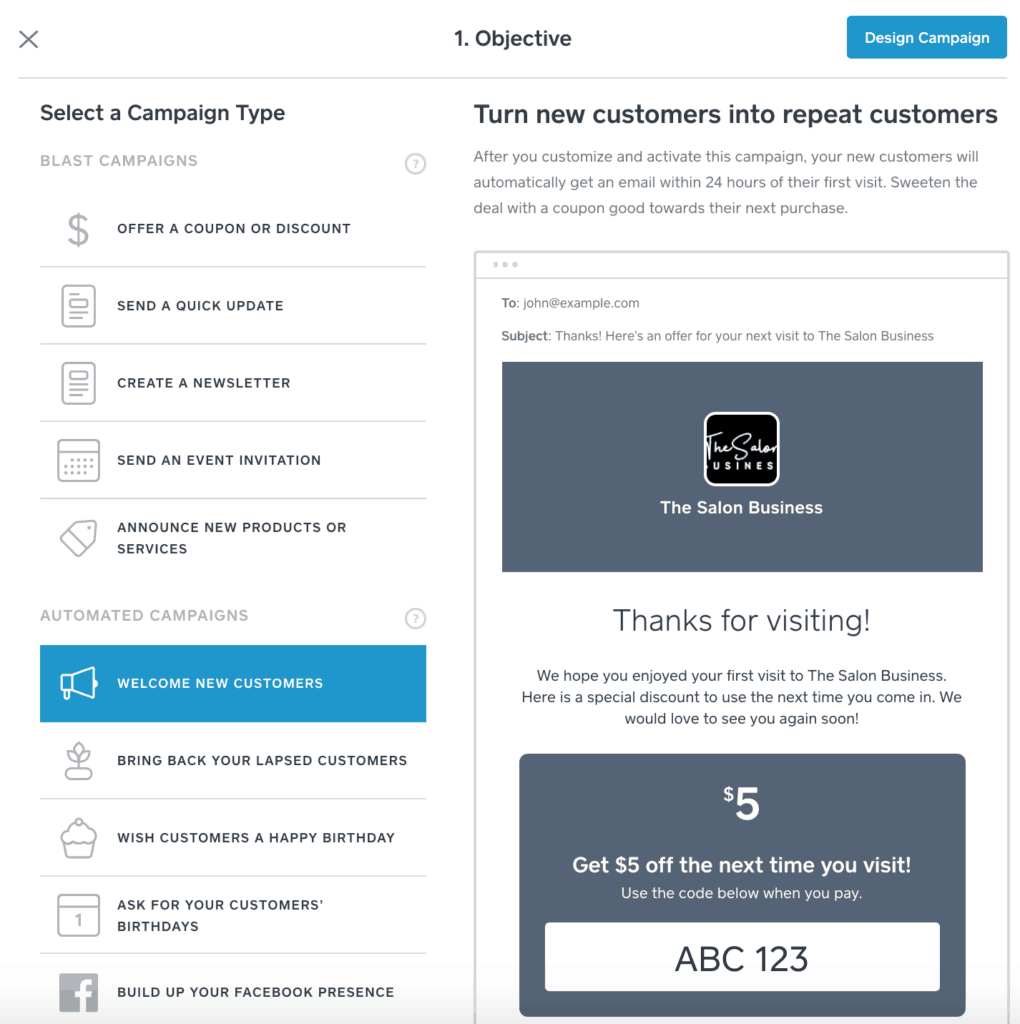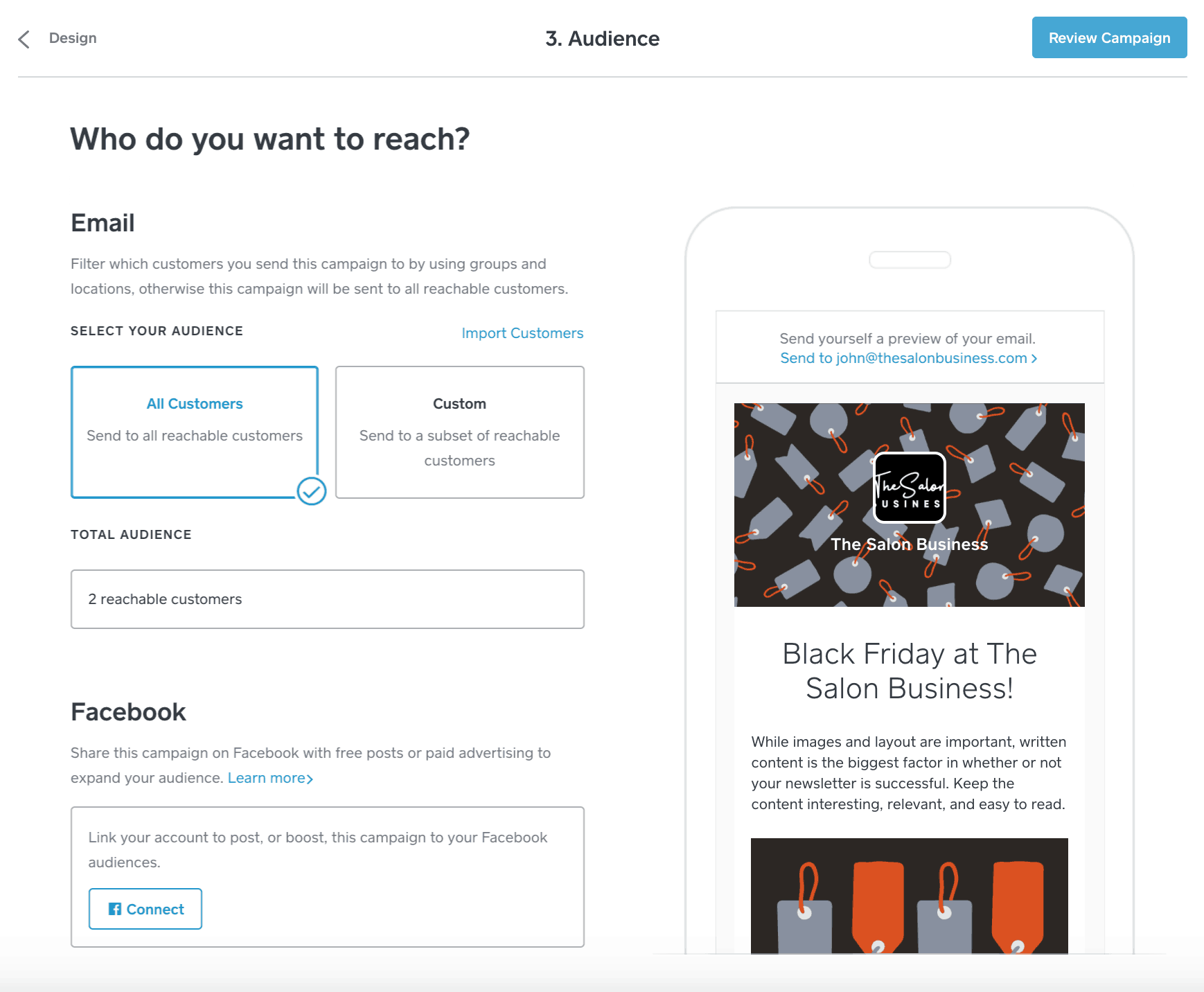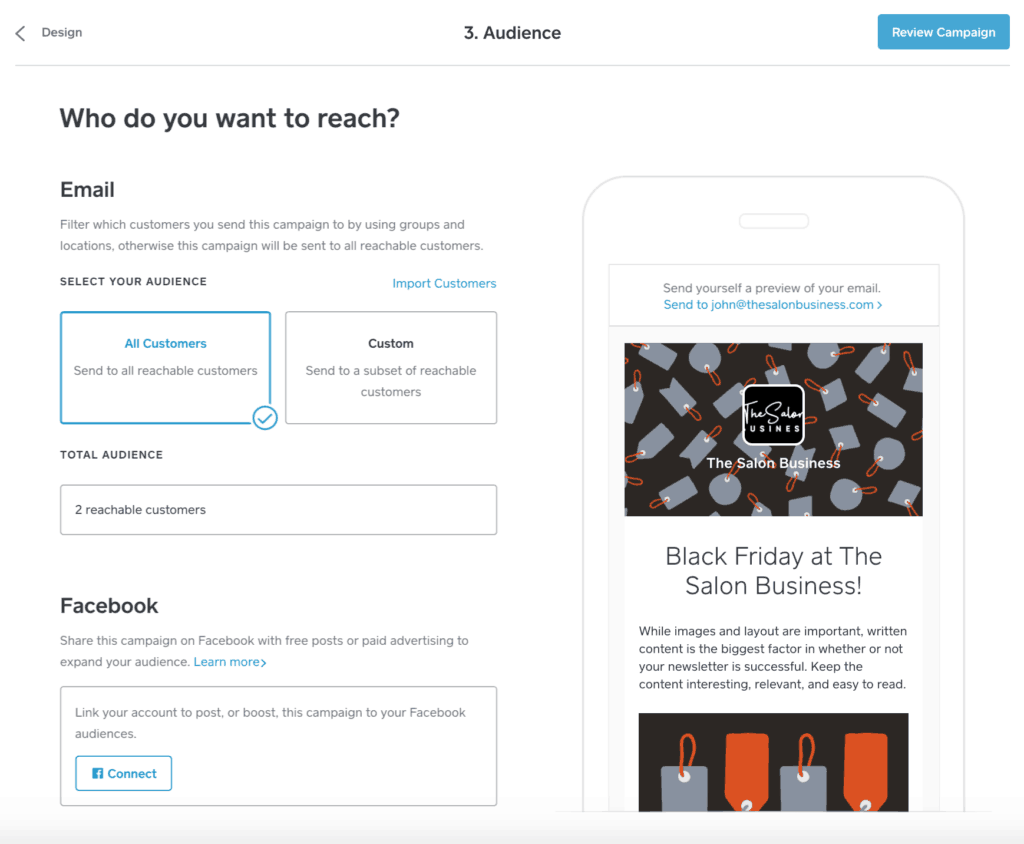 Booker Marketing Support
Since the inclusion of the Mindbody Marketing Suite, third-party marketing integrations like Mailchimp are no longer available in Booker.
Booker's Marketing Suite includes a modular email builder – a very similar (if a bit less elegant) feature to the one we covered in our Boulevard Salon Software review.
Like that feature, Booker's Marketing Suite features a simplified three-step creation process for email campaigns and communications.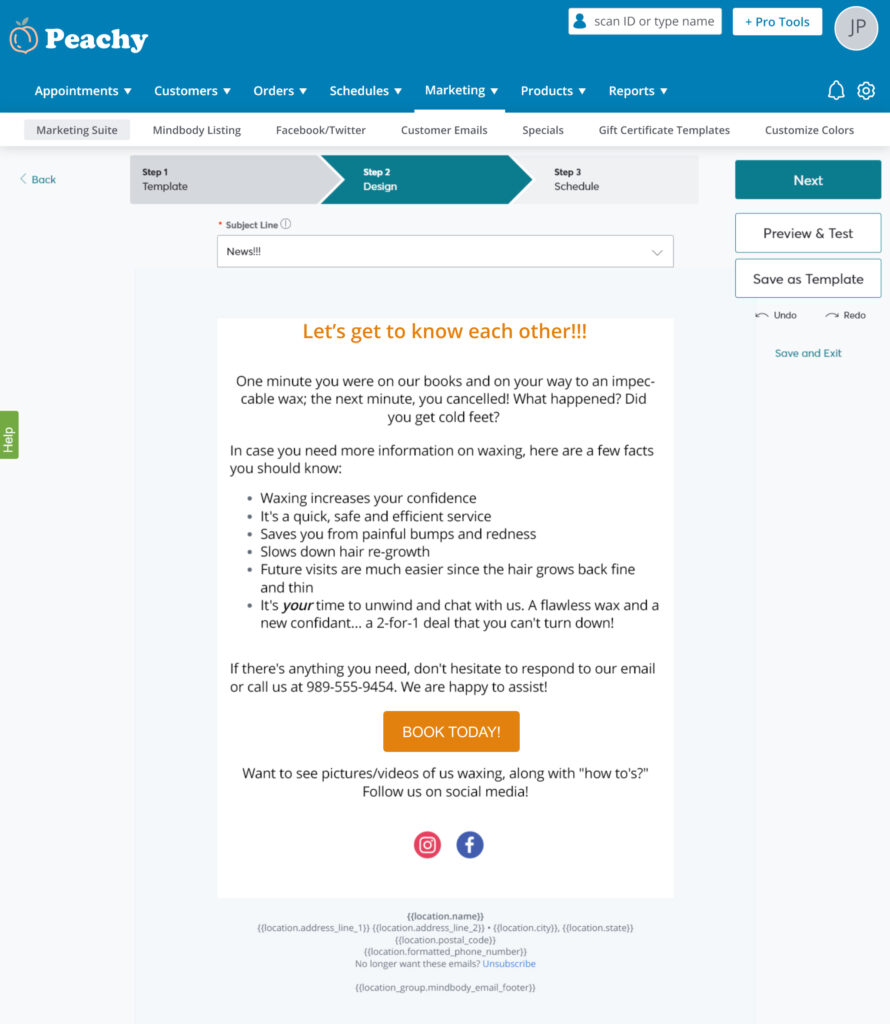 Mindbody Marketing Support
Zenoti offers a two-way SMS add-on feature called ezConnect (powered by Simplified.IO).
This allows you to track and respond to text messages with your clients, including automated reminders and promotions.
When a client texts, you can respond by clicking on the ezConnect icon, which opens the ezConnect interface in a separate window. Client conversations are listed on the left side of the window — clicking on any one of them opens up the entire conversation thread with that client.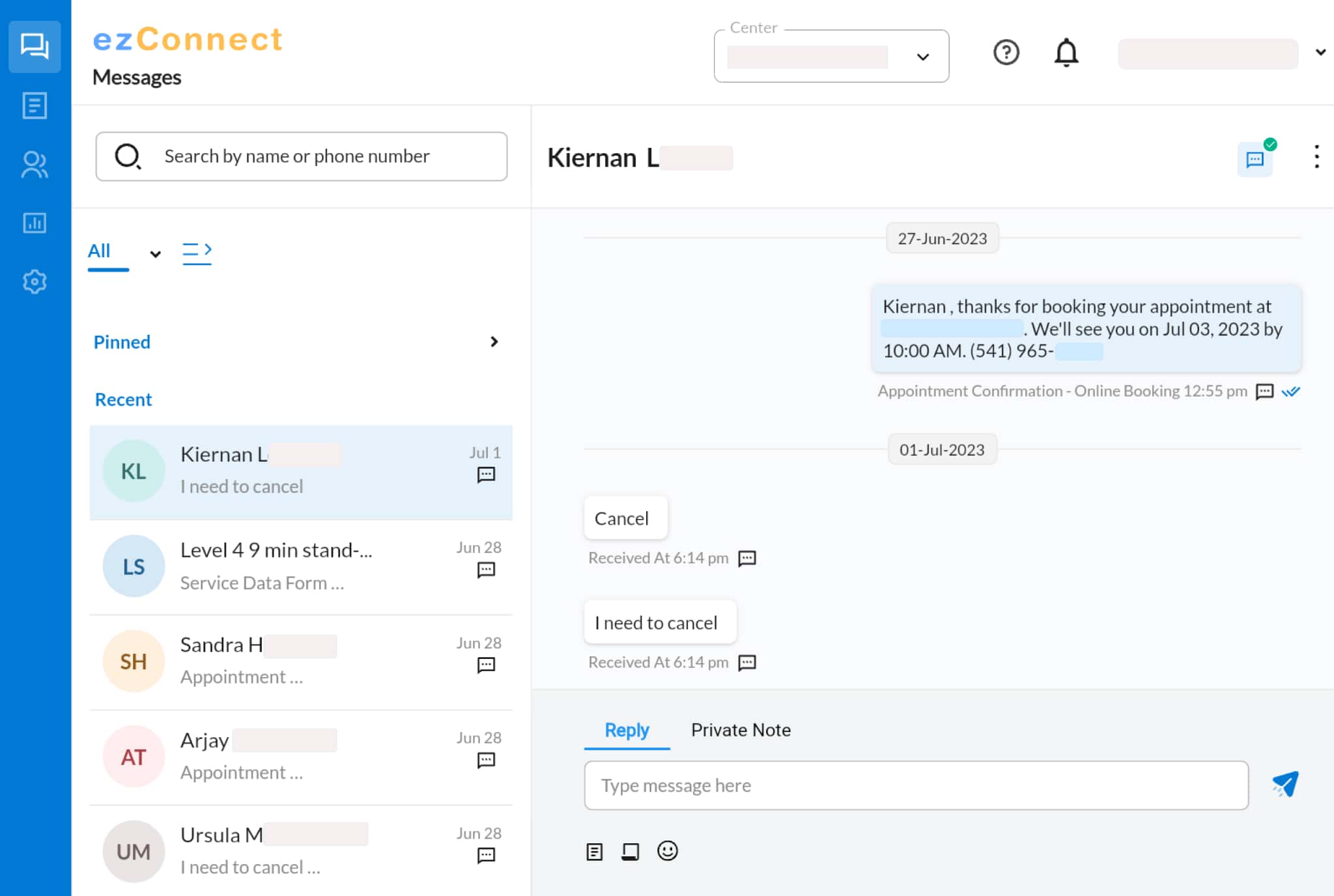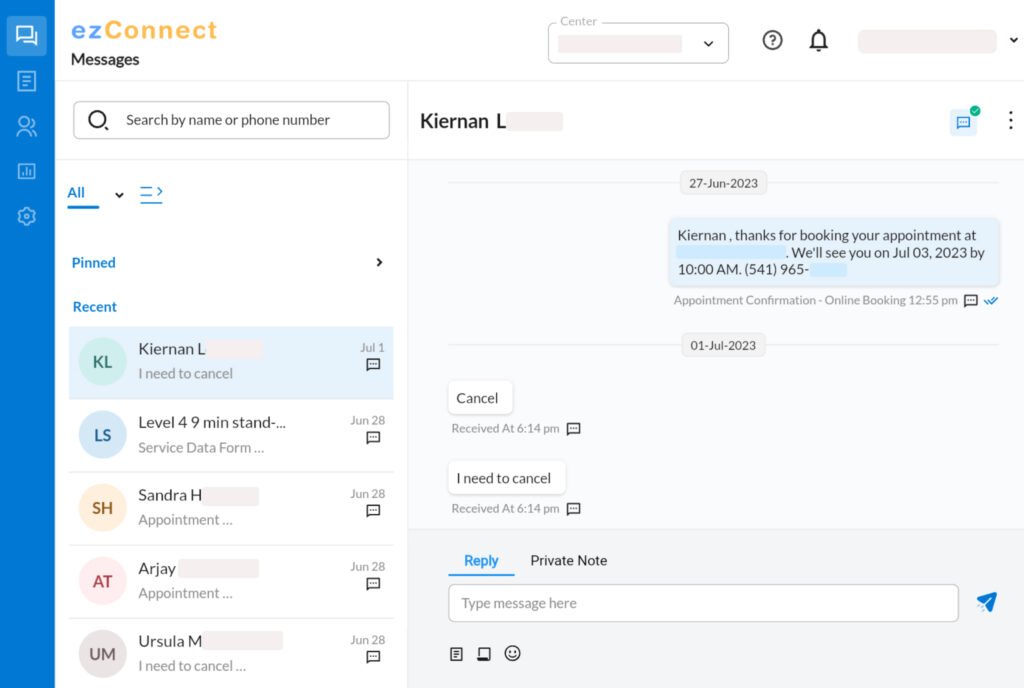 Zenoti offers a built-in email marketing suite that allows you to build custom emails either from scratch or from their library of templates.
The configurator is very similar to competitor email marketing suites we've covered in Boulevard, Booker, and Mindbody.
Simply drag and drop content blocks from the left side of the screen onto the email to add images, text, buttons, banners, and more to the email.
From there, you can create audiences and segment by the data you collect everyday through purchases appointments, and more.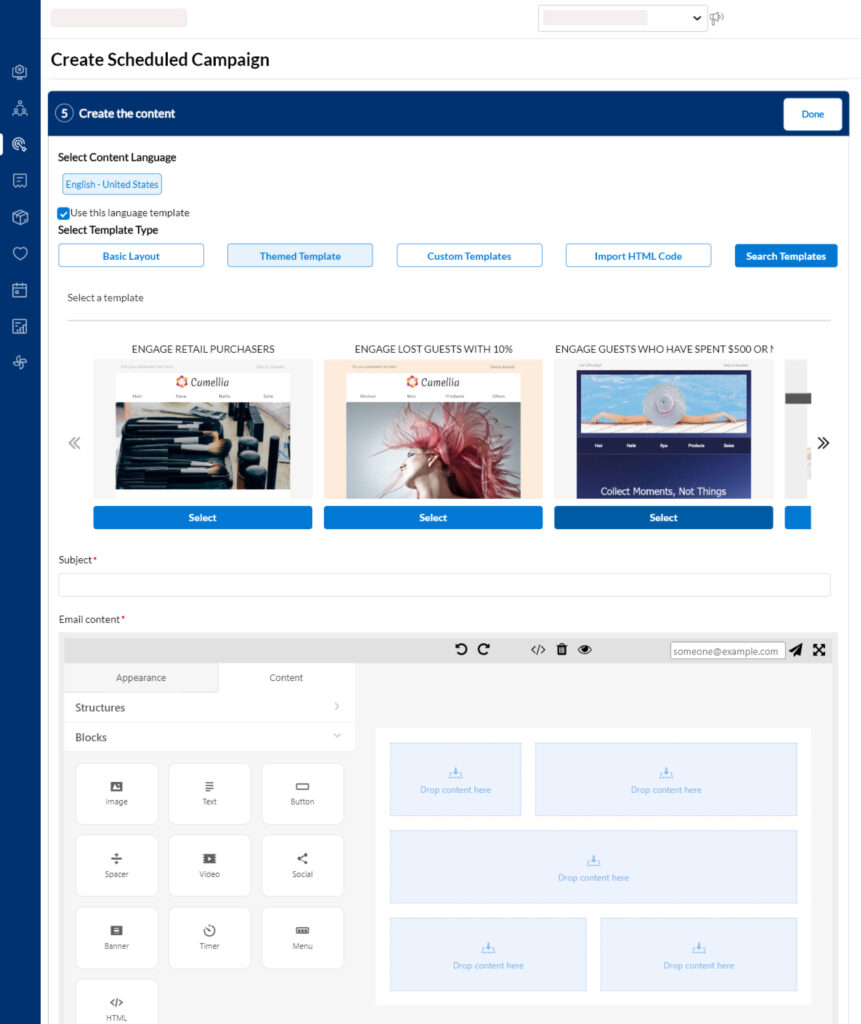 Mindbody Marketing Support
Mindbody uses the same marketing suite and tools as its sister software, Booker.
The same three-step email builder and campaign manager tools are available to you, as well as the ability to use 2-way messaging with your clientele through Mindbody's Messenger and Messenger[ai] tools (on higher-tier plans).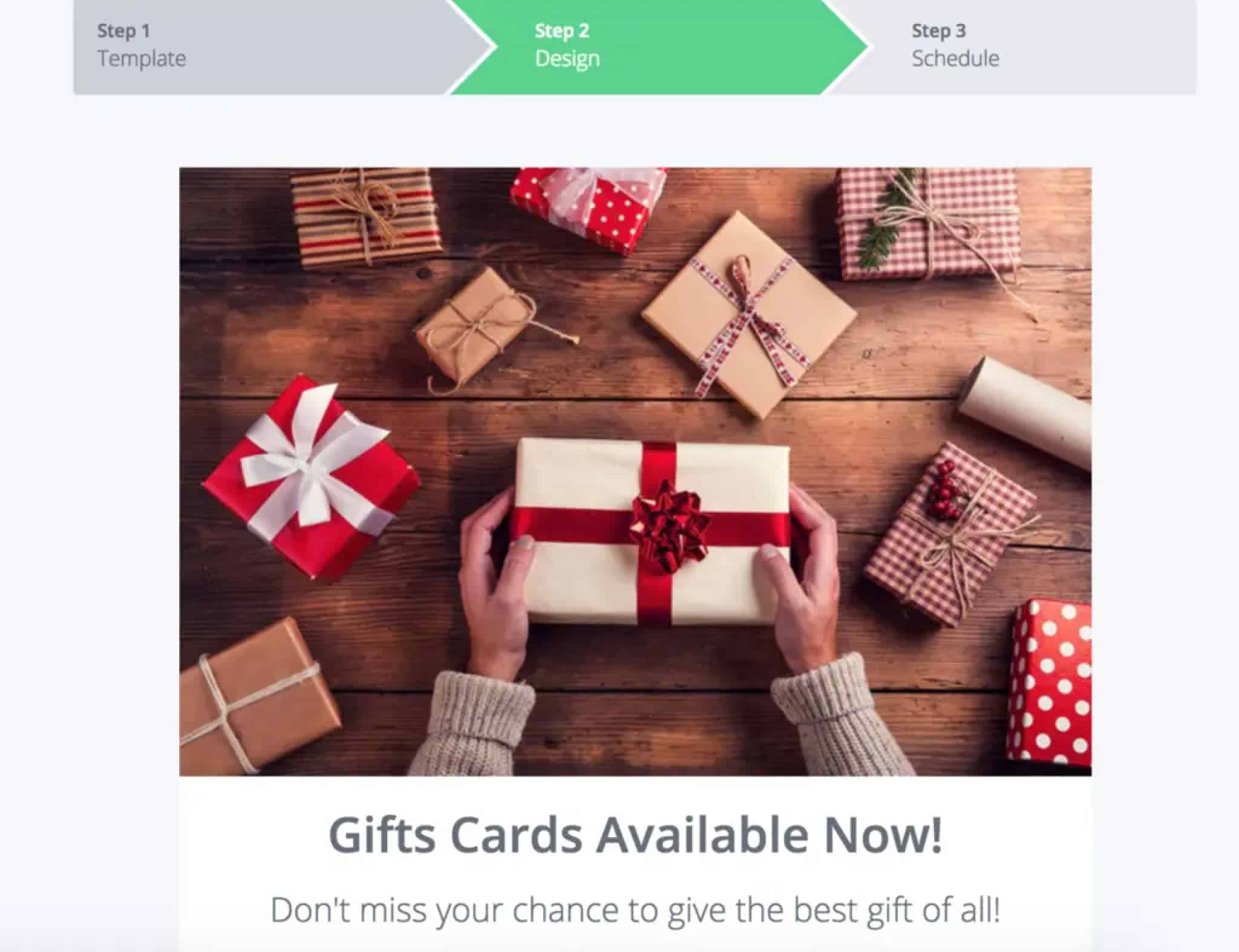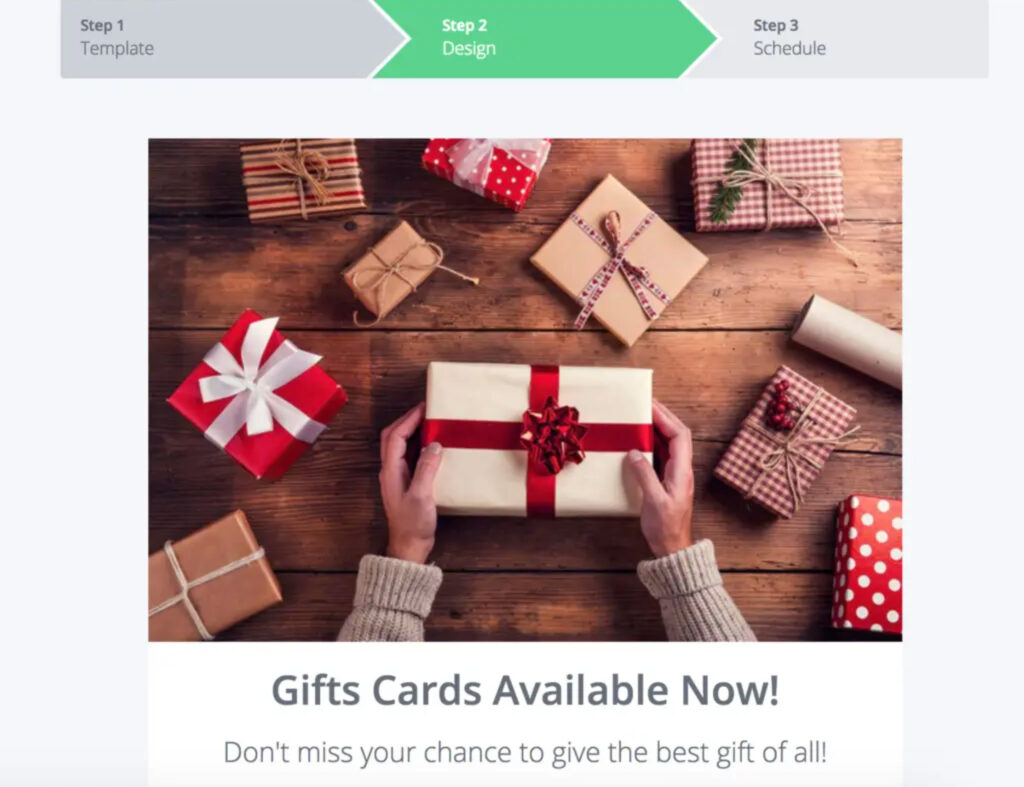 Client Loyalty Program
"It's always cheaper to retain a customer than it is to gain a new one".
That was part of the basic course when I studied marketing. And it's true. But we often forget this and just focus on bringing in new clients. However, a good salon software should help you retain clients, and a good feature for this is a program that rewards your most loyal clients.
Mangomint Loyalty Program Support
Mangomint does not offer a loyalty program. Instead, they allow you to integrate with the loyalty platform of choice.
However, they do offer robust support for memberships and packages which has a similar benefit. Keeping clients loyal over time.
Packages and memberships are easy to set up – just add the services you want to include and set the price that you want to offer the bundle at.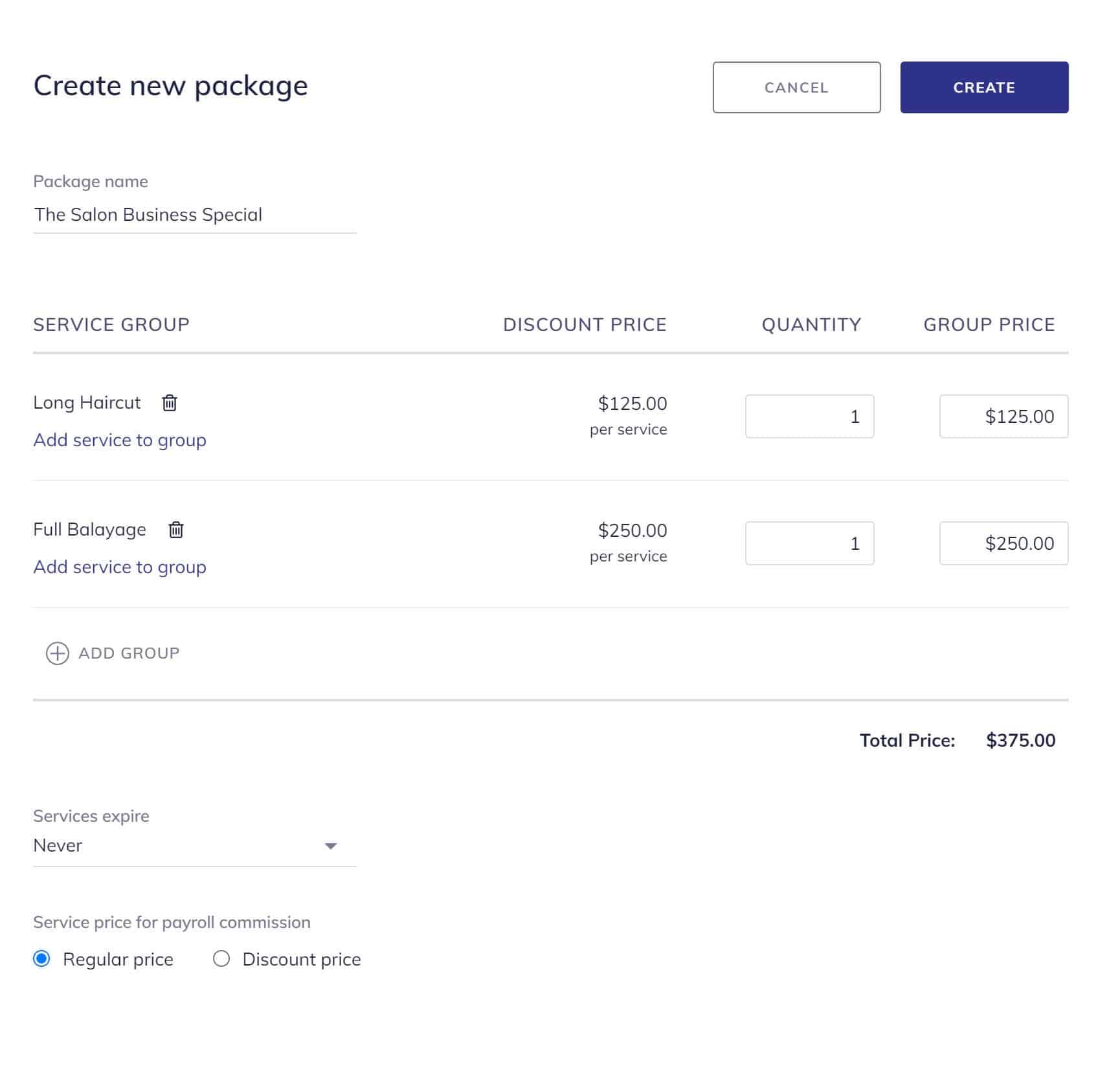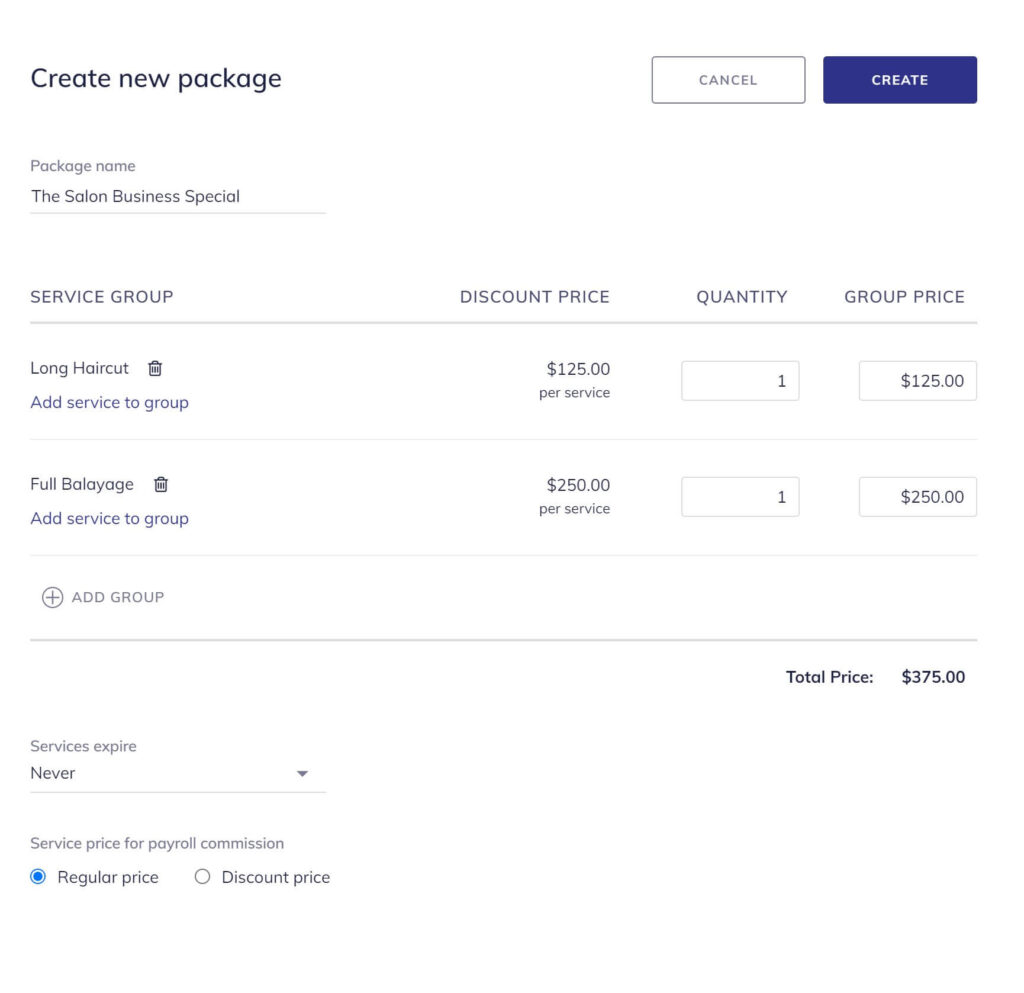 GlossGenius Loyalty Program Support
GlossGenius does not offer a loyalty program.
Vagaro Loyalty Program Support
Vagaro has a points-based loyalty program built-in. As you set prices for services, you can also configure how many points clients will earn from the services as well as how many points it will cost them to redeem the same service using their collected points.


Fresha Loyalty Program Support
Fresha does not offer a loyalty program.
You can however automate email and SMS campaigns to be sent out when a user has reached a certain spend with you. Although this is not a loyalty program per se, it can be used to encourage clients by sending them benefits at a certain spend.
You can also set up packages and memberships in Fresha which would give you a similar benefit as a loyalty program when people commit to more with you.
Boulevard Software Loyalty Program Support
Boulevard does have a built in loyalty program app.
Once installed, it allows you to set dollar-amount-to-point conversion rates. You can enroll clients on an individual basis and track their current balance, total points earned and redeemed, and dates points were redeemed.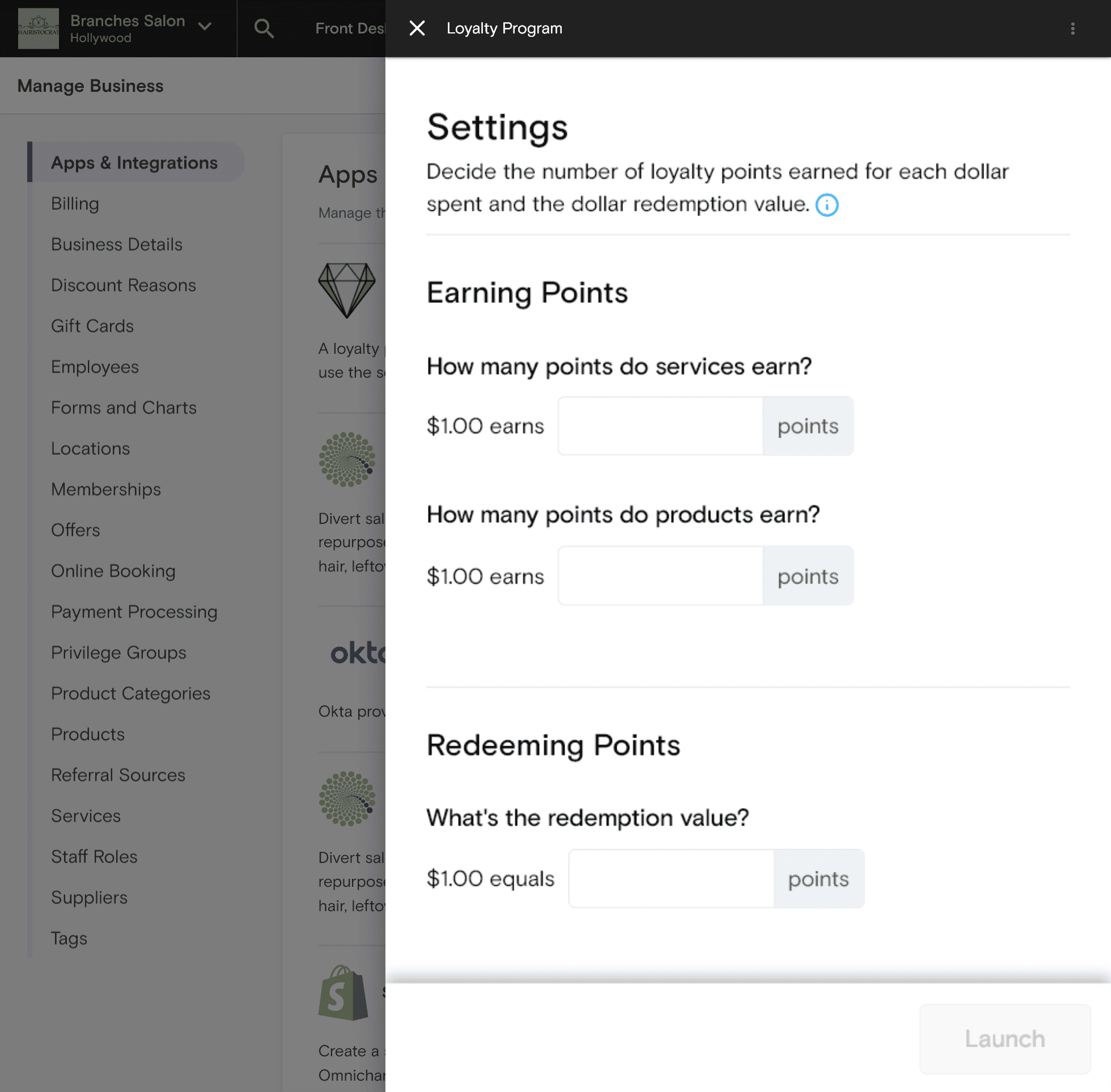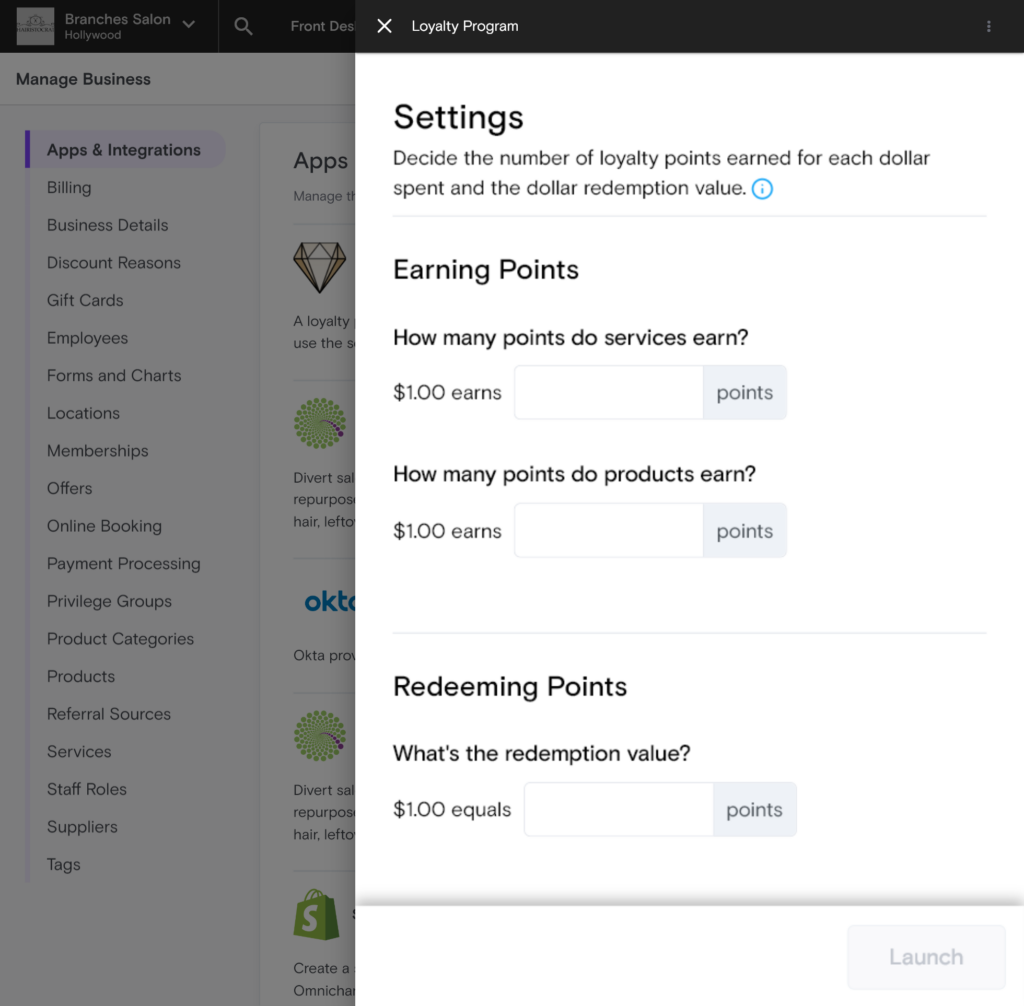 Square Appointments Loyalty Program Support
You do not have a loyalty program built into Square Appointments.
Instead, Square offers a dedicated loyalty program that works with its suite of solutions.
It's a powerful and easy-to-use loyalty program but it comes at additional costs.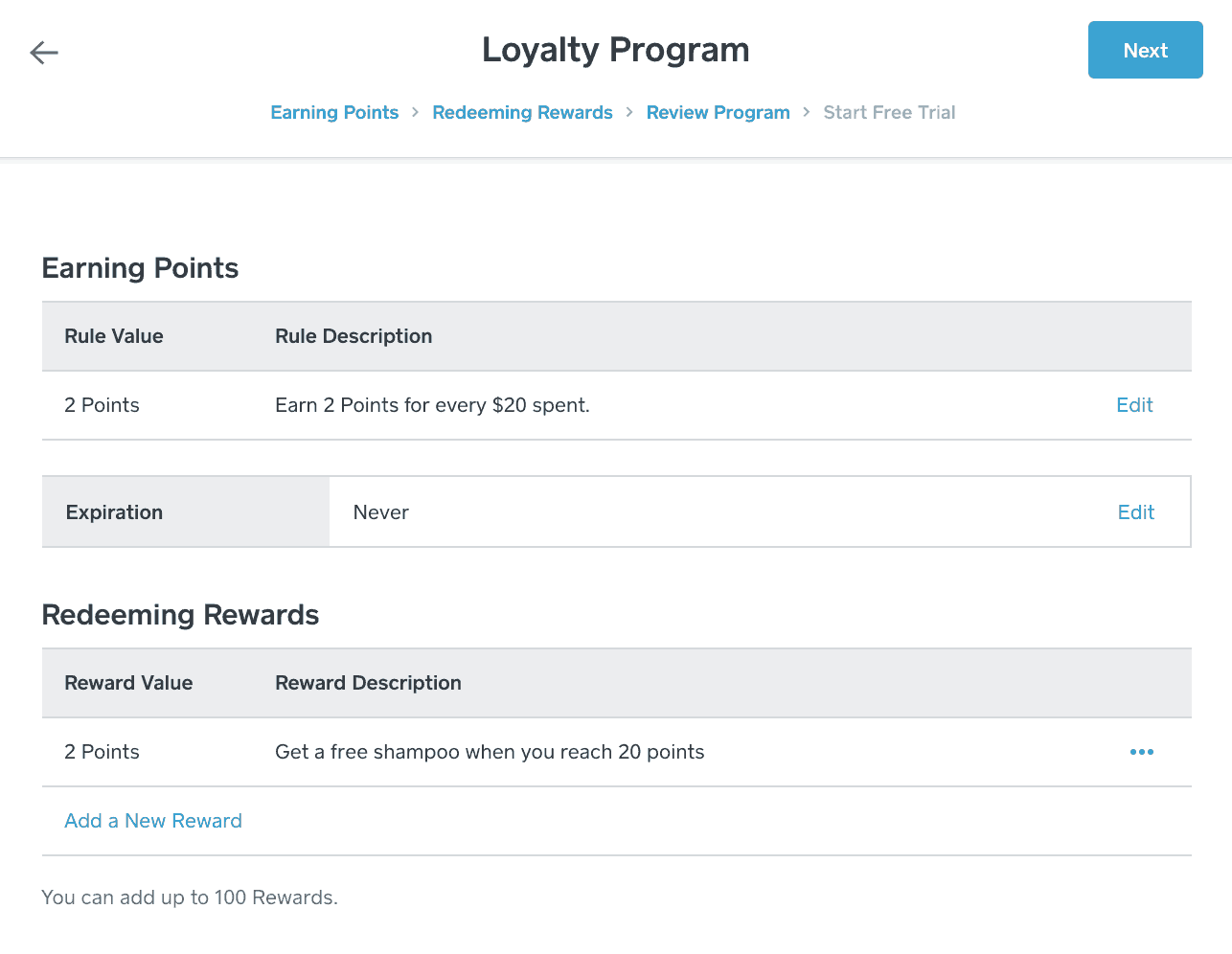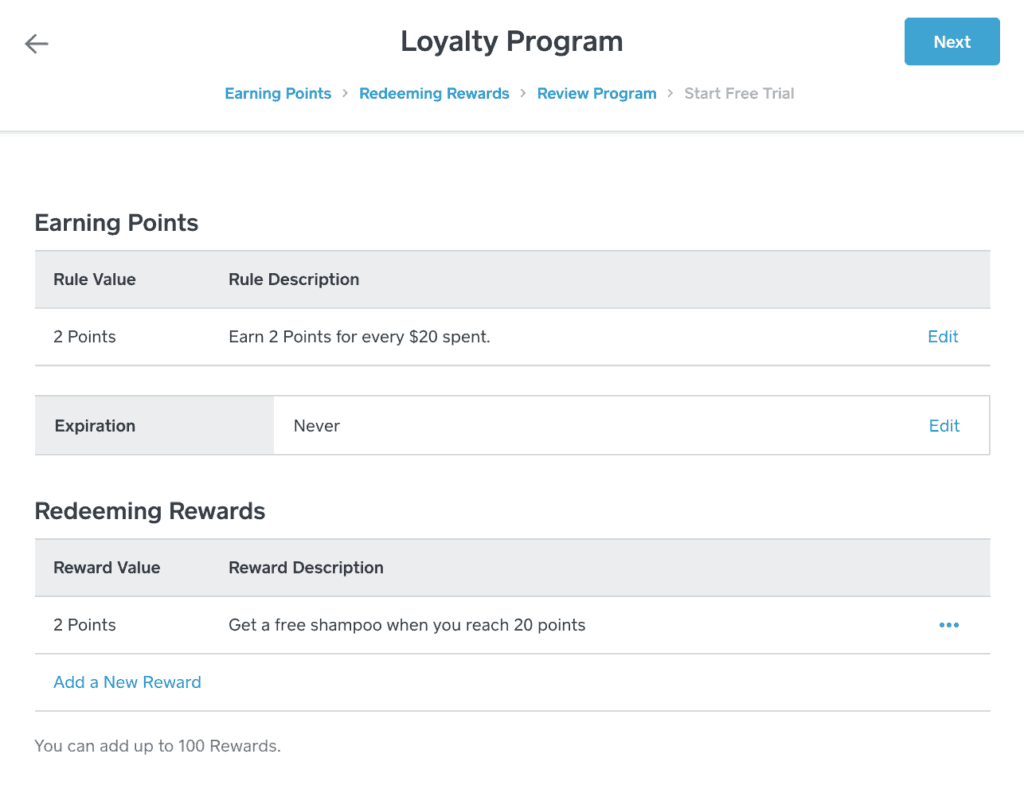 Booker Loyalty Program Support
Booker offers loyalty program support and points tracking. In the Loyalty Program tab, you can set up dollar amounts and points ratios for purchases and actions (such as pre-booking, booking online, referring clients, etc.)
You can also choose whether to accept loyalty points for membership and package payments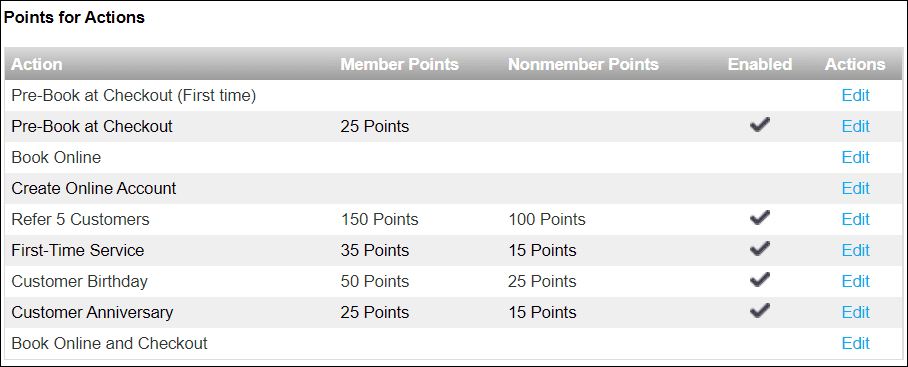 Zenoti Loyalty Program Support
Just like Mindbody, Zenoti offers you the option of a branded customer-facing app that is tailored to your brand and built for you by their team. This can be added to your monthly subscription fee
Within the app, clients can see purchased gift cards, review membership benefits and see when they redeemed them, view active and inactive packages, view loyalty points and rewards, and copy their referral code to send to their friends or post on social media (as well as review their earnings from their referrals).
There is also an option to implement geofencing capability so that service providers and the front desk can be notified when their clients arrive.
Clients can be prompted to leave feedback and submit their ratings within the app. You can set up links that go directly to Google, Yelp, Facebook, and other social platforms and encourage clients to share their reviews on those sites as well.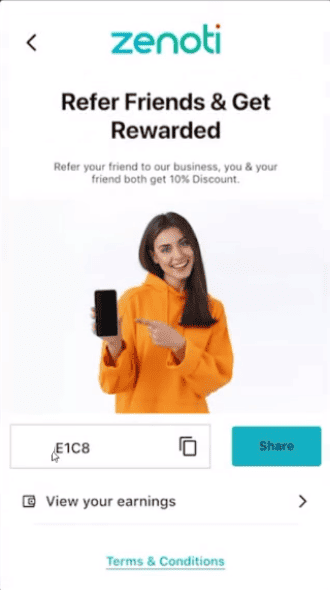 Mindbody Loyalty Program Support
Mindbody offers support for client rewards creation and management on some plans.
On those plans, you can customize how many points are given per currency increment, the minimum points required to redeem rewards, adjust opt-in settings, expiration dates, and referral settings.
The Starter plan does not include support for rewards or loyalty programs.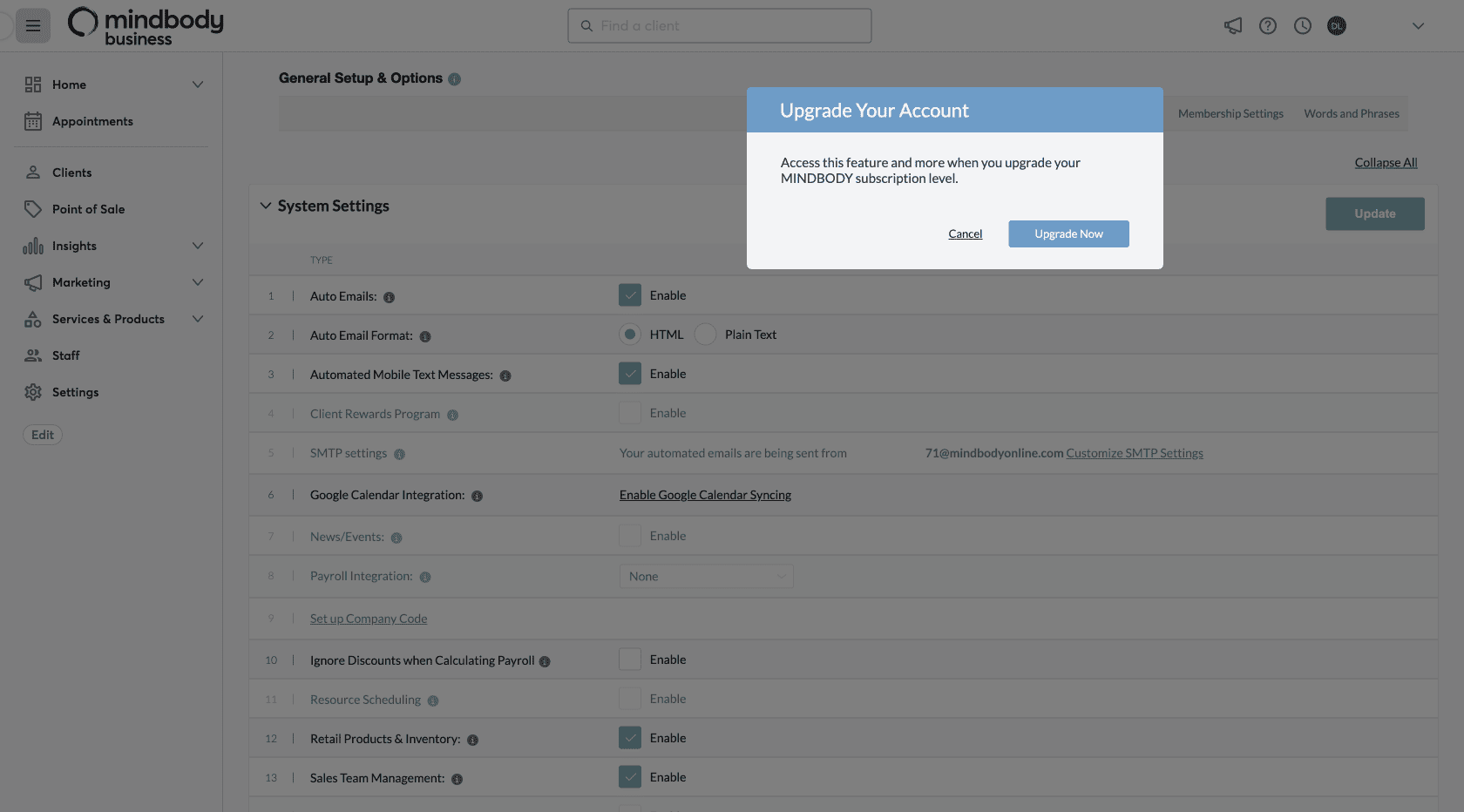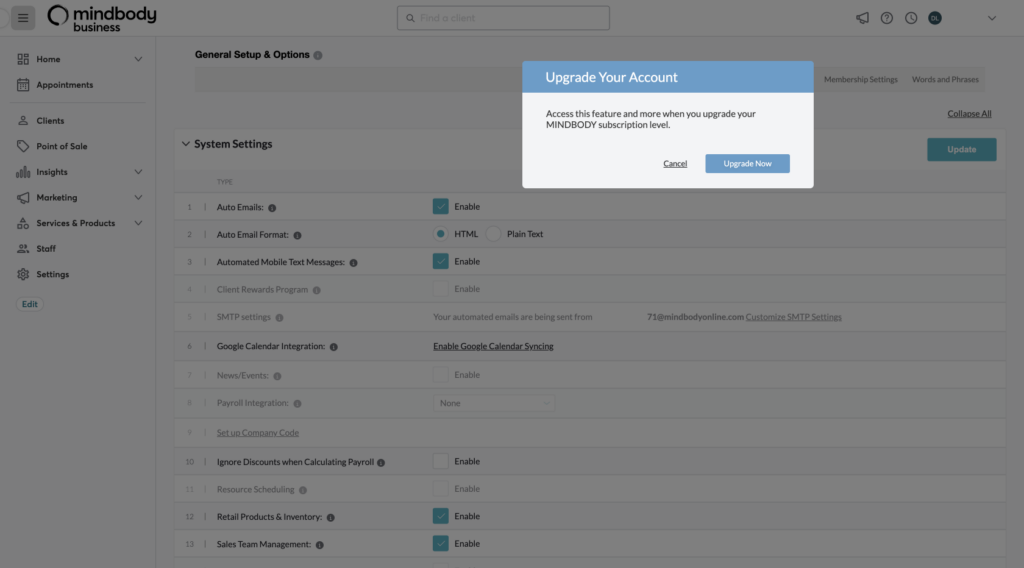 Salon Website Builder
Your website is the hub of all your marketing. This is where you send new clients from your social media or other marketing efforts. It's quite likely it's also the first impression that a client has with you – so you want to get it right.
I'll go through how each of the recommended tools here can assist you with creating your website. But the fact of the matter is that a website builder is a technically difficult solution to build. Thus, no all-in-one Salon Software on the market can deliver a really good solution. Instead, it's more important to understand how your salon software integrates with other, specialized, website builders. This way you can create a good website (or have an agency build one for you) that enables online booking with your salon software in a seamless way.
I have created a separate review of the best website builders for salons here. This is a good place to start if the website is the most important part for you.
Mangomint Website
Mangomint does not come with a website builder as part of the platform. But, as you've probably noticed by now, Mangomint offers great integration support. This also goes for integrating your booking widget or gift card shop in whatever website builder you use.
You will however get a client page that you can customize and send clients to in order for them to update their credit card details and see their upcoming appointments at your salon (see example below).
But if you're looking to build a full website, I recommend you check out my list of the best website builders for salons here.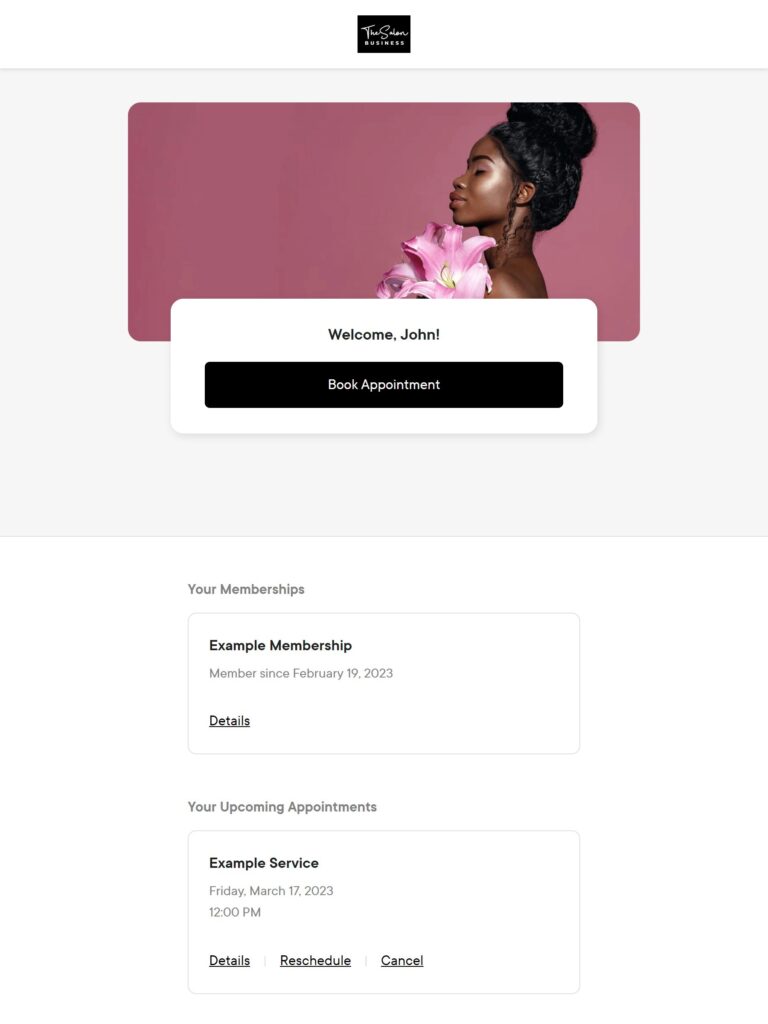 GlossGenius Website
The GlossGenius website builder is… Genius 🙂
I have never built a website as fast as with this tool. Just click a button and you have a website created based on the information you already have stored in the system. And it looks good.
You can change the main image, add your social account, show your team, and add additional information about your business. There's no need for testing and designing. It just works with the information you provide.
This is awesome for the person who wants simplicity without compromising on the look and feel. However, the bigger business will most likely want to connect their own domain name, have more SEO support, and have more flexibility in the design.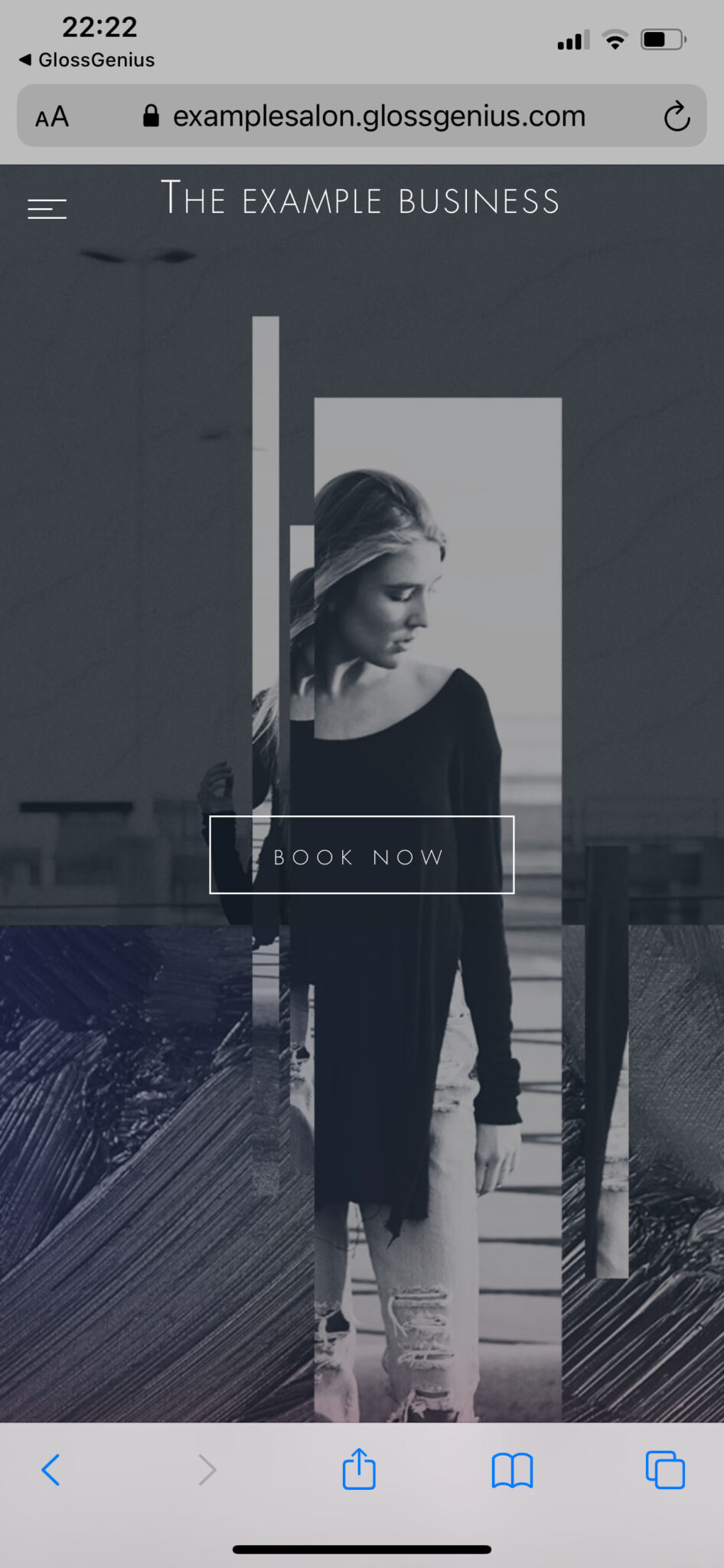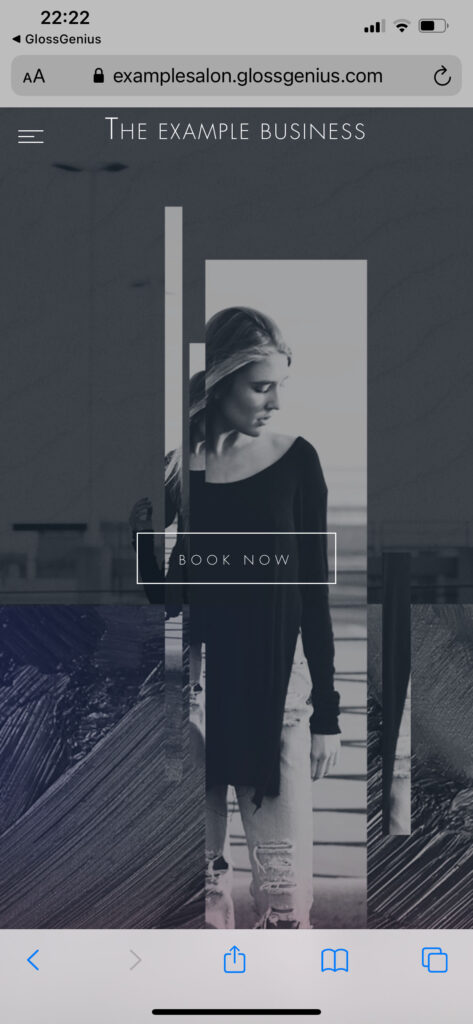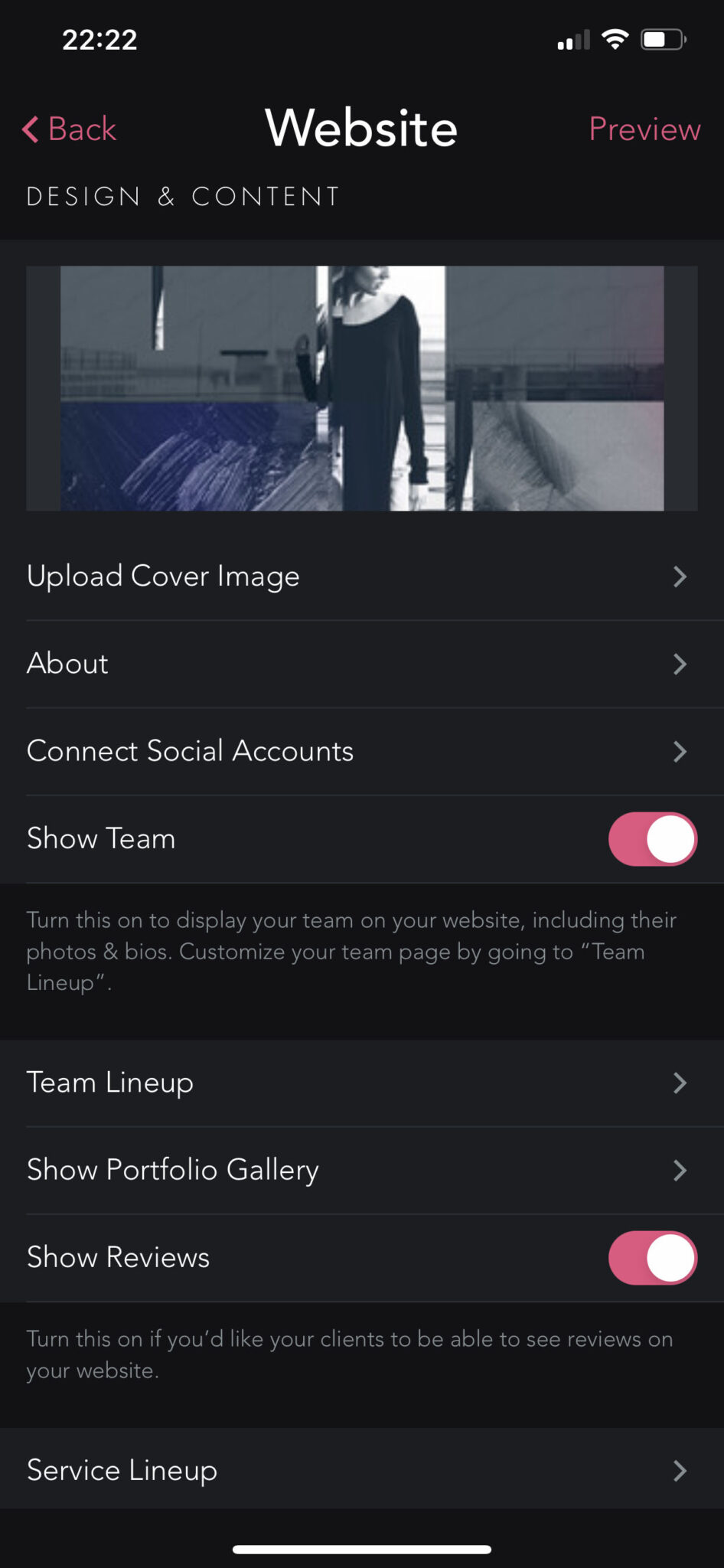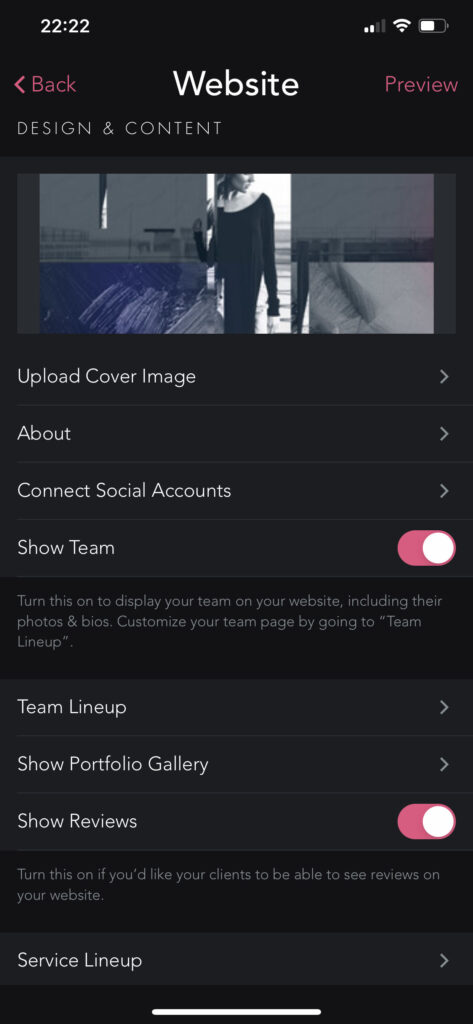 Vagaro Website
Vagaro has a built-in website builder that allows you to spin up a new website very quickly based on the data you have stored in the system.
It comes with default website design templates (see examples below) but you can also order a custom-developed design from Vagaro at an additional cost.
The Vagaro website builder allows you to connect a custom domain and get your site live fast. However, what you can do is limited if you compare it to a dedicated website builder like Squarespace.
My recommendation is therefore to use the Vagaro website widget and integrate whatever part of Vagaro you want to show on your website (which you can build using the website builder you prefer).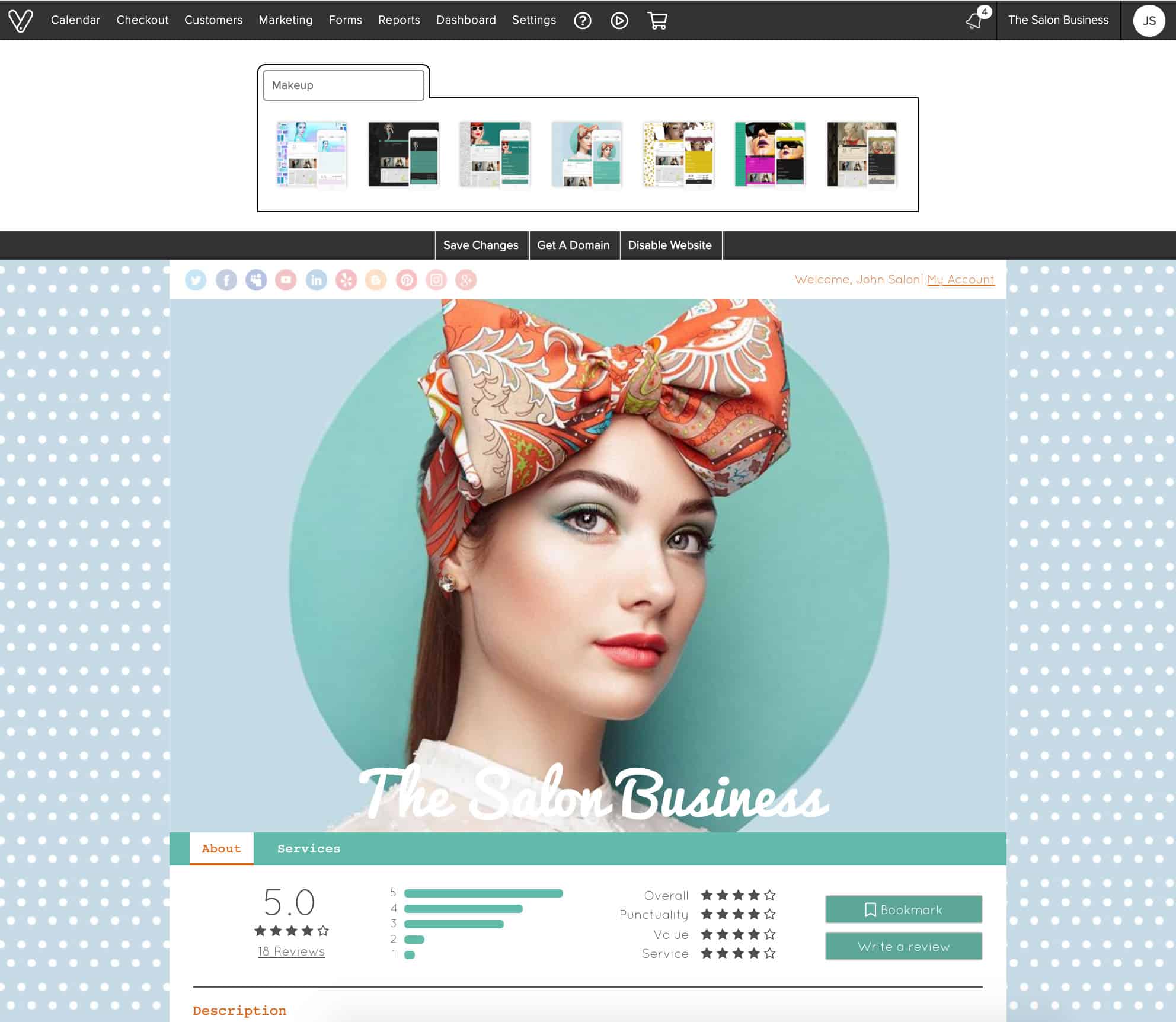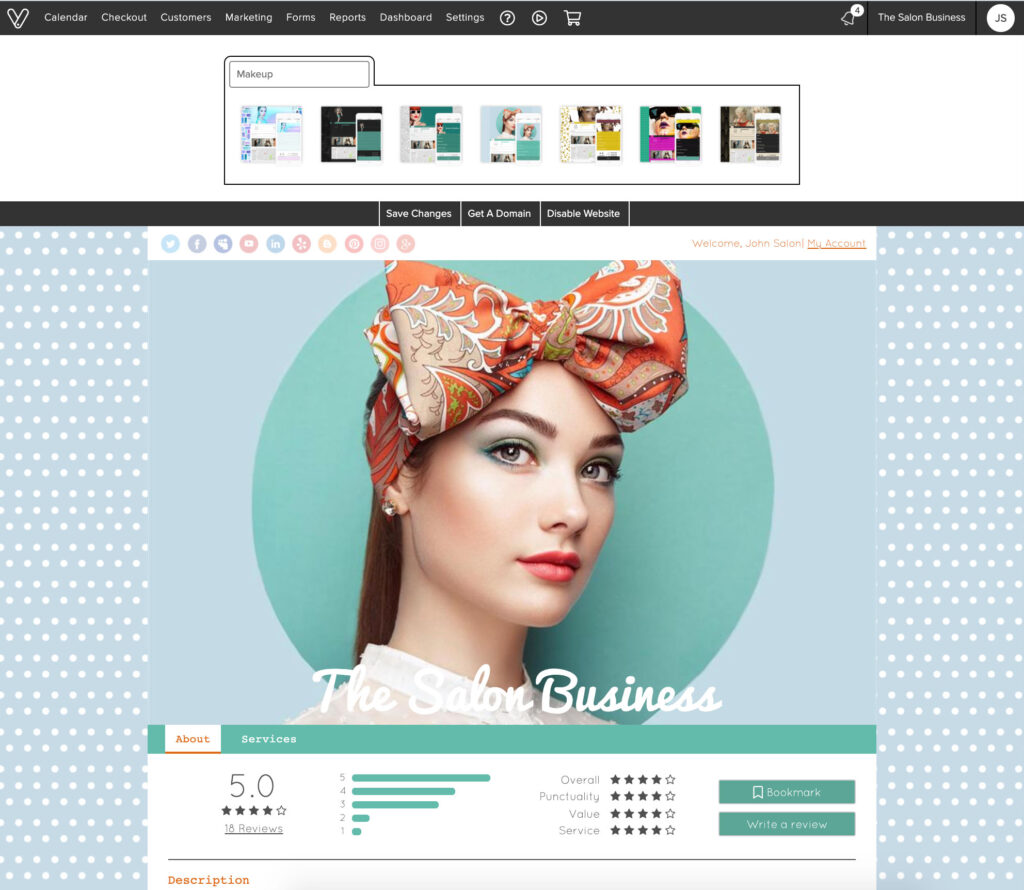 Fresha Website
Fresha does not offer a website builder. You'll get a default booking page that you can link to but it does not allow you to integrate the booking experience on your website.
Boulevard Software Website
Boulevard does not feature a website builder. They do offer tools to integrate their online booking widget into an existing website, however. You can also use integrations to connect your existing website with web tools like Google Business Profile.
Square Appointments Website
You can create a simple booking website in Square Appointments using their predefined layouts.
You can also generate a booking widget that you can add to your salon website independently of which platform you built it with.
On top of that, Square offers a free solution called Square Online that allows you to create a full website for your salon.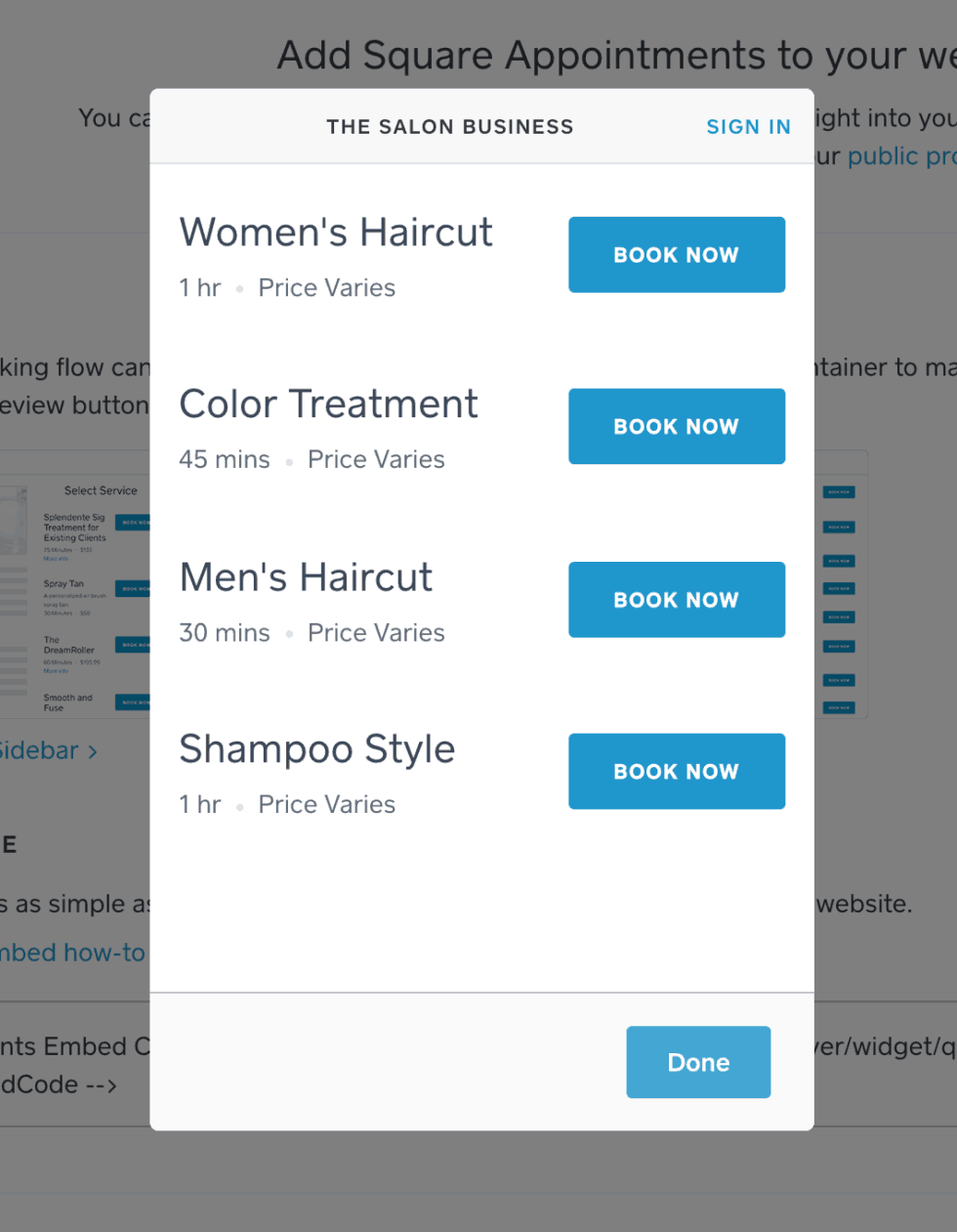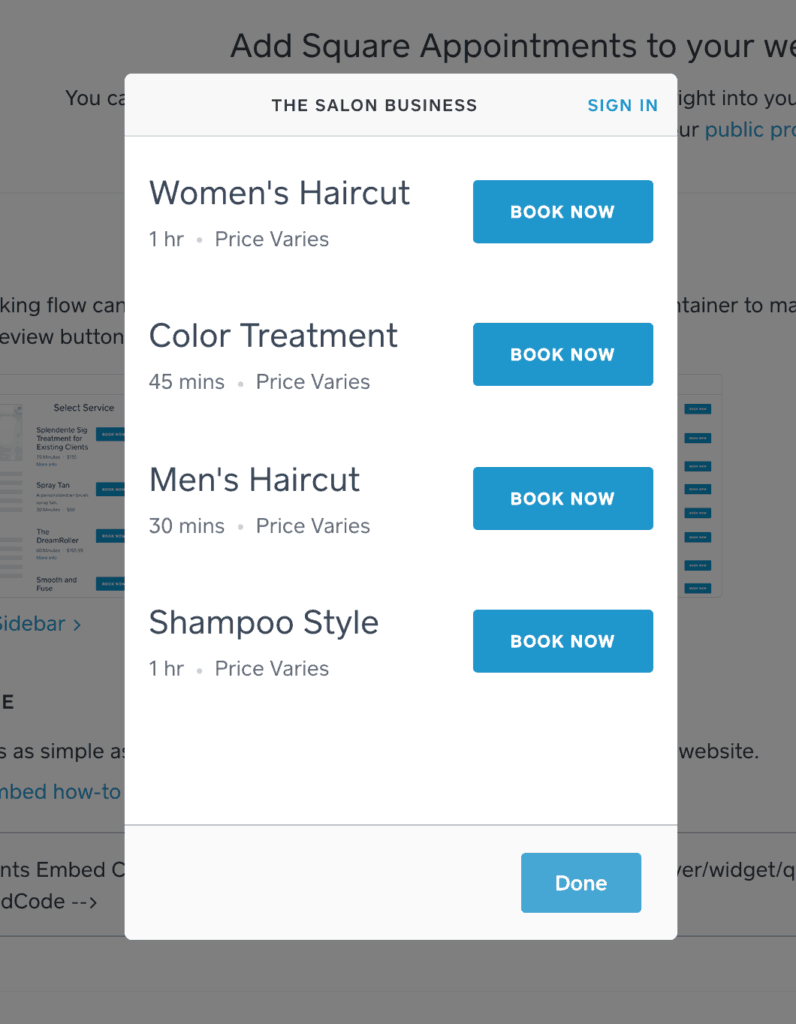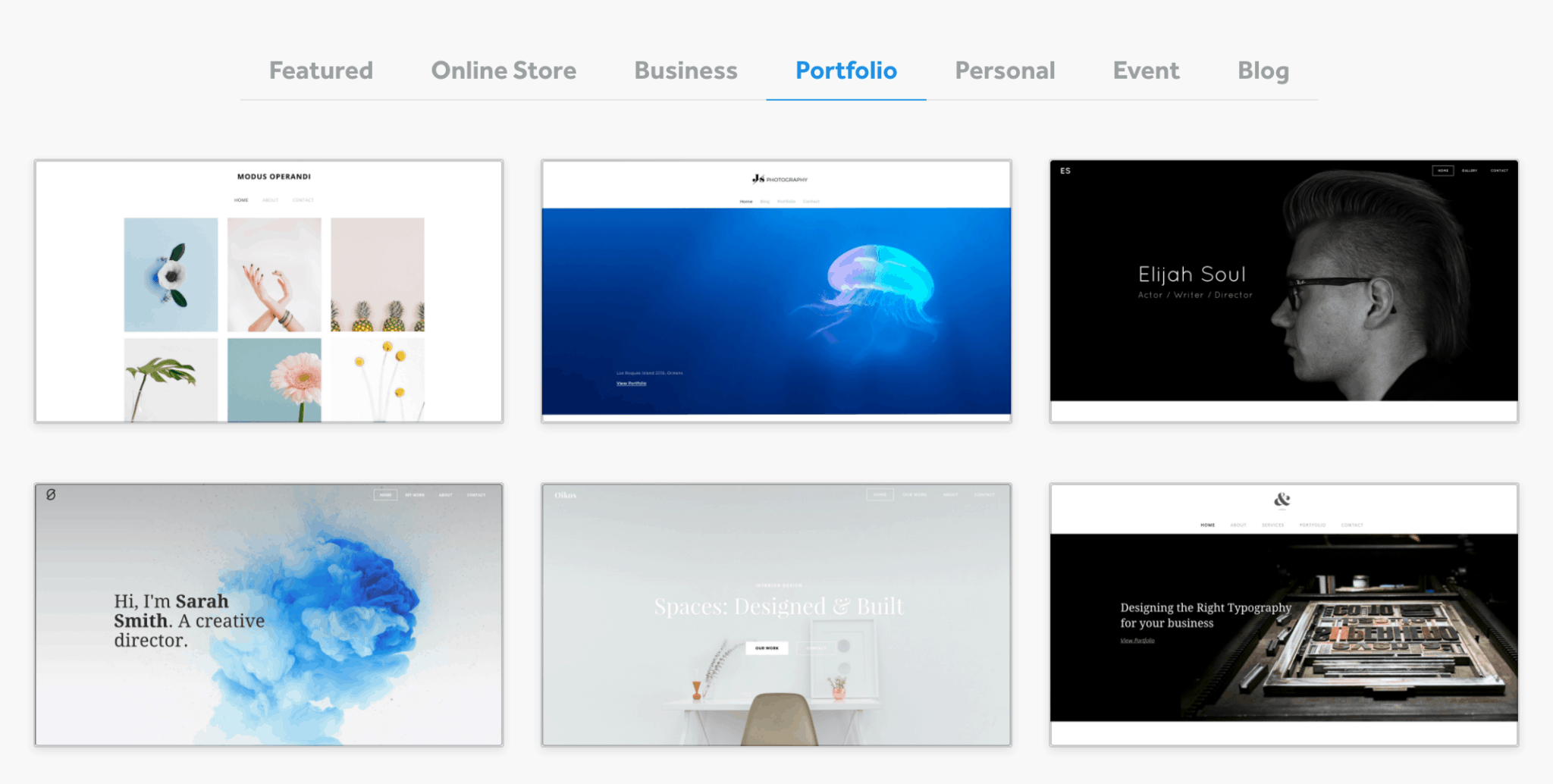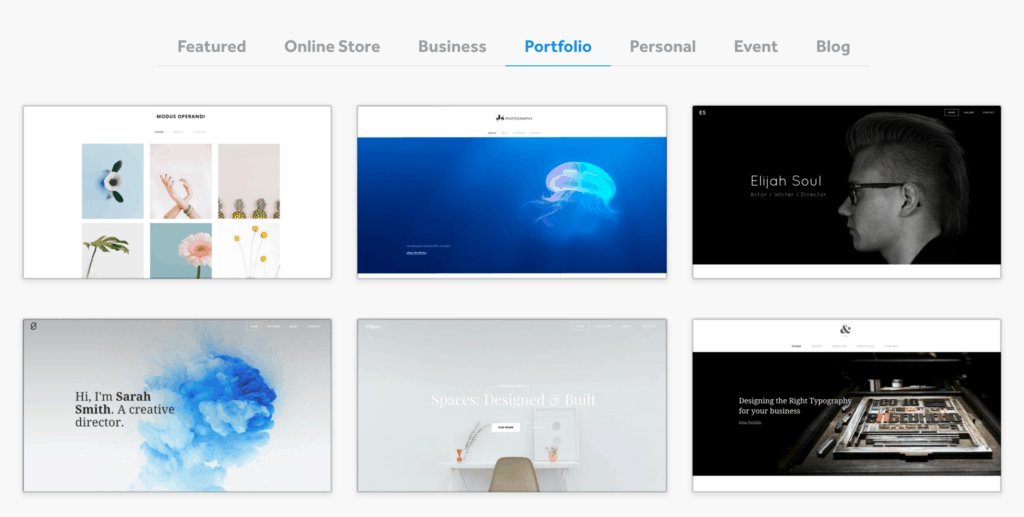 Booker Website
Booker also does not offer a website builder, but you can build in online booking to your existing website through Booker's API, if you are willing to hire a developer and pay a monthly fee to lease access.
You can also build your own branded mobile app through Mindbody. Mindbody offers app-building service, where they use your branding, logo, and colors to develop a mobile booking app just for your clients.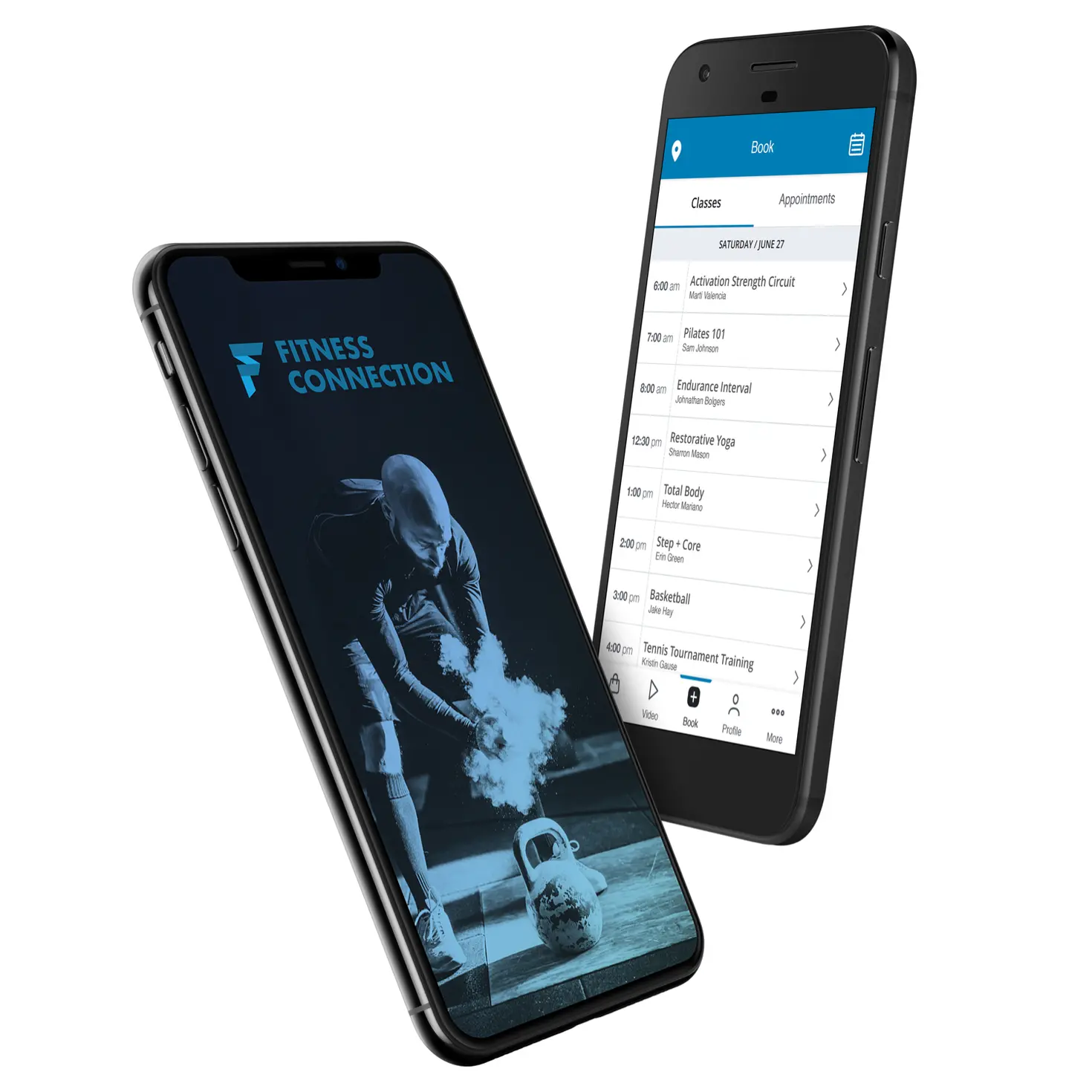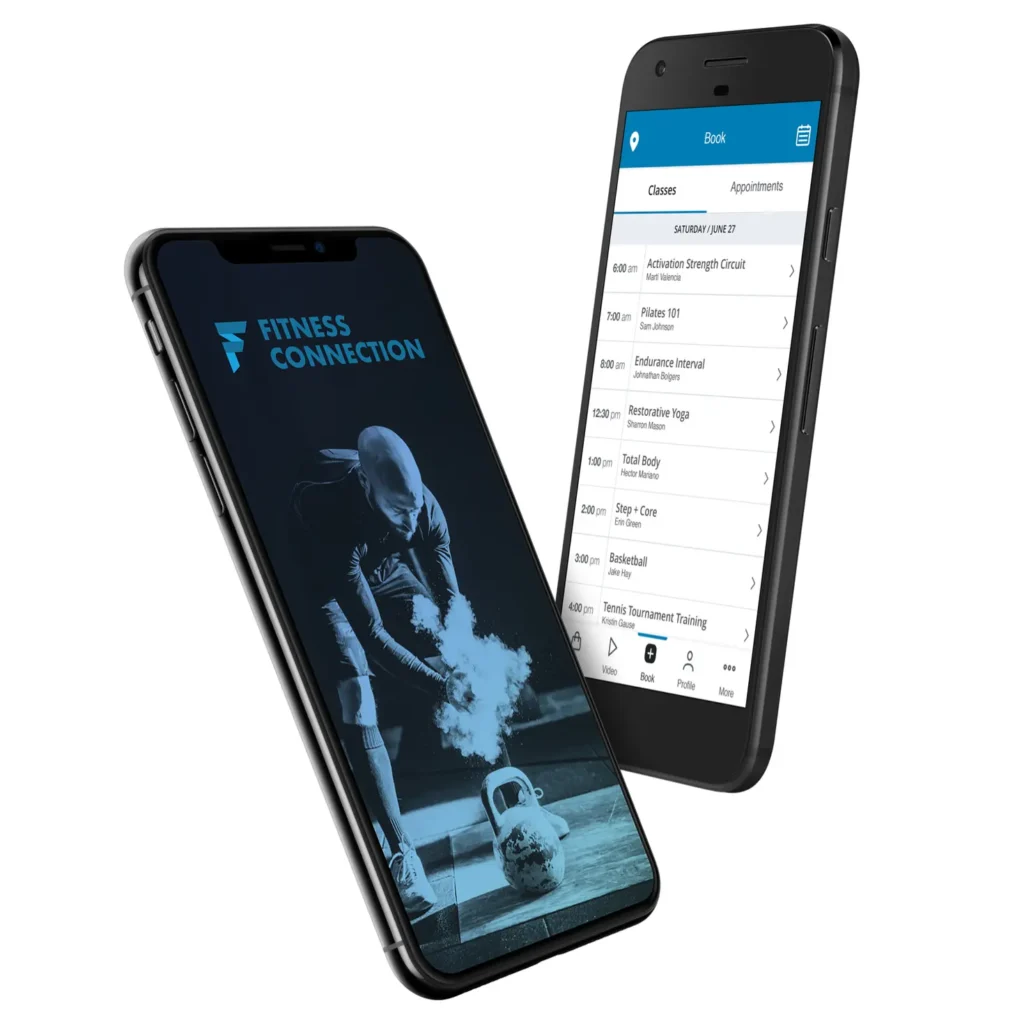 Zenoti Website
Zenoti does not offer a website builder, but they do offer custom app building as a service
Just like Mindbody, Zenoti offers you the option of a branded customer-facing app that is tailored to your brand and built for you by their team. This can be added to your monthly subscription fee.
Mindbody Website
Mindbody and Booker share the same parent company, and Mindbody's software suite also does not offer a website builder.
Again, like Booker, you can also build your own branded mobile app through Mindbody and Mindbody offers an app-building service, where they use your branding, logo, and colors to develop a mobile booking app just for your clients.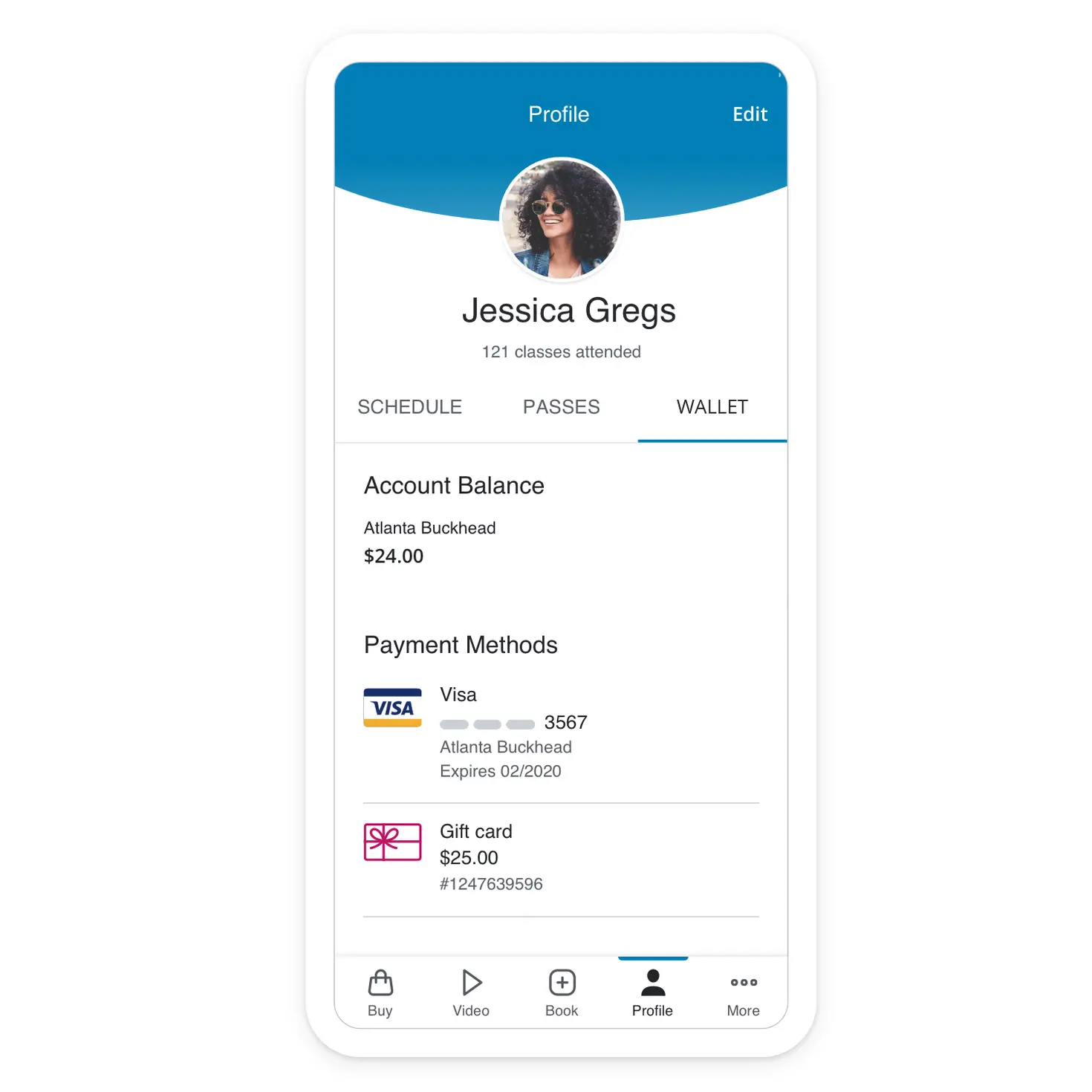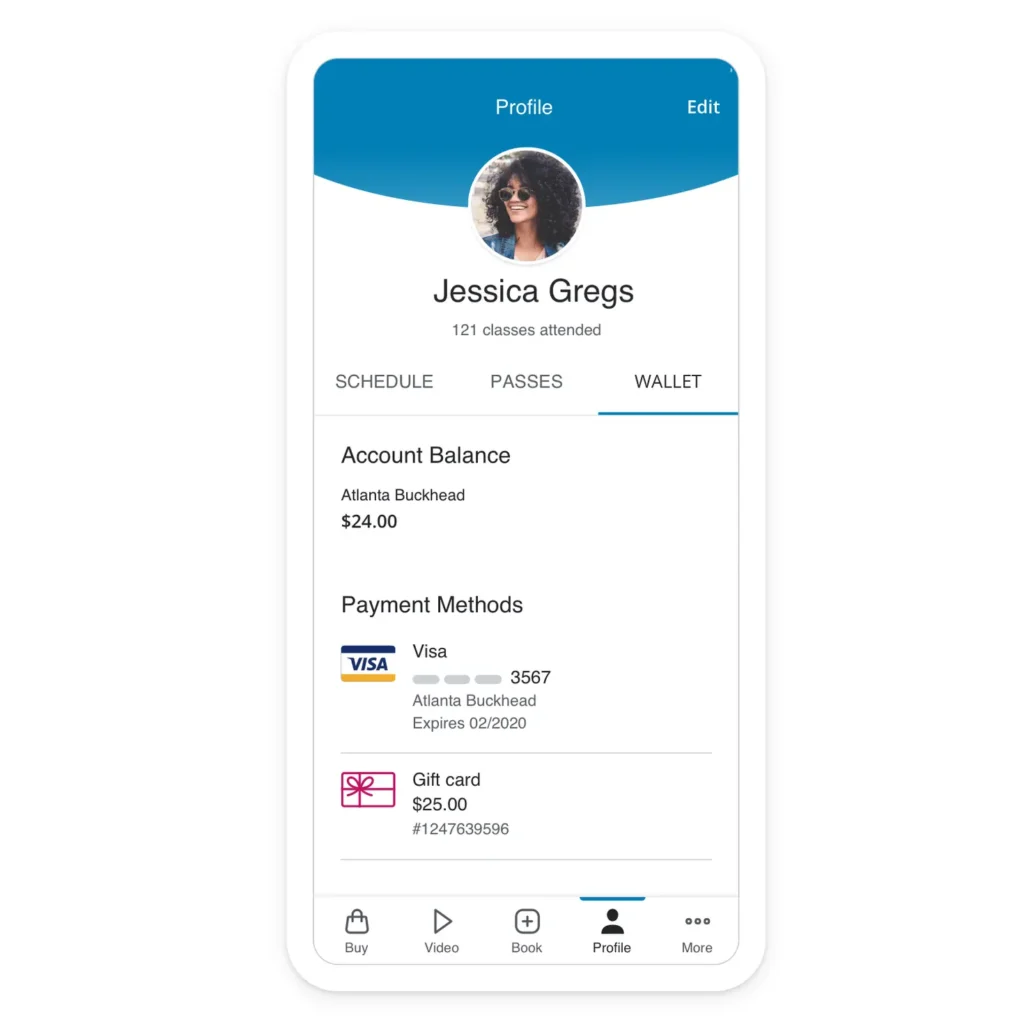 Social Media & Reputation Management
Social media has become the place to market your salon. Most platforms are very visual which fits the beauty industry perfectly. Thus, you want to make sure your online booking is linked with your social media.
On top, your salon software can help encourage your clients to leave online reviews of your salon which helps build your salon's reputation.
Mangomint Social Media Integrations
Mangomint does not offer support for direct integration with Google Business Profile or Facebook today. Neither is reputation management built into the platform.
Given the platform's integration support, you can of course find a third-party platform that specializes in reputation management and integrate with them to get this support.
Mangomint can automate emails after appointments where you can include a link to leave a review on your Google Business Profile.
GlossGenius Social Media Integrations
You can connect GlossGenius to Facebook to allow bookings from your profile. There's unfortunately not a Google Business Profile integration available yet.
You can also enable reviews so that clients will be given the opportunity to leave a review after their appointment. Reviews will be displayed on your website and you can choose which ones you want to show and which not.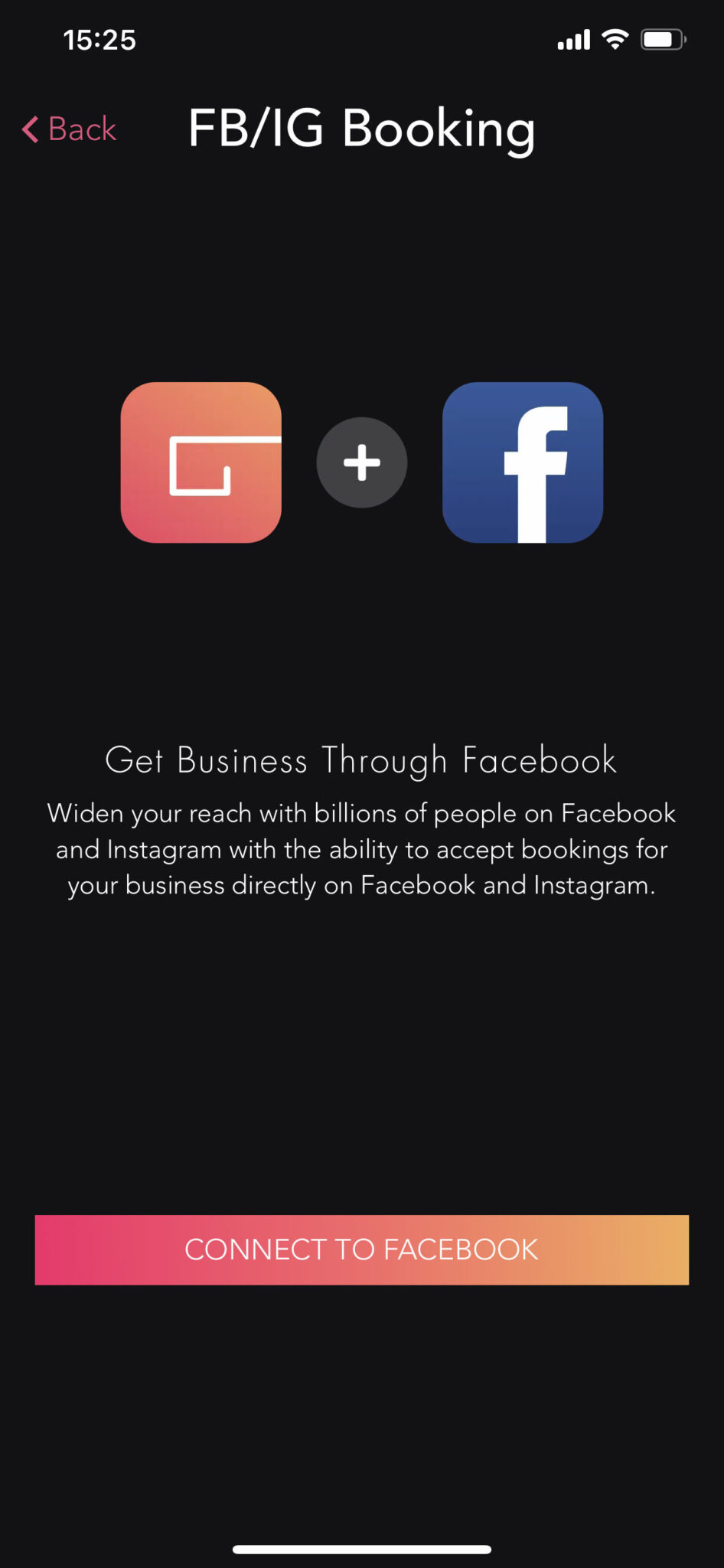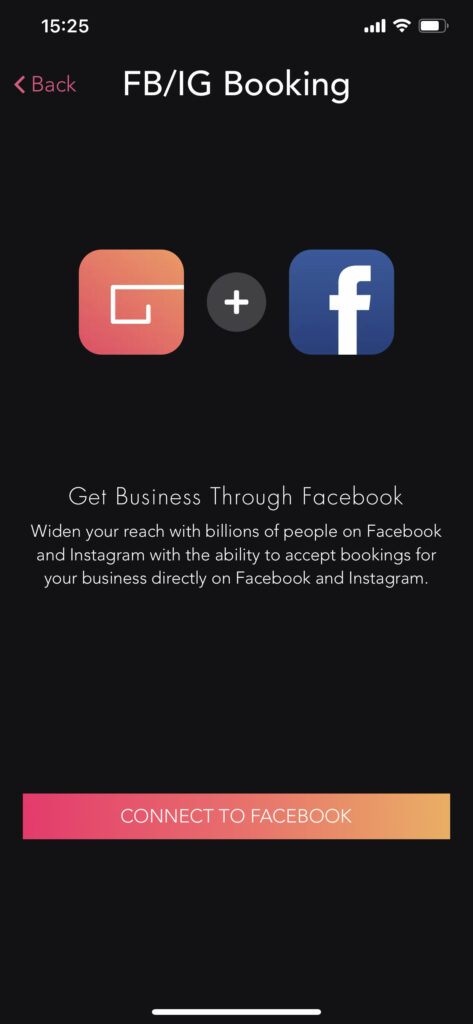 Vagaro Social Media Integrations
Vagaro integrates with Facebook, Instagram, Yelp, and Google.
This means people can book you directly from these platforms and that you can feature your gift cards for sale directly on your Google My Business profile.
You can also have your users leave a review of their visit on your Vagaro marketplace profile.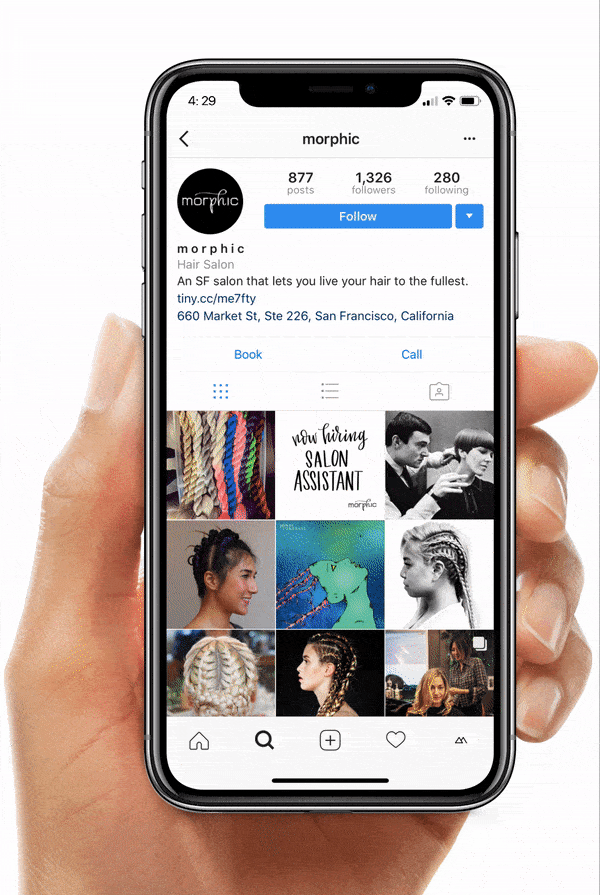 Fresha Social Media Integrations
You can integrate your Fresha booking directly with Facebook, Instagram, and Google. You'll also be able to manage customer reviews made on the Fresha marketplace. However, the tool does not support reputation management on other platforms – like Google or Yelp.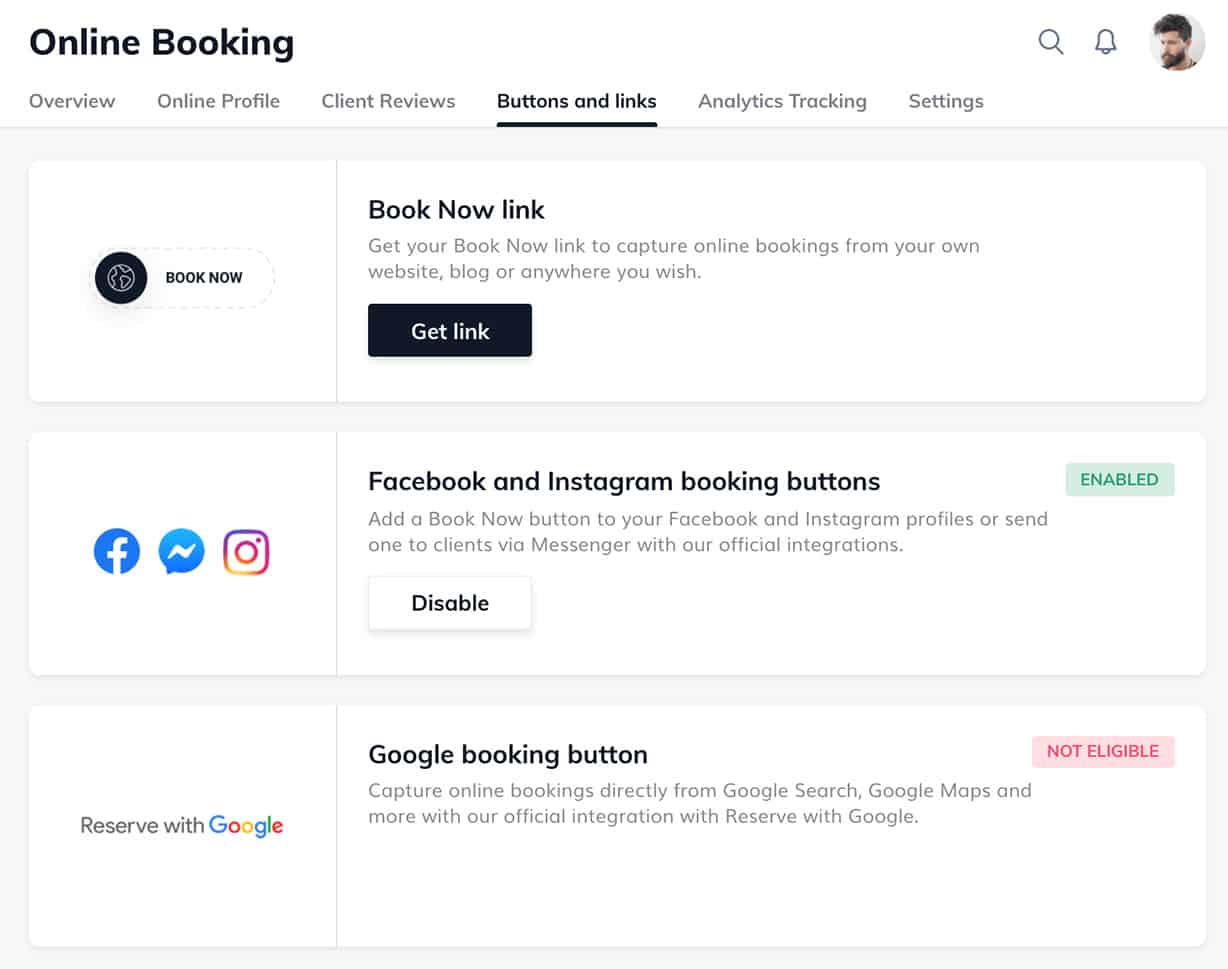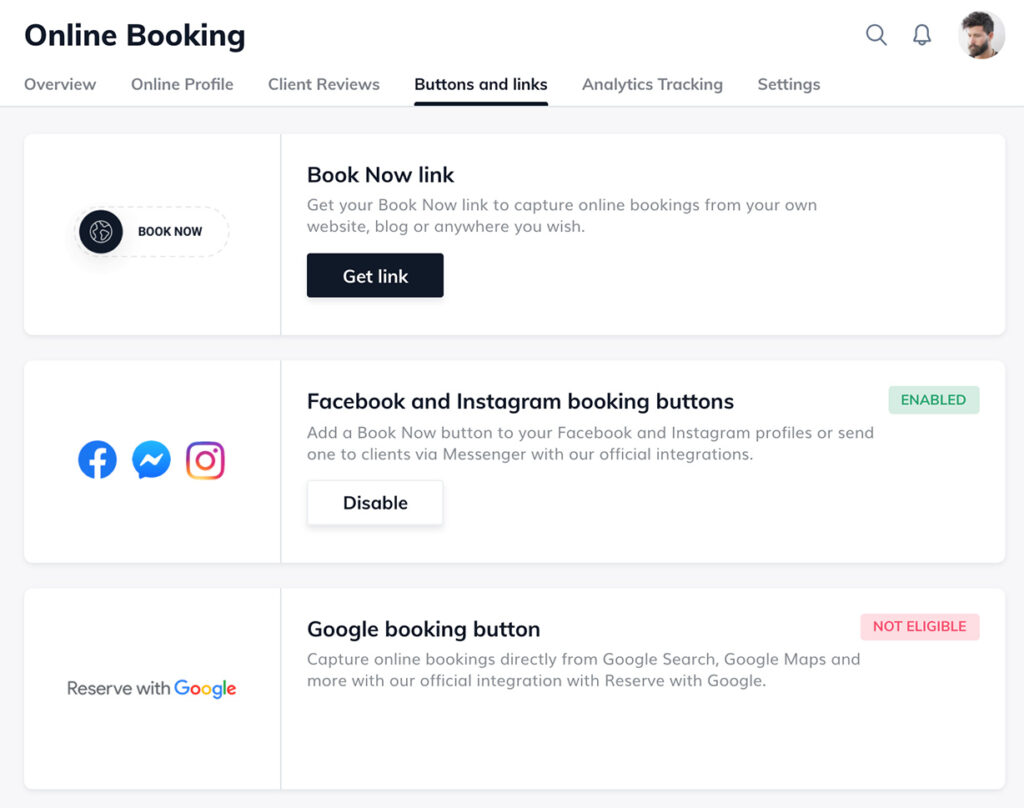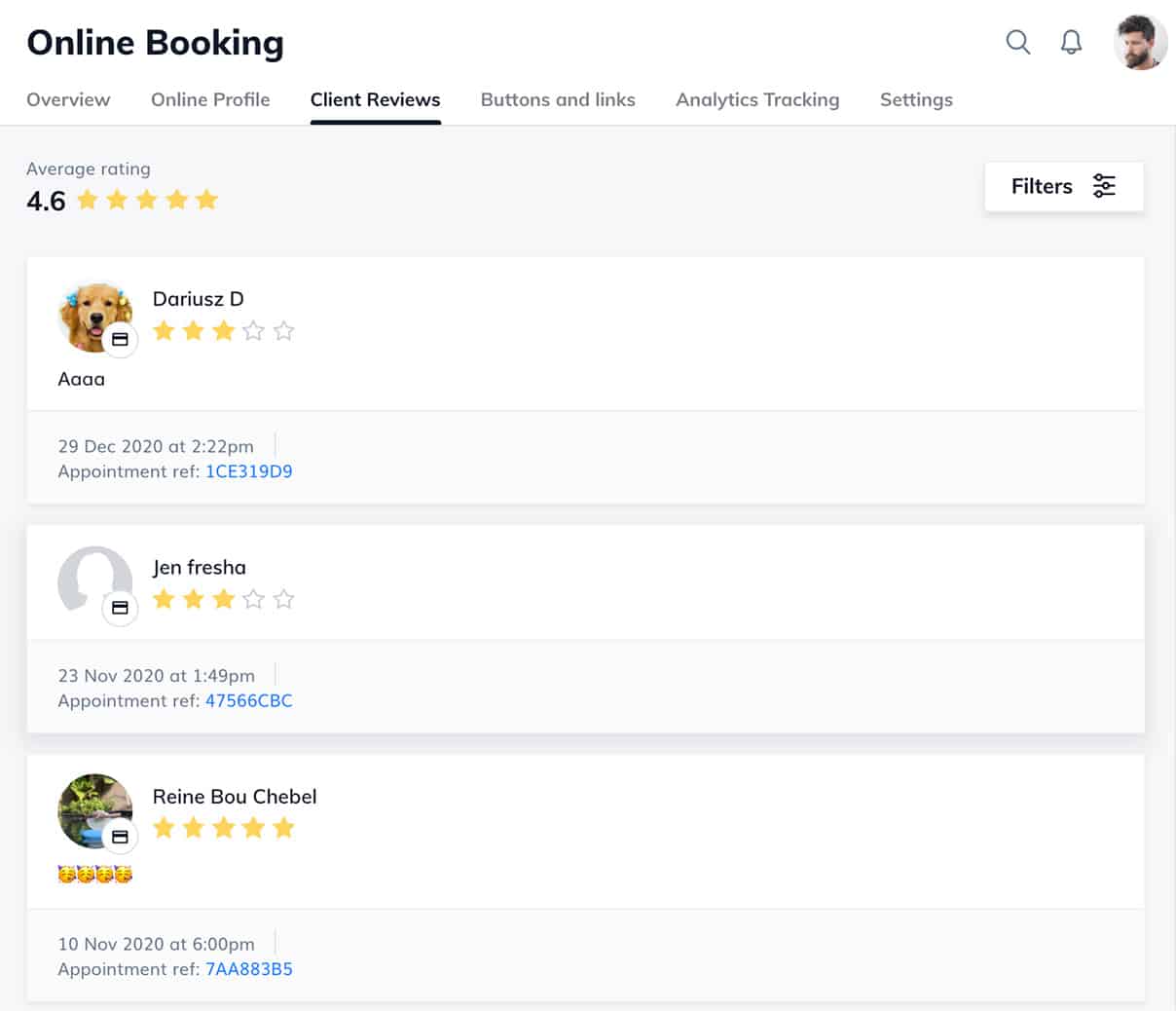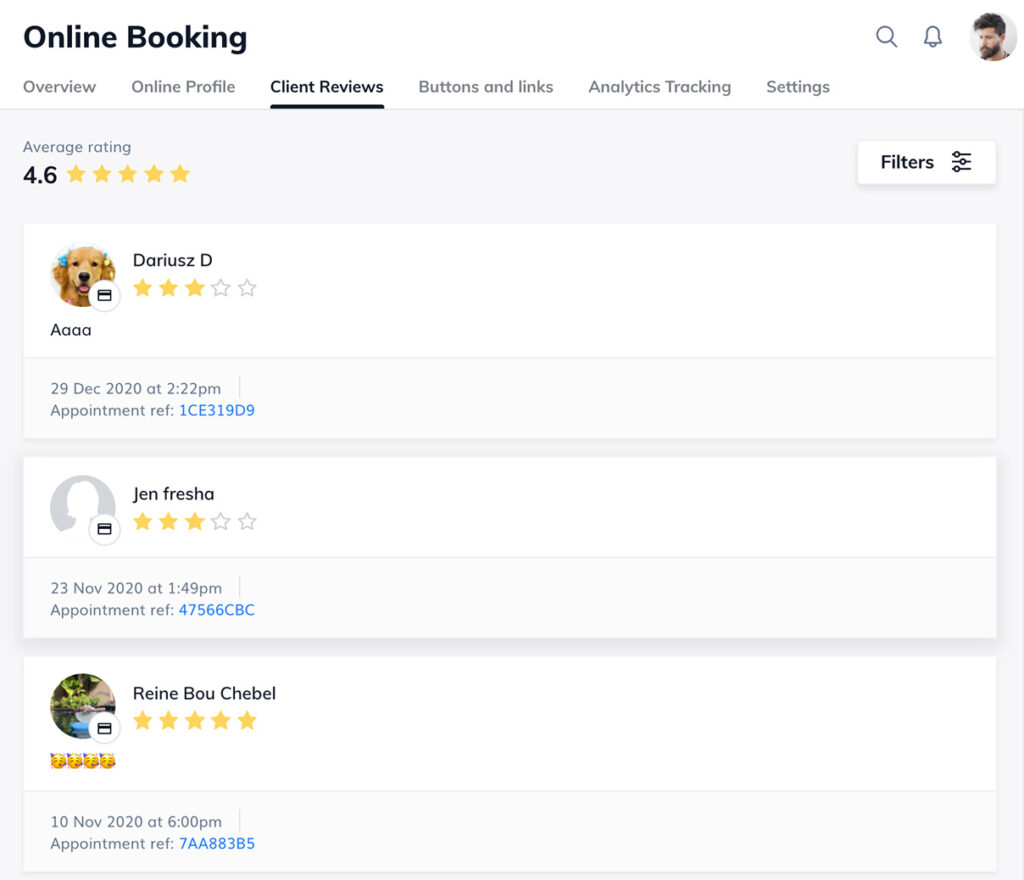 Boulevard Software Social Media Integrations
Boulevard offers integrations with Facebook and Instagram Book Now features to enable clients to book from your social media profiles.
You can also integrate your Google Business Profile with Reserve With Google to allow customers to book with you from Google search results, Maps, and other pages on Google.
Boulevard also has an reviews/ratings system that allows you to send a survey to your clients via email and collect the information within the software. Users that leave a good review can be linked out to leave a review on Yelp, Google, and Facebook.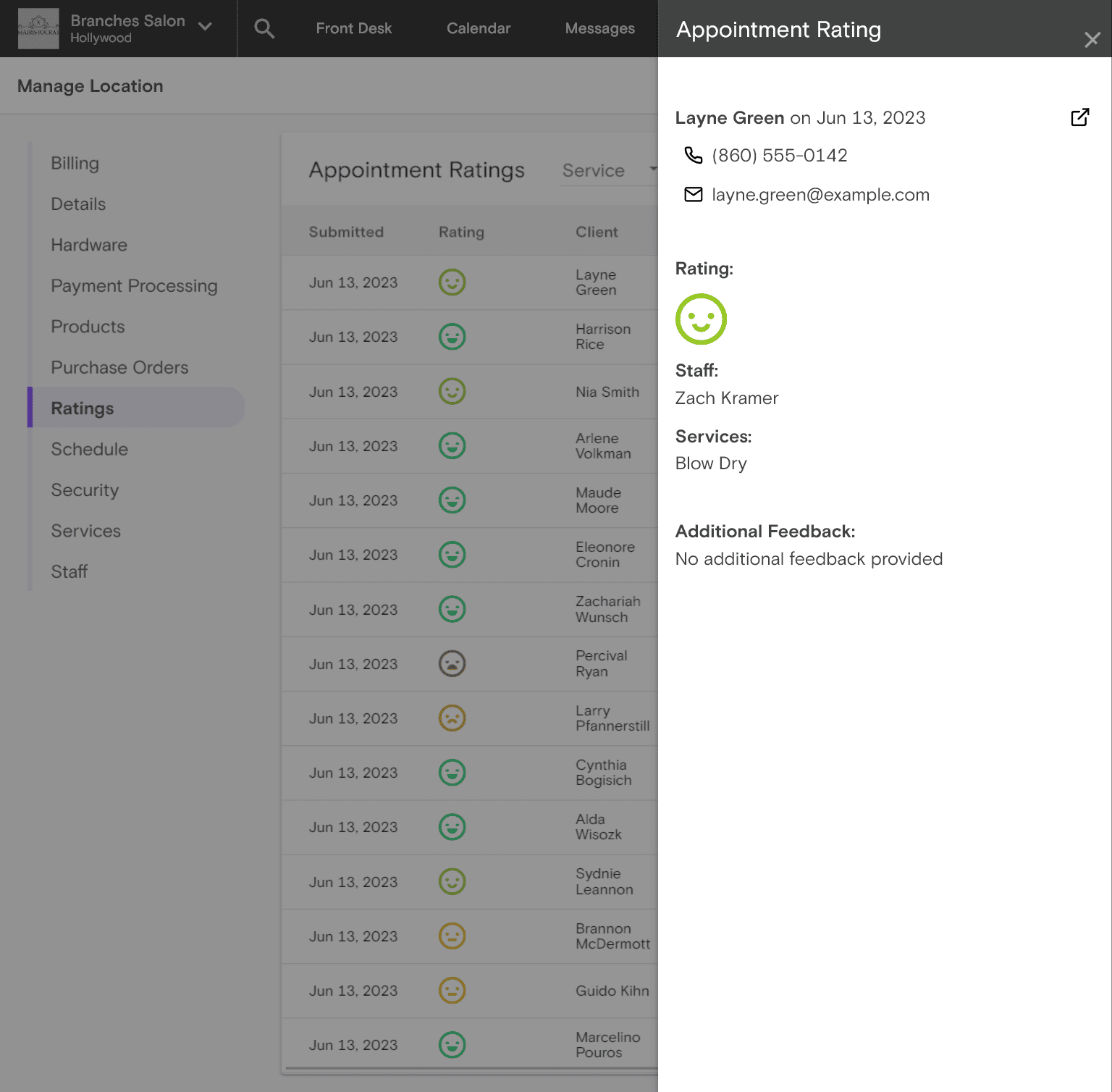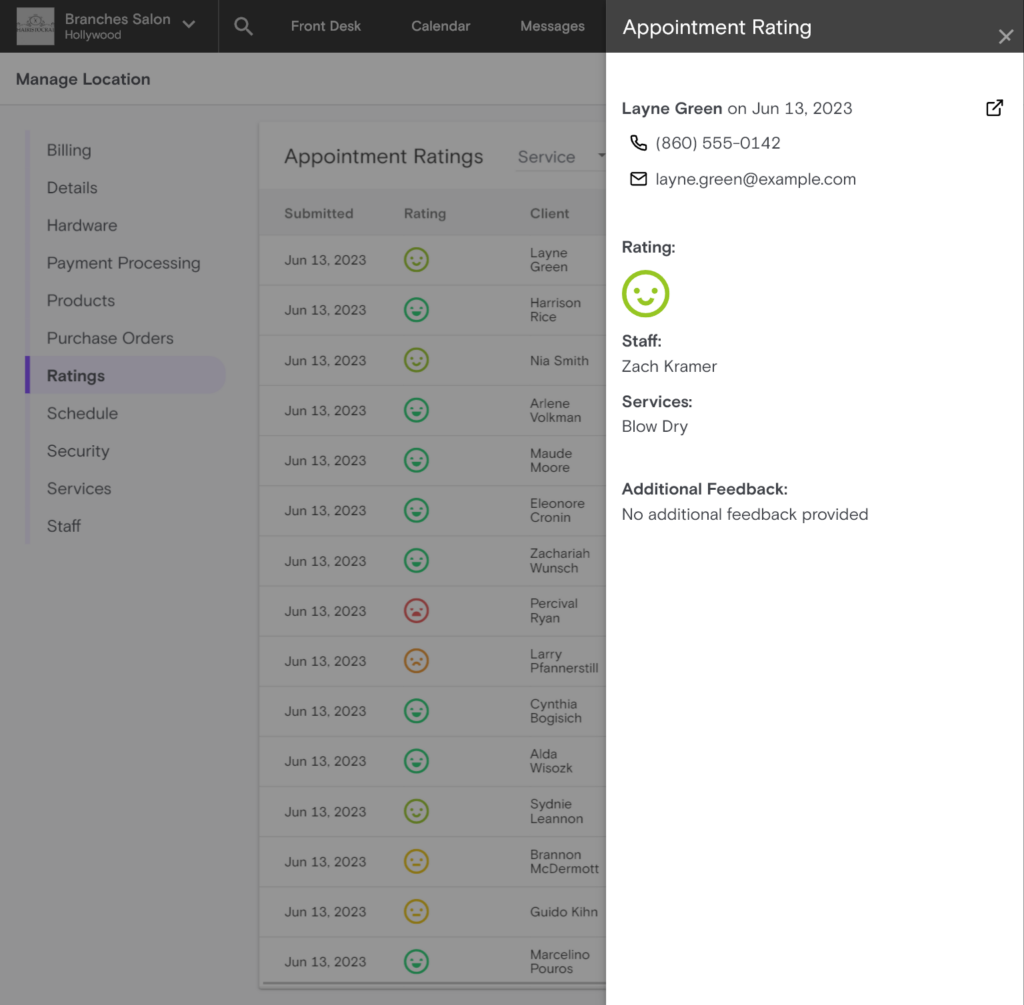 Square Appointments Social Media Integrations
Square Appointments integrates with Google so that your clients can book you directly on the search result page without leaving Google.
For other social platforms, you can link directly to your booking widget for fast booking of appointments.
They do not offer any reputation management support today.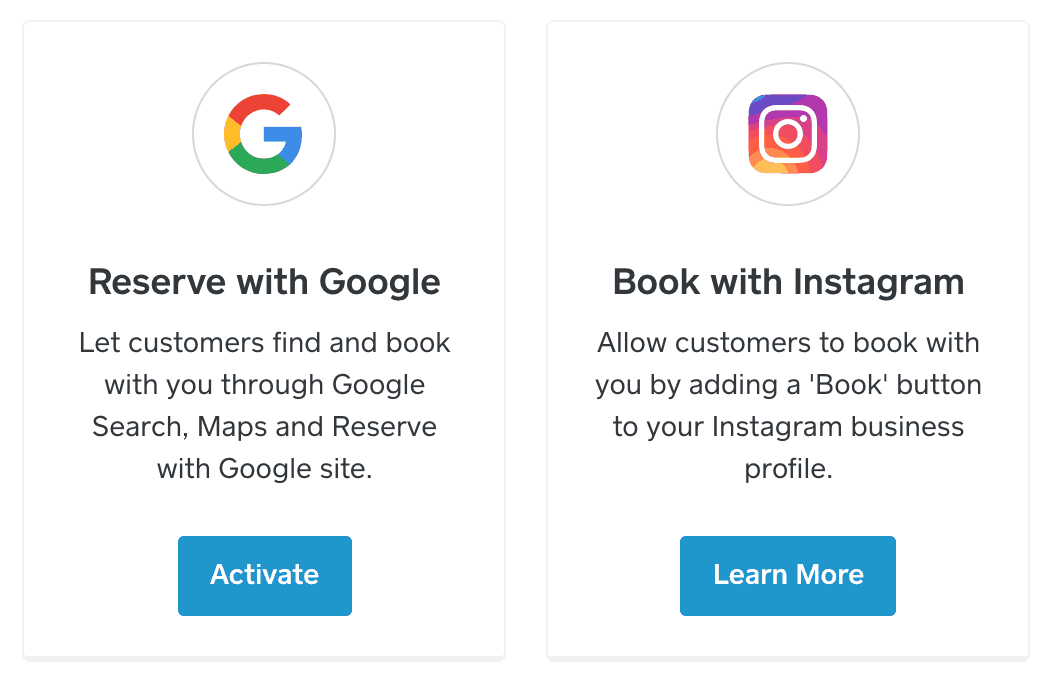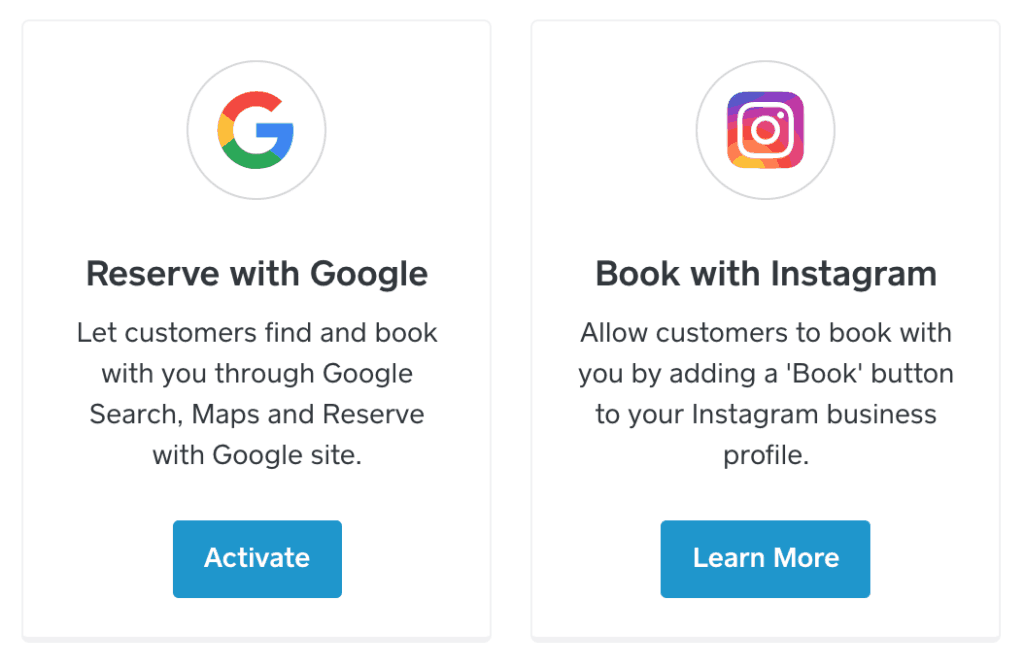 Booker Social Media Integrations
Booker lists integrations with Facebook (Facebook Booking and Facebook Gift Certificates apps) and Twitter on their support page, but drilling down into each listed integration, it appears that all social media integrations are no longer available through Booker.
NOTE: According to Booker's support page, installing the the Facebook Booking app is currently unavailable with Booker. The page claims that Booker is currently working to get the functionality back online. Posting on Facebook and Twitter are also currently unavailable.
Zenoti Social Media Integrations
Zenoti doesn't offer any direct social media integrations within the app settings, but your onboarding specialist can set up your account to work with services like Meta for Business and Reserve with Google.
Zenoti also offers reputation management features through the paid add-on ezRepute (tech provided by Simplified.io)
ezRepute is Zenoti's premium reputation management feature suite. Business owners can use it to monitor feedback, catch and respond to poor reviews, prompt customers to share their positive experiences, and more.
Mindbody Social Media Integrations
In addition to the large network of partner app integrations offered in the Mindbody Partner store, Mindbody also offers the ability to connect functions of its application to third-party social media apps.
For instance, Facebook Messenger can be connected to Mindbody's Messenger[ai] to allow for messages submitted on a business' Facebook page to automatically be answered by Messenger[ai], just as standard SMS messages can.
Best Salon Point of Sale (POS) System
A salon software wouldn't be of much help if you cannot use it at checkout. The software I recommend in this review manages the checkout process differently.
I have also done a review of the best salon POS systems that I strongly recommend that you read. This goes into more depth on the top point-of-sale systems for salons and spas and includes options that aren't listed here.
Let's look at the point-of-sale support they offer to help you identify the best option for you.
Salon POS Hardware
All software platforms I recommend in this review are cloud-based and can be accessed via the web browser or via mobile or tablet app. However, Mangomint, Vagaro, and Square Appointments also support you with POS hardware.
Mangomint POS
The POS hardware offered by Mangomint includes the compact Bluetooth card processor and Front Desk Display that turns your iPad into a client-facing screen where clients can pay.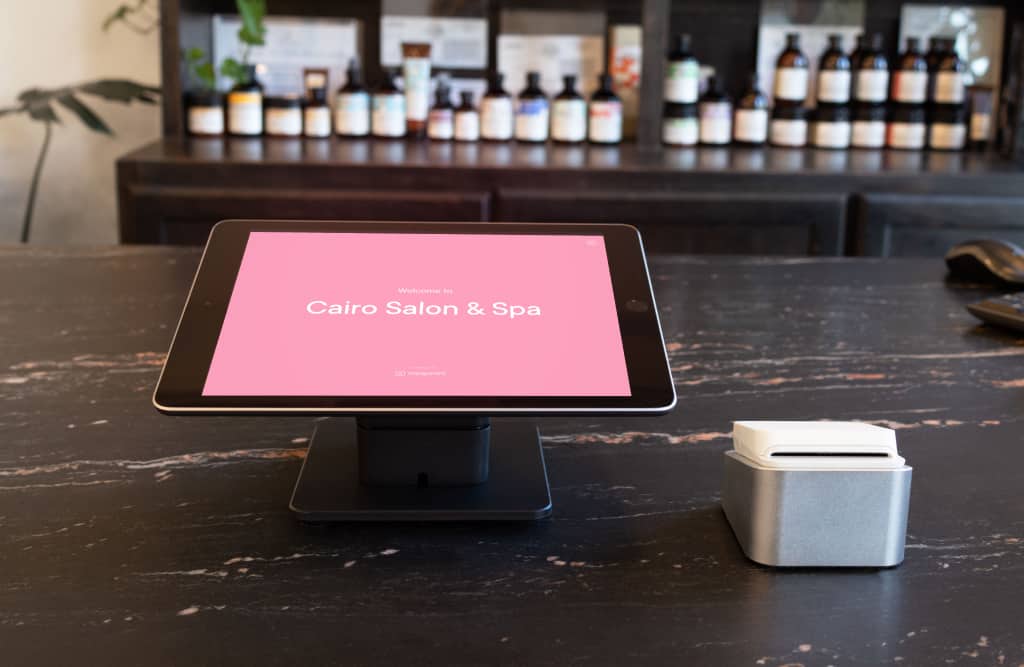 GlossGenius POS
Although GlossGenius offers a beautiful card reader, there's no dedicated POS hardware but you'll run the POS on your phone or tablet.
Your client can pay with cash or via the connected card reader and you'll have the option to send the receipt via SMS or email.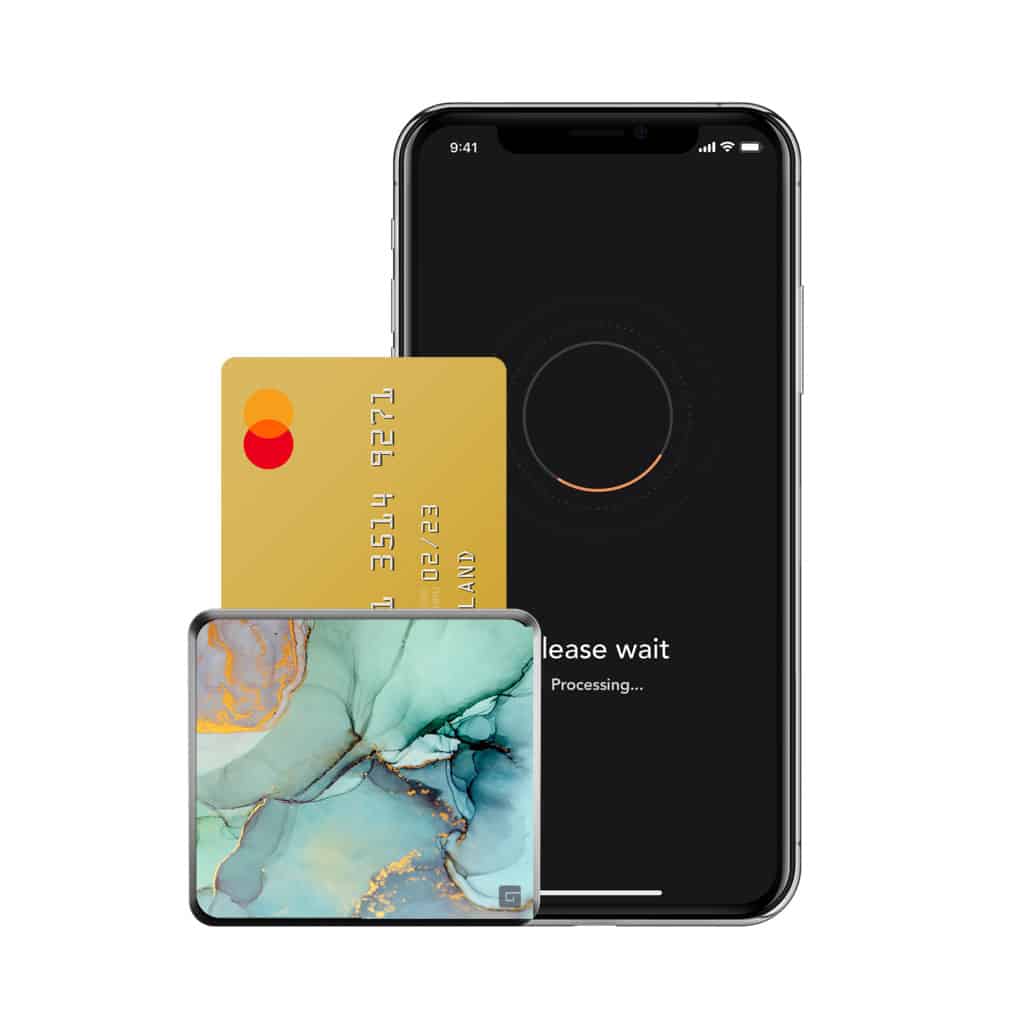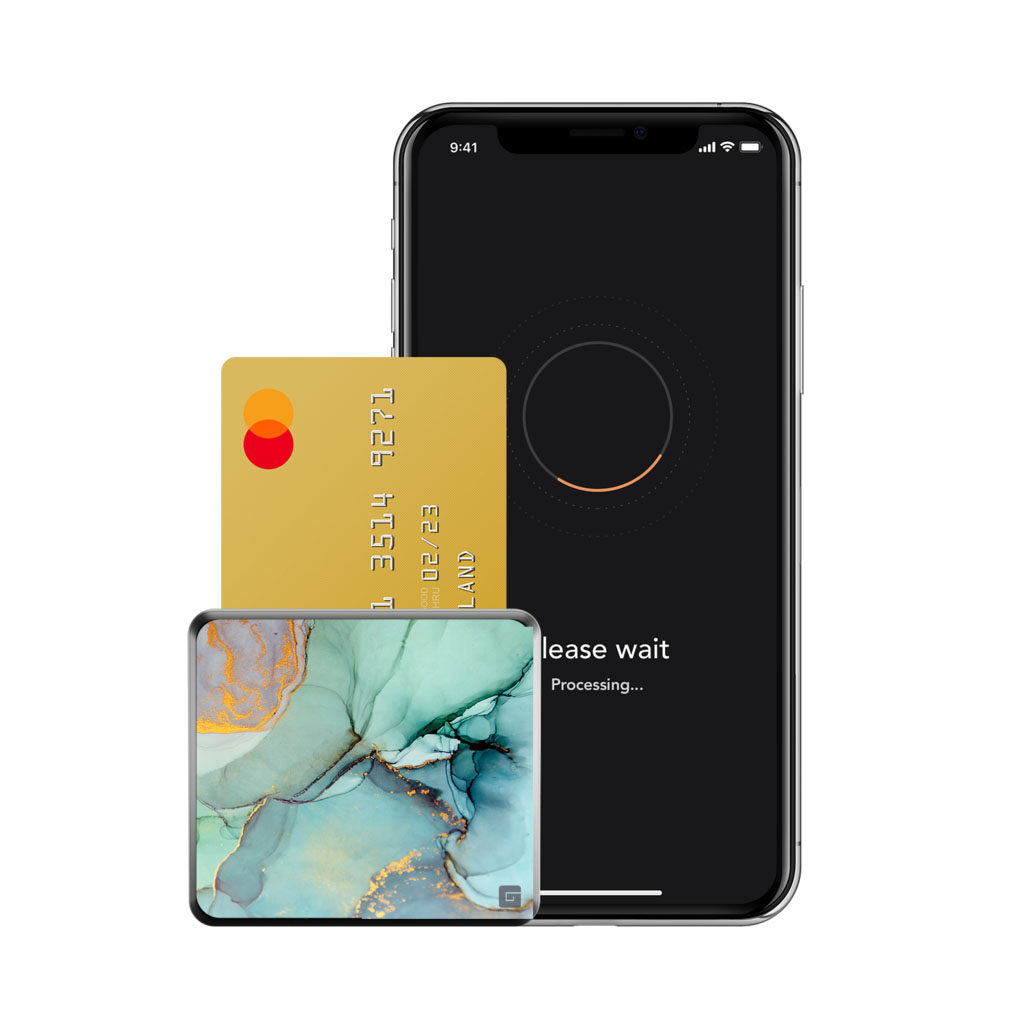 Vagaro POS
Vagaro gives all users who sign up for their merchant service a free credit card reader. On top of that, you can purchase their full Pay Desk solution. Its dual-screen solution has a very sleek and modern design (see the picture below where you also see the card reader).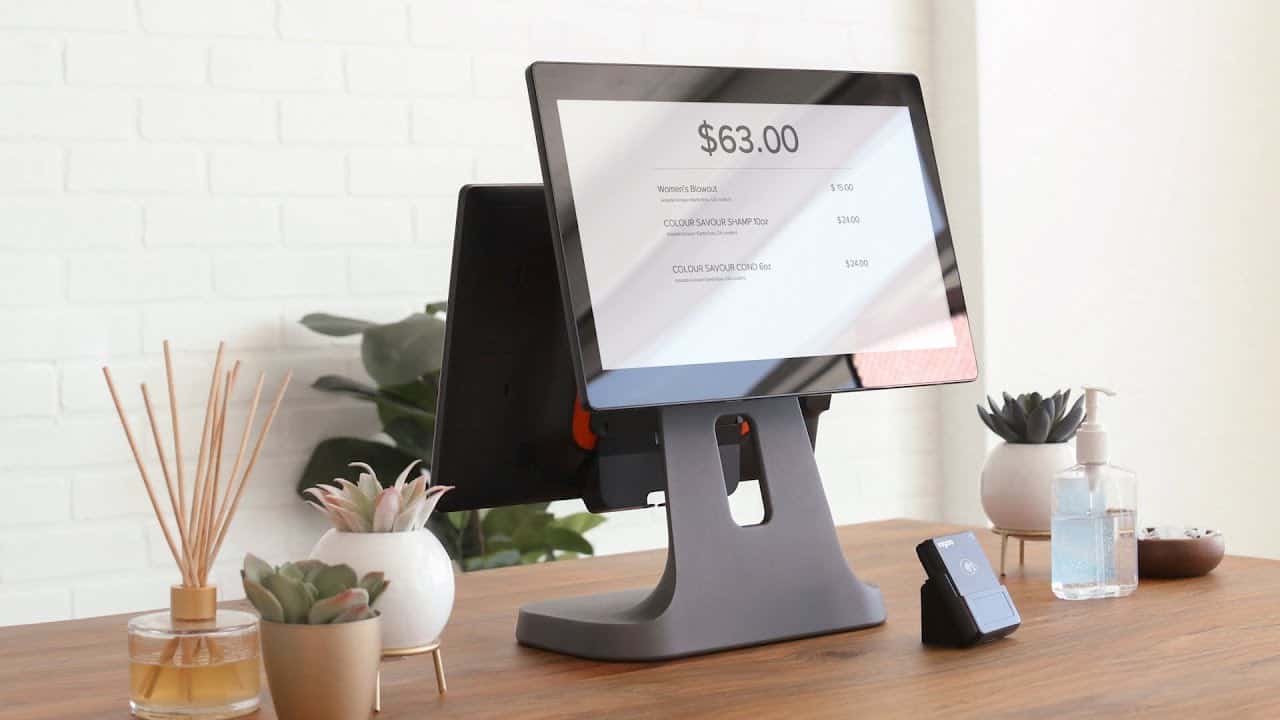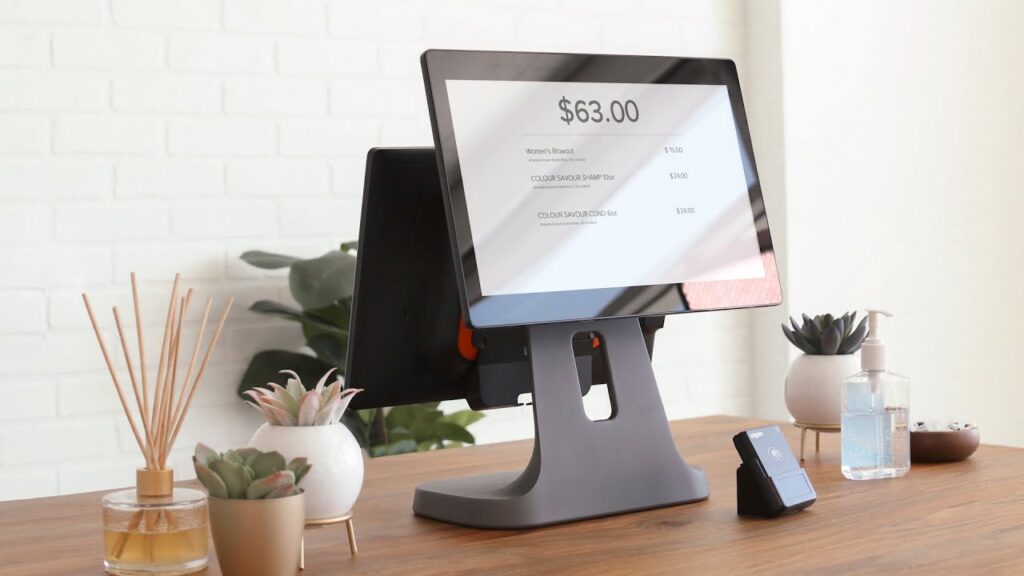 Fresha POS
Fresha offers POS support via the professional app or web interface. They also offer a credit card payment terminal that integrates with the software. However, it does not have a full POS unit like Vagaro or Square.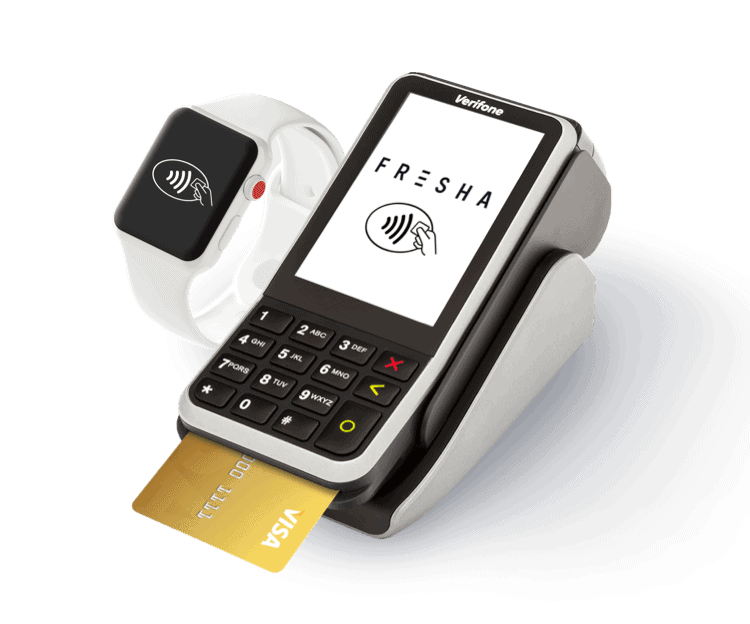 Boulevard Software POS
Boulevard heavily encourages users to purchase and use their Boulevard Duo payment hardware — an EMV-certified Bluetooth card reader that connects to your POS via the Boulevard Duo iOS app and an iPad, and can accept payments via dip, tap, swipe, Apple Pay and Google Pay. No third-party payment hardware is not officially supported in Boulevard.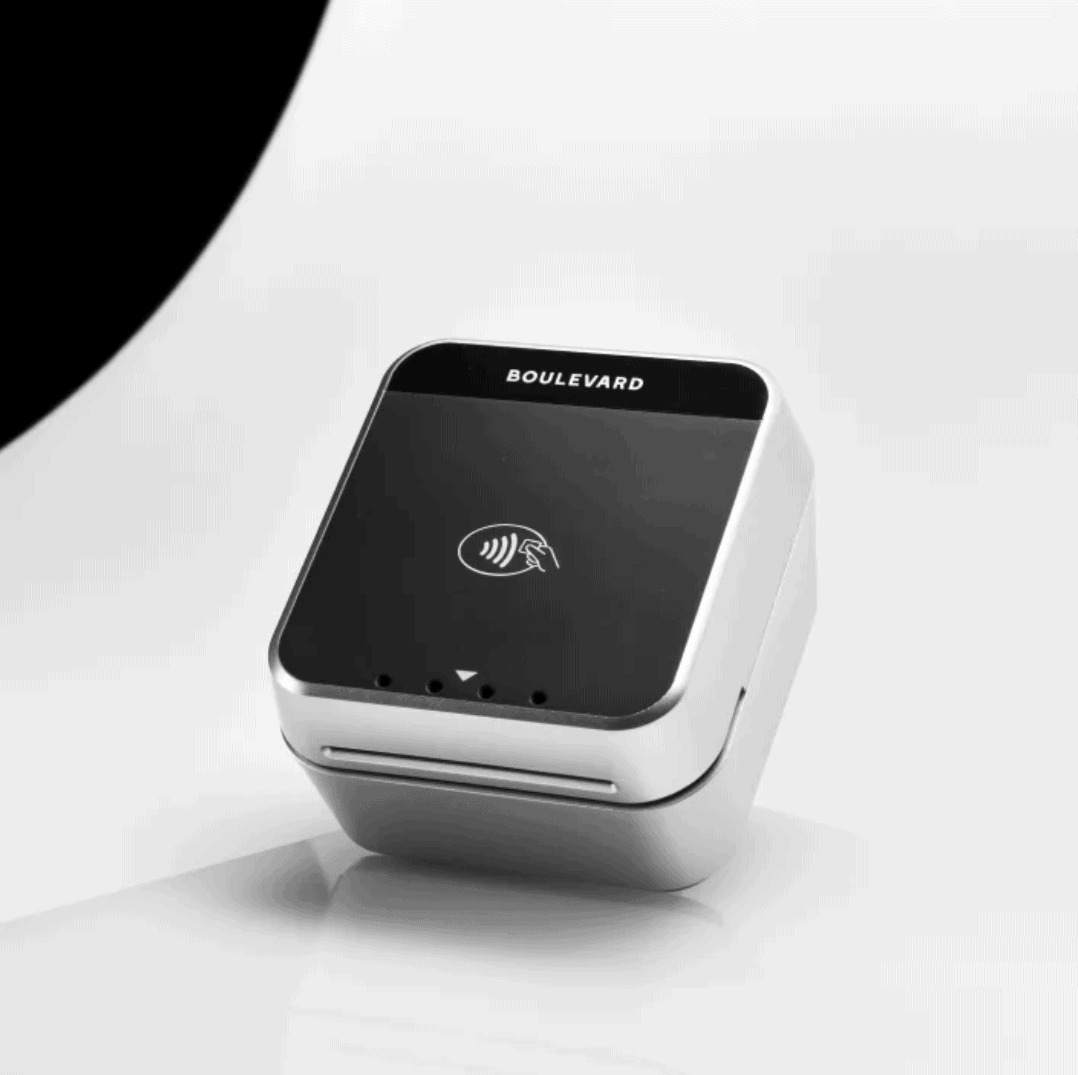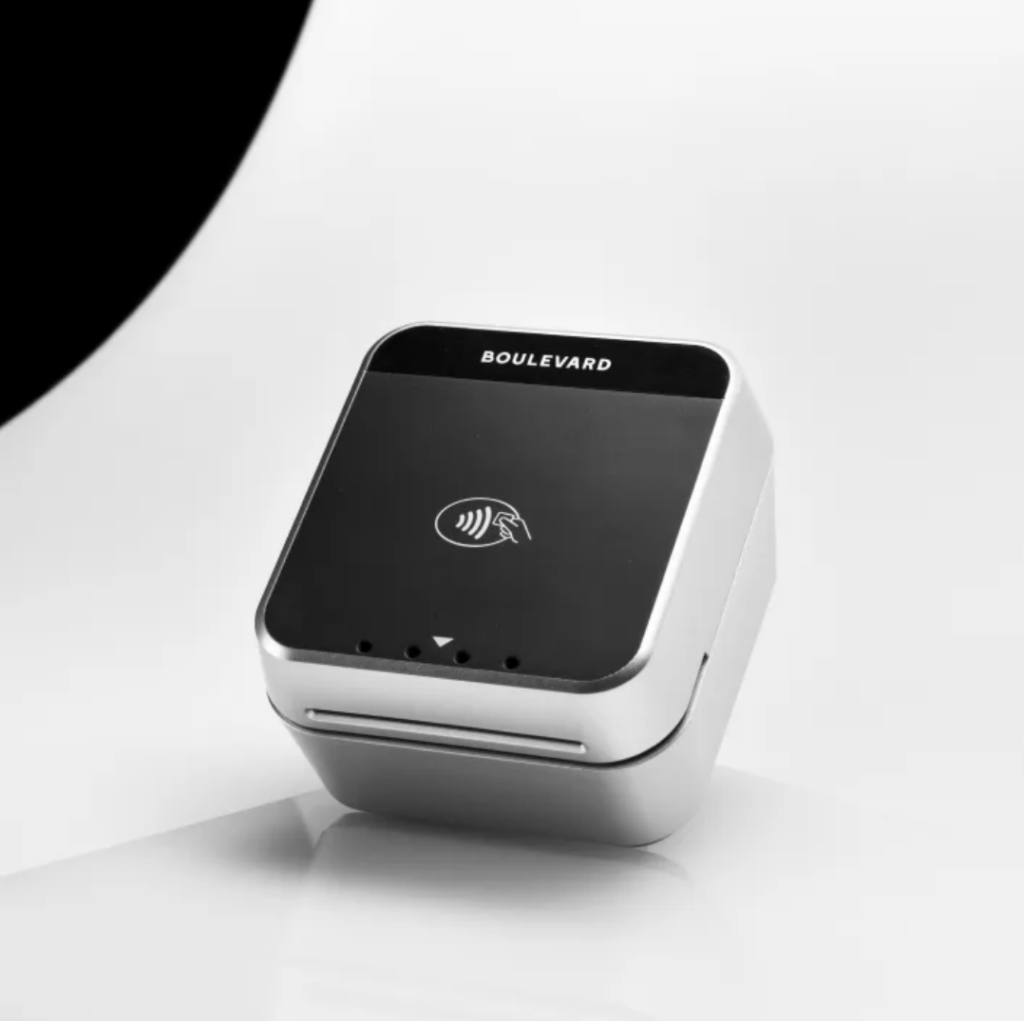 Square Appointments POS
Square has a menu of hardware that you can purchase to streamline your checkout process. They all have the modern and minimalistic design that you experience across all Square products.
In fact, Square is also one of my recommended POS system as you can read in my review of the best POS systems for salons & spas.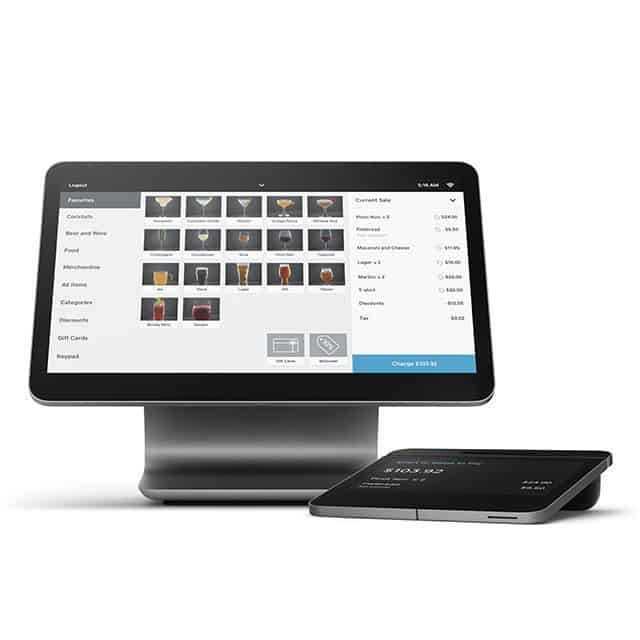 Booker POS
Booker has a short list of supported POS hardware that can be used with their POS system.
If you will be using the integrated payment processing platform Mindbody Payments, there are only a couple of compatible hardware options, available through Booker for an additional fee.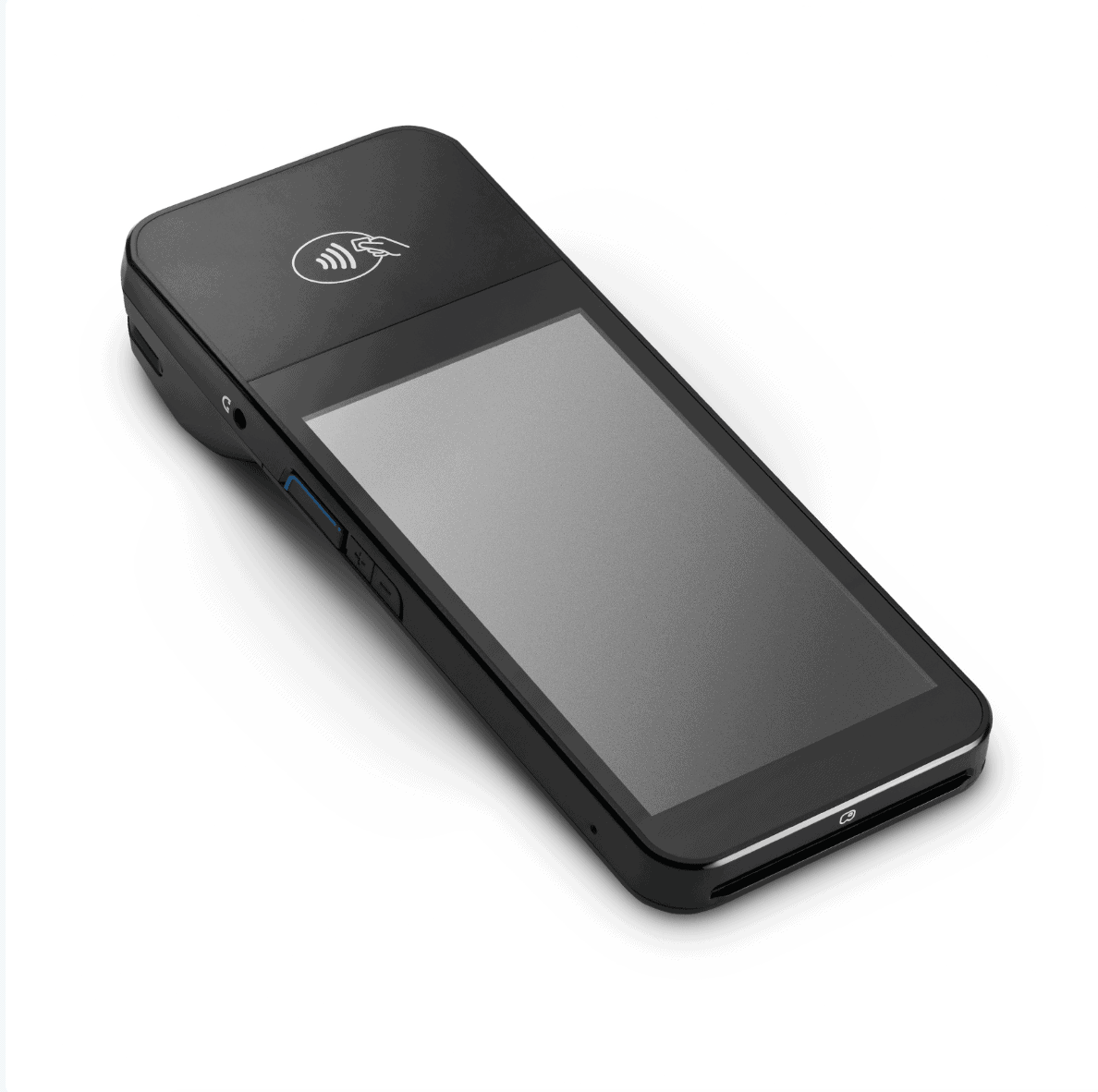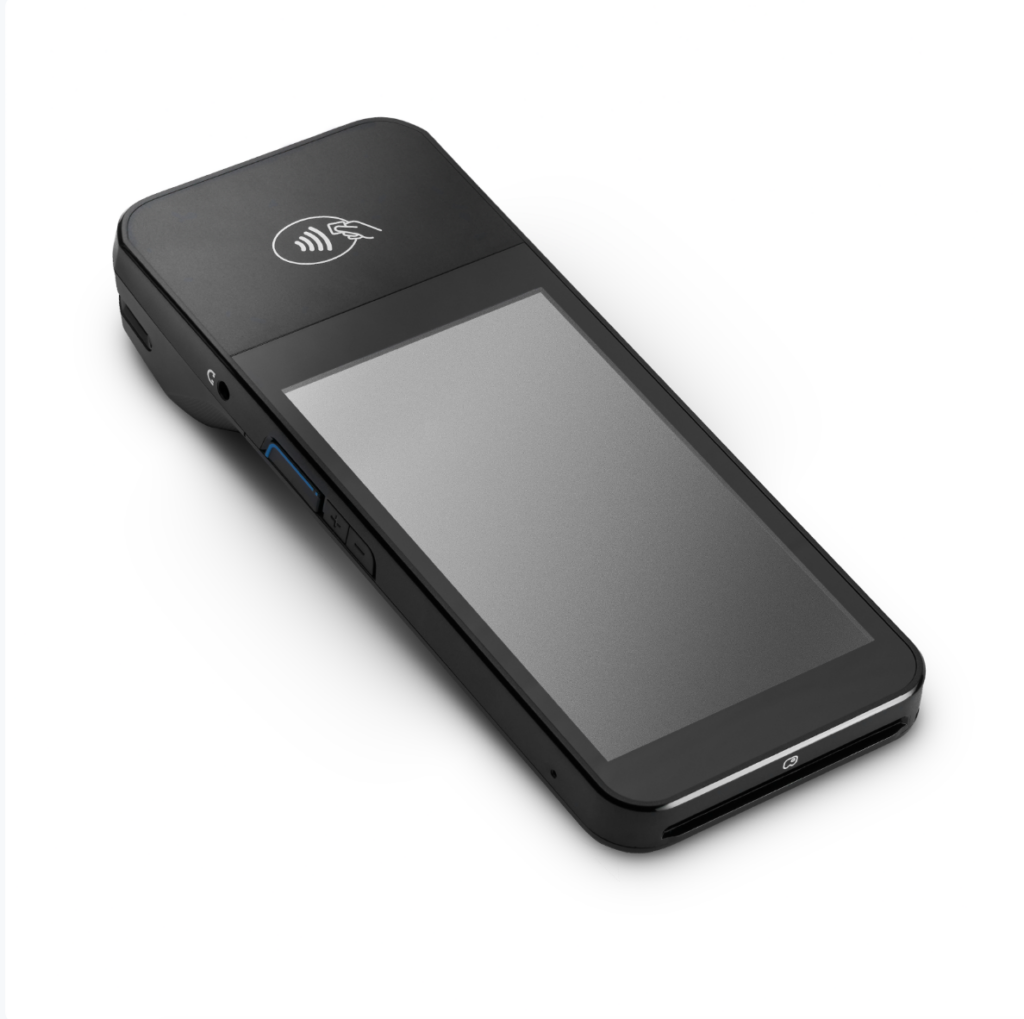 Zenoti POS
Zenoti offers rather flexible POS and processing options.
You can choose from a range of terminals directly through Zenoti, or you can use third-party POS hardware solutions such as a Clover POS device. Either way, you can process payments through the Zenoti desktop web app without the need for manual reconciliation at the end of the month.
Third-party POS devices are not technically accessed via direct integration, but they process the same as standard payments and pose no additional work (outside of a couple extra clicks at checkout).
You can also use an iPad or Android device as a POS terminal by connecting it to your system and using Zenoti's customer-facing iOS app to allow clients to checkout.
Mindbody POS
The optional integrated Mindbody Payments system is only compatible with the recommended WisePOS E desk terminal and Stripe Reader M2 mobile swiper (for a one-time $150 fee) or the P400 desk terminal and BBPOS mobile swiper (no longer offered through Mindbody).
You can use some third-party POS & card reader devices with Mindbody; however, at the time of writing, a full list of compatible hardware is not readily accessible on the Mindbody website or its support pages.
Payment Options
All the software I recommend here supports a wide variety of payment options. Square is strong regarding payments as it is the core of their business. However, Mangomint has taken the process of collecting payments to a new level which I'll cover here.
Mangomint Payments
Mangomint Pay allows you to charge credit cards online and using the physical card reader.
You can also allow your clients to pay from their own device by sending them a link for where to pay using their self check out feature.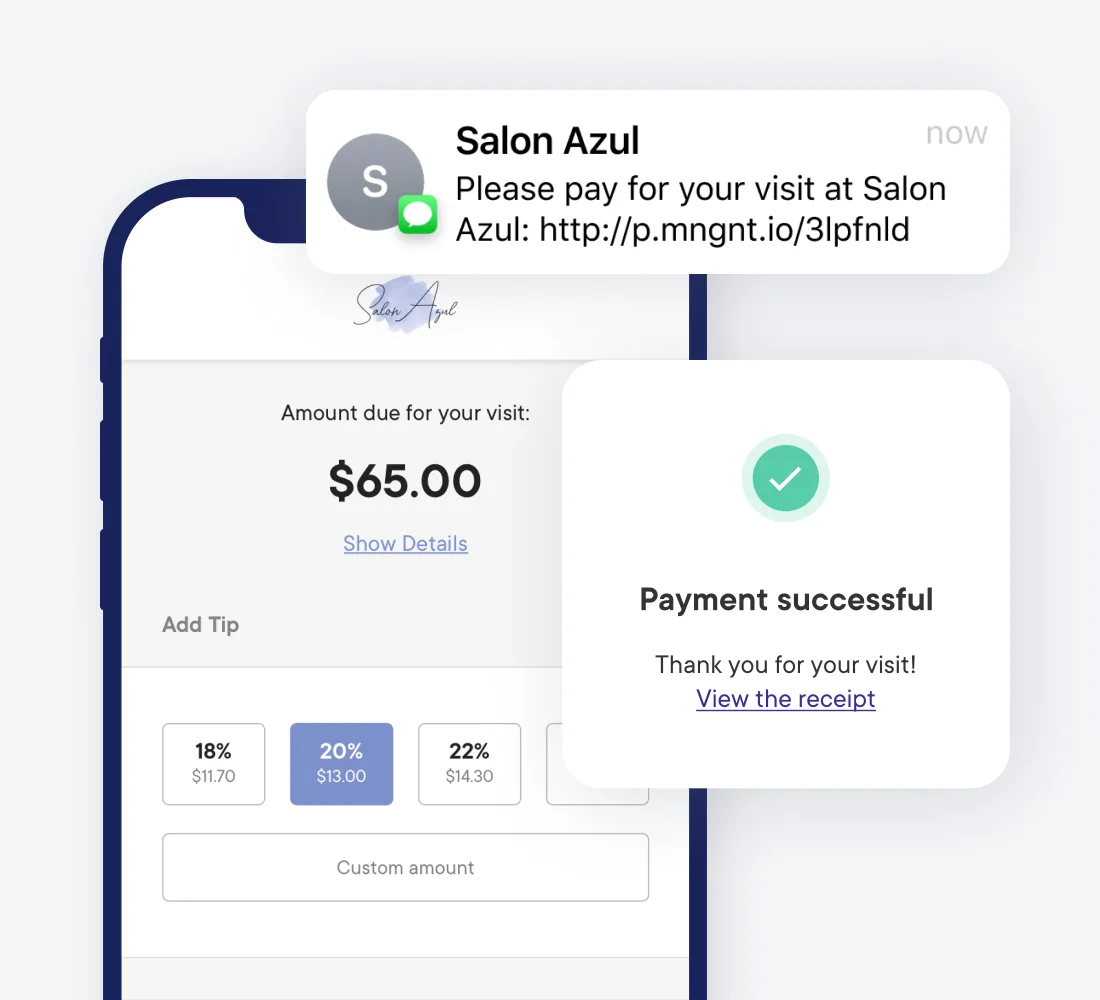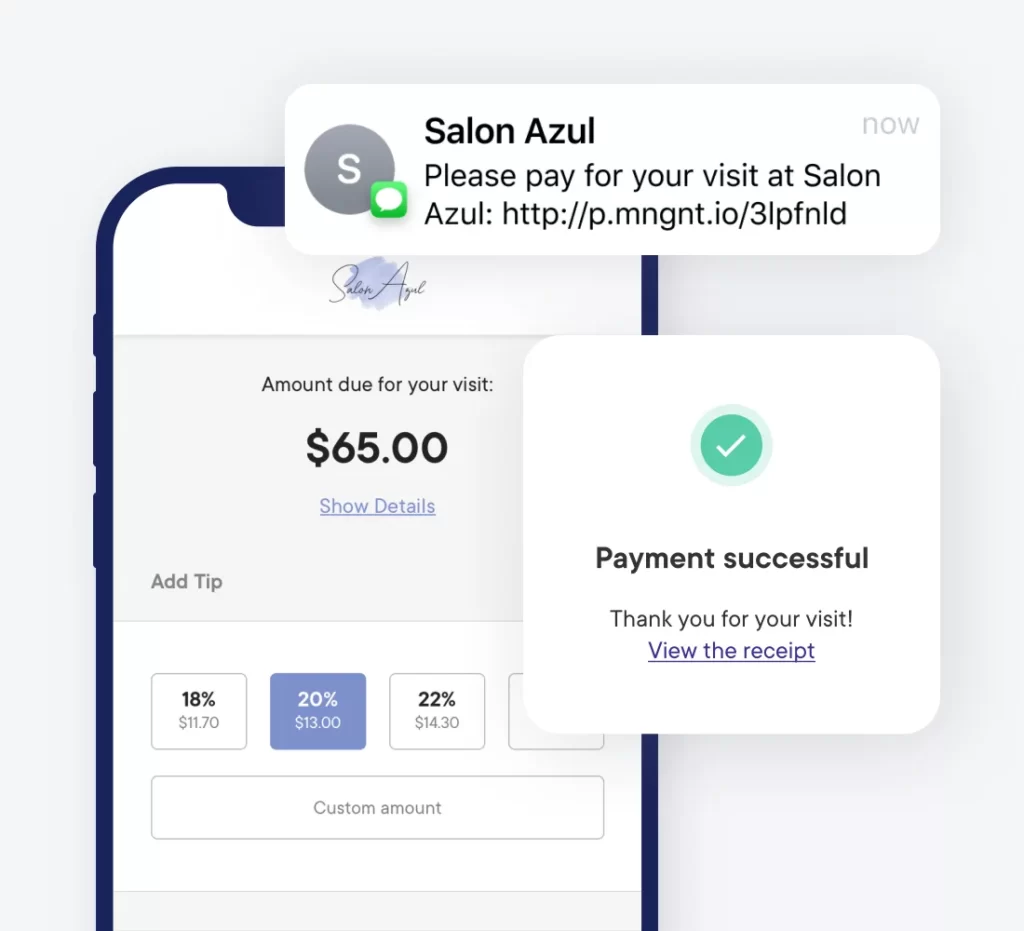 Another really powerful feature is that you can connect multiple merchant accounts to Mangomint and connect them to different service providers. This can be a major help for businesses with a more complex structure.
GlossGenius Payments
Glossgenius has the most beautiful credit card processor. I can see that for some of you, the design of the card reader can be enough of a reason to go with GlossGenius 🙂
Below is a picture of myself with the card reader 🙂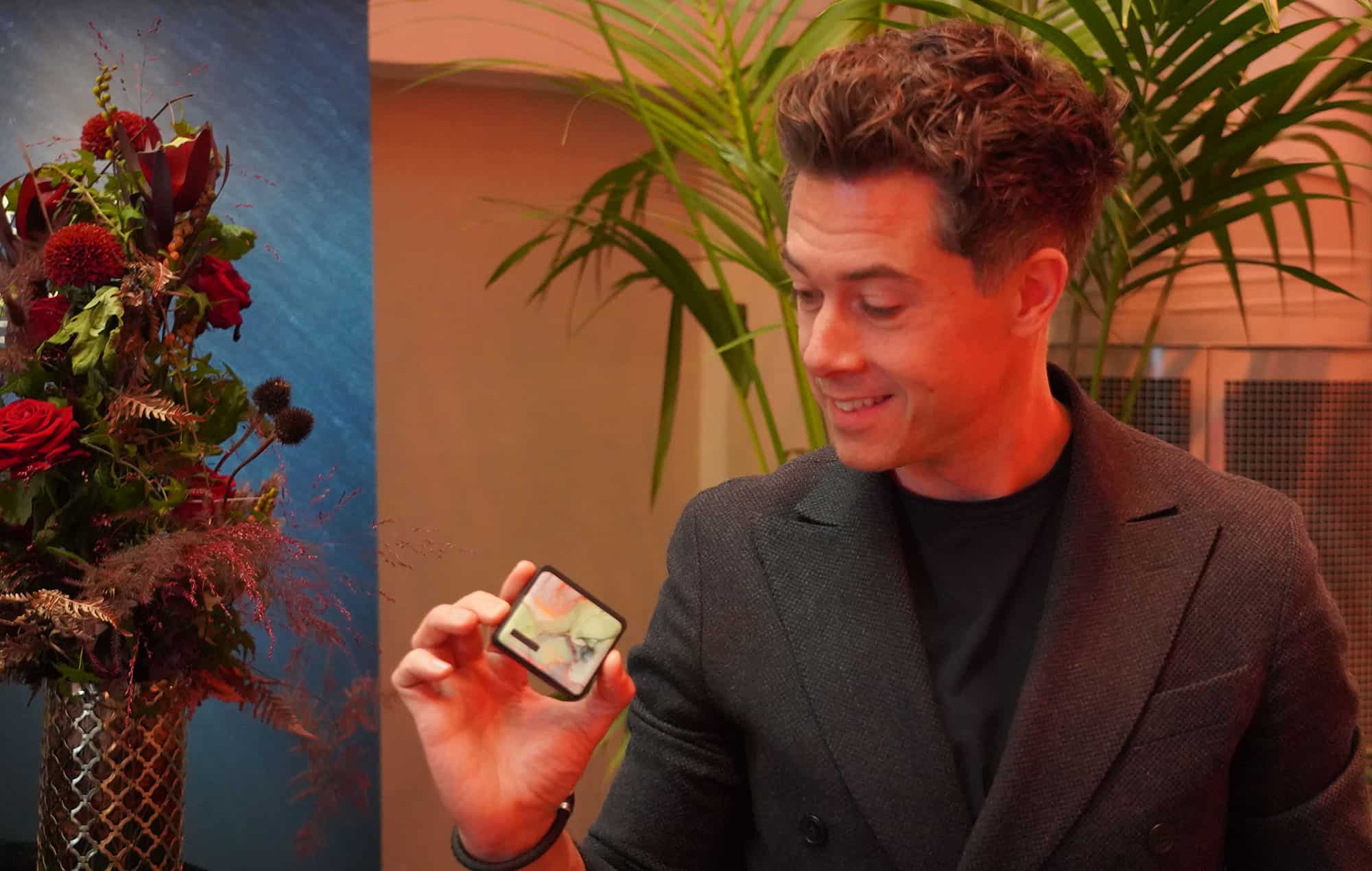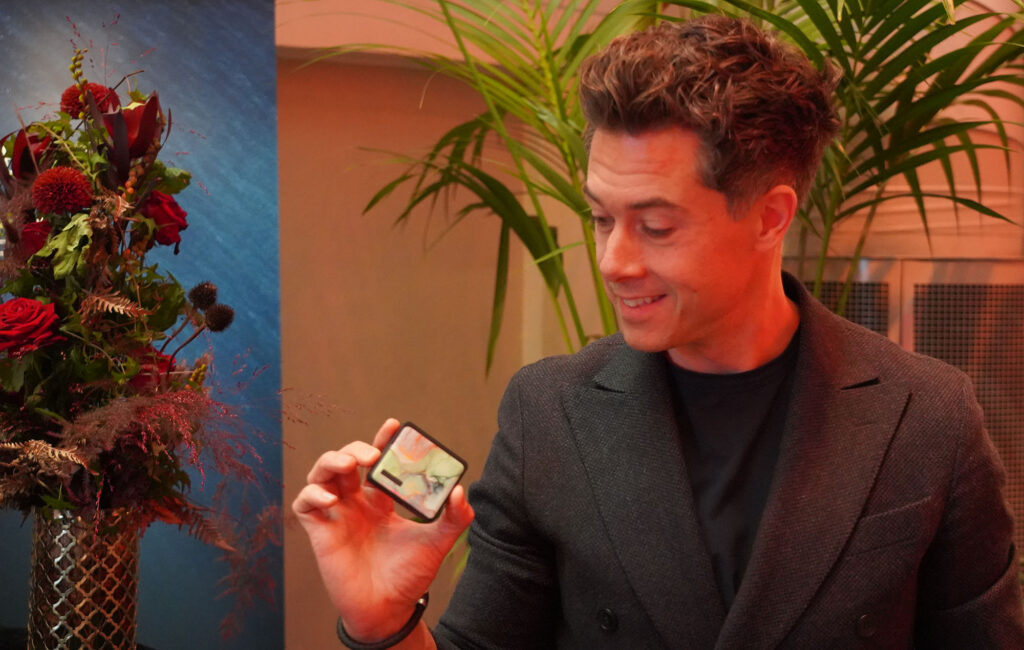 Vagaro Payments
Vagaro offers integrated credit card processing. You'll also get a card reader that connects to your device or pay desk POS unit.
You'll also find support for recurring payments and the ability to store a client's card on file.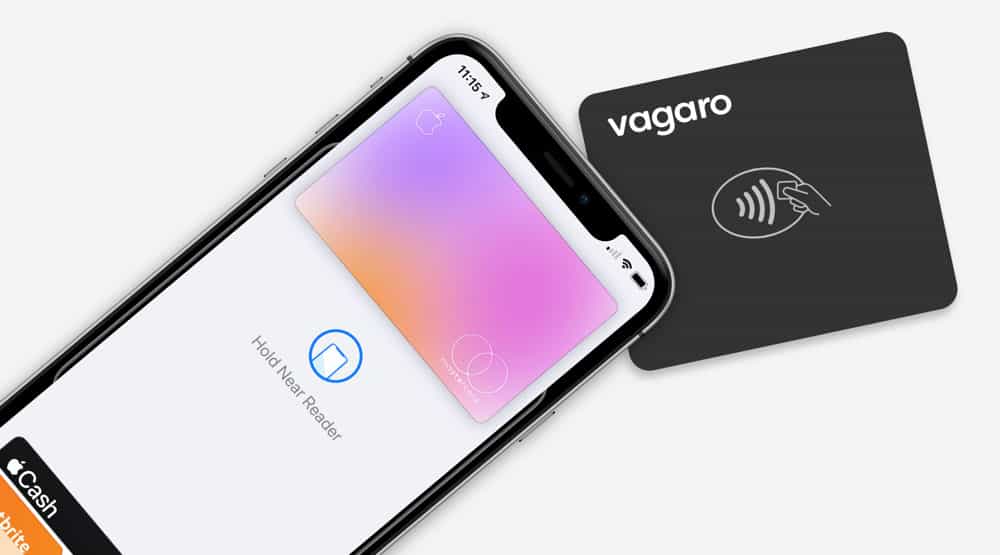 Fresha Payments
Fresha has credit card payment built into the platform. They also offer a physical credit card reader that integrates with their software.
You can also store clients' credit card details in the system and charge recurring payments with Fresha.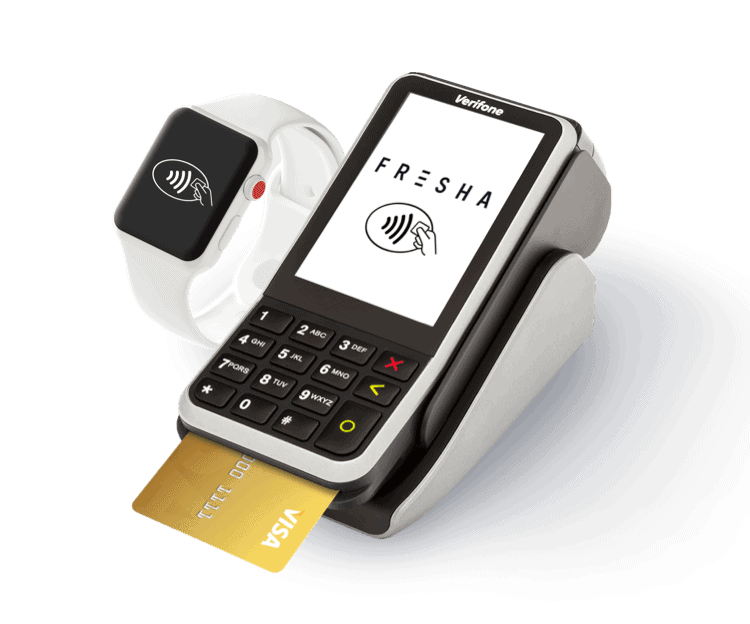 Boulevard Software Payments
Boulevard encourages new customers to use their integrated Boulevard Payments™ platform. With it, businesses can store cards on file, checkout via the dashboard or iOS Professional App, set up multi-merchant accounts, and utilize their Offset (credit card processing) feature.
Customers check out via an iPad through Boulevard's Duo iOS app, and can make physical payments via the Boulevard Duo Bluetooth card reader.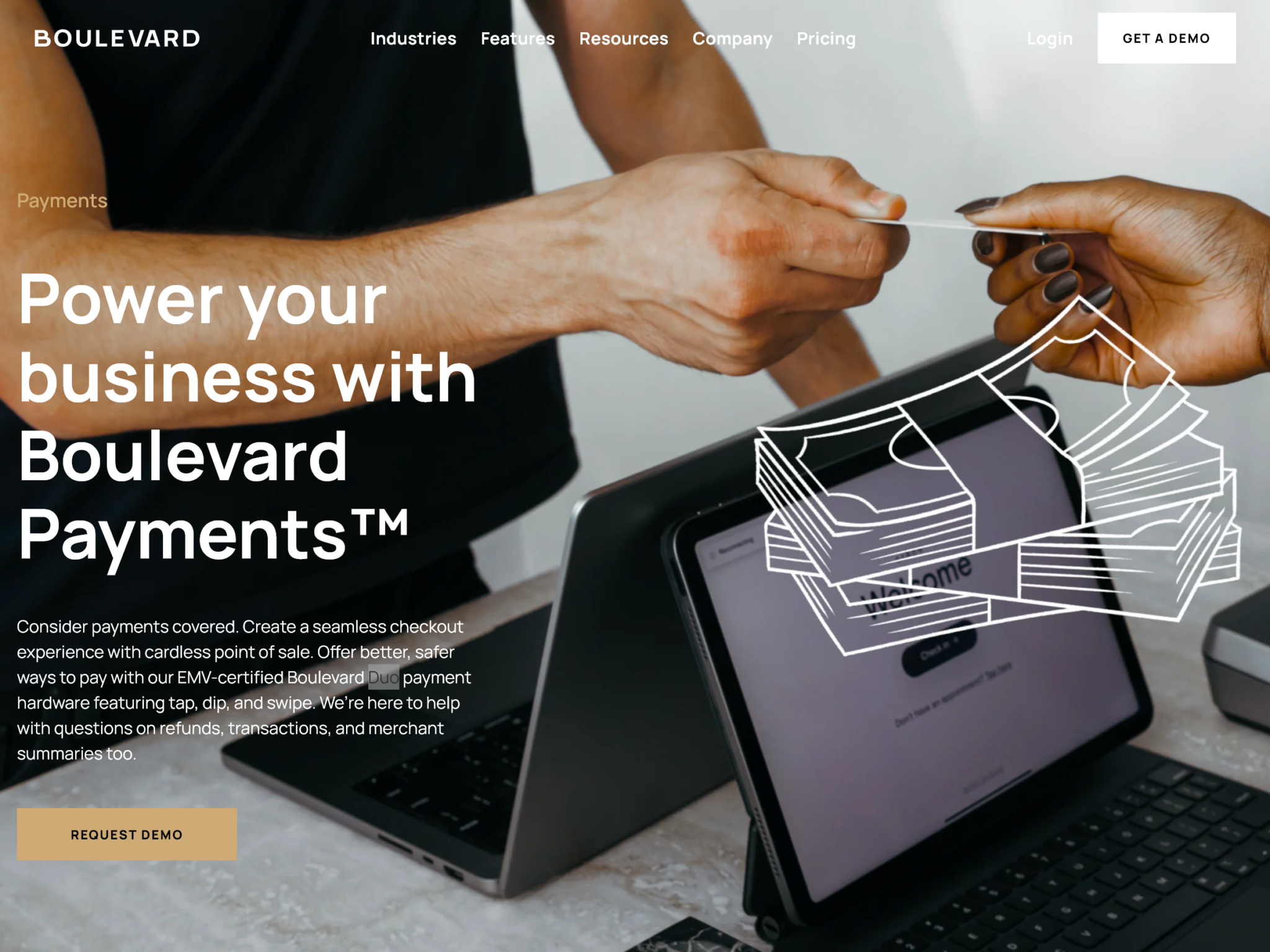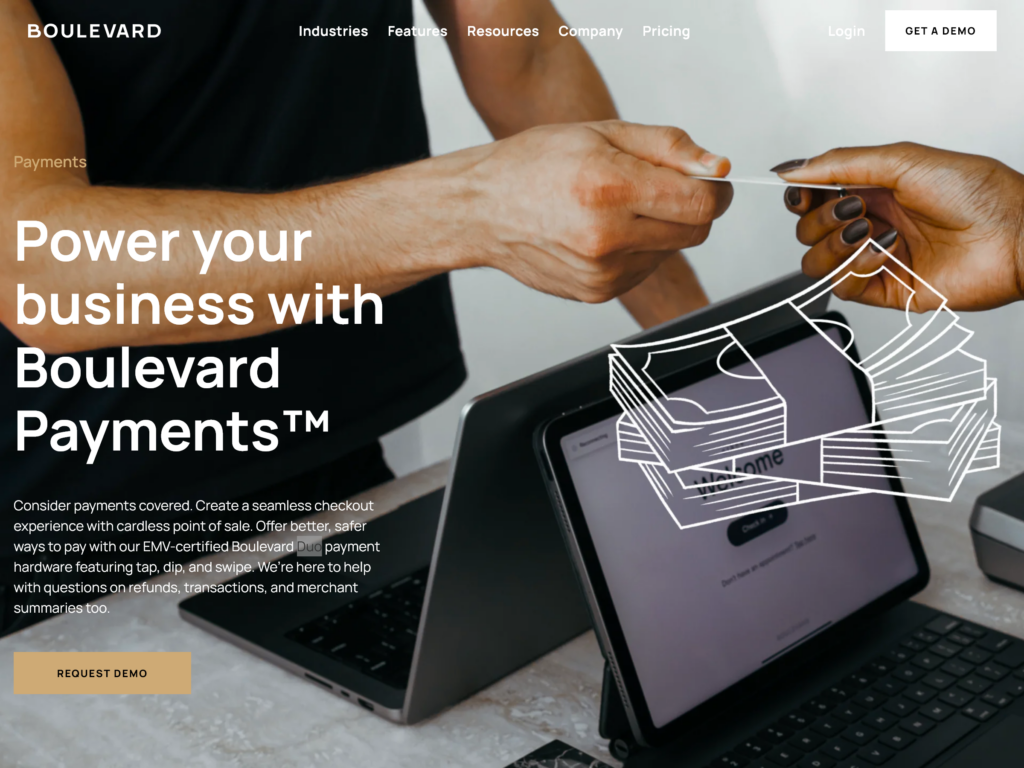 Square Appointments Payments
Square, of course, shines when it comes to managing payments. After all, that's the core of their business.
The Square Payments software (which integrates with Square Appointments ) is free. You only pay per card transaction. You also get a free mobile card reader when you sign up.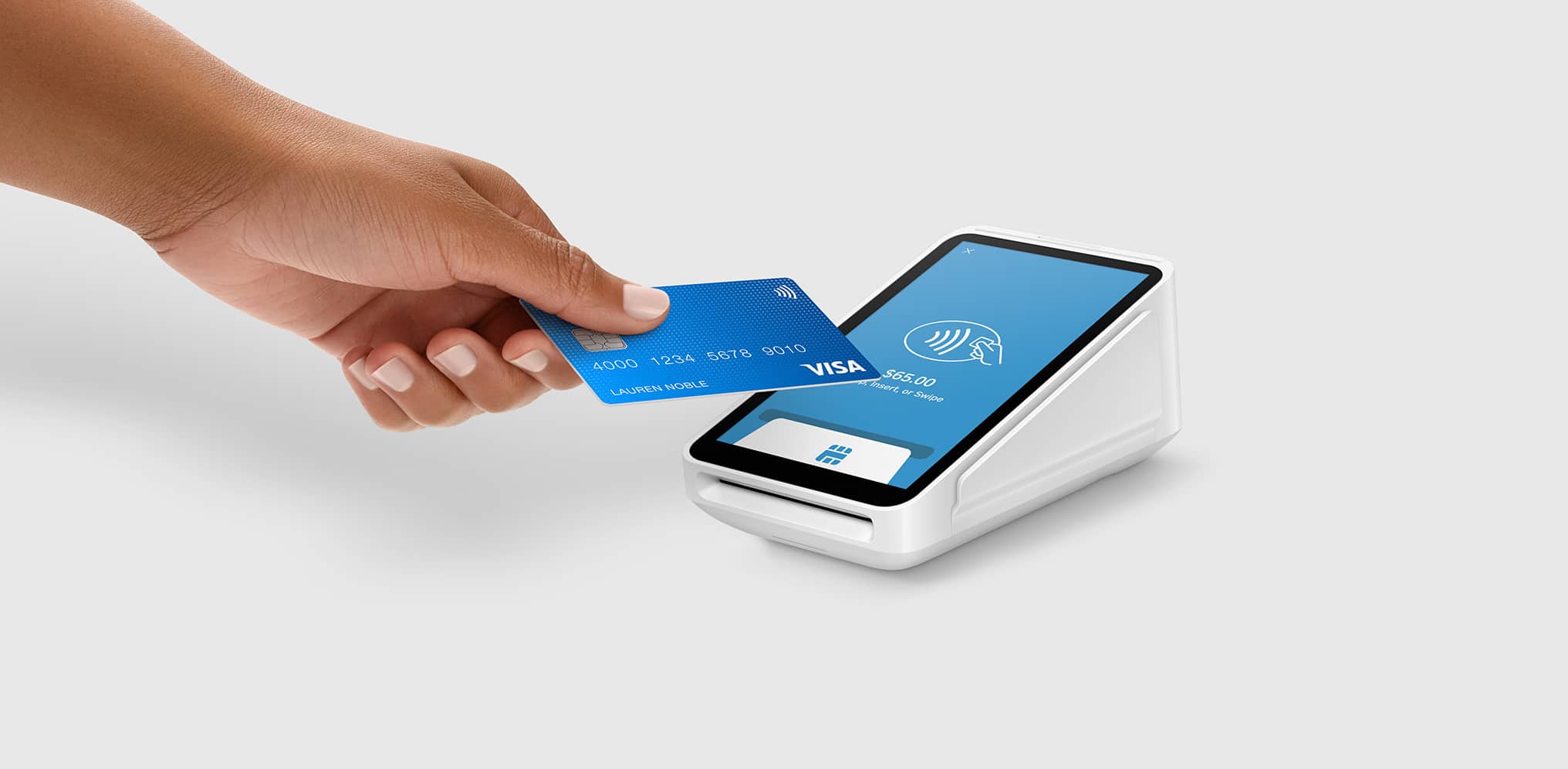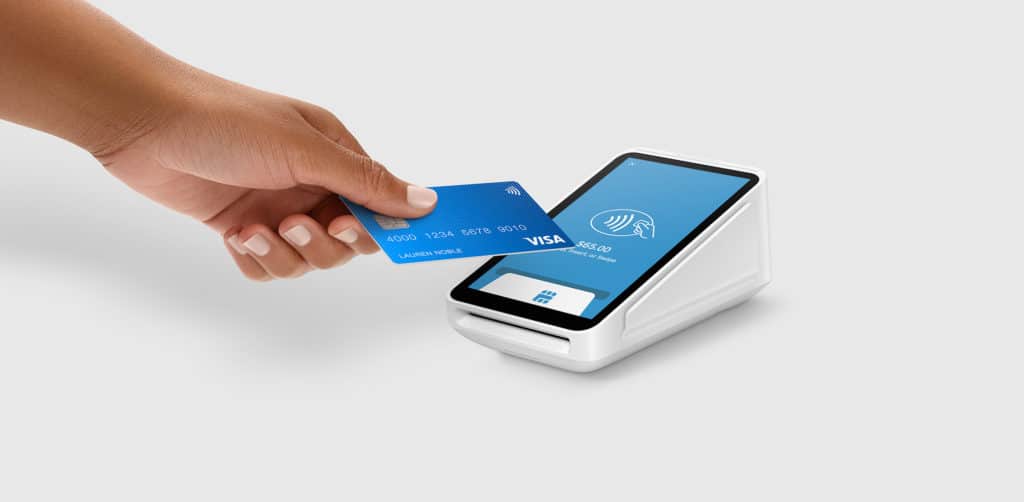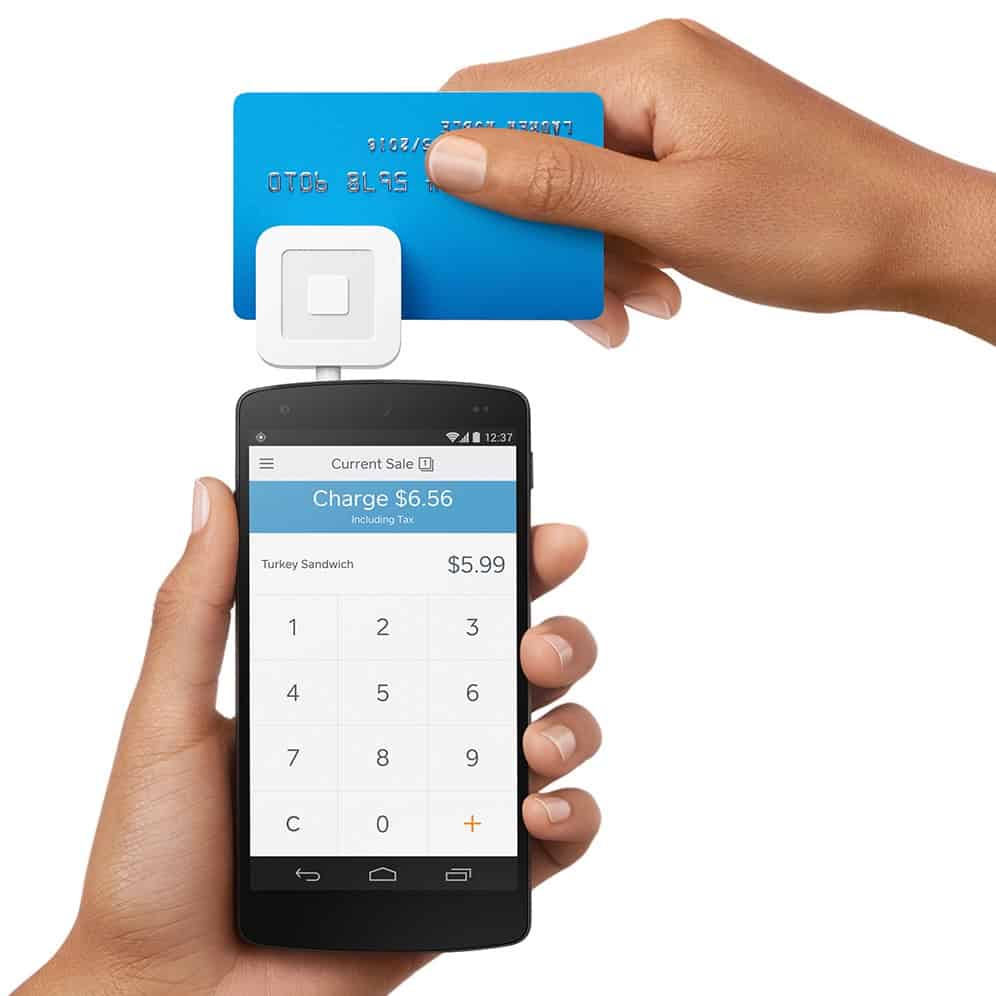 Booker Payments / Mindbody Payments
Booker and Mindbody both offer an integrated payment processing platform (US & Canada only) through their parent company, Mindbody, called Mindbody Payments.
This service collects payments through your system and organizes payouts that are deposited into your bank account, similar to offerings from competitors such as Boulevard Payments or Mangomint Pay.
Zenoti Payments
Zenoti also offers a first-party integrated payment processing service called Zenoti Payments.
Features include an auto-update feature for card expiration dates, global card access (once a card is stored, your customer can use it at any of your locations without reentering their information), built-in dispute management, auto-reconciliation, and more.
Salon Booking Apps & Cloud-Based Salon Software
Being able to access your salon software when you're on the go is an important feature. In particular, if you're a mobile stylist but also if you manage a large salon and want a quick update on how your business is doing when you're out and about.
All the salon software solutions I recommend here are cloud-based. This means that all data is stored "in the cloud" and can be accessed wherever you are. On top, they all offer mobile apps to give you fast and smooth access.
Mangomint Apps
Although you can run Mangomint in any web browser, they also offer mobile apps for both Apple (iPad/iPhone) and Android devices.
As you would expect from Mangomint by now, the app is very intuitive and well-designed.
You'll likely be using this app a lot.
Mangomint User Reviews:
Google (11+ reviews): 4.6 out of 5 rating
Apple (34+ reviews): 4.9 out of 5 rating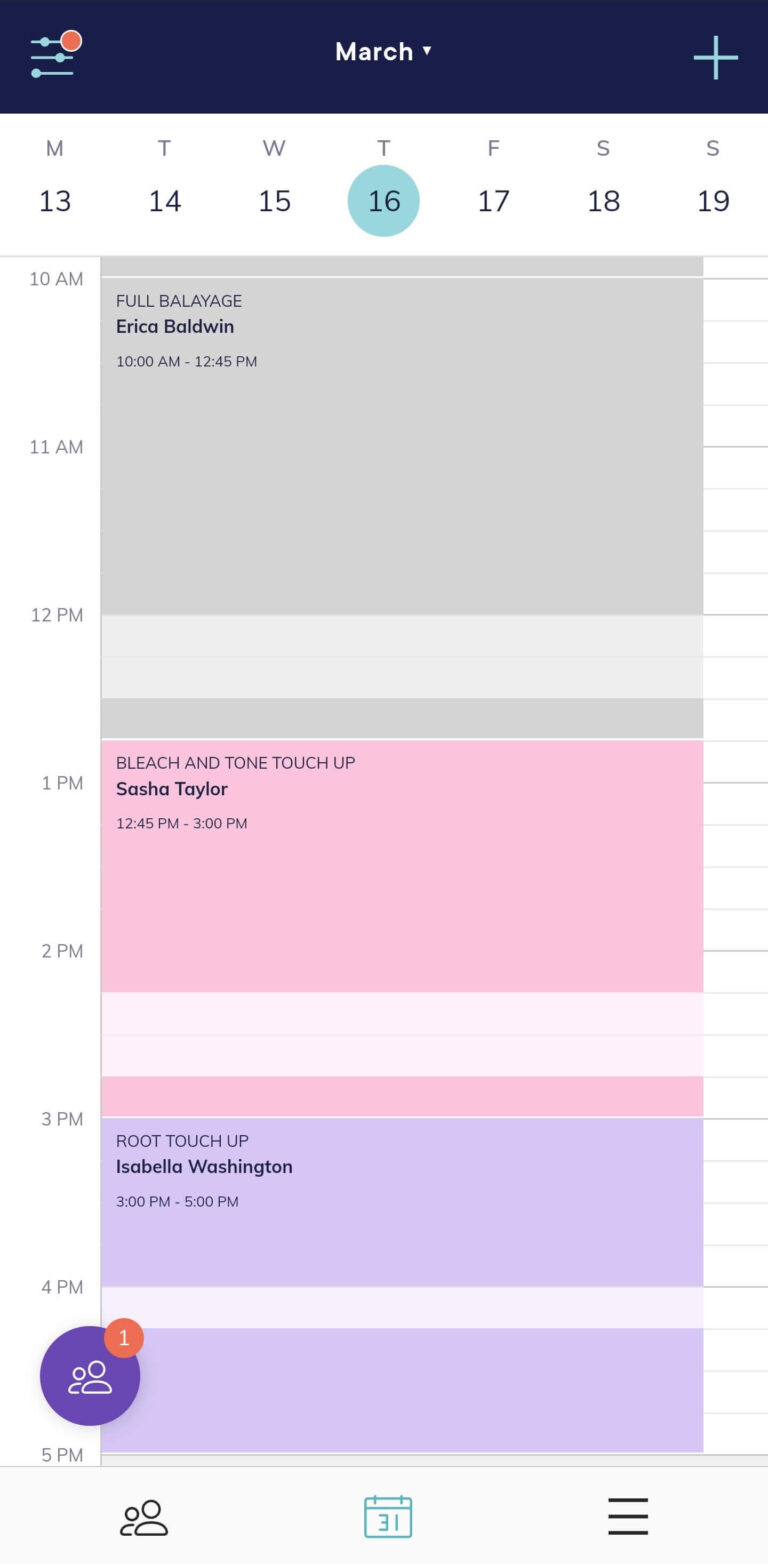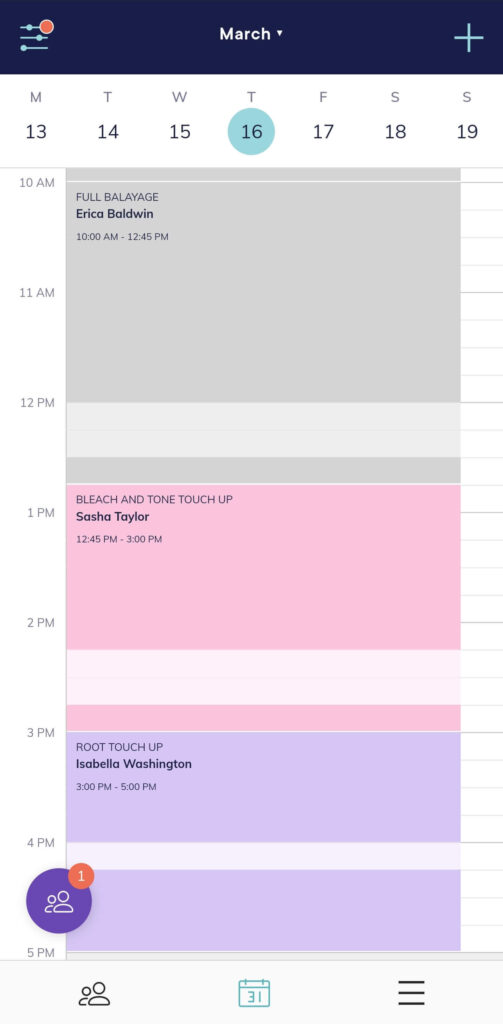 GlossGenius Apps
You'll be managing everything about your business from the GlossGenius app.
It's available in the US App Store for Apple and Android.
GlossGenius User Reviews:
Google (500 reviews): 4.7 out of 5 rating
Apple (1300 reviews): 4.8 out of 5 rating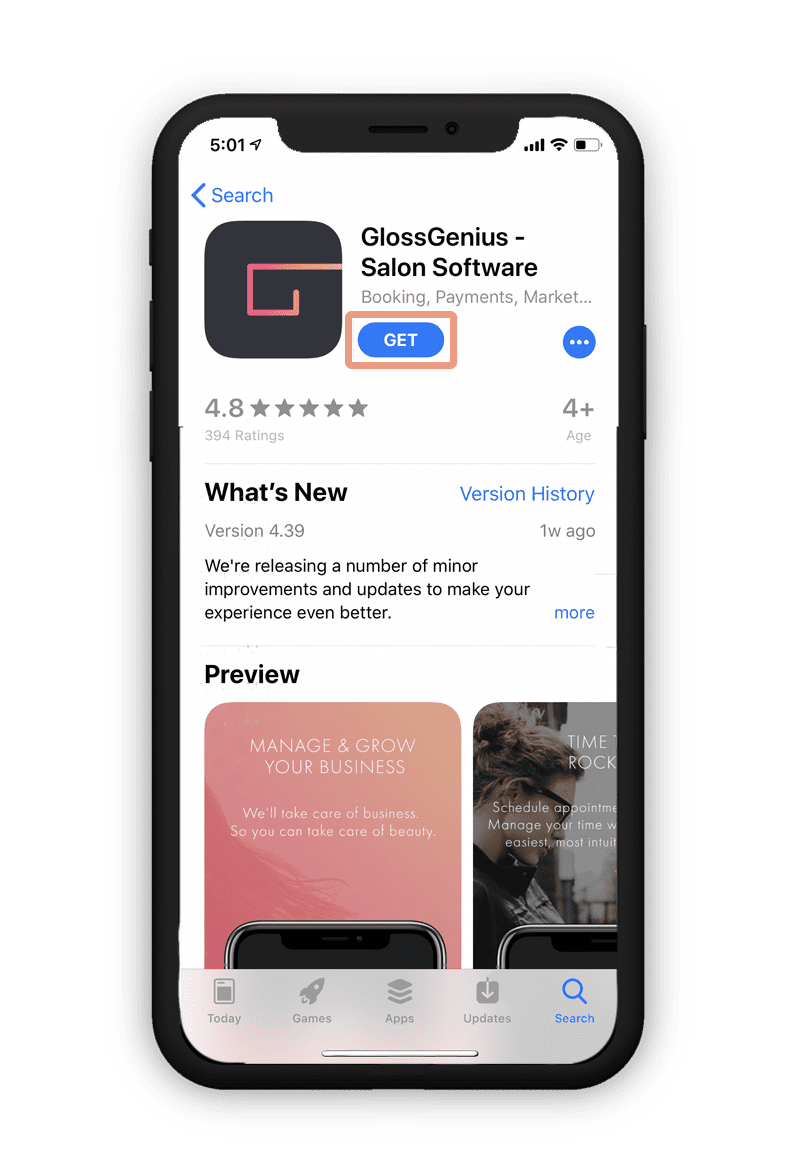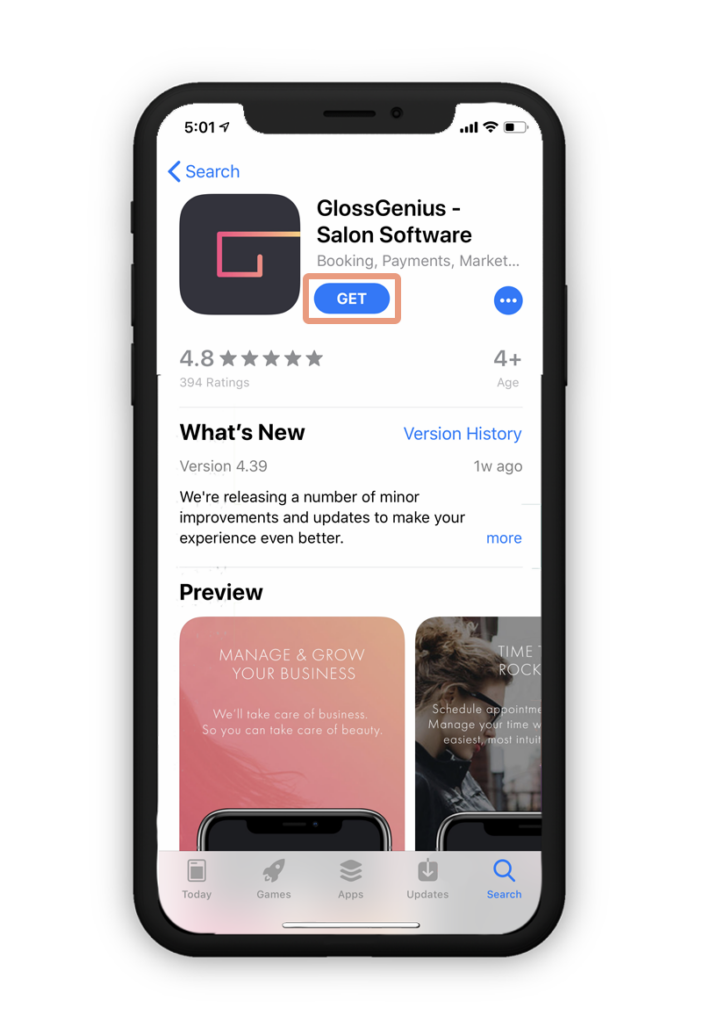 Vagaro Apps
Vagaro offers two different apps. One for professionals and one for end clients. Both are available for iOS (iPhone/iPad) as well as Android devices.
Vagaro Pro App Reviews:
Google (7,000+ reviews): 4.5 out of 5 rating.
Apple (5,000+ reviews): 4.5 out of 5 rating.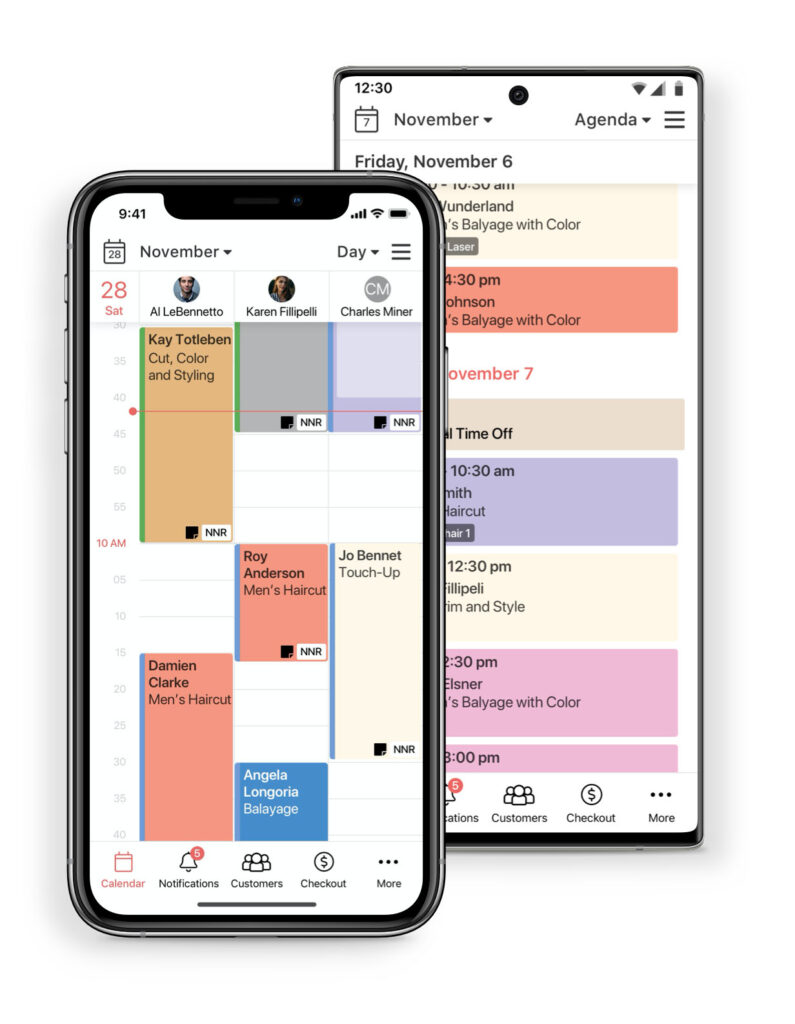 Fresha Apps
Fresha offers two apps – one for professionals and one for clients. They are available for both iOS and Android devices. I like the simplicity and ease of use of both apps.
Fresha for Business User Reviews:
Google Play Store (3,840+ reviews): 4.2 out of 5 rating.
Apple App Store (312+ reviews): 4.1 out of 5 rating.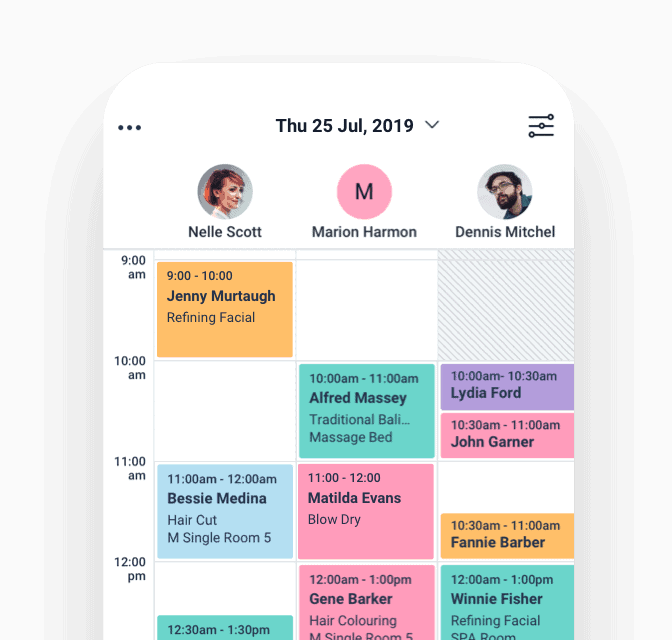 Boulevard Software Apps
Boulevard's desktop app runs in any web browser, and is recommended for use in Chrome.
Boulevard also offers two mobile apps: The Professional app and Boulevard Duo.
The Duo app is only available on iPad, and is intended for use as a client-facing POS system at the front desk.
The Boulevard Professional mobile app can be used to view and edit appointments and client information from your mobile device as well as view basic performance metrics, and is available on iOS and Android.
Boulevard User Reviews:
Google Play Store (31 reviews): 2.1 out of 5 rating.
Apple App Store (36 reviews): 3.5 out of 5 rating.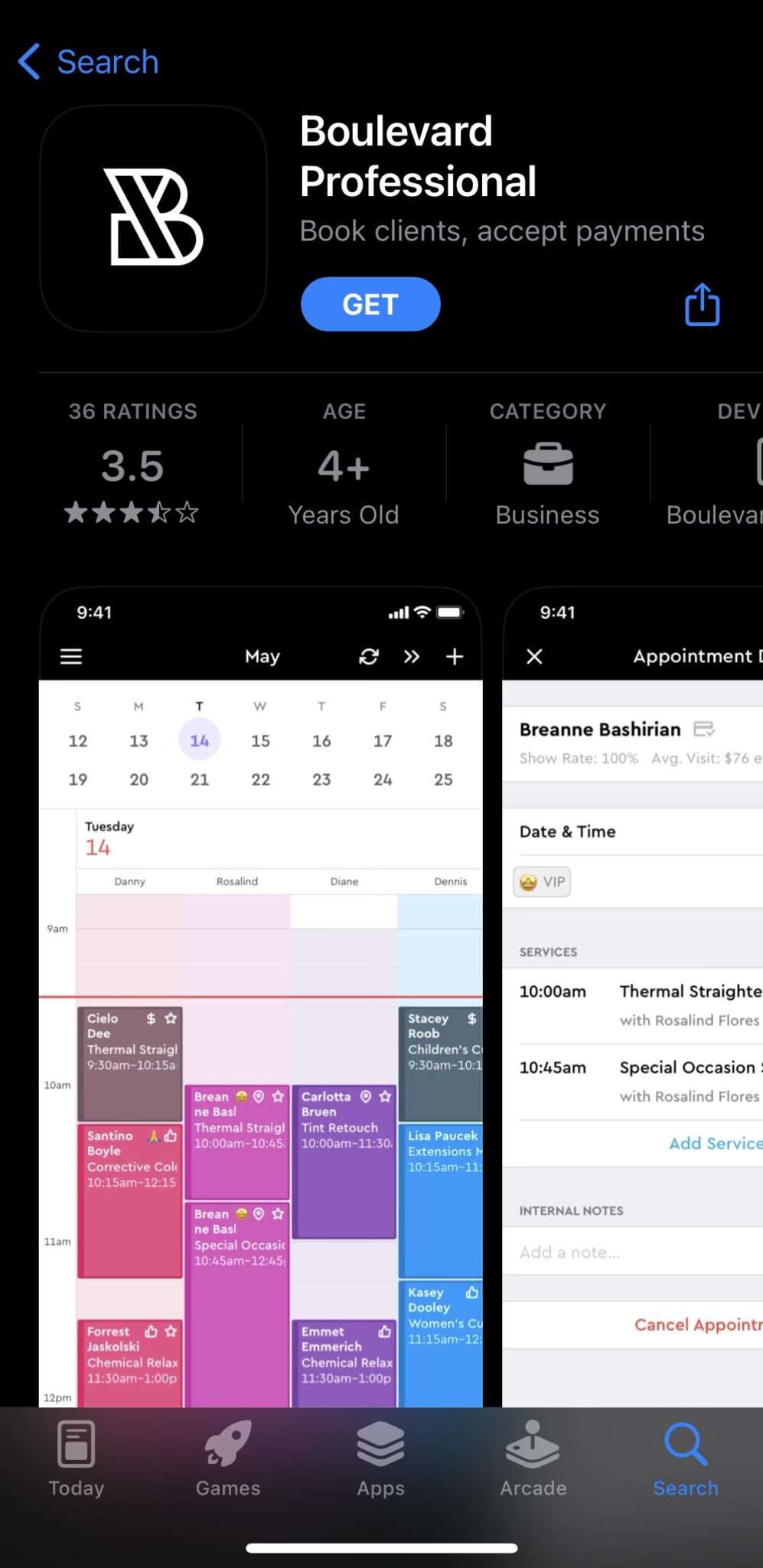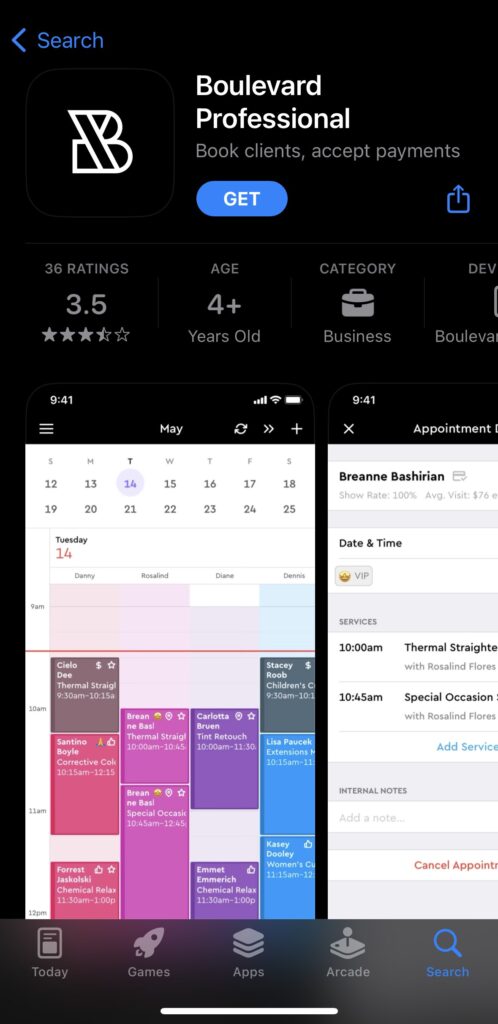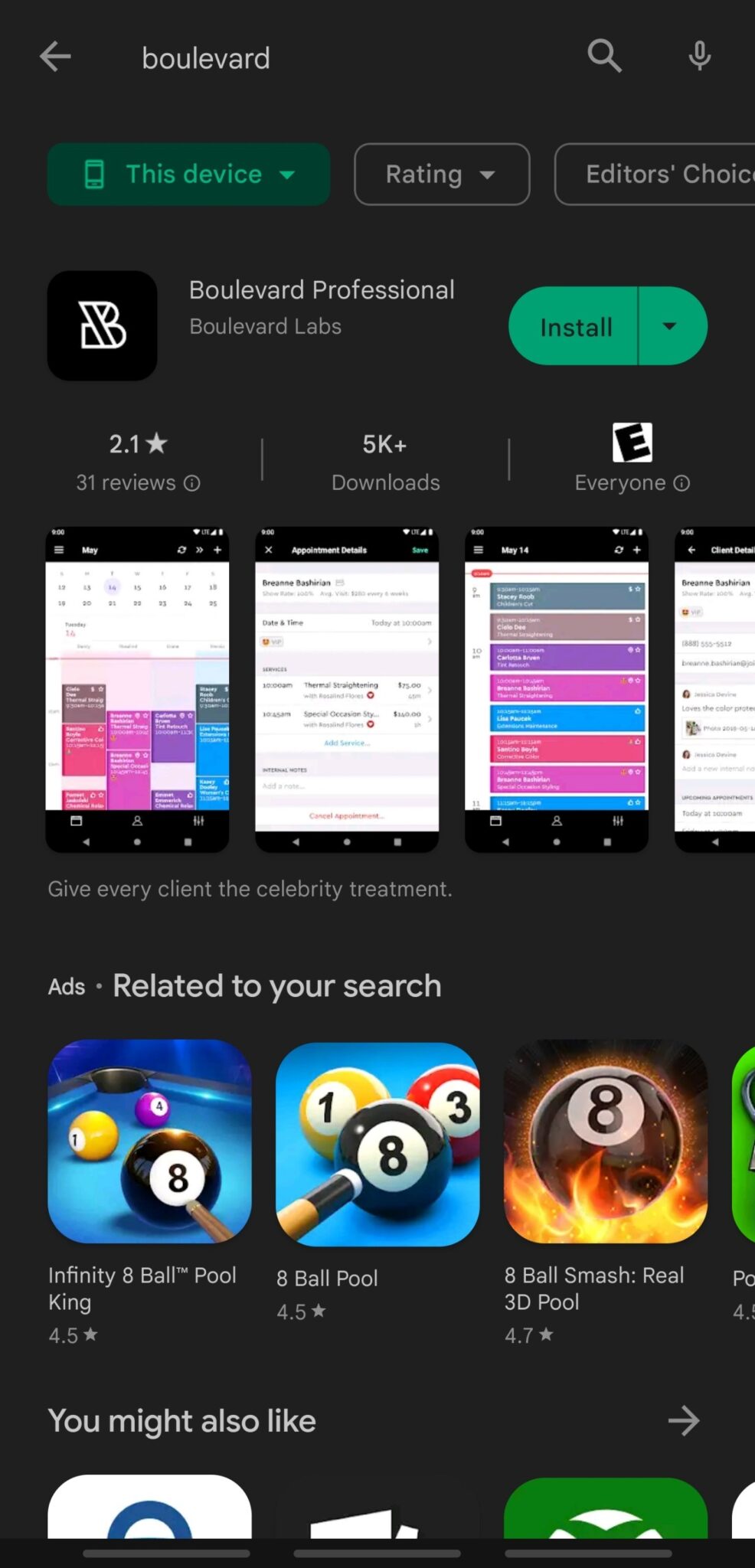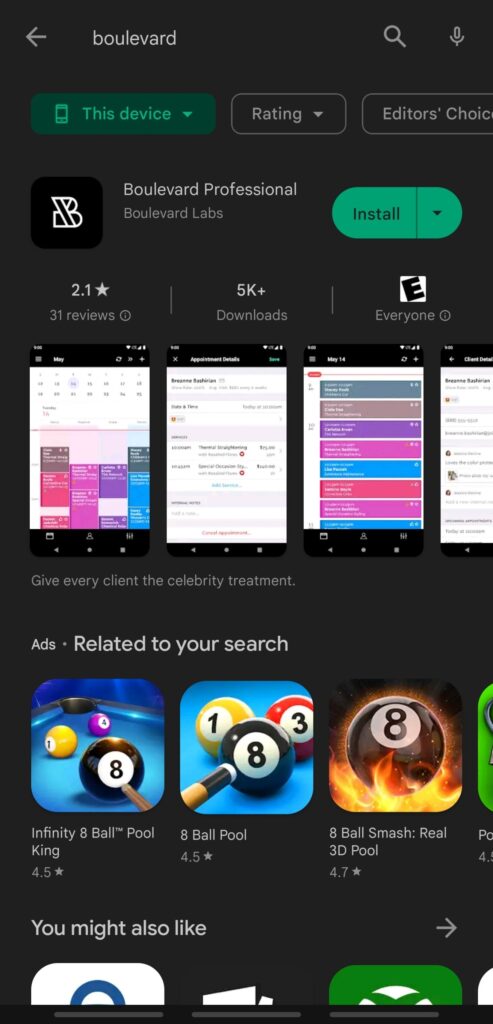 Square Appointments Apps
Square Appointments is available on US & Canada Apple App Store and recently also for Android. Square Point of Sale app is however available globally.
You have full control of Square Appointments via the app.
Square Appointments User Reviews:
Google Play Store (840+ reviews): 4.4 out of 5 rating.
Apple App Store (47,000+ reviews): 4.9 out of 5 rating.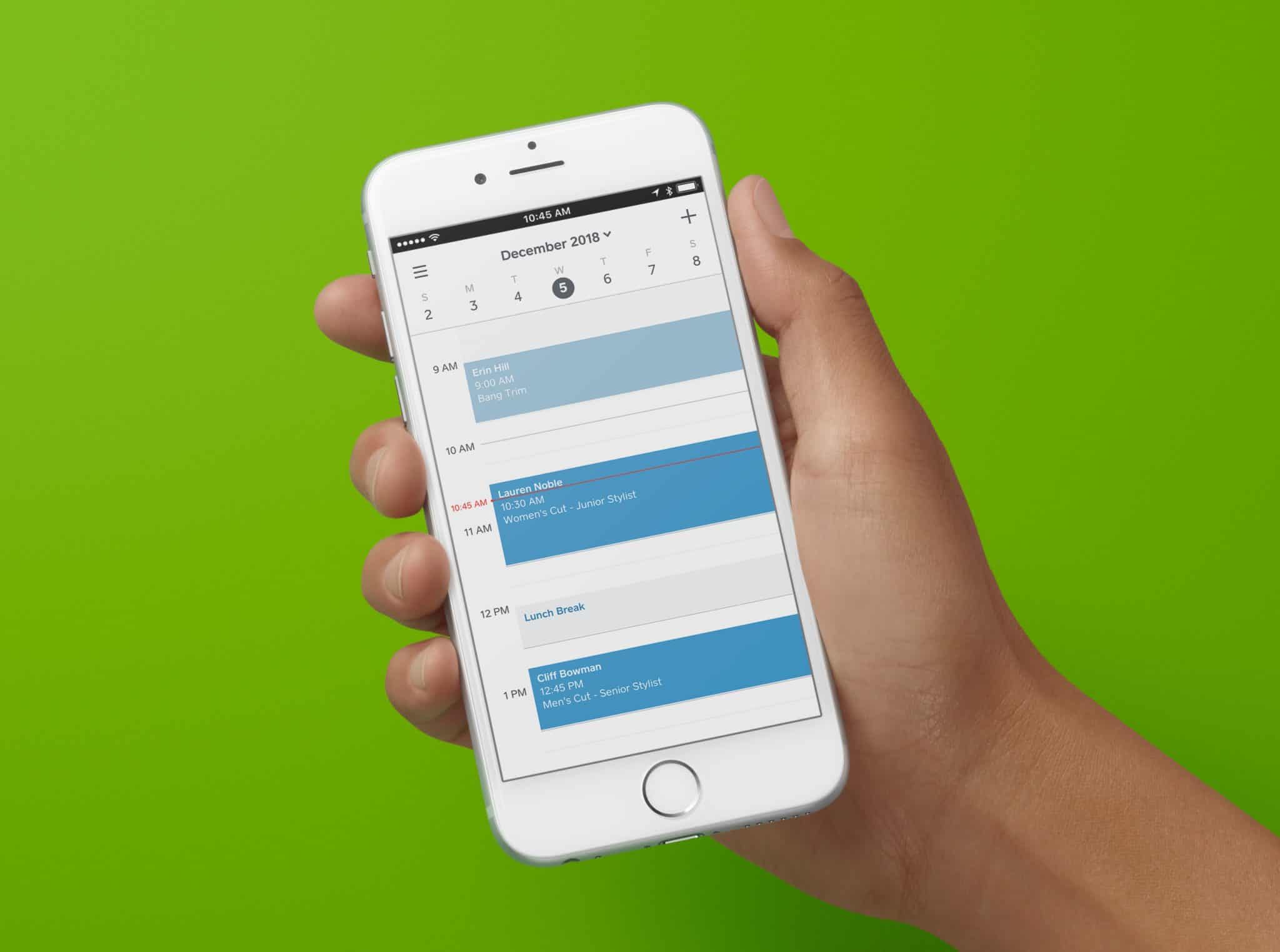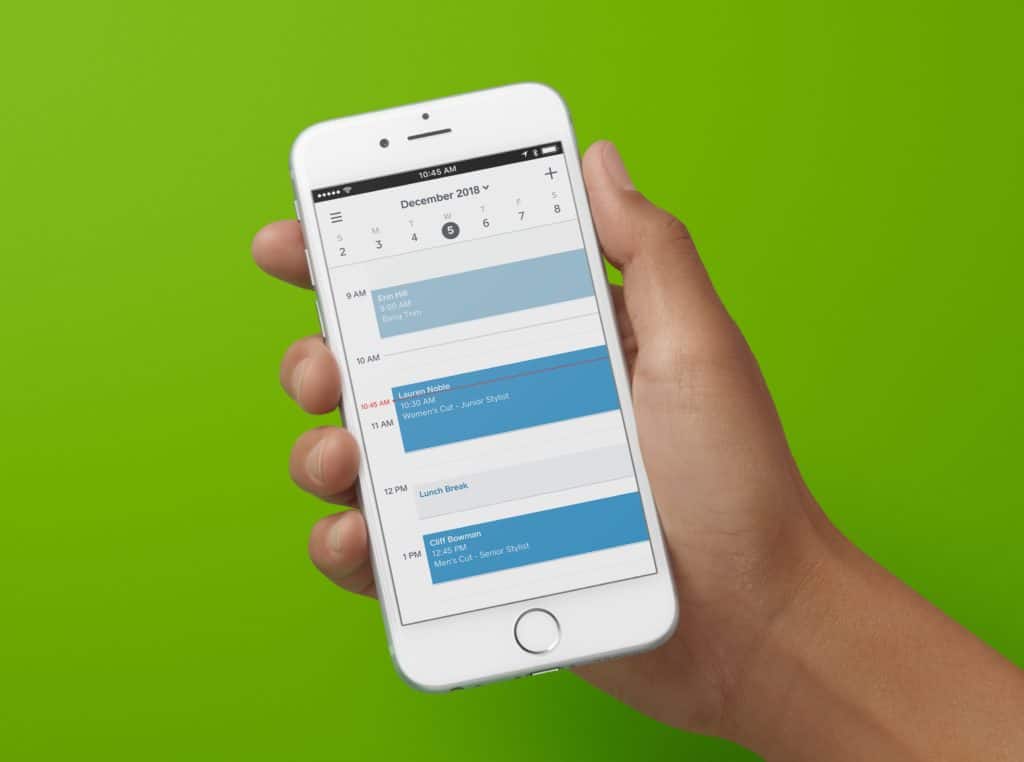 Booker Mobile App
The Booker Mobile app can be used to view and manage the calendar, book appointments, edit customer profiles, create services, add employees, and more.
Booker Mobile is available on iOS and Android, but there appears to be quite a difference in its reception on the two platforms.
Many reviewers across both platforms cite the app as glitchy and unintuitive to navigate at a base level, with several reviews listing complaints about more complex tasks (such as canceling a single appointment in a series) being either far more complicated than the desktop version or simply impossible on mobile.
Booker Mobile User Reviews:
Google Play Store (920+ reviews): 1.7 out of 5 rating.
Apple App Store (680+ reviews): 3.7 out of 5 rating.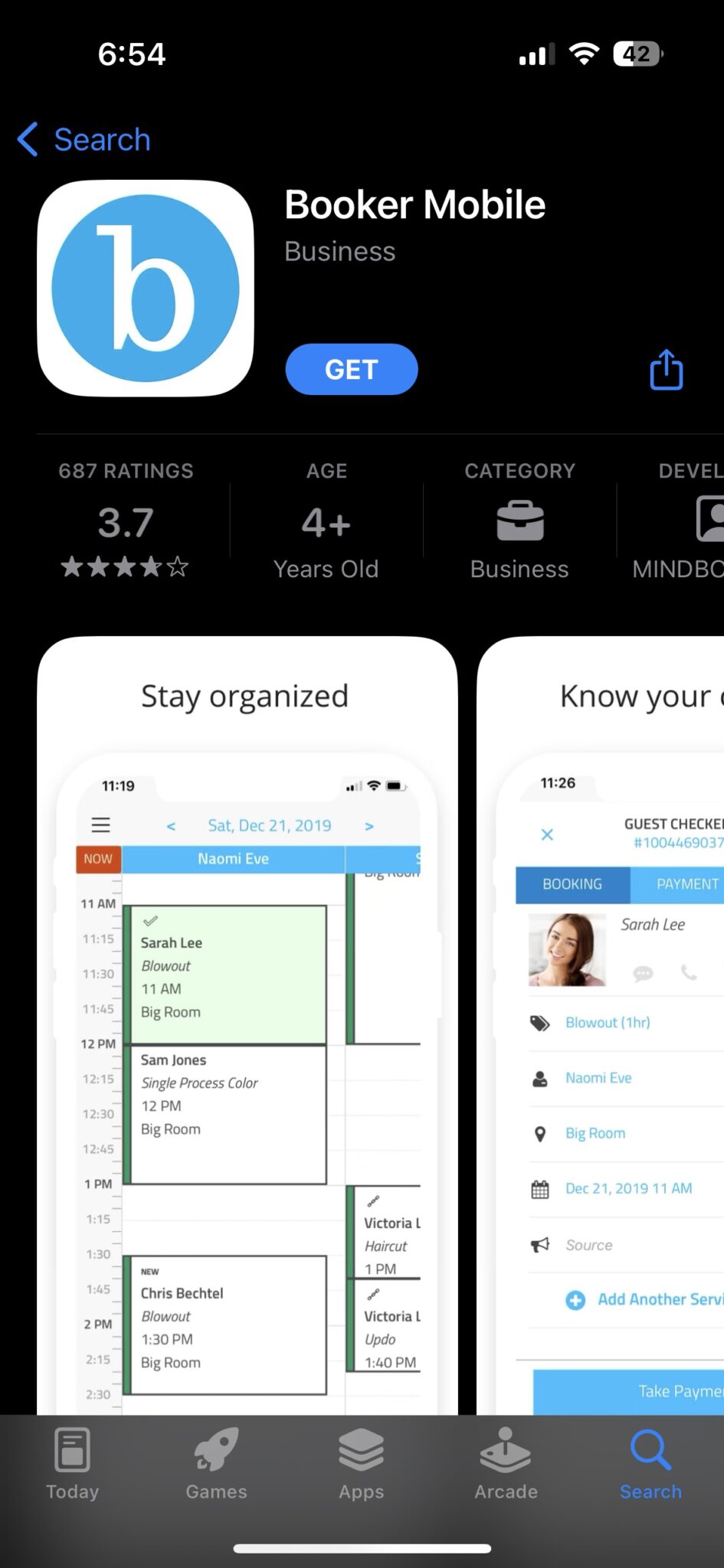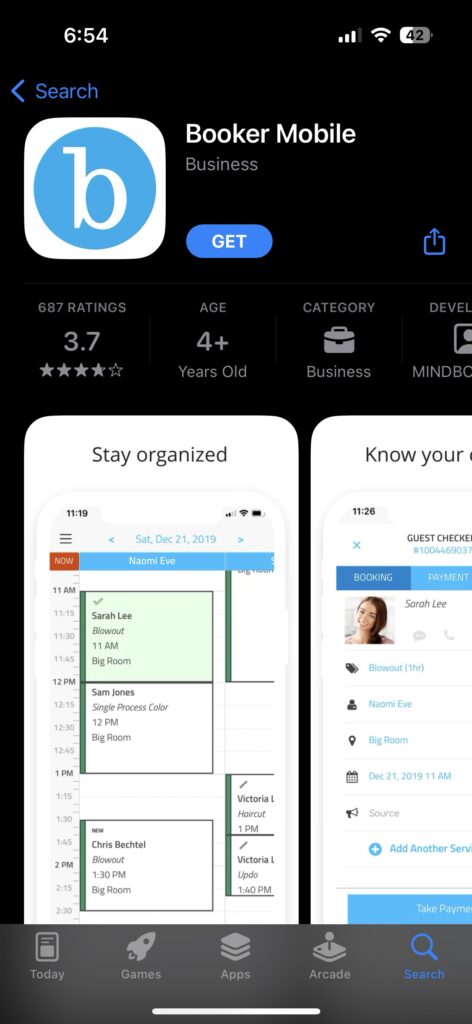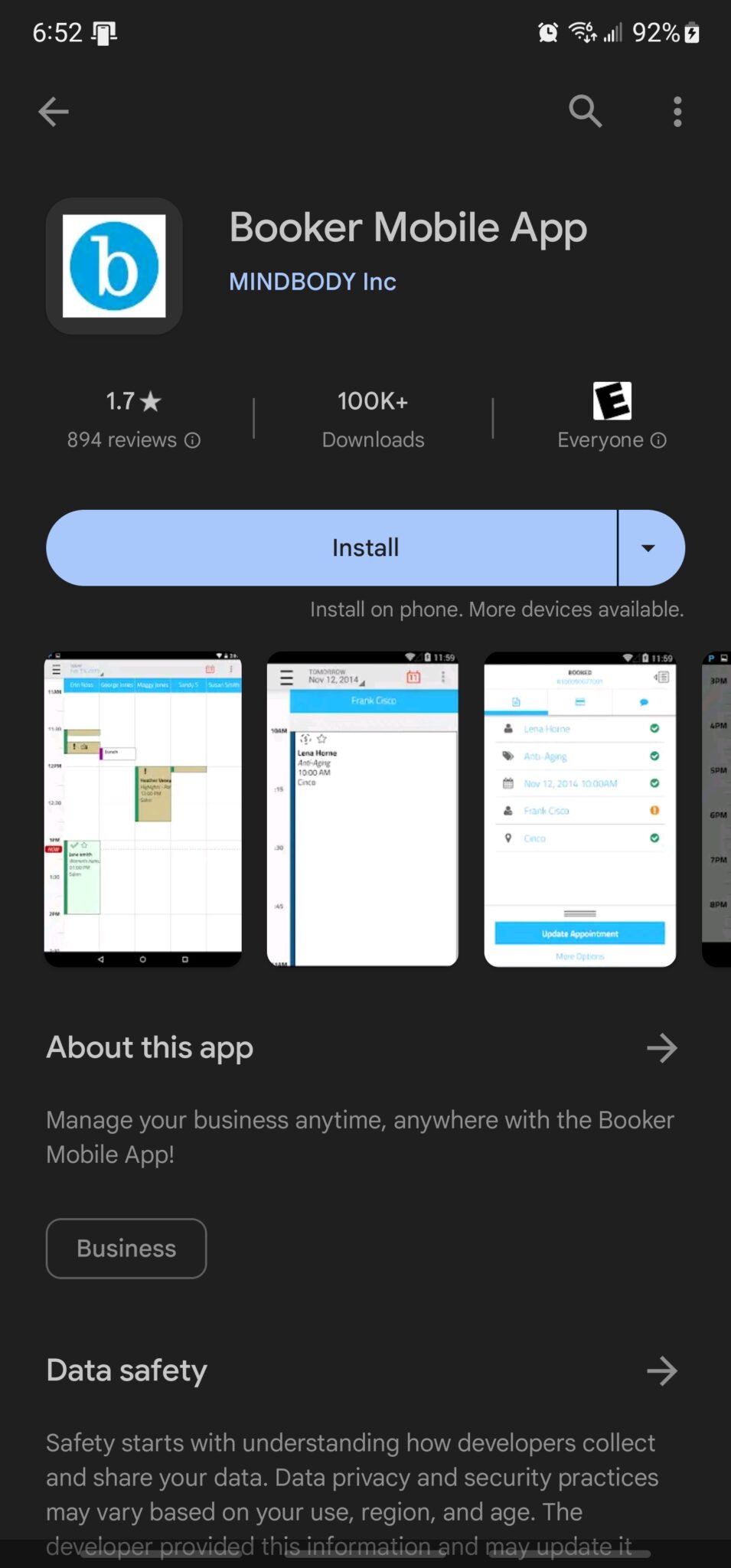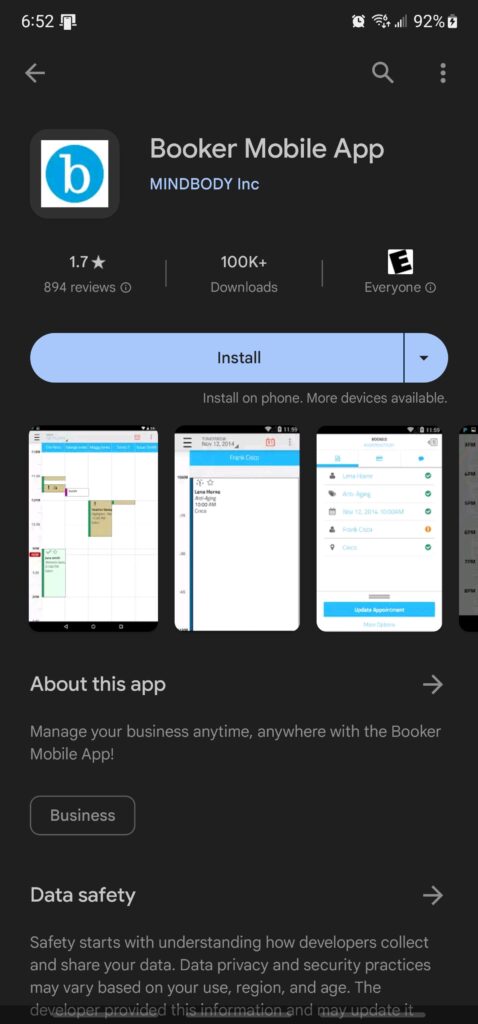 Zenoti Mobile — Employee App
With the Zenoti Mobile app, you can view guest information, intake forms that have been submitted, client notes, membership information, and more.
You also have the functionality to complete payments directly from the app if there is a card on file; however, to swipe a card, you'll need to add a card reader to your mobile checkout system.
Zenoti supports multi-merchant IDs, so you are free to use a mixed model to have stylists check out clients at the salon chair and process payments that are directed to the proper entity (products to the salon and service payment to the renter, etc.)
Functionality doesn't end at POS functions, however. You can also book appointments, view and edit products and inventory, scan reports, and access support.
I have to note that these functions are very much scaled down on the mobile app, and you will need to use the desktop version for many of the more complicated elements of each of these processes.
Think of the app as a supplement to your desktop (full) functionality and expect that it will have considerable limitations in each function.
Zenoti Mobile is available on iOS and Android, and the ratings aren't very promising but are also quite confusing.
Zenoti Mobile has a user rating of 2.6/5 stars (with 365 reviews) on the Apple App Store and a rating of 1.4/5 stars on the Google Play Store (with 932 reviews) as of the writing of this review.
The trend in bad reviews is significant and indicates that the mobile experience is reflective of Zenoti's desktop experience — suffering from a clunky interface and a lack of innovation where it counts.
Zenoti Mobile User Reviews:
Google Play Store (932+ reviews): 1.4 out of 5 rating.
Apple App Store (365+ reviews): 2.6 out of 5 rating.


On my first pass through the Google Play Store on an Android phone, the review score was listed as 3.7/5 starts (with 24 reviews), however when I checked the Google Play Store listing on desktop, the score was listed as an abysmal 1.4/5 stars (with 932 reviews).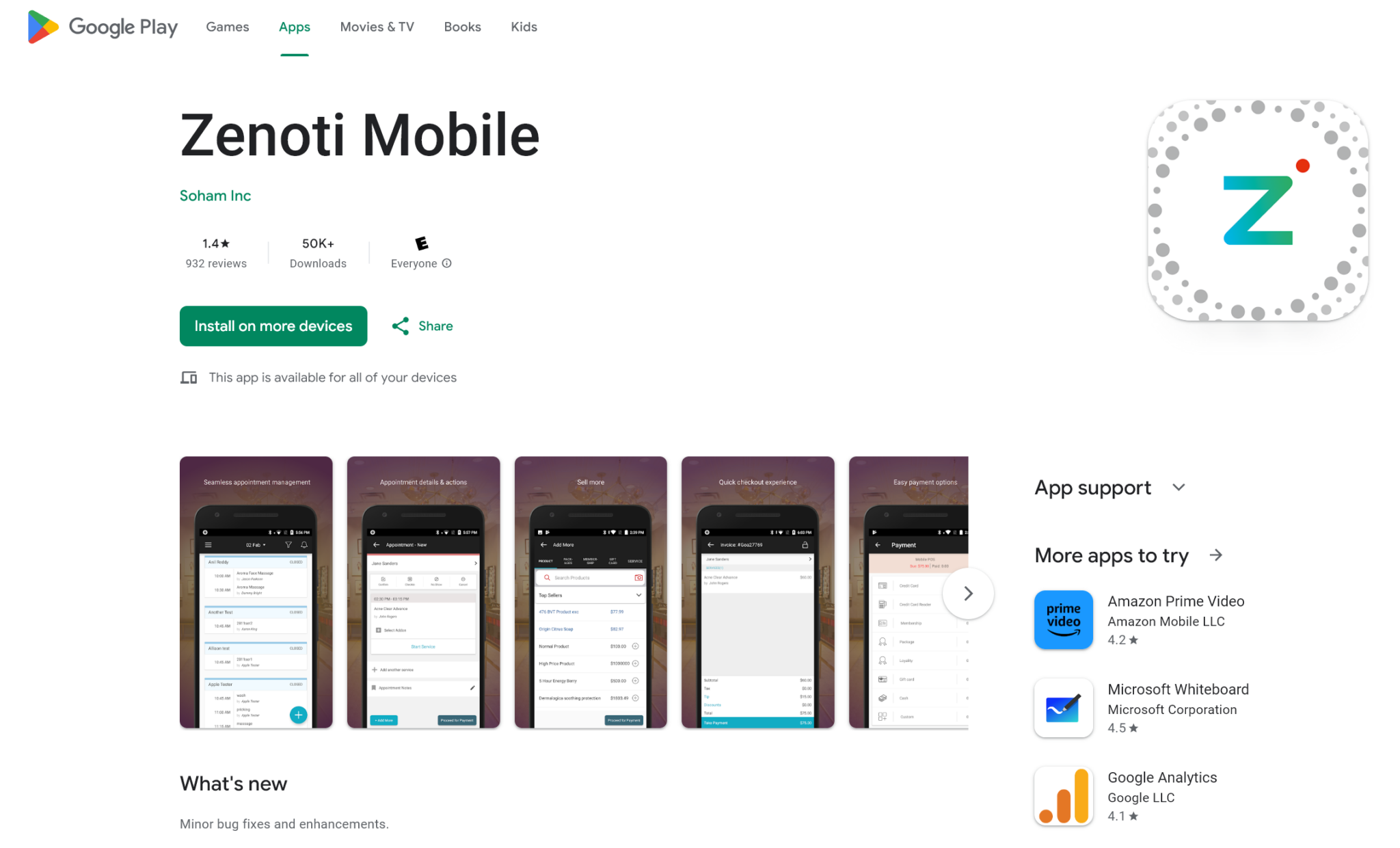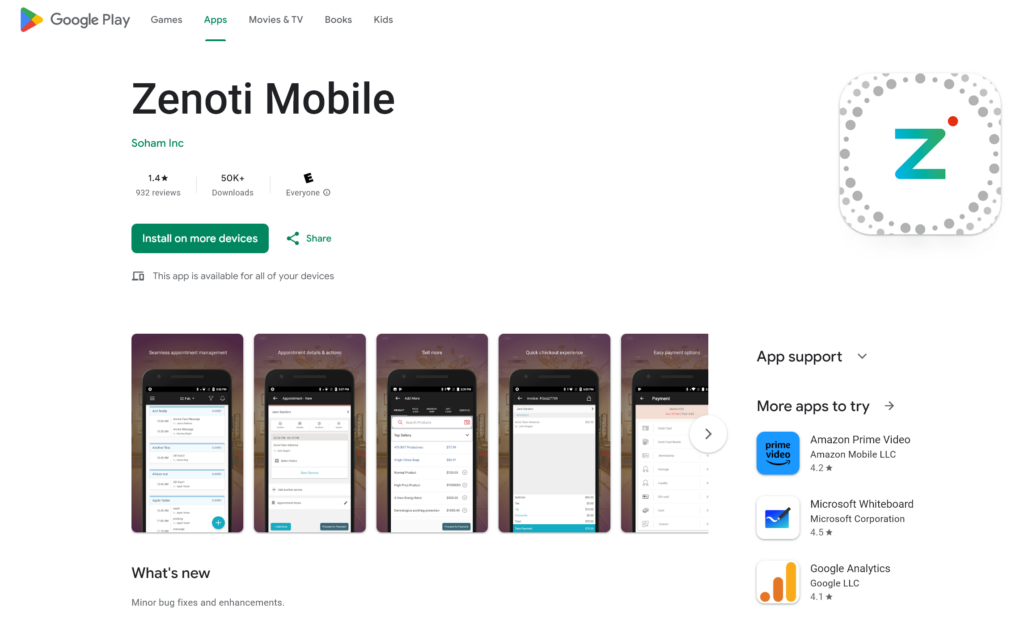 This may be due to the fact that depending on which type of device you're viewing the Google Play Store on and the region you're accessing it in, the score will change to reflect both of those factors. So a brand new phone in a region with good internet may reflect a better score based on fewer reviews than a more average-tier phone in a more populous area with spotty internet.
Mindbody Mobile App
The Mindbody Business app can be used to view and manage the calendar, book appointments, check clients in and out, create services, and more, and is available on iOS and Android.
The app is a bit less full-featured than some of the other, more advanced mobile apps we've seen from competitors, and it functions more as a complement to the desktop experience rather than a replacement for it.
Feedback on both the App Store and Google Play Store is mixed — though the aggregate rating of the app is relatively high, even a cursory look through the thousands of reviews will return a sea of largely 1-star ratings, citing slow, buggy, and error message-laden app experiences.
Mindbody Business User Reviews:
Google Play Store (3,300+ reviews): 4.1 out of 5 rating.
Apple App Store (21,000+ reviews): 4.6 out of 5 rating.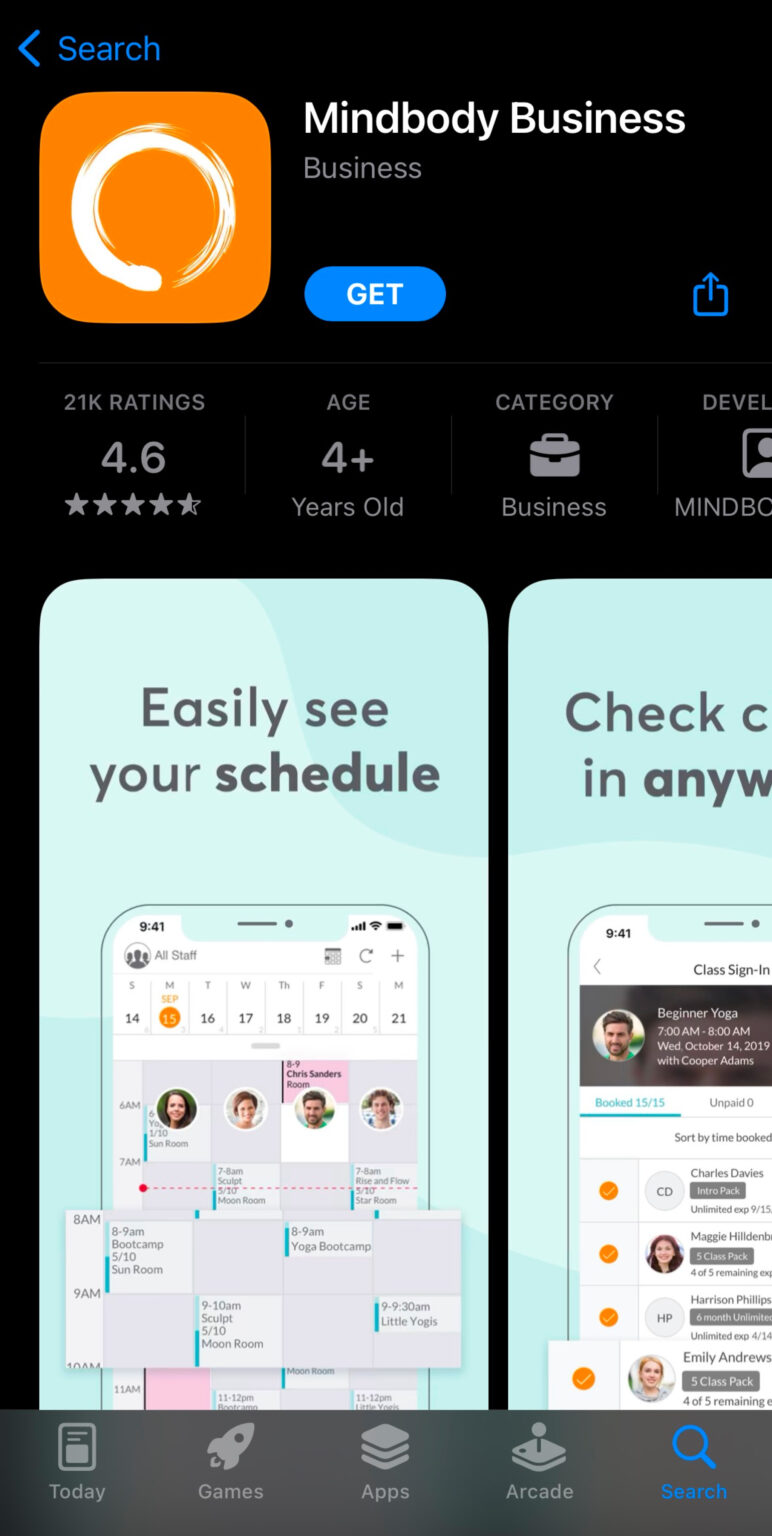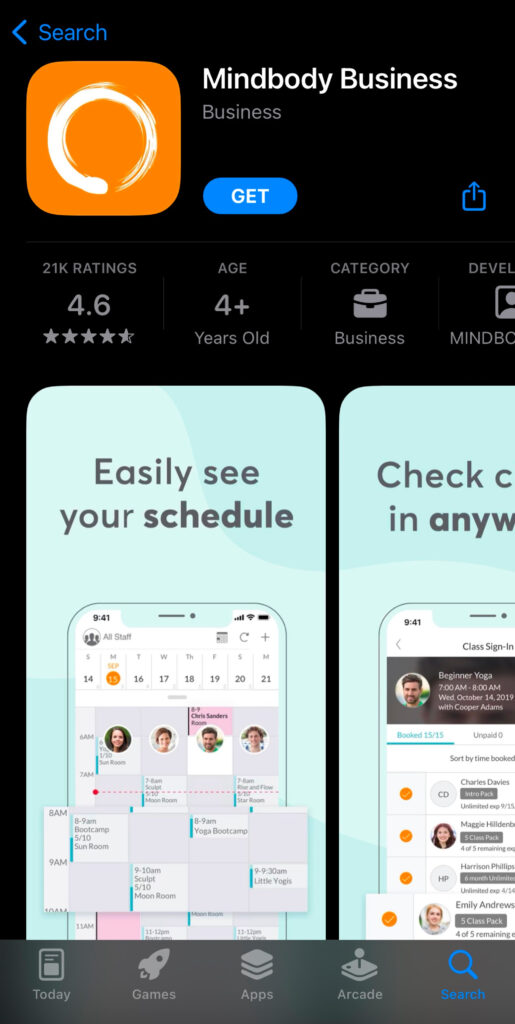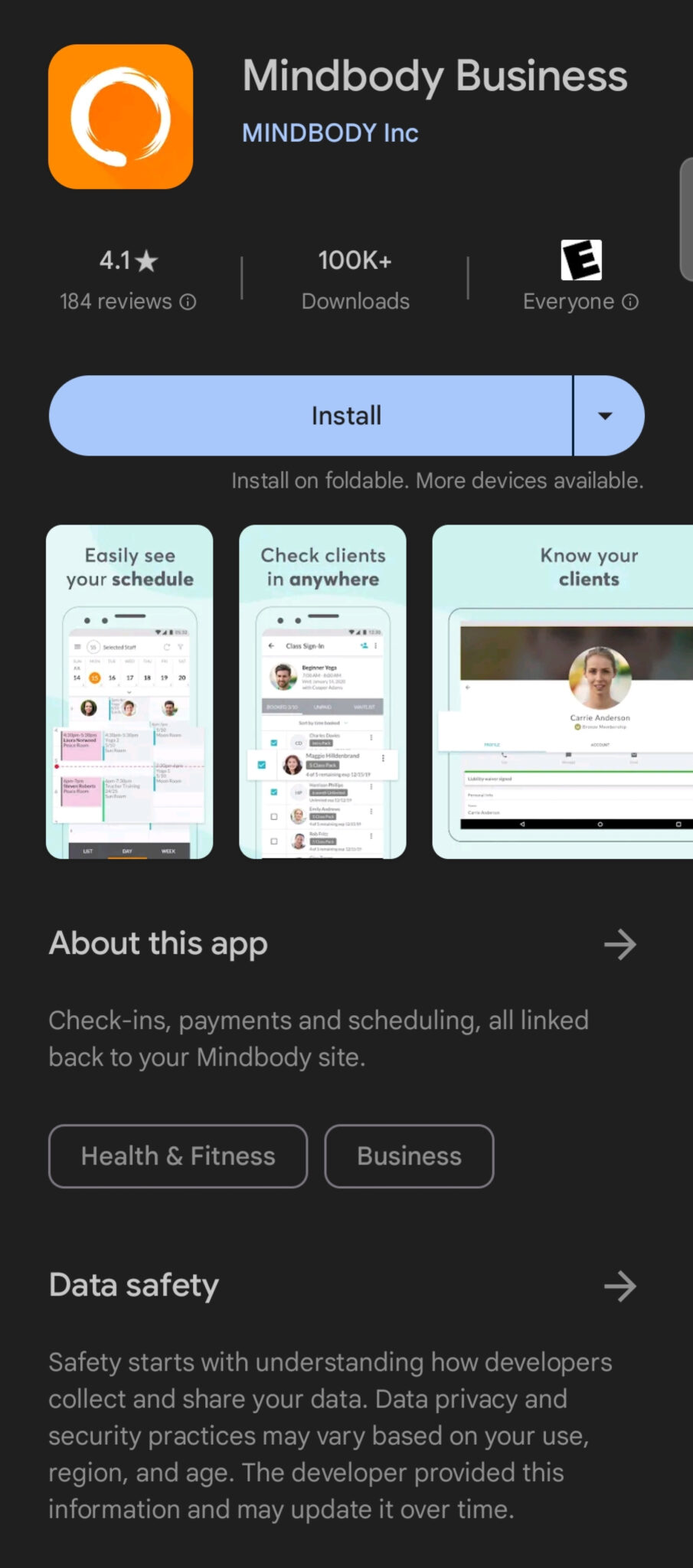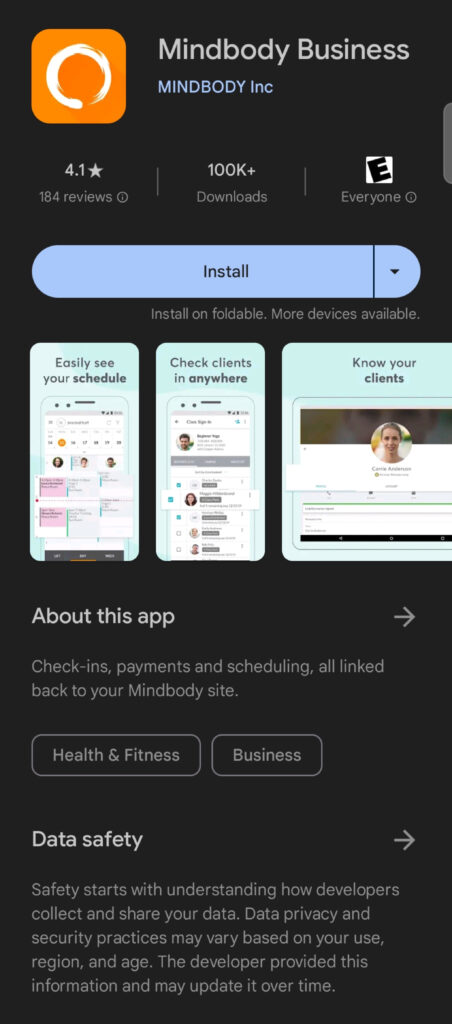 NOTE: The Google Play store displays different ratings and review counts on browser and in the Google Play Android app.

On Android, the Google Play Store app lists the rating as 4.1/5 stars with only 184 reviews, which differs from the statistics stated on desktop and listed in the paragraph above.
Summary & Conclusion
The right salon software can be a game-changer for your salon business.
In this review of the best salon software for 2023, I've tried to go beyond just a list with user ratings (that you can find on other websites).
Instead, I wanted to go deep on the features and clarify what the different types of salon software are so that you can make an as informed decision as possible.
Next, it's your time to give the platform you think is right for you a try.
I also recommend that you read my salon POS system review. This includes some of the software listed here but also some other advanced POS solutions for salons that can integrate with your salon software or work on its own.
I've also created a salon booking software comparison that walks you through my top list of solutions when focusing on the appointment aspects of the system.
Next, you can also look at my post on the best mobile credit card reader for salons.