Disclosure: This post may contain affiliate links, meaning I get a small commission if you decide to make a purchase through my links, at no cost to you.
Learn more...
Picking the right salon software is crucial to the success of your salon business.
But you know that.
You've probably already researched salon booking software alternatives at various salon software comparison and review websites.
But you're still equally confused.
At least that's how I felt when I first wanted to find the best salon software.
The market for salon appointment apps and systems has boomed in the last few years. It's insane.
There are hundreds of salon appointment software and salon management software out there.
But what's the best salon software for you?
I browsed many user-rating websites and manufacturer sites when researching this, but it didn't help me.
I just got more confused.
What one user finds good or bad might not be relevant to you. And if you read a manufacturer's website, they will surely try to sell their solution to you but not always give the full picture.
This is why I decided to bring some clarity to this finally.
I've spent weeks reviewing all the salon software with the highest user ratings.
I documented all the features, and finally, in this article, I'm pulling it together in a simple overview for you that I just updated for 2023.
I wish I had found a post like this when I first started. It will save you many hours researching and testing salon software to find what's right for you.
This is what you'll get in this article today:
My shortlist of the best salon software in 2023
A guide for how to pick a solution that fits you and your business
A feature-by-feature review and comparison of the best salon software solutions right now
Are you ready?
The Best Salon Software 2023
Below is my list of the top 5 salon software right now. There are some big differences between these platforms and the right solution for YOU will depend on the size of your business and the specific needs you have.
This is why I strongly recommend you go through the full list when deciding on the right solution for you.
1. Mangomint | The Smartest, Most Well-Designed Salon Software with Strong Customer Support (US & Canada)
If you run a salon or spa and are looking for a sophisticated platform that helps save you time in your day-to-day, look no further.
Mangomint is the most well-designed platform on this list. Every little detail of this platform has been designed to perfection – making it incredibly intuitive and easy to use. It also offers smart automations that reduce the time spent managing your appointments and business operations.
Mangomint delivers exceptionally well on all the core features you expect from a salon software (calendar scheduling, online booking, POS, inventory, reporting). And if you are looking to go beyond the core features, Mangomint allows for integration with your favorite marketing and business systems.
This makes it powerful, flexible, and the most beautiful option on this list.
Mangomint's vision is to make salon software invisible. That it is so intuitive and easy-to-use that it effectively disappears. And boy is this software a pleasure for both you and your clients to use and why it is now, in 2023, my #1 recommendation.
Key Features
Modern, easy-to-use, interface
Smart automations that help cut down on time spent managing business operations
Full data ownership and no contracts (you're not locked into anything)
Can integrate with any other platform that allows for integrations
Dedicated POS hardware
Embeddable website booking widget & online gift card shop
Integrated payments
Forms, memberships, packages, gift cards
Sophisticated business & payroll reporting
Strong customer service & help documentation
iOS & Android App
Special Offer on Mangomint: Get 2 months for free when you sign up for a free trial or book a demo using this link.
2. GlossGenius | The Easy-to-Use Alternative for Independent Professionals (USA Only)
Are you an independent professional looking for all-in-one salon software but want to avoid technical complexity and boring design? Then GlossGenius may be the answer for you.
GlossGenius is an all-in-one appointment, payment, and marketing app for independent salons in the USA.
Here you manage your total business out of a mobile app.
GlossGenius breathes premium beauty. Everything from the website to the card reader is designed for a high-end client experience. And it's the combination of nice design and simplicity that makes this tool truly unique.
GlossGenius is the tool I recommend to independent professionals who want a good-looking online booking experience and smart marketing tools without having to spend time on technical issues. Salons with a team can use this tool even if most bigger businesses need more flexibility and are probably better off with Mangomint.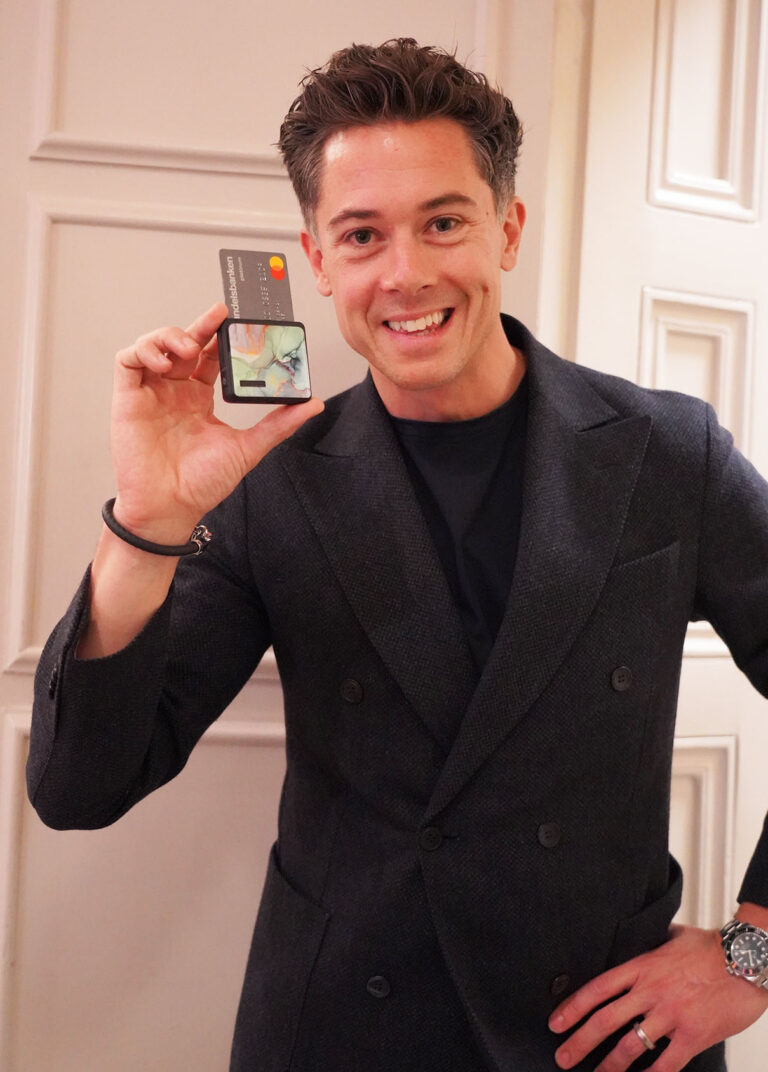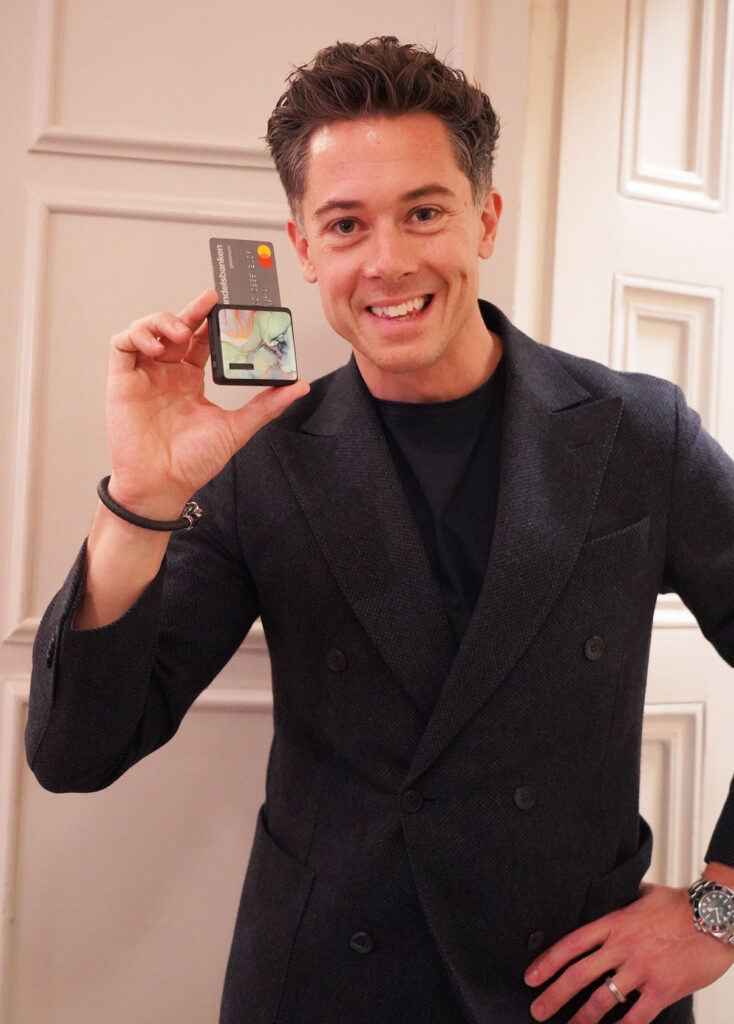 Key Features
Generate a website in just a few clicks
Multiple card reader design options to fit your brand
Smart and intuitive features that are easy-to-use
Integrated payments
Synchronize clients and calendar with your phone
Easy-to-use email and SMS marketing
Manage everything inside the GlossGenius app (Apple & Android)
Advanced business reporting
Affordable, transparent, pricing and free 14 day trial
3. Vagaro | The Feature Rich and Affordable Salon Software (US, Canada, UK, and Australia)
Are you looking for a complete, all-in-one, salon software platform to help you manage all aspects of your business without breaking the bank?
Then Vagaro is a strong alternative on this list.
It's incredible how much they've fit into this software while still keeping it at a very affordable rate.
Everything is there.
Dedicated hardware, integrated payments, full payroll support, native booking & online store integration with your website, a client marketplace, and marketing support.
This is for the cost-conscious salon or independent professional that still needs a software that offers more than the standard salon software features.
With Vagaro you get everything in one place at a very affordable rate.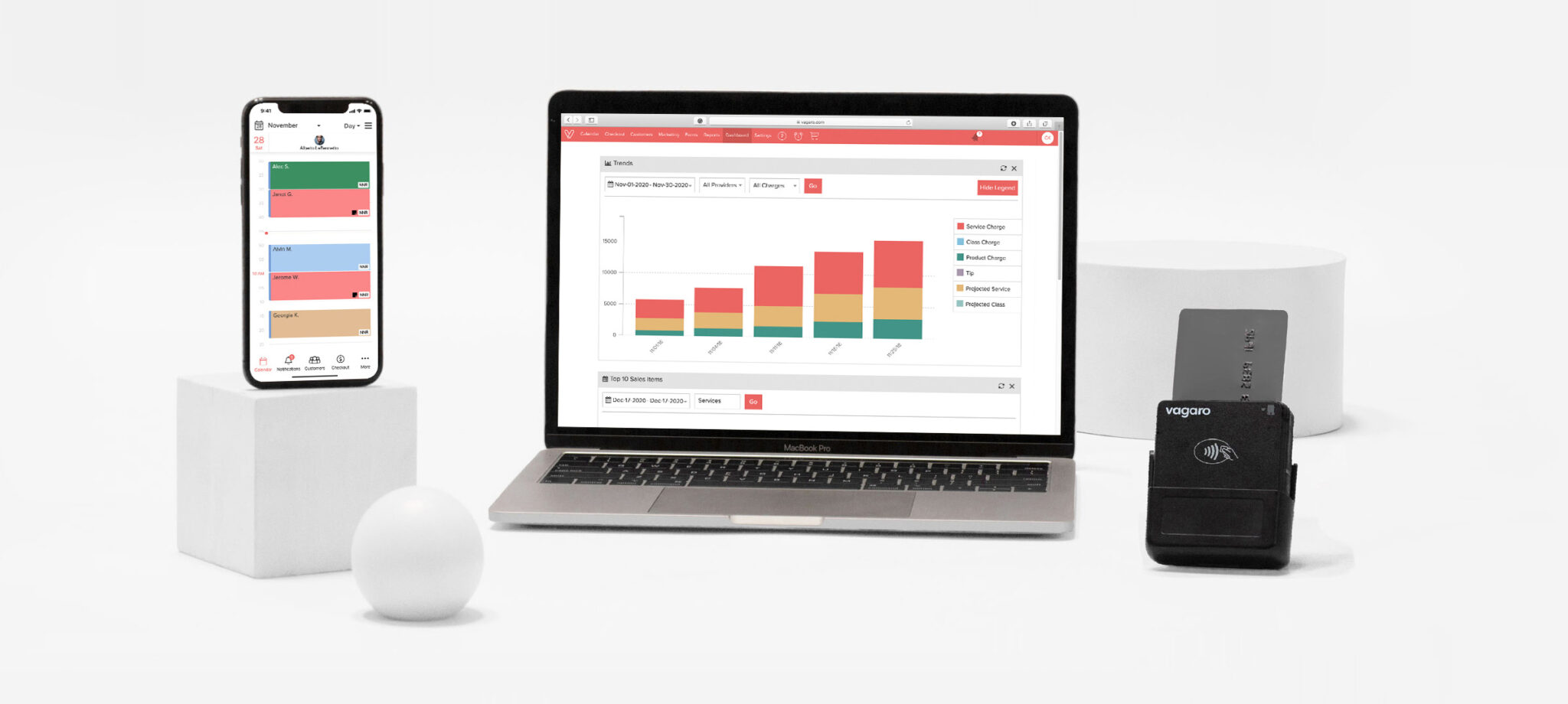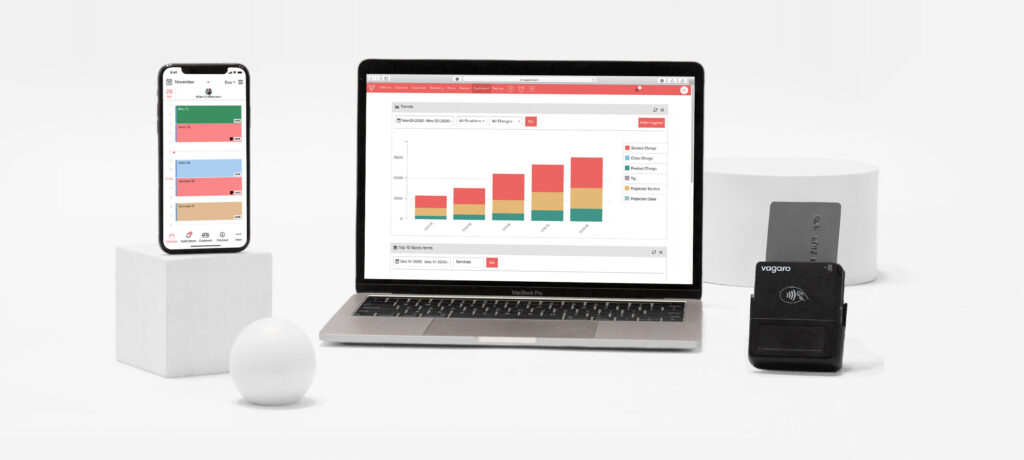 Key Features
Integrates with your website, Quickbooks, Xero, Gusto, Google, Facebook, Yelp, Instagram
Dedicated POS hardware
Client marketplace to help you attract more new clients
Subscription payments and membership features
Built-in payroll software
Built-in website builder
Advanced client data tracking (including SOAP forms)
Drag and drop, easy-to-use, calendar
Sophisticated email and SMS marketing tools
Advanced business reporting
Affordable pricing and free 30 day trial
4. Fresha (formerly Shedul) | The Subscription-Free Salon Software (Available Worldwide)
Fresha (formerly known as Shedul) has been growing rapidly and serves more than 120 countries, 70 000 beauty businesses, and 250 000 stylists and therapists.
It is the only subscription-free software with no trial period and no limits on usage.
The strengths of Fresha lie in the ease of use, the free plan, and the continuous development of the platform.
Fresha is ideal for the independent stylist or salon on a budget as it's subscription-free. Also, if you're not technically savvy, you don't need to worry about a steep learning curve to get going.
Your salon can also benefit from visibility on the Fresha client marketplace. You should just be aware that you will be charged if a new client books you via the marketplace.
The limitation you may find with Fresha is the lack of customization options. It looks good out-of-the-box, so this will likely not be a big issue. However, you will for example not be able to change the design of your booking page or have bookings integrated into your website.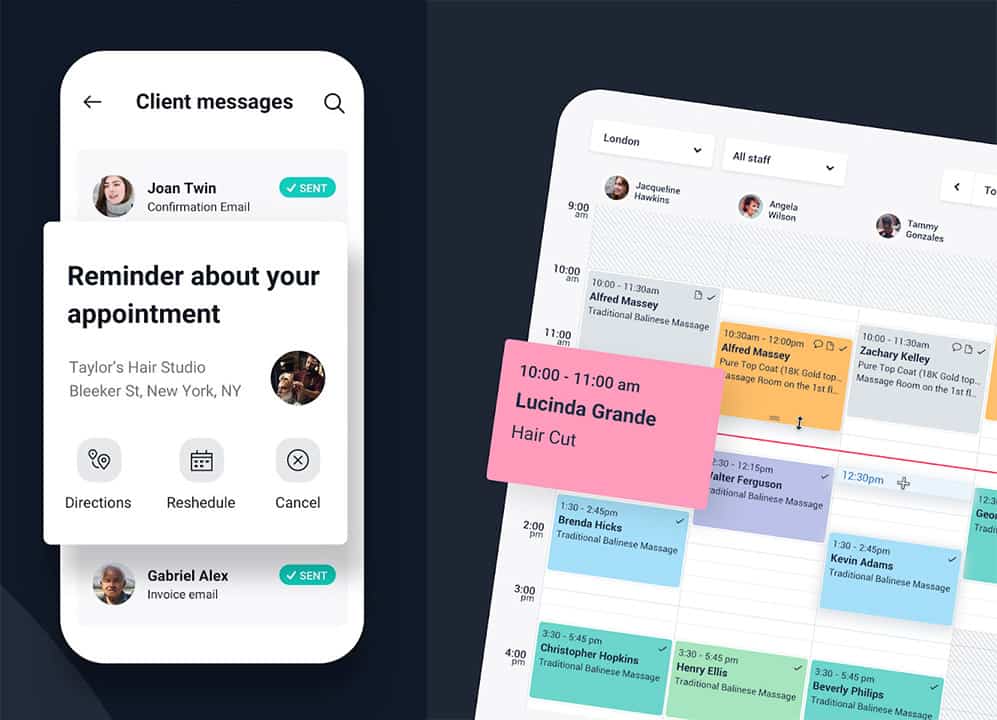 Key Features
FREE subscription with unlimited staff!
20% New client fee – applies only to the first appointment of new clients via the Fresha marketplace website and apps
2.19% + $0.20 Payment processing fee per transaction across all payment methods
Fresha marketplace where more clients can discover your salon.
Easy to use with a modern minimalistic design interface.
iOS and Android Apps
Instagram, Facebook, and Google integrations
5. Square Appointments | The Complete POS & Appointment Software with a Subscription-Free Plan for Individuals (US, Canada & Australia)
Independently of if you are looking for an affordable appointment scheduler or a full-blown POS system and business management system, Square Appointments is a great alternative.
Given it's free for individuals, the appointment scheduler is a great option for booth renters and individual stylists. However, the real power of Square Appointments lies in its integration with all marketing and business tools from Square.
Even if you only need an appointment scheduler today, you can grow with Square and add their professional POS unit, payroll tool, the Square marketing suite, and even build a website and online store using Square Online.
This makes Square a great alternative for any size salon or spa business with strong support across all areas of your business.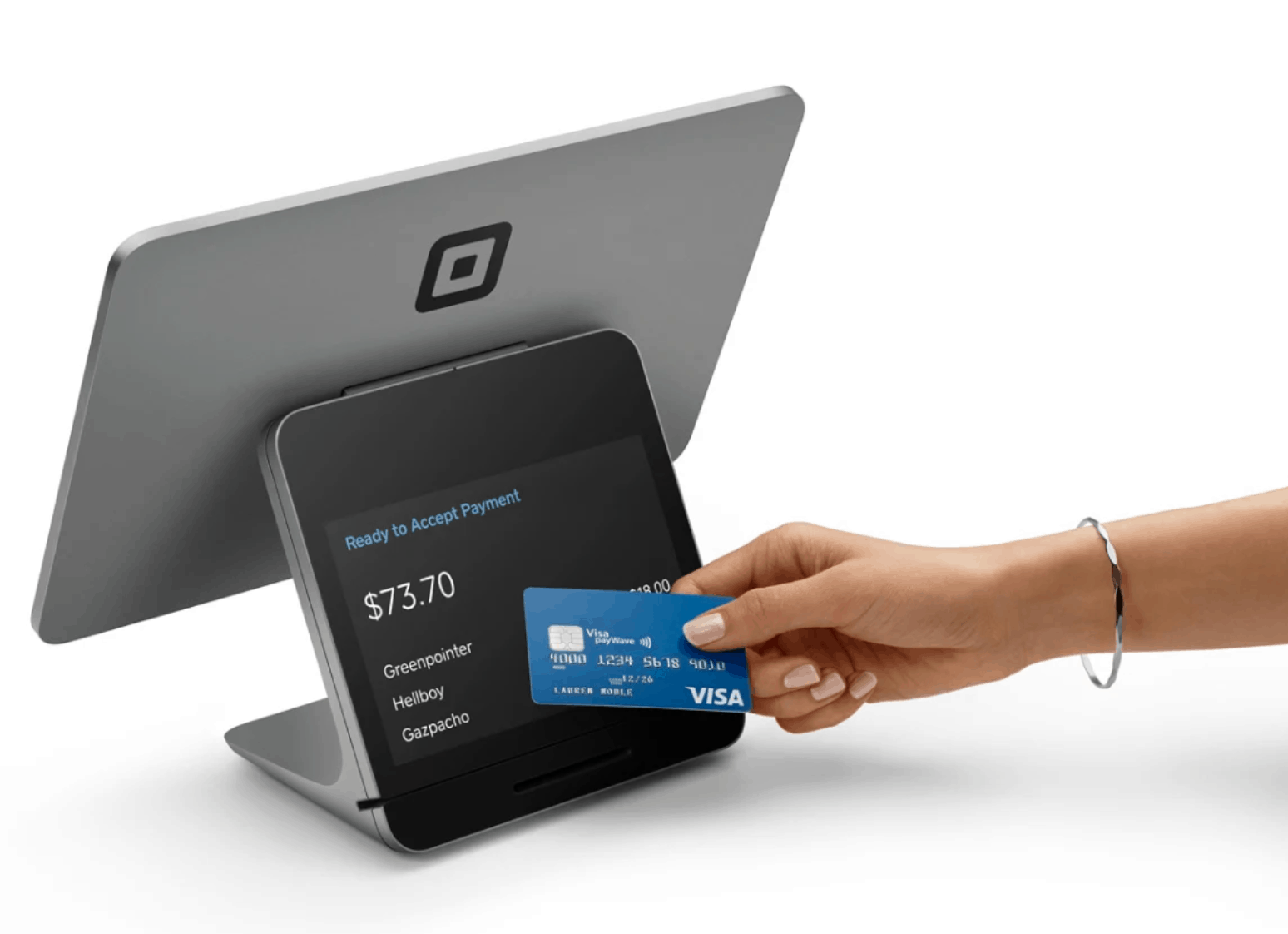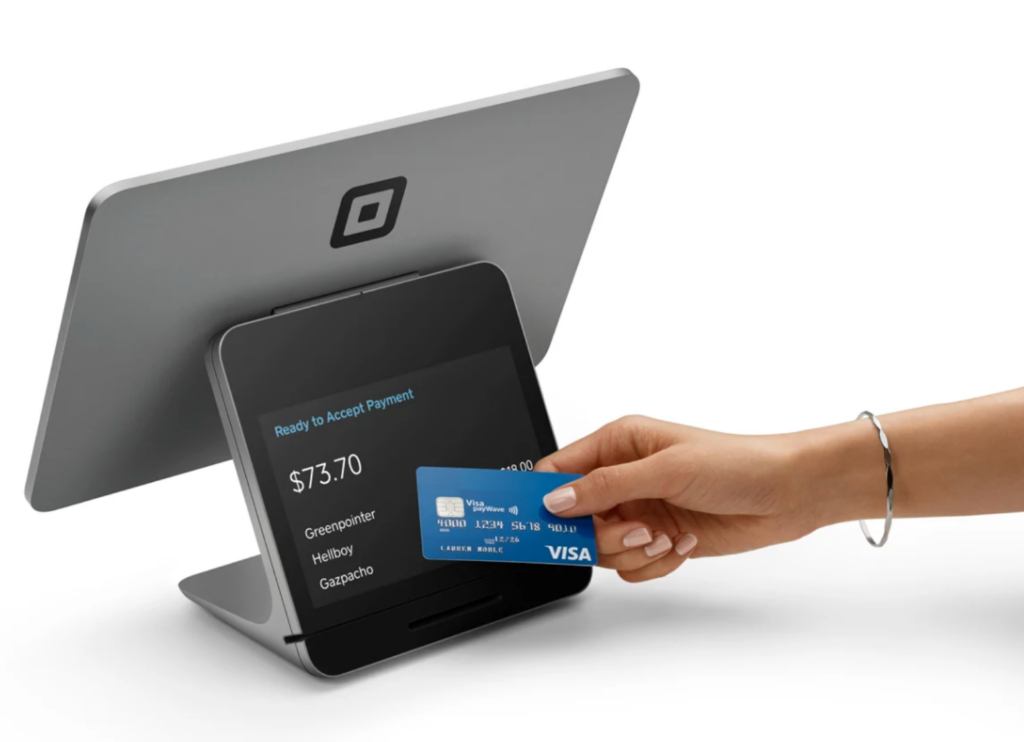 Key Features
FREE subscription for individuals
Individuals only pay credit card transaction fee (2.6% + $0.1) when you accept payments through the platform
Dedicated booking website
Booking widget for website integration
SMS & Email Reminders
Seamless integration with all tools from Square
Easy-to-use, drag and drop calendar
Advanced client data (with images)
Advanced inventory management (with stock alerts)
iOS & Android App
Finding the Best Salon Software for You
Now you have my top list of salon software.
This should give you a good overview of the best salon software options for 2023. But you may still be wondering which one is right for you. And this is what the remaining part of this salon software guide will help you find out.
We'll dive into each of the most important features and compare the systems to each other to ensure you can decide on the best platform to support your business.
I wanted to capture everything here and leave no stone unturned. This means this guide is rather long. If you're in a rush and want to quickly understand if the software you are considering delivers what you need, you can jump directly to the overall comparison or dive into the specific feature you want to understand better in the feature-by-feature comparison.
This is what I'm going to cover next:
Let's get to it.
What is a Salon Software?
Salon software is a suite of software tools designed to help assist salons in running and growing their business. Features span client & appointment management, salon marketing, point of sale (POS), salon business operation management, and salon business reporting.
In this article, I am focusing on "all-in-one" solutions. Meaning, that the platforms provide support across all areas that would be needed to run a salon business effectively.
This is however not the only way to set up the systems to support your business. You could use separate systems that all specialize in their different areas and then integrate them together where it's needed.
This would however add a lot of complexity and cost and my recommendation for 95% of businesses is to find a tool to support the majority of needs and only add separate tools when there is a clear business need for it.
As we go through the feature-by-feature review of the salon software platforms listed here you'll learn more about where it makes sense to complement the all-in-one salon software with another, more specialized tool.
Salon Software Terminology
You'll find different names used interchangeably to describe a salon software. Commonly used terminology is salon appointment software, salon booking software, salon management software, salon point of sale (POS) system, and salon booking apps.
Most of the time I hear people use these words to describe the same thing – a salon software.
You may also be familiar with salon marketplaces. In fact, Fresha and Vagaro, which are listed here, are two examples of this. But there are many more. Other examples would be Mindbody, Styleseat, or Treatwell just to name some.
A marketplace is an online portal where clients can browse salons in their area, and they would typically also offer salon software that connects to the marketplace.
The benefit of using a platform that also has a client marketplace is that you can get your salon featured on its client-facing platform which helps you get visible in front of new clients. Typically, salon software that are connected to a marketplace are also offered at a lower price. However, you should consider that some may charge you additionally for promoting your business on their marketplace or when new clients book you there. You may also lose some control of your client data as your clients' profiles are created with the marketplace vs. your salon.
What to Consider when Deciding on the Right Salon Software for Your Salon or Spa
There are many factors to consider when deciding on the right salon software for your salon or spa. You probably already have some "killer points" in mind that the software needs to deliver on.
But to ensure you're making an informed decision today, below are some important considerations I want you to have in the back of your head.
Supported Countries
Unfortunately, most salon software platforms today are local and limited to a few countries only. This is because taxes, payroll, and payments are managed differently in different countries. And to ensure good local support, many platforms focus on a few countries to have offices and presence in.
Naturally, if your country is supported or not will be a killer factor for you. Out of the options listed here, Fresha is the platform available to most countries. I'm also calling out supported countries for each system in the overview at the start of this article.
Design & Ease-of-Use
Depending who you ask, some will say design is important, and others will focus on e.g. the number of features supported.
I believe design is crucial.
And that's for two reasons.
1) Everything communicates your brand. If your clients perceive your booking system old and clunky, that will transcend to the perception of your business and the services you offer. It's not logical, I know. But this is how our basic minds work, and if you run a modern beauty business, you want the first interaction people have with you to reflect that.
2) It makes you more efficient. If your system is intuitively designed, you'll have a much easier time getting team members up to speed, and you'll not waste your time trying to figure things out. This can save you a lot of time.
All the systems I have listed here are doing a decent job at design. Or else, I wouldn't list them here :). However, Mangomint is the star that is pushing the boundaries when it comes to design and ease of use. Despite being a sophisticated platform with a lot of support, it's the most intuitive platform.
However, given design is subjective, I'm including images of all the important features in the feature-by-feature review below.
Integrations
Is it important for you to be able to use specific accounting software (like Quickbooks) or an external e-mail marketing service? Then you want to pay attention to how well the system supports integrations with other platforms.
Mangomint is the only platform in this list that supports integrations with any other integration-enabled software. They have some standard integration support and, if you reach out to their team, they will help you get set up with whatever other platform you want to use (through a feature called webhooks). Square has a rather long list of partner software that is easy to integrate with. And also Vagaro offers integration with some of the more popular tools used by salons. Fresha and GlossGenius do not support integrations as of today.
Price
We cannot ignore the price. You'll be paying for your software every month and how much you need to pay will of course influence your decision. And the pricing difference between the system listed here is broad.
You'll see Fresha and Square offer subscription-free plans, Mangomint starting at $165/ month, Vagaro somewhere in between, and GlossGenius at a low fixed fee.
What's important to consider when looking at the price is your number of staff, other fees that are separate from the subscription (like card transactions and add-ons), and the features and customers service support you get at the subscription price.
I believe all tools listed here will give you good value for money (or they wouldn't be here) even if the subscription fee will differ a lot. However, if I generalize, I do think all the features you get from Vagaro at their price level is exceptional. But I do encourage you to think this through using your specific business setup to see what makes the most sense for you.
Features & Functionality
Finally, you want to ensure that the specific features you want your software to support are there. And what they are will vary from business to business. This is why I'm going over and comparing the most common features offered by salon software in depth through the second half of this guide.
If you want to compare the platforms listed here, you can navigate to the specific feature you want to compare using the links below.
Best Salon Appointment Software
Best Salon Management Software
Best Salon Point of Sale (POS) System
Mangomint vs. GlossGenius vs. Vagaro vs. Fresha vs. Square
So how should you think when deciding between the top 5 salon software listed in this post?
Let's begin with Mangomint and GlossGenius. Two platforms that are clearly positioned in the salon software market. Mangomint is for the larger salon that wants a smart and well-designed salon software that allows you to integrate with other systems. And GlossGenius is for the independent professional that wants a good-looking platform without any technical challenges.
Vagaro is the most feature-rich platform salon and spa-specific software on this list. Despite offering a lot of business support, it's offered at a very affordable price.
The most similar platform to Vagaro would be Square. Square also caters to both small and big businesses. And when you use Square Appointments together with all the other tools from Square you get a complete business support tool for all areas of your business.
Naturally, the fact that Fresha is subscription-free and you're only charged per appointment, makes it a particularly good alternative for the small growing business.
Naturally, as you look into the details of these platforms, you'll see other differences that may be important to you. Thus, if you're still not sure which platform is right for you, I recommend you walk through the feature-by-feature comparison below to get into the weeds of the differences.
If you already have an idea of which platform you should go with, I recommend you read my specific review for the platform.
Individual Salon Software Deep Dive Reviews
If you want to go deeper into a specific salon software, read my in-depth reviews below.
For the salon with a team:
For any size salon business:
For the smaller salon business or independent professional:
Best Salon Software 2023 – Feature Review
The best salon software for your business will ultimately be determined based on the platform's features and if supports what you need.
But just reading a feature list does not give you the full story of how the software delivers the functionality.
To help guide you on the choice of salon software, I have pulled together a list of the most important features and compared how the salon software I recommend here delivers it.
You can jump directly to the feature you're most interested in using the links available here.
Best Salon Appointment Software/ Salon Booking Software
The most important part of a salon software is how well it helps you manage your calendar and client bookings. In fact, I've created a separate review of the best salon scheduling software that only looks at this.
But let's look at how my recommended salon software delivers on this.
Online Booking
The ways to accept online bookings vary across the platforms and so does the level of design customization ability.
Mangomint Online Booking
Mangomint allows you to customize an online booking page that you can link to from your website or social media. You can also integrate the booking widget directly on your website and customize it with your logo and brand colors.
The website booking widget is super intuitive and clean and fits on every website as it nicely slides in from the side whenever someone clicks your "book now" button or link.
A feature that I found particularly impressive is the intelligent waitlist feature. This shows a "join waitlist" button if your calendar is full. It then automatically detects any changes on the calendar and notifies the user.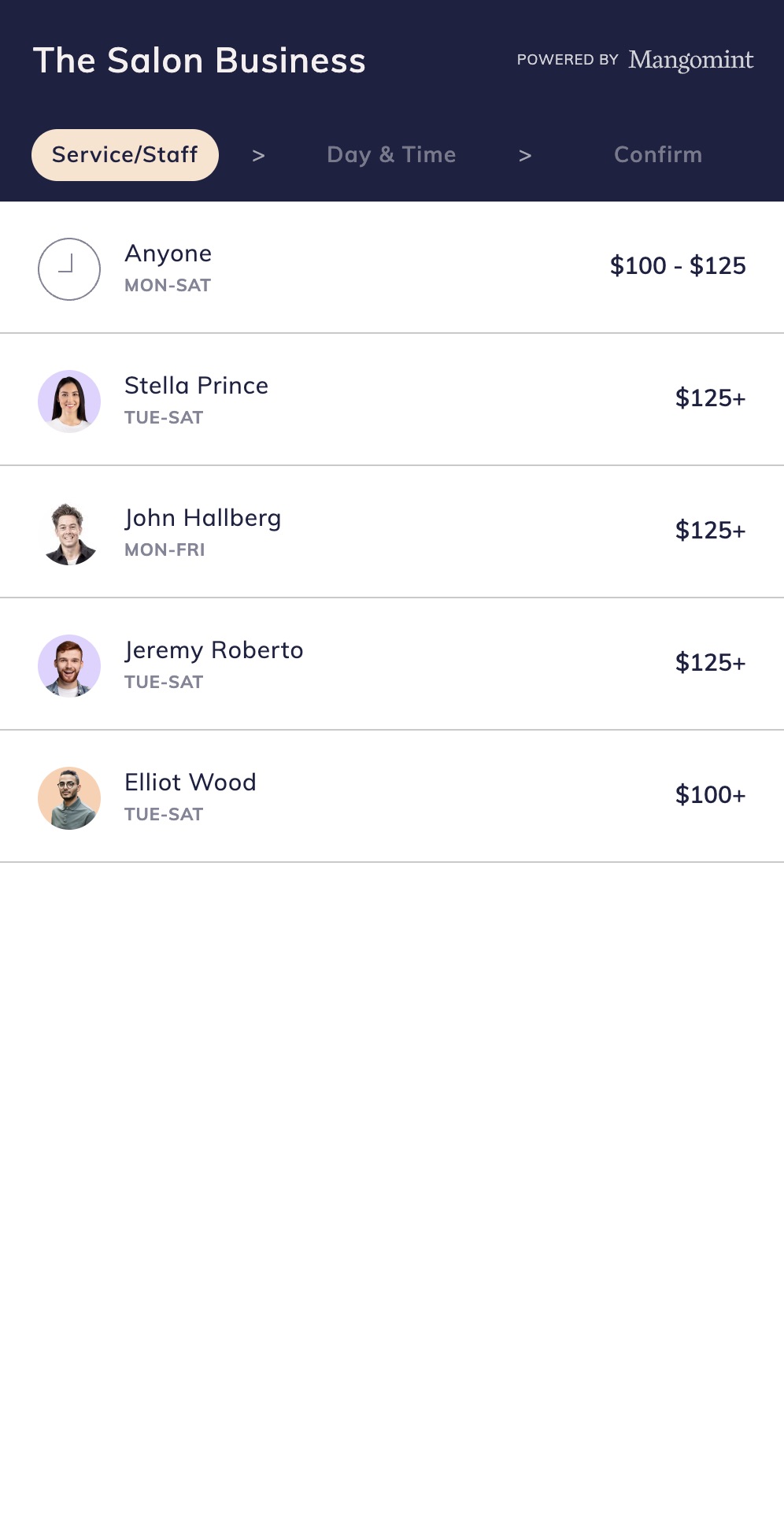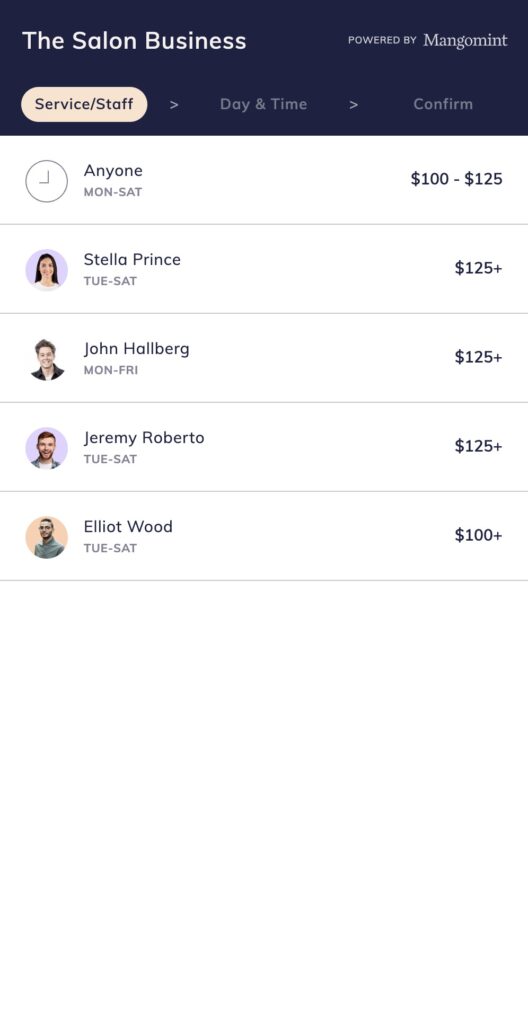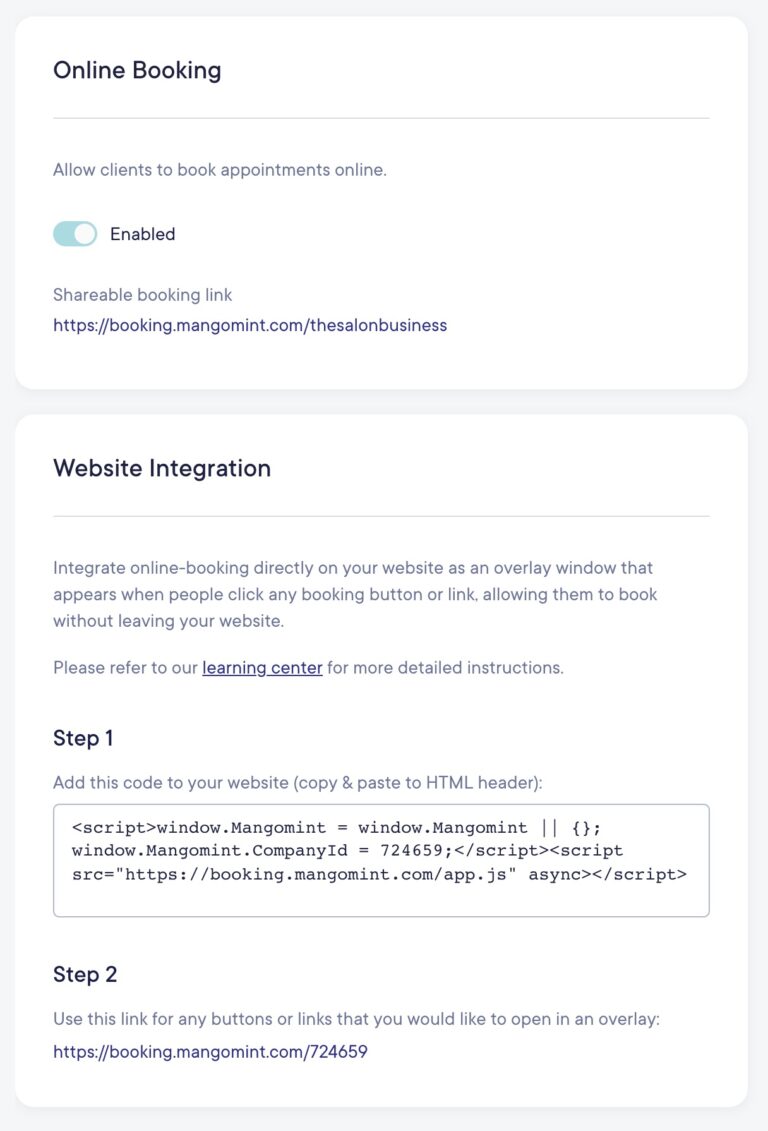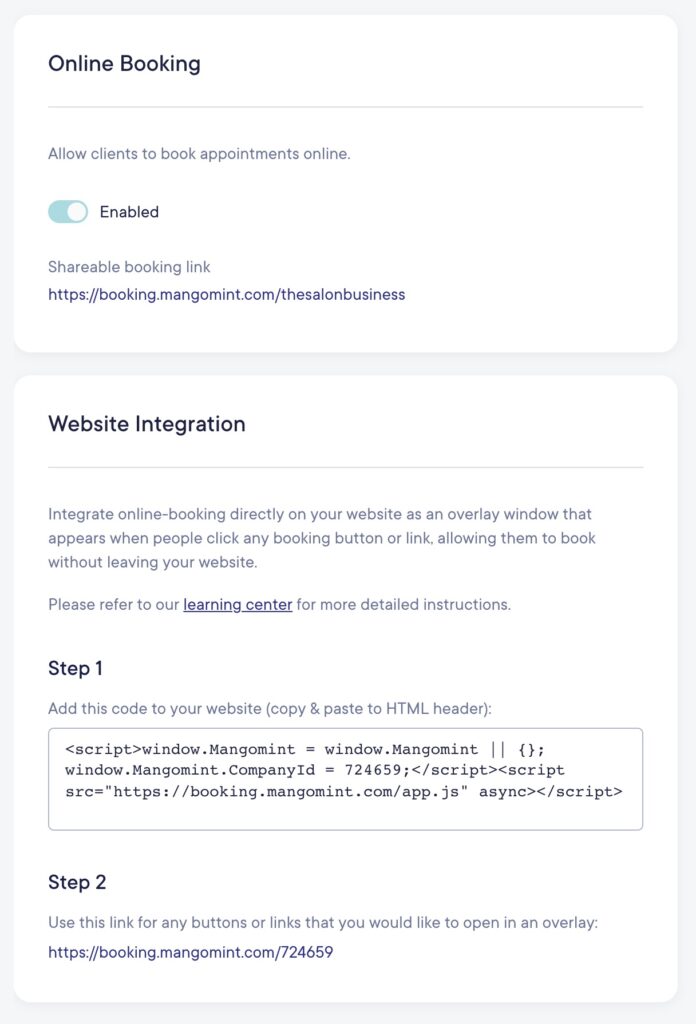 GlossGenius Online Booking
GlossGenius allows you to create a good-looking website in just a few clicks. The below image is from the example website I created using only the out-of-the-box material available inside GlossGenius. If you already have a website, they do not offer support for integrating a booking widget. You'll need to link to your separate GlossGenius website to accept bookings.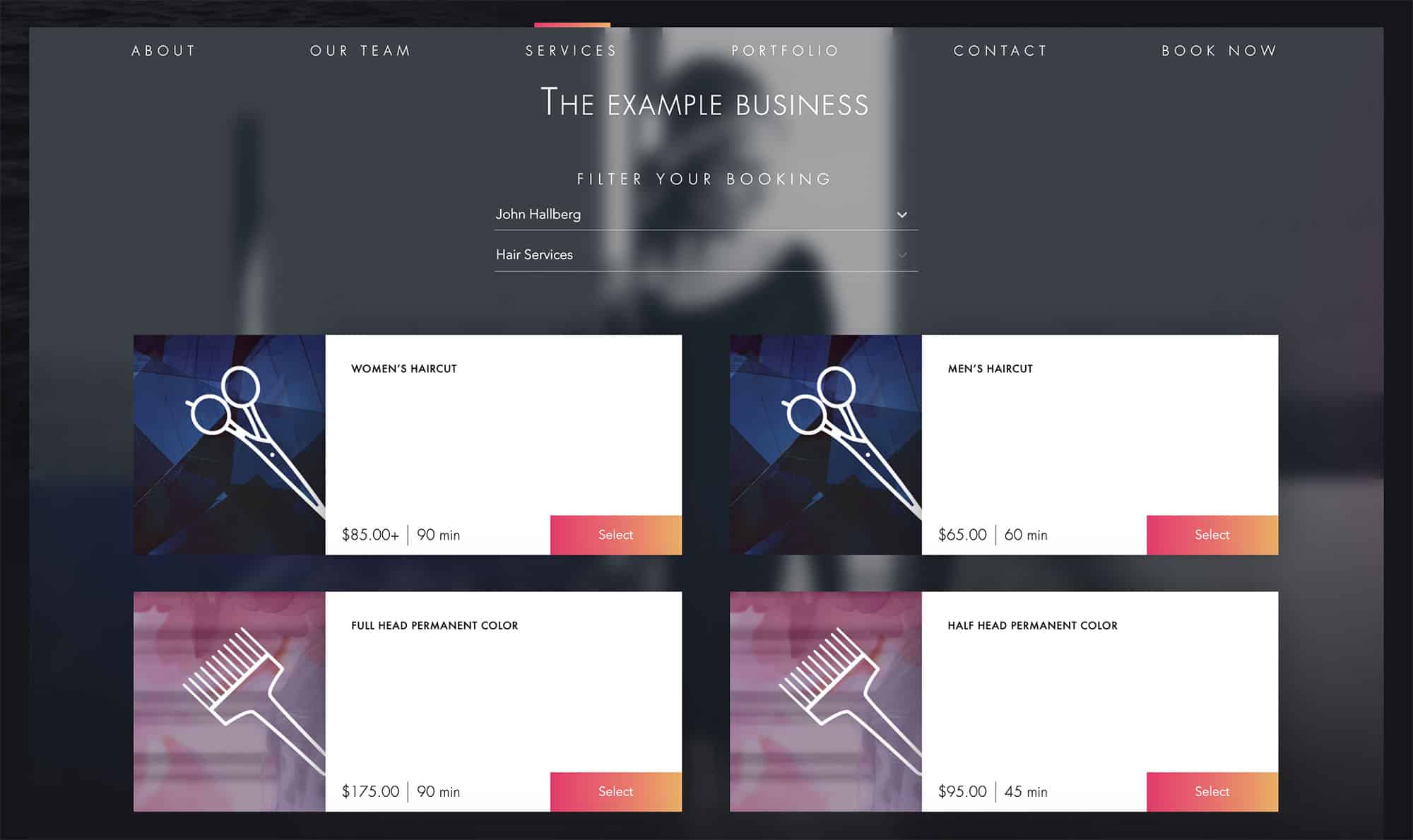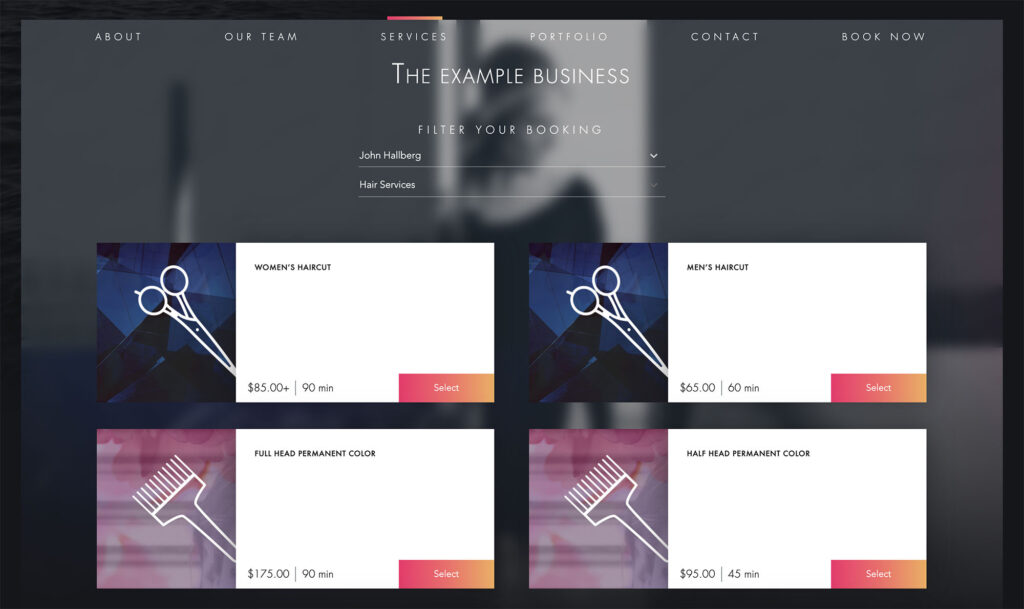 Vagaro Online Booking
Vagaro allows you to integrate a booking widget on your website, run a pop-up, or send the visitor to a dedicated booking page. You can change the color to match your brand, but it is otherwise limited to the design from Vagaro.
What's cool is that you have multiple widgets. One for bookings, one to show products you sell, and another for gift cards. This makes your ability to integrate Vagaro with your website very robust.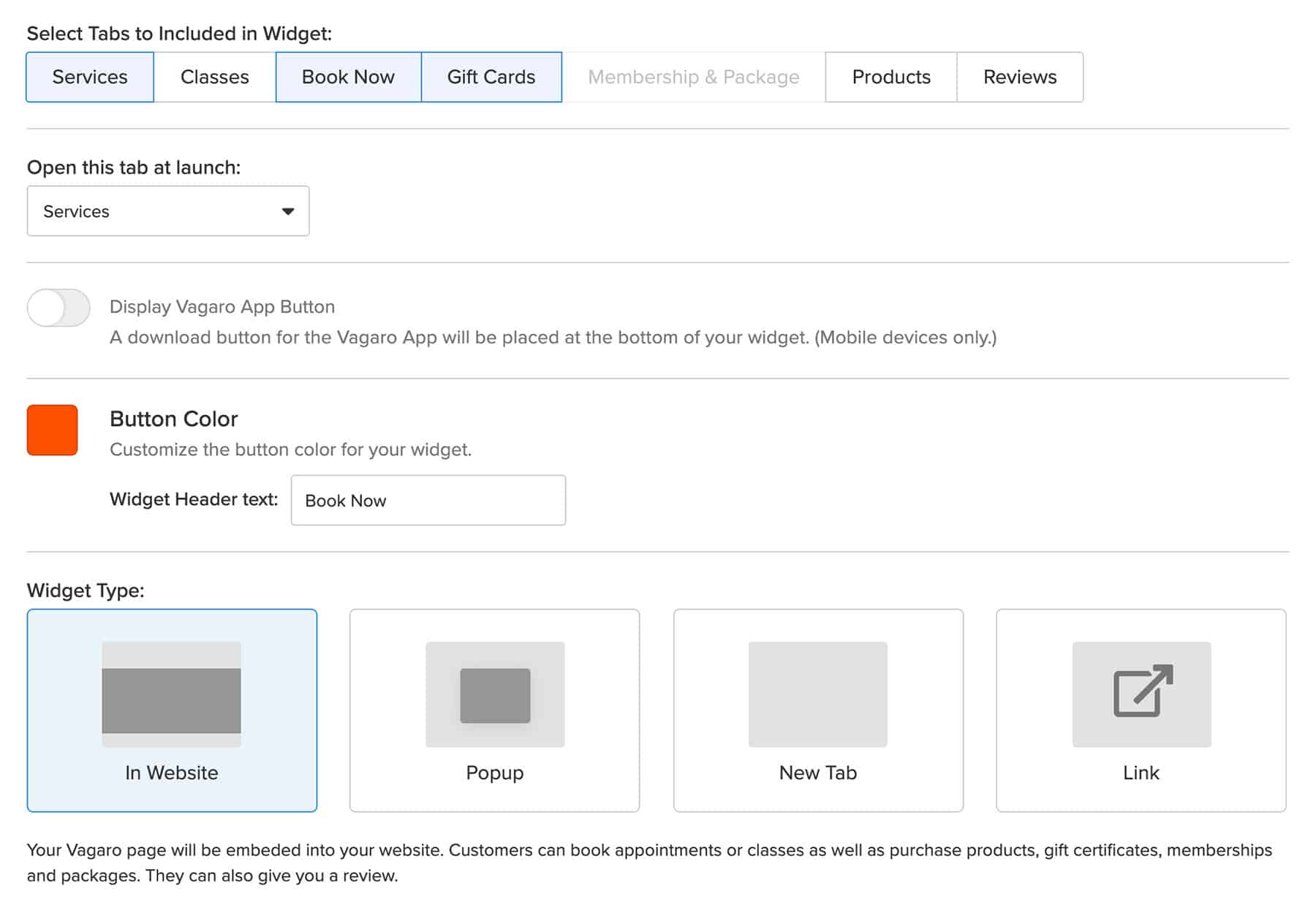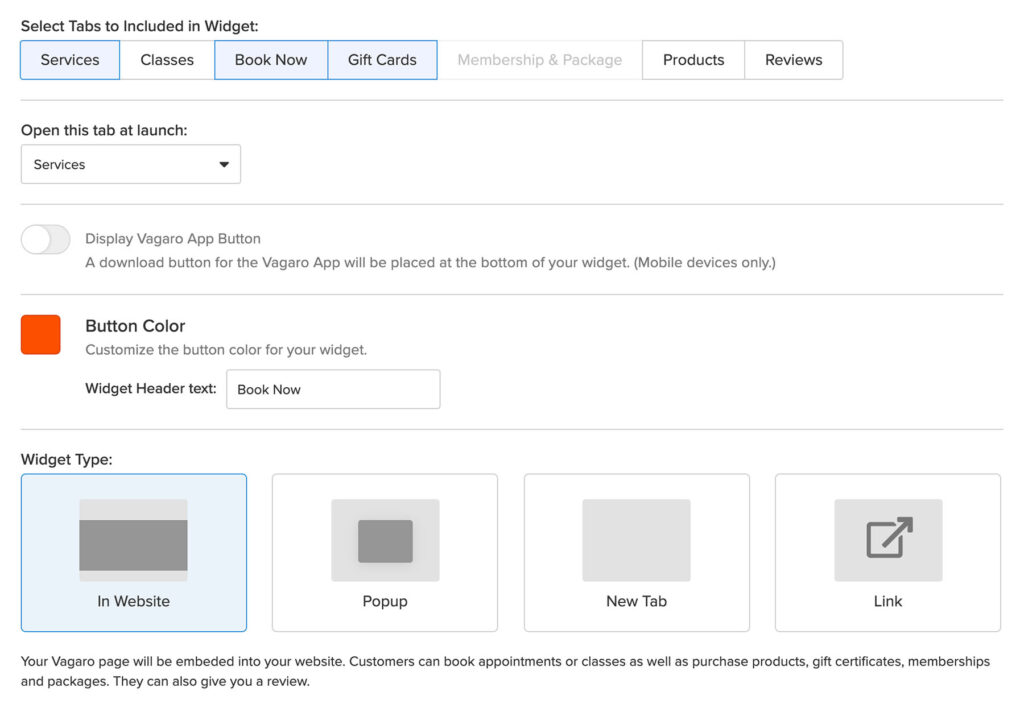 Fresha Online Booking
Fresha provides you with an online booking page that you can link to from your website. You can however not integrate a booking widget on your website. The generic booking page you're provided looks okay (see example image below). However, you cannot customize the design to reflect your branding.
You can also have your salon featured for bookings in the Fresha Marketplace.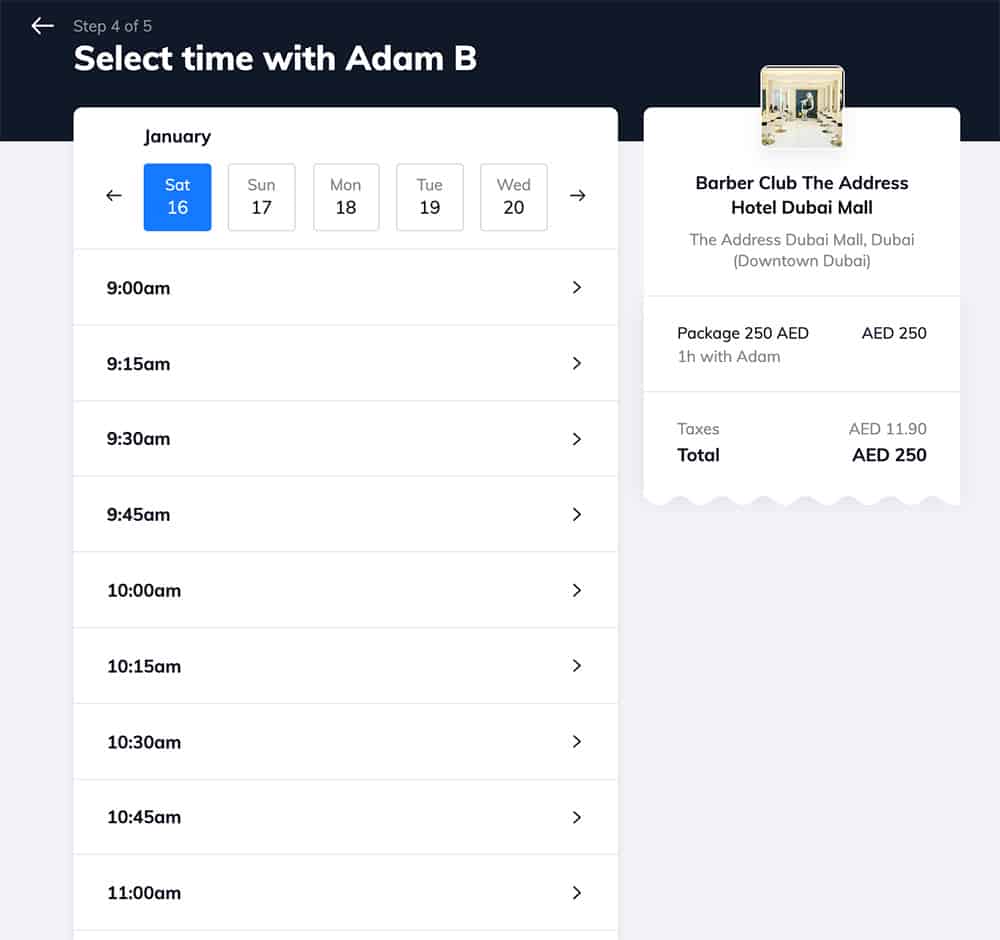 Square Appointments Online Booking
With Square Appointments, you can create a booking website or generate three types of widgets to embed on your website. You can however not customize the design of the widget, it will look "Square".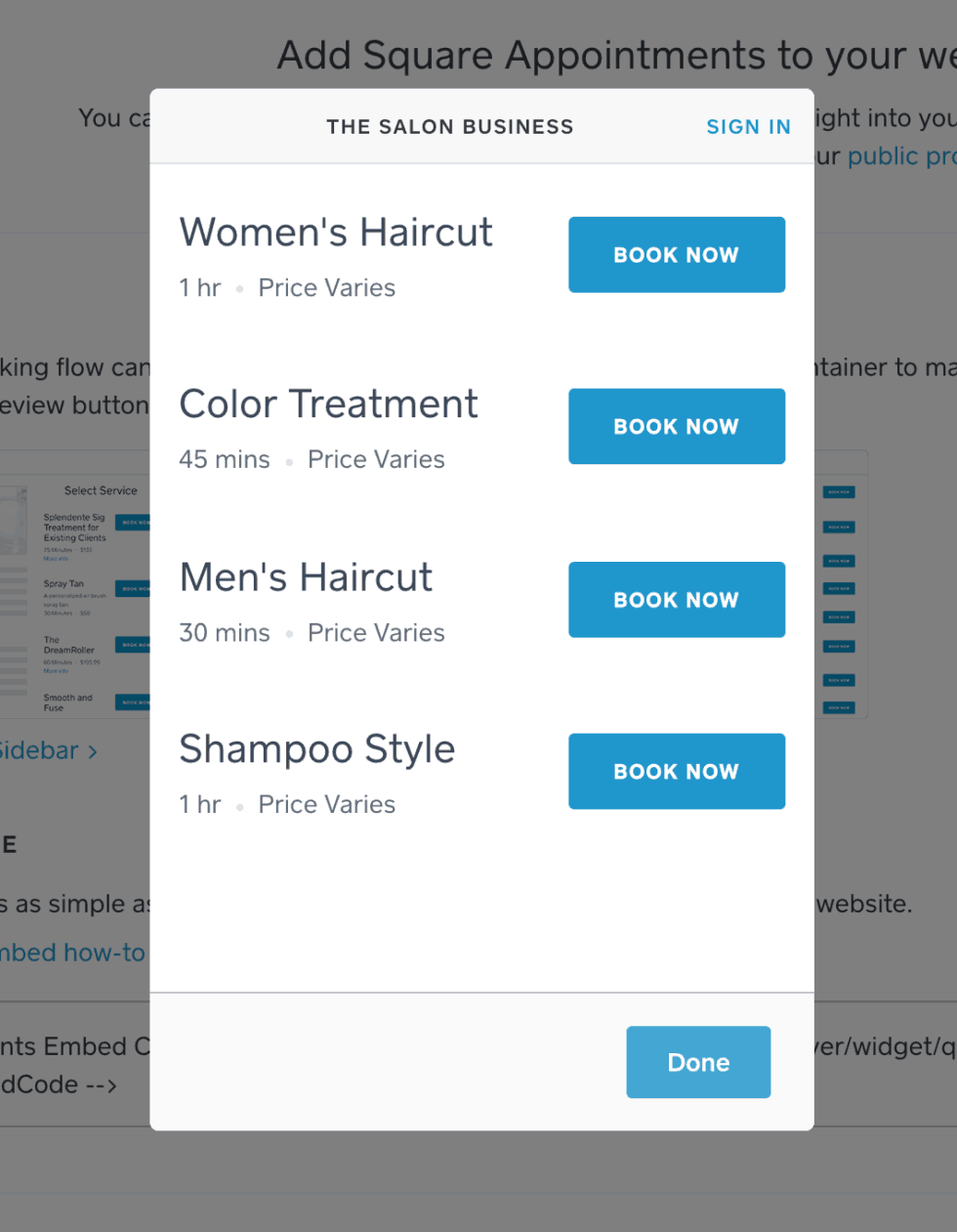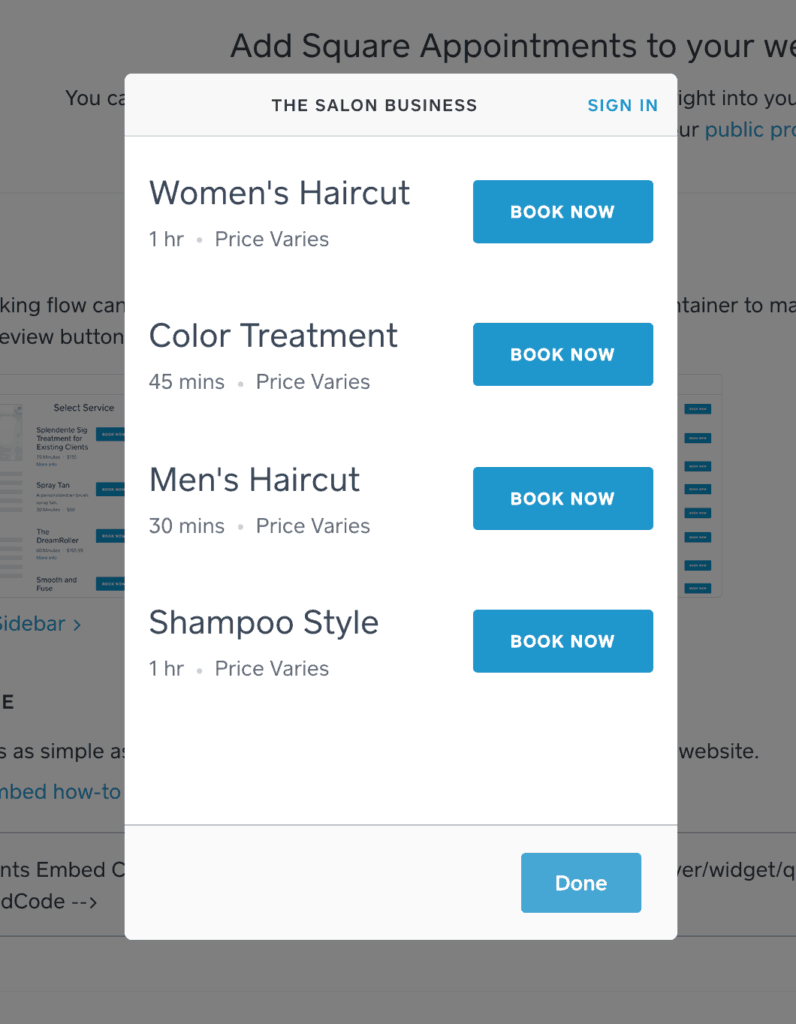 Salon Appointment Book
The salon appointment calendar works in a similar way in all of the salon software listed here. They all allow for drag-and-drop and have invested in making it as user-friendly as possible. After all, it's probably where you will spend most of your time in your day-to-day.
What varies is rather the features surrounding the calendar. If calendar and appointment is the only feature you are in need of right now, you may also want to check out my review of the best salon appointment software here.
But let's dive into the platform comparison.
Mangomint Calendar
The Mangomint appointment calendar is uncluttered and easy to use. Appointments are color-coded based on appointment status so you can get an overview at a glance.
Drag and drop appointments to change time. Switch between day view and week view. Navigate between different staff members or view them all at once in the day view. Click an appointment to check out the client.
Everything is super intuitive and it's impossible to go wrong.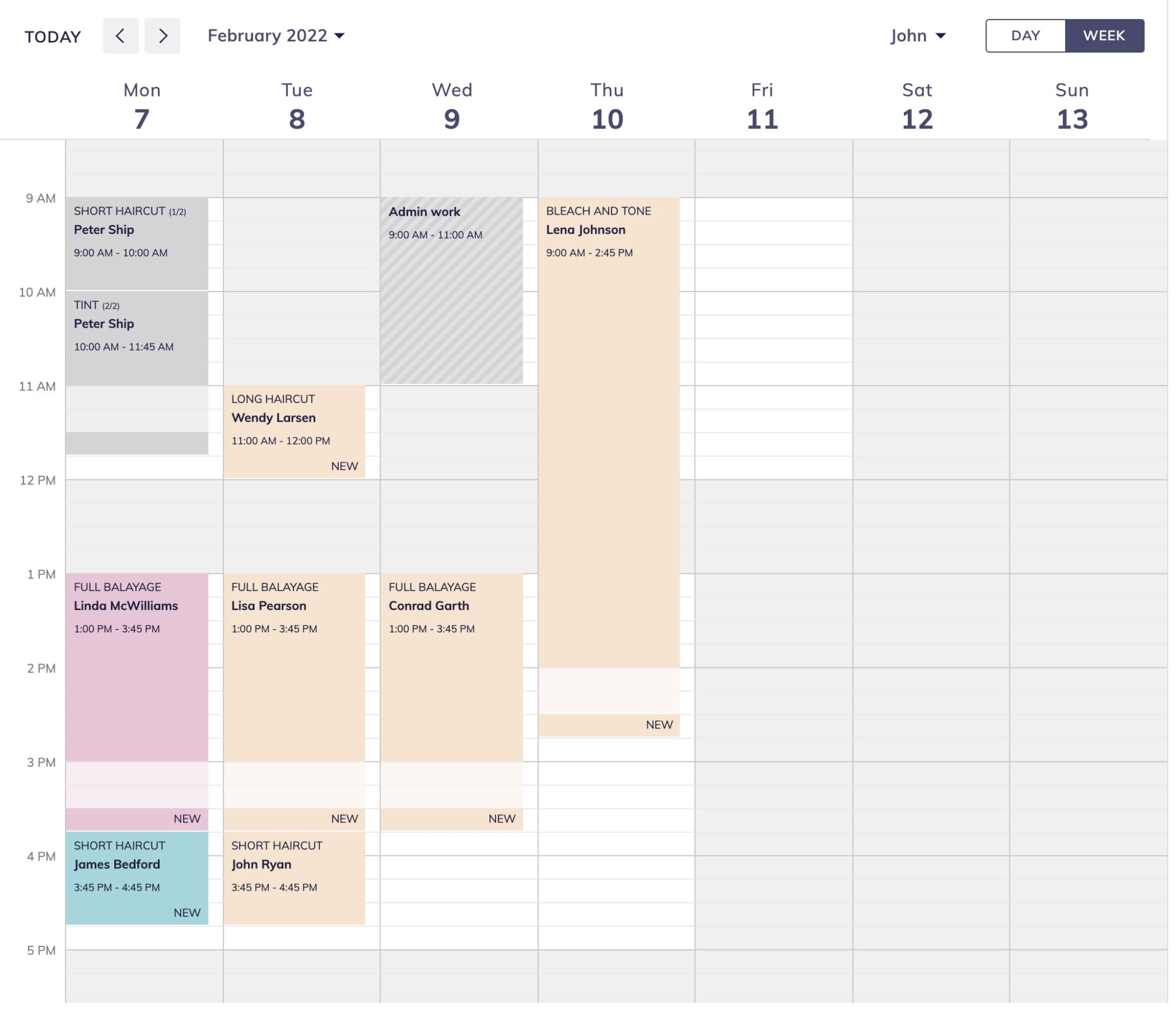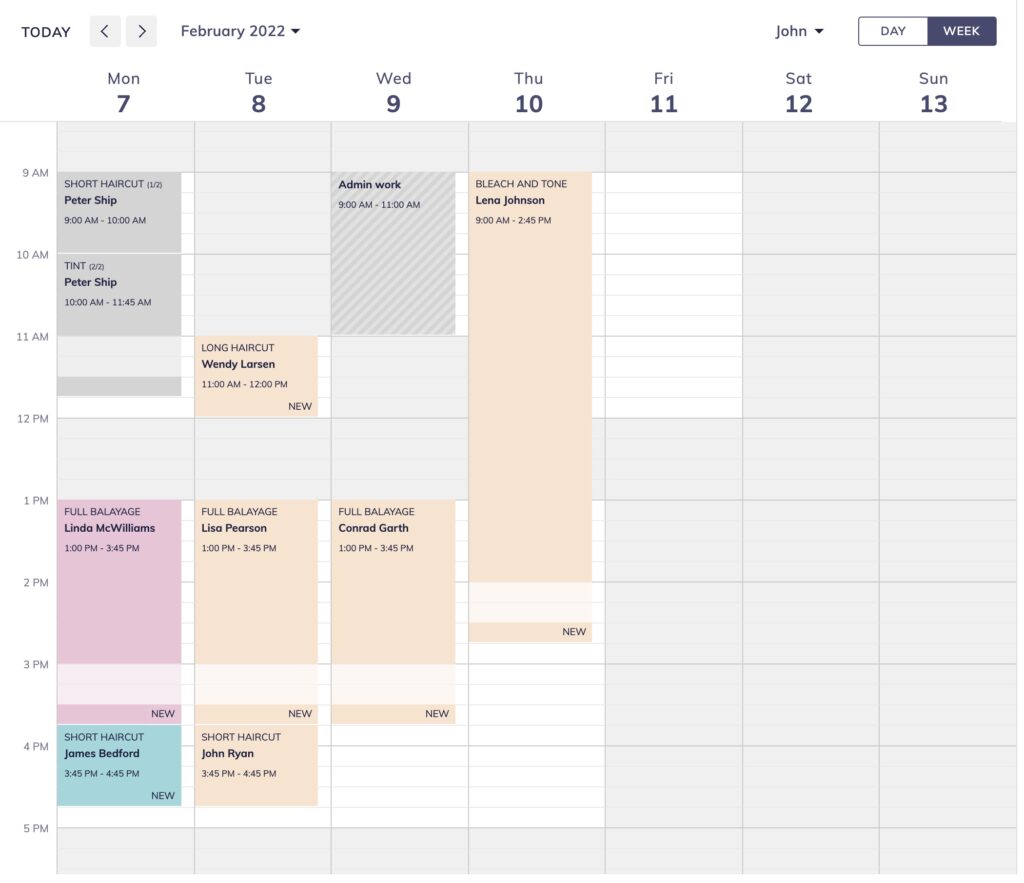 GlossGenius Calendar
The GlossGenius calendar is intuitive and easy to use. Appointment colors are based on the service category booked. You can switch between day view, week view, and month view. You can switch between staff or show multiple staff-calendars in the same view.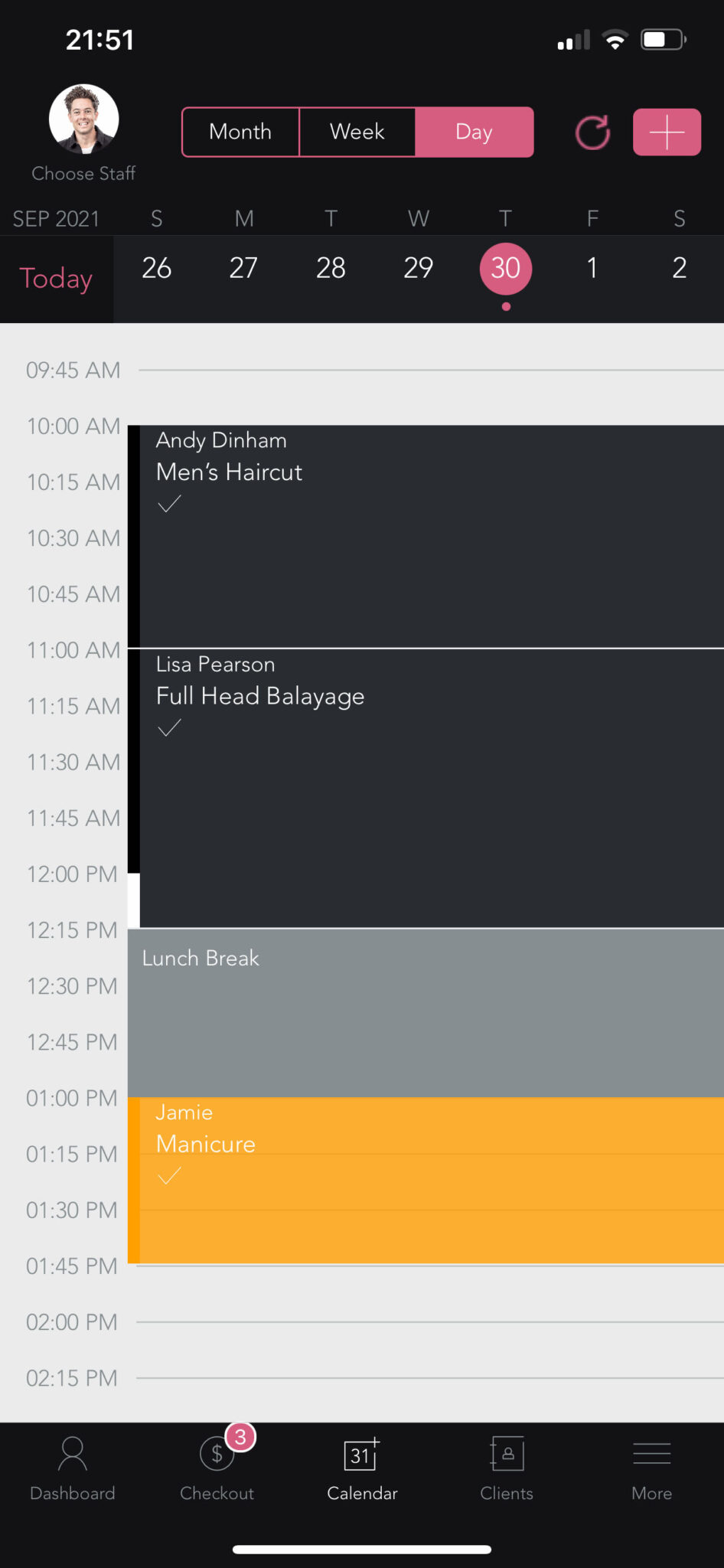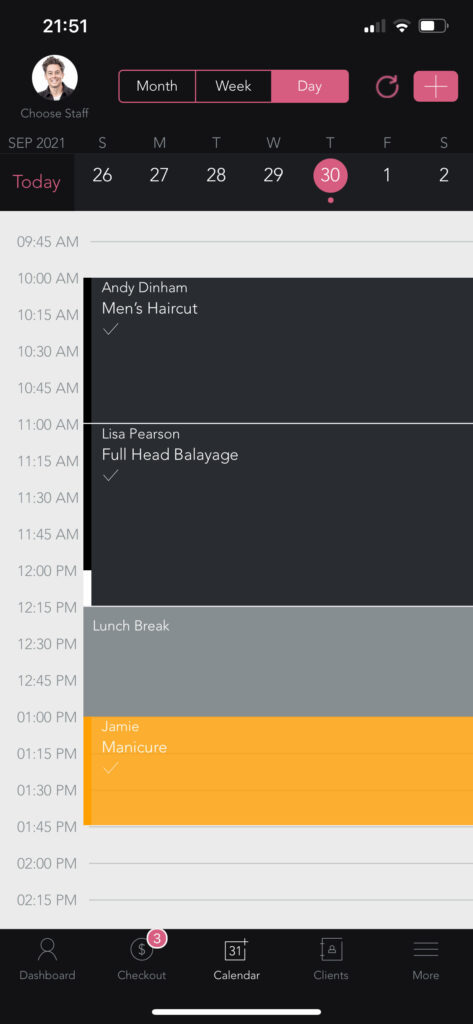 Vagaro Calendar
The Vagaro calendar is intuitive and it's easy to manage multiple calendars, color code appointments, and drag-and-drop to change.
They also offer an "agenda view" of the calendar. I like this format, especially on mobile, as it makes it easy to see what's coming up next without having to page through the full calendar.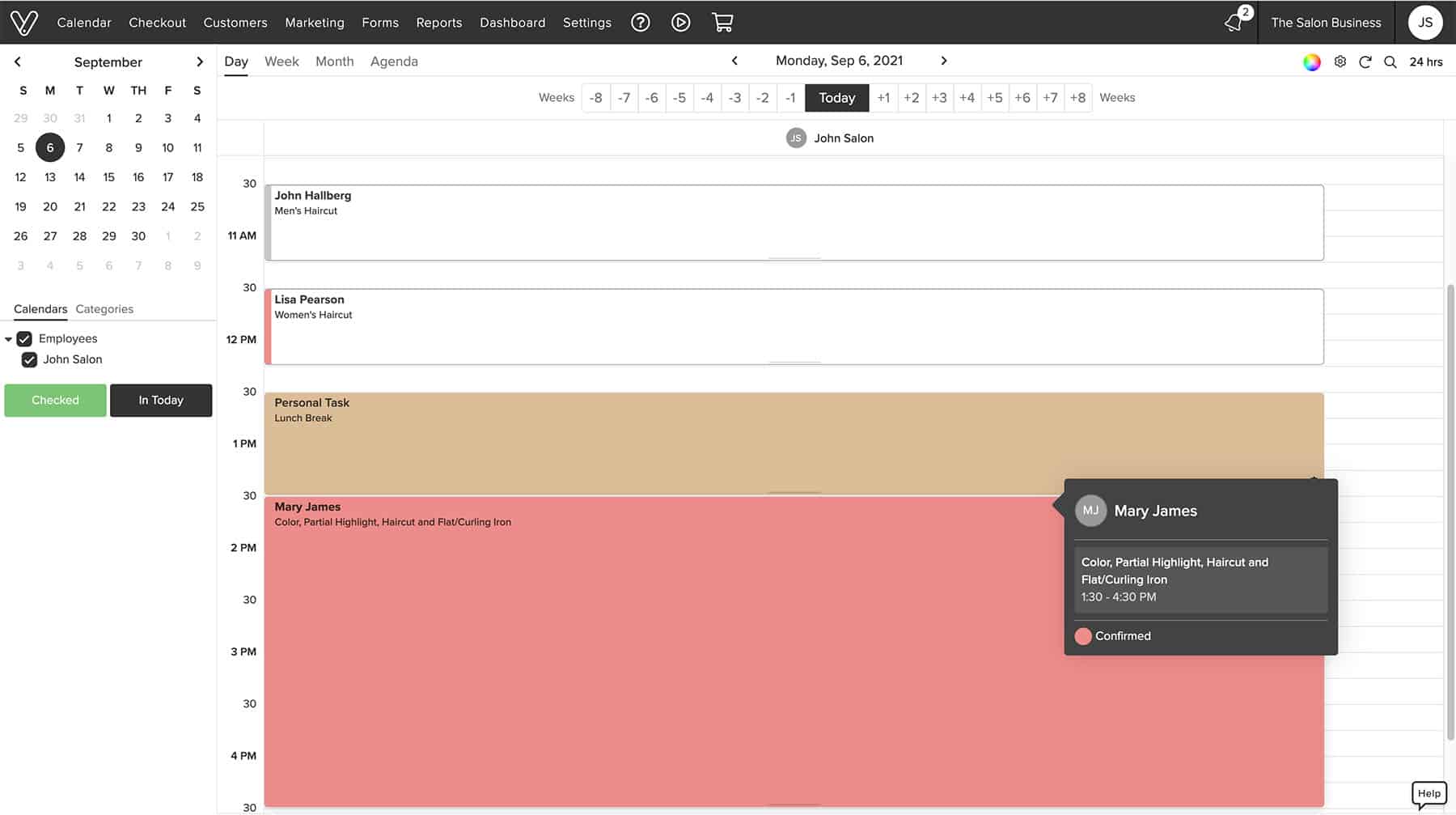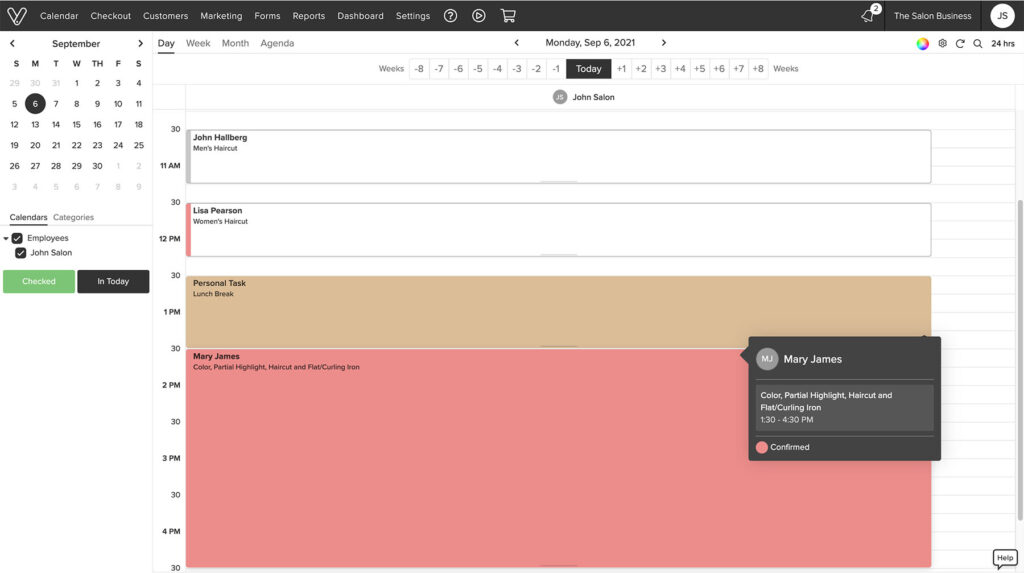 Fresha Calendar
The Fresha calendar is intuitive and easy to use. You can drag and drop appointments to change the time. Just hover over the appointment to see the full details. Quickly change the view from day view to week or month. Show multiple staff in the same view.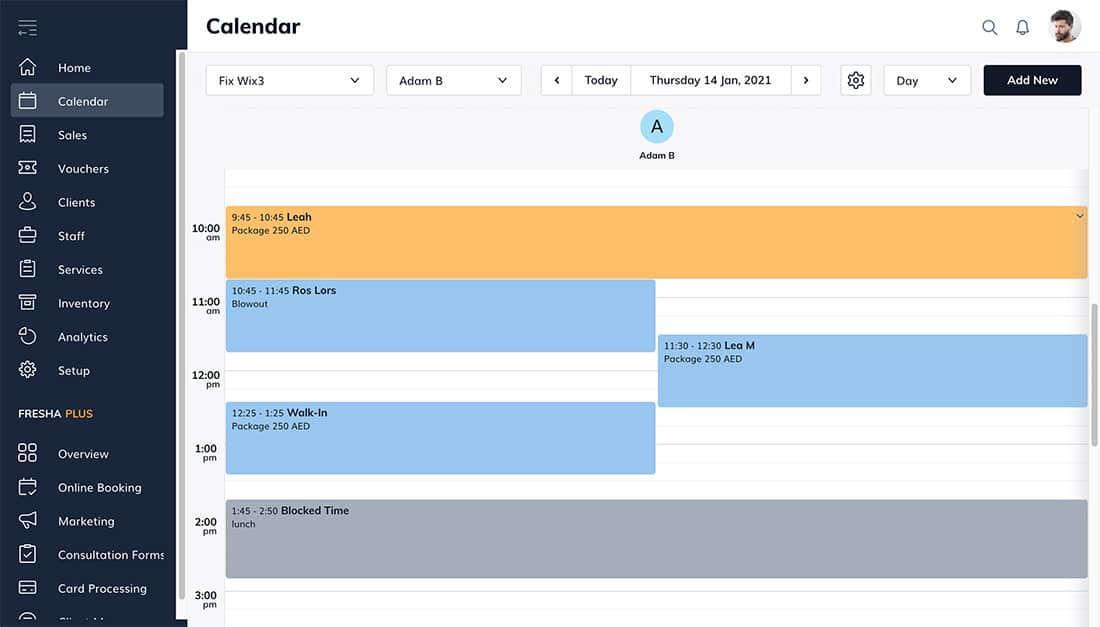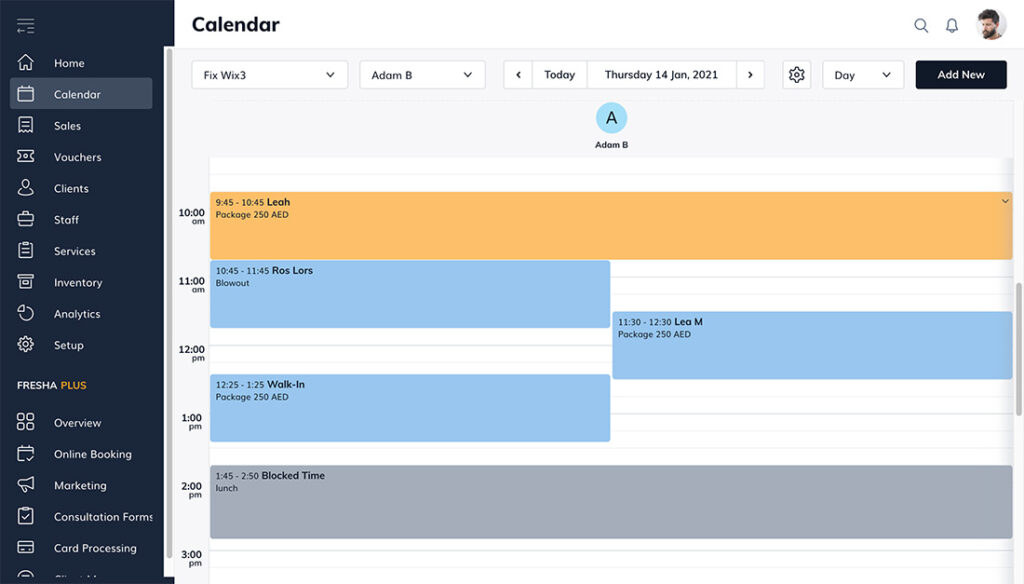 Square Appointments Calendar
The Square Appointments calendar is fast and easy to use. Drag and drop your appointments and switch between different calendar views.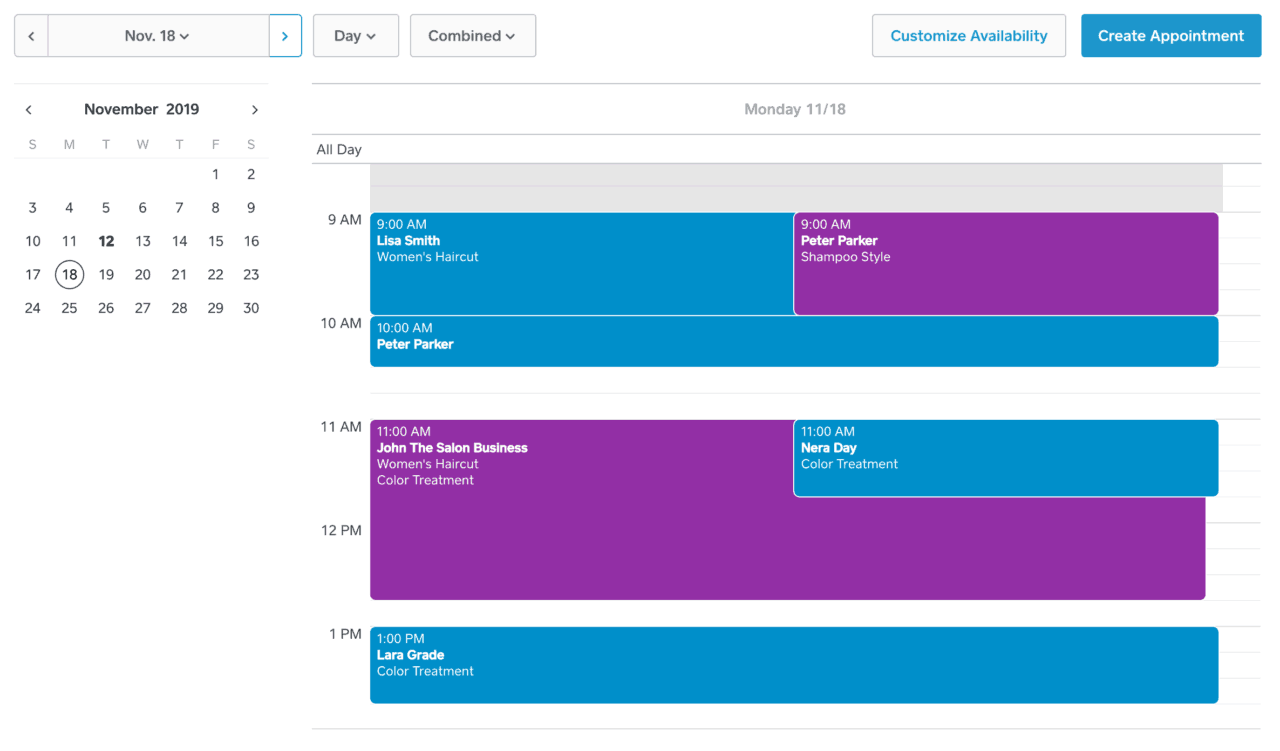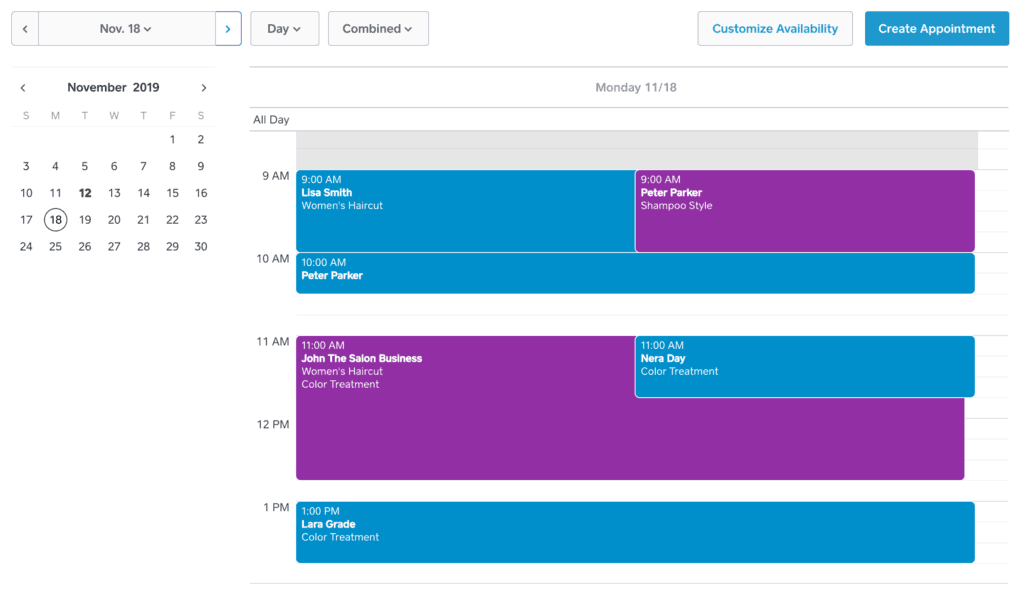 Client Data Management
Managing client data and history is an important part of salon operations management. All the software I'm recommending here does a good job here and supports storing all the information you need.
Mangomint Client Data Management
Mangomint offers strong support for managing your client data. Access information about the client on the Clients tab or directly from the appointment on your calendar.
Here you get a full view of client history on an, as you would expect from Mangomint, a nicely designed timeline where you can make notes or upload files directly to the client.
With Mangomint you are also in full control of your client data. You own your data and can export all the data at any time. They don't try to hold you hostage and make it hard for you if you, for example, want to change the system in the future. Everything is exportable.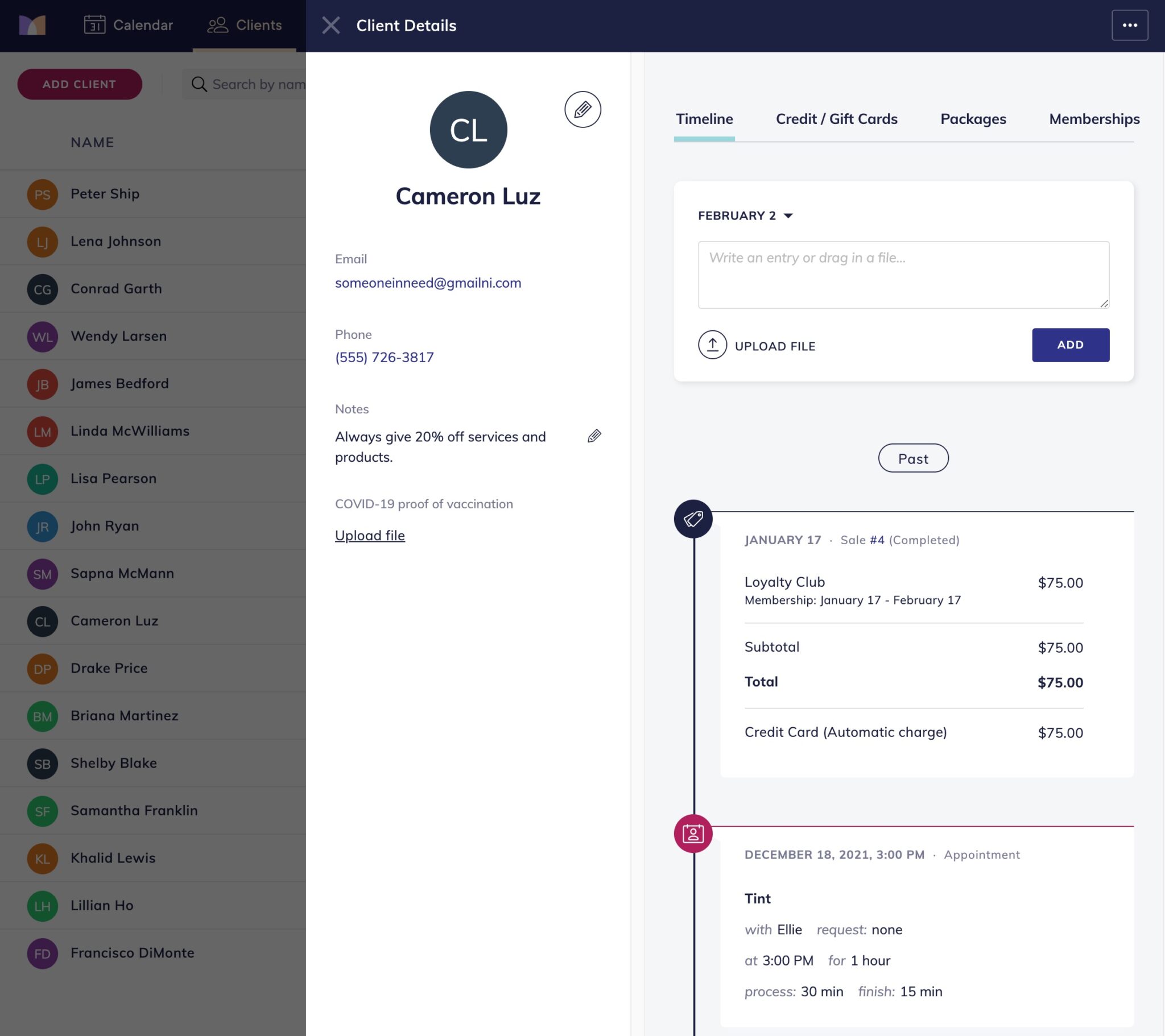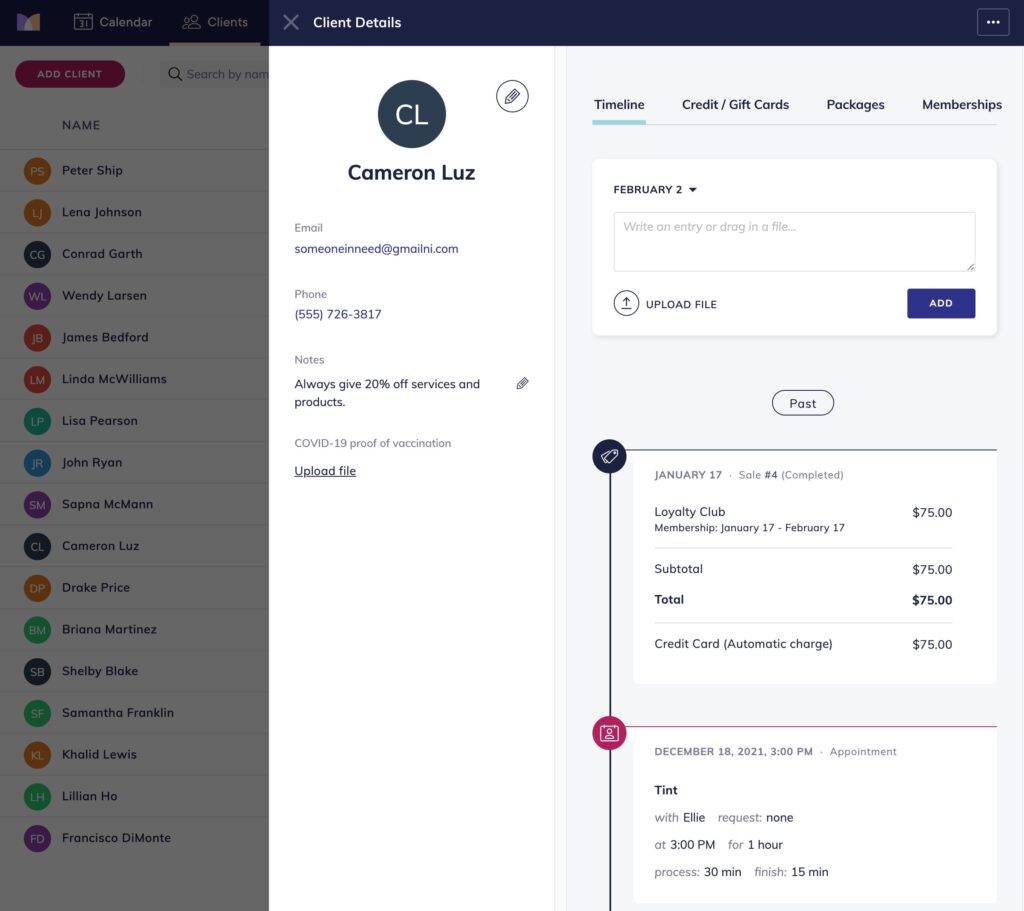 GlossGenius Client Data Management
You can store notes on clients as well as "portfolio images" like before and after pictures. What's also cool with GlossGenius is that you can also book and manage clients in your phone's address book. Perfect for independent professionals. You'll also be able to access client history and upcoming appointments directly from the client's profile.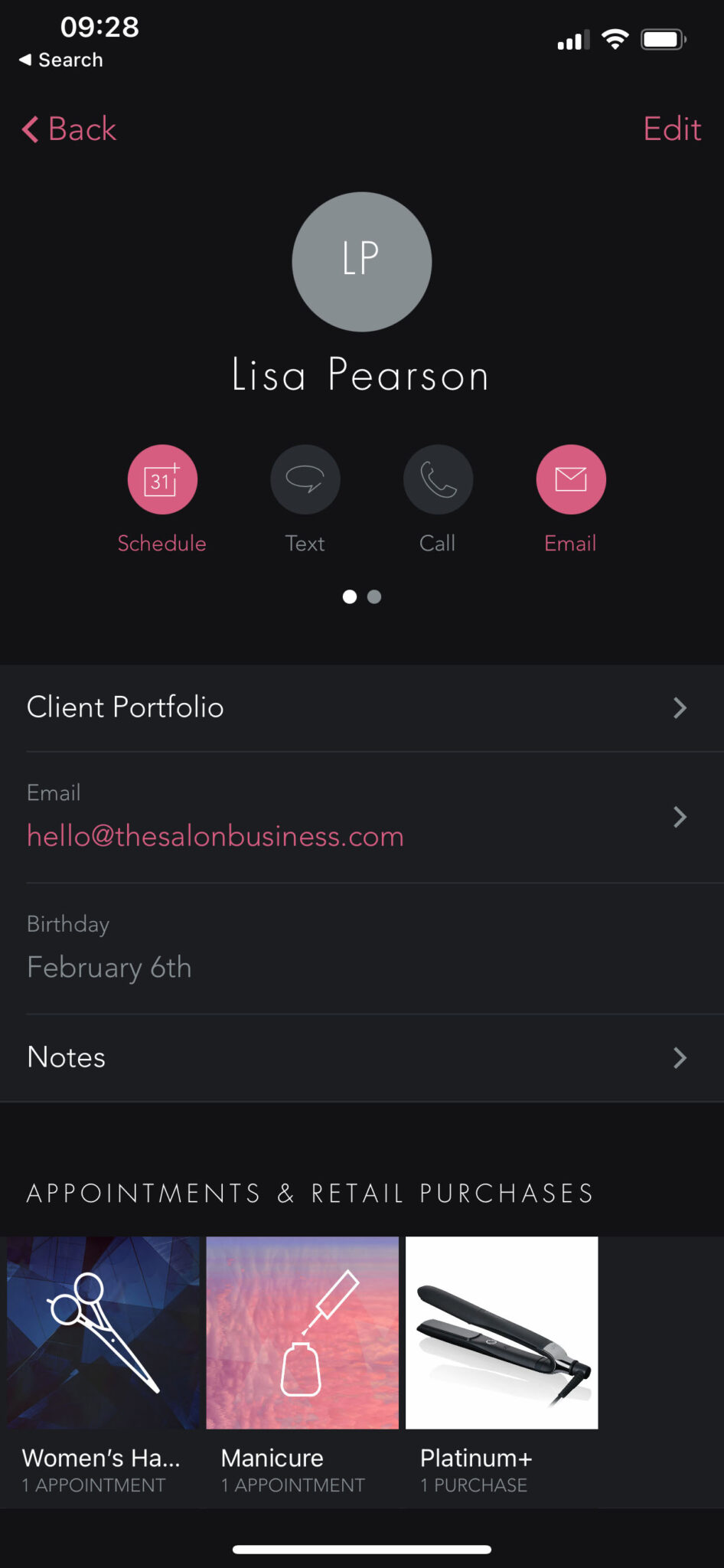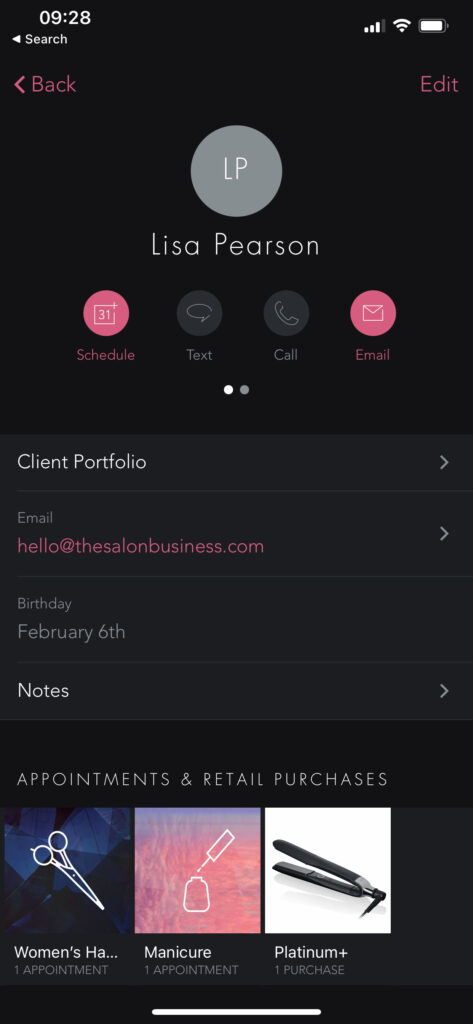 Vagaro Client Data Management
Vagaro allows you can store multiple notes on each client and upload PDF files and images to the client profile.
Vagaro supports advanced SOAP forms which make the tool very powerful for chiropractors and other similar practices.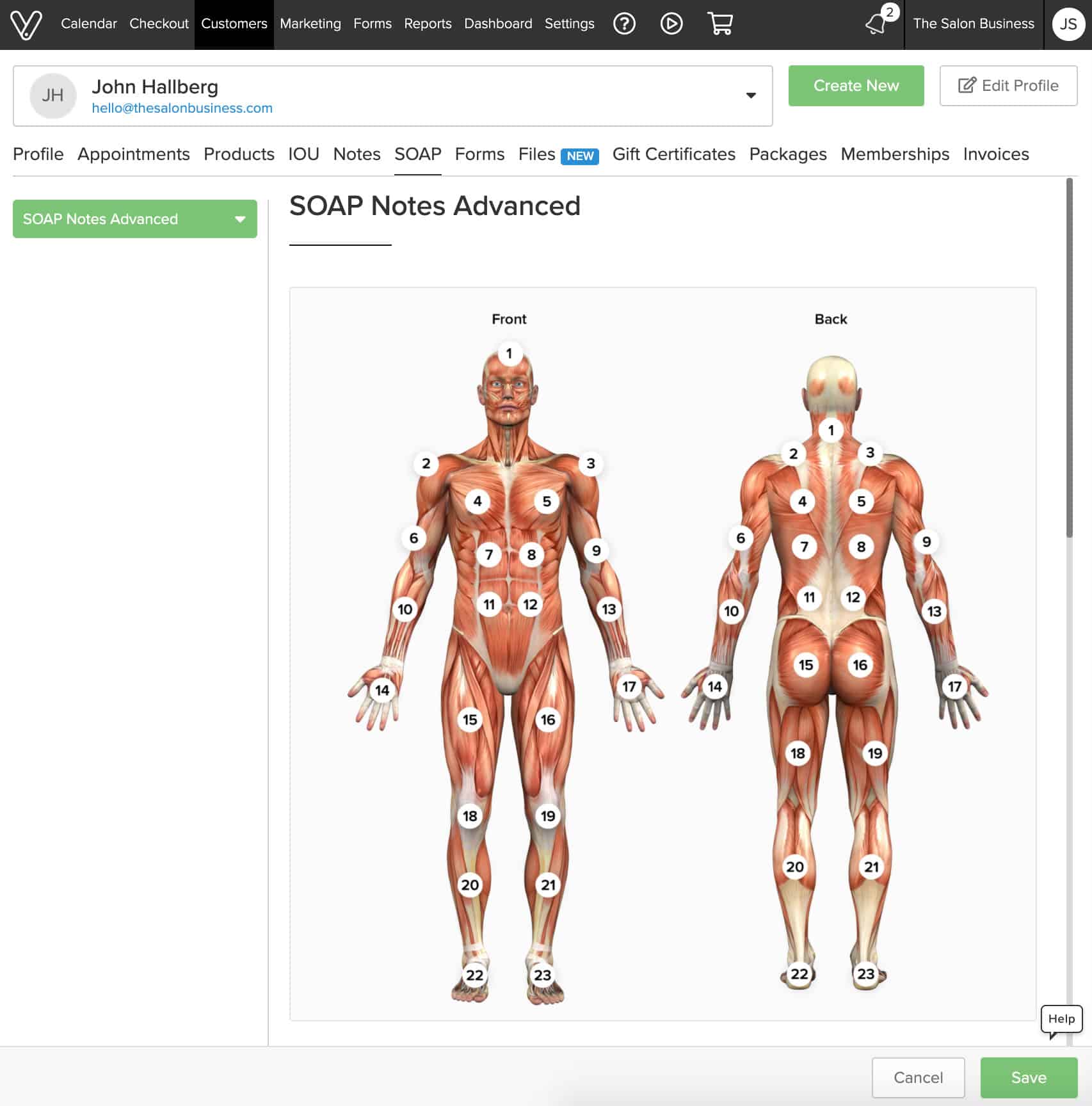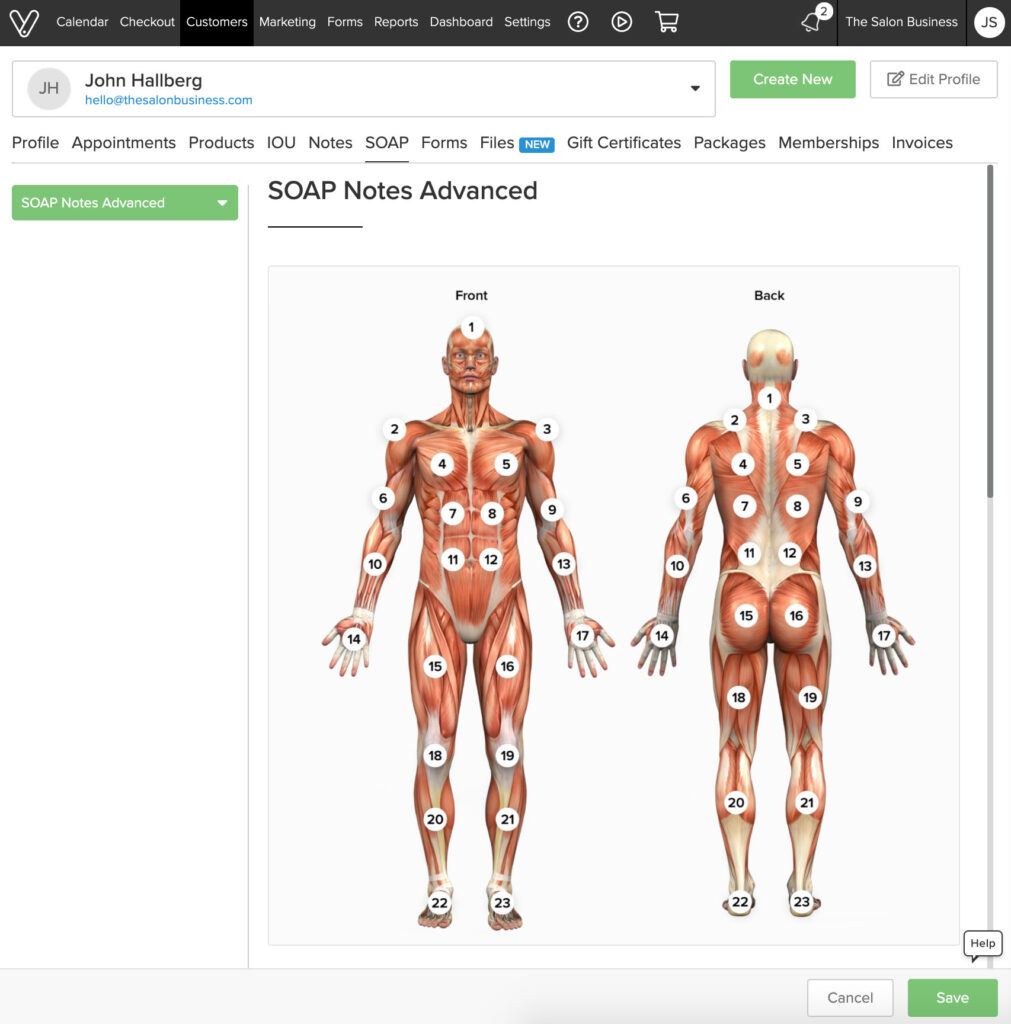 Fresha Client Data Management
Fresha offers a simple client directory that allows you to search your clients, view upcoming/past appointments, and store basic information about the client.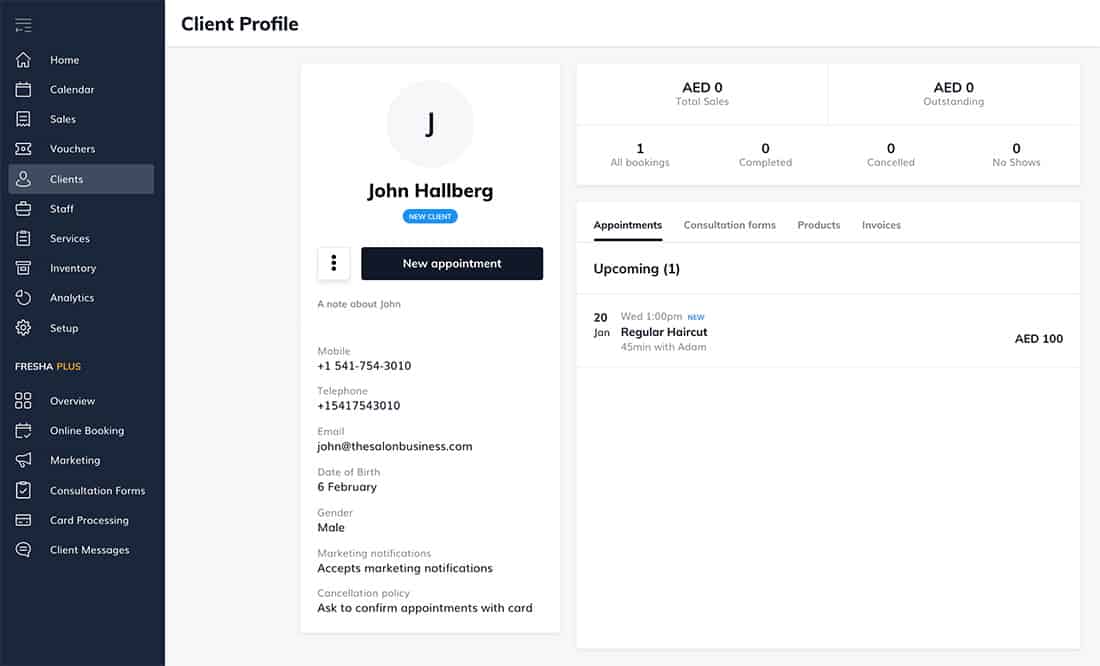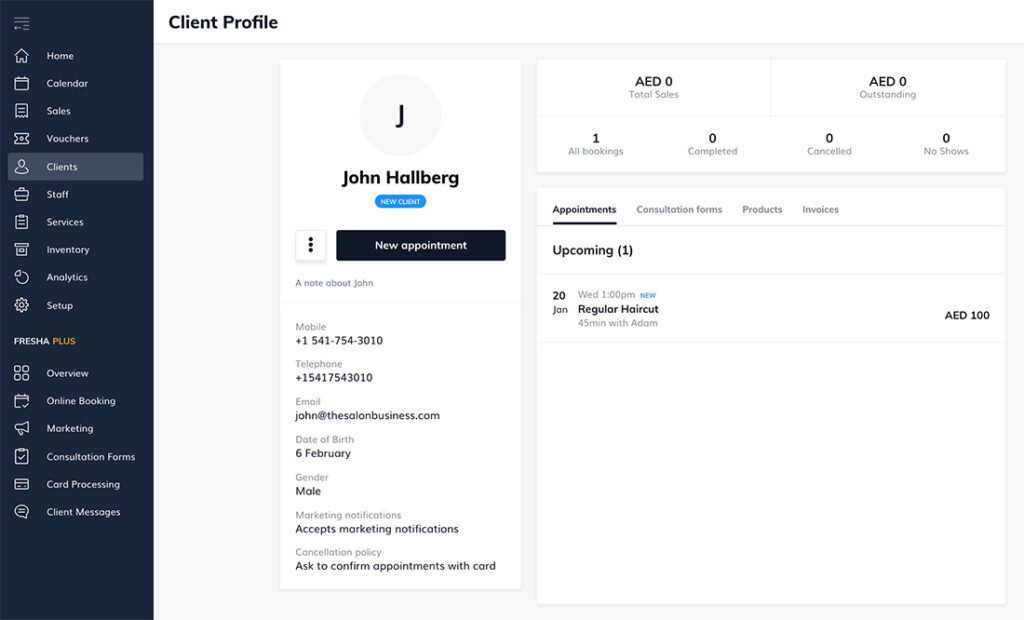 Square Appointments Client Data Management
Store all information you need, get a quick view of past and upcoming appointments. You can store media files but Square Appointments doesn't have specific before/after image support.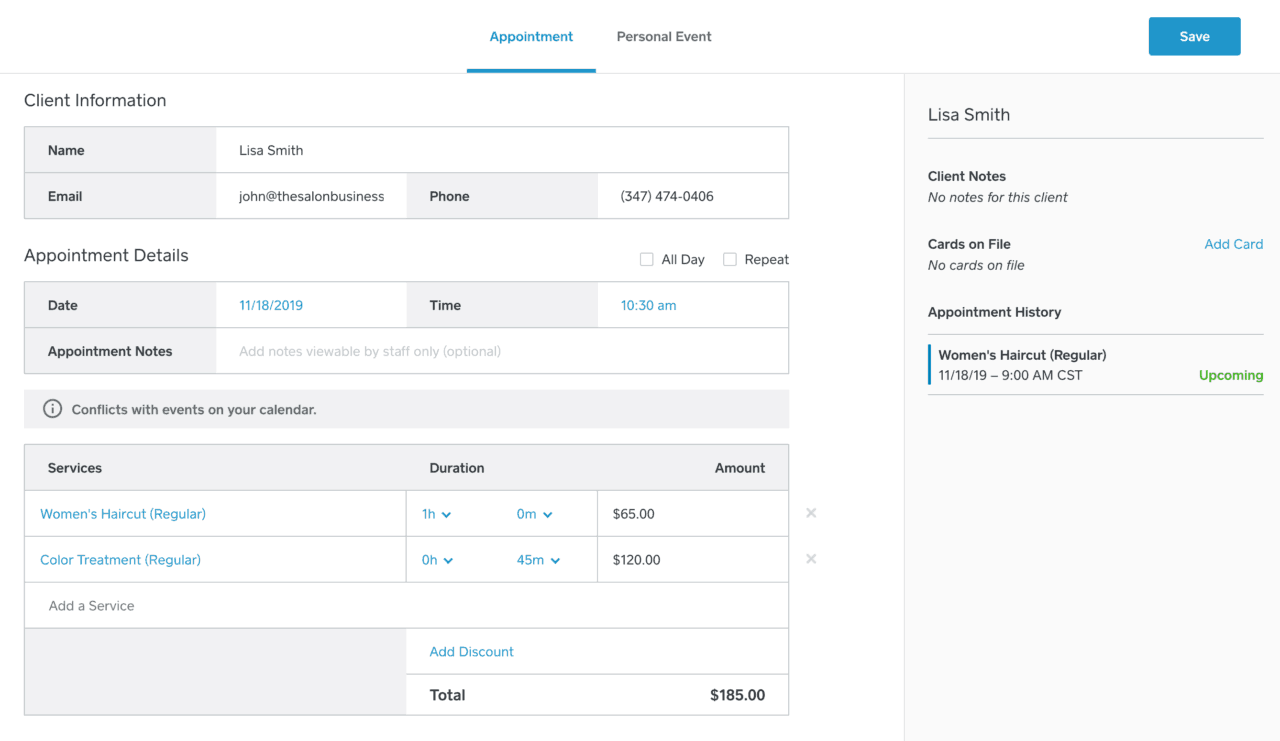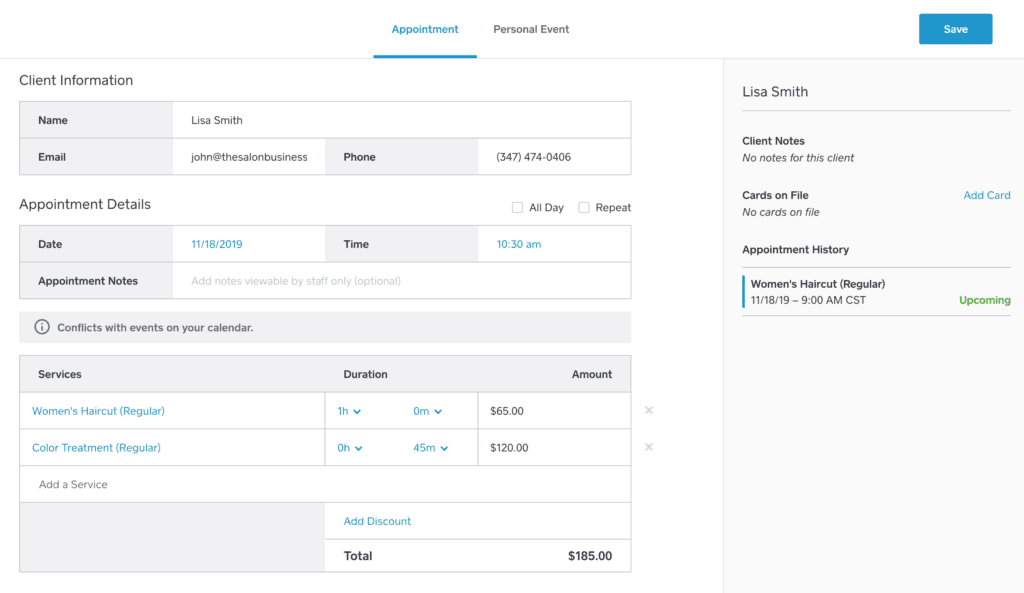 Client Reminders
Reduce no-shows and stay in touch with your clients using automatic reminders and notifications. Supported by all recommended tools here.
Mangomint Reminders & Notifications
The platform supports appointment-related notifications using both email and SMS. And, as you can expect from a system that stands out with smart automations, you can customize what you want the client notification experience to be like.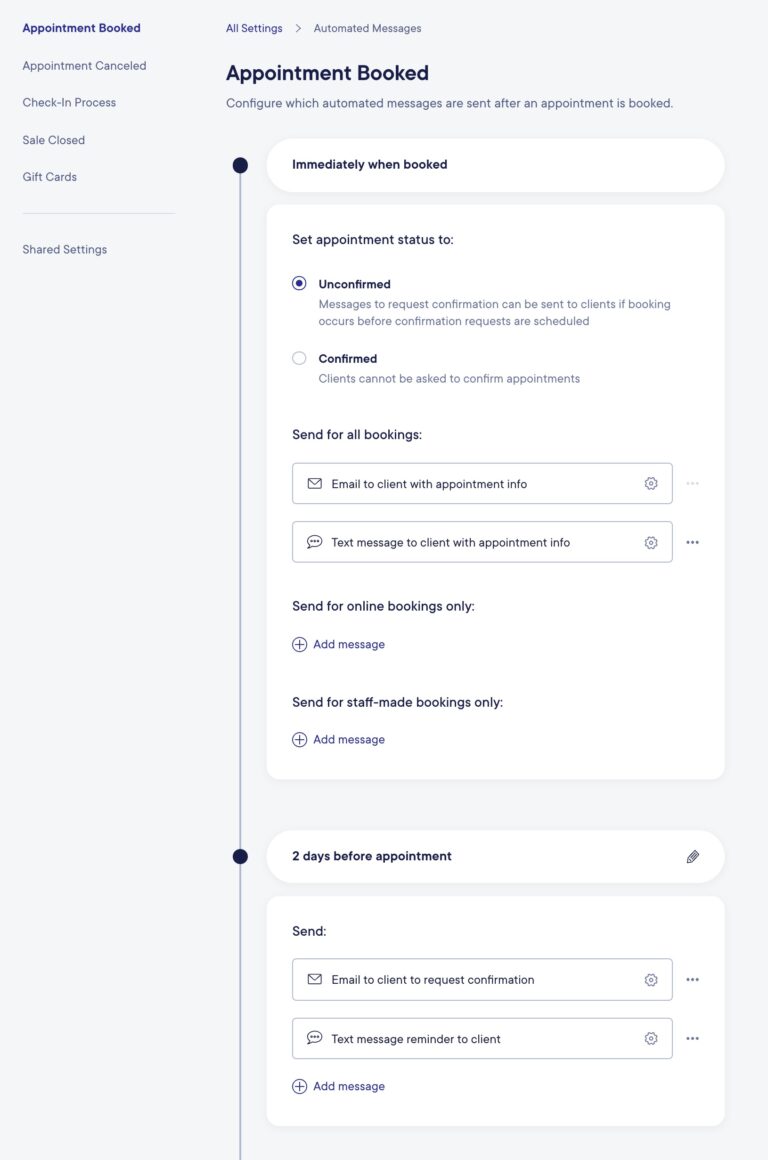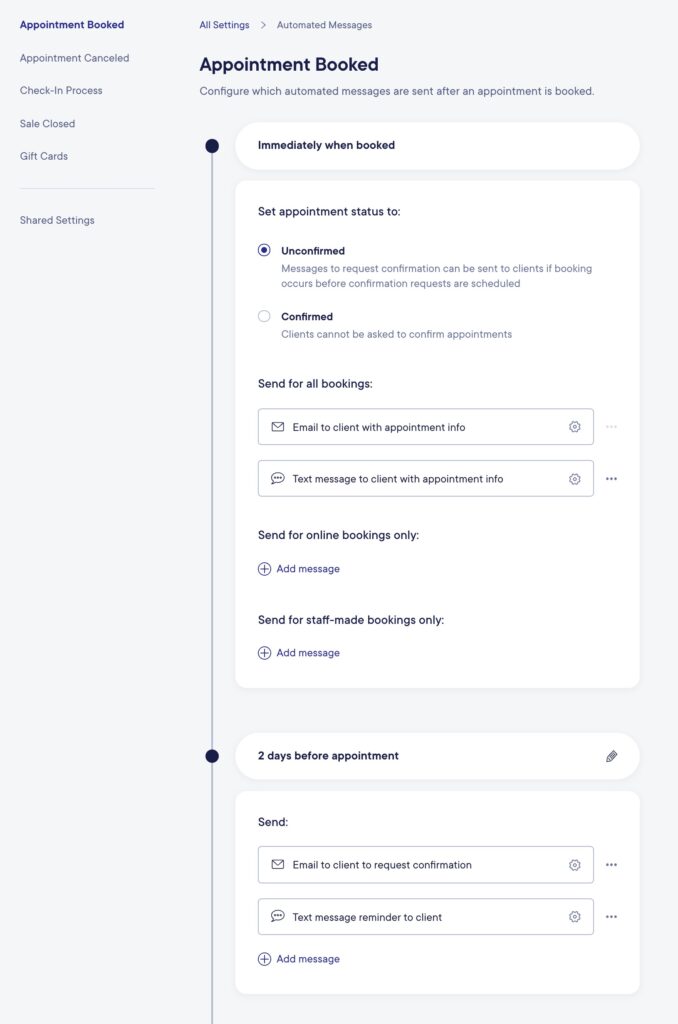 GlossGenius Reminders & Notifications
You can set up 6 different automated client notifications as shown in the image below. The information inside the notifications is pre-defined by GlossGenius. You can however append additional information even if the design cannot be changed.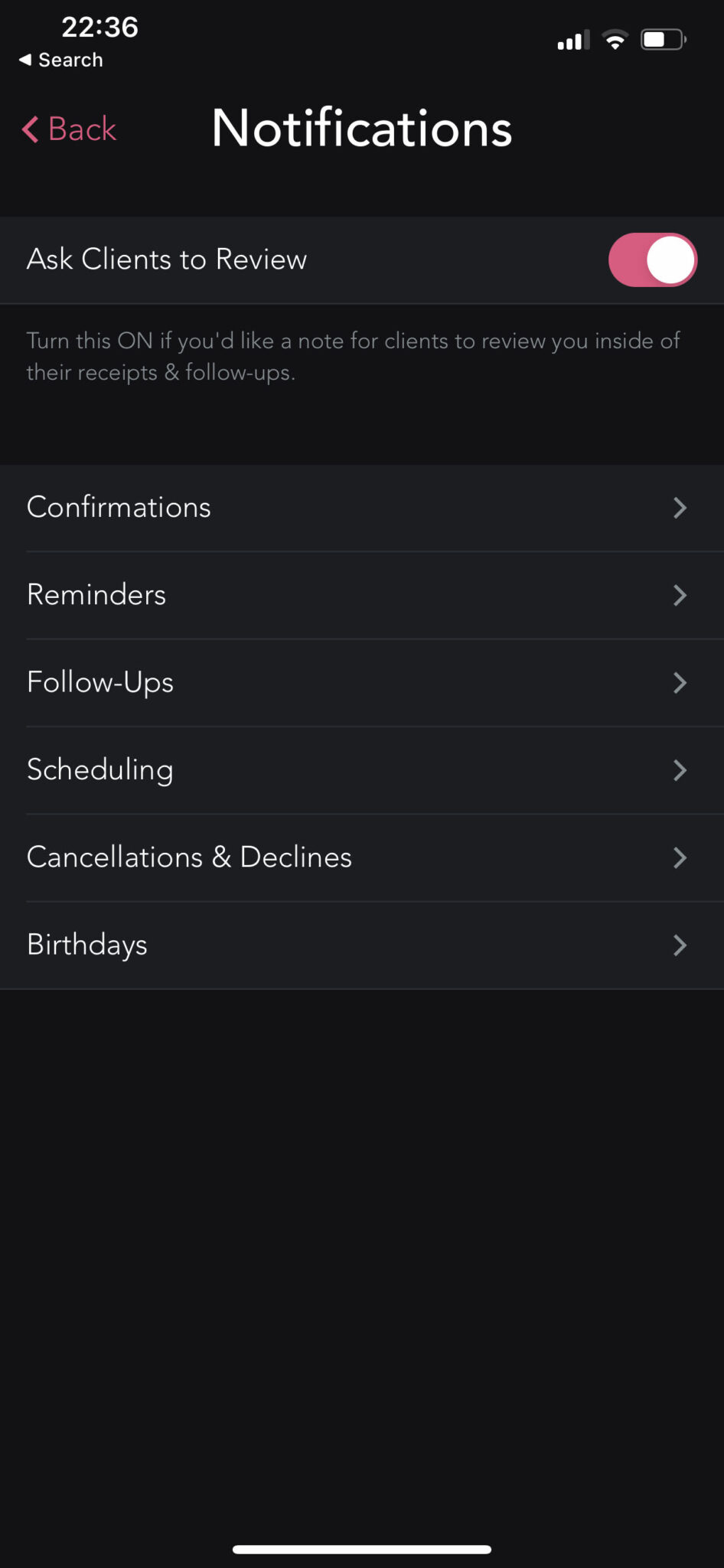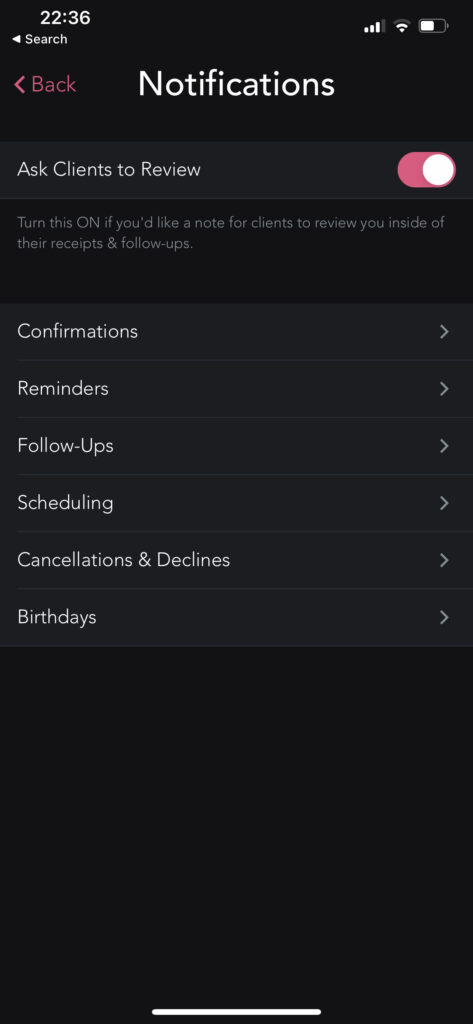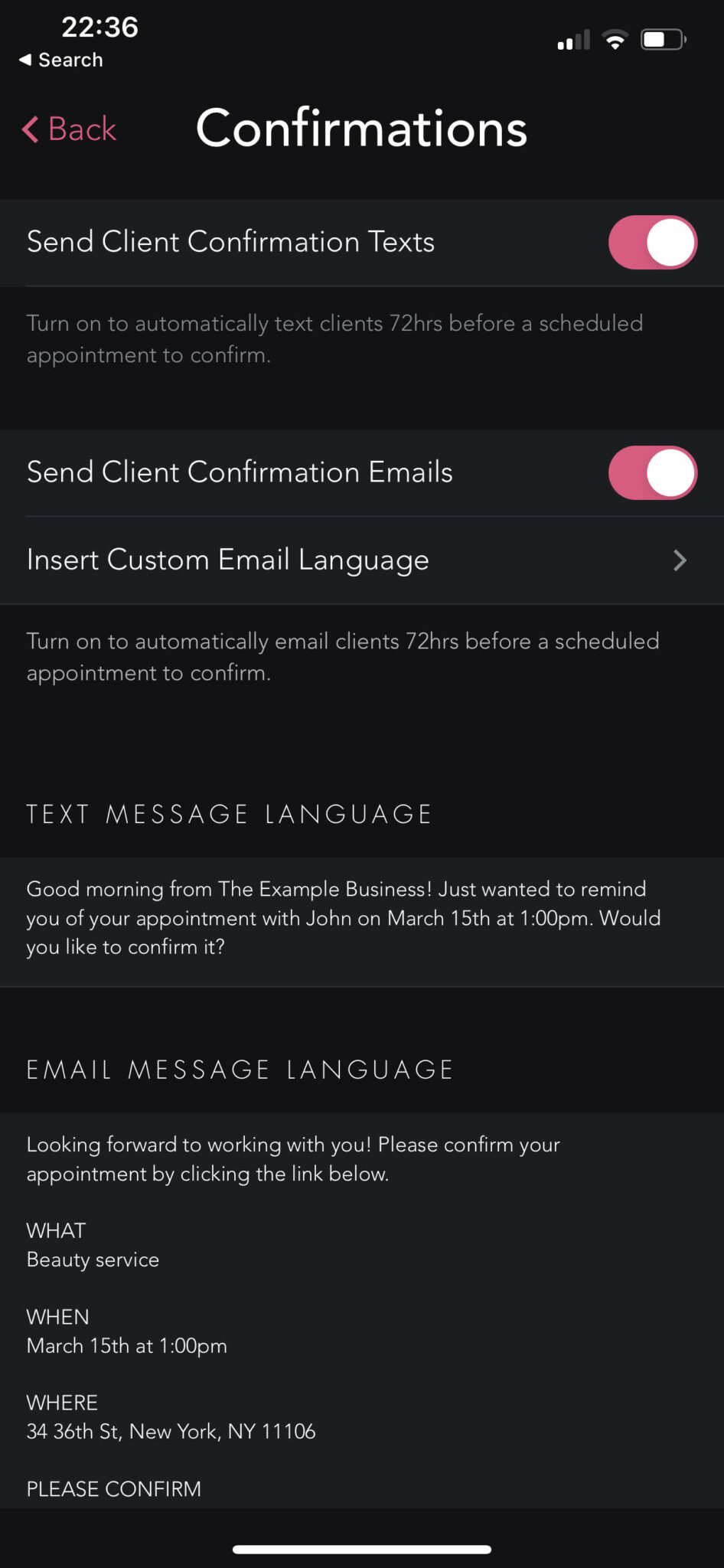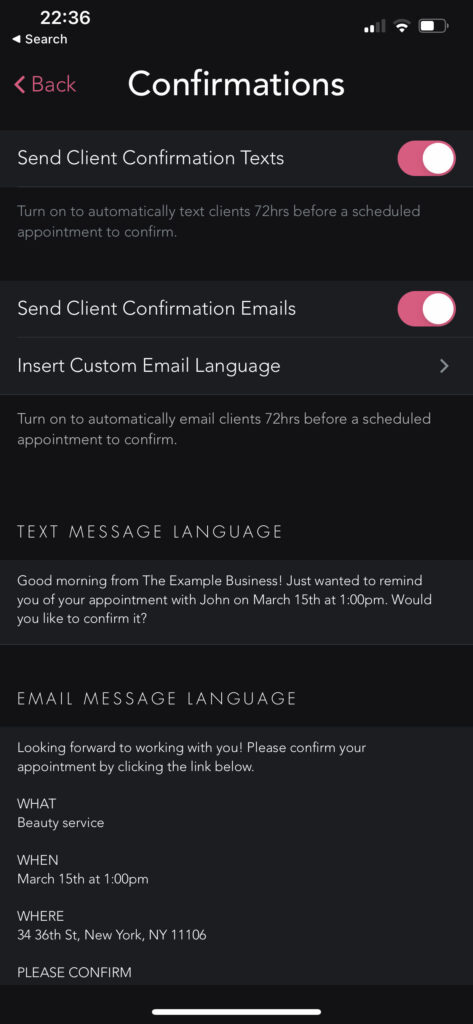 Vagaro Reminders & Notifications
Vagaro supports client notifications through sms, email, and app notifications. What the notifications say is defined by Vagaro but you can compliment the message with additional information.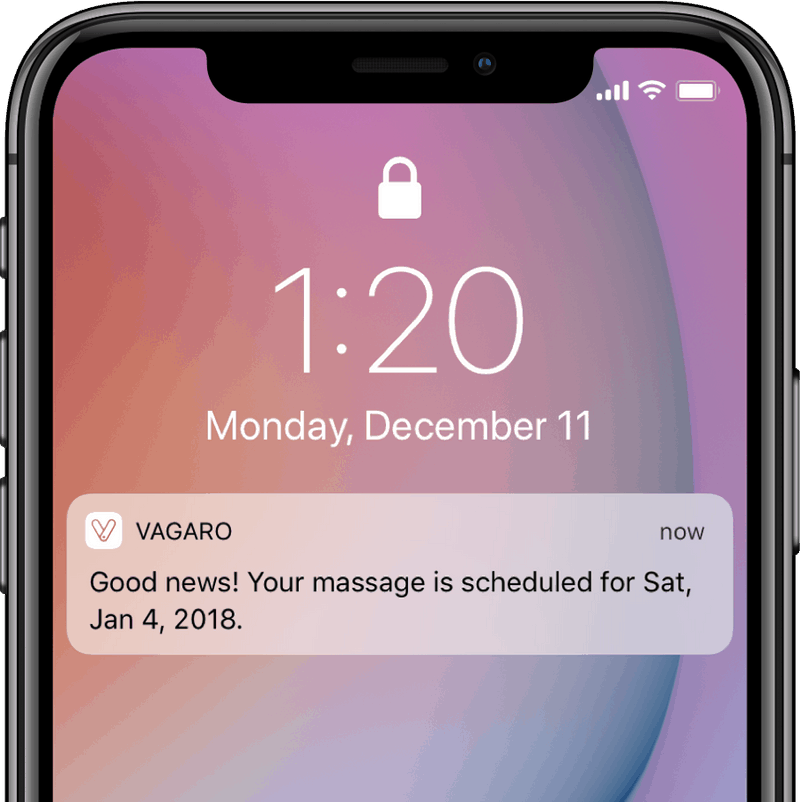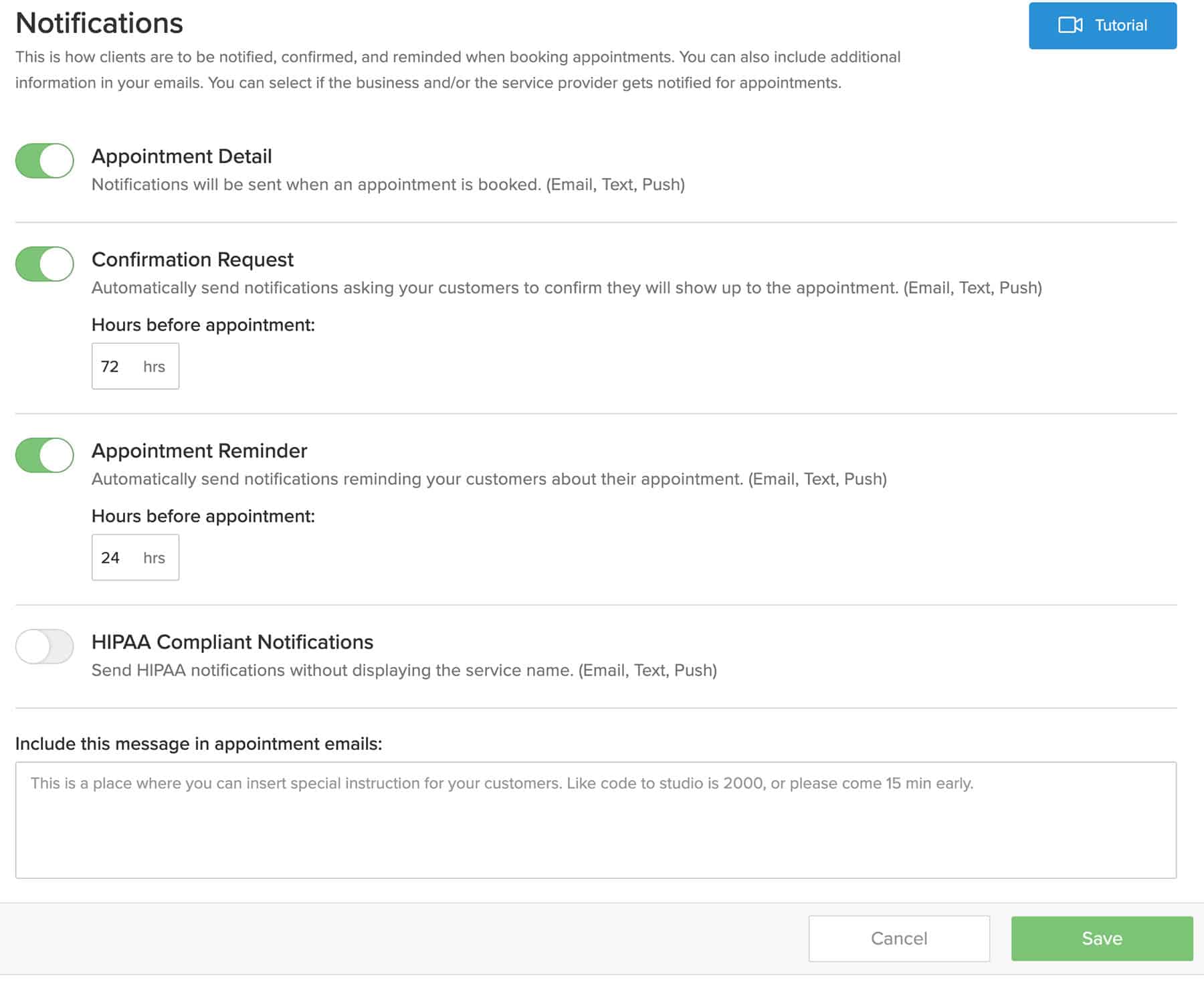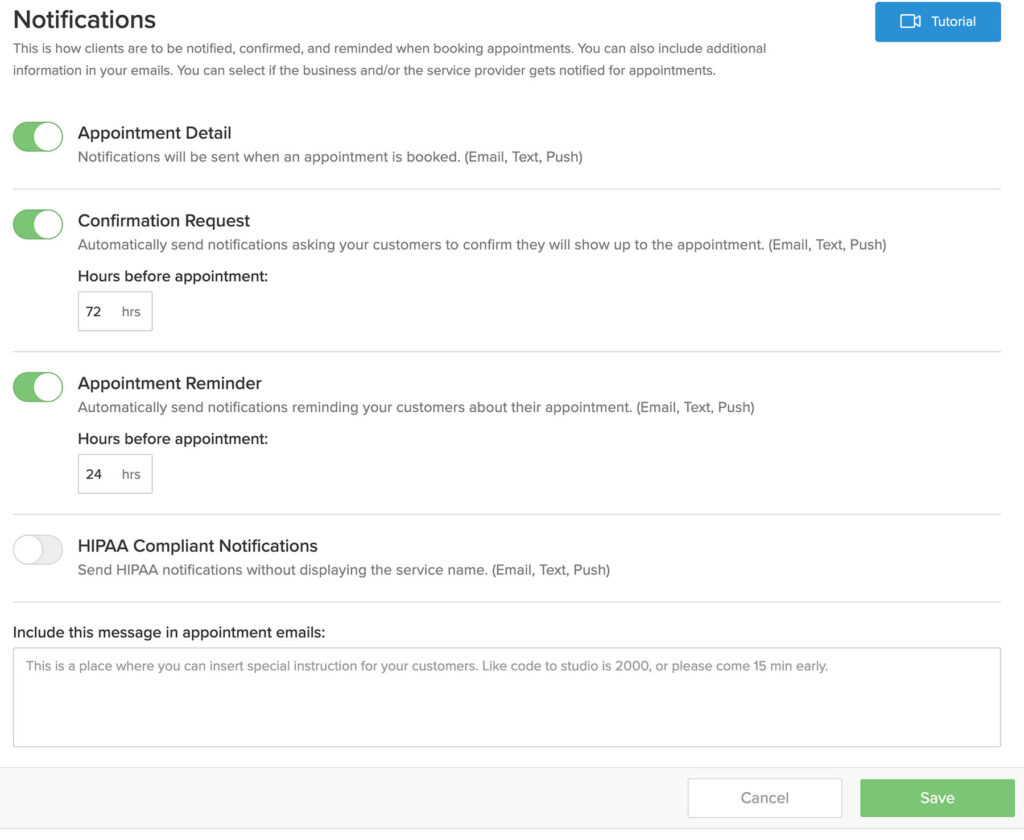 Fresha Reminders & Notifications
You can notify clients about new appointments, remind them about upcoming bookings, send thank you messages, and much more, using Fresha. Notifications can be sent as SMS, e-mail, or app notification (in case the user has the Fresha app installed).
Fresha gives you unlimited free SMS notifications.
You can personalize each message (as shown below). However, you cannot change the design of the notification which will always follow the pre-defined Fresha design (which looks really good btw).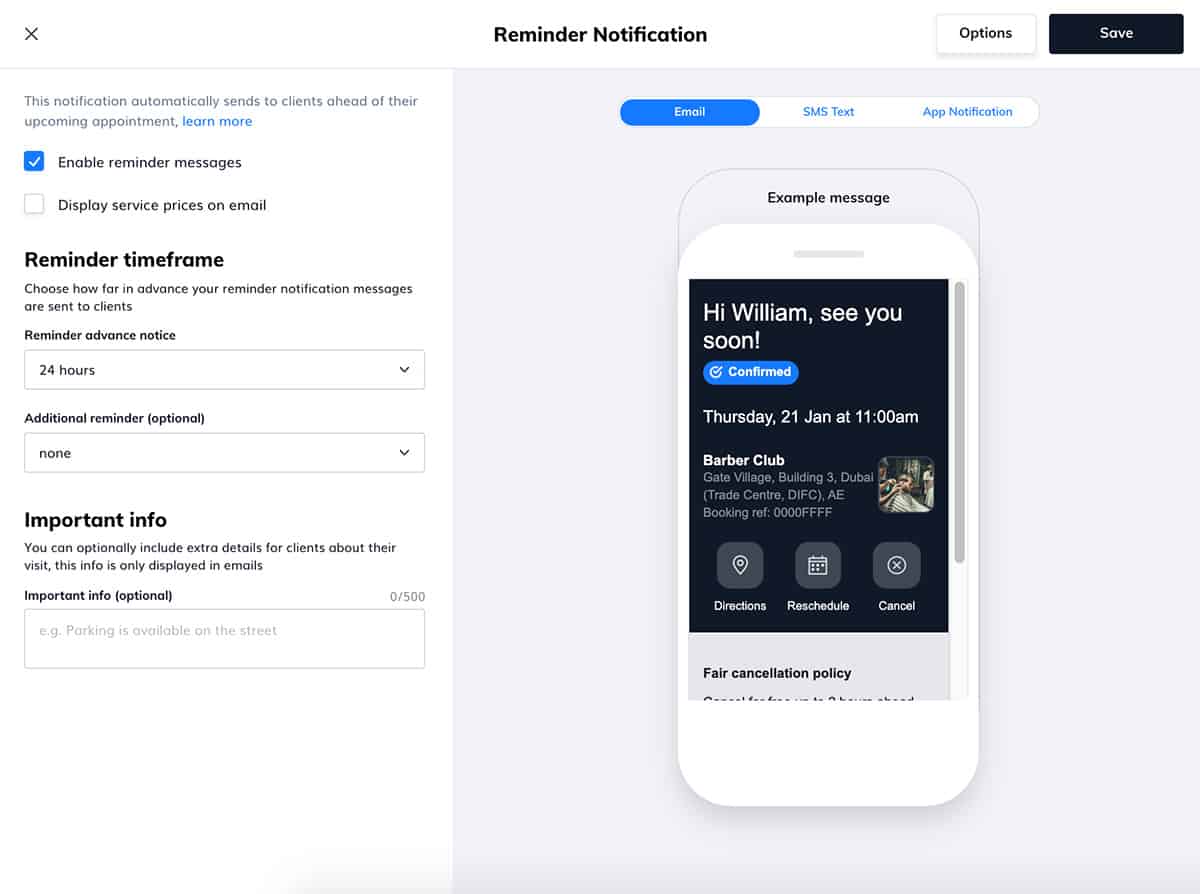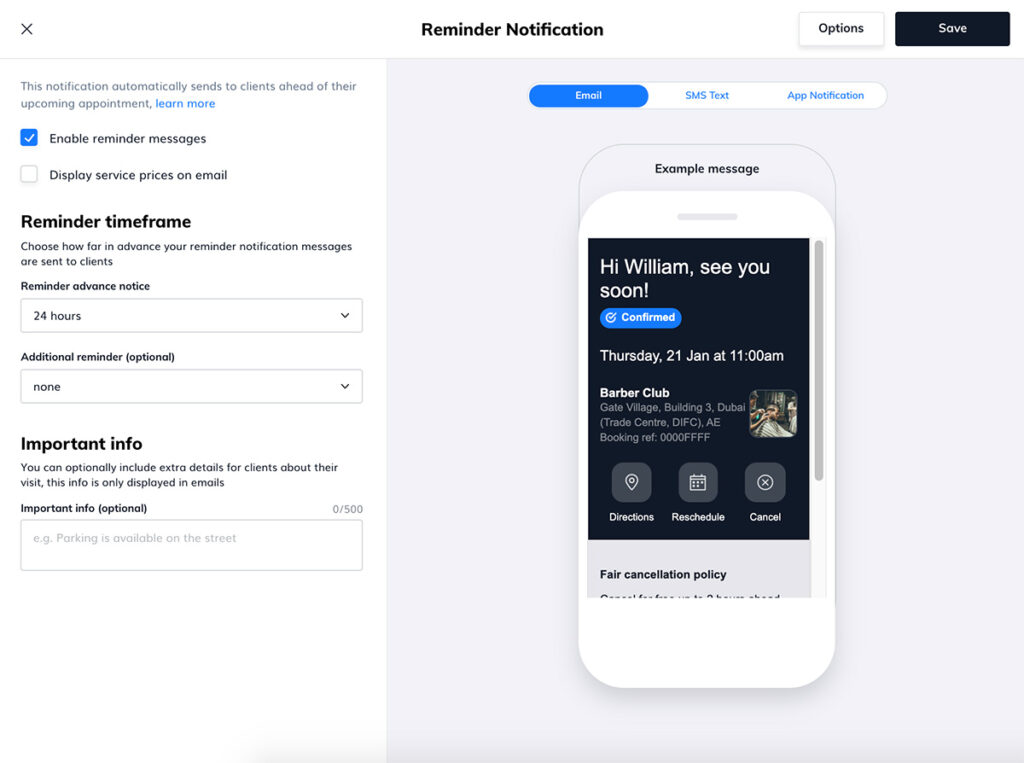 Square Appointments Reminders & Notifications
Very rich notification and reminders support for both clients and employees. On top, you can have your clients reply and confirm bookings, etc. via SMS which is a really helpful feature Square Appointments offers.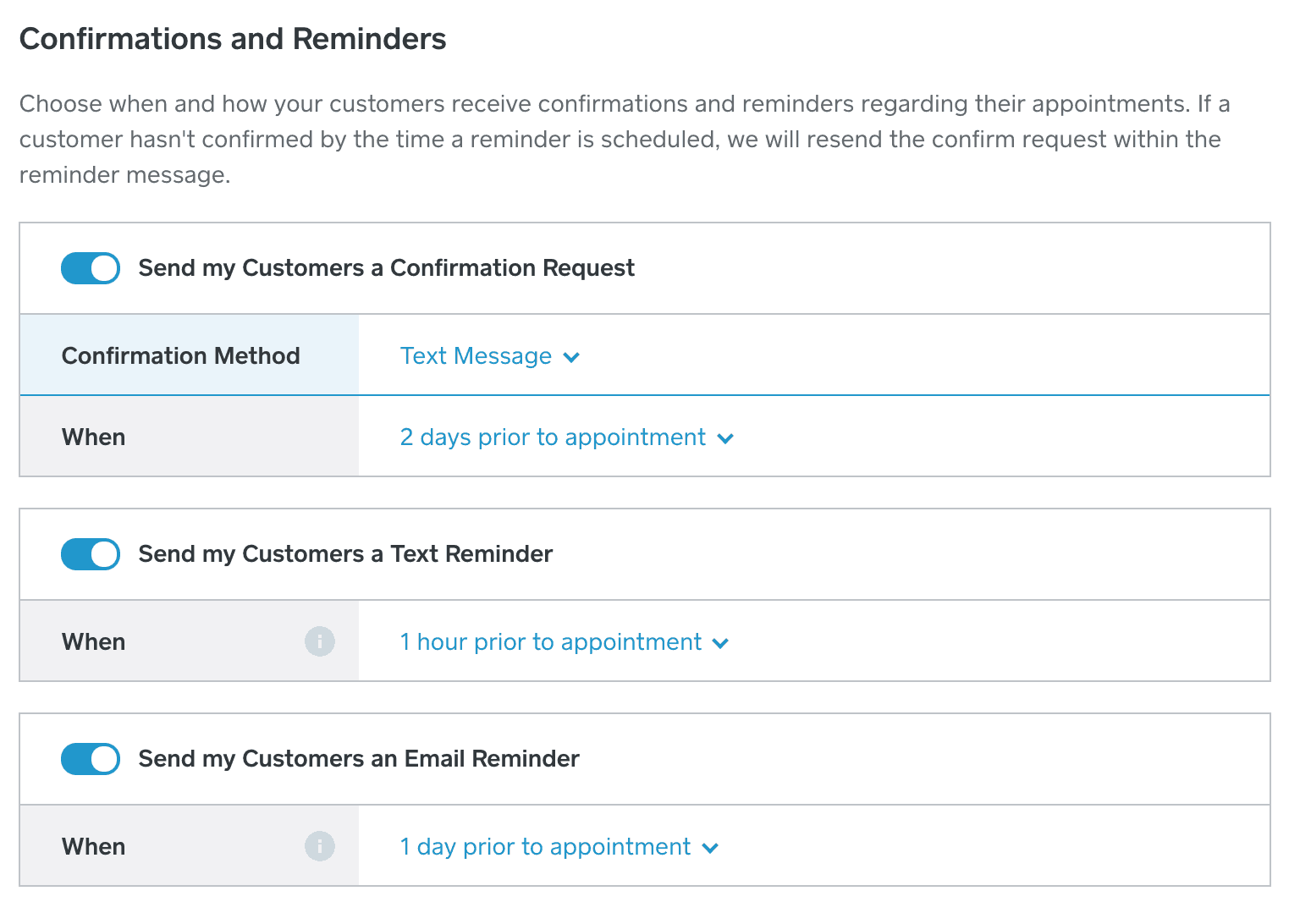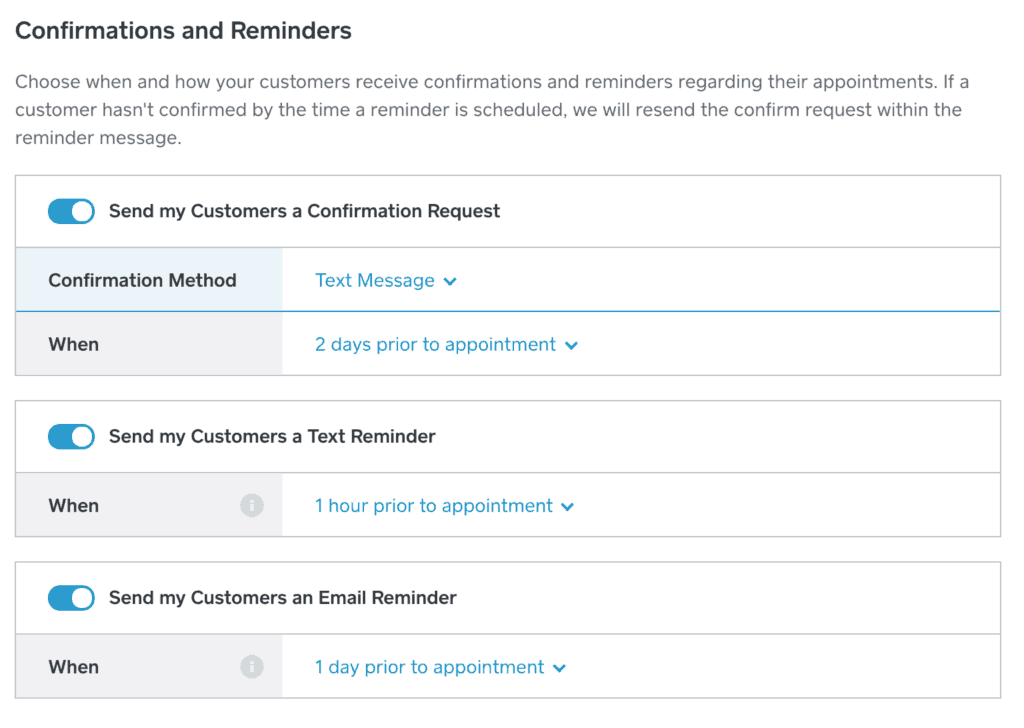 Best Salon Management Software
A good salon software should help you with more than just appointment management. It should help you manage your operations so that you can save time and reduce costly mistakes.
Let's look at how the salon software platforms I recommend help you be more productive.
Salon Payroll & Employee Management
The biggest expense a salon has is staff wages. But it's also your most important asset and you of course want your team to be as productive and motivated as possible. The salon software platforms I recommend here have different ways of supporting employee management.
Below are some of the highlights of how the different salon software support payroll and employee management.
Mangomint Team Management
Mangomint allows you to manage all aspects of your team. Each team member has an individual account where you can configure exactly what they should have access to and not.
Manage each staff member's working schedule and enable the time clock to keep track of working hours. You can also customize each service's duration and price for each staff member.
As shown in the image below, you can also configure specific compensation structures and commissions for each staff member.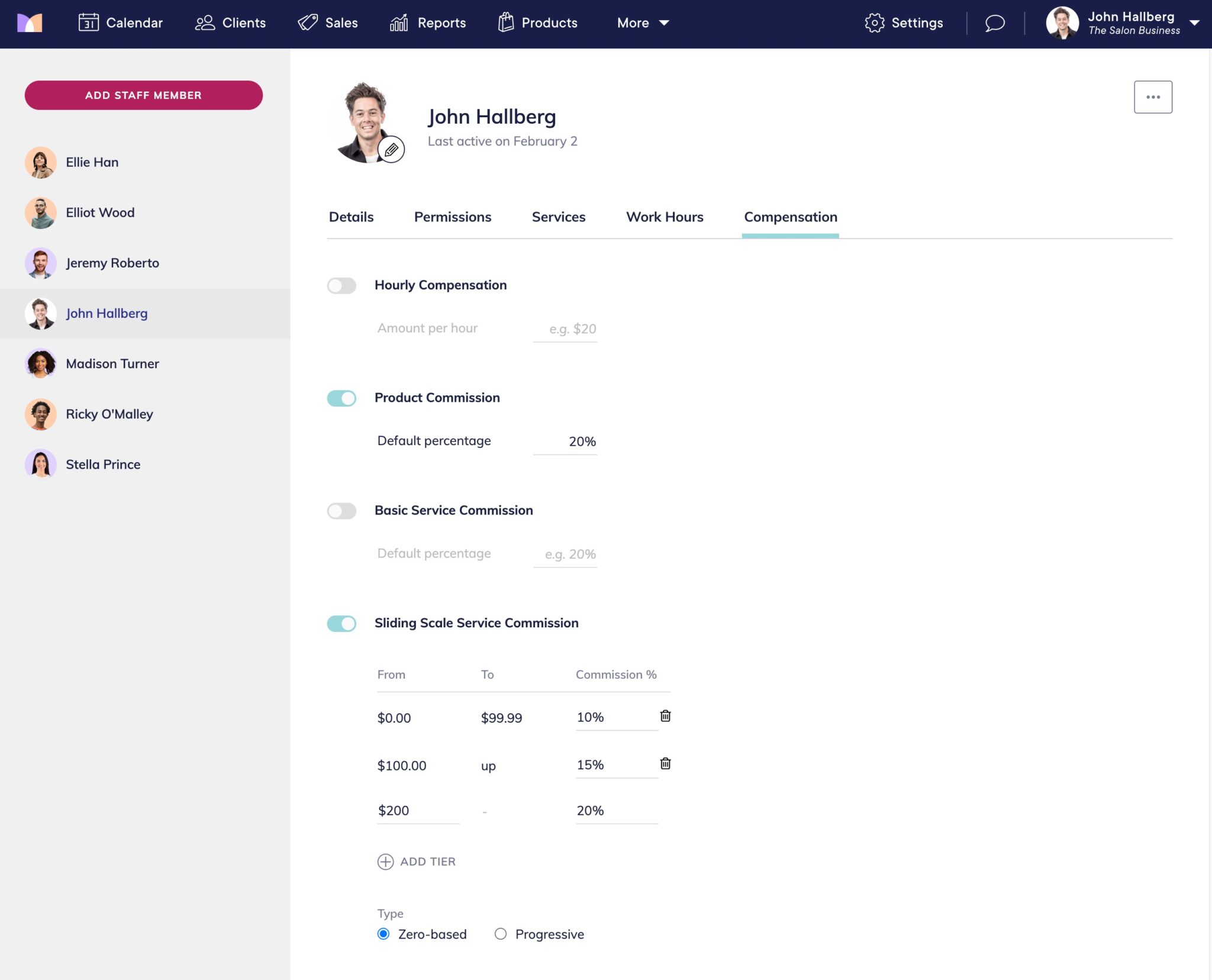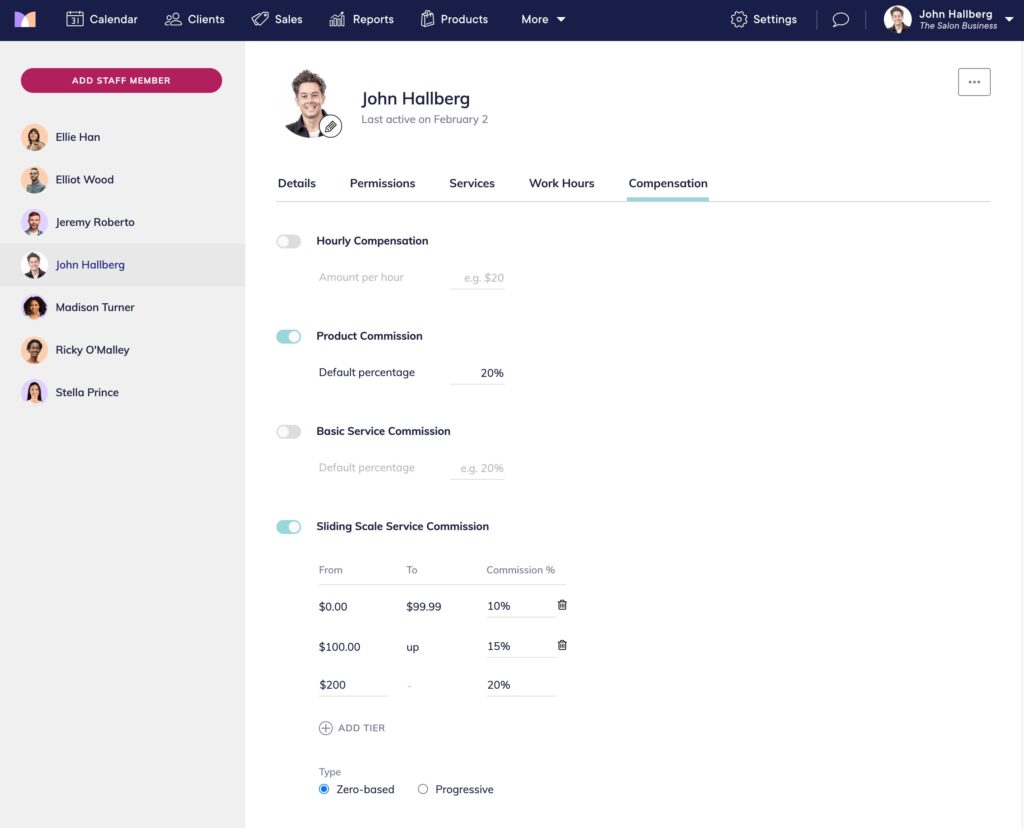 The Mangomint payroll reports include revenue by staff, total hours worked, commission amounts, product sales, tips, and everything you need to run payroll reports that you can export to PDF or Excel.
GlossGenius Team Management
GlossGenius allows you to manage multiple team members and assign them different roles with different access levels. However, you do not have a full payroll system or integration with other external payroll systems so you'd need to manage that part separately.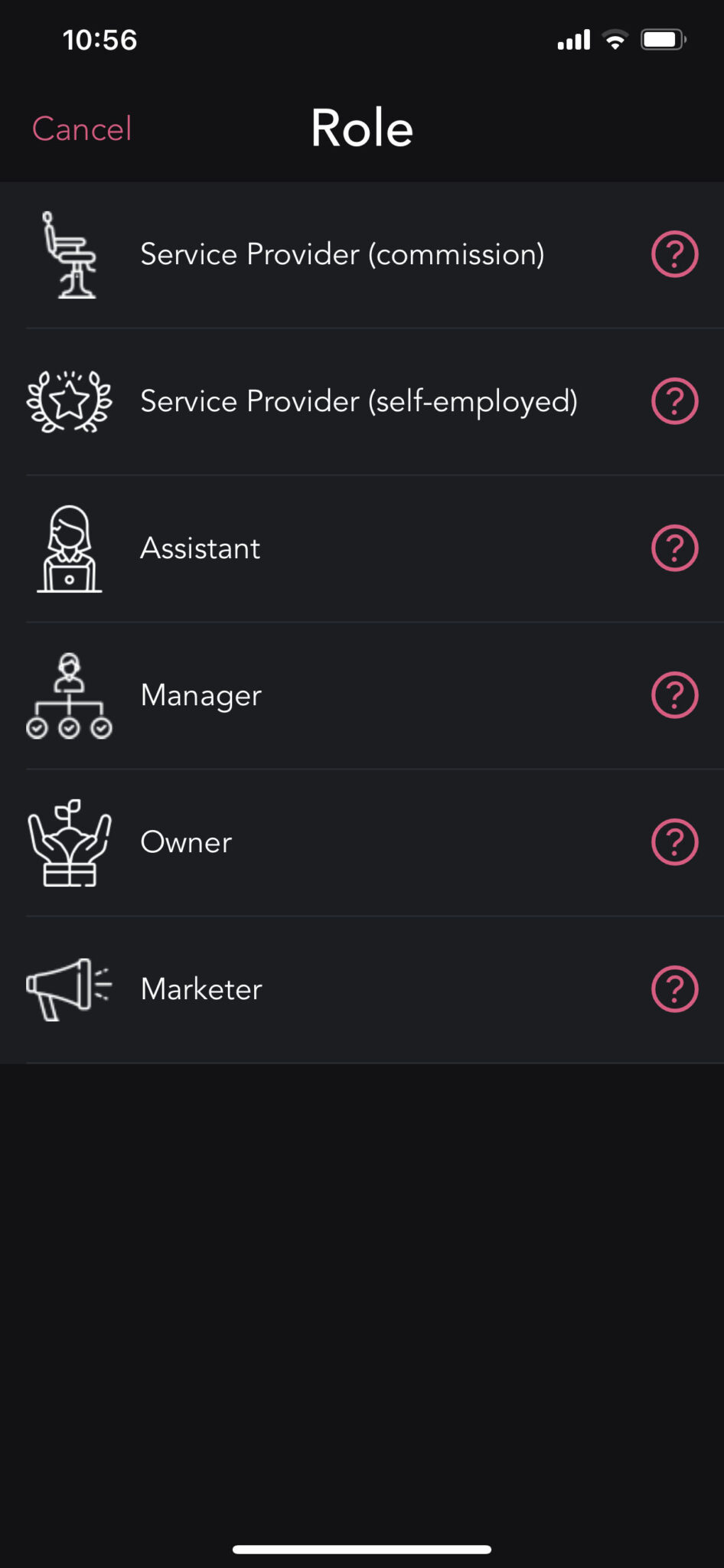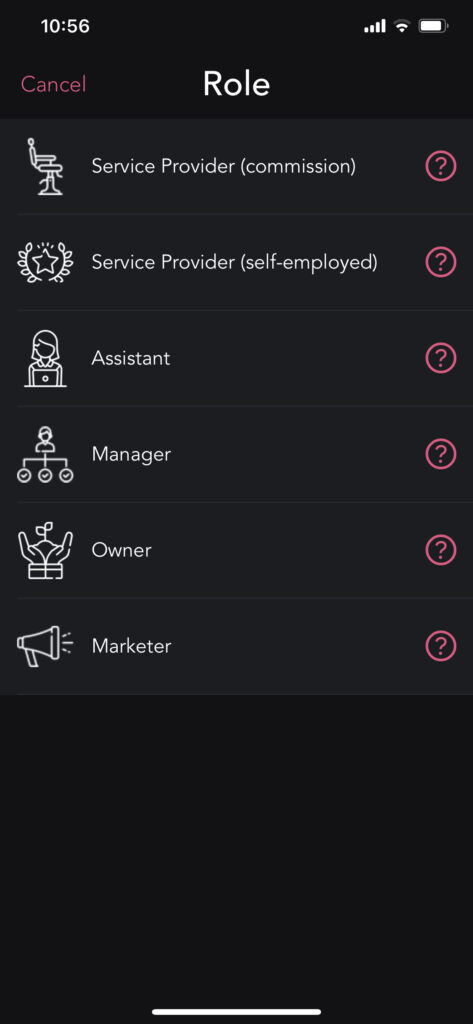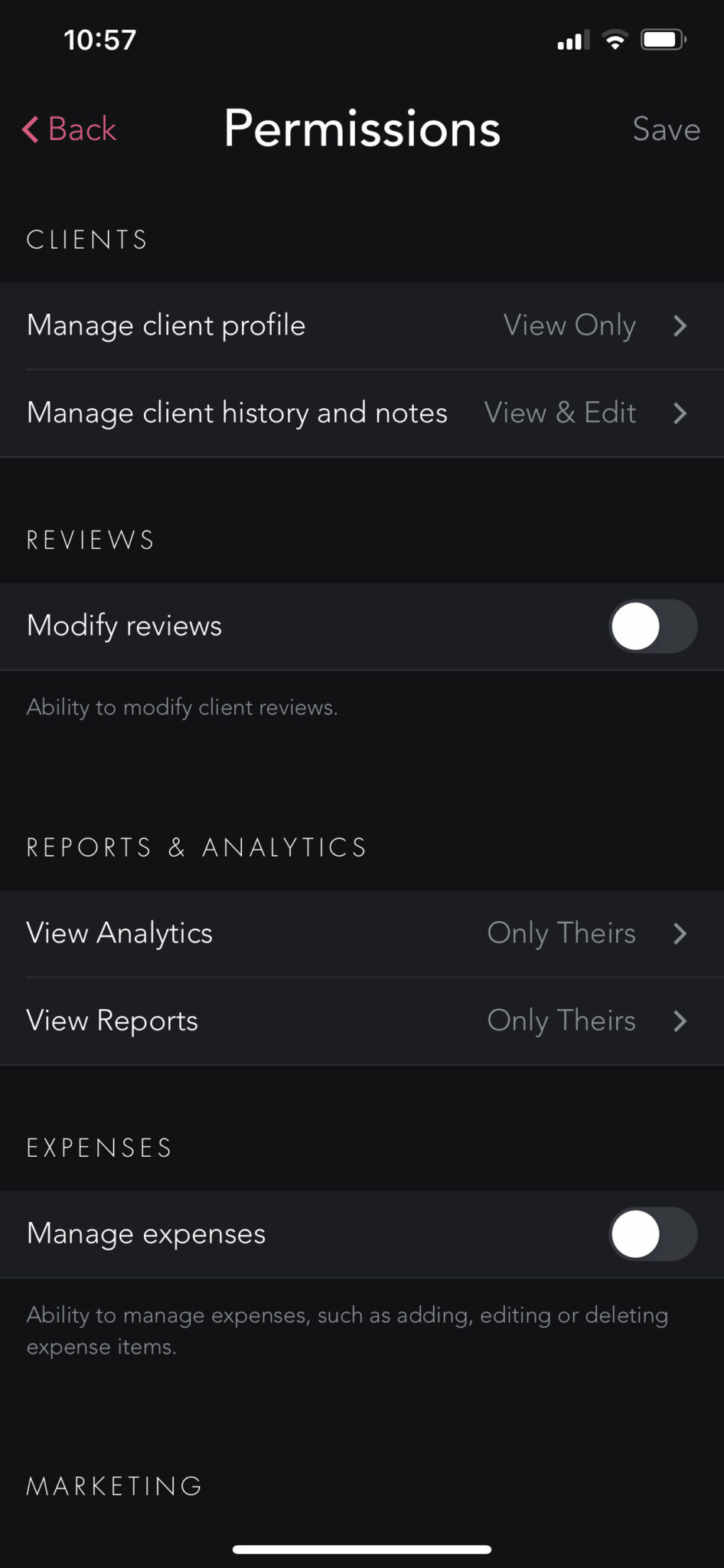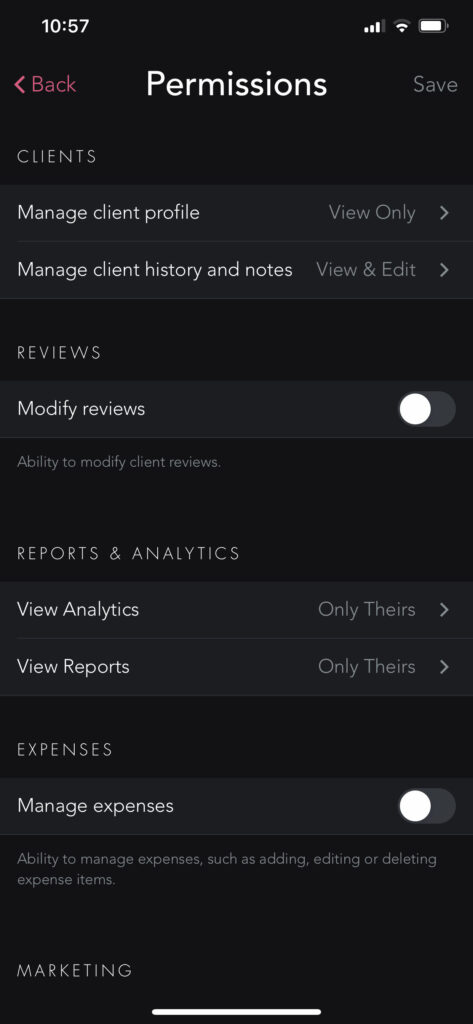 Vagaro Team Management
The Vagaro payroll software provides complete support to simplify all aspects of paying your staff. For more advanced payroll services, it also integrates with QuickBooks, Xero, and Gusto.
The payroll report allows you to configure commission rates down to service and product levels. It supports both flat-rate commission and percentage.
You can customize detailed user access levels for all the groups shown below.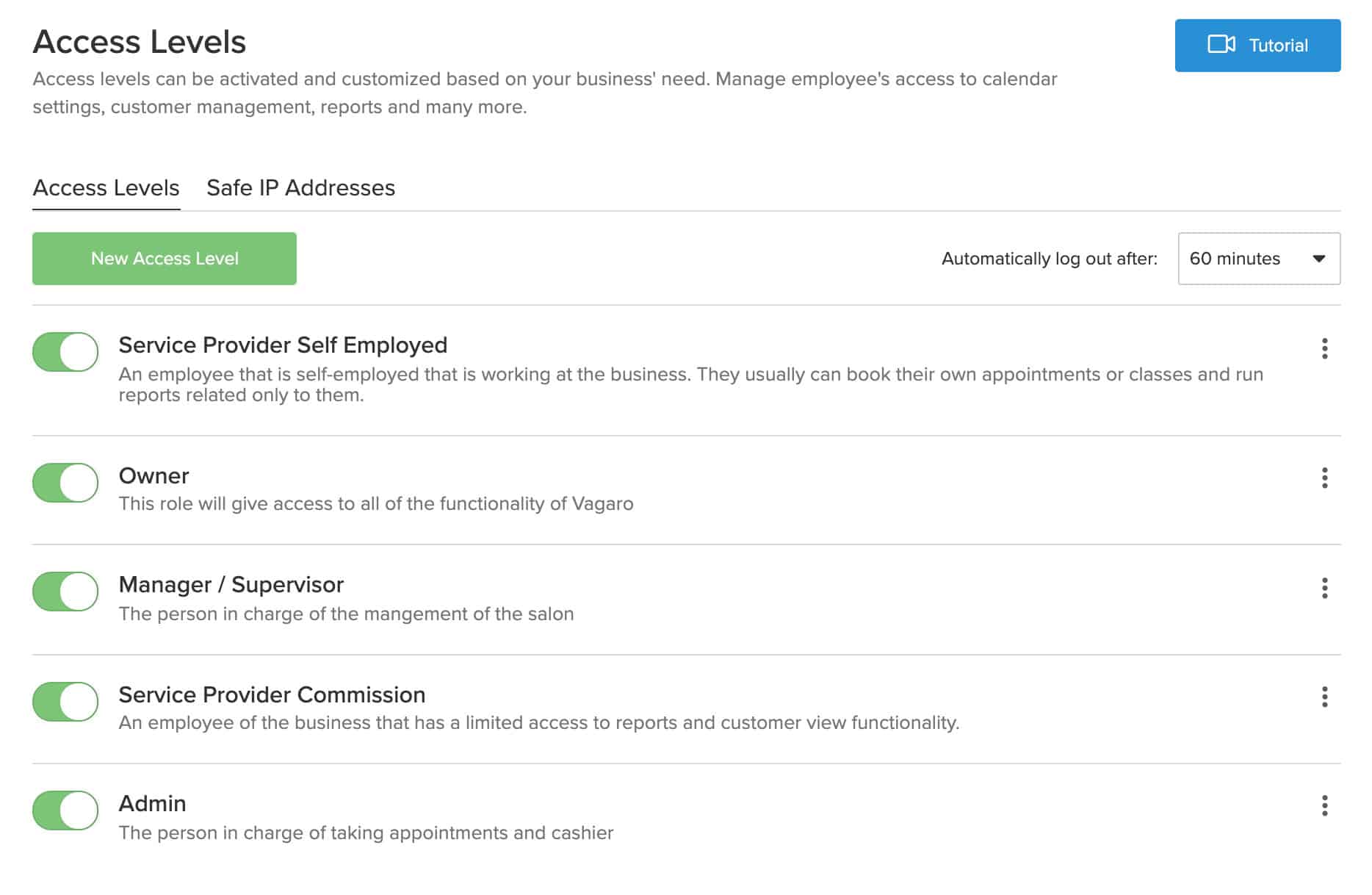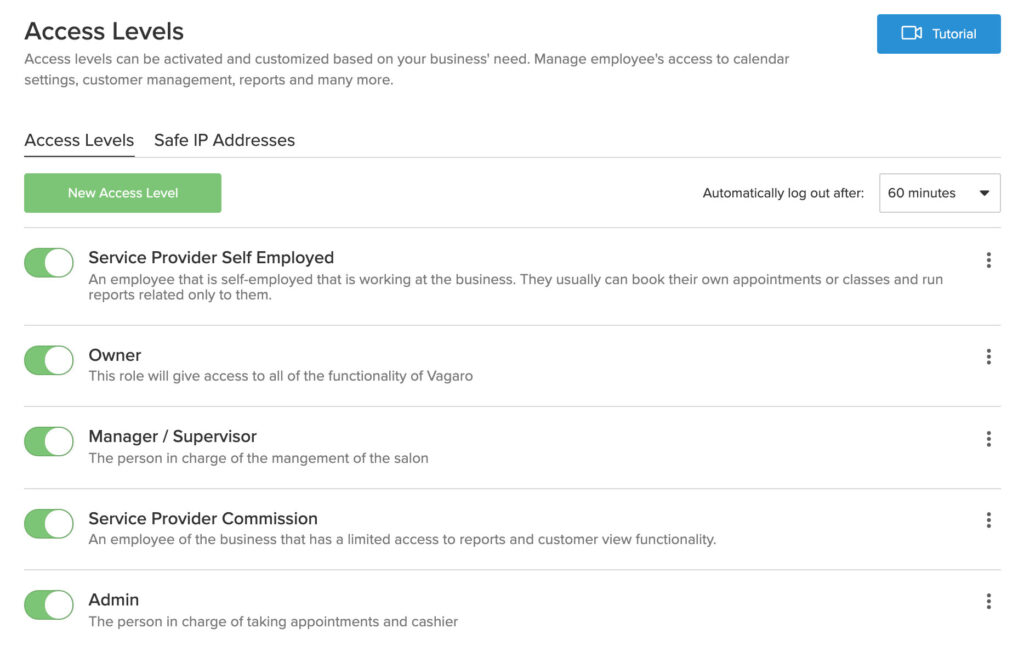 Fresha Team Management
You can have multiple staff members at multiple locations in Fresha. The tool offers pretty advanced user permission levels so that you have full control over what different staff members should be able to access or not.
It does not have a payroll tool built-in, but you can configure commission and pull monthly reports for staff members so that you can manage payroll effectively.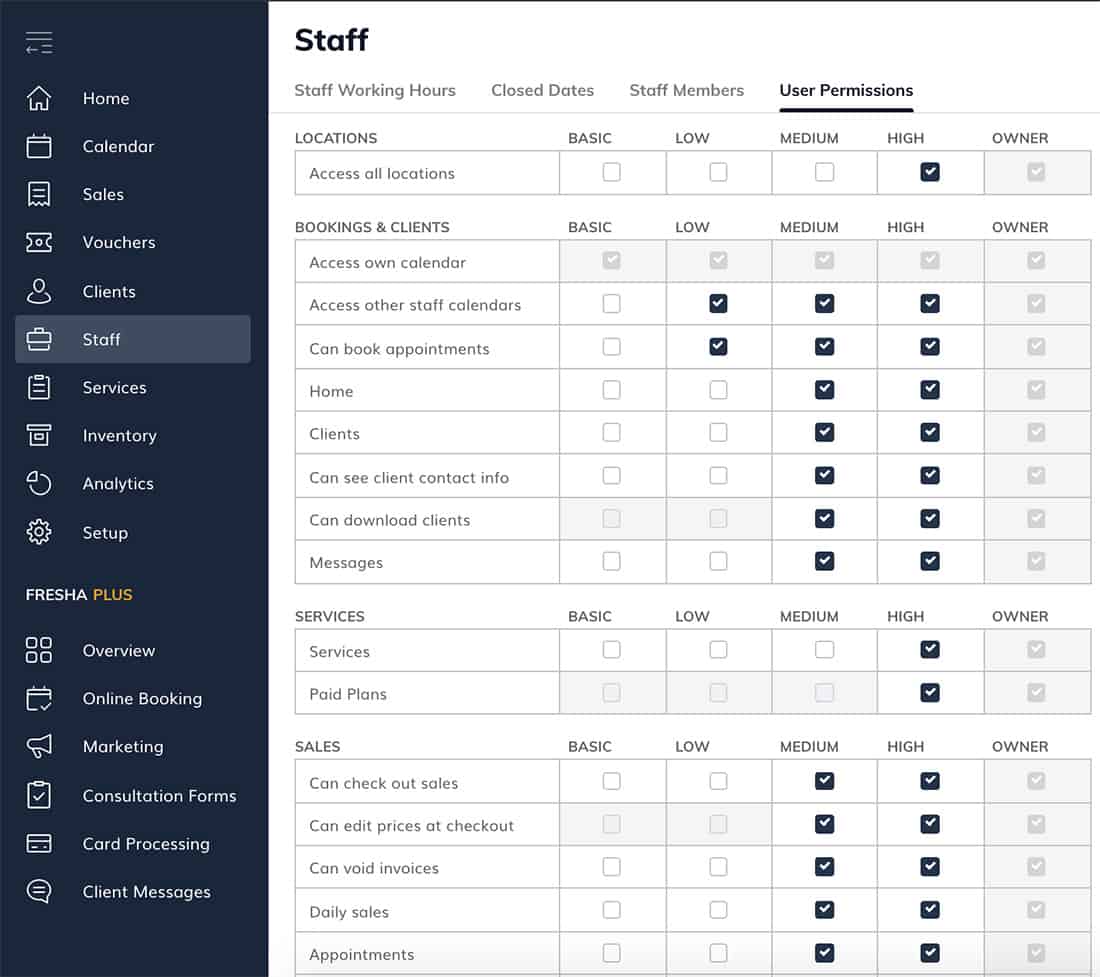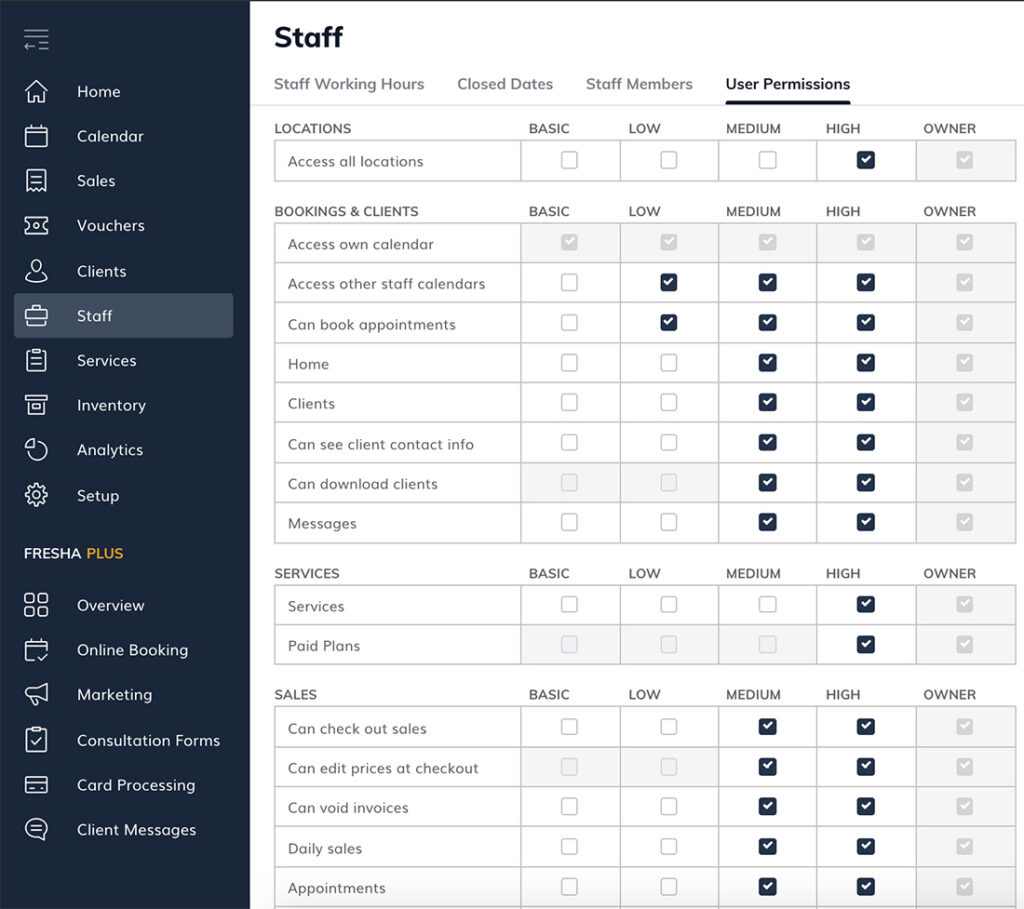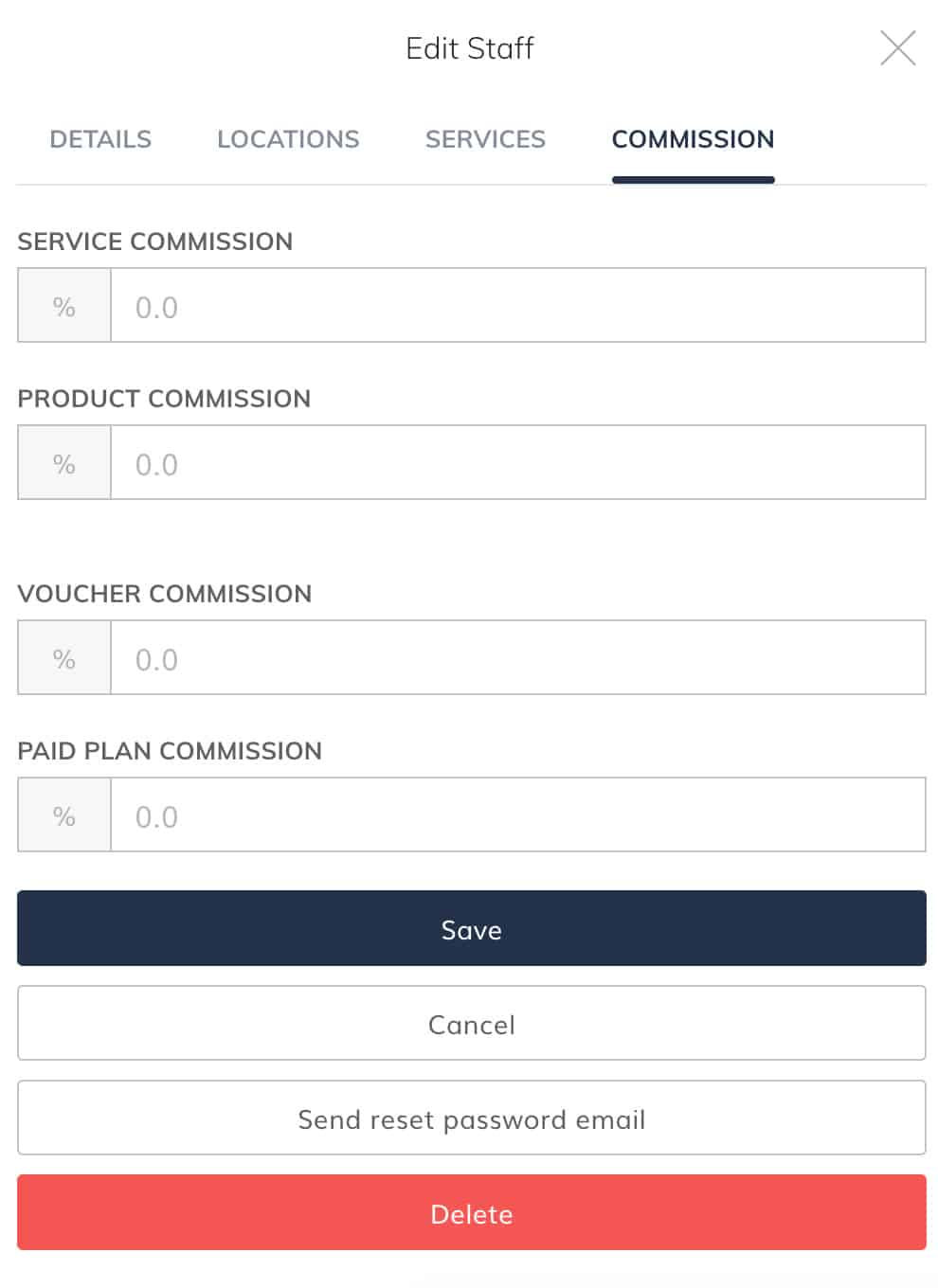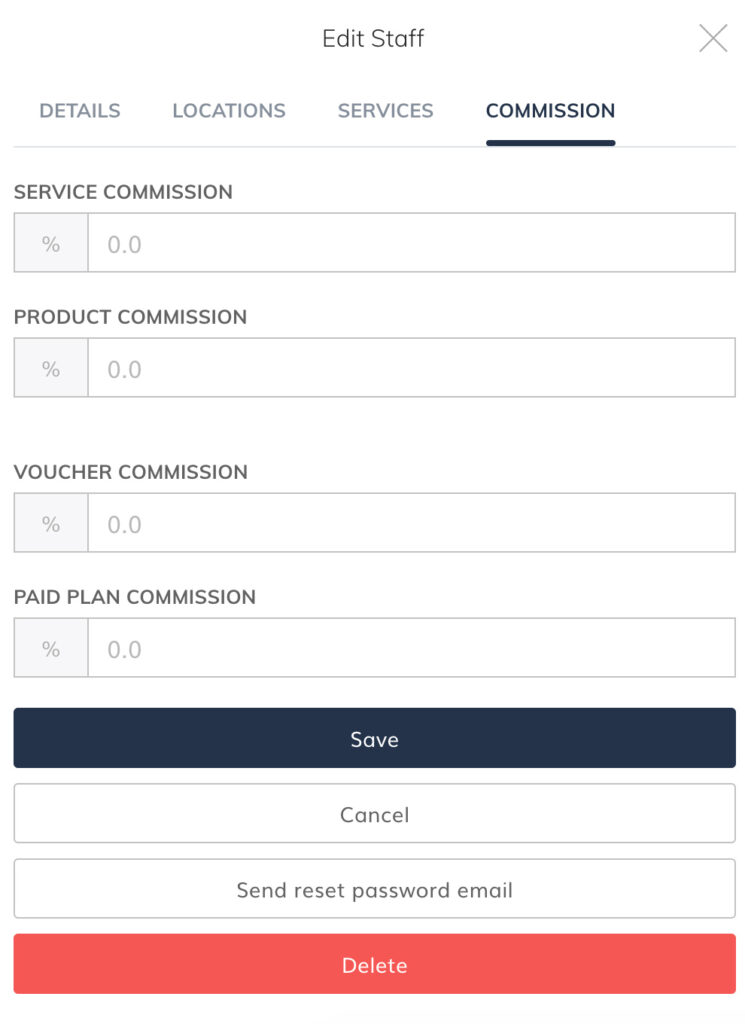 Square Appointments Team Management
Square Appointments allows you to manage multiple staff schedules and system access as soon as you upgrade to their paid plan.
You can get really advanced payroll support with Square but this is managed in another solution called Square Payroll which also comes at an additional cost.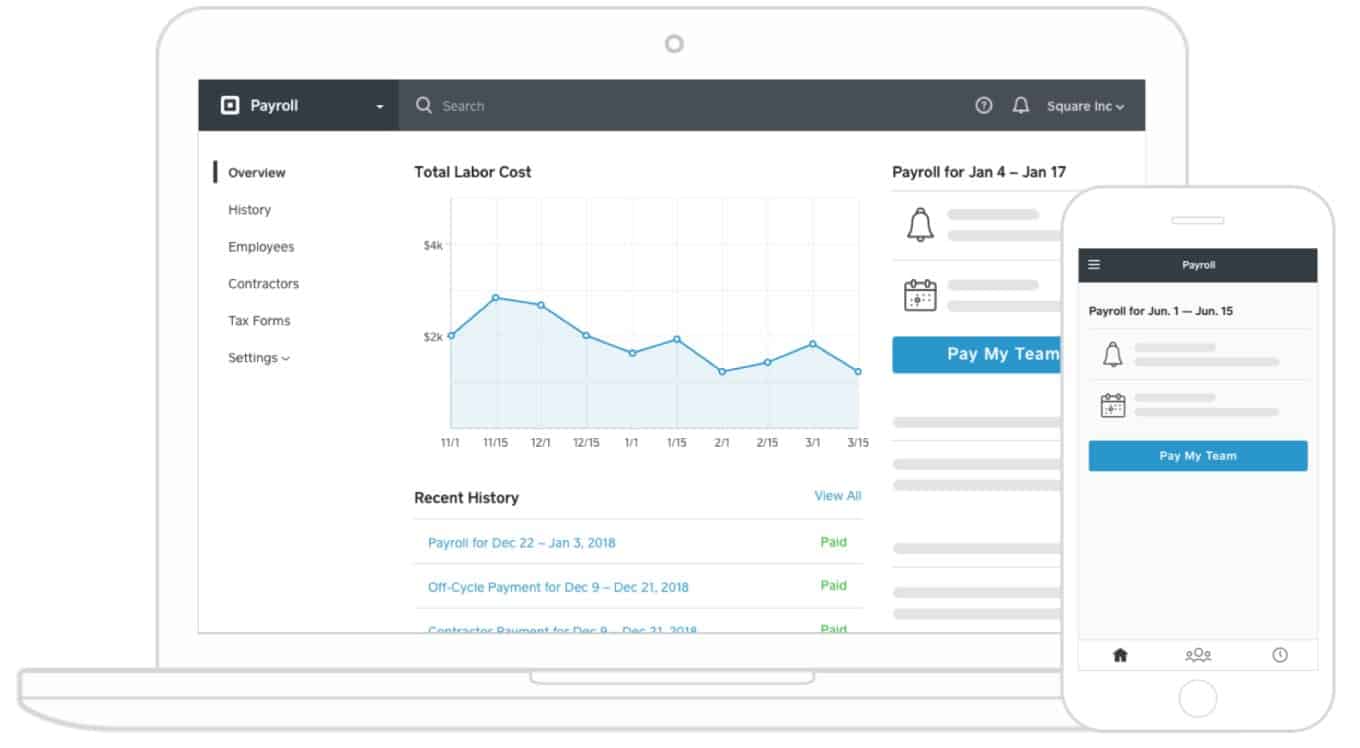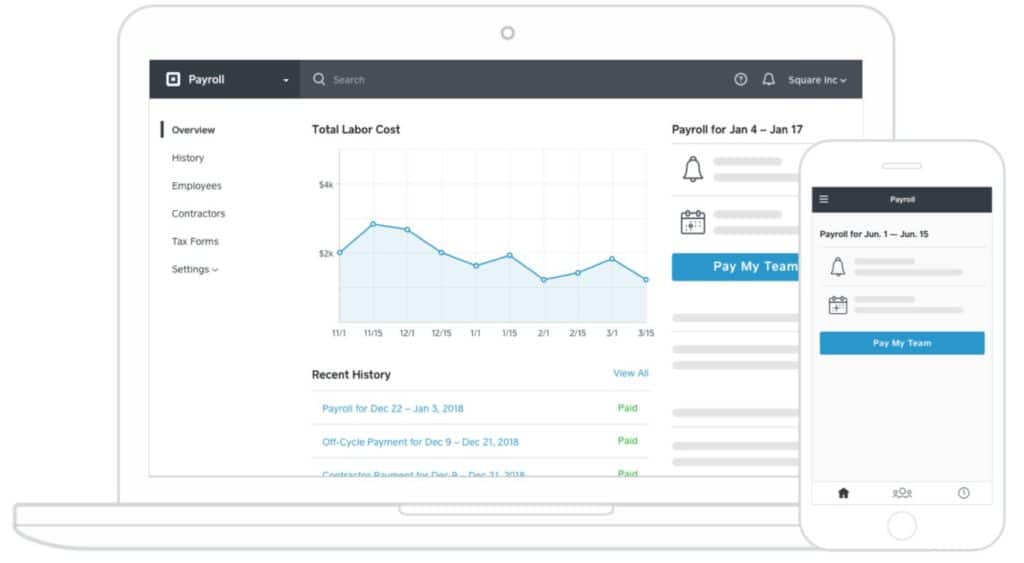 Salon Business Reporting
"You get what you measure" – that's an old saying but so true. If you're serious about growing your salon business, you need to define business targets and have a good reporting system to help you track your progress.
Mangomint Business Reporting
The Mangomint business reports are very comprehensive and provide you with all the possible business insights you need to make informed decisions in your business.
This includes payroll, sales, client retention, and much more.
The reports are predefined by Mangomint but you can adapt them in Excel after exporting.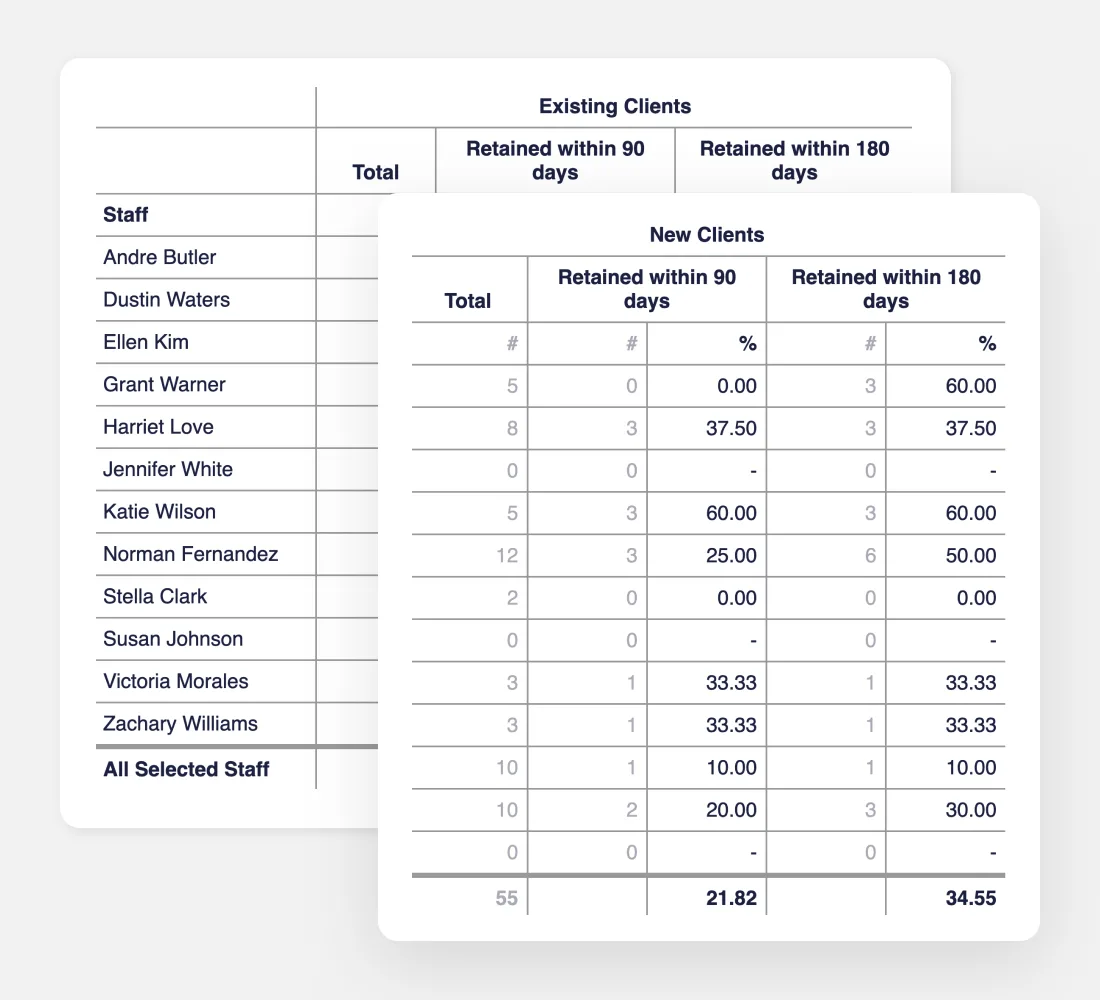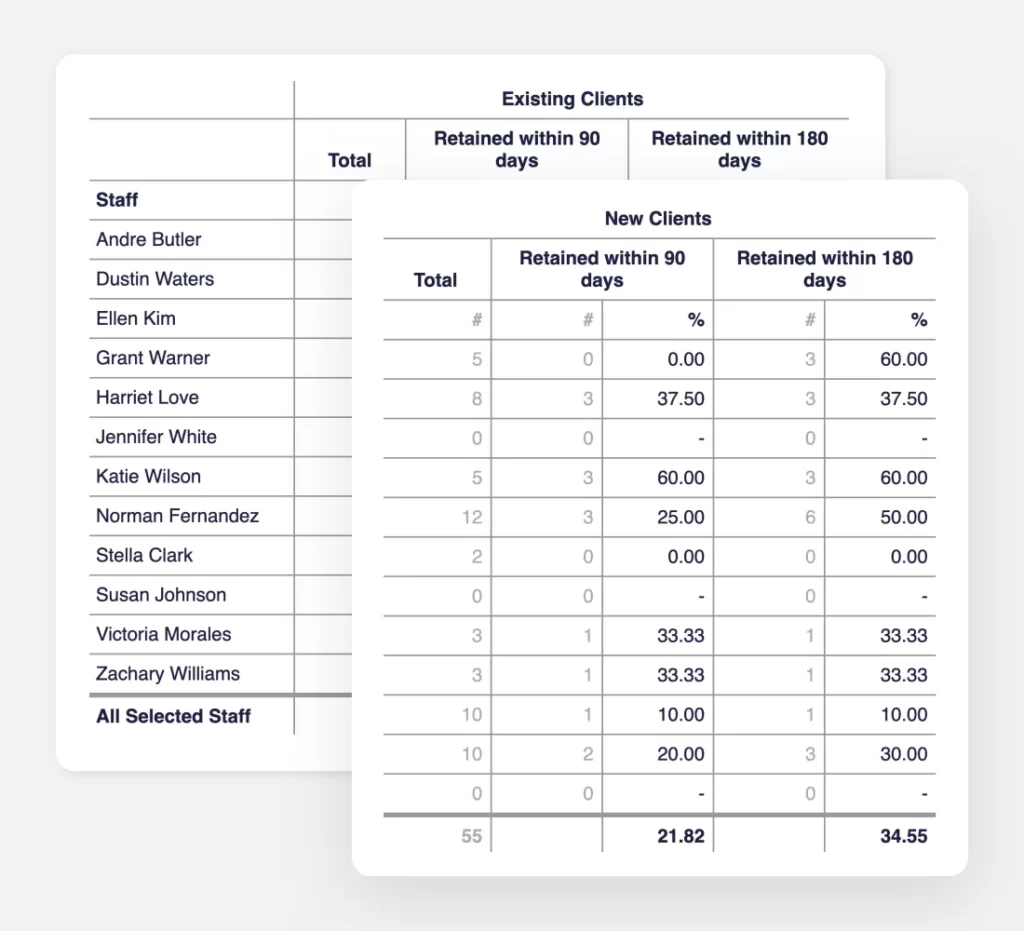 GlossGenius Business Reporting
GlossGenius offers business analytics and reporting. As you log in to the platform, you'll get immediate access to the Dashboard which gives you a snapshot of the day. You can then pull detailed reports and export them to PDF format.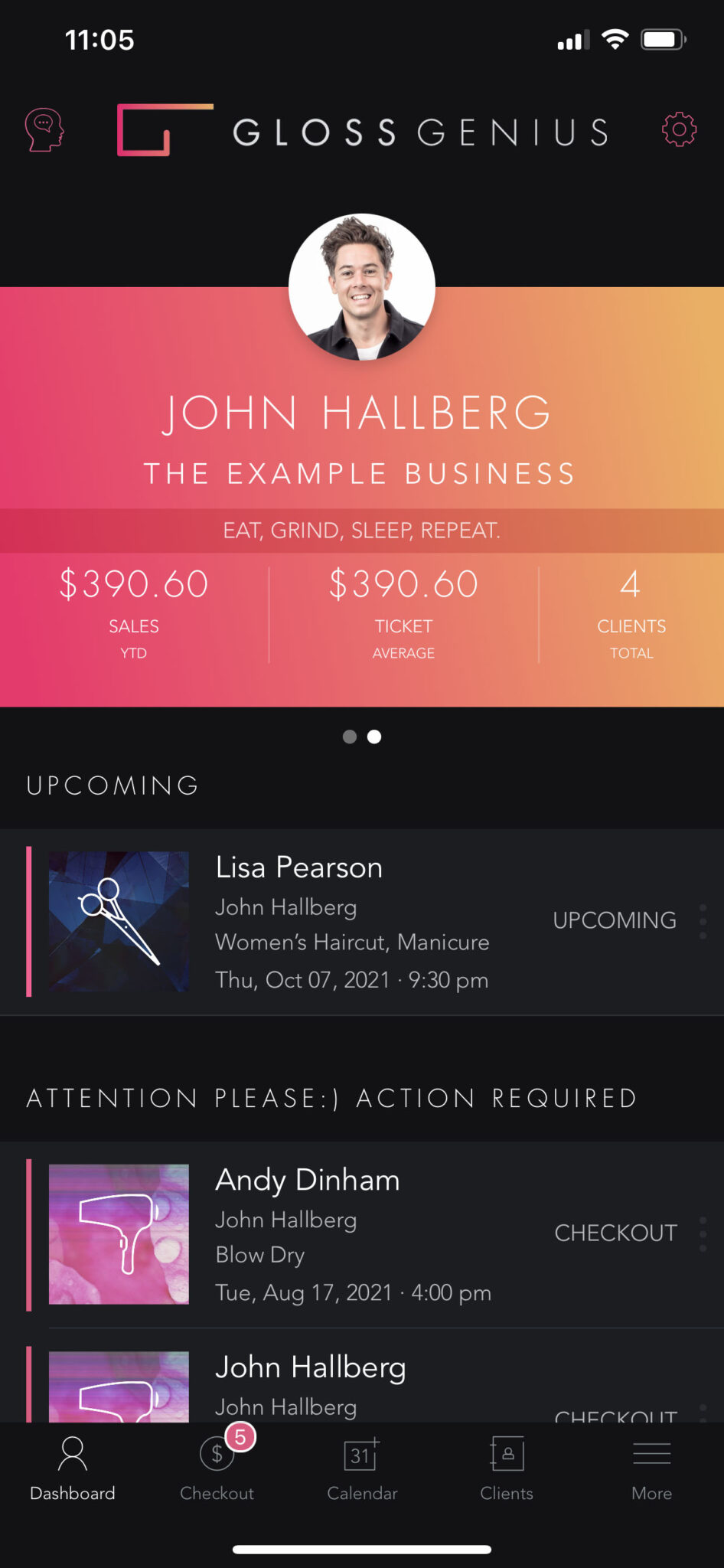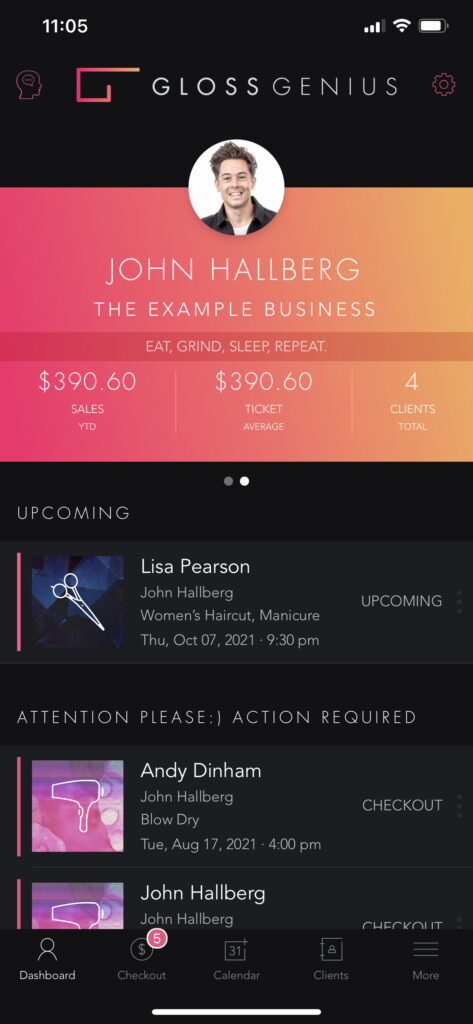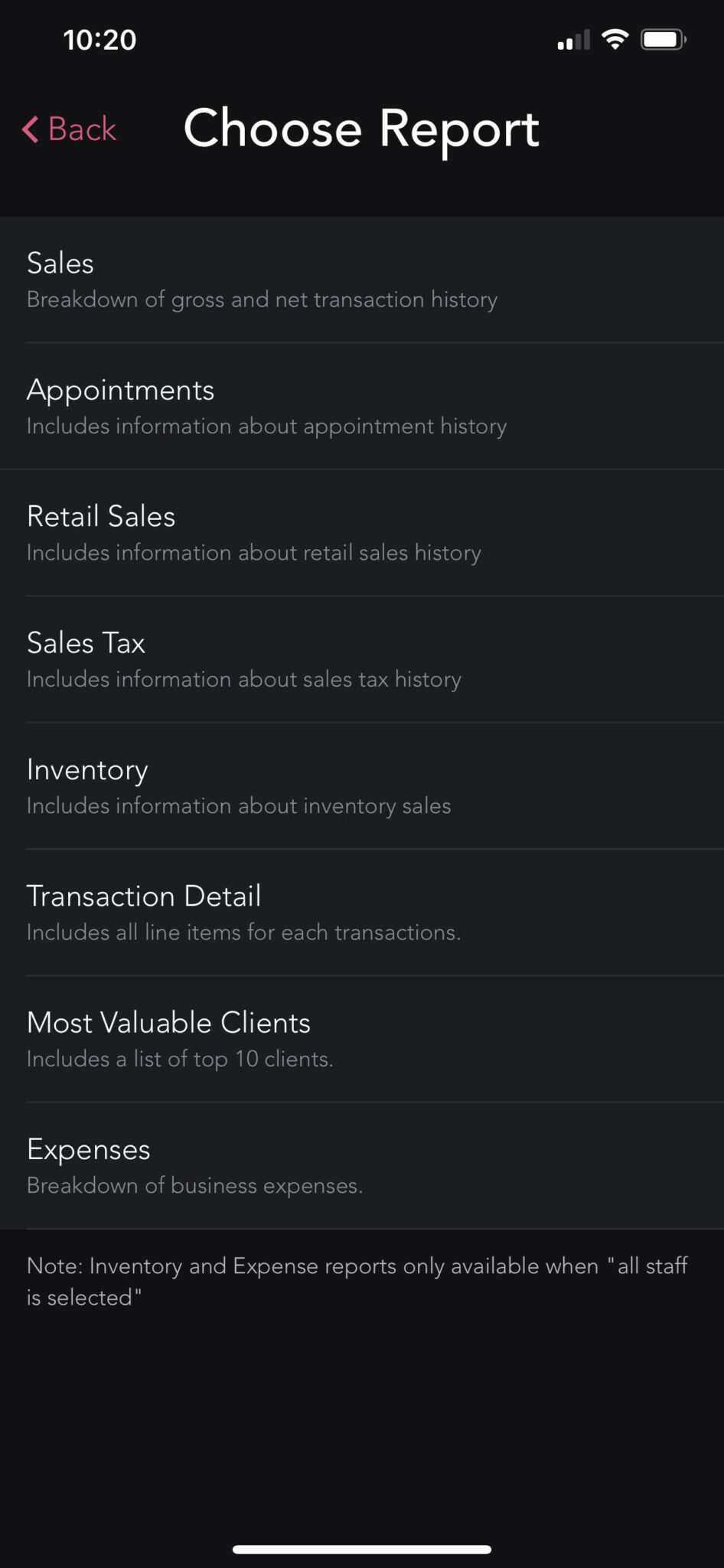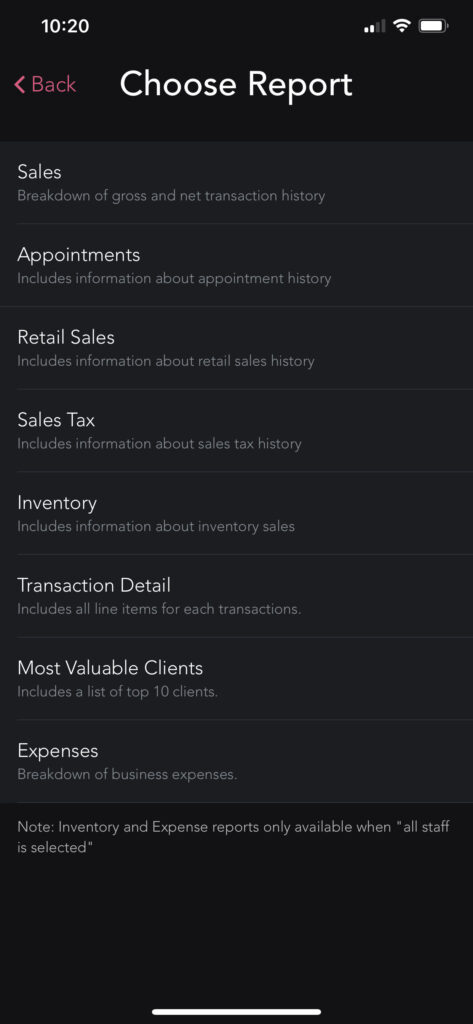 Vagaro Business Reporting
Vagaro provides advanced reporting for sales, employees, customers, appointments, inventory, and messaging. You can export all reports to CSV or PDF format. The support you get is very rich and will certainly cover your needs.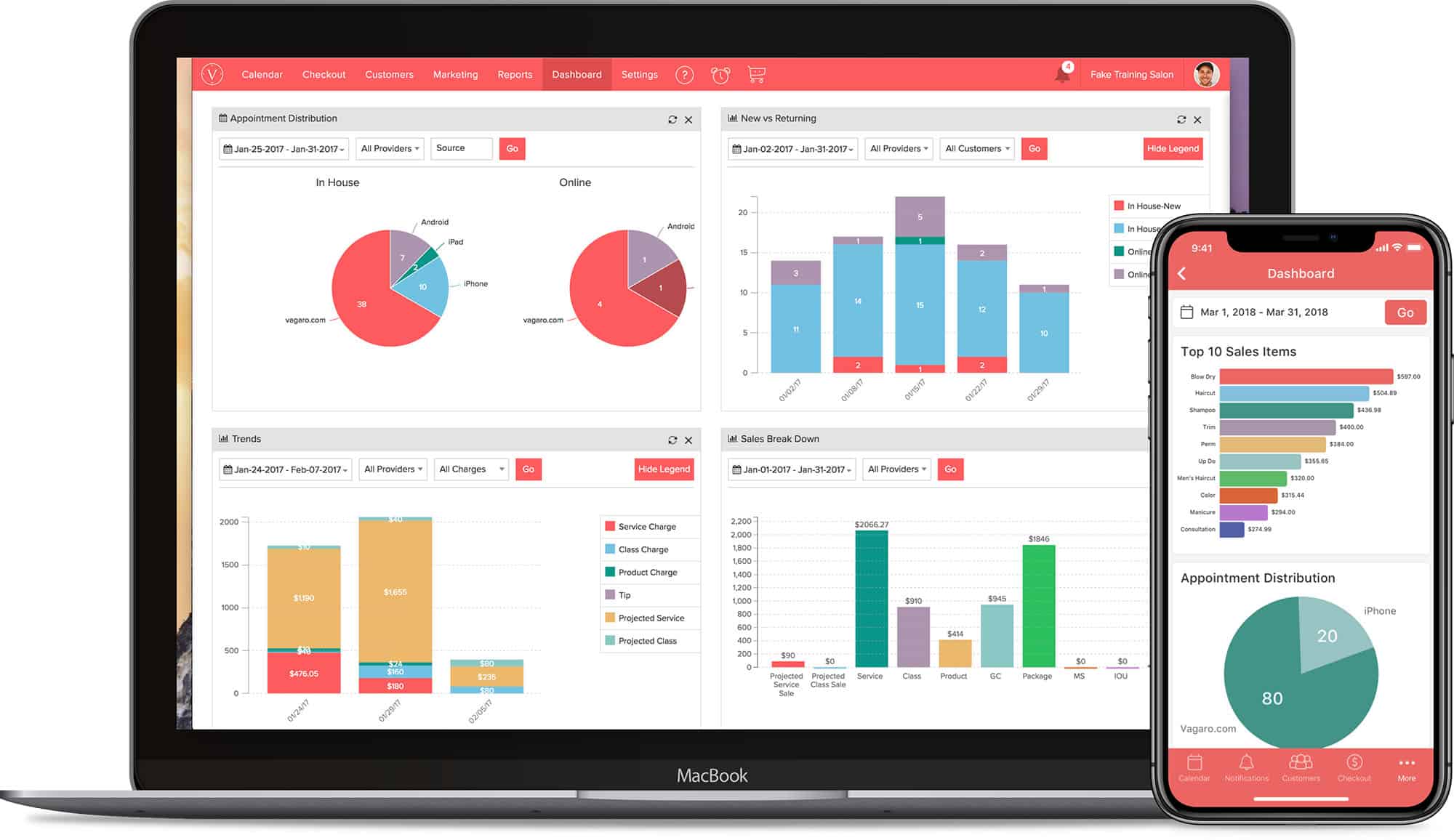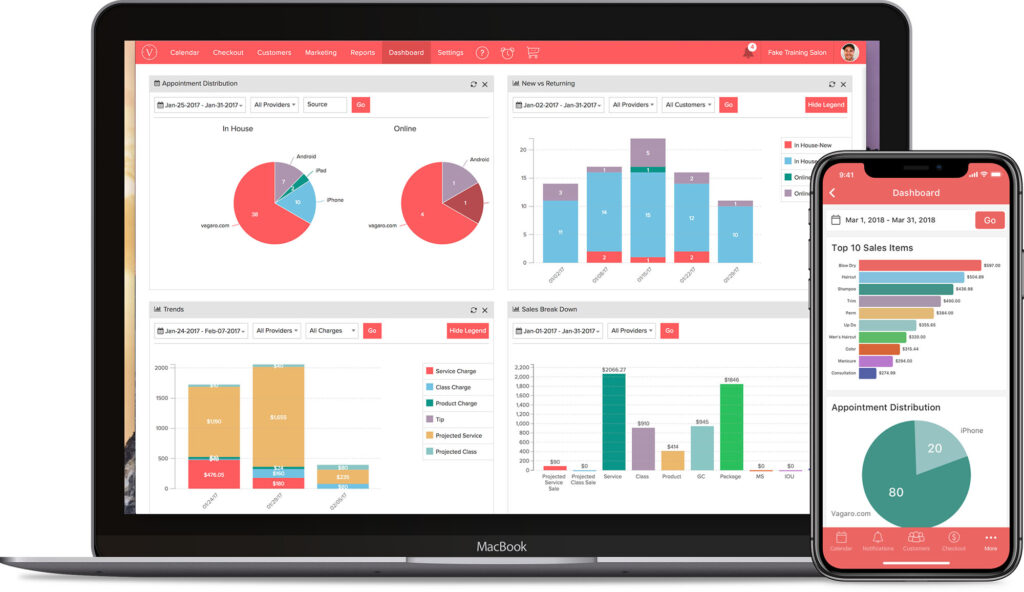 Fresha Business Reporting
Fresha provides rich reporting options so that you can stay on top of your business.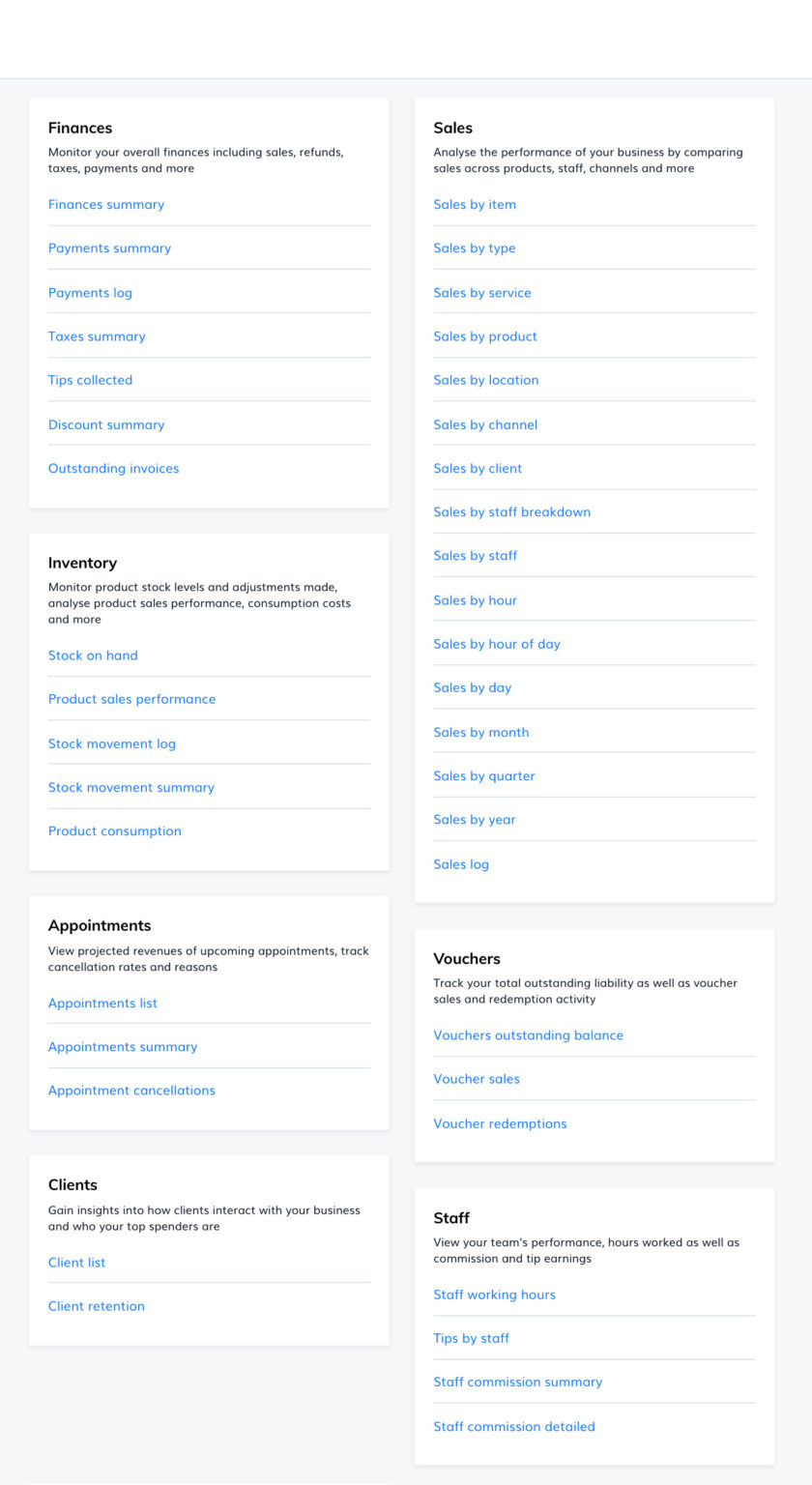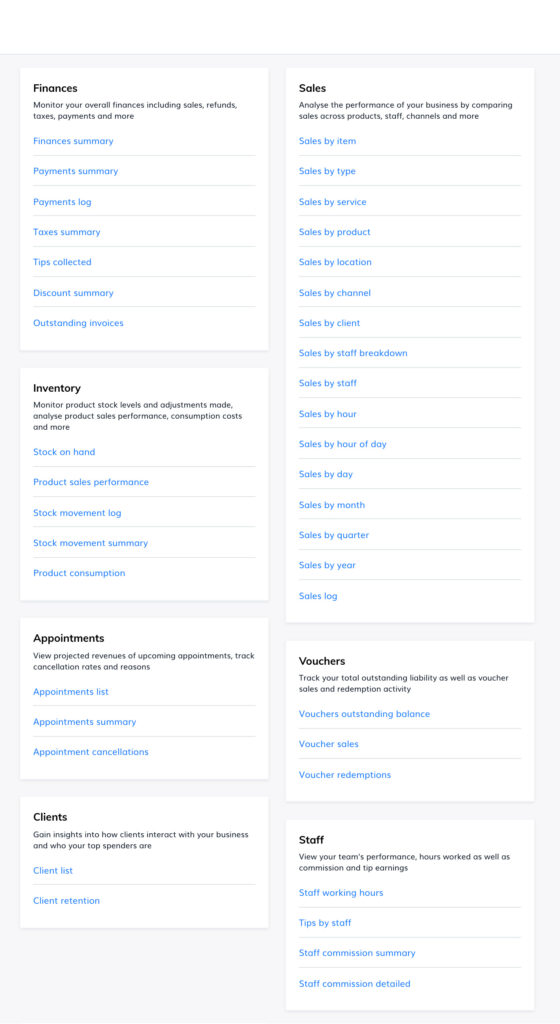 Square Appointments Business Reporting
When you sign up for Square Appointments, you also get free access to their reporting app.
As shown in the list below, you'll find several predefined reports available and you can also create custom salon business reports.


Salon Inventory Management
Optimizing your inventory can help you save costs while ensuring you have what you need in stock to avoid losing sales. All the software I recommend in this review offers good inventory support, and you'll get the support you need whichever you choose.
Mangomint Inventory Management
You can set up and categorize products in the Mangomint inventory and track your inventory level. Mangomint also offers support for purchase orders so that you can streamline the ordering process from suppliers as purchase orders can be automatically pre-filled based on your stock levels.
You can manage detailed settings on each product – like tax charges, commission, and more.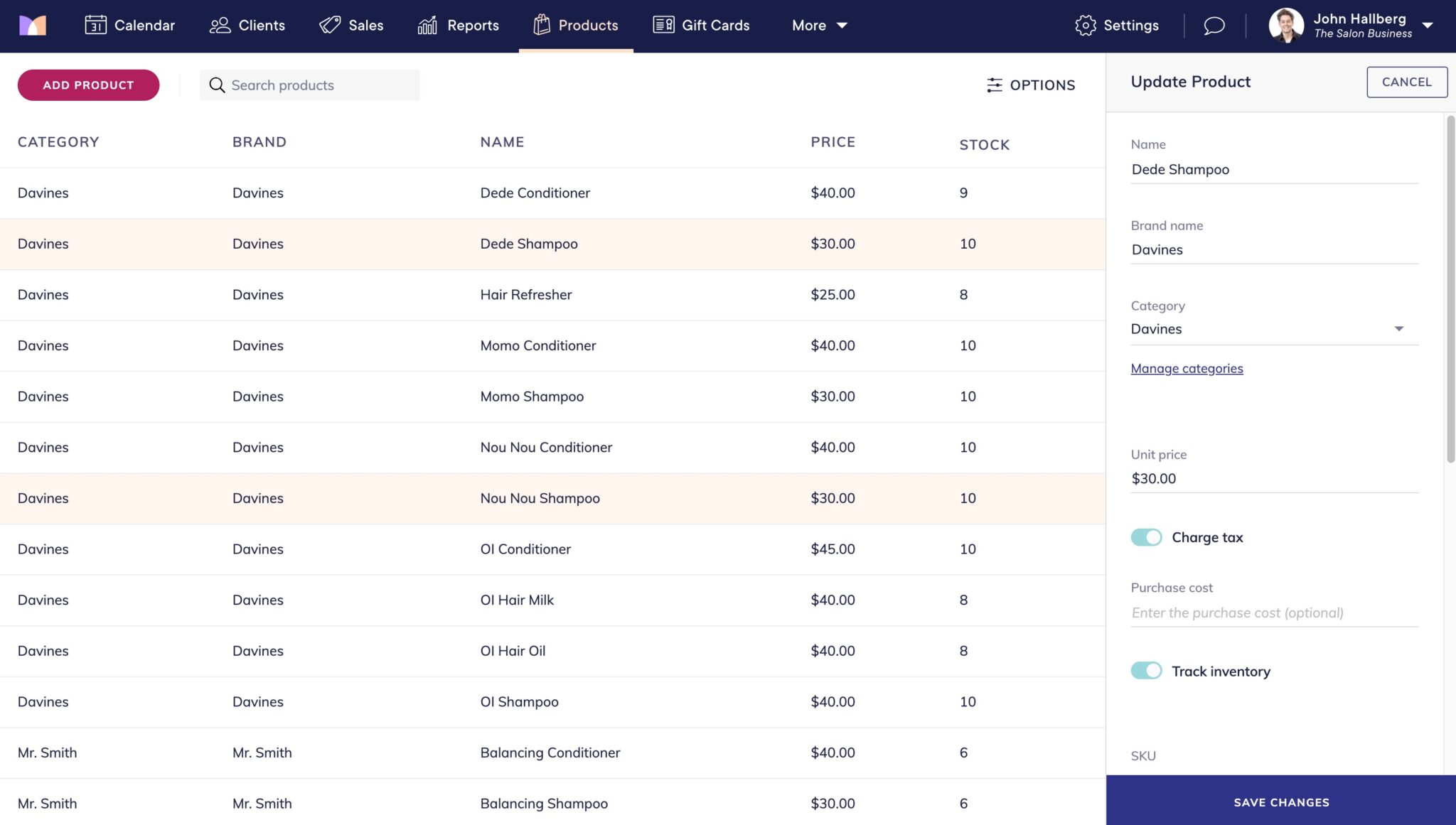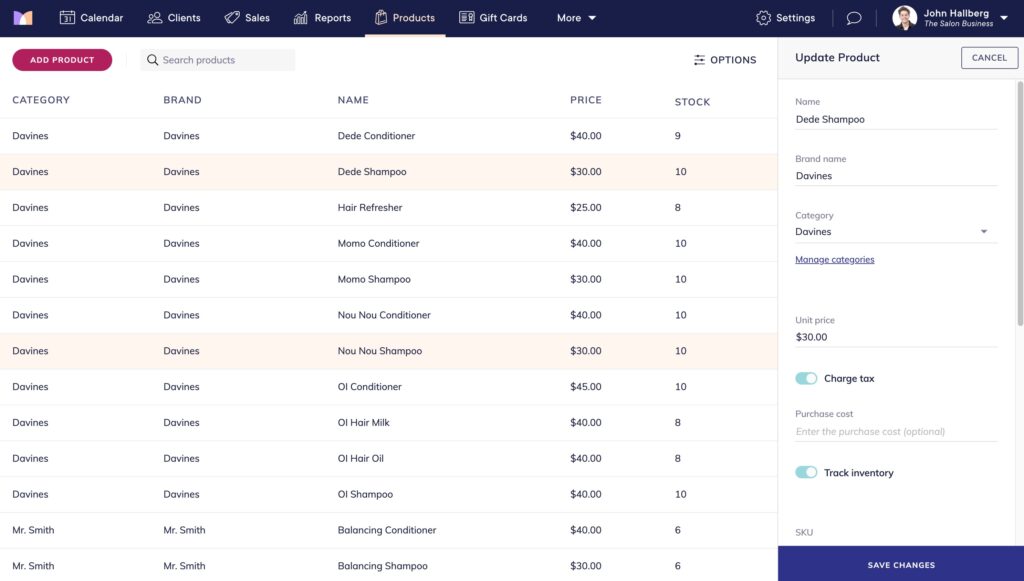 GlossGenius Inventory Management
GlossGenius offers standard support for inventory management. You can keep track of stock levels and pull reports that indicate where stock is low.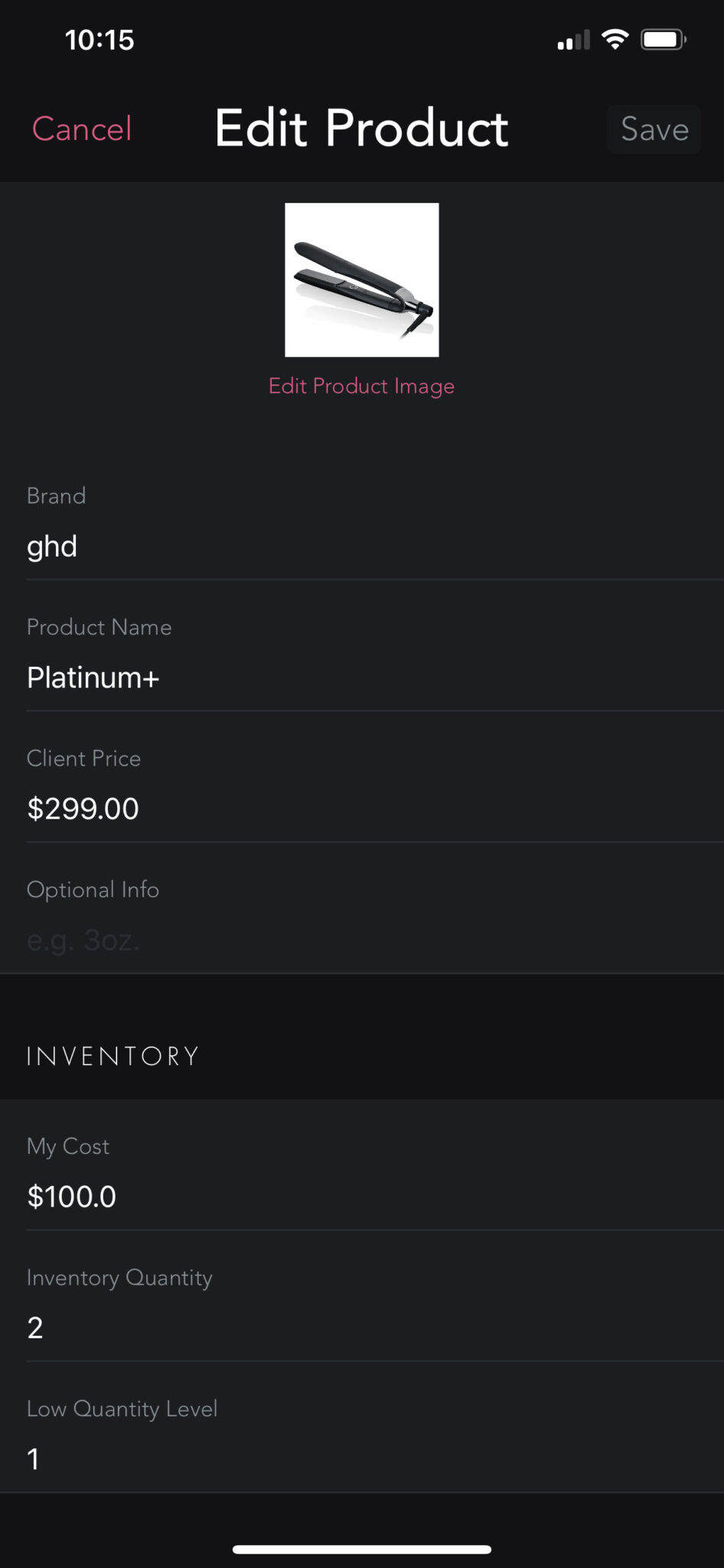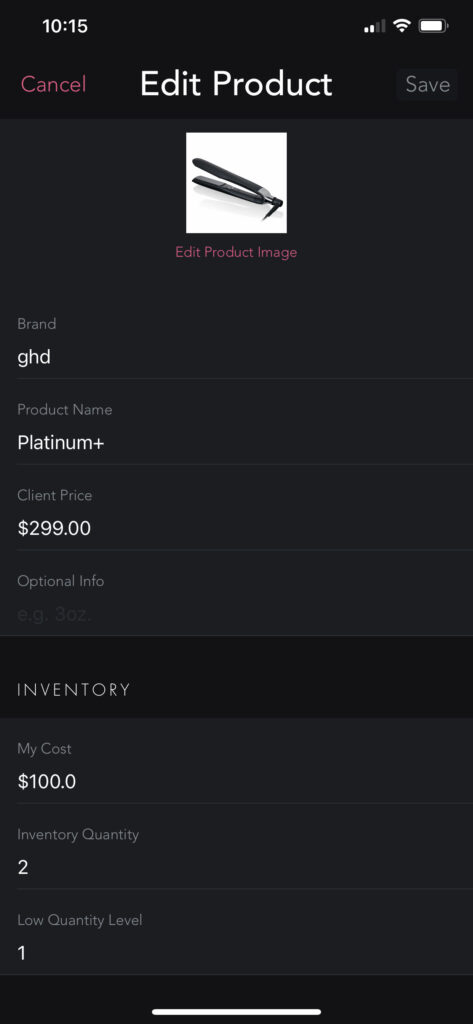 Vagaro Inventory Management
Vagaro allows you to manage vendors, brands, and products. You can set up inventory tracking and notifications so that you're in control of all stock levels. You'll find all the support you need to manage your product inventory effectively.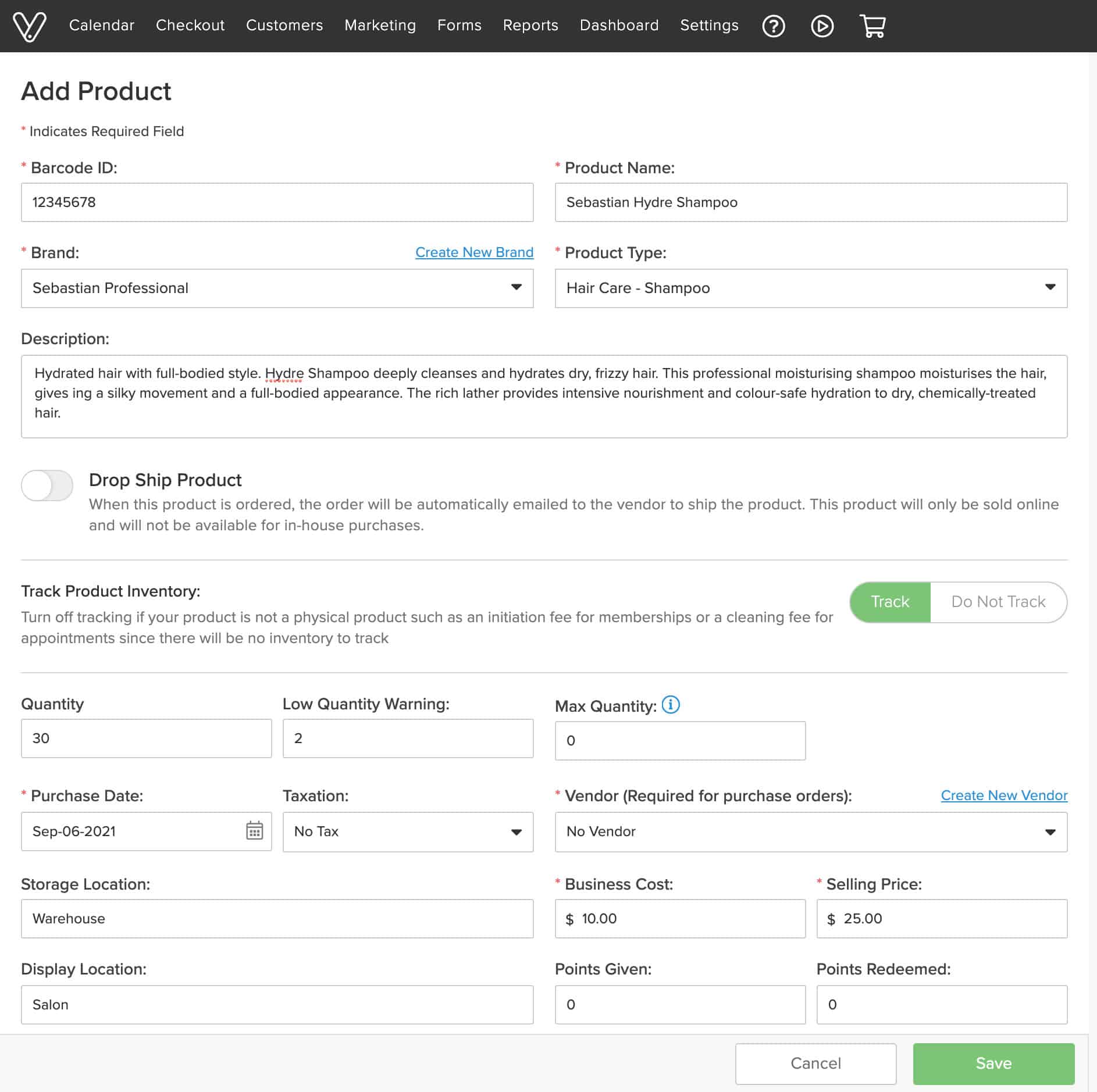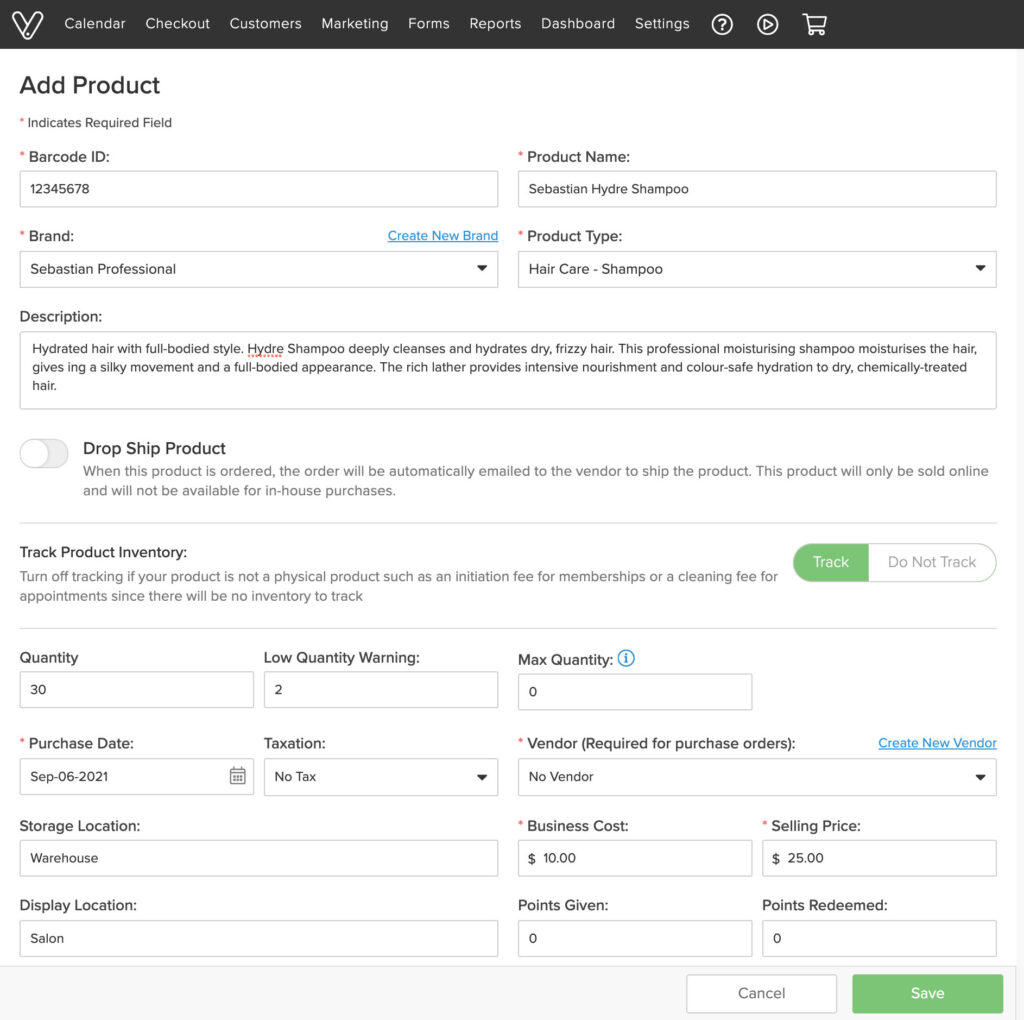 Fresha Inventory Management
Fresha has good support for inventory and supplier management. It's not as advanced as the Vagaro, Mangomint, or Square inventory tracking and stock notifications but more than enough for most salons.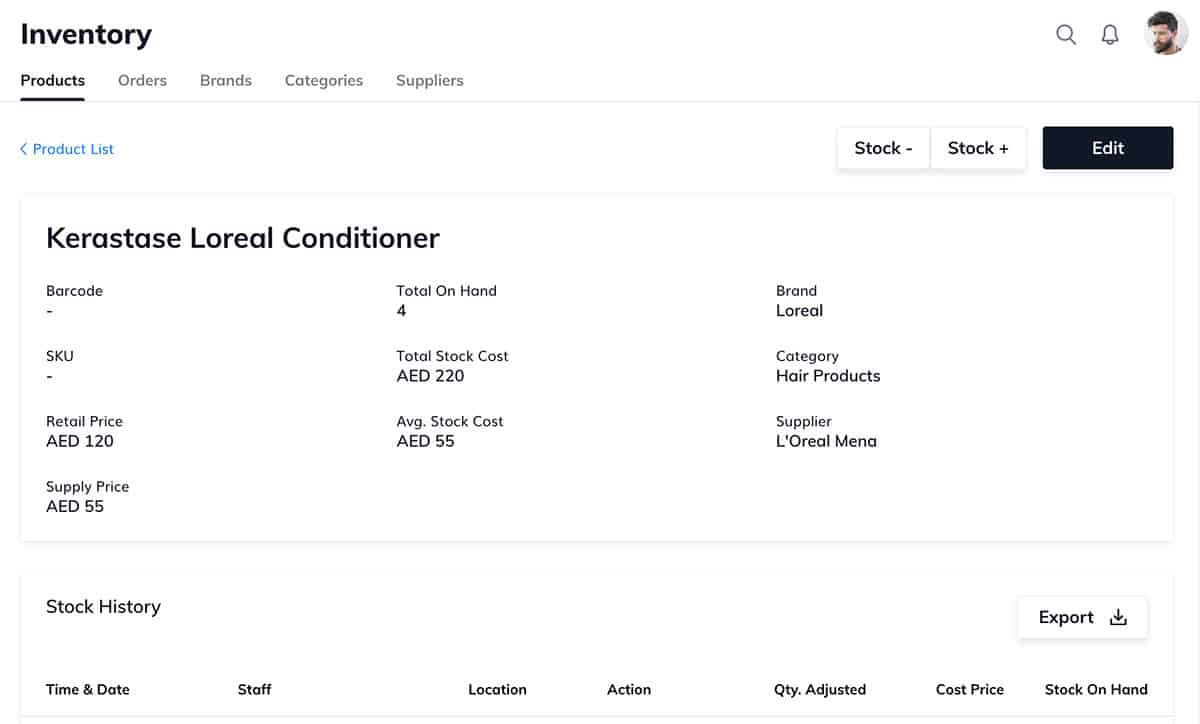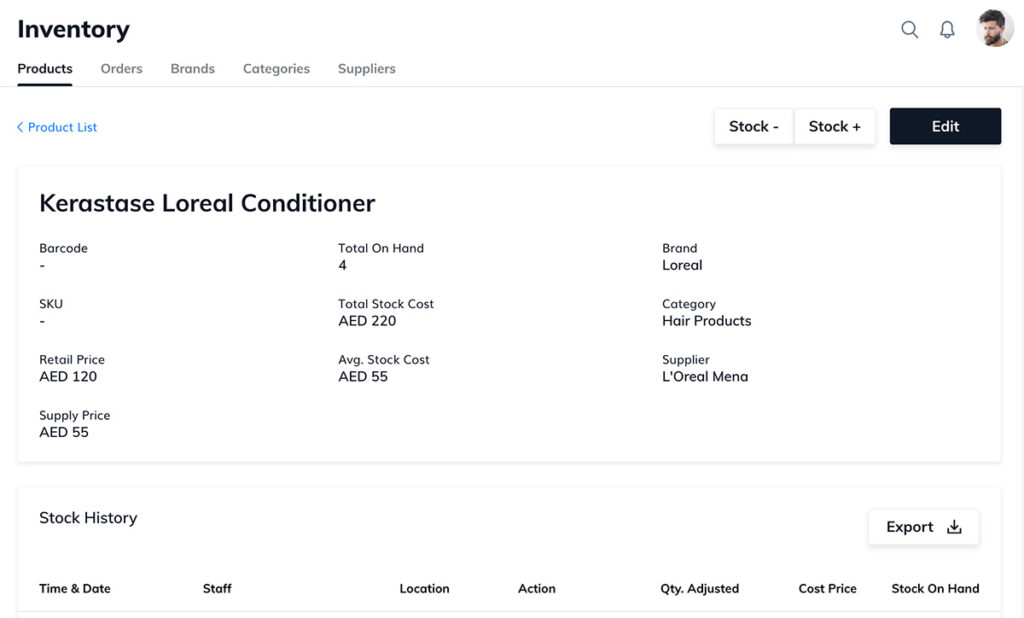 Square Appointments Inventory Management
Square Appointments comes with the accompanying "Items" app where you manage your inventory of products and services. The product inventory support you get with Square is very rich and allows you to manage product variations (e.g. sizes) and it gives you out-of-stock alerts.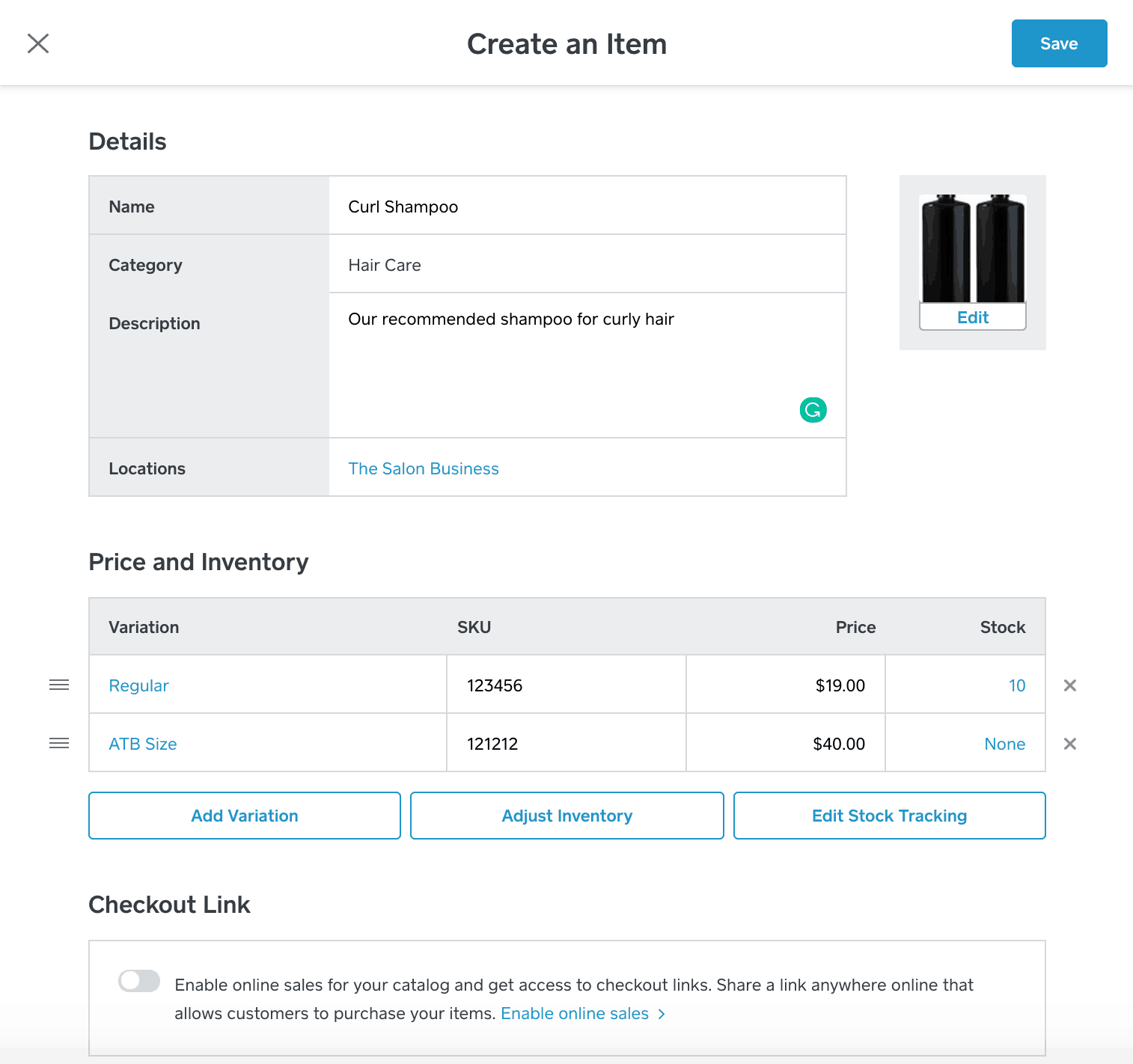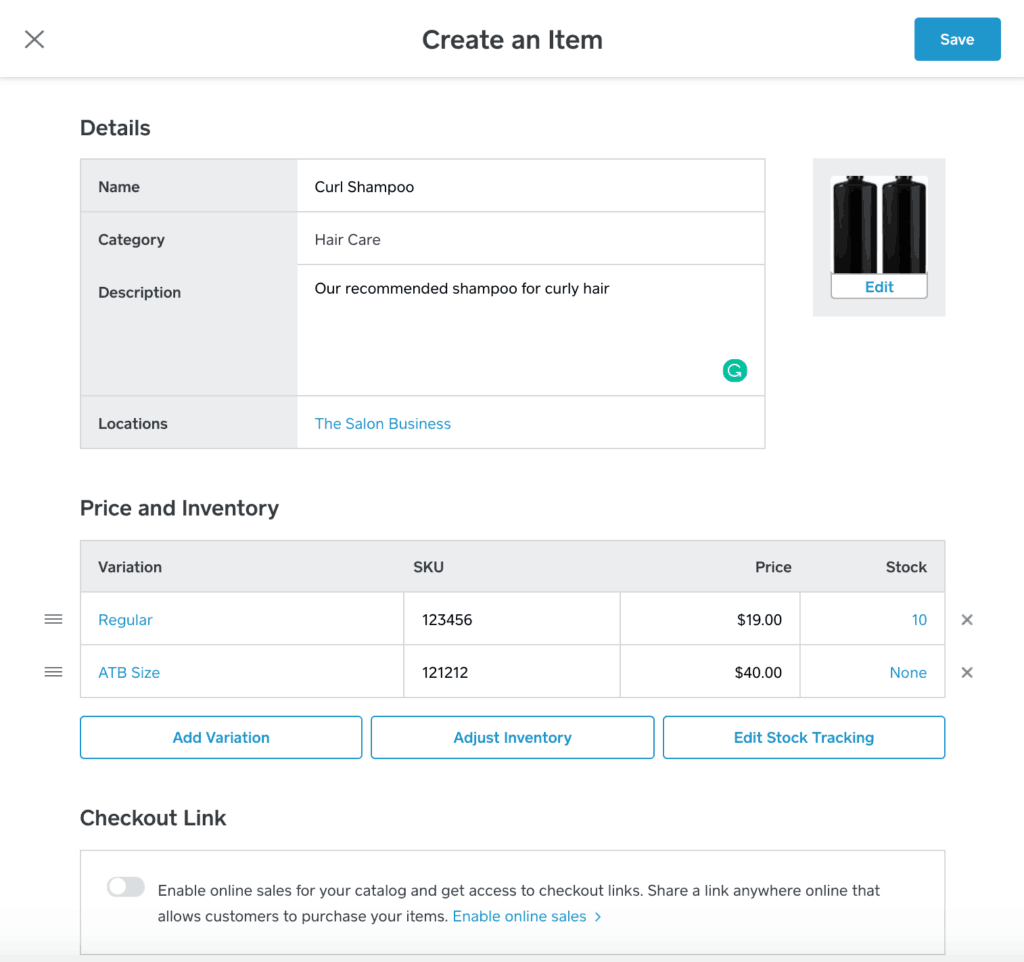 Best Salon Marketing Software
You should expect more of your salon software than just support for salon operations. A good salons software will also help grow your business via effective salon marketing. Let's go through how each solution supports your marketing efforts.
Email & SMS Marketing
Even though email and SMS are old technologies that have been around for a while, they're still the most effective ways for you to keep in touch with your clients (as well as potential new clients) at scale.
Mangomint Marketing Support
Mangomint doesn't offer any built-in marketing tools. They focus on the core salon software features.
But this is not a bad thing.
The opposite.
In fact, one of my favorite aspects of Mangomint is that it allows you to integrate with other systems.
By leveraging integrations, you could, for example, manage all your email marketing in a dedicated email marketing platform (like Mailchimp).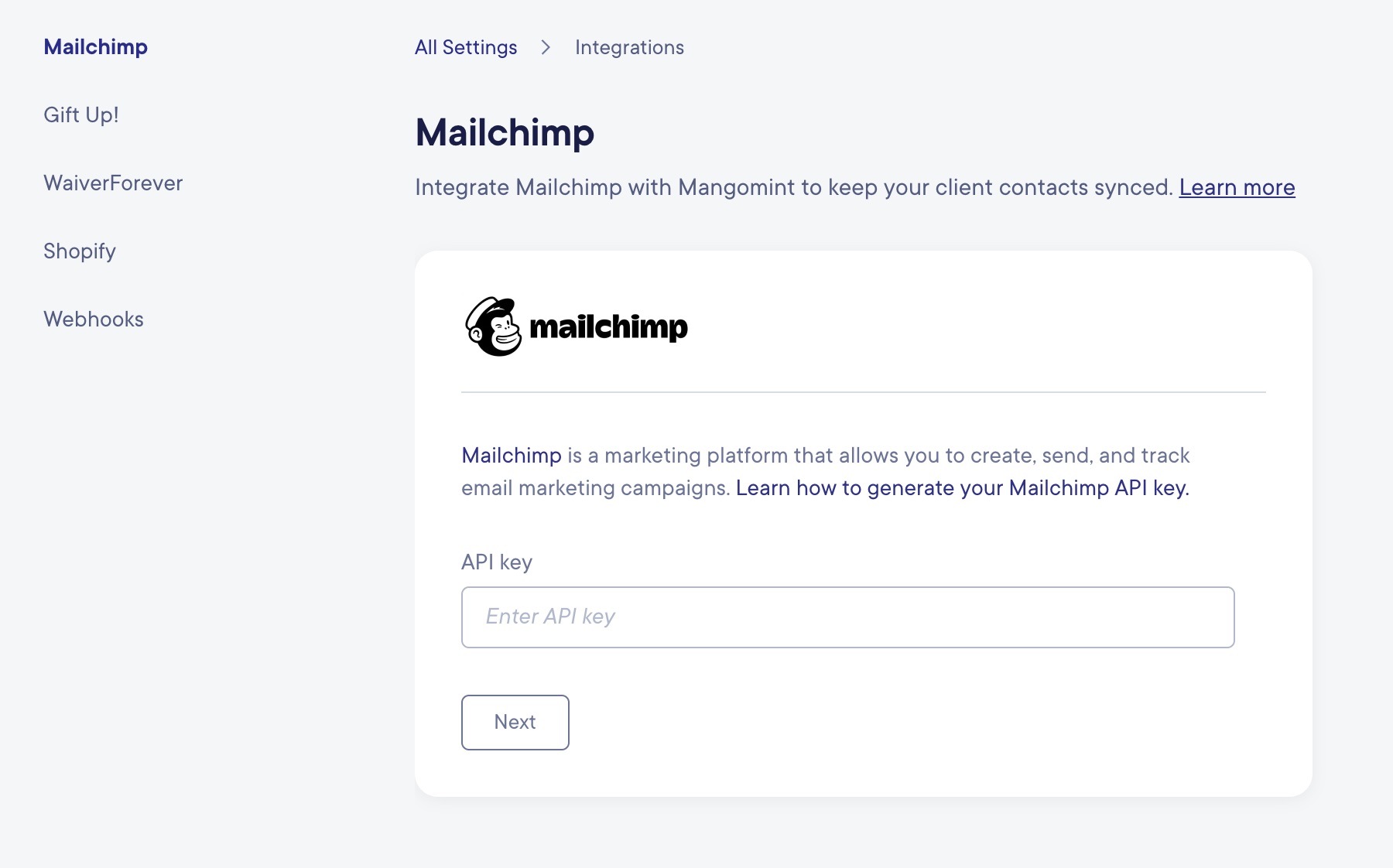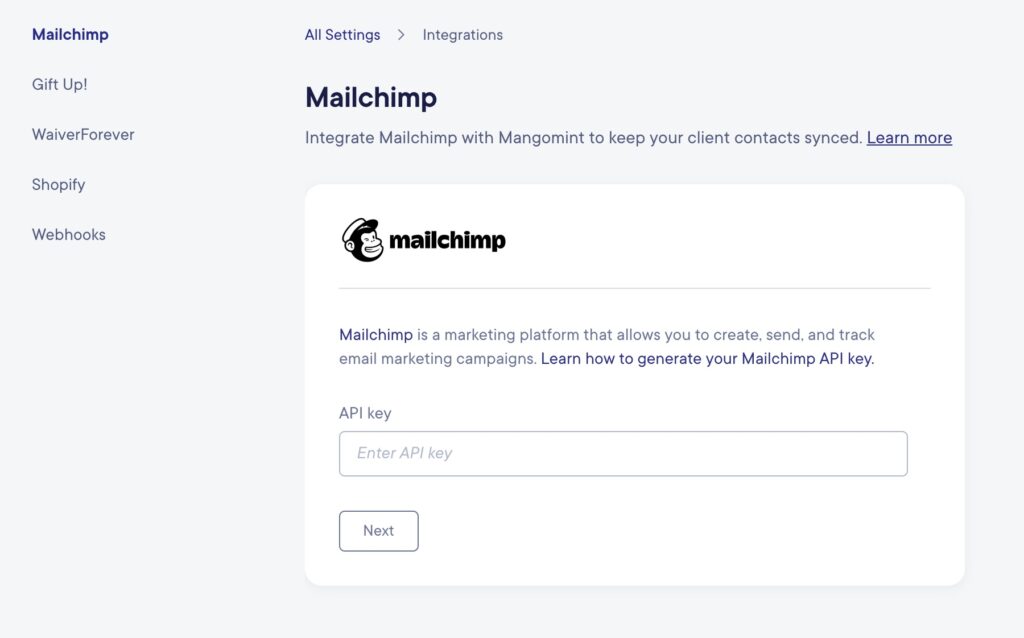 Mangomint integrates directly with Mailchimp, WaiverForever, Gift Up, Shopify, and Quickbooks.
But they don't stop there.
You can integrate with any other software out there using webhooks.
This is a more advanced feature which I'm not going to go into here. If you're interested in learning more about it I suggest you book a demo call with the Mangomint support team.
GlossGenius Marketing Support
It's super easy to run smart SMS and email campaigns from GlossGenius. You have access to smart segmentation so that you can create specific campaigns targeted at a specific group of your clients.
You do not have any flexibility when it comes to the design of your campaigns however but need to follow the predefined templates and just modify the ones you want to send. This will be a bit limiting for some but it also makes things very easy for you.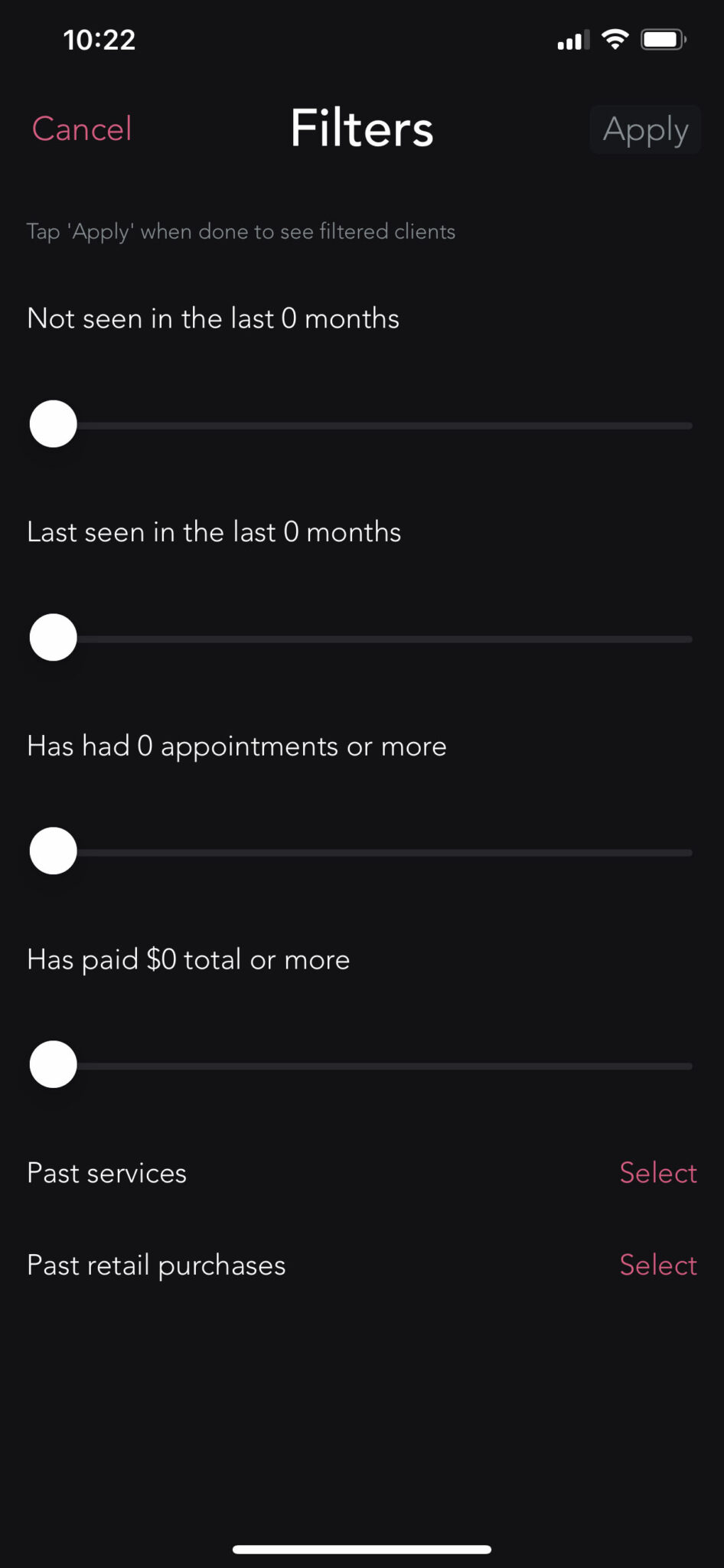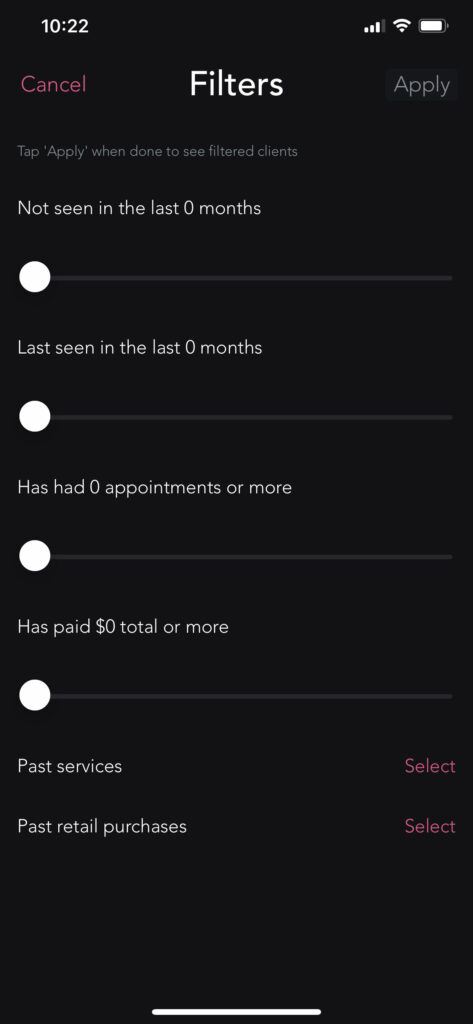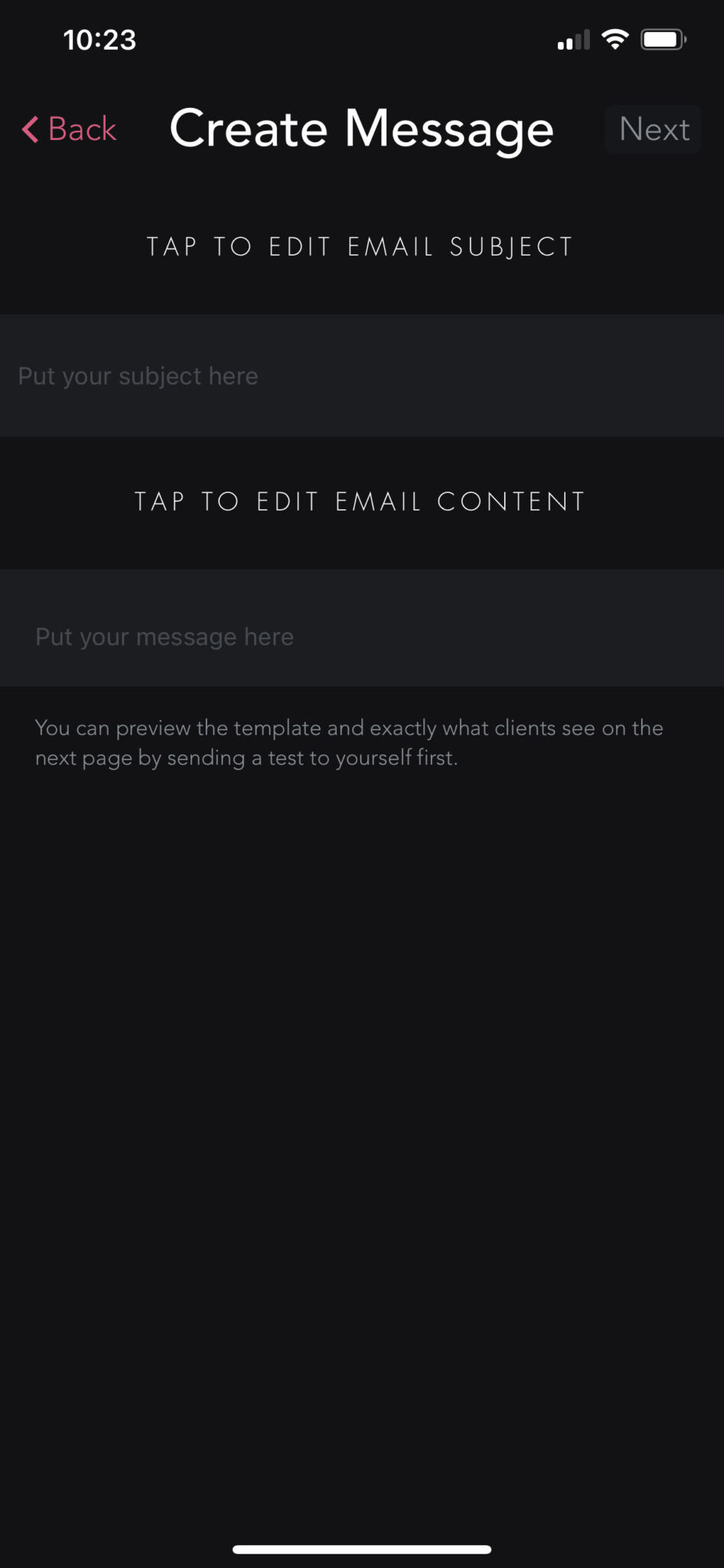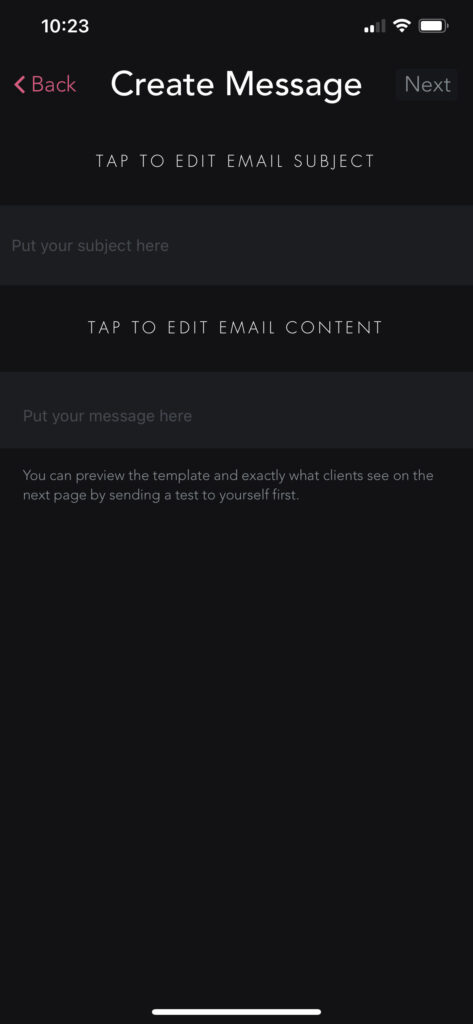 Vagaro Marketing Support
Vagaro offers advanced support for email and SMS marketing.
You can design rich HTML emails using the drag-and-drop email builder and you can target your campaigns to very specific segments of your clients. For example, you can email clients who haven't visited you for a certain time.
You can also leverage automated communication so that SMS/email is sent out on your client's birthday or a certain number of weeks after their appointment.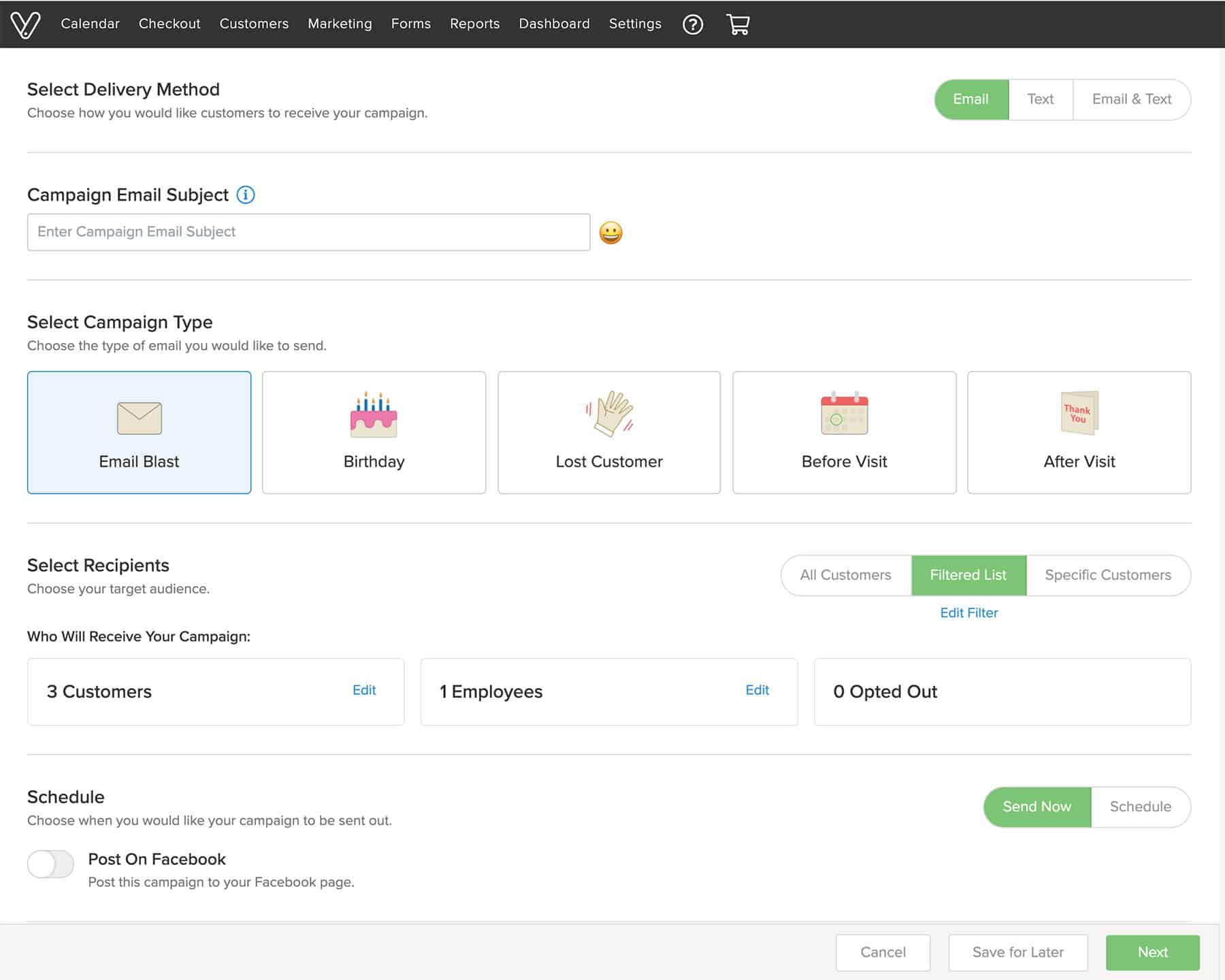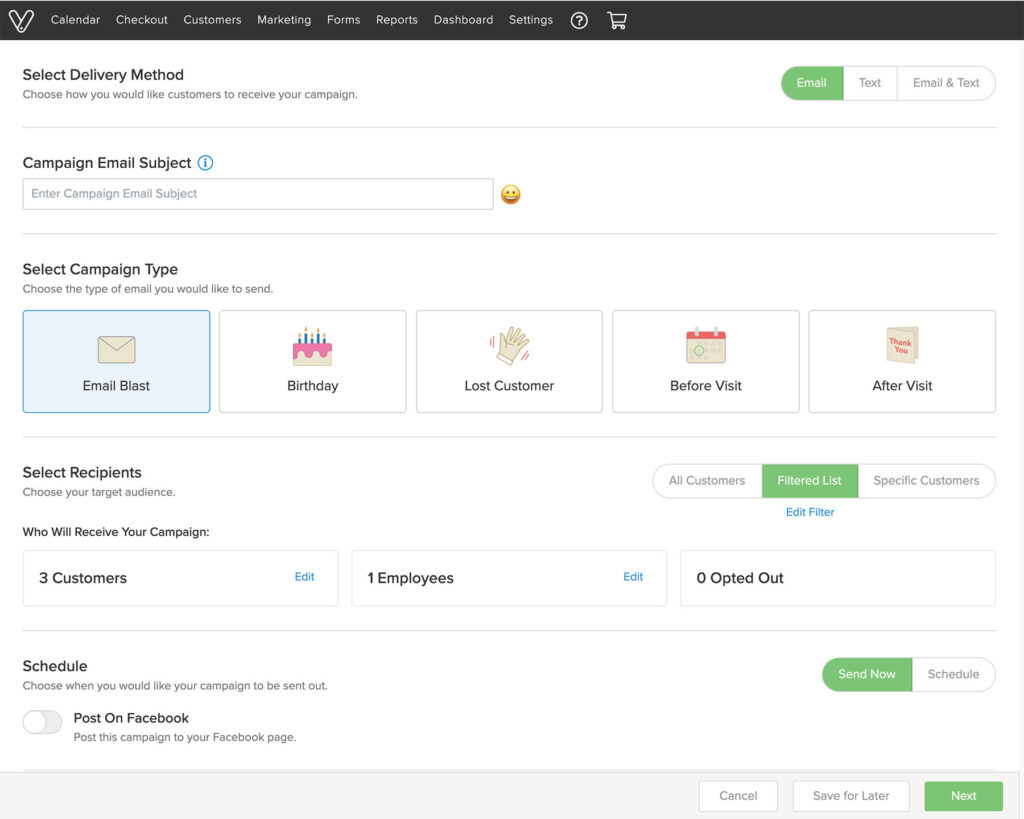 Fresha Marketing Support
Fresha gives you access to built-in email, and SMS marketing campaigns. You can send custom blast messages or leverage the smart campaigns to, for example, reach people on their birthdays or before you lose them.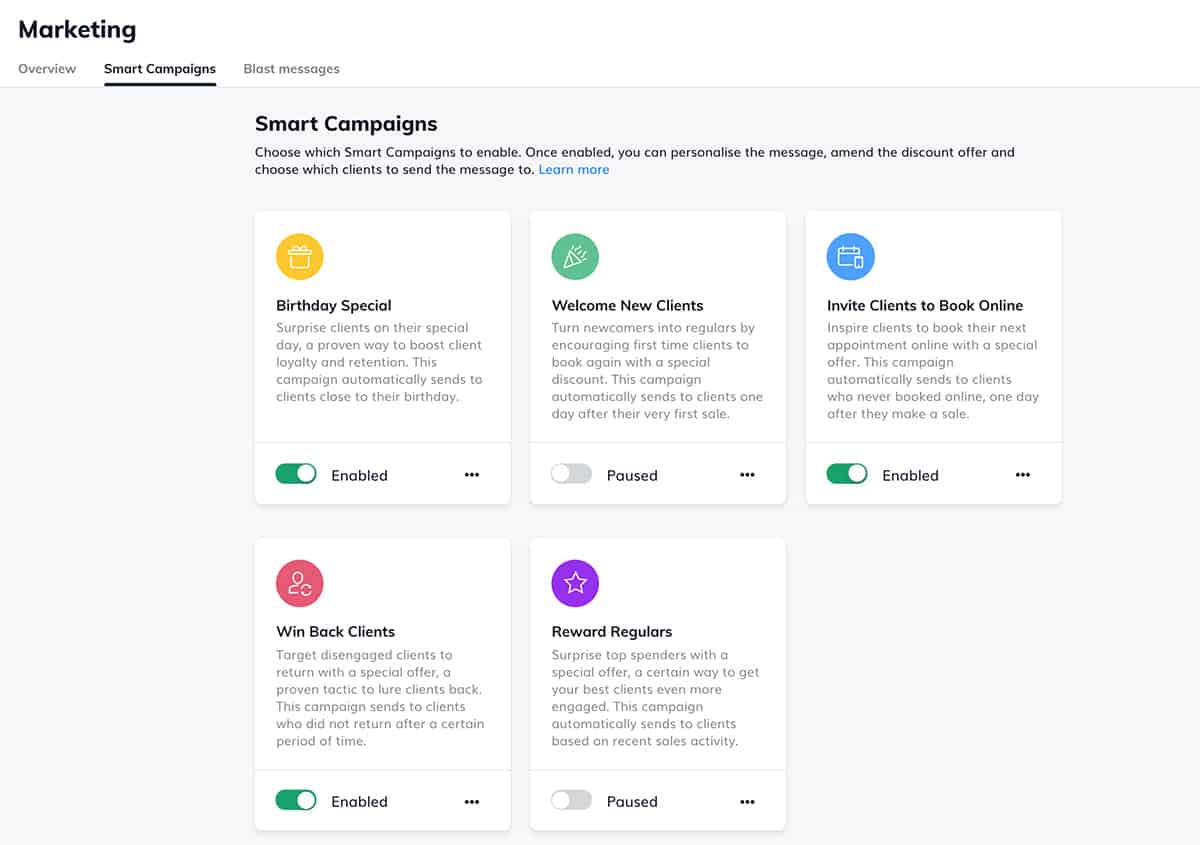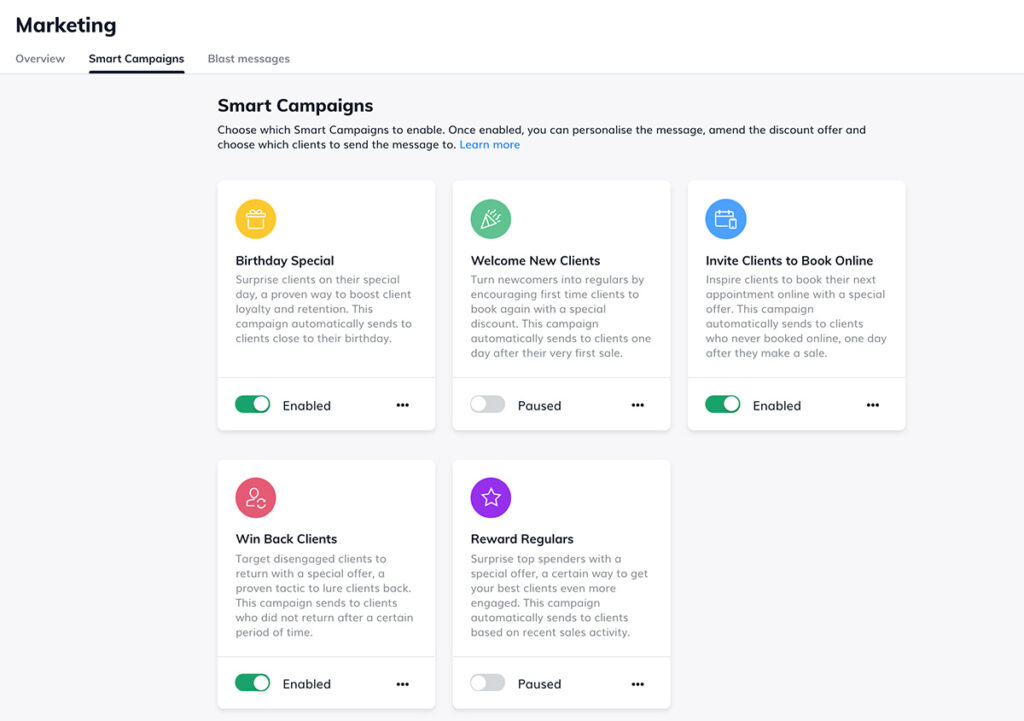 Square Appointments Marketing Support
Square Appointments does not have email marketing built-in (only appointment notifications). However, they have other Marketing products that integrate seamlessly with the appointment app.
This is a dedicated email marketing solution for which you'll pay an additional fee.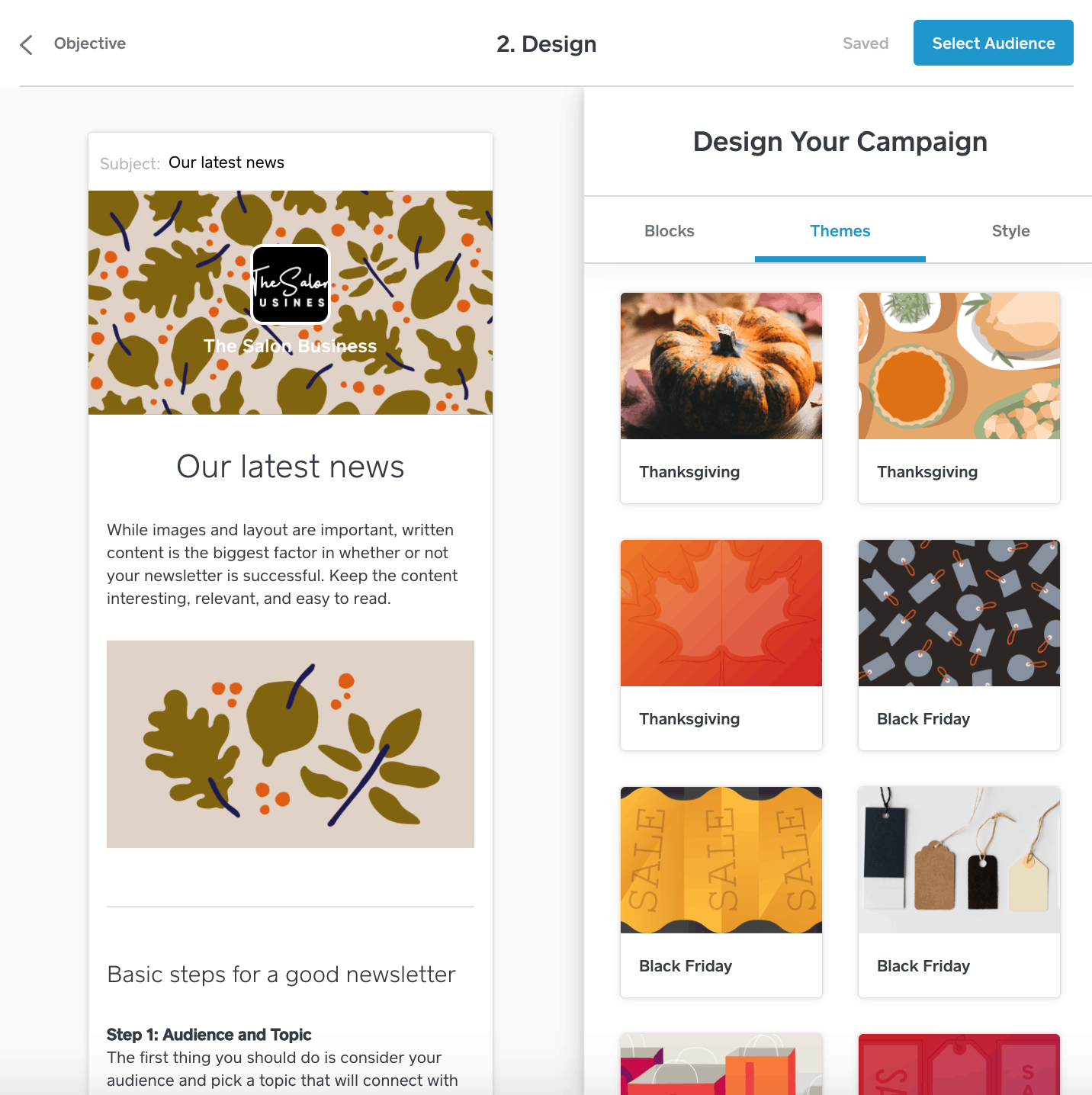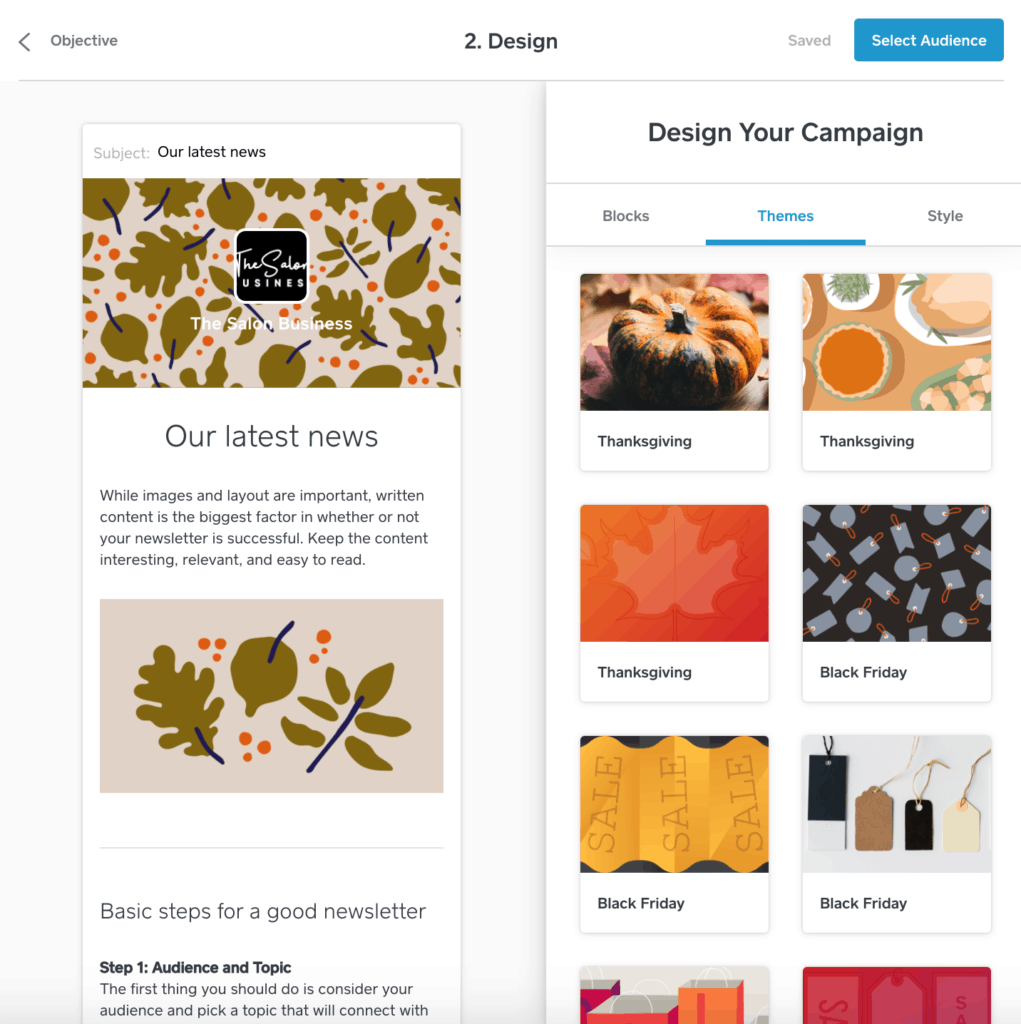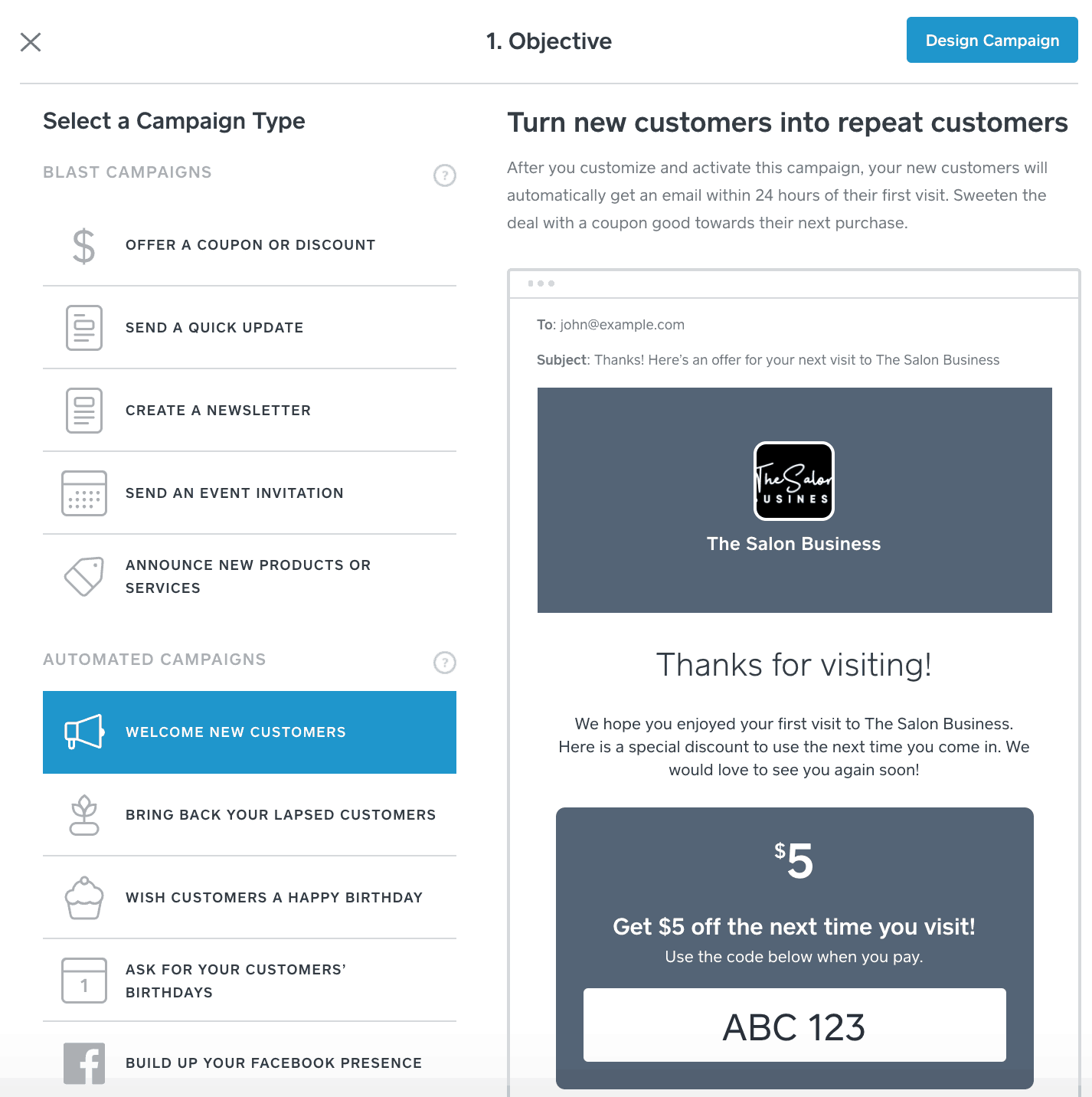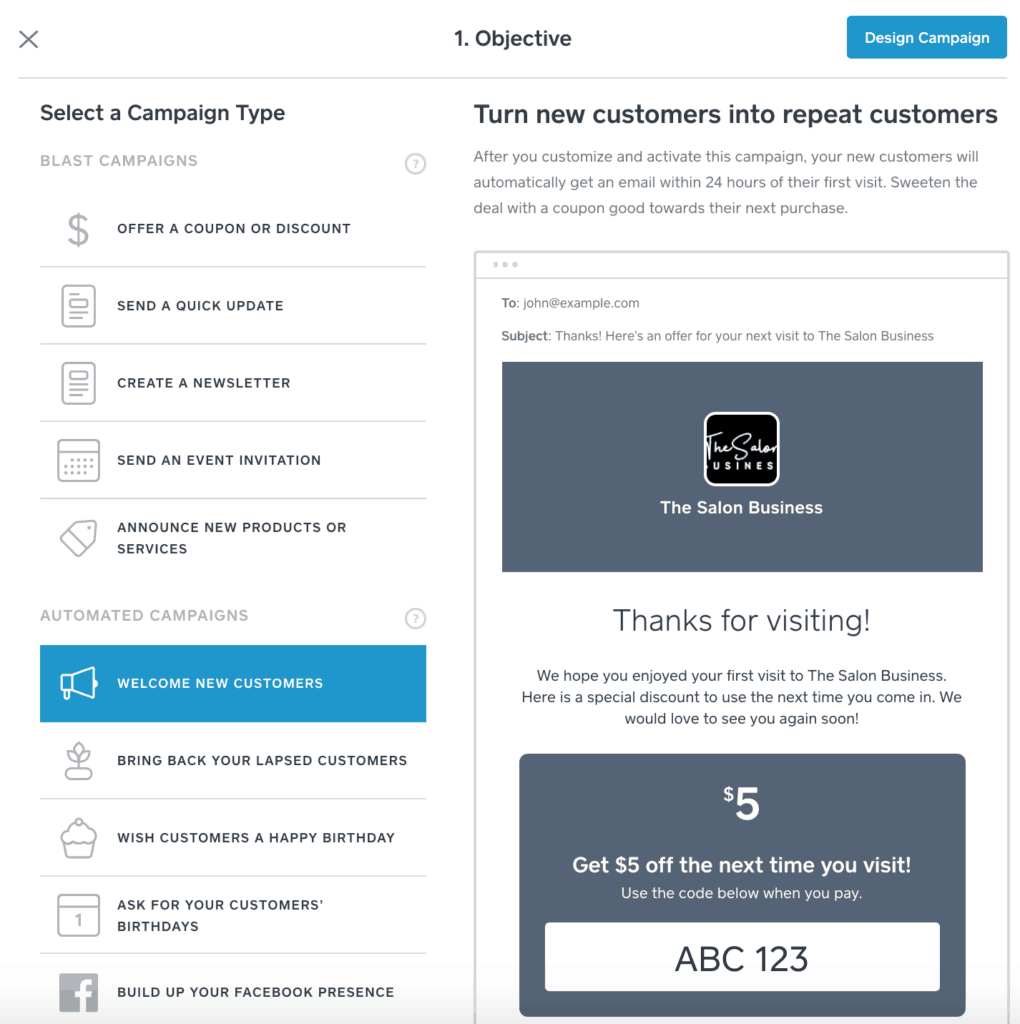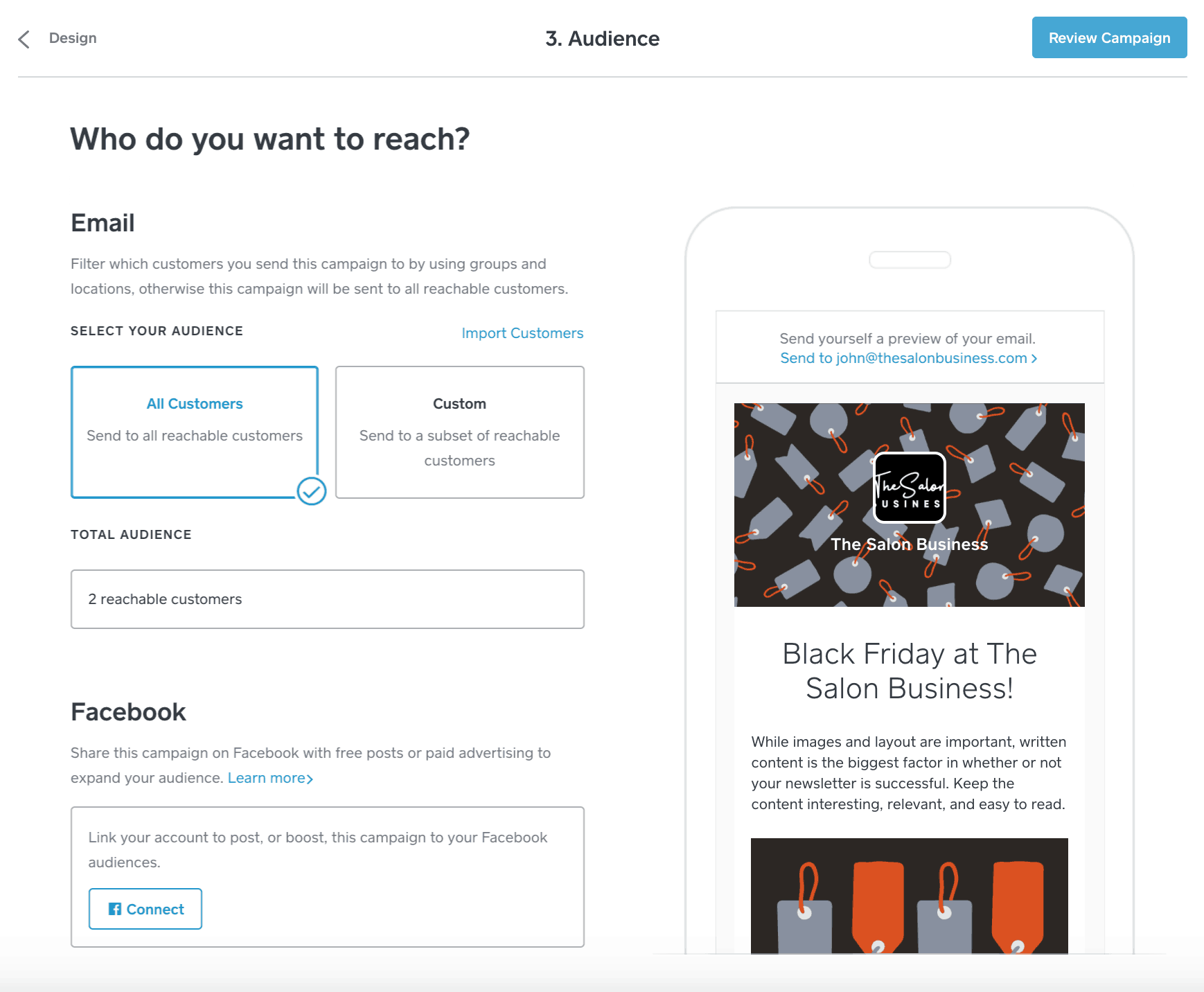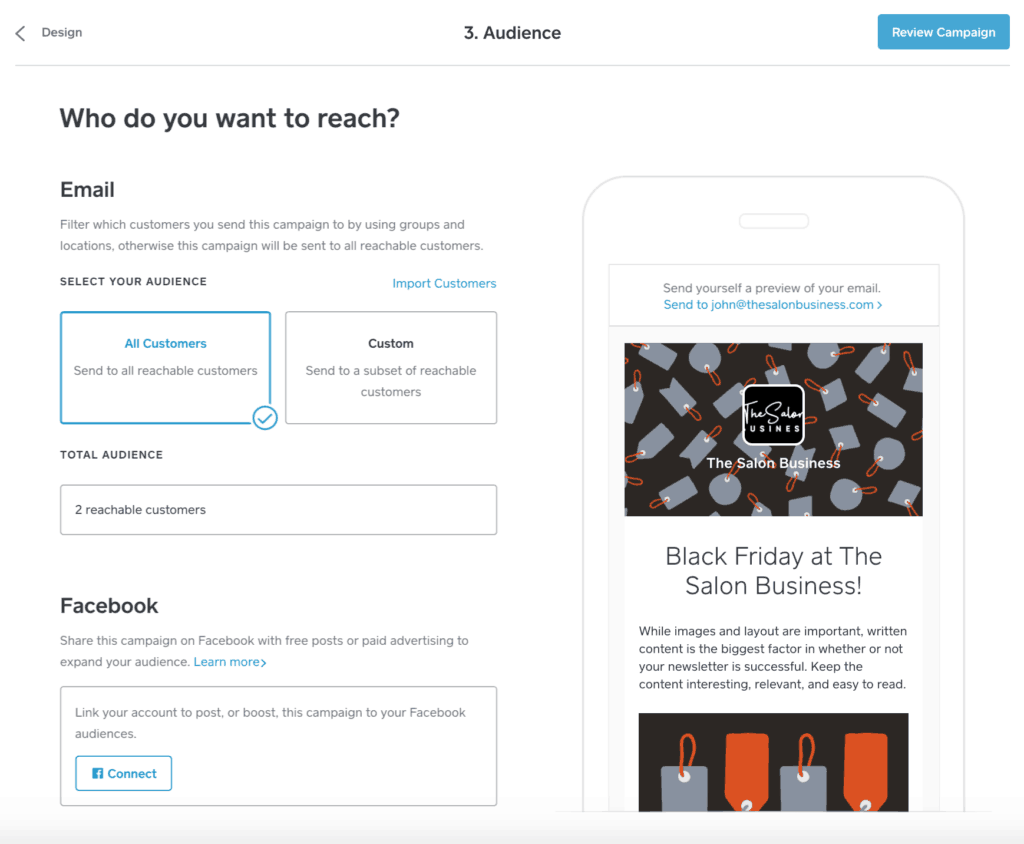 Client Loyalty Program
"It's always cheaper to retain a customer than it is to gain a new one".
That was part of the basic course when I studied marketing. And it's true. But we often forget this and just focus on bringing in new clients. However, a good salon software should help you retain clients, and a good feature for this is a program that rewards your most loyal clients.
Mangomint Loyalty Program Support
Mangomint does not offer a loyalty program. Instead, they allow you to integrate with the loyalty platform of choice.
However, they do offer robust support for memberships and packages which has a similar benefit. Keeping clients loyal over time.
Packages and memberships are easy to set up – just add the services you want to include and set the price that you want to offer the bundle at.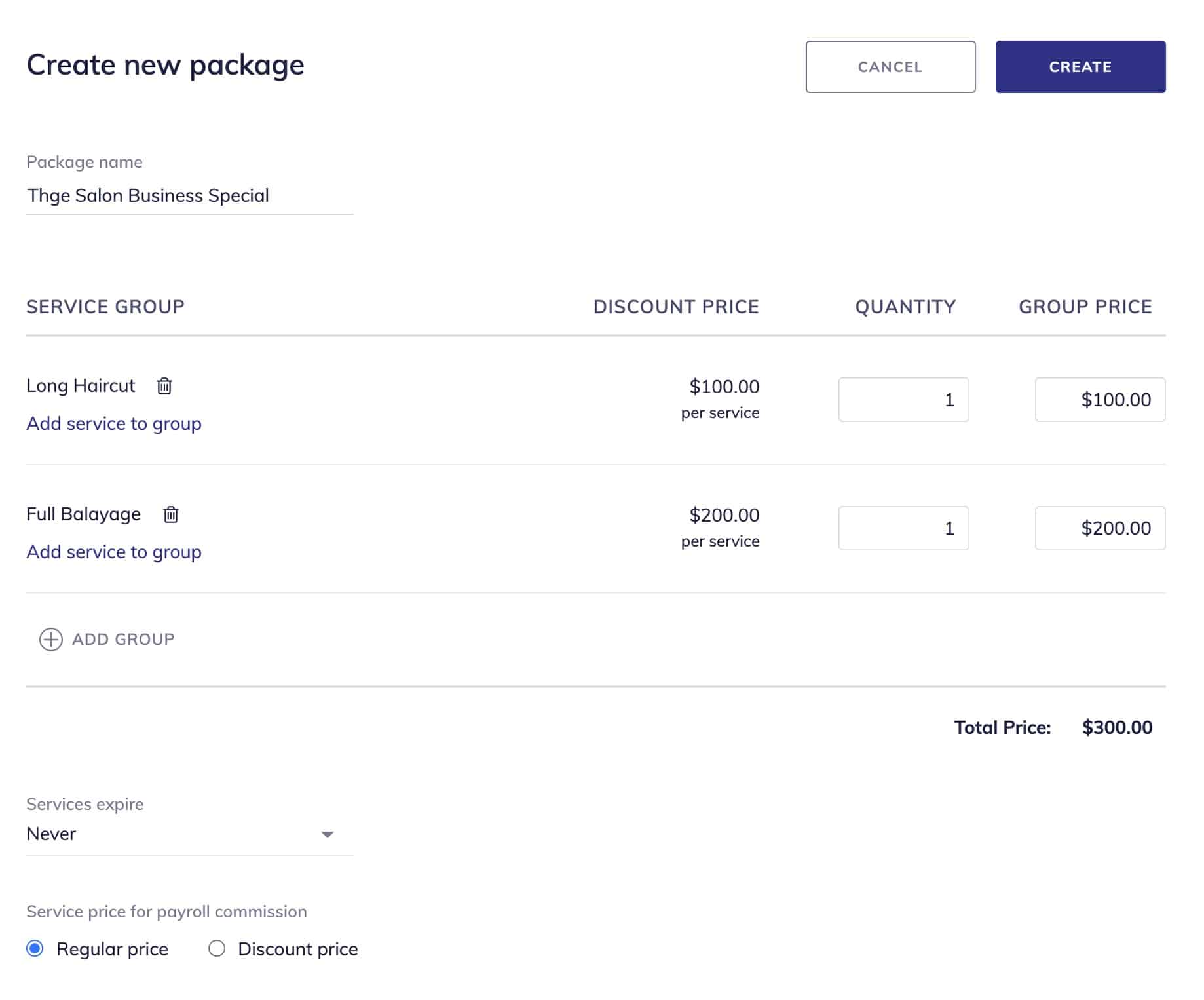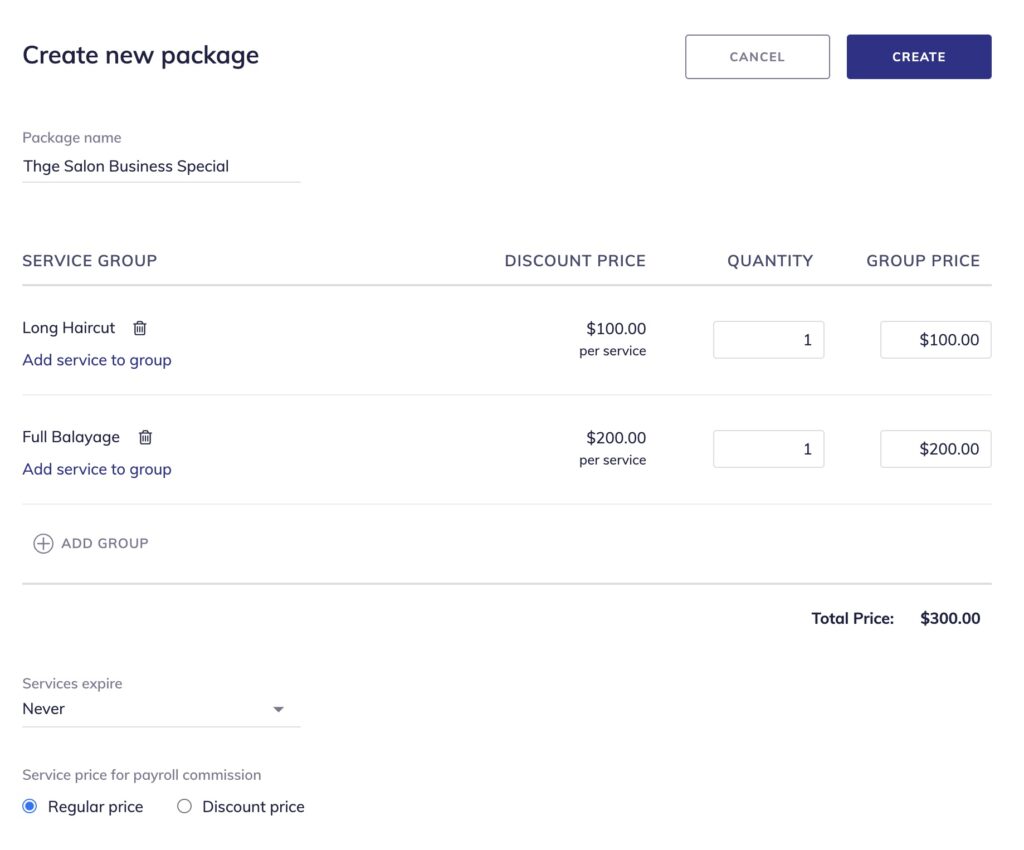 GlossGenius Loyalty Program Support
GlossGenius does not offer a loyalty program.
Vagaro Loyalty Program Support
Vagaro has a points-based loyalty program built-in. As you set prices for services, you can also configure how many points clients will earn from the services as well as how many points it will cost them to redeem the same service using their collected points.


Fresha Loyalty Program Support
Fresha does not offer a loyalty program.
You can however automate email and SMS campaigns to be sent out when a user has reached a certain spend with you. Although this is not a loyalty program per se, it can be used to encourage clients by sending them benefits at a certain spend.
You can also set up packages and memberships in Fresha which would give you a similar benefit as a loyalty program when people commit to more with you.
Square Appointments Loyalty Program Support
You do not have a loyalty program built into Square Appointments.
Instead, Square offers a dedicated loyalty program that works with its suite of solutions.
It's a powerful and easy-to-use loyalty program but it comes at additional costs.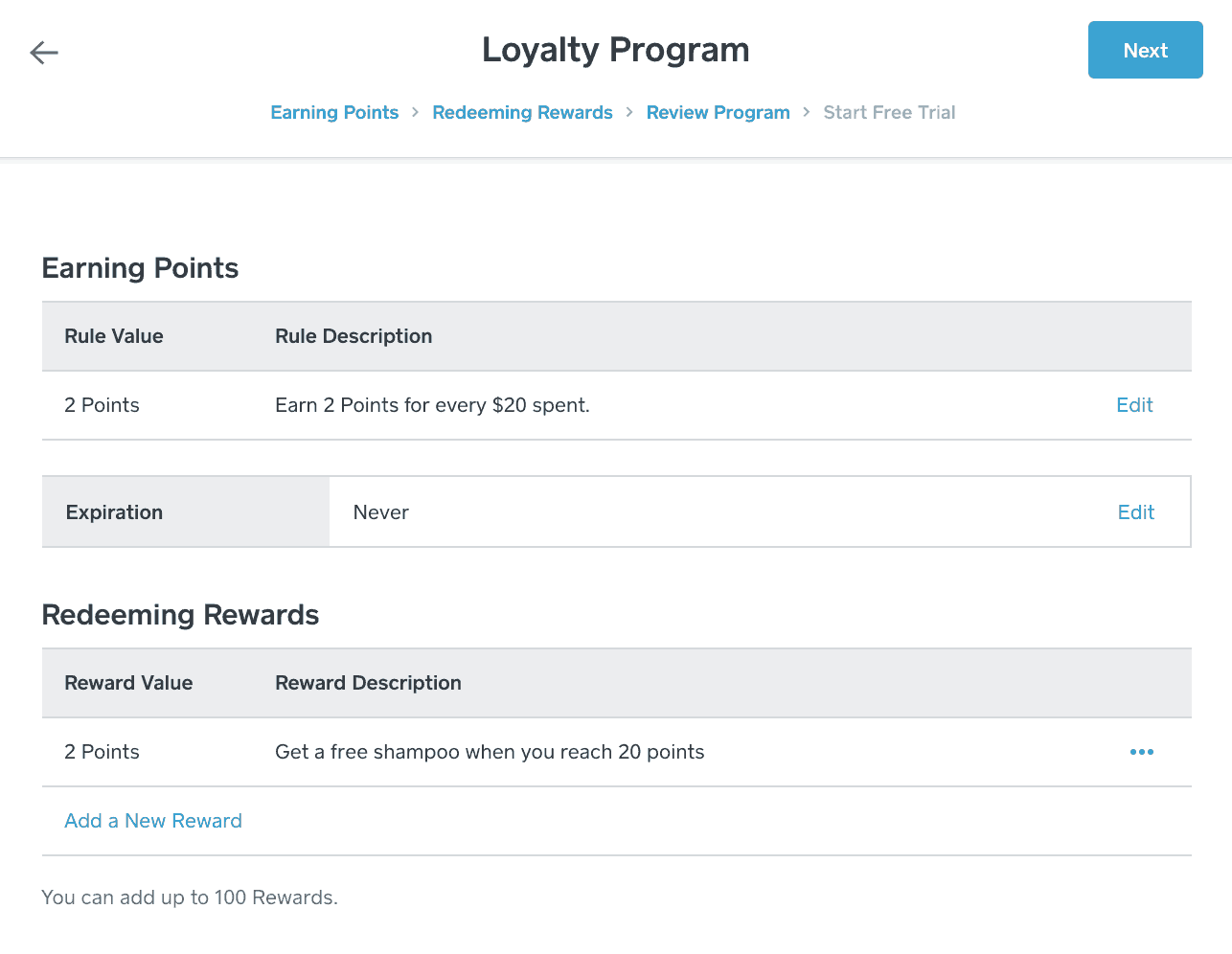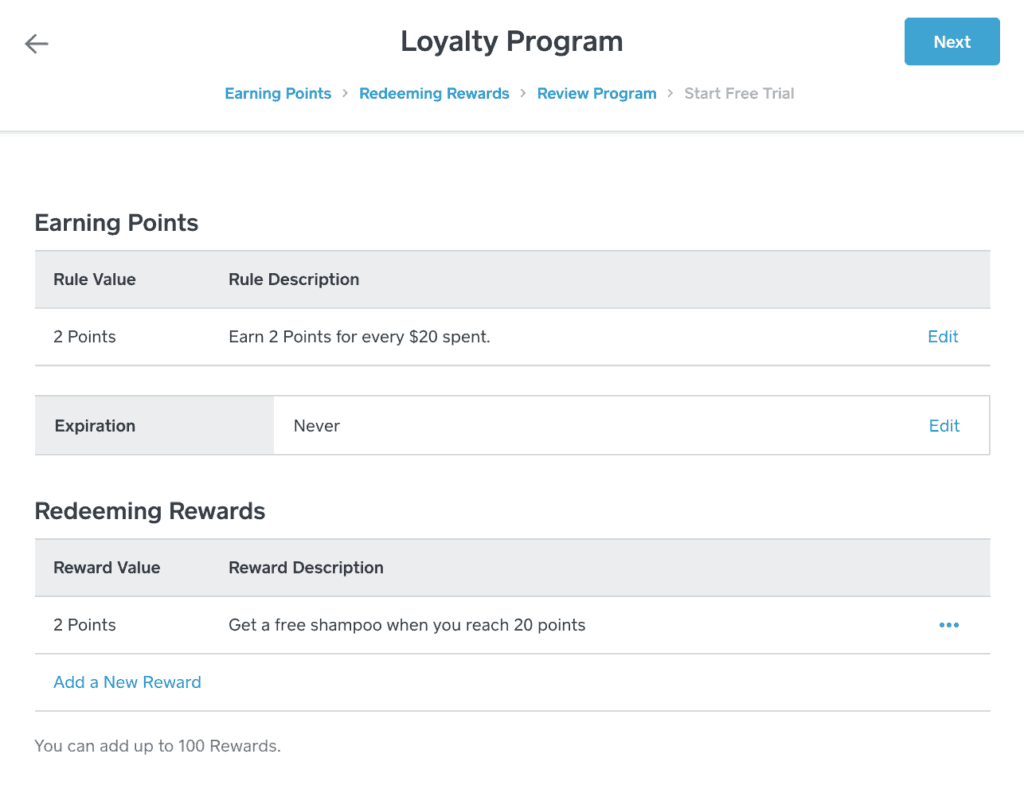 Salon Website Builder
Your website is the hub of all your marketing. This is where you send new clients from your social media or other marketing efforts. It's quite likely it's also the first impression that a client has with you – so you want to get it right.
I'll go through how each of the recommended tools here can assist you with creating your website. But the fact of the matter is that a website builder is a technically difficult solution to build. Thus, no all-in-one Salon Software on the market can deliver a really good solution. Instead, it's more important to understand how your salon software integrates with other, specialized, website builders. This way you can create a good website (or have an agency build one for you) that enables online booking with your salon software in a seamless way.
I have created a separate review of the best website builders for salons here. This is a good place to start if the website is the most important part for you.
Mangomint Website
Mangomint does not come with a website builder as part of the platform. But, as you've probably noticed by now, Mangomint offers great integration support. This also goes for integrating your booking widget or gift card shop in whatever website builder you use.
You will however get a client page that you can customize and send clients to in order for them to update their credit card details and see their upcoming appointments at your salon (see example below).
But if you're looking to build a full website, I recommend you check out my list of the best website builders for salons here.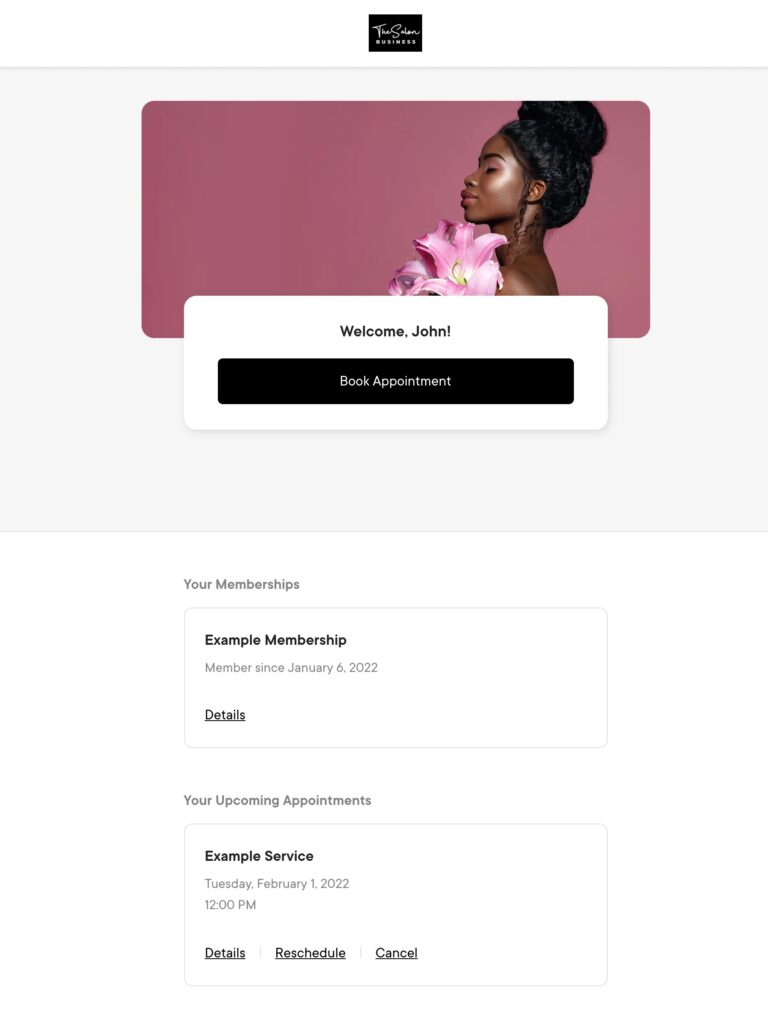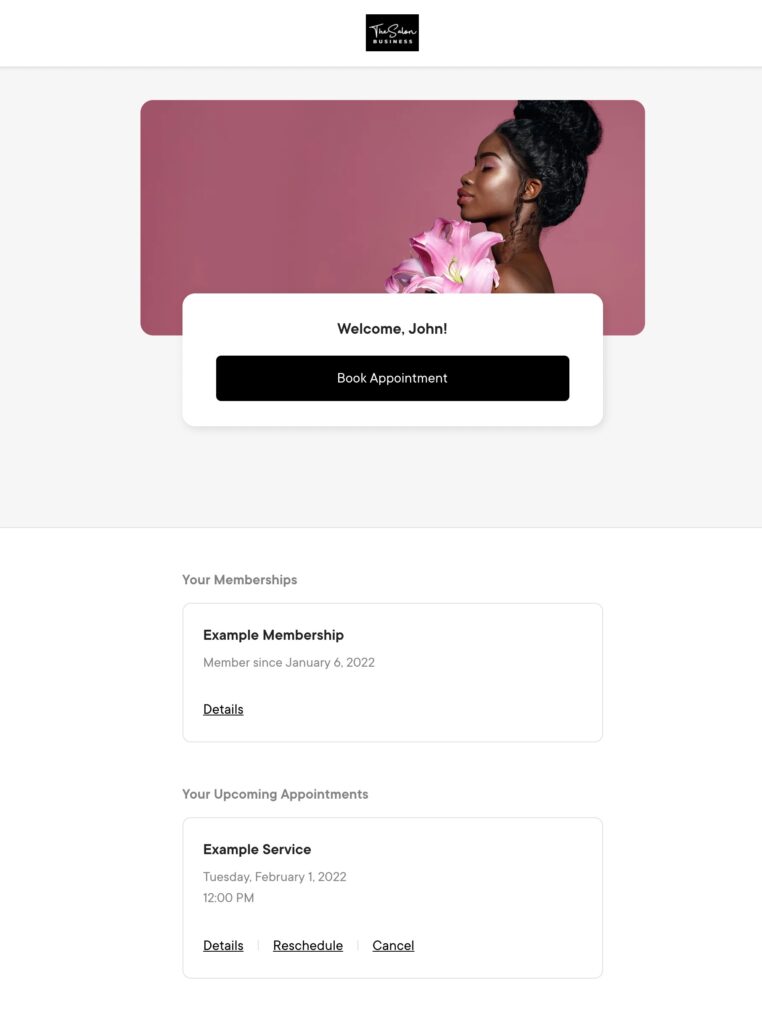 GlossGenius Website
The GlossGenius website builder is… Genius 🙂
I have never built a website as fast as with this tool. Just click a button and you have a website created based on the information you already have stored in the system. And it looks good.
You can change the main image, add your social account, show your team, and add additional information about your business. There's no need for testing and designing. It just works with the information you provide.
This is awesome for the person who wants simplicity without compromising on the look and feel. However, the bigger business will most likely want to connect their own domain name, have more SEO support, and have more flexibility in the design.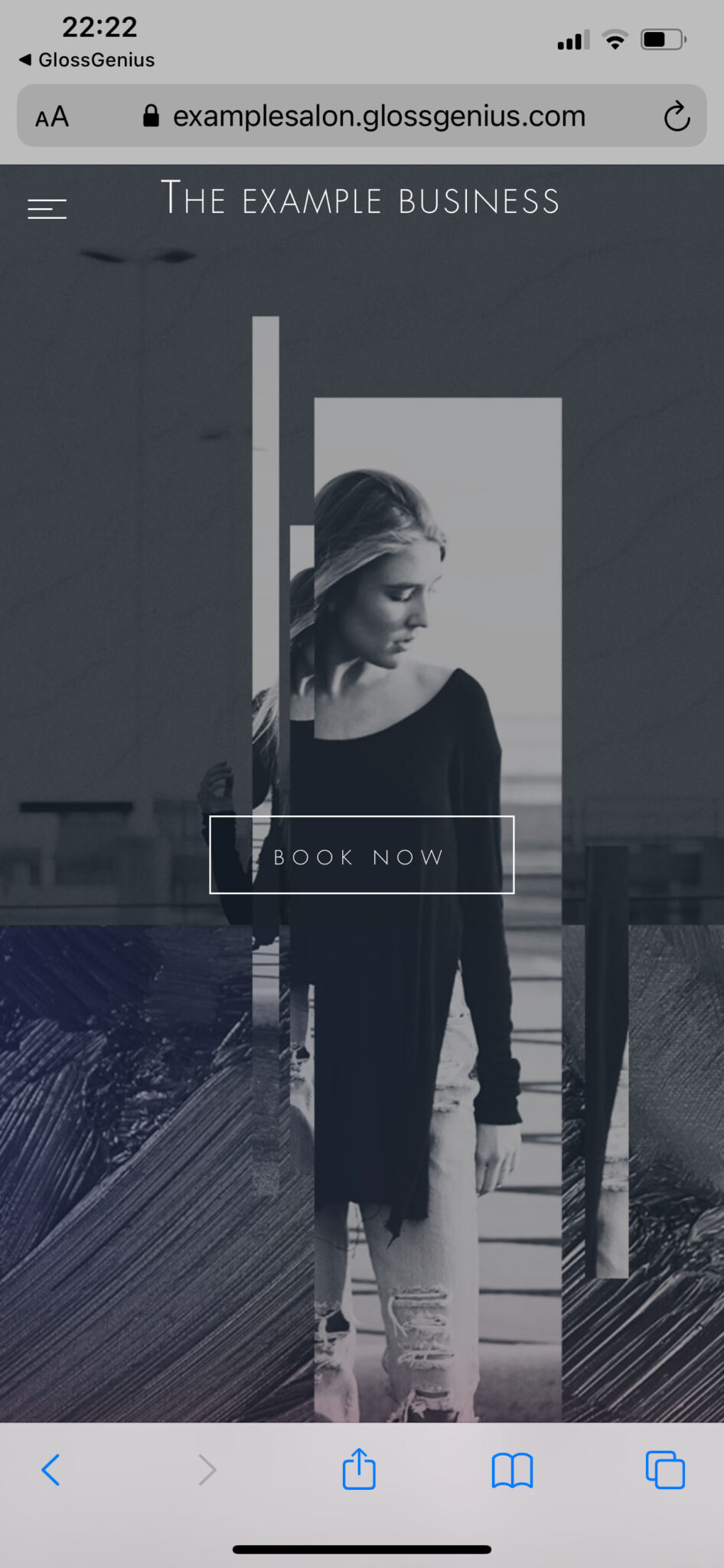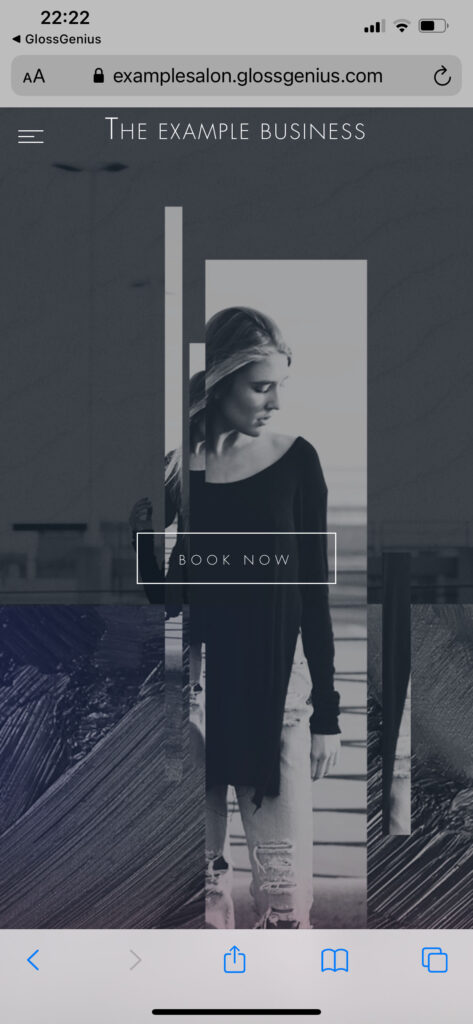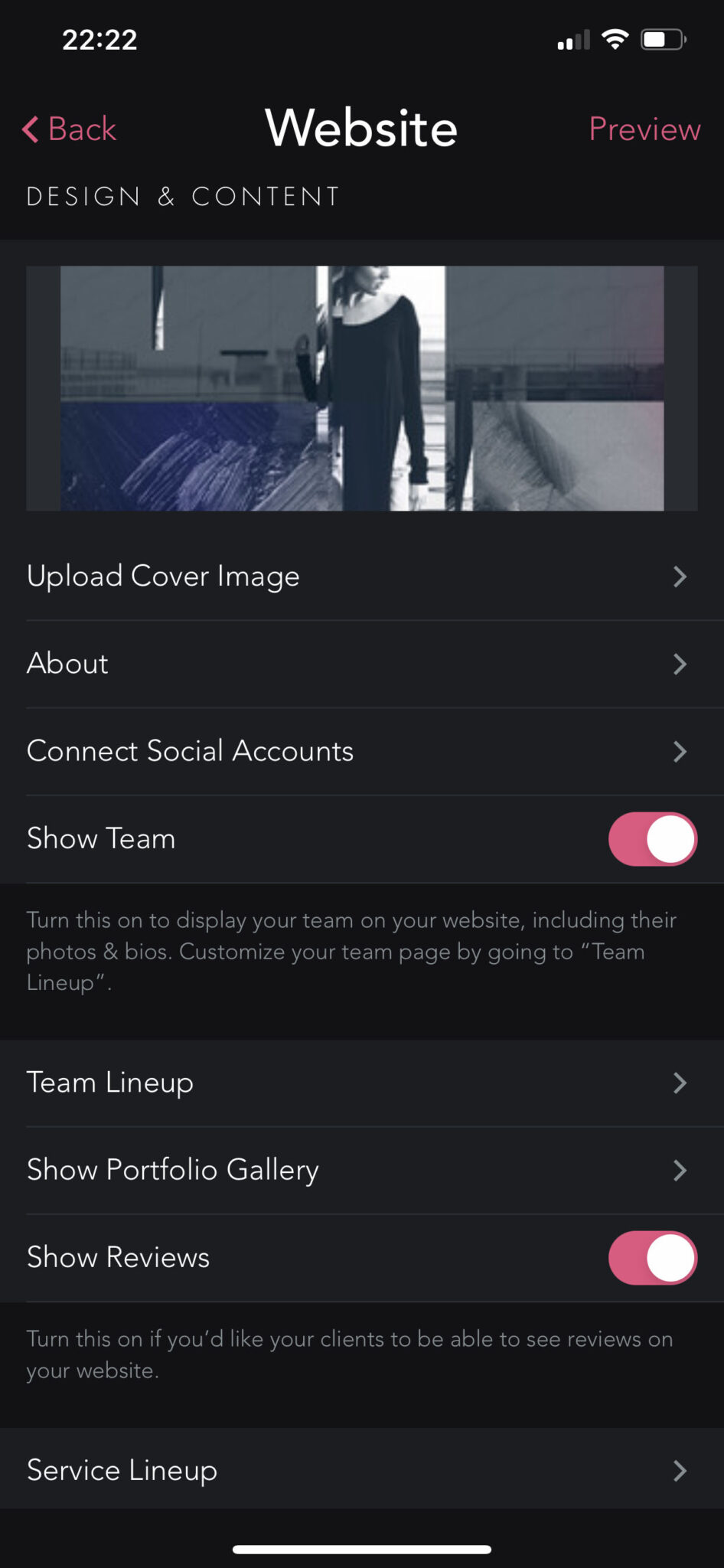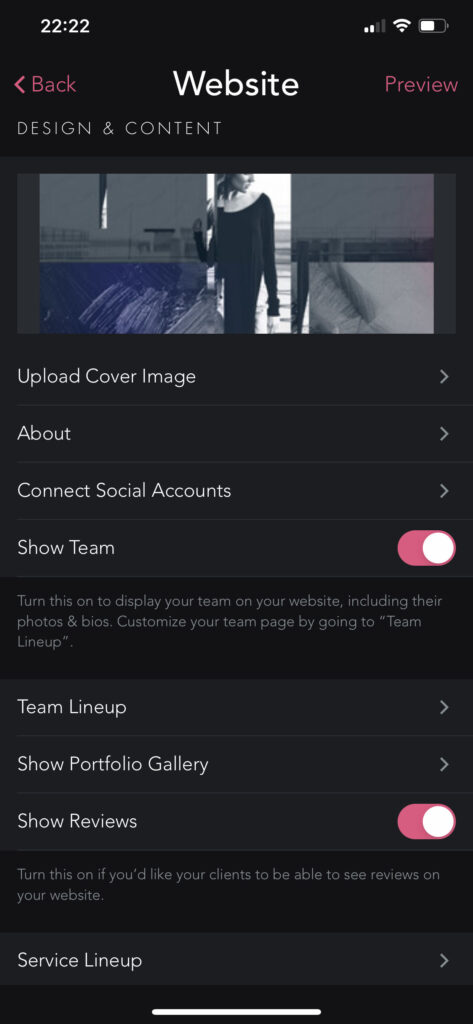 Vagaro Website
Vagaro has a built-in website builder that allows you to spin up a new website very quickly based on the data you have stored in the system.
It comes with default website design templates (see examples below) but you can also order a custom-developed design from Vagaro at an additional cost.
The Vagaro website builder allows you to connect a custom domain and get your site live fast. However, what you can do is limited if you compare it to a dedicated website builder like Squarespace.
My recommendation is therefore to use the Vagaro website widget and integrate whatever part of Vagaro you want to show on your website (which you can build using the website builder you prefer).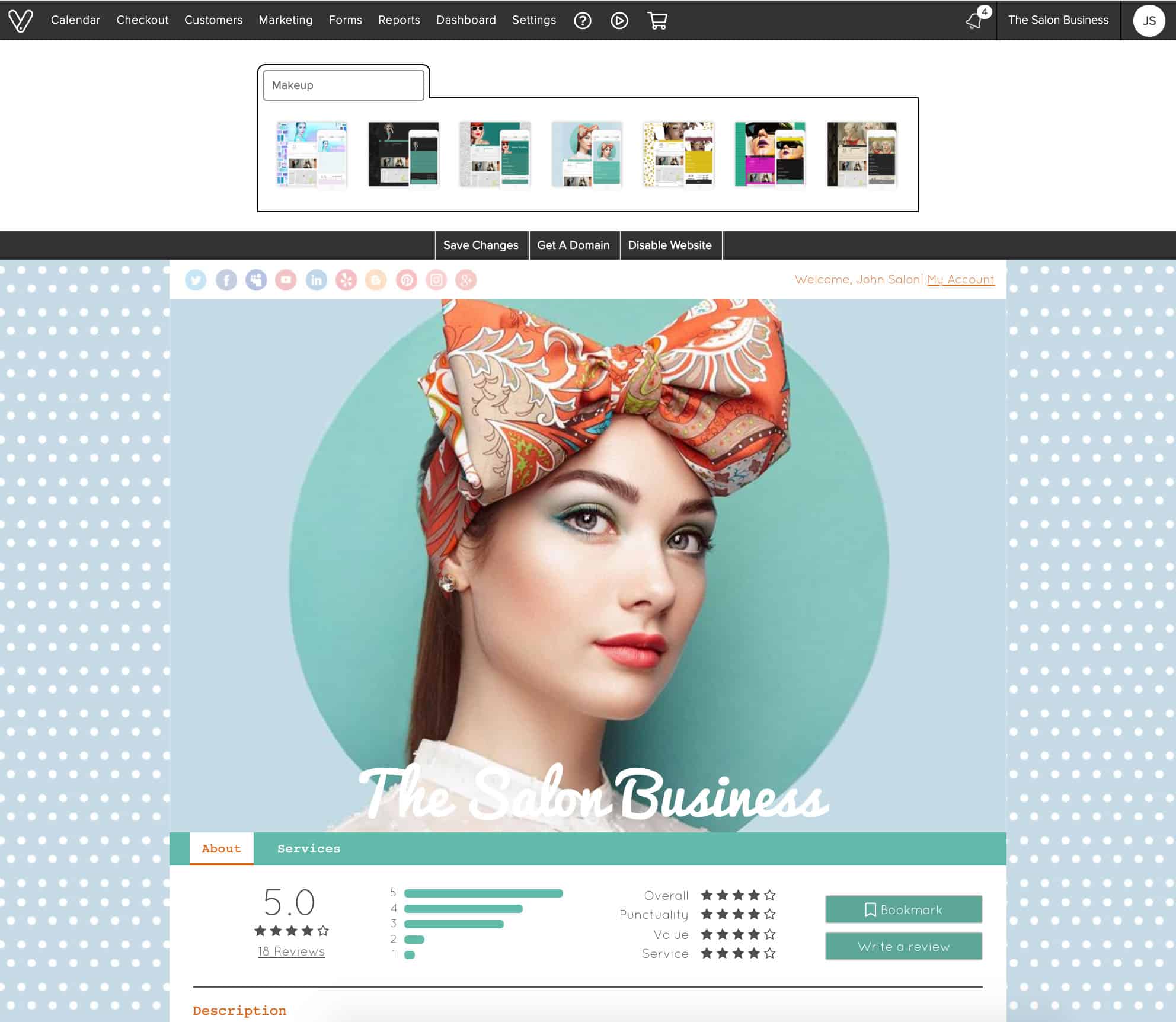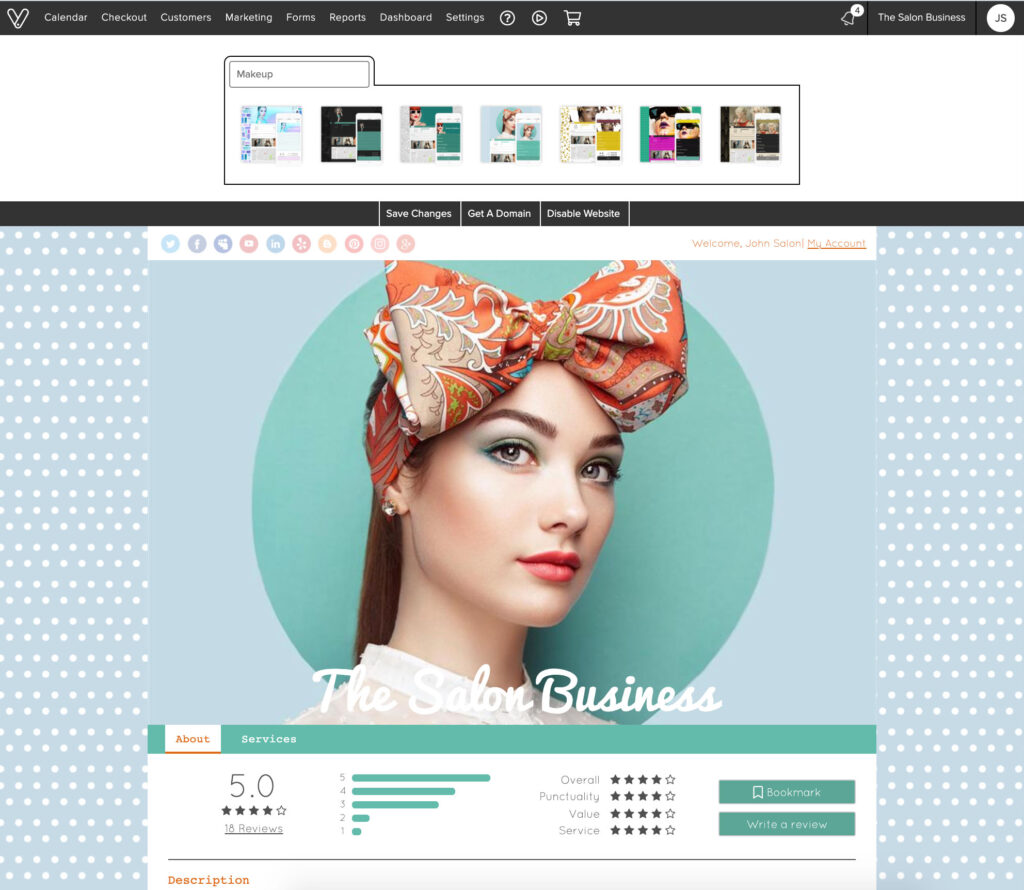 Fresha Website
Fresha does not offer a website builder. You'll get a default booking page that you can link to but it does not allow you to integrate the booking experience on your website.
Square Appointments Website
You can create a simple booking website in Square Appointments using their predefined layouts.
You can also generate a booking widget that you can add to your salon website independently of which platform you built it with.
On top of that, Square offers a free solution called Square Online that allows you to create a full website for your salon.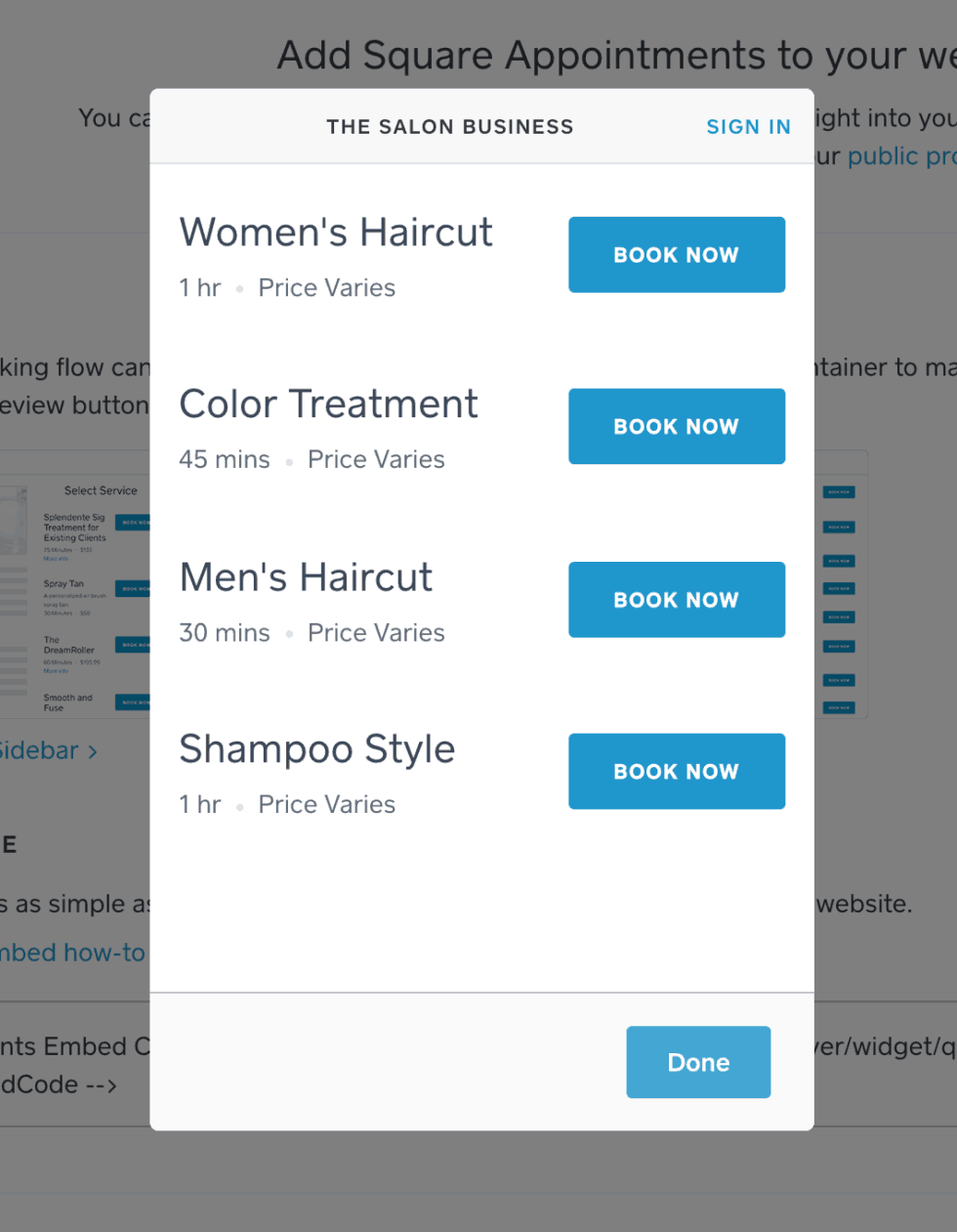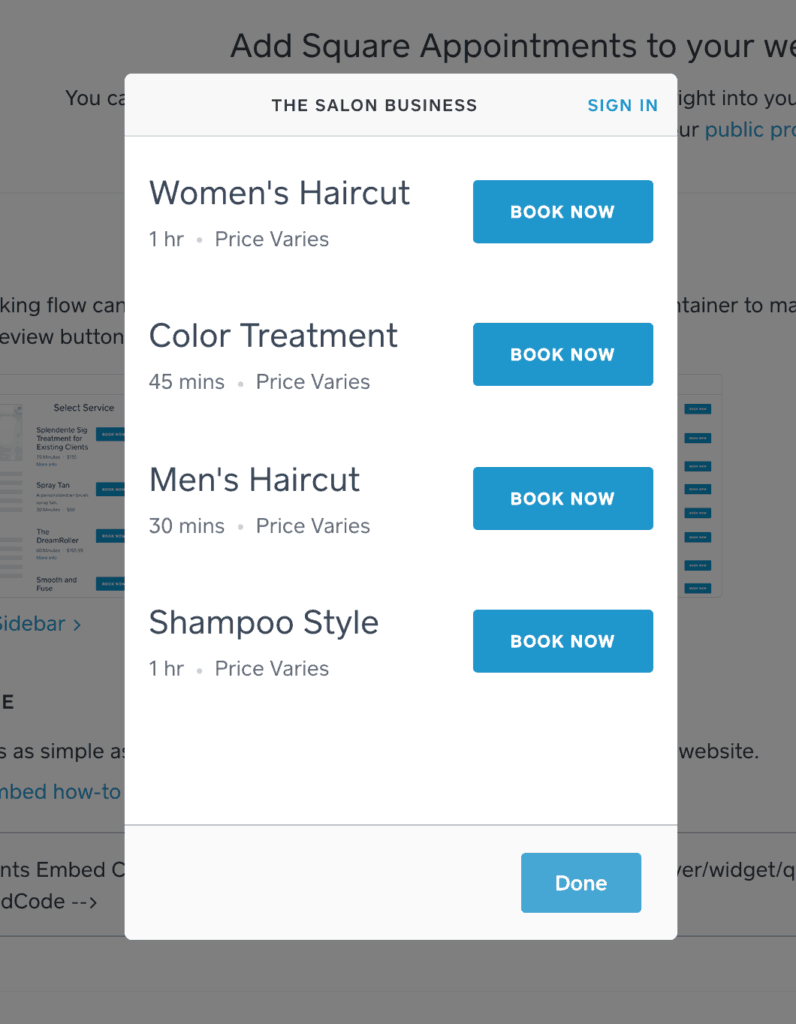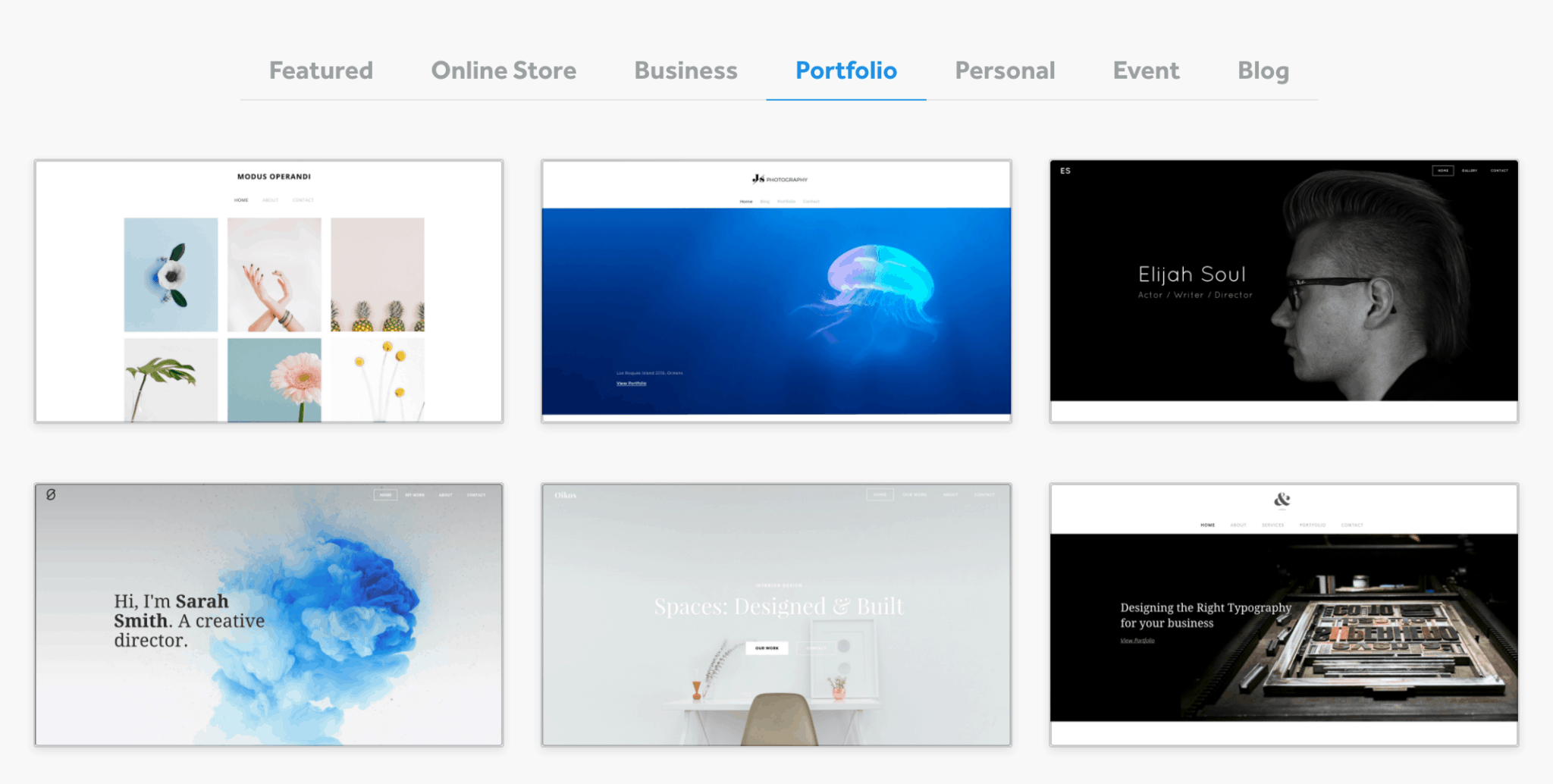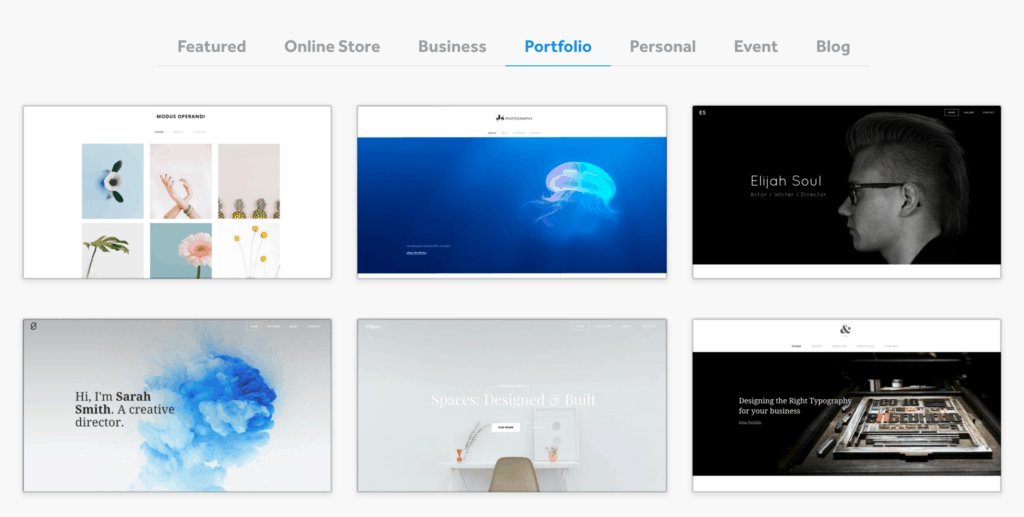 Social Media & Reputation Management
Social media has become the place to market your salon. Most platforms are very visual which fits the beauty industry perfectly. Thus, you want to make sure your online booking is linked with your social media.
On top, your salon software can help encourage your clients to leave online reviews of your salon which helps build your salon's reputation.
Mangomint
Mangomint does not offer support for direct integration with Google Business Profile or Facebook today. Neither is reputation management built into the platform.
Given the platform's integration support, you can of course find a third-party platform that specializes in reputation management and integrate with them to get this support.
Mangomint can automate emails after appointments where you can include a link to leave a review on your Google Business Profile.
GlossGenius
You can connect GlossGenius to Facebook to allow bookings from your profile. There's unfortunately not a Google Business Profile integration available yet.
You can also enable reviews so that clients will be given the opportunity to leave a review after their appointment. Reviews will be displayed on your website and you can choose which ones you want to show and which not.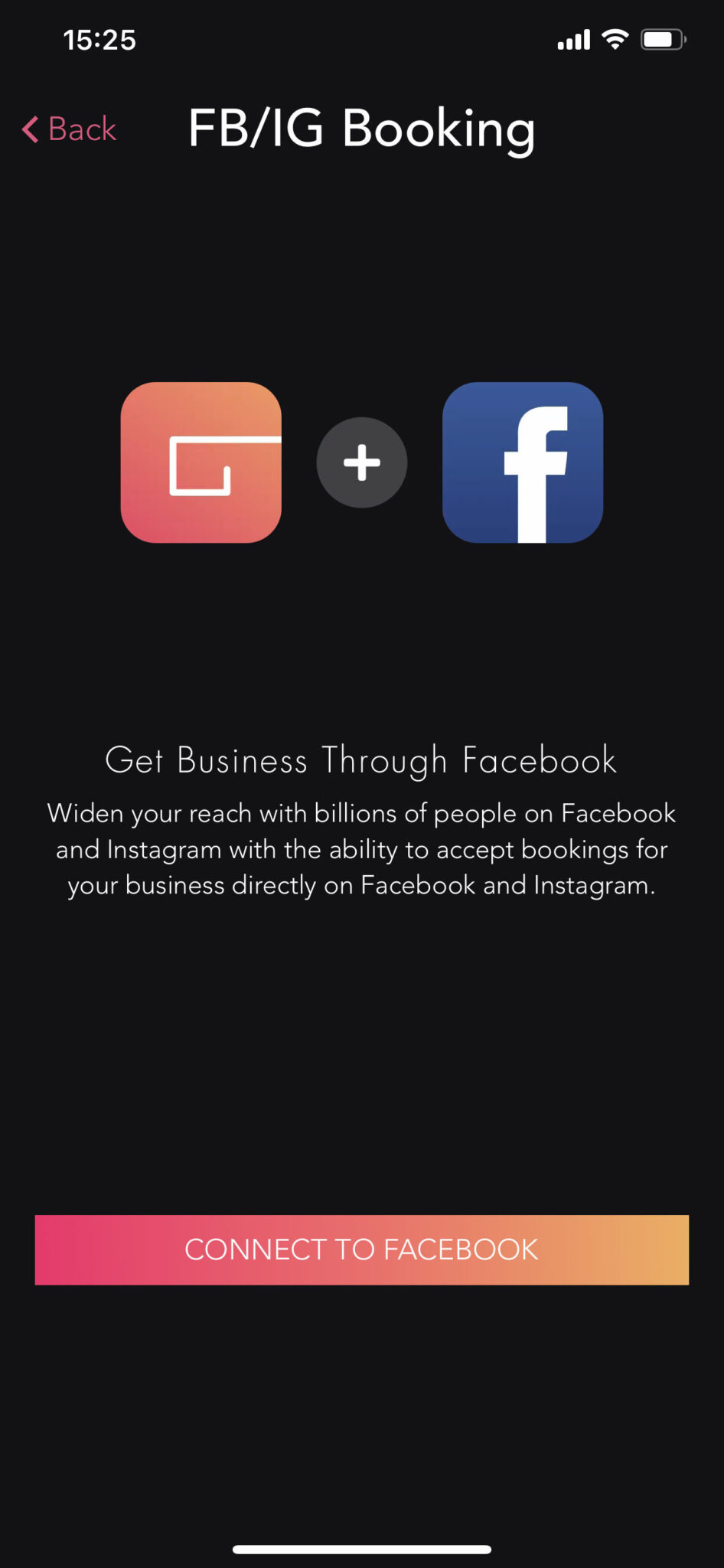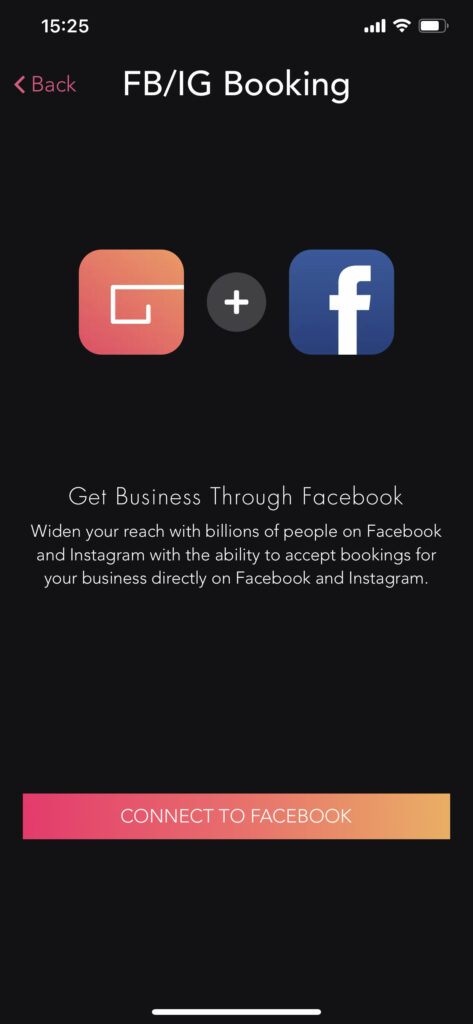 Vagaro
Vagaro integrates with Facebook, Instagram, Yelp, and Google.
This means people can book you directly from these platforms and that you can feature your gift cards for sale directly on your Google My Business profile.
You can also have your users leave a review of their visit on your Vagaro marketplace profile.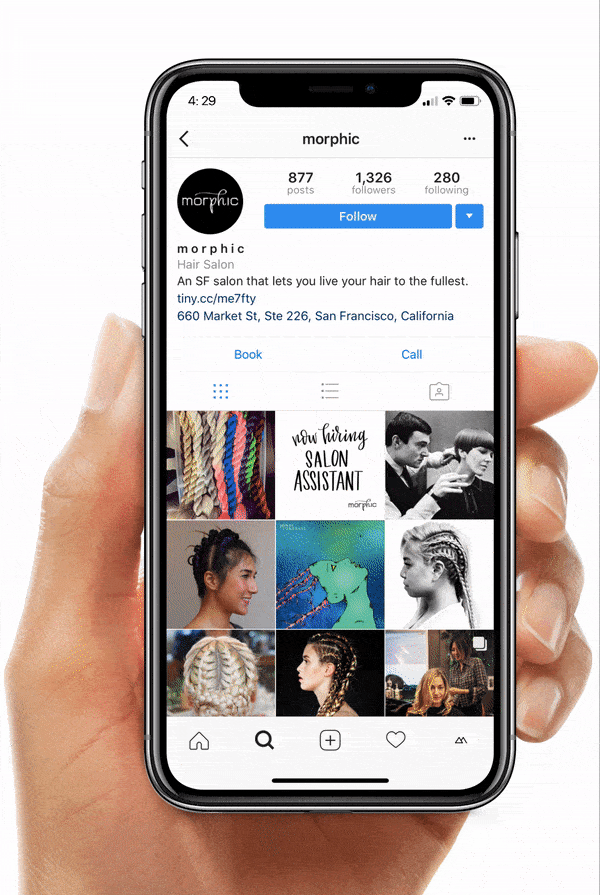 Fresha
You can integrate your Fresha booking directly with Facebook, Instagram, and Google. You'll also be able to manage customer reviews made on the Fresha marketplace. However, the tool does not support reputation management on other platforms – like Google or Yelp.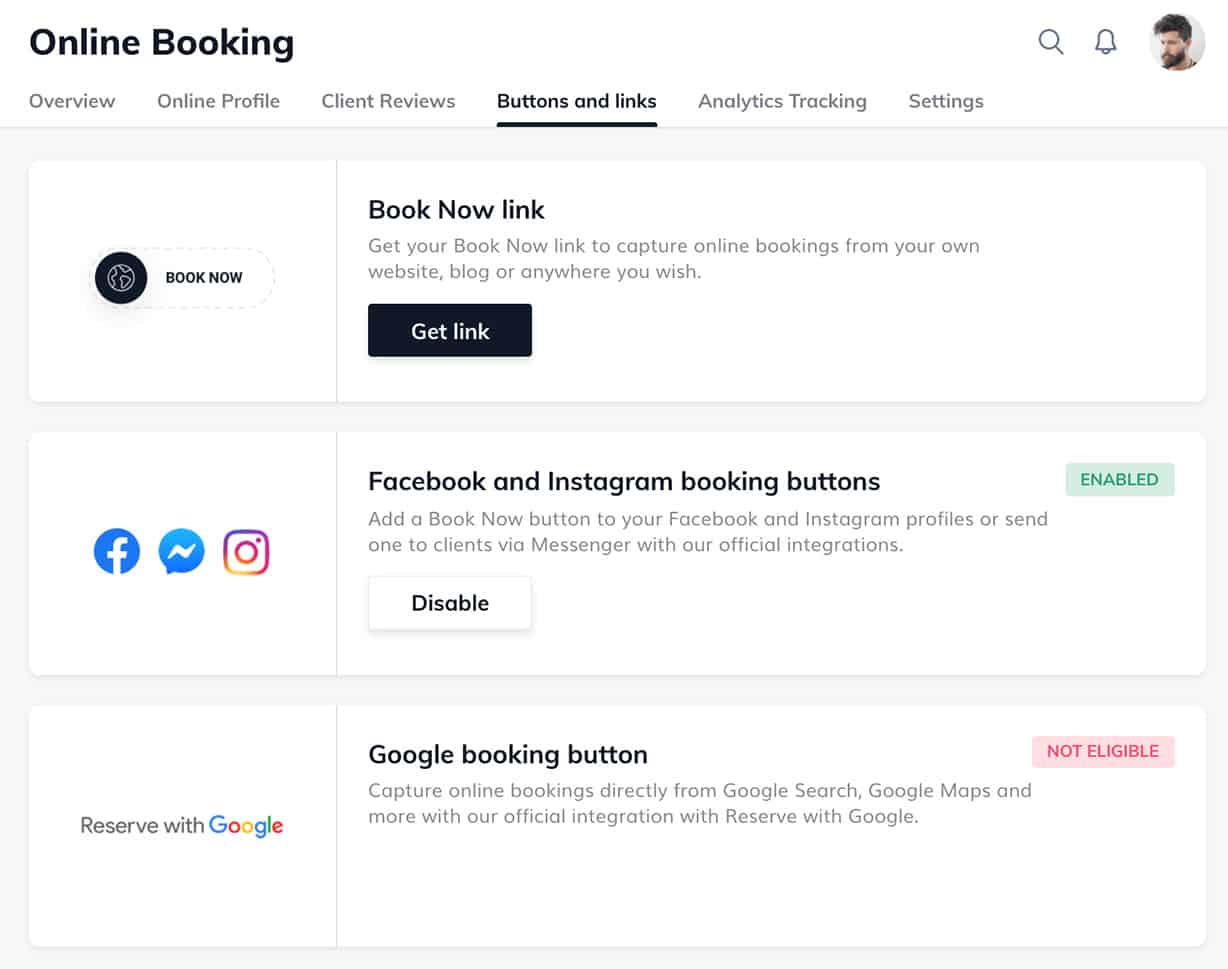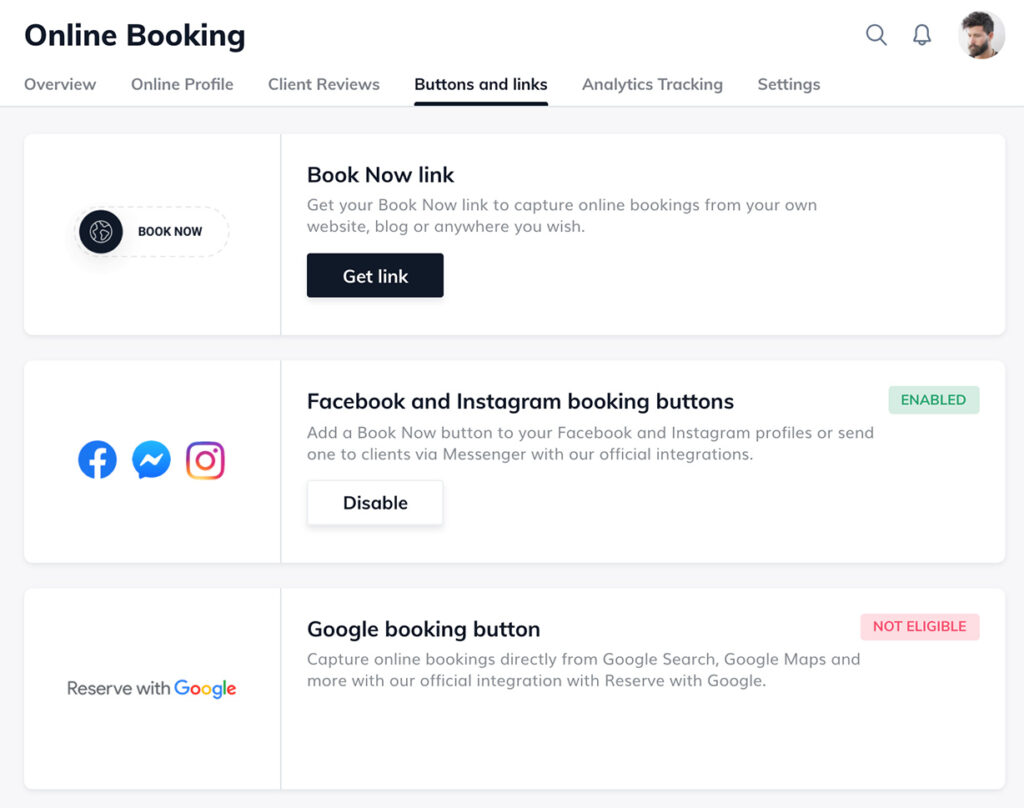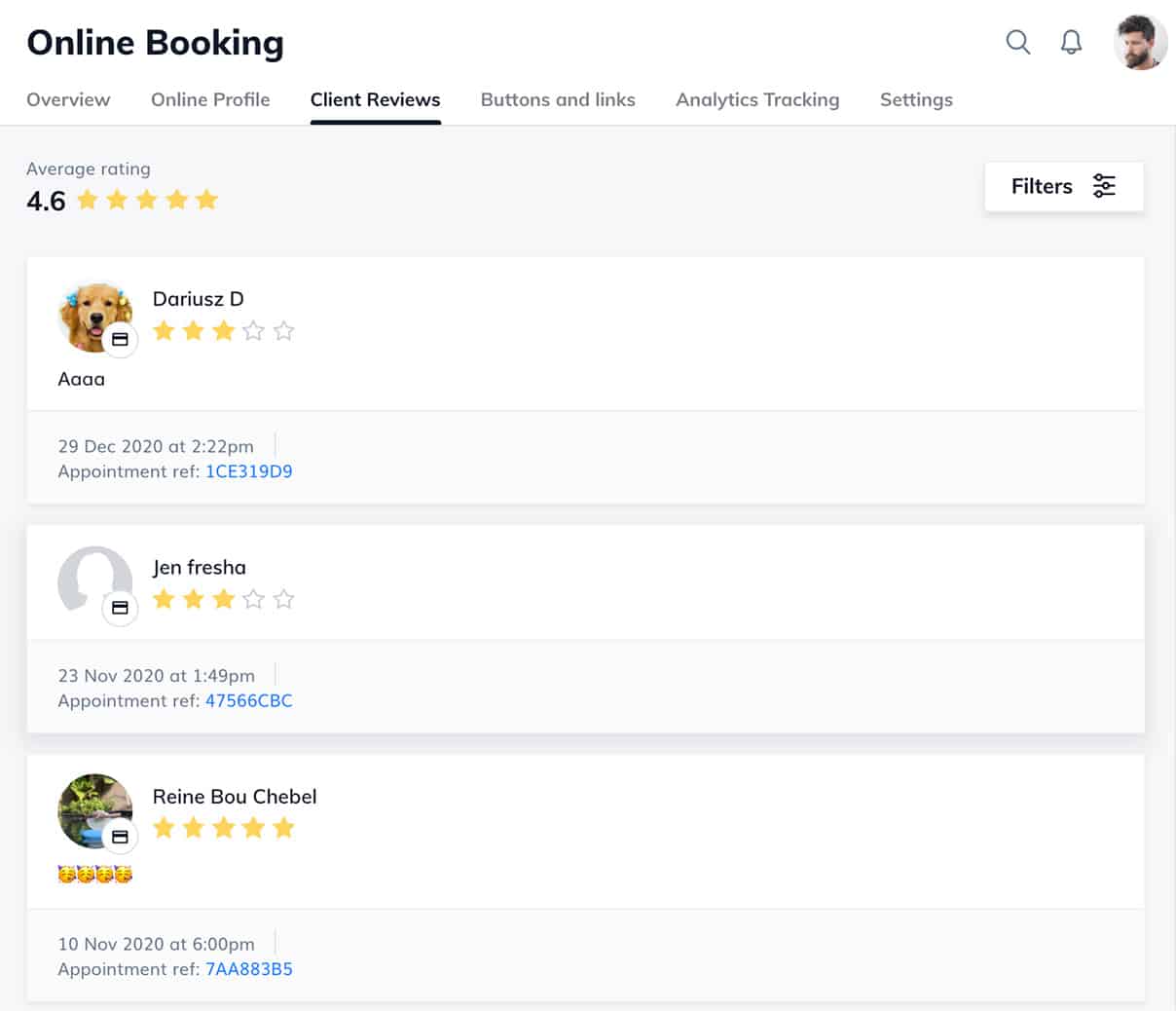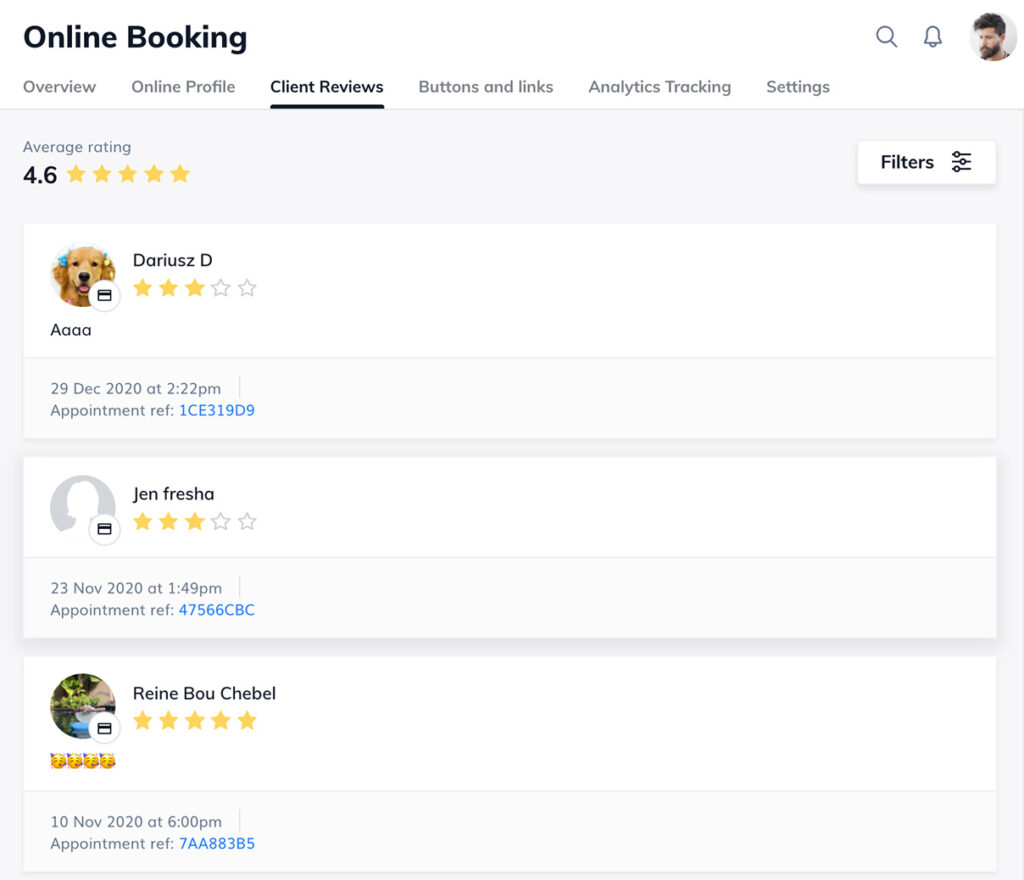 Square Appointments
Square Appointments integrates with Google so that your clients can book you directly on the search result page without leaving Google.
For other social platforms, you can link directly to your booking widget for fast booking of appointments.
They do not offer any reputation management support today.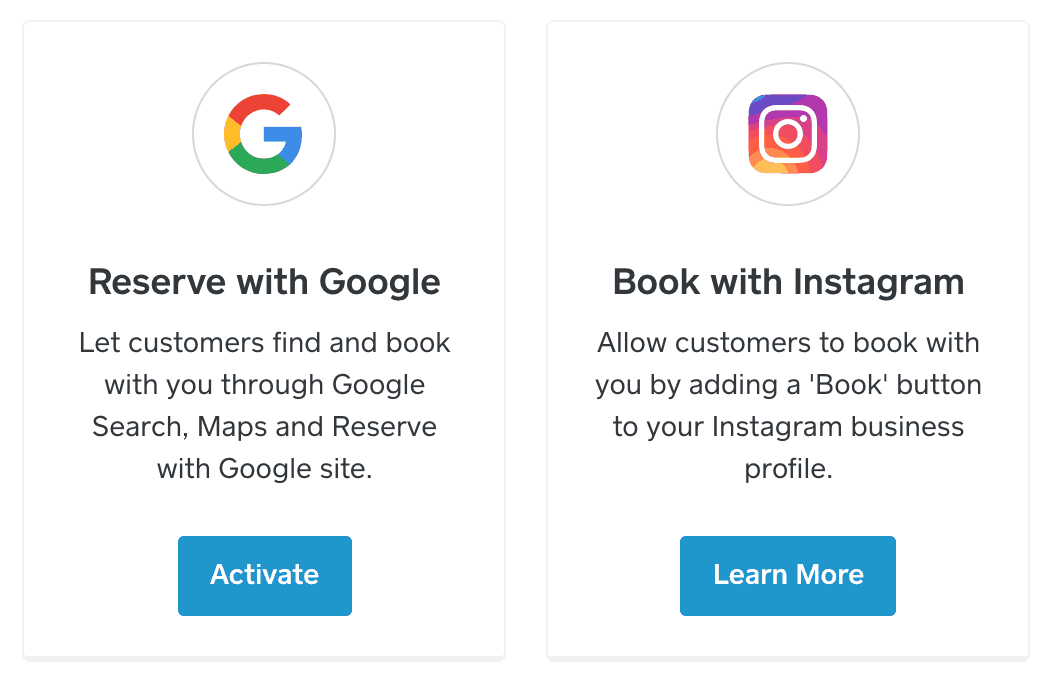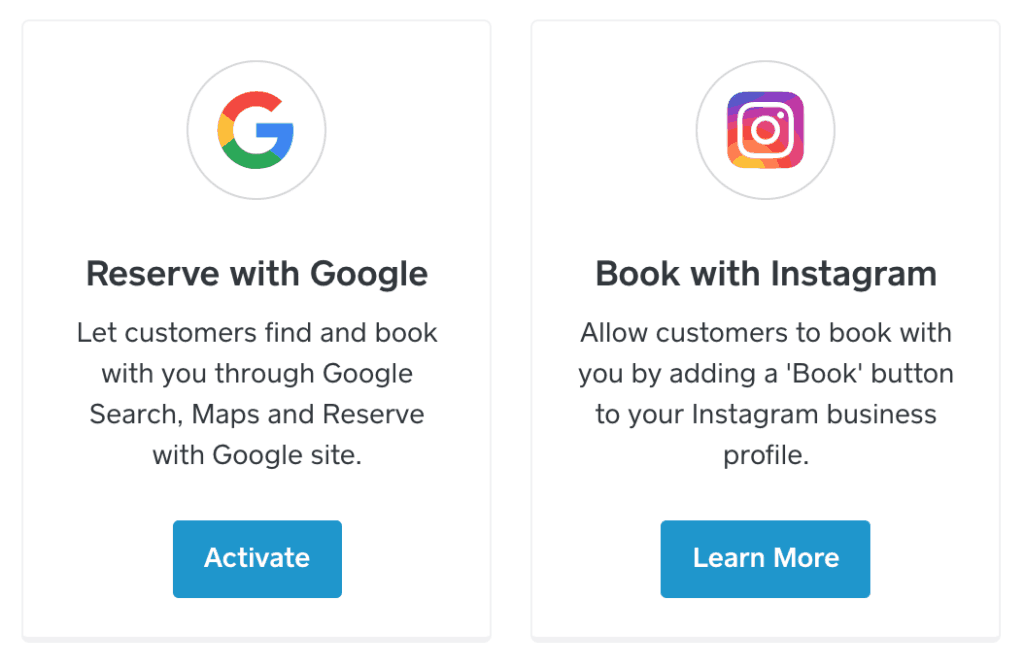 Best Salon Point of Sale (POS) System
A salon software wouldn't be of much help if you cannot use it at checkout. The software I recommend in this review manages the checkout process differently.
I have also done a review of the best salon POS systems that I strongly recommend that you read. This goes into more depth on the top point-of-sale systems for salons and spas which includes options that aren't listed here.
Let's look at the point-of-sale support they offer to help you identify the best option for you.
Salon POS Hardware
All software platforms I recommend in this review are cloud-based and can be accessed via the web browser or via mobile or tablet app. However, Mangomint, Vagaro, and Square Appointments also support you with POS hardware.
Mangomint POS
The POS hardware offered by Mangomint includes the compact Bluetooth card processor and Front Desk Display that turns your iPad into a client-facing screen where clients can pay.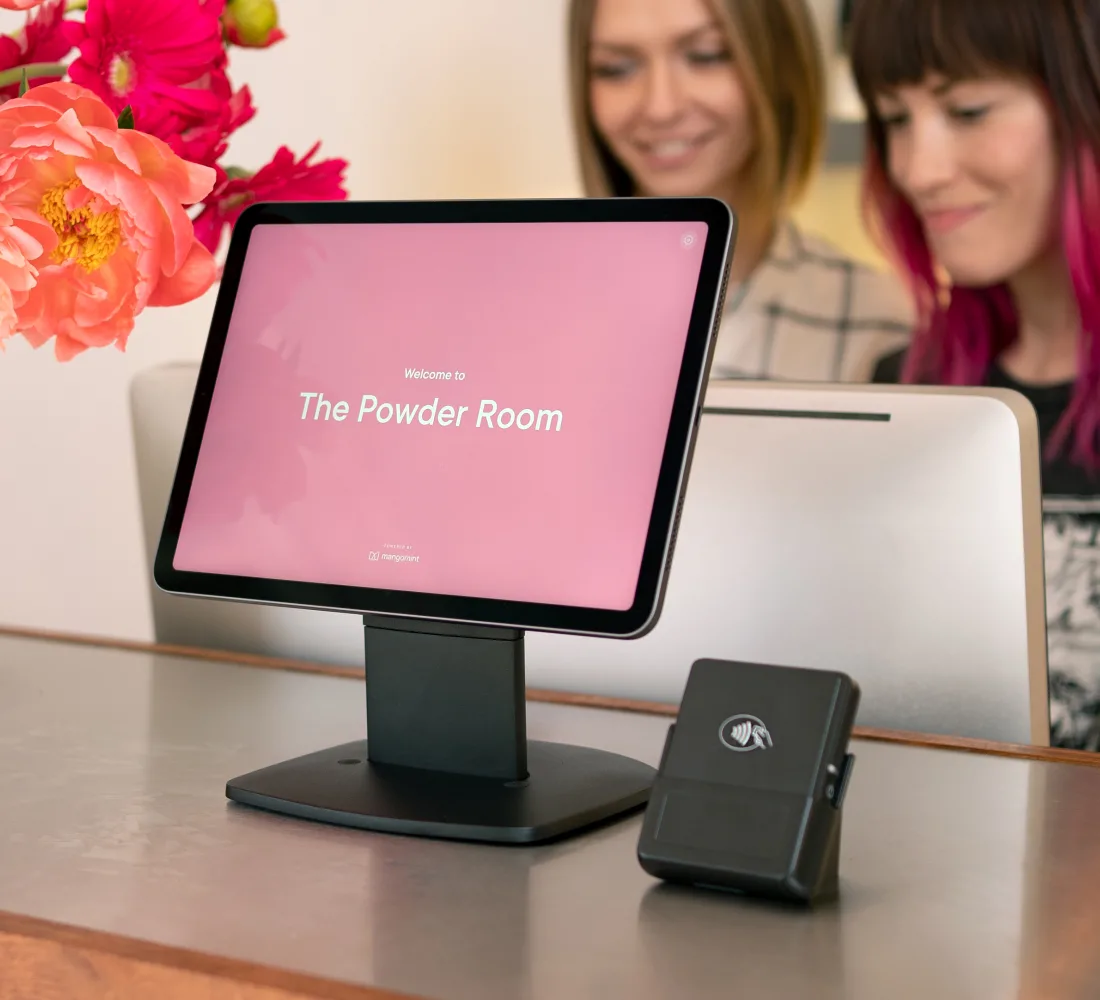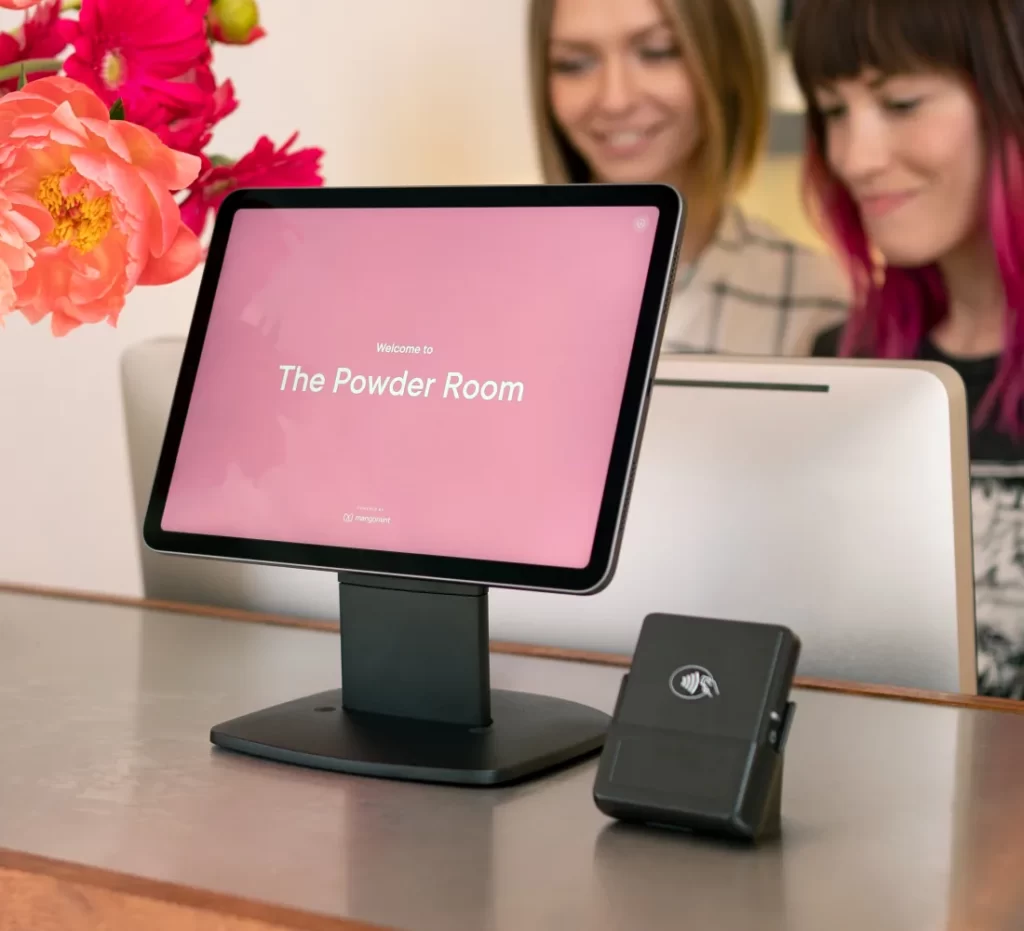 GlossGenius POS
Although GlossGenius offers a beautiful card reader, there's no dedicated POS hardware but you'll run the POS on your phone or tablet.
Your client can pay with cash or via the connected card reader and you'll have the option to send the receipt via SMS or email.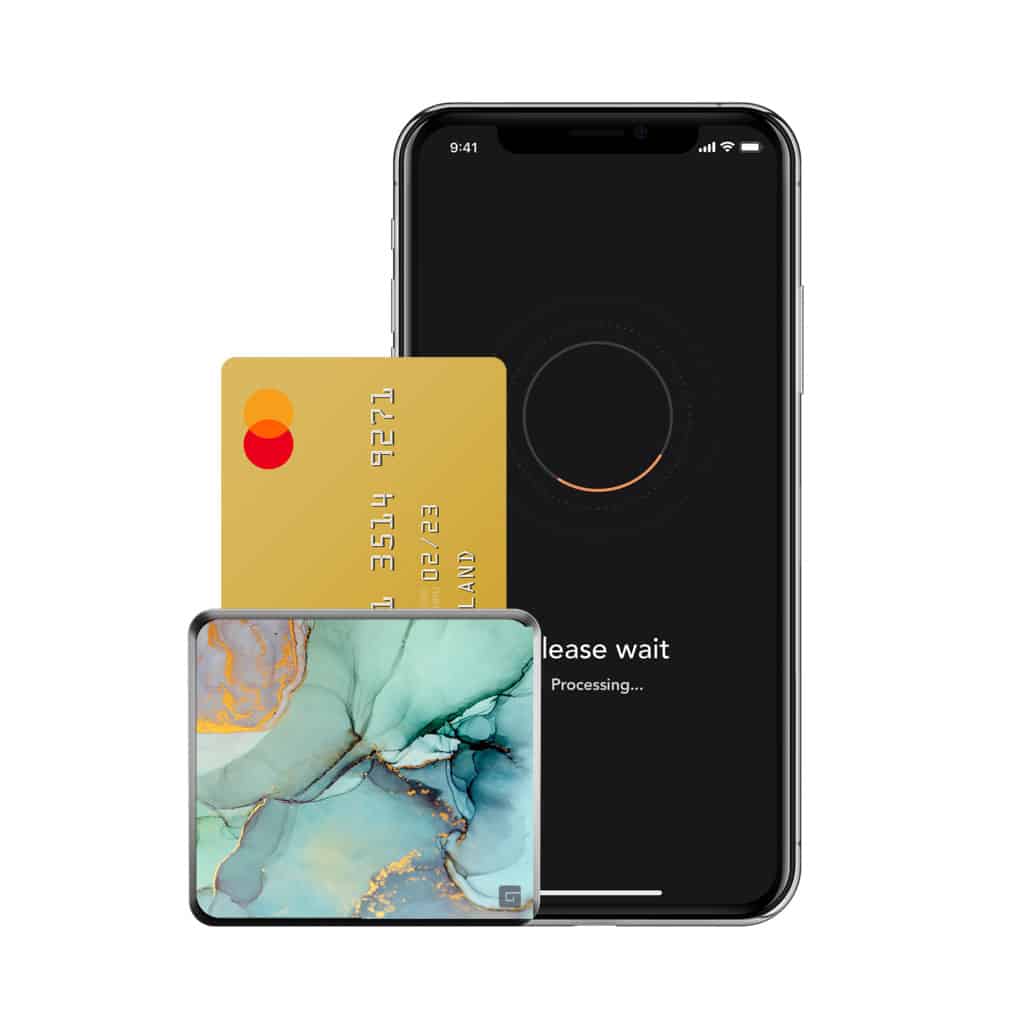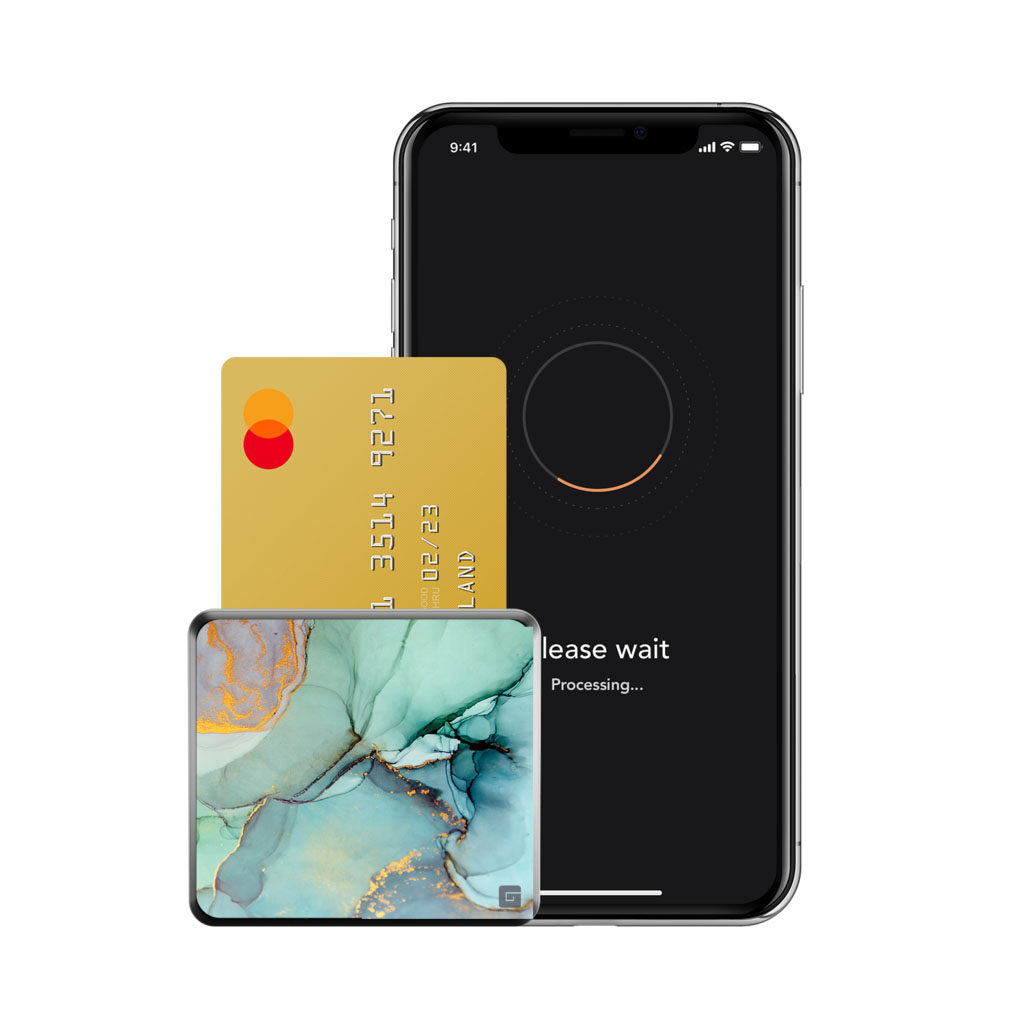 Vagaro POS
Vagaro gives all users who sign up for their merchant service a free credit card reader. On top of that, you can purchase their full Pay Desk solution. Its dual-screen solution has a very sleek and modern design (see the picture below where you also see the card reader).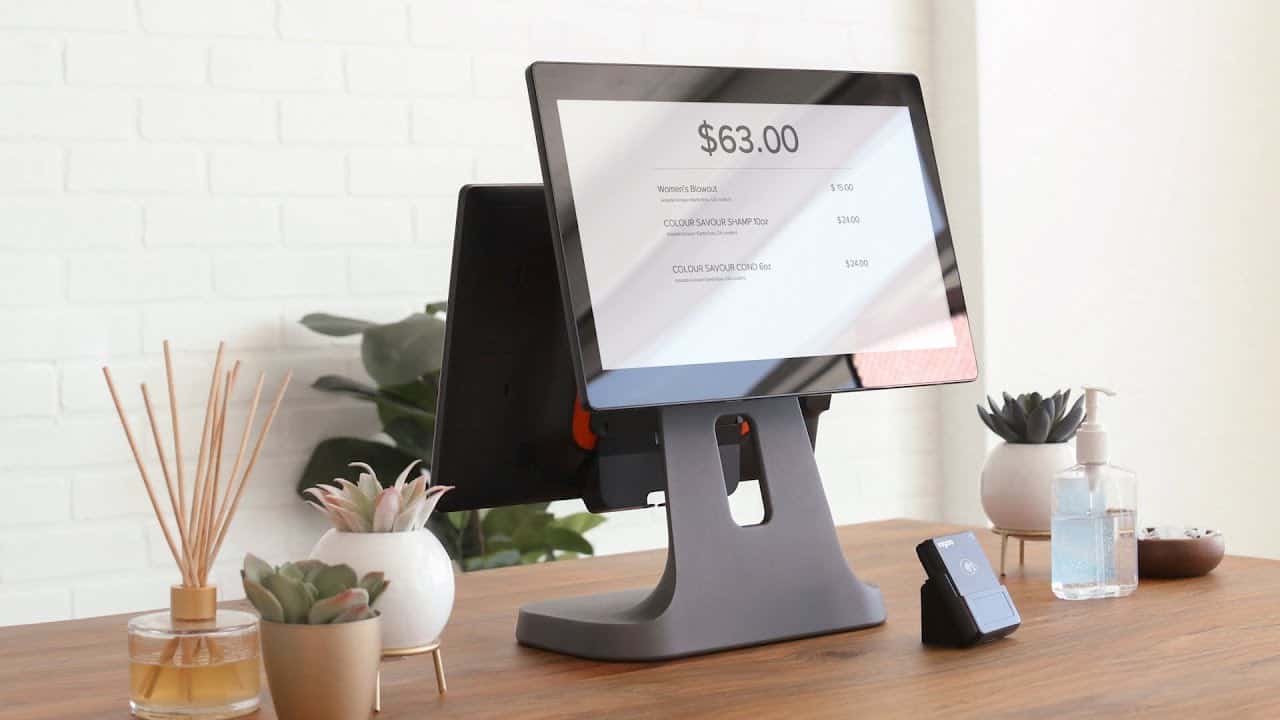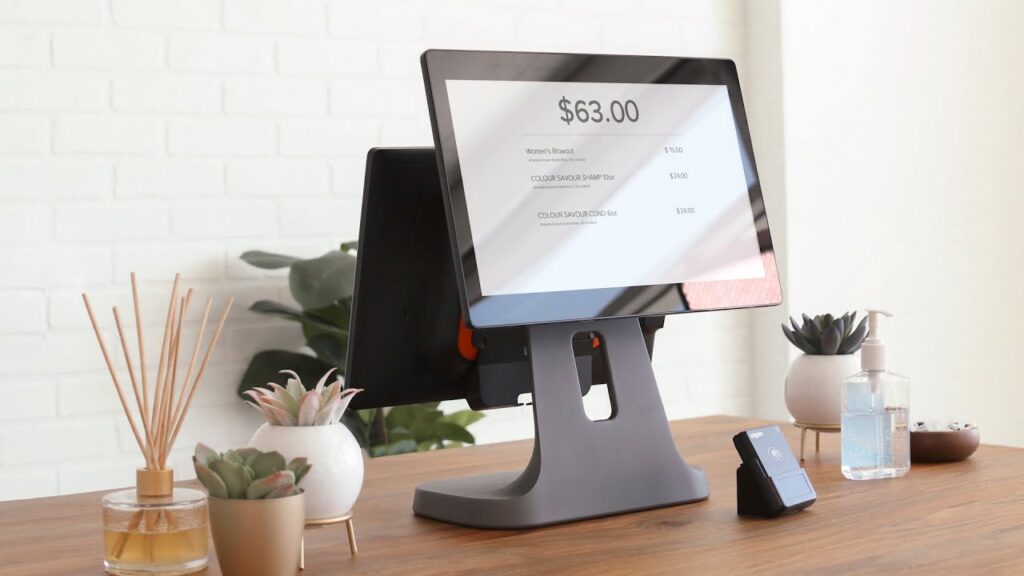 Fresha POS
Fresha offers POS support via the professional app or web interface. They also offer a credit card payment terminal that integrates with the software. However, it does not have a full POS unit like Vagaro or Square.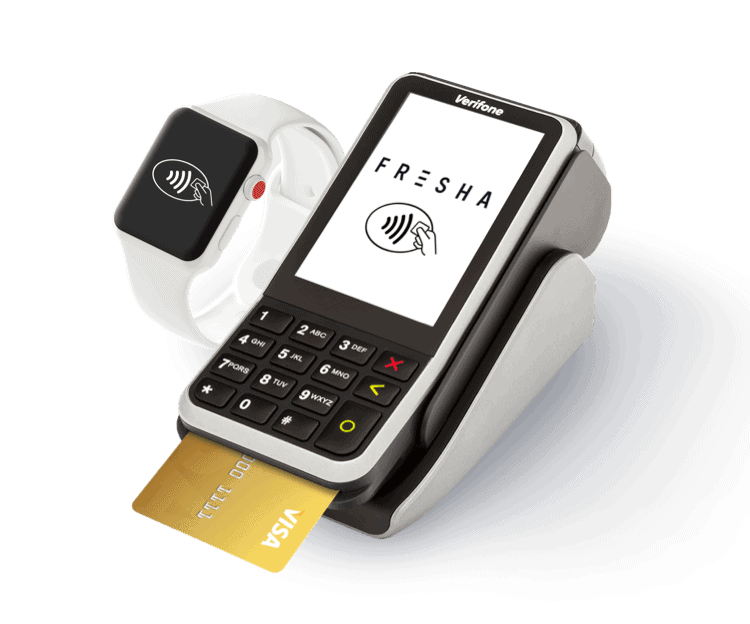 Square Appointments POS
Square has a menu of hardware that you can purchase to streamline your checkout process. They all have the modern and minimalistic design that you experience across all Square products.
In fact, Square is also one of my recommended POS system as you can read in my review of the best POS systems for salons & spas.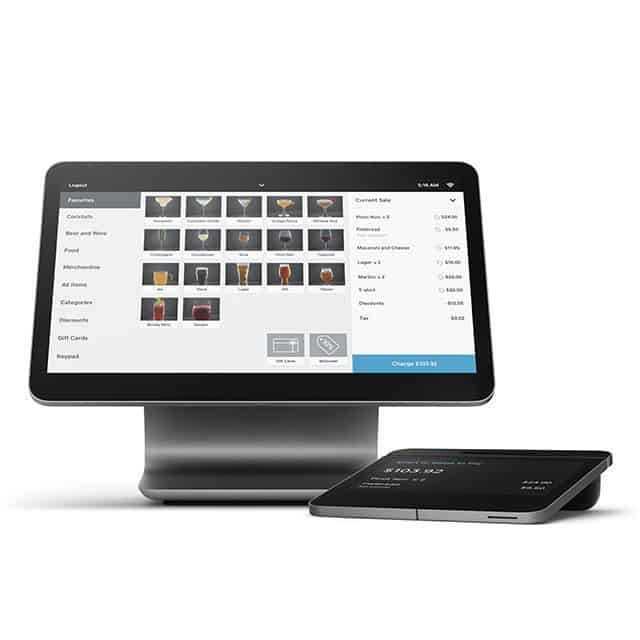 Payment Options
All the software I recommend here supports a wide variety of payment options. Square is strong regarding payments as it is the core of their business. However, Mangomint has taken the process of collecting payments to a new level which I'll cover here.
Mangomint Payments
Mangomint Pay allows you to charge credit cards online and using the physical card reader.
You can also allow your clients to pay from their own device by sending them a link for where to pay using their self check out feature.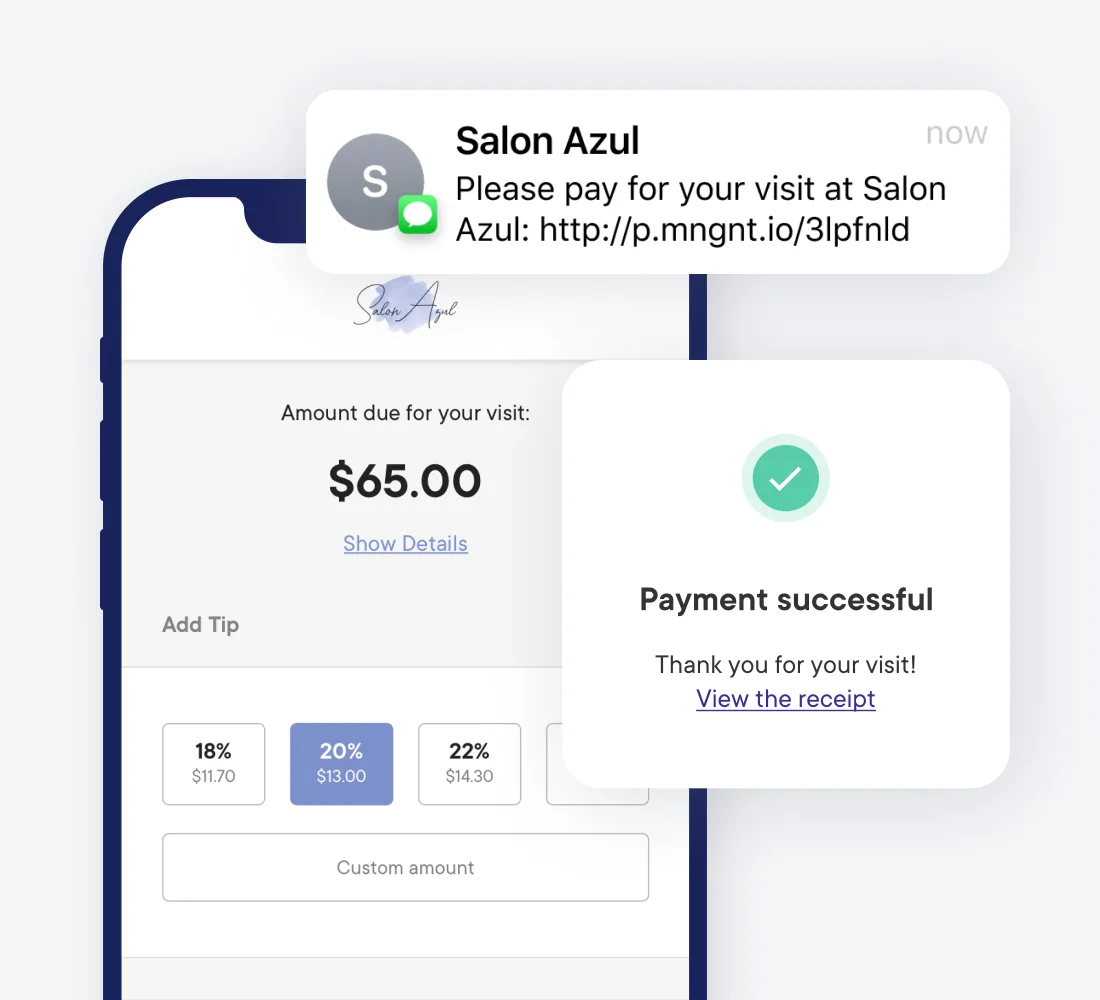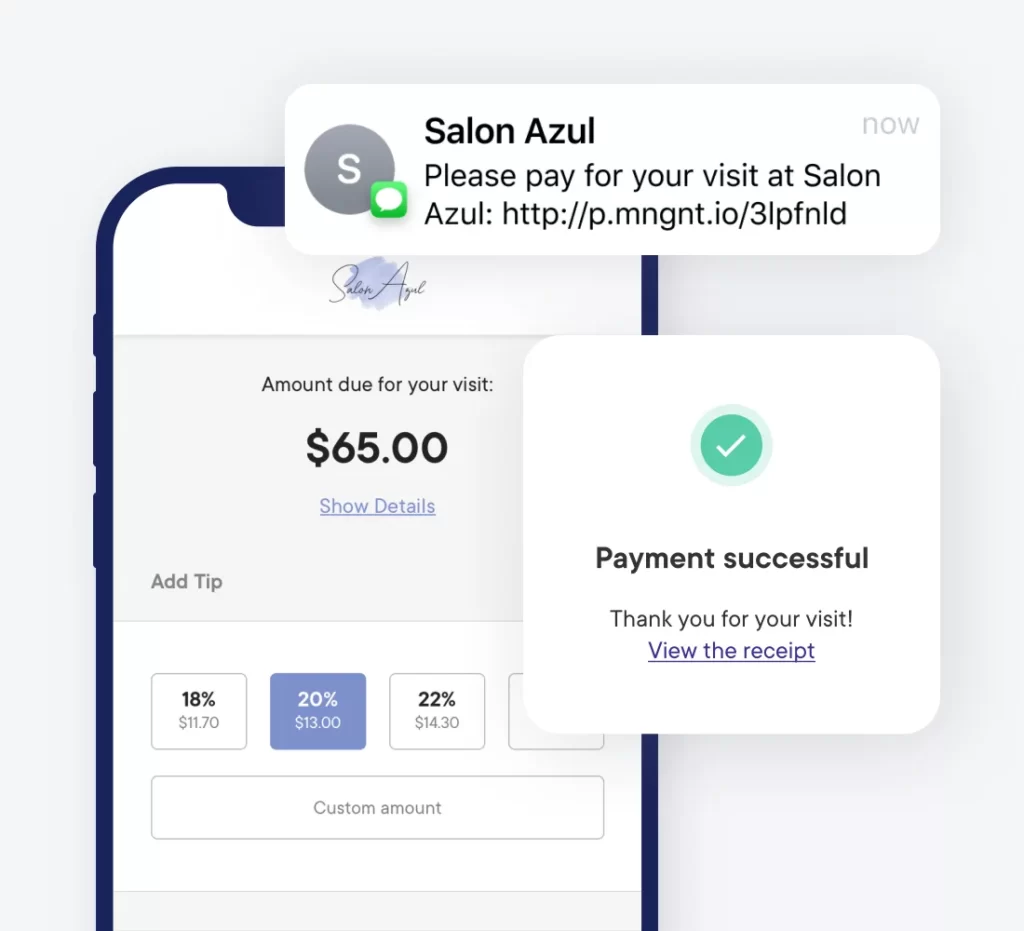 Another really powerful feature is that you can connect multiple merchant accounts to Mangomint and connect them to different service providers. This can be a major help for businesses with a more complex structure.
GlossGenius Payments
Glossgenius has the most beautiful credit card processor. I can see that for some of you, the design of the card reader can be enough of a reason to go with GlossGenius 🙂
Below is a picture of myself with the card reader 🙂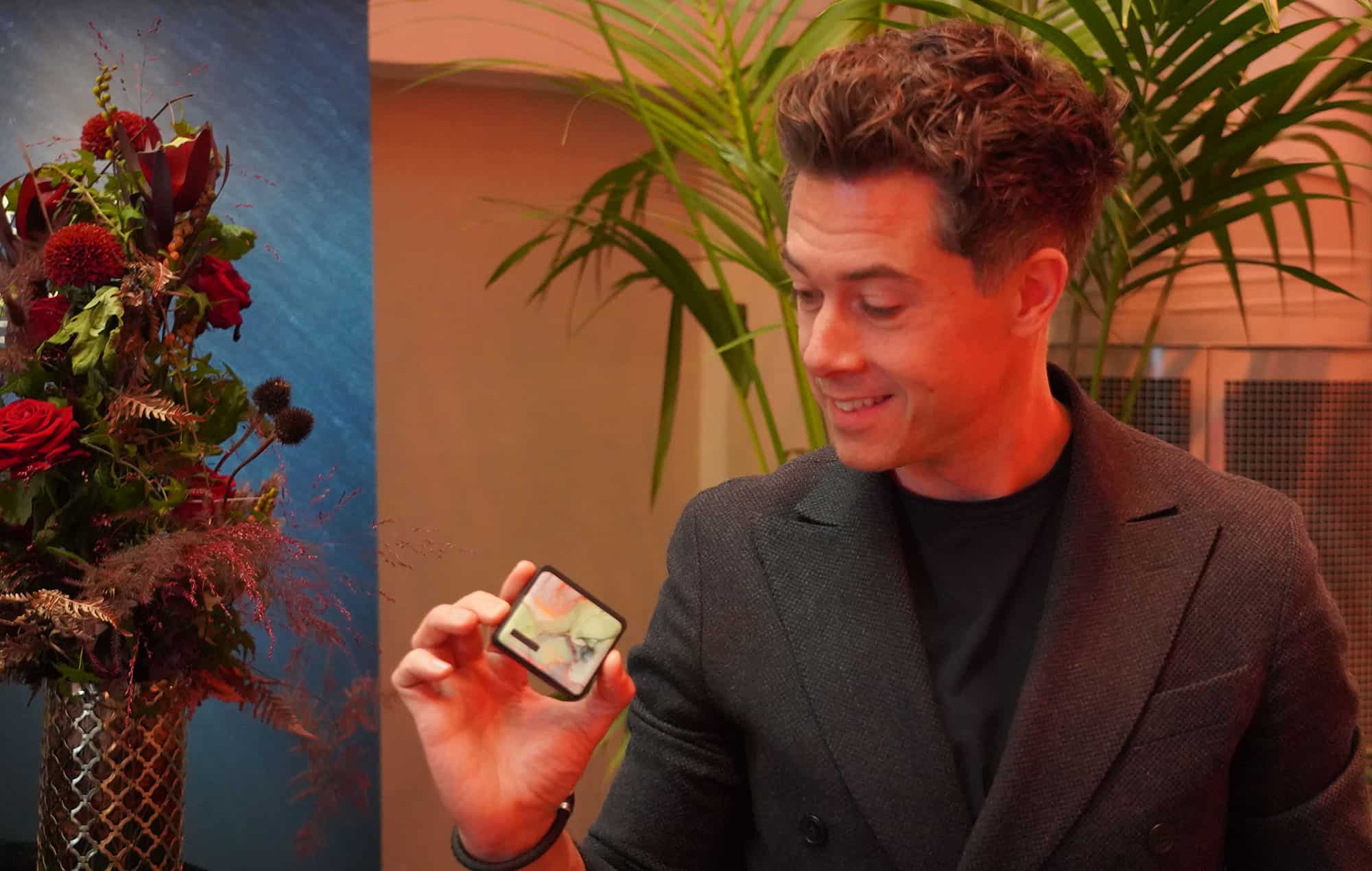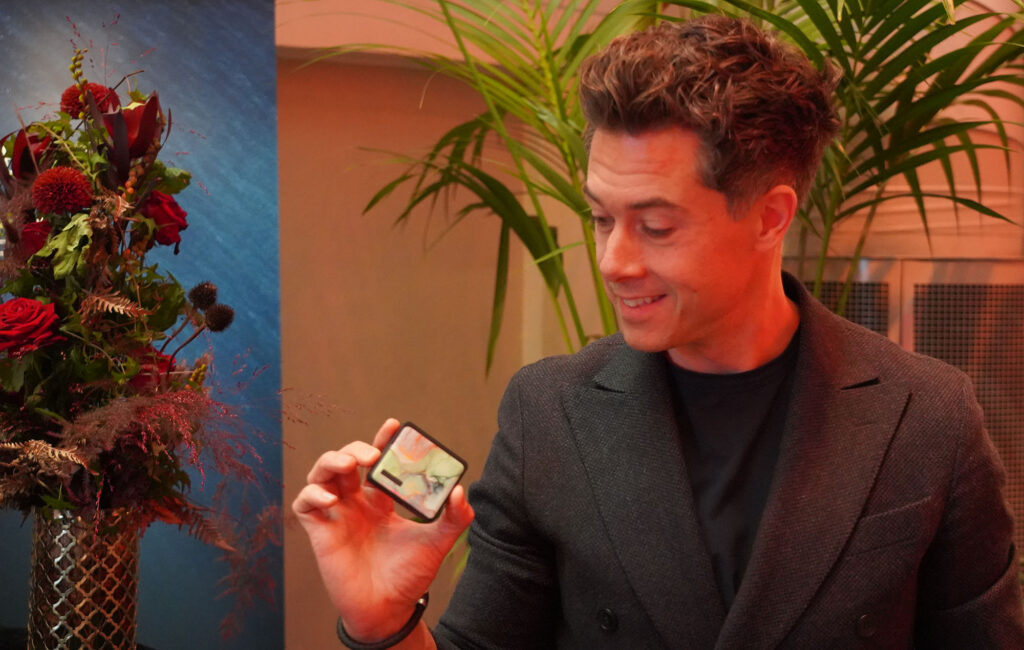 Vagaro Payments
Vagaro offers integrated credit card processing. You'll also get a card reader that connects to your device or pay desk POS unit.
You'll also find support for recurring payments and the ability to store a client's card on file.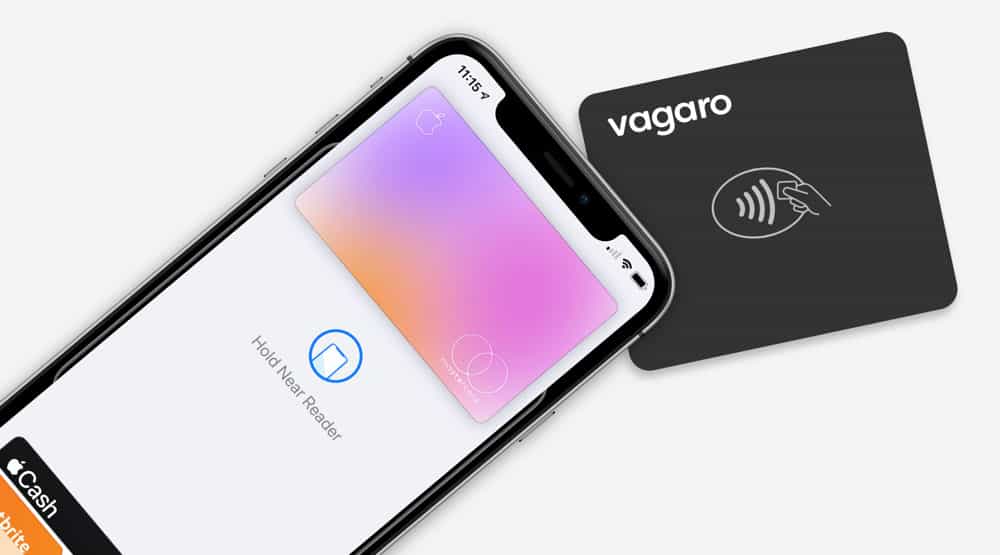 Fresha Payments
Fresha has credit card payment built into the platform. They also offer a physical credit card reader that integrates with their software.
You can also store clients' credit card details in the system and charge recurring payments with Fresha.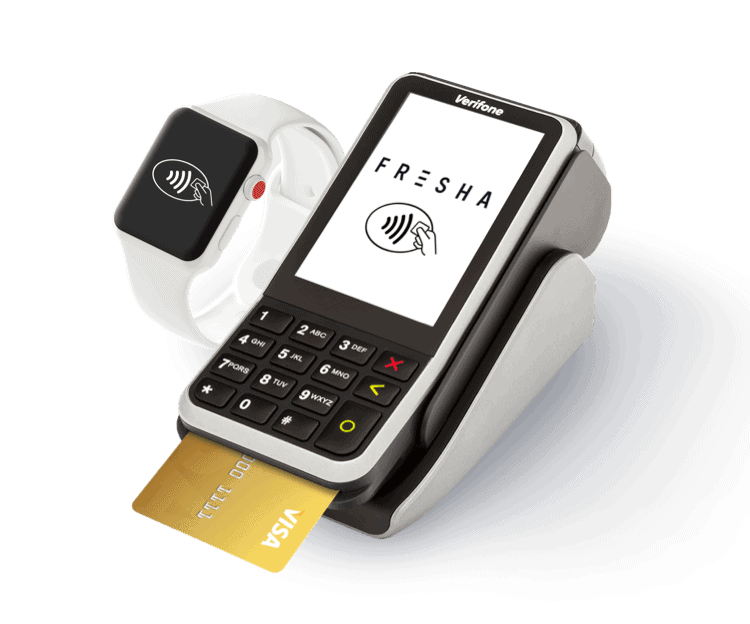 Square Appointments Payments
Square of course shines when it comes to managing payments. After all, that's the core of their business.
The Square Payments software (which integrates with Square Appointments ) is free. You only pay per card transaction. You also get a free mobile card reader when you sign up.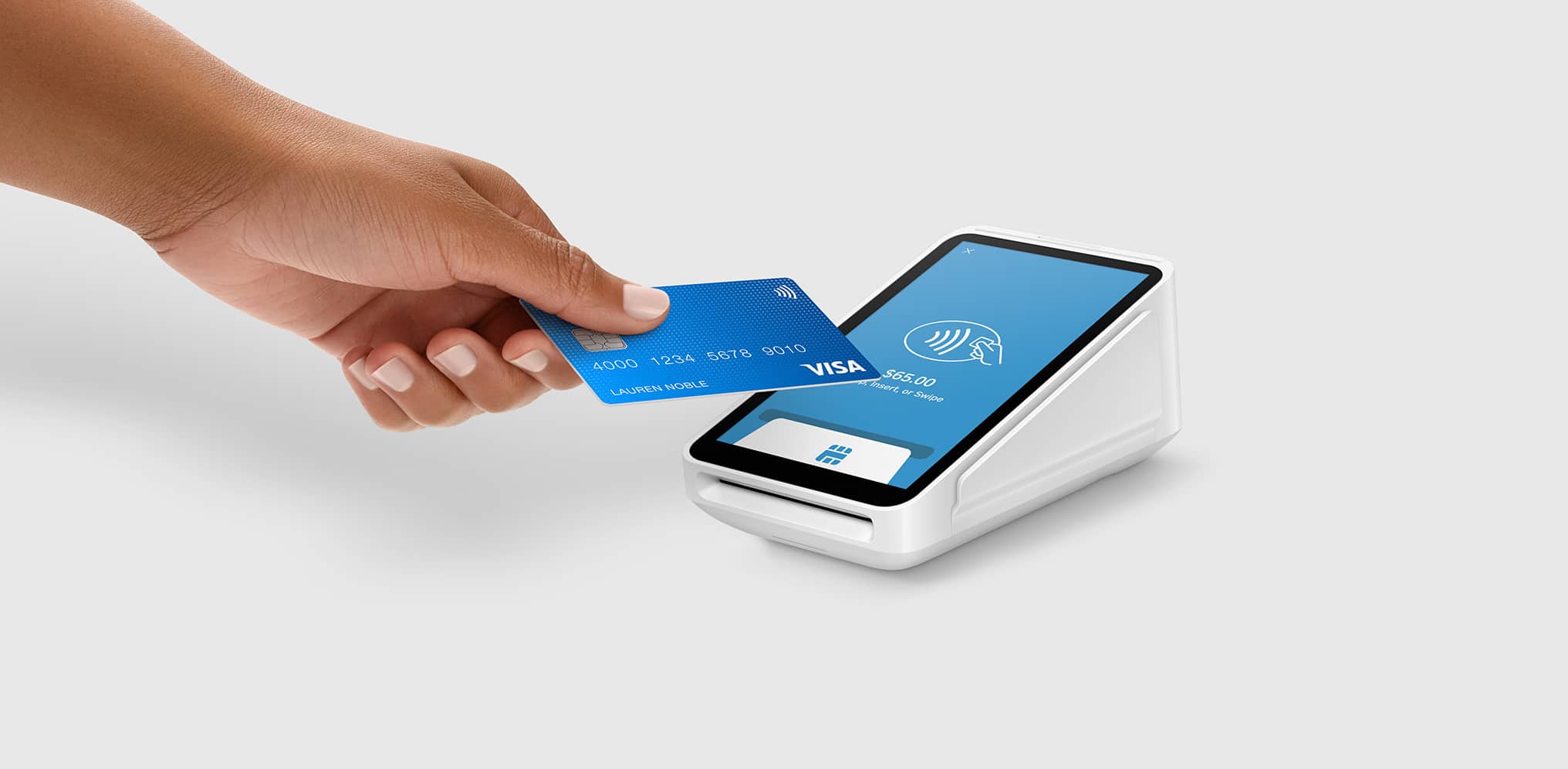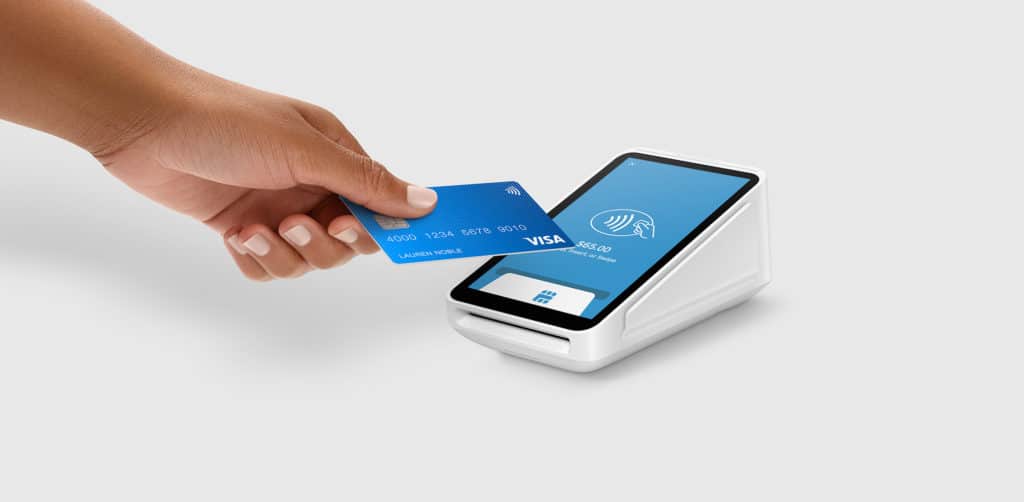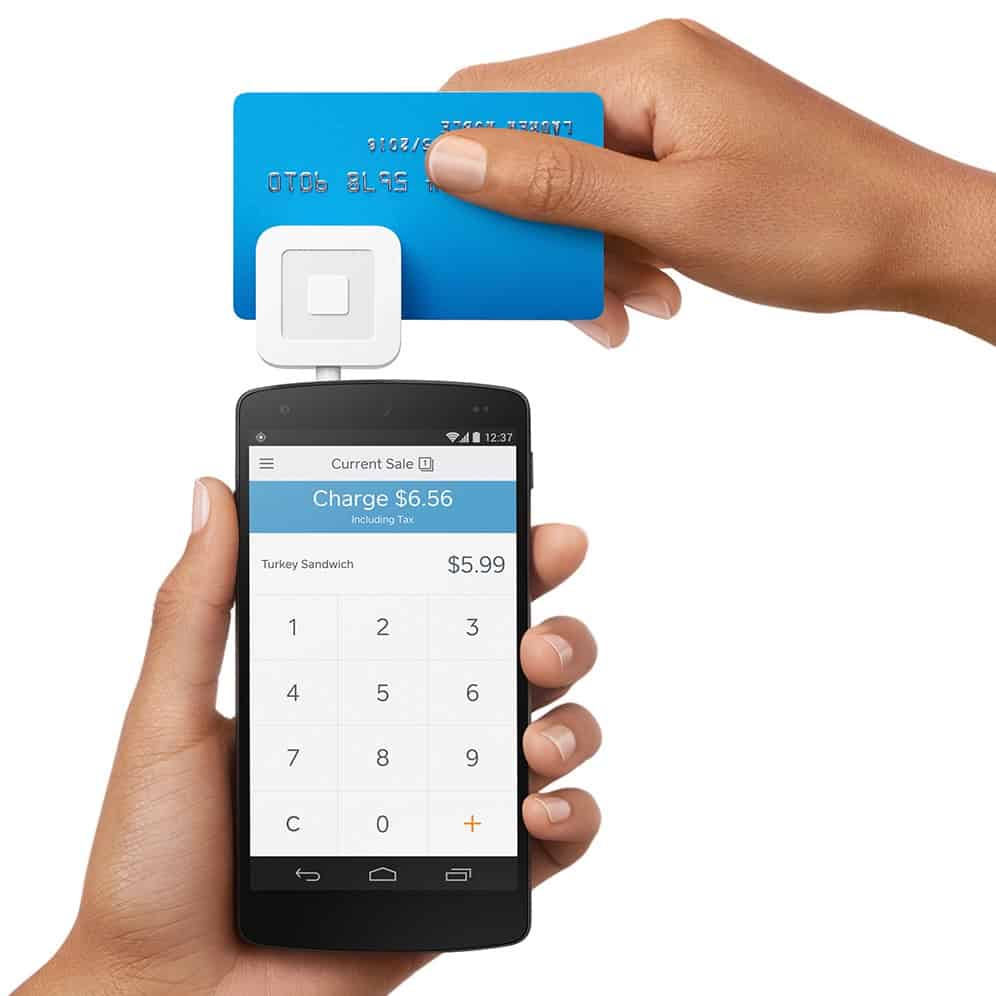 Salon Booking Apps & Cloud Based Salon Software
Being able to access your salon software when you're on the go is an important feature. In particular, if you're a mobile stylist but also if you manage a large salon and want a quick update on how your business is doing when you're out and about.
All the salon software solutions I recommend here are cloud-based. This means that all data is stored "in the cloud" and can be accessed wherever you are. On top, they all offer mobile apps to give you fast and smooth access.
Mangomint Apps
Although you can run Mangomint in any web browser, they also offer mobile apps for both Apple (iPad/iPhone) and Android devices.
As you would expect from Mangomint by now, the app is very intuitive and well designed.
You'll likely be using this app a lot.
The app has a 5/5 user rating on Apple Appstore.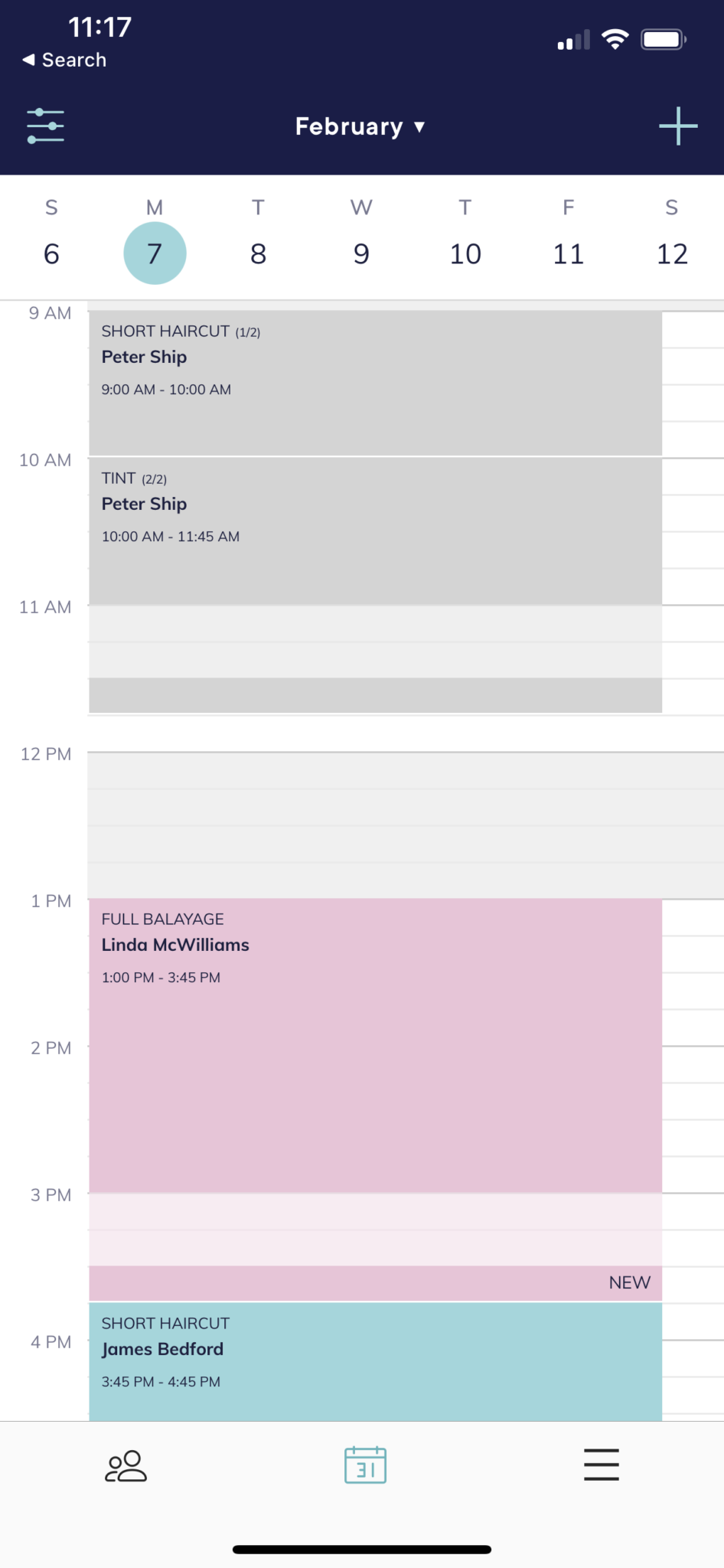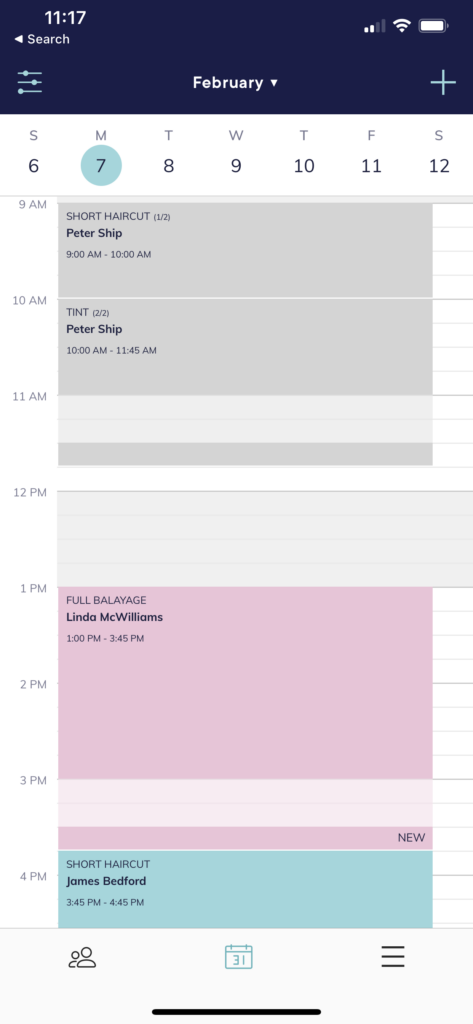 GlossGenius Apps
You'll be managing everything about your business from the GlossGenius app.
It's available in the US App Store for Apple and Android.
User Reviews:
Google (500 reviews): 4.7 out of 5 rating
Apple (1300 reviews): 4.8 out of 5 rating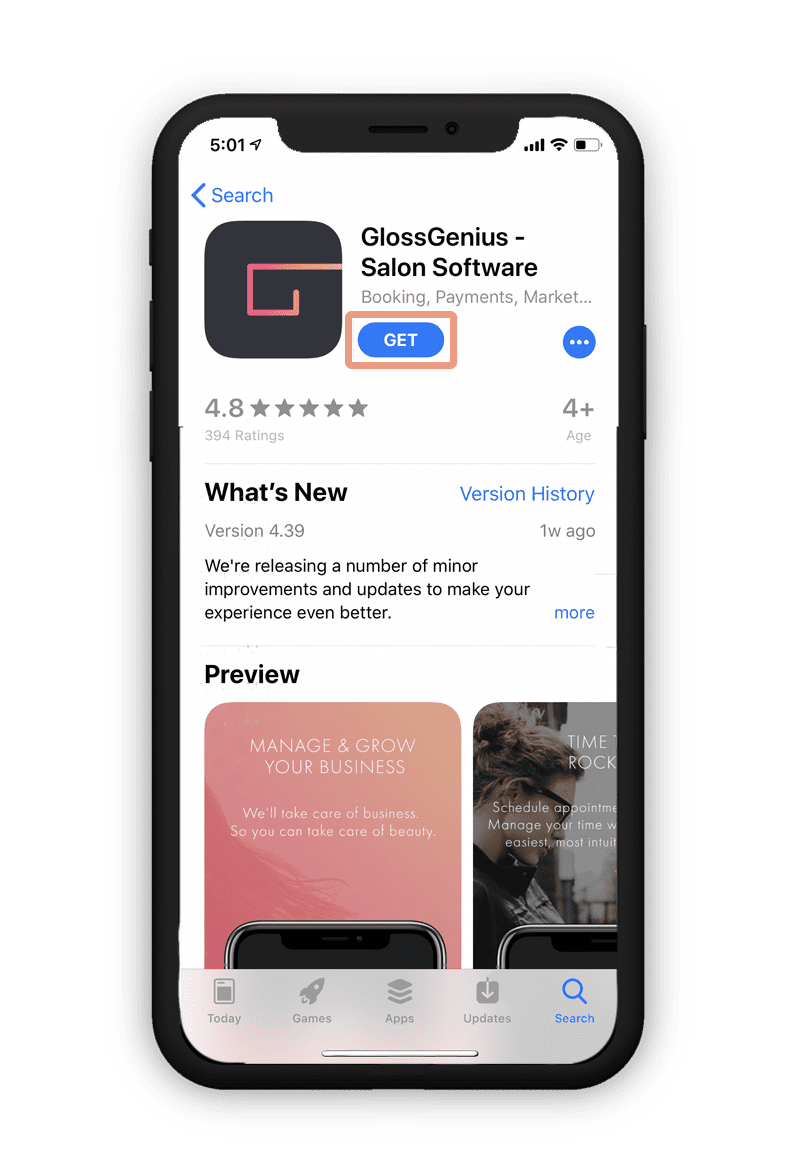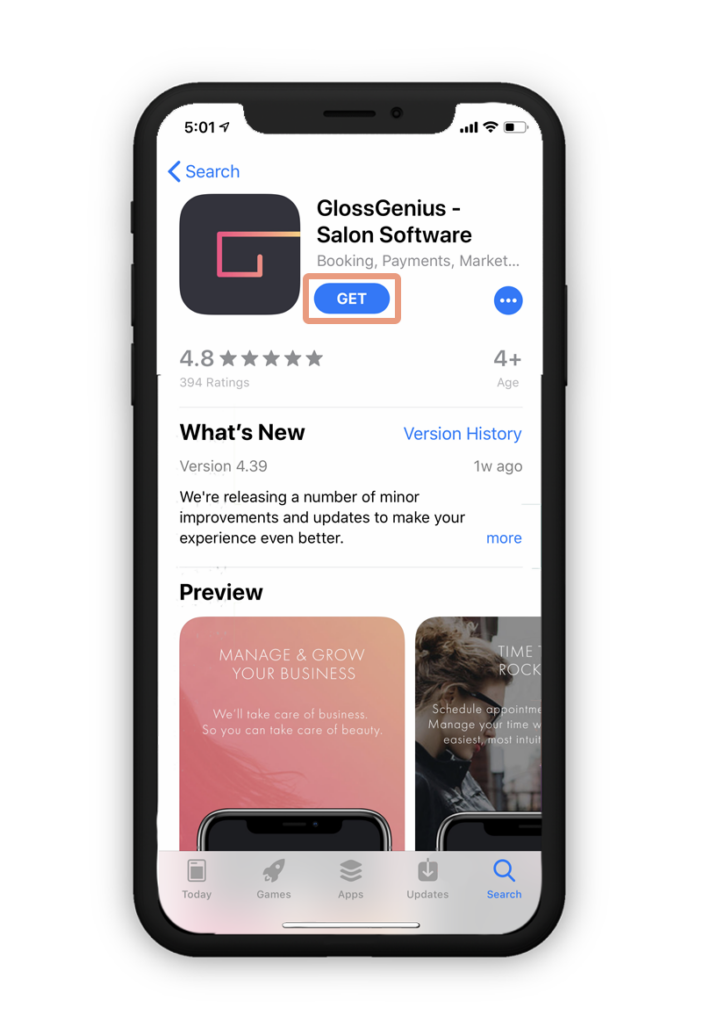 Vagaro Apps
Vagaro offers two different apps. One for professionals and one for end clients. Both are available for iOS (iPhone/iPad) as well as Android devices.
Vagaro Pro App Reviews:
Google (7'000+ reviews): 4.5 out of 5 rating.
Apple (5,000+ reviews): 4.5 out of 5 rating.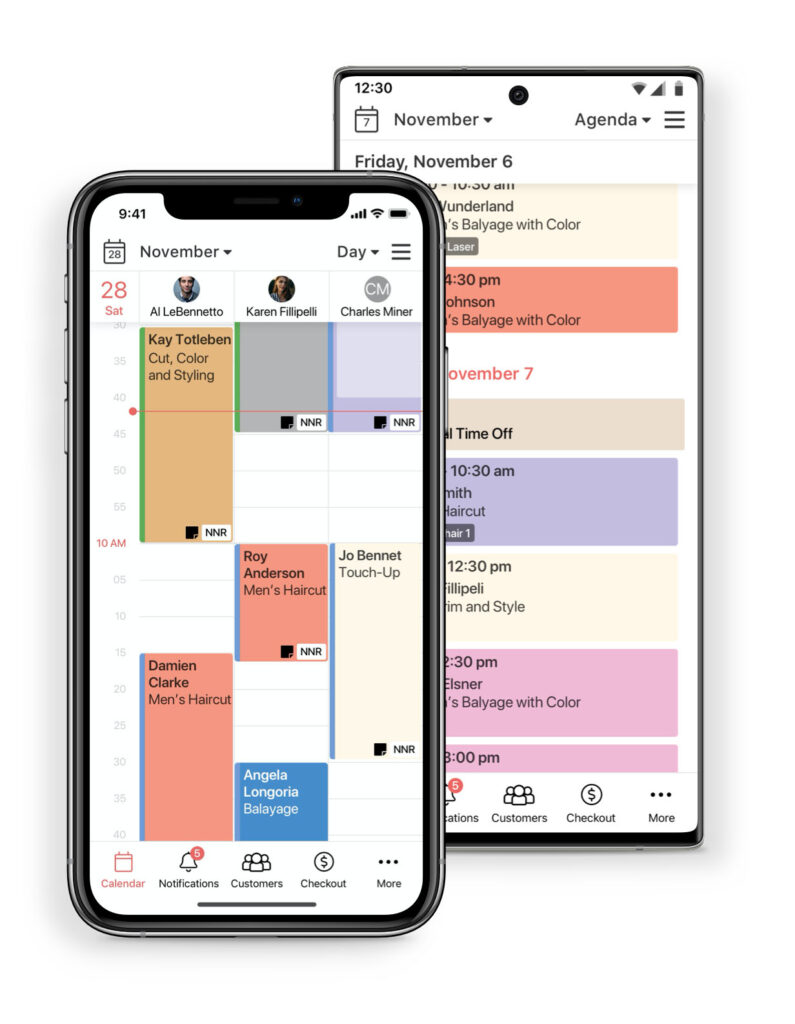 Fresha Apps
Fresha offers two apps – one for professionals and one for clients. They are available for both iOS and Android devices. I like the simplicity and ease of use of both apps.
Fresha partner app holds a 4,6 user rating score with over 1 500 reviews for Android.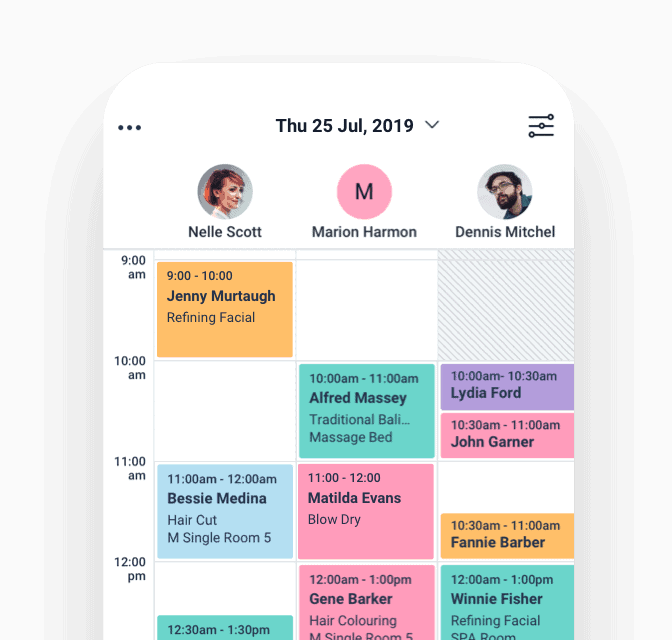 Square Appointments Apps
Square Appointments is available on US & Canada Apple App Store and recently also for Android. Square Point of Sale app is however available globally.
You have full control of Square Appointments via the app.
User Reviews:
Google (840+ reviews): 4.4 out of 5 rating.
Apple (47'000+ reviews): 4.9 out of 5 rating.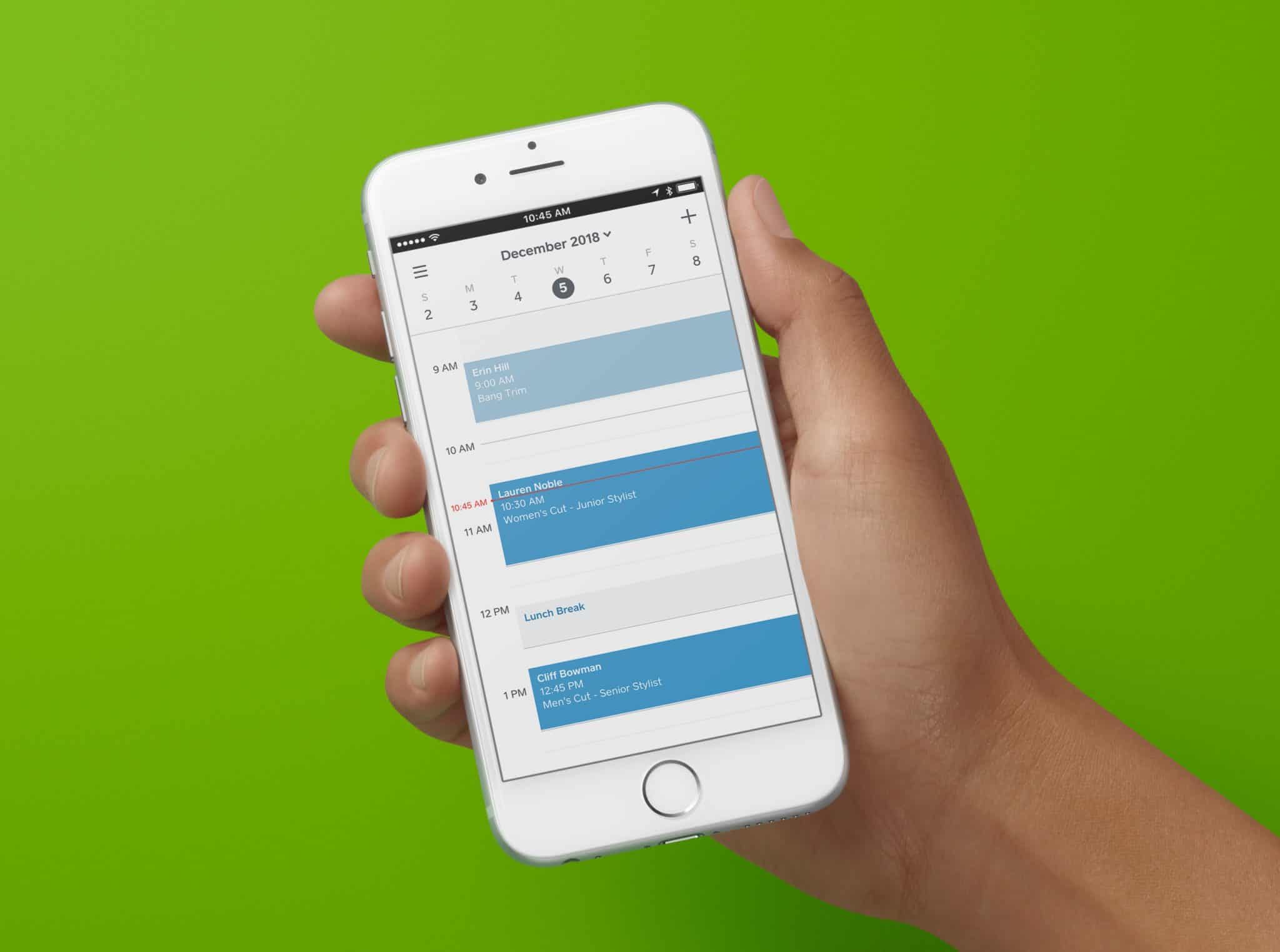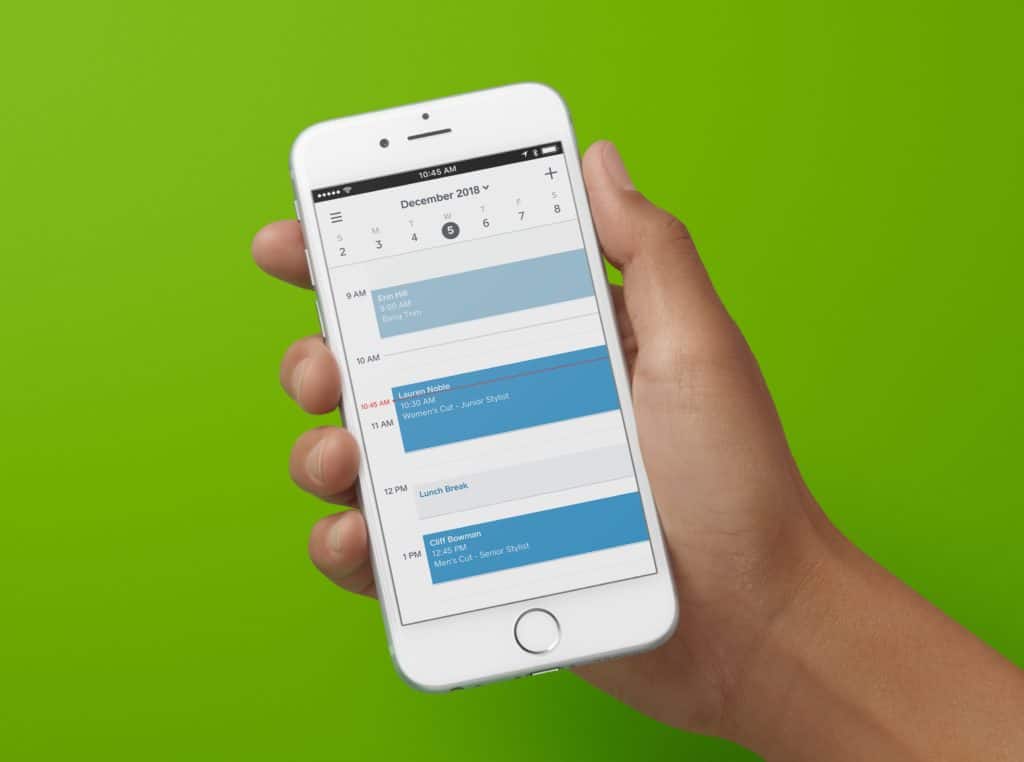 Summary & Conclusion
The right salon software can be a game-changer for your salon business.
In this review of the best salon software for 2023, I've tried to go beyond just a list with user ratings (that you can find on other websites).
Instead, I wanted to go deep on the features and clarify what the different types of salon software are so that you can make an as informed decision as possible.
Next, it's your time to give the platform you think is right for you a try.
I also recommend that you read my salon POS system review. This includes some of the software listed here but also some other advanced POS solutions for salons that can integrate with your salon software or work on its own.
I've also created a salon booking software comparison that walks you through my top list of solutions when focusing on the appointment aspects of the system.
Next, you can also look at my post on the best mobile credit card reader for salons.