Picking the right salon software is crucial to the success of your salon business.
But you know that.
You've probably already research salon software alternatives at various salon software comparison and review websites.
But you're still equally confused.
At least that's how I felt when I first wanted to find the best salon software for me.
The market for salon software has boomed in the last years. It's insane.
There are hundreds of salon appointment software and salon management software out there.
But what's the best salon software for you?
I browsed many user rating websites and manufacturer sites when researching this, but it didn't really help me.
I just got more confused.
What one user finds good or bad might not at all be relevant for you. And if you read a manufacturer's website, they will for sure try to sell their solution to you but not always giving the full picture.
This is why I decided to finally bring some clarity to this.
I spent weeks going through all the salon software with the highest user ratings. I've documented all the features and finally, in this article, I'm pulling it all together in a simple overview for you.
I wish I had found a post like this when I first started. It will save you many hours of researching and testing salon software to find what's right for you.
This is what you'll get in this article today:
My shortlist of the best salon software for 2020
A clarification of the different types of salon software available.
A feature-by-feature review and comparison of the best salon software solutions right now.
Are you ready?
The Best Salon Software 2020
1. Square Appointments: The Best Free Salon Appointment Software (US & Canada Only)
If you're looking for a free appointment scheduler with minimalistic design that is easy to use and functional, look not further. Square Appointments comes with all the features you need to manage your appointment book effectively.
It's the ideal for the booth renter or individual stylist as it's free to use for individuals. It also integrates with all other Square products (like POS system, credit card reader, and marketing suite) which combined makes a complete solution also for the large salon business. In fact, Square is also the winner in my review of the best salon POS systems.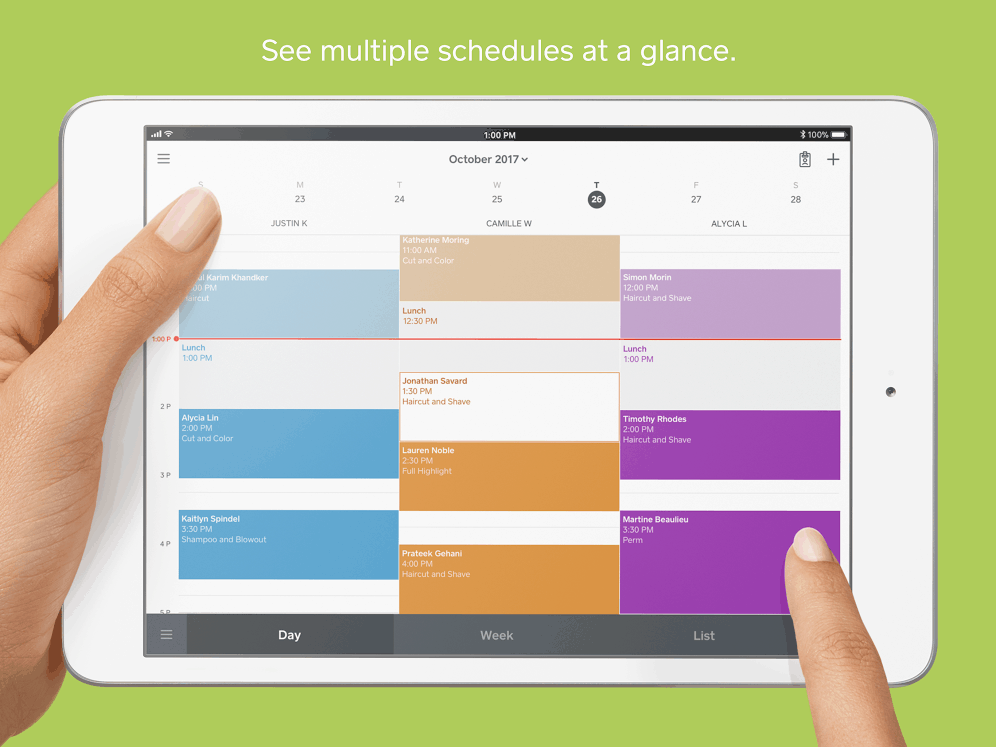 Key Features
2. Versum Salon Software: The Best Value-for-Money Alternative
Key Features
3. Salon Iris Software – The Most Feature Rich Salon Software
Do you want complete and advanced support for your salon business with the simplicity of managing everything in one place? Then Salon Iris is for you.
Out of all Salon Software, Salon Iris has been around the longest (since 1999) and has continuously added and improved features based on the needs of salons. The platform is feature-rich and they are the only dedicated salon software that also offers a physical POS system and credit card reader solution. It's in fact one of my top recommendations also in my review of the best salon & spa POS software.
Salon Iris is for all types of salons and they offer a separate, simpler, plan for individuals but also advanced packages for the bigger salon or chain of salons.
Key Features
4. Acuity Scheduling – The Most Advanced Appointment Scheduler
Do you want the absolute best booking experience for your clients? Then it is Acuity Scheduling you're looking for.
You can customize everything with Acuity. You don't have to compromise anywhere. Brand your booking page or website widget as you like. Acuity is the the most flexible appointment scheduler on the market and it allows you to integrate bookings with a full suite of third party software which, together, becomes a powerful salon software setup for you.
Acuity is for any size salon that wants the ultimate scheduling experience and is ready to invest the time (or money) to configure the platform to work as you want. It's not difficult to use. But to get the full benefit of the platform, you'll want to configure it to work with other platforms and design it to fit your brand.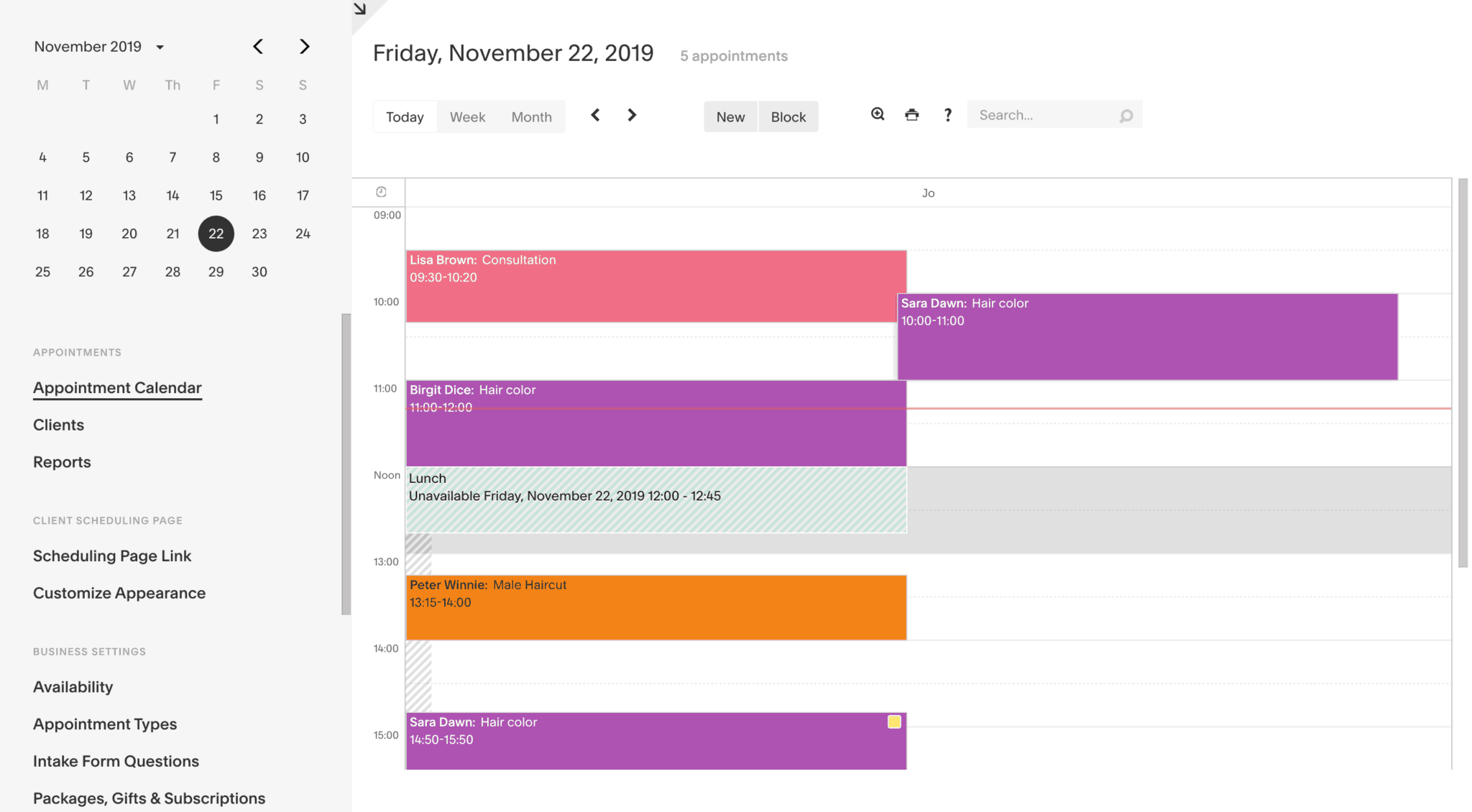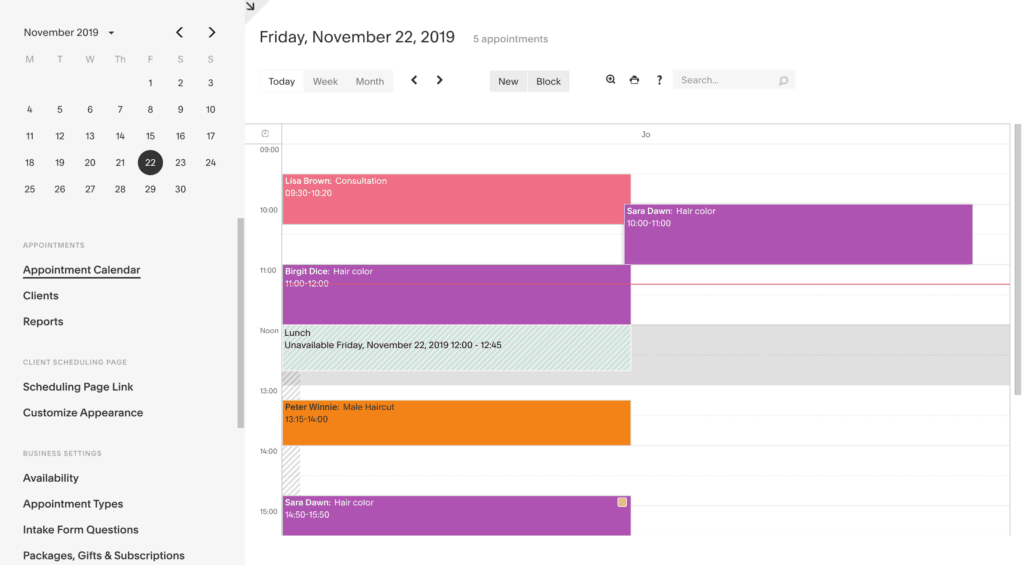 Key Features
Finding the Best Salon Software for You
What is Salon Software?
Salon software is a suite of software tools designed to help assist salons in running and growing their business. Features span across client & appointment management, salon marketing, point of sale (POS), salon business operation management, and salon business reporting. Some salon software covers all features (referred to as "All-in-One" Salon Software) while others are only focused on client and appointment management (referred to as "Appointment Software") and rely on specialized tools for the additional features needed by a salon.
What's the Benefit of an All-in-One Salon Software?
The benefit of using an All-in-One Salon Software (like Versum or Salon Iris) is that you can manage your total salon business in one place. This makes an All-in-One Salon Software generally easier to use than a combined solution.
You don't need to worry about making sure different software can "talk" to each other. For example, if you want to send out an email from Salon Iris to all your clients, you just create the email in Salon Iris and the system will automatically have access to all your client data.
Another benefit of using and All-in-One Salon Software is that once you learn how to navigate the system, you don't need to relearn a new system when you want to activate a new feature. You're already familiar with the platform and how it works.
What's the Benefit of Appointment Software + Specialized Tools?
There are several reasons why you may not want to go for an All-in-One Salon Software and instead choose an Appointment Software (like Square Appointments or Acuity Scheduling) + specialized tools.
Firstly, you may not need all the features that comes with an All-in-One Salon Software. Let's say you're a booth renter or individual stylists. Then you probably won't need stock management, payroll or team management features. All you need is likely just a way for clients to book you and a simple way for you to manage appointments. So why pay for features you don't need?
If you go with an All-in-One Salon Software, you need to be prepared to compromise on some quality, functionality, or customization features. If you go with an Appointment Software and specialized tools for the additional features you need, you'll also be able to get the absolute best support for each feature.
But, again, it also means a bit more complexity to setup.
Which Model is Right for You?
Should you choose an All-in-One Salon Software (like Salon Iris or Versum) or should you go with an Appointment Software (like Square Appointments or Acuity Scheduling) and add specialized tools for the features you need?
It really comes down to a) if you need all the features of and All-in-One Salon Software and b) if you want something that is simple, and works out of the box, or if you are ready to work with a few different solutions that together make the perfect end result.
Salon Software Terminology
You'll find different names used interchangeably to describe a salon software. Commonly used terminology is salon appointment software, salon booking software, salon marketing software, salon management software, salon point of sale (POS) system, and salon booking apps.
Most of the time, I hear people use these words to describe the same thing – a salon software.
But they are actually very different things. As we dive into the list of features soon, you'll see what I mean with that.
You may also be familiar with Salon Marketplaces. There are specific salon appointment tools that exists to support visibility on their client marketplaces. Often time pricing of the salon software part is lower on those as they earn income by charging the client when they book with you. Some examples of salon marketplaces are Styleseat, Vagaro, Booksy, Mindbody, and Fresha (Shedul is the name for salon login).
This review does not include salon marketplaces (even if that's something I maybe should write about in the future :))
Overview Comparison of the Top Salon Software 2020
I get it.
You're a busy salon owner and may not have time to read through this full article to figure out which salon software is right for you.
No hard feelings 🙂
Let me give you an overview of how you should consider when choosing between the four best salon software listed in this review.
Let's start with the All-in-One Salon Software Versum and Salon Iris.
Salon Iris vs. Versum
It's probably clear by now. But I'd recommend Salon Iris if you want the most advanced and rich solution in one place. If you're conscious about budget or just want something that is super easy to use, I'd go for Versum.
→ Get your Salon Iris discount voucher here ←
→ Get your Versum discount here ←
If you still feel you want to dig deeper, you can also read my in-depth review of Salon Iris here and Versum here.
In fact, Square Appointments is like a hybrid between a pure appointment scheduling software and an All-in-One Salon Software. When you start using Square Appointments, you also get access to their free POS system, free payment platform (only charged per transaction) and free team management features.
You can also activate their paid products like Square Payroll and Square Marketing. Suddenly you have a full featured solution for your salon.
→ Give Square Appointments a test drive here, it's free ←
As you can tell, I'm getting a bit techy just talking about Acuity. And this is also what you need to be mindful of if you go with Acuity.
Although it's really easy to use their interface, to leverage the full power of the software, you need to have some basic technical understanding. For sure, you can use their out of the box solution without customization and integrations, and you'll be perfectly fine without technical knowledge. But if that's what you're going to do, you might as well use the free solution from Square.
Acuity also offers a free plan though. However, it's very limited. All you can do with the free plan is to manage one calendar and enable online bookings for your clients. You'll for example not get basic features like appointment notifications and reminders. For that, you need to at least sign up for their first level paid plan at $15/month.
But if you want the best, Acuity is your partner.
Square Appointments vs. Acuity Scheduling
There are three things you should consider when choosing between Square Appointments and Acuity Scheduling: location, cost, and customization.
Location: Acuity works worldwide and equally well in all countries. Square Appointments is currently limited to the United States and Canada.
Cost: Square Appointments is free to use for individuals (even with some advanced features). Acuity is also free for individuals but only with very limited functionality so you probably will end up paying a minimum of $15/month. However, if you run a salon with a team, Acuity offers more attractive price plans. If you have a team of five, Acuity costs $25/month whereas Square would cost you $50/month.
Customization: Although Square Appointments is rich in features, you'll not be able to change designs or customize much. You'll need to stay with the out of the box solution. Acuity, on the other hand, allows you to customize everything to make it act exactly as you want.
If you want to dig even deeper, you read my in-depth review of Square Appointments here.
→ Start using Acuity for free here ←
→ Start using Square Appointments for free here (only US & Canada) ←
Best Salon Software 2020 – Feature Review
Best Salon Appointment Software/ Salon Booking Software
The most important part of a salon software is how well it helps you manage your calendar and client bookings. Let's look at how the recommended salon software here deliver on this.
Online Booking
The ways to accept online bookings vary across the platforms and so does the level of design customization ability.
Salon Appointment Book
The salon appointment calendar is very similar between all of the salon software and I would not see this as a judging factor when choosing salon software.
Client Data Management
Managing client data and history is an important part of salon operations management. All the software I'm recommending here does a good job here and supports storing all the information you need.
Client Reminders
Reduce no-shows and stay in touch with your clients using automatic reminders and notifications. Supported by all recommended tools here.
Best Salon Management Software
A good salon software should help you with more than just appointment management. It should help you manage your operations so that you can save time, money, and reduce costly mistakes.
Let's look at how the salon software I recommend here help you get more productive.
Salon Payroll & Employee Management
The biggest expense a salon has is staff wages. But it's also your most important asset and you of course want your team to be as productive and motivated as possible. The salon software I recommend here have different ways of supporting employee management. Below are some of the highlights of how the different salon software support payroll and employee management.
Salon Business Reporting
"You get what you measure" – that's an old saying but so true. If you're serious about growing your salon business, you need to define business targets and have a good reporting system to help you track your progress.
Salon Inventory Management
Optimizing your inventory can help you save costs while also ensuring you have what you need in stock to avoid losing sales. All the software I recommend in this review offer good inventory support and you'll get the support you need whichever you choose.
Best Salon Marketing Software
You should expect more of your salon software than just support for salon operations. A good salons software will also help grow your business via effective salon marketing. Let's go through how each solution supports your marketing efforts.
Email & SMS Marketing
Even though email and SMS are old technologies that have been around for a while, they're still the most effective ways for you to keep in touch with your clients (as well as potential new clients) at scale.
Client Loyalty Program
"It's always cheaper to retain a customer than it is to gain a new one".
That was part of the basic course when I studied marketing. And it's true. But we often forget this and just focus on bringing in new clients. However, a good salon software should help you retain clients and a good feature for this is a program that rewards your most loyal clients.
Salon Website Builder
Your website is the hub of all your marketing. This is where you send new clients from your social media or other marketing efforts. It's quite likely it's also the first impression that a client has with you – so you want to get it right.
I'll go through how each of the recommended tools here can assist you with creating your website. But the fact of the matter is that a website builder is a technically difficult solution to build. Thus, no All-in-One Salon Software on the market can deliver a really good solution. Instead, it's more important to understand how your salon software integrates with other, specialized, website builders. This way you can create a good website (or have an agency build one for you) which enables online booking with your salon software in a seamless way.
I have created a separate review for you that goes through the best website builders for salons here. This is a good place to start if the website is the most important part for you.
Social media has become the place to market your salon. Most platforms are very visual which fits the beauty industry perfectly. Thus, you want to make sure your online booking is linked with your social media. On top, your salon software can help encourage your clients to leave online reviews of your salon which helps build your salons reputation.
Best Salon Point of Sale (POS) System
A salon software wouldn't be of much help if you cannot use it at check out so that you get paid. The software I recommend in this review manages the check our process differently.
I have also done a review of the best salon POS systems that I strongly recommend you to read. This goes in more depth on the top point of sale systems for salons and spas which includes options that aren't listed here.
Let's look at the point of sale support they offer to help you identify the best option for you.
Salon POS Hardware
All software I recommend in this review are cloud based and can be accessed via web browser of via mobile or tablet app. However, Salon Iris and Square Appointments also support you with hardware so that you can make your check out as effective as possible (and also look sleek and professional).
Payment Options
All the software I recommend here support a wide variety of payment options. However, this is of course where Square shines given payments is the core of their business.
Salon Booking Apps & Cloud Based Salon Software
Being able to access your salon software when you're on the go is an important feature. In particular if you're a mobile stylist but also if you manage a large salon and want to be able to get a quick update on how your business is doing when you're out and about.
All the salon software i recommend here are cloud based. This means that all data is stored "in the cloud" and can be accessed wherever you are. On top, they all offer mobile apps to give you fast and smooth access.
Summary & Conclusion
The right salon software can really be a game changer for your salon business.
In this review of the best salon software for 2020, I've really tried to go beyond just a list with user ratings (that you can find on other websites). Instead I wanted to go deep on the features and clarify what the different types of salon software are so that you can make an as informed decision as possible.
→ Start using Square Appointments for free here (only US & Canada) ←
→ Start using Acuity Scheduling for free here ←
→ Claim your discount on Versum here ←
→ Claim your discount on Salon Iris here ←
I hope you found it helpful and that it can save you some time and money. If you did, I'd be so grateful if you wanted to share this guide using the social media buttons on this page. 
I'd recommend that you also read my salon POS system review. This includes some of the software listed here but also some other advanced POS solutions for salon that can integrate with your salon software or work on its own.