Disclosure: This post may contain affiliate links, meaning we get a small commission if you decide to make a purchase through our links, at no cost to you. TheSalonBusiness.com is a subsidiary of Mangomint.
Learn more...
Are you looking for a solid appointment scheduler but want to avoid technical complexity and boring design?
Then you've certainly come to the right place.
In this GlossGenius review, I'll be breaking down this beautiful and easy-to-use salon software to help you decide if it's the right choice for your business.
If you're like me and care about design and client experience, you will likely be as excited as I am about this tool. In fact, GlossGenius made it to my salon software top list in 2023!
But I will give you the full picture of its strengths and limitations, so you know what to expect.
Buckle up, and let's dive into this review of GlossGenius.
GlossGenius at a Glance
Description
GlossGenius is an all-in-one appointment, payment, and marketing app for Salons and Spas in the USA.
It offers rich support for independent professionals and, more recently, also for salons with a team. However, if you're looking for strong team support, you'd probably not go with GlossGenius but rather a tool like Mangomint.
Here you manage your total business out of an easy-to-use, beautifully designed app.
And, in my opinion, it's the design and premium beauty experience that GlossGenius delivers that makes this tool truly unique.
As you'll see in this review, everything about GlossGenius breathes beauty. But, besides being beautiful, it also comes with powerful business reporting and pragmatic marketing tools that even the most non-tech person can manage.
All at a very reasonable price.
GlossGenius Pricing
In contrast to many other platforms, GlossGenius offers one flat fee plan at $24/month. Regardless of your team size, that's what you pay for all the features.
Here's an overview of all costs you can expect with GlossGenius.
Free 14-day trial
Get discount with exclusive promo code "TSBHOLIDAY50"
$24/month standard plan (unlimited employees)
2.6% per credit card transaction fee
The "Chief Money Maker" credit card reader at $49.
Standard plan includes 100 sms. Additional messages costs:

+100: $4.99
+250: $7.99
+500: $11.99
In short, very simple and transparent pricing.
GlossGenius Feature Review at a Glance
Ease of Use (5.0)
Design (5.0)
Appointment Management (5.0)
Online Booking (4.0)
Marketing Support (4.0)
Client Data Management (4.0)
Point of Sale/ Check-out (4.0)
Customer Service (5.0)
Inventory Management (3.5)
Business Reporting (5.0)
Team Management & Payroll (2.5)
Mobile Apps (5.0)
Pricing (5.0)
Review Summary
Everything about this platform is beautiful.
In fact, the first time I experienced GlossGenius was when I visited a salon's website and thought, wow, that looks cool. I wonder who built this? Soon to realize it's one of the out-of-the-box designs by GlossGenius.
But they don't stop at website design, even the card reader is beautiful. I never thought I would say this about a card reader but this thing looks awesome.
Below is a picture of me with the GlossGenius "Chief Money Maker" card reader.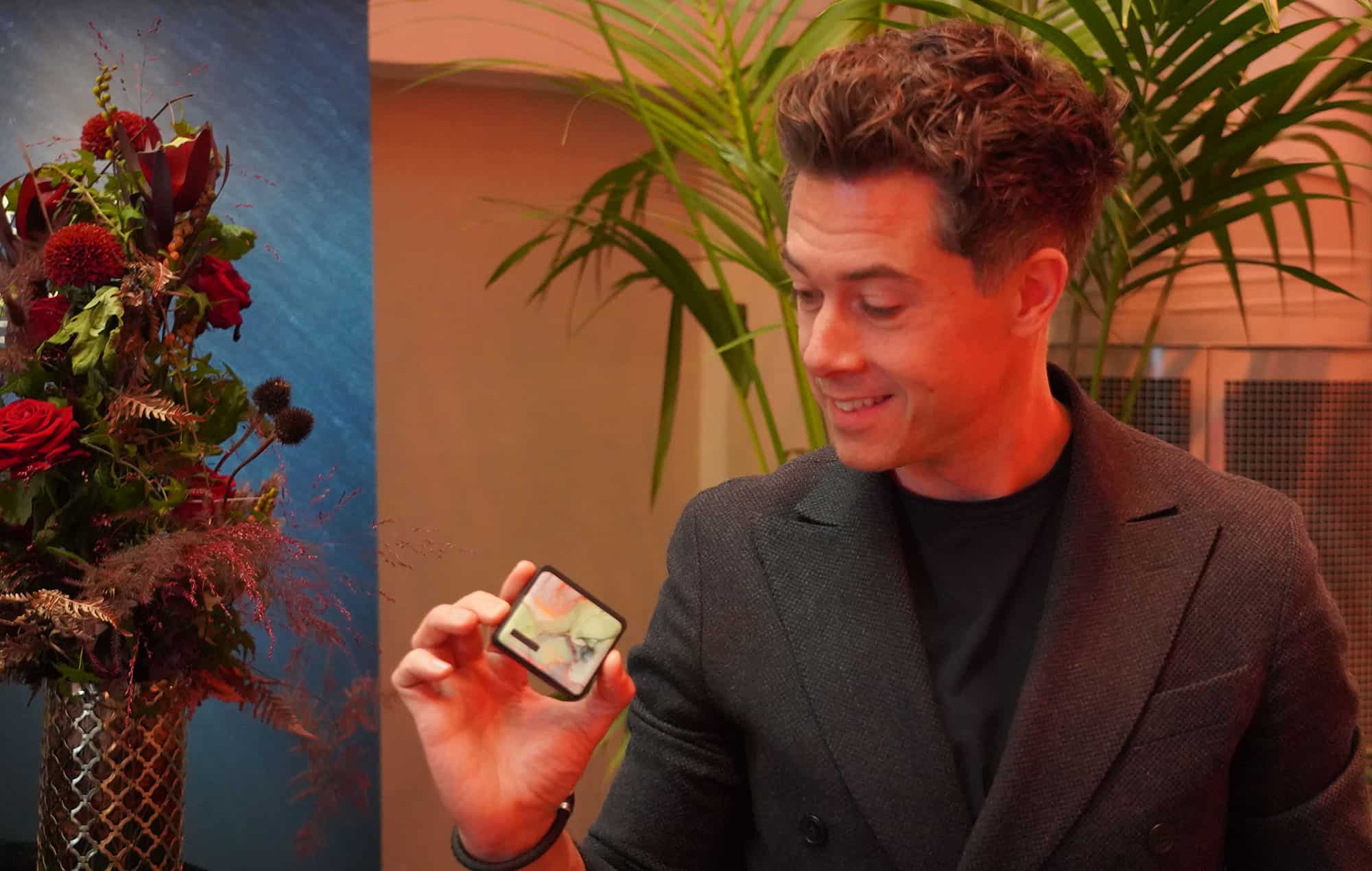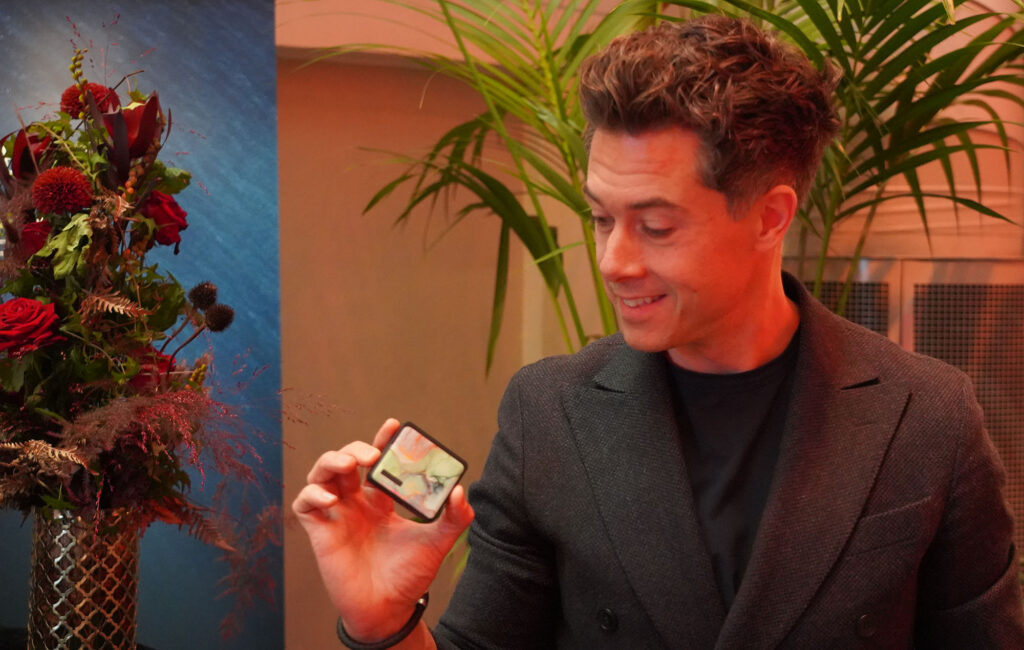 What this tool does really well is that it combines beautiful design with simplicity. You really cannot go wrong. You just fill out your details and, boom, you have a professional looking website.
This makes it the perfect choice for independent professionals who want to start accepting payments and get appointment scheduling, a website and marketing up fast without compromising on the experience of their brand.
You're managing everything out of the easy-to-use iOS or Android app which makes it possible to create your online presence and run your business from wherever you are.
If you're looking for more flexibility and you have a large team, you may find the tool a bit limiting, however. Although you can manage multiple staff members, you don't have a full payroll system, and you'll be locked into using the standard GlossGenius format for your website, marketing, and client notifications. Also, although you can access the calendar in a web browser, to access all of the features you have to use the GlossGenius app.
My take is that the compromise on flexibility and features would only be a limitation for bigger businesses. Small salons and independent professionals will find the low complexity a relief and still have the support they need to run their businesses better than they've ever been able to.
So if you run a bigger business, my recommendation is to give Mangomint a try or check out my list of the best salon software in 2023 for other alternatives.
Pros
Beautiful interface
Smart and intuitive features that are easy-to-use
White glove support to help you get started without any transition barriers
Professional looking website in just a few clicks
Integrated payments with beautiful hardware at low transaction fee
Affordable and transparent flat fee pricing
Cons
Limited flexibility (you need to use the built in format)
Limited team management support
Can only be managed via app (only calendar can be accessed in web browser)
No booking widget to integrate on existing website (need to link to your GlossGenius website)
Who is GlossGenius For?
I recommend GlossGenius to independent stylists and aestheticians who want a hassle-free solution to payments, appointment management, website, and marketing and who value the look and feel of their brand.
GlossGenius can certainly be used by salons with a team as well even if team functionality and payroll support are still somewhat limited. If this is you, you should give Mangomint a try instead.
Which Countries is GlossGenius Available In?
GlossGenius is only available in the USA (at the moment).
My Top Salon & Spa Software Alternatives
Here's my salon & spa software top list for 2023.
To see more alternatives, visit my complete list of salon and spa software recommendations here.
GlossGenius Features
This beautiful little app and card reader is packed with a lot of rich features. The remainder of this review will walk you through the details of what they are and how they work.
Gloss Genius Credit Card Processor
The GlossGenius credit card reader truly allows you to check out your customers in style. The reader itself comes in a wide variety of designs that you can explore at the GlossGenius Website.
It connects via Bluetooth directly to your phone and the app. The reader accepts all payment types including contactless payments. The cost per credit card swipe is 2.6%.
In fact, it's one of my top recommended credit card processors for salons and spas.
Gloss Genius POS
You access the POS by navigating directly to it in the main navigation or by tapping an appointment that you want to check out.
Just tap to add services or products to the appointment and check out. When you've processed the payment (using the card reader or cash) you can choose to have the receipt emailed directly to your client.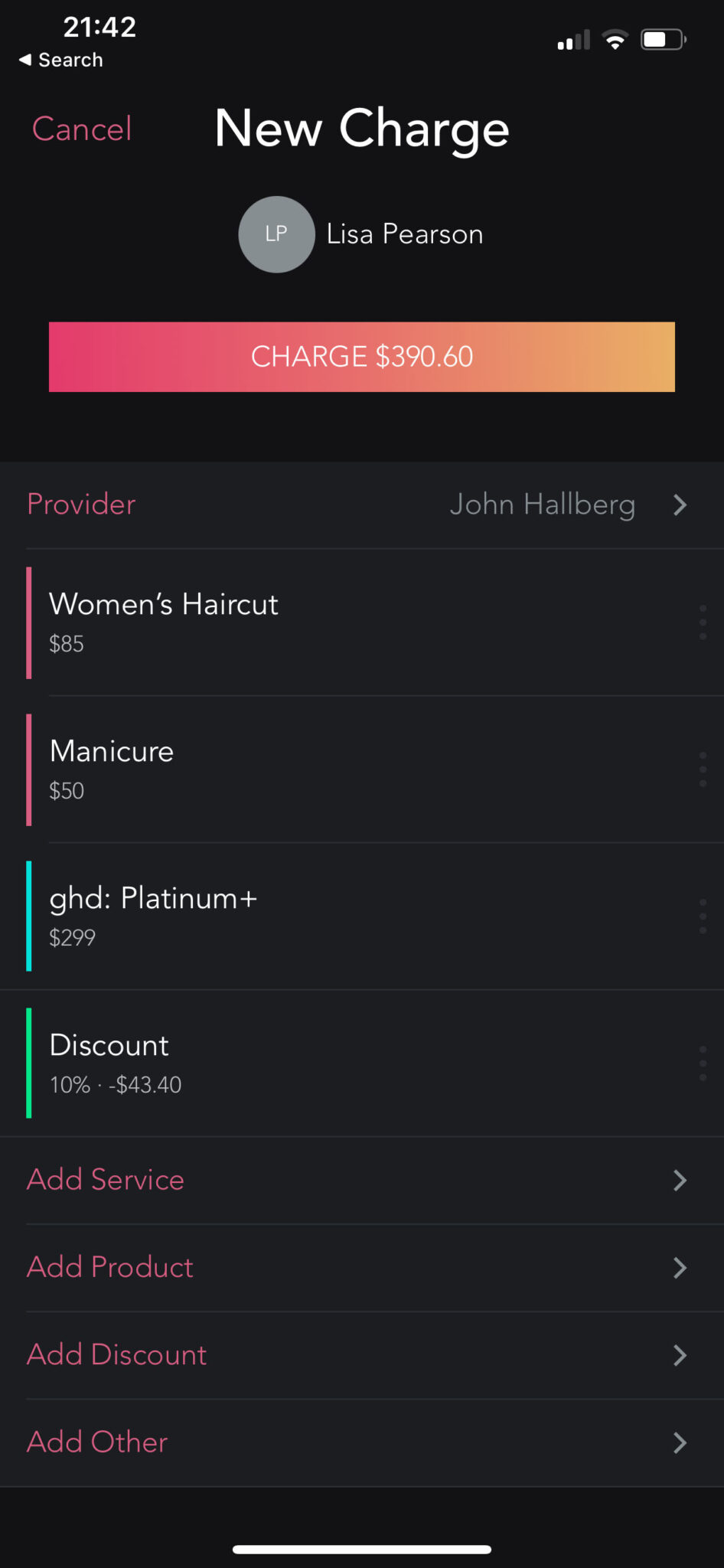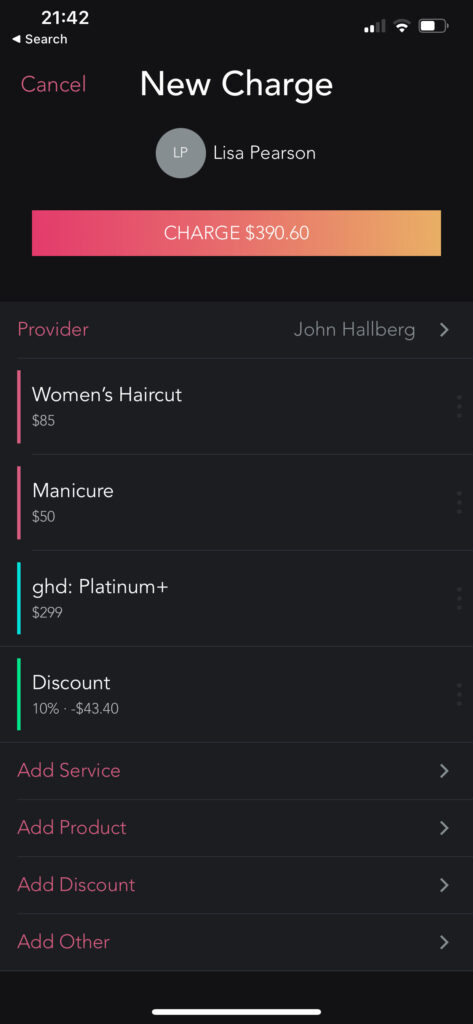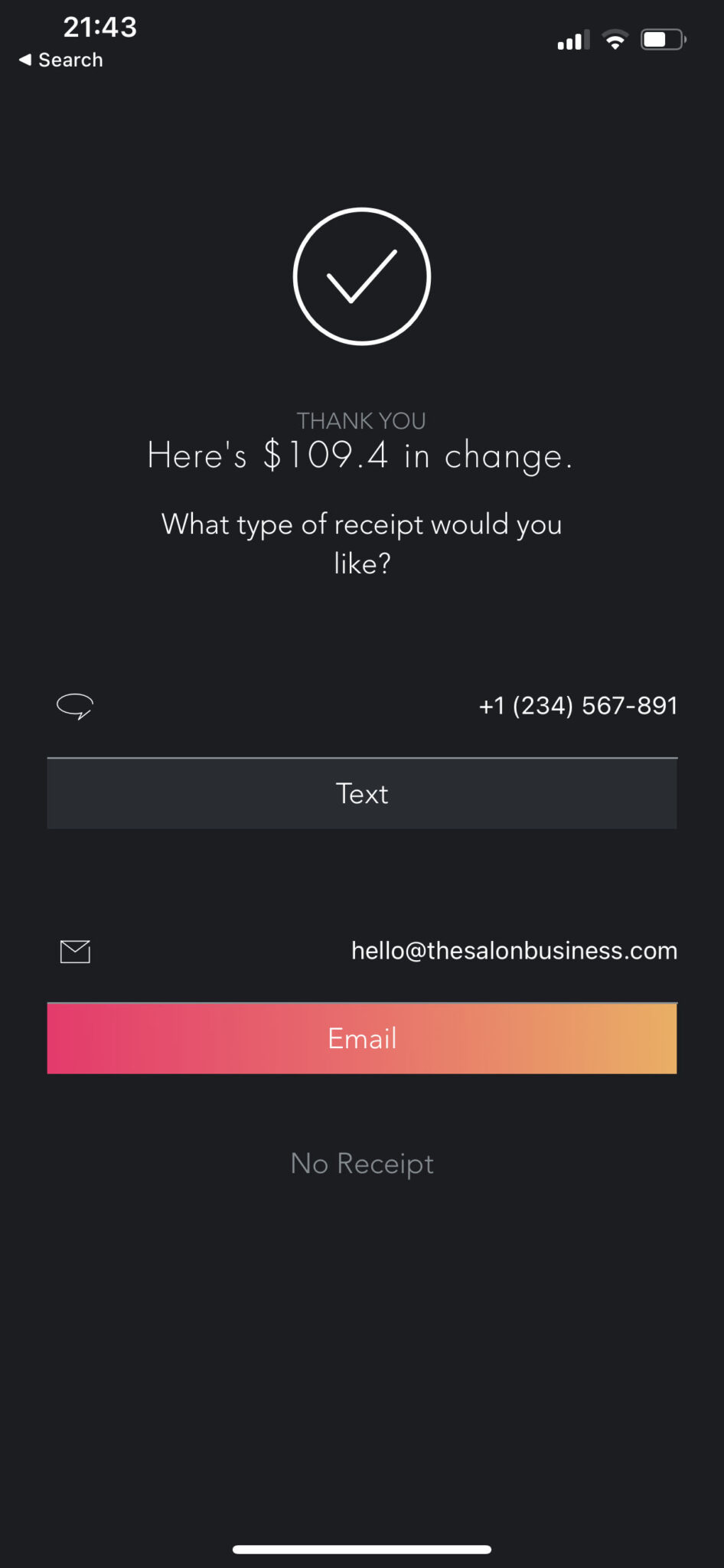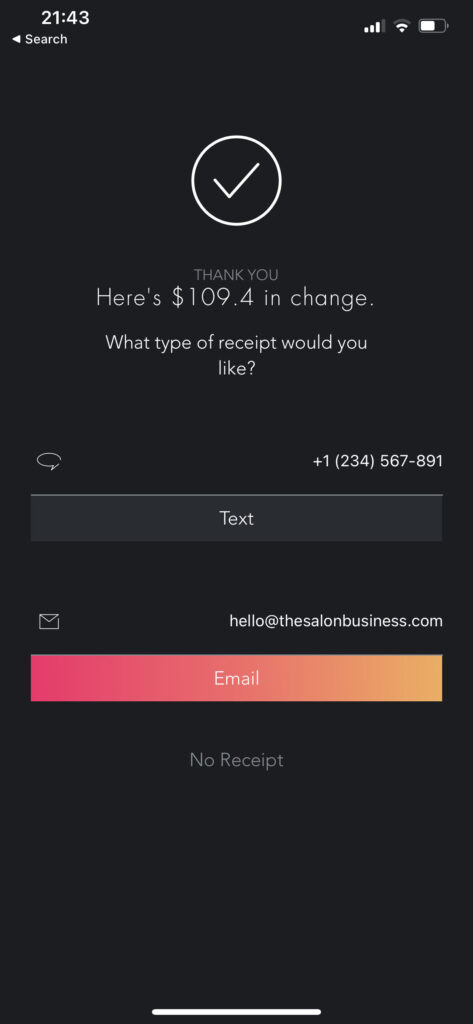 GlossGenius Appointment Calendar
I find the calendar to be very intuitive to navigate. Switch between day view, week view, or month view. Show multiple calendars or just one. Appointments are colored based on the category of services booked.
Just tap an appointment for details and swipe to see any comments about the upcoming appointment.
Your calendar can also be synced directly with the calendar on your phone so that you can see both personal data mixed with your booked appointments.
This makes it one of the top options on my list of the best appointment-scheduling apps.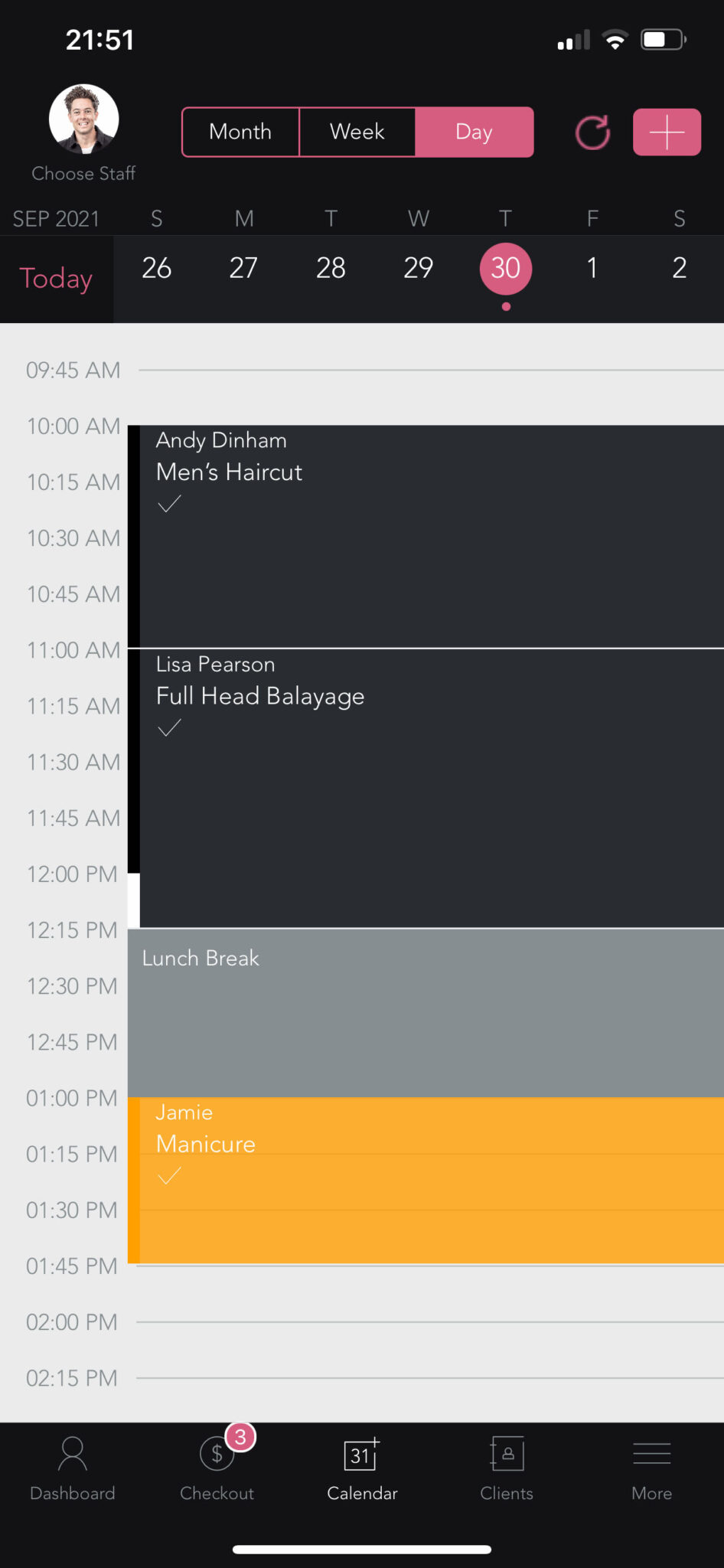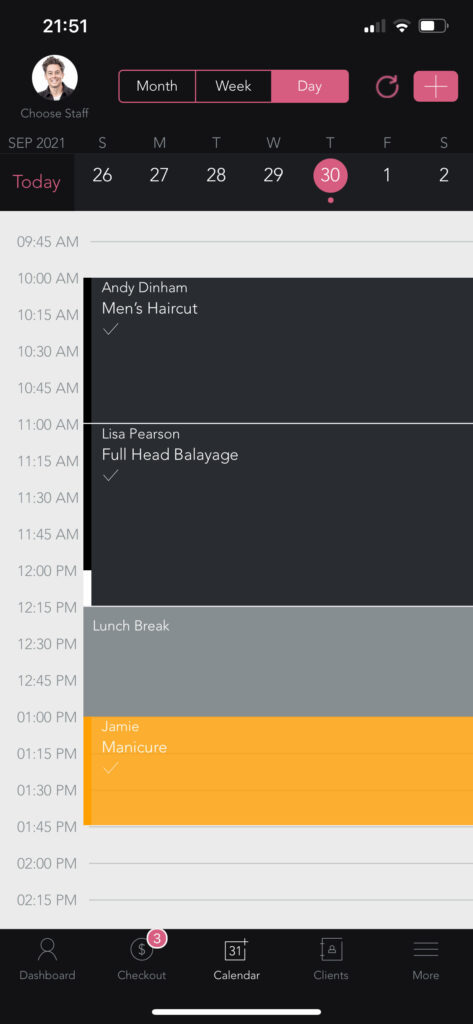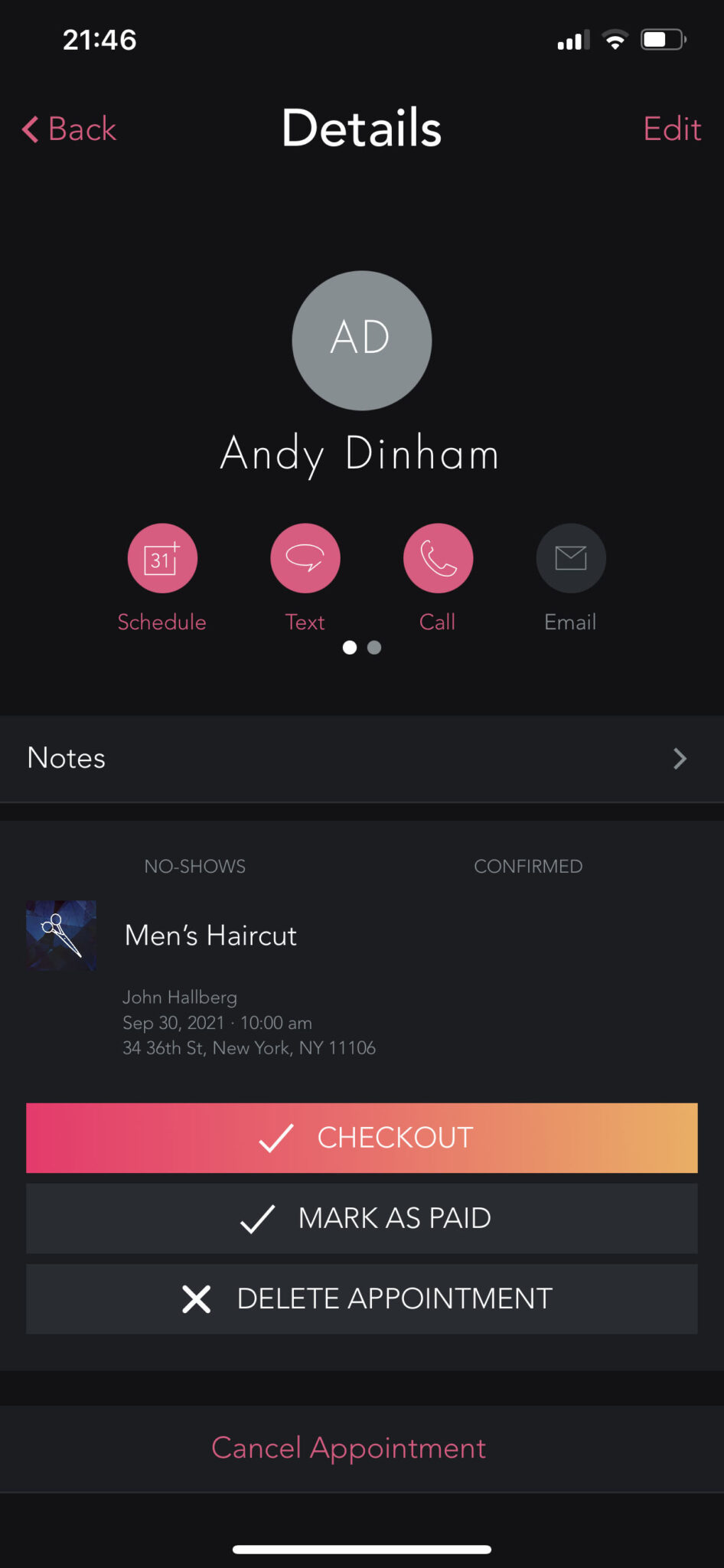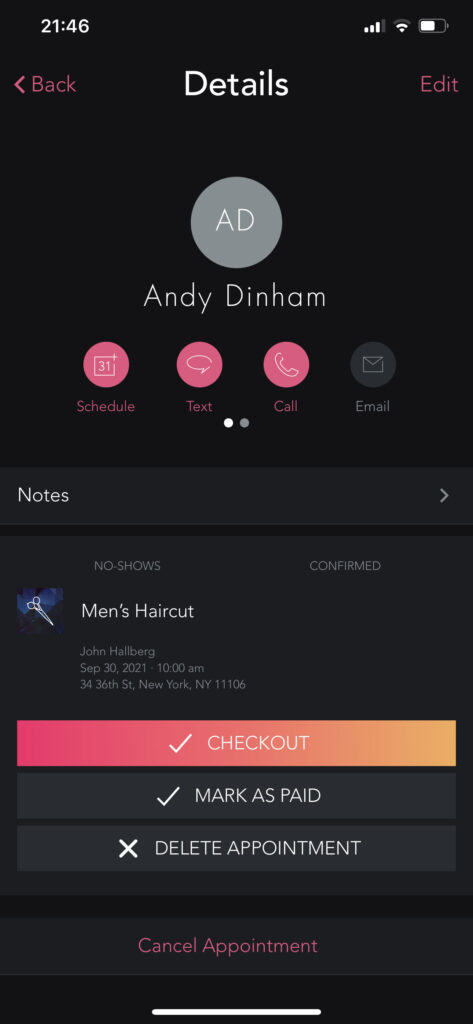 GlossGenius Online Booking
One of the coolest things about GlossGenius is that you can spin up a really professional looking website that allows you to accept appointments, sell gift cards, and present your business and team.
All in just a few seconds.
The website is generated based on the information you've added about your business and you can also add additional information, connect your social profiles, show your team, and feature your portfolio.
Below is an example website I just generated using only what's already provided by the platform (which you can also access here: https://examplesalon.glossgenius.com).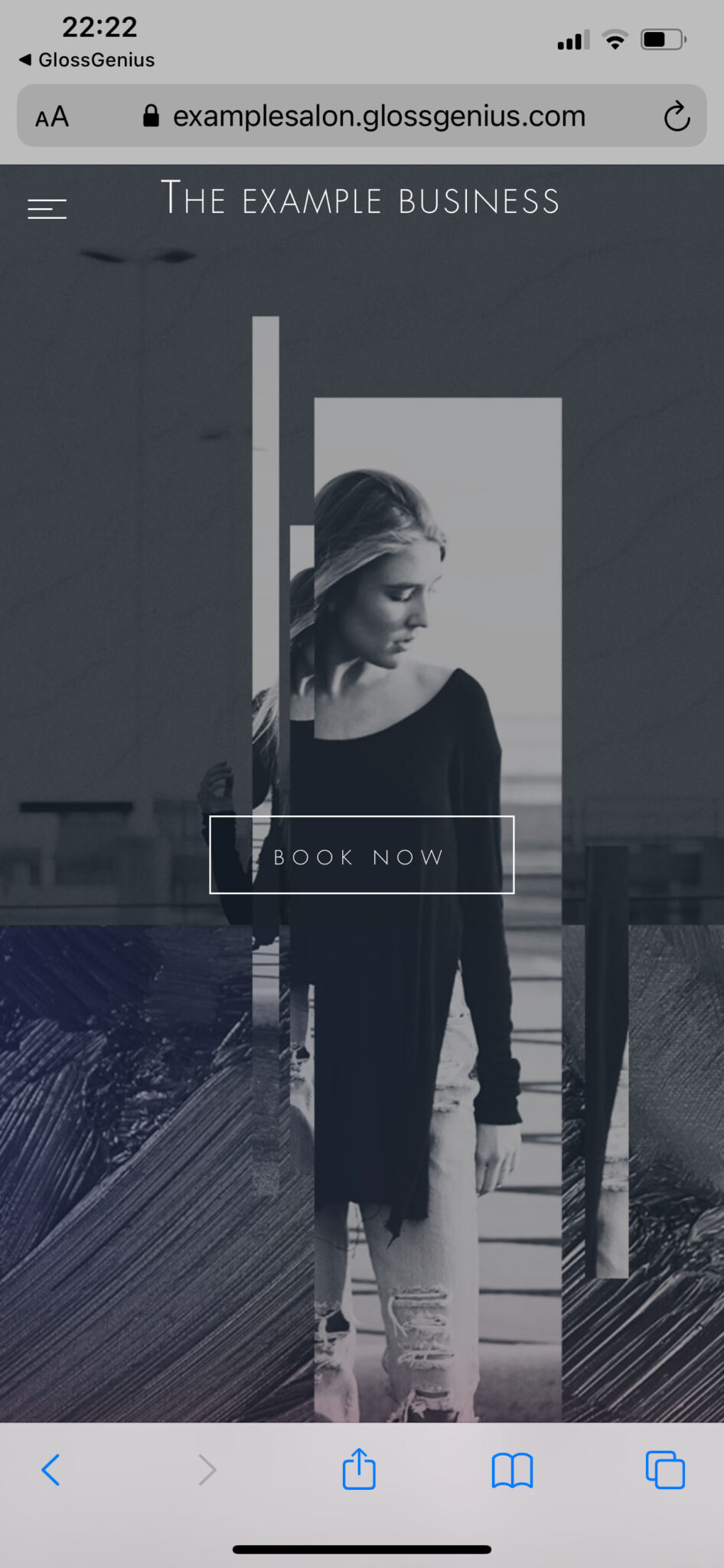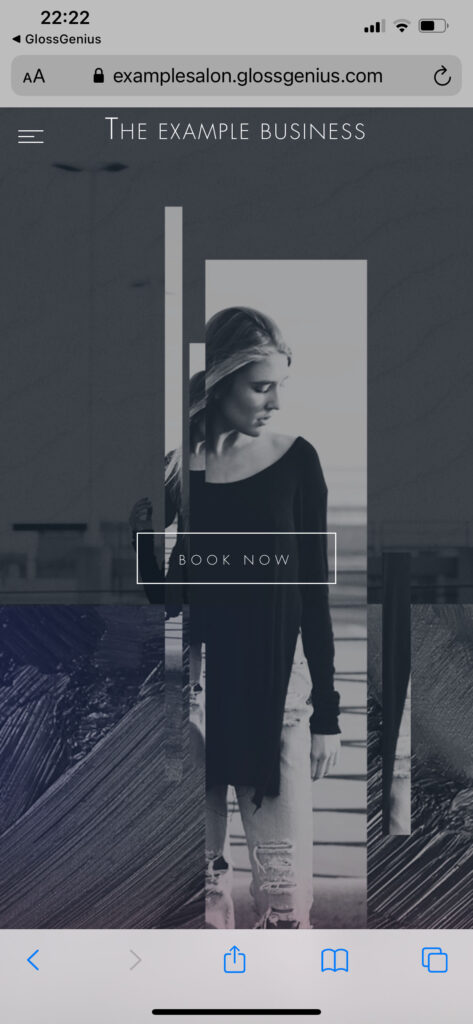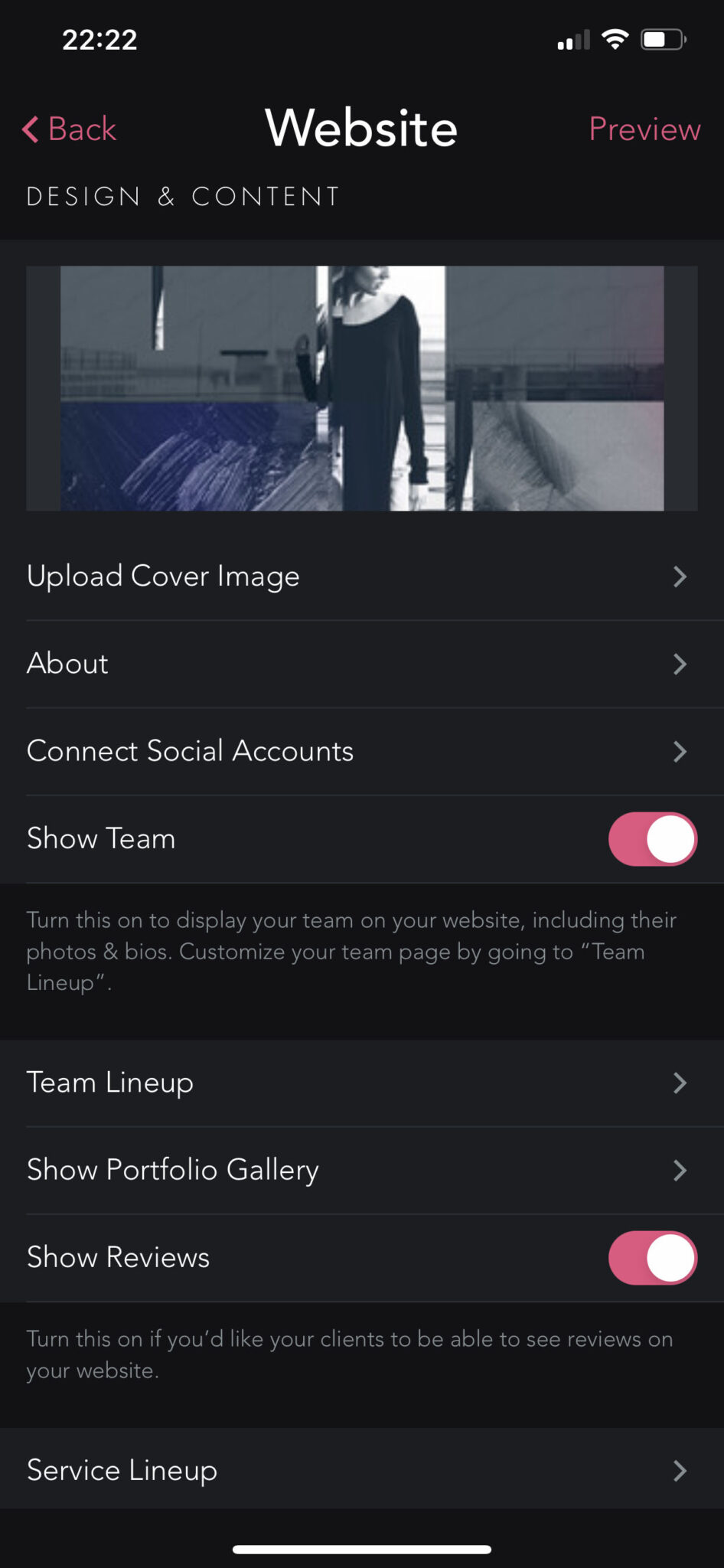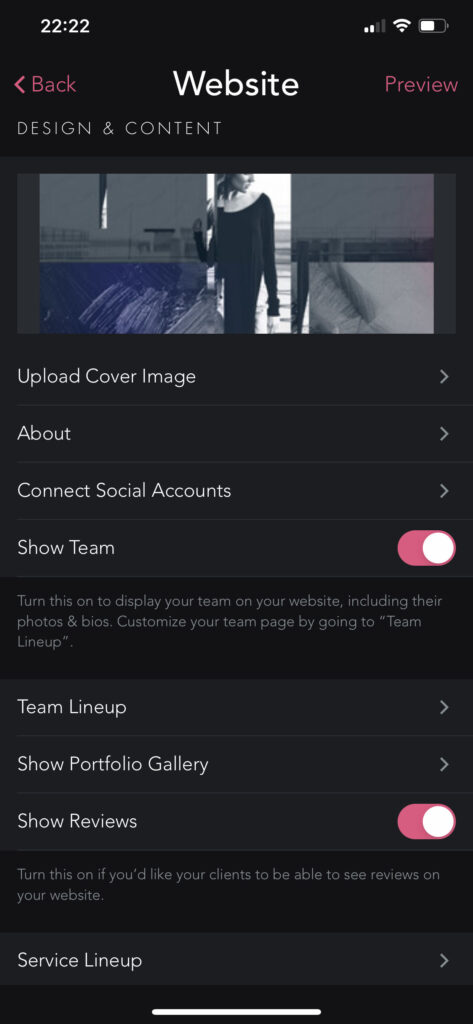 You can also integrate with Facebook and Instagram to have clients book you directly from your account.
The online booking and website functionality is awesome for the non-tech person who just wants to get going. However, for the more advanced user, you may find some limitations with how this works.
The main limitations are:
You do not have much flexibility with the website design and must use what GlossGenius provides you with. You're also not able to set up a custom domain name but need to stick with "yourname.glossgenius.com".
If you already have a website, you'll not be able to embed just the booking widget but you need to link out to the separate GlossGenius website if you want to keep your existing site.
GlossGenius Appointment Notifications
You can set up a number of different email and SMS notifications that are sent to your clients automatically. This includes reminders ahead of appointments as well as birthday wishes where you can feature a promotion.
You can also include a link to capture reviews inside your notifications. Notifications are enabled by default so you don't even need to think about this.
The limitation however is that there's not much room for customization here. You'll need to use the pre-defined text and email design formats that the tool provides you with. You can however insert additional text in case you have some specific information that you want to ensure is included in your notifications.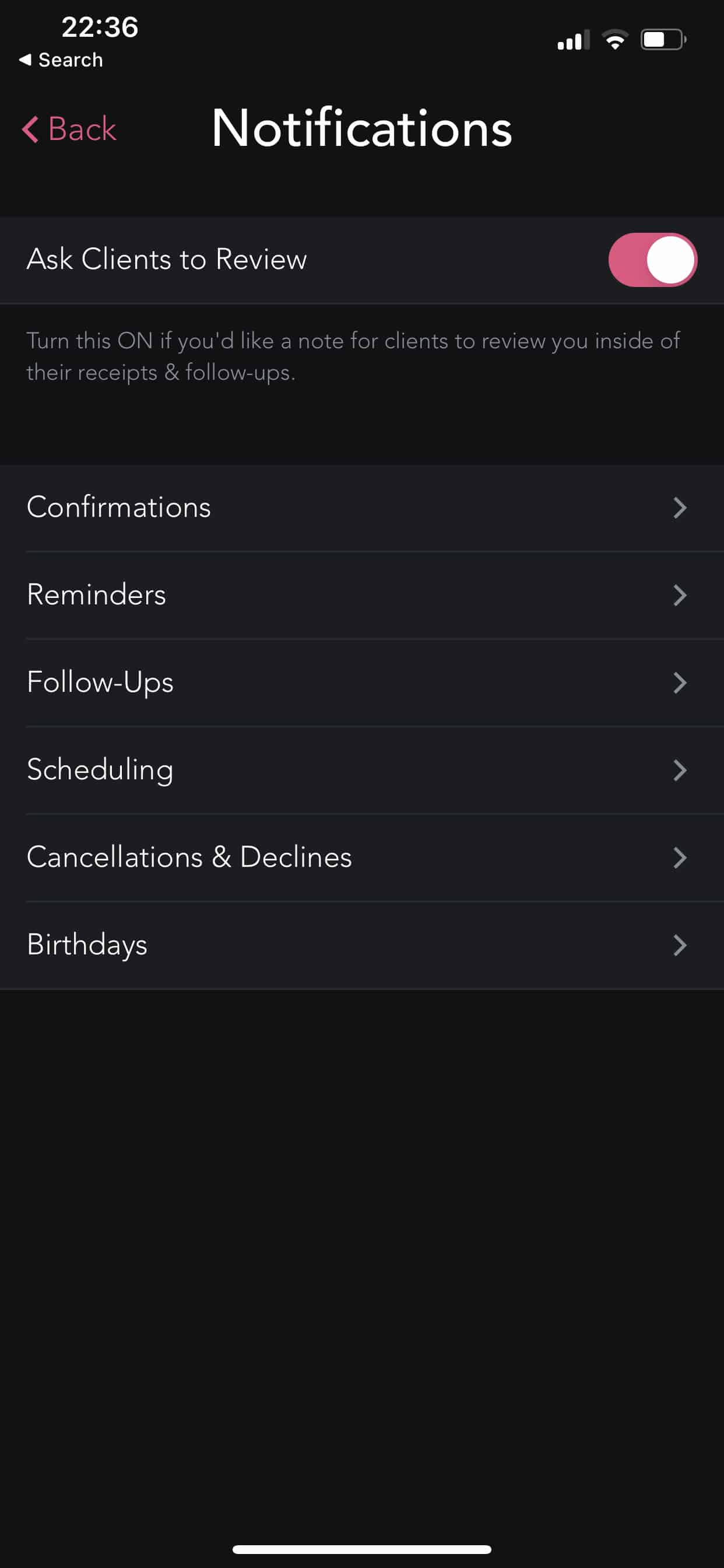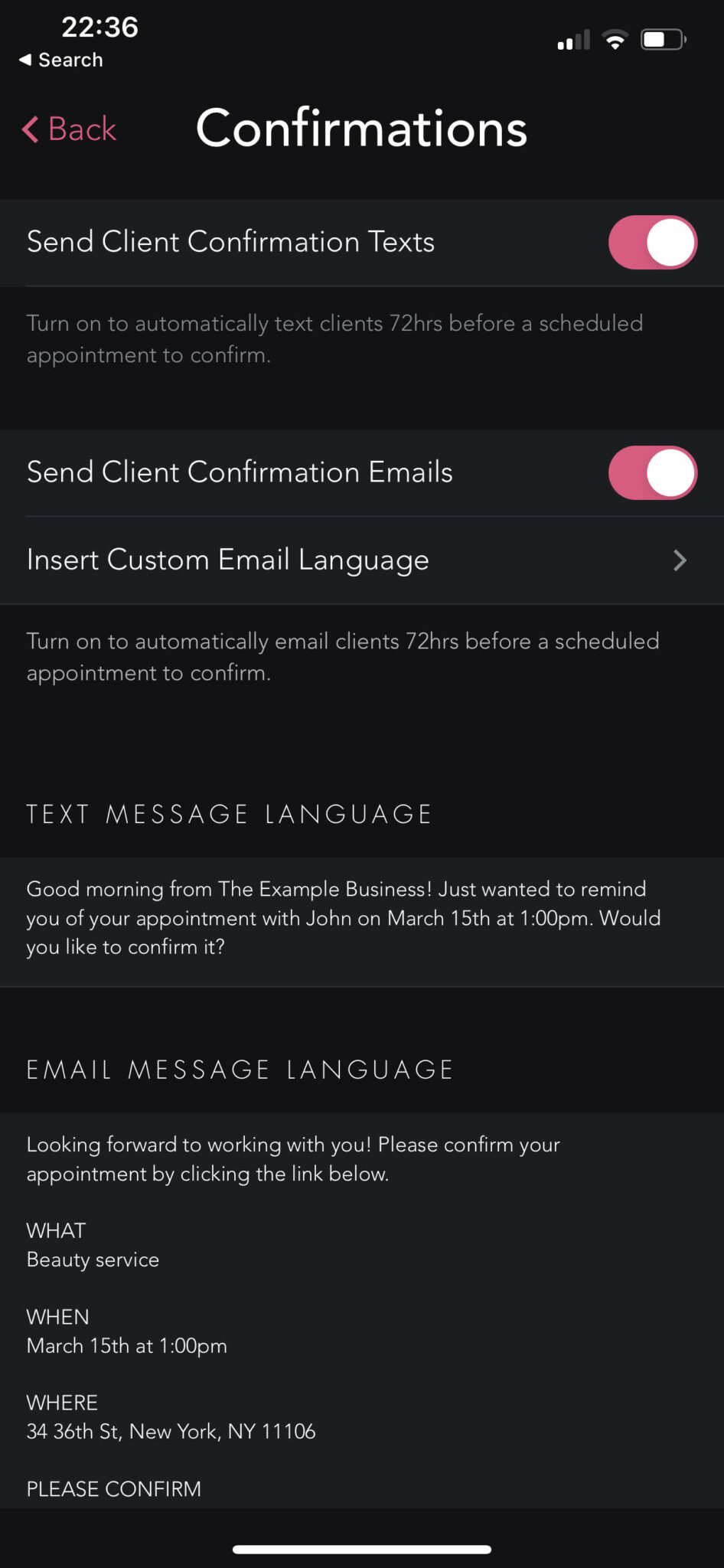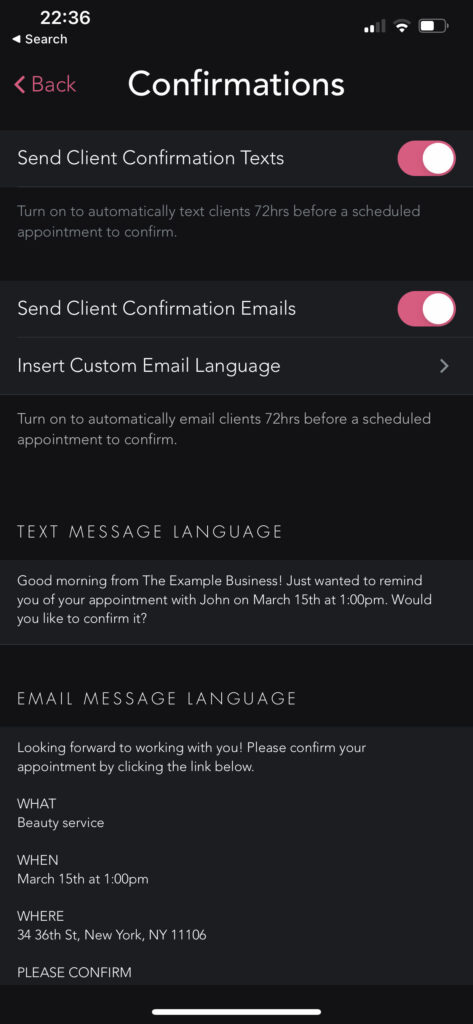 GlossGenius Client Data Management
GlossGenius allows you to store notes about clients, maintain a portfolio of e.g. before and after images of the client, and access history about past purchases. It covers the basics of what you'll need.
A cool feature they offer is that you can add and book clients that you have stored in your phone's address book.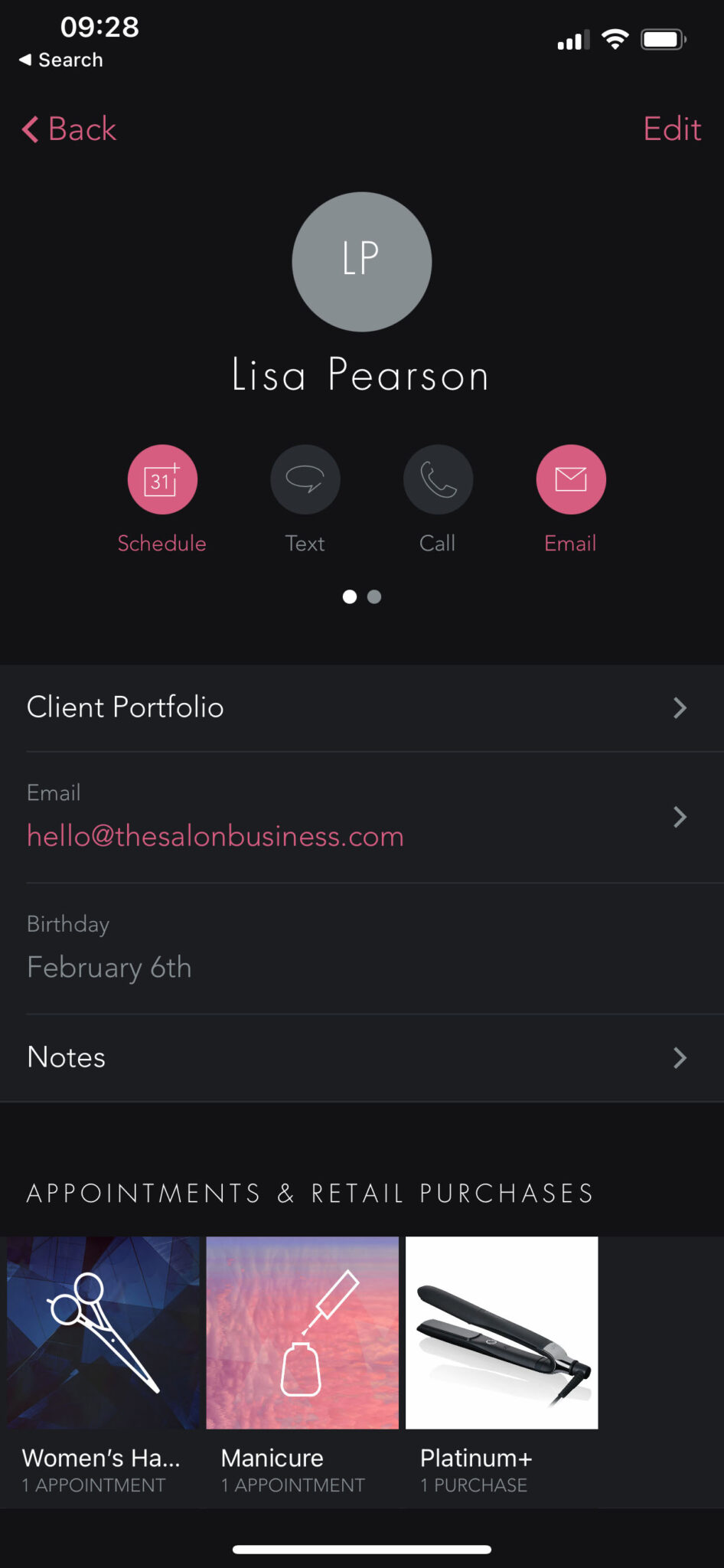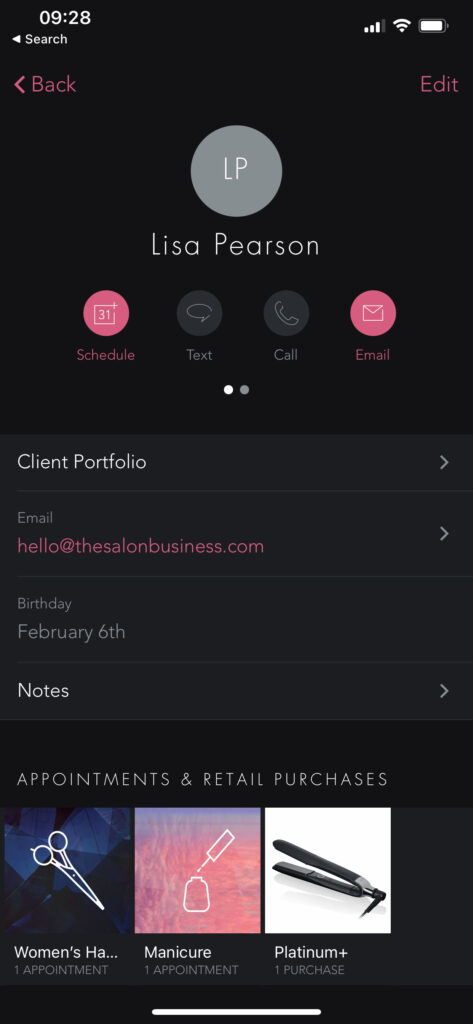 GlossGenius Inventory Management
You get access to basic inventory support. Store product with price and description. Setup stock-level and a threshold for when you consider stock low so that you can access it as part of the reporting.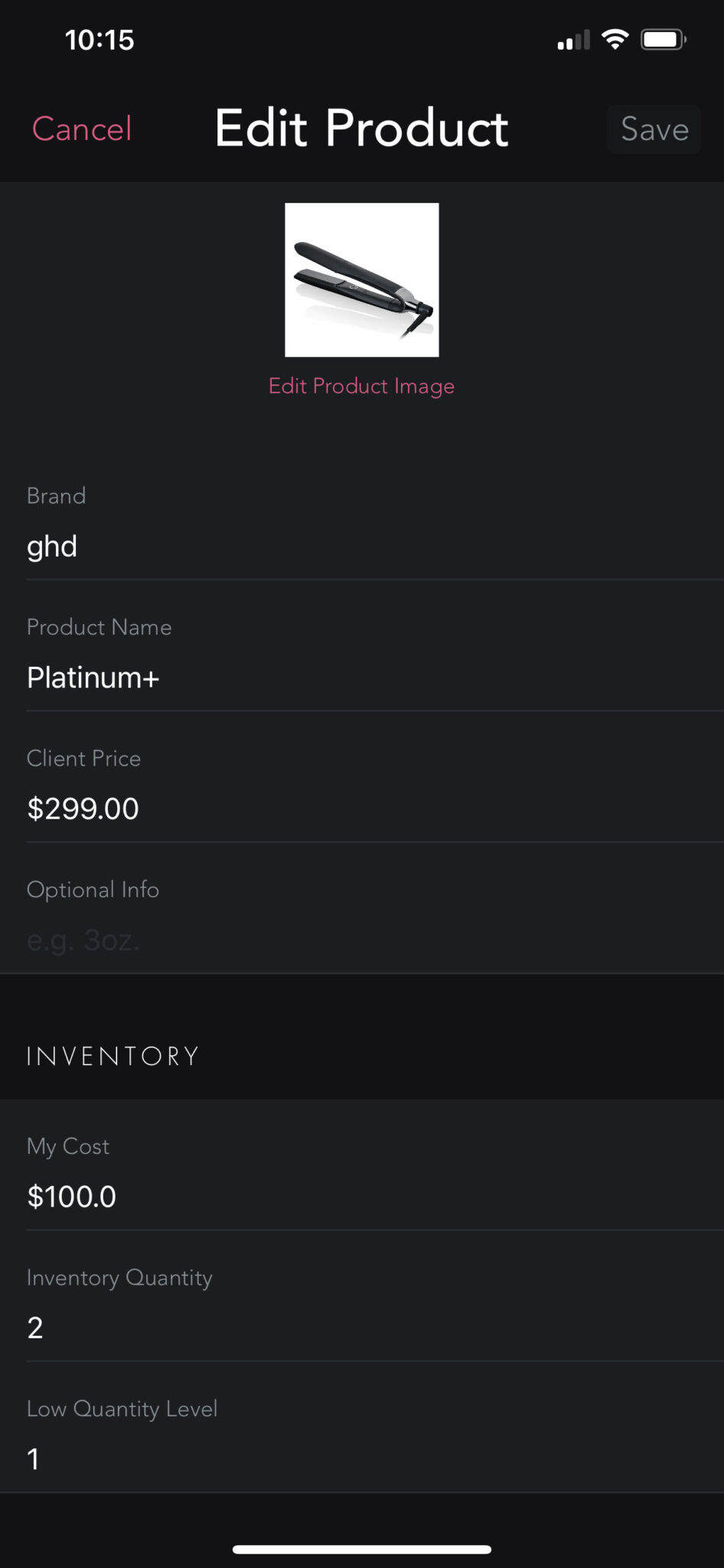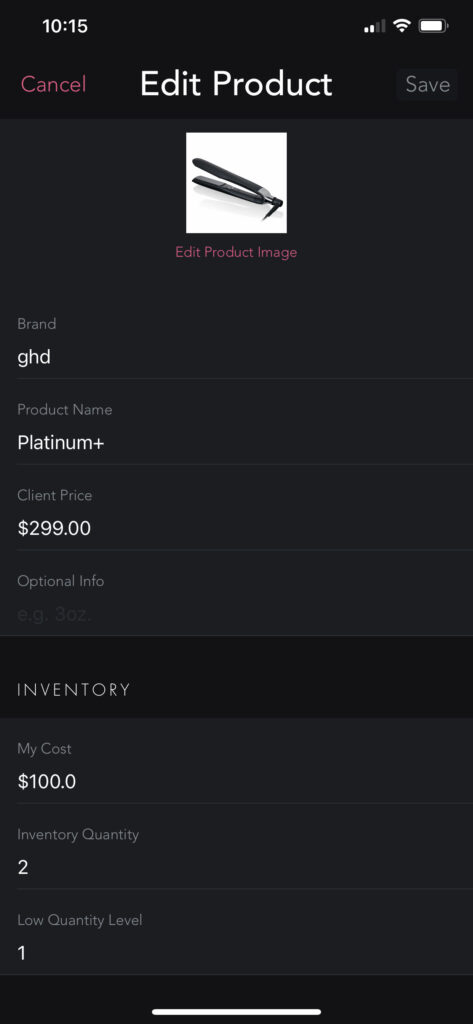 GlossGenius Marketing
GlossGenius comes with support for sending email and SMS marketing campaigns. It's super easy to do – just select the clients you want to send it to and write your subject line and what you want your message to say.
You cannot go wrong.
What I also find powerful is the segmentation feature that allows you to filter the group of people you want your campaign to reach (see image below).
On the other hand, if you're looking for customization of campaign design, you'll find the marketing support limited as you're stuck with the designs offered by the tool. You can only enter the text you want to add to the campaign, nothing visual.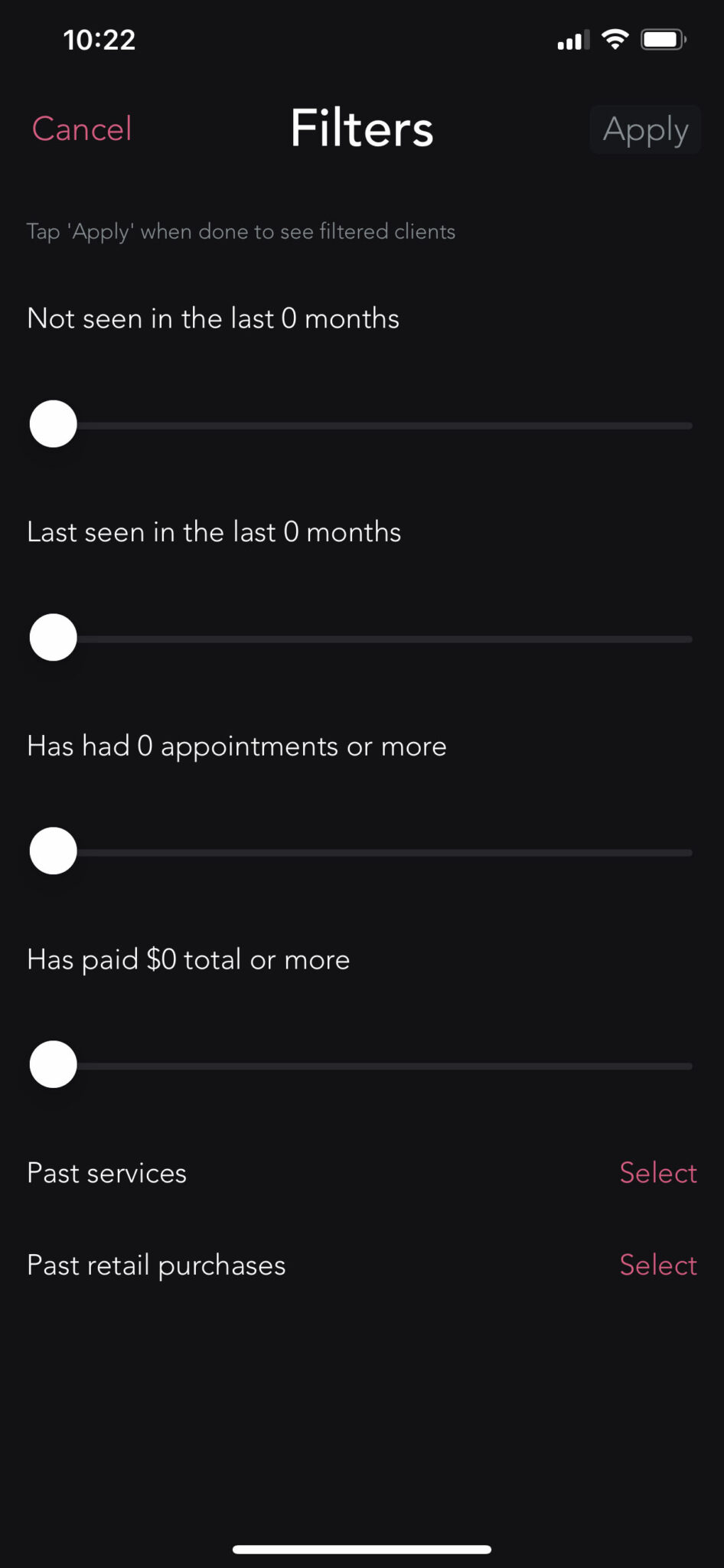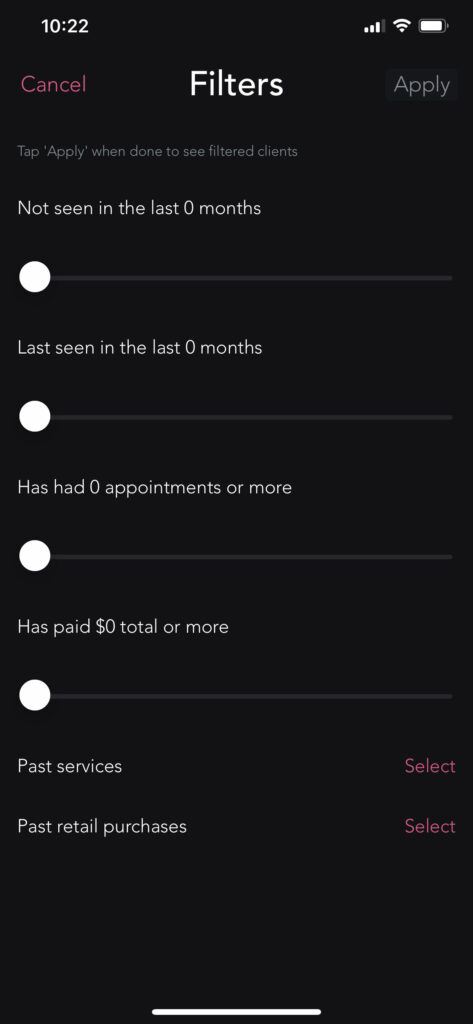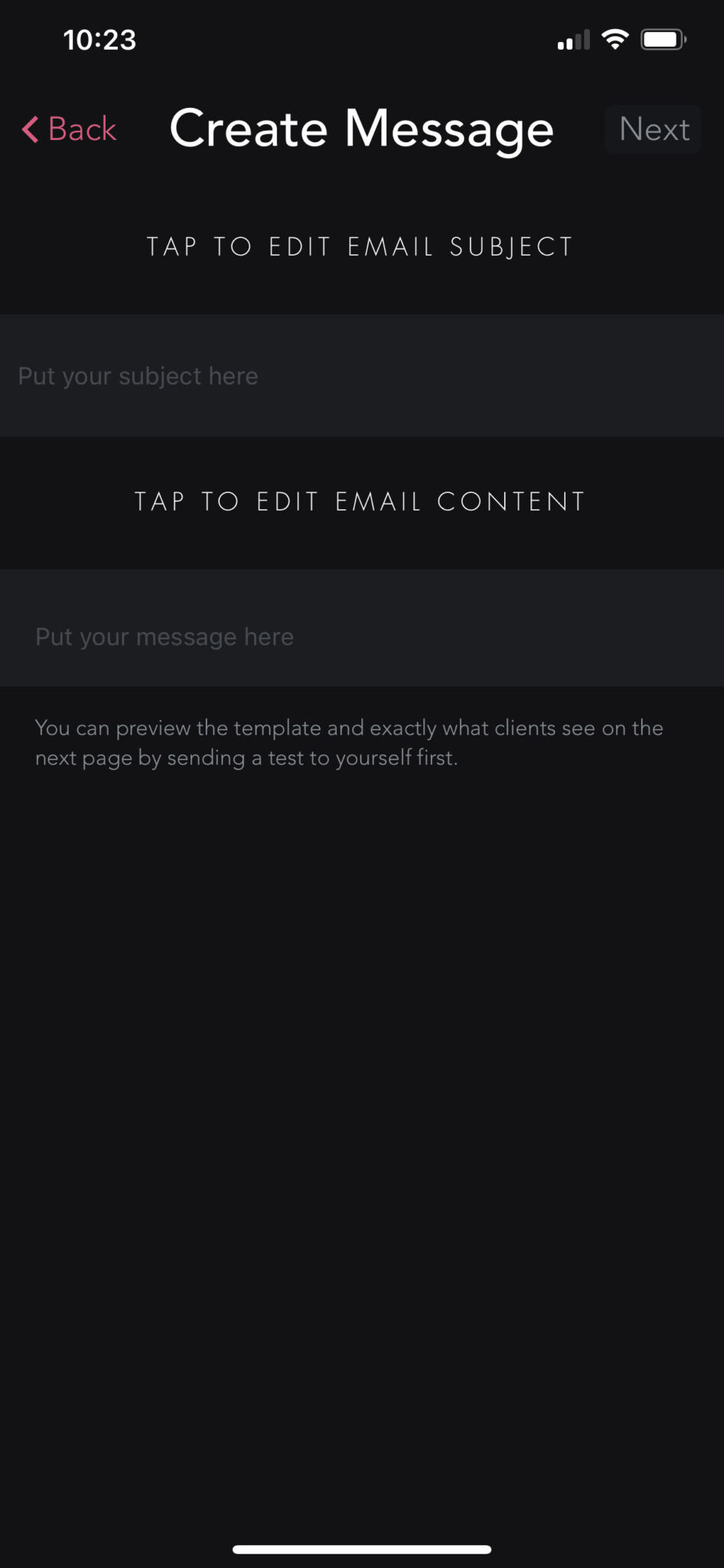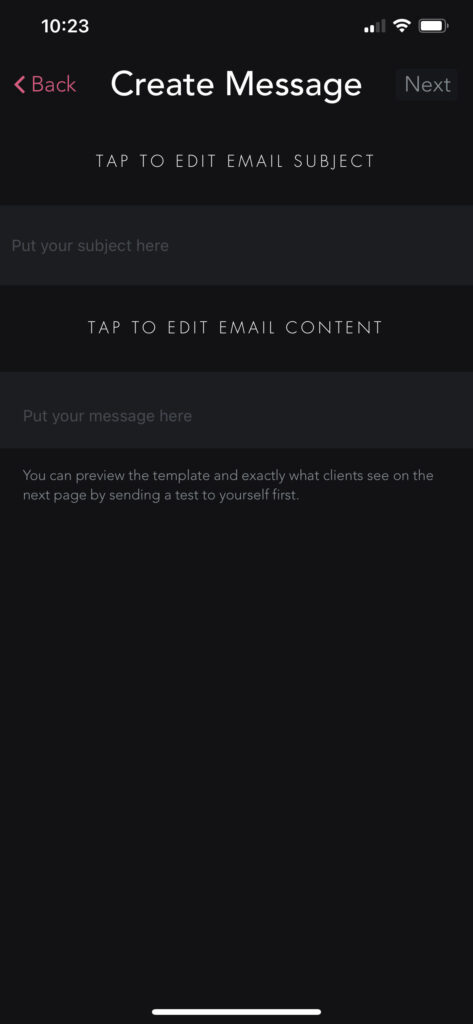 GlossGenius Reporting and Analytics
The analytics and business reports available in GlossGenius are surprisingly strong and well developed. You'll get a solid snapshot of the day on your dashboard when you log in and you can pull very detailed business reports that you export to PDF for your total business.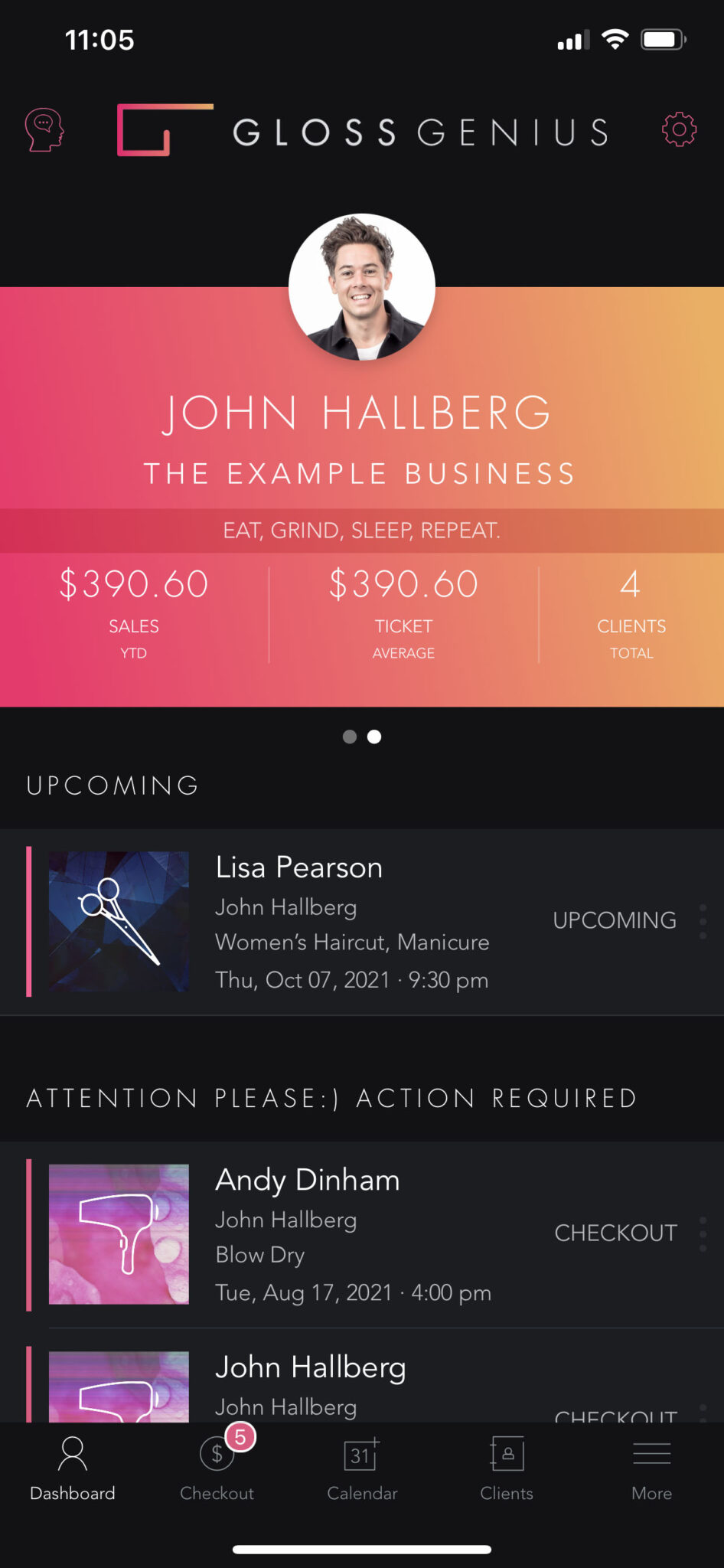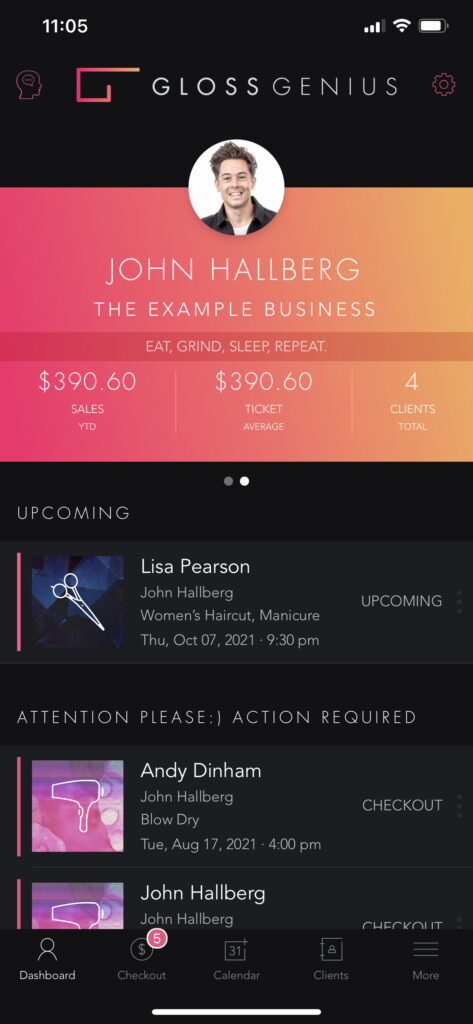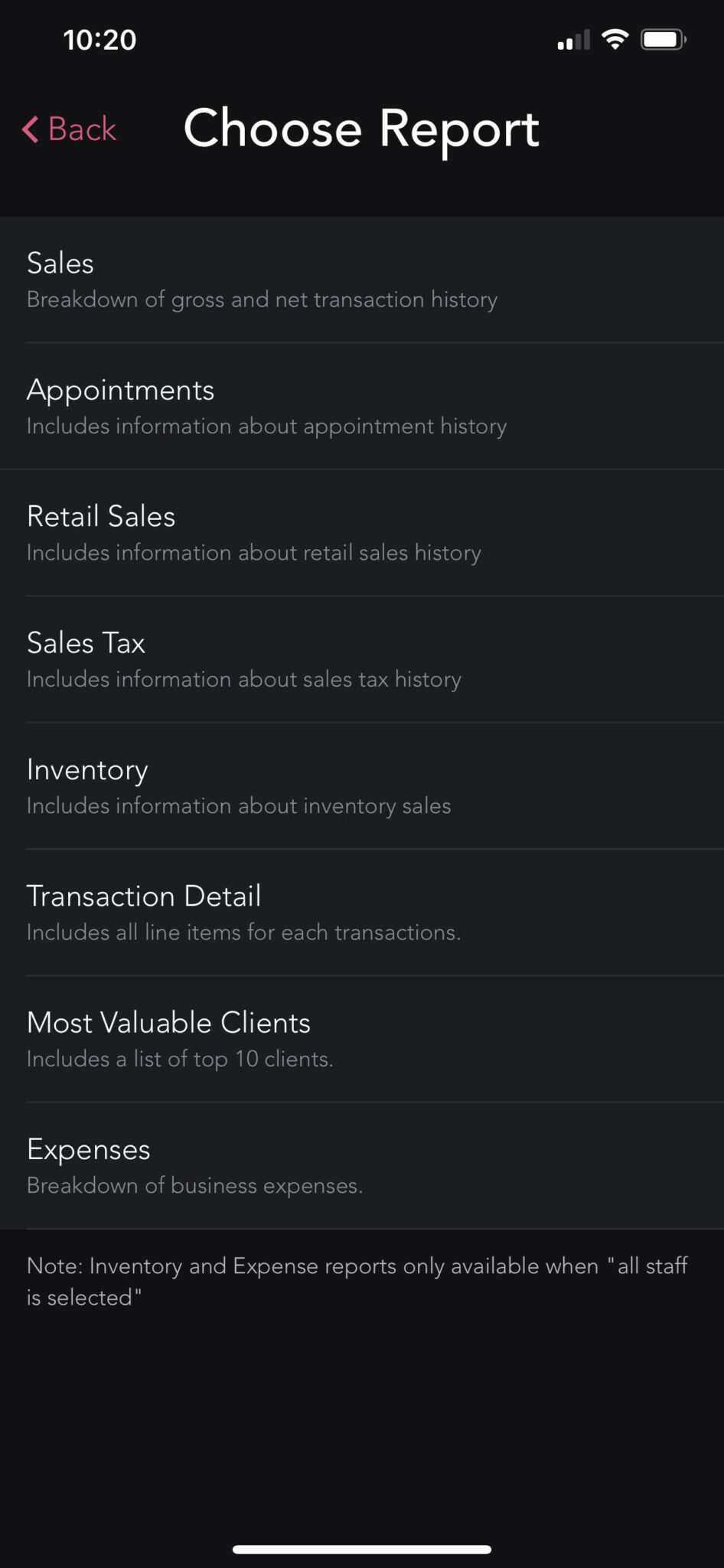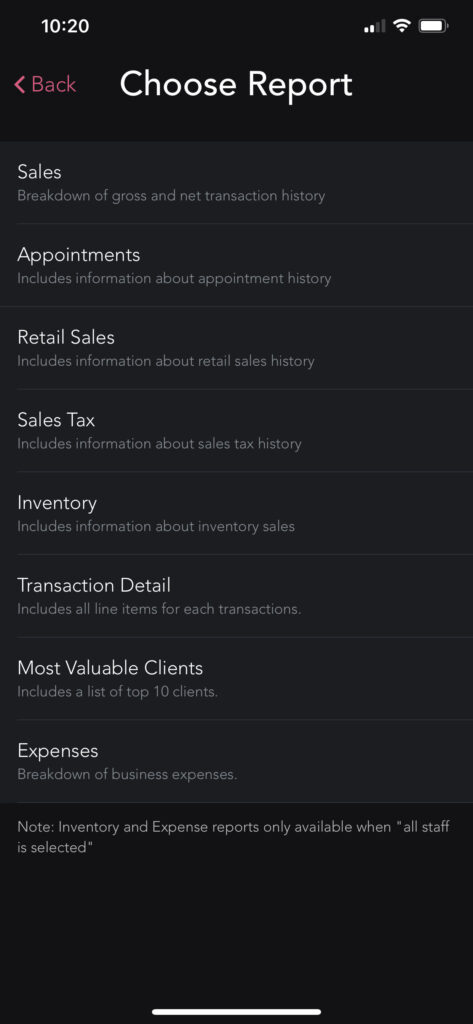 GlossGenius Apps
You'll be managing everything through the mobile app. In fact, it's the only way that you can access all features and settings of GlossGenius.
As you would expect, the app is very easy to use and has a stunning interface. It's available for both Apple iOS devices (iPhone/iPad) and Android devices.
The app has a 4.7 user rating (500+ votes) for Android and 4.8 user rating (1300+ votes) on the Apple App Store.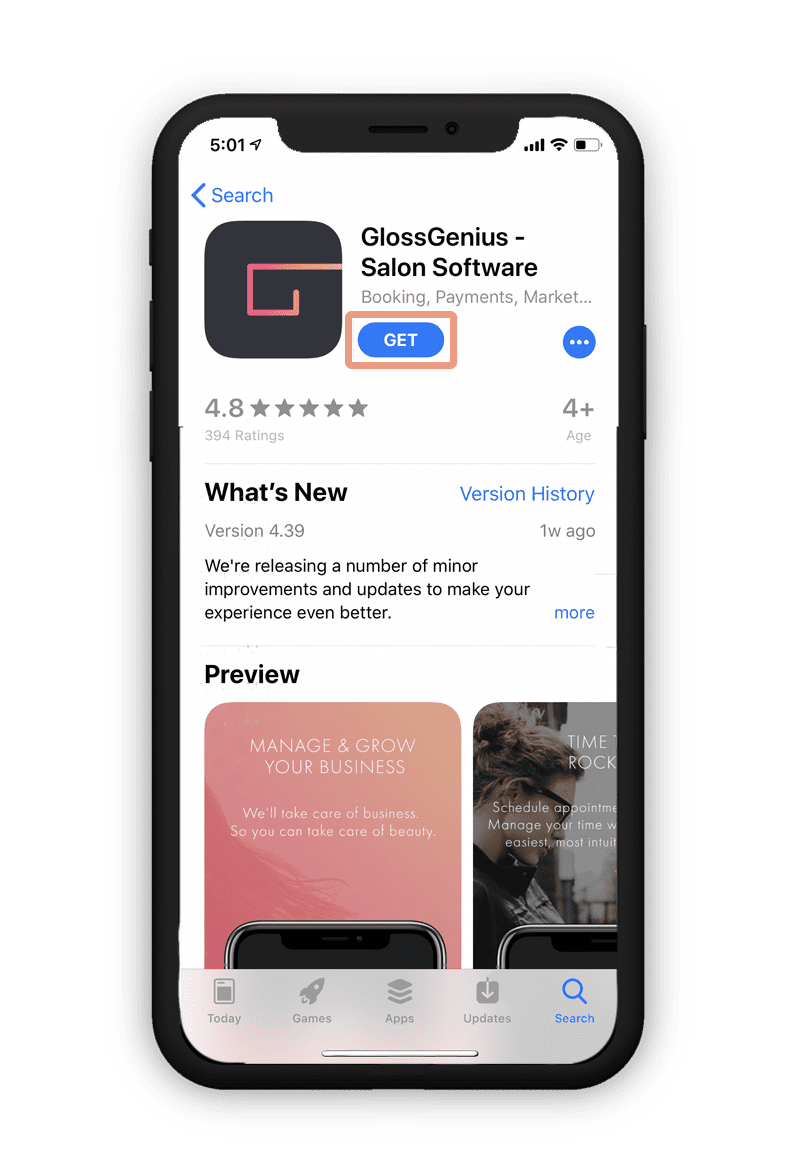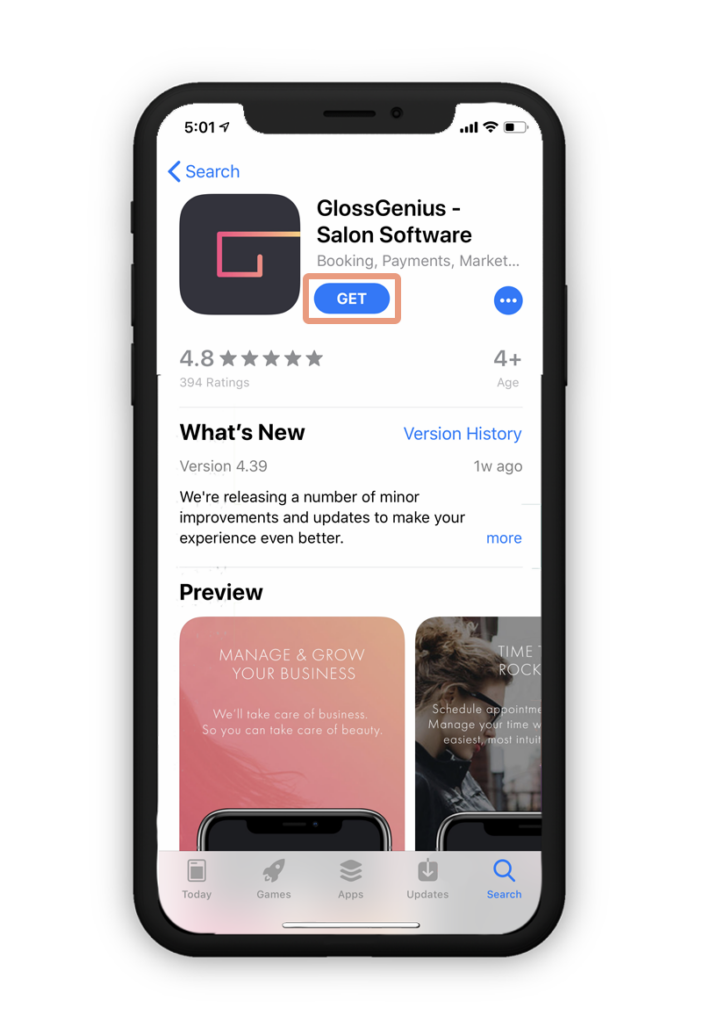 Summary & Conclusion
I hope you found this GlossGenius salon software review helpful.
As you can tell, GlossGenius is brilliant for small businesses that are looking for a beautifully designed, smart, and intuitive tool at a low monthly fee.
If you want to explore more alternatives to GlossGenius, check out my list of the best salon software in 2023.