Disclosure: This post may contain affiliate links, meaning I get a small commission if you decide to make a purchase through my links, at no cost to you.
Learn more...
Are you looking for salon marketing and advertising ideas to grow your salon business?
Then you've landed in the right place.
This is where I share the most effective salon marketing strategies right now.
Many of these are the same strategies as what I teach inside my marketing education courses for salon owners.
And today, you'll get an overview of these activities so that also you can start attracting more new clients and grow.
This is important.
I've met many talented hairdressers, nail techs, and barbers who are amazing at what they do. They may be among the best in their field. But still struggling to build up the right clientele and to make their salon profitable.
It shouldn't be this way. A salon business can, and should, be profitable.
But we need to go beyond delivering a good service. People also need to know that your salon exists. And they need to understand that what you offer isn't a cheap commodity but a benefit worth paying extra for.
Now I want to bring out the creative marketeer in you.
I've pulled together a list of proven salon marketing strategies, salon promotional ideas, and salon advertising examples that profitable salons use.
It's quite a long list. Some are quick and simple salon marketing ideas you can implement today. Other are salon marketing strategies that will require a bit more to implement.
I don't expect you to go implement all salon marketing ideas at the same time. Pick one today, go action it, and come back later for new salon strategies.
↓ Pin it for Later ↓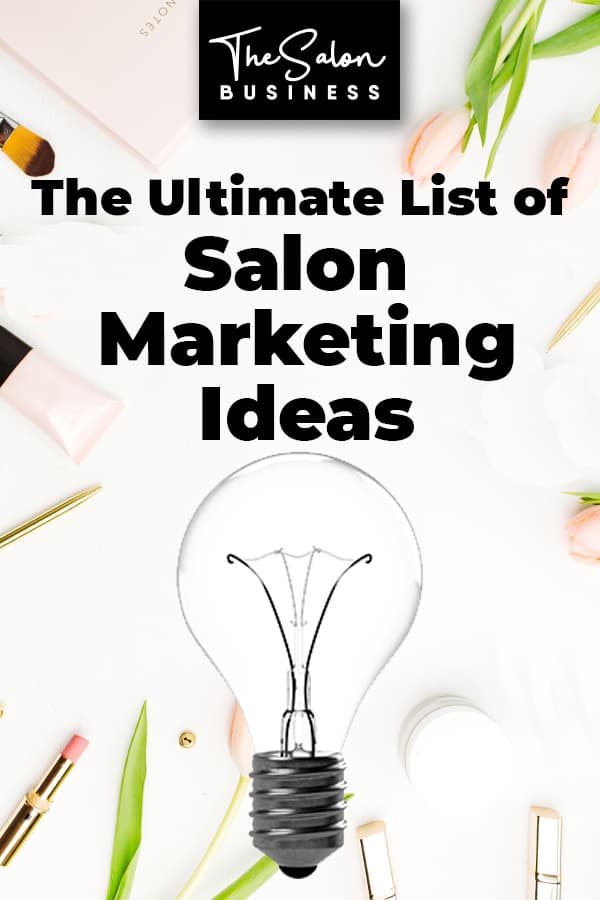 Salon Marketing Strategies
Let's start with some of the bigger salon marketing strategies before we dive into the quick tips and marketing ideas. Because it all starts with the right foundations.
1. Get Your Salon Visible on the Search Result Page
What do you get when you type "salon near me" on Google?
This is one of the most important questions you can ask yourself to today.
If you don't show up when people look for your type of salon in your area, you simply don't exist for potential new clients.
So before you put any other salon marketing idea into practice, make sure you have the basics in place that allow you to be visible when people look for you.
Google is the most used search engine but there are others as well.
To get your salon visible on Google, set up your Google Business Profile here (it's free).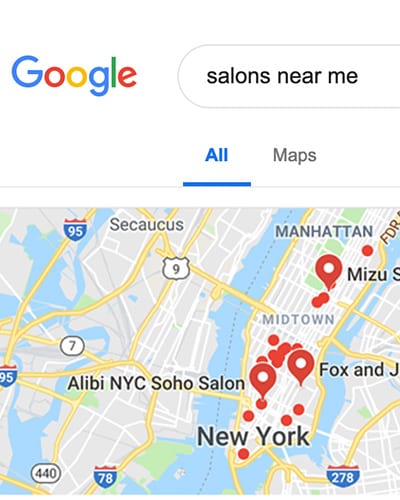 But getting registered with Google Business Profile is just the start.
There are several quick tricks and strategies you can use to make sure your salon shows up at the top when people in your area are looking for what you offer.
I have designed a simple step-by-step process that will make this happen for your business. This is, in fact, one of the first things you'll learn inside my salon marketing program.
This doesn't take a lot of time to do. But when you've gone through the process, you'll have new clients discovering your salon without you even thinking about it.
It is beautiful!
2. Create or Refresh Your Salon Website
Your salon website is often the first impression you have with new clients.
And as you're in the beauty industry, I'm sure you know how important a first impression is.
People simply don't trust salons whose website looks unprofessional or dated.
As a salon owner, you need to make sure your website looks up to date.
But a good website is so much more than just a first impression.
It is the online window into your salon.
Just like a salon receptionist, you don't just want a pretty face but you want someone who finds new clients, manages your bookings, upsells your services, and ultimately grows your business.
You can use a marketing agency to help you create a website.
But the website builders available to salon owners today are very easy to use. And you can get a professional-looking website created with very little effort.
In fact, I have a dedicated module available in my salon marketing education program that walks you through every step, in detail, to ensure you get a stunning website at the lowest cost possible.
If you want to jump ahead and create a website on your own, I recommend you check out my review of the best website builders for service businesses.
3. Enable Online Salon Appointment Booking
Did you know that over 35% of people prefer to book their appointments online? In fact, if you ask people under 35, 25% say they only book their appointments online. At the same time, many salons spend costly hours every week to manually administrate appointments.
If this is you, this needs to change.
You need to get good salon software that can manage your bookings online and in fact, take care of many parts of your business.
Having online booking available is one of the keys to moving your salon business growth into autopilot.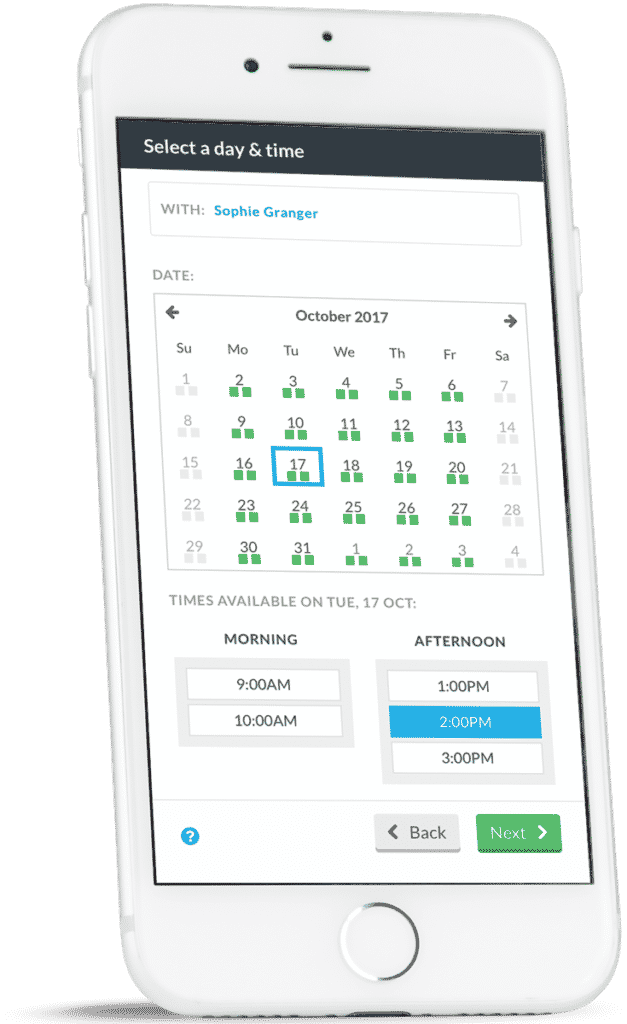 If you already have one, make sure you put your online booking feature in place on your website and social channels.
If you don't have one (or think you need something better), there are free, powerful, tools available you can start using already now.
4. Define Your Salon's Email Marketing Strategy and Run a Salon Newsletter
If you run a salon, you run a relationship business.
But how on earth can you effectively maintain good relationships with all your clients?
The answer is a salon email newsletter.
You might think that email is an old marketing method that has become irrelevant given the development of social media.
But that's not true.
Far from.
Email is the most effective way to build trust, relationships, and sales. Period.
But you need to do it right or it's just a waste of time.
If you feel confident to go about this yourself, I recommend you get a free trial of Constant Contact which is built specifically to support local businesses (like hair salons and spas).
→ Create your first email campaign with Constant Contact here ←
5. Get Your Salon Setup for Success on Social Media
I guess you're not surprised to see social media as one of the salon marketing strategies in this list.
However, you can easily spend a lot of time on social media without it really generating any new clients.
You need to define your salon's social media strategy and execute consistently against it to be successful.
Inside my salon marketing program, you get the opportunity to discuss your social media strategy with me as well as other salon owners in a similar position as you.
6. Ensure Consistent Salon Branding
Everything communicates.
Like it or not.
Branding is not just about the decor of your salon or your salon logo…
Everything communicates who you are.
Your brand.
This is why you need to figure out your salon's unique story.
Your voice.
This changes everything.
Your brand allows you to charge higher prices. When you get it, people understand how you are different and the value you provide.
Your brand boosts your word-of-mouth marketing. It gives people stories and a reason to talk about you.
Executed consistently, this can be one of the most important marketing strategies for your business.
This is the reason I put a major emphasis on this inside my education program for salon owners. The course I recommend if you want to build your brand is called "The Art of Building a Premium Salon Brand" and it is designed to identify and extract your unique story that becomes the foundation of your brand.
You'll also learn the exact steps to creating your logo and visual profile for your salon – using an agency or on your own using Canva.
Learn more about my branding course for salon owners here.
Learn more about my top salon marketing strategies in the video below
Salon Advertising Ideas
Get new clients with smart salon advertising
7. Run Facebook Ads That Get New Clients Through Your Doors
Does your salon have a Facebook page?
If you do, you probably have already tried some type of advertising on Facebook. What I hear many salon owners do is that they boost their Facebook posts to get more visibility. But this is really not the same as doing Facebook Advertising..
Boosting Facebook posts will really only give you likes, comments, and if you're lucky a new client booking.
What I'm talking about is something different. And when done right, Facebook advertising is one of the most effective and fast ways to attract new clients to your business.
You can make Facebook Ads complex. But it doesn't have to be.
You'll soon be able to access my step-by-step course to Facebook Ads inside my salon marketing curriculum.
8. Run Google Ads to Catch People Looking for Salons in Your Area
We learned in the first salon marketing idea in this list that you need to make sure your salon shows up when someone is searching for salons in your area.
This is how people look for new salons.
But if your salon is surrounded by many other salons, it's likely that your salon still doesn't show up at the top. In fact, the first rows in the Google search result is dedicated to showing paid ads.
So even if you have a good salon website that is optimized for search engines, it's quite likely you'll not show at the top. This is why you should run paid search campaigns.
When you set up your search campaign, you should be as specific as you can. As you only pay when people click on the link, you should try to only show the ad to people that are likely to book with you.
For example, you can limit your ad to only being visible to people based on walking distance to your salon. You can also define specific words that they need to use when searching.
This could include specific services that you offer in your salon. By being more specific, you'll increase the chances that when people click (and you pay) the visitor will decide to book with you.
Google offers a great advertising program for this purpose.
To learn more about how to advertise with Google you can read their Google Ads guide to getting started with ads for your salon.
9. Hire a Salon Influencer
I'm sure you've noticed the boom of influencer marketing over the last few years. Big brands and small businesses are increasingly turning to influencers to help them generate awareness of their offering.
It's increasingly replacing traditional methods of advertising.
Because it works.
It's one of the most effective marketing ideas for hairstylists and beauticians who deliver noticeable results through their service. It's enough that the right influencer posts a picture of a transformational hair color result from your salon to have your phone ringing for days.
But the thing is.
Beauty influencers know their worth. And it can be expensive to get a big name to your salon. This is why the best influencer marketing strategy for salons is to work with local micro-influencers. These are people who live in the area and have 3'000-30'000 engaged followers.
I'm sure that if you review your salon client list you'll notice that you already know some of them.
Try to work with them and give them some incentive to promote your salon. As they are already your client, they'll be authentic and their followers are most likely highly relevant for your salon. Ideally, they would @mention your salon in their post.
If you're doing this on Instagram, make sure you have your salon's Instagram bio set up with a link back to your salon's website where people can book.
Salon Promotional Ideas
Attract new clients and get existing ones to spend more via effective salon promotions, specials, and deals.
10. Drive Sales by Leveraging Seasonal Events
Seasonal events are effective to increase the relevance of salon promotions. They are also easy to plan for and help you highlight your different service offers in a relevant context throughout the year.
For example, you may promote your styling or make-up services in time for the Christmas festivities or your product line for men in time for father's day.
Seasonal events you do not want to miss out on:
Black Friday & Cyber Monday: This is a good opportunity to sell out stock on discount without undermining your regular prices. Try also to find an arrangement with you product supplier so that you can get some additional discount when you acquire the products to help fund your promotion.
Christmas: November and December are good months to run gift set promotions and also express services ahead of the festivities.
Mother's Day: This is a good time to promote your gift cards with a pampering mum treatment.
Father's Day: Similar to Mother's day, gift cards work well here (if you offer services for men). You can also put your male retail products to work here.
Valentine's Day: You can never go wrong with gift cards or a nice set of retail products.
Easter Weekend
Halloween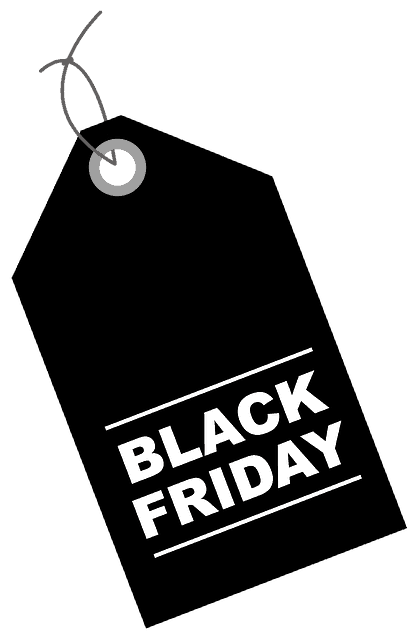 To make your offer even more relevant, you can also tap into local events, festivals or other happenings taking place in the town or city where your salon is based. An example could be a spa salon offering feet massage to marathon runners over the local marathon weekend.
As you run your salon promotions, I would always be careful with giving discounts on your core services. There are other, smarter ways, to promote your products and service.
You'll learn how to create effective promotions, that work, without giving discounts inside my salon marketing courses.
11. Increase Sales by Offering Add-On "Express" Services
So your salon is fully booked but you're still not making enough profit?
When you've built a good salon clientele, you need to turn your focus to increasing the amount each client spends during their salon visit. A great way to do this is to add express services to your menu.
These add-on services require little or no additional time from you to perform. You may even be able to add the services during an already booked appointment. Ideally, the cost of the products you need to use is low so that by simply adding the service to the appointment, you immediately increase your profit.
Let's say you run a hair salon, an add-on service could then be a care treatment that you can add while you anyway have your client in the backwash.
Below are some ideas to get you started but I'm sure you can think of many more.
Salon Add-On Express Service Examples
Volumizing hair treatment for a thicker looking hair ($15): Add to the blow dry service.
Hair color glossing service ($30): Can be added to your color service.
Scalp peeling treatment ($15): Add on top of your shampooing service.
Anti aging hand mask ($10): Add to the manicure treatment.
Nose wax service ($25): Add to your barbering service.
Nail art add-on ($10-40): Add to your manicure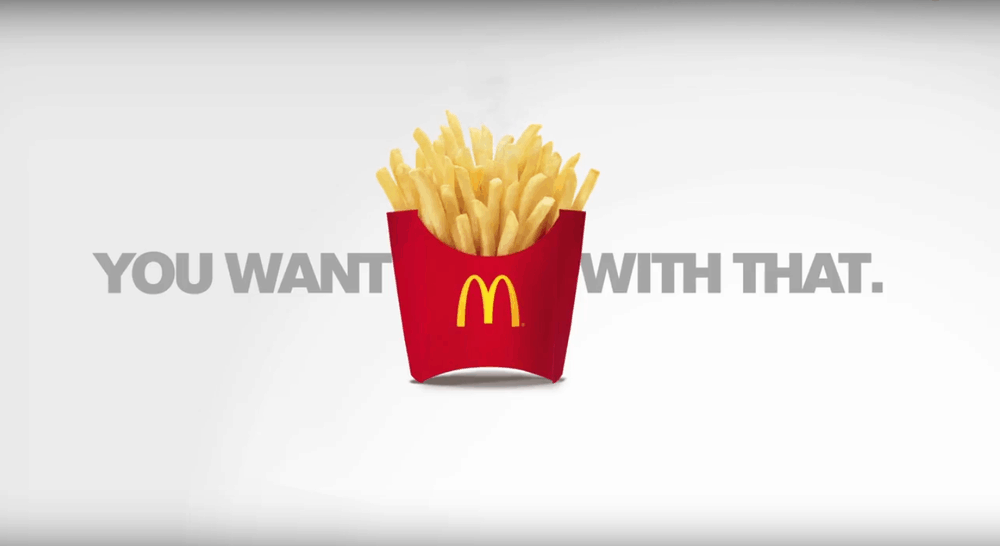 The Mcdonald's example may be far away from a beauty salon but the idea is the same. If you consistently manage to cross-sell and additional express service with each appointment, you can drastically increase your salon profit.
Think about it.
If you add $15 on average to each appointment, you can add $100/day to your business, which is $20'000/ year – in pure profit!
Learn more inside the salon marketing education program.
12. Always Tell Your Clients What You're Using on Them to Increase Salon Retail Sales
Would you say you or your staff is good at selling salon retail products?
Most salon owners I meet answer no to this question. Even if they know how good business it can be. Salon retail products often have a 50% profit margin or more and it doesn't take up much additional time from your staff to sell. So selling retail is an important activity for any salon.
The most common reason I hear why retail sales performance is low is that hairdressers, nail techs, or beauticians don't feel comfortable with "selling". But, at the same time, salon clients put a high value on being recommended the right take-home products as part of their service.
So there is clearly a disconnect here. A disconnect that is costing your salon money.
Even if your salon staff aren't comfortable with selling, a simple salon marketing activity you can install in your salon already today is to train your staff to (at least) always tell their clients what product they are using during the salon service.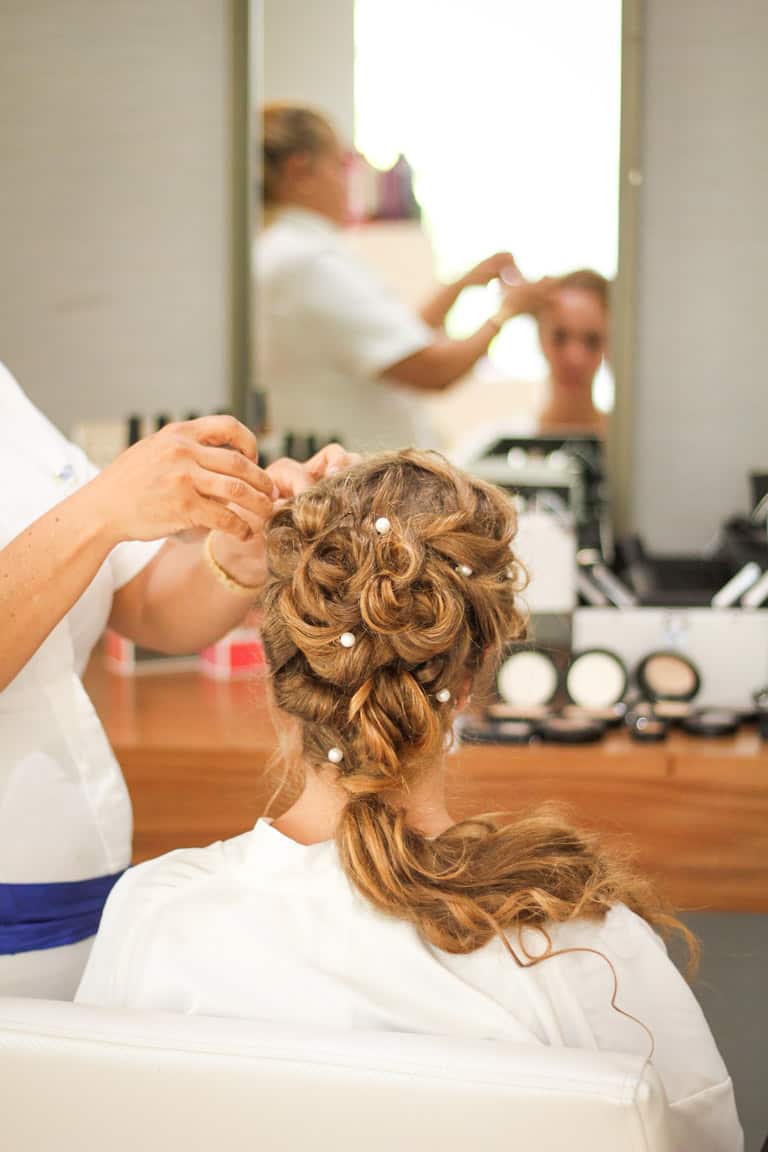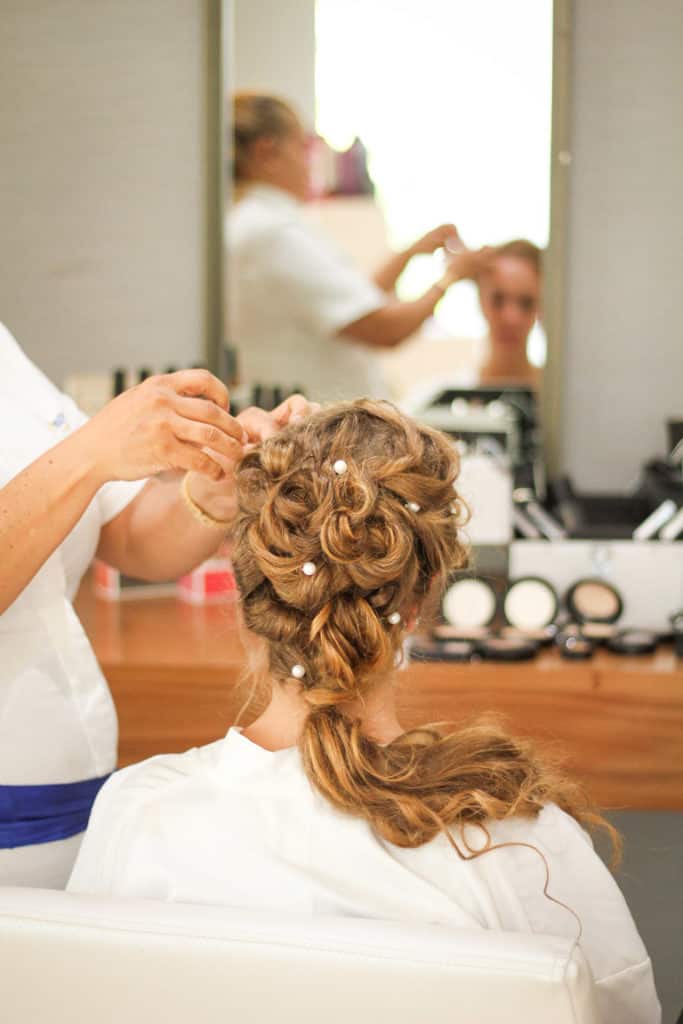 By just doing this you'll significantly increase the chances that your client will purchase the product to take home at the end of their appointment.
I'll cover this in more depth in my article about the salon consultation here.
Try it already today, you'll be amazed.
13. Retain Salon Clients with a Client Loyalty Program
Getting new clients is important.
But the majority of your salon's profit should always come from your existing, loyal, clients.
It always costs more to attract new clients than it does to retain existing ones.
But what are you doing today to reward those that stay loyal to you?
Having the right incentive in place for your salon customers to stay loyal can save you a lot of time and money down the line.
It's super easy to run a loyalty program if you have the right salon software.
Browse my recommended salon software here.
14. Get New Salon Clients with a Recommend-a-Friend Scheme
The best type of new client you can get is someone who had been recommended your salon by another salon client of yours.
When people try out a new salon because they were recommended the salon by a friend, they are more likely to become loyal clients after their first visit.
Word-of-mouth marketing is the most common way that salons build their clientele. But what if you were to get intentional with your strategy to attract new clients by incentivizing your current clients to recommend you to their friends.
You can use salon referral cards to implement a basic referral program. However, I would recommend you leverage software to support your recommend a friend scheme to simplify program management.
You can learn more about solutions that support client referrals in my review of the best salon software.
15. Give Product Samples to Your Clients
Next time you meet your sales contact at your product supplier, ask him or her for product samples.
These can be sachets or mini-size products.
These are great to give to your client so that she can try the product which makes it more likely she will buy the product from you during the next visit.
Just one word of caution here.
Make sure you only give out products samples after your client has decided on what she will buy from you. If you give the samples first she might decide not to buy the product from you as she now feels she can try the samples first and instead decide if she should buy them at the next visit.
Salon Marketing Ideas
Armed with the right salon marketing strategies, advertising, and promotional ideas, we'll now cover additional salon marketing ideas to take your salon to the next level.
These are all easy-to-implement ideas that you can action and complete already today.
16. Always Re-Book Salon Clients During the Visit
"When is a good time for your next appointment?"
This is a simple question to ask that has an immediate impact on your salon business. But we often forget about it.
If you install the habit of always re-booking your clients for their next visit during their appointment, you'll improve your clients' visit frequency and reduce the risk that they'll book with someone else the next time.
It's as simple as that.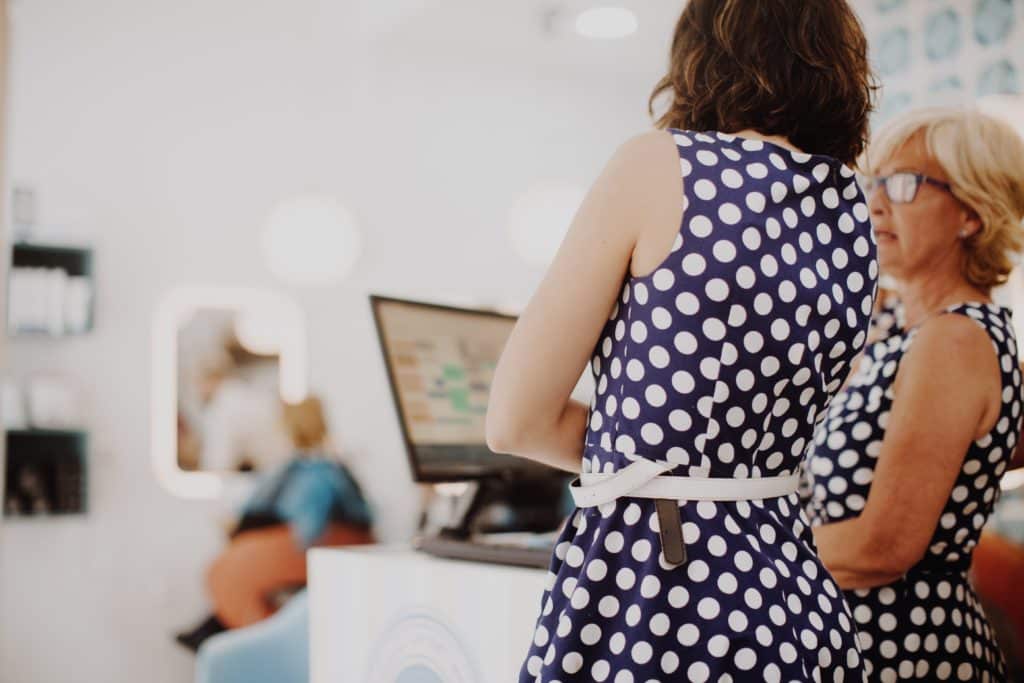 This is probably the most simple marketing tactic on this list, but it's so important.
Inform your staff and receptionist that they always should re-book clients after their appointment. Remember to follow up and remind regularly about this so that it's never forgotten again.
If you're using a good salon software, you should be able to set it up so that it automatically sends out a reminder to book after the appointment or a few weeks later when it's about time they book again.
In fact, there are two free solutions I can recommend that do this for you.
17. Create a Salon Tour Video for Your Salon's Social Media and Website
I'm sure you'll agree with me when I say that good client relationships are crucial for the success of your business.
Your clients know you. They trust you. And hopefully, they also like you 🙂
This trust relationship is extremely important for a salon to be successful.
But what about all the potential new clients that see you on social media or land on your website? How can they trust you if they've never met you?
To move people from just a website visitor into a salon client, you need to establish that trust and relationship with them.
And the most effective way of doing it is via a video.
A video that shows you, your salon, and your staff is a powerful salon marketing tool.
It doesn't need to be an expensive production, but it needs to be authentic. It should tell your salon's story and show the people behind it. Just as when you meet with a new client in your salon.
You can of course hire a salon marketing agency to produce and edit the video for you. But if you don't have the budget, just record a video with the help of a colleague or friend using a later model smartphone.
Upload it to YouTube and embed it on your salon's website.
This can do wonders to your conversion rates of website visitors to new clients.
18. Run a Salon SMS Campaign
Do you want your marketing messages to get seen?
Then you should leverage SMS.
Research shows that SMS messages have an open rate of 98% (Gartner). This is crazy high. If you compare that to email marketing at 20% and social media even lower.
But it's also more intrusive. The way our phones work today makes it very difficult for users to unsubscribe from SMS or to choose not to open as they get visible right on the home screen.
This is why your salon only should use SMS marketing in special circumstances. When you have messages that you really want to make sure your clients see.
19. Use Instagram Stories to Promote Salon Specials
Are you using Instagram stories as part of your salon's social media strategy?
This is a very good place to run short-term promotions. The same goes for Snapchat.
As they are "live" and only live for a short period, it drives a sense of urgency with the viewer to take action on your offer. This can help you sell your salon specials fast.
Even better is if you run a gift card promotion on your website.
Most salon software platforms would support this (learn more here).
20. Add Service Pages and Keywords to Your Salon's Website
In the first salon marketing strategy, you learnt how you can register for Google My Business to get your salon to show in the search result.
I cannot stress enough the importance of this as a lot of clients find your salon this way and search traffic from Google is free. In fact, it's quite likely you landed on this article because of a search you did in Google, right? 🙂
But to get your salon's website to show at the top, you need to put in a little bit more work.
Make sure Google understands what you have to offer so that Google shows your website when people are looking for it.
The best way to do this is to include keywords on your website that describe what you offer. Ideally, you should create a dedicated page for each of your key services offered.
It doesn't need to be complicated. Just make sure the title of the page is your service name and then describe the service you offer on the page.
This will significantly increase the chances that people find your salon when they are looking for someone who can perform the service you do.
In my salon marketing program, you'll get access to my formula for how you get your salon discovered online.
And the best part is, having a search optimized salon website brings you, new clients for years and it doesn't cost you anything other than your time for creating the pages.
21. Make Your Salon's Instagram Locally Relevant Using the Right Hashtags
The Internet is a big place. Really.
Competing with the millions of salons in this world is tough. And, unless you have an Instagram account like @guy_tang, your voice will just disappear in the noise of all hairstylists and nail technicians posting every day.
But the good news is, you don't need to communicate with the whole world. As your potential new clients most likely live in your city, it's enough that you focus on reaching people there.
Sounds obvious, right?
Still, I see many salons missing out on this. So I wanted to share a quick tip that you can start with this week that will help get your posts visible to people living in the same city as you.
Are you using hashtags when you post today?
If you're not using hashtags consistently, you're missing out on a big opportunity. Your potential new clients look at local hashtags when searching for salons in your area. So you want to make sure you are visible when they do.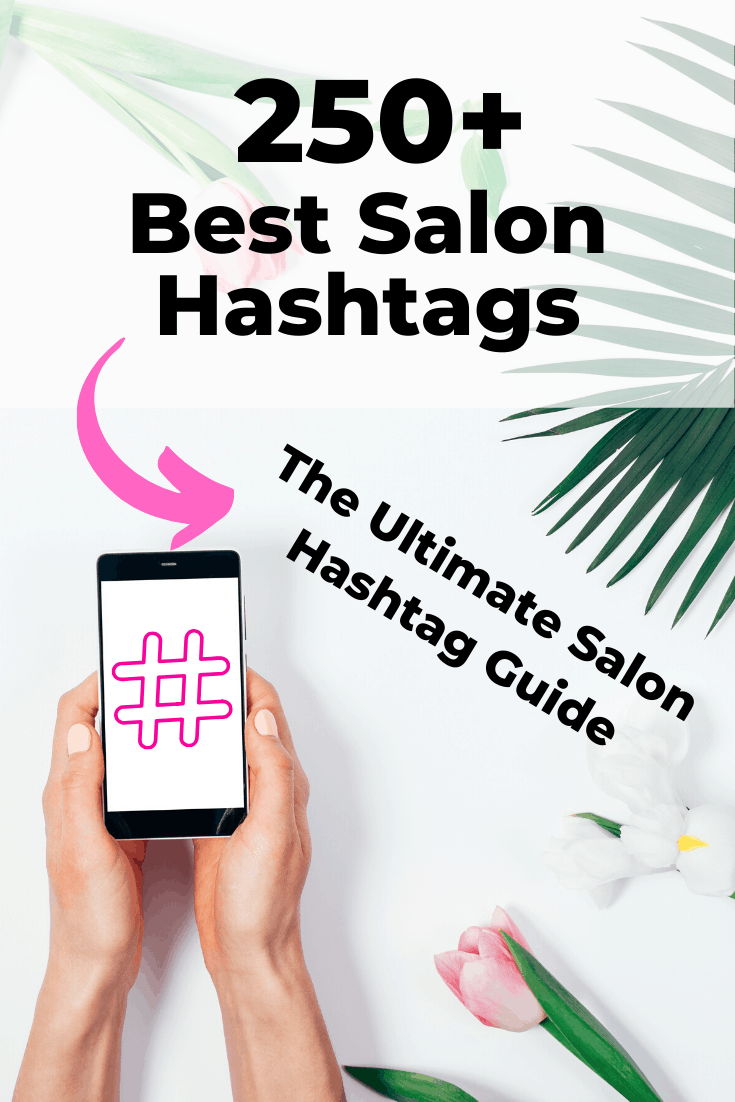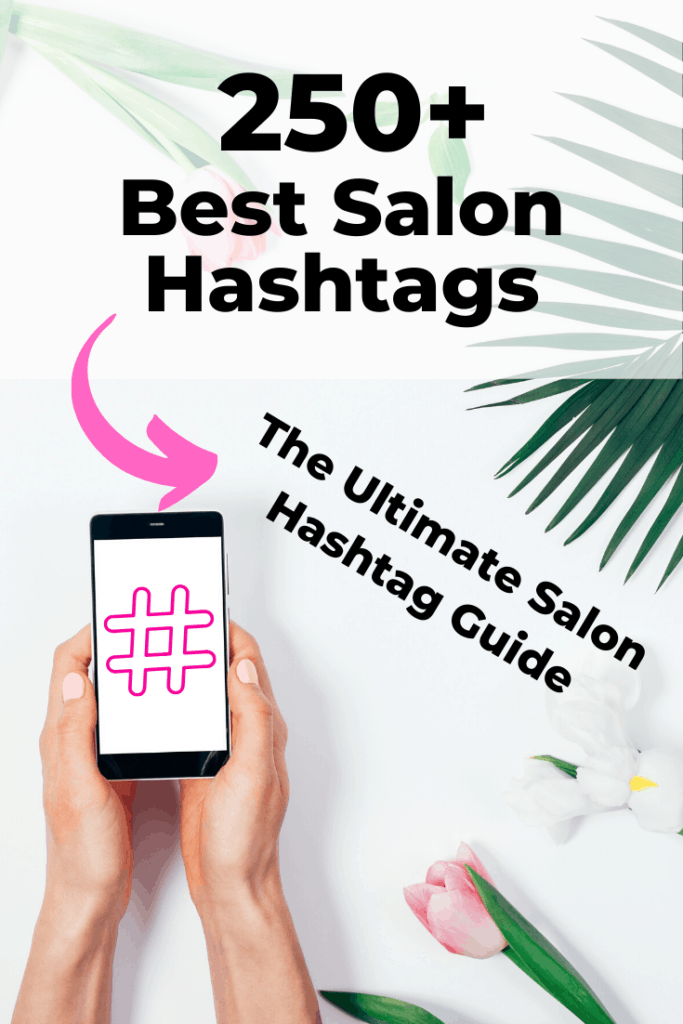 22. Always Link Back From Your Social Media to Your Salon's Website
Do you remember why your salon is on Instagram?
If used strategically, Instagram is one of the best places to promote your salon. But it's also easy to end up spending a lot of time on Instagram without actually getting much new business out of it.
And, in the end, that's why your salon should use social media.
A simple thing you can implement already today is to make sure you have a link in your salon's Instagram bio that links back to your online salon booking system.
This way, people who follow you have an easy way to book directly with you.
Instagram only allows you to have one external link in your bio. So you really want to make the most out of this.
To help you with this, I've created another guide for you 🙂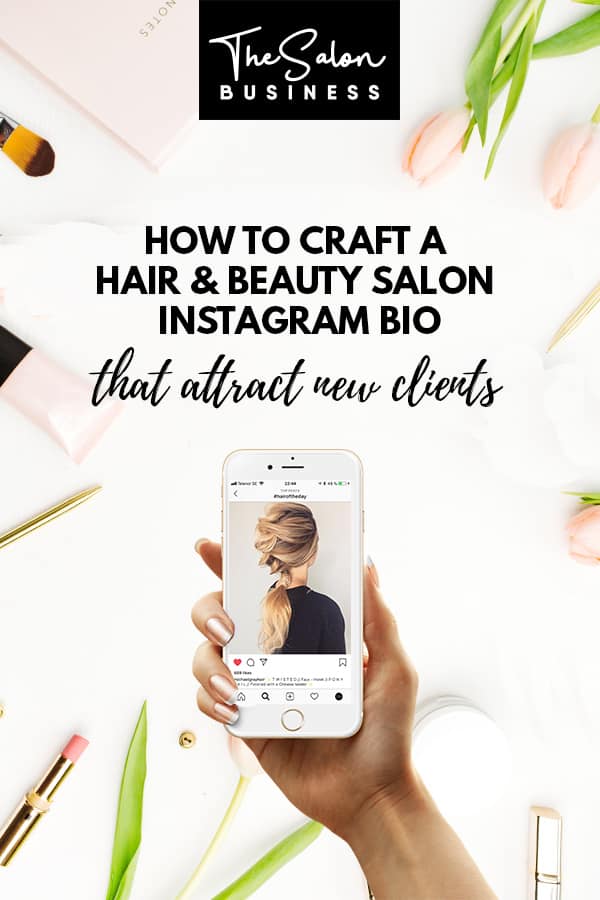 Learn more about how to create a salon Instagram bio that converts your followers to clients here.
23. Use Active Language when You Post on Social Media
To grow your engagement and following on your salon's social media, you need people to take action.
Nice pictures and quotes are good but you also want people to take action (here you can access some awesome hair quotes, nail quotes, hairstylist quotes and relaxing spa quotes for Instagram that you can use on your Instagram).
Ask people to do something.
Tag a friend, answer a question, or visit your website for that matter.
When you use active language you'll get higher engagement on your account.
And the social channel will reward you for that and push more of your posts to more people.
This means you'll get more people exposed to your social channel and, at the same time, you'll have more people taking actions that you want (maybe even book with you).
For more ideas on how you can craft your Instagram captions to increase engagement on your account, I recommend you read my article where I share the secrets to effective salon instagram captions here.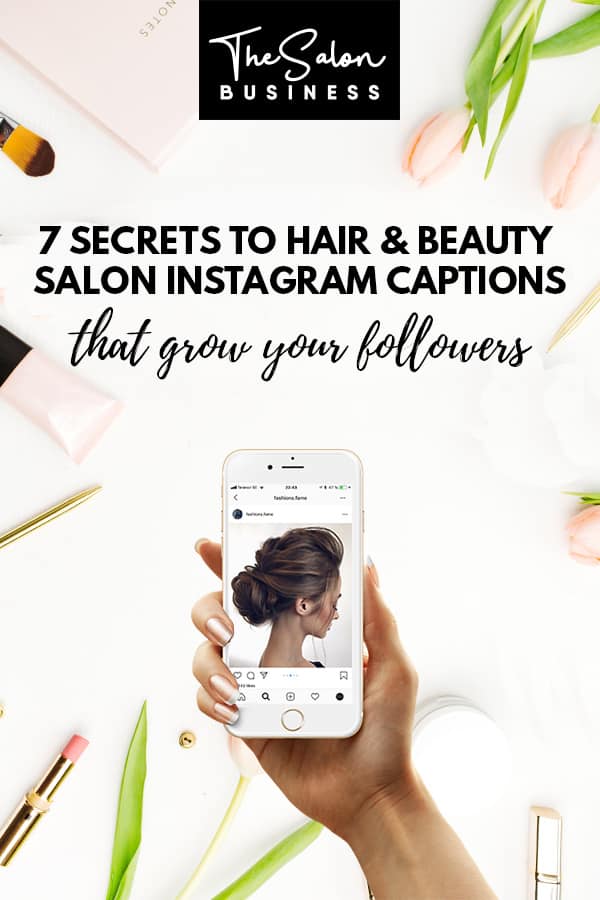 24. Setup an "Insta-Friendly" Space in Your Salon
You can achieve a lot with the right salon Instagram hashtags and caption but what's most important is of course the quality of the image you post.
By making sure you have a good space to take quality images, you'll not only improve the quality of your images but this can also work as a fun selfie station for your clients to take their pictures at – which is great marketing for your salon.
Find a clean area in your salon where you and your clients can take good before & after pictures.
Make sure you have good light to show the result in the best way possible. If you don't already have one, I recommend you get a ring light to support this. You can check the ones I recommend in my recommended salon equipment list.
Remember also to promote your salon's Instagram handle when clients post pictures from your salon.
25. Ask Your Salon Clients to Leave Reviews
In the Internet age we live in, people research salons before they book.
So you want to make sure you have a good amount of reviews for your salon on Google, Facebook, and Yelp. Not only do client reviews give confidence to new clients that your salon is good, but it also helps your salon rank better on Google.
This is why you should always ask your clients to leave a review after their service.
And be transparent. If you have a good client relationship, tell her that if she leaves a review, this would be a big help for your business. In most cases, she'll want to help you and write a good review.
You can also automate this with your salon software so that an email or SMS is sent out directly after the appointment.
26. Get New Salon Clients by Collecting Email Addresses
Email marketing is hands down, the best way to stay in touch with your clients in an automated way in between appointments.
But you shouldn't only use email marketing with your existing clients.
It's in fact even more valuable to capture emails of people who are not yet your clients as you can then use your salon's newsletter to build trust with them and later turn them into new clients.
I explain how you can do this in detail in my email marketing guide for salons.
But here are two simple ways to capture emails from people who are not yet your clients.
1) Add an "email opt-in" to your salon's website. I recommend you use Constant Contact to capture and send emails. They offer a number of different opt-in options that you can add to your salon's website as shown below.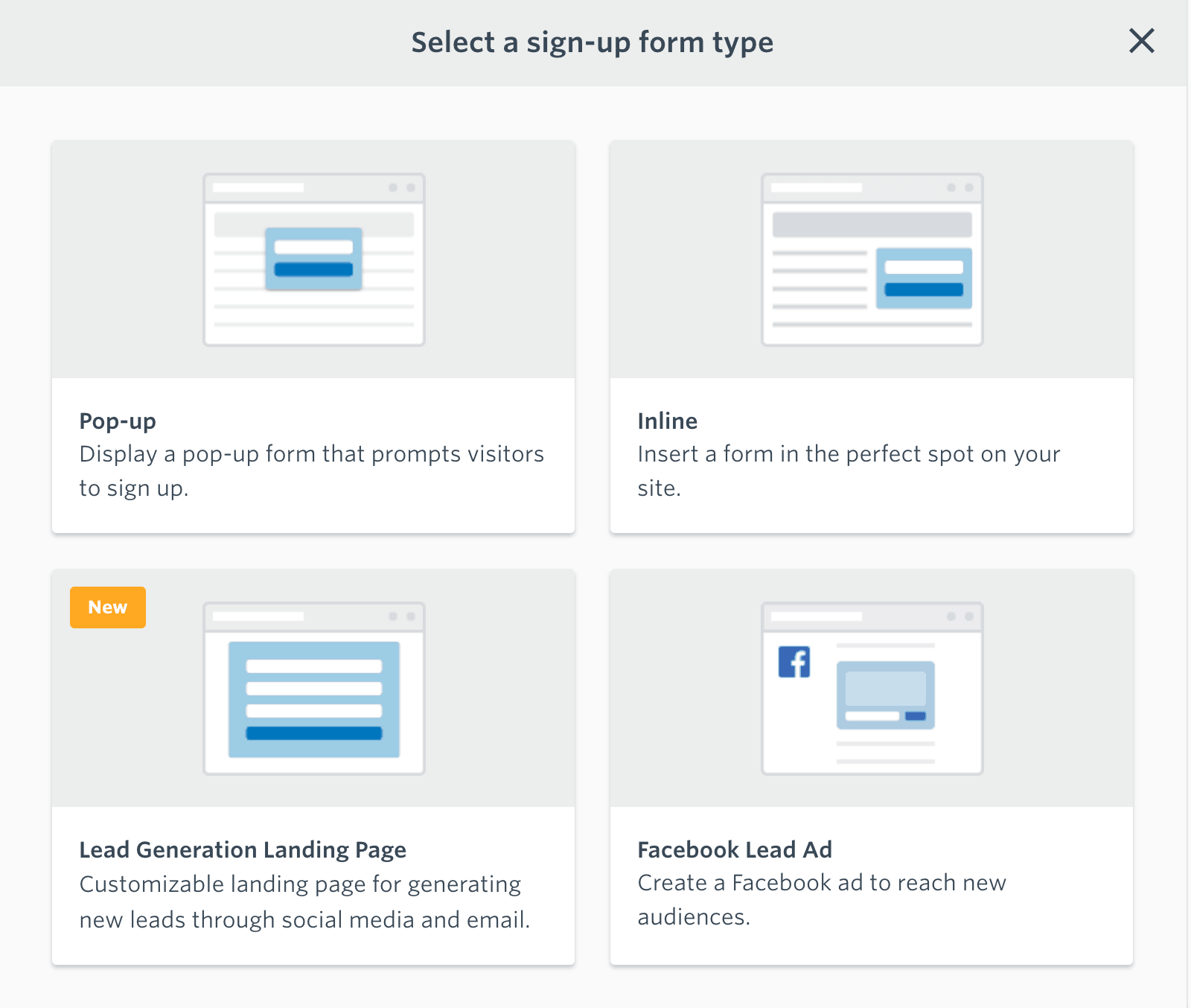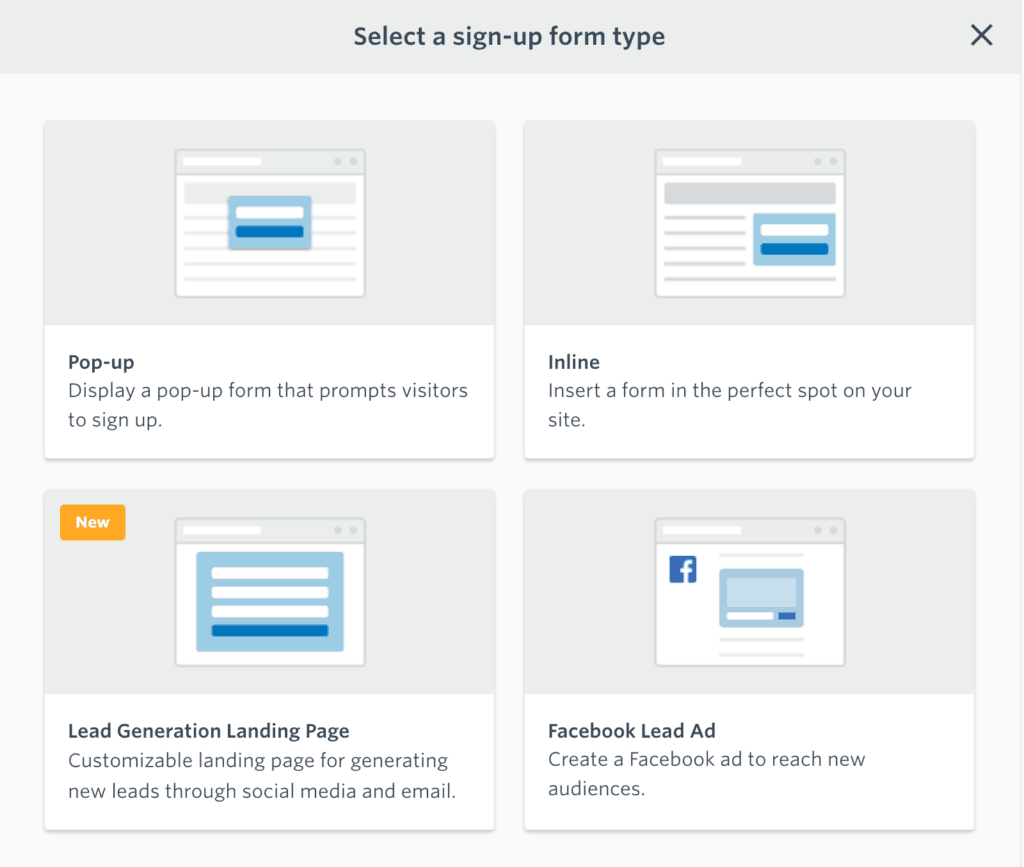 2) Run a Facebook ad to collect emails: If you do not have many people visiting your website or you just need even more new clients, you can run a Facebook ad for the relevant people living in your area.
Constant Contact is one of the few email service providers that connect directly with Facebook so that you can capture new client leads without any technical skills.
27. Always Offer Gift Cards
Gift cards are an effective way to generate additional income and are good to promote as part of your seasonal promotions.
More importantly, gift cards are an effective tool to attract new clients as they work like salon referral cards as well.
You can use your salon software to enable this.
28. Maximize Your Salon's Street Visibility
This is maybe one of the most obvious salon promotion ideas on this list.
But, while we're getting all excited about promoting our salon on Instagram, we should not forget this more traditional promotional tactic.
Most people walking past your salon either live or work near your salon – making them a perfect client prospect of yours. In fact, your salon window is an advertising space you're already paying for so you better make the most out of it.
You should make it your mission to ensure that everyone living or working in your area is aware that your salon exists. There are a lot of tactics you can use here: Play music outside your salon, make sure you have good lights in your window and street sign, and make use of the sidewalk if you have one outside.
Anything you can do that is disruptive (while still in line with your salon's image) is good. People are busy and have other things on their minds when they walk past you so you need to make sure your salon stands out.
29. Make Your Salon Staff the Best Promotors of Your Salon
Just like your salon window is an advertising space you're already paying for, so are your salon employees.
In fact, employees are generally the biggest cost that a salon has. So you better maximize this investment.
Your employees should be your best ambassadors. Everything from what they wear to how they act communicates your salon's brand.
If you haven't done so yet, take the time to define how you want them to promote your salon. Write it down. And train them.
Make sure to also include the biography of each hairstylist on your salon's website. You can learn how to craft a good salon and stylist bio in this article.
You cannot expect that they'll understand this by themselves. A motivated team that knows what you expect of them can make a massive difference to how your salon is perceived.
For more ideas on how you can motivate your salon employees and get the most of them, you can read my article on the most effective ways to motivate salon employees.
30. Invite the Local Paper to Your Salon
What's unique about your salon?
I'm sure you have a story as to why your salon exists or why you're offering a particular type of service that no one else does. Or maybe you're particularly knowledgeable about a specific beauty topic?
Whatever your story is, you are sitting on a good PR opportunity for your salon. Write down what your unique story is and reach out to local papers and magazines to get them to write about you.
Local papers love local stories. And if you have one that is relevant in your community, you have a good chance they will feature you and your salon.
If successful, this can have a big impact on your salon.
31. Incentivize Your Salon Staff with Salon Competitions and Commission
There are many ways you can motivate salon staff.
In general, you should prioritize intrinsic motivation first. However, monetary rewards certainly have their place as well.
Your salon software can help you set up commissions on specific products and services to incentivize individual performance. However, peer motivation and being publicly recognized is typically an even stronger motivational driver for employees.
This is why salon team competitions are so powerful.
In your team competitions, you can reward both individual achievements as well as the overall team result.
This is a fun and engaging way to get the full salon team to move in the same direction.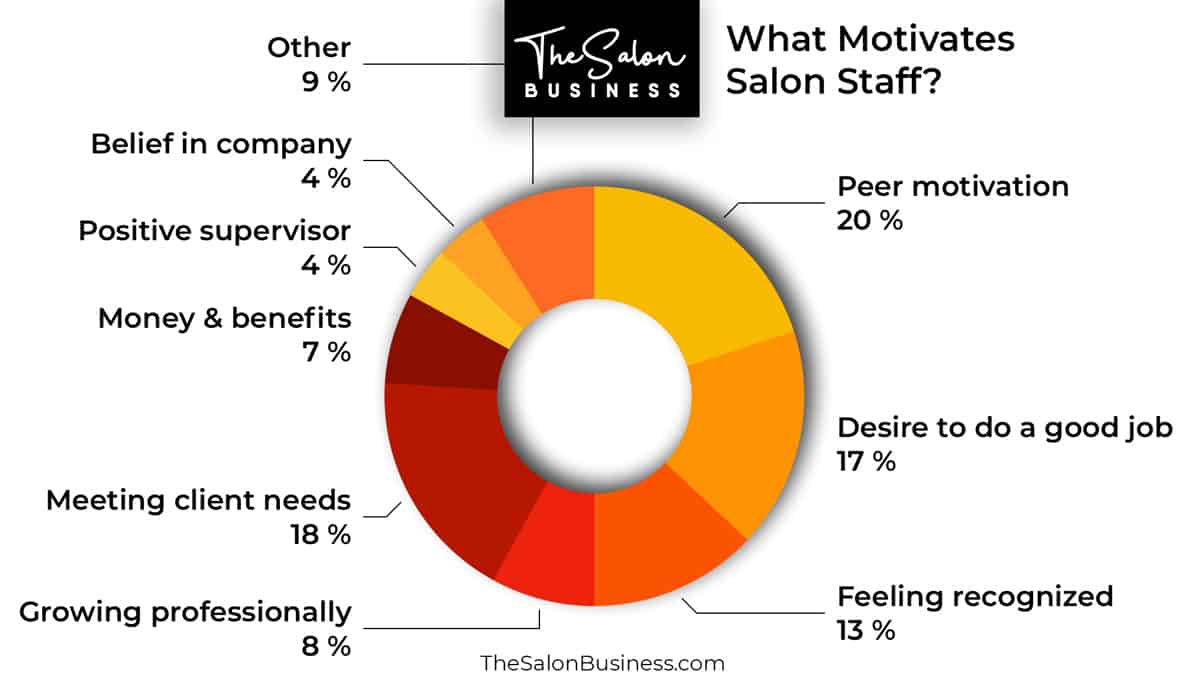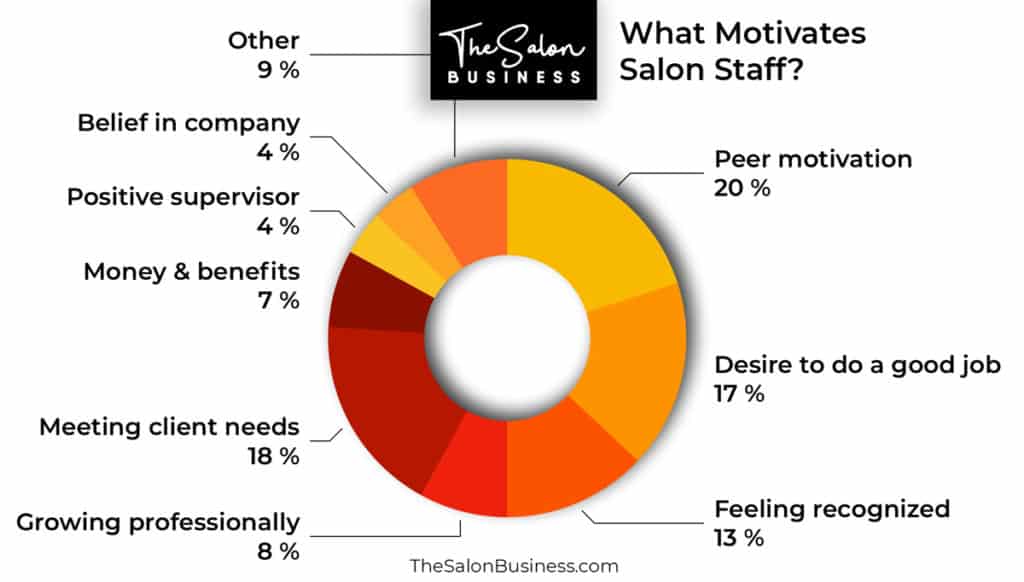 32. Leverage the Power of Music in your Salon
Research shows that Music does influence the experience of your salon and how much your clients will spend with you.
Take advantage of this and build a good list, with positive influence, to play in your salon.
33. Enter Local Win-Win Partnerships
You're not the only entrepreneur in your area.
There are more people, just like you, that are looking to grow their business. Take a walk around the area of your salon and look at what other businesses are there.
Talk to them.
I'm sure you'll find some other local, noncompeting, businesses who are interested in partnerships with you that can benefit both parties. In fact, when picking your salon location, an important consideration should be opportunities for local partnerships.
You can run co-promotions (e.g. you offer a free coffee at the café next door with your service) and they, in turn, offer their visitors a discount on your services.
The partnership needs to be beneficial for both parties or it will fail.
This is a great, free salon marketing idea with endless possibilities.
34. Always Carry Salon Business Cards
Who is the best ambassador for your salon?
You are.
And, without thinking about it, you're probably out promoting it daily.
As a salon owner, you should always have your business cards with you so that you easily can hand them over to interested people.
To get ideas for salon business card designs, I recommend you check out my list of hairstylist business card design ideas.
It can also be a good idea to add a nice quote to your business card that somehow represents you. You can find quotes to use here:
35. Host an Event in the Salon
A good way to get publicity for your salon is to host an event.
This can be a bring-your-friend event, bachelorette party, or an opening event where you invite people in your area.
Another good option is to allow another local business to borrow your salon for their event. This helps you get new people, who haven't been in your salon, to get to know you.
There are many digital marketing strategies for salons to build relationships (which I talk frequently about) but I must admit.
Nothing beats the experience of a traditional, face-to-face, event.
36. Capture Salon Client Feedback
I've covered a lot of marketing ideas today. There's more to come and I hope you're finding it helpful.
But how do you pick the next thing you should do that will help you get new salon clients and grow your salon business?
Ask your clients.
Feedback is gold.
You need to be collecting it regularly. And, more importantly, act on the feedback you get.
The problem with feedback is that it's subjective to the person giving it. So it's probably not a good idea to act on everything you hear. Instead, try to find a consistent form to collect a lot of feedback and take a couple of hours every month to go through it all and try to spot themes of common feedback to act on.
The best way to do this is by putting your salon software to use. By setting up automatic feedback forms that go out right after a client's appointment you can collect a lot of valuable feedback in a structured way.
Marketing Ideas for Hairstylists and Hair Salons
All salon marketing ideas and strategies in this list so far are applicable to all types of salons. In this section, we'll cover hair salon promo ideas, hair salon advertising, and marketing ideas for hairstylists specifically.
37. Hair Salon Promotional Ideas
We've already covered some general promotional strategies for salons.
But what are good hair salon promo ideas?
Here are some hair salon specials that grow salon sales:
Get a free care product with hair color service: By giving away retail, you can avoid discounting your services so that you avoid diluting your pricing.
Hair makeover gift cards: This is the perfect mother day gift. Always offer gift cards.
Free childrens hair cut with your service: This is another good way to add value to your offer without diluting your core service pricing.
For more ideas, I recommend you go through my list of salon promotions that work.
38. Hair Salon Advertising Ideas
There are several ways that you can advertise your hair salon. The ones I've been successful with are Facebook ads and Google Ads but there are also platforms like Pinterest where people are actively looking for hair inspiration that I'm yet to test.
I'm including two hair salon advertising examples from Facebook below. Even if they were designed for Facebook, there are some important learnings here to consider as you're creating your hairstylist ad.
1. Use benefits vs. features. People aren't as interested in the cutting technique you'll use on them as they are in the emotional benefit you deliver (e.g. a clean feeling in the example below).
2. Include all details: Make sure you communicate the exact offer, where your salon is located etc. You don't want people to not take the offer because they were missing information.
3. Use descriptive images: Show hair or someone cutting hair. You only have a split second to convey what your ad is about and images is the best way of doing this.
4. Have a clear call to action: Don't leave people who get interested in your offer uncertain about what to do next. Clearly tell them what action you want them to take next.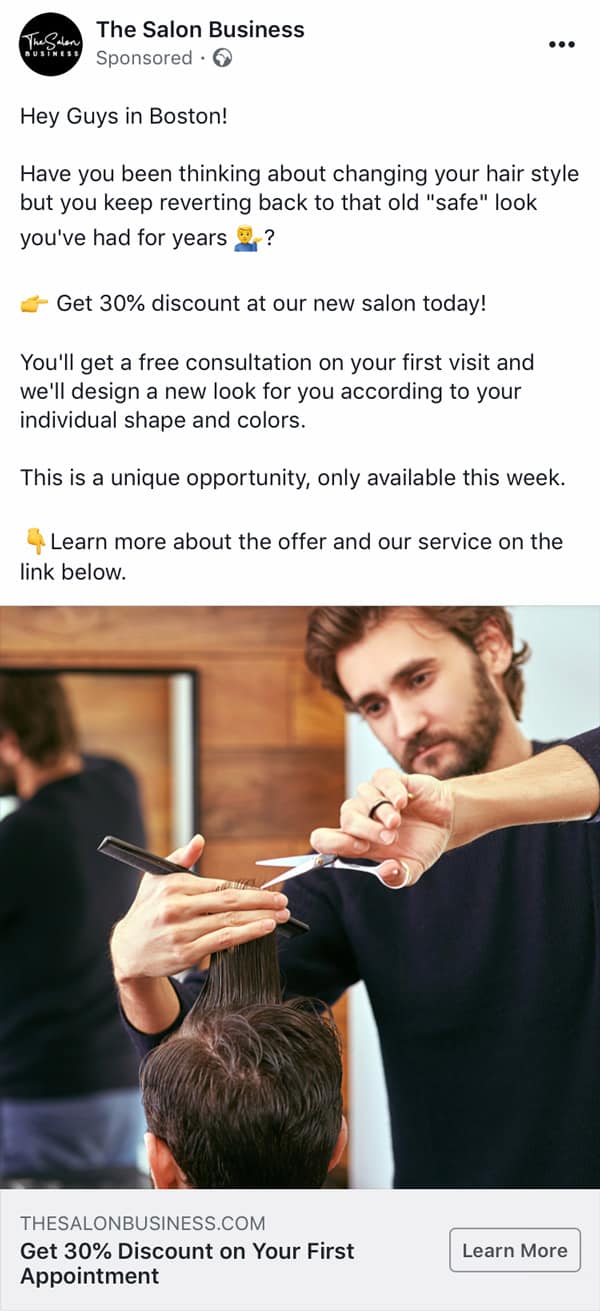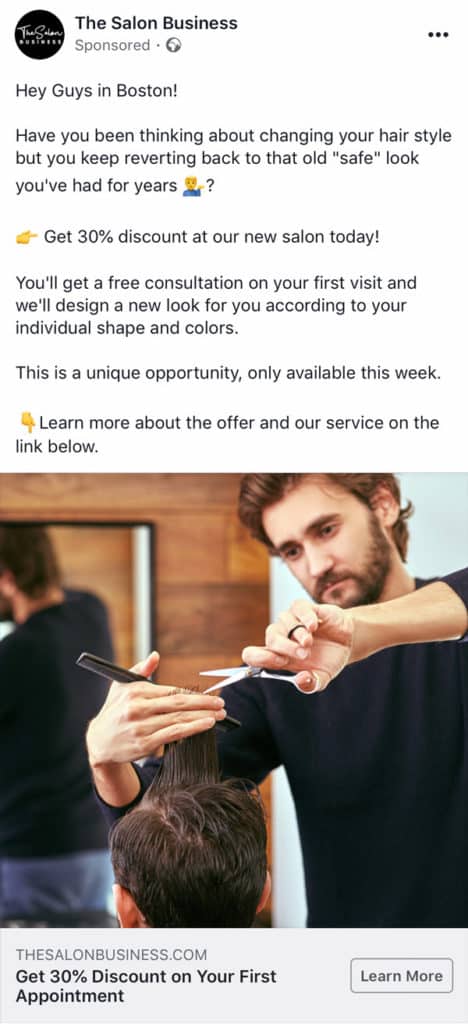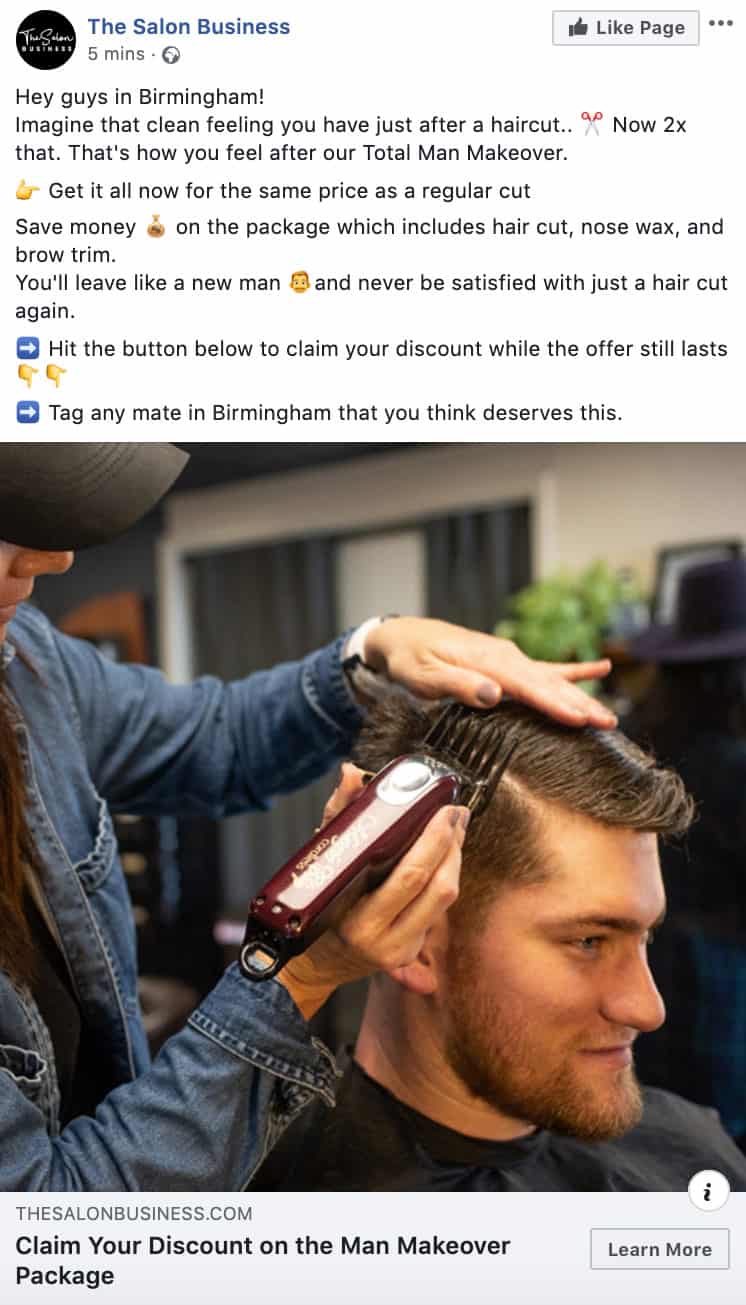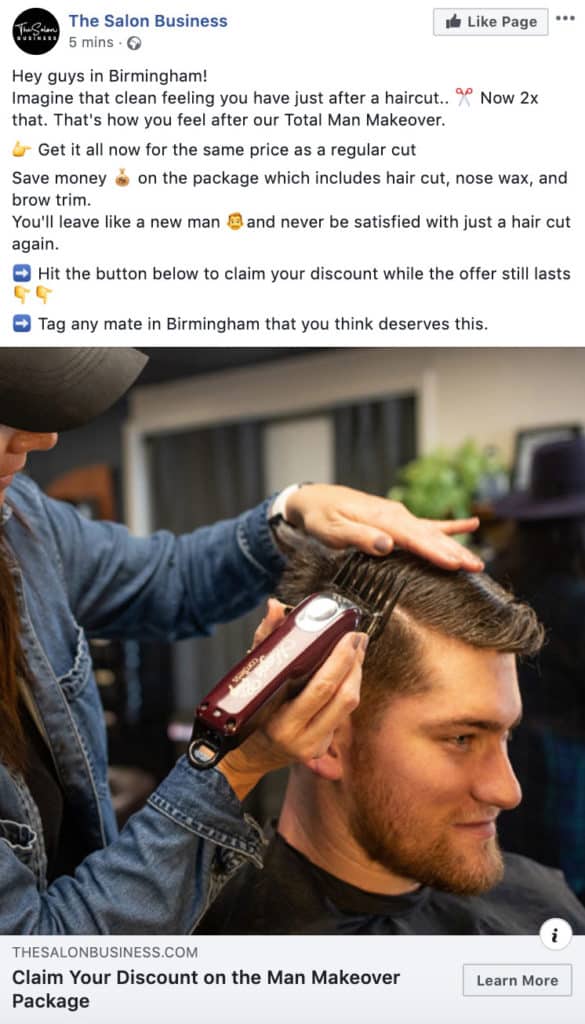 39. Marketing Ideas for Hairstylists
Here are some unique hairstylist marketing ideas:
Influencer hair makeover: Hair services are typically the most visually transformational services. This is why working with influencers who posts their before and after pictures are so effective.
Work on shows and events: Find some time to go outside the hair salon and participate in shows, events, and festivals where you provide hair styling services. This is a good way to build your hair salons name in the community.
Donate hair: Having a salon CSR (corporate social responsibility) strategy is becoming increasingly important. There are many ways a hair salon can engage in such activities. For example, there are people who, due to treatments, are in need of wigs with real hair. So why not donate instead of throwing it away?
40. Run a Hairdressers Competition
Hairstylist competitions are great to motivate your salon team and reward the behaviors you want in your salon.
Only you know what the goals are and what you should reward. It can be direct sales related (e.g. earn points for every retail product sold) or qualitatively (like the best hair color service done).
It can also be based on activities that help lead your salon to the results you want. For example number of hair consultations or attended stylist education.
41. Time to Move to Action: Build Your Salon Business Plan
This list of salon marketing ideas ended up quite long!
I really hope you've found some salon ideas today that you think would be right for your salon.
But it doesn't end here.
In fact, it starts now.
You've invested a lot of time today to go through this list. If you do not take action now that time was just a waste.
In order to save you time, I strongly recommend you join my salon marketing program. New members are joining every week and I hope you'll become one of us.
The program gives you access to step-by-step courses to help you succeed with your marketing. You'll also get the chance to meet with other like-minded salon owners. There's so much learning being shared in our live Zoom workshops that you can benefit from.
It's awesome and I'm proud to be part of it.
I hope to see you inside!
John