You've just taken that perfect picture.
The result on your salon client looks stunning. You throw your filter on it and, wow, it's really popping.
You're only seconds away from sharing your masterpiece with the world. You're excited. This will be an I like-rocket, you can feel it.
Now, let's just write a caption to go with the image.
Hmm… Let's try this. No, sounds cheesy. Maybe that? No that will not cut it… Could I, no… What? The next client is already here? Aaargh…
Have you ever felt this way?
I certainly have… We all know how important it is to get the caption right. You might sit on the perfect image but you know it won't fly unless you get your caption right.
Getting it right is not as difficult as you might think. There are just a few simple tricks you need to know.
I've learned these tricks when studying some of the best salon Instagrams out there.
In this article, I'll lead you through the secrets the best salon Instagram accounts use to grow their engagement, following, and ultimately their business.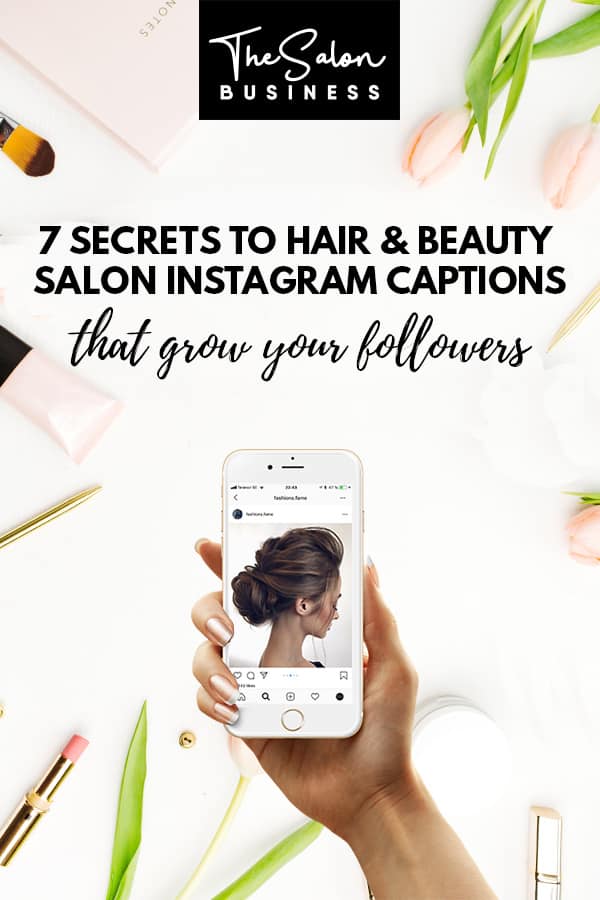 How to Write Instagram Captions for Your Hair & Beauty Salon
There are 7 secrets to Instagram captions that boost your engagement and following. Let me summarize them for you.
Show your most important information first
Use call-to-actions that increase engagement
Broaden your reach with hashtags that are salon specific, locally relevant, or trending in the beauty space
Get social, respond to comments, and @mention salon clients & partners
Find your salon's voice on Instagram
Catch people with emojis that resonate with your salon's voice and visual
Structure, edit, rewrite, and schedule
I'll go through them all in detail. But first, let's make sure we're clear on why the right post captions are essential for your salon's Instagram.
To see what social media tools I use for Instagram, go to my recommended salon resources page.
Why Are Post Captions Important For My Salon Instagram?
A good Instagram post caption directly impacts the engagement and visibility of your posts. When you do it right, you'll see more likes, comments, and followers joining your account. It's as simple as that.
More followers, comments, and likes are good and confirm that what you've posted was good. But that's not the only reason you want a good caption.
The Instagram "algorithm" looks at post engagement when sorting out which posts to promote to people's Instagram feeds. If a post has good engagement, Instagram will show your post to many more people than if the engagement was poor.
So when you get your captions right, your post will be visible to more potential new clients which will have an impact on the growth of your salon business.
What Makes a Good Salon Instagram Caption?
First of all, to be successful on Instagram, you need to provide value to your followers. There are three ways in which you can do this.
You educate your followers. That is, you share some content that your followers will learn something new from – like how you can reduce hair damage or why a nail manicure in a salon lasts longer.
You inspire your followers. By showing the nice end results you've achieved in your salon you can Inspire people with what they can do.
You entertain your followers. Maybe you share more of your personality in your post or let them in on fun things happening in your salon.
If you're post bring one or more of those things, people will find your Instagram account valuable and you will attract more followers and engagement.
But what has this to do with writing a good salon Instagram caption?
A good caption should bring this to life with text, emojis, hashtags, and @mentions that contextualize your image and encourage people to move to action. In short, your post caption should:
Add context to the image that explains what you're showing
Shows your salon's personality by cracking a joke and using language that fits your salon
Include a "call-to-action" – asking viewers to do something
Your caption can be up to 2,200 characters in length, and include emojis, handles referencing others' accounts, and up to 30 hashtags. Now, this doesn't mean all your posts should be that long and stuffed full of hashtags and emojis. What's most important is that your post grabs the viewer's attention and pulls them to the action you want them to take.
All clear?
Let's then dive into the 7 secrets to salon Instagram captions that grow your followers and engagement.
1. Show Your Most Important Information First
Even if Instagram allows for 2,000 characters, it will cut off your text at 125 characters or even fewer sometimes.
Viewers of your post will then need to tap on the "more" link to see the rest of your post caption.
People's Instagram feeds are packed with posts today so you need to make sure your caption grabs their attention within those first 125 characters.
Hashtags and @mention handles can be moved to the end of the post. You must have the attention-grabbing text and (ideally) your call-to-action in the very first part.
The post by @luxyhair shown here is a great example of this. She asks her followers to comment on the hair they prefer in the first 17 characters. If you click "more" to expand you get the rest of the details in the post which she's also encouraging with an emoji pointing down.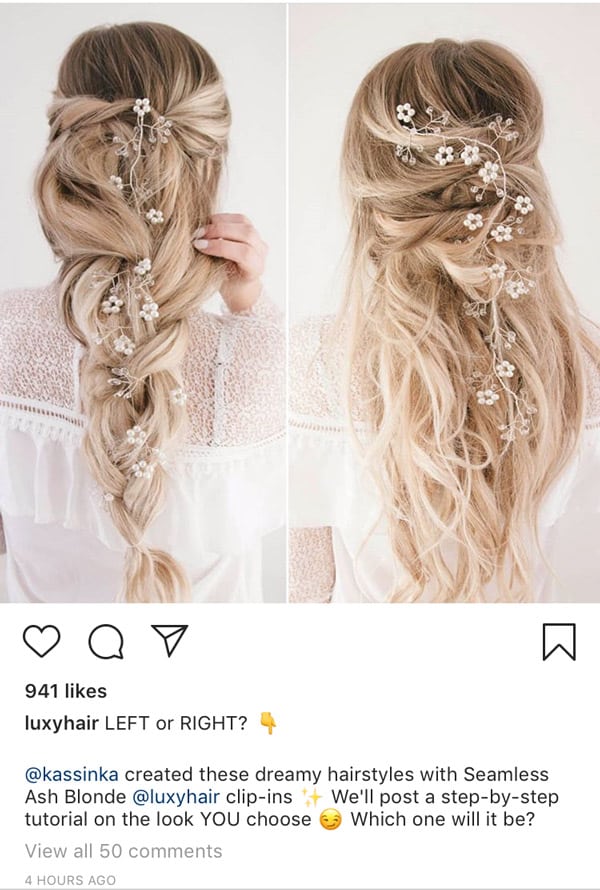 2. Use Call-to-Actions That Increase Engagement
The most powerful way to increase engagement on your salon's Instagram is to ask people to do something in the caption. In fact, there have been studies on this that show how posts that include action verbs over passive adjectives have much higher engagement rates.
But what could a good call-to-action be for your salon?
Let me show you some call-to-action ideas for your salon Instagram caption.
Ask People to Tag a Friend
Having people tag other people in your post does not only give you an engagement increase from the comments. People being tagged will also get notified of this and are by that invited to your account by their friends.
This can have a tremendous impact on your social following and engagement.
Let's look at some ideas for how you can do this.
If you're a hairdresser you could post of picture of a unique hair result and ask your followers to tag a person that would fit the look. Or if you're a nail technician, you can post a distinct nail art and do the same.
Another powerful tactic is to run a competition with your followers that encourage your followers to tag a friend.
The post by @carriemarginian_hair shown here is a perfect example of this.
And the result speaks for itself. The post got 170 comments with people tagging their friends in the post.


Promote Your Salon Offer
Ultimately you want your Salon Instagram account to generate new clients for you so you want to also promote offers that you run in your salon. I would not do this too frequently though as it could look spammy if done too much. Instead, try to phase the promo posts out and mix them up with some non-sales-focused posts before and after.
You'd ideally also tie your offer to a seasonal event or similar to give justification to the promotion and avoid looking desperate for new clients.
Example
"Get an Easter egg of XX when you book your next appointment during the Easter weekend. See link in bio to book now."
Note that you cannot include links to your salon website inside the post caption itself but you need to refer to the link in your bio. Instagram only allows for one link in your bio but there are tools available to help with this.
My recommendation is that each member of staff has a link to where clients can book them in their bio. Not all software supports deep linking to staff and services in bookings.
But if you use Mangomint, you can grab this link for each member of staff on each member's profile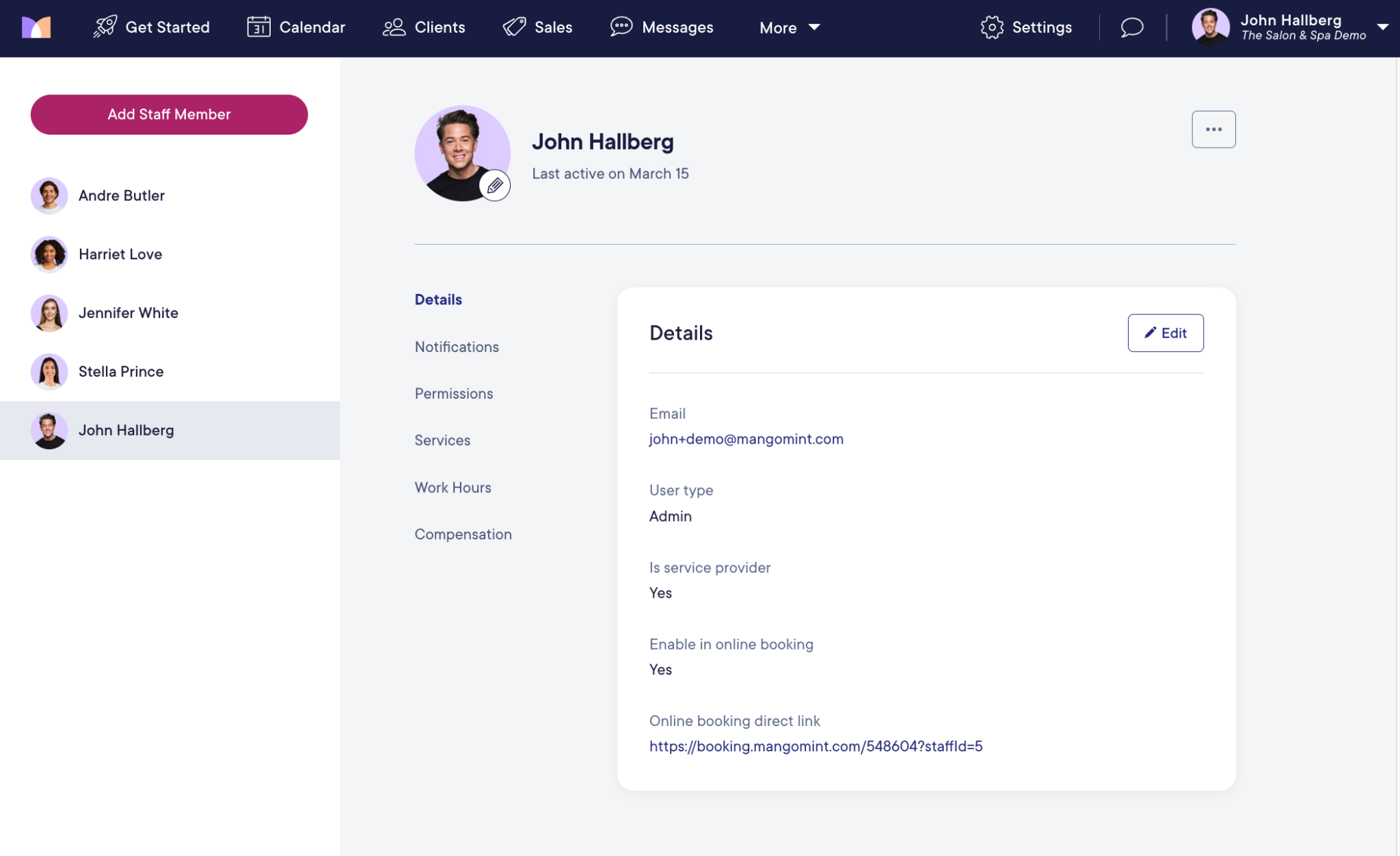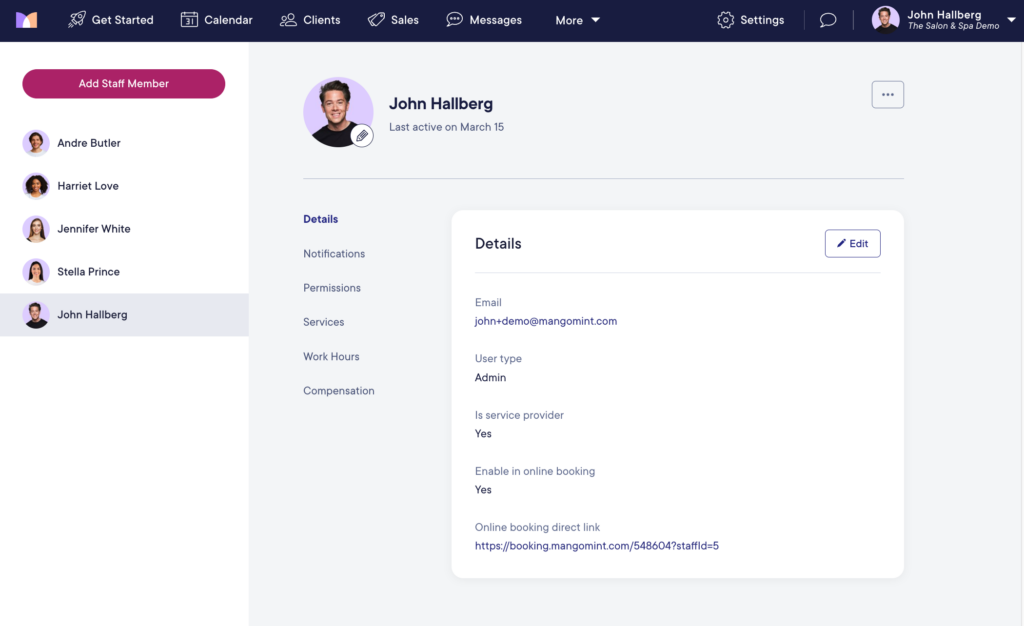 It's a simple yet effective way to streamline the booking process and ensure clients can easily book with the right staff member.
Mangomint has this feature built right into its staff settings. With Mangomint, you can automate your daily operations, from appointment booking and retail sales to staff management and payment processing.
Just Ask a Question
Get your followers to share their experiences with open-ended questions. Let's say you share a post about the perfect beach hair look for the summer, and ask your followers to share where they are going this summer.
This will help you get to know your salon clients and followers better and continuously build on your relationship. Remember to answer and comment back on their responses as fast as you can. The quick response also helps fuel the Instagram algorithm so that your post performs better. Well, it's also good manners to respond to your clients 🙂
Poll Your Followers
People like to give their input and help you with decisions. You can for example upload a few different hair looks that you are considering for an upcoming event and ask your followers to comment on which one they prefer – 1, 2, or 3.
@glamztutorials are doing this well in the example here. They're posting a series of 5 nail pictures asking their followers to comment with the number that they prefer.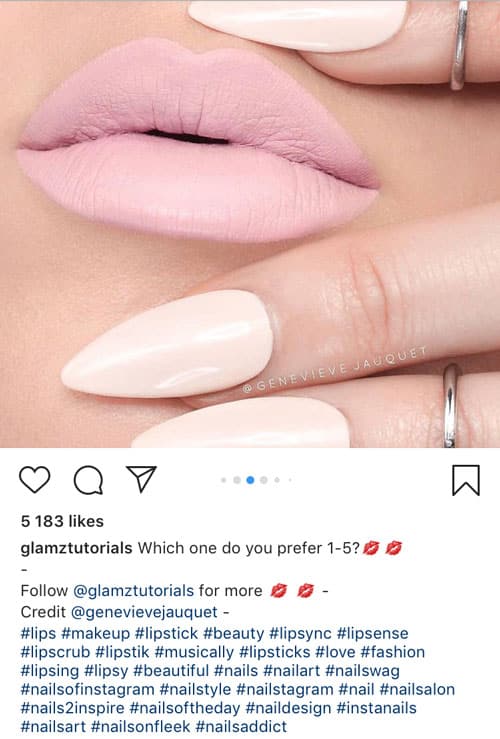 3. Broaden Your Reach With Hashtags That Are Salon Specific, Locally Relevant, or Trending in The Beauty Space
Do you have a hashtag strategy in place?
Most of us don't… And if not, you're leaving a big opportunity on the table.
The use of hashtags can boost the reach of your content significantly. They allow you to get your posts visible to people who aren't following you today but share the same interests as what you post about.
This is of course the perfect audience to put your post in front of. In fact, a study by Simply Measured showed that posts with one hashtag or more on average have over 12% higher engagement than those that don't include hashtags.
You can have up to 30 different hashtags in your post. But I would be careful to go full-on with 30 hashtags in all your posts. Your followers know that hashtags are used to increase followers and engagement. Including a long list of hashtags in your post can make them look spammy and as if you're trying too hard.
To avoid looking spammy and also get your post visible to those that matter the most to your salon business, you'll want to make sure you use hashtags that are closely related to what your post is about. This way, it will not look spammy.
I don't have an answer on how many hashtags you should use – all experts are of different opinion here and there are no data that show that an exact number is the best one. In the end, it boils down to using hashtags that are relevant to your post.
But what hashtags should you be using?
Let's start shaping up your salon hashtag strategy.
Doing Your Salon Hashtag Research
If you're like most salon managers I meet, you probably just pick some hashtags on the fly when you are about to publish your post. At least you're using hashtags in this case but doing it on the fly is limiting the potential of your post.
We'll now go over how you can set up your new hashtag strategy. I'll lead you through a few simple exercises that'll help flesh out the hashtags you'll be using going forward.
I'd strongly suggest you invest 20-30 min now to get your hashtags in place. You'll get this time back as you'll no longer have to reinvent the hashtags to use every time you post. You'll soon also enjoy the steady growth of your salon Instagram account.
If you're on your computer, get a blank document out. If you're on your phone, just fire up your notes app. We will use this to start recording the new hashtags you'll be using going forward.
What Are Good Hair & Beauty Salon Hashtags?
Just because a lot of people are using a certain hashtag doesn't mean this is a good hashtag to use. In fact, if you use a broad hashtag like #nail, #hair, or #happy it's quite unlikely people will see your post at all. Hashtags like this are crowded with posts and your post will quickly drown among all the others.
Instead, you should look for hashtags that have a highly engaging community around them and that are specific to the work and content you're sharing. I'll go through this in more detail shortly.
There are three types of hashtags we'll focus on here:
Your own branded salon hashtags that engage your clients and their friends
Local hashtags that engage people in the area where your salon is based
Hair & beauty hashtags that people interested in your type of content follow
Create Your Own Salon Hashtag(s)
Do you already have a hashtag for your salon?
Your own, so-called, "branded hashtag" will typically have a low amount of posts but with highly relevant posts that are tightly connected to your salon.
You can have several branded salon hashtags. You can create a specific event hashtag or a unique service you perform. You can also have an always-on branded hashtag that you and your clients use when posting content in connection to your salon.
The power of those hashtags lies in that they are specific to you. They are used to find out more about you, your salon, or the specific event that you created your branded hashtag for. It acts as a repository of content related to your salon.
If you get your clients to post using your branded hashtag, this opens a door to their followers where they can explore more about your salon.
You can see in the post by @badwolfstudio that they are using a number of branded hashtags. They have one for their salon #badwolfstudio and also for the hairstylist behind the hair #hairbyemilya. They're also using branded hashtags for brands they are partnering with like #wellaplex and #saloncentric.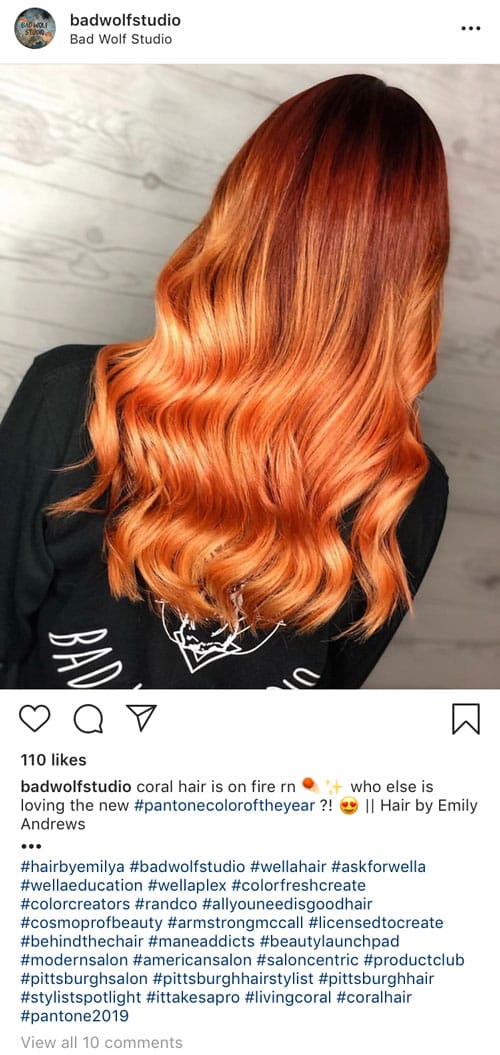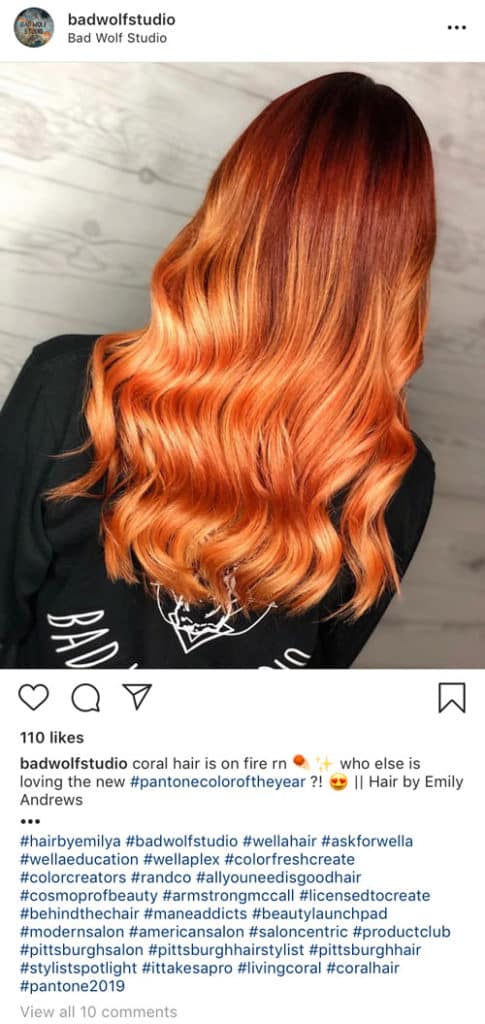 Find Your Local Hair & Beauty Hashtags
Are you running a global or local business?
I would say that 99% of salons are local businesses with a clientele based in a specific city. This is why local hashtags are crucial for your hashtag strategy. This is where potential new clients go when looking for salons in your area so you want to make sure you are visible on those hashtags.
To find good and relevant local hashtags, you can use the hashtag explorer that is built into Instagram.
If you start by typing your city name only, Instagram will suggest other popular hashtags that start with your city name.
For example, when I type "#chicago", you can see a few different hashtags being proposed. In this case including also "#chicagohairstylist". This indicates that there are many people looking for exactly that. So of course you want your posts to be visible when they do.
Look through the list and make note of other relevant hashtags for your type of salon. You can also get more specific by typing "#chicagohair" or "#chicagonail" to see which hashtags Instagram proposes for you.
Continue to take note of the ones that you feel are most relevant to the type of salon or service you offer.
If you do not yet have a big following on your account, I would try to go for hashtags with under a million posts or it will be difficult for you to stand out on the hashtag.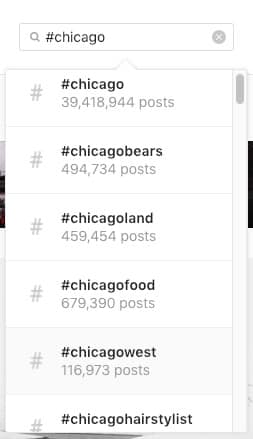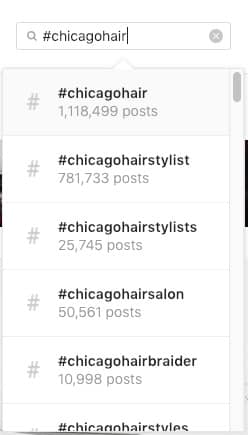 You can find more local hashtags by looking at the hashtags other salons are using when posting on the local hashtags you have identified. What other hashtags are they using?
Continue to make notes.
You should soon have a rich inventory of relevant local hashtags for your salon that you can come back to and use over and over to increase the visibility of your Instagram account to people based in your city.
Use Trending Hashtags And Update Them Regularly
You want your posts to appear on hashtags with high engagement. These are typically hashtags that are relevant to a topic that is trending right now.
This could be local events happening in your area that are related to your business. It could also be topics connected to beauty trends and looks. Or why not a topic on veganism in case your salon is in that niche?
I'm sure you can come up with ideas for topics that are hot right now that relate back to the type of salon you are in. And trust me, there will be a hashtag where people are sharing and contributing to the subject.
Similarly to when we researched local hashtags, try typing in those keywords in the Instagram hashtag search and you'll likely find a gold mine of topics that your salon can post on. Look for hashtags that are niche (up to 20'000 posts) and mix that with those that are broader (up to 1 million posts).
Note them down.
Use Hashtags That Are Already Working For You
I'm sure you're already using hashtags when posting content on your salon's Instagram today. Or at least you will after going through this article 🙂
So why reinvent the wheel? Continue to use the hashtags that perform well for you already.
In the end, the best way to find out what hashtags gives you the highest reach and engagement is to test and learn.
If you have a business Instagram account you can see in the Insights section how much of your impressions are coming from your hashtags. This gives you immediate insight into what is working or not. Obviously, that doesn't tell the full story of how relevant the audience who viewed it is for you but it gives a very good indication of which hashtags are working well.
If you haven't yet converted to a business account, you can follow Instagram's instructions on how to do it here.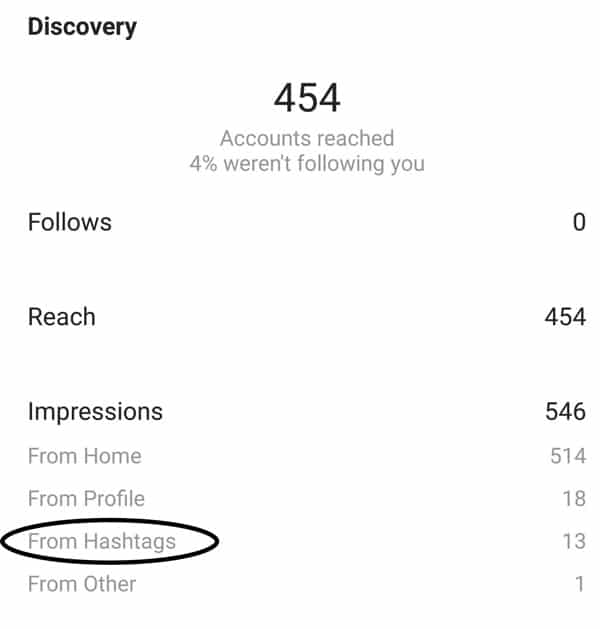 Mix The Hashtags You Use
Now that you have a full battery of hashtags you can use it'll be much easier and faster for you to post your next post using hashtags that will carry your post further. However, avoid taking the easy way here and just copy and paste the same hashtags to every post you do.
It may be tempting and get your post out fast but you need to put a little bit of love into the individual post when you pick the hashtags to use for that specific one to make sure the ones you pick are relevant to the specific post.
If you use the exact same hashtags for every post, Instagram will see this and treat it as if you're spamming the hashtags which may impact your account negatively.
You can use your list as a base but make sure to mix up which ones you use for the different posts. If you're using a tool to manage your Instagram, they typically have support to manage your common hashtags as well as recommend new ones.
If you don't yet have a tool to support you on this, check out the Instagram tools I recommend for salons here.
4. Get Social, Respond to Comments, and @Mention Salon Clients & Partners
Instagram is a social platform.
It's not a platform where salons or other businesses should just push their message one way but it's designed for conversation. It's important to understand this.
I've seen many brands and businesses fail on the platform because they've taken a traditional mass media, print, or TV advertising approach to Instagram. Just pushing their message. This doesn't work.
Instagram rewards those who are social and have an engaged following. There are two ways you can get social on Instagram that'll help boost your following.
Respond to Comments – And do it Fast
I have already talked about the importance of having call-to-actions in your captions that ask people to take action and engage with your post. When they do, you should make it a priority to respond fast to the comments you get.
This a good way to show that you're a serious salon and it helps build the relationship with the client that commented and also with other people who see that your salon responds fast.
This will help boost post engagement even further. The Instagram algorithm likes when posts get comments and replies fast which also increases the chances your post will be made visible to more people.
If you have many social accounts (Facebook, Instagram, Pinterest, etc…) this might be difficult. However, there are tools available to help you manage conversations across multiple social media. You can learn about the social media tools I recommend for salons here.
@Mention Your Clients & Partners
When you mention other accounts using a @mention account handle, you promote someone else account.
But why do I want to promote someone else account? You might ask…
When you mention someone else, they will be notified and it's much more likely that they will engage with you. When you promote others they will often start promoting you back which can drive more new people to your account. It's about give and take.
So it's a good habit to @mention your clients when you post any before and after pictures. Encourage your clients to mention your salon when posting. Have your account handle name visible in the salon and on collaterals.
To encourage this further, it's a good idea to have a selfie station or at least an area in your salon that is Insta-friendly where you can help clients to a good picture after their service.
Another way to get your clients to mention you in their posts is to set up a location for your salon on Instagram and Facebook. This enables both you and your clients to reference your salon in a natural way when posting from your salon. If you don't yet have your salon set up as a location on Instagram, you can follow the step-by-step guide here to get set up.
5. Find Your Salon's Voice
Instagram is a place of personal, informal, conversation. Formal language and impersonal messages don't work well on this platform. You should strive to use light language and include humor if you can.
But the tone that is right for you depends on your salon's brand image. If you're a salon that is very serious, this will be more difficult. If this is the case, you need to respect your salon brand image but try to find ways that people can still relate and connect with you.
6. Catch People With Emojis that Resonate with Your Salon's Voice and Visual
Emojis are a great way to bring your personality across in your posts. It can also help you catch the attention of people as they scroll through their feeds. Our brains also process emojis faster than text so you can get your message to cut through better when using those little icons.
What I have seen to be working very well for hairdressers posting hair color results is to use emojis that help dramatize the color result shown in the picture. For example, if you are showing red hair in the picture, you can dramatize the effect with the fire emoji.
You can also use them to direct the viewer's eyes within your caption. This can help drive any call-to-action you have in the post.
In fact, you might think of them as something just small and fun, but they can increase your post engagement by 15% (source).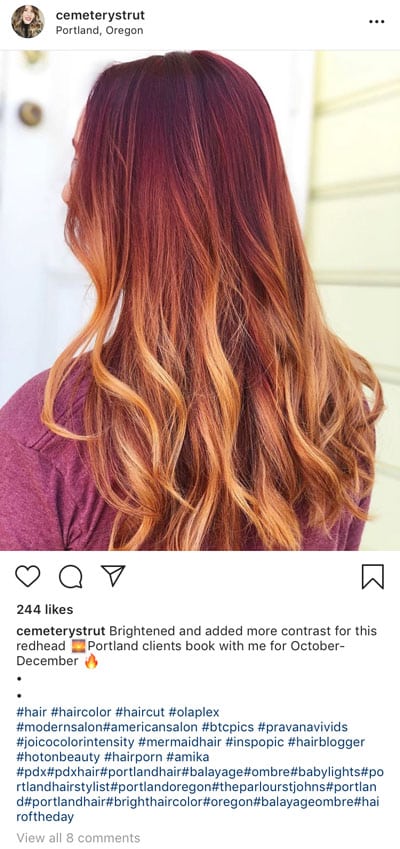 7. Structure, Edit, Rewrite, and Schedule
Crafting a good caption is not easy.
We've gone over different tactics you can use today but crafting a good caption is more of an art than a science.
So don't rush the process.
It's rare that we manage to crack a perfect caption immediately. But you don't need to post immediately. It's better that you capture your image, draft out a caption, and leave it in a draft that you come back to again before your post.
In fact, posting immediately means your post will go out at random times which isn't good for the post-performance either. Instead, make sure you use an Instagram post scheduler for your salon posts (like the ones I recommend here).
Using a scheduler allows you to save your post in draft, edit it again before you schedule it, and the tool also makes sure that your post goes out at an optimal time when your followers are most likely to see it.
When editing, make sure each word helps in the message you're trying to convey and cut out unnecessary words. Keep it concise.
Make it easy for your followers to digest.
Try also to use a consistent format for your post copy.
Your most important message with call-to-action and emoji, in less than 150 characters, captures people's attention.
Add more details as needed (will only show when people click on "more" to expand)
Show @mentions and give credit to people in the picture
Display your hashtags. Start with your branded hashtags and later with local and trending hashtags.
By keeping a flow like this you ensure you have the most important things in the right order while you also make it easier for your followers as they get familiar with your way of posting.
If you run out of ideas about what to write you can use a good quote that relates to the images. I have pulled together a list of good spa quote images for Instagram here that you can use as inspiration.
Now Over to You
I hope you found the post helpful. Remember though that nothing will happen without action. So get started with your new Instagram captions already today or this post was just a waste of your time :).