Disclosure: This post may contain affiliate links, meaning I get a small commission if you decide to make a purchase through my links, at no cost to you.
Learn more...
Have you ever felt you should be doing more with your salon's Instagram?
I certainly have.
We all know what an important marketing tool Instagram is for our salon business. But it's tough to find the time to give it the attention it needs to grow our business. Salon managers have many other things to do.
In this article I'll share with you a few tips and tools that has changed how I use Instagram completely. Before these tools, I spend a lot of time on Instagram with little success. Now I spend about two hours a month instead of 30-60 min per day while my Instagram performance has improved significantly.
Let me introduce you to my two favourite Instagram schedulers for salon managers, stylists, nail techs, and aestheticians:
I'll explain the difference between those two. But first, let me tell you how using an Instagram scheduler like these two can change your Instagram performance and the time you spend managing your social media completely.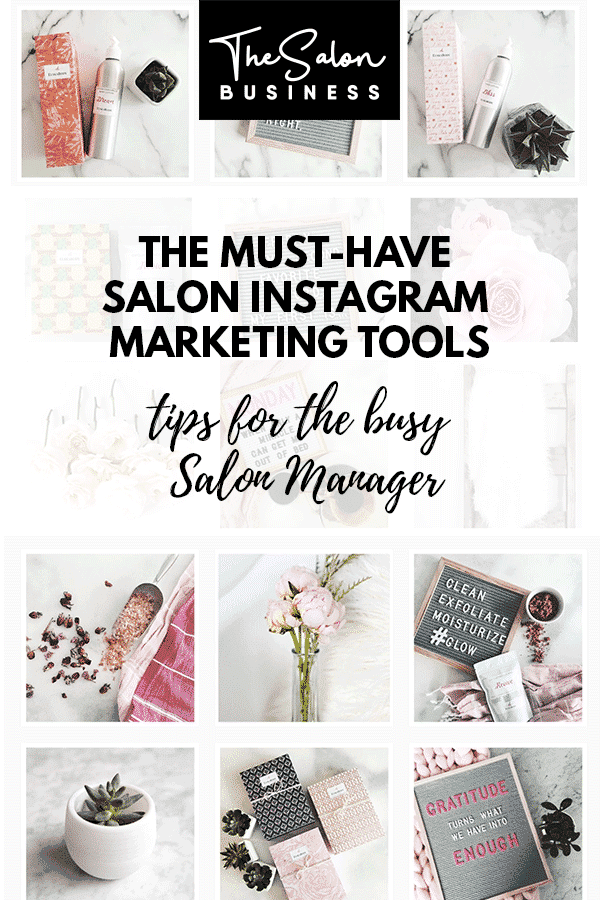 Why The Busy Salon Manager Cannot Live Without A Good Social Media Tool
Using the right social media planner can dramatically increase the performance of your social media salon marketing efforts. The three reasons you should get started with one now are:
1. You Have More Important Things To Do
The right scheduling tool will enable you to spend less time posting and more time growing your business. You'll see the big time saver when you move from posting one post at the time to instead sitting down once every two weeks and do all your post at once.
When you're on-the-go in the salon, you should just take your image and then store it in draft mode in your scheduler. You then come back to all posts and processes them at the same time which is MUCH more efficient. A good social media planner also allows you to store the hashtags and preferences you frequently use. This enable you to write out each post fast when your building your post calendar for the coming week(s).
2. You Need Your Salon Instagram Content To Be Effective
The quality of your feed will improve when you use a good planner. You'll now have a full view of the weeks ahead which enables you to:
Have the right mix of inspiration, education, entertainment, products and promotions in your feed.
Have the posts going out at optimal time. The time when you post can make a big difference how much visibility your post gets. Your planner ensures your posts go out at the optimal time, when most people will see it.
Use the best hashtags as the good tools also support with this.
Make the captions you write more compelling. It can be difficult to come up with a good salon post caption. Especially when you're in a time rush. By saving your posts in draft and editing the caption later you'll increase the quality.
3. You Need to Understand How Your Social Media Marketing Performs
The tools I recommend here also comes with reporting that gives you more insight into what you're doing right with your posts and what you can improve. The best way to improve your social media strategy is always to try new things, see what works with your audience, and continue to learn. Good analytics will be crucial on this learning journey.
Sendible vs. Onlypult
So which tool is right for you?
There are many different tools out there for Instagram. And I believe I've tested most of them. I landed on Sendible and Onlypult for the simple reason that they are very cost effective and has all the key features you need to be successful. These are:
Easy-to-use interface that you learn fast
Calendar for planning out your posts
Mobile app so that you can save in draft on-the-go
Hashtag support to save time and optimize use of right hashtags
Time automated scheduling so that you can trust your post goes out on ideal timing and that you don't need to do anything after you've sheduled your posts
They come with free trial so that you can experience them yourself before you decide which one is right for you.
Sendible – The Most Advance Solution
The most complete solution out of the two is Sendible. In fact, it is a really powerful tool not only for Instagram but you can use if for all your social channels. You can use it with your staff in the salon and have multiple logins for different members who can control the Instagram schedule.
With Sendible you can be rest assured you're setup for the future and almost any social media marketing needs your salon might have. In fact, the tool has been designed for marketing agencies and it is what the professional marketers use. Despite that, it has a very easy and intuitive interface.
The cost for Sendible is very low compare to other solutions that are as advanced as Sendible. Their plans start at $24/month and you can try if for free for 30 days before you decide.
If you're looking for a complete solution, that can manage all your social media, Sendible is right for you. However, if you're looking for a tool for Instagram alone, that is even easier to use, and at lower cost, you should also read about the next option.
Onlypult – The Super Simple, Low Cost, Instagram Specialist
If you're only using Instagram as social media tool for your salon and you want a solution that is SUPER easy to use. Look no further.
I love Onlypult. It's just so easy and intuitive to use. Yet, as it's specialized on Insatgram, it's very good at exactly that. It has all you'll need for Instagram and nothing more. That's the beauty of this one.
I also don't think you can find a lower cost solution that doesn't come with post limitations. The price starts only $10.50/month which is insane for what you get. You can also get a free trial of Onlypult product here so that you can try it out yourself first.
So if you're looking for simplicity and only use Instagram, I'd go with Onlypult.
Over to You Now
I hope you see the value that using a social media scheduler can bring to your salon. It's certainly improved the quality of my posts and saved me a lot of time that I can focus on other things.
If you're only using Instagram for you beauty salon I'd go with Onlyput as the solution. It's super easy to use and costs close to nothing. If you are using Facebook, Pinterest, or other channels, you're probably better of paying a bit more for Sendible and you have a complete solution.
To learn more about how you can grow your Salon's Instagram, I suggest you also check out my articles on:
Let me know what you think of the tools, just drop a comment in the box below.
All the best on your social media marketing!