Disclosure: This post may contain affiliate links, meaning I get a small commission if you decide to make a purchase through my links, at no cost to you.
Learn more...
How many hours per week do you spend on your salon Instagram?
If you're like most hairdressers and stylists, this is over 3 hours per week.
Think about it.
If you were to spend that same time servicing clients instead, how much income would you generate? Probably in the range of $100-$300 per week. Or $4'000-$12'000 per year.
I'm not saying you shouldn't spend time on your Instagram. The opposite actually.
If done right, Instagram is one of the most powerful tools to build your salon clientele and sales.
To turn all the quality time and work you're putting into your Instagram into business, you need to have a setup in place that turn your followers into customers.
And this is where your salon Instagram biography comes in. And how you craft a bio for Instagram is different from your regular salon or stylist biography (which I cover here).
In this article, I'll take you through 5 steps to crafting a compelling beauty salon Instagram bio. A bio that'll turn followers into customers.
I'll also give some good examples of hairdresser Instagram bio, beauty salon Instagram bio, and short stylist bio for Instagram.
The 5 steps we'll go through in detail are how you:
Convert your beauty salon Instagram to a business account
Add and update all your salon profile information
Create your salon Instagram highlights
Craft your salon Instagram bio copy
Get inspired by hair stylist bio examples
But first, are you clear on what a salon Instagram bio is any the important role it plays?
↓ Pin it for later ↓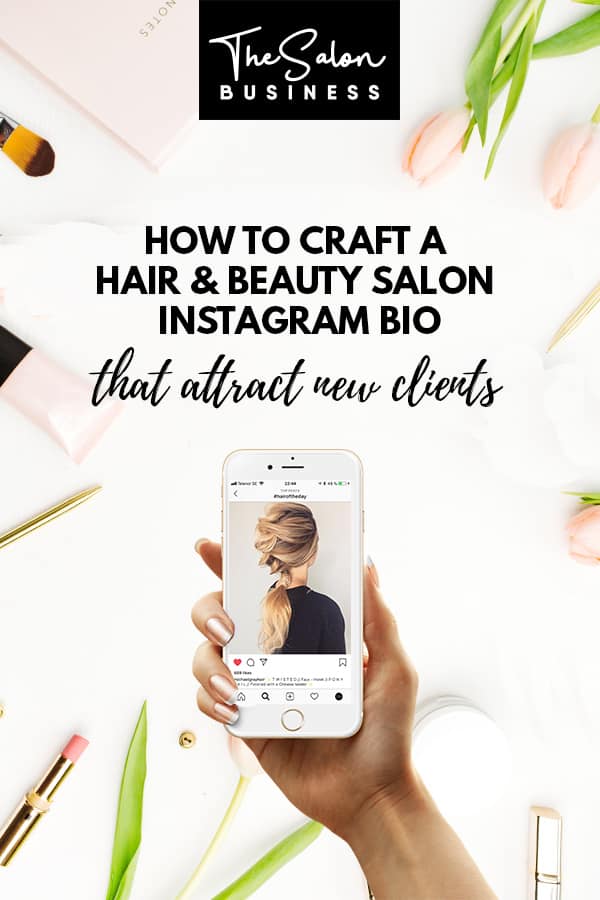 Why You Need to Get Your Salon Instagram Bio Right
I think you're probably familiar with what an Instagram bio is.
Yes, it's the information you see at the top of any Instagram profile when you visit it.
You'll not find much information there. At max a profile picture, a few buttons, and a 150 letter text.
This is not much. But that's also the beauty of Instagram.
It's a very simplistic platform for image sharing without a lot of text. This is probably also the reason why it's become such a popular platform with 1.1 billion users.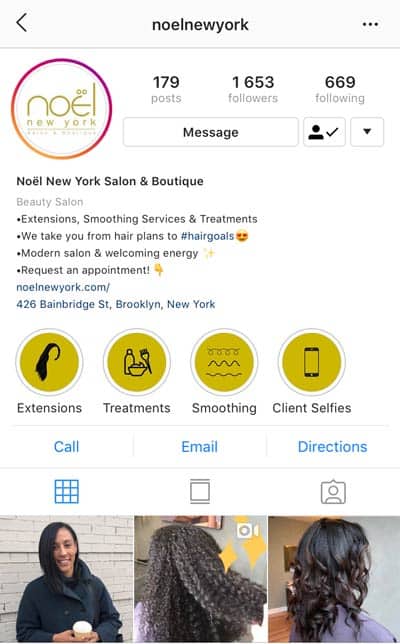 This small space is where people will go to find out more about you.
So you need to be clear about what information you should have there.
Your salon Instagram bio should achieve two things:
Give a short and concise introduction to you/your salon
Guide the visitor to the action you want them to take when they land on your profile
If you're a salon owner, you'll most likely want the action to be that they book an appointment in the salon. Or take any other action that'll help grow your business.
This is why your salon Instagram bio is sooooo important.
You'll be spending a lot of time putting content out on your profile and running activities to drive engagement and following of your account. So you want to make sure that the people who engage with you have an intuitive way to make business with you.
This is the role of your salon Instagram bio.
Now that we have that out of the way, let's get into the details of the steps you should take from here to get your Instagram bio going and generate business for you.
1. Convert Your Beauty Salon Instagram to a Business Account
First of all, you'll want to convert your salon Instagram profile into a business profile. It's free and very easy to do. Just follow the steps lined out by Instagram here.
By converting your profile into a business profile, you'll be able to add more useful information to your bio (like phone number, address etc.). This is not possible with a regular profile.
On top, you'll get access to statistics about your profile. This allows you to track how many people are viewing your profile and content which give you more insight into what content is working for you and not.
2. Add & Update Your Profile Information
Before we get to how you write your salon Instagram bio copy, let's make sure your have all the other information setup on your profile.
Your Salon Profile Picture
I would recommend you to use your salon logo as profile picture. If you have any other recognizable symbol that represent your business, you can also use that. This will help you build up your salon brand as you interact and comment on other's content.
I've seen some salons using a hair picture or staff pictures. The problem with that is just that it's very difficult to see what it is as the icon is so small in Instagram. The only case where I would consider something else then your logo is if you're building your own name as a brand vs. a salon. In that case, you can of course go with a picture of yourself.
Salon Username & Name
Your username as well as name is what is searchable on Instagram when people are looking for you so make sure you use your salon name in your Instagram name.
I would also include what type of salon you run as part of your name as well as the city your salon is based in. The reason I'd include also the type of salon in the name is because this is the only piece of information that is visible in search results without going into your profile to see your full salon Instagram bio. So you want to give as much relevant information you can.
Here's an example of what nail salon Instagram name and username could look like.
@SalonGlowNY

New York Nail Salon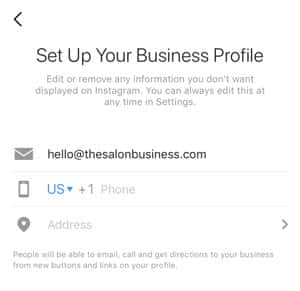 Category
When you have a business profile, you can also select the type of business you are. This information will also show on your profile so you don't need to include it in your very limited bio space.
3. Create Your Salon Instagram Story Highlights
It's difficult to get people who don't know you or your salon to book an appointment with you.
They simply don't know you.
Regularly posting good images of the work you're doing in your salon is a good way to show potential new clients what you also can do for them. But it does really mean they get to know you better.
Instagram stories are a powerful way to let people in on what's really going on behind the scenes in your salon. It gives a more authentic picture of you and this builds trust with potential new clients.
You want to make sure you feature those in your Instagram bio. Instagram let's you do this via the Instagram story highlights that you can stick in your bio.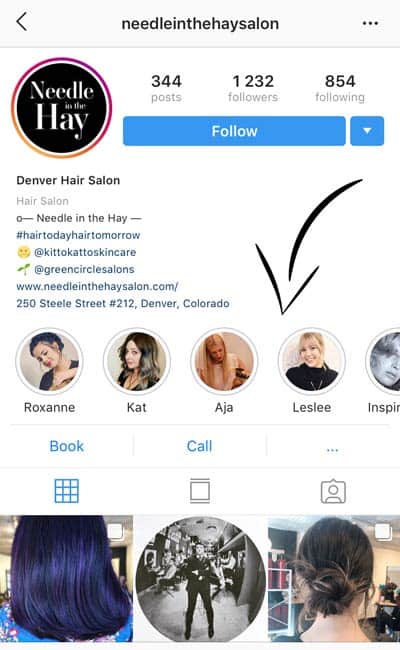 You can structure them as you like. The hair salon "Needle in the Hay" are using them to feature their staff which I think is a great idea. It gives a nice introduction to the people you'll meet in the salon which makes the experience much more personal.
Another common approach salons take is to promote their difference services on their profile so that people can learn more about the offer.
You can also set the cover image of each story highlight to make the highlights easy to navigate and visually in line with your salon brand.
Think through what makes your salon unique – the staff, your services, or maybe yourself and add this to your bio via Instagram story highlights.
4. Craft Your Beauty Salon Instagram Bio Copy
Now we've come to the exciting part.
It's time to write your salon Instagram bio.
You'll need to be brief and to the point here. You only have 150 characters to convey both 1) who you are; and 2) the action you you want your visitors to your profile to take.
Salon Instagram Bio Tools You Can Use
You have a few tools at hand here to make your salon Instagram bio as powerful as possible:
Hashtags and profile links
Instagram has now added the possibility to include hashtags and profile links (i.e. @mentions) in your bio. This means that you can let your visitors learn more about your salon via salon specific hashtags you create or by linking to other accounts (e.g. your staff or partner salons).
Get creative with emojis
You can layout your salon Instagram bio in creative ways using also emojis to grab the attention of your profile visitors. Just be mindful that the layout can look very different when visitors view their computer screen vs. on their phone so you should test it in both places.
Website link
Finally, and most importantly, you can have one website link in your bio. This is in fact the only place you can include a website link (except from inside your Instagram stories). It's for example not possible to have them in the captions of images you post. So you want to use this link very wisely.
If I were you, I would always use this link for a "book now" call to action to get people into your salon.
Writing Your Bio Text in Your Voice
Get personal.
People don't want to interact with a robot. They want you. You want your salon's Instagram bio to be personal and use a language that show you understand them.
George North Wood is doing a good job of this with an informal tone and in the language while they're also promoting their podcast where you can get to know they salon even more.
It's all about building relationship and trust here so anything that you can add that make you relatable is good.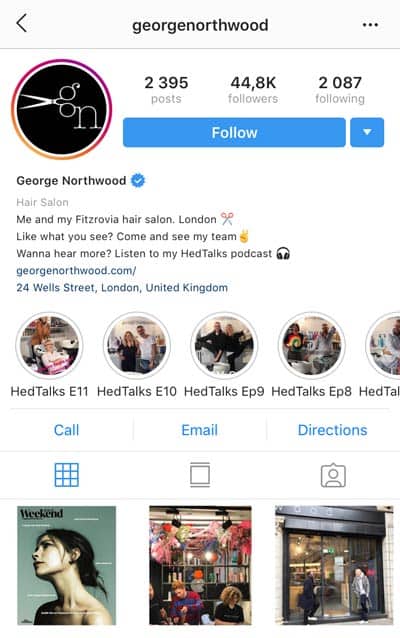 Show What Makes Your Salon Unique
Why should people book your salon vs. the salon down the street?
You want your Instagram bio to bring across what it is that sets your salon apart from others.
This can be your services, the brands you resell, your values, or anything that makes you different.
The Lavender salon clearly show that their POD (point of difference) is their focus on sustainability.
What is your thing that sets you apart?
Show it in the Instagram bio for your salon.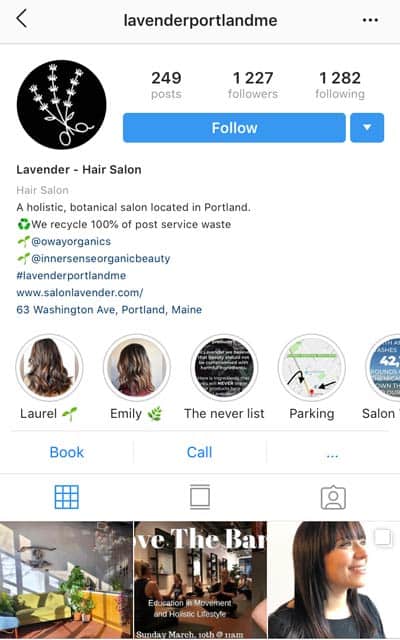 The Call-To-Action
This is the most important part of your salon Instagram bio.
This is where you convert your followers into clients that grow your salon business.
Salon Solé are making this very clear on their profile with a clearly spelled out action to go to their website to book or shop.
In fact, they even have an offer directly in their biography to really intrigue people to click through.
I'd encourage you to play around with this and also craft an intro offer that fit your business to get new clients to click through to your booking page.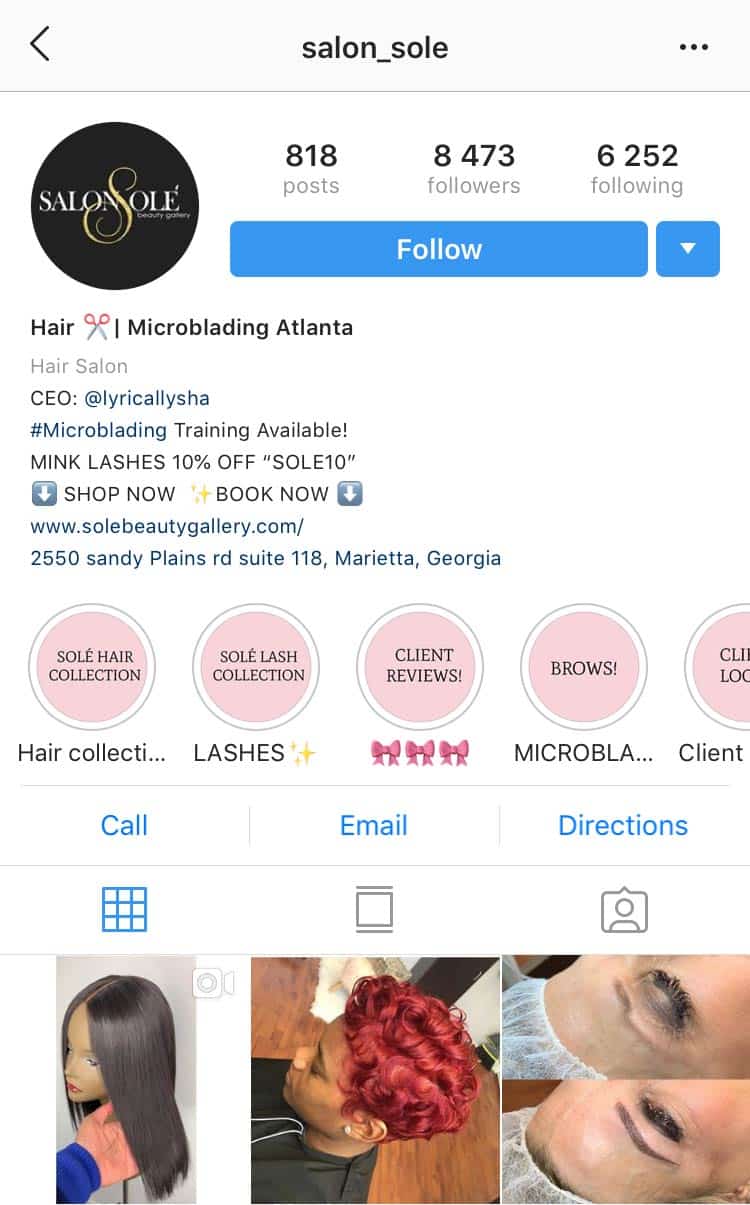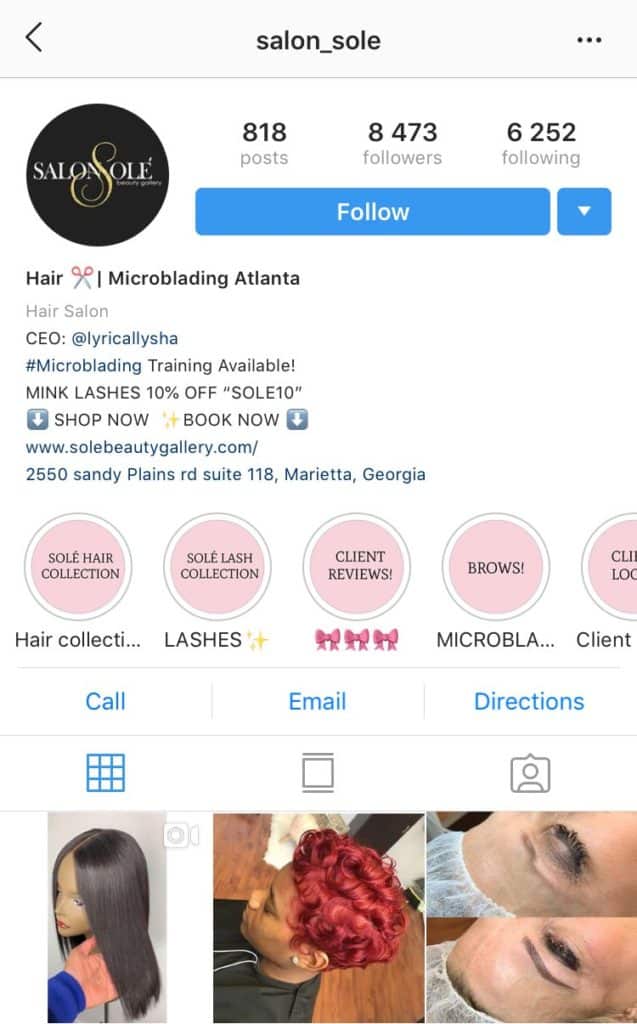 5. Get Inspired by Others Beauty Salon Instagram Bio Examples
Now you should have the background to how you can create a powerful Instagram bio for your salon. To get your creative juice going, I've summarized some examples of Instagram bios from salons that are doing it right.
The profiles here more or less ticking all the boxes for what a good salon Instagram by should look. 1) Uses business account with all profile details; 2) leverages Insta story highlights smartly; 3) have a good creative layout and copy; and 4) most importantly, has a call-to-action link to book an appointment.
Look through the examples below but also head over to Instagram and look at what other salon's in your area are doing. This will get you more fresh ideas on what you can do with your profile.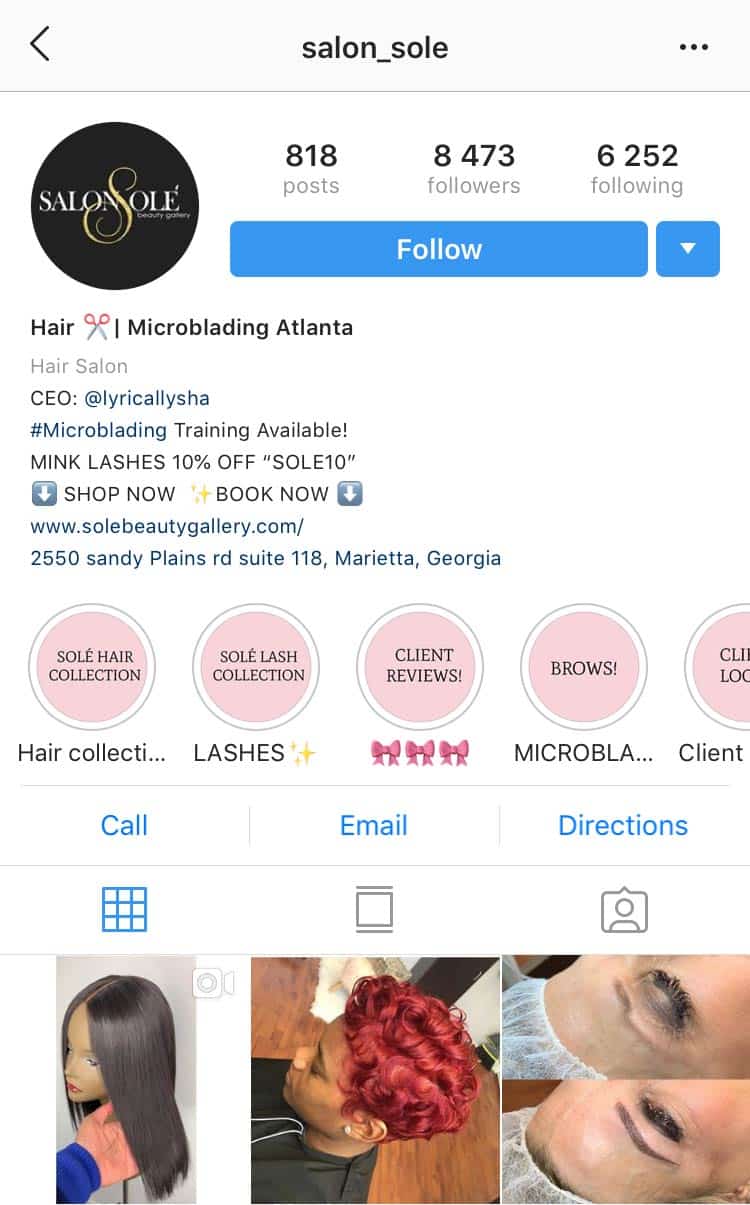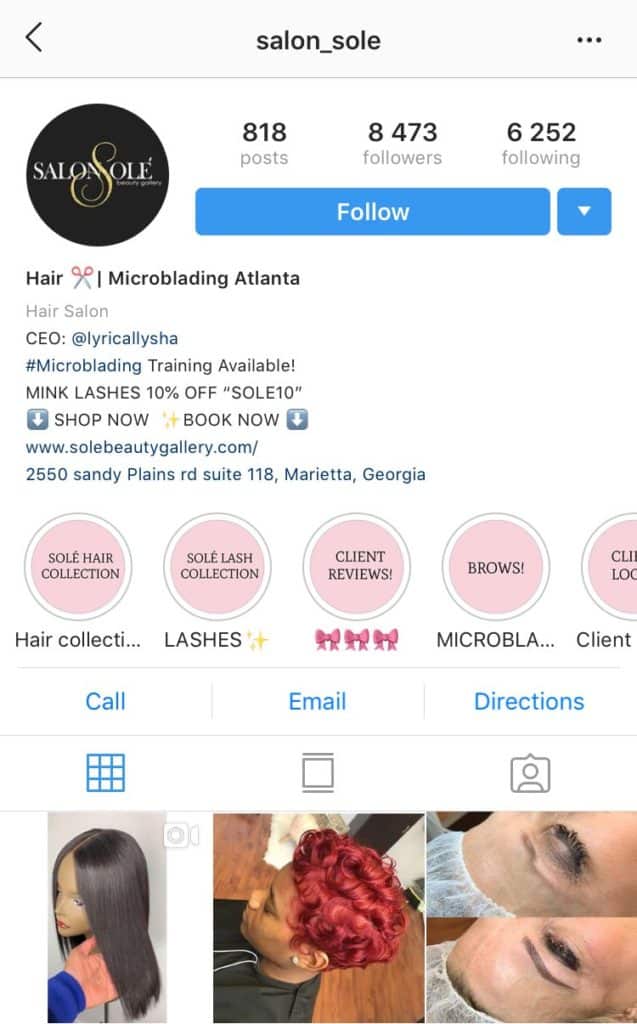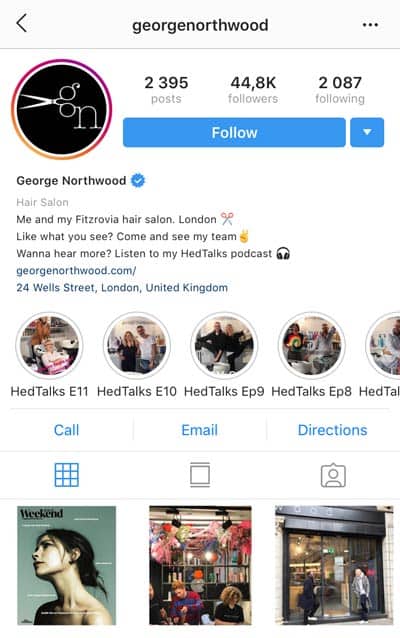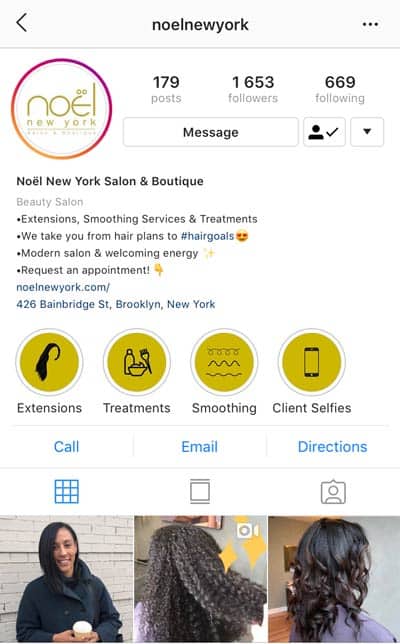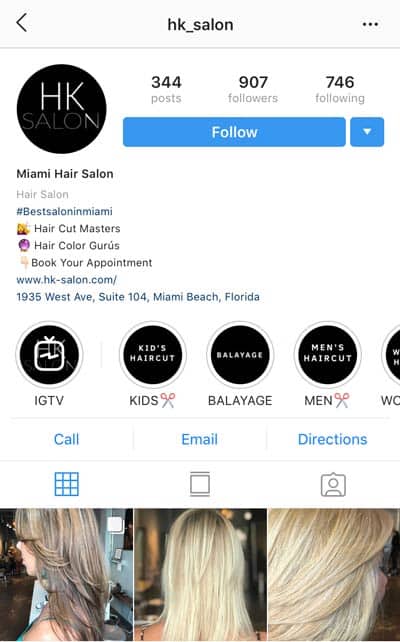 Now Over to You
Your hair & beauty salon Instagram bio is central to your Instagram account. This is where you take the people who engage with your content and move them over to your salon website where you can convert the to new clients that grow your salon business.
It may seem like a small detail but it's certainly worth taking the 30 min required to get it setup now, and you'll greatly increase the business impact of your Instagram account.
I also recommend you look through the hair stylist biography examples I have listed here which gives you further ideas on how to effectively communicate who you are. This article is not specific to Instagram but will help you write a salon biography that you can use everywhere.
Finally, you can check out the tools you need to grow your salon Instagram here.
Do you have your bio setup? I would love to see it. Drop a link to your profile in the comments box below.
Sources
Instagram Statistics: HootSuite.com