Disclosure: This post may contain affiliate links, meaning we get a small commission if you decide to make a purchase through our links, at no cost to you. TheSalonBusiness.com is a subsidiary of Mangomint.
Learn more...
Do you run promotions in your salon?
Or are you worried that doing so may erode your regular prices? 
If so, you're not alone.
I used to be very cautious with promotions. I worried that running promotions would undermine the regular service prices and maybe even hurt the salon's premium brand image.
But this is not true. You just need to know how you should run your promotions.
The right salon offers should be a key component of your salon marketing strategy. If done correctly they have a tremendous impact on your ability to grow your salon clientele and get your existing clients to spend more with you.
In this article, I want to bust the myths that promotions are not good and show you how they should be done to fuel your business now and in the long run.
I'll show you how you can run effective promotions without undervaluing your prices and brand image.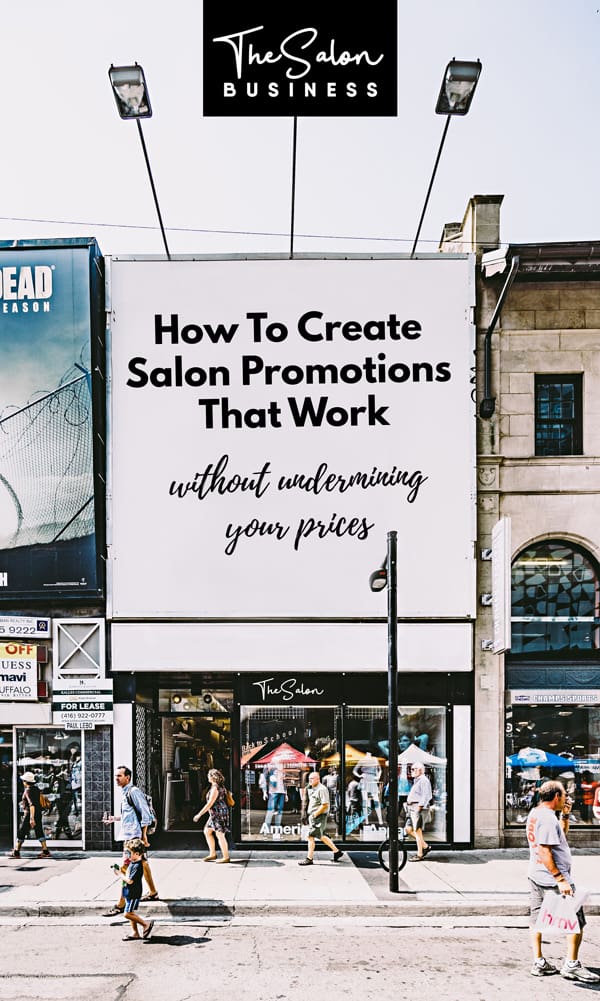 1. What Change Do You Want Your Salon Promotion To Drive?
There are many different reasons why you want to run promotions in your salon. Your promotion should be designed to drive some type of change with people that help you grow your business. If it doesn't drive a change, you're just giving something away for the result you would have achieved in any case. 
5 Common Salon Promotion Goals
Your salon promotion will typically have one of the below five goals.
Reel in new clients into your business
Get your existing salon clients to book services more frequently
Get your existing salon clients to spend more at each salon visit
Stimulate business during slow hours, week days, or particular seasons
Get lapsed salon clients to give your salon another chance
The above goals are all very different. And it's difficult to have one promotion that achieves all these goals. As we later learn about how you can design effective salon promotions that work, you'll need to be clear about the change that you want your promotion before you even start thinking about how you'll design the deal.
Which Goal Should I Set For My Salon Promotion?
I really cannot answer this question for you without knowing more about your business. It comes down to the challenges of your beauty business phase. Having said that, the one promotion type that typically has the highest return to your business is goal 1 and 5 as they are both about building your salon clientele. If you can invest a small sum upfront to get a new client to your salon, you can reap the benefit of that for years to come. The so called "life time value" of that promotion is large so you can also afford to invest a bit more upfront. 
Goal 2,3,4 can be used after you've lured in the new client to your salon to then get them to spend more with you. You can get creative here and design your own cocktail of promotions that bring in new clients and then trade them up so that you earn more per client.
We'll talk more about that later.
2. Which of Your Salon Services & Products Should You Promote?
You may now have a good idea of what change you want your promotion to drive. The next question is: what on earth should you promote?
Let's face it, your promotion has to give some type of value back to your clients (or prospect clients). It needs to be attractive, really attractive, or people will not bother. They need to feel a strong urge to buy into your promotion.
But how do you achieve this while still staying profitable and avoiding that you discount yourself in a way that people won't pay your regular price in the future?
Let me show you a few important concepts that'll make this possible.
Don't Discount Your Core Services And You'll Avoid Devaluating Your Pricing
Do you know what your salon's core services are?
And do you know which services are your secondary services?
All salons have a specific set of core services. This could be your manicure service if you're a nail salon or you cut & blow dry service if you're a hair salon. Your core services are your bread & butter. These are the services you're known for and that most of your clients will book. I'm sure that even if you run a tanning salon, beauty salon, or spa you know which ones are your core services.
Your secondary services are the additional services you offer in your salon. These could be a service that is a variation of your core services. Or it could be a completely different service that you offer. For example, if you're a hairdresser and your core services are hair cut and hair color, your secondary service could be a color glossing service or a specific hair care treatment.
Do you see the difference between the two?
It's very important you're clear on what's core and what is secondary. To avoid that you devaluate your pricing, you should avoid discounting your core services. These are the services clients anyway book so giving a rebate on it will only hurt your profit. Instead of giving discount on you core services, your deal should add value to your core services by offering a discount on your secondary service.
Surely you'll have some secondary services on your menu that doesn't come with high product cost to you that you also can complete them during the time of your core service. This means you can add this (for free or with discount) to the core service. Incremental cost to you will be minimal but the perceived value to the client will be high. You'll have a deal that is very attractive to your clients, that doesn't cost you much, while you're also protecting the pricing of your core services.
Retail products can also be a very good secondary offer that you can add to your promotion. Salon retail typically has good margins and doesn't require much time to sell (compared to a service) and can work very well as part of your salon offer.
I hope you could follow my reasoning here and that it makes sense to you. I'll come back to this again when we look at how you can design your deal. But the concept of core services and secondary services is important that you understand in order for you to create attractive, yet strategic and profitable deals for your salon.
Ensure You Pick Profitable Services For Your Salon Promotion
Are all your services profitable?
Sounds obvious maybe. It doesn't make much sense to offer services and lose money on every service that is done. Unfortunately, this is not always the case. I've seen many salons offering services that aren't profitable.
When you run a salon service promotion that includes a discount, you want to make sure you have a good understanding of the profitability of your services so that you a) promote the services that'll bring you profit; and b) gives you room to afford some discount to make the promotion attractive.
If you haven't done so already, I'd encourage you to go over all your services and assess their profitability. When doing this, you need to look at the complete cost of each service, not just the product cost. For each service on your price list, note down the below somewhere:
Service price: This is the price you charge your clients for the service. Your income for each service sold.
Service product cost: This is the cost of any products that you consume as part of doing the service.
Time needed for service: This is the time you or your staff need to spend on completing the services. You can easily calculate what the labour cost is for each service by multiplying the time of the service with your average salary.
When you have these three values for each service, you can easily calculate the profit contribution for each service.
Salon Service Profit Contribution
Profit Contribution = Service Price – Product Cost – Time Cost
Note that just because the profit contribution is positive, doesn't mean that the service is profitable. You have more costs to cover than the cost of the service (e.g. rent, insurances, marketing, education etc.) so a big chunk of what the profit contribution is will also go away to your other costs and whatever is left is your profit.
Anyway, to keep things simple, just calculate what the profit contribution is for each of your services. You may be surprised about the big variations in profitability. You should also quickly learn which ones are the ones you should be promoting and which ones you maybe even should remove (or price up) from your service menu.
Promote Services Your Salon Clients Want, Not What You Want To Promote
A common trap salon managers fall into is to discount and promote services that are not performing. I admit. I've done this myself.
Because a service doesn't perform well, we fall into the belief we need to discount it in order for it to sell. This is wrong. If a service is not working well in your salon, remove it. Instead, focus on creating a promotion that includes your most popular services. In the end, this is what people want. You'll save yourself money and frustration by simply focusing your promotions on what is already working. 
3. How You Create a Magnetic Salon Offer That Doesn't Undermine Your Prices and Salon Image
We've finally arrived to the fun part 🙂
It's time to create your next salon offer.
Are you clear on what change you want your promotion to drive?
Do you have an idea of which services (or products) you'd like to include in your offer?
Good! (if not, that's fine too, you can come back to it later).
Let's get into it.
Designing An Attractive Salon Service Package
Let's start by designing your offer package. There's a big difference between offering an attractive package vs. discounting a service. Unfortunately, I see too often that salons who run just discount promotions. Often on their core services, like "get 15% discount on your next haircut". Try to avoid this. Discounting your core services undermines your regular price list. 
Instead of giving discount, give more value. What I mean with that is that you should keep your list prices on your core service but add on related secondary services (or products) that together forms a package.
Don't give a way discount, give more value.. People value experiential rewards higher than monetary rewards. And it doesn't undermine your regular price list.
Let's say you're a hairdresser or hair salon manager and you want to create a promotion with the goal to attract new clients to your salon.
To attract new clients, you'll certainly need a special offer that is highly attractive to drive the change you want. It needs to be irresistible. People should think i MUST take this or I'm missing out. You'd need to be prepared to give a way a bit more when your goal is to get a new client with the offer.
Start by selecting one of your most desirable core services. A service that would be highly attractive to the type of clients you would like in your salon. Let's say you pick your permanent hair color service.
Next you should think about what other, secondary services, you have on your menu that would be attractive to a person buying your color service. Try to identify a couple of services that you can perform during the same time as your core service. This way the discounted or free addition will not come at much cost for you.
It's important that the additional product and service improves even further on the core service you're promoting. This could for example be an eye-brow color service an a post color care treatment. You could also include a retail product as part of your offer. The client is now in the buying mode for a color service so don't confuse her with some unrelated addition that she may not even want.
Your color offer could then be that the client buy the color service at $200 but now get a free eye-brow service (value $40), a post color care treatment (value $30), and a take-home treatment to protect the color (value $30). They pay $200 but get value of $100 back.
If you're able to do the eye brow service during the color development time and the care treatment with only a few minutes extra when the client is at the basin any way, your actual cost for the $100 value you're given will be in the range of $20.
How does that sound? A 50% perceived "discount" to the client at a cost of only 10% for you. Not bad, right?
This way you also keep your core service pricing and you'll have a happy customer who'd just received great value for their money.
You can get creative here. Try different service and product combination to see what works. A $200 offer can be on the high side for a new client as they don't yet trust you. So you can also try with a lower cost core service that comes with less risk for the client than a hair color to more easily convert them into a client.
Creating a Sense of Urgency
You now have an irresistible salon offer. But why should people take it now? Why not wait until next week instead?
You need to give people a reason to why they need to act now to not miss out on your salon's special offer. This is why you should always try to make it a limited time offer "Only Today" to urge them to grab it now. You can also play around with other mechanics for this like tying it to a seasonal even (e.g. Black Friday) or to some other time limited factor like "Early Bird Offer".
Communicate Your Offer With a Compelling Message and Straight Forward Name
It's time to give your new promotion a name.
There's certainly room for creative here but don't get too fancy :). What you should make sure is that the name and communication you choose for your promotion:
Describes what your offer is about
Gives a feeling of what the end-state is that the person will get when buying into the offer
If tied to a seasonal event, you can also include this in the promotion name
Coming back to the hair salon example earlier, you offer could be something like:
Spring Special: "Your Complete Color Transformation" – Only $195 Today
Get FREE Care Treatment, Eye-brow color, and a care take home product (value $100) when you book your color service today.
Reassure Your Client They're Making The Right Choice
You should now have an irresistible special offer for your salon. An offer your clients MUST jump on now. But what if they still don't buy into it? Could there be other reasons why people aren't going for it?
Try to think through what those reasons could be. Listen to what people say when you present the offer to them. Gather those golden insights and modify your offer. There are also other tools available that you can use depending on what your clients barrier to buying your promotion are. Two popular ways for salons to this is using:
Money back guarantee: You can reassure your prospect client of the quality of your service by offering them to get refunded in case they are not happy with the service. This helps reduce the risk of trying a new salon.
Quality evidence: You can include testimonials from previous clients as you communicate your offer to give reassurance that what your are offering is of top quality. Showing ratings and reviews from your current customers is yet another way to reinforce your quality.
Promoting Your New Salon Offer
Your new offer will not be of much use unless people can see it. So in order to activate it you need to develop a strategy for when, where and how you'll communicate your offer. How to market your offer will also depend on the goal of your promotion.
If your goal is to get your existing clients to spend more at each visit, you should focus your effort on promoting you offer inside the salon when the client is there. However, if your goal is to attract new clients, you'll not get much out of communicating the offer inside the salon as your prospective clients (per definition) will not be in your salon. So in this case you'll need to use other means.
What's important when you create your plan for how to advertise your salon offer is to take a holistic, 360 degree, approach to your communication. Your offer will be most effective if your client is exposed to it on multiple occasions through the clients journey from first hearing about the offer to actually buying in to it.
I have summarized some powerful salon marketing ideas below that you can consider as you build your marketing plan for your salon offer.
Salon Marketing Ideas to Promote Your Salon Offer
Below are the most effective ways to promote your salon offer. If you want more inspiration for how you can promote your salon offer, you can check out my complete list of salon marketing ideas.
There's also a number of tools you can use to promote your salon offer which you can learn more about on my page with my recommended tools to grow your salon business.
Google Ads
These are the ads that that show up at the top of Google search result. You can be specific with your target group when you setup your promotion ad. You can specify that the person needs to be based in your town and select a number of phrases when your ad should show. For example for searches like "hair salon near me" or "nail salon in Chicago".
This means that the people who are exposed to your offer are already looking for a salon in their area. So your offer will show just at the right time.
Google Ads works best if your promotion goal is to attract new clients to your business.
You can learn more about how you can setup your Google Ads on ads.google.com.
Facebook Ads
Another type of ad you can run is on Facebook. Facebook also owns Instagram so you can create ads in the Facebook Ads Manager that also will be visible to people on Instagram. With Facebook ads, you don't have to rely on people searching for salon's using your specific keywords. Here you can run (almost) endless ads to people. Almost everyone is on Facebook and Facebook have a wealth of data about people on the platform.
This makes it possible for you to be very specific in how you target your ads and show them to people based in your area with certain types of interest. This makes it very powerful.
Facebook Ads, like Google Ads, are great when the goal of your promotion is to attract new clients to your business.
Learn more about Facebook Ads in my guide to Facebook ads for salons here.
Build Your Offer Into Your Salons E-mail Marketing Calendar
If you don't have a list of e-mails to your clients, it's a good idea to start building one. E-mail marketing, even if it sounds old school, is still one of the most effective ways to engage with your customers. Also several salon software solutions and appointment booking platforms comes with this e-mail list feature built in. You can check out the salon scheduling solutions I recommend here.
If you want to get more advance with your e-mail marketing, I recommend you with a real e-mail marketing provider. Your can find my recommended solutions on my page with salon marketing tools.
E-mail marketing is a very good way to reach your existing customers and something I would recommend you to use if your promotion goal is to get existing clients to come more frequently or spend more with you.
Your Salon's Instagram & Other Social Media
Do you have an Instagram account?
If so, this is of course also a super way to promote your offer to your followers. You don't want to post about offers all the time but make sure that you on a regular basis include a promotion to lure in new clients to your salon. With Instagram your offer will go out to anyone following you which means both existing clients and potential new ones. Thus, you need to be mindful of this when you promote your offer.
Another limitation with Instagram is that you cannot link to your offer directly from the post itself but you need to make use of your bio. To help you on this, I've created a specific helpful article that takes you through how you can create an Instagram biography for your salon that convert followers to clients.
There are also good tools to grow your salon's Instagram you can use.
In Salon POS Material and Collaterals
You can also promote your offer on POS signs, service menu, brochures and leaflets in your salon. Naturally, these marketing tools will not help you convert many new clients but area greate touch points to use in order to trade up existing clients to buying more from you.
If you want to attract new clients you can place a sign in your window or in a "street talker" outside your salon. Having your offer visible to people walking past your salon can be very effective. It doesn't cost you anything (you're already paying for the rent) and reaches a very relevant audience in your area.
Train and Equip Your Salon Staff
When you go live with your Facebook ad or other activity where you're promoting your new offer, you want to make sure your staff is well aware of the offer and understand the mechanics of it. If the goal of your promotion is to increase spending per client, you'll want to train your staff on when they should propose their clients to upgrade to the offer.
This sounds straightforward and obvious but I've seen many cases where the salon manager is running a promotion and the staff doesn't understand it or, worse, are not aware about it. This can create embarrassing moments for your clients when they ask for the offer. So make sure you don't overlook this.
Planning Your Salon's Promotion Calendar
You've come far on your path to creating your next irresistible salon offer.
You have a goal for your promotion, you know which products to promote, you have designed a compelling offer package, and you're set to start marketing your offer.
Awesome!
As I hope you're starting to see now, executing the right promotions can make a massive positive impact to your business. But this is not just a one off. In fact, I strongly encourage you to start playing with the tools you've just learnt and start coming up with different promotions that you believe are right for your salon business. 
As you develop a set of promotions you should start laying out a plan for when you'll run what promotion based on you the needs of your salon. I suggest you build a 12 month plan from start. This doesn't mean you'll execute exactly that plan but it gives you a first overview how you'll be promoting your business over the year. This reassures you that you're covering the needs of your business over the year and you'll also be able to to involve your staff, product supplier, and other stakeholder into your plan early which will increase its effectiveness.
Here's a few questions you can ask yourself when you're reviewing your annual plan.
Is Your Salon Promotional Calendar Driving The Different Goals To Grow Your Business?
Again, you know best what type of salon promotions your business needs. But as you look through your 12 month plan, try to see if you're varying the type of promotion enough. Are you only targeting new clients or do you have sufficient amount of promotions to also increase spend per client?
You can also run combination of services. Maybe you have a promotion to get new clients in focused on your hair cutting service. You could in parallel with that offer also a trade up promotion where clients who have bought your hair cut can spend more with you through a retail promotion.
Are You Maximizing Your Portfolio of Salon Services?
You should indeed focus your promotion on the services that you know your clients want. But are you varying the product and service focus?
By varying the service in focus for your promotions you'll also speak to different people. You'll also make sure you protect your pricing better if you're switching the service in focus in your promotion over time.
Do You Tap Into Seasonality?
Seasonality is important to the relevance of different salon services. Make sure your promotion calendar takes this into account.
You could for example run a gift set promotion ahead of Christmas or a dry skin offer in winter.
Conclusion
I'm sure you agree with me when I say that the right salon promotions can significantly help drive your salon business. You've now learned about the different goals you can have for different promotions depending on if you want to build your salon clientele or if you want to earn more with each client.
You've also seen how you can select the different service and product for your promotion to ensure your promotion is attractive and profitable.
One of the most important lessons in this article is the difference between your core services and your secondary services. By offering your secondary services as a way to add value to your promotions instead of discounting your core services, you avoid undermining your prices. Think about how you can add more value to your promotions in an effective way instead of starting to discount yourself.
I hope you also got some inspiration from the salon marketing ideas I shared to help you advertise your salon offers.
Over to you now.
Reading through this article without moving to action would be a waste of your time. Start brainstorming a few new promotions that you could run in your salon and put together a first draft of your 12 month plan already today.
If you want to learn more about how you can grow your salon business you can sign up for my free salon growth course.