Disclosure: This post may contain affiliate links, meaning we get a small commission if you decide to make a purchase through our links, at no cost to you. TheSalonBusiness.com is a subsidiary of Mangomint.
Learn more...
Are you looking for a free appointment scheduler?
Then I think this review of Square Appointments will interest you.
You've probably already heard about this appointment booking app used primarily by businesses like beauty salons, spas, barbershops, and other local service providers. It's in fact one of the alternatives in my list of the best online booking and salon management software in 2023.
This is an honest review where I'll go over all the pros and cons of Square Appointments that I've discovered as I've been using and testing all the functions of the software.
Now, let's look at an overview of the Square Appointments review.
Square Appointments Review at a Glance
Description
Square Appointments is a cloud-based appointment scheduling software for beauty salons and other local service businesses.
It integrates with the full suite of local business solutions from Square which makes it one of the most complete business management solutions on the market.
At the same time, it is free for individuals and has therefore quickly become one of the most popular platforms for one-person businesses like beauty booth renters and individual professionals.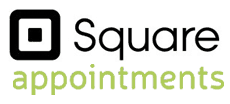 Overall Score
4.1
Software Type
Appointment Booking & Management Software
Accessible in web browser, desktop application, iOS App, Android App, and dedicated POS system
Square Appointments Pricing
FREE for individuals
$50/month for team of 5 staff
$90/month for team of 10 staff
Square Appointments Review Breakdown
Ease of Use (5.0)
Appointment Management (4.0)
Online Booking (3.5)
Client Data Management (4.5)
Point of Sale (5.0)
Customer Service (3.5)
Inventory Management (5.0)
Mobile Apps (5.0)
Pricing (4.0)
Review Summary
Square Appointments is well-designed and easy to use. The fact that it's free for individuals makes this the best solution for one-person businesses like beauty booth renters and mobile stylists.
By joining Square, you get access to more than just Square Appointments. Even if that might be the only feature you need right now, you can easily integrate their credit card payment tools, marketing features, payroll & team management, and much more when needed. Square is set up to grow with you as your business grows and is a complete partner also for the bigger business.
What I found most impressive is how well it supports client/staff notifications and online bookings. While you work in the simple calendar view and arrange appointments, your clients and employees are kept up-to-date with simple, customizable notifications. You also have several options when integrating the booking feature on the website which makes it very powerful vs. some of the competitors.
On top of that, Square Appointments is very strong at the business fundamentals (like inventory management and client data management). I could not find any flaws in this area.
This is why it has made it to my list of the best software for salon and spas.
Pros
Free for individuals
Well designed, easy to use, interface
Very strong client notification support
Integration with the full suite of Square applications for endless possibilities
Robust core business management (inventory, reports, and client data)
Cons
Limited flexibility when designing online booking page, booking widget, and e-mails
Gets a bit expensive for the small team that just exceeds the free plan
Only available in the U.S. and Canada at the moment
or view Square Appointment alternatives
My Top Salon & Spa Software Alternatives
Here's my salon & spa software top list for 2023.
To see more alternatives, visit my complete list of salon and spa software recommendations here.
Watch my Square Appointments Video Review
I will go quite in-depth in this article, break down all features, and show you exactly how it works and the tools pros and cons. However, I have also recorded a video where I walk you through the tool if you prefer to sit back and watch instead 🙂
What is Square Appointments?
Square Appointments is an appointment scheduling software that sits within the broad portfolio of solutions for local businesses from Square. It's free for individuals but comes with a paid plan for local businesses with a team.
It helps you manage online bookings, appointment scheduling, customer data, and customer appointment notifications via a simple and intuitive cloud-based interface.
It also integrates seamlessly with the other solutions from Square which enables you to activate card payments, POS system, marketing features, payroll support, and team management tools with a click of a button.
This makes it a complete business management solution for any local business.
Who is Square Appointments For?
Square Appointments is designed for any type of local business that sells services and needs full support to manage appointments. It's therefore popular among beauty professionals (hair salons, beauty salons, nail salons, and barbershops) but also for any other local provider of services.
Square Appointments is probably the most attractive option on the market for individual services providers as it's free for them. Let's say you're a mobile stylist or a booth renter, then you can use the rich features of Square Appointments without paying anything.
It's a strong platform also for large local businesses with teams but you then need to be ready to pay for their services.
What Countries is Square Available in?
Square is a global software provider for small businesses but some of its software has geographical limitations.
Square Appointments is available in United States and Canada
Square Point of Sale App is available for free globally as long as there is an Apple App store or Google Play for Android available.
Square Payments is available in US, Canada, Japan, Australia, and the United Kingdom
Square hardware can be used in the US, Canada, Japan, Australia, and the United Kingdom
Square Appointments Features
Square Appointments is part of the large family of business tools from Square. This review is focused on the appointment software and will mention some of their other products in this review.
However, I will include the Square features that you get for free with Square Appointments, even if they don't sit within the Square Appointments App, as they are deeply linked (and should be used) with Square Appointments.
Appointment Management

Easy to use, drag and drop appointment schedule
Color appointments for easy overview

Online Booking

Create a booking website
Different widgets available that can be added to your existing website
Google integration for booking directly on the search result page

Appointment Notifications

Email and SMS notifications
Notify the client ahead of appointment, after appointment, or if any changes to appointment
Notify responsible staff for new appointments or changes to existing ones.

Client Data Management

Store all needed information about clients
Track client history
Store files and images on client
Issue automatic feedback form and track customer satisfaction

Inventory Management

Store all needed information and images about products and services
Set up categories and product/service variations to effectively manage a large inventory
Receive low stock alerts

Point of Sale System

Manage check out in web interface, iPad app, iPhone app, Android app, or Square Hardware
Support of all types of payments
Free credit card reader

Appointment Apps

iOS App
Android App

Cloud-hosted (access from any web browser)
More Features with Other Relevant Square Products
When you sign up for Square Appointments, you do not only get a good appointment scheduling solution. You're also entering the world of Square.
Square provides a full suite of tools for businesses like yours and they all integrate seamlessly with each other.
Although this article is a review of Square Appointments, it's impossible to not touch on what their other solutions are. In fact, some of them are free and you'll get access to them when you start using Square Appointments.
When you log into Square Appointments the first time, you'll already see a range of other "apps" next to Appointments in the menu that you can use together with Square Appointments. Some are activated from the start as you need them to manage appointments (e.g. customer list, inventory, reports, etc.) but you can activate more of them as needed for your business.
Let's go over what the additional tools are before we dig into the core features of Square Appointments.


Square Payments
The Square Payment feature is a core component of Square and what they're most known for. It allows you to collect any type of payment – via a card reader, by manually entering card details, online payments, or via invoice if that's what you need.
Square has also made it to my list of the best credit card processors.
How Much do Square Payments cost?
It doesn't cost anything to start using Square Payments, you even get your first mobile card reader for free. You instead pay a fee for every card transaction. The transaction fee depends on the plan you sign up for but ranges from 2.5% + 10¢ up to 3.5% + 15¢ in their standard plans. Additional card readers (after the first free mobile reader) range from $10 (mobile reader) up to $299 for the Square terminal.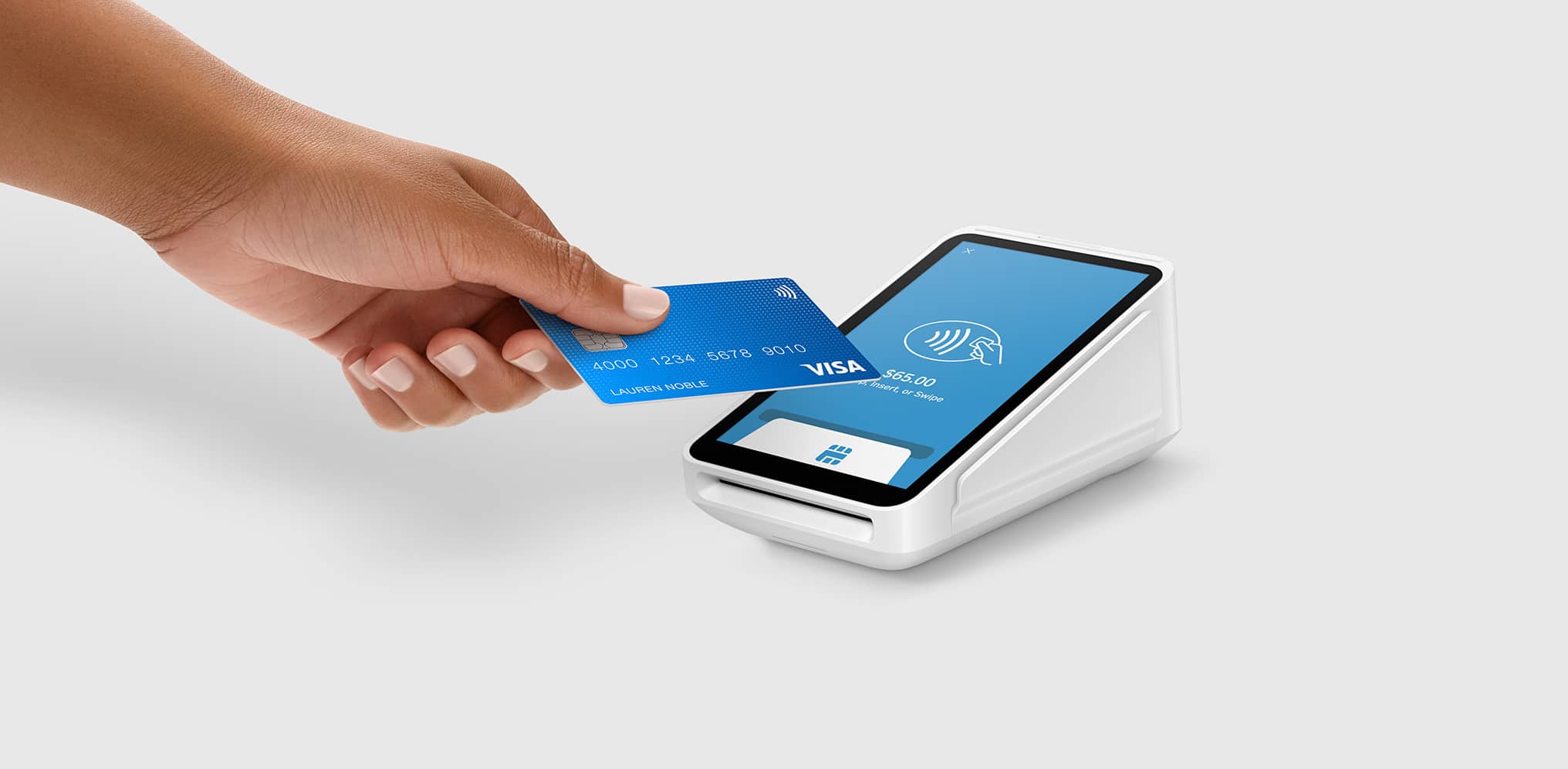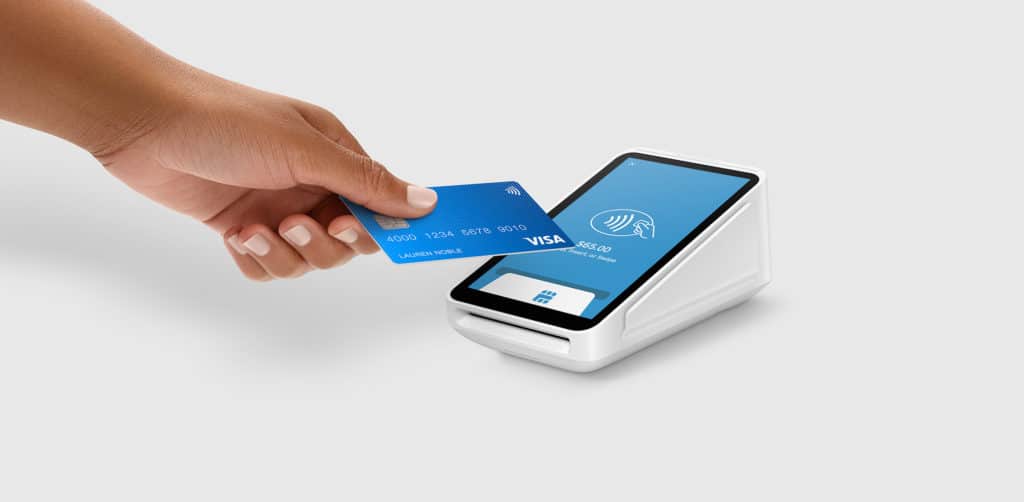 Square Point of Sale (POS)
Square has a full-blown point-of-sale system with all the features you need to manage your checkout. All Square products have a very sleek and modern interface and their physical POS system is not an exception.
It's of course fully integrated with Square Appointments so that you can check out your client using their data from the appointment.
It's one of the top pos systems I list in my review of point-of-sale systems for salons and spas.
How Much Does Square Point of Sale Cost?
The point of sale system from Square is free. You only pay the credit card transaction fee if you're using Square Payments. The transaction fee depends on the plan you sign up for but ranges from 2.5% + 10¢ up to 3.5% + 15¢ in their standard plans. If you don't want to use just an iPad or Phone for check out, the Square POS hardware ranges from $199 to $799.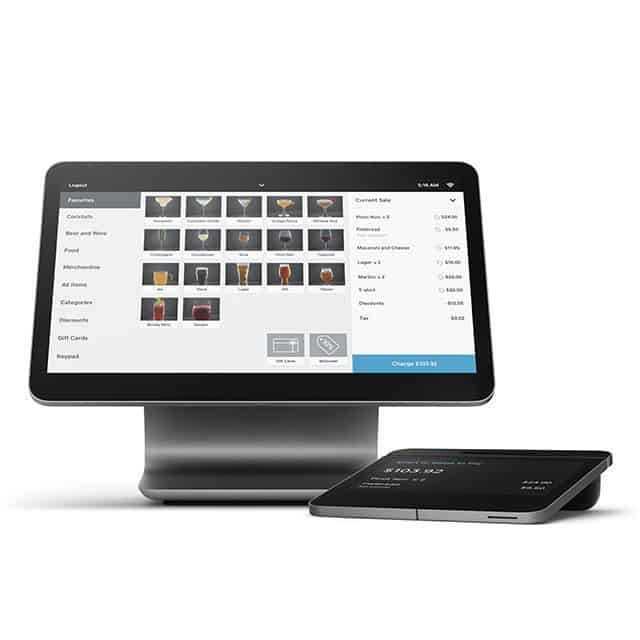 Additional Business Management Features
Other than Appointments, Payments and POS are big solutions from Square. But on top, they also have some powerful business tools that you can activate. I want you to be aware that they exist but I won't go into a detailed review of each here:
Now, let's dive into the details of Square Appointments.
Square Appointments Calendar Management
The appointment calendar is at the heart of any local service business. This is the view you'll look at several times a day to keep track of where you are and plan your week ahead.
The Square Appointments calendar is super intuitive and easy to use. Each member of staff can have their own color associated with them so that you can get a quick overview of your total team's calendar.
You can switch between day view, week view, or month view. And you can view each staff as a separate agenda or all combined.
I have a hard time finding any flaws with the calendar – it works, has all the features you need, and is easy to use.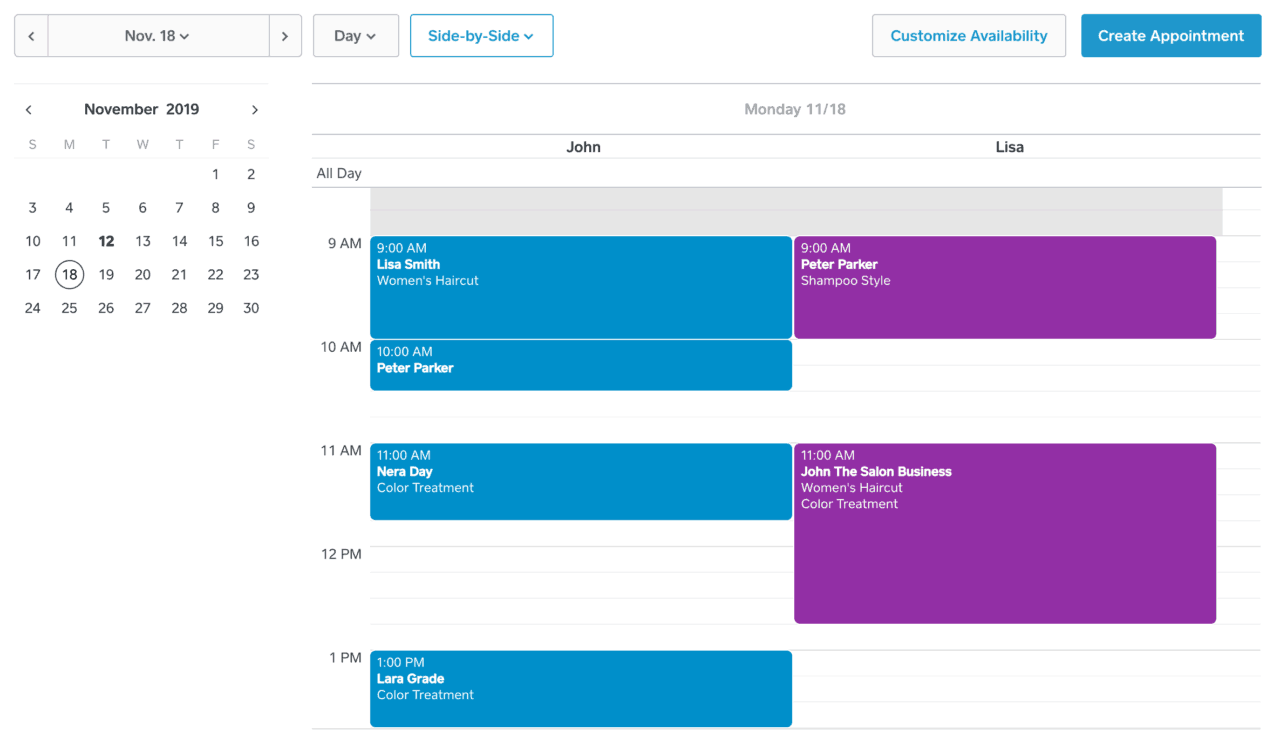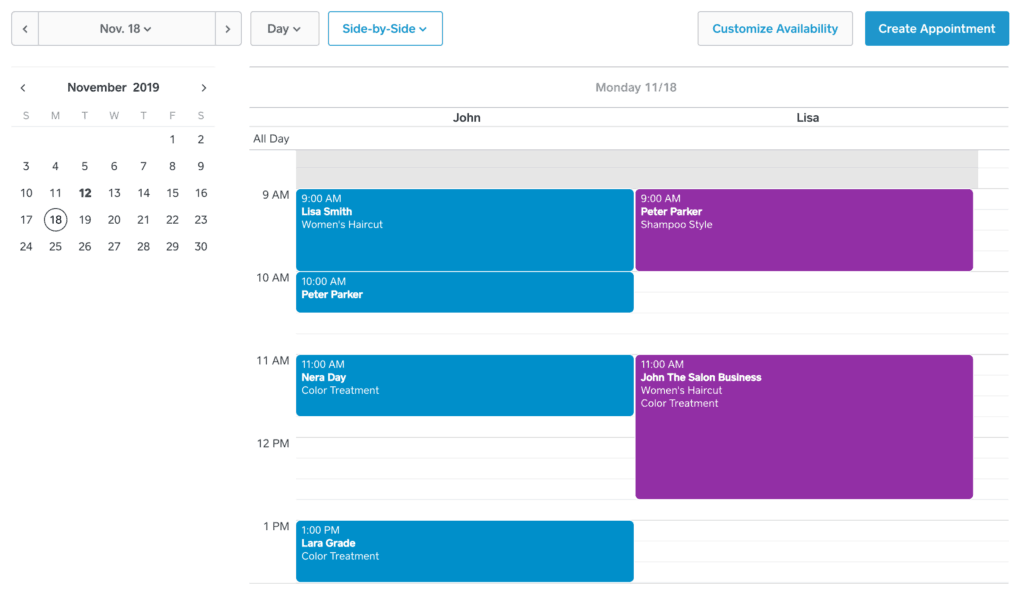 To change an appointment you can just drag and drop it in your calendar (for a new time) or open it to configure all details.
To add an appointment, just click on the calendar or on the "Create Appointment" link. Honestly, it's super easy to use and you'll get a hang of it immediately.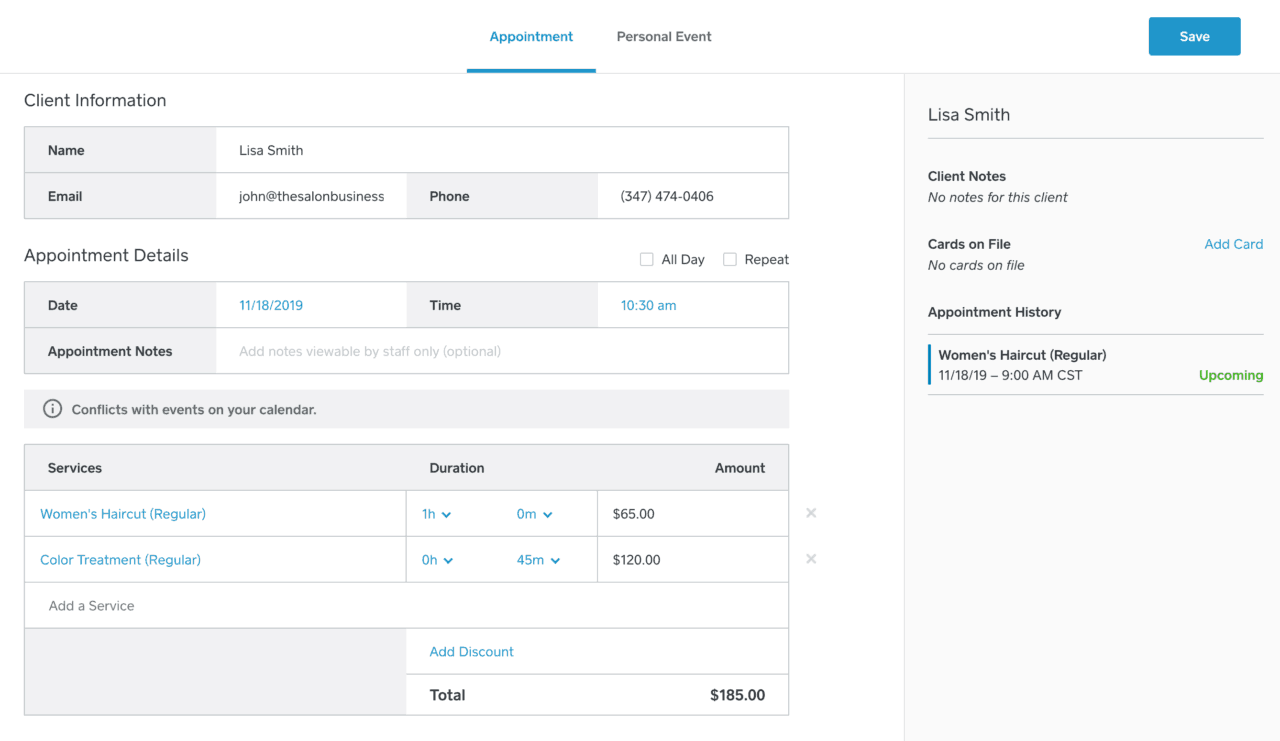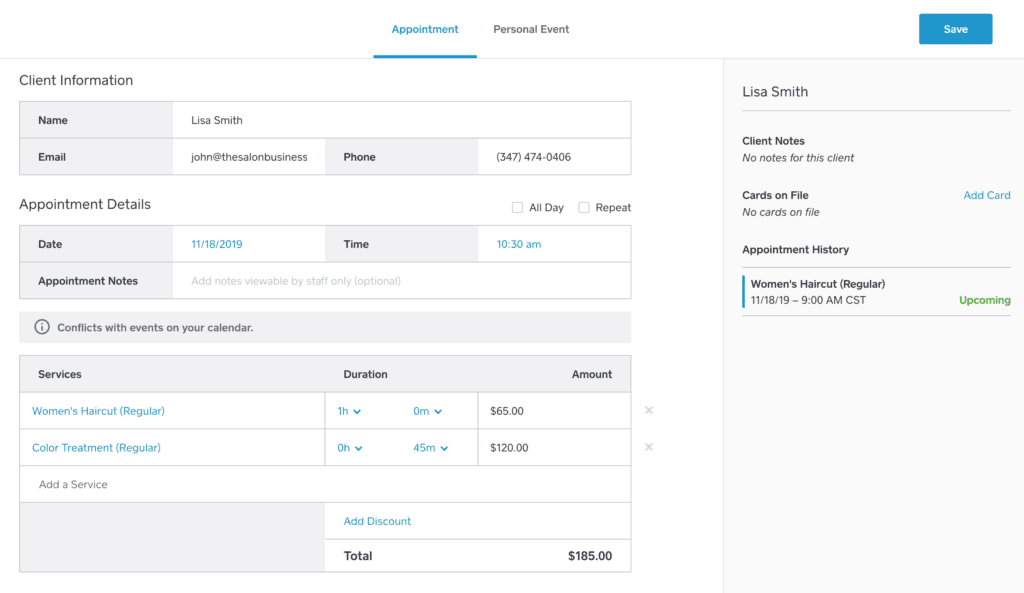 When adding an appointment you just pick an existing customer or create a new one. You choose the member of staff that will take care of the client and set the time. Square will show you any calendar conflicts and also give you historical information about your client's appointments.
You can pick the service that you will provide and add any other further details needed for the appointment.
When you save it, you'll also have the option to send a notification to your client as well as to the staff member who has been assigned. This all works beautifully and saves you a lot of time managing communication with staff and clients.
Square Appointments Online Booking
In today's world, any local service provider needs to provide means for online bookings. And Square manages this very well. In fact, it's even made it to my list of the best software for online booking.
The software offers multiple ways to allow your clients to book with you. Let's look at each one.
Dedicated Booking Website
If you don't already have a website, you can create a dedicated site for appointment scheduling within Square Appointments.
It's very easy to do. You just need to add in your business details and you're ready to publish your booking website.
This also means you're rather limited to what you can actually change. The website is standardized but looks clean and is functional to use.
You can write a biography about your business, configure your opening hours, add contact details, link out to your social media accounts, and add your logo. But it's clear that it's not a full-blown website builder.
And that's not their intent either. In fact, they've put a lot of effort into ensuring their booking integration integrates seamlessly so that you can choose the best website builder for your business to add Square Appointments to it. We'll look at how in the next sections.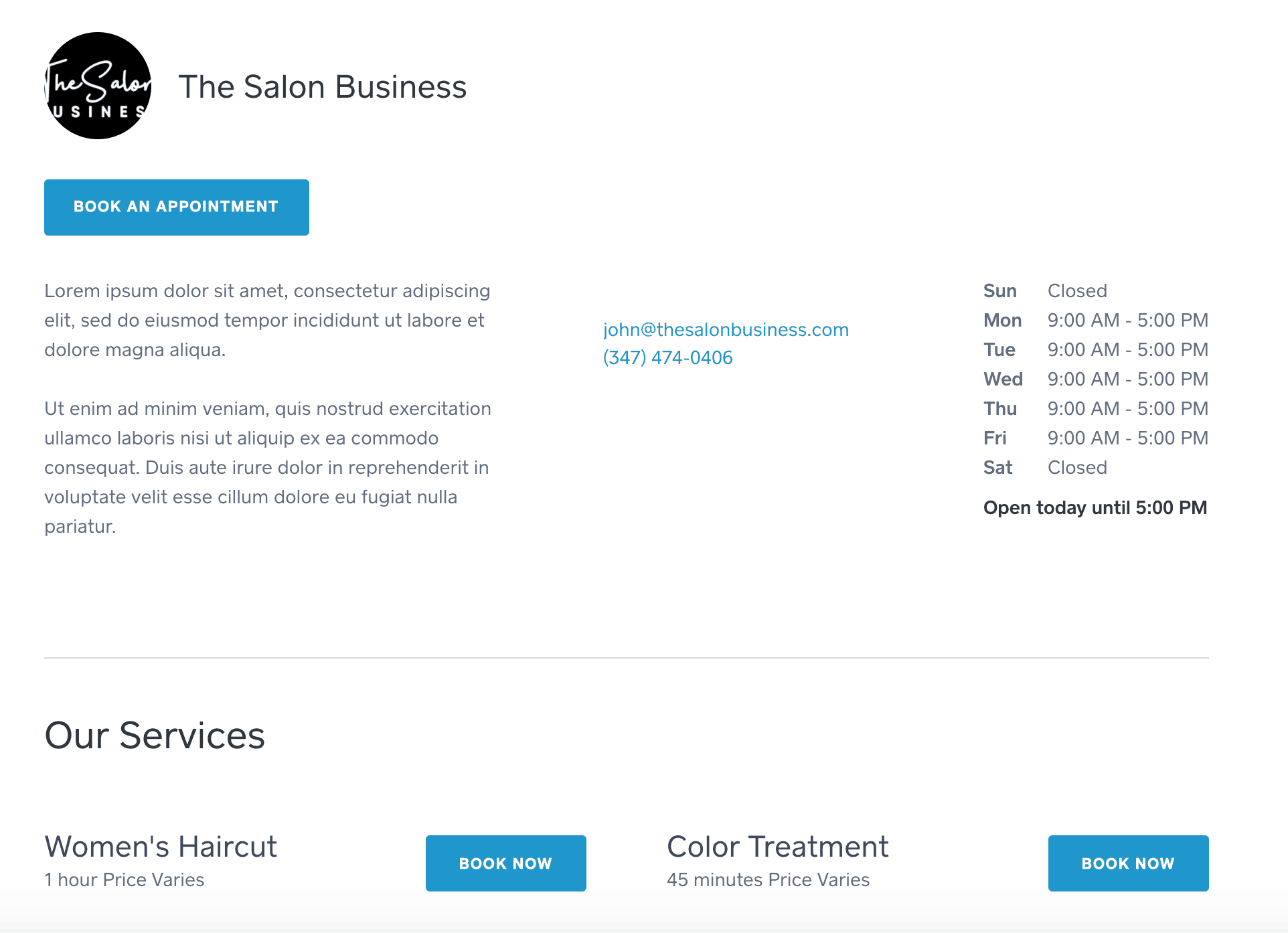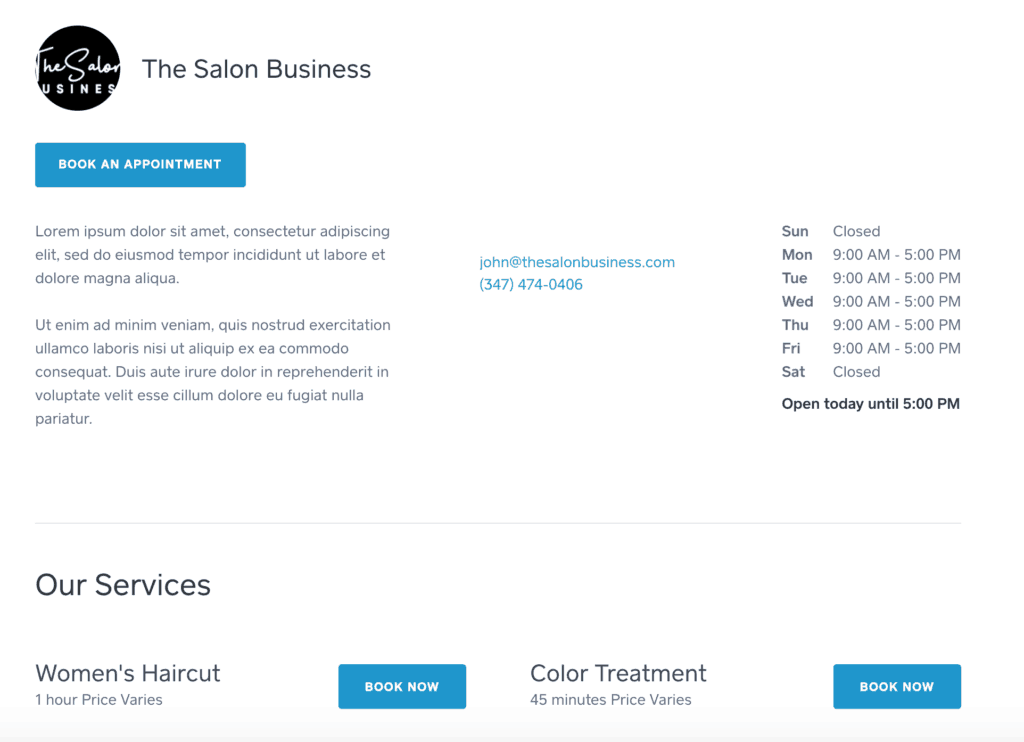 Example of a salon booking website created with Square Appointments.
Linking to Your Booking Website
One very straightforward way to integrate Square Appointments into your current website is to link it to your salon website. If you've read my guide on creating a salon website, you'll have heard me talking about the importance of having a visible book now button on your website.
Well, the team at Square understands this too and provides a simple tool that helps you generate a book now button that you can place anywhere on your website.
Just decide how you want it to look and Square Appointments will generate a piece of HTML code that you can copy and paste onto your website.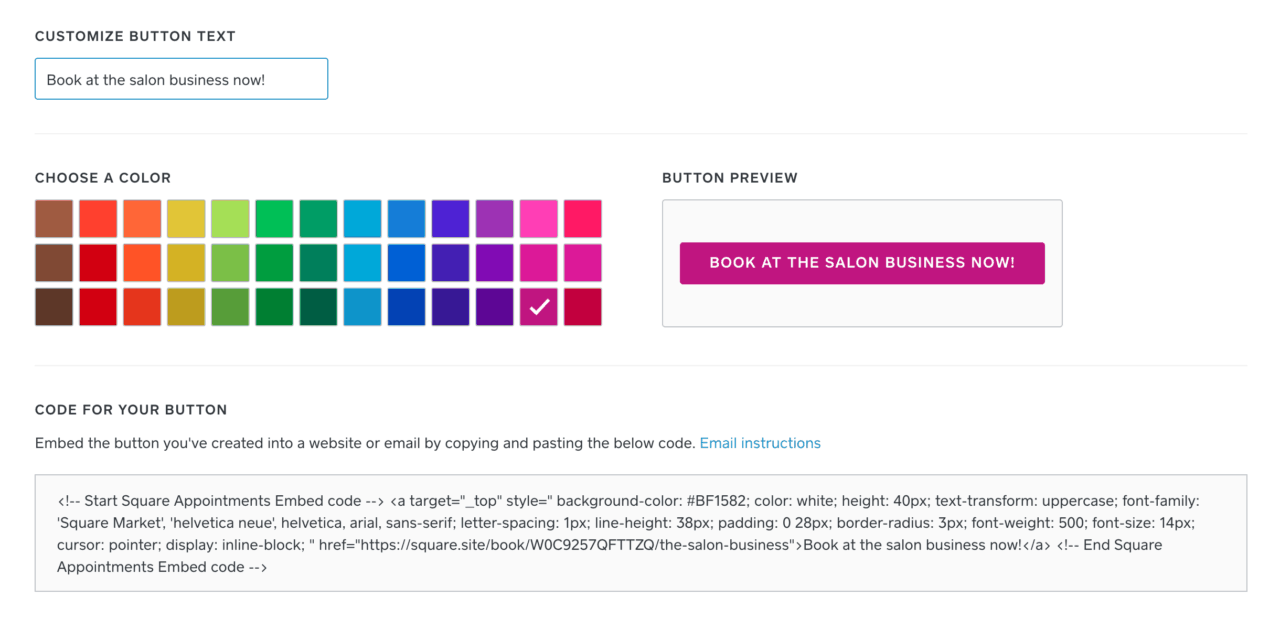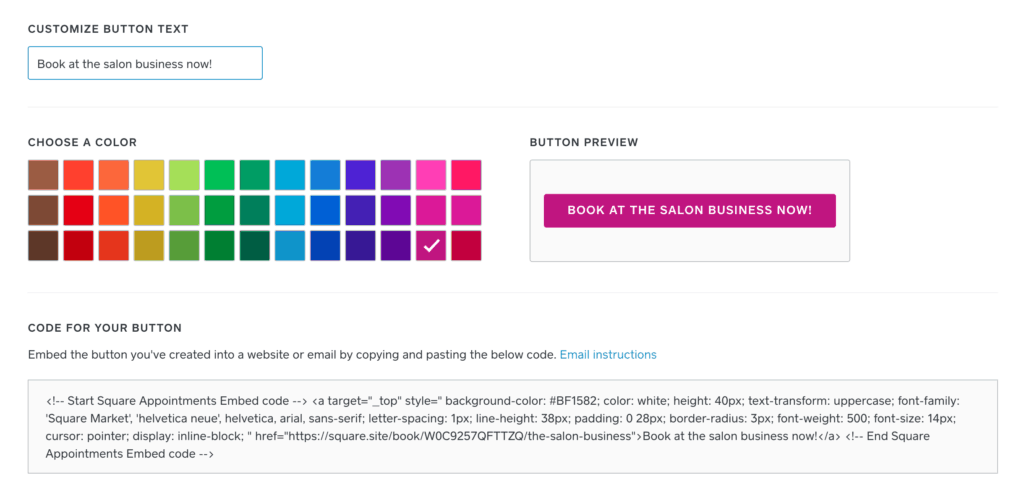 How you can customize your Book Now button with Square Appointments.
Embed the Full Booking Experience on Your Website
Now to an even better way to get your booking feature up and running on your website. Don't leave it at just the button linking to your website, integrate the complete booking feature directly on your website.
Square gives you three different "appointment booking widgets" that you can use. Just like with the button, pick the one you want and Square will generate a code for you that you can copy and paste onto your website.
The booking widget can then show your services, staff, and available time in your calendar without the user having to leave your website.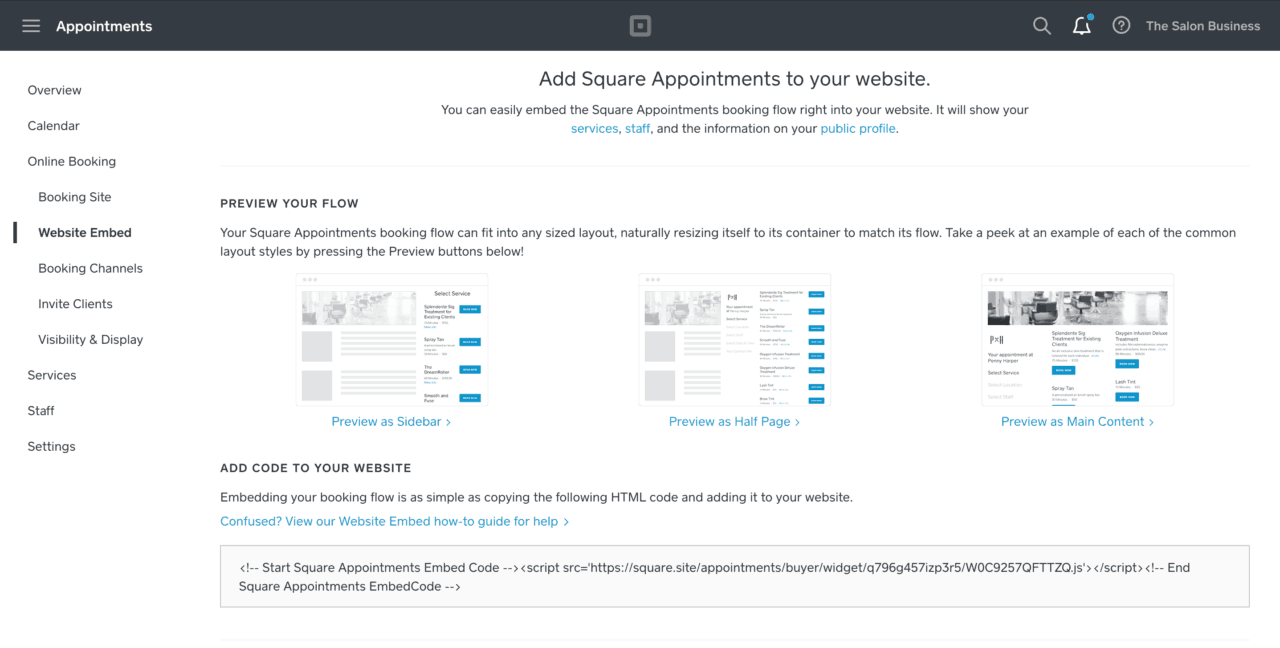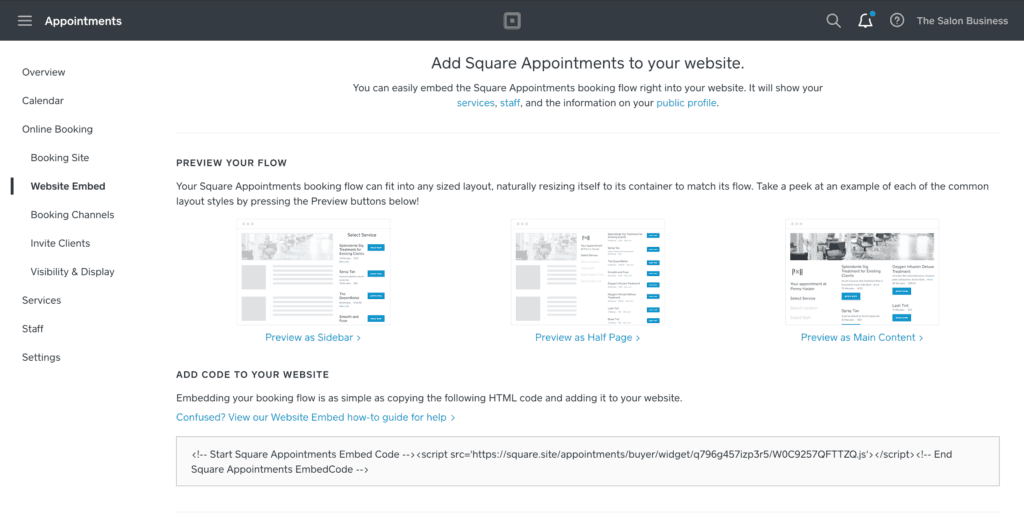 How you can integrate the Square Appointments booking widget.
There are some limitations here though. The booking widget is not very flexible when it comes to customizing the design.
A question I often get is:
Can you change the design/color of the Square Appointments widget? Square Appointments allows you to pick one of their pre-designed website widgets but you can unfortunately not change the colors or redesign the widget. This can only be done with Square's Book Now button feature. Square's support team is aware of this issue and is working to fix it.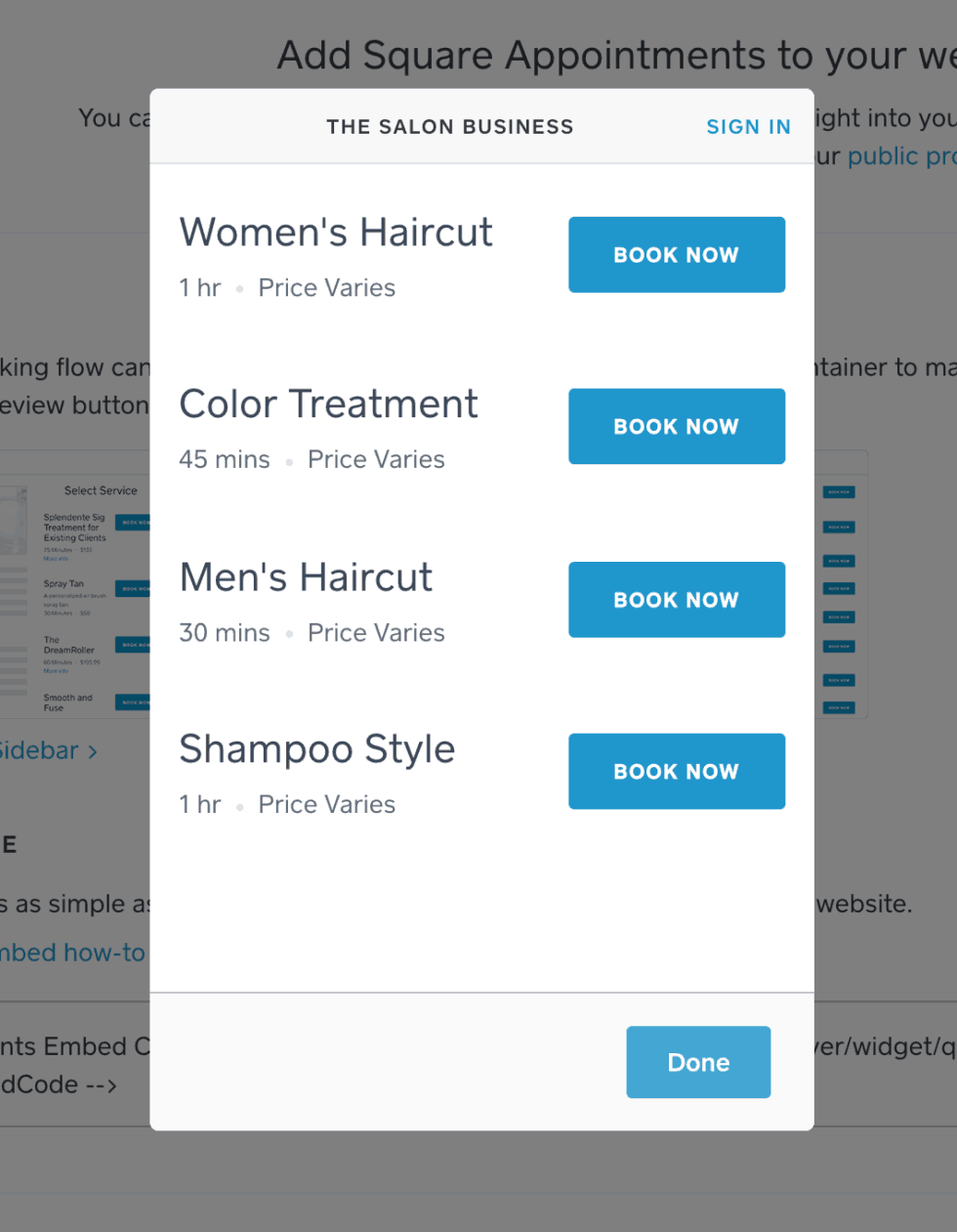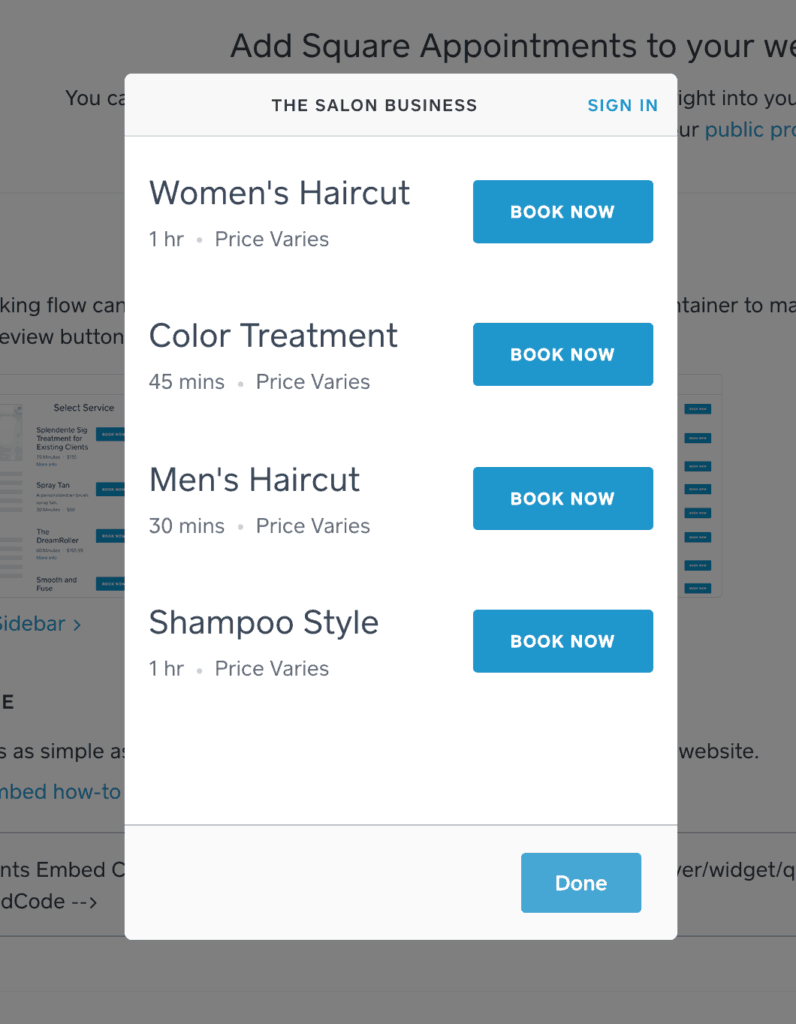 Preview of one of the booking widgets that will show on your website.
Setup Google Appointment Booking
If you're a frequent reader of my blog, you've heard me talk about the importance for any local business to show up on high on Google.
Square Appointments offers booking integration modules that allow you to connect directly with Google so that people can book you directly in the search result.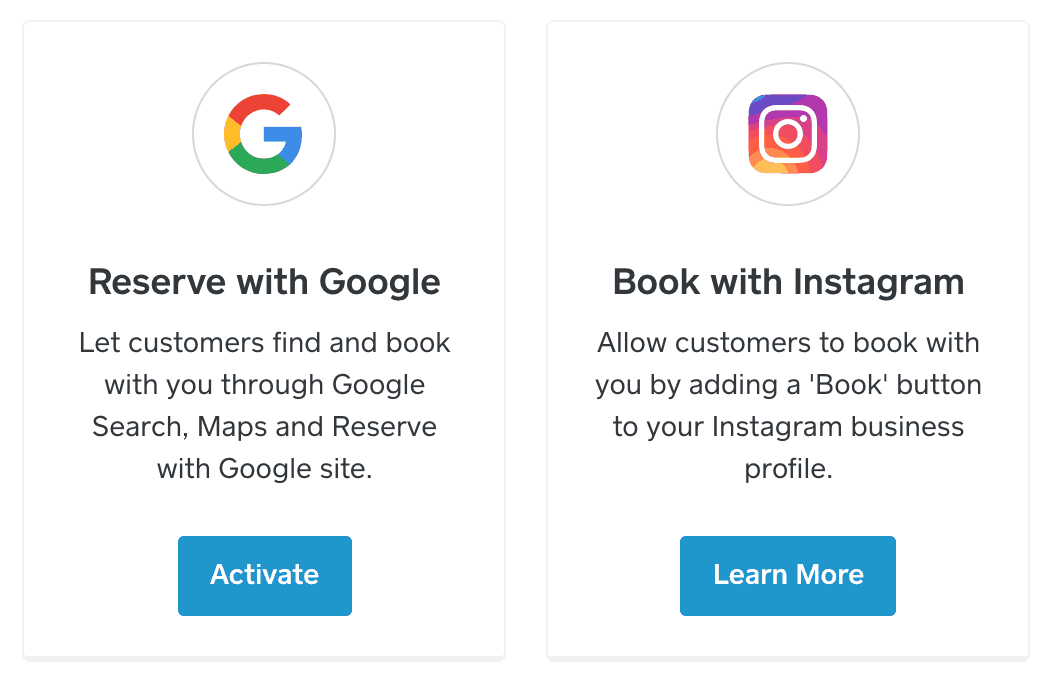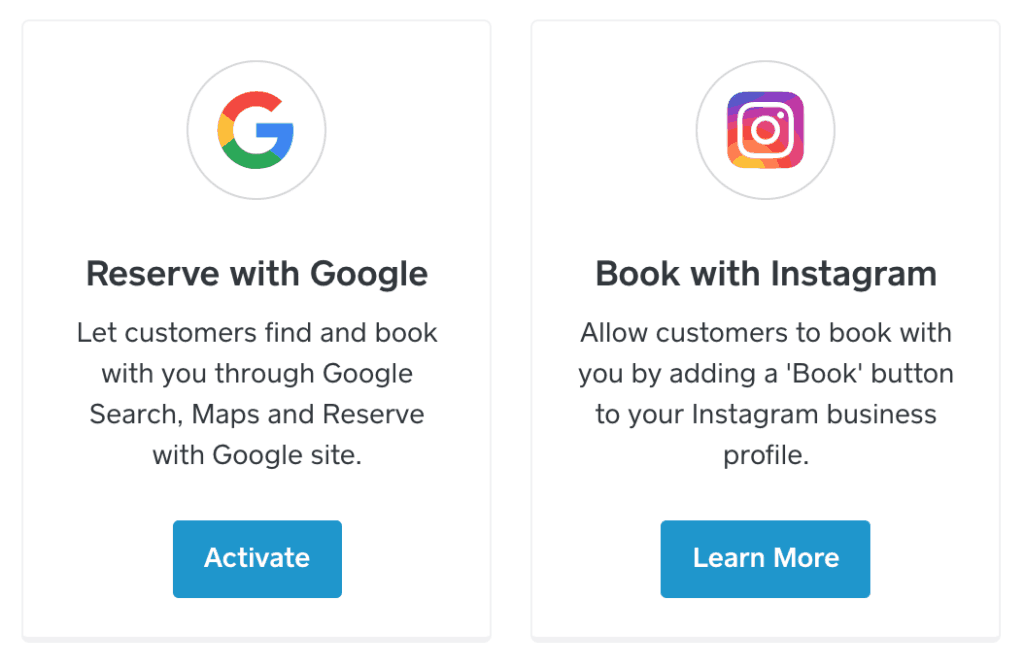 Square Appointments Notifications & Alerts
Square Appointments offers sophisticated support for appointment reminders.
You can set up customized notifications for all types of events associated with your appointments. Send out booking confirmations, notify if any changes are made to an appointment, and remind ahead of the appointment.
Each message can be customized to fit the specific event.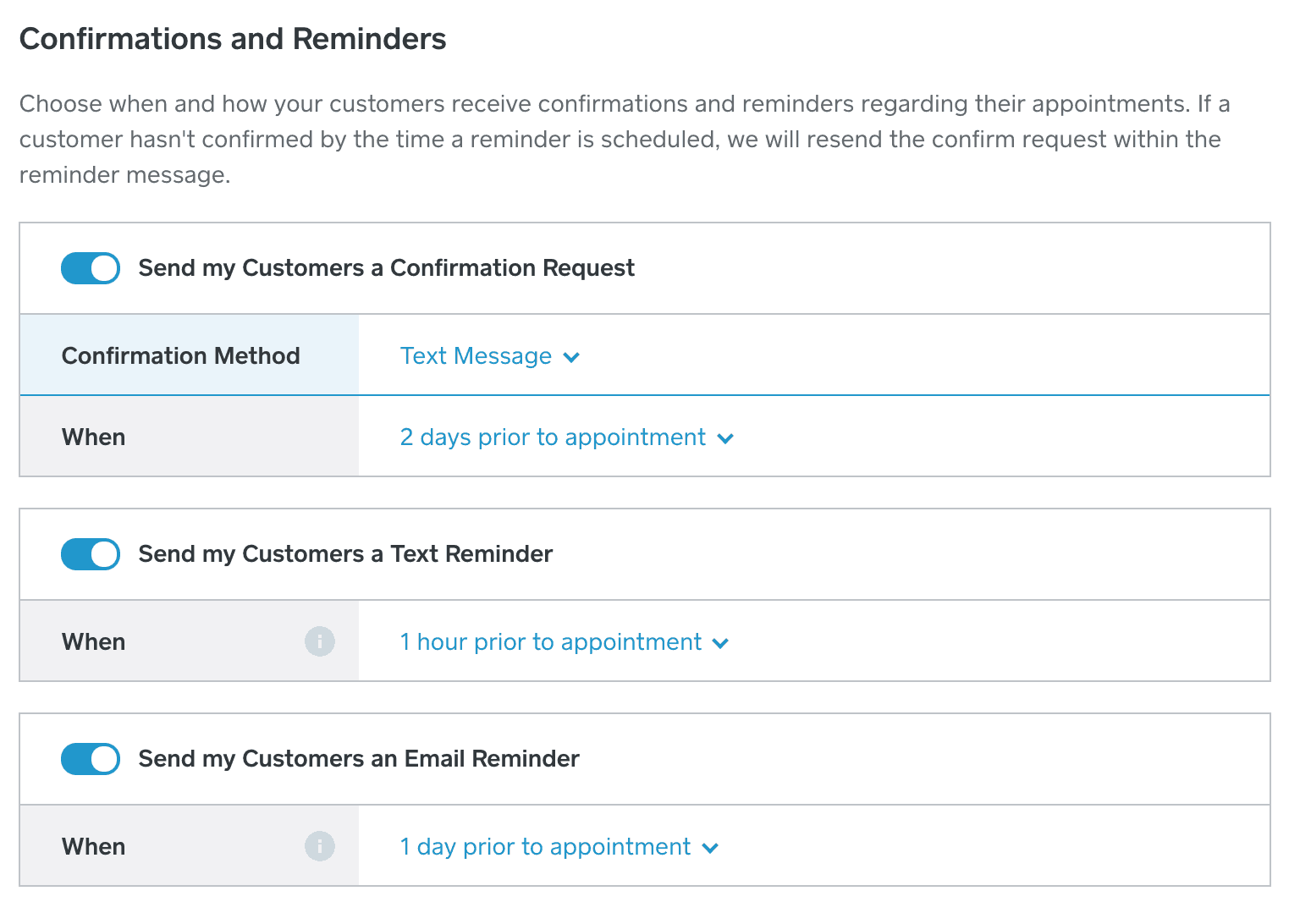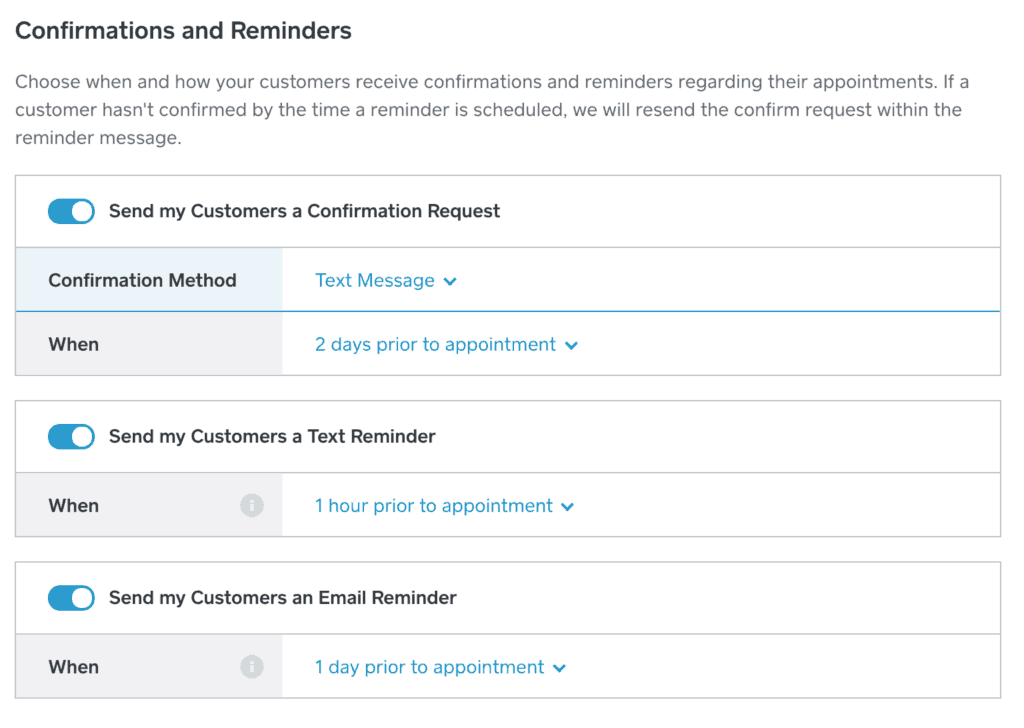 You can also have your clients respond to you directly via SMS so that they don't even need to visit your website. This feature is called the Square Assistant.


I cannot see any feature missing when it comes to notifications with regard to appointments. However, you cannot go beyond appointments. You can even send notifications on birthdays (even if these specific features are part of Square Marketing and not Square Appointments).
Square Appointments Client Data Management
It's really easy to manage clients' information in Square Appointments. You can add new customers yourself or they can register their profile on your booking website.
You'll have access to a searchable directory of customers where you can access and edit all details about your clients. You can track their history and activity as well as store files, images, and notes.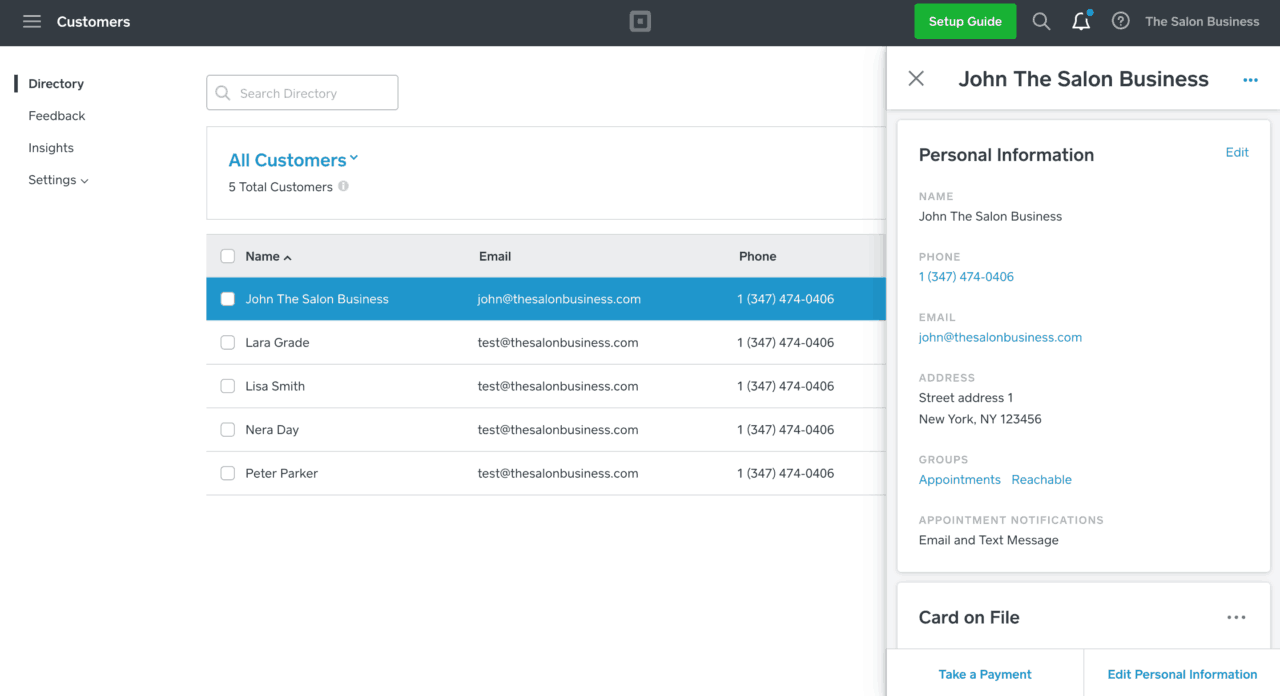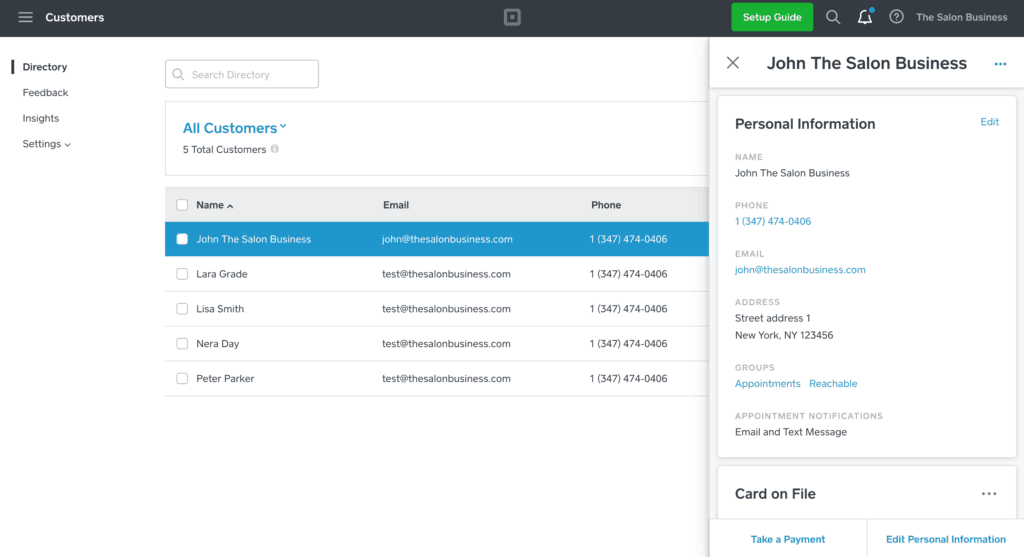 But you can do much more with your client information than just storing data. Square allows you to issue feedback emails so that your customer can rate their visit after the appointment and send private comments to you.
This is powerful. And few other salon software or booking apps support this.
By constantly collecting feedback, you can spot weaknesses early and see how you improve your service over time. This can also be the basis of a feedback discussion with one of your staff members.
You'll also be able to pull more sophisticated reports based on your customer data so that you can track KPIs such as retention rate and visit frequency.
Square Appointments Inventory Management
Square comes with rich support for managing your inventory of products and services. You can configure all the details you need for each product and service. You can also set up packages, add discounts, and more.
Managing Products
You'll find all the support you need to manage your inventory in Square.
It's easy to set up new products in Square – you can create new ones one-by-one or via bulk upload using a template. You can set minimum inventory levels and get alerts when stock is running low. You can also group products into categories and set up variations (like product size) for each product. And you can define how and where a product can be sold.
All the functionality you need is there – even if you have a large retail business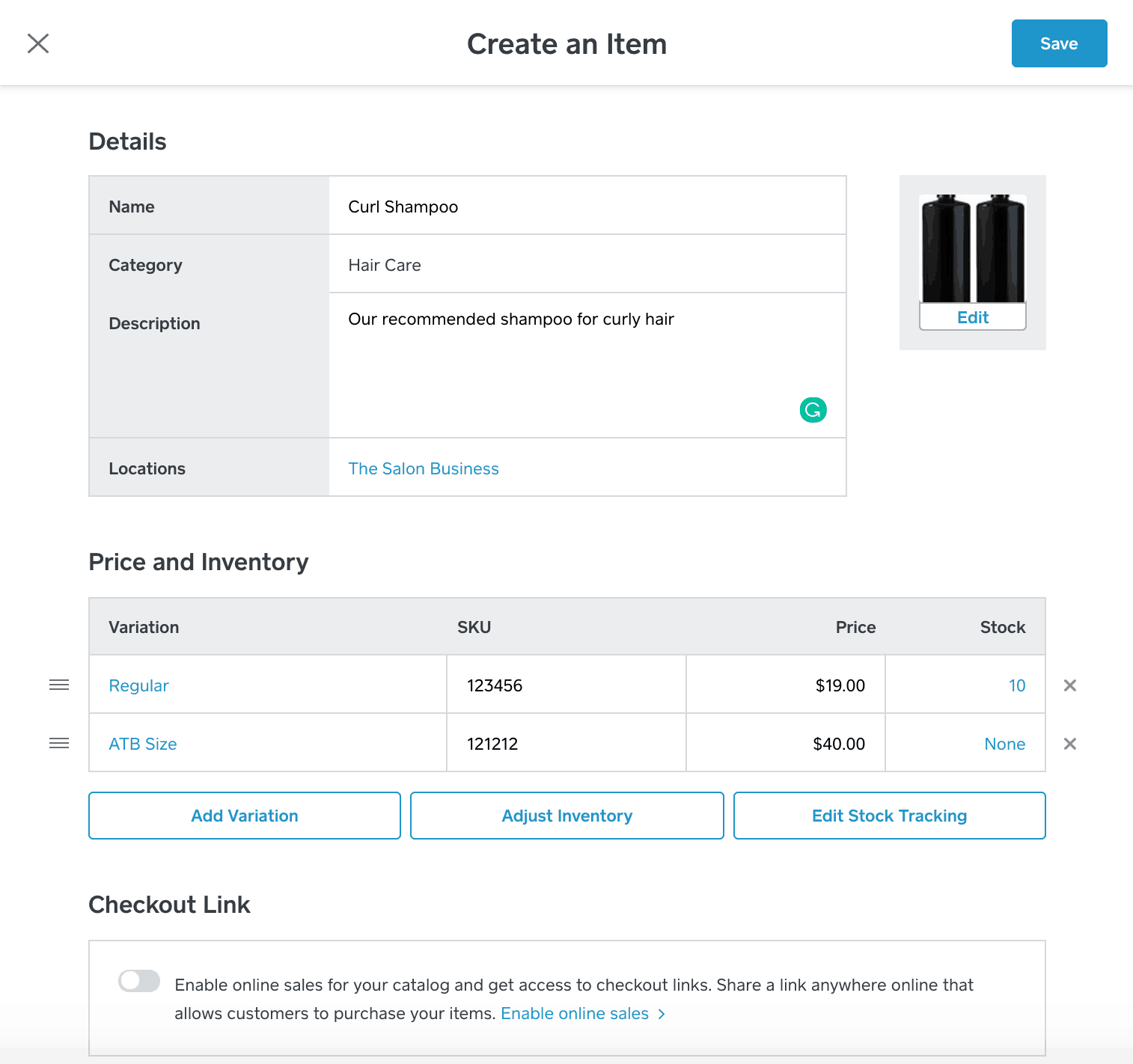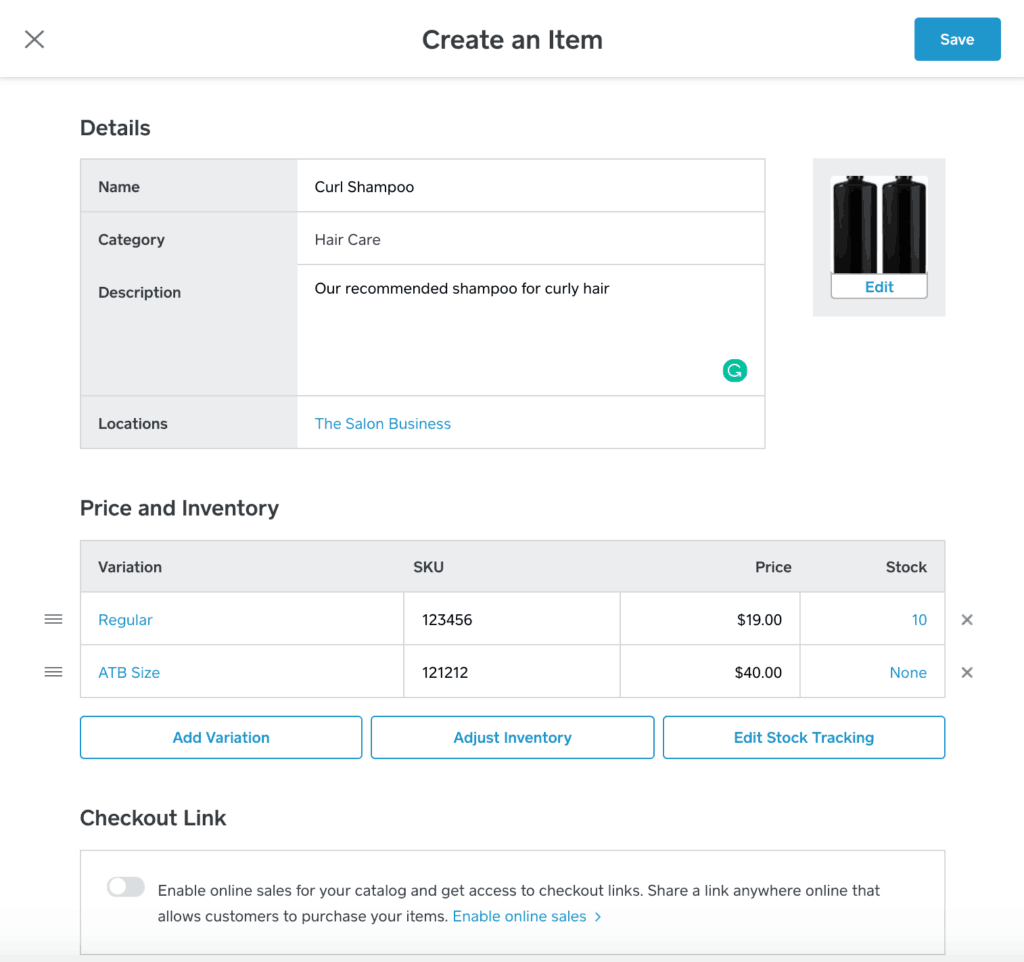 Managing Services
Managing your services is as easy as managing products. You can configure all details you need. Some important ones are:
Who in your staff can be booked for the service
How much time to allocate to the service
Empty time needed in the calendar after the service
Price and price variations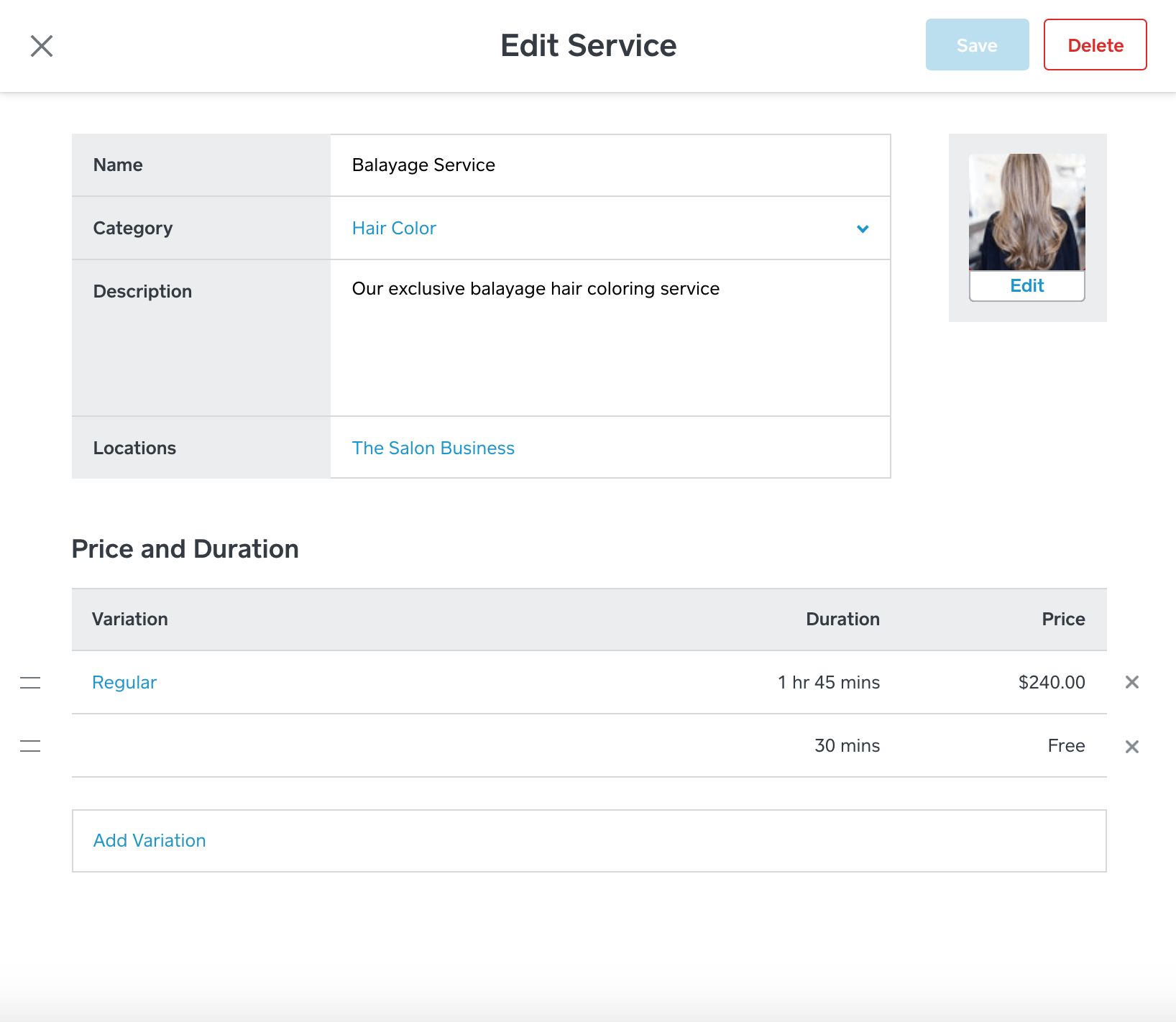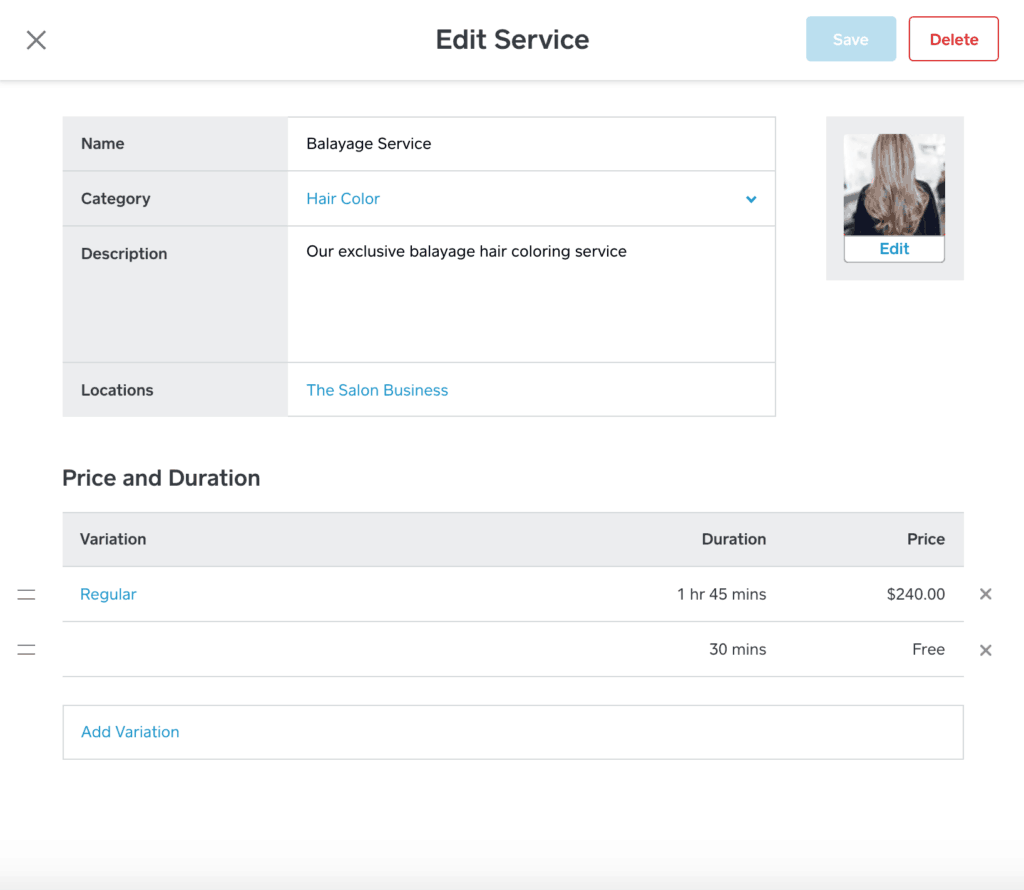 Square Point of Sale (POS) System & Checkout Process
Even though this is not a review of Square POS but Square Appointments, you'll for sure use the Square POS functionality to check out your clients.
The Square POS solution is free and integrates with Square Appointments so that you can check out your clients directly from the Appointments app.
The below video illustrates how this works.
Square Appointments App
The Square suite is built for mobile use first so you should expect the best from their mobile app versions. It works beautifully on both Android and iOS and their app has top ratings on Apple App Store by its users.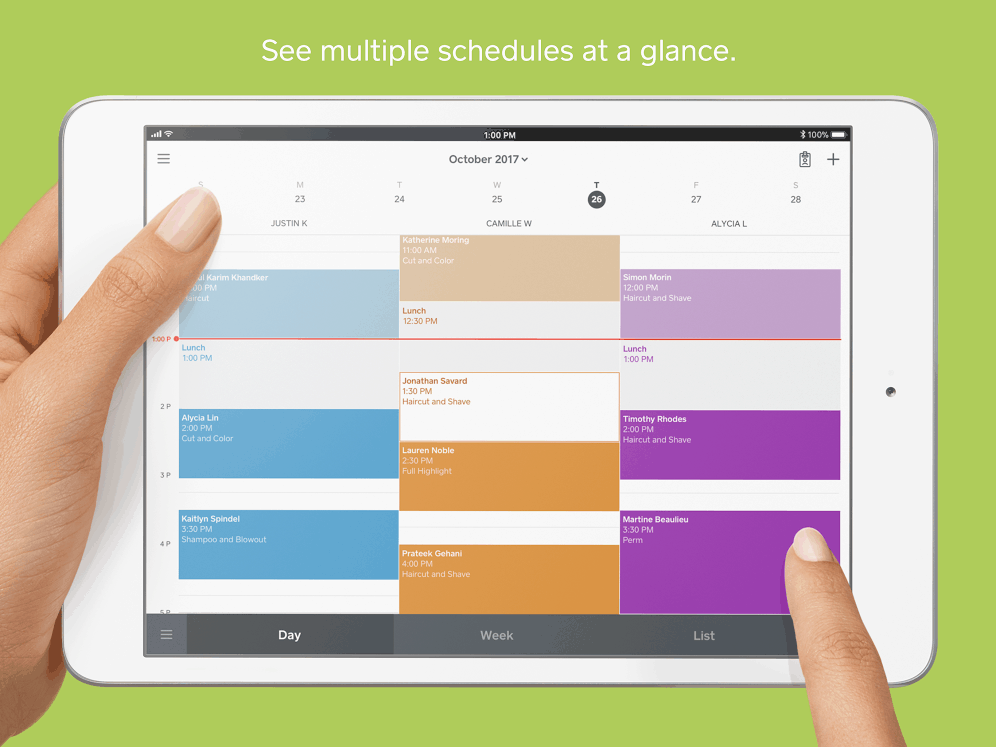 You can run your total business on a mobile device with Square. For check out and payments there's also a range of hardware to support effective integration.
I have a hard time finding any limitations with Square's mobile apps which, out of the ones I've tested, is the most solid platform.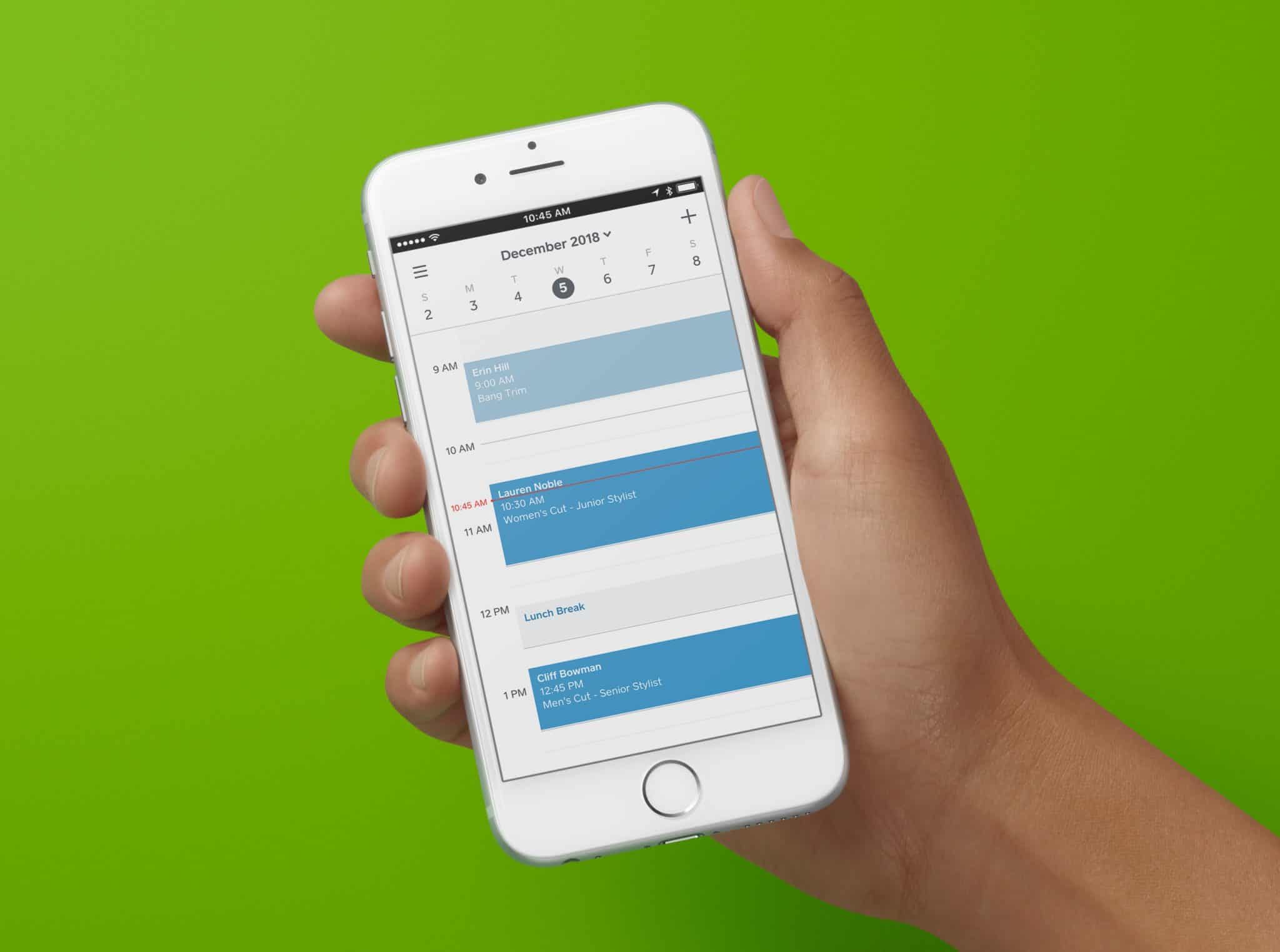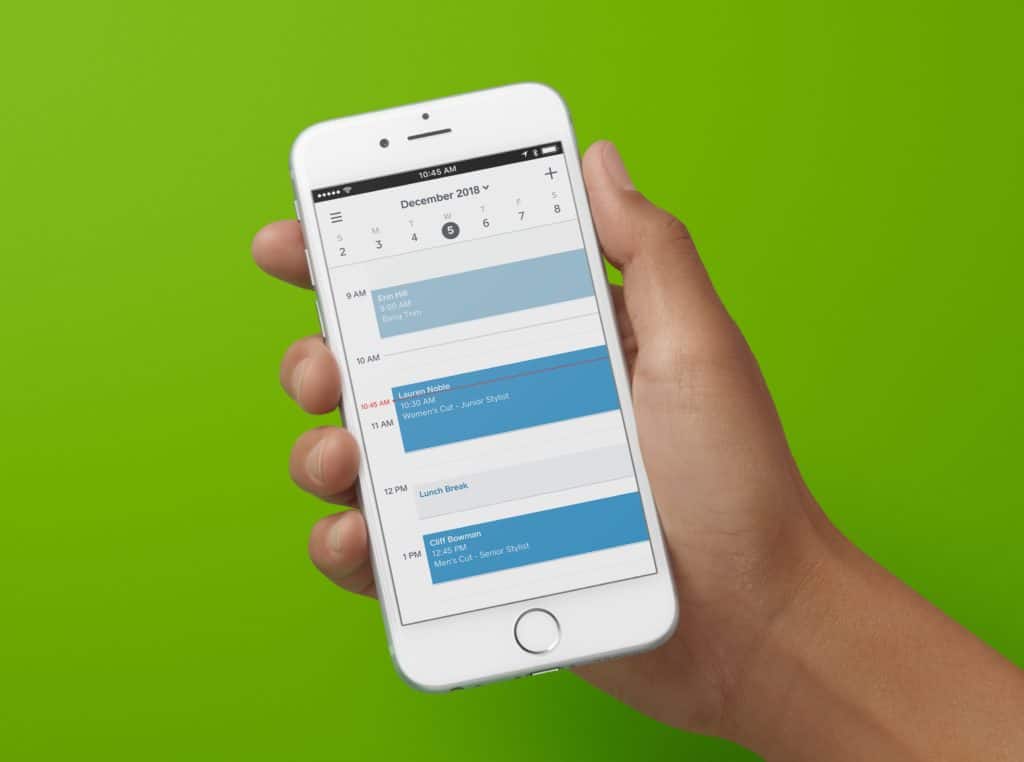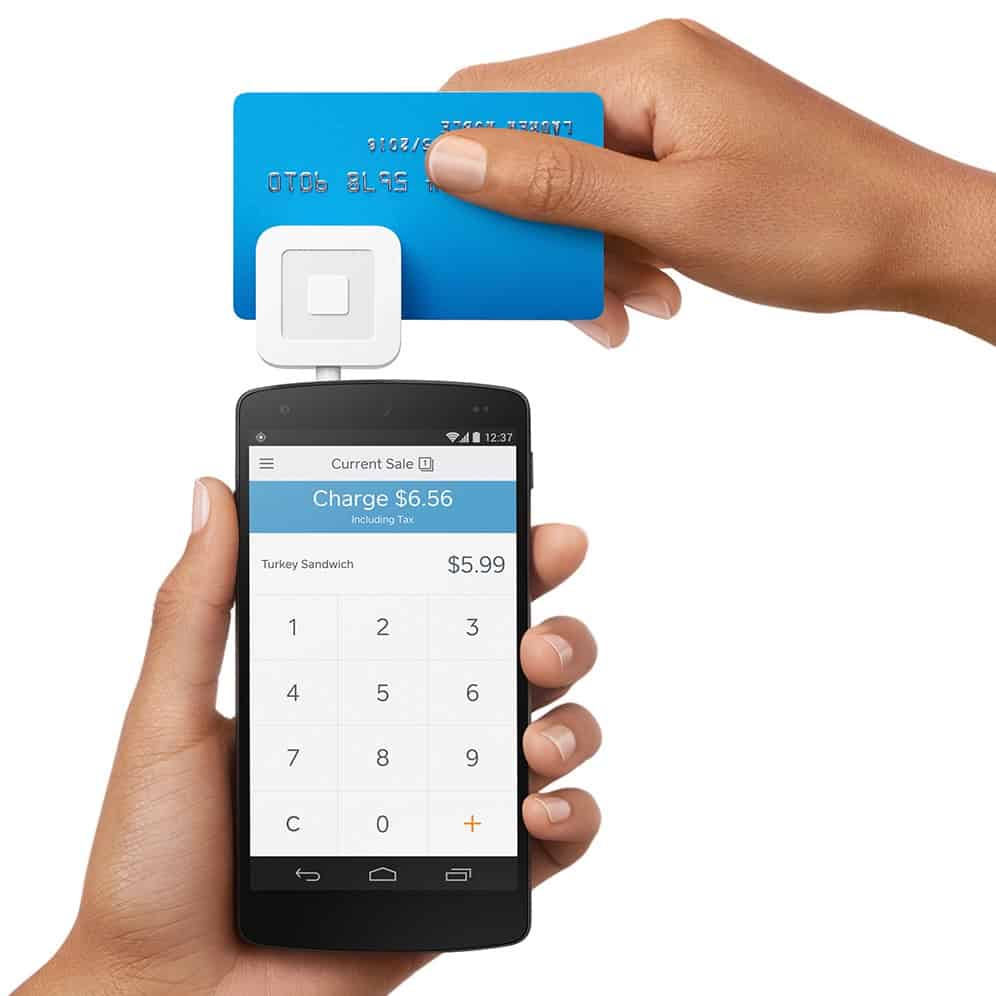 Square Appointments Pricing
Square Appointments come with three different standard plans. You can start using it for free using their plan for individuals. However, as soon as you start to add more staff to the platform, it will prompt you to upgrade to a plan for teams.
Individual For single users
FREE
1 User
Online booking
Appointment notifications (SMS/e-mail)
Statistics and reports
Inventory management
Client data management
Credit card payments (at 2.6% + 10¢ fee)
No employee management features
Medium 2-5 Staff
$50/mo
5 Users
Online booking
Appointment notifications (SMS/e-mail)
Statistics and reports
Inventory management
Client data management
Credit card payments (at 2.5% + 10¢ fee)
Team Management features
Large 6-10 Staff
$90/mo
10 Users
Online booking
Appointment notifications (SMS/e-mail)
Statistics and reports
Inventory management
Client data management
Credit card payments (at 2.5% + 10¢ fee)
Team Management features
Summary & Conclusion
I hope you found this Square Appointments review helpful and that you've been able to decide if Square Appointments is right for your business or not.
I believe that what they offer is strong and can help any type of business. And the best part is that you start using it for free to see if it will work for you.
To learn more about alternatives to Square for salon and spa businesses, I'd strongly encourage you to read my list of the best salon and spa software in 2023.