Disclosure: This post may contain affiliate links, meaning we get a small commission if you decide to make a purchase through our links, at no cost to you. TheSalonBusiness.com is a subsidiary of Mangomint.
Learn more...
If you run a salon business, you run a relationship business.
And I'm sure you'll agree with me when I say those client relationships are everything to be successful with a salon business.
But how can you possibly maintain good relationships with all your clients?
And how can you build relationships with potential new salon clients that don't yet know you?
I'm sure you're the most social and trustworthy person. But the fact is, you only have so many hours in a day and you only get to meet your clients every so often.
The answer is salon email marketing.
You need a solid salon newsletter and email marketing strategy for your salon.
I know what you're thinking.
Hello, it's 2023, Instagram, Snapchat, and TikTok are here now. Isn't email dead?
No.
Email marketing is one of the most powerful marketing tools a salon owner has. And if you're not deliberate about your salon's email marketing strategy, you're leaving big money on the table.
This is why I just had to write this article.
In this article, I'll take you through all the essentials of salon email marketing. You'll get access to 9 easy salon email marketing ideas that'll push your salon marketing to the next level. I'll also share some hair salon newsletter examples and show you how you can get access to beautiful salon email templates.
Are you ready?
Let's get to it.
↓ Pin it for Later ↓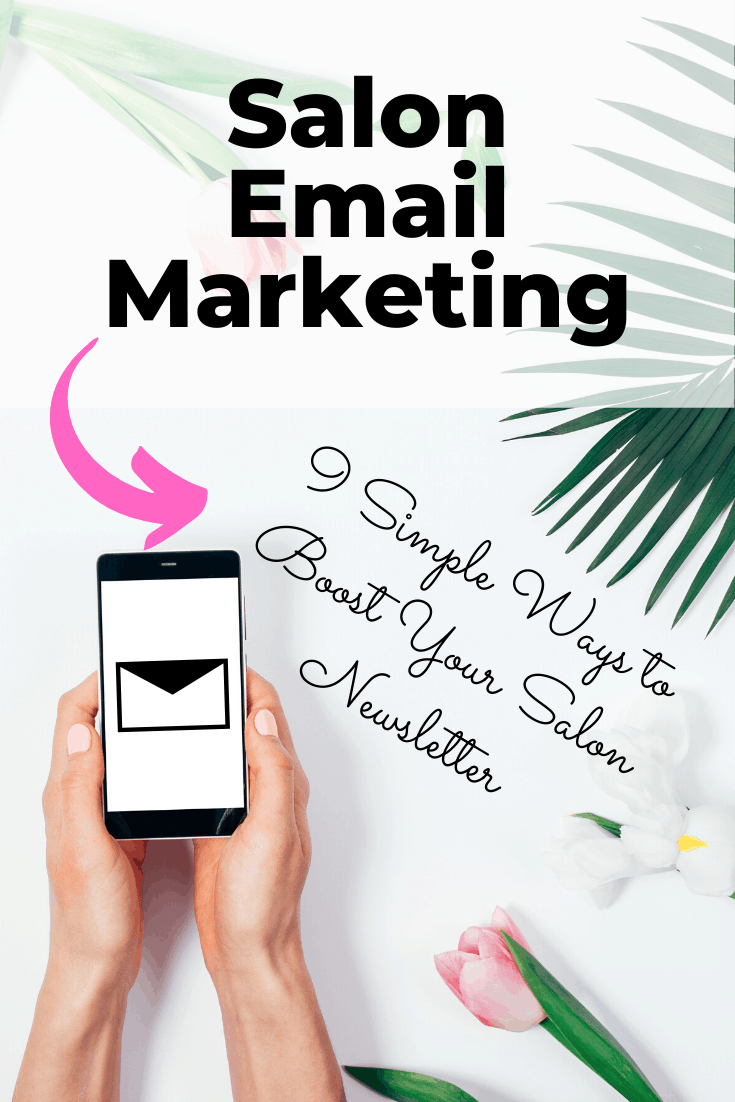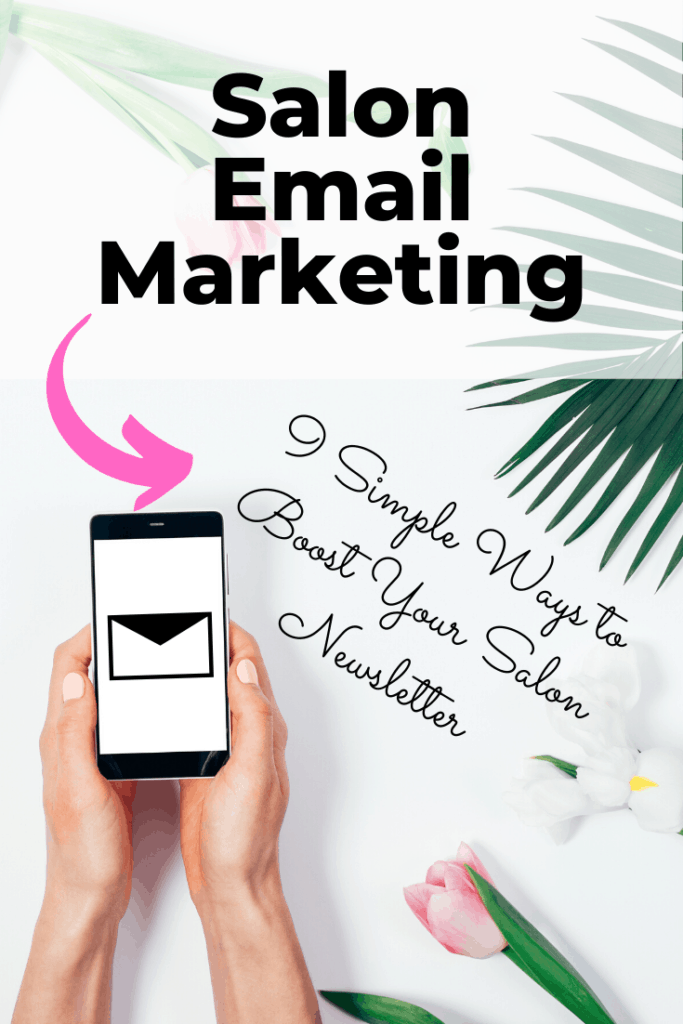 What is a Salon Email List and Why do you Need One?
Did you know that when you post something on your salon's social media account, that post actually only reaches a fraction of you your followers?
That's right.
We often think that if you have 1000 people following you on Facebook and Instagram, all of them will see your posts.
But that's not true.
For a business, like yours, it's typically only a few percent that actually gets to see what you share.
And what's worse is that if you build up a big following on social media, you're actually not owning that list of followers.
The social platform does.
And the platform controls how many of your followers should see what you post and share.
A lot of business owners got to experience this the hard way a few years ago. Facebook decided to change how they select the posts that get into people's news feeds. Overnight, business owners had to start paying for ads to be visible on Facebook.
Image all the salon owners who had worked so hard to build their following. They lost the value of that work overnight.
With a salon email newsletter, this is different.
You own your customer list. No one else can change if your emails should be read or not.
Emails get seen and opened by a much larger amount of people than posts on social media. So every time you share, a large part of your audience will see it.
Email also gives you much more control over the messages you share. You can include links, images, etc which many social media platforms don't allow.
For these reasons, salons and other businesses are increasingly shifting their focus to email.
Now, don't get me wrong. There are many benefits of social media, and I do encourage salons to use it. In fact, I also have a complete guide to social media for salons here.
But you cannot only rely on social media. You need to have a salon email list so you can share your message and promote your salon too.
In this article, you'll learn how.
What Tools are Best Suited for Salon Email Marketing & Salon Newsletters?
Most salon owners use some type of salon software to help run their businesses. Good salon software can be a big help for a salon business as it takes care of all aspects of the salon business – like appointment scheduling, inventory management, business reporting, and also marketing.
Some of them even come with built-in support for email marketing.
What needs to be acknowledged though is that salon software solutions aren't specialized in email marketing.
You'll always be somewhat limited in your email marketing when you use the built-in email support in your salon software vs. when you use a dedicated email marketing solution.
Using your salon software for email marketing allows you to manage everything in one place – so I get why some salon owners still use that approach.
What I recommend however is to use a dedicated email marketing service provider like Mailchimp.
And ideally, one that integrates with your salon software or appointment scheduler so that you can maintain your contact list in one place. For example, Mangomint has a direct integration with Mailchimp.
In fact, I just run a webinar where I'm walking you through how to set up the integration between Mangomint and Mailchimp. In this webinar, you'll also get more tips and tricks on how to run your marketing.
Watch the recording here:
Mailchimp gives you the power to easily create and maintain email lists, craft attention-grabbing custom templates, and take your email marketing campaigns to the next level.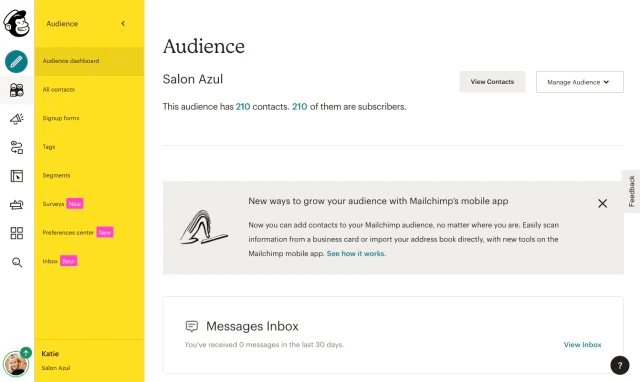 With Mangomint's seamless Mailchimp integration, keeping your client emails synced and up-to-date is easy. Every time you add new clients or make adjustments to existing entries in your database, they'll instantly be reflected across your customer lists in Mailchimp.
1) Using Mailchimp Email Marketing
This is where the magic happens. In the following section, I will be using examples from Mailchimp but similar features can be found in other email marketing service providers.
Mailchimp is one of the leading email service providers and they specialize in local businesses (like salons).
You can try Mailchimp for free to explore email templates and functionality.
2) Use Your Salon Software with its Built-in E-Mail Marketing Support
If you're happy with the salon software you're using today, you can of course first explore if it has built-in support for salon email marketing and whether that's sufficient for you.
You'll most likely notice limitations and that you cannot implement all the salon email marketing ideas I'll share with you today. But if you're ok with that, stay with the solution you have.
To learn more about salon software, I recommend you read my review of the best salon software here which goes into depth on your different salon software options.
9 Simple Salon Email Marketing Ideas
Now that we have the technical aspect of the best email marketing software for salons out of the way, let's dive into the simple salon email marketing ideas that'll take your business to the next level.
Building Your Salon Email List
First things first. You need to have a list of subscribers so you can send your salon newsletter and run your marketing. Your salon email list is worth gold and you need to make it a priority to always collect email addresses and build your salon email list.
1. Always Collect Email Addresses When Your Clients Book their Appointment
This is the most straightforward opportunity you have to collect the email addresses of your existing clients.
But appointments aren't only scheduled online. It can happen via phone or face-to-face in the salon. Make it a priority with your salon staff to always ask for the client's email address when they book a new client.
2. Capture Email Addresses of Non-Clients by Giving them a Good Reason
Your first focus should be on growing your email list with existing clients.
But this is also the easy part.
What's more difficult is to get the email addresses of potential new clients. They don't yet know you so why would they give you their email?
You need to answer why. You need to give them a reason. There needs to be some value that they get in return for handing over their email address to you.
This could be a special offer where they need to leave their email to get a voucher sent to them. Or it could be a short guide that they get by giving you their email.
An example could be a guide on how to cover regrowth in-between color appointments. You need to give them something in return for trusting you with their email.
Once you have their email, you can start building their trust through your salon newsletter which, over time, will help turn them into clients.
But where do you ask for their email you might ask?
There are numerous ways of doing this.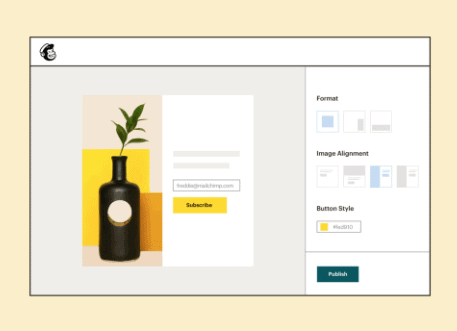 Mailchimp gives you the ability to set up so-called opt-in forms on your website or link it directly to your Facebook advertising.
By putting these efforts in place, your email list will slowly start to grow. And every email you get on that list is an opportunity to get a new client and grow your business.
One final, but important, note.
Whatever reason you give for people to leave their email addresses with you, make sure it's in line with what you will want to offer later on. This is to ensure that the people that are on your list are likely to actually become customers later and that it's not just a list of people living far away from your salon that never can become a client.
You may have noticed the email opt-ins on this website where I give away free salon business education 🙂
As you can imagine, I love beauty, business, and entrepreneurship and want to engage with like-minded salon owners.
Get Emails from your Salon Opened and Read
You're making good progress. You now have the tools you need and have started to build your salon email list.
It's time to start sending emails!
But first. Let's go over a few tactics that will help ensure that as many of your emails as possible get opened and read.
3. Salon Email Subject Lines that Spark Curiosity
The most important factor to secure that your email gets opened is the subject of your email. This is what people see before they decide if they should read your email or send you to their archive.
You want to keep your email subject line short and not give away everything that's coming in the email. Instead, you want them to spark some curiosity in the reader so that they feel they just need to open up and see what's inside.
Funny fact: One of the subject lines that have the absolute highest opening rates is "name?" e.g. "Lisa?". Now, you need to be careful not to get spammy though if you start to employ such tactics.
4. Deliver Value in Every Email
People will unsubscribe from your email list.
We all get a lot of emails today and people only want to receive emails that actually bring value to them.
It's ok to do promotions. In fact, it can be really appreciated by your readers. But not all the time. You need to find a balance of promotions where you ask for something and emails where you just give value to your readers.
I'm sure that if you're signed up to one of my email lists, you'll be overwhelmed with how much value you get vs. what I ask. Maybe I'm doing too much of that but my unsubscribe rates are also very low 🙂
5. Keep Your Salon Email Newsletter Design Simple
It might be tempting to go with beautiful banner images in your emails to make them truly branded to your salon. However, this is not always the right thing.
Typically emails that are simple and look like they were just sent from a friend to another friend get better engagement. You'll see this also when you receive my emails – they are super basic.
The thing is, people are used to spammy promotional emails today which typically are heavily branded with images. So if you use a lot of images in your emails, your subscribers may think it's advertising and disengage.
But there are occasions, of course, when it makes sense to use compelling templates. I just would be careful to send a completely new subscriber who doesn't really know you something that may look like a promotional email.
Let's say you run Valentine's promotion for your barbershop, wouldn't the salon email template shown here be awesome to use?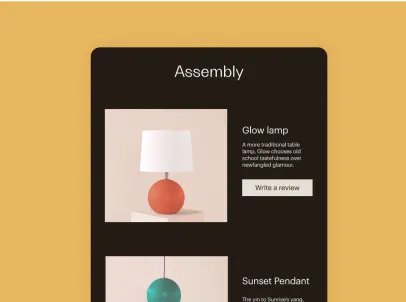 This is one of the many email templates from Mailchimp.
To browse more email template options, you can log into Mailchimp for free by setting up a free trial here.
Automate and Personalize your Emails
To build a good relationship with your audience, you should not only send a generic salon newsletter broadcast but you should personalize your emails for your clients.
Let's look at how you can do that.
6. Use Salon Client Data when Sending Emails
Simple things like using your client's name in the email make it feel much more personal. To take it one step further you can set up specific emails that go out on your clients' birthdays or any other personal event.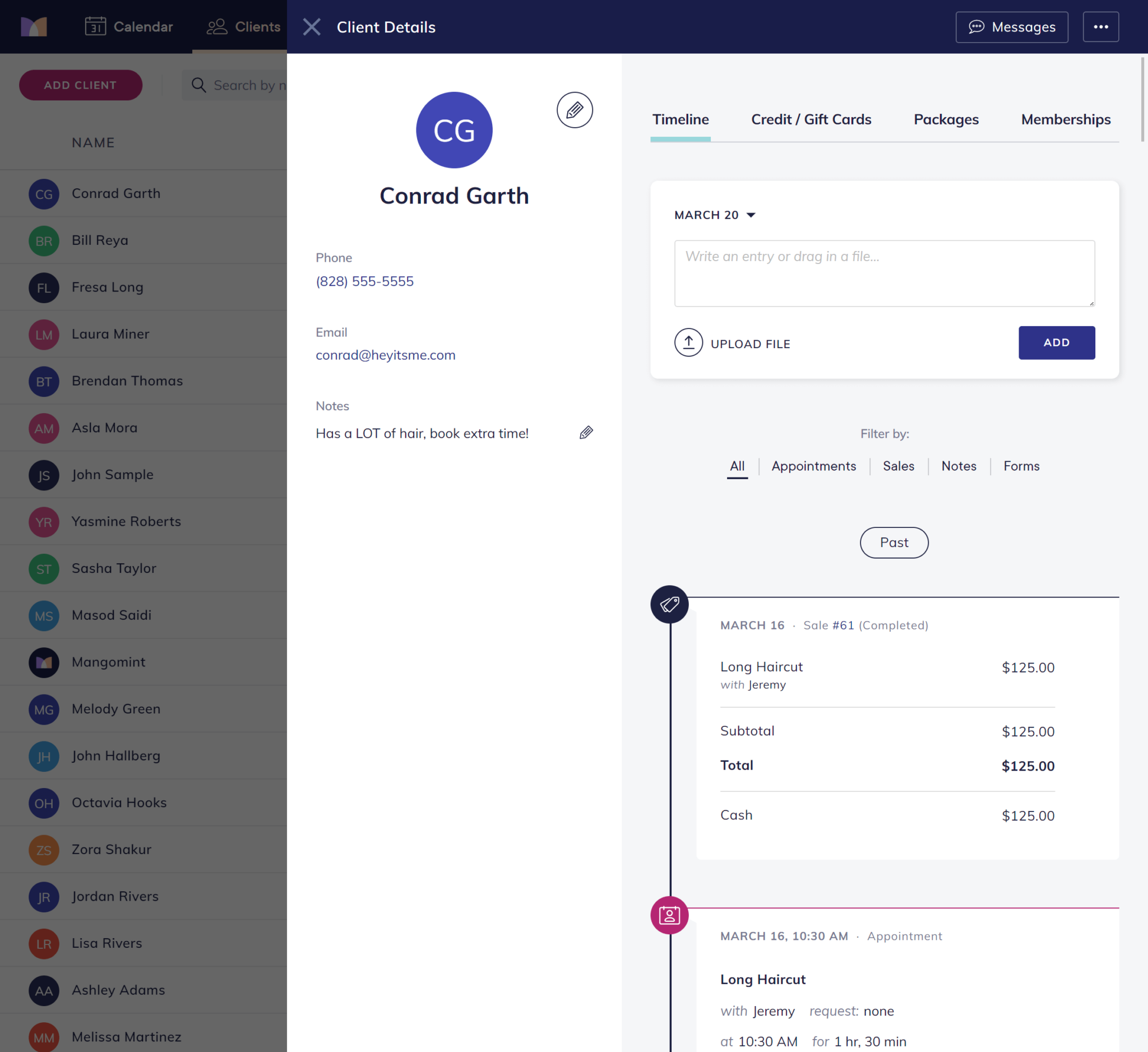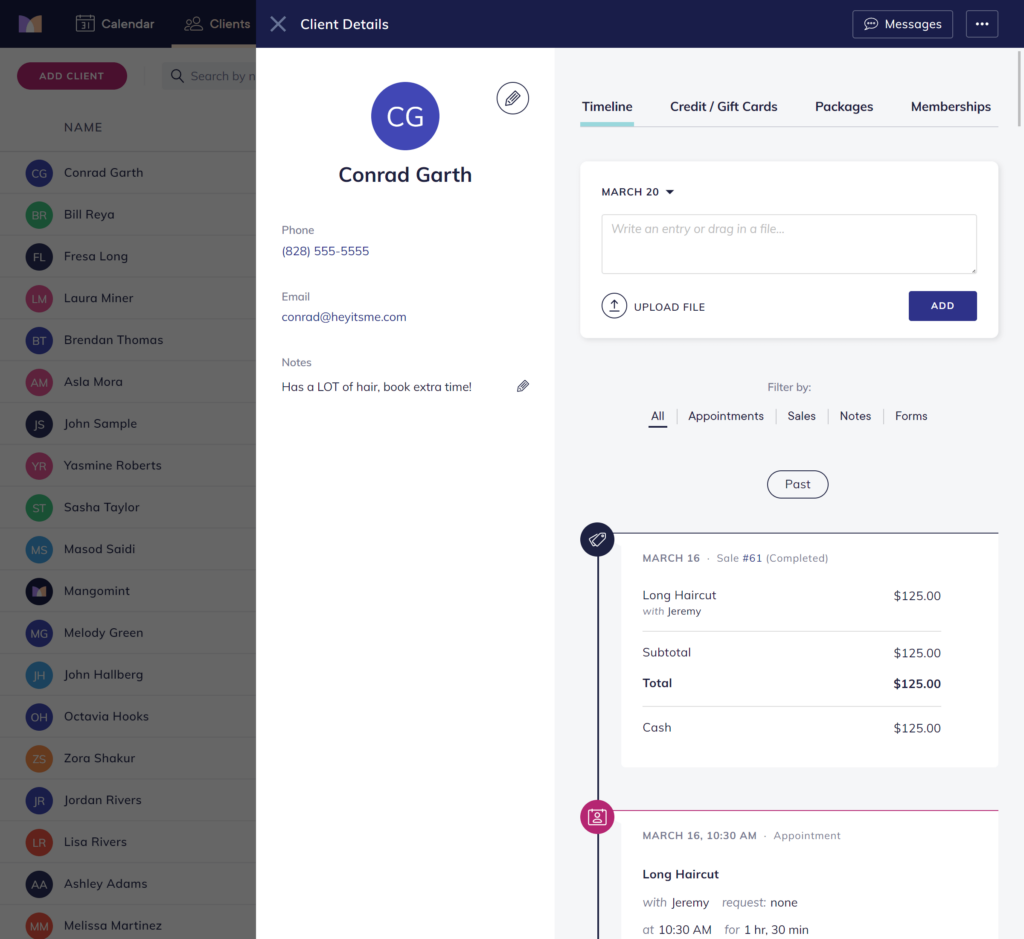 You can also send out different promotions to different people depending on what they have shown interest in in the past.
Having this personal touch with your clients strengthens your relationship with your client and makes your messages relevant and actionable.
You can take it as far as you like using salon software like Mangomint and a professional email service provider like Mailchimp.
7. Send Appointment Reminders ahead of the Appointment
One of the best ways to reduce no-shows is to send an email or SMS ahead of the appointment for the client to confirm. Your clients will also appreciate a welcome message from the salon ahead of their visit.
8. Send an Email when it's Time to Book Again
Your clients have a lot on their plate and it's easy to forget to book the next appointment. You want to avoid your client realizing this too late when you're fully booked as the likely consequence is then that they go somewhere else and you risk losing the client.
9. Send a Follow-up Email after the Appointment and Ask for Feedback
Staying close to how your client's appointment experience is crucial to make informed decisions when building your business for the future.
This is why collecting their feedback directly after their appointment is worth gold to you.
But that's not the only reason you should collect feedback.
You should also ask if the feedback can be publicly posted. Having salon reviews visible online makes your salon stand out from the rest of the salons in your area.
Reviews on your Google My Business profile improve your visibility in search results. Publishing reviews on Yelp and Facebook gives you more credibility in the eyes of potential new customers.
Creating your Salon Newsletter
You now know the simple salon email marketing rules that will help you build your list and get your emails opened in an automated and personal way.
It's time to set up your salon newsletter.
The reason you want to run a salon newsletter is first and foremost to stay top of mind and build trust with existing and new clients. You should, of course, also use it to promote your products and services even if you only should do this when you've achieved trust with your subscribers first.
What to Include in a Salon Newsletter?
Your salon newsletter should be focused on providing value to the reader and promoting your products and services in a natural way. Topics that are good to include are:
Seasonal trends: Celebratory seasons like the wedding season, graduation, and Christmas and good periods to share hair looks and ideas.
Seasonal needs: If you're a hairdresser, advice on how to deal with hair damaged by the sun in the summer or dry scalp in the winter are good topics to cover.
Seasonal promotions: Seasonal events are powerful ways to promote your services, products, and gift cards. In my article on how to create salon promotions that work, I go more into depth on how you can create effective seasonal promotions.
Salon staff updates: Do you have a new member joining your team? Or maybe a member of your staff has been through a significant life event? This is a good occasion to get personal with your client which further strengthens the relationship between the salon and your staff. It's also a good way to motivate your salon staff.
It's generally smart to focus on seasons as they are easy to plan ahead for (we all know when Christmas is coming :)) and it also makes your email relevant in the eyes of the consumer.
How Often Should I Send my Salon Newsletter?
The frequency I recommend for a salon newsletter is somewhere between every two and four weeks. You may want to increase the frequency during high season periods and keep it to monthly during the rest of the year.
You really need to strike the right balance between staying top of mind and being annoying with too many emails. It also takes time to write every email so you need to consider your workload as well.
If you use Mailchimp to manage your emails you can schedule them in advance and set them up so that they go out at the optimal time when most of the people on your list will open them.
This way you can optimize the time you spend on your salon email newsletter. Take a day, write all your emails for a year, and then just sit back and let Mailchimp do the work for you.
How to Design my Salon Email Template?
The best way to design an email is to use a professional email service provider like Mailchimp.
You'll want to adapt the branding to fit your salon's brand. It's really easy to re-design your email using their drag-and-drop visual email builder.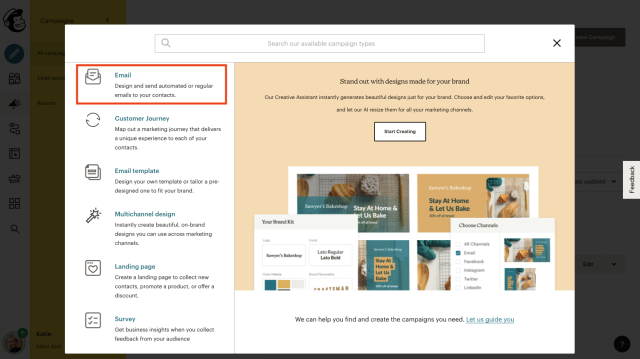 You can preview your mobile and desktop designs to make sure they look perfect on all devices.
Make sure to include your contact details and links to your salon's social media in the salon email signature so your clients can easily engage further with you.
Helpful Salon Email Marketing Tools
Mailchimp: An email marketing tool with an integration to Mangomint that allows you to manage subscribers, create custom emails, and execute campaigns with automated precision.
Canva: Easy-to-use design tool to create beautiful email graphics (start using for free here).
Conclusion
Wow, that was a lot of salon email marketing ideas in one place.
I hope that the salon newsletter and marketing ideas I've shared today have inspired you to move forward and create your salon email newsletter and start growing your salon business.
Email marketing is one of the most powerful ways for you to grow your salon, at a very low cost.
So don't let all the time you've invested in reading this article today be wasted.
Take action now.
Let me know when you have your salon newsletter ready so that I can join your list 🙂
Have a great day!
John