Disclosure: This post may contain affiliate links, meaning we get a small commission if you decide to make a purchase through our links, at no cost to you. TheSalonBusiness.com is a subsidiary of Mangomint.
Learn more...
I'm sure you'll agree with me when I say that no salon or spa can avoid a presence on social media today.
But many salon and spa owners I meet express how they are investing time and effort into social media without seeing this translate into new clients and business growth.
I get that.
Social media can feel overwhelming.
Which social media platform is best for salons? What should I post on social media to grow followers and get new salon clients? How can I manage my salon's social media without spending too much time?
There are many questions.
And rightly so.
If you don't know how to effectively market your salon on social media, it won't be of much help to your salon. It will only take away your time and attention that you could invest better elsewhere.
But when done right, social media will be the lifeblood to grow your salon business.
This is why I just had to write this article.
I want to give the complete picture of the social media landscape for salons and spas.
And I want to show you the steps you should take to grab the massive opportunity social media is giving you as a salon or spa owner.
This is THE ultimate guide to social media marketing for salons.
So if you've landed here because you want to figure out how you can better leverage social media to grow your business, you've come to the right place.
Let's get started.
Are you ready?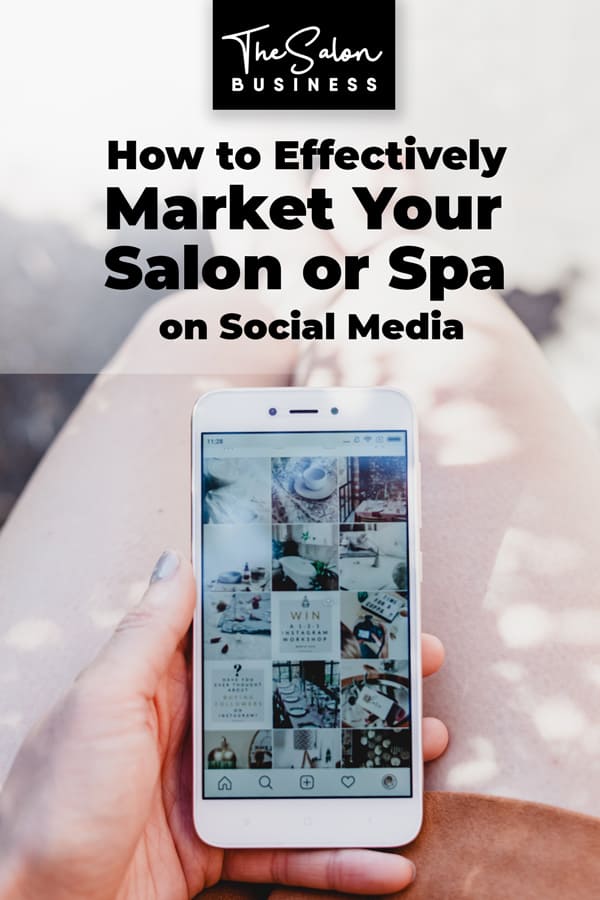 Setting Your Salon's Social Media Goal: Why Should Your Salon be on Social Media?
If you don't know where you're going, any road can take you there.
Cliché maybe…
But true.
Do you want to post on social media to get likes and feedback on your work?
..or do you want to use it to build awareness of your salon or spa brand?
..or do you want to get more new clients to your salon or spa?
..or do you want to build a strong following and become an "influencer"?
..or do you want to entertain your existing clients with updates and offers to keep them loyal?
..or do you want to use it to reach out and recruit staff to your salon?
..or maybe something else?
It all starts with understanding your goal of being on social media.
When you're clear about what your goal of being on social is, you'll have a much easier time deciding on the strategies that are right for you.
Take 3 minutes right now. Try to imagine what your business would be like with a successful social media presence. What does that look like? How would it help your business?
Write it down.
When you're clear on this, you can read on to learn how you can achieve that.
Which Social Media Platform Should Your Salon Focus On?
Clearly, there are quite a few different social media platforms out there that are relevant for salons and spas.
But your salon marketing efforts will not be effective if you go after all of them at the same time.
Focus on one first. Master it well. See that it is bringing you new salon clients and is growing your salon or spa business.
Then you move to the next.
In fact, salons and spas that are most effective in their social media marketing are present on multiple channels. And there are tools available to help manage multiple platforms effectively.
But again, let's master one first. This will be the main channel that you'll use also to grow the others.
Each platform is a different animal. Some have more similarities than others but they're all different.
Let me start by walking you through the most popular social media platforms that salons and spas use in their marketing. This should give you an idea of the different platform's dynamics.
You'll see the most popular ones in the diagram next to this where you also get an idea of how many users are active on each one.
I do have a recommendation as to what you should focus on first but what's right for you depends on your salon/spa business as well as how you're most comfortable communicating.
Let's start with the giant – Facebook.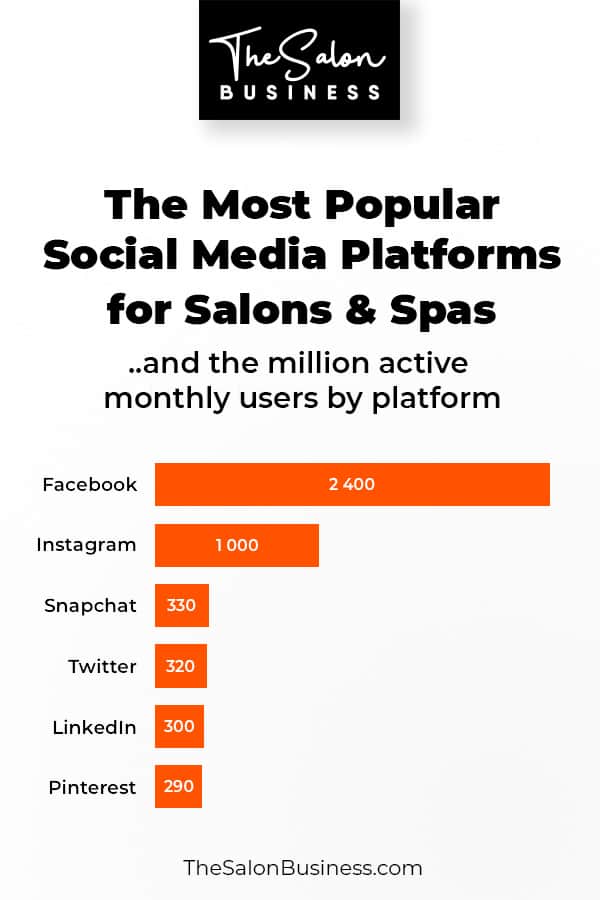 Facebook for Salons & Spas
Is Facebook starting to get old and outdated?
I hear this a lot.
The fact is, Facebook is to this date the largest platform out there with about 2.5 billion active users. 2 out of 3 adults in the U.S. use the platform. You can reach almost all of your prospective salon and spa clients on Facebook.
Facebook is in my experience the most effective tool you can use to attract new clients to your salon or spa.
But you need to use the strengths of the platform.
Facebook is no longer what it used to be. At least for businesses like your salon.
In the past, you could create a page for your salon, post on that page, and reach your followers. You can still do that but unfortunately, you'll not reach many people.
Facebook is first and foremost designed for friends and family to share life updates and pictures with each other. For businesses, like yours, to reach potential new salon or spa clients on Facebook you really need to buy your visibility.
Yes, you can reach some of the most loyal fans of your page. You can also use your Facebook page as a mini website that includes important information about your salon and spa (and you should). However, the real power of Facebook lies in the paid advertising program they offer.
It's incredibly powerful. In fact, its strong impact on people has for example been a hot topic after the U.S. presidential election (if you're interested you can read about the impact of Facebook Ads on the US election here). This is why Facebook is now making data about ads for elections and social issues public in the Facebook Ads Library.
But what does this mean for your salon?
Using Facebook Advertising to Get New Salon & Spa Clients
Facebook has all data about people that you can imagine.
They know people's demographics, how they behave, and what their interests are. And you can use this to your advantage to grow your salon and spa business.
Facebook allows you to run extremely targeted ads. In fact, you can even upload your list of existing customers and ask Facebook to find people that are similar to your existing customers. The possibilities are endless.
Facebook ads are currently also the cheapest form of marketing you can do. If you execute them right, you can get new clients through the door for less than $10.
Imagine that.
You pay $10 and you get a new client that over the coming year will bring you 10-50x that investment.
This is how you should use Facebook.
Facebook is also putting more emphasis on groups now. This is good for larger brands and communities but less often relevant for a salon.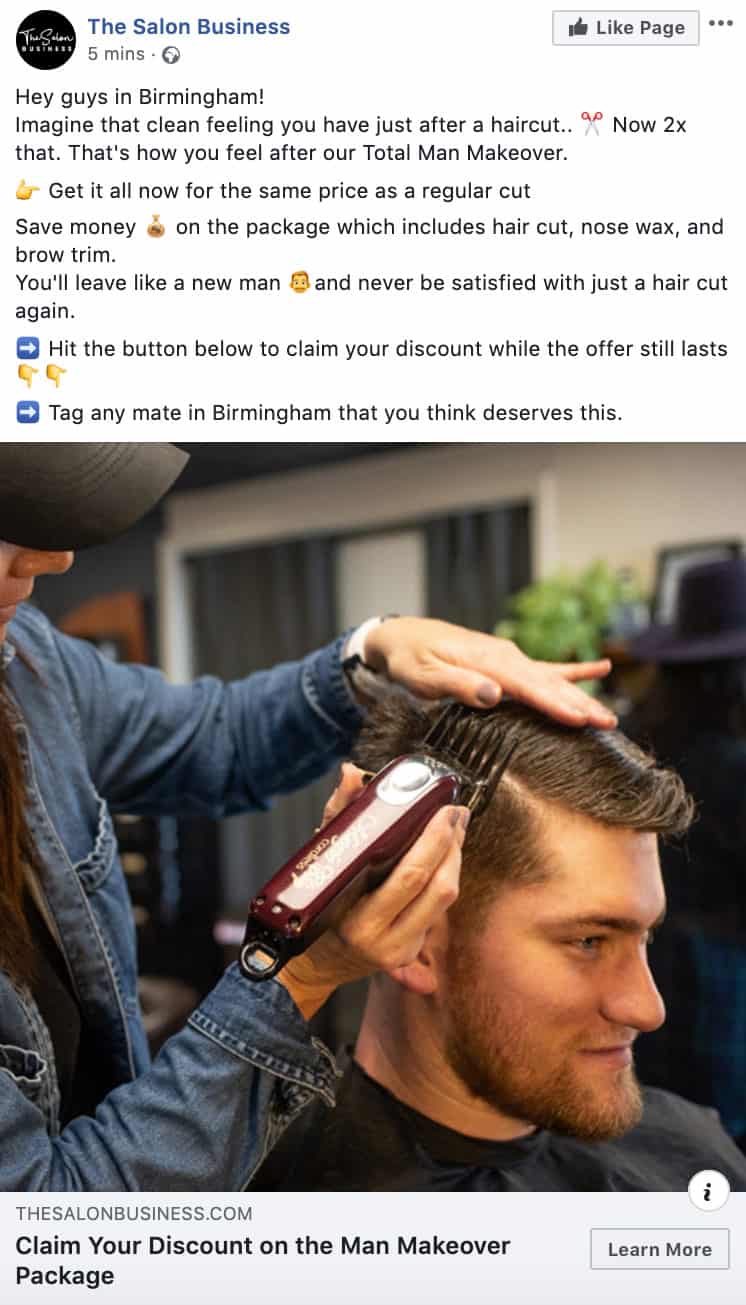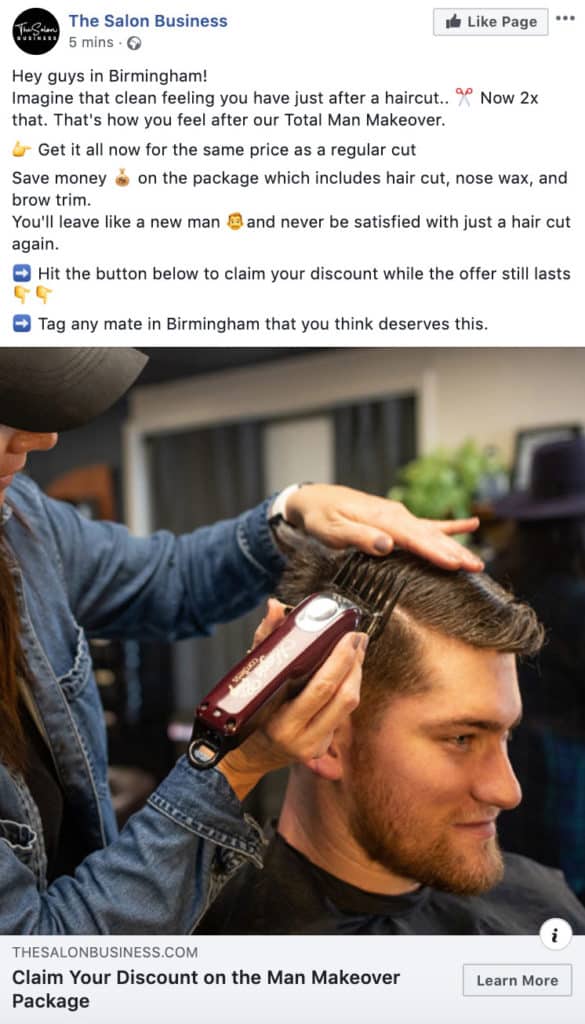 Barbershop Facebook Ad Example
You should also use it to share posts with loyal clients, invite them for in-salon events, or make current salon offers accessible to followers of your page. Facebook has good features for this.
You can also use the Facebook messenger service as a direct contact with clients as most people have it installed on their phones today.
But again, you'll only reach a small part of your followers unless you pay for the reach of your posts so I wouldn't invest a lot of time on Facebook just to post.
In contrast to some of the other platforms we'll go over today, on Facebook you'll be able to reach a more mature audience. So if your ideal customer is above 40, you may have better luck here than on Snapchat for example.
In summary, you'll get the most out of Facebook by using it as an online advertising tool to reach new clients. And I'm not talking about boosting posts. I mean creating "real", targeted Facebook ads to people in your area. Getting Facebook ads right can be one of your biggest sources of new clients so it's worth getting to know how to do it.
I have put together a complete step-by-step guide that you can follow to get your first Salon Facebook Ad up and running. If you have not done so already, I strongly encourage you to explore Facebook ads for your salon – you can access my Facebook Ads guide for salons here.
Instagram for Salons & Spas
Instagram has become the most popular platform for salons and spas.
And no wonder.
It's a highly visual platform and the work in hair salons, nail salons, beauty salons, and spas is visual. It's as if it was designed for salons and spas (and beauty influencers if you hadn't noticed :)).
Instagram is owned by Facebook and is part of the same advertising platform. So when you run your Facebook ads (as discussed above), you can have them run on Instagram as well.
In contrast to Facebook, your posts on Instagram will actually get seen by your followers. Not to everyone but to a higher share of your audience. So on Instagram, you'll grow your followers and reach more people the more your post.
Instagram has a younger audience than Facebook even if not as young as Snapchat.
It's a powerful platform to reach potential new clients and showcase what you can do for them in the salon.
I'll go through more about what images and content you should be posting but there are some specific Instagram tactics that you need to make sure you master.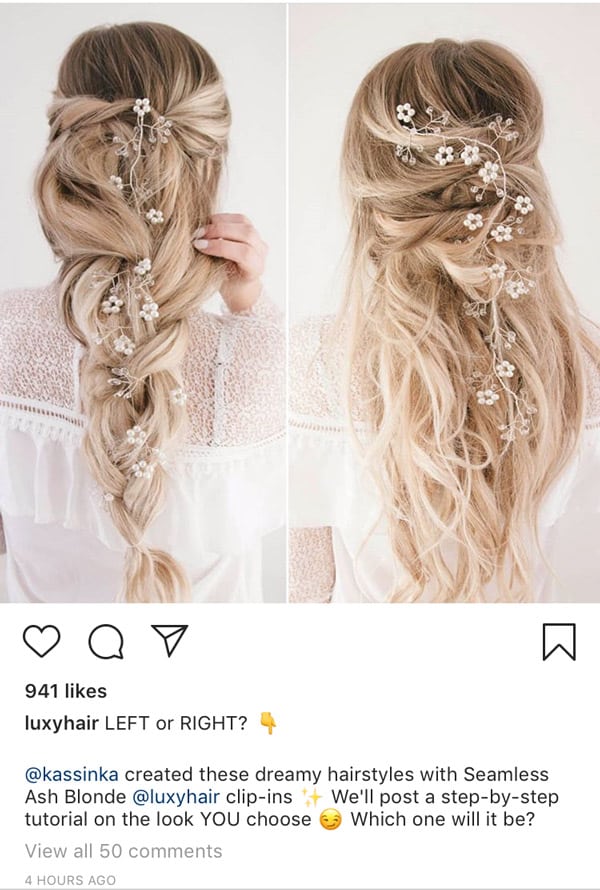 Attracting New Clients to Your Instagram
To get new clients you need to first attract new people to your salon's Instagram account and then guide them to book with you.
Good images are crucial on Instagram. But to ensure your post reaches more potential new clients there are a number of things you need to have in place for your post captions. I'm not only talking about a good local hashtag strategy but also how to write in a way that increases the engagement of your posts.
I've summarized what they are in the post The 7 Secrets to Salon Instagram Captions That Grow Your Followers which I highly recommend you go through.
Maximize Your Salon or Spa's Instagram Bio
I don't know your goal with being on Instagram.
But it's quite likely that you don't just want more people to hear about your salon and engage with your posts. I'm guessing you also want your presence on Instagram to generate new clients and grow your salon business.
To enable this, you need also a deliberate strategy of where to send people that engage with you. I'll talk more about how you can do this in the section below called Converting Social Media Followers into Clients. However, what's crucial for Instagram specifically is that you make the most out of the tiny real estate you have at the top of your Instagram account page which is your Instagram biography.
On Facebook and other channels, you can put a lot of information about your salon on the profile page but on Instagram, you only have a few lines of text and one link that you're allowed to include.
How you use this space is essential for you to get profile visits to engage further with your business. Thus, I've written a full article just on that. Learn all you need about creating an effective salon Instagram bio in this article.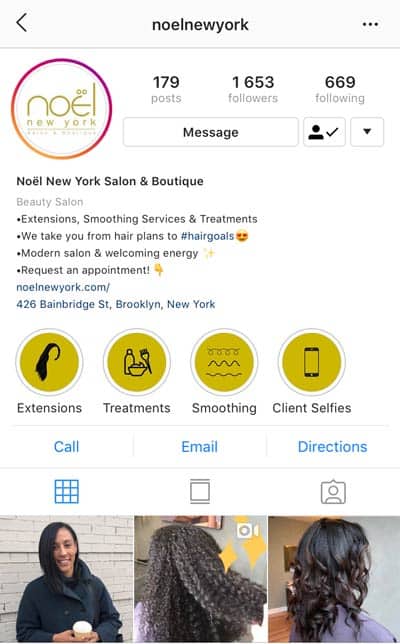 Example of a salon Instagram bio
If you use Mangomint as your salon software, it is easy to add a booking link to your Instagram profile, allowing clients to book appointments directly from your page. By using a shareable booking link on your Instagram profile, clients can easily book appointments with a single click.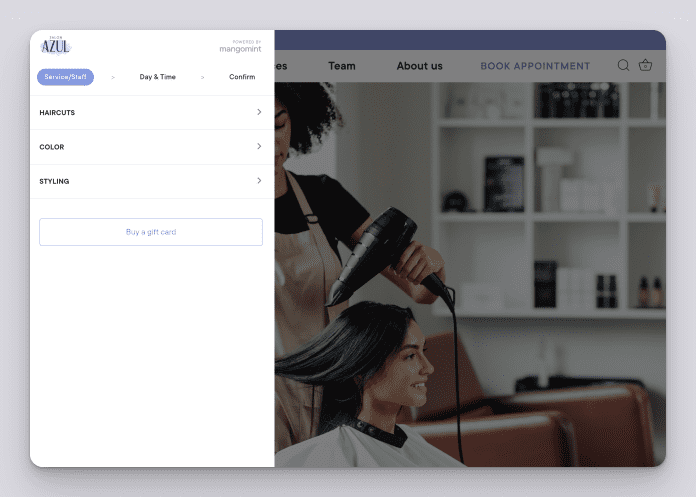 But that's not all. Mangomint also provides direct booking links for individual staff members, services, or service categories. This allows salons to create a more personalized experience for their clients, by directing them to book with their preferred stylist or for their preferred service.
When to Leverage Snapchat, Twitter, LinkedIn, Pinterest, YouTube, and Blog to Market Your Salon or Spa
We've covered Facebook and Instagram rather extensively now.
These are also the two platforms I typically recommend salons and spas to start on as they have been proven over and over to create big value for salon and spa businesses.
But there are more platforms that for sure also have merit for salons and spas. Let's also go over the unique benefits of these platforms for salons and spas.
Snapchat for Salons & Spas: When You're Going After a Younger Clientele
What's unique about Snapchat is the young audience. 90% of Snapchat users are aged 13-24 (source). Making this a good platform for you to be on if you want to go after a younger clientele.
The instant Story approach of Snapchat is powerful. I can grab the attention of users, even more, stronger than some of the other platforms. Like Facebook, they also offer the ability to run ads (learn more on the Snapchat website here).
The platform has many similarities with Instagram. In particular, since Instagram has copied the Story approach from them.
It certainly is an interesting platform for salons and spas to try out.
Twitter for Salons & Spas: For Ongoing Conversations
Twitter is a noisy, high volume, channel.
Like the other platforms, they also offer a paid ads model (learn more on the Twitter website here). However, I have had limited success with their ads so far and would rather recommend you go for Facebook if you want to run paid ads for your salon or spa.
It's not as visual as the other platforms mentioned here which is why I typically recommend other channels ahead of Twitter for salons and spas. However, Twitter is a highly interactive platform and many small businesses use it as a direct conversation with their customers. Like a public support channel.
I know some salons use Twitter successfully but I would only recommend exploring Twitter when you have Facebook and Instagram established and you can effectively repurpose content that you produce for those platforms to further the reach of your posts.
LinkedIn for Salons & Spas: Reaching the Professional Audience
LinkedIn has been around for a while now. It's focused on creating connections between businesses and helping in talent scouting and the job application process.
If you'd asked me a couple of years ago I probably would have said that this isn't the platform that makes sense for a salon or spa to focus on. However, since Microsoft acquired the platform things are changing.
Out of all platforms right now, Linked in is probably the easiest place to get good reach on your content. Microsoft clearly wants the platform to become more social and they want to reward those who put out content with good reach.
This might change over time as the platform's new strategy settles but right now you can get very good visibility of your salon or spa with an attractive high-value business audience. Thus, like with Twitter, it's probably not your first priority if you're just starting to build up your salon or spa's social presence. But it is a very interesting channel to complement your other social channels given the broad reach you can get with a very attractive audience for your salon.
It's also a good place for you as a salon or spa owner to build your network with other businesses and find win-win opportunities to grow your business together with them.
Pinterest for Salons & Spas: Visual Inspiration for Global and National Salon & Spa Brands
This is the most visual platform out there.
It's very different than the other social platforms mentioned here. People use the platform to find inspiration. It's more like a visual search engine than a traditional social media platform where you only get to see what people you follow post. On Pinterest, you can search for things like "nail art ideas", "bride hairstyle", or "spa decor ideas" and get a lot of inspiration for your business.
Using Pinterest for Your Own Salon Business Inspiration
As a salon or spa owner, it's a great place to go for Inspiration. In fact, if you like what you're reading right now I suggest you follow The Salon Business on Pinterest. I've included my latest feed here but you can also go to my profile and follow me on Pinterest for more salon business inspiration.
You can also save pins to your own boards so that you can come back and browse ideas and inspiration for your salon.
Using Pinterest to Market Your Salon or Spa
Can you use Pinterest to grow your salon or spa business?
You're sure doing a lot of work in your salon that is visual and that other people would find inspiring. If you start sharing your work on Pinterest, you can easily build a following. There are many salons that have built a strong following on Pinterest. But how do you turn that into business?
For the traditional local salon, the value of Pinterest is not as obvious as for other social platforms. The reason is that Pinterest is a global platform vs. a local one. For example, when people search for hair styling inspiration, it doesn't matter to them if that hair styling was done in Australia or in the U.S. All they want is to see inspiring hairstyles.
This means you can build a large following of people but they aren't necessarily based in your area and will likely never become a salon client of yours. However, if your salon business stretches beyond just the physical salon, it can be very valuable for you to be on it. For example, if you sell products or digital content on your salon's website, you can drive a lot of visitors from Pinterest to your website.
Having content from your website pinned on Pinterest also increases the trust of your website in the eyes of Google, meaning your salon's website will start to show up better in search results which will benefit your local salon business.
Finally, if the goal of your social media presence is to create awareness of your salon and your name internally because you later want to start an international brand, Pinterest would be great.
So in short, for global, or at least national, salon and spa businesses, Pinterest is great. But for the local salon, there is limited upside compared to what you can achieve with other social channels.
YouTube & Blogging for Salons & Spas
Is Blogging and Vlogging something you should be doing to market your salon?
Yes.
YouTube and WordPress (or another blog platform that I recommend for salons & spas here) are not really social networks like the other ones I'm covering in this article. Still, I wanted to include them in this article as they're kind of linked and can provide a lot of value for your salon.
Publishing blog posts on your website or uploading videos to YouTube is a great way to promote your salon to new clients.
When you have a blog on your salon website, your website will rank higher in Google. And when you have videos on YouTube (which btw is owned by Google), your videos will show up in the search results when people are looking for salons in your area.
You are reading a blog post right now. And chances are high that you landed on this page because it came up when you were looking for social media strategies for your salon on Google. Am I right? 🙂
But you cannot just put random videos and posts out and think that you're salon will show up at the top of Google now. You need to understand what people are searching for and then produce posts and videos that match that and fit with what you're offering in your salon.
This is process is referred to as SEO (search engine optimization) and starts with you researching the keywords to target with your content.
To get you started with this, I've put together an article that you should read called How to Get Your Salon to the Top of Google: Salon SEO & Keywords.
How to Grow Your Business & Get New Salon Clients using Social Media
Well done for investing the time to read all the way through here. I know this is a rather long article. But there's simply so much to say about social media for salons and spas and it's such an important part of your marketing strategy, so I want to ensure you leave this article fully equipped to tackle your salon or spa's social media strategy.
You should now have a pretty good picture of the different platforms that are out there. At least the most common ones.
You probably also have a good idea of why you want to strengthen your salon's presence on social media and what your goal is. And you may already have decided on the platforms that you'll focus on.
During the remainder of this article, I'll take you through what you need to know to have success with your new social media strategy. You'll get a number of tips that you can take and implement directly in your salon or spa business.
If you need to go and top up your coffee cup. Now is the time 🙂
..you back? Let's continue then…
Get Clear on Who You're Talking To
Speak to everyone and no one will hear you.
You simply cannot be relevant to everyone because if you do, you get bored and irrelevant. You also do not want to be relevant to all. I'm sure you have clients in your salon or spa that you in fact wish you didn't have. So why even try to make your social media relevant for them?
You want your social media to speak to your ideal salon client.
Because when you start building your following, you want it to consist of people that also are your ideal client.
Picture that person in front of you.
It may be an existing client of yours or just a fictive character that symbolizes the type of client you want in your salon.
As you're picturing that client in front of you, think about what his or her problems are. What makes her happy? What is she interested in? Where does she hang out? Which social media platforms does she use?
Get very clear on who this person is.
Going forward, when you write your social media posts, just have this person in mind. No one else. Make sure that what you post is relevant to her.
Being clear on who you're talking to will make life much easier for you as you create your social media posts going forward. You don't need to continuously think about if what you're saying will land well or not. Because you know this person that well. And if some don't like it, screw them. You don't need them on your social channels anyway.
By being decisive like this, you'll become more attractive and interesting to your followers than someone who just tries to please all.
It's Not About You. Give People a Reason to Follow Your Salon/ Spa
I'm sorry to break it to you, but your social channel should not be about you.
Make it about the person you're talking to.
What we as humans all have in common is what's most interesting to us – ourselves.
It may sound harsh, but it's true.
People will follow you because of what you do to them. How you make them feel. So you need to make sure that everything you post adds value to the viewer. Like what I'm doing in this blog post. As you've read this far, I am sure you're finding at least some of what I say valuable. And that's my goal.
As a salon owner, the way you can give value to your followers via your social media falls into three areas: educate, entertain, or inspire.
You can educate your followers by showing them how to achieve results at home. You can entertain them by showing off your and your salon staff's personality and sharing fun and interesting content. You can inspire them by showing their hair looks, nail art, or other trends as part of your content.
All this is of value to people and will make them want to follow you and ultimately book an appointment in your salon.
Use Active Language and Include Your Call-to-Action
Just having a lot of followers will not add much value to your business.
Your followers need to be active and engaged.
Engagement on your social account is what the social media algorithms look at when they decide if your post should be promoted to more people or not. It's also when people interact with your posts that your posts get visible to their followers.
So in order to get good visibility of your content you should encourage your followers to take action on your posts. Try to use active language in your posts vs. passive. This help to get more people to take action on what you post than just scrolling by.
There are a number of different tactics you can employ to drive engagement. In my post "The 7 Secrets to Salon Instagram Captions that Grow Your Followers", I list all of them. Even if the post is focusing on Instagram, the same principles applies to other platforms so I'd encourage you to read it to learn more.
Getting good engagement on what you post is critical for you to grow your social media presence. But ultimately, you'll want people to take further action than just liking, sharing, and commenting. You probably want them to become customers, follow you on other social channels, or whatever your goal is.
This is why you need to define a set of actions that you want your followers to take, beyond just interacting with your social posts. You need should include these actions in your posts. But if you're on Instagram you cannot link from your posts but you need to include the call to action in your bio. Learn more about how to create a good Instagram bio for your salon in my other article here.
Go Live to Increase the Reach of Your Salon or Spas Message
What works on social media continuously evolves.
It's obvious today that just sharing a text-based message doesn't take you far anymore. Videos typically get better engagement than images. But lately, most platforms are strongly promoting the live feature.
Almost all social media platforms now offer a live feature. And because live streams keep people on their platforms for longer, they reward those who put out live content by giving the live content more visibility than traditional posts or stories.
You probably have noticed this. For example, if someone you follow on Instagram goes live, you receive a push notification on your screen to watch it. It's the same on LinkedIn and Facebook. They all promote live content heavily.
If you can, try to take advantage of this. You can do a live stream from your salon or spa when you have an event or just to share some good work you're doing in the salon. This is a very powerful way to reach and grab new potential followers on your platform.
Be Social, Communicate and Respond to Your Salon's Followers
Social media platforms reward accounts that interact with their followers.
By communicating back fast you also show those who aren't yet clients of your salon or spa that you're available and that you take your customer service seriously.
It's particularly important to respond to comments that you get immediately after you post as this will fuel the engagement of your post and hence the reach. So take as a habit to always have some time available just after you post to answer comments.
You should also comment on other people's posts. Especially if they have an audience that is similar to what you want as clients in your salon or spa as this also gets your name out there in front of the right people.
Note that your comments need to be genuine and helpful. People smell a spammer miles away. So keep your comments valuable and relevant – not just copy past spam!
It can be difficult to monitor all conversations that are taking place on social media about your salon and spa. But you need to. You don't want to be able to jump in when questions are asked or to turn negative feedback into a positive experience about you.
Luckily there are tools available to help you with this. I recommend Later, which allows you to track and respond to messages across all your social media accounts. It also alerts you when someone is talking about your salon or spa so that you can react quickly.
Learn more about the social media marketing tools I recommend for salons & spas here.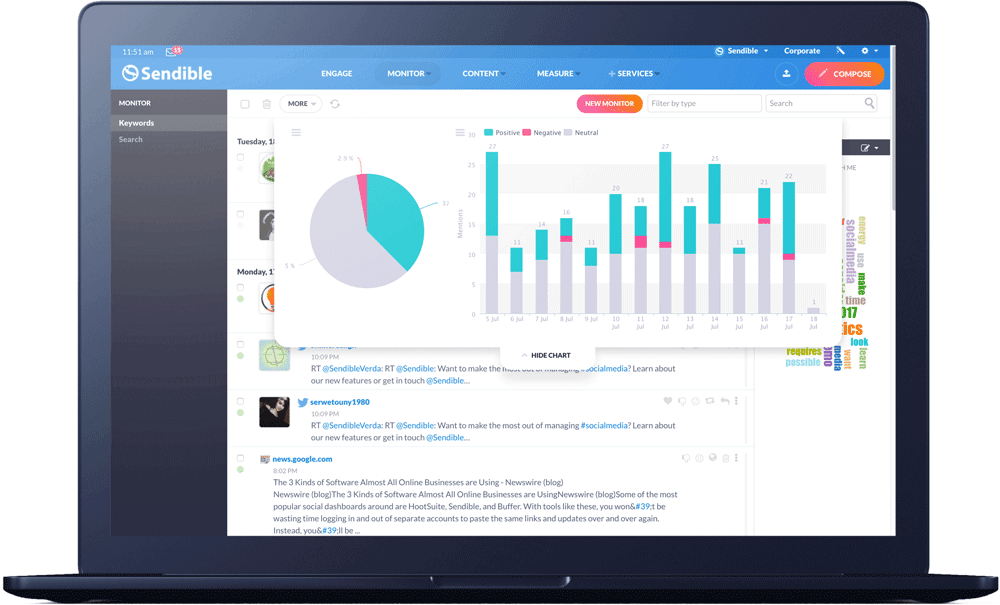 Involve Your Salon & Spa Staff in Your Social Media Strategy
Your staff is your best ambassador.
Encourage them to create their own social profiles where they report from the salon. And make sure they reference the main salon account in their bio, use salon-specific hashtags, and refer back to the salon's social media accounts in their posts.
By cross-promoting your accounts you'll grow all accounts. When you involve your staff in your salon's social media strategy you also increase team morale and motivation. If building team motivation in your salon or spa is important to you, you can also read my article on strategies to motivate salon and spa employees here.
Form Relationships with Social Media Influencers to Promote Your Salon
What, where, and how you post on social media is not the only way to grow your presence.
Far from it in fact.
One of the most effective ways to grow your following is to collaborate with relevant influencers who mention your social media accounts when they post. In fact, working with influencers is not only about growing your social channels but it's one of the most powerful ways to attract new clients to your salon or spa.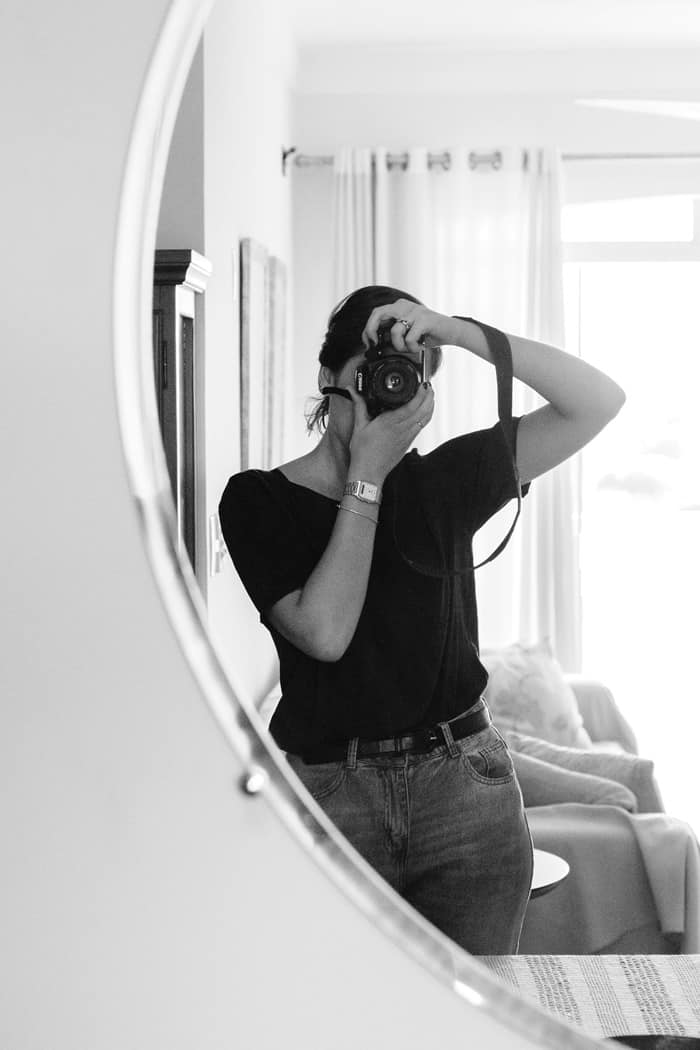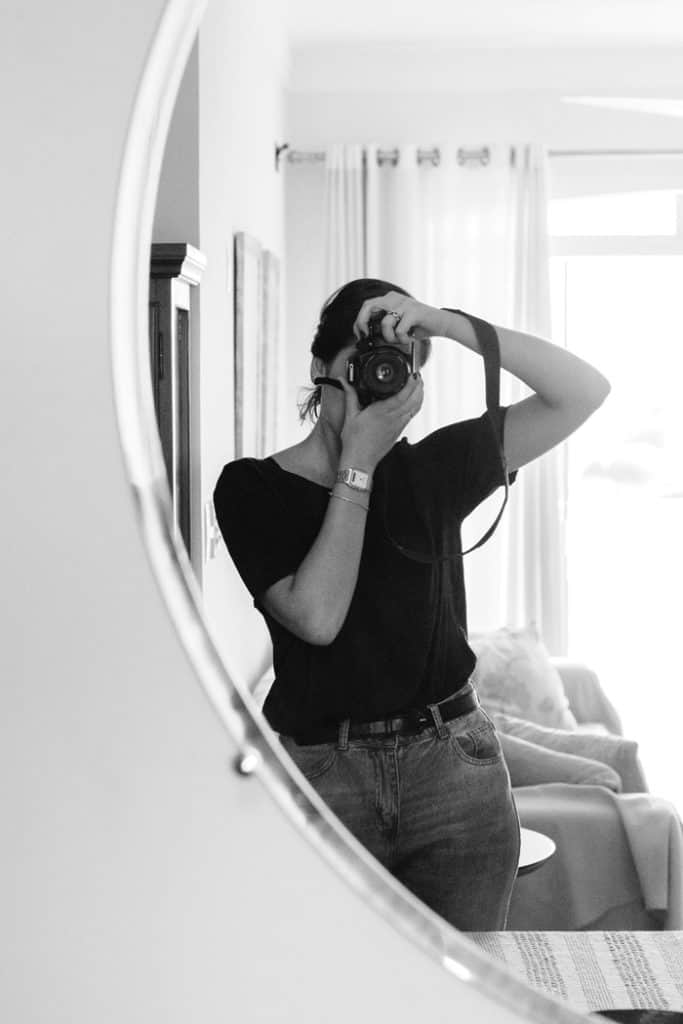 Unless you have a massive budget, I'd encourage you to focus on getting micro-influencers to post about you. This is influencers with 30'000 or fewer followers. You can often get them to post about you for free or by giving them a service for free in your salon or spa.
Install the habit in your salon of always looking up clients on social media before they come in. If you see that they have an engaged following, you can try to strike a deal with them where they mention your salon in their next post.
You can also proactively look up relevant influencers and invite them to your salon. A good way of doing this is to explore local relevant hashtags and to see who's posting with high engagement and then send them a direct message and invite them in for a service.
Encourage User Generated Content
Similar to getting influencers to post about you, you can incentivize your followers and existing salon clients to take pictures and post about you on their own accounts.
Where quality is good, you can re-share their content on your account. This also works the other way around.
There are a few ways you can do this.
What's working well for many salons is running competitions. Ask your followers to mention you in their submission post for a chance to win.
To get more user-generated content created in your salon or spa, ensure you have an insta friendly space available in your salon where people can take nice pictures of their new hair or nails for their Instagram.
This can be done very easily, just make sure you have a clean space with some nice decor that looks good in pictures. Lighting is also important for this so it's worth investing in a ring light. You can get really good ones at a good price – like the one I am recommending as part of my hair salon equipment list that you can check out here.
Getting your clients and followers to post and refer to you is effective and doesn't really cost you much.
Converting Your Social Media Followers into Salon Clients
Now to the most important part.
How do you get people who follow you on social media to become clients?
Generally speaking, you should focus your post on providing value to your followers first. However, it's ok to promote once in a while specific offers that you have. And you'll need some offer to convert followers into customers. To learn more about creating a salon promotion that works without undermining your prices, I suggest you read my article about creating effective salon promotions here.
Create a specific landing page on your website where you present your offer and allow people to claim their offer. You can find the landing page builders I recommend here. For Instagram, you should include a link to your offer in your salon's Instagram bio.
Ideally, don't just send them to your salon's home page. But you send them to the specific offer where they are not distracted by a lot of information. The only thing they can do on the page is to claim their offer.
Still, people will also go to your regular website to check you out so you also want to make sure it is set up in a way that converts visitors into a client. To get some ideas for how to do this, look at my list of top salon websites available here.  
Your website and offer landing pages are crucial to your salon's social media strategy. As this is where you convert followers to clients. Make sure you also have salon software that allows your followers to schedule and make appointments immediately with you.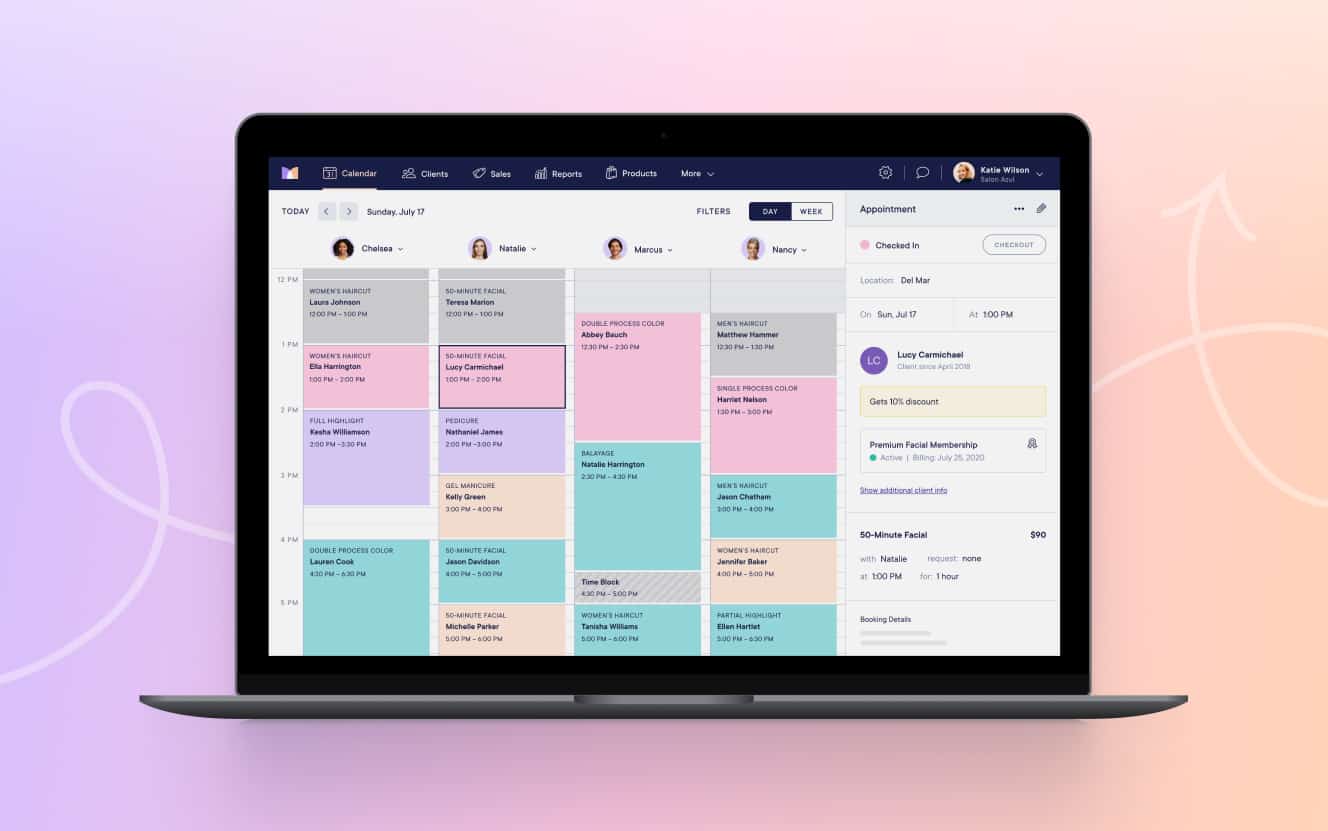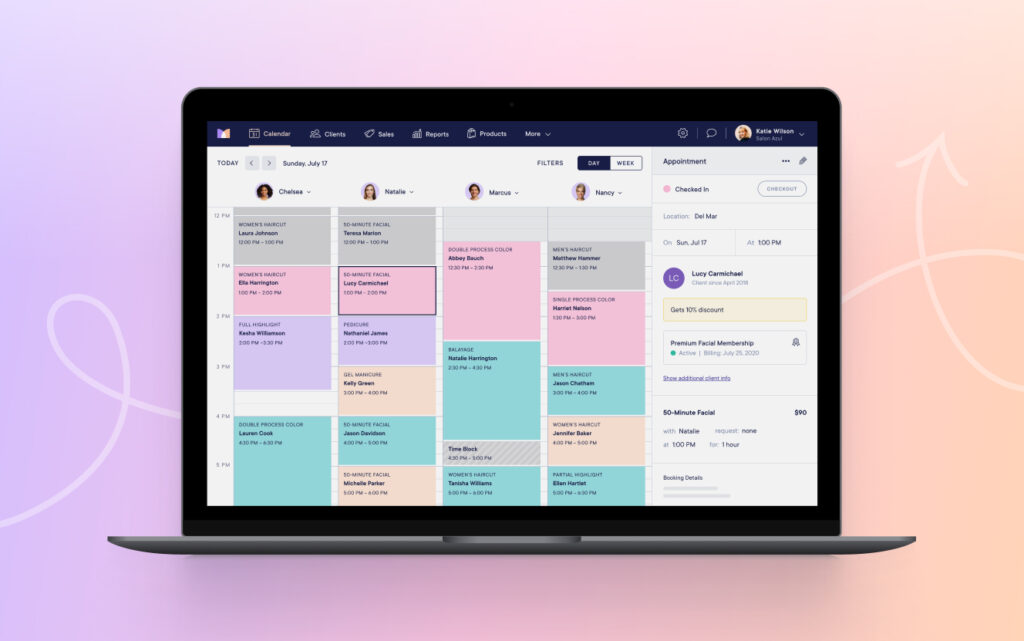 My favorite salon software is called Mangomint. I've also reviewed all of the most popular salon software and you can access the salon software top list here.
Finally, if your salon or spa doesn't yet have a website or you feel that the one you have is starting to get out of date, you can create a new one very easily using a website builder. Here are the best website builders I recommend for salon and spa owners.
Don't Waste Your Precious Time: Automate Your Salon's Social Media
We've covered a lot today.
Congratulations on reading this far.
I can imagine that you may feel a bit overwhelmed. There are so many different social platforms and there's so much you can do to grow your salon or spas social media presence.
How will I have time for all this? I have a salon business to run at the same time, you might say.
Luckily, you're not alone on this.
There's some great software out there that can streamline a lot of the work for you.
It allows you to plan your posts in one place to later schedule the content out to all your different social media platforms, at an optimal time, to ensure that as many people as possible see it. It also allows you to interact with your followers in one place (rather than jumping around between apps). It will also help you come up with content, hashtags to use, and much more.
It takes away many of the worries you may have after seeing all the things you can do for your salon or spa on social media.
I strongly recommend you the other tools I recommend for helping you with your salon's social media here.
Conclusion & Next Steps to Get Your Salon or Spas New Social Media Strategy in Place
Social media is one of the most powerful marketing vehicles for salons and spas.
But for your salon to be successful on social media, you need to be very clear on what you want to achieve with it. If you're not clear on this, you're likely wasting your time chasing likes and followers without seeing any real business results.
There are several social media platforms out there that are relevant for salons and spas. They all have different characteristics and can benefit your business in different ways. It's smart to build a presence on several of them.
But it's not realistic that you are successful if you start on all of them at the same time. I suggest you pick one first. Make sure you master it. And only then move to the next platform.
This assumes you're planning to manage all your social media yourself of course. If you don't have the time or interest to get your hands dirty with your social media, you're probably better off getting an agency to help you.
But if you're up for doing it yourself, I hope I've given you some ideas of how to get started in this article today. And remember to check out the social media schedulers and tools which will make your life as social media much easier.
I'd love to hear about your experience with social media marketing for your salon or spa. Also, I constantly update this article with the latest knowledge about social media. Thus, if you felt that something was missing, could be explained in more detail, or that you disagree with, let me know.