Disclosure: This post may contain affiliate links, meaning we get a small commission if you decide to make a purchase through our links, at no cost to you. TheSalonBusiness.com is a subsidiary of Mangomint.
Learn more...
Imagine entering your salon on a regular morning.
It's a day like every other day.
And as the business owner, you're the first one in, as usual..
You have your coffee with you, and you decide to sit down with your computer to plan the day and week. 
But this morning you notice something different when you open up your salon booking system.
A bunch of new clients has booked appointments with you.
But who are they? How did this happen?
Chances are…
That it's your salon's new Facebook ad campaign that just kicked in.
Facebook & Instagram ads have become one of the most popular ways to get new salon and spa clients fast. It's a powerful marketing tactic to use when you have a new staff member joining with an empty client book or when you want to accelerate your already established business.
It's in fact the number one strategy I call out in my post about the most effective ways to get new clients into your salon or spa.
Maybe you have tried boosting a post on Facebook already or you've tried some ads but it didn't really work out. I've seen this happen to many salon owners who then conclude that Facebook ads are not for their salon. If this is you, you must give it another chance.
But this time, you'll do it the right way.
In this article, I'll go through step-by-step how you can get your first Facebook ad up and running that generates new salon and spa clients on autopilot.
I'm very happy you've landed on this article.
It's an important one.
I hope it can be a start of a new journey for your salon or spa business.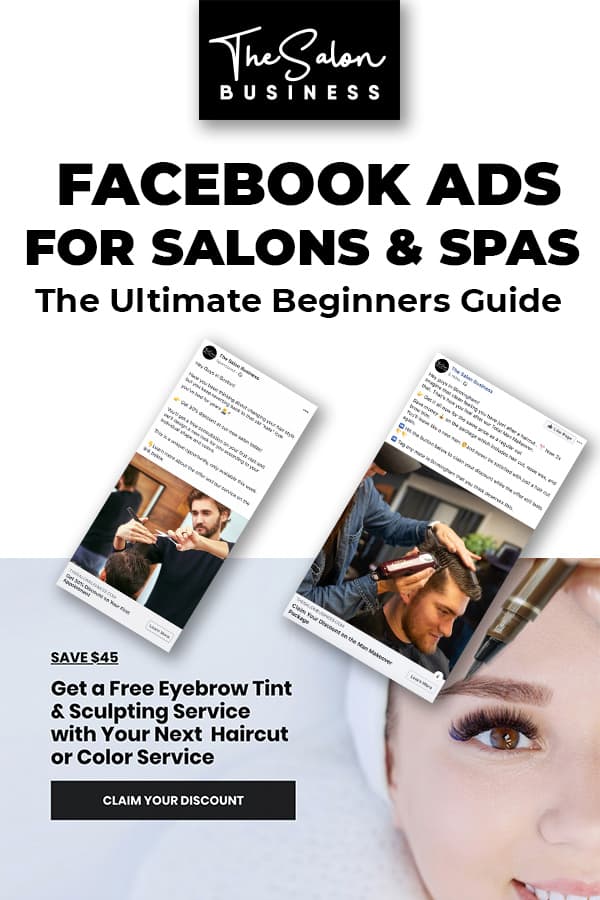 A Simplified Beginners Guide to Facebook Ads for Salons & Spas
Facebook Ads can be complex.
The platform gives you access to a massive amount of data about almost all people walking on this planet. This is what makes it so powerful and cost-effective for businesses to use.
If you've done some research about Facebook Ads prior to landing here, you may have heard about re-targeting, pixels, chatbots, lookalike audiences, etc. etc.
These are tools you can use to improve the performance of your Facebook Ads. And they are all great. But it will take more than just a blog article to teach you all of that. And frankly, you don't need to know all of it to get a first ad up and running that will generate new clients for you in a profitable way.
This is why I just had to write this article.
I wrote it to make it possible for you, even if you're a complete beginner, to get your first Facebook ad up that brings in new clients to your salon.
I'll cover all you need for this.
But I also want to be clear up front that I won't go into everything you could be doing to grow your salon business with the help of Facebook ads.
If you're new to Facebook ads, this simply would be overwhelming.
And I don't want that.
I want you to leave today with what you need to get your ad going.
Also, as you might know, Facebook owns Instagram which uses the same advertising platform. So when we talk about Facebook ads here, it's also applicable to Instagram.
To craft your cross-platform social media strategy, I recommend you read my post about how to effectively market your salon on social media.
But now, we'll focus on Facebook.
Let's get to it.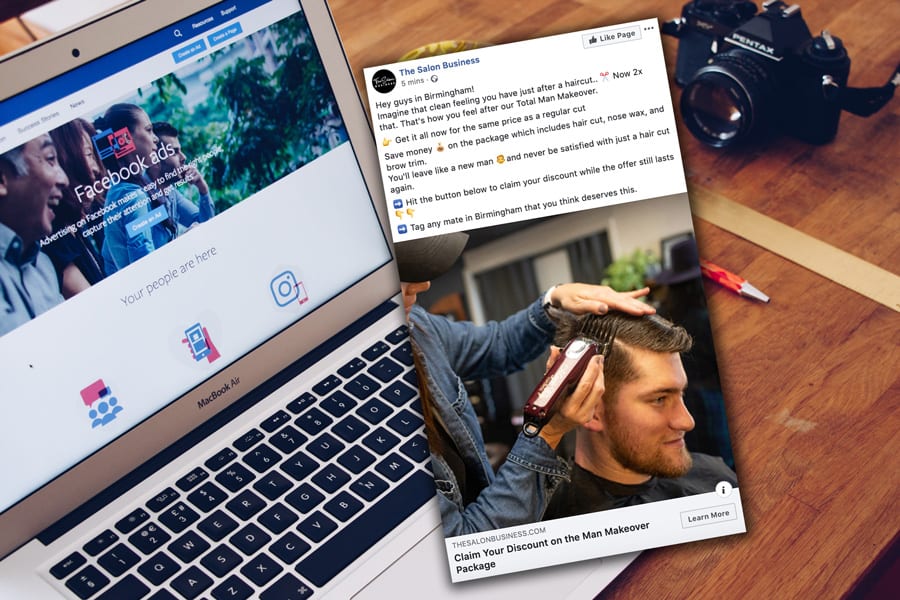 The 9 Steps to a First Successful Salon Facebook Ad
This beginner's guide for salon owners is divided into 9 steps. The first 4 steps are all about getting the things in place that you'll need before you can create your ad. The next 5 steps take you through how you set up your ad on the Facebook platform.
Below is an overview of all steps. It may not all make sense yet. But we'll go through each step in detail.
Deciding on your Facebook ads strategy
Coming up with a Facebook ad offer salon clients cannot resist
Creating an offer page that converts visitors from your ad into clients
Setting up the accounts you need with Facebook
Creating your salon or spa's first Facebook ads campaign
Defining the goal of your salon's campaign
Finding your ideal salon client on Facebook to target
Creating a Facebook ad that catches the attention of your target salon client
Testing and improving your salon ad campaign
Let's dive into creating your salon Facebook ad!
1. Decide on Your Salon or Spas Facebook Ads Strategy
Before doing anything, you need to have a strategy for your Facebook advertising.
Without a clear strategy, you'll most likely end up spending money and time without really getting the result that you want for your salon or spa.
So don't skip this step.
I understand you're eager to get going but spending a few minutes here will save you time and money in the long run.
Below are three questions that you should answer for yourself. I'll also add some perspectives and examples to each to help you craft your strategy.
Why do You Want to Advertise Your Salon?
Do you want to get more likes on your posts or do you want to get new clients coming into your salon or spa?
There are a lot of reasons why you may advertise on Facebook. But ultimately, you want to grow your salon business.
And what's the most effective way to grow a salon or spa business? By getting more clients…
So this article will focus on exactly that – growing your salon or spa business with Facebook ads that get you more new clients.
You could have other reasons why you want to run ads but new clients will be the focus of today.
Sounds ok?
Who do You Want to Advertise To?
The power of Facebook ads lies in their capability to target the right people.
Showing an ad for a grey coverage hair color ad to a 19-year-old teenage boy will never work. It doesn't matter how good the ad and offer are. Similarly, showing an ad for a salon based in New York to a person in Texas will likely not work either…
When advertising on Facebook you can be very specific. For example, if you run a hair salon in Mayfair, London, and you specialize in Vegan products you may want to target women aged 20-50 within 1km of your salon that is interested in vegan products.
All this is possible with Facebook.
Who's your ideal salon client? And what are his or her demographics and interests?
Make note of this.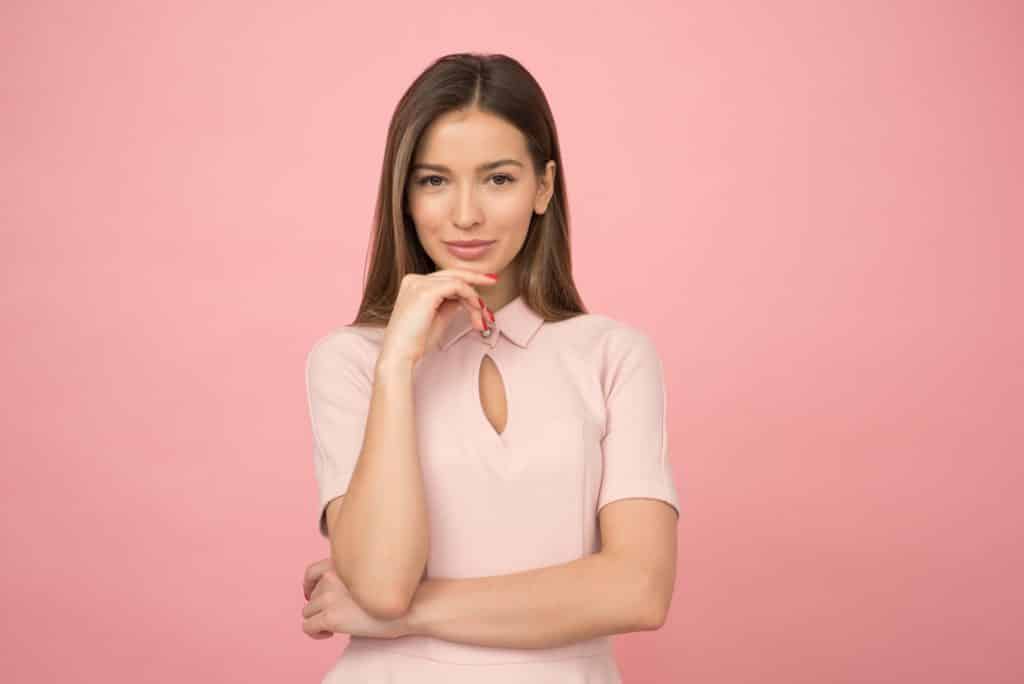 Who's your ideal salon client?
How Much are You Ready to Spend?
You should have a budget in mind for your Facebook ad.
Before you know how well your Facebook ad is working for you, I'd recommend you start with $5/ day and that your prepared to run it for at least 10 days (i.e. $50) before you make any conclusion on if you should invest more or not.
When you have a Facebook ad that works, the only limit to how much you can invest is how many clients your salon can manage.
2. Come up with a Ridiculously Good Offer That Your Ideal Salon Client Cannot Resist
If you want people who see your Facebook ad to act, you better give them a good reason to do so.
And I mean a really good reason…
Think about it.
People who are scrolling through their feeds on Facebook or Instagram are not doing it to find the next new salon to book an appointment at. They are on these platforms because they want to get entertained by their friends and inspired by the influencers they follow.
So when you're entering this party with your ad, you need to give them a very good reason to drop what they were doing and instead care about what you have to say.
A strong offer in your ad is essential to make that happen.
I know what you're thinking, you don't want to give a discount on your services as you fear that might make your salon look cheap or that you'll undermine your regular prices. Or maybe you're concerned that it will hurt your profit if you're now going to give away your precious time at a discounted price.
These are all fair arguments and, trust me, you're not the only salon owner worrying about that.
But let me take you through what type of offers you can create and show you why it indeed is the right thing to do to grow your profit.
How Your Salon's Facebook Promotions Become Profitable
When you design your ridiculously good Facebook ad offer, you should not expect to make a big profit at the new client's first visit to your salon. And this is fine.
You need to take the full lifetime value of a salon client into account when you calculate your return on investment (ROI) for your Facebook promotion. That is, let's say 50% of those who go for the offer also become loyal clients. And let's say your average loyal customer spends $100/ visit and (on average) visits your salon 5 times. Then the value of each new customer is $500.
Let's say you were to give a 30% discount on the first visit and that your Facebook advertising cost is on average $10 to get a client in the chair. Then your total cost will be $40 for a return of $500. That's an ROI above 12!
Obviously, I'm just throwing around some numbers here and the exact value of an average visit, the client retention rate, and ad cost will vary by salon but it gives you an idea.
Protecting Your Premium Salon Image and Avoid Undermining Your Regular Prices
Luxury and highly premium brands run special offers and deals to attract new customers.
If done right, special offers and deals can be very effective without being dilutive to your salon's image and regular prices. Since many salon owners I meet worry about this I've created a dedicated article specifically on how to run salon promotions without undermining regular prices and brand image. I recommend you read this one through if you have this concern.
But there are two simple tricks I wanted to share with you already now.
Offer Attractive Bundles and Packages in your Salon's Facebook Offer
A good principle to have in mind when creating attractive promotions is to avoid giving discounts on your core services and instead give more value to the client by including a free or discounted add-on service in the package.
This way the client is still paying full price for your core services while they only get the add-on free. The value of add-ons is typically perceived as high by the client while the cost for you is low as you ideally can add it to an existing service (e.g. while the color treatments develop).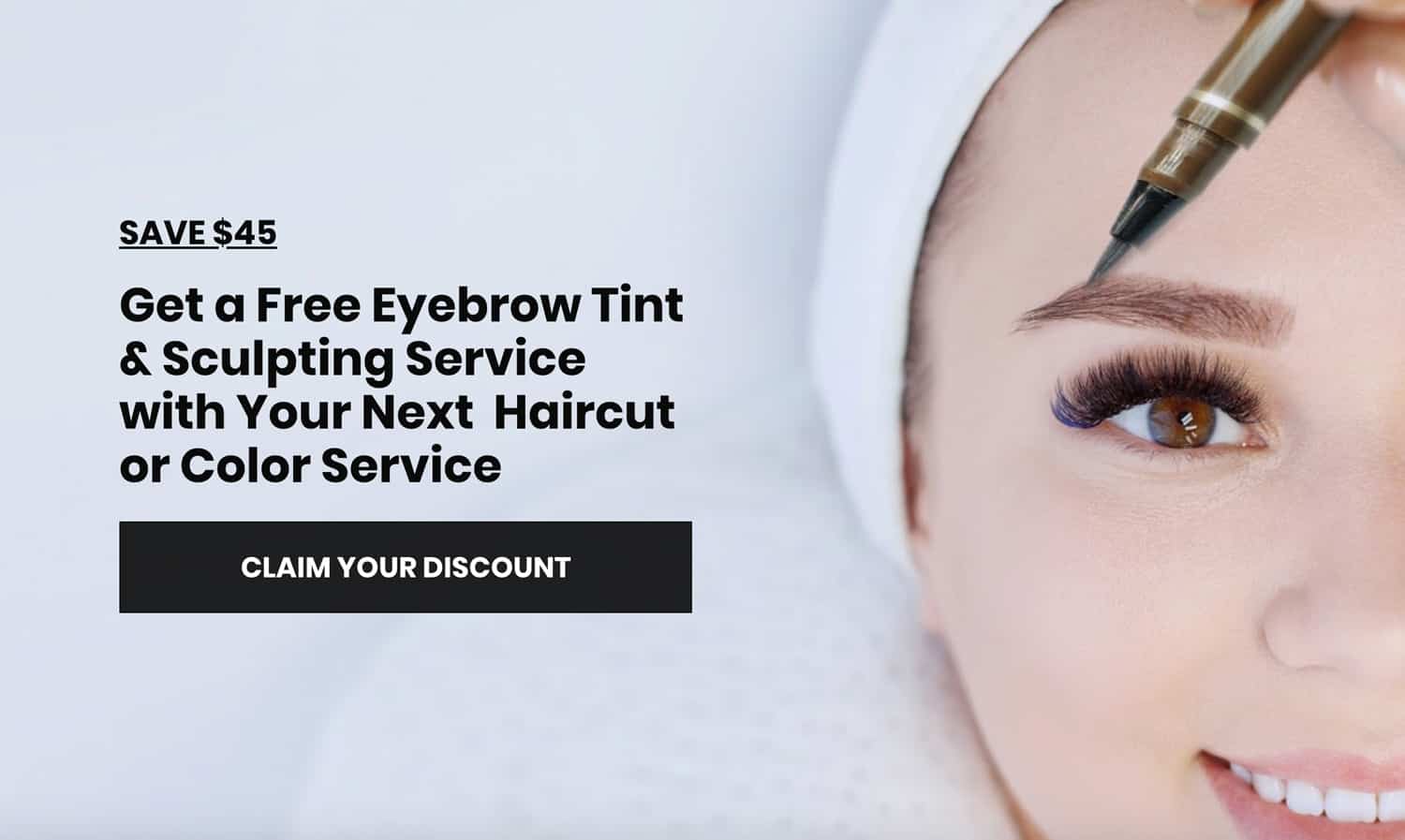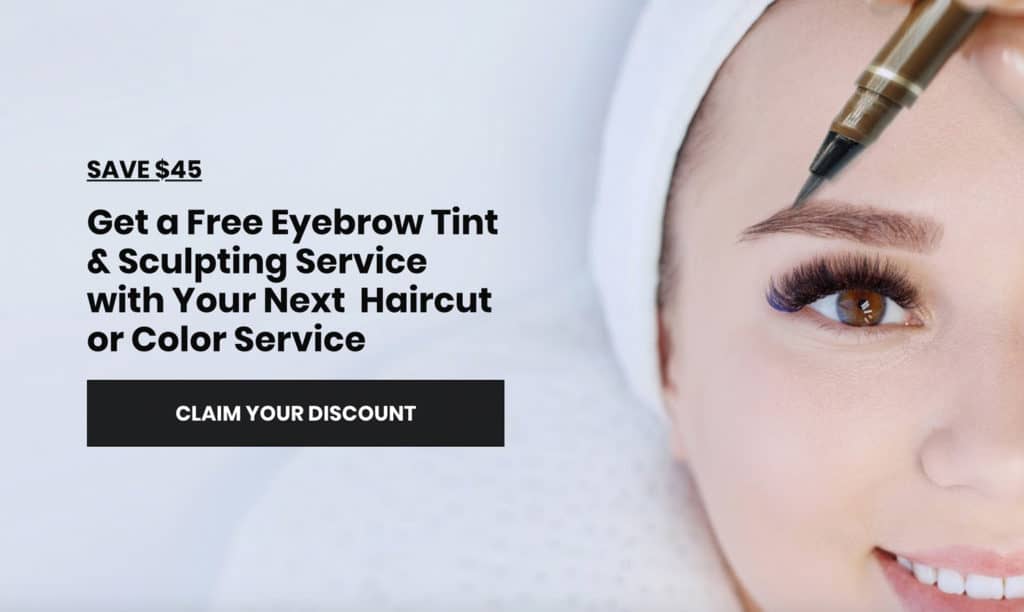 Example of an add-on offer shown on a salon's Facebook offer landing page.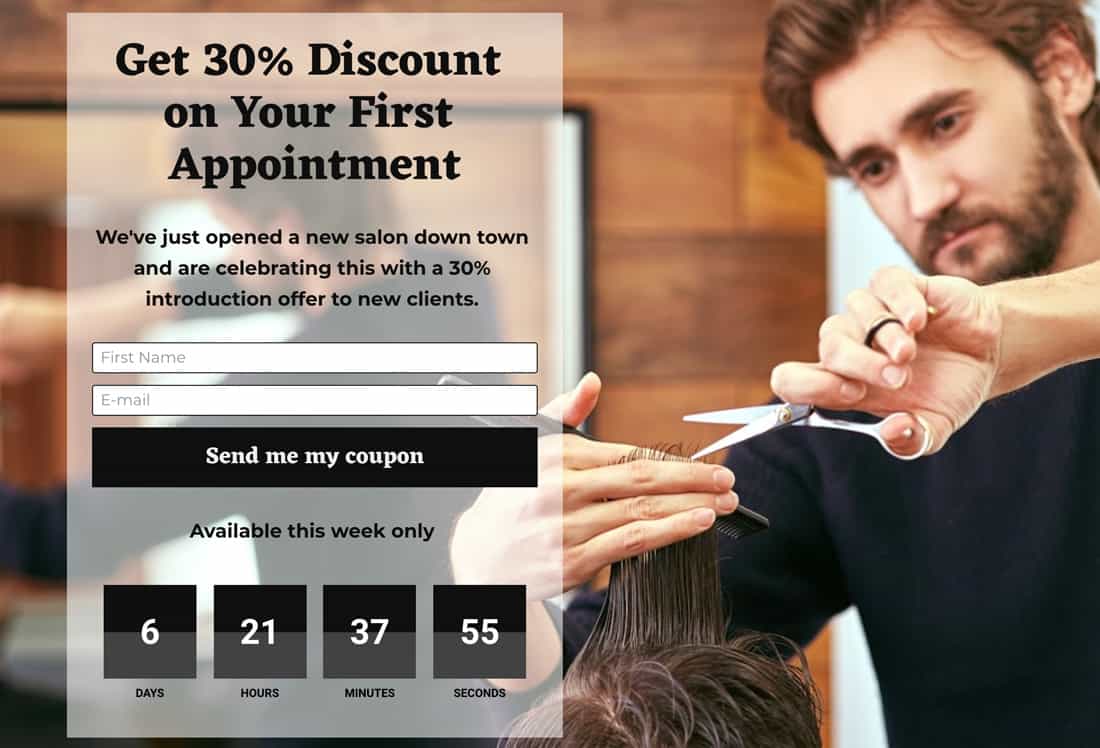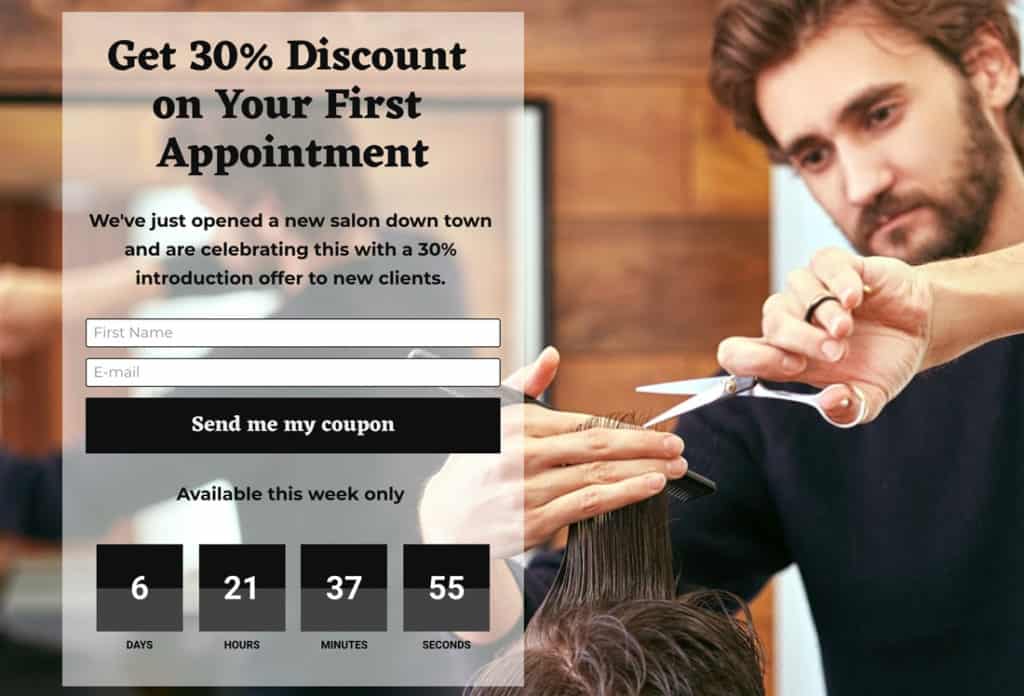 Example of discount offer shown on a salon's Facebook offer landing page.
Give Salon Clients a Reason for Your Discount
Bundles and packages can sometimes get complex. When you run a salon or spa offer in a Facebook ad, you need to ensure people understand what you offer in a split second.
Nothing beats a % discount offer when it comes to making what you offer easy to understand. But if you decide to go with this approach, to avoid undermining your prices, make sure it is very clear that the offer is for a limited time and that there's a specific reason for why you run the offer.
When you give a reason for the offer, people get why you're doing it and you won't come across as cheap or desperate. And you can always find a reason… New staff member, new salon, Halloween, Black Friday, etc.
I'm sure you now have some ideas for what you can offer in your salon or spa's Facebook ad.
Test it out by asking some colleagues or clients what they think. It should be irresistible to them. Like if they were stupid not to take it.
If that's the reaction and it makes sense financially for you, you're on to something good…
3. Create a Salon Offer Landing Page That Converts Visitors into Clients
Before we craft your Facebook ad that promotes your salon's offer, we need to set up a place where you'll send people who want to take the offer.
This is a crucial component of your ad setup. If you don't have a good place to send people who want to grab the offer, you'll lose a lot of potential new clients on the way which will only cost you ad money.
And, even if you already have a beautiful website for your salon, you cannot just send them to your salon's home page. The key here is that you send them to a dedicated page where they can grab your offer and they cannot do anything else there.
The page cannot have any distractors. Only your offer.
Let me repeat, the visitor should only be able to do one thing when they land on the page and that is to take your offer. Or else, you'll lose them.
But I don't know how to create such a page, you may think. Luckily, there are solutions available that allow you to do this very easily which I'll show you.
What the Salon Offer Landing Page Should Do
The page should do the following.
1. Present the offer they just clicked on in the ad back to them. It's important that you present the exact same offer as you had in your ad or you'll confuse people.
2. Overcome any objections they may have. After you've presented the offer, you should overcome any objections they may have to book. Most important is that you clearly show the location of the salon. If there's other information about how the offer works or if you have anything else that helps tackle any reasons why they may not take the offer, you list it below the offer.
3. Allow them to enter their name & e-mail to get the offer.
4. Send their discount voucher to their e-mail. You can also notify them that you've received a new lead so that you can follow up with them if they for some reason don't book.
5. Forward them to your online booking system. You should also share your phone number here if they prefer the old way of booking.
Salon Offer Landing Page Example
I've included an example of a landing page here that I designed for a salon to capture new client leads coming from a Facebook ad. As you'll see, the lead page is only focused on getting the visitor to take the offer. There are no other distractors on the page.
Step 1: The Landing Page
This is what the visitors see immediately after they click on the ad. Below this main screen is where you can add additional information about your offer and salon to ensure you tackle any objections the person may have before grabbing your offer.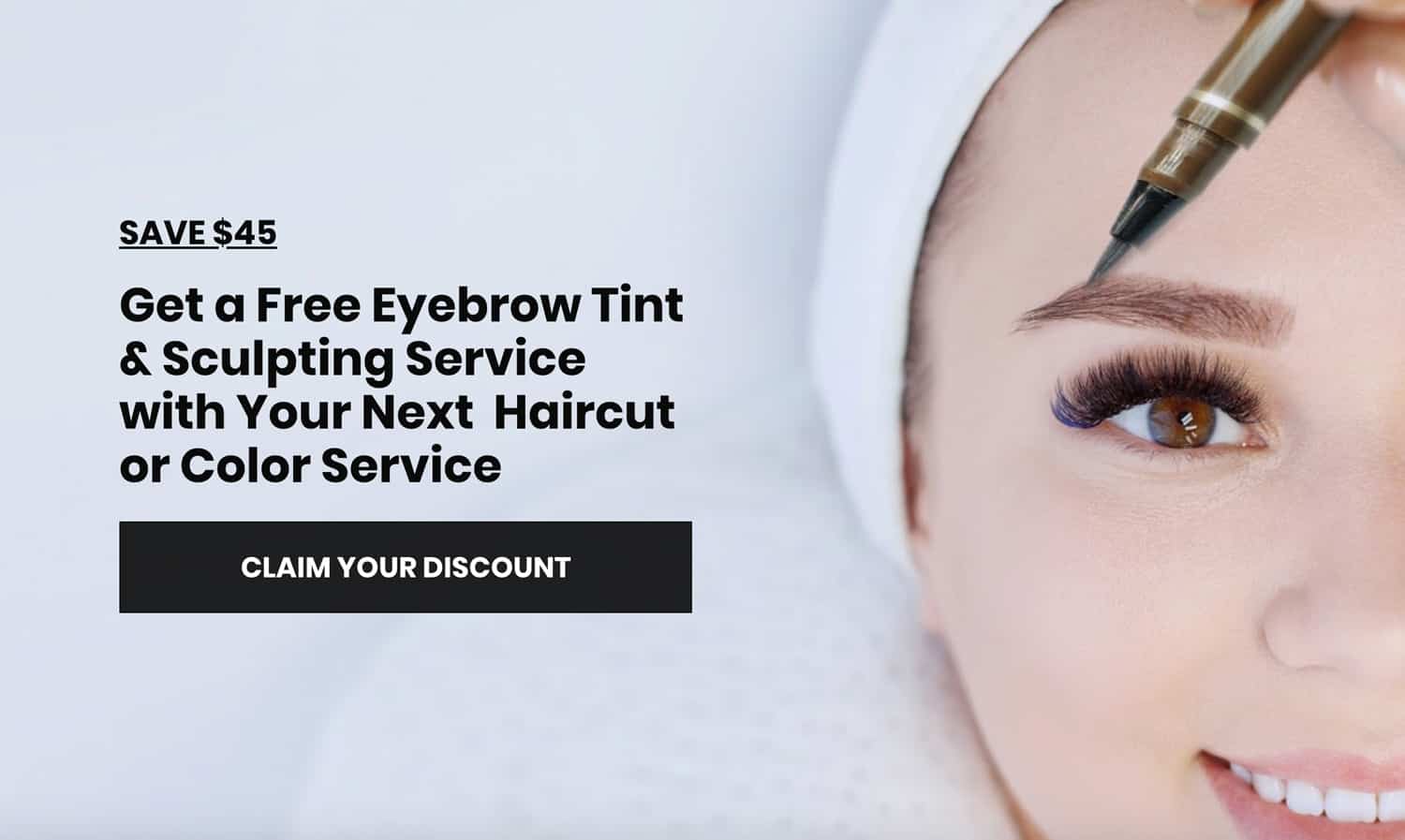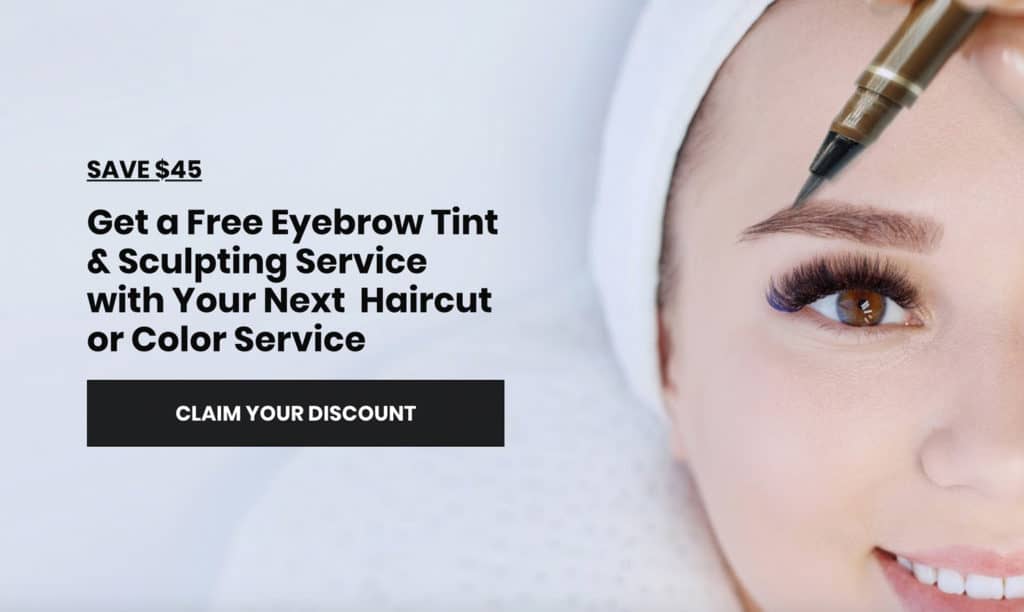 Step 2: Capture the Visitor's Details
The more information you ask for, the less likely it is that they will take the offer. In this case, I only asked for the e-mail but it can indeed be valuable to also capture the phone number in case they don't book so that you can give them a callback.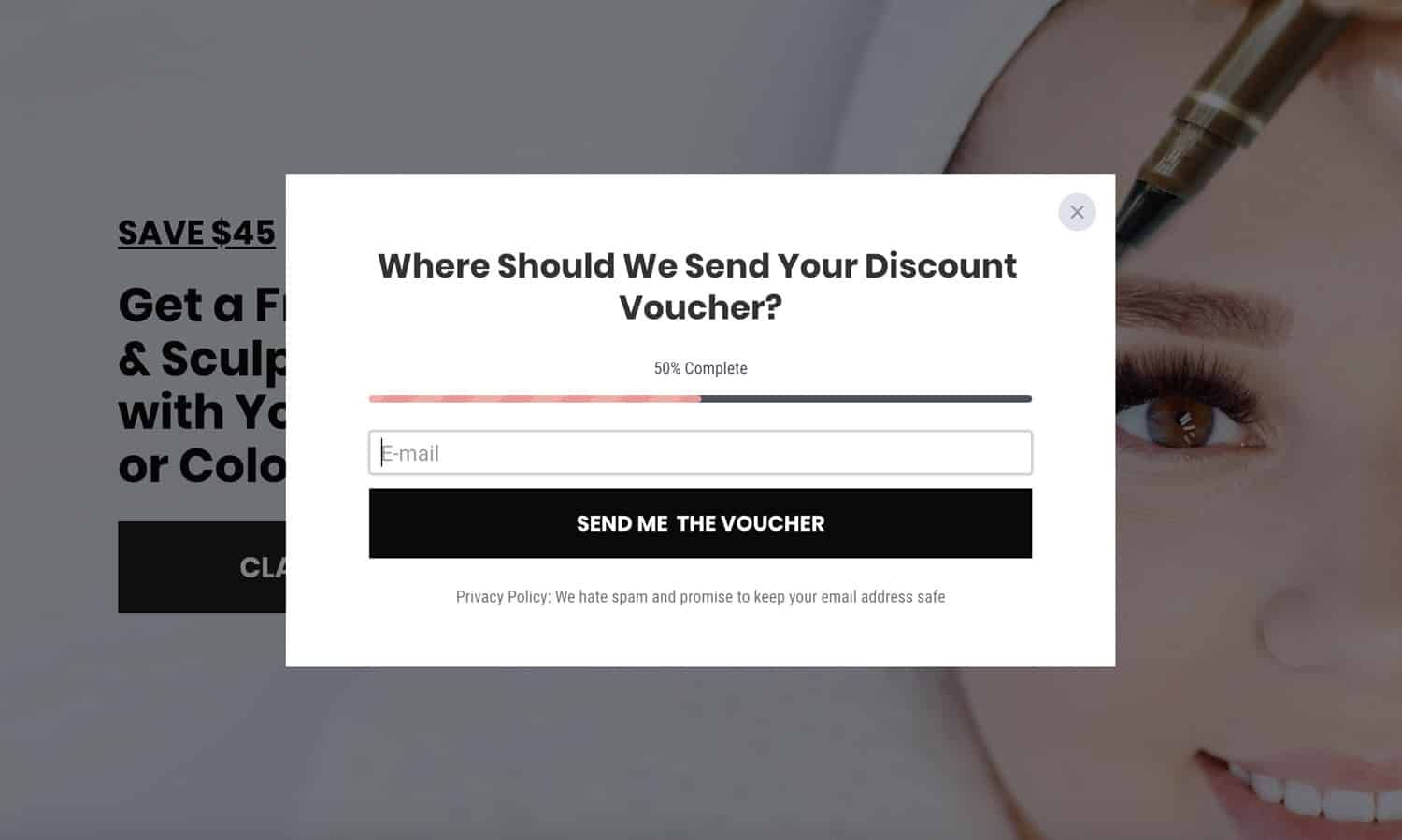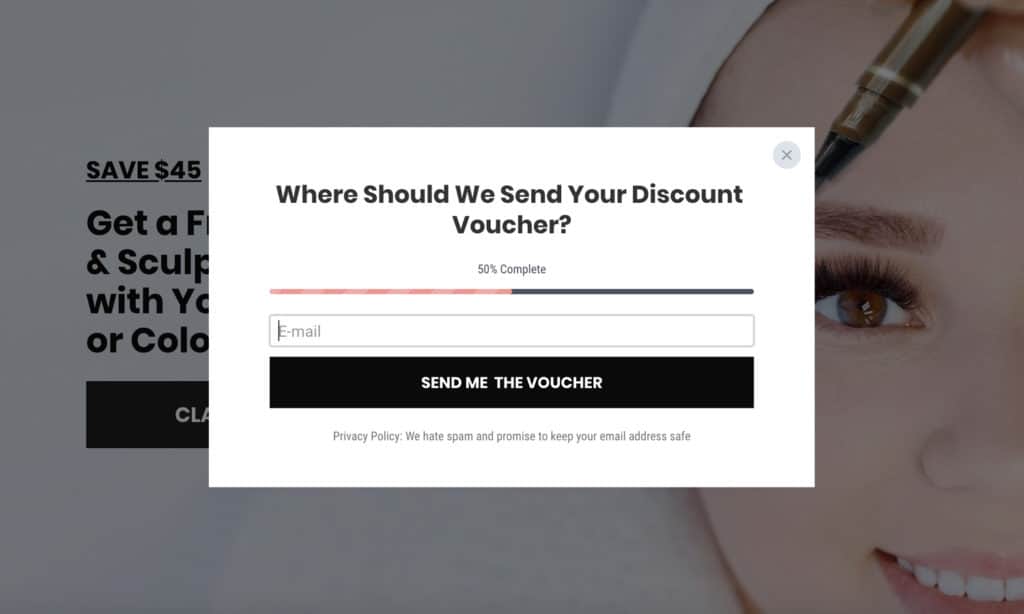 Step 3: Get them to Book Immediately
As soon as they've opted into your offer, you should give them the option to book their appointment. At this stage, the visitor is excited about their offer and the chances that they'll book are significantly higher than if you just e-mail the voucher and let them think once again about if they should book or not.
To learn more about appointment schedulers and salon software, I recommend you check out my review of the best salon software here.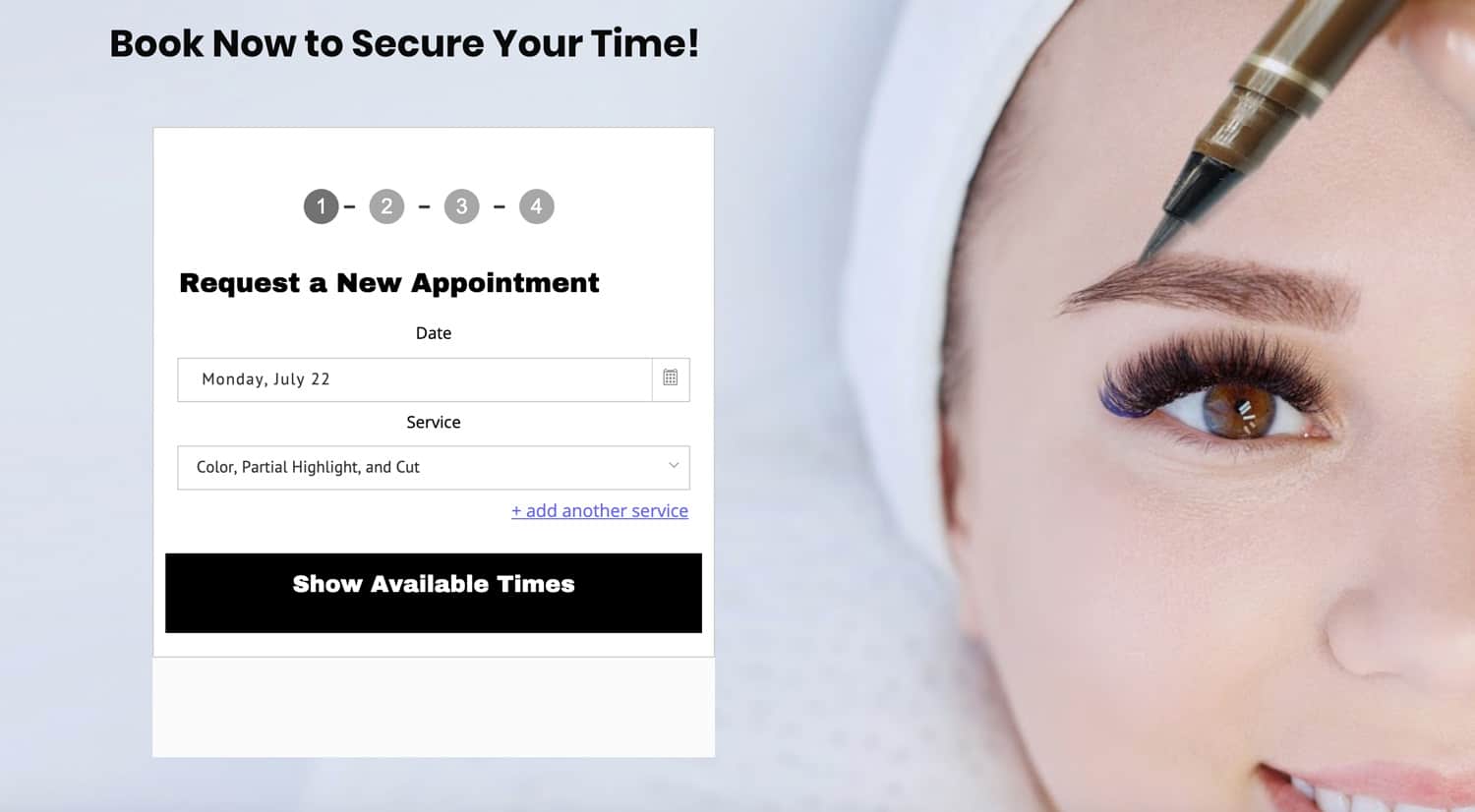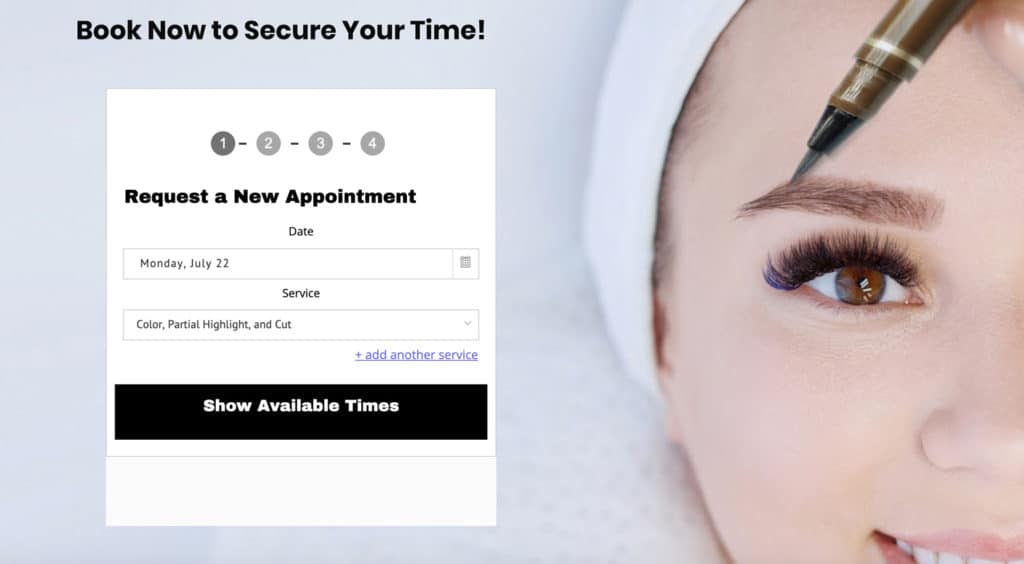 Another Salon Landing Page Example
I just wanted to show you an alternative to what a landing page for your Facebook ad could look like. The mechanics are exactly the same but on this one, I'm not using a pop-up to enter contact details. Another thing you'll notice is that there's a countdown timer shown on this one.
Countdown timers are a great way to create a scarcity effect in your offer to get people to act. This is very powerful. However, you should only use it if there indeed is scarcity. In the case below where the salon wanted to do a one-week-only promotion as they opened up a new salon location.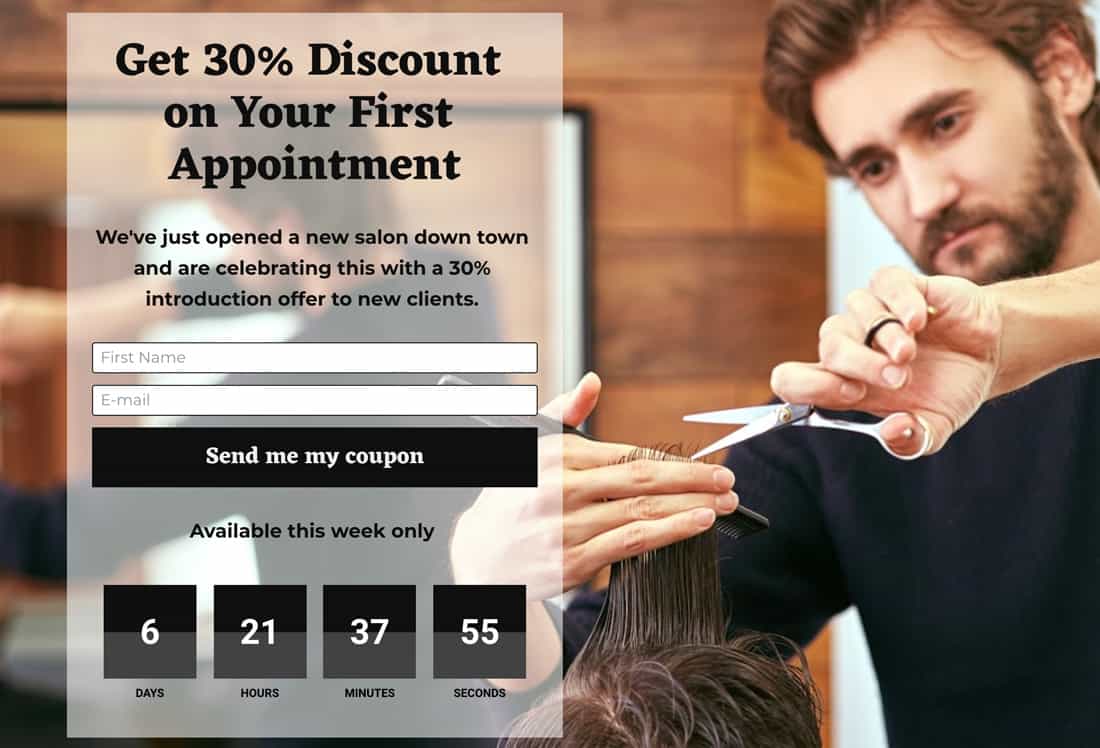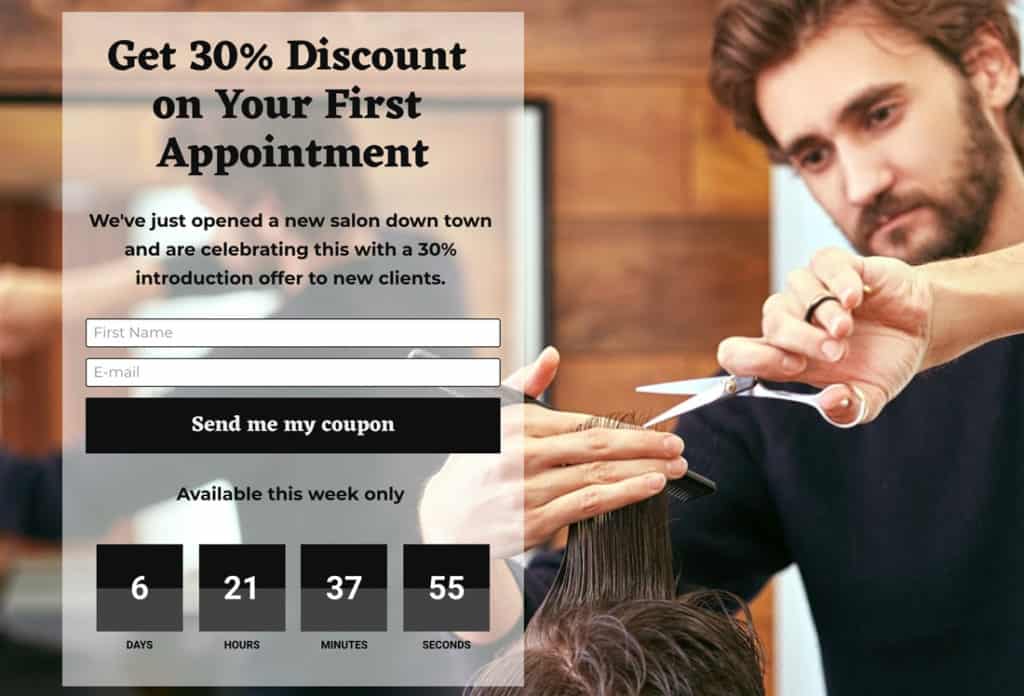 Get Your Landing Page Setup Now
It's time for you to create your landing page. I'll not go over every single step to get your page created. See my post on the best salon website builders.
Take a few minutes now to get a simple landing page created in Squarespace, Wix, or Shopify.
If you don't have an online booking tool already then I recommend Mangomint. You can also check out my list of the best salon software.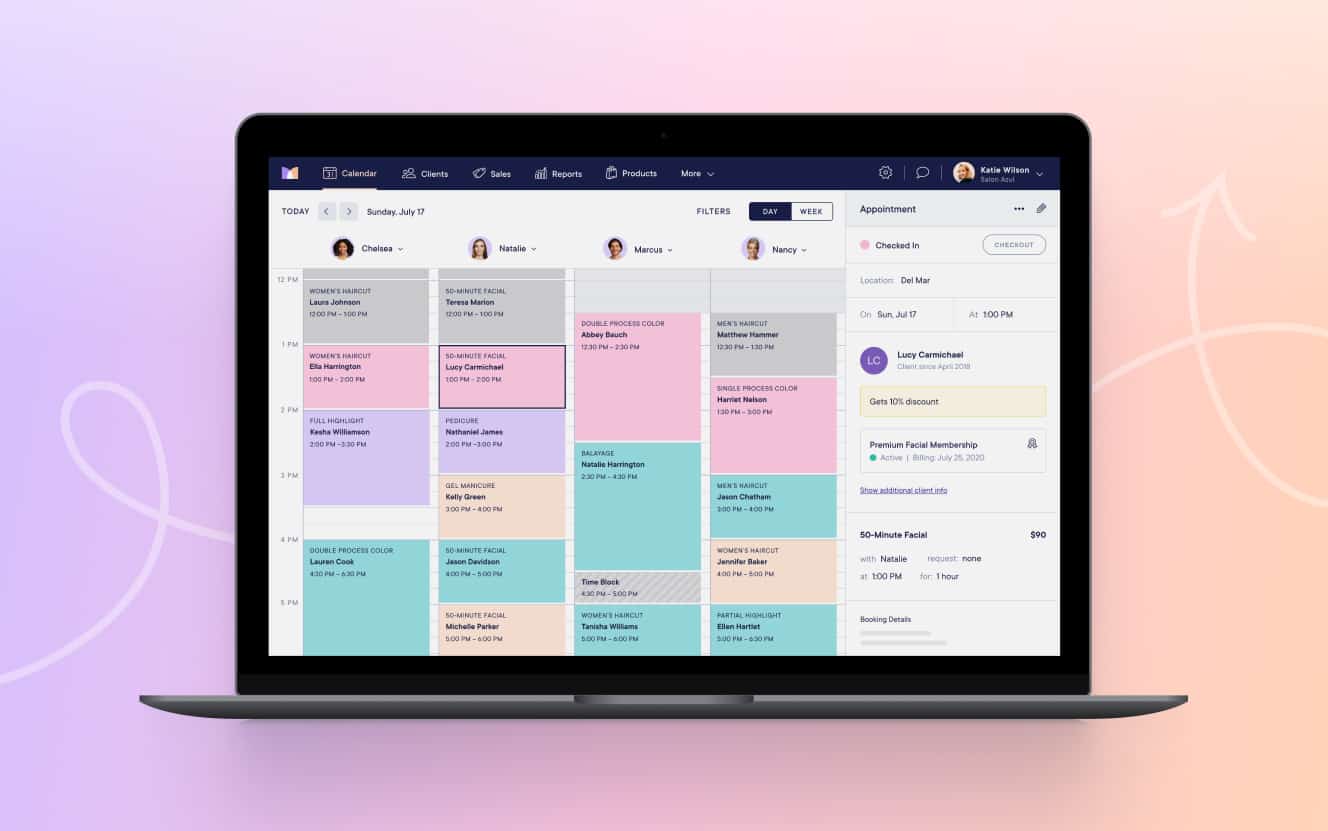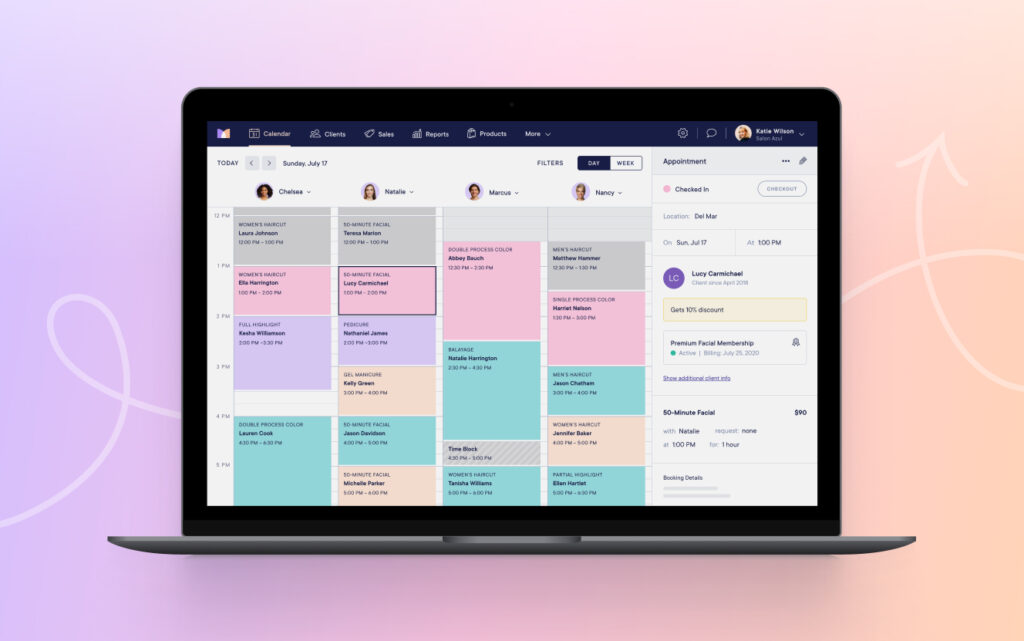 If you want to send out more automatic emails to new clients after they sign up for your offer, you can use Mailchimp.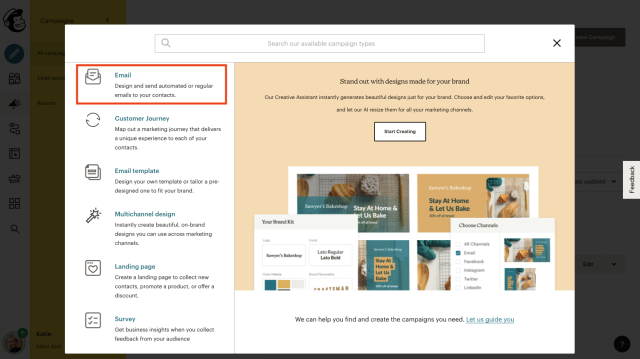 Mailchimp specializes in email marketing for a local businesses like salons and integrates very well with Mangomint.
Even if I strongly recommend tying an email marketing campaign with follow-up emails to your Facebook ads campaign, I won't go into details on how you do it in this guide.
Instead, I recommend you check out my guide to email marketing for salons here when you're done with this article.
For more tips on good tools to use and Salon Software, you can check out my complete list of tools that can help grow your salon or spa business here.
4. Create a Facebook Page and Business Manager Account for Your Salon or Spa
You'll need a Salon Facebook Page and Business Manager Account to run ads on Facebook.
The Facebook Business Manager is where you manage all your Facebook pages. It's also where you access the Facebook Ads Manager which is the tool you'll work in when creating your Facebook ads.
The Facebook Page is the representation of your salon on Facebook. It'll also be the sender of your ads. You'll likely already have a Facebook Page setup which you can then use for your ads. If not, you can create one in just a few minutes.
To get set up, go to https://www.facebook.com/business/ads and create your profile. Just follow the steps outlined by Facebook. If you don't have a Facebook Page yet, you can also create a Facebook page from here.
Take the opportunity to populate your Facebook page with information about your salon. Change your profile picture to your logo and make sure your salon name is clearly spelled out in the page name – ideally followed by a description of your type of salon – e.g. "Larissa's Hair Salon". People will see this information in your ad and you want all parts of your ad to work for you.
Take the time to add all other information about your salon to your Facebook page (opening hours, location, etc.).
Congratulations!
You now have your Facebook Business Account and Page set up!
5. Creating Your Salon's Facebook Campaign
It's time for you to get your Salon's Facebook campaign set up.
To do this, go to Facebook Ads Manager.
You'll see a view that looks something like the one below. I know, it looks a bit technical with a lot of new terminologies but don't worry about that. I'll show you what you need to know to get your salon or spa ad set up.


Before we create your campaign, I just want to clarify the tabs that you'll see on the screen above as they are a central part of how you manage a Facebook ad and it's not immediately obvious what they are.
Campaign: This is the higher-level definition of your campaign. This is where you define the goal of your campaign. For example, if you want your ad to send people to your website or if you want to get more likes on your post.
Ad Set: This is where you define the settings of your campaign. For example, who you want it to be targeted to as well as how much you want to spend.
Ad: This is where you create the ad itself. For example, what image or video to use in your ad and what the text should say.
We'll go through exactly how you can get your Facebook ad set up in the steps below but it's good to already now be familiar with the three levels of the campaign, ad set, and ad as this is something you'll work with throughout the ad creation process.
Now time to create your ad.
Just hit the "Create ad" button and I'll see you on the next step.
6. Define the Goal of Your Salon's Facebook Campaign
What do you want your Facebook ad to do for you?
That's the first question you'll need to answer.
You can do a lot of different things with Facebook ads. You can build awareness of your salon by giving your ad maximum reach. You can drive likes and comments on your post. You can sell your product or service and much more…
Depending on which objective you give your ad, Facebook will optimize your ad for that. This means that if you want people to like and comment, Facebook will make sure your ads reach those people that typically like and comment on posts. If you want your ad to drive sales, Facebook will show your ad to people who are prone to buy online. And so on..
Your salon can benefit from ads created for several of the below objectives. However, in today's article, I'm focusing on getting new clients to book an appointment with you.
To do this you should set the objective to drive traffic to your website, where we'll convert the visitor into a new client. Don't worry if you don't have a website or if you have one but you're not sure about how well it converts visitors into clients. I'll go through how you can create a specific page to do this for you.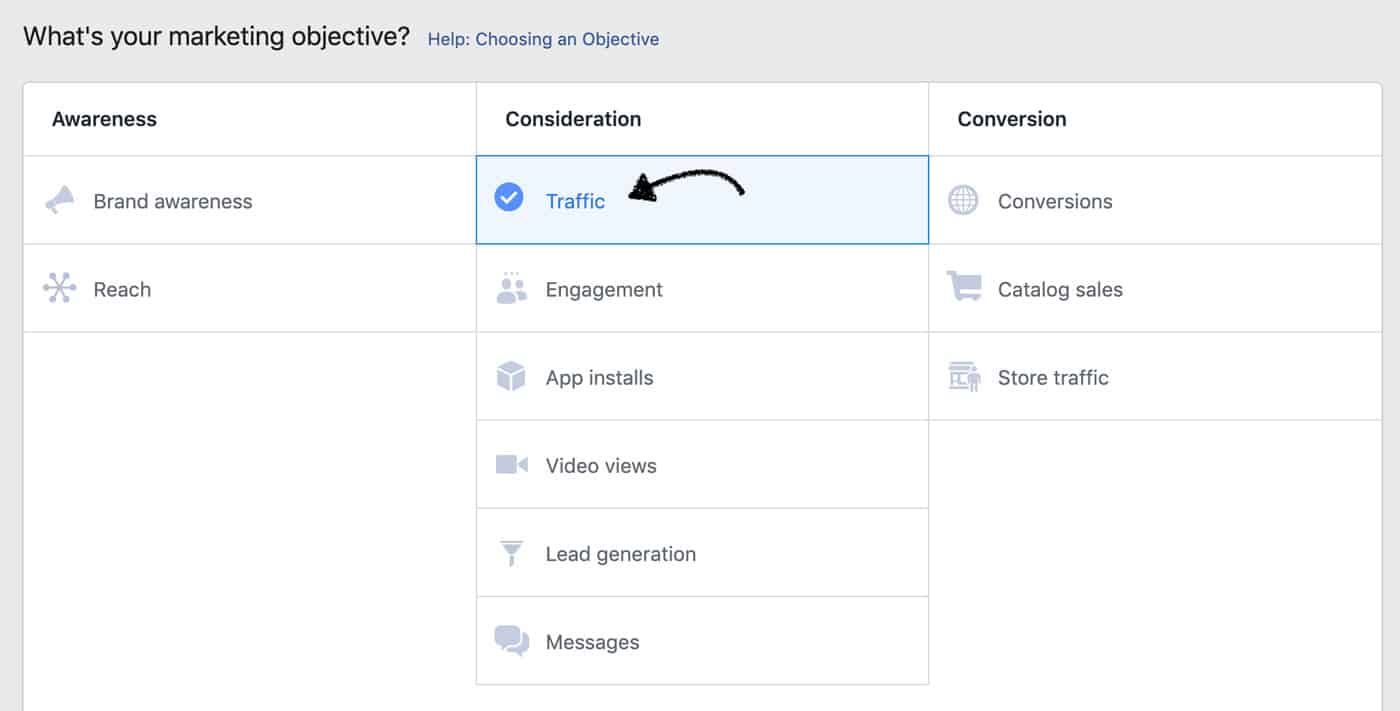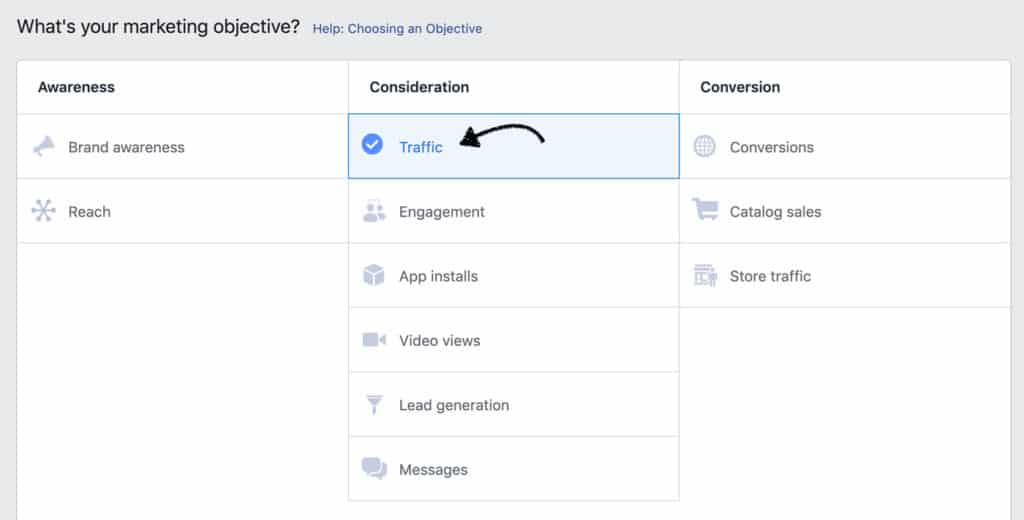 Choose the "Traffic" objective for your Facebook ad, ignore the other options, and hit the "Setup Ad Account" button.
7. Find Your Ideal Salon Client That You Want to Attract to Your Salon
When you've set your ad objective and configured your ad account, it's time to set up your Ad Set.
There are quite a few different settings you can play with here if you want but the most important ones are:
Traffic: Choose to drive traffic to the website
Budget: Set this to $5/ day to start with
Audience: This is where you tell Facebook to who you want to show your ad. This is the most important part of the Ad Set so let's go into it in a bit more detail.
You can leave all other things on default settings.
Target People Living Close to Your Salon
Enter the exact address of your salon as the location you want to target with your ad.
Set the radius around your salon for what is reasonable that someone would travel to go to your salon. In the example in the image here, I'm using an address in the NoMad in Manhattan. Clearly, a lot of people live here so even with a narrow target (1-mile radius) you get a large audience to target.
You'll be able to see on the map which area your ad will cover.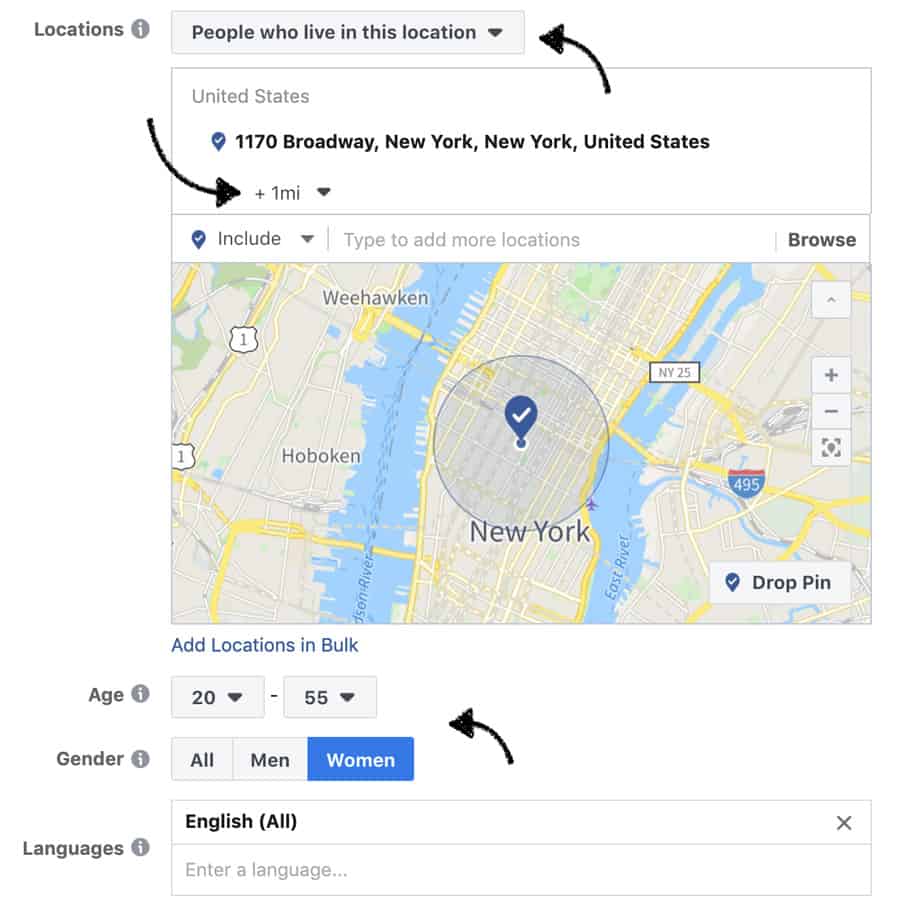 You can choose if you want to go after people who are just visiting the location or who live there. I'd recommend you start with people living in the area.
Gender & Age
Here you simply specify the demographics that are most relevant for your salon.
Interests
If you run a salon that is focusing on a specific niche, you can target the specific interests of people. For example, if your salon only uses vegan products and that's your point of difference from other salons in the area, you can choose to only go after people who have an interest vegan related topics. This will make your audience even more specific and you can tailor your message in the ad even better to that audience.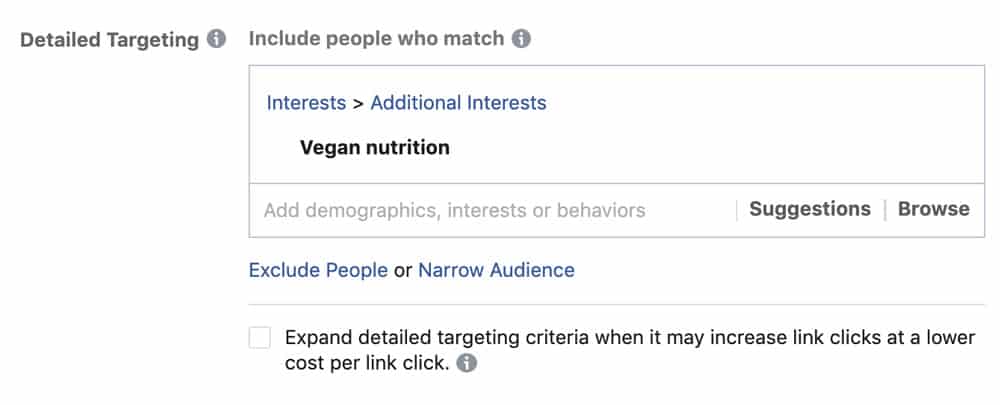 Optimizing the Size of Your Salon Client Audience to Target
The more targeted you get, the smaller your audience you can reach becomes. It's good to be targeted but you should go too far here. Generally speaking, it's better to be a little bit too broad in your target than to be too narrow. Facebook will also apply its intelligence to your ad. That is, if Facebook sees that a certain type of person is clicking your ad over another type (again, Facebook has a lot of data about everyone…), it will show your ad more to the type of person who's most likely to click.
As you play around with defining the salon client audience you want to go after with your ad, Facebook shows you its best estimate of how big your audience will be based on the criteria you set. You'll also see if Facebook thinks your audience is too big and that you should be more specific in your target.
8. Create a Facebook Ad That Grabs the Attention of your Ideal Salon Client
You're almost there now.
You know who you want to target. You have the offer to reel the new clients in with. You have an offer page to send them to that will convert them into clients.
But there's one critical part still missing.
The actual ad that you want to place in front of people to catch their attention while they are scrolling through their social feed.
There are many things fighting for the attention of people in the newsfeeds today. And your ad needs to grab people's attention despite all the other noise.
Let's now go through the critical components of the ad that'll help you achieve this. We'll then set it up in Facebook ads manager.
The Image
This is in fact the most important part of your ad. The image is what makes people stop and get interested in what you have to offer or say.
If you have good pictures from your salon, that's the best. If not, I recommend you sign up for a free 30 day trial of Canva which gives you access to professional photography.
Canva also offers a free plan which you can downgrade to after your 30-day trial and you have your photography.
Canva also comes with ready-made Facebook ad templates that you can use as a starting point for your ad – this makes it super easy to get a good ad created.
The Text
The text you use in your ad will make all the difference when you've captured the attention of your audience with the picture.
Try to use an informal tone in your language. Spice it up with emojis. Start by calling out the audience you've targeted so that they feel the ad speaks to them. In fact, the only thing you want to achieve with your first line of text is to get them to continue to read.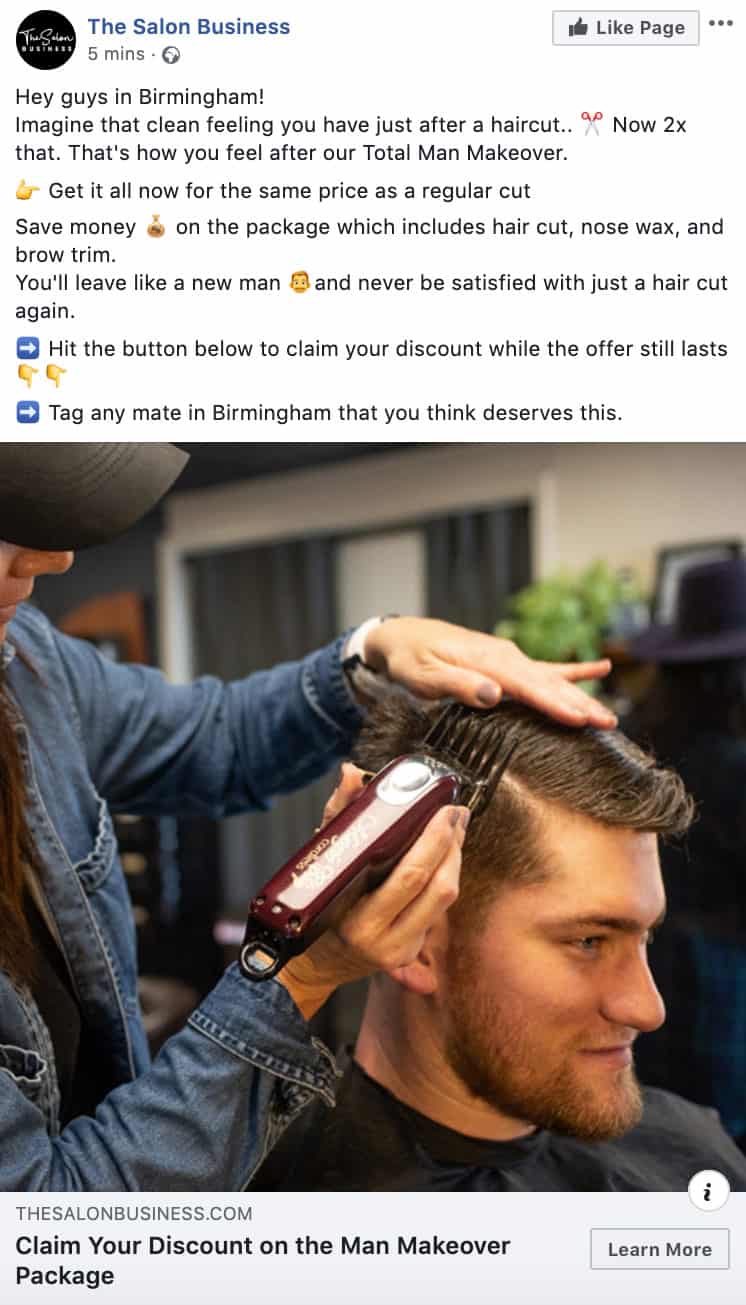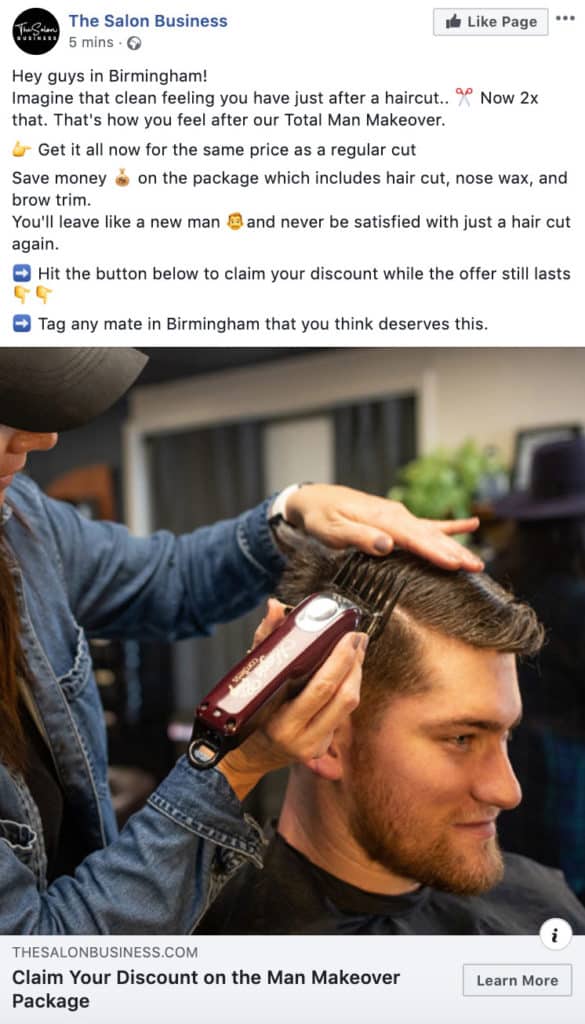 Include your call-to-action (CTA) before Facebook hides your text. You want to make sure people get to see the action you want them to take before they need to click "read more".
Talk about benefits rather than features in your offer. Peoples's decision to click on an ad is based on emotion and not a rational argument. Try to make the viewer of the ad picture him or herself what it would feel like when they've been at your salon rather than listing how long the service is, what products are used etc.
These are all features of your service. You want to communicate the benefit first. Features can be helpful too but first, you'll need to grab them with the benefit.
You communicate the benefit with the emotion they will feel getting a service with you or by stressing the problem that your service solves.
Try to create a sense of urgency to act. For example, you can say "only 15 deals available" or "only available this week". Of course, whatever element you have in your ad to create the urgency to act needs to be true 🙂
If you include all the above-listed elements in your ad copy, you should have a good first ad to start testing with.
Setting up Your Salon Ad in Facebook Ads Manager
It's pretty straightforward to set up an ad.
You'll see a few different options which you indeed can try out. However, for this beginner's guide, we'll keep it simple.
Video ads are typically more effective than image ads so creating a sales video for your salon is a good idea. But in the example, we'll use an image ad.


You can now upload the image you want to use. Again, the best is a real image from your salon but you can otherwise get a stock image (see my recommended stock image providers on my resource page).
You can also upload a few different images and let Facebook try out the different ones. Facebook will automatically show the one that works the best for your salon when the algorithm has learned which ones get the most clicks.
Now you just need to fill out your copy that should go with the ad and the URL to your landing page where people can claim their offer.
Below is an overview of what this can look like.
If you want to use emojis in your copy you can grab them from Emojipedia which I typically use.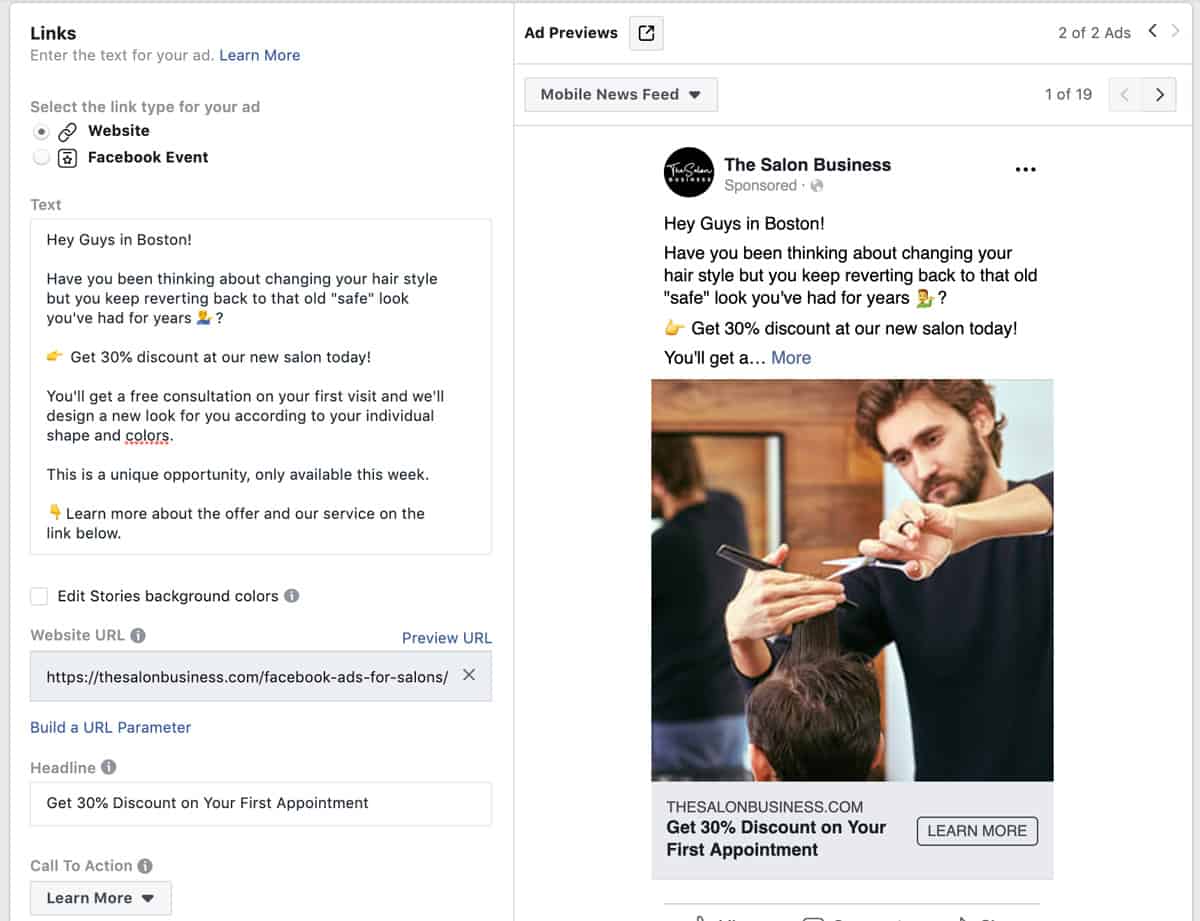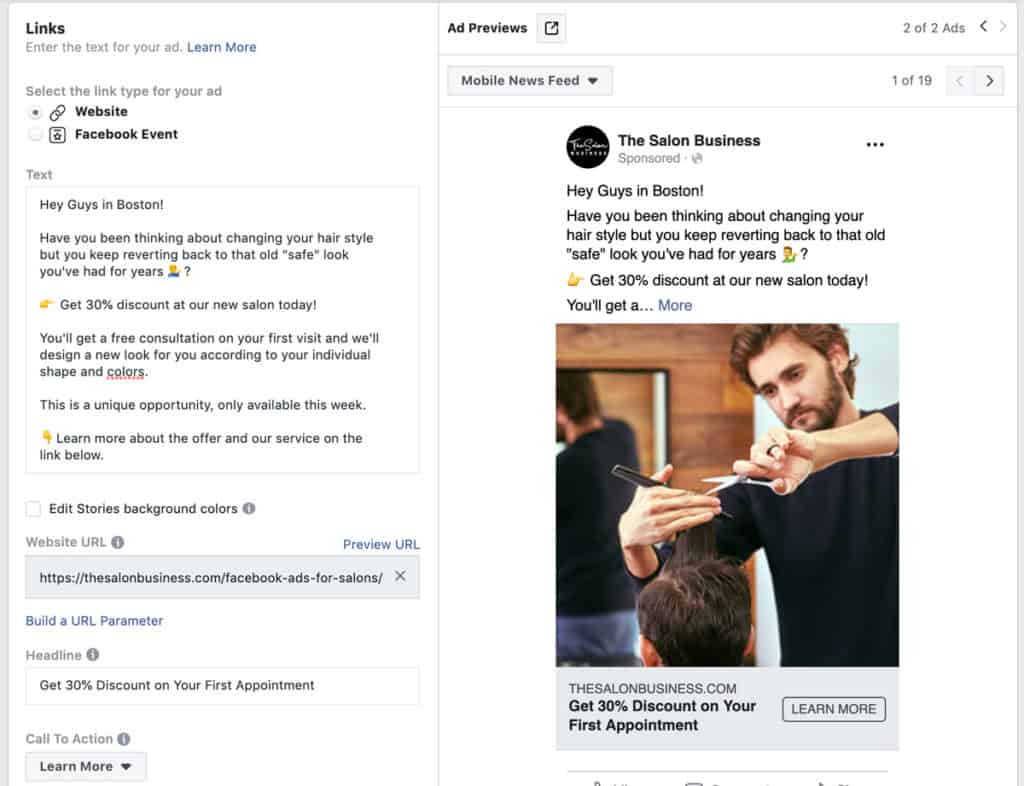 When your ad is ready, just click confirm.
You'll now be asked to enter the card details that should be charged for the ad cost.
And that's it. Your ad is now ready.
It may take some time until Facebook approves your ad and it goes live. You can check the status of your ad in the ads manager.
Salon Facebook Ad Example
So here's what your final Facebook ad could look like. The example is what you'll see in the mobile view format (which is also the most common).
I wouldn't say the ad is perfect. But it ticks most boxes.
It calls out the audience that it is intended for (men in Boston in this case)
It stresses the problem that people may have (not daring to change looks)
It shows the call-to-action early (before Facebook cuts off the text and you need to click read more)
It clarifies (even if short) the feature that delivers the benefit (the personal consultation to give you the confidence to change your look)
It creates a sense of urgency (only available this week)
It also uses an informal tone, emojis, and an actual picture from the salon.
You can copy this format but make sure to tailor it to your offer.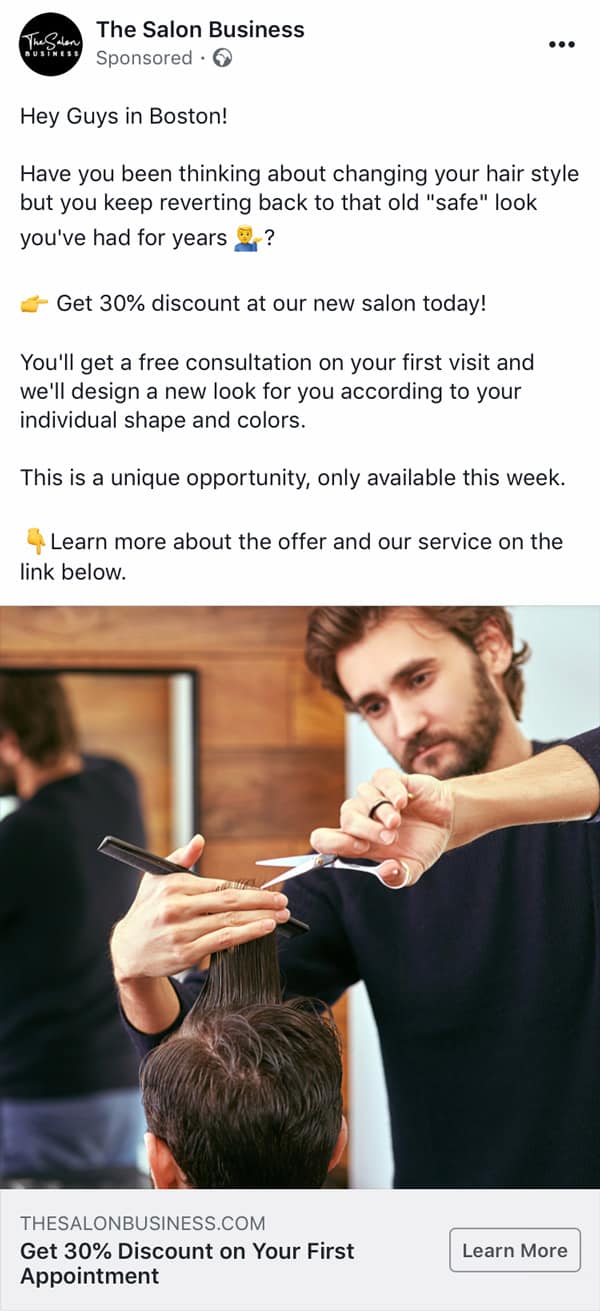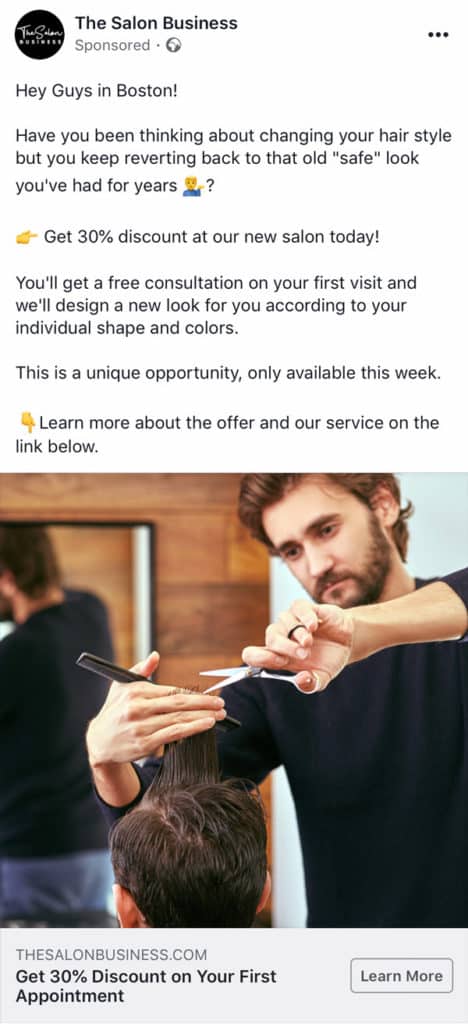 Hairdresser Facebook ad example
The example here is based on the example here where I'm targeting women around the NoMad-based salon that are interested in vegan nutrition.
As you can see, given a lot of people live in Manhattan, the audience is becoming rather big despite being very targeted.
This may look very different to you in case your salon is based in a less densely populated area.
It also shows that if I were to run the ad like this and spend $5/ day, I would get about 8-32 people clicking through to my salon's website per day.
Wouldn't that be awesome?
When you're done with your targeting, just hit continue to save it and move forward to the Ads section where we'll design your Facebook ad.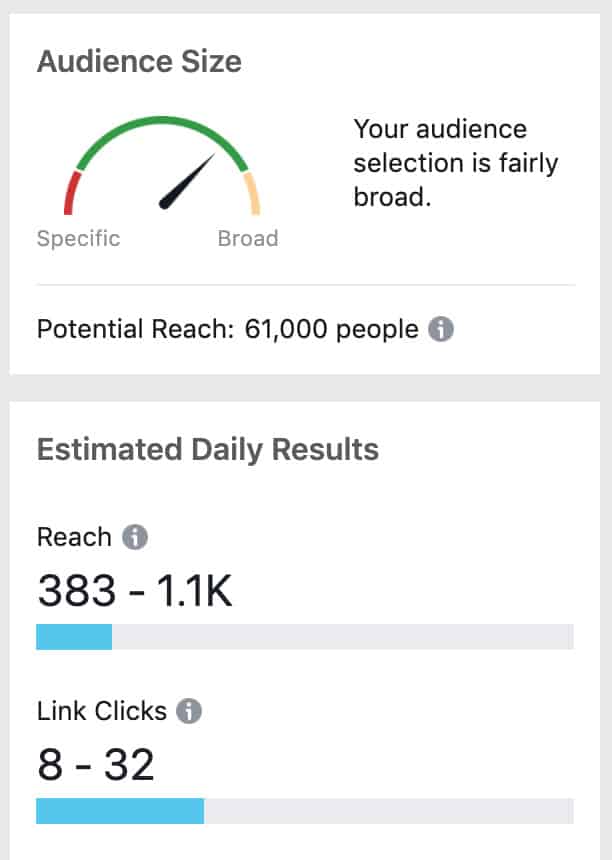 9. Test & Learn
Congratulations!
You now have your first Facebook ad for your salon/spa ready and running!
I hate to break it this late 🙂 but it's quite unlikely you'll nail a highly profitable ad in the first go. That's just how it is.
You'll need to test and try a few variations before you lock on the best one that gives you the highest return on investment (ROI).
But don't spend a lot of time getting it perfect the first time. Get something out there and see what happens. You'll learn what works and not and you can improve over time.
In fact, put Facebook to work for you here. You can upload several images and let Facebook pick what works best. You can also create a different target audience and run the same ad to different audiences to then see which one gives the best result.
Getting good with Facebook ads is all about testing. And you should let Facebook test for you.
However, don't switch between ads too quickly. Give Facebook a week or so before you draw any conclusions on if your salon's Facebook ad is working or not. When you run your ad, Facebook will collect more data and improve over time. So give it a bit of time.
Conclusion
You did it.
You went through this full post and you now know how to get your first Facebook ad up and running for your salon and spa. Awesome!
If done in the right way, Facebook ads can be a game changer for any salon or spa business. It's the number one strategy I call out in my post that covers the broader strategy of social media for salons.
In today's article, we've focused on how you can use Facebook ads to get new clients to your salon or spa. And we've done this by following the 9 steps of Facebook ads for salons & spas:
Deciding on your salon's Facebook ads strategy
Coming up with a Facebook ad offer salon clients cannot resist
Creating an offer page that converts visitors from your ad into salon clients
Setting up the accounts you need with Facebook
Creating your salon or spa's first Facebook ads campaign
Defining the goal of your salon's campaign
Finding your ideal salon client on Facebook to target
Creating a Facebook ad that catches the attention of your target salon client
Testing and improving your salon ad campaign
You know the basics now and you're equipped to run your first ad.
Over to you now. The best way to get good at Facebook ads is to practice.
So I really hope you'll take what you've learned today and put it into practice.
If you're looking for more marketing ideas to grow your salon business, I strongly recommend you check out my ultimate list of salon marketing ideas here.
I would love to hear how you get on.
What's your experience with Facebook ads? Have you tried any of the tactics listed here?