Disclosure: This post may contain affiliate links, meaning I get a small commission if you decide to make a purchase through my links, at no cost to you.
Learn more...
Running a salon business is arguably one of the toughest jobs in the world.
You need to be good at your craft, have taste for relevant trends, and at the same time manage and grow your business and team.
When will you have time to do your salon's Instagram posts, update your salon's website, and run the next Facebook ad campaign that'll bring in new salon clients?
We all know how important it is to market our salons.
But it's just really tough to manage it all and to do it well..
And that's probably why you've landed here.
Having an agency manage the marketing for your salon is a smart call.
But you need to make sure it's a good one and that you're not paying too much for their services.
How on earth do you know if it's a good agency and if what you're paying is fair?
This is what I wanted to help you with today. I wrote this short guide to help you find the best salon marketing agency for your beauty business.
When Should you Hire a Salon Marketing Agency?
How to market a salon business has changed drastically over just the last 5 to 10 years.
The Internet has matured and the effective ways to attract new clients and grow your salon business is in 90% of the cases happening online.
This requires a complete mind shift in how you approach growing your salon business.
At the same time, the way to use online media effectively changes fast. Facebook ads can be the tool that generates most new clients at the lowest cost one month. Next month it may be Linked in videos.
It's fair to say that if you don't have a big marketing interest, it'll be difficult to keep up with what you should be doing that will be most effective for your salon. Here's where a good salon marketing specialist can help.
Good marketing today has become more conversational than just creating an ad and then putting it out there. Effective salon marketing relies on regular e-mail updates, social media posts, and fast response to customers and all your channels. Even if you can do a lot of this yourself, it will take time from you.
Time that you also could spend on what you're best at. Leading your salon team or meeting and treating clients.
If you have some budget, you can free up a lot of your time and capacity by giving the work to a salon marketing agency instead.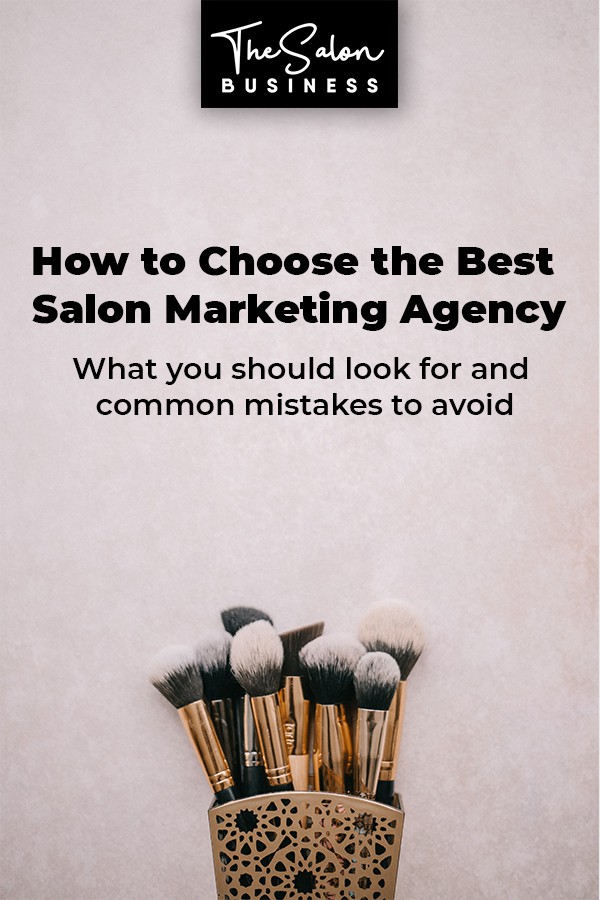 What Services should a Salon Marketing Agency Offer?
I've listed here the typical services that a salon marketing agency would offer.
Creation and Management of your Salon Website
Having a good website is critical for any salon to be successful. Your website is in many cases the first impression you give potential new clients – so you want it to be good.
You can of course create a salon website yourself (I'm showing you how here) but to save you time and get the best quality, it can be a good idea to get a salon marketing agency to help you.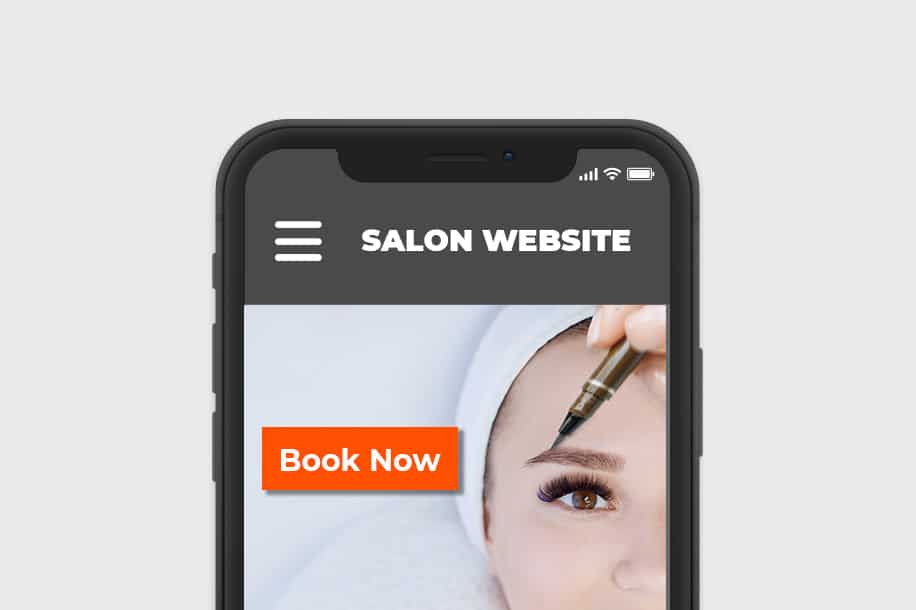 Search Engine Optimization for Salons
How do people find new salons today?
They Google it.
You need to ensure your salon is showing up when people are searching for salons in your area.
There's a few simple tricks you can do yourself to improve how you show up when people are searching for salons in your area. You can learn about it in my article about search engine optimization (SEO) for salons here.
However, SEO is a science of its own and a good salon marketing agency can offer services to improve your position in the search result.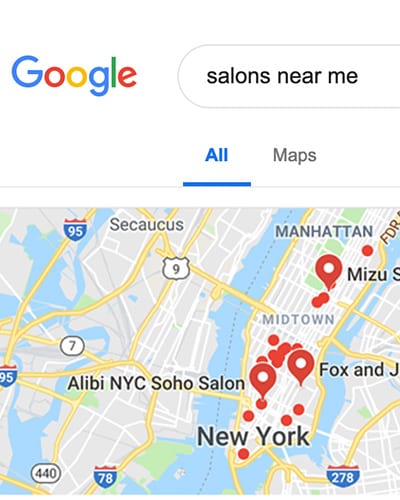 Social Media Management for your Salon's Profiles
Managing your social media can be time consuming. But it is one of the best ways to get your salons name visible so you just need to be there.
Many salon's manage their social media themselves. If you read my guide on social media for salons & spas here you can do it too.
But it does take some time and skills. Even if there's tools to help you manage your salon's social media available (see my recommended tools page), it does require you to take time out of the daily salon business to plan it right.
You can also get an agency to help setup your social media strategy but then manage the day to day posting yourself. This can save you quite some money whilst still ensuring you get the most out of the work you do.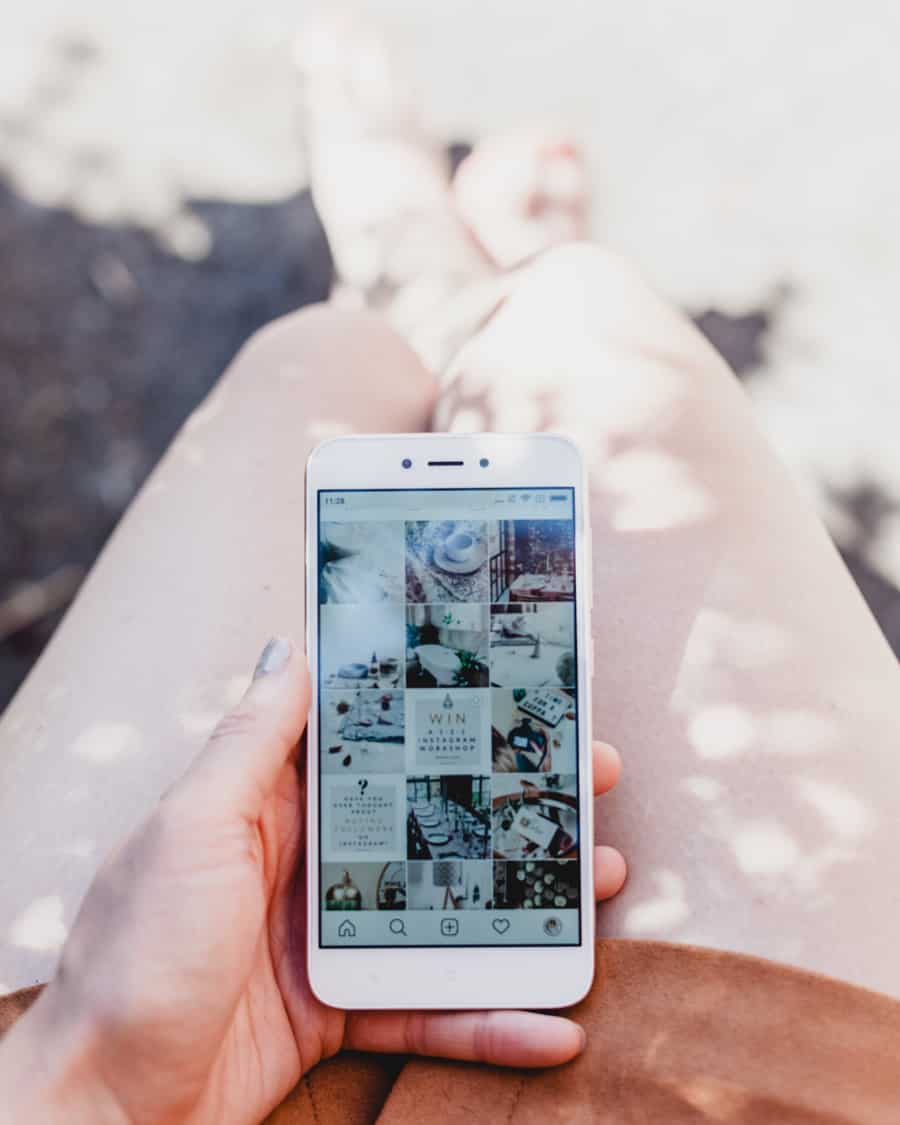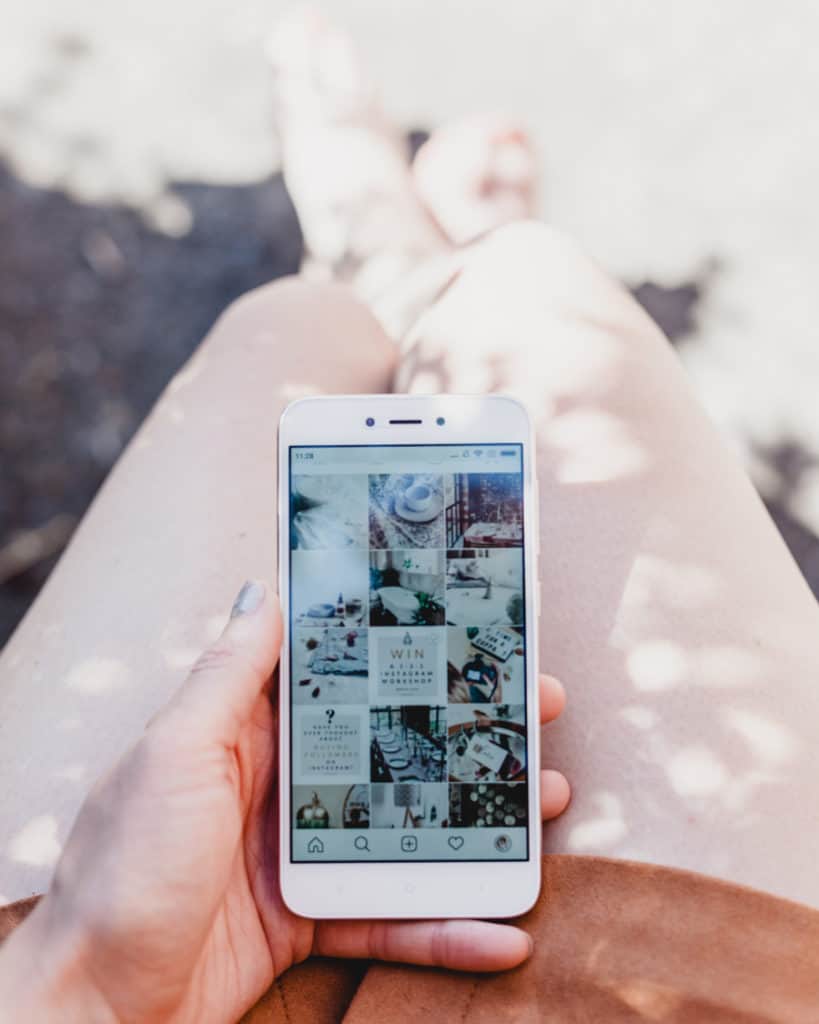 Online Advertizing for Salons
To build a clientele strengthen your salon brand, you'll certainly need to buy advertizing space for your salon. I the salon marketing agency you work with is recommending you to buy print advertizing, I'd take that as a warning sign that you're not working with an up-to-date agency.
The cheapest and most effective way to reach new (and existing) salon clients today is for sure using digital advertizing. The most popular advertizing programs for salons are Facebook Ads, Instagram Ads, and Google Ads.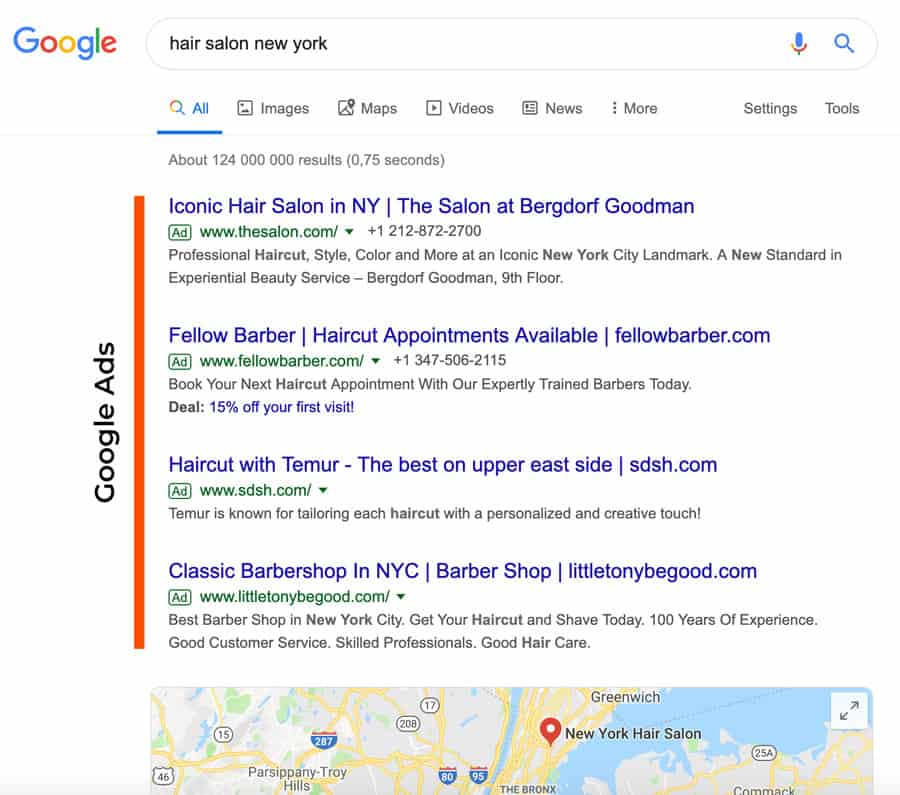 You can buy online advertizing space for your salon yourself. If you're interested in that, I would start with Facebook & Instagram Ads (which you can learn how to do for your salon in my other article here). As you'll see when you go through the guide, it is very possible to do it yourself but it just requires a abit of skills and time. This is also where a good salon marketing agency can help.
E-Mail Marketing for Salons
E-mail marketing has been around for a while now but it's still the most effective way to keep in touch with existing clients on a regular, automated, basis.
On top, getting potential new clients onto your e-mail list is a good way to build trust and introduce your salon to them in order to get them to book with you.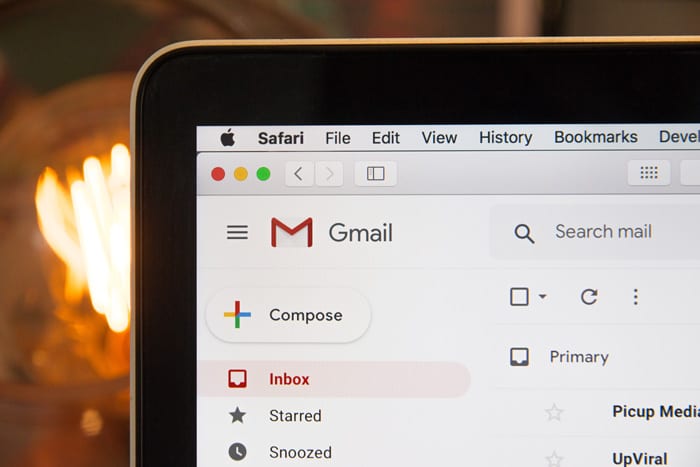 If you have a good salon software, it should be be able to help you with this. It can send automated e-mails ahead of and after appointments. And the real good ones can even manage your newsletter for you. You can check out my list of the best salon softwares right now here to learn more. There's also other more advanced e-mail marketing tools you can use if you want to set this up yourself (see my resource page for my favourite).
However, planning good e-mail campaigns and writing e-mails that get opened and that people take action on is quite a skill. Thus, if you can afford it, it makes sense to have a salon marketing agency help you out with this as well.
Branding your Beauty Business
As you grow your salon business and you expand your presence to more places (in salon, website, social media, print material etc.), it is critical that you have a consistent look and feel of your brand.
If your website looks one way and when people later walk into your salon and they have a different experience, you're diluting the image of your brand.
A salon marketing agency can help you create the visual profile and voice of your brand. Like with everything else you can do this yourself.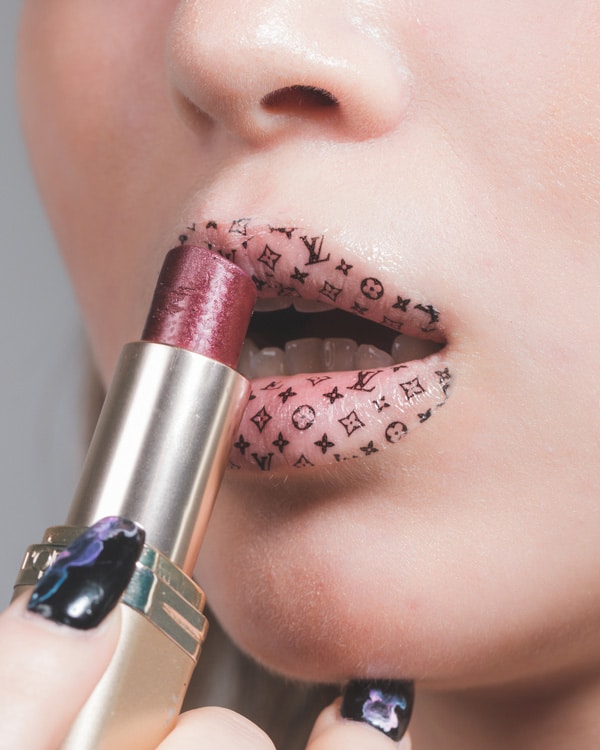 If you're creative, know a bit of Photoshop and have an eye for design, this can work. But there's a lot of science behind what makes a strong brand and not. Branding services that a salon marketing agency can help you with are:
Salon brand story: Craft a compelling story to why your salon exists (based on your input)
Visual identity for salon: Define color schemes and fonts that you can use across your different communication points.
Salon logo & name: If you're just starting out, you can get help also with these core elements of your new salon brand. If this is where you are you can also read my article with salon name ideas as well as my guide to how you can create your salon logo.
Salon profile material: When the salon marketing agency have created a visual profile for your salon, they should also deliver some ready made assets that you can use. Brochures, salon window banner, website graphics etc.
How Much does it Cost to Hire a Marketing Agency for a Salon?
Hiring a salon marketing agency to completely setup all you need for your salon will cost you $4,500-$20,000 depending on which agency you use and how much help you need. You should also expect a monthly management fee of $1,000-$4,000 to run your website, social media, newsletters, and advertizing programs. The more you can do yourself, the more you'll bring down the cost of course but this is to give you an idea of what to expect.
To break it down in more detail, below is an estimated realistic cost for you.
Salon website: $3'000-$10'000 + hosting and maintenance fees ($150-$1,000/ month)
Social media management & e-mail marketing: $1000-$3'000 /month
Salon brand profile setup: $1'500-$8,000