I'm sure you'll agree with me when I say that having a good name for your hair salon is important.
It's the first thing people hear when they learn about your salon.
And, like it or not, it does tell a brief, but critical, first story about who you are.
So you want to get this right.
It's in fact even more crucial if you're planning to open a high-end, classy, hair salon.
The rules for luxury salon boutiques and premium brands are simply different. Yet, I see many salons who get their name wrong.
This is why I wanted to get this article out.
↓ Pin it for Later ↓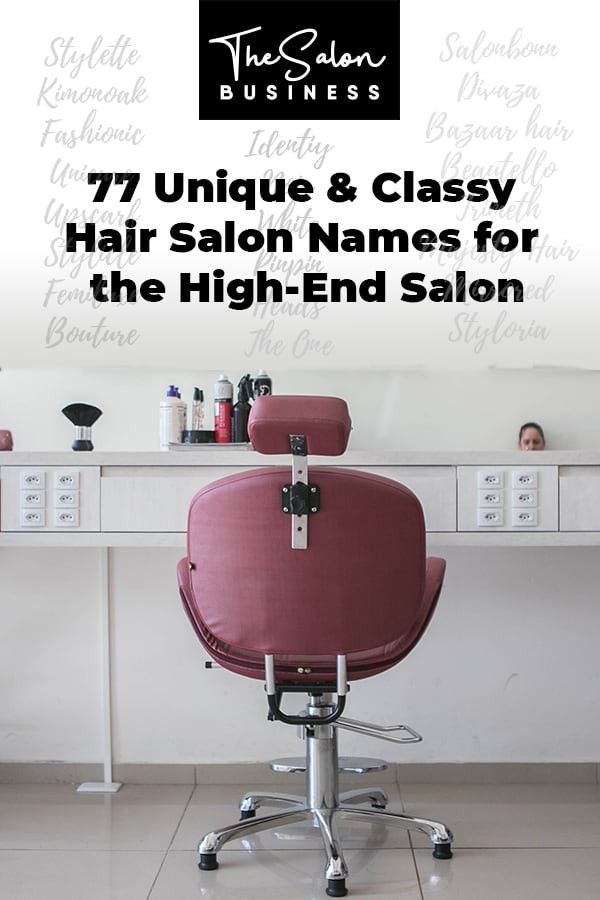 I'll take you through 77 unique and classy hair salon name ideas. Following this list, you'll also get a few rules to follow to make sure you land on an elegant, high-end, salon name.
Now, let's go through the salon name ideas!
Classy Hair Salon Name Ideas
Below is a list of hair salon name ideas for 2020. The list consist primarily of unisex salon names as that's typically what works best as high-end and classy salon name.
Stylette

Kimonoak

Fashionic

Unicure

Upscarf
Stylicle

Femiluxe

Bouture

Coutured

Justache
Fiocchi

Perruque

Chapeaux

Barbere

Capucci
Guanti

Extravagants

Turban

Zuma & Nadal

Salonbonn
Divaza

Bazaar hair

Beautello

Trimeth

Majesty Hair
Mirrored

Styloria

Identity

Noir

White
Pinpin

Heads

The One

Serenity Salon

Structures
Layers

Sharp

Lux

Craft

Runway
Remedy Bar

Infinity

Blush

Paint

Coat
Head Office

Salon Fringe

Salon Divine

Boudoir

Salonvio
Hair Grande

Hairdo

Salon Zephyr

Femme

Elle
Bon

Adore

Salon Amber

Ritaul

Salon Illum
Pure Salon

Salon Luscious

Stone Salon

Tiger Salon

Salon Flatter
Salon Opal

Salon Signature

Marked

Colors

Artistry
The Studio

The Hive

Look

Salon Bounce

Curls
At Lisas (or your name)

Lisa & Lars (or founders names)
What are Good Salon Names?
Good salon names tells a unique story of why a salon exists. The name should be distinct enough to be immediately associated with the specific salon. Although people should be able to understand from the name that it is a salon, it's risky to use play on words with hair/nail related words in the name as that might sound quirky and dilute a premium perception of the salon brand.
The salon industry is full of businesses with quirky and clever names.
I'm sure you've had a laugh a few times when seeing names like "The God Barber" or "Hairway to Heaven".
You can probably come up with even more examples.
These names are certainly memorable and can put a smile on people's face.
But not for a high-end salon like yours.
When you're defining a name (and brand) for a premium salon there are other principles you need to have in mind. I'll in this section go through what they are.
I strongly recommend you read and understand the principles for a good name first.
1. Let your Salon Brand (and Name) tell your Story
A premium salon doesn't exist to cut people's hair.
It exists because of a reason or a consequence in the past. A premium salon has a mission.
There should be a story to be told and a reason behind it's existence. Maybe your salon has been past through generations or exists to address a specific issue. Whatever this is, it should be conveyed in your salon brand.
What is your mission?
If you haven't yet defined what the mission of your salon is, you can get inspired by other salons in my list of salon mission statements here.
Do you Want Even More Salon Name Ideas?
Let's keep going by checking out my list of 2754 Unique Salon Names (Hair, Beauty, Barbershop, Spa, Nail).
I also have even more hair salon name ideas in stock for you! I have pulled together a list of 437 unique hair salon names here. This list contains more than just classy hair salon names.
You will find:
→ Check out the full list of hair salon name ideas here ←
Conclusion
You're on an exciting journey.
Creating a beauty business, and a high-end beauty salon brand.
I hope this article has given you some ideas on classy hair salon names for your new business.
It's important to get this right, so don't rush it.