Disclosure: This post may contain affiliate links, meaning I get a small comission if you decide to make a purchase through my links, at no cost to you.
Learn more..
I'm sure you'll agree with me when I say that having a good name for your hair salon is important.
It's the first thing people hear when they learn about your salon.
And, like it or not, it does tell a brief, but critical, first story about who you are.
So you want to get this right.
It's in fact even more crucial if you're planning to open a high-end, classy, hair salon.
The rules for luxury salon boutiques and premium brands are simply different. Yet, I see many salons who get their name wrong.
This is why I wanted to get this article out.
The article is part of the free step-by-step guide for how to open a salon. If you haven't already done so, I strongly recommend you go through the complete salon startup guide when you're done with this article today.
↓ Pin it for Later ↓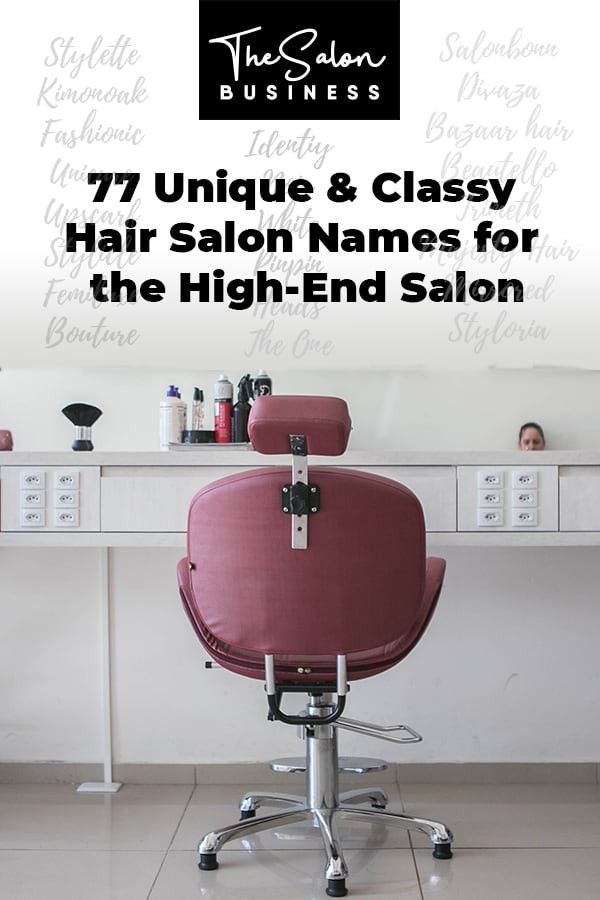 But today I'll take you through some of the rules you need to know when coming up with a classy hair salon name. I've also compiled a list of 77 unique hair salon names that you can pick from or use as inspiration for your prestigious hair salon.
Watch My Top Salon Names First
With that, let's go over what you need to know to decide on the right name.
What are Good Salon Names?
Good salon names tells a unique story of why a salon exists. The name should be distinct enough to be immediately associated with the specific salon. Although people should be able to understand from the name that it is a salon, it's risky to use play on words with hair/nail related words in the name as that might sound quirky and dilute a premium perception of the salon brand.
The salon industry is full of businesses with quirky and clever names.
I'm sure you've had a laugh a few times when seeing names like "The God Barber" or "Hairway to Heaven".
You can probably come up with even more examples.
These names are certainly memorable and can put a smile on people's face.
But not for a high-end salon like yours.
When you're defining a name (and brand) for a premium salon there are other principles you need to have in mind. I'll in this section go through what they are.
I strongly recommend you read and understand the principles for a good name first. However, if you want to jump to the list of hair salon name ideas for 2020 immediately, you can do so by clicking here.
1. Let your Salon Brand (and Name) tell your Story
A premium salon doesn't exist to cut people's hair.
It exists because of a reason or a consequence in the past. A premium salon has a mission.
There should be a story to be told and a reason behind it's existence. Maybe your salon has been past through generations or exists to address a specific issue. Whatever this is, it should be conveyed in your salon brand.
What is your mission?
If you haven't yet defined what the mission of your salon is, you can get inspired by other salons in my list of salon mission statements here.
2. Visualize your Brand Logo Before you Decide on the Name
Your name will be presented visually.
For sure in your logo but also in other marketing collaterals. This needs to look good. In fact, I'd argue that in the visual and digital world we live in today, what your name looks like is more important than what it sounds like.
So, before you lock on your name, you should try to visualize what different options will look like. I have a simple trick for this that doesn't cost anything, takes 5 minutes to do, and you can in fact do it on your laptop or mobile phone right now.
This is how you do it.
A) Go to the Canva Logo Generator
You probably have heard of Canva, it's the tool most people are using today to create social media images. But it does much more. In fact, they have a logo generator that you can access here.
When you land on the page, just enter a salon name idea that you have. It will then ask you what type of business you have and show you some example logos. This is so that Canva can get to know you and propose logo ideas for you. It should look something like the below.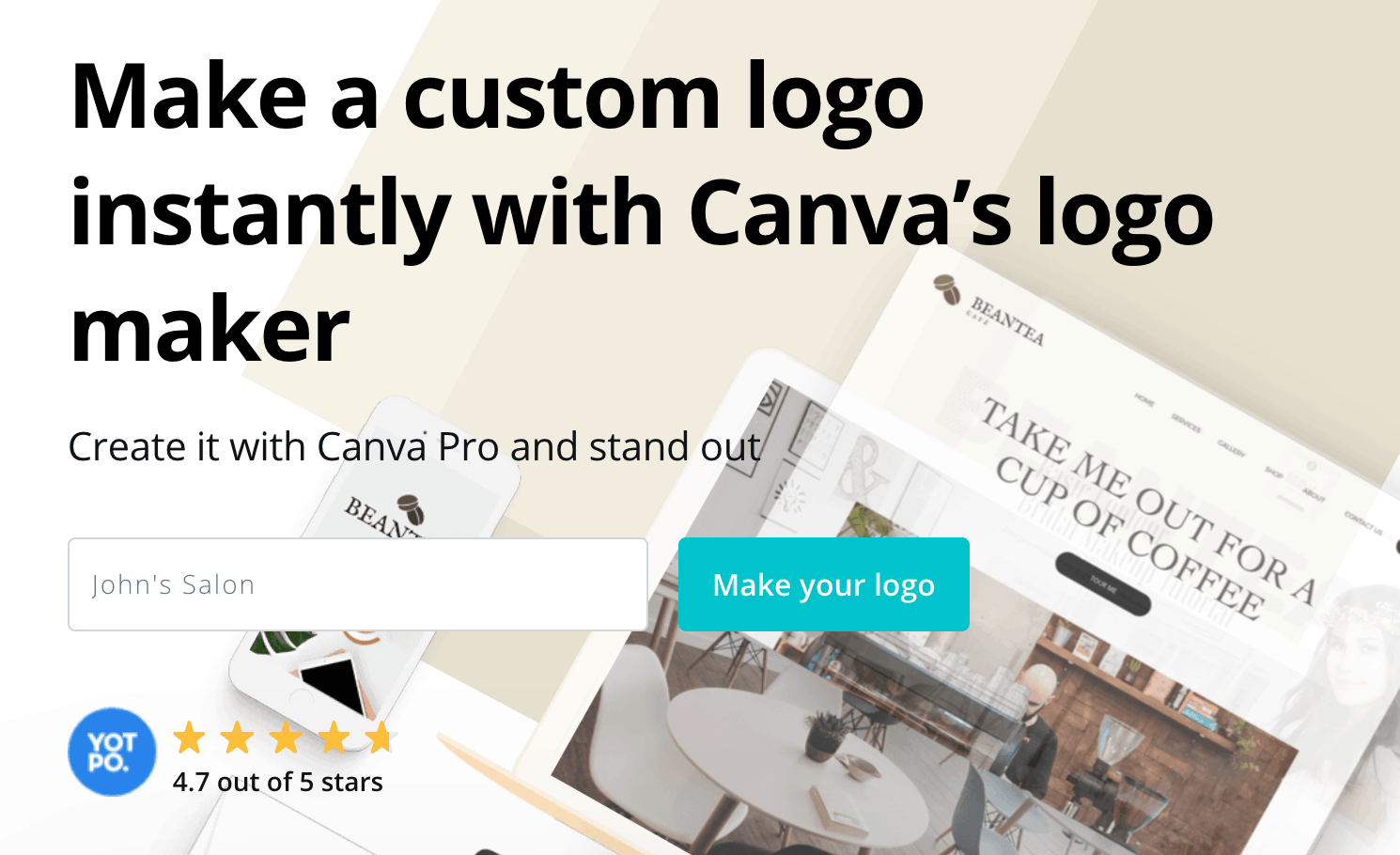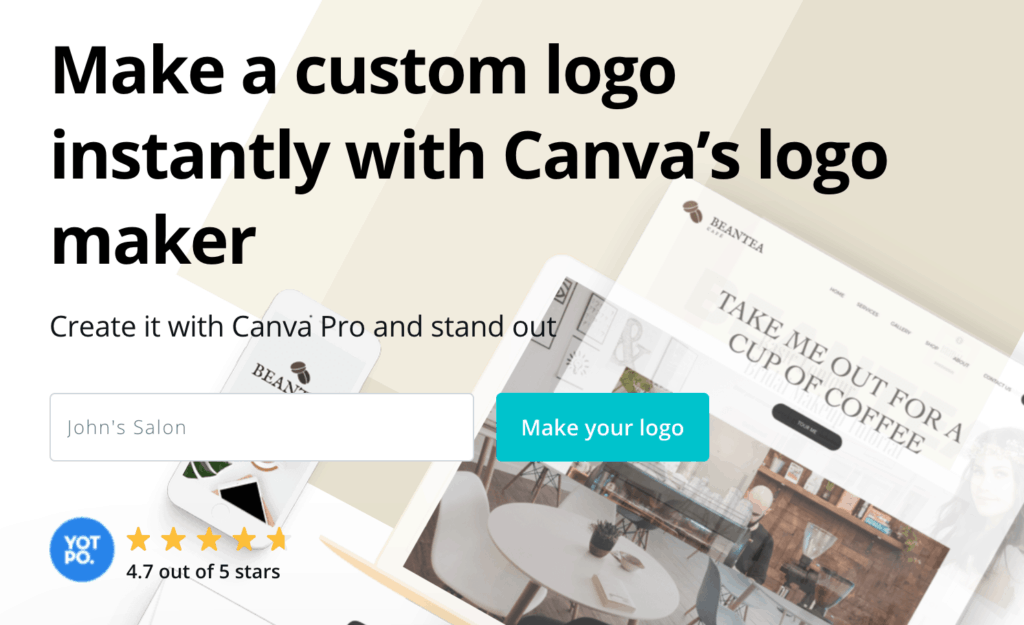 → Generate your logo design for free with Canva ←
B) Sign up for a free trial of Canva
To get your logo ideas generated, you need to sign up for a free trial of Canva Pro. This allows you to generate logo ideas, marketing material, and much more for free during 30 days (which should be more than sufficient for you).
C) Play around with your Logo and Try Different Names
You'll now have a lot of logo variations that you can edit directly and try different names. This will give you a good feel for what your brand could look like. When you've decided on your name, you can either finalize the logo yourself or hand it over to a pro to do the final look of your logo.
3. Don't Make Your Salon Name Sound too Obvious
Your name should hint to your history and can also link to the service you provide.
But your name should not tell everything. It should spark curiosity and give a feeling that there is a story behind it, but it doesn't need to spell out the story.
It should only be a conversation starter to the story of your salon.
Let's say your salon name is "Structures". On it's own it doesn't really mean much. But it sparks curiosity. Your story might then be about a specific cutting technique you've inherited where you're working with layers and structures in a certain way.
That can then be the starting point of your story to why your salon exists.
Just think of other luxury brands and I'm sure you'll find many examples where the name on it's own doesn't mean much but in the context of the brand's full story, the name is the tip of the iceberg of a rich brand heritage.
4. Try Different Languages
French, Italian and also Asian languages carry luxury cues in the language itself. Play with Google Translate and see if a variation in a different language creates a more premium tone to the name.
Ideally, the choice of language also plays back to the story of the brand. But this is not a must.
5. Explore Additions to Find a Unique Salon Name that People Understand
You'll likely not be able to find a one-word name that you can use consistently as one word. You will likely need a prefix or suffix to the name. Let's take the same example again, "Structures".
Even if you can use the name on its own in your logo and other communication touchpoints, you'll likely need to have an official name that is "Salon Structures", "Structures New York" or something similar.
You should think about this already now and make sure you have a full official name that you can use consistently going forward. There are a few reasons why you'll need these additions:
You cannot file an official company name that is already taken
You want people to understand what you do (e.g. Structures Hair Salon)
You need to be able to find an available domain name for your salon website
I'd encourage you to come up with some ideas and then validate the company name is possible to file and that the website domain name is available. If you have those to secure, you're in a pretty good place.
You can check if your salon name domain name is available at Namecheap. They also offer cheap prices if you want to buy it before it's taken.
→ Check if your domain name is available at Namecheap ←
When you use the low-cost business formation service from ZenBusiness, they'll also help check if the business name you want is available or not.
→ Learn how ZenBusiness can help simplify your business formation process ←
6. Focus on Unisex Salon Names
As a general rule of thumb, it's easier to find a name that sounds classy when you go for a Unisex salon name.
I'm not saying this is always the case but often. If you run a barbershop or niche salon focused on men, you could go with a more manly name. But it's worth considering as traditional stereotypic male or female name are increasingly seen as not modern.
7. Test your Salon Name
Perception is reality.
It doesn't matter how much you strategies behind the name. It's what the people who hear it think about it that is the ultimate reality of your brand name.
After you spend a lot of time planning your name, you'll soon become blind to what is good or not. Try therefore to casually drop the name in a conversation and see how other people react.
You can tell a lot from listening and reading people after they first hear your name.
8. Use your own Name as Salon Name
May sound obvious, but if you have a somewhat unique name, this can take you far.
The name of the owner/ creator is used by many luxury brands (Chanel, Louis Vuitton, etc.). It's also an intuitive link to your history (which is why luxury brands often use it).
9. Sleep on It
When you've listed out your salon name ideas. Leave it for a few days and try not to think about it.
When you come back with fresh eyes, open your eyes in front of your list of names and listen to what your gut is telling you. This is the most important signal you have if the name is right or not.
Trust your gut over your head.
You're now equipped with the principles of a good salon name. Next, we'll dive into my list of hair salon name ideas for 2020.
Classy Hair Salon Name Ideas
Below is a list of hair salon name ideas for 2020. The list consist primarily of unisex salon names as that's typically what works best as high-end and classy salon name.
Stylette

Kimonoak

Fashionic

Unicure

Upscarf
Stylicle

Femiluxe

Bouture

Coutured

Justache
Fiocchi

Perruque

Chapeaux

Barbere

Capucci
Guanti

Extravagants

Turban

Zuma & Nadal

Salonbonn
Divaza

Bazaar hair

Beautello

Trimeth

Majesty Hair
Mirrored

Styloria

Identity

Noir

White
Pinpin

Heads

The One

Serenity Salon

Structures
Layers

Sharp

Lux

Craft

Runway
Remedy Bar

Infinity

Blush

Paint

Coat
Head Office

Salon Fringe

Salon Divine

Boudoir

Salonvio
Hair Grande

Hairdo

Salon Zephyr

Femme

Elle
Bon

Adore

Salon Amber

Ritaul

Salon Illum
Pure Salon

Salon Luscious

Stone Salon

Tiger Salon

Salon Flatter
Salon Opal

Salon Signature

Marked

Colors

Artistry
The Studio

The Hive

Look

Salon Bounce

Curls
At Lisas (or your name)

Lisa & Lars (or founders names)
Accellerate the Start of Your Salon Business
Use the ideas and strategies on this page in conjunction with these tools to get your salon up and running fast with more clients and higher profit.
Do you Want More Hair Salon Name Ideas?
Let's keep going.
I have even more hair salon name ideas in stock for you! I have pulled together a list of 437 unique hair salon names here. This list contains more than the just classy hair salon names.
You will find:
→ Check out the full list of hair salon name ideas here ←
Conclusion
You're on an exciting journey.
Creating a beauty business, and a high-end beauty salon brand.
I hope this article has given you some ideas on classy hair salon names for your new business.
It's important to get this right, so don't rush it.
I strongly recommend that you read my free, step-by-step, guide for opening a salon. In this guide, I cover everything you need to know to set up your new salon for success.
→ Access the "How to Start a Salon Business Guide" here ←
Have you decided on a name now?
Let me know in the comments box below.