Are you on the hunt for good nail salon name ideas?
Then you've landed in the right place.
This is where I've curated the best nail salon names for 2023. All nail business name ideas you find here are a result of careful research of the most popular nail salon names right now as well as the addition of unique, unheard of, name ideas to make your nail salon stand out in 2023 and beyond.
I'm also including a list of catchy nail salon slogans that you can combine with your name to express the uniqueness of your salon.
After you've gone through the list I'll take you through the vital steps you need to know to ensure the name you pick will be a success.
This is so exciting.
To help you find the best name for you, I have categorized them all into creative & unique, classy & fancy, funny & catchy, cool & funky as well as cute nail salon name ideas. You'll also find nail salon names in French as well as some catchy nail salon slogans.
Now, let's go through the salon name ideas!
Unique Nail Salon Names
What makes a unique nail salon name?
Not only should you try to avoid cliche words and think fresh. You should also try to tie the name to your unique salon story. This is how the name becomes unique to you and your salon.
This is not easy, I know…
But to help you get started on the process, I have pulled together a list of truly unique nail salon names below. I also recommend you check out my list of unique nail salon slogans below. It's easier to find a name and slogan combination that together represents the unique you.
But enough with theory, let's dive into the list of unique nail salon names.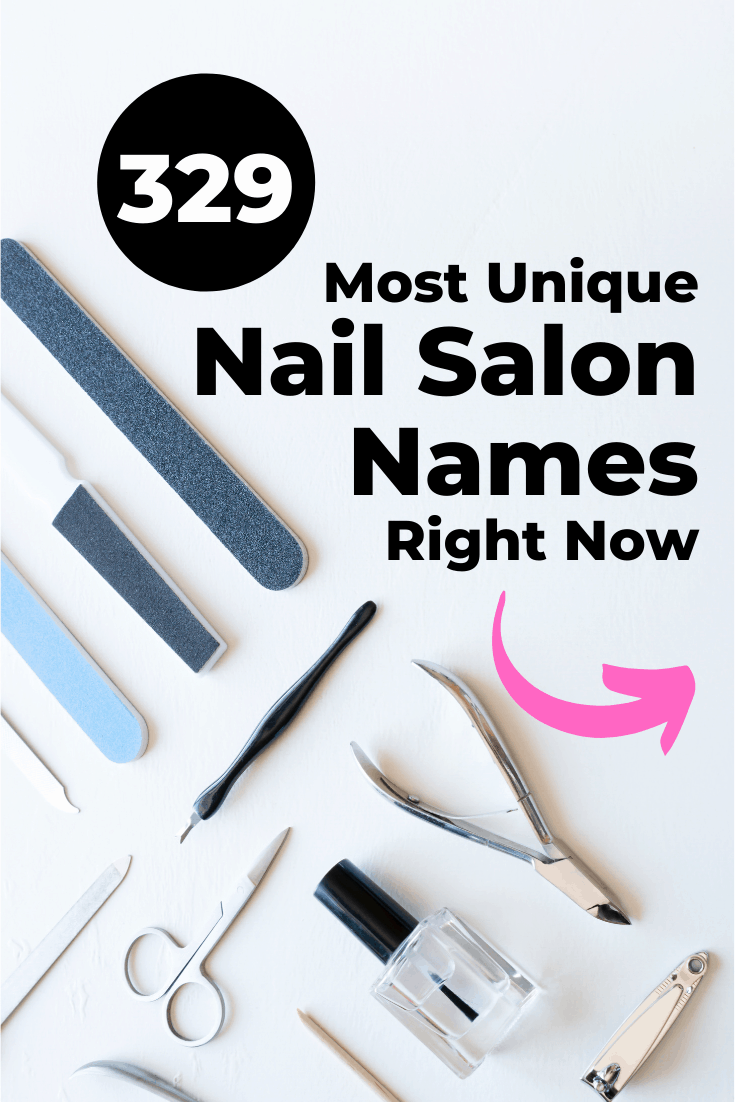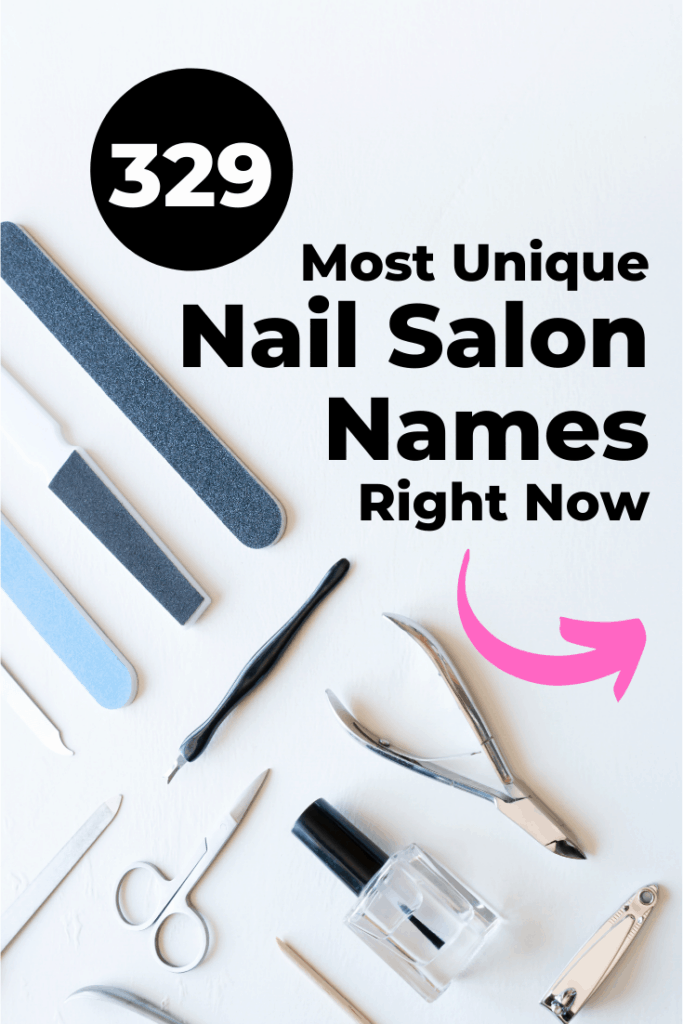 List of Unique Nail Salon Names
Komorebi Nails (if you have Japanese heritage or salon focus – meaning sunlight filtering through trees)
At Lisas (or your name)
Tsundoko Nails (Japanese – the act of buying books and leaving them unread)
Confident Nails (if your mission is to give confidence)
Cut Costs (if your focus is low price)
Nail Embasan (Maguindanao/Philippines – to wear clothes while taking a bath)
Voorpret Nail & Beauty (Dutch – the sense of enjoyment before an event takes place)
Fernwhe Nail (German – missing a place you've never been)
The Nail Doctor (if you have a "nail health over beauty" focus)
Remedy Nail Bar (again, if your focus is nail health)
Ephemeral Nails (lasting for a very short time)
Solo Nails (if you're an individual stylist)
Mudita Nails (Sanskrit – taking delight in the happiness of others joy)
Hygge Nails (Danish – the absence of anything annoying)
Ubuntu Nails (Nguni – the beliefe that we are defined by our kindness toward each other)
Lautong Nails (Mandarin – a friendship between two girls for eternity)
Blue Lamp Nails (a tool you might be using a lot)
Lagom Nail Lounge (Swedish – just the right amount)
The Nail Express (if your focus is speed)
The Gel Bar (if you're a gel specialist)
Nail Art Salon (if that's what you're know for)
GOAT Nails (greatest of all times)
Identity Nails
Creative Nail Salon Names
Are you looking for a creative name for a nail salon?
If you run a creative nail studio, you should have a business name that represents your artistic image.
People come to you for nail art, trends, and creativity and you want your name to symbolize that.
In the list of name ideas below, I've tried to use wording that is associated with creativity to bring this feeling to life.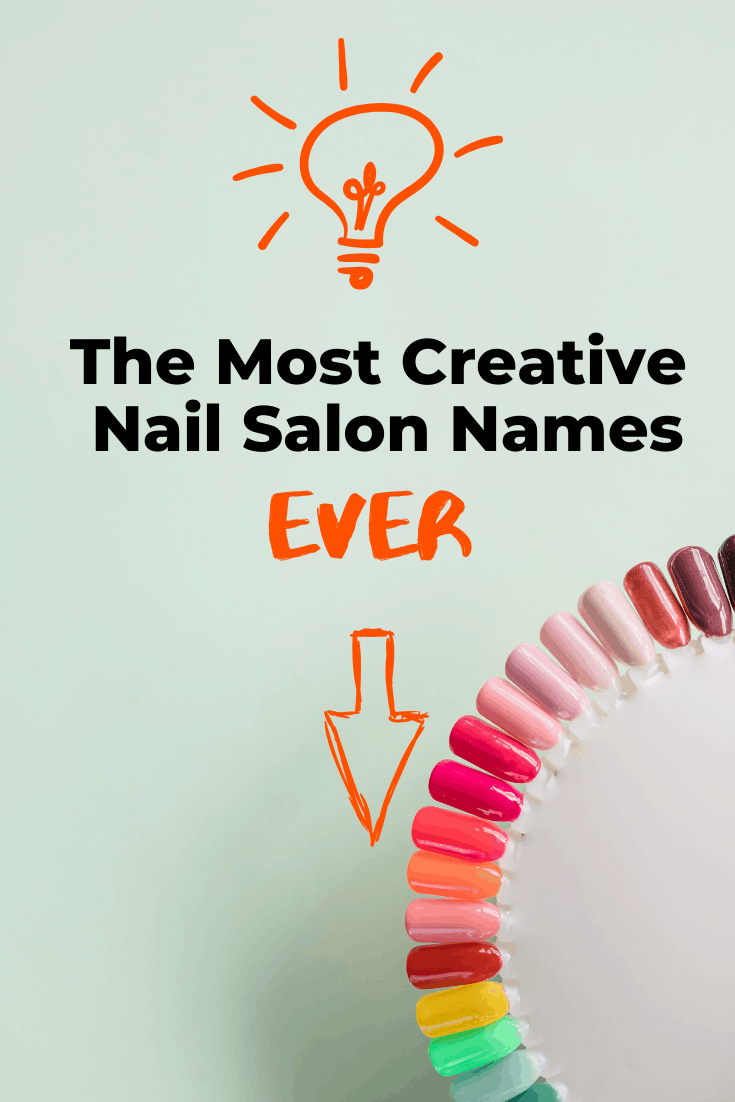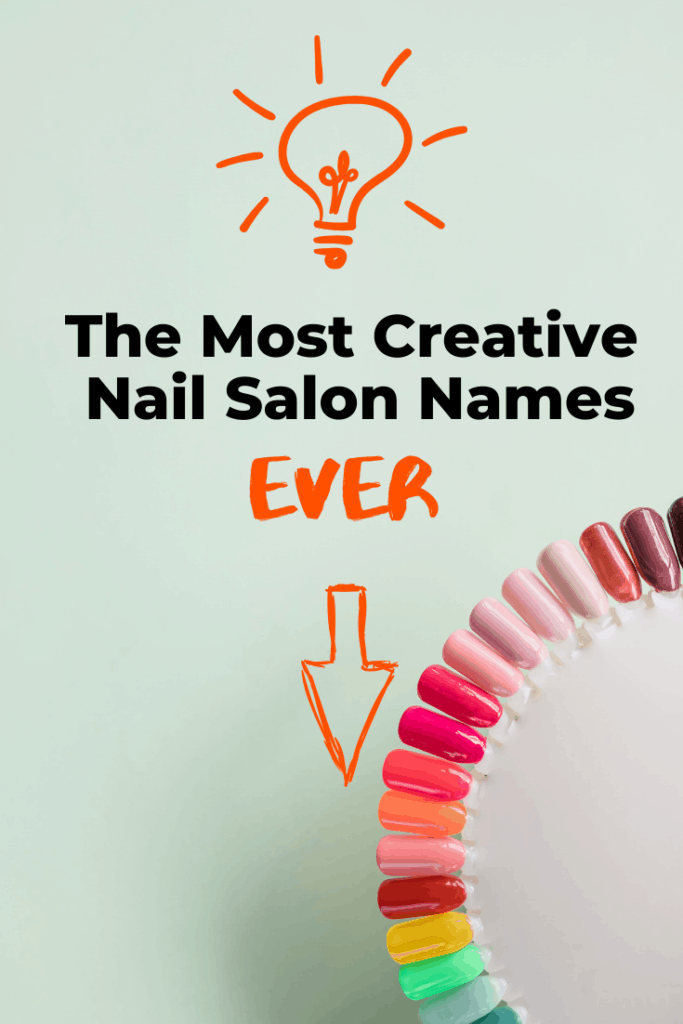 List of Creative Name for Nail Salon
Nail Meraki (Greek – to do something with soal creativity or love)
Art
Nail Rituals
Creative Nails
Brush & Strokes
Nail Spectrum
Picasso Nails
Iridescent Nails (producing a display of rainbow-like colors)
Salon Create
Nail Paint
Powder Nail
Nail Artists
Nail Creations
Artistic Nails
Liberty Nails
Say it with Color
Editorial Nails
Imagine
Craft Nails
Creativity Nails
Gifted with Nails
Nail Inspired
The Nail Shoot
The Nail Process
Behind the Scenes at Jane's (or your name)
The Nail Lighthouse
Nail Dreams
Mirage Nails
Nail Innovation
The Nail Lab
Nail Invention
Genius Nails
Fantasy Nails
Nails First
Creato Nail Bar
Blank Canvas Nail Studio
The Nail Lab
Mosaic Nails
Nail Creations
Hue Nails
Art & Chemistry Nails
The Nail Show
Planet Nail
On Trend Nails
Nail Couture
Nail Activists
Personalized Nails
Funny Nail Salon Names
A fun and clever nail salon names are more memorable than any other nail salon name. They evoke emotion and our brains are better at remembering things that have an emotion attached to them than not.
But that's not the only reason why a funny hair salon name is a good idea.
Fun names also make you more approachable. It signals that you're not taking life too seriously and people like that. The name alone says a lot about your character and people almost feel as they know you even though they might not yet have been to your nail bar or salon.
The only caution I would add to funny salon names is that it's probably not a good fit if you're trying to portray a high-end, luxury image. In those cases, you actually don't want to be approachable but rather distanced and "put on a pedestal". We'll cover more of that in the list of fancy nail salon names.
Let's now look at the funniest nail salon names.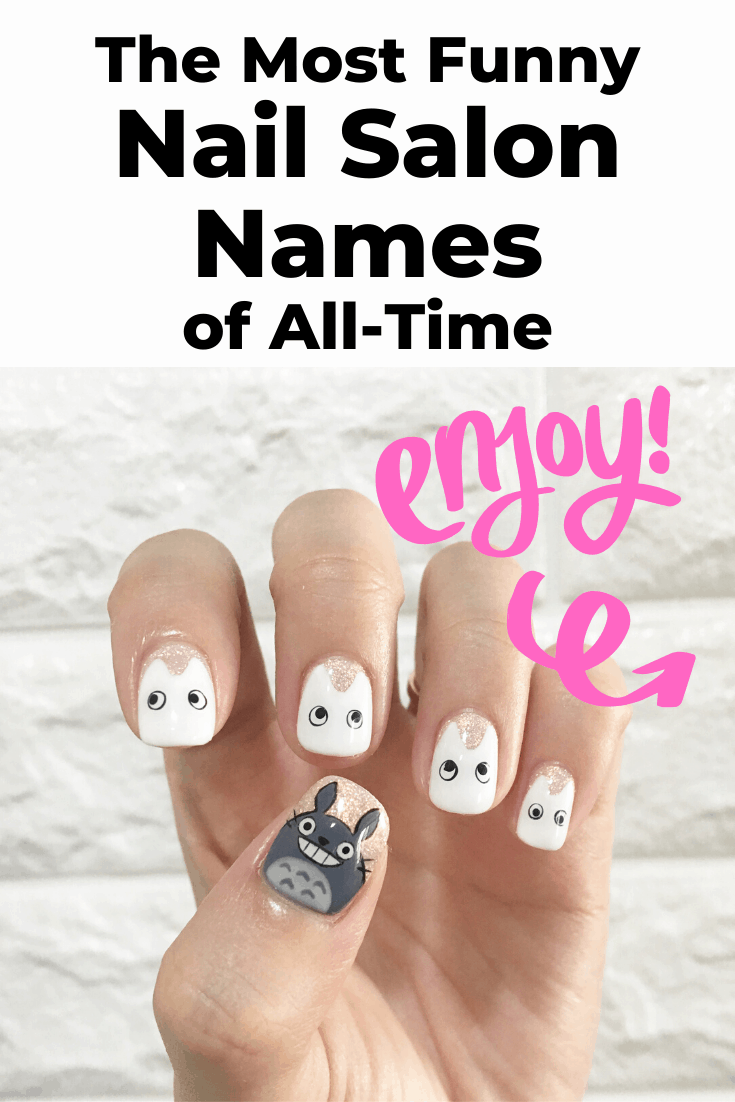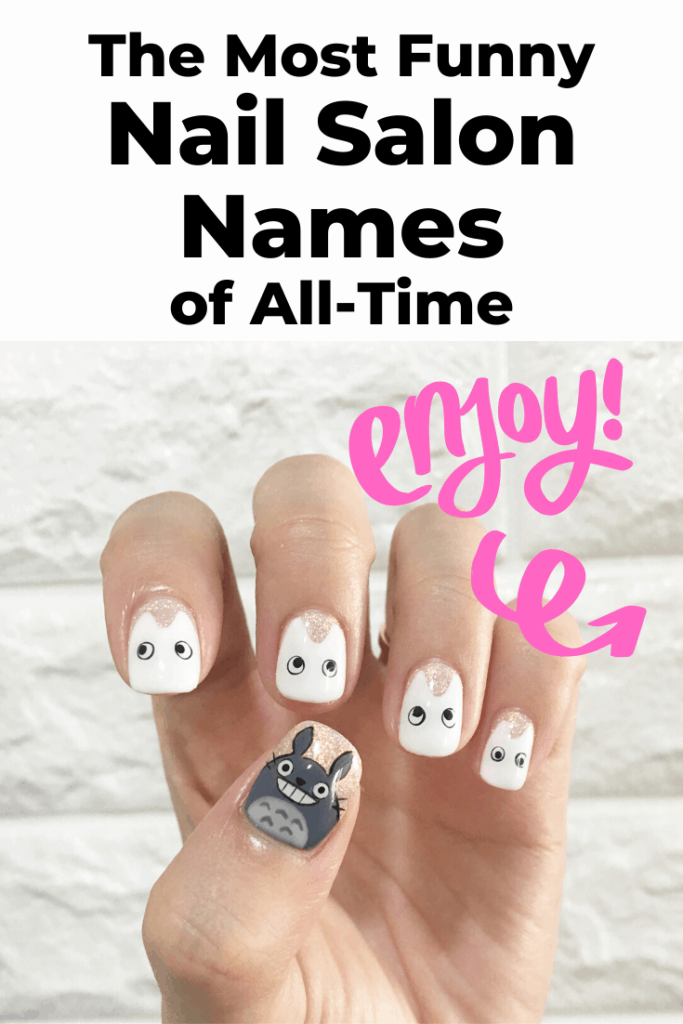 List of Fun Nail Salon Names
Nailed it!
Nail Brain
Tip Toe Nails
Sweet Feet Pedicures
Nailaddict
Get Nailed!
Phenomenail
Posh & Polished
Holy Nails!
Shortcuts
Jack of all Fades
Cutie Pie Nails
Raise a Hand
We Love Tips
Salon Holding Hands
Ace of Fades
Nail Stones
Cut the Crap
Well Nailed
Get Polished
Ms. Manicure
The Last Nail
Papa Pedi & Mama Mani
Red in Bed Nail Salon
Under the Lamp
Pink me up
Catchy Nail Salon Names
Using a funny nail salon name is not the only way to make your name memorable. There are other clever nail salon names that can achieve similar results. By employing rimes and phrases that hang together well, you can also make your name more memorable.
I have put together some examples of catchy nail salon names like this below. They can be a good option that allows you to stay away from using humor.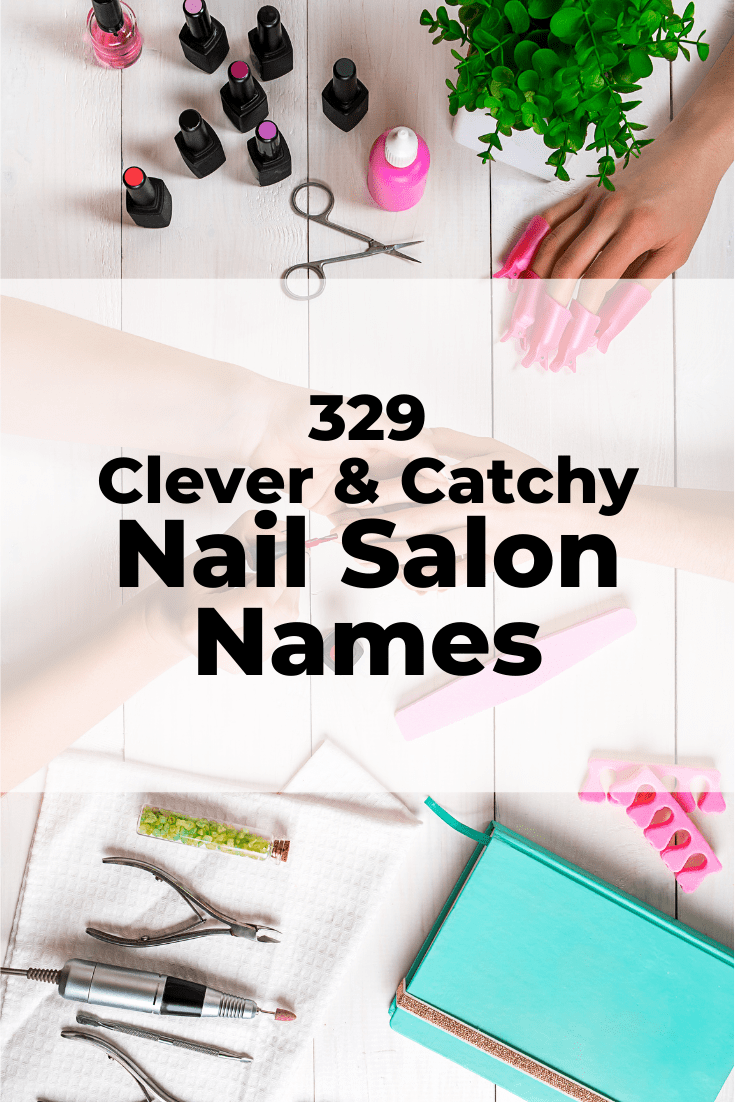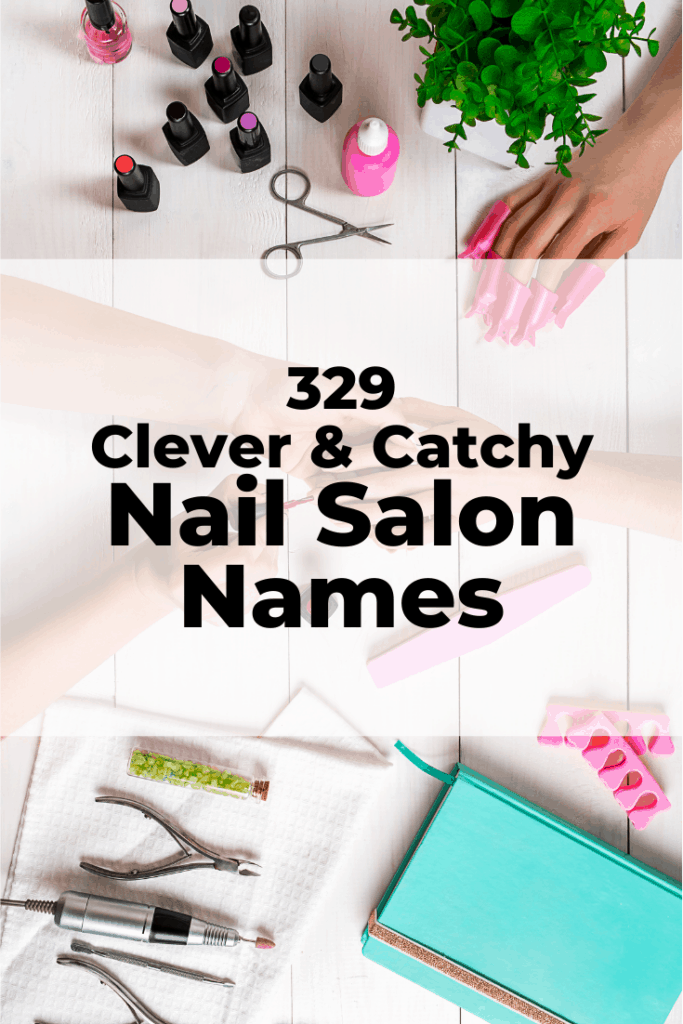 List of Catchy Nail Salon Names
Pedi Pros
Nail Knowledge
Clipsplicity
Martinis and Manicures
Paintbox
Shiny Shots
Nail Epoch
Runway Nails
Rocking Reds
Barbie Boutique
Nailology
Nailium
Nailomania
Nailologists
Nail Nation
Professionally Polished
Sugarcoat
Nail Paint
House of Nails
Manipedi
Nuxe Nails
Pedi Passion
Nail on Sale
Nailography
Oh La La Nail Salon
Viva Nails!
Ruby's Reds
Neat Nails
The Bee's Knees Nails (used to tell someone they are simply the best in the 20s)
Classy & Fancy Nail Salon Names
Do you run a high-end nail salon?
The way you brand and name a premium salon is very different from other types of nail businesses. First of all, a luxury brand is never "launched". It exists because of a reason. Its existence is a consequence of the past.
And this should be reflected in your salon's name.
So not only should you use elegant and classy words, but even more important is that it's a reflection of you and/or your salon's mission. I've already given some examples of unique nail salon names that are highly relevant for classy salons. Here we'll look at some more nail salon name examples that are using elegant and classy words to portray a luxury image.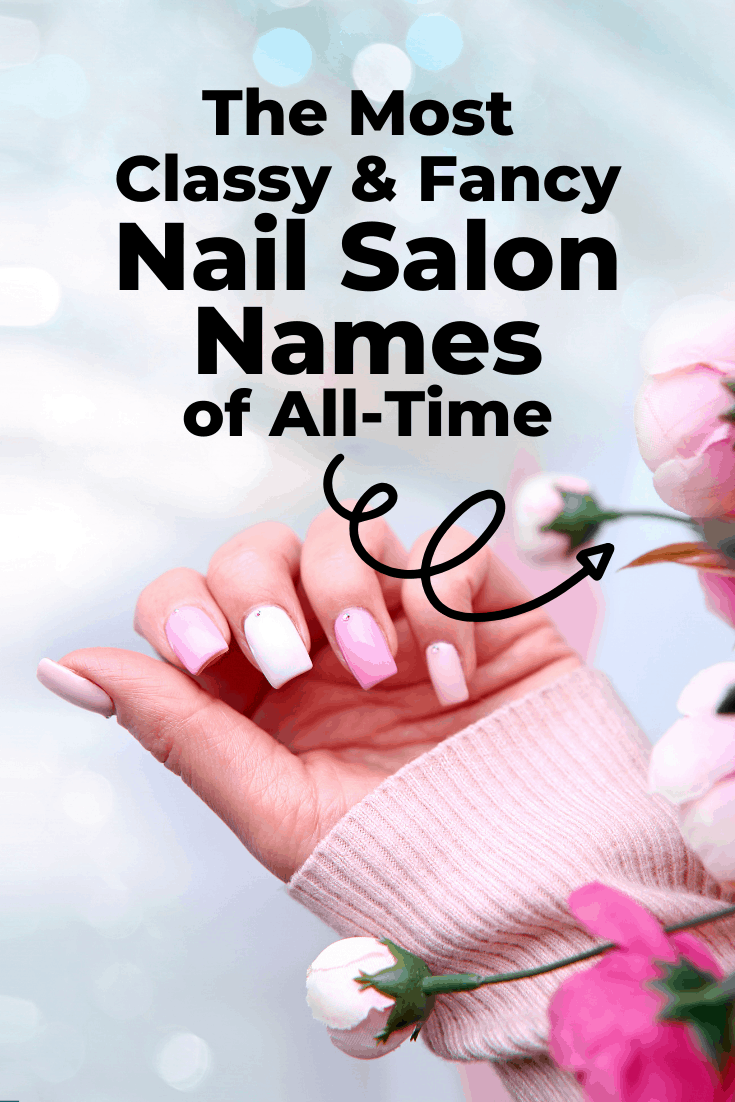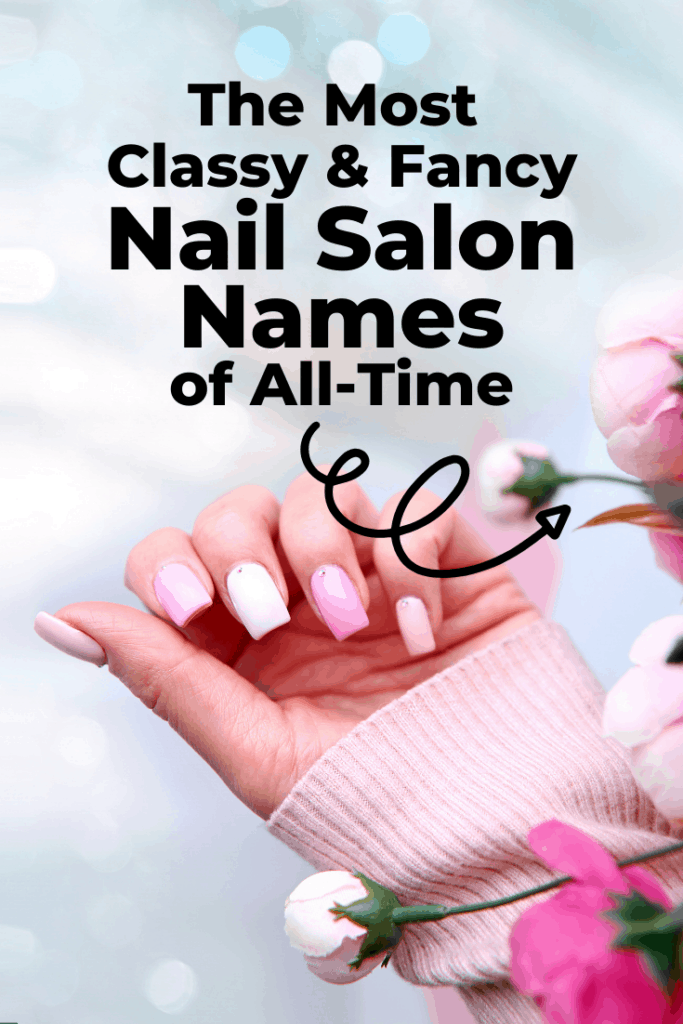 List of Fancy Nail Salon Names
Elite Nails
Nail Sensation
Elegant Nails
Royal Nail
Pure Nails
Vivid Nails
Stylette
Burlesque Nails
Timeless Nails
Fashionic Nails
Unicure Nails
Upscarf Nail Salon
Stylicle
Femiluxe Nails
Coutured Nails
Fiocchi Nails
Capucci Nails
Guanti Nails
Nail Extravagants
Zuma & Nadal
Salonbonn
Divaza Nails
Beautello Nails
Majesty Nail
White Nails
Serenity Salon
Sharp Nails
Lux Nails
Infinity Nails
Blush Nail Salon
Paint Bar
Coat Bar
Divine Nail
Salonvio Nails
Nail Salon Grande
Salon Zephyr
Salon Amber
Illum Nails
Pure nails
Opal Nails
Signature Nails
Nail Mark
Lisa & Lars (or founders names)
Eloquence Nails (the art of using language in an apt, fluent way)
Platinum Nails
Eternity Nails
Air Nails
Salon Serendipity (the chance occurrence of events in a beneficial way)
Epiphany (a moment of sudden revelation)
Supine Feet (lying face upwards)
Luminescence Nails (light produced by chemical, electrical, or physiological means)
Salon Solitude (a state of seclusion or isolation)
Aurora Nails (dawn)
Nail Marvel
Salon Nobel
Cloud Nails
Nail Limerence (the state of being infatuated with another person)
Ethereal Nails (extremely delicate, light, not of this world)
Bright Lux Salon
Genesis Nails
Nail Feathers
Phosphenes Nails (the light and colors produced by rubbing your eyes)
Funky & Cool Nail Salon Names
Do you run a salon that stands out from the crowd? Are you a rebel that does things differently?
Then I think you'll like the cool nail salon names I'll share here.
It's easy to get stuck in the nail salon cliche wording. If your run and edgy nail salon you should try to break free from that and use funky words in your name. Words that stand for something that symbolizes you.
I've put together a list of funky nail salon names below that I think will help you get your creative juices going.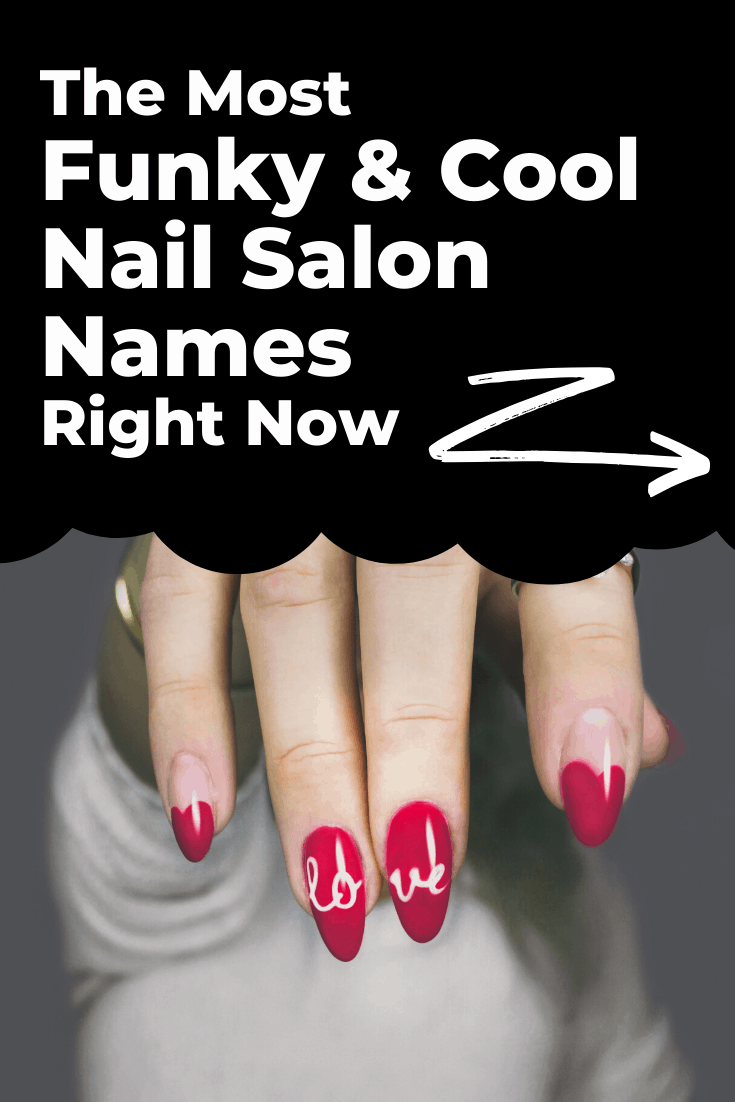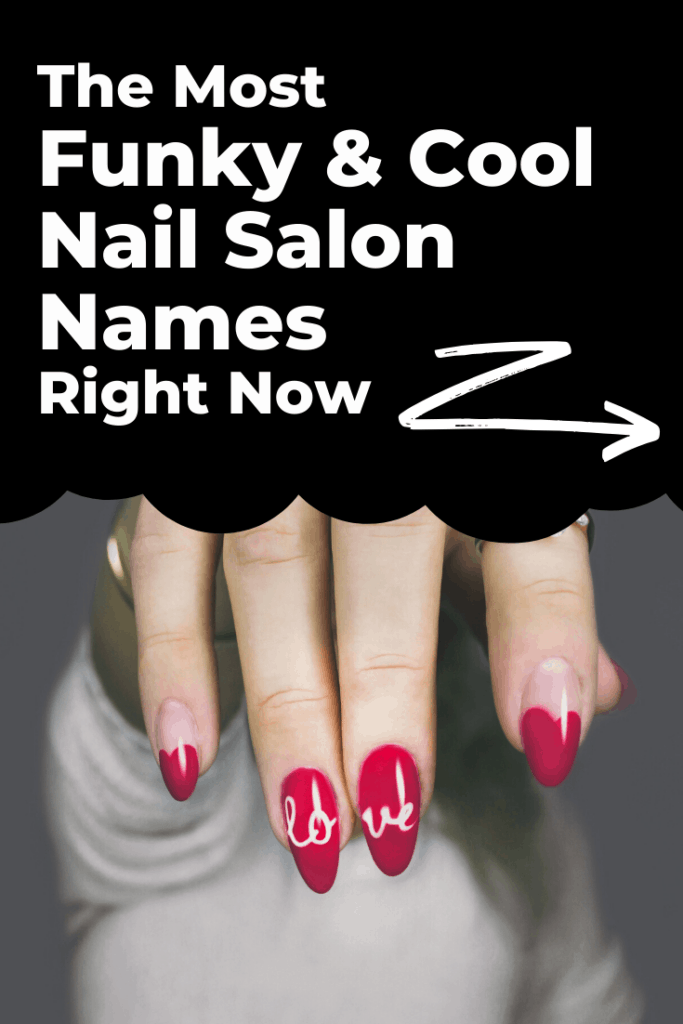 List of Cool Nail Salon Names
Paint!
The Nail Bazaar
Tiger Nails
Nail Pro
Bombinate Nails (to make a humming or buzzing noise)
Nail Icon
Street Nails
Grafitti Nails
The Nail Room
Bounce Nails
The One Nail Bar
The Nail Bar
Luxe Nails
The Nail Studio
Knockout Nails
The Nail Hive
Illicit Nails (not legally permitted)
Nunchi Nails (Korean – the ability to read others and act appropriately)
Rebel Rebel Nails
Ineffable Nails (too good to be expressed in words)
Aquiver Nails (quivering/ trembling)
Sonder Salon Nails (the realization that each passerby has a life as vivid and complex as your own)
Samurai Nails
The Nail Project
The One & Only
Nail Republic
Nail Oblivion (the state of being unaware of what is happening around you)
Bangs Nails
Cute Nail Salon Names
Maybe the cool nail salon names weren't at all for you 🙂
And you're looking for some kinder words to use in your name. Then I think you'll like the cute nail salon names I've listed below.
List of Cute Nail Salon Names
Nail Princess
Cute-icles
Lollipop Nail
Pink Polish
The Nail Nurse
Happy Nails
Sparkle Nails
Gigil Nails (Filipino – the urge to squeeze or pinch something really cute)
Goya Nails (Urdu – the suspension of disbelief that happens in good storytelling)
Simplicity Nails
Nail Bubbles
Nail Tingle
Mon Petit Nogle
Bliss Nails
Coco Nails
Nail Flaunt
Pixie Nails
Honey Nails
Nail Bloom
Blossom Nails
Hair & Nail Salon Names
Do you have a nail bar in your hair salon? Or maybe a blow-dry bar in your nail salon?
Whatever your setup is, it's a good idea to reflect that in your name to drive awareness of both your hair and nail services.
To find a name that represents your salon, I recommend you check out my list of spa names. As spas typically provide a full range of beauty services, I'm sure you can find some recommendations here.
→ Visit the Ultimate List of Spa Names ←
I've also created a separate list of hair salon name ideas to give you more ideas for the hair part of your business.
→ Visit the Ultimate List of Hair Salon Names ←
You can really pick any name and add "Hair & Nail" to it. But if you're looking for a specific name that communicates both of your salon services, I have put together a list below that also reflects your nail business.
List of Hair & Nail Salon Names
Everything Color
Color, Color, Color
Vitamin B
Cut & Coat
The Hair & Nail Room
Blush Beauty Bar
Hand & Head
Your Hair & Nails
2x Salon
Red Hair, Red Nails
The Paint
Tip & Top Salon
Say it with Color
The Hair & Nail Bar
The Hair & Nail Lab
Head & Fingers
Head to toe
Total Beauty
Salon You
Destination Salon
The Beauty Experts
The Getaway
Glamour
The Beauty Spot
Perfecta Salon
Grand Salon
All at Once
One-Stop Beauty Salon
French Nail Salon Names
The French language is truly the language of fashion and beauty. Even more so than Italian and Spanish.
It's probably the most used language by luxury brands. The sound of the language itself just makes any brand come across as more luxurious.
You should by now have a decent list of nail salon name options on your notepad. But to expand your options further, you can look at translating your name into French, Italian, Spanish, or even Japanese. This might give you a bunch of new ideas for your nail salon name.
But there are many beautiful French words that would fit perfectly for a nail salon.
Let's look at some examples.
List of French Nail Salon Names
Boudoir Nails
Salon Femme
Elle Nails
Bon Nails
Nail Adore
Femelle Nails (Female)
Noir (Black)
Blanche (White)
Petit Salon (small salon)
Salon Bisou (kiss)
Salon Étoile (star)
Le Boutique Ongle (nail shop)
Elegance (elegant)
A La Mode (in fashion)
Salon Soleil (sun)
Salon Magnifique
Le Salon
Atelier de Julien (or your name)
Salon Chatoyer (to shimmer)
Salon Ongle (Nail)
Dépaysement (disorientation felt in a foreign country)
Mon Petit Ongle (My little nail)
Salon Formidable (excellent)
Vachement ("really really")
Deja Vous
Grande
Salon Evian
BonBon
Le Posh
Floraison (bloom)
Salon Mieux (Better Salon)
Salon Paris
Plein de Vie (full of life)
Salon Jolie (pretty)
Unique & Catchy Nail Salon Slogans
As I've touched on a few times now.
A good nail salon name should be unique to your nail salon.
But I know this is easier said than done. Maybe you have fallen in love with a name on your list now that has nothing to do with you – it just sounds great.
If it sounds good and feels right to you – stick with it. What you can do instead is to include a slogan under your name. Slogans typically allow for a few more words and can help give your nail salon name meaning.
To help you with some ideas, I have put together a list of catchy nail salon slogan below that you can use together with your salon name.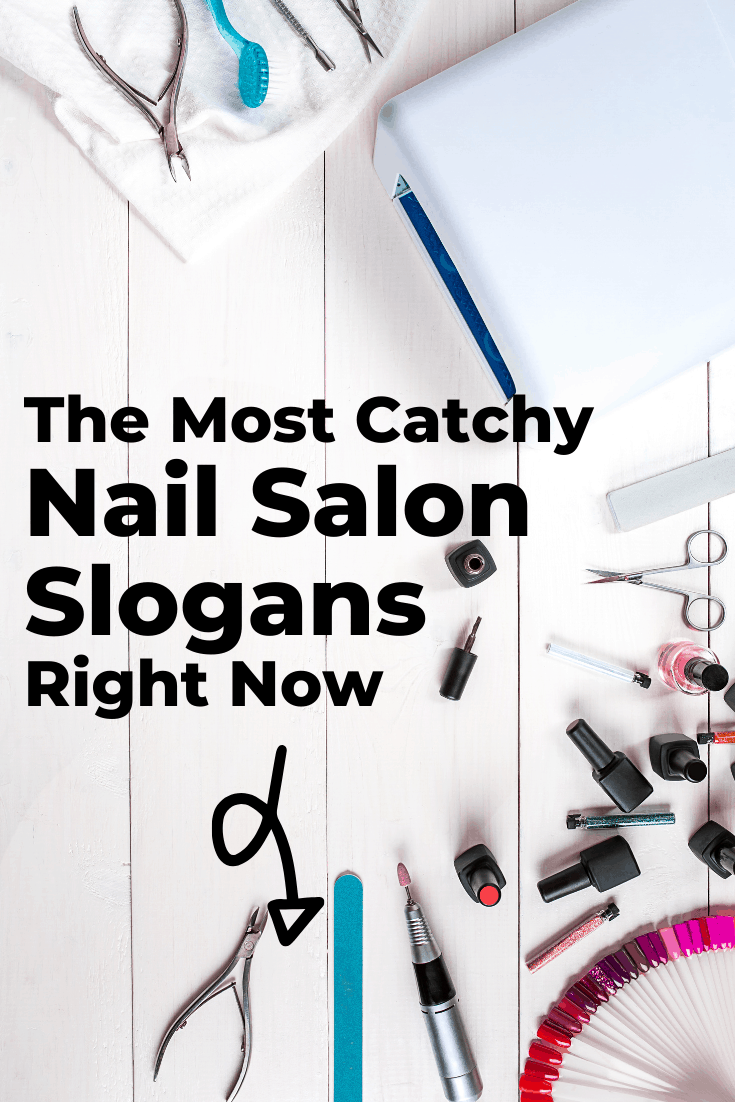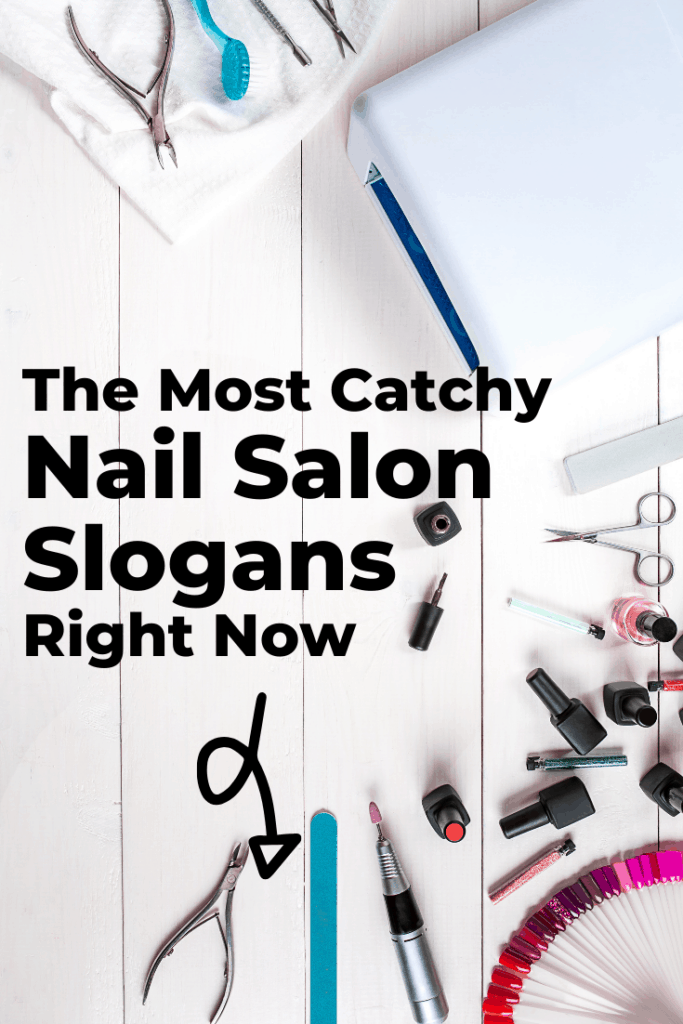 List of Nail Salon Slogans
Because color changes everything
Life's too short to not wear beautiful nails
More than color
The power of red
Polish your life
Color Experts
Even your husband will envy you
100% organic Beauty
Look good. Feel good
Give life a sparkle
Your nails say it all
Say it with color
Simply the best
The mani & pedi expert
Where nails become art
Just say yes, and we'll do the rest
More than a nail salon
The color experience
Leave your feets with us
Wake up beautiful
You deserve it
It's nailday!
Inspired by nature
Paris (or your city name)
Come on in, bring your ten little friends!
Empowered.
We know beauty
We know nails
Beautiful nails. Affordable price.
Certified nail experts
You'll never look at your hands the same way again
The best a woman can get
Next, you can check out my list of 2754 Unique Salon Names (Hair, Beauty, Barbershop, Spa, Nail).
You should also check out my list of nail salon logos here. In this article, you'll not only get some awesome examples of nail salon logos but I'll also walk you through the common mistakes salon owners make when creating their logos.
You've been working hard today. Take a break. Read about something else now. And come back and decide on your name tomorrow. Your gut will tell you what's right – trust it.