Are you on the hunt for a good hair salon name?
Then you've landed in the right place.
This article is packed with hairdressing salon name ideas to help you decide on a name that is right for your salon.
You'll get a complete list of hair salon names – classy hair salon names for the high-end salon as well as fun and clever hair salon names for the salon with character.
Now, let's go through the salon name ideas!
I've also put together a list of hair salon slogans to go with your name. I'd recommend you check this one out when you've found your hair salon name.
But now, let's go through the best hair salon name ideas for 2023!
Unique Hair Salon Names
Your salon is unique.
There's no other salon the same as yours.
I'm sure you have a specific reason why you decided to open your salon and that your salon has a mission that is different from the other salon down the street from you.
Embrace this. And bring it to life in your hair salon's name.
There's no such thing as a unique salon name unless it represents what is unique about you.
Here are a few things you should consider in order to come up with a unique hair salon name. Make some notes as you go over the questions.
Why did you start your salon?
Where are you from?
Do you use any specific hair cutting technique in your salon?
What's your hero hair service(s)?
What's your name? And do you have any old distinct names in your family?
These are all cues to help you come up with a hair salon name that is unique to you. You can, for example, use a foreign language hair salon name if you have a history with that language or it fits with your hair salon's story. You can also be unique by simply using an unusual hair salon name (which I'm also including some samples of).
Let's go over a list of unique hair salon names to give you some ideas of how this could play out. I'll include a short reason why the name could be unique to you.
Pearson Hair Salon (simply using your name)
Salon New England (where you're from)
Komorebi Hair Salon (If you have Japanese heritage or salon focus – meaning sunlight filtering through trees)
Tsundoko Salon (Japanese – the act of buying books and leaving them unread)
Salon Embasan (Maguindanao/Philippines – to wear clothes while taking a bath)
Voorpret Hair (Dutch – the sense of enjoyment before an event takes place)
Fernwhe Salon (German – missing a place you've never been)
Salon Meraki (Greek – to do something with soal creativity or love)
Salon Jayus (Indonesian – a joke so poorly spoken that it becomes funny)
Salon Mudita (Sanskrit – taking delight in the happiness of others joy)
Lagom Hair Lounge (Swedish – just the right amount)
Hygge Hair (Danish – the absence of anything annoying)
Salon Ubuntu (Nguni – the beliefe that we are defined by our kindness toward each other)
Lautong Salon (Mandarin – a friendship between two girls for eternity)
Blade (a tool you might be using a lot)
Trim (same as above)
Salon Express (if your focus is speed)
Fuller (if you volumize)
Layers (your cutting technique)
Confidence (if your mission is to give confidence)
Salon Balayage (your hero service)
Cut Costs (if your focus is low price)
Color & Curls (your hero service)
Scalp First (a special skill you're focusing on)
Hair Doctor (if you have a hair health over beauty focus)
Solo Salon (if you're an individual stylist)
Blonde Studio (if you specialize in blonds)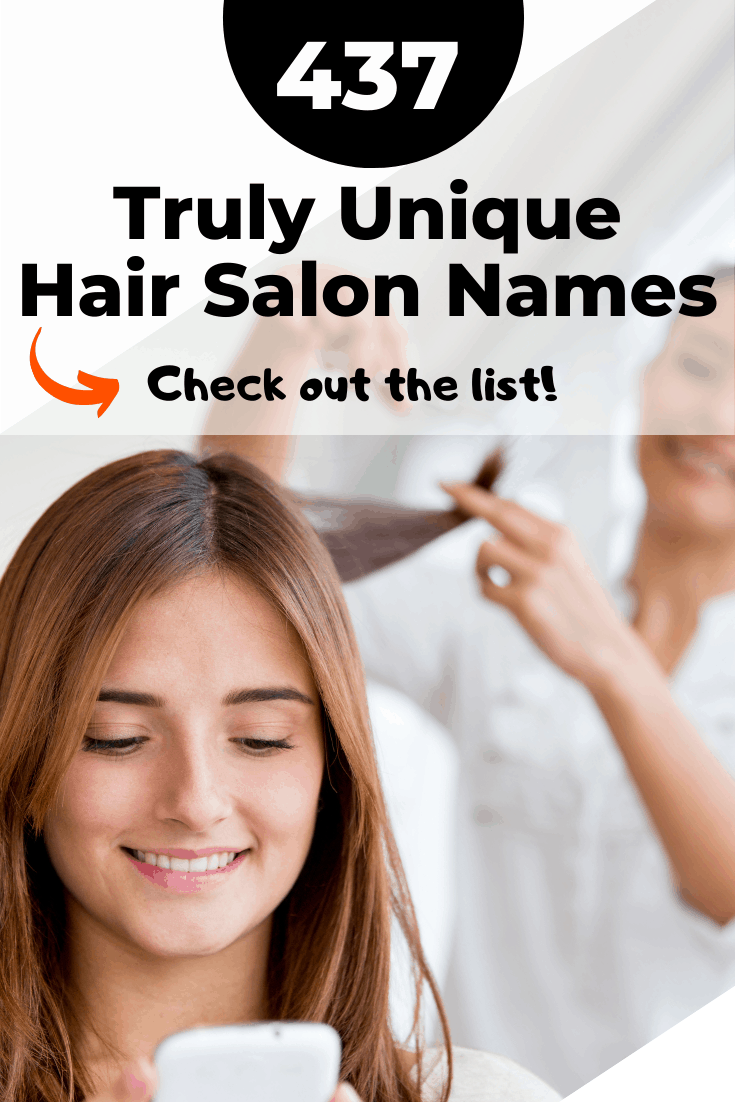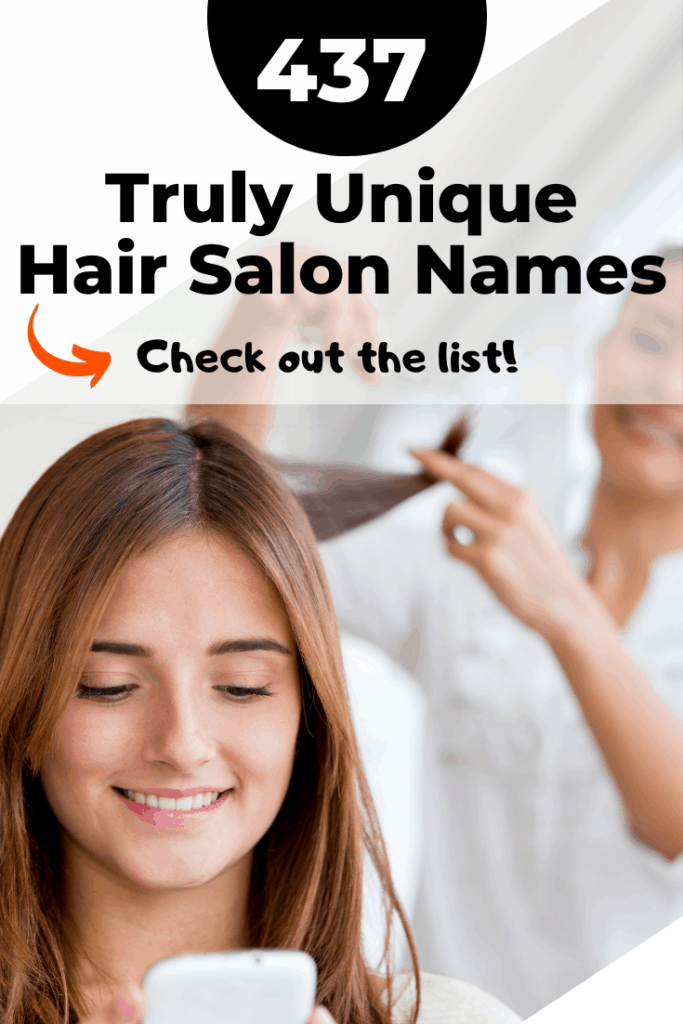 Classy Hair Salon Names
Do you run a high-end salon and are looking for a salon name to represent your premium and luxurious brand?
Then you need a classy hair salon name.
It's important to understand that luxury brands are very different from "regular brands". They have a deeper meaning and stand for something beyond just being a hair salon. You can use humor also in a premium hair salon name but it's much more difficult to achieve a premium perception this way.
In fact, the way you craft a classy hair salon name is so different from ordinary names that I've created a separate article specifically for you who are looking for a classy name for your high-end hair salon.
In this article, I go through the principles of luxury brands and how you can come up with a name that reflects your exclusive hair salon.
You can access the article about classy hair salon names here.
Here's a list of classy hair salon names.
Stylette
Kimonoak
Fashionic
Unicure
Upscarf
Stylicle
Femiluxe
Bouture
Coutured
Justache
Fiocchi
Perruque
Chapeaux
Barbere
Capucci
Guanti
Extravagants
Turban
Zuma & Nadal
Salonbonn
Divaza
Bazaar hair
Beautello
Trimeth
Majesty Hair
Mirrored
Styloria
Identity
Noir
White
Pinpin
Heads
The One
Serenity Salon
Structures
Layers
Sharp
Lux
Craft
Runway
Remedy Bar
Infinity
Blush
Paint
Coat
Head Office
Salon Fringe
Salon Divine
Boudoir
Salonvio
Hair Grande
Hairdo
Salon Zephyr
Femme
Elle
Bon
Adore
Salon Amber
Ritaul
Salon Illum
Pure Salon
Salon Luscious
Stone Salon
Tiger Salon
Salon Flatter
Salon Opal
Salon Signature
Marked
Colors
Artistry
The Studio
The Hive
Look
Salon Bounce
Curls
At Lisas (or your name)
Lisa & Lars (or founders names)
Creative Hair Salon Names
People change hairdressers because they want to renew themselves.
They want new thinking and creativity to turn the old look that they're bored with into something fresh and new. And they trust you to be that change maker.
Using a name that signals creativity is smart as that is one of the most sought skills of a hairstylist. There are many words that carry a flare of creativity that you can use as part of your name to bring this to life.
In the list below I've mapped out words that carry a feeling of creativity.
Salon Iridescent (producing a display of rainbow-like colors)
Salon Renew
Salon Create
Fashion
Salon Paint
Salon Art
Imagine
Craft
Creativity
Hair Innovation
The Hair Lab
Invent
Genius
Gifted
Inspired
New
Next
Dreams
Mirage
Hair Brains
Fantasy
First
Creato
Blank Canvas
The Hair Lab
Mosaic
Creations
Hue
Art & Chemistry
The Shoot
The Process
The Drawing Board
Sprouts
Out of the Bob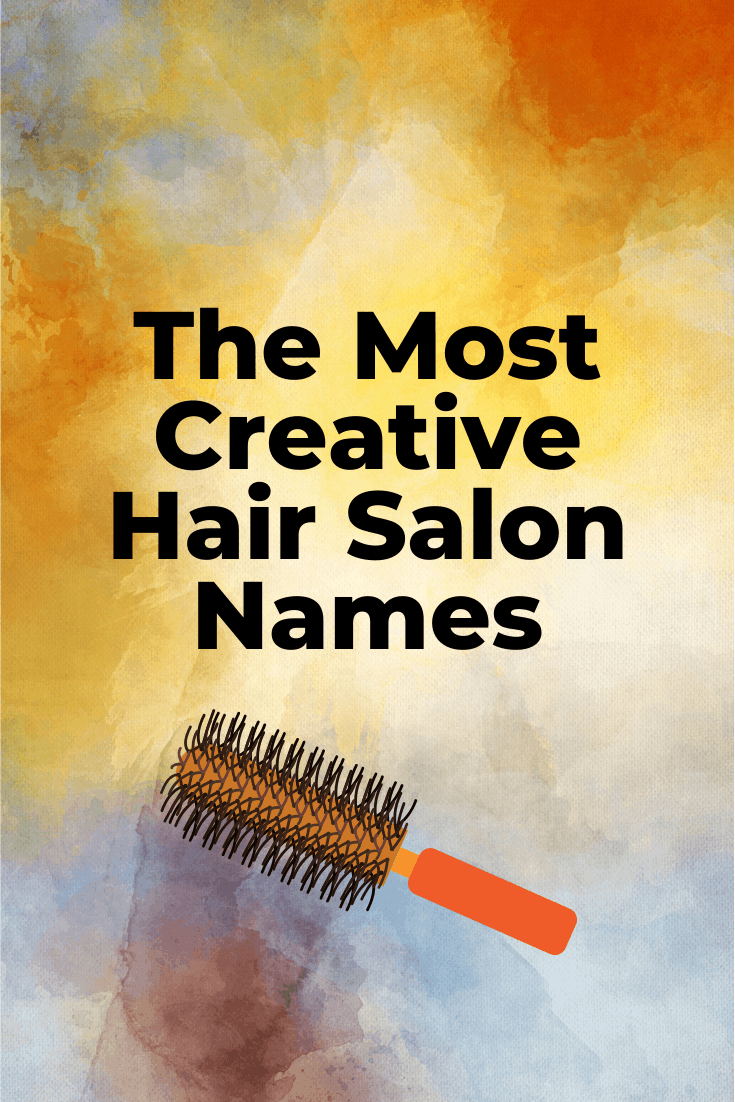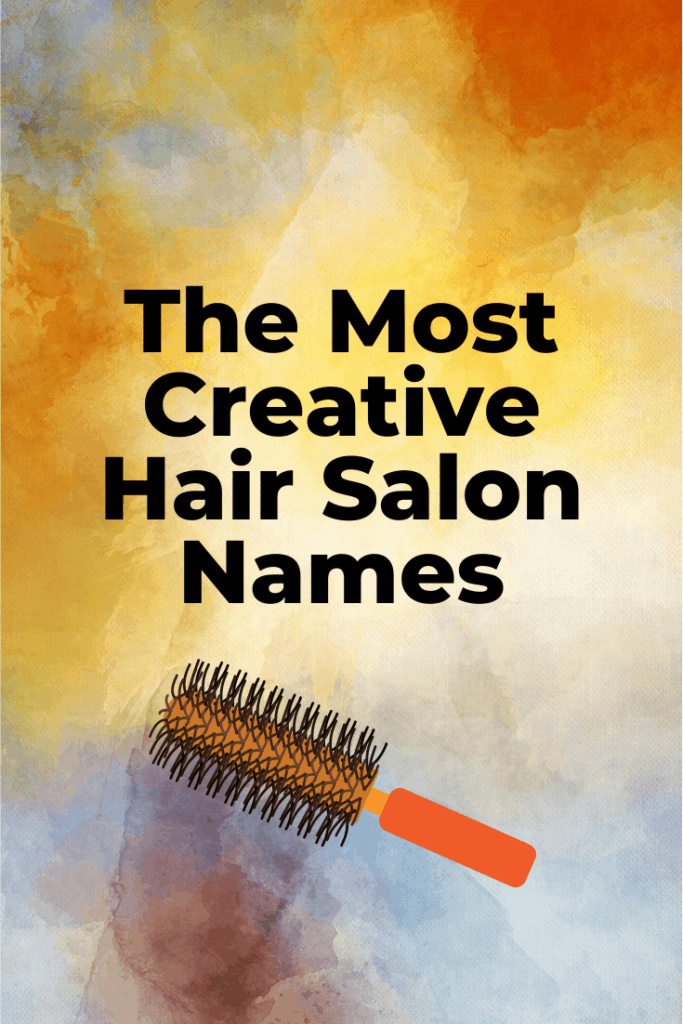 French Hair Salon Names
I'm sure you'll agree with me when I say that the French language carries luxury connotations
Big fashion houses like Chanel, Dior, and Yves Saint Laurent are certainly guilty of driving this and many hair salons are following. Using hair salon names in French can certainly help make your salon brand name sound more premium.
I was making note of hair salon names in Paris during my last visit and have added some more to the list of French hair salon name ideas below.
Elle (She)
Femelle (Female)
Noir (Black)
Blanche (White)
Femme
Petit Salon (small salon)
Salon Bisou (kiss)
Salon Étoile (star)
Hair Boutique
Elegance
A La Mode (in fashion)
Salon Chatoyer (to shimmer)
Salon Cheveux (Hair)
Dépaysement (disorientation felt in a foreign country)
Mon Petit Hair
BonBon
Le Posh
Floraison (bloom)
Salon Soleil (sun)
Magnifique
Coiffeur (Hairdresser)
Le Salon
Atelier de Julien (or your name)
Salon Mieux (Better Salon)
Salon Paris
Plein de Vie (full of life)
Salon Jolie (pretty)
Salon Formidable (excellent)
Vachement ("really really")
Deja Vous
Grande
Evian
Funny & Clever Hair Salon Names
Do you want to create an approachable feeling about your salon?
Then using a hair salon name with humor is a good idea. It signals that you do not take life too seriously which makes you human and more approachable.
Funny hair salon names are also easier for people to remember as it evokes an emotion and not just the rational brain. Some of the funniest hair salon names really make me laugh though and I leave it to you if that's the first impression you want to give or not 🙂
Let's look at a list of fun and quirky hair salon names.
Cutting Edge
Shortcuts
Dying for Color
Dye Hard
Upper Cuts
Ace of Fades
Knot Just Hair
Bubble Trouble
Hairitage
Tangled!
Hair Affair
Hairish
Hairaholic
No Loose Ends
All Tangled Up
Bay Wash
Cut the Crap
Split Second
Braids and fades
Jack of all Fades
Shear Madness
Dye Another Day
Ahead of Time
Pit Stop Barbershop
Brittish Hairways
Head Office
Millionhairs
Cut Loose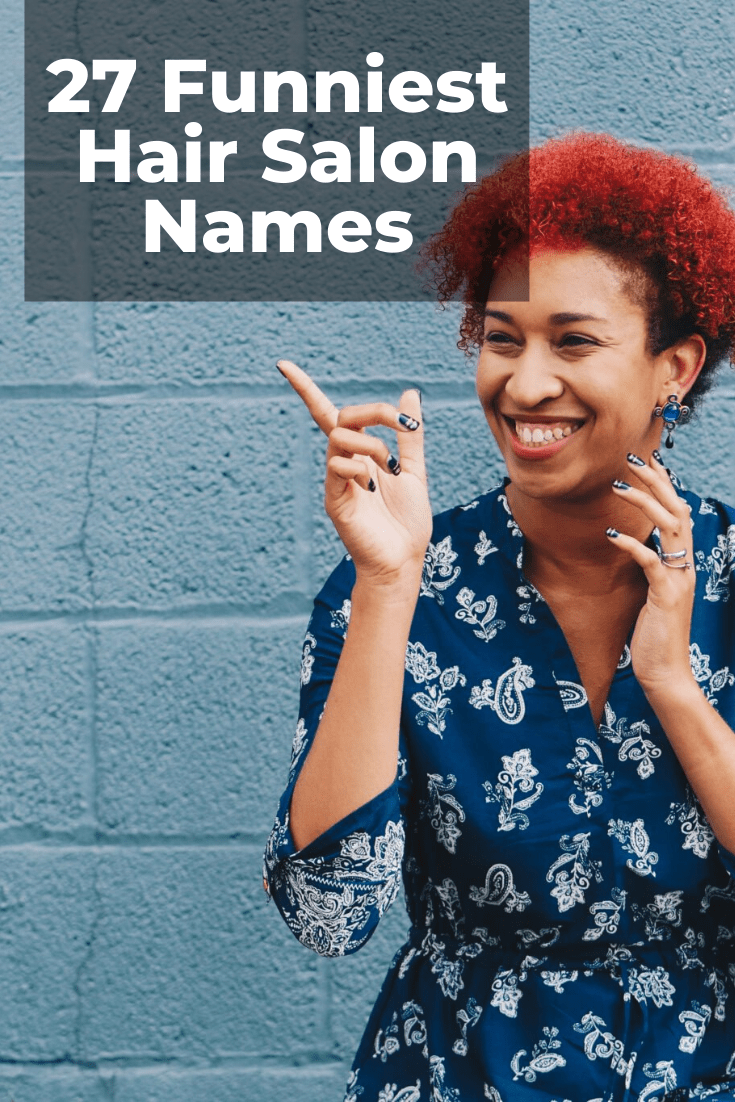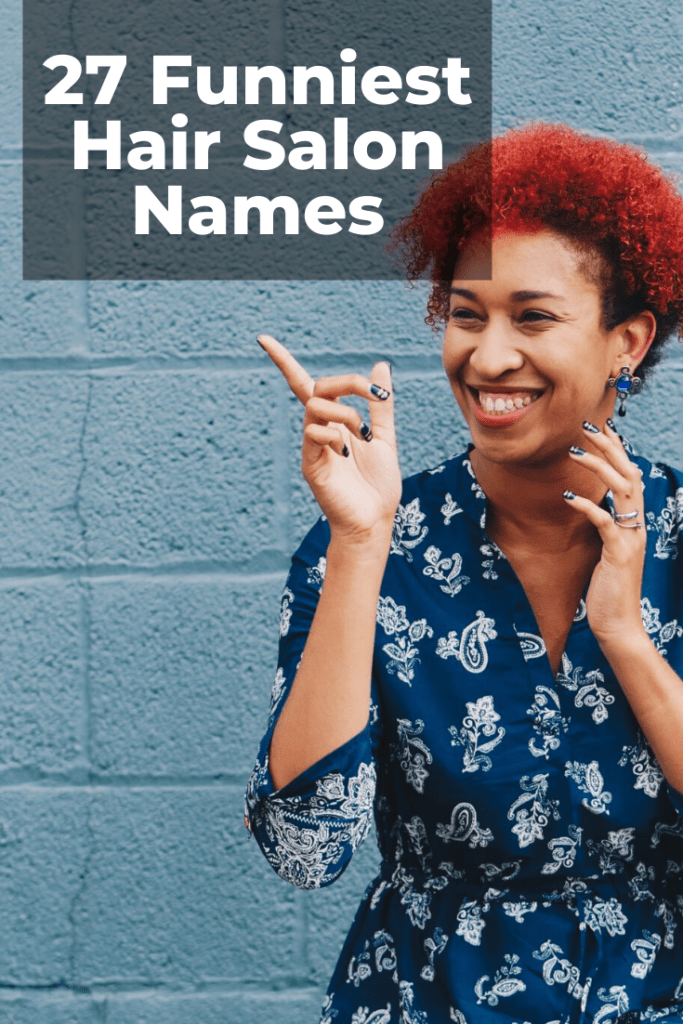 Catchy Hair Salon Names
As we learned earlier, funny hair salon names are more rememberable than others. But maybe you don't want your salon name to be funny. This is why I created this list of catchy hair salon names that are memorable without necessarily employing humor.
Strands
The Colorist
A Cut Above
Hair with Flair
Under the Dryer
Lovely Lather
Luscious Locks
Barbie Boutique
Lush Locs
Sassy Life Salon
Hairology
Hairium
Cliptomania
Clipologist
Cut Cube
Hairlequin
Hairography
Twisted Scissors
The Assembly
Style Citizen
Hair Happens
Clipsplicity
Buzz & Bangs
Eclips
Wave Lengths
Stellar Strands
Snips & Tips
Cool Hair Salon Names
Are the hair salon names listed so far not cool enough for you?
I get it.
I have pulled together a list below of edgy hair salon names that I hope should do the trick. These are the funkiest hair salon names I could come up with and I hope you'll find some interesting options in the list. I found some when looking at new york hair salon names as well as other big cities.
Here's a list of cool hair salon names:
Salon Illicit (not legally permitted)
Nunchi Salon (Korean – the ability to read others and act appropriately)
Ineffable Hair (too good to be expressed in words)
Salon Aquiver (quivering/ trembling)
Beauty Bombinate (to make a humming or buzzing noise)
Halo Hair
Icon Salon
Rusty Blade
Style Street Salon
The Hair Project
The One & Only
Hair Republic
Salon Oblivion (the state of being unaware of what is happening around you)
Salon Petrichor (the pleasant, earthy smell after rain)
Cool Cutz
Bangs
Salon Defenestration (the act of throwing someone out of a window)
Sonder Salon (the realization that each passerby has a life as vivid and complex as your own)
Mod Salon
Samuarai
Sculptors
Smoke & Mirrors
Rebel Rebel
Cute Hair Salon Names – Perfect as Kids Hair Salon Names
Did you find the cool hair salon names too cool? 🙂
If you run a hair salon for children or just like a cute touch to your name, I think you'll like this list of cute hair salon names.
Salon Gigil (Filipino – the urge to squeeze or pinch something really cute)
Goya Salon (Urdu – the suspension of disbelief that happens in good storytelling)
Cute Cut
Simplicity
Bubbles
Tingle
Girl Hair
Oh Boy Hair
Mon Petit Hair
Bliss
Coco
Flaunt
Pixie
Honey
Lavender
Pretty Parlour
Curly Girl
Fringe
Lilly Beauty
Bloom
Blossom
Pink me up
Barber Shop Names
Are you running a male salon?
Then typically the list of cool hair salon names could be a good fit. However, if you run a barbershop, there are more specific barber shop name ideas you can leverage as a brand name. In fact, it's quite common that barbers also have personal barber nicknames. This is something you should consider as well. But for now, let's look at a list of cool barbershop names.
Clippers
Gents
Brothers
Cut 'N' Shave
Walk-In Trim
Scissors N' Razors
Rebel Rebel
Clippers & Cutters
Bad Girl Barbers
Tailored
Butch
Mohican
Rusty Blade
Dapper
Butchers
Papa Bear
Mister
For Him
Man
One-Stop Barber
Corner Barber
Straight Razor
Lookin' Sharp
Blades
Mustache Man
Tache
Muscle Cut
Sideburns
Barber Borthers
Lads Lounge
Cut & Clip
Bros'
Barber House
Silver Bullet Barber
Steel
The Mad Barber
The Pope
Minute Barber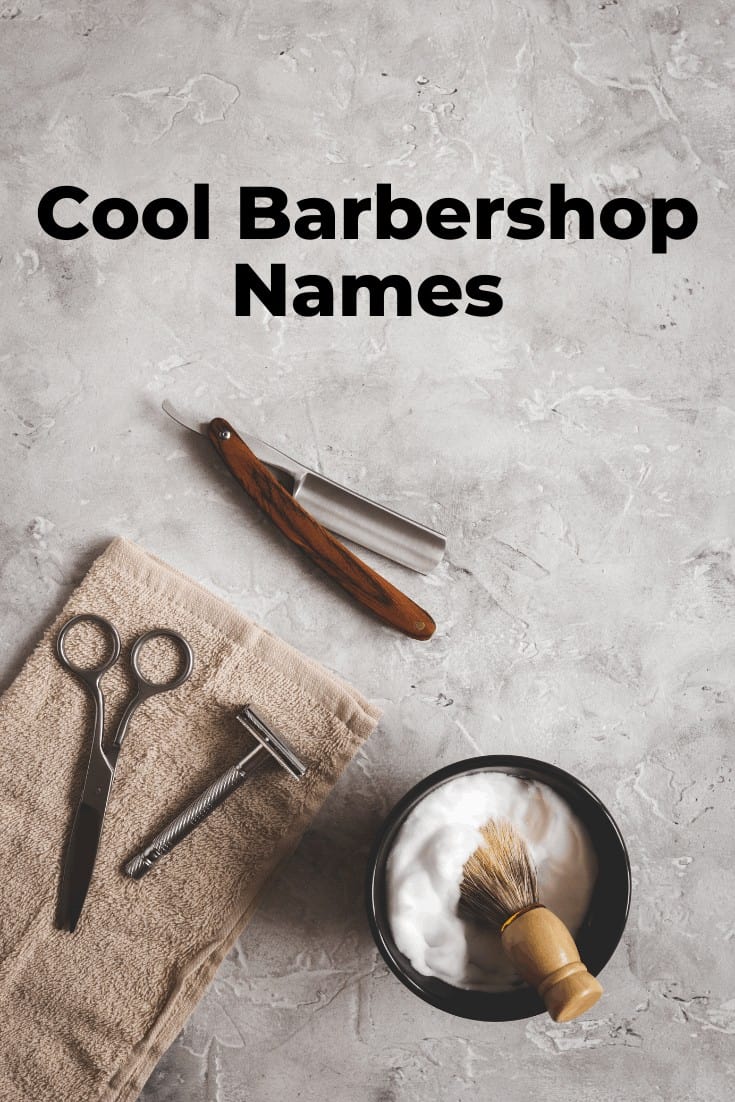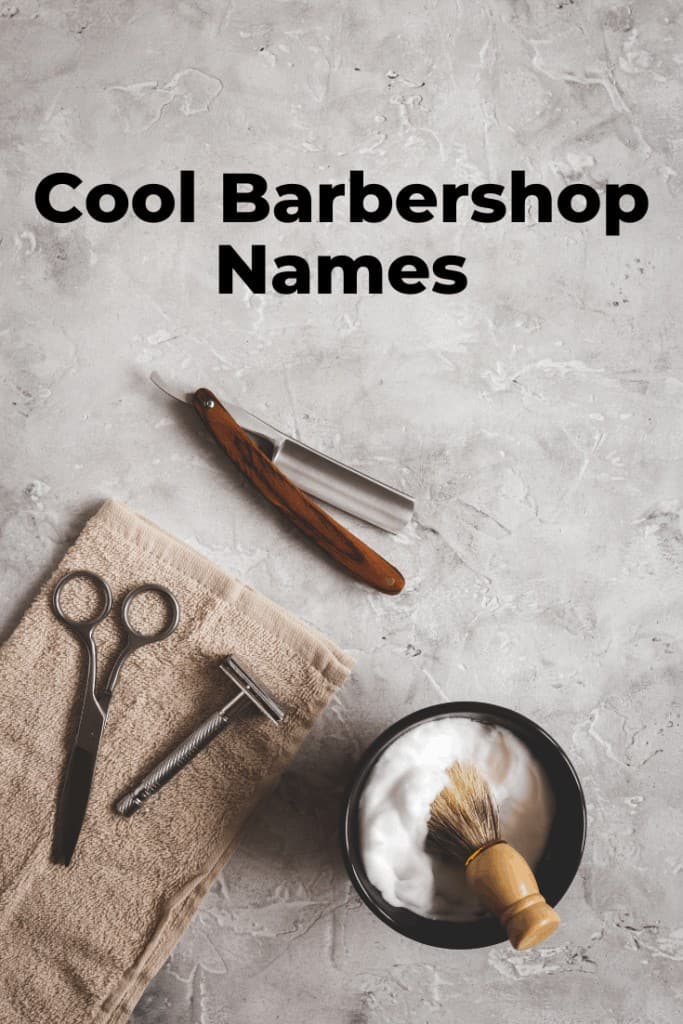 Hair Salon Names in Italian
Like with French hair salon names, Italian hair salon names carry a premium perception. After all, Italy (and maybe Milan in particular) is the Mecca for fashion brands. Think Prada, Versace, Gucci, and Fendi.
So what are popular hair salon names in Italy?
Let's look at a list of Italian hair salon names.
Bellissimo (beautiful)
Sprezzatura (effortless elegance)
Noi (we)
Crepuscolo Salon (twilight)
Mozzafiato Hair (breathtaking)
Mamma Mia Salon (used to express excitement)
Salon Salve (be well)
Salon Furbo (clever)
Salon Figurati (imagine)
Daje Beauty (come on)
Salon Capelli (hair)
Salon Sorellina (little sister)
Barbiere (male hair salon)
Salon Lacca (hair spray)
Salon Pettine (comb)
Spanish Hair Salon Names
Spanish is one of the biggest languages in the world and, even if it's not as known for fashion as Italy or France, it's a good alternative language to use as part of your hair salon name. Spanish hair salon names have a cooler ring to them than for example French and Italian names.
The language is more straightforward and, even if you don't have a Latin American or Spanish heritage can work well to give a unique and cool touch to your salon.
Corte (cut)
Bella Vida (good life)
A Capas (in layers)
Salon Aceite (oil)
Salon Aqua (water)
Baño (bath)
Salon Barro (mud)
Brillo Hair (shine)
Cabeza (head)
Salon Cobre (copper)
Salon Dorado (golden)
Estilo Salon (style)
Salon Gajo (lock of hair)
Hebra (a strand of hair)
Lustre (luster)
Muy Hair (much)
Nuca Beauty (back of neck)
Elegant Hair Salon Names
Are you running a salon with a posh clientele and need an elegant hair salon name that speaks to your client?
The way you come up with a good high-end hair salon name is different from other types of salons. This is why I have put together a dedicated guide to classy hair salon names here. I strongly recommend you read this if you fall into this category of salons.
But elegant and classy hair salon names are not the same thing. Here I'm trying to focus on the names that have that subtle, simple, yet high-end touch to them.
Let's look at a list of hair salon name examples with that elegant touch.
Eloquence (the art of using language in an apt, fluent way)
Salon Serendipity (the chance occurrence of events in a beneficial way)
Epiphany (a moment of sudden revelation)
Supine (lying face upwards)
Luminescence (light produced by chemical, electrical, or physiological means)
Salon Solitude (a state of seclusion or isolation)
Aurora (dawn)
Marvel
Salon Nobel
Nuxe Hair
Salon Clouds
Limerence (the state of being infatuated with another person)
Ethereal (extremely delicate, light, not of this world)
Bright Lux Salon
Genesis Salon
Feathers
Phosphenes (the light and colors produced by rubbing your eyes)
Ephemeral (lasting for a very short time)
Platinum Salon
Eternity Salon
Air Beauty
Vintage Hair Salon Names
Are you looking for a salon name that brings to life your vintage image?
Then you might like some of the vintage hair salon names below.
Epoch (a particular period of time in history or a person's life)
Rocking Reds
Oh La La Salon
Blue Moon
Salon Dolly
Glam Central
Salon Reflection
Silver Screens
Retro Beauty
Viva Glam
Cool Beans
Boudoir
Marilyn's
Ruby's Reds
Salon Wicked
Salon Burlesque
Madam Me
Back in the Days
Attitude
Kings & Queens
Groovy Salon
Neat
The Bee's Knees (used to tell someone they are simply the best in the 20s)
Trendy Hair Salon Names
Your clients turn to you for trend advice.
But are you showing up as a trend expert?
By employing a trend-related hair salon name you signal that you're a trend authority they can trust.
Let's look at a list of trendy hair salon names.
Editorial
Behind the Scenes at Lisa's (or your name)
The Lighthouse
The Hair Show
Salon Catwalk
Vegan Society
Planet Hair
No Footprint
Renewable
On Trend
Salon GOAT (Greatest of all times)
Salon IRL (in real life)
#salon
Salon Couture
Haute Couture
Timeless
Move
Salon Activists
Personalization
Hair & Beauty Salon Names
Do you offer more than just hair services in your salon?
A lot of the hair salon names in this list are general and not necessarily specific to hair. You've probably already noted down some.
A good idea is to just pick one of the generic names in the list and add "Hair & Beauty" so that people understand you offer more than hairdressing services. However, if you're looking for something that communicates the fact that you're not only a hair salon you can check out this list of hair & beauty salon names.
Rejuvic
Skin & Scalp
Head & Body
All Hair
Head to toe
Total Beauty
Salon You
Salon Destination
The Beauty Experts
The Getaway
Glamour
The Beauty Spot
Soak
Perfecta
Grand Salon
All at Once
One-Stop Salon
Hair & Nail Salon Names
Do you have a nail bar in your hair salon?
It's a good idea to reflect that in your name to drive awareness also of your nail services. Similar to hair & beauty salons, you can also pick a generic salon name in this list and simply add hair & nail to the end.
But if you're looking for a specific name that communicates both of your salon services, I have put together a list below that also reflects your nail business.
Everything Color
Color, Color, Color
Vitamin B
Cut & Coat
Paintbox
Hair & Nail Room
Blush Beauty Bar
Hand & Head
Your Hair & Nails
2x Salon
Red Hair, Red Nails
The Paint
Paint it Black
Tip & Top Salon
Say it with Color
Hair & Nail Bar
Hair & Nail Lab
The Best Hair Salon Names
We're approaching the end of this article. I hope you have a paper next to you now (or iPhone notes app) that is full of ideas for hair salon names.
But what are the best hair salon names?
In the below video, I cover what I think are the best ones.
However, as I think has become clear today. There isn't really a "best salon name". What is a good name will depend and the hair salon that should carry it. But I can give you a couple of final thoughts to consider when judging what will be the best name for your hair salon.
Not all of the below needs (or should) be true. But you should at least make a conscious decision about each question.
Does it communicate what is unique about you and your hair salon?
Does the name reflect if you're a classy, cool or creative salon?
Will people immediately understand that you're a hair salon when they hear the name?
Can the name be executed in a visually appealing salon logo?
Are you able to find an available website domain that makes sense with your hair salon name?
If you're answering yes to most of the above points, you're in a good place now. Next, you can check out my list of 2754 Unique Salon Names (Hair, Beauty, Barbershop, Spa, Nail).
If you enjoyed this article, it would mean the world to me if you wanted to share it with your friends using the social buttons on this page.
Related Questions
How to name a hair salon?
1. List everything that is distinct about you and your salon (hero services, unique cutting techniques, origins etc.)
2. Articulate how you want your salon to be perceived (classy, cool, creative etc.)
3. Brainstorm hair salon names that reflect steps 1 and 2.
4. Try to translate into other languages (e.g. French and Italian) for more options
5. Ensure people who hear it understands that it's a hair salon (if not append e.g. "Salon" to the name)
6. Check that you can find a good website domain name available for the name
7. Use a tool to visualize what it could look like as a logo
8. Ask friend, family, and clients for feedback
9. Trust your gut and pick the best name
What is a good name for a hair salon?
A good hair salon name communicates what's unique about you and your salon. It also signals the type of hair salon you are. Ideally, it should also be possible to execute in a visually appealing way in the salon's logotype.