Are you trying to come up with a catchy beauty salon slogan for your hair salon, nail salon, barbershop, or spa?
Then you've landed in the right place.
This is where I collect salon slogans, mottos, and tag lines to accompany your salon name.
I've complied 179 beauty slogan ideas to date and I add new ones when I come across mottos and tag lines that hairdressers, stylists, and other cosmetologists can use for their brand.
Now, let's go through the salon slogan ideas!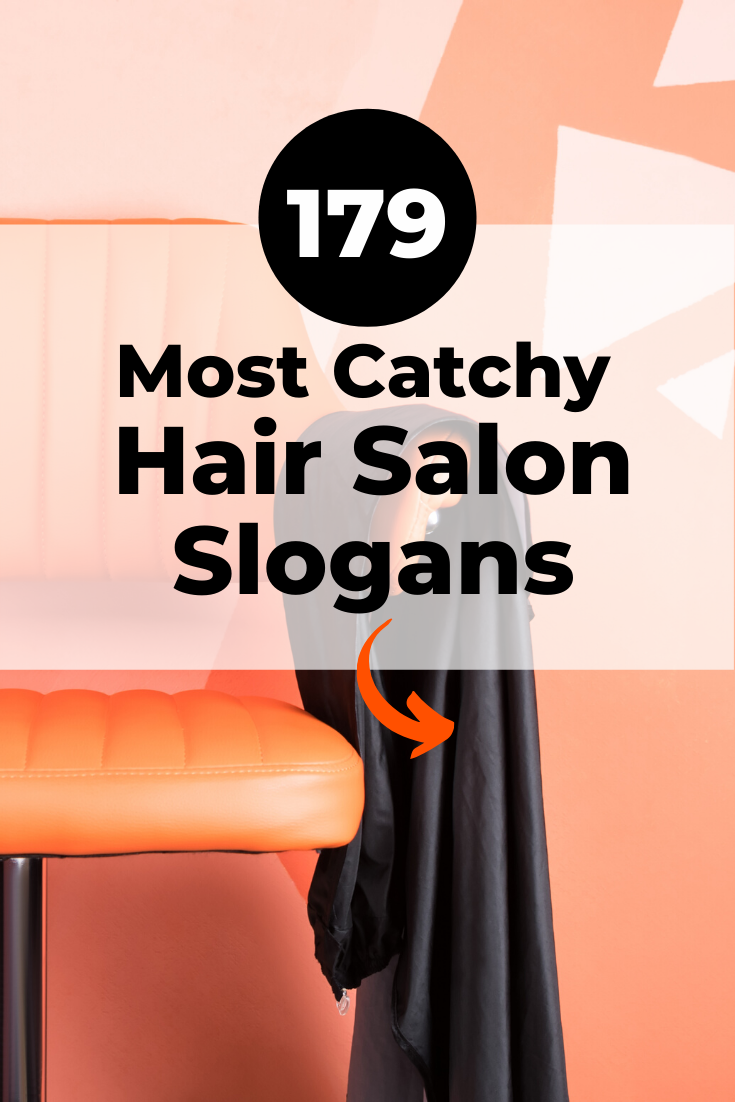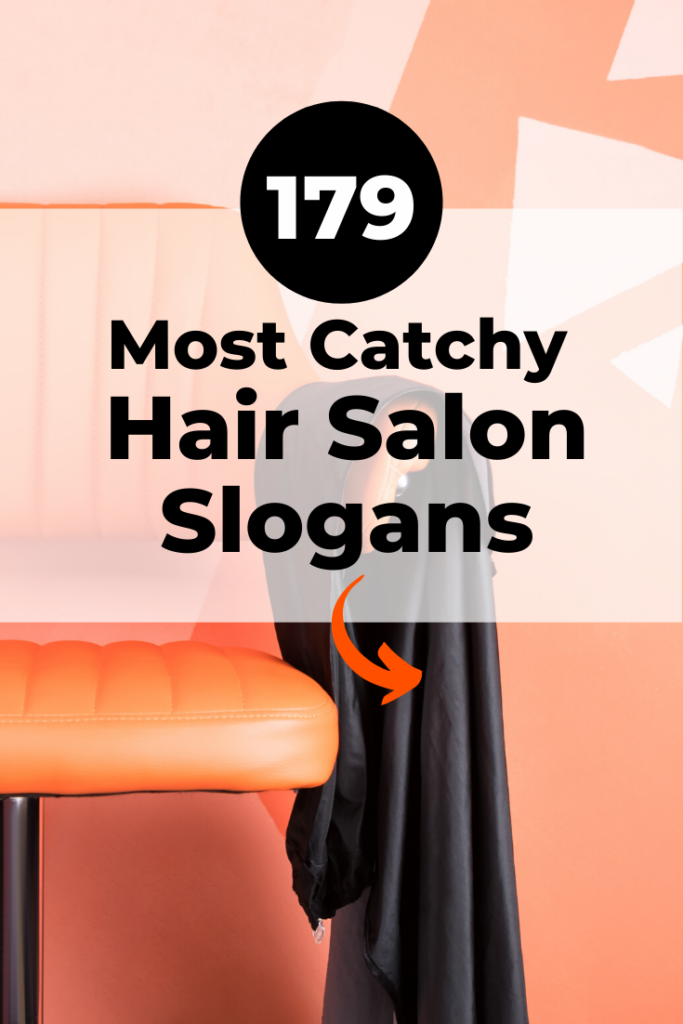 Hair Salon & Hairdressers Slogans
A slogan that embodies the mission and image of your hair salon is the perfect finishing touch. It's also a great way to let clients know that you'll go above and beyond their expectations.
Adding a slogan to your business card is a great addition as well. A polished graphic with a slogan alongside your salon's name can make a business card look extremely professional.
Let's take a look below at some hair salon slogans sure to make a statement!
Hair Salon Slogans
The People Groomers.
It's your time to shine.
A whole new you
Where blondes have more fun (if you are a blonde specialist).
We cut it all!
Leave it to us.
We care about your hair.
The look you want for less.
Reveal your true self.
Love it for less.
Your personal stylist.
You'll love what you see.
Hair Extension Slogans
Let it grow.
No one has to know it's not yours.
Be who you want.
Of course it's real!
Lettin' it all hang out.
Achieve your goals.
If you can dream it you can be it.
We do hair like Rapunzel.
The sky's the limit.
The essence of hair.
Create your image.
Natural Hair Slogans
Get back to the basics.
Where you can be yourself.
Free to be.
Where hairdressing is holistic.
Get your hair on.
Let it loose!
Simply the best.
Get your glow up.
Naturally you.
Feel good about yourself.
Authentically you.
Hair Products Slogans
You'll turn heads.
Making chemistry fun.
Your hair is our canvas.
We make hair effortless.
It's all you.
The science of hair.
Our products make it effortless.
You deserve it.
Beauty in a bottle.
Salon on the go.
The spa experience at home.
We'll love your hair.
See your potential.
Hair Slogans for Business Cards
Your one stop beauty shop.
We'll know what you like!
Loving your hair for less.
Be your best.
We can create your vision.
Be the envy of everyone.
Be the life of the party.
Styled just right.
A unique experience.
We're always here.
Tame your tresses.
We'll treat you like family.
Spa Slogans
When a client sees the word spa it normally speaks for itself. Spas have a reputation for being a place where clients can go to get services done and be pampered in a peaceful environment. You can further embody this by adding a slogan. When you think of a slogan for your spa, try to come up with something that exudes tranquility and relaxation.
Here are some spa slogans to help get you started!
Catchy Spa Slogans
We rub you the right way.
Relax while you wax (if you're a waxing salon).
Serenity now!
Take time to yourself.
Be a queen for a day.
Are you ready to relax?
Only the best.
Life's too short to be stressed.
Bringing you joy.
Expect the royal treatment.
The fountain of youth.
Relaxing Spa Slogans
Take a load off.
Sit back and relax.
We make relaxing a science.
Leave the healing to us.
Let us exceed your expectations.
Treat yourself
We're always here for you.
Surprising the senses.
Calm from within.
Take a minute for yourself.
Tranquility at your fingertips.
Barbershop Slogans
Barber Shops already have a fun and hip image. Naturally, they are a great choice for adding a slogan!
Consider choosing a slogan or tagline that plays on being cool and trendy for your barbershop. It's especially important that you choose a slogan that sets your barbershop apart from the others since most towns usually have plenty of them around.
Check out some of these cool barbershop slogans below for some ideas that will cause a buzz.
Catchy Barbershop Slogans
We'll clip you
Keeping it fresh.
Come get shaped up.
Keepin' it real.
Straight shaves, straight styles.
The design is in the detail.
Tailored hair.
Let your hair do the talking.
Be on the starting line-up.
Be treated like a king.
The gentlemen's lounge.
Expect the best.
Cool Barbershop Slogans
So fresh and so clean.
Sit back and relax.
Where the cool kids hang.
All we do is win.
Our impression is your expression.
You imagine and we create.
Smooth shaves every time.
Quality cuts at a good price.
The best shop in town.
Live life on the edge.
Nail Salon Slogans
Nail salons represent art, elegance, and cutting-edge trends. In addition to choosing a name for your nail salon that embodies this, incorporate it into your slogan as well. Phrases that reference art, color, and elements of design are all great choices that appeal to clients seeking out the best of the best to work on their nails.
Here are some catchy nail salon slogans.
Catchy Nail Salon Slogans
The salon with style.
Where grown-ups do finger paint.
We make your nail dreams come true.
Paint your world.
Nails for everyone.
Everybody loves color.
Get perfectly polished.
Straight from the runway nails.
Express yourself.
We'll nail it!
Perfection with every stroke.
Nail Slogans
Primed and ready to paint.
Cutting claws.
Only the best.
Pamper your toes.
Always elegant.
Bringing the joy of creativity.
We paint them better.
Varnish your life
Put some shine in your life.
A stroke of perfection.
Style and nails go hand in hand.
Beauty Salon Slogans
Most beauty salons are full service and attract a wide variety of clientele. If you're looking for a slogan or tagline for your beauty salon, think about phrases that appeal to everyone. Try something that's classic and timeless. Think about words and phrases that are general and refer to beauty and style.
Check out some of these beauty salon slogans below that are sure to catch everyone's eye!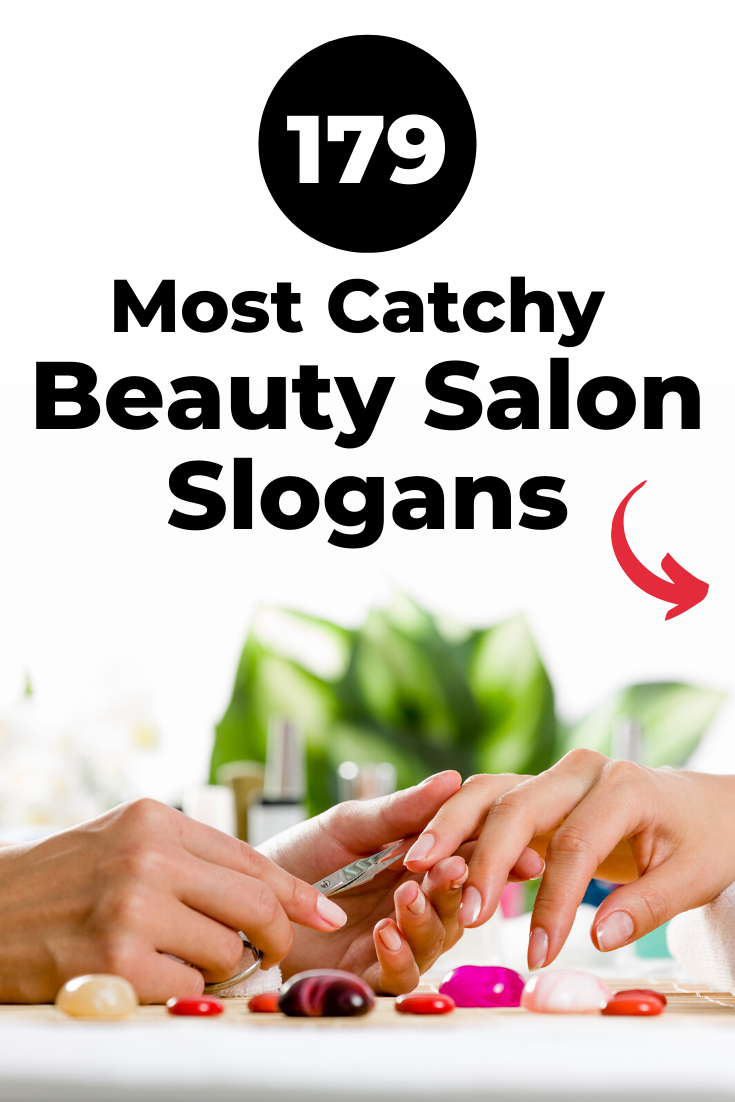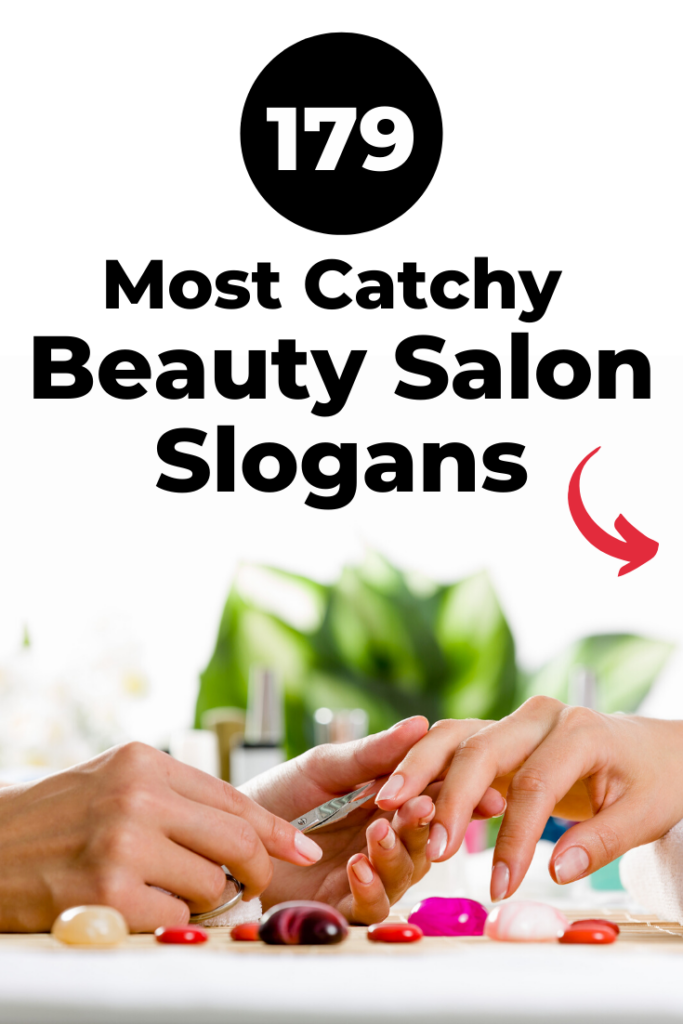 Catchy Beauty Salon Slogans
We'll style while you smile!
Share your style.
Beauty is our duty.
Get prim and proper with us.
Beauty doesn't have to be painful. .
Taking care of all of your needs.
We get it done.
Be proud, be you.
Beauty from head to toe.
Beauty Slogans for Business Cards
Where all your needs are met.
Leave it to the pros.
Get beautiful with us.
We can create what you imagine.
Where flowers come to bloom.
We know beauty.
There's no one better.
It's time to get trimmed.
We'll meet your expectations.
Make time for you.
A whole new you
Massage Therapy Slogans
We've already discussed slogans that incorporate relaxation for spas above. A massage therapy spa is no different! It's even more important that you play up relaxation and a stress-free environment when you're in the massage therapy business.
Clients seek out a massage not only to relax but also to help heal themselves from pain. For a massage therapy slogan, think about a phrase that says you can make them feel good again.
Here are some massage therapy slogan ideas to get you started.
Catchy Slogans for Massage Therapy
We'll make it right.
The muscle masters.
Loosen up with us.
We make it look easy.
Feel well, be well.
Let us help.
Hands on healing.
At heaven's door.
Get ready to relax.
Where you always feel young.
The VIP treatment.
Massage Taglines
We rub you the right way
Bones are gonna roll.
Relaxation guaranteed.
Life's too short to be in pain.
Indulge yourself.
Let us relax you.
We put our backs into it.
The healing touch.
Never better.
Life made painless.
Tanning Salon Slogans
What comes to mind when you hear the word tan? Do you immediately think of the sun and bronzed skin? When you come up with a slogan for your tanning salon, think like you're on vacation. Words and phrases that remind clients of tanning on the beach during the summer are great ideas for a slogan that plays on these elements.
Here are some tanning salon slogans sure to make your client feel like they're back at the beach!
Catchy Tanning Salon Slogans
Where it's always a vacation.
Shine like it's always summer.
Just like paradise.
Where the sun never sets.
Get the beach on the go.
Take a 10 minute vacation with us.
Refresh your skin.
Highlight your natural beauty.
Be bold. Be bronze.
Life's too short to be pale.
Where sun and skin meet.
It's always sunny here.
Put a little sun in your life.
Conclusion
Hopefully, this gives you a good idea of what to look for in a slogan. There are plenty of ideas for a successful slogan in this article, now it's up to you to decide what fits your image best.
There are just a couple of things to keep in mind no matter what type of salon you are opening.
Does your slogan make sense?
Does your slogan intuitively make sense that it refers to a salon, barbershop, or spa?
Does your slogan go with the aesthetic and mission of your business?
If you can answer all these questions with an emphatic "yes!" then congratulations, you've found a great slogan!