Are you looking for catchy and cool barbershop slogans?
Then you've landed in the right place.
In today's article, I'll give you a list of my favorite barbershop sayings to inspire you.
Barbershops are ever-increasing in popularity as men to look for their own hair salons that specialize in short cuts and beards.
I'll cover both barber slogans and shaving slogans that are catchy, clever, creative, cool, funny, and unique.
I'd recommend you get a pen and paper out now (or your iPhone notes app) and make note of the barbershop slogans you like.
At the end of the article, I'll take you through some important techniques to help you choose the best sayings and quotes for your barbershop advertisement.
Here are the different types of barbershop slogans we'll cover today.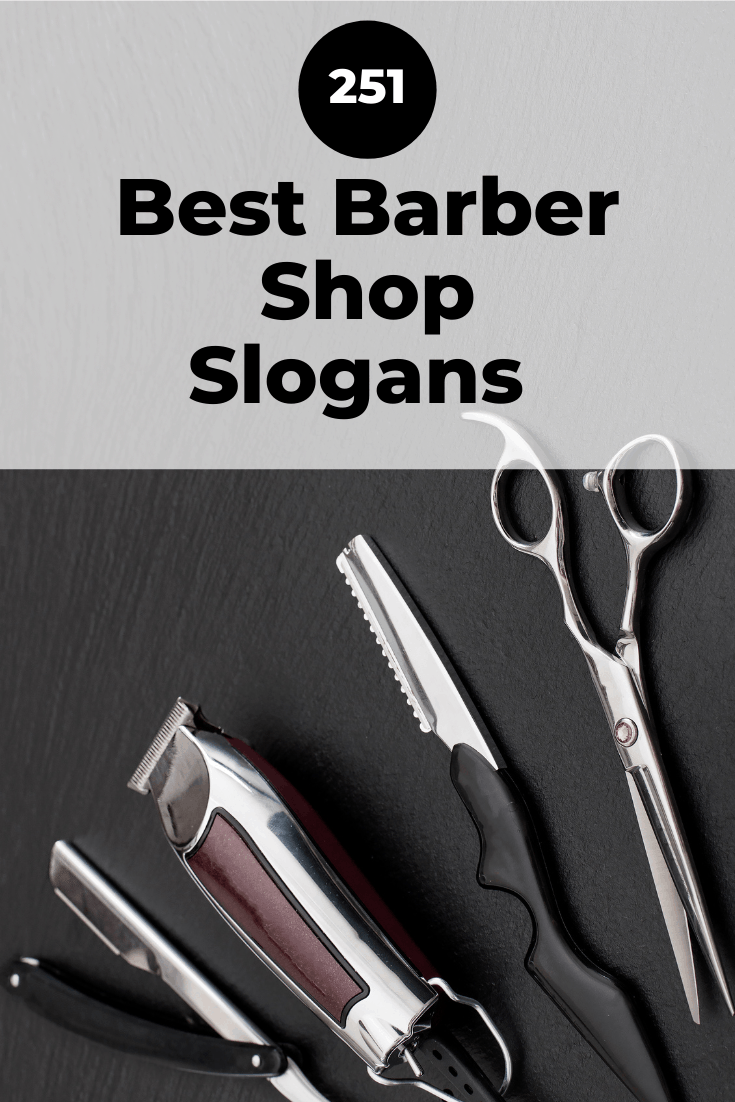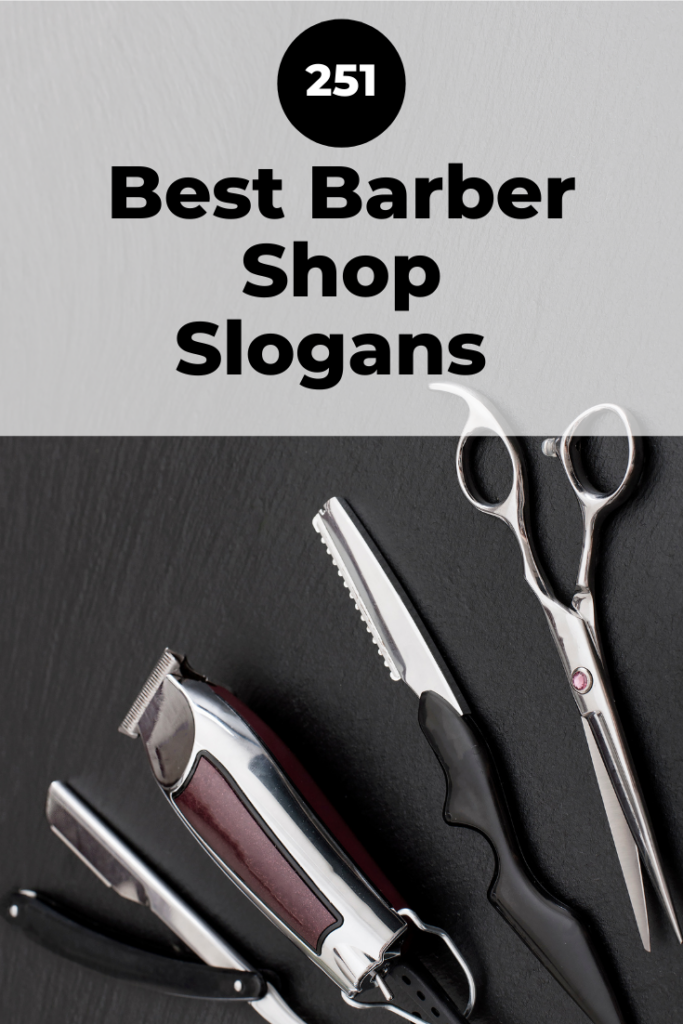 Catchy Barbershop Slogans
Let's start off with catchy barber shop slogans.
Catchy barbershop slogans and barber quotes are a great way to make your barbershop stand out.
By employing rhymes and phrases that go well together, you can also make your barber shop slogans more memorable.
I have put together some examples of catchy barbershop sayings like this below.
Catchy Barber Shop Slogans List
Let your hair do the talking.
Fast fades in no time.
Straight shaves, straight styles.
Be on the starting line-up.
All About You
Come get shaped up.
Tailored hair.
So fresh and so clean.
The best shop in town
All about quality.
Try a different style
Superior cuts.
Always fulfilling your expectations
Your satisfaction is our goal.
High standards are on us.
Get groomed right.
Cuts of your life.
Good ole boys cuts.
Don't miss our cuts.
Enjoy our service
No pain here
Come to the professionals
Straight shaves
Styles on us.
It's your time to get buzzed
Clever Barber Shop Slogans
What's more memorable than a catchy barbershop slogan?
A clever barber saying.
Humor is powerful. It drives emotion. And we tend to remember things that we associate with an emotion better.
Using clever barbershop quotes with humor also makes your shop more approachable as it signals that you're not taking yourself too seriously. People like that.
The only caution I would add to the use of funny barbershop sayings is that it may harm the premium perception of your barber business.
Clever Barber Shop Slogans List
The design is in the detail.
The gentlemen's lounge.
You'll be sure to have an old fashioned time.
We'll clip you
Be treated like a king.
Your hair, your style
Let your hair do the talking.
Expect the best.
Live life on the edge.
Quality, service, atmosphere!
Mess with us and get cut.
Buzzed just right
Try us out and see.
Faded right
You'll find no one better!
Buzzed by the best
Take a load off and get a cut
Stay for awhile
Good times cuts
Come to the corner for a great cut
Barbers and buzzes
Cut central
Come hang with your boys
Be a team player with us
We've got it all
Relax and sit back
Vintage style with modern cuts
Get a cut on us.
Creative Barbershop Slogans
Creativity is the name of the game when it comes to branding any business. This goes for your barber shop.
Do you do cool cuts and fades? Express your creativity with a creative barber shop saying.
Choosing a quote to let people know that you are artistic builds confidence in your barber shop's ability to provide services that keep up with the trends.
If it's your artistic image you are trying to portray, check out the barber shop slogans below for some creative inspiration.
Creative Barber Shop Slogans List
Our impression is your expression.
Fades to die for.
You imagine and we create.
Clip your life
Connoisseurs of style
Real cuts by real professionals.
A breath of fresh hair.
Not your father's barber shop!
Award winning style.
Get a buzz on us.
Stroke of genius for your hair.
Buzzes of art.
We've got you
If you can dream it, we can cut it
Come flex with us
Creative cuts are what we do.
Cut right in your world.
Discover what good hair is with us.
We'll get you buzzed.
Get it done right!
Hairstyles for everyone
Different designs for everyone
Reveal your true self
The cut you want
Vintage and defined.
Cool Barber Shop Slogans
Barber shops already have a fun and hip image. Naturally, they are a great choice for adding a slogan!
Consider choosing a slogan or tagline that plays on being cool and trendy for your barbershop. It's especially important that you choose a slogan that sets your barber shop apart from the others since most towns usually have plenty of them around.
Check out some of these cool barbershop slogans below for some ideas that will cause a buzz.
Cool Barber Shop Slogans List
Sit back and relax.
Smooth shaves every time.
Looks for less
Put your feet up and relax.
The styles on us.
Cuts for everyone.
Where the cool kids hang.
All we do is win.
We're in high demand
Join our team!
Courtside cuts
Fade your world.
Get more for less
Men can be trendy, too.
Live your best life.
Ready to roll
Perfection with every clip.
We got you clipped.
Faded perfection.
All about quality.
Complete transformation.
You're our top priority.
Down to Earth Cuts
Get your barber on
Forget your troubles here
Don't forget to get buzzed
Clean cuts every time
Professionalism at it's finest
Choose your cut
Be more
Get cool today with us.
Trendy buzzes.
Get cut the right way.
Upper-class buzzes.
Where the guys hang.
Feel classy with our cuts.
Beyond expectations.
Take a seat.
We'll get you lookin' fine and fancy
Proper cuts with us.
Ready to rock
Fine cuts for fine men
Stars and Stripes cuts
Choose us for a better cut
Funny Barber Shop Slogans
This section is dedicated to funny barber shop slogans and barber shop quotes.
Upon searching the web for relatable & funny barber shop slogans, I realized that there were a plethora of funny sayings to choose from.
These particular quotes I have chosen are a mix of relatable slogans for barbers & everyday people who enjoy a good haircut. From clipper mishaps to jokes only a master barber could understand, theres something for every barber here.
The only caution I would add to funny barber shop sayings is that it's probably not a good fit if you're trying to portray a high-end image. In those cases, you actually don't want to be approachable but rather distanced and exclusive.
Check out these funny barber quotes list below.
Funny Barber Shop Slogans List
We'll clip you better
Recreate yourself
Let it loose!
Get right.
We'll love your hair
Your one stop cut shop
Be the life of the party
An old fashioned barbershop without old fashioned barbers.
Get freshly cut.
Get your buzz on.
Have a seat!
Just a little off the top.
Leave it to us.
The ladies will love it
Man up!
Be in demand.
Style your life!
The man groomers
Put your head in our business.
Come be a man.
We cut heads.
Be a champ with us.
Get up, get cut.
Where the good guys go
Because no one likes a guy with bad hair.
Fine and fancy
No bull buzzes.
Book with us and get buzzed
Mess with the best!
Don't be sloppy, be stylish
Because every man needs to look good
No pain no gain haircuts
Dirty South Cuts
We'll upper cut you!
Right cuts, right price
Unique Barber Shop Slogans
If you're going to catch a client's eye in a town full of competition, you need to step up your game.
Nothing catches a client's eye more than an edgy barber shop quote that they're not likely to forget.
A great way to come up with a unique barber shop saying is to think through what your salon offers. What are your hero services and do you have something in your menu that is different from other barbershops? This can be a good angle to take when trying to identify a unique barber shop slogan to market your hair business.
I think you'll like the unique sayings I've listed below to give you some barber shop quotes that won't be forgotten.
Unique Barber Shop Slogans List
Quality cuts at a good price.
Tame your tresses
The shop with style.
We make your dream cut come true.
Good cuts, good style.
Straight from the shop.
Only the best.
Urban in the Suburbs
Barbering at its best.
Be your best.
You won't be able to resist
The mark of a man
Cut for less
Feel at home with us.
Fresh fades
Where champions are made
King cuts.
Systematic style.
Sporty cuts
Nothing but the best here
Take your chance with us.
A breath of fresh hair.
Let is all hang out.
Get to your goal with us
No ideas? No problem. We've got you
Change it up.
Be who you want
In it to win it!
A unique experience
You deserve the best cut
Delightful cuts
Get right with us
Be who you want
Take a chance on us
Systematic styles
Need a style? Come to us!
A cut for every type
Take the time to get a good cut
Always ready for you
Great cuts don't happen by chance.
Shear delights
Your hair is your crown.
Life's too short for a bad buzz.
A change on us
Low country cuts
Help us help you
Because men can be stylish too!
Even the tough guys love us
Don't settle!
King for a day
Look good, look great
Shaving Slogans
Who doesn't love a good shave? The truth is, a lot of men go to a barber shop to touch up their beards and moustache.
A good shaving slogan will let clients know you go above and beyond with all types of barber services- not just hair cuts.
Check out this list of shaving slogans below sure to cause a buzz.
Shaving Slogans List
Smooth faces every time
The shave is on us
Get smooth
Just leave the beard to us.
Shaved effortlessly
Skin like glass
Because men like to be pampered, too
A facial fit for a king
Let us trim your beard
Get the knife out
The shave is on us
Ready to cut
It's just better here
We'll get it done right.
Shine and shave
Get your beard on
Don't forget the shave
You'll get the best
Lined-up
Saved by the blade
A shave to die for
Leave a smooth feeling
A better shave with us
Stubble no more
Trimmed right
Aftershave delight
Let us handle it
Bearded or buzzed, come to us!
Sharp blades
Shaved, trimmed, and ready
No razor burn here
A shave you deserve
Fresh every time
Skin deep
Let us help you
Bringing you joy with every shave
No shave, no problem
Smell good with our products
Summertime shaves
Limitless designs
Beards R Us
Star spangled shaves
Champion shaves
Real men come to us
Conclusion
You've just been on a journey through inspiration, humor, and sentiment.
Who knew you could get all of that from just barber shop quotes, right?
As an additional reading, check out these articles: