Are you trying to come up with a catchy nail salon slogan for your nail parlor?
Then you've landed in the right place.
Nails are a premium service and nail salons have grown in popularity over the last few years. If you are planning on opening a nail salon or becoming a nail tech, standing out amongst your competition is paramount.
This is where I collect nail salon slogans, mottos, and tag lines to accompany your nail salon name and help you cultivate your salon's image.
I've complied 181 nail salon advertising slogans and ideas to date and I add new ones when I come across mottos and tag lines that nail techs, manicurists, and other cosmetologists can use for their brand.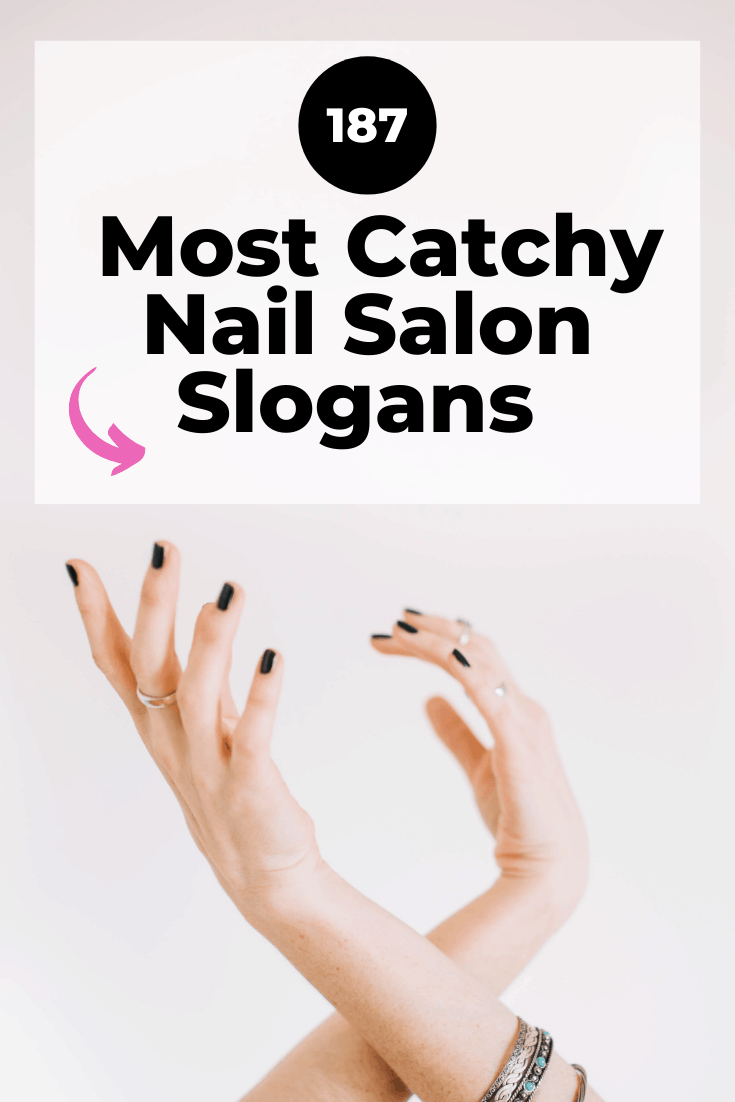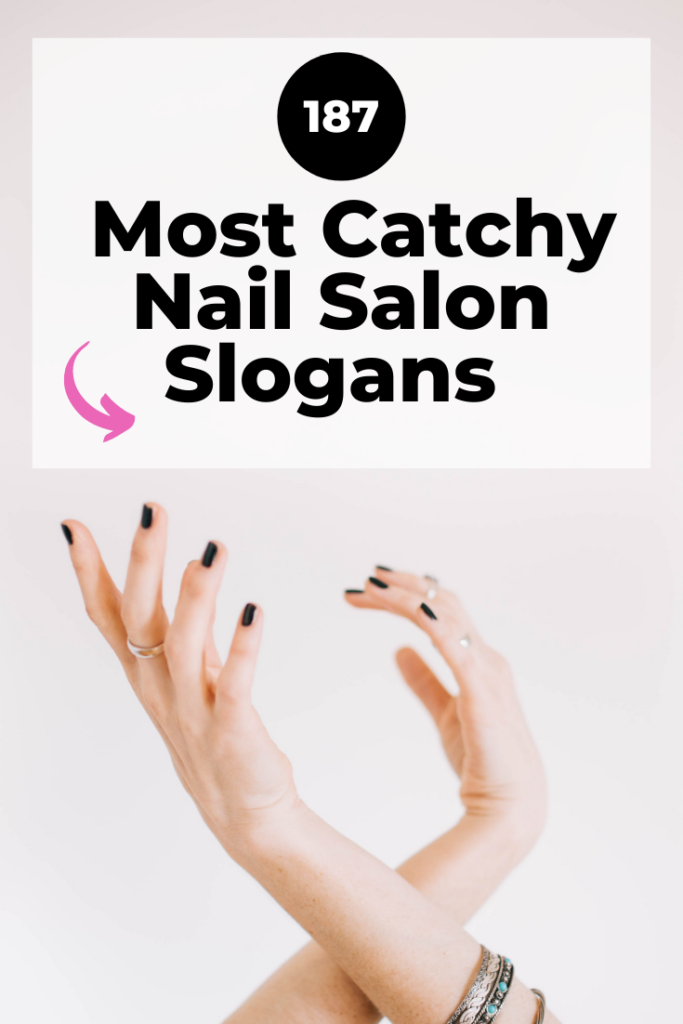 Now, let's go through the nail salon slogan ideas!
Catchy Nail Salon Slogans
First, we'll start off with catchy nail salon slogans.
Catchy nail salon slogans and nail quotes are a great way to make your nail business stand out.
By employing rhymes and phrases that go well together, you can also make your nail slogans and sayings more memorable.
I have put together some examples of catchy nail salon slogans like this below.
Catchy Nail Salon Slogans List
We Have the Nail Knowledge
It's time to get trimmed.
Fall in Love with the Art of Nails
Martinis & Manicures
Don't underestimate the power of red nail polish.
The Barbie Nail Boutique
We Have Skills You Will Love
Come get professionally polished.
Shiny shots for your nails.
Welcome to the House of Nails
Sugarcoat your nails.
Get a new look for your nails.
Rocking reds for your nails.
Nail paint galore
Nails on Sale
Oh La La! Nails
Neat Nails
Clip Central Nail Salon
Come get Nailed!
Make time for you.
Nails on The Brain
Tip Toe Nails
Give your nails a sweet treat.
There's nothing wrong with being addicted to nails
Your nails will be phenomenail!
Holy Nails!
Shortcuts Nail Services
We Love Tips
Raise your hand if You Love Nails
Salon Holding Hands
Don't forget to care for your claws.
Funny Nail Slogans
This section is dedicated to nail puns & funny nail salon slogans.
Upon searching the web for relatable & funny nail quotes, I realized that there were a plethora of funny sayings to choose from. These particular quotes I have chosen are a mix of relatable slogans for nail techs & everyday people who just enjoy adding a splash of color to their fingers! From nail mishaps to jokes only a true nail guru could understand.
The only caution I would add to funny nail salon slogans is that it's probably not a good fit if you're trying to portray a high-end, luxury image, for instance for a designer nails salon. In those cases, you actually don't want to be approachable but rather distanced and "put on a pedestal."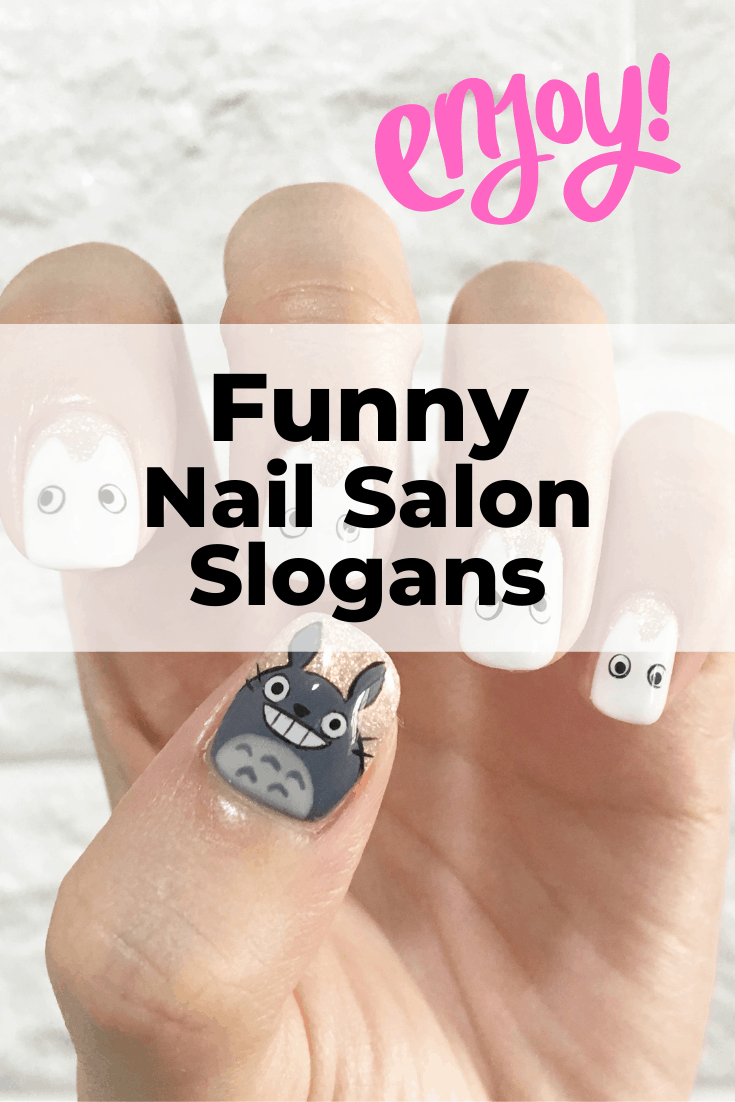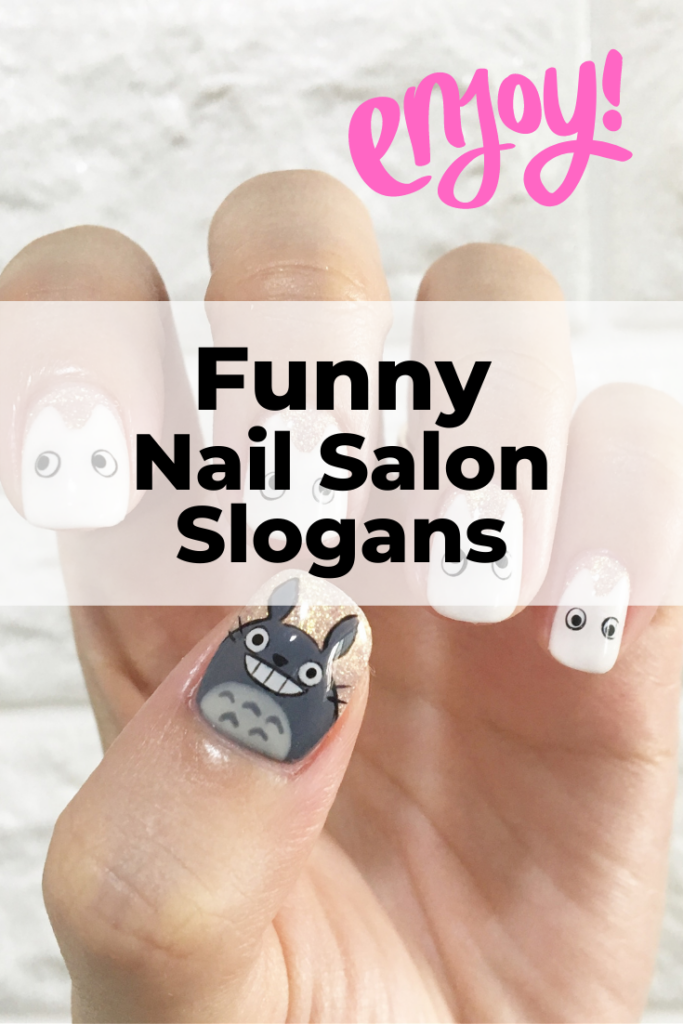 Funny Nail Slogans List
Cut the crap, not your nails.
Sharpen your edges.
Nails Before Males
Hands on nails.
Nailed it!
Because man hands aren't cute.
Love is in the air…no, that's nail polish!
Nail contact before eye contact
Break a Nail
What's Glamour Without Glamourous Nails?
Get Well Nailed
Papa Pedi & Mama Mani
Red in Bed Nails
Ms. Manicure
It's time to treat your nails.
We have nails on the brain!
The Last Nail
Have a Quick Pink-Me-Up
Under the lamp.
Nail Tech Slogans
This Section is dedicated to nail technicians who may be looking for a nail saying or nail salon advertising slogan.
Most clients end up having their favorite nail person who becomes their go-to. Having a slogan to enhance your brand is a great idea for the nail tech whose looking to stand out amongst competitors, especially big nail salons.
Check out these quotes for nail technicians below to find one that represents your style!
Nail Tech Slogans List
Stay tight with your nail tech, they know all your secrets!
Great Nails require a great technician.
I do nails, what's your superpower?
It's a tough job, but someone's got to do it!
Your nails will be as good as your nail tech!
Nail Artists bring color to the world.
Everybody's off for the weekend! Except nail techs.
I don't do drama but I do do nails!
You don't have to change the world, just nails.
Nail technician…because freaking awesome is not an official job.
Nail techs do it on the table.
Come to me if your nails aren't becoming to you.
Nail techs slay nails.
Rise, shine, and slay nails.
Beautiful nails…all in a day's work.
Relax! The nail technician is here.
Nail techs add color to the world.
Let me be your nail girl.
I can professionally polish you.
A good nail tech is worth more than gold.
Don't forget to put me on speed-dial!
Manicure Slogans
Manicures may not be a necessity, but they are a service that truly transforms a client and gives them a feeling of beauty and happiness.
There's also something special about a well-done manicure that keeps a client coming back.
This section of nail manicure quotes is perfect for a manicurist or nail parlor that is looking for the perfect nail saying to add to their image.
Manicure Slogan List
Your manicure speaks to the world for you.
Choosing your manicure design will be easy! Said no one ever…
A pretty manicure makes for a pretty smile.
May your manicure be as strong as your coffee.
Forget Disneyland, take me for a manicure!
On a bad day there's always a manicure
Coffee and a manicure…what's not to love?
My hobbies include getting a manicure.
Nothing's better than a new manicure!
I believe in manicures
You're not fully dressed until you have a manicure
You can't buy happiness but you can buy a manicure.
A good manicure pulls your whole look together.
A good manicure says everything.
Make sure your manicure matches your outfit
You're incredibly important…almost as important as my manicure!
The happiest girls have the prettiest manicures.
Anyone can wear a great outfit but the manicure makes the look.
Reduce your stress with a manicure.
Blessed and manicure obsessed!
Nail Polish Slogans
We all know a person that lives and breathes nail polish. And if you don't, that person is probably you.
Truth be told, nail polish is kind of a big deal. With so many different colors to choose from and designs you can create, it's no wonder it's become so widely sought after and admired.
With the popularity of hundreds of colors comes hundreds of nail polish quotes and sayings dedicated to this.
For some people, collecting nail polish is a hobby. It's kind of like a cookie – you can't have just one! For this reason, I've included nail slogans all about nail polish that I know a true nail guru is going to love.
So, if you're ready to laugh until your sides hurt, continue on for some of my absolute favorite nail polish quotes.
Nail Polish Slogans List
Color your nails with your dreams.
There's no better feeling than trying a new nail polish!
How many nail polishes is too many?
Put on a new nail polish color and live a little.
Beauty is called a new nail polish bottle.
Murder scene, or trying to remove red nail polish?
Nothing says confidence like a bold nail polish color.
There's the perfect shade of pink for every woman.
You were born to wear this color.
Meet your favorite new nail color.
Bring joy to your life with a new polish.
New day, new nail polish.
Nail polish is a girl's best friend.
Be artistic with your nails.
Collect all the colors of the universe.
Sassy shades
A different polish for every mood.
Color your life.
Nail polish reflects your emotions.
Paint your nails with all the colors of the wind.
Reveal the color within.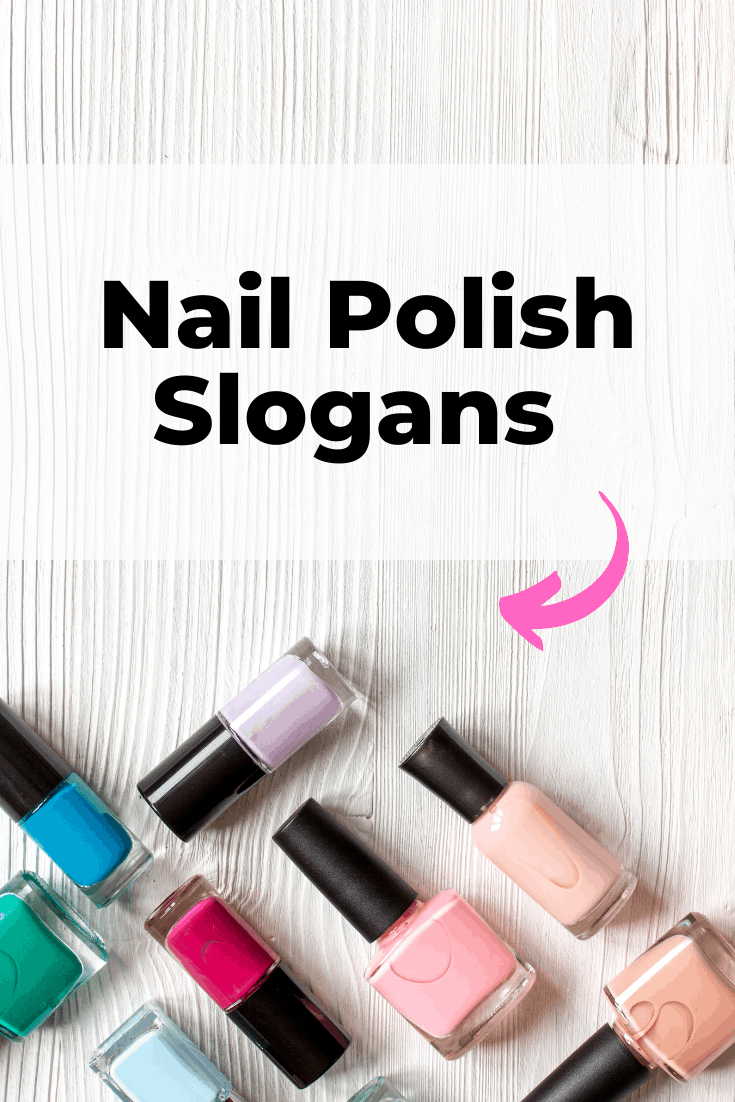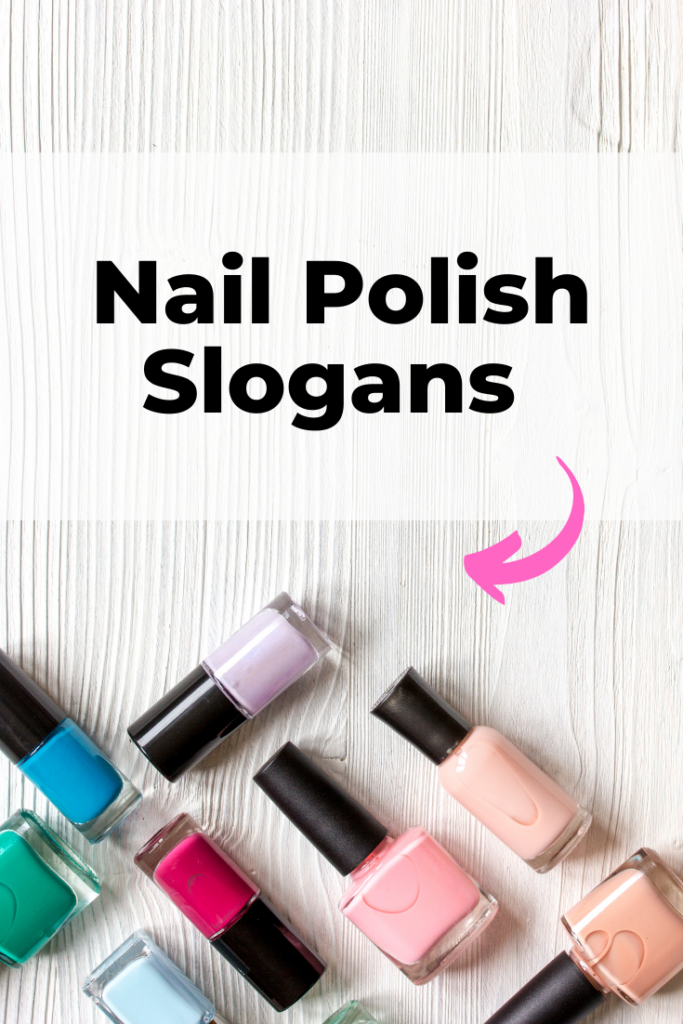 Nail Salon Advertising Slogans
A nail salon is a magical place where beauty is born and creativity is expressed through beautiful designs and creations.
A nail parlor truly is a place of magic and there's something special about it that keeps us coming back. So of course, nail salon slogans for advertising your salon deserve its own section.
These quotes are a mixture of fun and relatable sayings that are perfect to use on a business card or for a catchy promotional sign.
Here are my all-time favorite nail salon advertising slogans.
Nail Salon Advertising Slogans
What happens at the nail salon stays at the nail salon!
Beauty comes from inside the nail salon.
Take a long romantic walk…to the nail salon.
Nail salons are where the true magic happens.
Indulge your nails.
Only the best.
Decadence at it's finest.
More than just a salon.
Is it time for a new manicure yet?
Let us make you feel beautiful.
Make gorgeous nails a part of your life.
Let us color your world with color.
Give your hands a makeover.
Pamper yourself with us
Be confident with your nails.
Be tip top from the tip toes.
Your nails are our passion.
The best nails in town.
Beauty from finger to toe.
You tell us and we'll do it.
Be you, be bold.
Don't look back, just look at your nails!
Beauty starts with nails.
We'll style while you smile!
Taking care of all of your needs.
Love yourself.
Designer Nails Salon Slogans
Are you a classy nail salon that offers premium services? Let your clientele know that you are at the top in your field with a slogan or nail quote that says you are a glam nail salon that stays on top of the trends.
The way you brand a premium nail salon is very different from other types of nail businesses. First of all, a designer brand is never "launched". It exists because of a reason. Its existence is a consequence of the past.
For a designer nails salon slogan, not only should you use elegant and classy words, but it's even more important that it reflects you and/or your salon's mission. I've already given some examples of unique nail salon names that are highly relevant for classy nail salons. Here we'll look at some more nail salon quotes that are using elegant and classy words to portray a luxury image.
Designer Nails Salon Slogans List
Where nails meet creativity.
Adorn Yourself
The VIP treatment.
Nice nails aren't cheap and cheap nails aren't nice!
Glitter nails aren't a preference, it's a way of life.
Come to us when you want the best
Spoil yourself
Because there's no better feeling than a new set of nails.
Simply Glamourous
Beauty at first sight.
Stay Classy
Take your nails to the next level.
Classy nail salons for classy girls
Show your elegance with your nails.
Feel elegant.
Certify your nail style.
Be a diva with us.
We'll bring the beauty out in your nails.
On Trend Nails
Where nails become fashion.
The Queen's Nail Court
We'll give you knockout nails.
Be en vogue with your nails.
Everybody wants couture nails.
Pedicure Slogans
Everybody loves being pampered with a good pedicure.
This section is dedicated to all things pedicure and toes! Anyone that specializes in nails knows that a pedicure is more than just getting your nails done. A pedicure is a way of life.
On top of being incredibly relaxing and rejuvenating, a pedicure is empowering. It's something that will make or break those open-toed shoes, or give you that extra confidence boost when exposing your feet.
Think of pedis as a vacation for your feet, and a frequent vacation is definitely necessary. Here are some of my top pedicure slogans for your nail salon that are all about the pedicure life.
Pedicure Slogans List
Prep with a pedicure.
Fancy Feet
Your feet never take a day off, so make sure to treat them at the salon.
We Have a Passion for Pedis
There's nothing a pedicure can't fix.
Stress free and smooth feet!
Even tough guys like pedicures.
Life is too short to have flaky feet.
A good pedicure is good for the soul.
Peace, Love, & Pedicures
Beautiful nails and fabulous toes are what it's all about.
Pedicures are NOT optional!
Money does buy happiness…a pedicure.
Because pedicures are cheaper than therapy.
Live, laugh, love….and pedicures.
You don't have to rough it anymore.
Have a seat and relax.
There's no wrong time for a pedicure.
Pedicures: the ultimate stress reliver.
Exfoliate your life.
Take a Break from Life
Cold weather isn't an excuse to ignore your toes!
Let us pamper your toes.
You can never go wrong with a pedicure.
It's Sandal Weather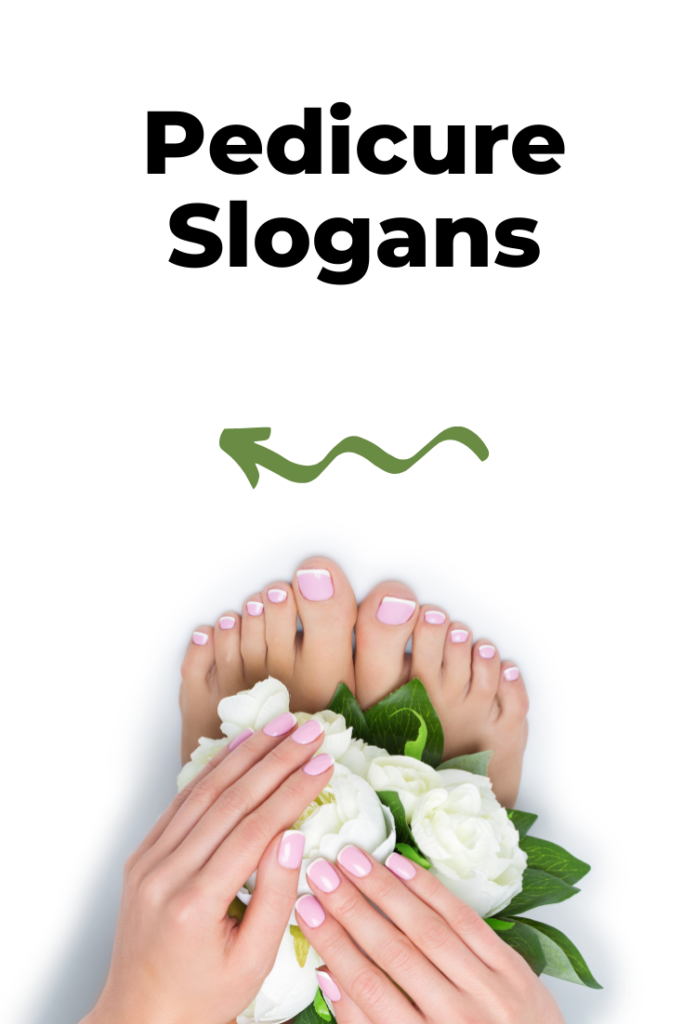 Conclusion
I hope you've enjoyed the funny nail quotes and catchy nail slogans today.
You may also be interested in my article with nail quotes. This article will give you some great nail quotes and sayings.
If you haven't decided on a name for your nail salon yet, I also recommend you check out my list of nail salon name ideas.