Have you been searching tirelessly for salon software that makes it possible for your business to be seen by thousands of potential new customers each week?
Then you're definitely going to want to hear what I'm about to tell you.
Mindbody is one of the most longstanding and well-known beauty and wellness software companies today.
The company has been around in some capacity since 1998, when the company was originally founded as Hardbody Software, officially becoming Mindbody in 2001.
Since then, Mindbody has exploded in popularity, raised hundreds of millions of dollars, and purchased several other companies, including Booker, Classpass, and FitMetrix.
In this Mindbody review, I'll share all the details you need to know before you make one of the most important purchasing decisions your salon or spa will ever make — whether or not you should sign a 12-month contract and entrust your booking and marketing (and $2k – $7k of your revenue) to Mindbody.
I'll break down the pros and cons of Mindbody and look in depth at the features and add-ons available to you as a business customer of the platform.
Sound good?
Good!
Let's get into the Ultimate Mindbody Salon Software Review.
Mindbody is just one of our handful of top salon and software picks for this year. To see our choices for the best salon software of 2023, check out our full list here.
So without further ado, let's get into the Ultimate Mindbody Salon Software Review.
Mindbody at a Glance
Mindbody is a long-standing piece of beauty, health, fitness, and wellness software with over two decades under its belt.
Their features are largely oriented toward fitness and wellness businesses that host classes, teach courses, and offer medically-oriented services that require HIPAA compliance.
You may be thinking to yourself,
Then what makes it "salon" software?


Overall Score
3.2
To tell the truth, not a whole lot about the app is directly focused on salon-specific services or features, but Mindbody is still very popular and widely used by hair and nail salons, spas, and other beauty businesses.
What Mindbody does offer are the basics of any booking and POS software — the ability to:
Create, manage, book, and checkout appointments
Manage client data
Send appointment reminders and confirmations
Create and sell memberships, packages, and gift cards
Generate and print reports
Manage staff
Additional features are available on higher-tier plans, such as payroll, marketing via email and SMS, two-way text communication with clients, and more.
The real wins for Mindbody are its Marketing Suite features and the ability to list your business on the Mindbody Explore Marketplace and Mindbody Marketplace mobile app.
I'll touch on those briefly here, but for the full scoop on both of these features, check out their dedicated sections in the review below.
Mindbody's Marketing Suite allows you to build custom email campaigns via the in-app email builder so that you can keep your clients in the loop and offer incentives, promote events, and more.
The Mindbody Explore Marketplace is an online marketplace and mobile app where potential clients can discover and book services with businesses in their area. As a customer of Mindbody, you can list your business on the marketplace and app at no additional cost.
Aside from these two features, Mindbody's primary point of differentiation lies in all the additive integrations it offers for fitness and wellness businesses.
Our Video Review of Mindbody
If you prefer video over text, stay tuned! Our video review is coming soon!
Mindbody Feature Review at a Glance
Ease of Use (3.0)
Design (2.5)
Appointment Management (3.5)
Online Booking (4.0)
Marketing Support (5.0)
Client Data Management (3.5)
Point of Sale/ Check-out (3.5)
Customer Service (3.5)
Inventory Management (3.5)
Business Reporting (4.0)
Team Management & Payroll (4.0)
Mobile Apps (3.0)
Pricing (3.0)
Mindbody Review Summary
From the outside, Mindbody checks all the boxes.
All the core features that a salon software suite needs to have (like appointment booking, reporting, inventory management, POS, and online booking) are there, and there are even some nice-to-have add-ons that make the prospect of signing on (and I literally mean signing on) a more attractive prospect.
Again, this is all from the outside.
Because you have to make your purchasing decision… well, really, your investment decision… based on Mindbody's marketing and the word of their sales representatives without ever being inside the software.
That's because — just like Booker — you can't try out Mindbody before you buy.
In fact, you need to sign up for a contract of no less than one year to ever "step foot" inside the Mindbody software.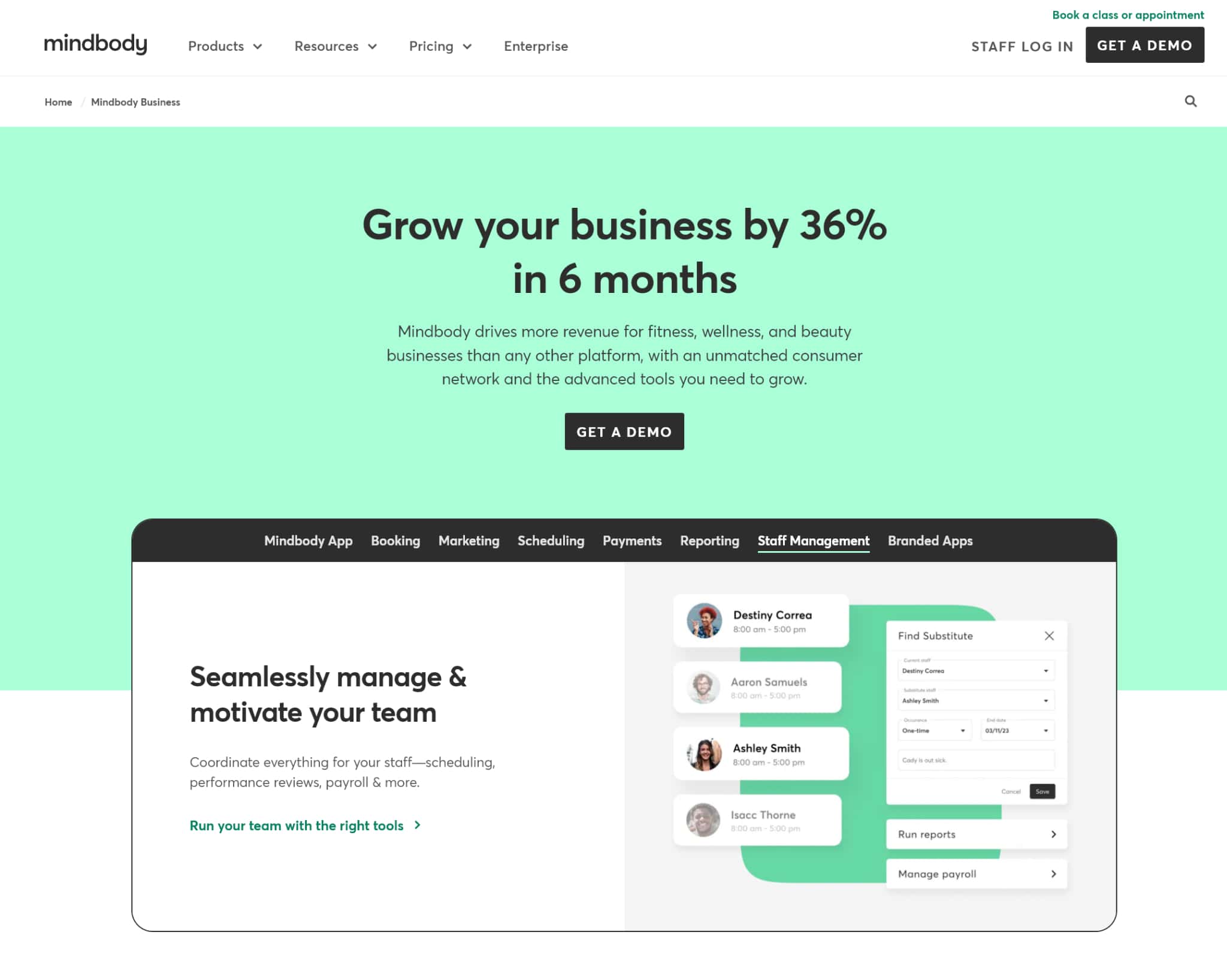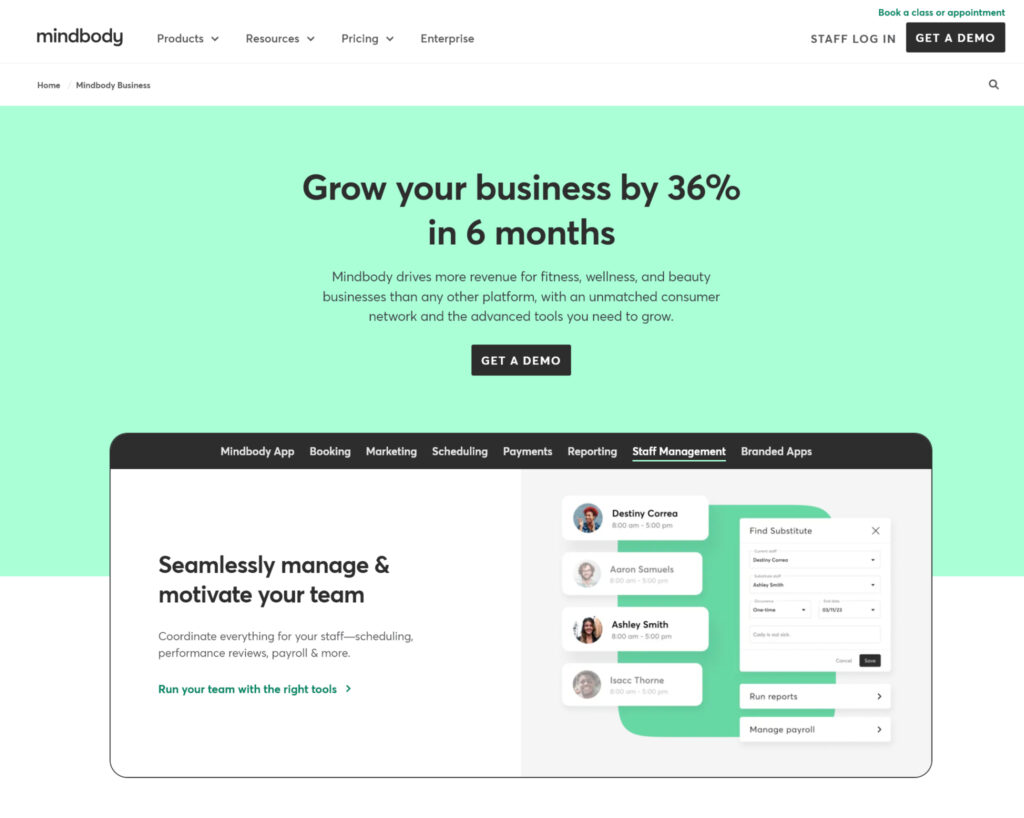 Big businesses trust Mindbody, and their software suite has all the major headline features of smaller and equivalent competitors in the space.
But that's not the whole story.
There are some genuine concerns I have about the software and support Mindbody offers – some major flaws that we'll cover that have had salon and spa owners itching to get out of their contracts after they found out what they got was not what they were promised.
Today, we'll take a look at every bit of Mindbody— the good, the bad, and the ugly — so that you can decide whether it might be a good fit for your business or if it's actually a risk can't afford to make.
So, Is Mindbody the Best Salon Software for Me?
So let's break this prospect down for a second.
Mindbody's base Starter plan (which we tested for this review) starts at $129 per month, bringing the net cost of the subscription alone before any taxes or fees that may be assessed to $1,548 for the year.
But, to be honest, I (and Mindbody themselves) don't recommend the Starter plan.
Mindbody's Starter plan lacks important reporting and staff management features, payroll options, and even settings that are crucial to growing a salon or spa business.
So, instead, let's say you go with the most popular (and most highly recommended by the sales rep I spoke with) Ultimate Plus plan, which starts at $549 per month.
That puts your investment at $6,588 for the year before taxes and any additional fees or add-ons.
Quite the asking price for a piece of software you've never booked a single appointment in.
We'll break down pricing and contracts much more in-depth in the article below, but this makes the value proposition shift in terms of what is expected from a potential salon or spa owner.
For that price and such a restrictive contract, the experience had better be premium, and the opportunities that the software provides had better be substantial.
And in terms of potential growth, Mindbody looks like it may just be a strong contender.
The Mindbody Explore marketplace has potentially over a hundred thousand users across the world who have signed up, created an account, and who use the Mindbody (customer) app to find businesses that provide the services they need on a network they trust.
Access to that level of motivation — that warm a lead who is looking for a local business and is likely to make a buying decision on the spot — has a huge potential for upside, especially for a growing business.
In other areas, Mindbody offers a functional experience, but not necessarily a pleasant or intuitive one.
The user experience in Mindbody's desktop and mobile apps is just that: functional.
Mindbody does what it says on the tin, but it definitely isn't going to wow you in the process.
In fact, it throws a couple of curveballs your way that somehow make the experience worse than what its subsidiary and sister app, Booker, offers.
Booking and checking out are the two clearest examples of where Mindbody makes even the simplest of everyday tasks more challenging than the competition, requiring additional steps and extra clicks to do two of the things you will be doing the most for at least the next 12 months.
While features like the ability to livestream educational classes or create a branded web app may be important to fitness and wellness businesses, they may not necessarily offer a whole lot of added value for most salons and spas.
Mindbody is my recommendation for salon, spa, and wellness businesses that place a focus on engagement through digital channels — especially those who teach courses — and want to be able to monetize that content and market it directly through their booking and management platform.
Mindbody is just one of our many top salon software picks for this year. To see our full list of the Best Salon Software of 2023, check it out here.
Pros
Enhanced new client acquisition opportunities through MindBody Marketplace
Integrated payments though MindBody Payments (US & Canada only)
Memberships, packages, gift cards (physical & digital)
Waitlist capability
AI booking assistant chatbot can help schedule appointments
Two-way messaging available (on Accelerate, Ultimate, and Ultimate Plus plans)
Integrated email marketing suite (on Accelerate, Ultimate, and Ultimate Plus plans)
Ability to monetize educational classes and content
Cons
No free trial
Must commit to a minimum 12-month contract before ever using the software
No a-la-carte add-on features – must bump up to higher tier plans
Stateside customer support only available to Ultimate and Ultimate Plus plans (outsourced on Starter and Accelerate plans)
Starter plan lacks 2-way text messaging with clients
Many Marketing Suite features only available on higher-tier plans
Menu system is a bit clunky and outdated
My Top Salon & Spa Software Alternatives
Here's my salon & spa software top list for 2023.
To see more alternatives, visit my complete list of salon and spa software recommendations here.
Mindbody User Ratings
Capterra / GetApp / Software Advice: 4.0 stars (~2700 reviews)
Capterra
Ease of use: 3.8
Customer service: 3.8
Capterra Shortlist 2023
GetApp
Value for money: 3.6
Ease of use: 4.0
Features & Functionality: 4.0
Customer support: 4.0
Likelihood to recommend: 7.88/10
Software Advice
Value for money: 3.5
Ease of use: 4.0
Customer support: 4.0
Functionality: 4.0
Mindbody is being edged out slightly by its subsidiary Booker (4.1) in the satisfaction ratings and losing by a considerable margin to every major competitor in the salon software space, including Square (4.4), Vagaro (4.7), Glossgenius (4.6), Boulevard (4.6), Zenoti (4.4), Acuity Scheduling (4.8), and satisfaction ratings-leaders Fresha (4.9) and Mangomint (4.9).
Mindbody currently does not place on Software Advice's Salon Software Front Runners list for 2023 but does land on Capterra's 2023 Salon Software Shortlist with a popularity score of 50/50 and a ratings score of 45/50.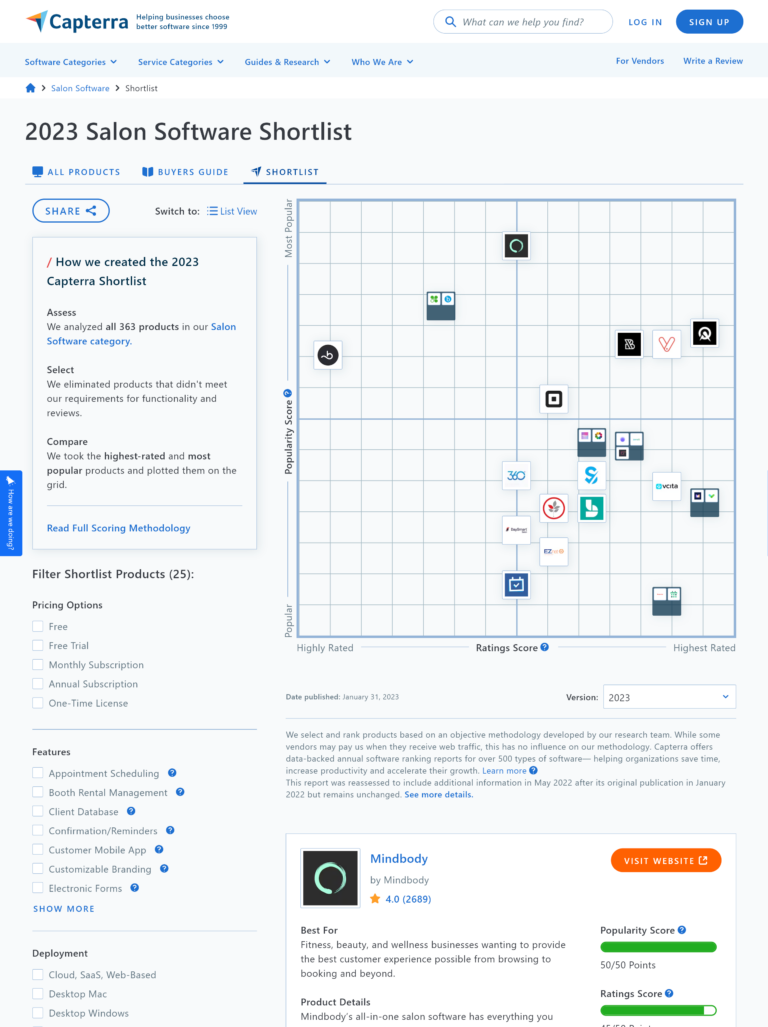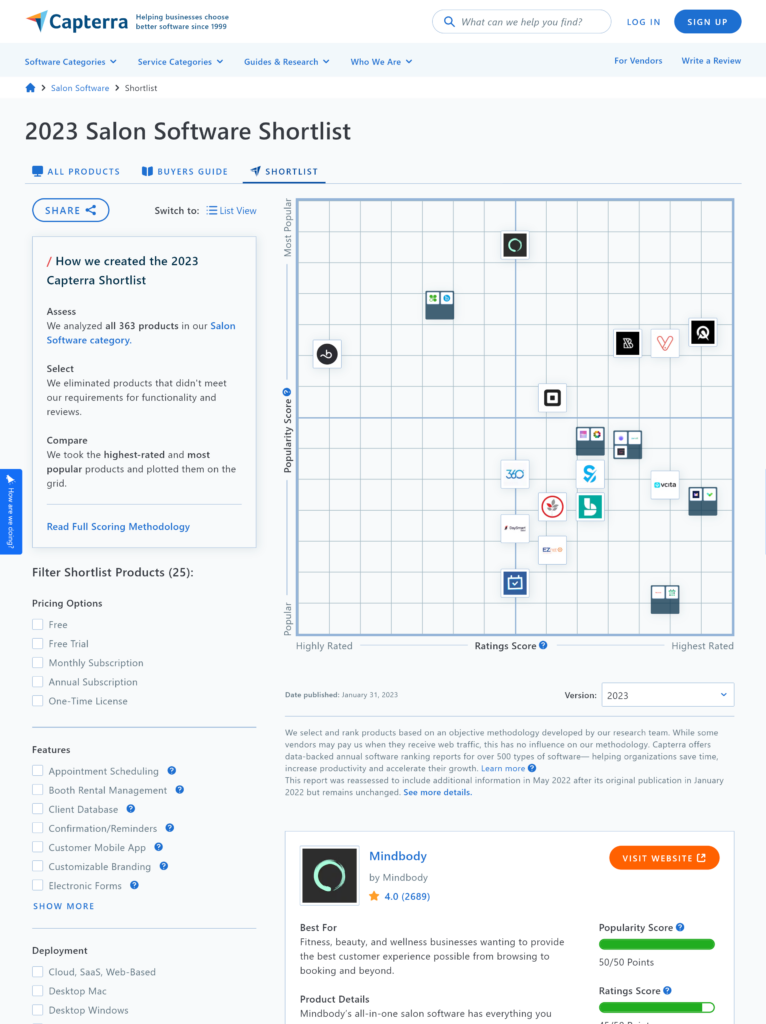 Capterra, GetApp, and Software Advice are owned by Gartner Digital Markets', however they are referred to as "stand-alone subsidiaries" by Gartner. Ratings and number of reviews are consistent across all three sites, which is why they have been grouped together here.
G2: 3.6 stars (375 reviews)
As of Summer 2023, Mindbody comes in at #17 on G2's Highest Rated Spa and Salon Management Software, rounding out last place on the chart with an overall satisfaction score of 5/100.
Last place is nothing to scoff at, though – it did better than its sister company Booker, which is no longer featured on the list.
However, Mindbody is being outranked by the top competitors in the salon and spa software space, coming in behind big names like Phorest, Vagaro, and SalonBiz, and trailing well behind category-leaders Zenoti and Mangomint.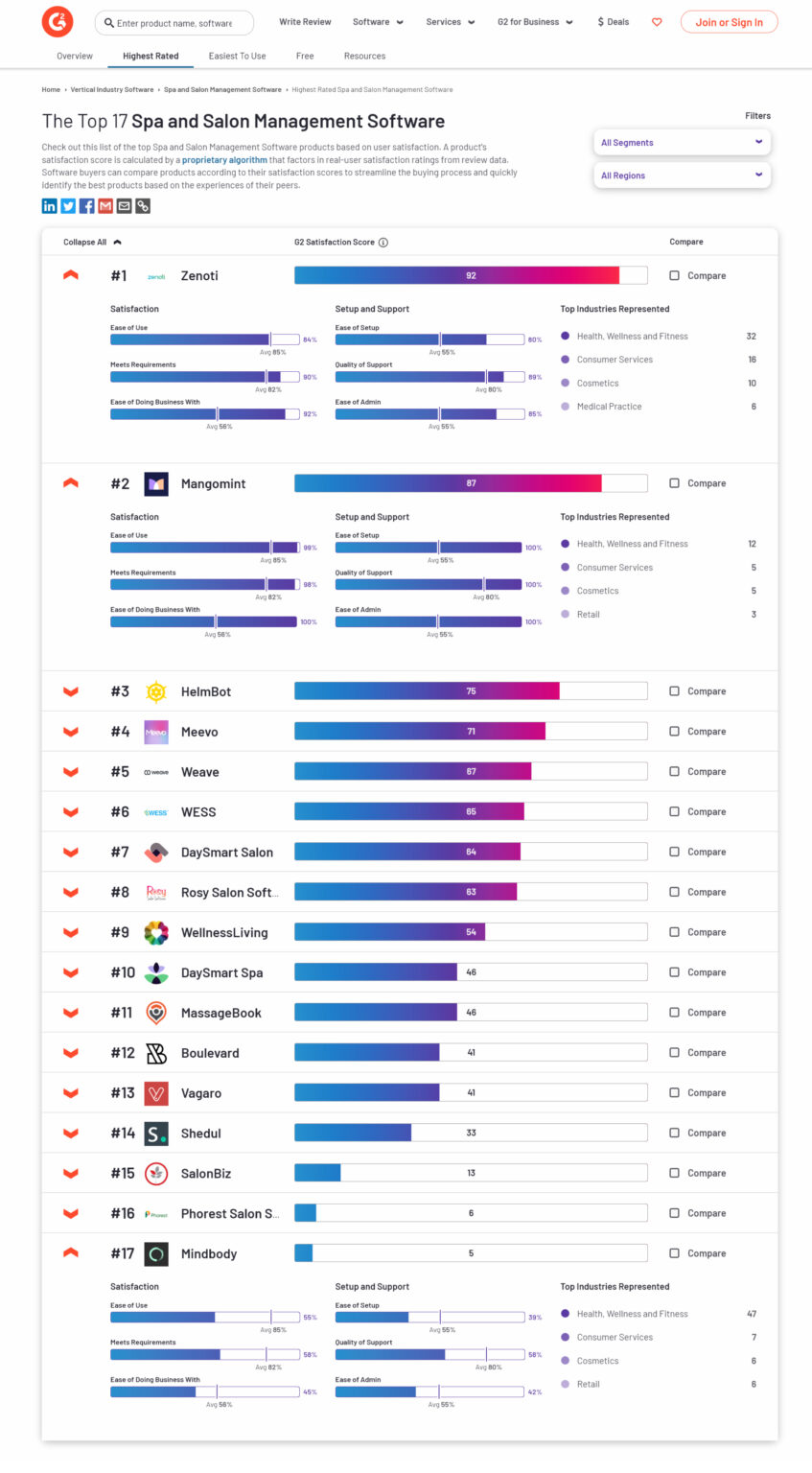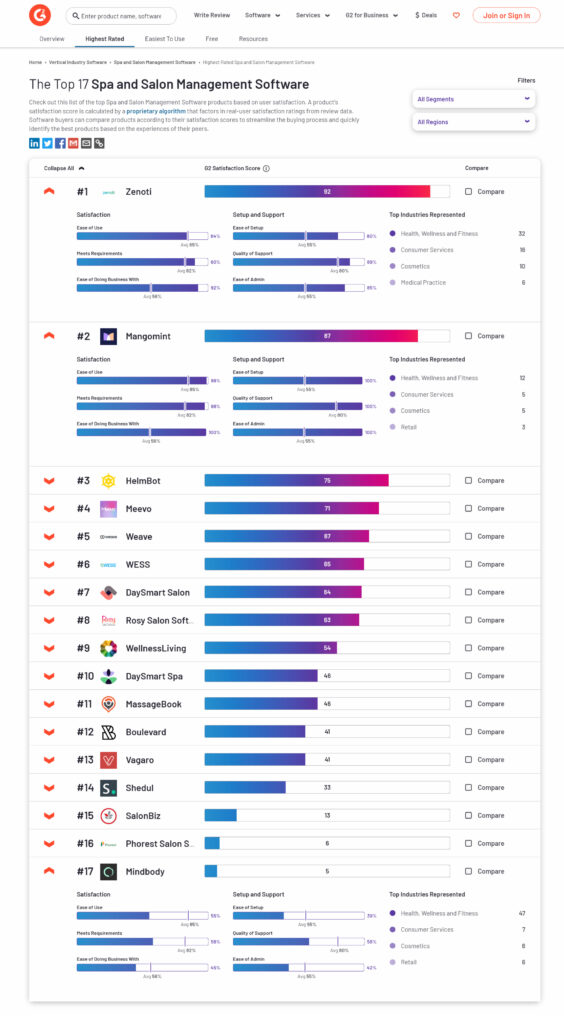 Mindbody Pricing
Mindbody Monthly Plans
Like Booker, Mindbody is a competitive salon software option, offering a stable of modern salon management tools and even some AI add-ons with their monthly plans.
However, Mindbody no longer lists pricing for its plans on its website.
Instead, you must request a quote by submitting your business information and wait for a call from a sales representative. Essentially, you must enter their sales funnel to even get an idea of what Mindbody charges for their plans.
I am not a fan of withholding basic pricing information from potential customers, especially when the process of requesting that basic information means that you, as a business owner, have to fork over your name, email, business name, and phone number, and become a sales prospect whether you like it or not.
The brand has a wide range of monthly plans, ranging from $129 for their entry-level "Starter" tier all the way up to $549 for their maxed-out "Ultimate Plus" plan.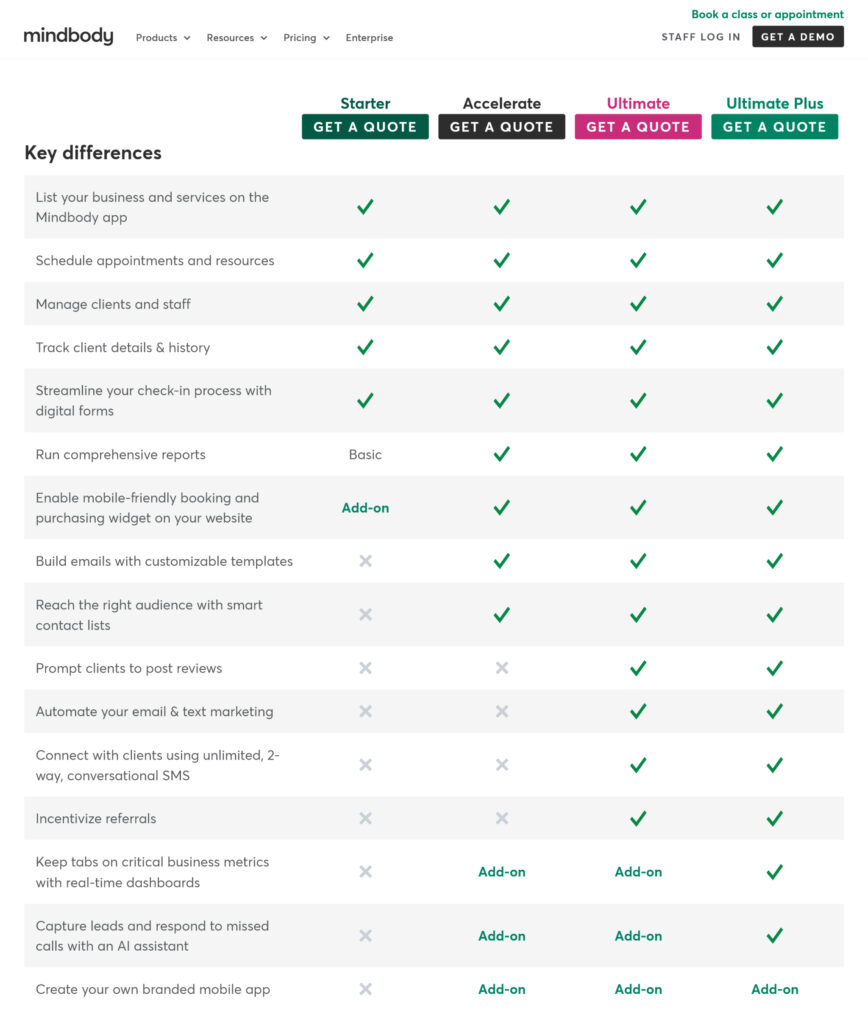 Here's an overview of the costs you can expect with Mindbody's monthly plans:
Starter
Mindbody's entry-level plan – starting at $129 per month
Automated emails & 1-way texts (US & Canada only)
Custom online booking windows
Mindbody Marketplace listing
Resource scheduling
Basic membership tracking
Liability waivers
Their most affordable Starter plan starts at $129 per month and is touted as providing "foundational tools and the flexibility to add additional products as you grow." The basic feature set is intended for smaller businesses or solopreneurs with simple operations.
Included are core features like online booking, text notifications and reminders, and digital forms; however, I was pleasantly surprised to see that resource scheduling was included as well, just like it is with Booker's Starter plan.
With this plan, you will be missing out on useful features like two-way client text messaging, smart contact lists, and email marketing, so keep that in mind if those are must-haves for your salon.
Accelerate
Mindbody's mid-tier plan for the "budget conscious" – starting at $269 per month
In addition to everything included with the Starter plan, you also get:
More comprehensive reporting options
Unlimited 2-way text notifications & reminders
Smart contact lists
Email builder with customizable templates
Mobile-friendly booking and purchasing widget on your website
Mindbody's Accelerate plan adds in basic email marketing features and starts at $269 per month – a 108% price increase over the Starter plan.
It also adds the ability to implement a booking/purchasing widget directly on your website so that clients can book and buy right from you rather than being redirected to a separate page (a marked improvement over Booker's comparable option).
This plan is focused on building client relationships and remarketing with an email campaign builder and smart contact lists, as well as loyalty program support.
Ultimate
Mindbody's most popular plan with improved marketing tools – starting at $429 per month
Everything from lower tier plans is included, plus:
Send unlimited 2-way text notifications, reminders, and conversational SMS
Automate your email & text marketing
Prompt clients to post reviews automatically
Referral incentive options
Mindbody's Ultimate plan comes with everything you get on lower tiers and expands the marketing toolkit offerings with automations that help fill slow days and last-minute openings, for a 60% price increase over the Accelerate plan.
Your marketing efforts can be tracked via campaign analytics captured via the platform.
This tier also includes the ability to prompt and collect reviews via an online review widget that can be placed on your website, as well as referral incentives coordinated in the software.
Mindbody's Messenger feature is also included with this plan, allowing you to assign a dedicated SMS number to the business and respond to messages from clients via a live chat function directly from the front desk.
Ultimate Plus
Mindbody's most expensive, premium-tier plan – starting at $549 per month
Everything from lower tier plans is included, plus:
Capture bookings and respond to missed calls with a branded AI assistant
Keep tabs on business metrics with real-time dashboards
Mindbody's top-tier Ultimate Plus plan includes absolutely everything they have to offer, and is marketed as "the complete package" for a whopping $549 per month.
It includes everything you get on lower tier plans, as well as your own AI assistant (also known as a chatbot) through Mindbody's upgraded Messenger feature, Messenger[ai], to help you answer basic client questions and help with booking and rescheduling via a chat module on your website, as well as use call forwarding.
You also get access to real-time business dashboards that offer improved reporting capabilities.
Mindbody POS & Credit Card Processing
As with all Mindbody features, there differing options available to the customer based on which "version" they are using.
Mindbody has both a "Version 1" and "Version 2" of the application. Version 1 is a legacy version of the software that lacks modern POS features that Version 2 offers, and is no longer offered to new customers.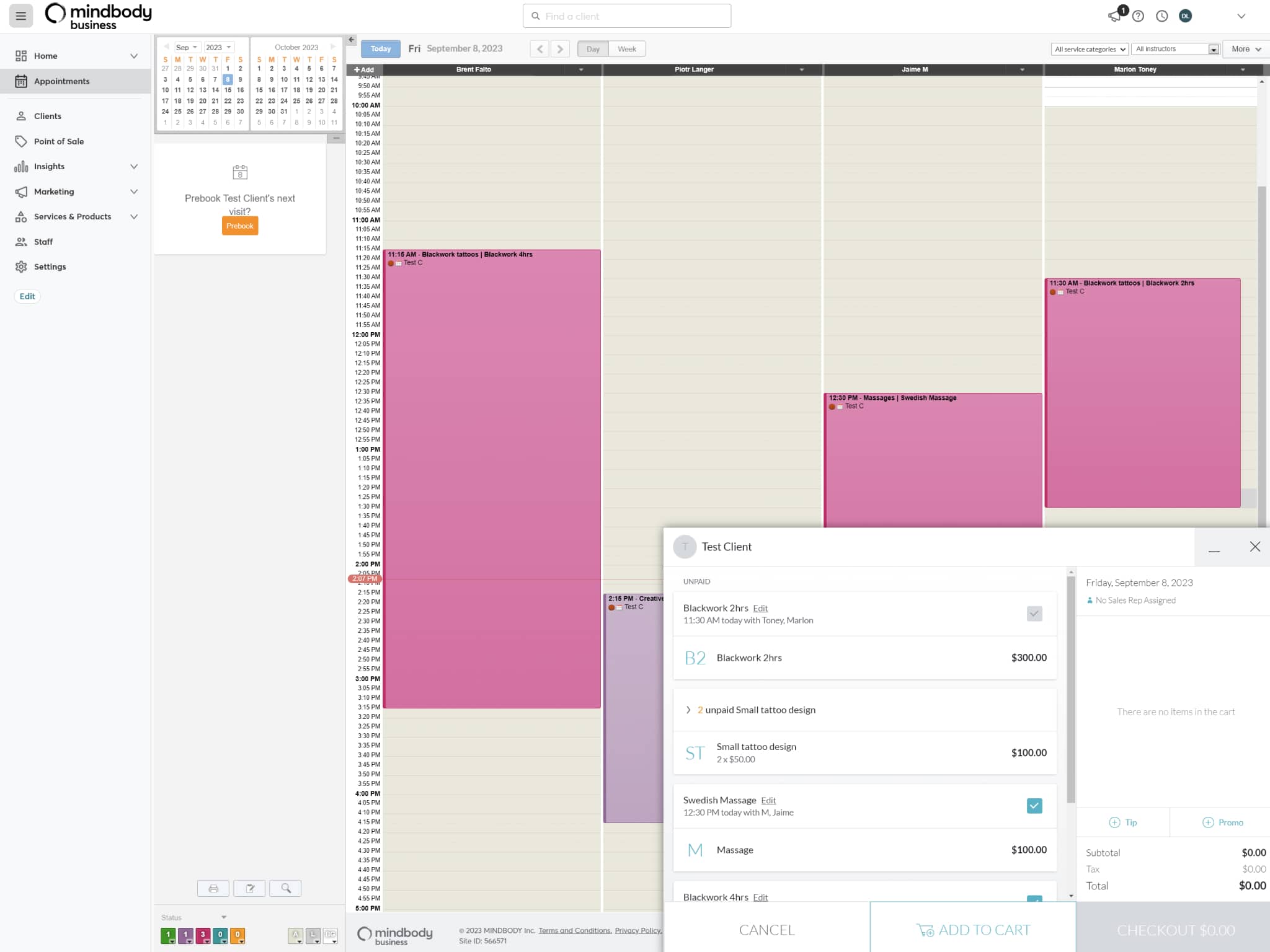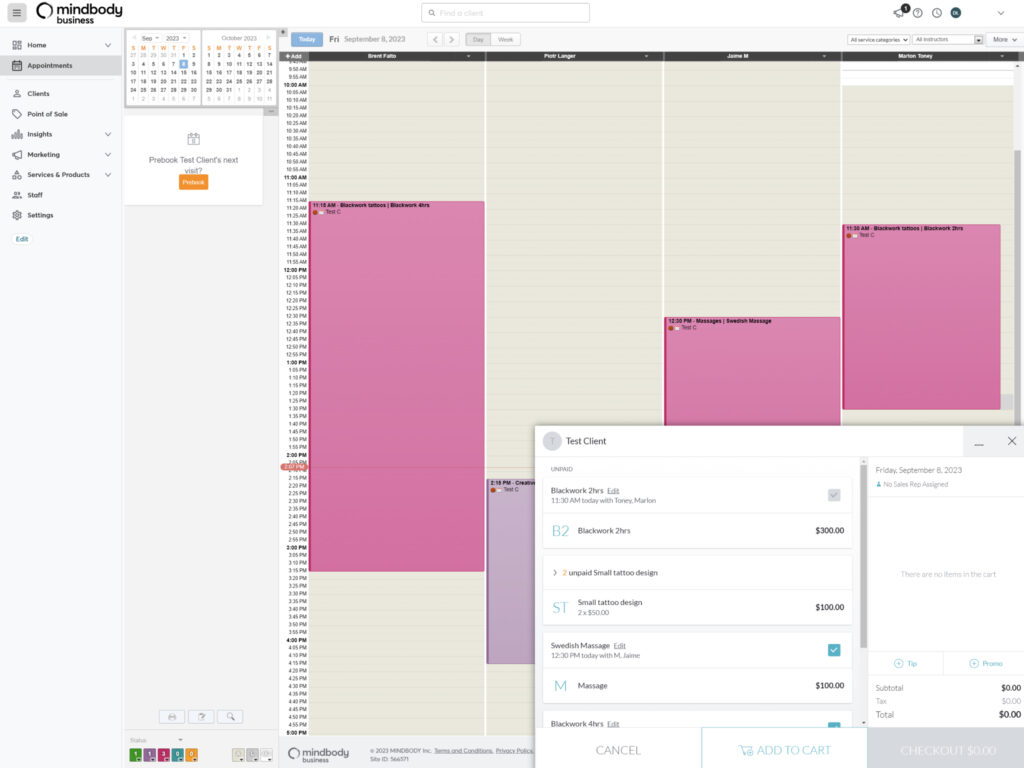 Mindbody is compatible with a range of payment card processors, including TSYS (US only), Elavon (US/Canada only), Bluefin Payment Systems (Canada only), Paysafe Payments (Canada, EU/UK), and Eziedebit (Asia Pacific). Not all processors are available in all regions.
The platform also offers industry-standard features like multi-merchant accounts and direct deposit.
For a closer look at the best salon POS and credit card processing options available right now, take a look at our list of the Best Spa and Salon POS Systems and check out the Best Credit Card Processors for Salons & Spas.
Mindbody also offers a first-party integrated payment processing service called Mindbody Payments (available in most regions).
This service collects payments through your Mindbody system and organizes payouts that are deposited into your bank account, similar to offerings from competitors such as Boulevard Payments or Mangomint Pay.
Credit card processing rates listed below are what customers can expect if they decide to sign up for Mindbody Payments:
| | | | | |
| --- | --- | --- | --- | --- |
| Region | Online or on-file: Card-not-present (CNP) | In person: Card-present (CP) | ACH/DD/SEPA/EFT | Chargeback fees |
| US | 3.5% + .15 USD per transaction | Desktop terminal or mobile card reader: 2.75% per transaction | Not yet available (ACH can be added by contacting support) | $15 |
| Canada | 2.89% + .25 CAD per transaction | 2.39% + .10 CAD per transaction • Interac: .15 CAD per transaction flat fee | Not yet available | $25 |
Mindbody Premium Add-ons
Mindbody doesn't use an a la carte model for premium add-ons aside from just a few features, including the Messenger[ai] feature, which can be added on to Accelerate and Ultimate packages. Instead, they bundle their more advanced features together in-with higher tier plans and bump up the price accordingly.
For instance, Marketing Suite tools are very limited on Starter and Accelerate plans, with the full suite only available on Ultimate and Ultimate Plus tiers.
That means no email marketing, no automated text message marketing, no drip marketing campaigns, and no automated loyalty tracking, amongst a whole host of other features.
While some may prefer this method, I believe many business owners would prefer the opportunity to add on just the features they find genuinely useful to their business without footing the bill for a far more expensive plan that tacks on several other features they may have no use for.
There are other premium add-ons available through Mindbody, but they are primarily focused on fitness and wellness businesses and offer features like video-on-demand and livestreaming.
I'll go ahead and share the full list of add-on features below:
Add-ons
| | Starter | Accelerate | | Ultimate | | UltimatePlus |
| --- | --- | --- | --- | --- | --- | --- |
| | | Version 1 | Version 2 | Version 1 | Version 2 | |
| Branded web tools | Optional | X | X | X | X | X |
| Messenger | | | | | X | X |
| Messenger[ai] | Not available | Optional | Optional | Optional | Optional | Optional |
| FitMetrix | Optional | Optional | Optional | Optional | Optional | Optional |
| Video on demand | Optional | Optional | Optional | Optional | Optional | Optional |
| Live stream | Optional | Optional | Optional | Optional | Optional | Optional |
| Insights | Not available | Optional | Optional | Optional | Optional | Optional |
Other Costs
While some other competitors do charge onboarding fees to get you up and running, Mindbody claims there are no additional fees to get started outside of the monthly package price listed and the credit card processing fees that are charged when using Mindbody Payments.
I made sure to clarify this point with a Mindbody representative, who confirmed that statement.
In addition, our representative informed us that there are no data import fees charged for migrating your information from your previous system; however, there is no full white-glove service offering like some of the best modern salon software platforms offer.
This means you will still have to export your data from your old system (in CSV or Excel format) yourself and send that to your onboarding specialist to clean up and import.
Client credit card information is a little more complicated to import – you or the onboarding specialist will need to contact your old salon software company to transfer that credit card info via an encryption token or other secure method.
Who is Mindbody Salon & Spa Software For?
I recommend Mindbody to salon and spa owners who offer a wide range of services or employ health and wellness professionals alongside stylists and estheticians, specialize in education or offer classes, need the ability to bolster new client acquisition through their salon software's included features, and who also need built-in email marketing support.
Which Countries is Mindbody Available In?
Mindbody is available internationally across several countries. Mindbody does not have a full list of all countries its software is available in, so please check with your Mindbody representative to confirm service is available in your country.
Switching to Mindbody
This is a big one for any salon software option you consider.
In fact, the number one thing holding salon owners back from jumping ship to a new booking and POS app — no matter how much they may hate their current platform — is uncertainty.
How hard is it going to be to get our entire business migrated over into a new booking system and how long will it take to get up and running?
You can't just pause your business, so any scheduling software should be able to get you fully integrated and ready to book with no downtime.
Mindbody doesn't offer a full white glove data import option, but they do assign you a dedicated onboarding specialist to guide you through the "Onboarding Conversion" process.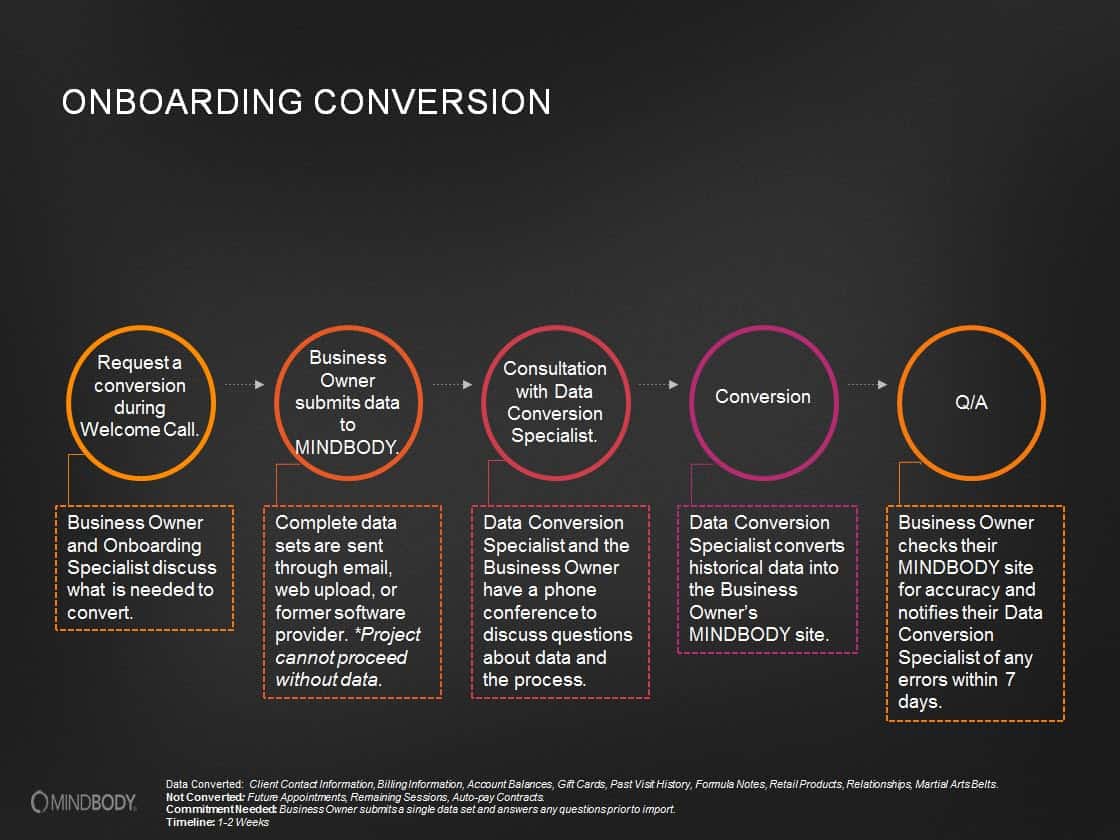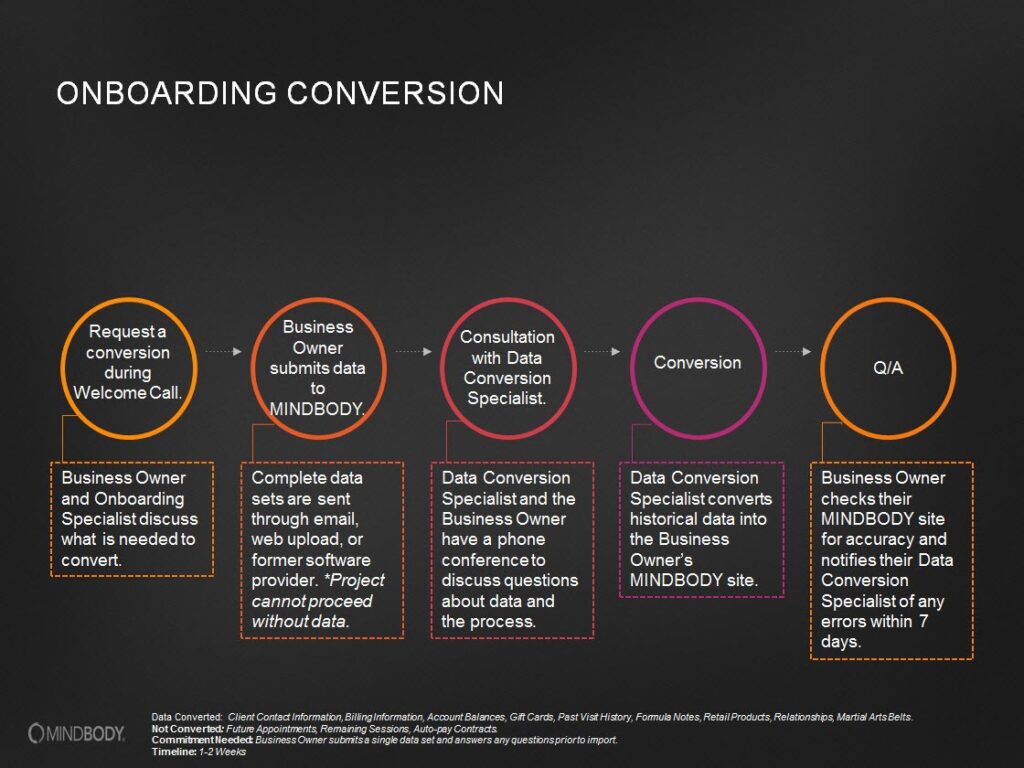 Onboarding conversion is a one-to-two-week process that kicks off with an introductory call, followed by the onboarding customer downloading and sharing their data with their onboarding specialist.
From there, a Data Conversion Specialist will meet with the business owner to go over any questions they may have about their data and the process before then converting historical data into the Mindbody app.
Finally, the business owner will need to verify that their data has correctly been transferred and notify their Data Conversion Specialist if there are any errors within 7 days.
What Data Can Be Imported Into Mindbody From My Old Booking System?
The following data can be imported into Mindbody:
Client contact information
Billing information
Account balances
Gift cards
Past visit history
Formula notes
Retail products
Relationships
Not everything from your old system can be imported into Mindbody, however. In fact, some important information cannot be imported, meaning you will have to re-enter this information manually once you have access to Mindbody as a customer:
Future appointments
Remaining sessions
Auto-pay contracts
Does Mindbody Make You Sign a Contract?
Ahhhh the contract thing.
Because Mindbody and Booker operate under the same roof, share the same sales and support staff, and abide by the same contract rules, our comments here remain unaltered from our Booker review.
Mindbody requires a minimum 12-month contract.
This isn't uncommon in the industry – in fact, there are several other competitors that require contracts.
However there are also several competitors who don't require a contract to use their software.
Perhaps the hardest sell on signing a contract with Mindbody is that you don't even get to try the software before you buy it.
That's right – you have to sign a year-long contract before you even log in to Mindbody for the first time.
No kicking the tires. No test drive. No trial.
When I brought up to the representative how hard of a sell that would be — how difficult it would be as a salon owner for me to convince my business partners and stylists to sign on for a 12-month contract without ever trying out the software to see if it is a good fit — they responded…
"Big businesses go with us for a reason. Trust those big businesses."
For business owners who are entrusting the livelihood of their salon or spa to a booking system, Mindbody's trust us because others do argument isn't exactly confidence-inspiring, nor is it a good justification for gatekeeping access to the platform behind a year-minimum contract.
Business owners deserve the chance to confirm that a financial decision this large is the right one for their salon or spa before committing to that kind of investment.
With so many other salon and spa software options on the market right now that do offer the opportunity to try their software out for free, it's just a shame that a company as established and mature as Mindbody (and Booker, for that matter) refuse to provide their potential customers the same courtesy.
Mindbody Support
According to our representative, Mindbody offers 12-month one-on-one support included with any plan.
You can contact Mindbody support on your Mindbody site by clicking on the "?" help icon in the upper right corner of the window and selecting Contact Us.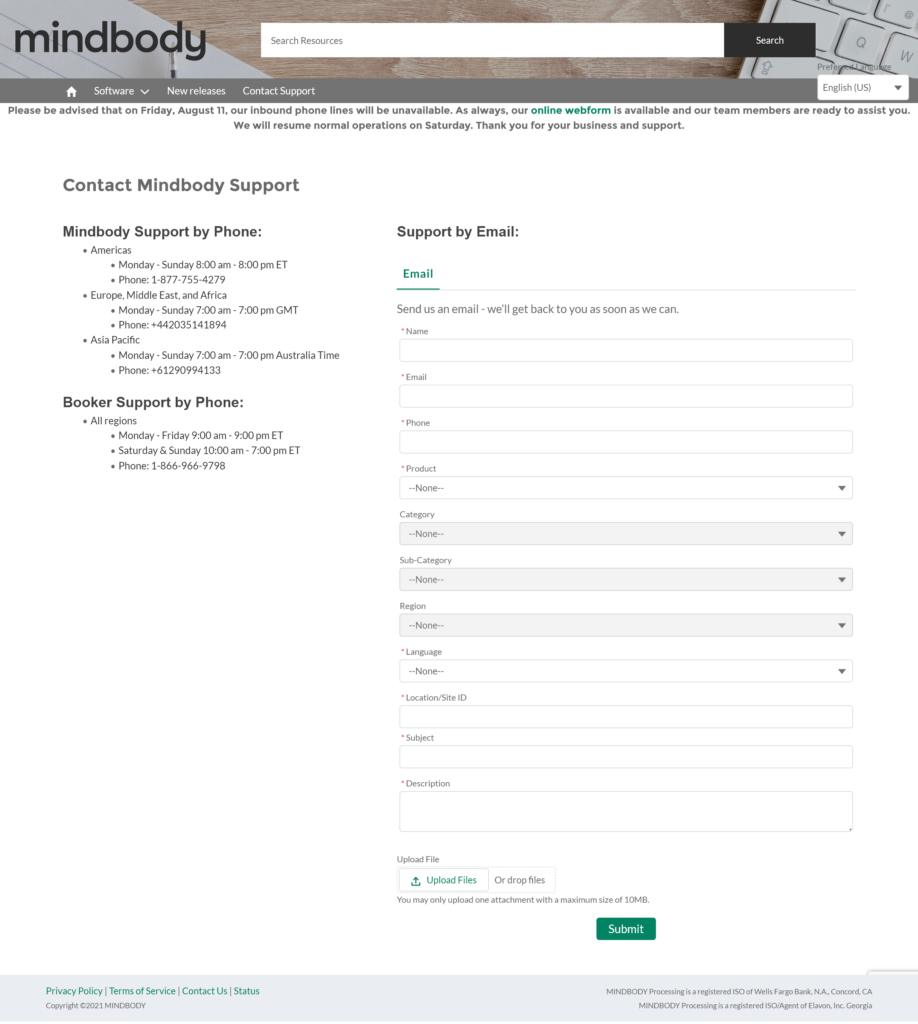 This will take you to the Support Center, where you can choose your software, and be directed to an online contact support web form where you can type out your issue and submit it to Mindbody's support team.
Mindbody Phone Support Contact Info
You can also contact Mindbody support at the corresponding phone number:
Australia: 1800 082 989
Colombia: 01800 518 4166
Italy:
800 795 775
Singapore
900 101 3255
US Mindbody:
877 755 4279
Austria: 0800 297 900
Denmark:
802 52840
Ireland:
1800 817 161
Spain:
900 838658
US (Spanish):
877 847 4562
Belgium: 0800 261 76
France:
0800 90 36 43
Mexico:
01800 288 3584
Sweden:
0200 330 486
Other Americas:
001 805 546 2000
Brazil:
800 761 8707
Germany:
0800 82 00 41
Netherlands:
0800 022 0067
Switzerland:
0800 82 00 41
Other APAC:
+611800082989
Canada:
855 852 0418
Hong Kong: 800 960 265
New Zealand: 0800 452 950
UK:
0203 514 1894
Other EMEA:
+442035141894
According to Mindbody's support site, hours vary, though none are listed; however, on their support contact form, there are hours listed for some regions.
All disruptions are listed on Mindbody's status website and/or added to the phone messaging when you call.
Mindbody Software Features
The remainder of this article will walk you through a detailed look at the features and tools offered by Mindbody.
The intent of this review is to allow you to experience what it's actually like for your business as a Mindbody customer and to better understand if the platform offers the tools and support you need to grow and succeed.
You can use the links below to navigate directly to the topics that are most relevant to you.
Mindbody Integrations
Online Booking
Integrations can be set up in Mindbody through their branded web tools, or "widgets". On all plans (except for Starter), branded web tools are included in your subscription fee.
These tools can be used to embed widgets on your business website with a small snippet of code, enabling functionality from your Mindbody website to work on your business website pages.
Several widgets are available, including:
Registration widget: Allows clients to sign up for a new account with your business directly from your website.
Prospect widget: The Prospect widget creates an account for the client in Mindbody and marks the client as a prospect. This is commonly used as part of a "Contact us" form when clients are interested in your services but have not yet committed to purchasing.
Schedule widget: Displays all classes and enrollments (courses) in a single schedule. Clients can book using an existing pass or purchase a new one.
Enrollment widget: Displays upcoming enrollments (courses). Similar to the Schedule widget, but for enrollments (courses).
Class List widget: Displays each class separately with its description and schedule. Clients can view the available times for that single class, then book or purchase a pass for the session of their choice.
Appointment widget: Allows clients to search, purchase, and book/request appointments.
Staff List widget: Displays your choice of staff members and the public biographies and photos entered on the staff profile screen in your Mindbody software.
Keep in mind that many of these widgets are created with fitness and wellness businesses in mind, so not all of them may be relevant to your salon or spa business.
You can also sync your iCal or Google calendar with the Mindbody calendar so that new appointments booked through the Mindbody app appear on your calendar app of choice.
Marketing Integrations
Mailchimp integration is no longer supported in-app. Since the inclusion of the Mindbody Marketing Suite, third-party marketing integrations like Mailchimp have gone the way of the dodo in Mindbody.
That's not exactly a surprise – the Marketing Suite is a premium feature bundled in with Accelerate and Ultimate/Ultimate Plus plans, so dangling the carrot $140 above the awkwardly positioned, entry-level, Starter tier tracks as an upsell tactic.
However, you can export your client list using the Mailing Lists report and import the information into Mailchimp. You can also register new clients to Mailchimp using the branded web tools' registration widget or prospect widget.
For details on third-party POS hardware integration, see the Mindbody Point of Sale (POS) options section.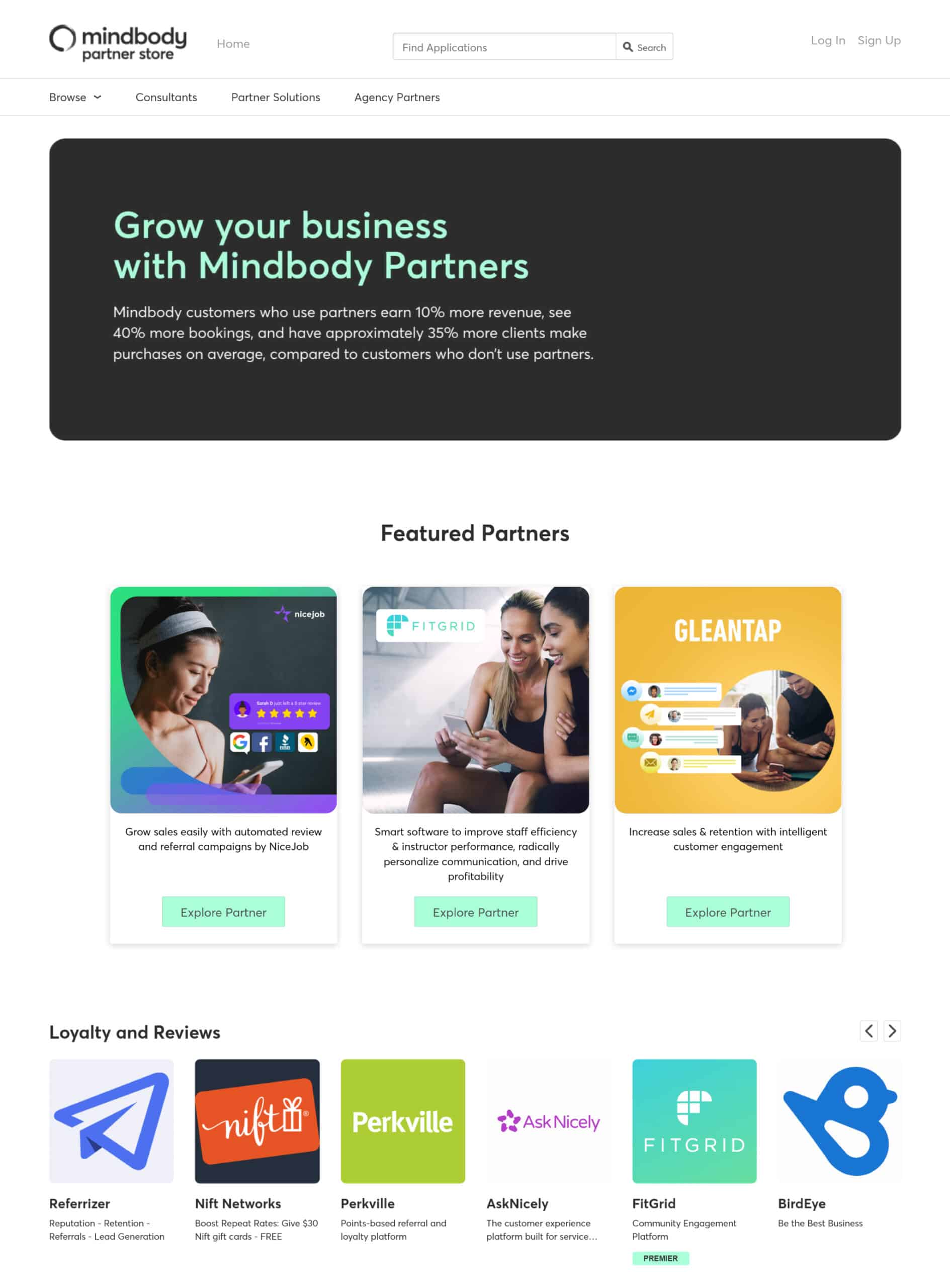 Mindbody also offers a Partner Store, where approved services and integrations can be set up to add tools and improve the user experience for businesses. Services include marketing tools, consumer networks, website tools, and more.
Custom API integrations can be set up in Mindbody… if you are willing to work with a developer to develop said custom integration and pay for API access ($11 per month per location gets you up to 2000 API requests per day per location).
Mindbody Online Booking
As we touched on in the section above, if you want to have a custom booking experience on your own website, you can.
To do so, you will need to sign up for and log into Mindbody's "Branded web tools" to set up the appointment widget.
What is most confusing is that there appears to be no other direct way for your business to offer online booking.
Unlike Booker, there is no Online Booking Settings menu where you can set up your information and generate a simple Book Now button.
From my research and several hours of digging, it appears that online booking is only available through Mindbody's "Branded web tools", which are included with Accelerate, Ultimate, and Ultimate Plus plans, but are a paid add-on for the Starter plan.
That means that — to the best of my knowledge after poring over dozens of support pages — online booking is not included with the Mindbody Starter plan.
Mindbody Explore and the Mindbody App
Mindbody offers access to Mindbody Explore: an online marketplace and mobile app where potential clients can discover and book services with businesses in their area.
Owners can list their businesses and services in the Mindbody app, as well as share promotions and other details with users looking for related services.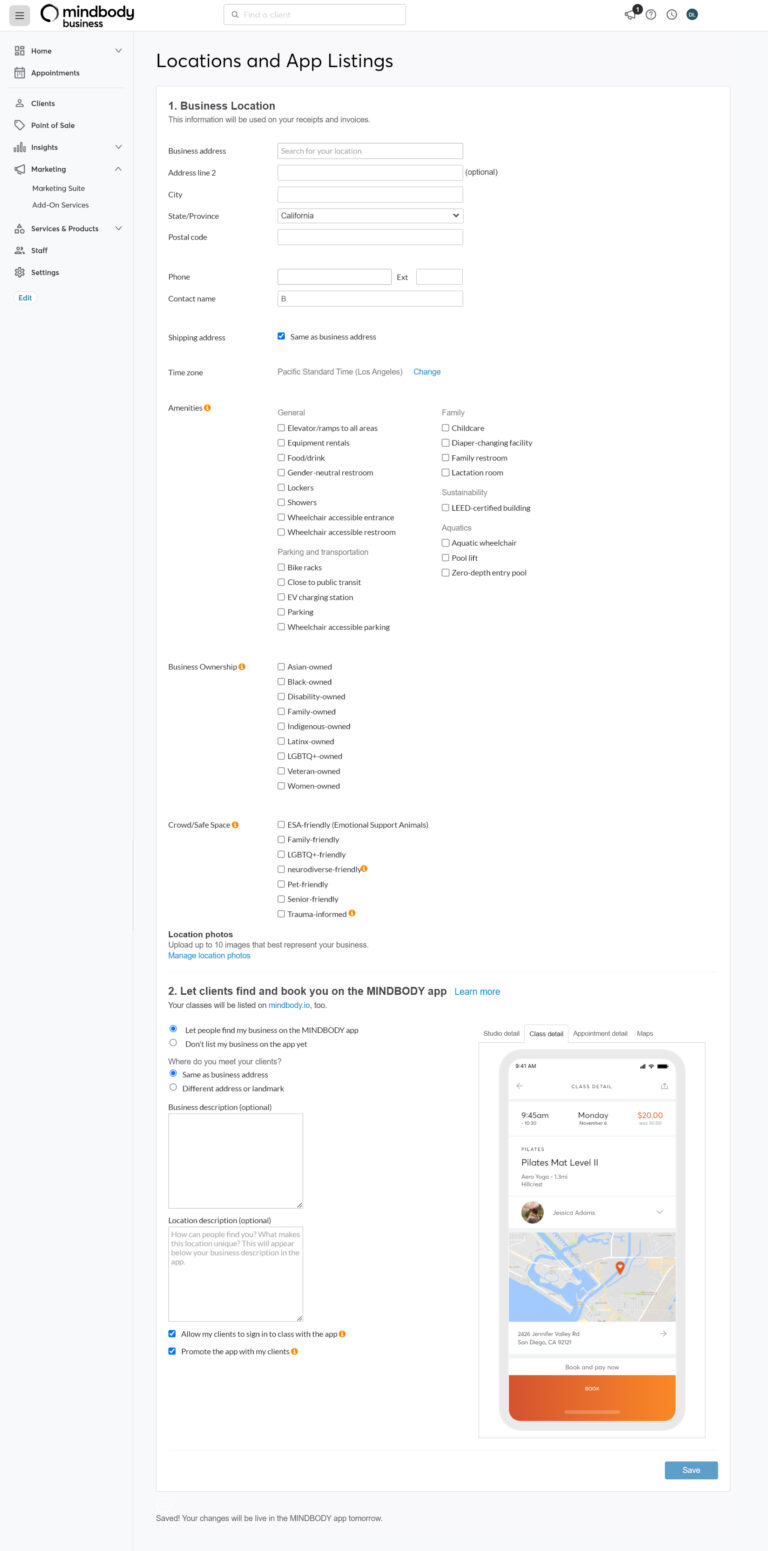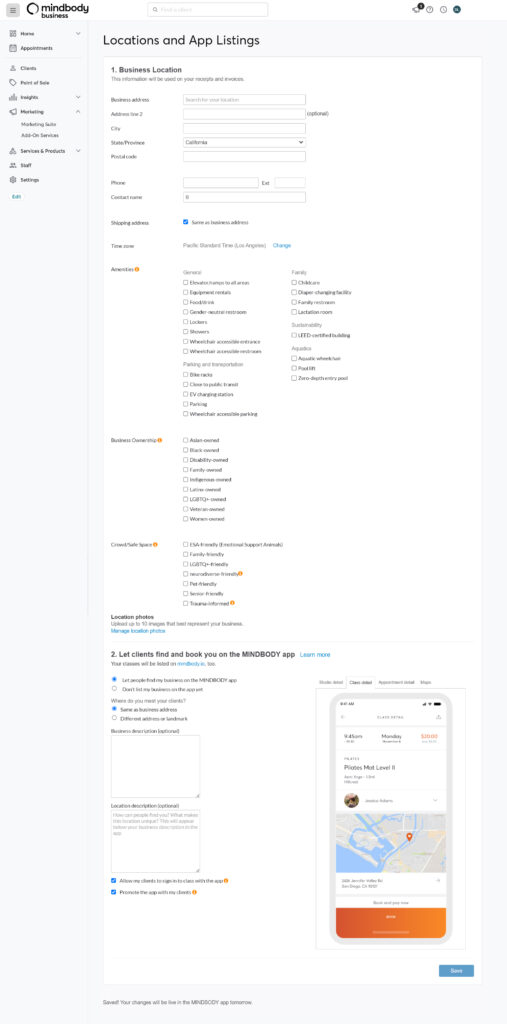 To create a Mindbody Listing, business owners can navigate to the Marketing tab in their Mindbody account and select the Visit Mindbody App Hub button.
From there, you can create and edit your business listing, confirm your location on Google Maps, upload a logo, and more.
Mindbody Appointment Calendar / Scheduling
Mindbody's calendar is simple, utilitarian, and a bit drab. Dressed in a modest and almost militaristic palate of khaki, coal, ash, and parchment, the interface is bland but clear.
In stark contrast, the details of the calendar screen are easy to spot and almost garish, with bright green, teal, orange, and fuschia appointment blocks.
Booking icons (for confirmed, checked-in, same-day appointments, etc.) are underdeveloped, and unless you know what each tiny, esoteric symbol displayed in the top right corner of the appointment means, may be confusing, with their lack of hover-over explanations or tool tips — quality of life features offered by sister-software Booker.
Also, unlike Booker, there is no right-click (or Control-click on Mac) functionality to open a contextual dropdown menu with options to confirm, check-in, check-out, cancel, or edit an appointment. Instead, you can only left-click on the appointment, which both opens the dropdown menu and expands the left pane to show appointment details simultaneously.
Why this feature is oversimplified on Mindbody is unclear, but I much prefer Booker's approach (separating left click and right click as separate commands), as it is much less disruptive, lets the user be selective about the information they want, and doesn't provide erroneous menus that you will need to X out of to close.
The calendar features several view options at the top of the schedule screen. You can filter by service category, and service provider, and select what time increments you wish to view the calendar in via a dropdown menu at the top right.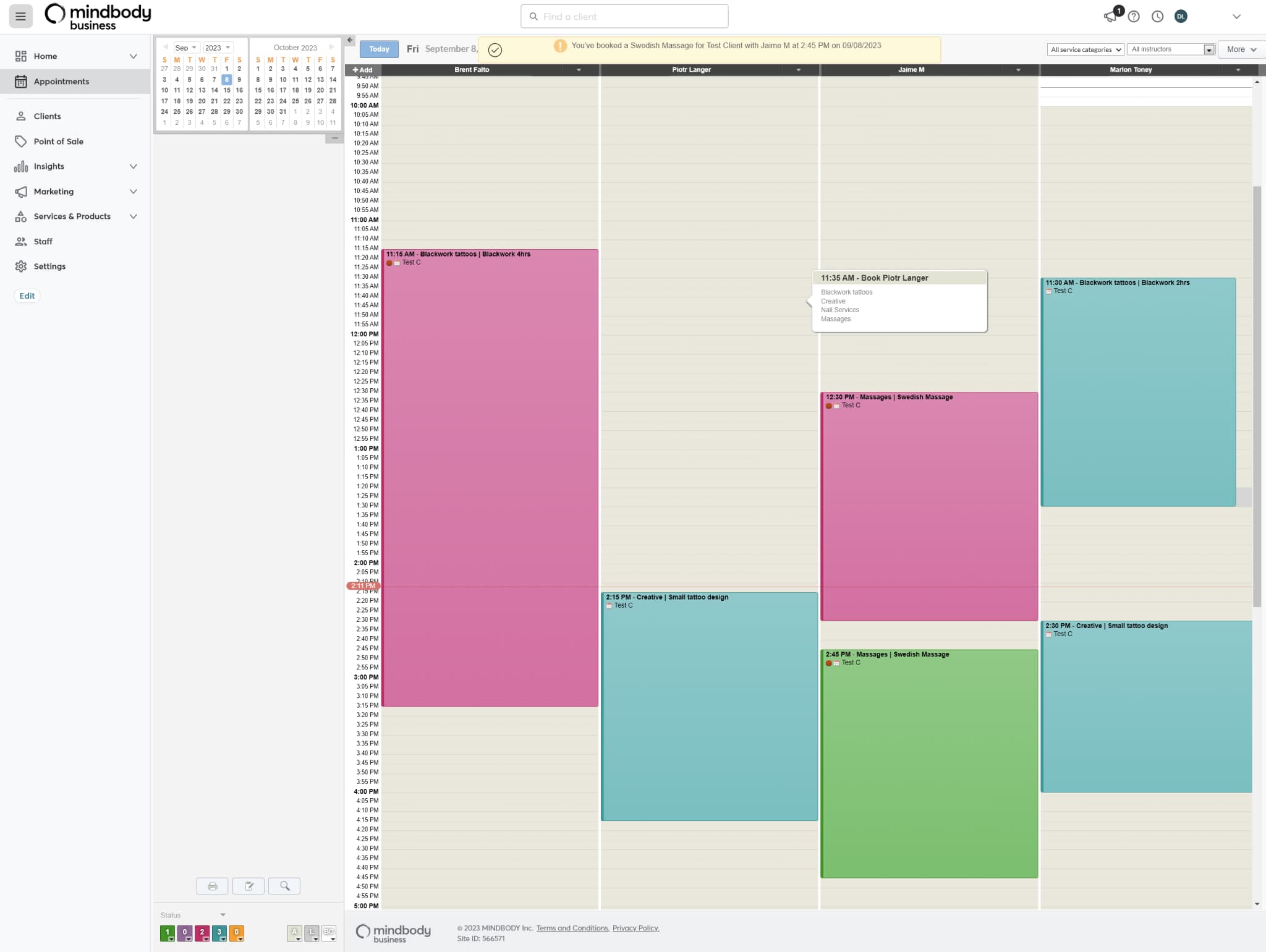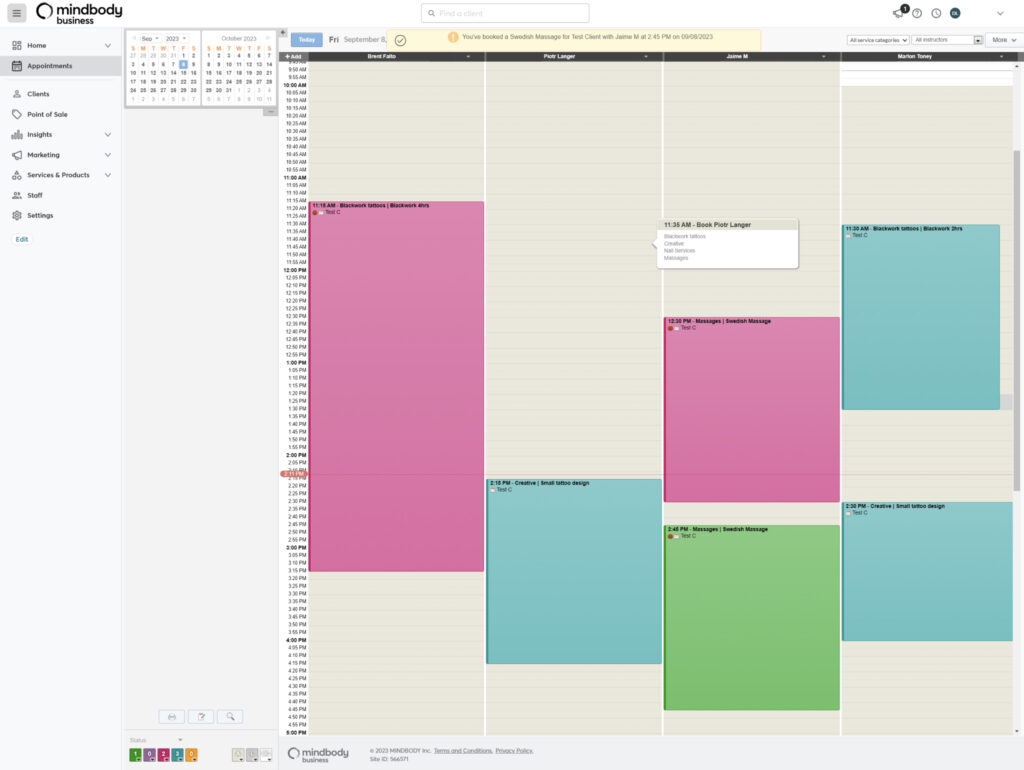 Booking a new appointment can be done by clicking on the time you wish to book, then typing in a client name in the grey pop-out pane to the left of the calendar, in the "Search for client" field under the Book Appointments heading.
I found this booking process to be a little backward, especially compared to the booking process for Booker and other apps in the space. In Mindbody, all the forward momentum seems to happen in the pop-out pane to the left of the calendar rather than on the calendar.
When you click on an open space on the calendar, a pop-out box appears on the calendar with options to edit today's schedule, edit the weekly schedule, or mark the service provider as unavailable, and the Book Appointments heading appears on the left, where a field appears to search for a client.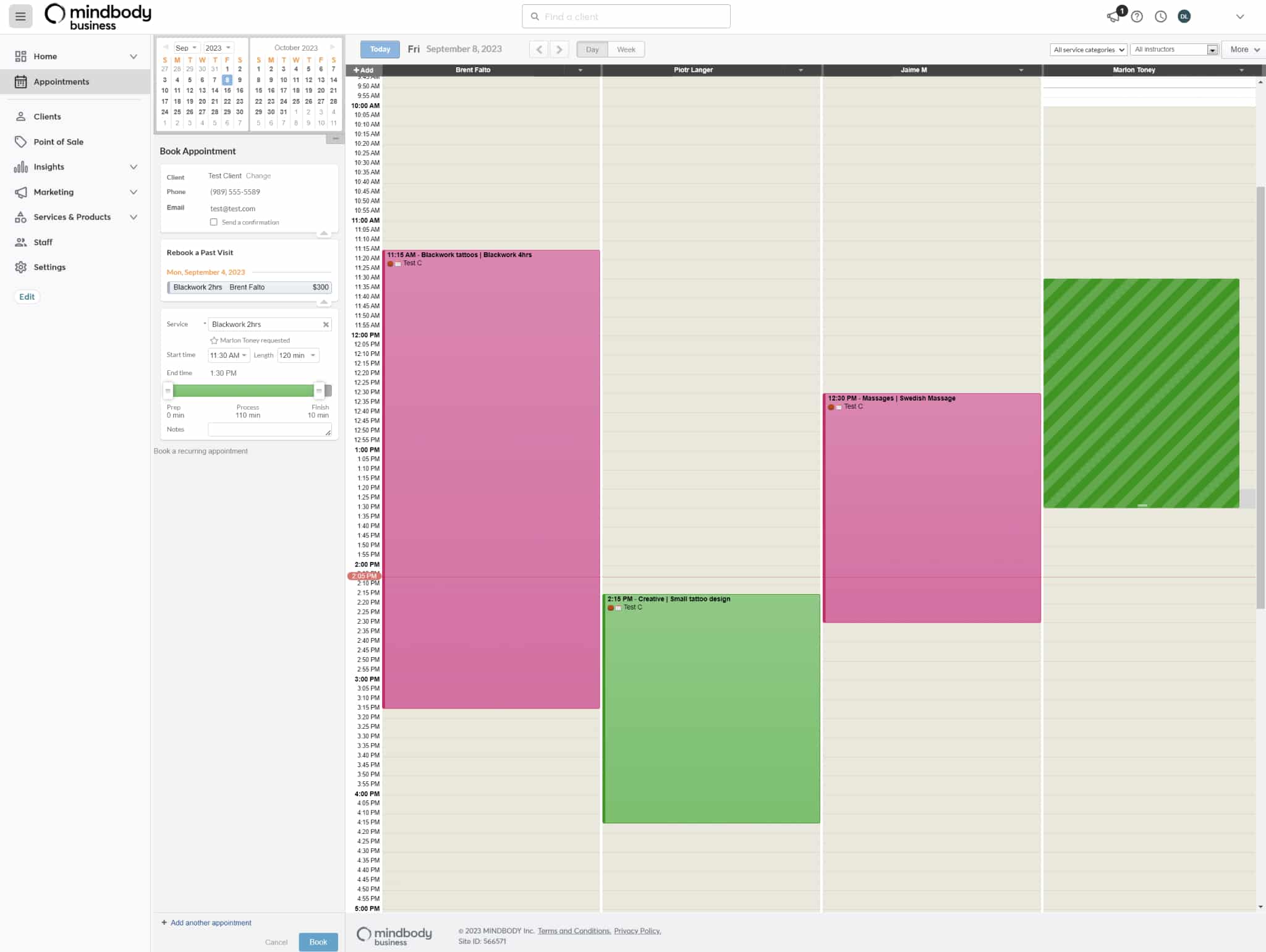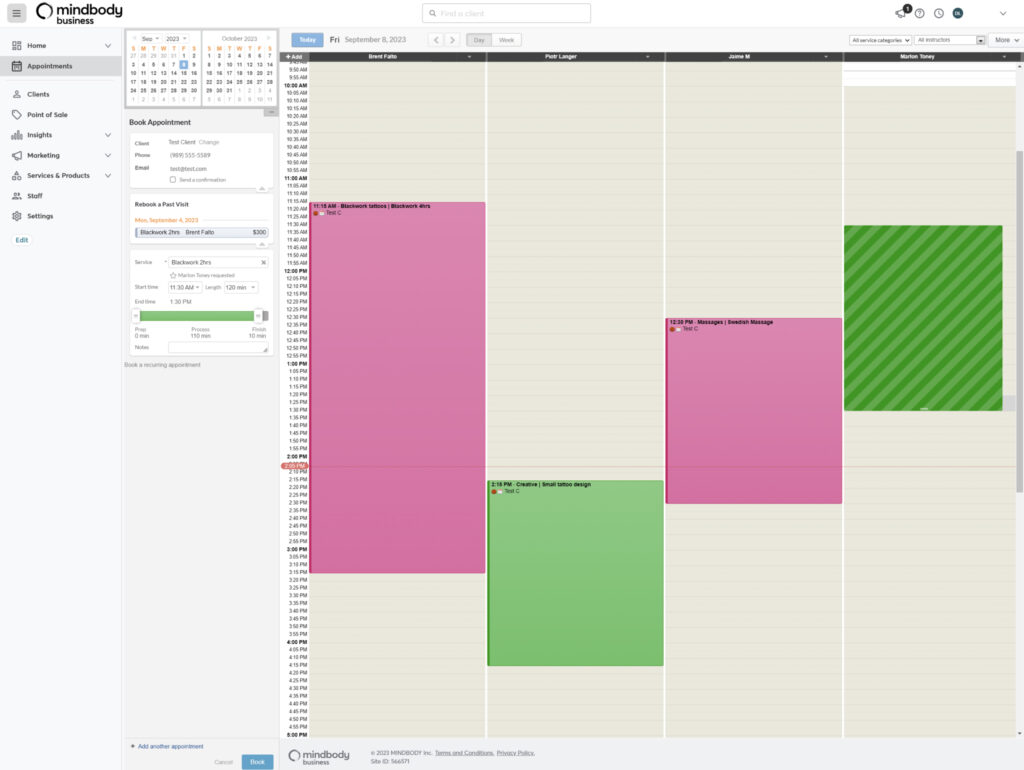 All the (booking) action happens outside of the calendar.
Strangely, when you enter a name into the search clients field that is not in the system, you will not be presented with an add new client prompt. To add a new client, you must click in the Find a client field at the top of the screen and then select Add New Client.
Checking out a client can be done from the calendar screen or the Point of Sale screen. When checking out on the calendar, a pop-out window with the list of unpaid services will be listed on the left side, which will need to be added to the order by clicking the Add to Cart button.
Once the service(s) has been added to the cart, you can add products and tip, apply promotions, and take payment via cash, card, check, gift card, or account credit.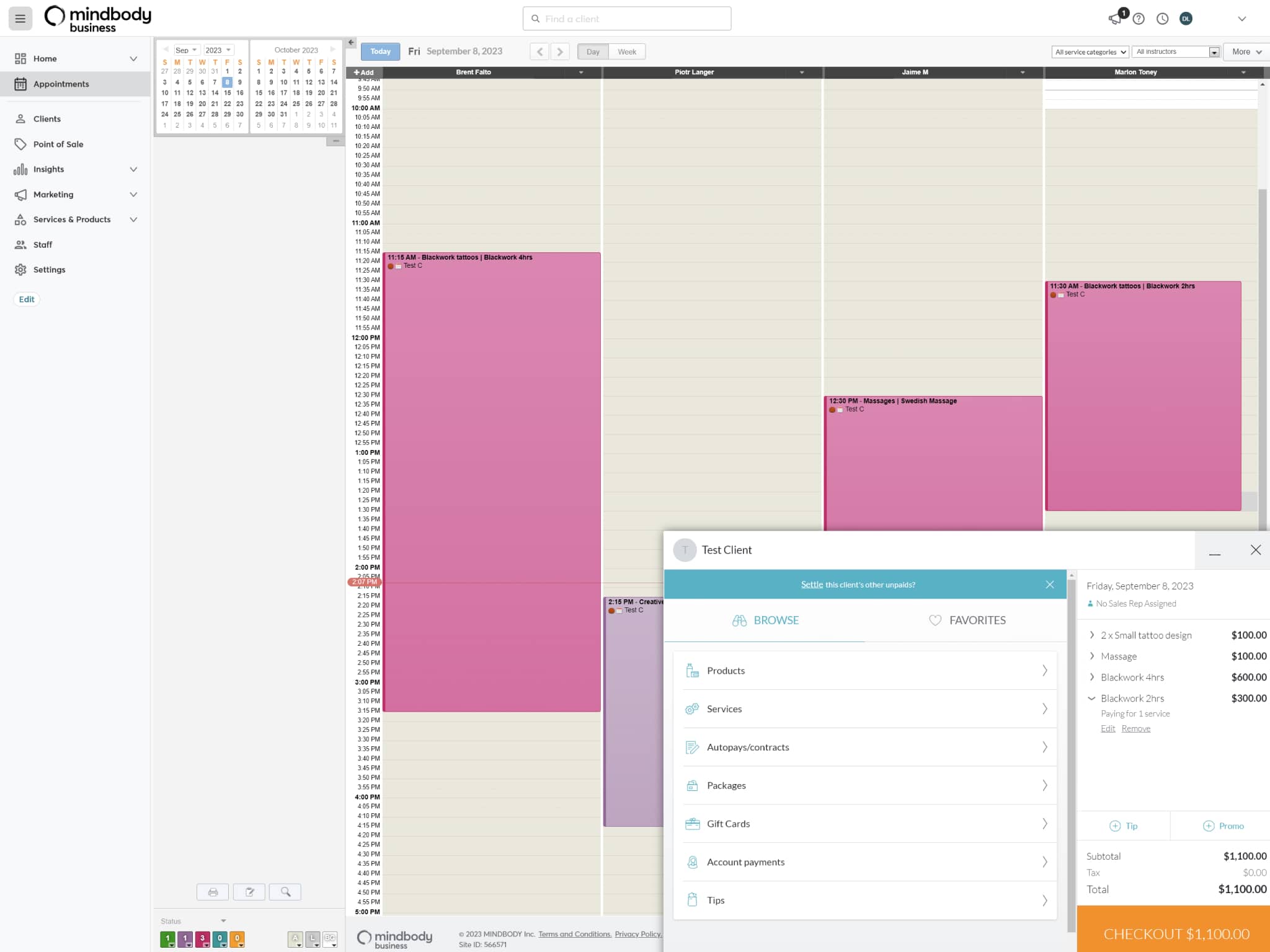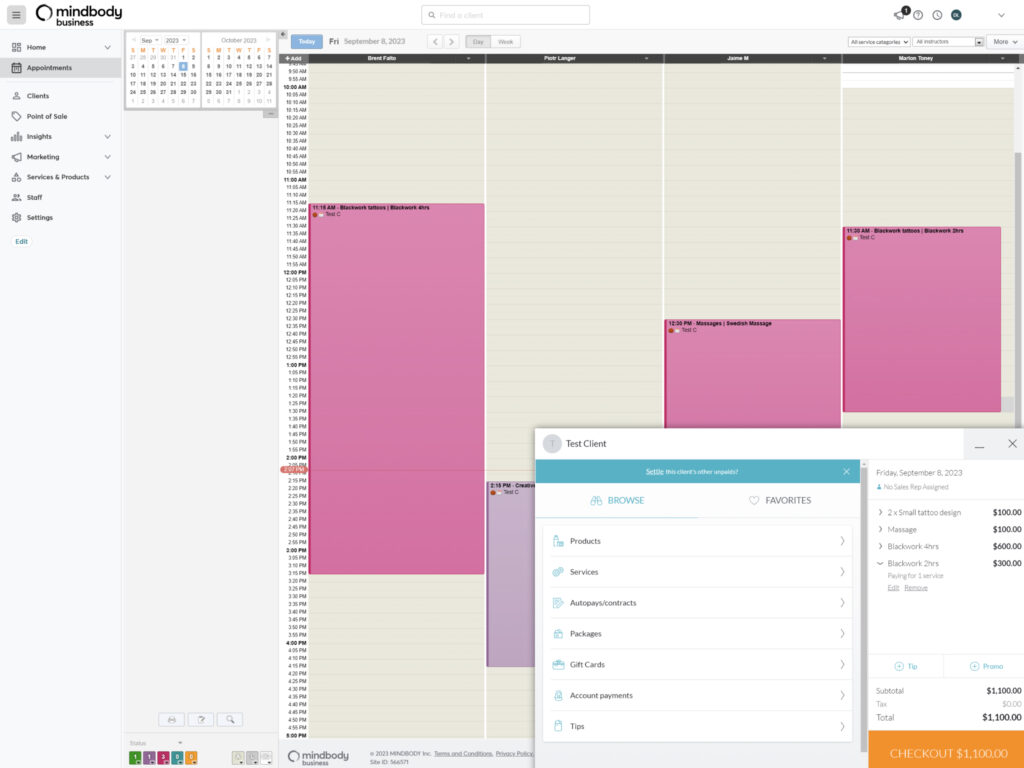 Mindbody Client Data Management
Mindbody's client management tools within the app look a little bit old-school but offer quite a bit of information that can be filtered and searched by almost any criteria.
On the Client Directory screen, you can search by name, email, phone number, city, state, postal code, and ID, among other options.
Likewise, you can filter by client type (child, adult, parent, or senior), gender, membership status, allergies, hair color, and even beverage choice.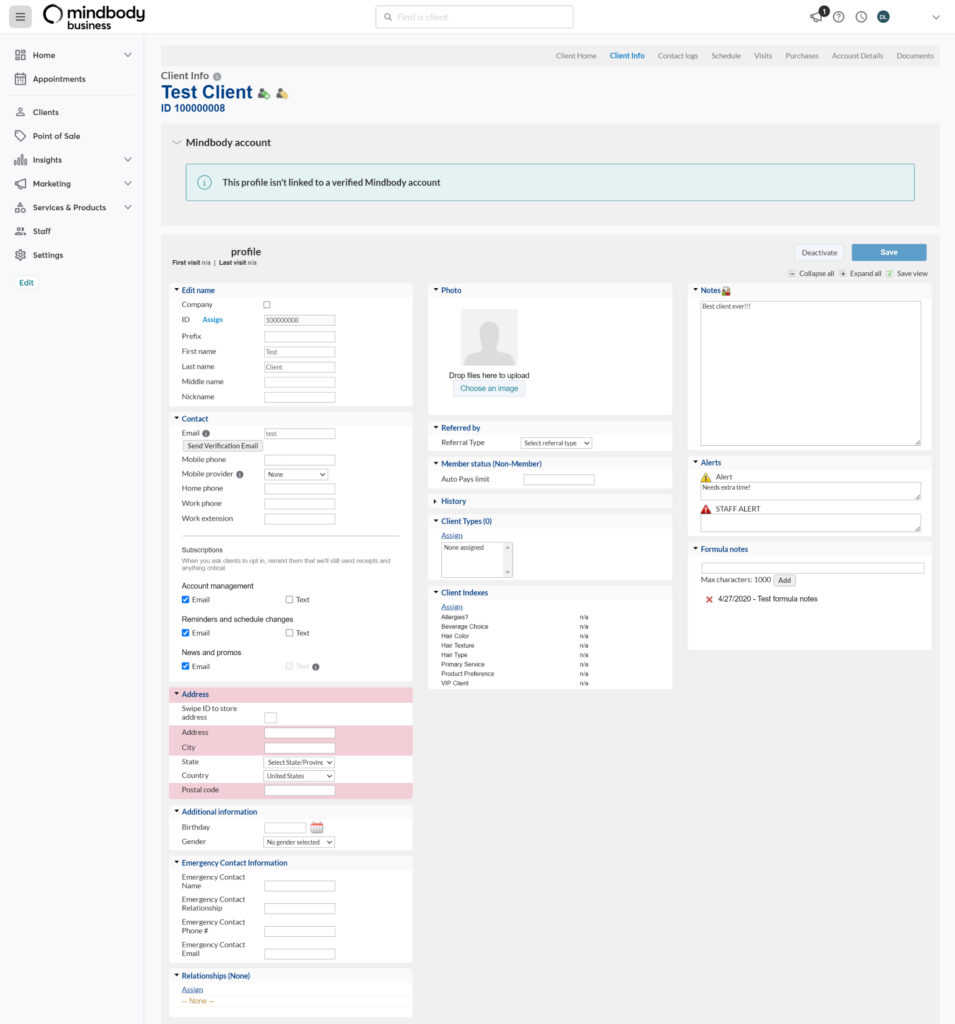 From this screen, you can also add a new client and add or remove tags on their account.
Inside a client record, you can view notes, appointment information and transactions, autopsy schedule and history, membership info, contact logs, product purchases, and any client forms that have been saved, among a slew of other client details.
Managing Client Reviews and Feedback
Let's discuss client review management.
Mindbody provides some genuinely helpful tools for prompting, collecting, and sharing client reviews through its Marketing Suite (on the Ultimate & Ultimate Plus plans only).
With this suite, you can enable settings that automate the relationship management process. For example, you can schedule automatic ratings request emails or texts to be sent to clients shortly after their visit.
Furthermore, you can configure settings that prompt clients to post their feedback to social media sites after submitting their reviews. Additionally, Mindbody can be configured to automatically publish any review with a rating of 4.5 stars or higher to the review widget on your website.
Mindbody also offers the ability to automatically flag reviews with low scores, allowing you to reach out to the client and attempt to address any issues they may have experienced.
Mindbody Appointment Notifications & Alerts
In the Marketing Suite, Mindbody customers can set up automated emails and SMS notifications to remind and confirm appointments, send birthday communications, and more.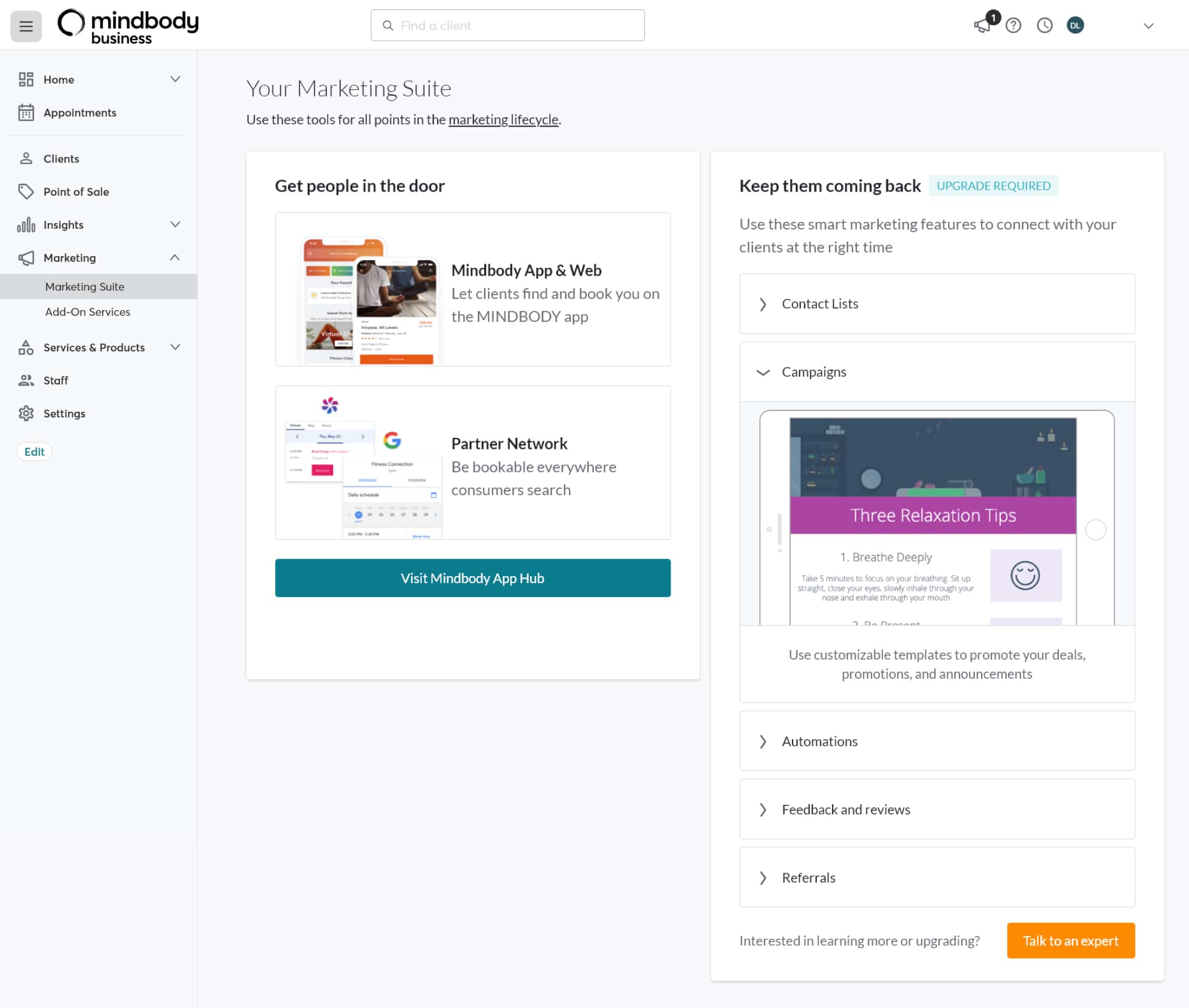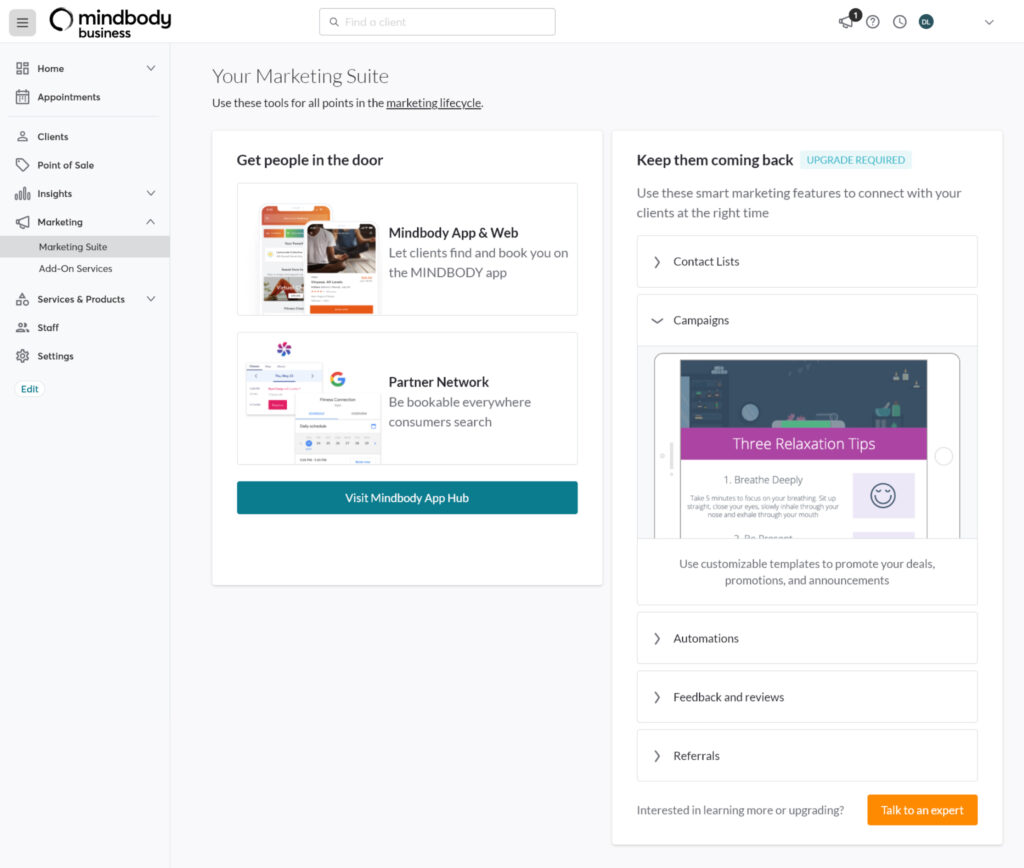 While some email communications can be customized, you cannot currently edit the content of your SMS communications in Mindbody. This means that you are limited to the prewritten scripts created by Mindbody for all automated SMS communications.
Likewise, text and email communications features are currently limited on some plans, so consult with your representative to verify messaging limitations for the plans you're considering before committing to the mandatory 12-month contract.
At the time of this review, 2-way appointment confirmations and cancellations are not available on the Starter plan. Below is the breakdown of each Marketing Suite feature included with every subscription package.
Marketing Suite Tools
Starter
Accelerate
Ultimate
UltimatePlus
Version 1
Version 2
Version 1
Version 2
Mindbody Marketplace listing
– Mindbody app
– Mindbody Explore Marketplace
X
X
X
X
X
X
Partner Network listing
X
X
X
X
X
X
Dynamic pricing
X
X
X
X
X
X
Promoted intro offers
X
X
X
X
X
X
Retention Marketing Dashboard emails
X
X
Campaigns
X
X
X
Automations
X
X
Smart lists
– Purchase/Visit history segmentation – Marketing interaction segmentation – Referral source segmentation – Satisfaction score segmentation
X
X
X
Trackable phone number
X
X
Fill Last Minute Openings – Targeted offers for unfilled appointments
X
X
Boost campaigns – Short-term promotions (25% off today only!)
X
X
Fill Slow Days – Identify and promote off-peak hours
X
X
Rescue Lost Customers – Targeted offers for lapsed clients
X
X
Reminder to Book Again – Touch base with clients who haven't visited in awhile
X
X
Limited Time Specials – Incentives for recently active clients who haven't visited in awhile
X
X
Automated membership upselling (Packages & Memberships)
X
X
Appointment confirmation texts (2-Way)
X
X
X
X
X
Feedback and Reviews
X
X
Net Promoter Score tracking
X
X
Automated referral program
X
X
Review widget for your website
X
X
Custom "send from" email address for outgoing emails
X
X
Mindbody 2-Way Client Communication
Mindbody also offers 2-way client communication through its Messenger and Messenger[ai] feature.
Messenger is included in Mindbody's Ultimate software package, and Messenger[ai] is available as an optional paid add-on Accelerate, Ultimate, and Ultimate Plus packages.
Using the app on mobile is a bit more complicated, though.
Mindbody uses a separate mobile app called Mindbody Messenger (Bowtie) to manage chats and message clients on the go, but the app seemingly is not well-liked by customers.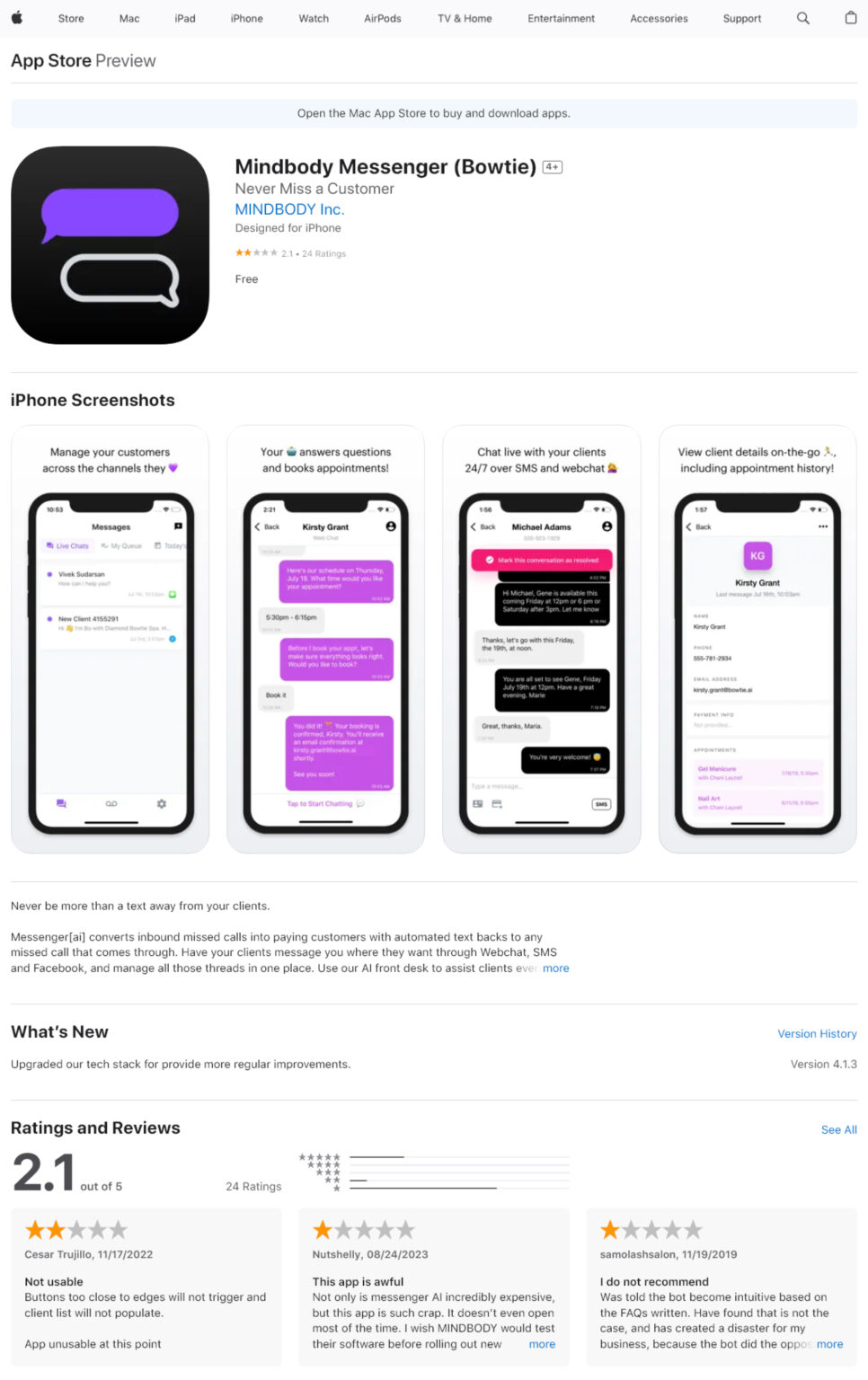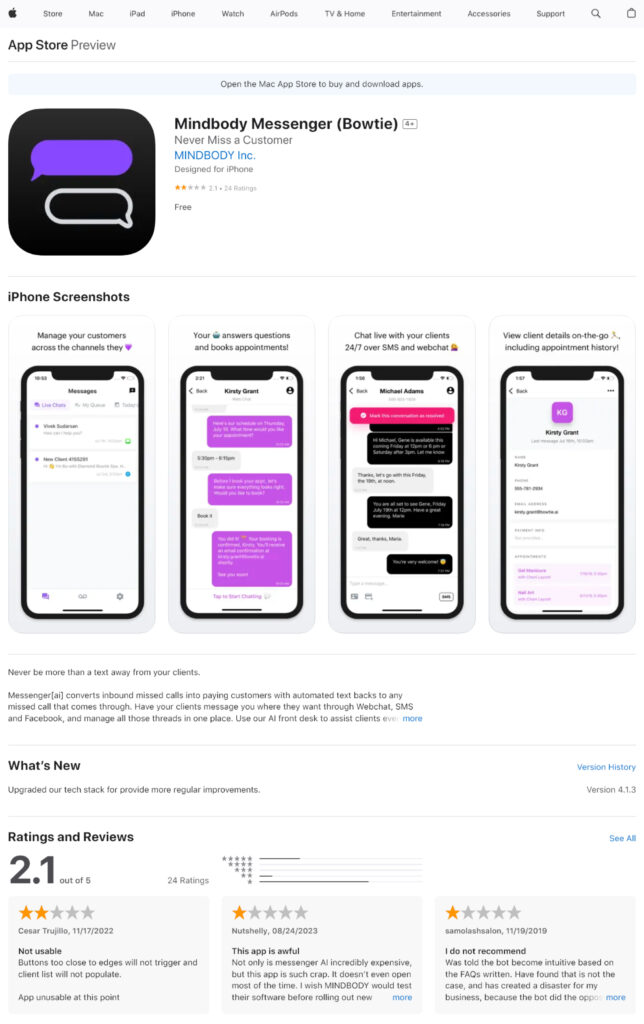 With a 2.1 star rating (24 reviews) in the Apple App Store, it appears that the mobile Messenger experience is not ready for prime-time.
What's the difference between Mindbody Messenger and Messenger[ai]?
Let's start with Messenger[ai].
Messenger[ai] is a messaging platform that allows your clients and staff to communicate, as well as an automated assistant that enables booking, browsing, and buying without the need for staff to get involved.
The AI-powered chatbot is available 24/7 to answer client questions, respond to missed calls, and even process transactions on your site.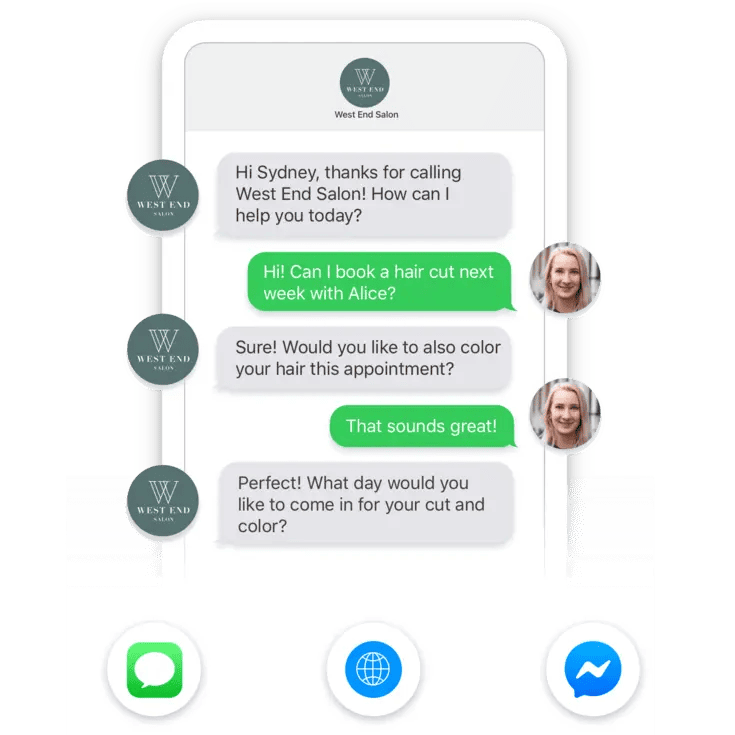 The feature uses an AI model that "learns" from your customers and their booking habits and can take that information into account to make better booking decisions over time.
Because it is an AI model, it does require time for its machine-learning algorithm to improve, but theoretically can better assist you the more times a client books.
AI is seemingly creeping into every aspect of business now, and it can genuinely be a good tool to leverage to ease the burden on your front desk, as long as:
It actually works
Clients don't find interacting with it unpleasant
I can't vouch for how truly intelligent Mindbody's Messenger[ai] feature is, as that would take far longer than the scope of this review would reasonably account for and would cost me many more hundreds (or thousands) of dollars that I simply don't care to spend on yet another speculative AI tool.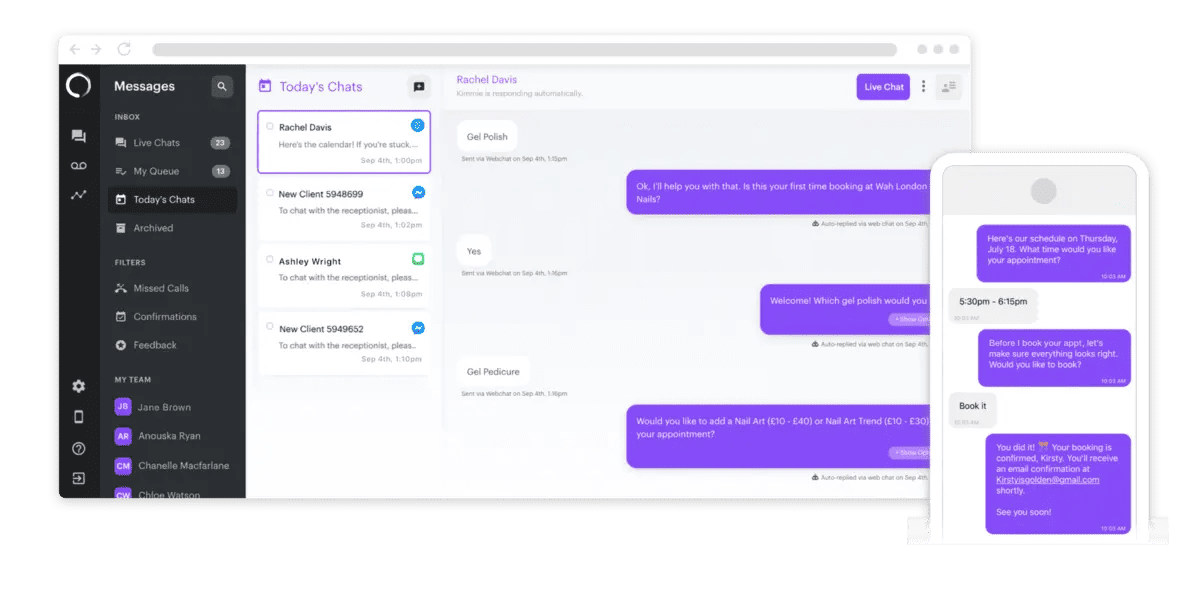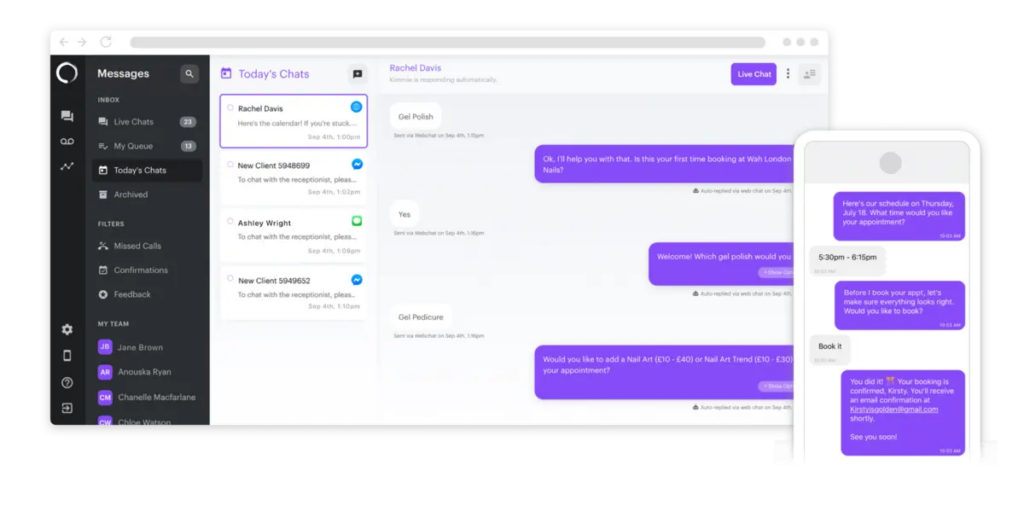 What I can say is that chatbots can be of great use for some business applications, and the growing ubiquity of AI assistants is breaking down the barrier a bit between customers and businesses.
But I still hesitate to incorporate an AI chatbot feature in as personal a business as the salon or spa.
Salon and spa clients form a special connection with their stylists, estheticians, and even the front desk staff, and wedging a chatbot in the middle of that feels a little… impersonal.
Granted, that is going to vary from business to business.
And if that fits your culture, then this might be a great tool for you to increase bookings and field questions after hours.
Mindbody is, first and foremost, a piece of software focused on fitness and wellness businesses, and Messenger[ai] may very well may be a better fit for those business models than it is for a salon or spa.
Now let's talk about plain old Messenger.
Messenger is a simplified version of the platform that focuses solely on messaging capabilities and cuts out the AI-powered front desk assistant.
This means you can still chat with clients in real time over SMS, but they won't be able to book or buy anything through this channel.
The missed-call text message that automatically initiates a text conversation is also not included in this version of the feature.
Mindbody Email Marketing Tools
Mindbody's Marketing Suite includes a modular email builder, which is a similar (if slightly less elegant) feature to the one we covered in our Boulevard Salon Software review and identical to the one offered in Booker.
Like that feature, Mindbody's Marketing Suite offers a simplified process for creating email campaigns and communications.
In Step 1, you can access a customizable template library where you can load premade or previously made email designs for editing.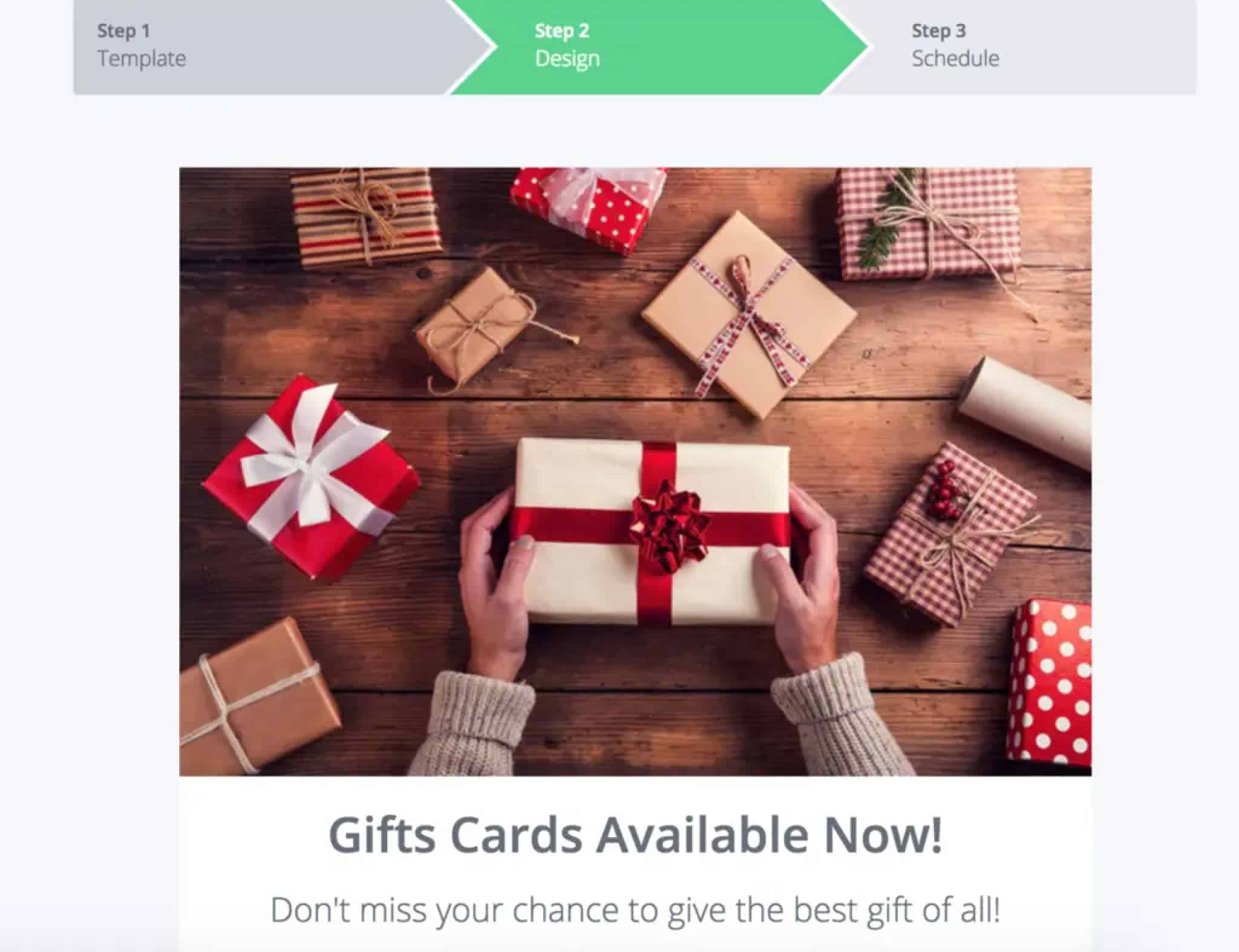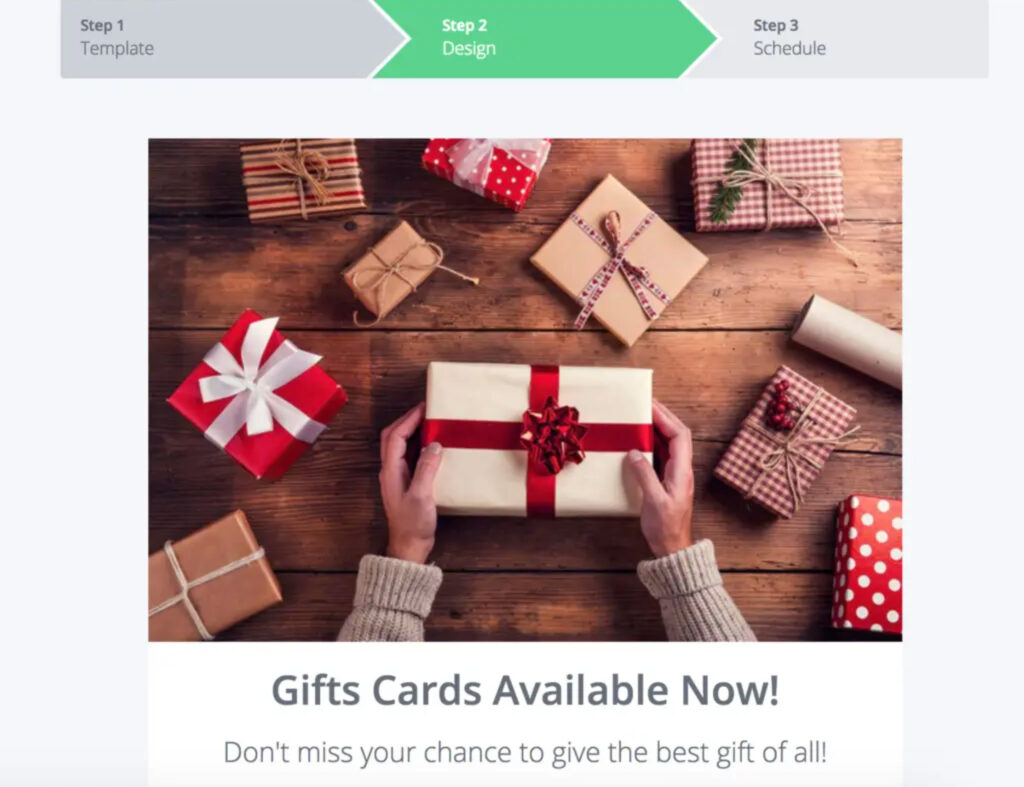 Step 2 allows you to access the built-in email editor, where you can drag and drop text, image, and formatting blocks to build your communications easily without the need for coding or HTML experience.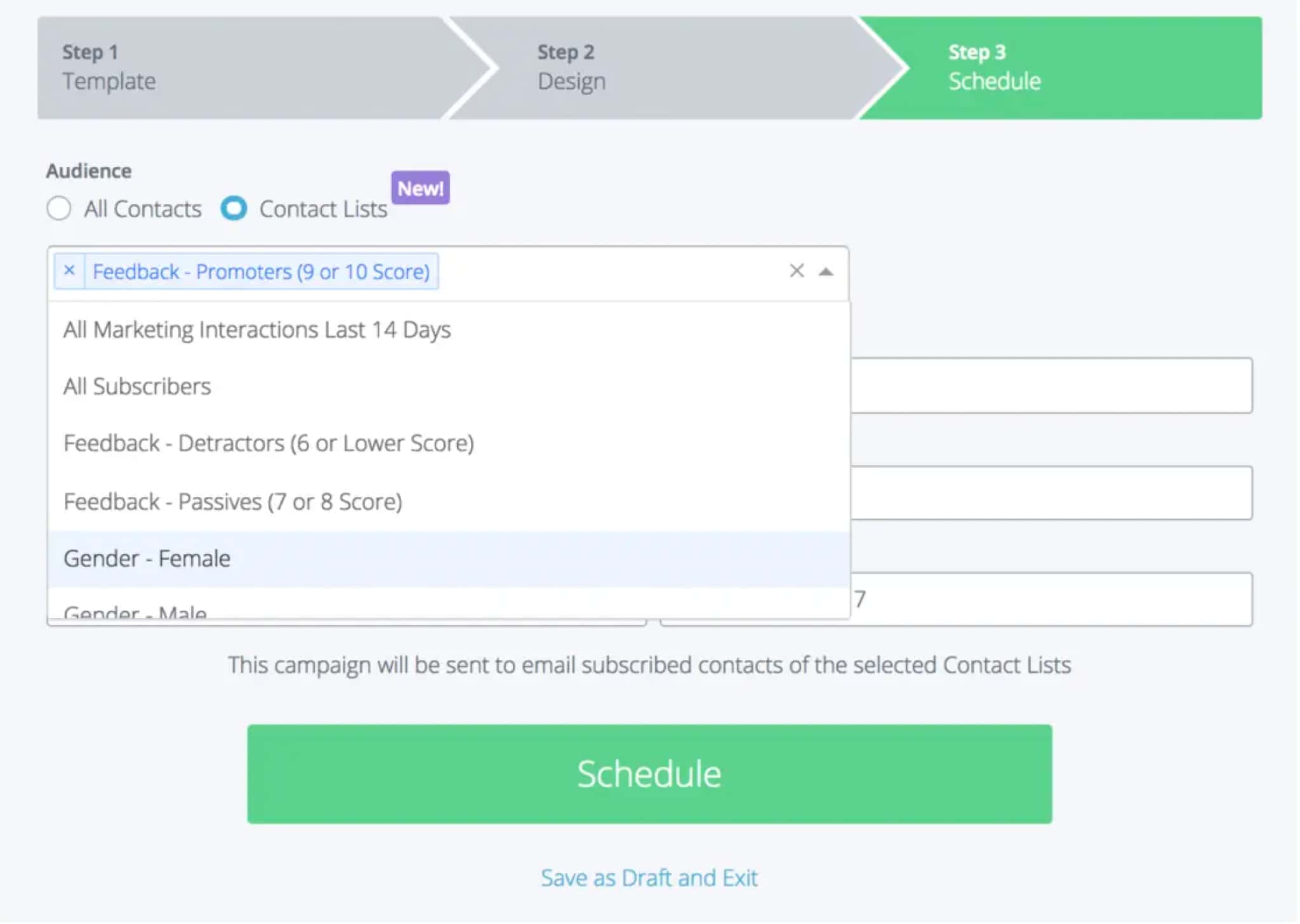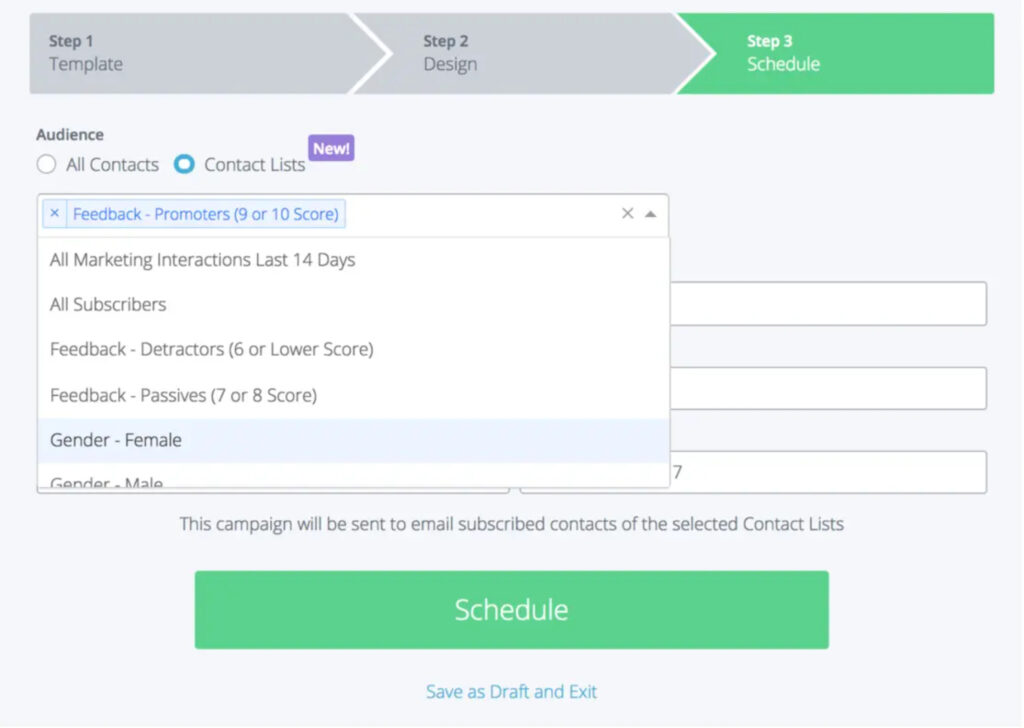 In Step 3, you can name and schedule your email campaign and send it with just a couple of clicks.
Overall, Mindbody's email marketing suite is less robust than some offerings from competing software suites, but it is functional and allows you to communicate with your opt-in marketing list and create audiences with its tools.
Mindbody Staff Management
Mindbody enables most staff management features on all plans, but some are unavailable on the Starter plan.
Customizable staff permissions and groups are not available on the Starter package, and neither is Mindbody's payroll integration.
Employee schedules can be created and managed in the Appointment Availability tab of the Staff menu.
Schedules can be specified by date range (by calendar week), and a regular weekly schedule can be set as well.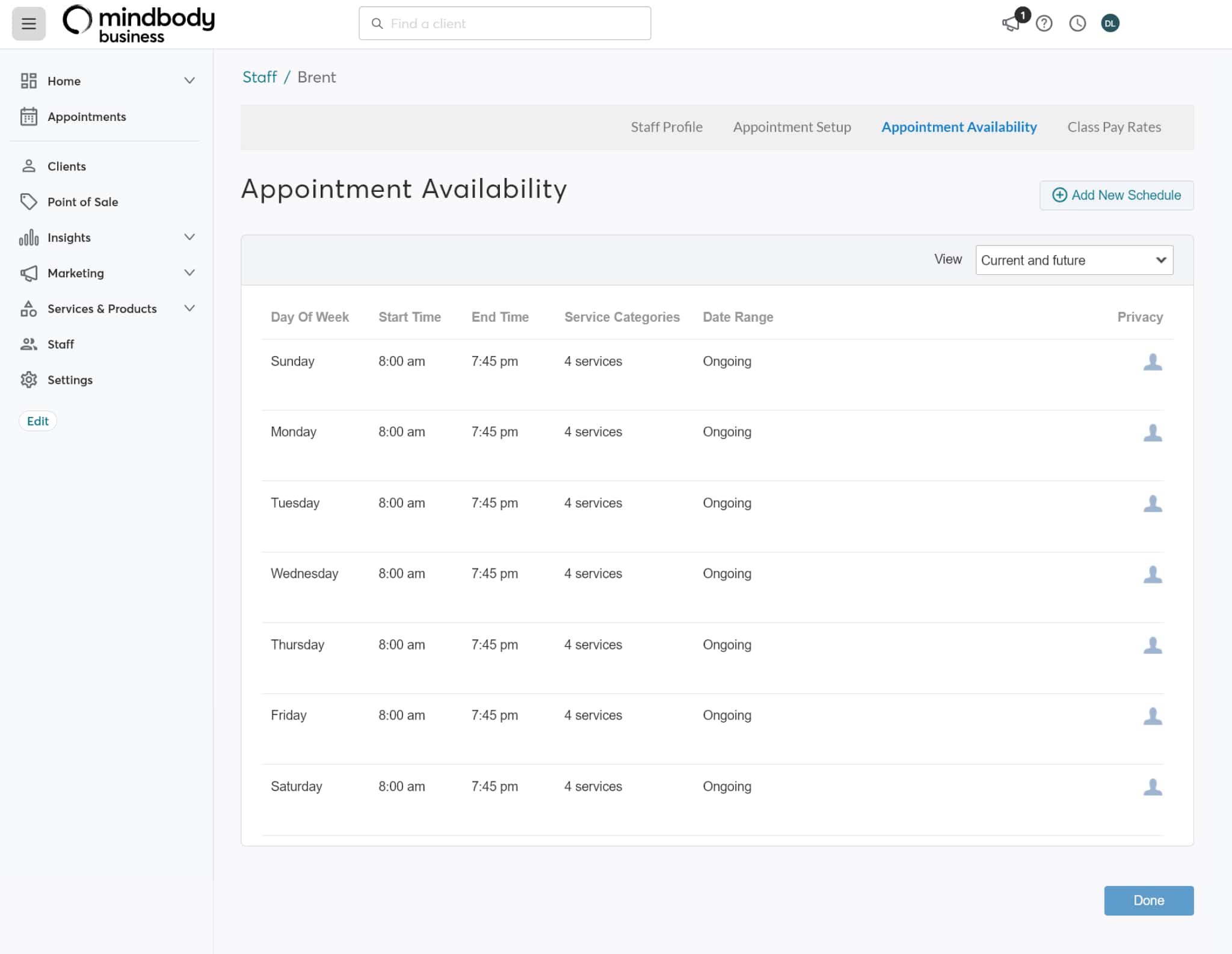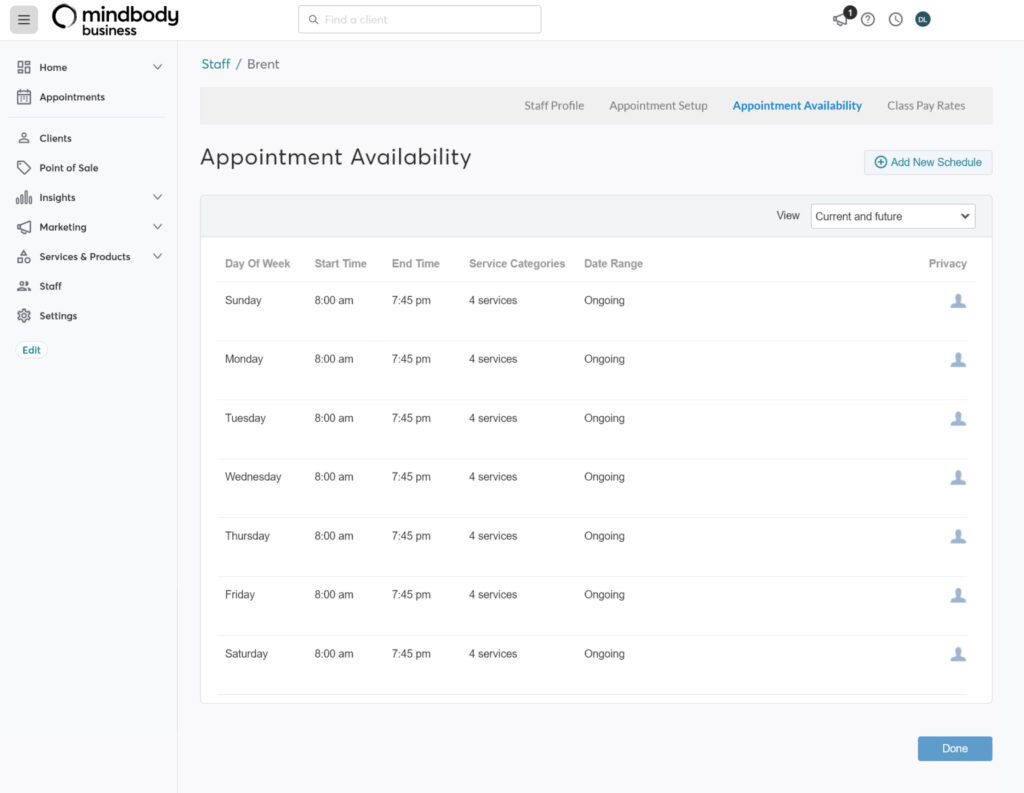 The regular schedule is defined by a one-week interval, so more complicated work schedules that involve odd weeks off or monthly variations are not an option in Mindbody currently.
Off-week schedules or more complicated changes will need to be made as they arise by selecting a custom date range and saving a new schedule to it.
Payroll can also be managed in the system (on Accelerate and higher-tier plans only), and Mindbody offers the ability to run a mixed-compensation-model business across commission, booth rental, and hourly pay models.
Mindbody Business Reports
Reporting is another feature limited by which subscription you choose.
On the starter plan, basic reporting is included. This means you can access standard sales reports such as your daily closeout report, gift cards, and invoices reports, as well as voids and returns.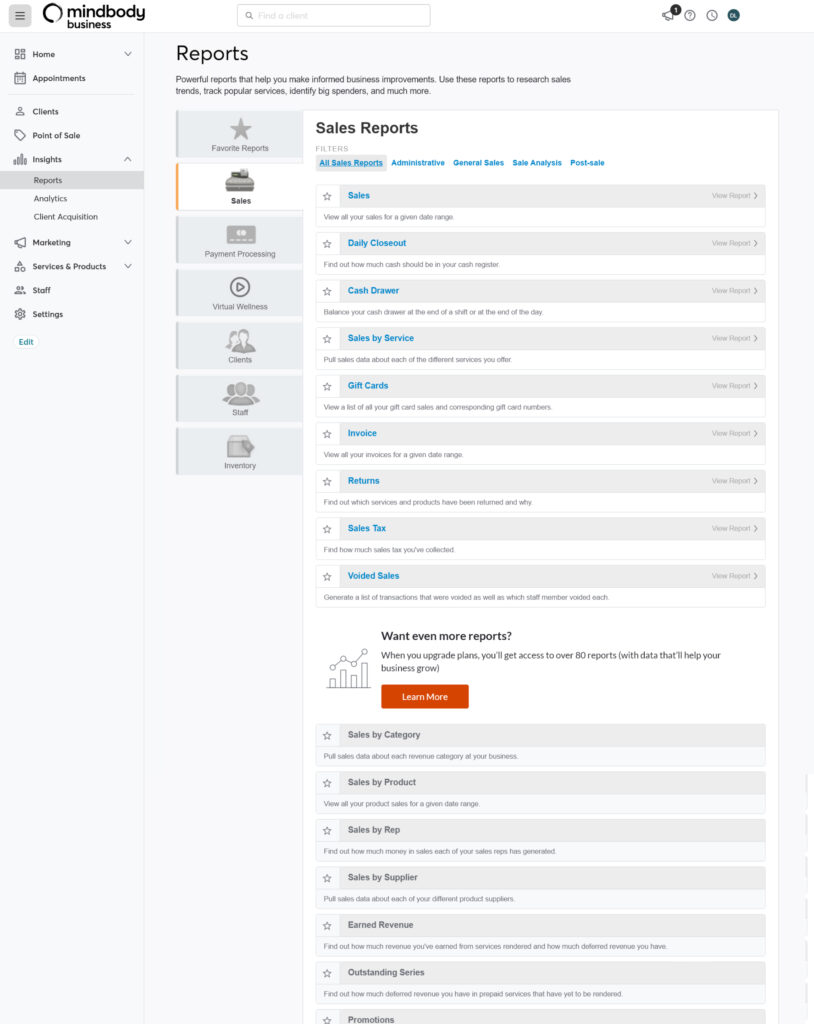 Basic client and staff reports are also available on the Starter plan.
All plans have access to the analytics dashboard, which breaks down sales figures, online booking metrics, year-over-year sales charts, as well as membership and attendance metrics.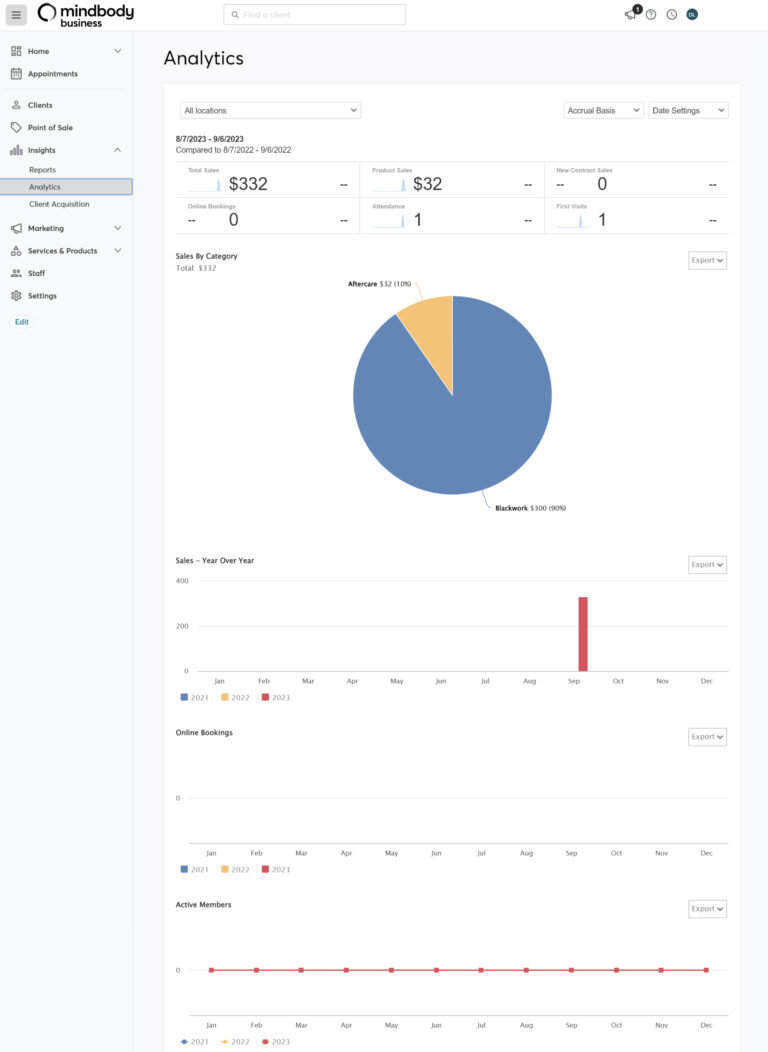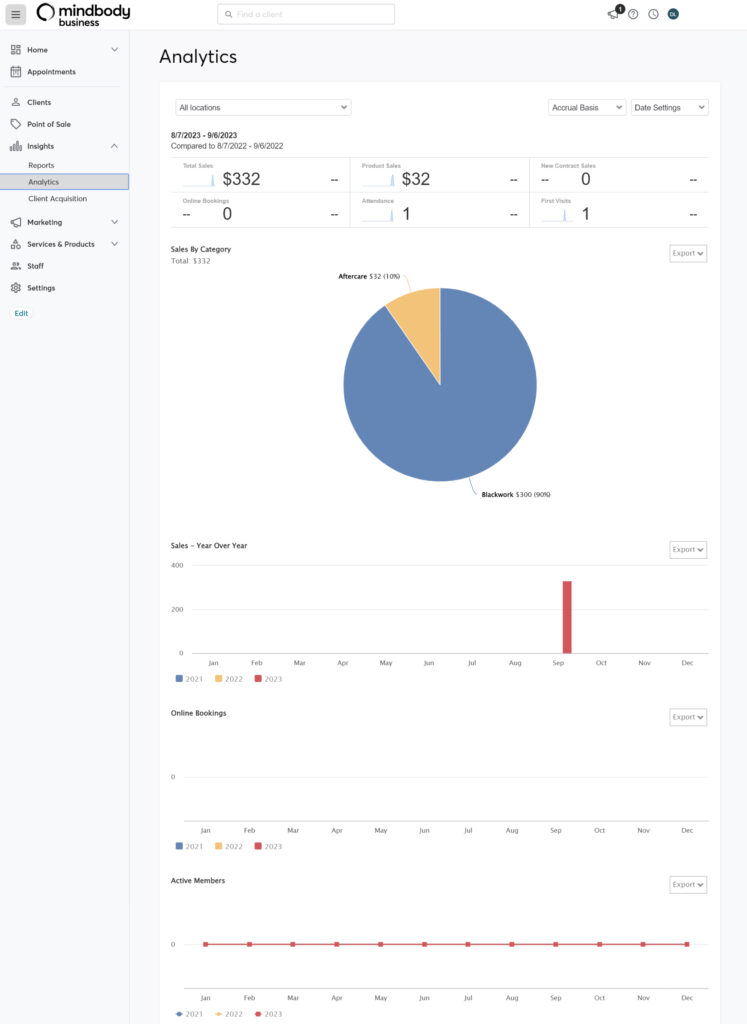 There is also a client acquisition dashboard available that shows booking, sales, new clients, and intro offer metrics in an easily digestible interface.
For more in-depth reporting, you will need to upgrade to the Accelerate or Ultimate/Ultimate Plus plan.
With higher-tier plans, you gain access to useful business insight reporting that can break down metrics like sales by category, product, or service provider, earned revenue, promotion metrics, and more.
To see a full breakdown of each report included by package, see the Which reports do I have access to? support article.
Mindbody Inventory Management
Mindbody offers inventory support for products, purchase orders, and vendors, but your access to these features will be determined by which plan you choose.
As with nearly every other feature, the Starter plan is limited to basic inventory management features, while higher-tier plans get access to advanced inventory tools and reports.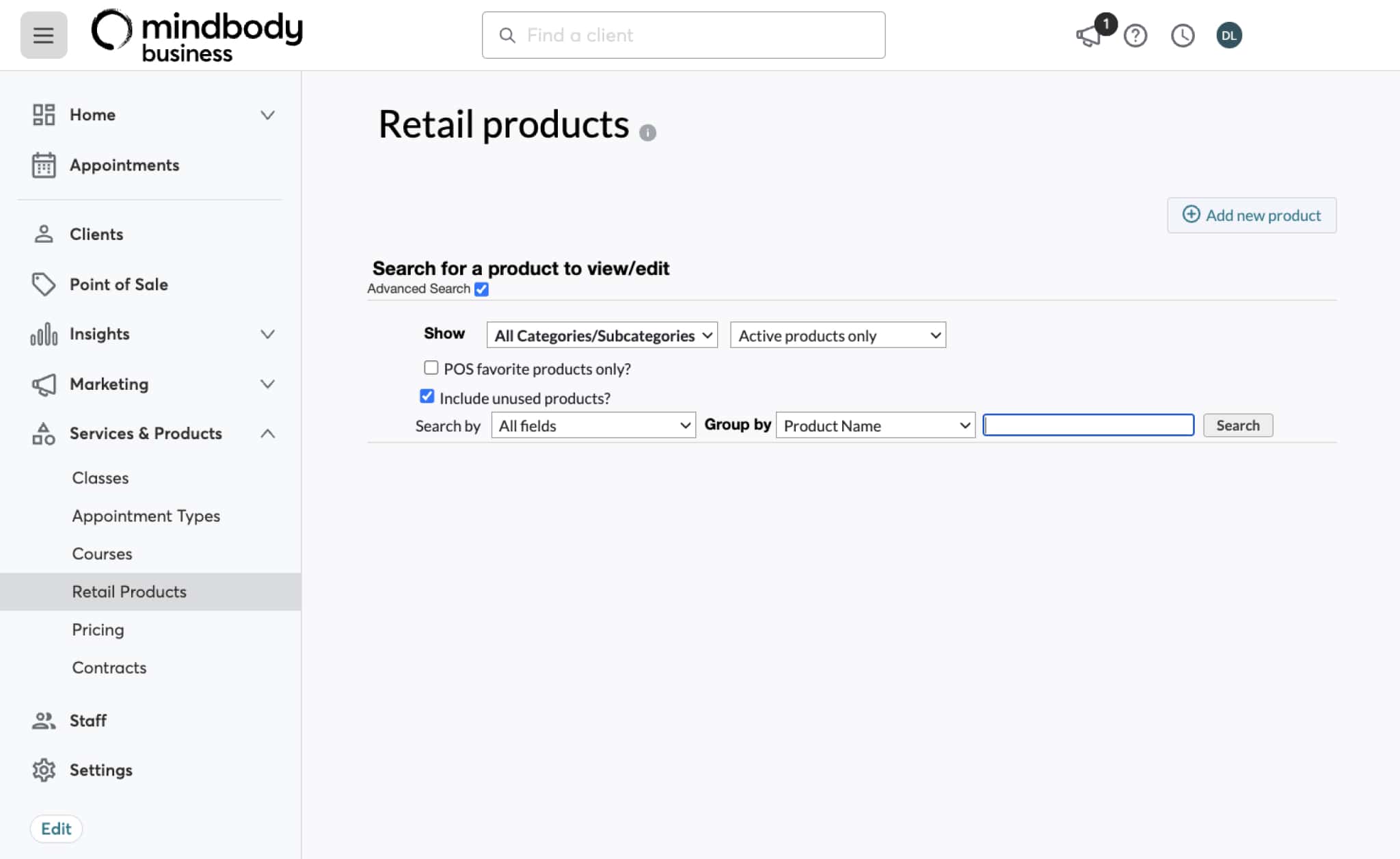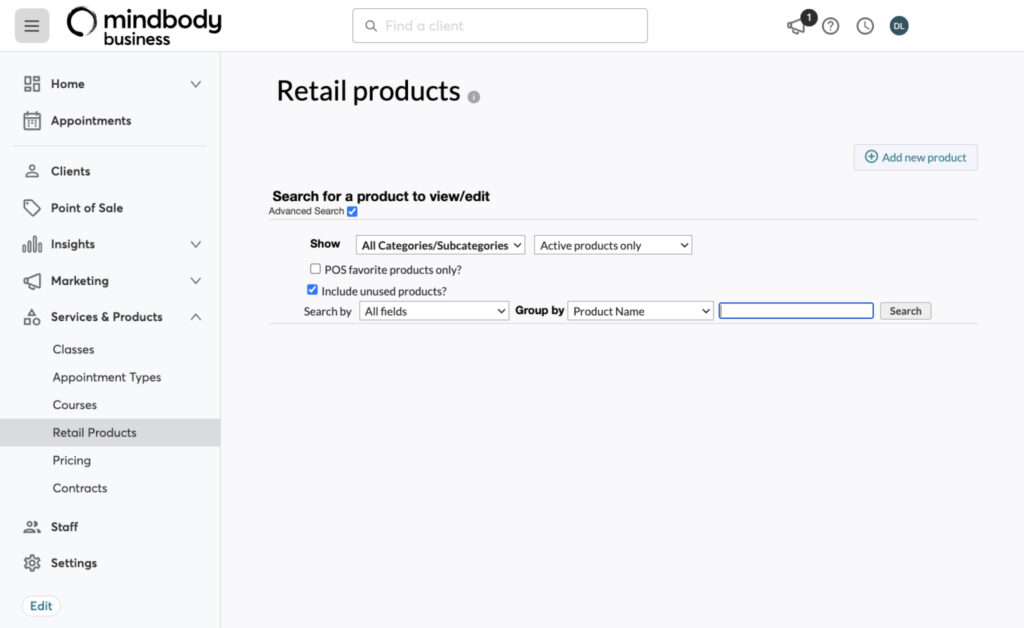 Due to the legacy of Mindbody, there are several generations of plan tiers and app versions, each of which complicates the landscape of features and access to them.
Sifting through the tangled mess of support articles to attempt to simply understand what you get with your plan is a chore and quite a bit more headache-inducing than doing so for Booker, oddly enough.
Perhaps Booker's simpler system and less fractured web of features makes it easier to account for, or maybe their newer acquisition under the Mindbody umbrella makes for more recent and accurate documentation.
In my attempt to legitimately understand exactly what inventory and reporting options are available with each Mindbody plan, I came across several fragmented support articles, many of which led to deprecated and no-longer-accurate plans and information that only served to further complicate my grasp of the software and point me down deeper rabbit holes.
Unfortunately, this experience was in-fitting with the admittedly overly corporatized and messy experience I had testing Mindbody and Booker and interacting with their sales and support teams.
The fact that finding out basic information about features available to you — such as which inventory options are available to you as a business owner — is a challenge is a disappointment, to say the least.
Mindbody Memberships, Packages, & Gift Cards
Mindbody has support for gift cards, packages, and memberships in the software.
Memberships can be created in Mindbody on all pricing tiers and can be sold on your website and in-store.
You can choose whether you wish to allow memberships to be shared between clients, assign benefits, and enable automated membership upselling (on Ultimate & Ultimate Plus only).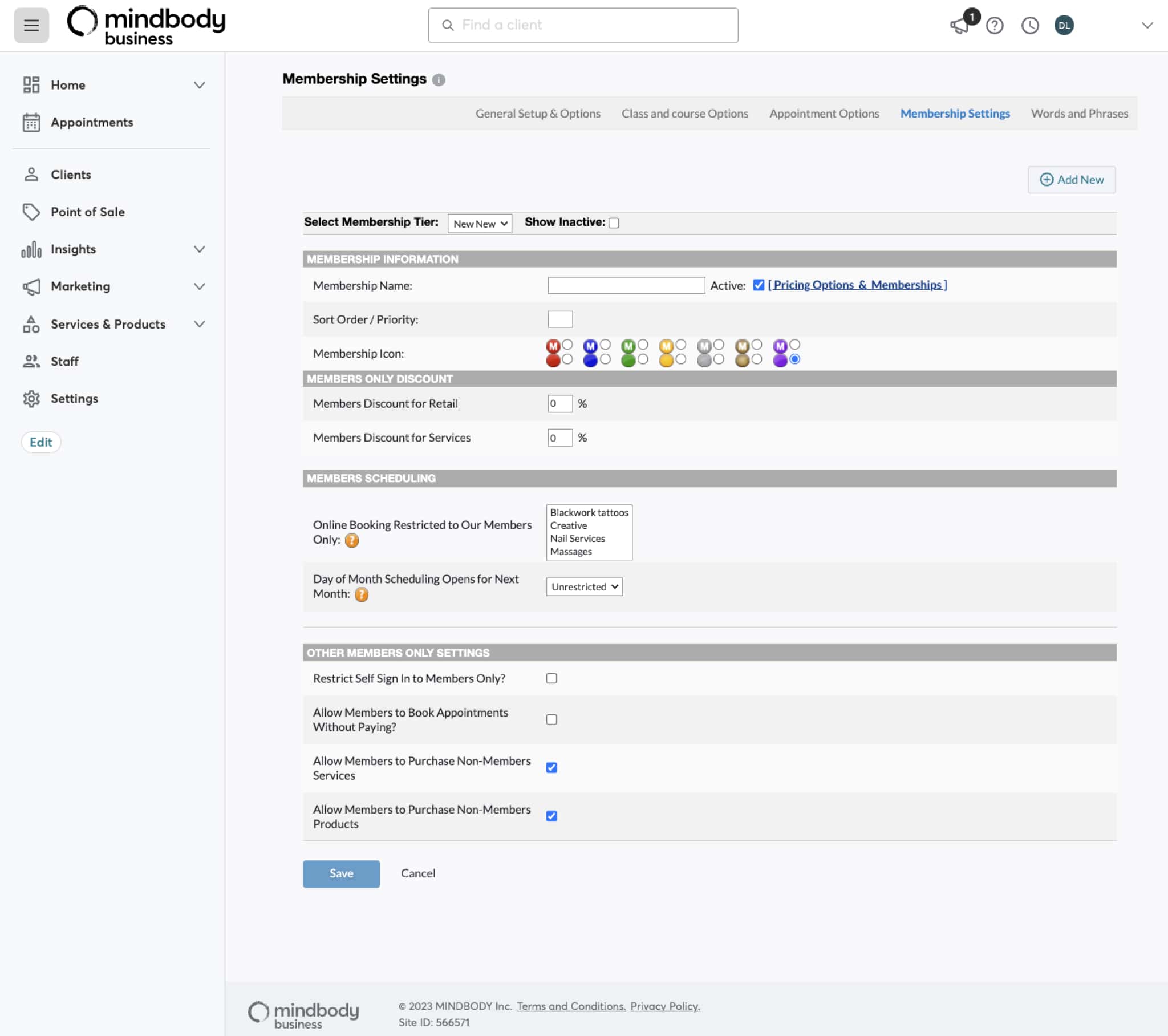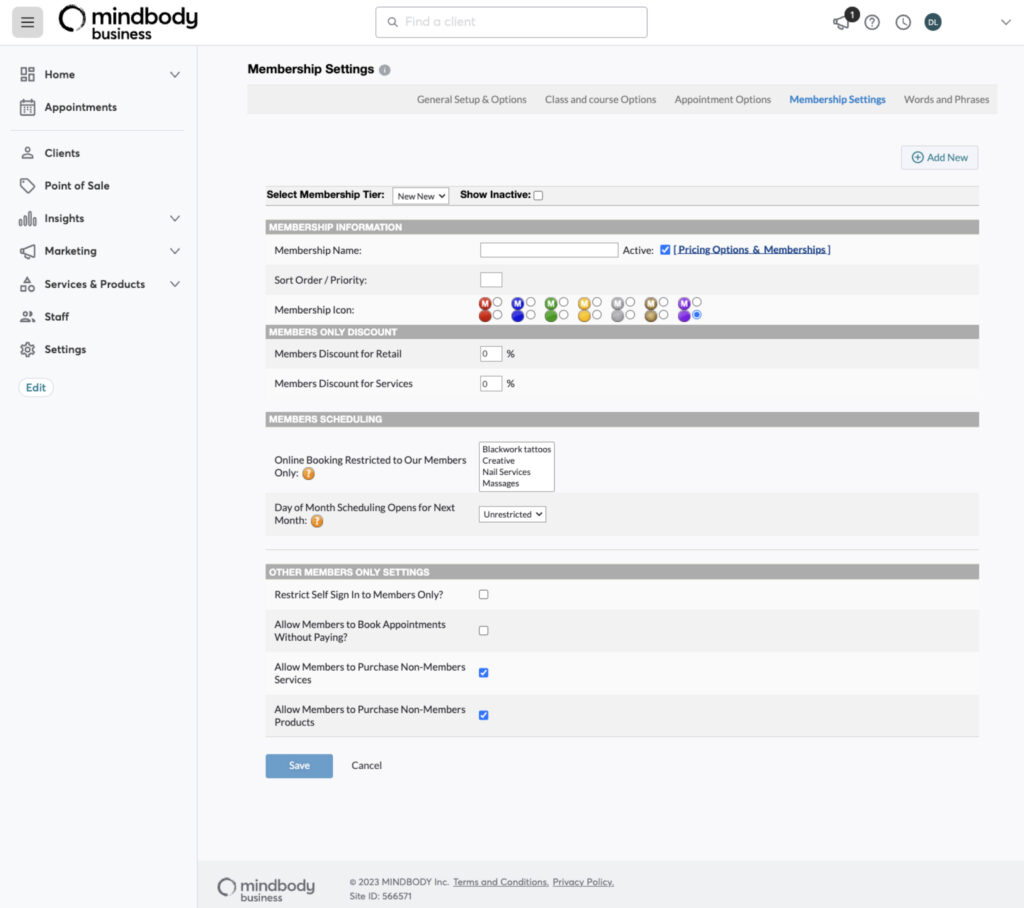 You can also specify products, services, and packages that may only be purchased or booked by members via the Membership Settings screen, as well as designate specific member pricing options.
Packages are available in Mindbody on Accelerate, Ultimate, and Ultimate Plus tiers and can be used to bundle multiple services, products, prepaid gift cards, and account credits.
Unlike Booker, a package in Mindbody can include services that will be rendered separately on separate days.
Mindbody Point of Sale (POS) Options
Mindbody Payments POS Hardware Compatibility
The optional integrated Mindbody Payments system is only compatible with the recommended WisePOS E desk terminal and Stripe Reader M2 mobile swiper (for a one-time $150 fee) or the P400 desk terminal and BBPOS mobile swiper (no longer offered through Mindbody).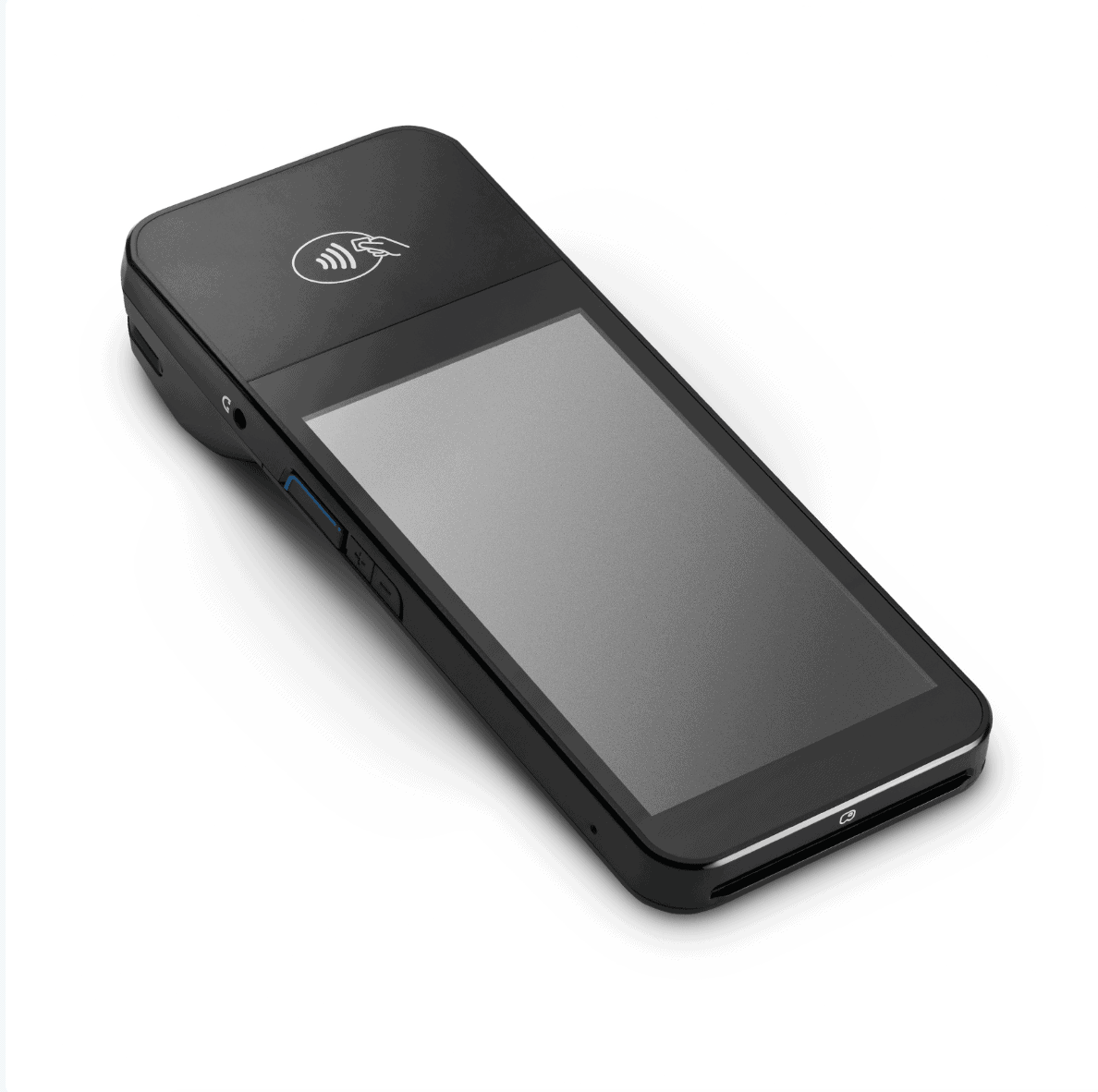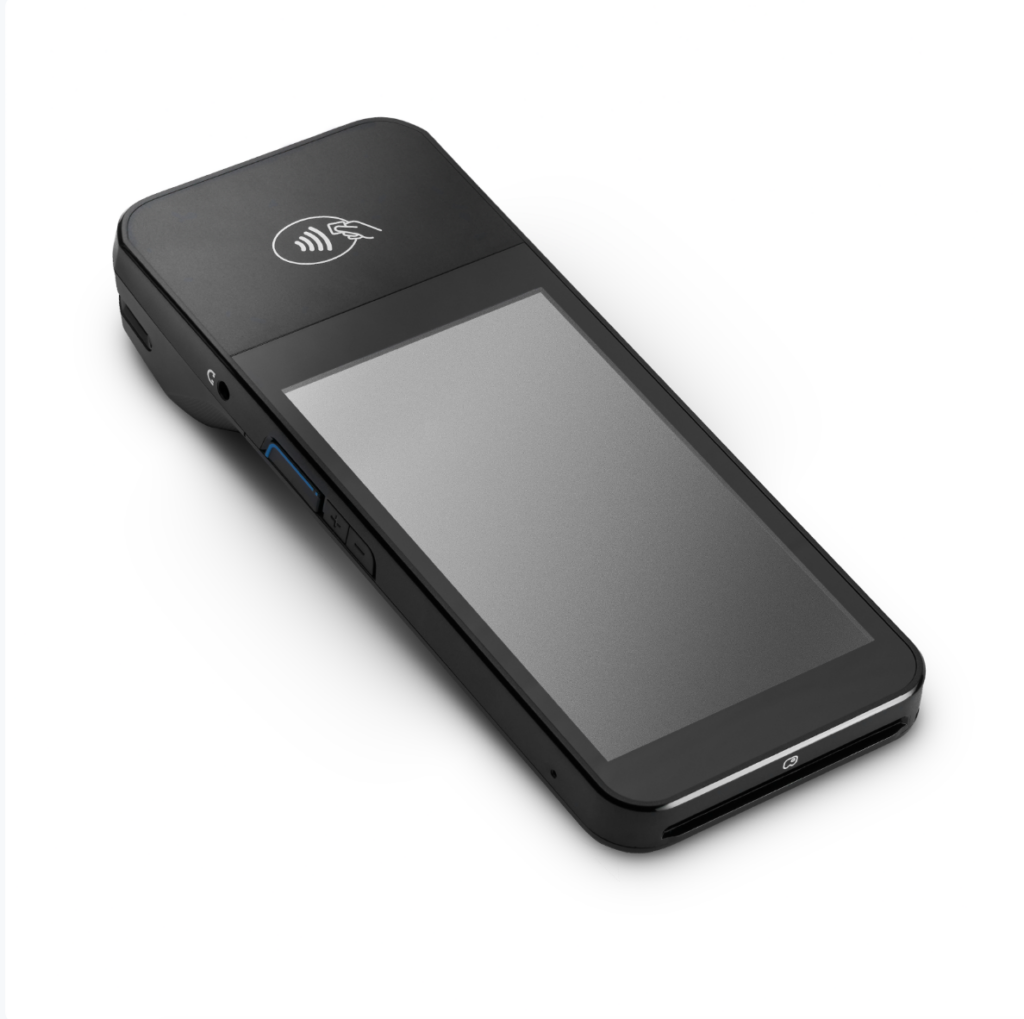 Which card reader can you use with Mindbody?
You can use some third-party POS & card reader devices with Mindbody; however, at the time of writing, a full list of compatible hardware is not readily accessible on the Mindbody website or its support pages.
Mindbody Mobile Booking App
The Mindbody Business app can be used to view and manage the calendar, book appointments, check clients in and out, create services, and more, and is available on iOS and Android.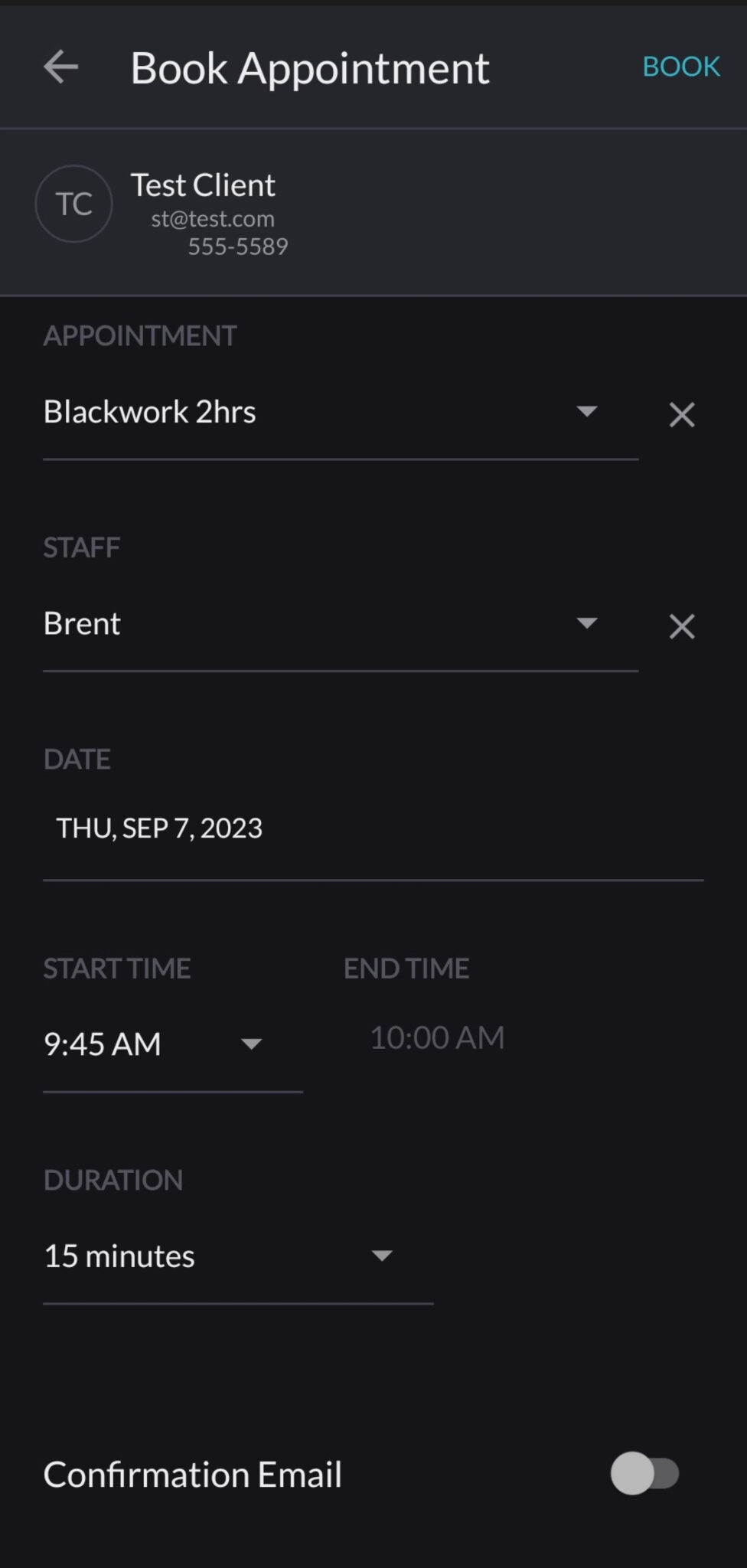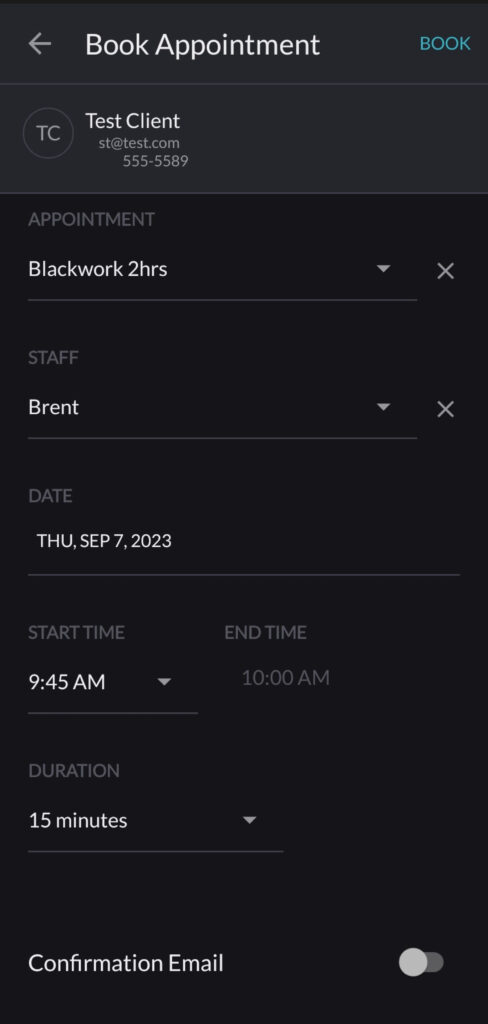 The app is a bit less full-featured than some of the other, more advanced mobile apps we've seen from competitors, and it functions more as a complement to the desktop experience rather than a replacement for it.
Mindbody Mobile App Reviews
Feedback on both the App Store and Google Play Store is mixed — though the aggregate rating of the app is relatively high, even a cursory look through the thousands of reviews will return a sea of largely 1-star ratings, citing slow, buggy, and error message-laden app experiences.
Mindbody Business has a user rating of 4.6/5 stars (with ~21,000 reviews) on the Apple App Store and a rating of 4.3/5 stars on the Google Play Store (with ~3,300 reviews) as of the writing of this article.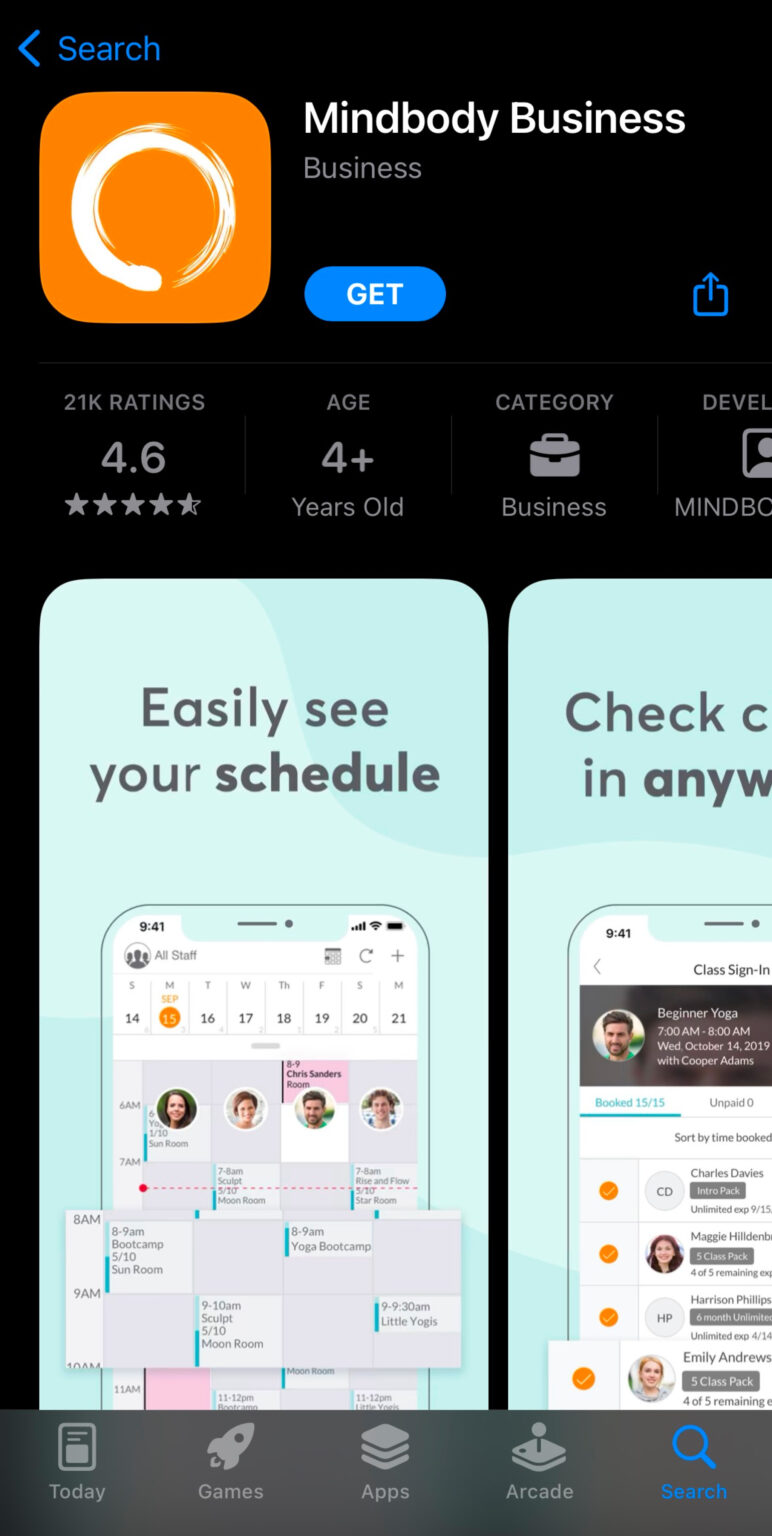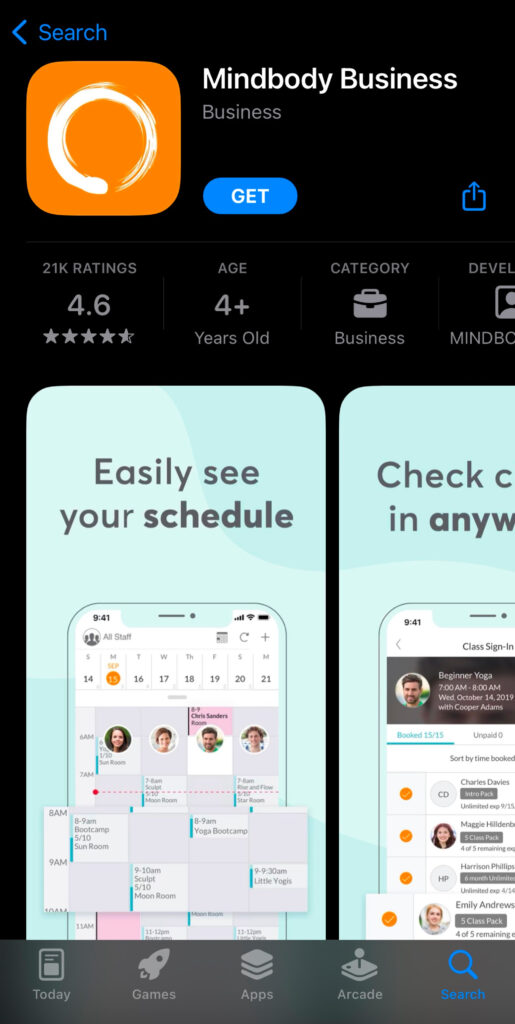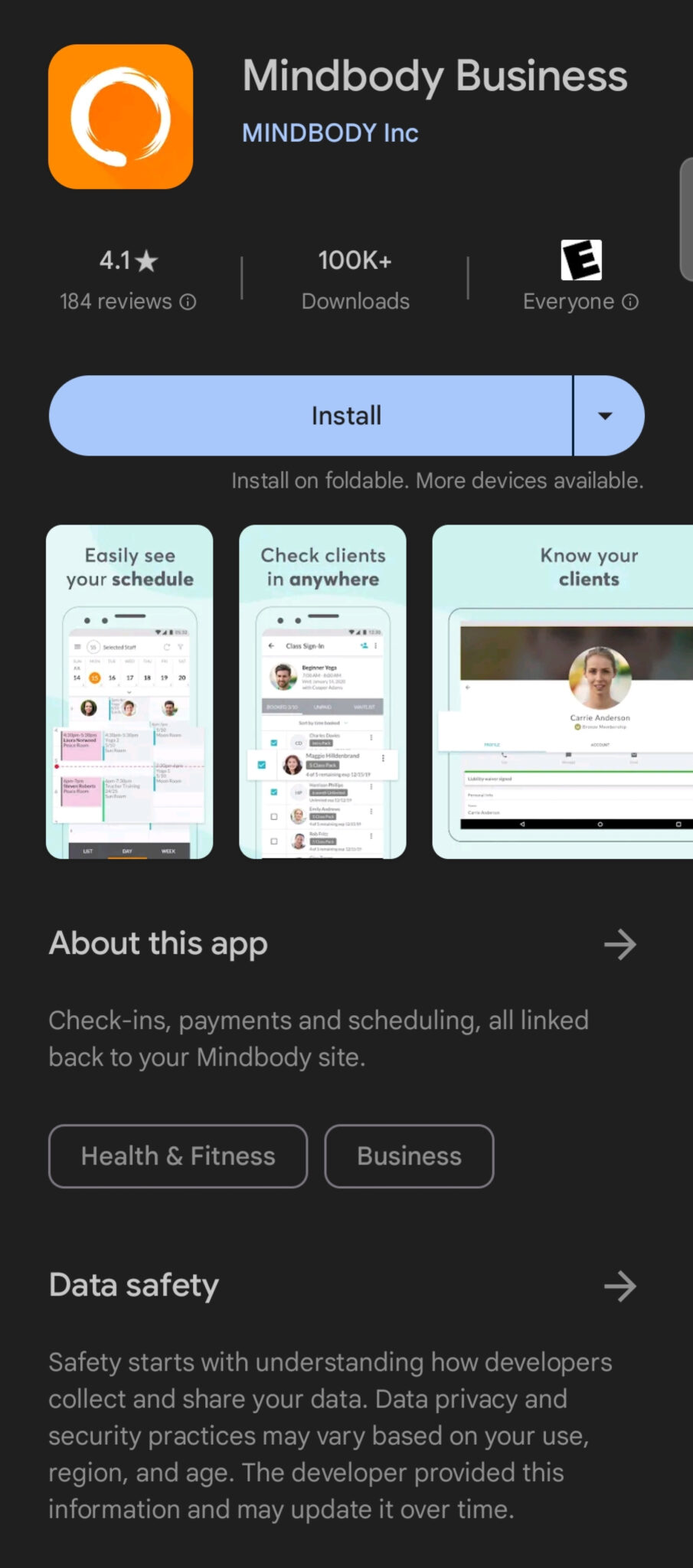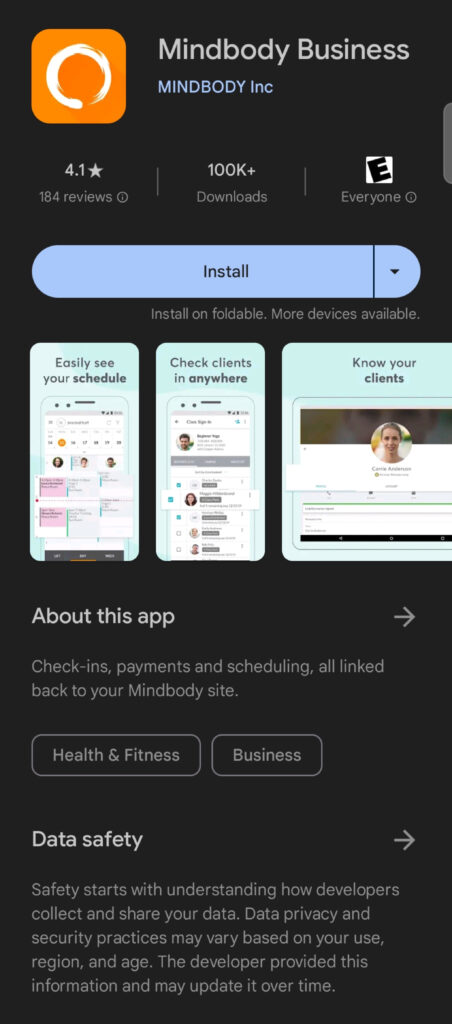 NOTE: The Google Play store displays different ratings and review counts on browser and in the Google Play Android app.

On Android, the Google Play Store app lists the rating as 4.1/5 stars with only 184 reviews, which differs from the statistics stated on desktop and listed in the paragraph above.
Many reviewers across both platforms cite the app as glitchy and lament the poor customer support experience they have received. Several reviews echo complaints that it is difficult to get in touch with the Mindbody support team, and many others accuse the sales team of bait-and-switch tactics — overpromising on features that are either not available or don't function as needed.
A bad review — on its face — should usually be taken with a grain of salt…
Many bad reviews come down to user error, misunderstanding, or negligence on the part of the reviewer.
It's only when there are many, many reviews that specify the same problems that those issues should be of concern.
In Mindbody's case, despite the average review score being as high as it is, I struggled to find the overwhelming ratio of five-star reviews in each app store — that is, until I searched back to the mid-2010s.
Once I got as far back as 2016, I started to see more and more and more positive reviews, those mostly positive reviews going as far back as 2014.
It appears that the app experience has either gotten worse over the years or service professionals and business owners have gotten more discerning in what they deem a good professional app experience.
Either way, there is a noticeable dropoff in review scores in the late 2010s and into the 2020s.
As with the majority of salon software mobile booking apps, negative feedback is more prominent on Android, with users citing random crashes, constant error messages, inability to log in, inaccurate appointment schedules, long periods of app downtime, and more.
These same issues are reported several times over the course of many years of reviews, indicating that—unfortunately—these bugs and glitches appear to be long-time known problems that have not received fixes for multiple years in some cases.
More than ever, service professionals rely heavily on their phones to conduct business and manage their schedules. The inability to manage appointments, check out clients, or even log in to the app is not an option for stylists and owners.
To echo my sentiments from the Booker review, for such a big player in the salon and spa software space in 2023, providing such a poor mobile app experience for business owners and service providers is simply unacceptable.
As with the Booker Mobile app, I would like to see Mindbody contribute considerable, dedicated effort to fixing bugs in their app and making meaningful upgrades to Mindbody's Business' functionality and stability.
Business owners who pay top dollar for Mindbody's premium-priced booking and management system deserve a tool that makes their experience in the salon easier rather than adding more work and frustration to their day.
Summary & Conclusion
If you made it this far, thanks for sticking around!
I sincerely hope you found this review of Mindbody helpful in your search for the right salon and spa software.
Now let's talk final thoughts:
Overall, Mindbody's desktop experience is functional but a bit messy and unintuitive.
Let's start with the good first:
As it was in Booker, Mindbody's Marketing Suite is one of the few major innovations to come out of the software in the last few years, and although it lacks the polish and design chops of some other software suites, it is a very useful tool to grow your business.
Likewise, Mindbody's marketplace is an incredible opportunity for new and growing businesses with a focus on new client acquisition. The visibility that Mindbody's marketplace offers for those businesses as an included perk is of considerable value and should not be glossed over.
However, despite Mindbody being one of the most mature and well-established options on the market, the software feels old, clunky, and a bit half-baked, especially for use in a salon.
I say that because while features for fitness and class-oriented businesses have bloomed within the app, those oriented toward helping salon and spa businesses succeed have seemingly not improved or expanded at all in several years.
And as a piece of software so long in the works, its user interface and experience are somehow even worse and less intuitive than that of its subsidiary (Booker).
Even simple actions within the app, like booking an appointment or checking out a client, are overly complicated and require several extra steps to accomplish — an issue that Booker has seemingly avoided with its more streamlined experience.
And I hate to sound like a broken record, but just as was the case with Booker, years of stagnation and a lack of innovation in salon- and spa-centric features make Mindbody very hard to recommend for salon and spa businesses in 2023…
But that's not to say that it isn't the right choice for any business.
If the marketing opportunities provided by the included Mindbody Explore marketplace capabilities could make a major difference in establishing or growing your clientele, an AI assistant to handle inquiries and help you schedule appointments around the clock could move the needle in filling your books, or the ability to book and sell educational courses is important to you, Mindbody might be a suitable option for you.
Request a demo of Mindbody here or check out our complete list of the Best Salon and Spa Software of 2023 and see how Mindbody stacks up to the best options on the market today.