Are you still searching for the scheduling software with the best salon marketing tools?
Then I have a strong alternative you're going to want to see.
The truth is, there are so many options out there now that it's getting harder and harder to figure out exactly which software is the right fit for your business.
Some of the smaller players are quickly gaining momentum and edging out the more established salon software companies in both features and support.
In this Boulevard review, I'll cover one of the more full-featured and growth-focused platforms for salons and spas.
I'll break down the pros and cons of Boulevard as well as look in-depth at the features available to you as a business customer on this platform.
To me, this is a pretty compelling salon software option, and will be one of the brands to watch this year.
Boulevard is just one of our handful of top salon and software picks for this year. To see our choices for the best salon software of 2023, check out our full list here.
So without further ado, let's get into the Ultimate Boulevard Salon Software Review.
Boulevard at a Glance
Boulevard is a modern, highly-advanced platform designed for appointment-based self-care businesses.
Their robust feature set is tailored to high-end salons, spas, med spas, barbershops, and other wellness businesses that want a premium experience for their clients and themselves.
This is supported by a solid base of core features we have all come to expect (POS, calendar scheduling, inventory, reporting, and online booking), as well as deeper features that expand that base and add some nice-to-haves for businesses.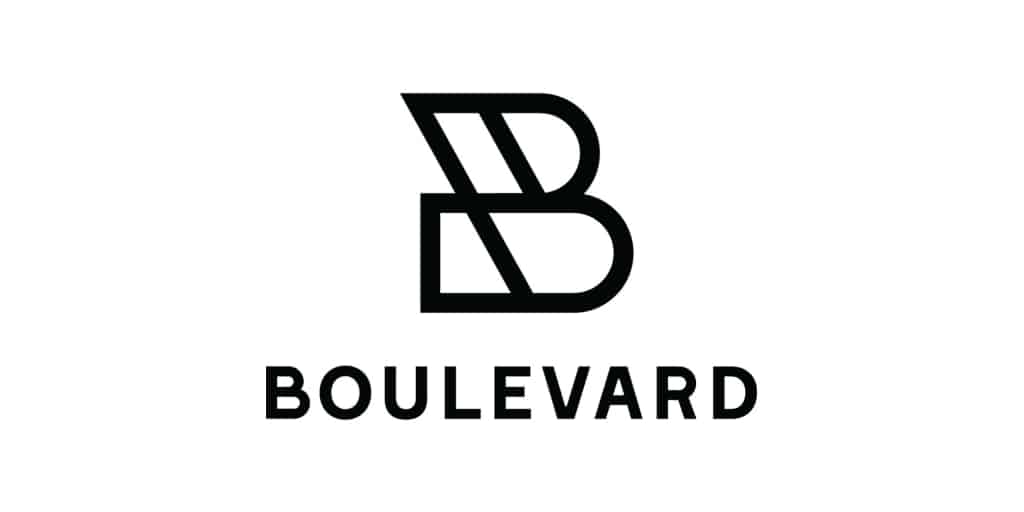 Overall Score
4.3
If you're the kind of business owner that isn't satisfied with relying on word-of-mouth to grow repeat clientele and brand-presence in your area, Boulevard might just be a good option for you.
That's because marketing is Boulevard's strong suit.
Boulevard's client management tools allow you to tag and analyze your clientele to gain valuable business insights about their visit frequency, shopping habits, social media, and more.
And Boulevard also allows you to put this data to work.
With the powerful integrated marketing suite, Boulevard enables you to create audiences based on your client data and quickly craft custom marketing emails tailored specifically to them.
Pair that with a whole host of integrations with other systems from Quickbooks to Instagram, and you've got a grab bag full of options to take your business to the next level.
Boulevard is my recommendation for salons, spas, and wellness businesses who want to leverage highly-detailed reporting capabilities and absolutely must have a built-in email marketing tool kit in their salon or spa management software.
Our Video Review of Boulevard
Boulevard Feature Review at a Glance
Ease of Use (4.5)
Design (4.5)
Appointment Management (4.5)
Online Booking (5.0)
Marketing Support (5.0)
Client Data Management (5.0)
Point of Sale/ Check-out (4.0)
Customer Service (5.0)
Inventory Management (4.0)
Business Reporting (5.0)
Team Management & Payroll (3.5)
Mobile Apps (3.0)
Pricing (3.0)
Review Summary
For a brand with marketing so luxurious, I didn't expect Boulevard to be so… utilitarian.
Honestly, I mean that as a compliment.
The interface is simple and easy to understand at a glance.
Schedules are laid out clearly on the calendar.
The Front Desk view is a big bonus for managing which clients are waiting, running late, or checked out with just a peek.
Beyond the basics, there are a handful of premium add-ons that further refine the business experience by expanding functionality of everyday tasks like client communication and accounting.
Boulevard's emphasis on providing a strong core feature set (POS, an integrated payments solution, online booking, detailed client data, and customizable reporting) is augmented by its useful add-on features to make it an attractive offering for growing businesses that are willing to invest some extra funds in a premium piece of salon software.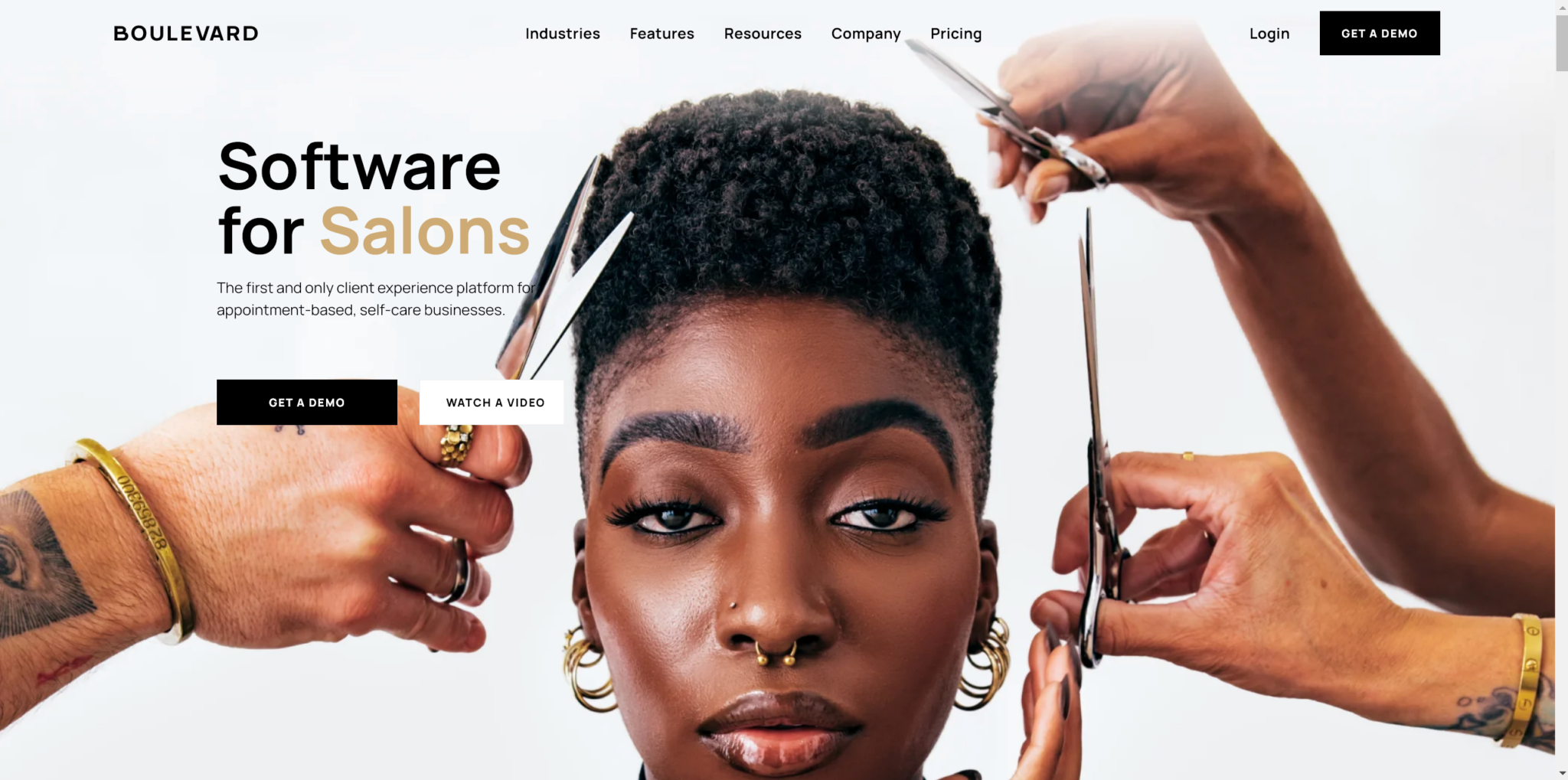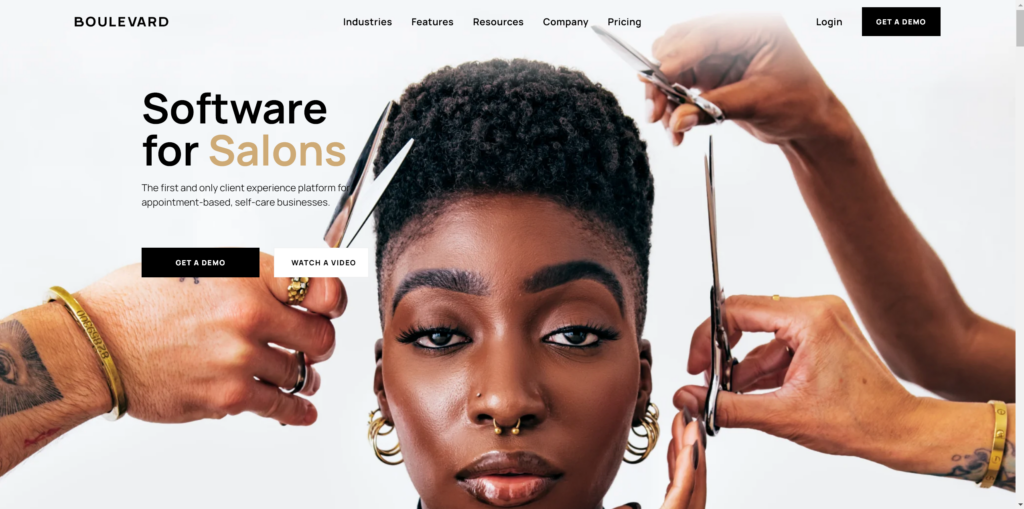 Boulevard really is the everything-and-the-kitchen-sink option for businesses that place a special focus on continued growth through web tools.
So, Is Boulevard the Best Salon Software for Me?
While Boulevard does offer an Essentials plan for smaller operations, I (and Boulevard themselves) don't recommend it.
To that end, it's pretty clear to me that Boulevard isn't the best option for everyone.
In fact, I wouldn't recommend Boulevard to solopreneurs and most smaller (<5 service providers) salons or spas.
At the $175 price point, there are several other options that make a better choice for smaller businesses with less staff and simpler operations.
The premium price-point paired with the inevitable incidental costs that come with onboarding, data migration, and other get-started fees make this a potentially cost-prohibitive option for those leaner businesses.
But that's kind of the point.
If you try to make your software for everyone, it's probably not the best choice for anyone.
Boulevard is positioned as a premium salon and spa software, and they want you to incentivize you to choose one of their more premium-priced plans.
Here's the thing: If you're going to charge premium prices, the software and service you offer needs to warrant it.
That's not to say that Boulevard is a bad choice – just that there are some major areas for improvement that need to be addressed to bring the experience up in line with the price.
For starters, the Professional app on iOS and Android needs a lot of work. Reviews are middling on iOS and outright poor on Android. The experience is buggy and just plain not in fitting with Boulevard's premium marketing and price-point.
Likewise, Boulevard's higher-tier plans are aimed at owners with larger teams and successful businesses, yet the process of setting up even a few staff members with permissions, assigning them schedules, and enabling them to perform services is tedious and frustrating.
If you do choose to go with Boulevard, I would recommend one of their higher tier options so you can take full advantage of the unique specialties the software has to offer, provided you can afford it.
Ok, down to brass tacks.
Boulevard is a good choice for established beauty and wellness businesses with several service providers who want flexible reporting options and need an all-in-one marketing suite baked right into the software.
Boulevard is just one of our many top salon software picks for this year. To see our full list of the Best Salon Software of 2023, check it out here.
Likewise, the sky's the limit when it comes to how far you can go with Boulevard's tools, if you're willing to invest the extra funds.
Their custom Enterprise plan offers some high-tech developer tools for large, multi-location businesses, as well as a dedicated customer success manager to help take advantage of them.
If that sounds like the kind of white-glove service you need for your business, then you may have just found the right software to manage your operations.
Pros
Easy-to-use interface
Excellent online booking
Client data that you can actually use to boost client retention and sales
Can integrate with a large number of third party applications
Integrated payments through Duo
Memberships, packages, & gift cards (physical & digital)
Waitlist capability (clients can add themselves)
Precision Scheduling™ tech to fill the best gaps on the calendar first
Highly detailed custom reports [on Premiere and above]
Two-way texting & Caller ID available as a paid add-on
Well designed & easily-searchable help center
Integrated email marketing suite
Cons
High price-point across all plans
Essentials plan lacks many of the best features Boulevard offers
Optional Offset feature may be controversial for some businesses
Boulevard Professional mobile app is buggy & has low ratings on iOS & Android
Enabling services for staff members is needlessly tedious
Scheduling employees could be more intuitive
Marketing suite can't differentiate between bookings resulting from emails vs other factors
Lacking support for third-party POS card readers
My Top Salon & Spa Software Alternatives
Here's my salon & spa software top list for 2023.
To see more alternatives, visit my complete list of salon and spa software recommendations here.
Boulevard User Ratings
Boulevard is a relatively new player in the salon software space, compared to more established last-gen software platforms such as Mindbody, Booker, and Daysmart (formerly Salon Iris), but has garnered high scores from major user review websites since its launch in 2016.
Capterra: 4.6 stars (272 reviews)
Boulevard is edging out veterans like Mindbody (4.0), Booker (4.1), Daysmart (4.3), and Salonbiz (3.9), and even inching ahead of competitors like Zenoti (4.4) and Meevo (4.3).
However, contemporary offerings like Vagaro (4.7), Acuity (4.8), and ratings-leaders Fresha (4.9) and Mangomint (4.9) are taking the top spots on Capterra's 2023 rankings.
G2: 4.1 stars (55 reviews)
As of Summer 2023, Boulevard is currently in 10th place on G2's list of Highest Rated Spa and Salon Management Software, beating out big names like Mindbody, Phorest, Vagaro, and SalonBiz, but is still trailing well behind the highest-ranking competitors like Zenoti, DaySmart, and Mangomint.
Software Advice: 4.55 stars (220 reviews)
Boulevard is currently in 14th place on Software Advice's Salon Software Front Runners list for 2023, beating competitors Square (4.43), SalonBiz (3.85), and Daysmart (4.11), but trailing behind competitors like Zenoti (4.43), Fresha (4.89), Meevo (4.26), Glossgenius (4.6), Vagaro (4.71), Acuity (4.78), and category-winner Mangomint (4.93).
Boulevard Pricing
Boulevard Monthly Plans
Boulevard is squarely aimed at providing a premium experience for your guests, with a price point to match. For businesses that want to give that luxury experience online and in-store, Boulevard has a range of subscription options.
Here's an overview of all costs you can expect with Boulevard.
Essentials
Boulevard's entry-level plan – starting at $175 per month
Online booking with Boulevard's Precision Scheduling™ tech
Business dashboard
Integrated point of sale and Duo POS App (requires an iPad and card reader to check out clients)
Client profiles (with the ability to "tag" clients as VIPs, loyal clients, etc.)
Basic reporting
Professional app (Boulevard's mobile appointment and client management app)
Email confirmation and text reminders
Their most affordable Essentials plan starts at $175 per month, and is described as providing "foundational features for small businesses with simple operations."
Included is online booking powered by Boulevard's Precision Scheduling™ technology, access to the business dashboard, integrated POS and access to the Duo App for payment processing at the front desk, as well as the Professional mobile app for access to Boulevard's scheduling features on the go.
Basic reporting is also included, along with email confirmations and text reminders.
Premier
Boulevard's most popular plan – starting at $325 per month
Manage check-in, walk-ins, and groups in the Duo app
Inventory support (purchase order processing and prepaid product units for services like injectables)
Multi-merchant transactions (for splitting payments between service providers and the business)
Resource scheduling (allows you to assign rooms and professional tools to services)
Booking deposits
Custom reporting
Boulevard's Premier tier is quite the step up in both functionality and cost. Demanding a hefty 85% price increase at $325, Premier also bundles in the ability to manage check-in and walk-ins right from the front desk iPad via the Duo app, as well as the ability to create and receive purchase orders in the software.
Multi-merchant transactions are also supported, allowing your business to direct payments to individual DBAs and simplify your accounting at the end of the quarter.
Perhaps the most significant upgrade Premier offers is Resource Scheduling – a must-have feature for busy salons, spas, and wellness centers that offer a variety of services that require the allocation of rooms, tools, beds, baths, saunas, or machines.
Important Note: Premier bundles in the ability to take deposits at the time of booking, a feature that Boulevard's Essentials plan does not include.
Prestige
Boulevard's upper-tier plan made with marketing in mind – starting at $455 per month
Forms and Charts add-on included (normally priced at $55 per month per location)
2,500 free text messages per month, per location
10,000 free emails per month, per location
Your own dedicated Customer Success Manager
The upgraded Prestige tier comes with everything you get on lower tiers and bundles in Boulevard's Forms and Charts add-on as well as 2500 free text messages per location per month through the Contact Center, 10,000 free emails per location per month for one-off marketing email blasts, and a dedicated Customer Success Manager.
This plan is decidedly extra, but its marketing suite features paired with the Forms and Charts add-on make it a good fit for thriving spa and wellness businesses that are focused on continued growth and brand-building.
The dedicated Customer Success Manager may seem like a bit of a hat-on-a-hat, but you might be grateful to have one available should you run into issues with the software down the road.
Enterprise
Boulevard's custom plan for chains and franchises – pricing is custom
Multi-location management tools
White-labeled experiences
Enterprise-level integrations
API access
Webhooks (web tools that allow your synced apps to communicate automatically)
If your business has several locations and/or is a franchise that requires even more customization, the Enterprise plan is intended for you.
The Enterprise tier includes everything we've talked about above, with added multi-location management tools, API access, as well as webhooks and what Boulevard refers to as "enterprise-level integrations" to ensure that your other business apps can communicate with Boulevard and sync your most important data.
While this plan is only for larger-scale multi-location operations, its offerings are—at least on paper—seemingly impressive and technologically advanced.
Whether these features are actually on par with what businesses of this scale truly need is beyond the scope of this review, but let's be honest: If you're running an organization of this size, you probably already know if it's the right plan for you.
Boulevard POS & Credit Card Processing
Boulevard encourages new customers to take advantage of their integrated Boulevard Payments™ platform. With it, businesses can store cards on file, checkout via the dashboard or iOS Professional App, set up multi-merchant accounts, and utilize the Offset feature.
They also encourage users to purchase and use the Boulevard Duo payment hardware — an EMV-certified Bluetooth card reader that connects to your POS via an iPad and the Boulevard Duo iOS app and can accept payments via dip, tap, swipe, Apple Pay and Google Pay.
Without the Duo card reader, processing credit card transactions requires a bit more complicated and time-consuming to set up, and reporting to reconcile transactions becomes a more labor-intensive endeavor as well.
For a closer look at the best salon POS and credit card processing options available right now, take a look at our list of the Best Spa and Salon POS Systems and check out the Best Credit Card Processors for Salons & Spas.
Boulevard's Offset feature allows you to push the majority of the transactional cost to your clients that use credit cards. Essentially, 3% of any transactional cost will be charged to your clients, and your business takes on only 1%.
Boulevard claims that the Offset feature saves their average customer $9,600 a year, but obviously that figure will vary depending on the volume of your business and the percentage of your client base that uses cash vs cards.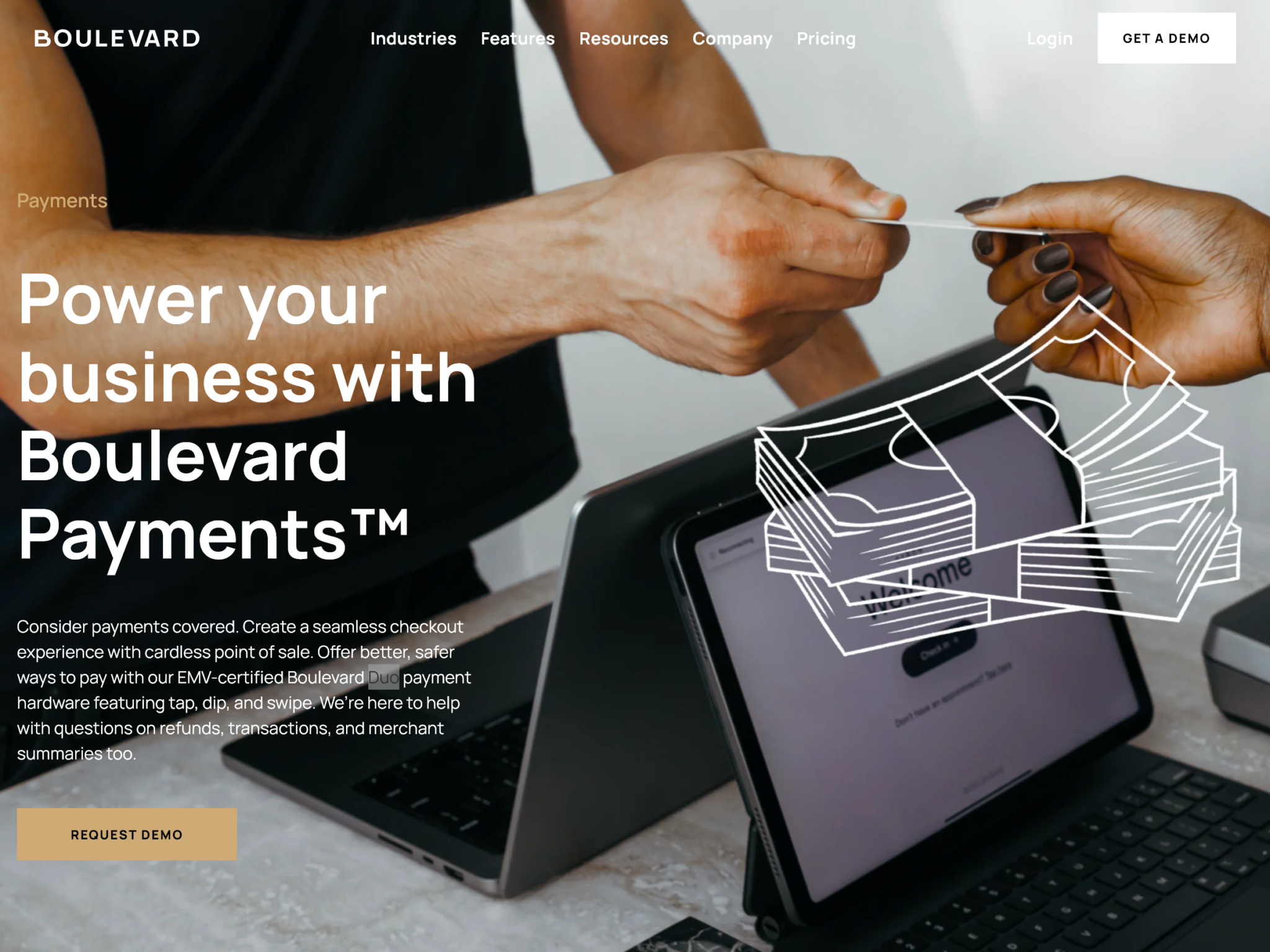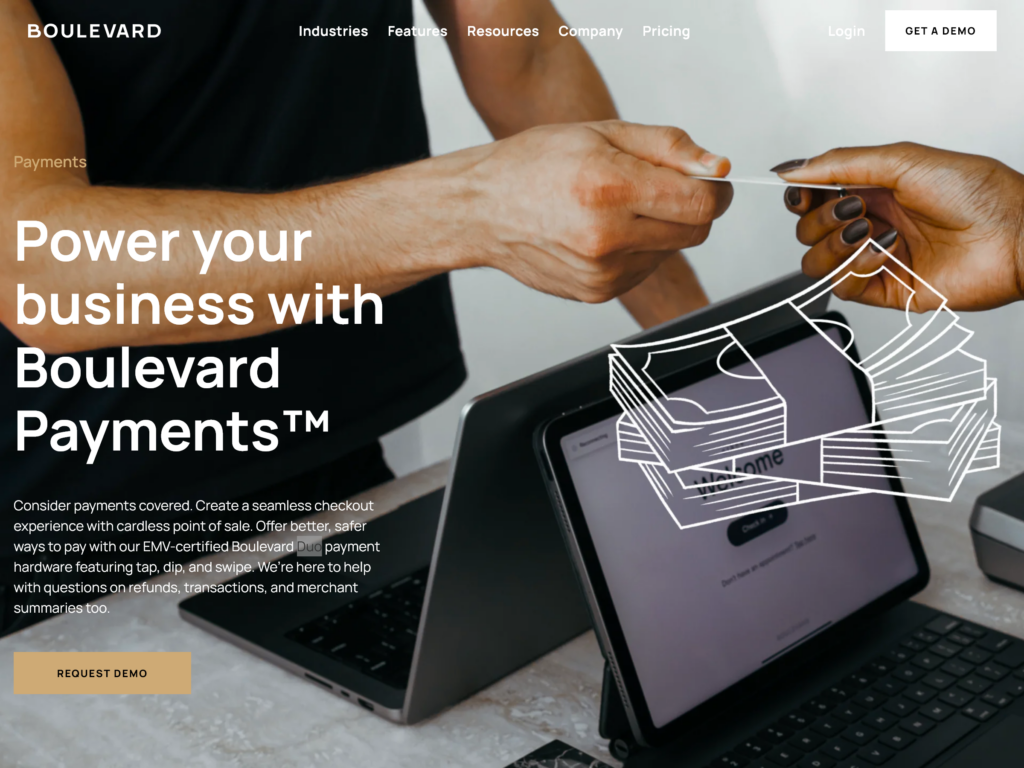 Boulevard markets Offset as a pro-business feature that falls in line with what many restaurants and concert venues are already doing. Essentially, they see charging each client 3% of their service fee as a more reasonable alternative to the business footing 3-4% for every credit card transaction.
Some businesses may be uncomfortable with charging additional costs that could be viewed by clients as "hidden fees." There has been some back and forth over the years on the legitimacy of cash-discounting in the industry, and some businesses refuse the practice altogether on either moral or legal grounds.
That said, Offset is an optional feature, and customers can choose to go with a more standard credit card processing scheme.
Credit card processing rates listed below are what customers can expect if they decide to forgo Boulevard's Offset feature.
Per a Boulevard sales representative, credit card processing rates without the Offset feature are as follows:
In-person transactions: 2.6% + 10¢

NOTE: Boulevard's pricing page lists a higher starting fee of 2.6% + 15¢ (with volume discounts available)

Virtual transactions: 3.5% + 10¢
Duo EMV-certified Bluetooth card-reader: one-time purchase of $149
Premium Add-ons
Boulevard also offers premium add-ons and integrations that are designed to enhance client communication, make accounting easier, and bolster your business's marketing efforts.
Forms and Charts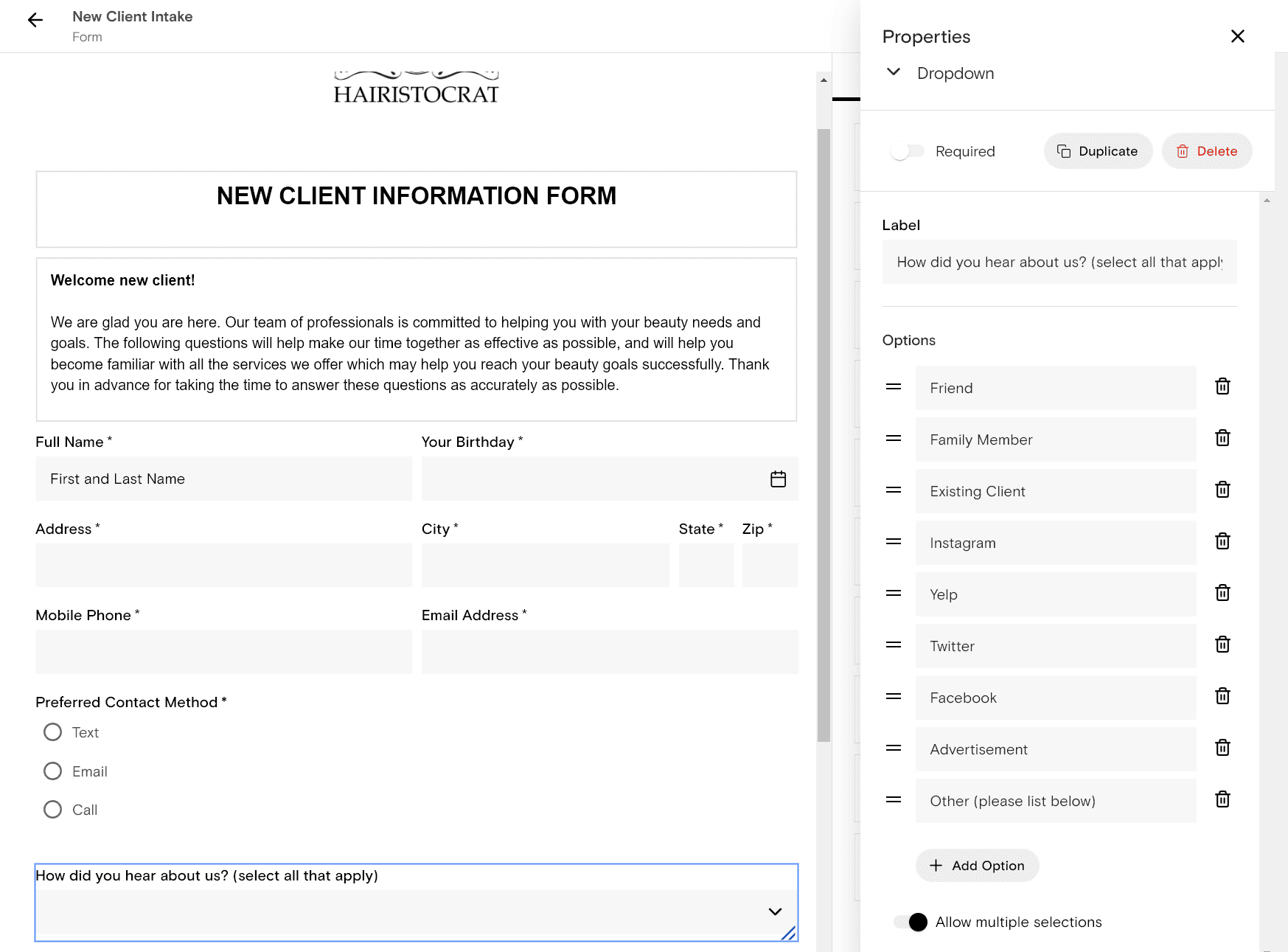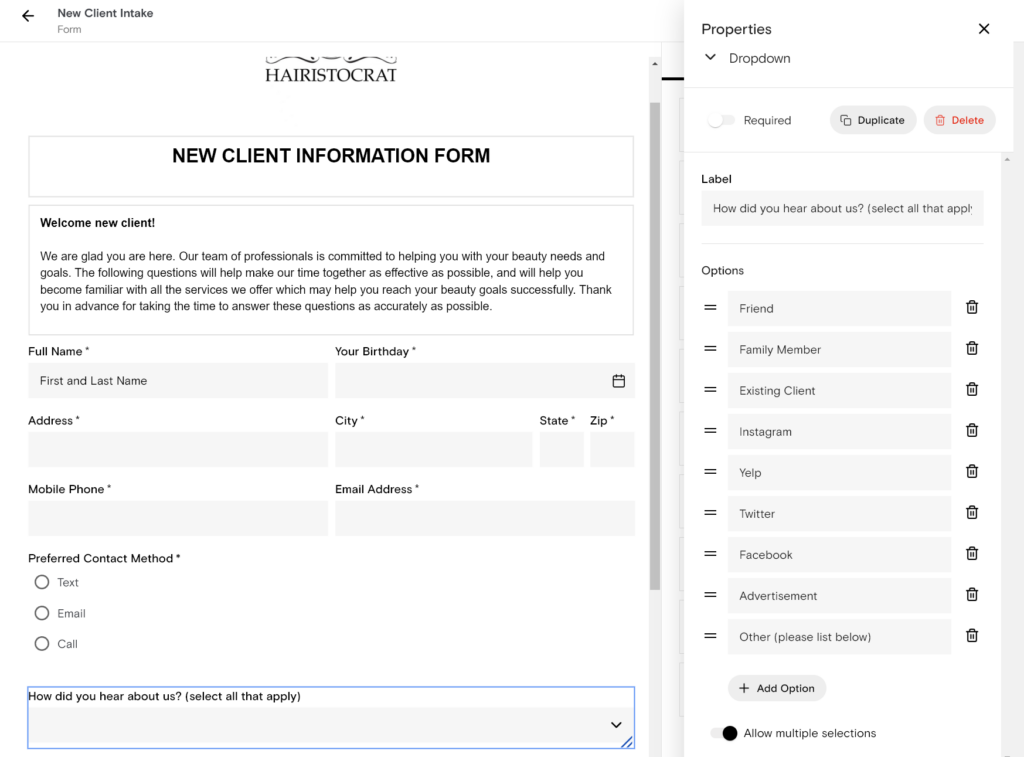 Customizable digital client intake forms, SOAP notes, and more.
Priced at $55 per month per location
Drag and drop form builder
Create and customize unlimited forms with your logo and branding
Forms can be saved to client profiles for easy access and editing
Contact Center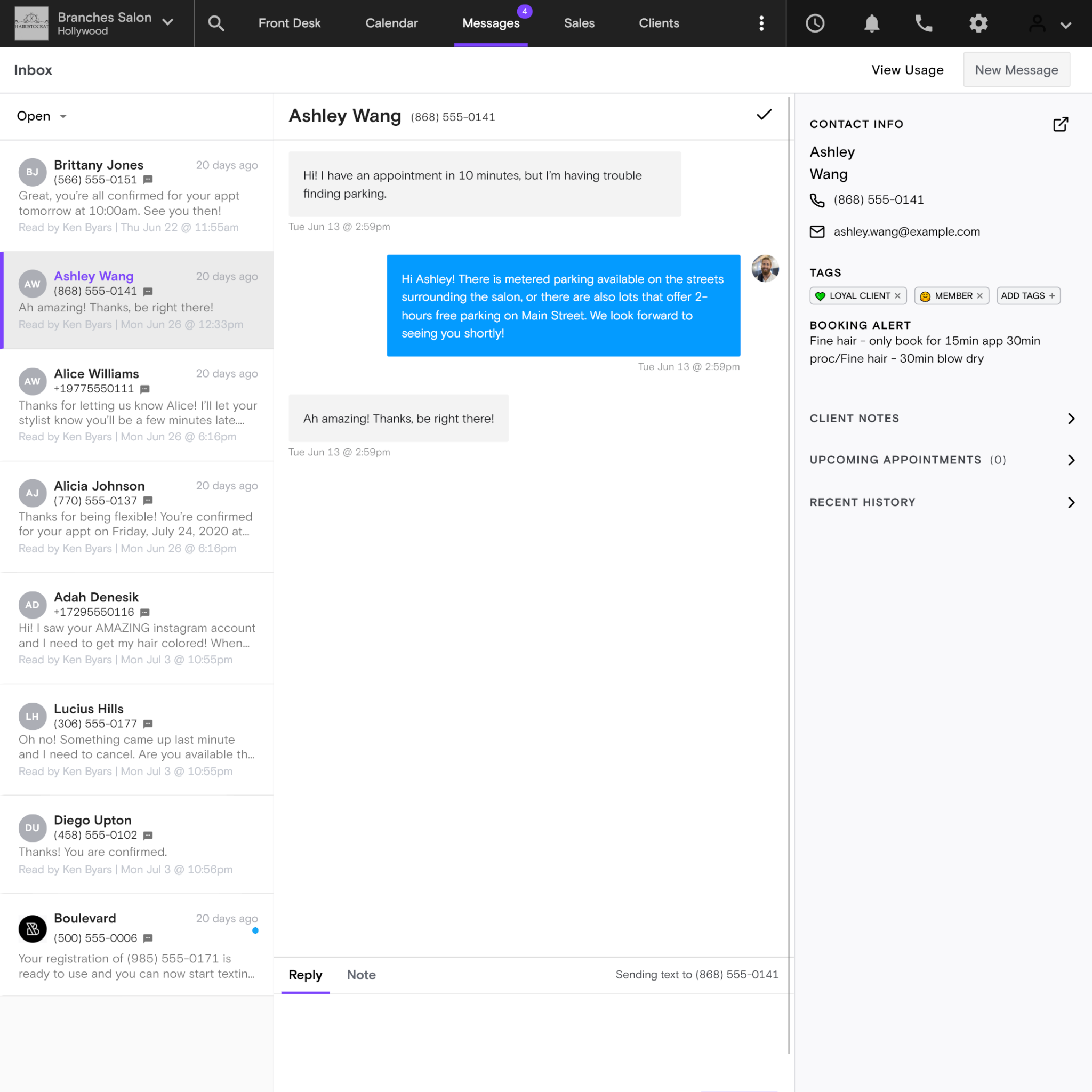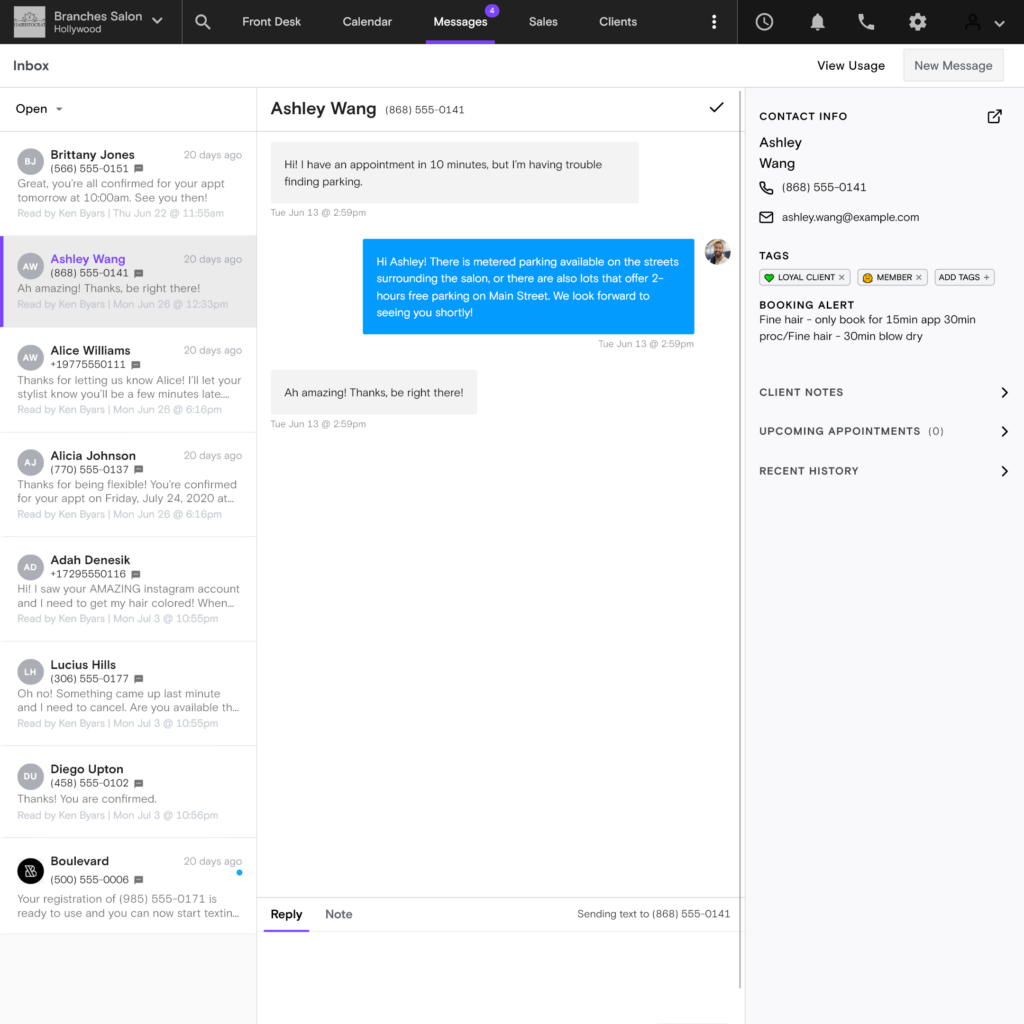 Integrated two-way texting, dedicated custom booking line, and Caller ID features.
No setup fee
Starting at $25 per month per location
Price based on the number of texts you send per month:

Up to 500 texts per month: $25
501-1,000 texts per month: $40
1,001-2,000 texts per month: $60
2,001-3,000 texts per month: $80
3,001-5,000 texts per month: $120
5,001-7,000 texts per month: $150
7,001-10,000 texts per month: $200
More than 10,000 texts per month: $250 + $50 for every additional 5,000 text segments

2,500 text messages per month per location included with Prestige plan
QuickBooks Integration
Connects with your Quickbooks Online software to sync sales and payment data.
Listed at $45 per month per location according to the pricing page, however Boulevard's Integrations page states "no additional charge for using the integration"
Automatically syncs your sales and payment settlement data each night
Option to map individual sales categories to different accounts in QuickBooks
Automated Email Campaigns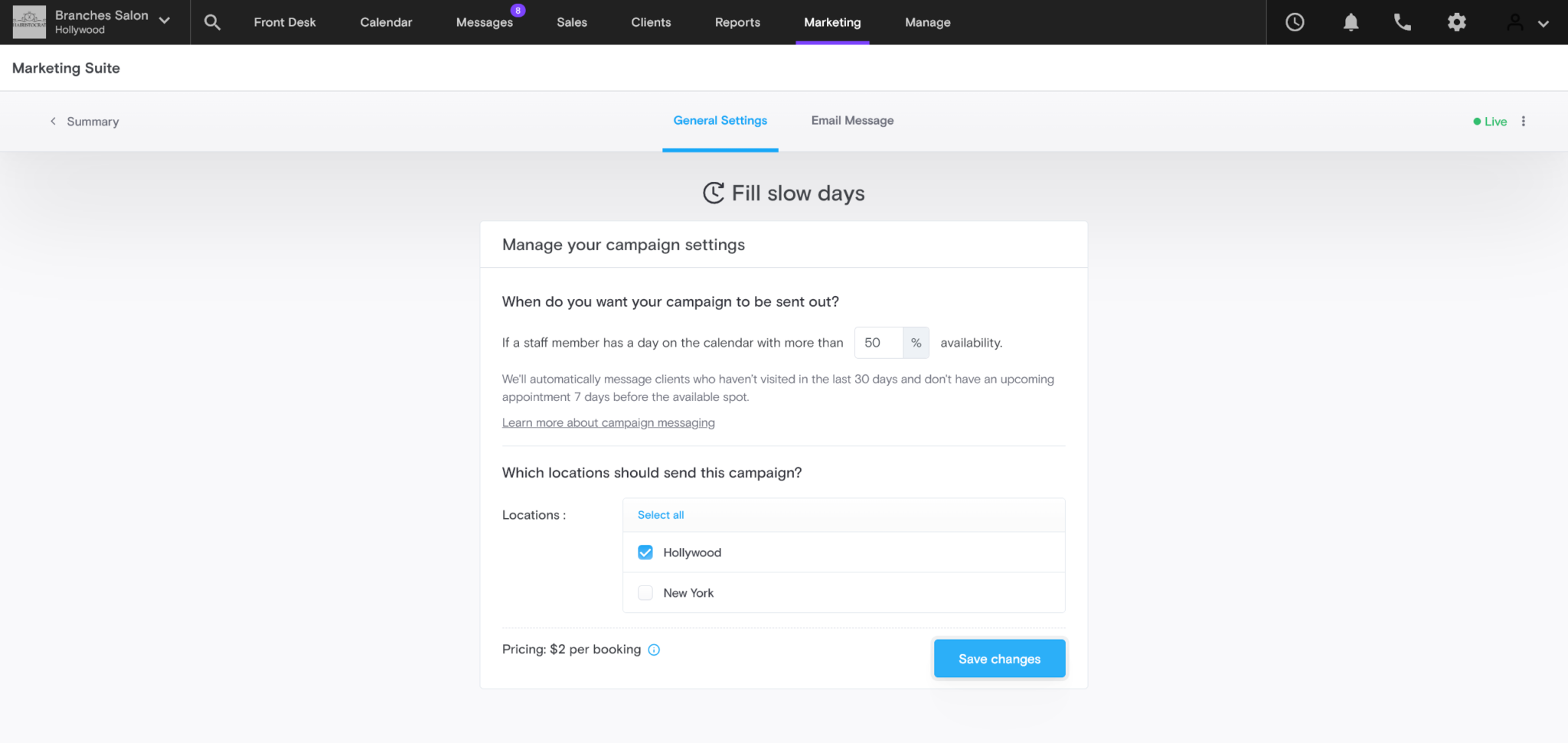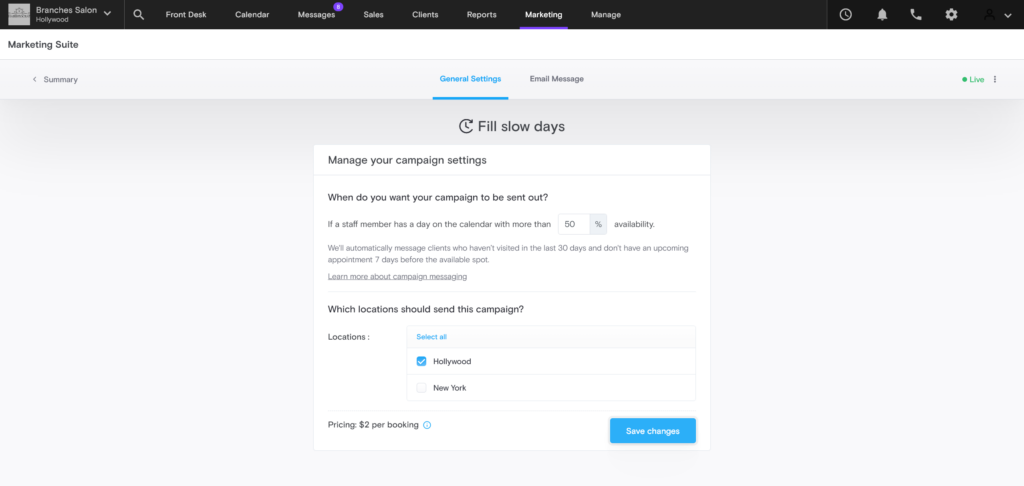 Priced at $2 per completed appointment
Appointments booked within 7 days after an automated email is received by a client are attributed to the email and a charge is applied.
One-Time Blast Emails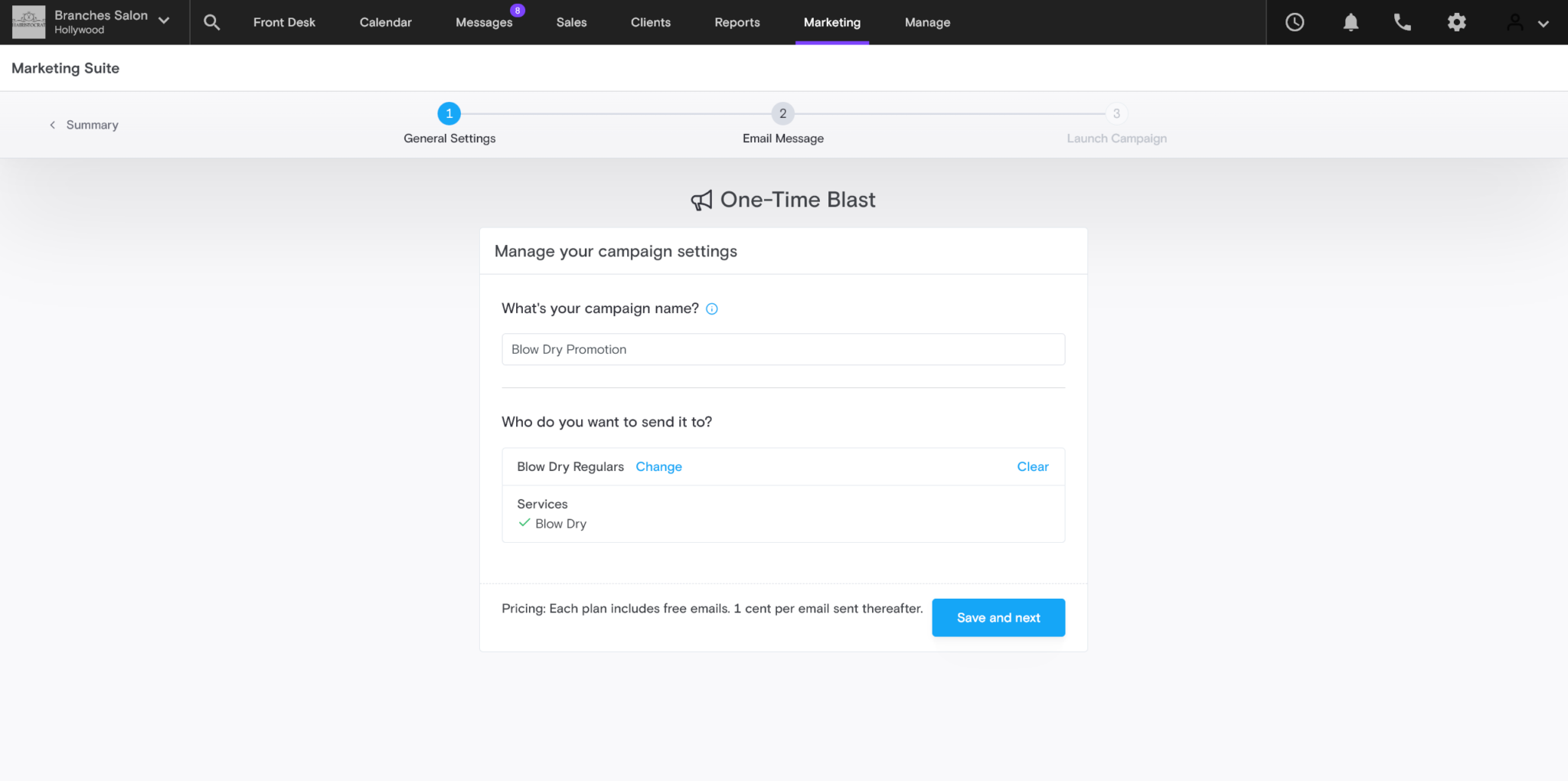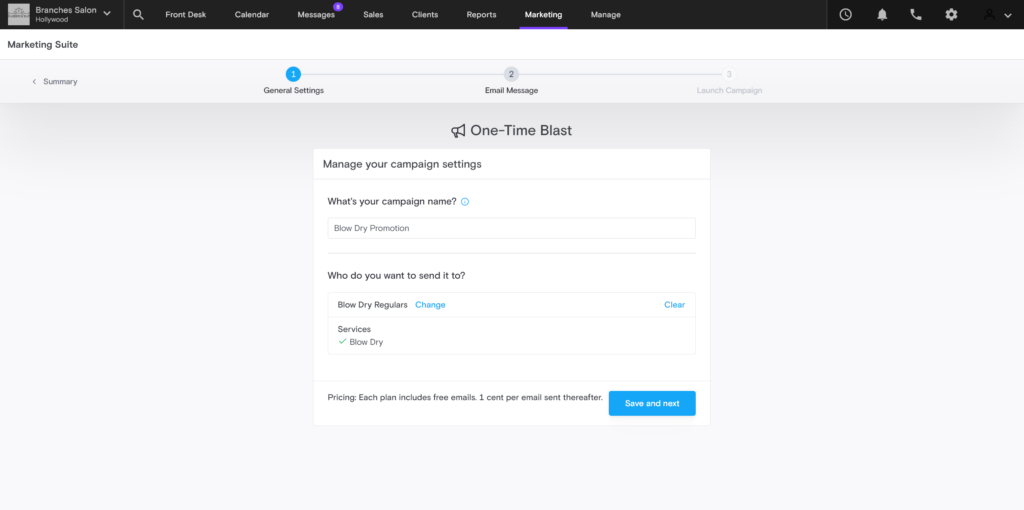 Each plan comes with a specific number of free emails per month per location

Essentials and Premier: 500 free emails per month, then $0.01 per email thereafter
Prestige: 10,000 free emails per month, then $0.01 per email thereafter
Enterprise: Custom pricing
Other Costs
As with any salon or spa software provider, there are additional costs associated with onboarding and additional hardware or materials.
For instance, an iPad is required to use the Duo card reader and application, which will be an additional cost if you do not already own one.
Boulevard notes in its help center that an iPad Mini is currently not compatible with the Duo app, however on the POS and Payments page, Boulevard states that any iPad running iOS version 13 or later should be compatible.
Currently, Boulevard's onboarding fee is listed at $495 (for a single-location business). As with all pricing, this fee is subject to change at Boulevard's discretion.
If you are coming from another software platform and wish to import your client data, services, products, staff profiles, and appointments, Boulevard offers a couple options:
Full Data Import
If you are able to get admin access to your old platform, you can share that with your Boulevard representative and their team will handle an full data import.
Priced at $895
May require admin access to your old salon software platform
White-glove option
Offers the smoothest transition to the new system
Excel / CSV Data Import
If you don't have admin access to your old system or only wish to pull basic information from your previous platform, you can export spreadsheets from that system and your Boulevard representative can import that data into Boulevard.
Priced at $295
May not require admin access to your old software
Can bulk upload services, products, and staff profiles
Requires you to manually enter appointments and appointment notes
View full pricing information on the Boulevard website.
Who is Boulevard Salon & Spa Software For?
I recommend Boulevard to salon and spa owners who run a well-established beauty and wellness business, employ at least five service providers, want detailed custom reports, and who also need built-in email marketing support.
Solopreneurs and smaller businesses with only a handful of service providers are very likely not a good fit and may find that the high price of entry and deep feature set aren't a good match for leaner operations.
Which Countries is Boulevard Available In?
Boulevard is currently only available to salons, spas, med spas, barbershops, nail salons, and other self-care and wellness businesses in the United States.
Their team has stated that their focus is currently on perfecting their offerings in the U.S. market before expanding to other territories.
Switching to Boulevard
If you're considering Boulevard as an option, you will have to jump through a couple hoops before you can try it out.
Unfortunately, there's no free trial available online and no way to try out Boulevard without first requesting a demo, scheduling a call, and talking to a live person to get access.
Essentially, the only way to get into to the software is to request a demo on their website and then be vetted by an account executive.
Once you submit your request online, you'll get a phone call to gather details about your business and an email to schedule a demo of the software over Zoom.
After the demo, if it seems like Boulevard is a potential fit, your account executive will share a link to a trial account populated with demo data that you can use to test out the functionality of the software.
Over the course of the following few weeks, you can test out features, book appointments, run reports, and see if you like what Boulevard has on offer.
If you decide to sign up with Boulevard, you will need to sign a 12-month contract, meaning you're locked in for at least a year.
Boulevard also offers data migration from your old system for a fee.
As long as you can share login access to your old software or export your data in a CSV or Excel spreadsheet, your account executive should be able to coordinate getting that data into Boulevard.
Depending on when you sign up, there may be some incentives to get you started.
As with any salon software company, their sales team has targets to hit, and you might be able to score some sign-on benefits if you are trialing Boulevard around the end of the month.
Boulevard Software Features
The remainder of this article will walk you through a detailed look at the features and tools offered by Boulevard. The intent of this review is to allow you to experience what it's actually like for your business as a Boulevard customer and to better understand if the platform offers the tools and support you need to grow and succeed.
You can use the links below to navigate directly to the topics that are most relevant to you.
Integrations
Boulevard Apple Calendar & Google Calendar Integration:
We've all run into that scenario: You've scheduled an errand on a workday, but you've forgotten to block it out on your salon scheduling software. Next thing you know, a client has booked that spot and you're stuck with a hard decision.
This integration helps solve that problem.
Boulevard offers 2-way calendar sync with your personal Apple Calendar or Google Calendar.
Whenever an event is created in your synced personal calendar, that time block will automatically be marked out as a personal block on the synced Boulevard calendar, preventing clients from booking during that time.
Boulevard Facebook/Instagram Book Now Integration:
This is a genuinely cool integration.
Social media has never been more important for beauty businesses. Ensuring potential new clients have easy access to book with you can be a game-changer when it comes to growing your client list, revenue, and reputation.
With Boulevard's Facebook Book Now integration, you can add a "Book Now" button to your Facebook business page (as well as your Instagram business page) that will launch your self-booking overlay where clients can get their appointment on the books.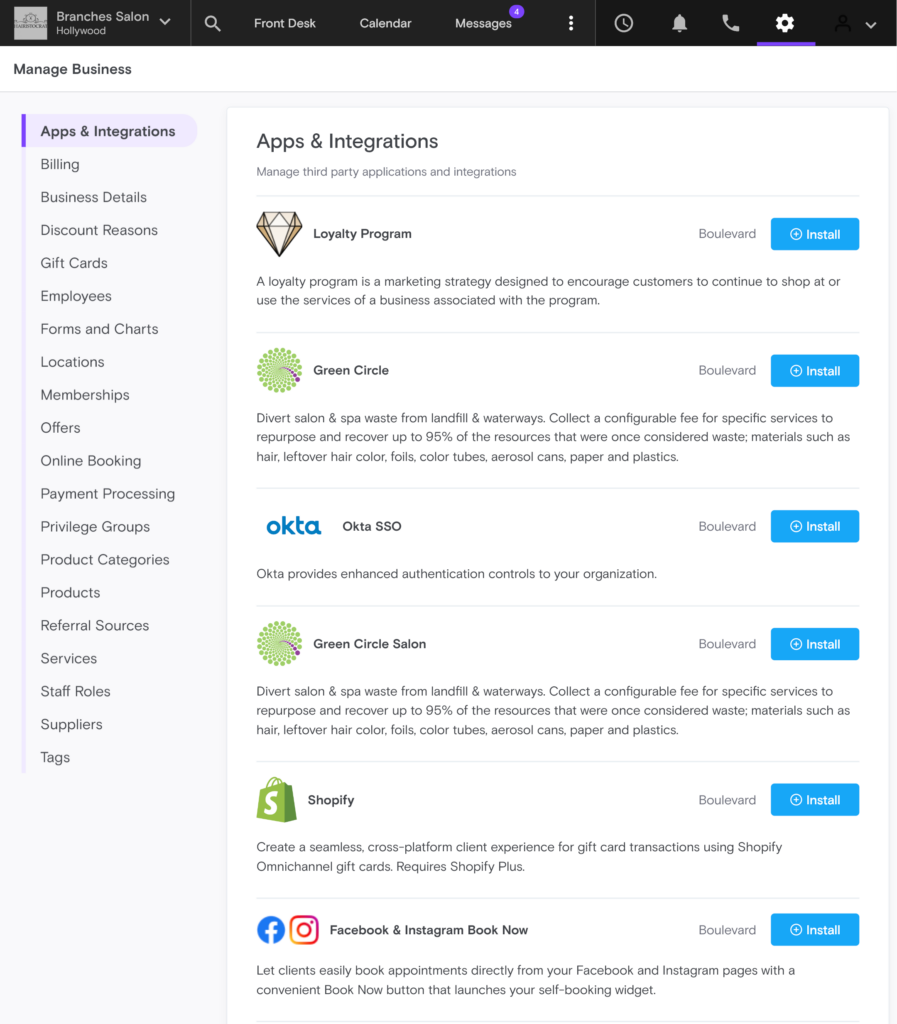 Boulevard Quickbooks Online Integration
If you're a Quickbooks user, this is a pretty handy addition.
Boulevard's QuickBooks Online integration automatically syncs your sales and payment settlement data each night so that your books are accounted for automatically each morning.
This integration even gives you the option to map individual sales categories to separate accounts in Quickbooks, and it's completely free of charge.
Tools like this are genuinely useful and cut down on unnecessary work (and your accountant's billable hours).
Boulevard Reserve with Google Integration:
We've all seen the blue "BOOK ONLINE" button on a Google business listing.
That's exactly what this integration is for – it syncs up Boulevard's self-booking overlay to your Google Business Profile, allowing clients to book with you directly from Google Search and Google Maps.
There are some important caveats that apply to this integration that may prevent businesses from taking full advantage of its features, however.
Reserve with Google is unavailable to Essentials plan customers. You must upgrade your plan to Premium (+$150/month) to be eligible to use this feature)
You must have a Google Business Profile to use this integration
Per Boulevard's Support Center article, this integration is currently not supported for customers with custom booking, as the integration will link the Book Online button to a standard Boulevard self-booking overlay
Businesses that are classified as a covered entity under HIPAA are currently not eligible for the integration per Google's Merchant and Service Eligibility guidelines.
But Wait, There's More…
These are just a few of the integrations available to salon owners and stylists within Boulevard. Check out their integrations directory to see the rest of the options available to you and your team.
Boulevard Software Online Booking
Boulevard's online booking feature page boasts advanced features such as "on-brand online self-booking" through an overlay that can be integrated into your website, as well as online gift card purchases and selective visibility for services to ensure that only the services you allow to be booked online can be.
You have the option of whether or not to require a card on file for online booking, but it is highly recommended you do so in order to protect your books and your staff's time.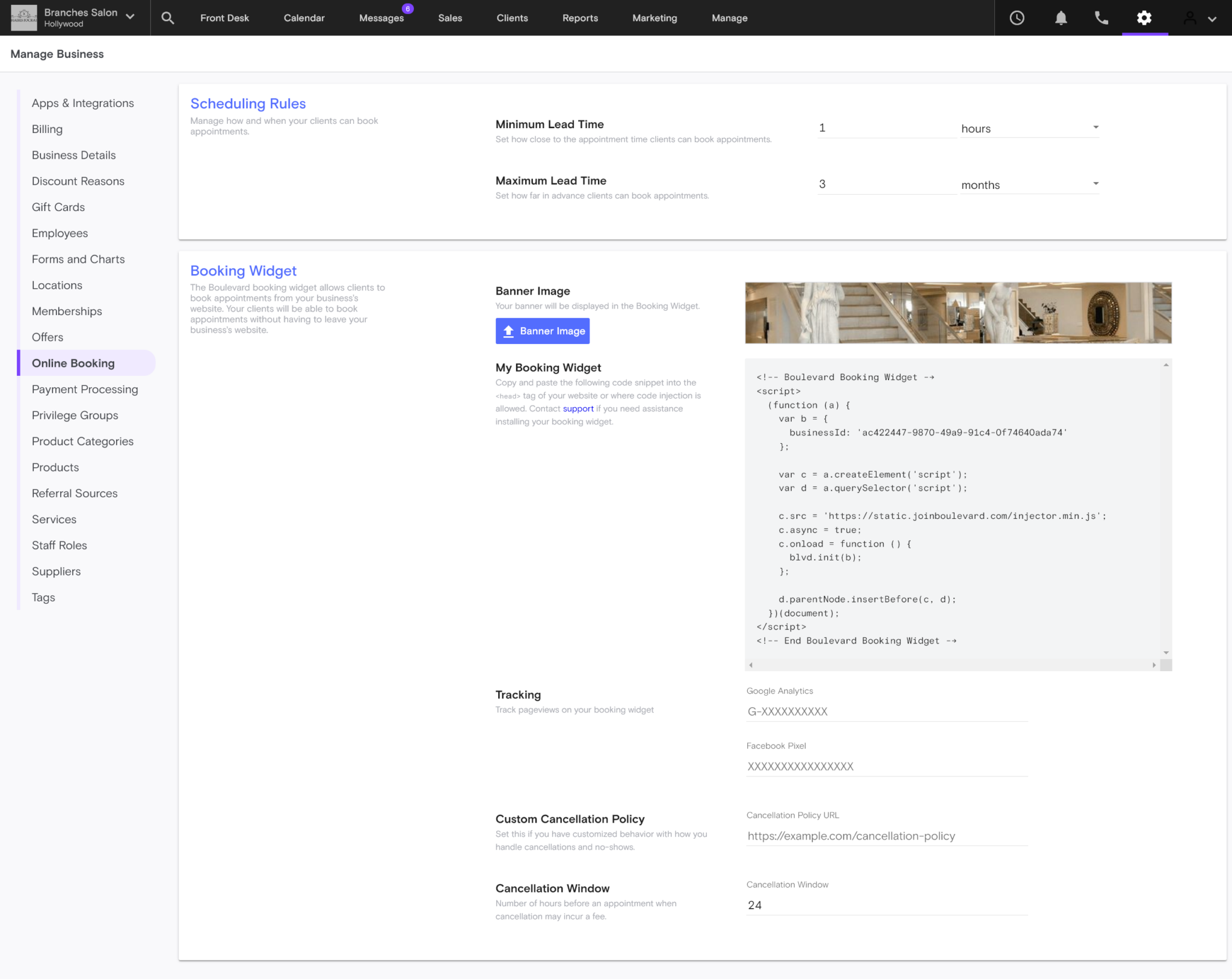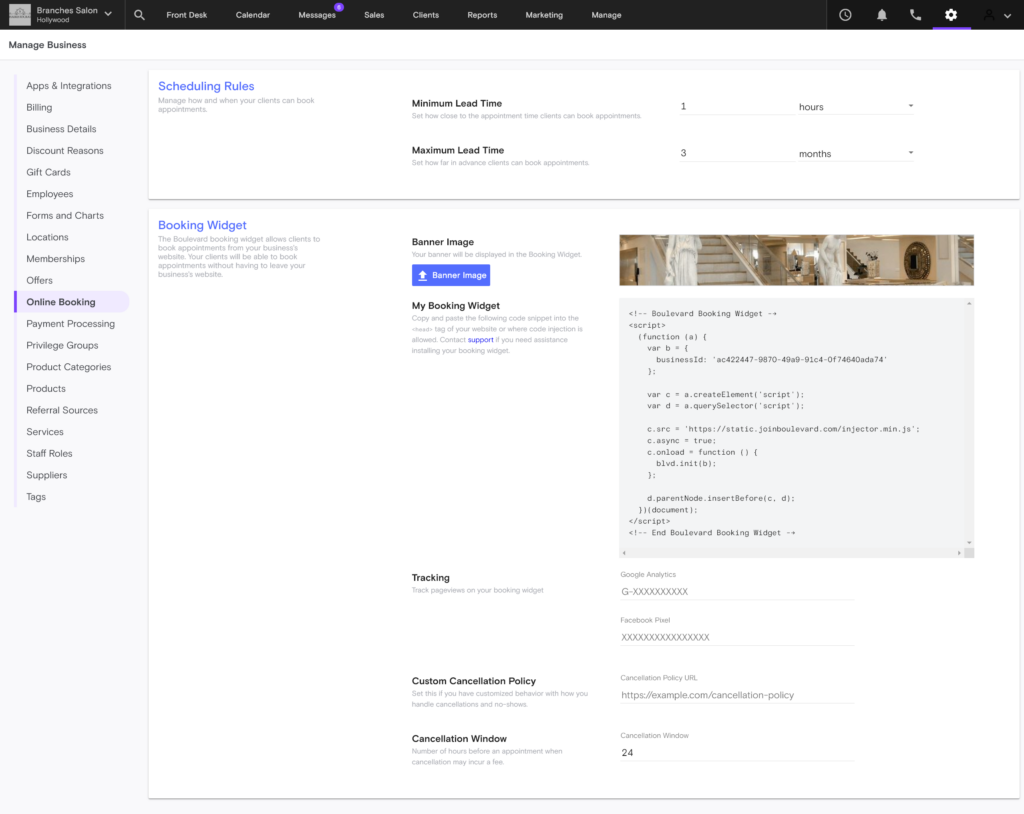 Clients can also reschedule themselves online without having to call in and take time away from your front desk.
Boulevard has trademarked its Precision Scheduling™ feature, a piece of tech that only shows clients the "best" time slots first. If the client doesn't find any of these initial slots acceptable, they can choose to view all available slots from the menu by selecting that option.
While there is undoubtedly some algorithmic secret sauce going on behind the scenes, the simple explanation is that Precision Scheduling™ works by reviewing your current scheduled appointments and attempting to find ideally-timed gaps that can be booked—either back-to-back with existing appointments or far enough apart that a future booking could fit in-between.
You can set and manage the ideal timing for this feature (i.e. 30, 60, 90 mins) in the Service Setup menu.
Boulevard customers also have the option to enable waitlist functionality for their clients.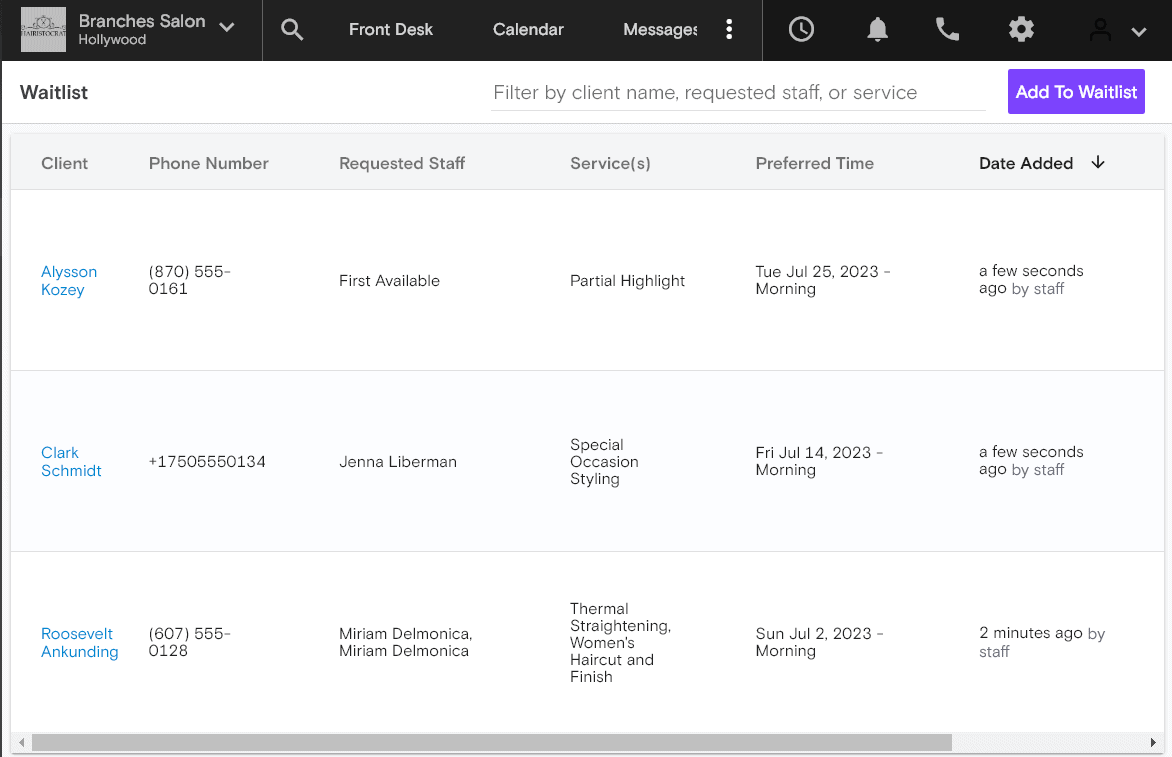 If none of the available time slots work for the client, they can waitlist themselves directly from the online booking interface so the business can review and notify them if one of their preferred days and times opens up on the schedule. A credit card is required to join the waitlist, which helps ensure that spam is kept to a minimum.
Each time a client adds themselves, a notification is displayed on the dashboard, alerting staff members to review the waitlist where they can check appointment requests, filter by client name, date added, and requested staff or service, and attempt to fit them in.
Note that the waitlist is not automated, meaning that you will not receive future notifications if a potential matching spot opens up on the calendar — you will need to check back periodically and manually schedule appointments from waitlist entries.
Boulevard Software Appointment Calendar / Scheduling
The Boulevard calendar has some tricks up its sleeve. Well, on its sleeve.
Boulevard has opted for a more maximal approach to its calendar interface, with a variety of options available right at first glance.
In the menu bar at the top of the screen, the calendar features several day view options, including Day, Today, 4 Day, and Week views, as well as filters to select the individual staff member (or members) whose schedule you would like to view.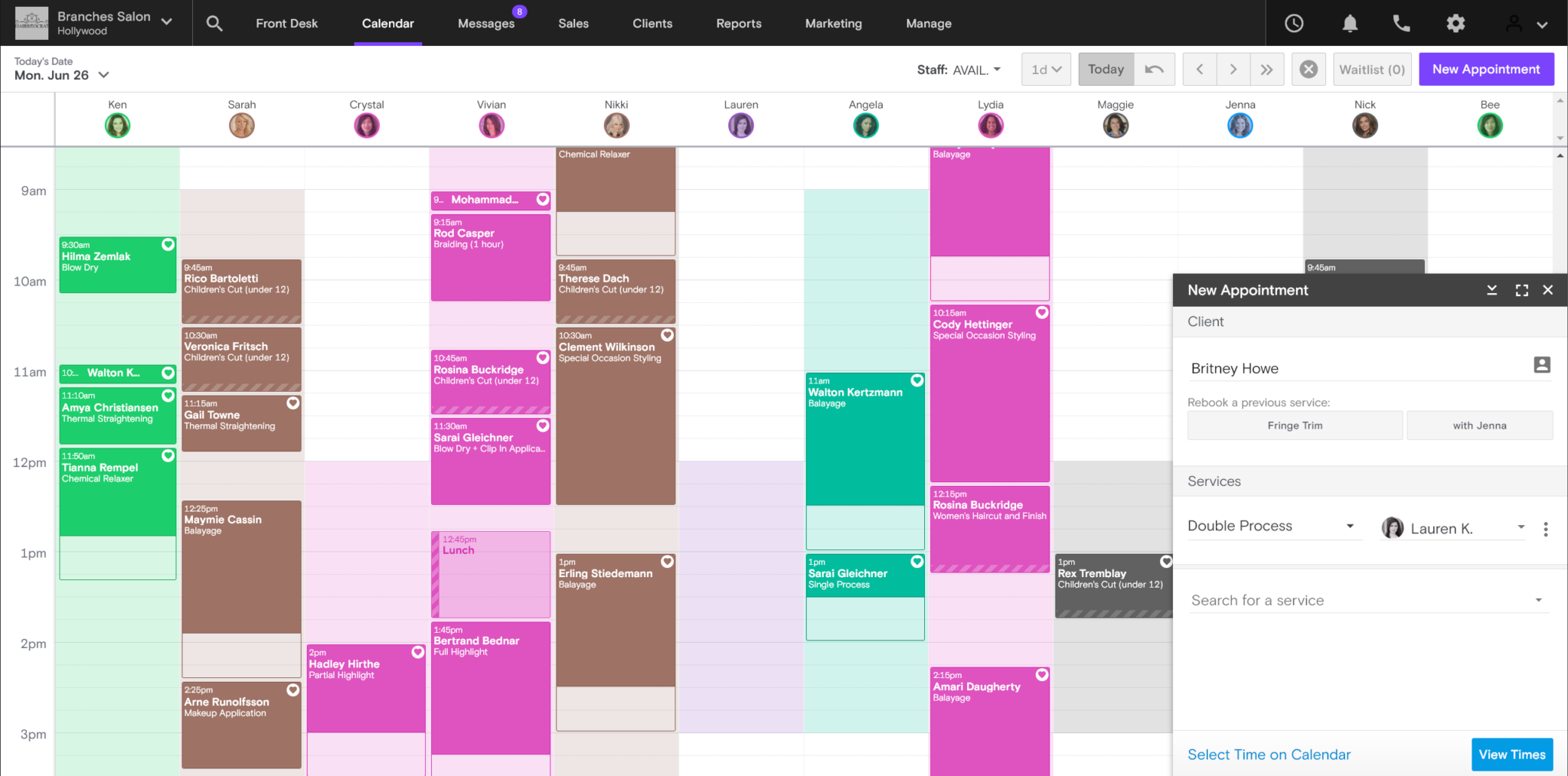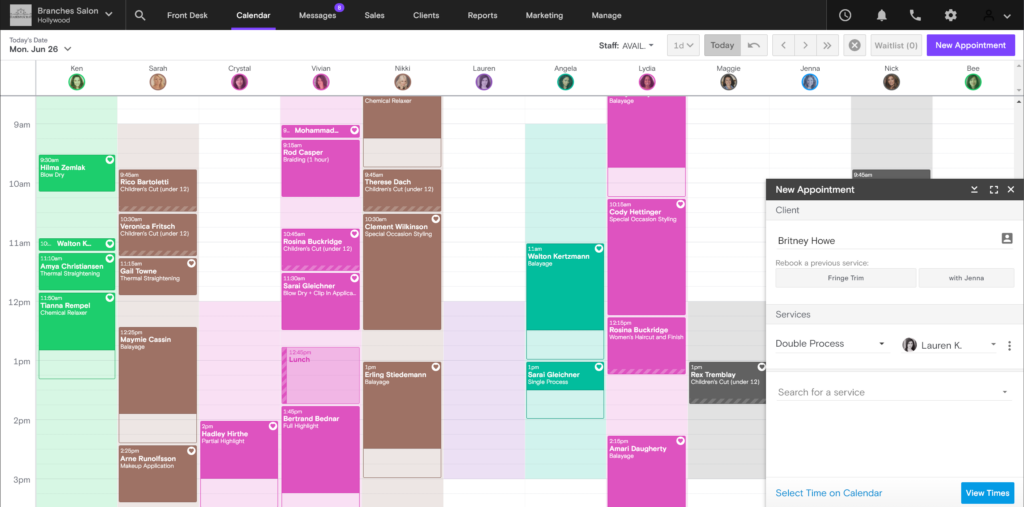 Likewise, you're free to customize colors for your staff members from a pre-selected palette, making their schedule visually distinct from the ones sandwiched on either side. Each service provider's scheduled hours will be highlighted in the shade you choose and all appointments will be color-matched.
To book appointments or block out time, simply click on the calendar and a booking pane will pop up from the bottom of the screen where you can search for clients, services, and more.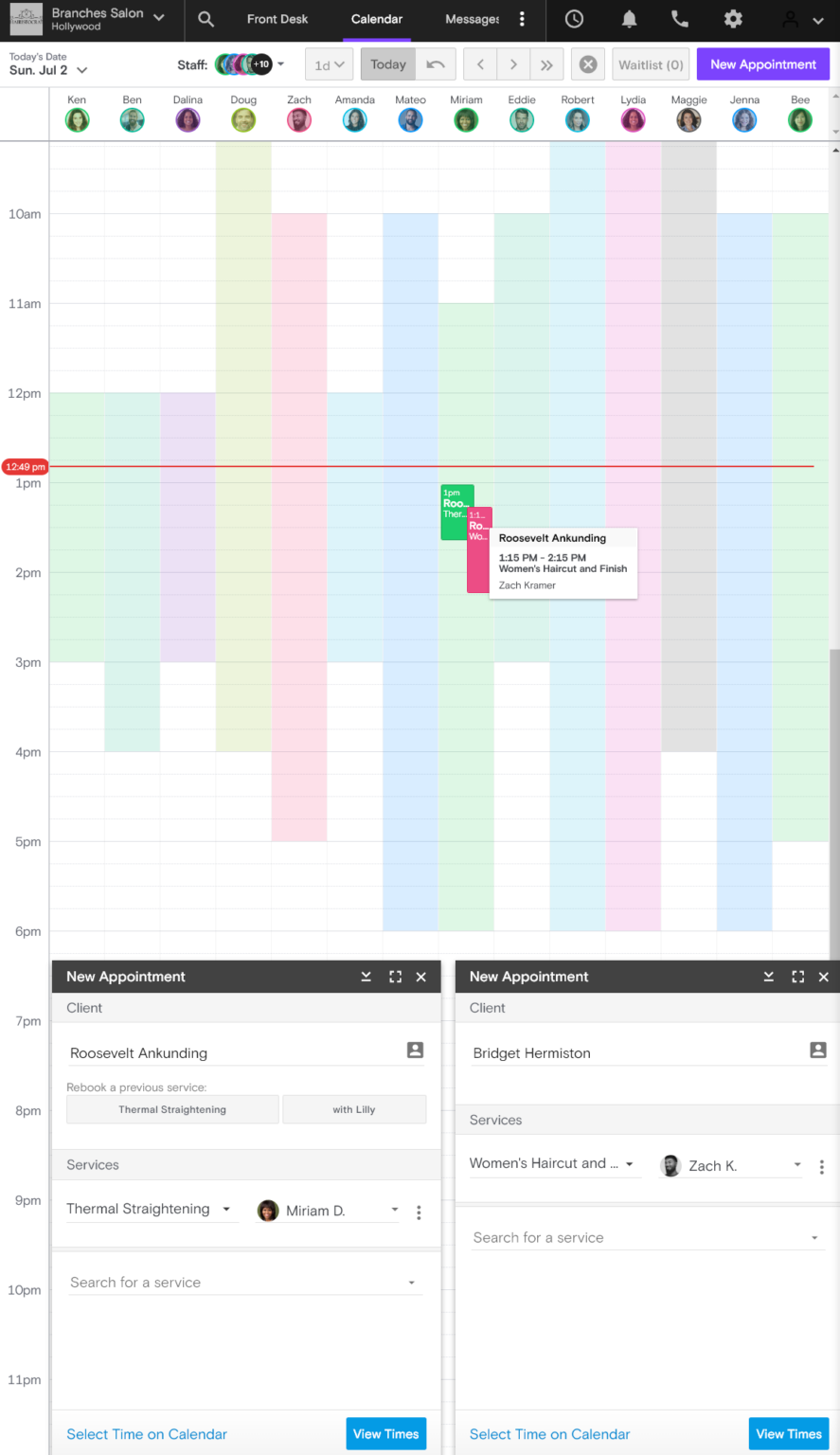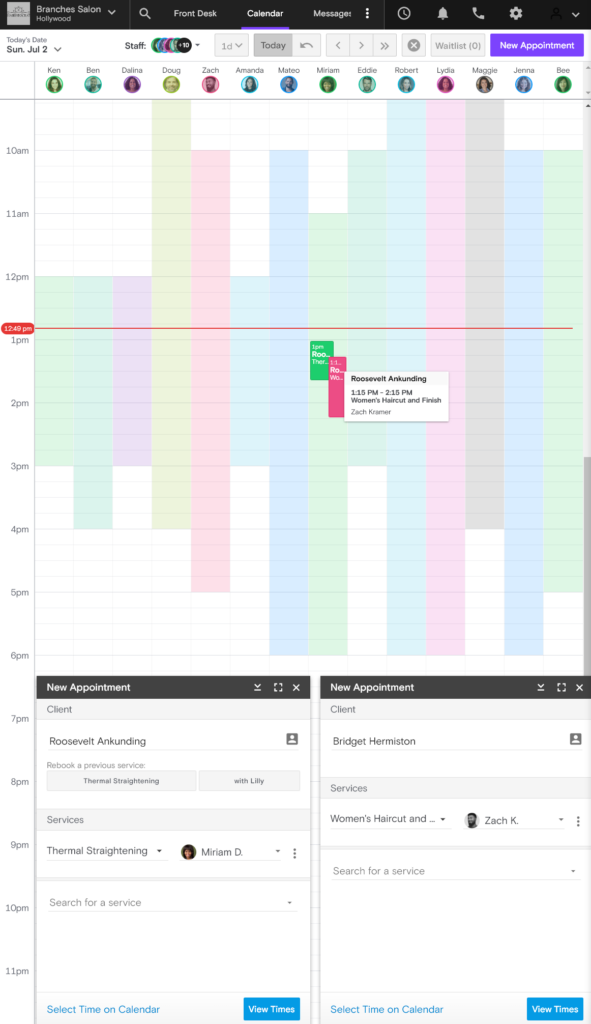 You can even pop up multiple booking panes at once, although attempting to book more than one appointment at a time resulted in mis-bookings in my testing.
Both appointments ended up booked on the same stylist's schedule with the same client name, despite selecting two separate stylists and clients. As with any salon and spa booking software, it's recommended to stick with one booking at a time.
Boulevard Software Client Data Management
Boulevard has some very robust client management options.
The software does this through the use of client profiles, which include details on past visits, previous purchases, and can even include social media profiles of your guests.
The client profile tool lets you enter notes and add attachments so you can keep track of before-and-after and inspo-photos, as well as important at-a-glance information like client tags so you can easily spot your loyal, no-charge, VIP, and—God forbid—banned clients.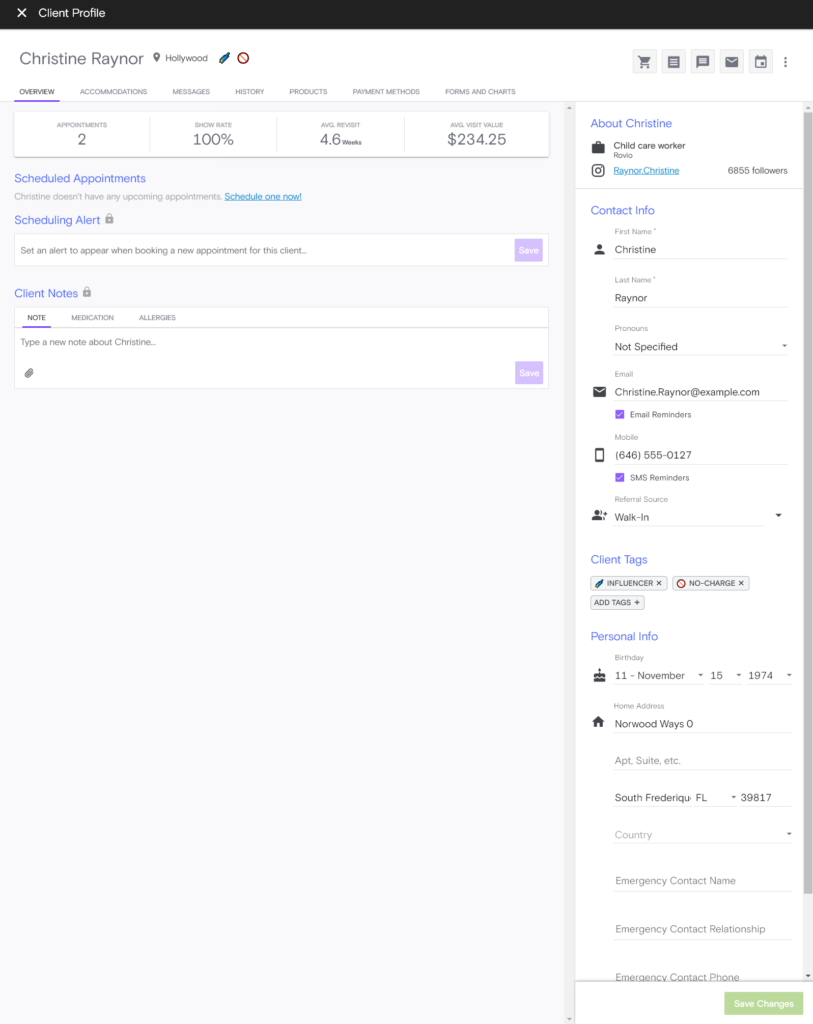 These tags can be added at any time and are easily visible in the client profile and as icons on calendar appointments. You can even use tags in Boulevard's marketing suite to segment your clients into audiences to market to them more effectively.
When clients book for the first time either online or through your front desk, a new client profile is instantly created and saved in the software. This feature allows you to track your client's entire history for easy access and improved marketing opportunities down the line.
You can even set client-specific pricing for services that will be stored and automatically applied each time they book and check out.
The built-in search function allows you to search by criteria such as referral source, service provider, location, first or last appointment, and more. This level of data insight is definitely beneficial, and allows you to run your business a bit more strategically.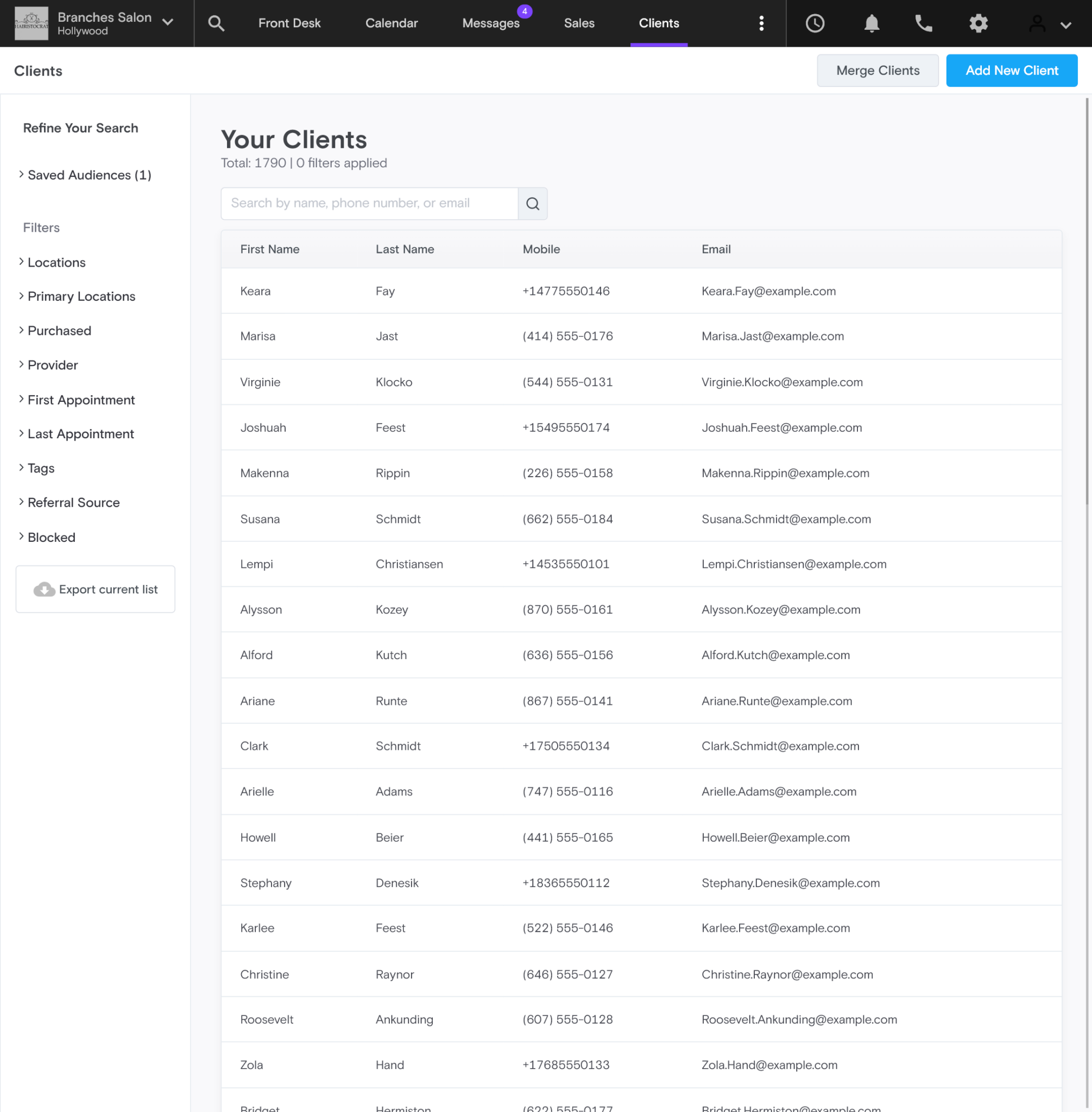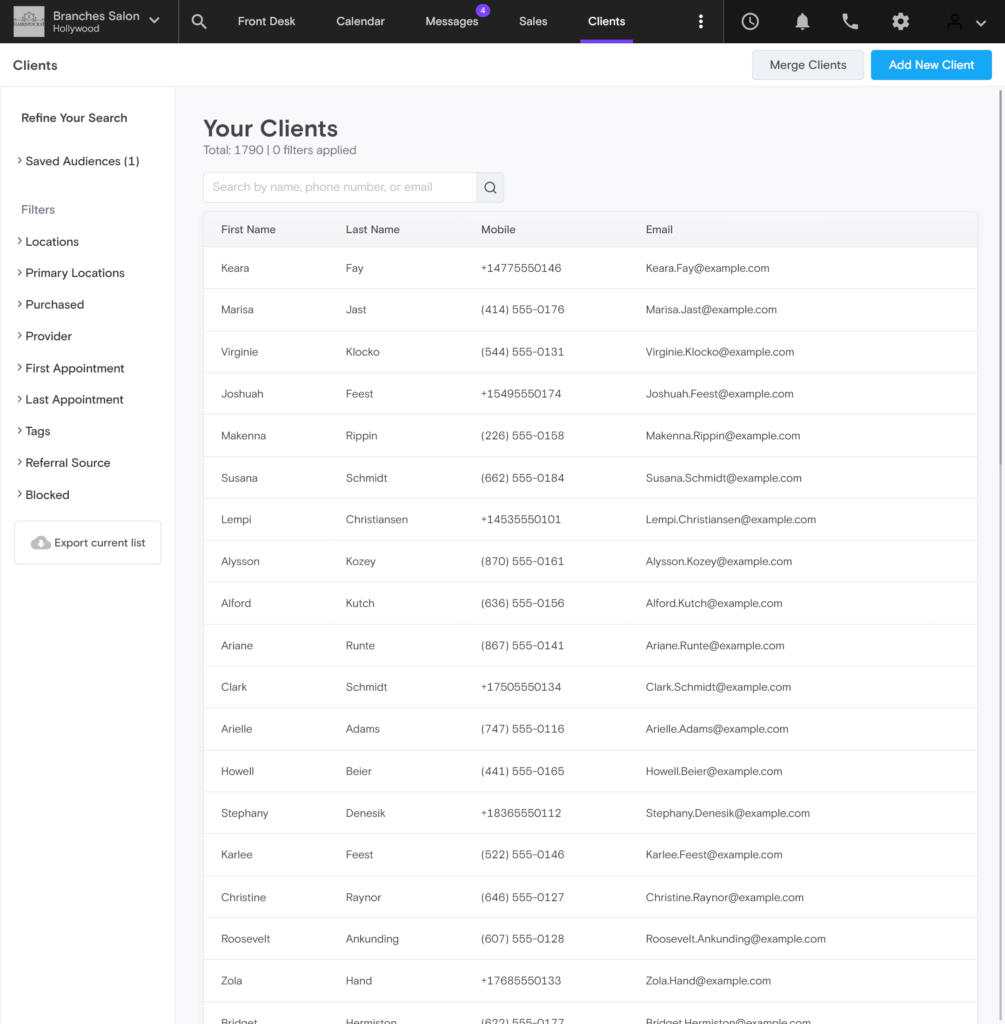 Whether that means you keep an eye on last-appointment dates to schedule courtesy booking reminder calls for those clients who absolutely refuse to pre-book, or compile a list of suggested products based on their recurring services, purchase history, or hair-type for upsell opportunities, you've got several options to help you boost sales and service numbers in Boulevard.
You can also view less common client metrics at a glance, such as client lifetime client value, laid out in simple terms.
Boulevard offers a clean interface that lays out statistics like number of appointments, show rate, average time between appointments, and average visit value so you can see who your star clients are.
Boulevard Software Appointment Notifications & Alerts
Boulevard supports appointment-related notifications using both email and SMS.
When a new appointment is booked, the client receives a booking email that shares the details of the appointment and Client Instructions.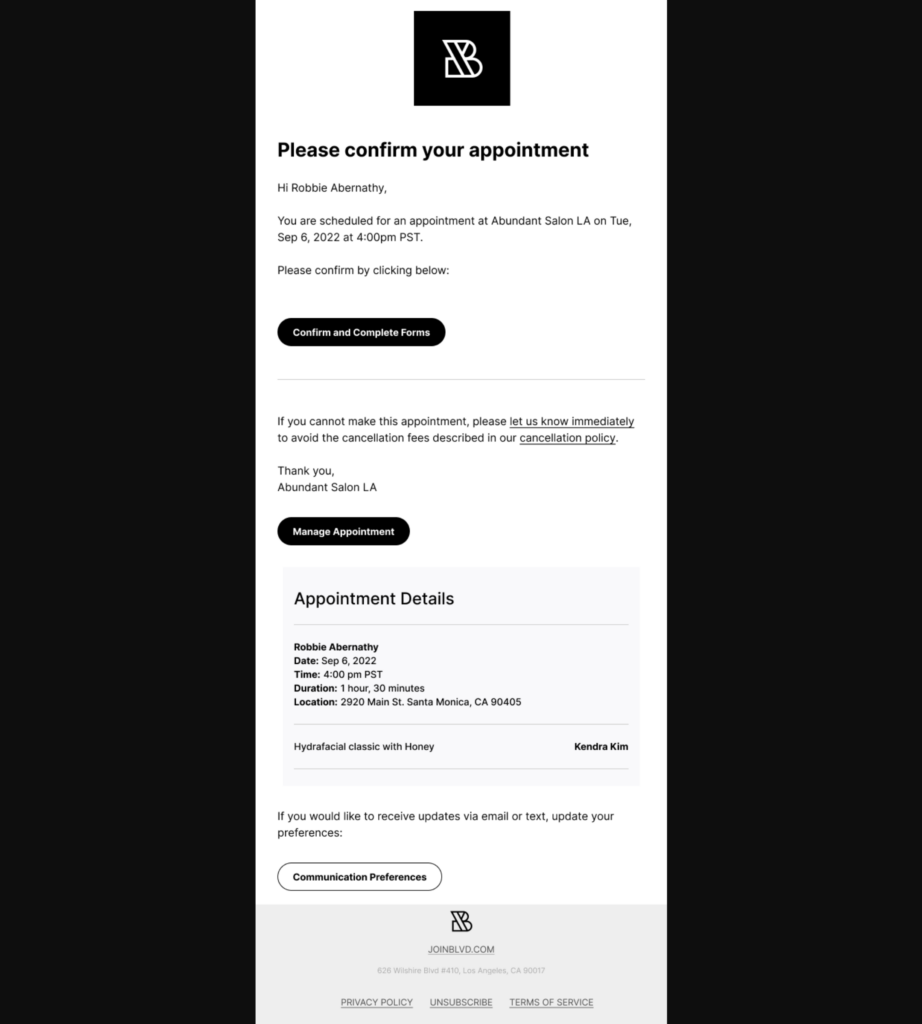 If you are using the Forms and Charts add-on feature, you can include a link to any forms that need to be filled out prior to the appointment.
Client Instructions can be customized in the Manage Location menu to include information about parking, arrival time, and any other relevant information you would like your clients to know before their appointment.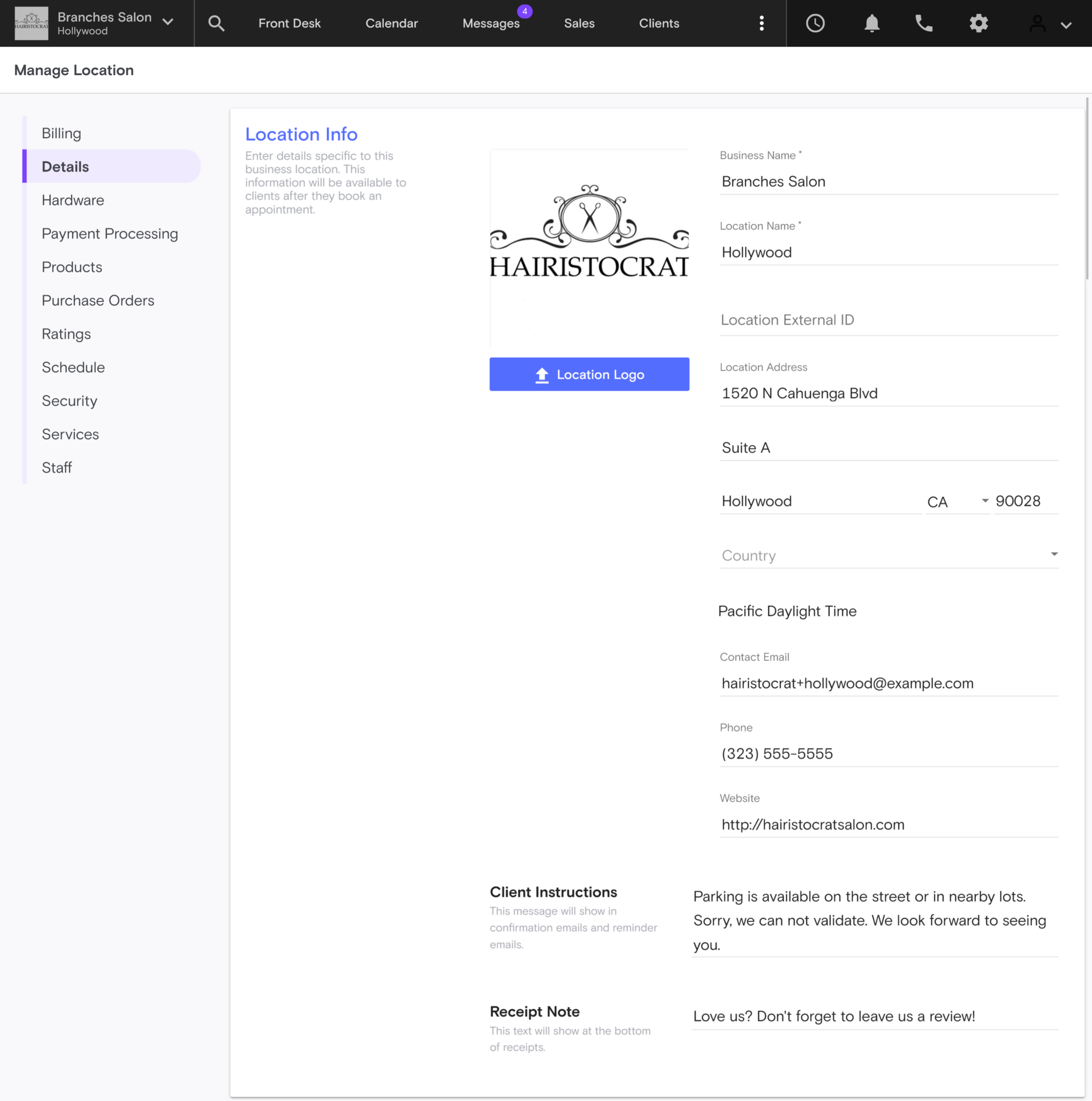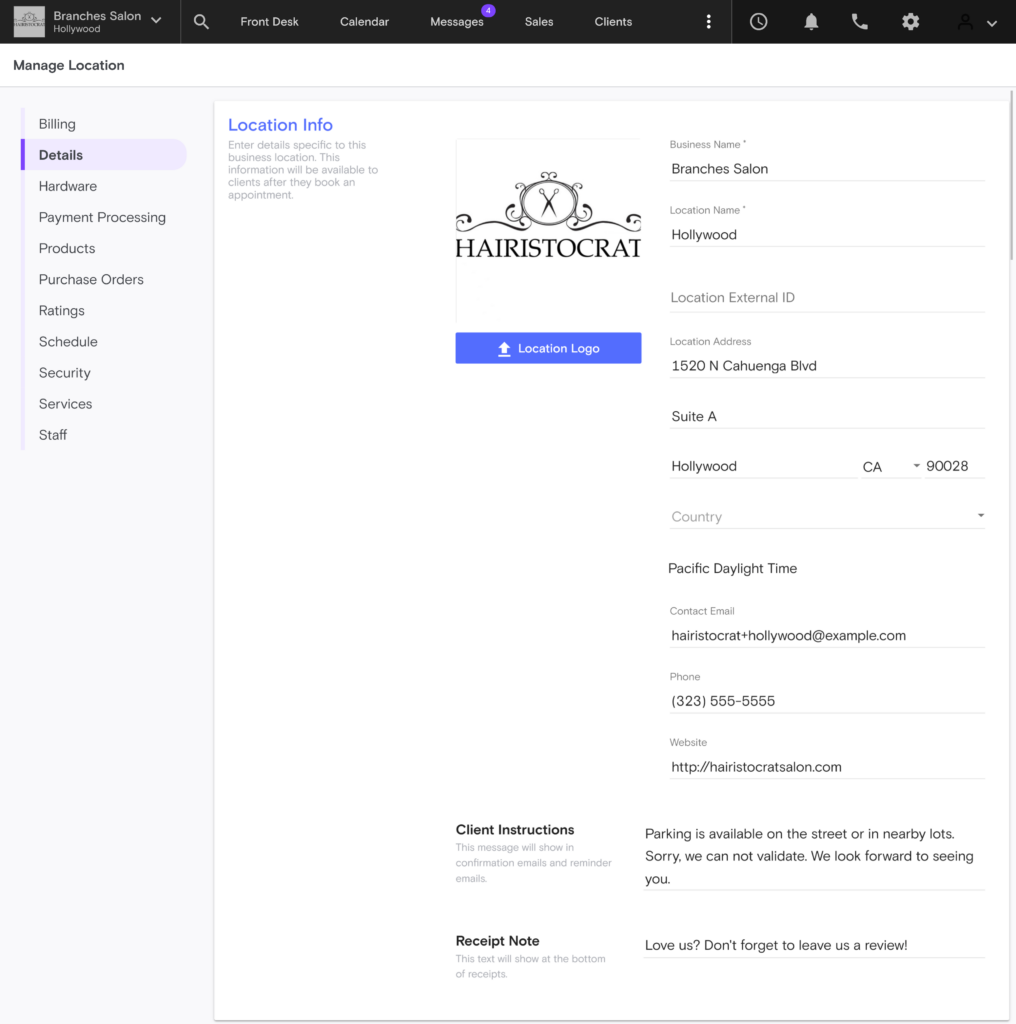 By default, a reminder email will be sent two days before the actual appointment.
If the client has not responded to the reminder email, a reminder text will be sent later the same day. SMS reminders are not currently customizable, according to Boulevard's Support Center.
Reminder timings can also be customized in the Manage Location settings to specify how many days before the appointment they are sent.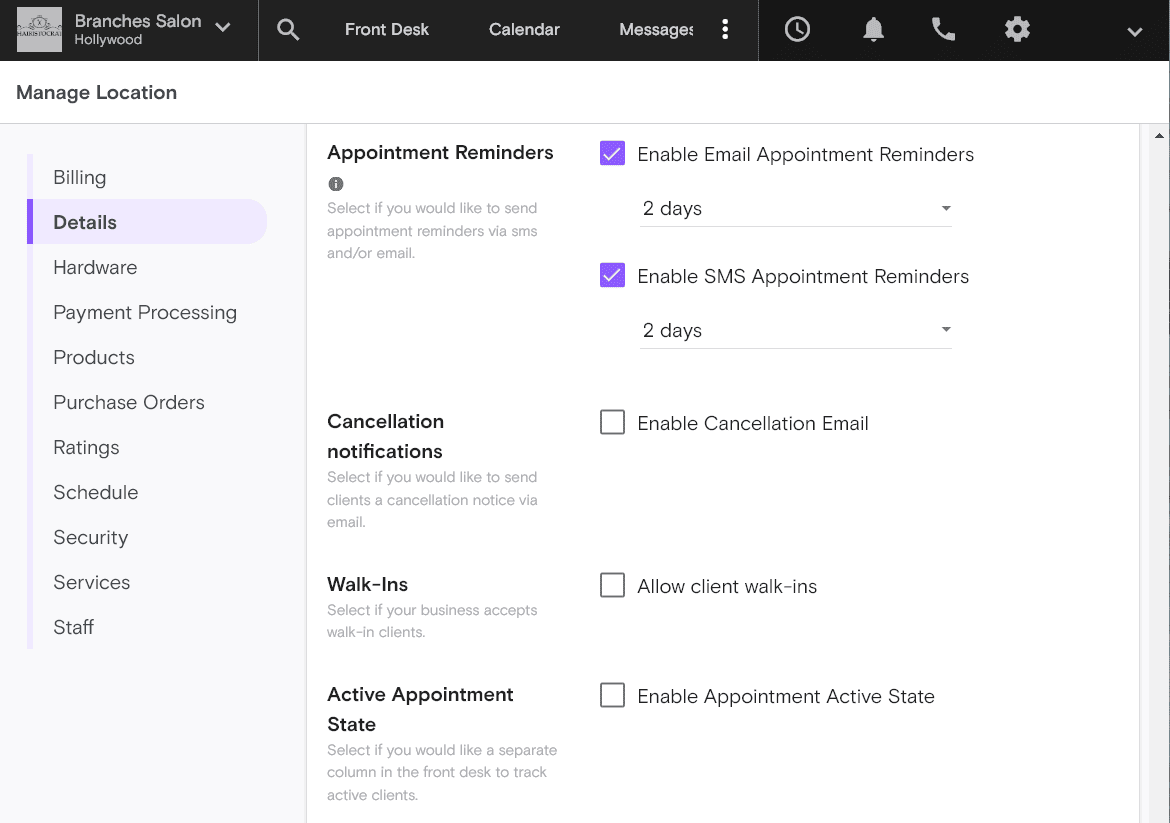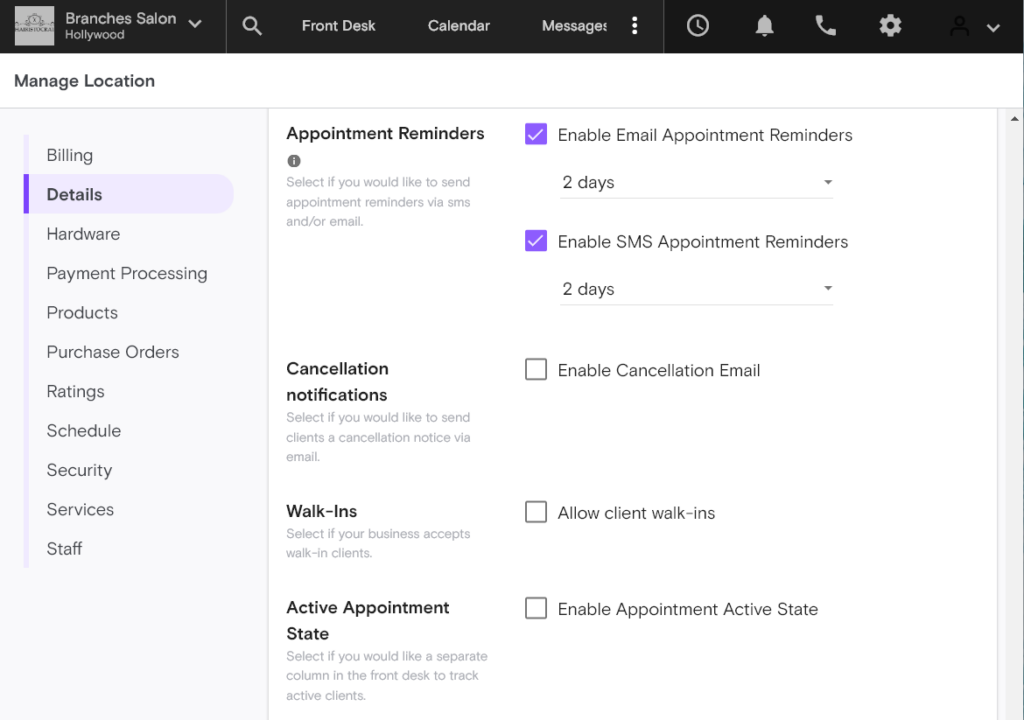 Boulevard Software Two-Way Texting: Contact Center
Contact Center is Boulevard's client communications suite. As a premium add-on, it offers two-way texting as well as a custom booking line with Caller ID.
To use Contact Center, you first need to set up your booking line — a dedicated phone number that is unique to your location and where all calls and texts are sent and received.
Once that's set up, you're good to go with all the features Contact Center has to offer.
From the Messages screen, you can see the entire SMS conversation history between the business and the client, along with their contact info, tags, client notes, and recent appointment history.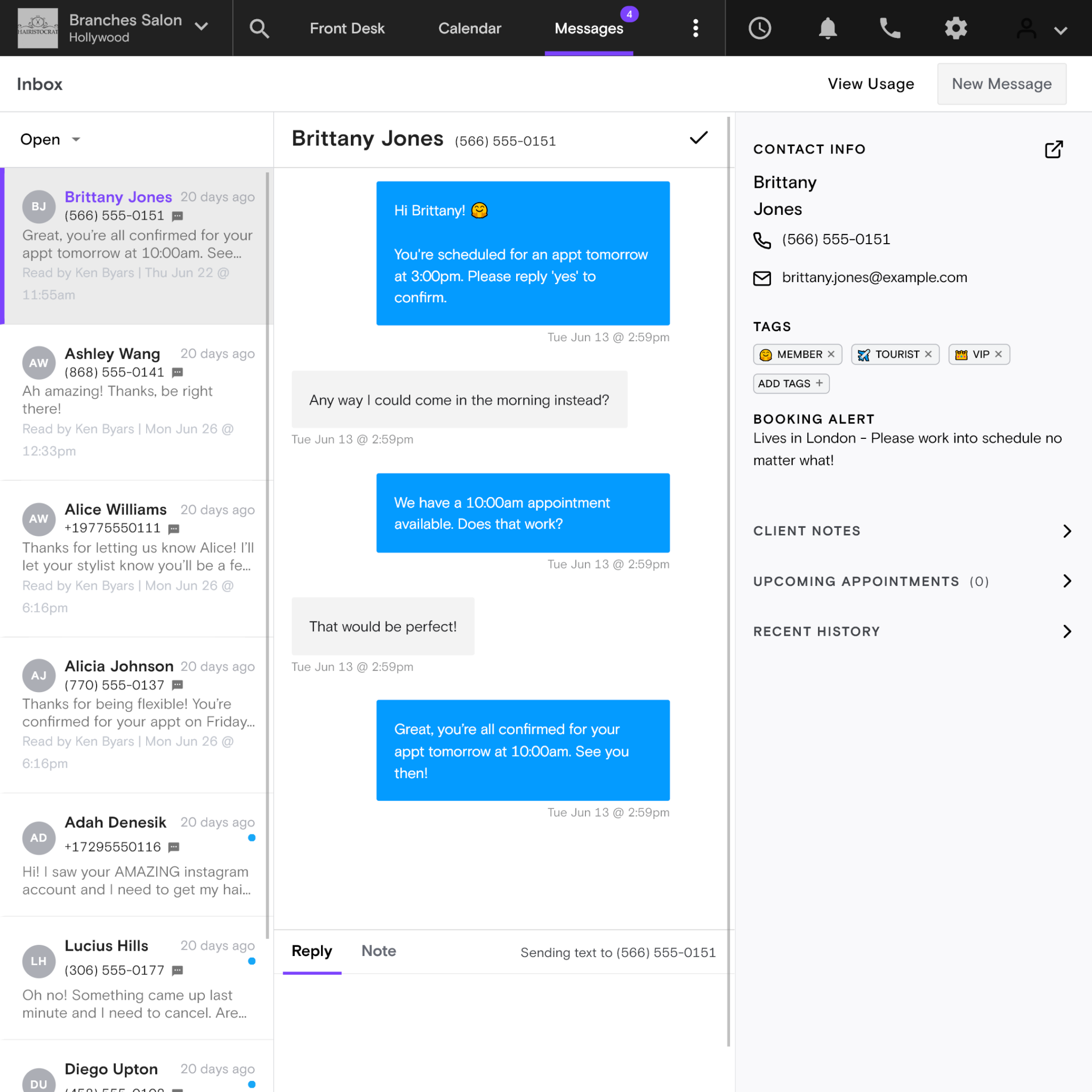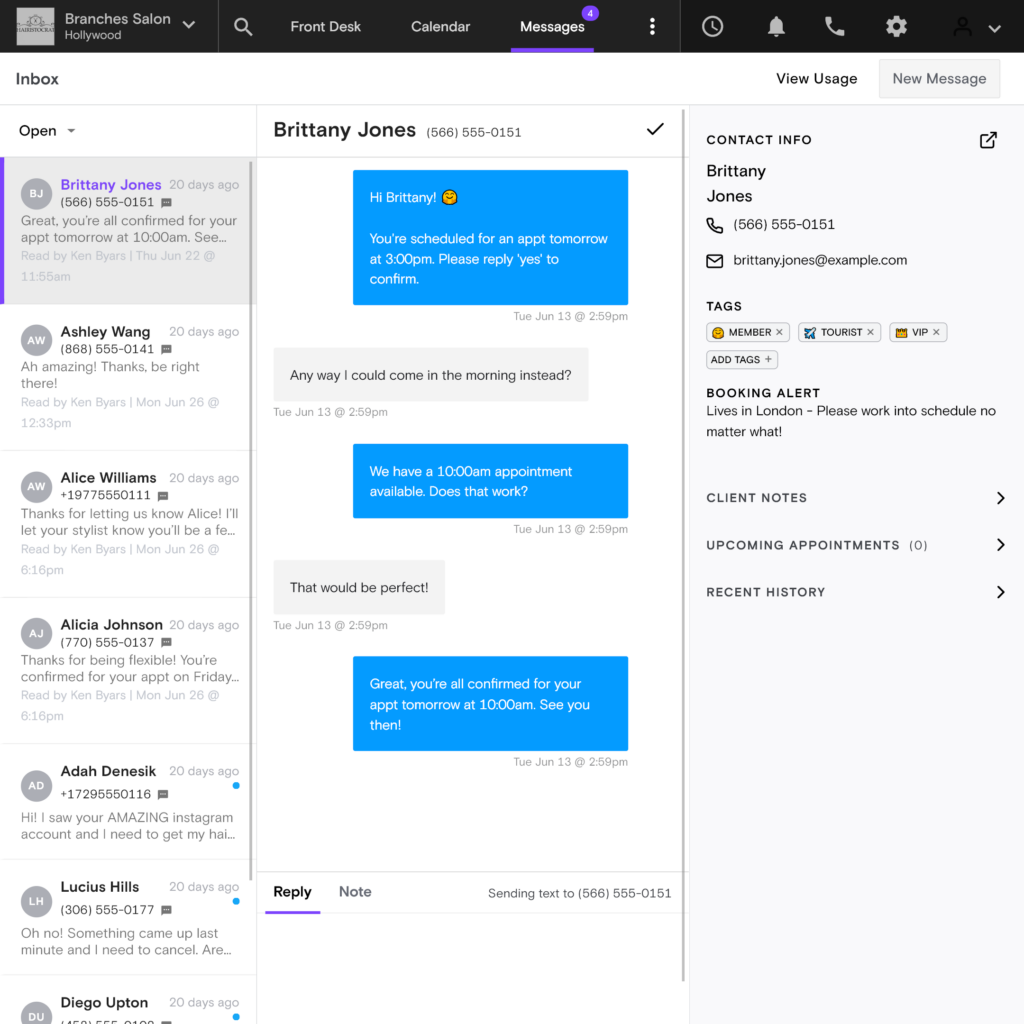 You can also access their Client Profile by clicking on the Open Profile icon in the upper right corner of the pane. That button gives you access to the entire Client Profile, which is an incredibly helpful view to have at a glance.
From the Client Profile view, you can check past and upcoming appointments, see which products your client picked up on previous visits and which ones are suggested for their future ones, and even access any forms and charts they have on file. There are also quick access options to send an email, create a new sale, or schedule a new appointment from this screen.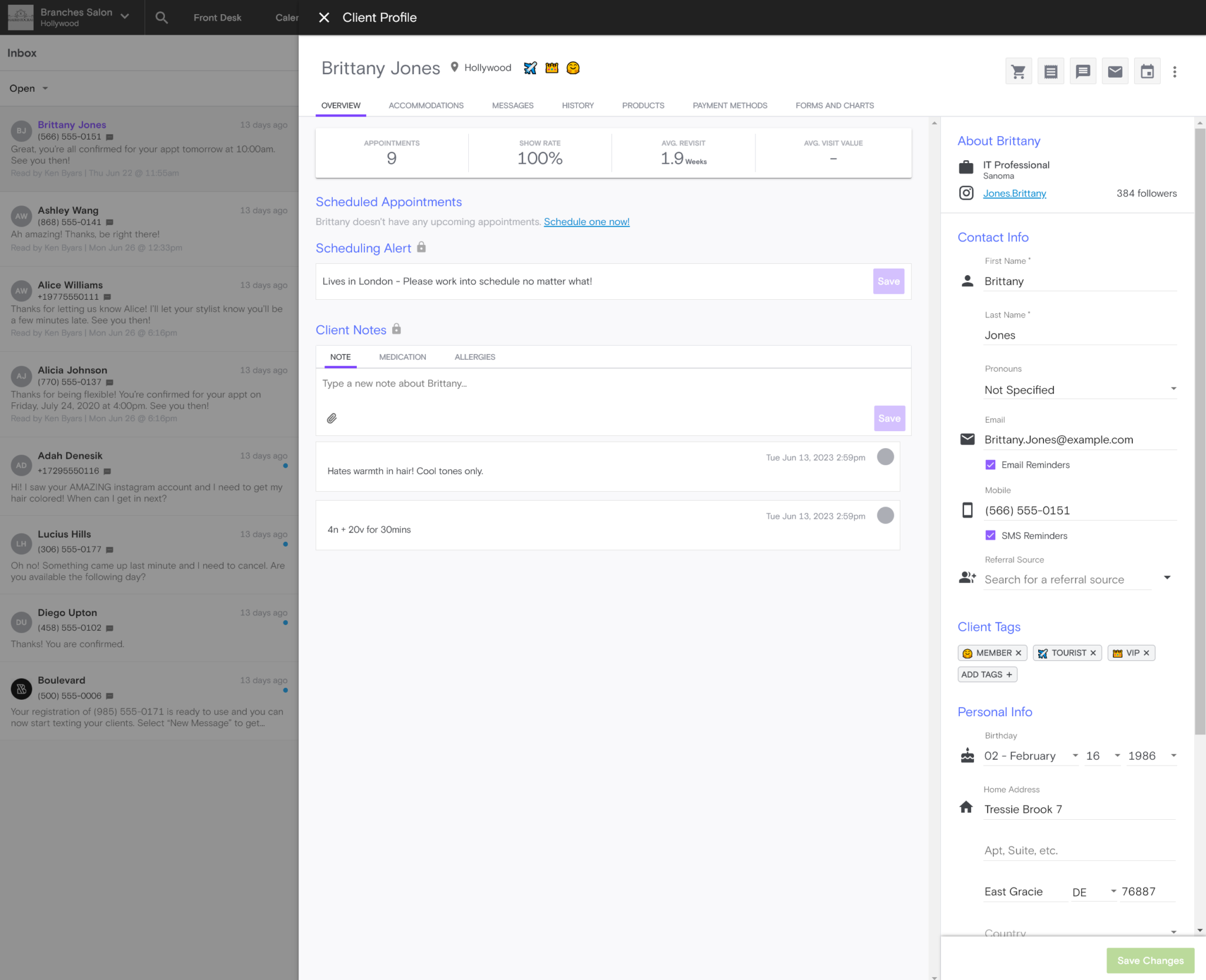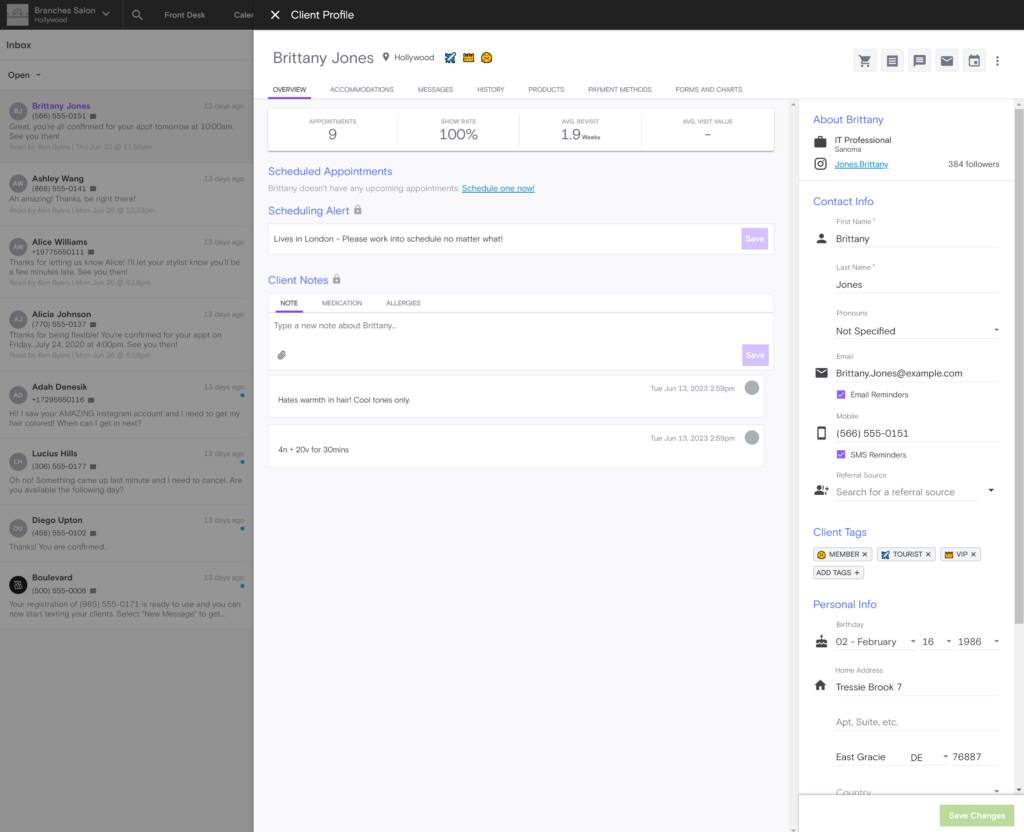 From my testing, there doesn't appear to be a way to view automated email communications from either the Messages pane or the Client Profile.
Don't get me wrong, the client messaging features and information on offer are detailed and provide a ton of utility for business owners and front desk staff to get in touch with clients and access most of the information they need at a glance.
However in recent years we have seen some other competitors take major steps forward in offering comprehensive client messaging suites, complete with not just automated and custom texting, but also the inclusion of reminder emails and client forms, timestamped and visible right in the messaging screen.
These added inclusions can make an already-impressive client communication feature a true all-in-one communication suite.
With Boulevard, you can always dig a little deeper to find forms and most client details, but you don't get a comprehensive conversation view that spans beyond text messages in the Contact Center just yet.
Boulevard Software Email Marketing Tools
Marketing is a major focus for Boulevard, and might just be its best feature set.
In fact, one of the primary reasons I would recommend Boulevard over some of its competitors is if your business needs integrated marketing tools.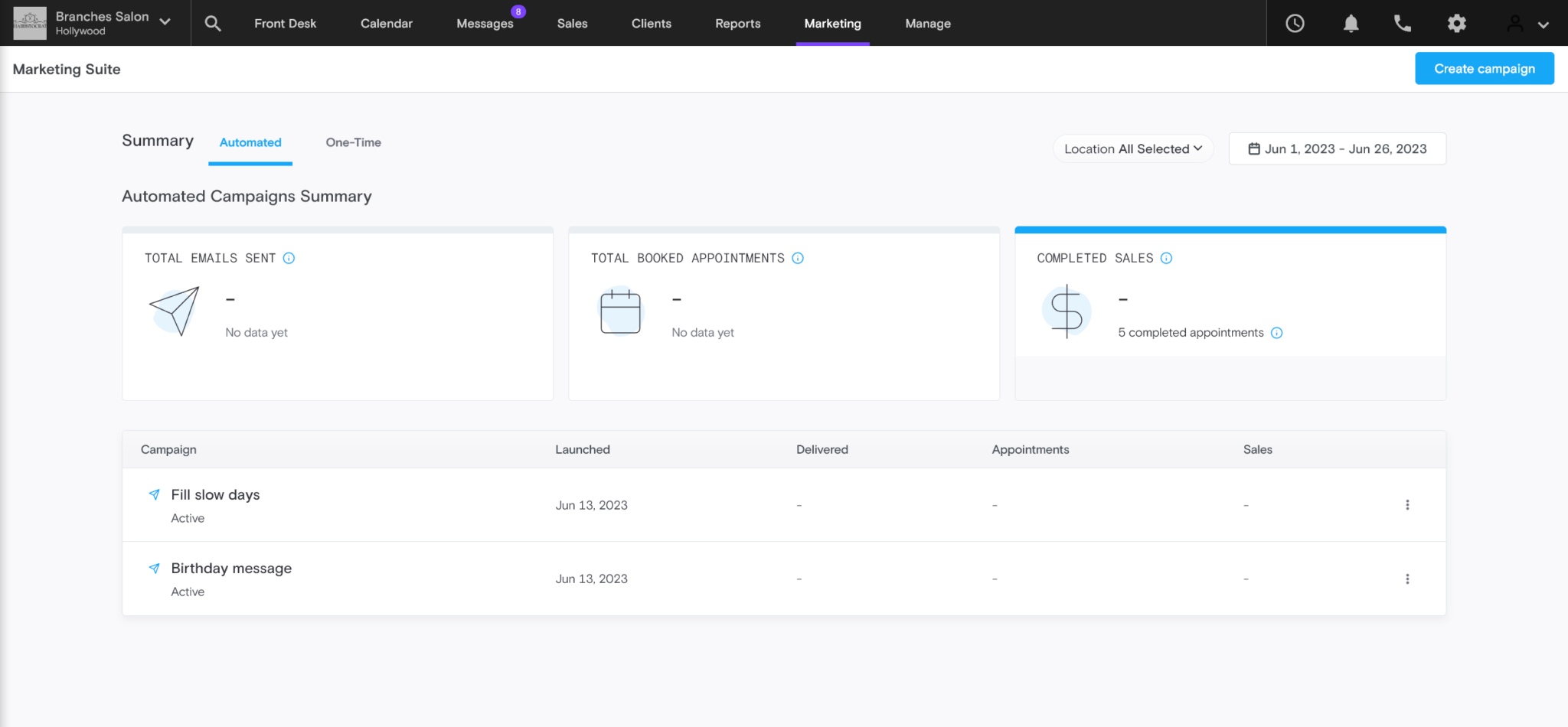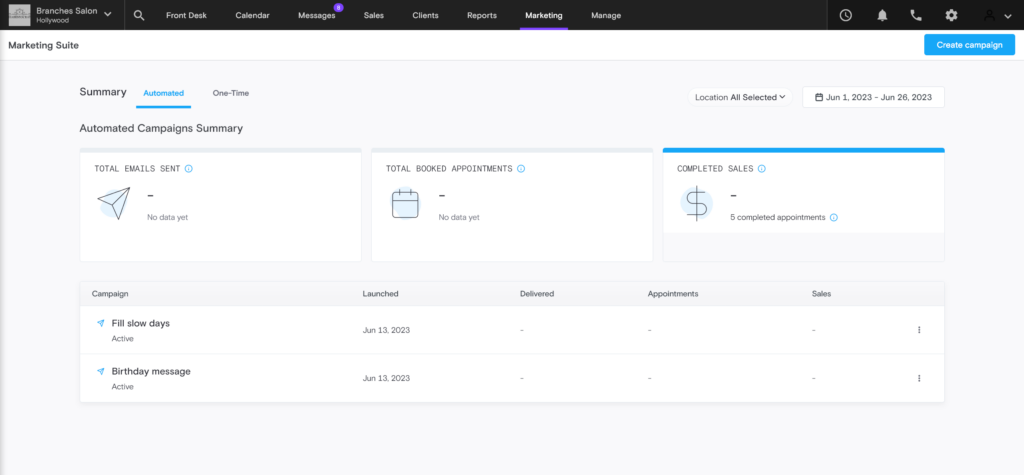 With automated campaigns, premade email templates, and direct access to your client data, you can quickly create marketing emails that look great and appeal to the right clients.
Boulevard's Marketing Suite makes filling slow days and last minute openings, reminding clients to rebook, and sending birthday messages super easy.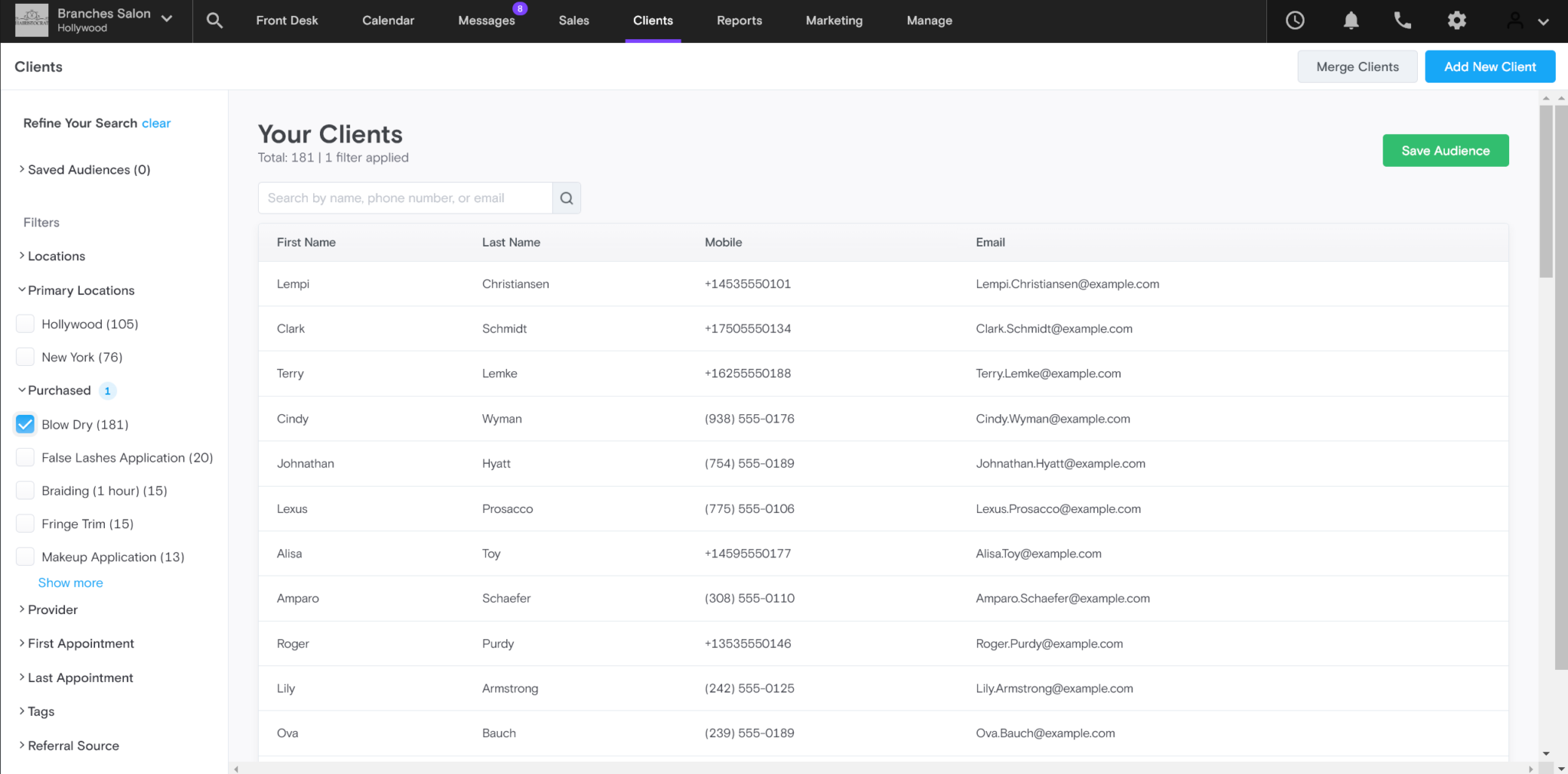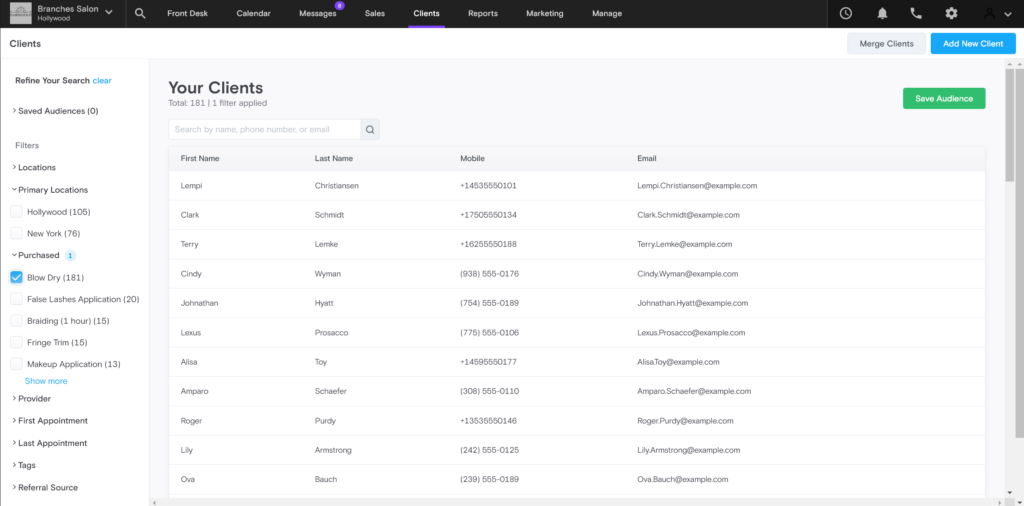 Use client tags, appointment dates, and referral sources to create audiences that you want to get the message.
That means you don't have to keep a mental list of birthdays or booking dates – Boulevard handles the bookkeeping for you, so all you have to do is select who you want to reach and you're good to go.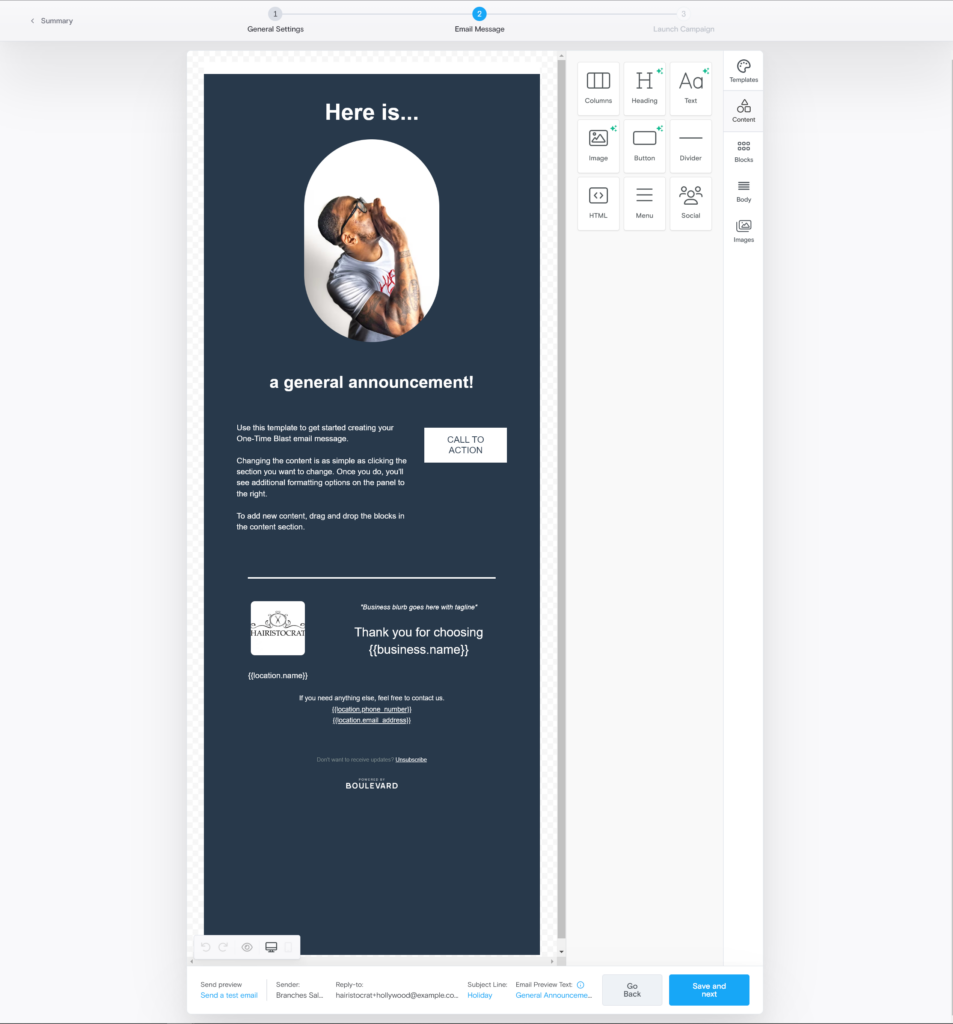 Depending on your subscription tier, the number of free emails are included with your plan can range from 500 – 10,000, and more can be sent for an additional fee per-email.
If clients do book with you within 7 days of receiving one of your marketing emails, Boulevard takes a $2 fee for that booking.
Unfortunately, there is not a clear-cut way to determine attribution from Boulevard's email marketing suite.
If you send an email to your client and they happen to book within 7 days, Boulevard will charge you the fee, regardless of whether the client booked because of that email.
According to the Boulevard Support Center: "All bookings made within 7 days of receiving a marketing email are attributed [to the email], regardless of how they're made (from the email button, self-booking overlay, or call to book)."
Not the most elegant approach to billing, and one that's likely to inflate the monthly cost of bookings whether or not they're a direct result of your marketing efforts.
Boulevard Software Staff Management
Boulevard allows you to manage staff information at a pretty detailed level.
Staff members have individual accounts that can be customized to have the exact permissions and privileges you choose to give them access to.
You can distinguish between Privilege Groups in Boulevard to allow or disallow access and administrative privileges within the app. You can take advantage of a few preset categories or create your own custom privilege groups and assign privileges accordingly.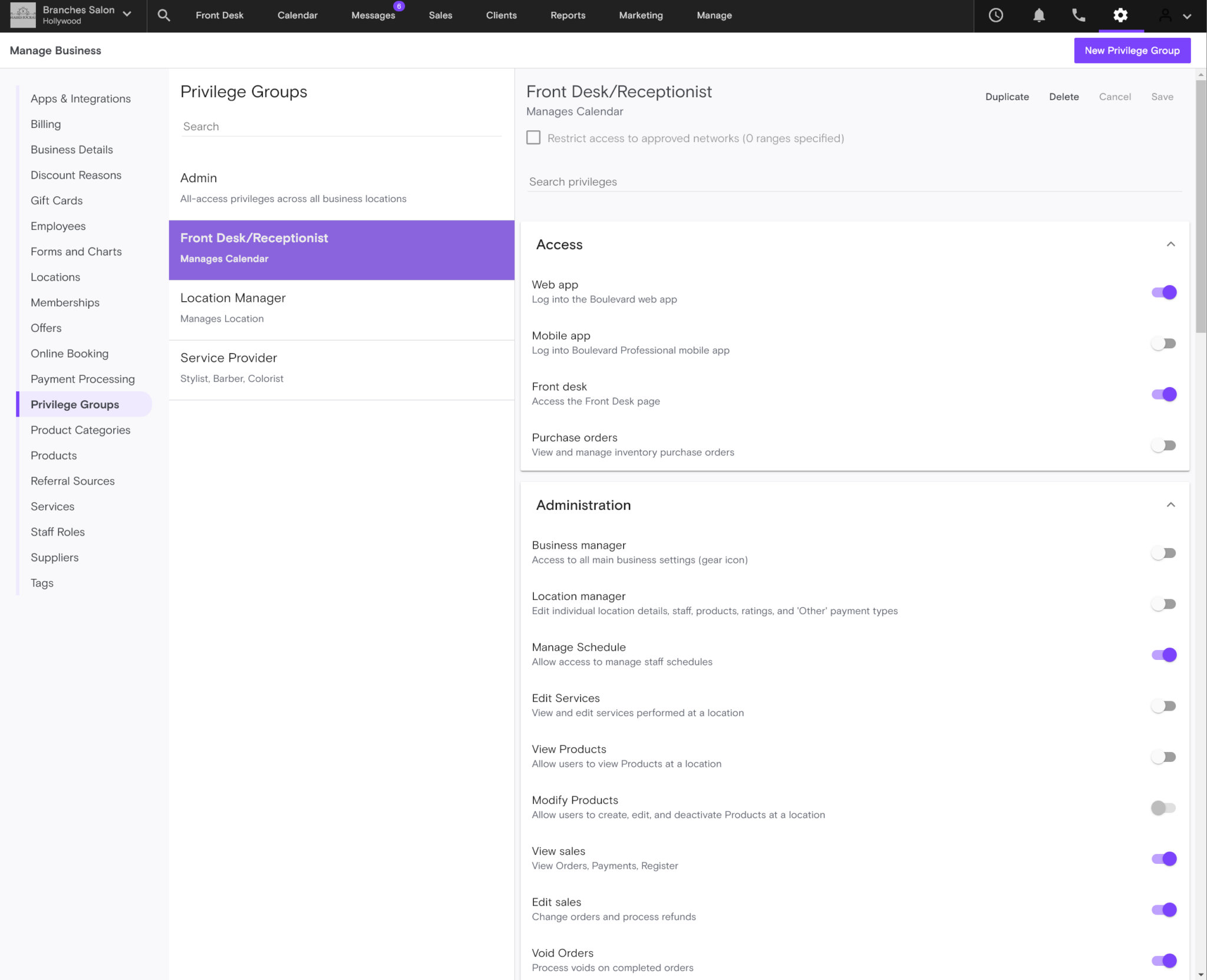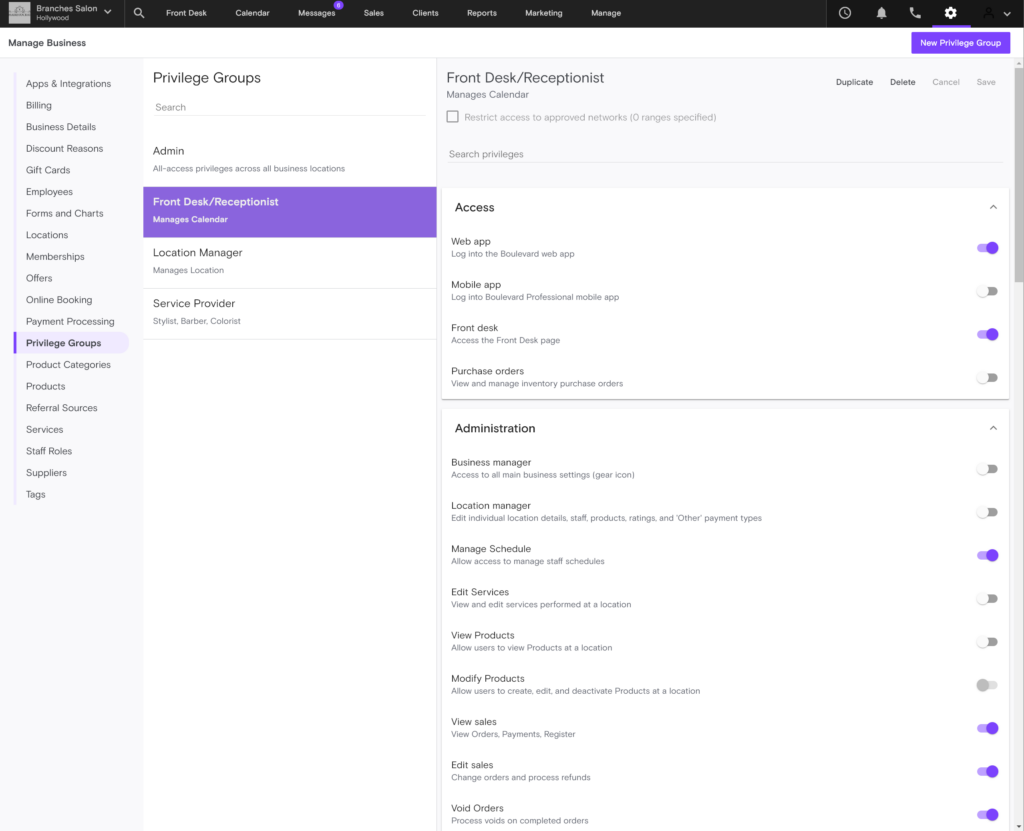 The list of privilege options available is pretty extensive, ranging from basic access to the web app and mobile app to admin tasks like viewing and editing sales, and even more complex permissions such as viewing and editing client information and notes, creating and modifying form templates, and responding to client text messages in the Messages tab.
Adding Staff members to the system and getting their permissions set up is relatively simple, but enabling services as "assignable" to those employees is where things got a bit more challenging in my testing.
Rather than adding a bulk service category ("Extensions" or "Color", for example), an admin is required to go through and enable each service they wish to be bookable for a particular staff member, one-by-one.
There is no dropdown menu or checkbox option — you must select the Customize button for each service and then select the Assignable option for each one as well.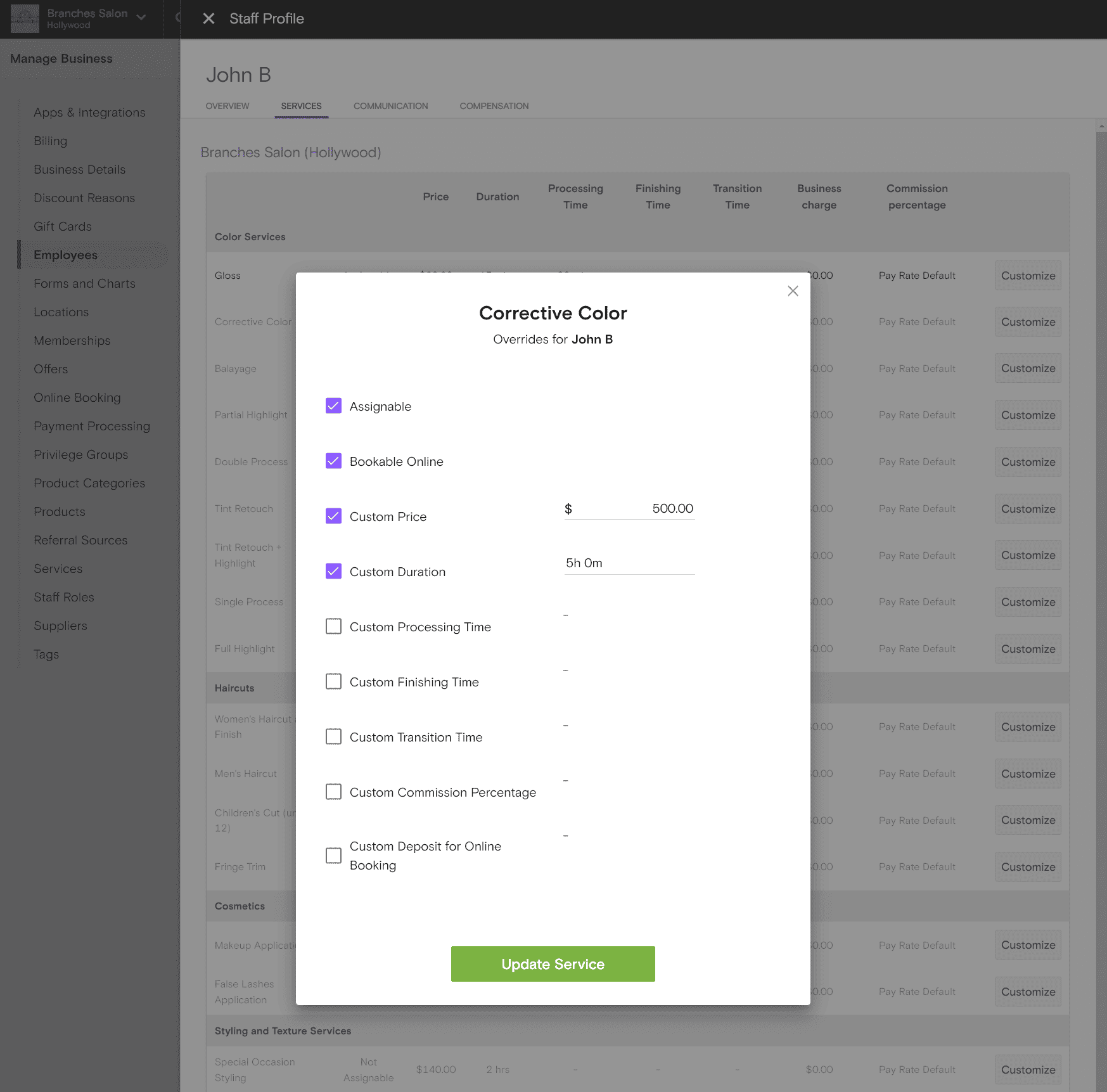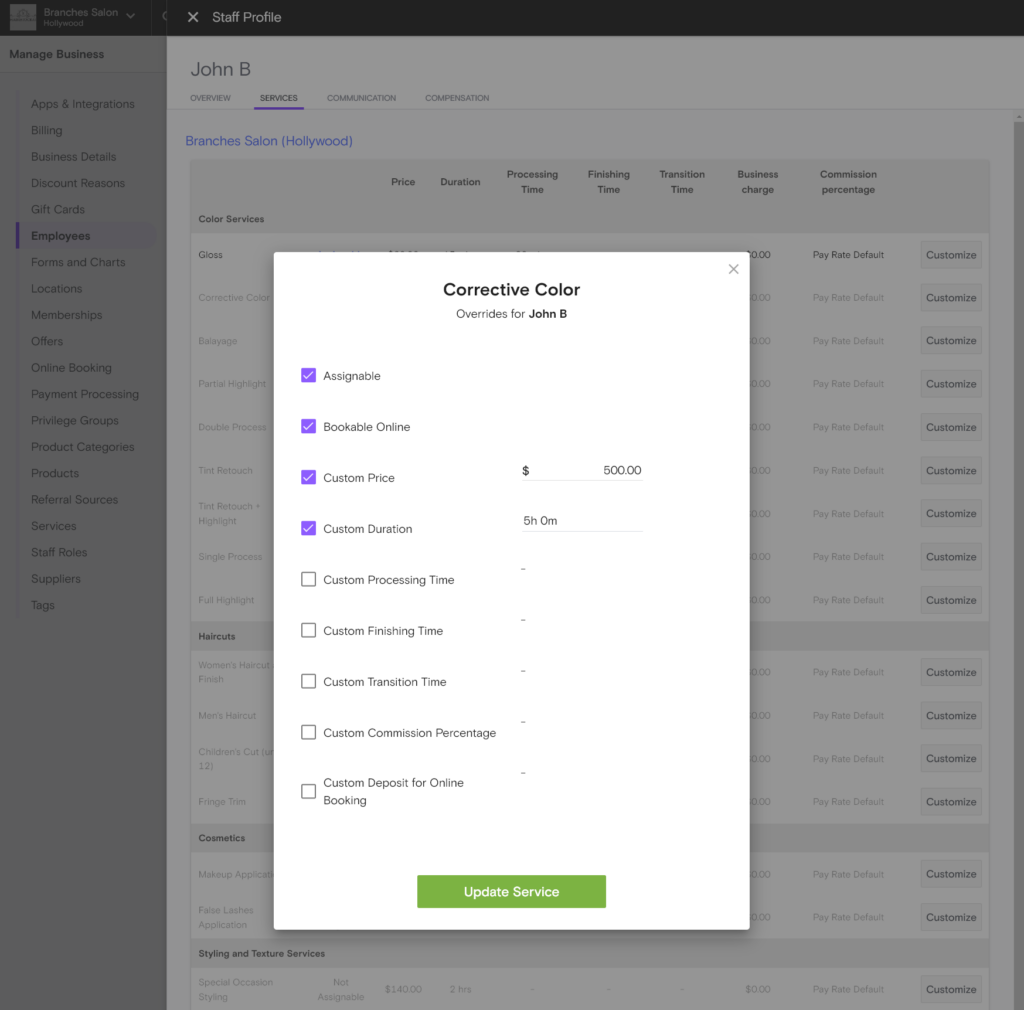 Some customer reviews have mentioned this as a sticking point for them as well, so it appears that this experience is not isolated to my testing.
Overall, the staff management options on offer in Boulevard are extensive and full-featured, just like the majority of its other systems, but some quality of life improvements to assigning services would be a major benefit to usability, especially for larger businesses with several services providers.
Boulevard Software Business Reports
Reporting is another strong-suit for Boulevard.
The software offers dozens of reports, covering standards like sales summaries, staff performance, and inventory on-hand, as well as more complex business insights reports for things like booking forecasts, account liability, and more.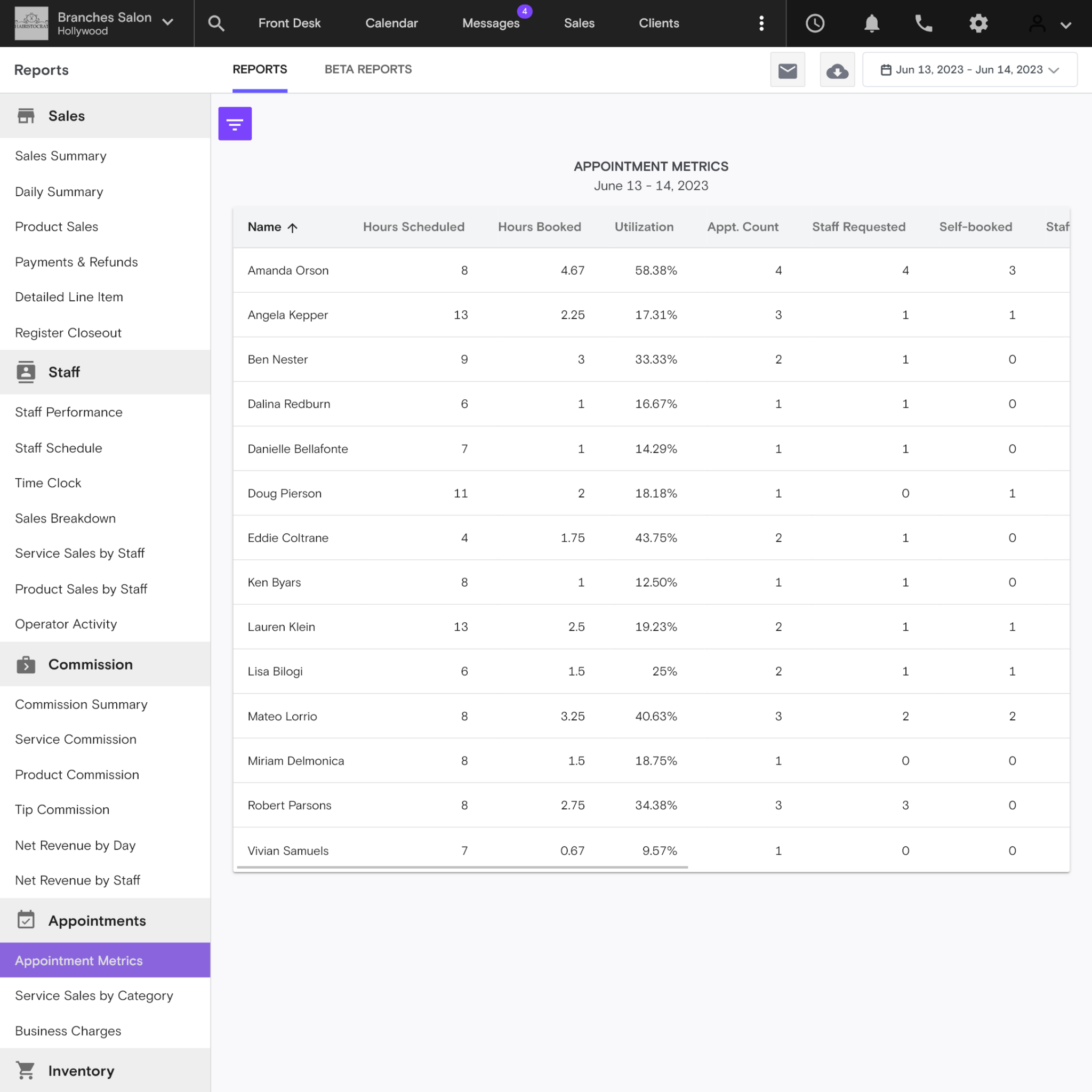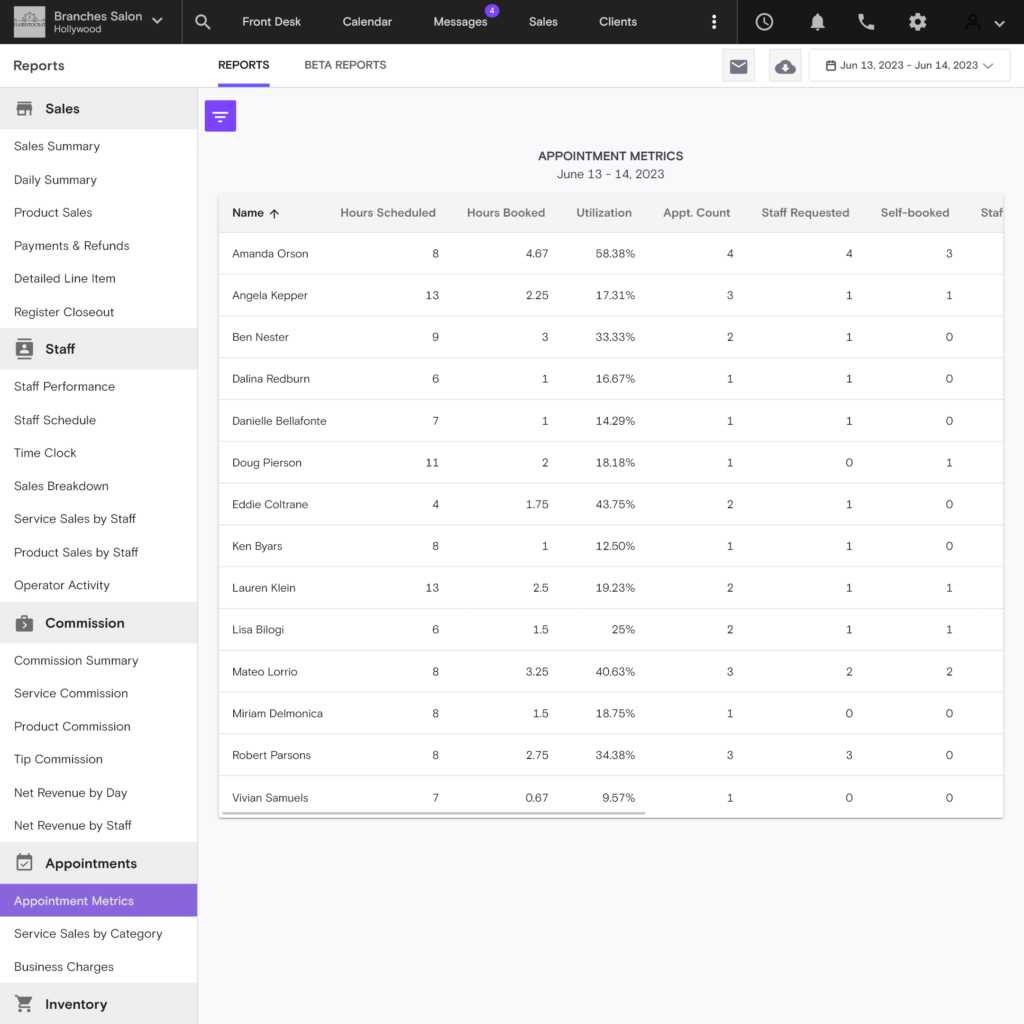 Boulevard also offers beta reports, which are highly-customizable experimental reports that can analyze various metrics.
Beta reports can be customized to drill down on specific data that is relevant to your business objectives.
These reports can be both very useful and occasionally buggy (they are beta reports after all), but their benefit as even an experimental free feature is clear.
Boulevard Inventory Management
Products and inventory can be managed within the app from the Boulevard dashboard.
You can add products, set prices, adjust item counts, and receive purchase orders (on Premier, Prestige, and Enterprise plans only) right from the Products tab on Manage Location screen.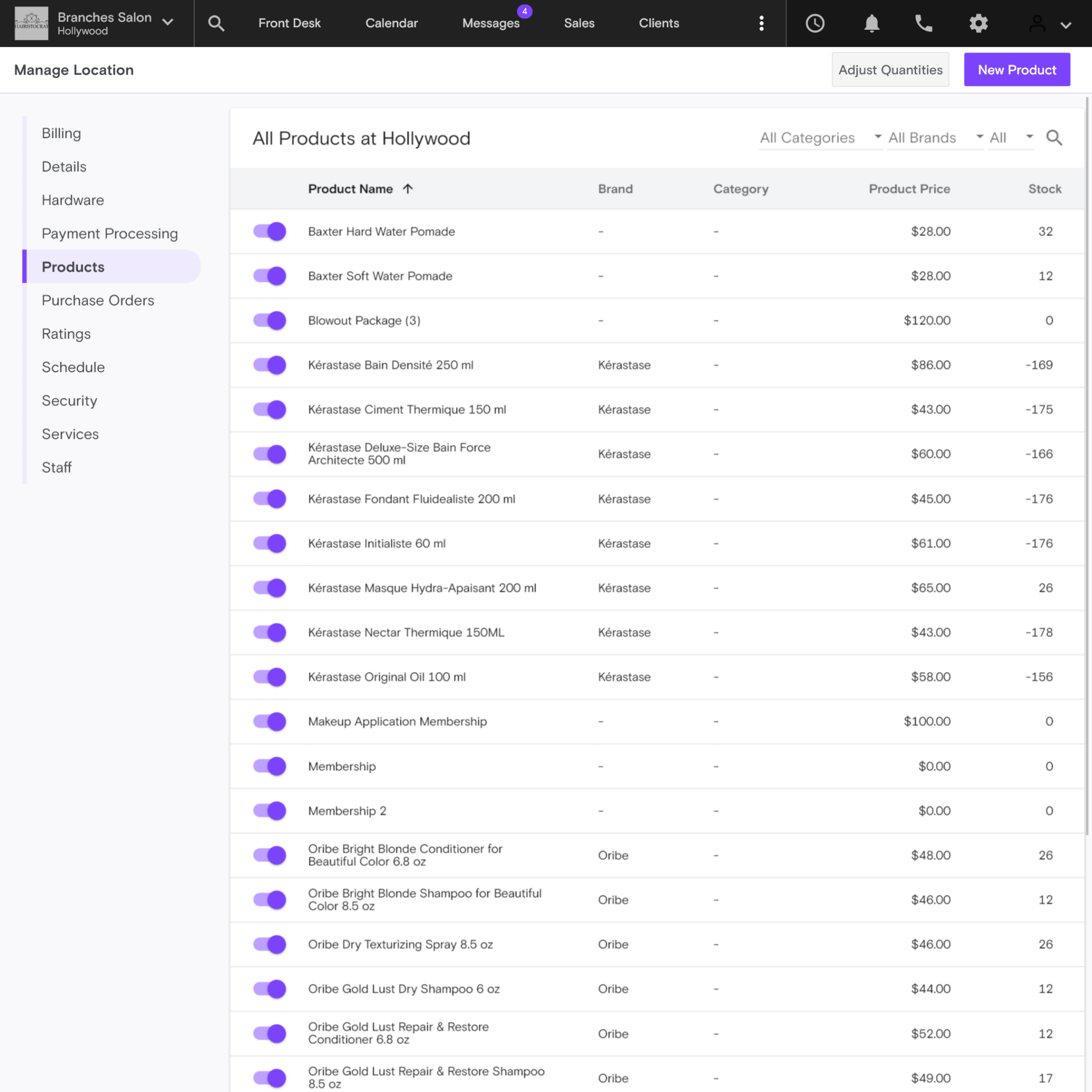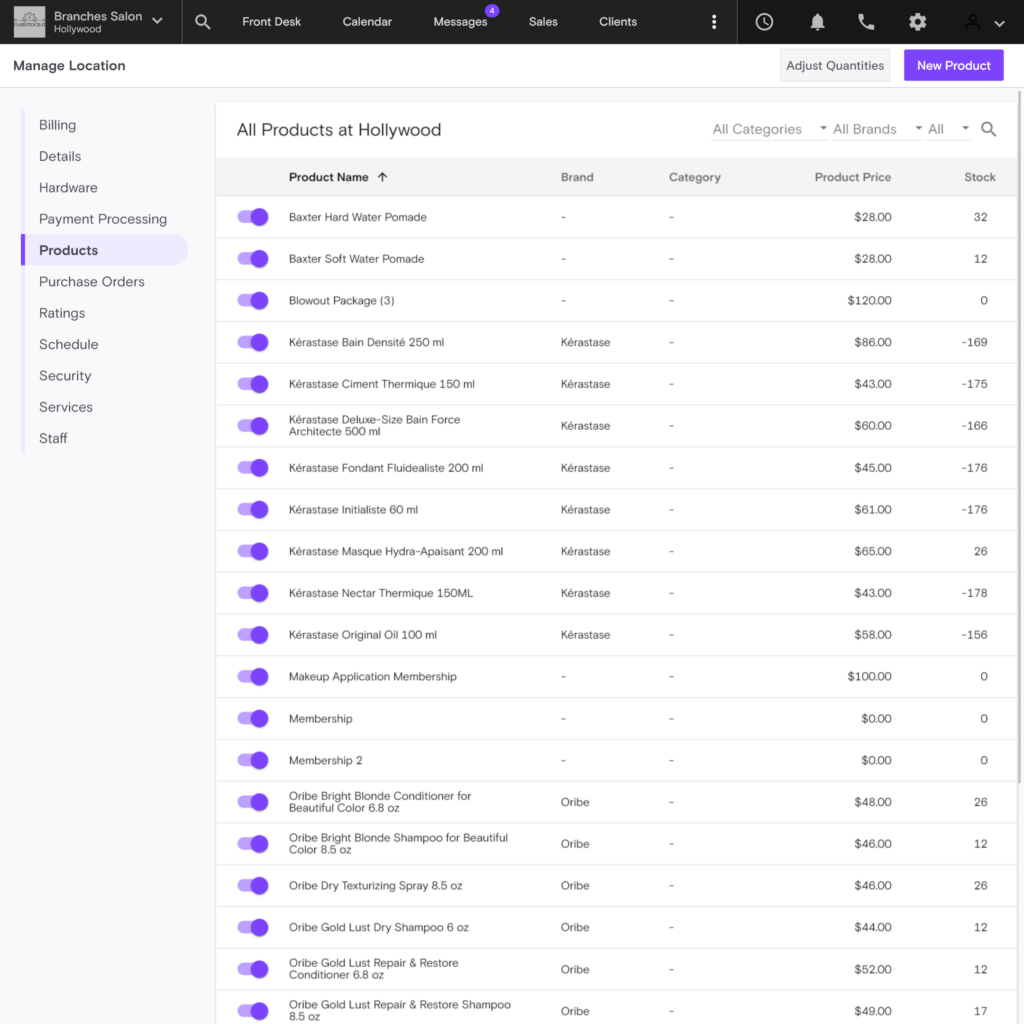 Newly added products will not show up in checkout by default. Each new product added will need to be enabled (toggled on) for each location they are stocked in to be rung up and check out.
For Premier and Enterprise customers, usage-based pricing is available. This allows the business to track product usage whether or not a product is sold as retail.
This is a highly-useful feature for med spas that perform injectable services or that otherwise use products that they wish to charge by-the-unit for, as well as beauty and wellness businesses that sell retail products that can also be used in-service.
Memberships, Packages, & Gift Cards
Boulevard offers support for packages, gift cards, and memberships to help encourage repeat visits and build recurring revenue.
Packages can be sold online and in-store, assigned a custom tax rate and price, and tracked in inventory to help with reporting as well.
Each service in the package becomes a redeemable voucher, and can be assigned an expiration date if you choose.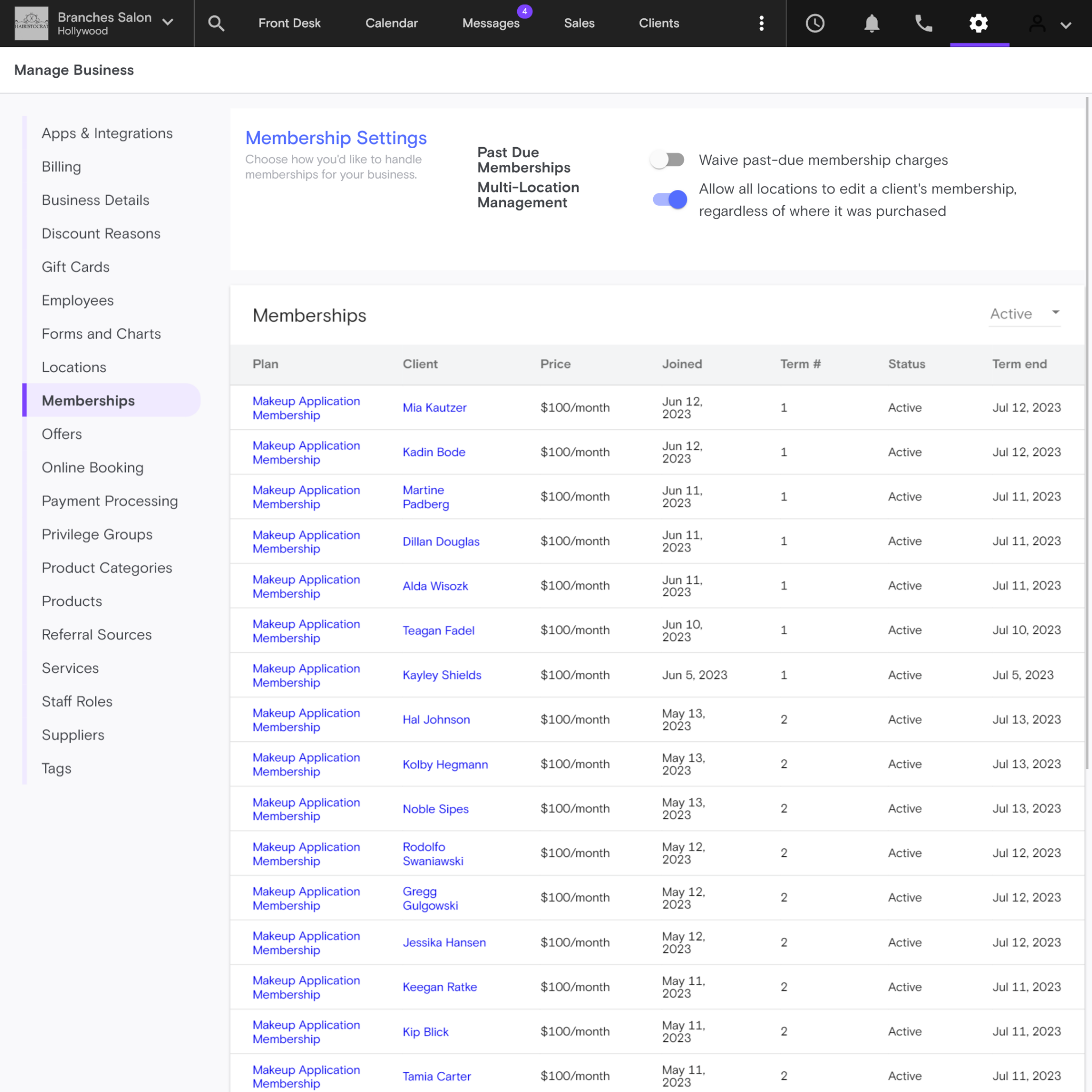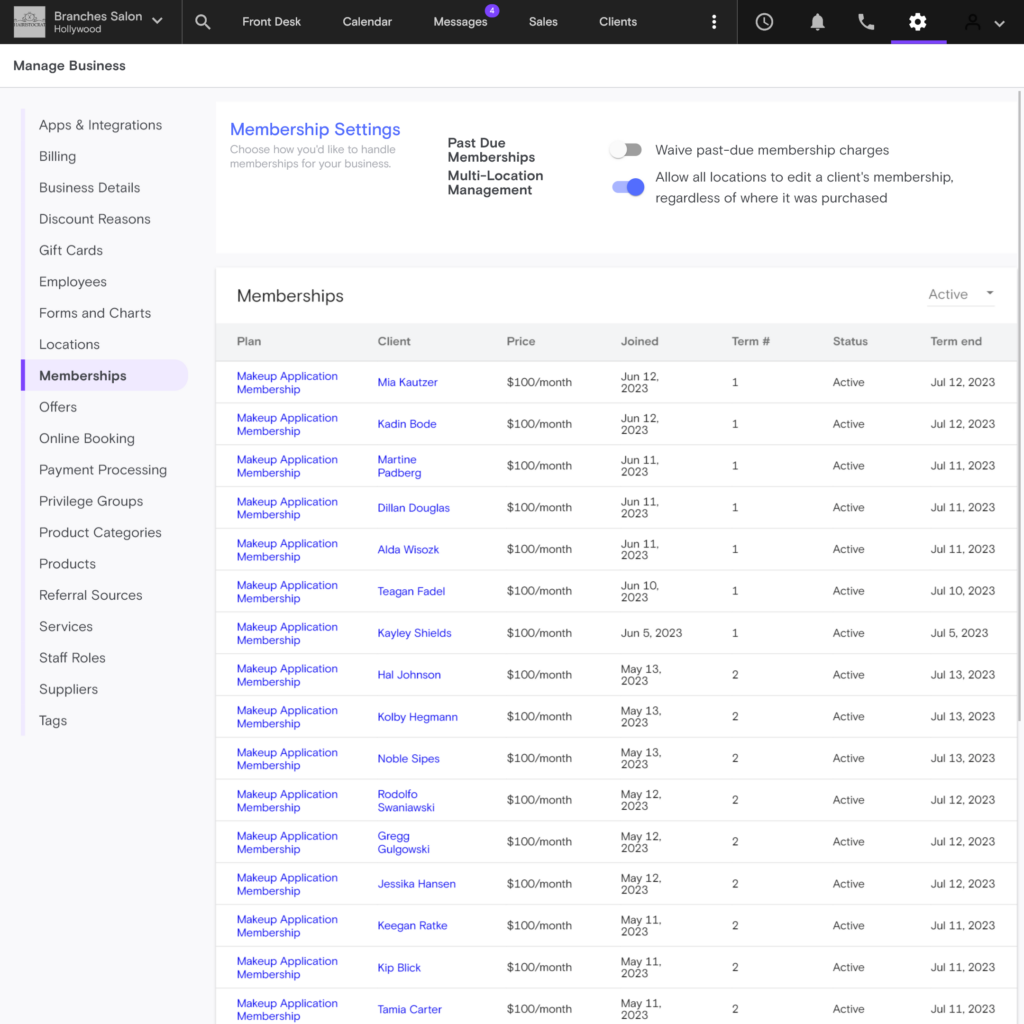 Memberships are set up as subscriptions, can be assigned custom term-lengths, and will automatically renew on the term date, charging the credit card on file to help ensure that transactions are smooth and painless for both the business and clients alike.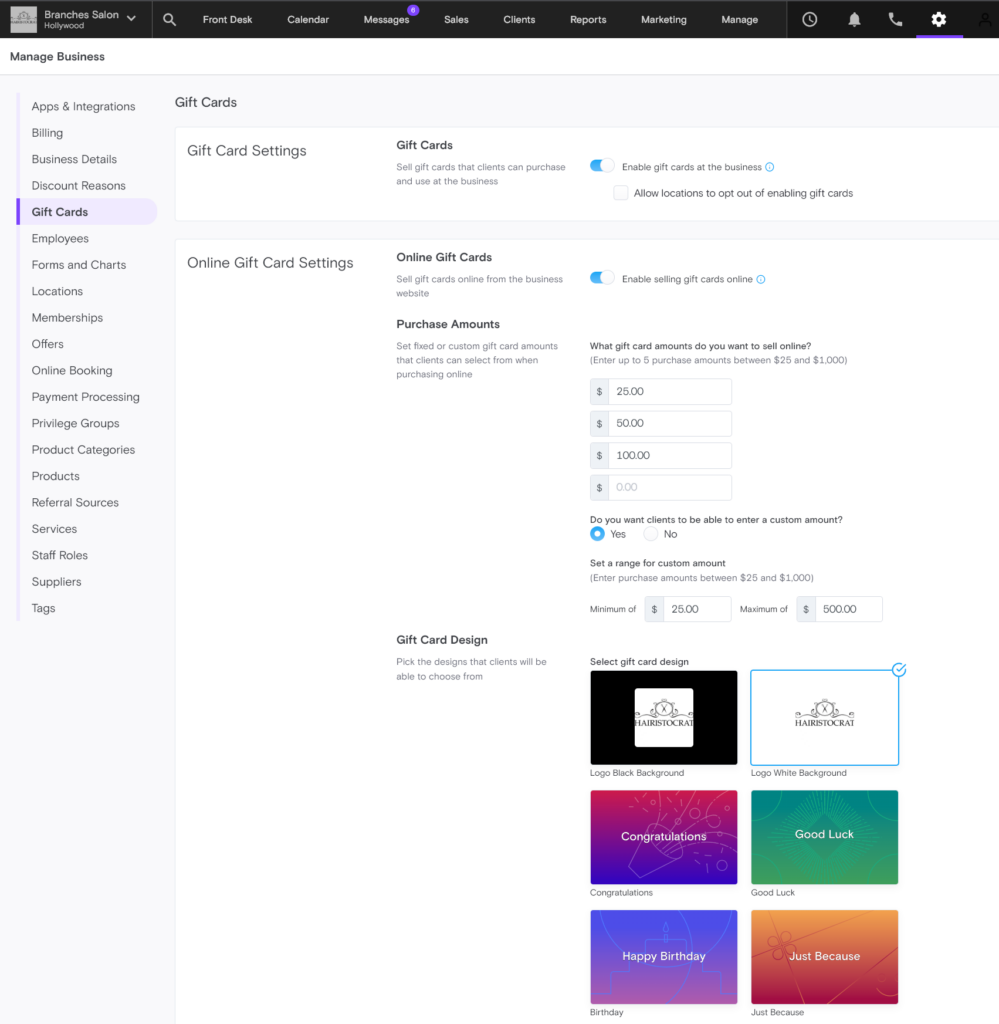 Boulevard also offers both digital and on-demand physical gift cards with custom artwork and printing options through their partner, eCard systems.
Boulevard Point of Sale (POS) Options
You can access checkout right from the calendar screen by clicking on the appointment and selecting the Checkout option.
The checkout pane will pop out and allow you to type in or scan any products the client wants to purchase, as well as add gratuity to the service.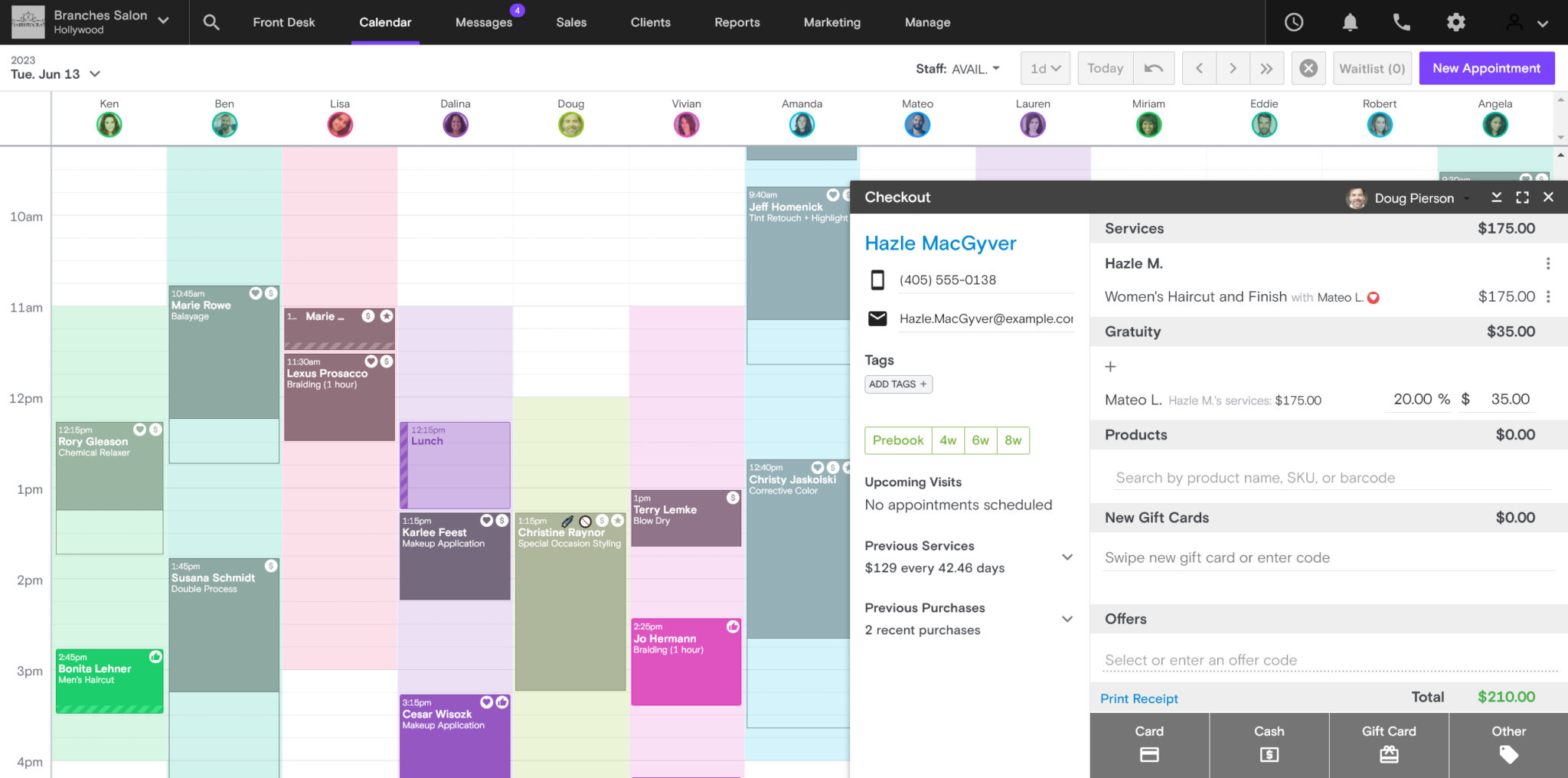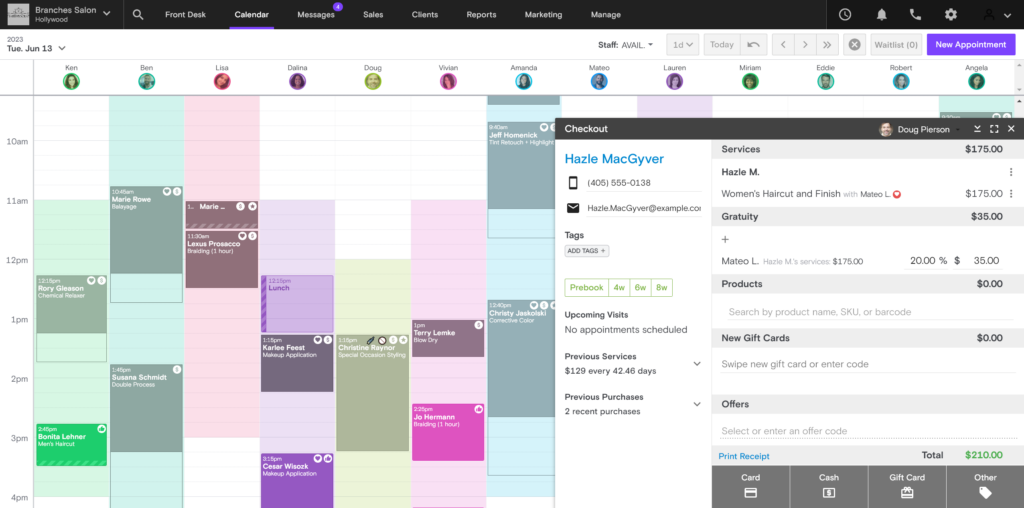 There is also a convenient prebooking interface on the left side of the checkout pane with buttons for 4-, 6-, and 8-weeks so you can jump straight to the week you want on the calendar, get your client on the books, and finish checkout as efficiently as possible.
Considering how crucial prebooking is to generating recurring revenue and boosting client retention, and how long it traditionally takes to prebook clients, I'm surprised more salon and spa software companies don't offer a similar option at checkout.
The POS hardware offered by Boulevard is the Boulevard Duo, and EMV-certified Bluetooth card reader that accepts dip, tap, and swipe transactions and supports Apple Pay and Google Pay.
The Duo reader requires syncing to the Boulevard Duo iPad App, so an iPad must be connected to the reader to take physical payments in-store.
Important Note: If you choose to skip the Duo reader, you can still use the Duo app to collect gratuity, check in clients, and collect digital forms.
Boulevard Mobile Booking App
Boulevard's main app runs in any web browser, and is recommended for use in Chrome.
The Boulevard Professional mobile app can be used to view and edit appointments and client information from your mobile device, as well as view basic performance metrics, and is available on the Apple Store and the Google Play store.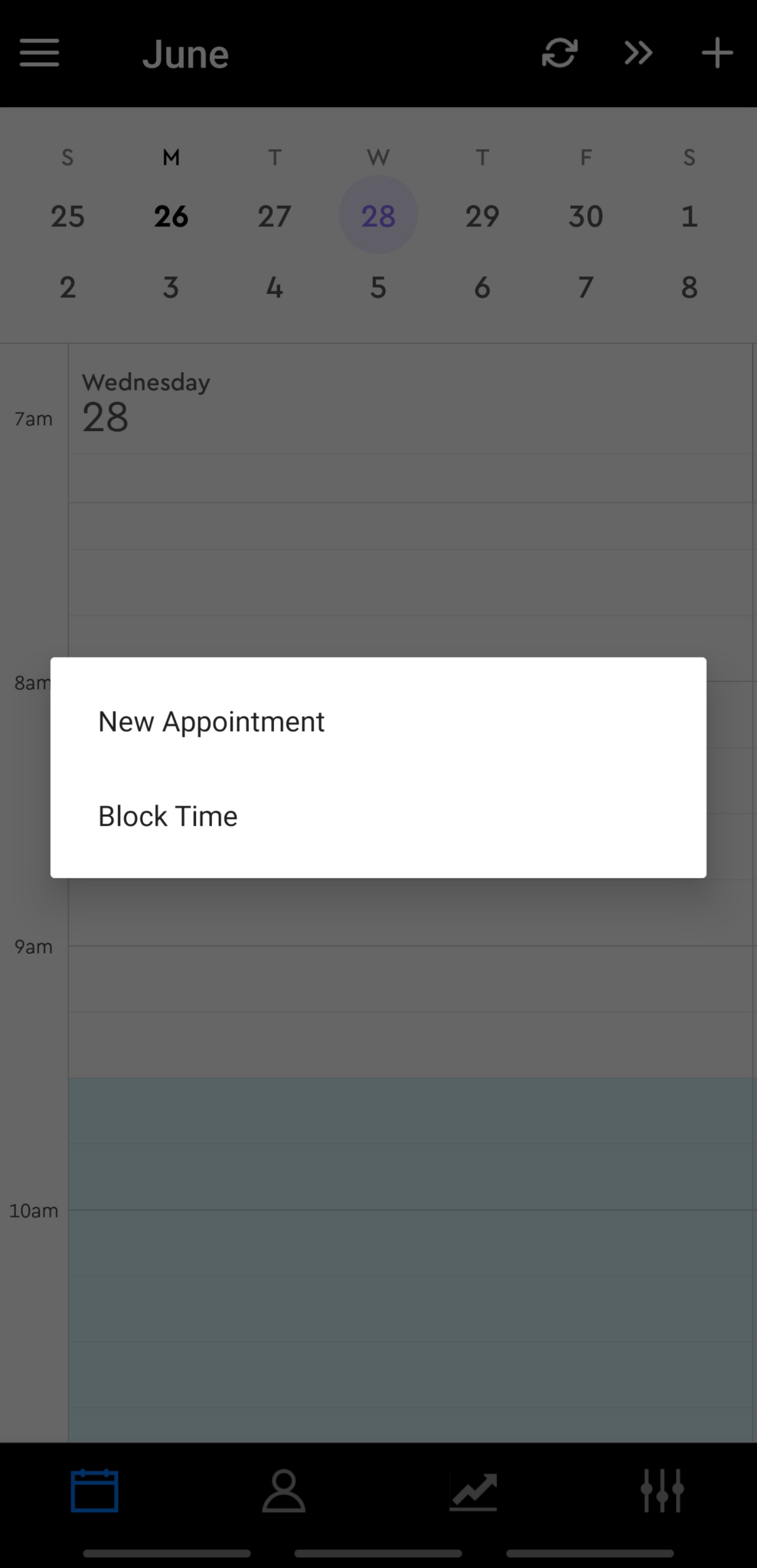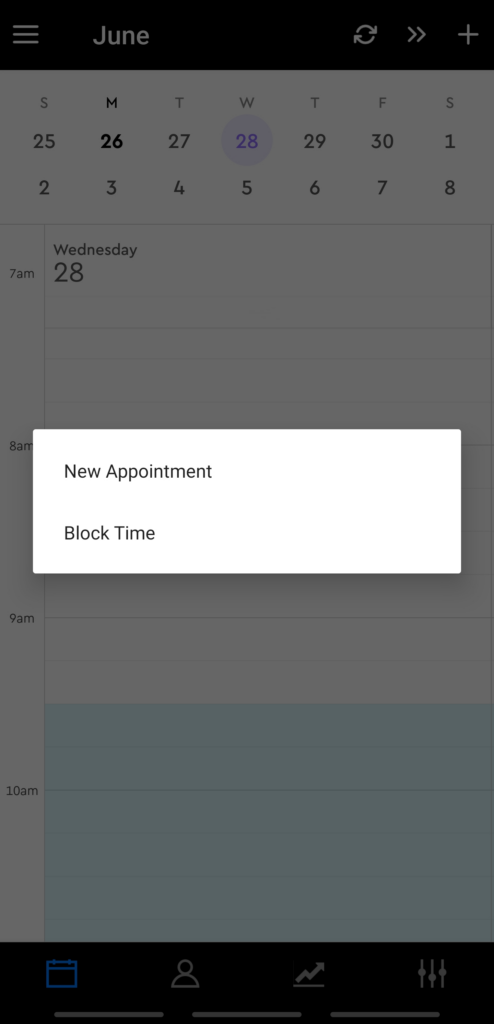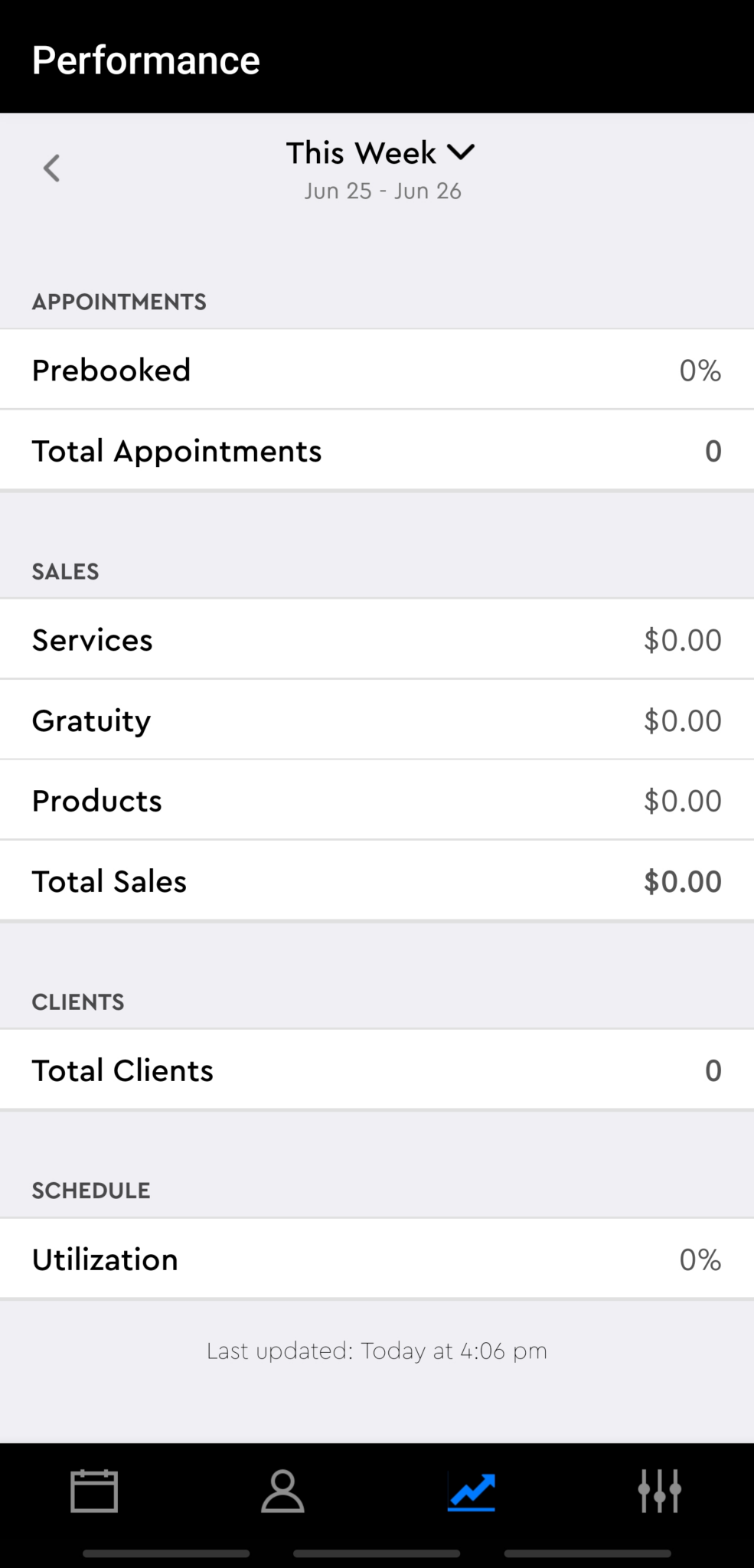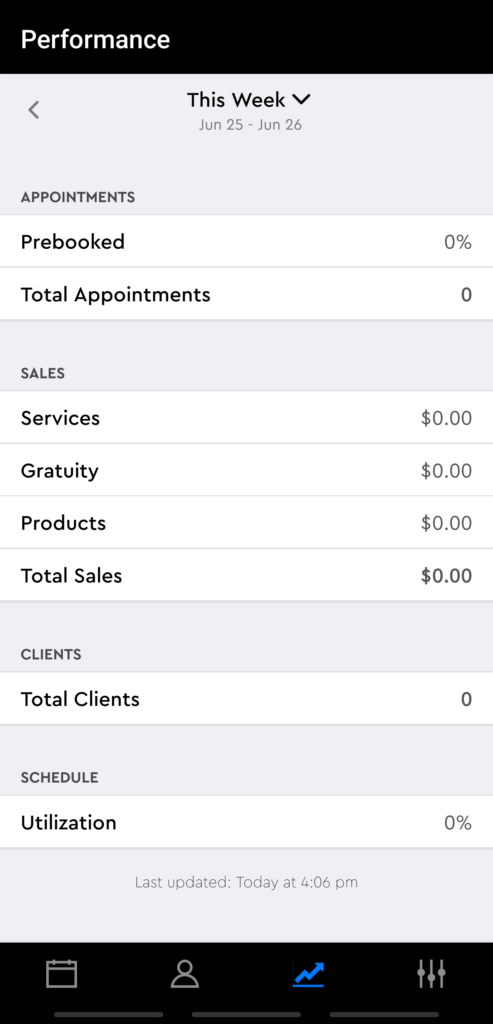 Boulevard states that the Professional app is intended to supplement, not replace the desktop version, as it does not offer the full functionality that users can expect from the desktop web app.
The Professional app has a user rating of 3.5/5 stars on the Apple App Store (with 36 reviews) and a rating of 2.1/5 stars on the Google Play Store (with 31 reviews) as of the writing of this review.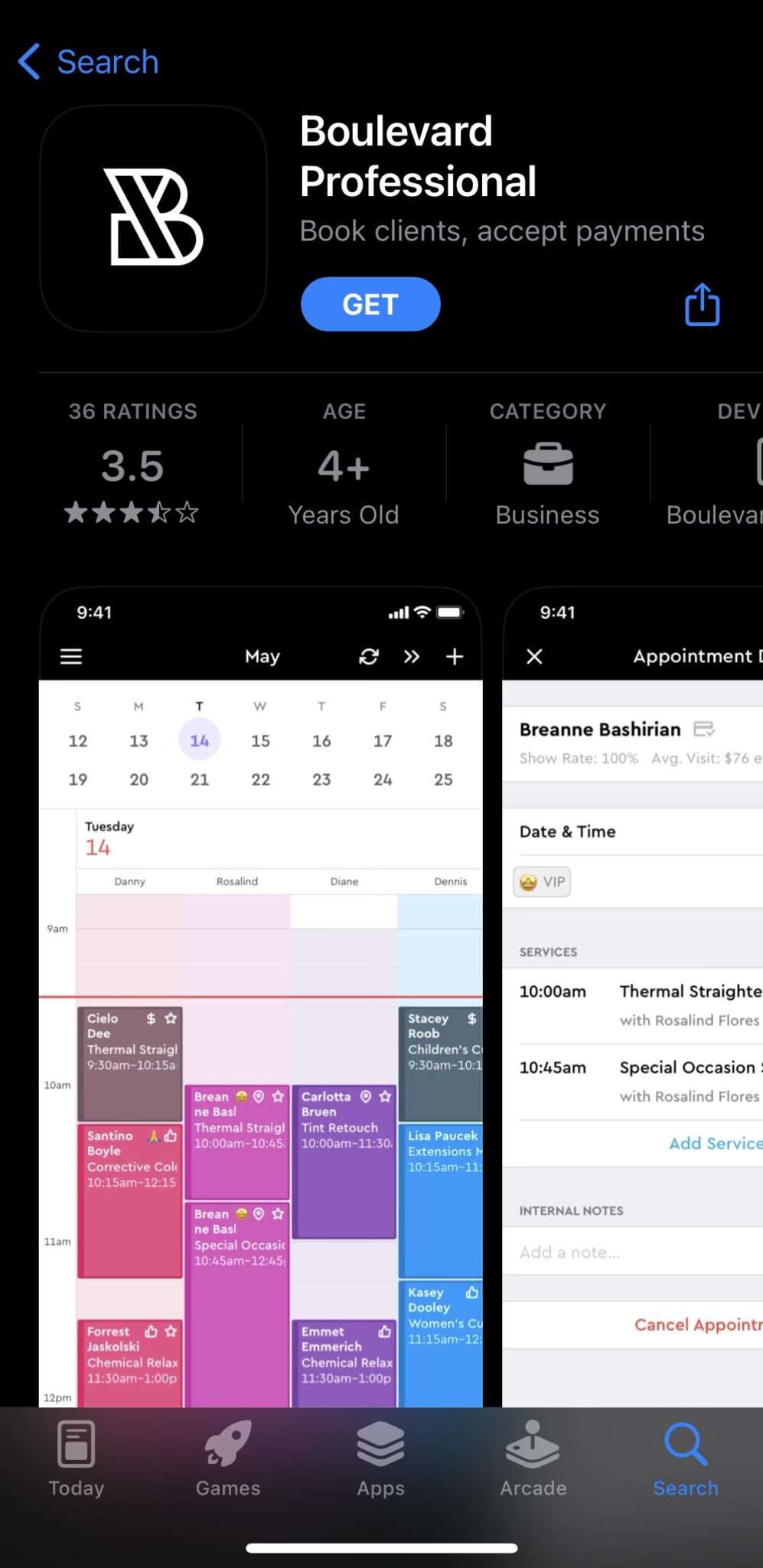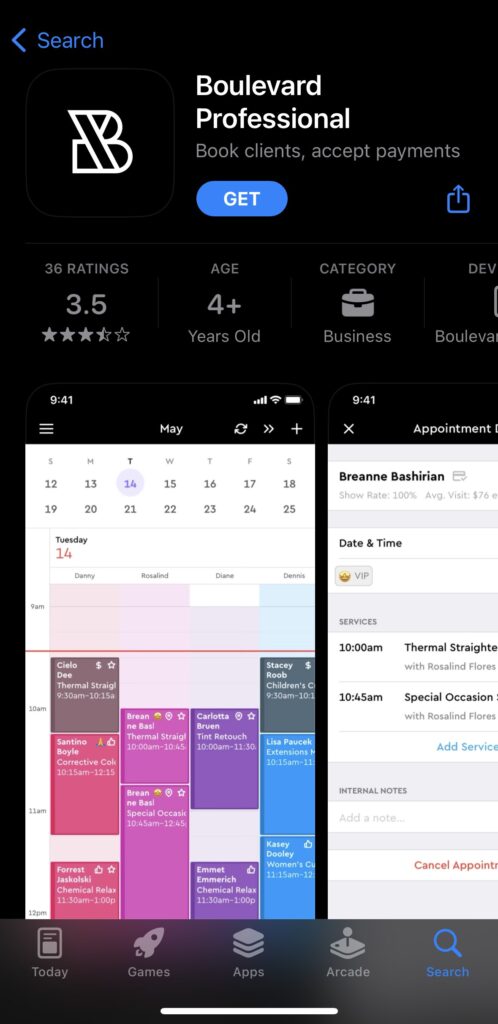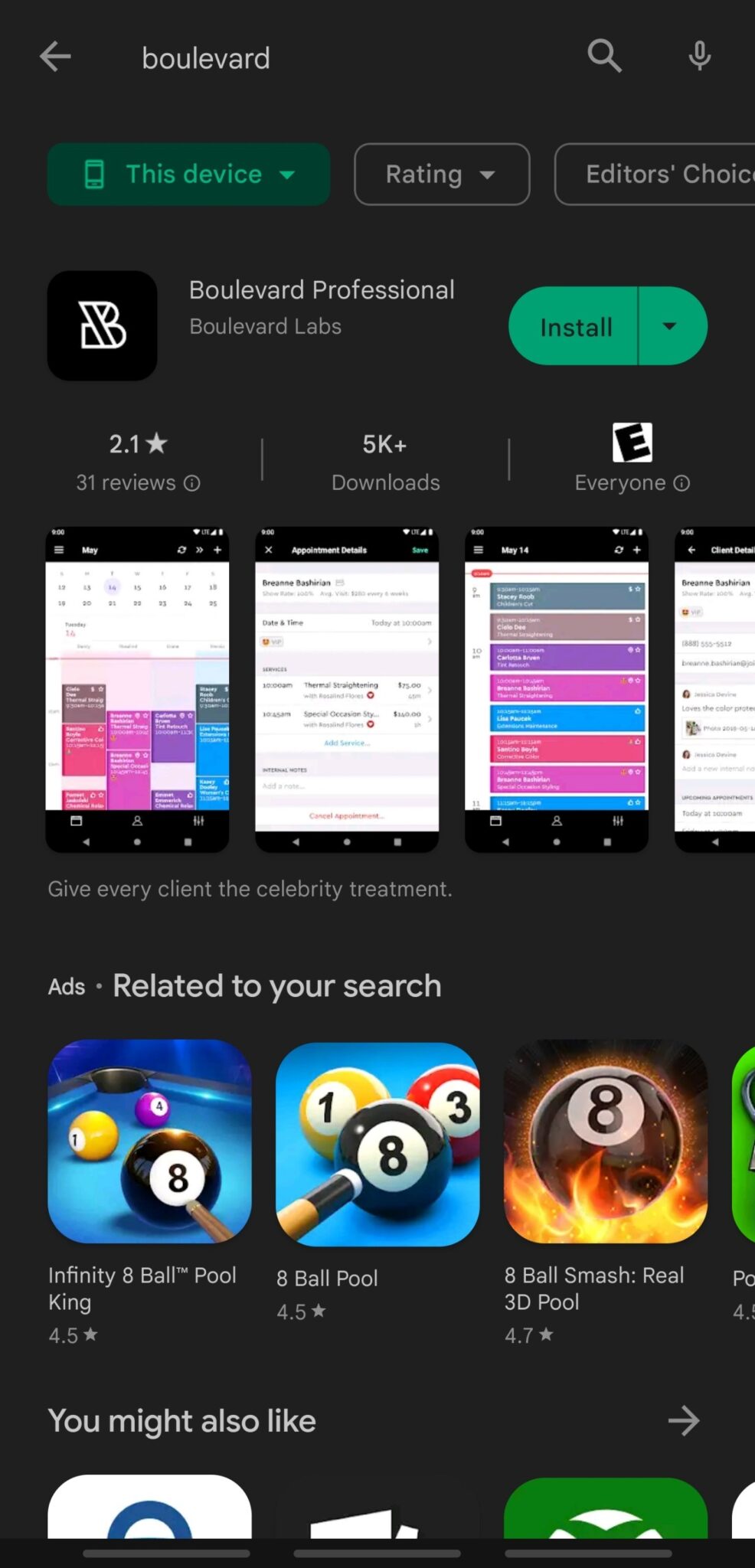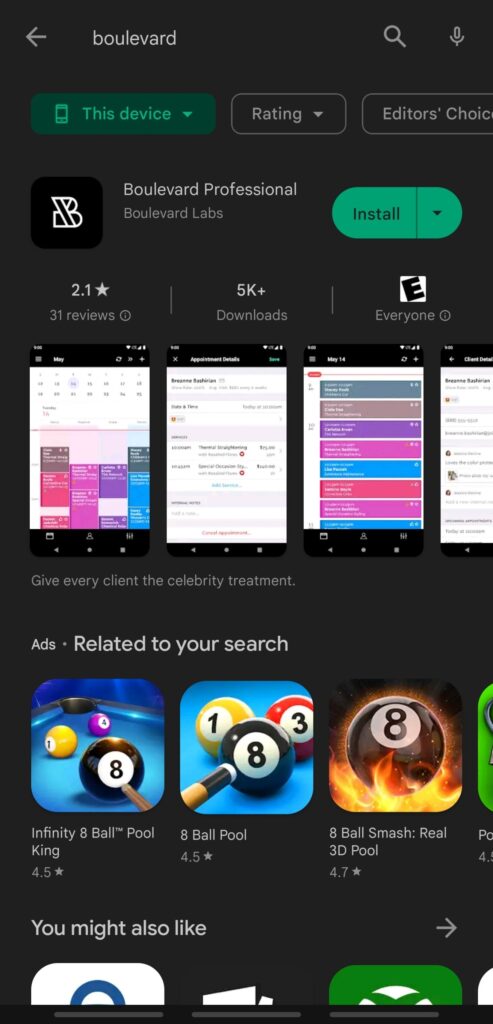 Based on user multiple user reviews, the overall sentiment of both the iOS and Android apps is that they currently offer a buggy experience, lack some polish in the user interface (UI), and that the backlog of feature requests is moving slowly.
This feedback is more even more pronounced on the Android side of things, where the majority of complaints revolve around functionality-breaking bugs and a lack of support overall.
Obviously, the Professional app is a must-have if you are a Boulevard customer, although I do hope to see major bugfixes come to both Android and iOS versions.
I would also really like to see more features from the desktop version of Boulevard make their way to mobile in the near future.
Summary & Conclusion
Wow. That was a lot of information.
Thanks for sticking around 'til the end!
I hope you found this review of Boulevard helpful in your hunt for the right salon and spa software.
Overall, Boulevard is a rather sophisticated and feature-rich tool for running a beauty and wellness business.
Their everything-and-the-kitchen-sink approach to features and options means you can really dig in with tools that are designed to help you bolster your marketing efforts and aid you in building revenue, tracking progress, and laser-focusing on the reporting that matters to your business.
If you run an established salon or spa with a large team, this tool could provide you with the tools you need to grow your brand and market your best assets online.
Request a demo of Boulevard here or check out our complete list of the Best Salon and Spa Software of 2023 and see how Boulevard stacks up to the best options on the market today.