Are you looking for barber shop name ideas?
Then you've landed in the right place.
In this article, I've compiled the ultimate list of barber shop name ideas to give you inspiration when coming up with a name for your salon. You'll find cool, unique, funny, and creative names for barber shops as well as some barber nicknames in case you're looking to create a personal brand.
After the barber shop names list, I'll also cover a few important factors to consider when finalizing your name choice to ensure the name you've picked is the right one.
Now, let's go through the barbershop name ideas!
Below are the different topics and barbershop name ideas we'll cover today.
Cool Barbershop Names
Your salon should attract men.
I don't want to sound stereotypic but men tend to be more attracted to cool and funky names. This is why I want to start this list with cool barber names that have a masculine ring to them.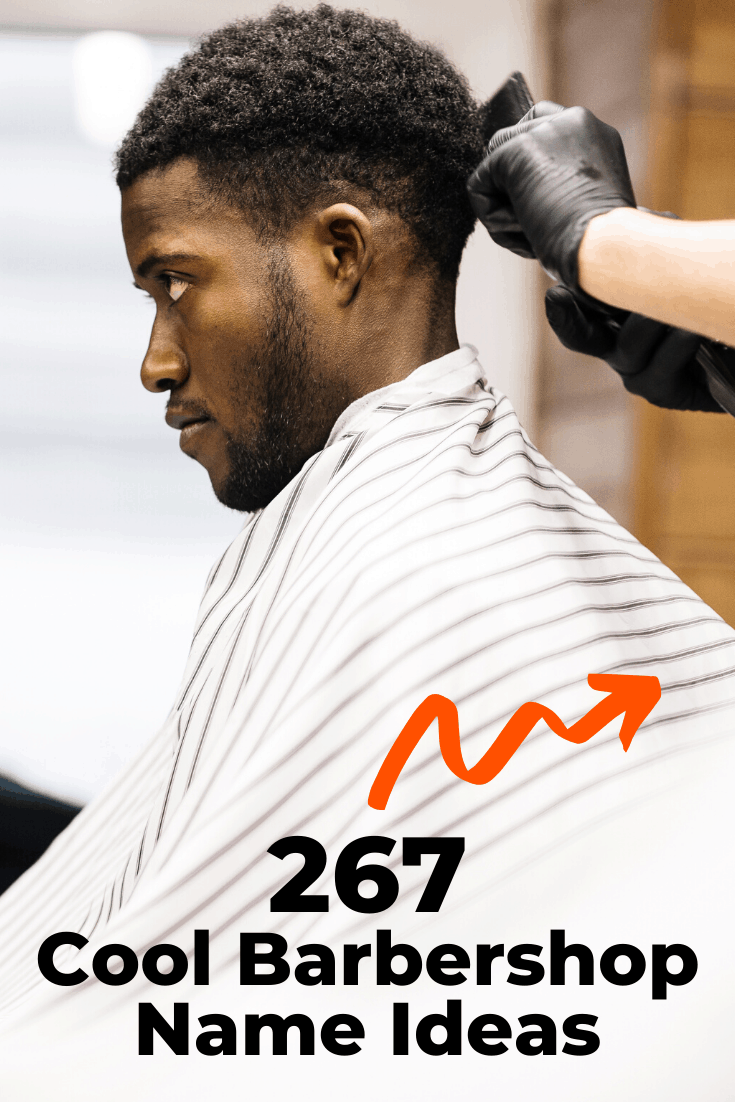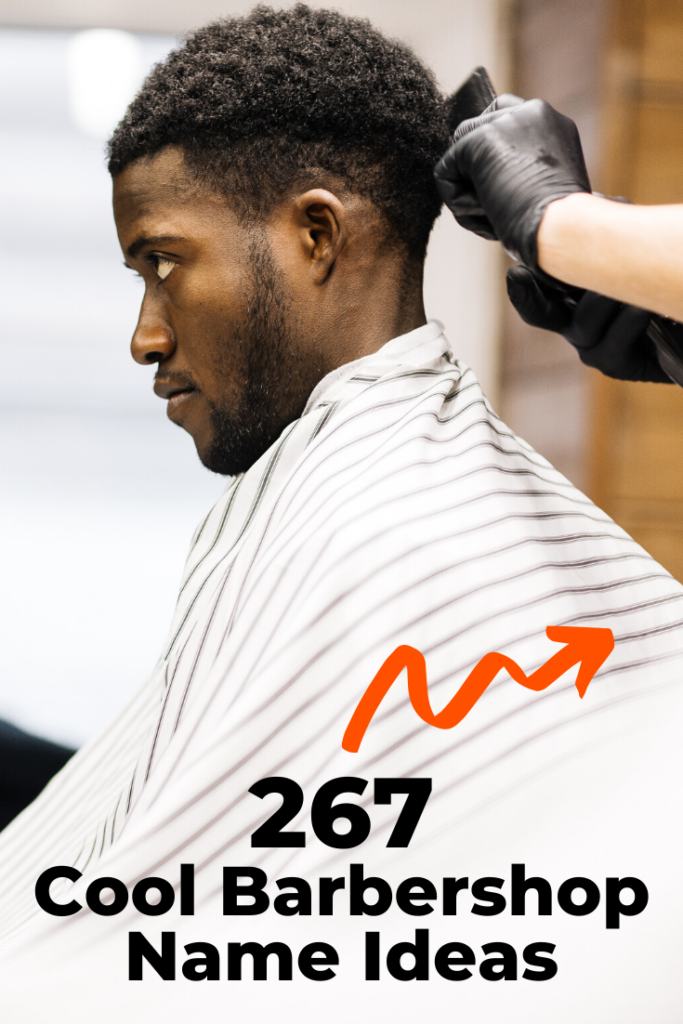 Cool Barbershop Name Ideas
Butch
Mohican
Dapper
Lionico
Game Day Barber
Straight Razors
Muscle Cuts
Bulls & Barbers
Rebel Rebel
Rusty Blade
Dark Barber
Hi-Rollers Barbershop
The Fade Shop
Illicit Barbering (not legally permitted)
Razor King
Razor Cuts
Lads Lounge
Sideburns
Urban Shave
Backyard Barbers
Silver Bullet Barbers
Baseline Barbers
Empire Cuts
Barber Bomb
Mug & Brush
The Legend Room
The Barber Shop
Dope Barber
Bolt Barbers
The Loft
Barber Loco
Comb Club
Lucky Barbers
Noir
Style Street Barber
Smoke & Mirrors
Gents
The Pope
Unique Barbershop Names
A cool barbershop name is not right for every male salon. In the end, your name must fit what's unique about you and your salon.
A unique name should tell your story. Not your full story. But incorporate some element that is unique to your business. Think about things like where you're from, if there is a certain service you offer that few others do, or if you're schooled in a certain way.
These can all be sources of inspiration for telling your story. Your name should not literally tell your story. It should just be inspired by it. It can be as vague as using a street name where you went to barber school. Even if people don't know immediately what it stands for, it becomes a conversation starter and it makes your name unique.
Let's go through some unique barber shop name ideas to illustrate the point.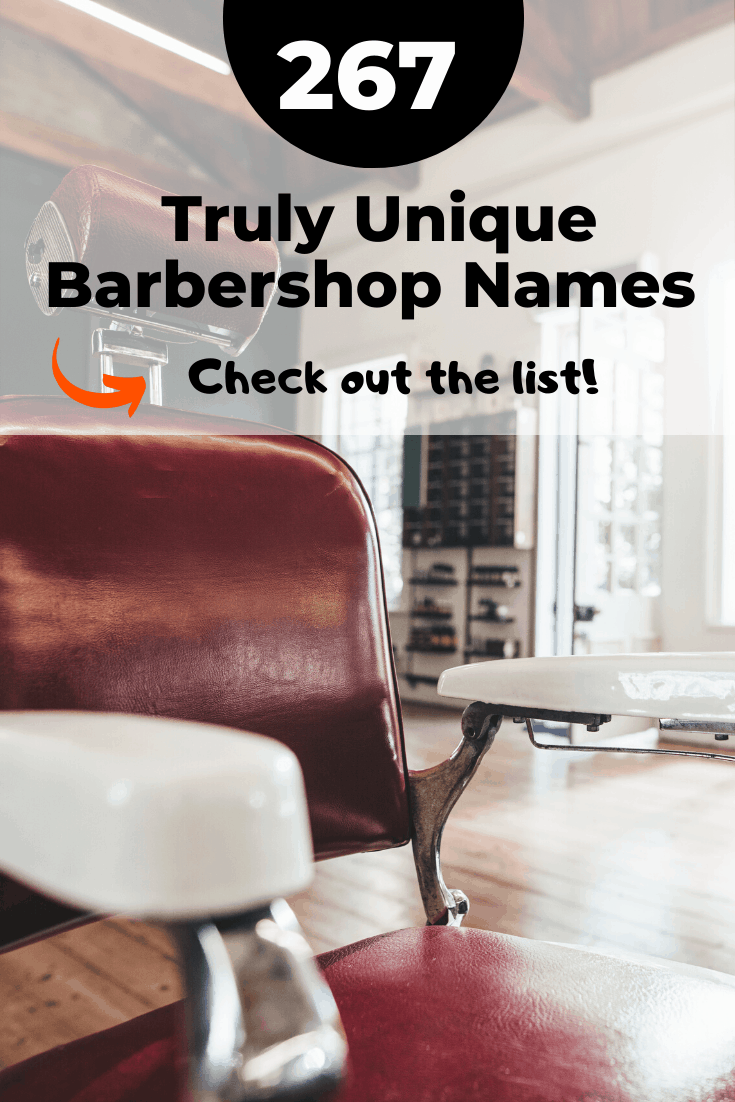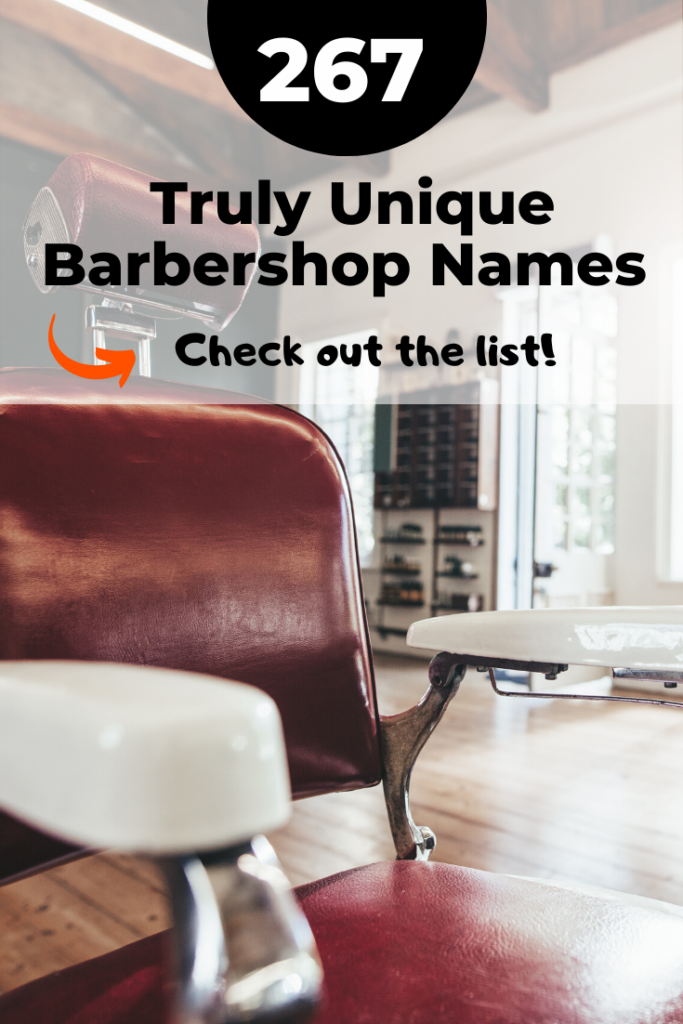 Unique Barbershop Name Ideas
John's Barbershop (or your name)
Uncle B's (or first letter of your name)
Hestory
Barberia
Tailored
Vogue Cuts
Justache
White Barber
Blade
Steel
Salon Zeppelin
Nuca Barber (Spanish – back of neck)
Barber Bombinate (to make a humming or buzzing noise)
Crew Cuts
Mazudo
No Grease
The Humble Barber
Brooklyn Barbers
Salty Barber
Manly and Sons Barber Co.
Co Co Club
Barbers Bazaar
The Assembly
Barber Republic
Bangs
Samurai Barbers
Short Barber
Pure Barbering
Turkish Barber
Barber Canvas
Neck & Nose
Funny Barbershop Names
Using humor can be smart when choosing a barbershop name. Funny barber shop names are typically more memorable than any other type of name. Fun barbershop names also make your shop feel more approachable as people get that you're not taking yourself too seriously.
Funny names work really well for Barbershops. The only time I'd recommend against it is if you run a really high-end barbershop. If that's the case, you shouldn't really be approachable but rather be distanced with a cool or classy barbershop name.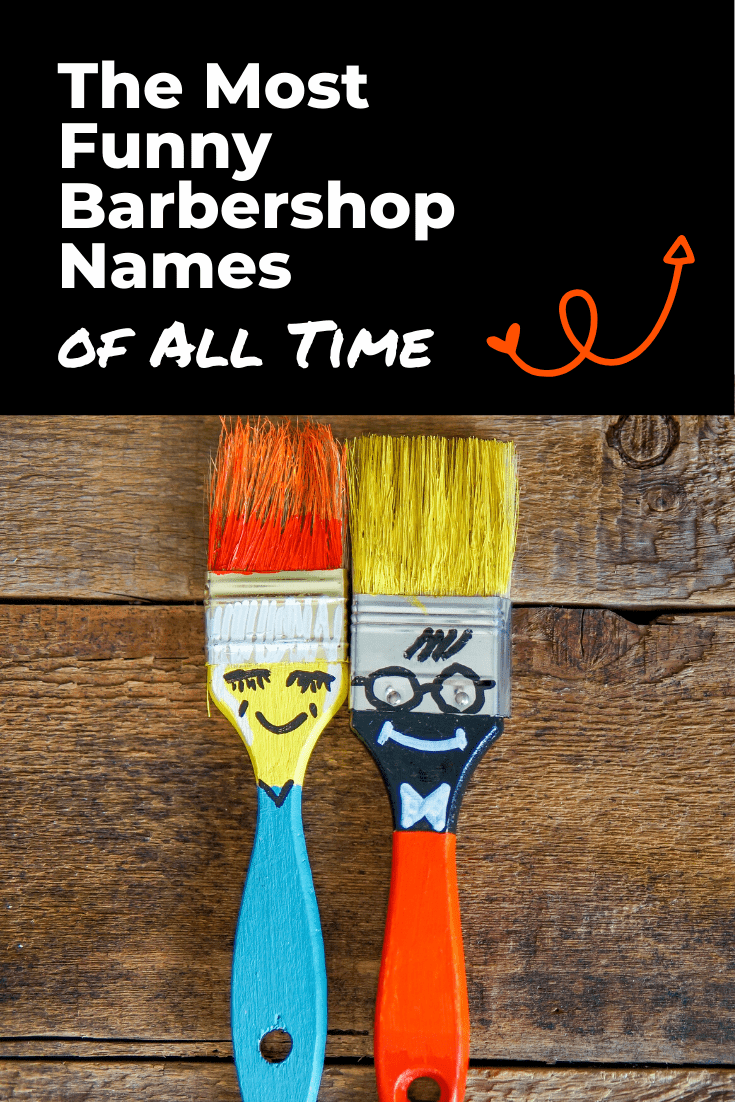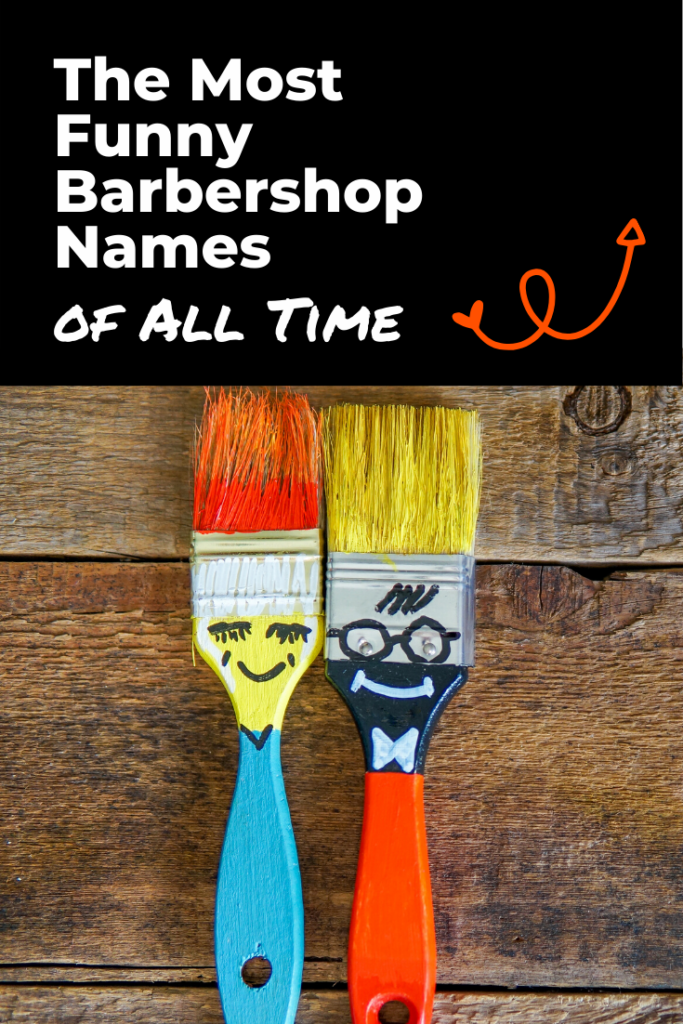 Funny Barbershop Name Ideas
The Men's Mane
Lookin' Sharp Barber
The Comb Over
The Mustache Man
Fading Away Barber Shop
Upper Cuts
Twisted Scissors
Blind Barber
Hairitage
Barberhood
Praise the Razor
Bold Barber
The Smiling Barber
The Mad Barber
Heads Up Barber
Director's Cut
Band of Barbers
Gotta Comb
Beards & Shears
Big Mouth Barber
Barber Brains
Jack of all Fades
Head Office
Barbwire
Bold Bloke
Stone Cool Barber
Catchy Barbershop Names
Like with funny salon names, a catchy barber shop name is typically more memorable than other names. By leveraging rimes and words that fit well together, you can achieve a catchy name that people won't forget.
The examples in the list below are trying to achieve this.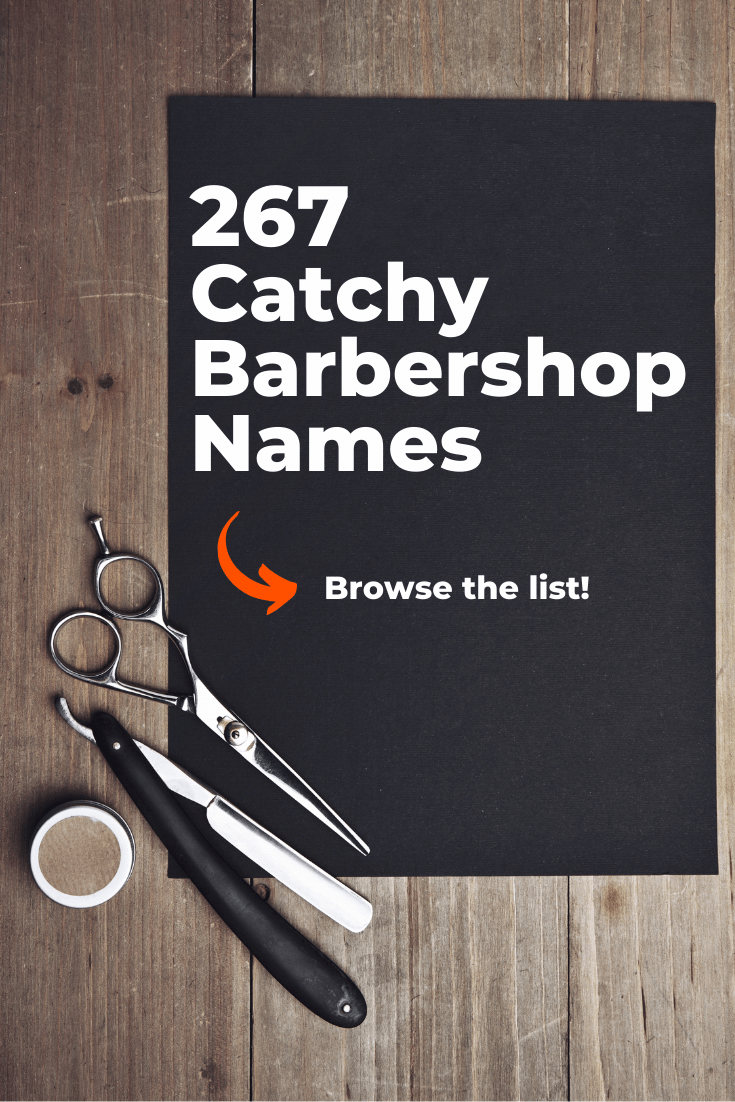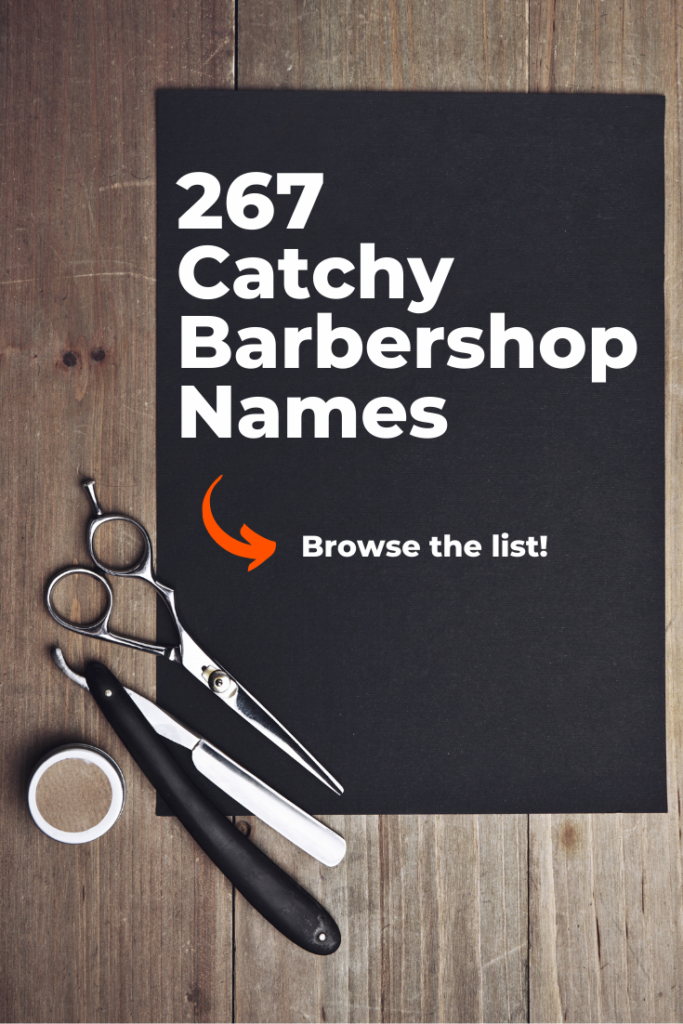 Catchy Barbershop Name Ideas
Ace of Fades
Bob the Barber
Barber Book
Machine Men
Brilliant Barbers
The Shave Cave
Barber Boss
Barberomat
Barber Blaze
Bonjour Barber
Backbone Barber
Hansom Harald
Brave Beard
Perfect Pete
Tom Trendy
Cut Cat
Hipchap
Fast Fades
Fist & Twist
Clay Way
Cut Castle
Men Pen
Facial Freak
Barber Button
Bow Barbers
Style Still
Clever Barbershop Names
People appreciate it when there's a thought behind your barbershop name. To achieve a clever barbershop name you can use names of tools you use, barber cut names or techniques that you use to also symbolize your salon brand.
Let's look at some clever naming ideas.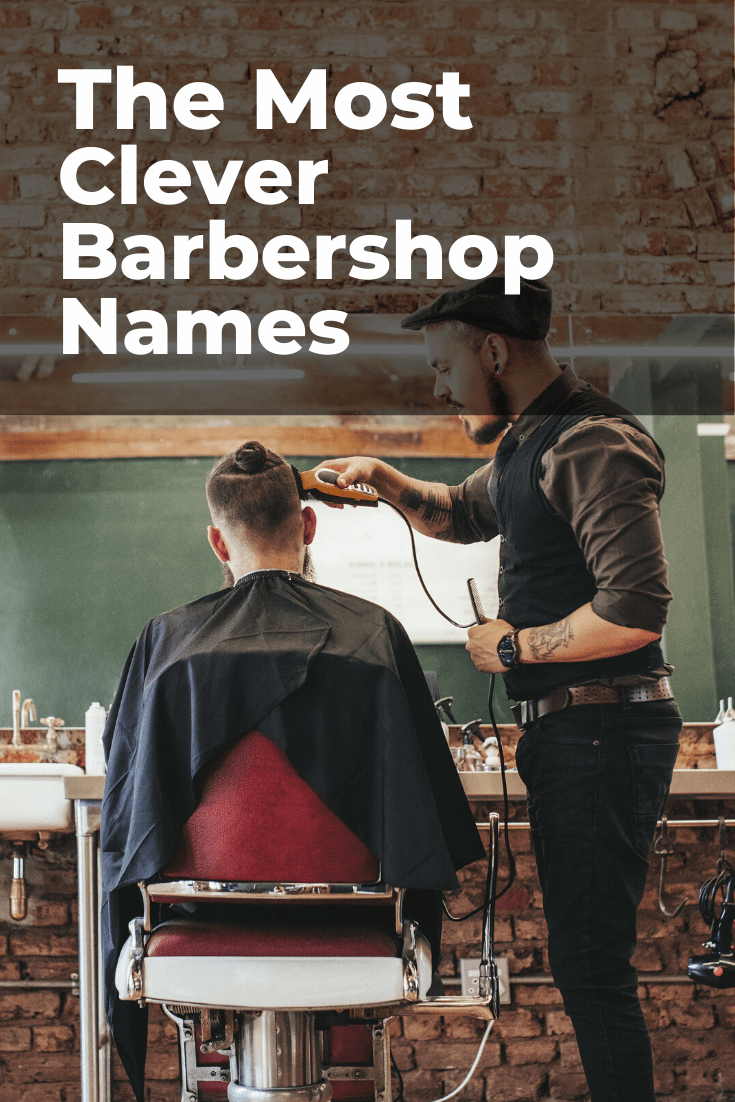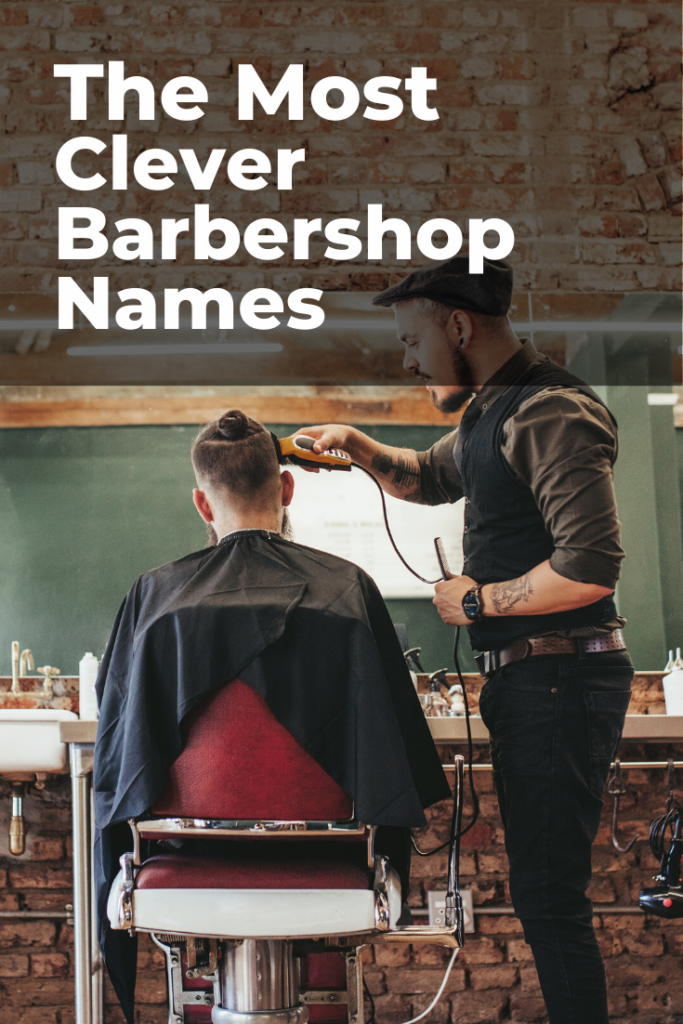 Clever Barbershop Name Ideas
Clippers
Blade Barbershop
Blow Barber
Battery Barbers
Fresh Fades
Uber Barber
Dude
Hunk
Giant Barber
Dandy
Whiz Barber
The Powerhouse
Estimen
Hunk Town
Mama's Boy
Handsome Box
Sharp Barber
Layered Barber
Necks
Crypto Cuts
No Caps
Fish Comb
Shears
No Shears
Just Blade
Foam & Blade
Strands
Desired
Man Bun
Barber Express
Creative Barbershop Names
It's easy to fall into the traditional barbershop names when trying to come up with a name. These are often stereotypical and not something that feels like a modern barbershop name.
If you want to create a concept that feels new and fresh, you probably want to come up with a creative barbershop name that signals that. To help you I've compiled a list of clever barbershop names below that signal creativity rather than being traditional and old fashion.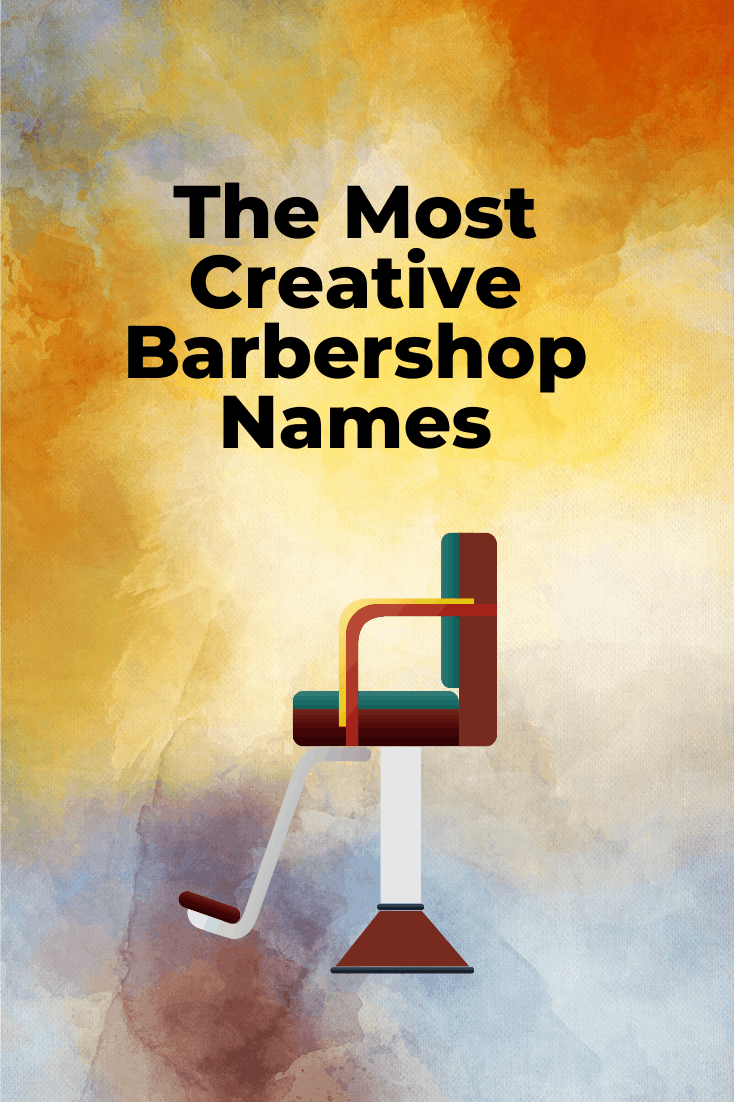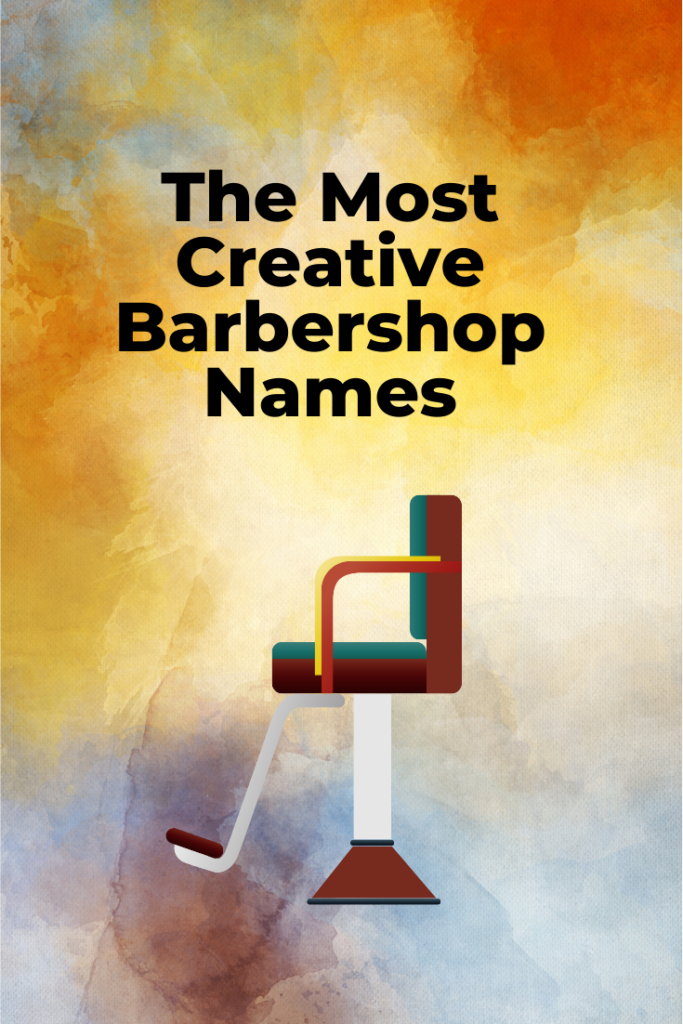 Creative Barbershop Name Ideas
Cut Creations
Brotherhood Barbershop
The Art of Grooming
The Renaissance Barbershop
Young House Barber
Bombastic Barbers
Modern Men Barbershop
Creators
Boy's with Emotions
New Barbers
Men Only
Barber Craft
Creato
The Process
Barber Labs
Lighthouse Barbers
The Barber Show
GOAT Barber (Greatest of All Time)
Wicked Barber
Front Men
Barber Hacks
Equity Men
Modern Dude
Gentmode
Bro's Room
Trendy Fella
Organic Lad
Gentiq
Groomify
Bendway Barber
Classy & Elegant Barbershop Names
Do you run a high-end barbershop? Then you should consider an elegant name that reflects your classy brand.
In fact, luxury and high-end brands are typically very different from regular brands. They have a history and a strong purpose. They don't exist to cut hair or shave beards. They have a higher mission and reason for existing.
As naming a luxury business is so different compared to other salons, I've written a dedicated article about how to name a classy hair salon here. I recommend you check out this article in case you're looking to start a luxury barbershop.
Let's look at some elegant barbershop name ideas.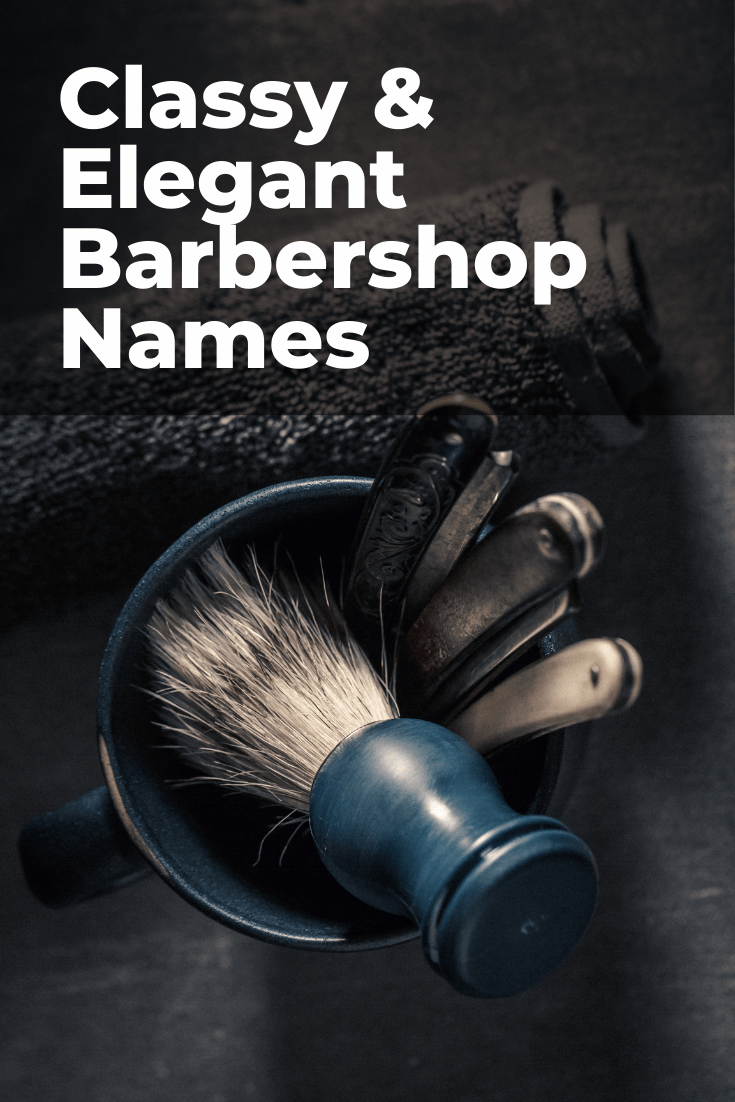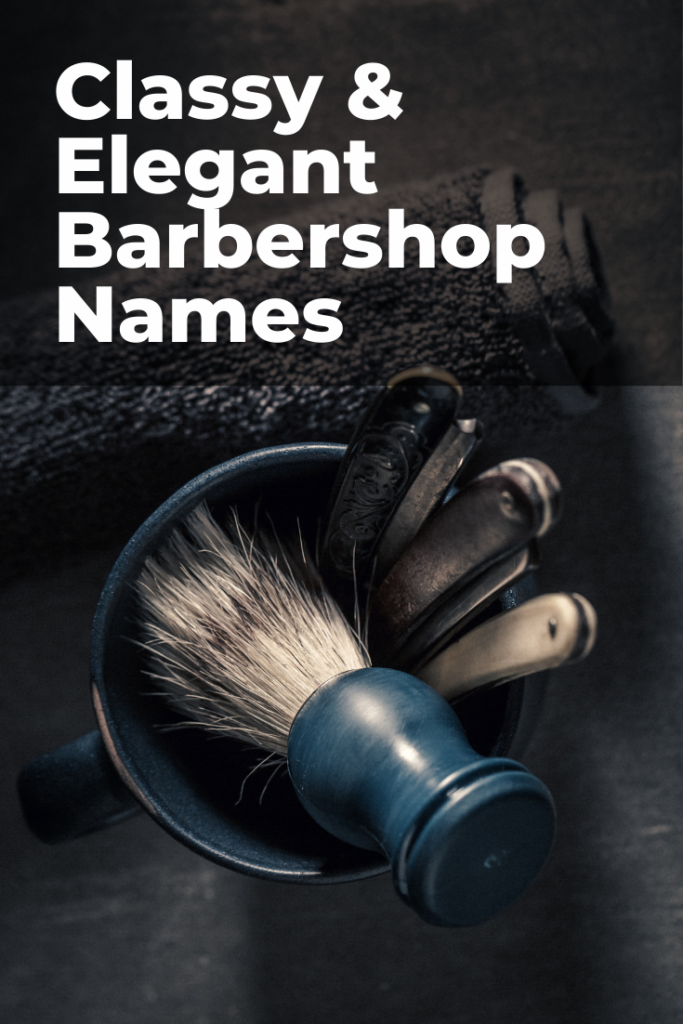 Classy Barbershop Name Ideas
Barberazza
Cavanio
Girolo
Manolo
Shooki Barber
Luxuriate Barber
Lux Barber
Quinaatura
Mister
Lux Guys
Hombre
Barbaca
Mahogany Men
Uboco
Money Men
Billionaires Club
Lunzo
Malusi
Oluxo
Tratton
Totem
Umbra
Monk
Justache
Perruque
Couture Barbars
Guanti
Noir
The Hive
Classic, Vintage & Old School Barbershop Names
So the creative barbershop names weren't for you?
Are you a barber where tradition and old standards are at the center? In the below list, I've tried to dust off some of the really classic barber shop names. These are the vintage, old school, type names that signal that you're a salon with history and tradition.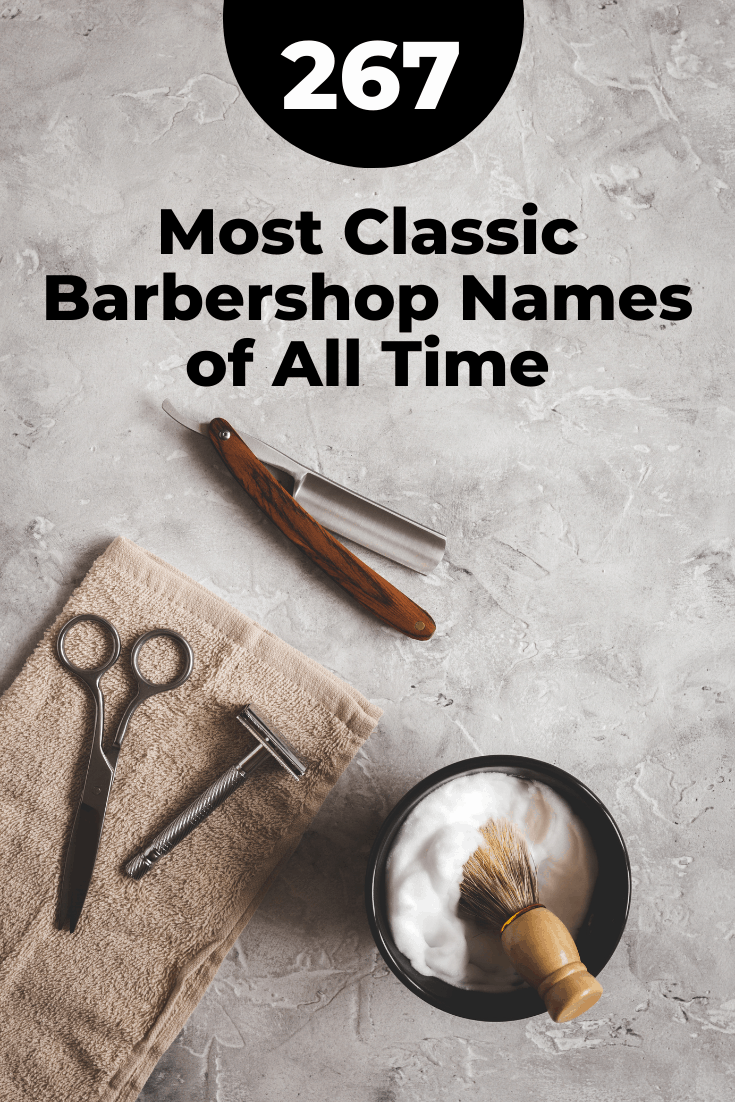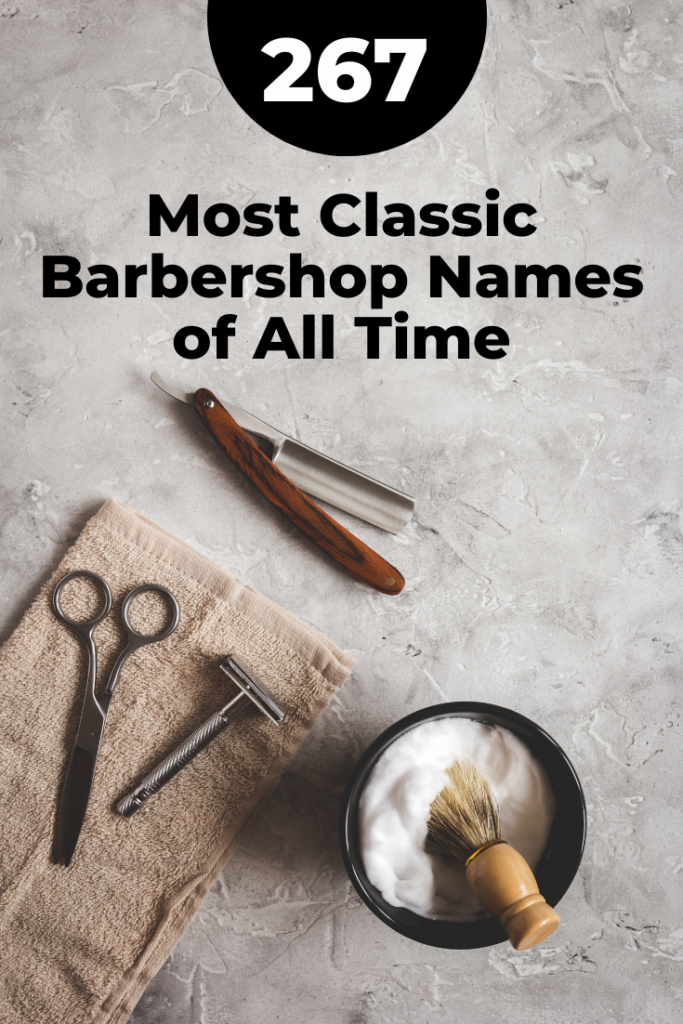 Classic Barbershop Name Ideas
Old Days Barbers
Cut 'N' Shave
Fellow Barber
King's Parlour
Daddy's Barber Shop
The Classic Cut
Old Fashioned Barber
Gentlemen's Grooming
One-Stop Barber
Nobel Barber
Epoch
Oh La La Barber
Retro Barber
Man's World
Old Bastion
Aged Barber
Barber King
Chesterfield Barbar
English Barber
Old English
Traditions
Barber Rituals
Gentlemen
Knights Gather
After Fight
Barber Nicknames
The name of your barbershop is one thing. But are you also trying to build a personal brand?
Then you might want to give yourself a cool barber nickname. Using a nickname is common among barbers. Even if a list of barber nickname ideas can be a good place to start, your nickname will ultimately be personal and something that reflects you.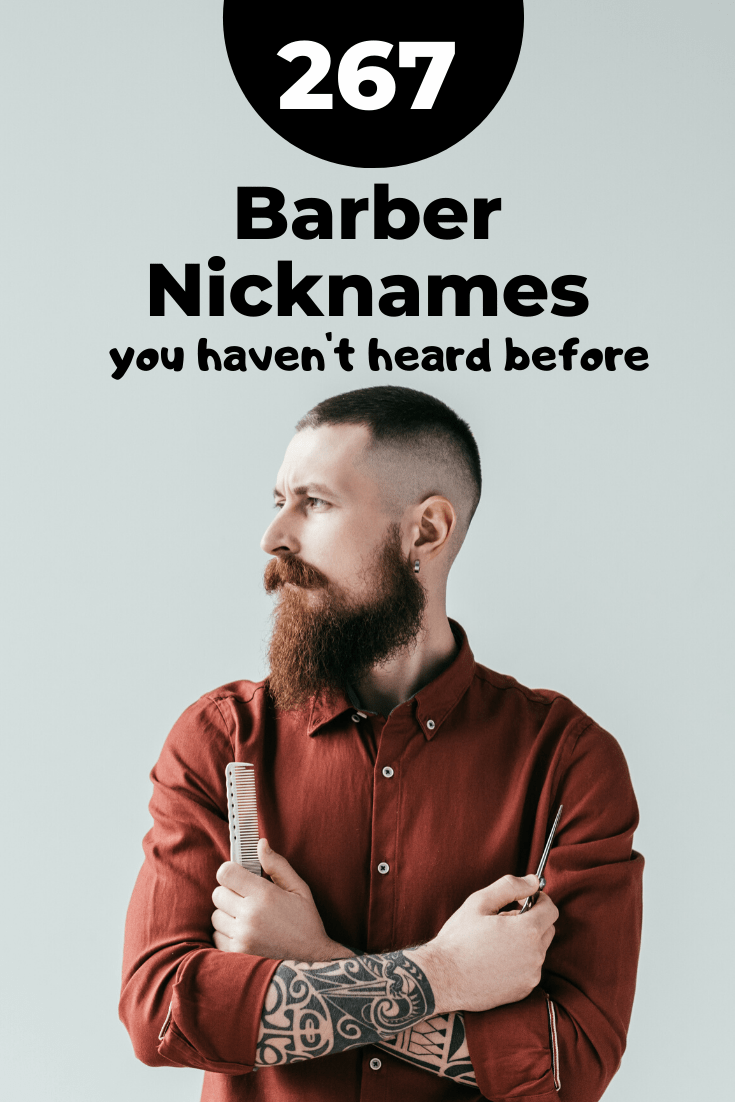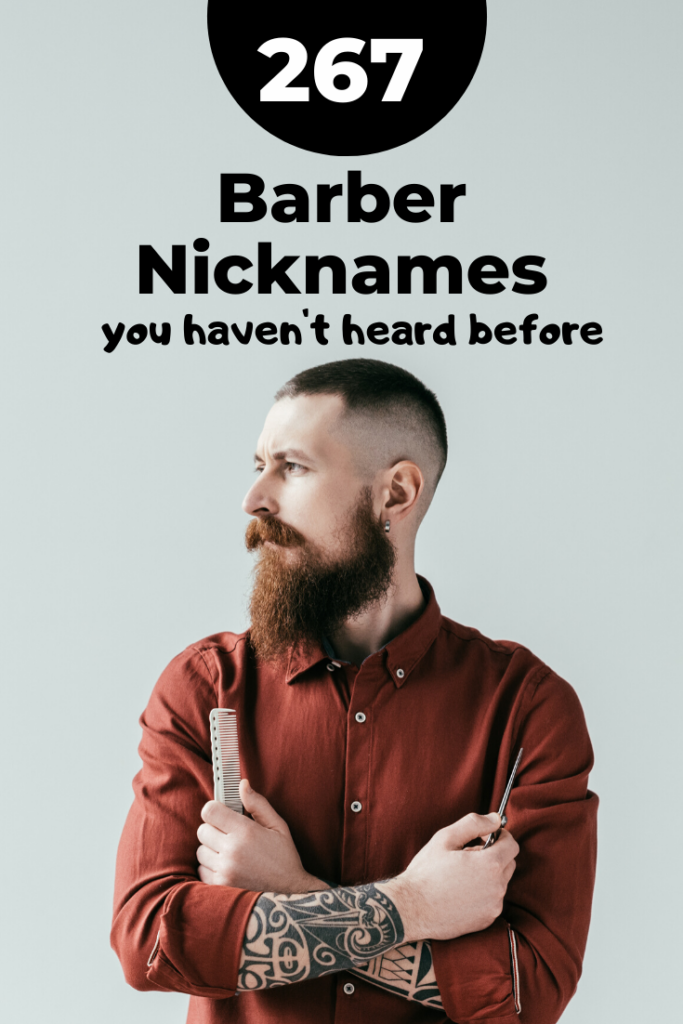 Barber Nickname Ideas
King Cut
Gunner
Scar
Baldo
Fish Boy
Big
Junior
Tweek
Cut
Amigo
Champ
Chief
Fox
Papa
Cobra
Razor
Mad Dog
Thor
Dutch
Boar
The Owl
Shagro
Grandpa
Lucky
Paco
Jo Jo
Rusty
Tank
Boris
Dreads
Wolf
If you're still in need of even more name alternatives, I'd recommend you check out my list of 2754 Unique Salon Names (Hair, Beauty, Barbershop, Spa, Nail).
And, if you haven't done so already, make sure you check out my video with my best barbershop names below.
I have also put together a list of barbershop logos that I recommend you check out. In this article, I'm also walking you through some tips to make sure you create a barber logo that will stand the test of time and fit the image of your barbershop.
You may also want to browse my list of barbershop slogans. You may find some good taglines to use with your name there.