Disclosure: This post may contain affiliate links, meaning I get a small comission if you decide to make a purchase through my links, at no cost to you.
Learn more..
Having a good salon logo is vital to the success of your business. It is the first impression you give to all your potential clients.
This is crucial.
Think about it, if you do not have a professional looking logo why should potential clients trust your salon will give them a professional hair, nails, or spa service in your salon? Of course you want your logo to look stunning. But how do you get there?
No need to worry, this little guide will take you through all you need to know to create a salon logo that will make your salon shine and attract more new clients.
You will learn to assess what a good logo is and you will get access to tools that will make it possible for you to have a stunning logo created already today. First, let's start with some basics.
The 5 Things You Must Consider When Creating Your Salon Logo
These are things you should think about when you go and create your logo and you should also go over this list when you look at new logo proposals created for you.
1. Does the logo reflect your salon brand identity?
It is important that your logo matches who you are and what you offer or else your client will be confused and maybe go to a different salon. If you are not clear on your brand identity you can learn how to define it here.
2. Will your logo work on all your touch points?
It is great if your logo looks good when you look at it in big size on your website but you need to also consider how it will look when printed in small size on a business card or used as your Instagram profile picture. Try to think about the different places where you would want to use your logo and assess if it will work.

3. Does your logo have something that make it unique to your salon?
Ideally your logo has something that makes it look unique so that when people see it they will immediately associate it with your salon. To achieve this you should get inspiration from your brand identity. For example, if you offer beard trimming you might want to show a blade or a beard? The purpose of this is to a) make your logo distinct to you; b) give an idea of what unique offer you have; and c) make you logo tell some story that makes your brand interesting.
4. Is the logo simple and do people immediately understand who you are?
In point 3 above I talked about injecting elements in your logo that make it distinct to your salon. As we do this we need to be very careful not to make our logo to complex or complicated. You typically only get a split second with a person who looks at your logo before they judge if your salon is what they are looking for. Thus, you need to make sure your logo clearly communicates your salon name and that people intuitively understand the positioning of the salon – e.g. "A luxurious salon", "a barber shop", "a value price salon".
5. How does the logo make you feel?
Last, but certainly not least, what do you feel when you see your logo? This is, in my opinion, the most important factor when determining if you have a winning logo on your hands. It is the feeling that people have in that first split second when they see your logo that sets the first impression of your brand and you want to get that to be a good experience.
The challenging part with this is that you only have that feeling ones. As soon as you have seen your logo your brain will start to rationalise if the logo is good or not which dilutes the feeling you had when you saw it the first time. This is why you should be careful when you look at your logo proposals the first time. Close your eyes, put the logo in front of you, open up your eyes and write down the immediate feeling that comes to you in the first second as this is likely the same feeling everyone will have in the future when they see your logo.
When you have decided on a few logo options I would suggest you do the same exercise with a couple of friends (or ideally clients if you can). Ask them to look at the logos, one at the time, and ask them to speak out what immediately come to mind. This will give you a great source of knowledge to guide you on the right choice of logo.
It is time to create your salon logo!
We have come to the fun part – you´re about to create your new salon logo!
Two smart ways to design your logo fast
You can either hire a freelancer or agency to design the logo for you or you can use a smart logo generator to do it for you. Both approaches has different pros and cons which i will take you through below. I will also let you in on the best tools available on the market to get the job done.
Generating a logo – the fastest and cheapest way
This is my preferred approach if you want to get quick result without investing big money. In fact, using this approach you can have a really good salon logo ready within the next hour and not spend more than $20!
There are logo generators out there that are starting to become very smart. They use artificial intelligence rather than a creative designer to create the logo which is why it is so cheap and fast. Still the result is very good and will likely create a logo that you will run your business with many years from now.
The best logo generator I have come across is Looka. It's a simple tool where you just enter your salon brand name, answer a few questions and it will give you a lot of different ideas that you can tweak to make it fit what you want. Here is an example of a logo I generated after spending just a few minutes with the tool.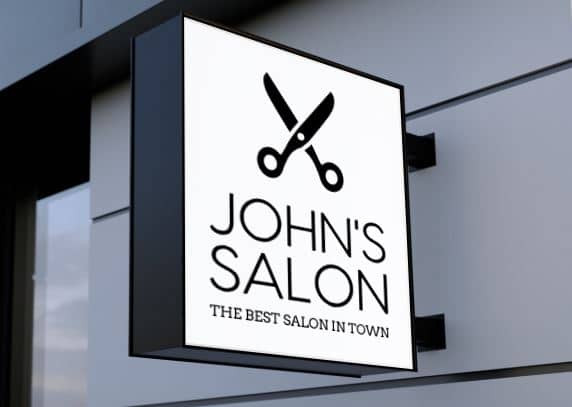 Looka is free to play with in order to generate ideas for you logo. You only pay when you are satisfied with the logo which starts at $20. If you want more logos and formats or professional designer support to perfect some details you will need to pay more. In my opinion Looka is the best place to start to get going with your logo.
You will get loads of different options for you logo with Looka and I am sure you will find something that fits you. However, if you do not feel it meets exactly what you were looking for you can also try Logotype Maker. It's a very similar tool to Looka but it has a different style of logo designs. Price is about the same – starting at $25. I think Looka generally gives you nicer designs but i leave it to your preference.
Hire a freelancer for creativity and freedom
Another option is to hire a freelancer. The benefit of hiring a freelancer is of course that you have full control of the result and can work with the designer to tweak all the details until you are happy.
If you use a traditional marketing agency to create your logo my experience is that it can get expensive. They of course need to cover the costs for there nice office and back office team! Thankfully there are other smarter options for you that will allow you to work with a freelancer at a very low cost.
Fiverr is a platform where freelancers all around the world offer their services to business managers like you. You will find talented people from Asia, Europe and all around the world who are eager to help you with your logo. The people on the platform typically work for themselves and often in a country with lower cost of living then US, UK and EU which is why they can offer much lower prices than your local agency.
Prices for logo services at Fiverr starts as low as $5. However, I would recommend you budget a bit more than that to find someone that will sliver what you want or you will risk loosing a lot of time with different low price freelancers. You can of course try to chase a bargain but my recommendation would be to find a freelancer that charges somewhere between $50-$200 and you will likely be more satisfied from start with the result.
To find a good freelancer you should brows through the freelancers in the logo category. Look at their rating as well as the portfolio of their previous work to see if there design style is in line with what you are looking for. You can go check out Fiverr here.
Summary of what you have learnt today
Congratulations for investing your time today to learn how to create a top class professional salon logo. You have learnt:
The 5 principles for creating a good logo

Reflects your salon brand
Can be used in multiple places
Is unique to your salon
Is simple to understand
Gives you the right feeling when you first see it

How to create your logotype with the powerful generator Looka
How to outsource the logo creation to a freelance designer at low cost using Fiverr.
I wish you all the success with your new logo. If you have any questions please drop a note in the comments field below and I will come back to you.