Are you looking for inspiring examples of hair salon websites?
Then you've landed in the right place.
In this article, I've collected some of the best hair salon website designs in the world. It includes a large variety of modern, stylish, and edgy hair salons.
If you are planning for a new salon website design, there are many things that you need to consider. The first and foremost thing is deciding the goals of your website and knowing your target customers.
A great-looking hair salon website is more than just a pretty face. It can be the crucial differentiator between converting more leads or losing them.
1. THP Hair
This is a beautiful website for THP Hair in Australia designed by Mint Lane Studio. Harmonious colors, photos, and graphic elements make the website and brand cohesive and easy to navigate. The site is designed with Squarespace and the booking system is from Vagaro. (Read my review of Vagaro Pro).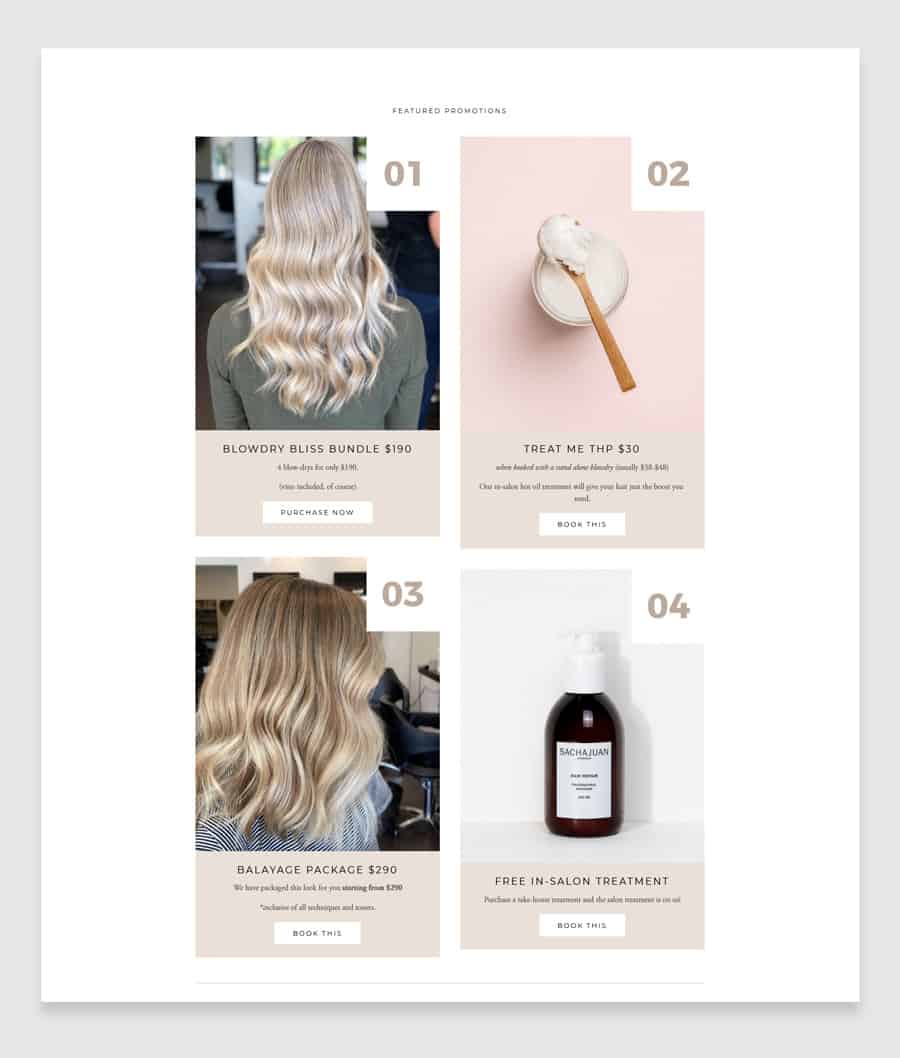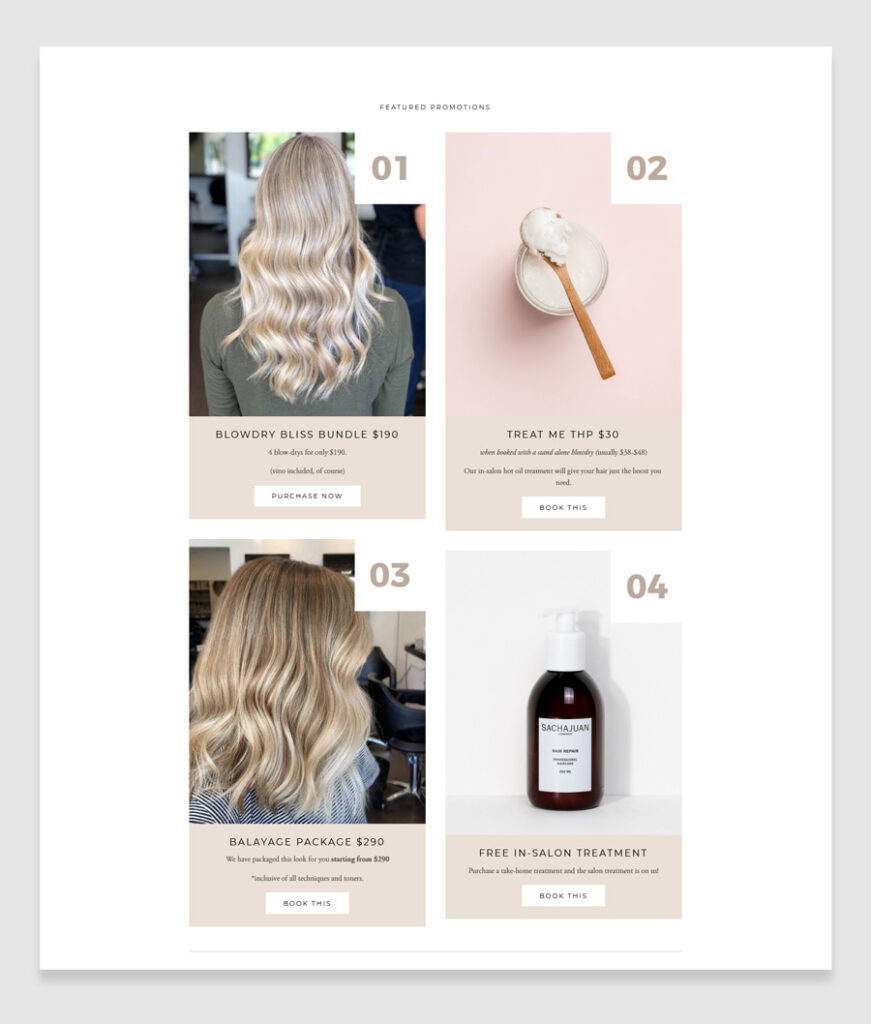 2. David Mallet Hair Salon Website
David Mallet has several salons in Paris and New York. He is known for combining glamour with practicality and that is also visible on this elegant website that gives the viewer an overview of the exteriors and interiors of the different locations. The website is made with WordPress and the online shop with WooCommerce. The booking system is by Kiute.
I believe that hair should look amazing in the real world, not just for the time when one is in the salon. My philosophy is about being practical, about showing clients how to have beautiful hair even when I won't be there with them.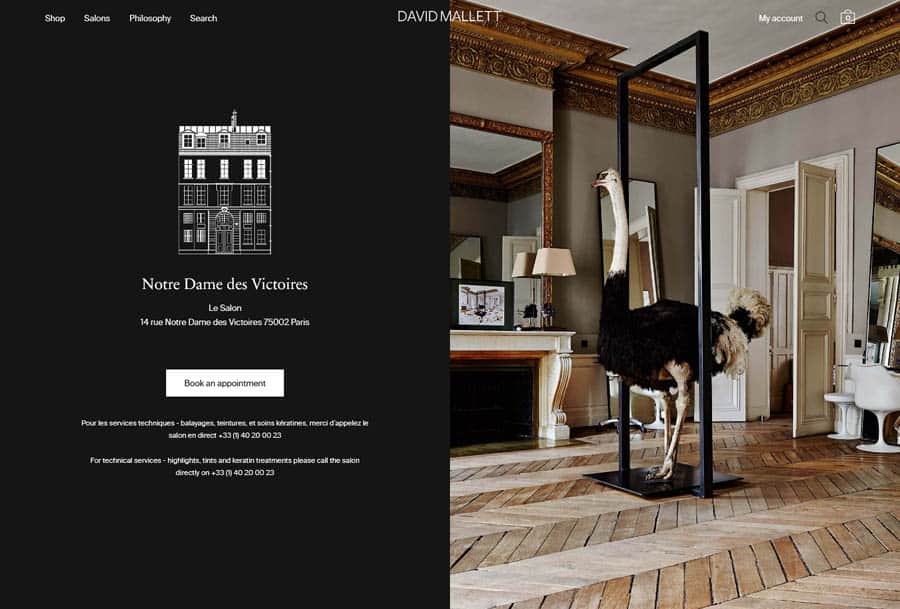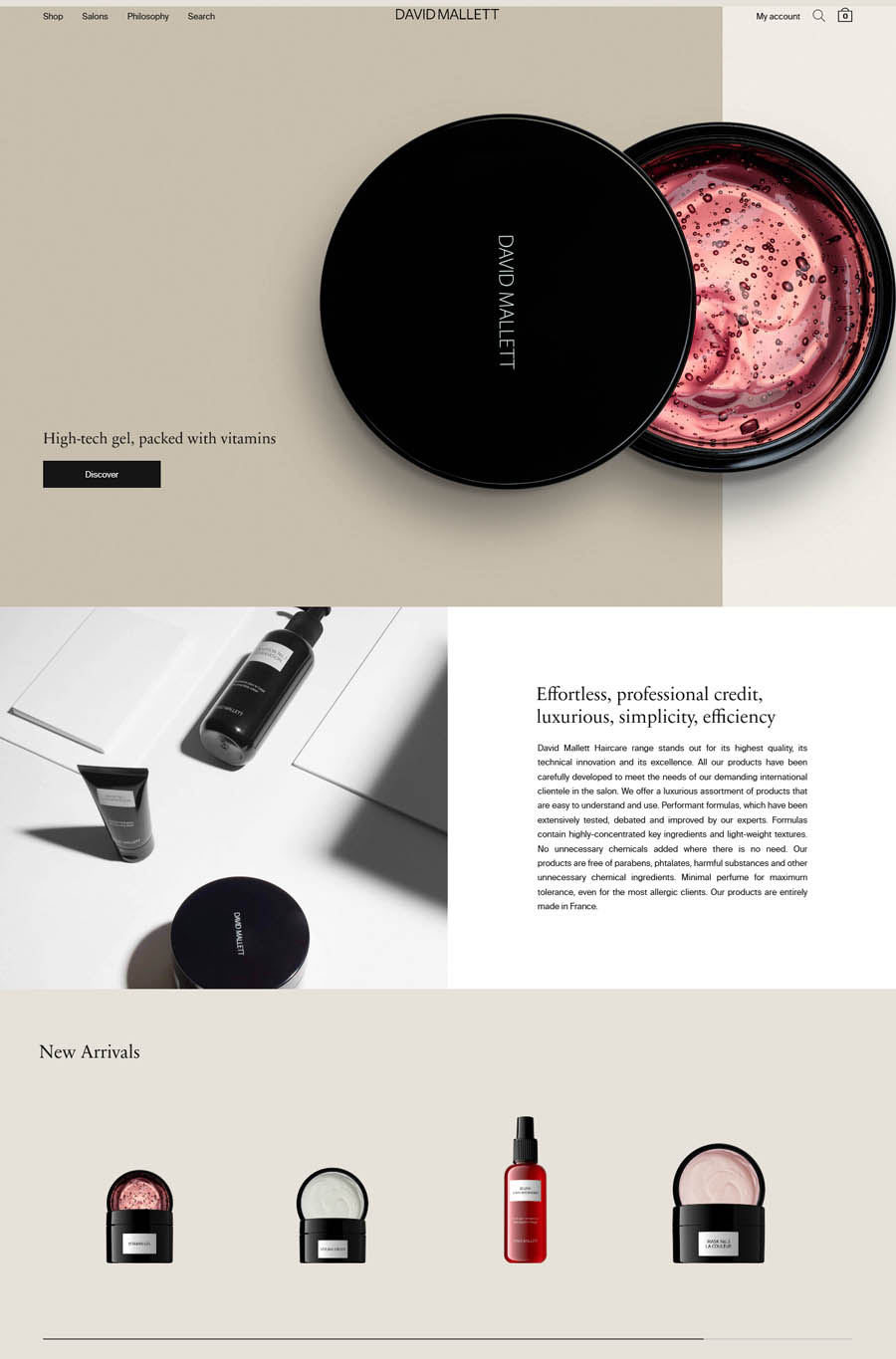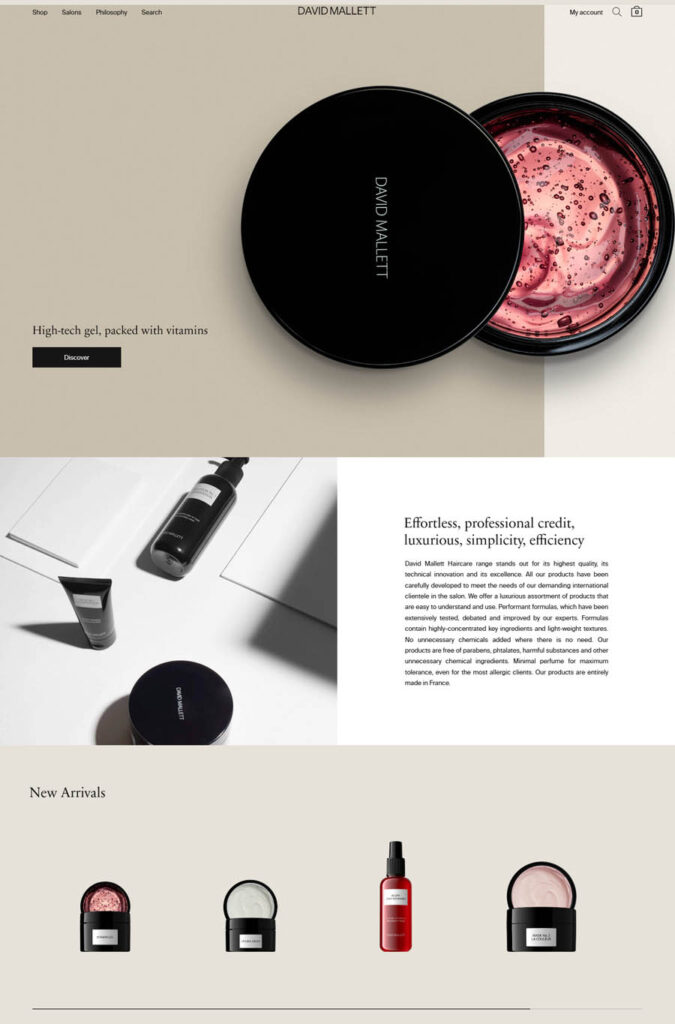 3. Holiday Hair Studio
Located in Portland, Oregon this hair salon has a creative and edgy style that many also associate with Portland itself. CMS (Content Management System) by WordPress and the booking system is from Booker.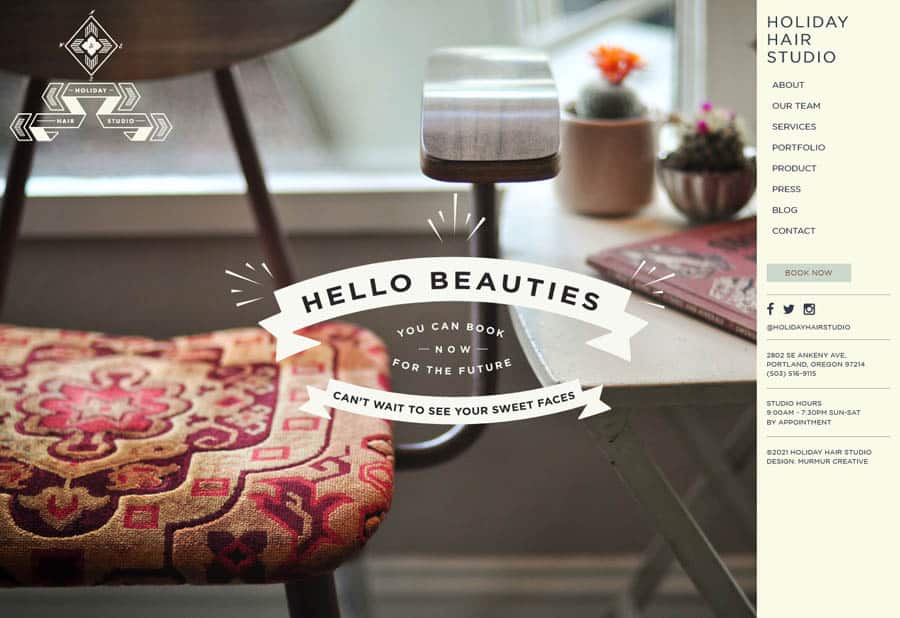 4. Fox & Jane Salon
This is a great example of a website in a colorful and playful 80s style with creative use of type that still makes it easy to find all the relevant information. Fox & Jane has often been featured in the press, including Allure, Elle, Reader's Digest, Redbook, and Seventeen, and also provides a press kit on the website. CMS: WordPress. Booking system: Boulevard. The online shop is on Threadless.com.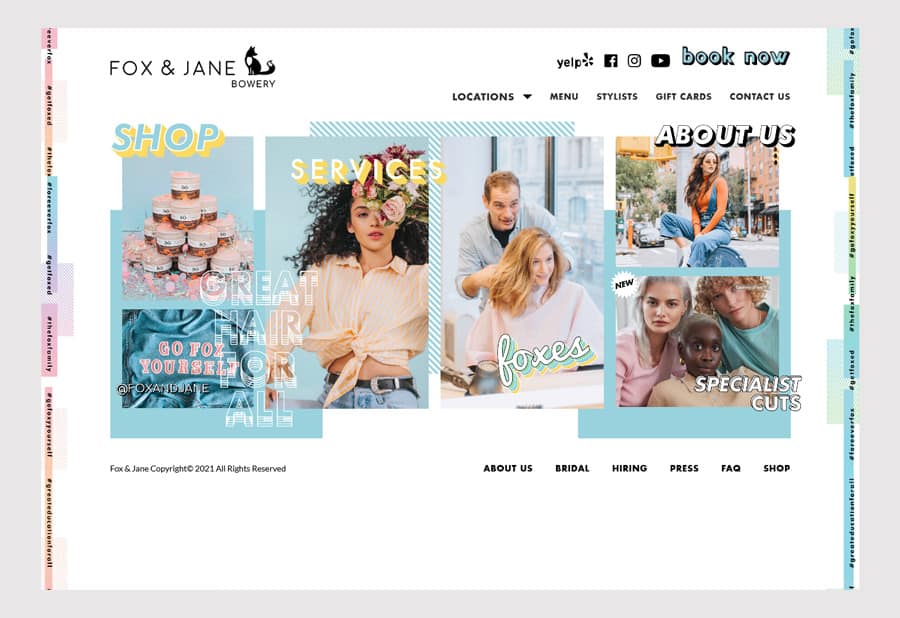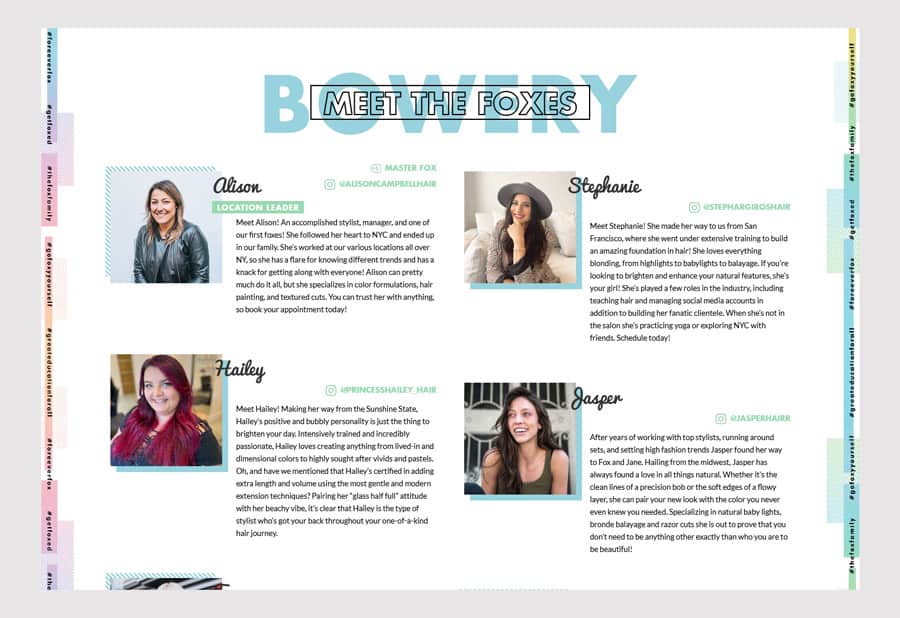 5. Björn Axén Hair Salon Website Design
Björn Axén has salons located in Stockholm and Göteborg, Sweden. The salon is a former winner in The Global Salon Business Awards. The website makes good use of fullscreen video that shows some of the glamorous customers of the salon. The e-commerce part of the website is made with Magento.
6. Charles Worthington London Salon
The Charles Worthington London Salon is a premier hairdressing salon in London. It is a family-owned, independent salon that has been open for over thirty years. The website's stylish designs show why they have become the go-to salon for celebrities, models, and heiresses. CMS: WordPress. Booking software by Zenoti.
7. David Lucas Hair Salon
Started in Paris, David Lucas offers his customers high-quality hair care and styling services. Designed with WordPress this website is an example of a well-organized site that includes everything in one go. The site has an extensive menu bar, news, testimonials, and media coverage, giving the site a competitive edge. CMS: WordPress with the Elementor theme. E-commerce with WooCommerce.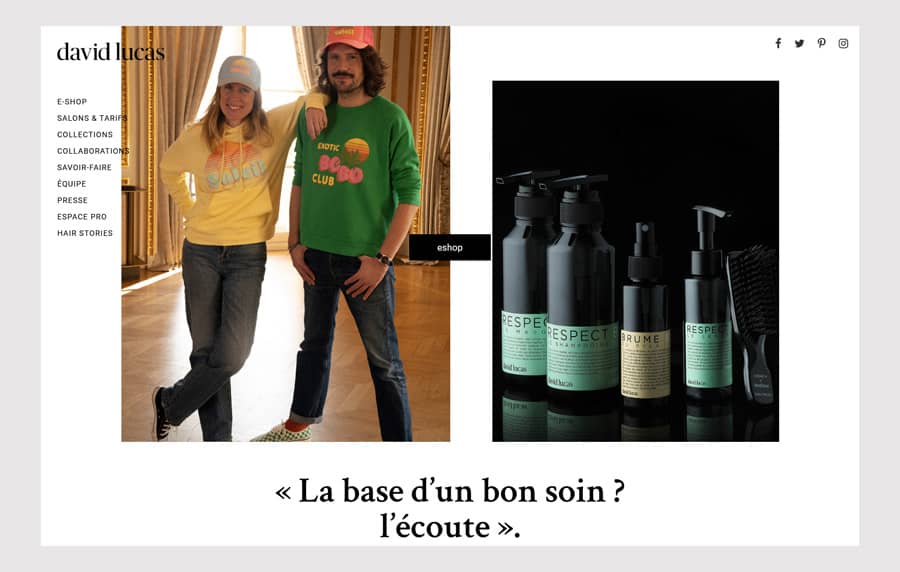 8. Gielly Green Salon
Gielly Green is an award-winning hair and beauty salon in London's Marylebone. Consistency in your online and offline visual execution is important as you want visitors to see your salon the next time they walk by. It also creates a consistent experience that builds a stronger connection between you and your salon clients. E-commerce on Shopify. Salon software by SalonIQ.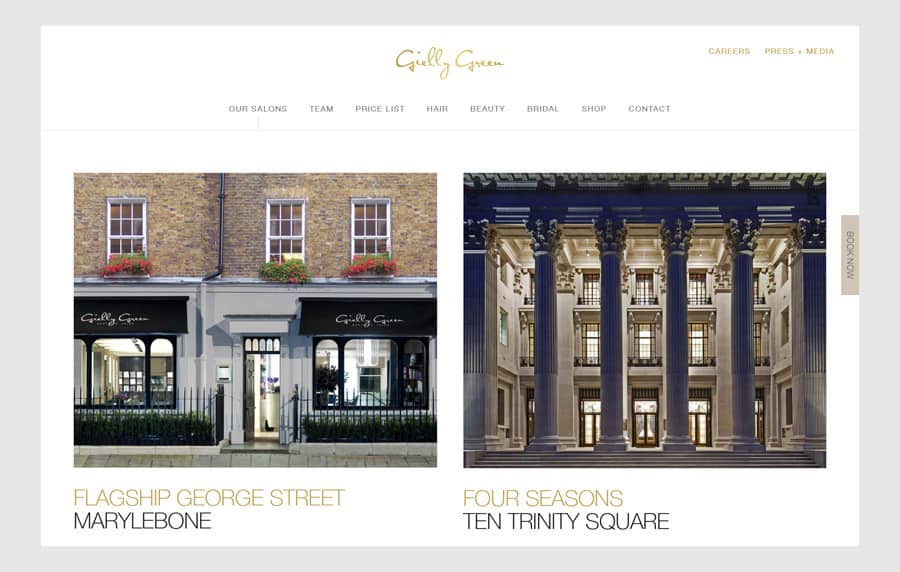 9. Peach Stockholm Website Design
Peach Stockholm is a great example of a hair salon website that uses its blog to show examples of its hairstyling work. This will help your salon show up higher in Google's search results when people look for the type of service you're describing which can win you a lot of new clients in the long run.
10. Gina Conway Salons
Gina Conway Salon is a contemporary salon based in London. They take content to the next level. Having more in-depth content is not only good for website visitors who want to learn more about your offer, but it will also help Google and other search engines better understand what your salon is about. CMS: WordPress.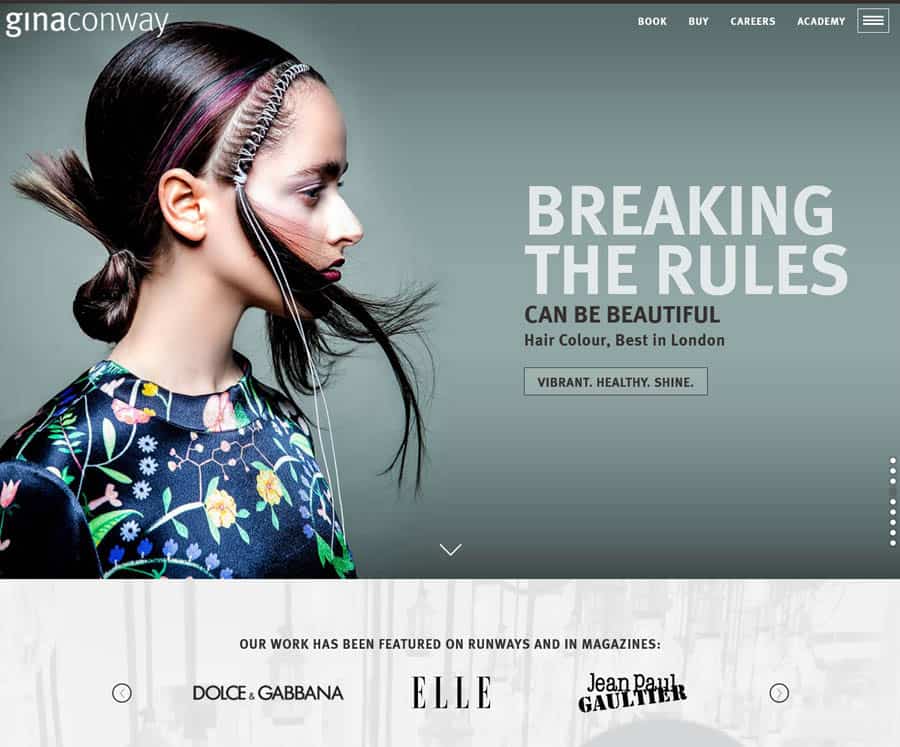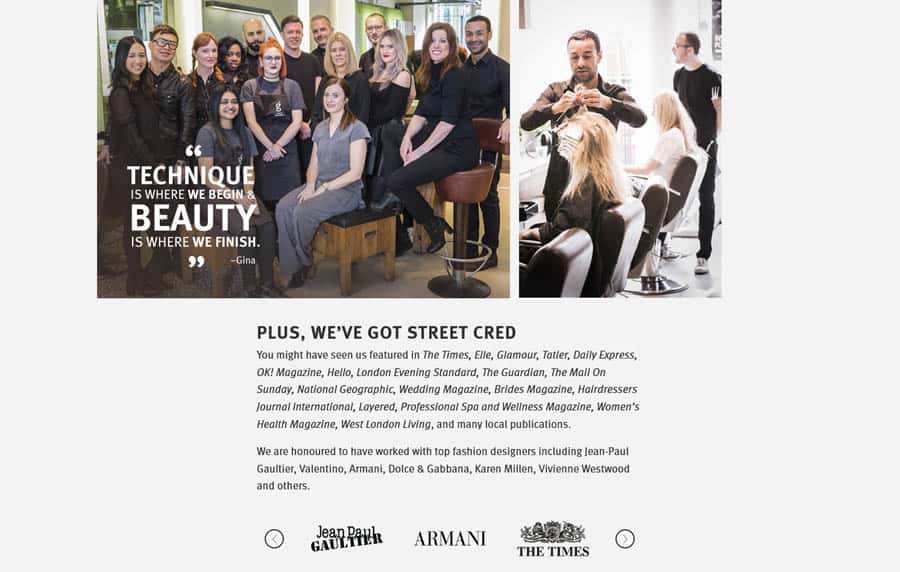 11. Glasshouse Salon Website Design
The Glasshouse Salon London is an environmentally-friendly salon that incorporates natural ingredients into its services. The website is great to look at. I'm impressed by the design, use of color, typography, and layout of the photos. A minimalist, simple website design. Booking system by Kitomba.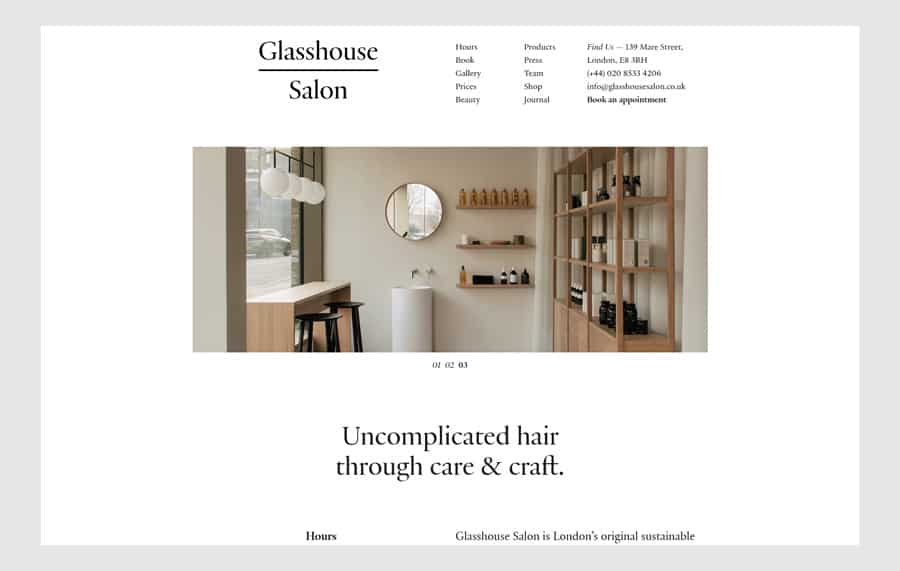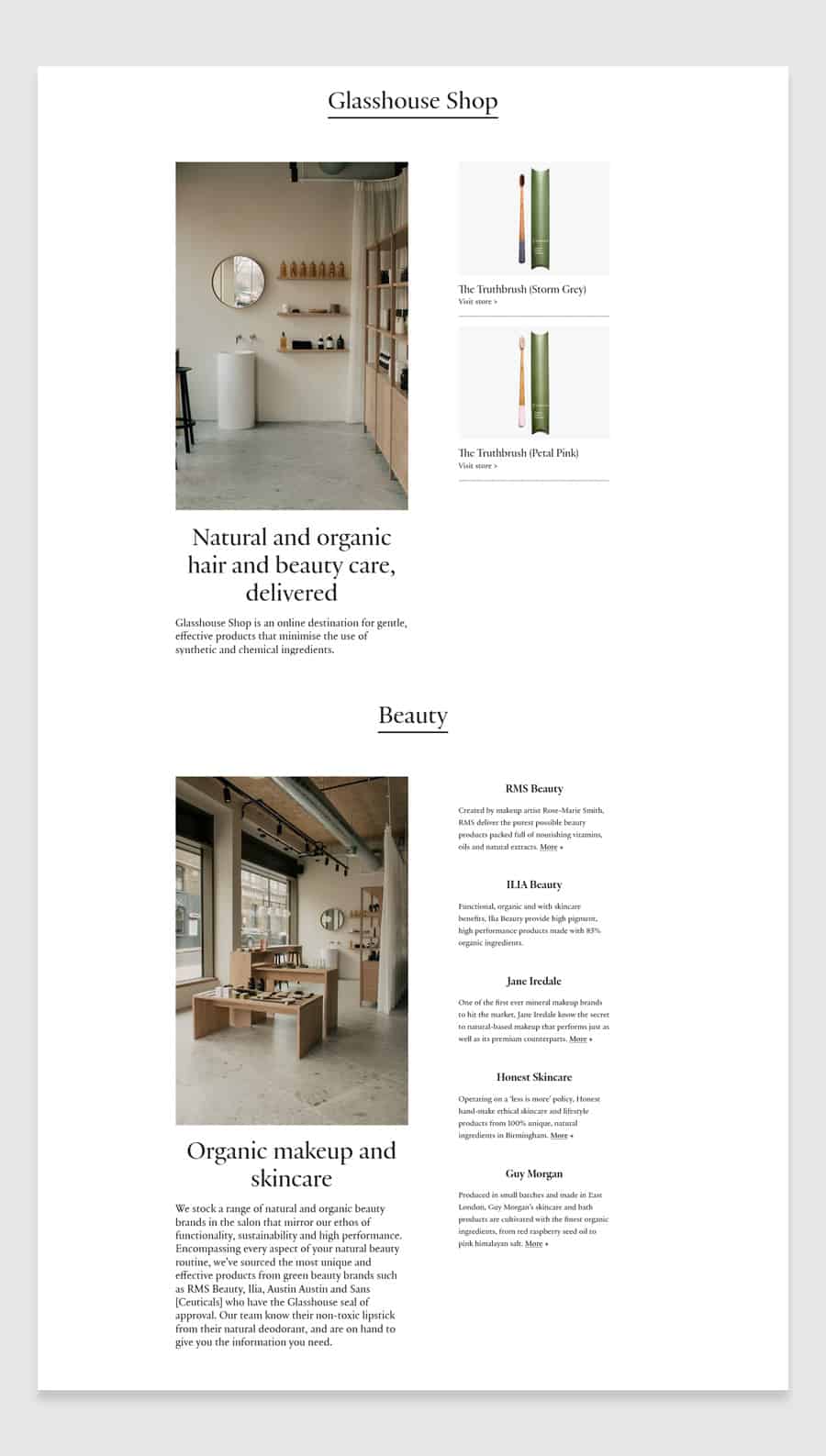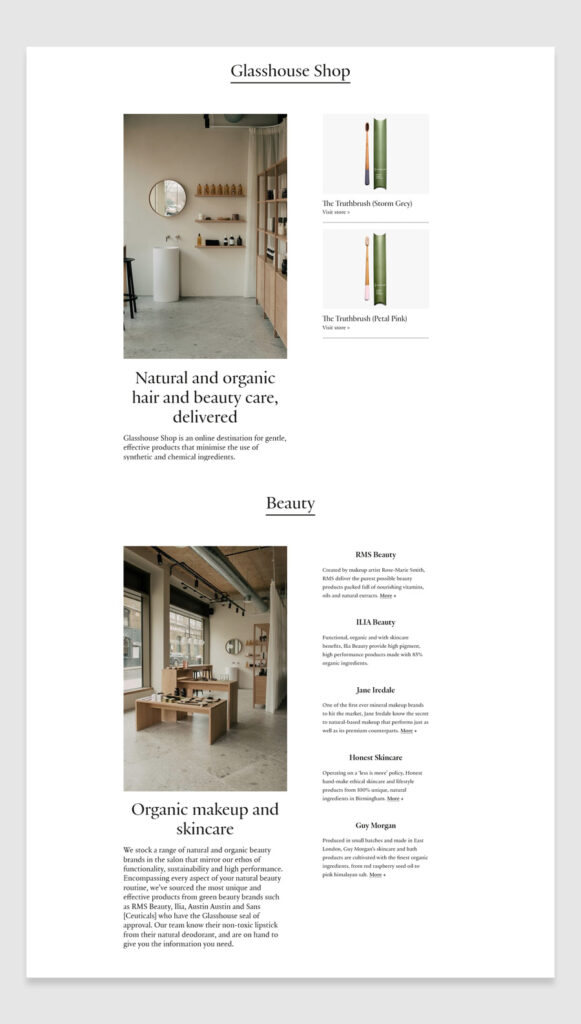 12. Fringe Les Hair Salon
You immediately know that the website you are on is about hair and hair treatments. The image from the salon itself introduces the salon in a natural way to visitors. Website visitors are then presented with the call-to-action to book an appointment that integrates with their salon booking system (which is ultimately what you want your visitor to do). The website is designed with Squarespace Commerce.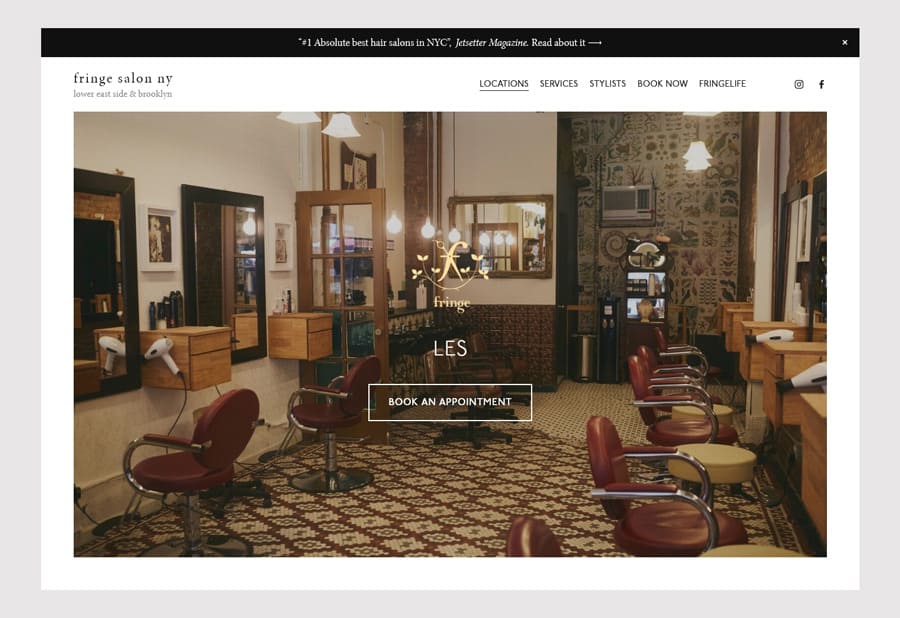 13. Gro
Gro has a really great gallery of example haircuts their customers have received. CMS: WordPress.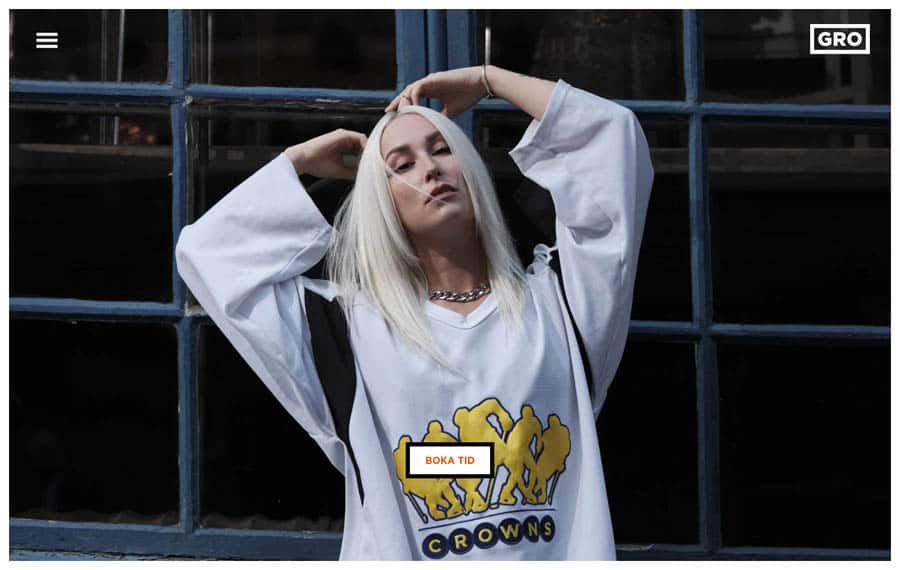 14. Adam Reed London
This is one of the best hair salon websites I've seen. They use a visual design layout, without much text, which truly engages the visitor as you land on the site. Designed with the CMS Craft. Booking system by Gappt.
A creative hub rather than a traditional hair salon, we want clients to feel at home, get comfy and help themselves to a cuppa.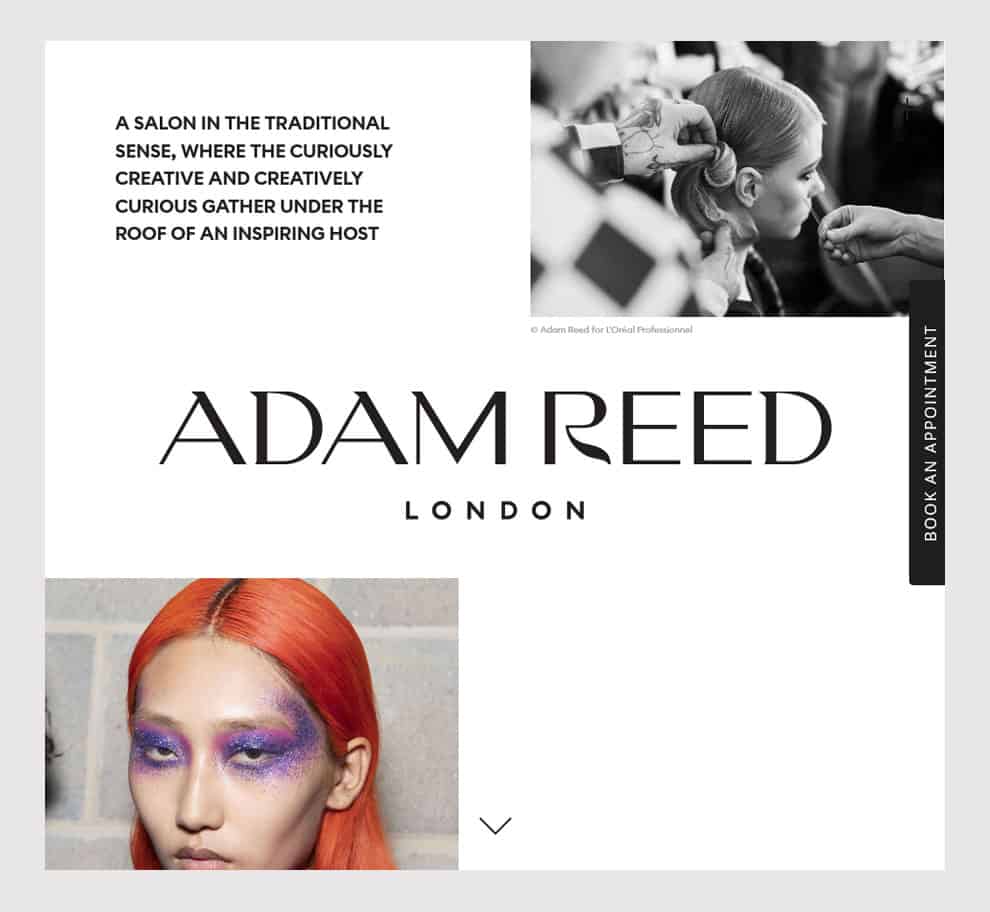 15. Bruns Frisörer Website Design
Bruns Frisörer is a certified eco-friendly hair salon that doesn't expose its customers to toxic chemicals. As you land on this website you immediately understand what they are about. All the most important information is in perfect order of priority: book now, social media buttons, a menu for more information. Made with WordPress and WooCommerce.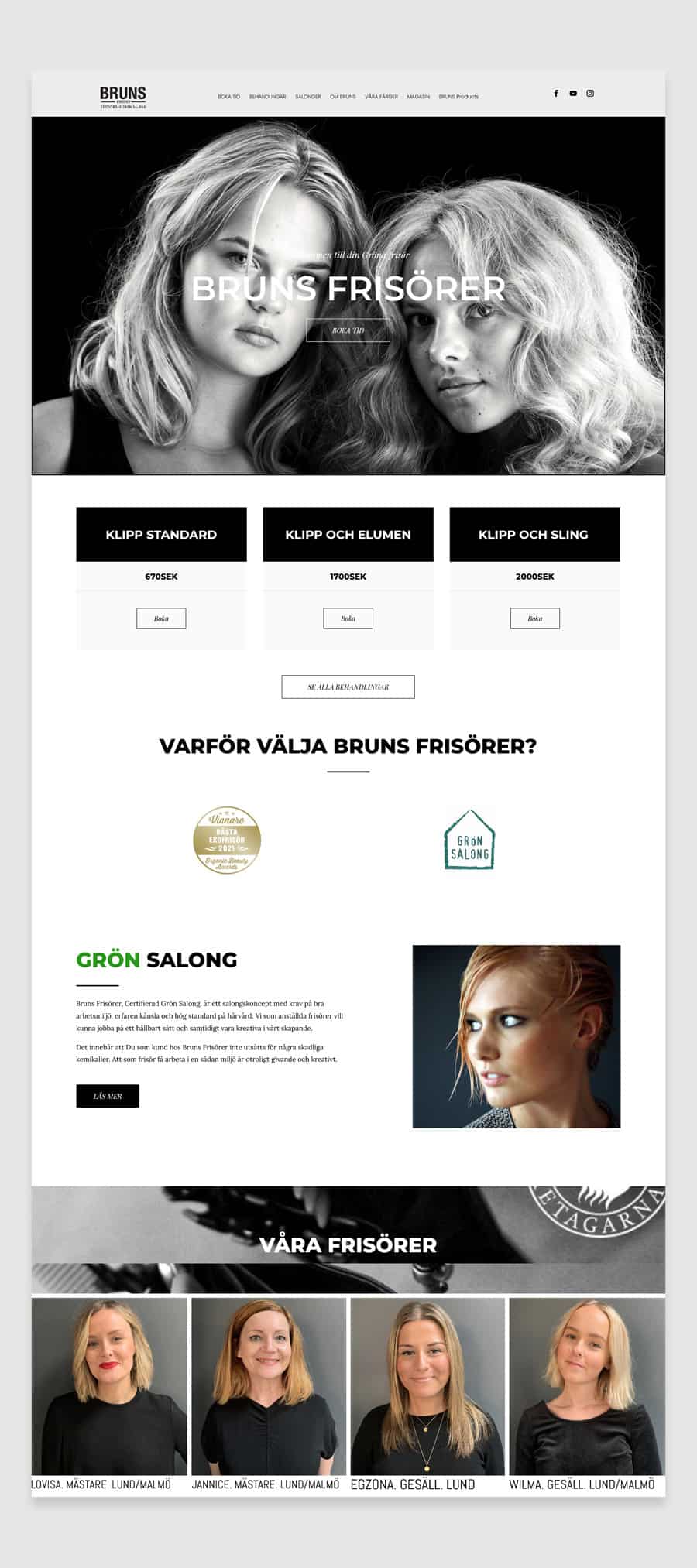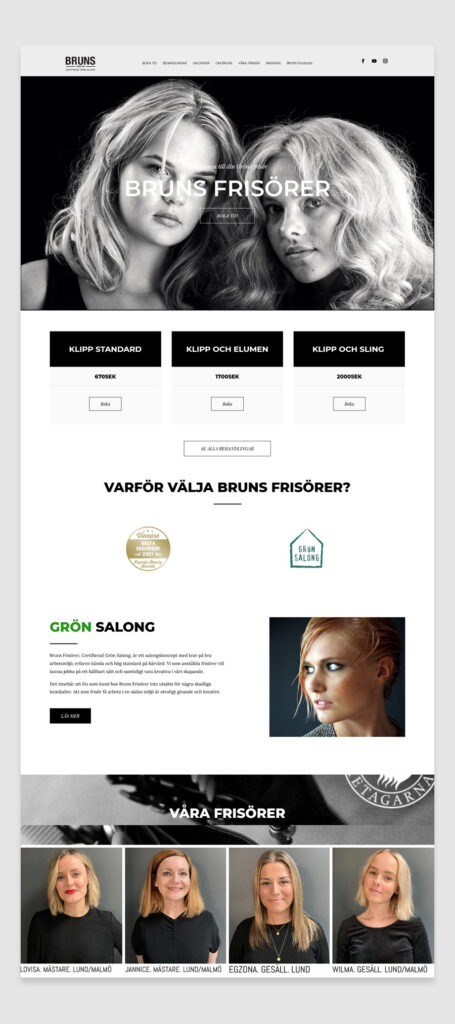 16. Blue Tit London
Blue Tit has some of the top hairdressers in London and meets the highest standards in reducing the environmental impact of hair salon products. An impressive, vibrant, and colorful design – thanks to the eye-catching images and simple text. You can also see a booking option on the right of the page, which is an interesting add-on. Made with WordPress and WooCommerce. Booking system by Gappt.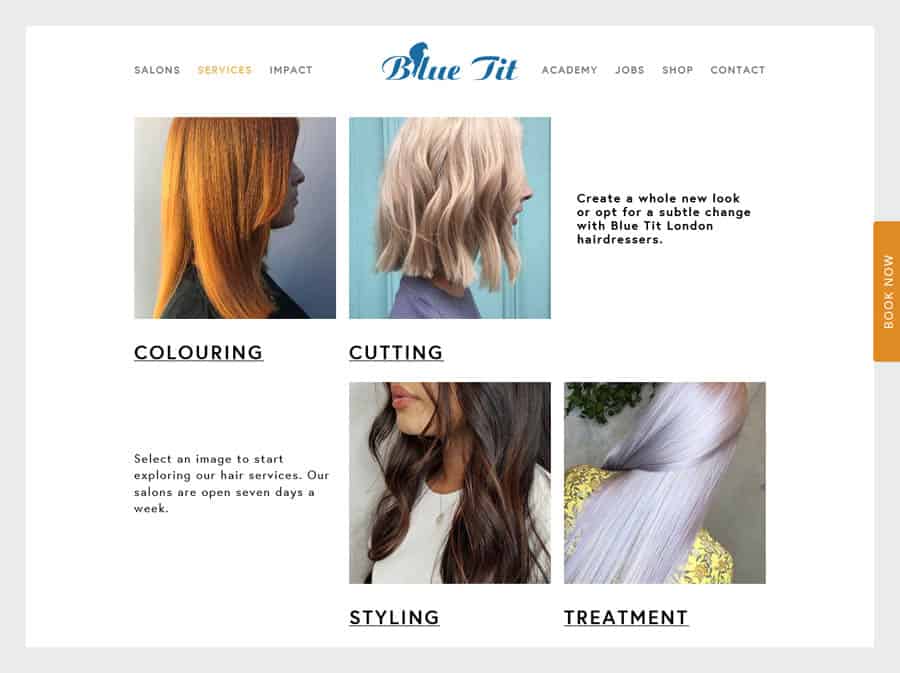 17. Linnaean
Linnaean is a luxury hair and beauty salon in the heart of London's Embassy Gardens. Visiting their website is almost like walking into the salon. In fact, they use a lot of welcoming images of their salon. Designed with the CMS Craft.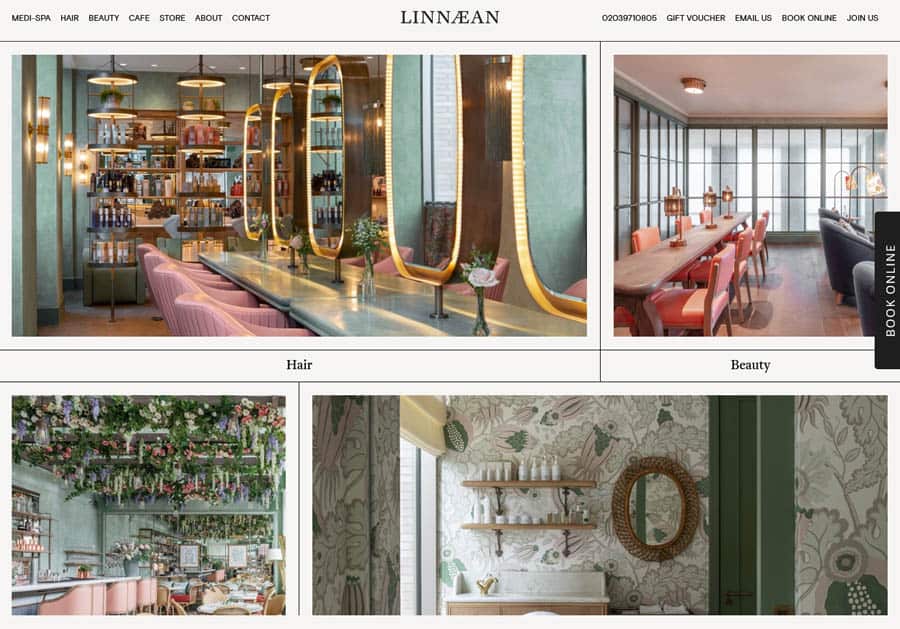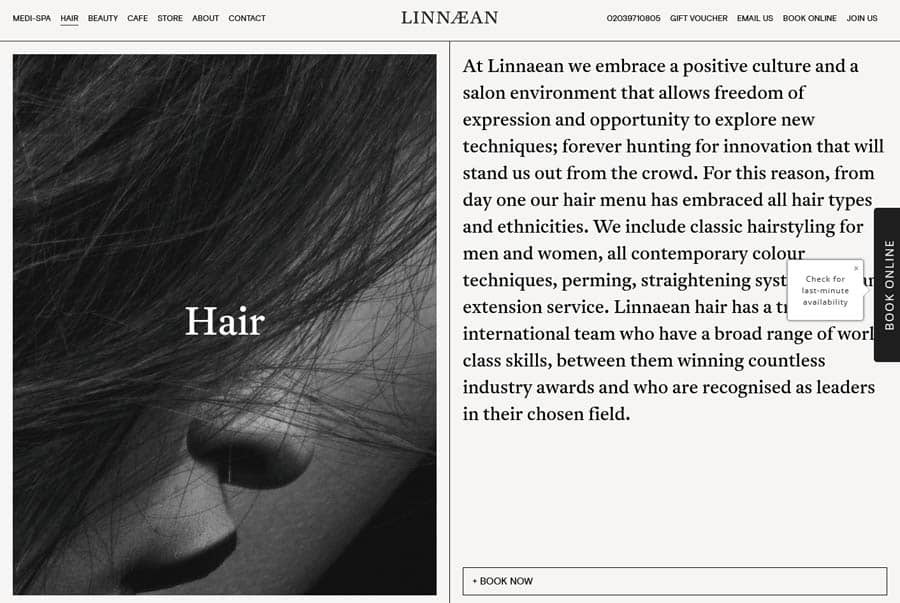 18. Noir Stockholm Website Design
Hans Nilsson's creations are often compared to art. He has collaborated with top designers and celebrities on high-profile events. I love this website too! The clean menu bar with options that the customer would be interested in, gives the customer exactly what they need. Ecommerce pages are made with Shopify.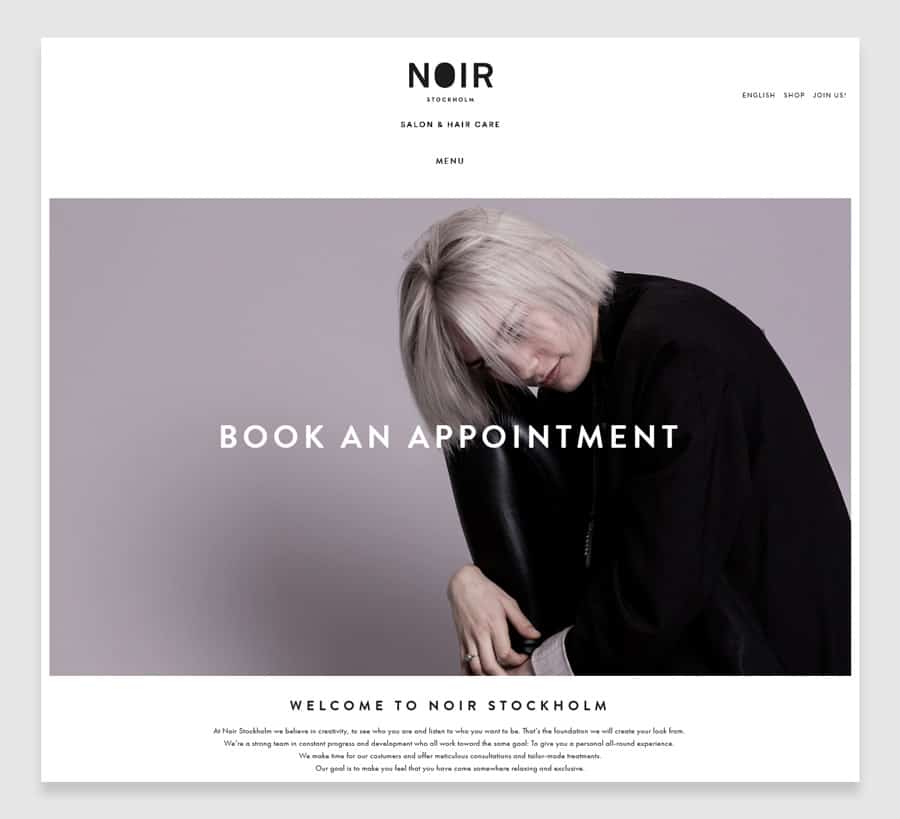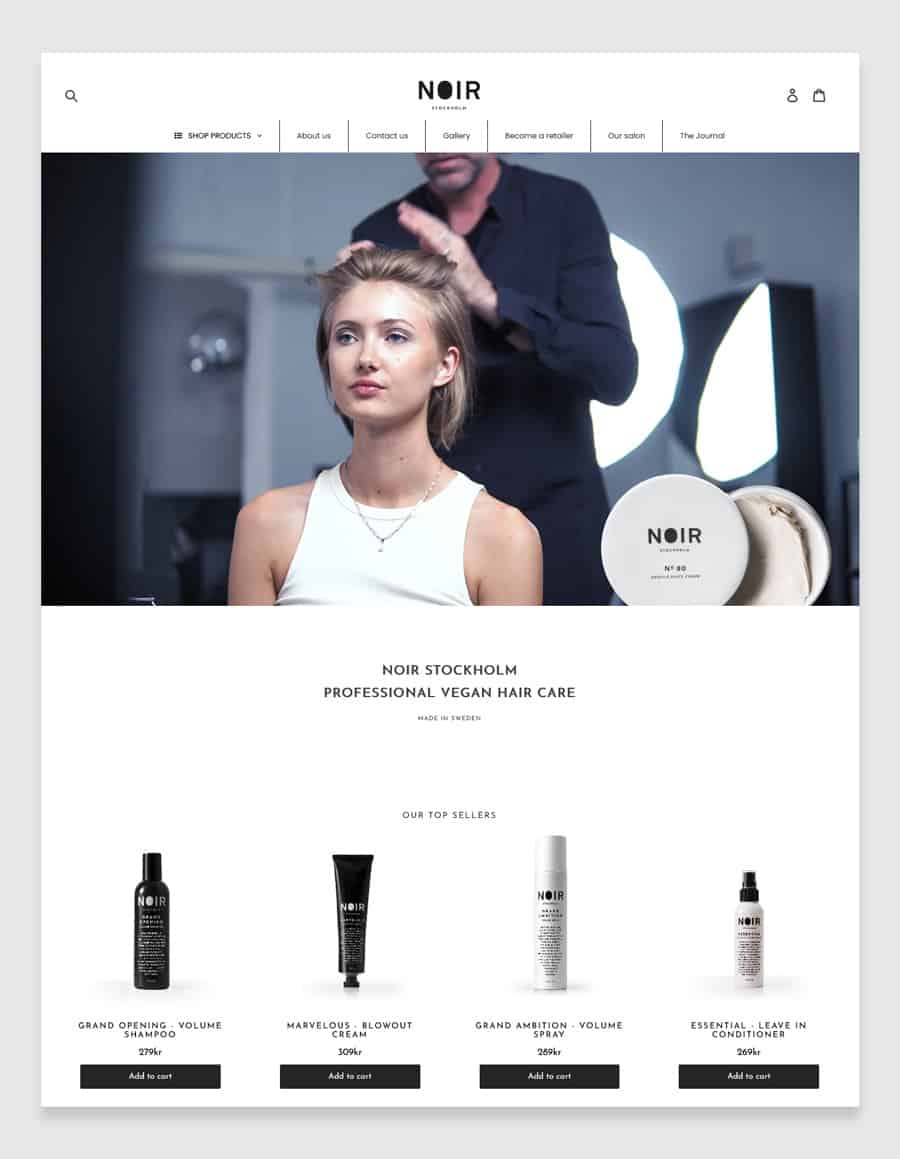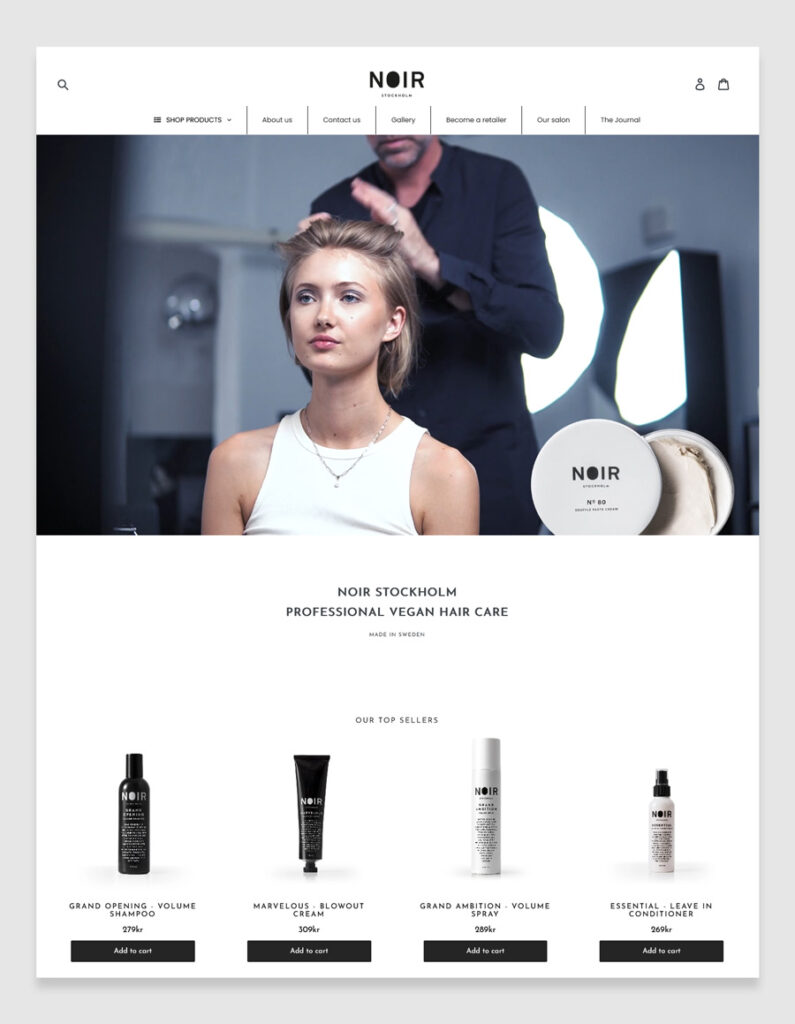 19. Nook Stockholm Hair Salon
This is a great example of a minimal hair salon website designed mainly in black and white. Designed with WordPress.
20. Fabio Doti NYC
This is a premium hair salon. But despite that, they've been able to give their website a very personal and welcoming touch. If you have a luxury salon, you can learn a few things here. Striking the right balance between being luxurious and at the same time approachable is a fine line to walk. This website is made with the Squarespace Business plan.
21. Percy & Reed Salon Website Design
This is an attractive and appealing website design, the Percy & Reed website is an example of the right usage of color, font, and image. It gives quite a vibrant feel. You can find the menu bar, right at the top of the homepage with all the information you need. Ecommerce with Shopify.
22. Salon 64
This is another example of a bold and gorgeous hair salon website. I liked the limited use of text. The website has smartly used the testimonials on the homepage, showing the users exactly what they need to know. The unique placement of the menu bar on the bottom of the page is interesting.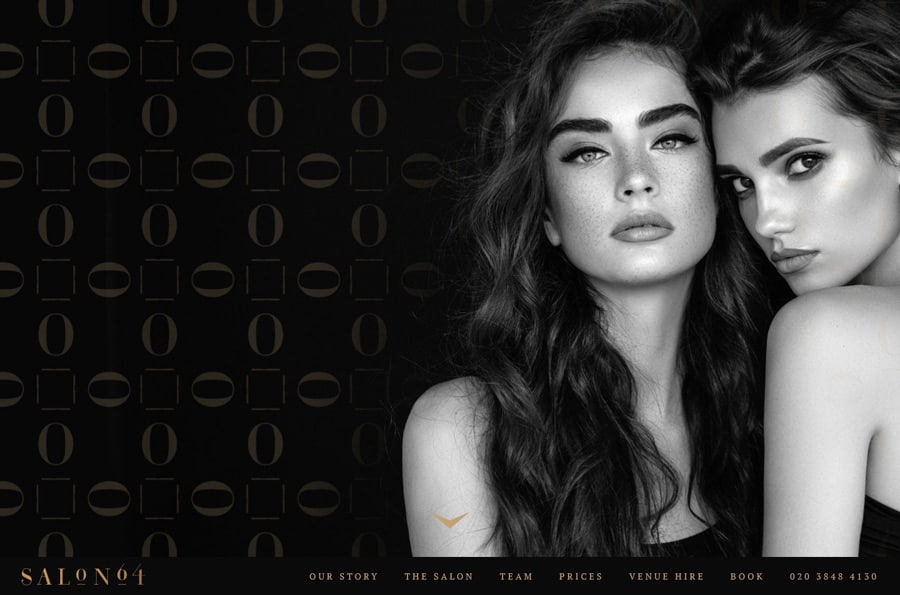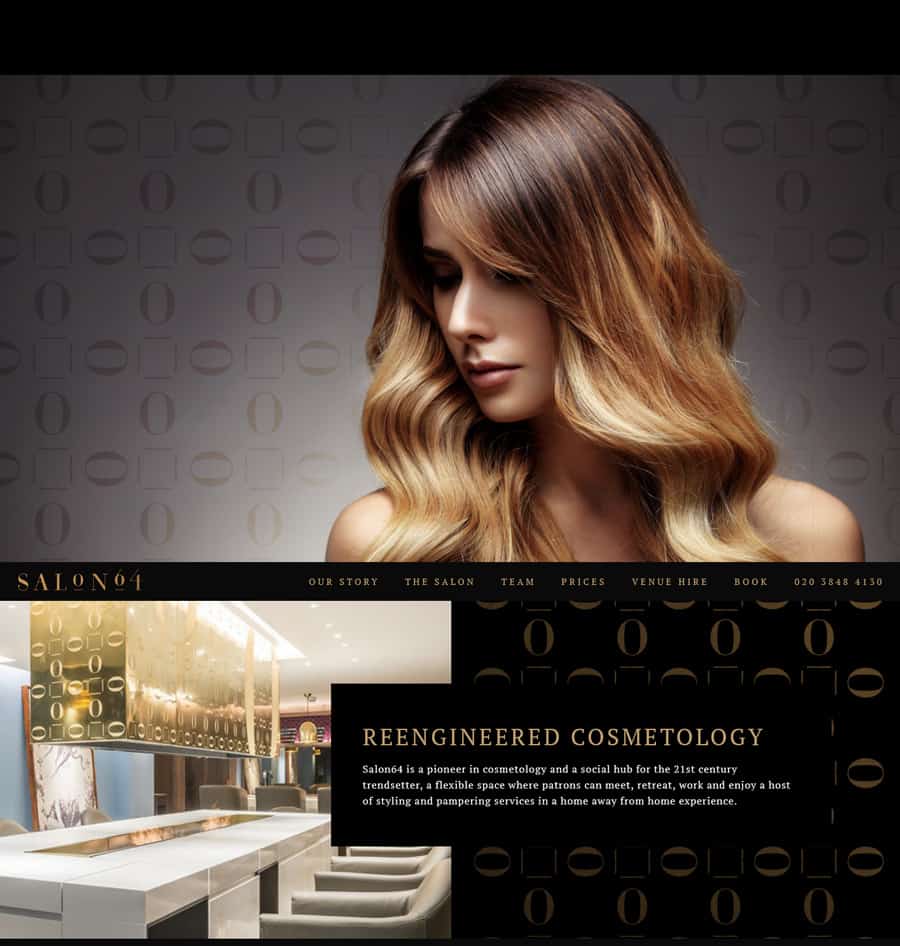 23. Taylor & Taylor
This WordPress-designed site exudes simplicity and luxury in one go. The Taylor Taylor London logo on the homepage is minimalistic whereas the "Book Now" tab on the top-right corner of the page helps you book an appointment with just a click. So, if you are looking for something simple, clean and to the point, this website design is right for you.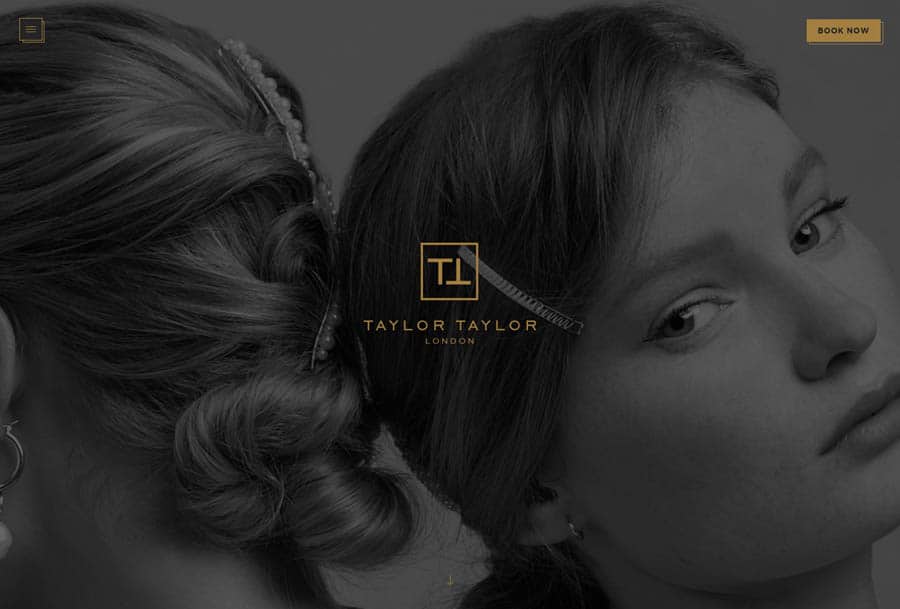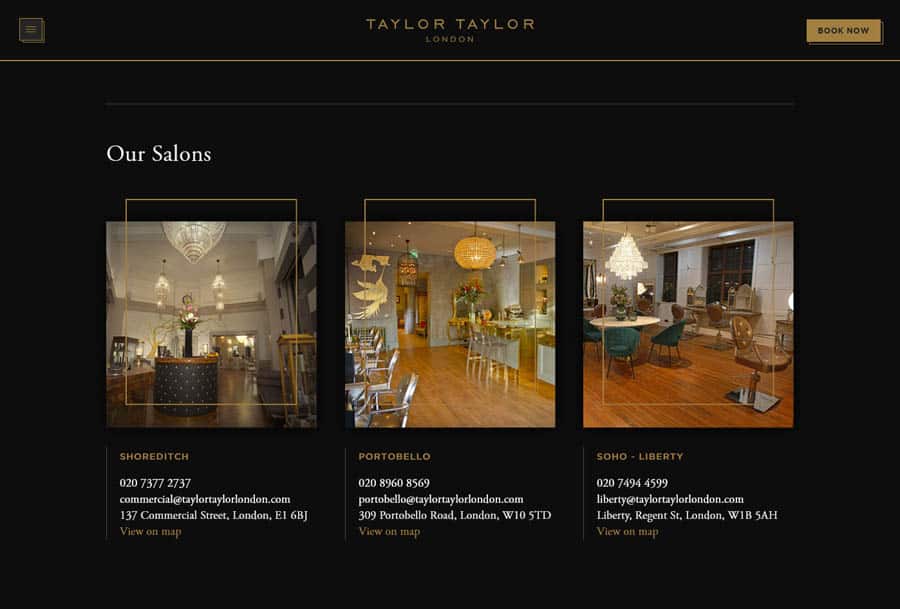 Conclusion: Takeaways From The Best Hair Salon Websites?
It's not easy to know where to begin when you're about to build a new website. But looking at what the best hair salon websites do is an excellent start.
A few important things that became very clear as we looked at the examples here are:
Visual impression: How fast do you understand what the website is about, and does that resonate with your target hair salon client? Is it also consistent with your establishment so that the client's experience is aligned online and in real life?
A clear call-to-action: Can you easily see a book now button that links you to the salon's appointment scheduling software?
Is contact information prominently displayed: Do you immediately find opening hours, address, and phone number on the website? In fact, this will be the reason most people visit your barbershop's page.
Smart use of content: Do you include specific pages for your key services, and is your website integrated with your social media. Producing and publishing more content will help your salon show up better on Google and other search engines.
I hope the top hair salon websites in this post have inspired new ideas for your website. But don't just leave it as an idea. Start taking action on getting your new website online today.
Order a barbershop website today from 99Designs or follow my guide on how to create a salon website yourself here.
Finally, you can also check out: 24 Best Spa Websites for Design Inspiration.