Disclosure: This post may contain affiliate links, meaning I get a small commission if you decide to make a purchase through my links, at no cost to you.
Learn more...
Are you trying to decide which website builder to use when creating your salon or service business website?
Then you've landed in the right place.
In this article, I'll lead you through the best website builders for beauty salons, spas, barbershops, therapists, and other service businesses.
The job of your website builder is to make it as easy as possible for you to create a stunning website. A website that not only looks good but also helps you sell more appointments and services online.
Let's dive straight into the top list of website builders for your service businesses.
Overview of the Best Website Builders for Service Businesses, Salons, and Spas
The below list is not in ranking order. The different website builders were designed to excel at different things. So what's right for you, your salon, and service business, depends on your unique situation.
Following the table below, I'll walk you through the most important questions you need to ask yourself in order to land on a website platform that is right for you. This is then followed by a deep dive on each platform to help you make up your mind.
Let's get to it.
Site Builder
Use Case
Simplicity
Price
Square Online
The best online store for local service businesses. It's extremely easy to use with appointment scheduling built in.
Available in the US, Canada, UK, and Australia.
5(5)
Free plan
Squarespace
For the most beautiful designs and sophisticated features when you want to create a stunning beauty salon website.
3(5)
From $12/mo
Wix
Easy-to-use with the largest selection of ready-made salon website templates.
4(5)
Free plan
WordPress
Advanced website builder with unlimited customization through themes and plugins.
2(5)
Hosting from $3.95/mo
99designs
99designs is not a website builder. It's a service you can use to get a professional to build your website. This is the best option for the busy business owner.
5(5)
Starts at $599
As you can tell, you have a few different options to choose from.
But now, let me take you through the most important factors to consider when choosing a website builder for your salon or service business.
1. How Tech Savvy Are You? Consider a Website Builder for Beginners
Let's face it.
You're most likely a business owner and not a web developer. And you shouldn't have to become a skilled developer to get your website up.
So you need to consider how technical you want to get.
Because here's the thing.
The more flexibility you want, the more complex it gets.
If you want to be able to control the placement of every detail on your site and have advanced, non-standard functionality, you need to use a tool with high flexibility. But that also means a greater learning curve and a bigger risk that things go wrong.
That's just how it is.
This is why I typically recommend the DIY salon owner to go with a beginner-friendly website builder and only later, if you see that there's a need, switch to something more advanced or hire a professional.
This is to ensure you get something up without wasting time on something you might not even need.
The best website builder for beginners is Square Online. It uses ready-made blocks that you just drop on the page. For example, if you want to show customer testimonials, you just drop the customer testimonial section to the page and you're done.
You have a few different design options but not much.
If you feel this is too limiting, the next level would be Wix. This platform allows for much greater customization while still being fairly easy to use.
If you feel ok about getting your hands into some more tech, I would go with Squarespace as this platform gives you the ability to create the most beautifully designed beauty websites but the learning curve is also steeper.
Finally, you have WordPress.
This is what I use in my salon marketing agency business. It's also what the website you are reading this on right now is built on 🙂
You can do anything with WordPress.
WordPress gives you access to thousands of plugins and design themes.
You can really create whatever you want with WordPress. You don't need to know how to code to use it but you need to be prepared for a big learning curve and a high risk for errors.
To get set up with WordPress, I recommend you get hosting from Bluehost where you can use their wizard tool to create your WordPress website.
2. Functionality & Online Appointment Scheduling
When you know if the platform you choose fits your level of technical capability, you need to investigate if the platform has the features you need and that those features integrate with other tools you are using today.
Important functionality to consider for a service business website are:
Appointment scheduling. In order to sell calendar-based services like most salon services, you want to make sure people can book time with you online (and ideally also pay for the service online)
Online store. This is to help you sell service gift cards, service subscriptions, as well as physical products and non-calendar based services.
Search engine optimization (SEO). This is to ensure your business show up in search engines (primarily Google) when people are searching for your type of service.
Tools to convert visitors to clients. It's important that your website builder offer tools like alert bars, pop-ups, email opt-in forms, etc. that allow you to convert website visitors into clients.
All of the tools on this page supports the above but to a different degree. Some have it natively built-in and others require you to install additional plugins or integrate with other tools to achieve what you want.
As I walk through each recommended tool, I'll cover the supported features in more depth.
3. Salon & Service Business Website Design Templates and Themes
To ensure the design of your website looks professional, it's very helpful to use ready-made website templates to create your website.
The website builders listed here also handle this in different ways. Some have ready-made website templates for salons and other services businesses. Other offers generic design blocks you can use to build up your website for the type of business you have.
I will cover how each platform handles this as we go through each tool in more detail.
If you consider these three things when you read the rest of the article, you should be able to identify the tool that fits you best.
Note that the article is quite long so I recommend you bookmark the page or pin it to your Pinterest board so that you can come back to it later if you need to.
Navigate directly to the tool you want to learn more about:
↓ Pin it for later ↓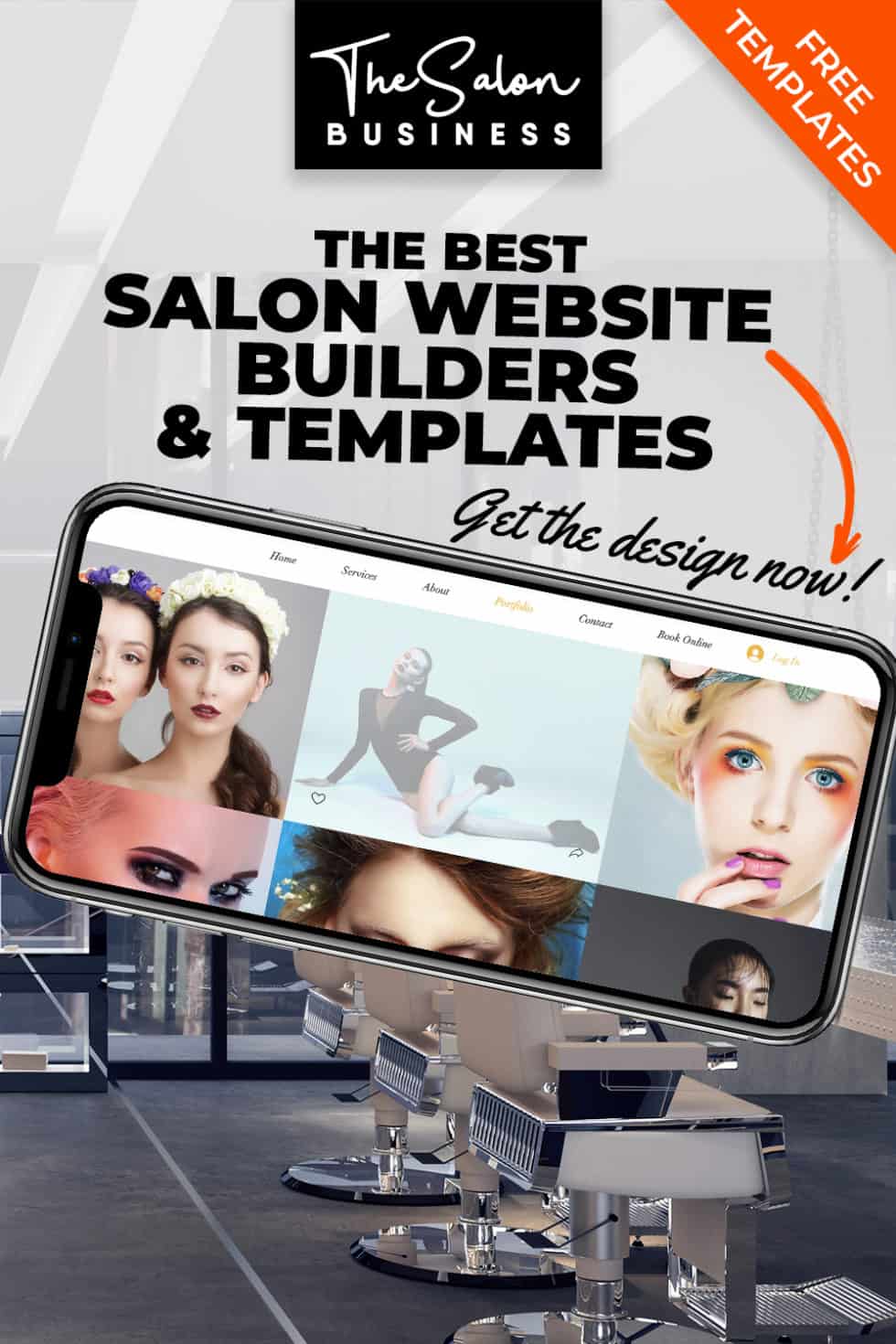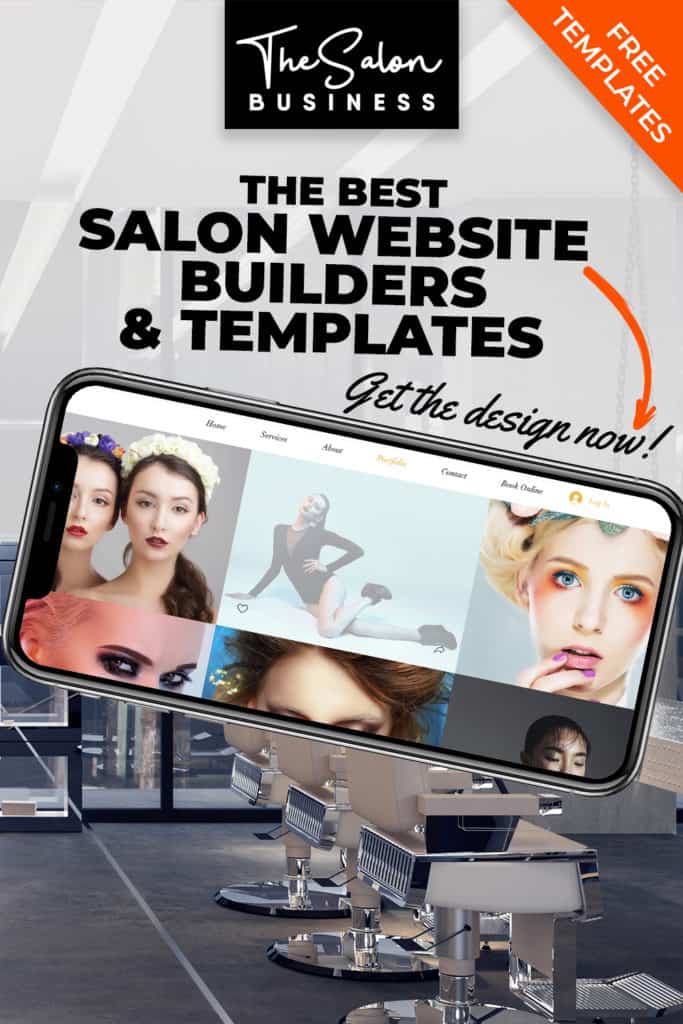 Square Online – The Easiest and Fastest Way to Create a Website and Start Selling Services Online
Note: Square Online is limited to businesses based in the US, Canada, UK, and Australia.
Free plan available
Super easy to use: Just drag and drop ready-made blocks
Sell services & manage appointments: The free Square Appointments scheduling software is natively built into the platform and allow you to charge clients online.
Powerful eCommerce: Sell services, gift cards, subscriptions, and products directly on the website.
Full business support through Square tools: Square offers a large range of support for small businesses that are all integrated together (payments, point of sale, email marketing, payroll, and even business loans).
Square Online is the most easy-to-use, free, website builder, and online store I've ever used. It uses pre-built sections that you just drag-and-drop to your website to achieve the end result you want.
Each section is optimized to work on mobile as well as desktop so you don't need to worry about things looking strange on some devices.
It just works.
But, given it's using these foolproof ready-made sections, you do not have the flexibility to do whatever you want.
Square Online has been designed to make it easy for local businesses to sell appointments, products, and services online. Thus, it's firstly an online store platform even if it can be used to build a full website in a very simple way.
You can also use Square Online to just add a store to your existing website. It allows you to add "buy now" buttons and feature products on your existing website to then just manage the checkout via Square Online.
Service businesses can sell appointments, service gift cards, service subscriptions, as well as physical products for pickup and delivery.
So in short, Square Online is best if you want to start selling online or you just want a super easy to use website builder that allows you to create a website fast. In fact, I've built websites in Square Online just using my phone!
About Square Online
Square Online (previously called Square Online Store) is Square's big online play. They have been investing heavily in the online space recently. Most noticeably through the acquisition of Weebly (one of the leading website builders).
Square is probably most known for its payment processor but they have over the past 10 years expended into full business support for local businesses.
This include point of sale systems, appointment scheduling, inventory management, payroll, marketing tools, business loans, and more.
Given the rich, full business support, that Square offers, it has become one of the most popular partners for services businesses. In particular, because they offer the powerful, free, service appointment scheduling tool called Square Appointments (read my full review of Square Appointments here).
This makes Square the most obvious choice for services businesses.
How Can Square Online be Available for Free?
The reason Square offers such powerful tools for free is that when you use their tools, you will also use their payment processor. And like all other payment processors (Paypal, Stripe etc.), you will be charged a transaction fee.
But this is anyway not something you can get away from. In fact, all other website platforms that offer an online store will use Square or one of the other payment processors to process credit card transactions. And Square offers very attractive rates (see Square transaction fees here).
Key Features of Square Online
The main features you get with Square Online is a powerful store and a simple, easy-to-use, website builder.
You can use only the eCommerce capabilities of Square Online on your existing or you can build your complete service business website using Square Online.
Some of the key features:
Automatically syncs with Square POS
Accept Square gift cards
Sell service subscriptions
In-house and on-demand delivery
Curbside and in-store pickup
Instagram integration
Local delivery
Google Pay & Apple Pay
Sales coupons
Inventory management
SEO tools
SSL security
Service & Salon Business Website Design Templates
Square does not work with design templates (like some of the other solutions here). They instead offer pre-designed sections that you drop on to your page to create your design.
This makes it fast and easy to create your website. But it also means less flexibility as you only have a few design options for the sections that you use on your site.
You can still achieve very good looking website designs. Below is an example website I've created to show what a salon website could look like when built using Square Online.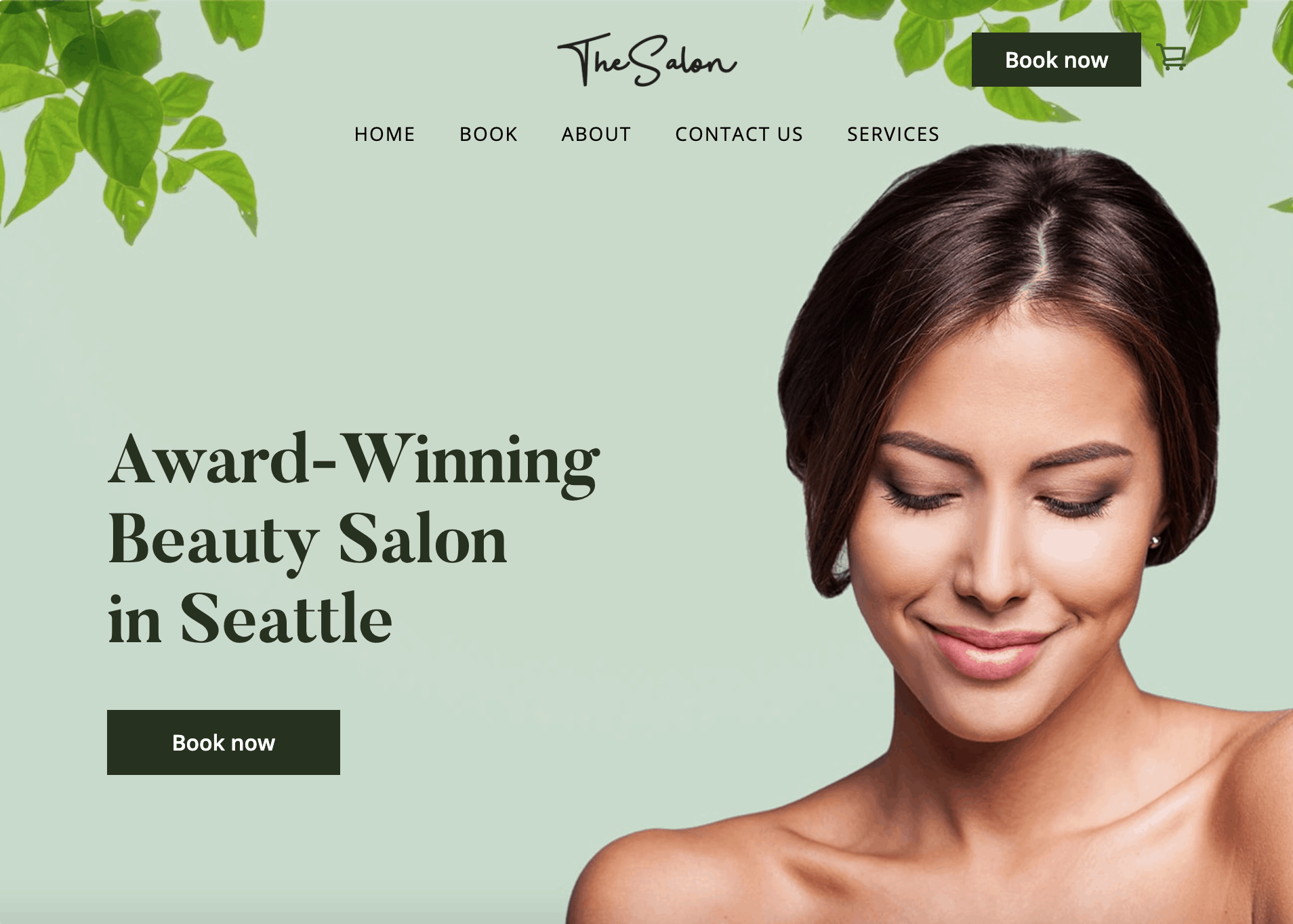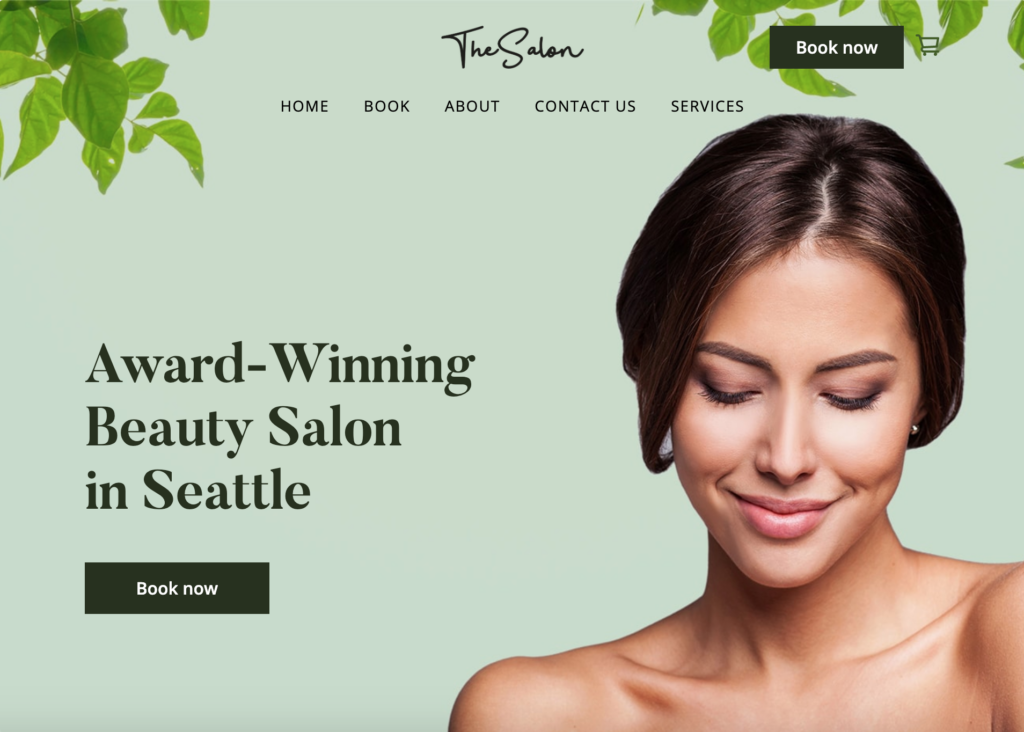 You can also check out this list of Square Online design examples that I've put together to illustrate what you can achieve with the tool.
→ Start using Square Online for free ←
Squarespace – Most Beautiful Website Designs

Squarespace is available Worldwide
Starts at $12/mo
Most beautiful designs: No other website builder beats Squarespace on design
Native service appointment scheduler: Acuity is a very popular appointment scheduler from Squarespace
Strong SEO support: Popular tool for businesses who rely heavily on search traffic (like bloggers)
A lot of features: Squarespace has all the features you need and a big library of 3rd extensions
With Squarespace we're starting to cross over from beginner tools to pro. In fact, many professional web developers build their websites based on Squarespace. This doesn't mean you cannot use it if you're a beginner but you just need to be prepared for a bigger learning curve than with Square Online.
This is probably the most powerful website builder when it comes to creating beautiful designs. You just need to be prepared to spend some time learning the ropes to get your site created in a beautiful way.
About Squarespace
Squarespace has been around since 2004 and has grown to become one of the most popular website builders out there.
It's most known for its beautiful designs but is also packed with rich features.
Like Square, Squarespace has it's own appointment scheduler called Acuity Scheduling. This is the most flexible appointment scheduler I've used. This makes Squarespace a great overall partner for service businesses and salons.
Squarespace has also been building out their offering of add on business tools. They, for example, offer their own POS platform and email marketing service to support local businesses beyond their website.
This makes Squarespace similar to Square in many ways and a good option if you are not in a Square supported country or you are looking for greater design customization options than Square Online supports.
Service & Salon Website Design Templates
Squarespace does not offer a large range of specific design templates for salons. Instead, it has a wide range of generic website design templates that you can take and customize for your business.
This is different from Wix who offers a number of salon and service business-specific website templates. But I don't really see this as a limitation. You'll most likely want to change images and messages to reflect your specific business anyway (and the generic templates are beautiful to start with).
→ Browse Squarespace templates here ←
Key Features of Squarespace
Squarespace has a really broad range of features.
Native appointment scheduler (Acuity) that allows you to charge clients when booking
Online store where you can sell services, gift cards, and products
Powerful SEO tools
Award-winning design templates
Advanced analytics
→ Browse all Squarespace Features ←
Wix – Easy-to-Use with Many Salon & Service Business Design Templates
Super easy-to-use. No technical knowledge needed. Just drag and drop.
Several free salon website designs: Comes with a broad selection of free hair & beauty salon website templates that you can customize to your needs.
Native service appointment scheduler: Wix has its own appointment scheduler built into the platform.
Low cost: Only $8.50/ month for a full license plan which includes a domain name (e.g. examplesalon.com). You can also use Wix for free but until you choose to upgrade, you'll see a Wix advertising bar on your website (which you don't want!).
Wix is more flexible than Square Online but also has a slightly bigger learning curve. It's still considered one of the most easy-to-use platforms and was designed for people without a technical background.
Get Access to Free Salon Website Templates
When you sign up for Wix, you get access to a large amount of ready-made salon website designs that you can take and customize for your beauty business website.
Not only does this save you a lot of time, but it also ensures you get a professional look and feel of your website.
Let's look at some salon website design examples that you can use as a base for your new website.
Free Hair & Beauty Salon Website Template
Take the below hair & beauty salon website design and adapt it for your salon.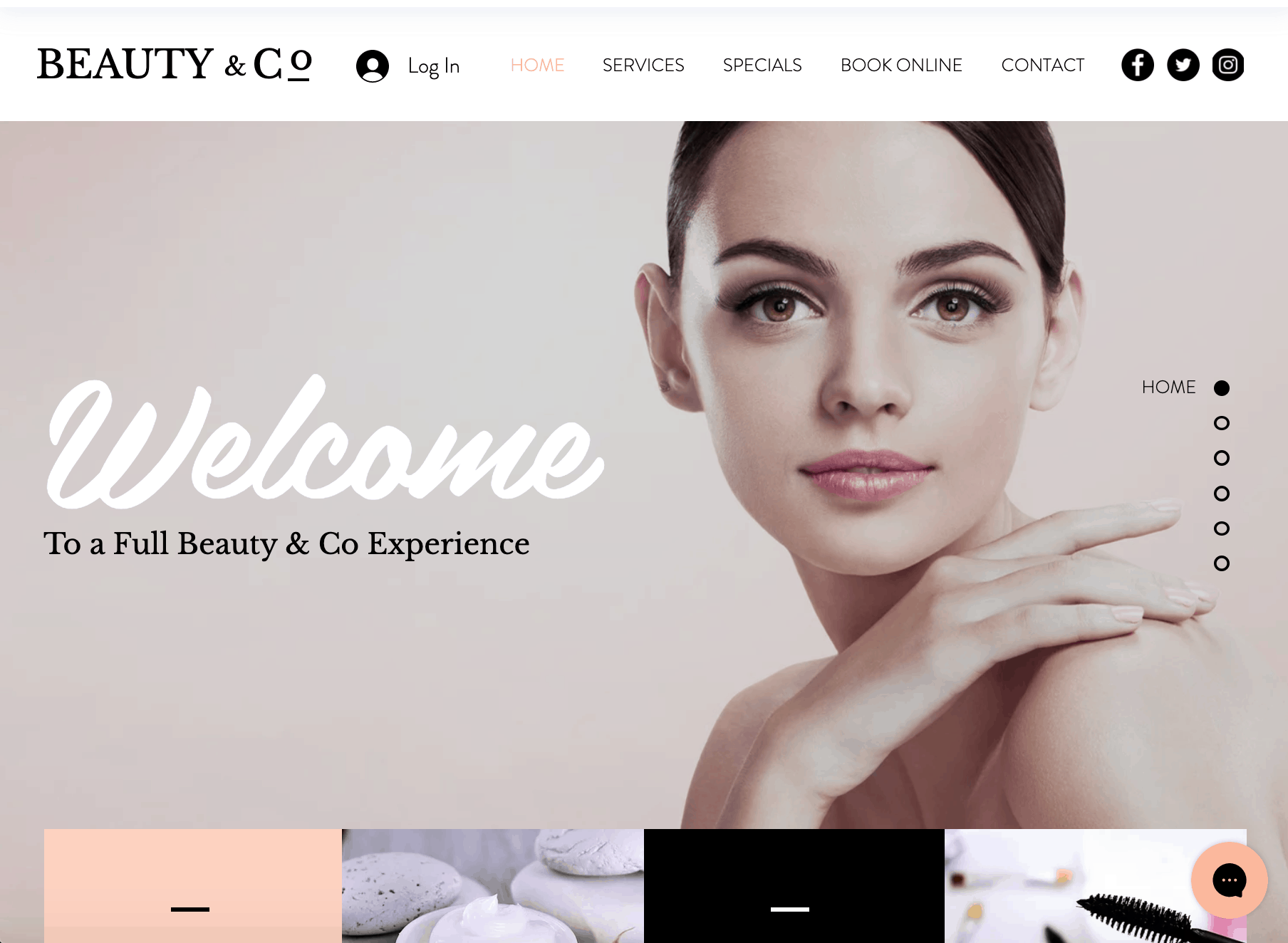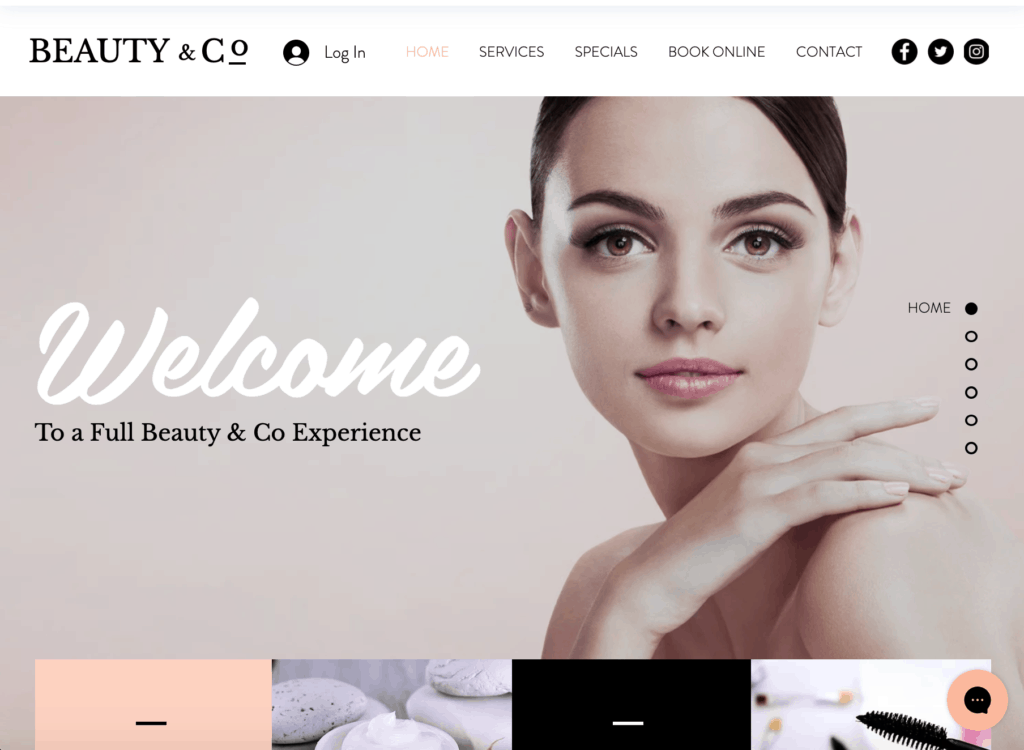 → Explore the Hair & Beauty Salon Website Templates ←
Free Barbershop Website Template
Customize this male hair salon website design to fit your barbershop.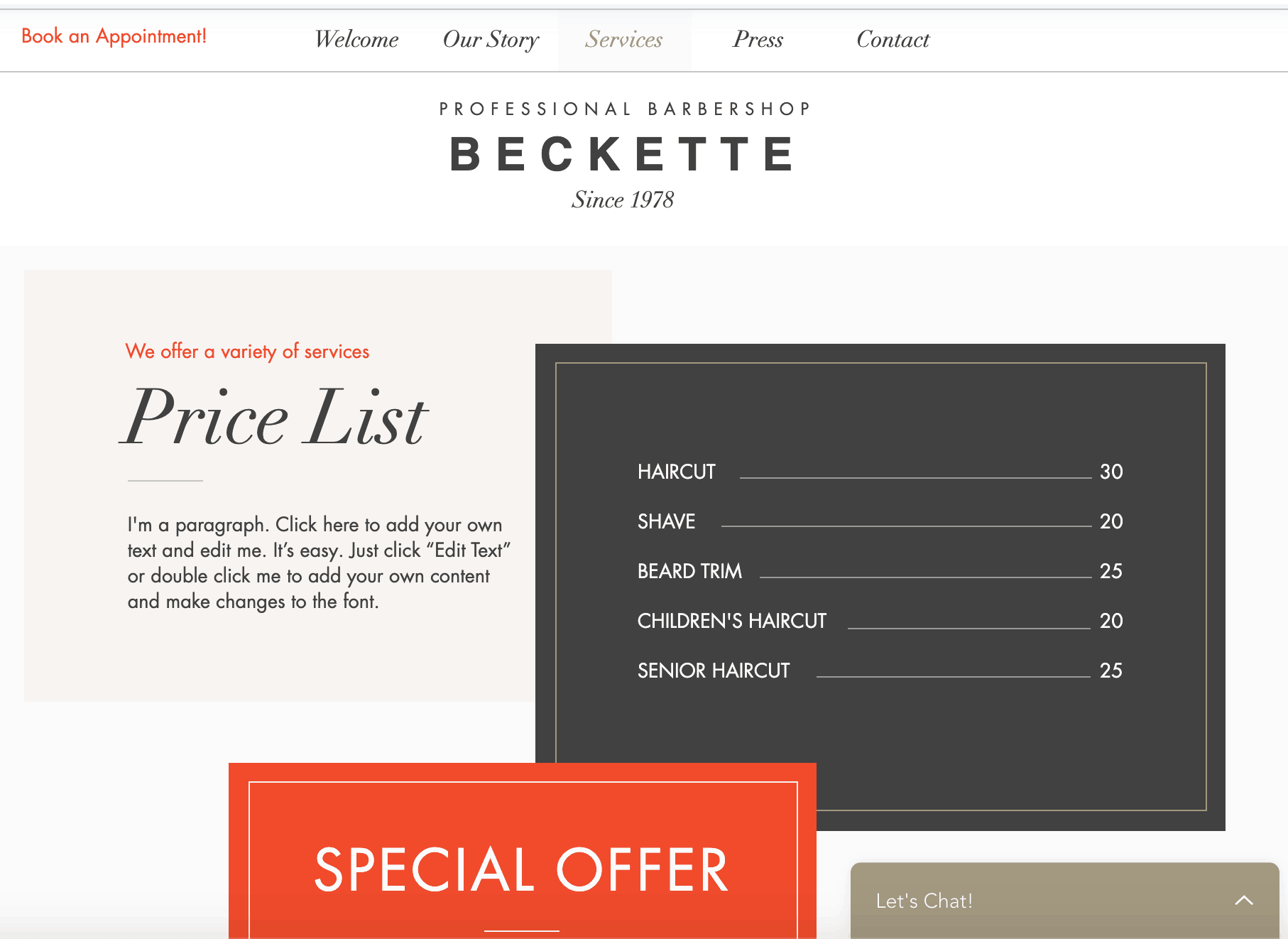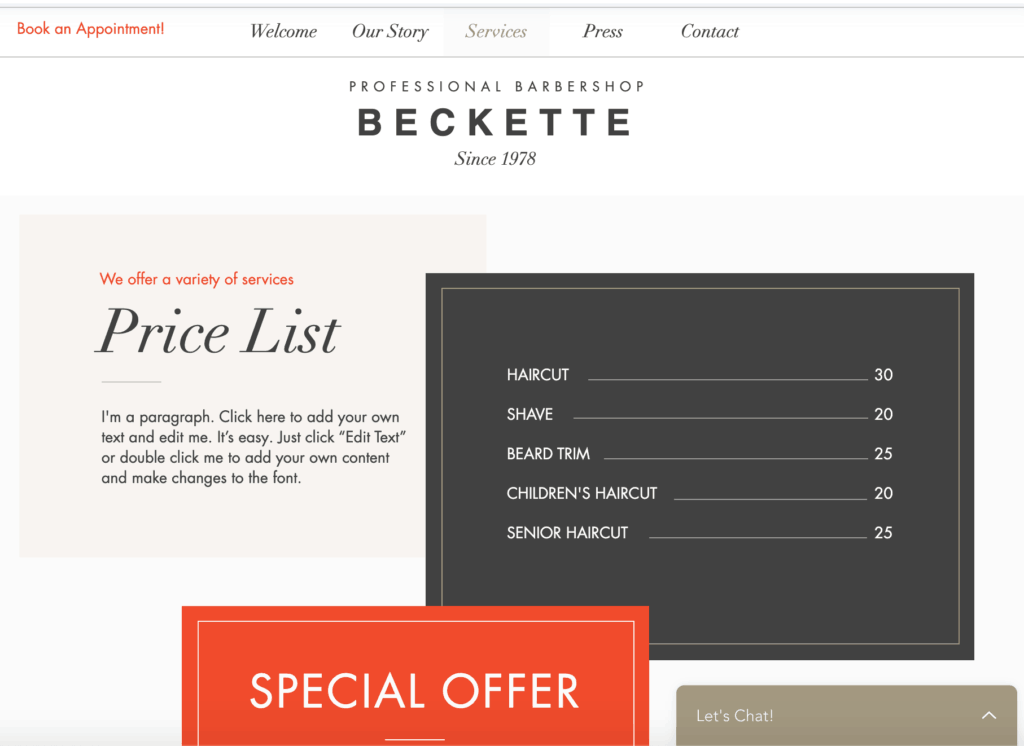 → Explore even more Barbershop website templates at Wix ←
Free Nail Salon Website Template
Below is a beautiful pastel nail salon website design that you can use for your salon.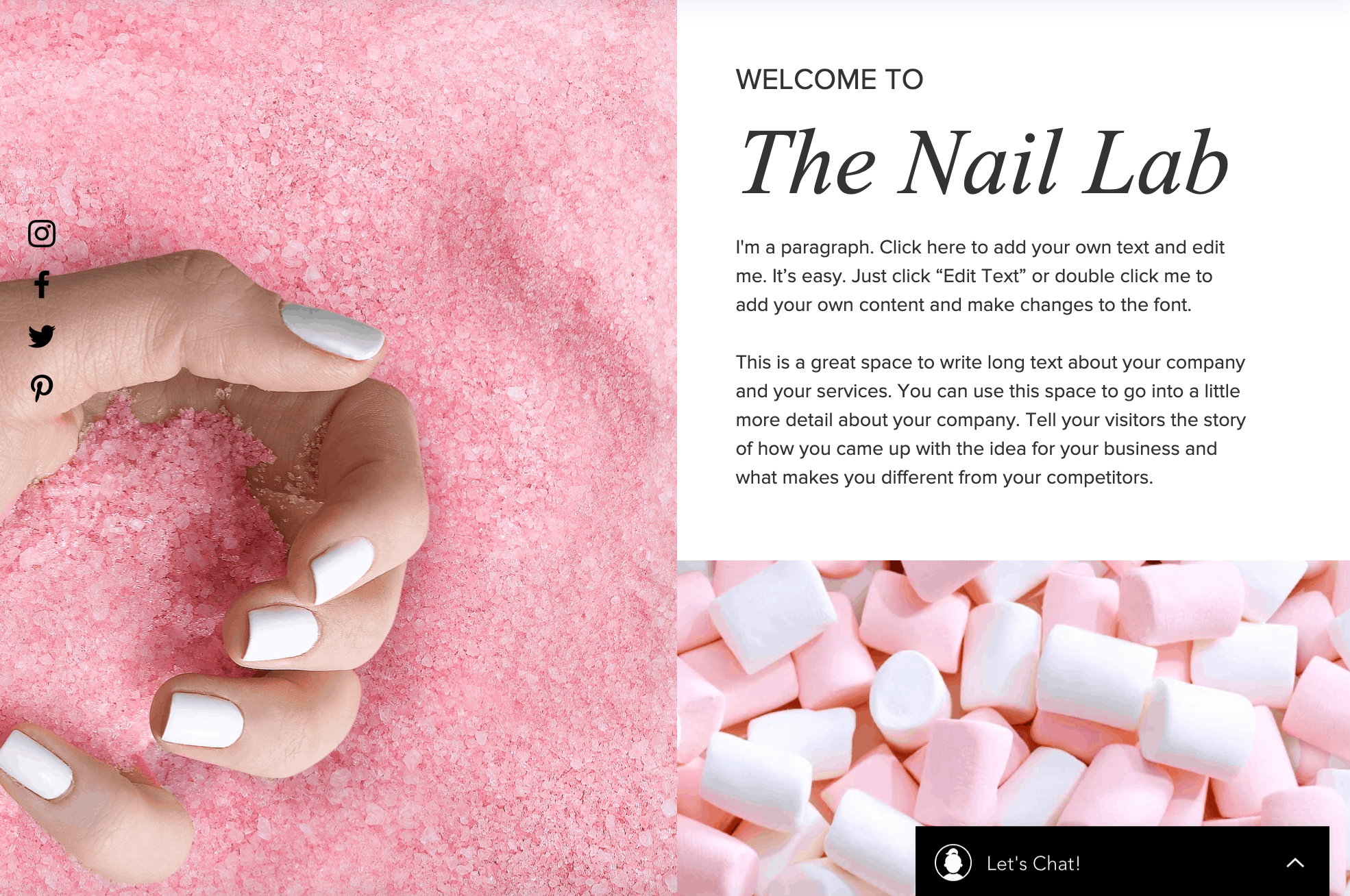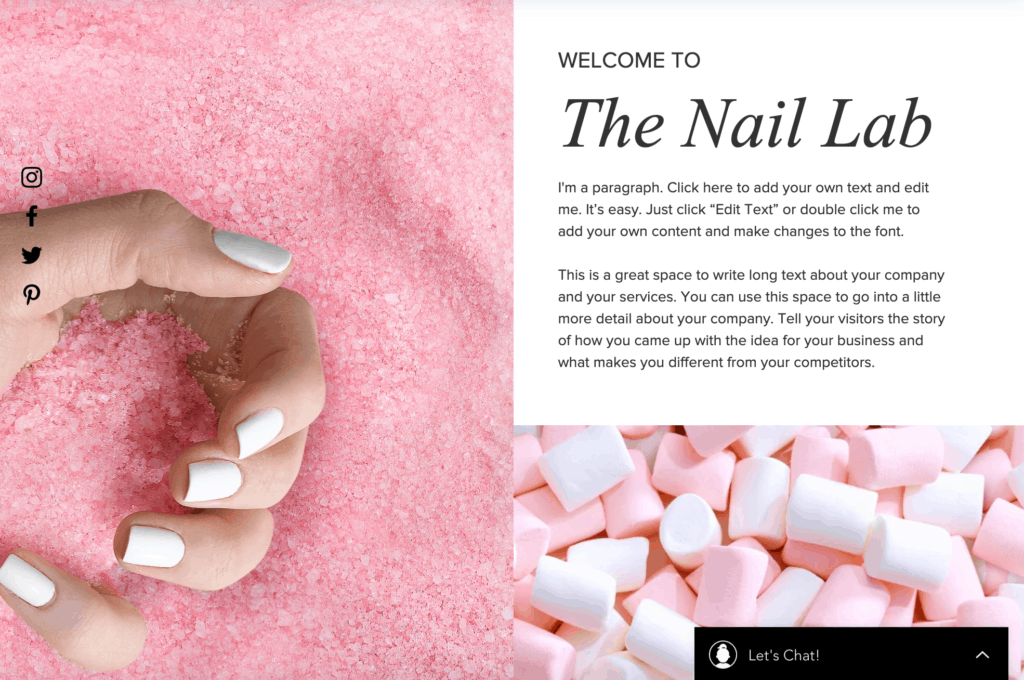 → Find your Nail Salon Website Design at Wix ←
Free Makeup Artist Website Template
This makeup artist website design is gorgeous and in fact works for any beauty salon or freelance stylist.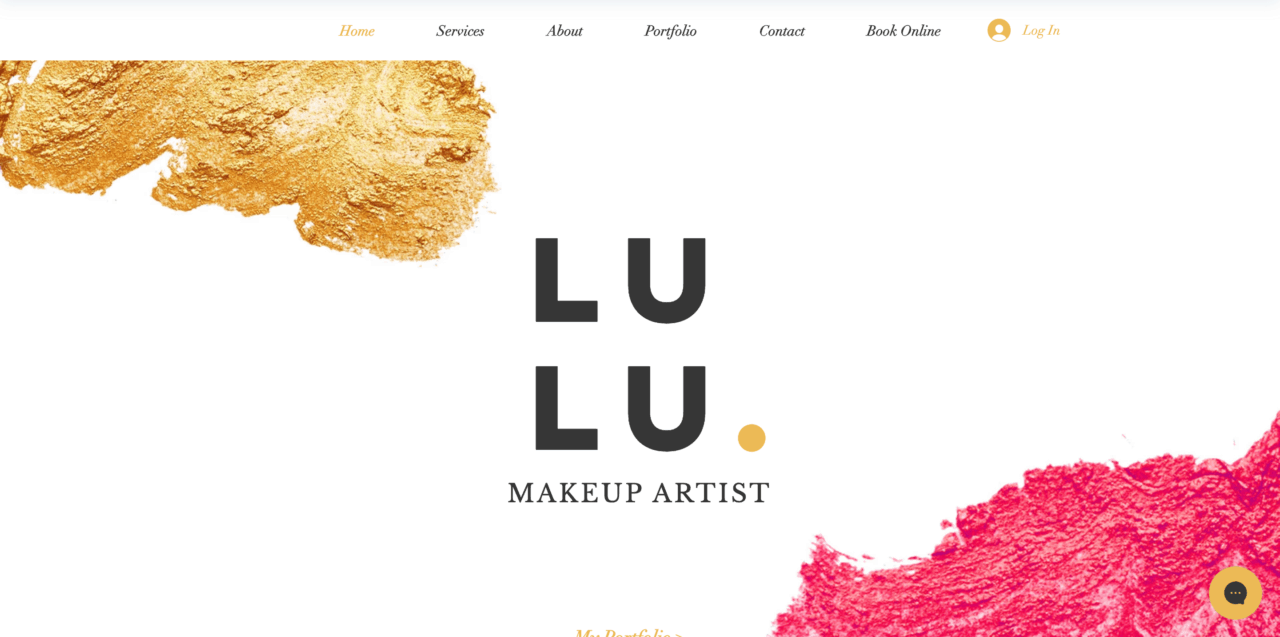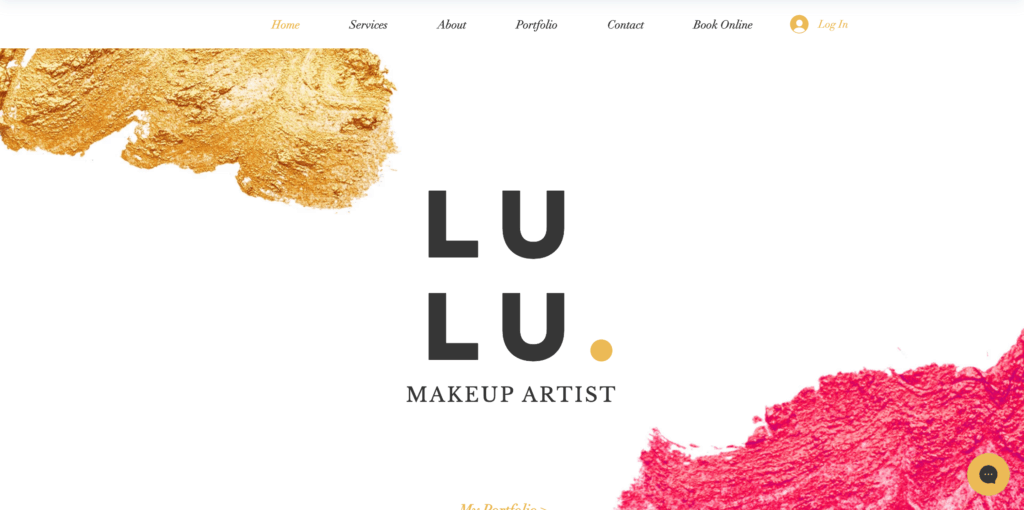 → Create your salon website with this free template ←
Wix is Easy-to-Use
I think Wix strikes a good balance between ease-of-use and flexibility. The rich library of ready-made designs certainly makes it easy to spin up a site. And they have also done a very good job of creating a beginner-friendly editor.
I've seen too many examples where service business owners spend a lot of time trying to make their website look as they want.
Not only is this frustrating but it also steals time from you that you should spend on growing your salon business.
With Wix, you work in a visual editor where you control exactly what you get – without a line of code.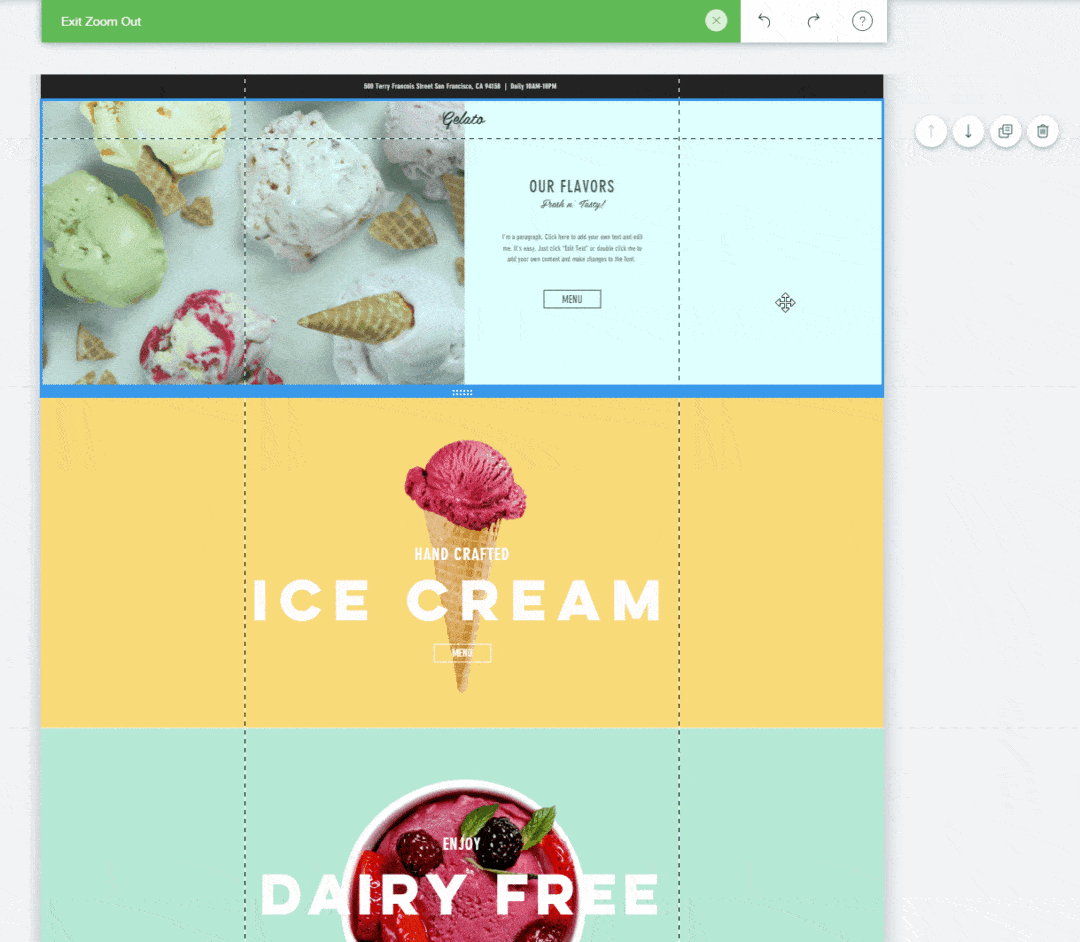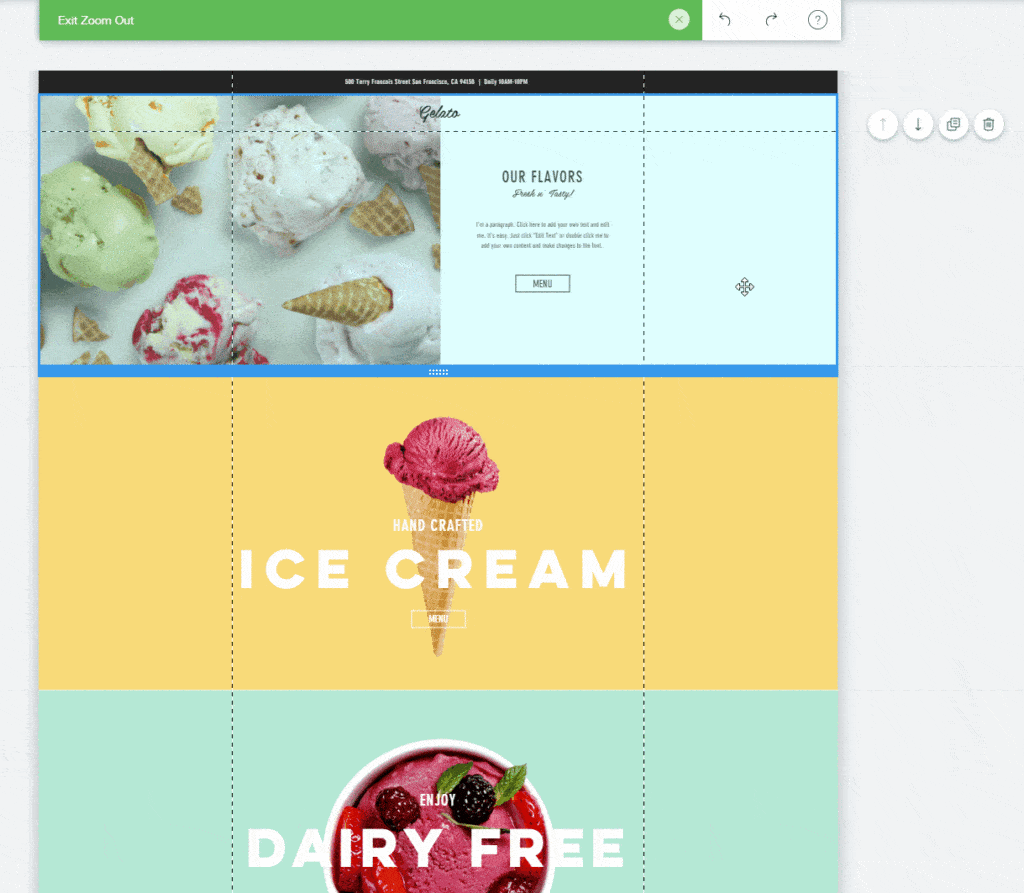 I expect this is why Wix has become the most popular website builder on the internet (Wix host 150 million websites in the Internet).
You need to give it a little bit of time in the beginning, of course, to figure out where things are and how you can move things around.
But when you've familiarized yourself, you can just drag and drop elements around to make it look like you want.
Simply add in the ready-made modules you want (e.g. a visual map, a gallery of your salon work or anything else).
Wix Features
Here's a brief overview of the most important features for a salon or service business website that Wix support.
Online booking: Use the built-in Wix Booking feature or embed your salon software's online booking feature directly on your website.
Portfolio: Leverage the gallery module and show off your work in the best light.
SEO: When you build your website using Wix, the platform makes sure your salon gets discovered on Google.
Social media: Integrate your salon's social media with your website to keep content fresh on the site while growing new social subscribers.
Email marketing: Let visitors enter their contact details on your website and create beautiful e-mail marketing campaigns to new and existing salon clients.
Events: Create customized invitations, manage RSVPs and ticket sales on your website.
→ Browse all Wix features here ←
WordPress – The Most Advanced Website Builder
Free (but you need to pay for hosting, plugins, and design themes)
Unlimted featured: Whatever you need, there's a plugin for that.
Unlimited website templates: There are thousands of design themes to choose from.
WordPress is hands down the most flexible platform you can use. This is what we use for client websites in my agency and what most professional web developers would use.
You can do anything in WordPress.
There are thousands of design themes and plugins you can use with WordPress which also means you can achieve anything.
But the learning curve is big.
You don't necessarily need to know how to code but you need to setup hosting, themes and plugins to get your site to where you want it.
I'm not saying this isn't an option for beginners. I just want to add some caution that you may find yourself spending a lot of time creating something you could have done with one of the platforms above in a fraction of the time.
To get started with WordPress, I recommend you get Bluehost web hosting. They offer a simple setup process to get your site created (and it's incredibly cheap).
About WordPress
I'm sure you've heard about WordPress before.
It's the platform that powers most website's on the internet. It was initially designed as a blogging platform but has over time developed into a full website platform.
What's great with WordPress is that, because so many people use it, it always continues to improve and there are many plugins and themes available that you can install – making it possible to achieve anything you want with your website.
The backside with the freedom that WordPress brings is that it can get complex and technical at times.
I use WordPress for many of my projects. In fact, the website you're reading this article on is created with WordPress. But I also have over 15 years of web development experience…
So even if I personally use the platform, I would not recommend it to someone who does not have technical experience. I would only recommend WordPress if 1) you have very specific needs that the other options in this article cannot fulfill, and 2) you're comfortable doing some technical work and configuration to get it up and running.
WordPress in itself is free and open source. However, you're going to have to pay for somewhere to host your WordPress site (aka a web hotel or hosting provider) and you also need to pay for a design theme to make your site look good.
There are free design themes available but I would strongly recommend going for a premium theme as it is it does not cost much and you'll get a website that looks so much better.
As you can tell, just getting the website setup will require a few steps. It's not difficult but you need to do a bit of installation and configuration.
→ Get started with WordPress on Bluehost ←
99Designs – Get a Professional to Build Your Website
99Designs is not a website builder but a way to connect with professional web developers who can help create a website for you.
For many salon and service business owners, this is the best option as it will save you time and ensure a professional result.


Affordable: Webdesign starts at $599 (even if you will probably spend closer to $2,000 for a full website)
Supports most website builders: Square Online, Squarespace, Wix, and WordPress
Get ideas: Create a contest where multiple web designers can submit website proposals to you.
Conclusion
I hope this list of website builders for salons and services businesses has helped you decide on the right solution for you.
Again, there's not just one solution that is right for everyone as they all have different pros and cons.
What's important now is that you get started, learn, and get your web presence up. If you don't have time to do it, you always have the option to hire a professional at 99Designs to do it for you.
For more website ideas, I recommend you check out my article where I list the top salon websites right now.
Wishing you the best of luck on your new website!
John