Disclosure: This post may contain affiliate links, meaning I get a small comission if you decide to make a purchase through my links, at no cost to you.
Learn more..
Are you in need of a new website for your hair salon, beauty salon or spa?
Then you've landed in the right place.
Creating a new salon website can feel like a daunting task. You want it to be beautiful and reflect the true image of your salon. At the same time, it needs to be functional and help you get new salon client bookings.
And there's thousands of different salon website builder and design template combinations out there.
But which salon website builder and salon website template is right for you and your beauty business?
They all promise the perfect salon website. No wonder we get lost.
Even worse, if you pick the wrong salon website template you may find yourself spending way to much time fiddling around with technical configurations – only to achieve a mediocre result.
But it doesn't need to be this way.
I've created many websites and observed what's working for salon owners and not.
And today I wanted to share with you the outcome..
↓ Pin it for later ↓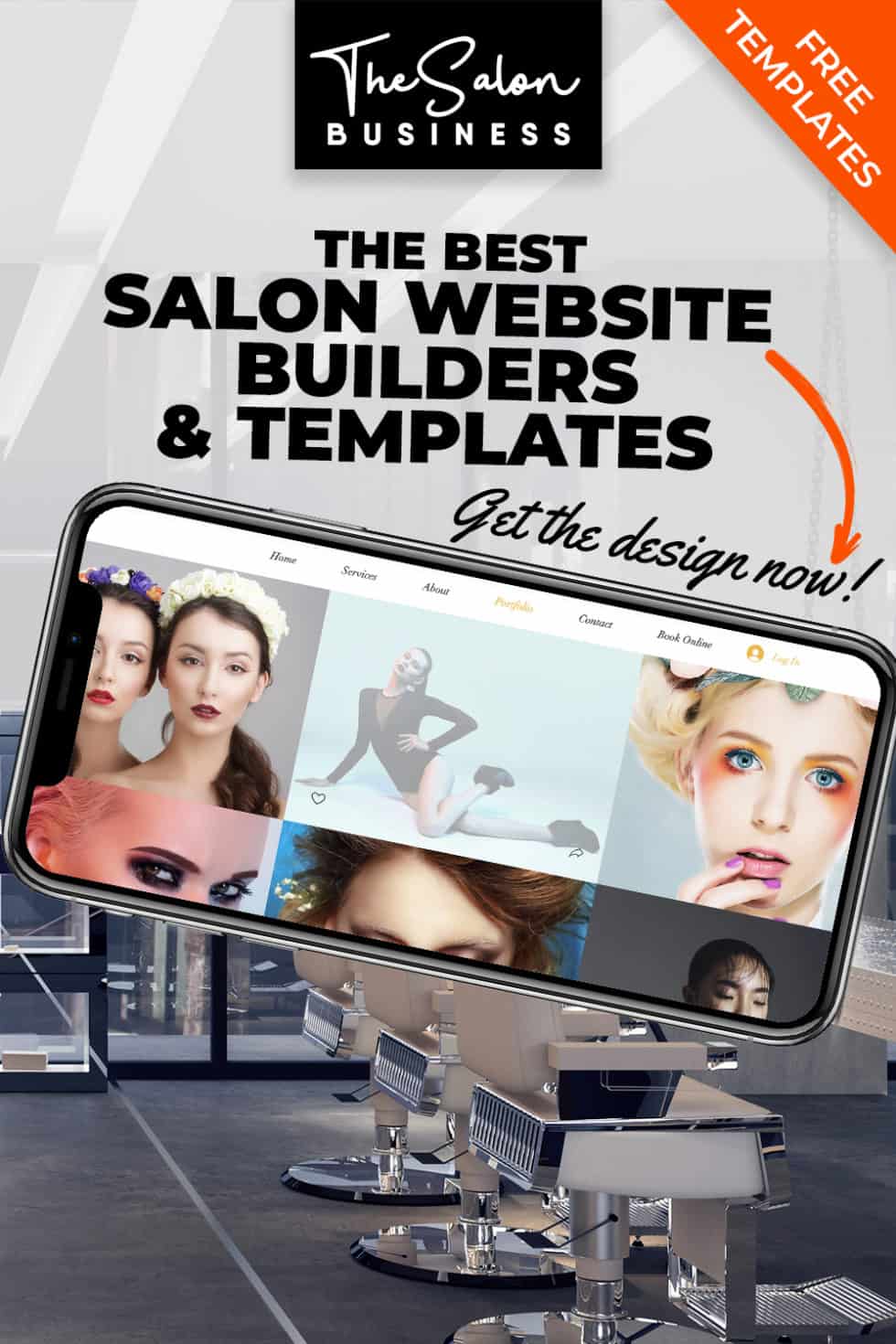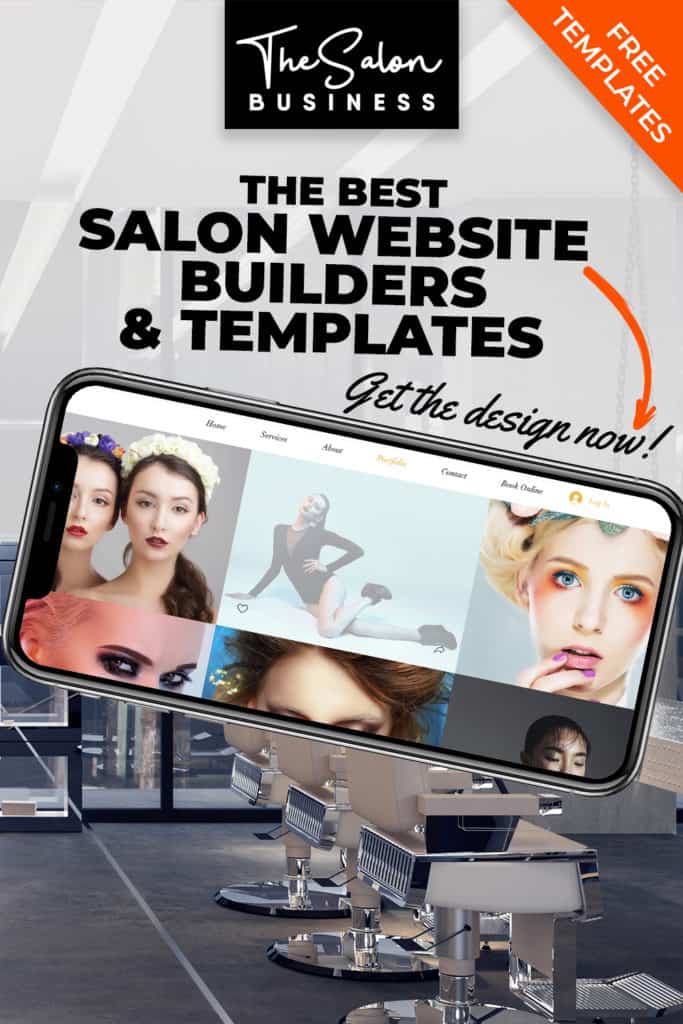 The No.1 Salon Website Builder – Wix!
Wix is the fastest, most easy, way for a salon owner to create a beautiful and professional website.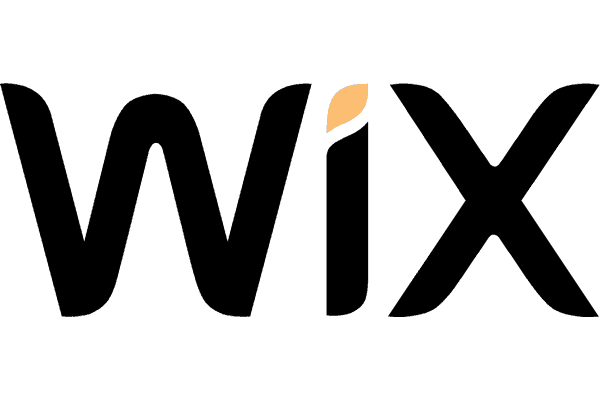 Super easy-to-use. No technical knowledge needed. Just drag and drop.
Beautiful free salon website designs: Comes with broad selection of free hair & beauty salon website templates that you can customize to your needs.
All features a salon needs included: Integrates with your online salon appointment scheduler, helps make your salon visible in search, integrates with your social media, and much more..
Low cost: Only $8.50/ month for a full license plan which includes a domain name (e.g. yoursalon.com). You can also use Wix for free but until you choose to upgrade, you'll see a Wix advertising bar on your website (which you don't want!).
Get Access to Free Salon Website Templates
When you sign up for Wix, you get access to a large amount of ready-made salon website designs that you can take and customize for your beauty business website.
Not only does this save you a lot of time, but it also ensures you get a professional look and feel of your website.
Let's look at some salon website design examples that you can use as a base for your new website.
Free Hair & Beauty Salon Website Template
Take the below hair & beauty salon website design and adapt it for your salon.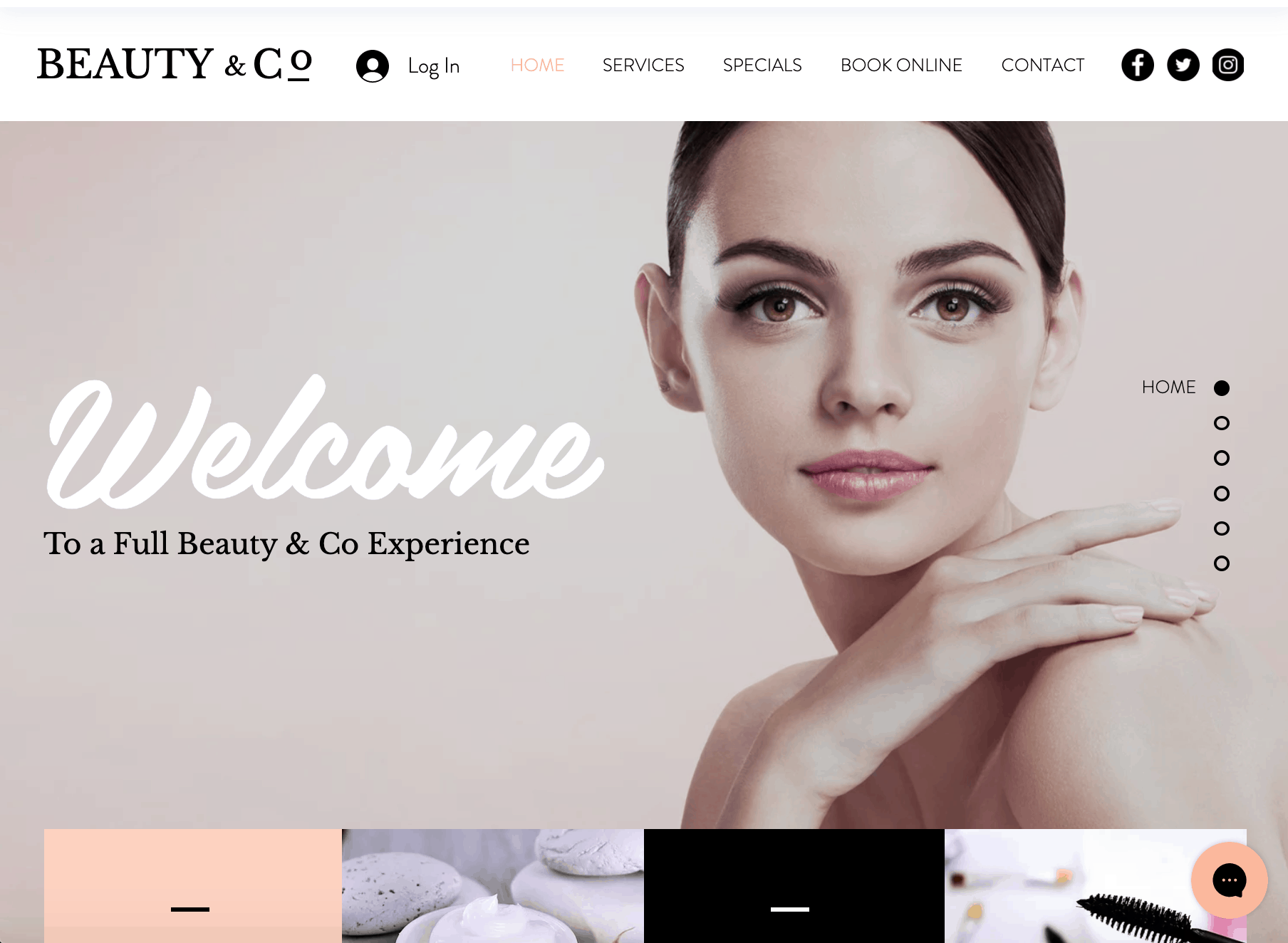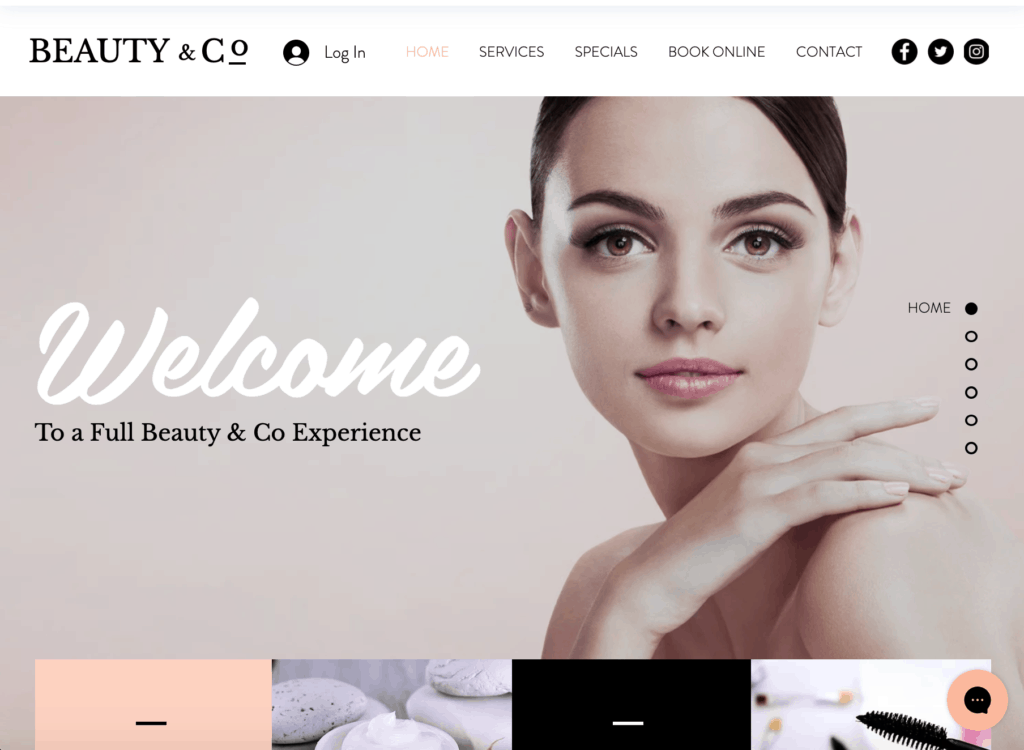 → Explore the Hair & Beauty Salon Website Templates ←
Free Barbershop Website Template
Customize this male hair salon website design to fit your barbershop.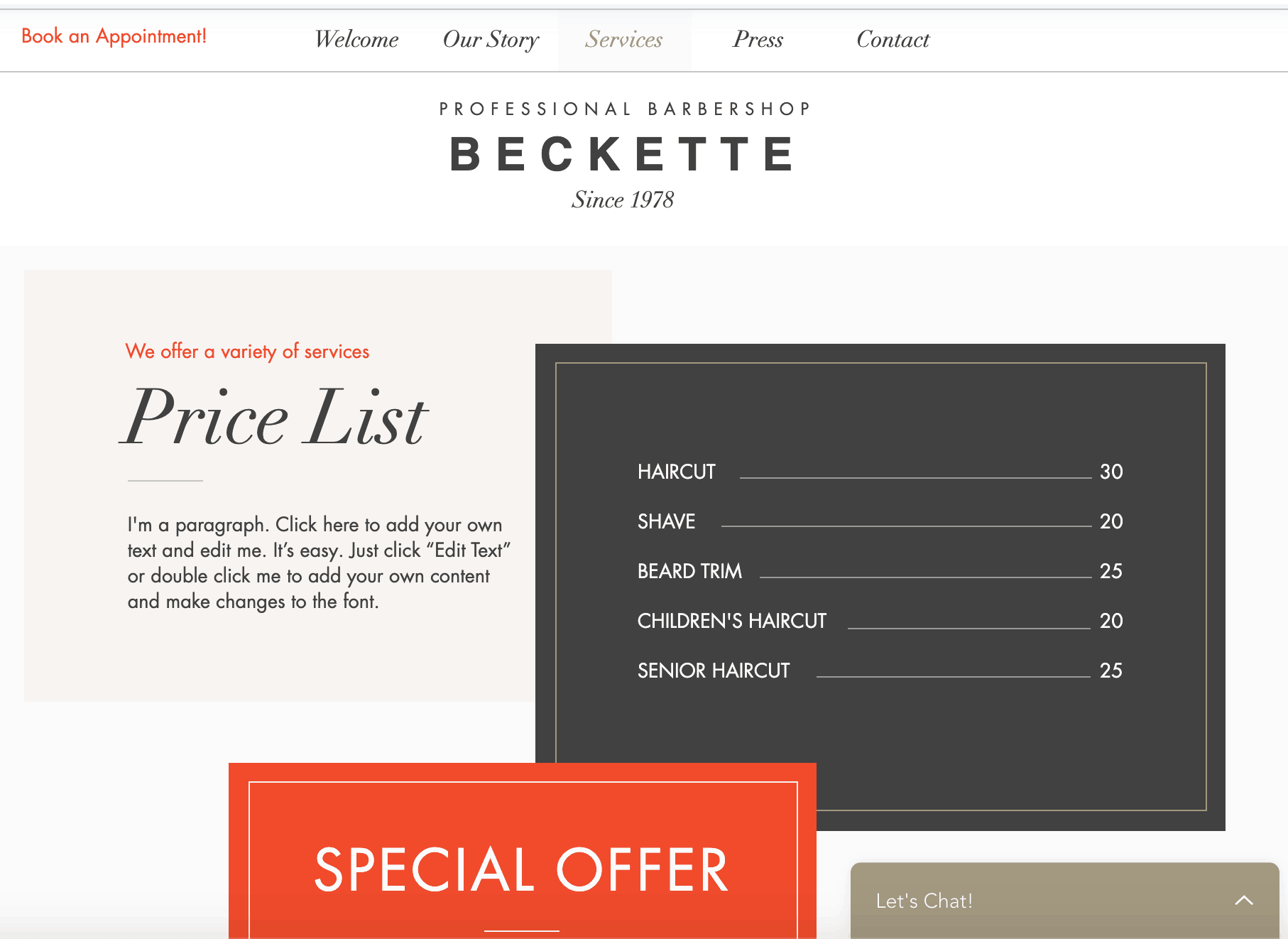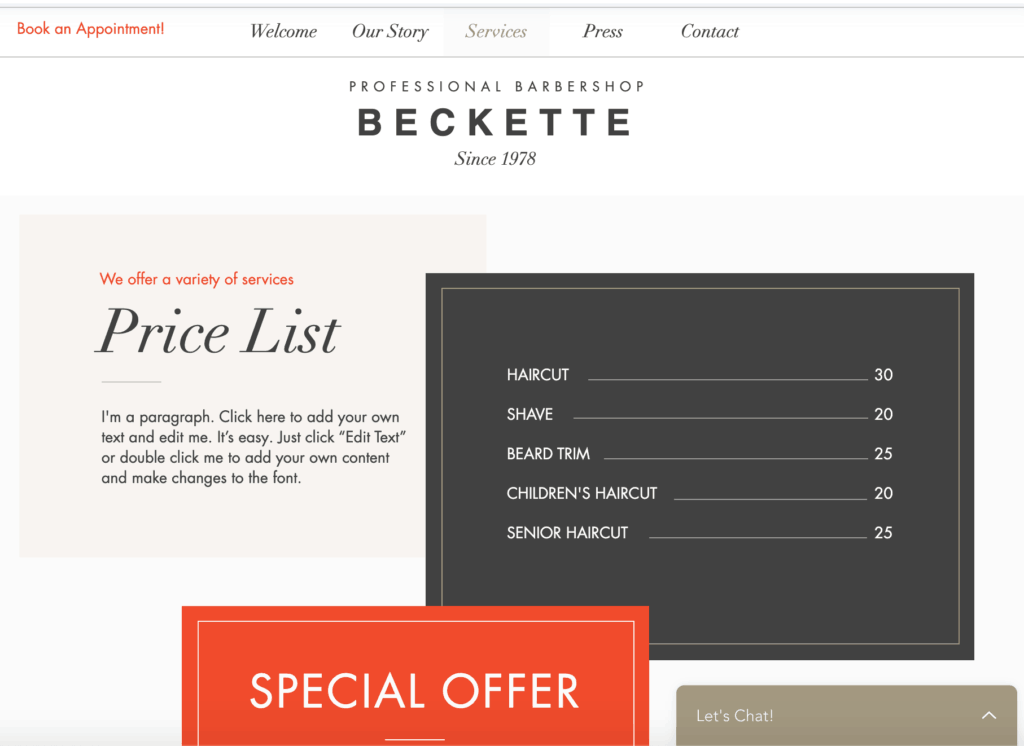 → Explore even more Barbershop website templates at Wix ←
Free Nail Salon Website Template
Below is a beautiful pastel nail salon website design that you can use for your salon.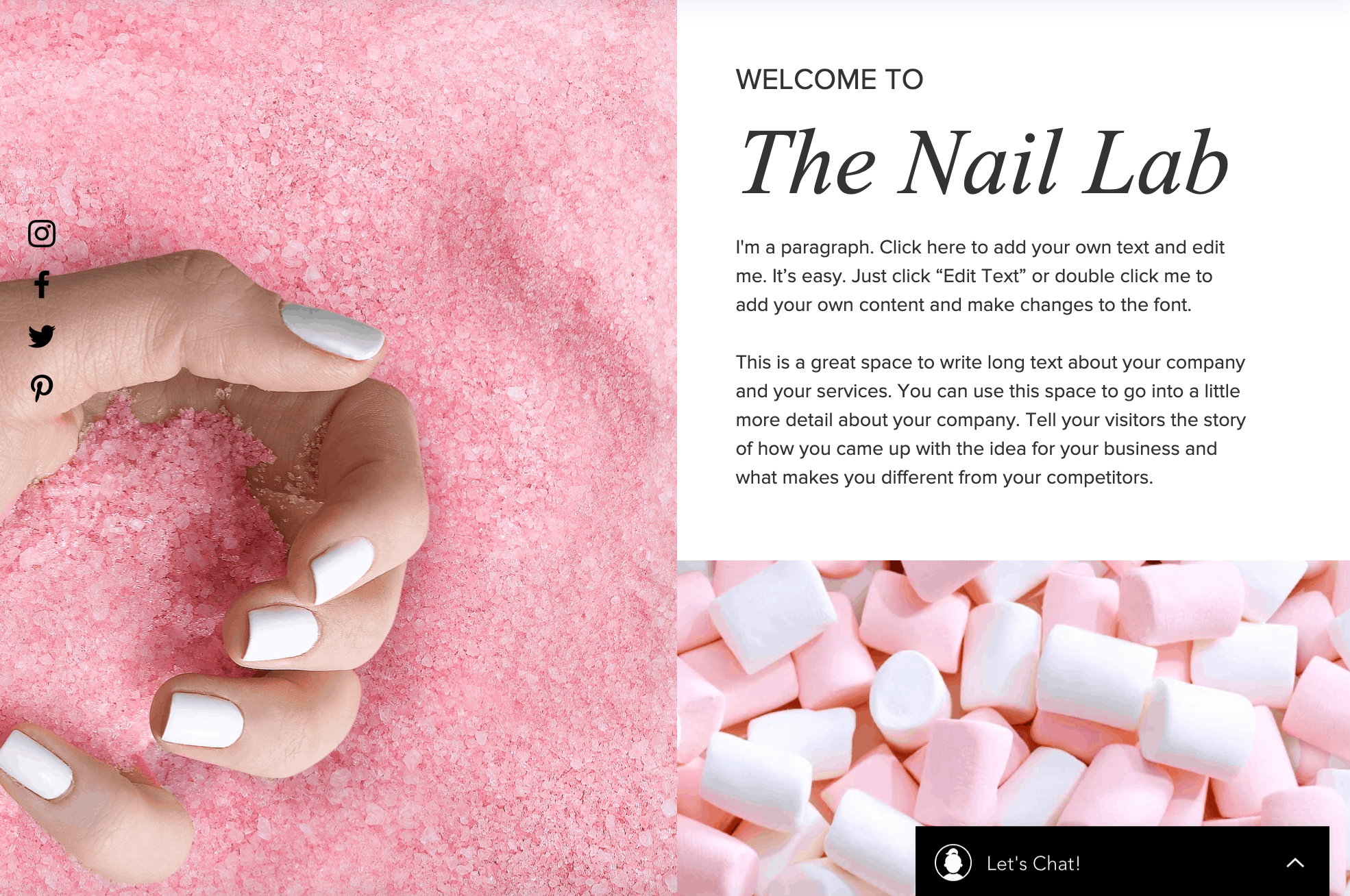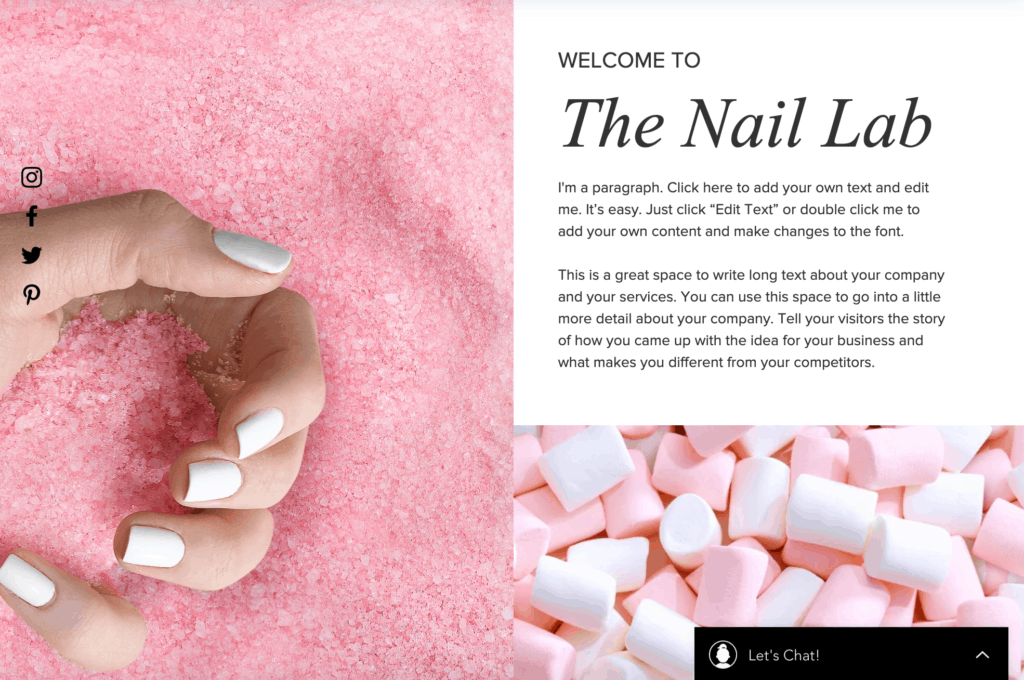 → Find your Nail Salon Website Design at Wix ←
Free Makeup Artist Website Template
This makeup artist website design is gorgeous and in fact works for any beauty salon or freelance stylist.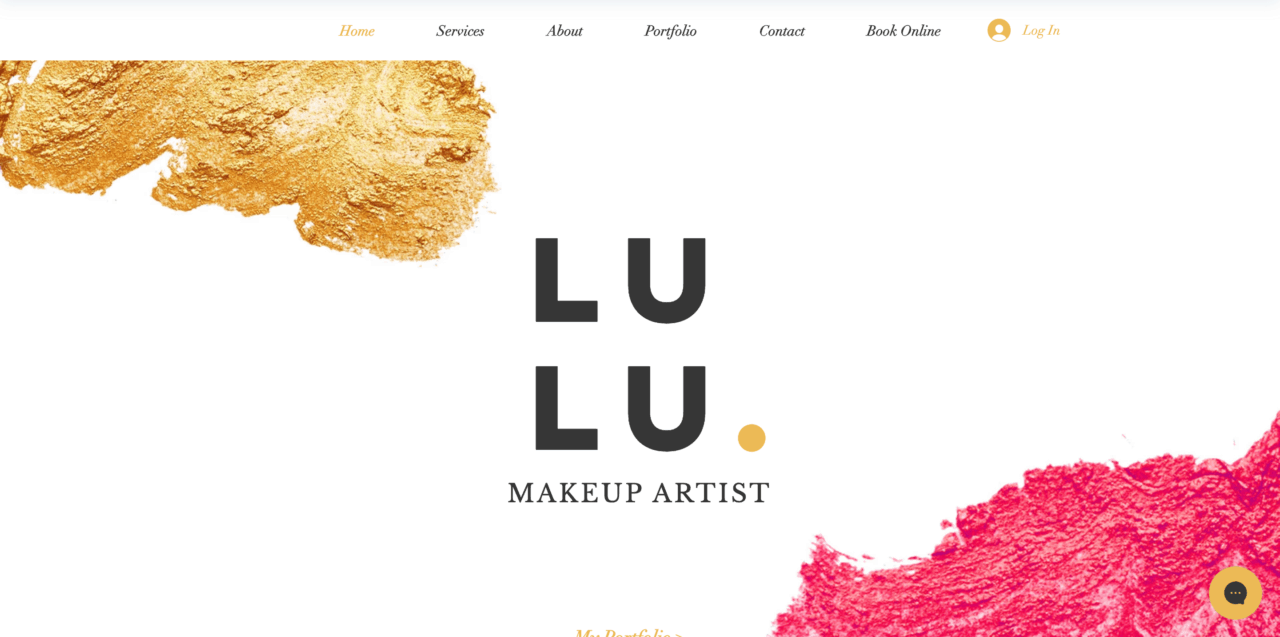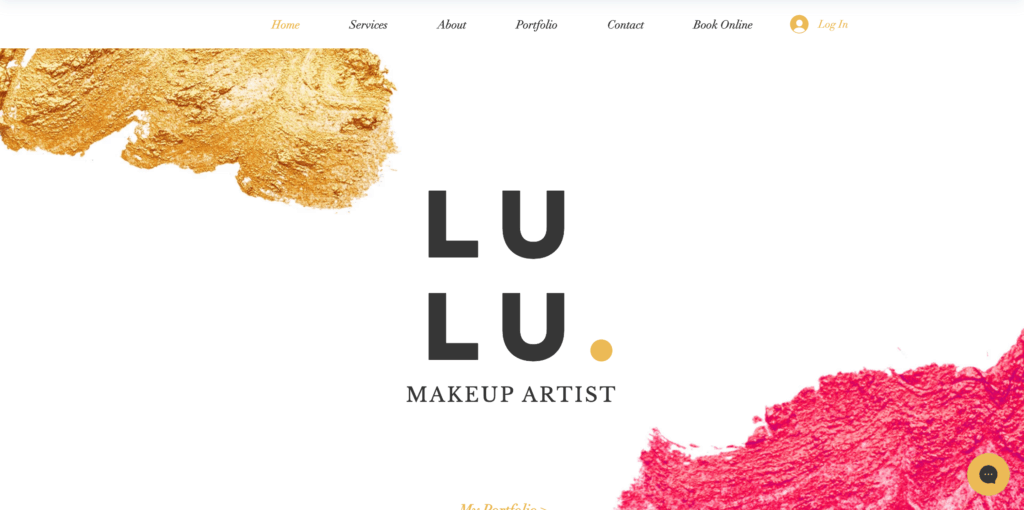 → Create your salon website with this free template ←
No Technical Skills Needed – Just Drag & Drop
This is the number one reason why Wix is perfect for you who want to create your own website.
Really, you don't need to know any html or css code when creating your website using Wix. In fact, all configuration is very straightforward.
An this is important.
I've seen too many examples where business owners waste A LOT of time trying to make their website look as they want.
Not only is this frustrating but it also steals time from you that you should spend on growing your salon business.
With Wix, you work in a visual editor where you control exactly what you get – without a line of code.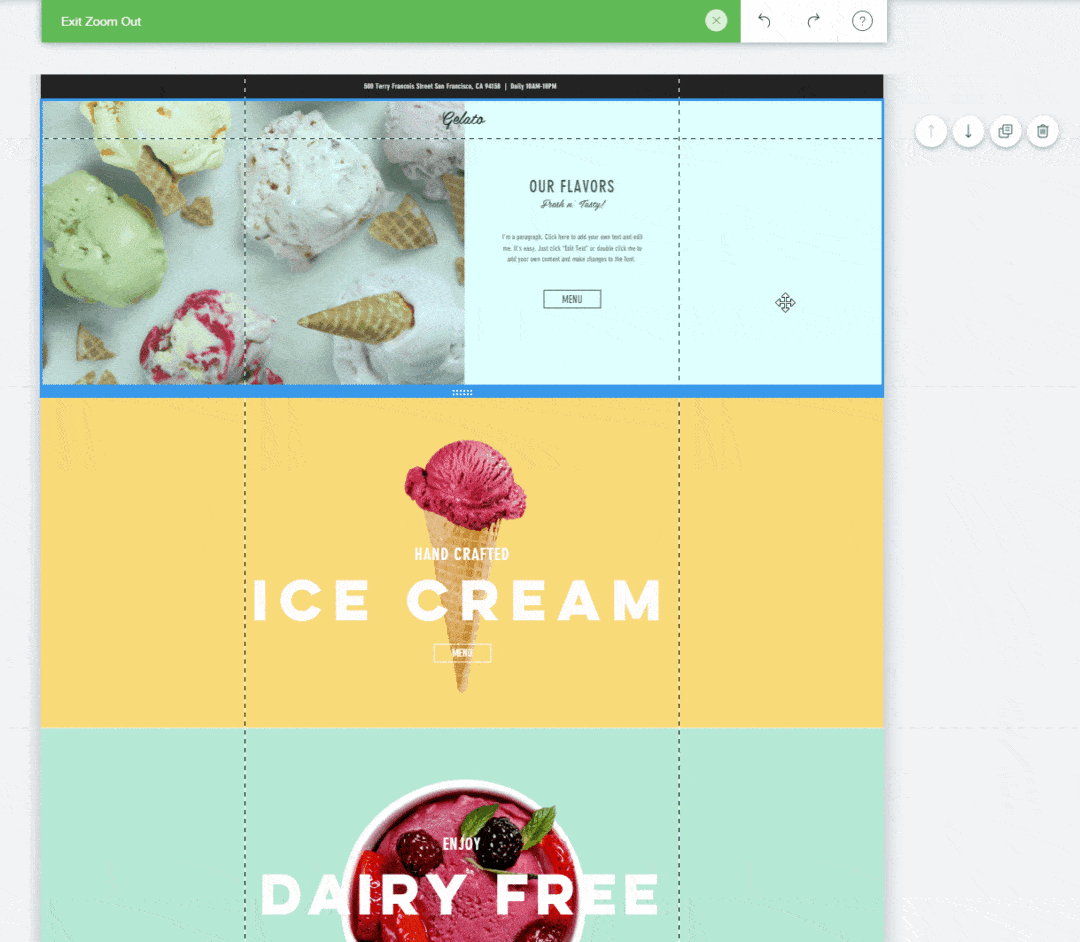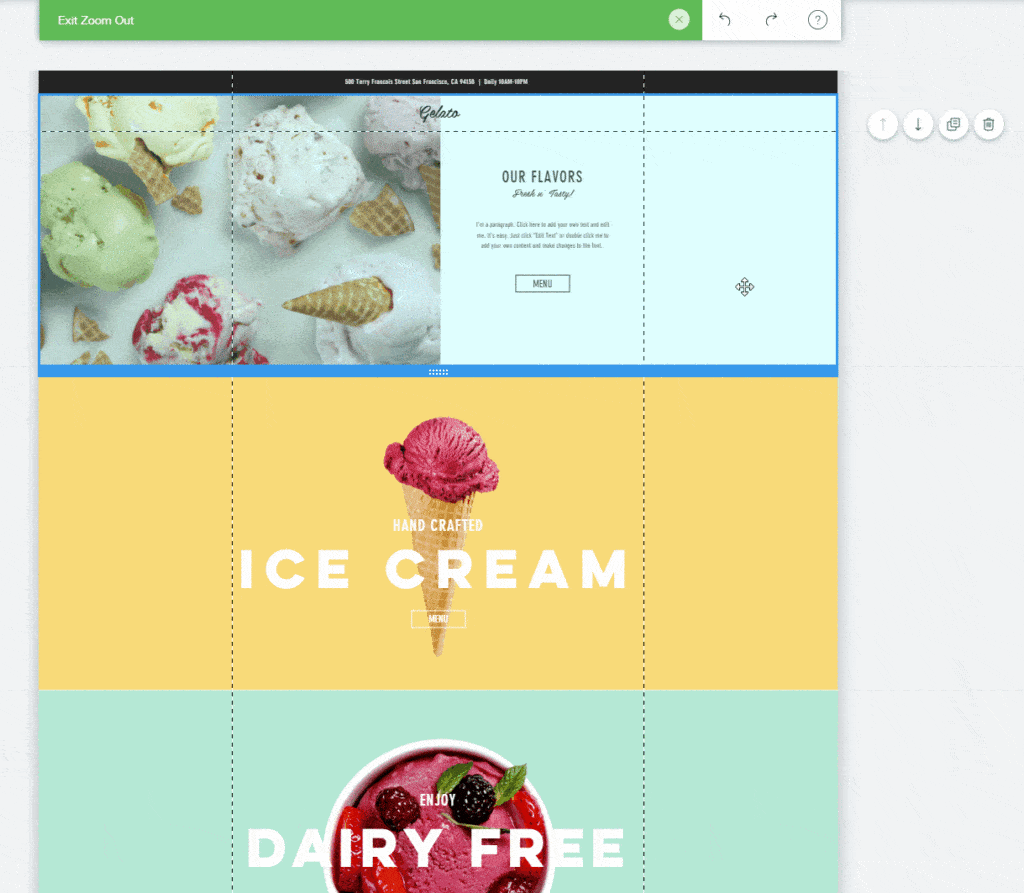 I expect this is why Wix has become the most popular website builder on the internet (Wix host 150 million websites in the Internet).
You need to give it a little bit of time in the beginning, of course, to figure out where things are and how you can move things around.
But when you've familiarized yourself, you can just drag and drop elements around to make it look like you want.
Simply add in the ready-made modules you want (e.g. a visual map, a gallery of your salon work or anything else).
All the Features You Need for a Powerful Salon Website
Here's a brief overview of the most important features for a salon website – and Wix supports all of them.
→ Browse all Wix features here ←
Get More Bookings with Online Salon Appointment Scheduling
Use the built-in Wix Booking feature or embed your salon software's online booking feature directly on your website.
Get Discovered on Search Engines with Built-in SEO support
When you build your website using Wix, the platform makes sure your salon gets discovered on Google.
Grow Your Salon's Social Following with Social Tools
Integrate your salon's social media with your website to keep content fresh on the site while growing new social subscribers.
Run Marketing Campaigns to New & Existing Salon Clients
Let visitors enter their contact details on your website and create beautiful e-mail marketing campaigns to new and existing salon clients.
Manage Salon Events & Invitations Directly on Your Website
Create customized invitations, manage RSVPs and ticket sales on your website.
Show Your Portfolio of Work in a Beautiful Way
Leverage the gallery module and show off your salon work in the best light.
Get a Custom Salon Domain Name & Professional Email Address
When you sign up for a paid plan with Wix, you get a domain name included in the price (e.g. www.yoursalonname.com). If you already have a web address for your salon, you can connect your existing one to your new Wix site. You also get access to a professional e-mail platform to manage your emails.
These are just some examples of the features Wix offer that can drive your salon business.
→ Browse all Wix features here ←
Surprisingly Cheap Price for a Salon Website
You can actually start using Wix for free.
Well, it's not really free if you ask me as you need to show the Wix advertising banner on your website if you go with the free plan. What's good with the free plan though is that you can create your salon website, play around with it, and only later decide if you want to start paying and get rid of the advertizing.
This way you really know what you get.
But it doesn't really cost much anyway to get your website setup. Below is an overview of the pricing for Wix which you'll find on their website.
For only $10 per month you get a professional site, without the Wix ads, and you even get your own website address included in the price.
→ Find out more about Wix pricing ←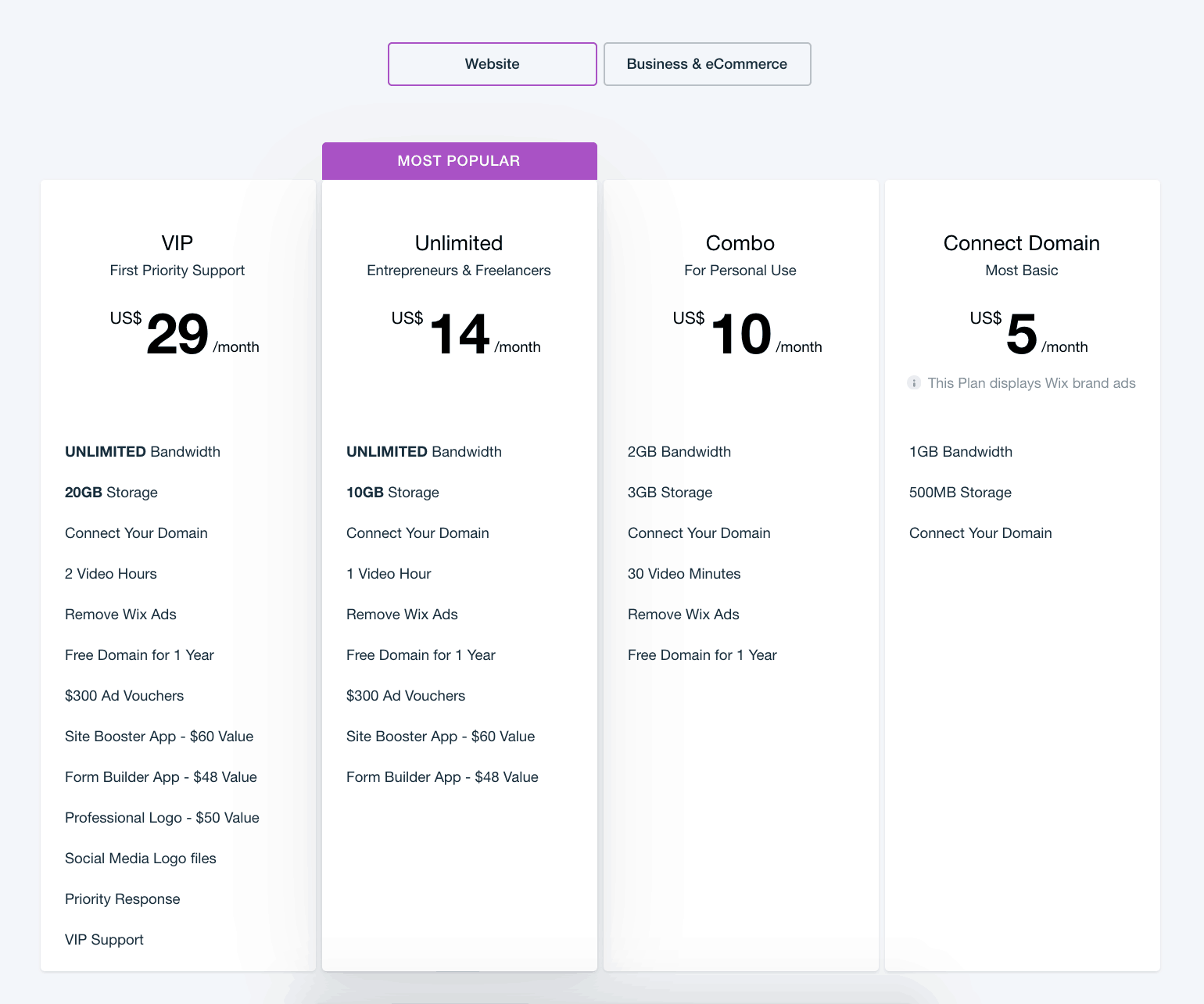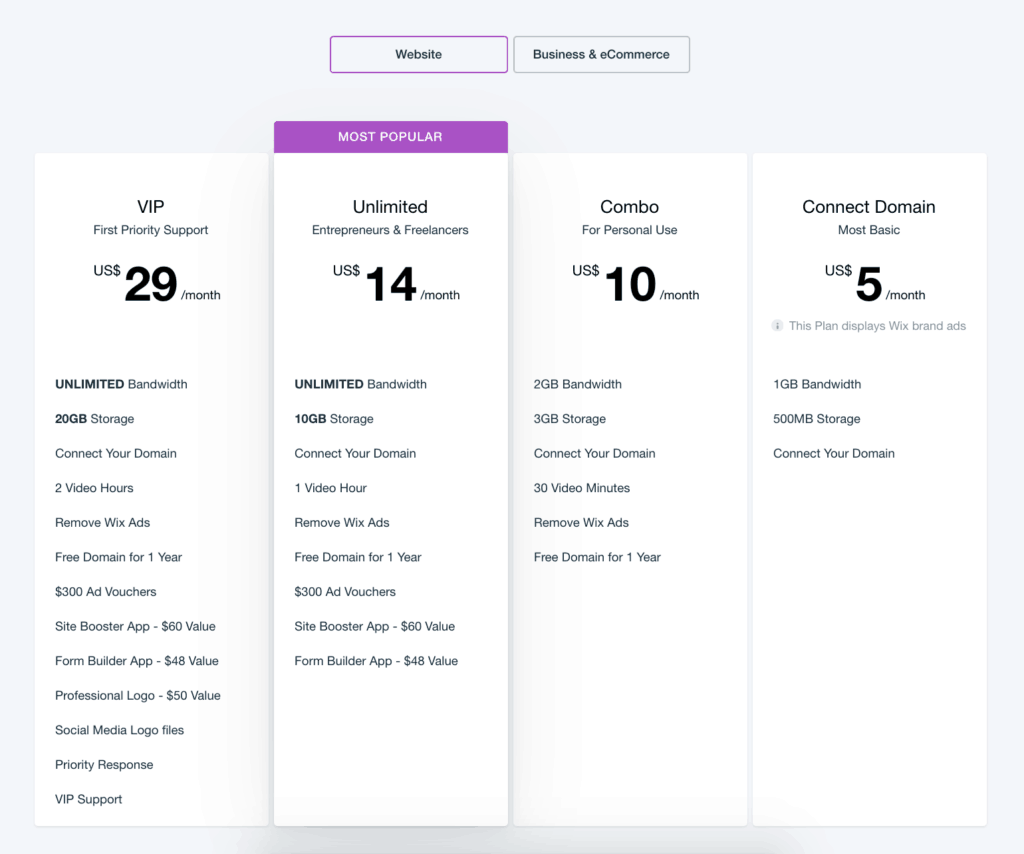 How to Get Started with Wix
Start by signing up for a free Wix plan.
→ Sign up for a free Wix plan ←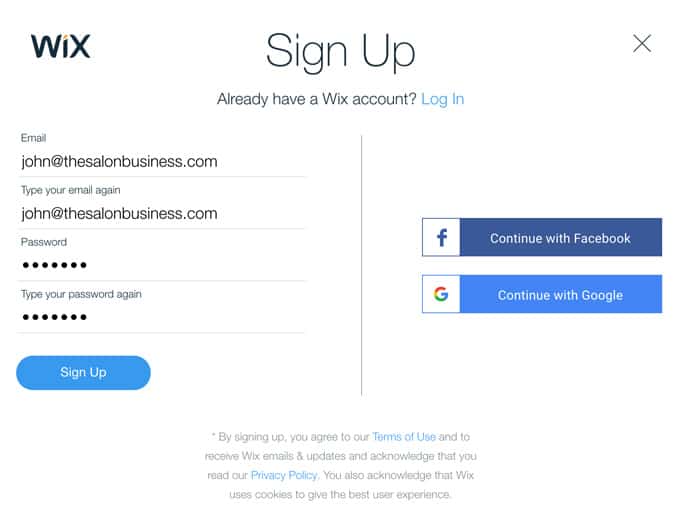 Use the Wix Website Setup Guide
You'll get two different options. Either you pick an existing salon website template and just start customizing it, or you go through the setup guide.
I recommend you use the guide as Wix will generate your unique website, add all the important things you need, and you just need to answer a few questions.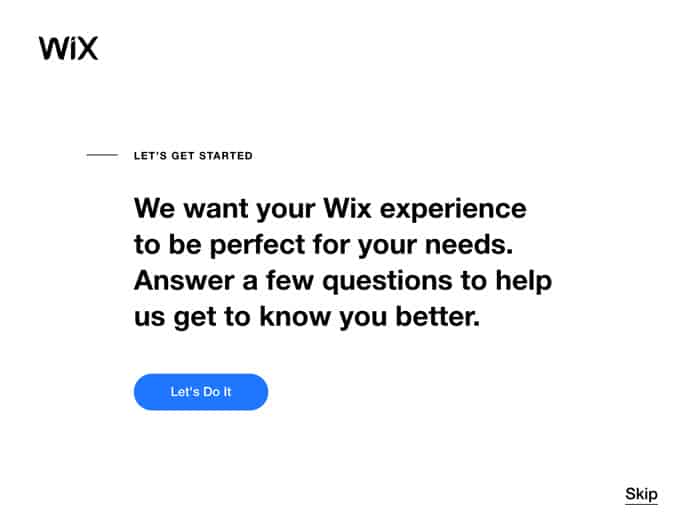 Tell Wix What Type of Website You Want to Create
In the first question, you just need to specify that you want to create a beauty site and that you're a beginner.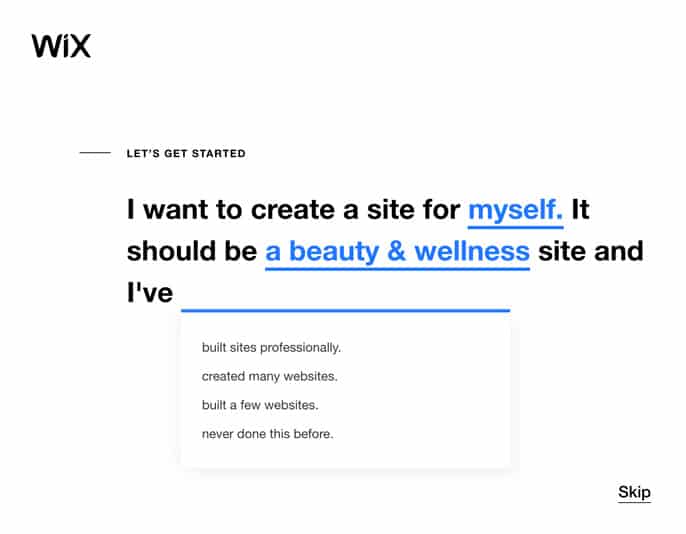 Specify What Type of Beauty Business You Run
As you get more specific on what type of salon you have, Wix will be able to propose better, more relevant, designs for you.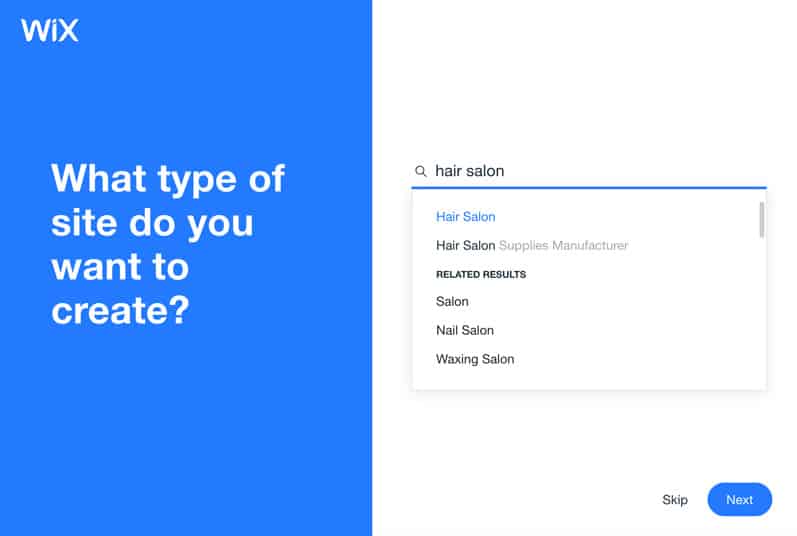 Copy Your Existing Website to Wix
Maybe your salon already has a website. If so, you can save time by letting Wix grab the information you have on your current salon website and move it to the new one.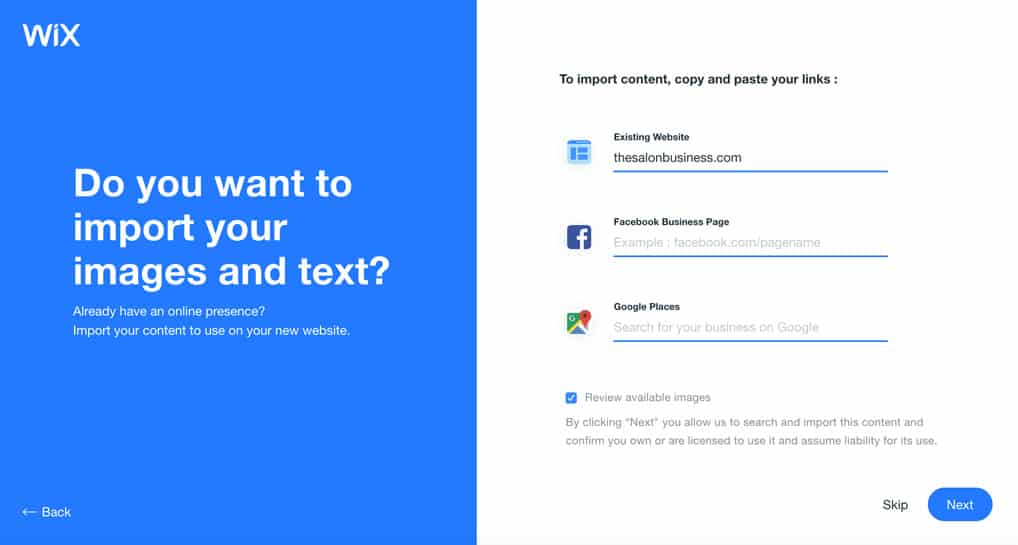 Set the Tonality of Your Salon Website
There's a lot of different website designs you can create with Wix for your salon.
To help Wix generate a website as close to what you want as possible, tell it what style you'd like.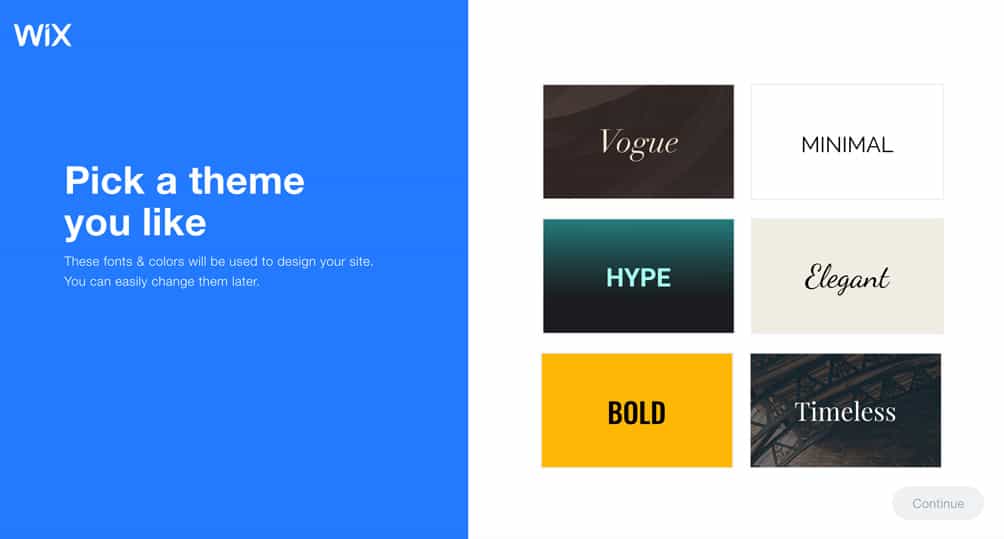 Pick Your Salon Website Design
Based on all the input you've given, you'll now get some ideas for salon website designs you can use.
Choose the one you like the best. You can customise everything later but this should give you a very good start.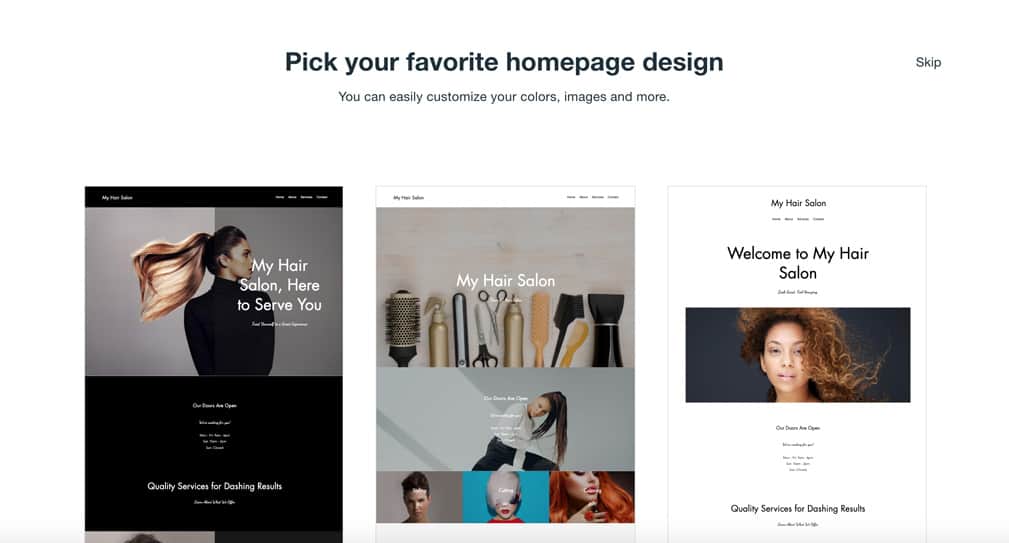 The First Draft of Your Salon's New Website is Ready
Congratulations!
You're making good progress.
You're now starting to see what your new salon website could look like. Take some time now to play around in Wix and get familiar with how you can adapt images, text, and design of the site.
The Wix interface is very intuitive and it won't take long until you get a hang of how you can update and change things.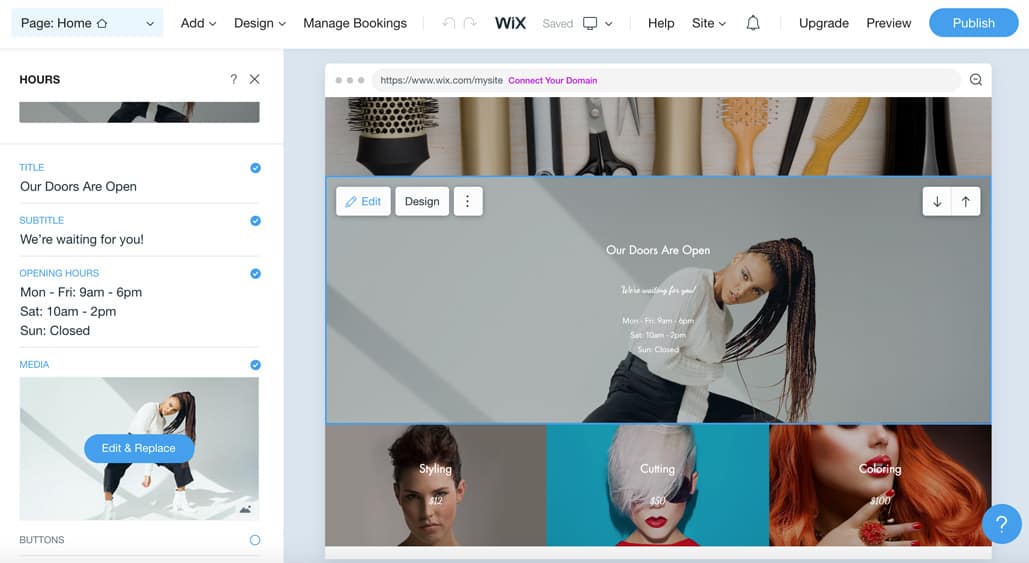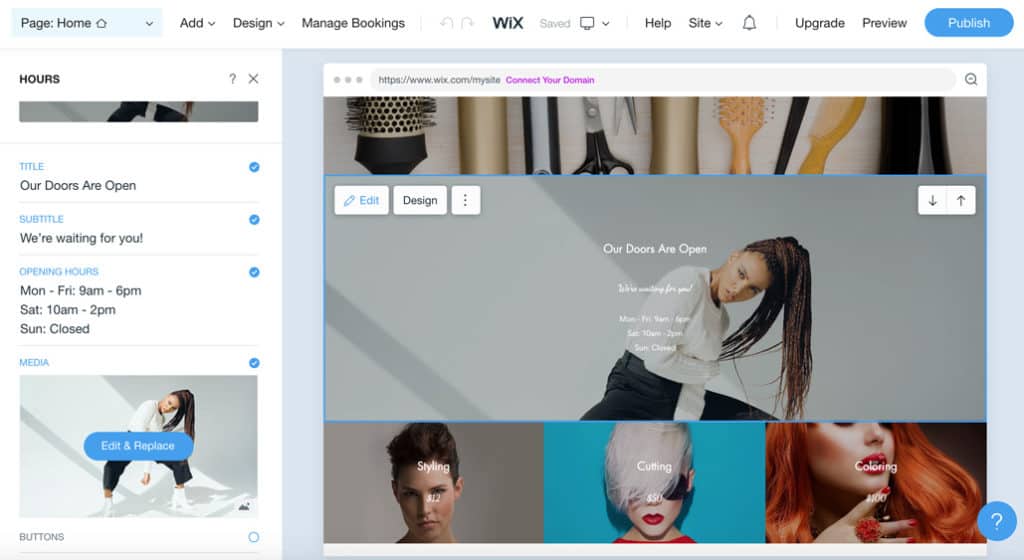 Other Relevant Salon Website Builders
We've focused a lot on Wix today.
And for good reasons.
Out of all the website builders I've tested, Wix is the one that strikes the best balance between being easy enough to use whilst giving enough flexibility to produce the salon website you want. At the same time, it comes with stunning free website designs for hair salons and beauty salons.
This is what makes it perfect for the DIY salon owner.
But there's also other website software relevant for salons.
Other website builders commonly used by beauty salons are WordPress, Weebly, GoDaddy Website Builder, and Squarespace.
Again, Wix is what I recommend to 95% of you reading this. But let's also double click on the first two of the above which can be relevant in special cases.
WordPress – For the Technically Savvy Salon Owner
I'm sure you've heard about WordPress before.
It's the platform that powers most website's on the internet. It was initially designed as a blogging platform but has over time developed into a full website platform.
What's great with WordPress is that, because so many people use it, it always continues to improve and there are many plugins and themes available that you can install – making it possible to achieve anything you want with your website.
The backside with the freedom that WordPress brings is that it can get complex and technical at times.
I use WordPress for many of my projects. In fact, the website you're reading this article on is created with WordPress. But I also have over 15 years of web development experience…
So even if I personally use the platform, I would not recommend it to someone who does not have technical experience. I would only recommend WordPress if 1) you have very specific needs that Wix cannot fulfill, and 2) you're comfortable doing some technical work and configuration to get it up and running.
WordPress in itself is free. However, you're going to have to pay for somewhere to host your WordPress site (a web hotel) and you also need to pay for a design theme to make your site look good. There are free design themes available but I would strongly recommend going for a premium theme as it is it does not cost much and you'll get a website that looks so much better.
As you can tell, just getting the website setup will require a few steps. It's not difficult but you need to do a bit of installation and configuration. It's not like Wix where you just answer a few questions and your website is up.
What You Need to Get Your WordPress Website Setup
As I said, there are a few things you'll need in order to get your salon website in WordPress setup. Let me take you through them
Hosting with Bluehost
You are going to need a provider to host your WordPress website. This is basically a location somewhere on the internet where your website files can be stored. There are hundreds, if not thousands, of hosting companies out there. However, the best one to use for WordPress is Bluehost.
Bluehost is the hosting company that WordPress recommend people to use for their WordPress websites. They have a good reputation of reliable service, fast servers, and good support. They are also very low in cost. At the time of writing this article they charge $3.95/month (so almost free). You can check the current Bluehost prices here.
WordPress Design Theme – Divi
You'll also need a really good design theme. You're in the beauty industry so you need to make sure your website reflects that and also look as beautiful as your salon. The best theme I've come across is without doubt Divi from Elegant Themes.
The Divi theme is super easy to work with and you don't need to know any coding. You can simply just drag and drop elements around as you want it to display. You can also write your text directly on the website, just as if you were editing a Word document.
Here's a small clip showing you what it looks like when you're working in the Divi website builder.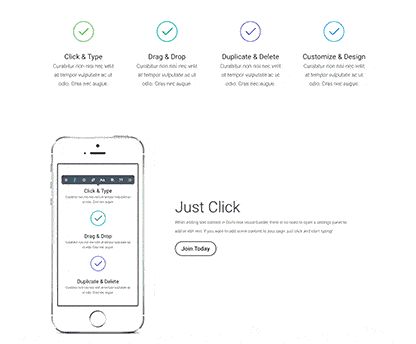 You can create some really stunning designs with the Divi theme and there are already stunning designs available for your beauty salon website.
There are also plenty of helpful guides and videos at Elegant Themes that you can watch to get good tips and tricks as you work on your salon website. Just watch out so that you don't get too excited about all the features or you may start spending too much time beautifying your salon website.
You'll also get several free plugins and tools with the divi theme like the Bloom e-mail opt-in and Monarch social media sharing tool. These are really great features that you can also try out when you have your website setup.
The cost of the Divi design theme is really affordable. The price at the time of writing this article for a full year of Divi is only $89 for a full year. You can check what the latest price is for Divi by Elegant Themes here.
WordPress & Divi Theme Salon Website Design Inspiration
Here's an example of a Website created using WordPress and the Divi Theme. In fact, the design you see here is included as part of the Divi package together with several other layouts. This is helpful as you can use them as a starting base as you start designing your beauty salon website.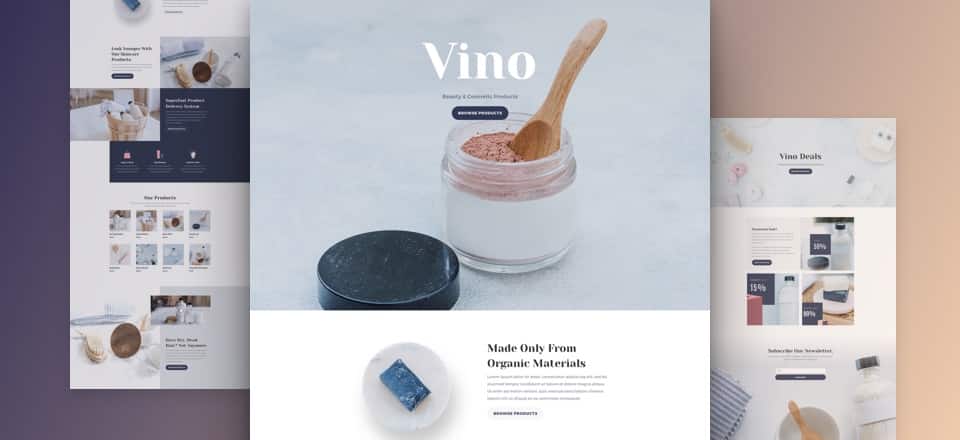 Divi Example: Cosmetic Store Layout which you get with the Divi theme. View live example here.
Another example is in fact TheSalonBusiness.com that you are reading on right now which also is built using WordPress and the Divi theme.
Step-by-Step Setup with WordPress & Design Theme
Let's summarize the steps you need to take to get your new salon website up using WordPress and the Divi theme.
Remember, this is the most advanced approach I recommend in this article and it does require a few things to be setup up front and you'll also need to spend a bit of time to get familiar with the Divi theme in order to make it work as you want.
It's not difficult, but I want to be clear about that it will require a but of work. If you know that you do not like installing and configuring a few things, you're better off with Wix.
The steps you need to take to get setup are:
Setup your account on Bluehost. This is very easy, just click the "Get Started Now" button on their home page and follow the instructions.
Install WordPress on your new Bluehost account. This is a one click installation that will give you a guide to follow. Just hit the "Install WordPress" button.
Get the Divi theme from Elegant Themes. You'll need to download the theme and upload it into WordPress. This is easy to do and I have included a video below here as well that you can watch that'll show you exactly how to do it.
Tada, you're done! Now the fun starts of customizing your new website. You may want to spend a bit of time here in the beginning to familiarize yourself with WordPress and the Divi theme.
Later in this article you'll also get some further tips and advice on content and features to implement on your new website to turn it into a real business generating tool for you.
Weebly – The Most Basic & Simple Salon Website Builder
The third and last salon website builder is a platform that has been growing in popularity lately. The reason it is so popular is because of how easy it is to use. It doesn't really get much easier to create a website than it does with Weebly.
I would even say it's easier than Wix to use. However, that also means that you're quite limited in what you can do as you need to follow the platform restrictions.
This makes Weebly websites look quite similar and it's difficult to achieve a more unique design – like you can with Wix or WordPress.
But if you want something that is really basic, super easy to use, Weebly is a good option for you. You'll quickly get a decent website in place and the risk of going wrong is minimal.
Spa Salon Website Templates
Similar Wix, Weebly also offer some standard website templates for hair salons, barbershops and beauty salons. Here are some examples of spa and yoga studio website design templates that you can use when you sign up with Weebly.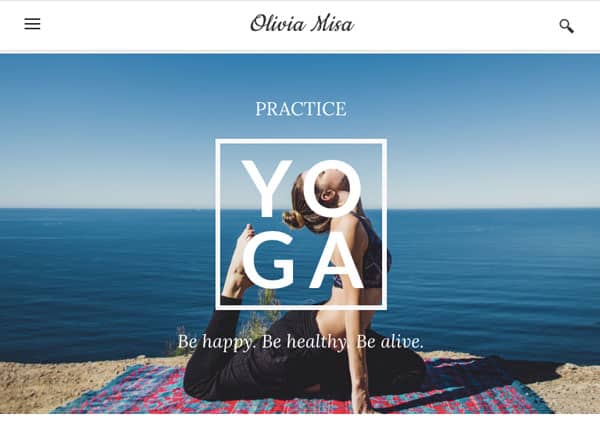 Get these Yoga & Spa salon website templates with Weebly.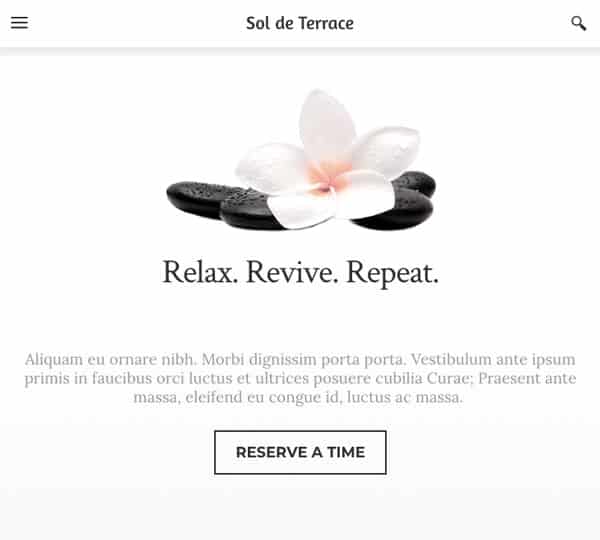 Weebly Pricing
Weebly pricing is also similar to Wix and range from $5/month to $25/month depending on the package you choose. You can see all options on their website.
Get Started with Weebly Today
It is very easy to get started with Weebly. There is no need for separate hosting or similar. Just go to the Weebly website, pick the plan that fits you, and follow their guide to get started.
Conclusion
All salons need a website today.
This is where new clients go to learn about you and where your existing clients book their appointment.
It's a critical component in your salon marketing strategy. It needs to look professional, be functional to use, and help you attract new clients.
Luckily, it doesn't cost much to get a website for your beauty salon up. You can in fact create one yourself – even if you do not have technical knowledge.
The key is to choose the right salon website builder.
Today you've learnt about the most popular ones.
And the one I recommend you get started with is Wix. It's easy to use and yields a professional result. And it's free to start using it.
Over to you now.
You've put a lot of time into reading this today. Don't make it a waste by not taking action. Get started with your new salon website now!
→ Get started with Wix now, it's free! ←
Any questions, just let me know in the comments box below!
Good luck on your new salon website!