Disclosure: This post may contain affiliate links, meaning I get a small commission if you decide to make a purchase through my links, at no cost to you.
Learn more...
Are you trying to figure out which salon scheduling software is best for your salon or spa business?
Then you've landed in the right place.
This is where I list the best salon booking software for online scheduling right now.
I will focus on the online salon appointment software features in this article. However, many systems offer more than this (like salon management software, point of sales systems, and marketing tools).
To explore the best all-in-one salon software, I recommend you read my review of the best salon software.
Now, let's go through the best salon booking systems.
Overview of the Best Online Scheduling Software for Salons & Spas
Following the table below, I will dive into each salon appointment software in more detail.
Note: You may need to scroll the table to the right to see all details.
| Salon Booking Software | Subscription Start Price | Features | Ease-of-use | SMS | Prepayments | Website Embed | Google & Instagram | Geography |
| --- | --- | --- | --- | --- | --- | --- | --- | --- |
| Vagaro | $25 | 5(5) | 4(5) | Yes | Yes | Yes | Yes | US, Canada, UK, Australia |
| Square Appointments | Free* | 5(5) | 5(5) | Yes | Yes | Yes | Yes | US, Canada, Australia |
| Mangomint | $165 | 5(5) | 5(5) | Yes | Yes | Yes | Yes | US & Canada |
| Fresha/Shedul | Free* | 3(5) | 5(5) | Yes | Yes | No | Yes | Global |
| GlossGenius | $24 | 3(5) | 5(5) | Yes | Yes | No | No | US |
| Timely | $20/mo | 4(5) | 4(5) | Yes | Yes | Yes | Yes | Global |
| Genbook | $29/mo | 4(5) | 3(5) | Yes | Yes | Yes | Yes | US, UK |
| Schedulicity | $20/mo | 3(5) | 4(5) | Yes | Yes | No | Yes | US, CAN |
| | | | | | | | | |
* Square Appointments is free for individuals. Fresha is the only 100% free subscription that supports unlimited staff.
---
This table is a simplistic overview of the leading salon & spa appointment schedulers. Let's now take a closer look at each booking software so that you can judge what's best for your salon or spa.
---
1. Vagaro: Best All-in-One Salon Software in US, Canada, UK and Australia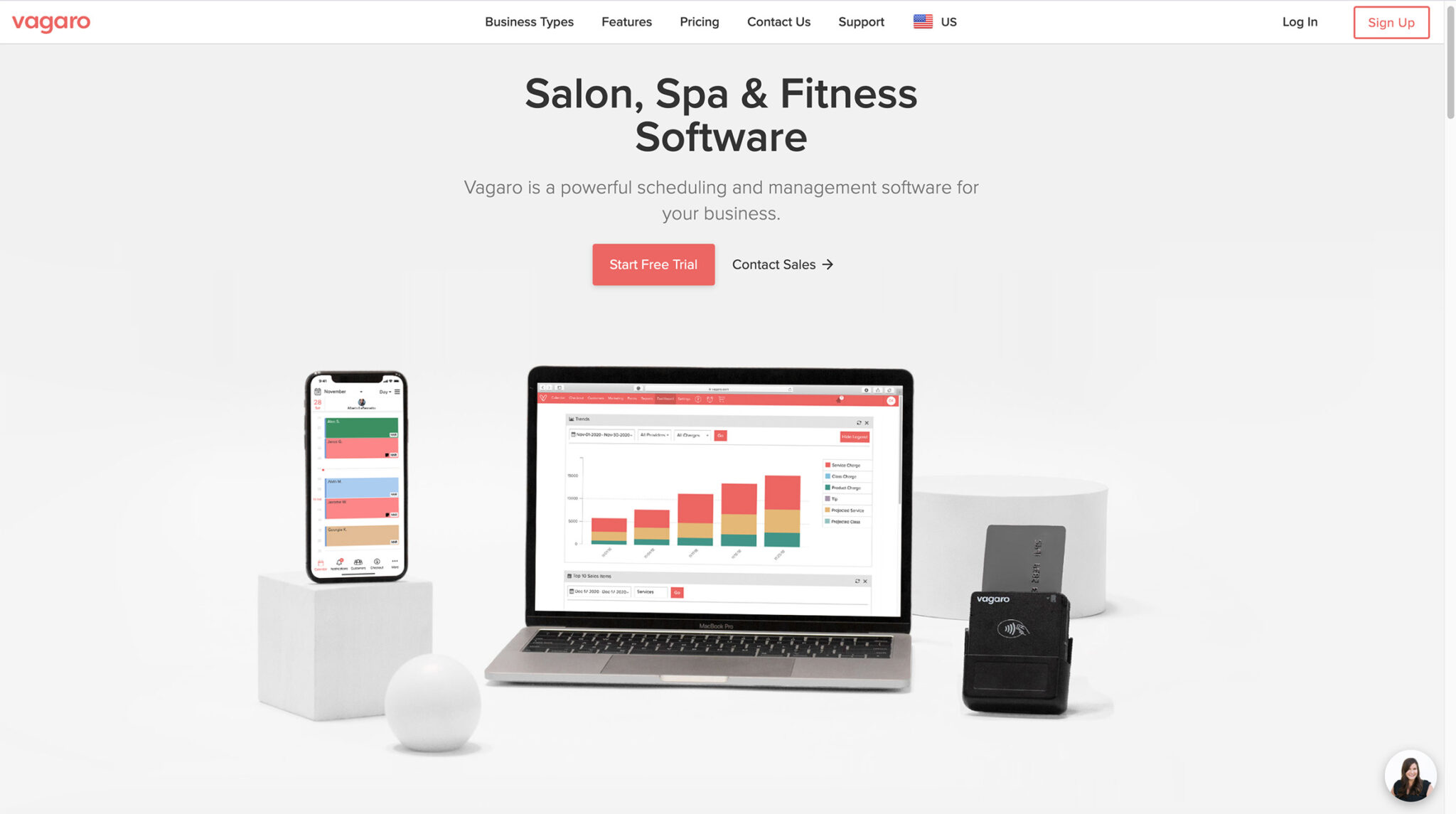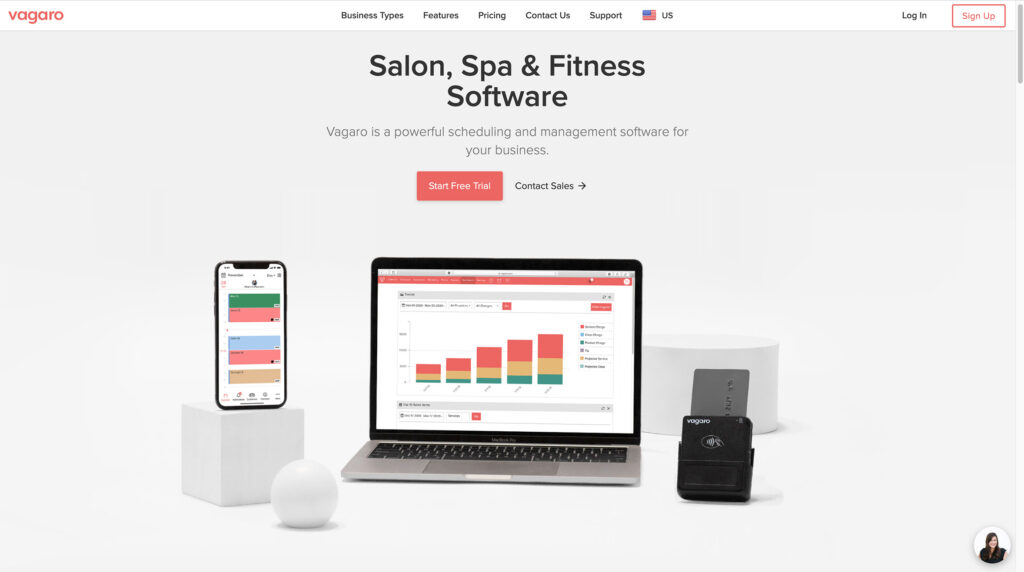 Are you looking for more than just help with managing your appointments? Then you'd want to check out Vagaro.
Vagaro is an all-in-one salon software that is packed with features to help you grow your business. This platform goes way beyond booking and ships with a full-blown POS system, payroll software, advanced marketing tools, a client marketplace to help you attract more clients, and much more..
Vagaro is for the salon with a team that needs advanced system capabilities while still having the simplicity of managing their total business in one place.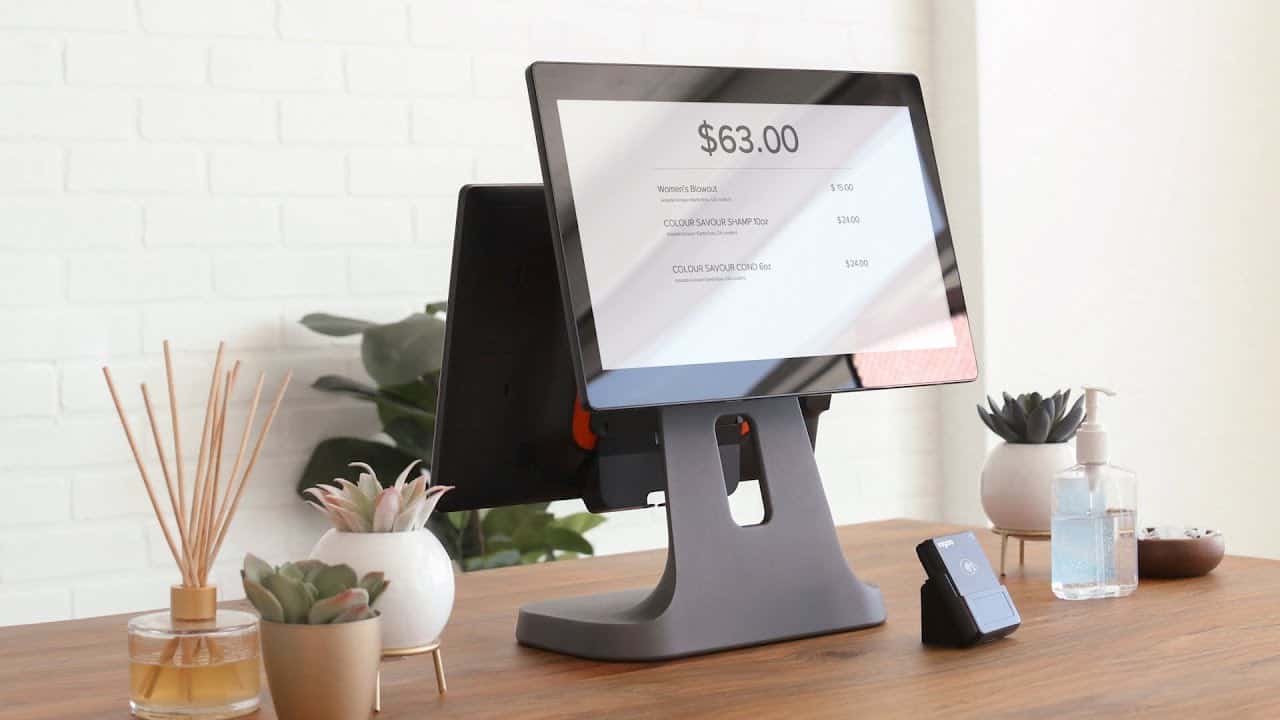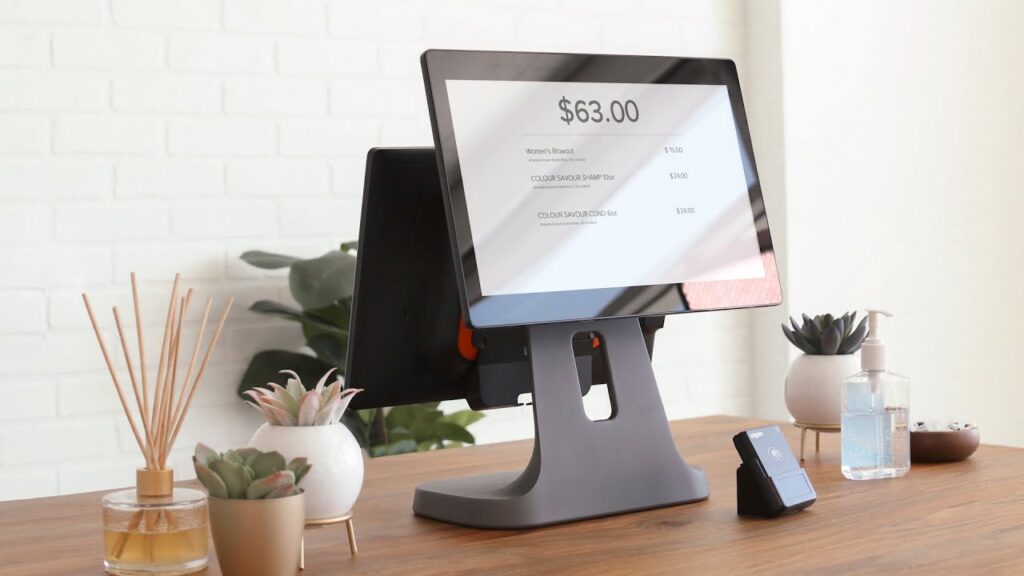 Let's zoom in on the appointment management support the tool offers.
Vagaro integrates with Facebook, Instagram, Yelp, and Google to make online booking smooth for clients. And being a Vagaro user also means you'll be featured on the Vagaro client marketplace where new clients discover their salon.
A key strength with Vagaro booking is the online widget which integrates with your website. You can have multiple widgets on your website that pull different information from your Vagaro profile. This allows you to have you appointment scheduler, products you sell online, and client reviews seamlessly integrated on your site.
Below is an overview of the widget settings you have access to inside Vagaro.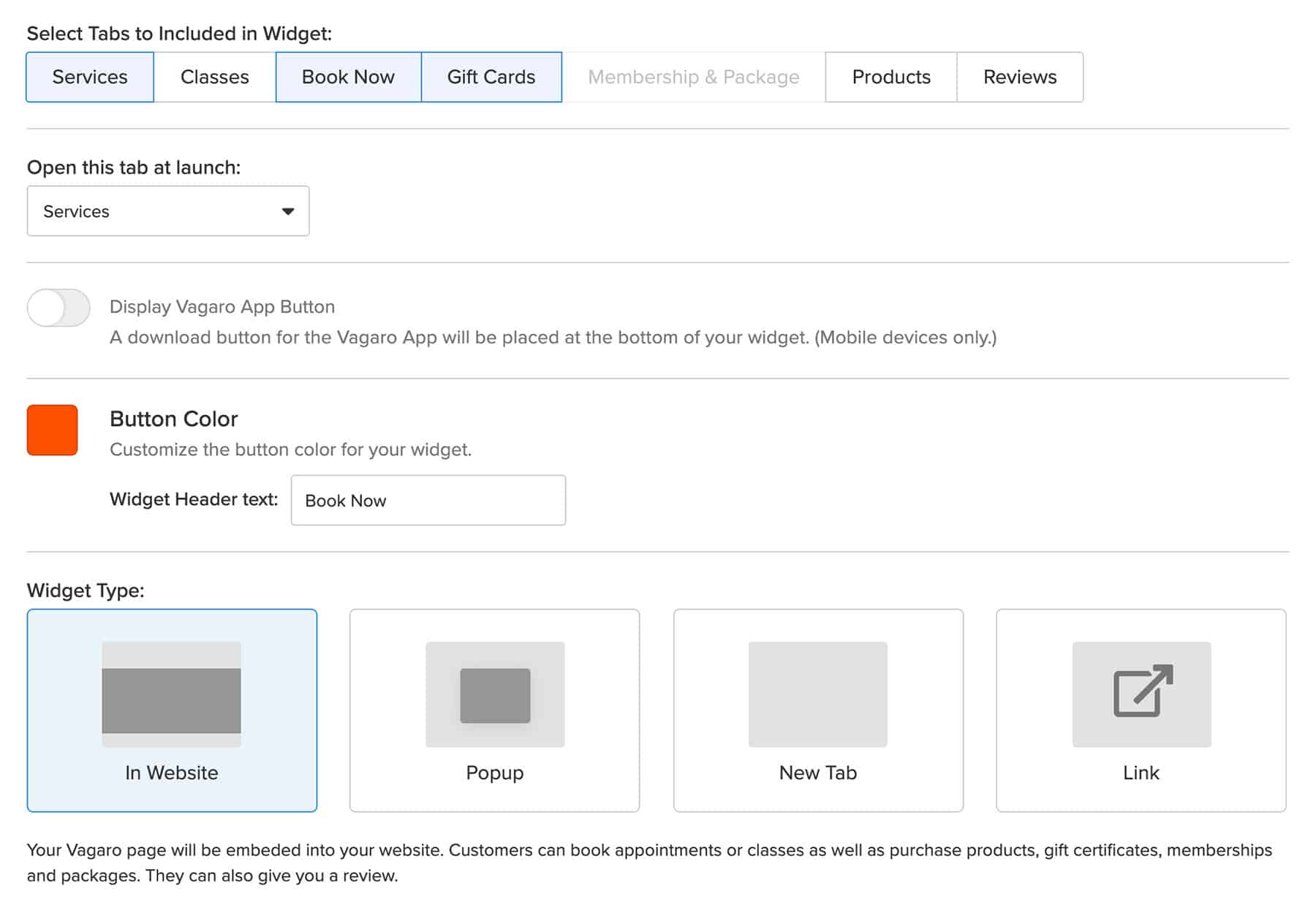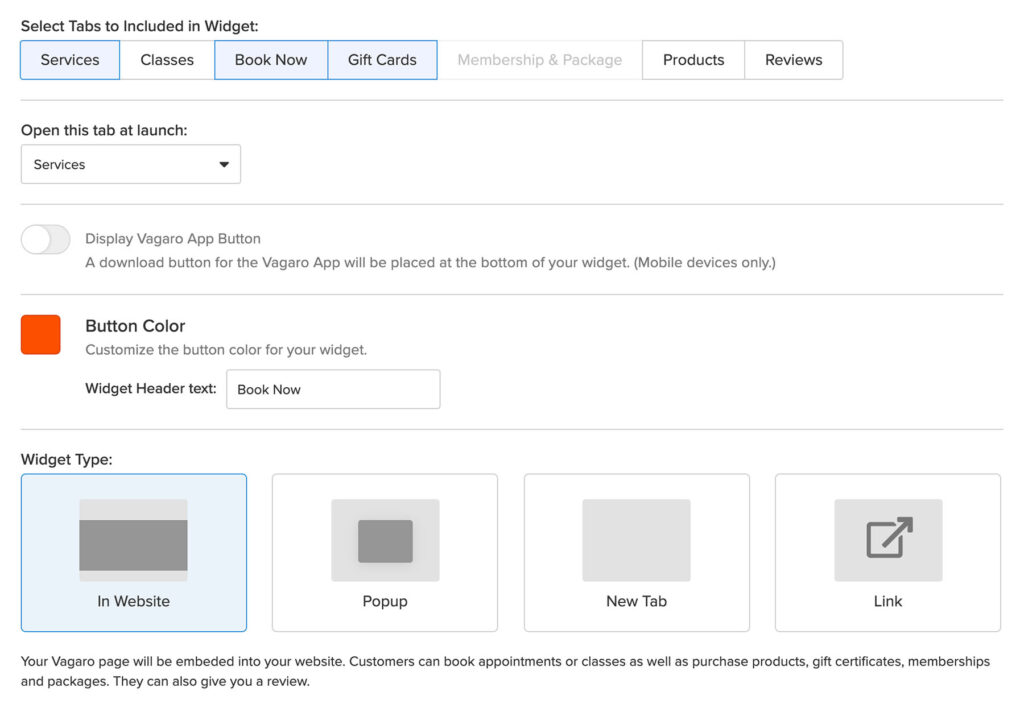 Pros
Embeddable website booking widget
Integrated payments with booking
SMS & email, and app notifications
Integrates with Quickbooks, Xero, Gustu
Full POS, payroll, marketing, and business management support
Cons
Limited design changes possible with website widget (only color changes)
Users need to create a Vagaro profile when booking
A slight learning curve to get started as there are so many features inside

Vagaro Pricing
Free 30 day trial
Monthly subscription fee: $25 for individuals, $35 for 2 employees, and $10 extra per additional employee up to 7+ employees at $85.
Add ons: You can add additional features (like website builder, forms, and SMS marketing) for additional fee. Most add-ons cost $10-$20 per month. See my full Vagaro review for more exact pricing details.
Get 2 months for free when signing up using the link above.
---
2. Square Appointments: Best Salon Scheduling Software in the US, Canada, and Australia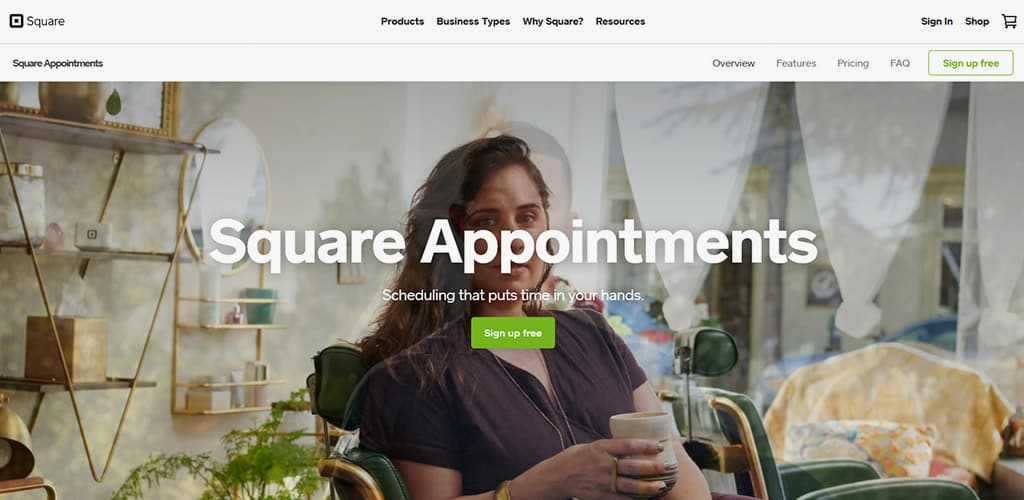 Square Appointments is beautifully designed and super easy to use. This is the go-to solution for most salons as it is rich in functionality, integrates with the full range of Square tools, and is free for individuals to start using.
When joining Square, you get access to so much more than "just" Square Appointments. Even if that might be the only feature you need right now, you can easily integrate their credit card payment tools, POS system, marketing features, online store, payroll & team management, and more when you need it.
Square is set up to grow with you as your business grows and is a complete business partner for small and bigger businesses.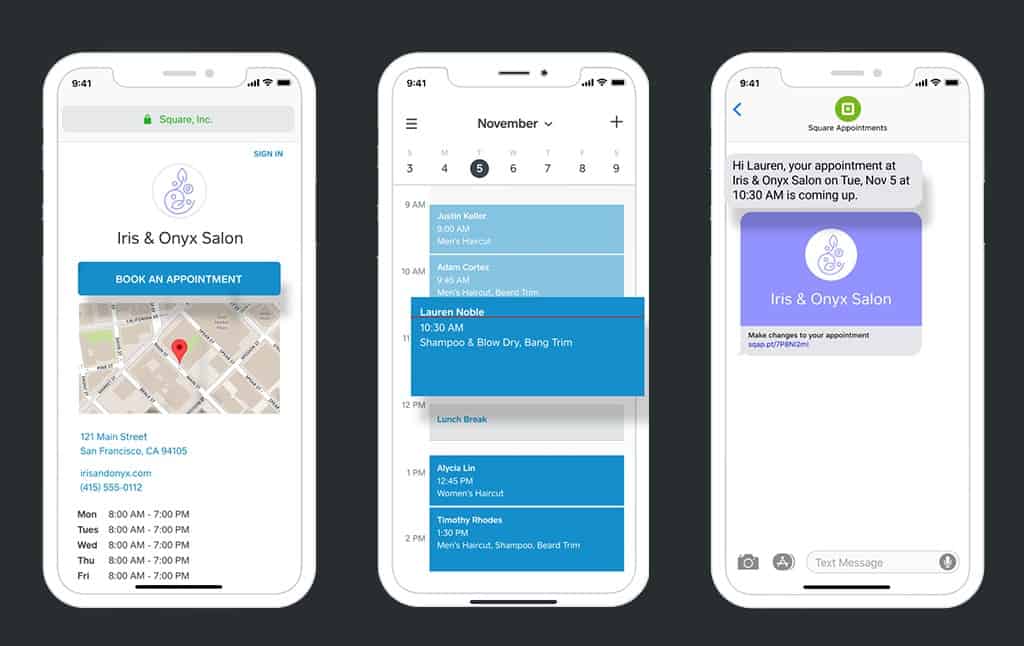 What I found most impressive is how well it supports client/staff notifications and online bookings. While you work in the simple calendar view and arrange appointments, your clients and employees are kept up-to-date with simple, customizable notifications.
You also have several options when integrating the booking feature on your website. You can embed it or link out to your booking page. This makes it very powerful vs. some of the competitors.
On top of that, Square Appointments is very strong at the business fundamentals (like inventory management and client data management).
I highly recommend Square Appointments for all-size businesses. Given you can start using it for free, I recommend you give it a try by signing up for a free plan here.
Pros
Free for individuals
Well designed, easy to use, interface
Very strong client notification support
Integration with the full suite of Square applications for endless possibilities
Robust core business management (inventory, reports, and client data)
Cons
Limited design flexibility
You can change colors but not completely make it fit your brand
Only available in the U.S., Canada, and Australia at the moment

Square Appointments Pricing
FREE for individuals
$50/month for a team of 5 staff
$90/month for a team of 10 staff
Credit card process fee of 2.6% + $0.1 when you allow clients to pay for appointments using the app. Note that you will always pay a credit card fee no matter which scheduler you use.
---
3. Mangomint: Best Salon Appointment Scheduler for the 5+ Employee Salon (US & Canada)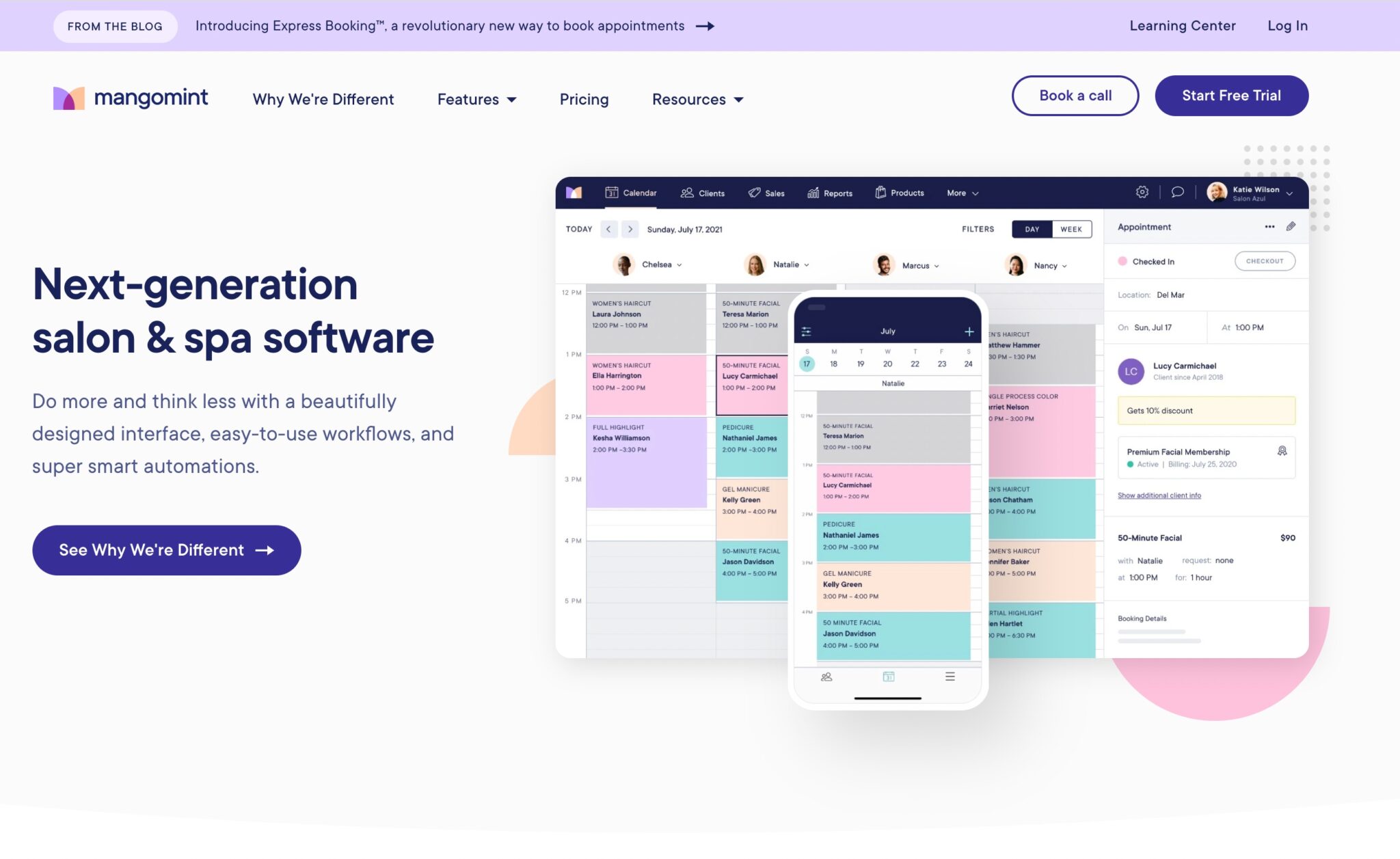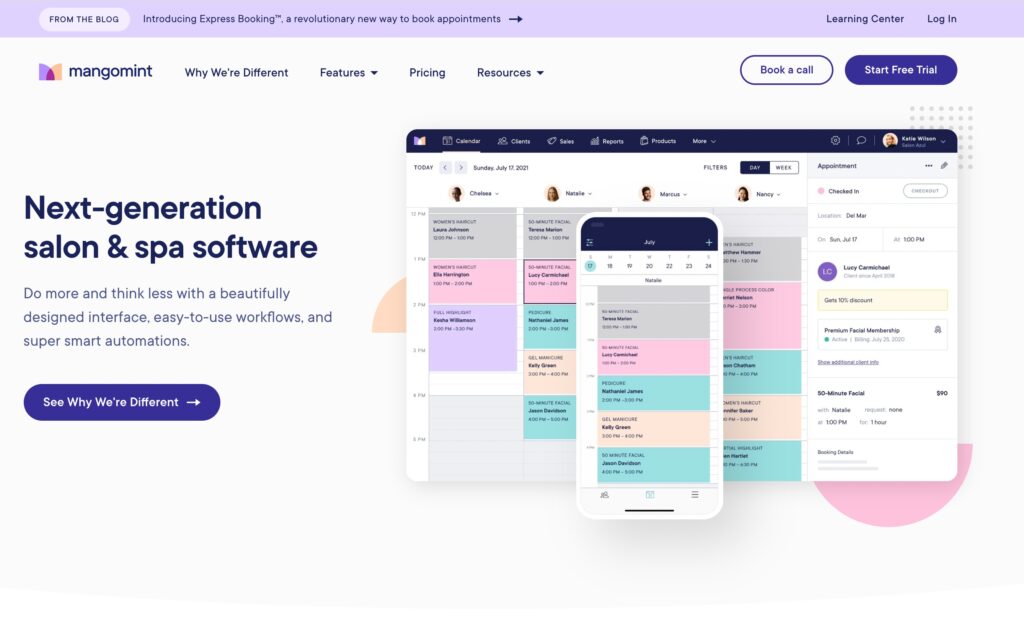 If you run a larger salon & spa (5+ staff) and are looking for a sophisticated appointment scheduler that helps save you time in your day-to-day, look no further.
Mangomint is not only the most well-designed platform on this list but it also offers smart automations that cut down on time spent on managing appointments and business operations.
An example of one such automation is their popular Express Booking™ feature, which combines the convenience of online booking with the flexibility of booking over the phone. It solves the pain of collecting email addresses, credit card information, deposits, and cancellation policy consent over the phone.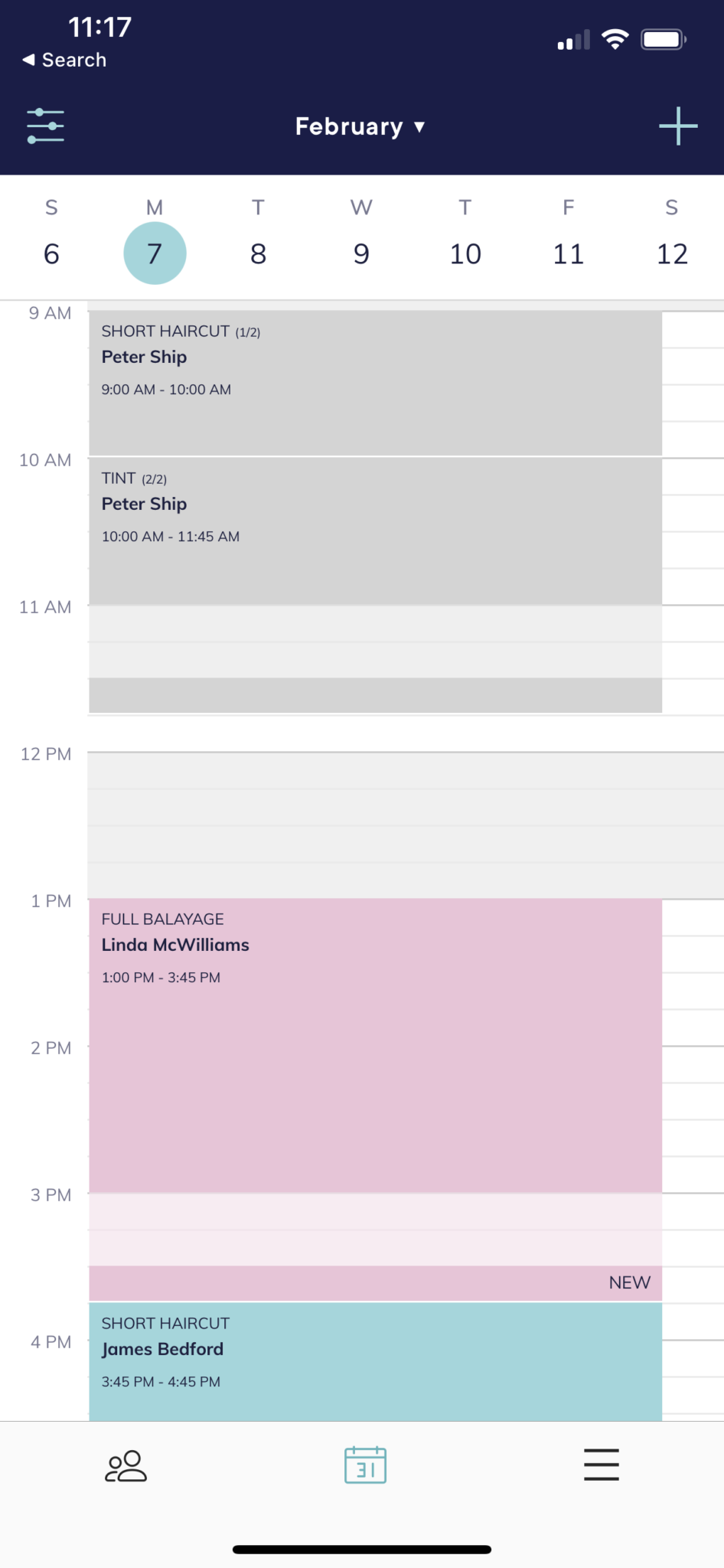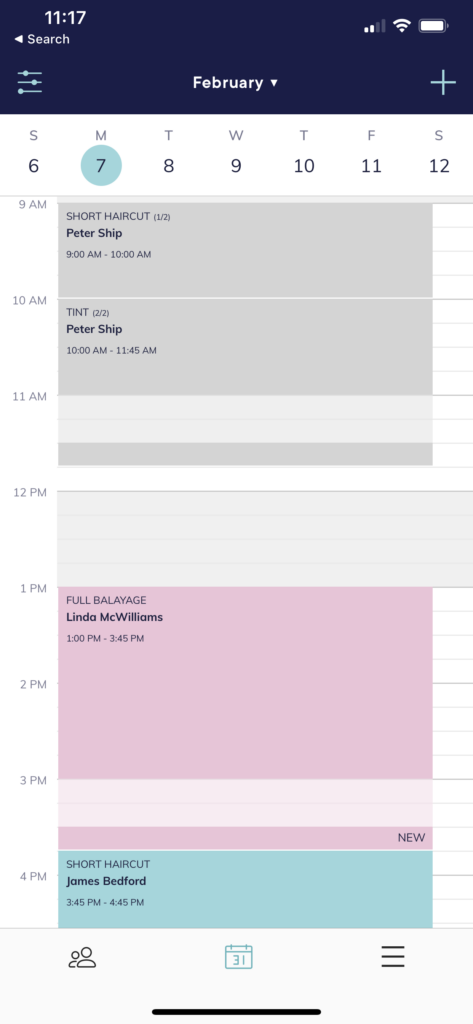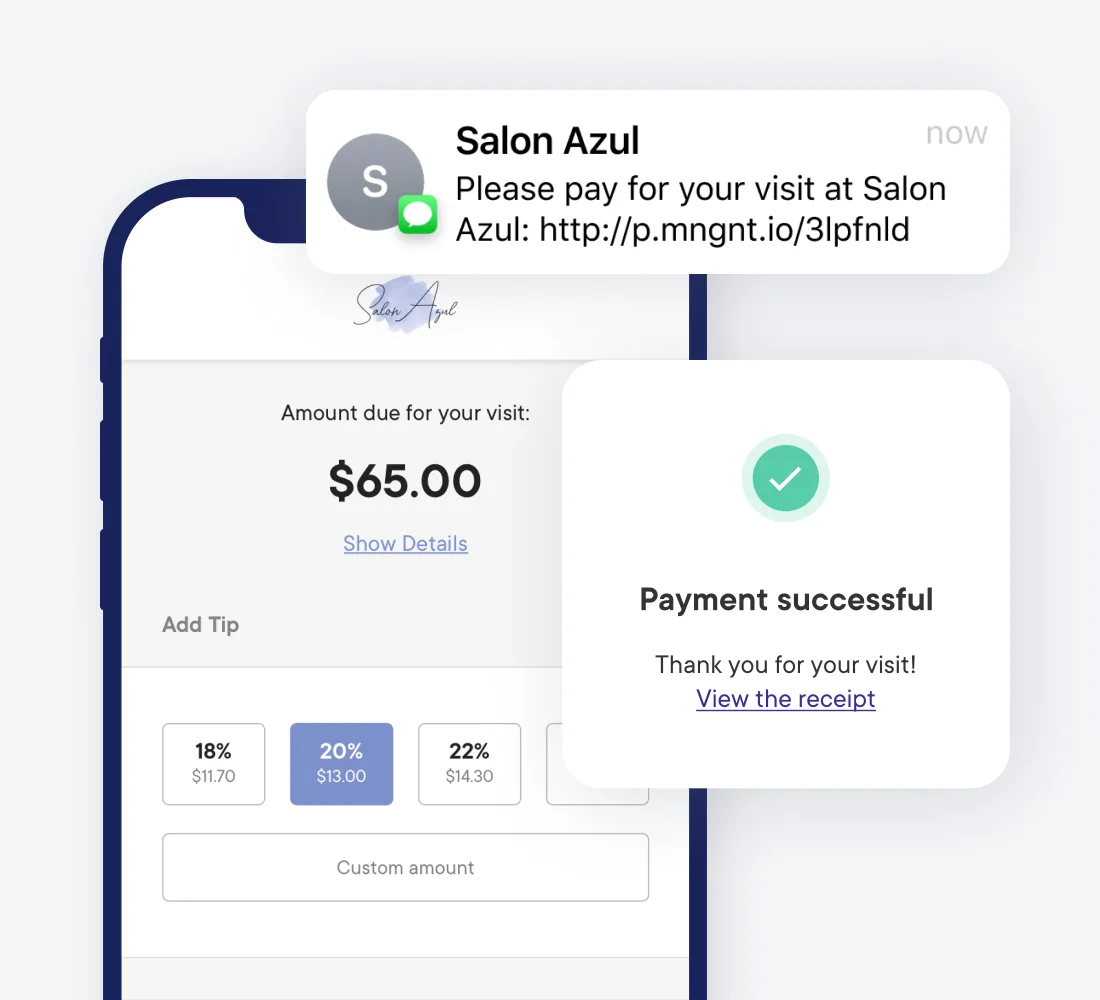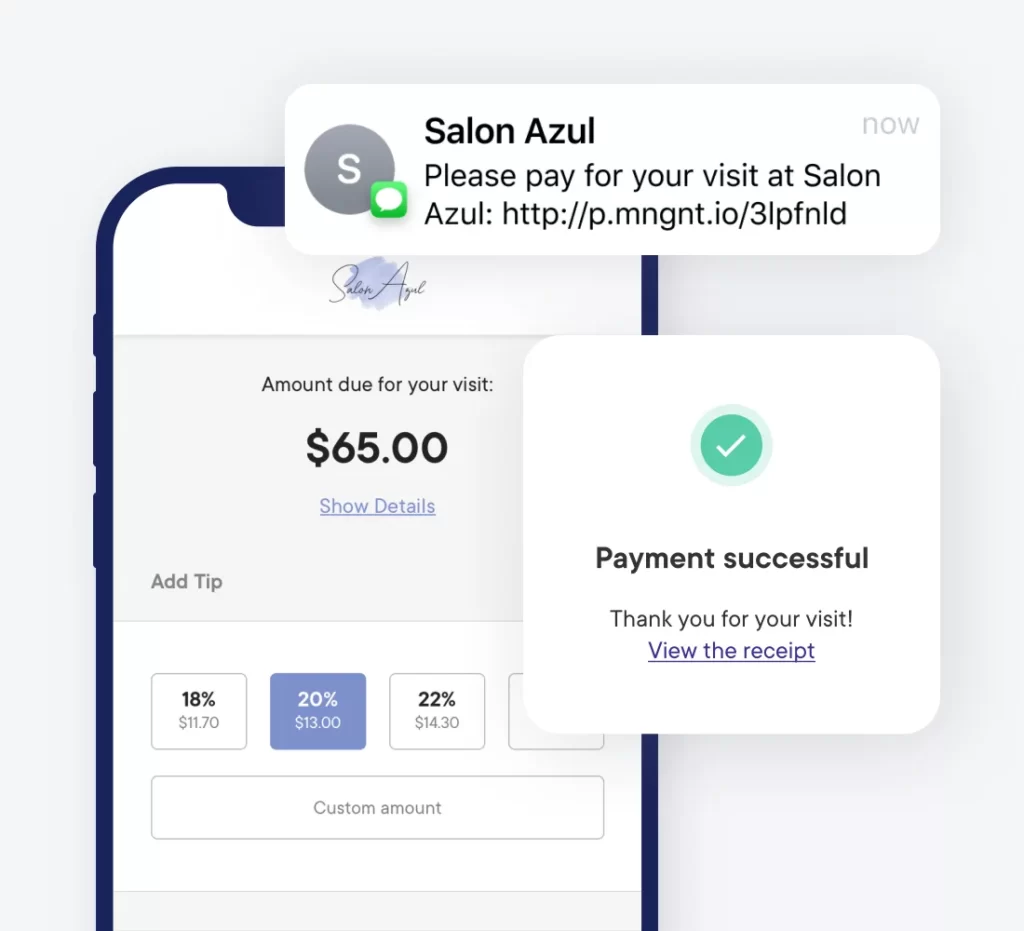 Mangomint allows you to customize an online booking page that you can link to from your website or social media. You can also choose to integrate the booking widget directly on your website and customize it with your logo and brand colors.
The website booking widget is super intuitive and clean and fits on every website as it nicely slides in from the side whenever someone clicks your "book now" button or link.
On top of this, it's possible to integrate Mangomint with pretty much any other system that you want to leverage in your business. This is a big advantage to many other solutions if you're looking for that type of flexibility.
Pros
Modern, easy-to-use, interface
Smart automations that help cut down on time spent managing business operations
Open data ownership and contracts (you're not locked into anything)
Can integrate with any other platform who allow for integrations
Integrated payments
Memberships, packages, gift cards
Sophisticated reports
Strong customer services & help documentation
Cons
Higher entry-level price than most other salon software
Limited marketing support built-in (need to setup integration for email service, loyalty program, reputation management etc.)
Only available in the United States & Canada
Mangomint Pricing
Free 30 day trial (60 day free if you sign up using this link).
Entry level plan: $165 per month
Standard plan: $245 per month
Unlimited plan: $375 per month
Credit card processing:

In-person transactions: 2.4% + 15¢
Virtual transactions: 2.8% + 20¢
Businesses with over $50k/mo qualify for custom transaction rates
Special offer: Get a 60-day free trial when you sign up using the link above.
---
4. Fresha: Best 100% Subscription Free Salon Scheduling Software (Worldwide)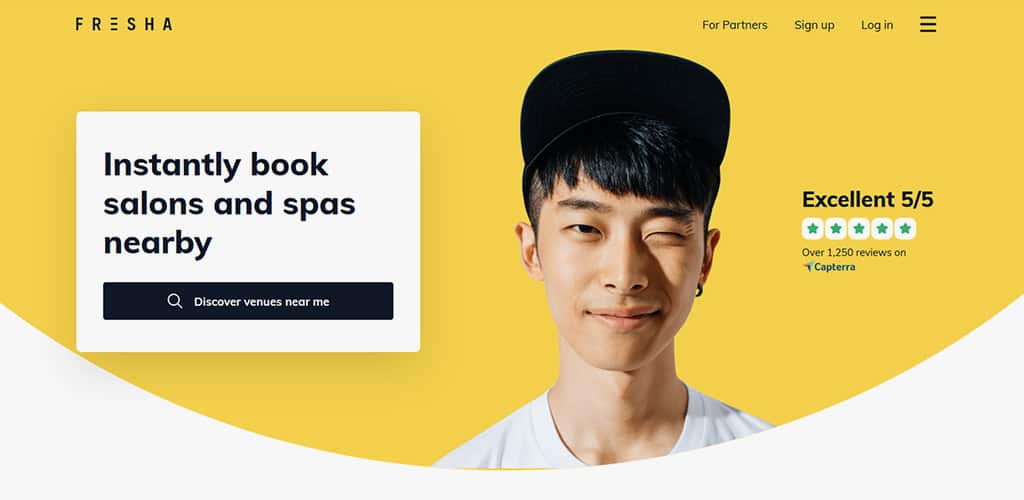 Fresha, previously called Shedul, is a complete system for salons with an easy-to-use appointment calendar. It's the only 100% subscription-free salon booking system, so for individual stylists or new salons that need to keep fixed costs low, this is the perfect option.
Apart from the robust salon appointment scheduling, Fresha features a point-of-sale system, staff scheduling, product, and stock management, payment processing, financial reporting and analytics, and a range of marketing tools.
Fresha makes it easy for you to attract clients online through your own website, the Fresha marketplace, or by connecting to their Instagram and Facebook business pages.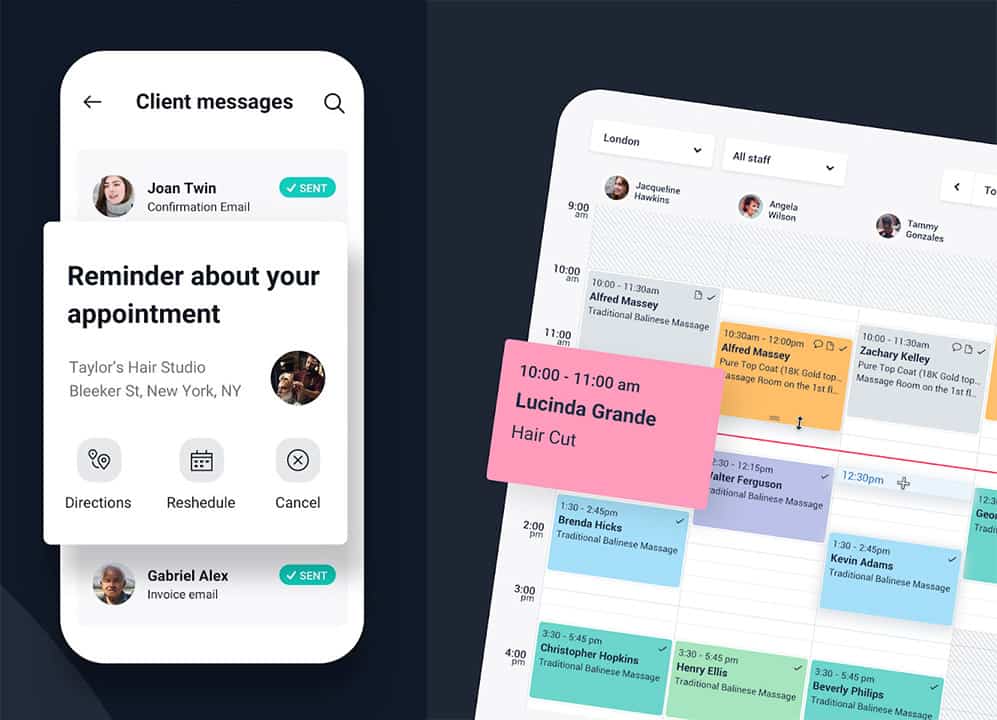 You'll be surprised how much you get with your free Fresha subscription. It's no wonder it's the fastest-growing salon appointment system with 250'000 stylists and therapists in more than 120 countries.
It gives you a lot of the advanced features you'd normally need to pay for – like free SMS, built-in no-show protection, and marketing automation (e.g. like client birthday emails).
An important difference with Fresha is that they offer a salon client marketplace. This allows you to promote your business and get discovered by new clients. Note that this is also where they earn their money back. When you market your salon or spa on the platform and you get a new client, they'll charge you 20% of the appointment. Also, as you'll be using their credit card payment gateway, you'll also be charged transaction fees when clients pay online (2.19% + $0.2).
This means you only pay when the platform is generating business for you which I think makes a lot of sense.
The main reason I like Fresha is that it's so easy to use and despite being subscription-free, you get many of the features that other companies charge for.
One thing to keep in mind with Fresha is that it works best as a complete system on their platform. If you already have an established website and other marketing solutions, other options might give you more control and flexibility.
Pros
Free subscription for unlimited staff

Integrates with Facebook, Instagram, and Google

User friendly and easy to learn
Available in many languages
Cons
Limited options to customize the appearance (default designs looks very good though)
Limited support for integration with other platforms. You're kind of locked into using the Fresha tools.
Fresha Pricing
FREE for unlimited staff
20% New client fee – applies only to the first appointment of new clients via the Fresha marketplace website and apps. Fees never apply to returning clients, or any appointments made via your own website or social media pages
2.19% + $0.20 Payment processing fee per transaction across all payment methods
---
5. GlossGenius: Most Beautiful & Intuitive All-in-One Salon Software for Individuals in the USA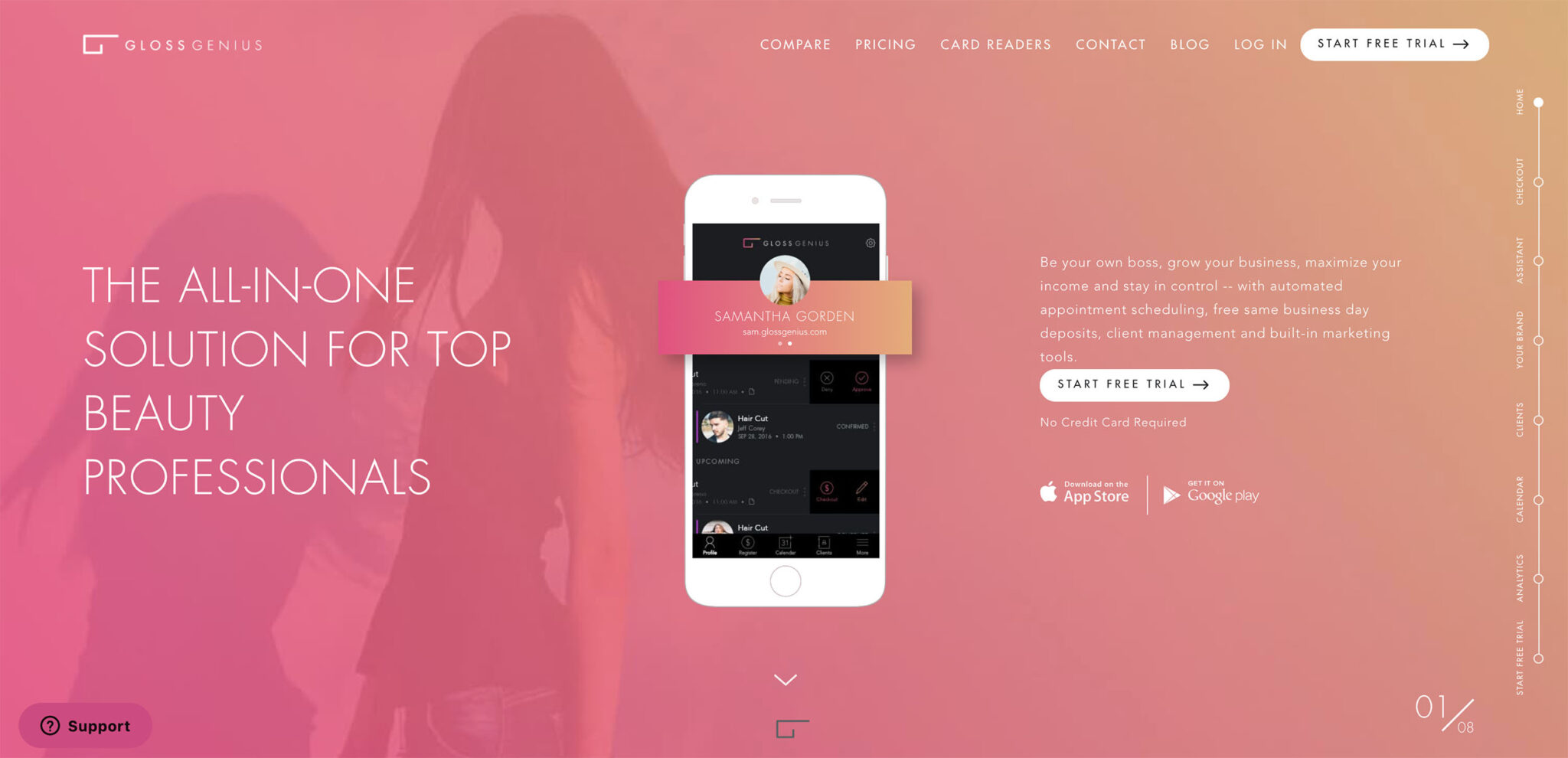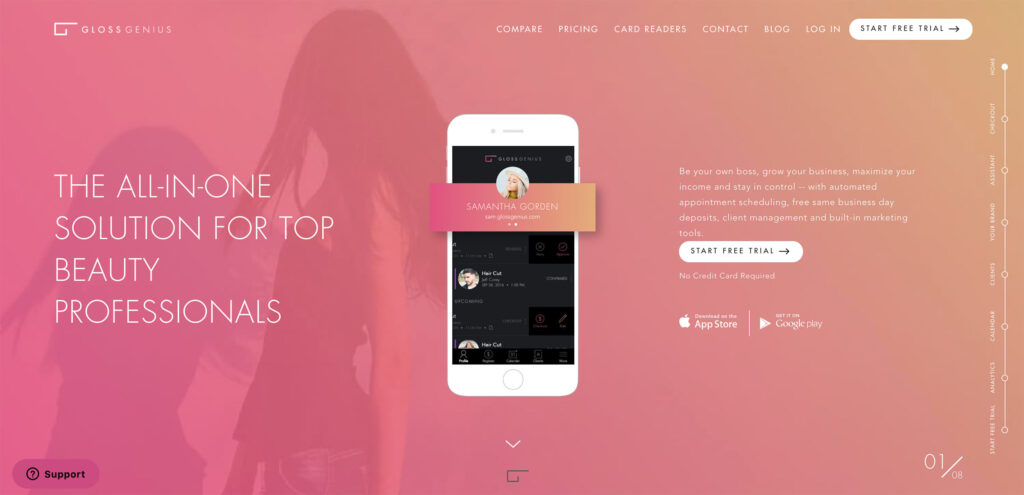 Are you looking for a solid salon software but want to avoid technical complexity and boring design? Then GlossGenius may be the answer for you.
GlossGenius is an all-in-one appointment, payment, and marketing app for Salons and Spas in the USA.
It offers rich support for independent professionals and, more recently, also for salons with a team. Here you manage your total business out of an easy-to-use beautifully designed app.
Everything about GlossGenius breathes premium beauty. Everything from the website to the card reader is designed for a high-end client experience. And it's the combination of nice design and simplicity that makes this tool truly unique.
GlossGenius is the tool I recommend to independent professionals who want a good-looking online booking experience and simple marketing tools without having to spend time on technical issues. Also, salons with a team can use this tool even if most bigger businesses may need a bit more flexibility and payroll support than what's currently available.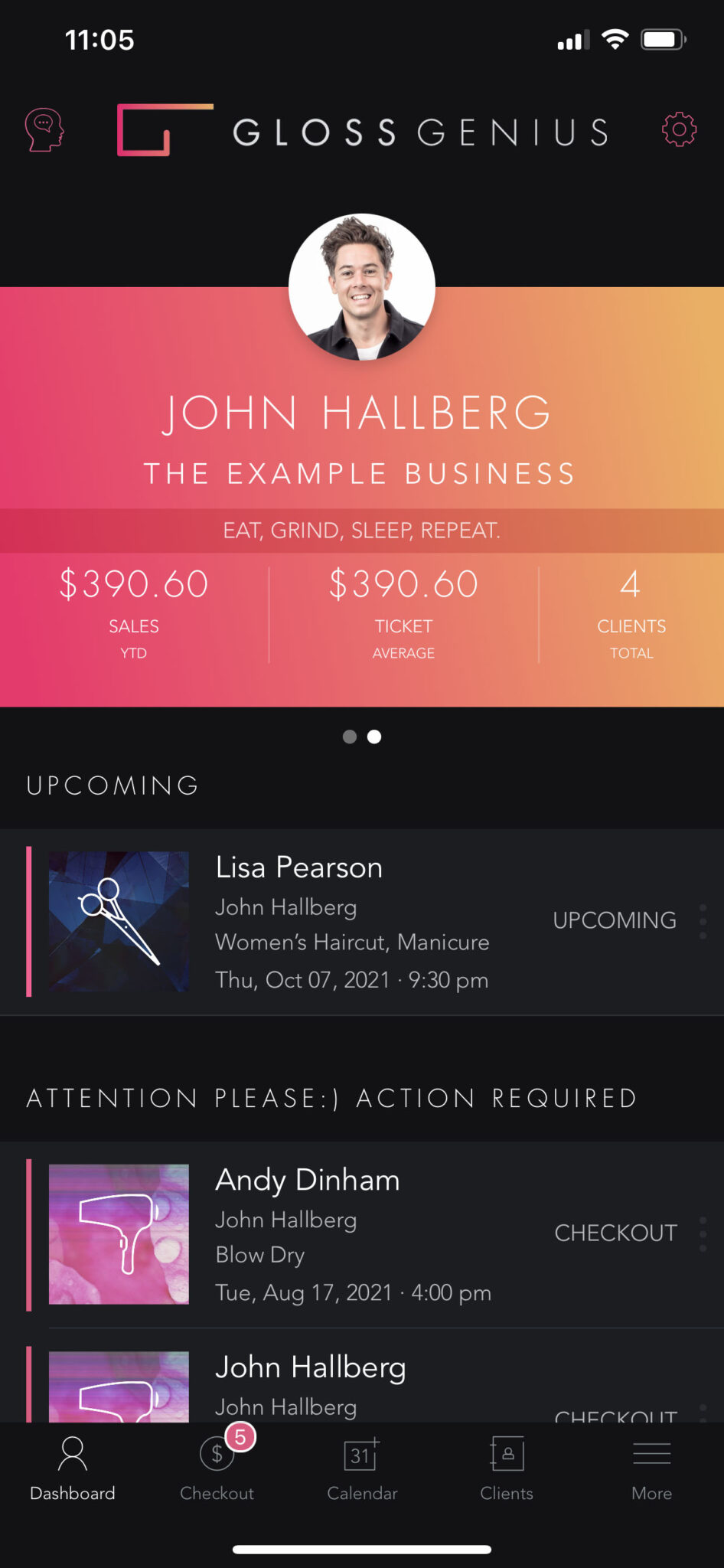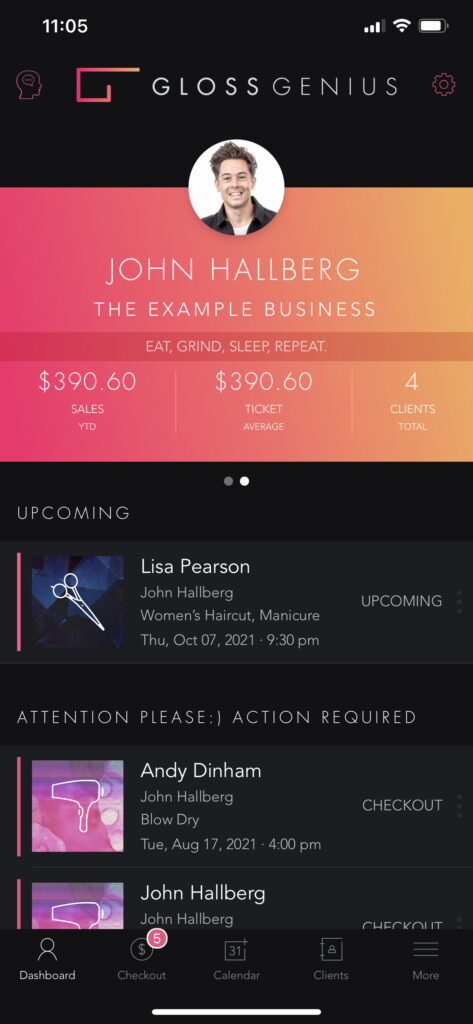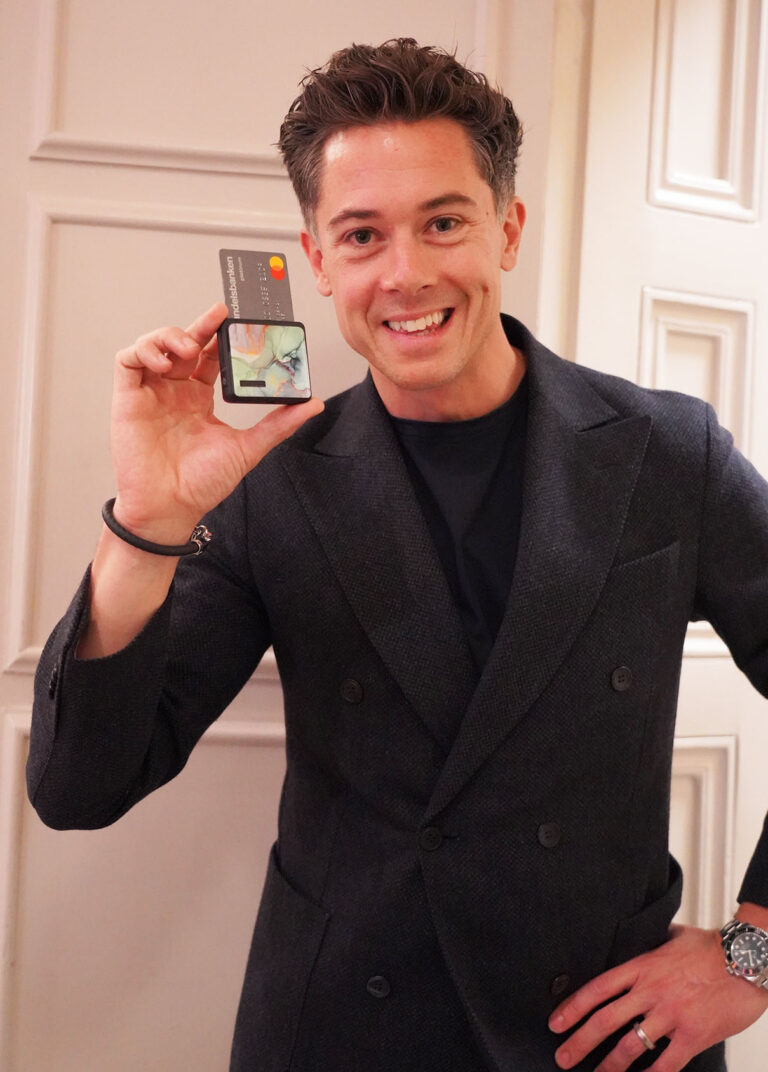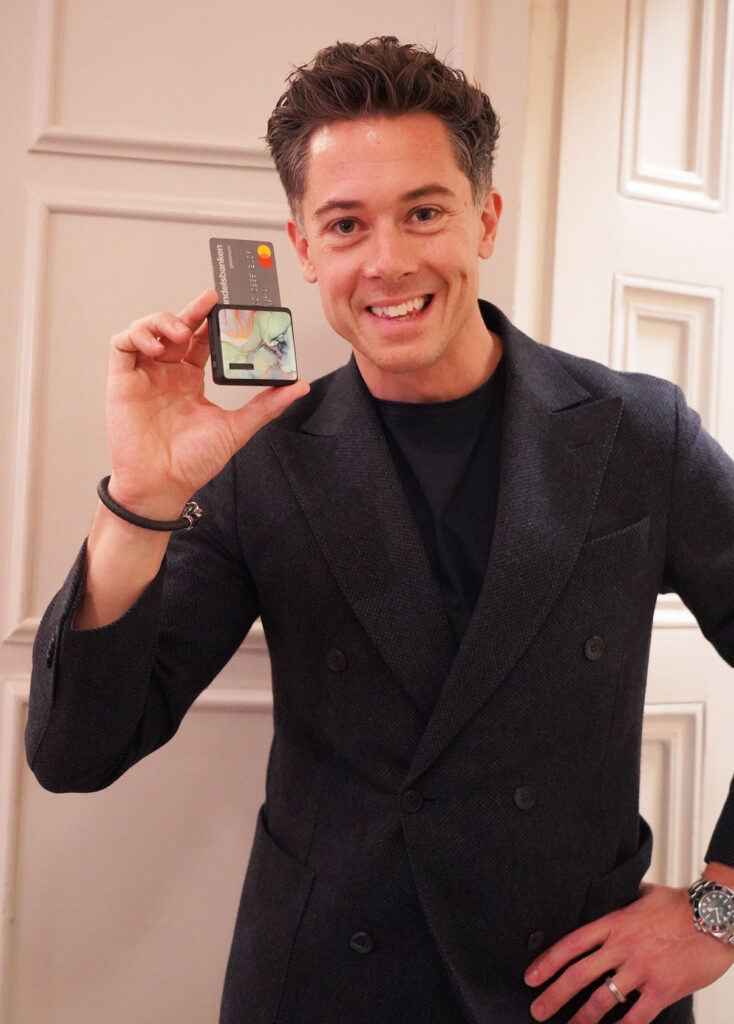 Let's take a closer look at the appointment management support the tool offers.
GlossGenius allows you to create a beautiful booking website in just a few clicks. The below image is from the example website I created using only the out-of-the-box material available inside GlossGenius.
If you already have a website, they currently do not offer support for integrating a booking widget but you'll need to link out to your separate GlossGenus website to accept bookings.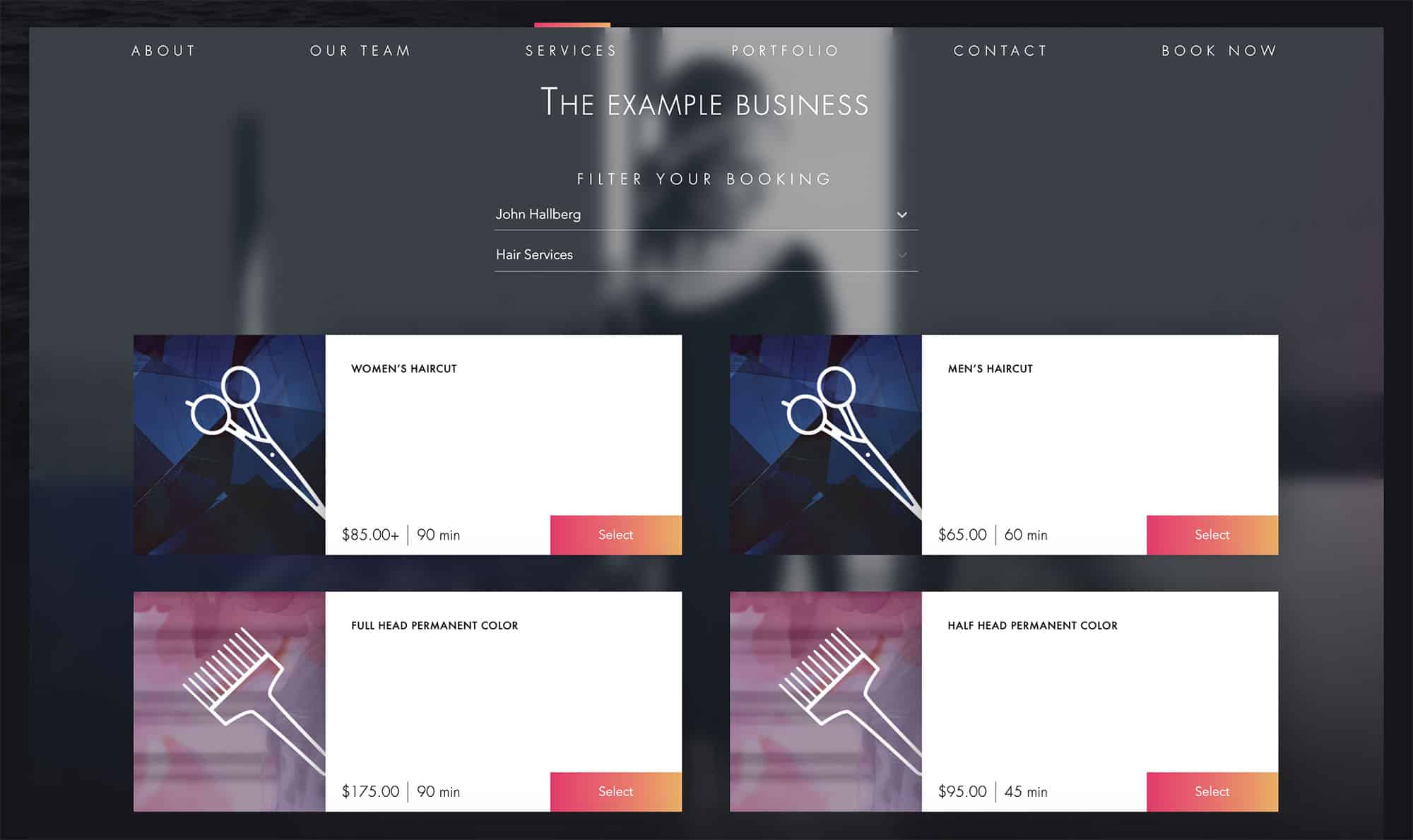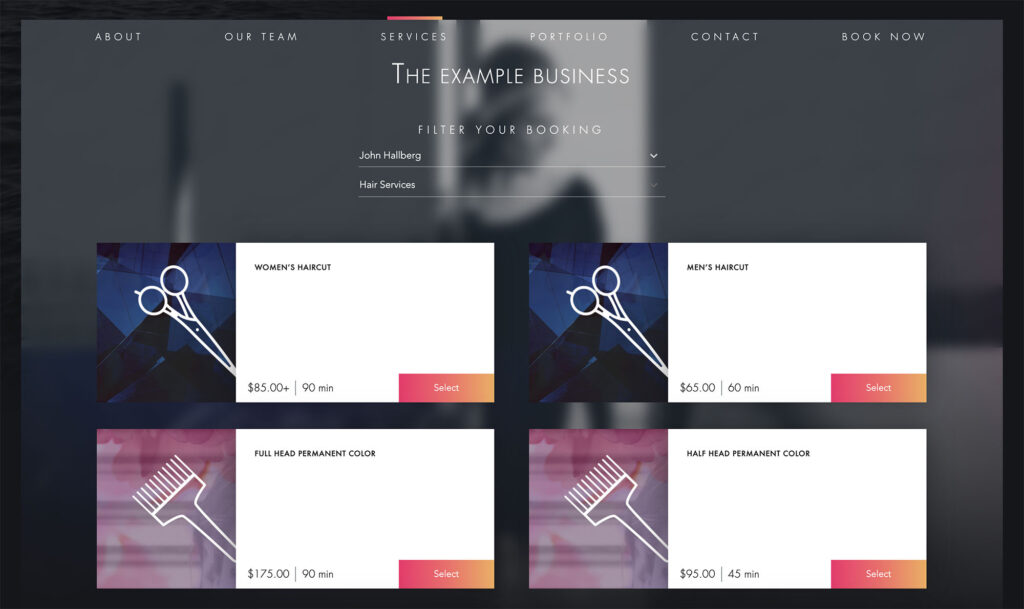 The appointment calendar is easy and intuitive to navigate. Switch between month view, week view, and day view. View individual staff or multiple staff in the same view. Just tap an appointment to edit.
I also like how the calendar can be synchronized with your phone calendar so that you get a simple view of both private and work appointments.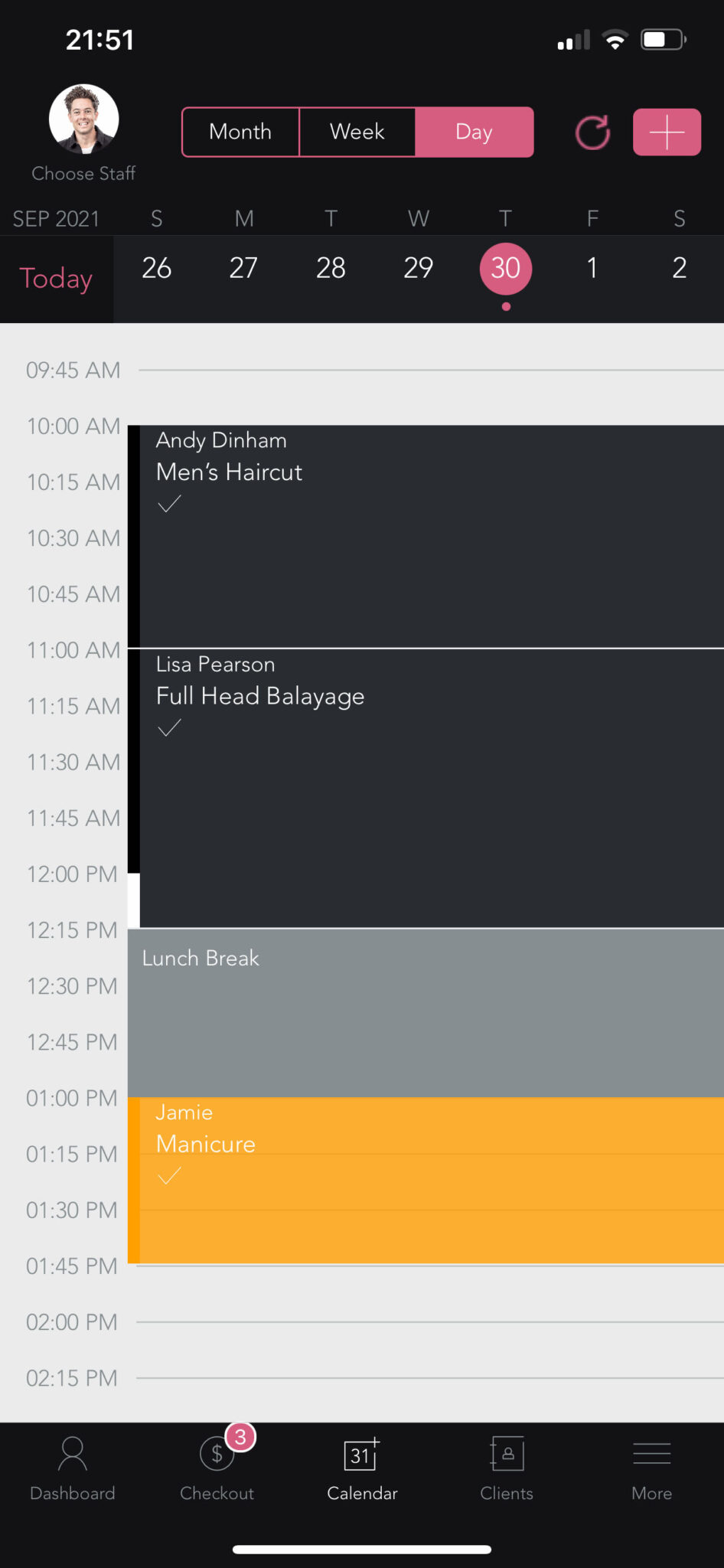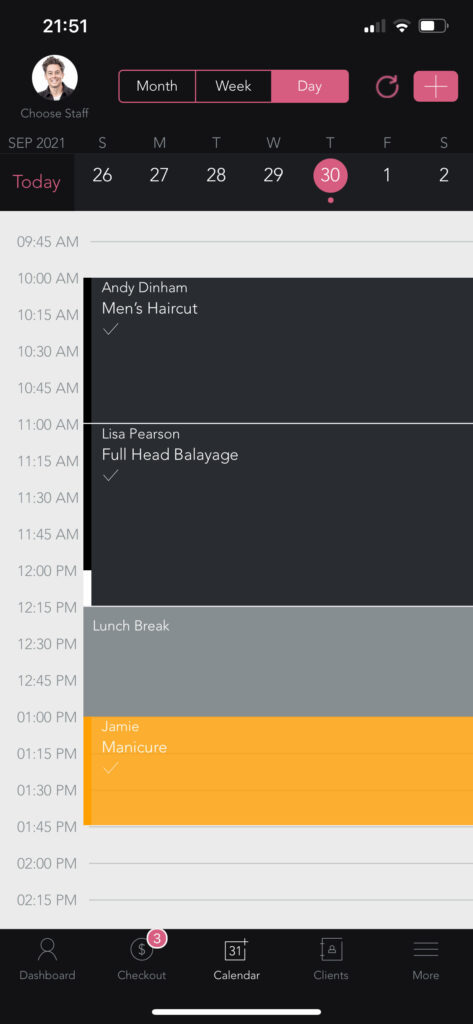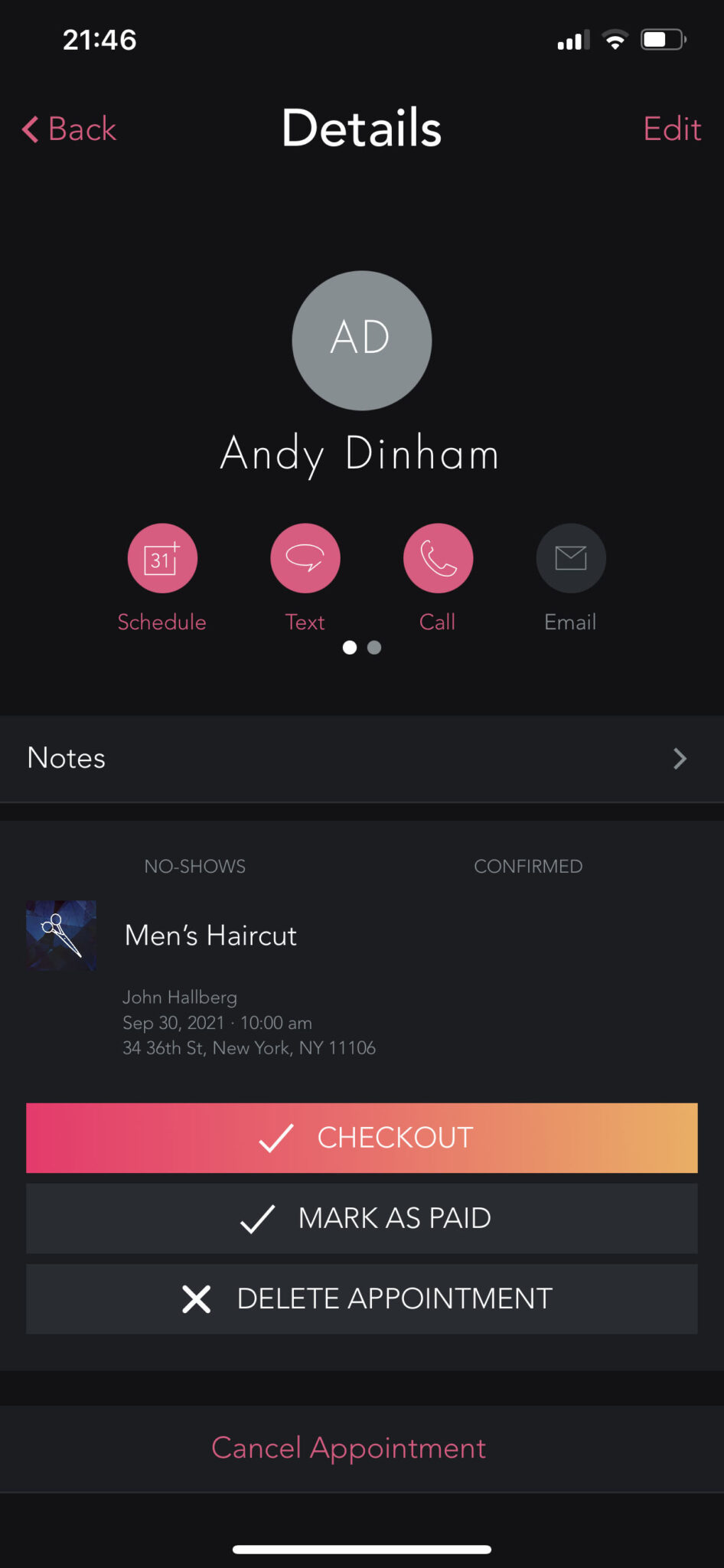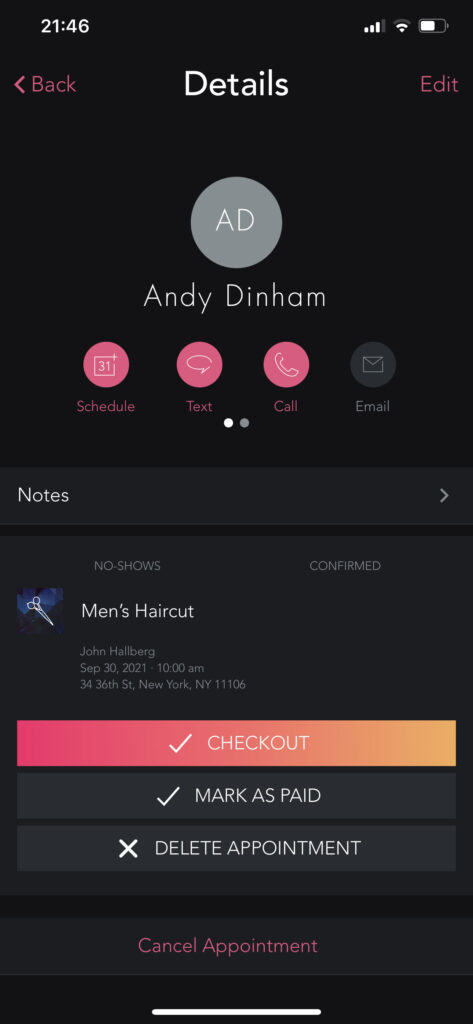 Pros
Spin up a beautiful booking website in just a few seconds
Smart and intuitive features that are easy to use
Integrated payments
Support for client notifications via sms and email
Manage everything from the easy-to-use app
Affordable and transparent pricing
White-glove setup support
Cons
No support for integrating a booking widget on your website (you need to link to your GlossGenius website)
Limited customization available for appointment notifications
Only available in the USA

GlossGenius Pricing
Free 14-day trial
$24/month standard plan (unlimited employees)
2.6% per credit card transaction fee
The "Chief Money Maker" credit card reader at $49.
Standard plan includes 100 sms. Additional messages costs:

+100: $4.99
+250: $7.99
+500: $11.99
---
6. Timely: Easy-to-Use All-in-One Salon Software (Worldwide)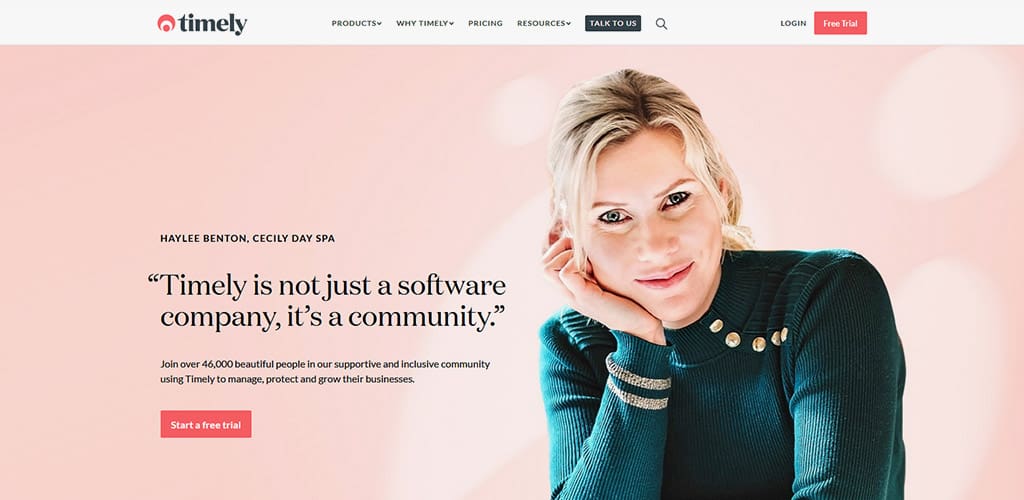 Timely is an excellent alternative to the giants above. They offer a powerful appointment scheduler but also full salon business support: All in one solution.
Overall, Timely has most of the standard appointment and booking features. Clients can book online, log in, manage their bookings, update their details, and reschedule a previous appointment.
Customers can book their appointments online through links embedded in websites or through Facebook and Instagram. If you don't already have your own business website then you can build your own mini-website through Timely.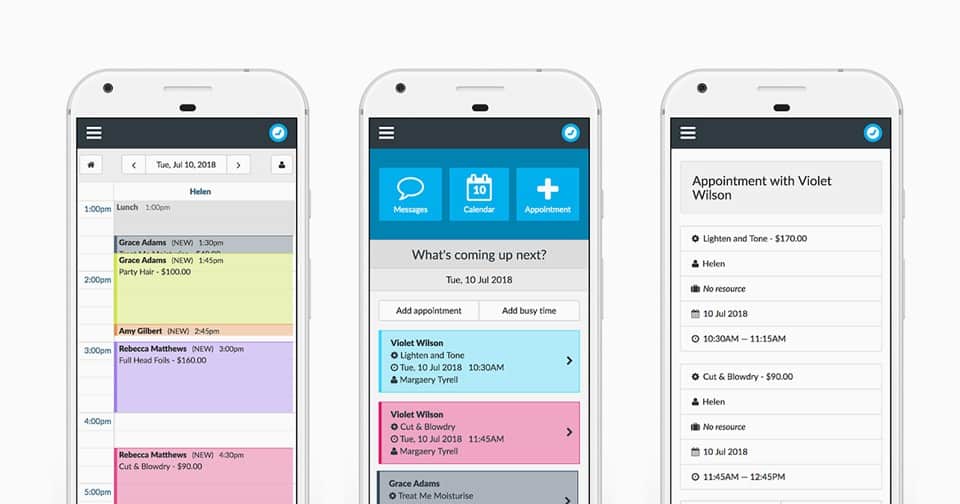 Other helpful features include automatic follow-up SMS and e-mail messages to clients after an appointment to check in on their experience and request a review.
Timely has fairly low fixed price packages. This is important for many salon owners who are wary of the additional costs and hidden fees some software providers might add for extra features.
Timely prides itself on award-winning customer support. And their dedication to supporting the salon industry beyond scheduling quickly becomes apparent.
Overall, Timely is a good choice for salon owners who need a basic system and an easy-to-understand pricing system.
Pros
Integration with Google Calendar, MailChimp, Quickbooks, ZVend and MYOB
Dozens of payment gateways including PayPal, Stripe, Authorize.net, and more
Good guides and help documentation on the website
Works on any web browser and with mobile apps
Easy to add to your website with plug-ins for Squarespace, WordPress and Wix
Cons
Fairly basic features and functionality
Works well for a single user looking for basic features
Not able to add pictures under the services section
A limited number of languages available
Timely Pricing
$15/month for a solo owner
$30/month for 2-7 staff
8-20 staff has fixed price packages from $200 (See Timely pricing).
---
7. Genbook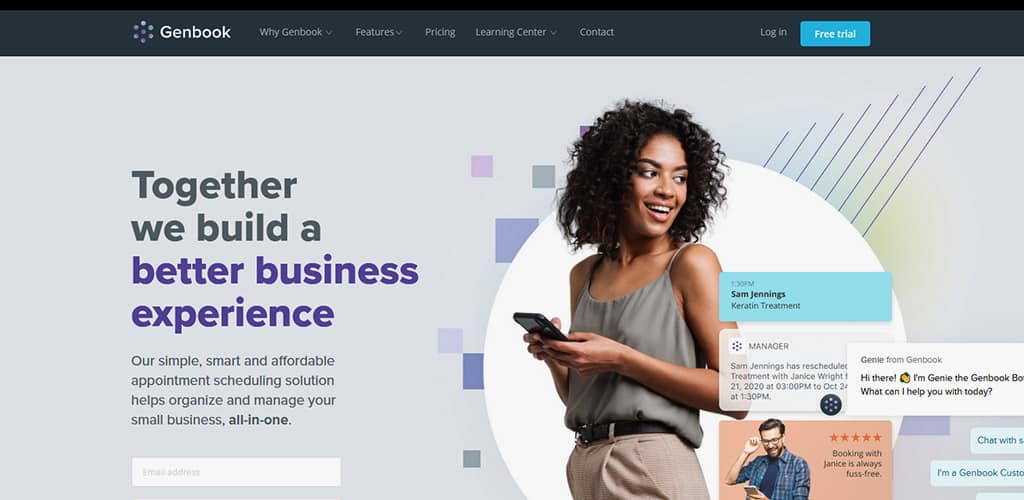 Genbook is a salon scheduling program that has developed into an all-in-one business solution.
Online bookings now account for 3 out of 5 of all bookings and Genbook has also been one of the first salon software companies to partner with Google and the Reserve with Google program, enabling customers to book appointments directly from Google Search and Maps pages.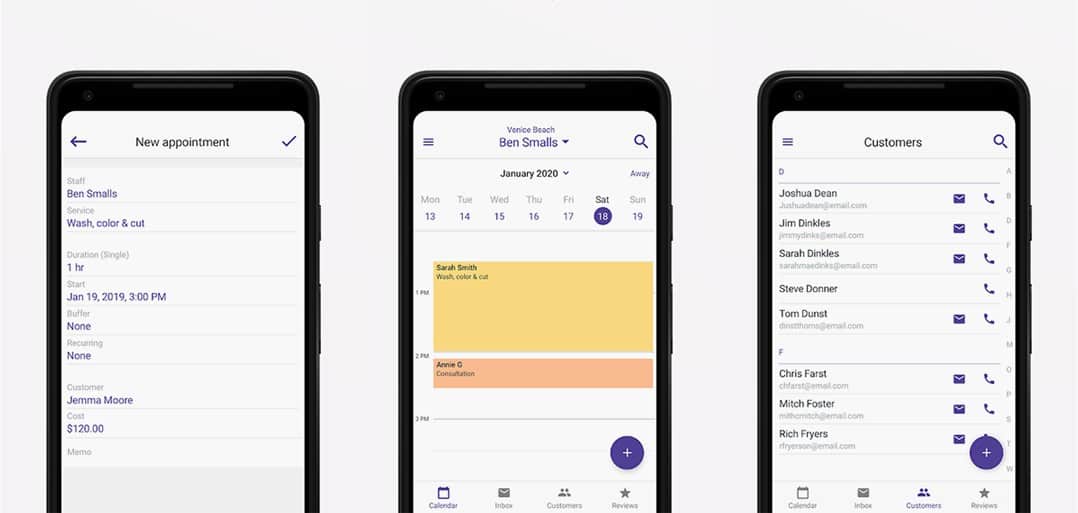 The Genbook Marketplace gives you an SEO-optimized booking page that is integrated with Google.
Smart Marketing is an integrated e-mail marketing feature in Genbook that can increase bookings for your salon. Here you can find useful templates like 'Time for your next appointment template' and target your clients with the right message.
Genbook has the feel of a modern and lean solution, with a somewhat less extensive feature set than some of the other salon systems, but well adapted to salons who connect and meet their customers on the web and on social media.
Pros
Clients can book a service directly from the Google Map website page or app
Integrates everywhere including your Instagram or Facebook business page
Excellent Learning Center with business tips and product help
Modern design and interface
Reviews are collected and displayed online
Cons
Some clients have problems knowing how to cancel their appointments
Not having a section for photos of business and portfolio
Genbook Pricing
$25/month for a solo user
$49/month for a team of 2-5
$83/month for a team of 6-12
Free trial available
---
8. Schedulicity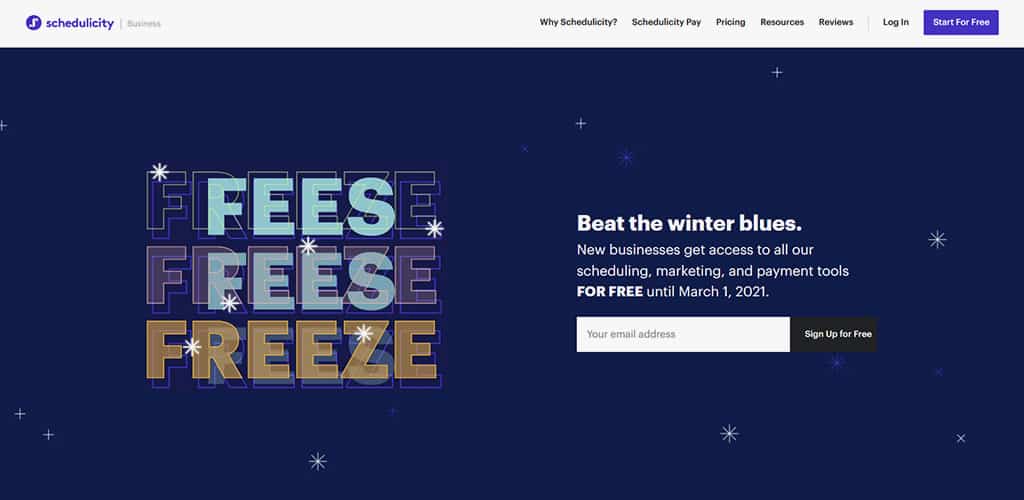 Schedulicity is another good salon appointment scheduling platform that has grown into an all-in-one system that now offers payment processing, automated email marketing, and a marketplace where local online customers can discover you.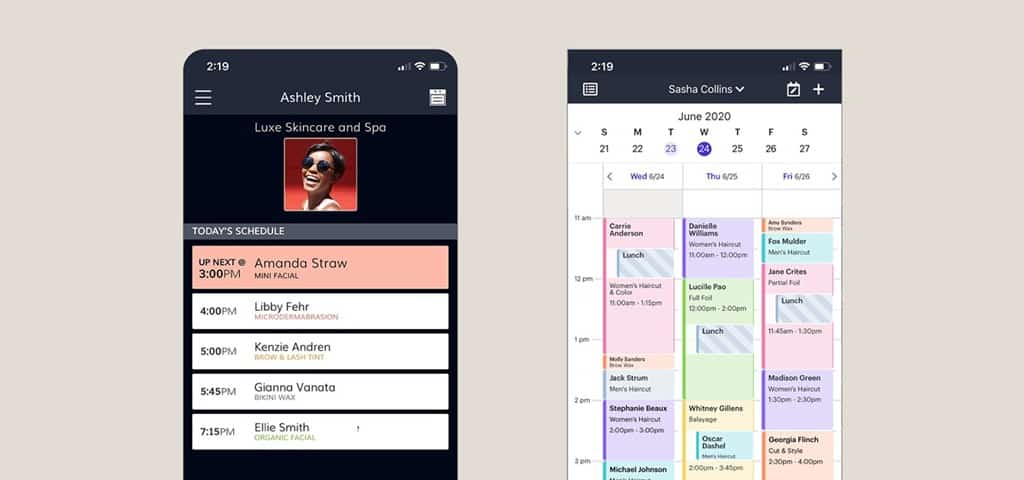 Users can process payments instantly through Square or Stripe or use the built-in payment processing with Schedulicity Pay.
The add-on pricing model means that you can pick and choose from the features you need and potentially save money. However, the fee for the communication/marketing piece can double your monthly cost.
Schedulicity is good for small salons that later can grow into the system. It´s a good all-in-one solution but doesn´t have many integrations.
Pros
No contracts, cancel anytime you want
Pay only for the add-ons you need
Good customer service
Option to block repeat no-show customers
Cons
Cost increases when adding add-ons
Limited integrations apart from calendars sync with Yahoo, Outlook, iCal, Hotmail, and Office 365
Limited to the US and Canada
Schedulicity Pricing
$20/month for a solo user
$30/month for 2-5 users
$40/month for 6-10 users
$50/month for 11+ users
Only choose the additional add-ons that you need. (See Schedulicity pricing).
---
Summary
Being a salon or spa owner is not easy.
Running your business, managing staff, and clientele, and trying to get everything done is demanding.
This is why picking the best salon scheduling software for you is important. Not only does it help you manage employees' schedules, but it also allows your clients to book appointments and get reminders, ultimately making your job easier.
Benefits of using a salon scheduling software
Save time. Fewer phone calls, text messages, and e-mails that disturb during client treatments
Automatic e-mail or text reminders helps avoid no-shows
Clients can book and reschedule 24/7
Get appointments via Google, Instagram, and Facebook
Take payments. Receiving payments during booking is convenient and helps reducing customer no-shows
A client can more easily review appointment details
Helps staff manage their appointments
---
Conclusion and my top picks
You want to make sure you get the most out of your investment.
This means looking for ways to make your business more efficient, which helps you save time, money, and aggravation. Using salon scheduling software is one way you can gain more control over your salon operations and take your business to the next level.
My top choices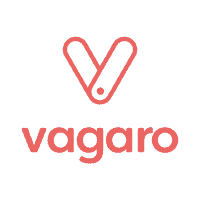 Vagaro is for the salon with a team who are looking for complete business support under one roof. Vagaro goes way beyond appointment scheduling and will very likely be the only software your salon needs.
Despite all the features, Vagaro has a very affordable entry price at $25/ month. You can then choose to add on more based on your needs. This means you can increase your business support as your business grows.
Vagaro is easy to use but you should expect a bit of a learning curve in the beginning.
---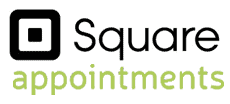 Square Appointments is perfect for users who want a complete business system that is free for solo owners and easy to use. You really get all you need with Square Appointments and the other tools from Square.
If you want more control and flexibility and already use other business tools, you might like to look at other scheduling systems that can integrate with your existing tool stack. Also, if you're located outside the US, Canada, or Australia, Square won't work for you.
---

Mangomint is really designed for salons with 5+ staff. It's the most well-designed tool among the options listed here. It offers a beautiful booking widget that integrates seamlessly with your website.
The team at Mangomint has really gone above and beyond to ensure the best booking experience for your clients through its smart automations.
Naturally, as this is designed for bigger businesses, the price tag is also the highest out of the alternatives listed here. But if you look at the time savings this tool can bring to your business you'll not have a hard time motivating the additional investment.
---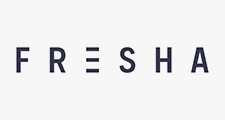 Fresha is an excellent all-in-one solution that is free and very easy to get started with. As with Square, you will get the most out of the system if you use the whole package, including Fresha Marketplace, the email marketing tools, and the Fresha payment system.
More experienced salon owners might want more customization options and control over integrations than other solutions offer though.
---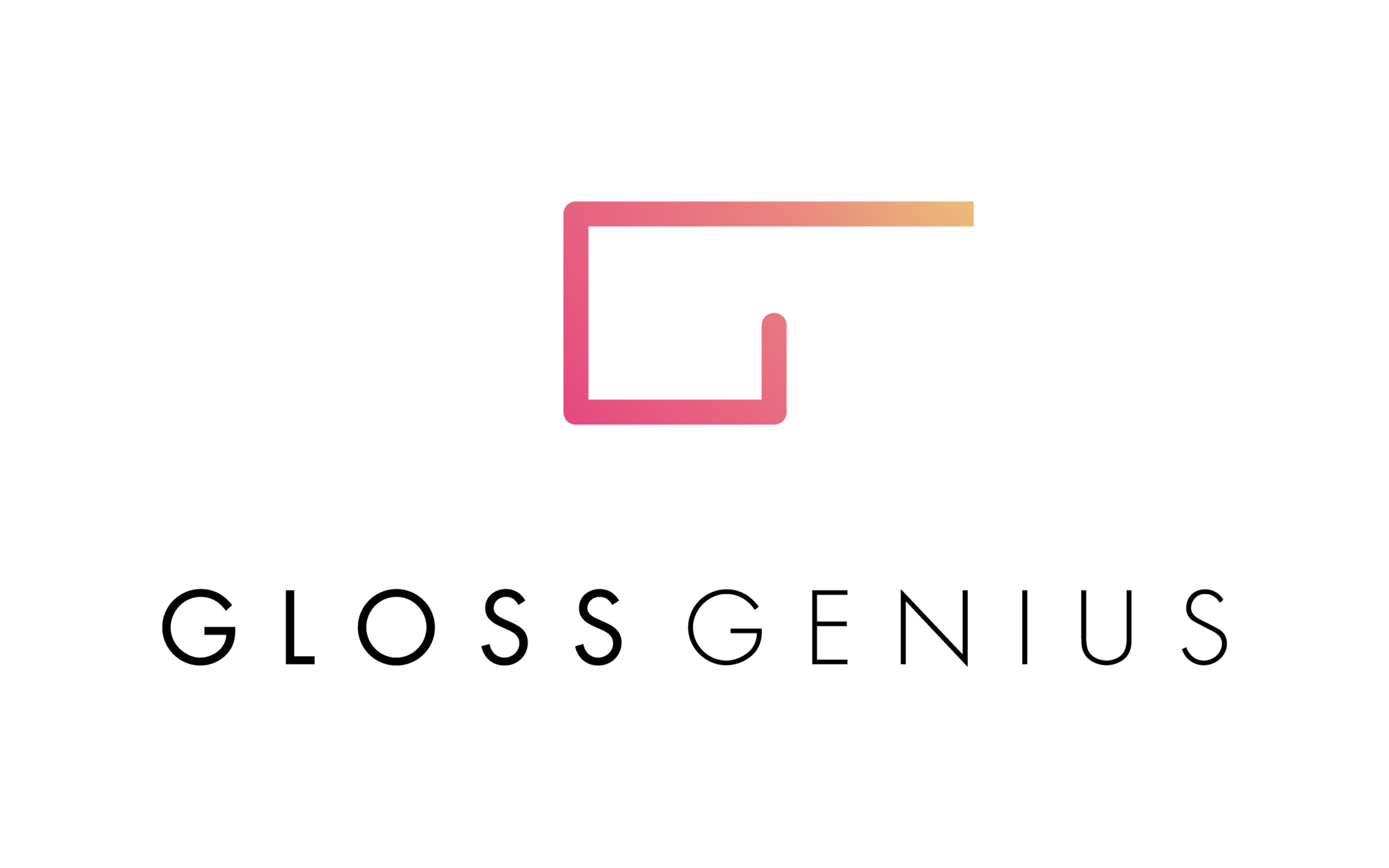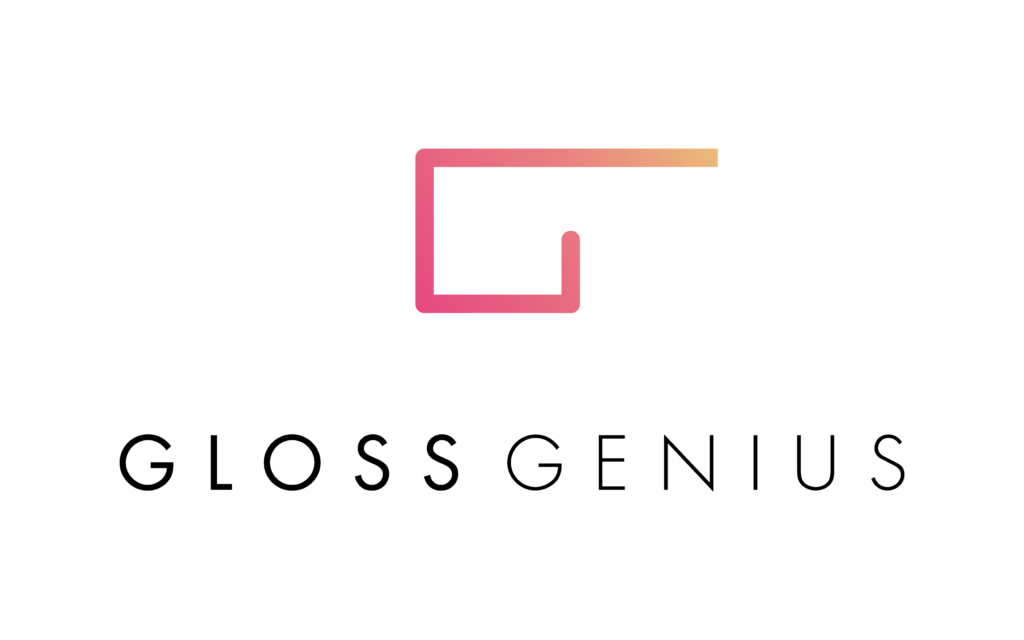 It's really the design that sets this tool apart from the other platforms listed here. You get a lot of power with the little tool without having to worry about any technical issues and every part of your client's experience with you will be beautiful.
---
I hope you found this review of the best salon appointment software helpful.
I also recommend you read my review of the best salon software, best point of sale systems for salons, best mobile credit card reader for salons, as well as the best website builders for salons.