Are you looking to craft your hair stylist biography and don't know where to start?
Well, then you've landed in the right place.
I've put together a list of hair stylist biographies to give you the inspiration you need to craft your own. Ranging from short and sweet to fun and personable, these examples will help you achieve whatever tone you want for your own bio.
On top of the list of hairdresser bios, you'll also get a salon biography as well as at cut-and-paste ready stylist bio template that you can follow when crafting yours.
This is exciting.
Let's get to it.
Why you Need a Hair Stylist and Salon Bio
Let's face it.
The world we live in is becoming increasingly digital. People don't just randomly drop into a new salon to see if it's right for them anymore.
I'm sure you've researched restaurants on Google, Instagram, Facebook, and Yelp before booking a dinner when you've arrived in a new place. And course people are doing even more research on where to go for a haircut and style!
One of the most important things a potential salon client will look for is the stylists working in the salon. Introducing your stylists will help them understand if this is someone they can trust with their hair and general image.
A strong connection with a hair stylist can oftentimes even supersede geographic convenience for clients. Having a strong stylist description – and picture! – is paramount in order to bring clients in the door.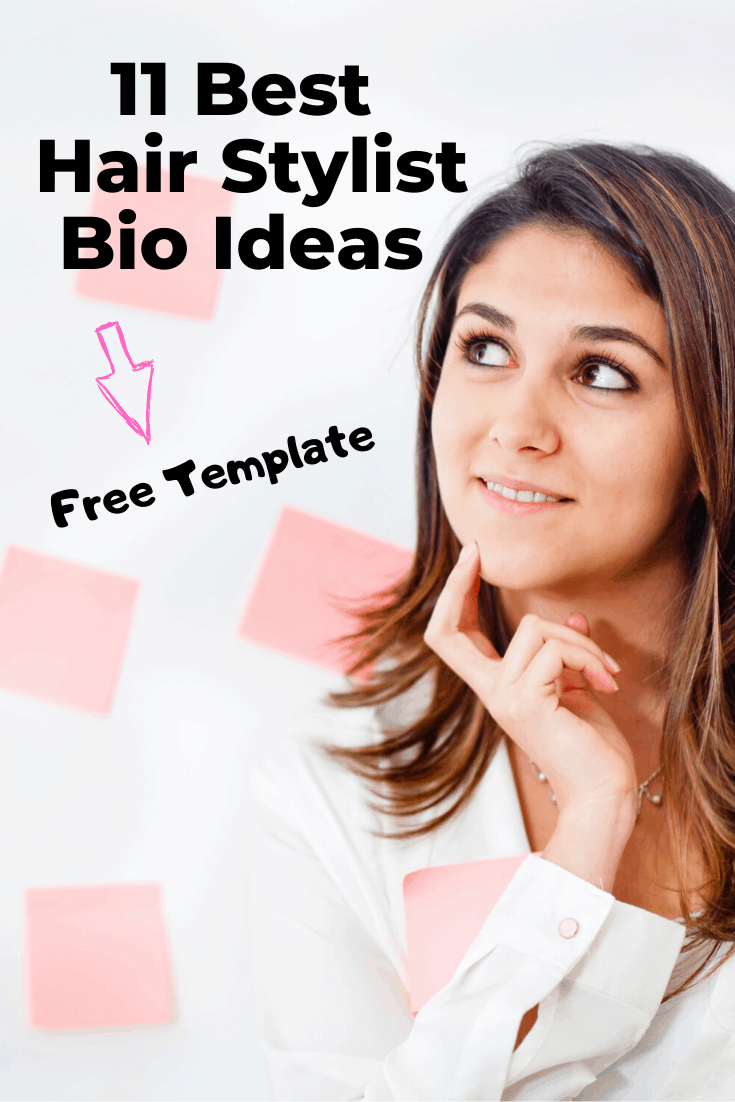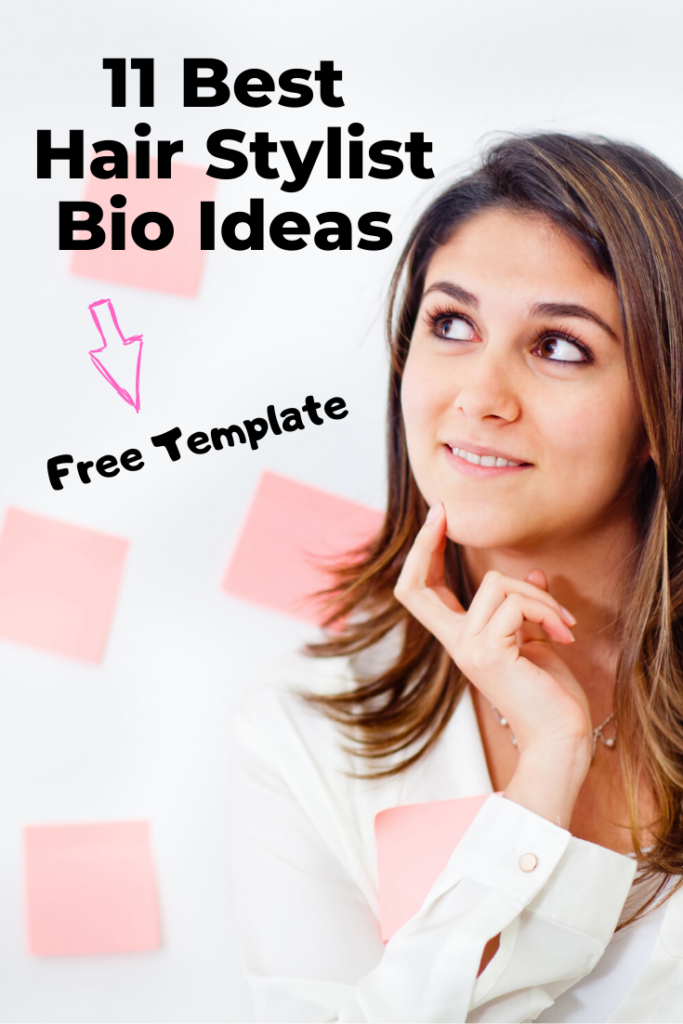 When and Where to Use Your Biography
First and foremost, your biography should be easily accessible for all website visitors. I strongly recommend you have a dedicated "meet the team" page on your website where you list all stylist bios.
If your salon software supports it, ideally you also link directly to where people can book with the member of staff they just read the bio for. In Mangomint, you'll find a dedicated online booking link under the settings of each staff member (as shown in the image below).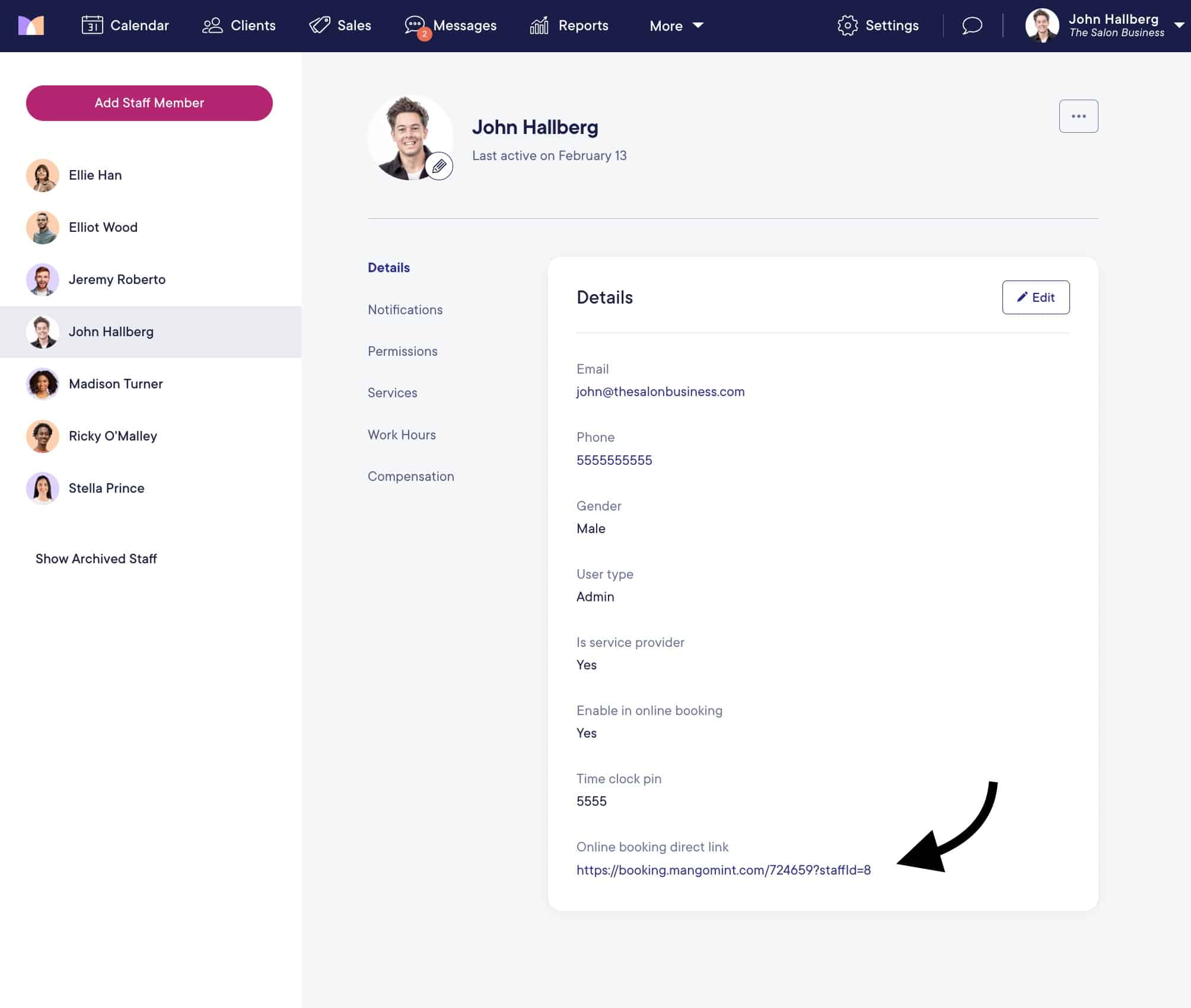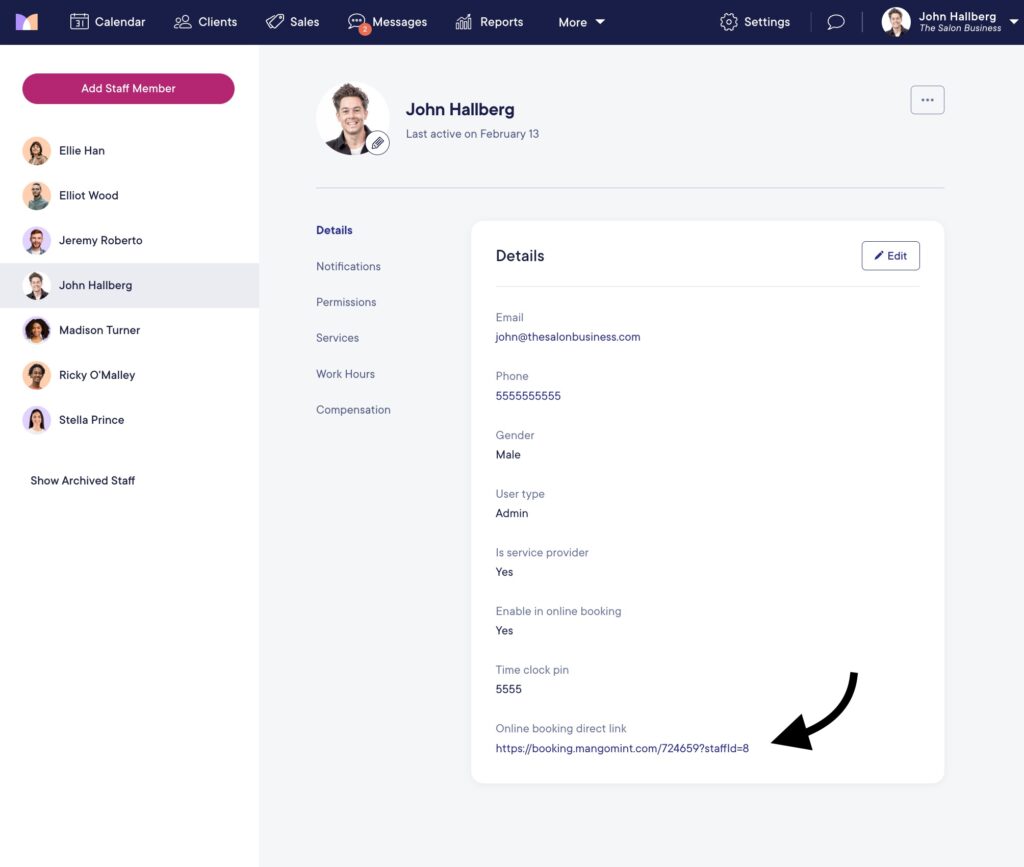 Clients can be reluctant to book with someone they know nothing about, so having your biography readily available is key. Your hair stylist profile should also be everywhere your work is shown, and this includes Instagram.
For Instagram specifically, there are more elements than the stylist or salon description to consider. In fact, I have put together a dedicated article on how to craft an effective salon Instagram bio that takes you through this step-by-step.
Putting a snippet of your bio in your Instagram profile and linking to your appointment scheduler will be an important driver of new clients.
Salon Biography Examples
A salon should also have it's own bio, or an about page. This will give a potential client a general overview of your services as well as highlight for them anything you may be well known for. For example, if your hair salon is acclaimed for their event styling, call it out!
Your hair salon's biography should be anything but bashful, but remember to keep it short. People don't want to read paragraphs upon paragraphs on each service you offer, but rather get a feel for your establishment.
An example of a comprehensive but brief salon biography is below:
Salon, located in the heart of City, has been serving beauty aficionados for the past eight years with cut, color, and styling services. Specializing in up-do's, Salon will have you feeling your very best for any type of event. Call us today to book your appointment – large groups welcome!
Your salon biography can also include your salon's mission statement. This makes it even stronger by going beyond listing what you do to also include why you do it. To help you get started on this, I've put together a long list of salon descriptions and mission statements here.
Hair Stylist Biography Examples
Each hair stylist should have a biography on your salon's website, especially if it's just you. When it's a small business people are seeking out exceptional customer service and a strong personal connection.
In regards to a larger company, perhaps a salon franchise, clients want to be sure that they're not just getting churned out but rather getting a stylist who will listen to their hair concerns and wants. In both cases, stylist biographies are important.
This also goes beyond hair stylists. Cosmetologists and estheticians should also have prominent biographies on your salon's website. While perhaps the wording around their credentials may differ, especially in the case of the estheticians, these professional biographies will help bridge a connection between the service provider and client.
An example of a short starting point for your stylist bio is below:
Name has been a Colorist at Salon for the past eight years and has ten years of color and styling experience.
If your salon's website allows for it, certainly expand upon this basic format! Including more details about your work or who you are will help paint a complete picture of you for your potential clients. For example:
Name has been a Colorist at Salon for the past eight years and has ten years of color and styling experience. She joined the Salon team in our mentorship program upon obtaining her license. After two years of working under our Master Colorist, Name became a full Colorist and now specializes in unique highlighting techniques, such as balayage and "babylights."
Fun Hair Stylist Bio
Don't forget, a biography should be personable! Adding in some personal details is incredibly important as it gives the client a feel for who you are beyond your years of experience.
I'm Name, and I've been a Colorist at Salon for the past five years and has over 10 years of color and stylist experience. The wildest color I've ever dyed her hair was pastel blue and it was my favorite!

Master Hair Stylist Bio
An important aspect of your bio is your credibility. While stating your years of experience is important, also don't forget to add any stand-out aspects of your title, such as Master Stylist of Colorist. This added achievement will make clients more confident in your abilities and even enable you to increase your rates.
Name has been a Master Colorist at Salon for the past five years and has over 15 years of color and styling experience. Name is trained and certified in multiple color systems and enjoys using her knowledge to create exactly what her clients are envisioning when they sit down in her chair.
Famous Hair Stylists Biographies
For those who may work beyond the salon and on a freelance basis, having a biography on your own is even more important.
This biography is what will give you clout with potential clients as there isn't a larger company backing up your work. Some of the most famous stylists, Garren, Malcolm Edwards, Martin Parsons, and Peter Gray to name a few, all make sure to tout their achievements right at the beginning of their bios. Photographers and editorials they've worked with, celebrities and influencers they've styled, and looks they're known for all take center stage.
This biography should remain more work-focused and professional than the other biographies on this list. See an example below of a bio for a freelance stylist:
Name is a hairstylist known for her sleek, modern looks inspired by the city she lives in. Name's work has appeared in City Mag and she has worked with [Photographer] on a Spring inspired shoot featuring [influencer]. Name has over 15 years of experience in hair styling.

Barber Bio Examples
Barbers have a whole different set of clientele than their hairstylist counterparts. A barber will still want to keep his biography personable, relatable, and credible while tailoring it to his target audience.
An example of a barber's biography is as follows:
Name is a barber who has worked at Barbershop for the past five years. He specializes in straight razor shaves for those who like a more traditional shave. Name creates a relaxed environment for his clients and looks forward to making you look and feel your best.
For a more personable barber biography, write in the first person and include more detail about your life! This element remains the same as a hair stylist or colorist bio, the clients you want in your chair are going to want to get to know you a little bit first. An example of a more personable barber bio is below:
I'm Name and I've been a barber at Barbershop for six years. Originally born and raised in [city,] I moved to [city] in 2014 looking for a new adventure. Working at Barbershop has been my favorite adventure so far – I love building strong connections with my clients and helping them express their personalities through their appearance!
Edgy Hair Stylist Biography
Perhaps your salon isn't as buttoned-up as the others on this list. What now? Don't worry, an edgy hair stylist biography is possible and can even be a lot of fun to make! Talking about what makes you, you will draw in the exact type of customers you're looking for, fun creative people who aren't afraid to experiment with their looks.
Don't forget to still state your credentials though, creative people still want a qualified person styling their hair!
Hi, I'm Name and a Master Stylist at Salon who has seven years of experience. I enjoy working with my clients to create unique looks that they feel great in. From blunt bobs dyed dark to long rainbow locks with undercuts, I've colored and cut it all. My work has been featured in City Mag. When not at Salon, I can be found at my favorite coffee shop, [name].

How to Write a Hair Stylist Biography
1. Get Clear About Your Audience and Purpose
Before you start writing, you need to be clear about who you're writing for. What you include and the language you use (formal, funny, professional, or personal) will for sure vary if your bio will be visibly used as a hairstylist description on your salon's website or if it's meant to be a description for your salon's business plan.
Try to create an as vivid picture as you possibly can of the person that will be reading it and visualize that person in front of you as you write it.
2. Get Inspired by Other Hair Stylist Bio Examples
You're not the first hairstylist writing a biography. So why re-invent the wheel?
I'm not saying you should straight off copy someone else bio but you can get a lot of ideas from how other people have written theirs. This is also why I've pulled together this list of hairdresser biographies so that you can find the inspiration you need.
3. Cut the Fluff
Your biography should quickly and effectively communicate who you are and what you do. I'm sure you have a lot of things you potentially could include in your bio but you cannot include everything. Be ruthless here. Cut out the things that doesn't directly help you communicate what you want your bio to convey.
For example, if you're targeting professional women to come into your salon from the office, you may not want to include your joy of working with bright colors. Instead, opt for a more professional biography that showcases the skills your customers want to see:
Hi, I'm Name and I've been a stylist and colorist for the past 12 years. I love to modernize classic looks to make them fun and wearable for the woman-on-the-go. I attend numerous continuing-ed classes each year so as to always be knowledgeable of the best and healthiest techniques to use.
4. Consider Writing it in Third Person
If your bio is meant to be used in a more formal setting, it can be a good idea to write it in third person form. This gives a more objective feel to your bio as it sounds as someone else is describing you. Additionally, this tense is much more polished and can easily be transferred into professional settings.
This works well if your bio is meant to be used at a hair event you're attending or in a business plan. However, unless you run a very high-end salon with quite a few stylists where it makes sense to distance yourself from your audience, I would recommend you use the first-person form. This makes you connect in a more personal way with the reader which makes you more approachable (which is what most stylists would want).

5. Start by Stating Your Name
You need to assume that people who read your bio have no idea of who you are. You should, therefore, start by stating your full preferred name.
6. State Your Point of Difference as Part of Your Name
Make it immediately obvious to the reader who you are. This will help grab the reader's attention and pull them in to reading your full biography.
"Lisa Jones is Master Hair Stylist at Salon You" (when used out of salon) or
"Linda Brown – Top colorist & make up artist" (when used in context of salon)
7. Include Your Most Important Accomplishments
Before you start listing everything you have ever done, remember that this is not your CV or resume. You should not just list your achievements but describe the most relevant ones. Coming back to the first point in this list, you need to know who you're writing for and chances are they have no idea of what certain awards or certifications are.
"Lisa Jones is Master Hair Stylist at Salon You. Her unique approach to balayage hair coloring earned her the prestigious International Hairdressing Award 2020."
8. Include Details that Make You Human
You have laid out who you are and included credentials that make people trust you and want to listen to you. Now it's time to include an element that connects emotionally with the reader. This helps create a personal bond with the reader that begins the journey of building a relationship.
You can employ some humor her to make it a fun hair stylist bio that connects. This is your chance to get your personality across. However, I would avoid getting too intimate here but rather focus on things that can act as conversation starters when you meet face to face.
"Lisa Jones is Master Hair Stylist at Salon You. Her unique approach to balayage hair coloring earned her the prestigious International Hairdressing Award 2020. When Lisa isn't working her magic in the salon, she's practices french and dreams about one day be living in Europe."
9. Include a Hair Stylist Pictures
Using a combination of hair stylist description and hair stylist pictures further strengthens the connection with the reader. The old cliche that an image says more than a thousand words holds true also when it comes to your biography.
You should use a professional picture with a clean background and good light. Make sure your face is visible and that you smile. Yes, what the reader sees in the picture is the first impression and a smiling face makes you more desirable (Psychology Today).
Below is a good example of a hair stylist biography picture.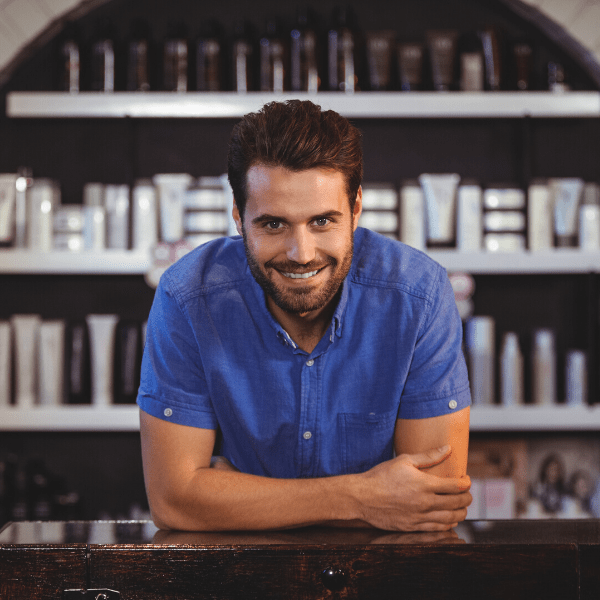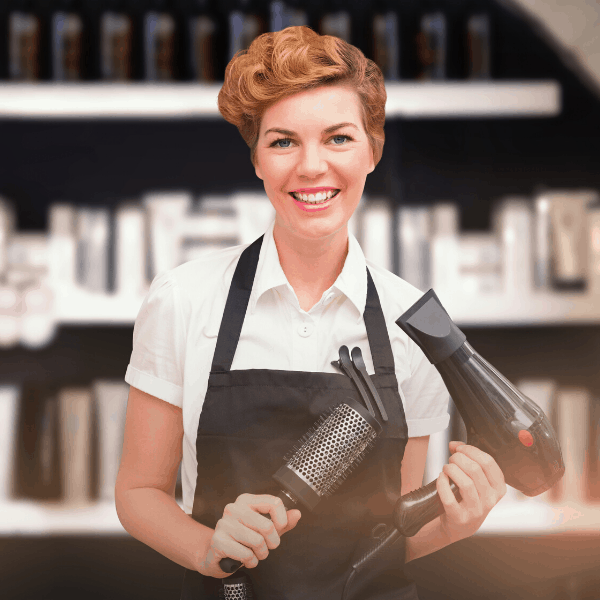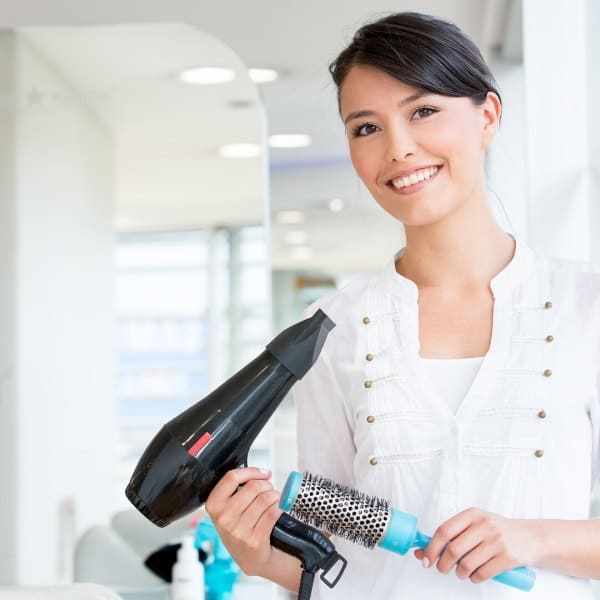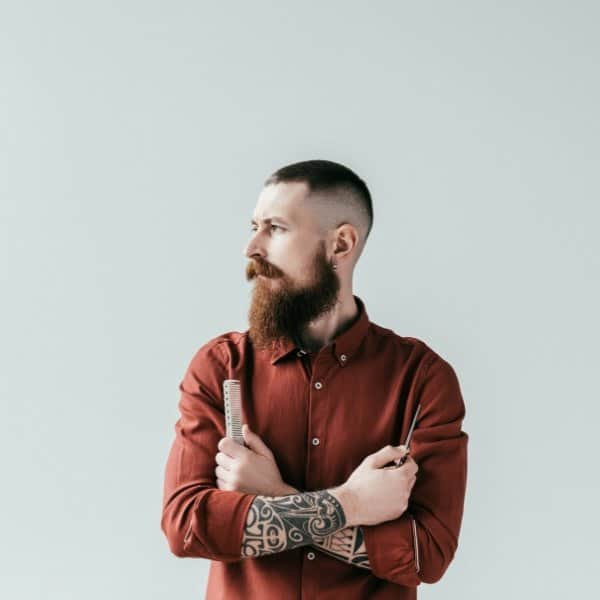 And you should also show the face of the person someone is booking with as part of your online booking process. Like in the example below, using the Mangomint online booking website widget.
Free Hair Stylist Bio Template
You now have a bunch of ideas for salon and hair stylist bios to fuel your inspiration as you write yours. If you're still unsure where to start, I've pulled together a free biography template that you can fill out and just switch the words as you see makes sense for you.
Hi, I'm Name and I'm a Master Hair Stylist at Salon with over eight years of experience. My cut and styling work has been highlighted in publications such as [area magazine] and Salon Magazine. I enjoy working with dimensional colors to create styles that turn heads, in and out of the office. When I'm out of the salon, you can find me playing fetch with my two dogs in the park.
Conclusion
In a world that is becoming increasingly digital, it's more important than ever to be able to build trust with people before they even get to meet you. Your salon and stylist biography plays a key role in this.
Remember to check out the other crucial information to include on your salon's website in my guide to creating a salon website. And for your stylist Instagram bio, there are more things to consider. So make sure you also check out my guide to writing a good bio for your salon's Instagram here.
Finally, if you're looking for an online scheduler that supports linking directly to staff members and to feature images, you can read my blog post where I list the best salon software alternatives.
I hope you've found the biography samples and templates helpful!