Disclosure: This post may contain affiliate links, meaning I get a small comission if you decide to make a purchase through my links, at no cost to you.
Learn more..
All salon owner's must have a good salon business plan.
There's no getting around that. 
Poor planning is the number one reason hair and beauty salons fail.
We all know this. But how come so many salon owners start their salon business without a salon business plan?
Creating a salon business plan may seem like a daunting task. Salon owners I meet procrastinate over their business plan because of the idea that a salon business plan needs to be a massive, 50 page, document with a lot of details.
But it doesn't.
It can be one page.
In fact, a one-page salon business plan is in most cases more helpful and effective than an old school 50 page document. 
And, assuming you're clear on where you want to take your salon business, you can create it in just a few hours.  
In today's article, I'll show you exactly how you can create a focused and powerful salon business plan. You'll also be able to download a salon business plan PDF and Doc template at the end of the article to get you started.
Are you ready?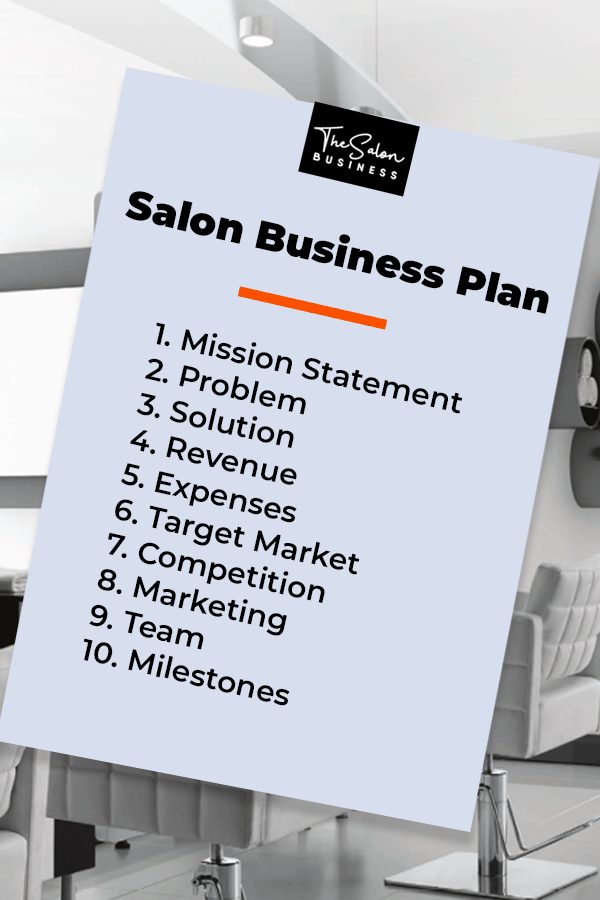 What is a Salon Business Plan?
A salon business plan is a summary of how your salon business will function and clarifies why it will be successful. It provides a roadmap with goals and milestones to lead your salon to success. 
Why do You Need a Salon Business Plan?
The primary reason you need a salon business plan is for you to get in control of your beauty business and to enable the right decisions up front. A well laid out plan gives you a clear path to follow as you set out while it also helps spot weaknesses in your salon business early. You also need a salon business plan to communicate with others. If you need to raise money, the bank or investor will want to see your salon business plan before issuing any funds.
Not having a business plan for your salon would be like building a house without any drawings. This is obvious when you're thinking about a house but for some reason it's often de-prioritized or forgotten by salon owners which, unfortunately, is the main reason salons go bankrupt.
But don't worry.
Today you'll learn how to write a salon business plan using the free template you can download at the end of this article. 
How do I Write a Business Plan for a Salon?
There's 10 critical components that should be included in any salon business plan:
This table is intended to give you an overview of the components you'll need in your plan. I'll go through each one in detail in this article. You can choose any format you want to write your plan in. A regular Microsoft Word document is common document, but you could also do it in Excel or Power Point. Even better is to use a tool the is designed specifically for creation of business plans. The most popular one is
Live Plan
. This is a web based tool that is specifically designed to create business plans in. They support the one-page business plan setup which I personally prefer and will cover in this article. If you think creating a business plan is challenging,
Live Plan
is the perfect solution for you as you'll get help all the way through with video explanations and examples for every section of your plan so you cannot really go wrong. It's also cheaper than a Microsoft Office license if you don't already have that.
Learn more about Live Plan here
.
Accellerate the Start of Your Salon Business
Use the ideas and strategies on this page in conjunction with these tools to get your salon up and running fast with more clients and higher profit.
Download Your Free Salon Business Plan Template
Congratulations!
You now have all the theory you need to create the most helpful salon business plan for your business. I know it's been quite a long read but it's important you get this right. I hope you feel that that this was the best investment of your time today.
But it's time to move to action now. 
It's time for you to create you salon business plan.  
You have two options now that you're about to create your plan.
You can download the lean salon business plan template I've created for you using the link below. This give's you a straightforward and simple one page business plan format that you can edit in Word. 
The other, better, option is to use Live Plan which will give you a much nicer result and full support along the way which I cannot really provide you. You'll save a lot of time if you use Live Plan so you'll not regret the few dollar investment (if you do you actually get the money back :)). 
1. Create an Awesome Salon Business Plan with Live Plan
Live Plan is a web based tool that has been designed specifically for creating business plans. At the time of writing this, the cost of Live Plan is $9.95. 
The benefit of using Live Plan is that:
You'll get a much more beautiful looking business plan
You get support along the way to ensure a perfect plan
You don't need to spend money on any other software
They have a lot of ready made plans for salons that you can copy and past from which will make the process faster.
In case you need a multi page plan later (because of demand from your bank etc.) it's easy to scale your plan using the tool. 
2. Download My Free Salon Business Plan Template
If you prefer to use your Word text editor to create the plan, I've created a helpful template you can use. This is a simple but helpful template even if you won't get the same beautiful graphs etc. that Live Plan will do for you. 
Salon Business Plan PDF
Download my simple one page salon business plan template in PDF version. 
Salon Business Plan Doc
Download an editable Microsoft Word document version of the salon business plan.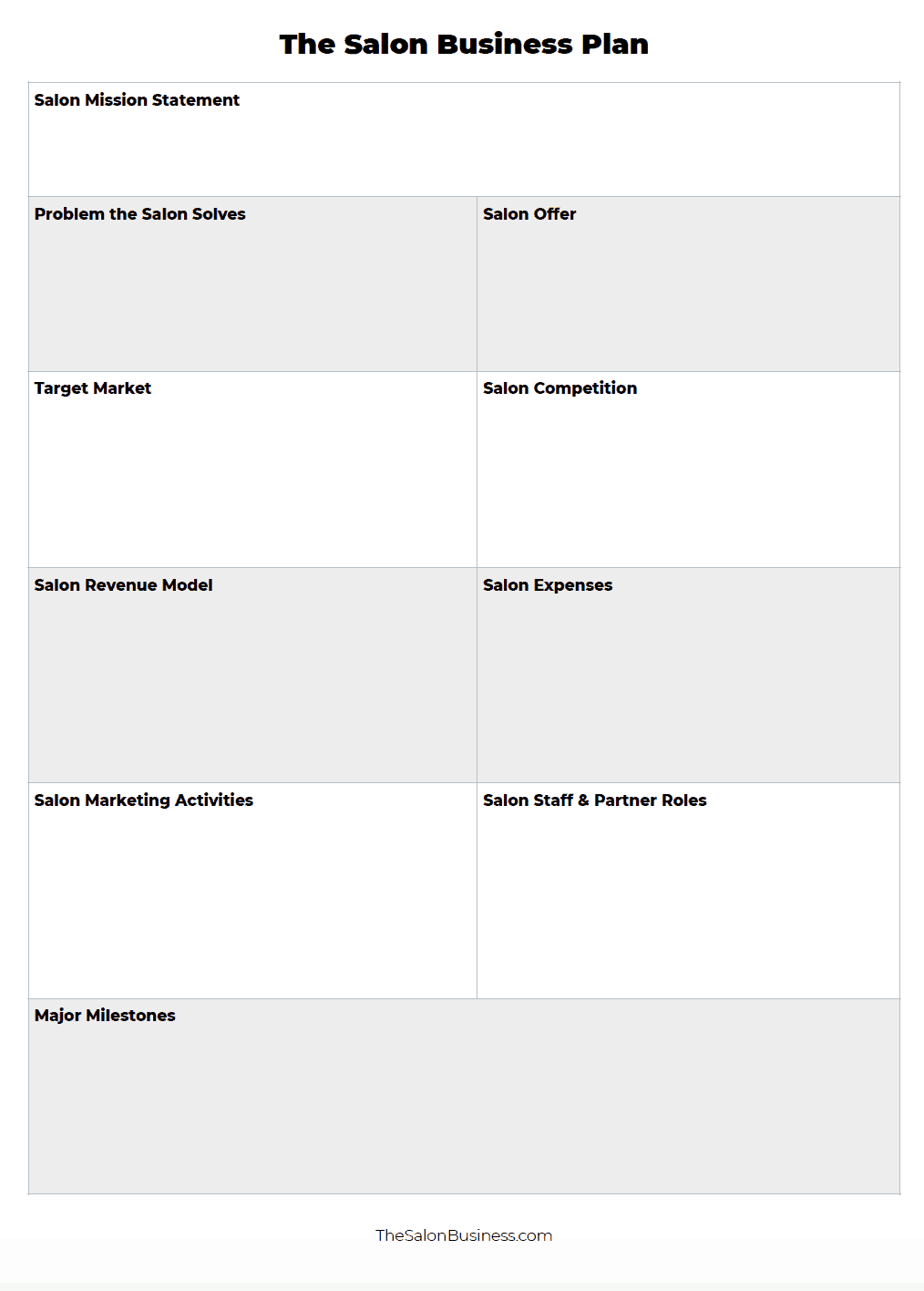 Conclusion
I'm so excited.
You're embarking on an adventurous journey now.
And you new salon business plan will be your best companion on it.
Congratulations for taking the time to go through this salon business plan guide – it was long, I know. But maybe the most important thing you did today. 
Salon owners that plan ahead are significantly more likely to see success so this was well invested time on your side. I've tried to make this guide the best possible resource for you that are about to create a salon business plan and I hope you've found it helpful.
If you did, you would make my day if you wanted to share it with your friends using the social media buttons on this page.
Any questions, just let me know in the comments box below. 
All the best with your new salon business plan!
 John