Are you in the process of creating a new hair salon price list?
Or maybe you just want to update your hair salon menu with new services to boost hair service sales?
In any case, you've landed in the right place.
On average, services account for 92% of a salon's income. So if you can grow that income, you'll see a serious effect on the money you have at the end of the month.
Luckily there's a few simple tactics you can implement to significantly boost your business.
It all starts with having the right offer on your hair salon menu and a strategically built hair salon price list.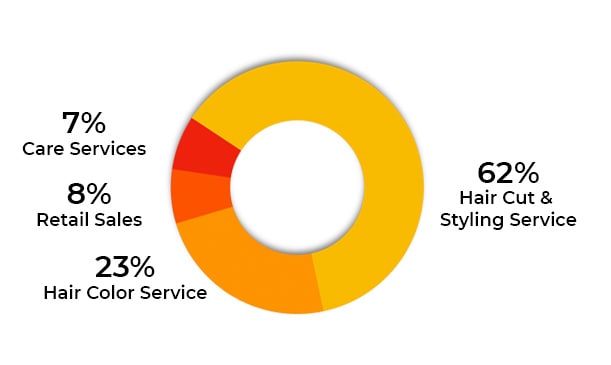 How hair salons generate income
In today's article I'll take you through a list of hair salon services that you can use as inspiration when creating or updated your hair salon price list.
But first, let's go through why you need a good salon price list and how you can promote it to grow your salon business.
↓ Pin it for later ↓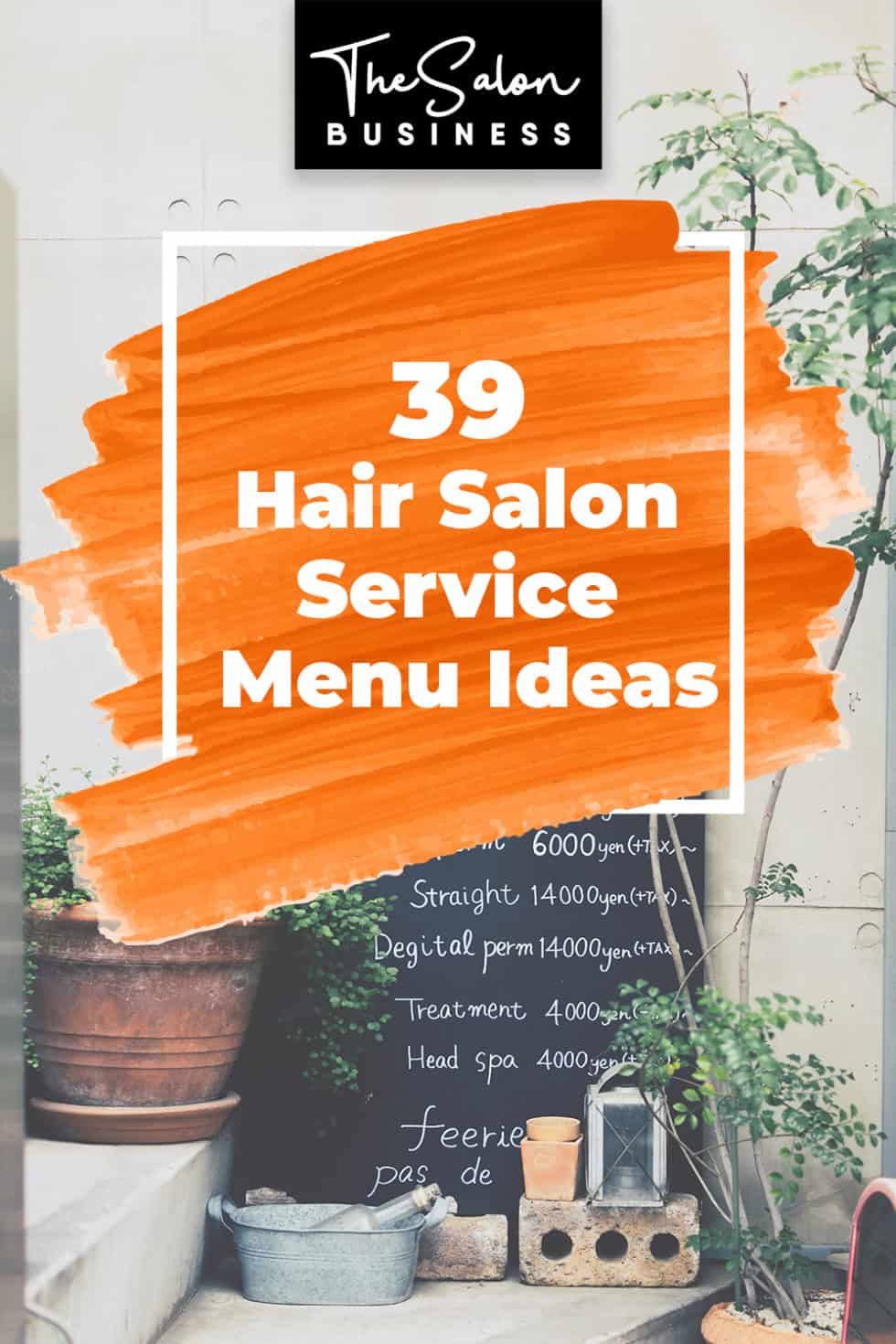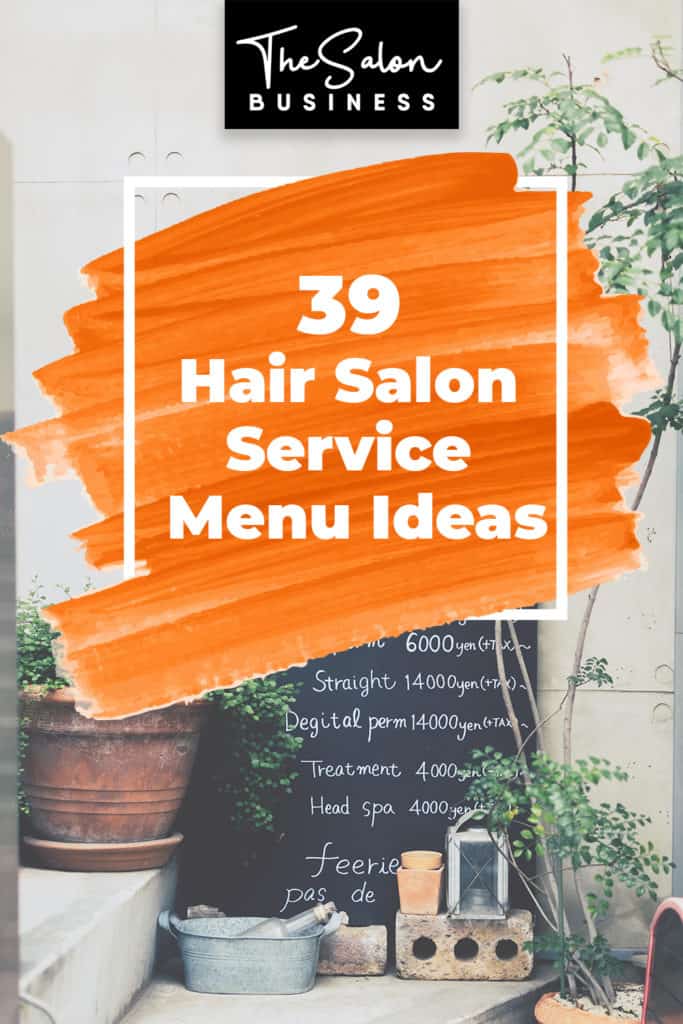 Why You Need a Good and Strategic Hair Salon Price List
Getting your hair salon price list right is crucial for your business. Having a good and strategic price list comes with a number of benefits:
It Make it Easier to Charge the Price You Deserve
I wish I didn't have to include this point. But the fact is. I far too often hear about salon owners and hair stylists discounting themselves.
And they do it even if their clients aren't expecting it.
It's as if "being nice" to the client is more important than running a health business.
This needs to stop.
It leads to a series of bad events for you. Just as an example, if you do not charge the right price, you cannot pay competitive salaries, and you'll lose staff. This is a negative vicious circle.
But if you have a printed menu with prices that your client can see, it's much easier to have a straight communication with your clients about what the services you provide will cost.
You do not have to communicate the prices, the price list does that for you.
Maybe this sounds obvious to you and you never discount yourself. But trust me, this happens all the time in our industry.
You Can Get Clients to Spend More
Your salon menu should of course include all your core services like your basic cut and color services.
But you also need to have simple and fast services on your menu that you can add on during an already booked appointment.
Services like babylights, root smudges, and bond repair treatments may not be high-ticket on their own, but added on to color after color, day after day, and you're looking at some serious dough.
You should also have the right mix with high ticket services. These are services like extensions or smoothing treatments. High ticket services like fusion extensions, once mainstays only in Hollywood, are now common in Anytown USA.
Having high ticket items on your menu give you an opportunity to charge significantly more. It also gives you a higher roof on your service menu for what you charge. This suddenly makes the price for your core services look lower in the eyes of your salon clients.
An Up-To-Date List with Unique Hair Salon Services Attracts New Salon Clients
What you offer on your menu is also a good reflection of what type of salon you are. Thus, you want to keep it up-to-date and make sure you have the trending services on there.
In the internet age we live in, having niche services on your menu also makes it more likely that people who search for specific services will find your salon. If you're one of the few salons offering a specific service in your city, people looking for that service will travel extra just to go to you and get that service.
Promoting Your Hair Salon Menu
When you've defined what you'll have on your salon price list, it's time to get it in front of people.
You should have both a printed version and an online version.
Printed Hair Salon Menu
Your printed version should be easily accessible in the salon, and you should place copies in strategic areas like the waiting area.
This way the price list can help promote additional services to clients while they wait.
You should also use it during the consultation to ensure expectations on what the client will pay are clear.
Digital Hair Salon Price List
Your online price list is even more important as this is what clients will browse before they even book their appointment.
And this is your chance to upsell them on more services and where you also can get more granular in pricing. Like my service menu setup in Mangomint below. Here I can control pricing and duration of services depending on who the service is booked with.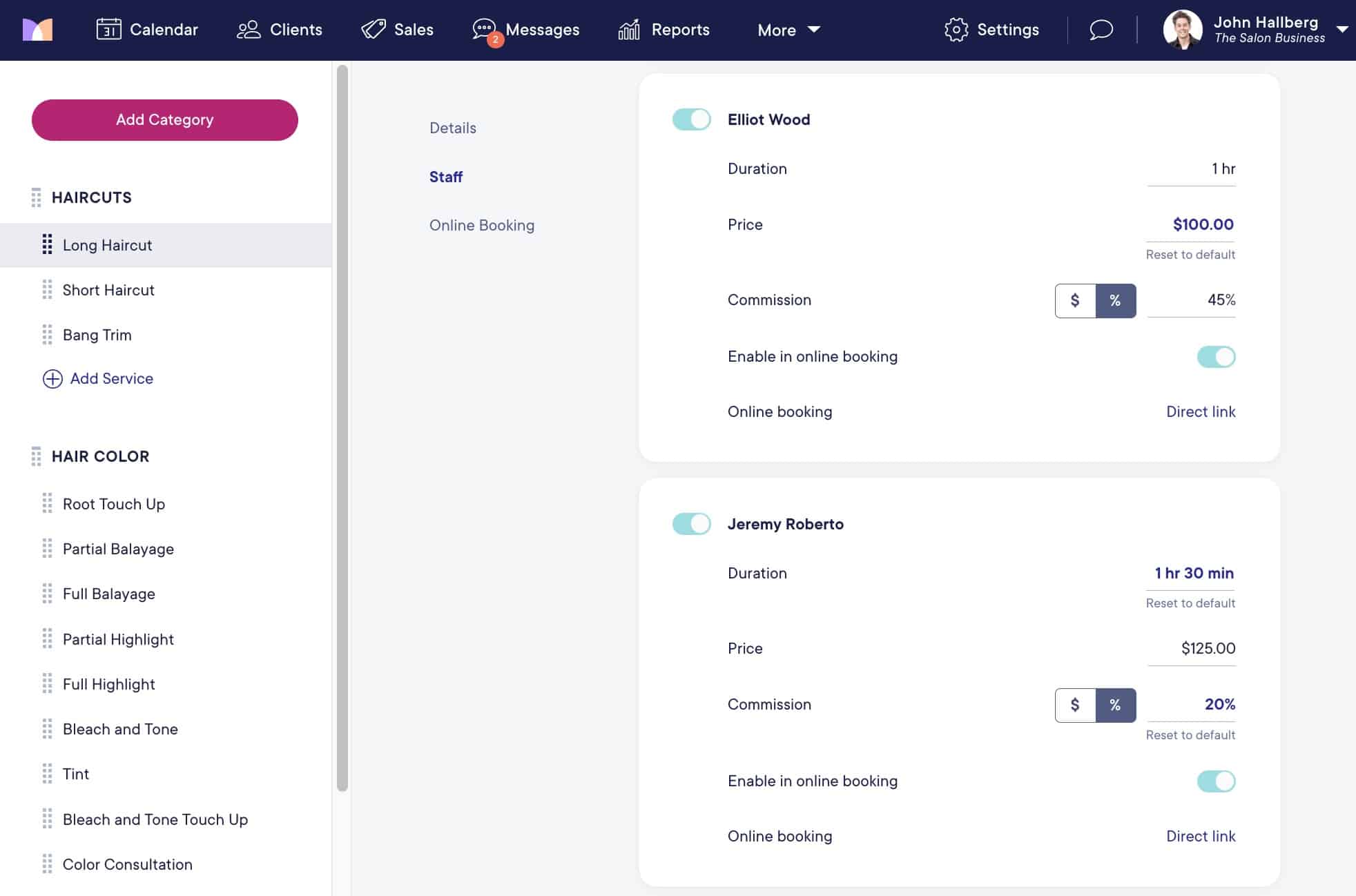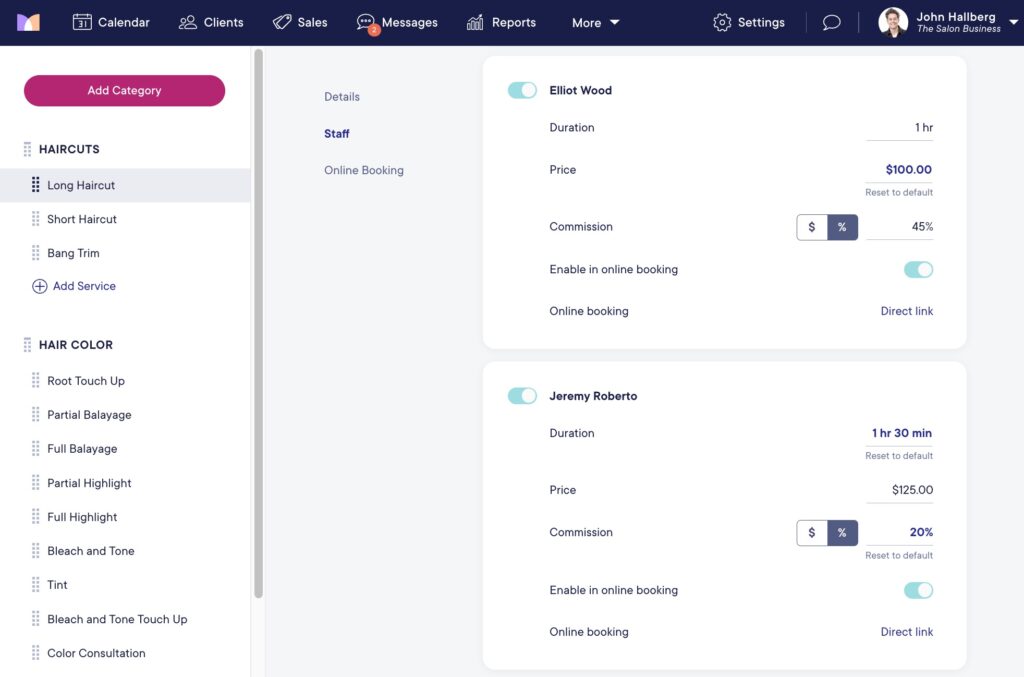 You can also adapt your pricing when people are booking online. For example, you might want to charge a higher price if the service is booked during peak hours vs. off-peak hours.
This might sound like small things, but it can make a major difference to your salon's profitability and, while it is easy to do online, it can get messy trying to communicate all of that on a printed menu.
47 Hair Salon Service Ideas for Your Price List
So we're now clear on why you need a good hair salon price list and how you can promote it.
Let's now look at a list if services that you should consider for your hair salon menu.
The list below covers the common core services that you just need to have on your menu. However, it also goes beyond that to recommend some unique service ideas and add-ons that you can use to increase the spend per client visit.
But first a note on pricing:
Obviously, your exact pricing is dependant upon your geographic location, salon type, and the demographics of your client base. While I can't tell you exactly what to charge, I've included general price minimums for average priced metro areas of the United States (not LA or NYC). Please use your discretion and adjust the pricing accordingly.
Hair Cutting Services
Haircutting is the foundation of the salon business. Helping to make salons "recession-proof," offering quality haircuts is a necessity. At many salons, a tiered pricing structure is used, based on the experience level and demand for each stylist.
1. WOMENS CUTS: $50+
Hair is shaped and texturized to deliver the desired look and enhance face shape and highlight features. Includes shampoo, scalp massage, cut and blowdry style. The average price for a womens hair cut is $43 (source: PBA)
2. MEN'S CUTS: $40+
Includes shampoo, scalp massage, cut and style. The average price for a mens hair cut is $28 (source: PBA)
3. CHILDRENS CUTS: $25+
Includes shampoo and cut for children under 10 years old. The average price for a childrens hair cut is $15
4. BANG/NECK TRIMS: $15+
Enjoy this maintenance service for in-between regular haircuts.
5. SPECIALTY HAIRCUTTING: $65+
Advanced haircutting techniques designed especially for curly hair, precision dry cutting, and avant-garde methods all fall under the umbrella of specialty haircutting. These services require additional training and mastery by stylists and demand a premium price.
Hair Color Services
Salon hair color has undergone a renaissance in the last five years. Gone are the days when women simply came in for gray coverage or a few highlights. Thanks to social media, women now charge into the salon armed with Instagram screenshots of their favorite celebrity stylist's work–and they ask for techniques by name.
Balayage, specifically, has overtaken the realm of highlights and blonding. If you don't have at least a few stylists who specialize in this technique…You. Are. Missing. Out.
Specialty hair color comes with a higher price tag and gets your stylists' work tagged on social media, creating a buzz for your salon. More importantly, if you can't deliver what your client asks for, she will go elsewhere…
6. ALL OVER COLOR: $80+
A solid tone is painted from root to tip. Includes blowdry style.
7. COLOR RETOUCH: $70+
Color is painted only on the hair's regrowth. Includes blowdry style.
8. PARTIAL FOIL HIGHLIGHTS: $100+
Creates dimensional color using foils on the crown and front of the hair only. Includes gloss and blowdry style.
9. FULL FOIL: $115+
Creates dimensional color using foils on the front, crown, and back of the hair. Includes gloss and blowdry style.
10. FACE FRAME HIGHLIGHTS: $75+
Using foils or painting, just the very front of hair around the face is lightened.
11. BALAYAGE/FOILAYAGE: $155+
In balayage highlights are hand-painted for a soft and natural look. Foilayage uses a special technique with foils to achieve a similar look to balayage, but with bolder results. Both techniques may require a consultation to be priced and booked properly. Includes gloss and blowdry style.
12. GLOSS: $50+
Translucent hair color is painted on to add tone or shine, usually on pre-lightened hair. Includes blowdry style.
13. DOUBLE PROCESS COLOR: $135+
Bleach is used to lighten the hair, followed by a gloss/toner. This service is often needed before applying fashion colors or to achieve a platinum blonde result. Includes blowdry style.
14. COLOR CORRECTION: PRICED BY CONSULTATION ONLY
A variety of techniques are used to achieve a drastic change, including removing permanent hair color, correcting red or orange tones, or changing color family. This service is very customized, and often time-consuming, so must involve a thorough consultation with the client to determine time and pricing. Includes blowdry style.
15. MEN'S COLOR: $45+
Hair color is used to blend/cover gray hair, or to change tone. Includes style.
Color Add-On Services
Remember how balayage is now a must-have for your salon? Hand-in-hand with hair painting come new add-ons, like babylights and root smudges, to customize these works of art.
Glossing–formerly toning–has reached fetishistic heights in the world of celebrity hair colorists, prompting your clients to expect perfect tonality and epic shine from every blonding service.
16. BASE COLOR: $60+
Color is applied all over or just to regrowth in between foils.
17. GLOSS/TONER: $25+
Translucent color is applied to the hair to add tone or shine.
18. BABYLIGHTS: $45+
Micro-foils are used to subtly lighten just the crown and front of the hair.
19. ROOT SMUDGE: $35+
A customized formula is used to add depth to the root area of the lightened hair.
20. FASHION COLOR: $70+
Vivid or pastel color formulations. Usually requires pre-lightening.
Hair Styling Services
Thanks–again–to social media, weddings have never been so documented for public consumption as they are right now. Take advantage by offering brides a look they can't wait to splash all over Instagram–while tagging your salon and stylists.
The same goes for blowouts, waves, and braiding. Every amateur influencer needs professional hair and makeup for her photoshoots.
21. BLOW OUT: $30+
After shampoo and scalp massage, stylist creates a beautiful finish with blowdryer and brush. Use of hot tools is priced as an add-on.
22. UPDO & SPECIAL OCCASIONS: $65+
Customized styling for a special event. After consulting, stylist will use hot tools and product to bring client's vision to life.
23. BRIDAL STYLE: $75+
Stylist creates a custom look for the bride's special day. Bridal clients must complete a consultation and trial before service. Bridal trials are usually priced at $45 and up.
Hair Styling Add-On Services
24. FLAT IRON/CURL: $20+
Hot tools, including curling iron, wand, or flat iron, are used to create a beautiful finished style.
25. LONG/THICK HAIR: $15+
Very long or thick hair requires additional time, for which there is an up-charge.
Hair Treatment Services
There is a vast array of treatments available, depending on the product lines your salon uses. Brands usually create a protocol for the application method and recommend pricing. Here are a few of the basic treatment categories your salon should be offering.
26. STRENGTHENING TREATMENT: $45+
Protein treatment for extremely damaged and distressed hair. Includes blowdry style when not booked as an add-on service.
27. DEEP CONDITIONING TREATMENT: $45+
Moisturizing treatment for dry, dull, or frizzy hair. Includes blowdry style when not booked as an add-on service.
28. COLOR LOCK TREATMENT: $45+
Smoothing treatment that adds shine and prevents color from fading. Includes blowdry style when not booked as an add-on service.
29. BOND REPAIR TREATMENT: $25+
A bond repair treatment is incorporated as an add-on to a color service for damaged or compromised hair. A bond multiplier is added to the color formula, and then a bond perfector is applied following color service.
*Recognizable brand name for bond repair is Olaplex
Hair Texture Services
While texture services reached their peak in the '80s with permanent waves, there is still a huge demand for these methods, namely keratin smoothing.
Brazilian Blowout initially created the buzz for this technology, but questionable toxicity of ingredients has prompted many companies to launch gentler, more natural versions of the service.
30. KERATIN SMOOTHING: $250+
Non-permanent chemical service that softens course hair and reduces frizz while allowing natural texture to remain. Keratin smoothing makes the hair much easier to blowdry and style. Includes blowdry finish.
*Recognizable brand name for this service is Brazilian Blowout
31. JAPANESE STRAIGHTENING: $300+
Lasting up to 7 months, this method breaks and reshapes protein bonds to permanently alter the structure of the hair. Suitable for clients who want a long-lasting, very straight result. Application takes several hours and must be booked upon consultation.
32. CHEMICAL WAVING: $120+
A safe way to achieve long-lasting curls or waves and reduce styling time. A gentle formula is applied to hair that has been wrapped to achieve a customized curl pattern.
*Recognizable brand name for this service is American Wave
Hair Extension Services
Extensions vary dramatically by method, hair quality, and price. Types of extensions include temporary clip-in or halos (often used for special event styles), tape-in, hand-tied or sewn, and fusion.
There's a huge variety of companies offering extensions with their own hair and application methods–it's a matter of choosing what is right for your guest and your salon. Fusion extensions are the most time-consuming application method and hair is usually premium, making it a luxury service (1k+). Hand-tied and tape-ins are slightly more affordable for the guest, and offer a quicker installment for the stylist, while still using high-quality human hair ($600+). Temporary extensions are the most budget-friendly option, but only offer the guest a limited time frame of wearability ($100+).
Once a hard to find specialty service, extensions have become a mainstay in salons, and you should consider offering at least one type in your salon.
Not only is the installation profitable, but the client must return frequently to maintain her extensions, which boosts retention and additional sales opportunities.
33. TEMPORARY EXTENSIONS: PRICED BY CONSULTATION
Wefts are clipped in (or applied as a halo) to the hair and styled to blend. Temporary extensions are a great no-commitment option for a special event, photoshoot or just a night out! Service includes extensions (custom ordered to match perfectly), dry cut, application, and style.
34. TAPE-IN EXTENSIONS: PRICED BY CONSULTATION
Tape-in extensions are a quick and easy way to get volume and/or length with a natural-looking result. High quality pre-taped human hair wefts are priced per pack, and custom-ordered to match hair perfectly.
Once applied, the tapes can continuously be moved up as the hair grows. Service is priced by consultation and includes the hair, application, haircut to blend extensions, style, and take-home care products.
*Some of the many companies who offer tape-in extensions and training for the stylist include Babe, Donna Bella, Hair Dreams, Hot Heads and Great Lengths.
35. FUSION EXTENSIONS: PRICED BY CONSULTATION
Fusion extensions are tiny wefts applied using a keratin bond, providing an ultra-natural finish and the most flexibility for wear and styling.
Application usually takes several hours, and results can last for 2-4 months with proper care. Wefts may be reused up to three times. Service is priced by consultation and includes the hair, application, haircut to blend extensions, style, and take-home care products.
*Some brands who offer fusion extensions and training include Great Lengths, Donna Bella, Cinderella, and Babe.
Other Hair Salon Services
Depending on the space available in your salon, personnel at hand, and client demand, you may be able to offer additional services to improve your guest experience and increase profitability. While jumping into full-blown day spay territory could be excessive, adding basic nail services, waxing or eyelash extensions may pay off enormously.
36. MANICURES & PEDICURES: $30+
Hands or feet are first soaked in an aromatherapy bath, then nails are clipped and filed. Cuticles are trimmed and followed up with a relaxing massage with essential oils. Polish is applied and finished with a long-lasting topcoat.
37. WAXING: $20+
A high-quality wax blend is used to safely remove hair from eyebrows, lip or chin. Eyebrow wax includes a custom shaping to balance features and frame eyes.
38. MAKEUP APPLICATION: $75+
After a thorough consultation, a makeup artist creates a custom look for a special occasion, photoshoot or night out.
39. EYELASH EXTENSIONS: $200+
Individual lash extensions are painstakingly applied to create a beautiful set of long-lasting lashes. After initial full set, fills are needed every 2-3 weeks to maintain fullness.
Customized Hair Salon Services
Service Customizations let you gather as much information as possible during the booking process — helping you prepare for appointment success. Some of these hair salon service menu items let clients tailor the appointment to their specific preferences. Other options might change the price and duration of the appointment — ensuring you can maximize your income and schedule without conflict. As the name suggests, you can customize these service menu offerings to the needs of your business.
40. APPOINTMENT CONVERSATION PREFERENCES: FREE
Stylists and clients both can feel the pressure of balancing the conversation during an appointment. Consider adding a service customization that asks clients about their appointment conversation preferences. Some options might include:
Chatty: I love to talk!
Flow: Let's go with the flow of conversation.
Informative: I want to learn more about how to care for my hair.
Listener: I am not much of a talker, but I love to listen.
Silent: I prefer quiet appointments.
41. PHOTO/VIDEO RELEASE: FREE
You can use Service Customizations to ask clients for permission to post photos or videos of their appointment results. You can include this as a free option or even give a small credit/discount for clients who agree to release their images to your public portfolio.
42. PREFERRED PRONOUNS: FREE
Show your support and inclusivity by allowing clients to select their preferred pronouns in online booking. This option also helps ensure you address clients properly during their appointment to create a positive customer experience.
43. STYLING PREFERENCES: $20+
You want clients to leave your salon looking and feeling their best after every haircut. At the end of the appointment, many salon professionals style the clients' hair. Instead of having a client ask at the end if you could style their hair in curls, for example, you can gather this information upfront. This clarification lets you prepare for the appointment properly and charge for unexpected requests that clients might otherwise expect for free.
44. LOC PARTS: PRICED BY CONSULTATION
Salons can use Service Customizations to gather information about a client's existing locs, their desired part, and other details you need. This insight can help you prep your supplies and get your appointment timing right.
45. BEVERAGES: FREE
Offering a free drink is an easy and affordable way to create a luxurious client experience in your salon. Using Service Customizations, you can ask clients what kind of drink they would enjoy during their appointment. This question can help ensure your fridge is stocked and ready to go.
Hint: Your salon would likely need a license to sell alcoholic beverages to clients. However, in some areas, you can give alcoholic beverages away for free — which can offer the perfect treat to keep clients coming back for more. Make sure you check and follow the laws in your region.
46. HAIR DONATION PACKAGES: $10+
When a customer plans to donate their ponytail, do you have what they need? Many salons keep the basics on hand — such as donation forms, plastic bags, and mailing envelopes. If this sounds like your salon, you might consider offering hair donation packages. These can include the necessary supplies, shipment of the hair, and proper handling for customers who come in ready to donate. In return, your business can earn a little extra money while helping your clients give back.
47. SALON LIGHTING OPTIONS: FREE
Seamlessly accommodate clients with different sensory needs by asking about salon lighting preferences. This custom service is especially relevant for salons with private rooms to accommodate the unique needs of different clients.
48. RELIGIOUS ACCOMMODATIONS: FREE
Hair salons can consider offering a private room where clients can remove religious items (like hijabs) for their hair cut. This service customization can help promote inclusivity in your salon while giving marginalized clients a safe space to access the hair services they need.
49. SCALP MASSAGES AND TREATMENTS: $15+
Scalp services can offer easy add-ons to almost any hair salon appointment. The price will depend on the service duration, your back bar product expenses, and the extent of your service providers' experience in scalp service. You can outline each of your available options under Service Customizations. Watch the full webinar on Service Customizations here for more ideas.
Conclusion
Service income is the biggest source of income for a hair salon. And the simplest way for you to control that income is via your hair salon price list.
You need to make sure you have the right mix of core services, high-ticket services, and add-on services on your hair salon menu.
This is how you grow your hair salon service revenue.
At the same time, you want to keep your menu up-to-date with trending services to stay relevant with your clients.
And be smart with how you use your online booking software to easily sell service add-ons, and charge a different price depending on when and with whom they book.