Are you looking for inspiring examples of spa websites?
Then you've landed in the right place.
In this article, I've collected some of the best spa website designs from around the world. It includes many modern and stylish spas, hotel spas, resort spas, and medical spas.
When Designing Your Spa Website, it's Important to Consider the Technology Behind It
The choice of website builder platform and spa software can greatly impact the experience your site provides and how successful it is at building your brand and attracting clients.
It's crucial to ensure that the two technologies integrate well for a seamless user experience.
For appointment management software, my recommendation is Mangomint. It offers excellent integration with your website's online booking experience, regardless of the website builder platform you choose.
When a visitor clicks on your "book now" button, it appears smoothly over your website with customizable colors and branding.
While not specifically designed for spas, the booking experience with Mangomint is illustrated below.
As for website builders, I would recommend Shopify if you plan to sell products online, or Squarespace if you want an easy way to build an attractive website yourself.
For future online stores, Mangomint and Shopify integrate directly and allow you to synchronize your online and offline inventory.
To learn more about technology options for designing your spa website, check out the articles below on:
Leo – Spa Website
Leo's website is a shining example of a masterfully designed online platform that perfectly embodies the brand's vision.
The website's design elements, including the calming color palette, the meticulously curated photography, and the well-thought-out simplicity of the layout, all work together to promote balance, self-care, and prioritization.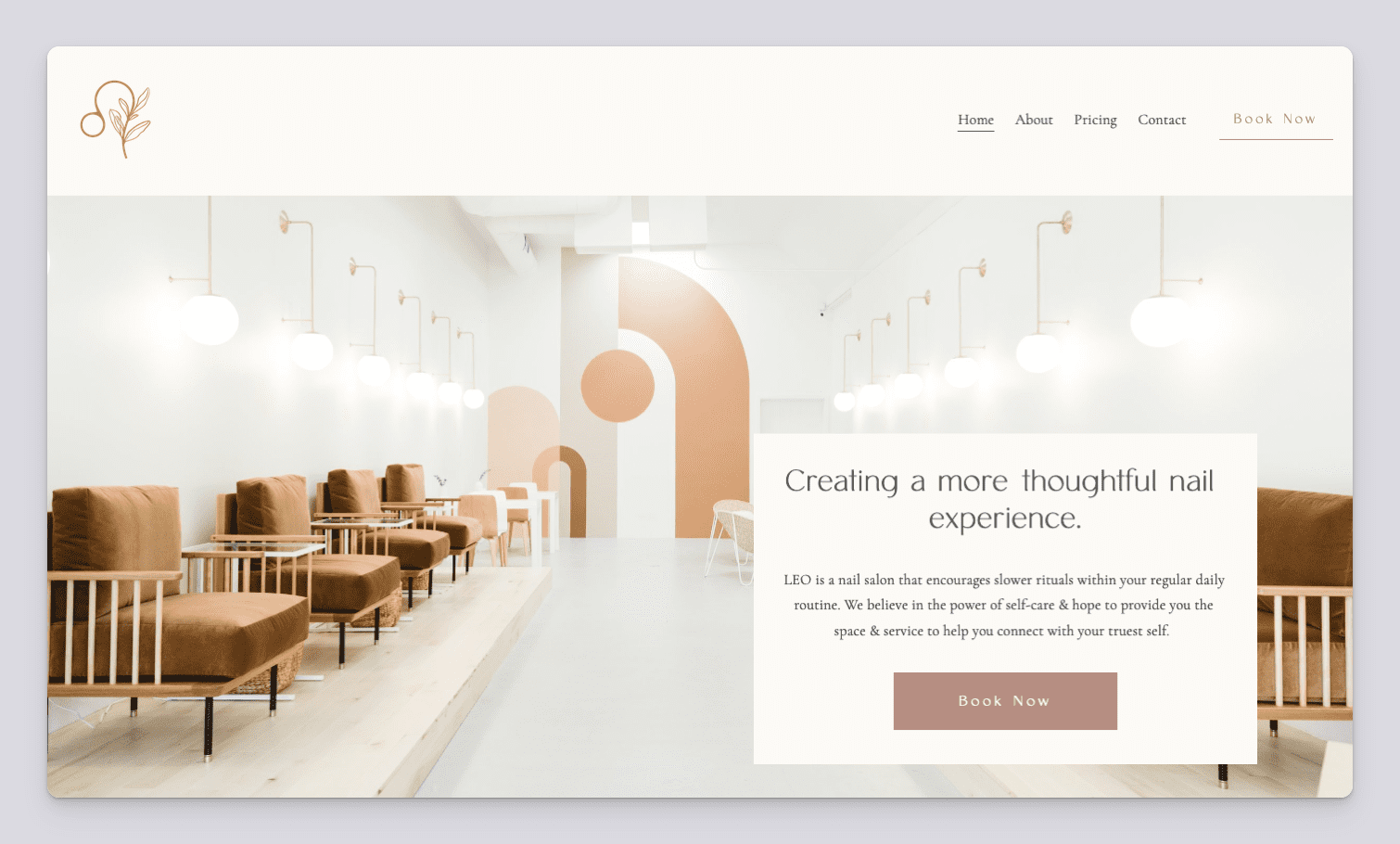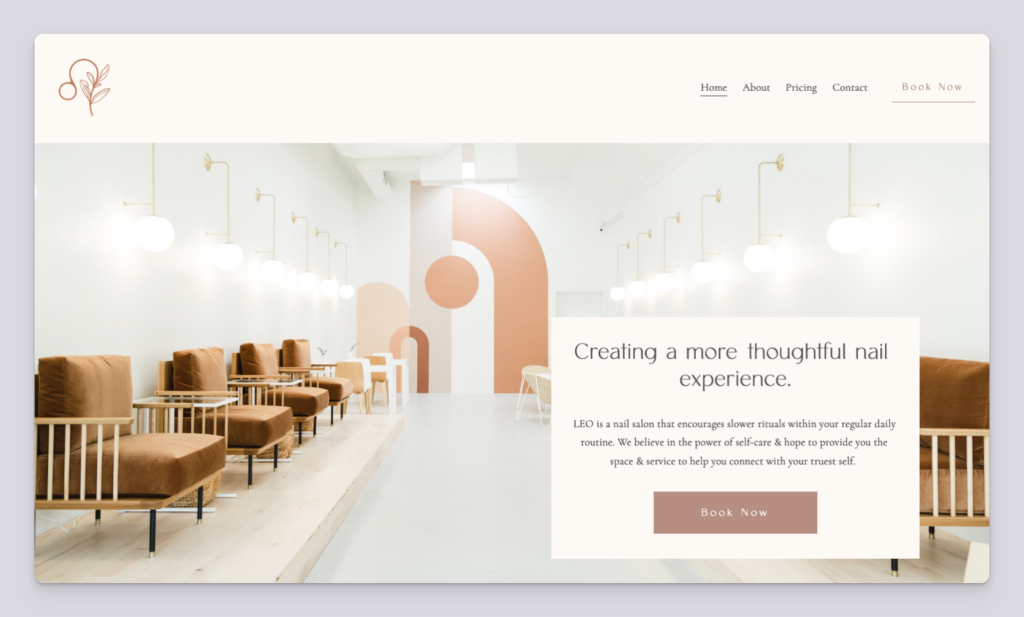 The clever use of white space creates a sense of openness and minimalism, allowing clients to easily navigate the site and find the information they need without any distractions.
The playful use of various image sizes and shapes adds a touch of whimsy and intrigue without detracting from the site's primary call to action.
The "Book Now" button is prominently displayed in the top right corner, providing clients with a quick and seamless way to book an appointment. Overall, Leo's website is a stunning example of how design can elevate a brand's message and create a cohesive and impactful online presence.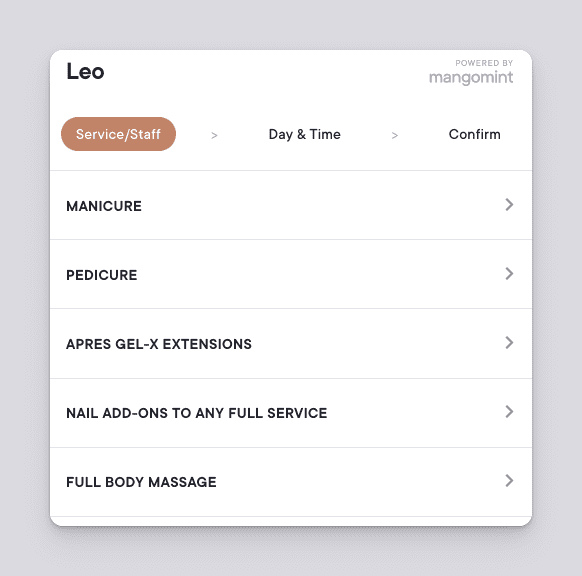 Glasskin – Spa Website and Online Store
Glasskin is an example of a well-designed website, with its modern and clean design. The website is easy to navigate, with clear and concise information about the products and services offered.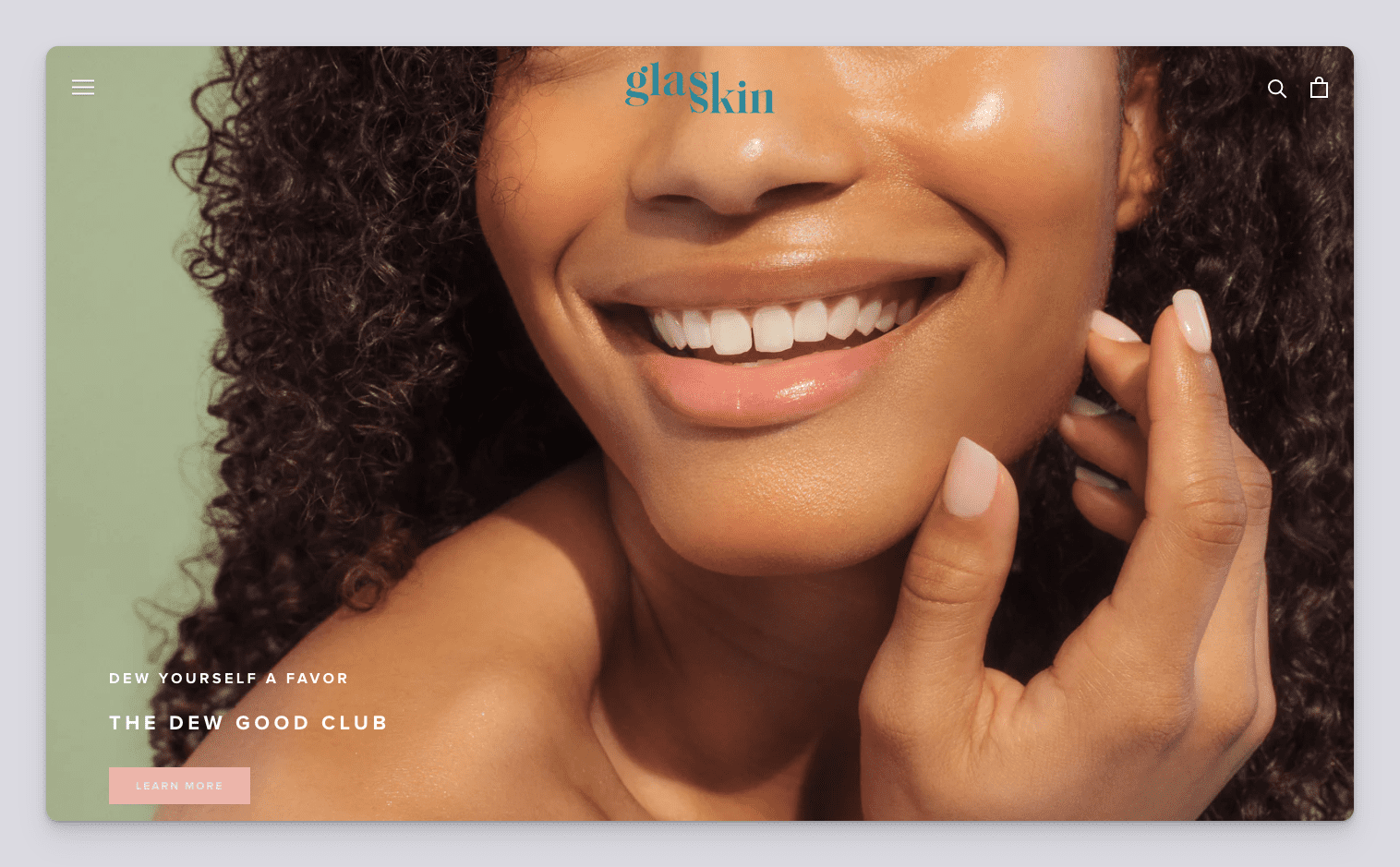 The website also features a "Book Now" button, which makes it easy for customers to book an appointment.
The website also includes a newsletter, letting customers stay updated on the latest news and offers. The website also features a "Treatment Guide" and "FAQ" section, providing customers with detailed information about the products and services offered.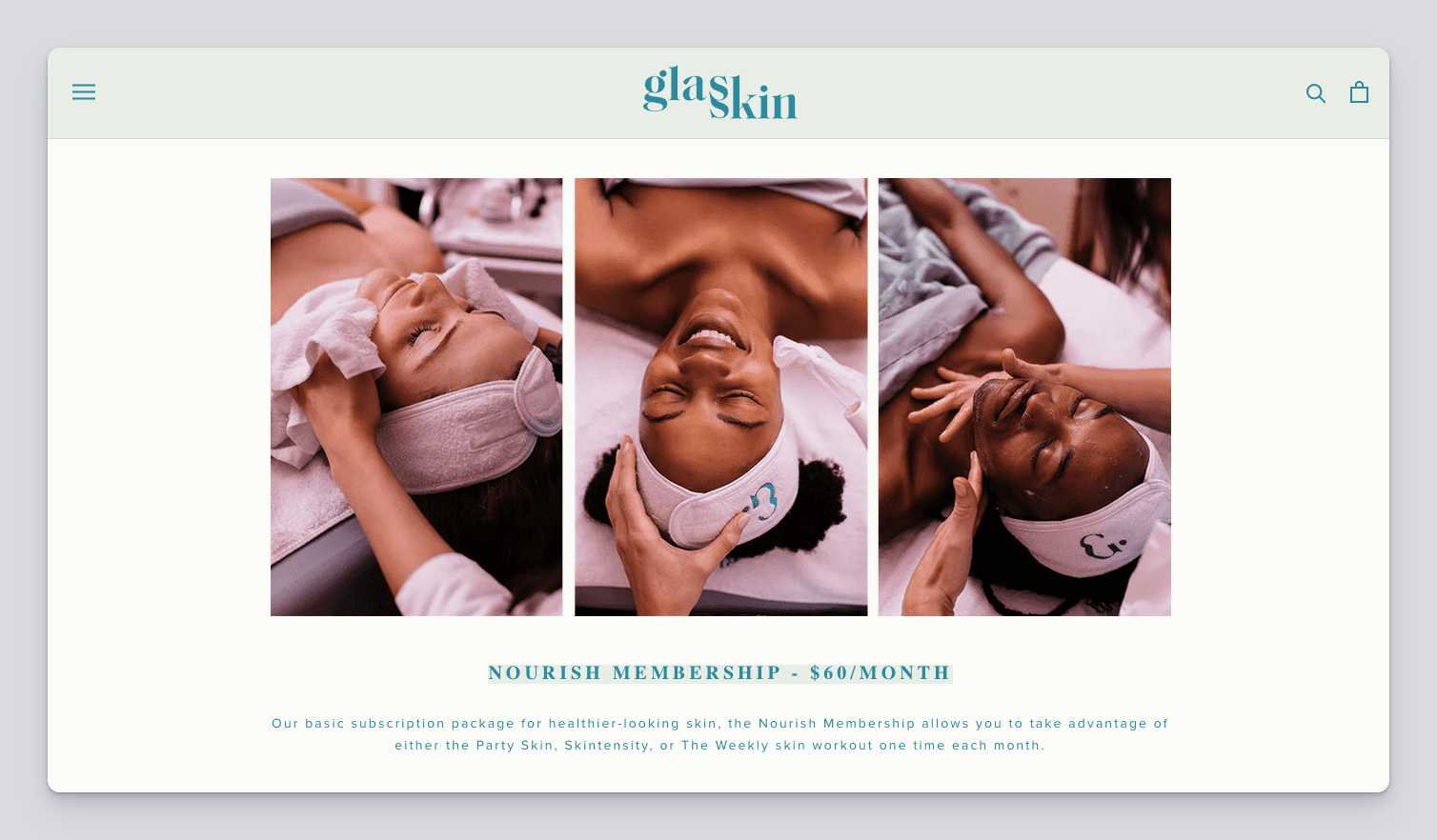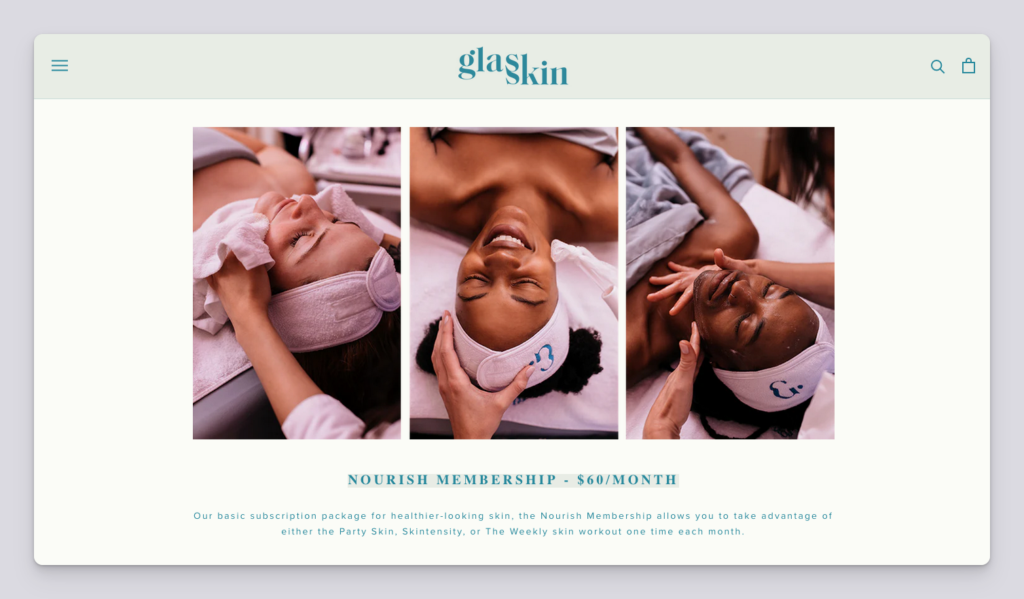 Finally, the webshop is powered by Shopify, a reliable and secure platform for online businesses.
The combination of Shopify and Mangomint salon and spa software is ideal for spas and salons wanting to run an online store. The two platforms integrate seamlessly, ensuring that the inventory on the website is always up-to-date with the products in the salon.
This allows salons to manage gift cards, memberships, bookable services, and retail in one place while enabling customers to buy from wherever they choose.
AIRE Ancient Baths London
The AIRE center is full of history and has a unique and magical ambiance. This is well reflected in this beautiful website. Notice also how well designed the booking and e-commerce pages are. Made with the CMS (Content Management System) Drupal.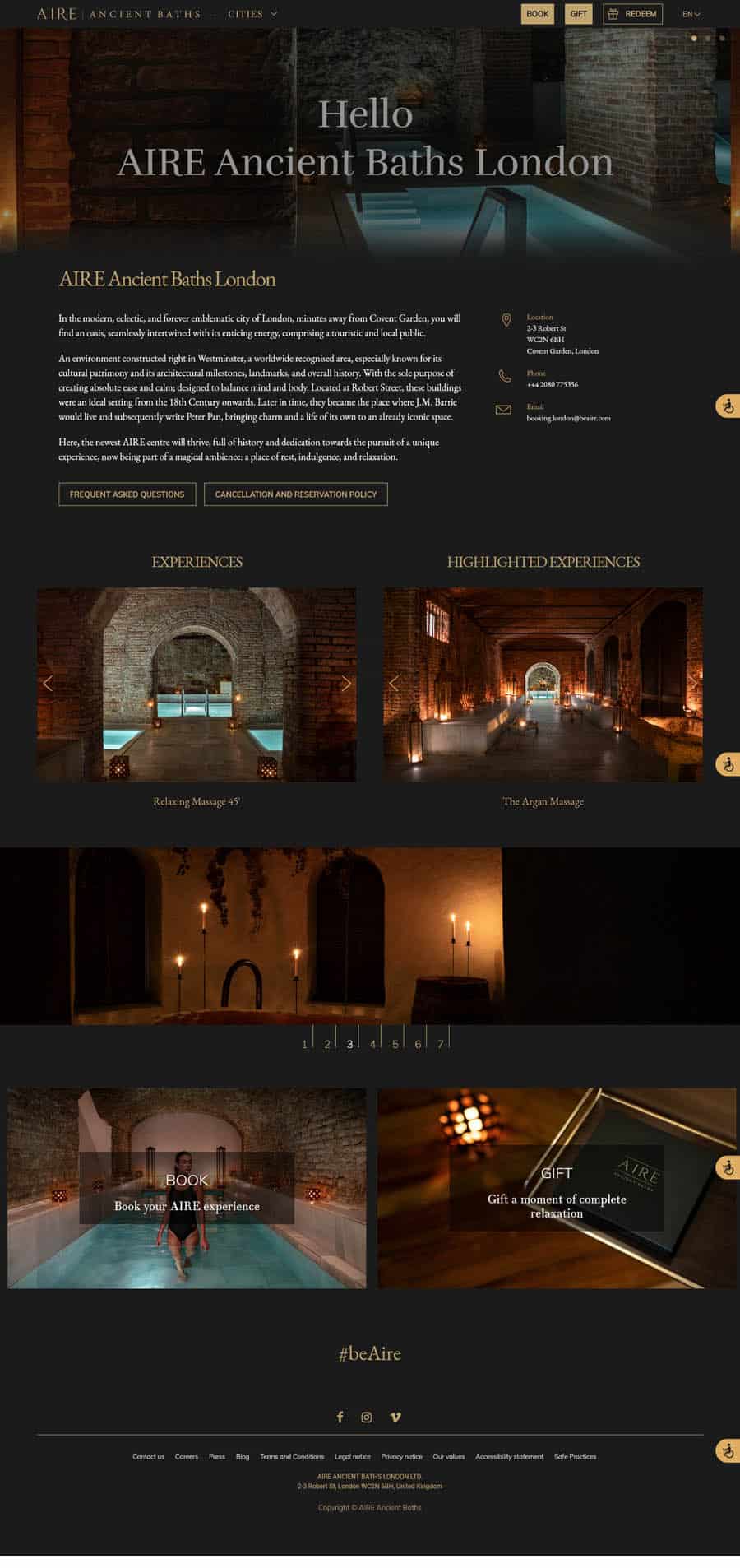 Amanbagh Spa Resort in Rajasthan, India
With its ancient forts and tiger-inhabited wilds, Rajasthan is renowned for its beauty, nowhere more concentrated than in the Aravalli Hills in the garden oasis that is Amanbagh.
Great photography and comprehensive content and information pages make this website stand out. Made with the CMS Drupal.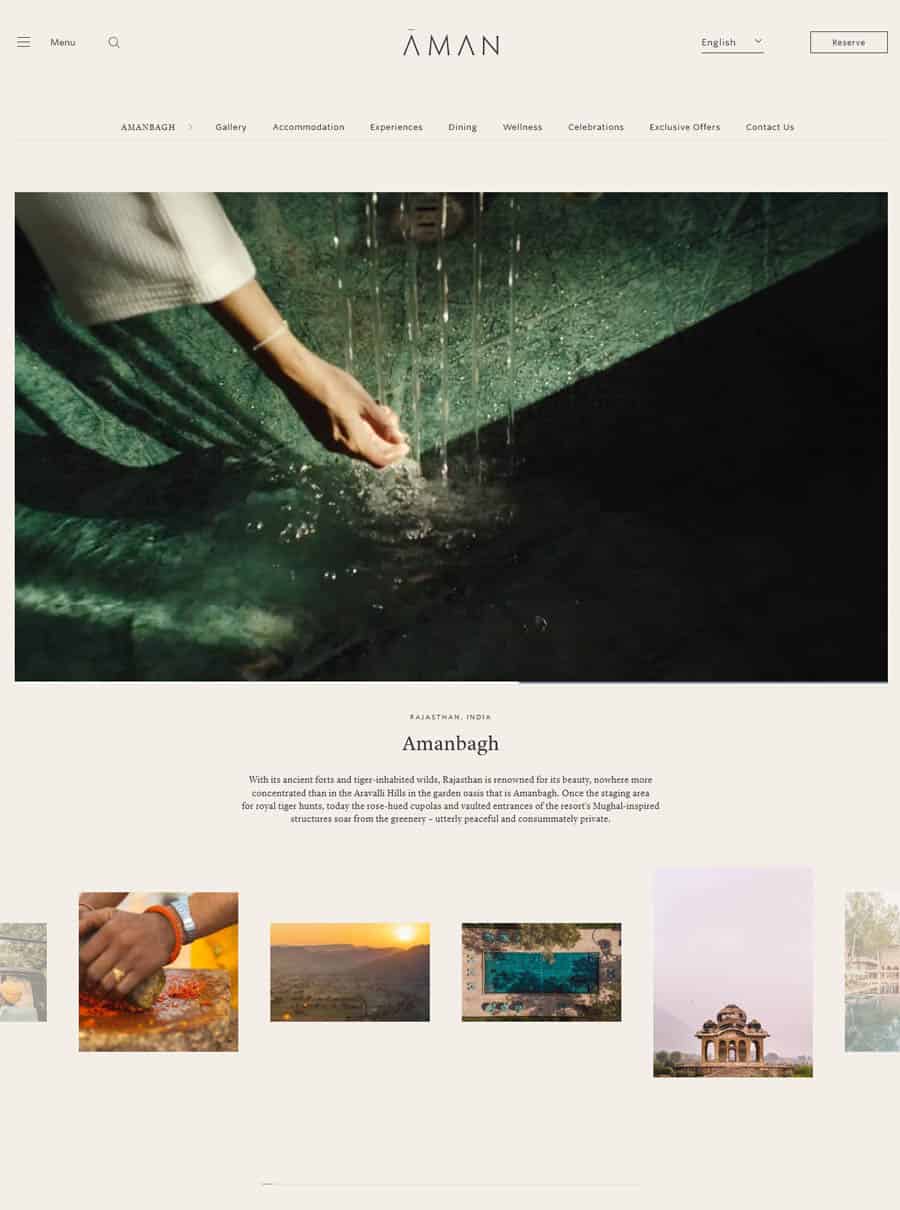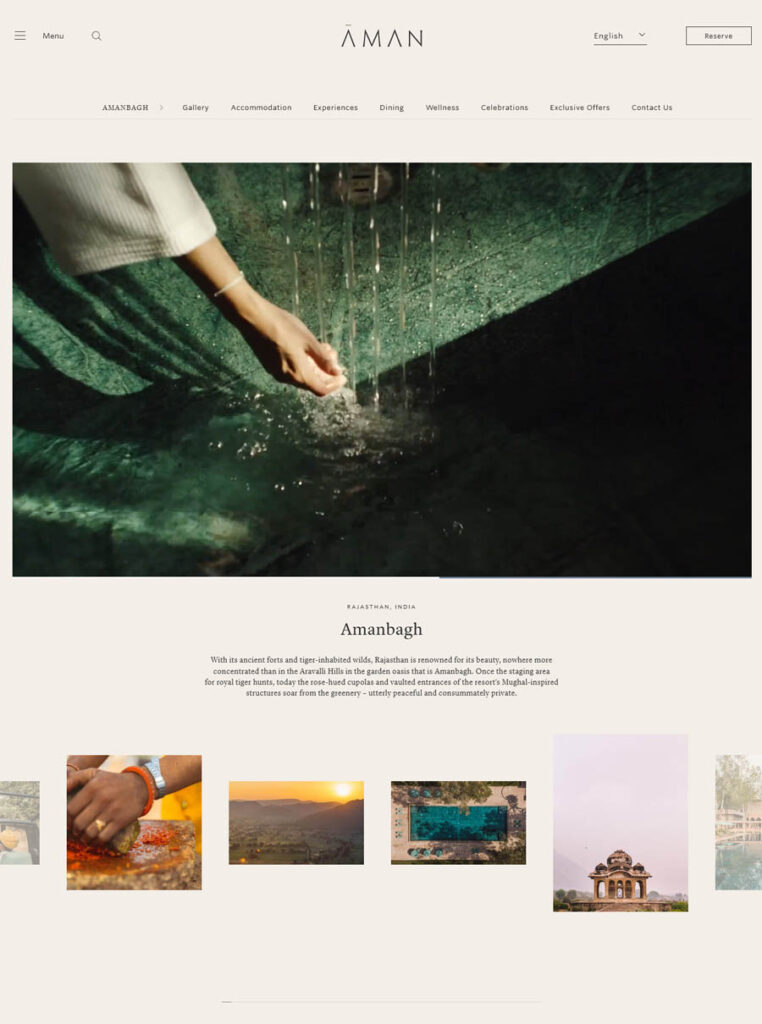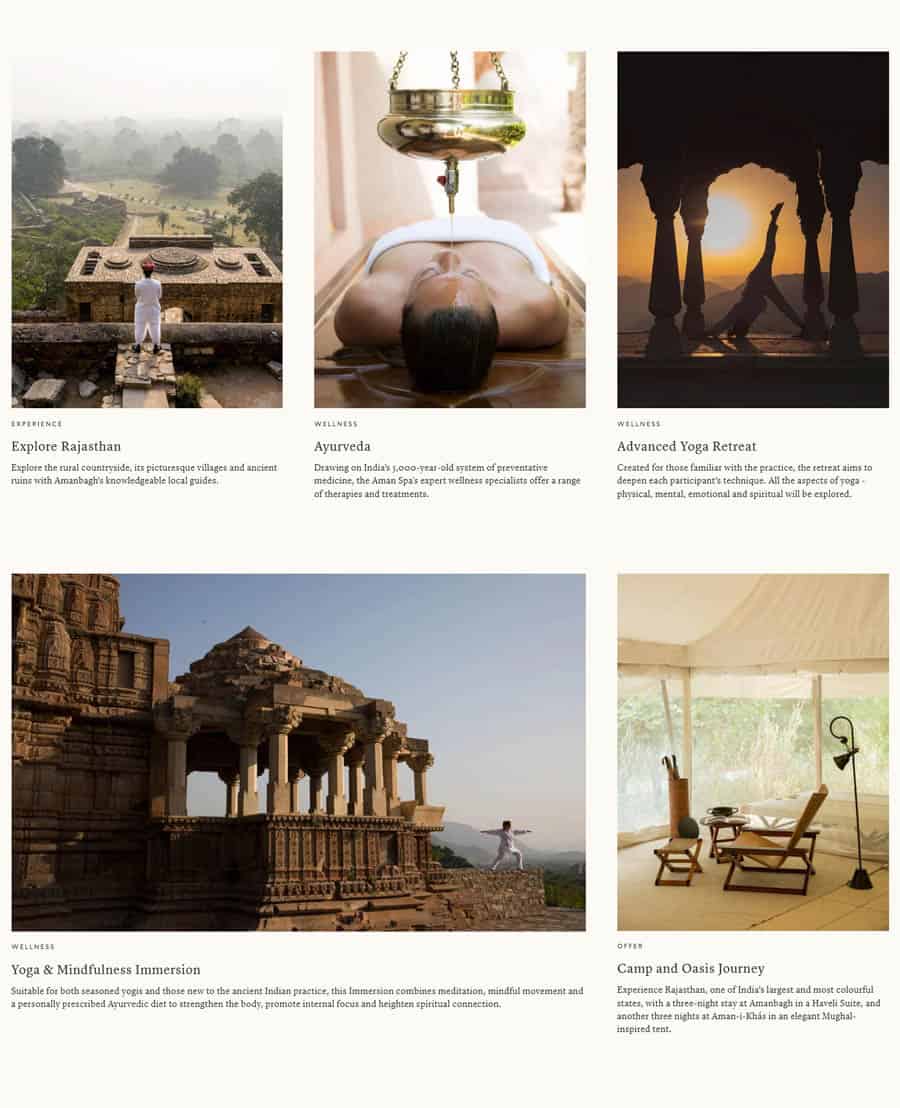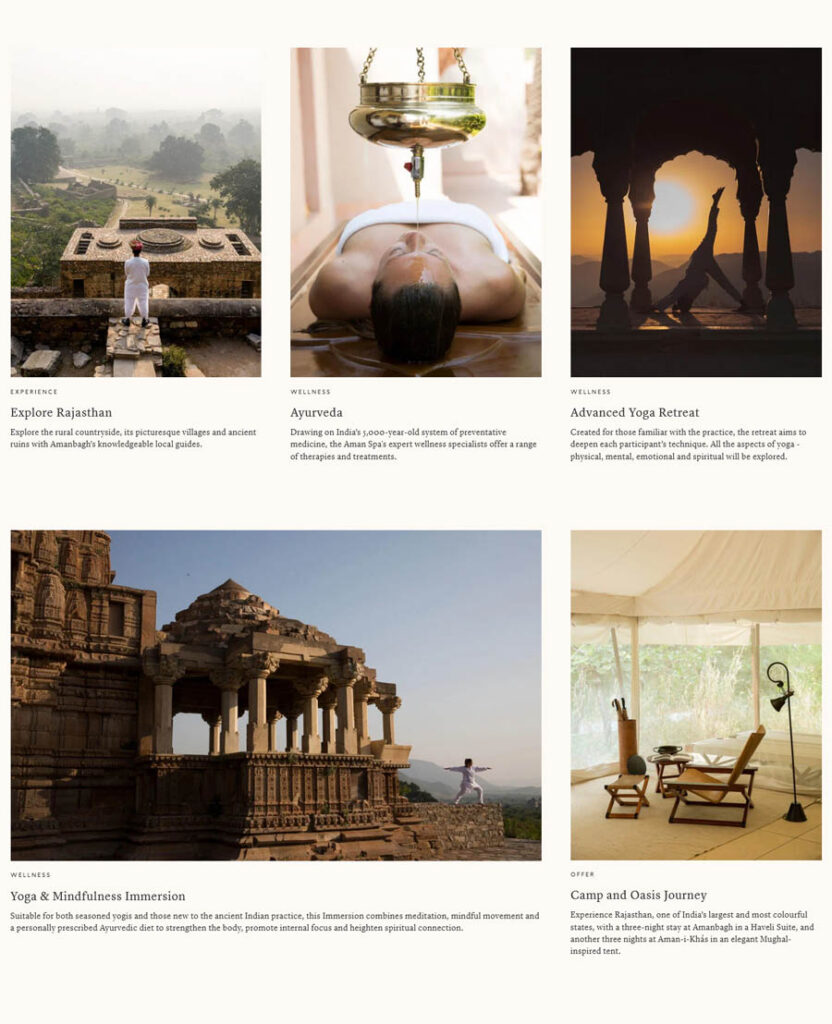 Amanjena Luxury Spa in Marrakech
Amanjena Wellness & Fitness has one of the best spa websites I've seen. They use a visual design layout with beautifully color-coordinated photography that truly engages the visitor as you land on their site.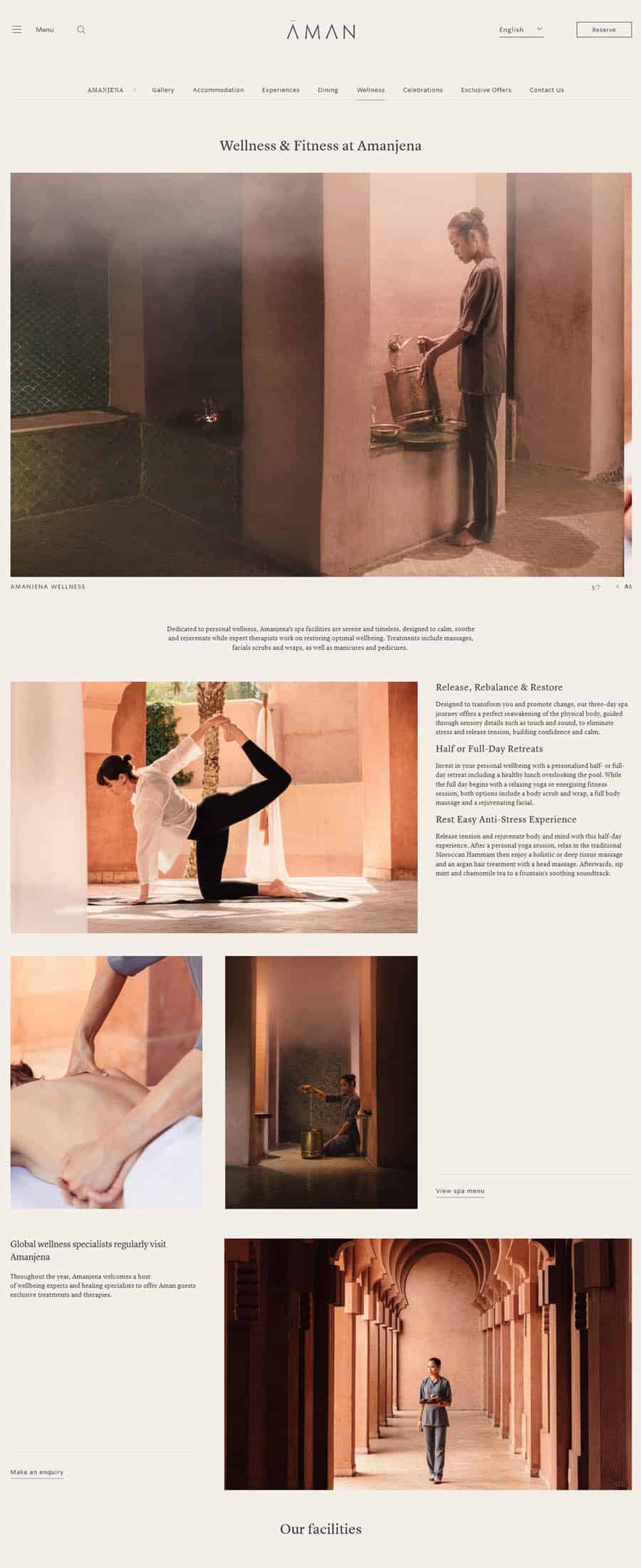 Bamford Wellness Spa – The Berkley London
The website for Bamford Wellness Spa has a sense of calm with a clean and simple design that still contains all the essential elements. Made with the CMS EPiServer.
Bare Flyt Spa Norway
Bare Flyt (Just Float in Norwegian) is a spa where people can try floating in a safe space. There is good information about their services and the color scheme reinforces the attributes of their main offerings. Made with Squarespace on the Commerce plan. MindBody online booking system for yoga and health-related sites.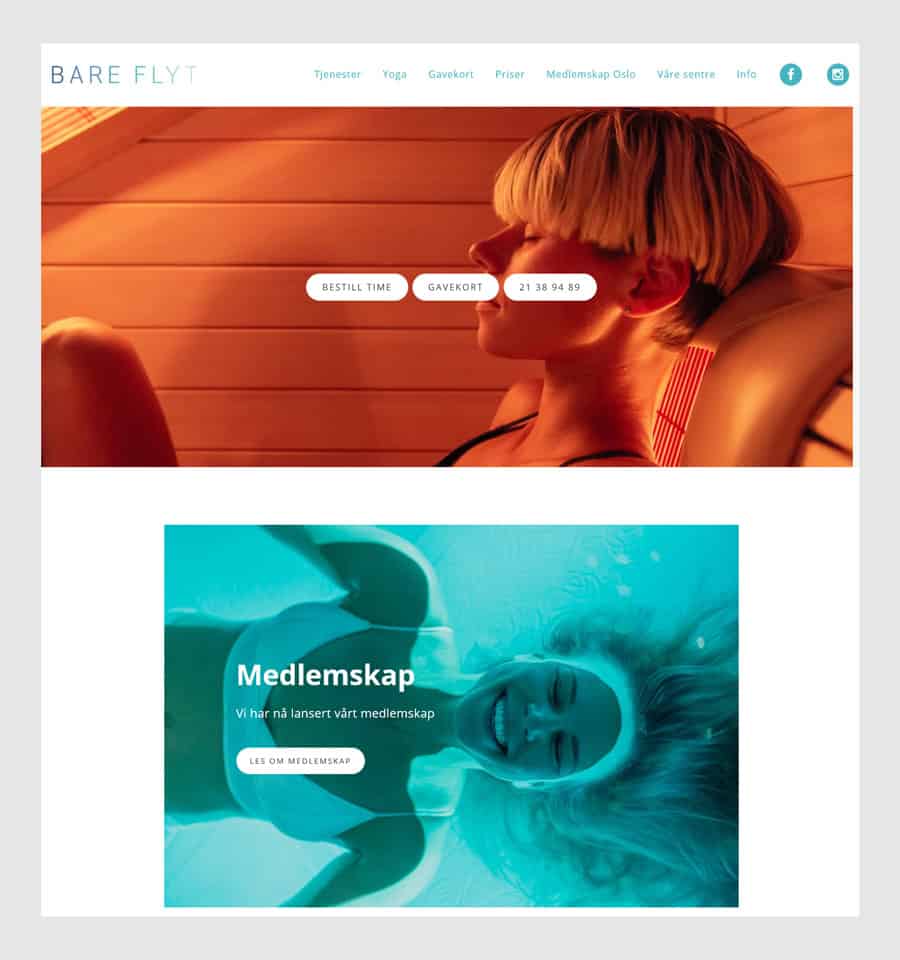 Blue Lagoon Iceland
This is a cool website in a nordic minimalist style, which makes sense for a geothermal seawater spa in Iceland. It's a great combination of fresh and light outdoor images with moody and dark indoor images arranged in an asymmetrical and dynamic layout.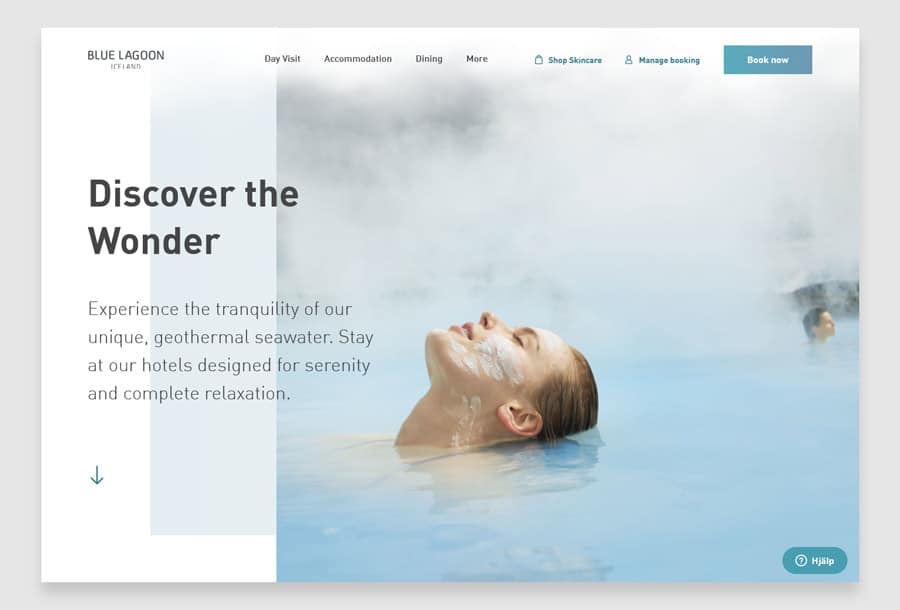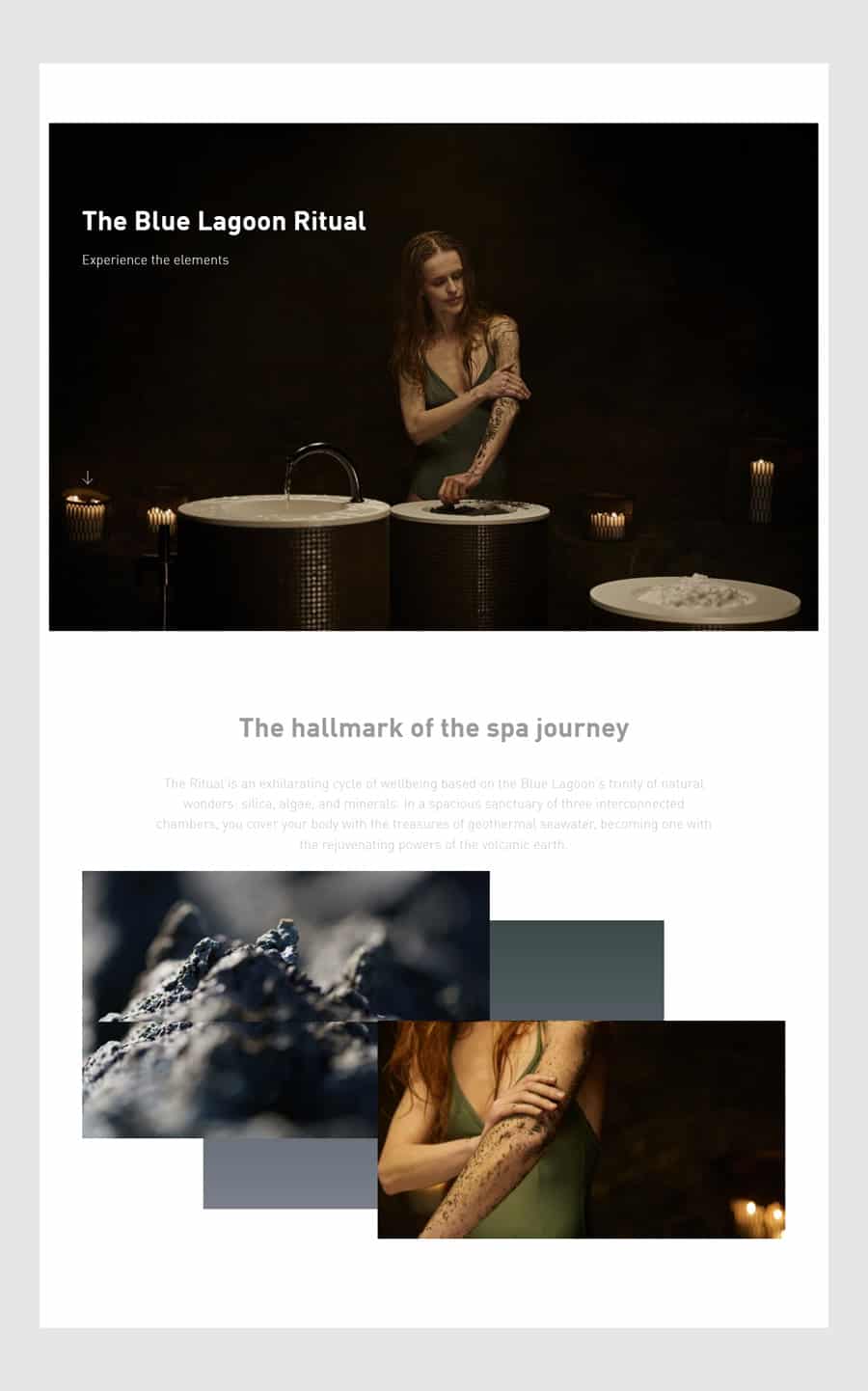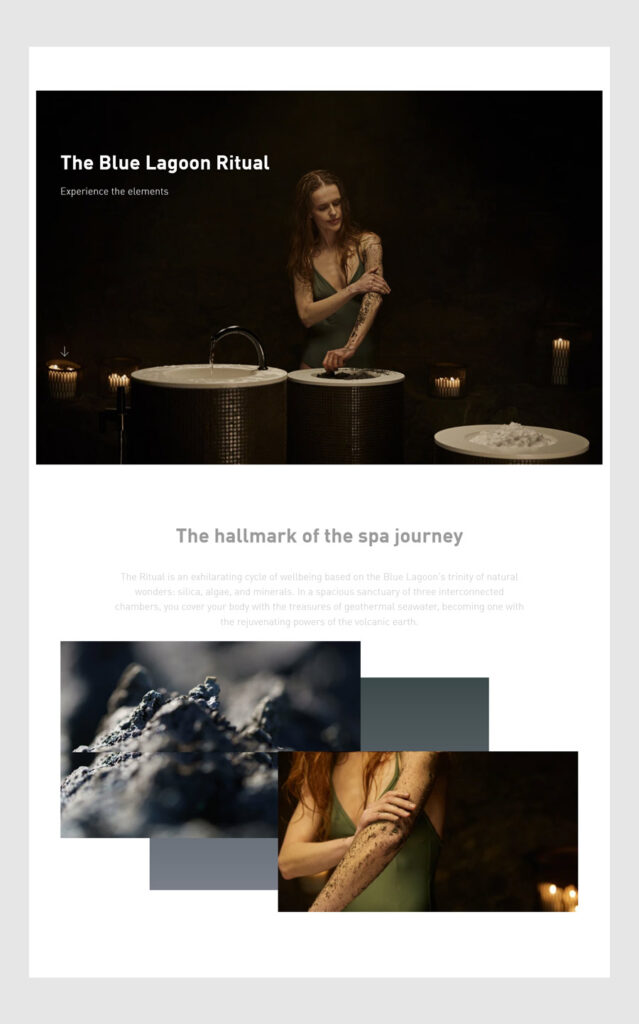 Elements Spa
Here is another example of cool nordic minimalism for the Elements Spa located close to nature in central Stockholm. Made with WordPress.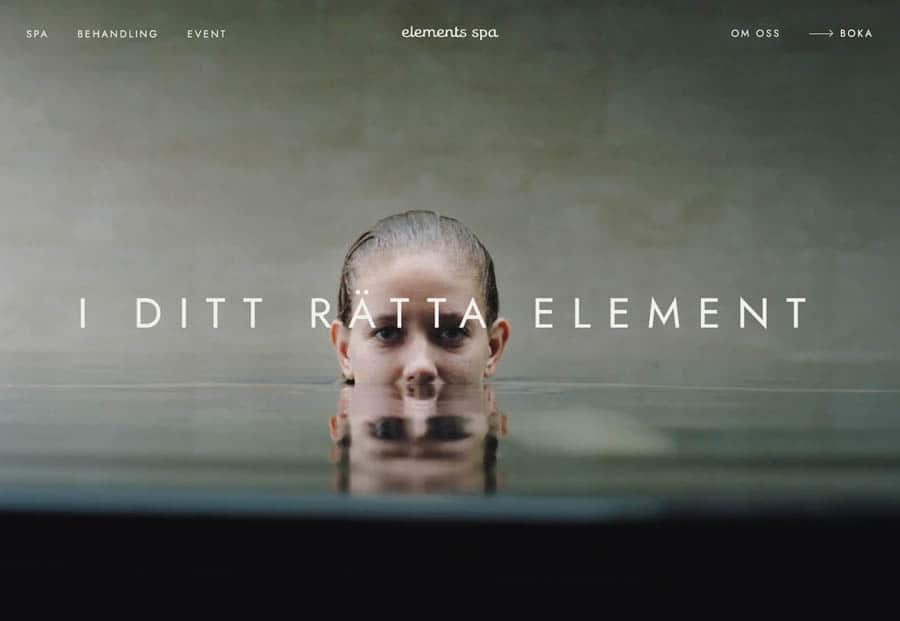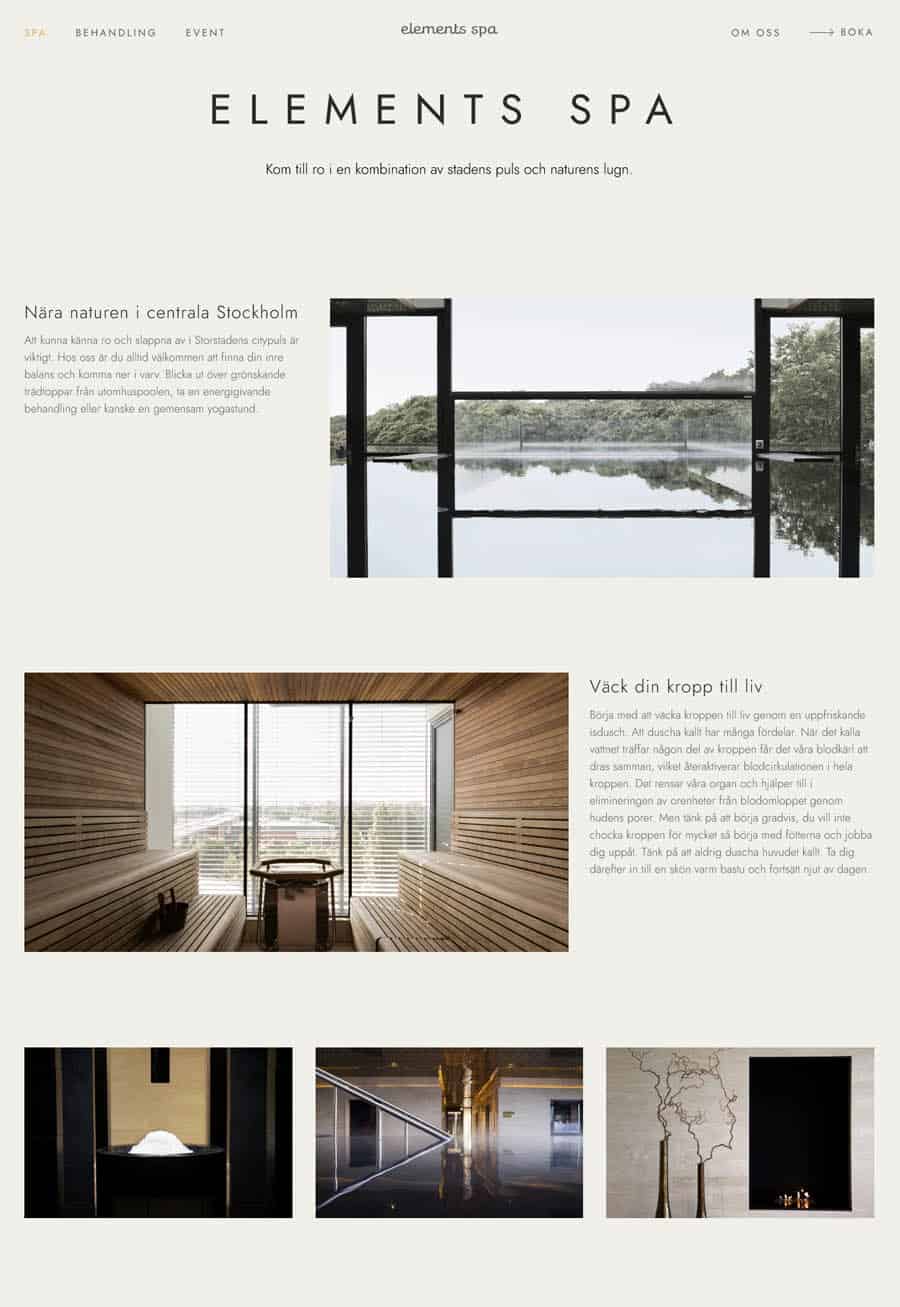 Gaia Retreat and Spa
Gaia Retreat and Spa in Australia is brought to life with great environmental photos of their natural surroundings. Made with WordPress and the Elementor theme and WooCommerce for the online shop.
Grand Resort Bad Ragaz
The Grand Resort Bad Ragaz is centered around a bathing and spa tradition spanning hundreds of years. This has evolved into a unique combination of our own thermal spring, holistic medical expertise and everything a five-star luxury resort has to offer.
This spa website design is a very good combination of form and function. Everything is easy to find and the service information is thorough. Booking system by Synxis Guest Connect.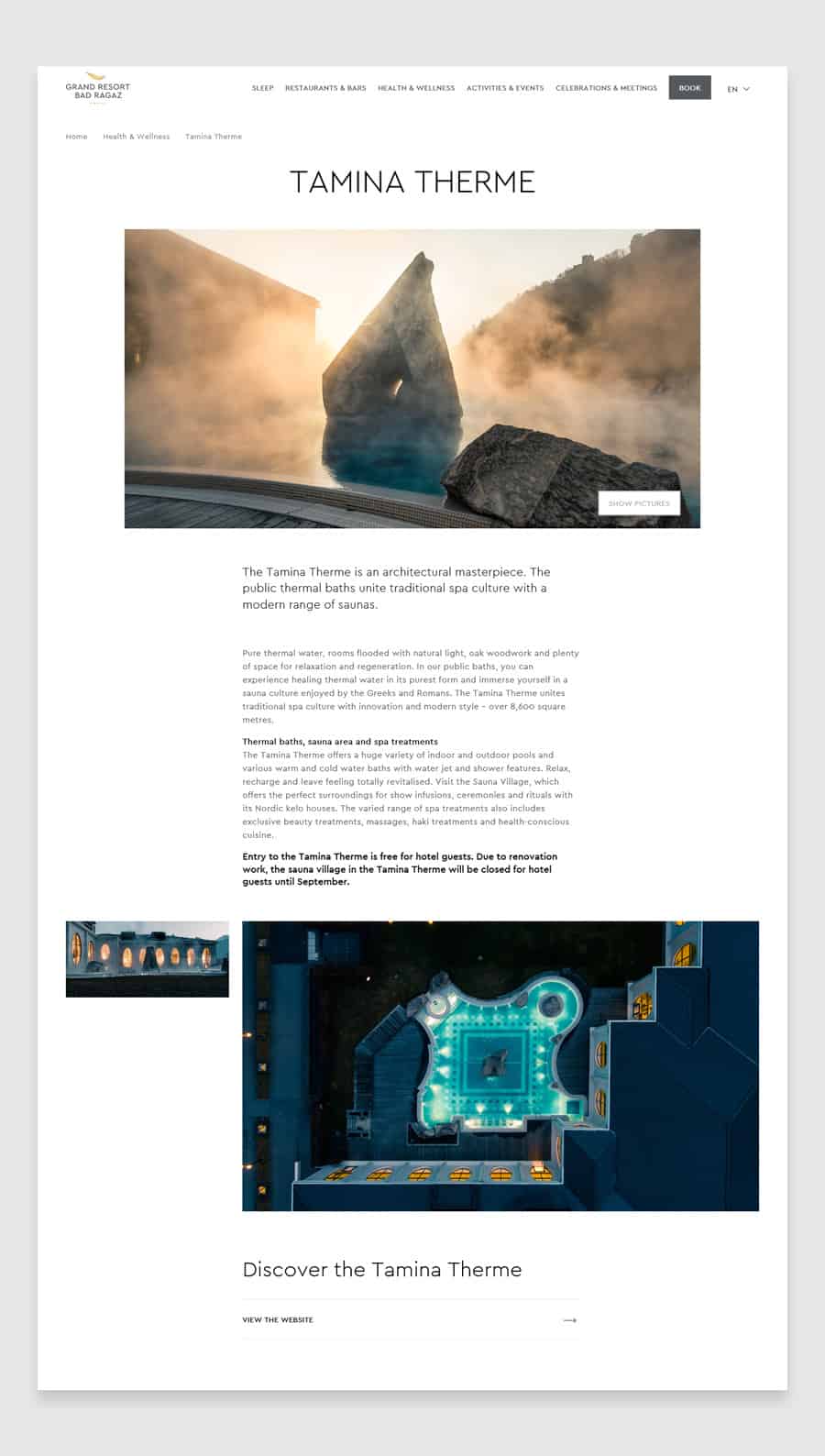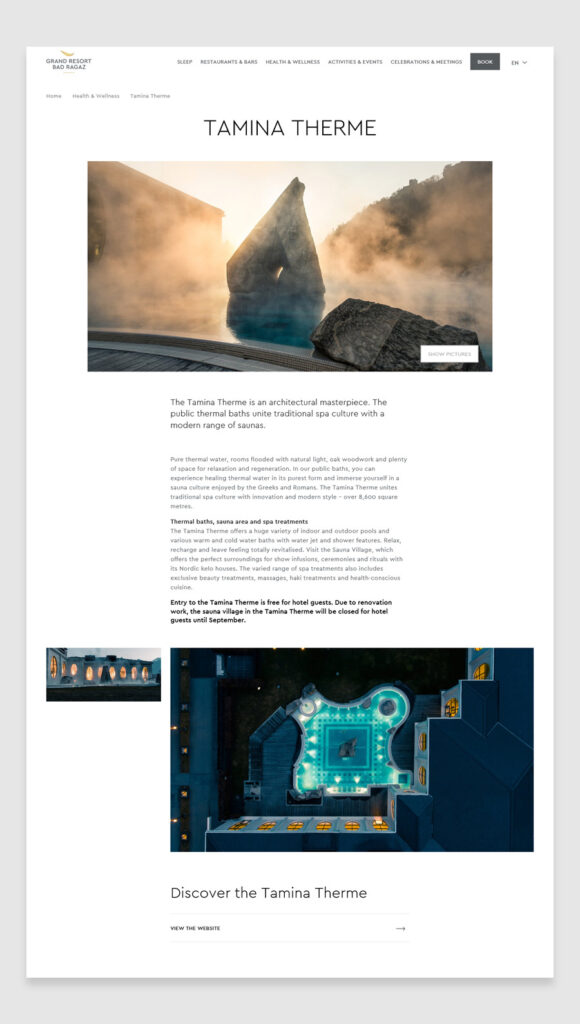 Grotta Giusti
Grotta Giusti is a journey into wonder, a magical place where nature and poetry intertwine with history. It is a splendid nineteenth-century villa, embraced by a large park, in Tuscany, between Florence and Pisa.
Classical typography, historic graphical elements, and modern lifestyle photography is a winning combination for this website made with WordPress.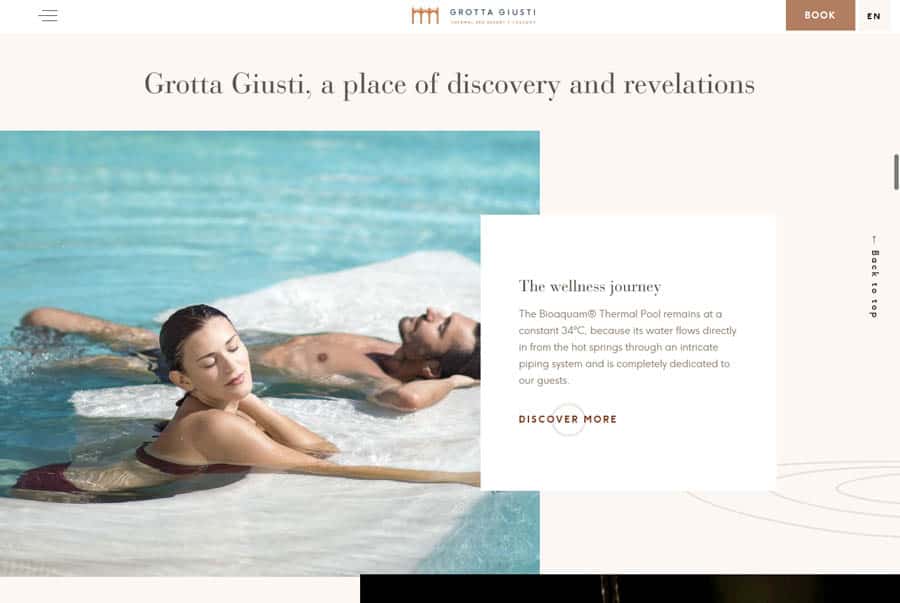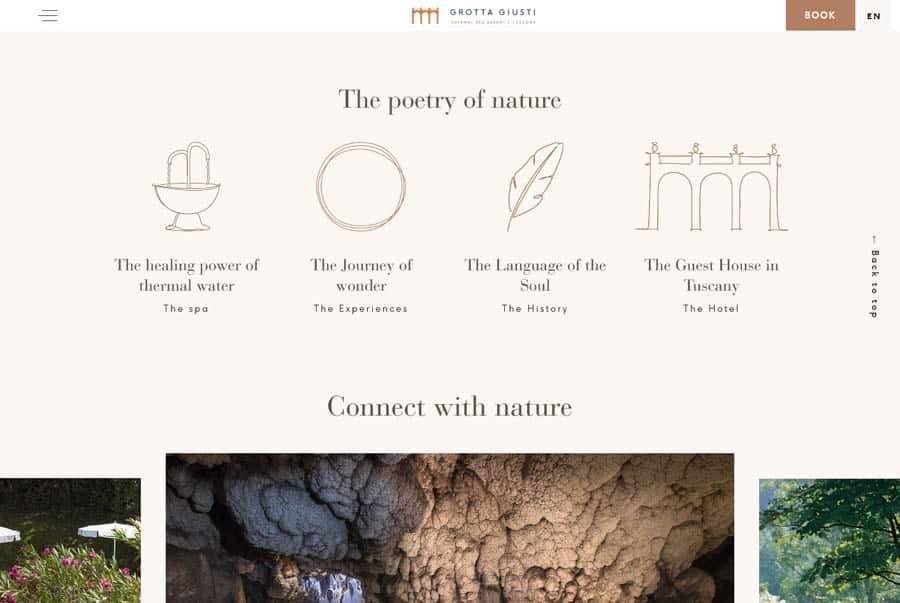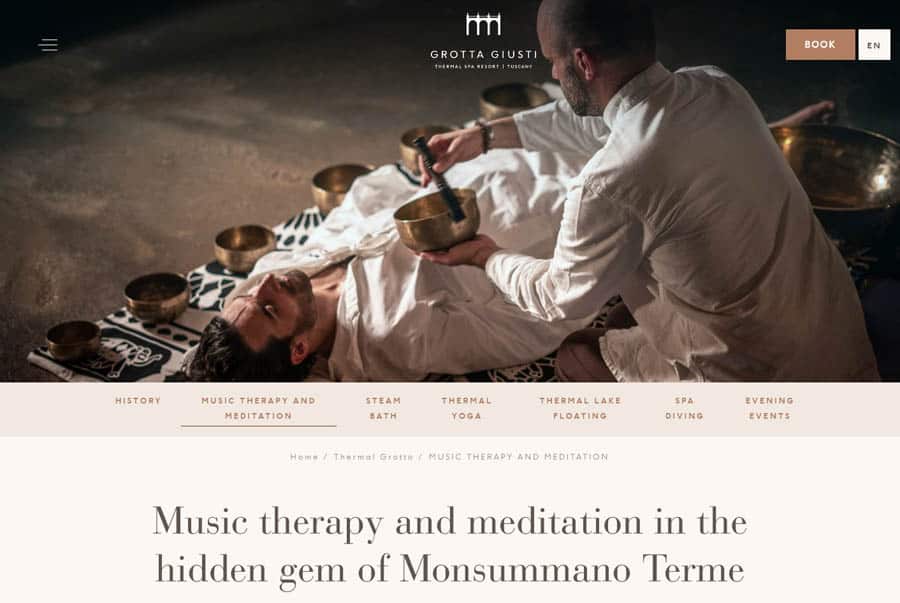 KOK Oslo
The website for this outdoor bathouse/spa in Norway uses a charming illustration to draw in visitors through the overlaid menu buttons. This is something we would like to see more of. Made with WordPress.
La Mamounia Marrakech
Smooth marble, rounded curves, and bands of tadelakt together form a harmonious ensemble, sheltered from outside light, creating a soothing, subdued atmosphere where time seems to stand still the moment you step inside.
This luxury spa has a truly gorgeous homepage. It's almost an adventure to explore the various parts of this website. Made with WordPress. Booking system by Synxis.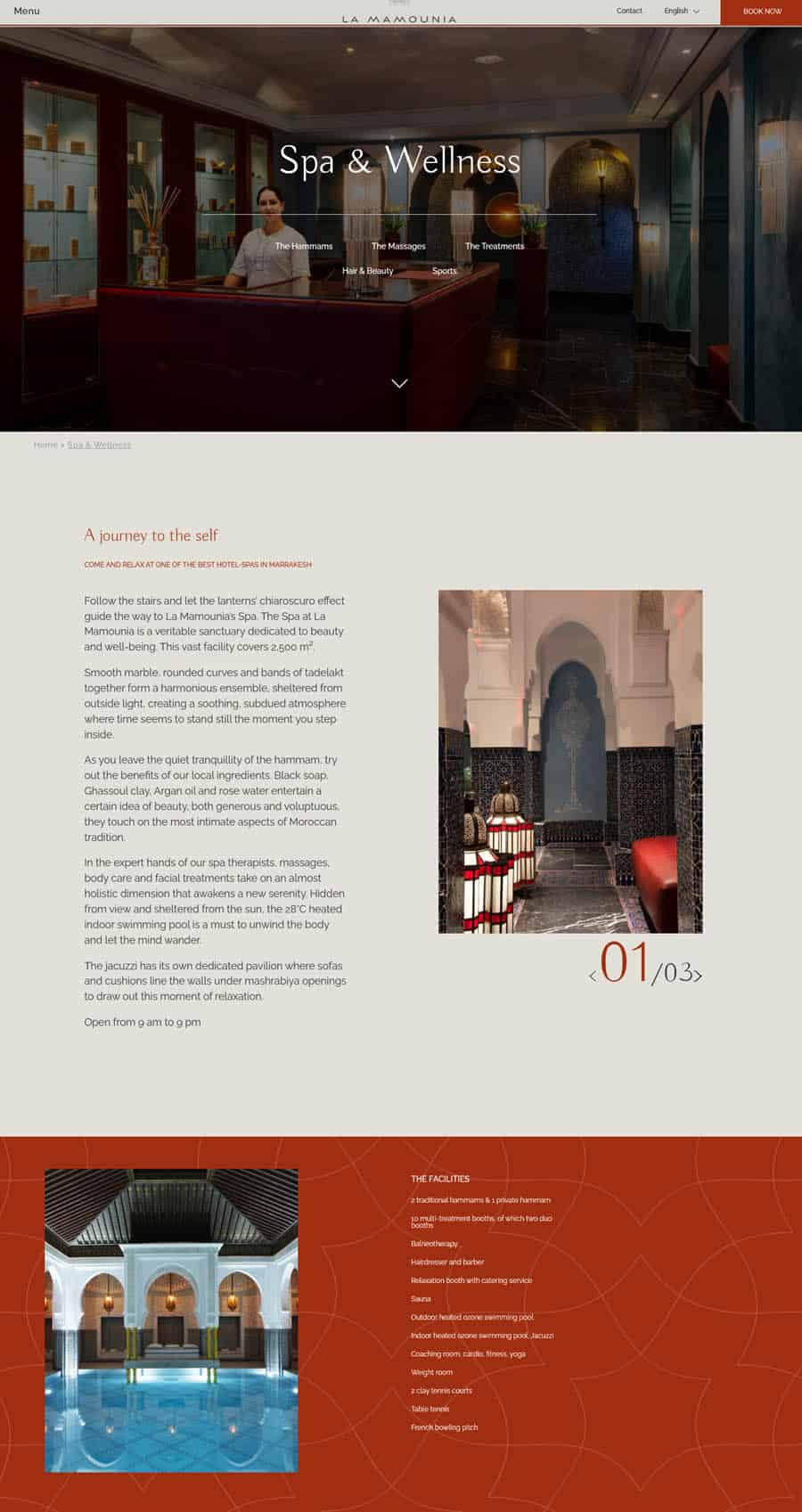 Lanserhof
The website for Lanserhof, an Austrian/German medi-spa is a great example of a stylish layout combined with an efficient and professional presentation of information.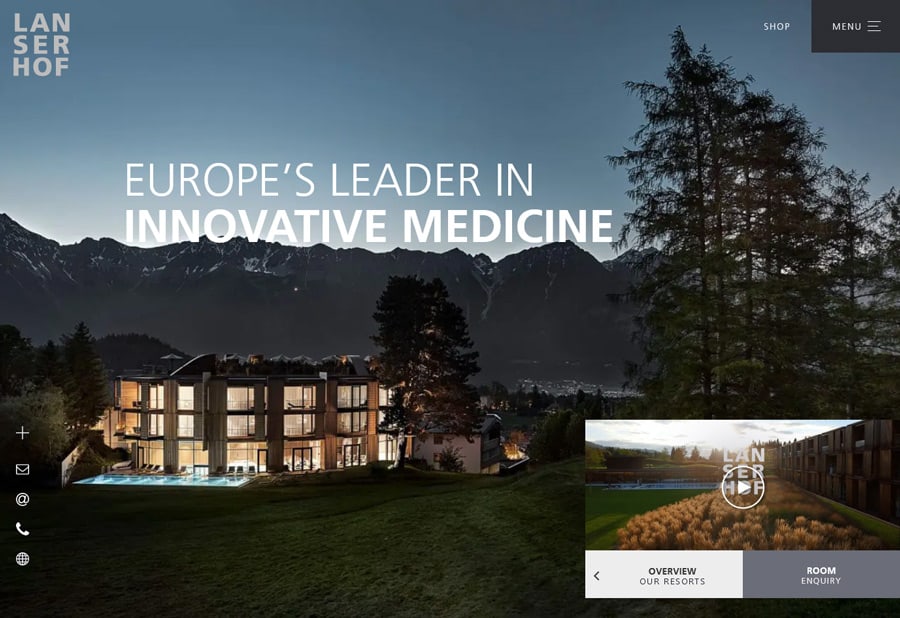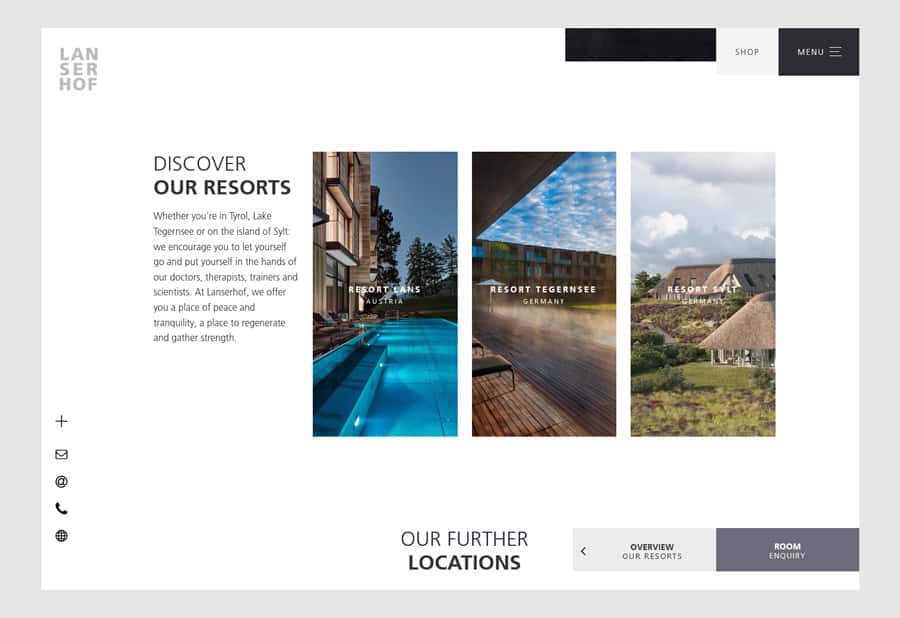 La Réserve Geneva
We are maintaining youthfulness: a science, a way of life.
I really like this swiss spa website. Everything is beautiful and well organized in a clean simple layout. Even the booking page is elegant. Made with WordPress. Booking by Bookwize.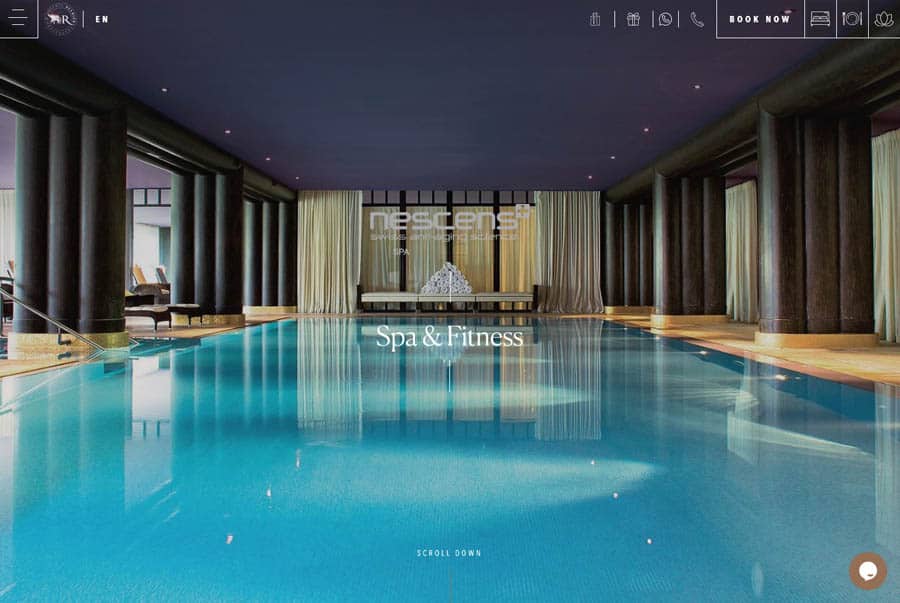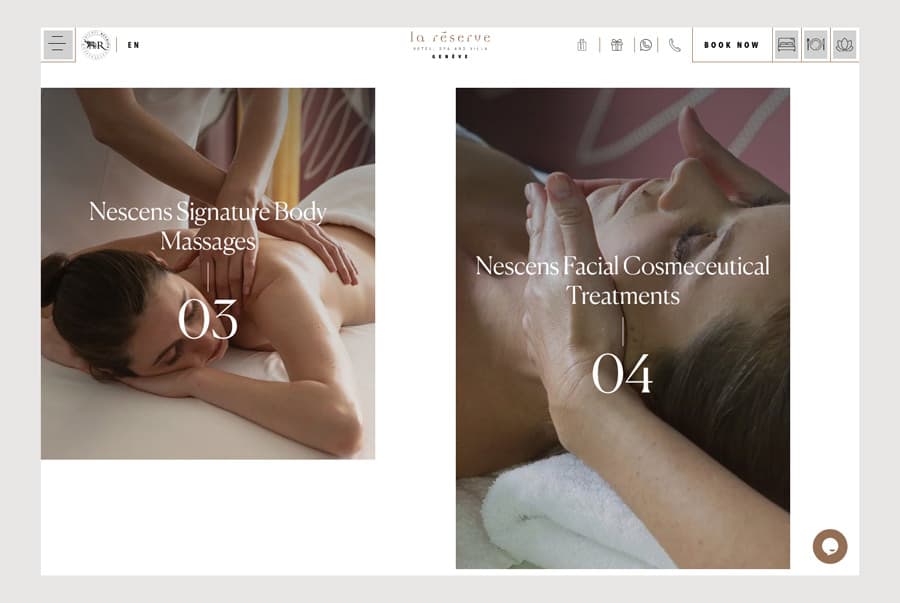 Linnaean Medi-spa
Linnaean takes its name from the Swedish 18th-century botanist, zoologist, and taxonomist Carl Linnaeus. This heritage is present in the lovely interior design, typography, and presentation of information on the website.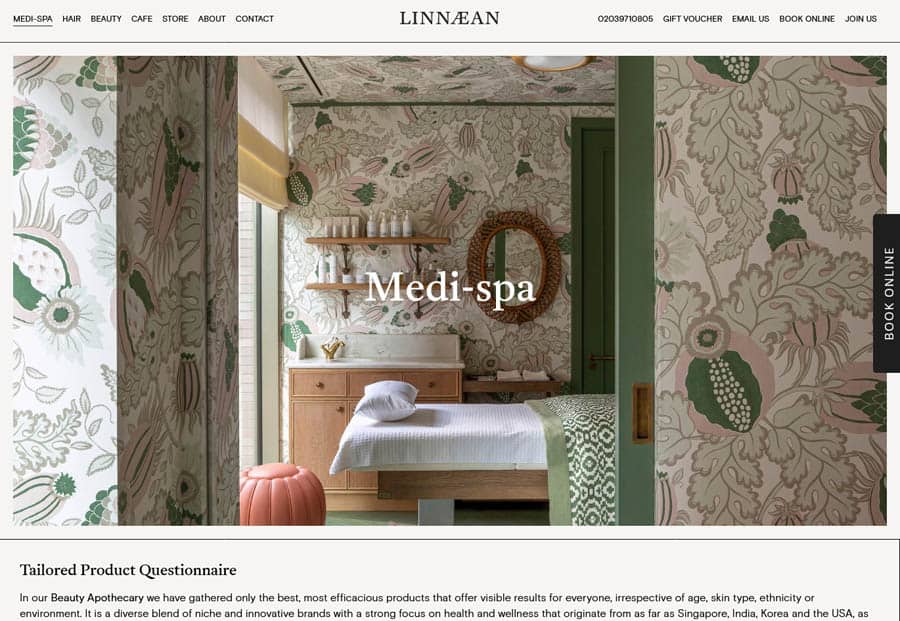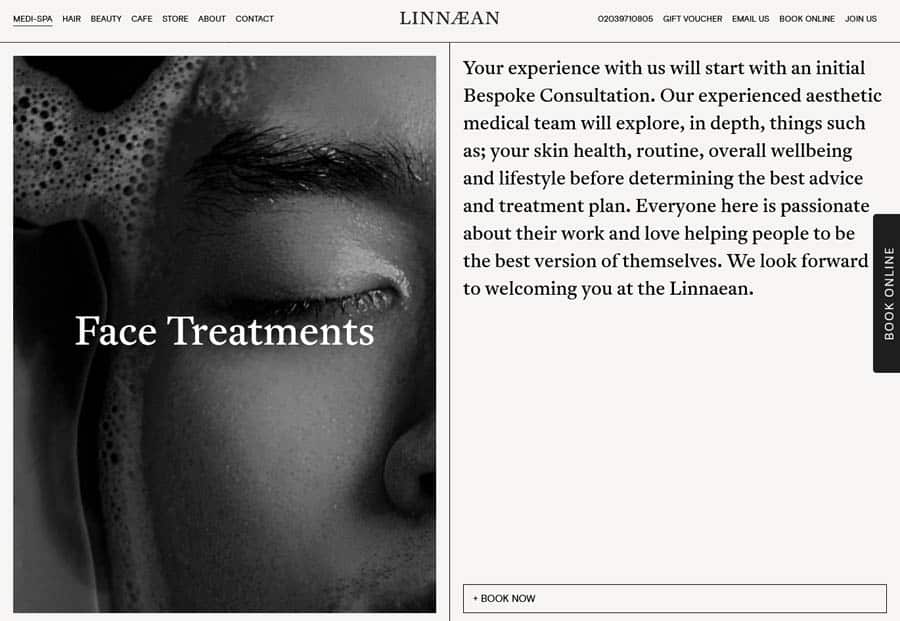 Scarlet Spa
Find some more profound quiet amongst the hushed Cornish clifftops.
This is a simple and well-designed website that quickly gives an overview of the atmosphere and services provided at the spa. Made with CMS Craft. Booking system by Premier Software.
Selman Luxury Spa in Marrakech
This luxury well-being spa in Marrakech has an attractive website to match the exquisite interiors. Reservations system by Travelclick.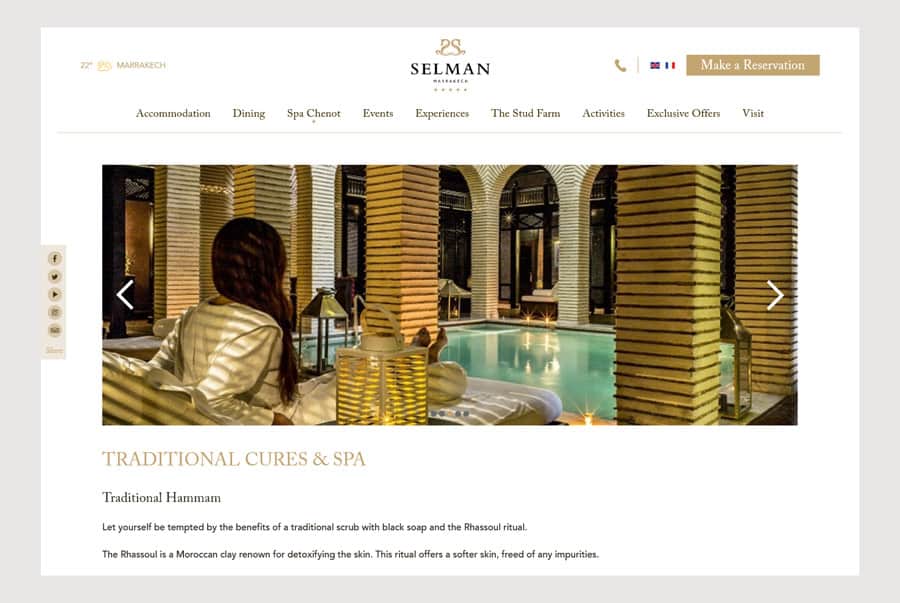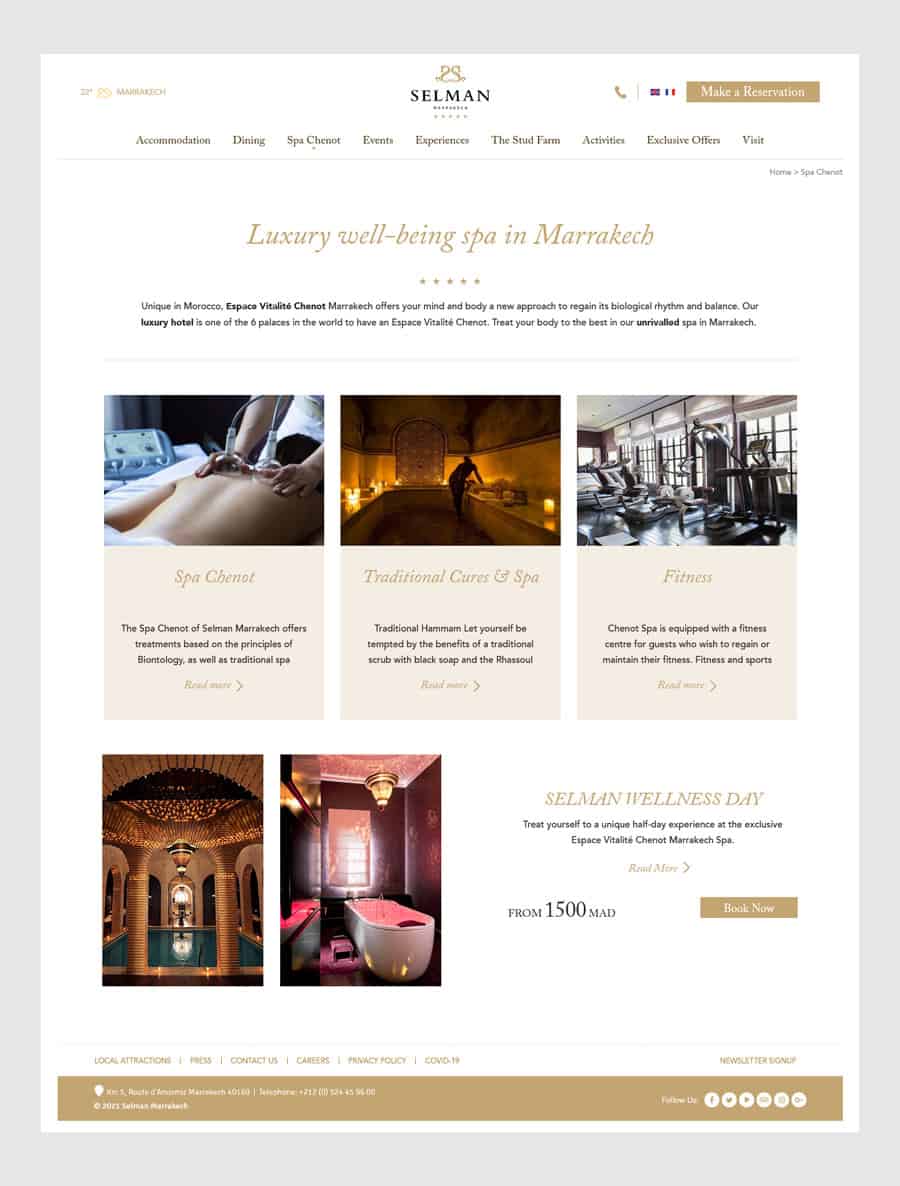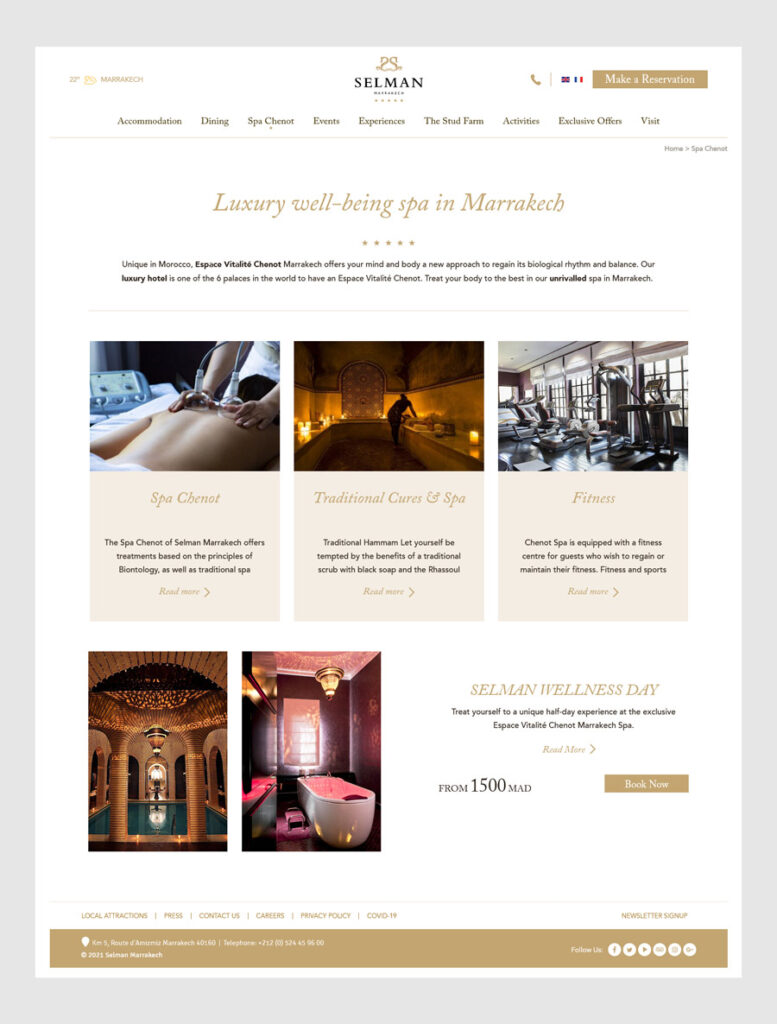 Shou Sugi Ban House New York
Shou Sugi Ban House is a newcomer to the spa retreat world. The simple and minimal design perfectly matches its Japanese origin. Made with WordPress.
Sturebadet Stockholm
Sturebadet was built in 1885 by Carl Curman, an early pioneer in Balneotherapy a method of treating diseases by bathing, and usually practiced at spas. This is an attractive website with up-to-date information on services provided, but also with some interesting historical background information. Made with WordPress.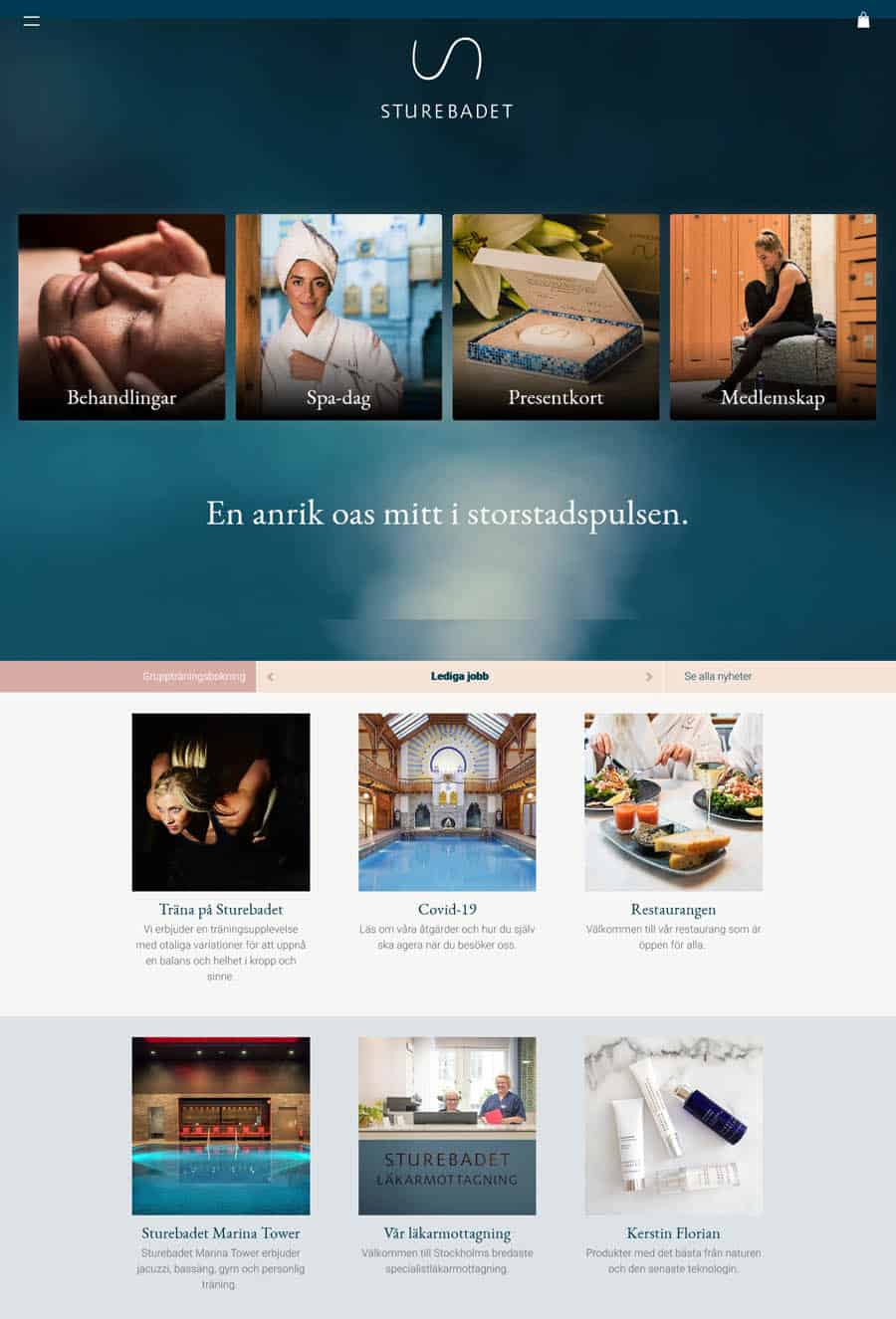 Susanne Kaufmann Spa Bezau
The Susanne Kaufmann Spa combines cosmetics expertise, professionally trained therapists, a medical team, and 25 years of spa know-how.
A cool and professional design that inspires trust in the treatments provided. CMS by Umbraco
The Coach House Spa Beaverbrook Surrey
If the artist David Hockney had designed a spa, it might look some like this. Made with WordPress. Booking system by SpaBooker from Mindbody.
Willow Spa
To be the natural wellness and beauty resource that guides and offers quality products and services at the best price, most sustainably, and organically.
A simple website that is attractive and informational. Made with WordPress and WooCommerce. Booking system by Booker.
Yasuragi
At Yasuragi in Stockholm, you can experience a spa in the Japanese tradition. Beautiful video and photography give an immersive experience. The extensive information about the location and services is also good and the booking button is always easy to find. Made with WordPress.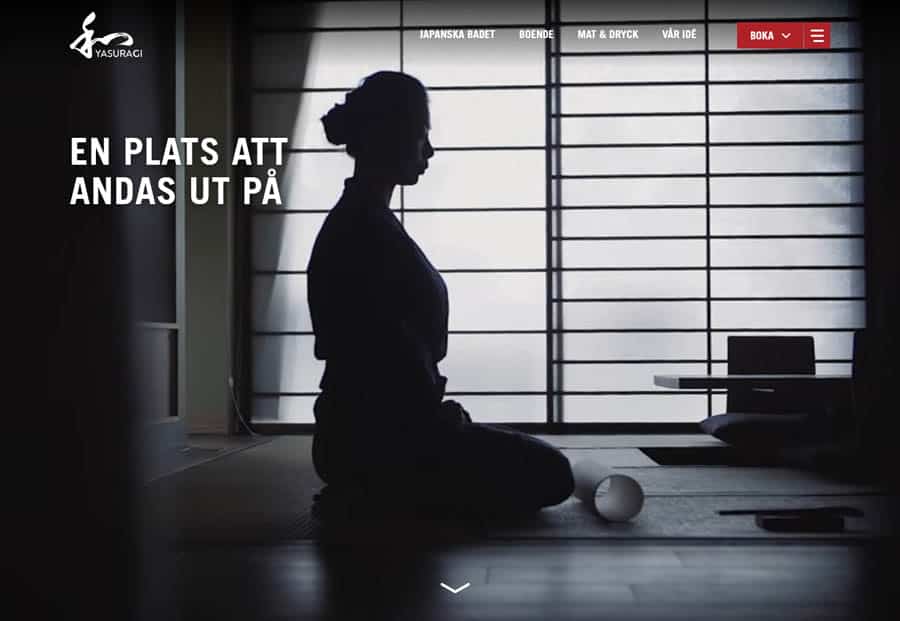 Ananda Spa
Escape the chaos and stress of lockdown in your city and relax in the Himalayan foothills at Ananda. The 100 acre Palace Estate surrounded by pristine forests allows you to enjoy lush nature, fresh air, and the energy of the hills.
This website does many things right, a video in the header gives a quick overview of the beautiful location and services. Social proof in the form of an award is visible above the fold. Made with WordPress. Booking by Synxis.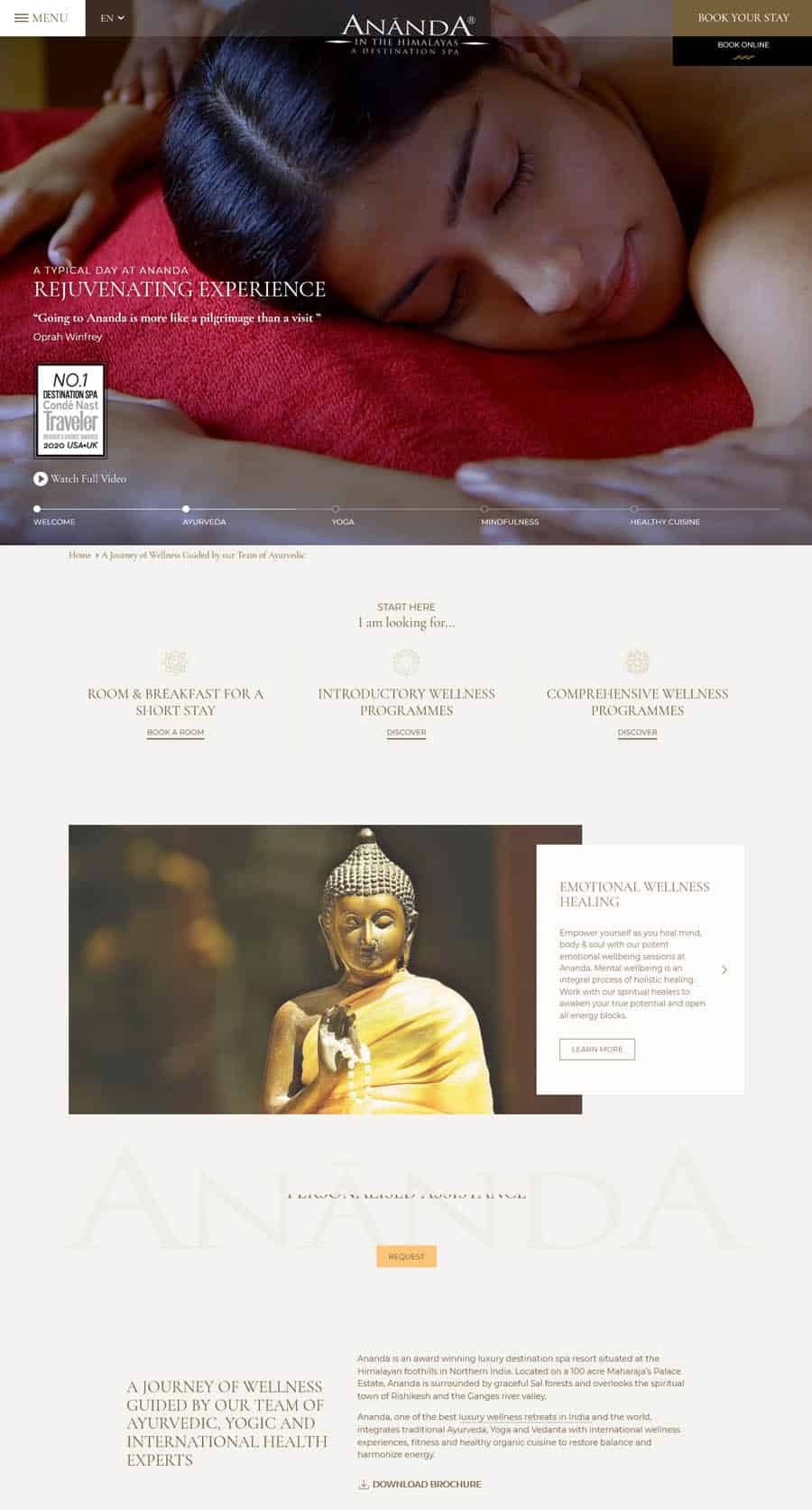 Conclusion: Lessons Learned From The Best Spa Websites?
It's not easy to know where to begin when you're about to build a new website. But studying what the best spa websites do is a great start.
A few important takeaways from the examples in this list are:
I hope the top spa websites in this post have inspired new ideas for your website. But don't just leave it as an idea. Start taking action on getting your new website online today.
Additional reading for spa owners: