Using the right hashtags is critical to push your salon on Instagram.
But what are the best hairdressing hashtags, nail salon hashtags, and beauty salon hashtags you should use?
This is what we're going to cover today.
I'll take you through all you need to know about salon hashtags to change your salon's Instagram performance.
You'll get a list of over 100 hashtags that you can copy and paste if you like. But more importantly, I'll let you in on the secrets to how you can identify the hashtags that are relevant to your unique salon.
This is how we're going to do it.
I'll take you through the 7 different types of hashtags that successful hair stylists, nail techs, and salon owners use to grow their engagement, following, and ultimately their clientele.
For each type of hashtag, you'll get a list of copy-and-paste-ready salon hashtags.
The different salon hashtags you should consider are:
↓ Pint it for later ↓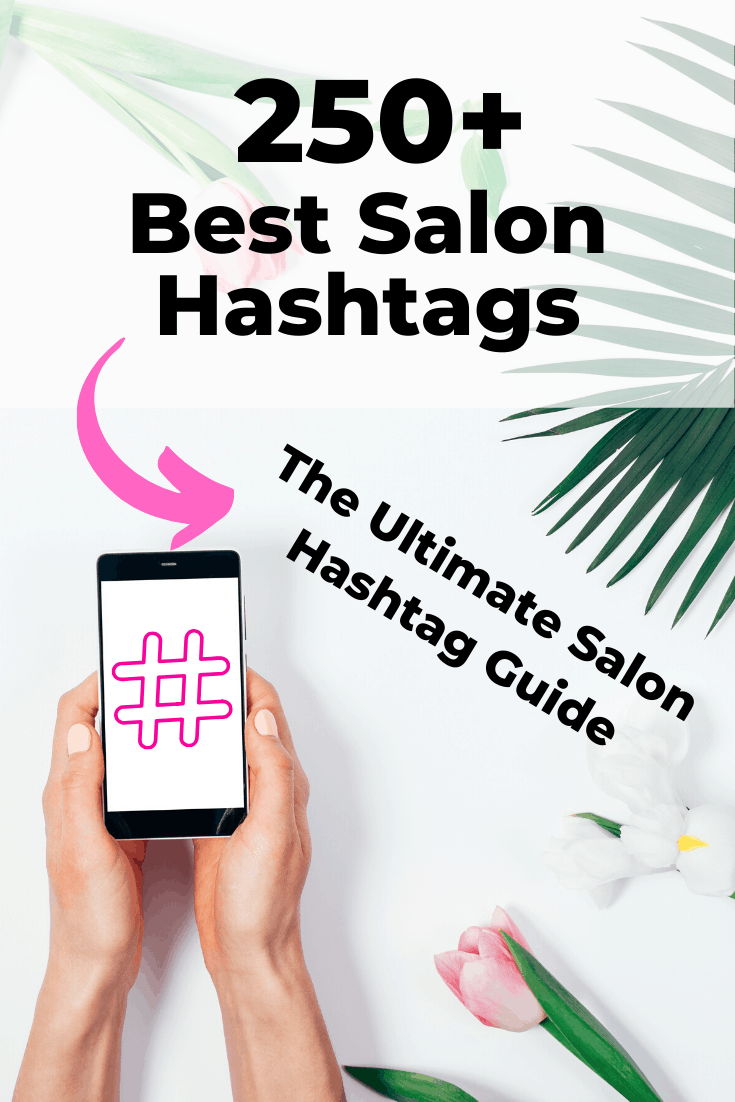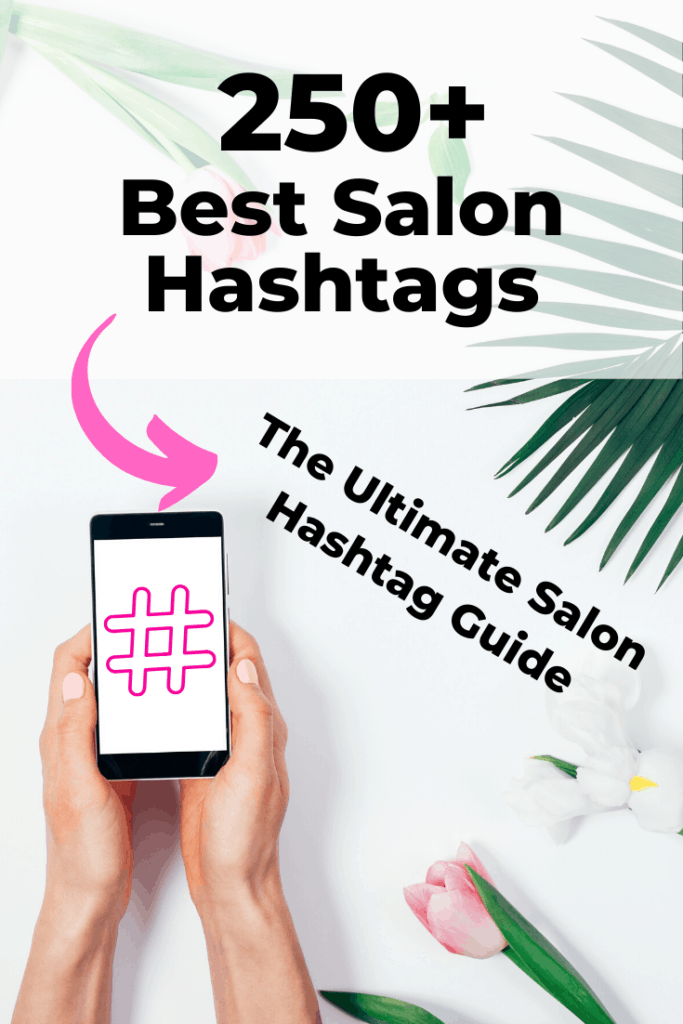 As you read through the article, I strongly suggest you have a pen and paper next to you (or your iPhone notes app ;)) and make note of salon hashtag ideas as we go through.
Before we dive in. It's worth noting that there are a few more components than hashtags you should master to grow your salon's Instagram.
So when you're done with this article today, I strongly recommend you check out my other resources to grow your salon's Instagram here:
But now, let's dive into how you can use hashtags to grow your beauty business on Instagram.
Why Should Your Salon Use Hashtags?
You wouldn't be reading this article unless you're already aware of the importance of using good salon hashtags.
Instagram has become such an important tool for stylists and salons to showcase their work.
It's one of the top places to get your beauty business discovered online.
For salons, Instagram is the online lookbook of your work. It allows new clients to understand if you're the right salon for them and it keeps your salon top of mind with existing salons.
The role of hashtags is to get your lookbook in front of more people. More potential new clients. Hashtags are the tool Instagram has given you to contextualize your images so that people can discover your salon.
This is why a salon hashtag strategy is a must.
And your hashtag strategy should ensure you get in front of the right people. The ones who are most likely to become clients.
How Hashtags Works
Hashtags help tag your posts into categories which enables people with interest in a specific category to find relevant content.
It's important to understand how hashtags work in order to determine the best hairdressing hashtags, beauty hashtags, and nail hashtags for your salon.
Let's cover some important background to how hashtags work.
A Few Basic Facts About Hashtags
If you have a private Instagram profile, your posts will not appear publicly on hashtags
You're not allowed to use special characters like $ or % in hashtags. Numbers are alright though.
You can only add hashtags to the posts you've published. You cannot tag other people's posts.
You can use up to 30 hashtags on a post and 10 on a story.
Use Relevant Hashtags
You need to use relevant hashtags – not just random things that you happen to think about.
When you post a photo or video, it will get submitted to an algorithm. No one really knows exactly how Instagram's algorithms work but there are a few things we can tell with certainty.
Instagram decides who will see your post based on post engagement, likes, and comments. These all signal to Instagram that your post is good quality (and not spam). Good posts will be pushed to more people.
But the thing is; people will only engage with what you share if it's relevant to the hashtag they follow. This is why irrelevant hashtags can have a negative effect.
You should only use relevant hashtags.
Understand Your Competition
Just because a lot of people are following certain hashtag doesn't mean it is a good hashtag to use. In fact, if you use a broad hashtag like #nail, #hair, or #happy it's unlikely people will see your post at all.
These types of hashtags are crowded with posts and only the ones with really high engagement will be visible to people browsing the hashtag.
So unless you have a massive, engaged, following, your post will quickly drown among all the others.
To understand if you have a chance to get good visibility on a big hashtag, just go to the hashtag and tap on a few of the top images that you find on the hashtag.
If the number of likes and comments on the top posts is far beyond what you normally get, you'll have a tough time being featured at the top.
Here's just an example of a top post on the #hair hashtag.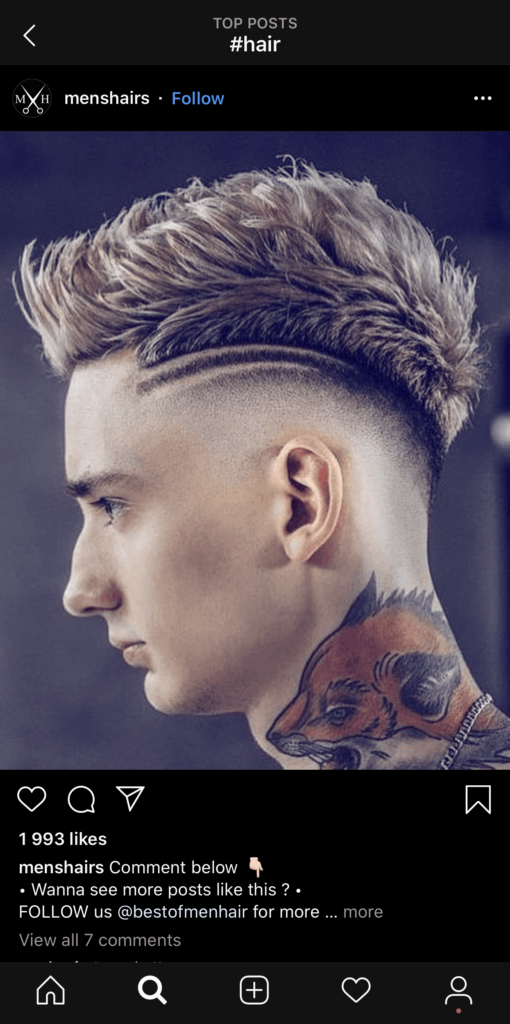 You can of course use these big hashtags. You might get lucky. But when you do, try to also mix in hashtags that are more specific yet have an engaging community around them. These are hashtags that are more specific to your salon and the content you're sharing.
In the next sections, I'll uncover what these types of hashtags for salons are.
I'll start with the most specific salon hashtags. The ones that typically don't have any competition at all and where your posts are guaranteed to be seen.
Obviously, as these are so small, you'll not have the potential for a bigger reach. But I'll also cover these as we move along.
Use a Social Media Scheduler
To help you find, mix, and plan hashtags I recommend you use a good social media scheduler. The one I use is called Sendible and it helps me identify good hashtags while I can also build my repository of hashtags to reuse over and over.
Sendible supports all social media platforms and not only Instagram which makes it perfect for managing all your social media in one place.
1. Salon Event Hashtags: Temporary Hashtag for a Specific Event or Activity
These are the most specific type of hashtags.
In fact, you're probably the only one using the hashtag.
You can create those for specific events you host in your salon or promotions that your run. It allows people who see other people's posts to engage more with the specific event and learn more about you and your salon.
This gives you awareness with a very targeted audience even if you'll not get that broad reach.
Your event hashtag should be unique. Do a search to see if your hashtags have been used and how recently it was used. It should also be short and not too complicated. It needs to be related to your event and memorable.
You want people to use your hashtag when talking about your event. Always use your even hashtag when promoting your event. As people use them, their followers will be introduced to your salon in a natural way and you'll improve the awareness of your salon.
Here are some examples of a salon called Elite to get an idea.
Examples
#EliteSalonOpening, #HairSalonOpeningSeattle2020, #LiveFromElitesalonopeing2020
2. Salon Branded Hashtags: Evergreen Hashtags Specific to Your Salon
Similar to the salon event hashtag, a branded hashtag is a hashtag that is unique to your business.
The difference is just that it's not tied to a specific event.
This means it's "evergreen". It continues to exist and you should use it consistently as you or your salon clients post about your salon.
It can be as simple as your business name, tagline, inspirational message, or product you carry.
Your branded hashtag will typically have a low amount of posts but with highly relevant posts that are tightly connected to your salon.
You can have several branded salon hashtags.
You can for example create specific hashtags for a unique service you perform or for your staff.
The power of those hashtags lies in that they are specific to you.
They are used to find out more about you, your salon, or the specific event that you created your branded hashtag for. It acts as a repository of content related to your salon.
If you get your clients to post using your branded hashtag, this opens a door to their followers where they can explore more about your salon.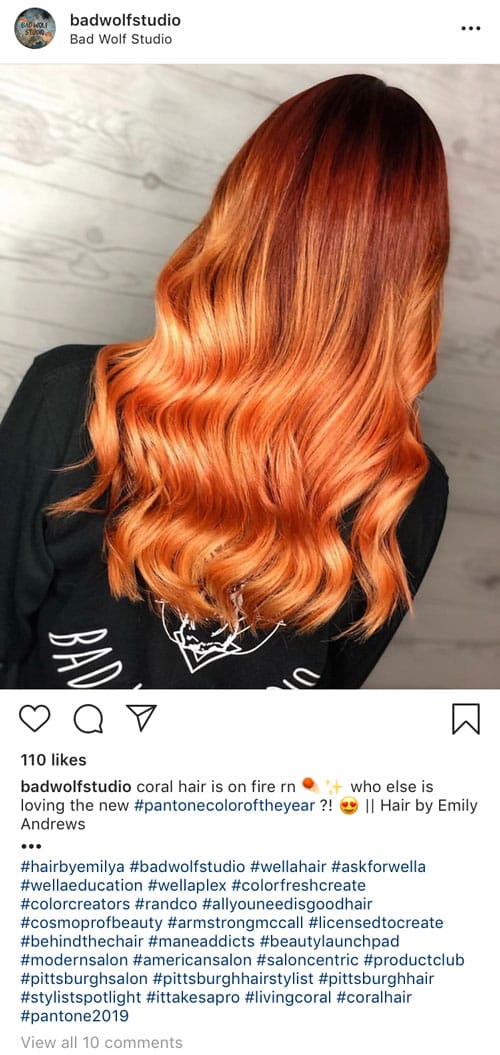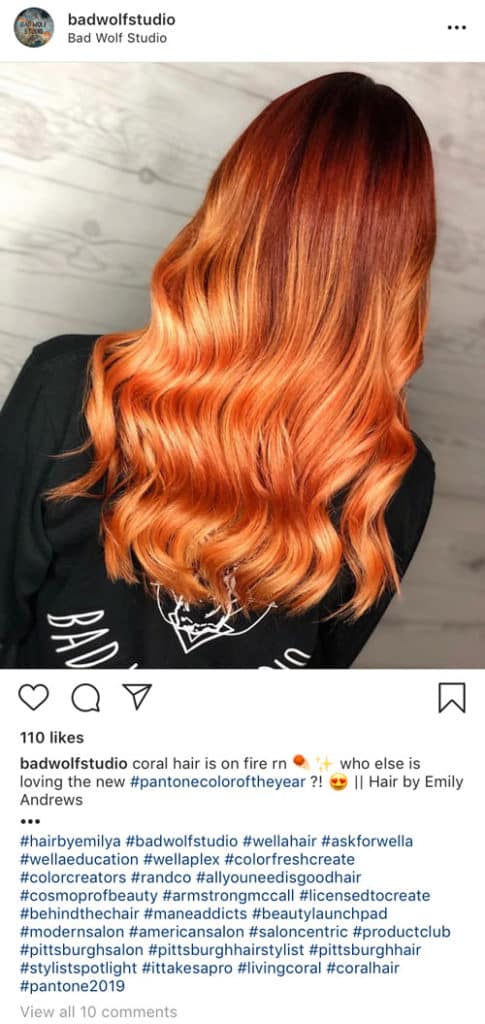 You can see in the post by @badwolfstudio that they are using a number of branded hashtags.
They have one for their salon #badwolfstudio and also for the hairstylist behind the hair #hairbyemilya. They're also using branded hashtags for brands they are partnering with like #wellaplex and #saloncentric.
3. Salon Relevant Local Hashtags
Are you running a global or local business?
I would say that 99% of salons are local businesses with a clientele based in a specific city. This is why local hashtags are crucial for your hashtag strategy.
This is where you can stand out without competing with large global brands.
And, more importantly, this is also where your potential new clients will find you.
To find good and relevant local hashtags, you can use the hashtag explorer that is built into Instagram.
If you start by typing your city name only, Instagram will suggest other popular hashtags that start with your city name.
For example, when I type "#chicago", you can see a few different hashtags being proposed. In this case including also "#chicagohairstylist". This indicates that there are many people looking for exactly that.
And if you run a hair salon, you should for sure actively use this hashtag.
Look through the list and make note of other relevant hashtags for your type of salon.
You can also get more specific by typing "#chicagohair" or "#chicagonail" to see which hashtags Instagram proposes for you.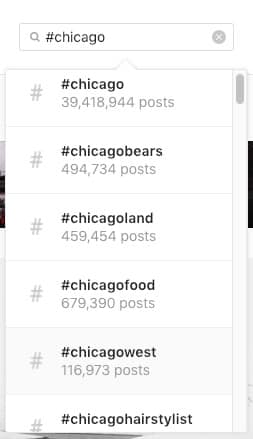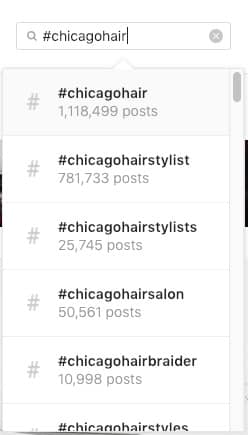 Continue to take note of the ones that you feel are most relevant to the type of salon or service you offer.
If you do not yet have a big following on your account, I would try to go for hashtags with under a million posts or it will be difficult for you to stand out on the hashtag.
You can find more local hashtags by looking at the hashtags other salons are using when posting on the local hashtags you have identified. What other hashtags are they using?
Continue to make notes.
You should soon have a rich inventory of relevant local hashtags for your salon that you can come back to and use over and over to increase the visibility of your Instagram account to people based in your city.
Examples

#[YOUR CITY]hair
#[YOUR CITY]hairstylist
#[YOUR CITY]hairdresser
#[YOUR CITY]hairdressing
#[YOUR CITY]nails

#[YOUR CITY]nailsalon
#[YOUR CITY]manicure

#[YOUR CITY]pedicure

#[YOUR CITY]beautysalon
#[YOUR CITY]waxing
#[YOUR CITY]balayage
#[YOUR CITY]blonde
#[YOUR CITY]bride
4. General Local Hashtags
You shouldn't stop at salon-related local hashtags.
In particular, if your salon is based in a smaller town or city, you can jump on broader local hashtags as well.
These could be things like local festival hashtags or other events which get a lot of engagement during a specific time.
This allows you to get in front of relevant people in your area in an effective way.
It also helps establish your business in the local community. You will begin to make more connections with your local community. You can connect with these people because you are from a similar area and become more relatable.
This also leads to more interactions and engagement with your audience and potential clientele.
You can also look at some of the suggested hashtags that Instagram will offer.
That is also a good opportunity to find new hashtags that you may have not found otherwise.
These suggested hashtags only show up when you use Instagram on your phone so be aware of that when tagging. Another place to look out for is local Instagram accounts that repost images.
These accounts will have a hashtag for people to use that would like to get featured. This is great for exposure and possibly getting reposted. These can be for accounts such as local news stations, tourism offices, the Chamber of Commerce, etc.
My only word of caution here would be to not use hashtags that are completely unrelated to what you post. But let's say you have an image of a rainbow-colored hair, this could work perfectively with a highly active hashtag like #londonpride.
It's ok if the connection is somewhat loose but you should then complement it with other, more relevant hashtags.
Examples
#[YOUR CITY]
#[YOUR CITY]love
#[YOUR CITY]summer
#[YOUR CITY]pride
#[YOUR CITY]happy
#[YOUR CITY]christmas
#[YOUR CITY]jazzfestival (or other local festivals)
5. Salon & Service Specific Hashtags
While local hashtags will help you get in front of people in your area. Salon & service hashtags help you get in front of people who are interested in the services you offer in your salon.
If you at the same time include the location of the post, you increase the chances that people who actually nearby find your post when browsing for the specific type of service for inspiration.
You will however also be visible to people globally on these hashtags. This means competition is higher (compared to local hashtags) so you should try to get specific with the hashtags that is relevant for your type of salon and even service.
Let's cover the common modern salon hashtags.
Best Hairdressing Hashtags, Hairstylist Hashtags, and Hair Salon Hashtags
Do you run a hair salon?
Then you want to make sure you're using hair hashtags that relate to the services you perform.
There are many variations you can use here. Some of the most popular ones for hair salons are haircut hashtags, natural hair hashtags, hair extension hashtags, hair color hashtags, balayage hashtags, blonde hair hashtags, long hair hashtags, virgin hair hashtags, hair growth hashtags, and wedding hashtags.
So try to explore different variations of those.
Below are some of the best hashtags hairdressing hashtags for hairstylists:
Best Hairdressing Hashtag Ideas
#balayage, #ombrehair, #unicornhair, #mermaidhair #hairextensions, #highlights, #shadowroot, #colorexpert, #curlyhair, #wavyhair, #hairdo, #longhair, #blackhairstyles, #balayagehighlights, #ombrehair, #blondehair, #pinkhair, #mermaidhair, #rosegoldhair, #icyblonde, #babylights, #hairpainting, #bronde, #colormelt, #brownbalayage, #handpaintedhair, #beachwaves, #longhairstyles, #perfectcurls, #upstyle, #prettyhair, #haircolor, #makeover, #braidstyle, #hairideas, #beforeandafter, #elegantlook, #newlook, #healthyhair, #naturalhair, #hairstylist, #hairdresser, #instahair, #hairdo, #hairtreatment, #keratin, #olaplex, #balayage, #rainbowhair, #haircolor #pulpriot, #pinkhair, #unicorn, #hair, #haircut, #bluehair, #purplehair #behindthechair, #pulpriothair, #signaturetone, #pastelcolor, #grayhair, #modernsalon, #hairgoals, #colormelt, #vividhair, #keratin, #brazilianblowout, #ashbrown, #ombre, #makeup, #hairstyle, #unicorntribe, #greenhair, #bhfyp, #sombre, #fantasyhair, #pastelhair, #platinumblonde, #blonde, #rosegold, #greyhair, #hairtrends, #braided, #hairshaftsalon, #kerabond, #pulpriotisthepaint, #rebond, #perm, #airperm, #rainbow, #copperblonde, #lightbrowncolor, #ashhaircolor, #permanentblowdry, #galaxycolor, #beauty, #hairstylist, #colorfulhair, #unicorns, #dreamhair, #instahair, #braids, #hairinspo
For the broader ones (with many posts), I recommend you also use a city combination like #londonhairstylist.
Best Nail Salon Hashtags and Nail Tech Hashtags
If you run a nail salon, you want to leverage the hashtags people interested in nails follow.
Popular hashtags for nail salons are nail art hashtags, nail design hashtags, and shellac hashtags.
Below are some examples of the best nail salon hashtags.
Best Nail Salon Hashtag Ideas
#nails #nailart #nailsofinstagram #manicure #nail #beauty #gelnails #nailstagram #instanails #nailsonfleek #nailswag #naildesign #inspire #nailstyle #nailsoftheday #naildesigns #acrylicnails #nailsart #glitternails #nailpolish #gelpolish #nailsalon #nailtech #pedicure #nailsaddict #nailpro #nailartist #nailsnailsnails #glitter #nailsdesign #christmasnails #coffinnails #ombrenails #nailsmagazine #nailaddict #lovenails #longnails #naturalnails #nailfashion #style #nailinspo #shellac
Best Beauty Salon Hashtags
The right hashtags to use for a beauty salon will obviously depend on the services you offer in the salon.
The popular type of hashtags for beauty salons is beauty tips hashtags, Korean beauty hashtags, and beauty brand hashtags.
Below is a collection of popular beauty hashtags that you can leverage for your posts.
Best Beauty Salon Hashtag Ideas
#haircolor #manicure #beautysalon #beauty #nails #salon #makeup #skincare #hair #lashes #hairsalon #hairstylist #beautycare #gelnails #haircut #hairstyle #waxing #nailart #facial #eyelashextensions #hairdresser #spa #makeupartist #massage #eyelashes #pedicure #cosmetics #nailsalon #hairstyles #bhfyp #fashion #lashextensions #brows #volumelashes #lashlift #instagood #nailsofinstagram #facials #spraytan #eyebrows #beautytips #beautytherapist #christmas #instabeauty #relax #beautician #skin #extensions #haircare #beautyclinic #acrylicnails #highlights #glitternails #microblading #beautycenter #tanning
6. Use Trending Hashtags And Update Them Regularly
You want your posts to appear on hashtags with high engagement. These are typically hashtags that are relevant to a topic that is trending right now.
This could be local events happening in your area that are related to your business. It could also be topics connected to beauty trends and looks. Or why not a topic on veganism in case your salon is in that niche.
I'm sure you can come up with ideas for topics that are hot right now that relate back to the type of salon you are in. And trust me, there will be a hashtag where people are sharing and contributing to the subject.
Similar to when we researched local hashtags, try typing in those keywords in the Instagram hashtag search and you'll likely find a gold mine of topics that your salon can post on. Look for hashtags that are niche (up to 20'000 posts) and mix that with those that are broader (up to 1 million posts).
Note them down.
Examples of Trending Beauty Hashtags
#unicornhair #mermaidhair #balayage #rainbowhair #pulpriot #pinkhair #unicorn #bluehair #purplehair #signaturetone #pastelcolor #grayhair #modernsalon #hairgoals #colormelt #vividhair #keratin #brazilianblowout #ashbrown #ombre #unicorntribe #greenhair #fashionhair #hairoftheday
7. General Hashtags
General hashtags are the big ones people use to chase more likes.
I've personally seen more success when using strategic, targeted, local hashtags that are relevant to your niche as they attract the right followers.
General hashtags are, well, general. So you'll get in front of people that probably aren't like to become clients in the future.
But you can give it a try and mix them in with your more strategic and targeted hashtags as they can still help get your posts some more engagement.
Examples
#transformationtuesday, #love, #instagood, #photooftheday, #fashion, #beautiful, #happy, #cute, #tbt, #picoftheday, #selfie, #art, #instadaily, #style, #smile, #nofilter, #tbt, #igers, #picoftheday, #nature, #swag, #lifeisgoo, #caseofthemondays, #instapic, #instadaily, #instamood, #bestoftheday
Mix The Hashtags You Use
Now that you have a full battery of hashtags you can use it'll be much easier and faster for you to post your next post using hashtags that will carry your post further.
But avoid taking the easy way here and just copy and paste the same hashtags to every post you do.
It may be tempting and get your post out fast but you need to put a little bit of love into the individual post when you pick the hashtags to use for that specific one to make sure the ones you pick are relevant to the specific post.
If you use the exact same hashtags for every post, Instagram will see this and treat it as if you're spamming the hashtags which may impact your account negatively.
You can use your list as a base but make sure to mix up which ones you use for the different posts. If you're using a tool to manage your Instagram, they typically have support to manage your common hashtags as well as recommend new ones.
For more social media tools, check out my page with recommended resources to grow your salon business here.
Next Steps to Level Up Your Salon's Instagram Account
Congratulations!
You've invested the time in yourself and your salon today to grow your business using hashtags on Instagram.
I hope you feel you have some new tools to drive your Instagram to the next level.
But hashtags are just the start.
It will help you get your content in front of more people. But there's more you can do to get your followers more engaged and ultimately book with you.
It's time you learn about how to create good salon Instagram captions and craft an Instagram bio that converts your followers to clients.
To help you get going, I strongly suggest you read the below guides.
That's it for today.