Your hair salon design says more about you than anything else.
Your choice of hair salon decorations and salon interior communicates what your salon stands for and plays a massive role in attracting the right type of client to your salon.
No wonder salon owners spend so much time on their salon layout and decor.
In this article, I've compiled the most beautiful hair salon interior designs I have seen in order to help you find inspiration for your upcoming salon remodeling project.
You'll find hairdressing salon pictures with salon station ideas, salon reception area ideas, salon shelf ideas, and salon waiting area ideas.
In the salon images below, you'll see how the pros use salon lighting, wall decor, and color schemes to create the most stunning hair salon designs.
Where available, I've also included salon layouts, floor plans, and blueprints of the design projects.
I am continuously updating this post with new images of hair and beauty salons so I'd recommend you bookmark this page or pin it to your Pinterest board so that you can come back to it again.
The hair salon designs listed in the post were created by professional salon architects and designers who have been kind enough to allow me to share their work.
If you plan on hiring an interior design agency for your salon, you should for sure check with one of the guys listed here.
You'll find links to them throughout the article.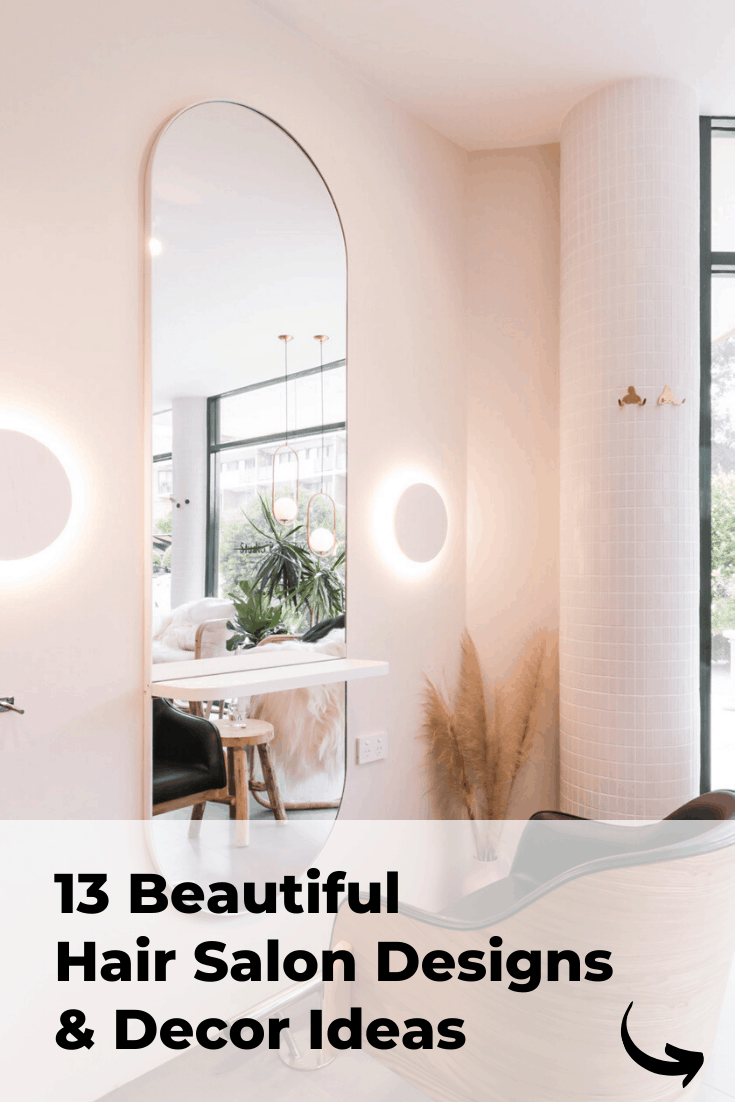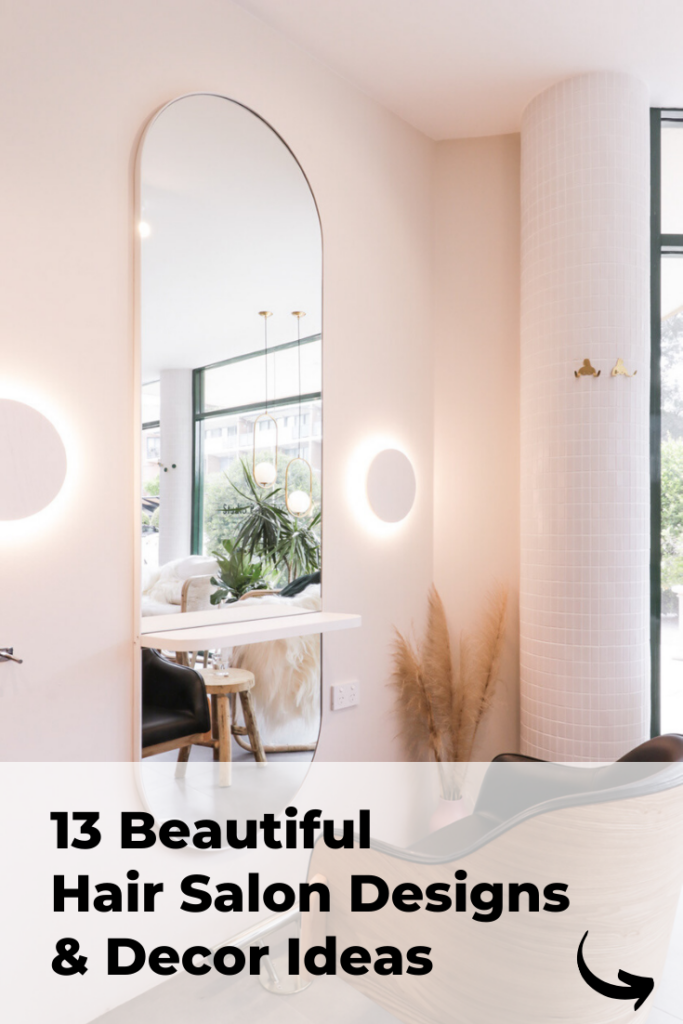 Alright, let's get to it!
1. Vibrant Hair Salon Design by YHS Design
The first hair salon design in the list was designed by YHS Design – an award-winning design agency hair salon architect based out of Taipei.
I just love this nature inspired hair salon design.
This is what YHS said about the project.
"Within the bustling streetscape, there is a place that offers garden rituals where you can temporarily escape from the outside world.

Capturing the essence of the botanical image, sky garden was created throughout the aisle, immediately welcomes the guests to bask under, moving aside from the crowd, welcoming them from the entryway.

Peeking further into the space, the narrowed layout extends upwards with detailed golden touch-ups. Botanic metaphors are still vibrantly expressed throughout the room, replacing the bustling noise coming from the streets, and here becomes a secret garden."

YHS Design
Hair Styling Station Design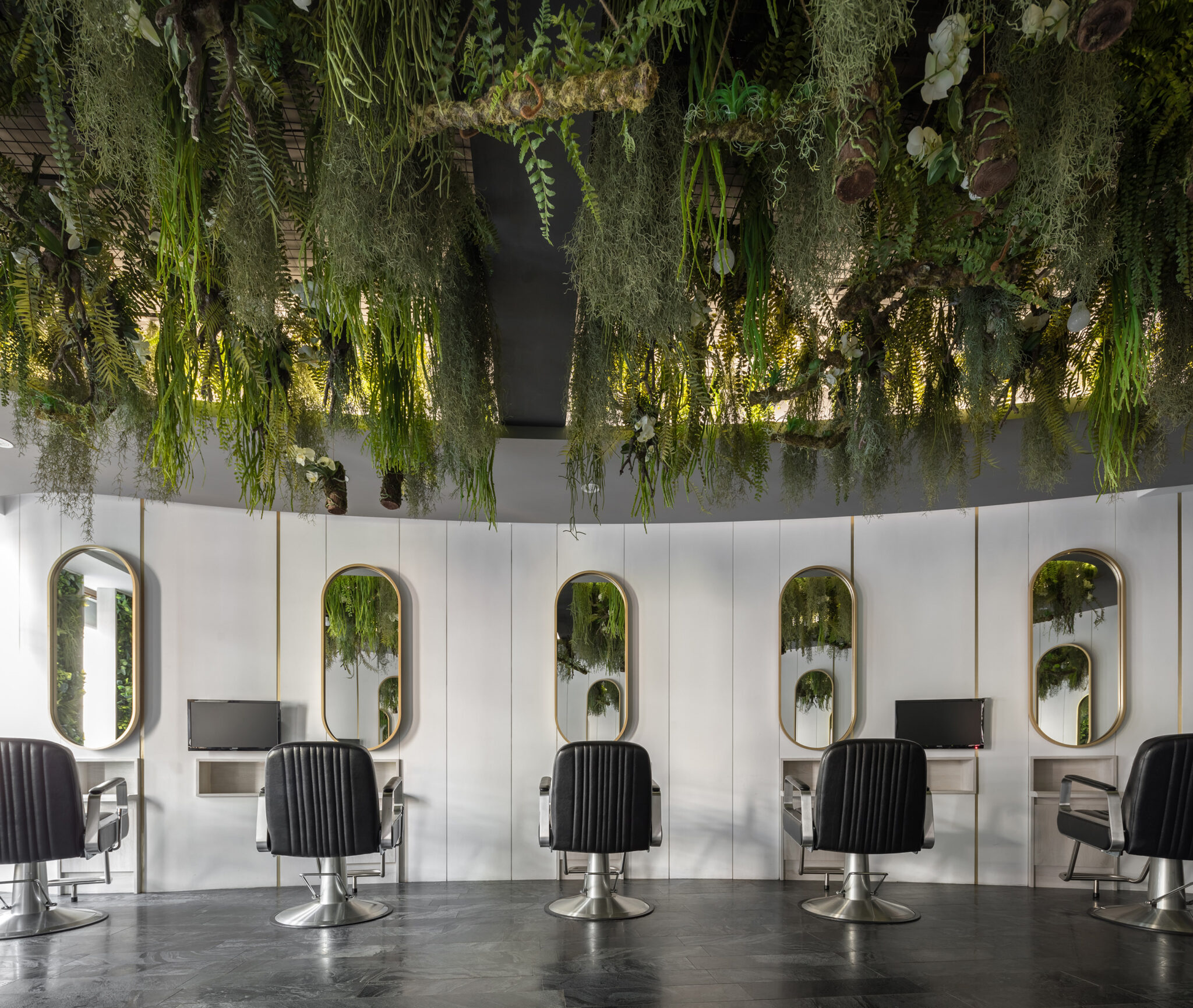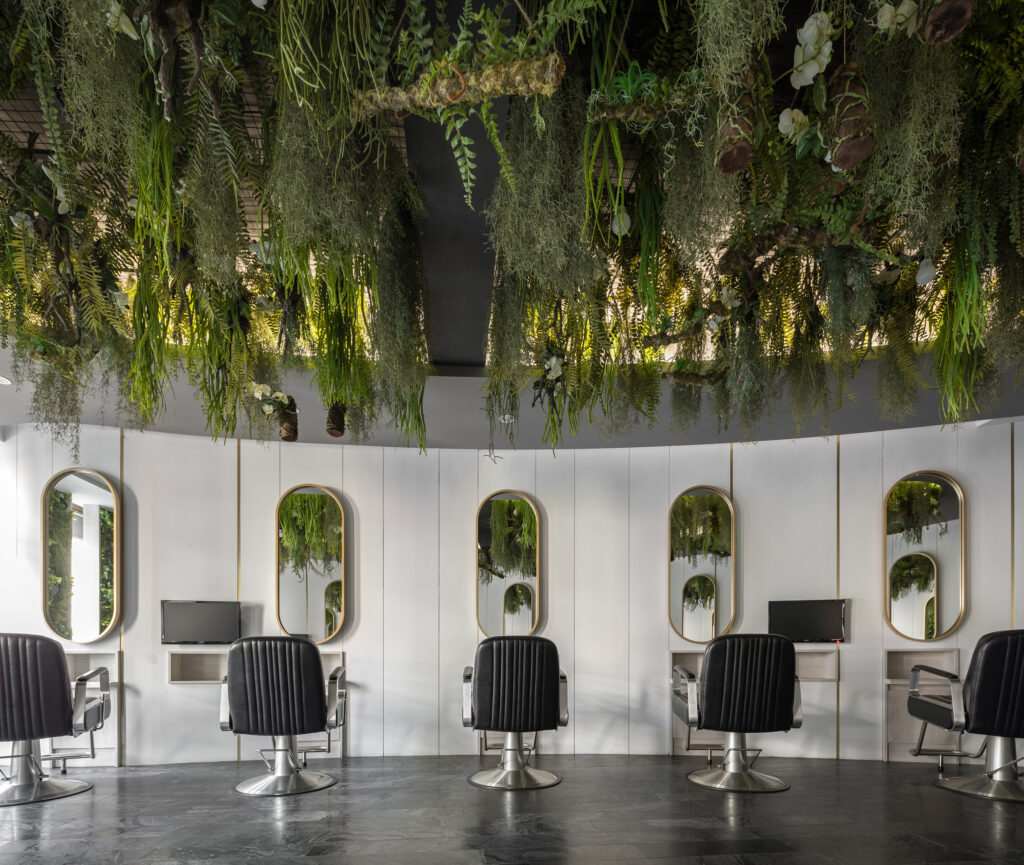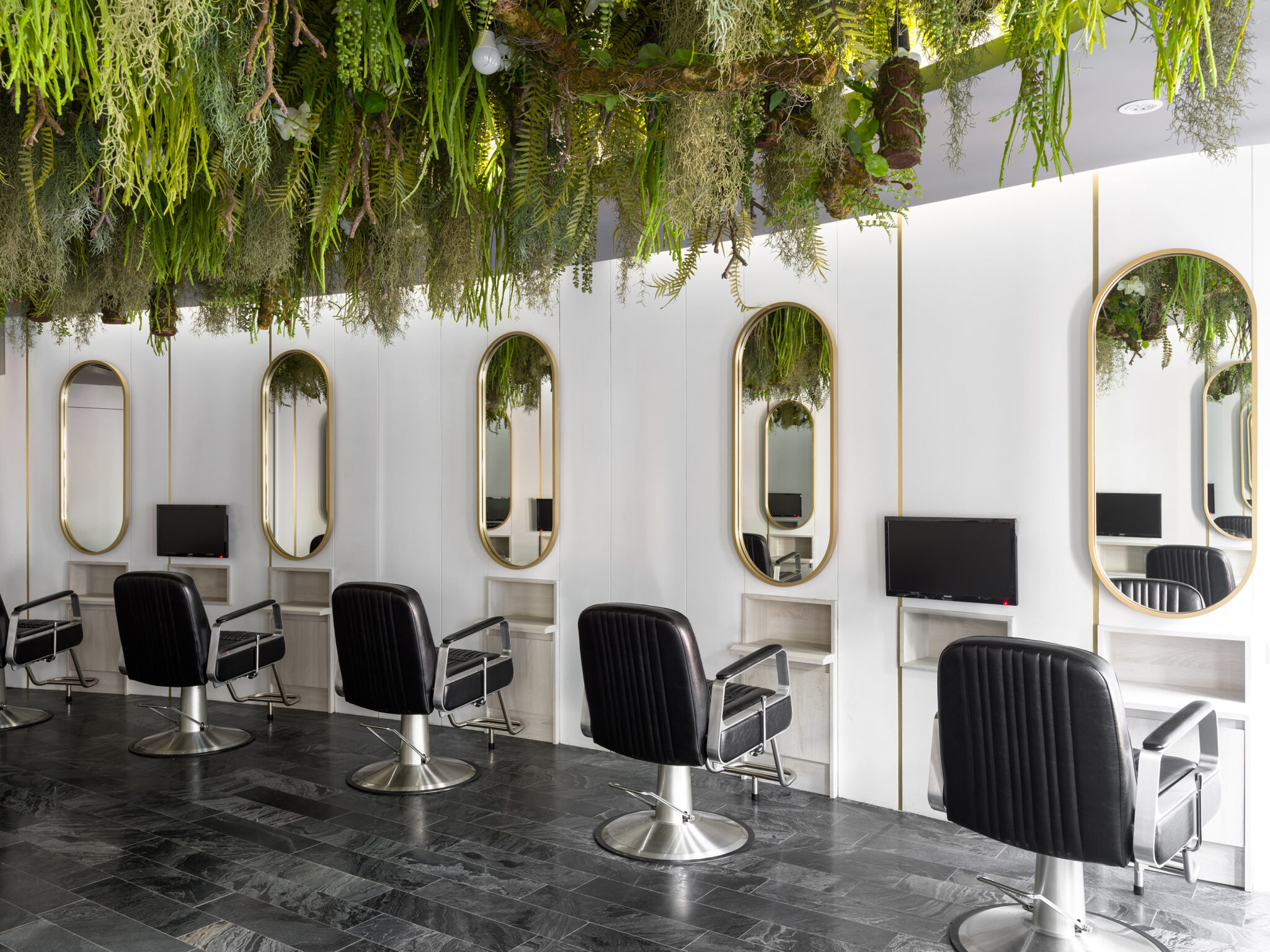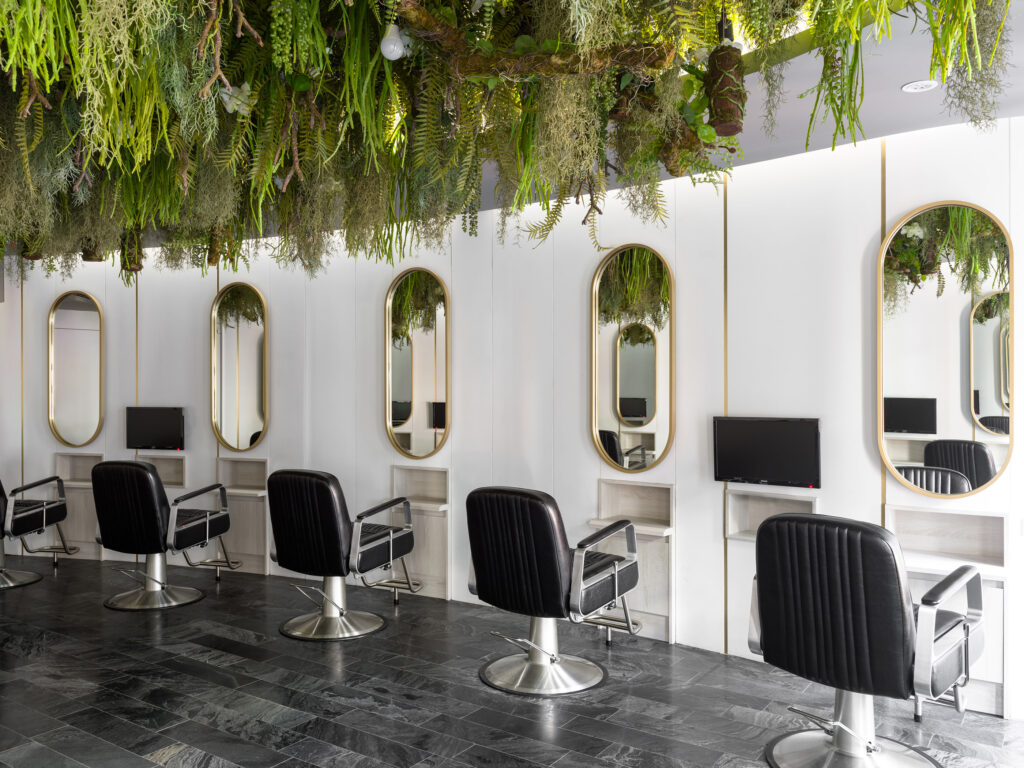 Salon Reception and Waiting Area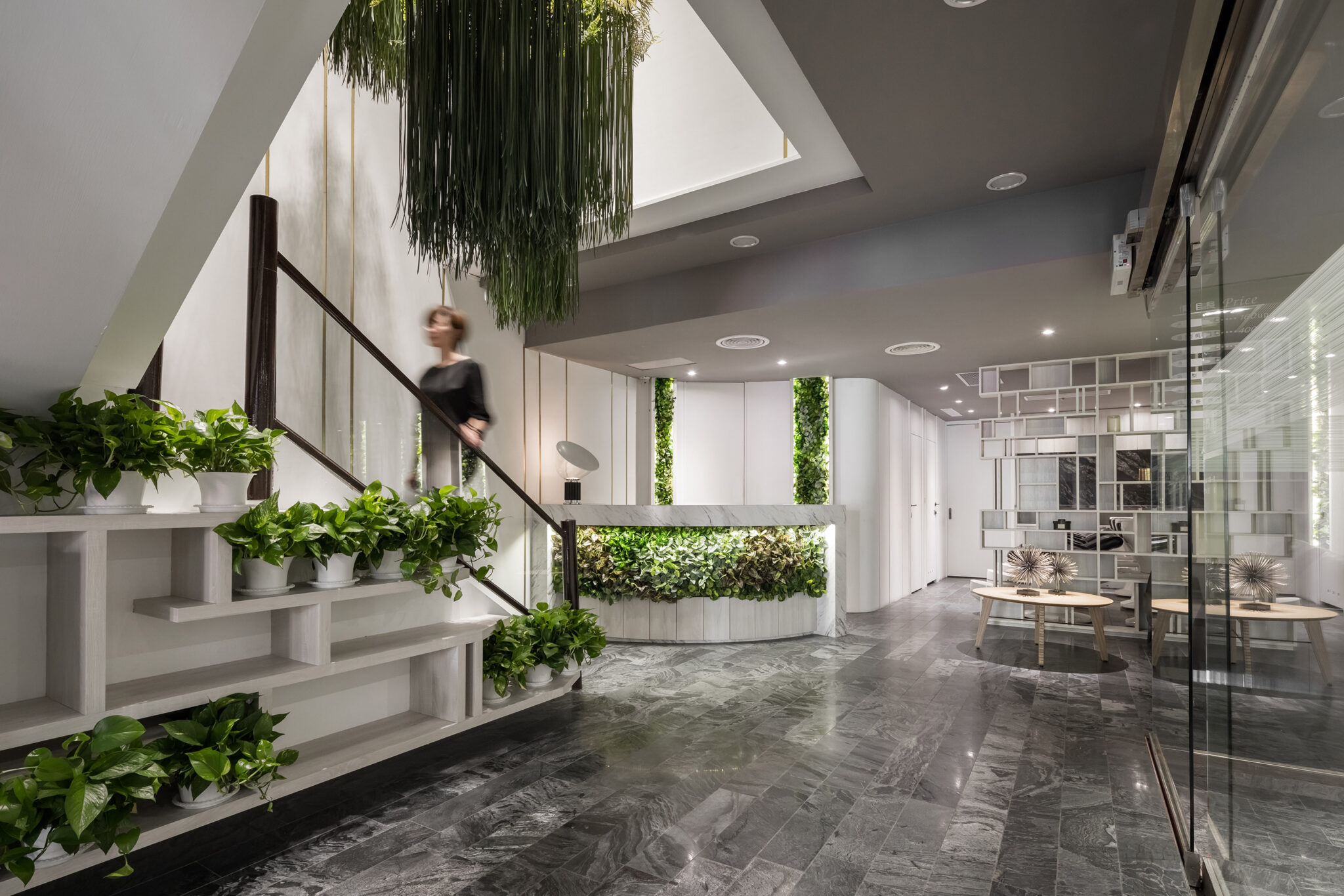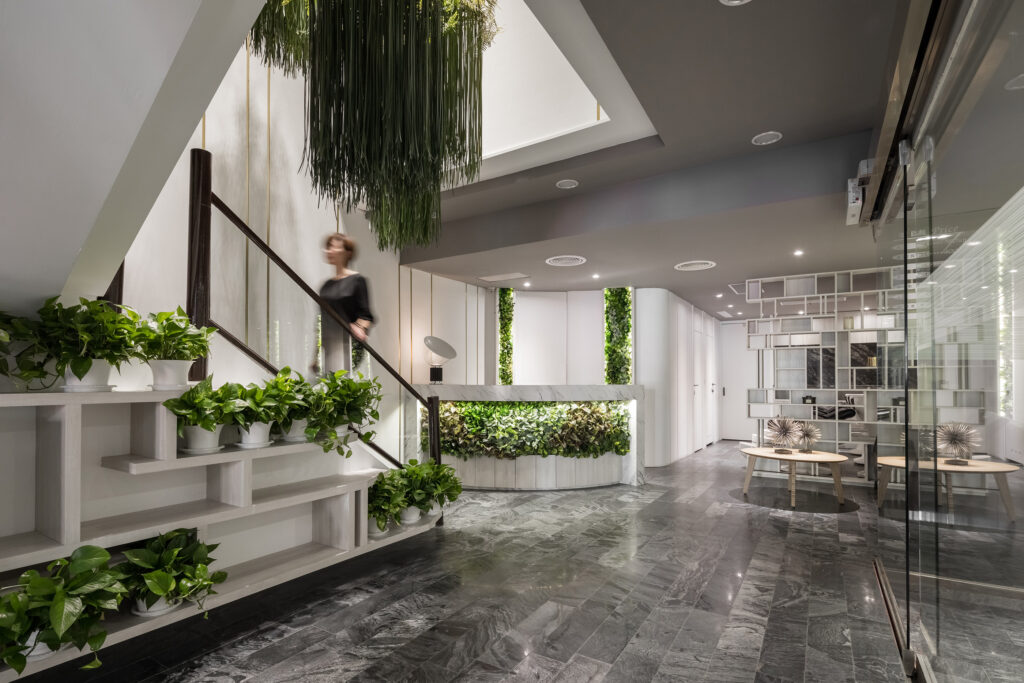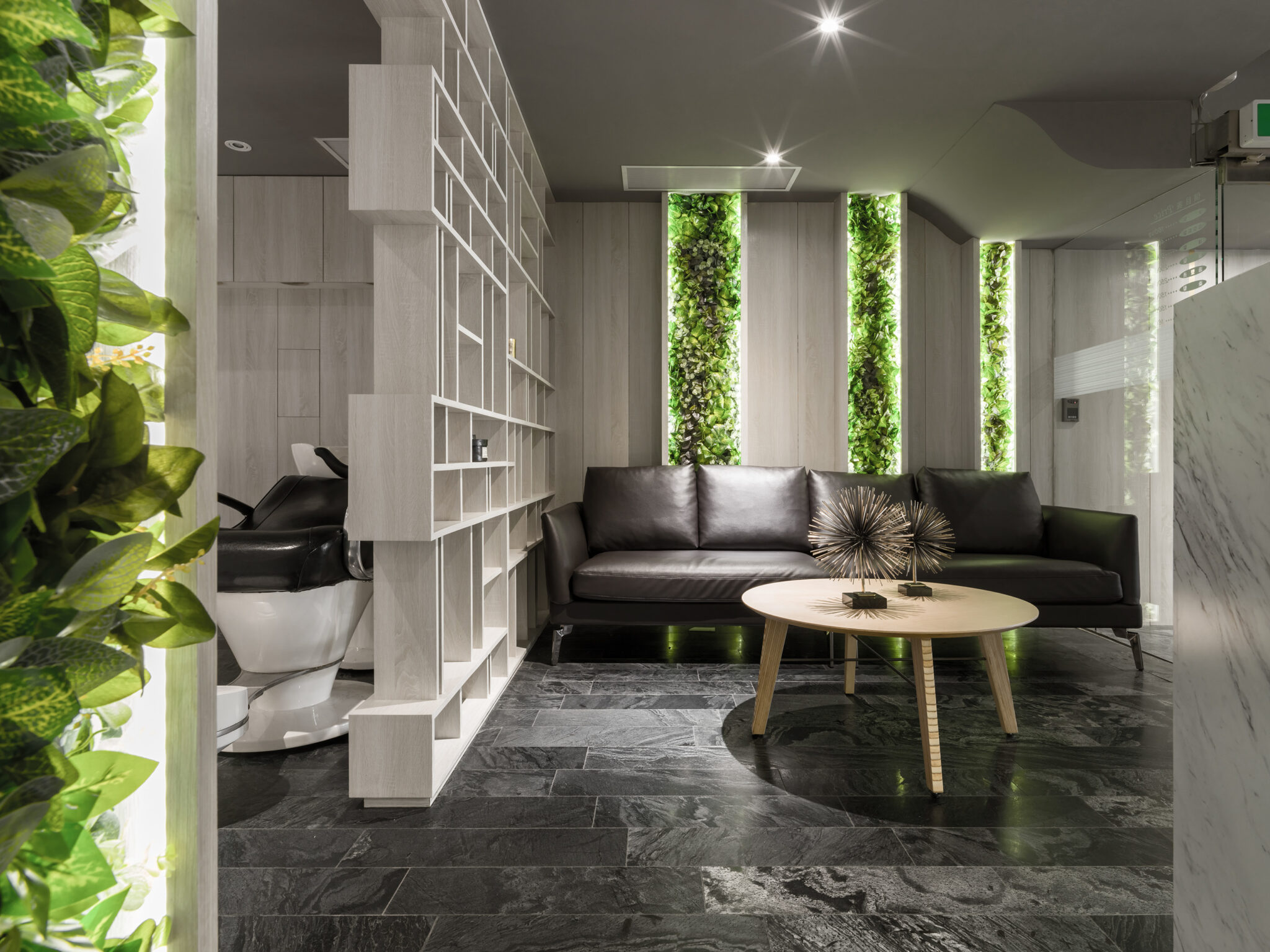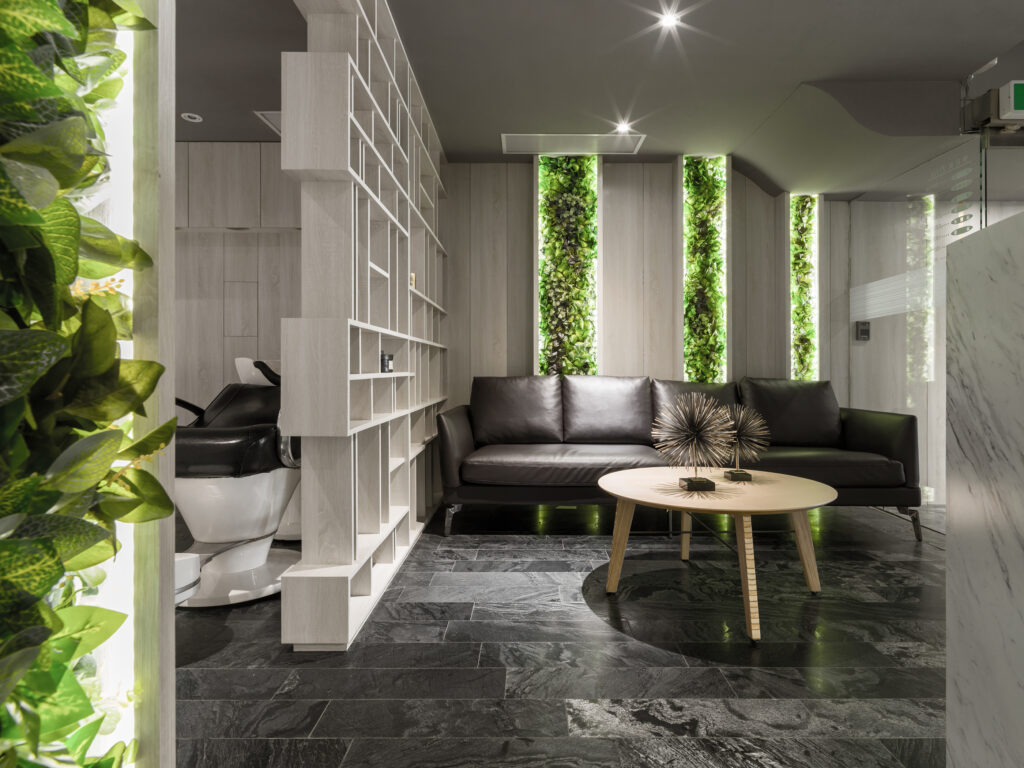 2. Zoom Hair Salon Decor by Googoods Design
The next project is one of the coolest designs in the list. It was created by Googoods Design and has this raw, yet minimalistic, feel to it that I love.
Salon Reception Area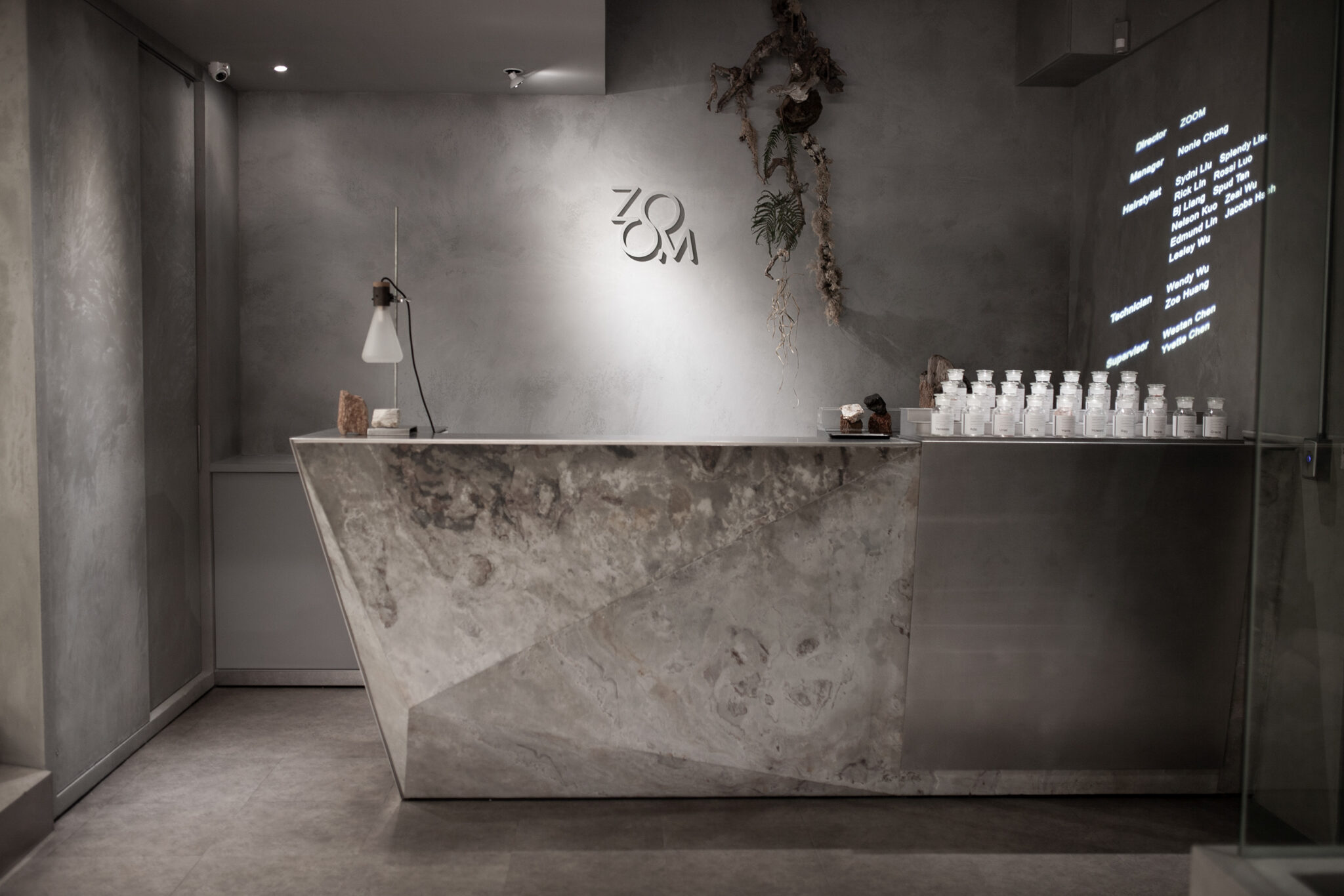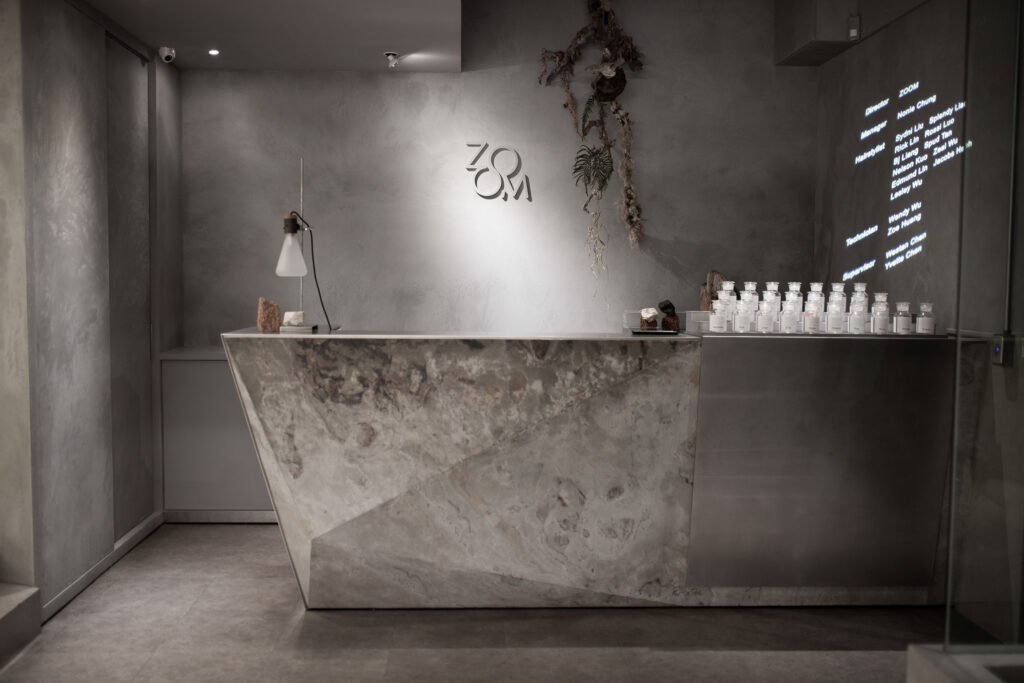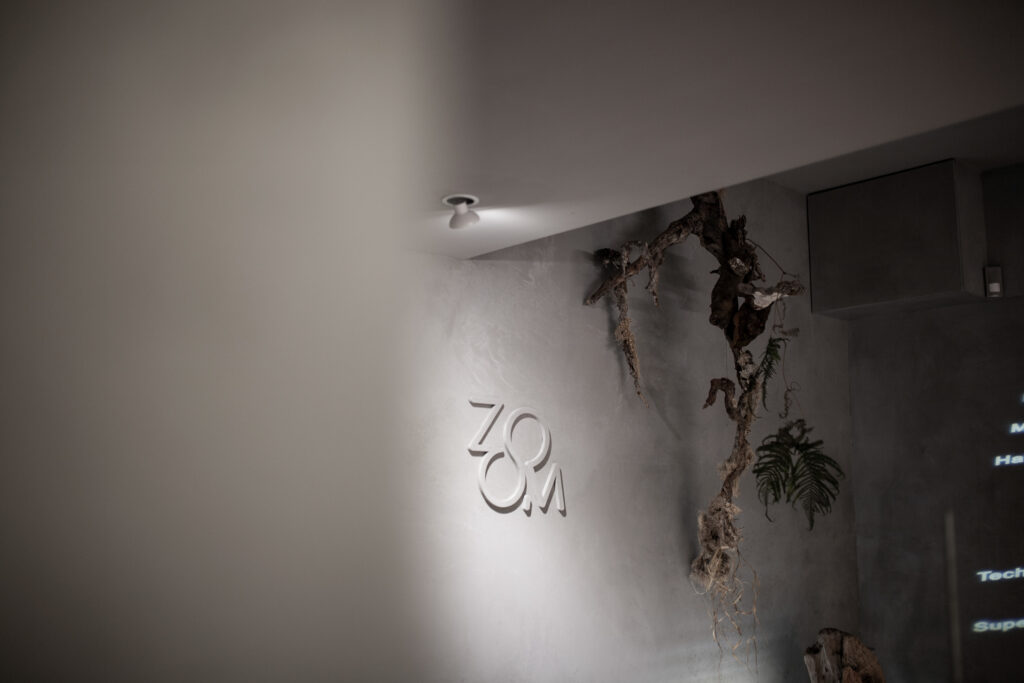 Hair Salon Decor & Styling Stations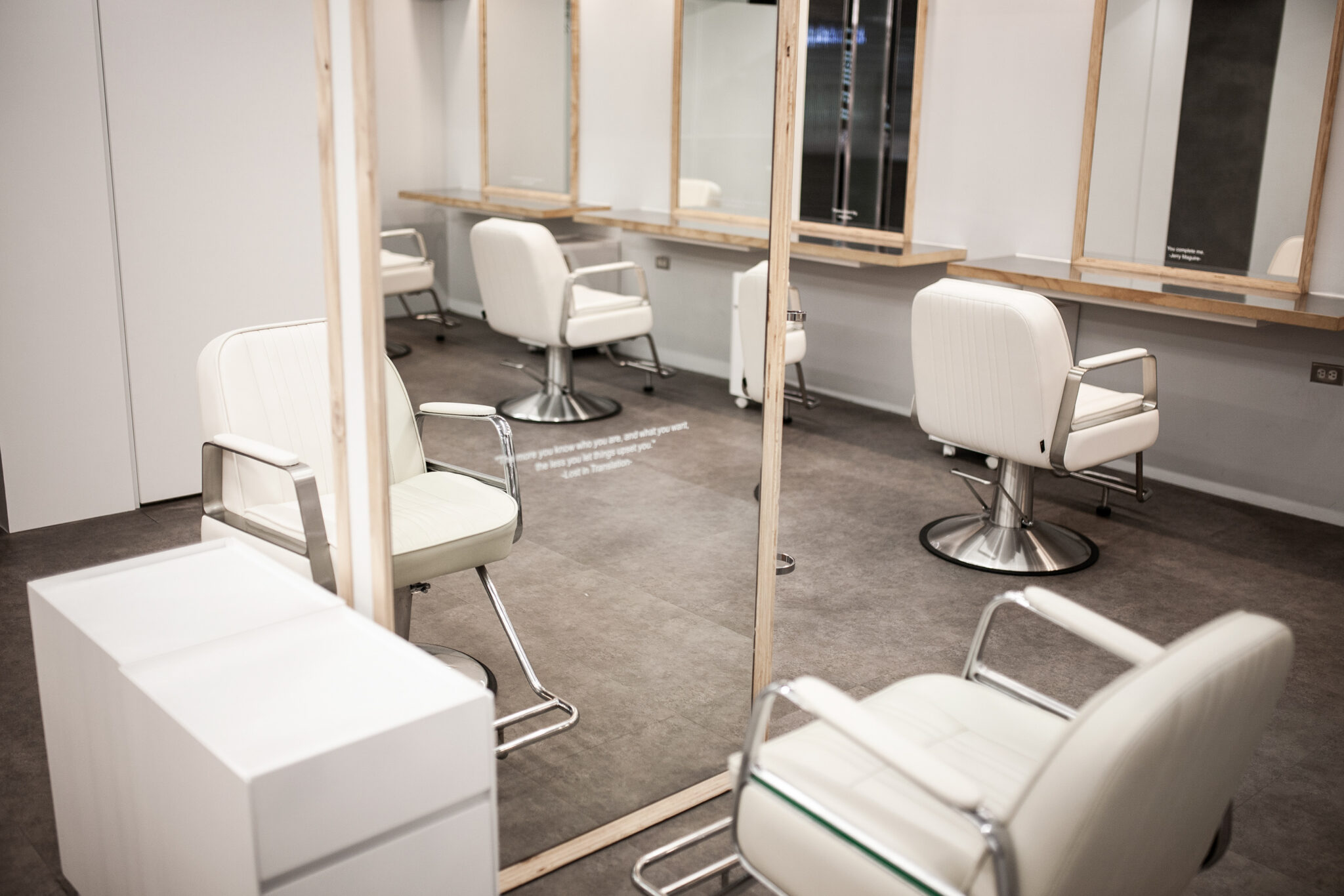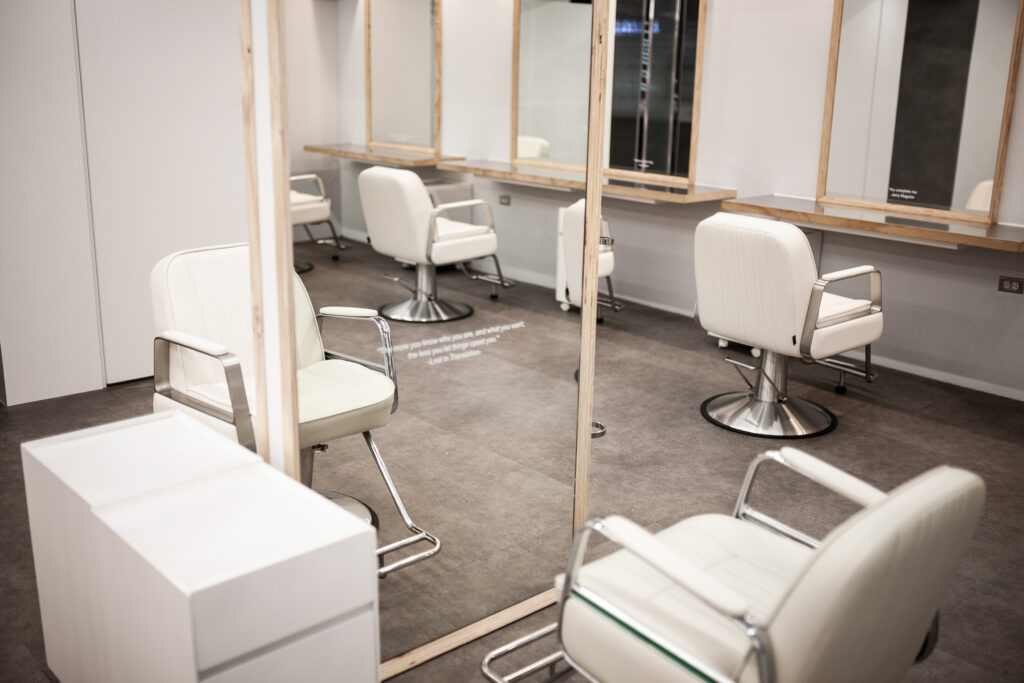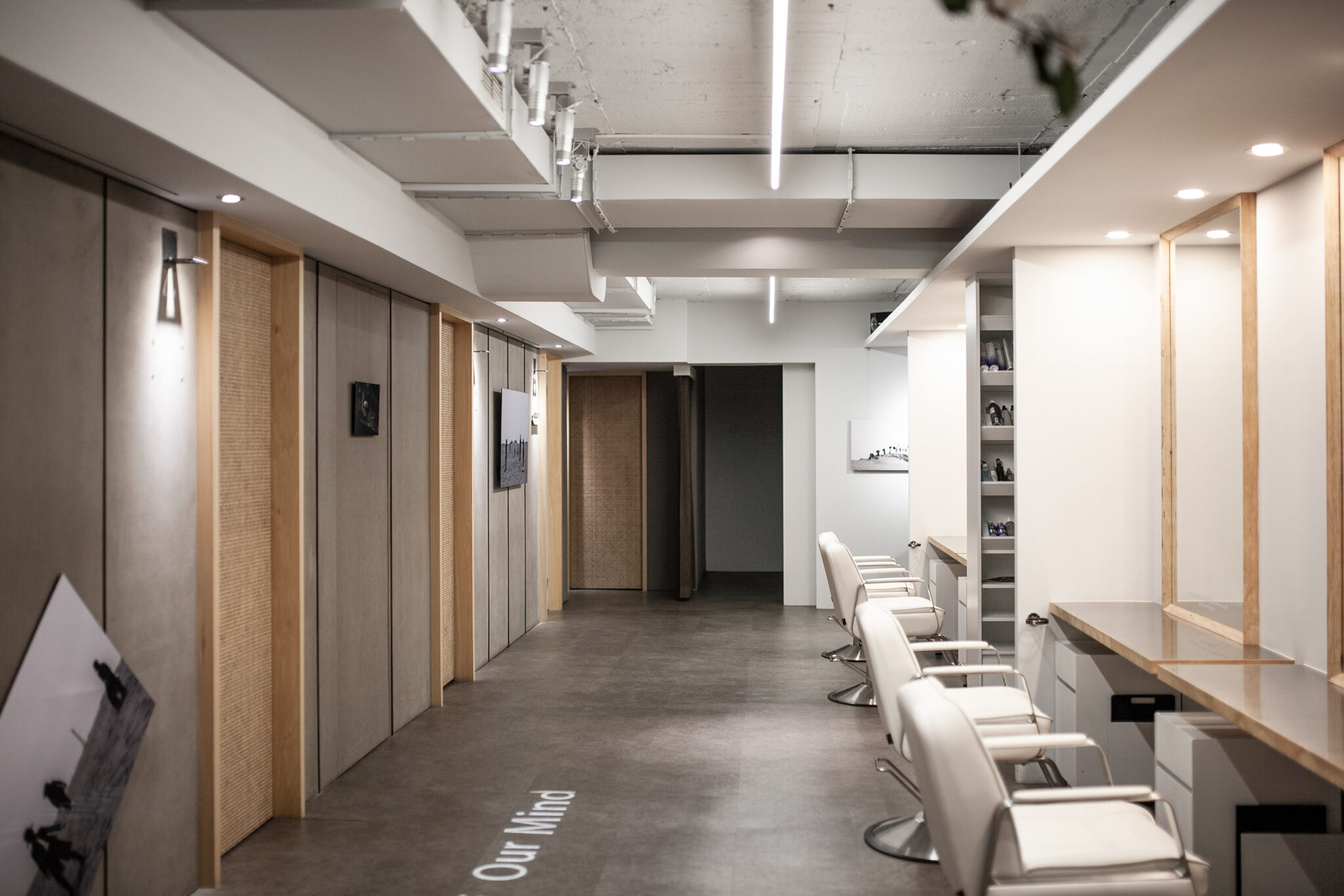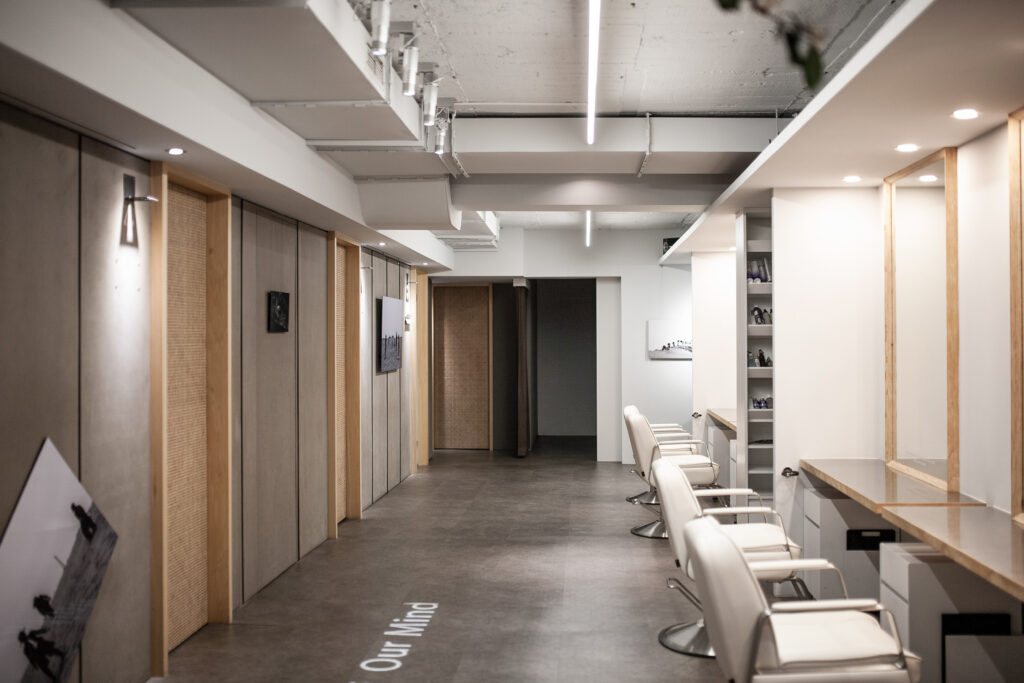 Salon Retail Shelves and Design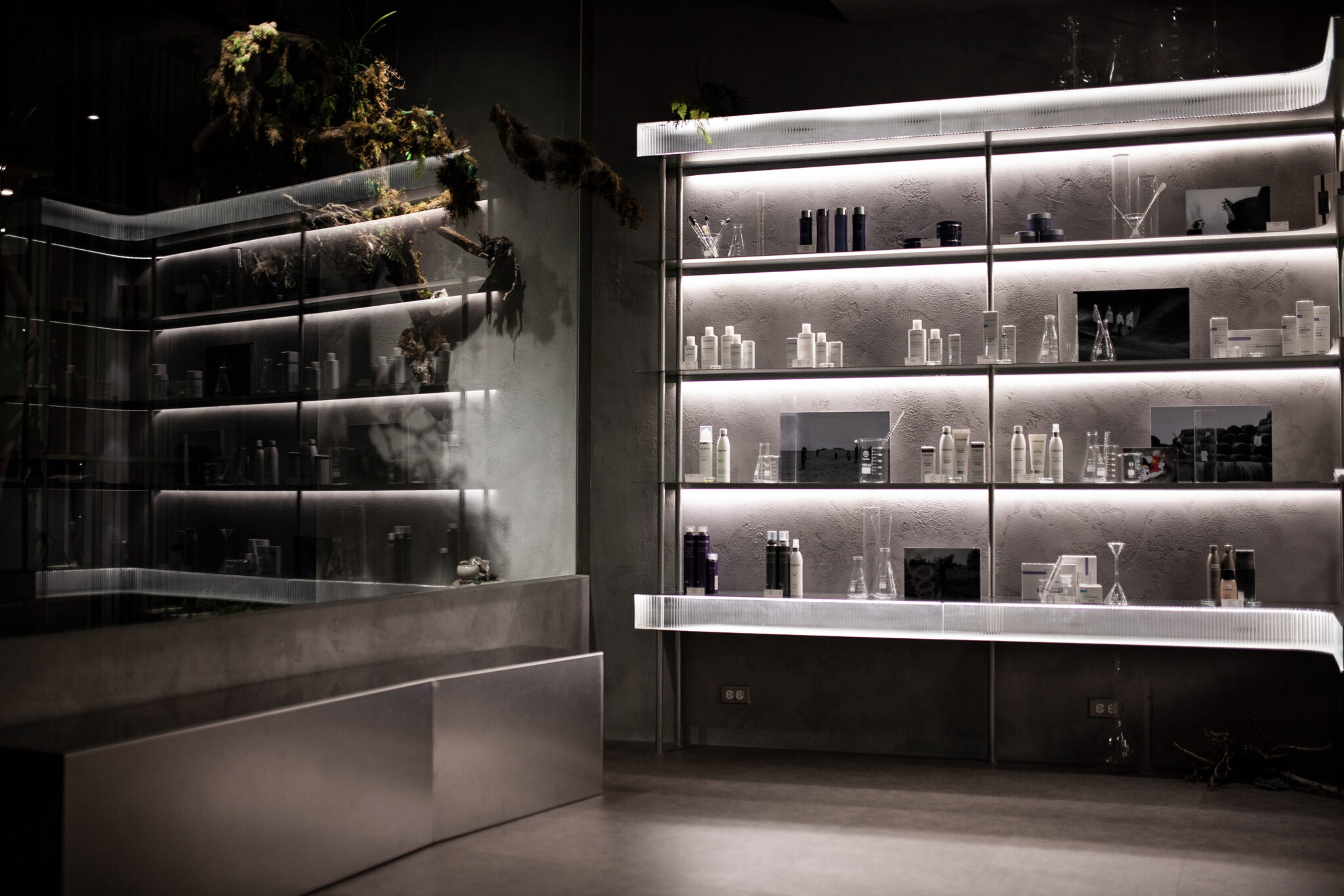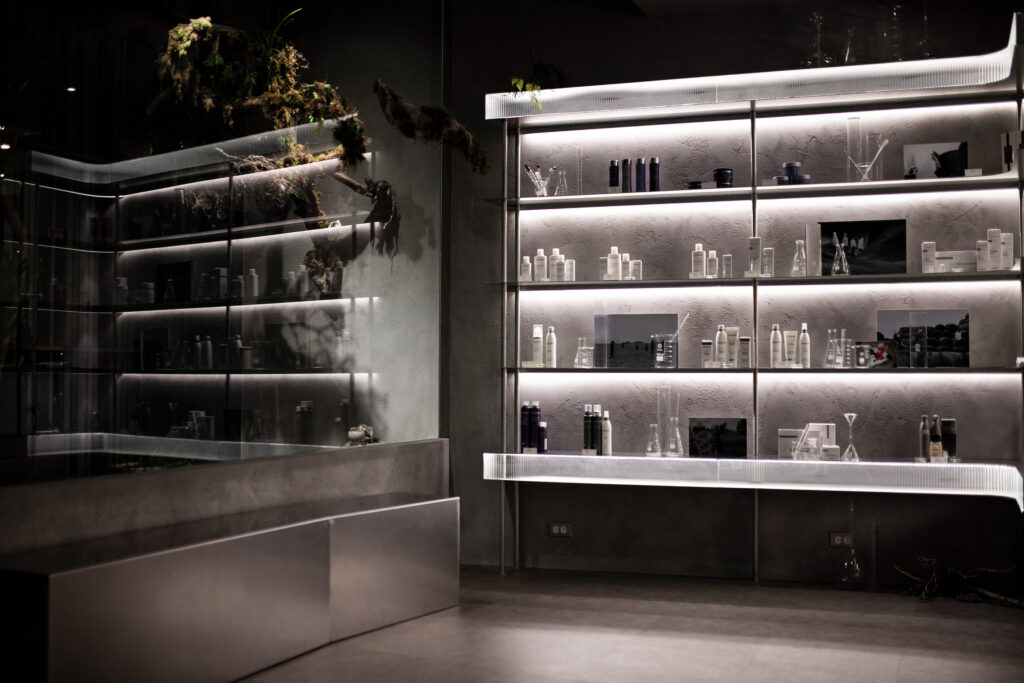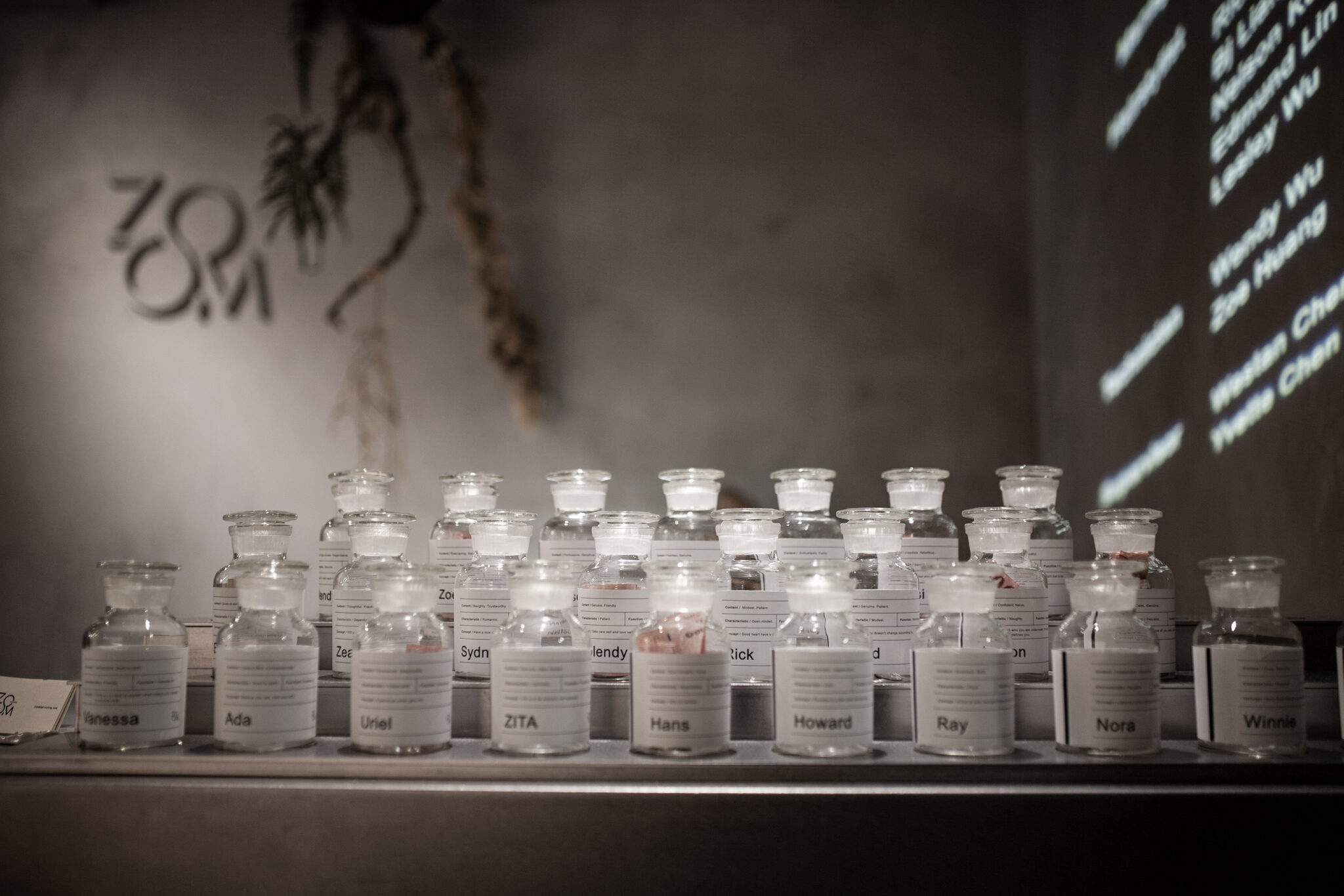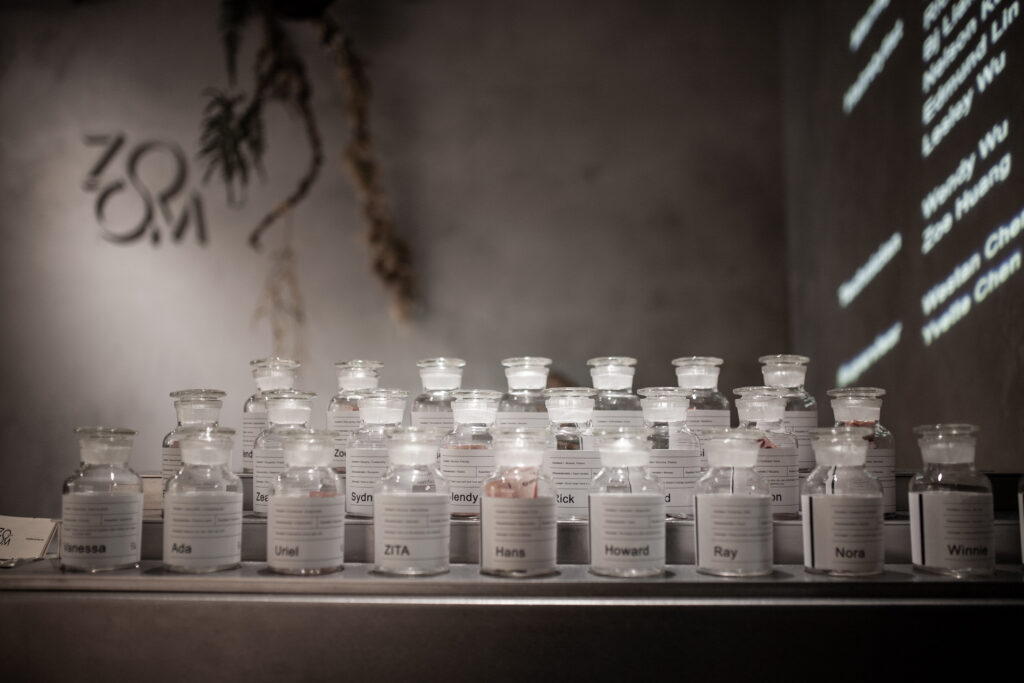 3. Pink Confession Hairdressing & Nail Salon Decor by Tulimond
The next design is a beauty salon visualization created by Tulimond for salon "Pink Confessions, Nail & Hair Studio" based in Qatar. Its 68 sqm is a true celebration of femininity.
This is what Tulimond says about the design:
"A chic-blush interior concept combining nail art, hair glamour, and oh-so-good coffee; all in one space. The end result screams elegant-feminine power!

It subtly represents every woman's dream of a tranquility haven, where your most delicate beauty bits get treated along with having your favorite drink.

The high-end interior design is inspired by the abstraction of sleek geometrical shapes with the mixture of metallic elements, and blush-pinkie tones dominating the interior as the soul of the space."

Tulimond
Salon Reception and Café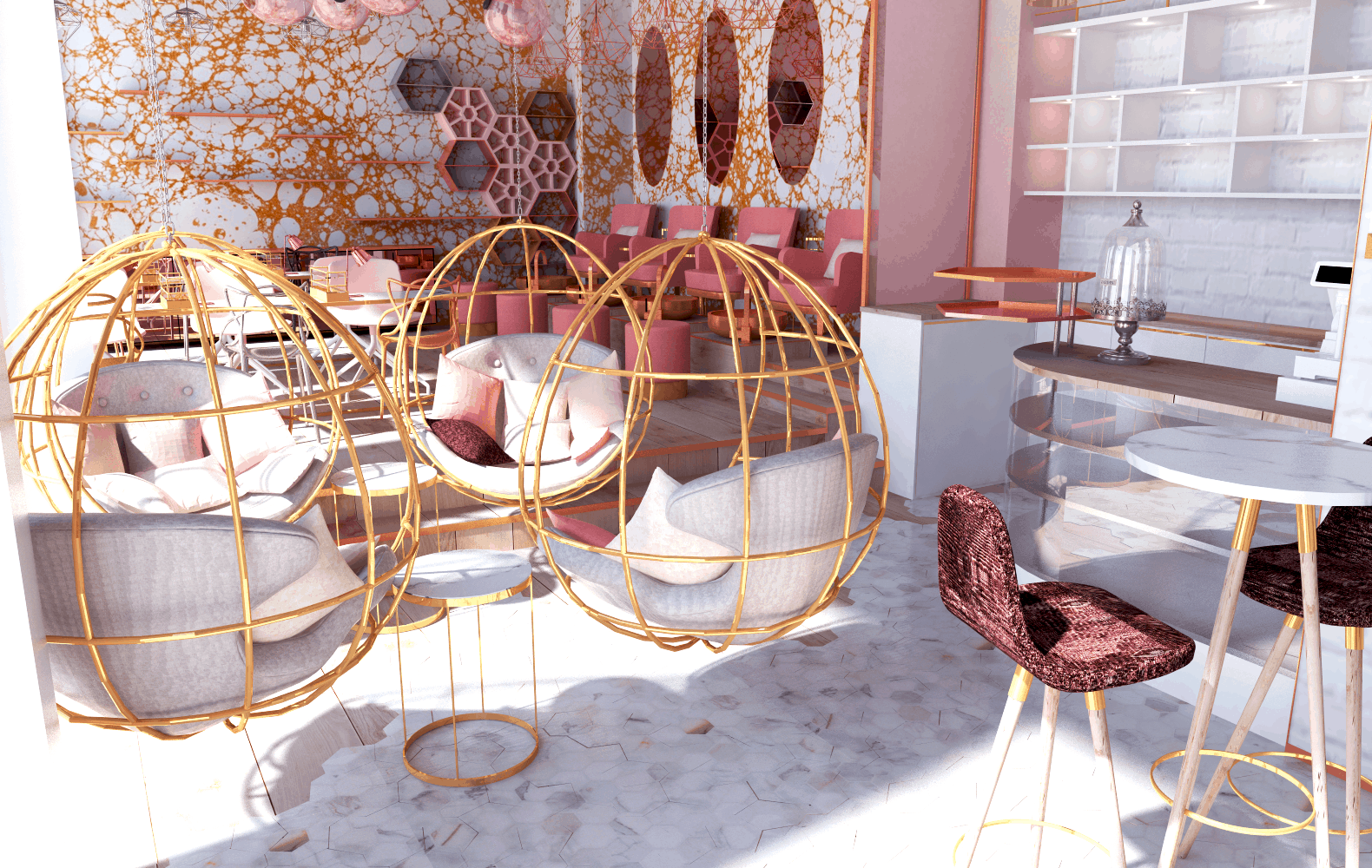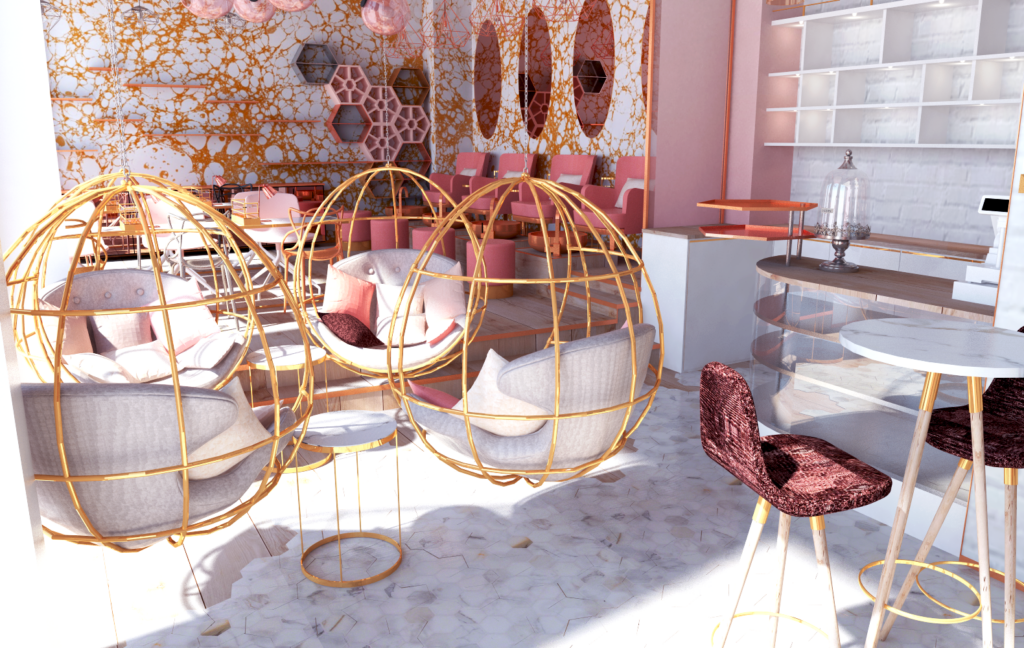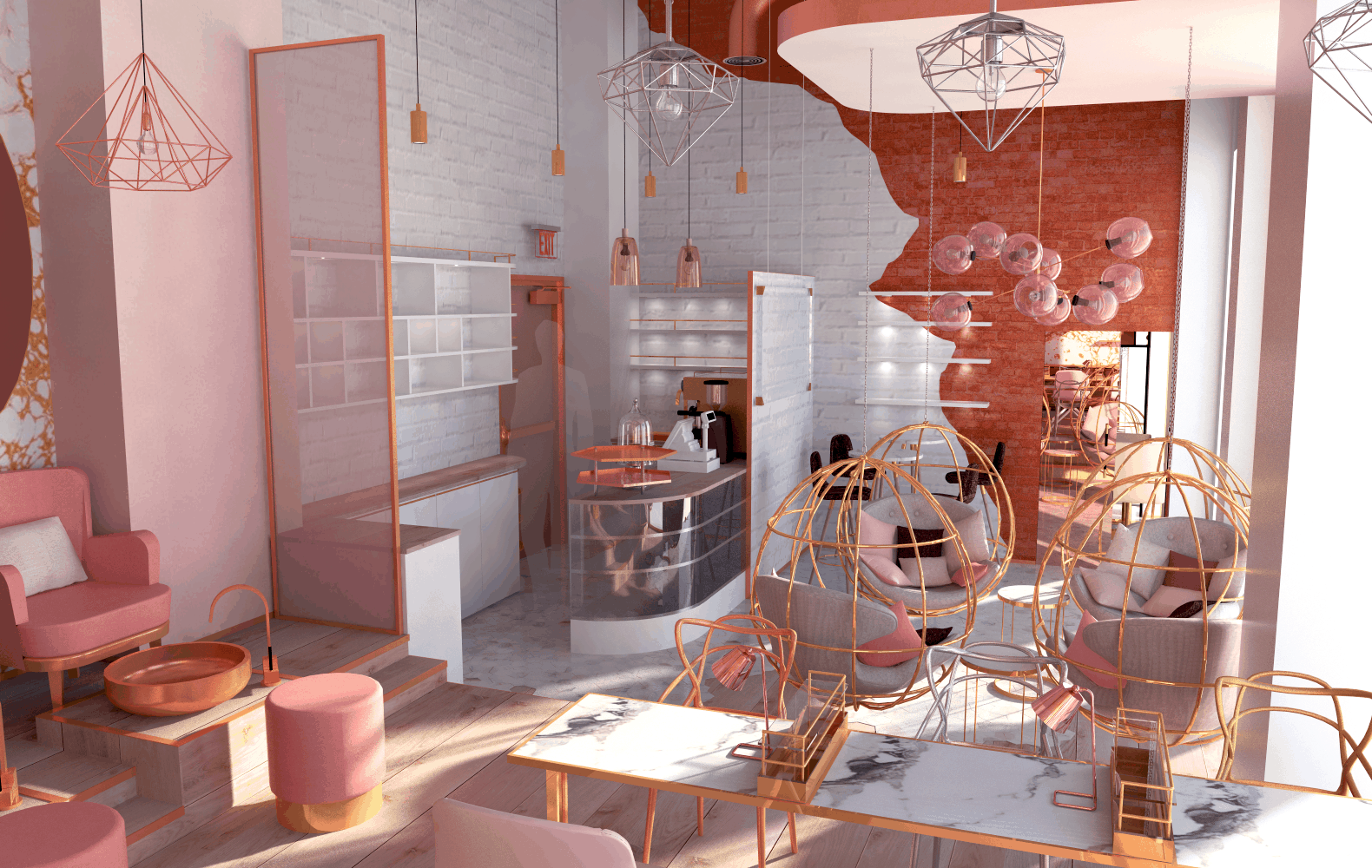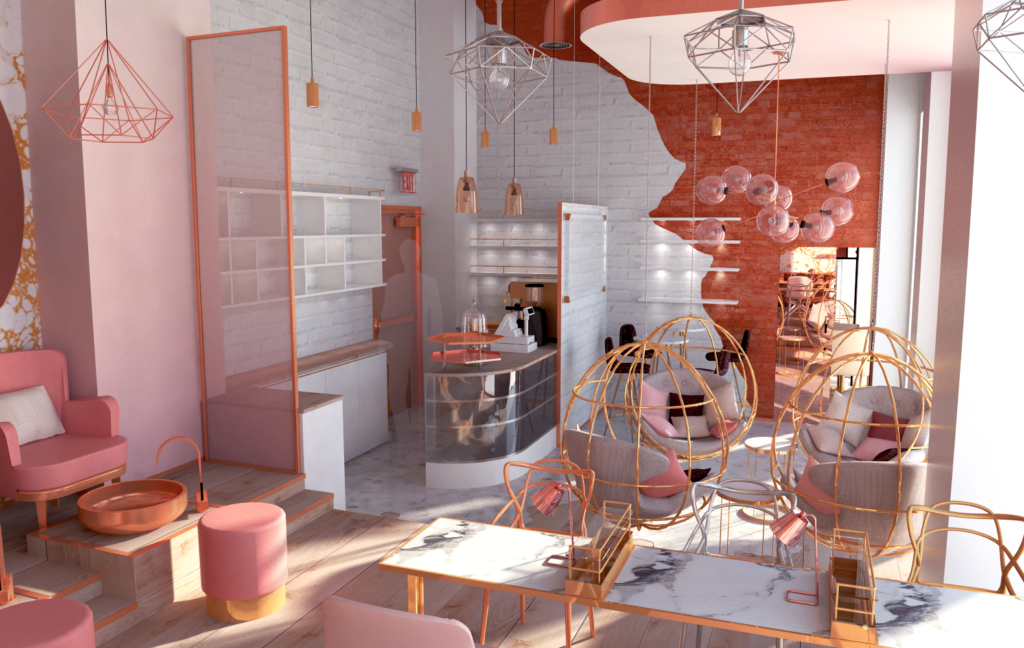 Hair Stylist Station Design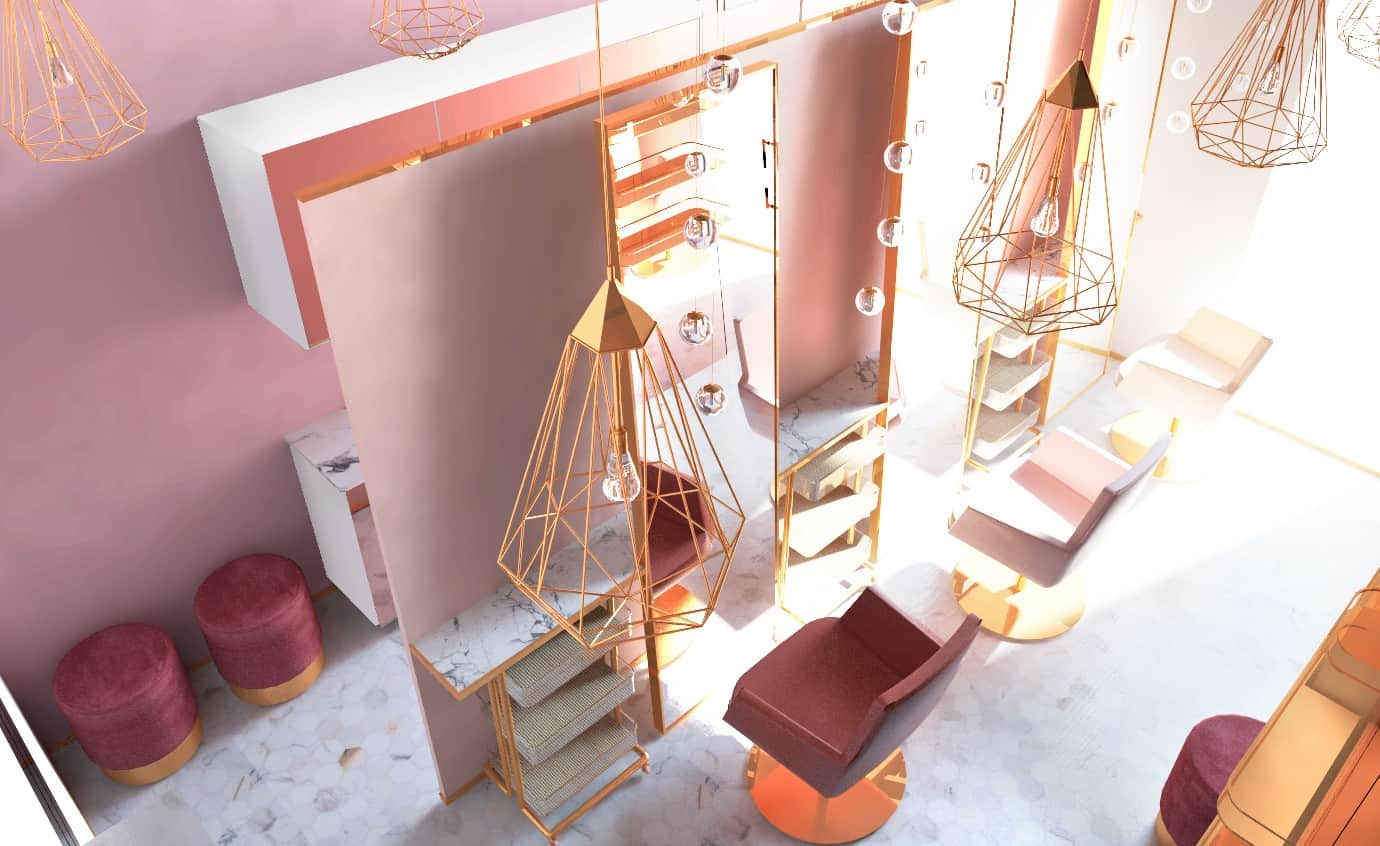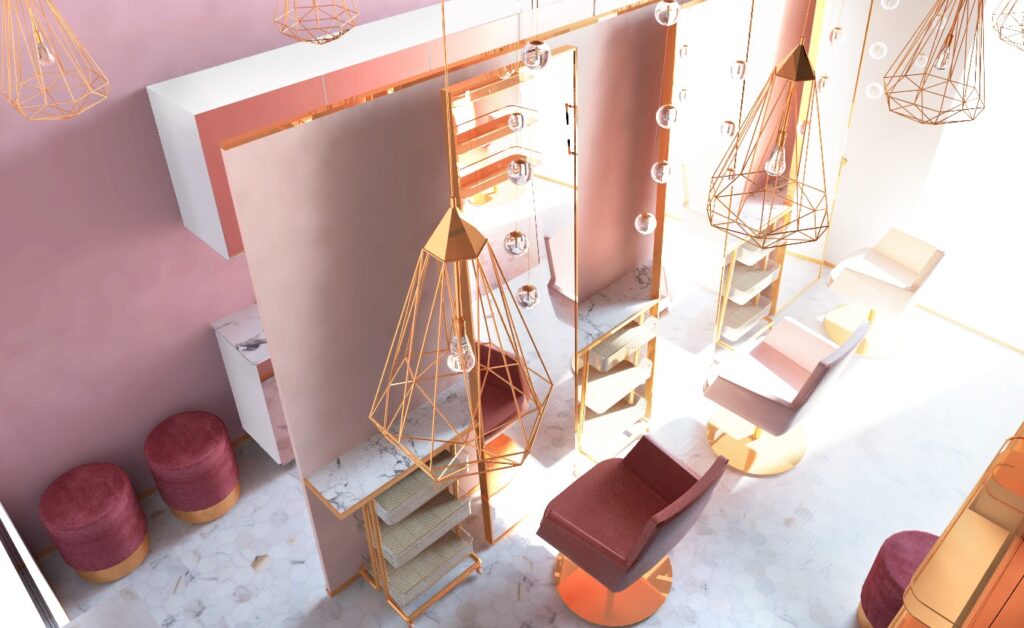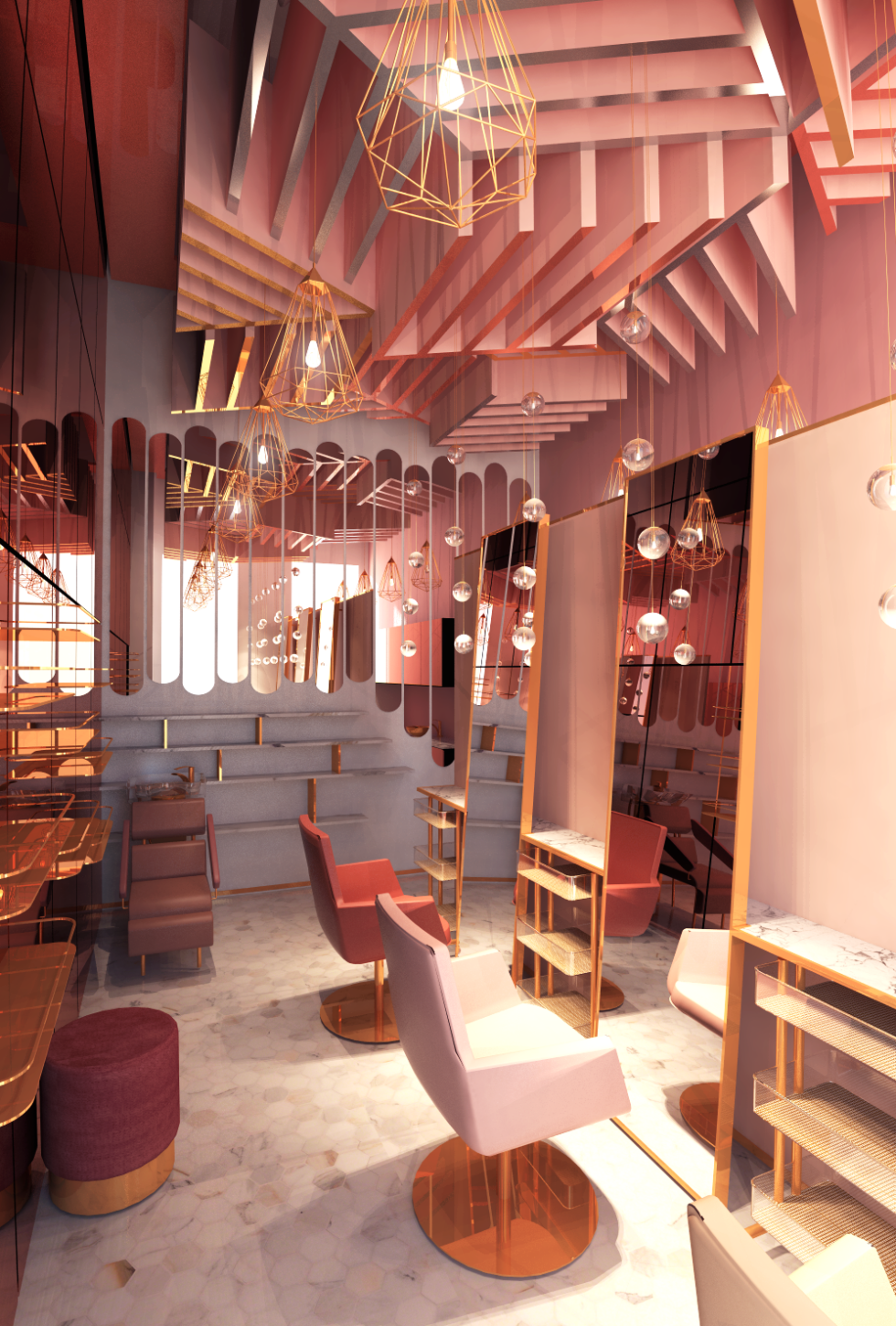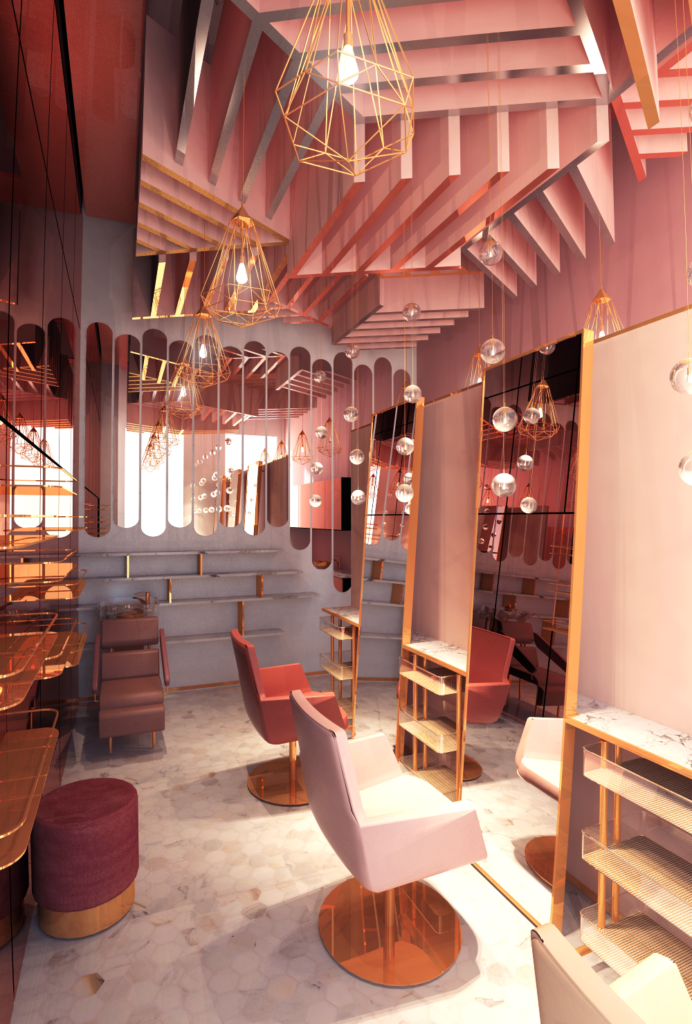 Nail Salon Area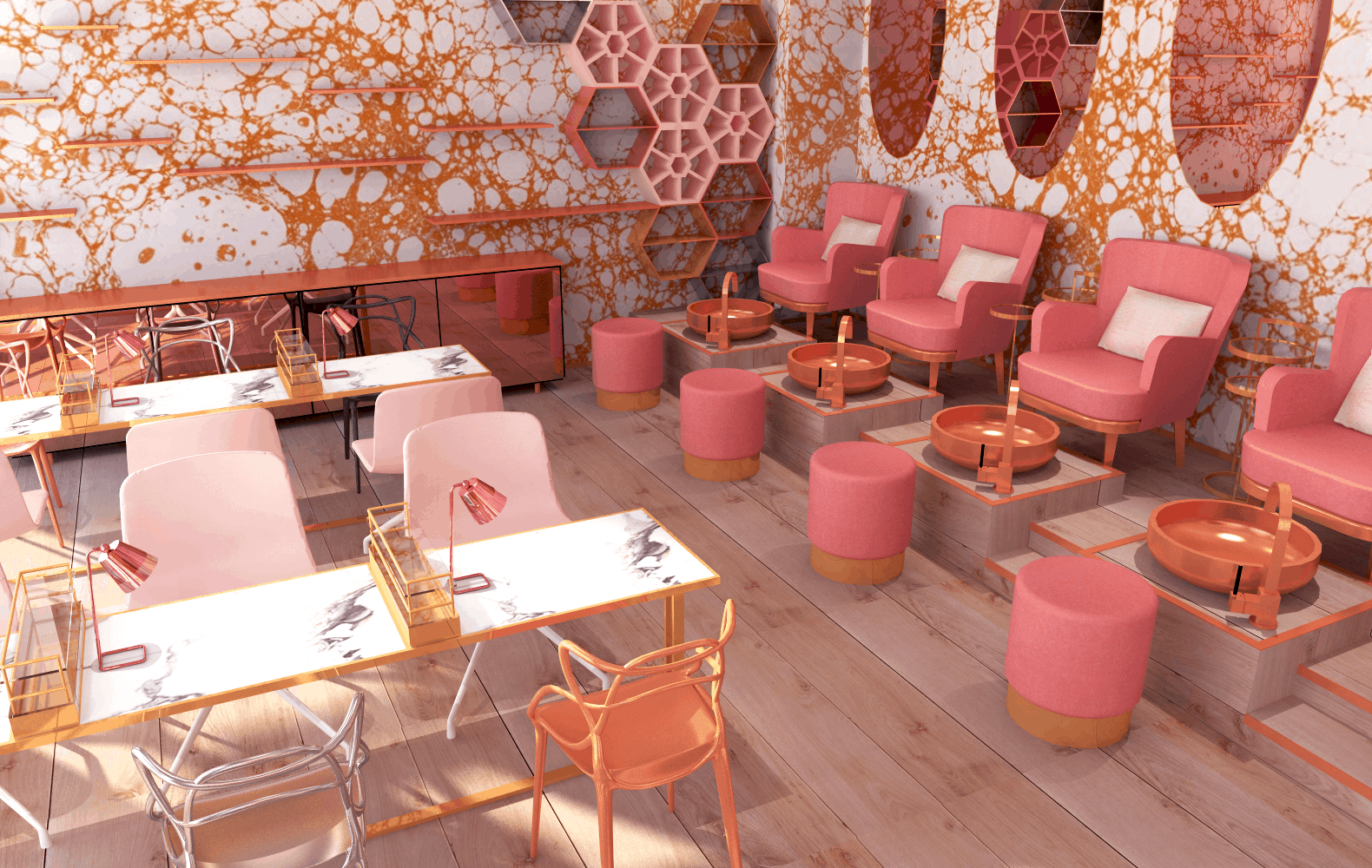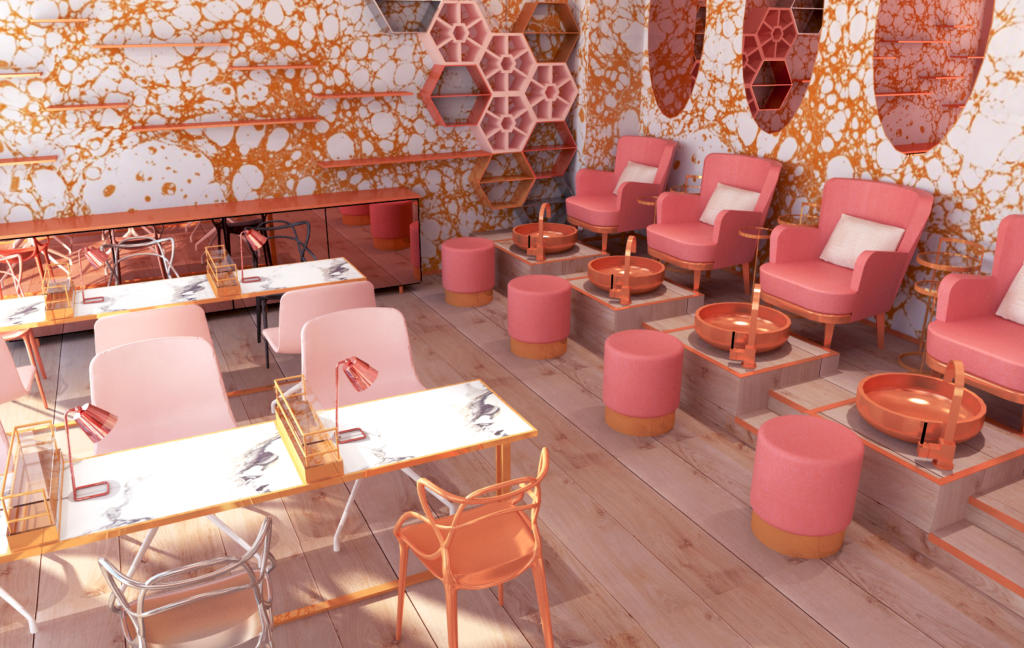 Beauty Salon Floor Plan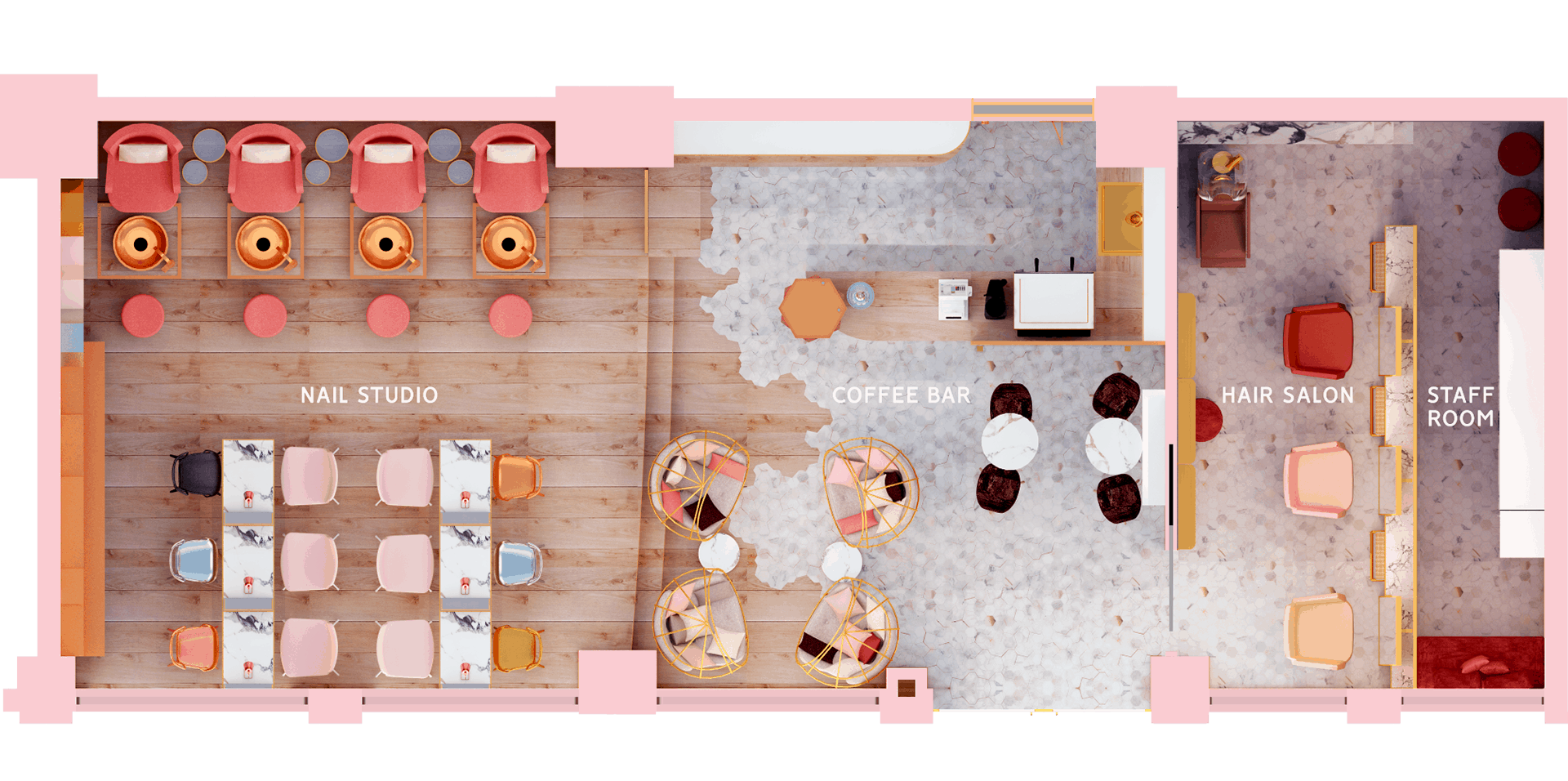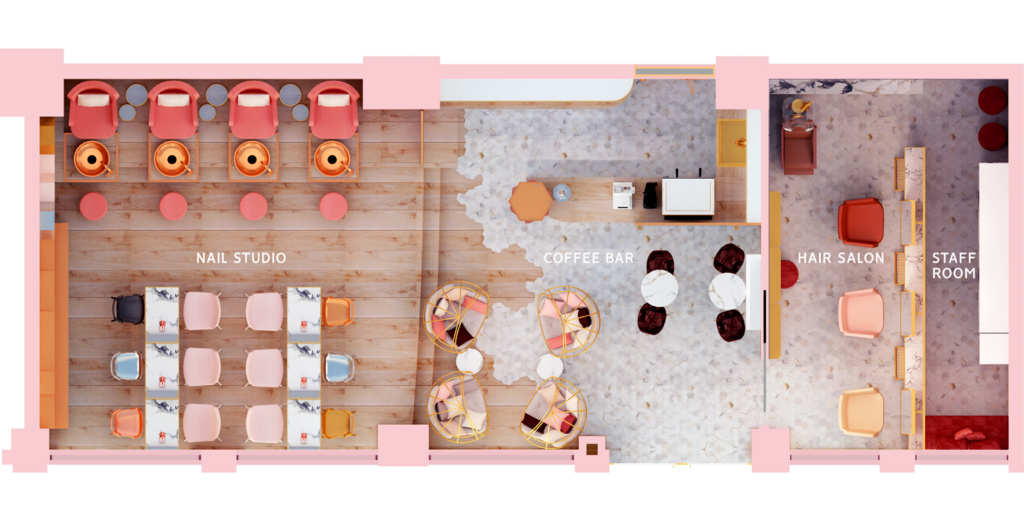 4. Island Hair Salon Design by YHS Design
Here is another beautiful and nature inspired salon decoration and design project from YHS Design.
"Birds sing, water flows, wood and plants release the fragrance of nature. A place, filled with greenery and vitality, differentiates itself from the rest of hair salons and reinterpret the spatial concept."

YHS Design
This is how they explain the project:
"The delicate atmosphere gradually infects the mood, the tangible and intangible nature and the change of light and shadow set off a pleasant and beautiful interest in the space. This urban oasis is expected to bring people different sensory experiences and visual enjoyment. One can embrace the natural appearance in the bustling city and feel the collision of natural elements in the space. Deconstruct the existing natural lines of tree trunks and combine them with shade-tolerant plants then reorganize them in the space recede all the complexity and eventually reach a balance between nature and design."

YHS Design
Hair Styling Station Design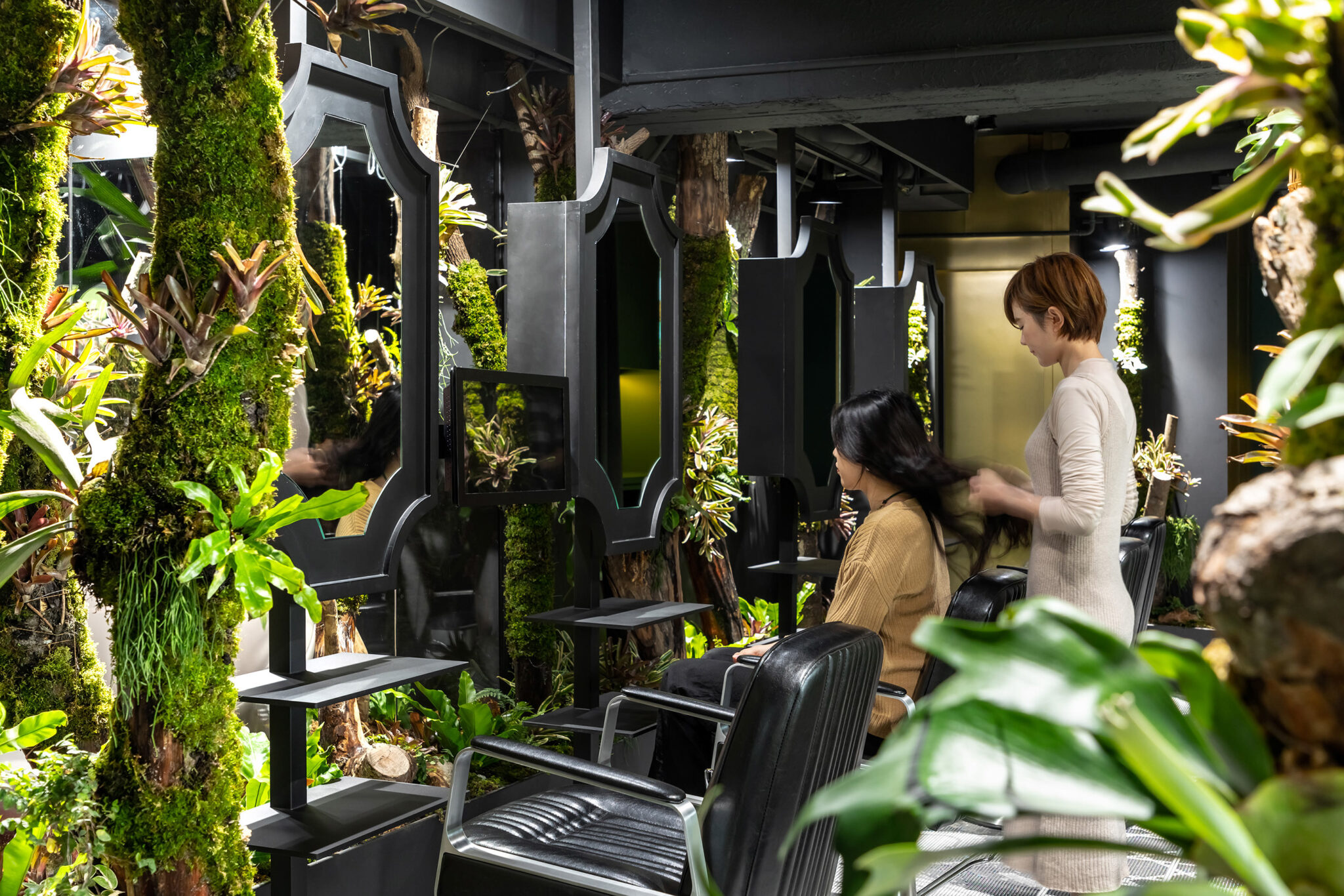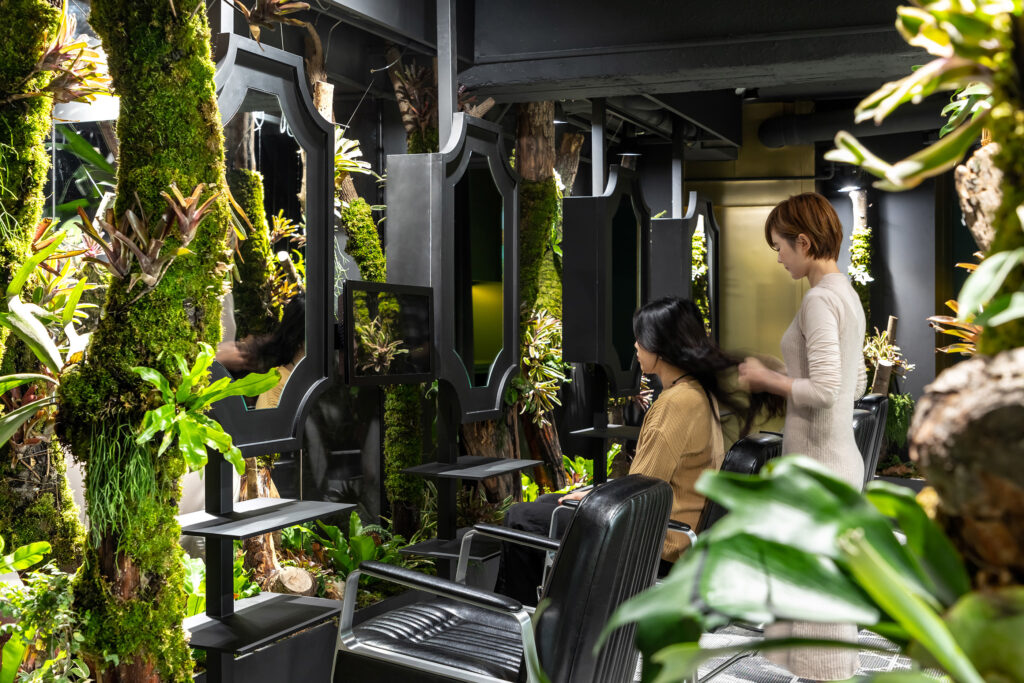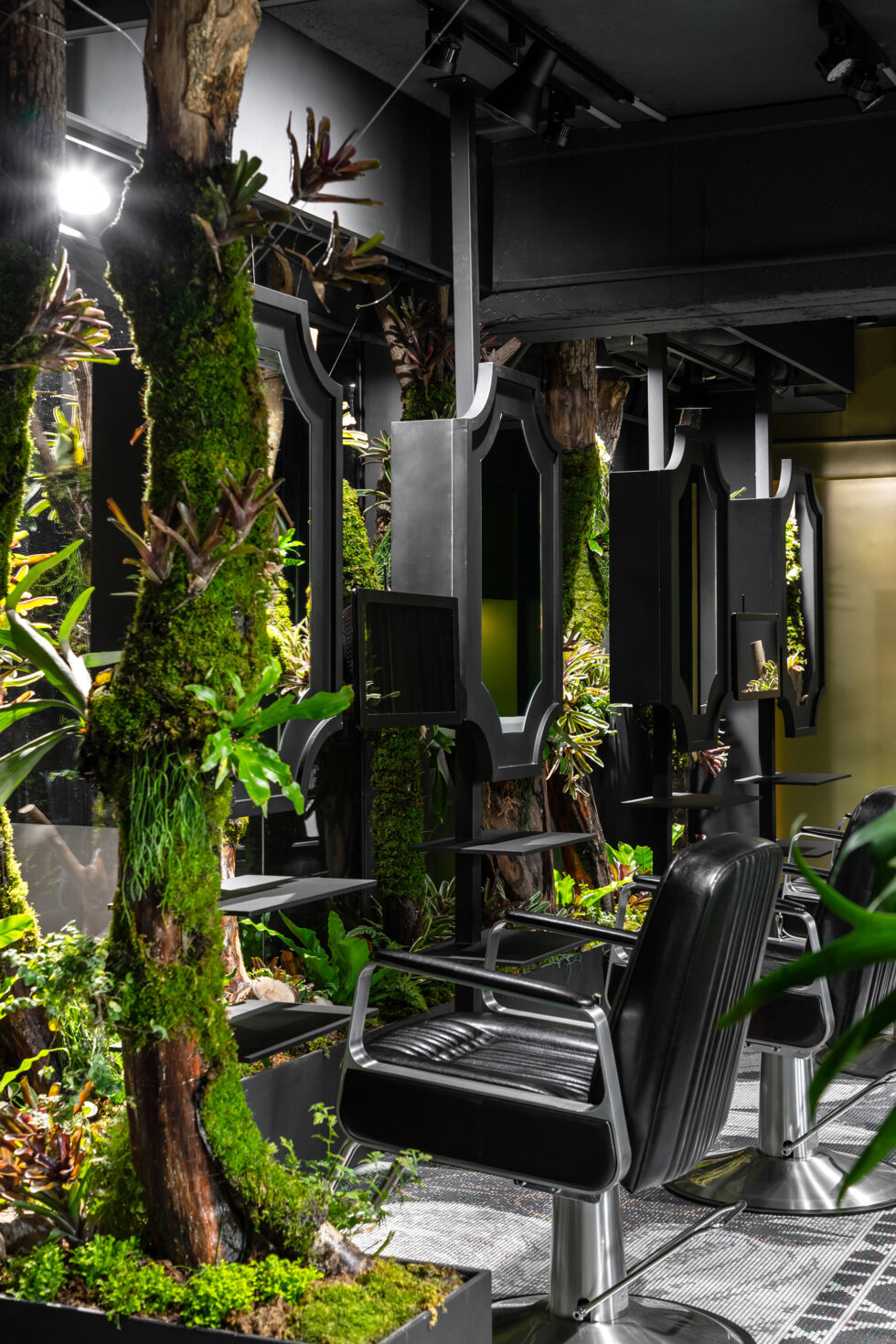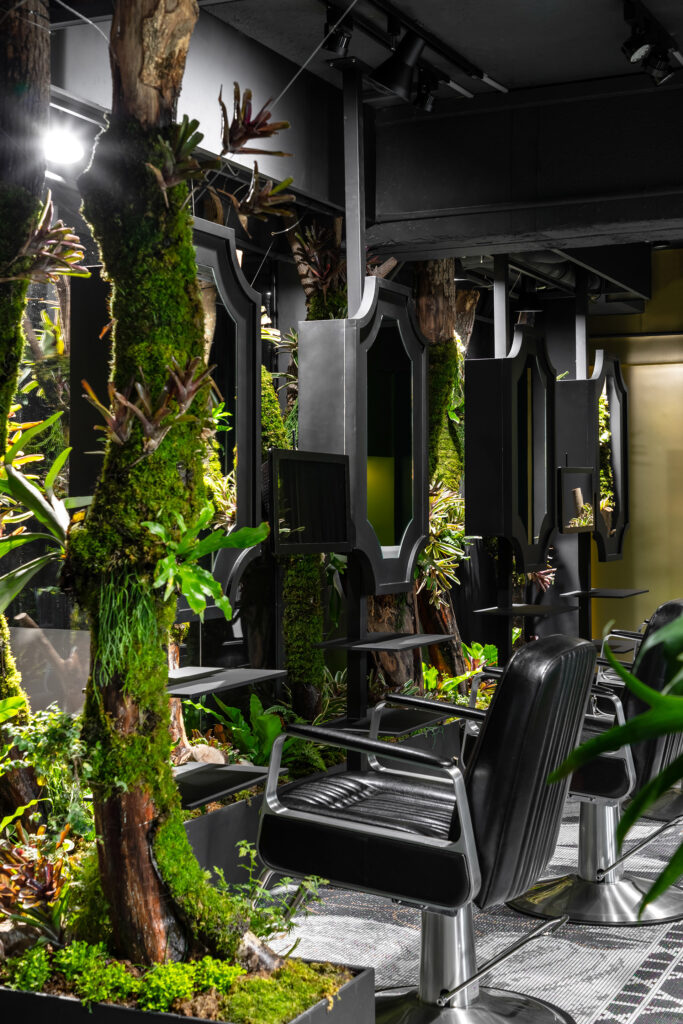 Salon Reception and Waiting Room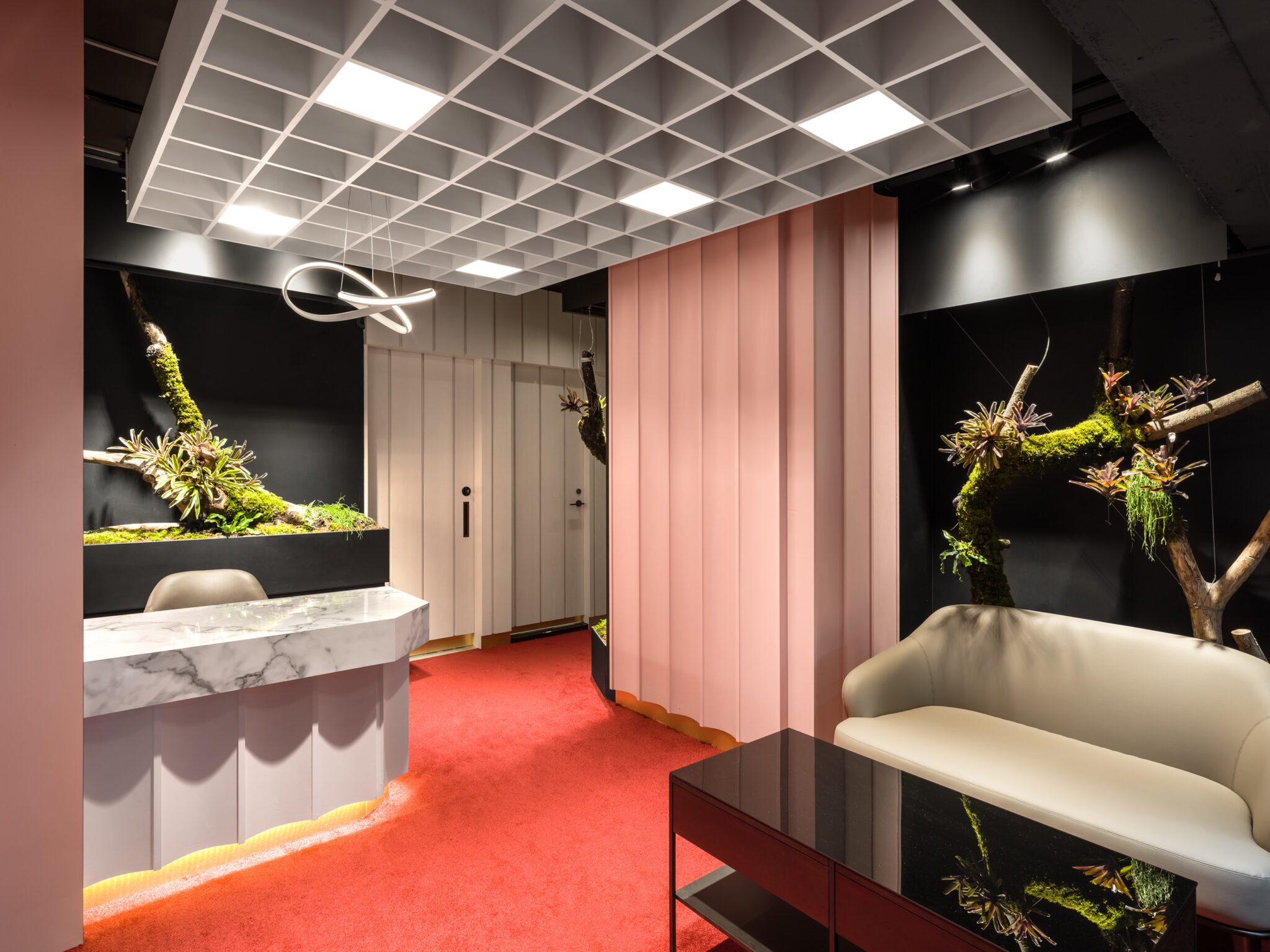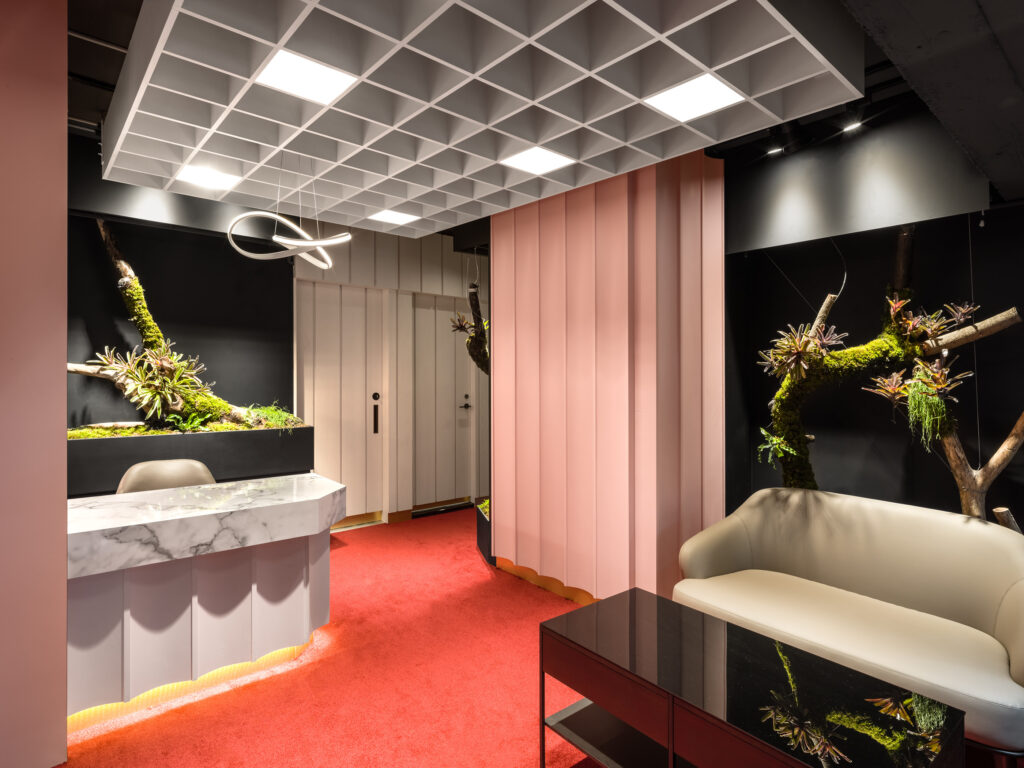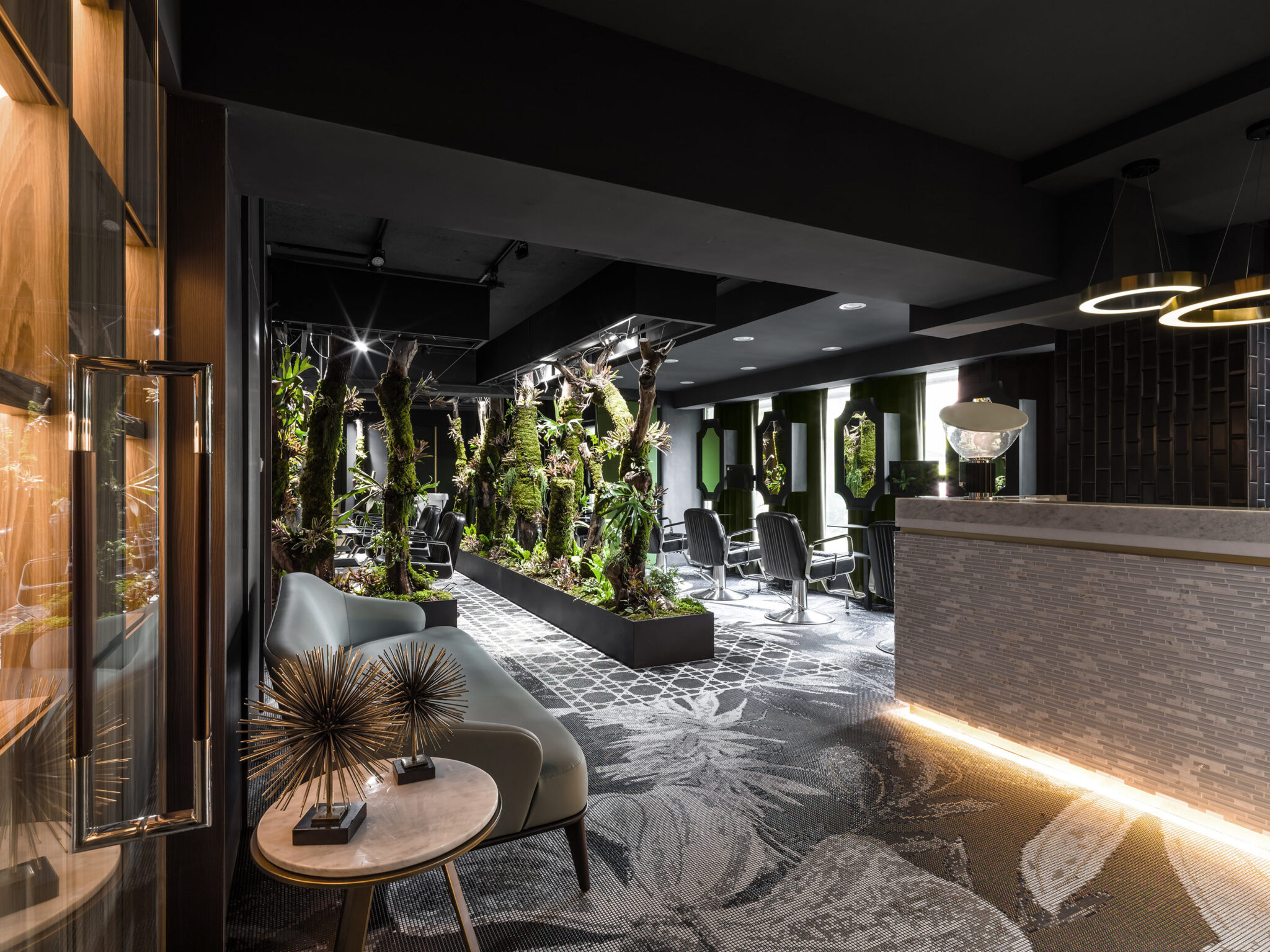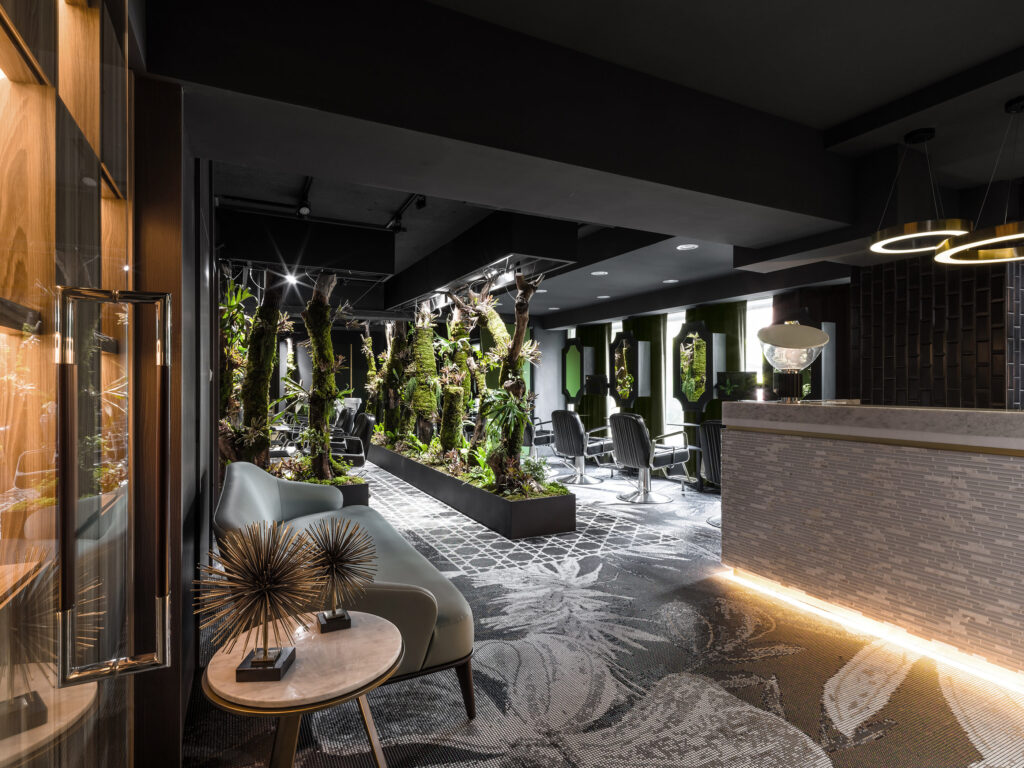 Backwash and Treatment Room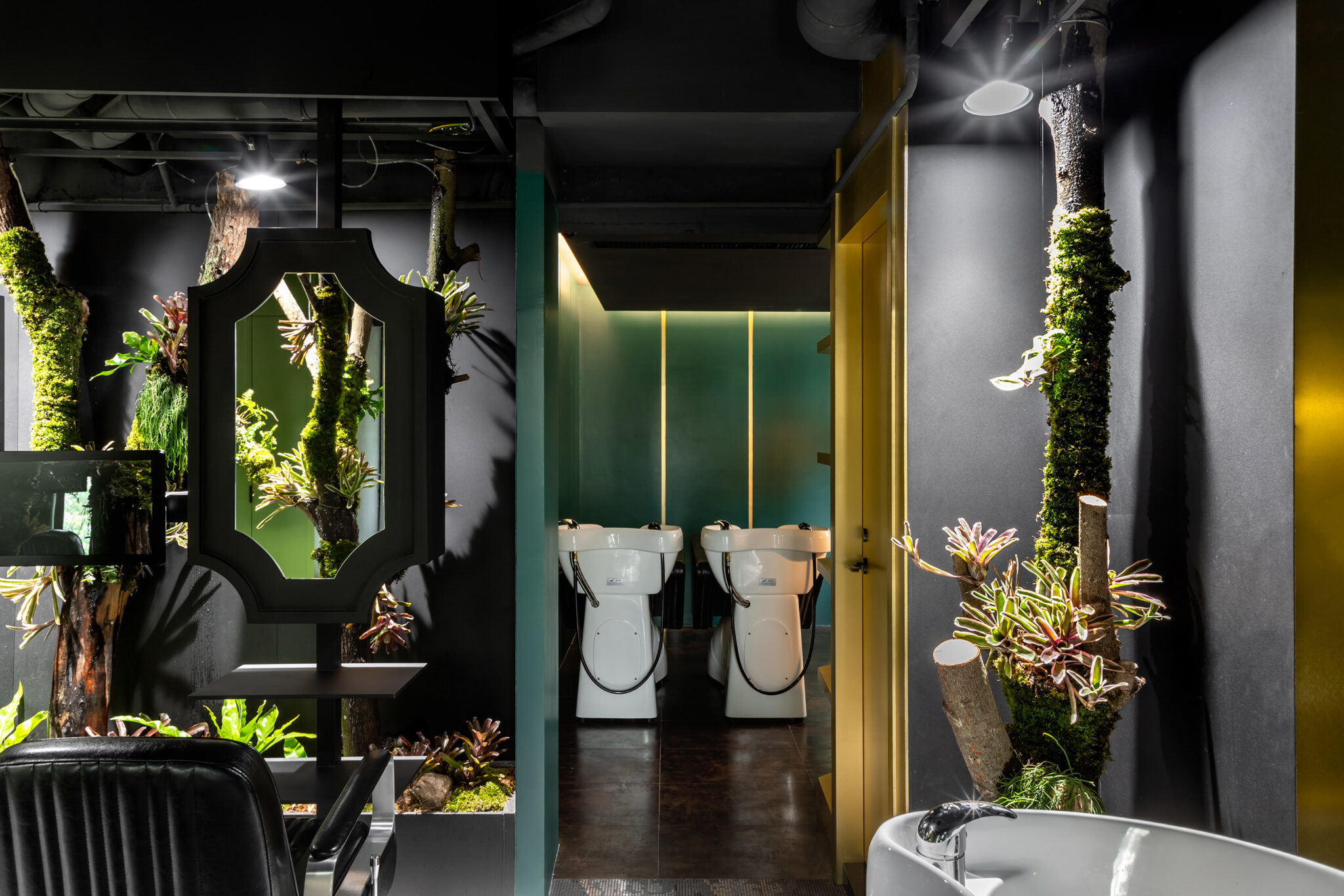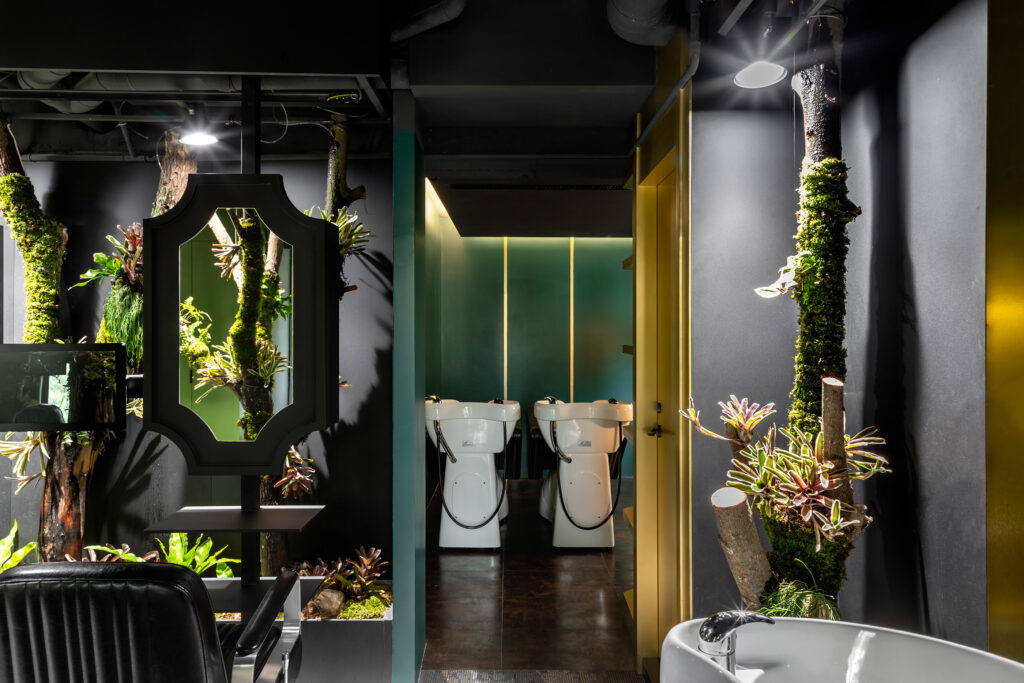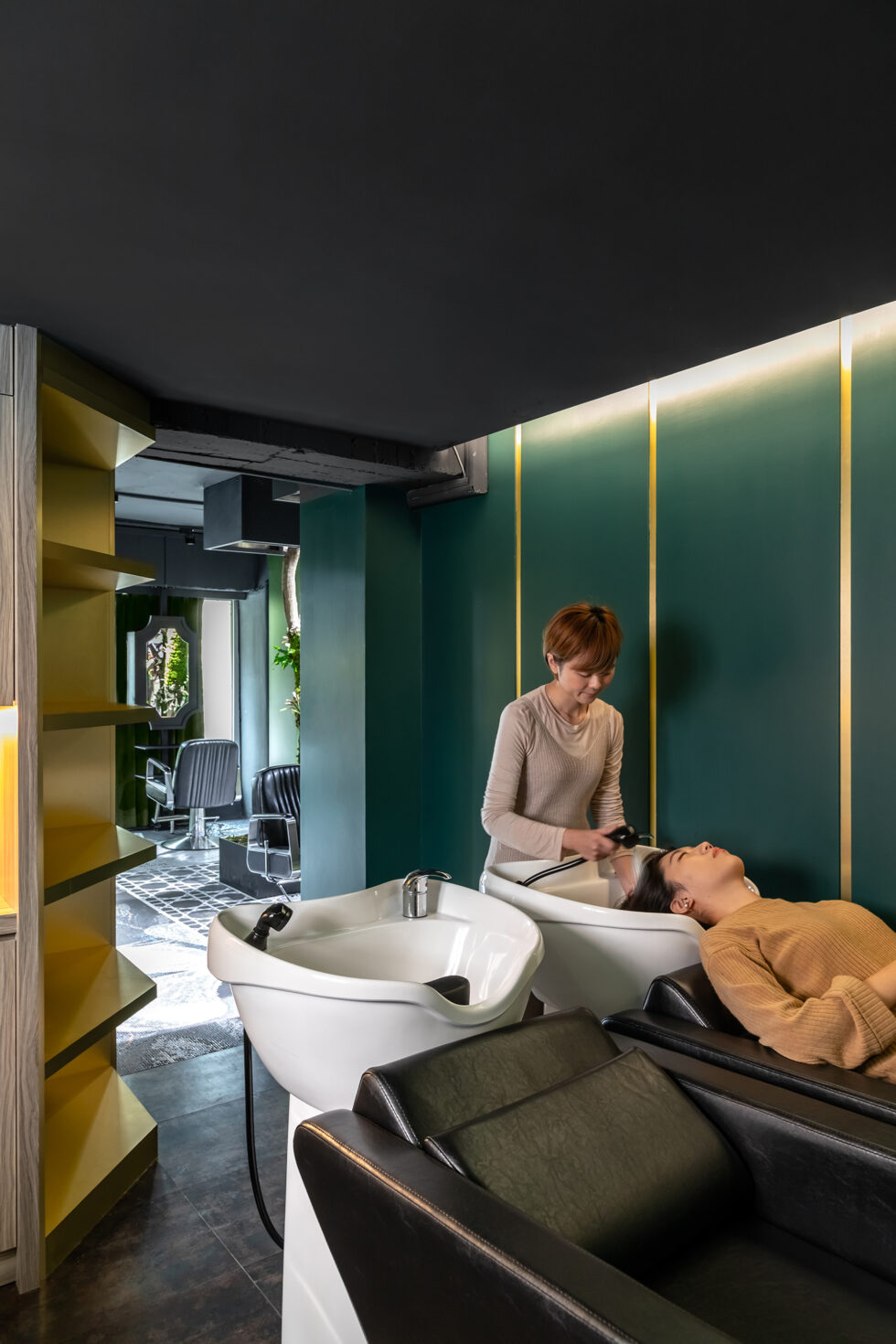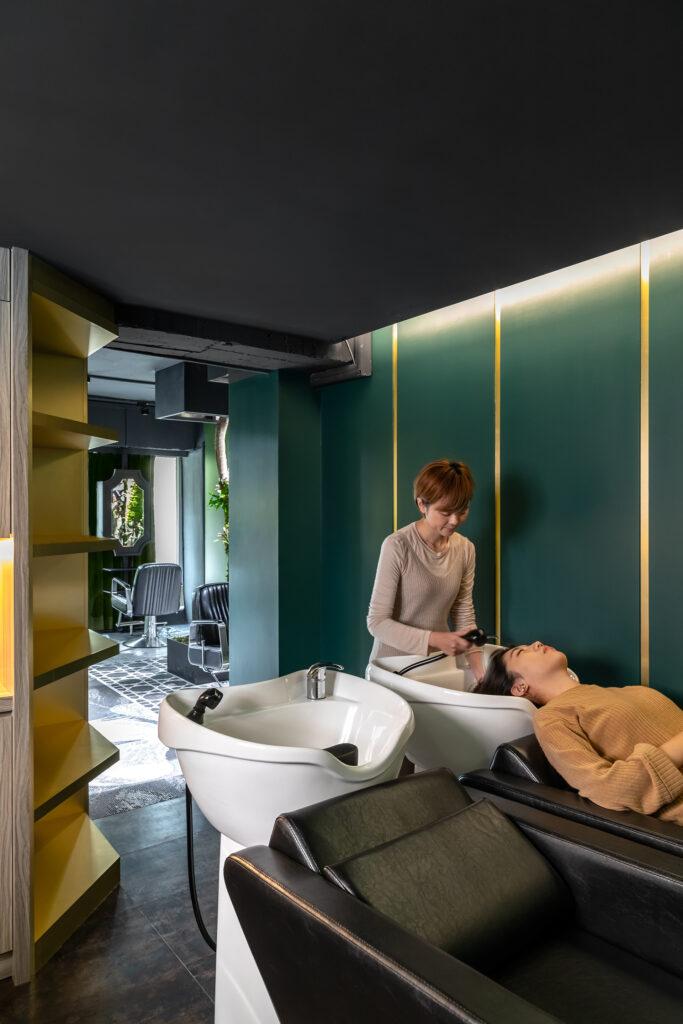 5. Modern Hair Salon Design by Beaver Lab
The hair salon designer behind the next project is Beaver Lab. I really like the clean design, green salon wall color and natural wood elements.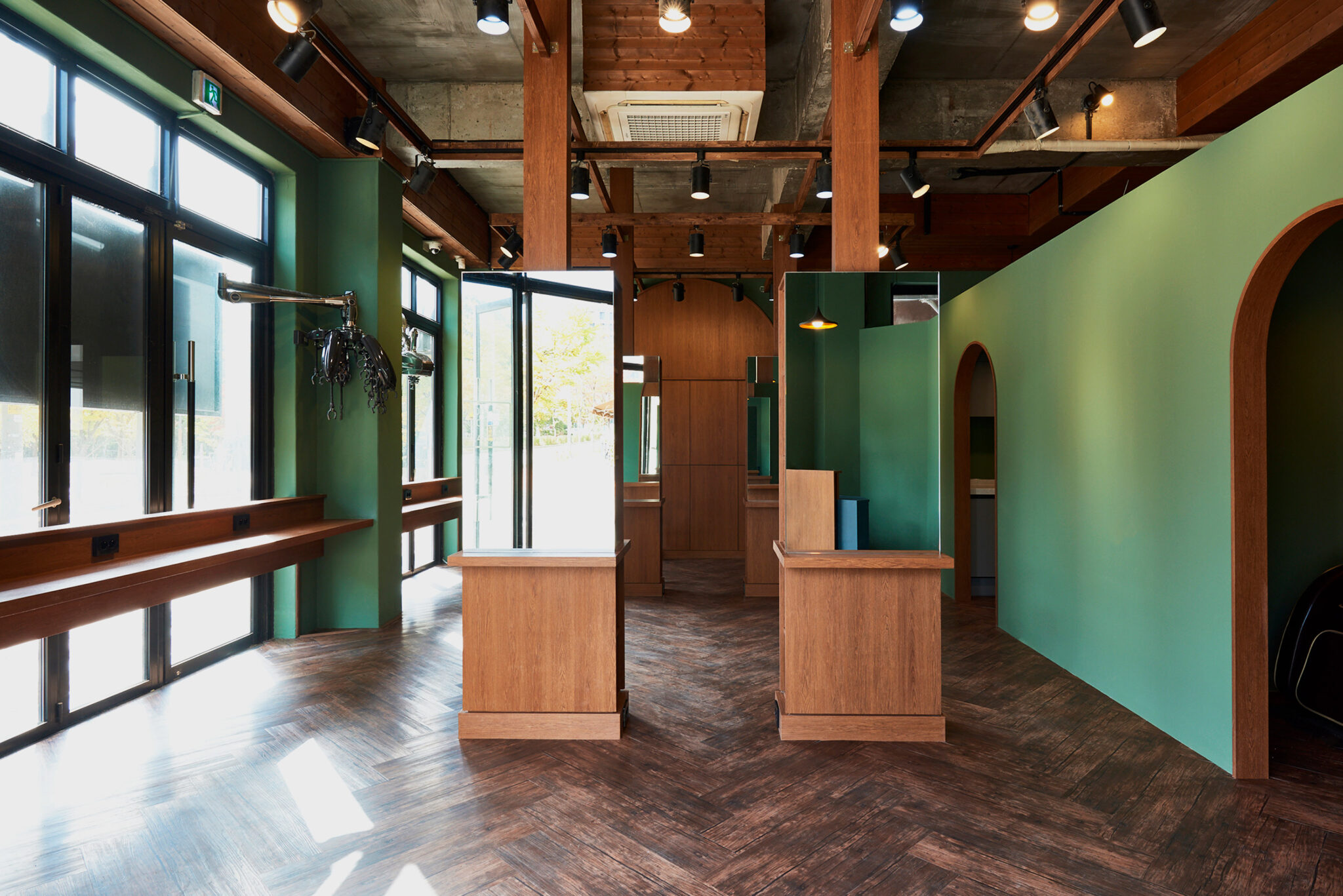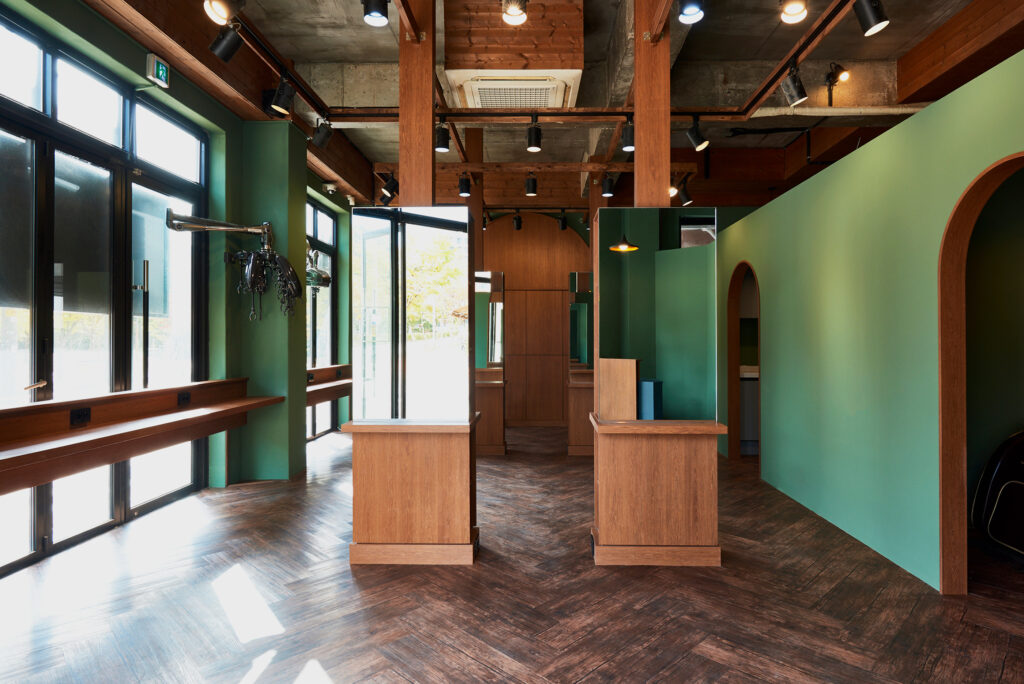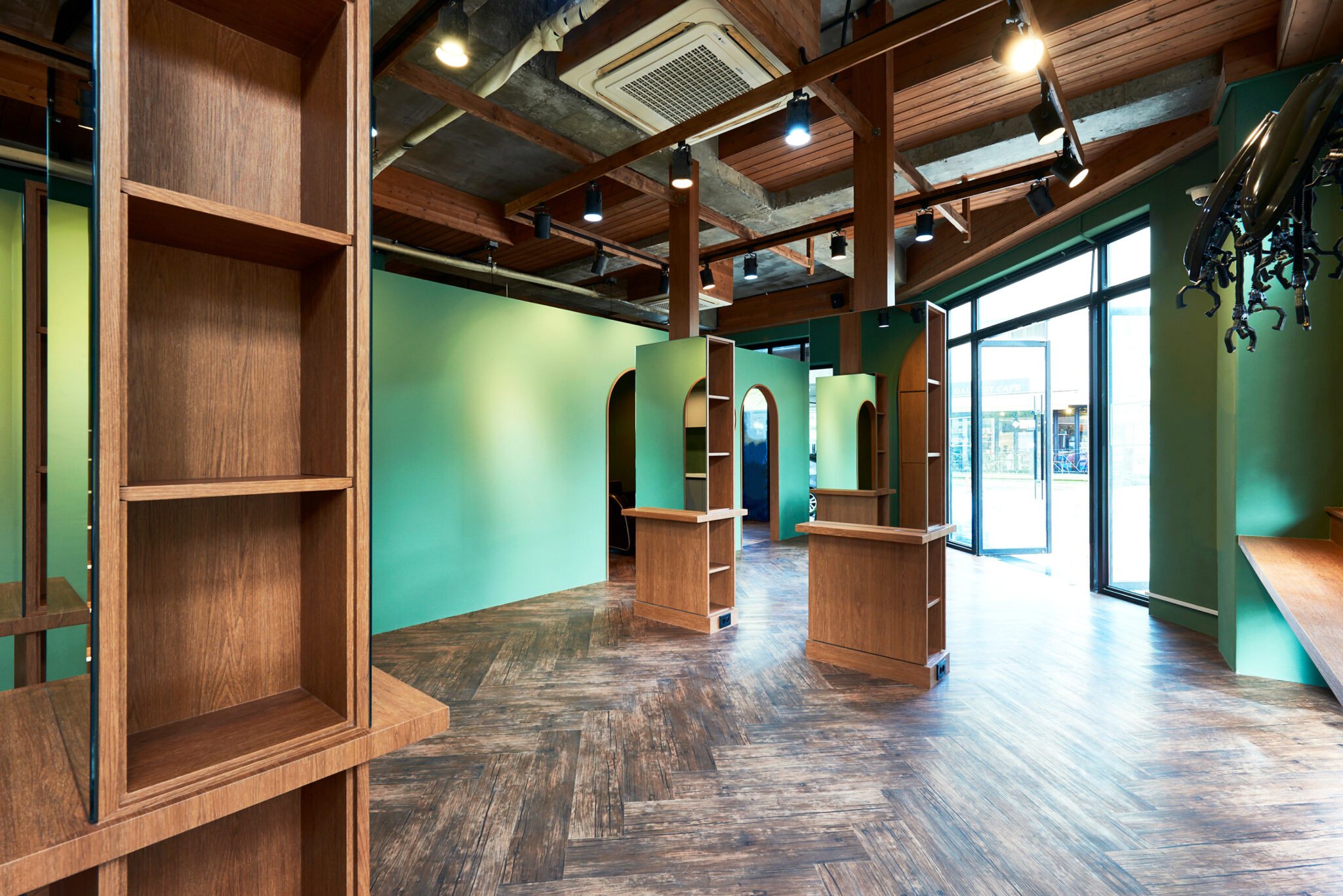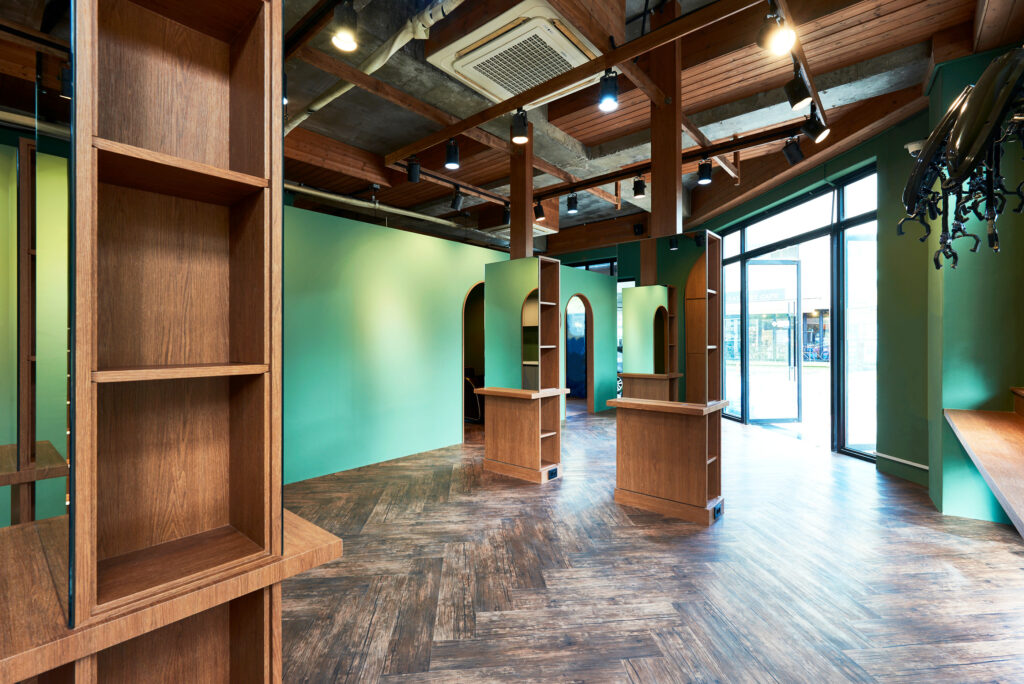 Salon Backwash Area Design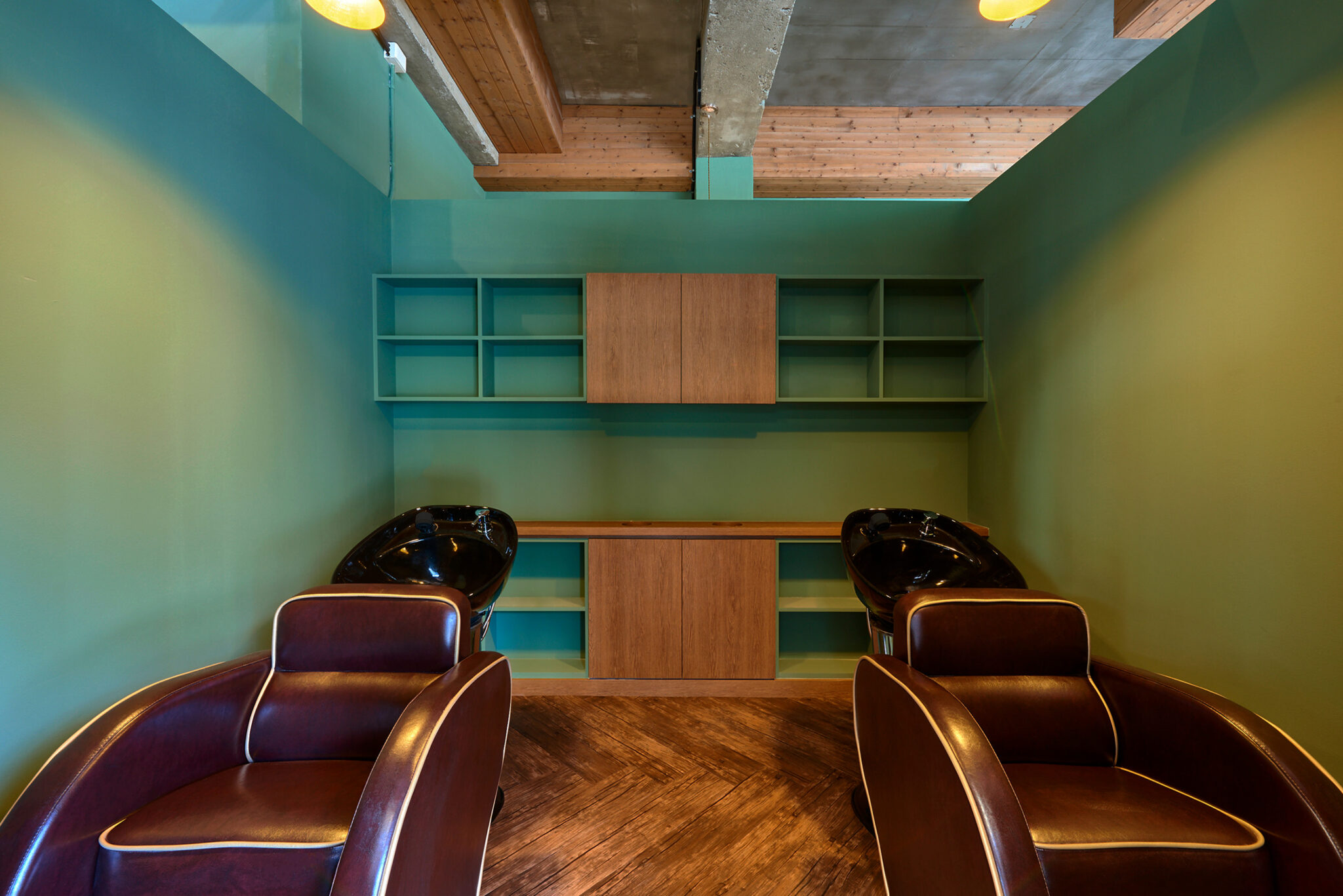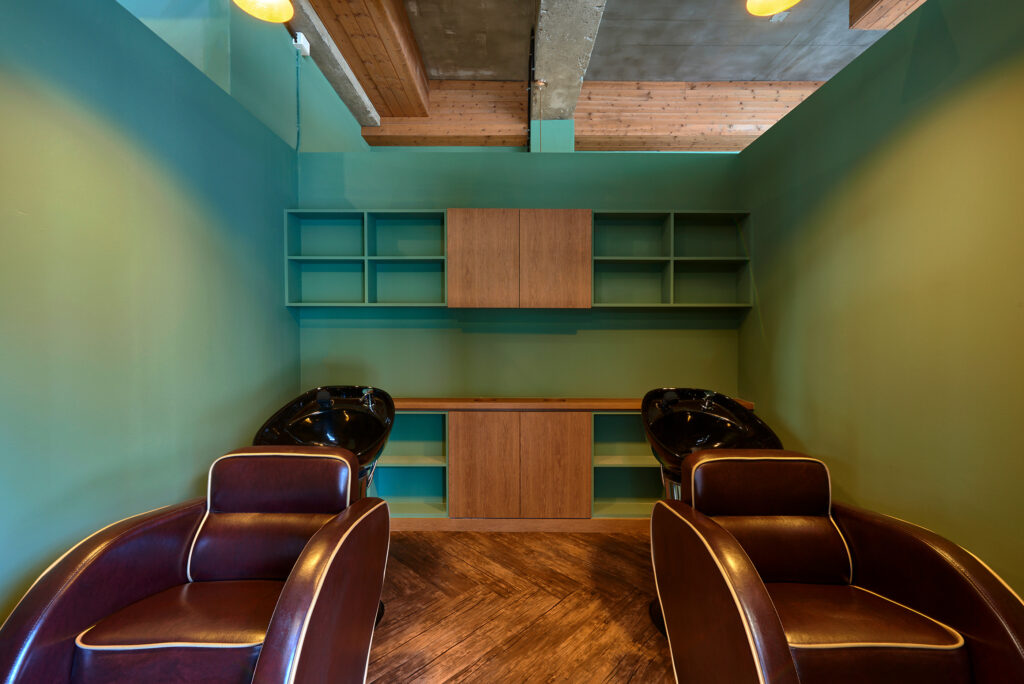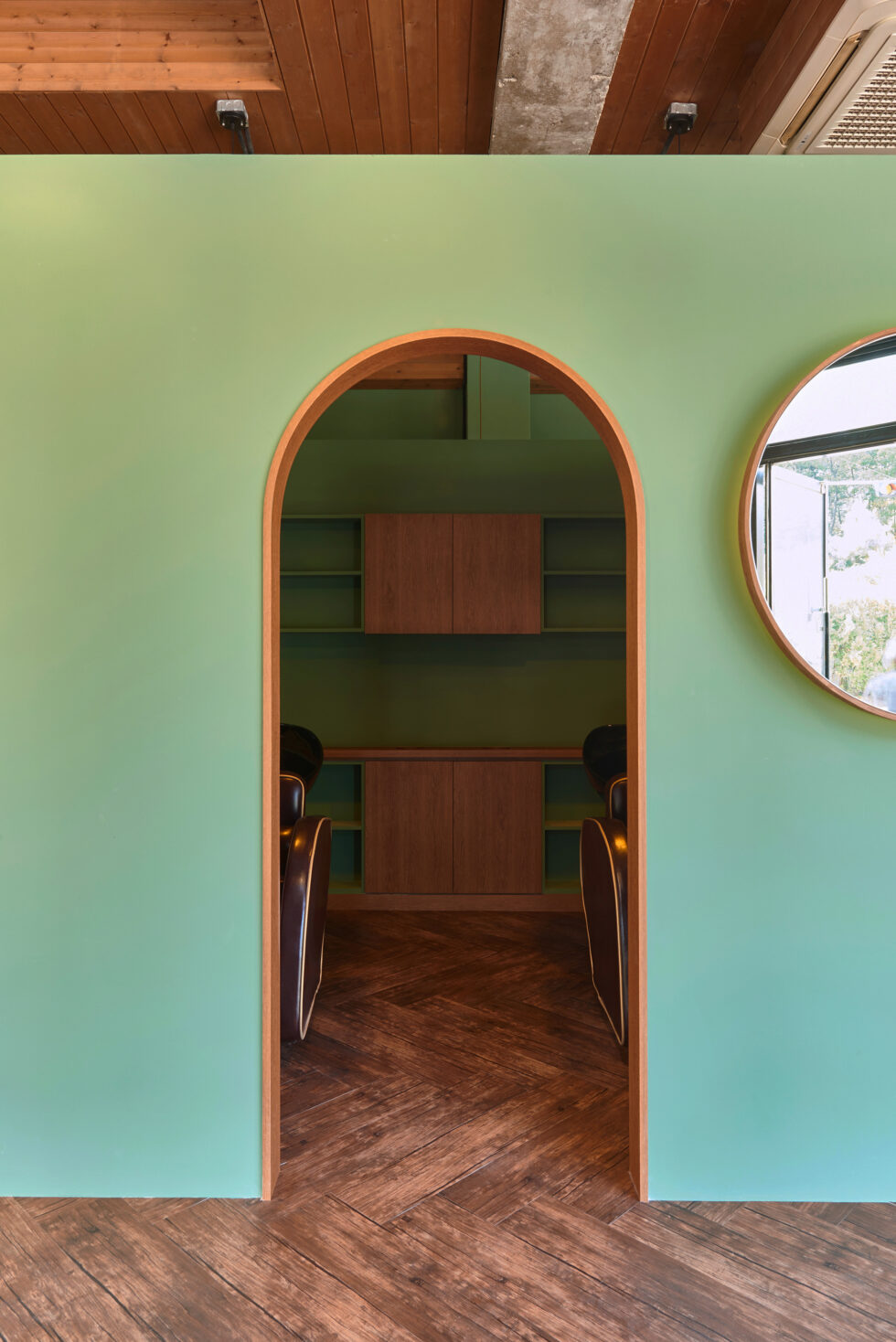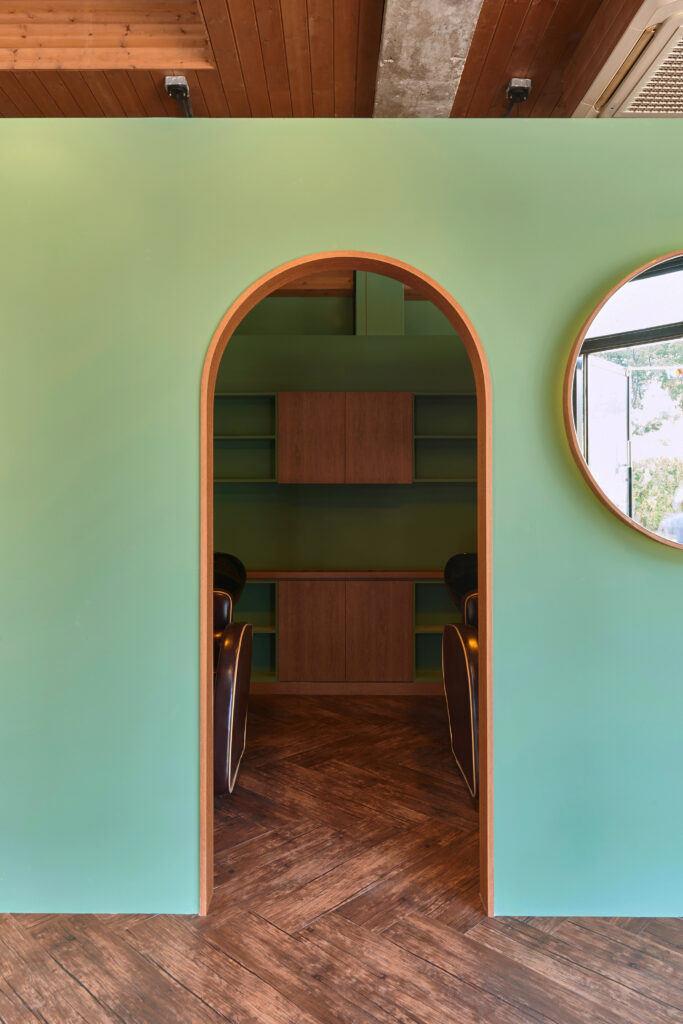 Salon Reception Design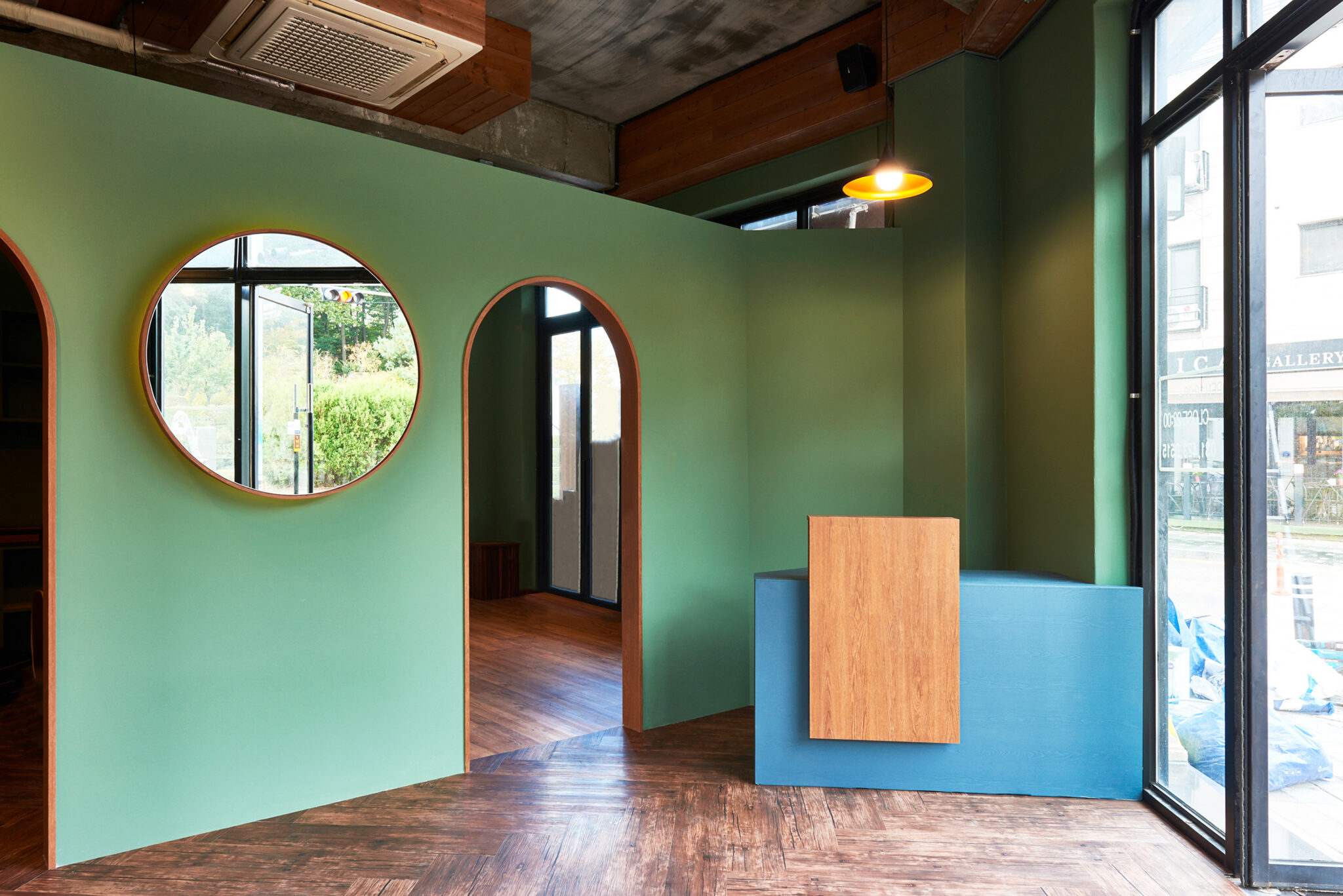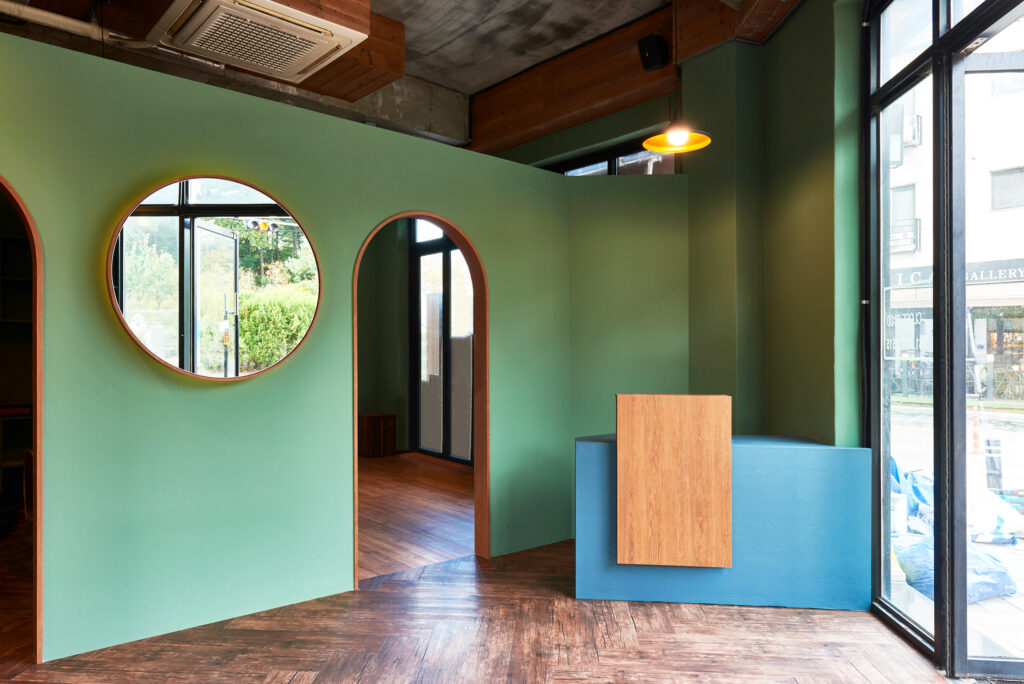 Hair Salon Floor Plan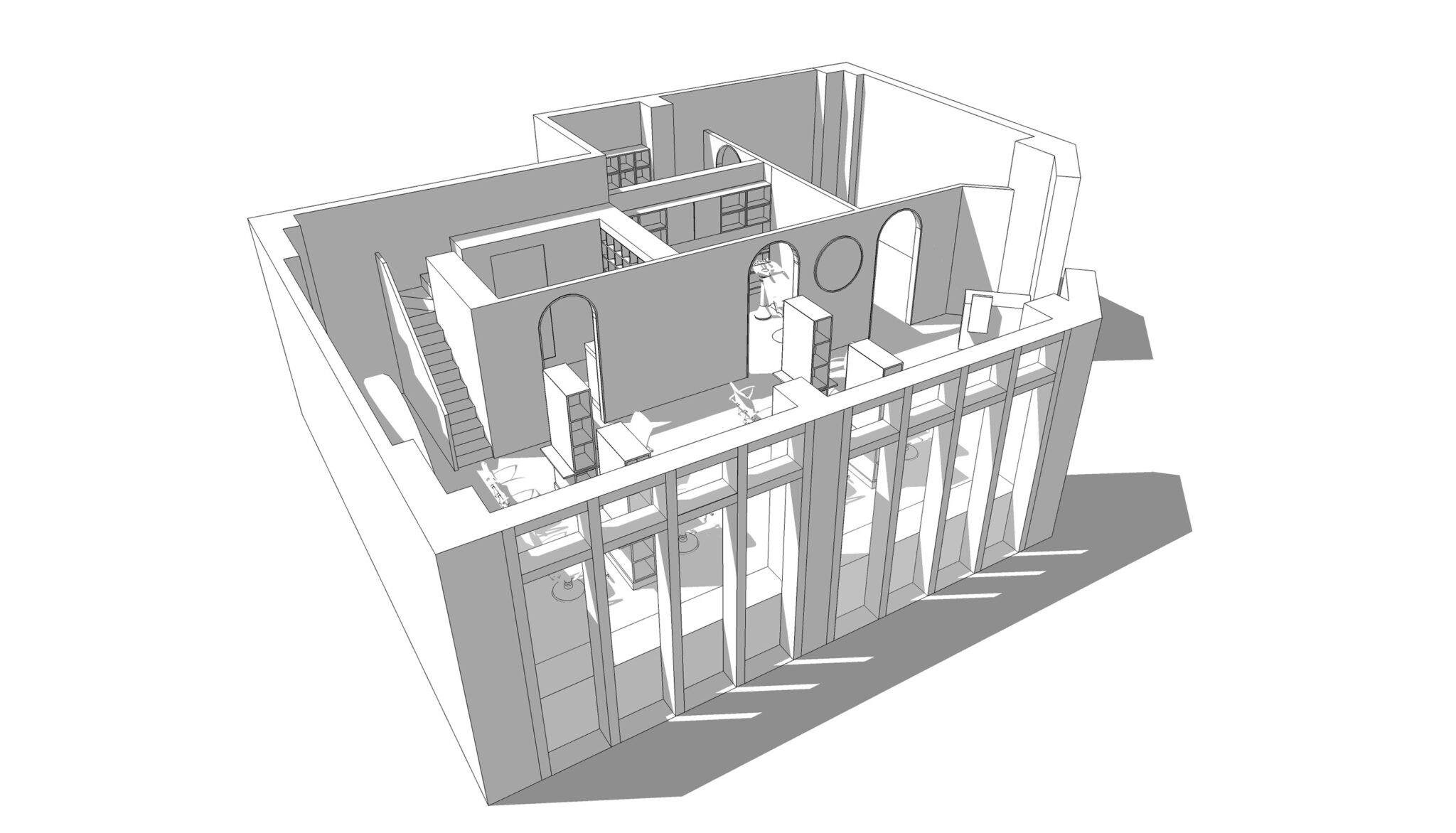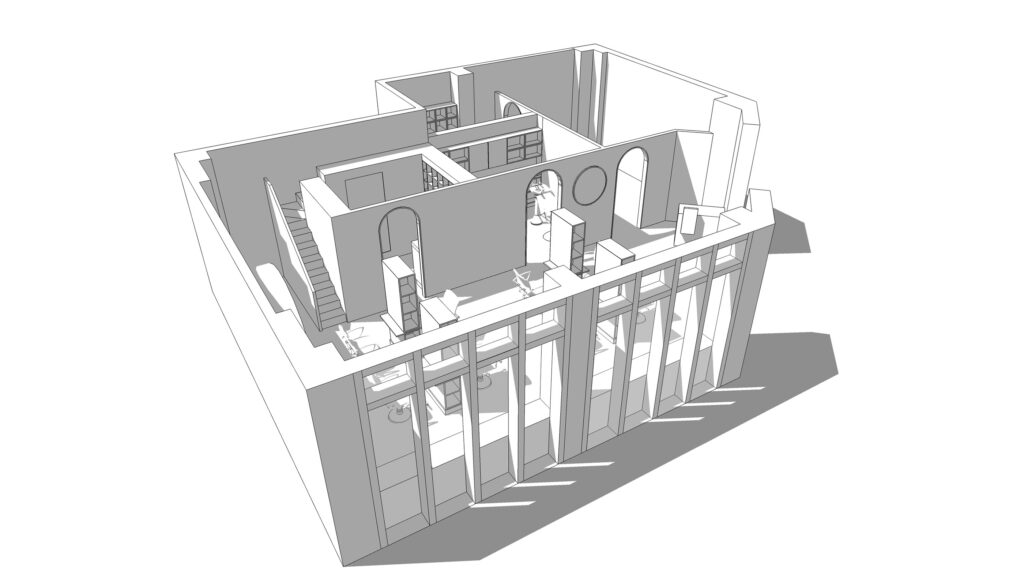 6. I.G. Hair Design Salon Decor by Spacebar
The next salon design project was done by the Taiwan based design agency Spacebar. It has a modern and industrial look that i find really cool.
Hair Salon Station & Layout Design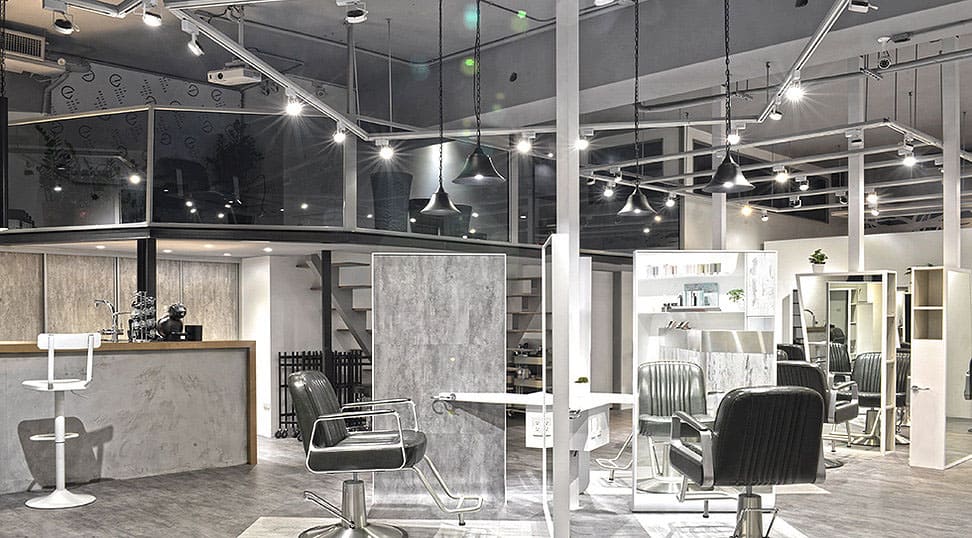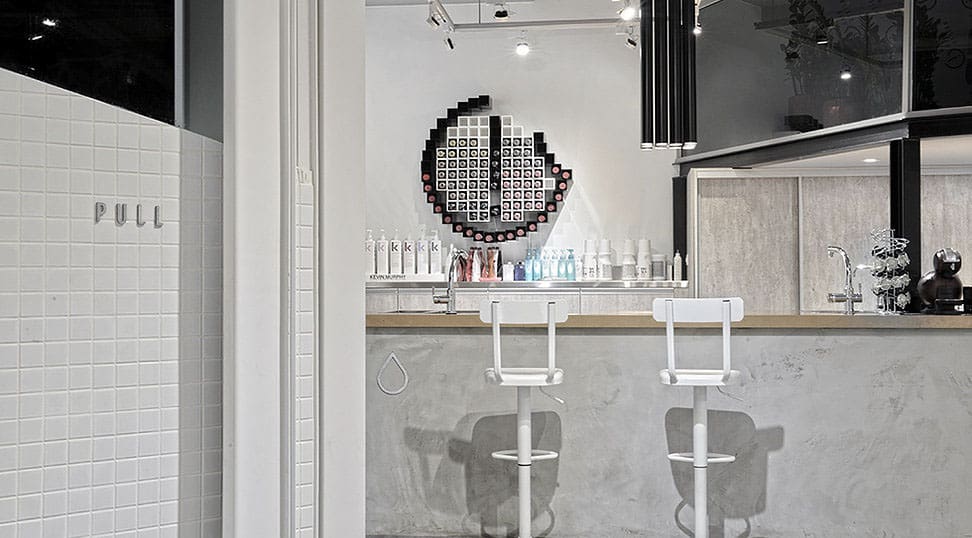 Hair Salon Exterior Design, Sign & Logo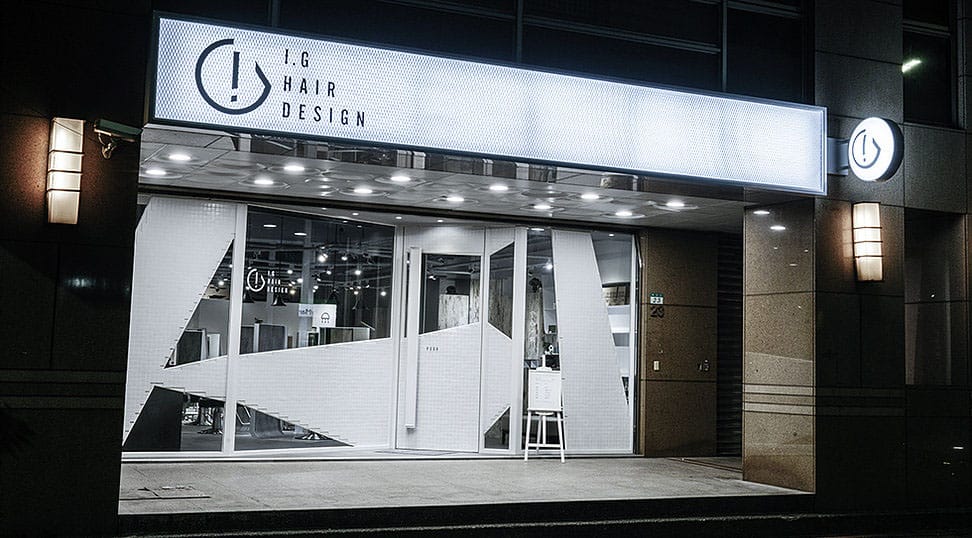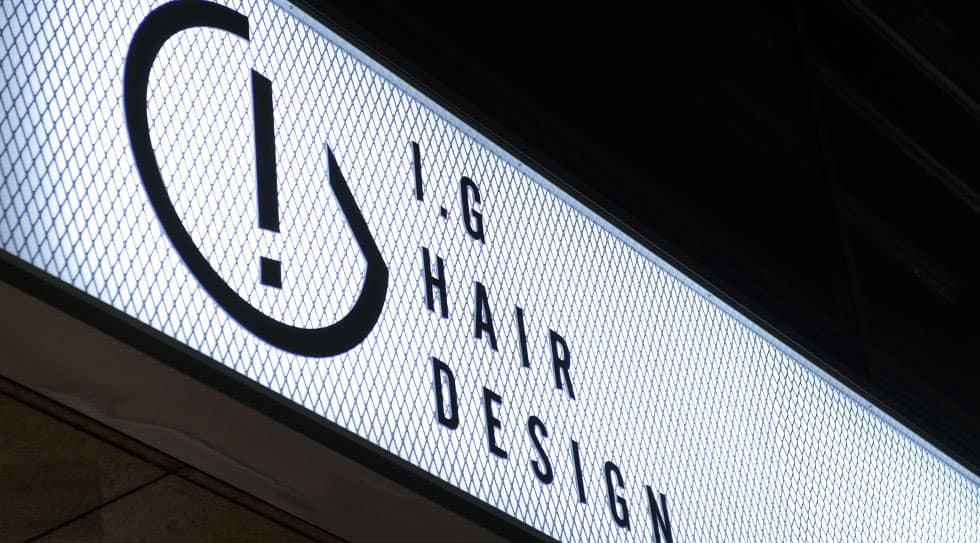 7. KIM Hair Salon Interior Design by Ekaterina Vinokurova
This Moscow based, 90 sqm salon, was designed by Ekaterina Vinokurova with visualizations done by Kirill Vill in 2017. Its a really good example of how minimalist design and use of greens can create a truly pleasant and premium salon experience. It is light, clean, and beautiful.
Hair & Makeup Station Decoration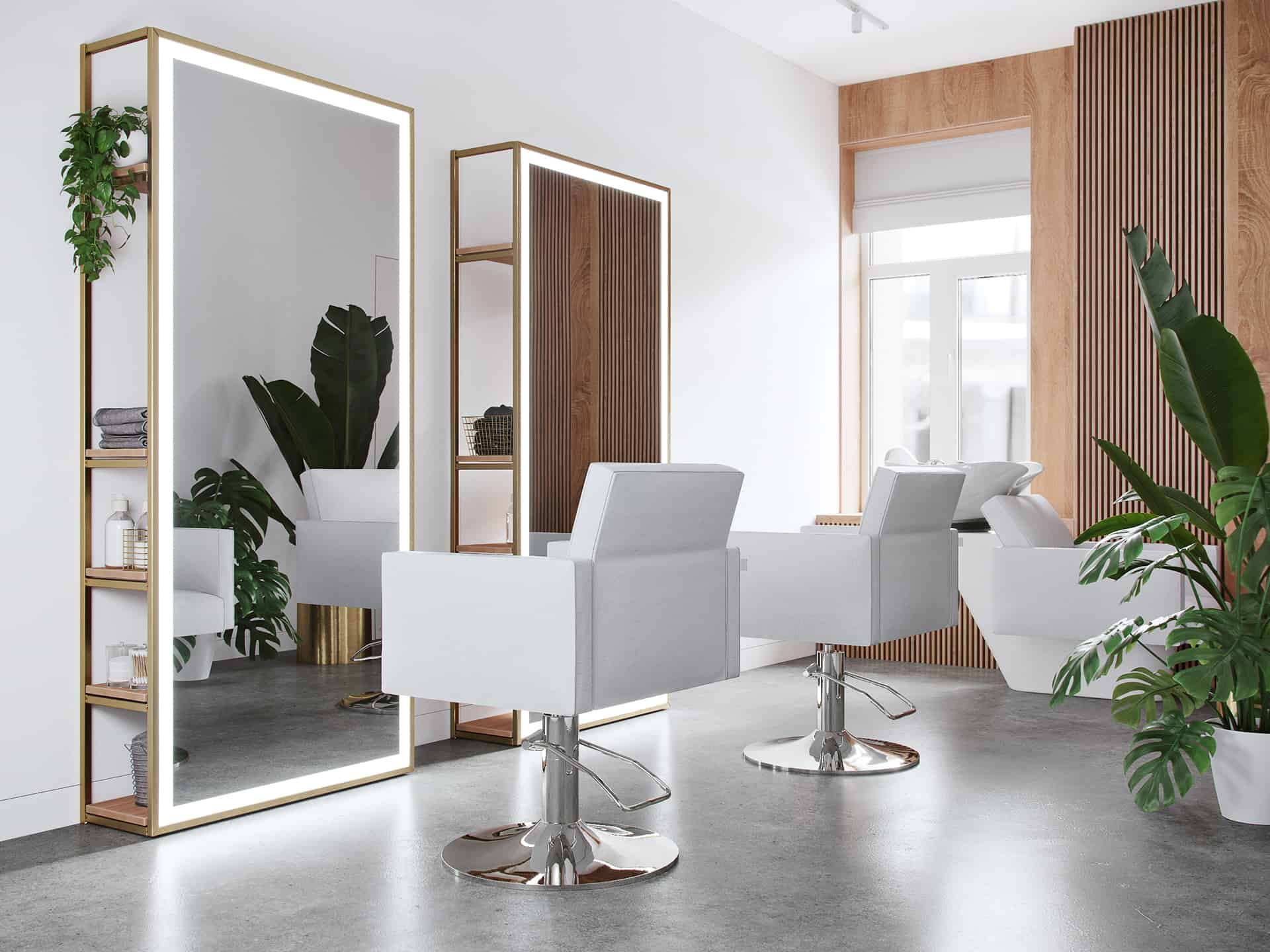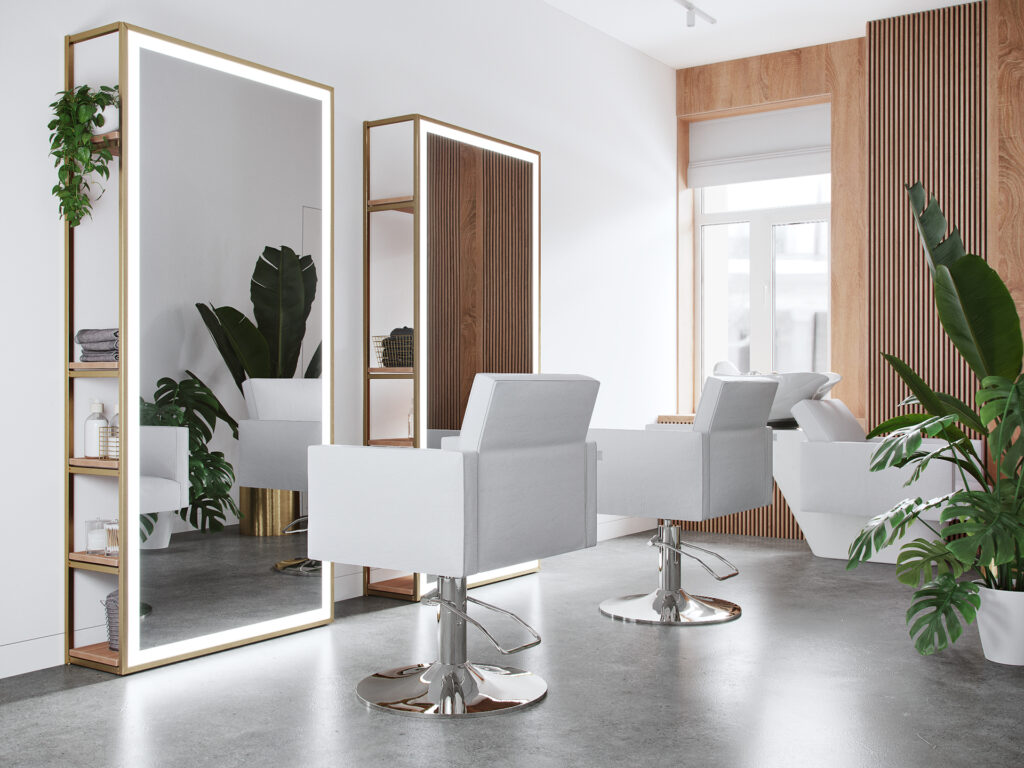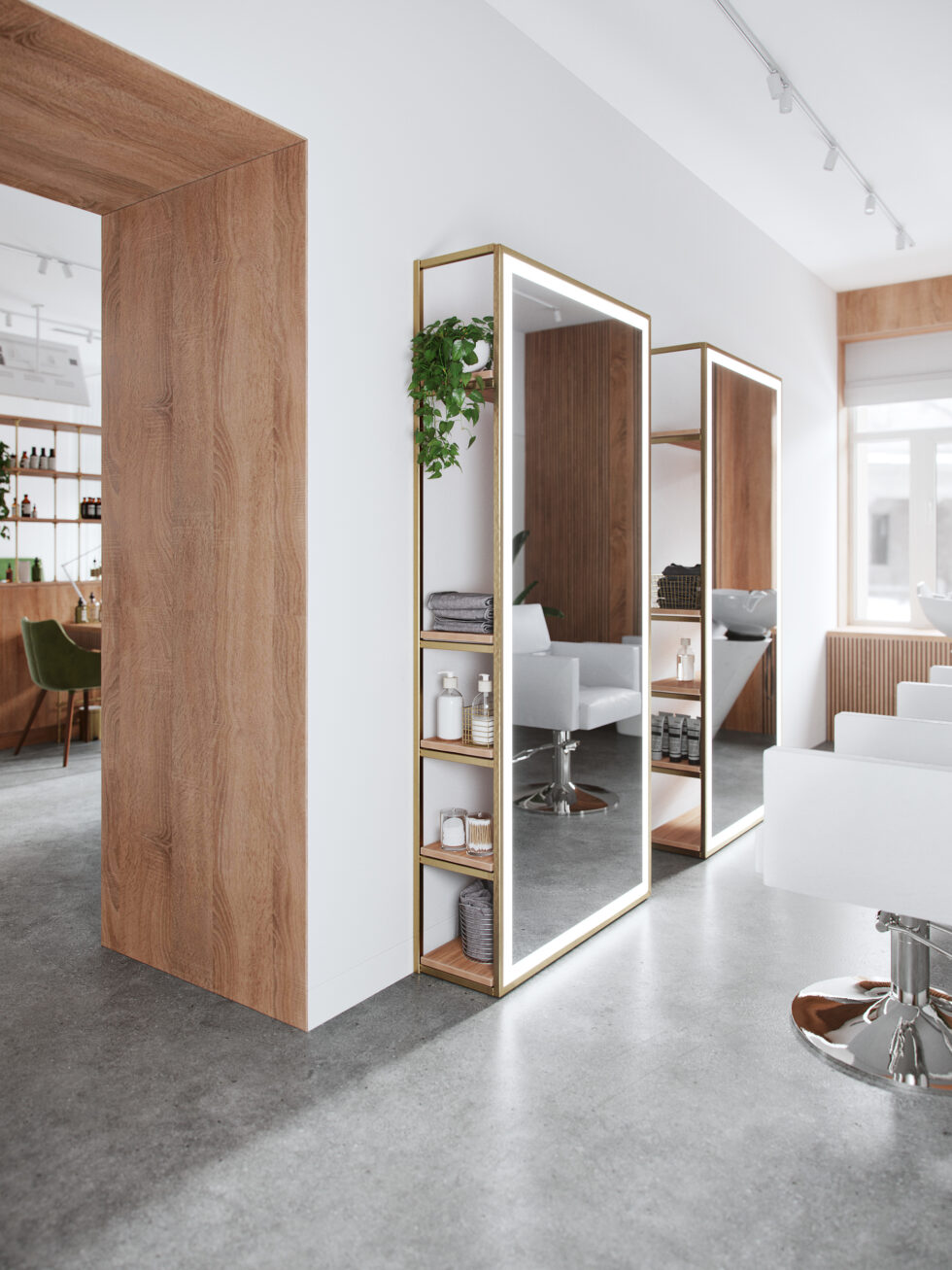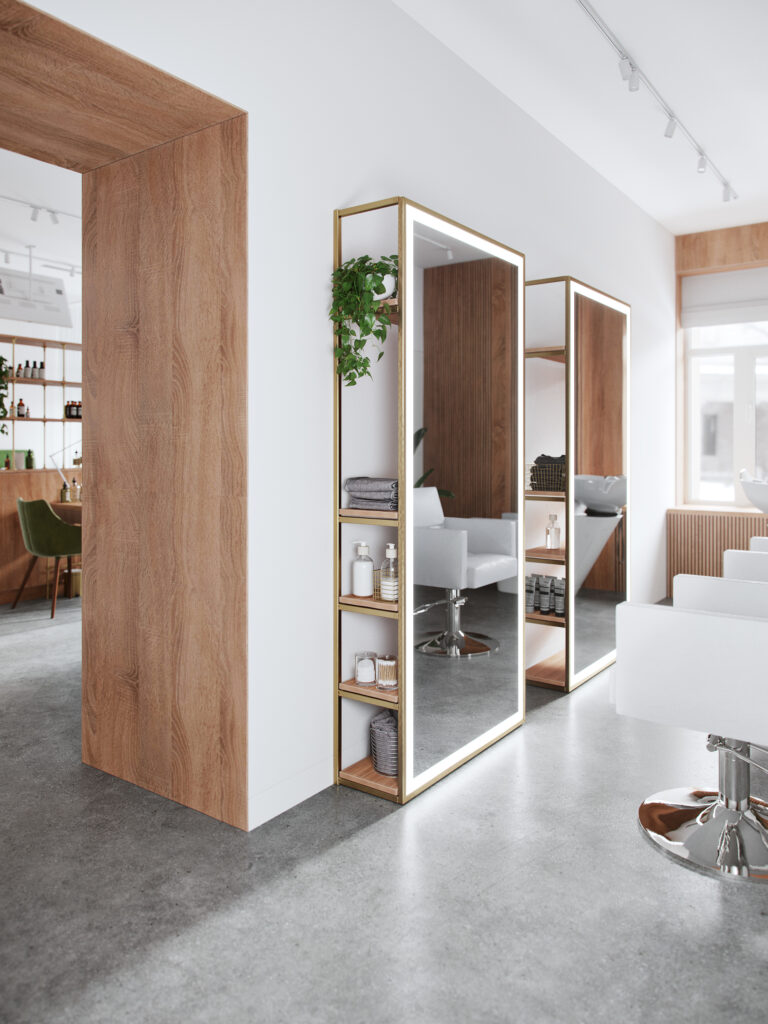 Beauty Salon Reception Design Layout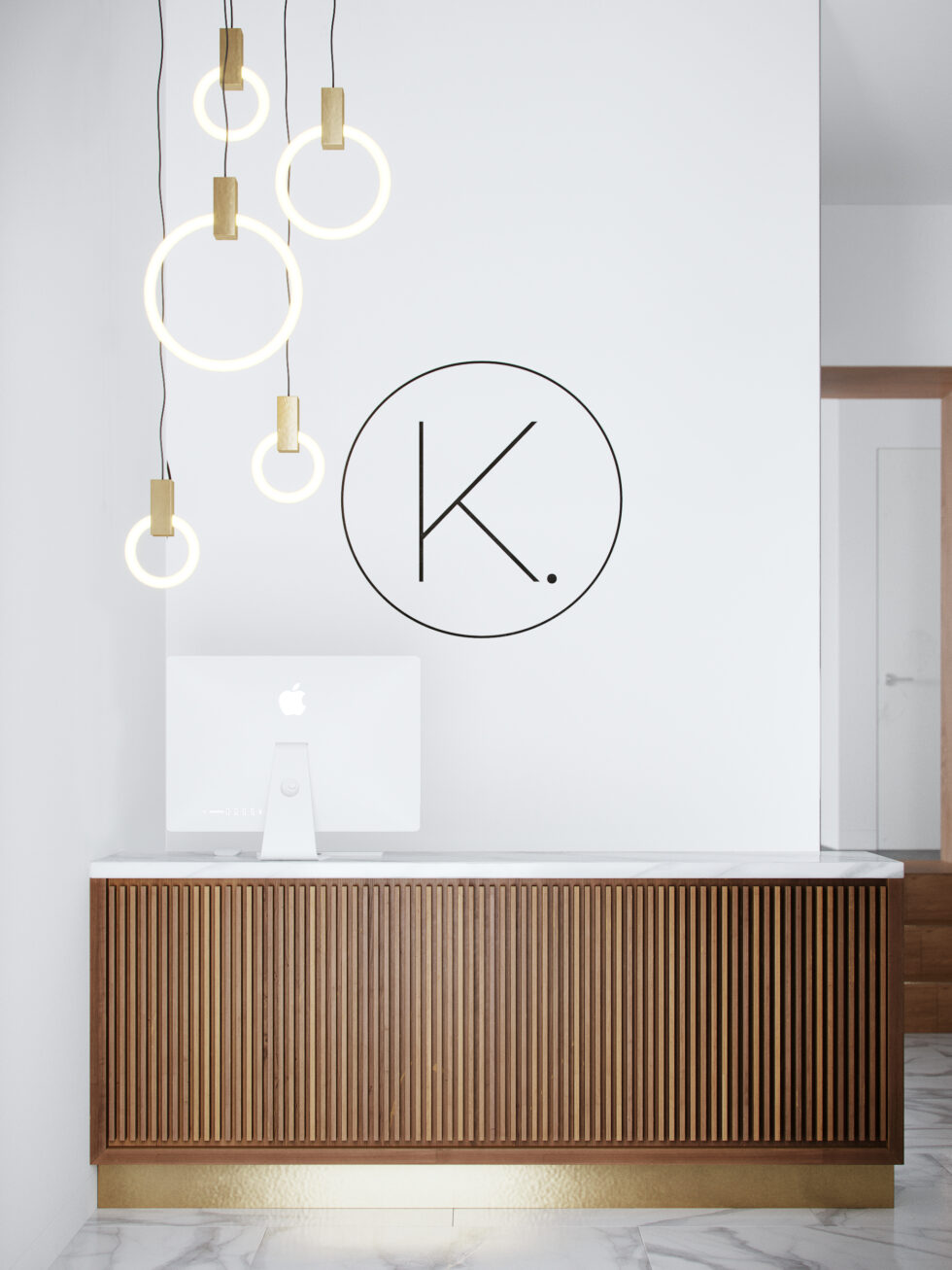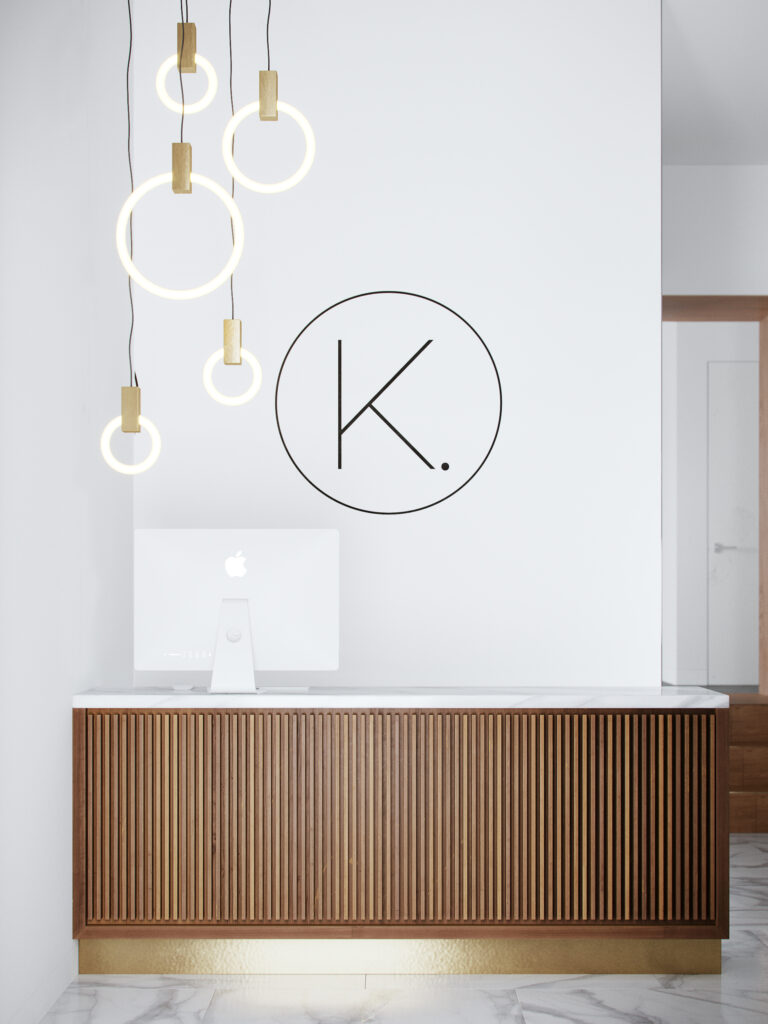 Salon Retail Shelves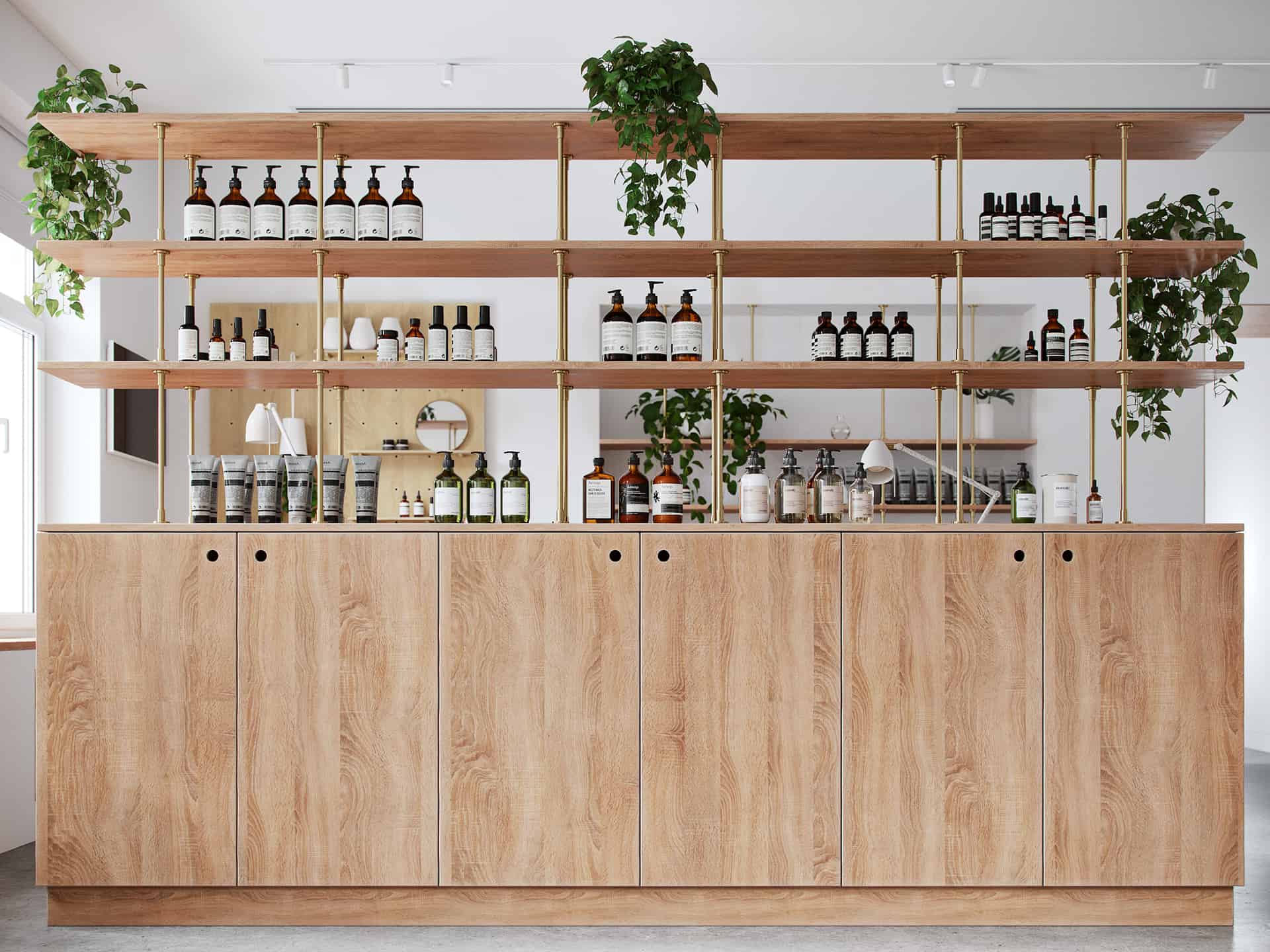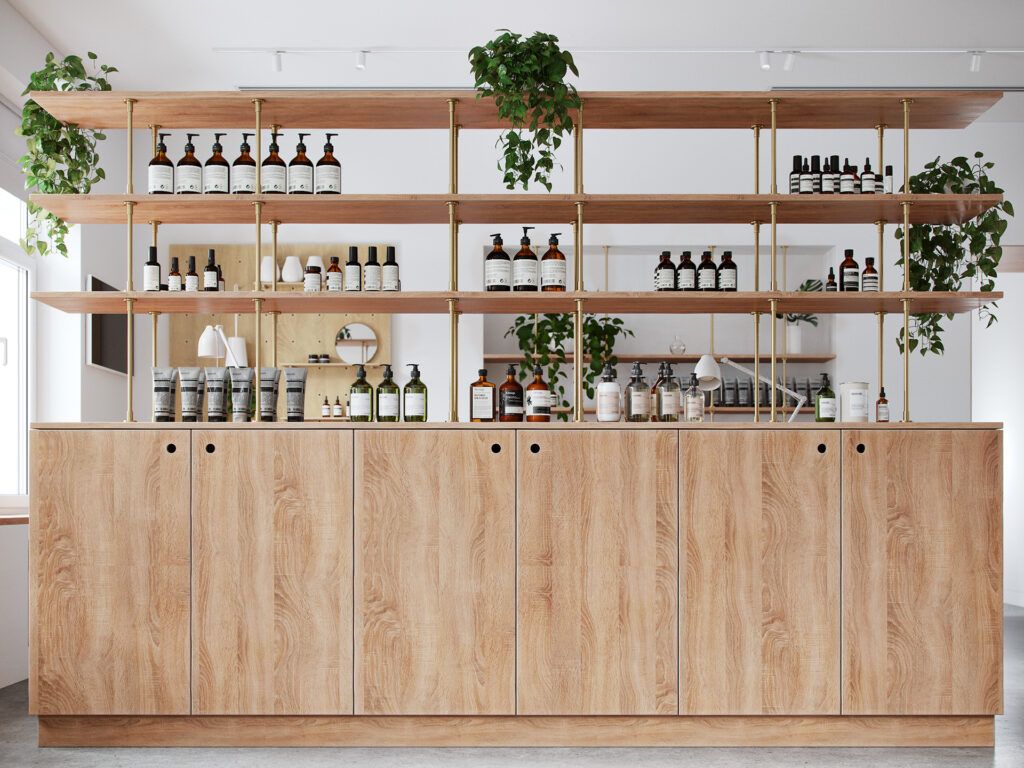 Nail Salon Area Design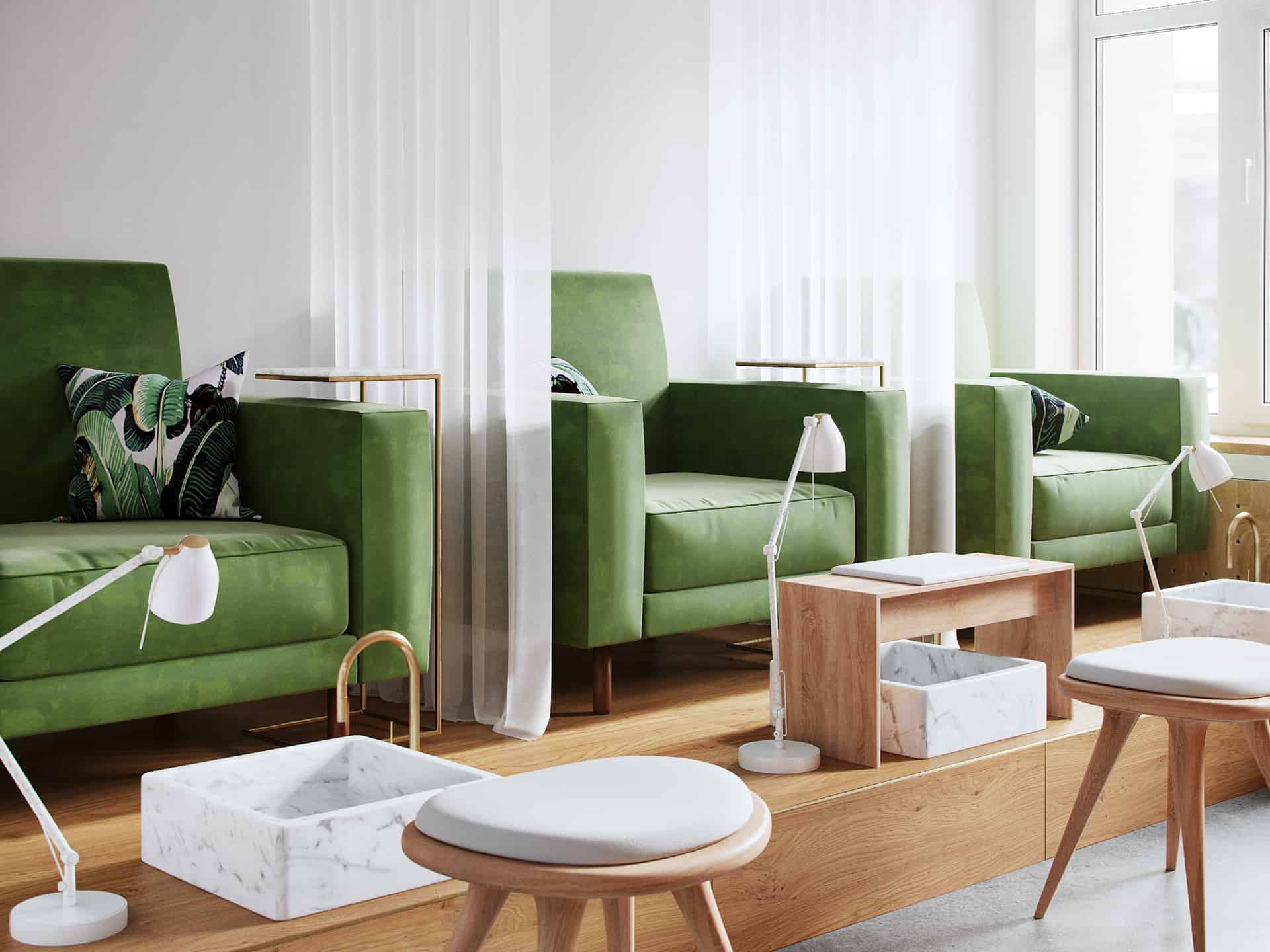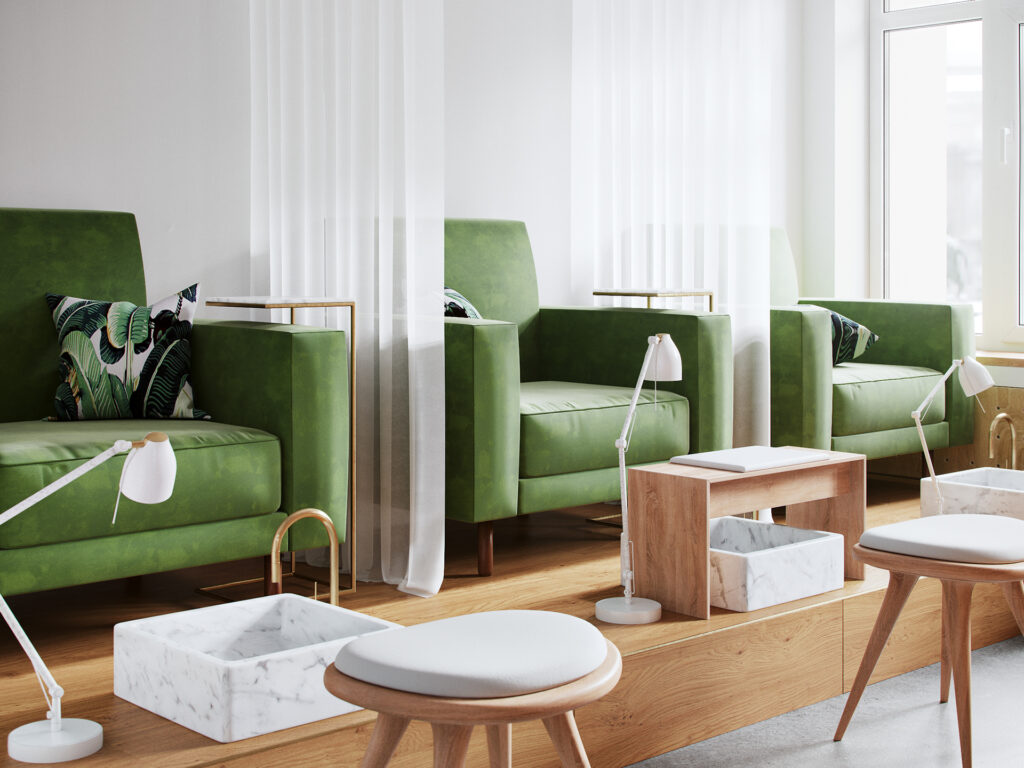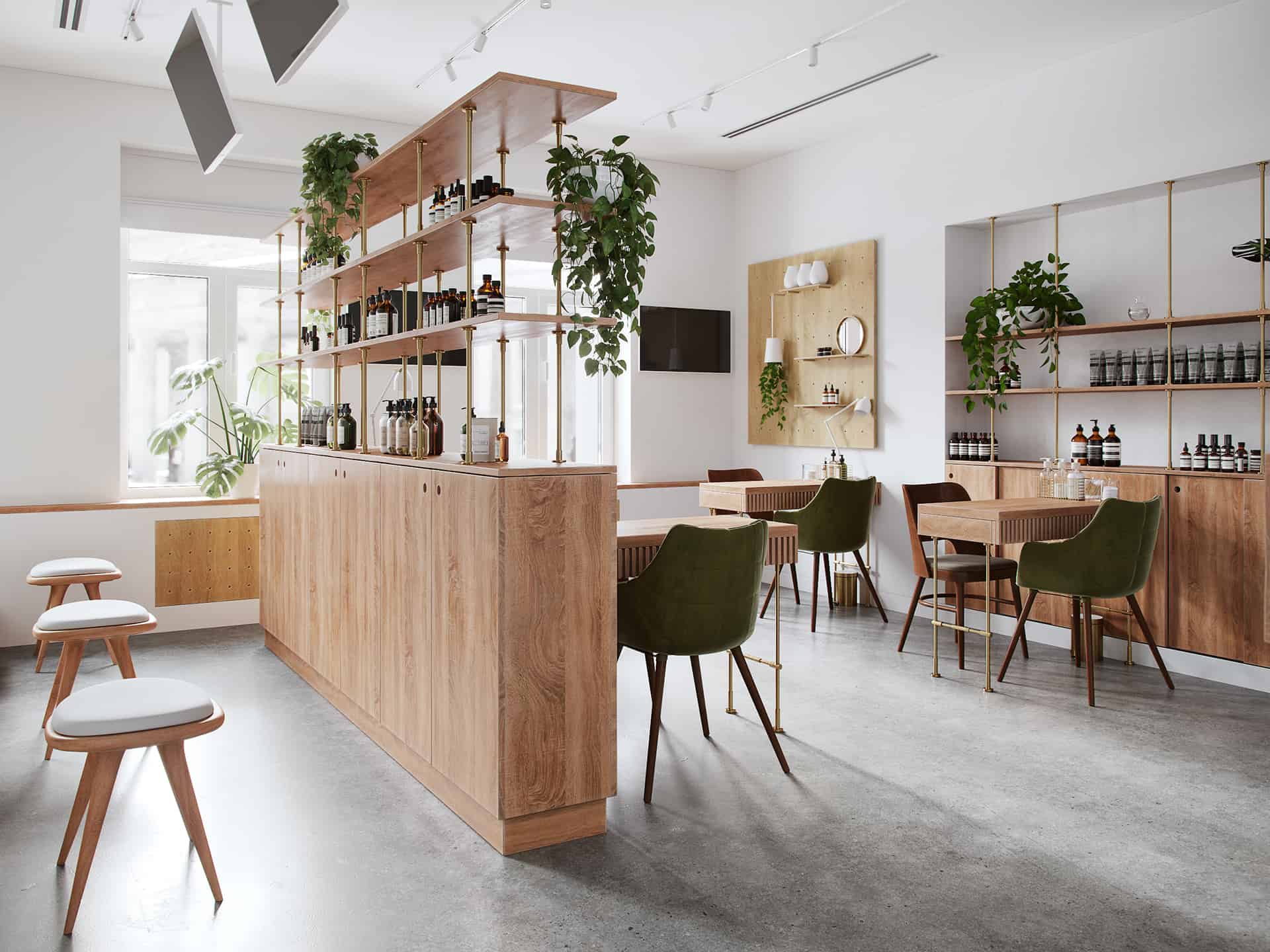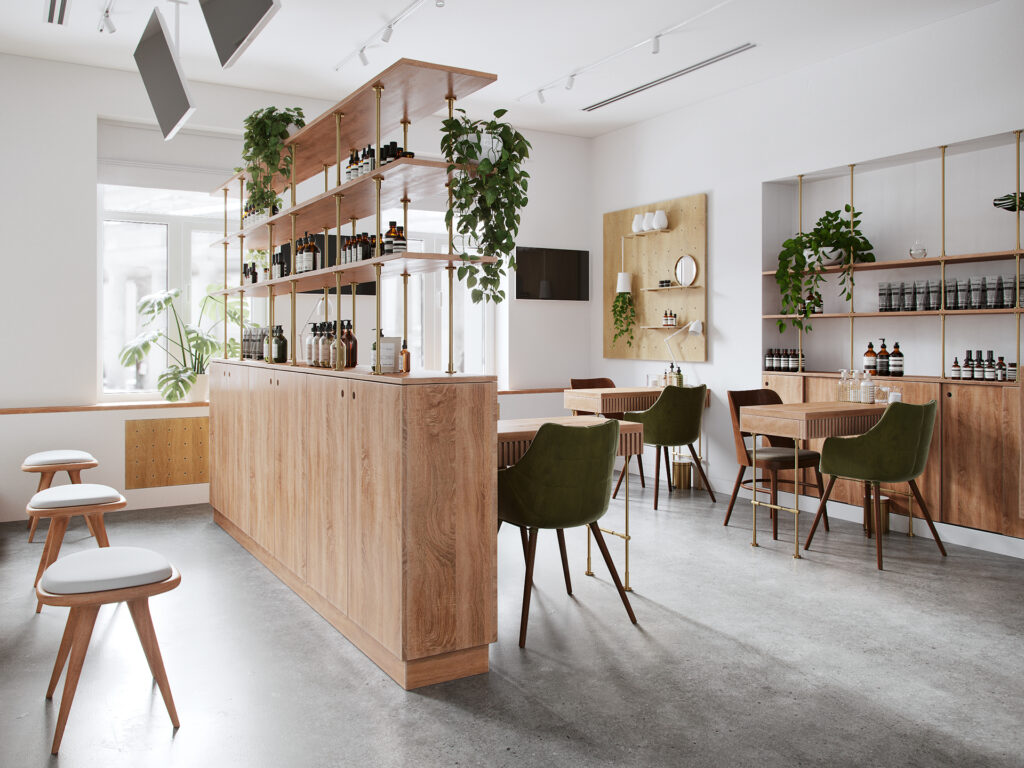 8. Ethereal Hair Salon Decor by YHS Design
Ethereal is another beautiful hair salon design project from YHS Design Group. This is, in my opinion, the most luxurious salon design in this list.
"The use of rhyme in textures, the refreshing smell of woods and the flowing art space breaks the imaginable space of the past and abandons the existing impression of how a commercial space should be."

YHS Design Group

Here's how YHS Design describe the project:
"One can sense the detailing of crafts, smell the breath of nature and feel the vibes of curves and lines and the vibrancy of ink gradation within the space. Everything seems calm but it is like flowing water to the eyes. It is an artistic feast of vision, scent and touch that allows people to have a temporary getaway from the hustle and bustle of the city. This is a space where people can calmly taste and drink in the rare ambient encounter."

YHS Design Group
Salon and Styling Station Design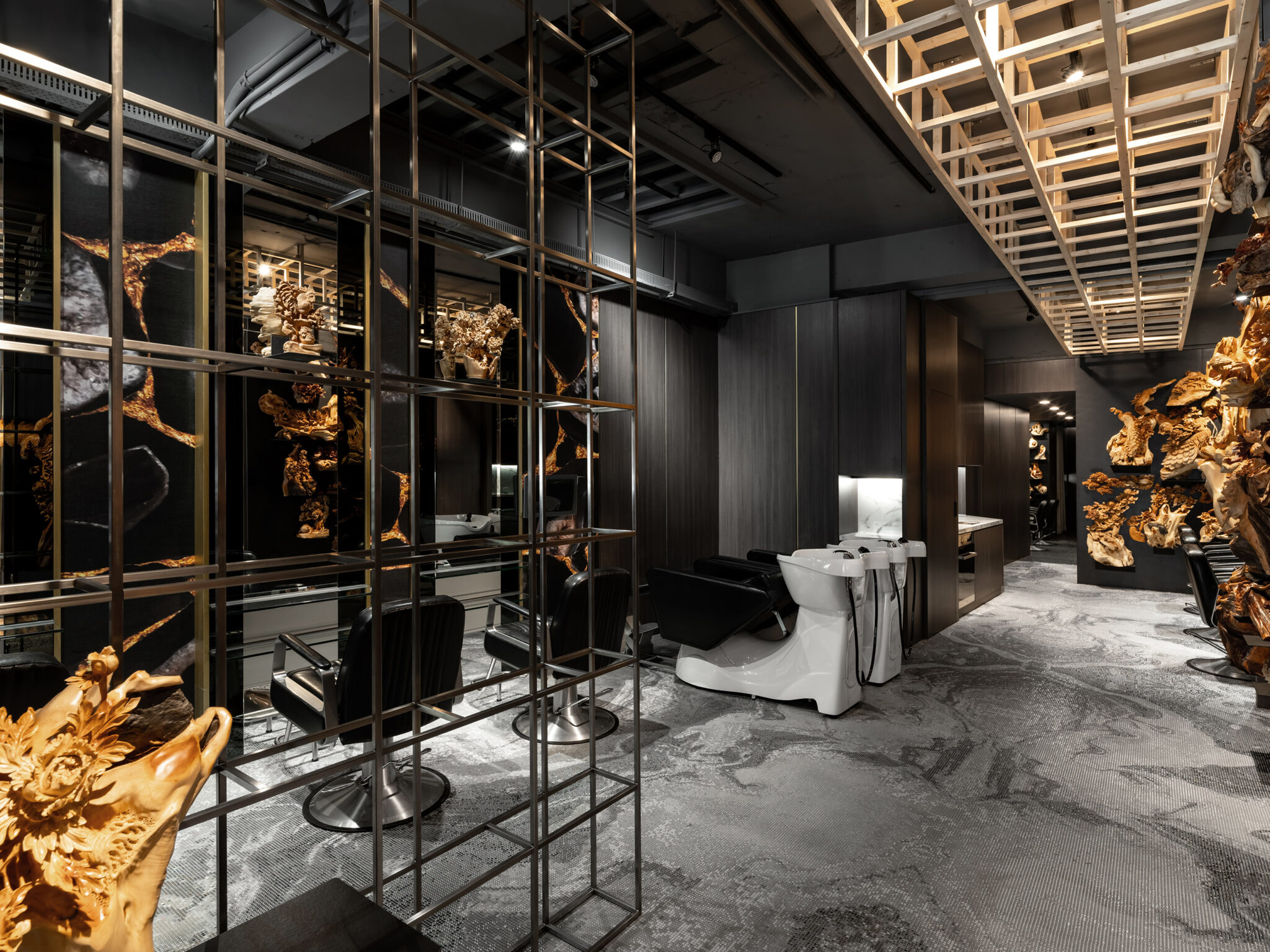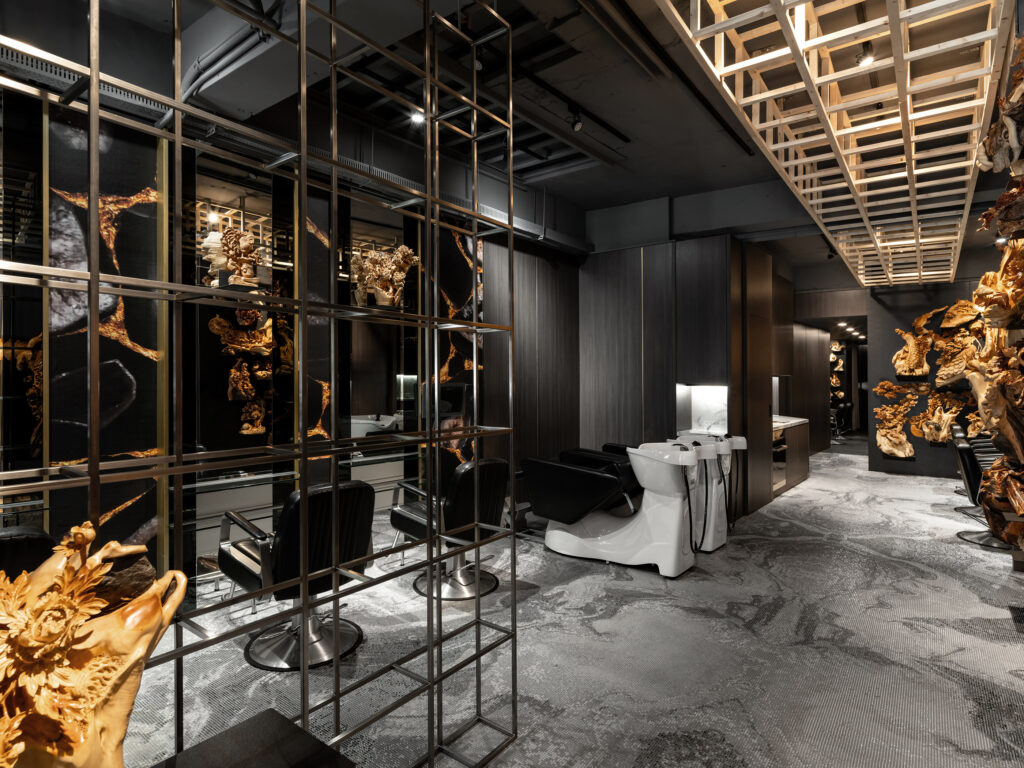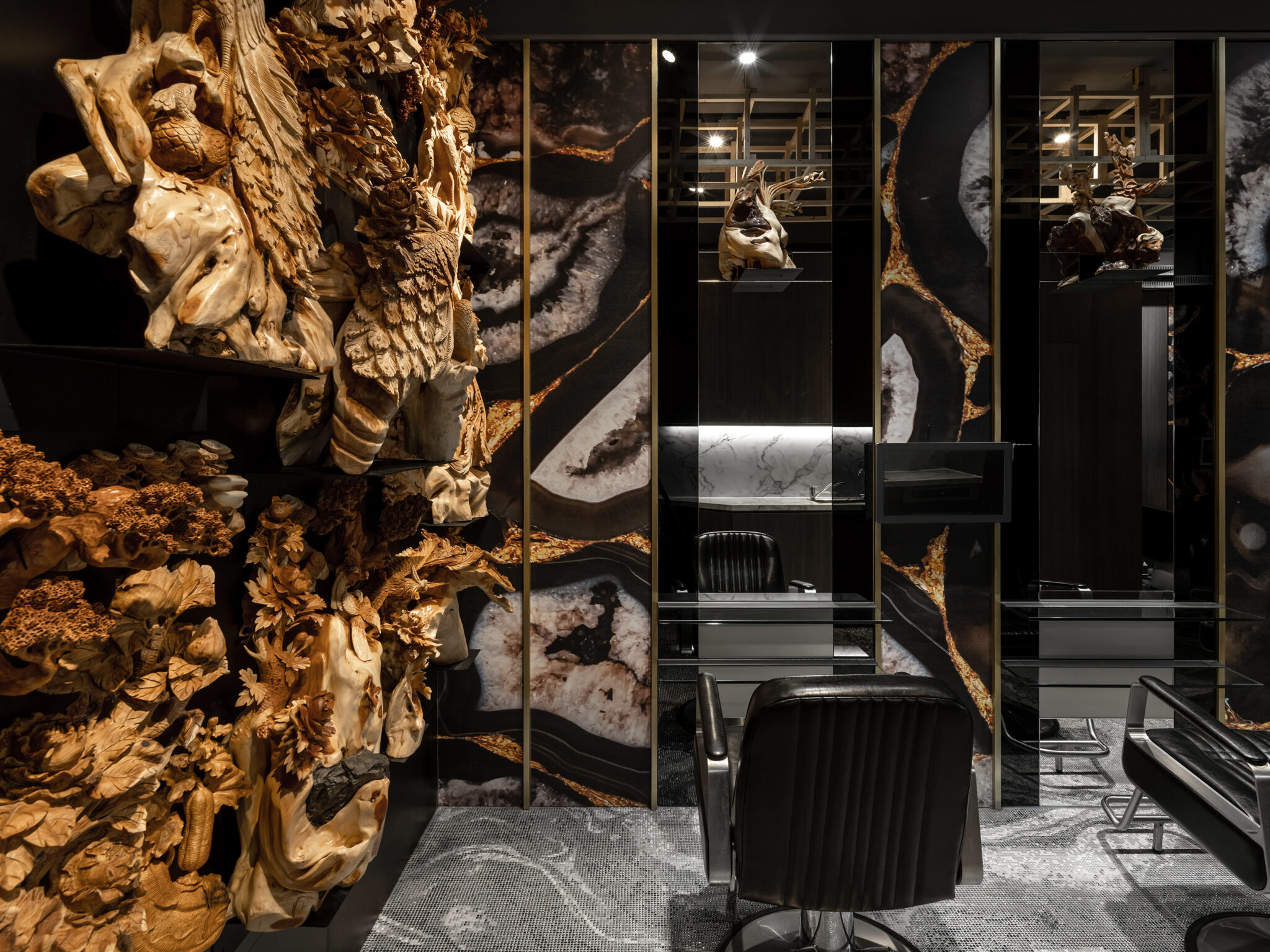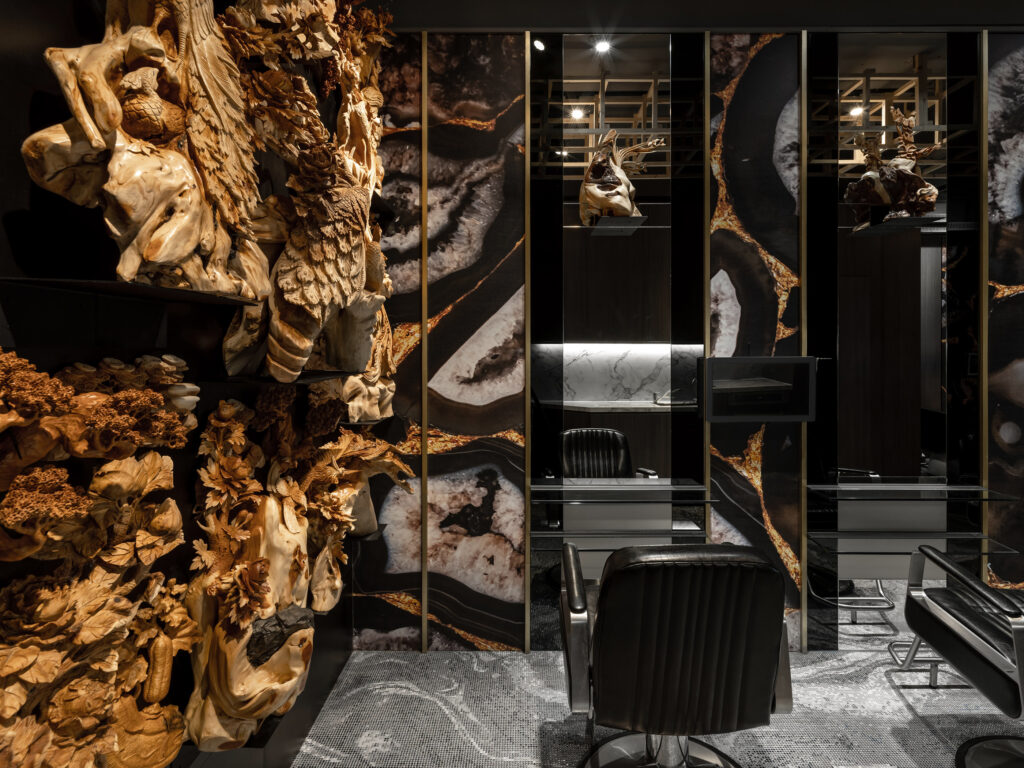 Salon Shampoo Station Room Design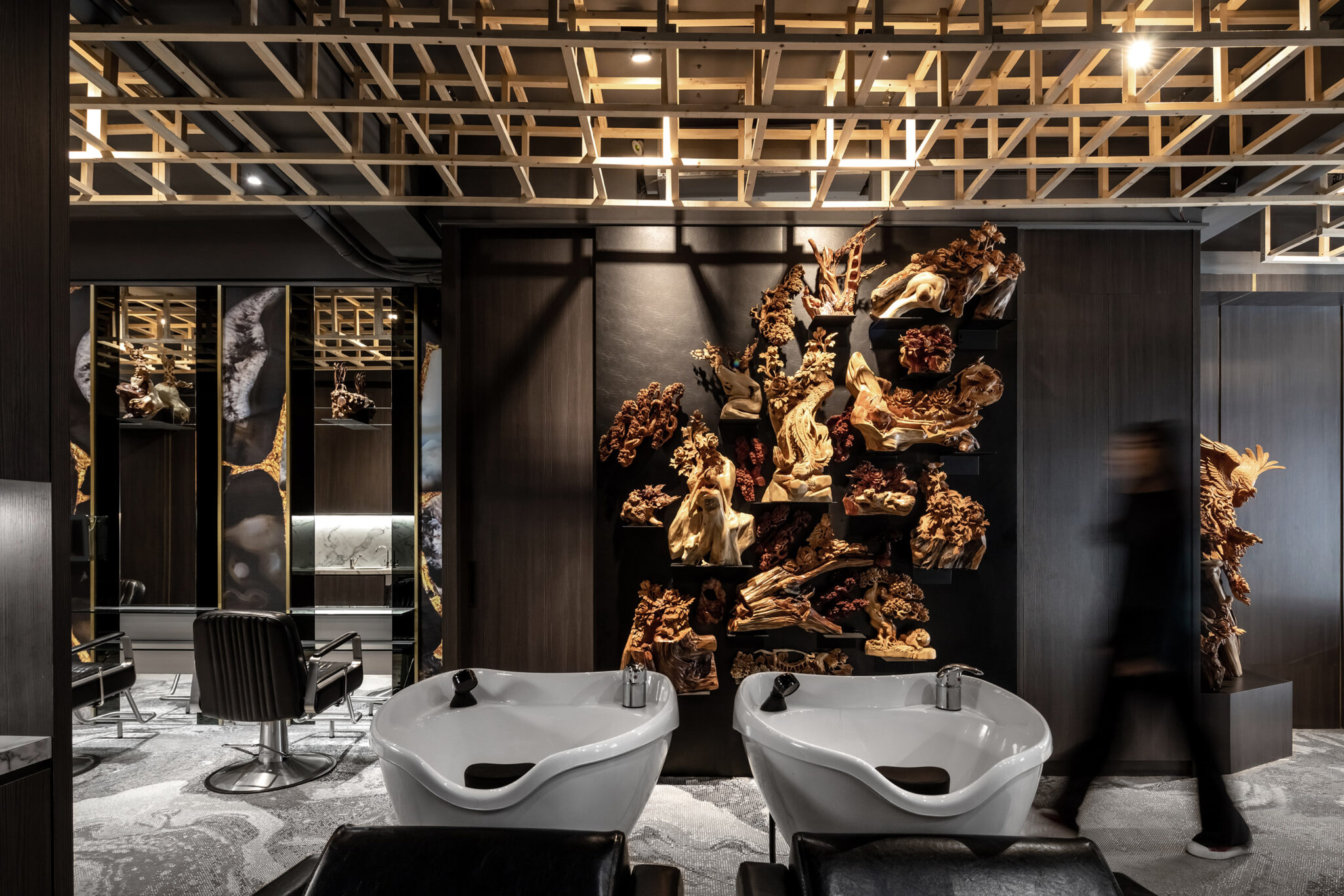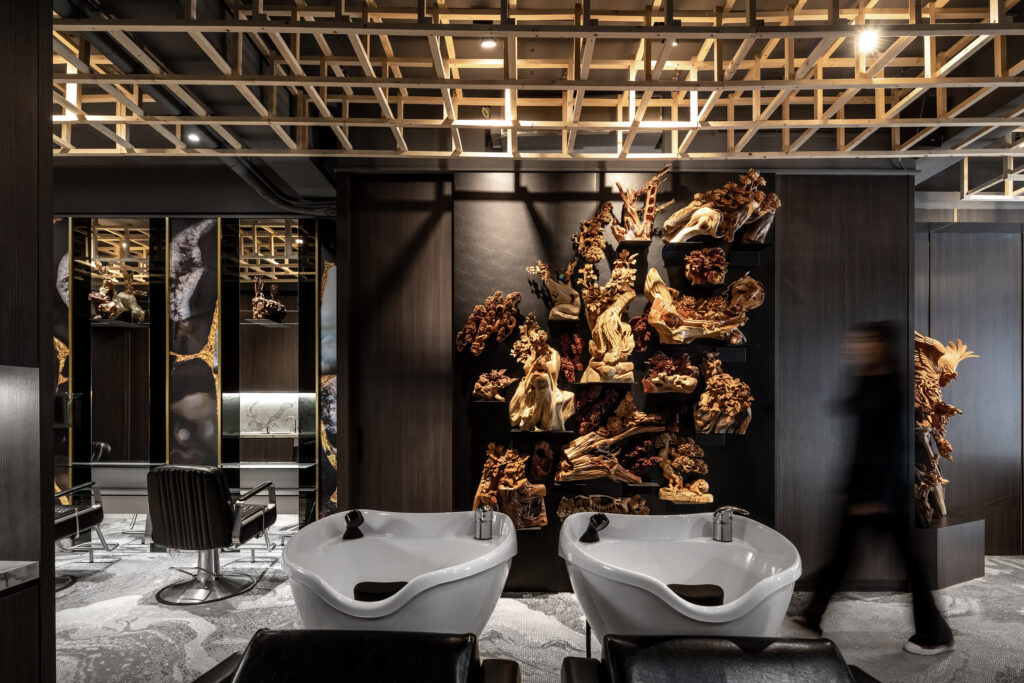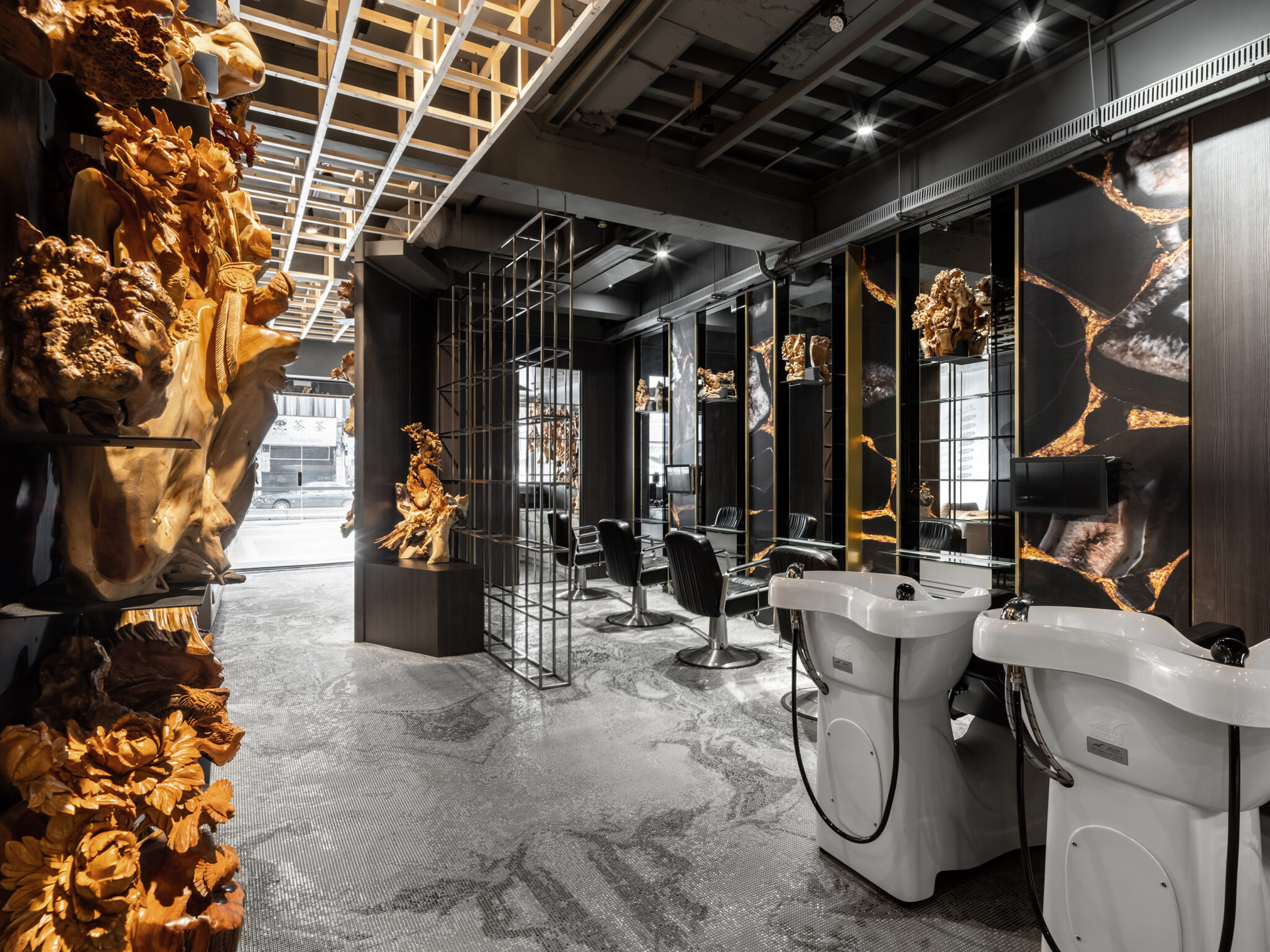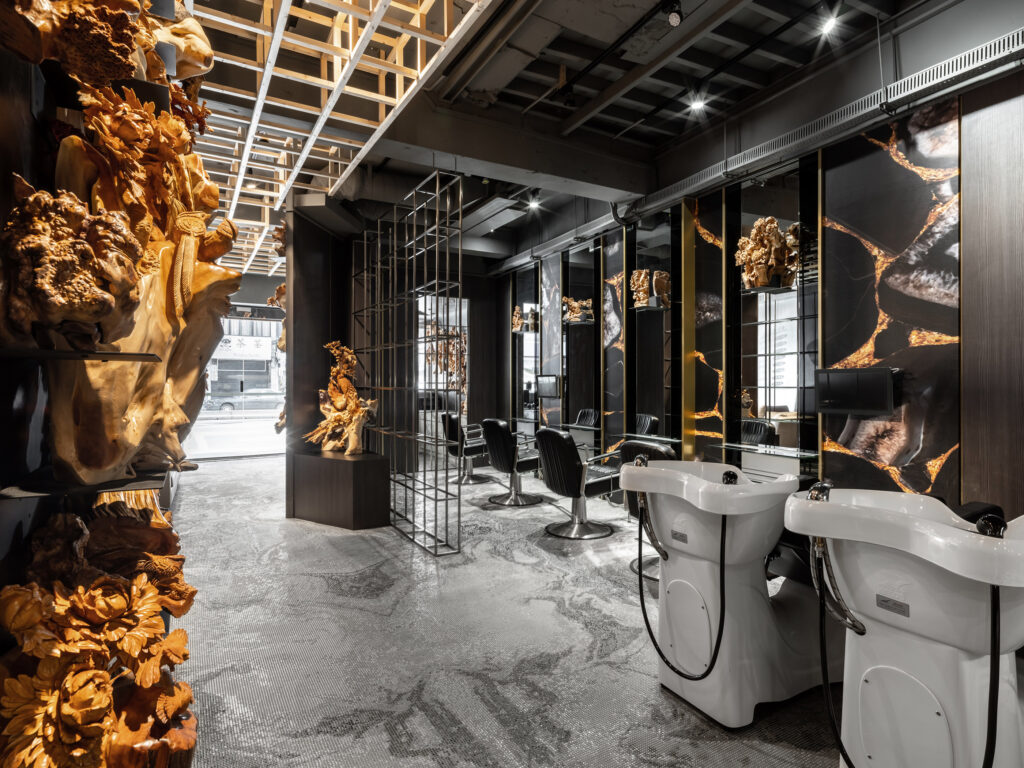 Salon Reception Design & Waiting Area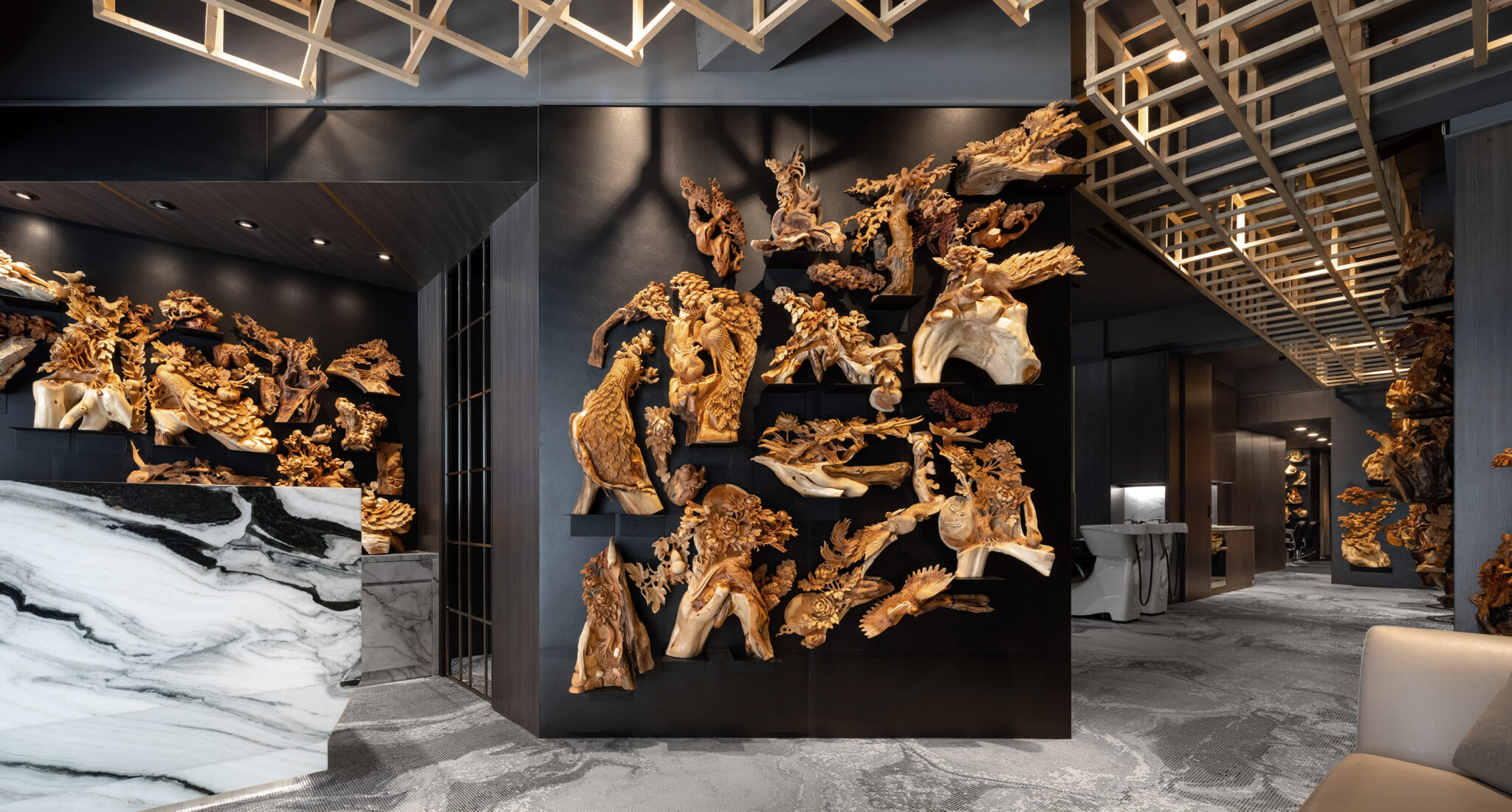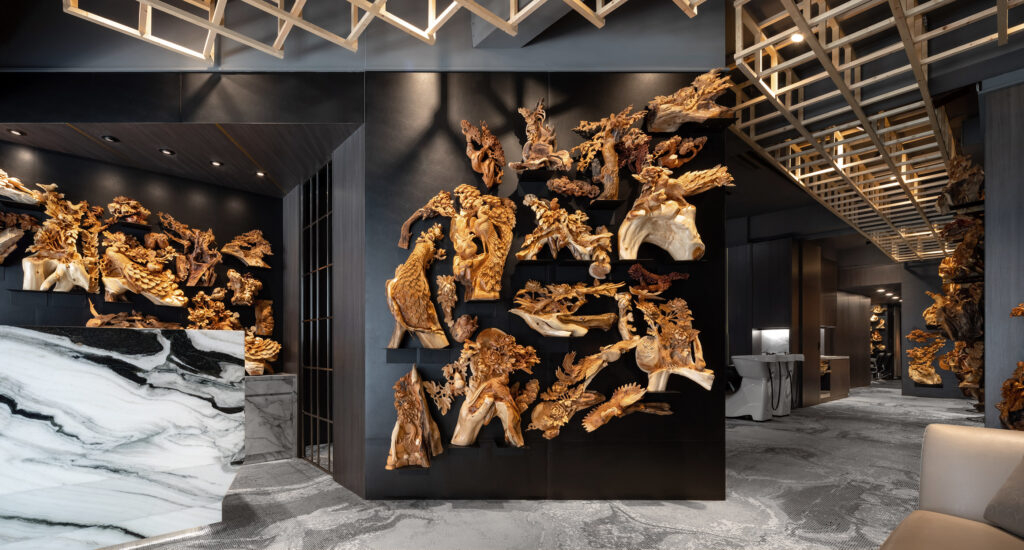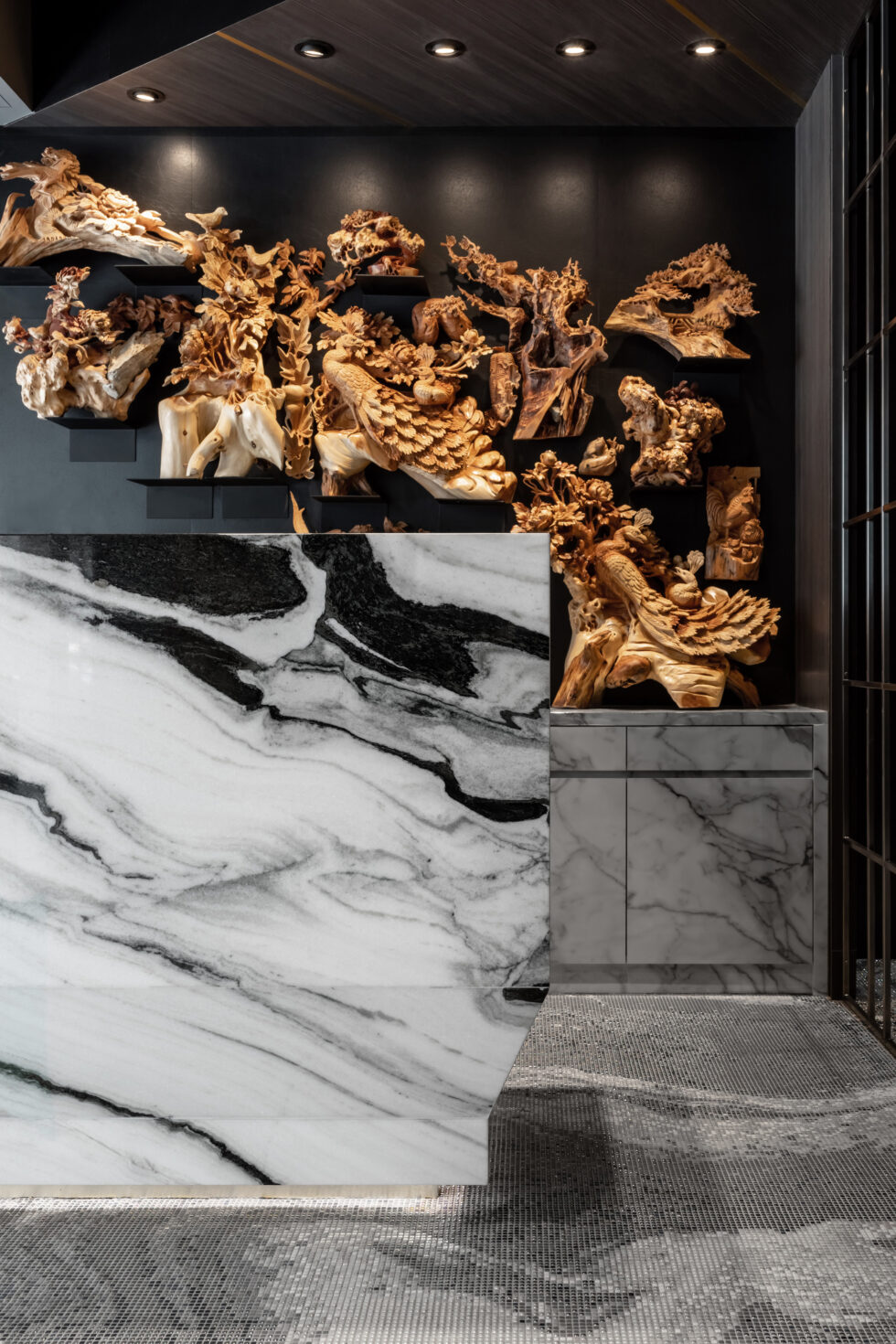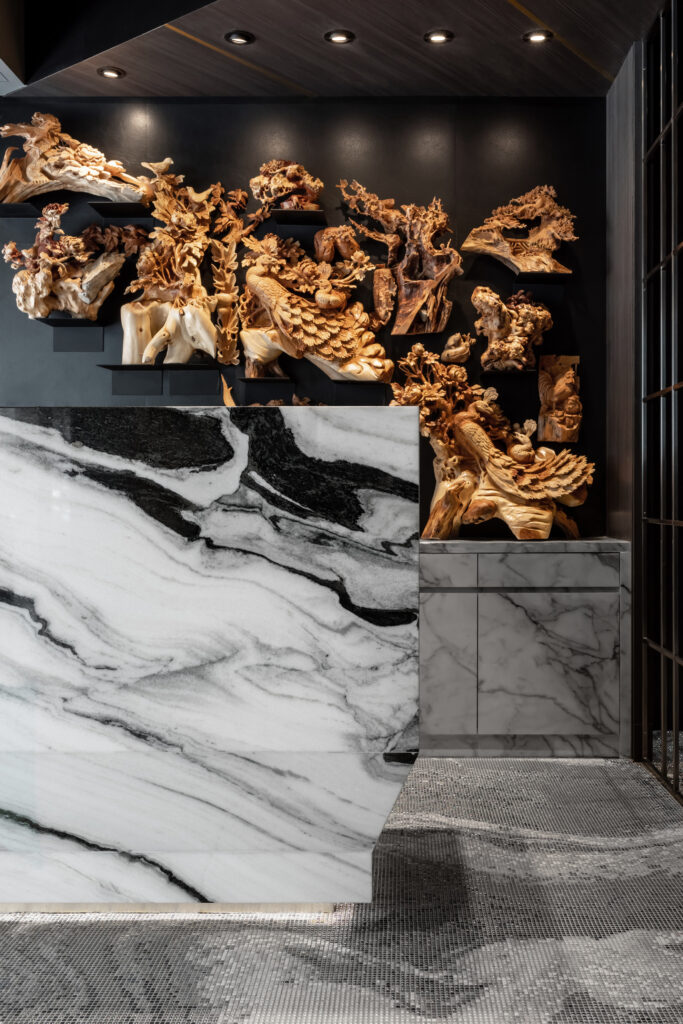 9. Blu Creativity Hairdressing Salon Design by Facet Studio
This gorgeous salon design was created by Facet Studio in Sydney, Australia.
They were challenged with the task to turn the 180m2 area into a salon that when people enter they step out of the city. To achieve this, they focused on natural phenomena to enhanced the sense of relaxation and comfort. In particular, boundary and nature.
Sense of Boundary: We layered porous and translucent boundaries to divide the functions, rather than solid walls. When one is in one space, spaces adjacent can always be felt; the sense of space is never limited to the physical space. This, in turn, contributes to a feeling of expansiveness and blurs the abruptness of hard boundaries.

Facet Studio
Sense of Nature: By installing ceiling fans to generate 'wind' and dividing spaces with translucent curtains and a porous 'jungle gym', we allowed air movement to freely circulate within the space. Furthermore, the curtains capture the air movement and make this invisible natural phenomenon visible in the internal space, enhancing the sense of nature that brings people away from artificiality associations with "the city".

Facet Studio
Hair Salon Decor and Design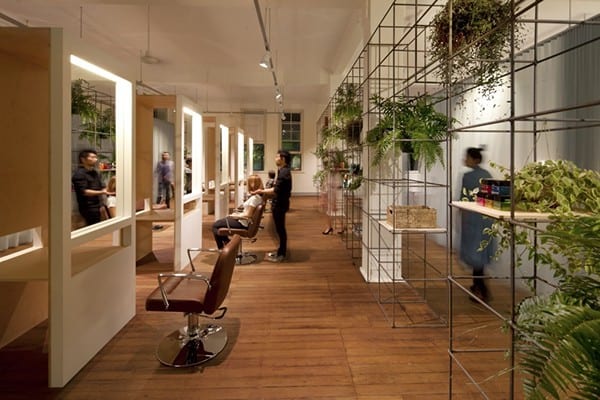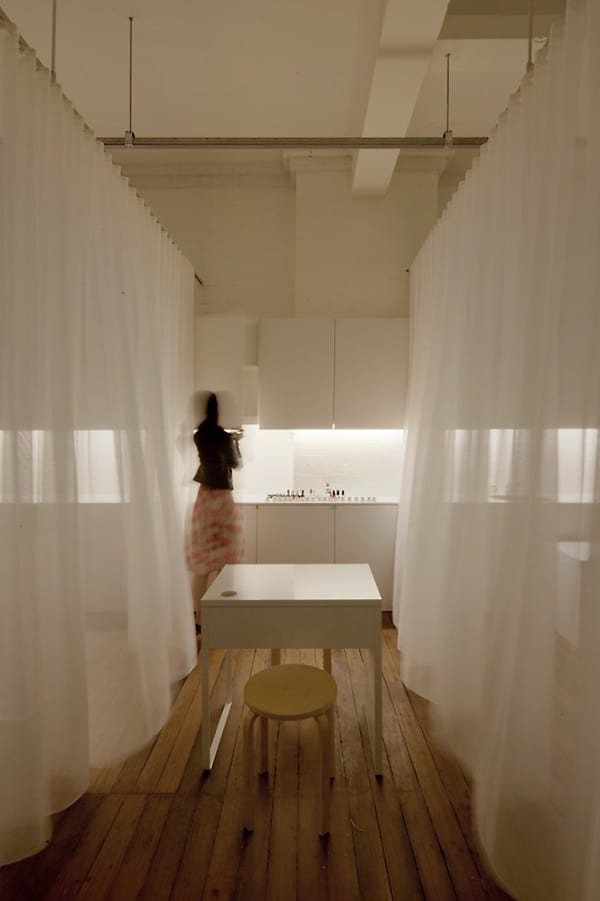 Salon Floor Plan Blueprint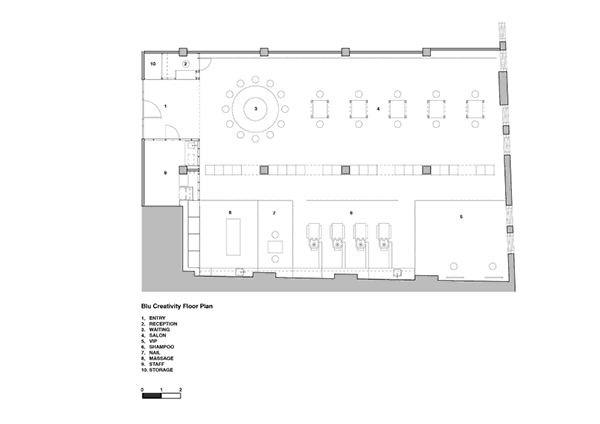 10. Beauty Break Salon Design by Nastia Landusheva
Beauty break was designed by architect Nastia Landusheva in 2017. The salon is 220 sqm and based in Kyiv and is a really nice nail and beauty salon design.

"The task was to create a democratic space in which people of different ages and cultural groups can comfortably spend their time."

Nastia Landusheva
Graphic designer: Olesia Bachynska
Salon Wall paint: Kris Beletskaya
Salon Photographer: Julia Vdovichenko
Nail Bar Design and Decoration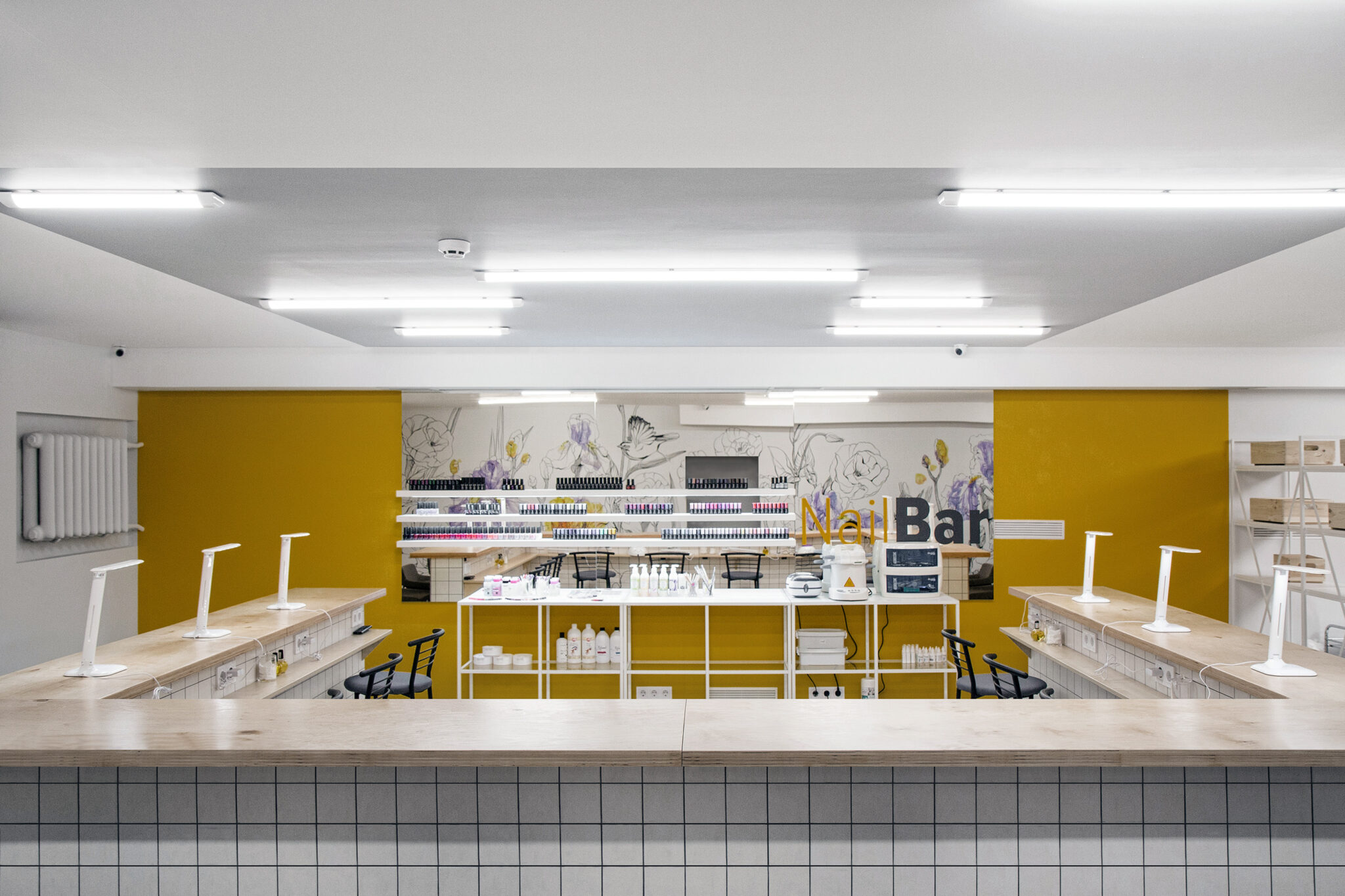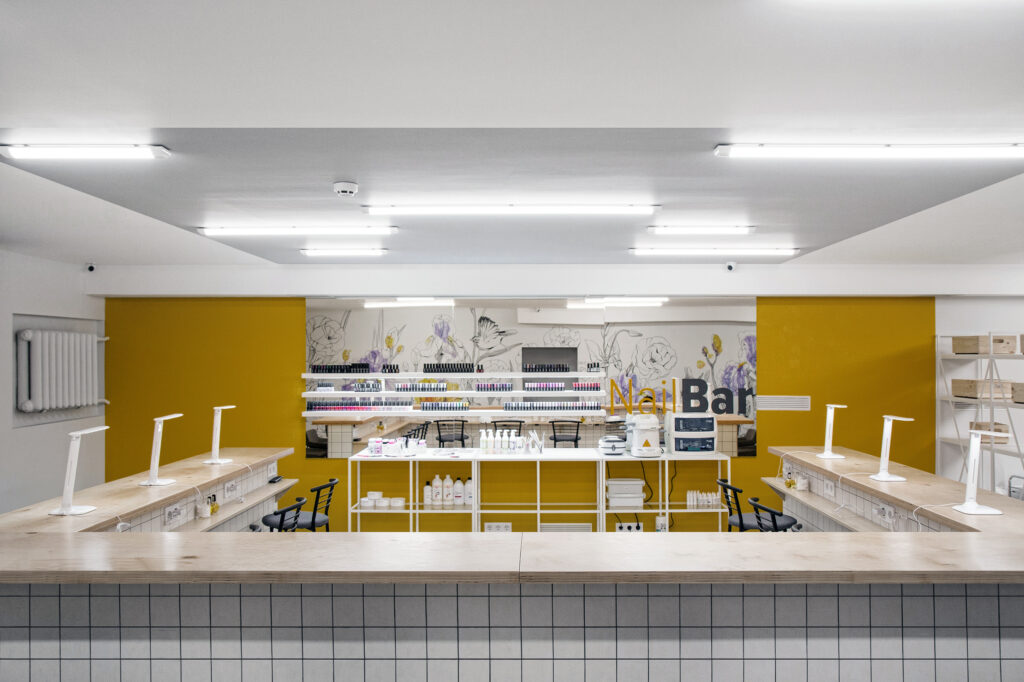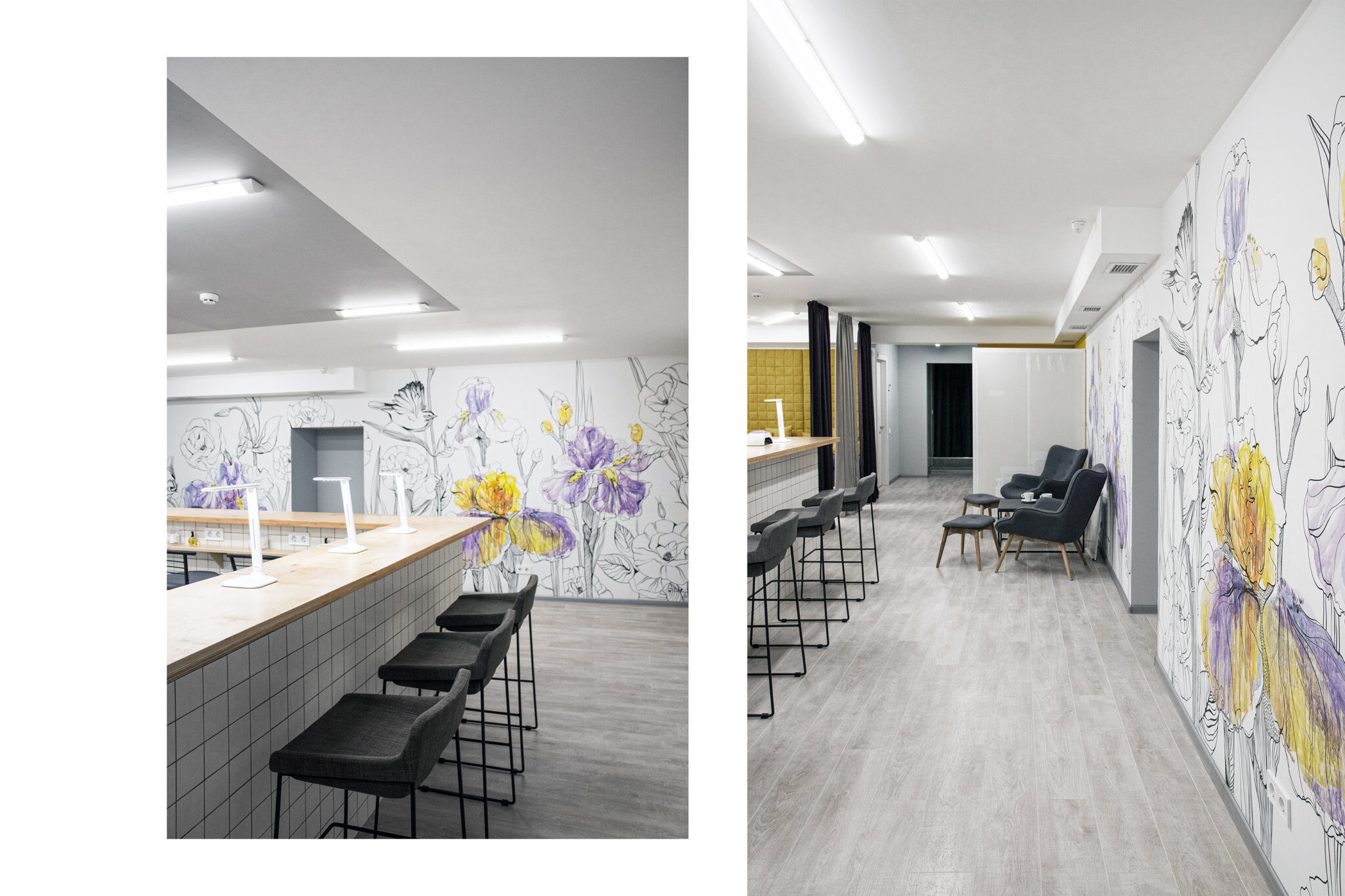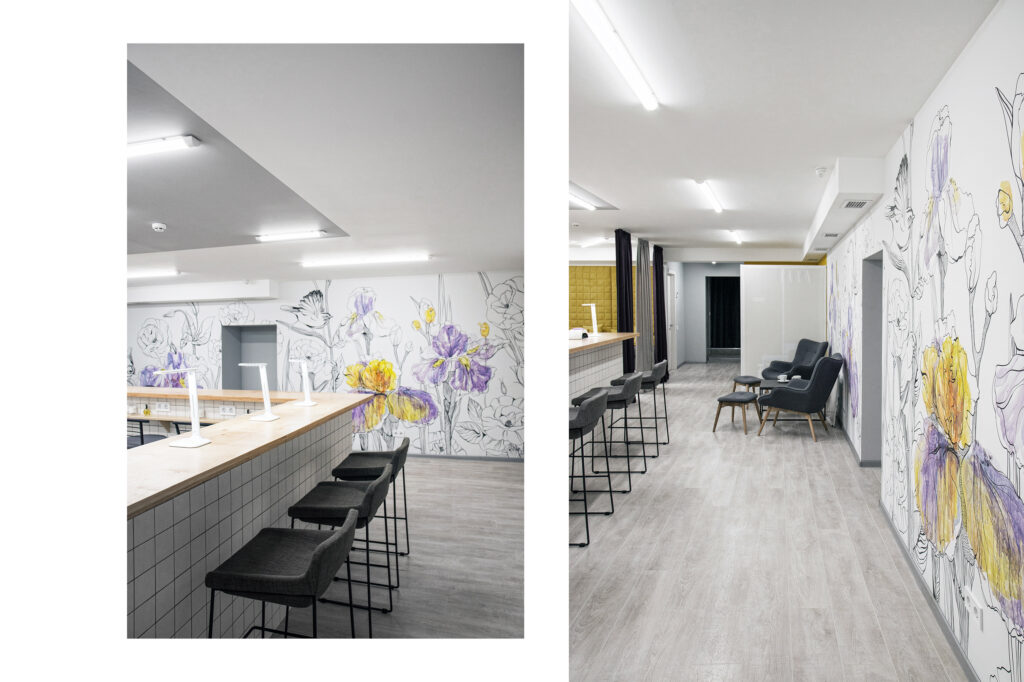 Hair Salon Backwash Design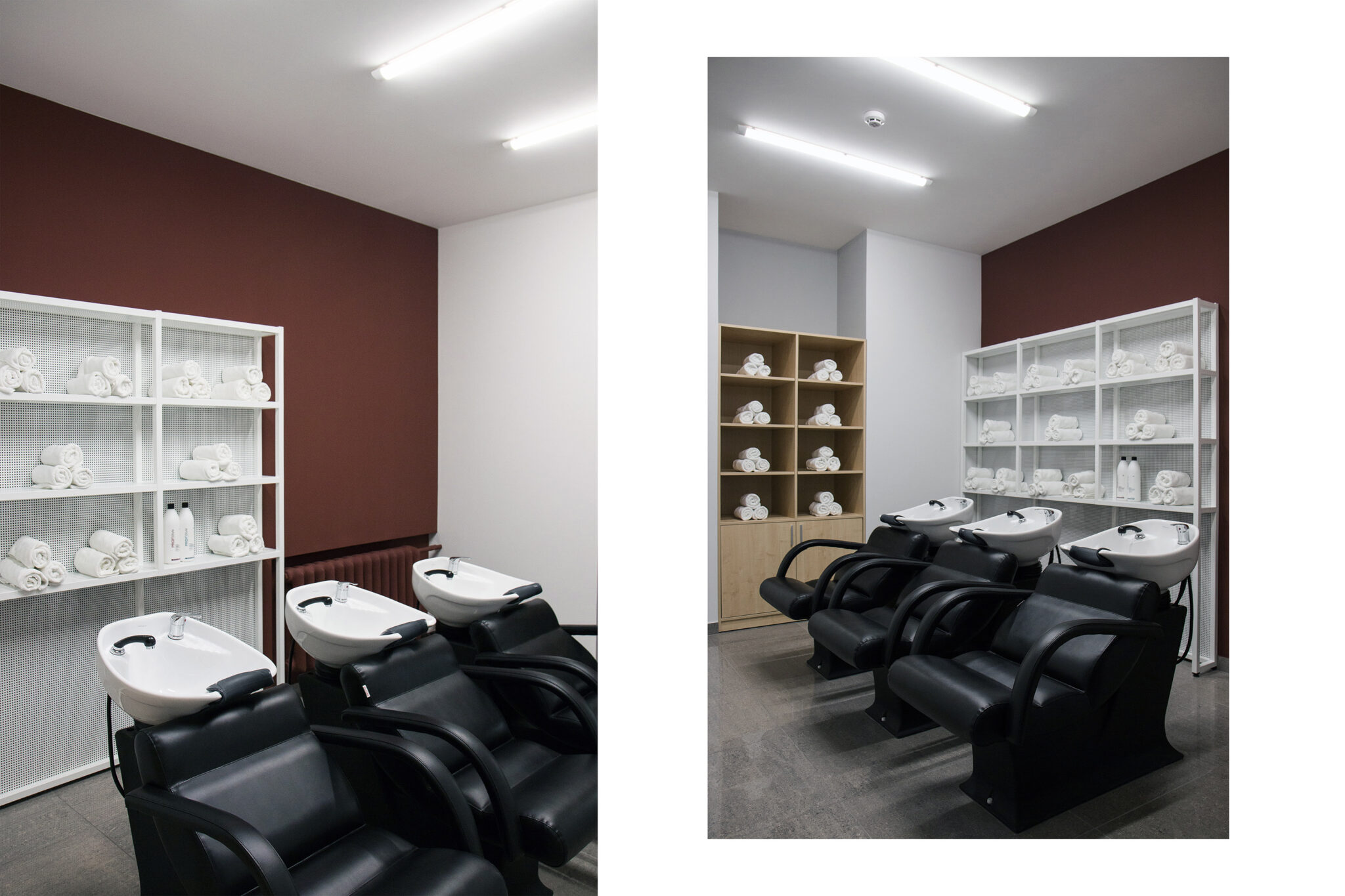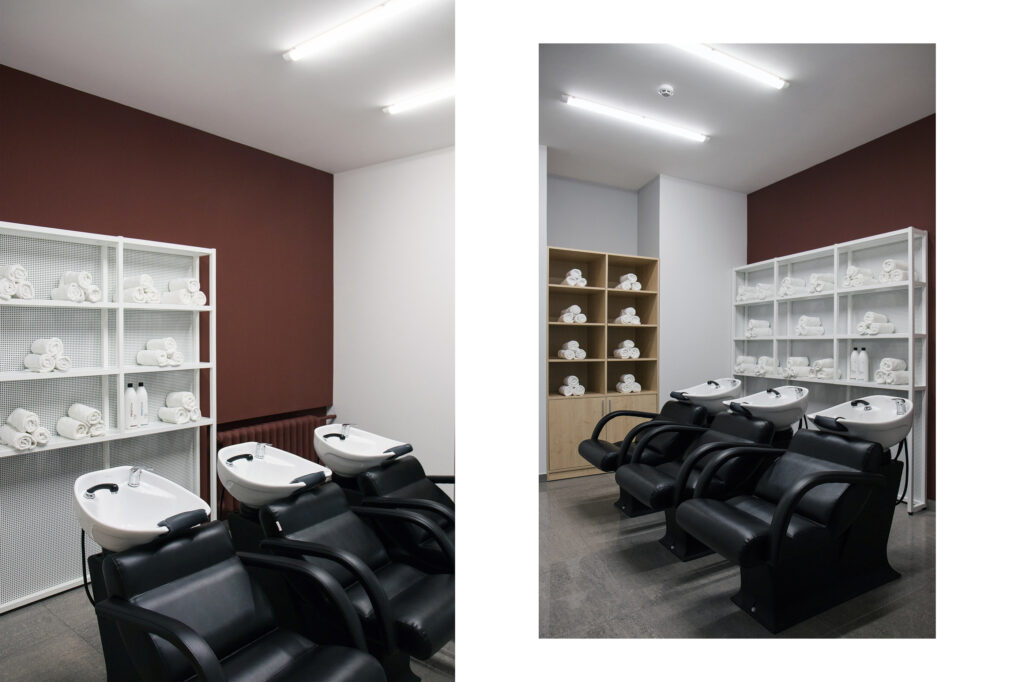 Salon Reception Area Design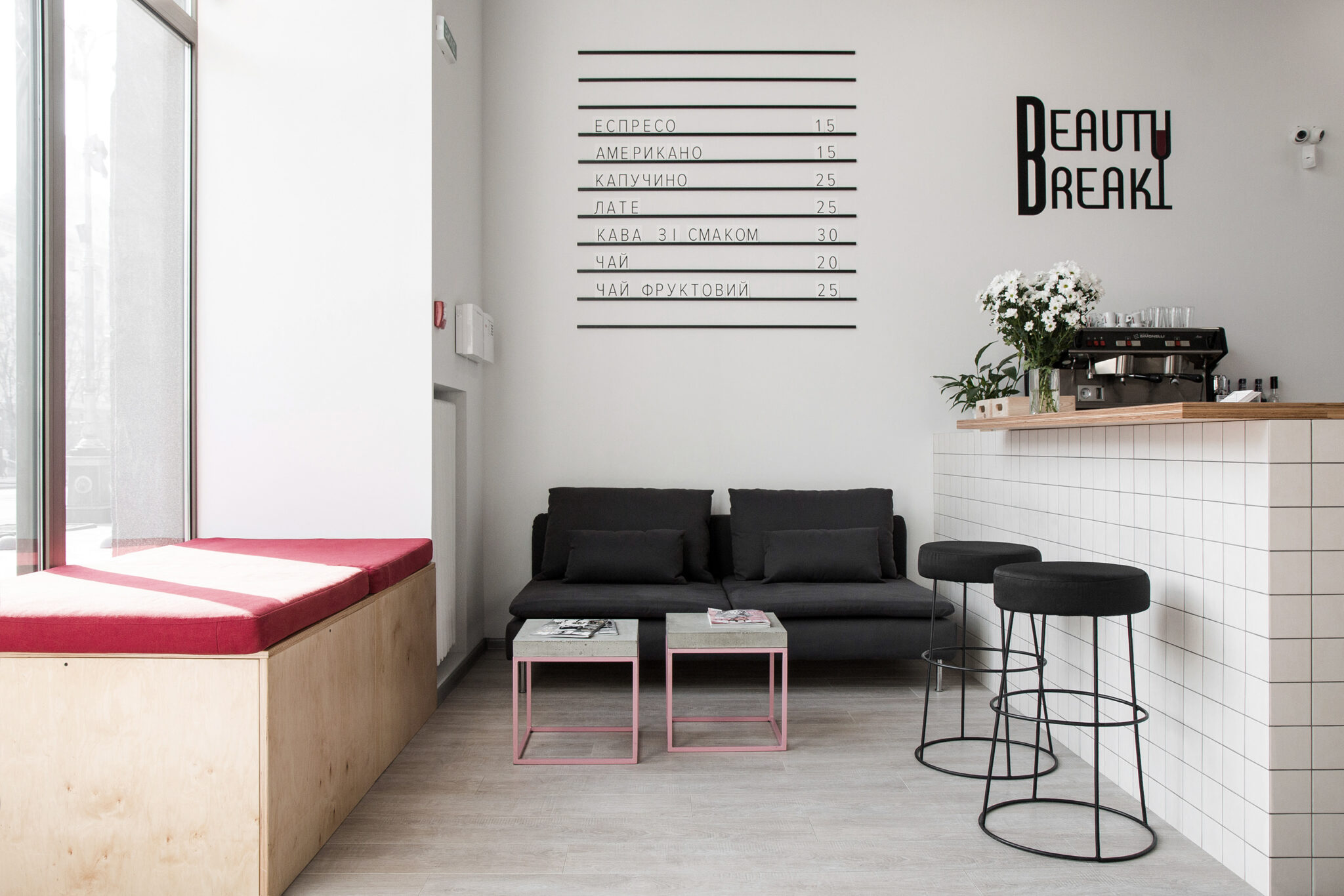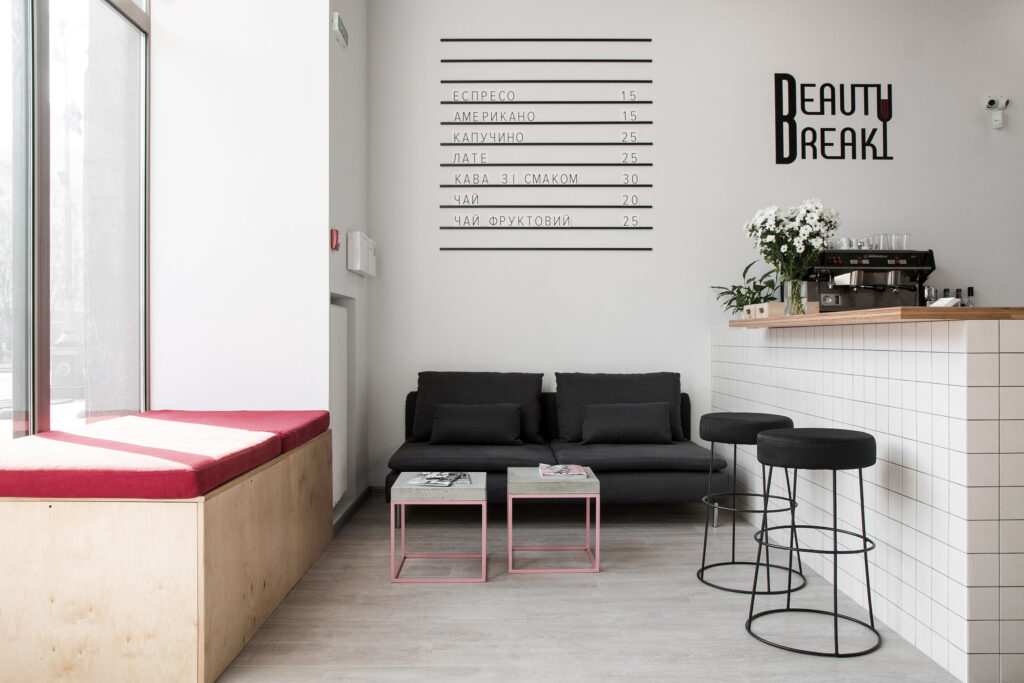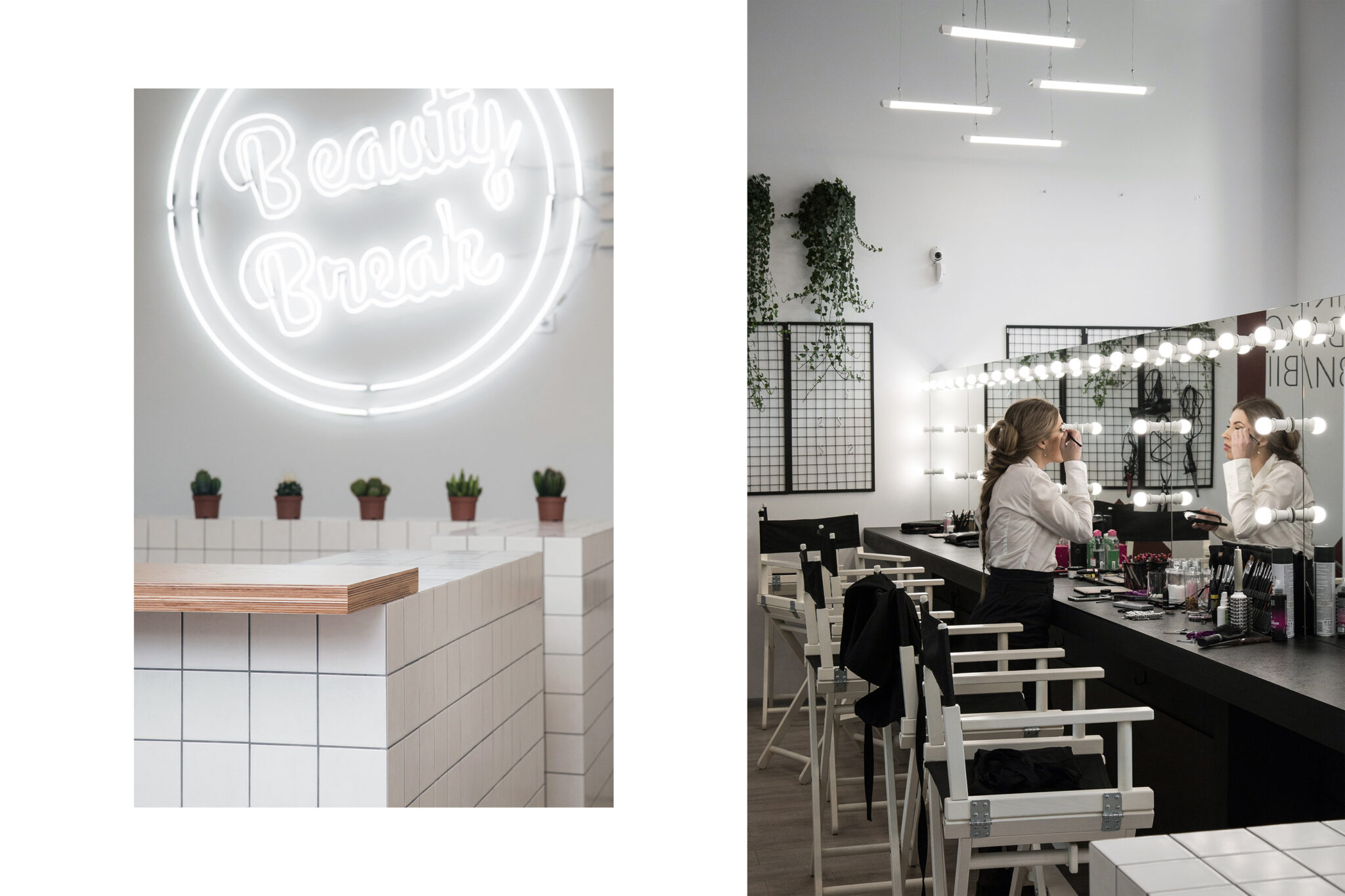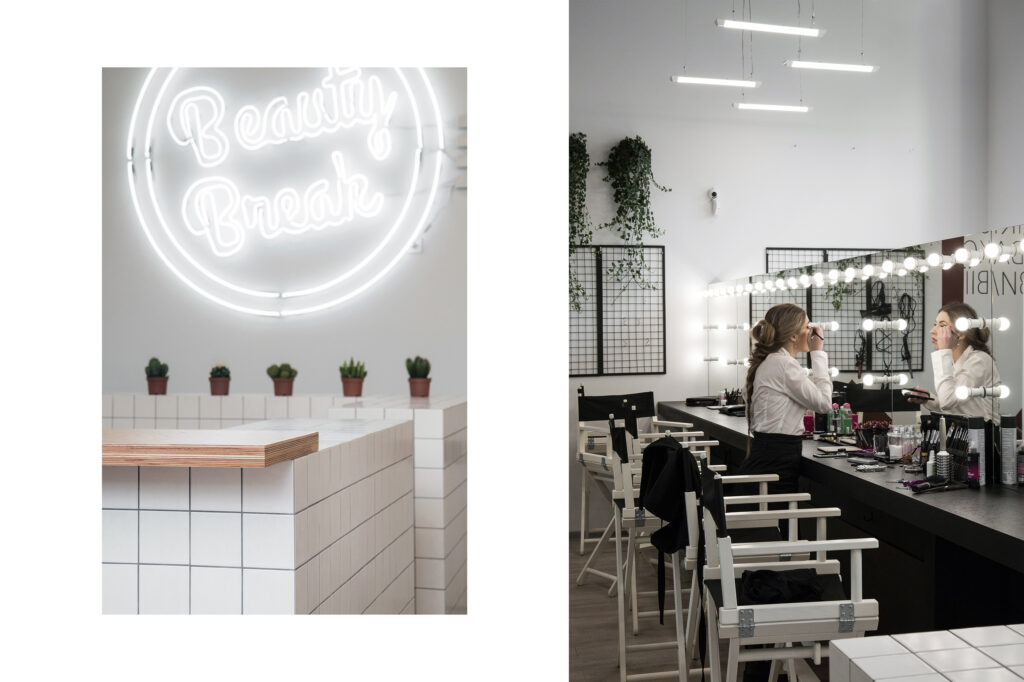 Salon Window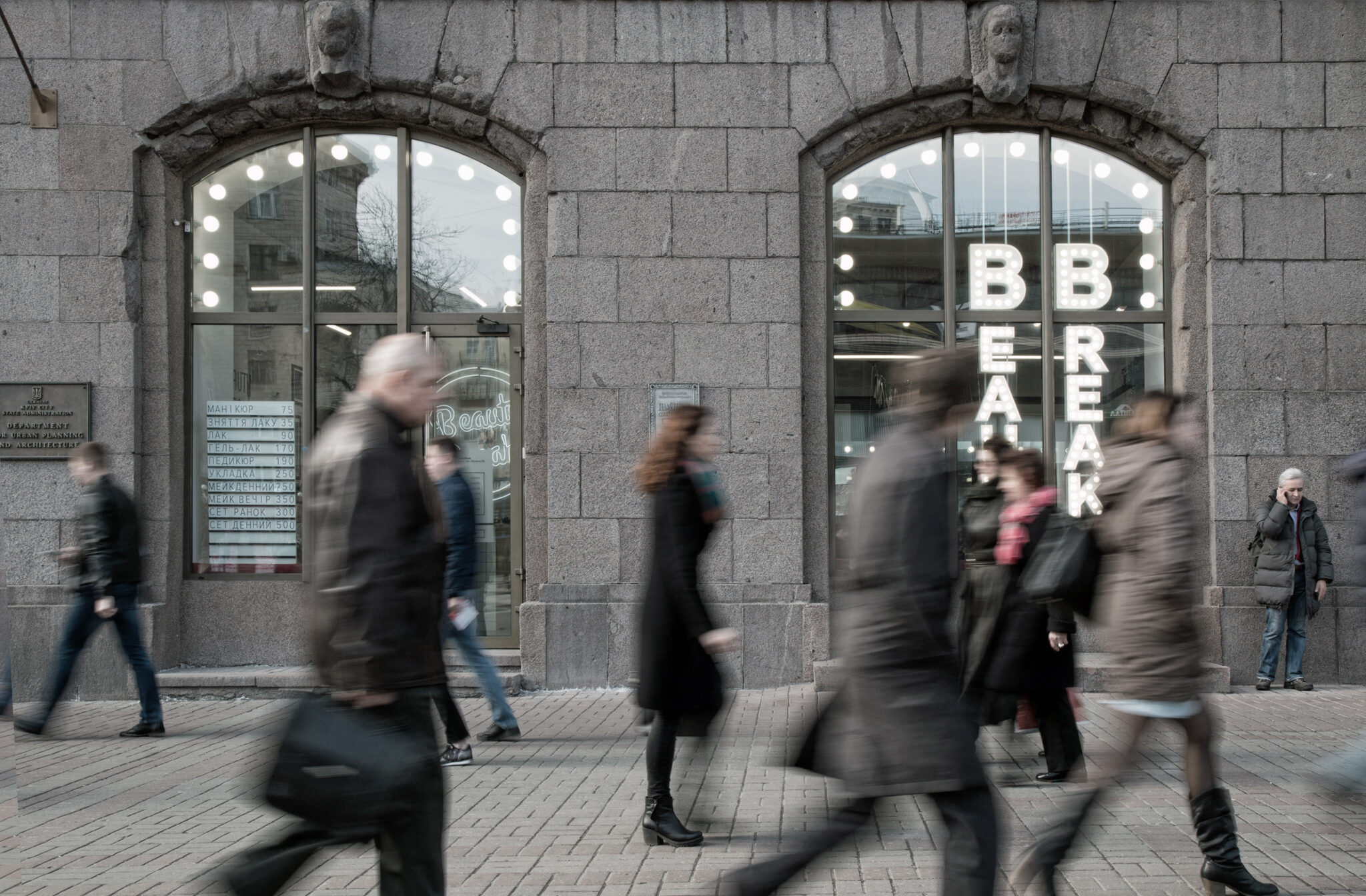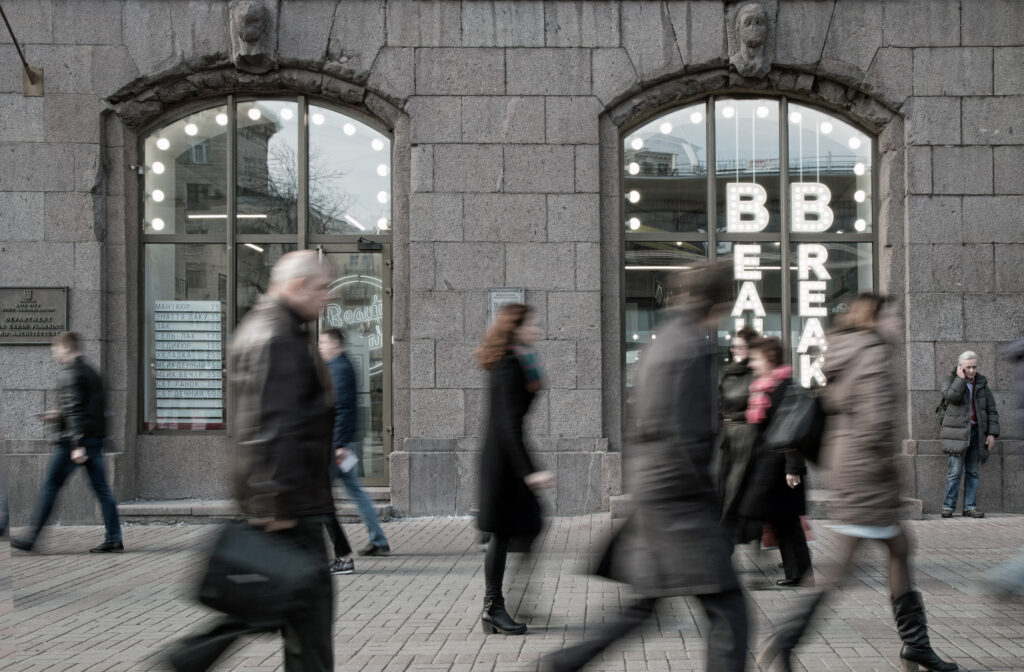 Salon Floor Plan Blueprint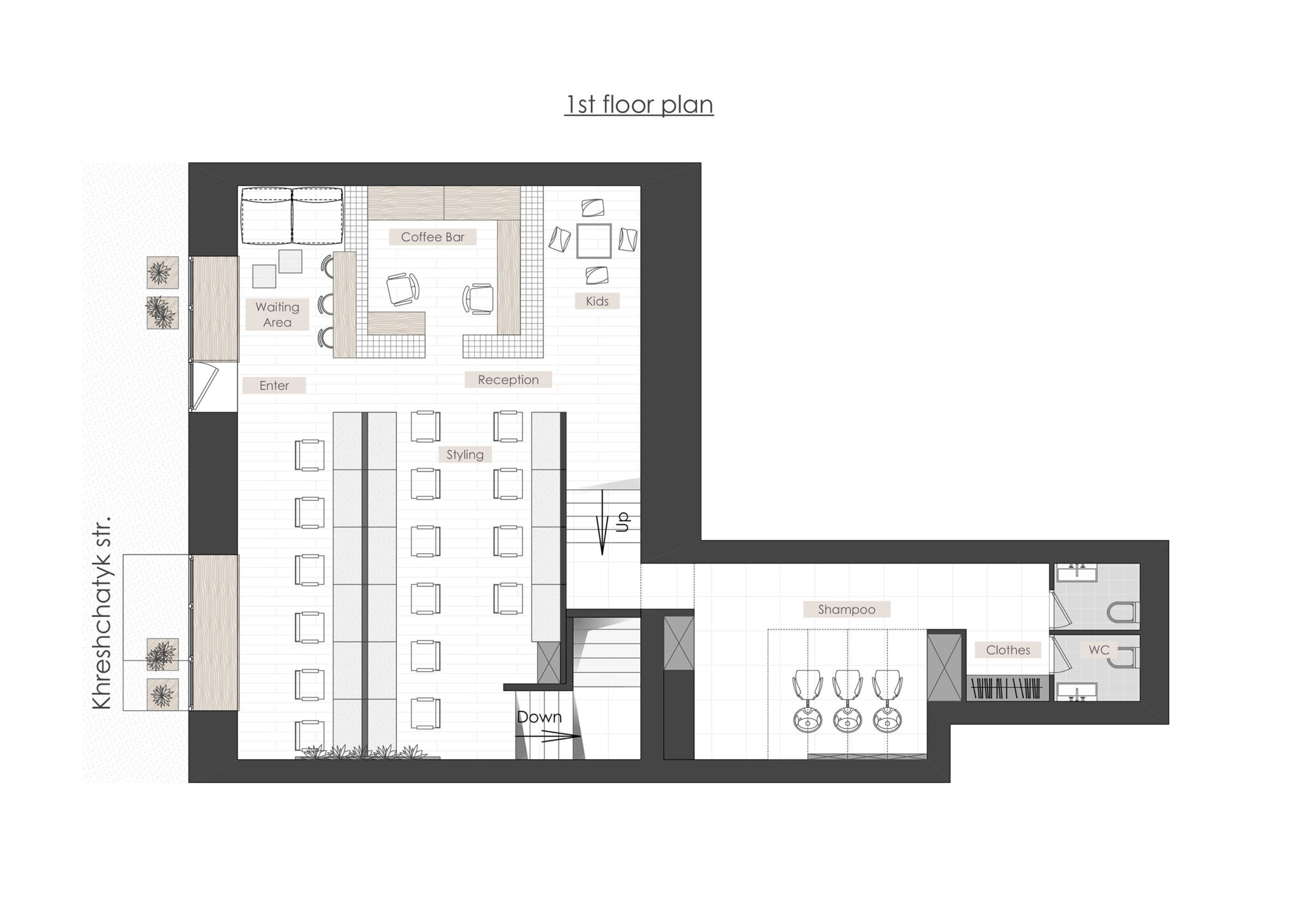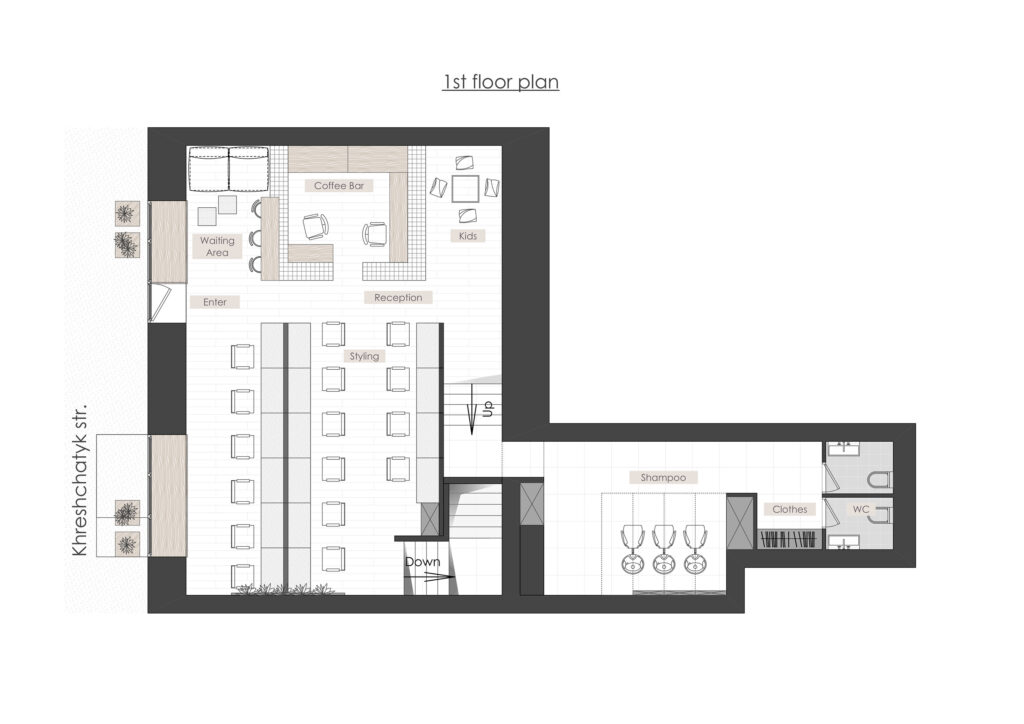 11. Hair Salon Switzerland Layout by Maden Group
The next salon was designed by Maden Group in 2018 and is located in Switzerland. I just love the pink color scheme and salon wallpaper used in this design.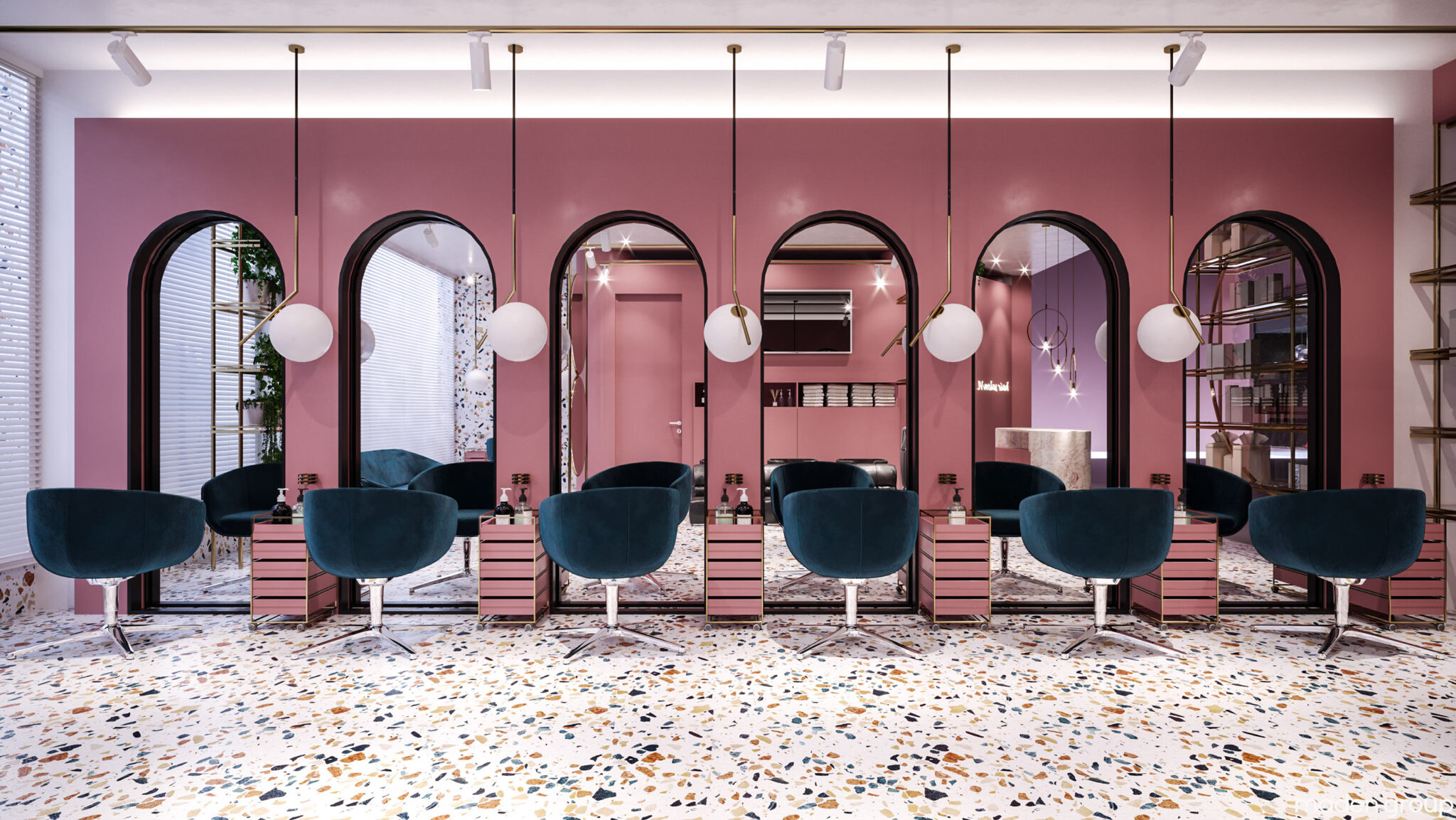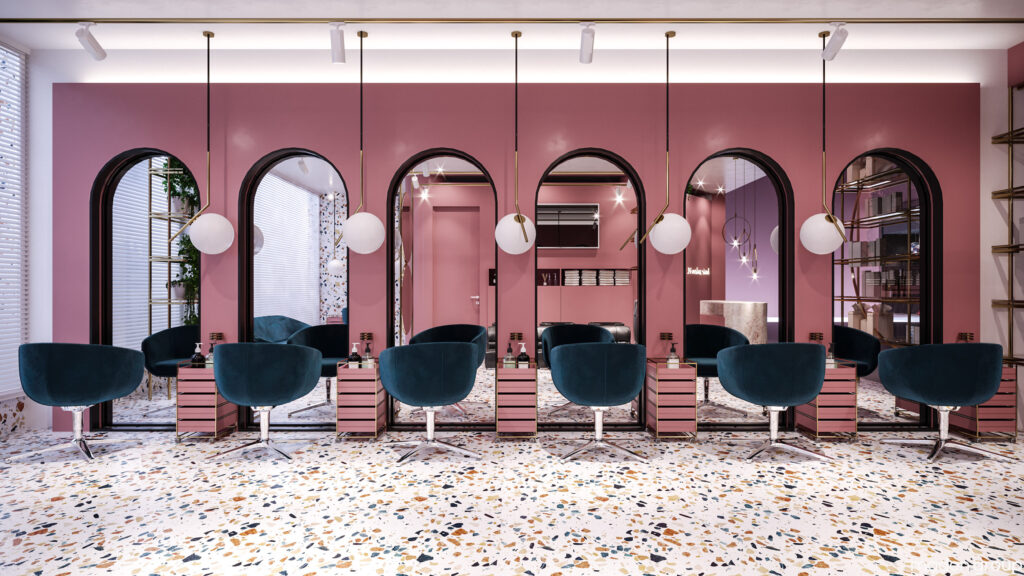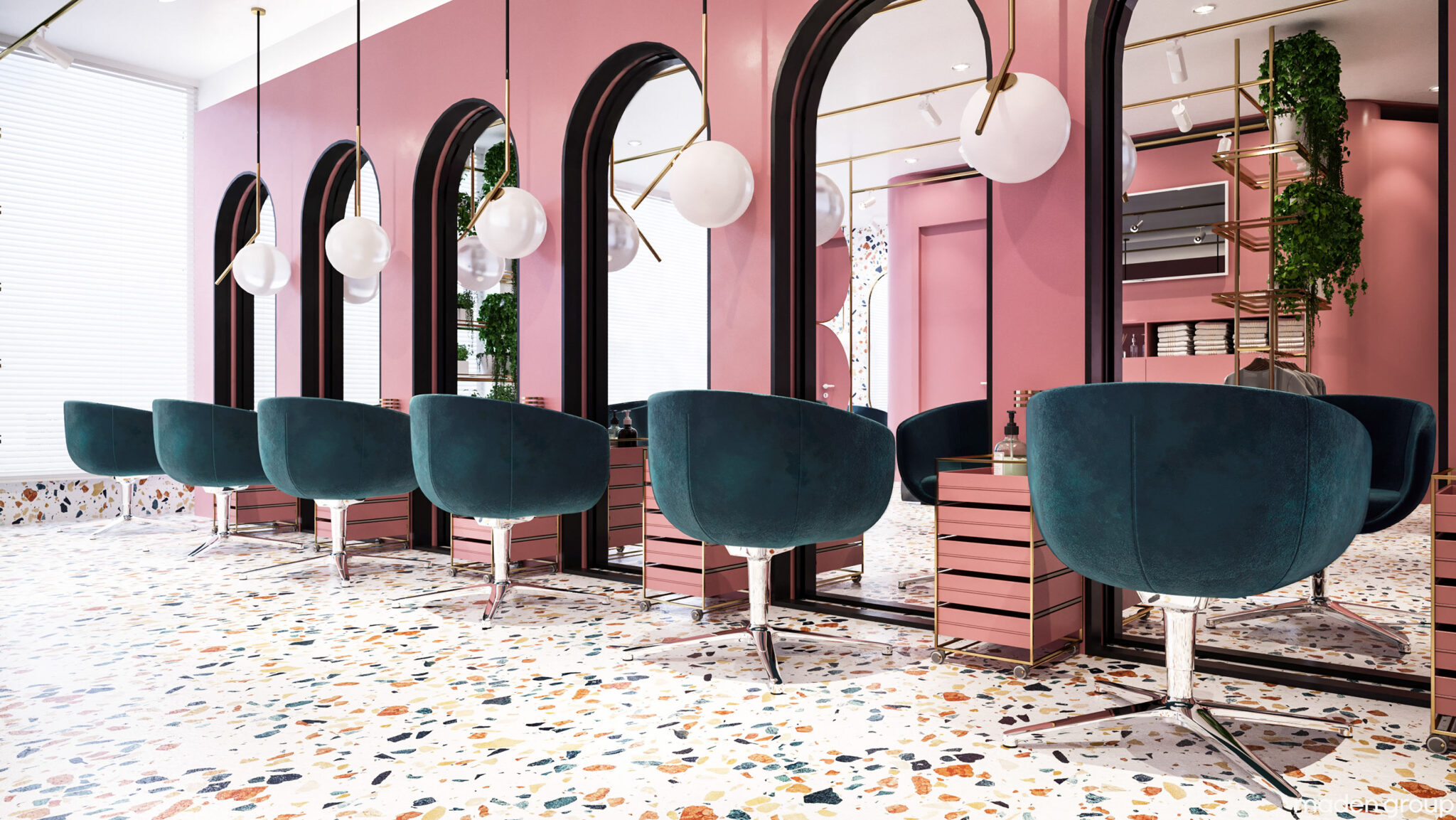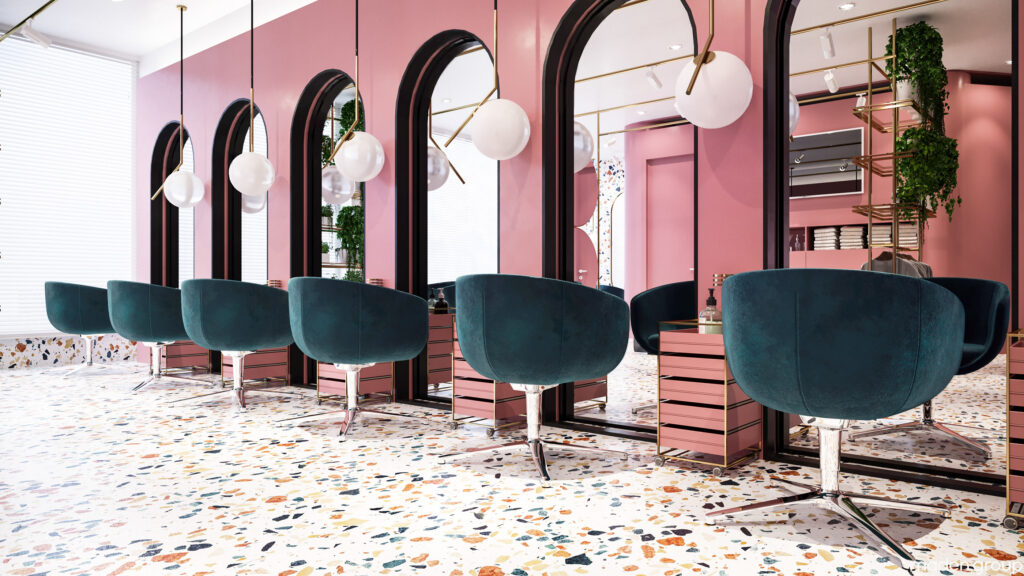 Hair Salon Waiting Area Design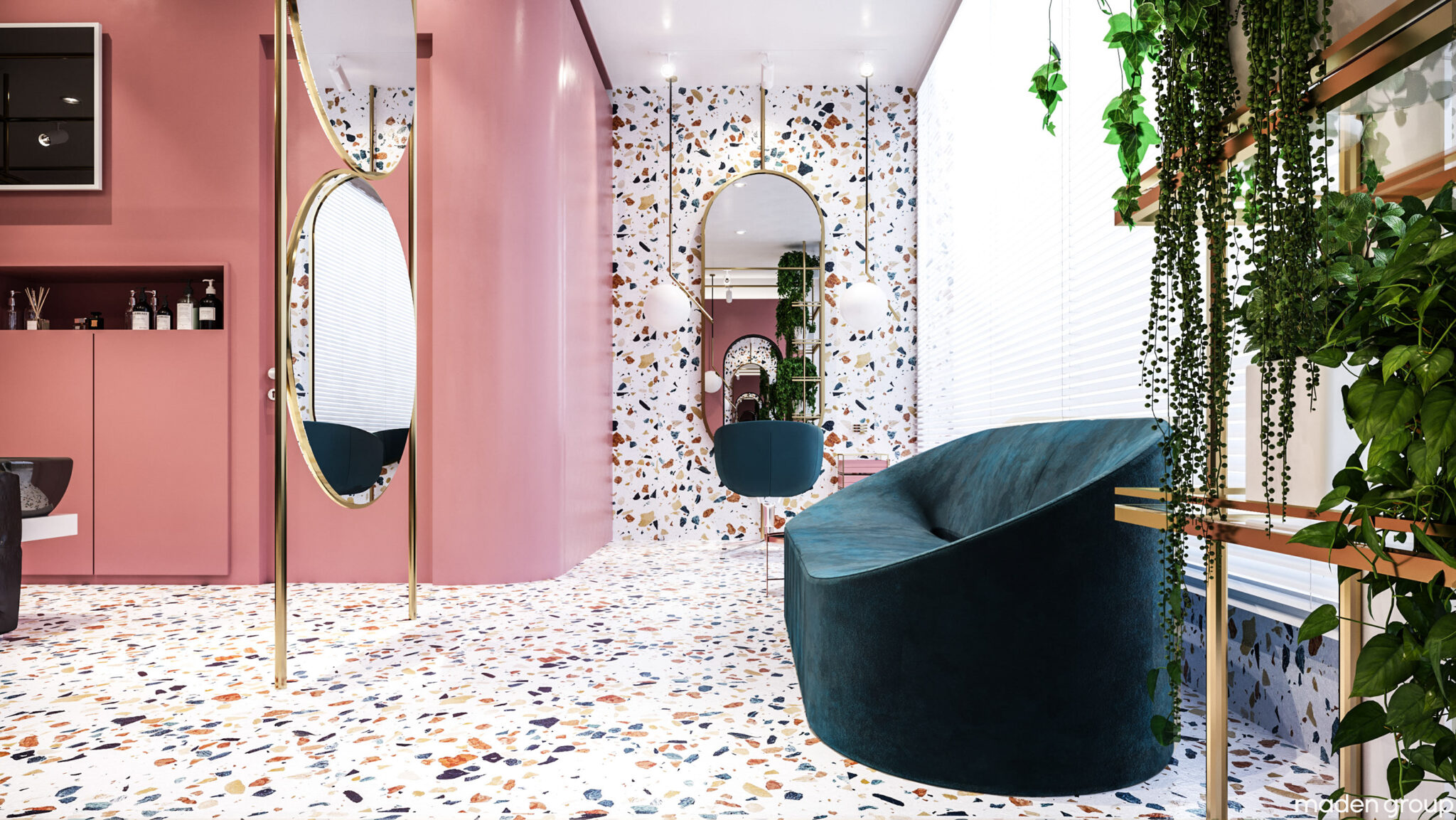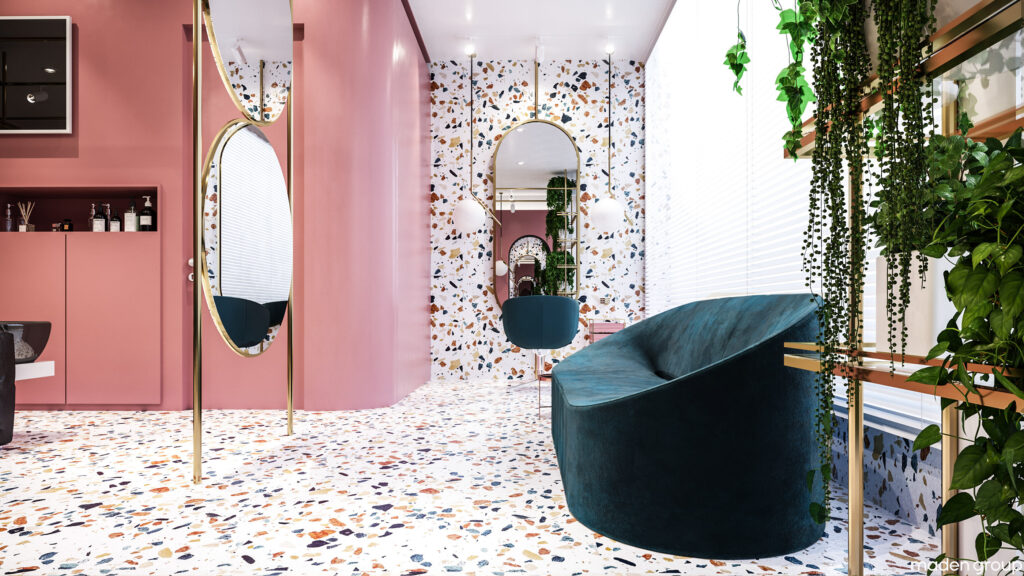 12. Studio Benicky Salon Design & Decor by Daniel Malik
Studio Benicky was designed by Daniel Malik in 2018 for a new hair salon on Sydney's Northern Beaches.
"The salon's interior design aims to provide an inviting and comfortable environment for women and it functions to best support the Studio's hairdressing services, which include cuts, hair colouring & blowdries. I also developed the Studio Benicky Branding, signage, promotional material and website. Being involved in all areas of design regarding the business allowed for Studio Benicky to achieve a clear and coherent identity."

Daniel Malik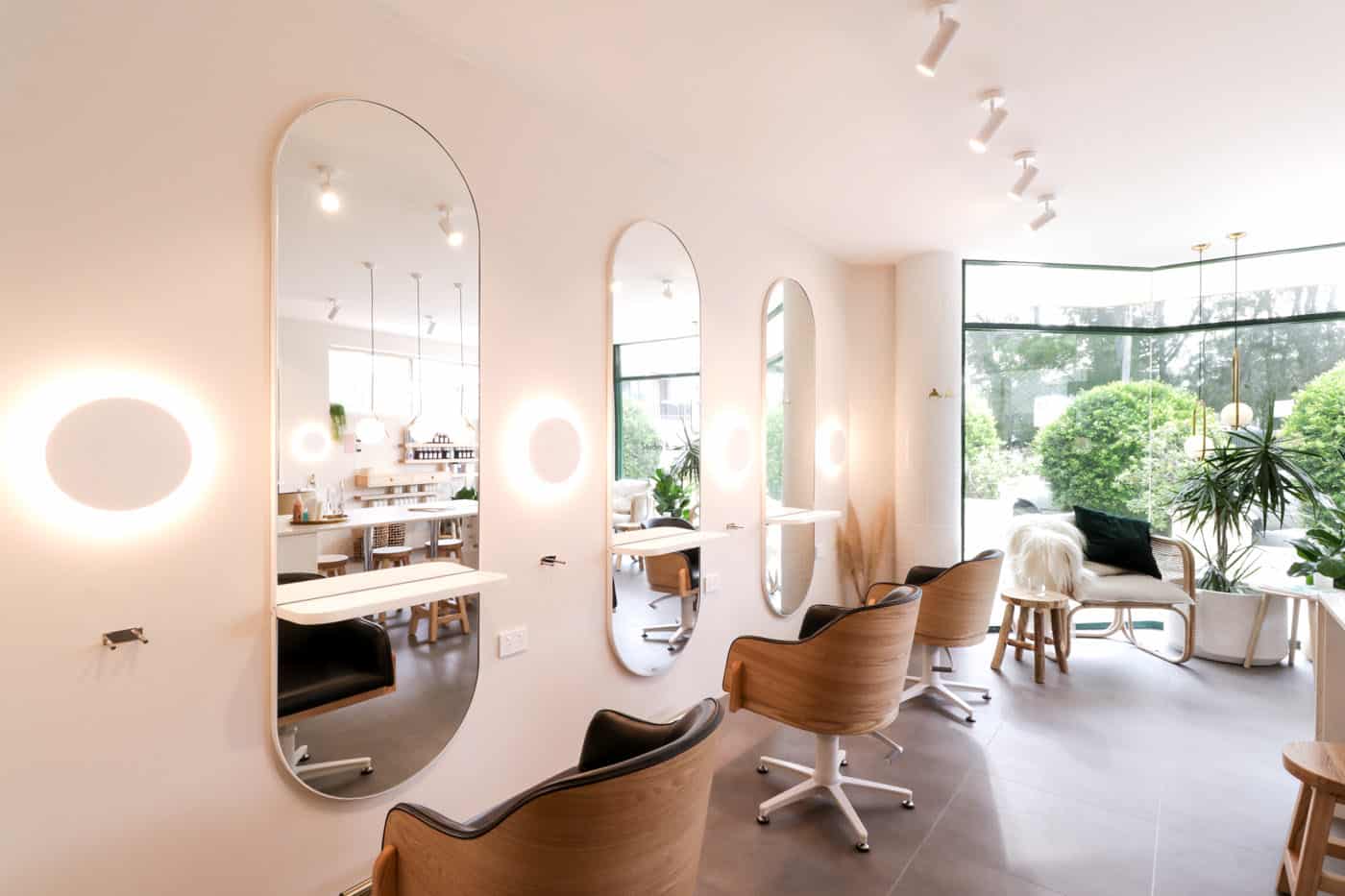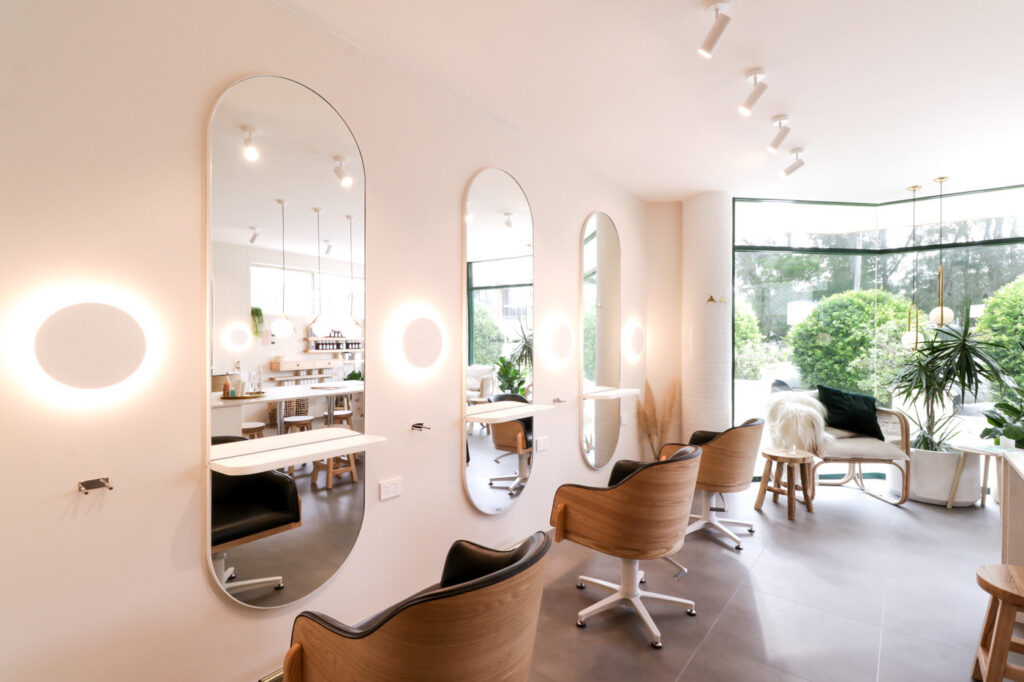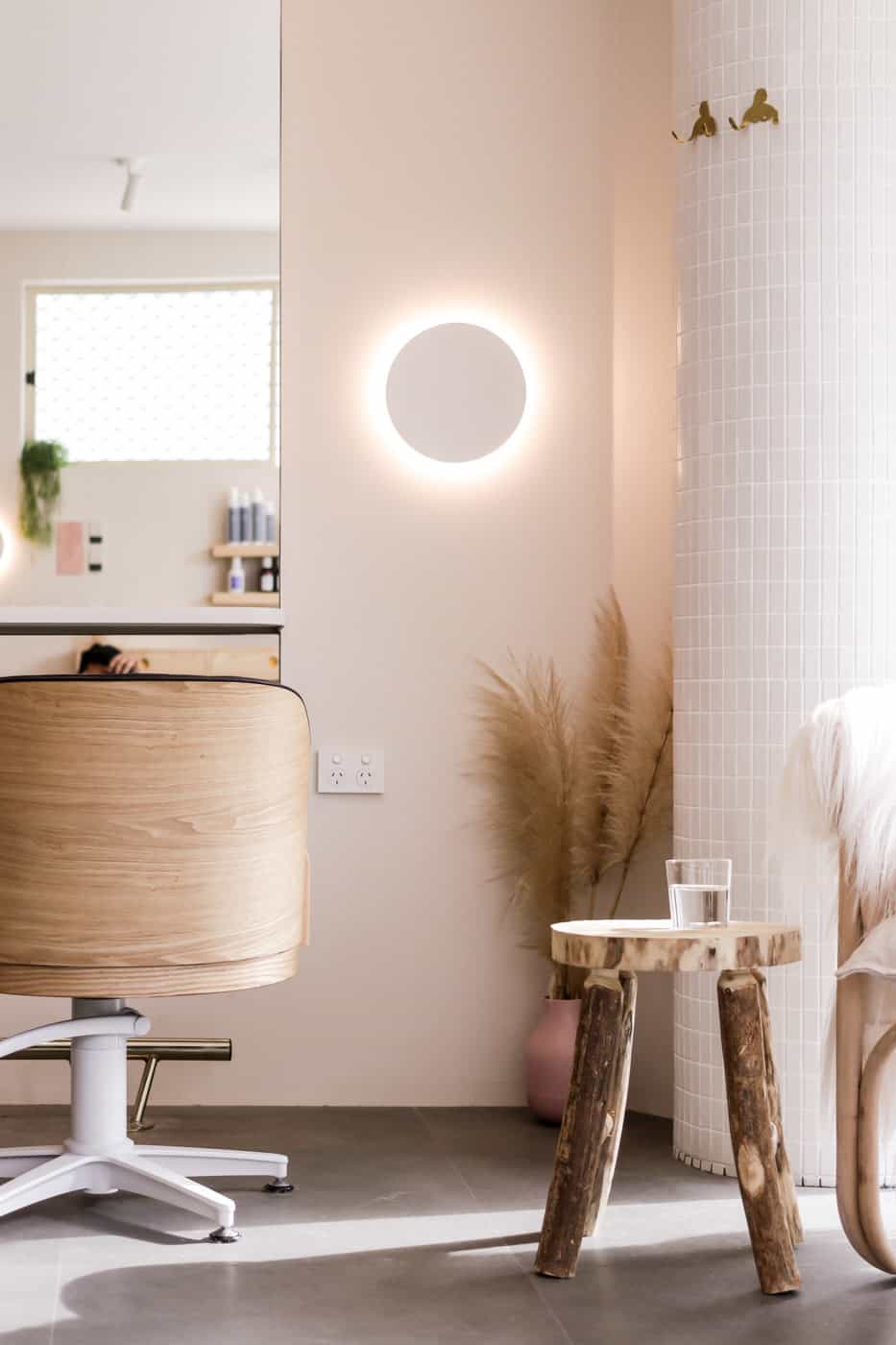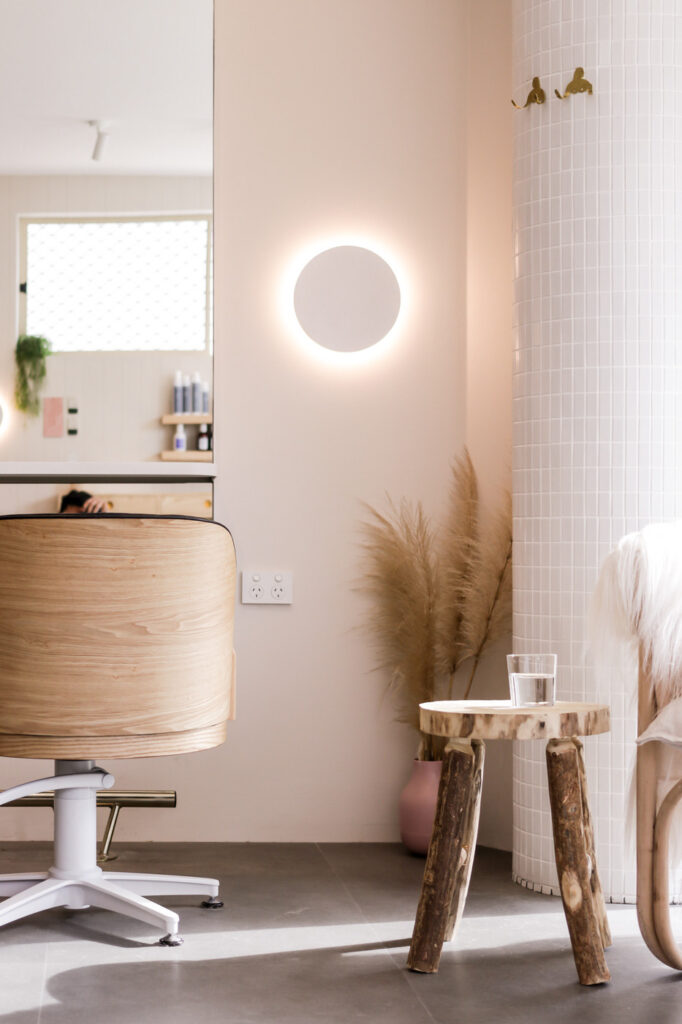 Hair Salon Waiting Area Decoration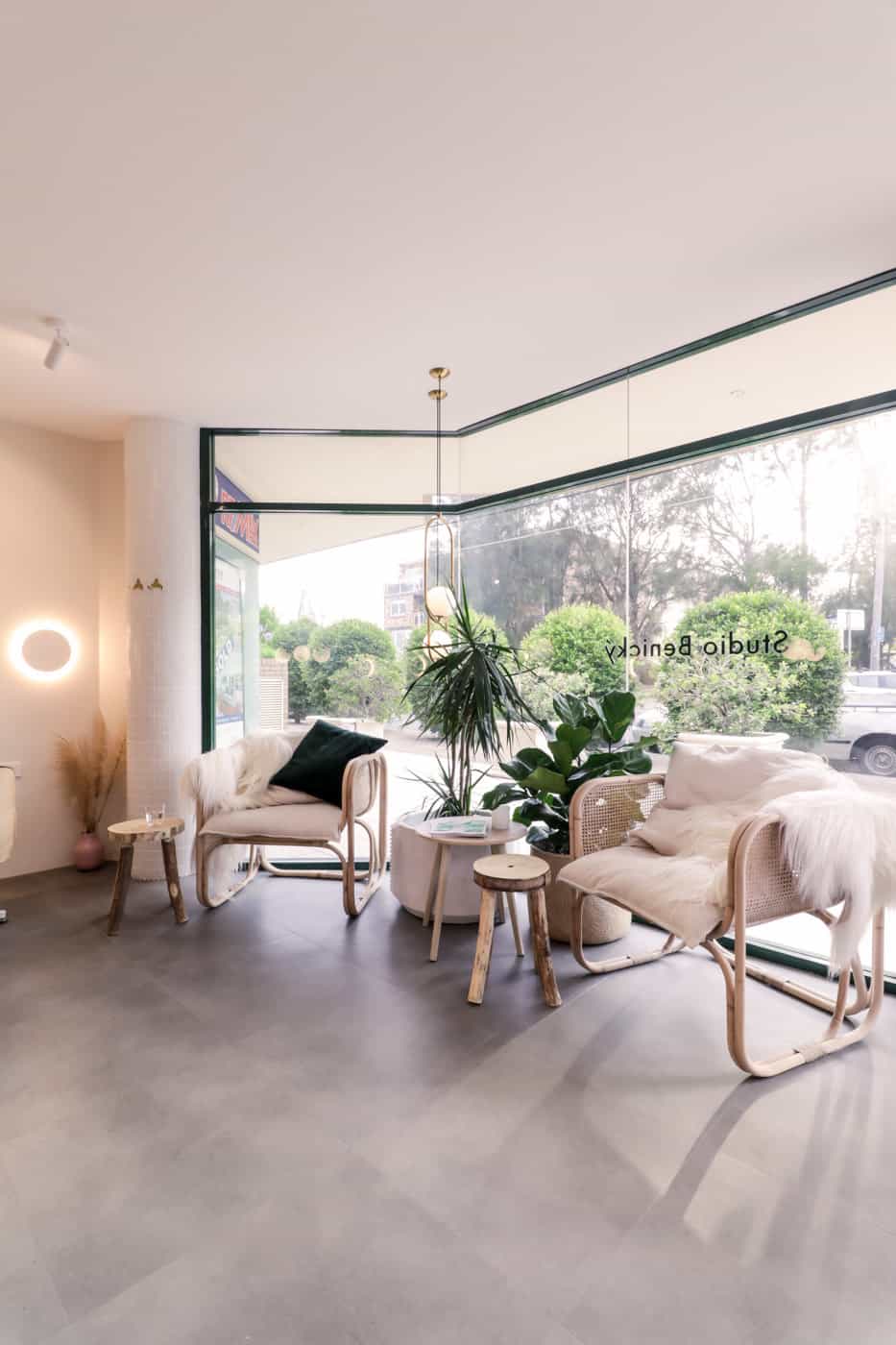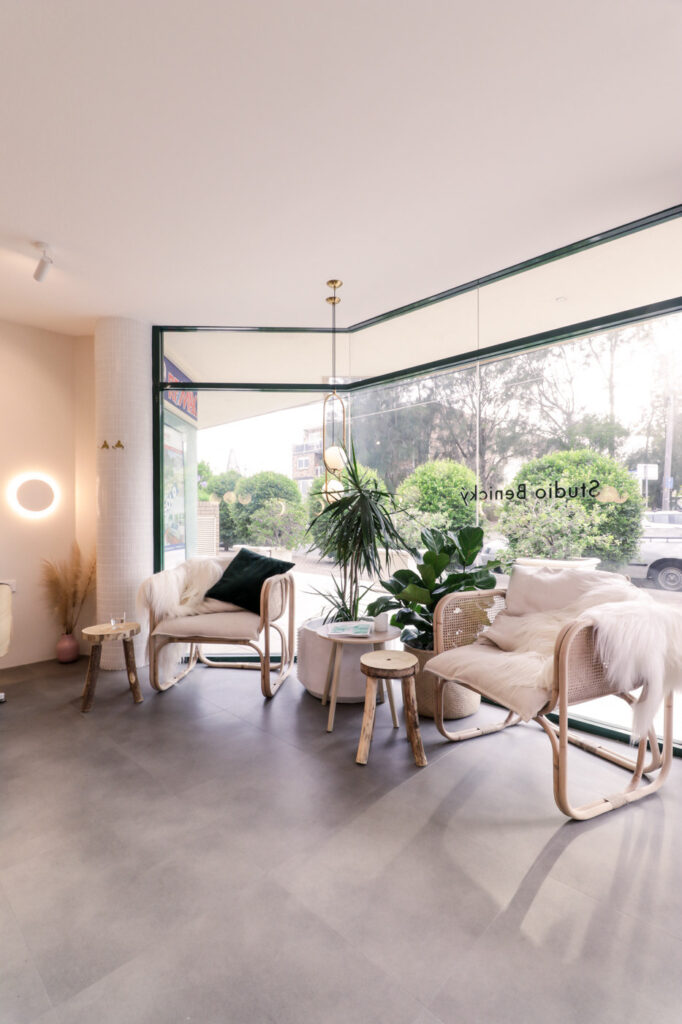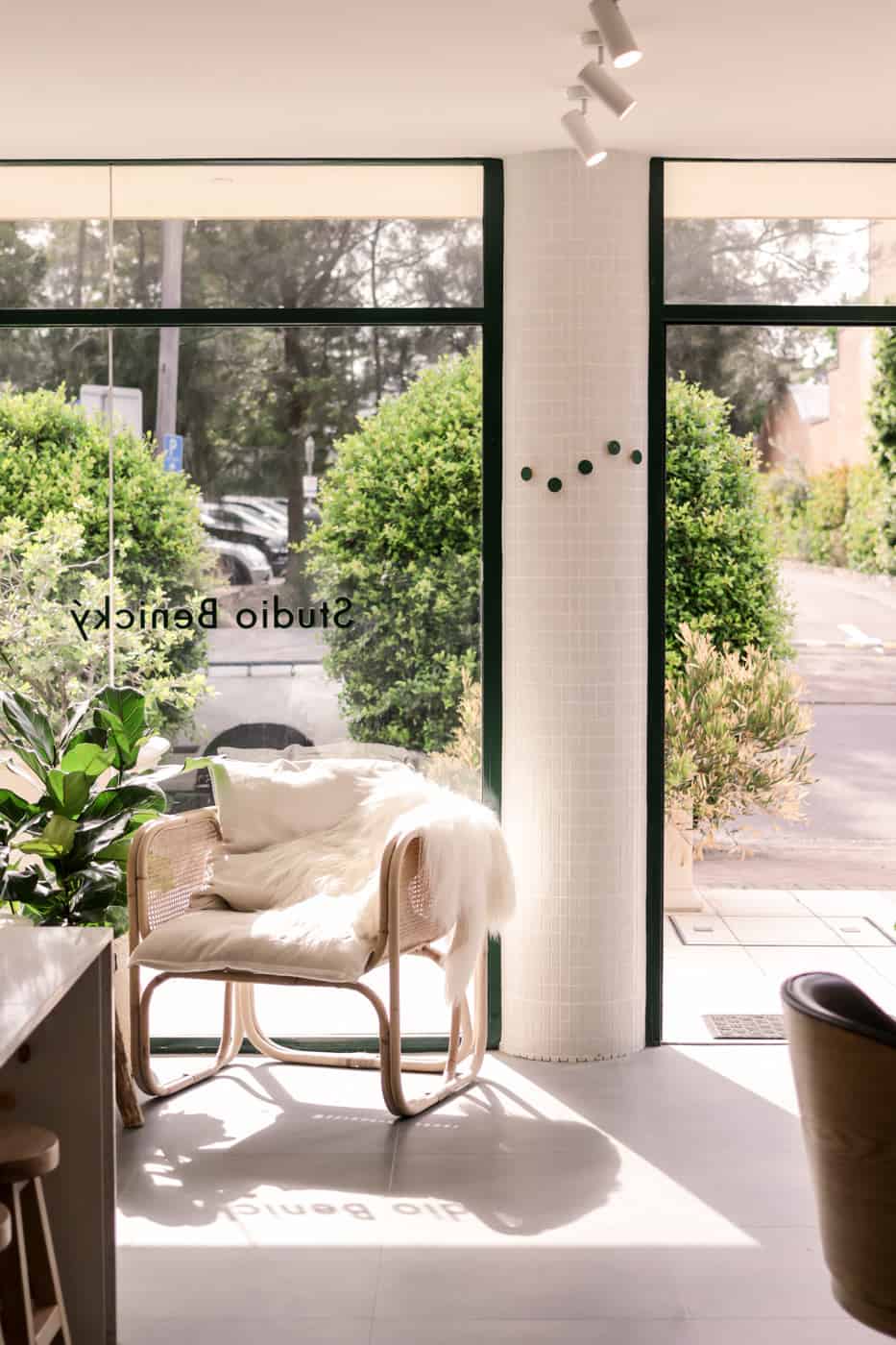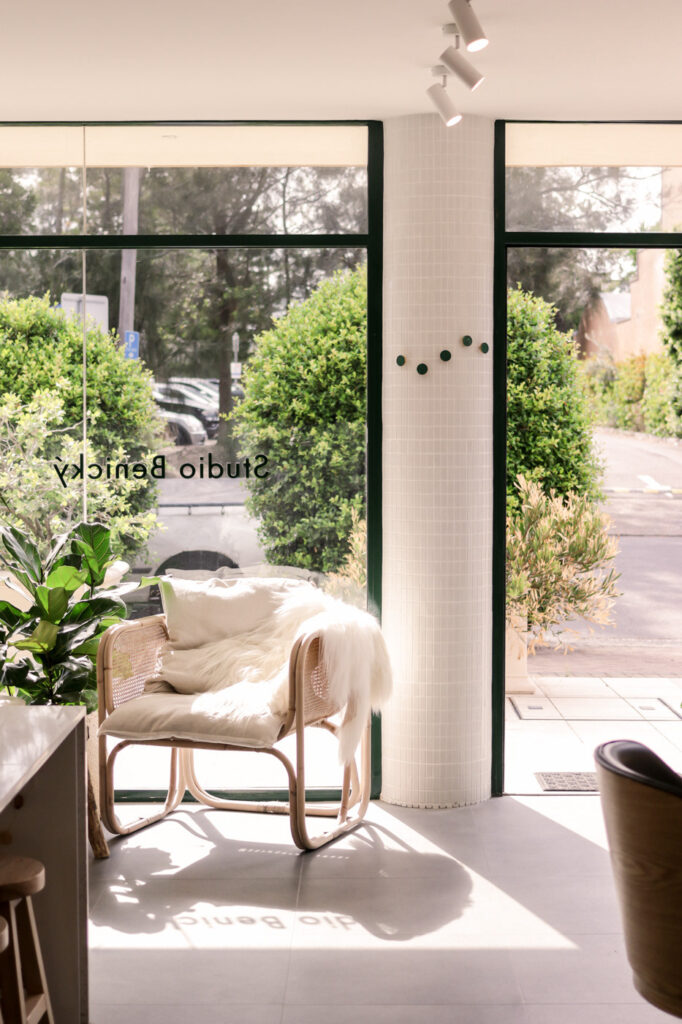 Hair Salon Window Design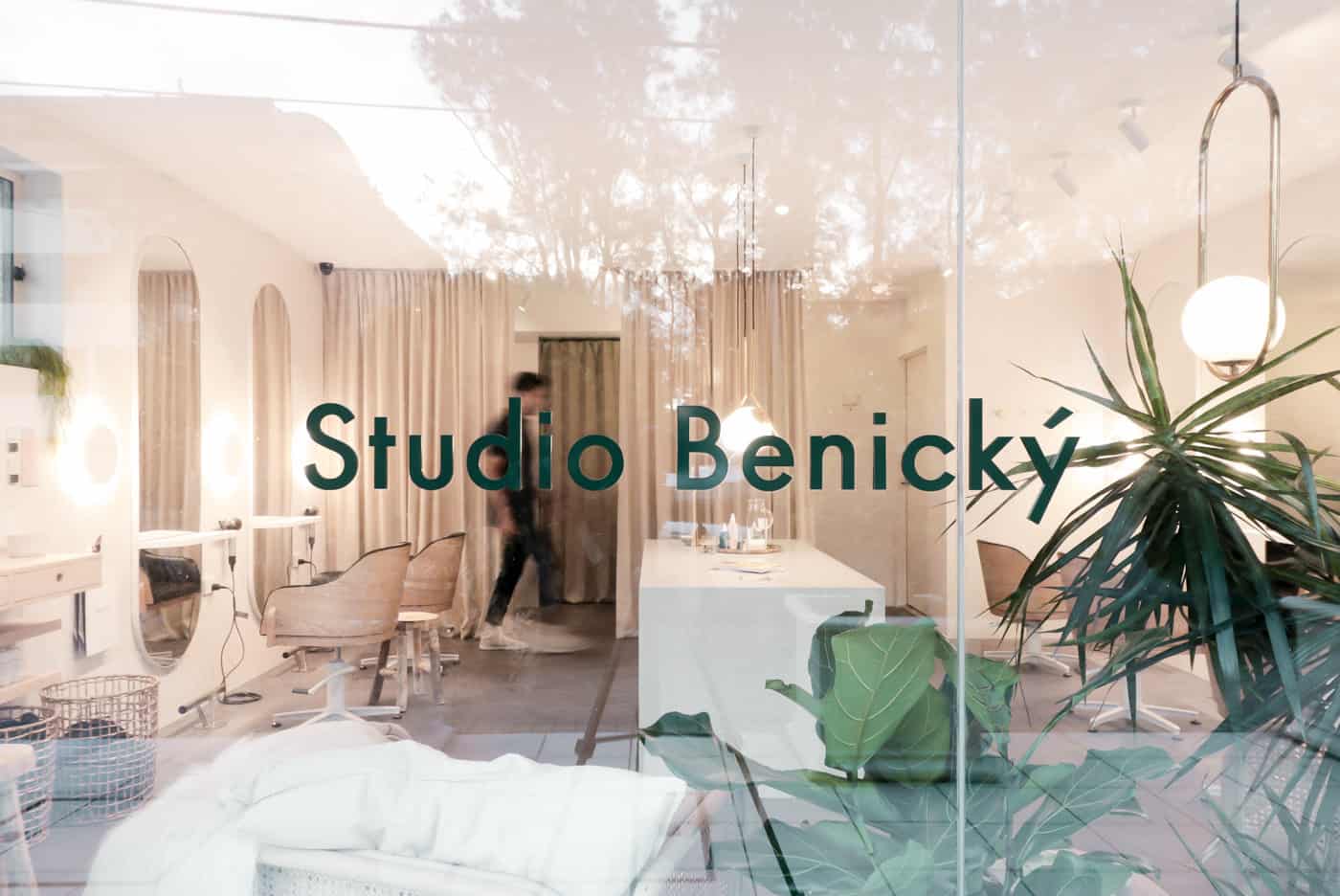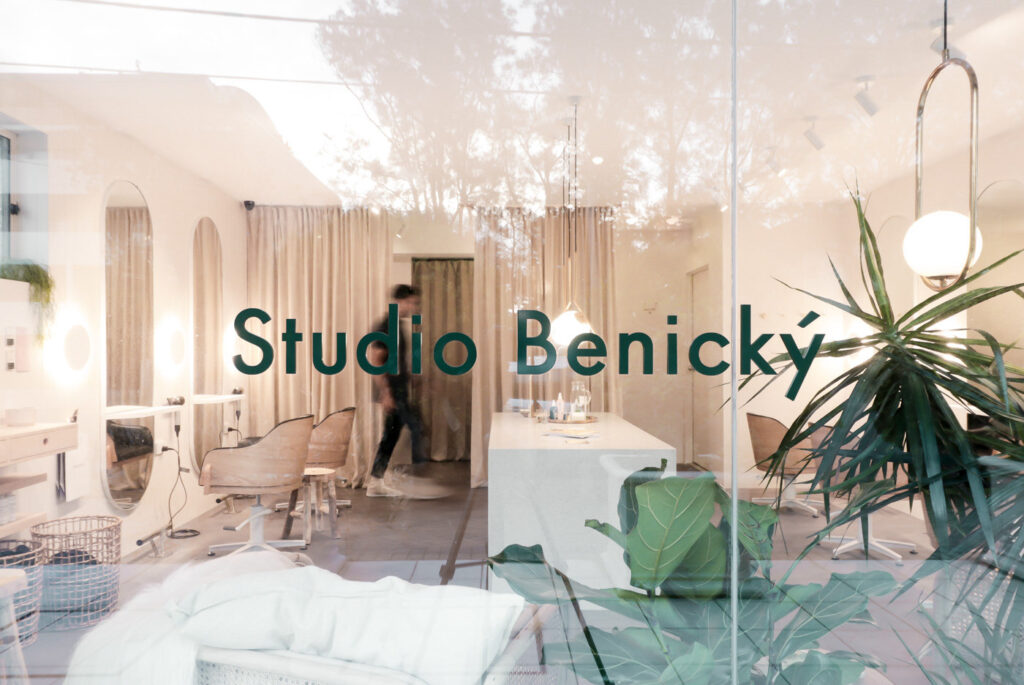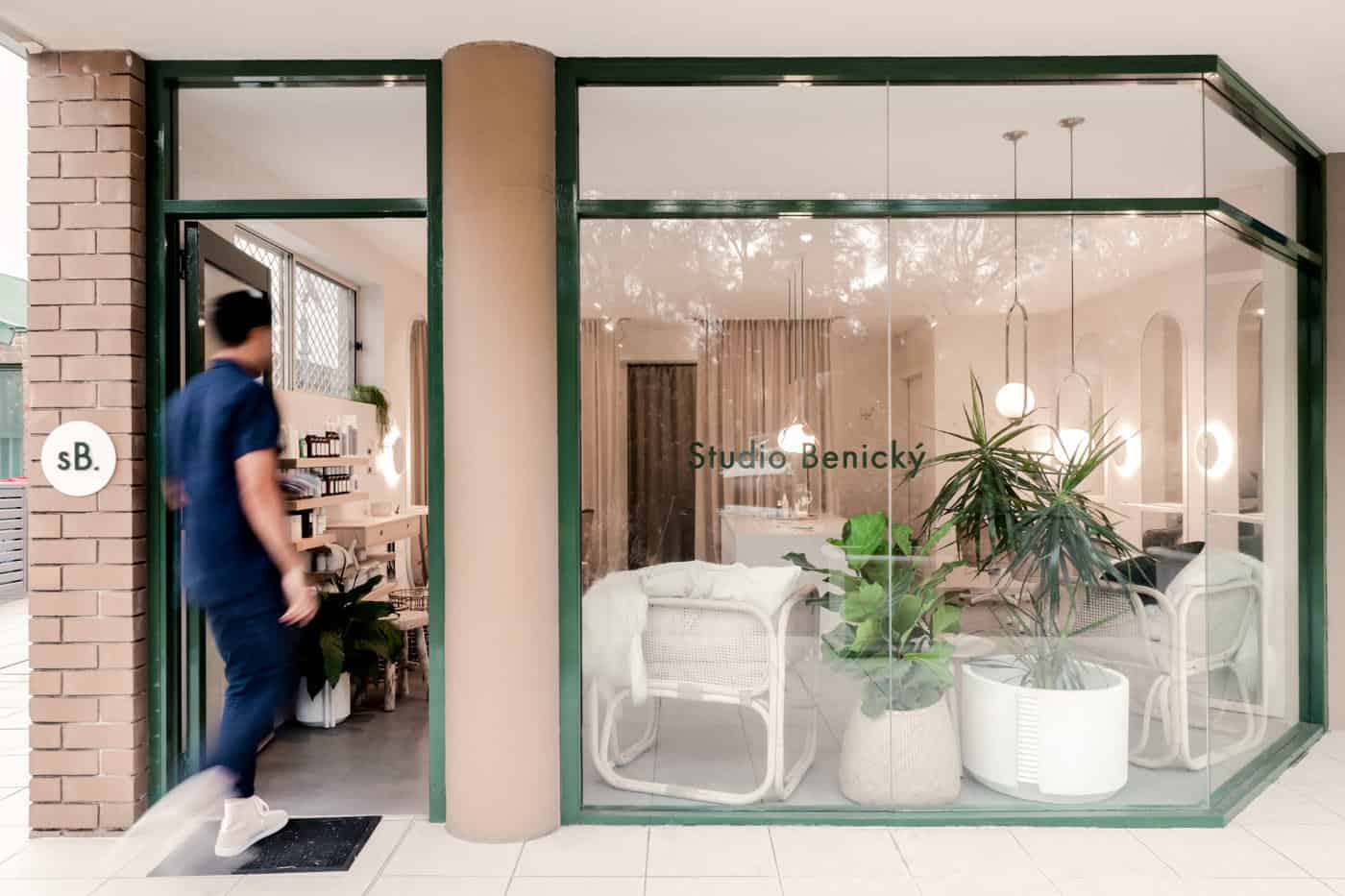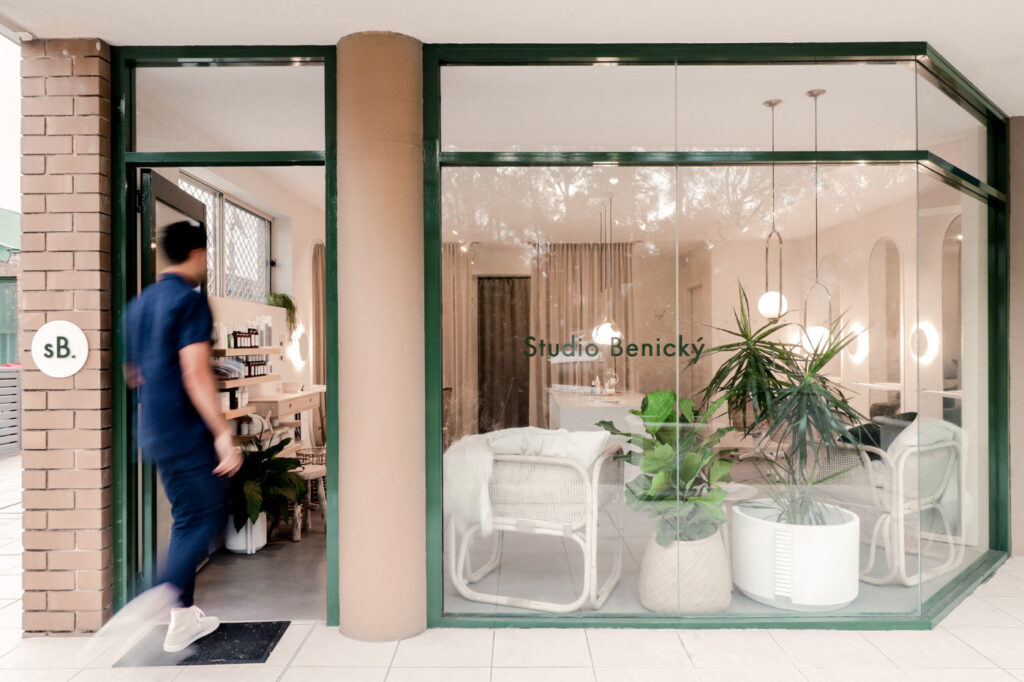 Salon Retail Display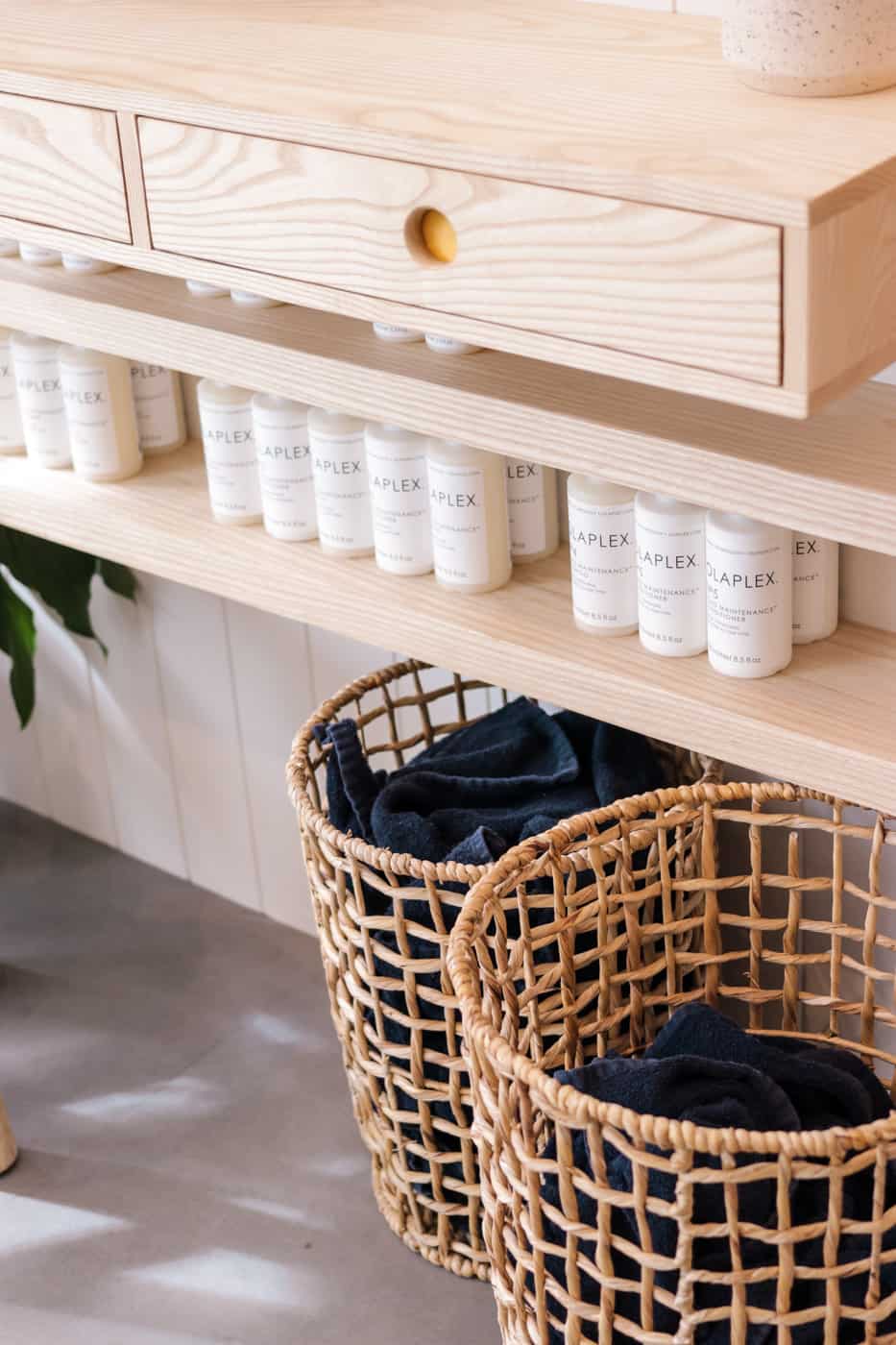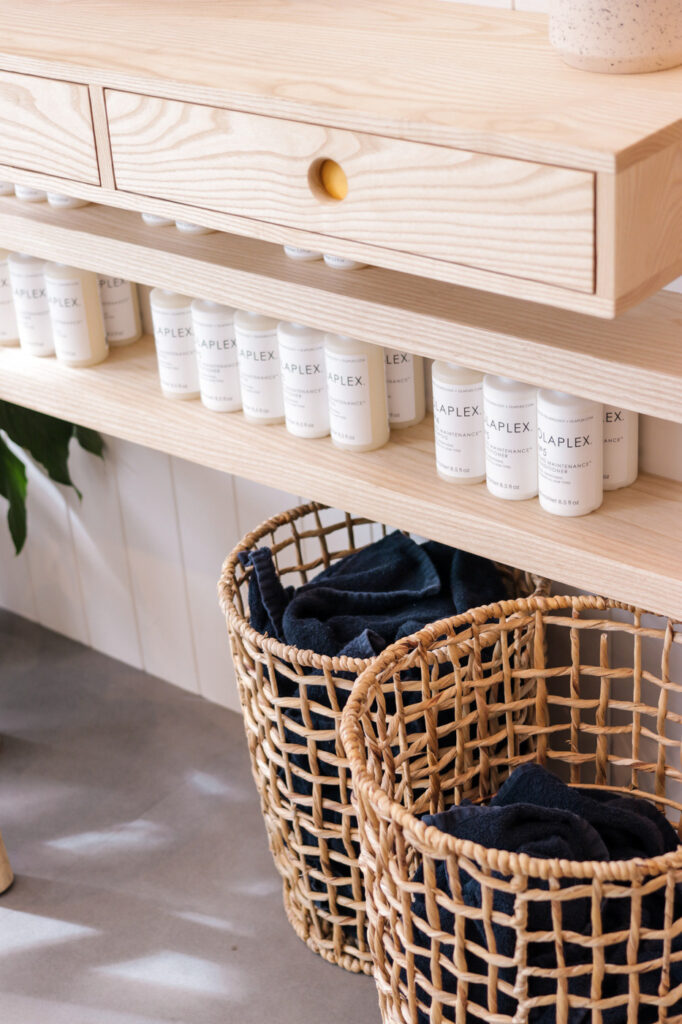 Salon Lighting Fixtures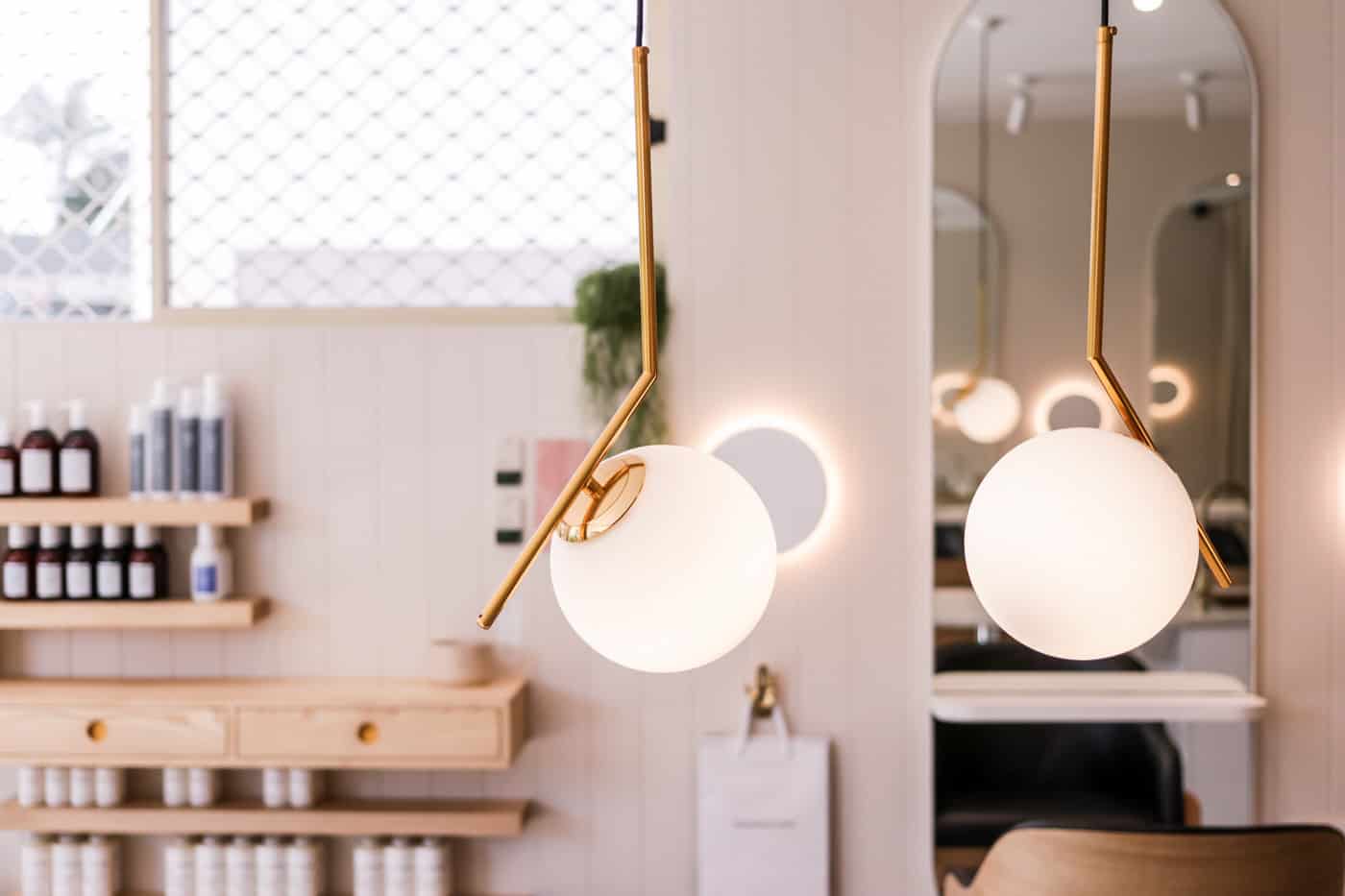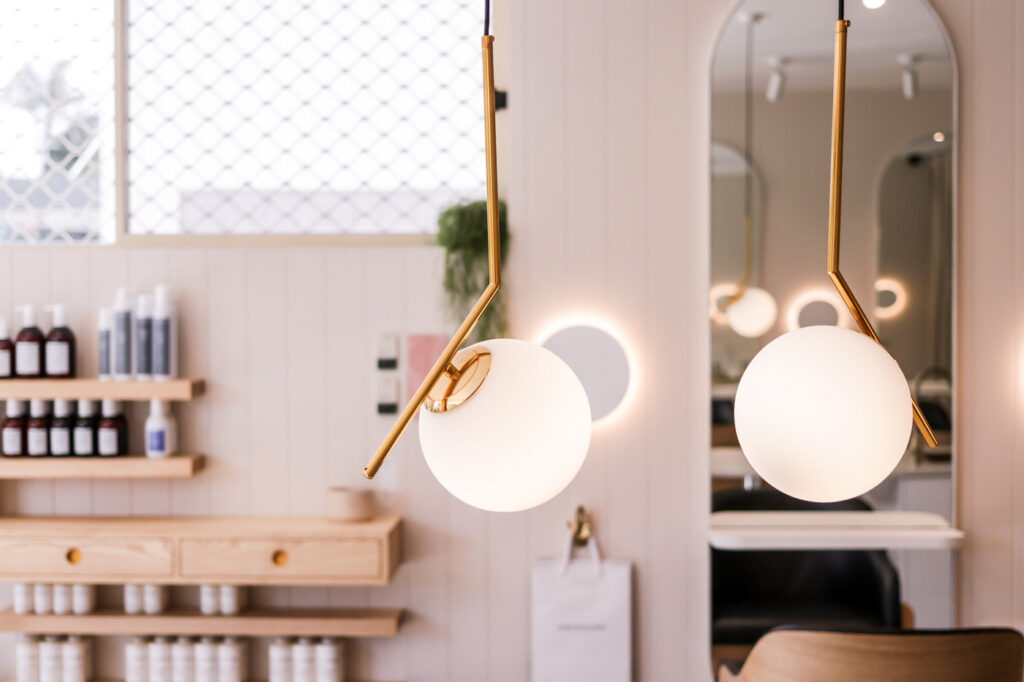 13. Glaze Hairdressing Salon Decor by YHS Design
Glaze is another gorgeous, upscale, salon design by YHS Design.
"Dark toned timber with slatting system. Natural marble texture. Golden brass glaze. The lust for natural pattern.

These four elements above cooperate with one another in a single place.
The space itself is be able to evoke new ambience via the materiality and lighting effects. Layering outcomes also adjoins and spreads across the entire space."

YHS Design Group
Salon Reception Design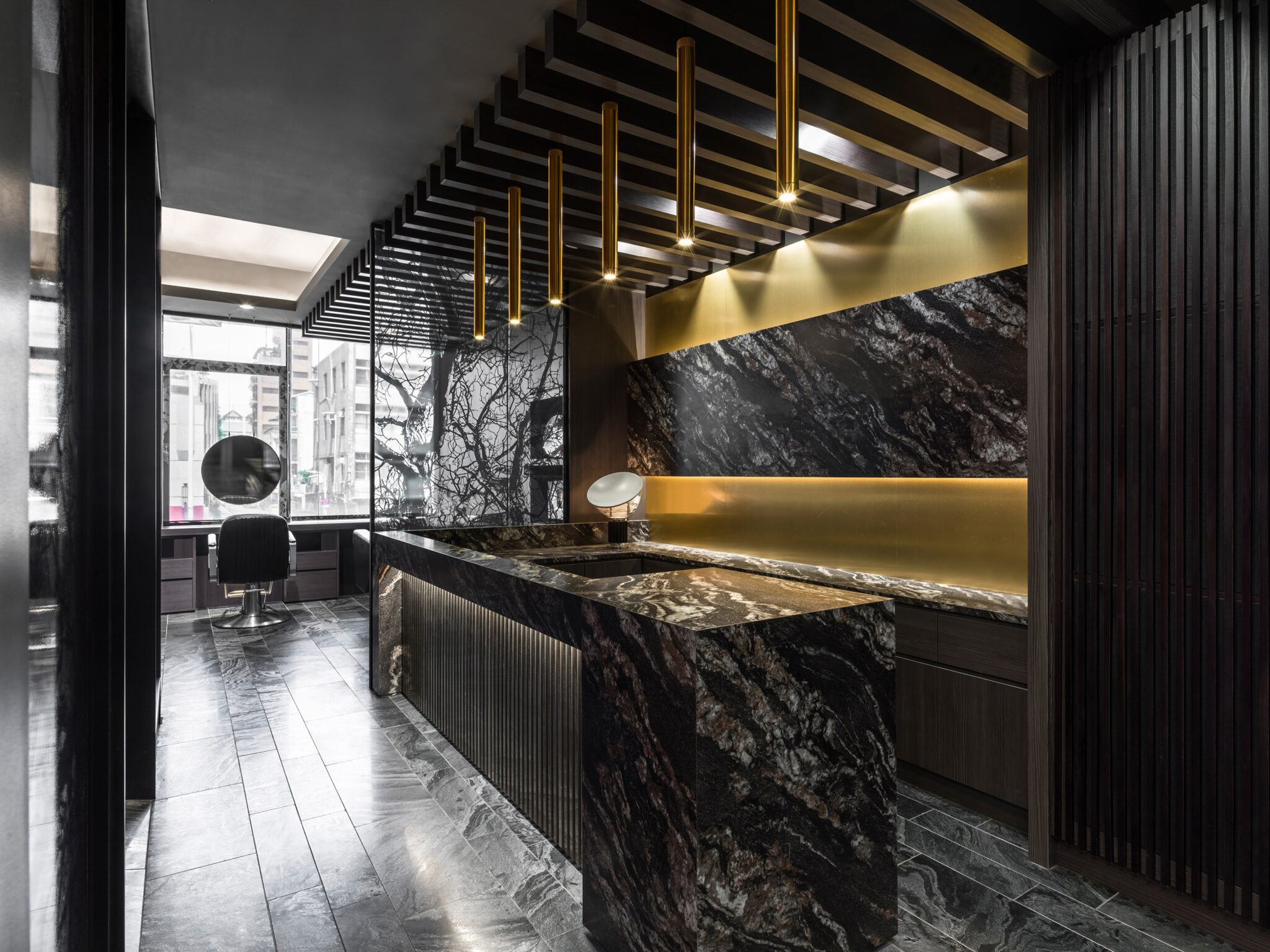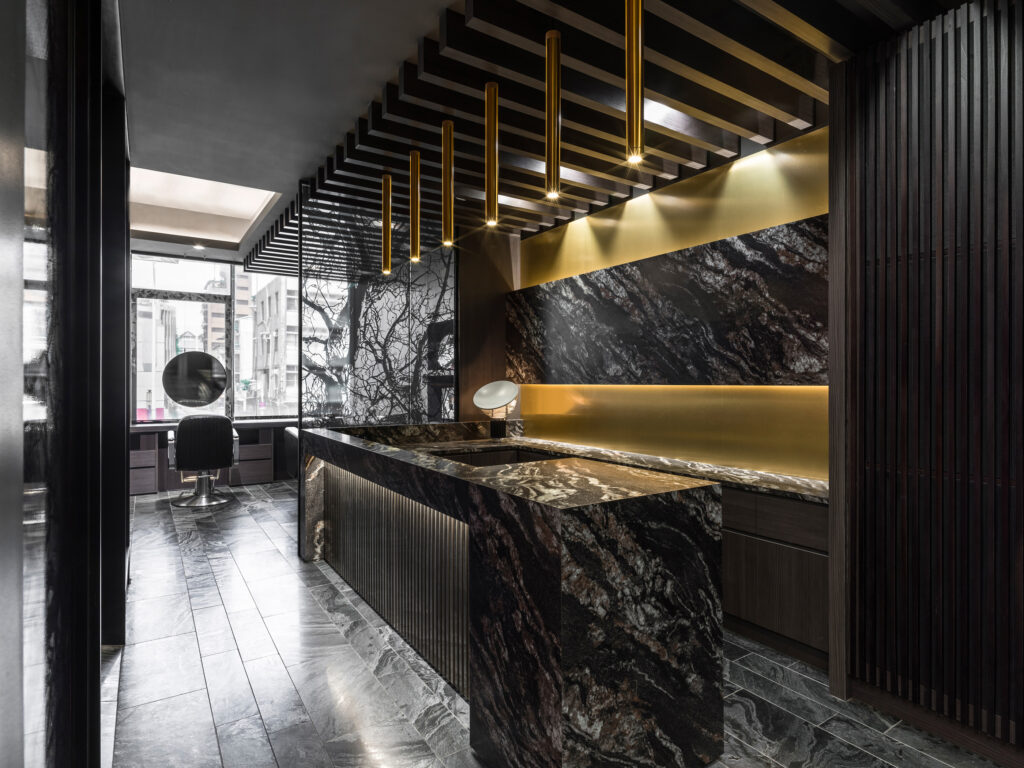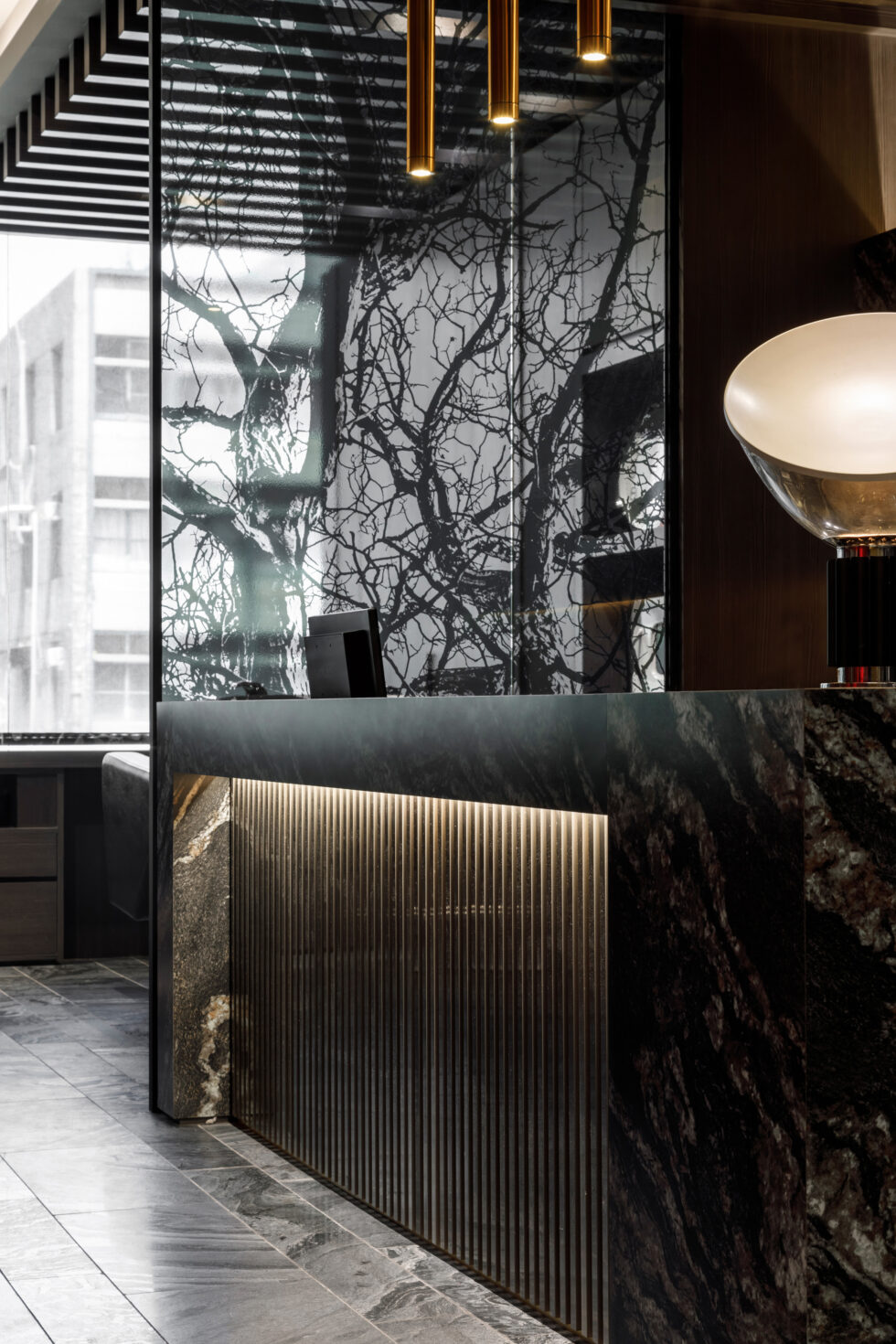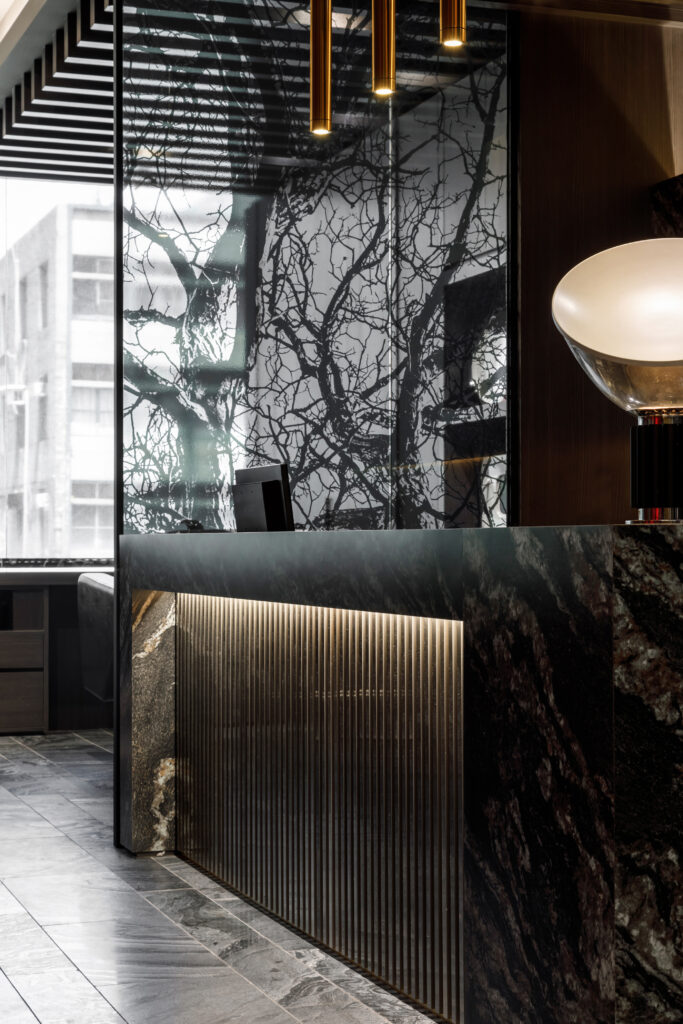 Hair Salon Station Design Layout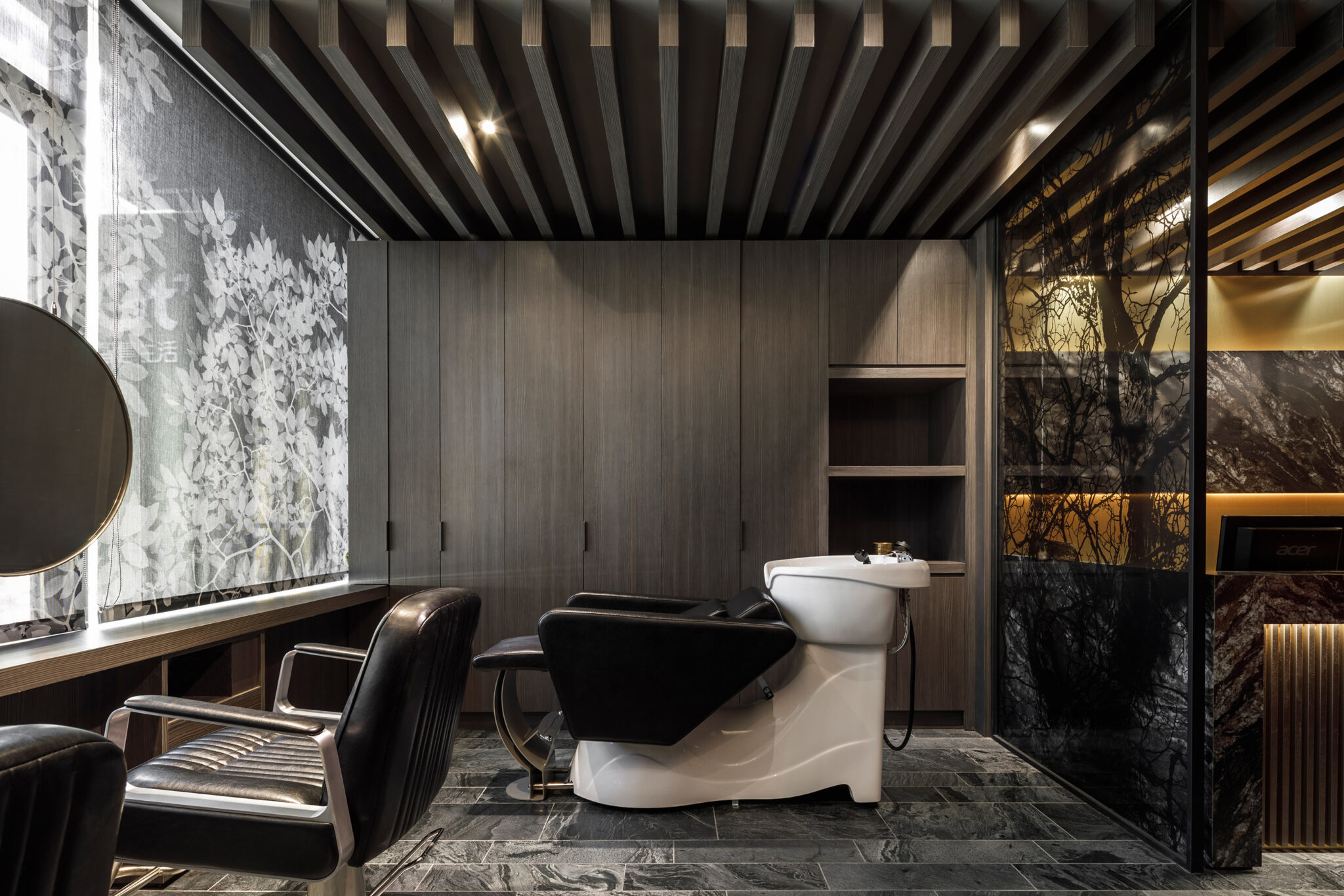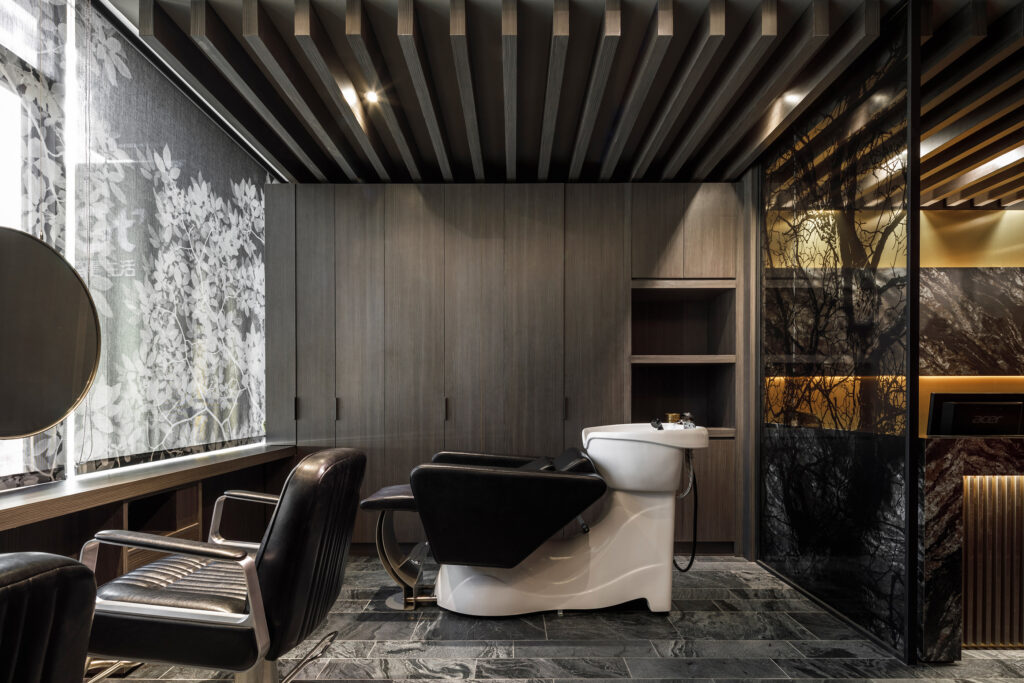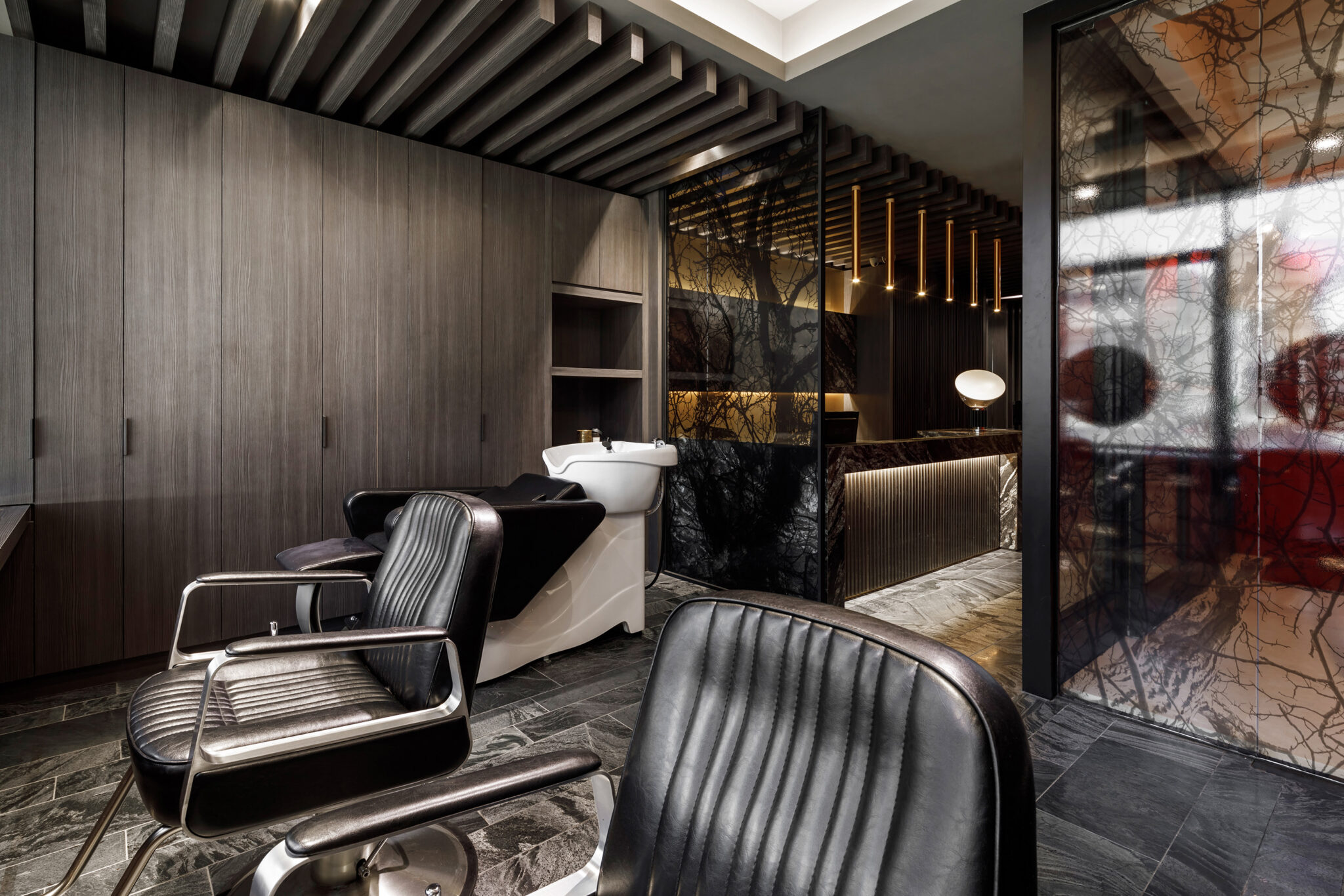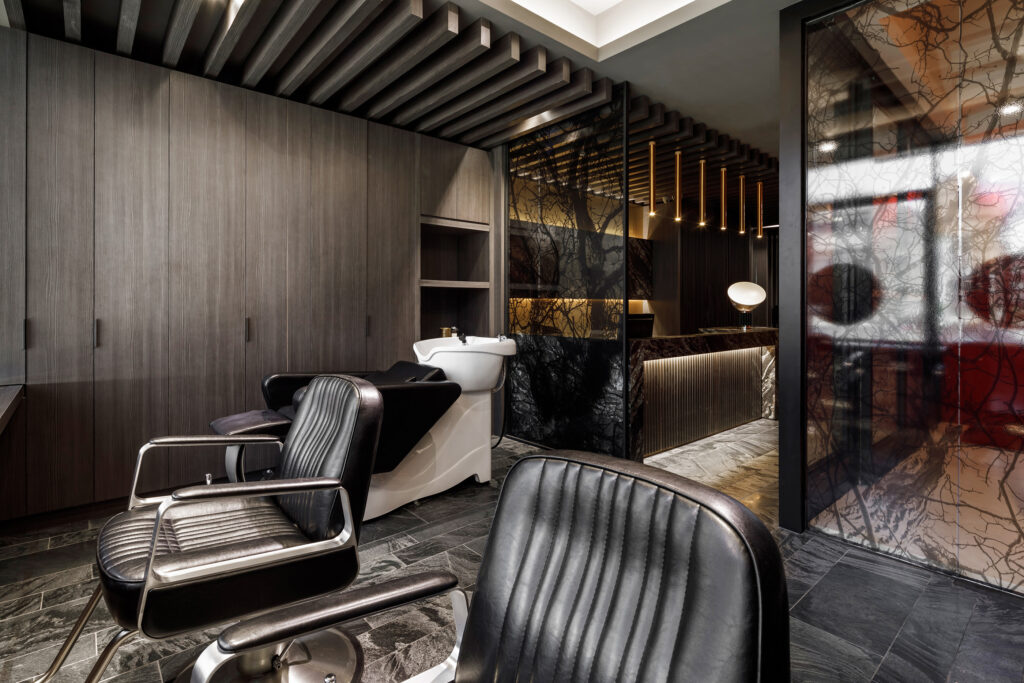 14. JZ Styles Hair Salons
This salon is part of JZ Styles – a hair extension brand that also has a hair salon.
The salon is beautifully designed and certainly and inspiration for many other salon owners.
Hair Salon and Styling Station Design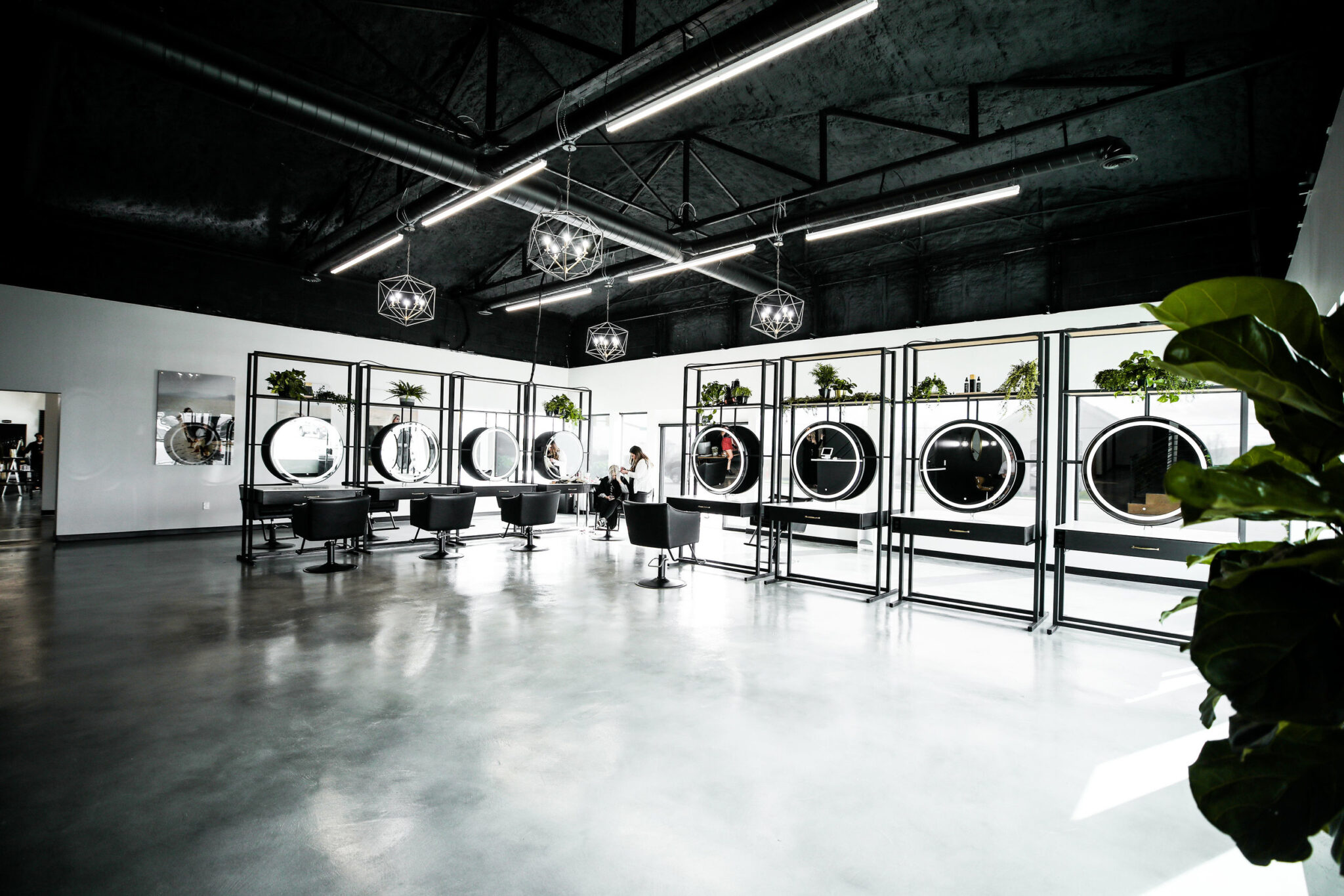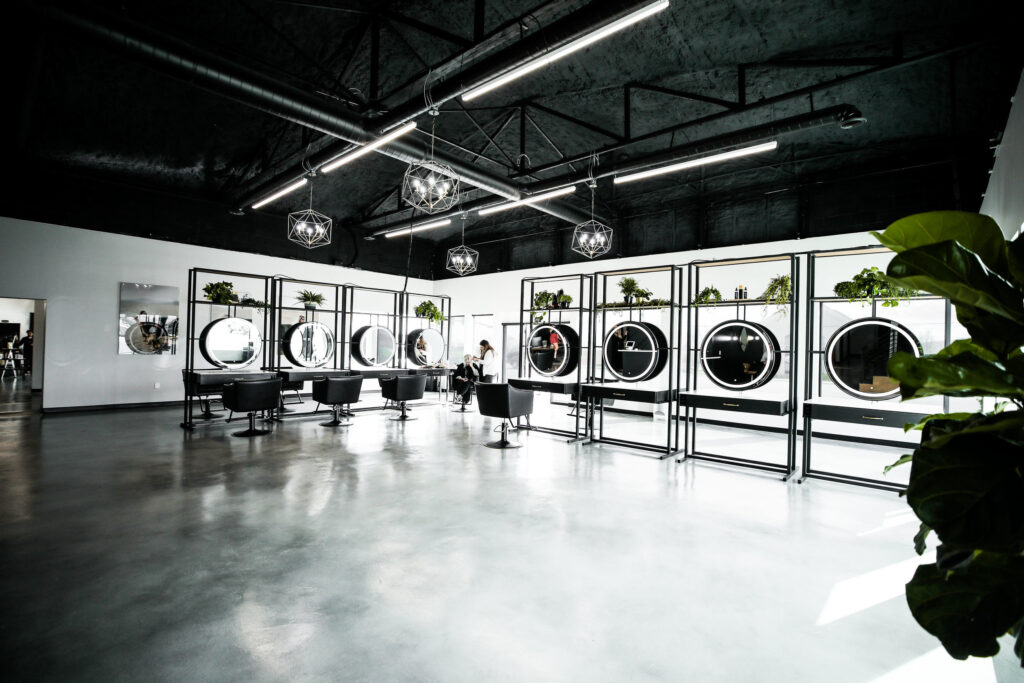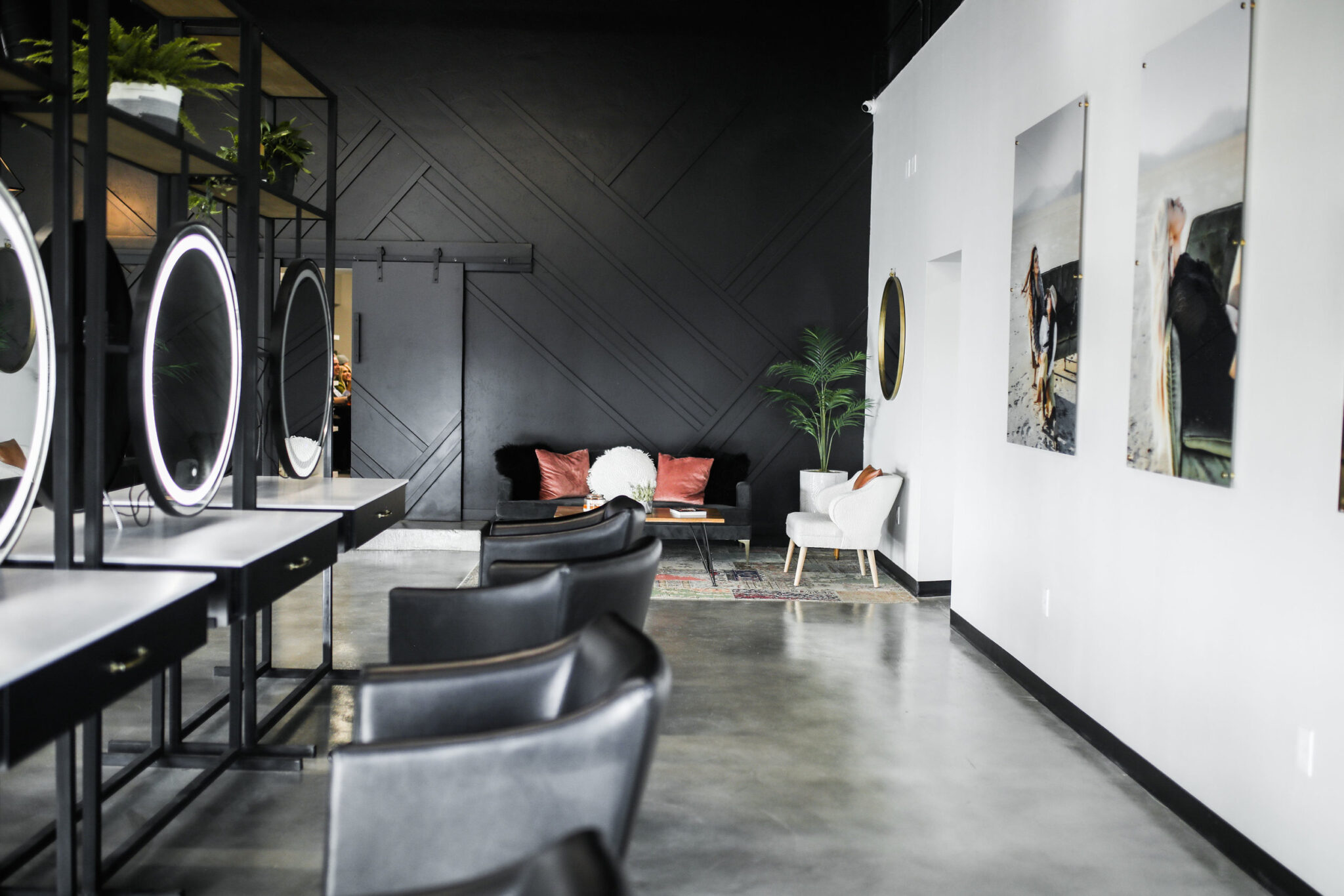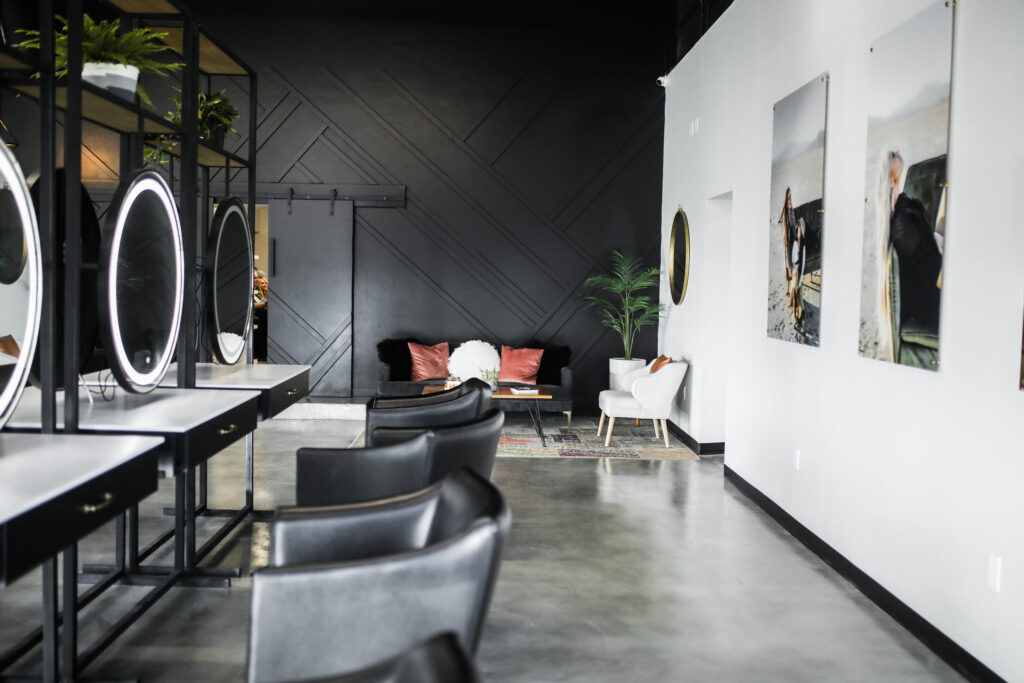 Backwash Room Design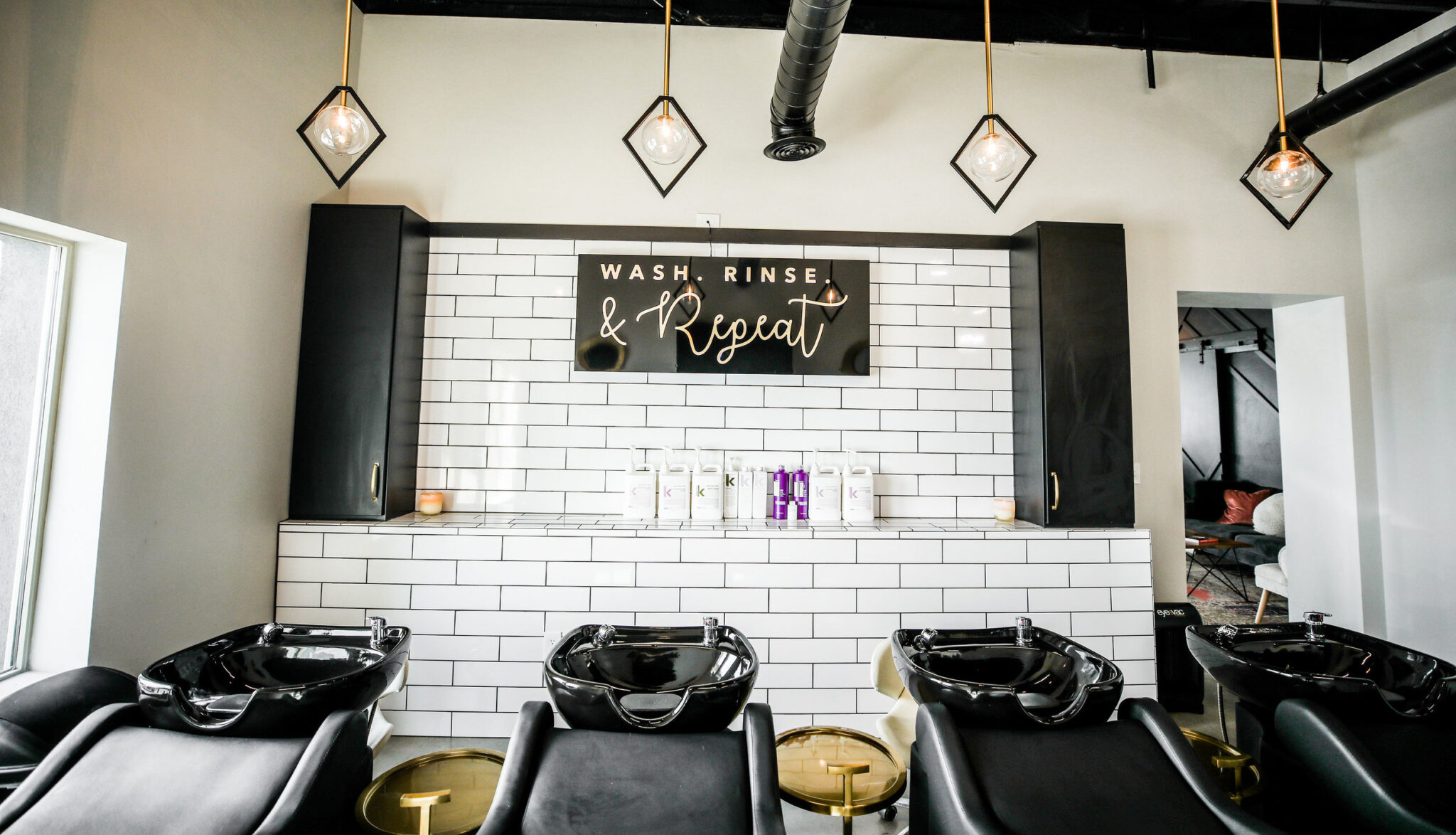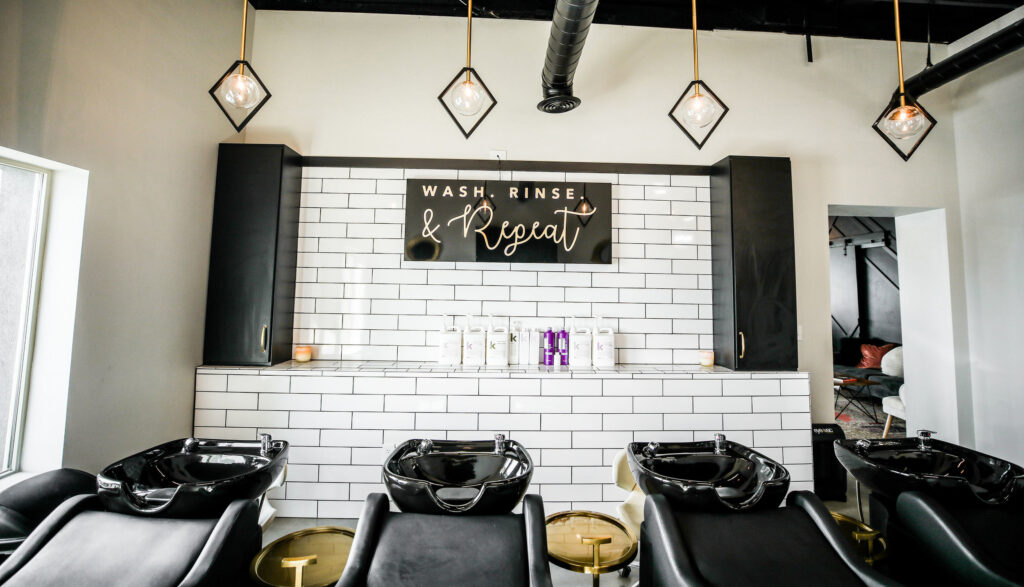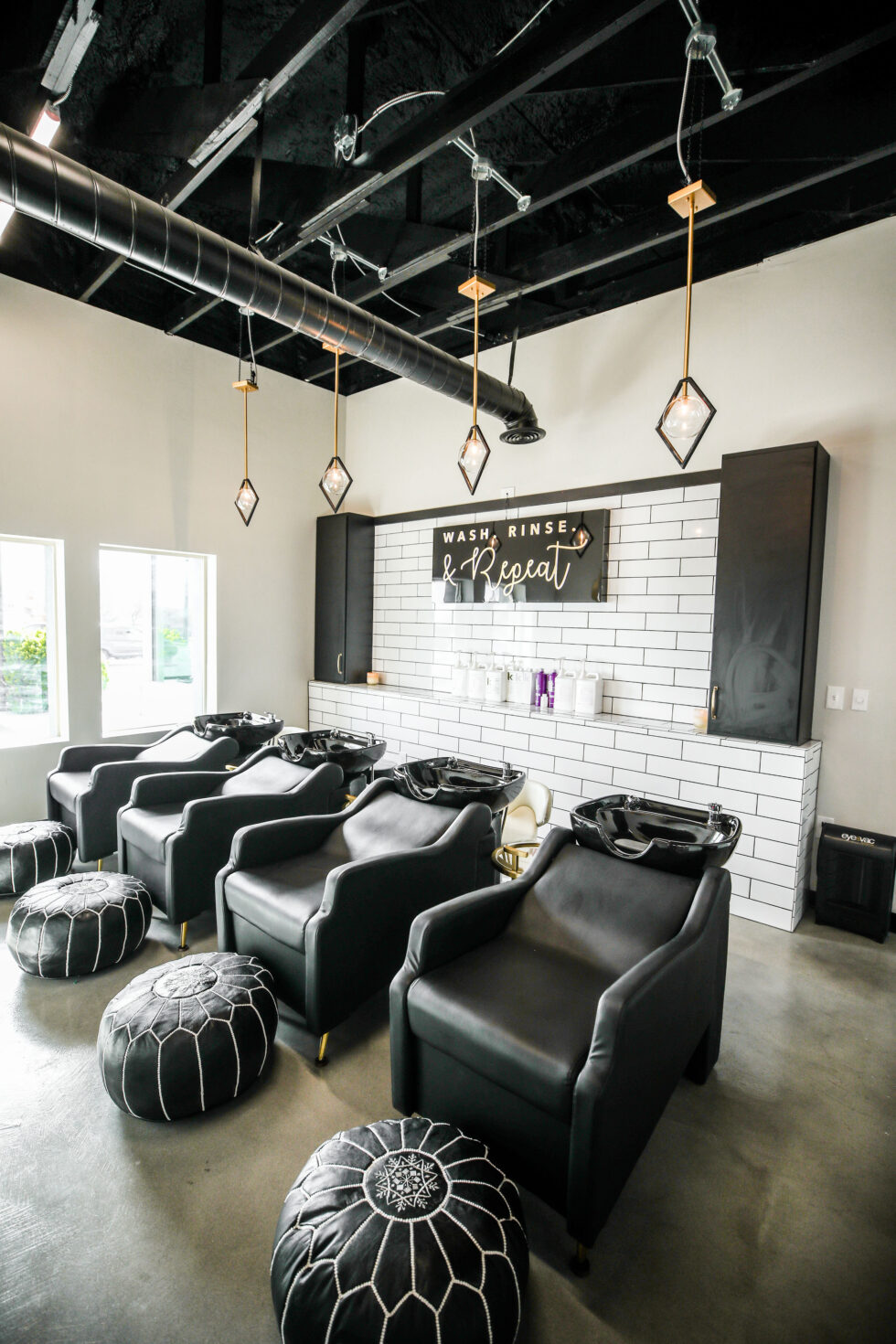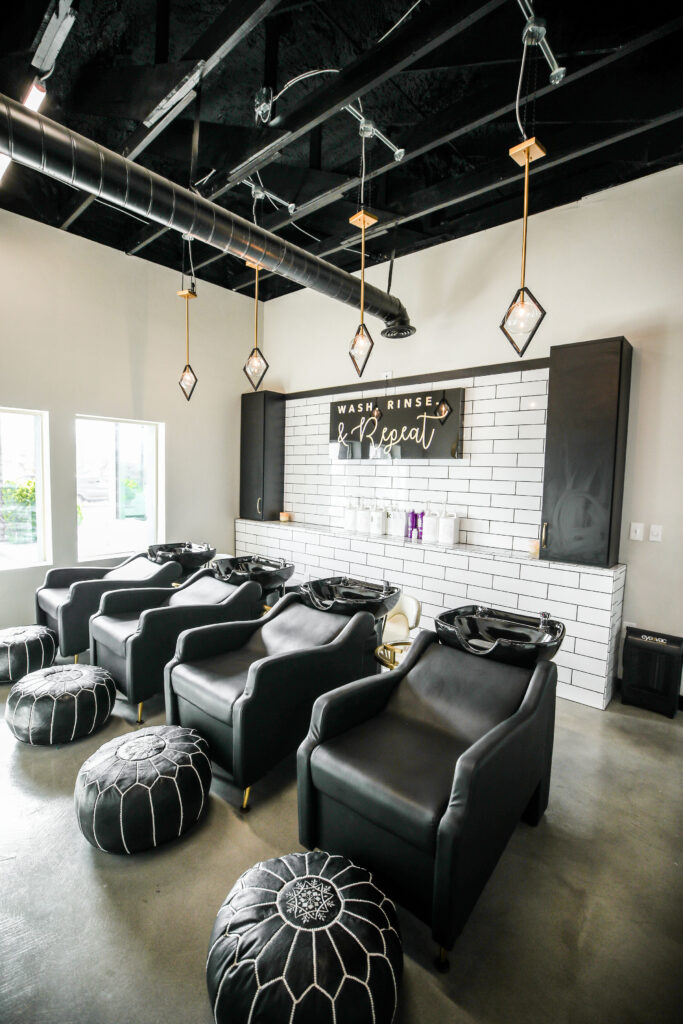 Beauty Treatment Room Design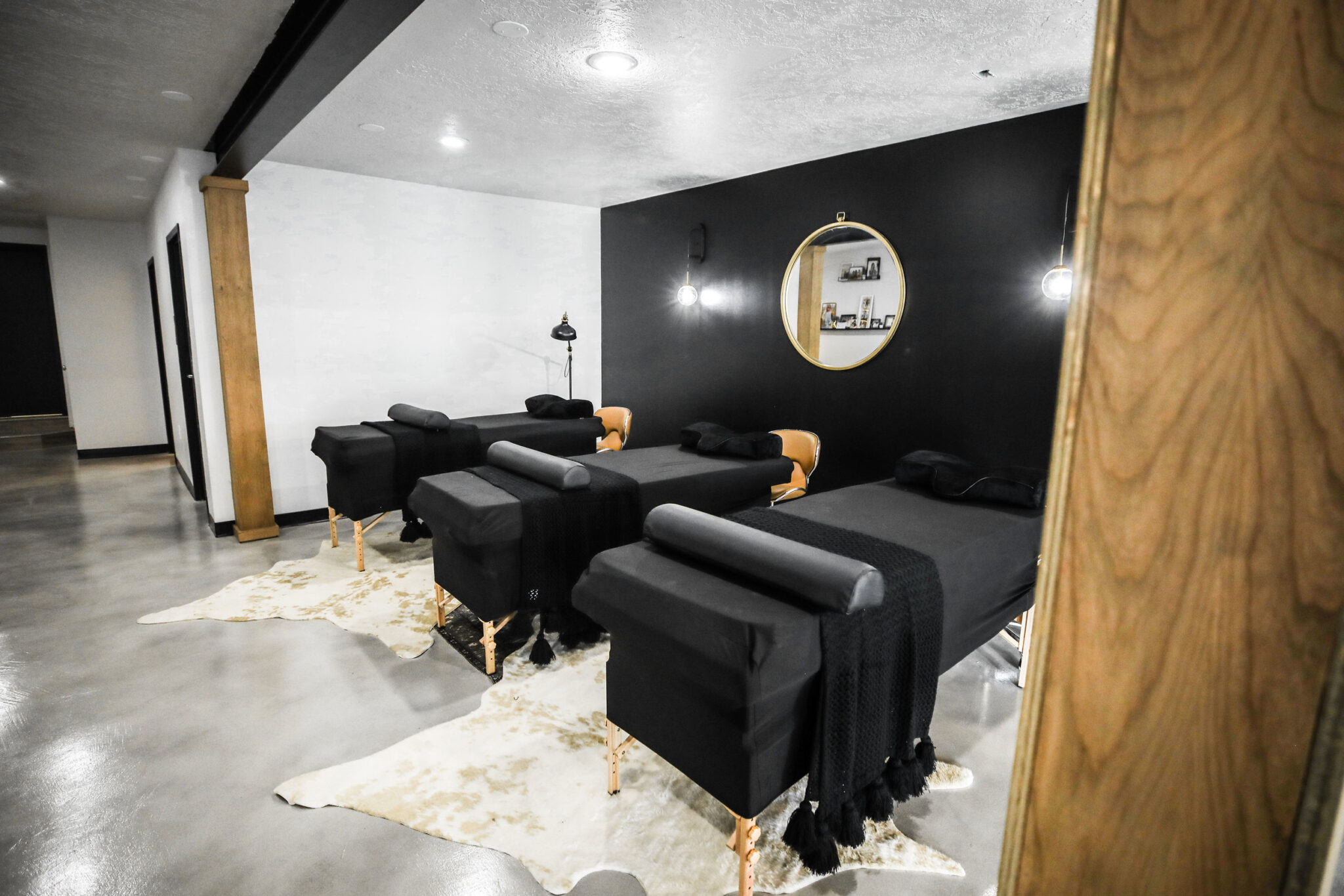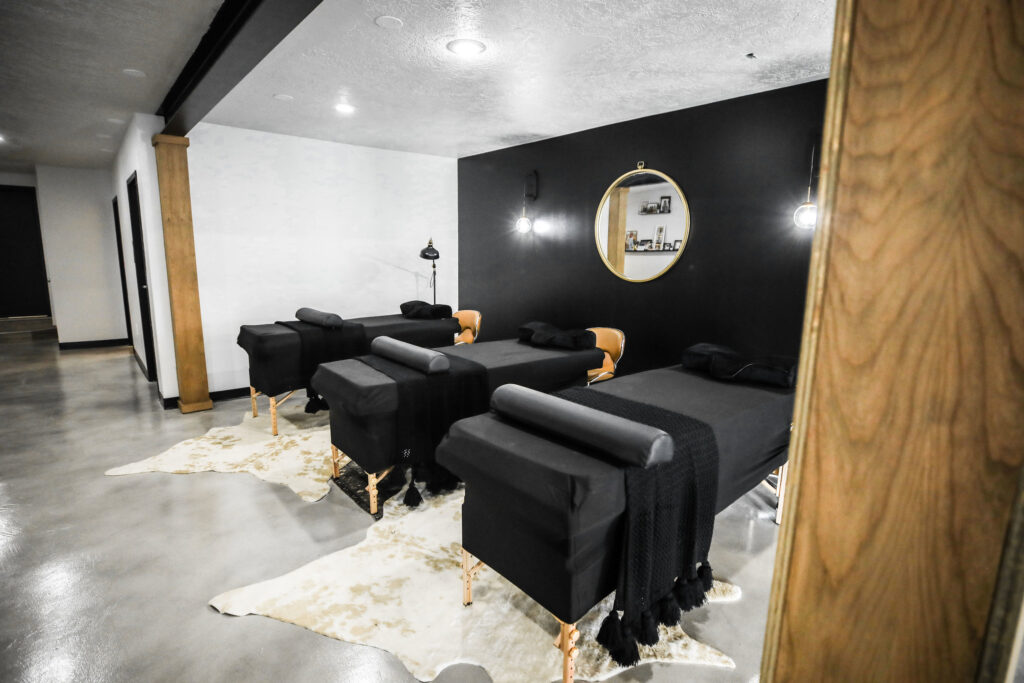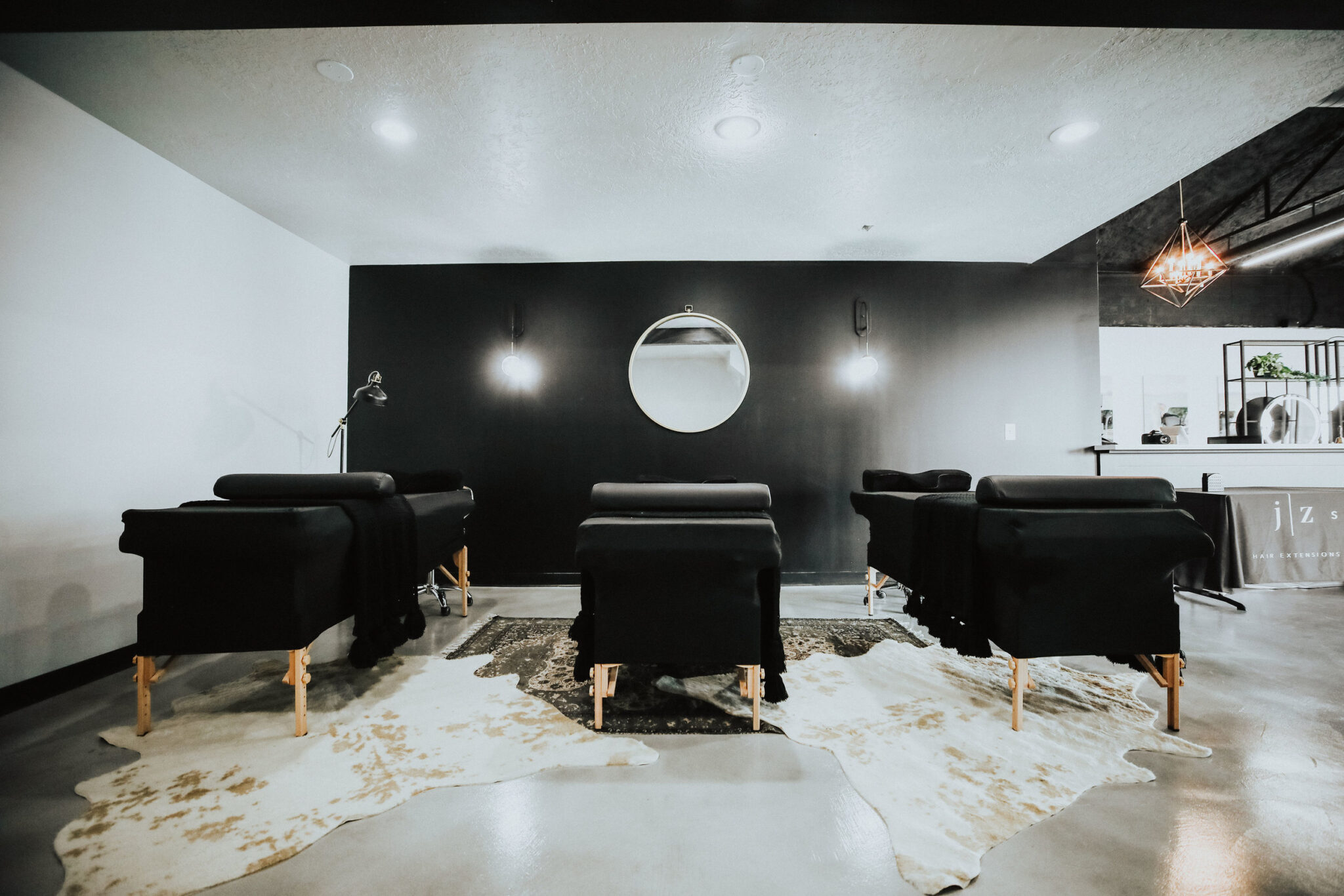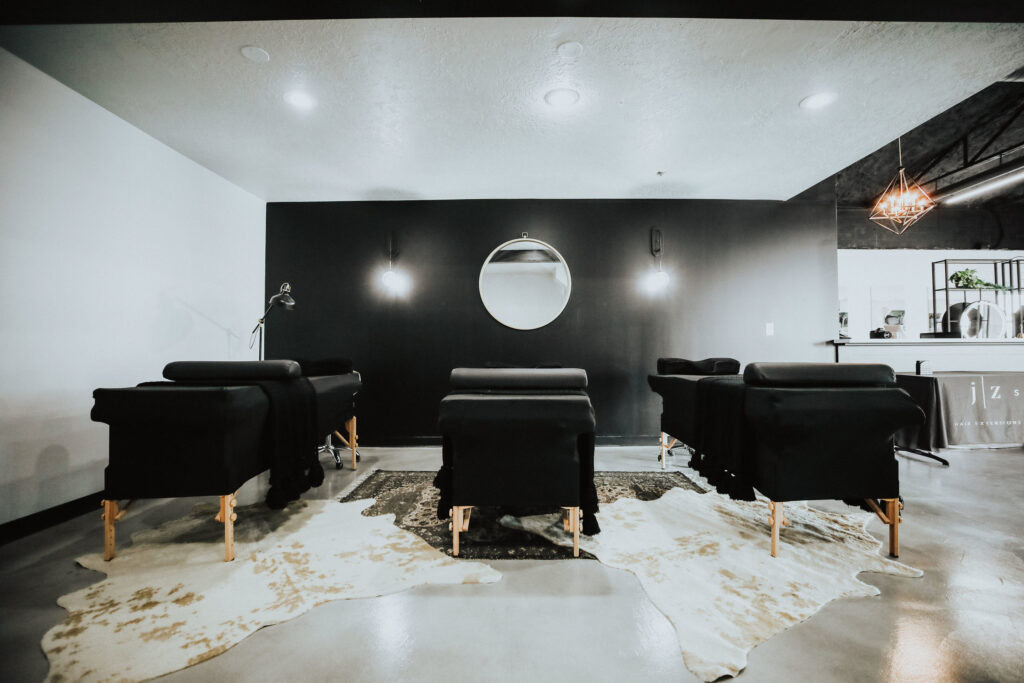 Salon Waiting Area Design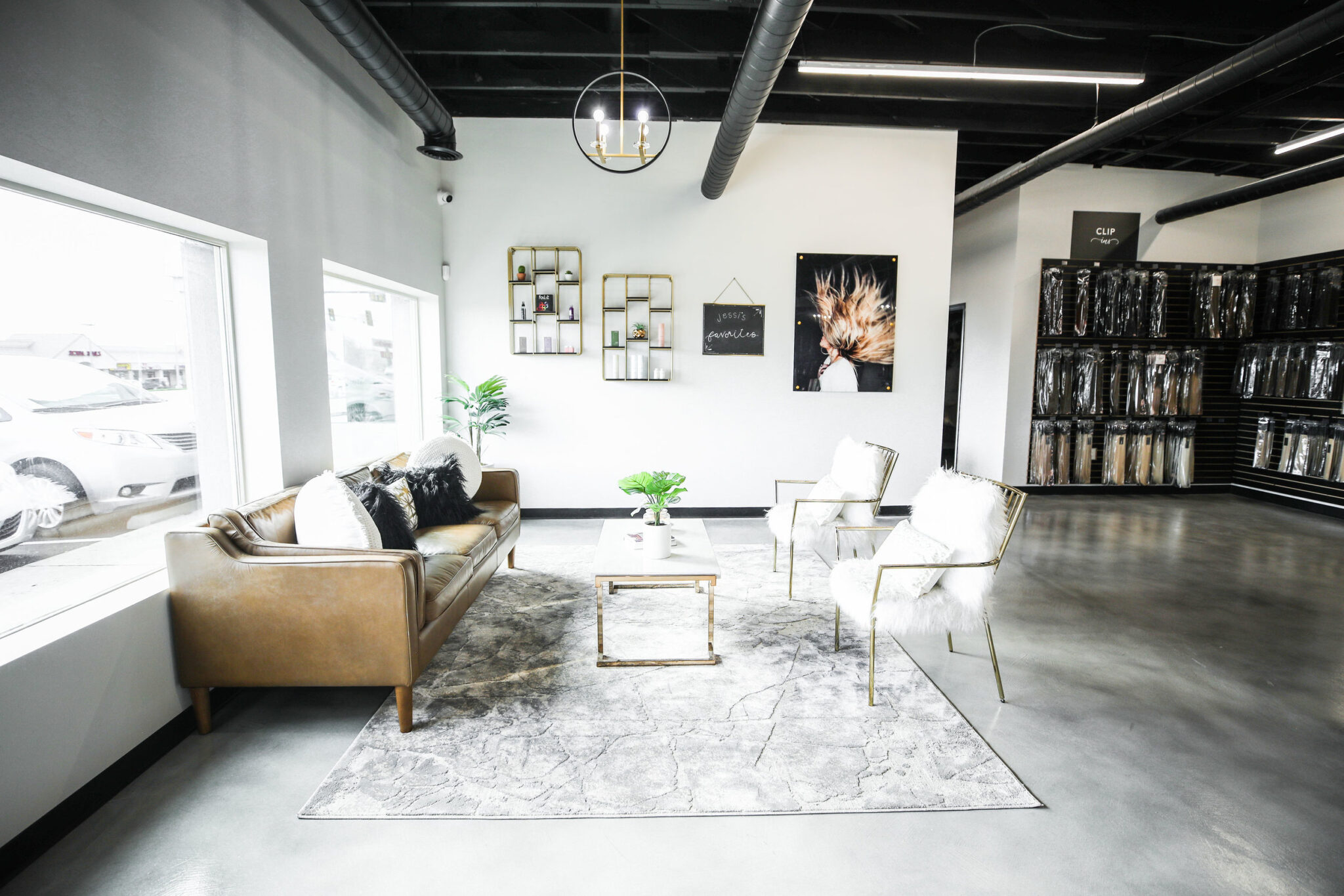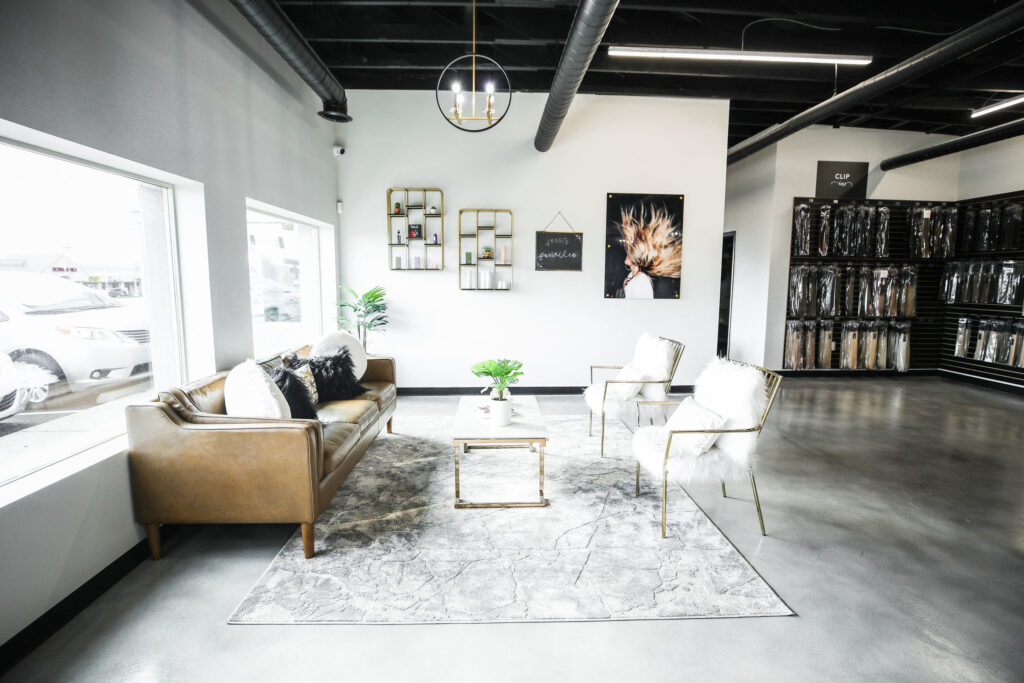 Conclusion
I hope you're as inspired as I am after seeing these nice hair salon designs.
The hair salon designers and architects listed here are truly brilliant at what they do and I'm very grateful that they allow me to share their work here.
If you're planning to remodel your salon, I can only recommend that you reach out to one of them to see how they can help.
Your hair salon decor plays a central part in building your salon brand and effectively marketing your salon. The design theme should fit your salon's website, what you post on social media, and all other communication about your salon.
As a next step, I recommend you check out my list of hair salon equipment that could fit your salon design as well as my hair salon lighting ideas. If you're just starting your salon you should, however, start by going through my opening a salon checklist here.
If you think your salon should be featured on this list, please send me an email.
All the best on your salon design project!