Are you looking for ways to optimize a small salon space?
Then you've landed in the right place.
Picking a small salon location is a smart call if you're opening a salon on a budget. It allows for a good address and premium salon design, while keeping costs low.
But it also comes with some challenges.
This is why I've pulled together this list of 21 small salon design ideas to help you to pick the right salon format and design it in a way that maximizes the perception and function of your salon space.
Today, we'll cover the different types of small salons, small salon design ideas, how you can maximise your small salon floor plan as well as decor ideas for small salons.
The article is part of my step-by-step guide to opening a salon.
Small Salon Ideas: Salon Location on a Budget
There's not one type of small salon.
You have many options when it comes to the type of small salon that you want to run.
Let's start with 5 small salon ideas and what you should consider with each option.
1. Studio Salon
Who says a salon has to have twelve chairs?
A studio salon is a great option for a startup salon.
It can have multiple chairs depending on the size of the space, but just because it's small doesn't mean that you can't have all of your needs met.
When running your salon in a confined space, it's important to consider the salon equipment you'll need.
In particular, where the reception desk goes, the waiting area, chairs, shampoo bowls, dryer area, dispensary, storage area, and retail area.
But with some planning, a studio salon can be a perfect fit.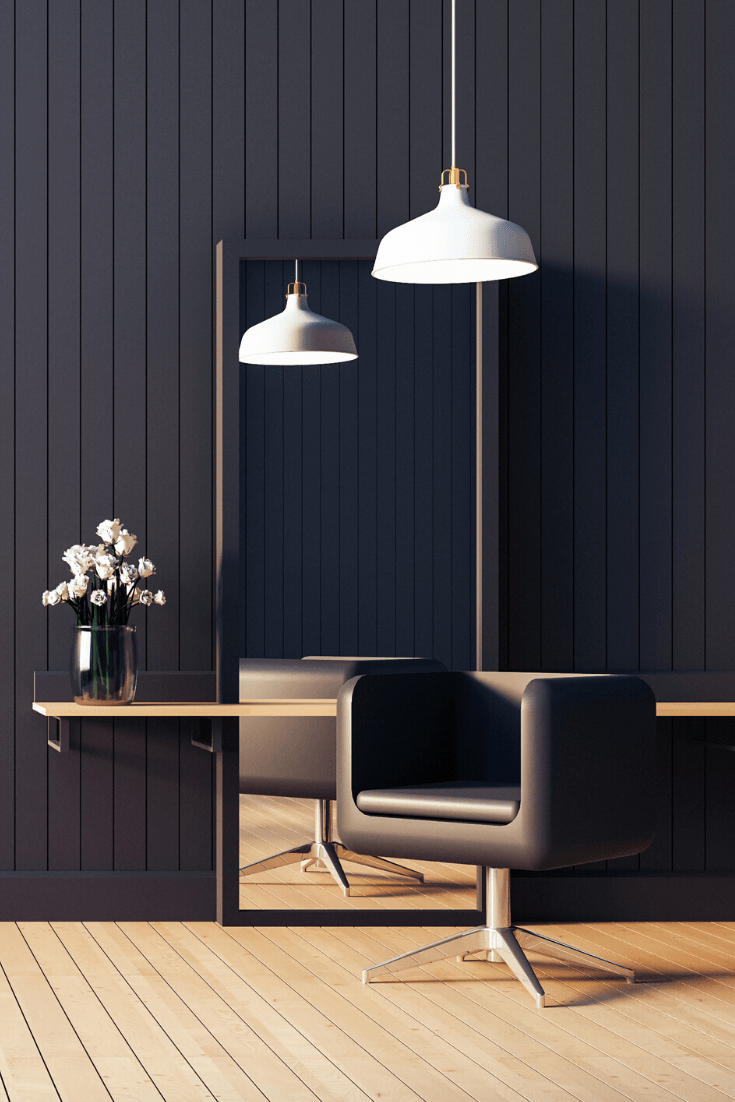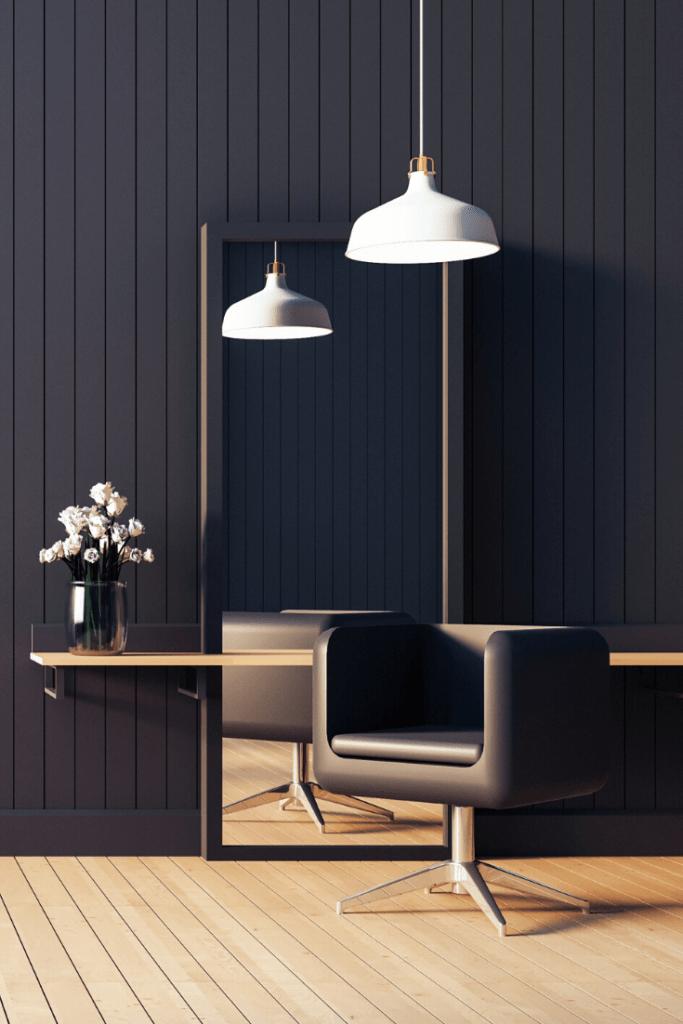 2. Home Salon
Is it one of your dreams to work in the comfort of your own home?
And do you want to minimize your salon start-up costs?
If you answered yes to either one of these questions, then opening your salon at home could be your best way forward.
The most important thing is to measure your space, no matter how big or small the areas is, when you know how much space you have, it is much easier to choose the best salon equipment that will fit into your tiny space.
You will need to have a salon chair, a professional shampoo area (not in your bathroom leaning the client's head over the sink or bathtub). No one wants to leave with a neck ache! Just because you are working from the comforts of your home does not mean that you're not professional.
You'll also need a portable hooded hair dryer, a portable styling station, and a salon roller cart/trolley. Some equipment comes with wheels, so when the equipment is not in use you can just roll it out of the way.
Once you've chosen the equipment for your home salon, you will need to decorate your home salon space.
When working with a small area stay with a cohesive scheme, paint your walls in a light, fresh color, and add a dramatic mirror. Not only do you need it for work, but it also will reflect light and open the space up to appear larger than it is.
If you don't have good natural light, then consider adding lighting fixtures.
3. Mobile Salon
The Mobile Salon has been around a while, however with clients becoming more and busier, not having the time to go to a brick and mortar and being used to ordering everything online to be delivered-from food to clothing-then why not consider a Mobile Salon.
You can buy an RV, Trailer, or a Bus and with some creative design turn it into a full-service salon.
Since the floor plan is already laid out into zones, it is easy to come up with a design that flows with space. You can have all of your equipment and tools on sight, keeping in mind that everything needs to be attached and locked down so that when you drive, there are no mishaps or damaged equipment.
A minimalistic approach to design will open up space and allow for easy movement throughout the long narrow aisle. You can still inject your own individual style into it by adding pops of color, a trendy wallpaper covering, and a majestic chandelier.
4. Shop in Shop
A smart and cost effective way to run a salon is to do it within an existing business location.
This saves you money on rent and also helps you get natural traffic to your small salon area.
This is becoming increasingly popular as more and more retailers and looking to offer a richer experience than just the traditional shop.
I took the picture here inside a retail store in Portugal where they had placed a salon chair in the corner of the store.
Hotels is another type of location that often are interested in offering beauty services within their location.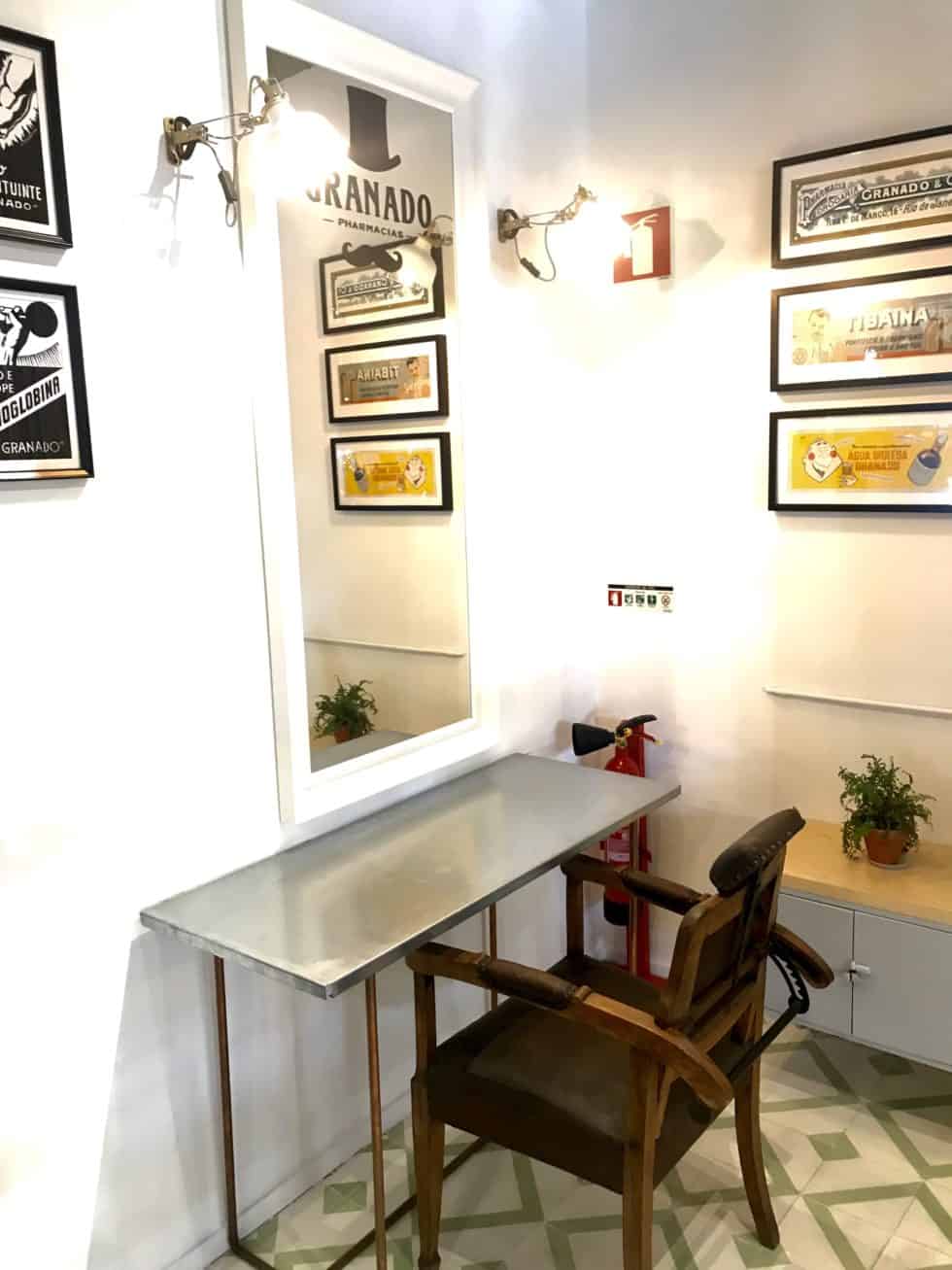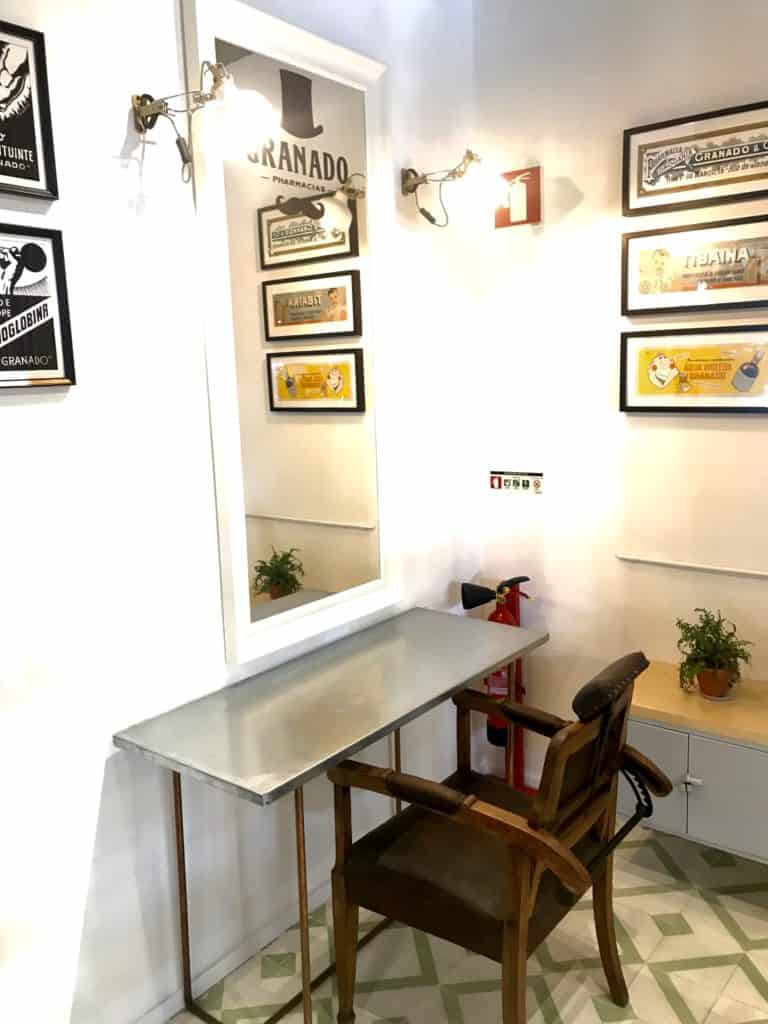 5. Tiny Sheds or Garden Sheds
Many people don't have extra room in their home but have a large property with extra green space. Adding a Garden Shed or a tiny Shed may be the way to go.
Now, I am not talking about the classic shed outback bursting with tools, bikes and anything else that doesn't have a place to go! This is a modern-day approach and another cost-effective small salon idea to working at home. Just like the home salon, small scale design is key to outfitting the shed.
Keeping in mind the color palette-again light and airy will open the space up, adding some plants are a personal warm touch. The area between the ceiling and cabinets is unused space which can be used when space is limited.
Why not build your cabinets up vertically, you can never have too much storage space in a salon!
Salon Design Ideas for Small Spaces
I believe that inspiration for your interior can come from anyplace. Perhaps you have a love for all things modern, or glamorous bling, maybe you spend your weekends sifting through an antique shop.
The fact of the matter is that anything can give you a vision for the design of your salon. Let's look at a few different interiors that may inspire you.
6. Modern Design
Some feature of Modern style uses natural elements such as wood, with elements of clean straight lines, and open concept area.
Not a lot of details are used, which gives it an uncluttered clean look and certainly makes the limited space appear bigger.
7. Minimalist Design
Less is more. Really.
Sometimes more is just too much more-more stuff, more junk, more clutter, more unfruitful work! The approach here is open concept, uncomplicated forms that function easy, lots of light, the materials used can give it personality, while keeping it devoid of too many details, thus making it organized and clutter-free.
The beauty is in the simplicity of the salon, all the features working together to open the minimal space and allowing it to look as if it's larger.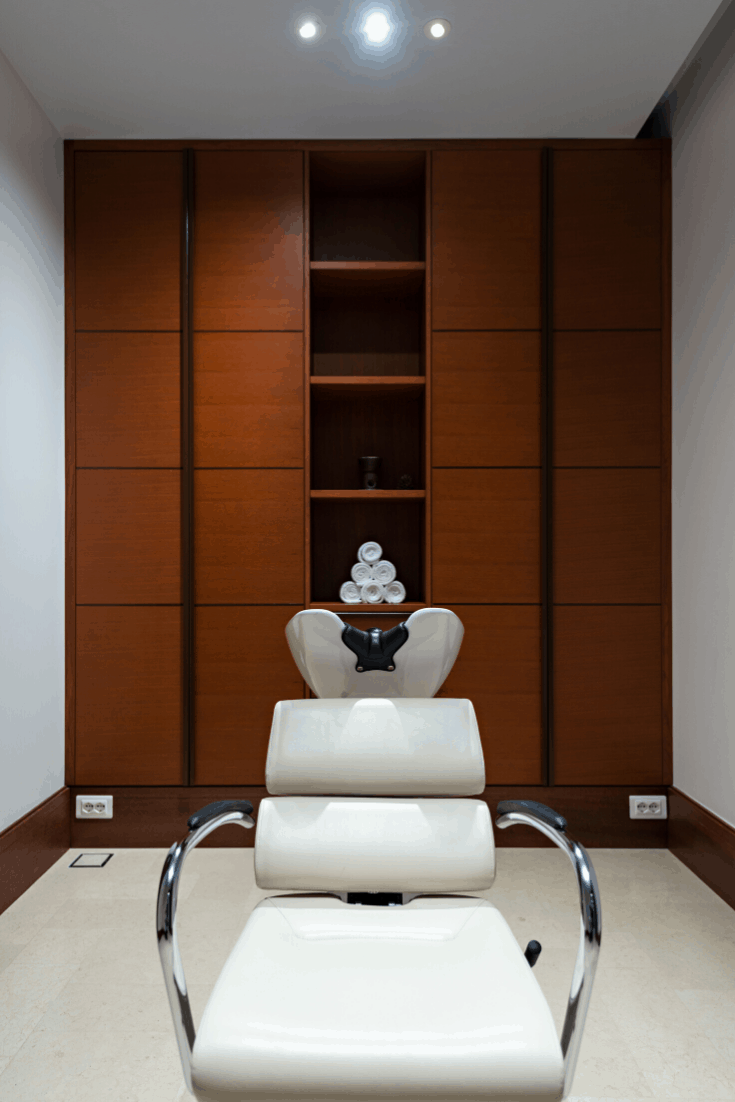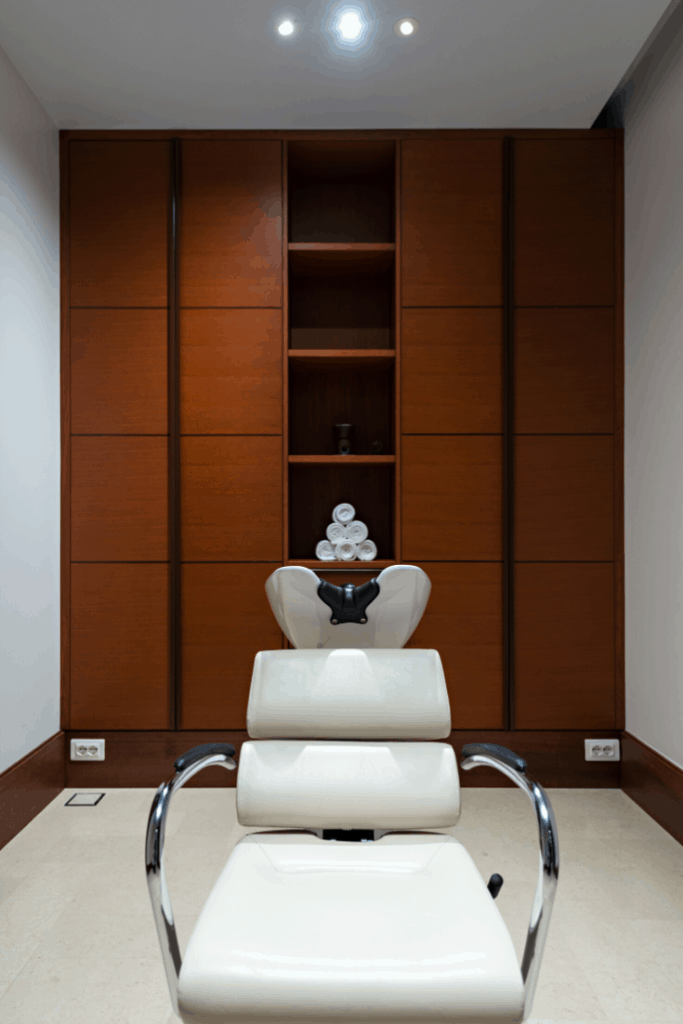 8. Classic Salon Design
Even with limited space deciding on a Classic design will give you a luxurious feel. Think gilded detailed mirrors, subdued hues of beige color, wood floors come in many shades (you may consider laminate as it is much easier to clean up color stains), antiques spread throughout, sideboards can be used as stations or for displaying, and the cherry on top is a gorgeous statement chandelier.
Even with all the extra details when you choose the right pieces your salon will not look cramped.
9. Small Nail Salon Design
When designing for a limited space Nail Salon, planning out every detail is important to your success.
Let's examine small nail salon ideas.
Having a built-in bench can take up less space-hence working within the confines of a small footprint-than a pedicure chair, it is less bulky, therefore allowing for twice as many clients at the same time. It can also work as multifunctional seating to do a manicure and pedicure in unison when a client is on a time crunch or you're doing princess parties, or wedding parties.
Having a statement wall with a pop of color, or artwork can make a beautiful focal point, as well as a sparkly chandelier. The result is having a salon space that is functional and elegant.
Maximizing Your Small Salon Floor Plan
Feeling a little bit lost when it comes to the layout of your beauty salon? Let's break it down into different zones. Here are some small hair salon design ideas and floor plans, to enhance the function of your space.
10. Optimized Floor Plan
Why is choosing your floor plan so critical? The floor plan is the base for how your business is built. Not only does it need to be functional, yet beautiful, but it is imperative to lay it out in an effective way in order to make a good deal of money. After all, it is your business.
You need to create a floor plan to have proper equipment placement, good traffic flow, and well-defined areas such as waiting area, retail shelves, changing room, reception desk, work stations, dryer stations, shampoo bowls, separate rooms for massage and facials, color dispensary/storage area, bathroom, and break room.
Popular floor plans are an open concept with clear defined zones, or floor plans with individual rooms.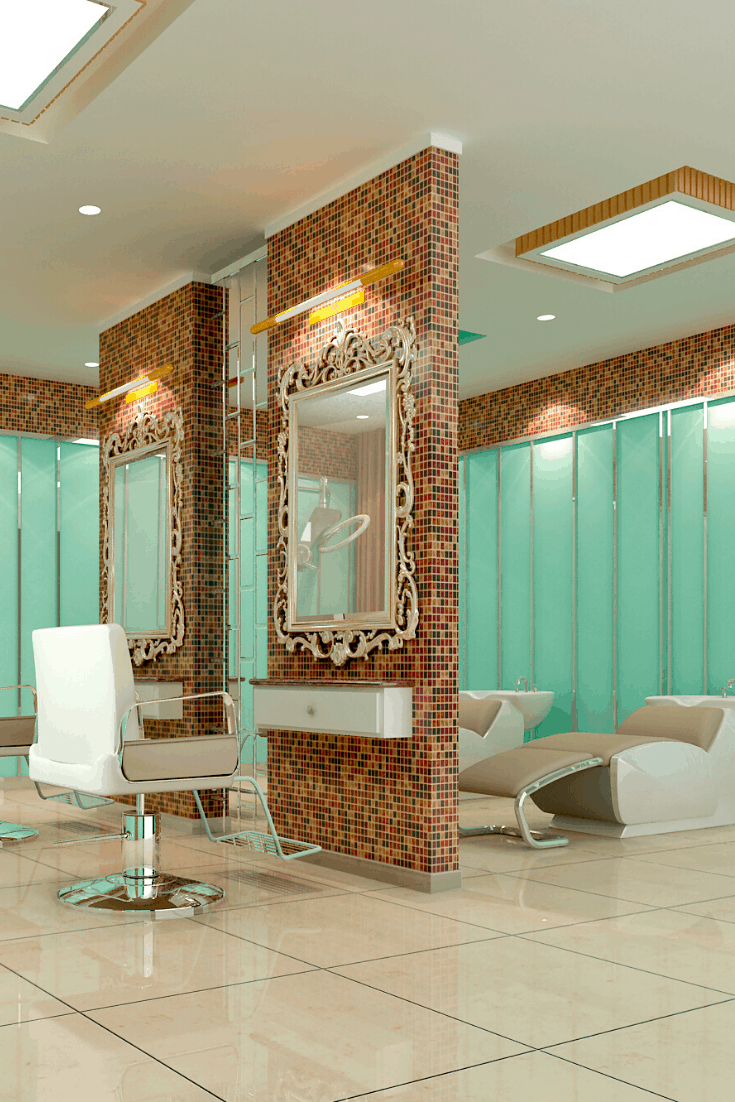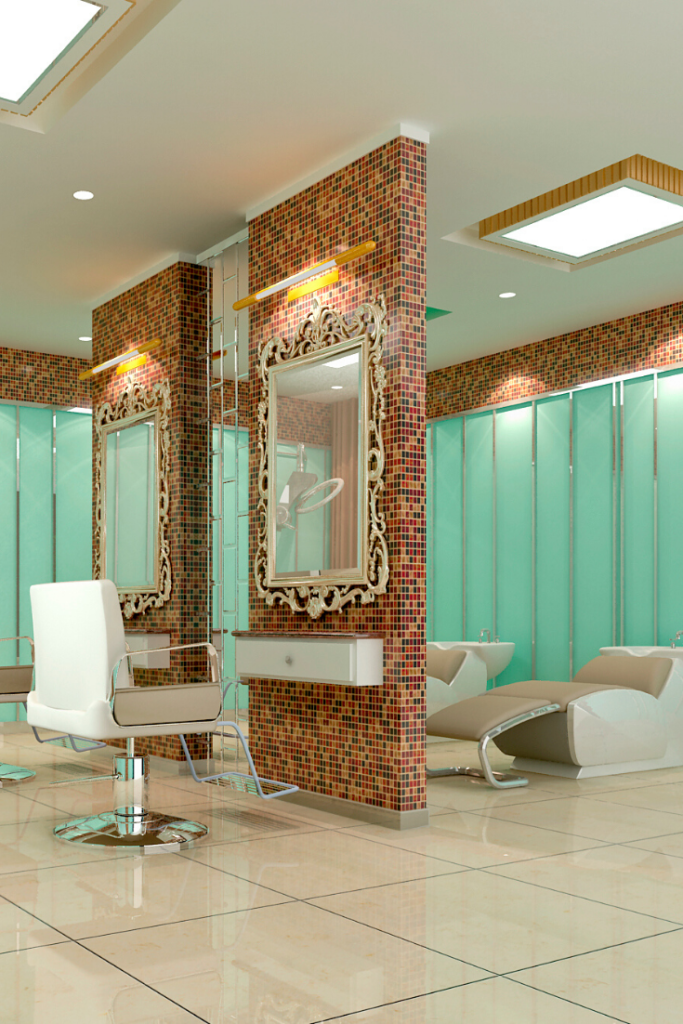 11. Small Salon Reception Desk and Waiting Area
The reception desk and waiting area is the first thing that a client sees upon entering the salon, it's important to make a great first impression, after all, you don't get a second chance!
When you have limited space the reception desk can be small, however, it should be organized and clean, and you should have a distinct retail zone with the products that you use, so the client can see, touch and smell them.
An appropriately sized couch or chairs for space along with a side table or coffee table and a changing area. You can also add a small coffee and tea buffet. Here you can also make an impact by using an eye-catching color to really set your salon's mood.
All of this will add a welcoming and memorable touch to your reception area.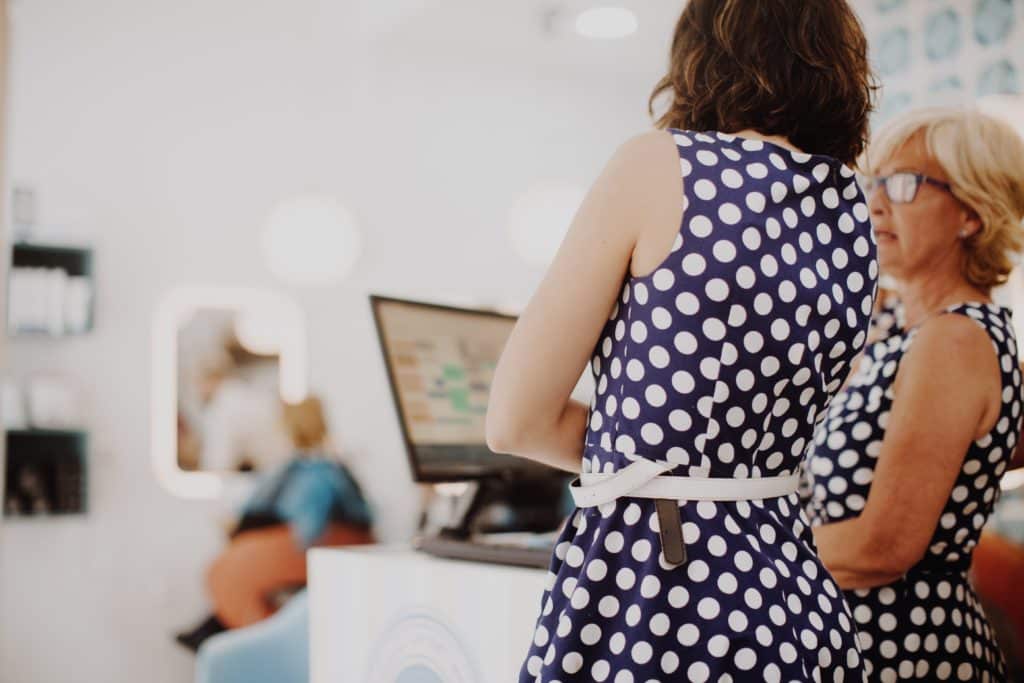 12. Small Salon Hair Station
This is the heart of the salon and where all the magic happens!
Choosing the right type of station is vital to the function of your salon. In small spaces, it is smart to choose a wall-mounted station because it is narrow and takes up less space.
Having a functional chair and mat, a mirror, and the right lighting completes the station.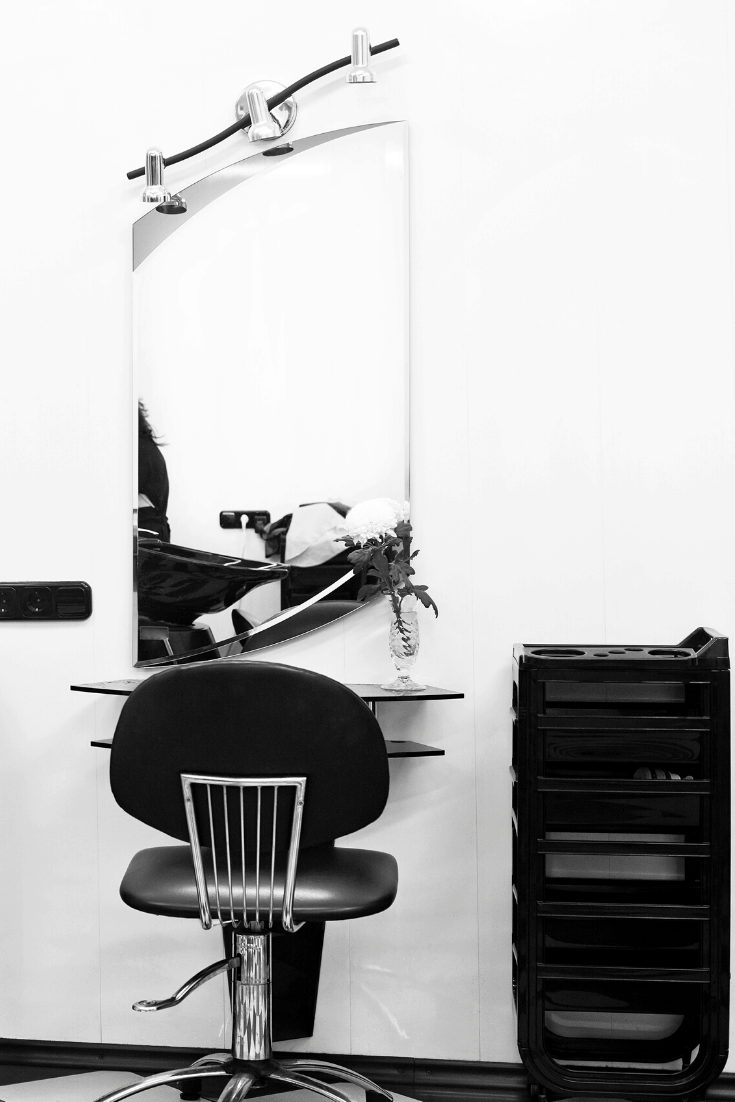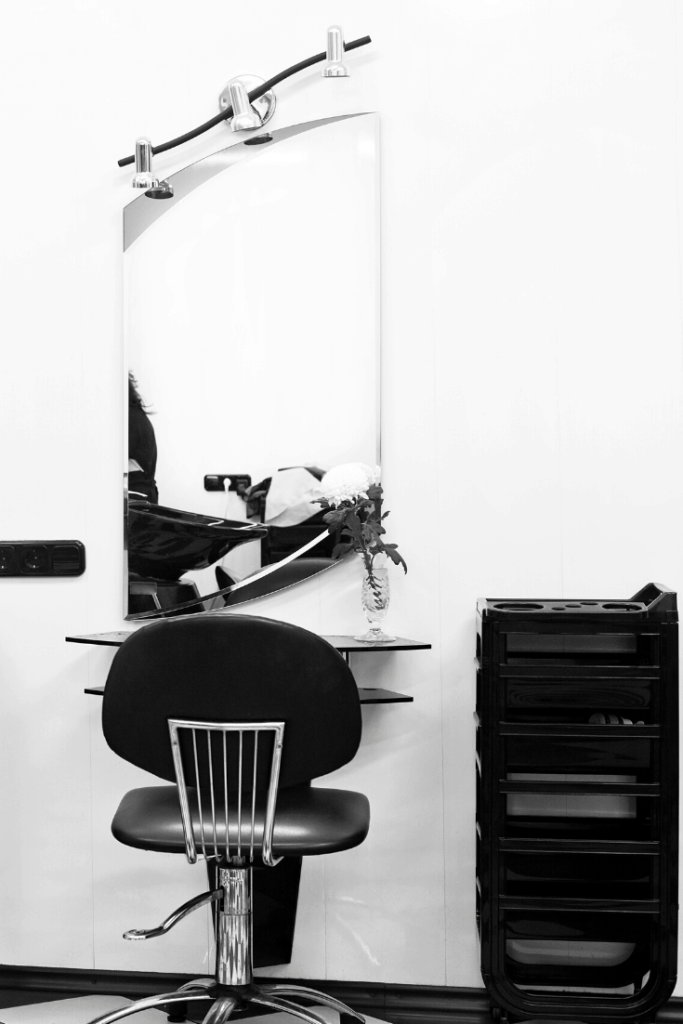 13. Small Salon Backwash Area
A backwash area is a place for relaxation for your client. And although it's tempting to make this area small and leverage the space for other areas of your salon, you need to allow sufficient space here. 
You should allow for 32 inches left to right for each shampoo station. You should also allow 36 inch behind the station for the stylist.
You can browse my list of hair salon equipment here for recommendations on good backwash units for small salons here.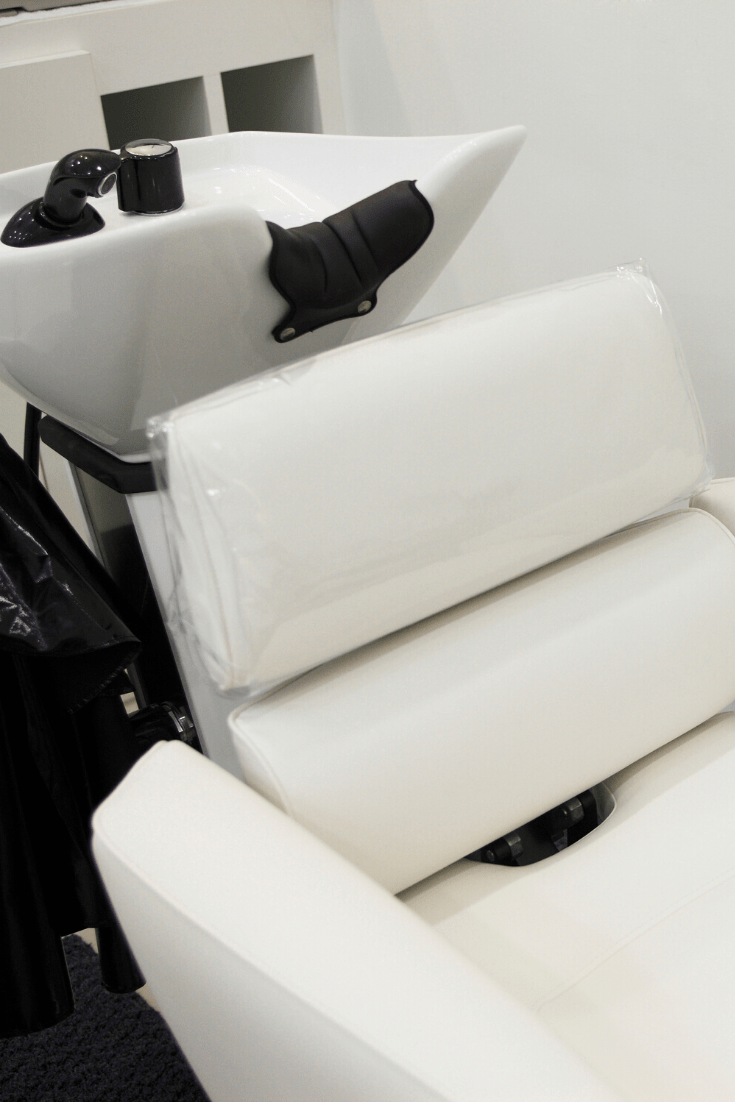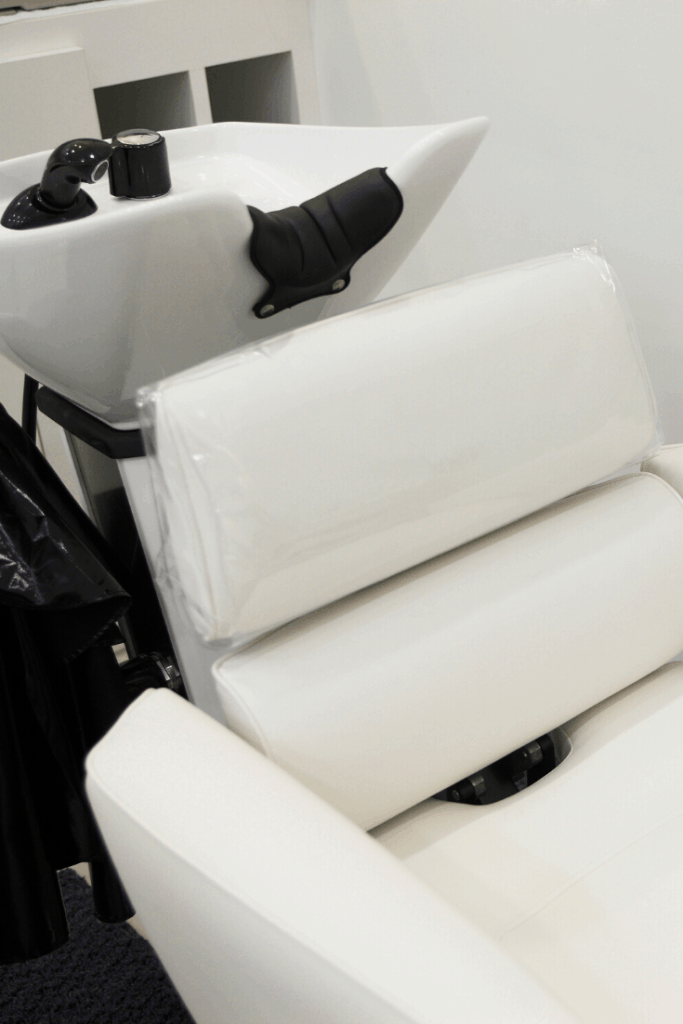 Small Salon Décor Ideas
When you walk into a salon that is showcasing beautiful marble floors and a glamorous chandelier, you immediately feel that you've stepped into luxury.
You feel this way because of the décor that has been used.
Let's take a look at some small beauty salon decorating ideas to help you choose the right one for you.
14. Go for Light and Airy
Feel like you're stuck in a tight boxy space? A classic way to beat the feeling is to go light. White is actually quite versatile, and it allows you many options.
Going light will open the space and make it look larger than it is. It can also work by allowing the artwork to come alive. Using many textures in the same light color scheme will keep it from being boring. The list is endless when you choose to go light.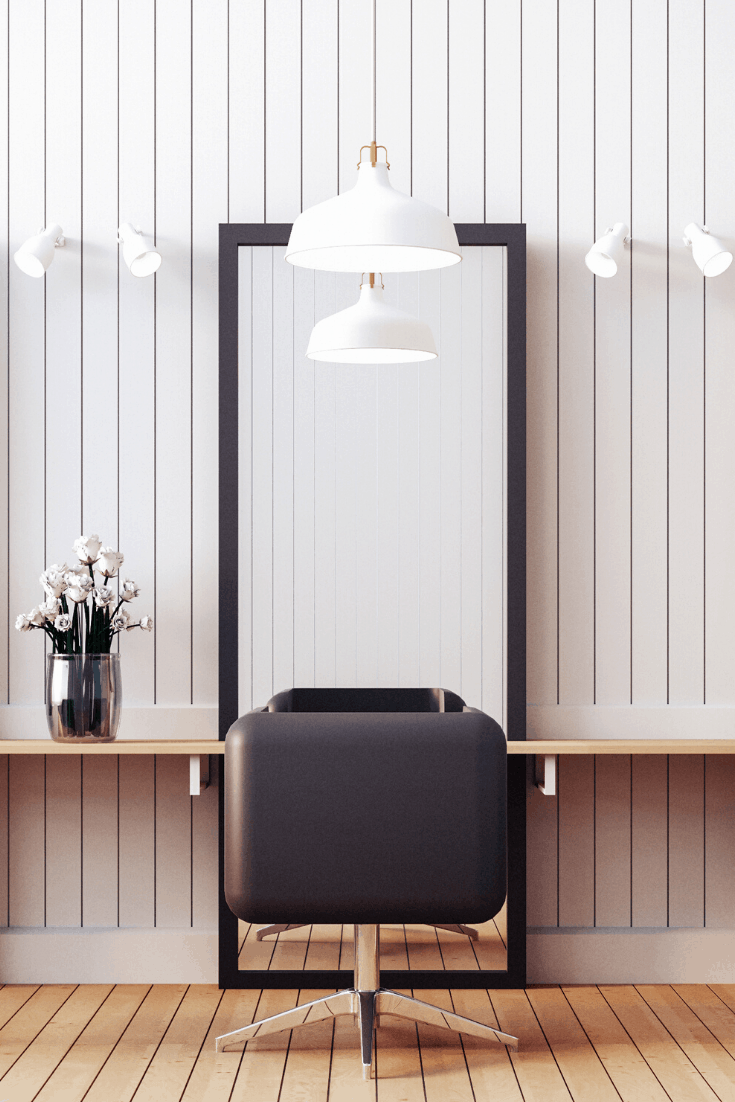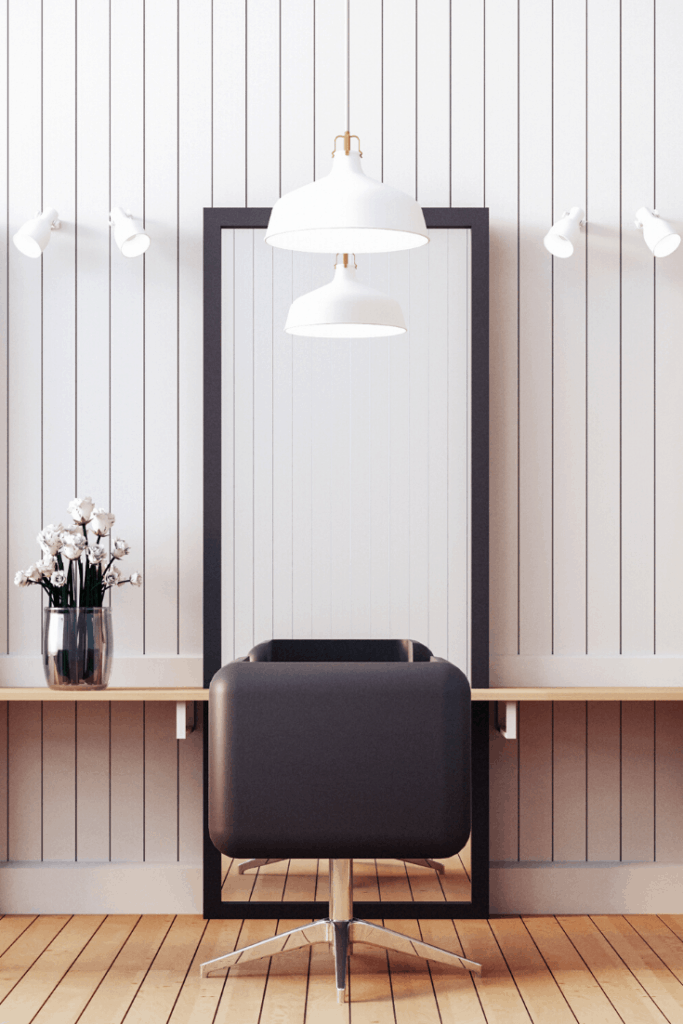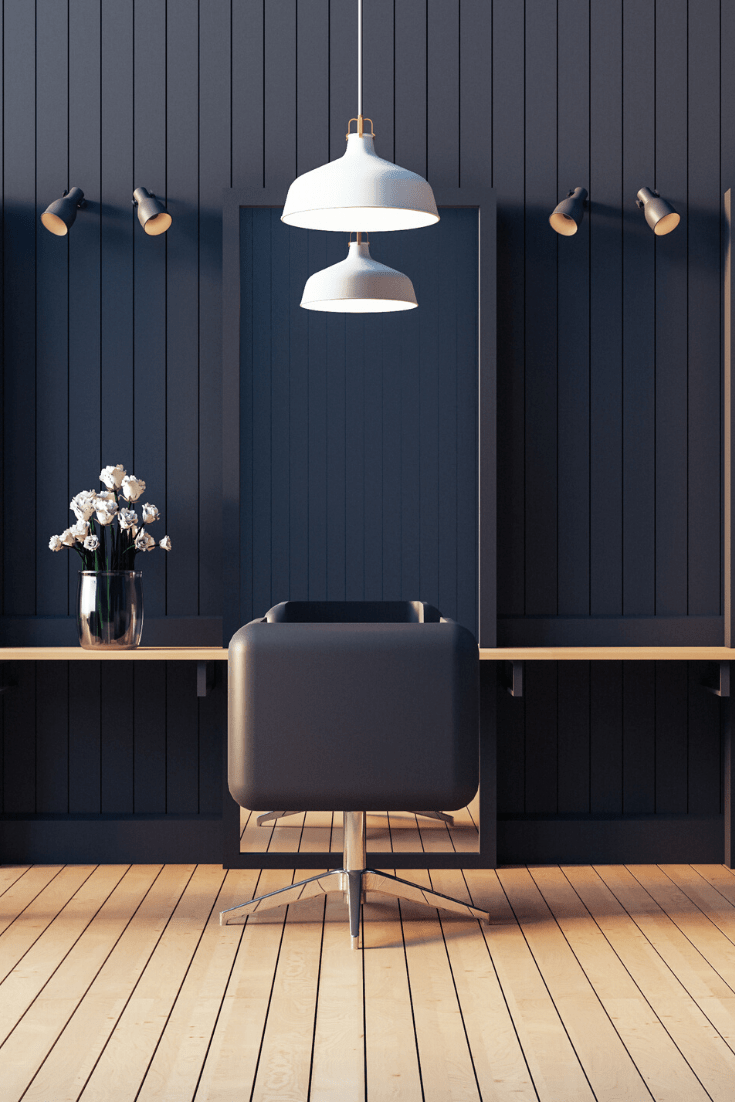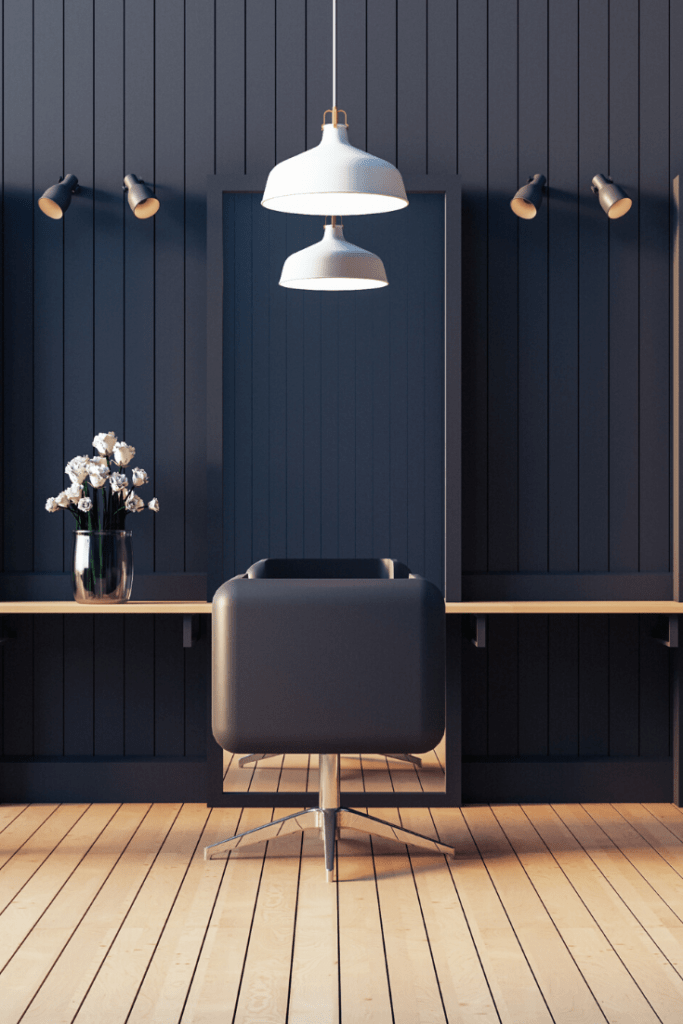 15. Vibrant Color in Your Salon
Whoever said that a confined space should only be white hasn't seen a colorful salon. Another salon design idea for a small space is to use bright vibrant colors, doing this will make your salon come alive.
You can have a lot of fun here and really let your personality show. Try adding color on the interior walls, the floor, even the chairs. If a trendy clientele is your target, then go with a fun, vibrant atmosphere.
16. Create a Bold Statement
Don't want to go with monochromatic décor or with vivacious color? I suggest that you make a focal point by using contrasting colors.
Black and white is bold and will really catch the eye. Try a large piece of artwork on a wall that gives visual interest. Any piece or design that shows your style will work.
Just because it is a small space doesn't mean that you can't be daring!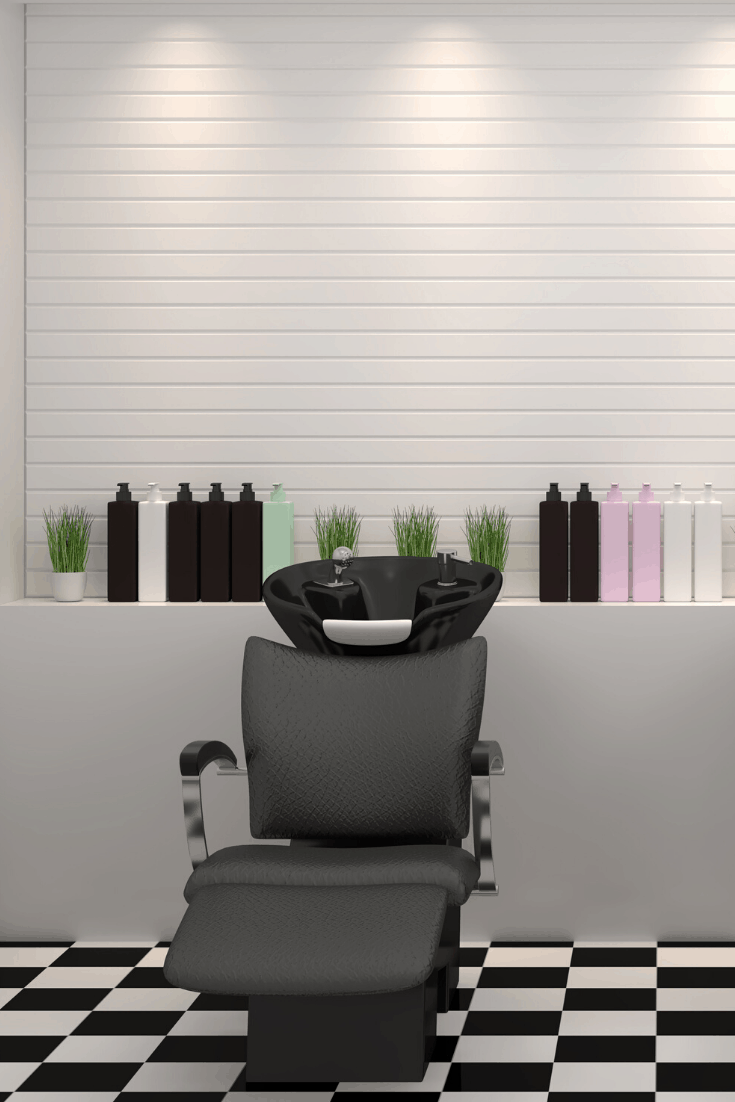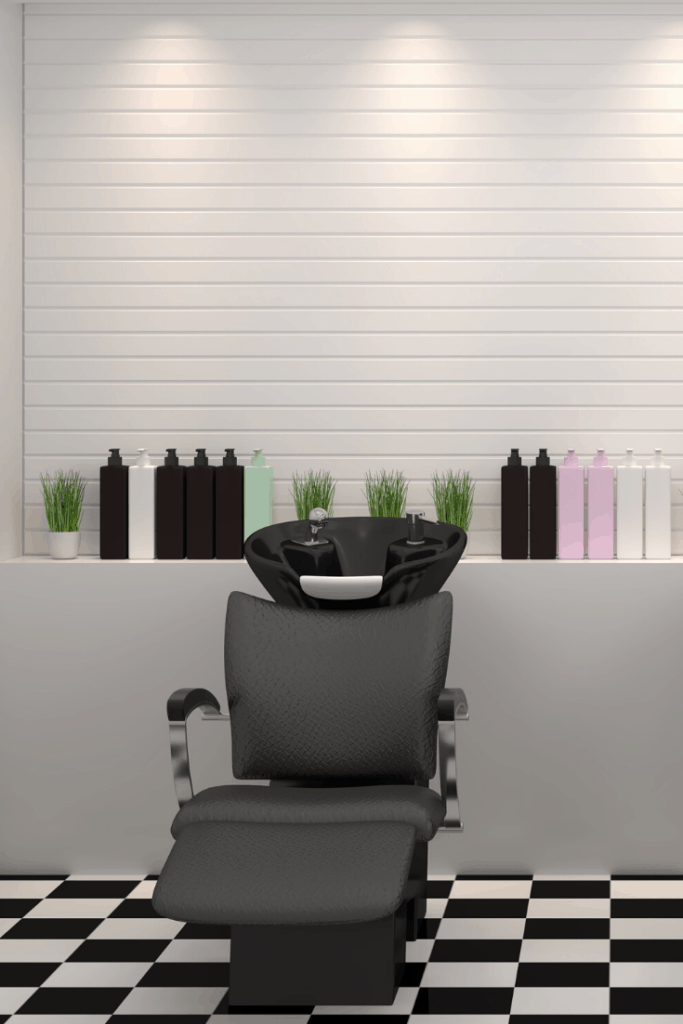 17. Reflect Light with Mirrors
Small spaces need all the light that they can get. Mirrors are a salon staple; they reflect light and give more depth and the illusion of a bigger space. There are many types of mirrors to add to your salon; full length, frameless, and framed mirrors are just a few.
Whichever suits your salon esthetic, it will definitely add beauty and visual depth.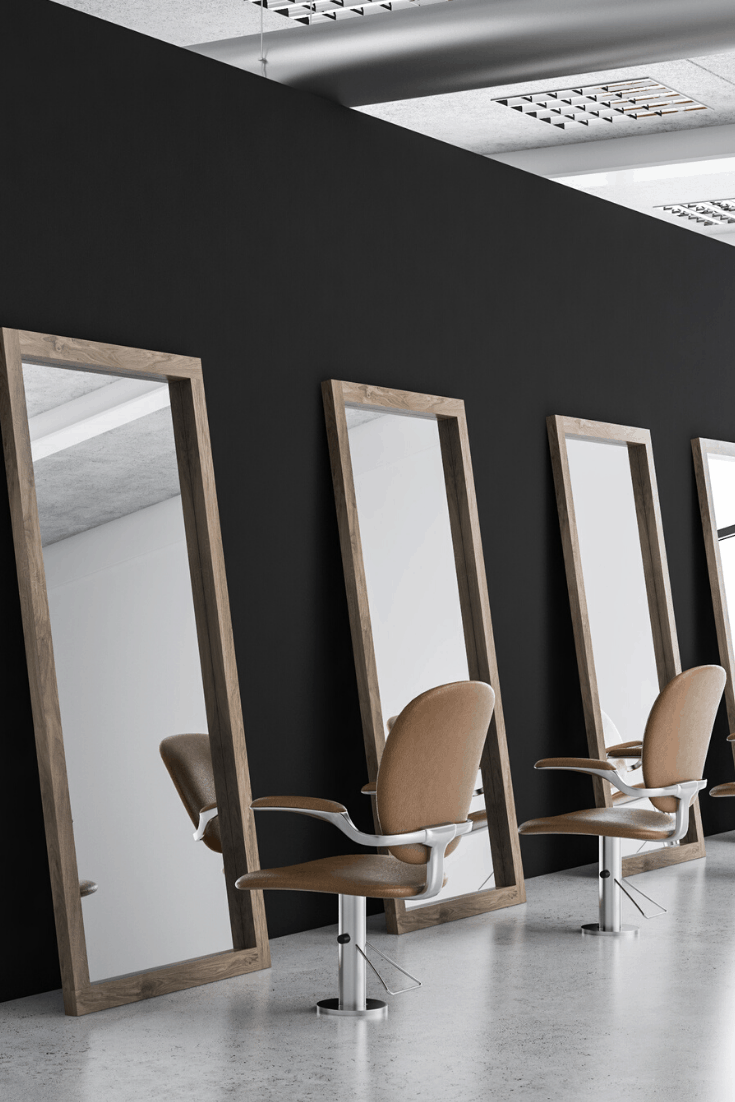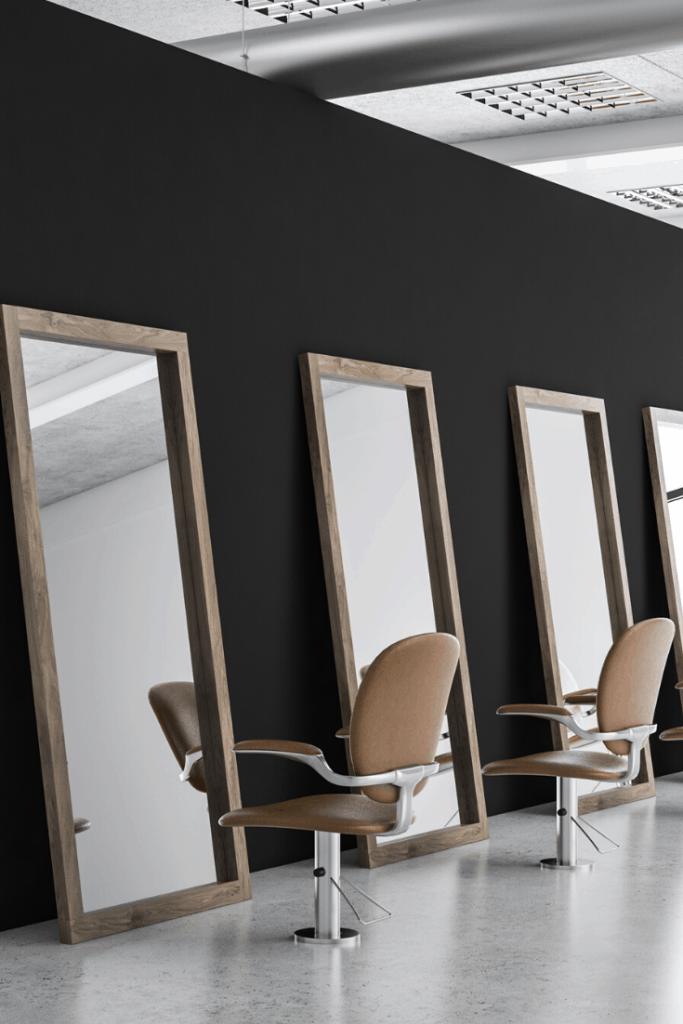 18. Illuminate Your Salon
One of the most important aspects of your salon is the lights. You will have many areas that need different sources of lighting, all unique to your salon's layout. A facial room does not require the same lighting that a hair station would need.
You definitely don't want to miss the mark on lighting, as a shady salon does not allow you or your client to see properly, additionally, your client needs to love what they see!
19. Flow for Functionality
Since you've already designed the floor plan with functionality in mind and with different zones, it should be easy to navigate your way through once you enter the salon. It's important to ensure the furniture and equipment aren't too bulky, nor put in the wrong place.
It may take a few times to find the best placement, and if an item doesn't work then remove it.
You and your client need to be able to move in your space with ease.
20. Organize Your Salon Space
It's imperative to keep your space mess-free. This can't be stressed enough! No one wants to walk into a salon for a relaxing experience and instead be surrounded by junk and clutter.
It's important to know how to arrange a salon, so take some time to organize the waiting and retail area, shampoo area, and hair station area.
Nothing can cause your space to look smaller than clutter.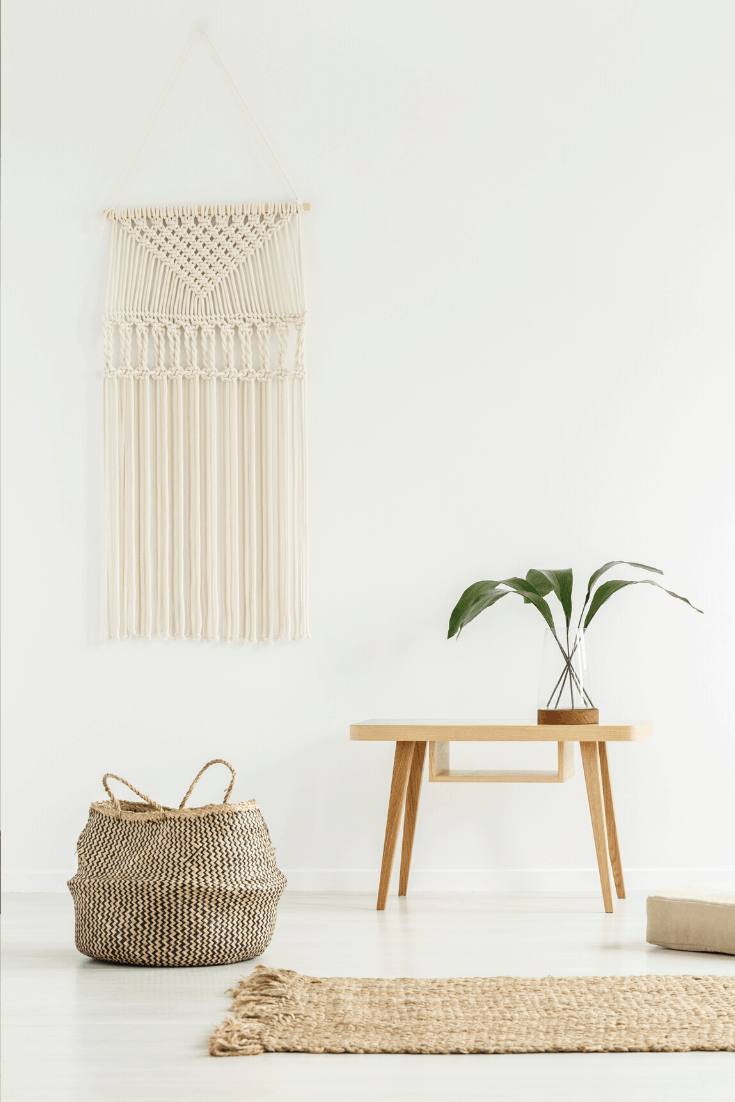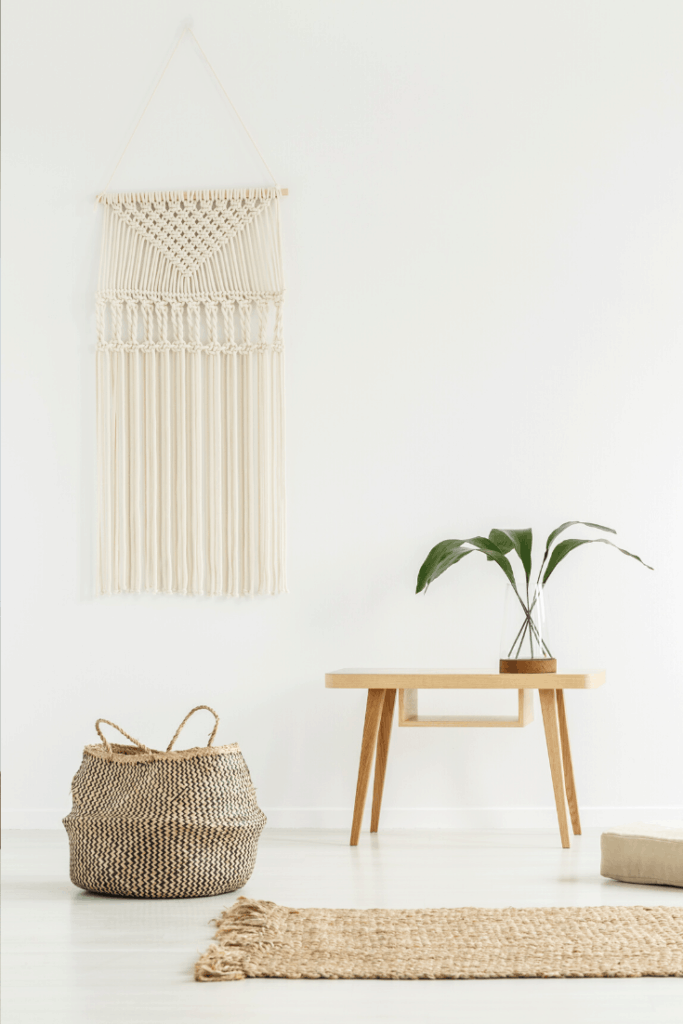 21. It's the Details that Count
Every detail that's in your salon should be looked at with spaciousness in mind. Is the color scheme cohesive? Is the layout zoned well? Is the waiting area clutter-free?
All the elements should work together to maximize your salon space.
Conclusion
There are many salon decoration ideas while on a budget.
I hope the small salon ideas shared here give you new concepts and inspiration for making the most of your small salon space.
Doe more design ideas, I recommend you check out my list of hair salon design ideas, this list of barbershop decoration ideas, or my guide to salon lighting.
↓ Pin it for Later ↓