Are you looking for barbershop design and decoration ideas?
Then you've certainly landed in the right place.
This is where I collect what I think are the best barbershop decorations from the most unique barbershops. You'll find modern barbershop designs, retro/vintage barbershop decor, and fancy/luxury barbershop interior ideas.
In fact, I'm constantly adding new barbershop layouts and design ideas to this list.
So whatever type of barbershop you're looking for, this is the place where you find the most unique barbershop decoration ideas on the internet that could either provide great inspiration to you for your own barbershop or be added to your bucket list of cool barbershops to visit!
Because let's be honest.
The way your barbershop looks plays a huge part in attracting clients, so it's definitely something that you need to put some thought into.
Clients want something that's aesthetically pleasing, comfortable, and relaxing to walk into.
I'm going to share with you some incredible barbershop station ideas, reception area ideas, shelf ideas, waiting area ideas, and overall barbershop themes. You'll get ideas for barbershop signs/poles, wall art, lights, furniture, and much more.
All the projects below were created by some really talented interior designers and architects.
It's not my work and I do not take credit for it :).
I'll make sure to link to the barbershop designers behind each project in case you want to get in touch with them.
Now, without further ado, let's go over the 19 amazing barbershop ideas.
Barbershop, Krakow, Poland
To kick things off, nothing says "Sweeney Todd" quite like this gothic victorian barbershop design. With a color scheme that you'd likely see in a vampire's lair, I wouldn't be surprised to find Dracula hanging out to get a haircut.
With walls painted in shadows, curtains tinted like blood, and the overall feel of a castle, this barbershop has it all and is definitely one you don't want to skip out on.
This victorian shop is full of so much detail and inspiring barbershop interior ideas it's hard to pick just one spot to look! My favorite part, though, is the intricate carvings added to the mirrors. And not to mention the heads mounted on the wall.
Seriously, where have you seen any other design like this?
This type of design is unusual and unique and that's what makes it stand out amongst traditional barbershops.
Credit: Dom Art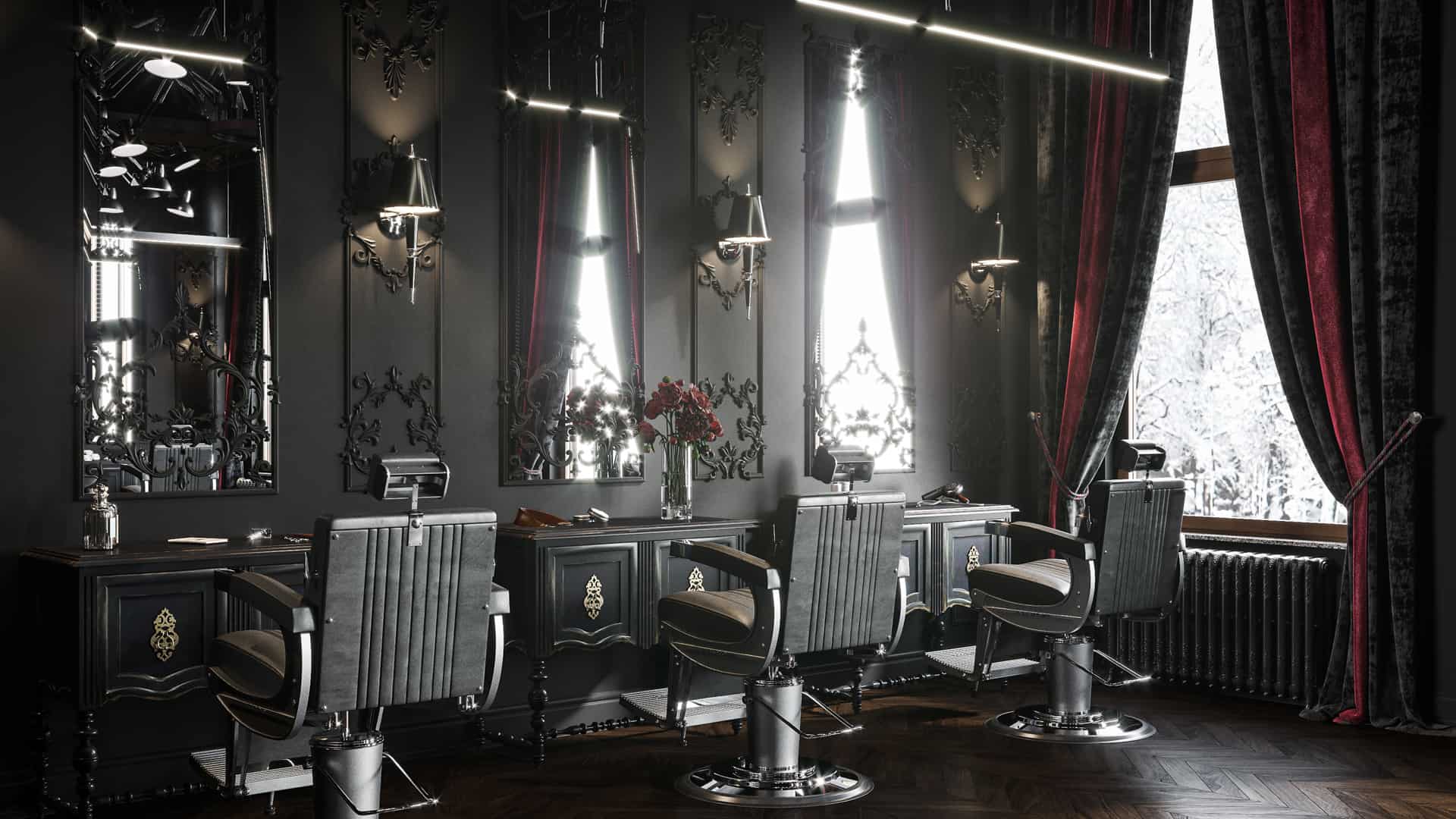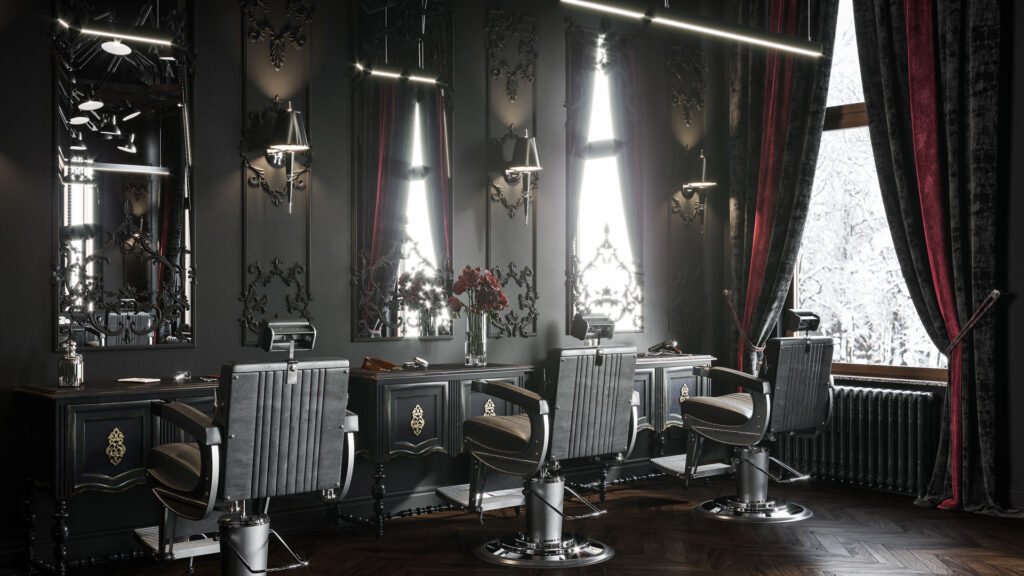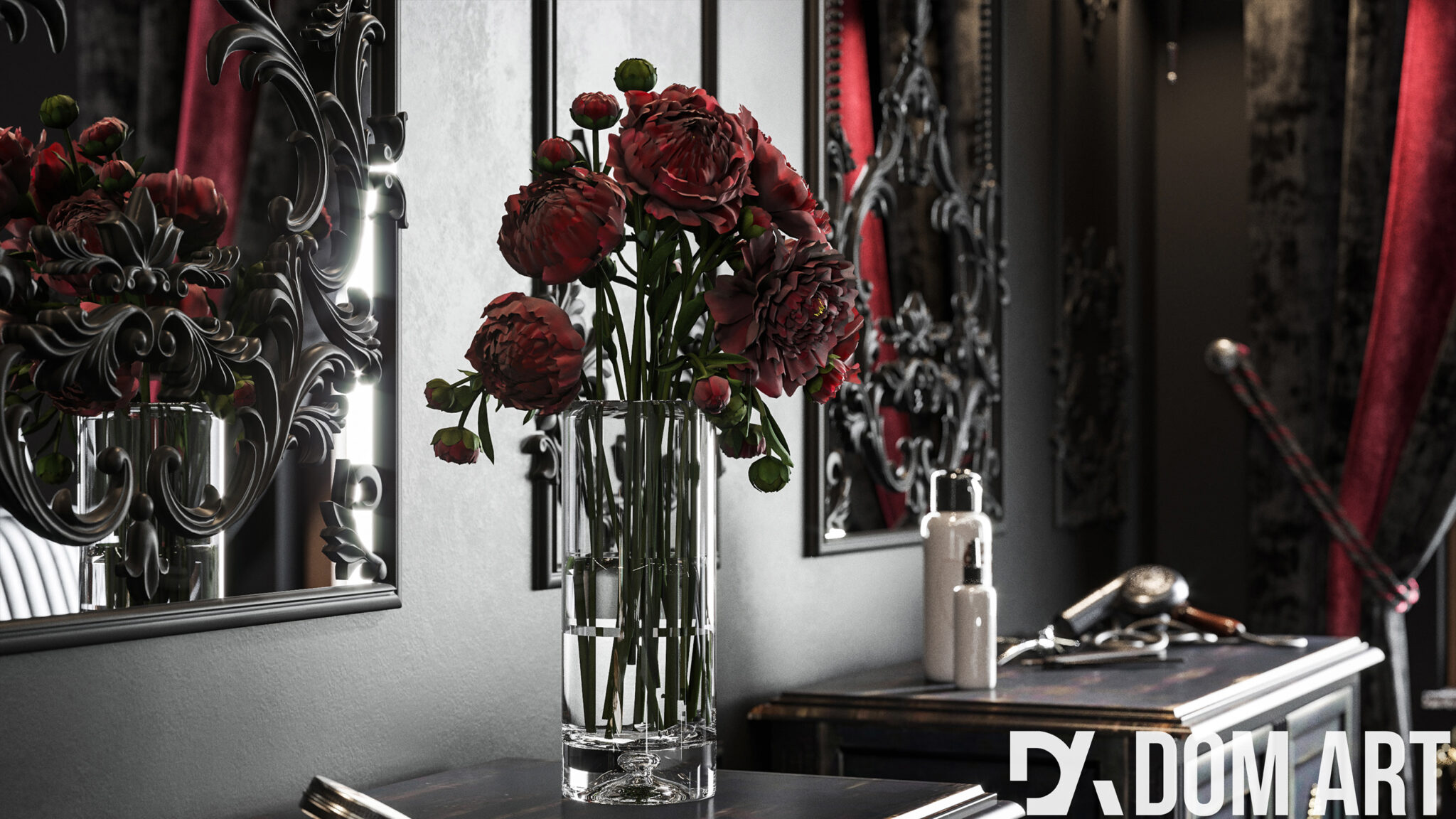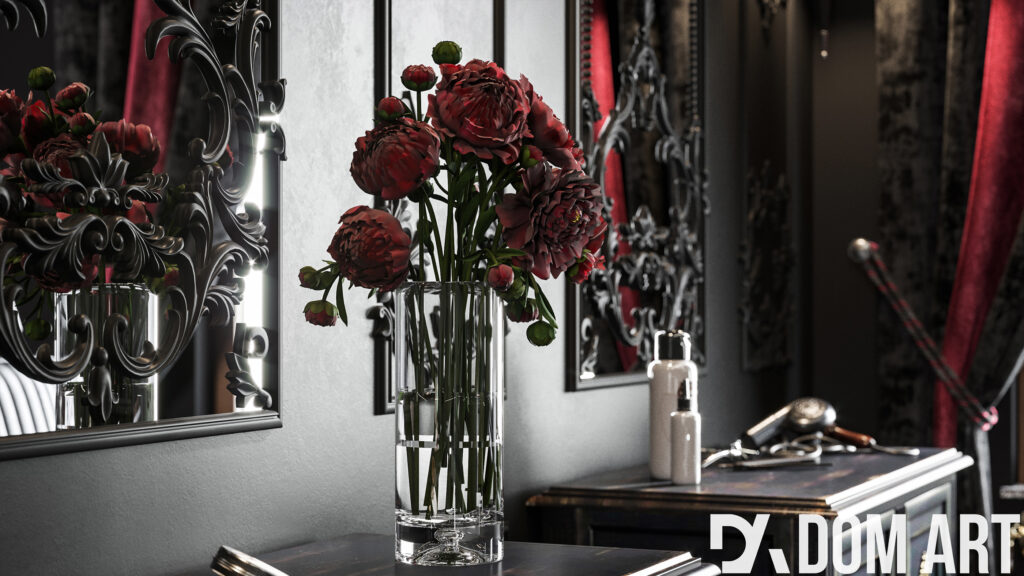 Rival Barbershop, Ukraine
The next on the list of barbershop design ideas is the Rival Barbershop. This is another shop that makes use of darker colors accented with lighter ones to bring a pleasing image to the eye.
This barbershop layout is simple with a modern touch that relishes luxury. With a separate lounge area with angular furniture, this is empowering and artistic design for any shop.
For an additional touch, the sitting area is also decorated with simple leather seats for an added touch of comfort!
This relaxed-style lounge and luxury barbershop is unlike any other. You can be sure you'll be feeling like the next superstar when you visit this place!
Credit: Dmitriy Bondarenko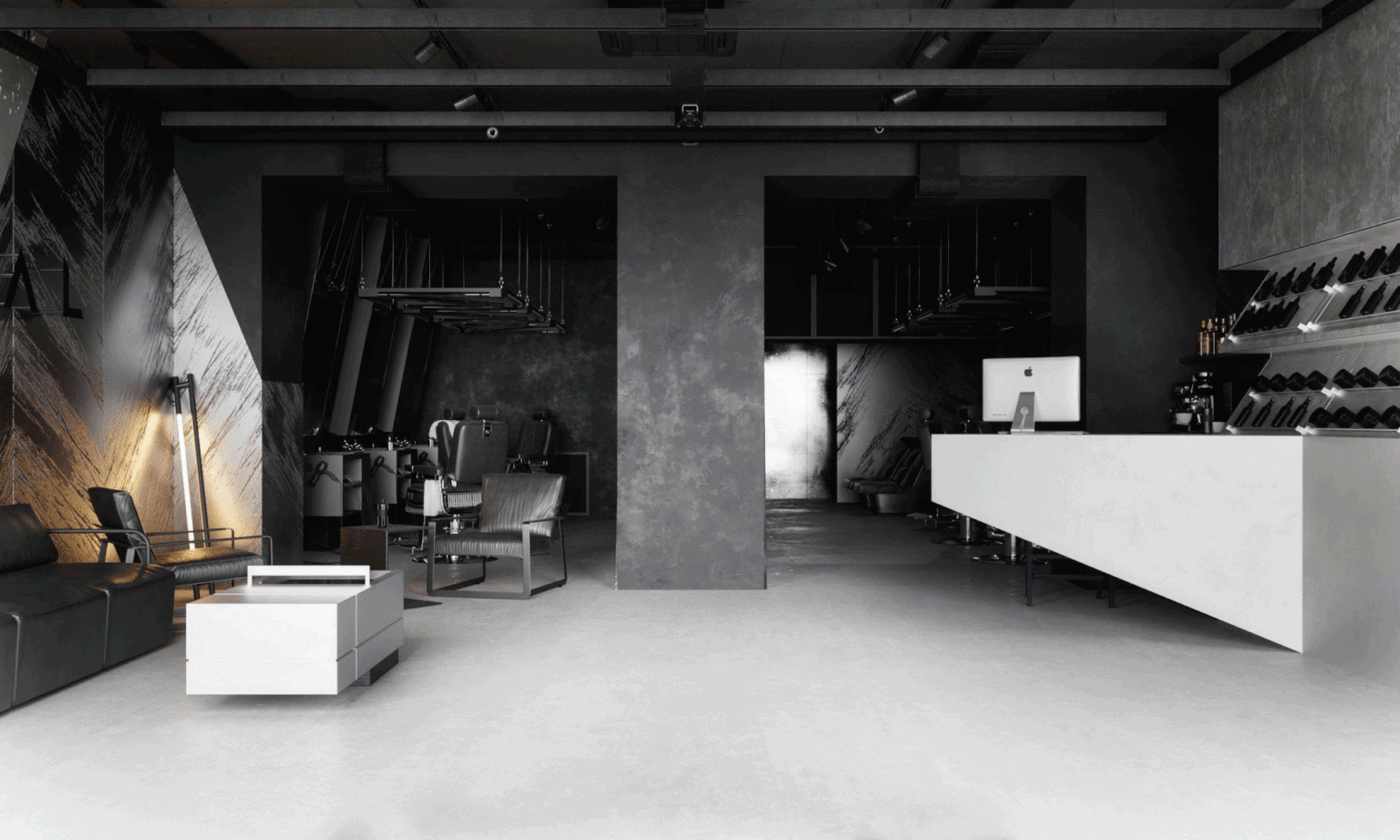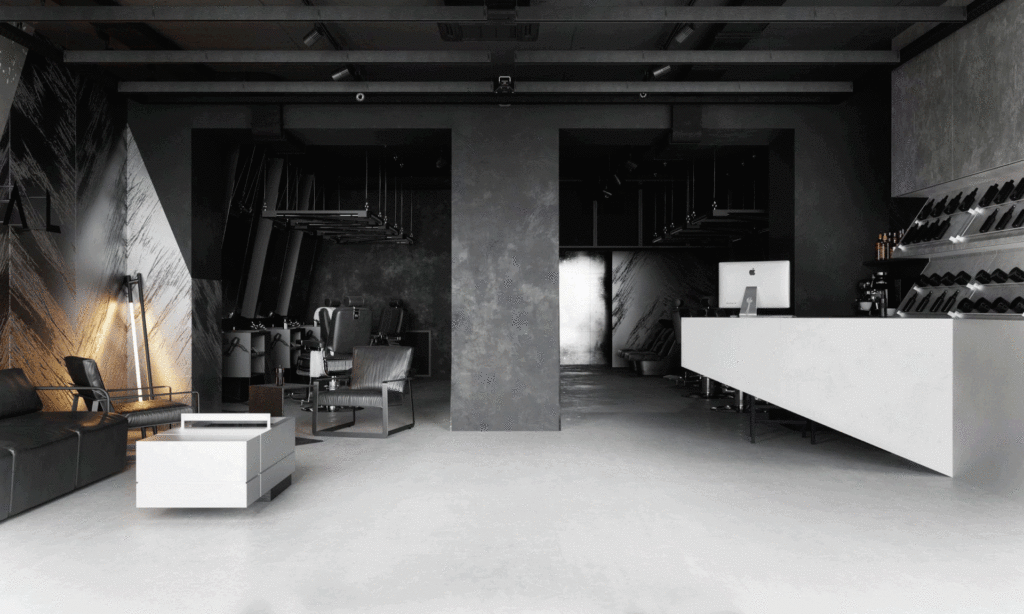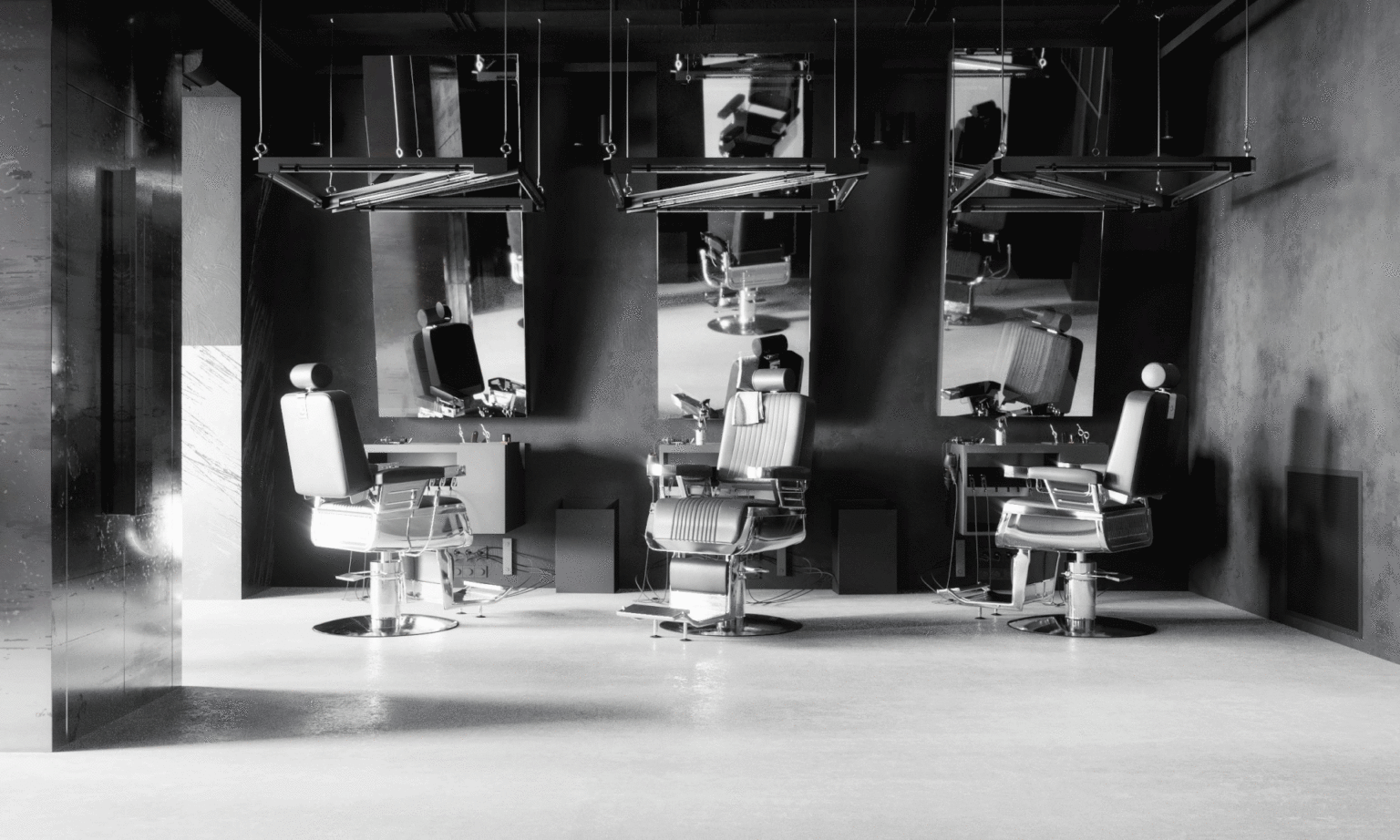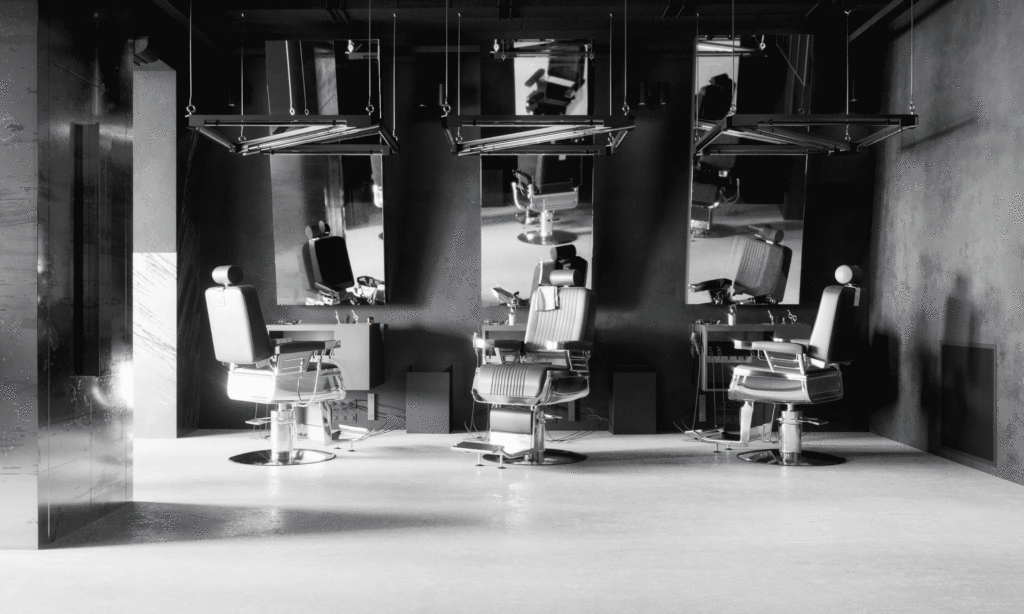 The Kult Studio – Tattoo & Barbershop, Odesa, Ukraine
Now, if you're a fan of a more granite-style look, this barbershop decor is for you. Stained with grey and silver with a modern splash that feels luxurious, there's no place quite like it.
The barbershop layout & design feels like a secret underground headquarters or something you'd see in The Avengers. Either way, this color scheme is one of the best I've seen & compliments the room perfectly.
My favorite part of this barbershop interior is the center counter that attractively displays the shelf products proudly.
This is the way a barbershop should be laid out; honest, clean, and dramatic.
Overall, this retro barbershop has the whole secret agent vibe going on and it's something you just can't beat.
Architects: Iva Gaidarshy, Dmytriy Sivak, Kyrylo Verbych
Photo: Anton Garets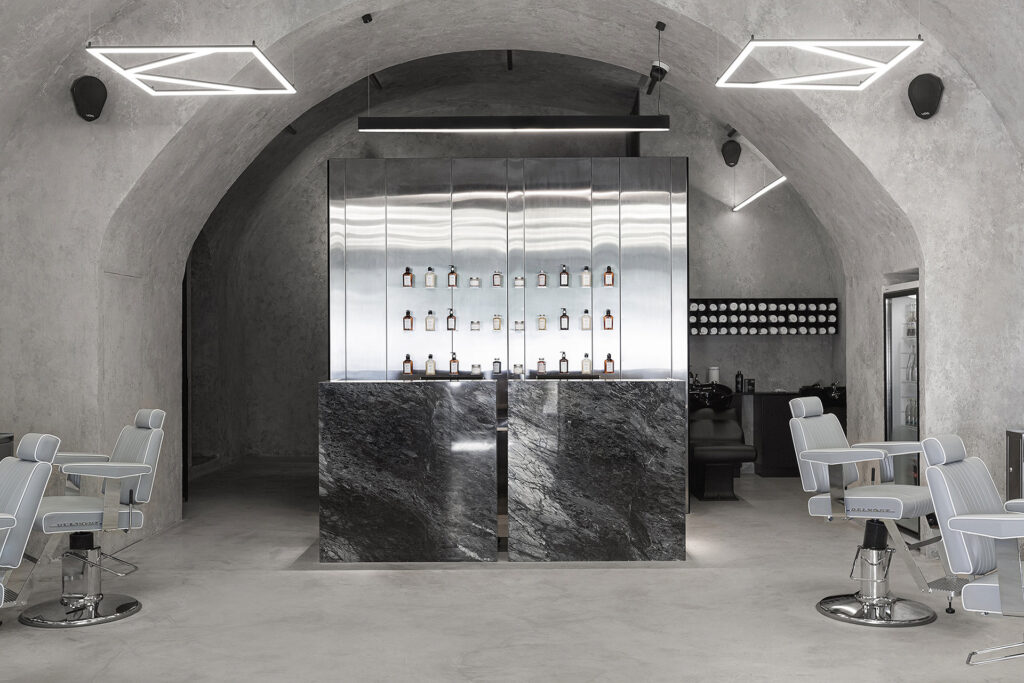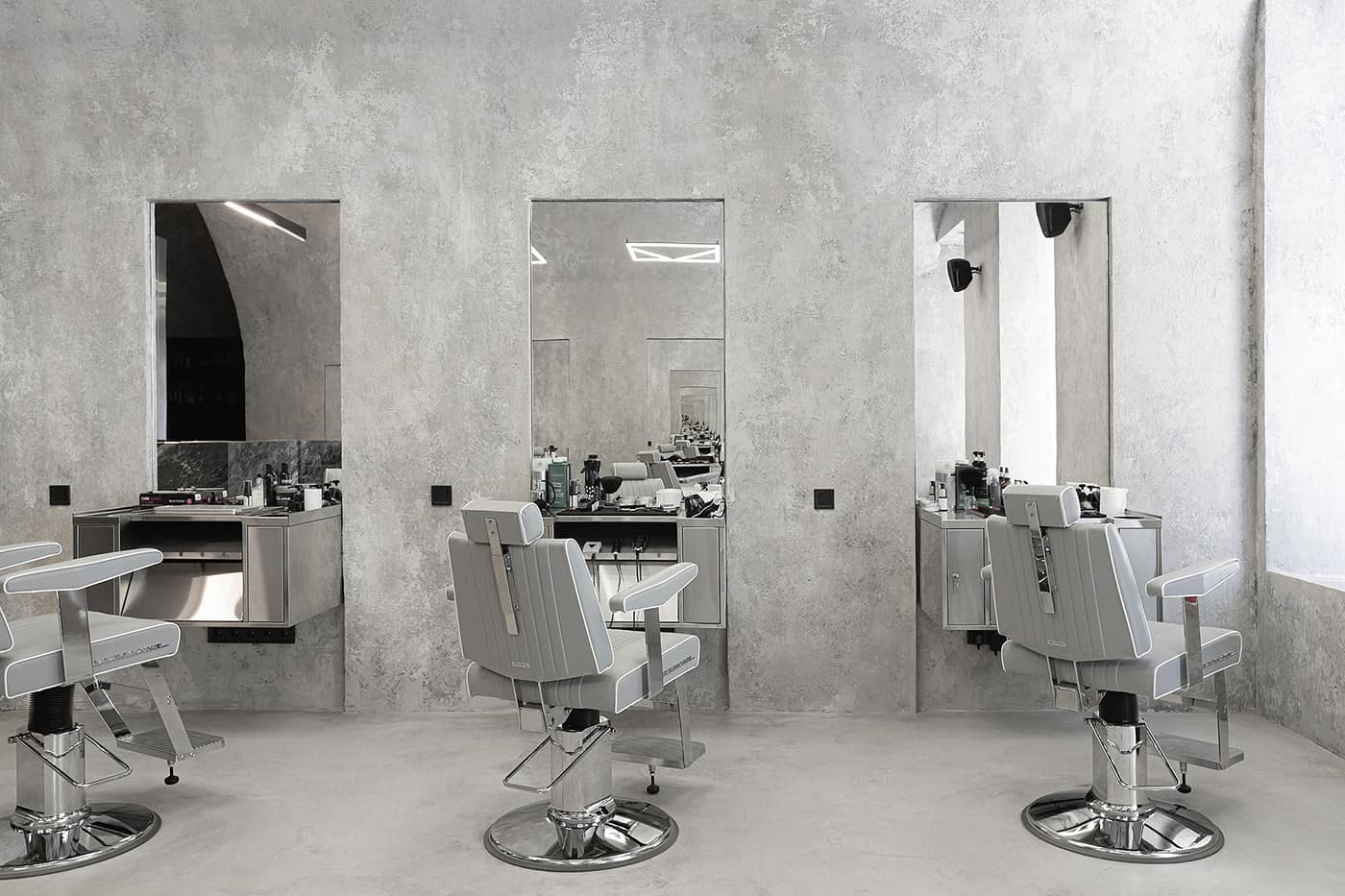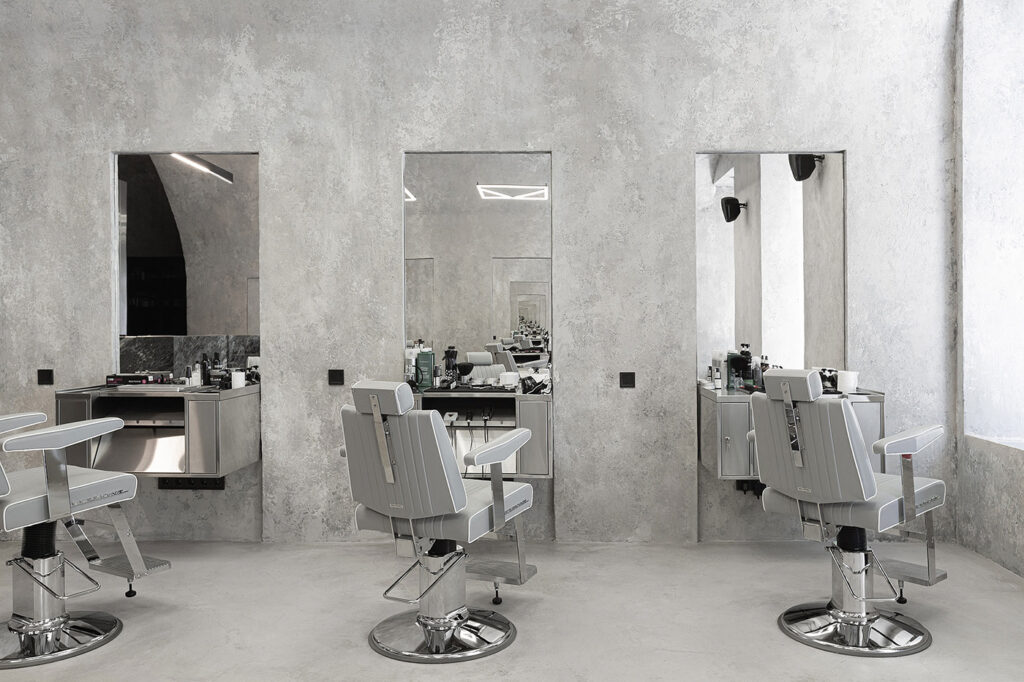 Doc's Barbershop, TaikooLi, Chengdu
Next, if you're looking for a barbershop that is more relaxed & comfortable, Doc's Barbershop is for you.
With a casual vibe & lounge-style layout, this is a perfect place to hang out with the boys, grab a drink, & get a new cut that will have you looking fly. It incorporates the more vintage style of having a bar in the center of the shop to allow you to let loose & just chill. Seriously, do you know of any other barbershop that has a bar?
Overall, this is a great place to get comfortable & pamper yourself with a fresh cut that will have all the heads turning. Like they always say; business in the front, party in the back (& I'm pretty sure they were talking about this place when they said that!).
Credit to Hannah Churchill.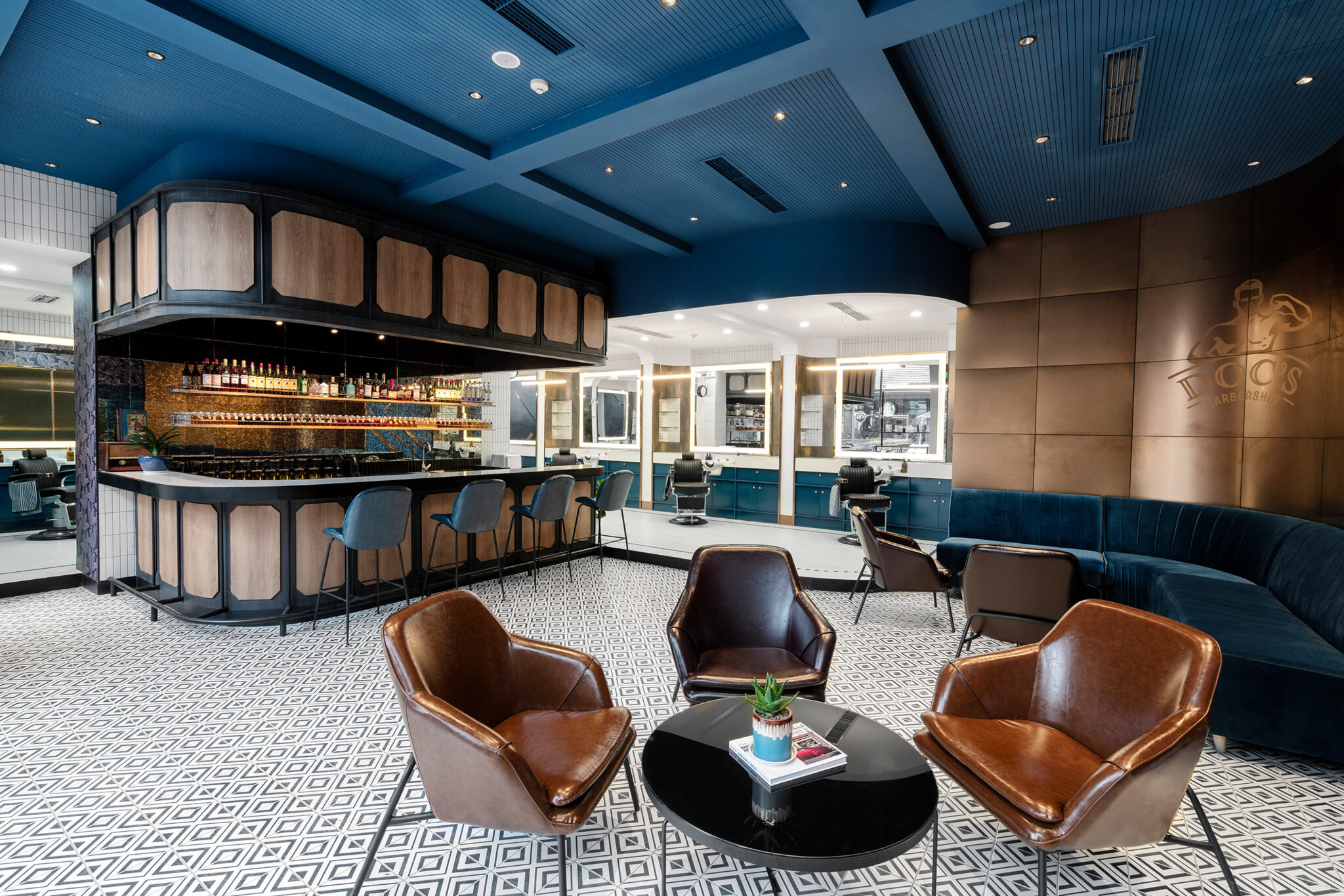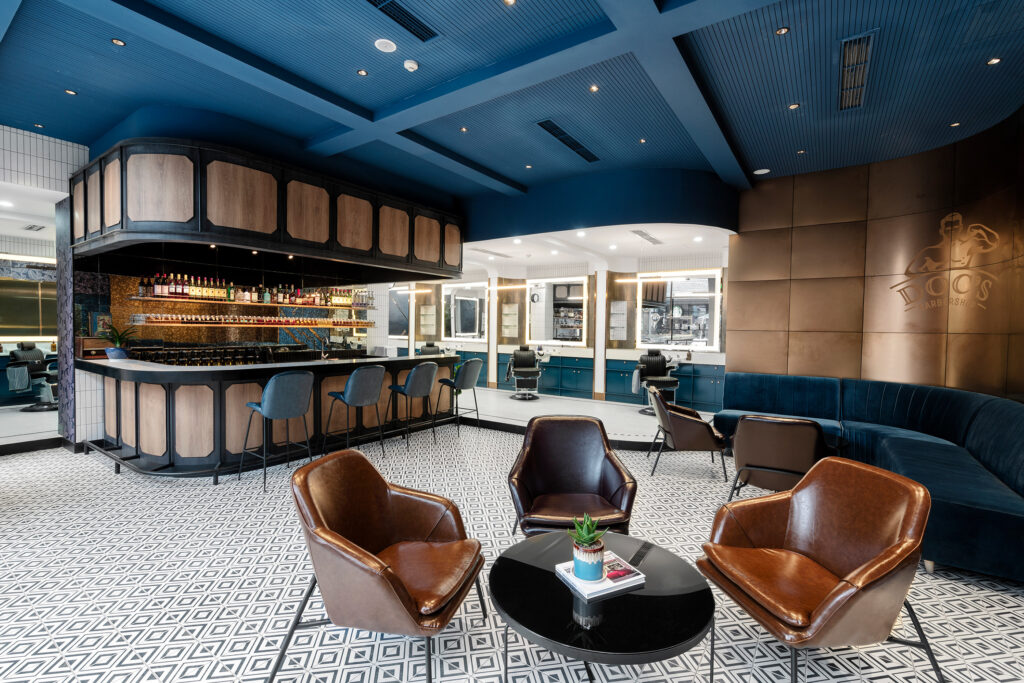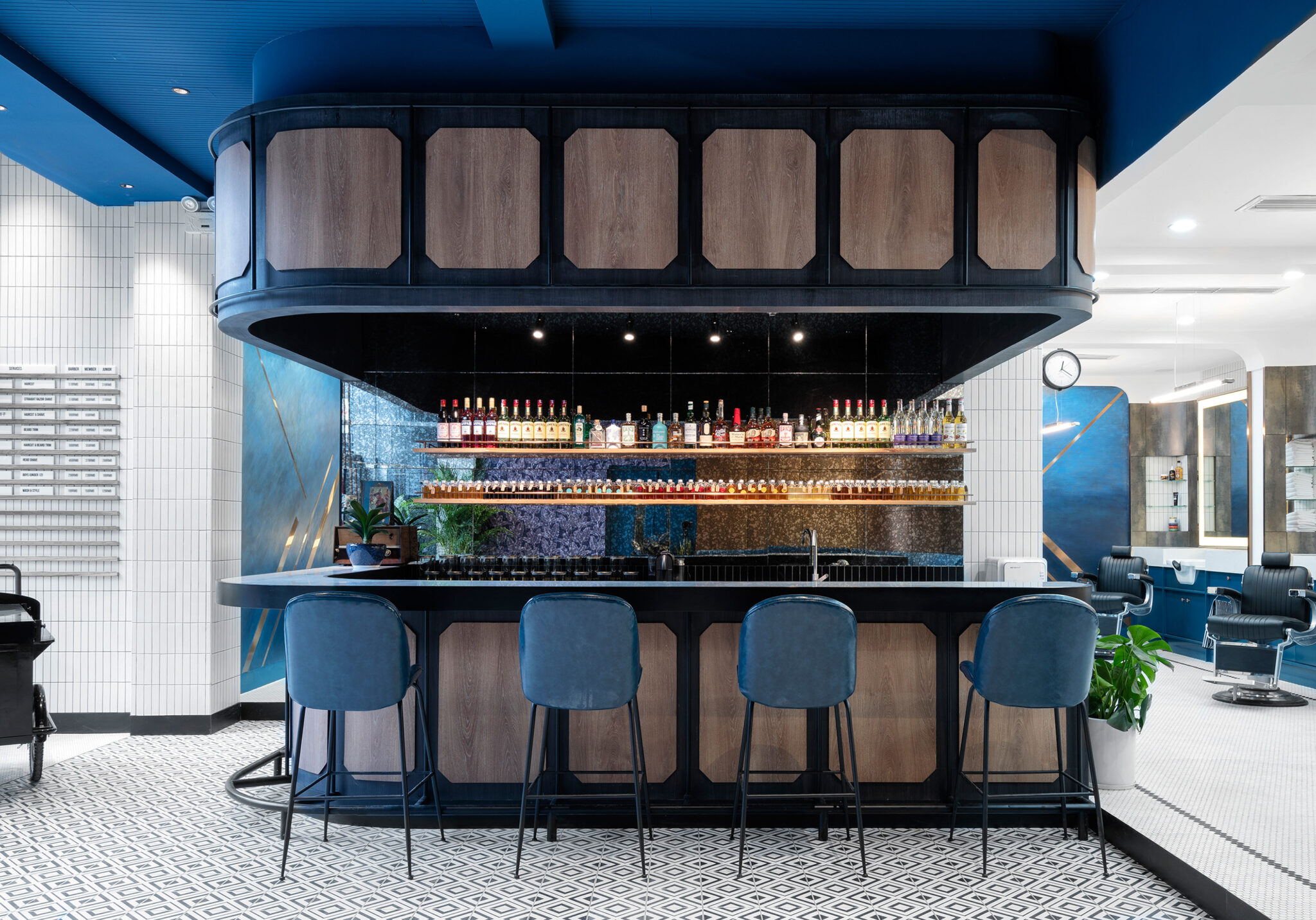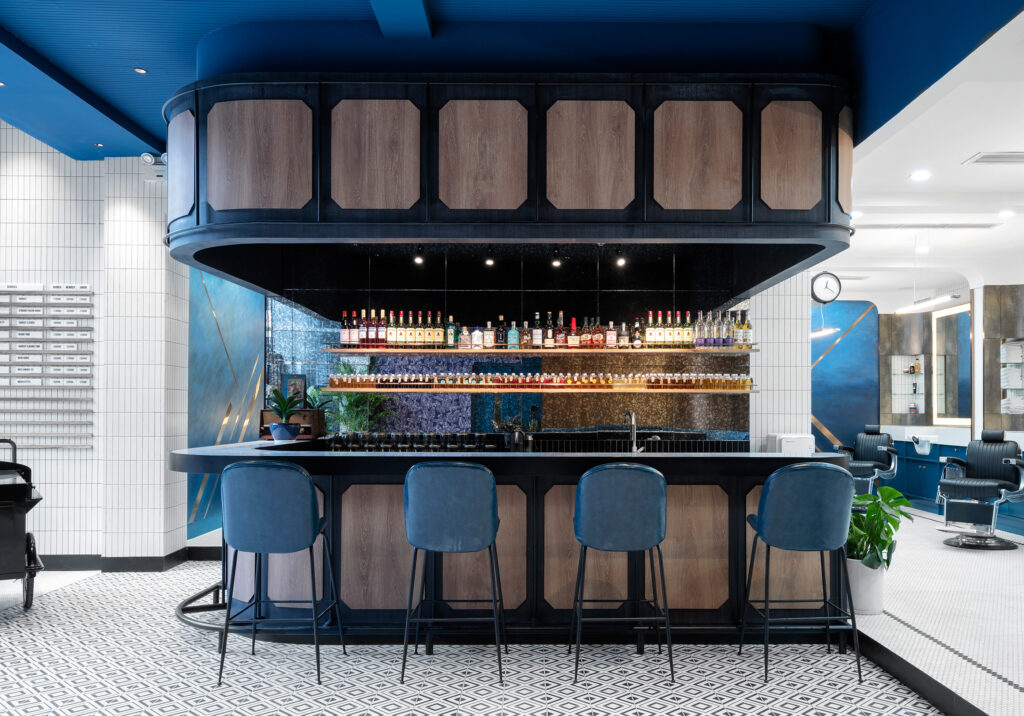 FÍgaro & Bartolo Barbershop
On the smaller side of barbershops, we have comfy Figaro & Bartolo. This simple & cozy cafe-style shop is the perfect place to cozy up for a new cut. This shop is an excellent inspiration for anyone looking to create a more comfortable atmosphere.
The color scheme of this shop is open, breathable, & inviting. The combination of dark on light helps to open the room & adds depth, even for such a small shop. And with their comfortable little seating area, this looks like the type of place you could just lounge.
Not to mention the added touch of old pictures on the wall. The sort of design always adds a homey sort of touch, & maybe even historic. It helps the place to feel more 'lived in' which ultimately becomes a more welcoming environment.
Overall, with just the right amount of modern & vintage style, you'll be comfortable visiting here any day!
Photo credit to JM Arquitectura.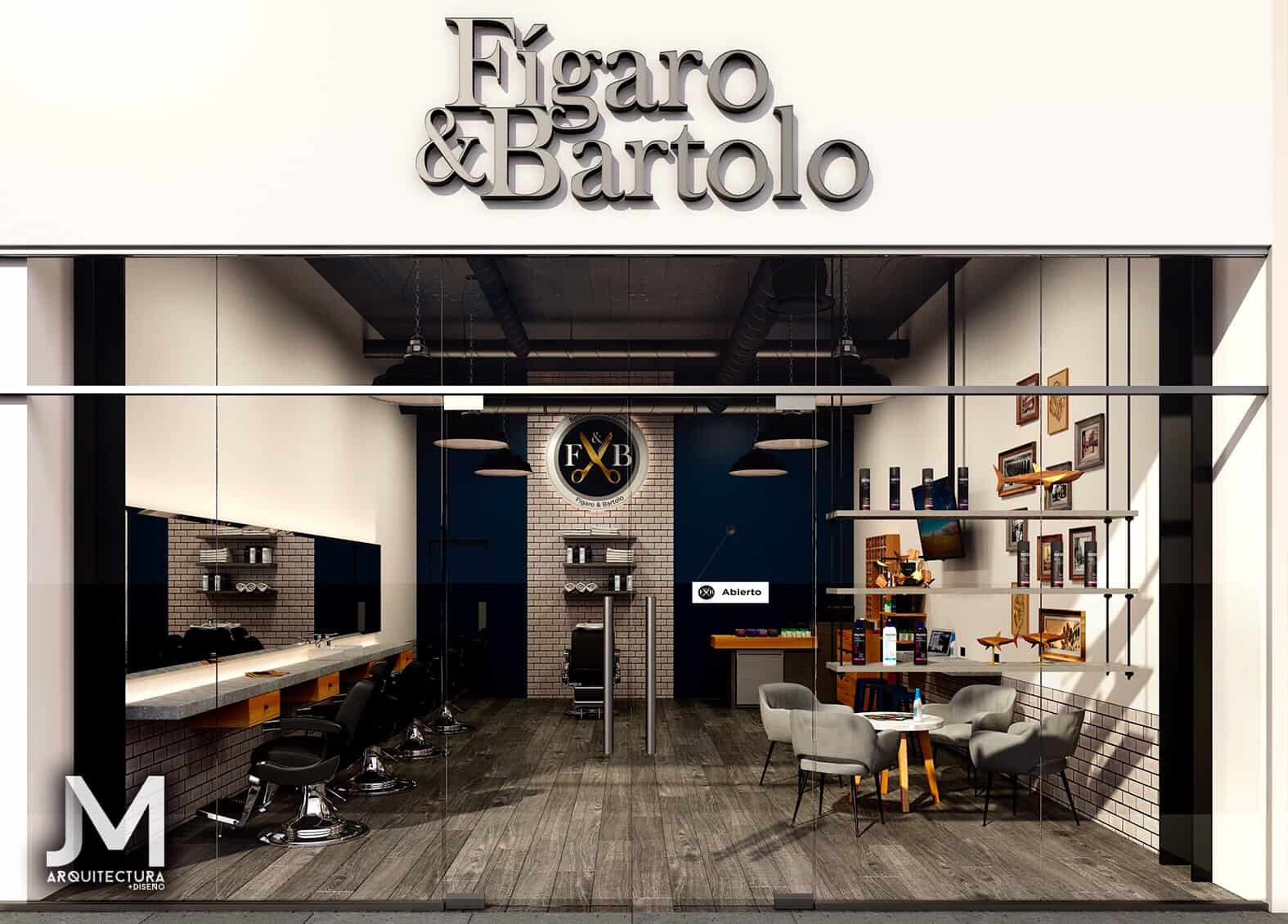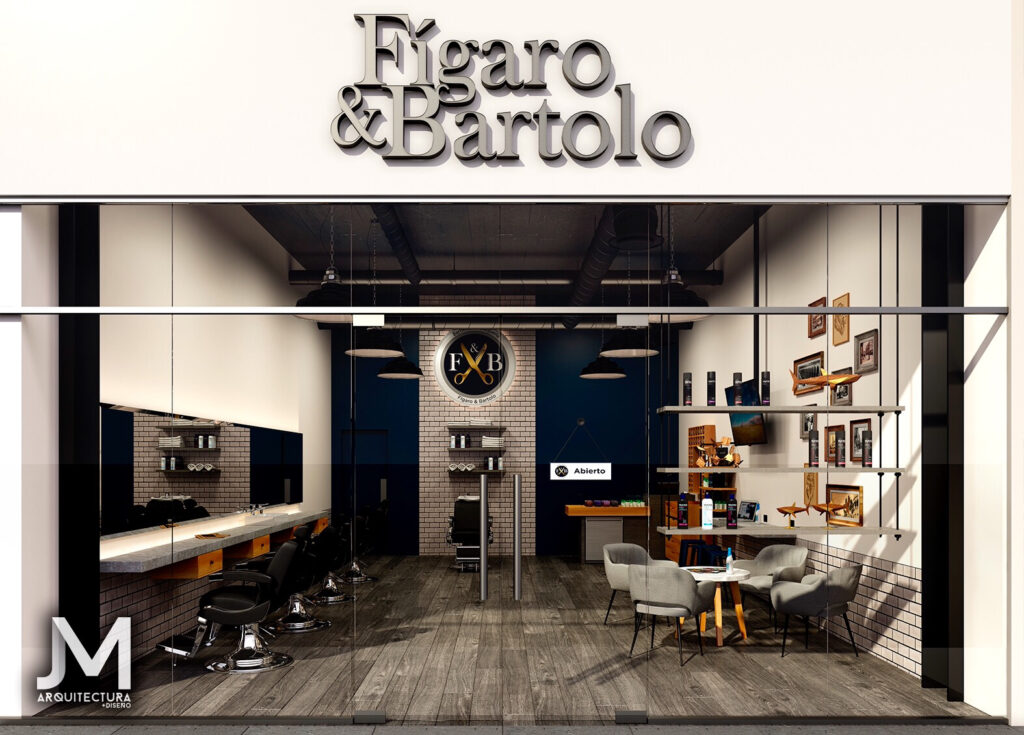 Ferrando Barbershop
Next on the list of cool barbershop ideas is the Ferrando Barbershop. My favorite part about this next barbershop design is the cozy wood decor going on. I don't know about you, but because of the level of comfort put into this layout, this barbershop speaks home to me.
Not only does the leather seating area & the wood combination give it a homey vibe, but it also gives it a total man cave feel. It looks like the perfect place to lounge with the guys & have a drink, so why wouldn't I want to go here?
From the reclining barber shop chair designs to the dark lighting, the tiled walls, or even the guns crossed on the walls. This barbershop has the perfect masculine touch to appeal to all men.
Credit: B_arts_Design.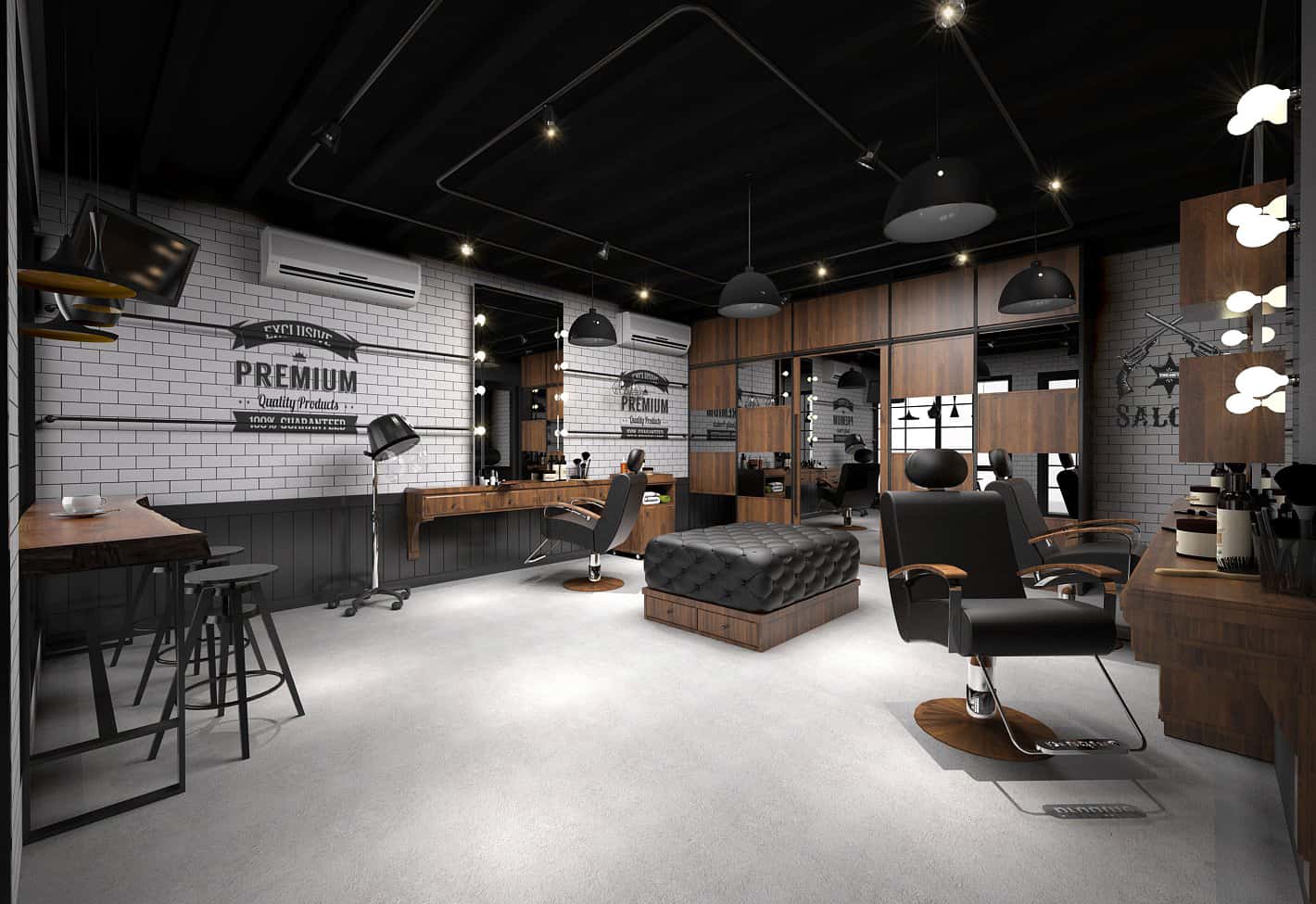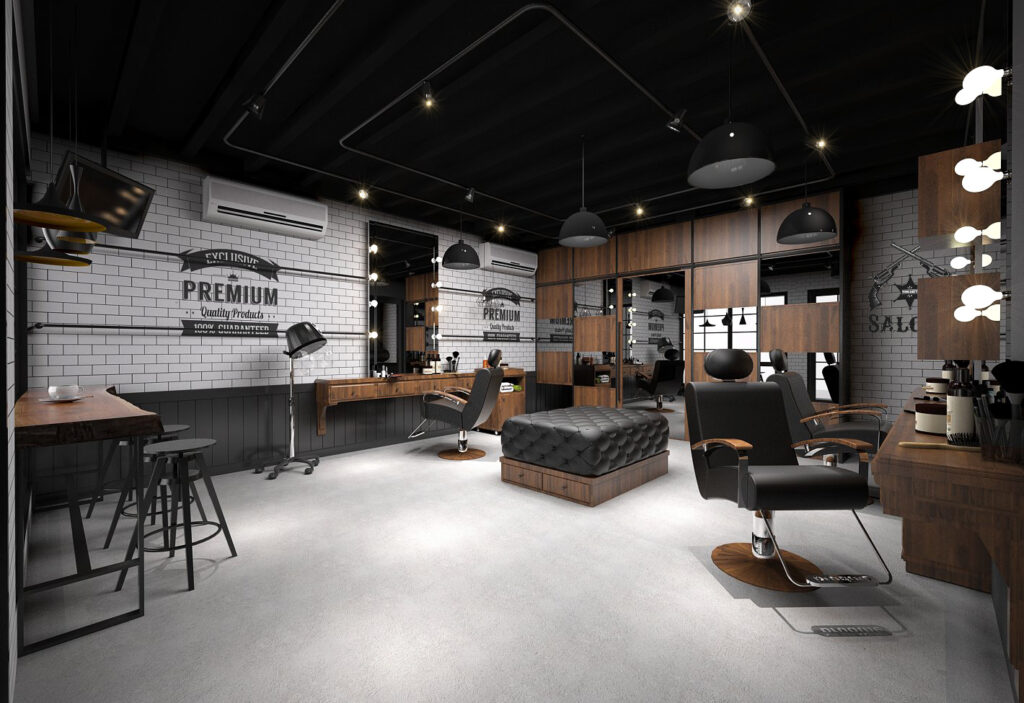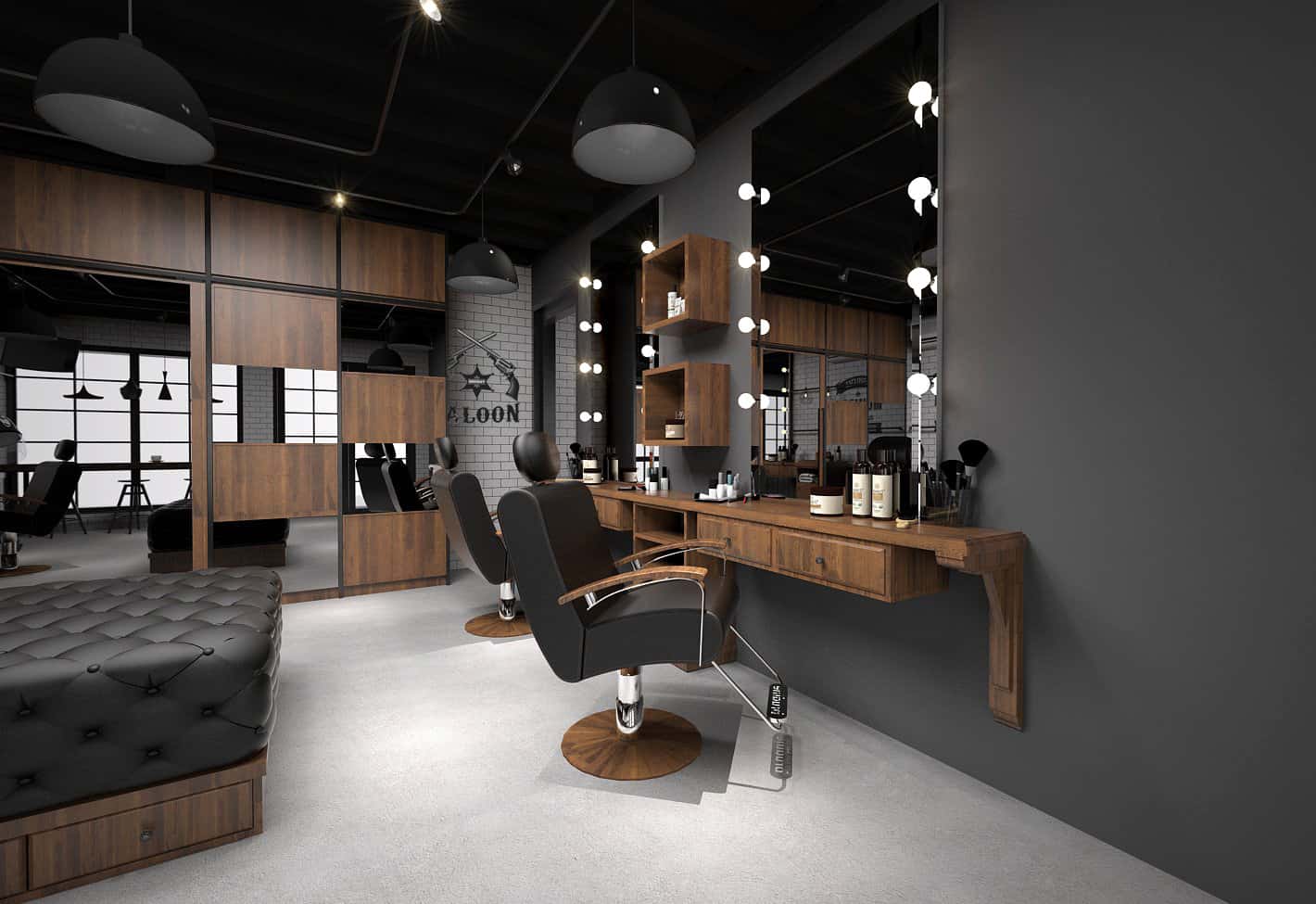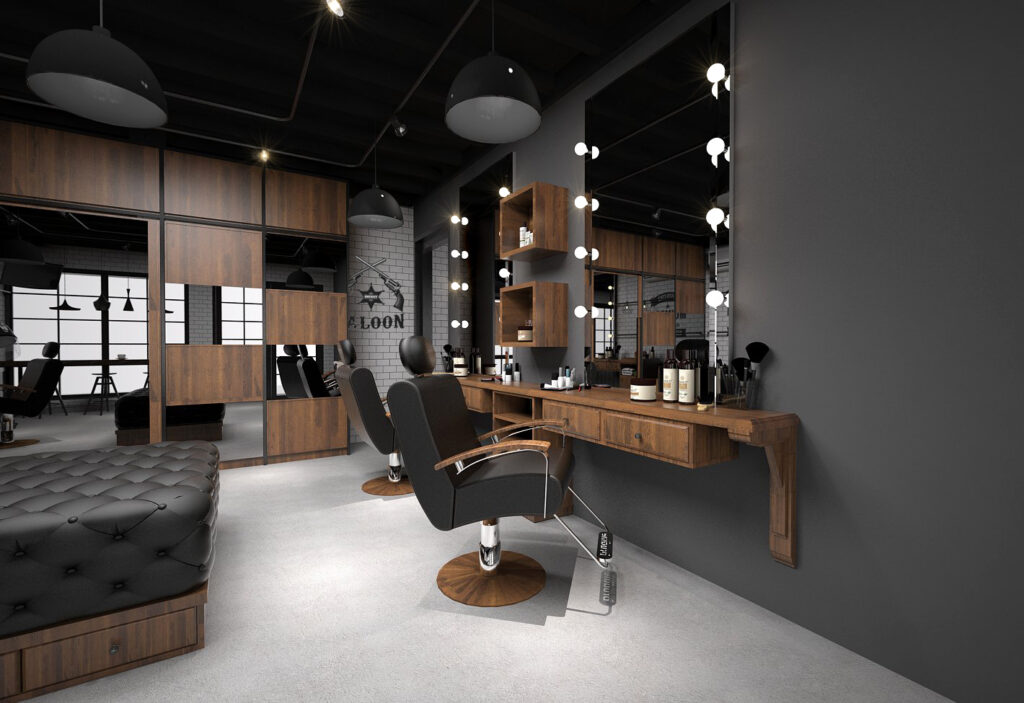 Barbershop 221B
Another cool barbershop idea is the simple 221B Barbershop. With the paint job, walls, & setup creating a gym-type of vibe, this is an excellent place to get to business.
My favorite touch is the color scheme; black, grey, and red. It's simple but catches your eye and compliments the setup perfectly. Speaking of the setup; have you ever seen furniture like this? Its geometric design is lavish, luxurious, and exotic. It adds a more expensive look to your shop, even if it isn't so.
Clean, aesthetically pleasing, and comfortable – barbershops don't get any better than this!
Credit: Karatseva/dzilihova DESIGN.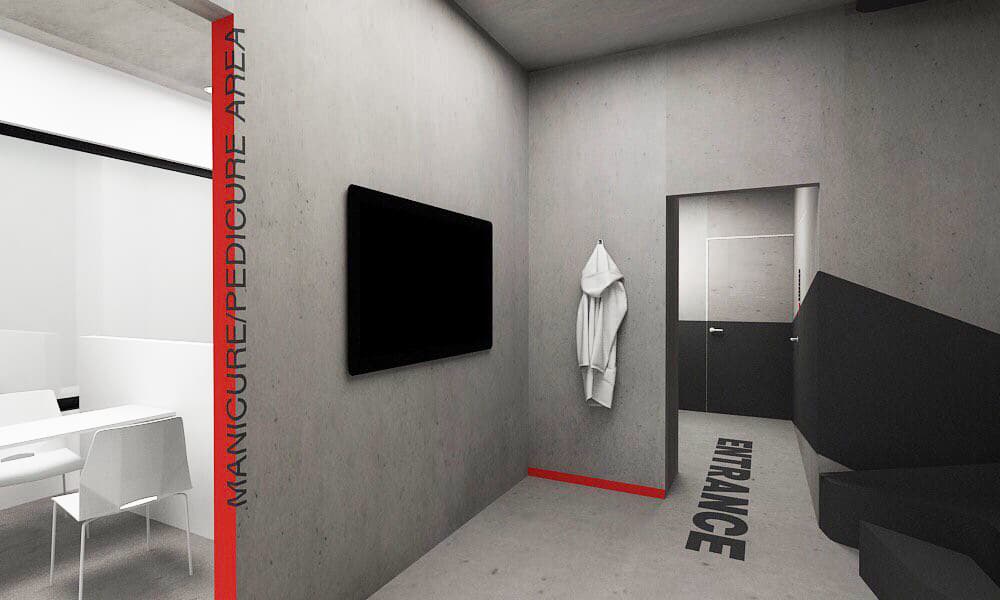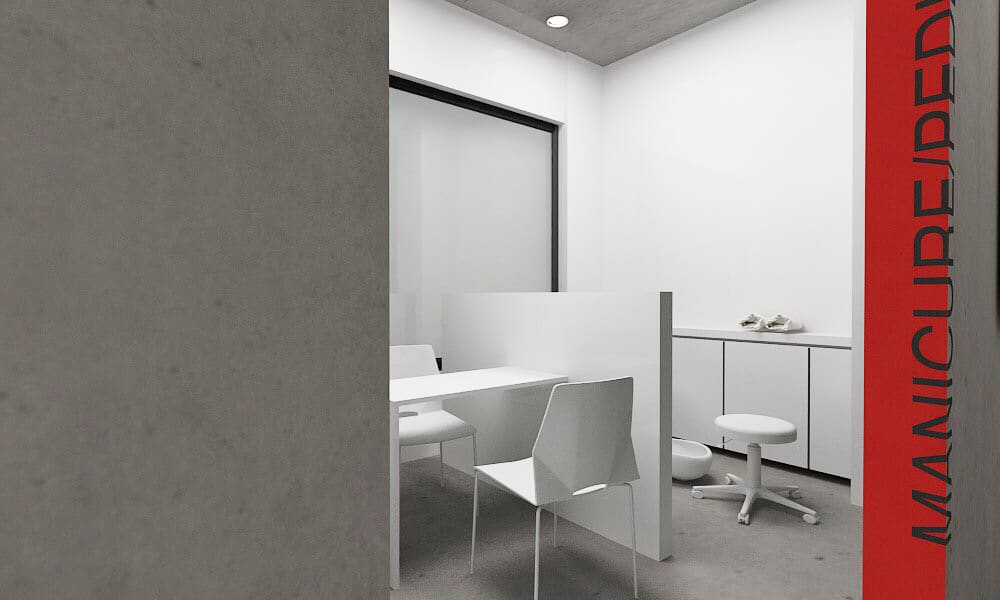 Walls Barbershop
Next on the list of barbershop design ideas is the Walls Barbershop. This quaint shop is full of tons of barbershop inspiration. Everything from the seating area split with the wood-framed mirrors in the center of the room, to the intricate all-black wall with stunning art, or even the plain and simple wood panel lining.
Although, my favorite touch is definitely the client area behind the front desk. I love the idea of walking to a separate room that's hidden directly behind the reception area. It keeps the shop organized and clean, not to mention, a sense of mystery.
Professional, clean, and creative – it doesn't get better than this!
Credit: Wacho Espinosa.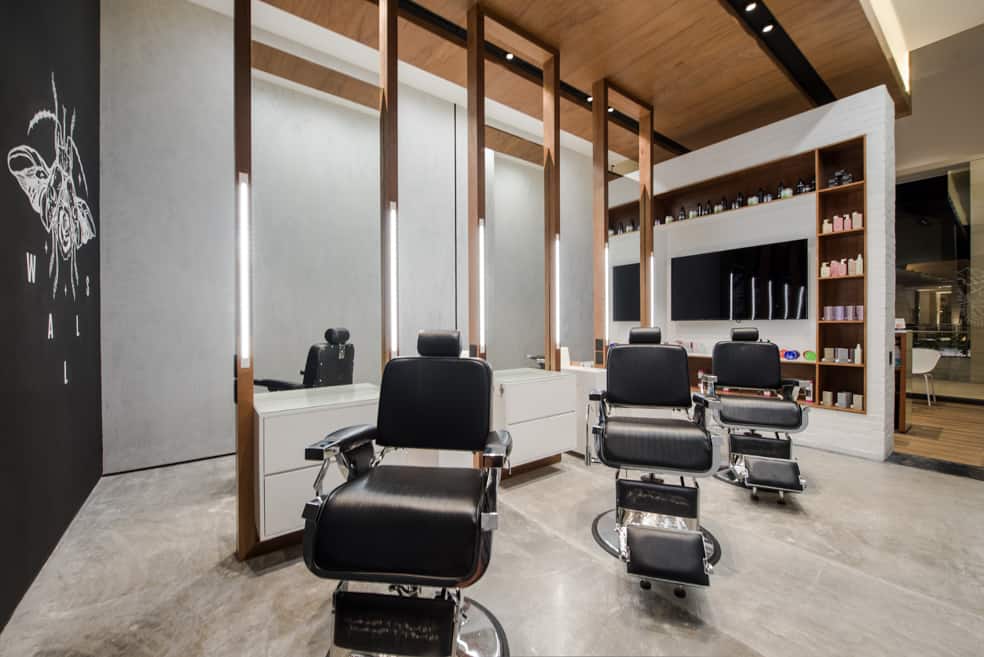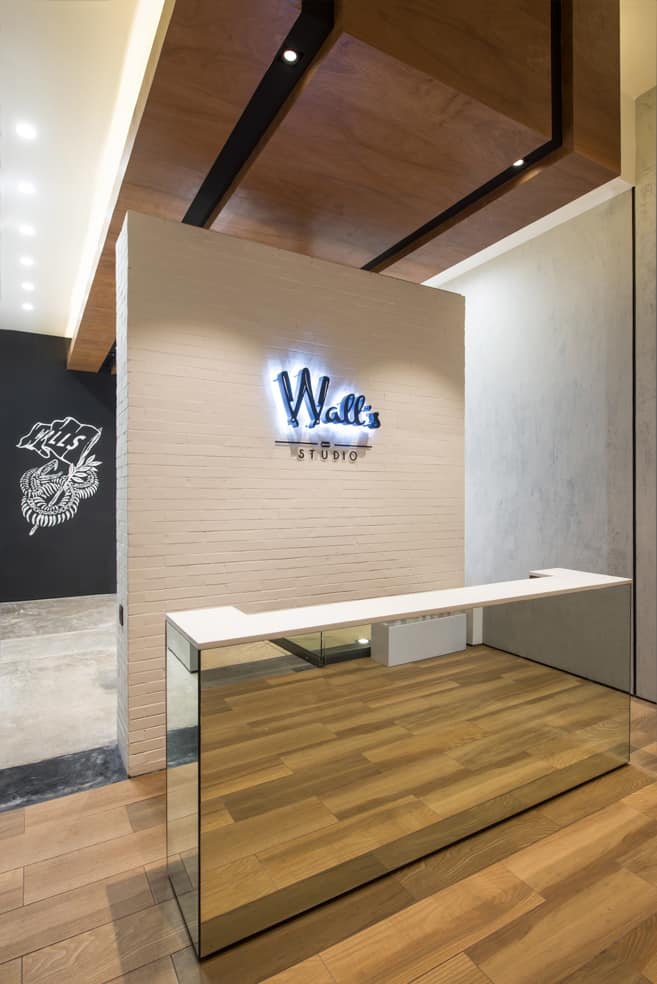 Barbershop Chop-Chop
Barbershop Chop-Chop is another small & simple barbershop design that would be a great addition to your own. With a more office-style atmosphere, this barbershop interior design takes the elements of business & professionalism & turns it into a clean environment with modern elements.
My favorite touch is the changes in design on each wall. One is grey, one with wood, & one with cement. The color scheme of light to dark transition complemented with dark furniture and a dark bottle display creates a strong accent to the room that is not only flattering but also comfortable. Not to mention, the wood aspect of the room helps to wake the room up and give it a more focused display.
Overall, I applaud the ability to create such a transition so smoothly within a room and think this is a great shop to take inspiration from.
Photo credit to Кирилл Колесников.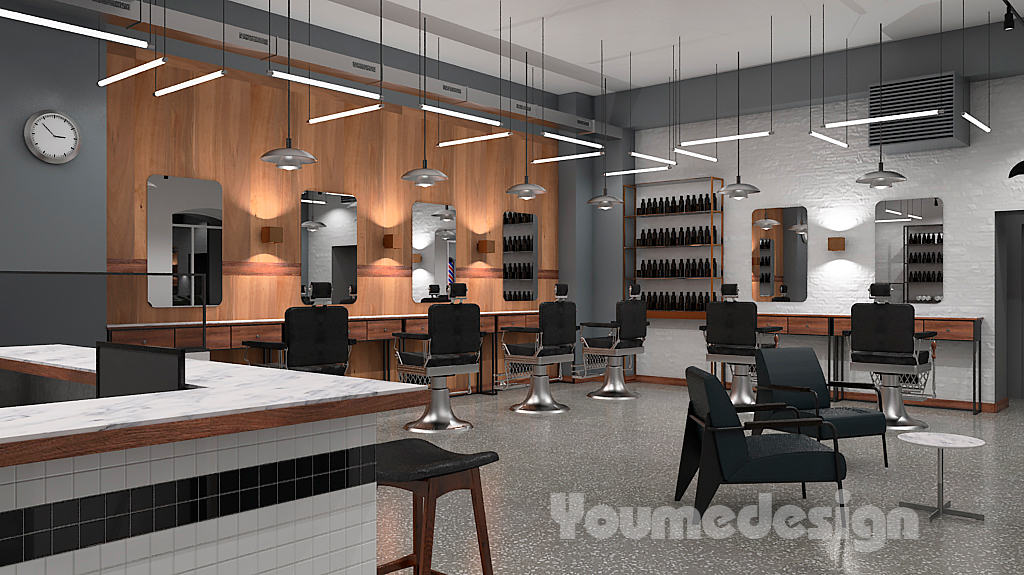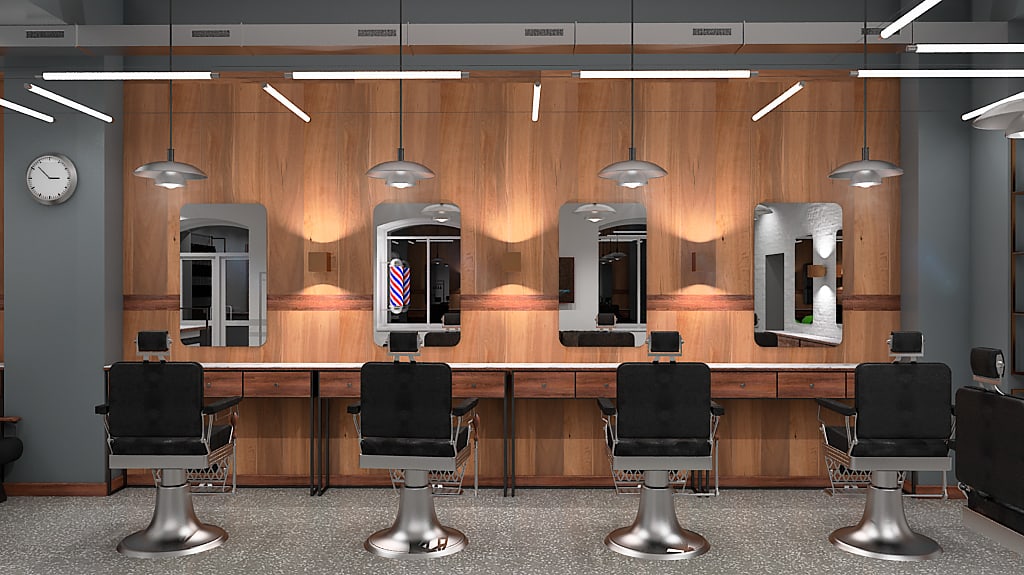 Libro Dry Bar
This next barbershop takes comfort to the next level.
With a loft feel, this modern barbershop design incorporates comfort with a touch of modern professionalism. Meaning, it's the perfect place to relax, yet get down to business. Honestly, its layout feels more loungey or homey than anything else.
Also, can we talk about these mirrors? And these retro-style chairs? Or even the black & white tiled flooring? Talk about a blast from the barbershop past and a great compliment to such a modern design.
Comfortable, chic, and the perfect place to get a cut if you're looking for a plethora of modern decor.
Credit Nadia Kotishevskaya.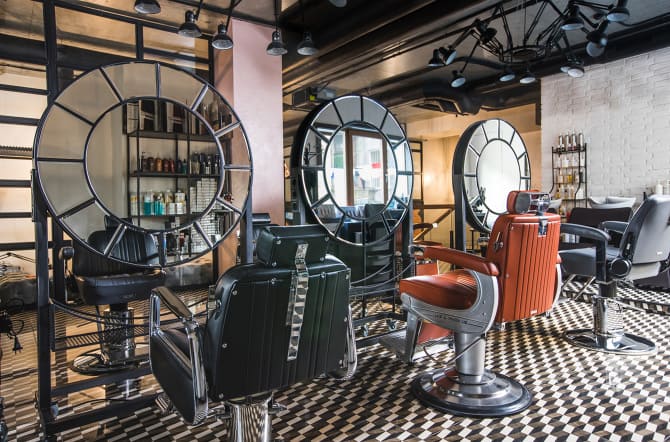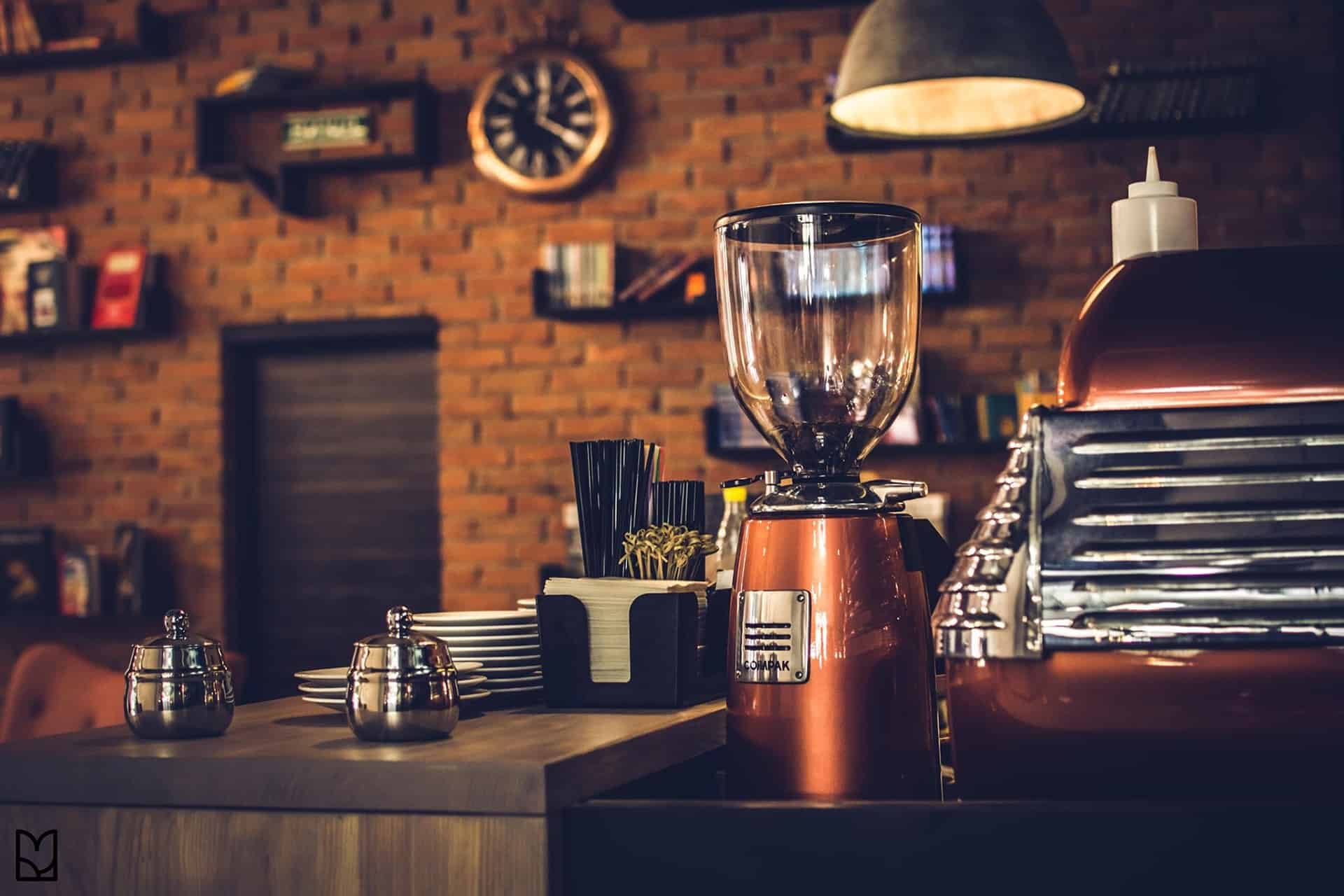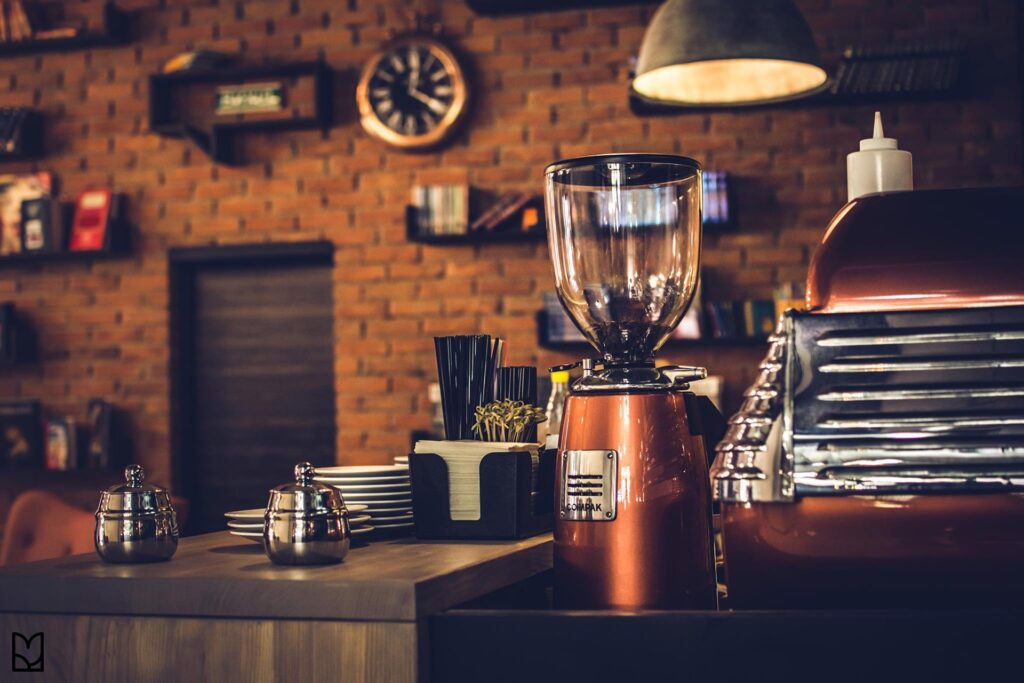 Men's Club "Esquire", Minsk, Belarus
Next, The Men's Club takes barbershop designs to the next level. With a nature-inspired theme, you'll feel like you've entered a world of magic while you're here.
Perhaps the coolest part of this enchanting, nature-themed design is the trees representing barbershop poles. What a creative way to use pillars in such an adventurous design! Not to mention, the color scheme of dark and mysterious complemented by simple fairy lights gives a more authentic feel to this quiet woodsy design.
Although, with all of its many unique elements, the entrance stands out to me the most. With moss lining the walls that fade into the darker pillared ceiling with barbershop lights hanging that give the illusion of stars, it doesn't get any better than this.
Modern art pieces of plants and bones also add an attractive touch to the wall, allowing one to feel as though they were truly in the forest. See; it's truly the little things!
It's earthy, exotic, and unlike any barbershop, you'll ever see! Trust me, it's barbershops like these that keep customers coming back!
Credit: Teltsove Partners.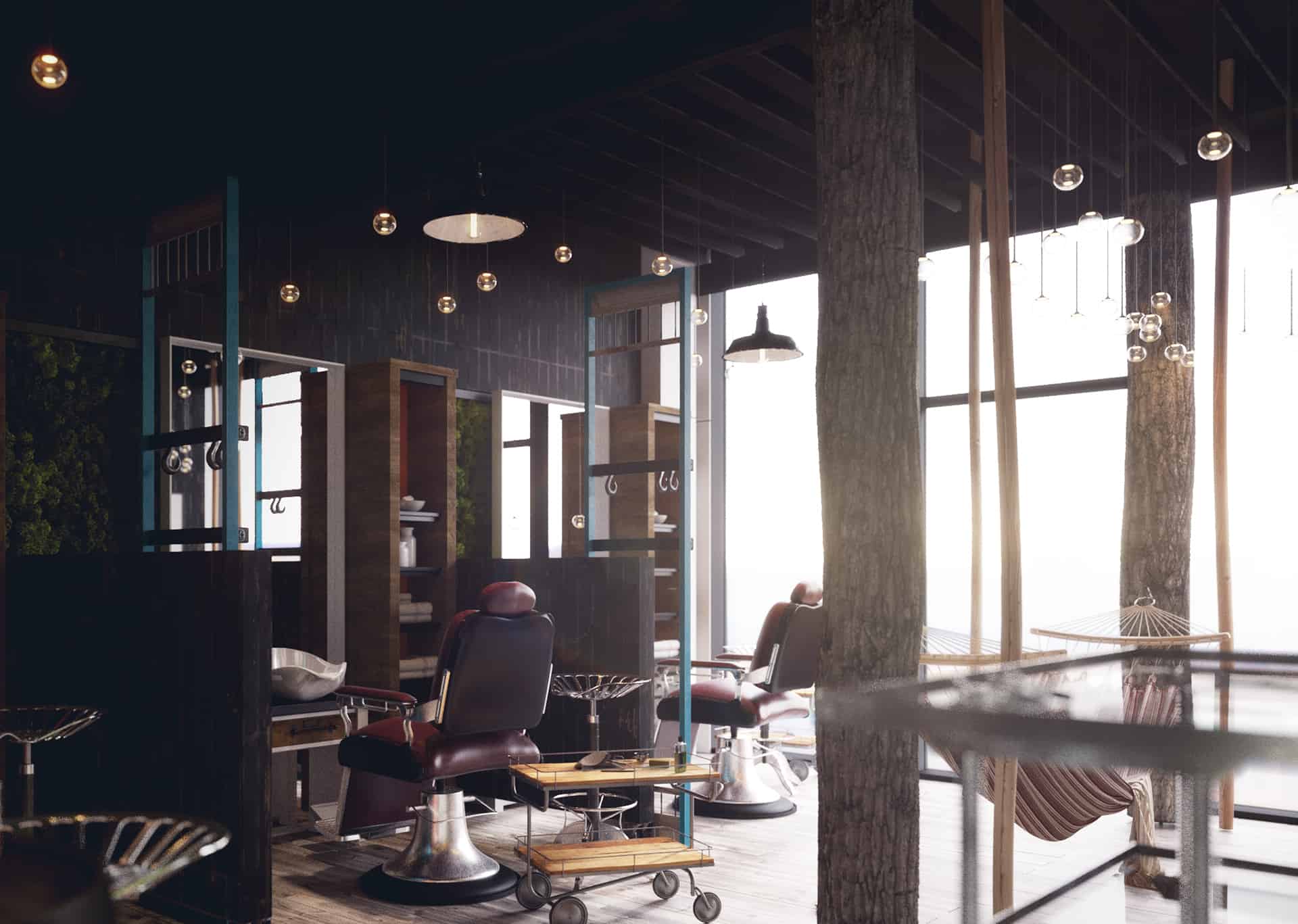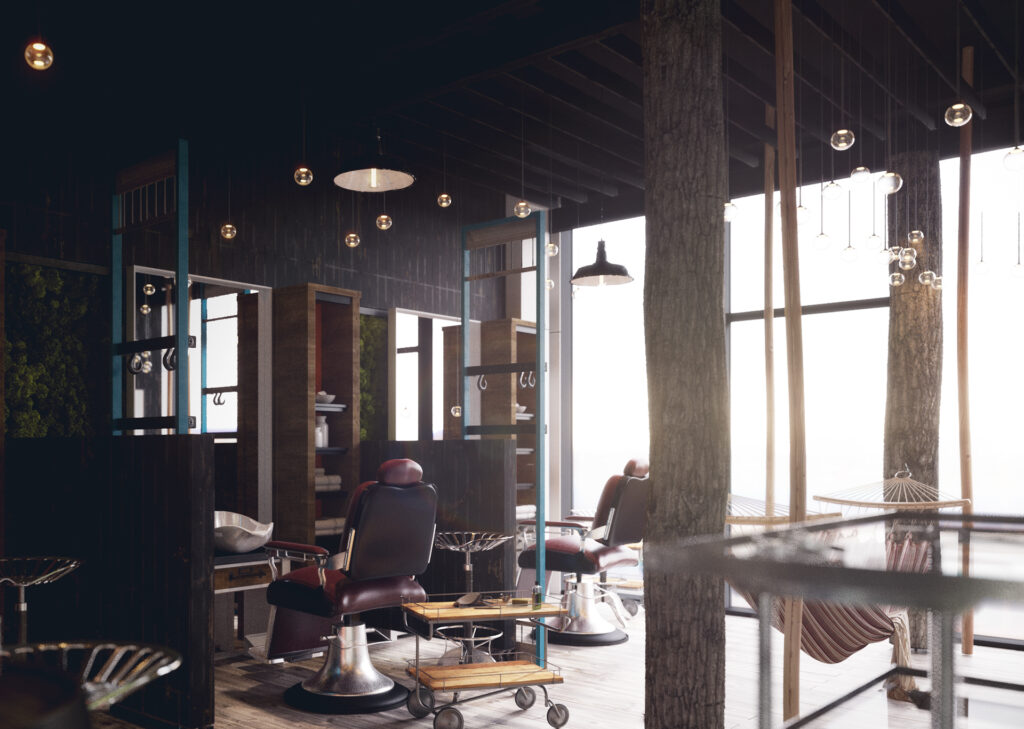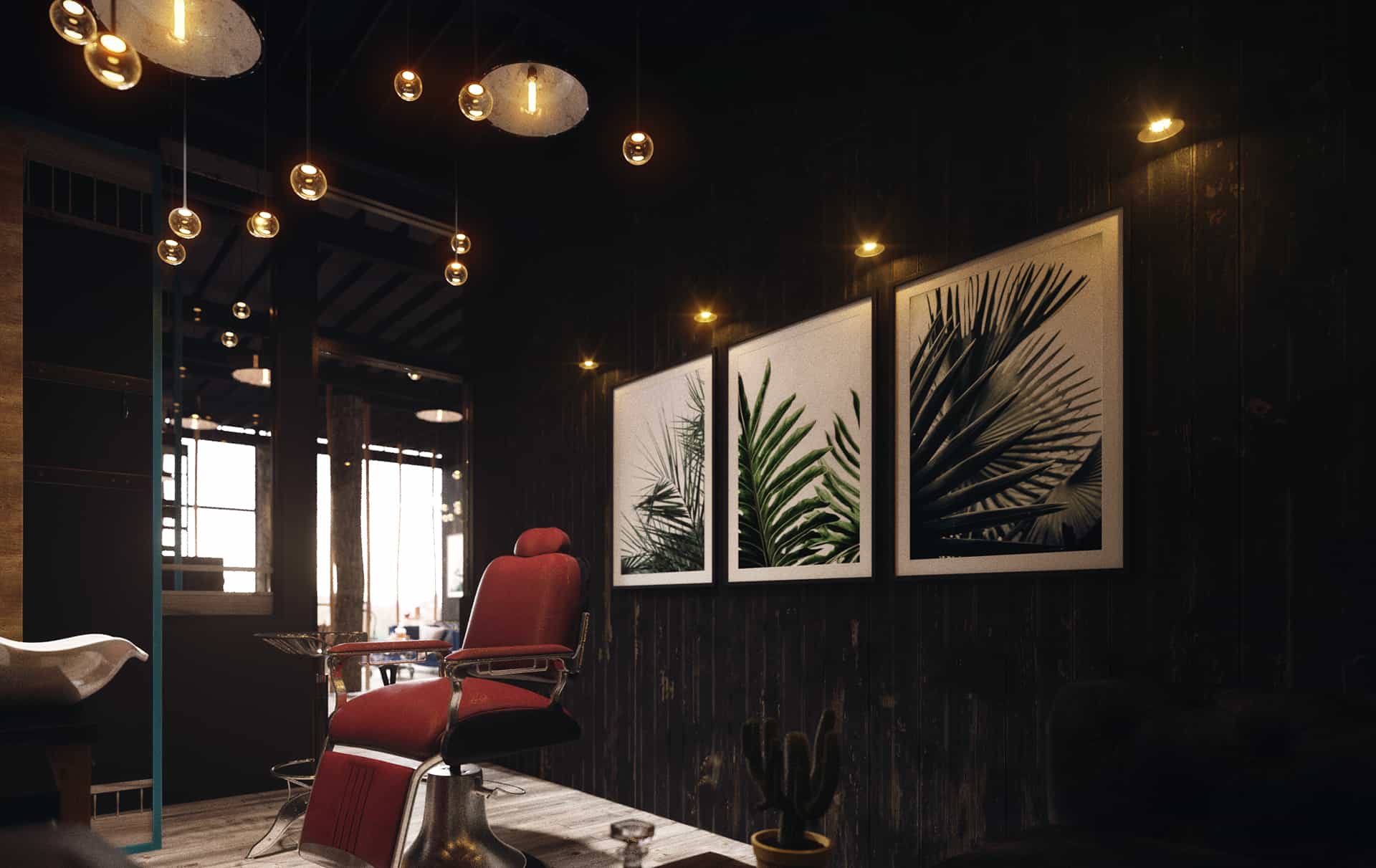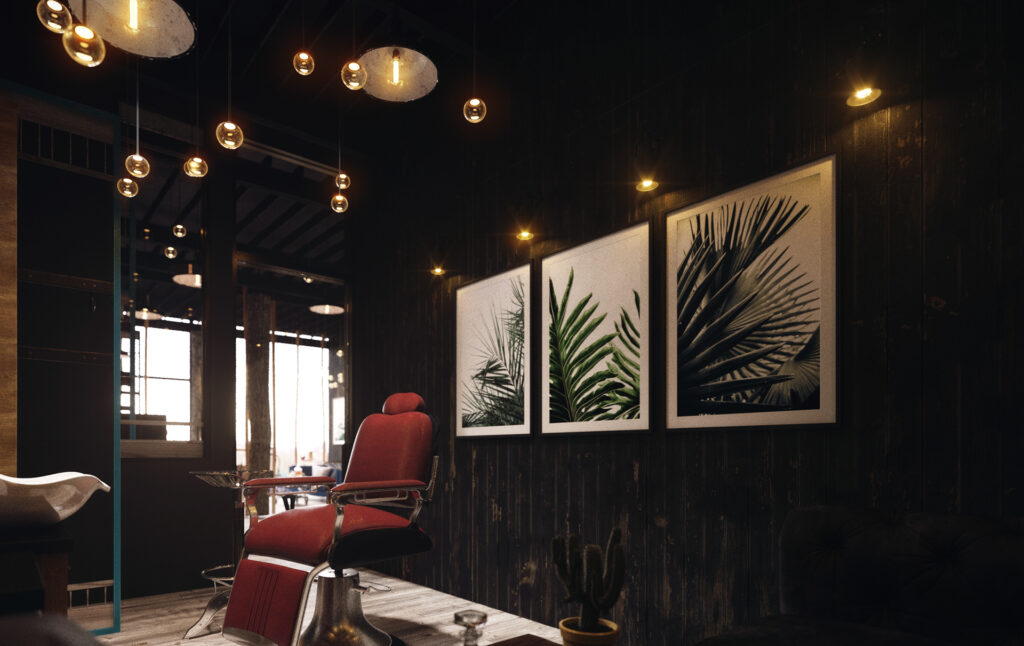 BRBS, Kyiv, Ukraine
When it comes to unique barbershops, BRBS in Kyiv, Ukraine comes to mind. This contemporary-style barbershop is anything but elementary. Offering a lounge-style design, you'll be able to kick back & relax upon every visit.
In this particular barbershop, I'm a huge fan of the fireplace idea. Although, this shop takes a turn on a traditional fireplace and lines the inside with faux candles for an added touch of elegance.
Although, the reception area is my favorite; full of luxurious and geometrical chairs that add to its comfort and luxury vibe even more so.
I also admire the bar-top front desk and wood plank barber table. It adds a touch of charm to the shop, don't you think?
Credit: Grynevich Architects.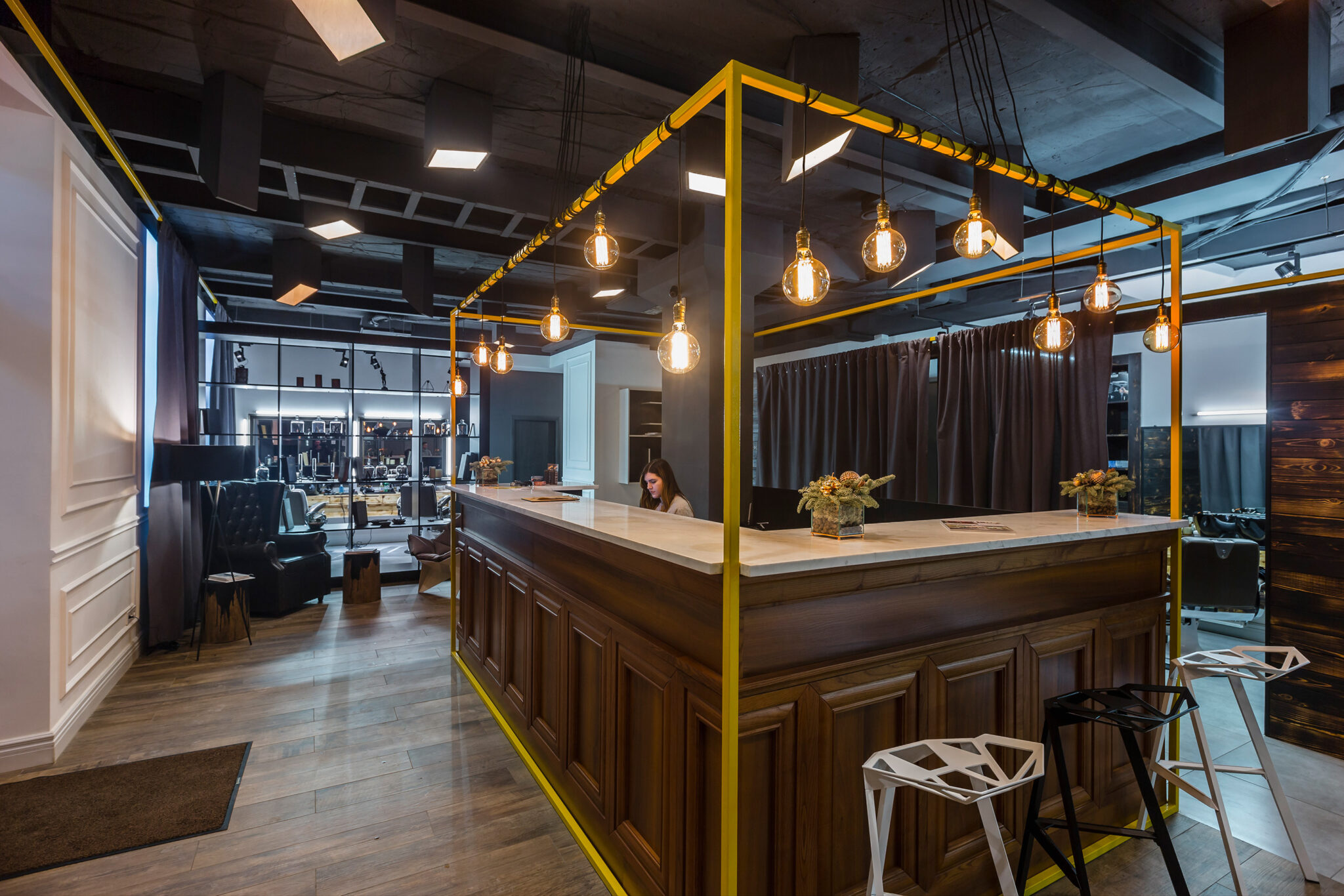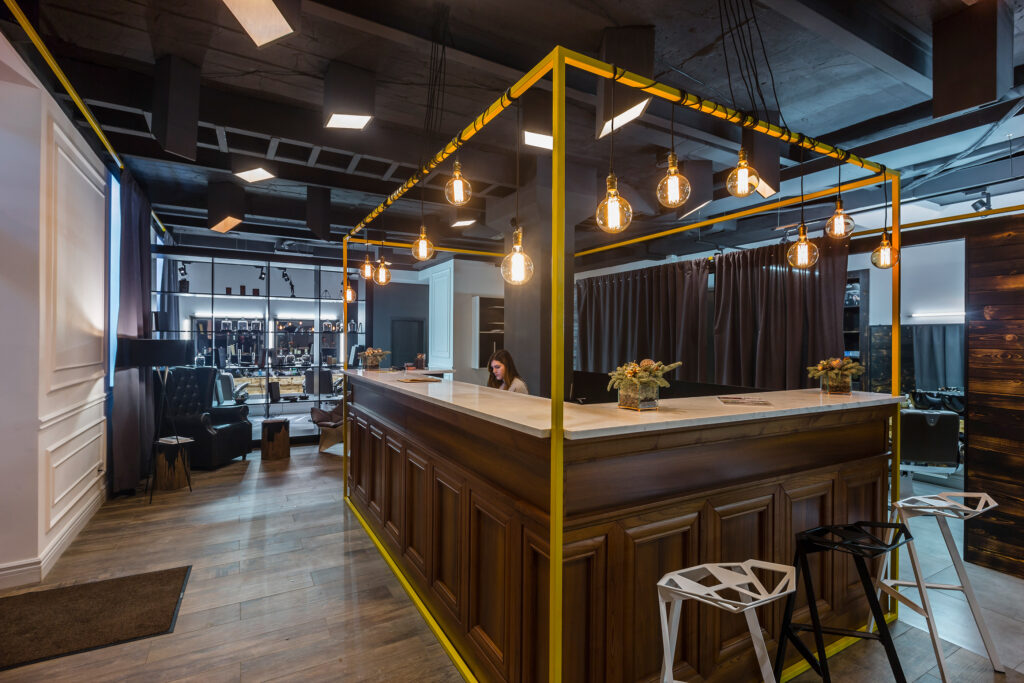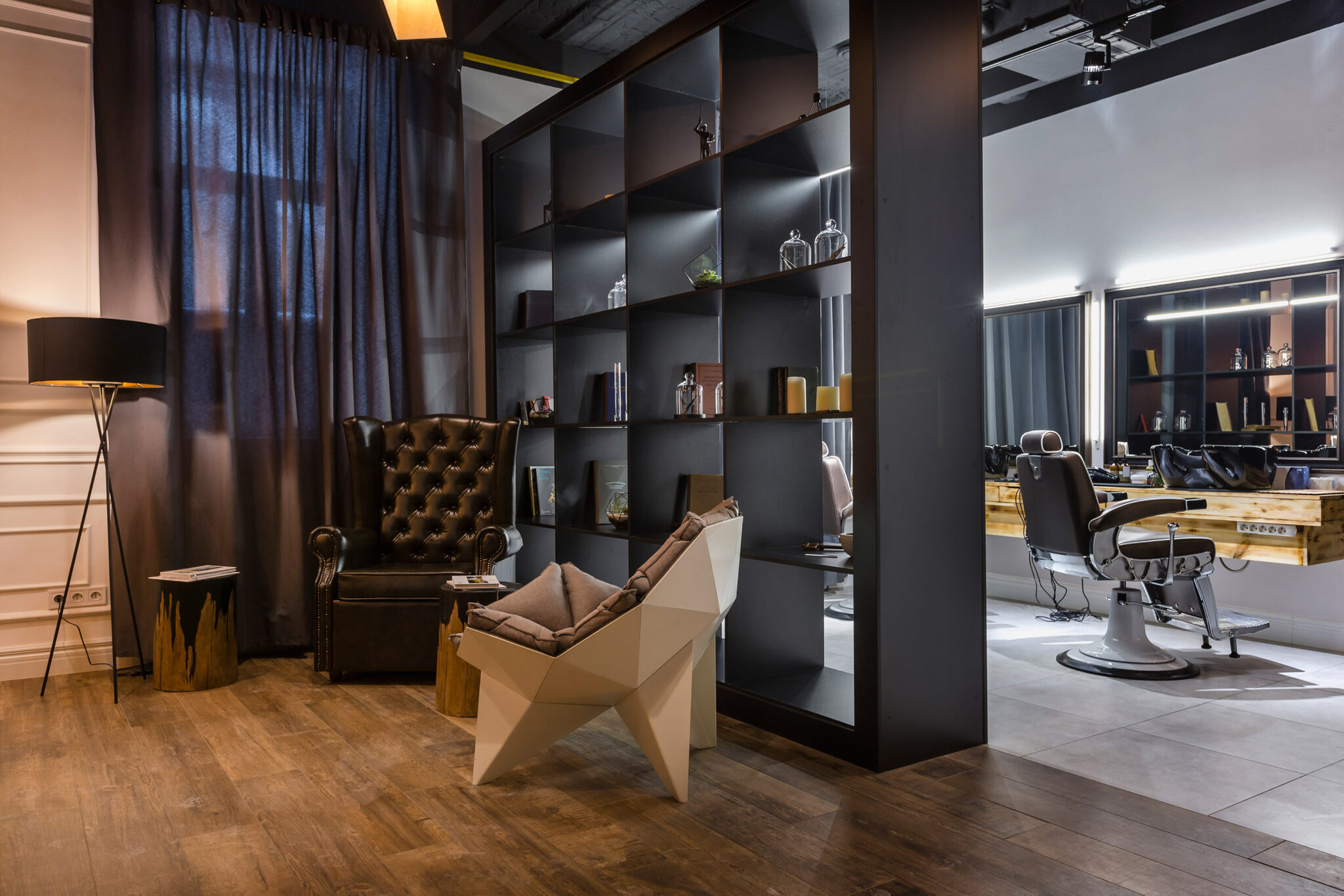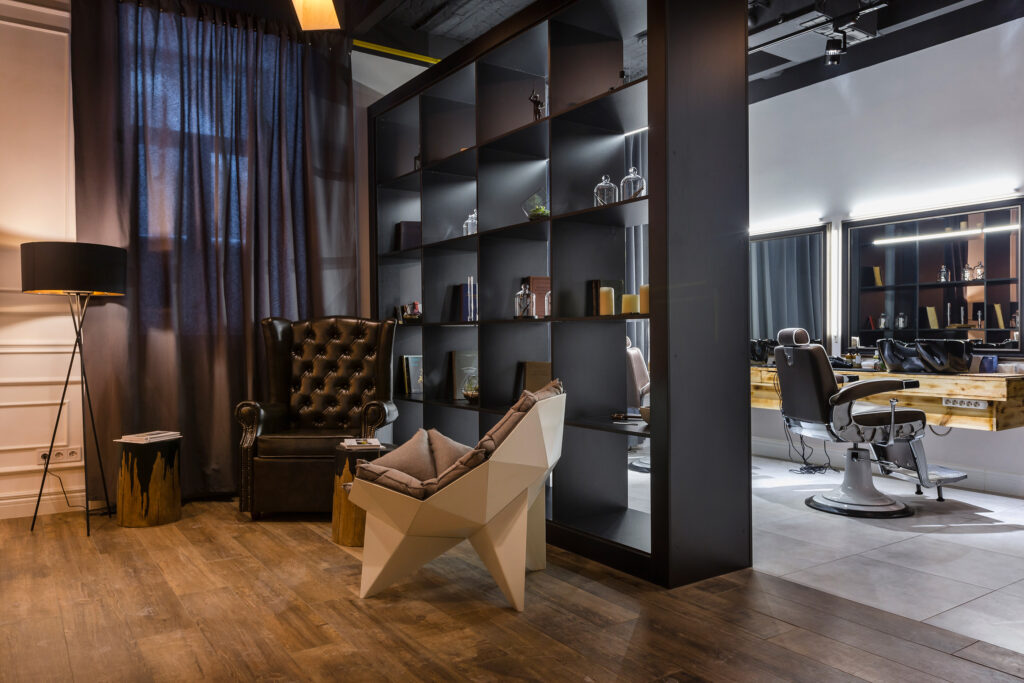 Classic Men's Barbershop
Next, taking on the underground layout design, this barbershop makes use of an antique building style with charming brick & cement walls. To me, this gives it the perfect touch of vintage and historic contemporary that is rare to find these days.
Aside from the vintage walls, what I most admire about this barbershop decoration is the combination of brick and hardwood, with modern-style chairs & wall decor. This design catches the eye easily & shows us how beautiful simplicity can really be.
Honestly, this is barbershop has the perfect balance of modern and vintage.
Credit: Workspace Architects.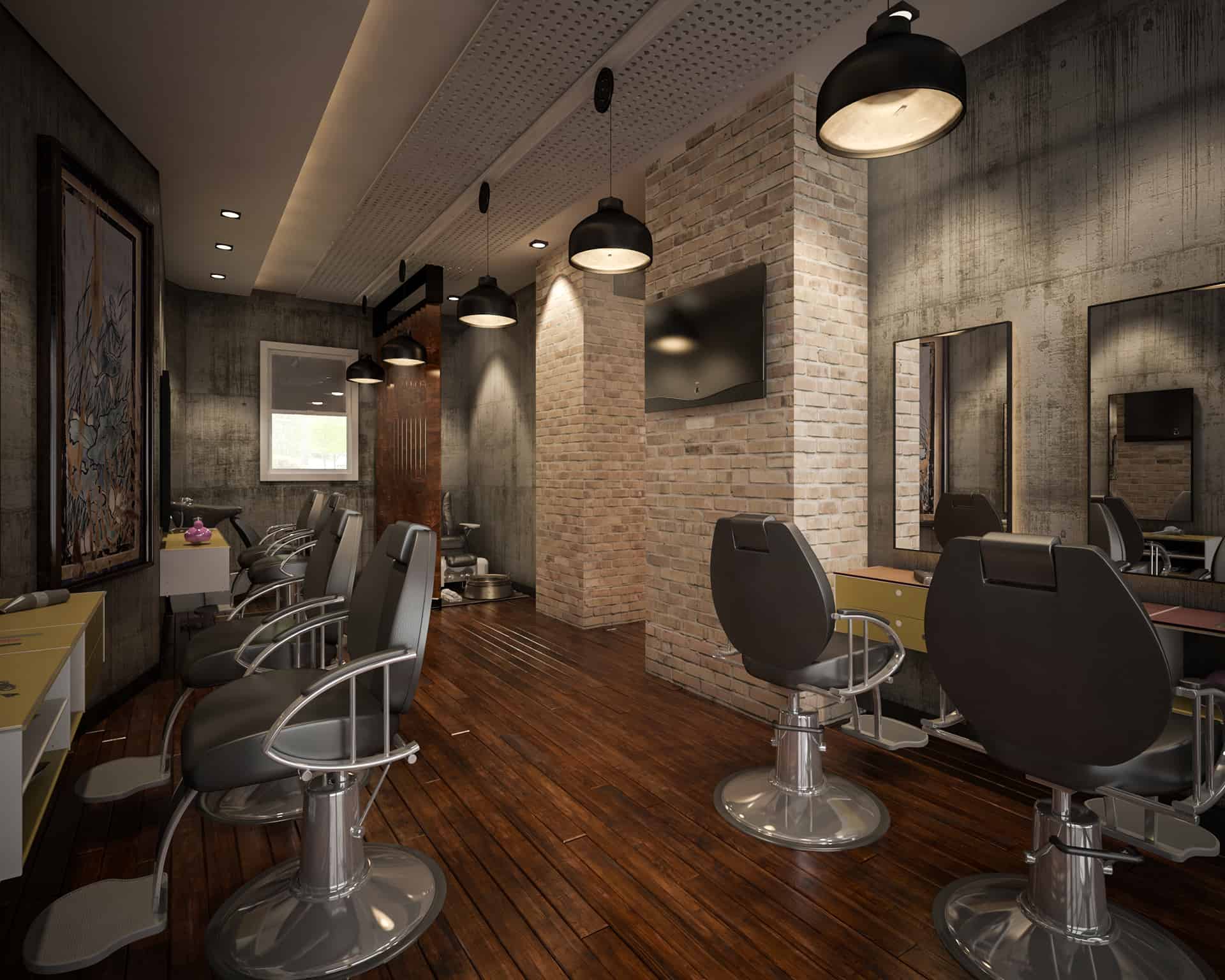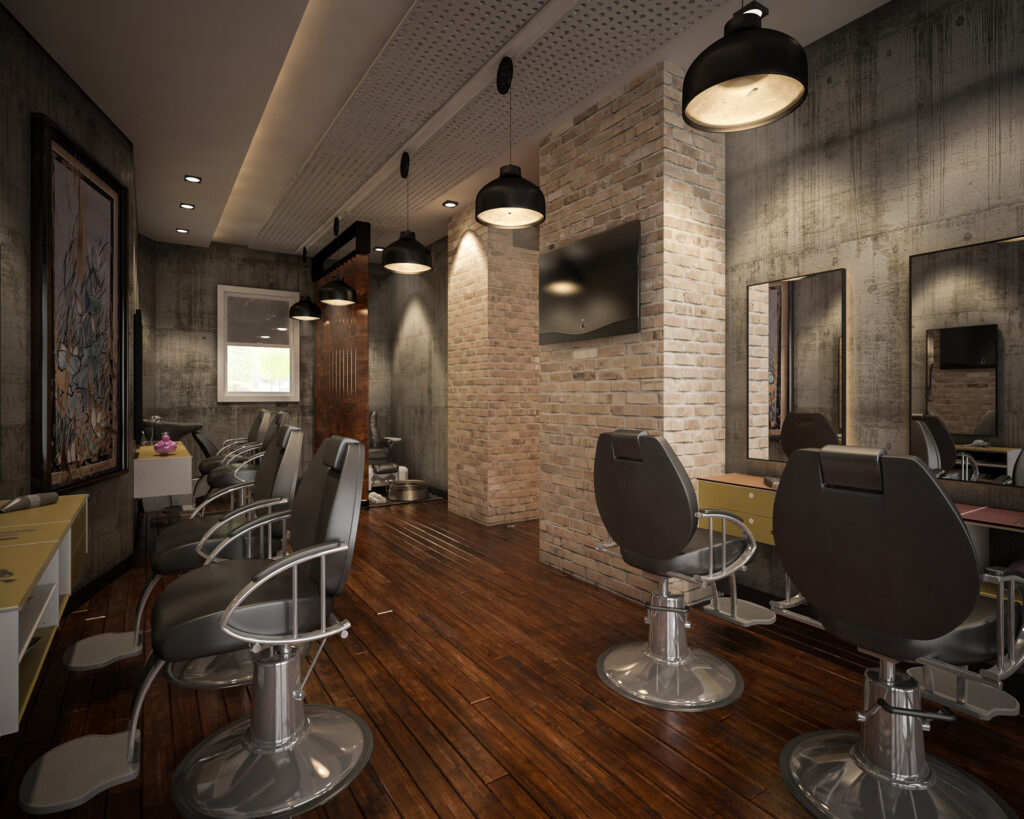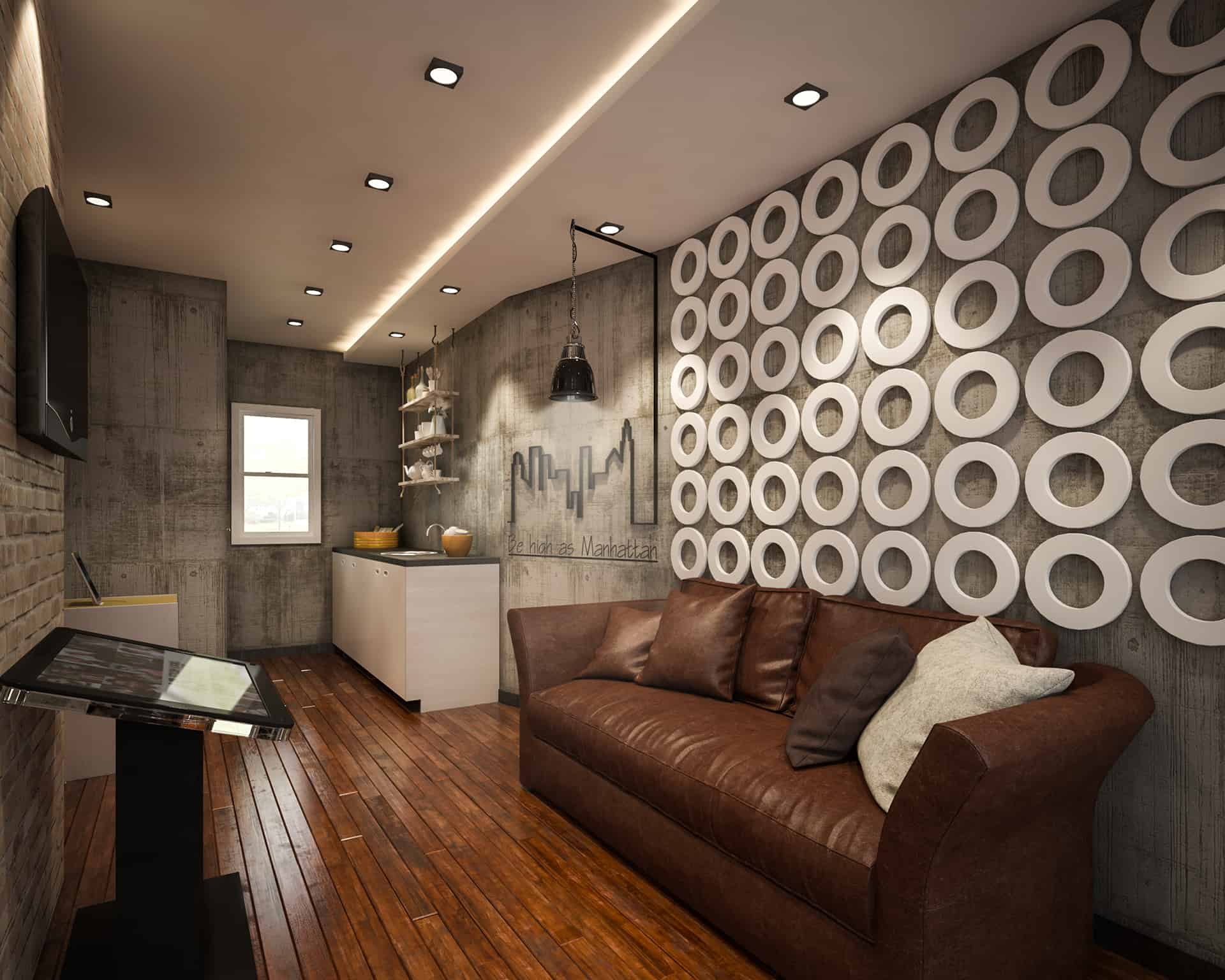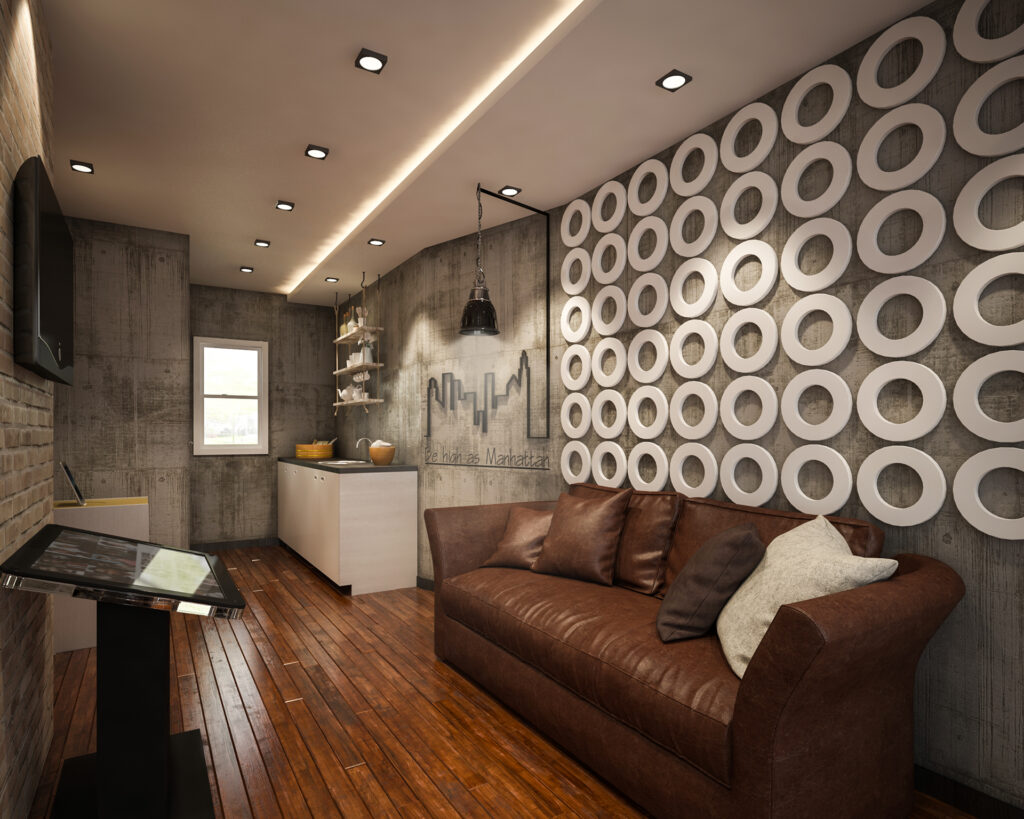 Vintage Barbershop
Diving into a true 1940s traditional barbershop style is this stunning vintage design. With wood panel ceilings, to stone brick walls, and even the jagged dark floor design, this vintage barbershop decor truly holds the classic look that started it all.
The ceiling design is my favorite part of this design. What an inspiring way to convey vintage wallpaper in between the ceiling pillars. I also deeply admire the way that the employees all dress for the part as well. It makes the design more interactive and helps it come to life like you're favorite play. It's simple little touches like that, that captures a client's heart.
Not to mention, the vintage style bookcase behind the counter, the bell-shaped lightswitches, the period barber chair design, the antique product containers, & even the glass product bottles. This shop did an excellent job of catching an authentic 1900s barbershop & honestly, I'm speechless!
Credit Daniel Malik.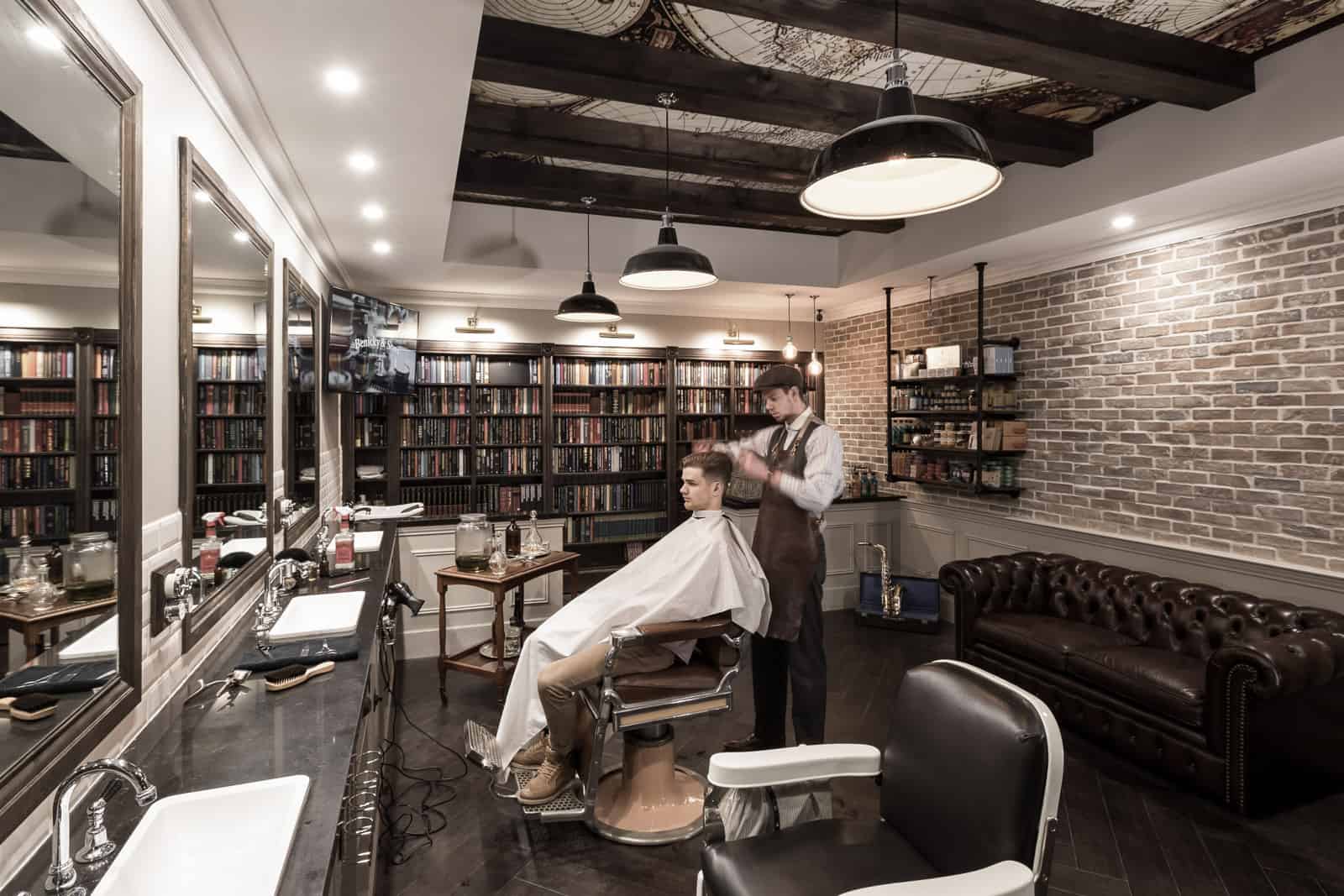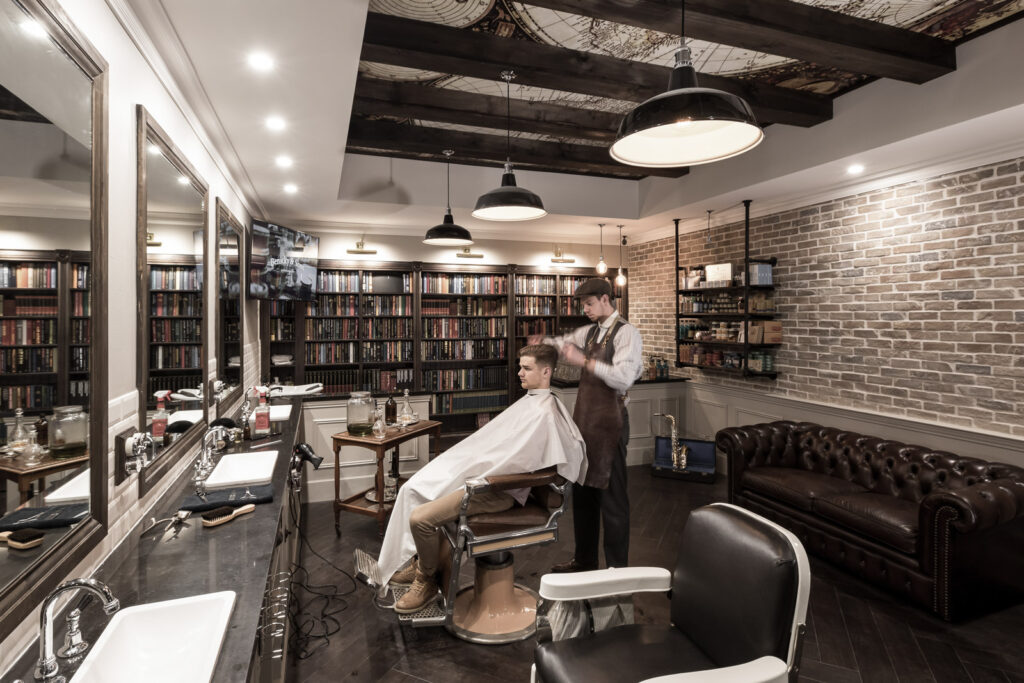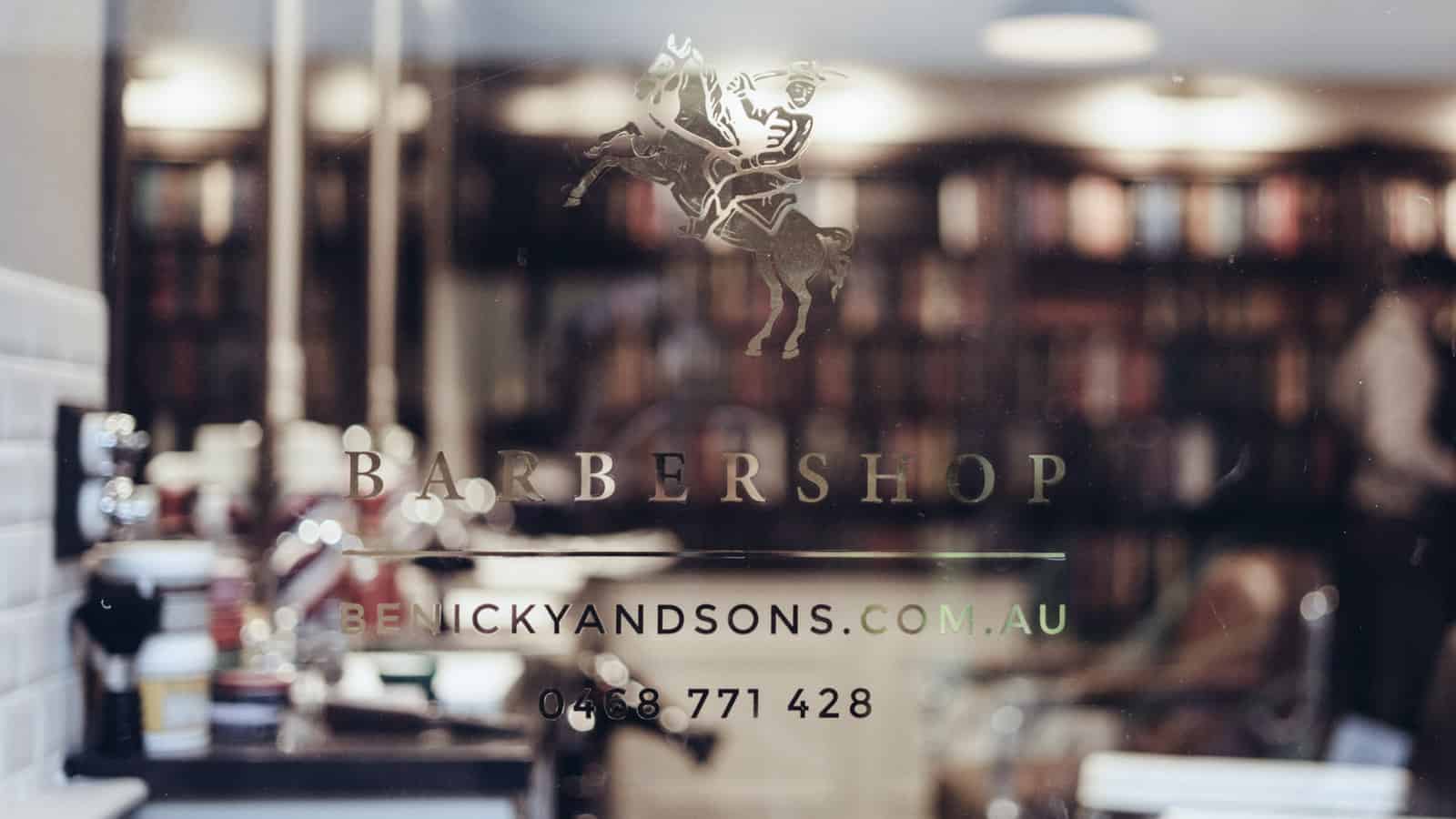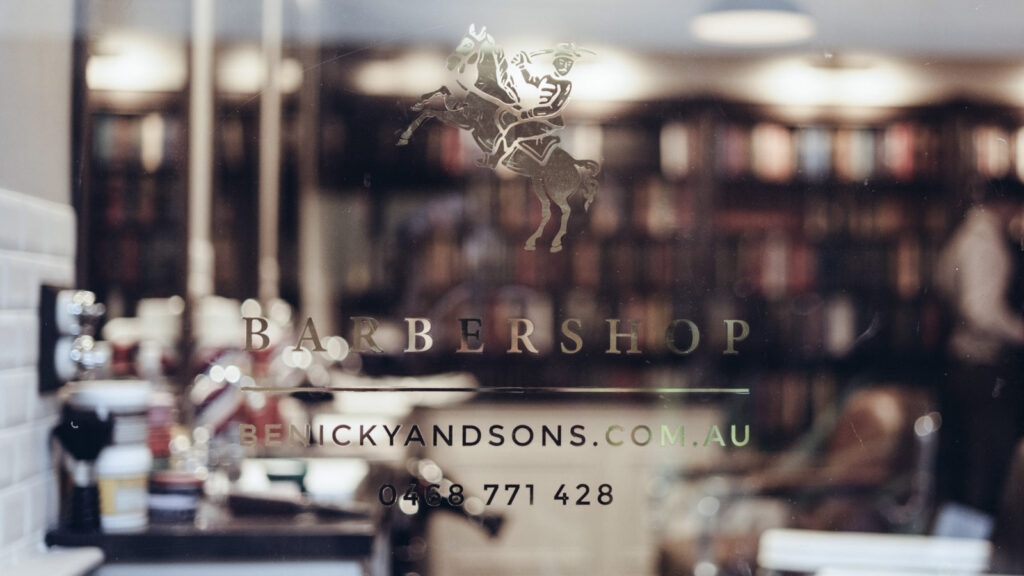 LOFT Barbershop
Now, if you think you need to have a grand design & a large workspace to have a successful barbershop, you're wrong, and the LOFT is the perfect example of that.
With very limited space, this simple barbershop design makes use of an authentic cabin or coffee shop style that gives the vibe of comfort & simplicity. And honestly, sometimes a little simplicity makes a bigger impact than something extravagant. A place like this allows all customers to feel welcome, while a design more overzealous might be a little intimidating.
My favorite touches of this particular shop are all of the little things; the vintage red color pops, the barbershop wall decor of black and white photos, and even the simple antique chairs. Its cabin-like feel gives it the perfect touch of home and honestly, that's exactly what you want to convey.
Overall, this is the perfect place for all customers looking for a warm welcome.
Credit: Naked Walls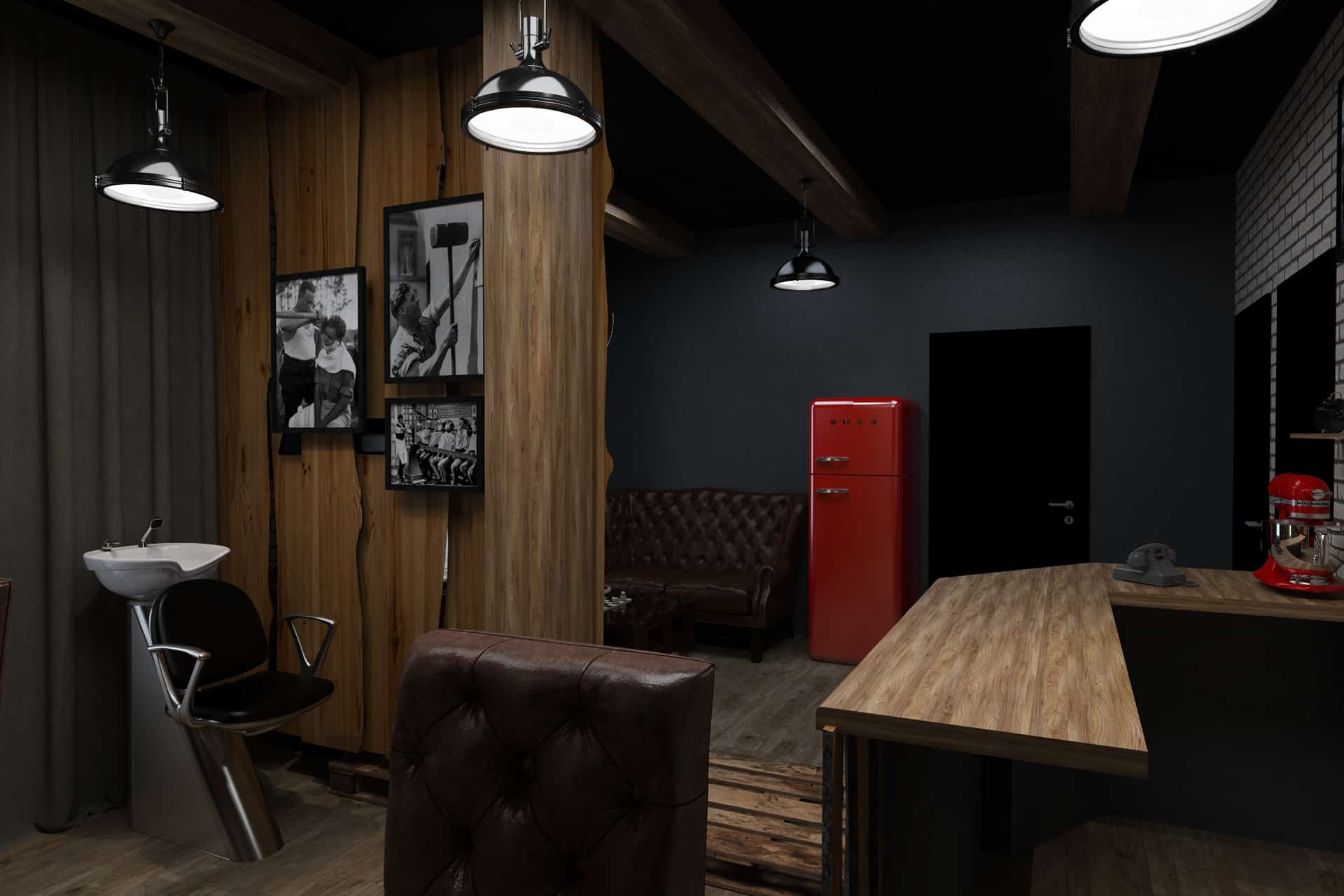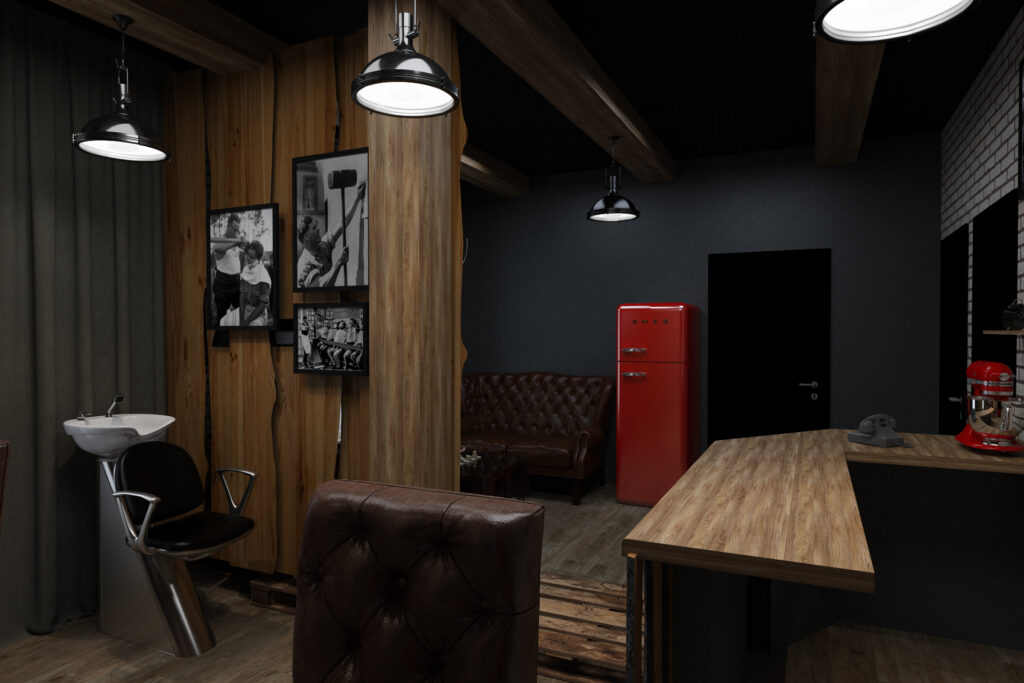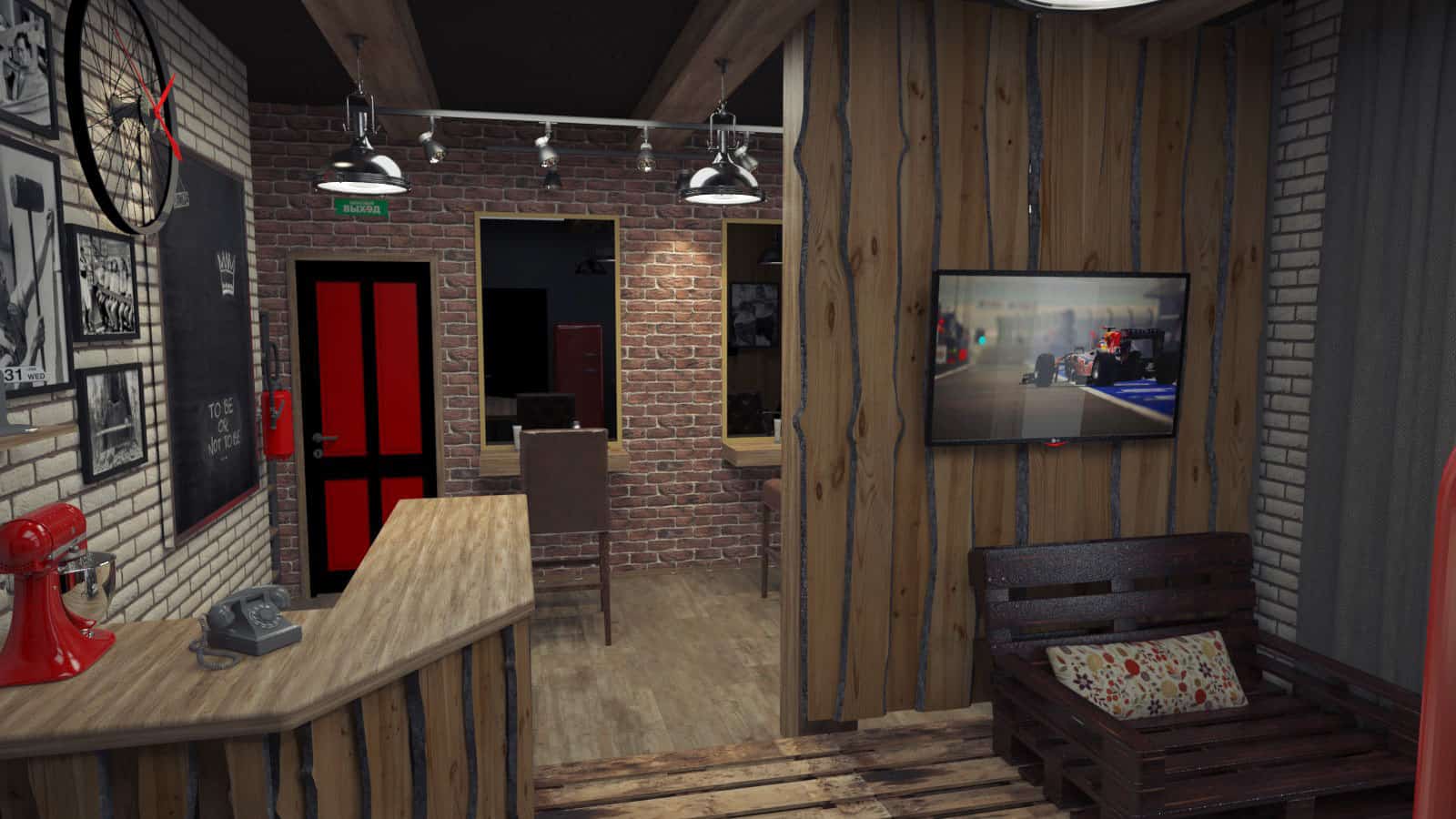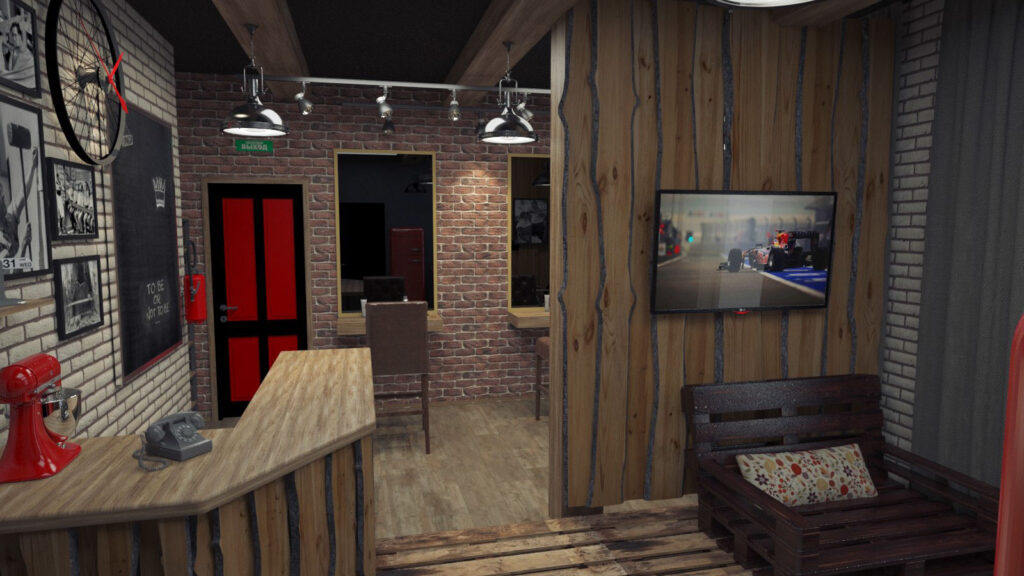 Luxury Barbershop Design
Taking a more luxurious step up is this fancy barbershop. I don't know about you, but to me, this design screams royalty, & I'm pretty sure it's because of its elegant colors.
This black & gold barbershop color scheme pairs beautifully with the vintage-style wallpaper on the wall beside it. It creates a more extravagant & warm feeling to the room, which is a great draw-in for customers. Not to mention, the simple touches of rounded mirrors, tidy counter spaces, or even the clean style of the chairs are aesthetically pleasing to the eye & make you feel like a king, even if it's just for a simple haircut.
I also deeply admire the layout of the design when you first walk in; a charming chandelier above your head, with a vintage-style gold mirror staring back at you, only to welcome you into a paradise where you can sit back & forget all your problems for a little while.
Overall, this barber design is easily a 10/10 & is a great inspiration for all others.
Credit: Mary Gluskina.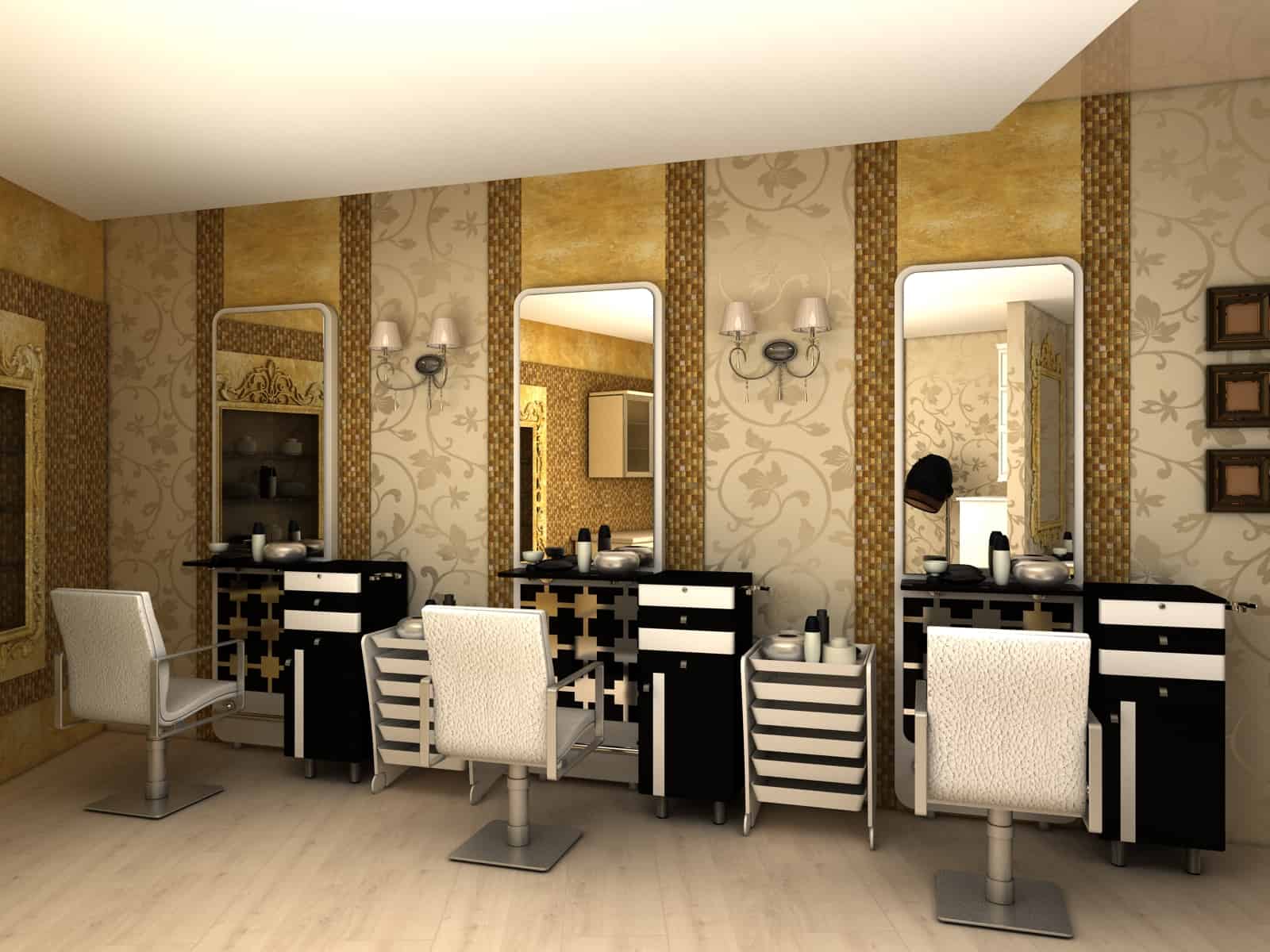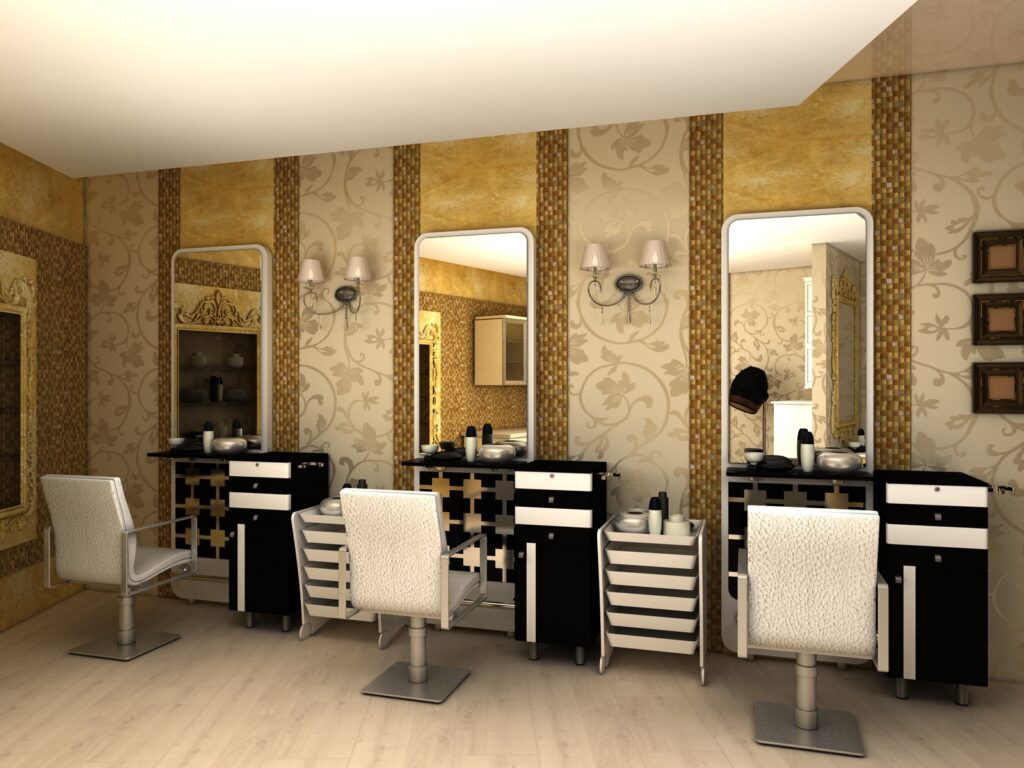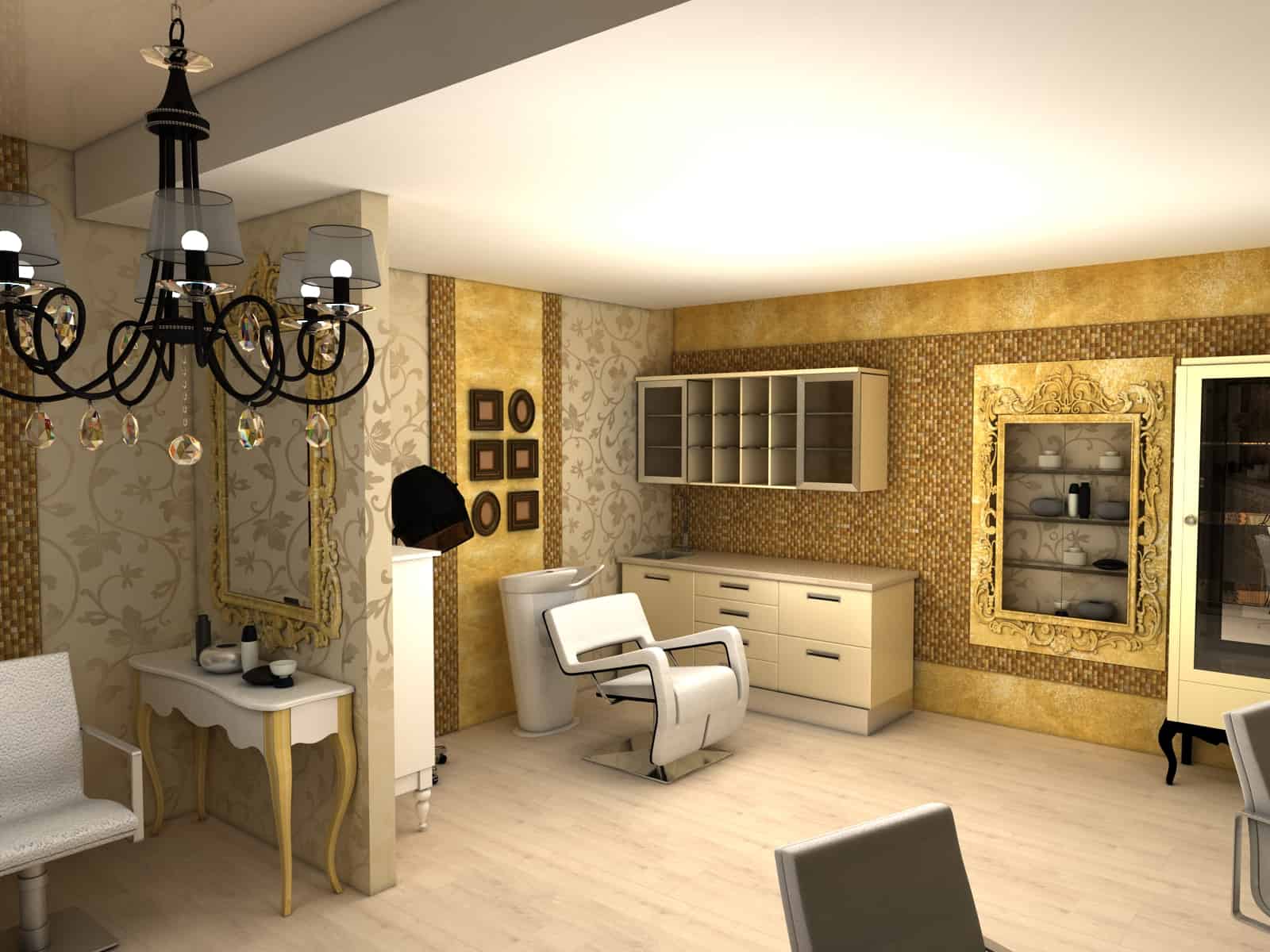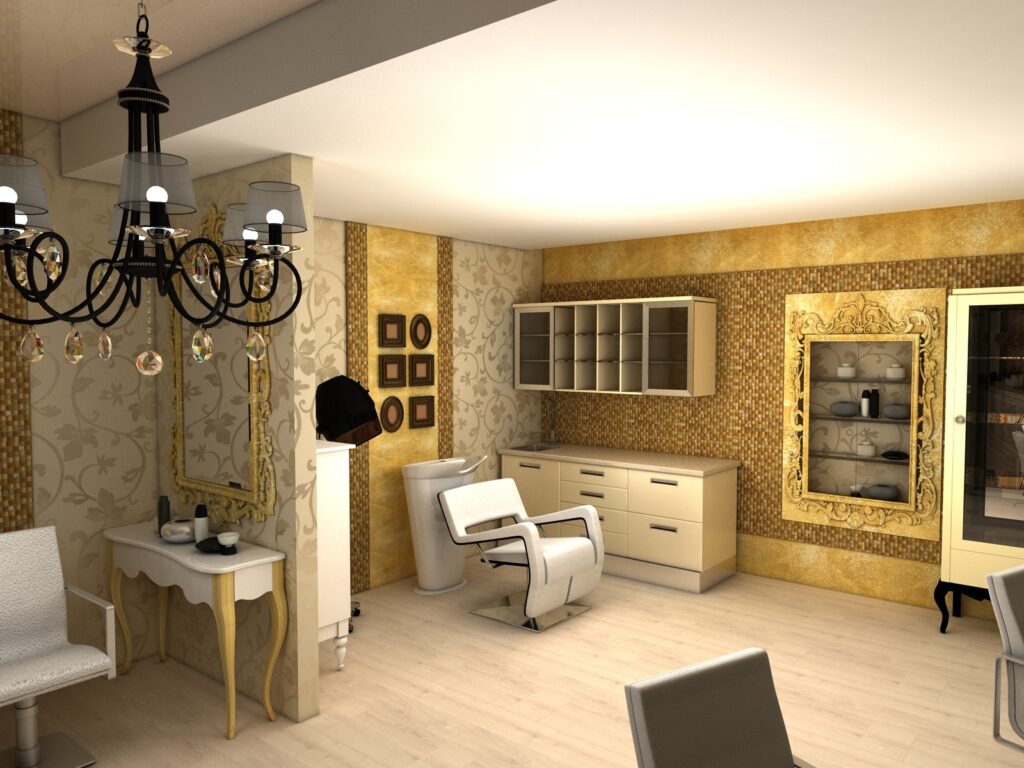 Flamingo
Next on the list, with a more artistic touch, is the Flamingo. This creative barbershop design takes contemporary art and displays it proudly across their walls to encourage an open space for all to freely express themselves.
Although this barbershop wall art isn't the only cool part – it's also this restaurant-style setup, with the front desk and the client seating area. I love the idea of a more tucked-in style barbershop just waiting to be uncovered, and this shop gives us just that.
I'm a huge fan of brick shelving for product storage. It adds a rustic touch to an already adventurous theme. Not to mention, the colors create a warm feeling to the room and a more expressive vibe paired with the stunning wall art.
Welcoming, laid-back, and intricate – this is a great rustic barbershop to visit for those looking to make a creative change.
Credit: Osoblyvi Interiors.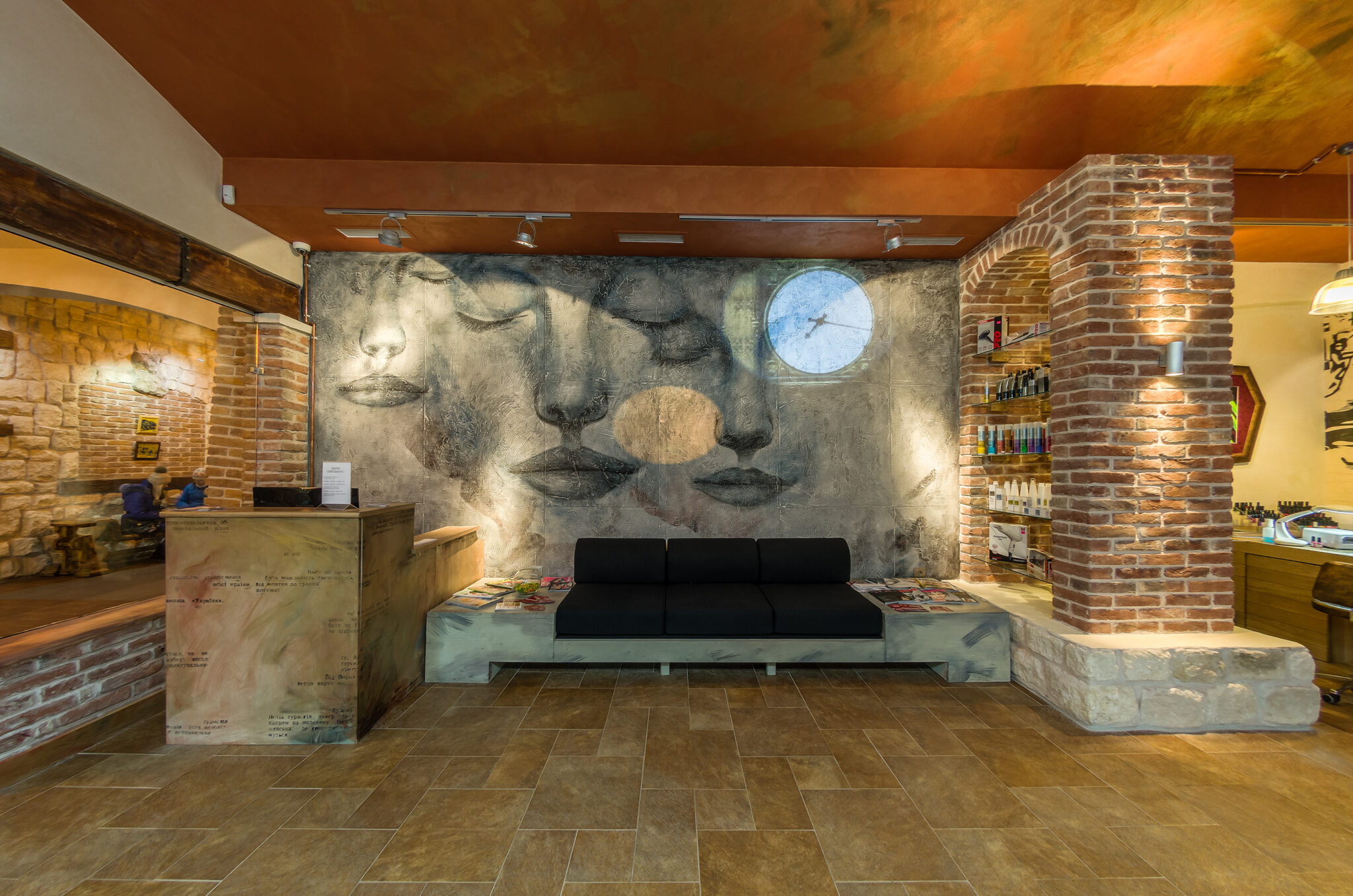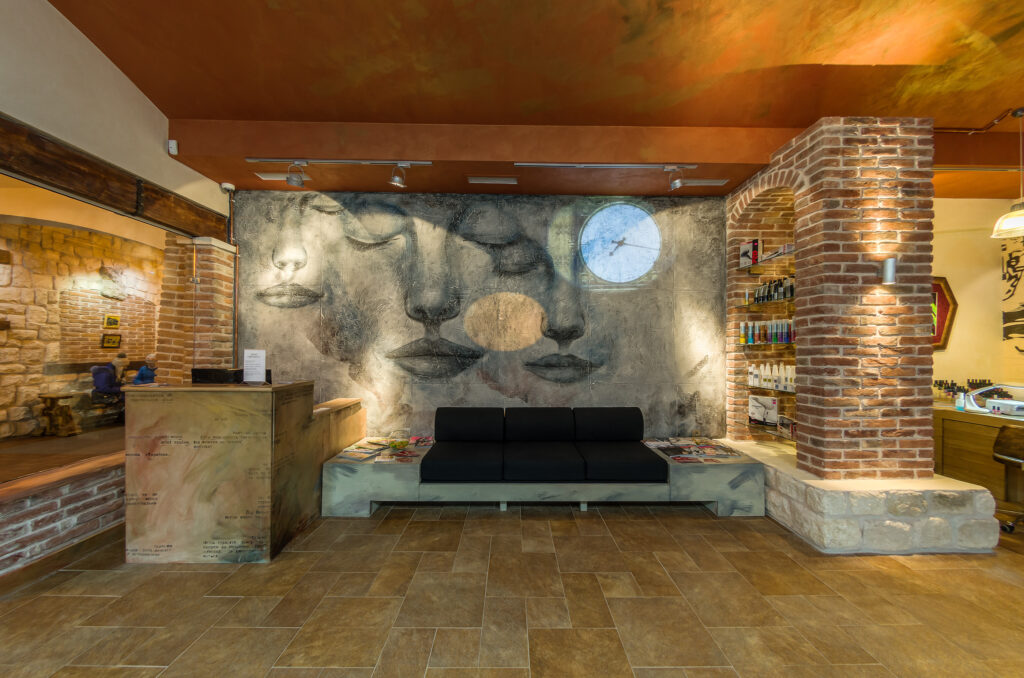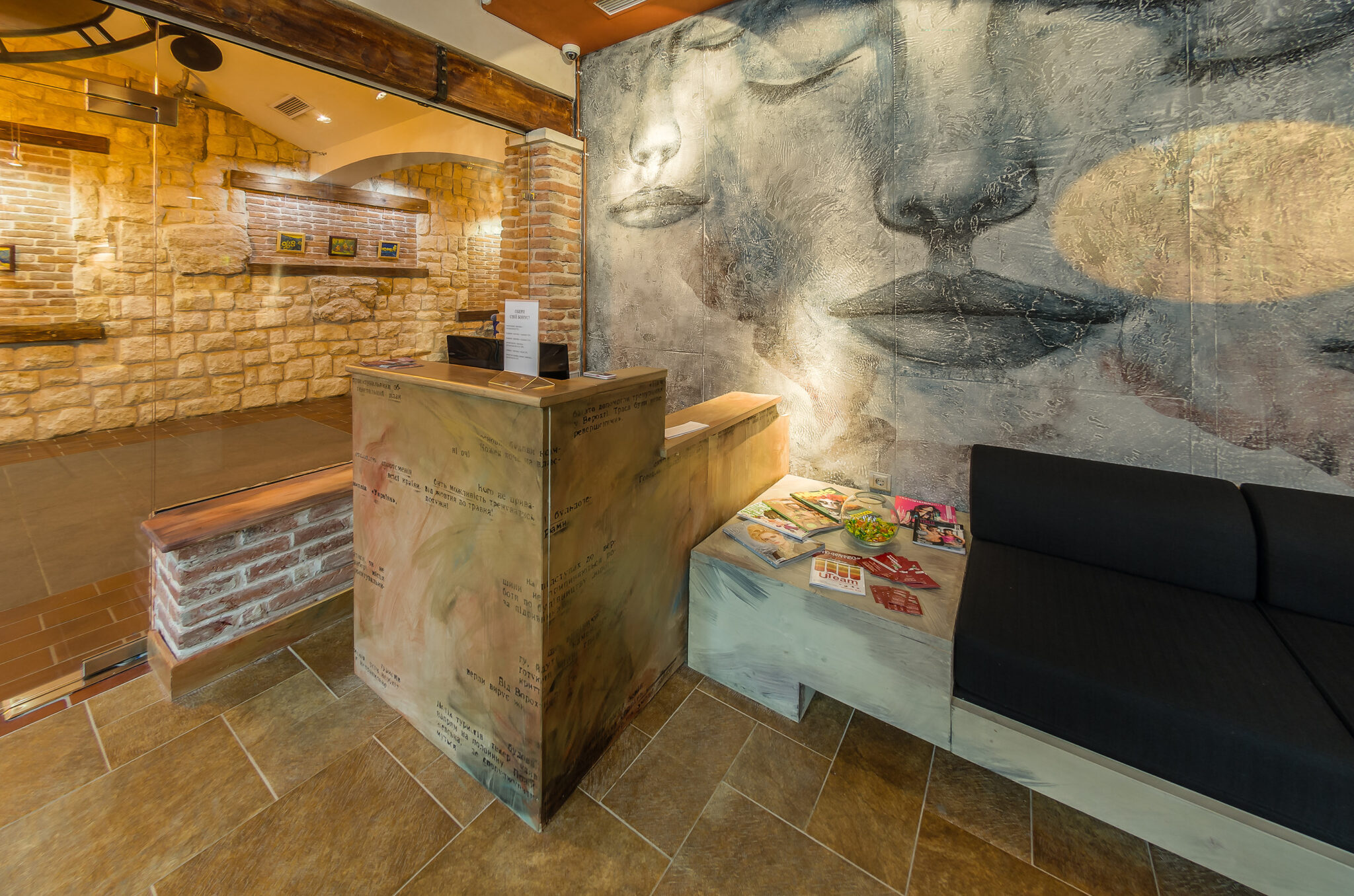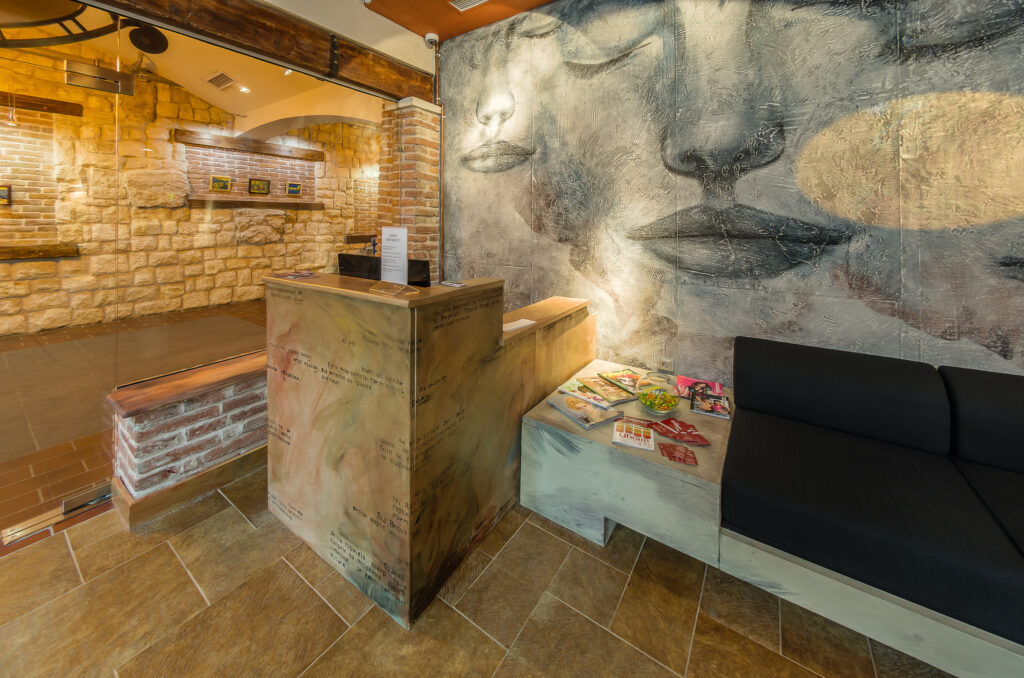 Uppercut Barbershop
Taking on a more masculine touch in their design, the Uppercut Barbershop is the ideal place for men to get their hair cut.
With an impressive design to set the tone for kicking back, everything about this barbershop's interior design screams masculinity. From the masculine logo, rustic wall texture, or even the black seats paired with clean wooden plank shelves and front desk.
Not to mention the outside. Have you ever seen a more grand outer design? Painted black with standing pillars to welcome you into the front, nothing sets the mood for a grand treatment like making a statement before even entering!
Additionally, when it comes to barbershop signs, this is definitely one of the coolest I've seen.
Laid back, clean, & expensive. This is a place that's bucket-list worthy!
Credit: Kateryna Panasik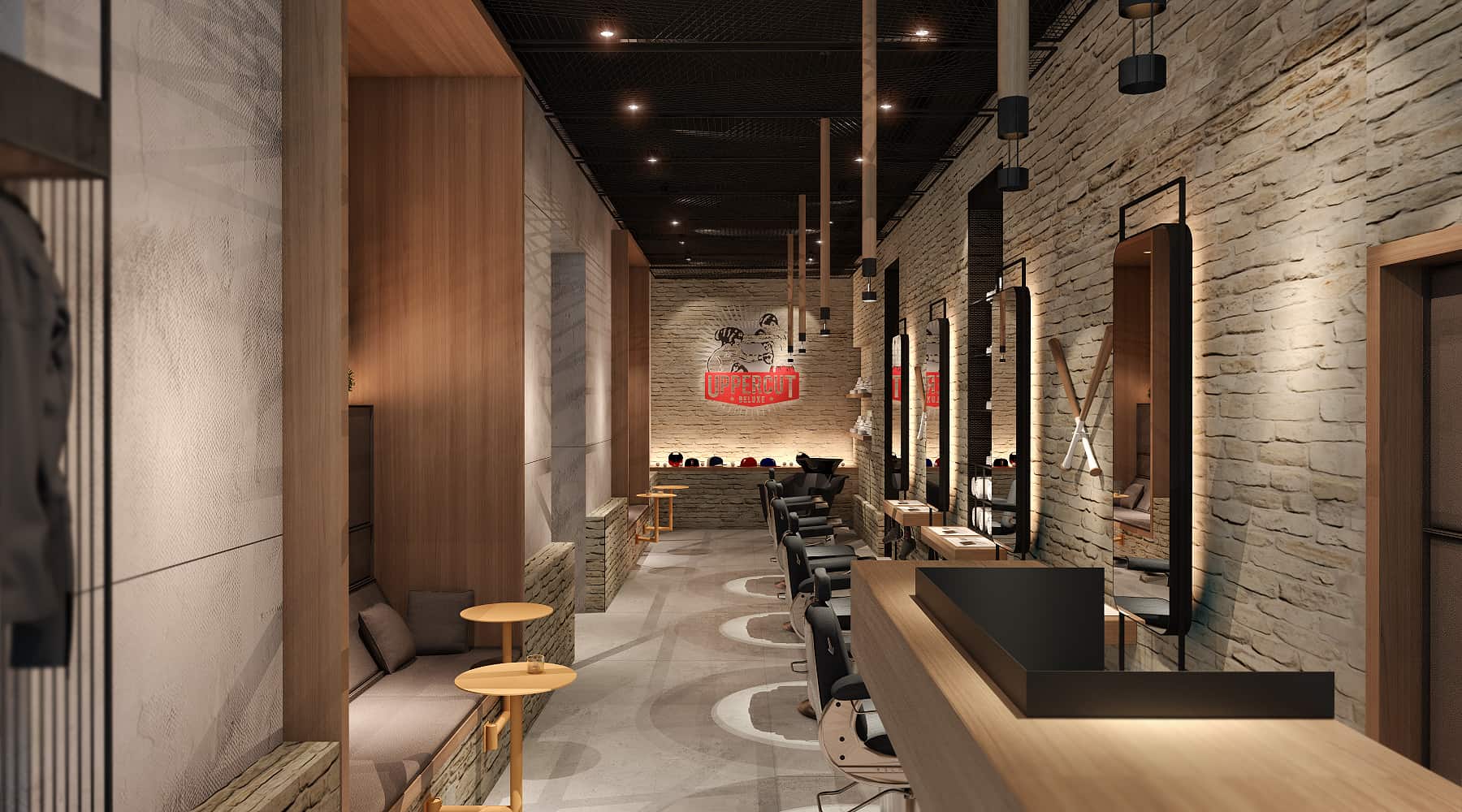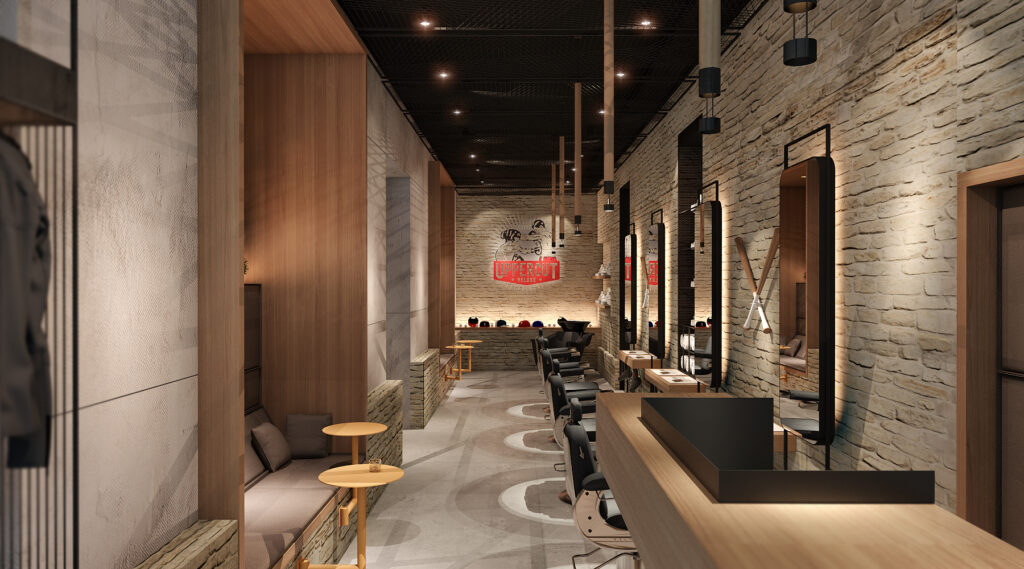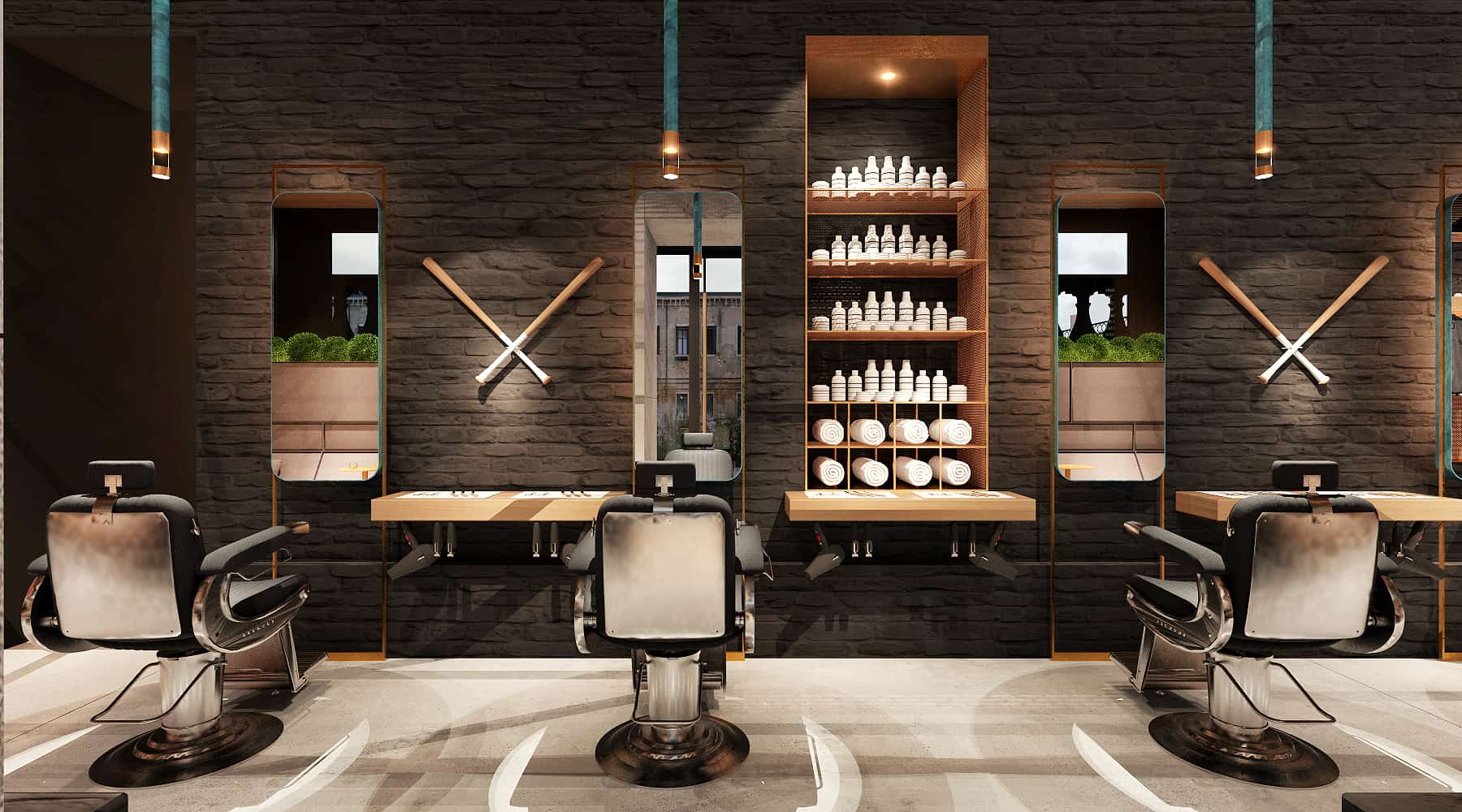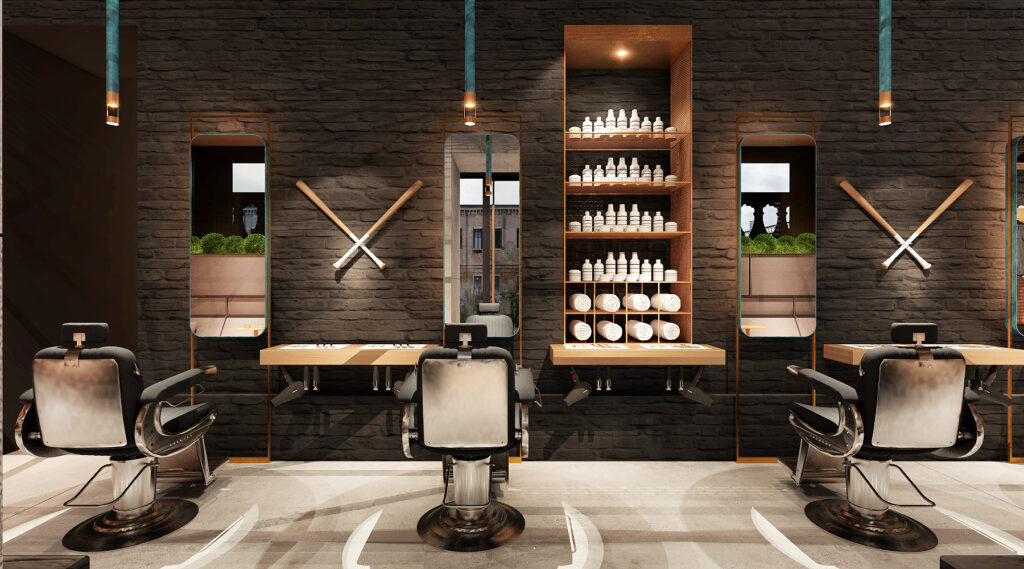 Barbershop Les Dada East, Paris
And lastly, The Barbershop Les Dada East displays another artistic style decor complimented by a modern contemporary touch. This trendy barbershop displays femininity in a lavish way, but that's not to say it isn't a great place for men to visit well.
With a honeycomb-style ceiling design enhanced by a simplistic geometric front desk & shelving design, this small barbershop captures more than just hair. With the color scheme transitioning from beige to white cream & a touch of black, this has the perfect balance of light & dark.
Overall, this is a chic & simple boutique-style shop perfect for men & women alike.
Credit: Maxim Topchiy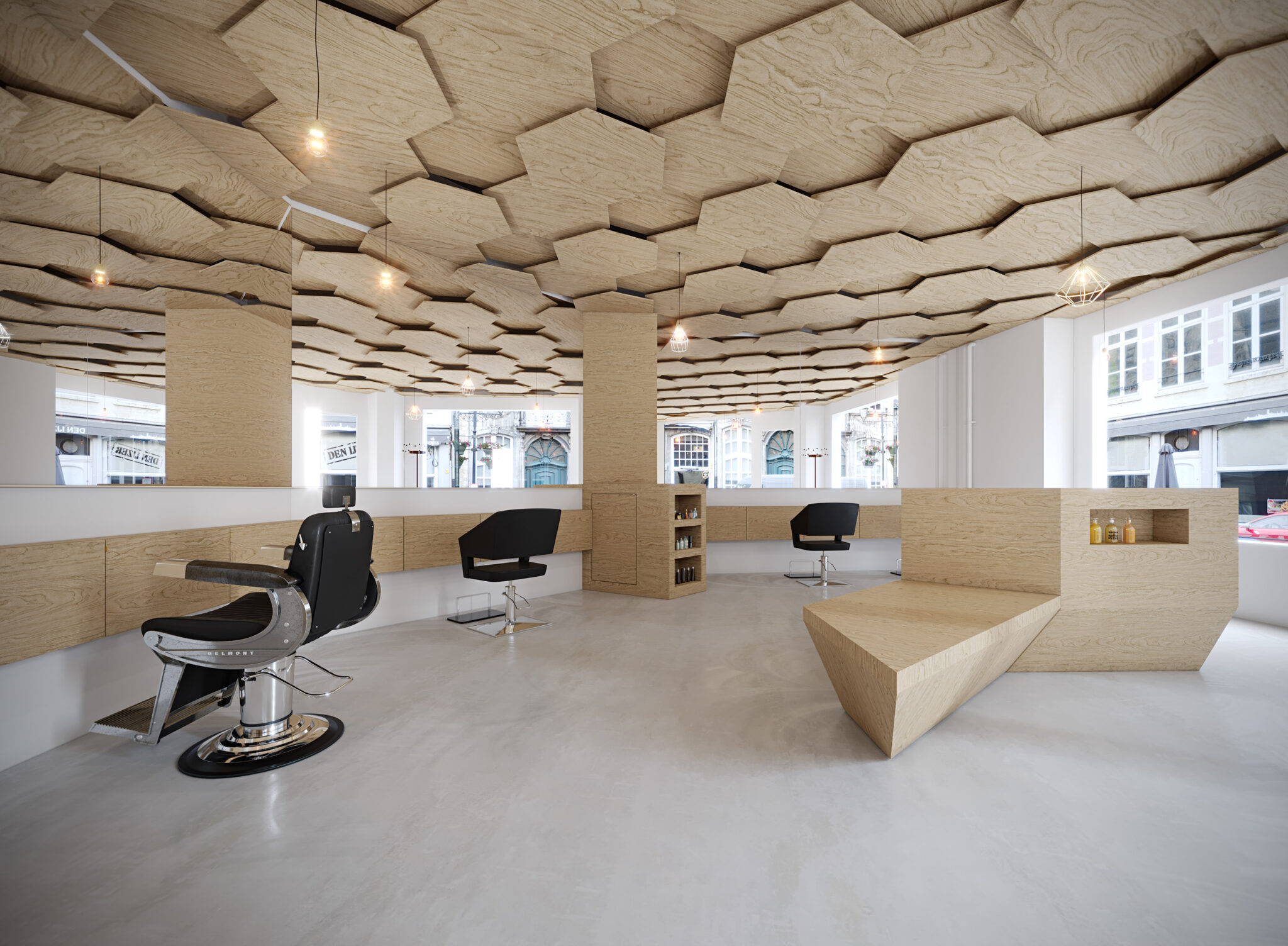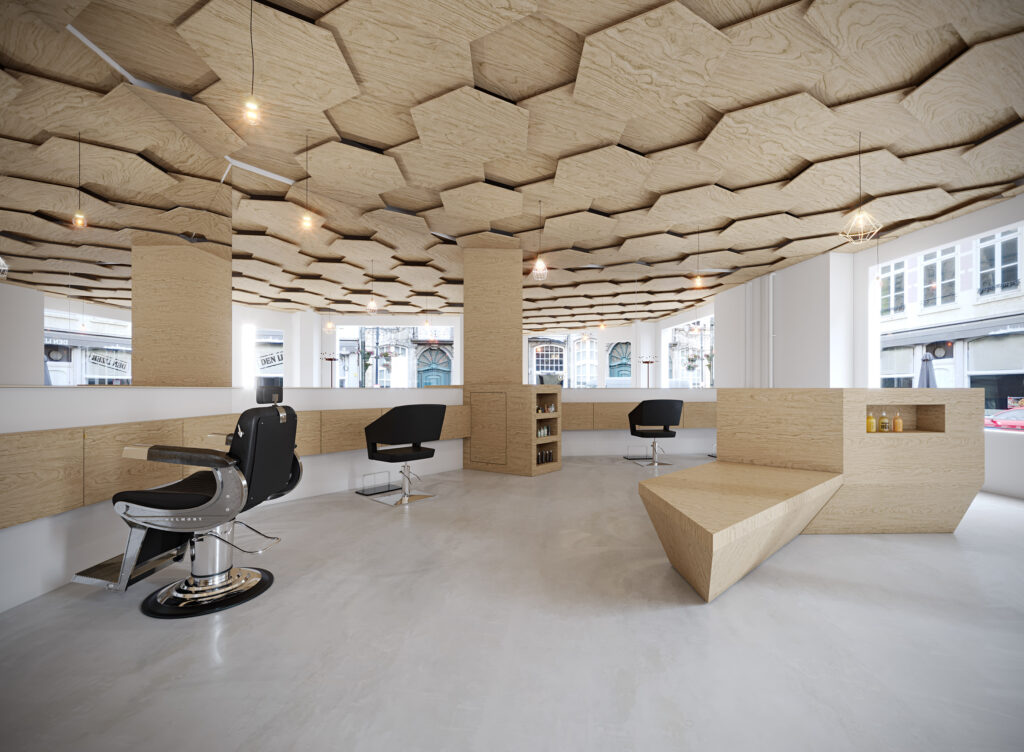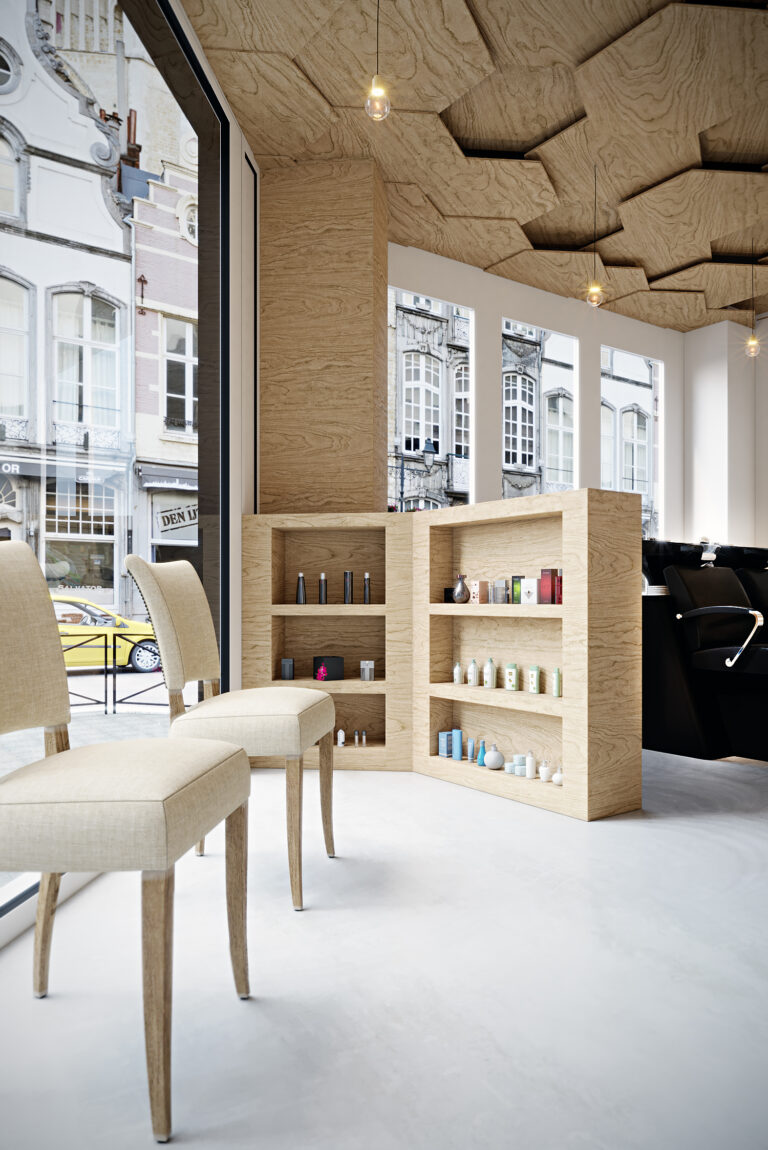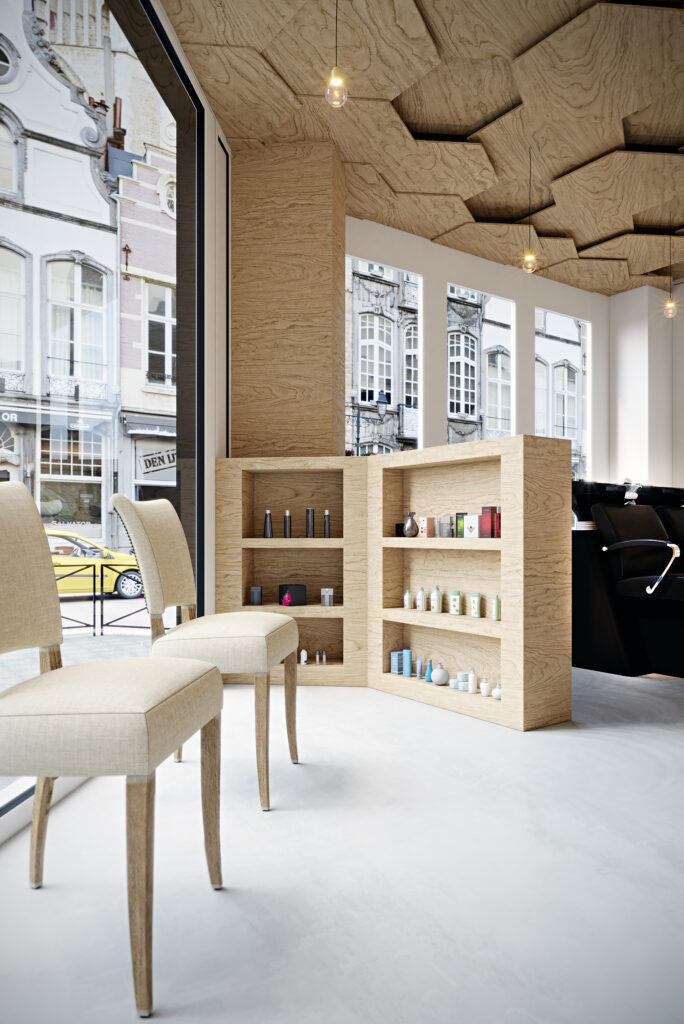 Conclusion
There are many different designs out there. But throughout all of these barbershop pictures, I think we can agree on one thing; individuality, creativity, & passion are essential for memorable & unique barber designs.
And when you have a vision, you can do anything.
Regardless of why you read this article, I hope throughout this piece you were able to find inspiration and ideas for your own barbershop design.
You'll notice in all of the above designs that the right barbershop lighting can make a big difference to the overall perception of the barbershop. Thus, I strongly recommend you read my article on salon lighting to learn more about how you can use light in your barbershop.
As an additional reading, check out this article: 23 Stylish and Innovative Barbershop Website Designs.
For more related salon design and decoration ideas, check out my article with interior design ideas for hair salons.