Are you looking for examples of barbershop websites?
Then you've landed in the right place.
In this article, I've collected some of the best barbershop website examples in the world. It includes the world's oldest barbershop and a large variety of modern, stylish, and sometimes edgy barbershops.
If you are in the business of providing quality haircuts, you need to have a killer website that fits the bill. With so much competition out there, you have to have an eye-catching website that will get your customers' attention. 
1. Steven Tabach – Barbershop in NYC
This is a very nicely designed website where the dark background and muted colors make everything stand out as well as being cohesive visually. The website is made with WordPress.
At Steven Tabach, we believe in one thing: delivering quality haircuts and men's grooming services for the discerning gentleman looking to stand out from the crowd.
2. Abel's on Queen Barbershop Website
Abel's on Queen is a traditionally-inspired upscale barbershop in Kitchener, Ontario. Originally established in 1894, the new shop reimagines the original vision in a contemporary barber setting and translates the vintage feeling very well to the website.
The design is made in the high-end web tool Webflow.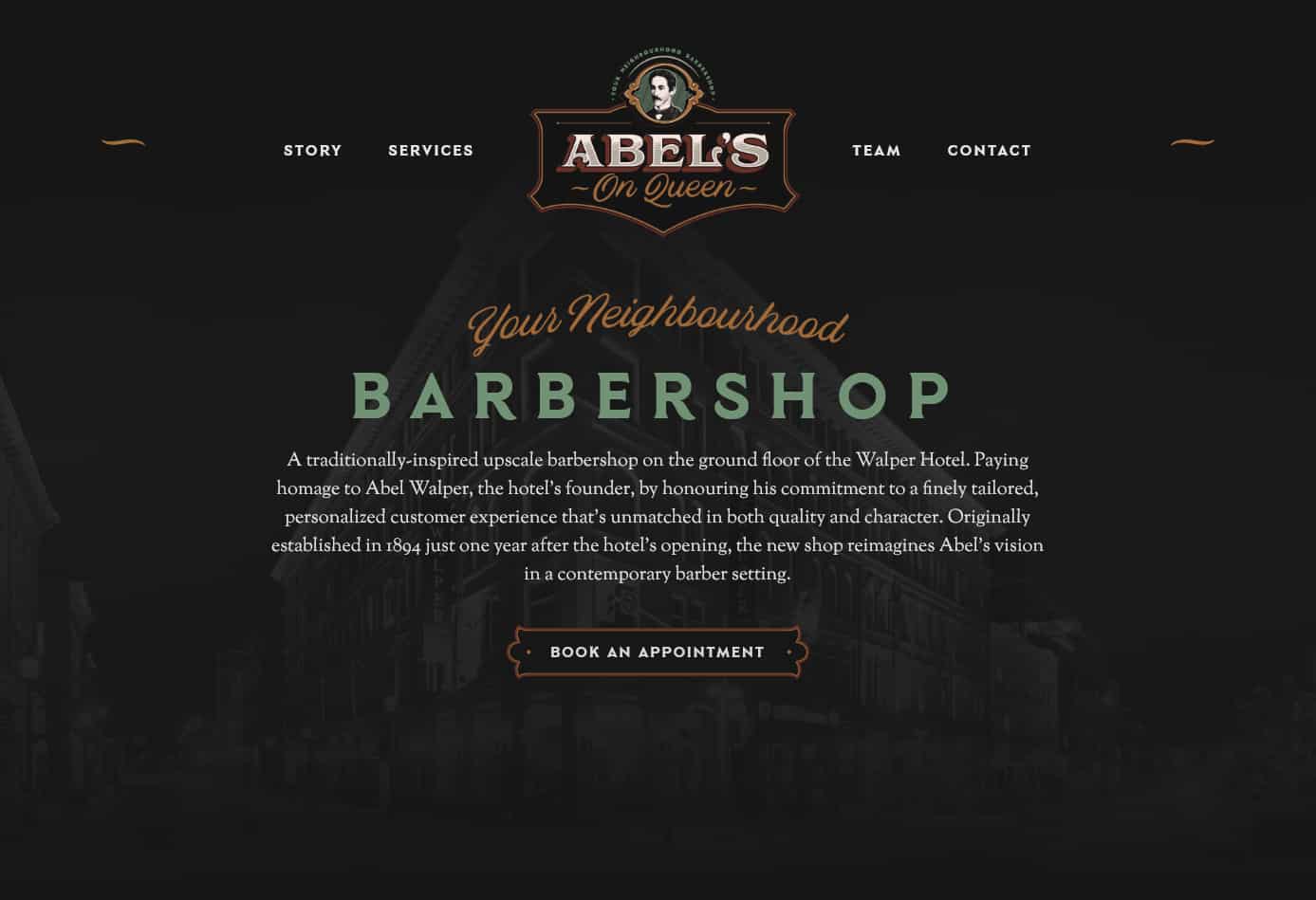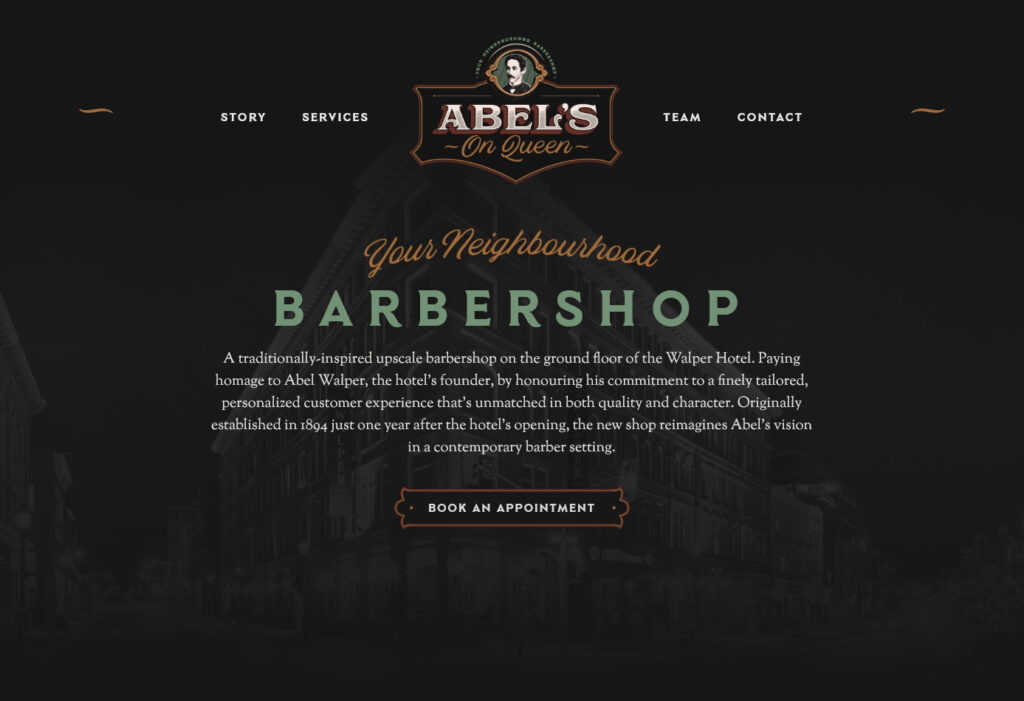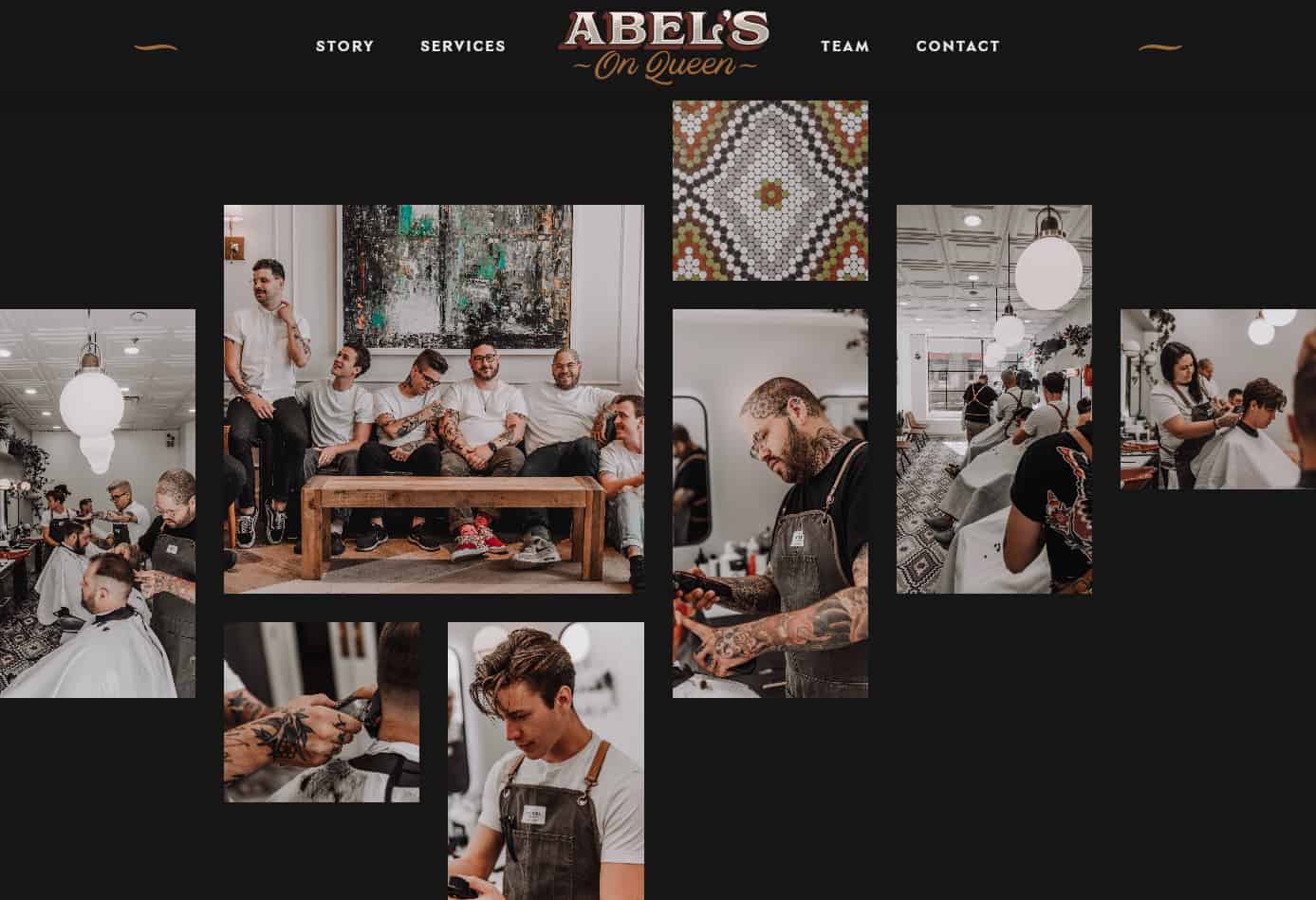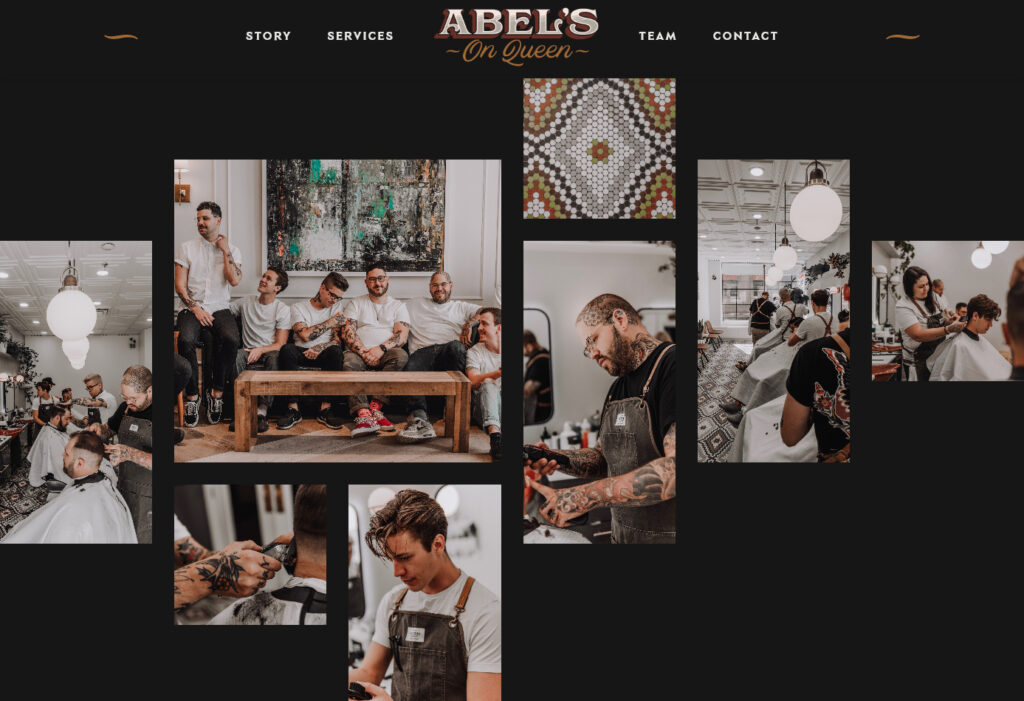 3. Assembly Barbershop Website
The history of Assembly Barbershop spans decades and half a continent. This simple and clean design makes it easy to understand the tradition and values of the brand.
The website is made with Squarespace.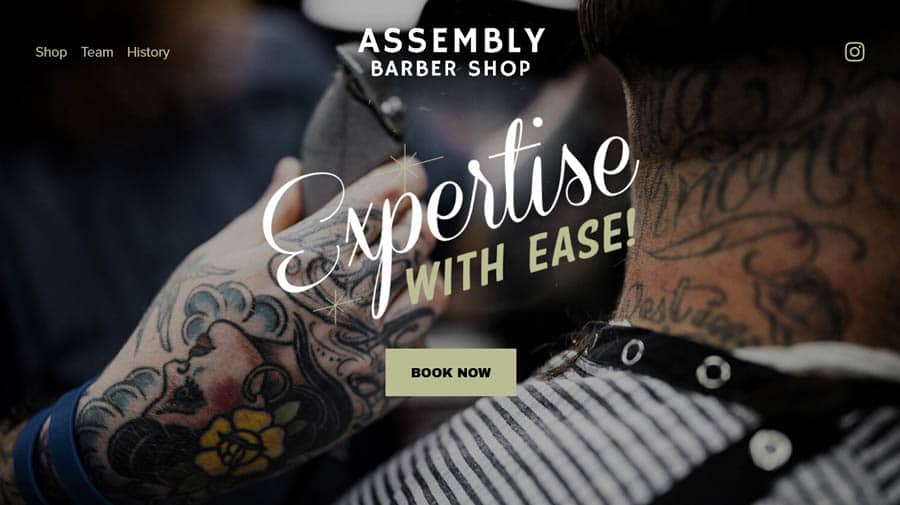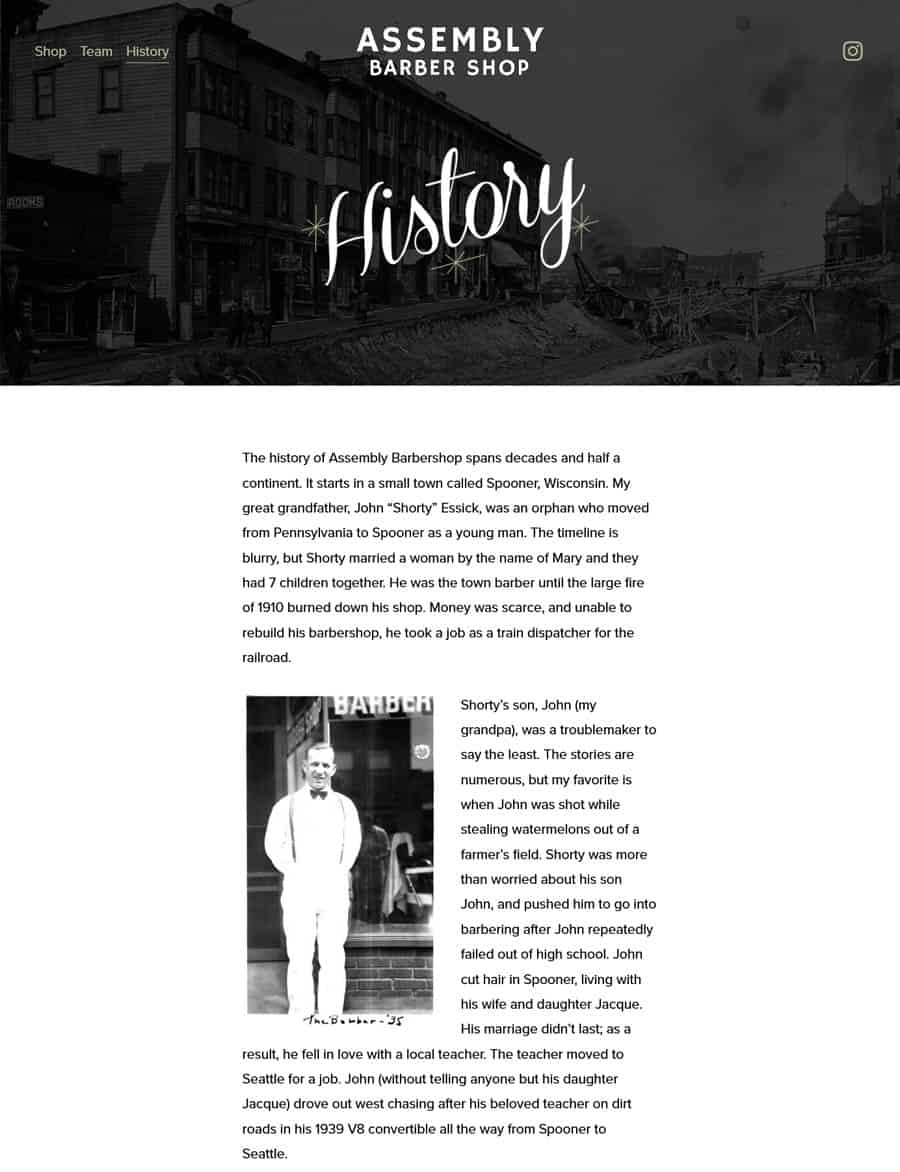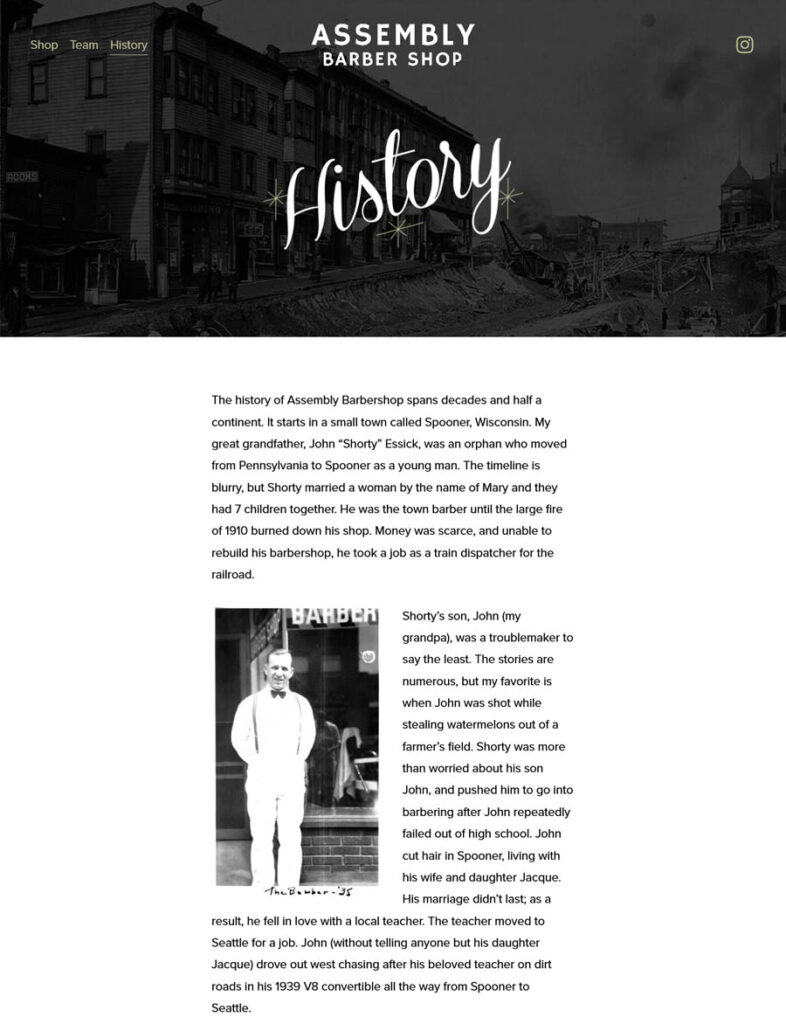 4. B&H Barber Shop
B&H Barber Shop is a grooming service located in the East Village, NYC. This is a great example of a design in a timeless retro style. A blog and live chat are other noteworthy features.
The website is made with WordPress, and the premium theme is called The Shaver. The booking system is by Setmore.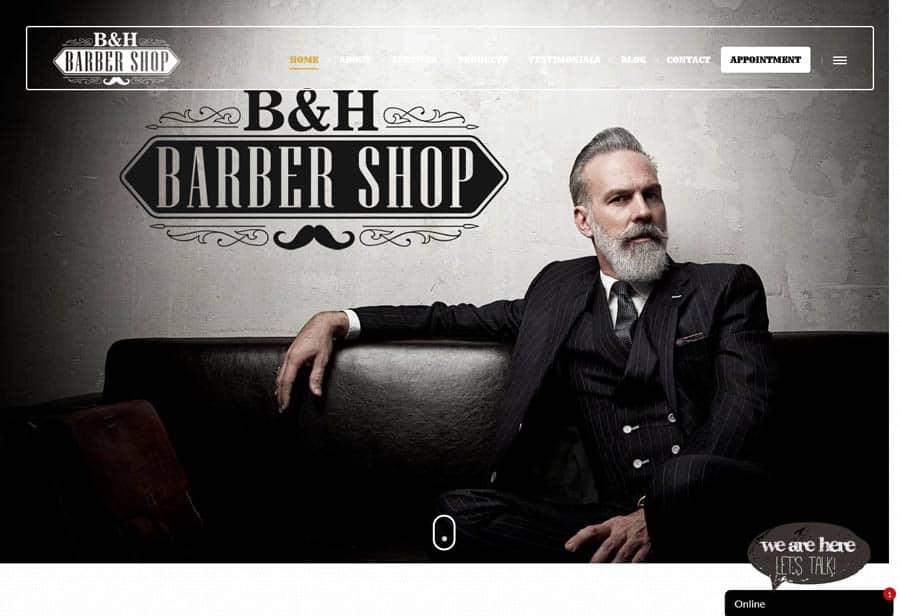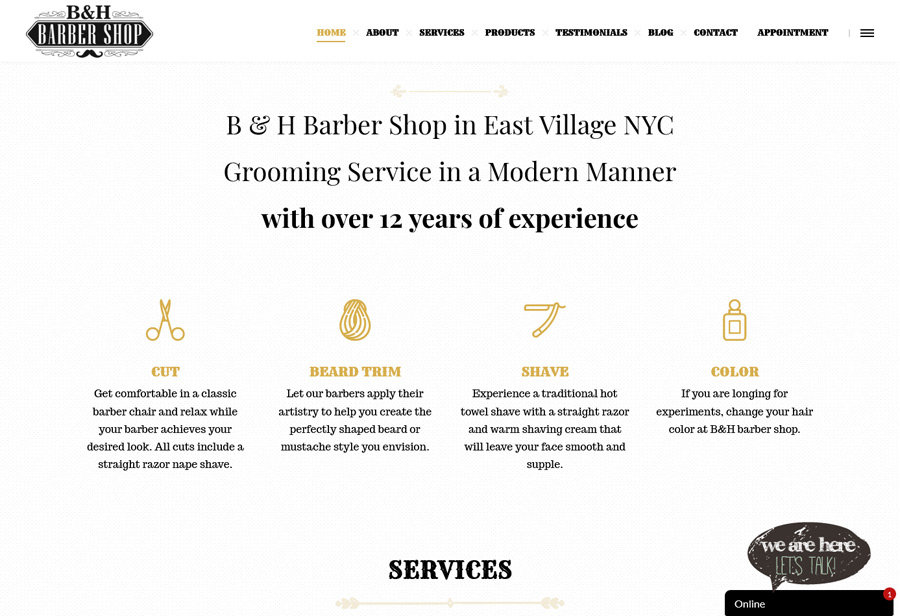 5. Maverick Barbers for Men, Ontario, Canada
This website has a very modern look with an easy-to-understand layout and clear calls to action. It's also an example of a barbershop adding an online business to its grooming services. The website is made with WordPress, and the booking system is from Squire.
Across our locations we maintain our commitment to: excellent service, providing a quality haircut, beard grooming or shave in a timely manner, ease of booking an appointment, and offering a well-rounded selection of premium products in a handsome, comfortable barbershop.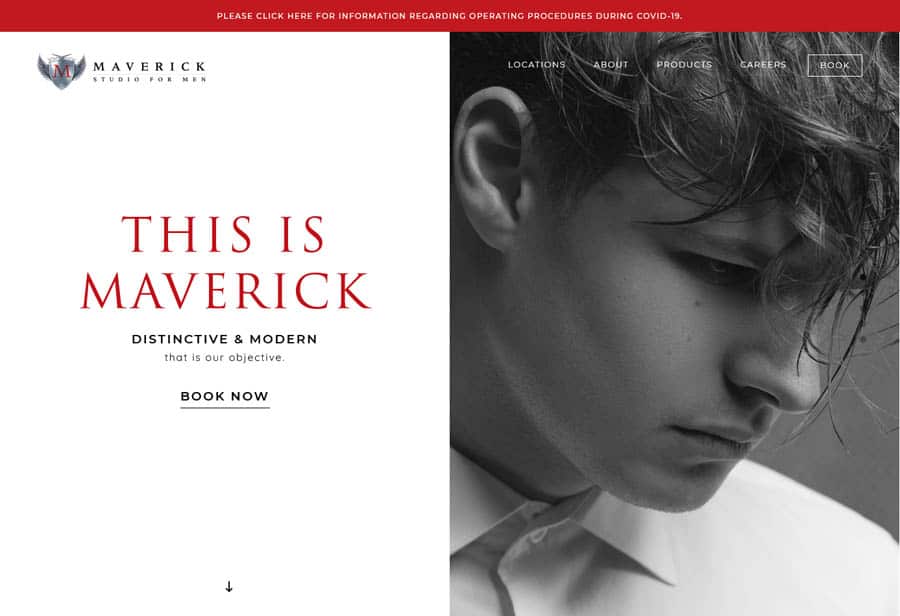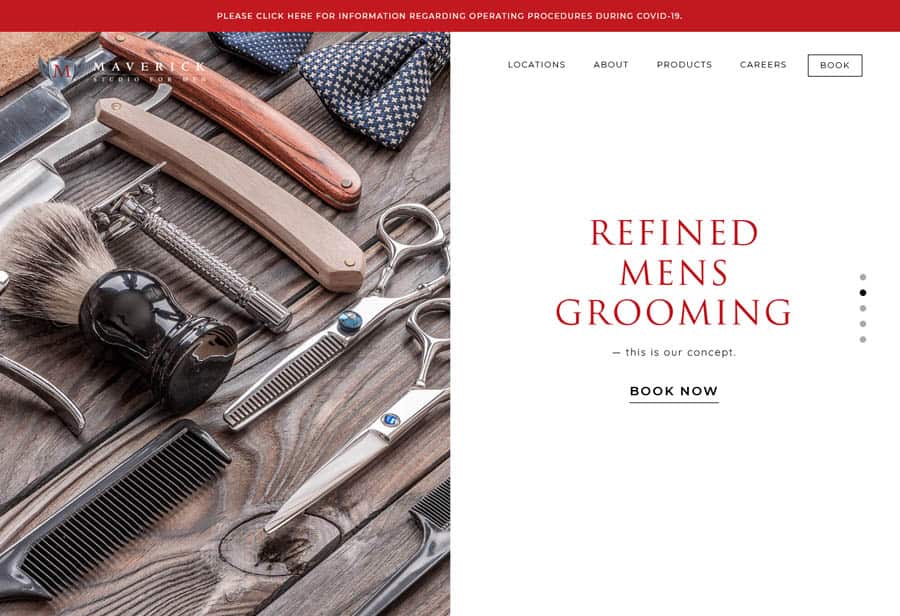 6. Barbon's Barbershop Website
In Austin, Texas, Barbon's Barbershop aims to create the kind of community vibe you'd expect at a classic barbershop. They even offer a draft beer when a customer arrives. This is a good example of how a more graphic style can set a barbershop apart from the competition. The website is made with Squarespace and their commerce plan.
7. Truefitt&Hill Barbershop – Est. 1805 in St. James, London
The Oldest Barbershop in the World was founded in 1805, the same year as Admiral Nelson's victorious battle at Trafalgar. Original illustrations help give the website a classy but modern feel. Shopify powers the online shop of Truefitt&Hill.
This was the era of fine craftsmanship, innovation and styling which set the scene for a history that is colorful, inventive and pioneering.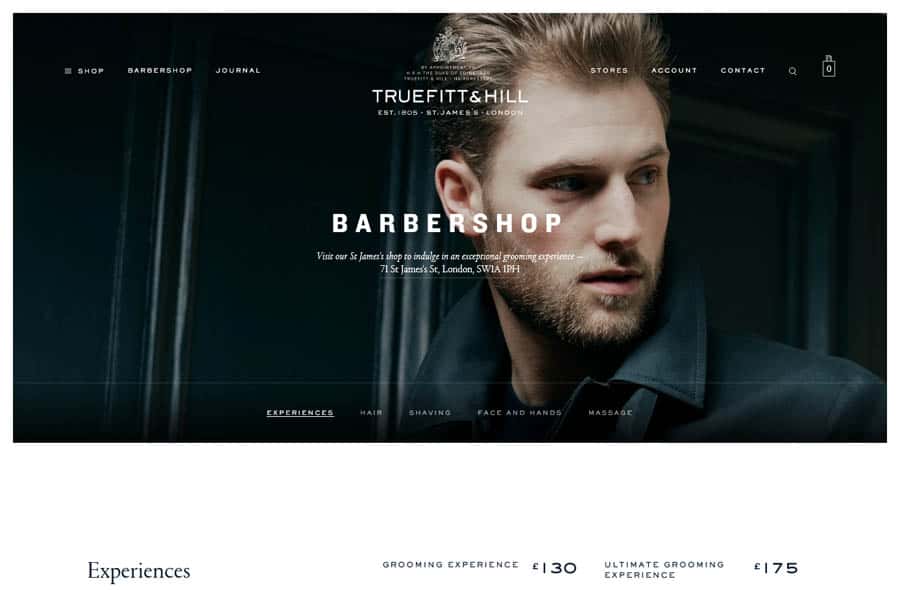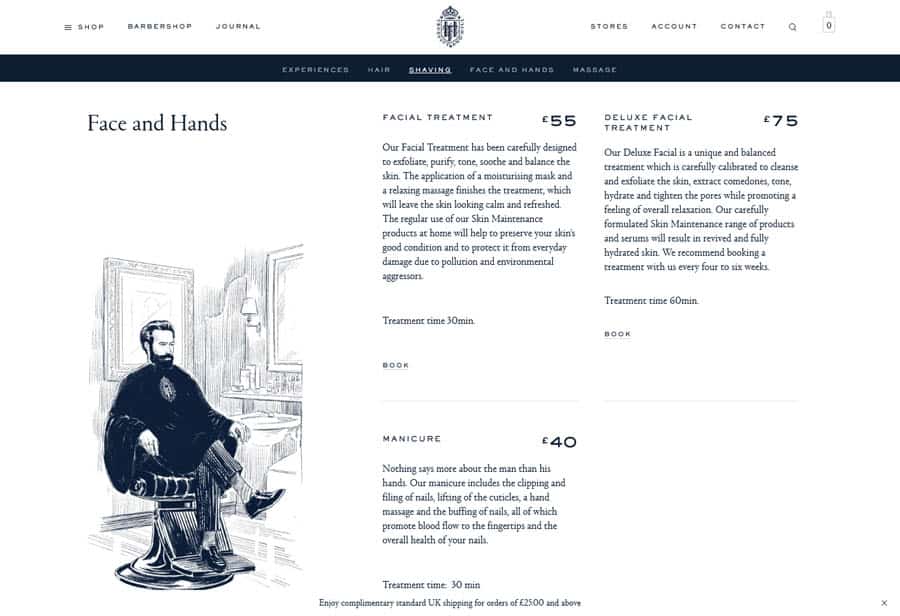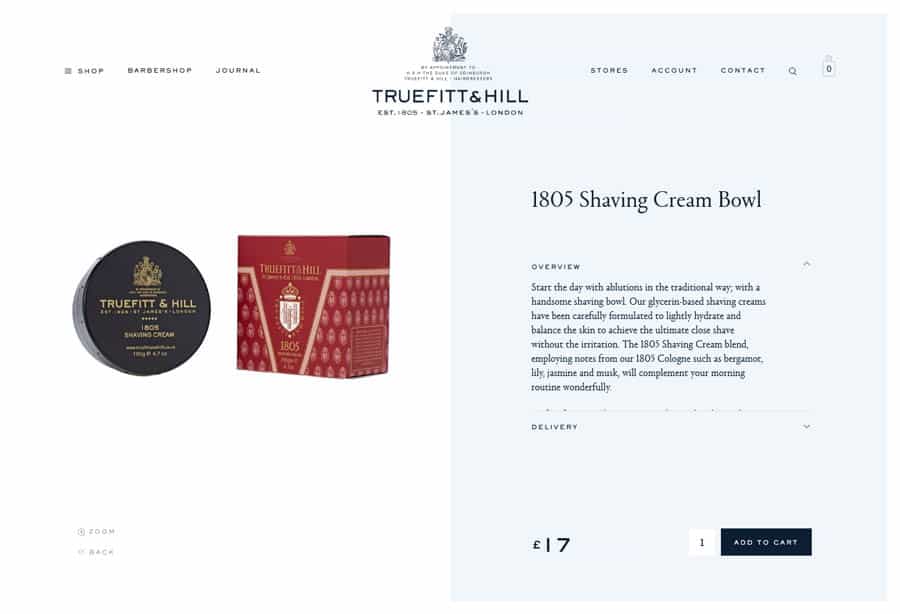 8. Signature Barbershop Website
Signature Barbershop is located in midtown Manhattan, New York. The site shows the beautiful interior in a great way. WordPress is the CMS, and the booking system is from Setmore.
Our classically trained professional barbers are well versed in their field, very easy to work with, and will make sure to provide you with a haircut you love so much, it'll become your signature look.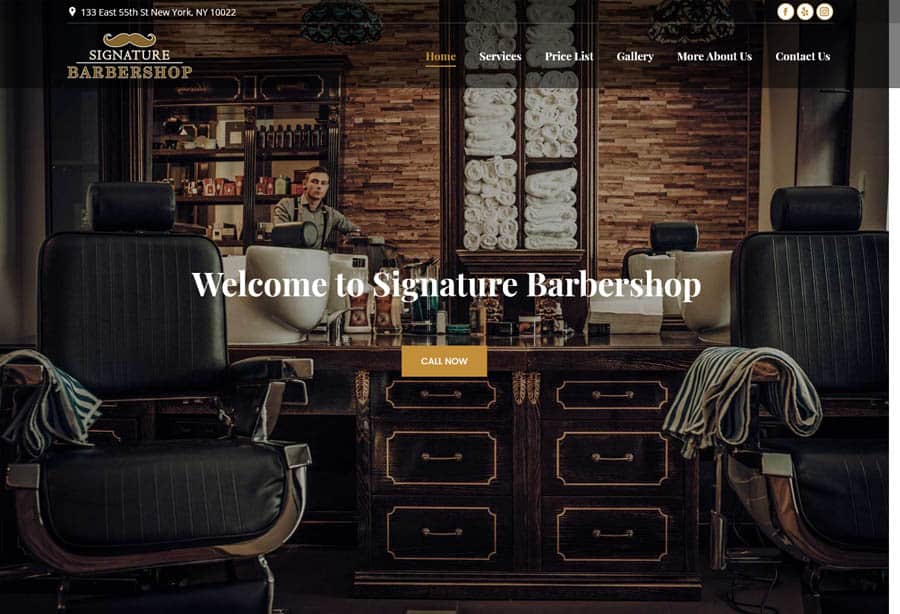 9. We are Sultans – Barbershop in Singapore
This very creative website uses humorous illustrations to guide users. The website is made with Wix and the e-commerce store with Wix Stores.
For the young at heart, for the brave, for the ones looking for a different experience, we put the dandy in the dandy lion.
10. Bishops Barbershop Website Design
Bishops were founded in Portland in 2001 as an alternative to high-end salons and cheap chop shops, Bishops was one of the first to introduce customers to the all-ages, and all- genders are welcome salon experience. Great photography and visuals keep the viewer scrolling through the page.
The main website is made with WordPress, and the e-commerce is made with Squarespace.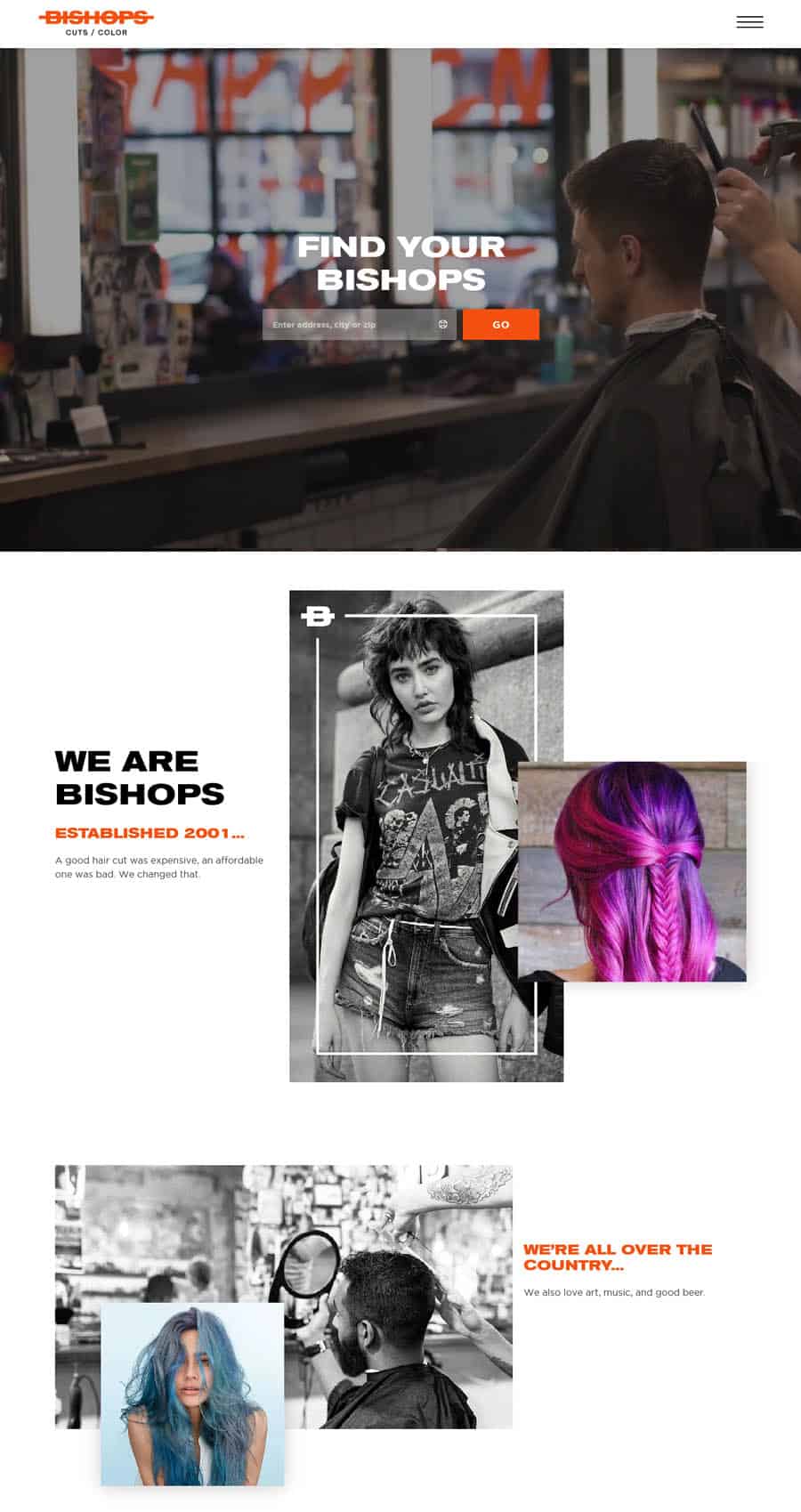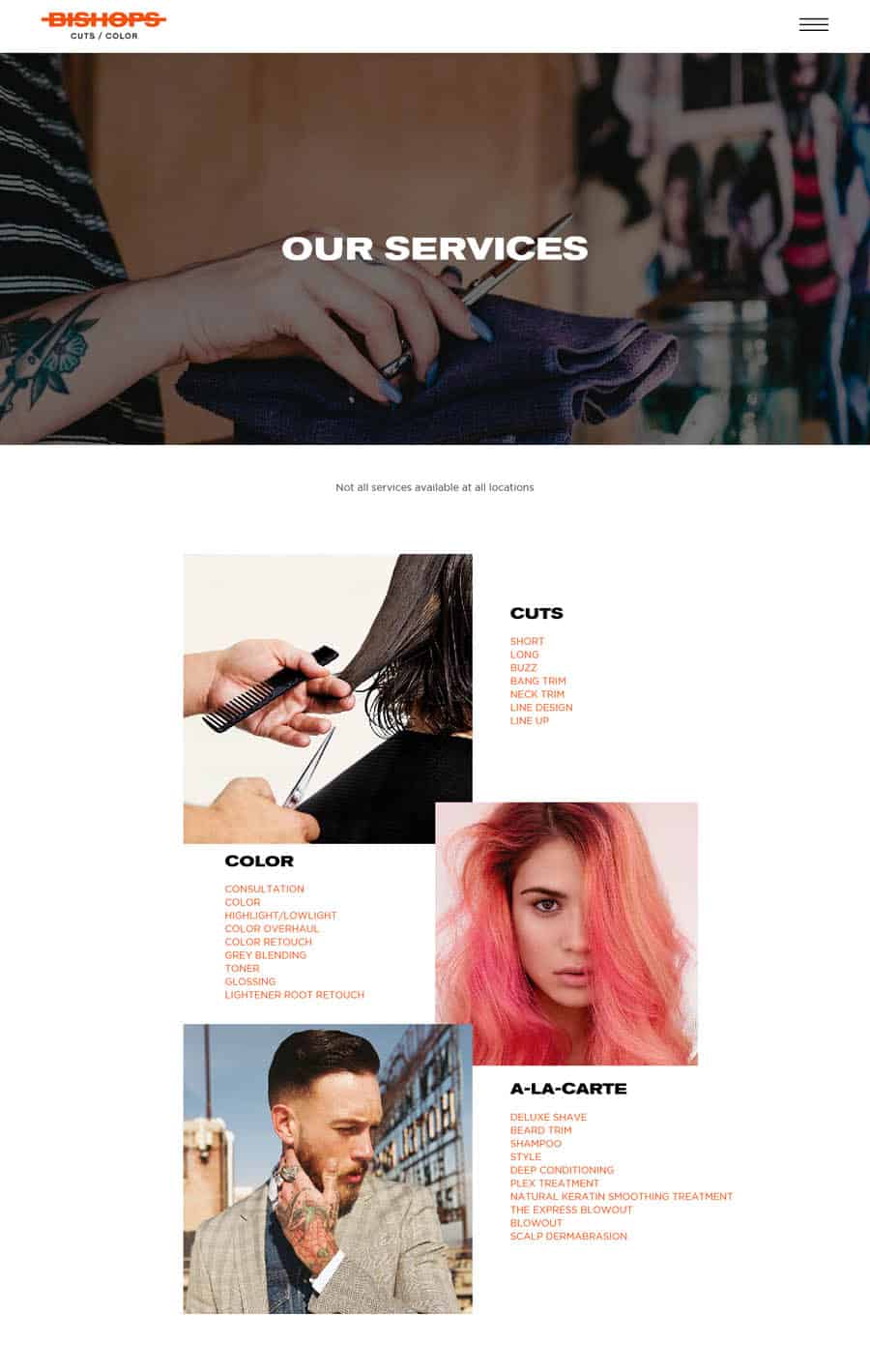 11. Captains of Industry Barbershop
Captains of Industry is a barbershop in Melbourne, Australia, where Sam Fordyce has been cutting hair since 2005. The website is made with WordPress, and the theme is by Semplice.
Classic men's grooming never goes out of style. After seven years in the industry, I've seen fads and distractions come and go and now feel like I've found a home where I can settle in and do great work. No bells and no whistles, just great knowledge, style and service provided by a professional.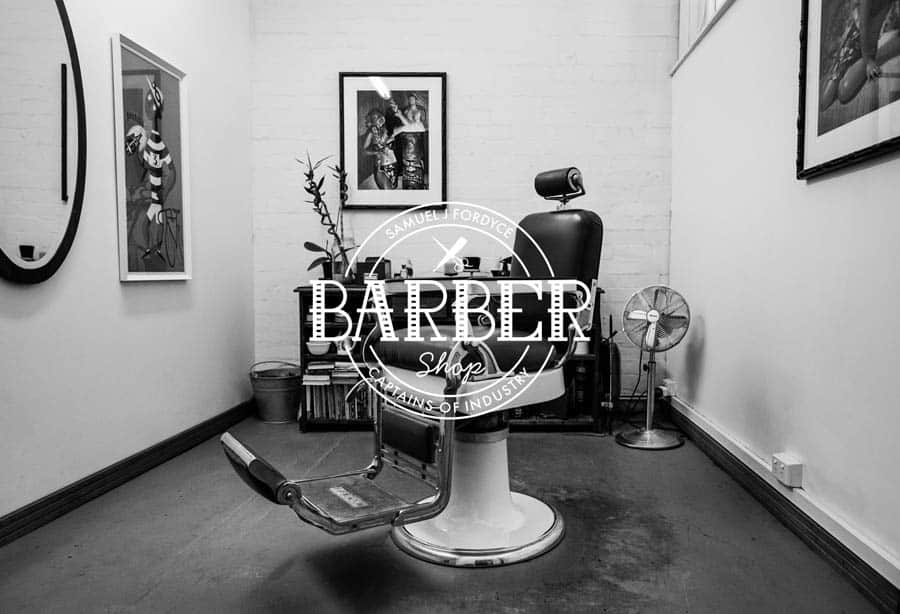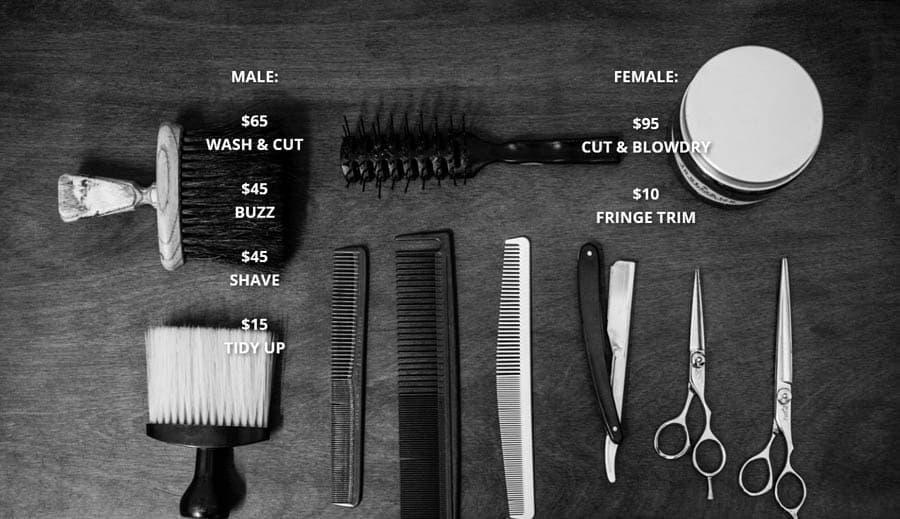 12. Gentlemen Barber Clubs Website Design
Gentlemen Barber Clubs was founded in Cologne, Germany, in 2015. It's easy to see why this is an award-winning website. Beautiful photography, typography, and textures in an uncluttered layout convey the feeling of an authentic, classic barbershop.
13. Hagi's Barbershop
Hagi's is a barbershop in Germany inspired by classic barber culture from the US and UK. The design is in a timeless 1920s style. The design of the barbershop is in a timeless 1920s style that also translates well to the website. Noteworthy also are the videos that allow visitors to immerse themselves in the salon.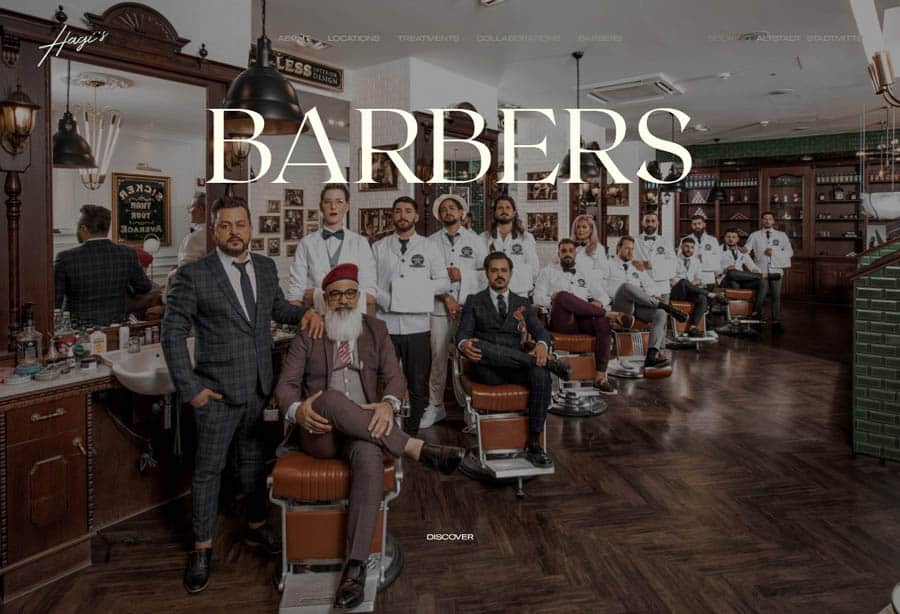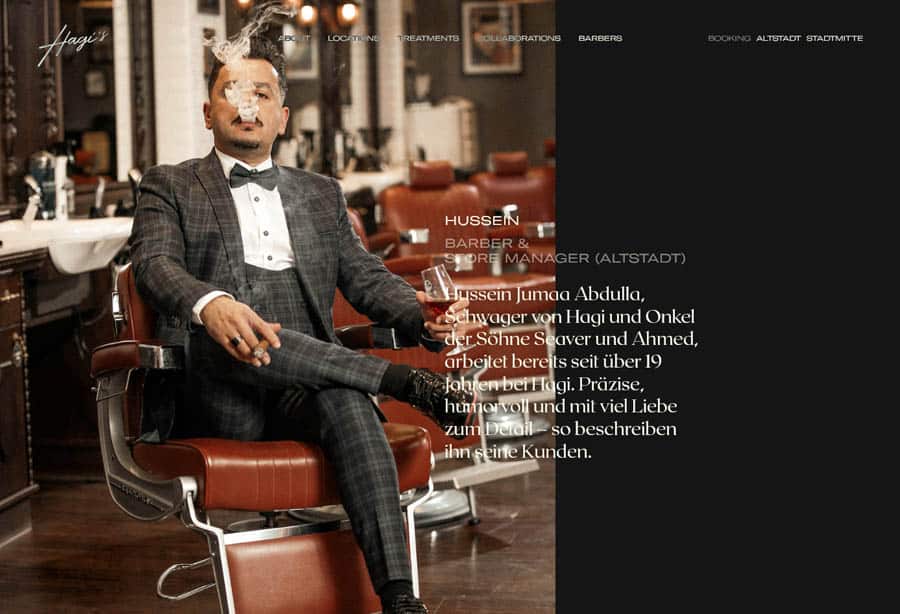 14. Hairrari
Hairrari is a gender-neutral barbershop in NYC and LA, specializing in individual styles for all. The design is made in Squarespace, and Squarespace commerce is used for the online shop. The booking system is by Resurva.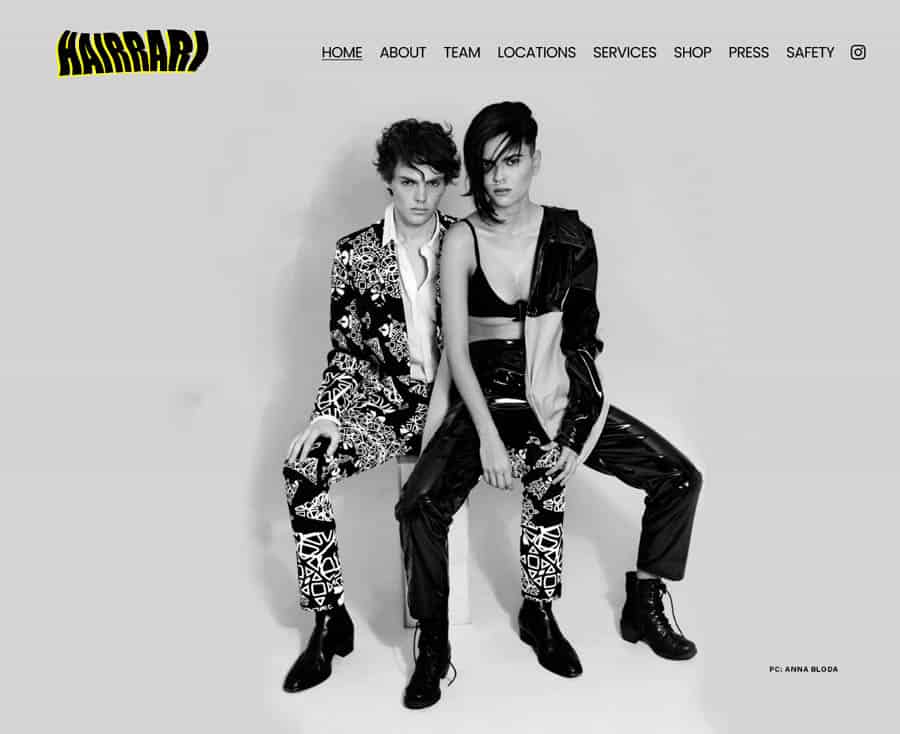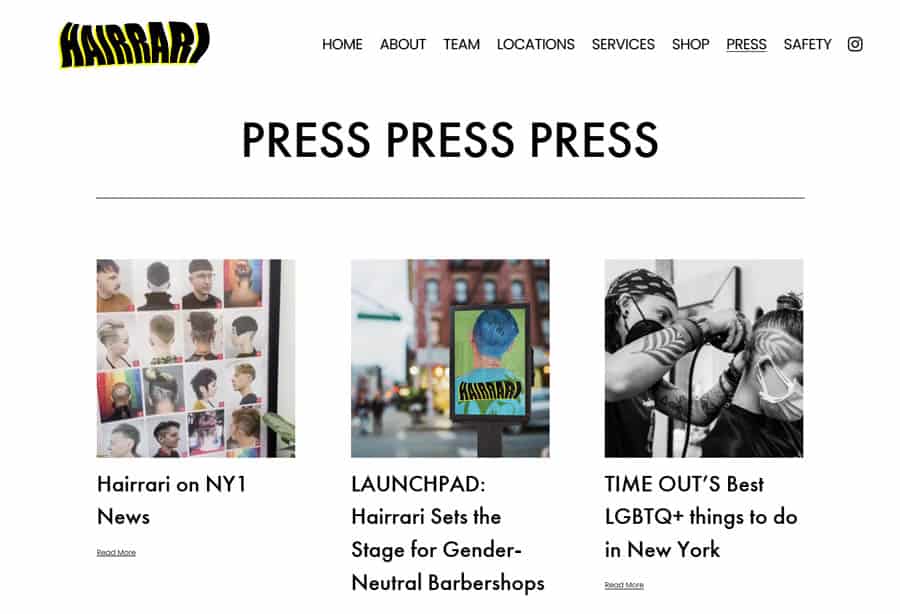 15. Huckle The Barber
Huckle The Barber is an independent barbershop brand founded in 2012 that is widely recognized for running some of the best barbershops in London. The website is made with Shopify, and the booking software is by Phorest.
16. Ilya Barbershop Website
Ilya Barbershop is located in New York. A simple color palette and clean design efficiently communicate the timeless style of a premium barbershop. The website is produced with WordPress and WooCommerce. The website is produced with WordPress and WooCommerce.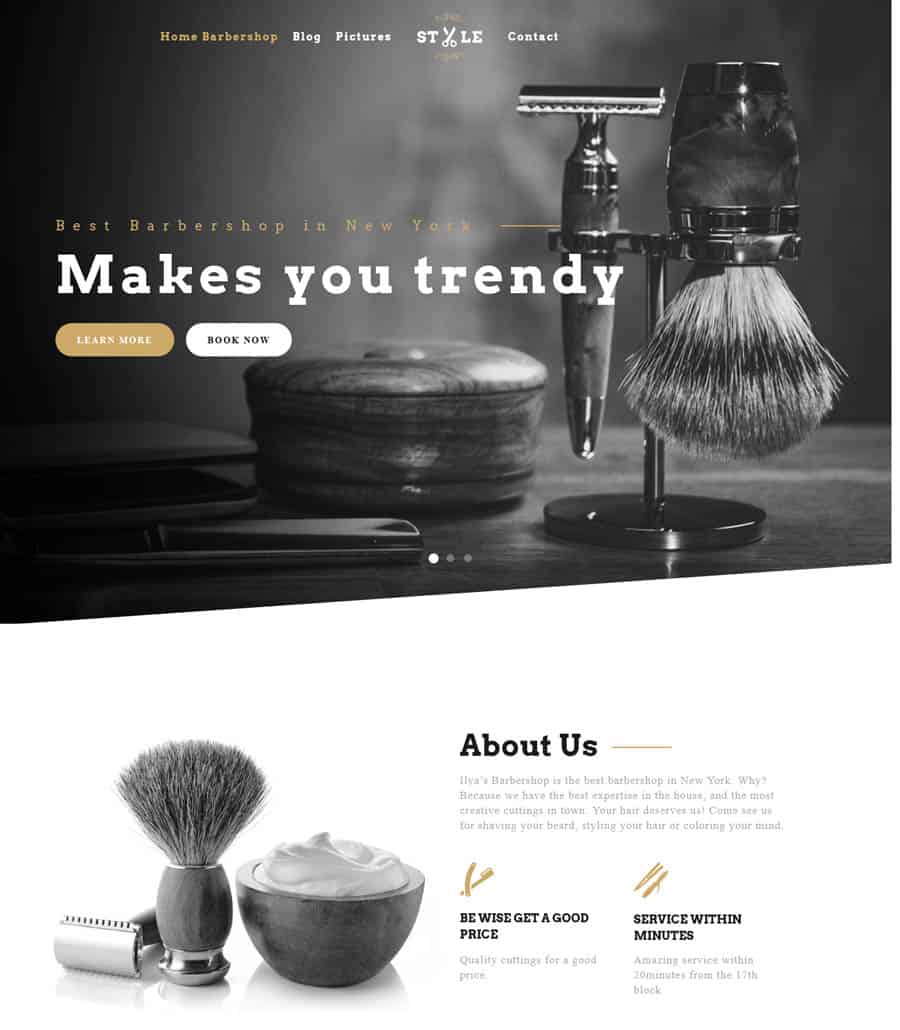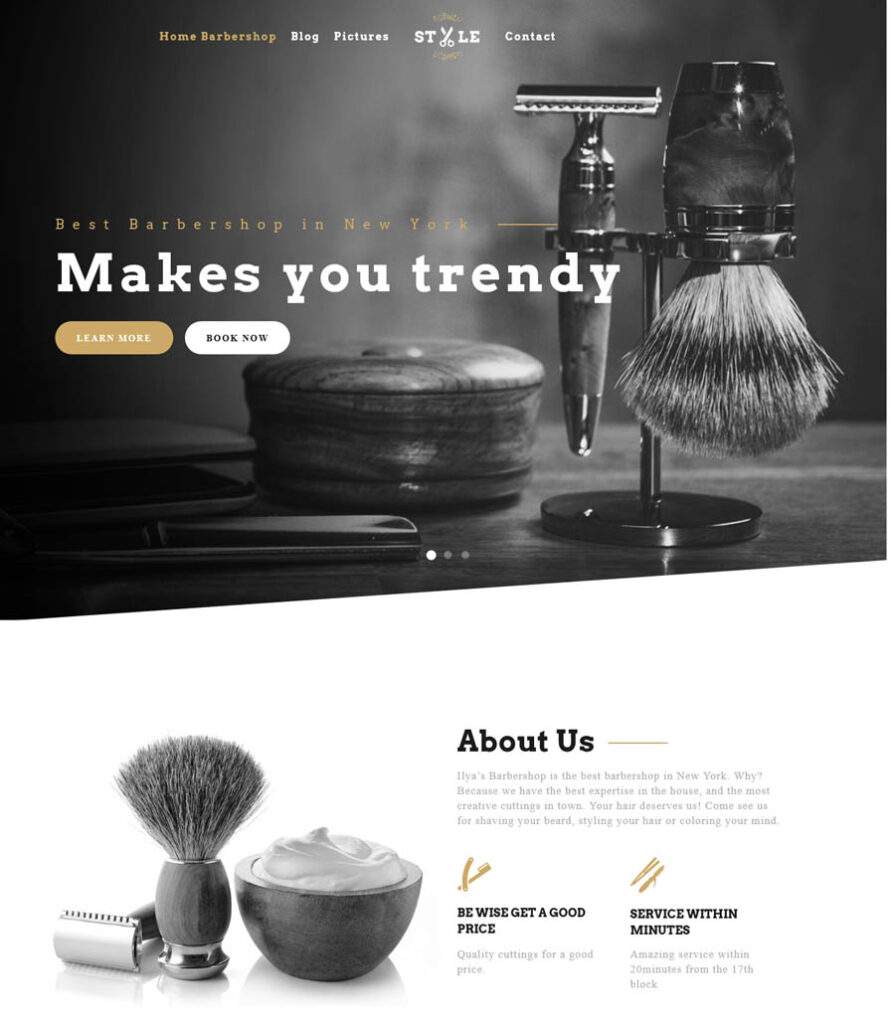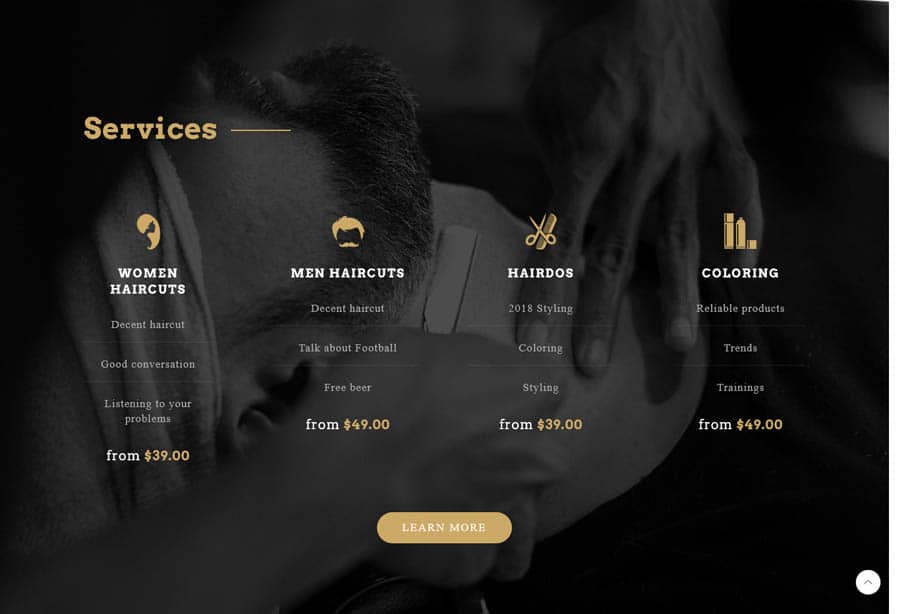 17. Jack the Clipper – Barbershop in London
This is a fantastic homepage for a small chain of barbershops in London. The visual style takes its inspiration from the age of Jack the Ripper and combines it with a contemporary edge. Many nice details to look at on this website. CMS by WordPress and e-commerce with WooCommerce. Online booking system by Nearcut, which specializes in barbershops. 
We have all heard the legends of Jack The Ripper, the mysterious and elusive serial killer active in the largely impoverished areas around the Whitechapel district of London in 1888. It seemed fitting for Master Barber and Founder, Halil Ismail, to pay homage to the oddity of Jack and form a brand around his successful Turkish barbering business.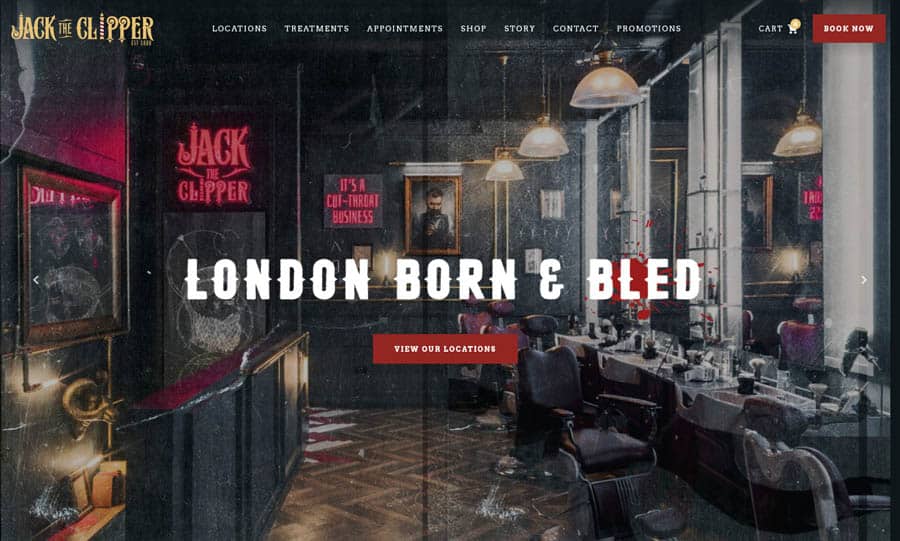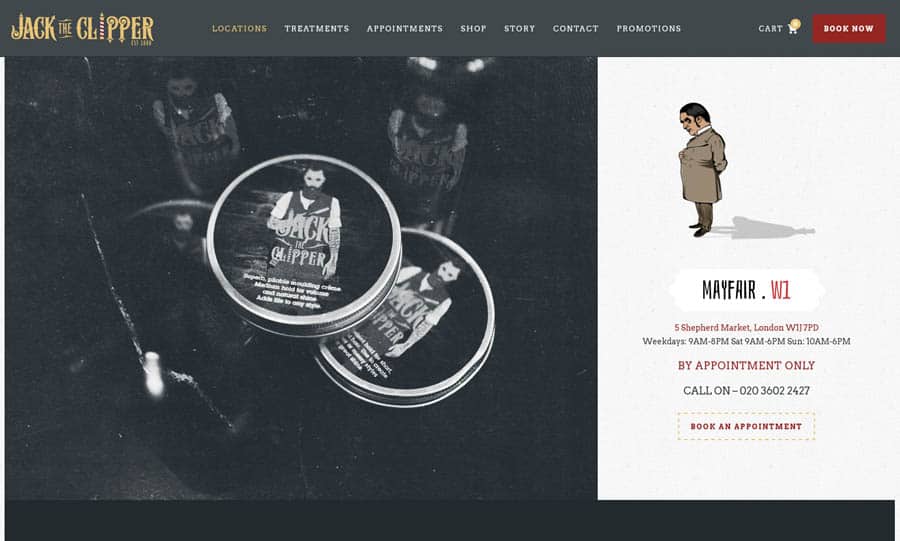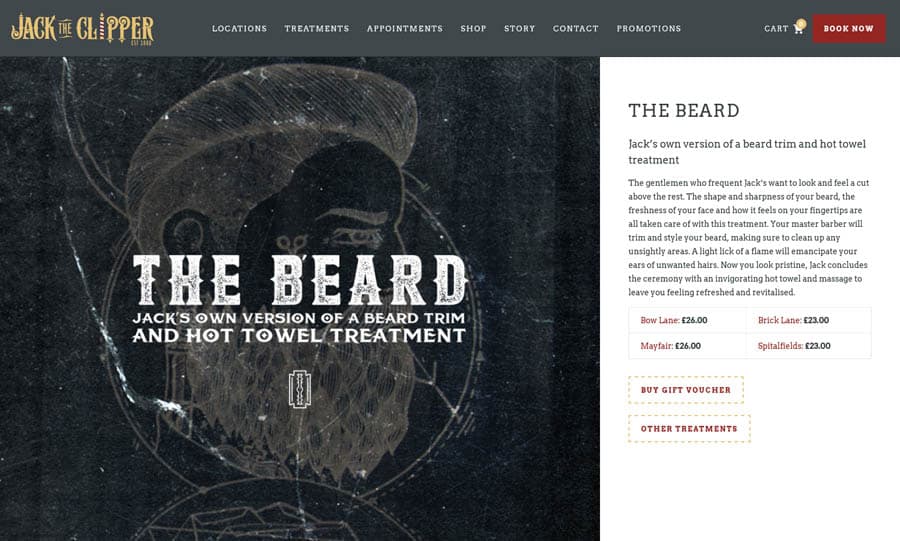 18. Little Rebel Barbershop – Melbourne
This is clearly not your regular barbershop. The visual style takes its inspiration from the 80 or 90s but the tech and appointment scheduling on the site is up to date. Made with Squarespace and appointment scheduling with Timely.
Little Rebel Barbershop is a space for everyone. A hub that welcomes self expression and creativity. We provide a variety of services using both hairdressing and barbering techniques, breaking the rules and pushing boundaries in the hair and beauty industry. Inspired by artistic and musical subcultures and driven by equality!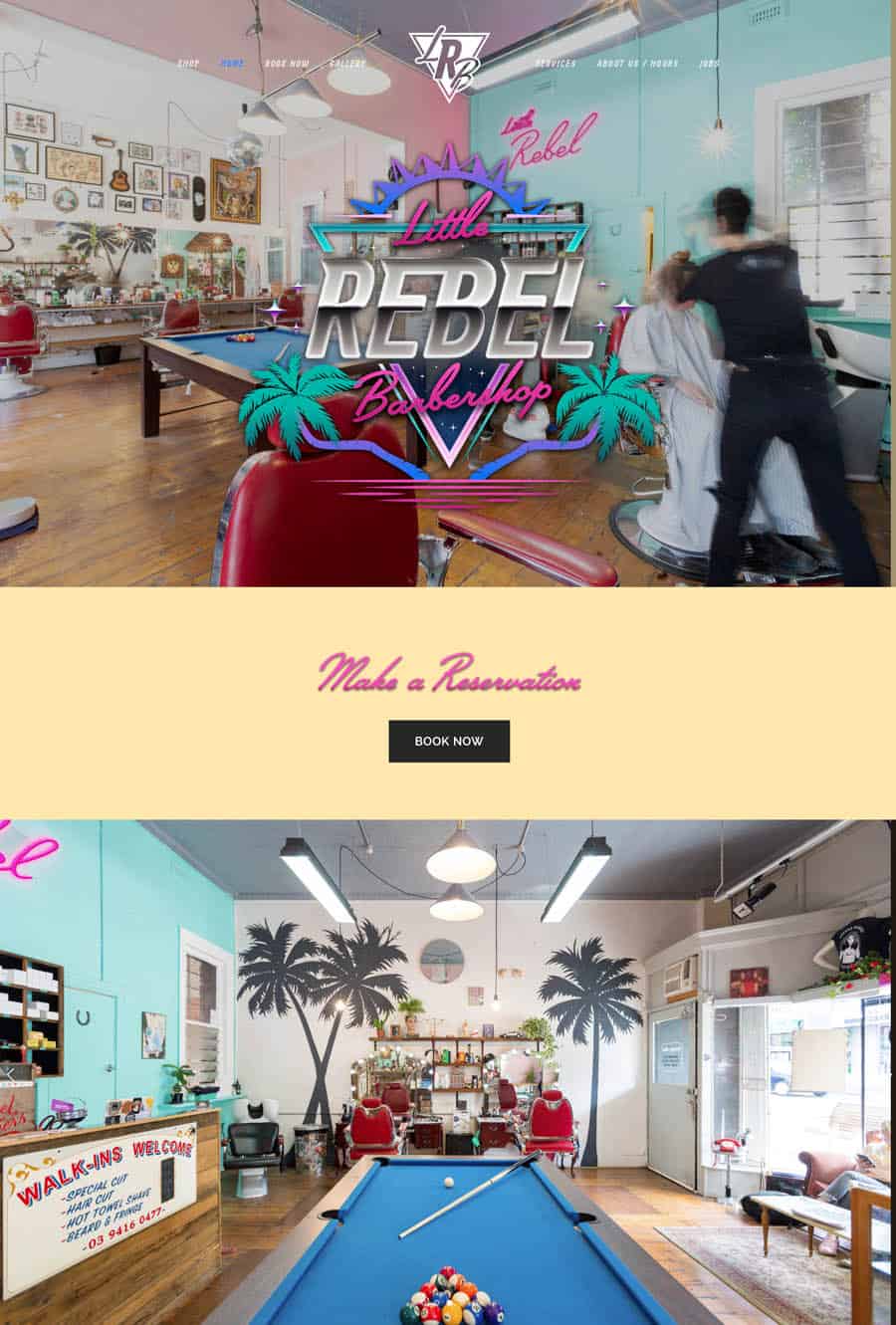 19. The Melbourne Barber Shop
This barbershop has a great combination of modern and traditional Barbery in an auto-themed atmosphere. The site is designed in WordPress and WooCommerce.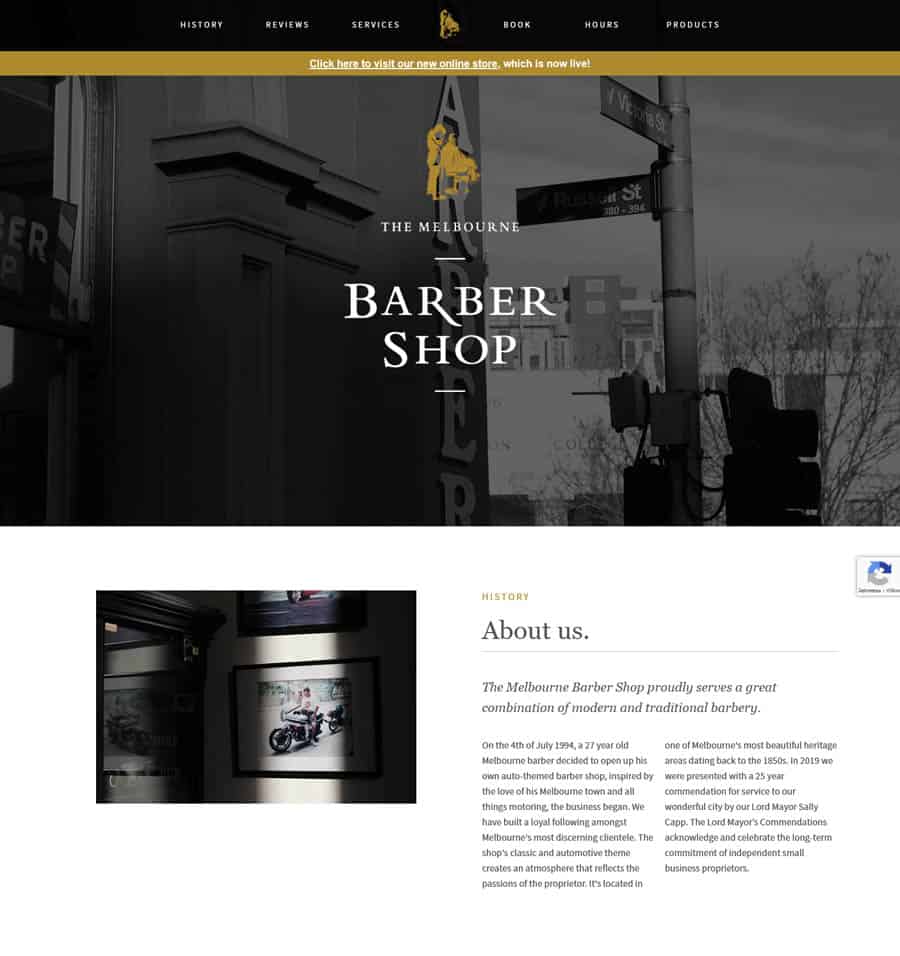 20. SHED Barber and Supply in Austin, Texas
The style of this site looks very modern with large type and asymmetrical layout. Great bio and video clips with the barbers and an interesting selection of products for sale in the online shop. Made with WordPress.
SHED elevates the barbershop experience with an attached retail area that offers men's grooming supplies, shoes, and clothing from independent designers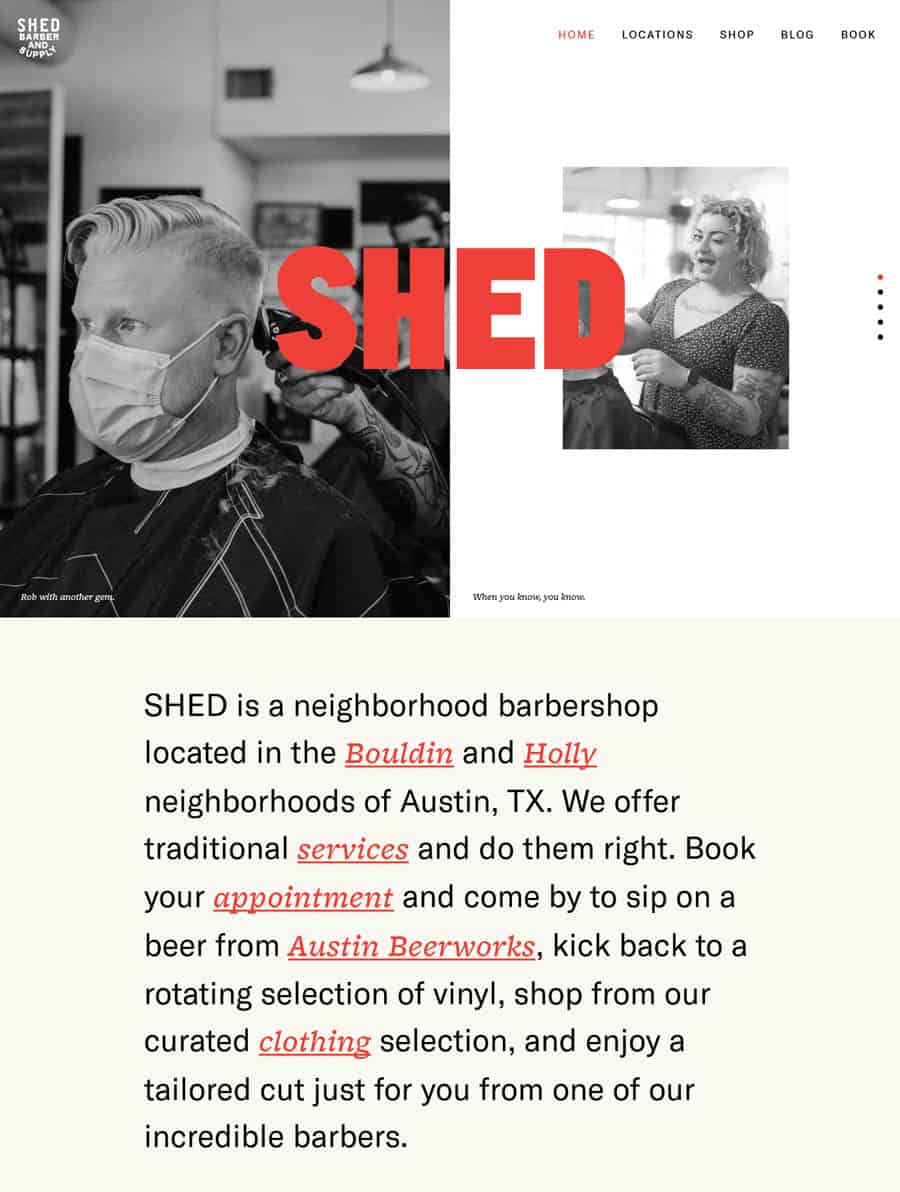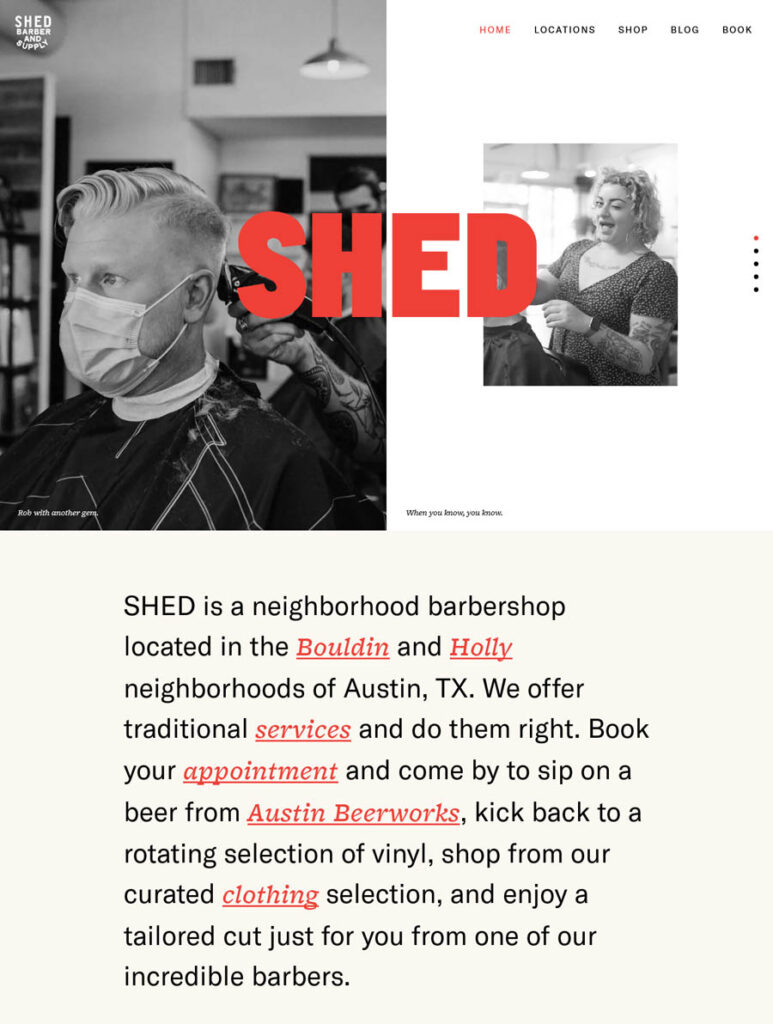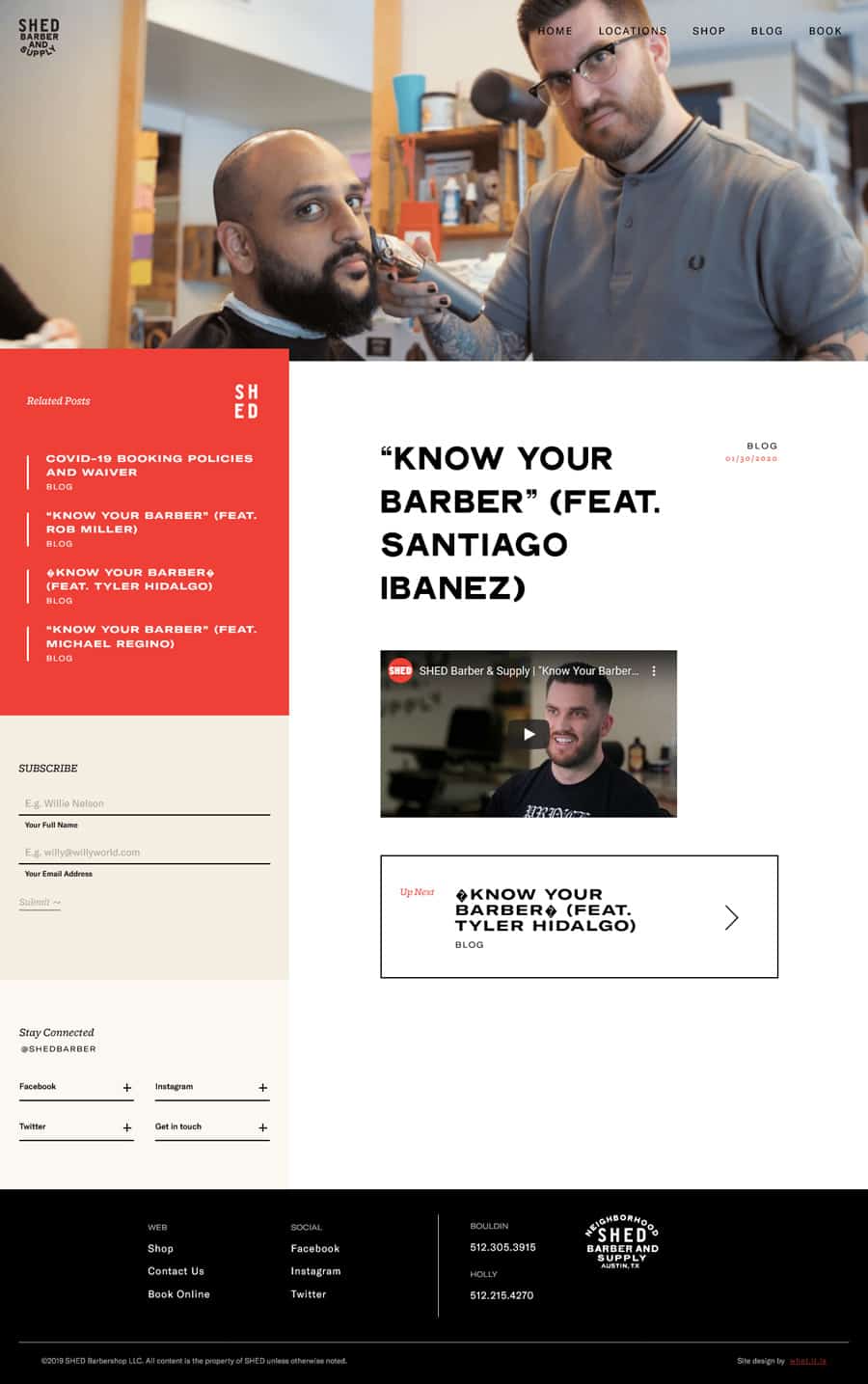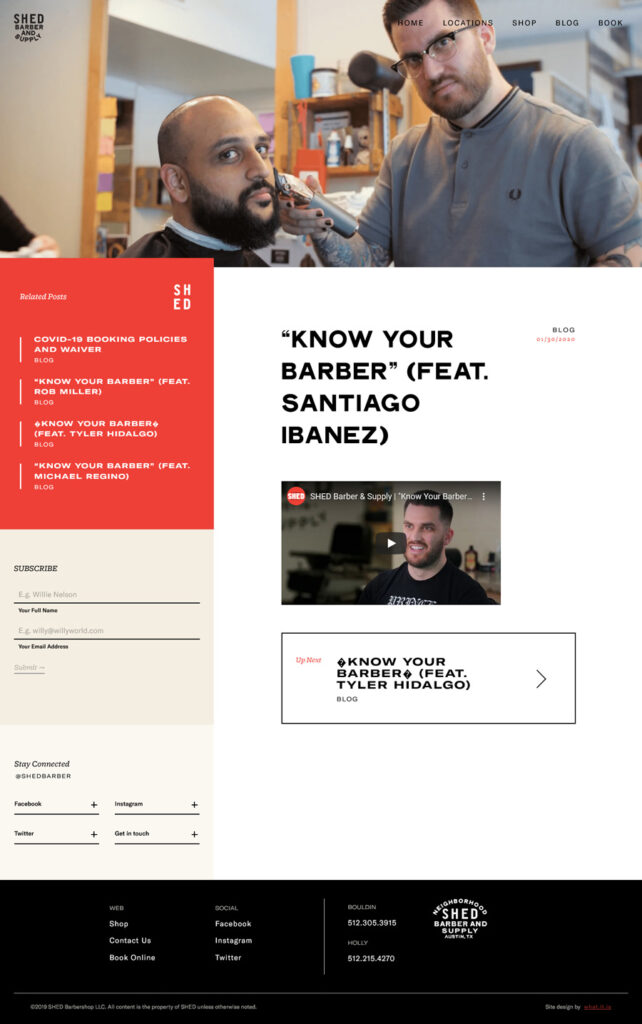 21. UNOIT – A Fresh Take on Men's Grooming
UNOIT is located in Sydney and combines an award-winning barbershop and advanced aesthetic treatments. This website has a very classy feel to it with a very clean and elegant design. The web design is made with the high-end tool Webflow.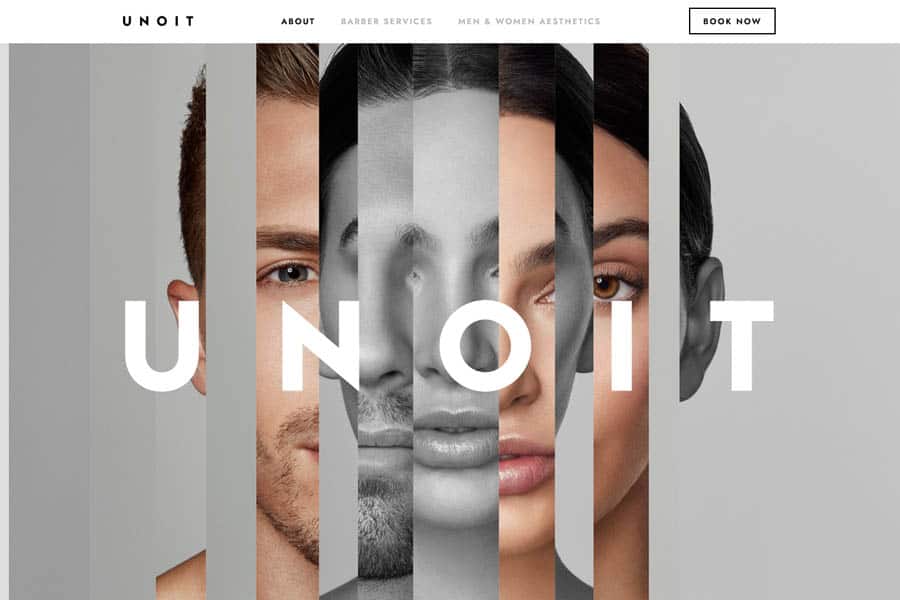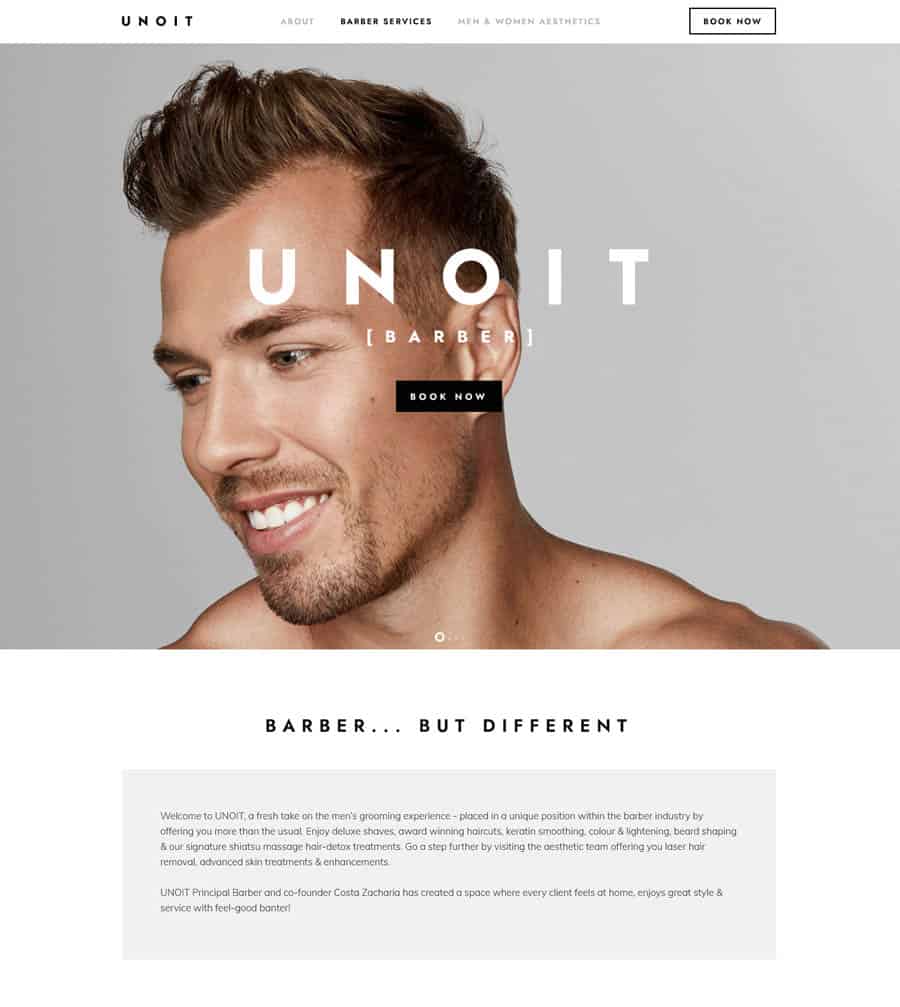 22. Millheads Barbershop Website Design
The barbershop is located in Seattle and combines modern with traditional barber services. The website is made in WordPress.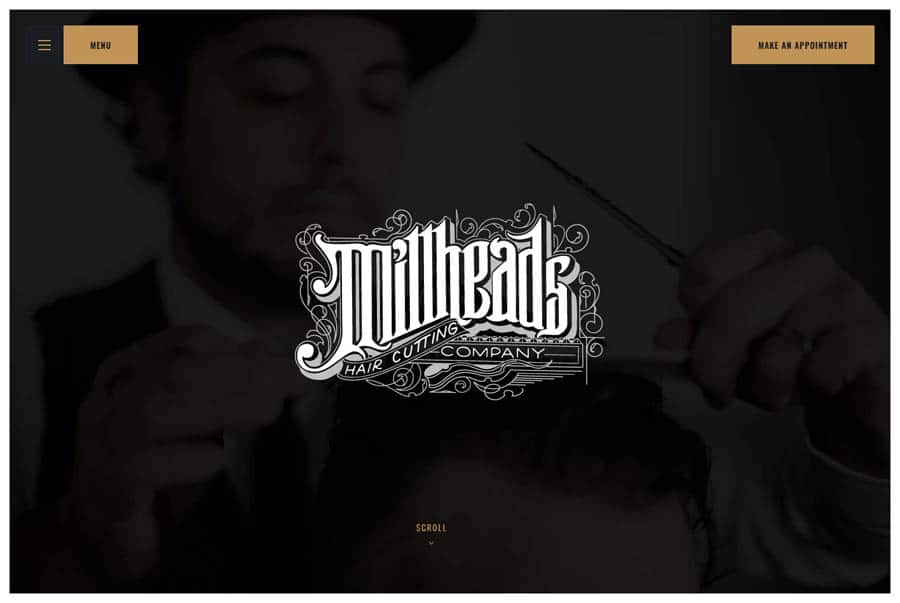 23. Otis & Finn Barbershop
This website stands out for its great photos of the staff. The press page shows plenty of social proof in the way of press clippings. Tech stack: WordPress, Wix Stores for e-commerce.
Otis & Finn was built as a community outpost for LIC, Queens and Greenpoint, Brooklyn – a space that's radically inclusive and welcoming to all people. Come as you are, meet your neighbors and revive the lost art of conversation. You may get a shot of bourbon to get you started,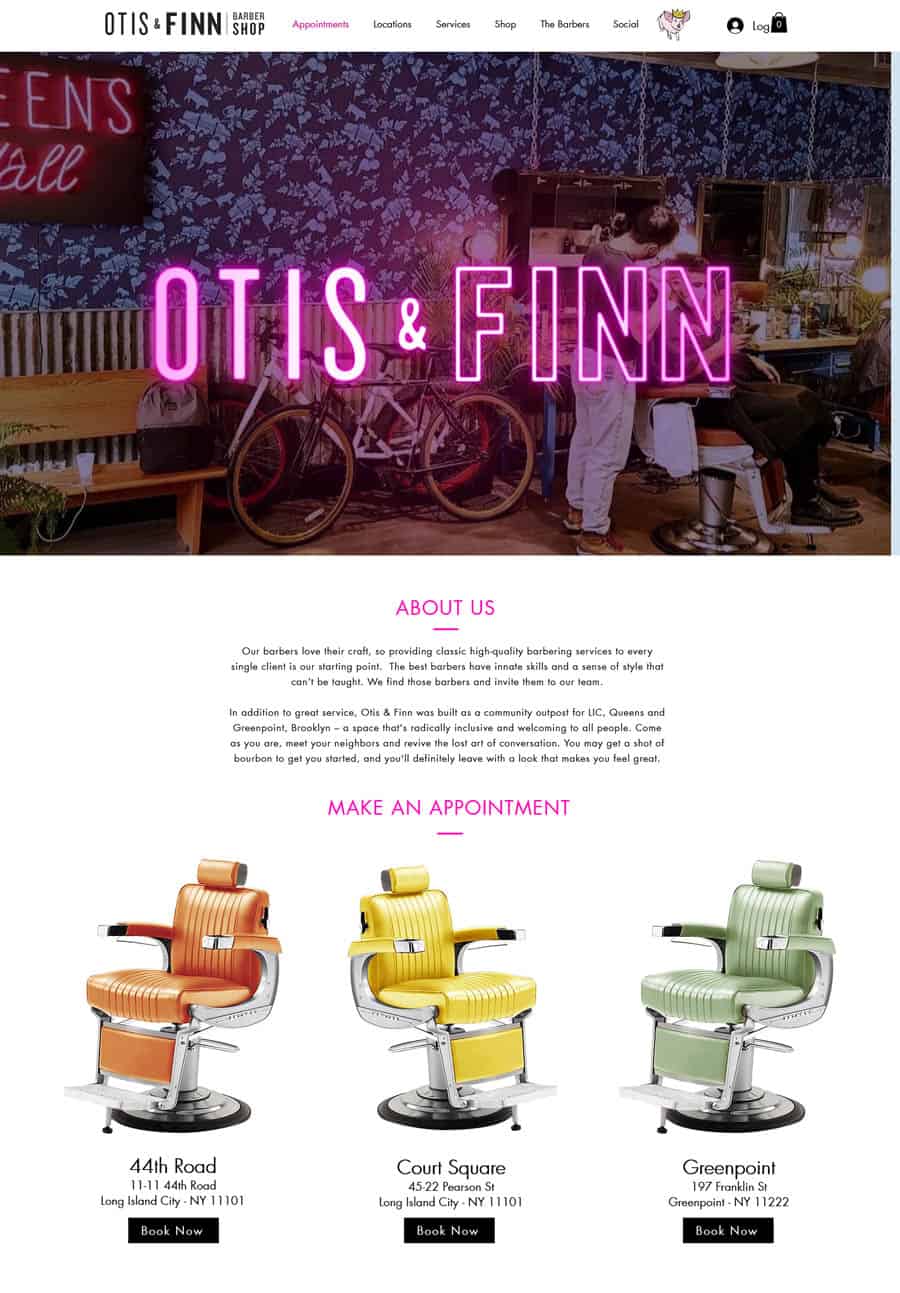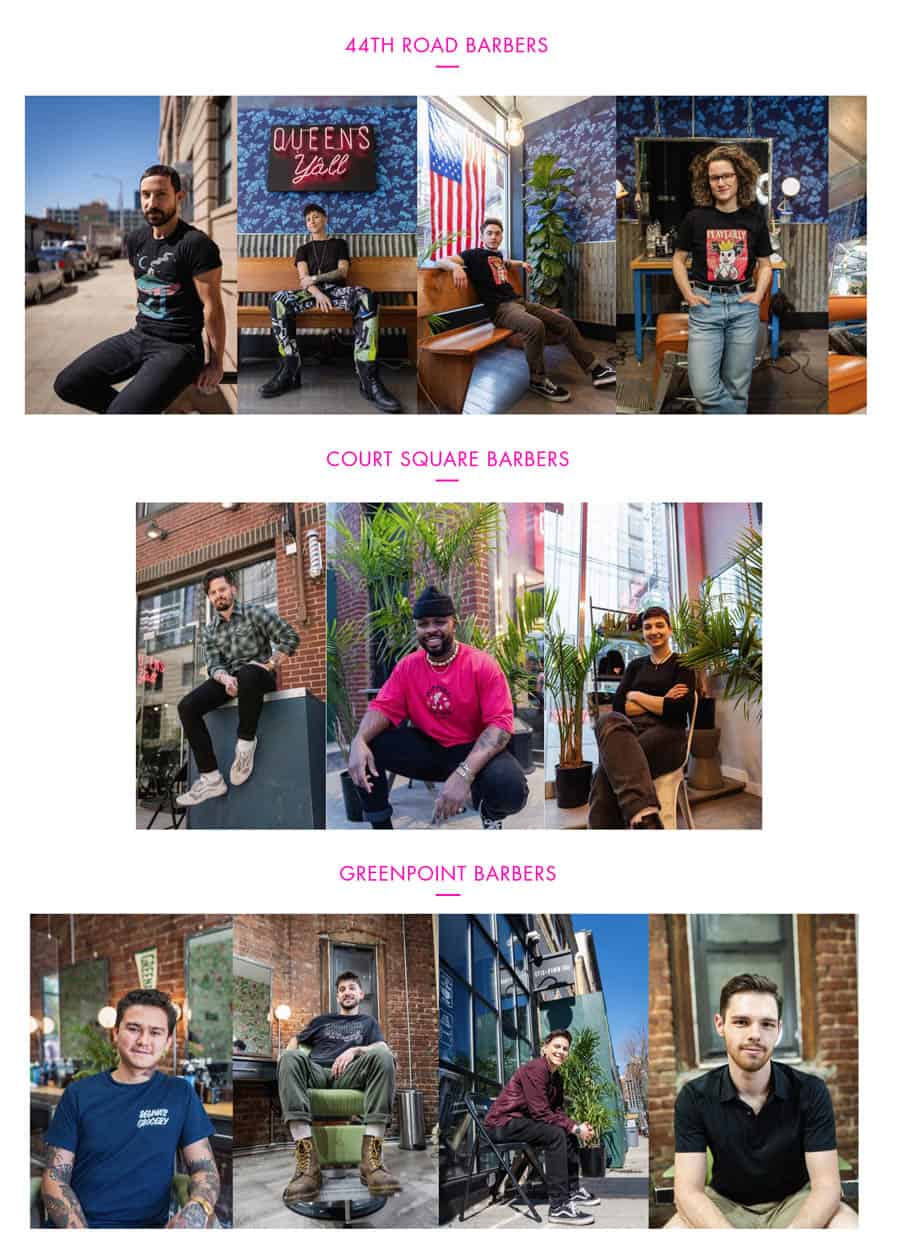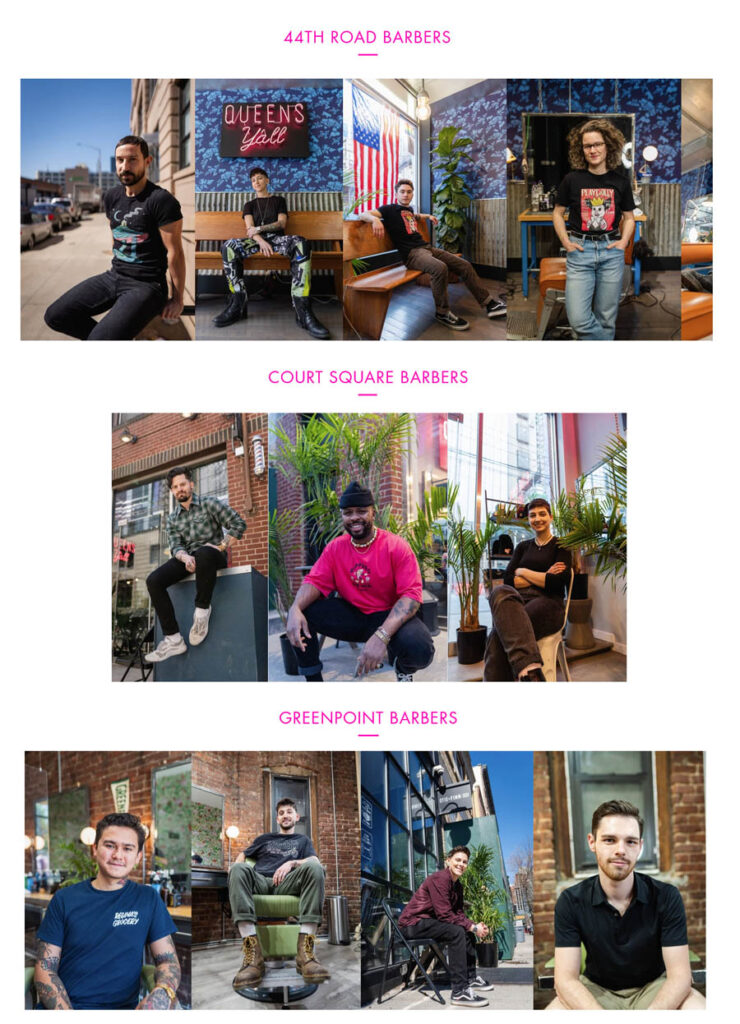 Conclusion: What Can We Learn From The Best Barbershop Websites?
It can be difficult to know where to start when you're about to build out a new barbershop website. But starting to learn from what the best barbershop websites do is an excellent start.
A few important themes that become very clear as we look at the examples here are:
Visual impression: How fast do you understand what the website you landed on is about, and does that resonate with your target barbershop client? Is it also consistent with your establishment so that the client's experience is aligned online and offline?
Clear call-to-action: Do you immediately find a book now button that links you to the barbershop's appointment scheduling software?
Is contact information clearly visible: Do you immediately find opening hours, address, and phone number on the website? In fact, this will be the reason most people visit your barbershop's page.
Smart use of content: Do you include specific pages for your key services, and is your website integrated with your social media. Producing and publishing more content will help your salon show up better on Google and other search engines.
I hope the top barbershop websites shared here have inspired new ideas for your website. But don't just leave it as an idea. Take action on getting your new website up today.
Order a barbershop website today from 99Designs or follow my guide on how to create a salon website yourself here.