Disclosure: This post may contain affiliate links, meaning I get a small commission if you decide to make a purchase through my links, at no cost to you.
Learn more...
Are you looking for salon lighting design ideas?
Then you've landed in the right place.
You've found your perfect salon space and you can't wait to set up and decorate! You know exactly where your reception, wash sinks, dye mixing, and chair stations will go, now you get to buy all the things that really make an empty space a salon.
While cozy throw pillows with punny sayings might be calling your name as you look toward your reception area, the first thing you should really be thinking about is your salon lighting.
Hair and beauty salon lighting is the most important aspect of setting a tone in space while ensuring an effective work environment. It cannot go by the wayside or be an afterthought.
In this article, I'll share exactly what type of lighting fixtures work best where, and why each category is important!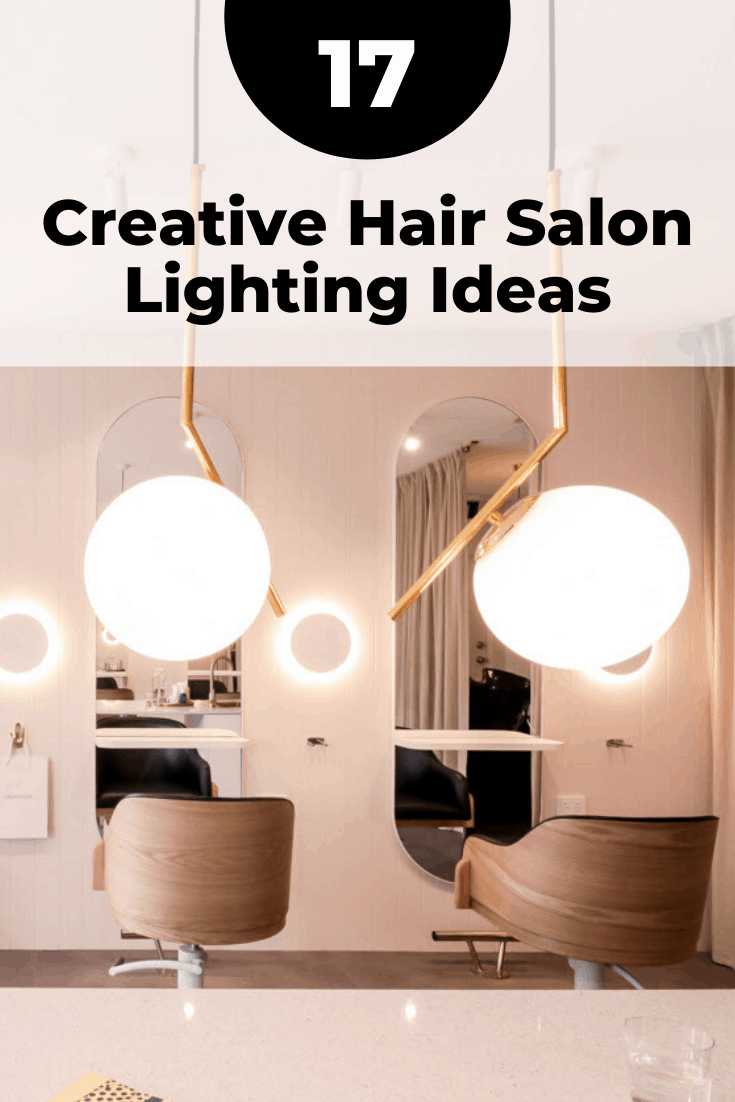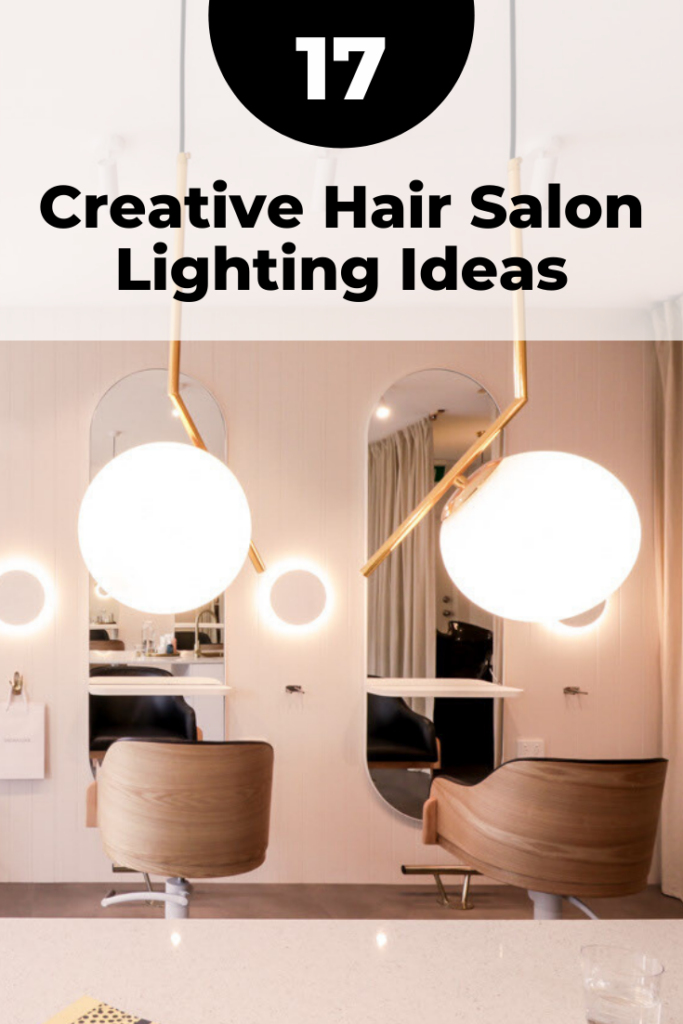 Understanding the Different Salon Lighting Fixtures & Solutions
There are four main types of lighting solutions in any given space, including salons!
The idea is to make the lighting in a space feel intuitive and create the tone for the space, regardless of what it is.
The first category of lighting is Ambient lighting. This category includes all of the fixtures that we may not notice right away, but give us a diffused light across the entirety or majority of a space.
Next, we have Task lighting. Task lighting has a specific purpose, and that's to help us see better in high-use areas, not just a hallway.
Accent lighting is lighting that can be used to draw people (and customers!) to a specific area.
Finally, we have Decorative lighting. Decorative lighting is just that. It adds more personality to the space.
All of these types of lighting are important, especially within your salon or barbershop.
This article is structured around these different types of salon lighting. You'll find design ideas and more information about each type of lighting as well as some great fixtures available now for you to purchase for your salon.
Ambient Lighting Will Brighten Up Your Entire Salon
Ambient lighting is used to generally light the entire space with an even, diffused light.
Picking the right type of ambient light is hugely important as this is the most noticeable type of lighting – even if people don't directly see or notice the fixtures.
Why is this then?
Well, have you ever entered a space and it felt dingy? This is most often because the ambient lighting is not bright enough!
Conversely, having too strong lighting can create a harsh, warehouse-like environment when it's not called for or necessary.
Things to take into account when picking the ambient lighting for your salon include what color temperature you desire. Warm tones are comforting but can look stuffy when too extreme, and cool tones look clean and crisp but can create a greenish tinge on the skin when too cool.
Another point to consider is: how high are your ceilings?
If your ceilings are very high, your lights need to be stronger to reach down and fill the space.
Read on to see some examples of common salon ambient lighting solutions!
Salon Track Lighting: A Common Ambient Salon Light Fixture
This is when multiple bulbs are along a single bar or track.
A track lighting fixture can either be installed during construction to have it flush with the ceiling, or a fixture can be purchased after construction and installed then.
The post-construction fixture will not be flush with the ceiling. So installing one of these will make the lighting slightly more noticeable if your ceilings are not very high.
Track lighting also helps block out your space as it can be set up in sections around each area in your salon.
Having one track over the wash stations, another along with the chairs, and so on will be very helpful in blocking out the different areas of your salon.
Track lighting can also be selected with different finishes to help either hide or make your lighting stand out. A white fixture on a white ceiling will hide the track lighting, whereas a black or metal finish fixture will make it pop.
Just be sure to match your track lighting finish to your other finishes if you're looking to make it noticeable!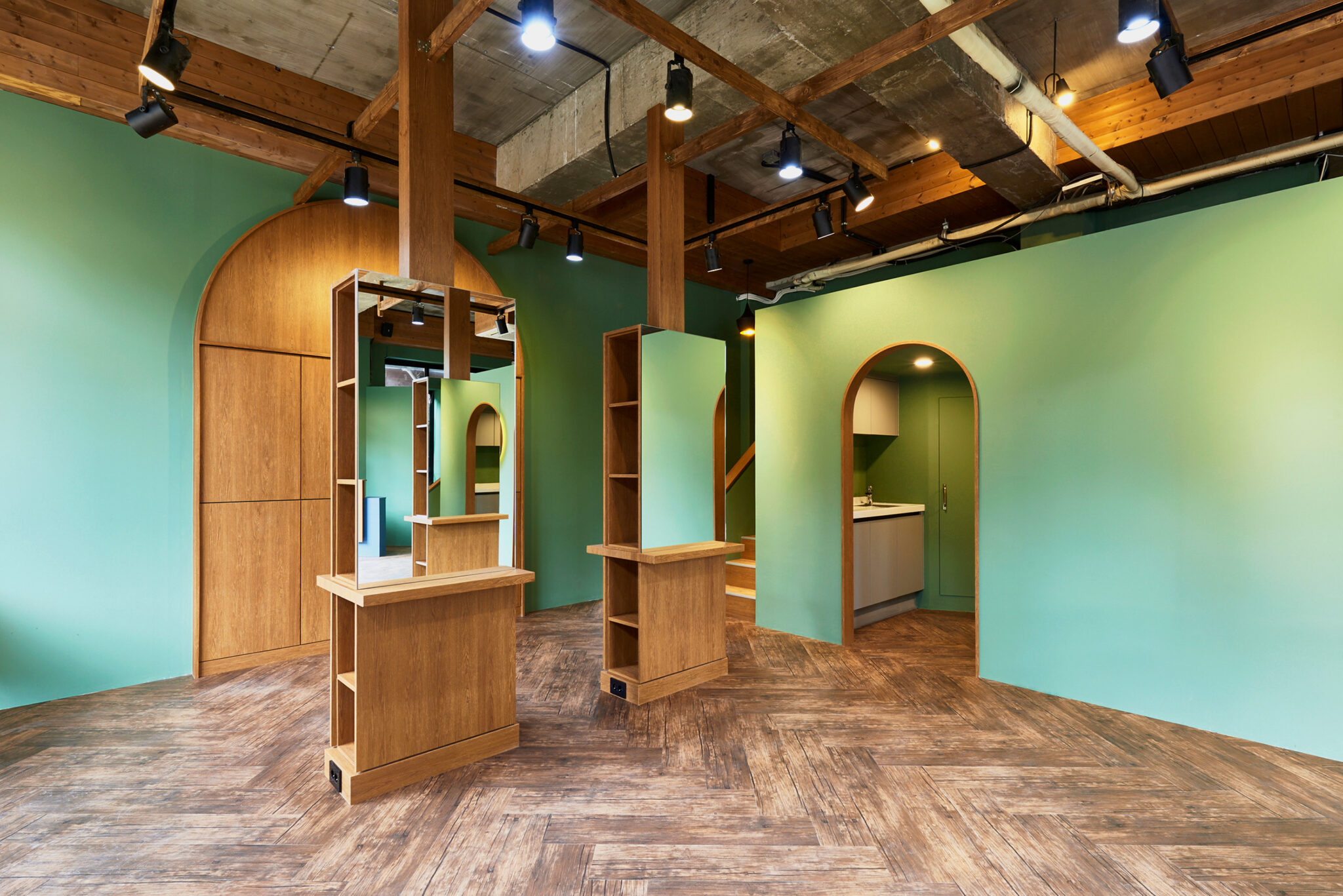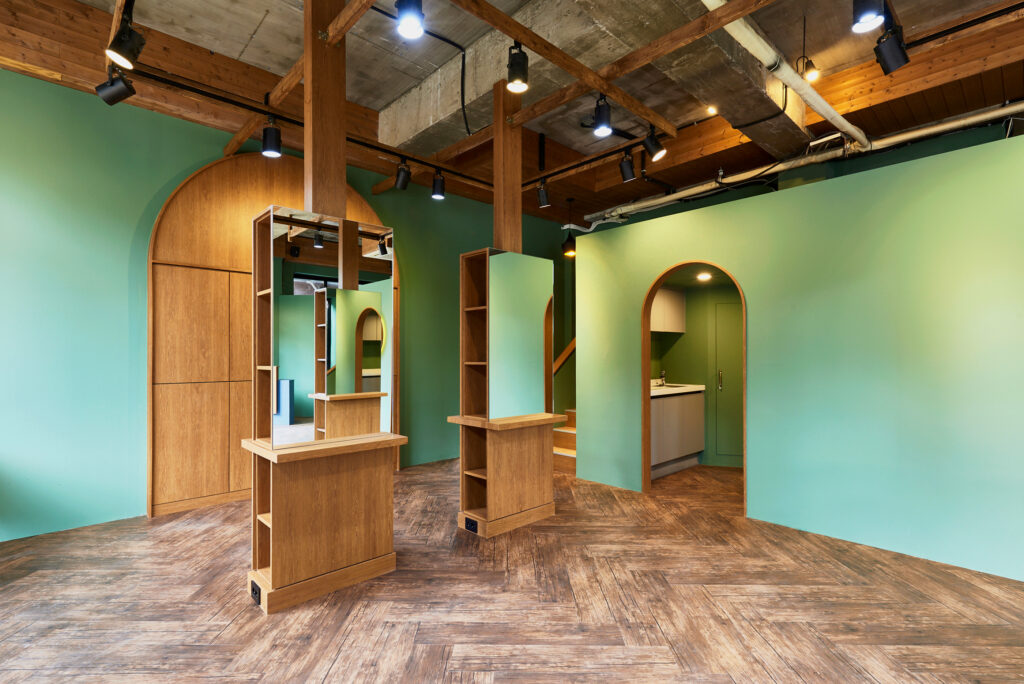 Tile Lighting: Another Option for Ambient Salon Lighting
These include flatter fixtures that can be flush with the ceiling or installed after construction.
As you want your salon to be welcoming, be careful with this type of lighting, as it is very easy to verge on the edge of stuffy fluorescent lighting found in warehouses and older office buildings. Instead, opt for a simple but beautiful piece, such as the one linked below.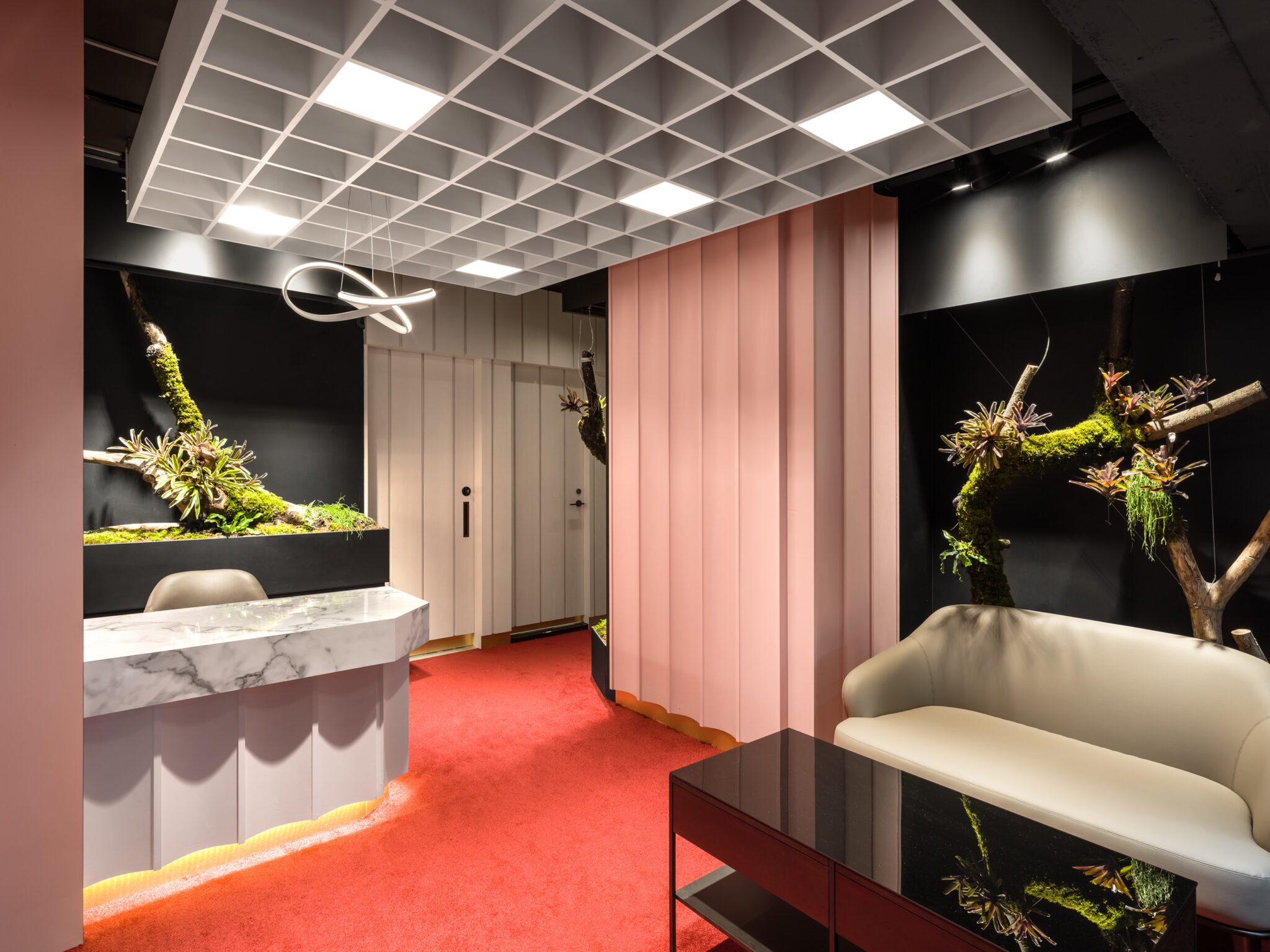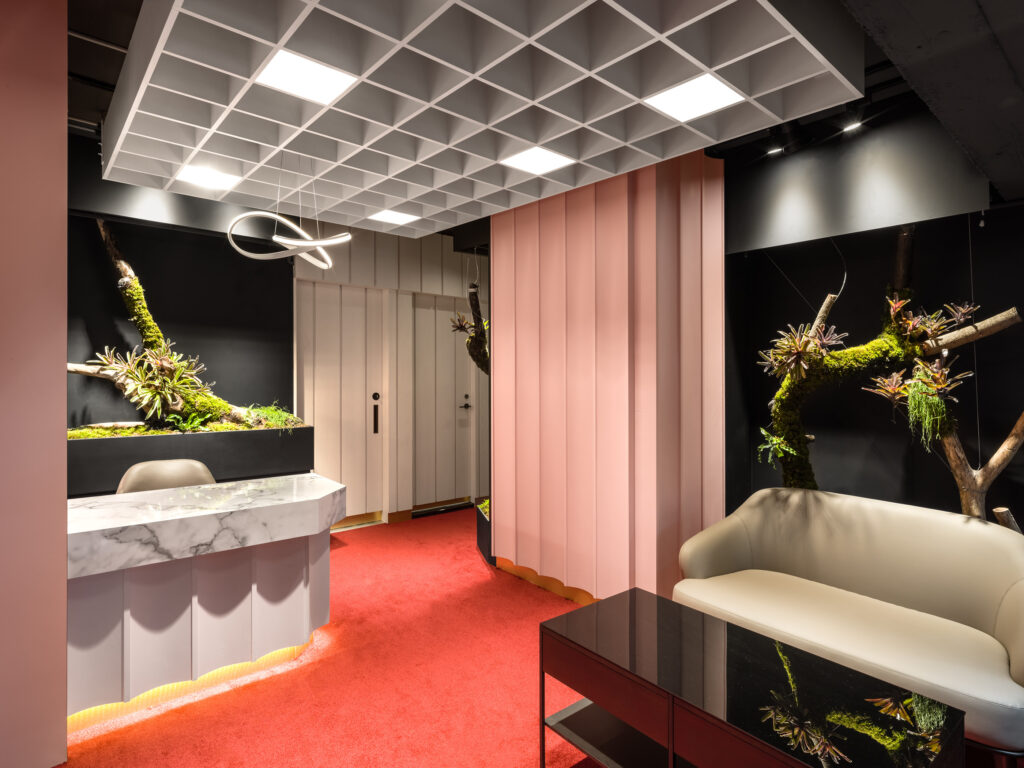 Recessed Lighting: A Fantastic Way to Hide Your Ambient Salon Lighting Fixtures
Recessed lighting can commonly be found in retail establishments as it provides powerful lighting without being intrusive into the space.
An easy retrofit may be required to install recessed lighting. But the effect it will bring in your salon is major.
The main thing to be aware of with recessed lighting is where you are locating the lights. A dense cluster of lights may be too bright in an enclosed area (like your retail area) but you definitely want to have enough lights to brighten up the space.
Spacing the recessed lighting around your salon and making sure you've covered every area your customers and staff use will completely transform your salon with this lighting system.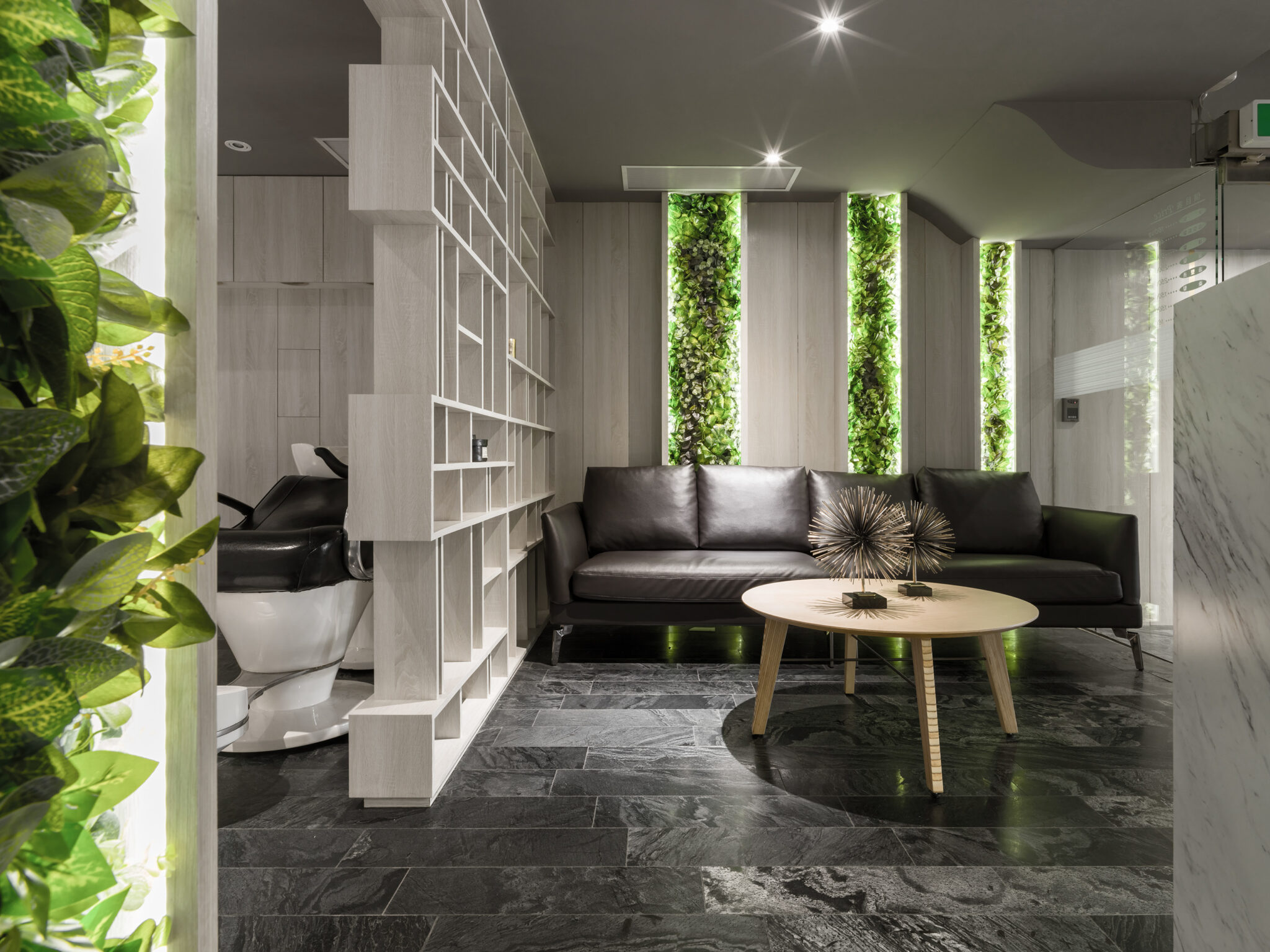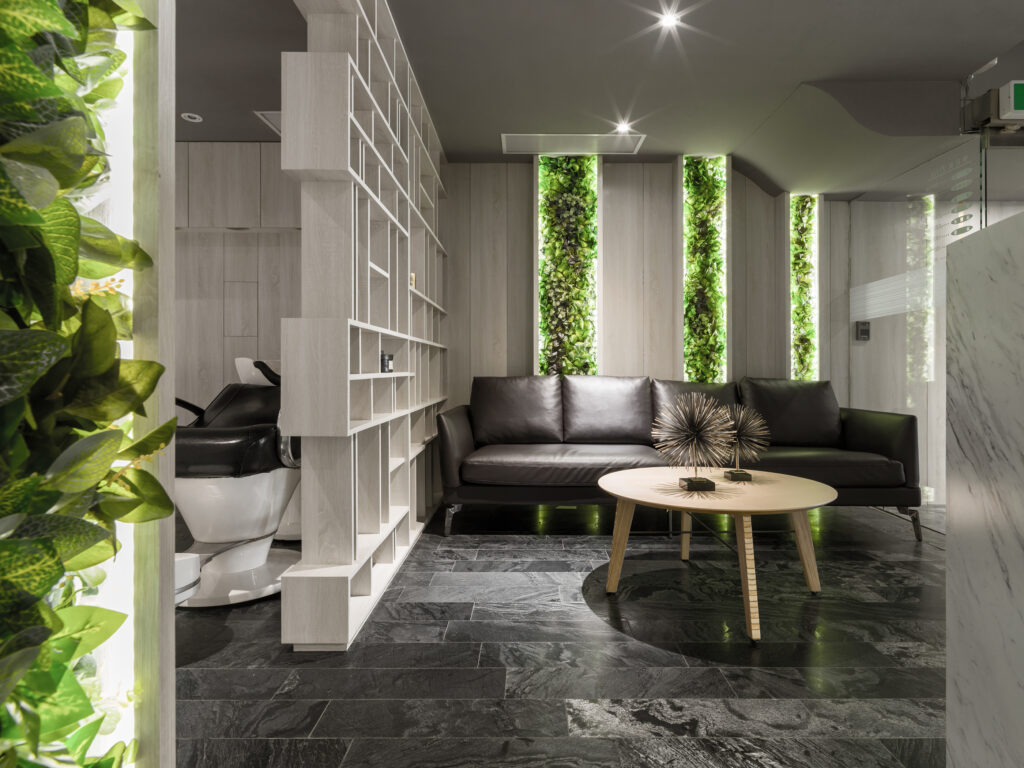 Chandeliers: A Good Way to Blend Ambient Lighting with Decorative
A good chandelier could be the perfect element in your reception area to help set the tone of your salon.
Chandeliers come in all sorts of styles nowadays too. Modern styles with sleek silver finishes can create an air of polish, while classic chandeliers can bring a sense of femininity and regalness to the salon.
Don't be afraid to play with how many you have as well. One dead center on your ceiling may make a great statement, but consider how two or three in a line above the styling chairs would look as well.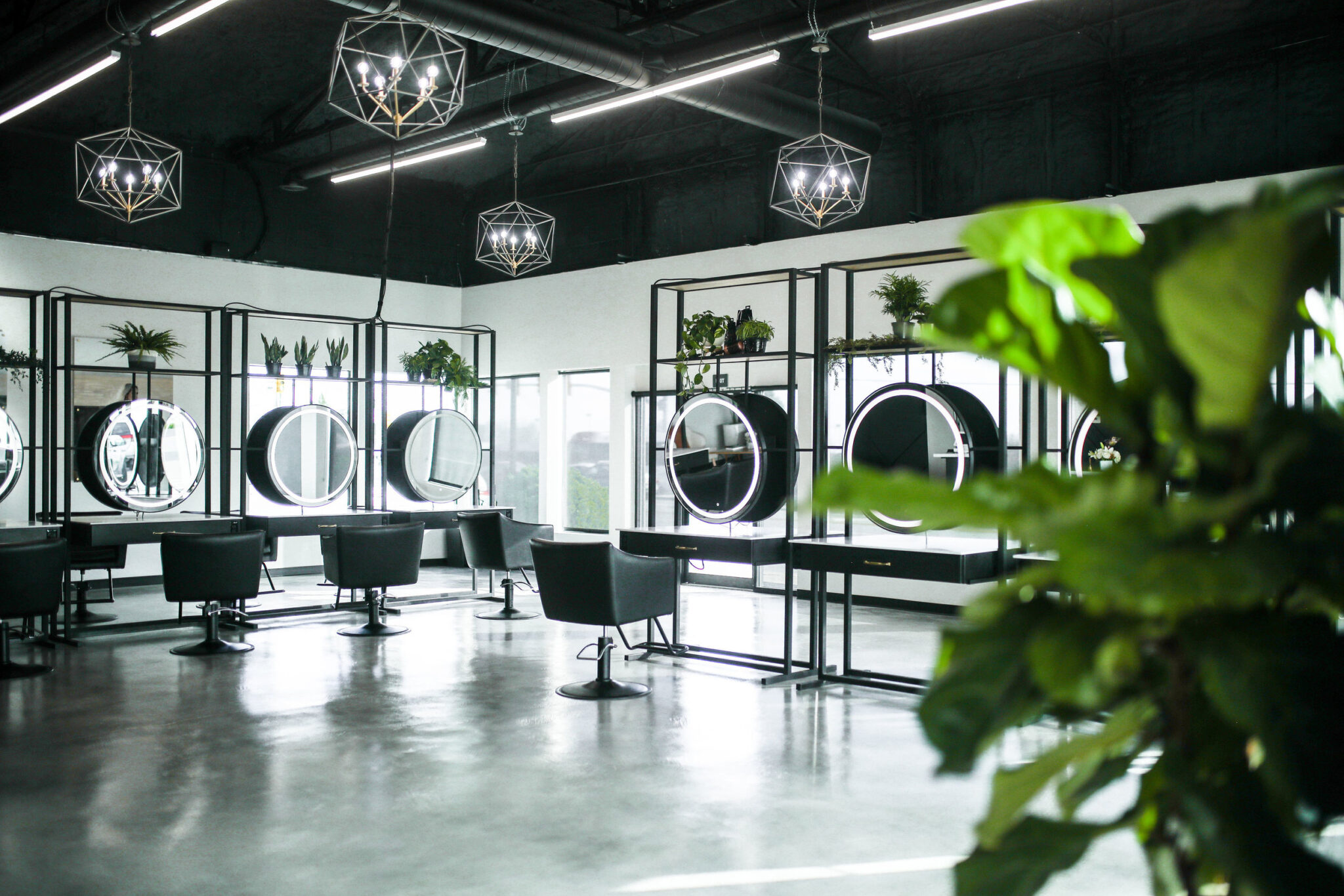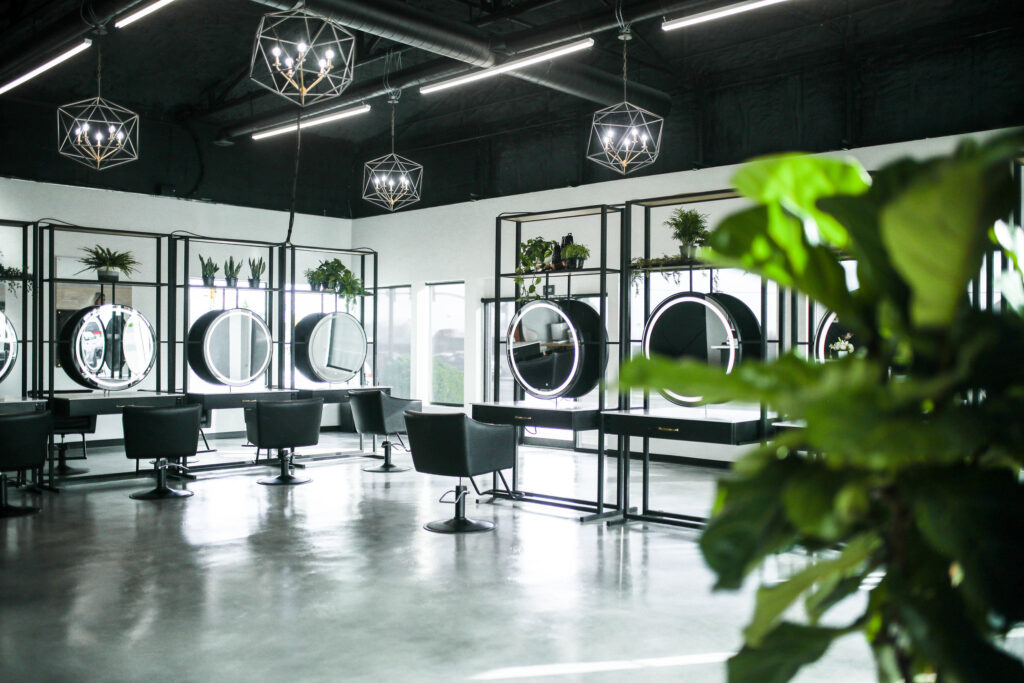 You can browse a lot of good chandelier options on Amazon. Ultimately, what's right for you depends on the style and image of your salon.
Task Lighting Helps Your Stylists Achieve Amazing Results
Task lighting is the next most important lighting category.
These lights will enable you and your staff to have full visibility when performing essential functions at work.
These lights are much more direct and oftentimes brighter in a more concentrated spot than the ambient lights above.
There is a multitude of tasks that go on in a salon, therefore a multitude of task lights must be considered. Below are some examples of salon task lights to think about as you plan out your salon.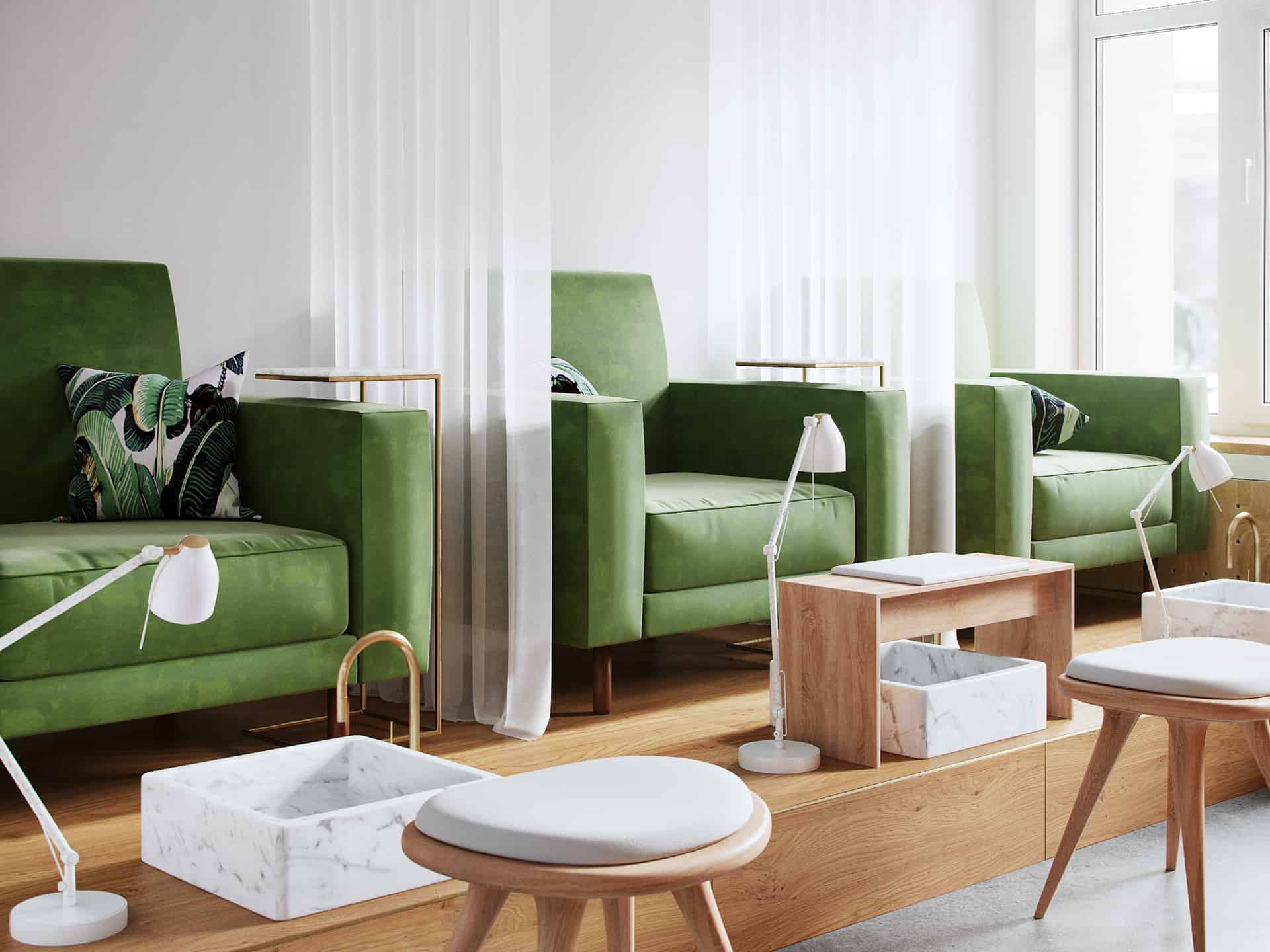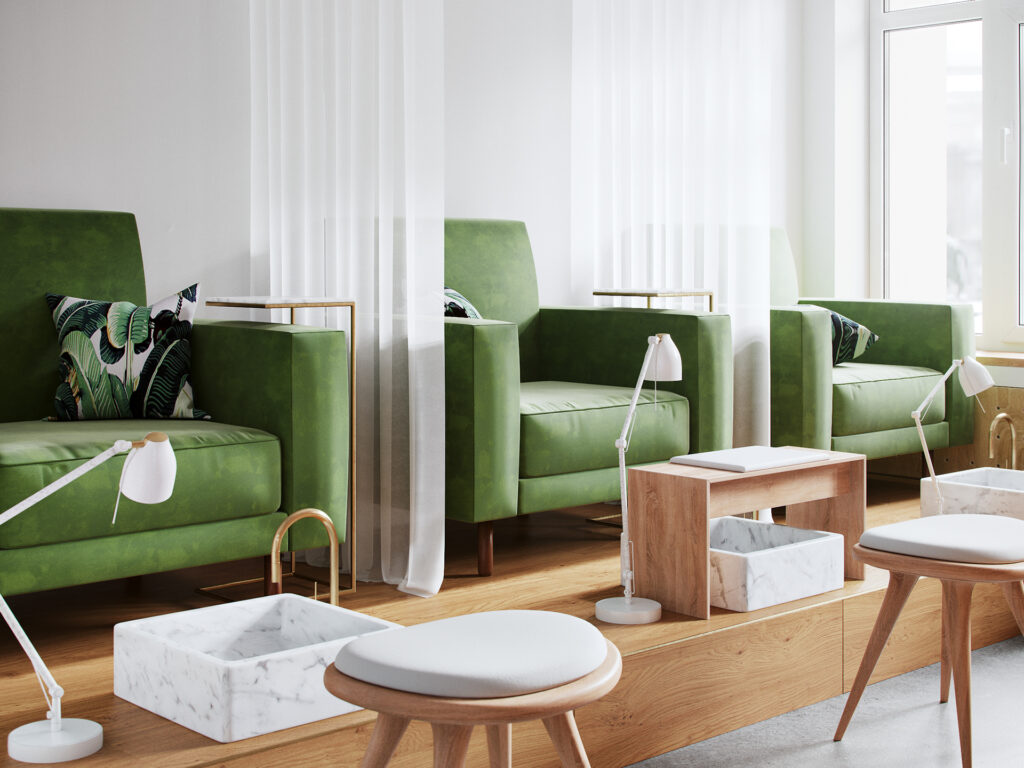 Salon Mirror with Lights
Not only do your stylists need to see what they're doing, but your clients also want to watch and make sure you are both on the same page when it comes to their hair.
Having a mirror that has lights around the edges helps provide direct light to your client and your workspace.
Think of this as a desk lamp for hair stylists.
This mirror has the lights flush with the mirror, which provides a sleek look to the chair station and takes up less space.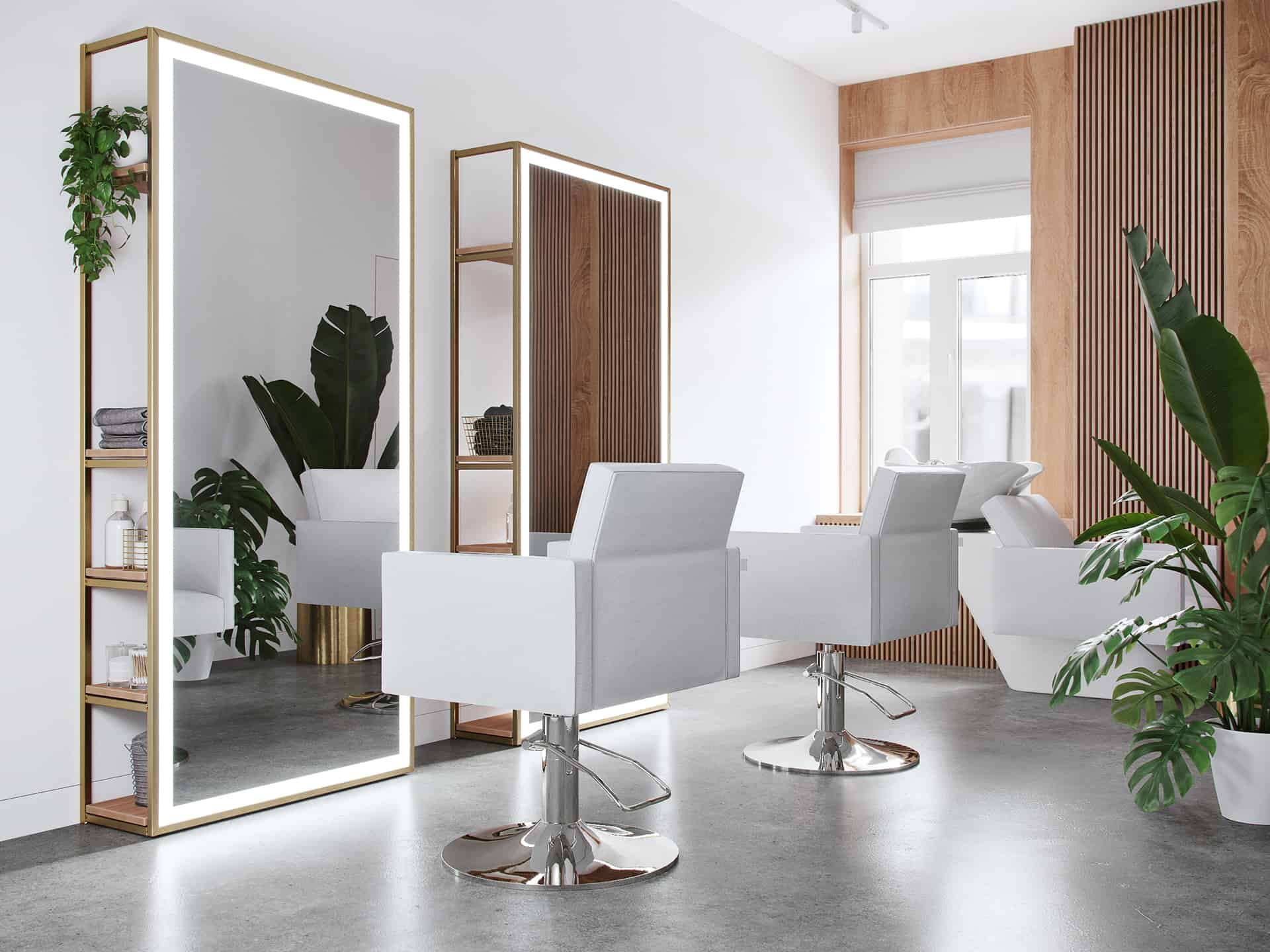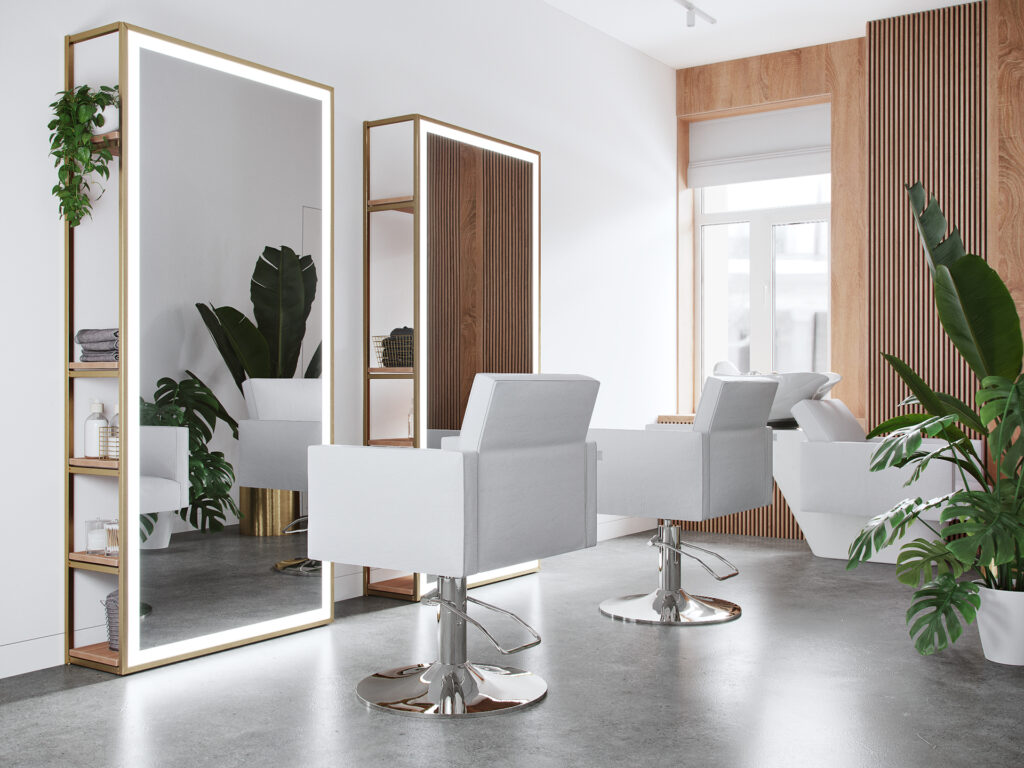 Salon Mirror with Exposed Light Bulbs
A salon mirror with exposed light bulbs can provide an old Hollywood glam feel.
This style could be great in a salon or a barbershop – it's all about what vibe you're looking to achieve.
The salon lighting solution included below has an added benefit as well: the fixture can show three different types of lighting temperatures. This is a huge benefit as it will show how colors will look in different lighting situations, such as warm light versus daylight.
Showing color in the correct color temperature is paramount when dyeing hair or applying makeup, two things that almost certainly will be occurring in your salon!
However, be sure to mount these lights evenly and symmetrically above/around your mirror as they come on a string. Salon lighting should not cast strong shadows when viewed head-on!
Pendant Lights
Pendant lights are also a great way to play with the aesthetic of your salon. Simple, sleek designs run abound, as well as more complex and bohemian styles.
Hanging a pendant light directly over the chairs can also provide crisp, direct light.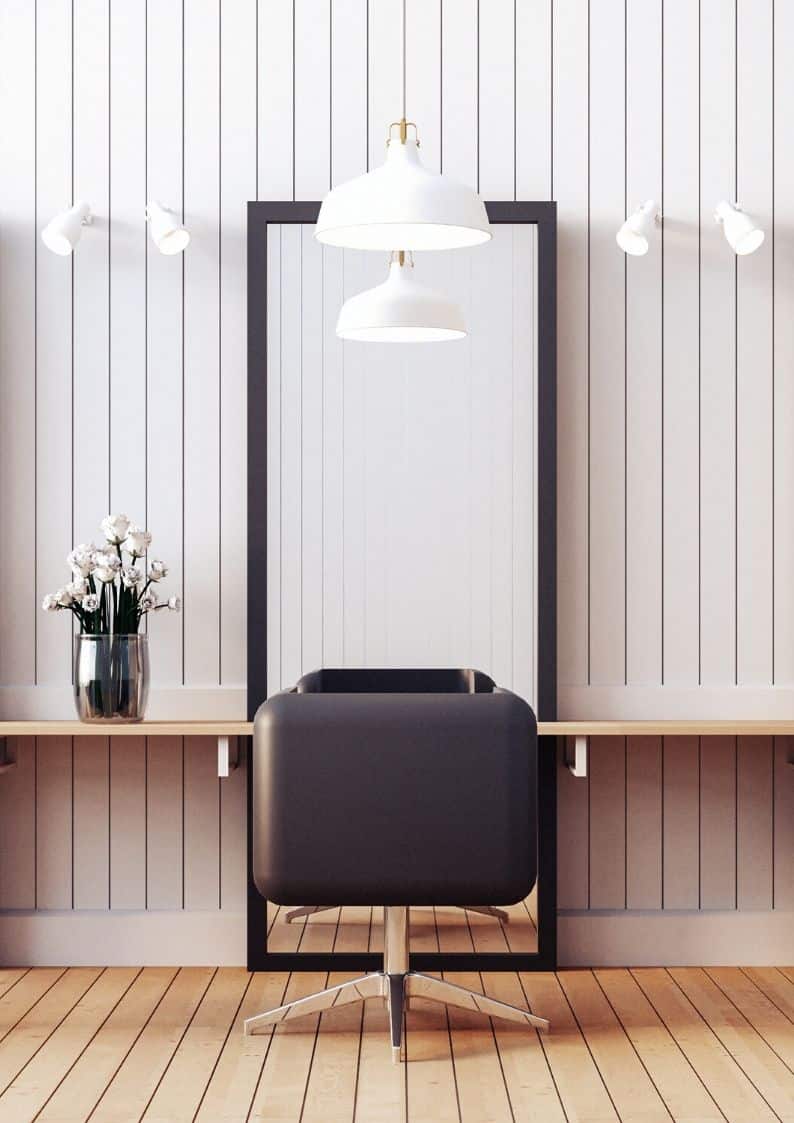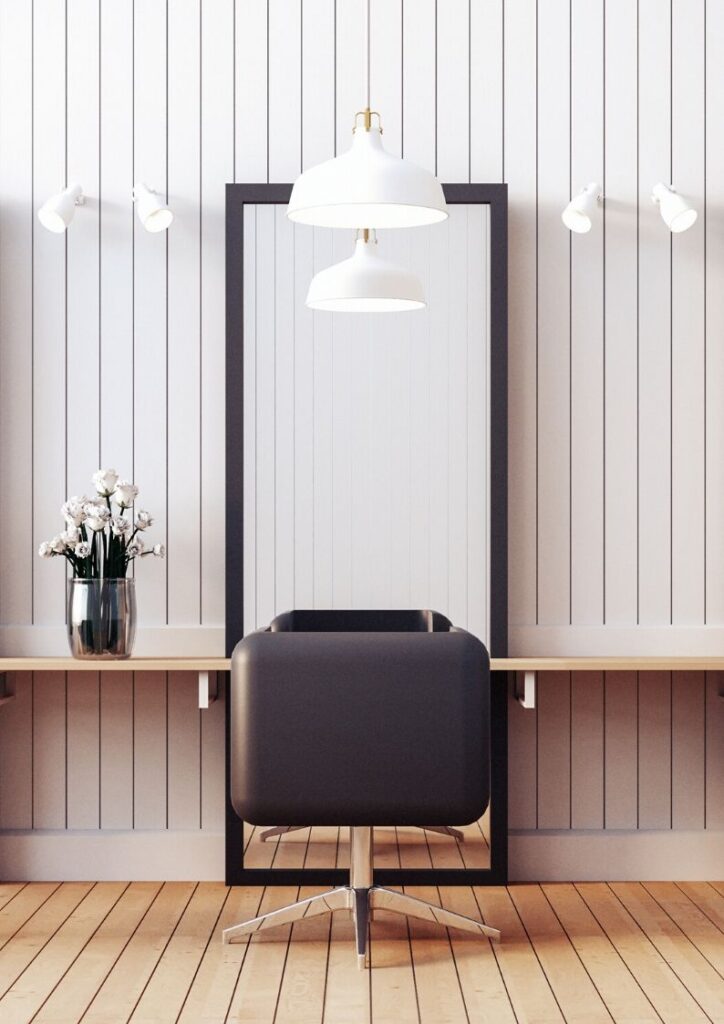 The one included below has an art-deco feel, perfect for the salon looking to amp up the old-school glamour. Be sure to get the correct length of the pendant for your ceiling as some are not able to be adjusted.
Additionally, you don't want your clients hitting their heads on the lights or your stylists being unable to use tools due to cramped space! Keep your pendant light higher than you may think and you will save yourself, your stylists, and your clients a lot of frustration.
Strong Overhand Salon Light
A lighting solution that can be worked directly under is a huge asset to a few key employees in your salon.
Estheticians will need direct, very bright light when delivering facials, peels, and other skin treatments. Additionally, your colorists will thank you for providing crisp, bright lighting at the mixing station.
Being able to see exactly what colors they're mixing and how accurate they are prior to applying to the client can go a long way in having a satisfied customer versus an angry review.
Strong light with an overhand enables your colorists to mix directly under the light, and your estheticians to position the light directly over the client's face.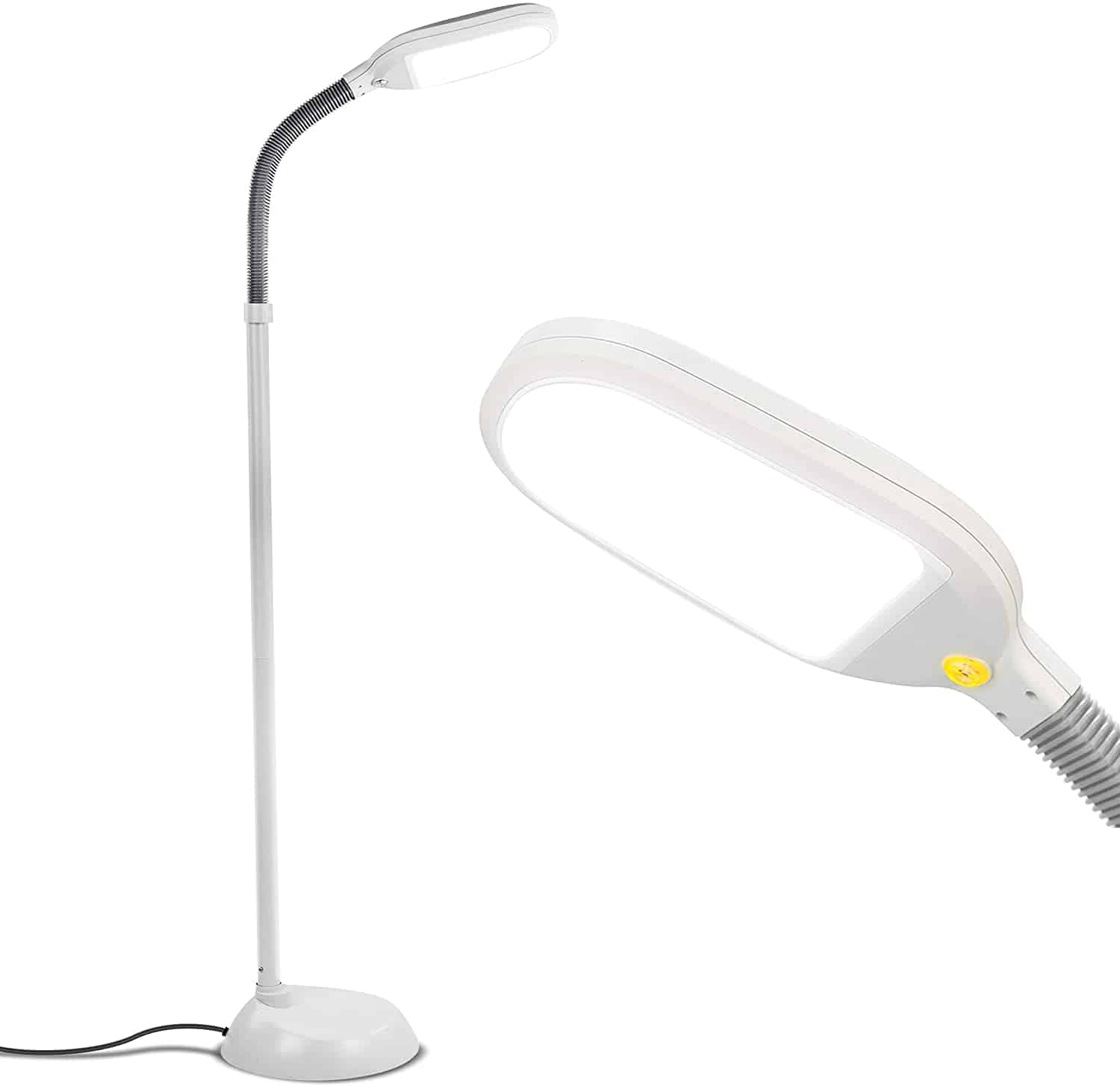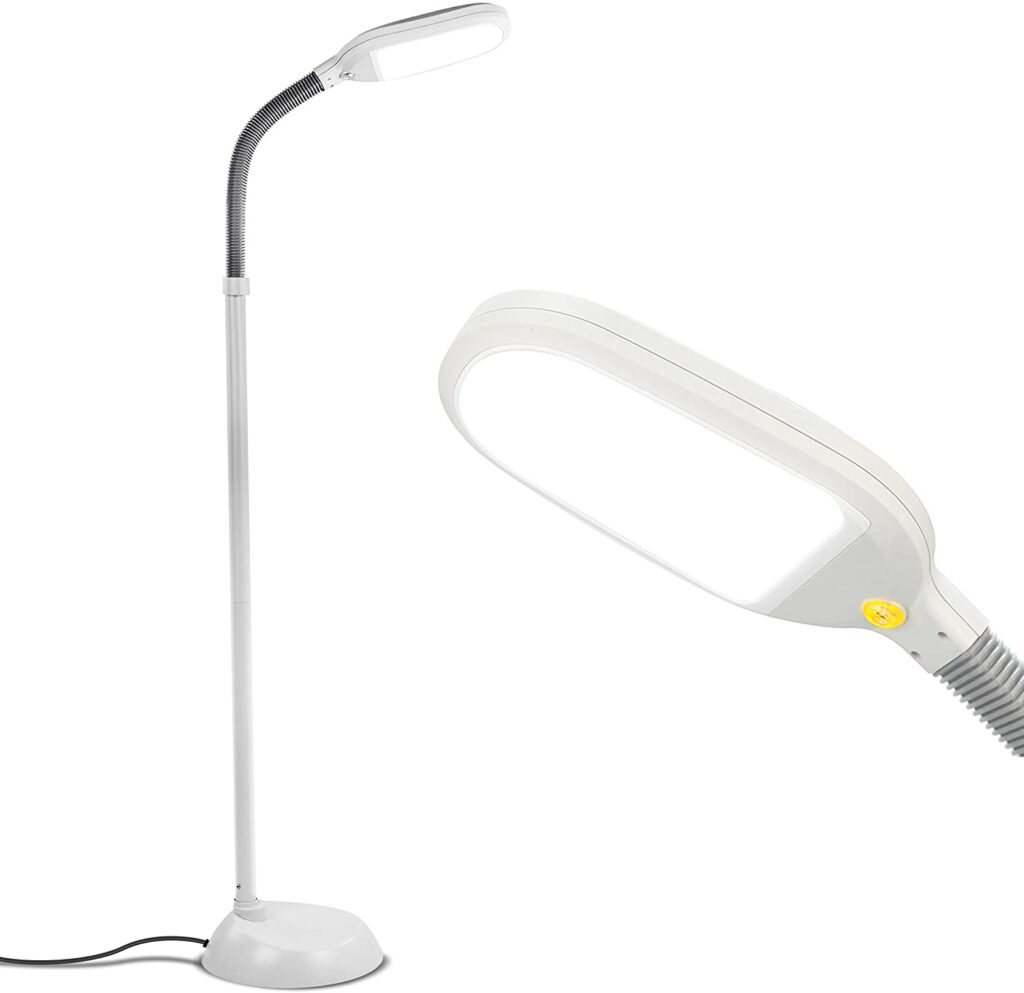 Salon Reception Lighting
Having a well-lit reception area sets the entire tone for a client's visit. A long bar light behind your reception desk will help block off your waiting area and make a clear visual of where to check in for your arriving customers.
You can also use something like the below to dramatize and give attention to your reception.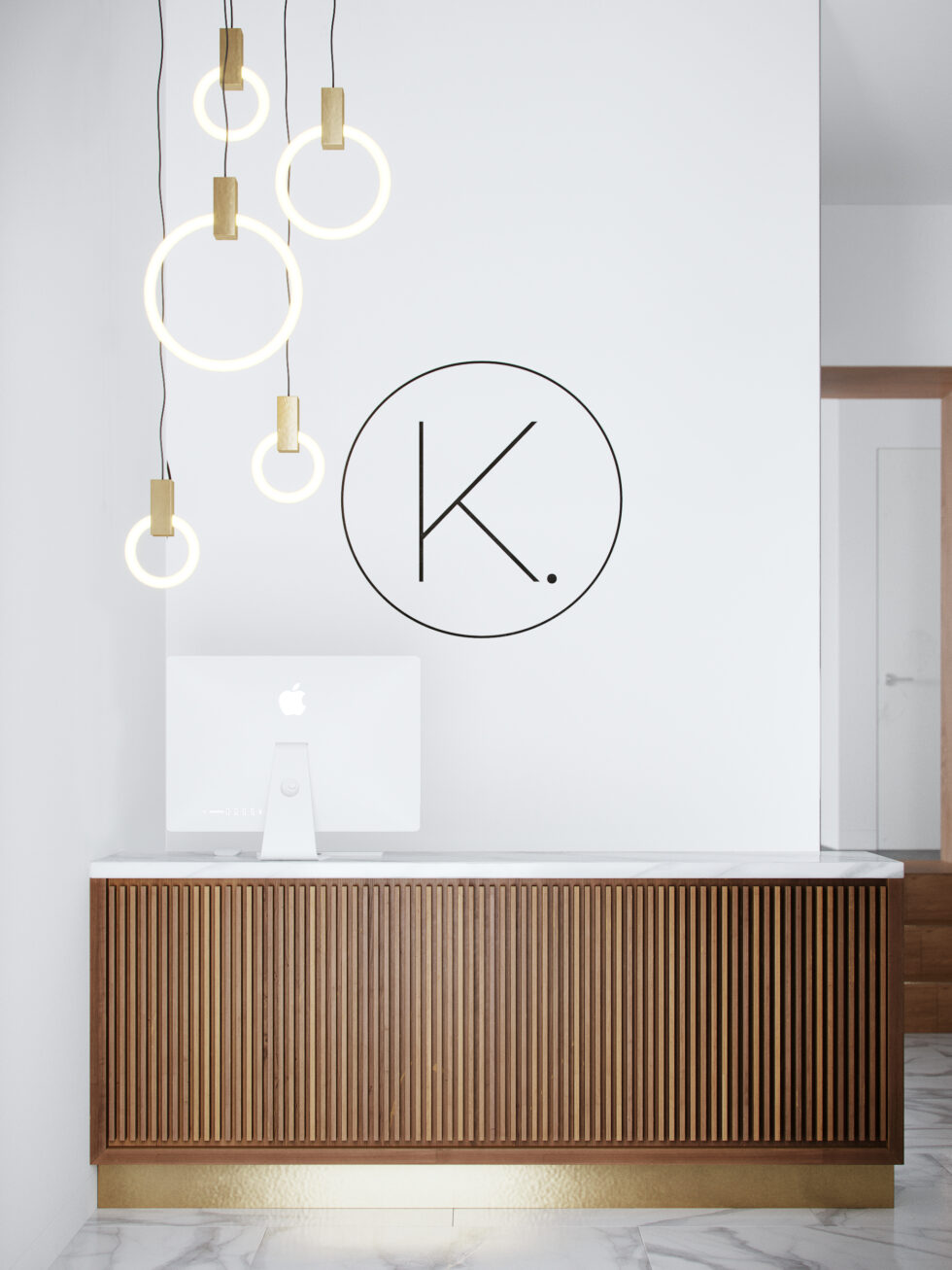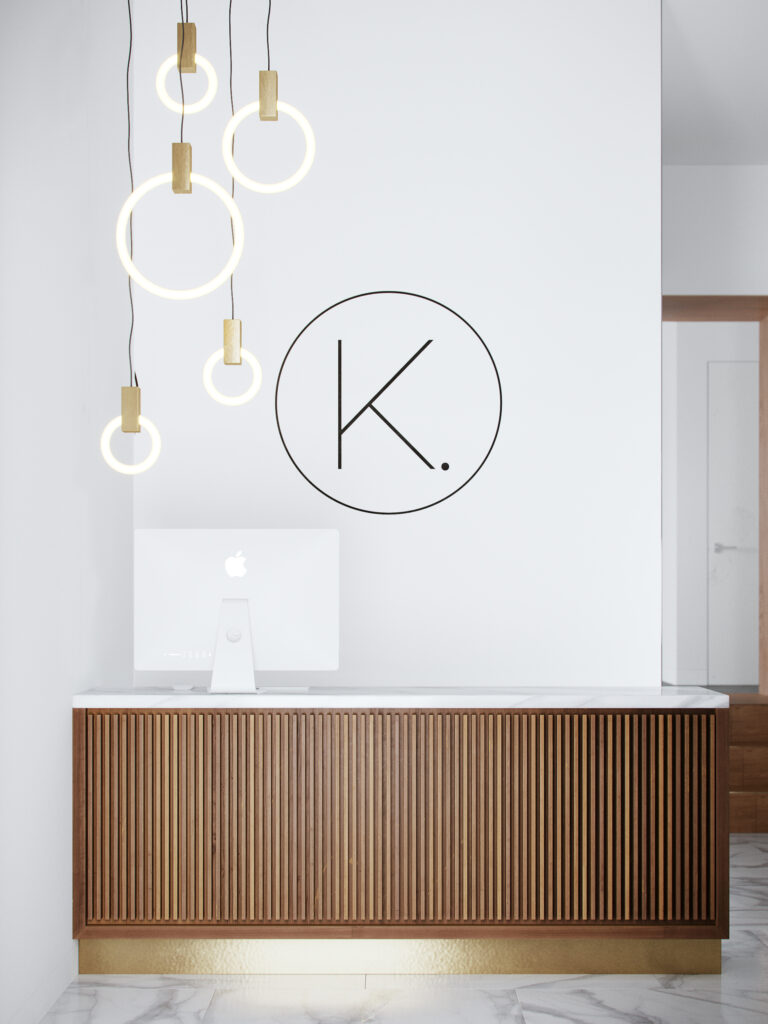 Accent Lighting: Helping You Make More Sales
Accent lighting is meant to bring a person's attention to a specific place.
For a salon, this will most likely be the retail area, oftentimes adjacent to your reception and waiting area.
This means that your accent lighting should be unique and illuminating, without being too distracting or taking away from the tranquility of your salon entranceway.
Led Strip Lights
An ideal solution for this is strip lighting that is flush with the shelves. Nowadays there are LED strip lights that can be cut to fit any length and have an adhesive back, though I recommend utilizing a stronger adhesive periodically to ensure that your lights don't droop.
Sticking this strip lighting along the underneath front edge of your shelves will illuminate all the shampoos, conditioners, and any other styling products you wish to promote and sell beautifully without taking up valuable shelf space.
This light strip is a good option for salon retail shelves which you can cut to fit the size of your salon retail shelves.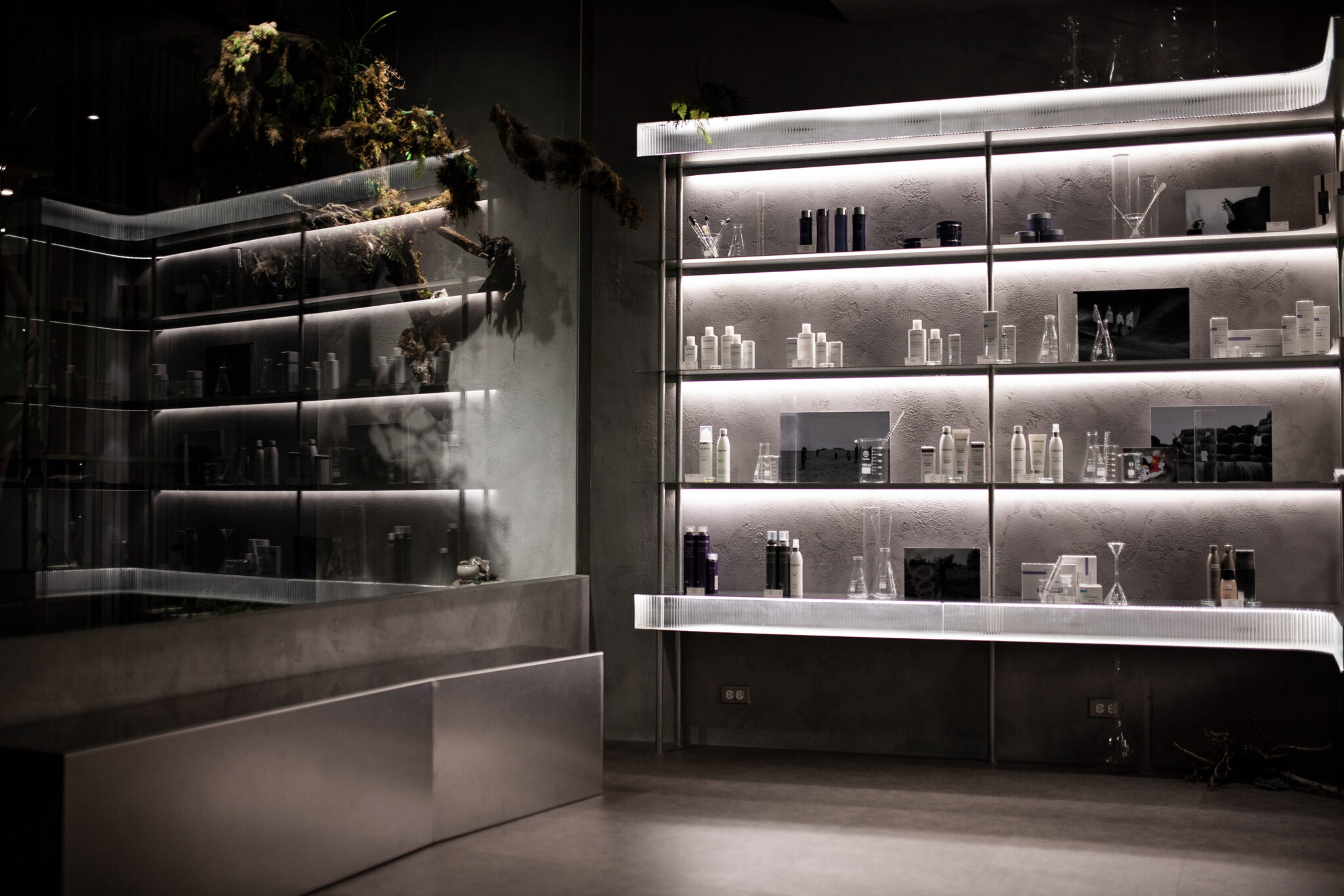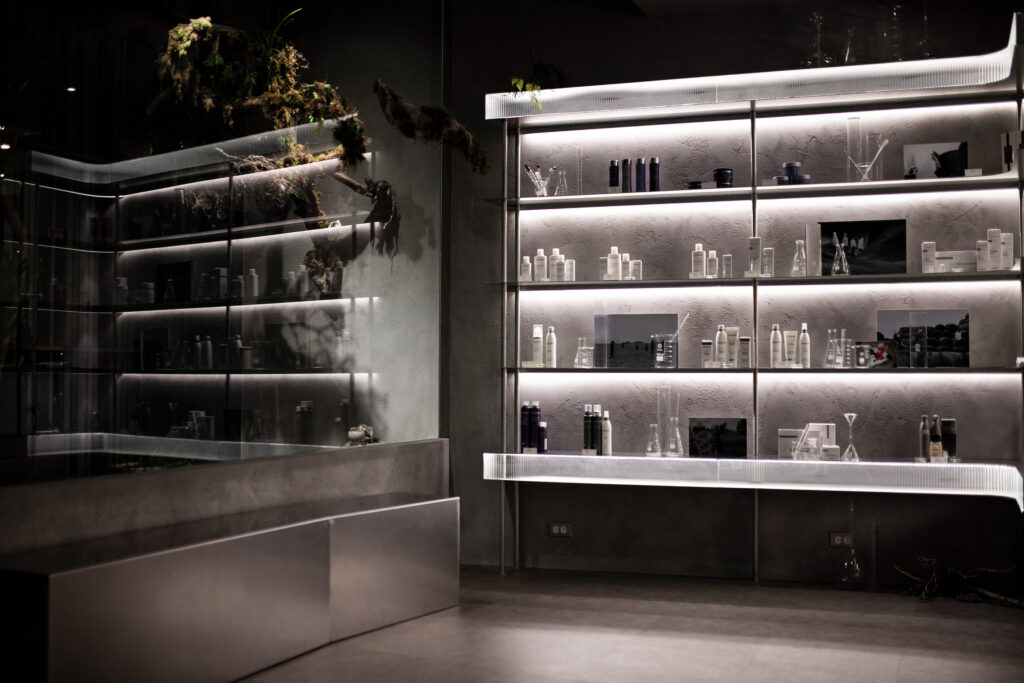 Decorative Salon Lighting: Allow Your Salon's Personality to Shine
Decorative lighting is your time to really show your style in a unique way.
While the rest of your lighting should, of course, be cohesive and fit the theme and aesthetics of your salon, decorative pieces can really tie it all together.
These pieces do not serve major lighting purposes, those needs have been fulfilled by the categories above. Rather, decorative lighting can be mainly about aesthetics and the lighting element is secondary.
Salon Sconce Lighting
A wonderful way to add personality to your lighting is a sconce.
These wall-mounted fixtures provide style and can go so many places. Putting one on either side of a doorway or styling station will really fill out a room.
If you have space, a matching table or floor lamp will definitely bring everything together, just be sure to match all the finishes in your lighting and cabinetry.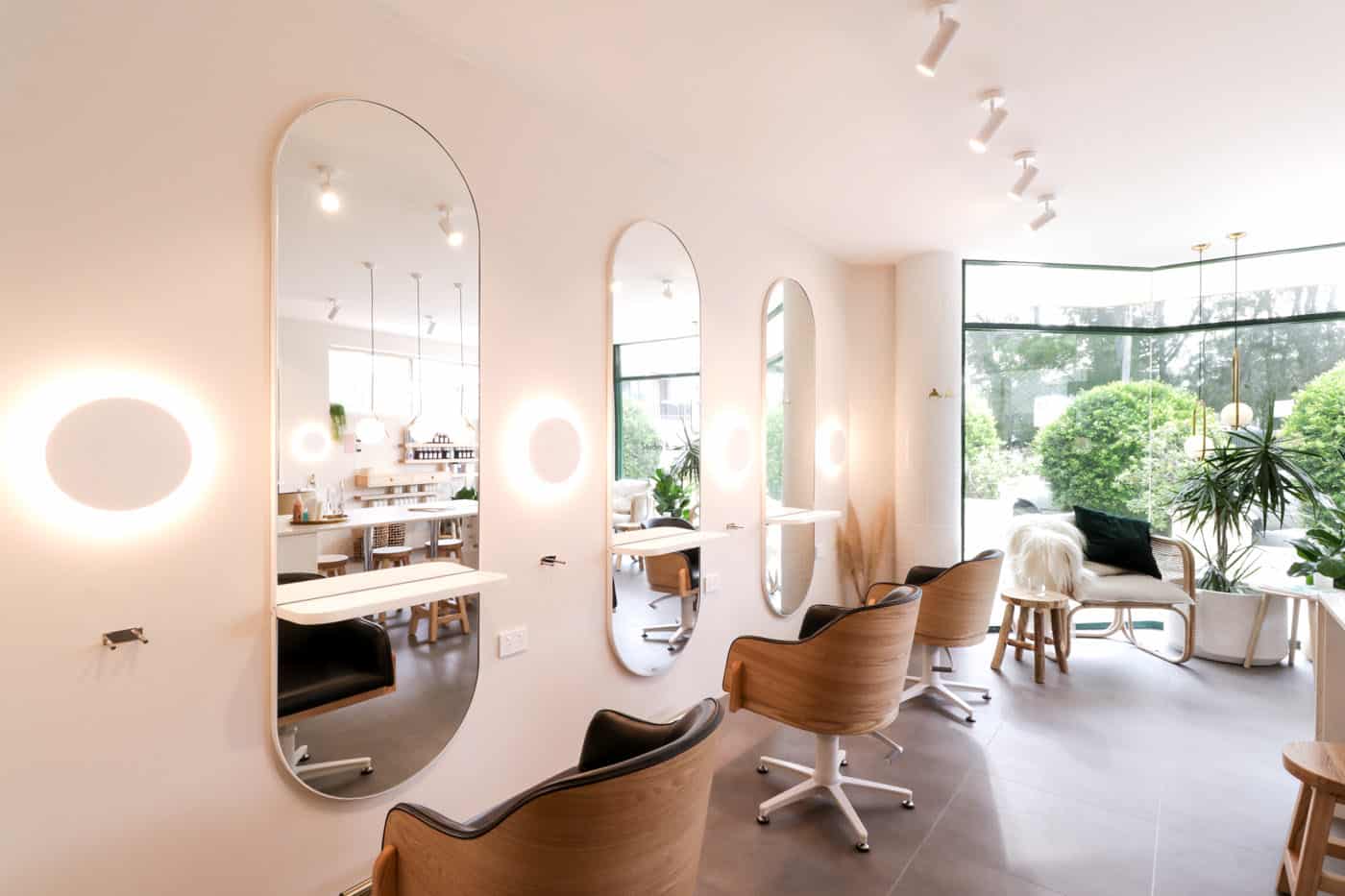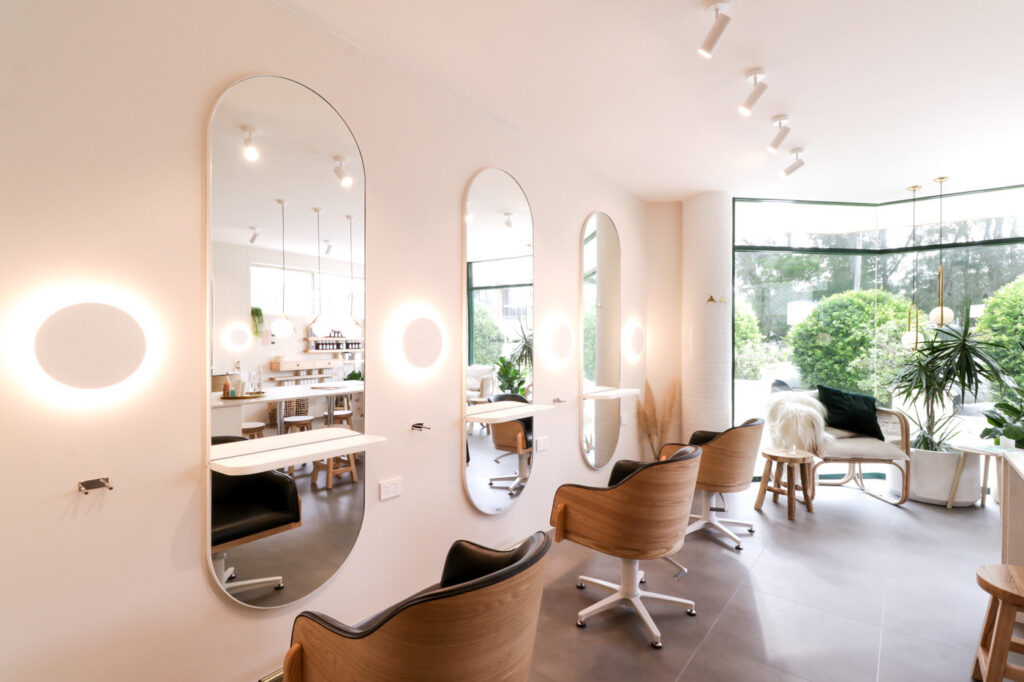 Conclusion
Picking out salon lighting is about more than just aesthetics.
The right lighting can make or break the atmosphere of your salon, improve essential business functions, and make your staff's jobs much easier and more efficient.
Personality can shine through when the best salon lights are utilized to create a harmonious space for your clients and staff.
I'd strongly recommend you also go over the hair salon design ideas I have listed here. You'll see how the choice of lighting is vital to bring to life your salon decor.
Finally, as an additional reading check out: 23 Modern & Beautiful Hair Salon Websites.