Are you looking for funny and inspirational hairdresser quotes?
Then you've landed in the right place.
In this article, I've curated the ultimate list of hairstylist and salon quotes that you can use for your Instagram or other salon marketing channels.
As a hairstylist, you get to be creative every day and you have the power to awaken the beauty within your clients they never knew was there. There are many moments of inspiration, laughter, and appreciation that only a hairstylist or hair-lover would understand.
I'm sure you'll understand what I mean as you go through this list of hairstylist and cosmetology quotes.
So, without further ado, put the brush down & let's go through the list of my favorite quotes, puns, and sayings.
Jump directly to the type of quote you're looking for: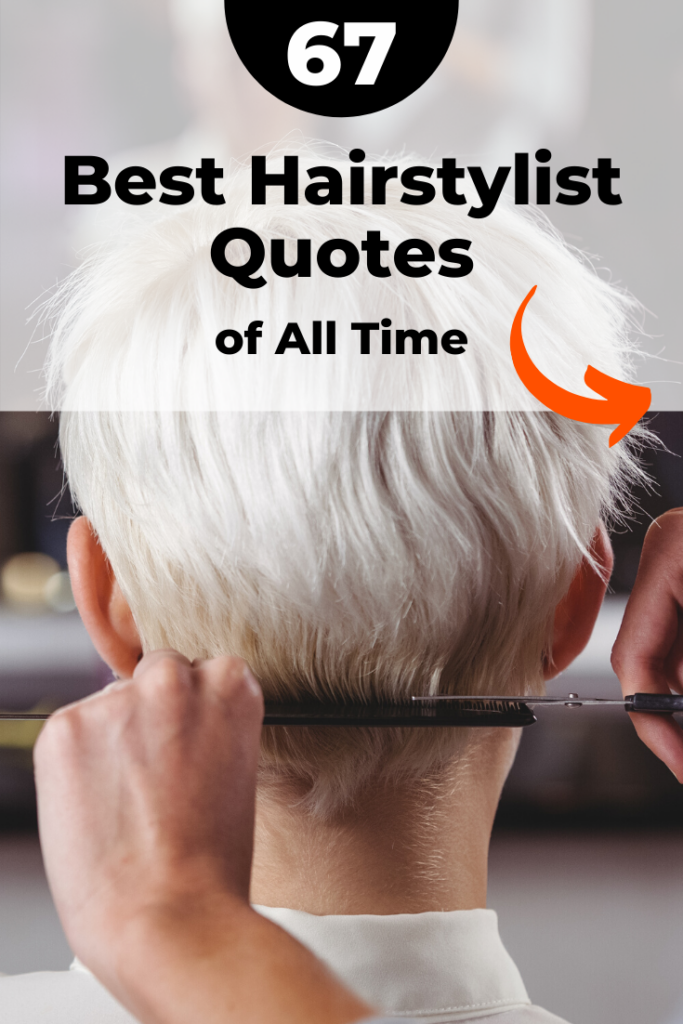 Inspirational Hairstylist Quotes
Being a hairstylist is full of inspirational moments. Whether it's coming up with new ideas for creating a fresh new look for that poor girl going through her breakup, or helping that 15-year-old live out their dream of having rainbow-colored hair.
No matter what your inspiration is for or where it comes from, I wanted to dedicate this first section to all the incredible hairstylists out there and their ever-growing imagination. These cosmetology quotes are motivating, uplifting, & powerful for those looking for an extra boost of inspiration.
Here are some of my absolute favorite inspirational hair stylist quotes & inspirational quotes about beauty that we all could use.
"I wanted to make people beautiful, so I became a hairstylist."

Inspirational hairstylist quote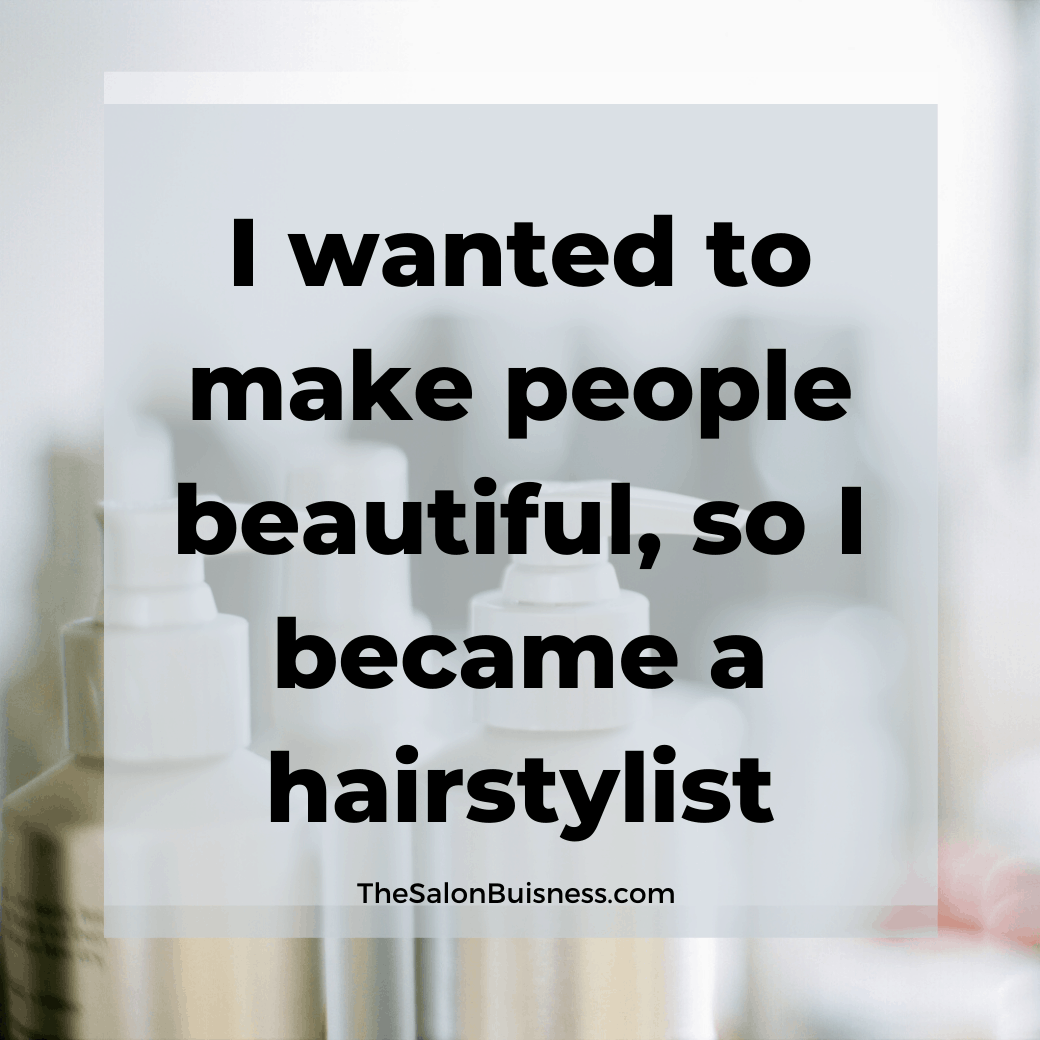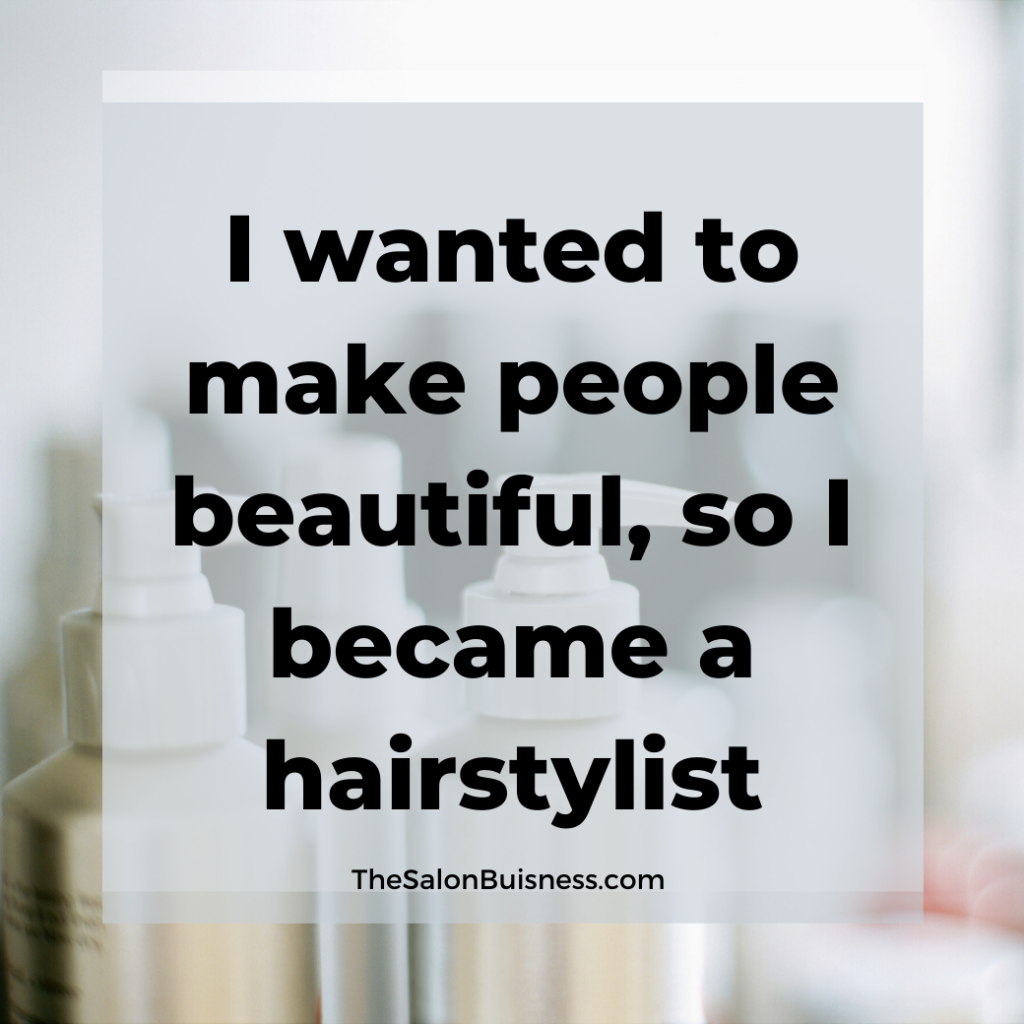 "Blessed are the hairstylists, for they bring out the beauty in others."

Inspirational quotes for hairstylists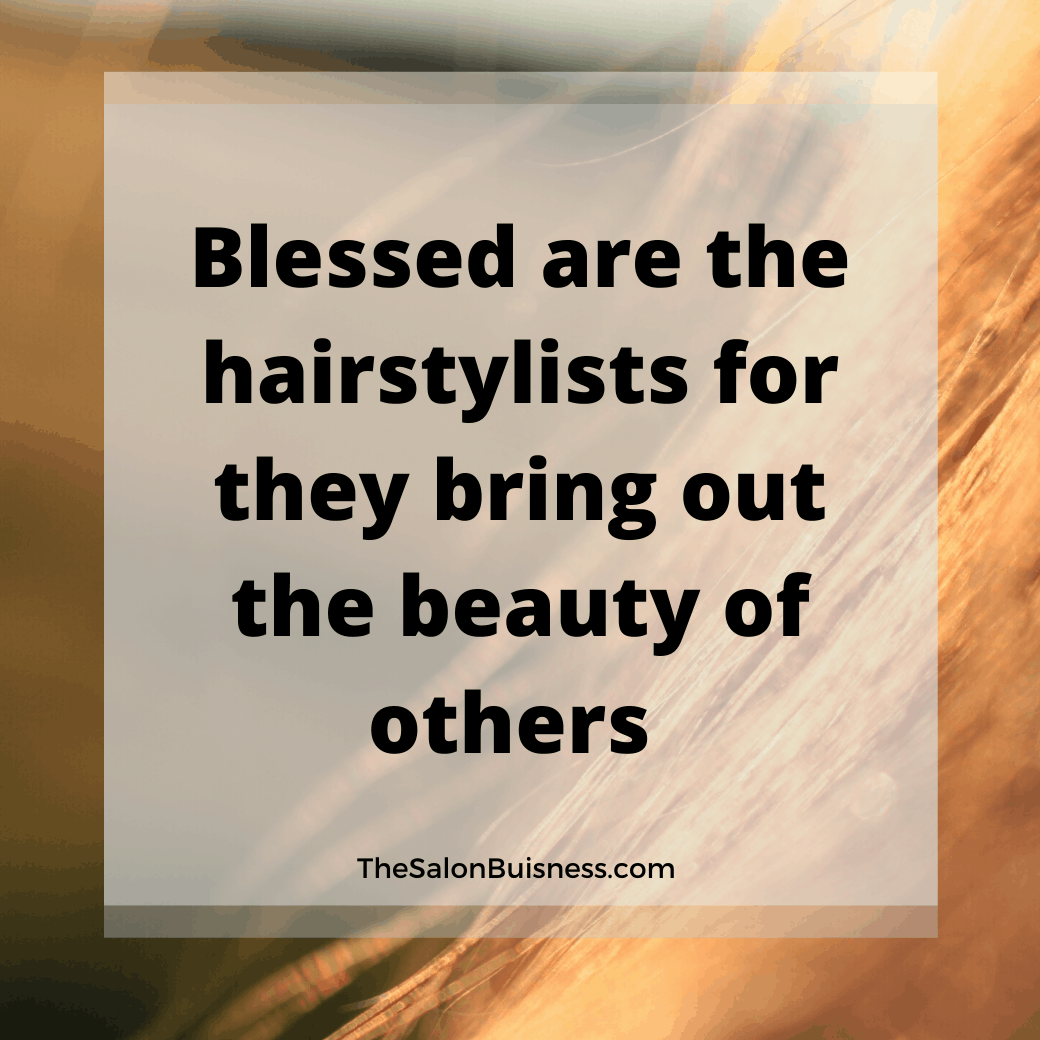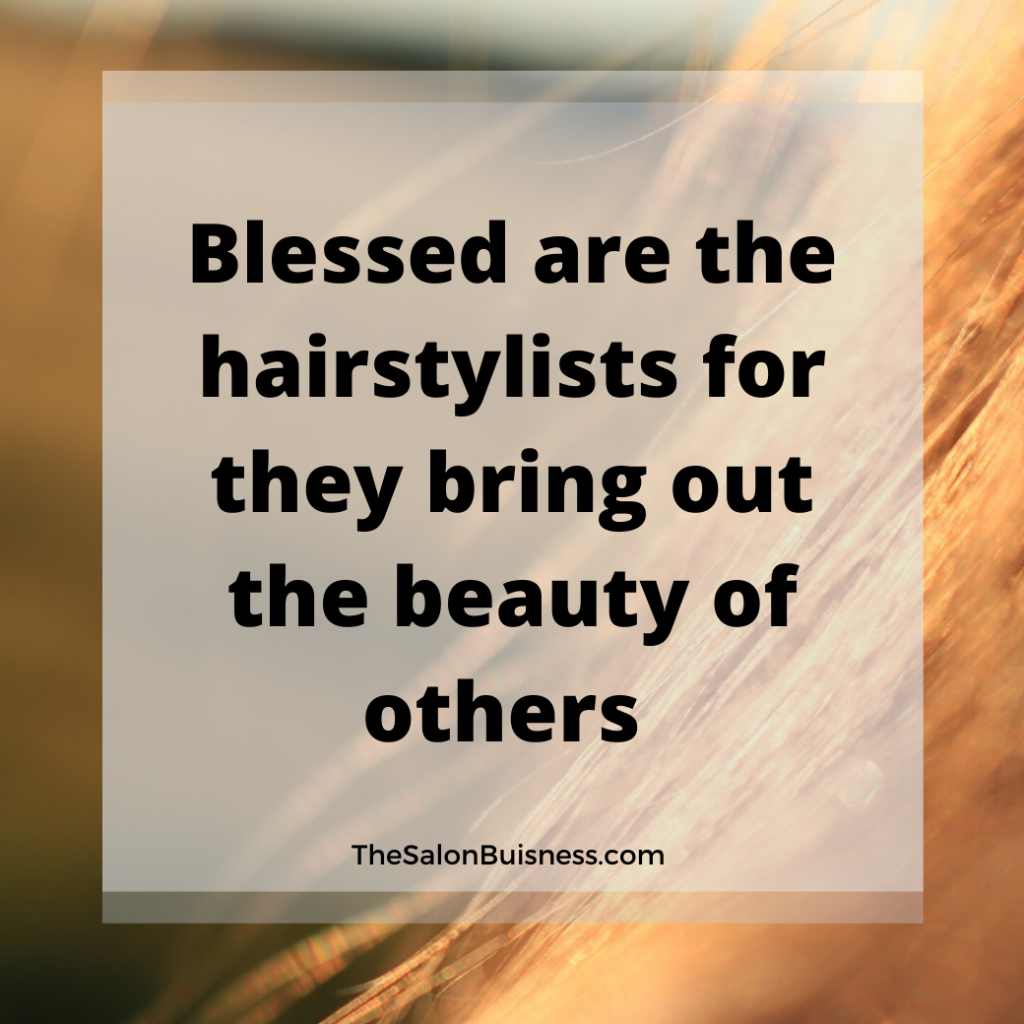 "As stylists, we're ground shakers and day makers. Setting trends, while fostering that inner connection between a person's inner and outer self."

Inspirational quotes for hairdressers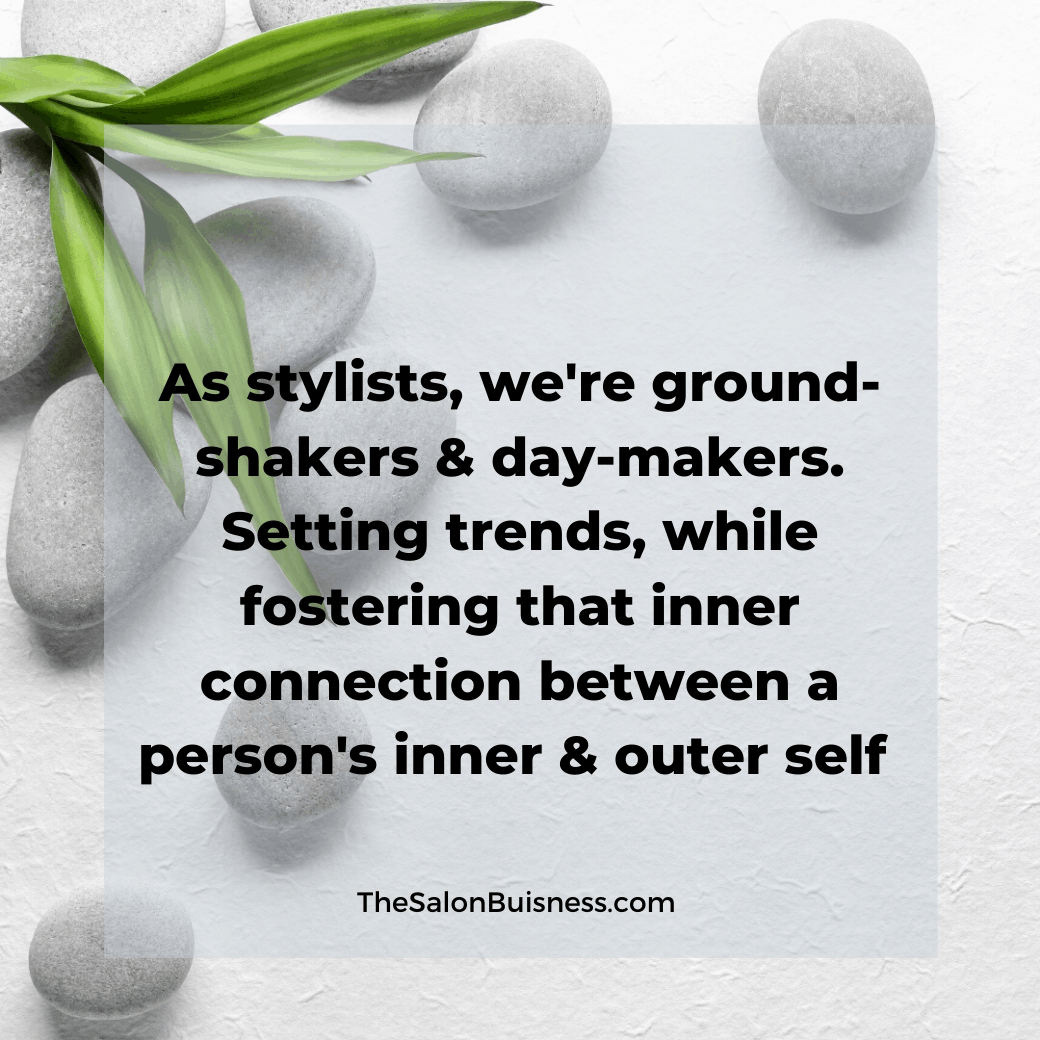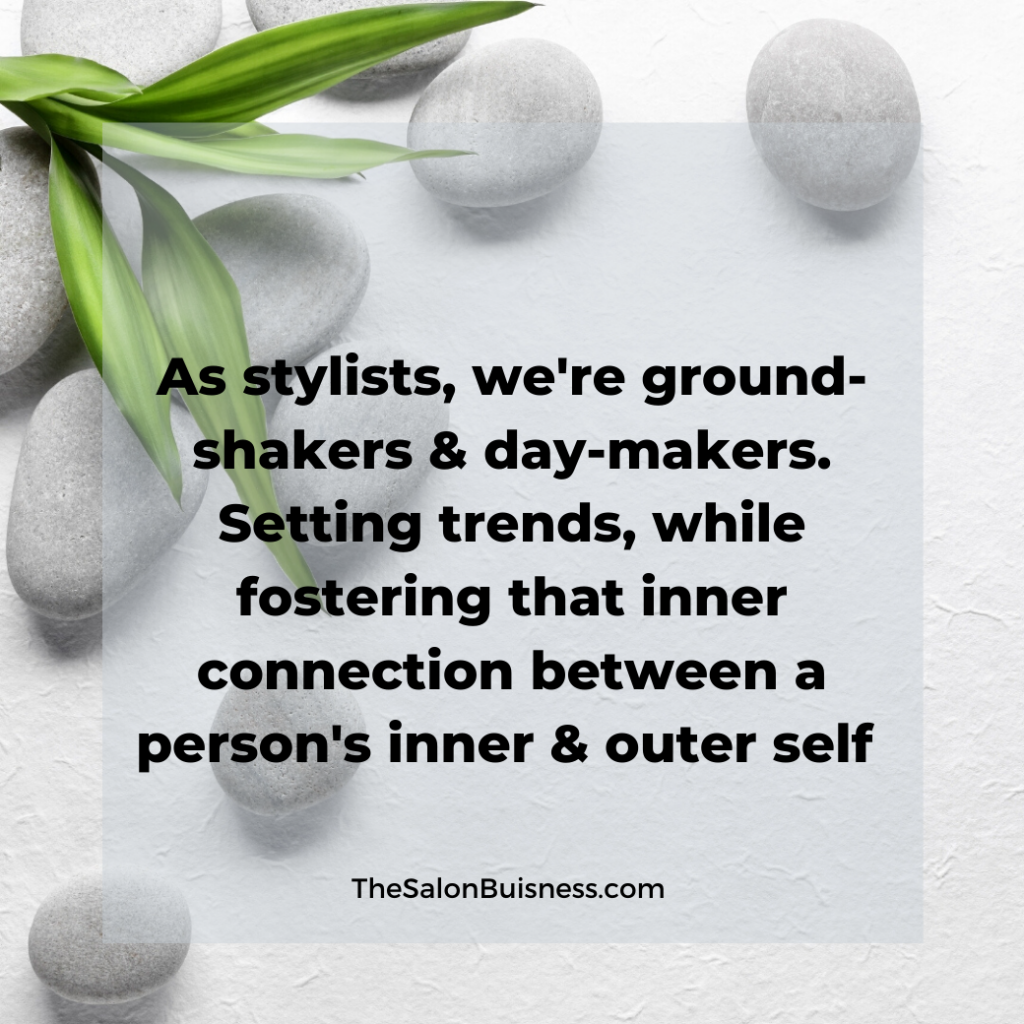 "Hairdressers are a wonderful breed. You work one on one with another human being and the object is to make them feel so much better and to look at themselves with a twinkle in their eye."

Inspirational cosmetology quotes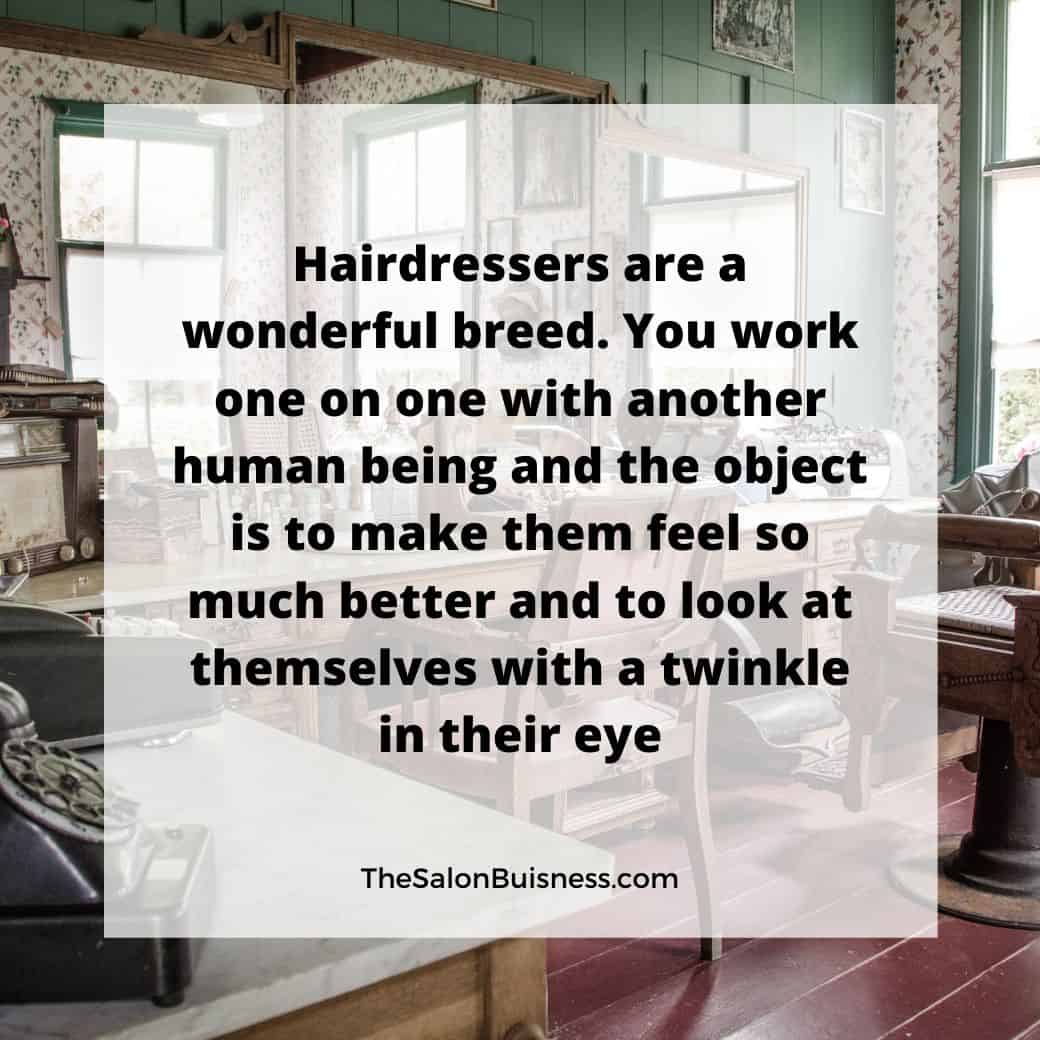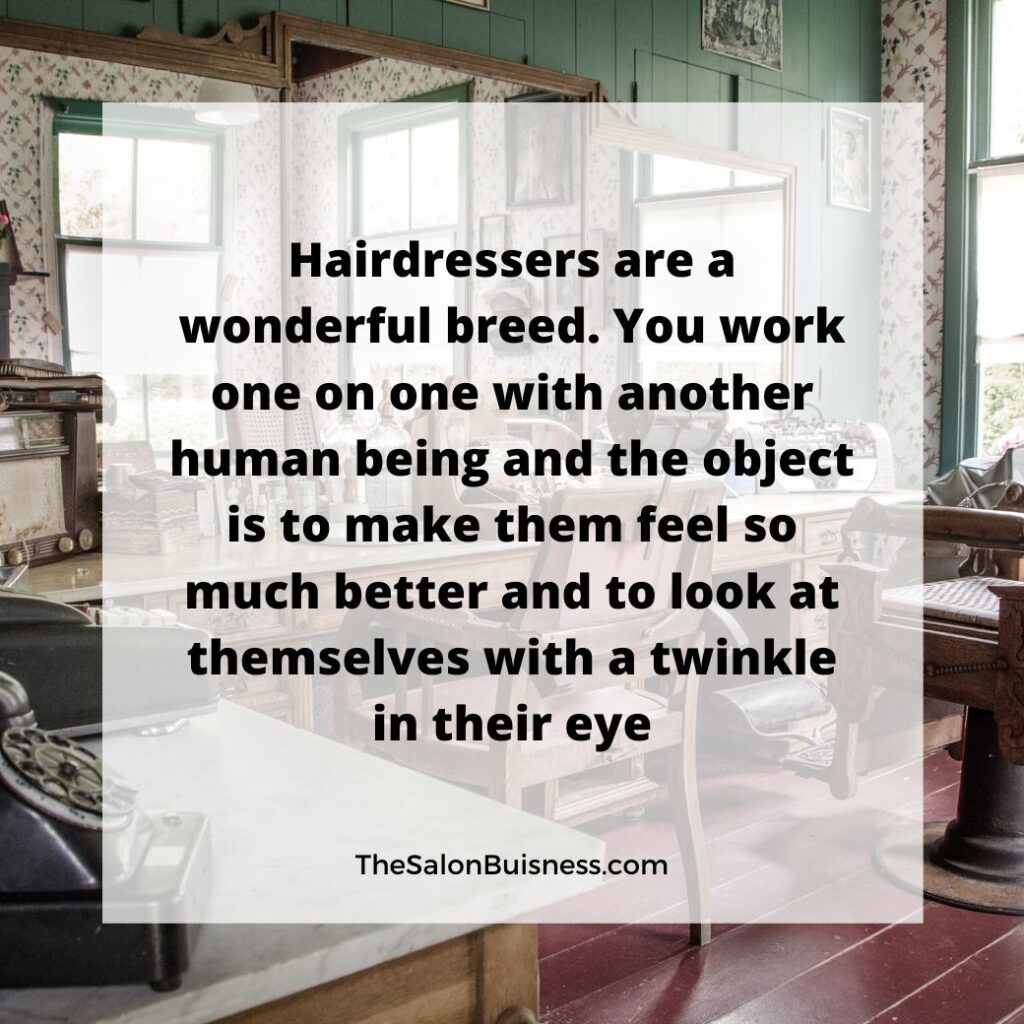 "Life is more beautiful when you meet the right hairdresser."

Inspirational quote about beauty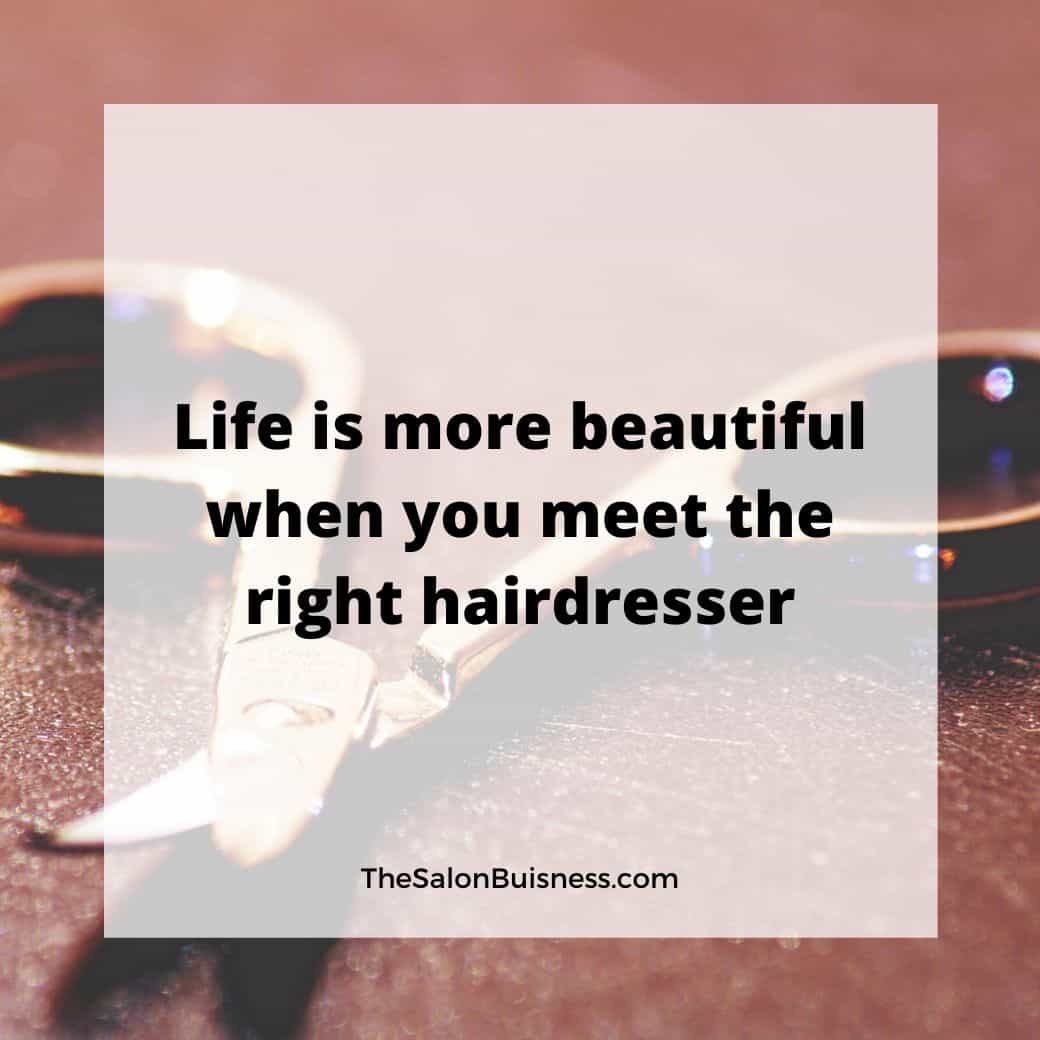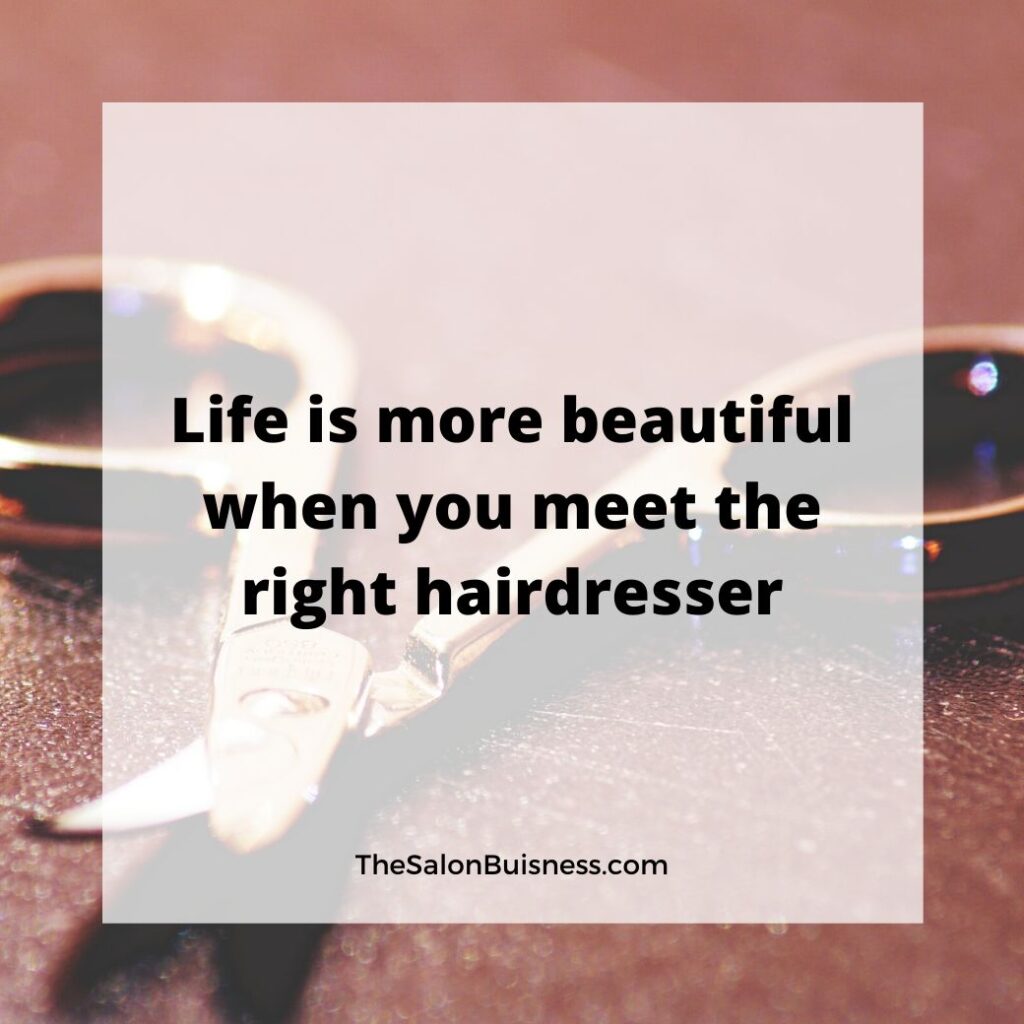 "If it doesn't nourish your soul or your hair, let it go!"

Hair inspiration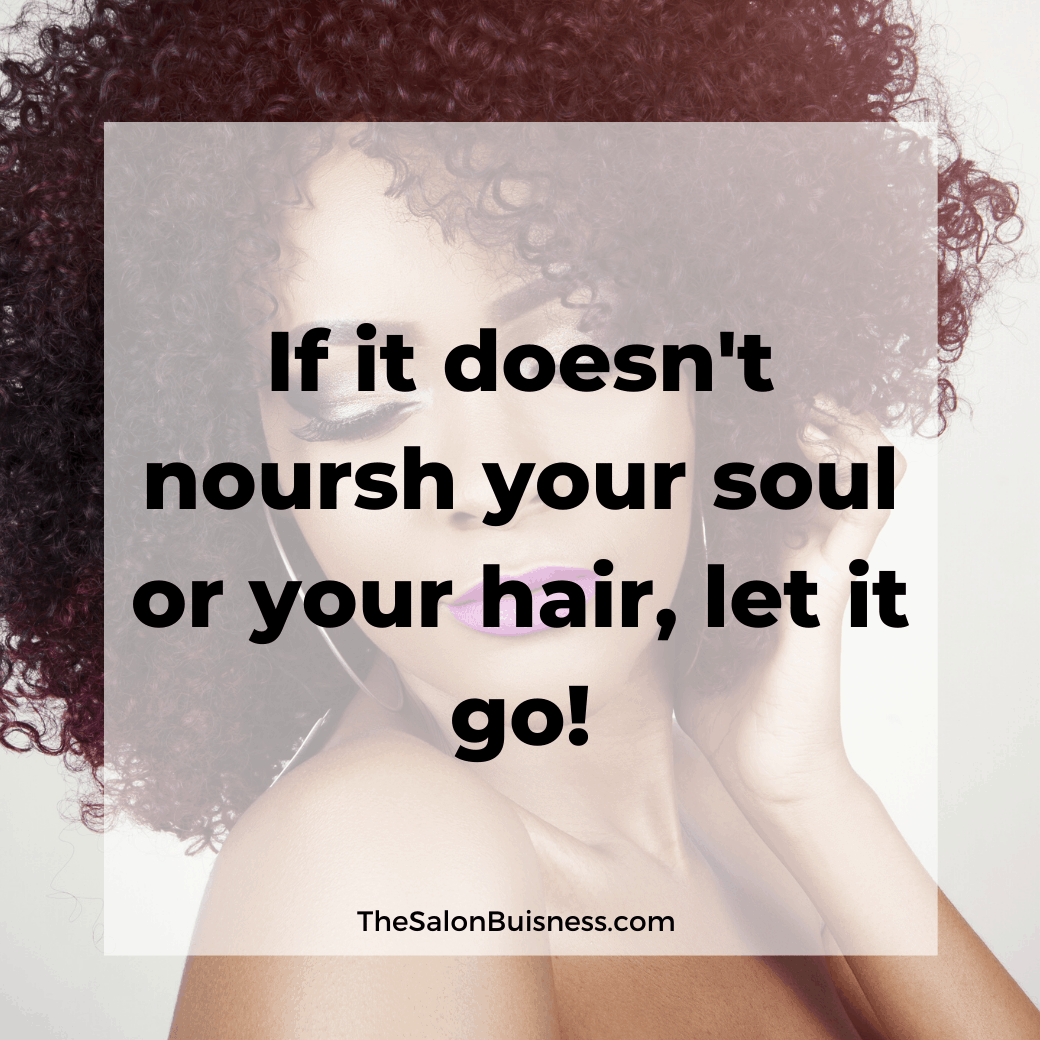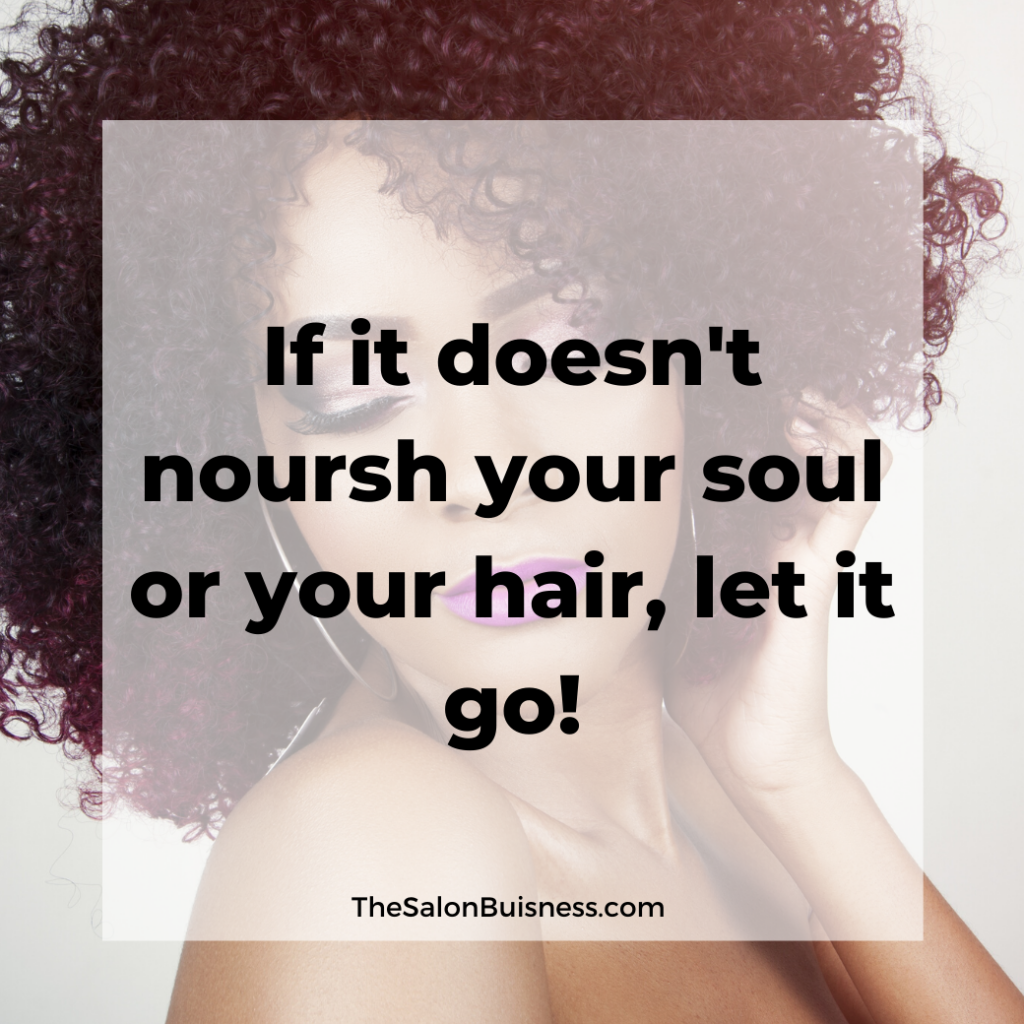 Funny Hairstylist Quotes
Every job has it's funny moments and hairdressing is certainly not an exception.
Clients only see a portion of what goes on in the salon, but a stylist sees all the goofy moments that go on behind the scenes.
From hair mishaps to color accidents, or even just goofy thoughts that cross every stylist's mind. I've compiled a list of some of the funniest beauty quotes that all hairstylists can relate to.
Many of these quotes are insider jokes that a stylist can share with their coworkers, or that are worthy of being hung up at your local salon. Whatever it is, these are some of the funniest quotes about beauty that I could find!
Enjoy!
Funny Hairstylist Quotes Images
"You can't act like box dye & expect to be treated like balayage."

Hair dye quotes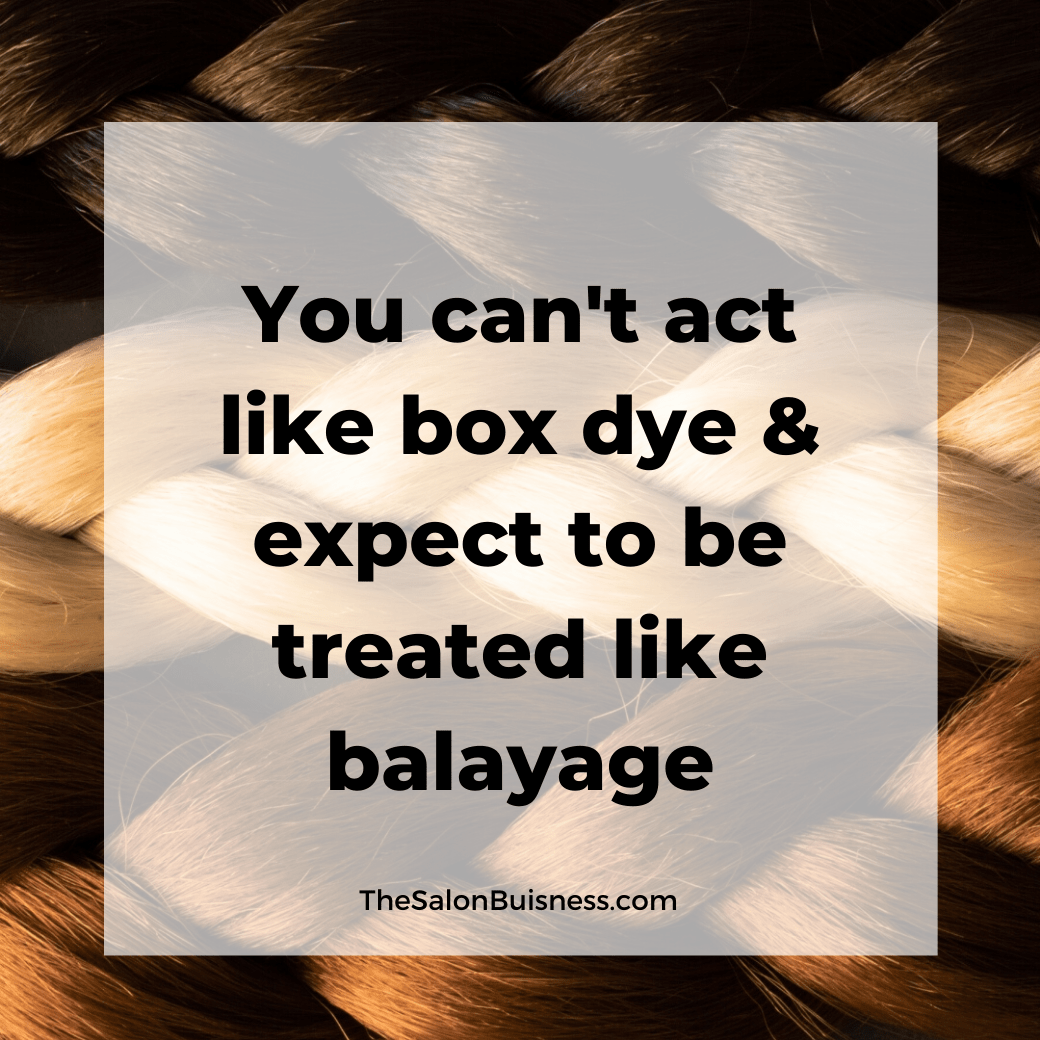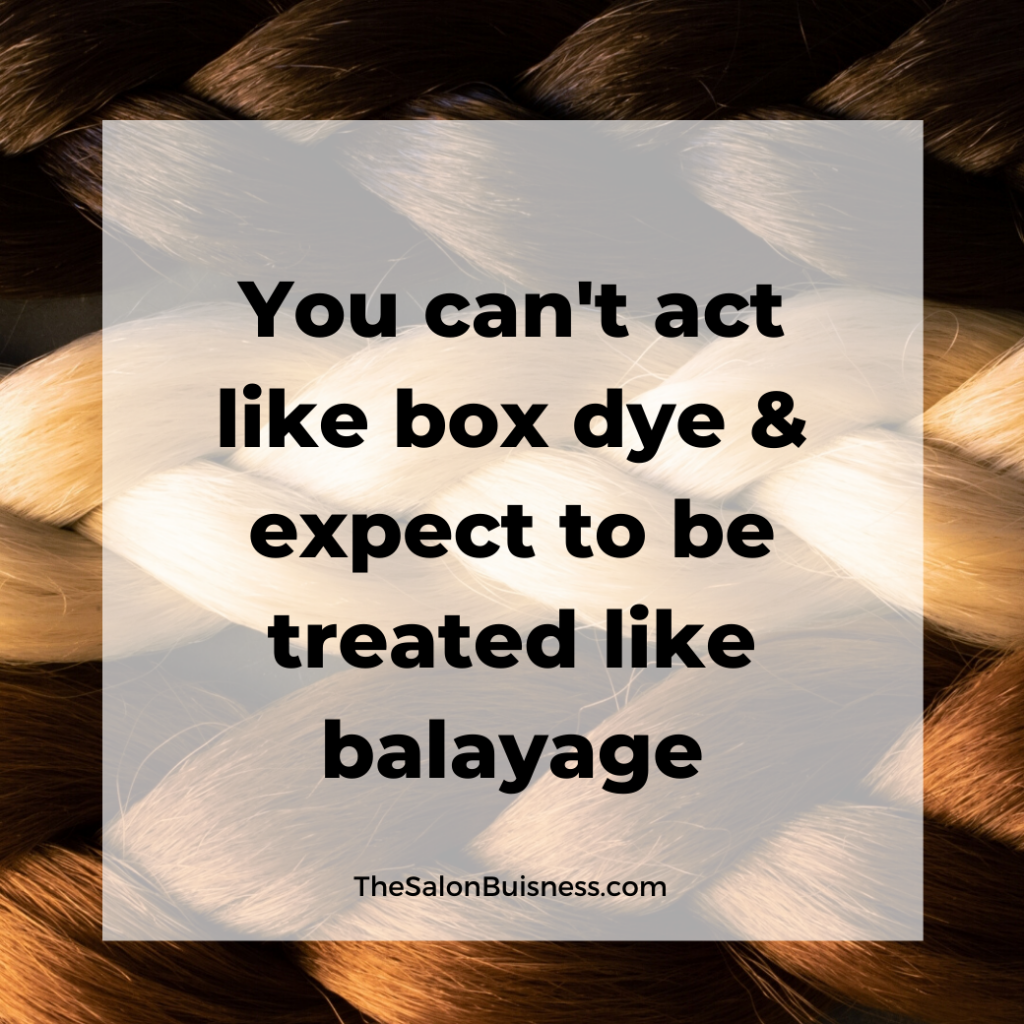 "Bangs are more like the mustache of the forehead."

Funny hairstylist quotes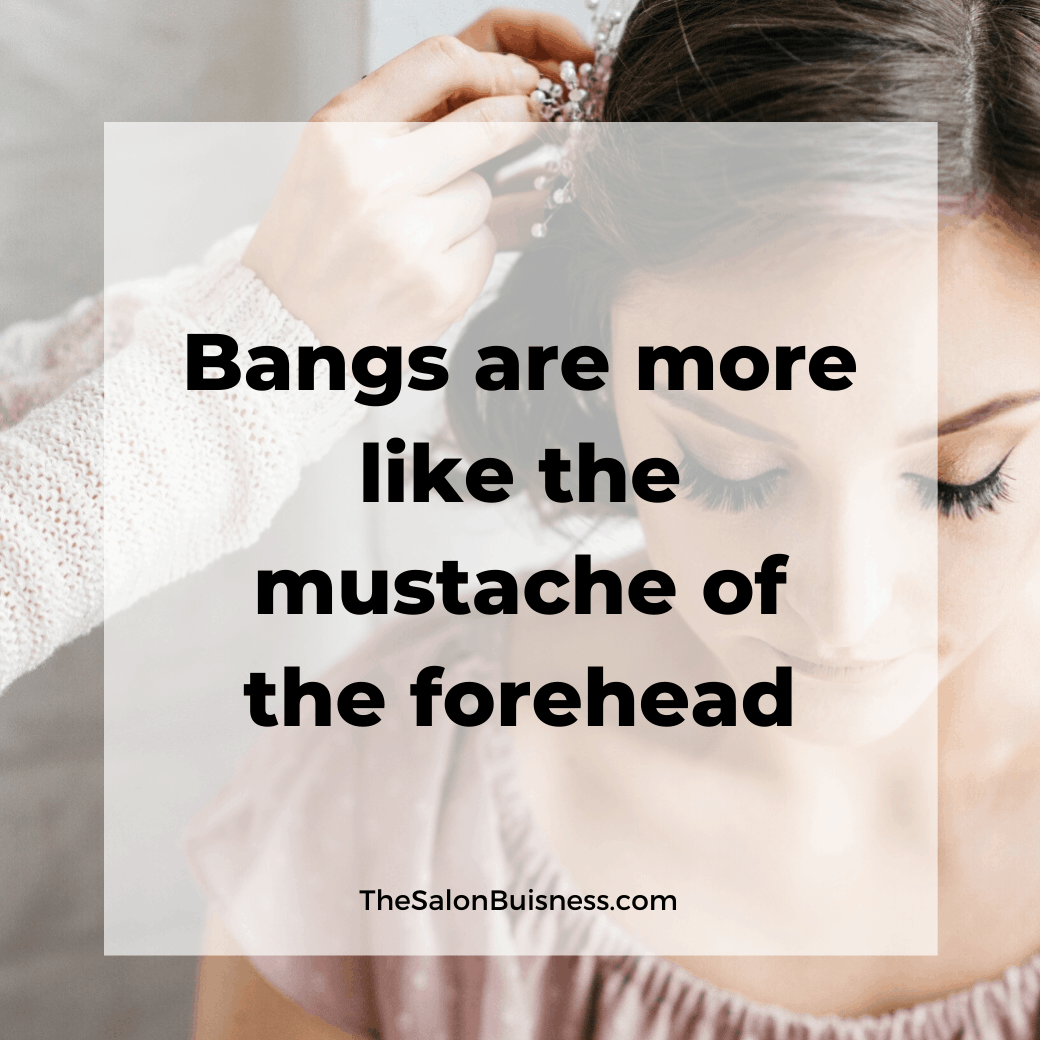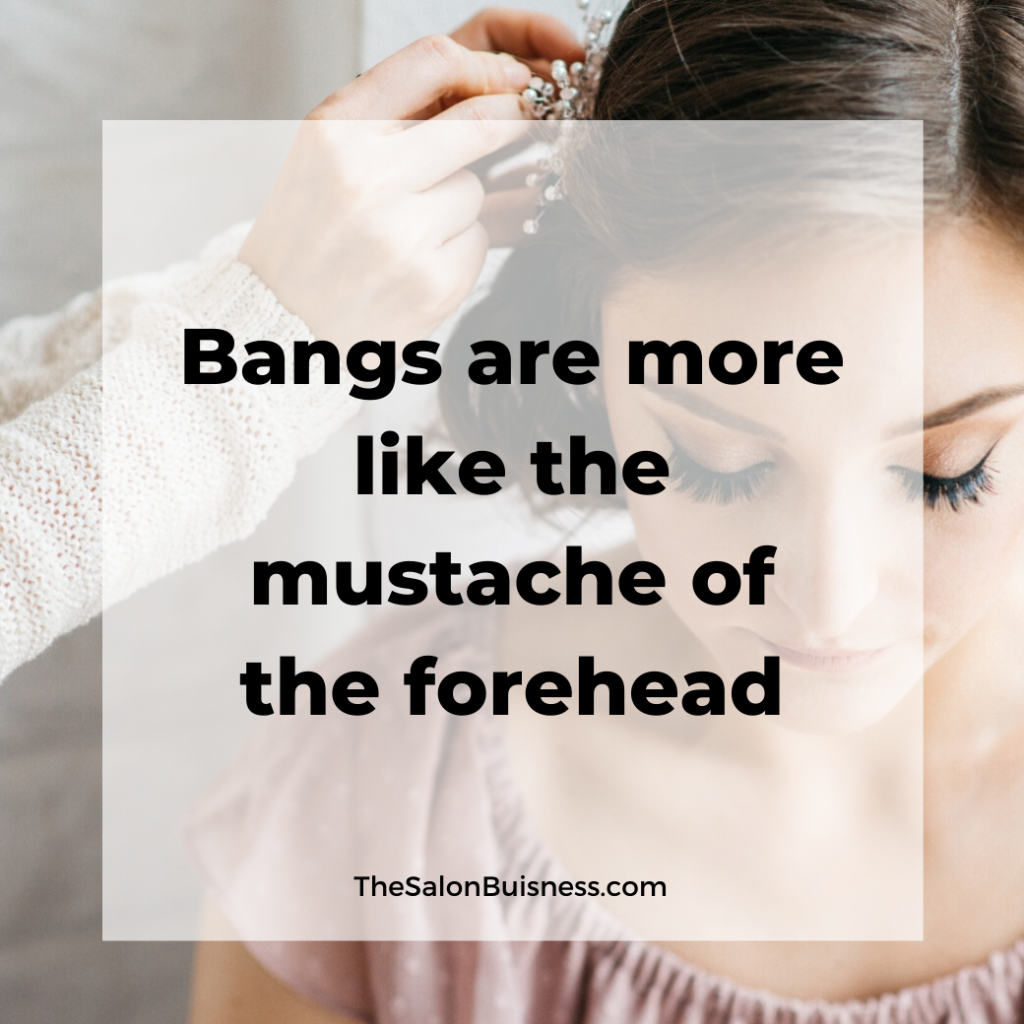 "So, you don't want to change the color, and you don't want to go shorter, and you don't want extensions. But you're ready for a whole new look? Um, okay."

Funny hairstylist quotes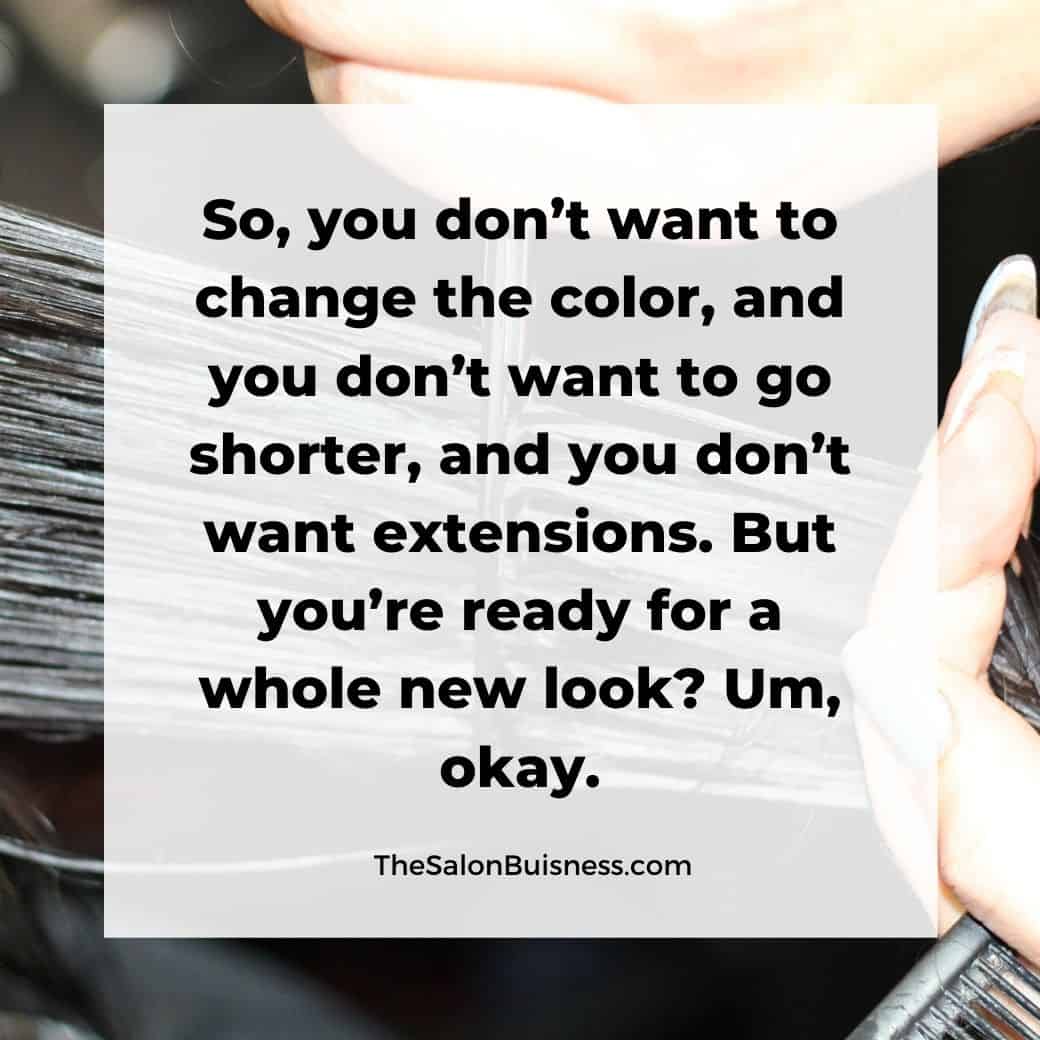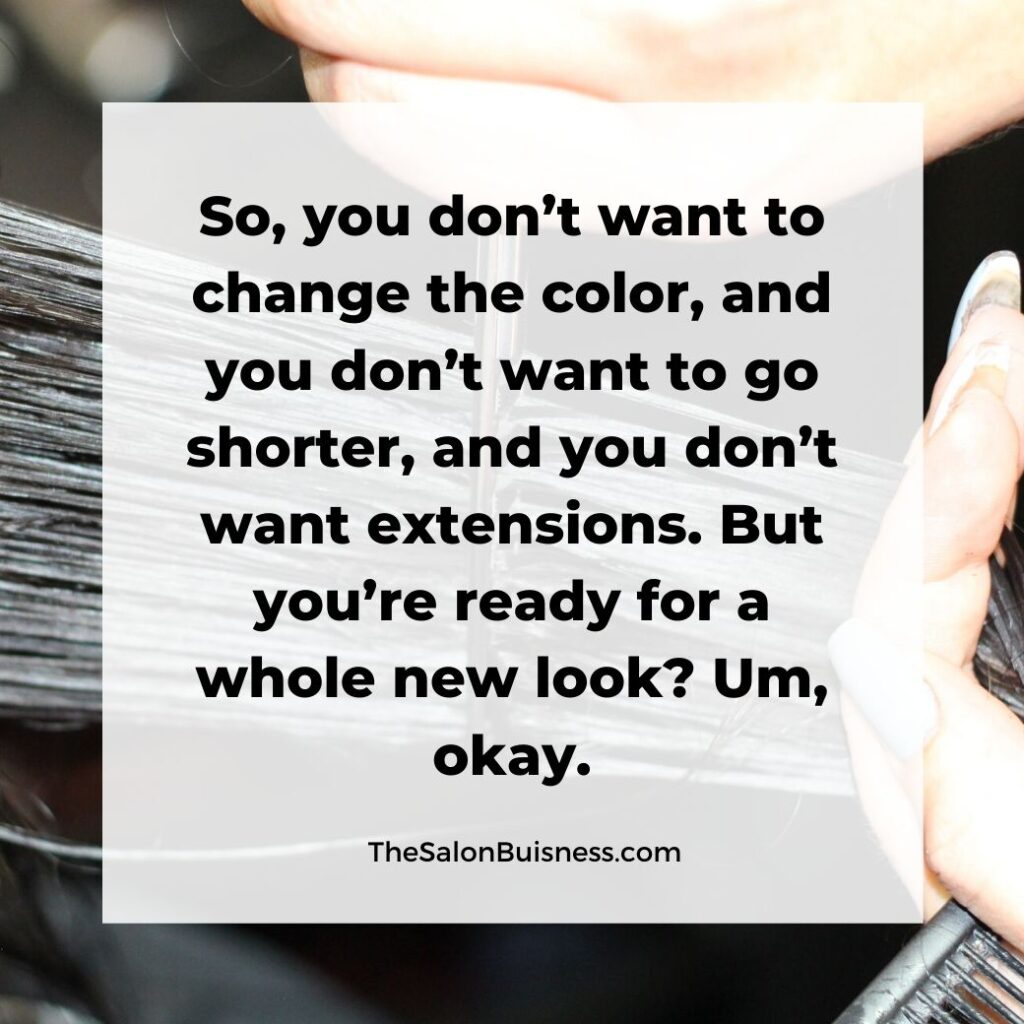 "I'm a hairstylist I could tell you stories that would curl your hair."

Funny hairdresser quotes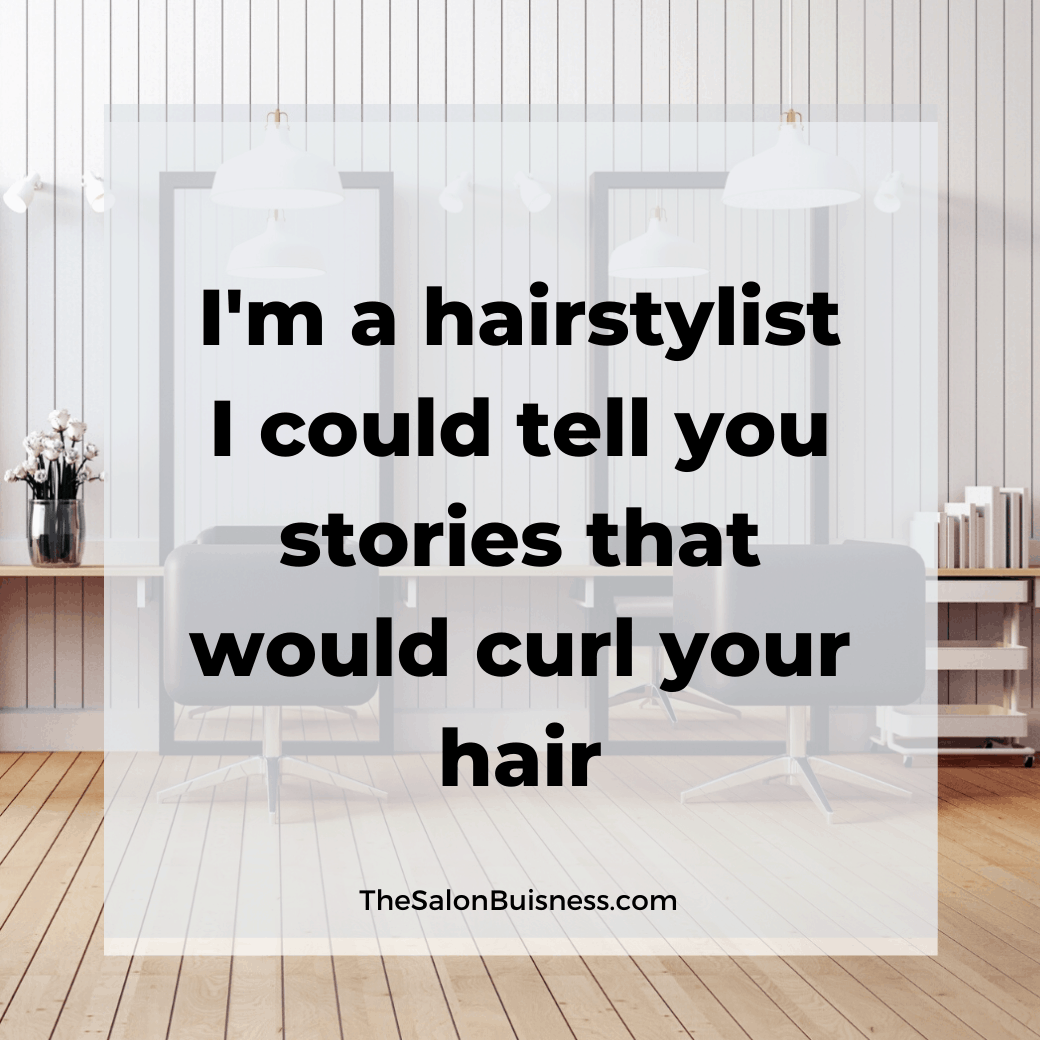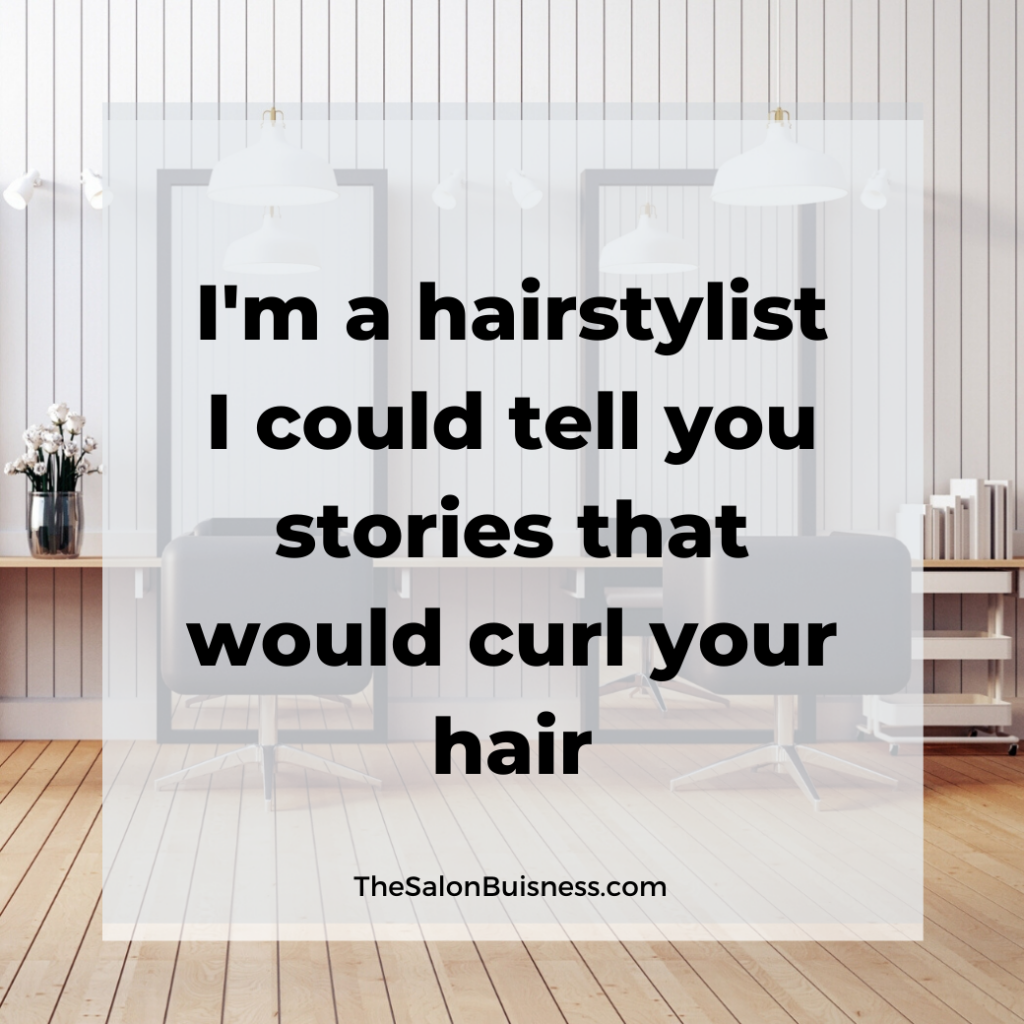 "You know you do hair when Tuesday is the first day of the week."

Hairstylist quotes funny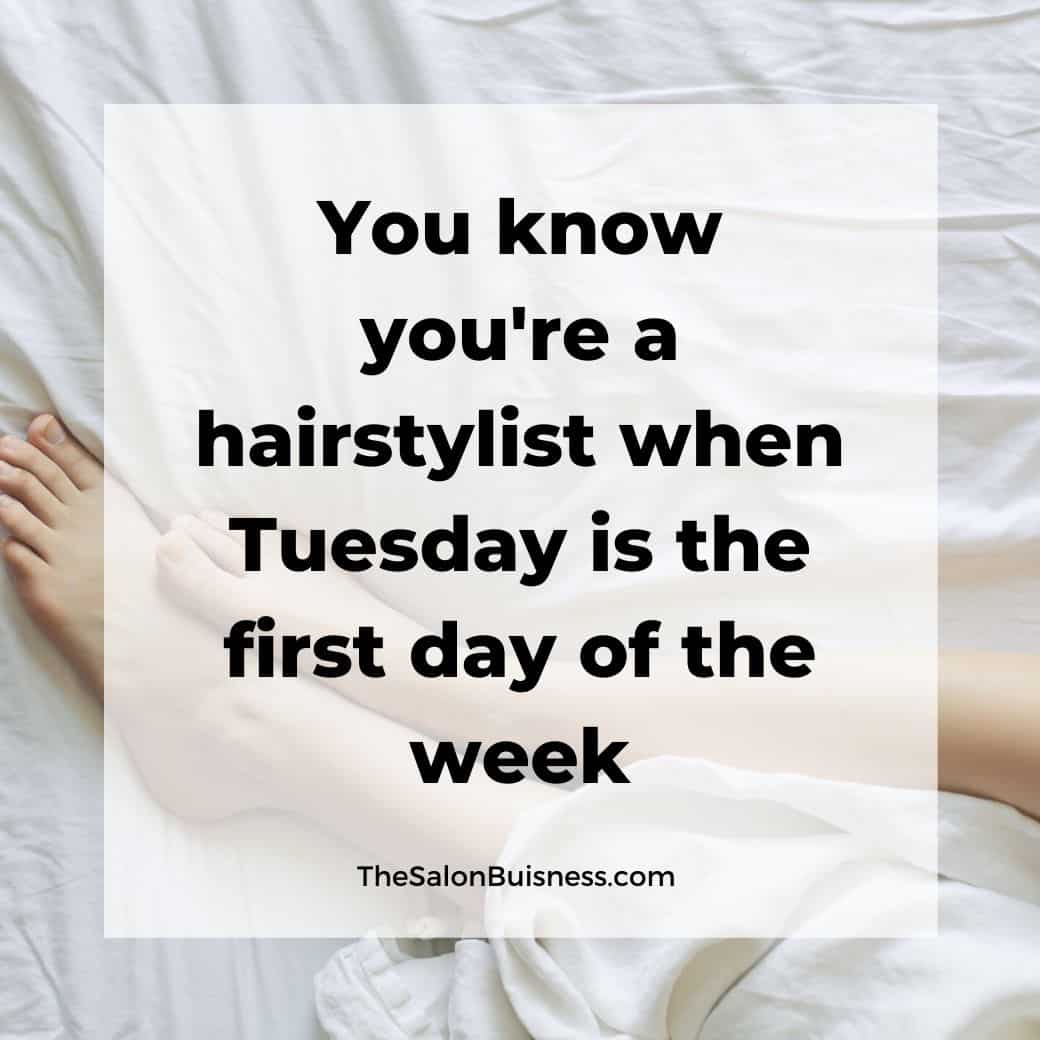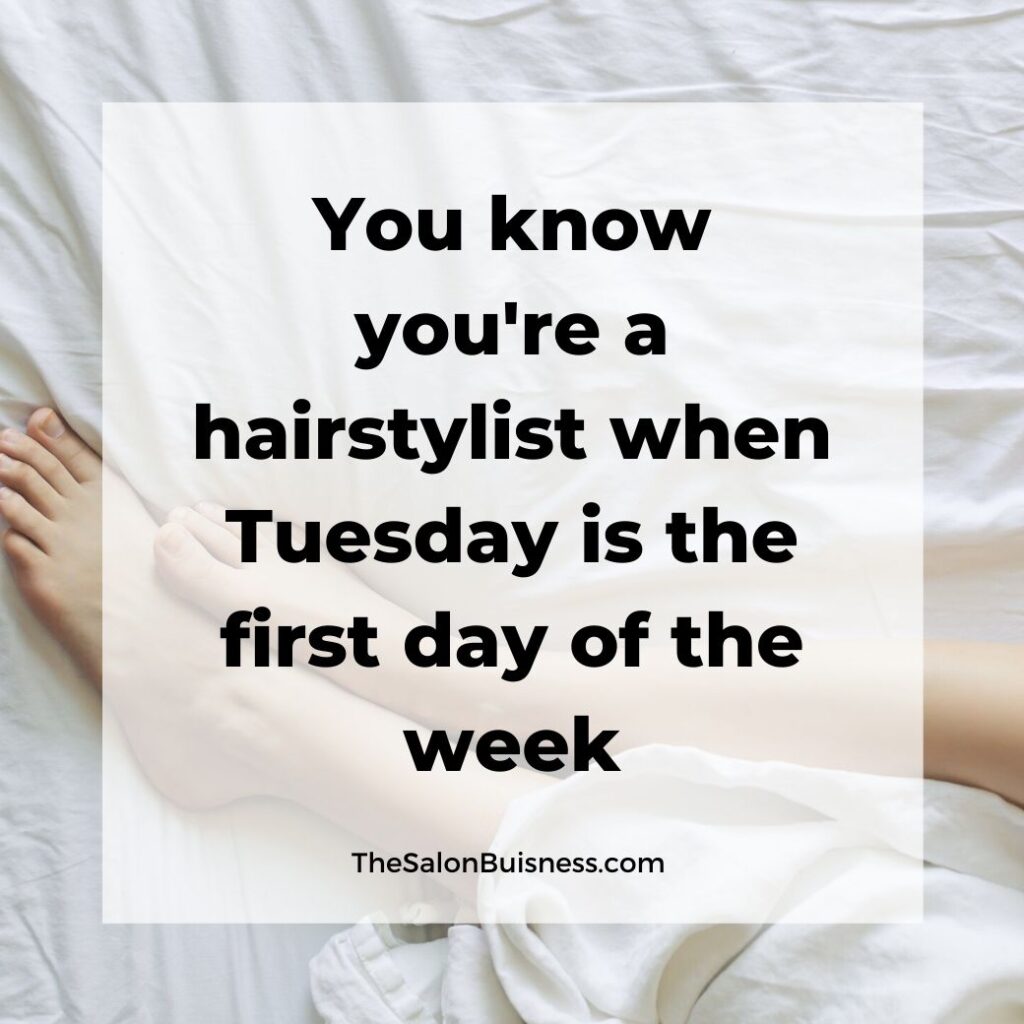 "It is always wise to be nice to a person who holding scissors near your head."

Funny hair salon quotes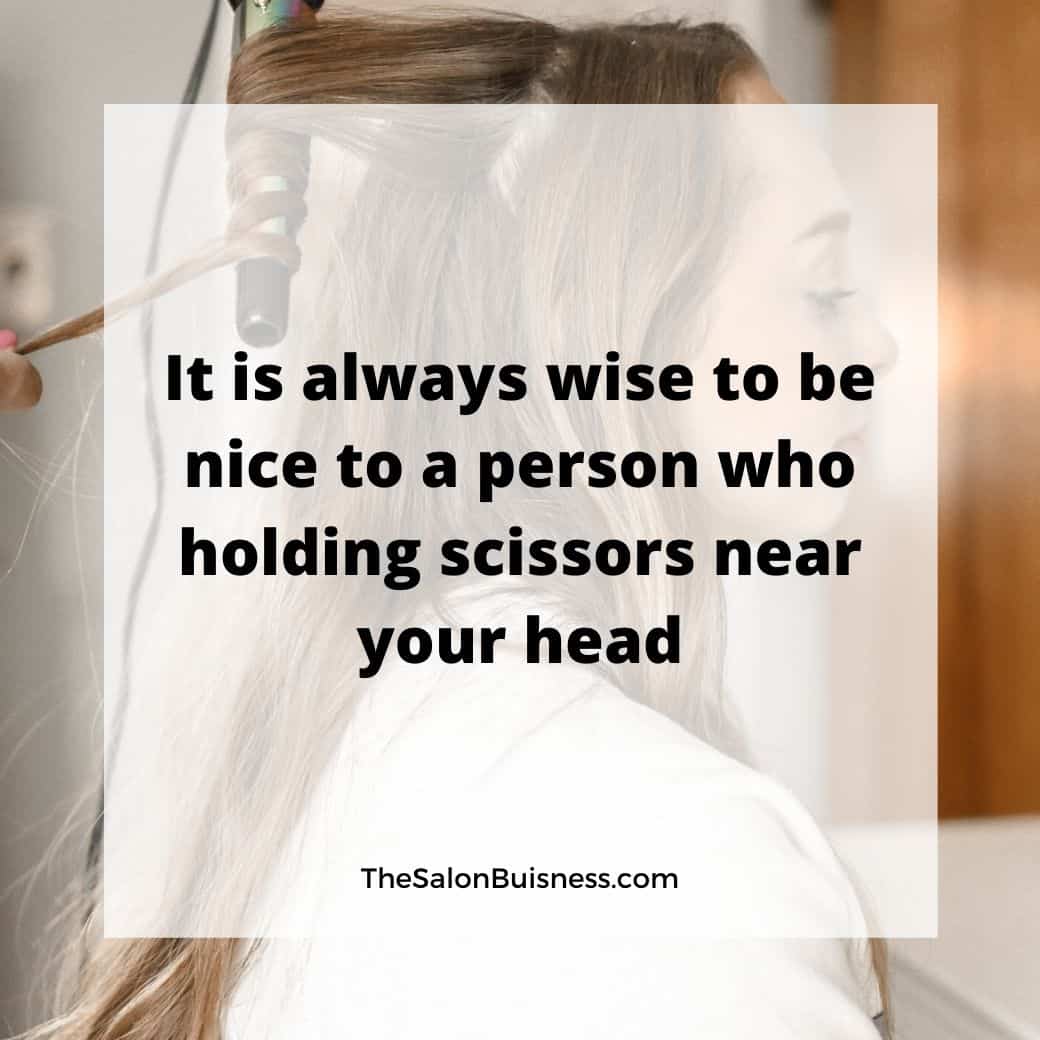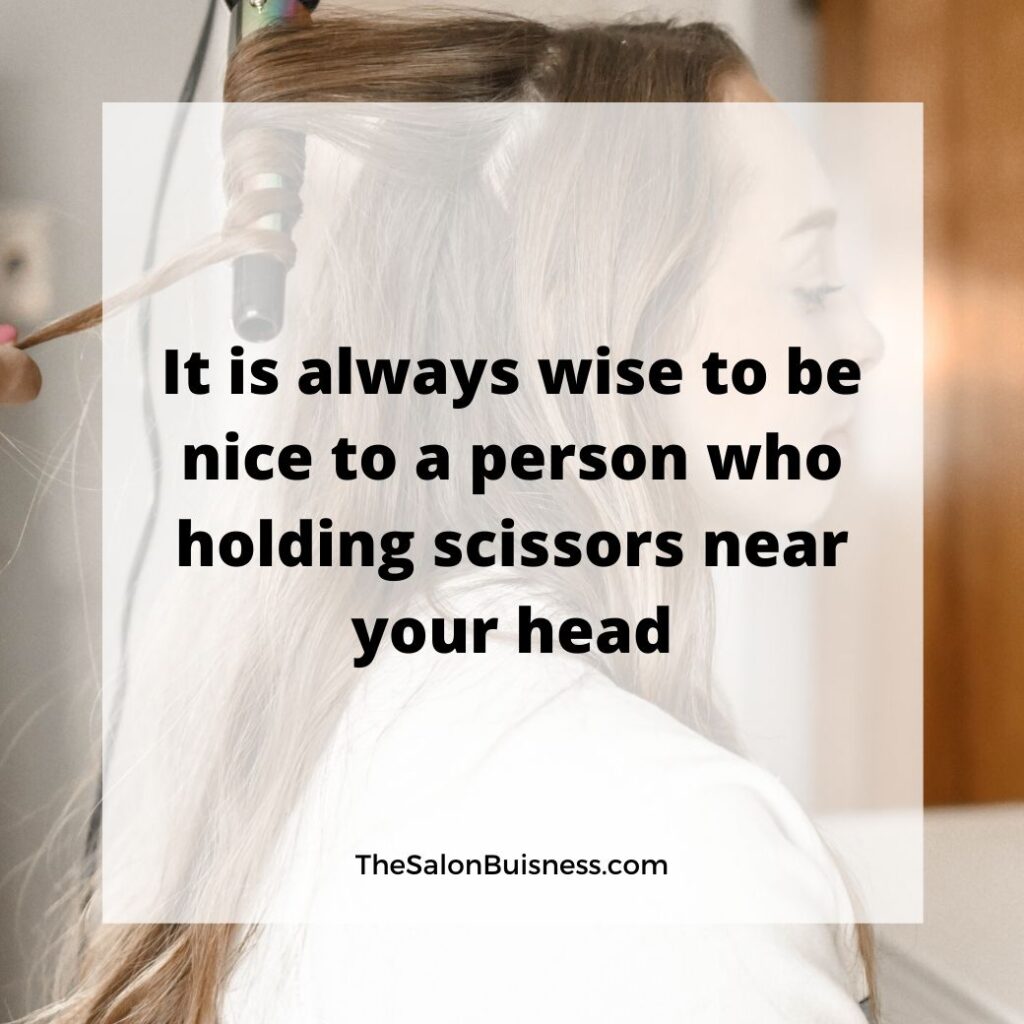 "Be nice to your hairstylist. We can ruin your self-esteem for six months in fifteen minutes."

Funny hairstylist sayings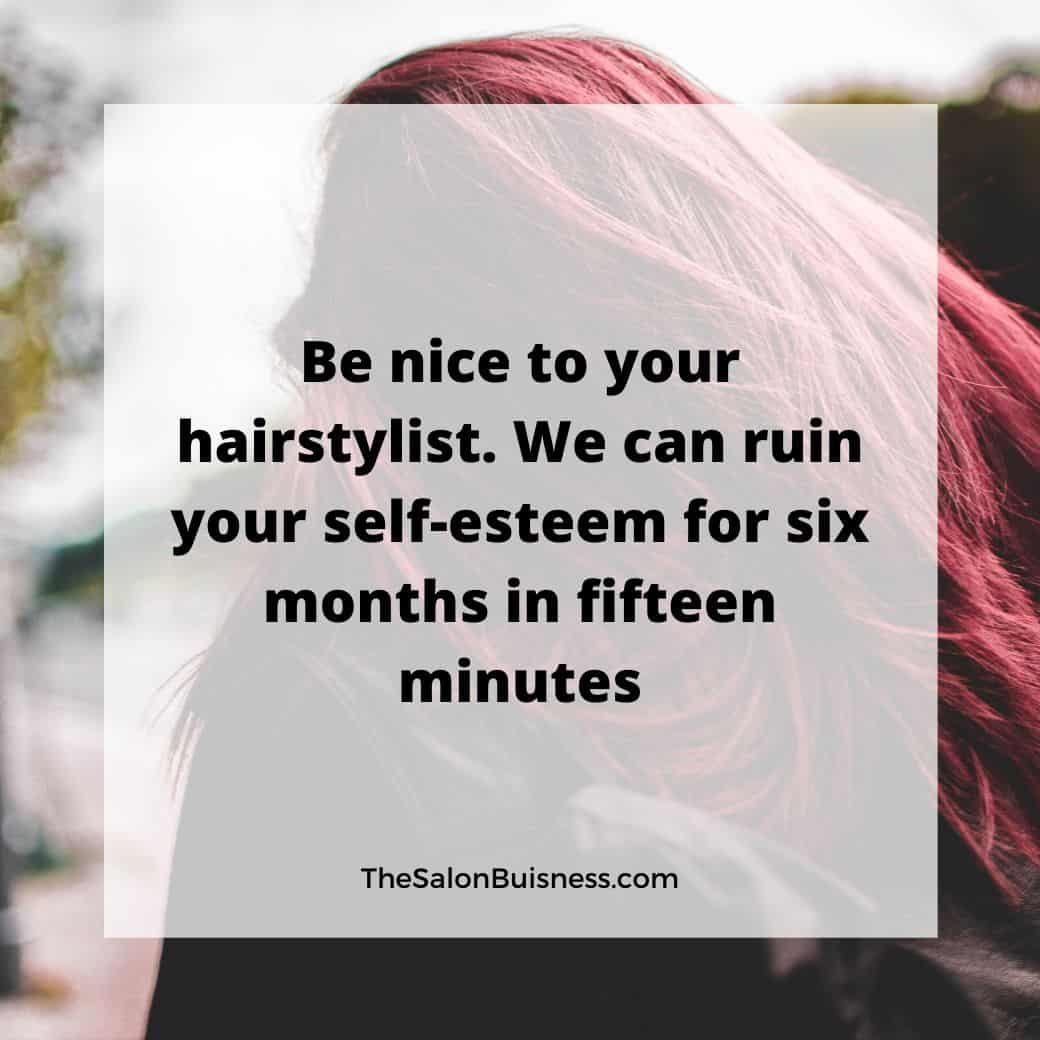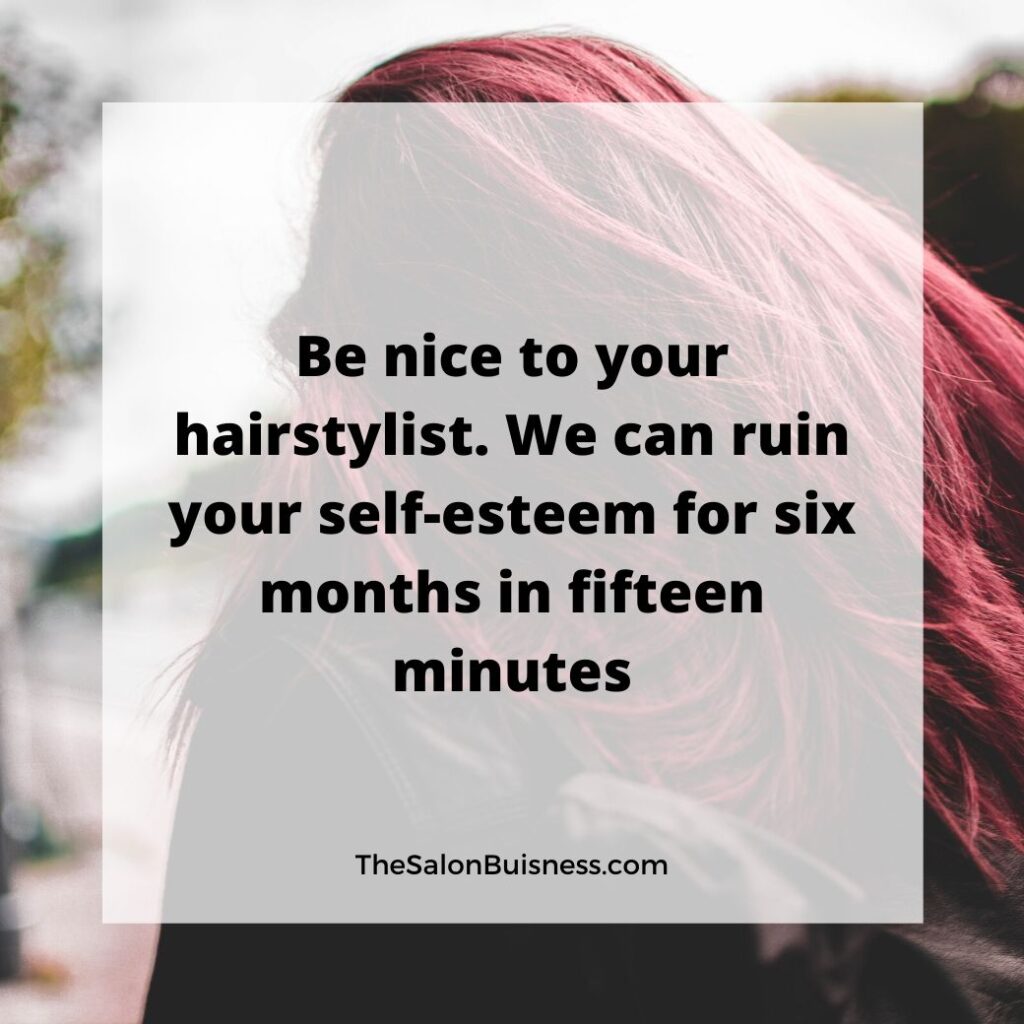 "You know you're a hairstylist when you tell your boyfriend you did 10 guys today & he doesn't get mad."

Hair stylist quotes funny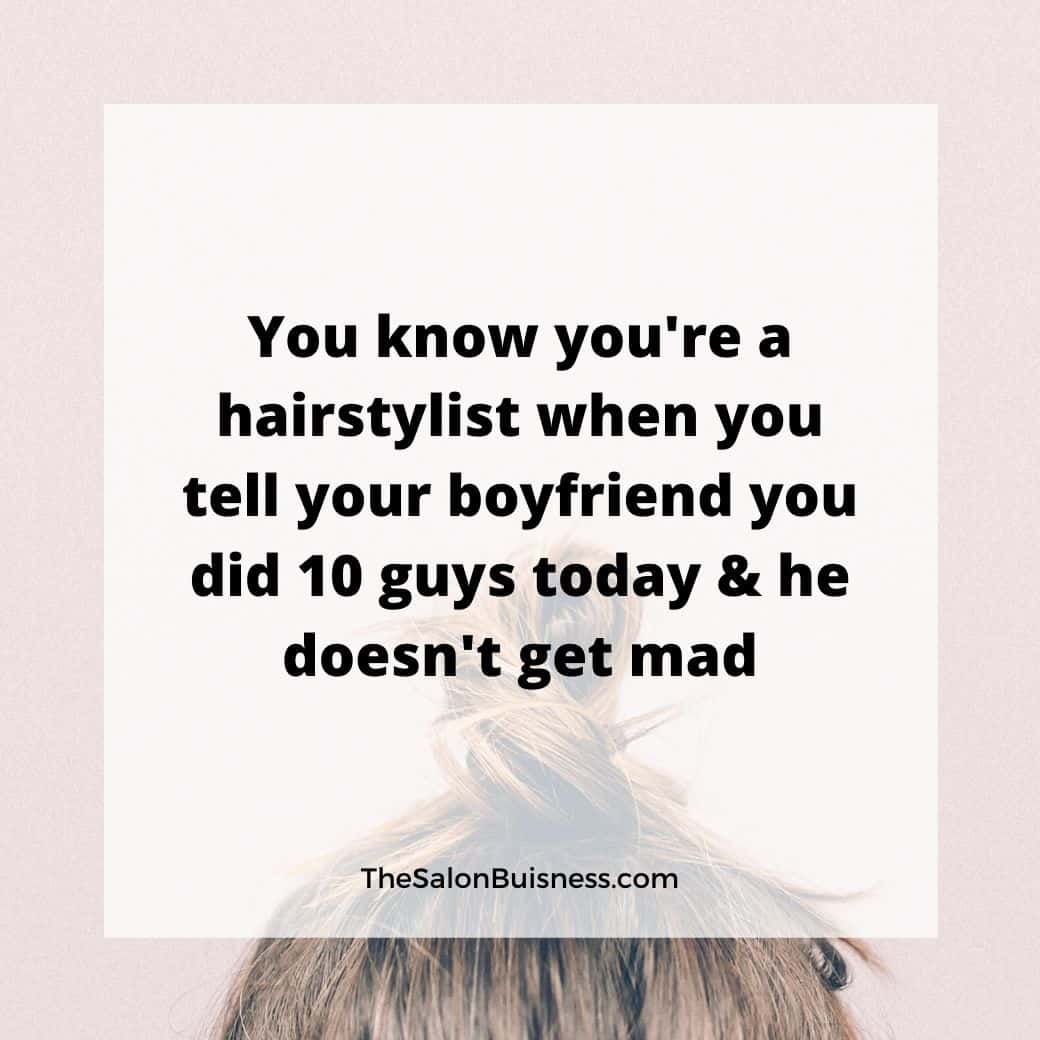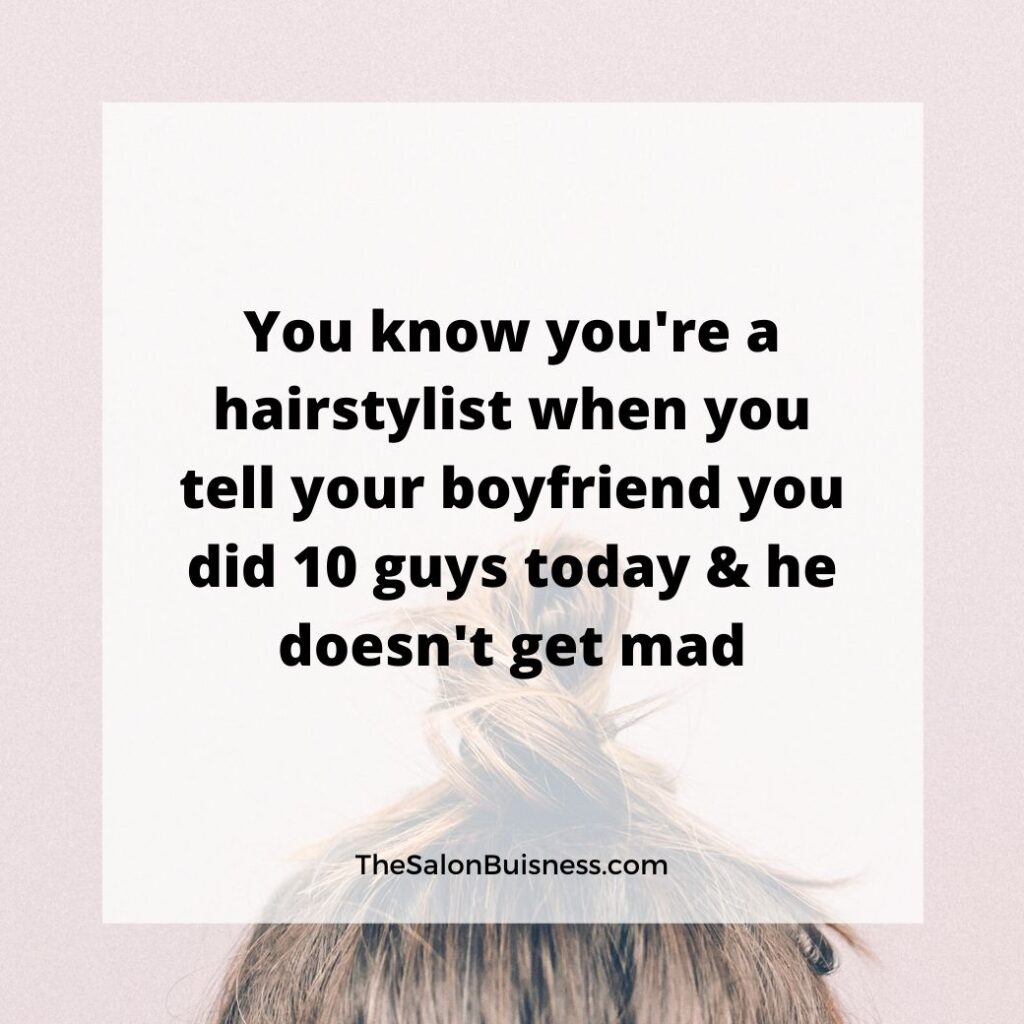 Salon Quotes
Salons are where the true magic happens. Where creativity, passion, & hard work all come together in a dance to create a true work of art.
Salons are exciting places to be with the best vibes imaginable, so I wanted to dedicate a section for them in this article.
These may be sayings you've heard from your hairstylist, quirky salon quotes about beauty, or even just relatable puns about visiting or working in a salon. Whatever it is, these sayings are crazy fun and will definitely give you a chuckle or two!
Here are my favorite hair salon quotes I know you're going to love!
Salon Quotes Images
"It was happening. At least in that little section of the salon, women were connecting and doing what women knew how to do, show compassion, nurturing, & helping someone fit in." Terri Gillespie

Salon beauty quotes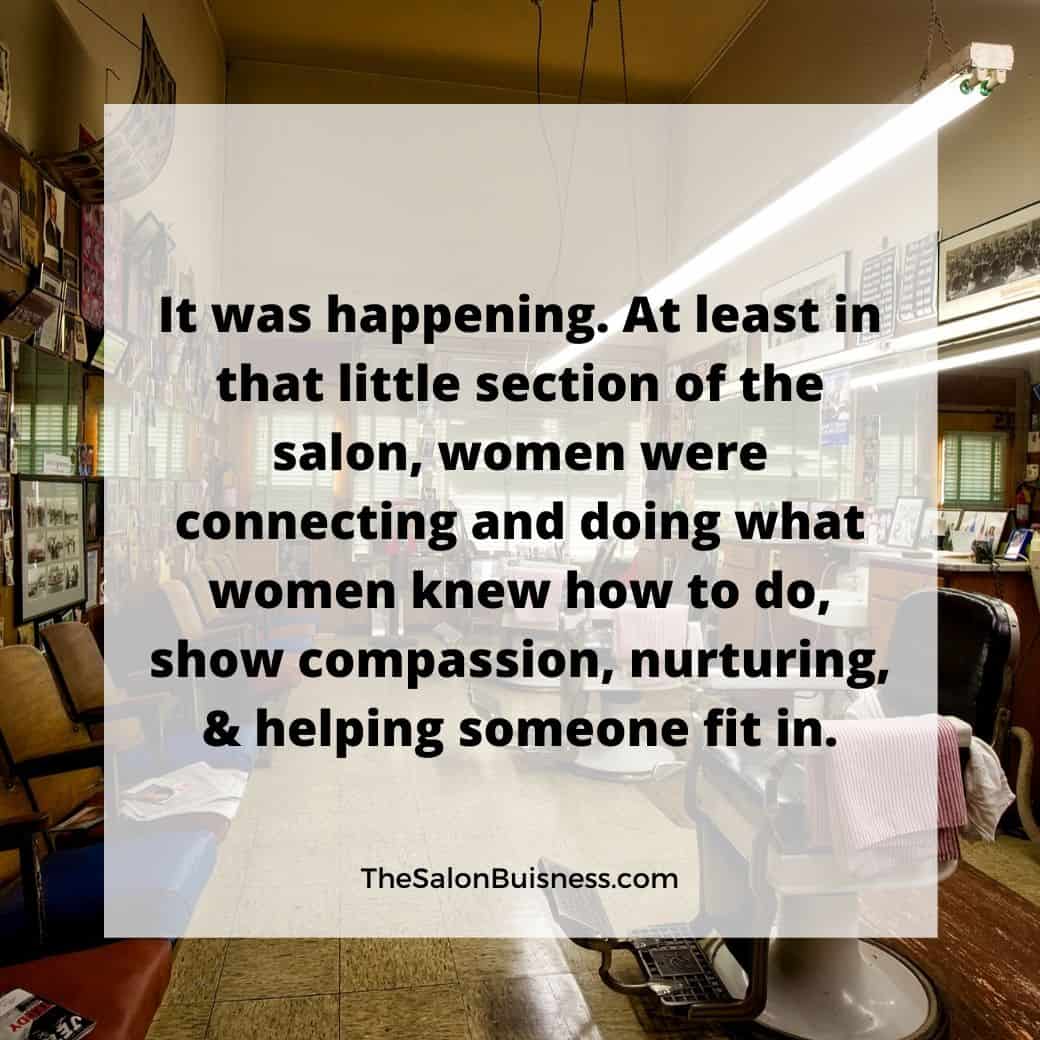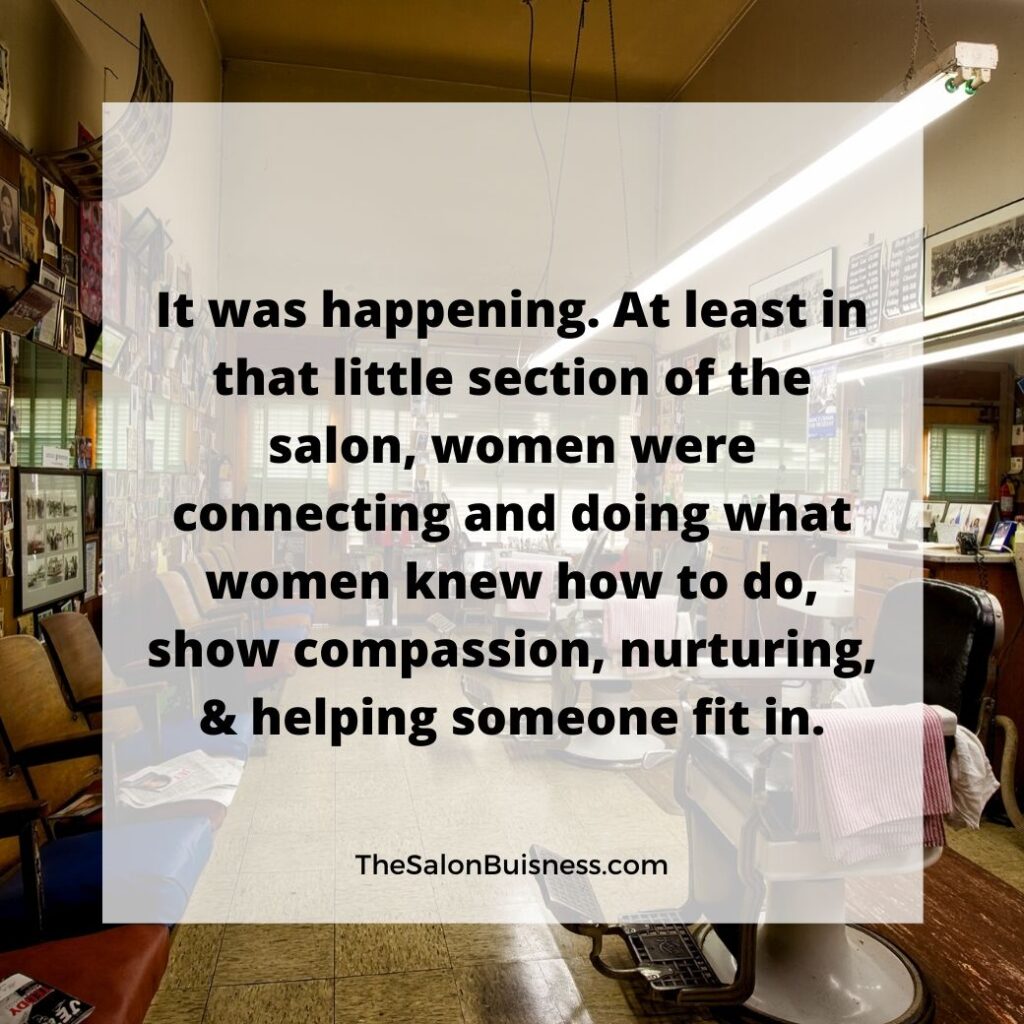 "As a hairstylist, I'll always 'char'-ish you."

Beauty salon quotes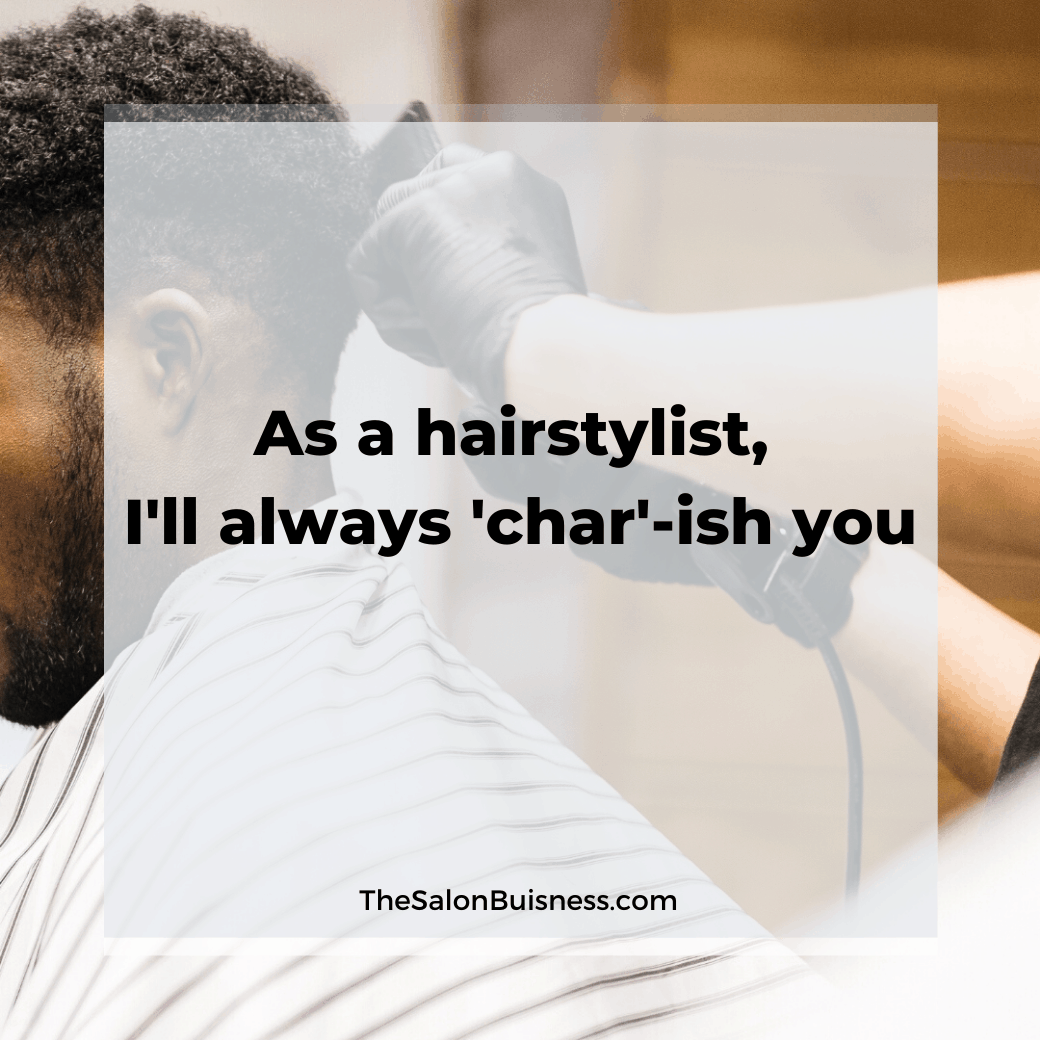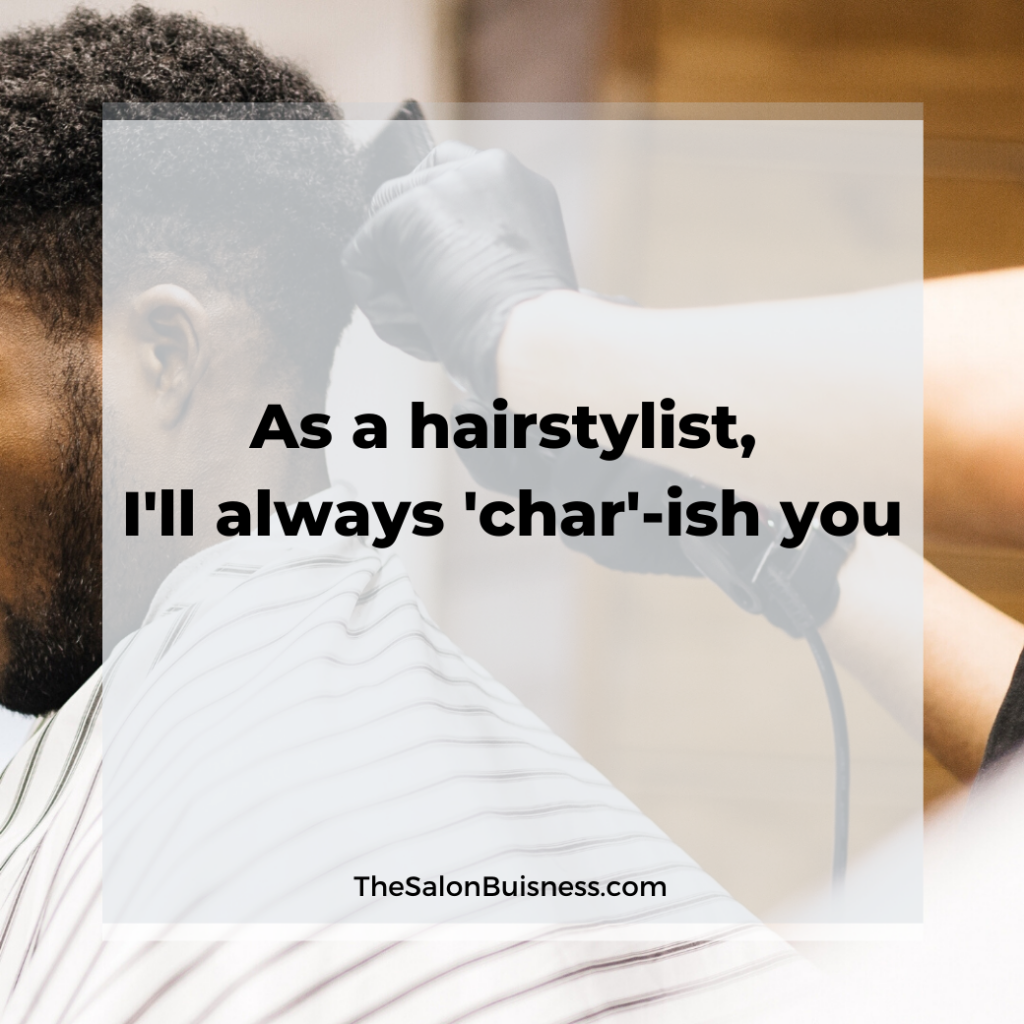 "Hair that slays starts at the salon."

Hair salon quotes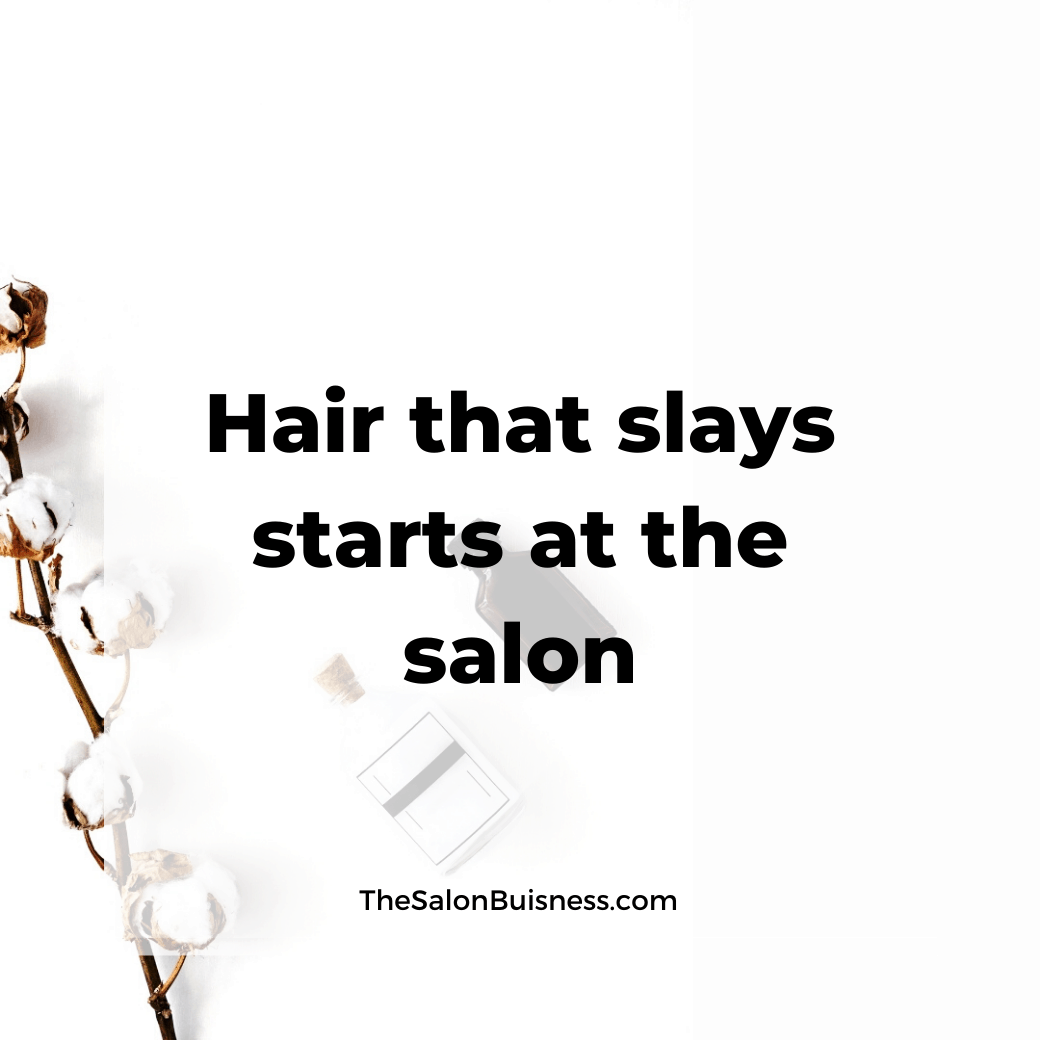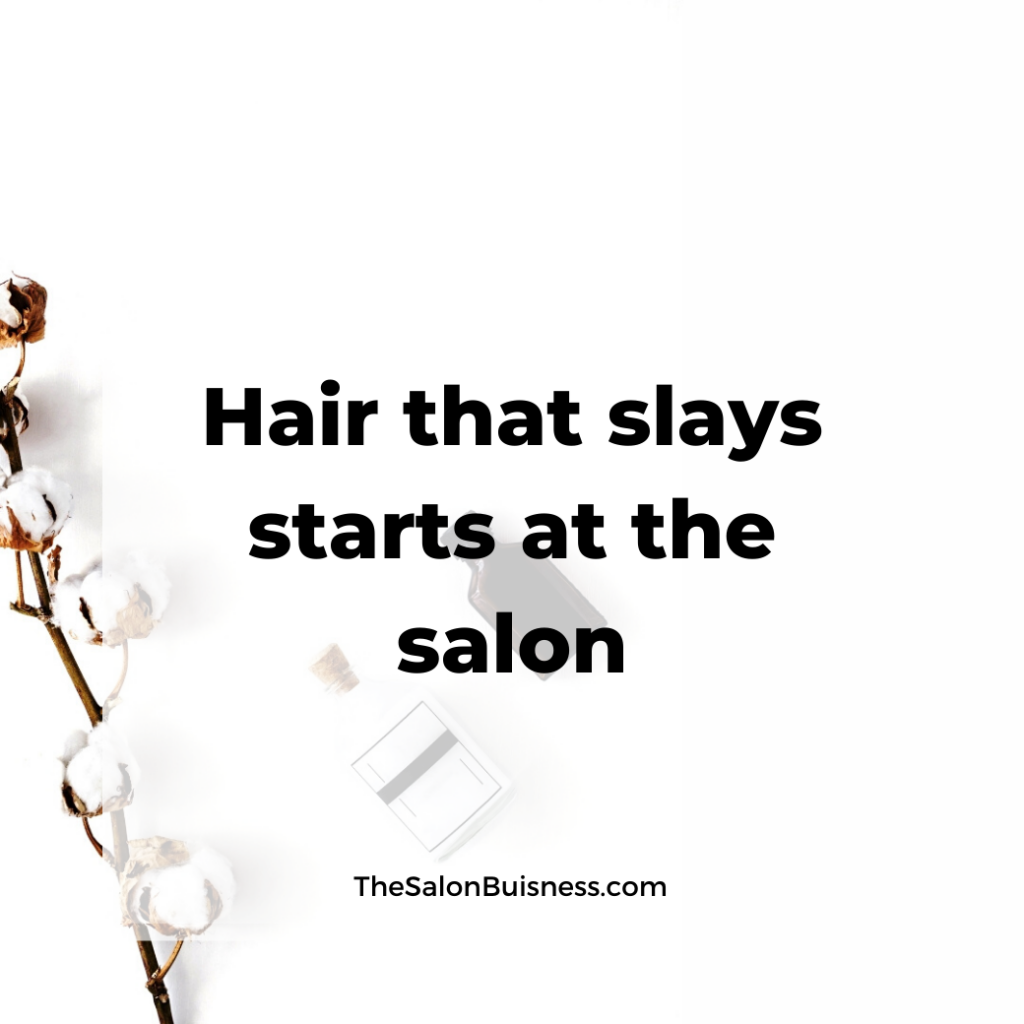 "Great hair doesn't happen by chance, it happens by appointment."

Hair salon quotes & sayings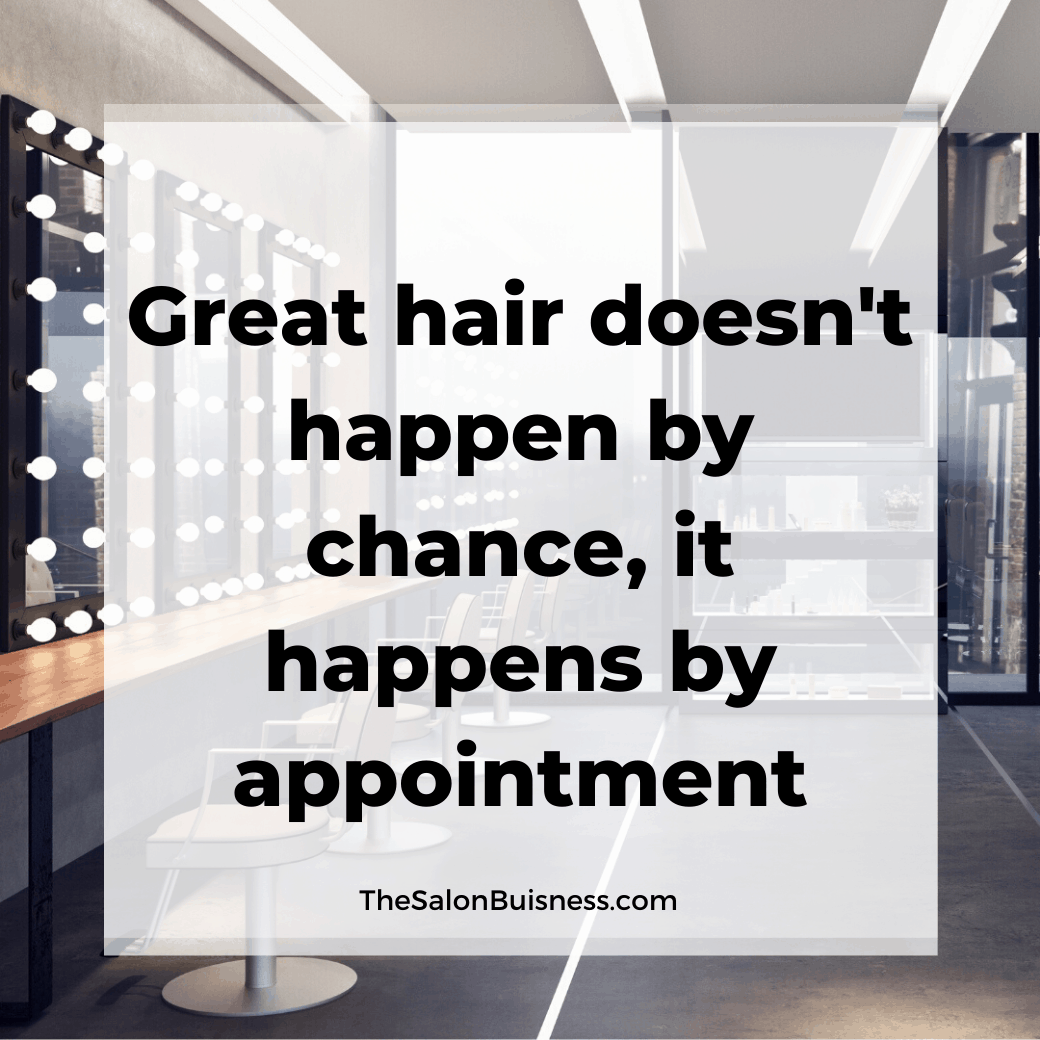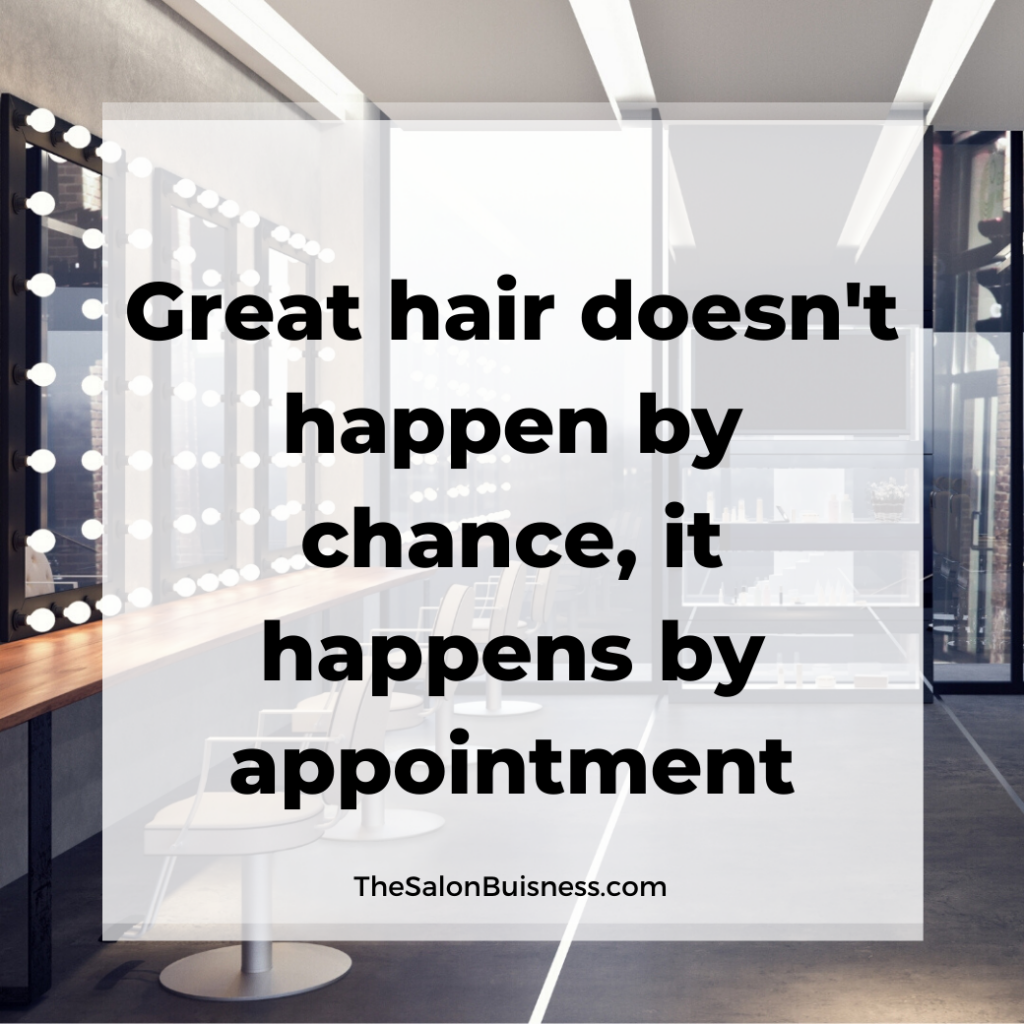 "Don't mess with a hairstylist. We get paid to cut people."

Hair salon sayings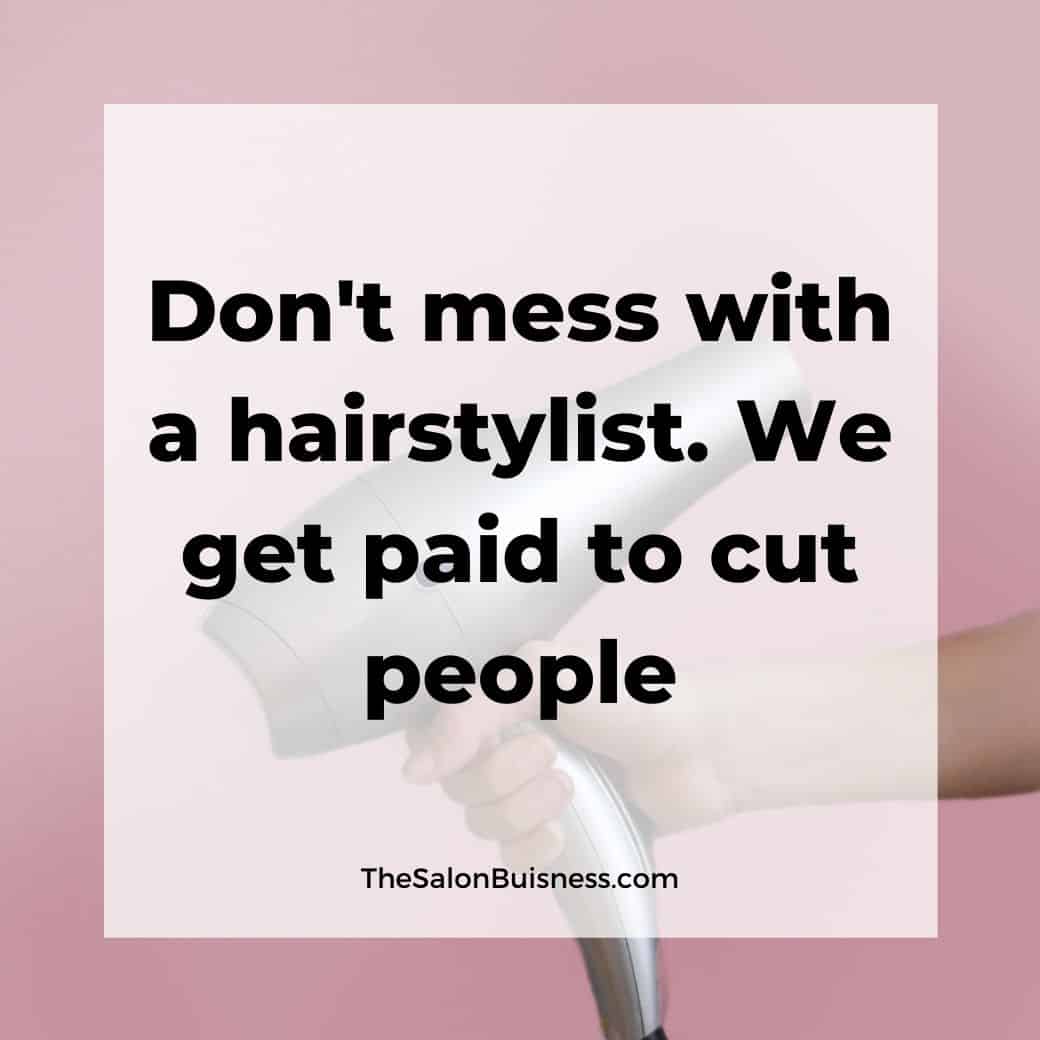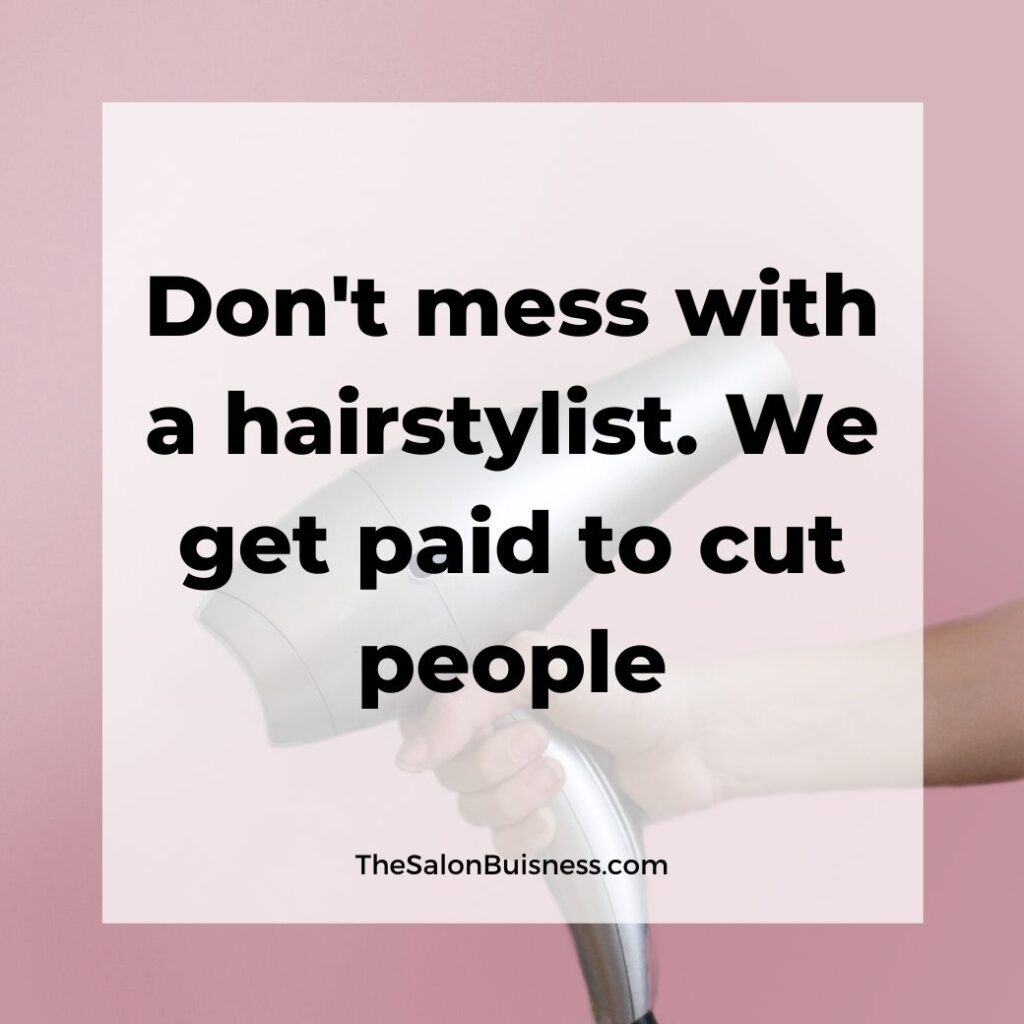 "Beauty comes from the inside. And by inside I mean inside the hair salon."

Hair appointment quotes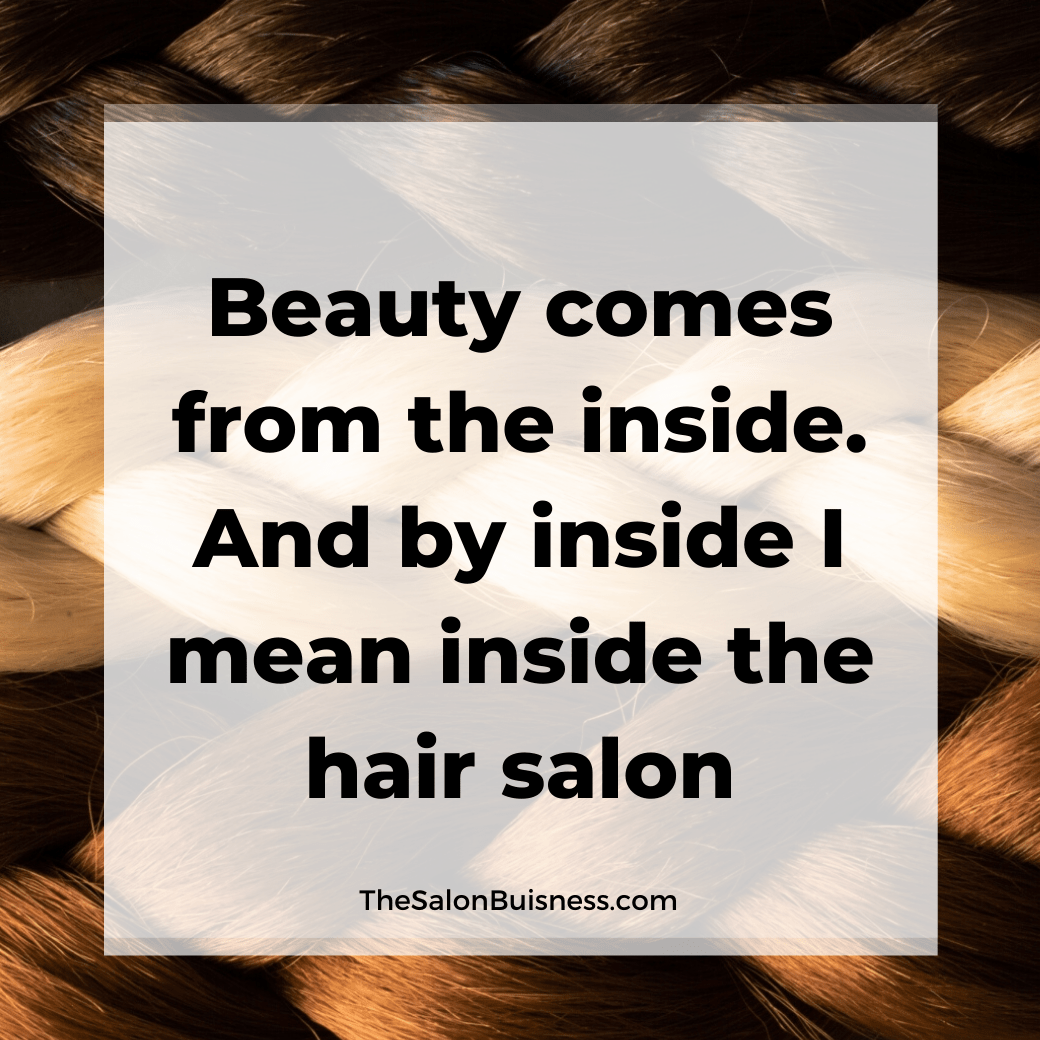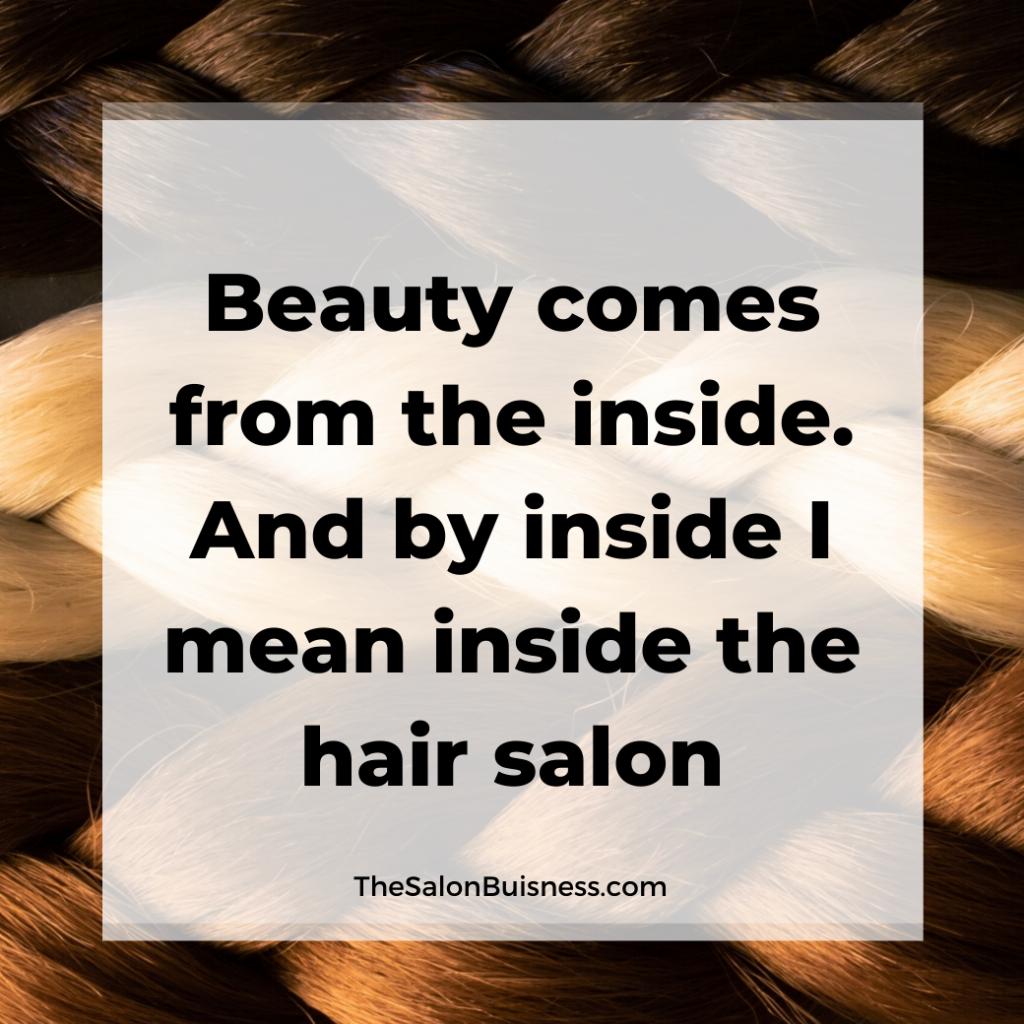 "Whoever said money can't buy happiness hasn't found the right beauty salon."

Salon quotes about beauty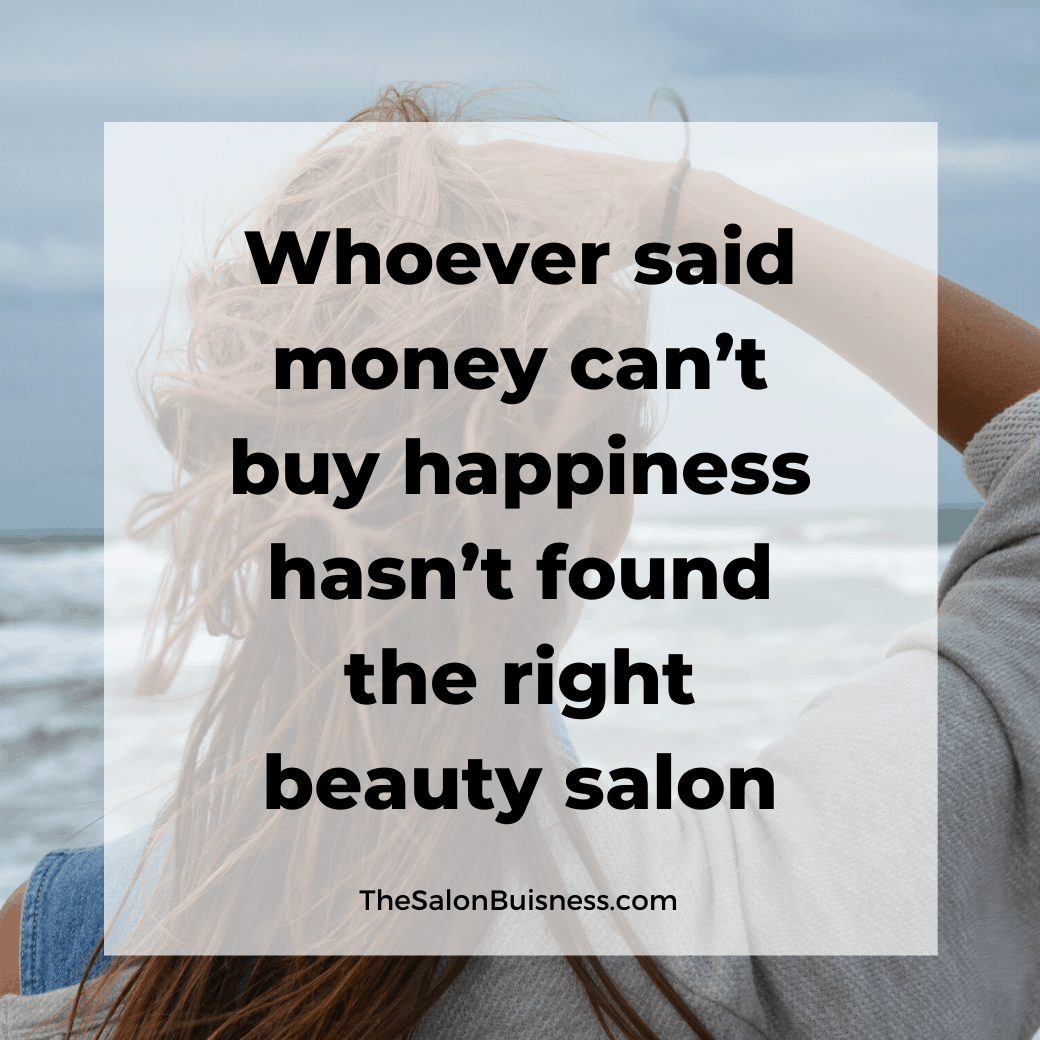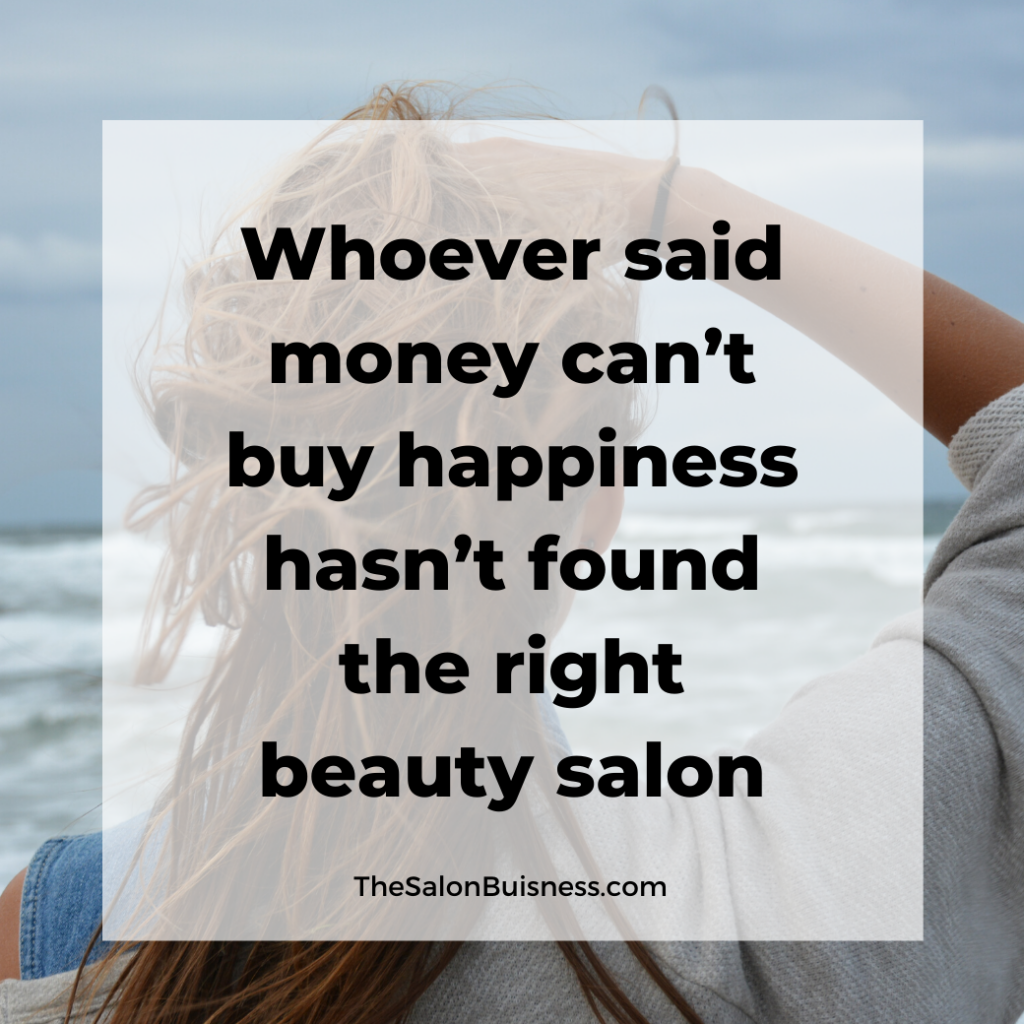 Hairstylist Quotes For Business Cards
Using a quotes on business cards has grown in popularity.
So, on a more professional note, I wanted to throw in a few ideas for hairstylist quotes for business cards. With so many different salons out there, creating an eye-catching & memorable business card that stands out is essential. But what really makes a business card stand out?
The perfect salon business card is something that moves you; something genuine, relatable, and trustworthy. When you make your card more relatable and catchy, it becomes memorable, and helps draws clients because they are able to see your personality, and that makes it unique.
So, if you're a hairstylist or own a salon and are looking to attract a customer's attention in the right way, here are some of the best hairstylist quotes I could find for a catchy business card!
Hairdresser Business Card Quotes
"Hairstylist (noun): 1. Cut above the rest 2. Adds color to the world. 3. Brings out the beauty of others. 4. Miracle worker. That's us! "

Hairstylist quotes for business cards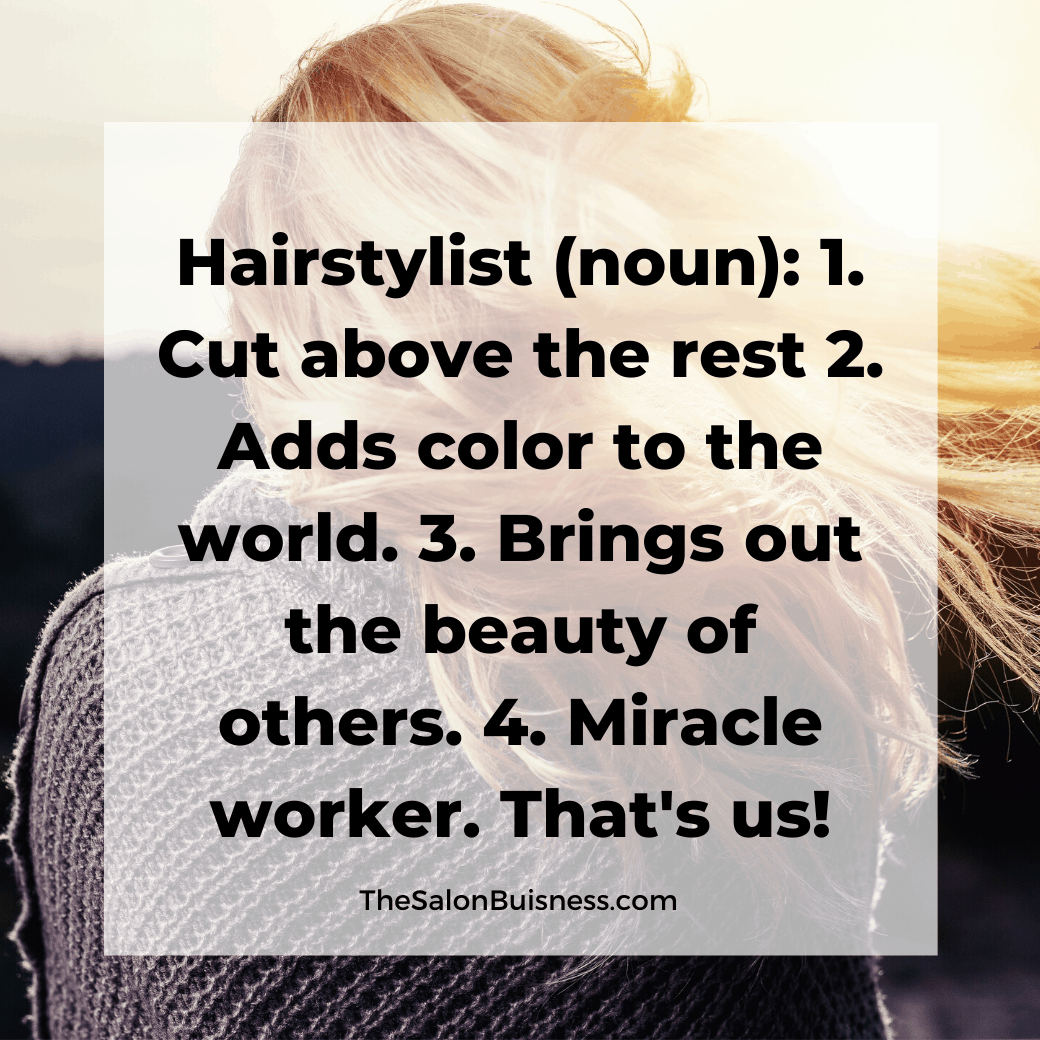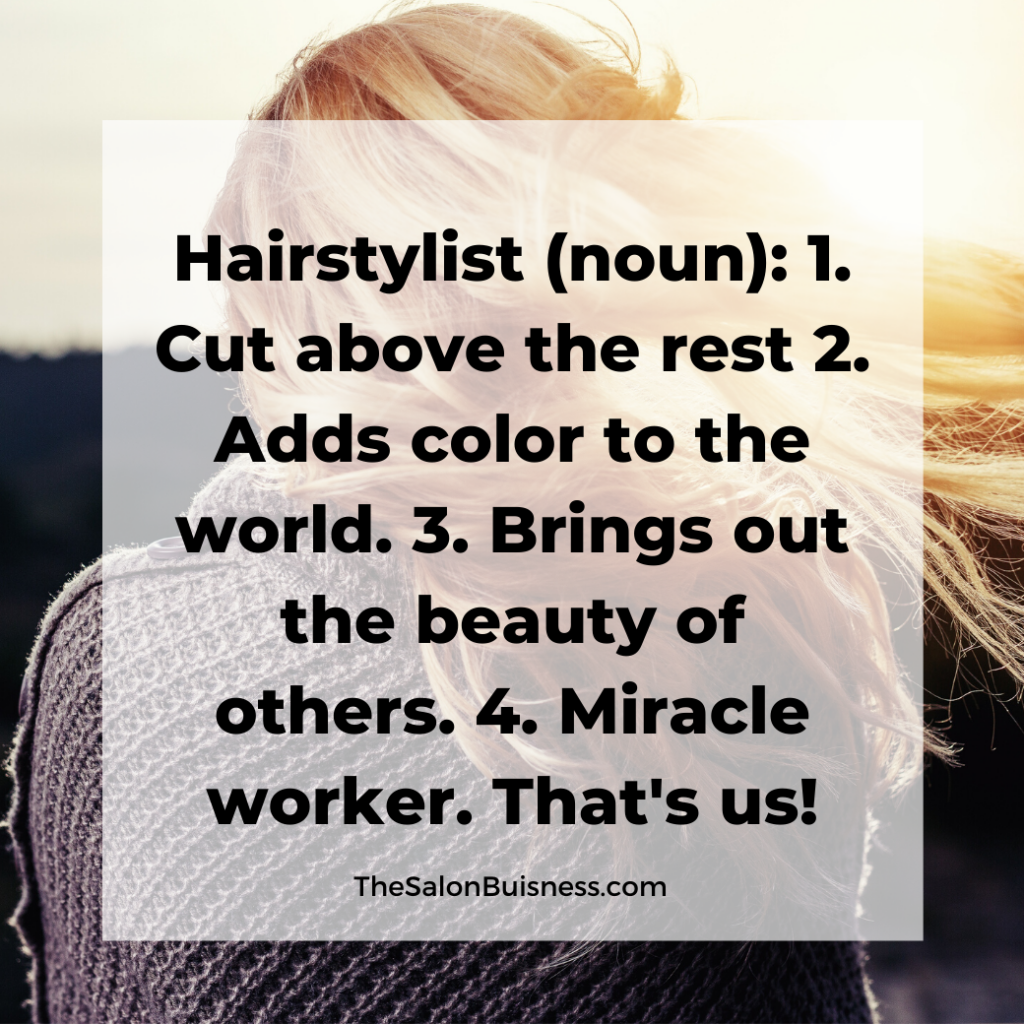 "Pssst. I know a girl who does pretty hair."

Hair stylist quotes for buisness cards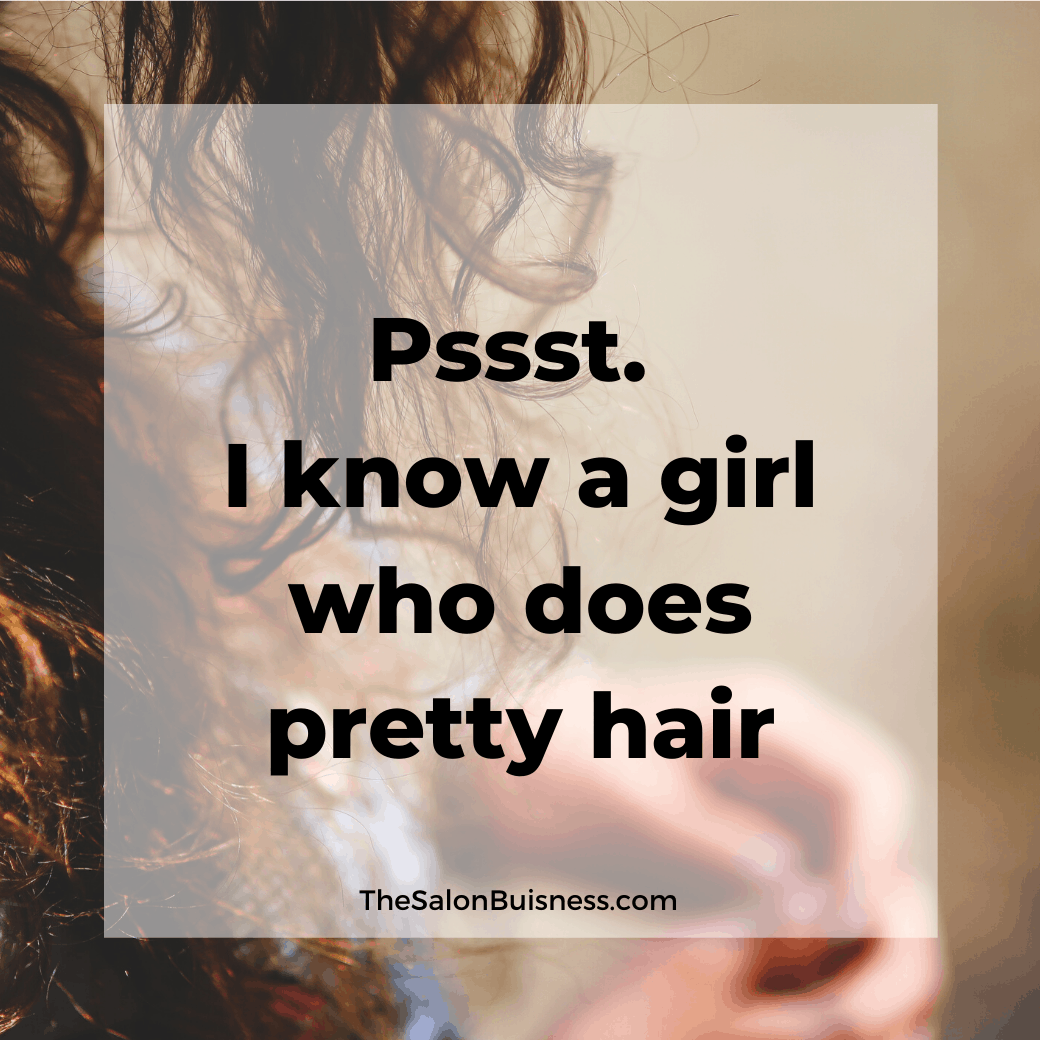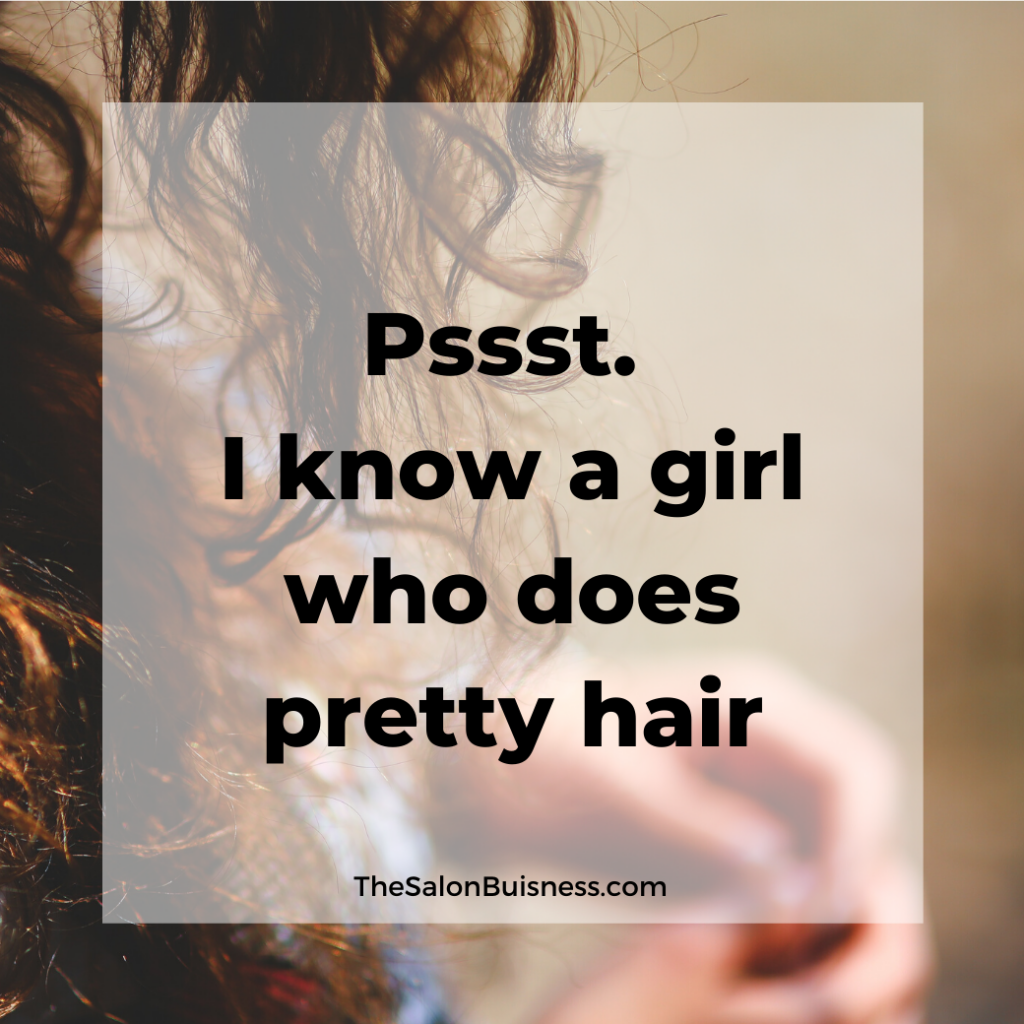 "What happens at the salon, stays at the salon."

Quotes for hairstylist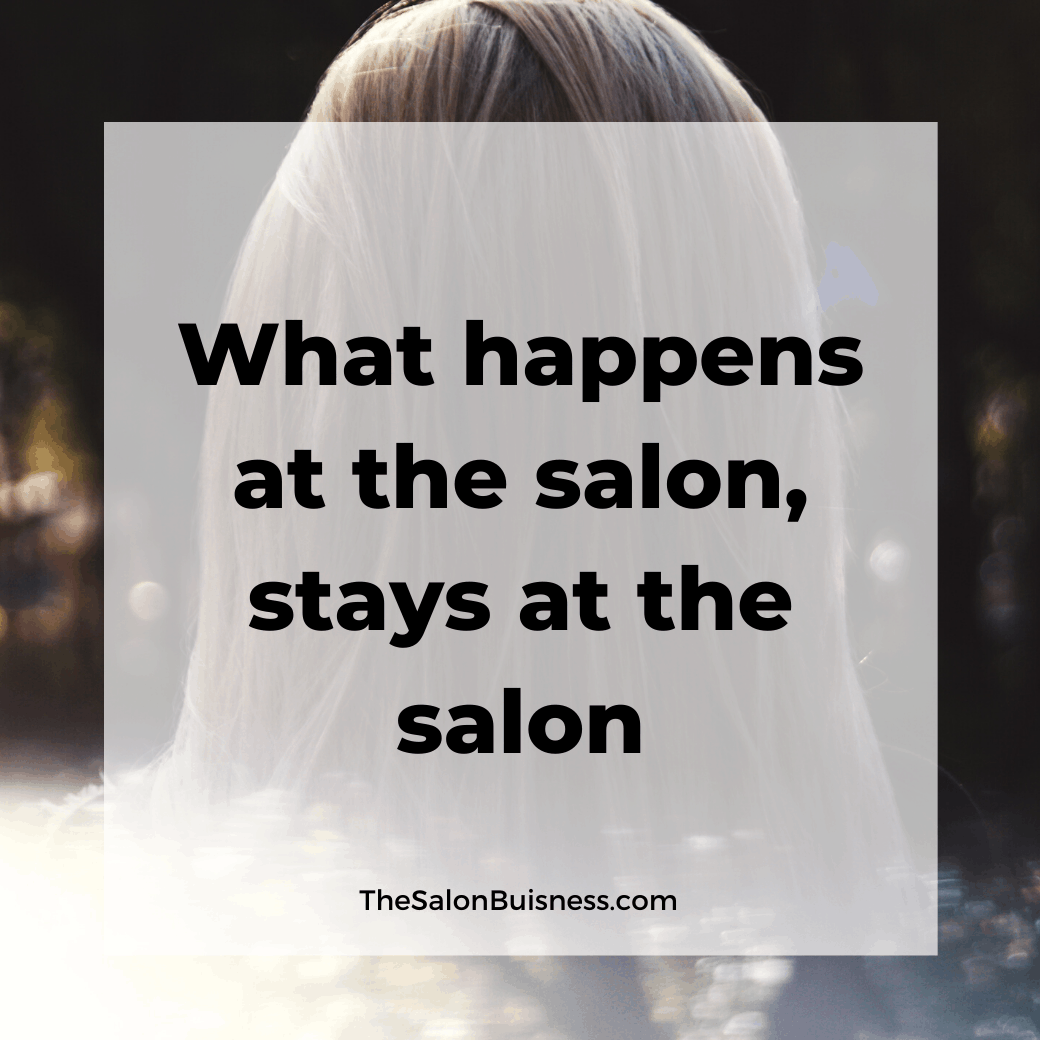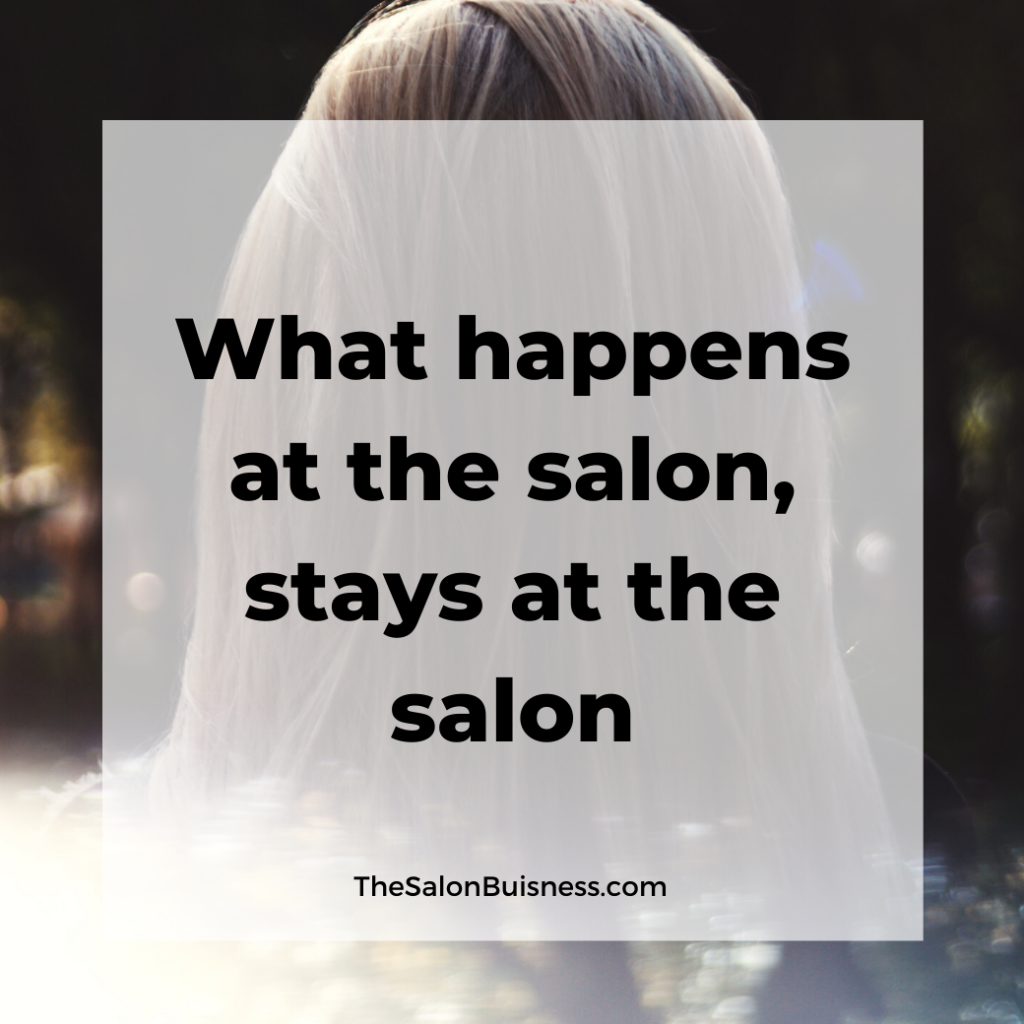 "We stay one cut above the rest."

Quotes about hairdressing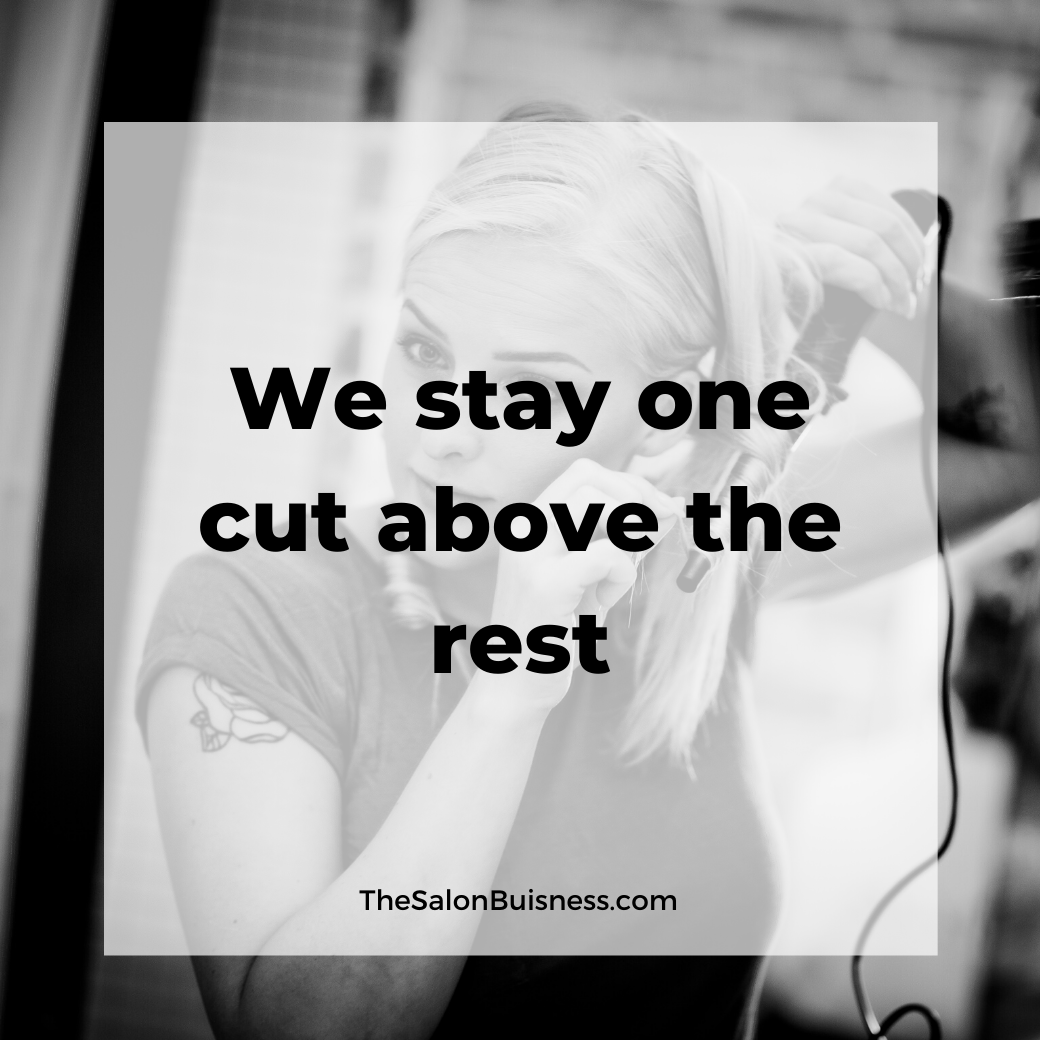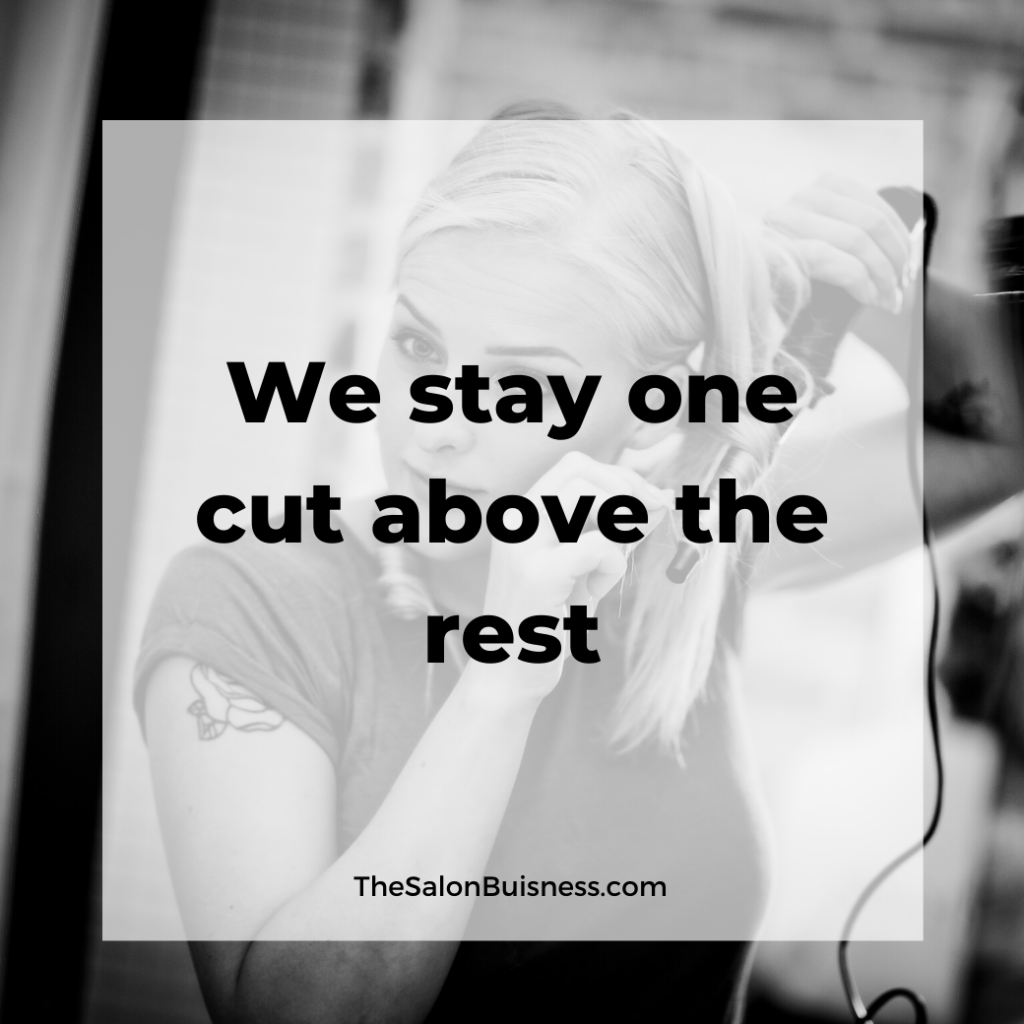 "Keep calm, I do hair."

Hair dresser sayings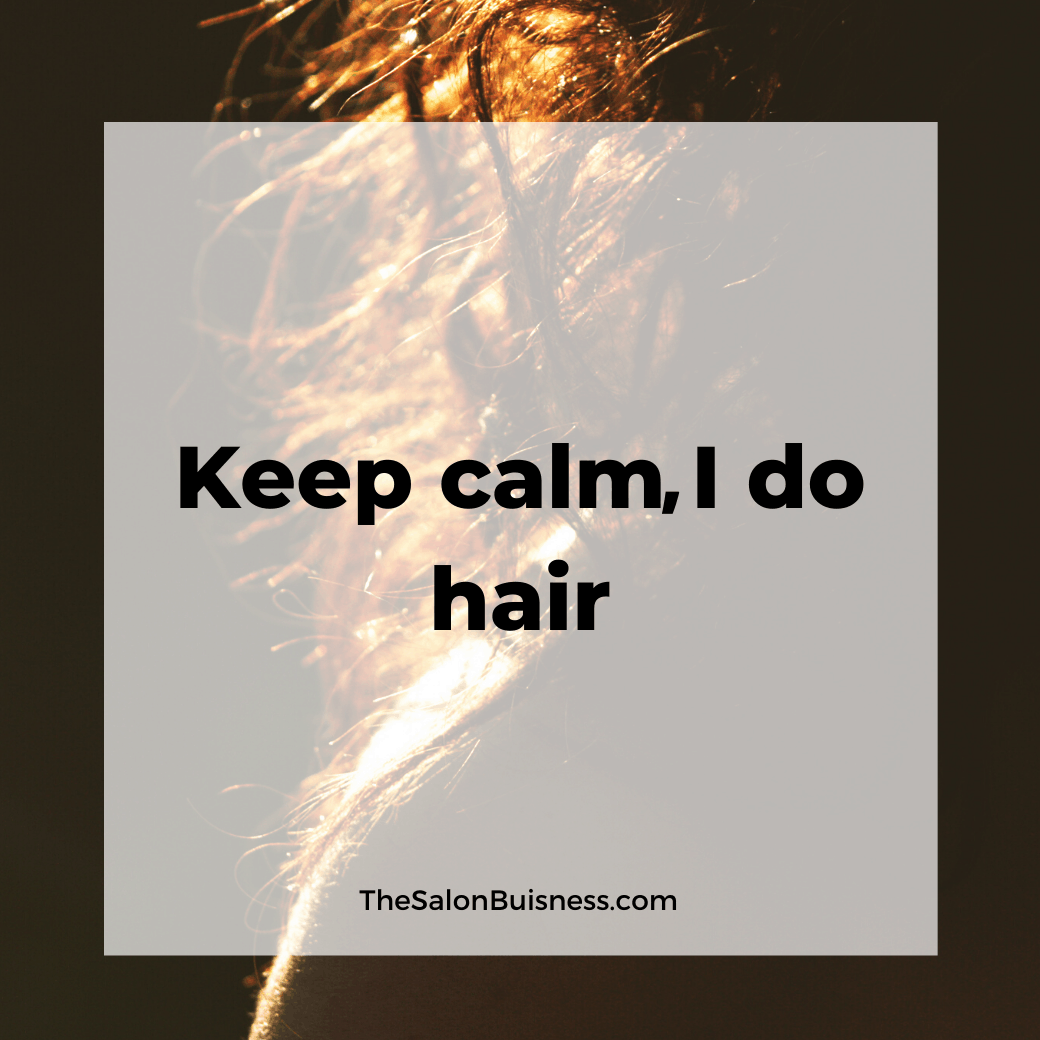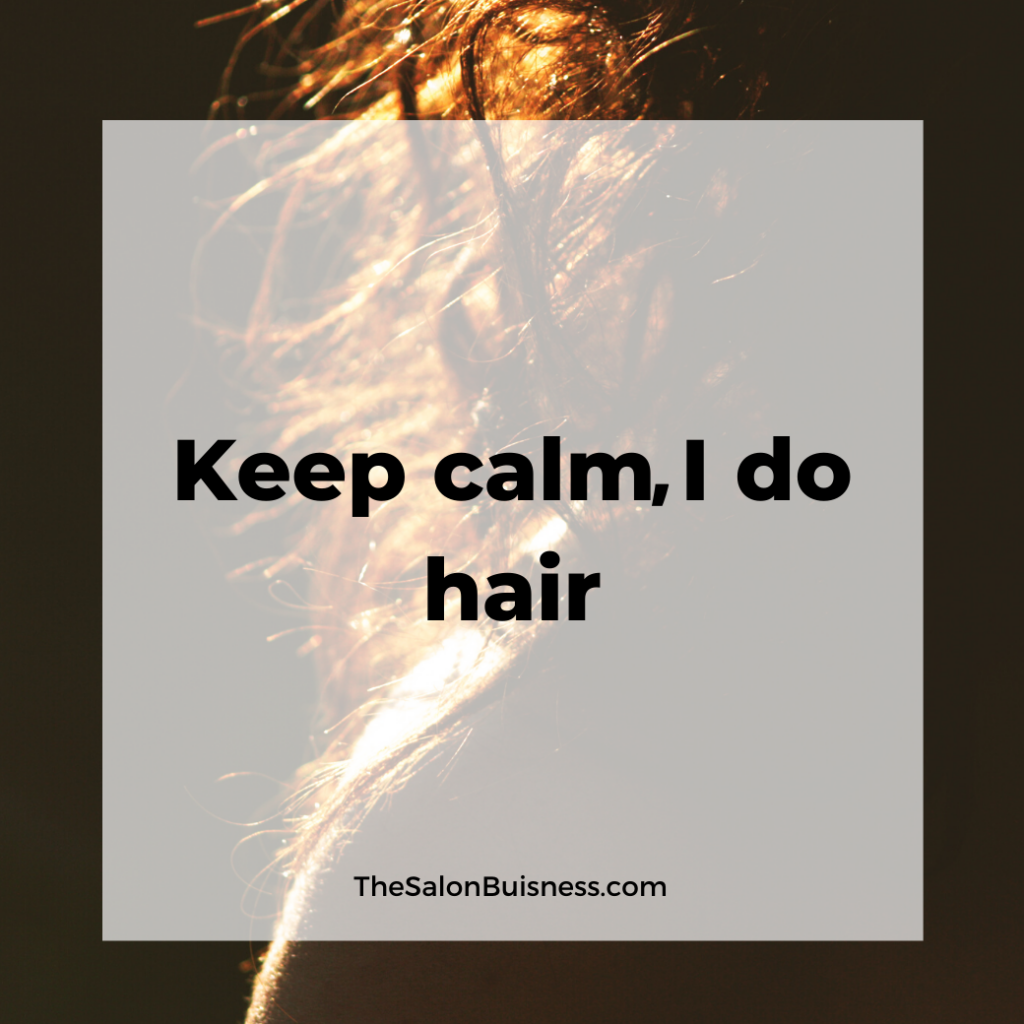 "Behind every beautiful woman is a fabulous hairstylist. Visit us today!"

Cosmetology sayings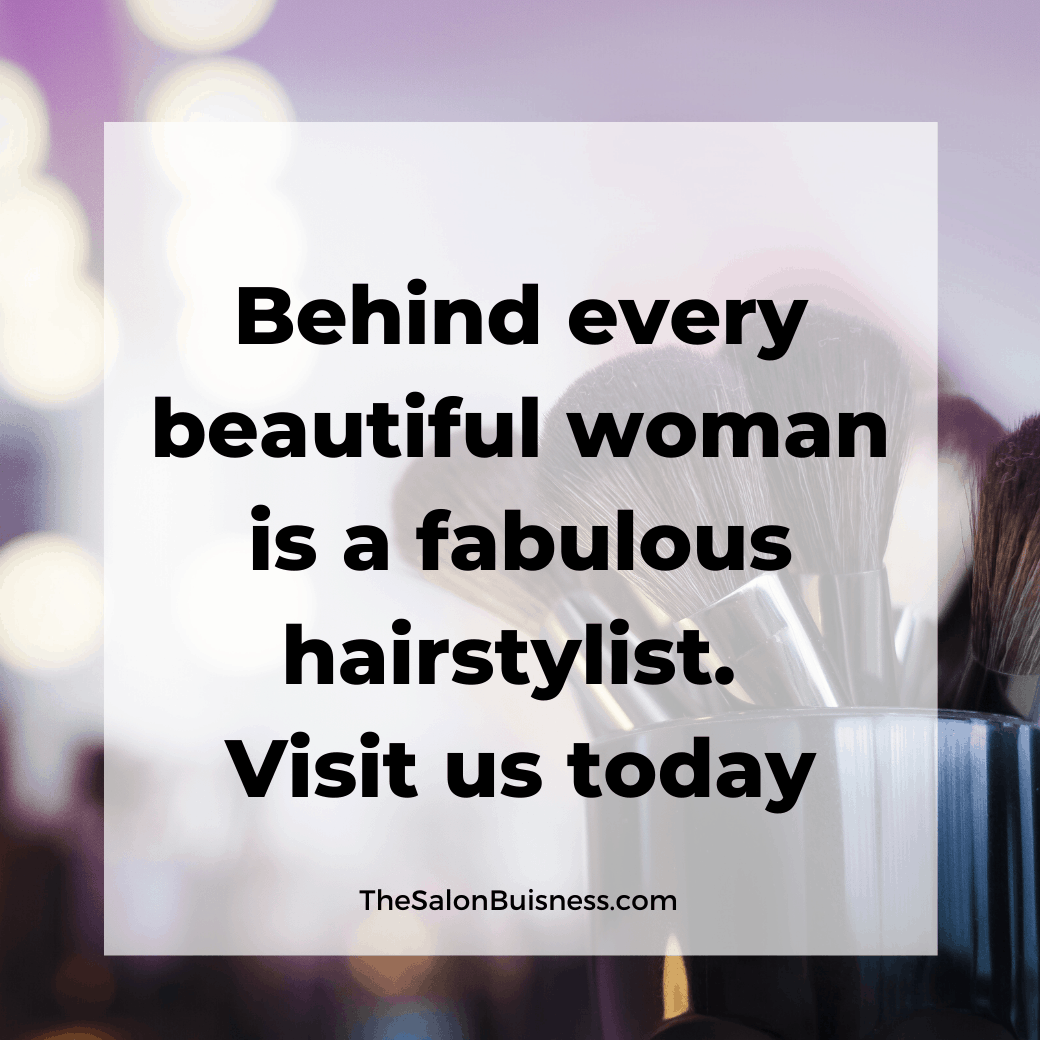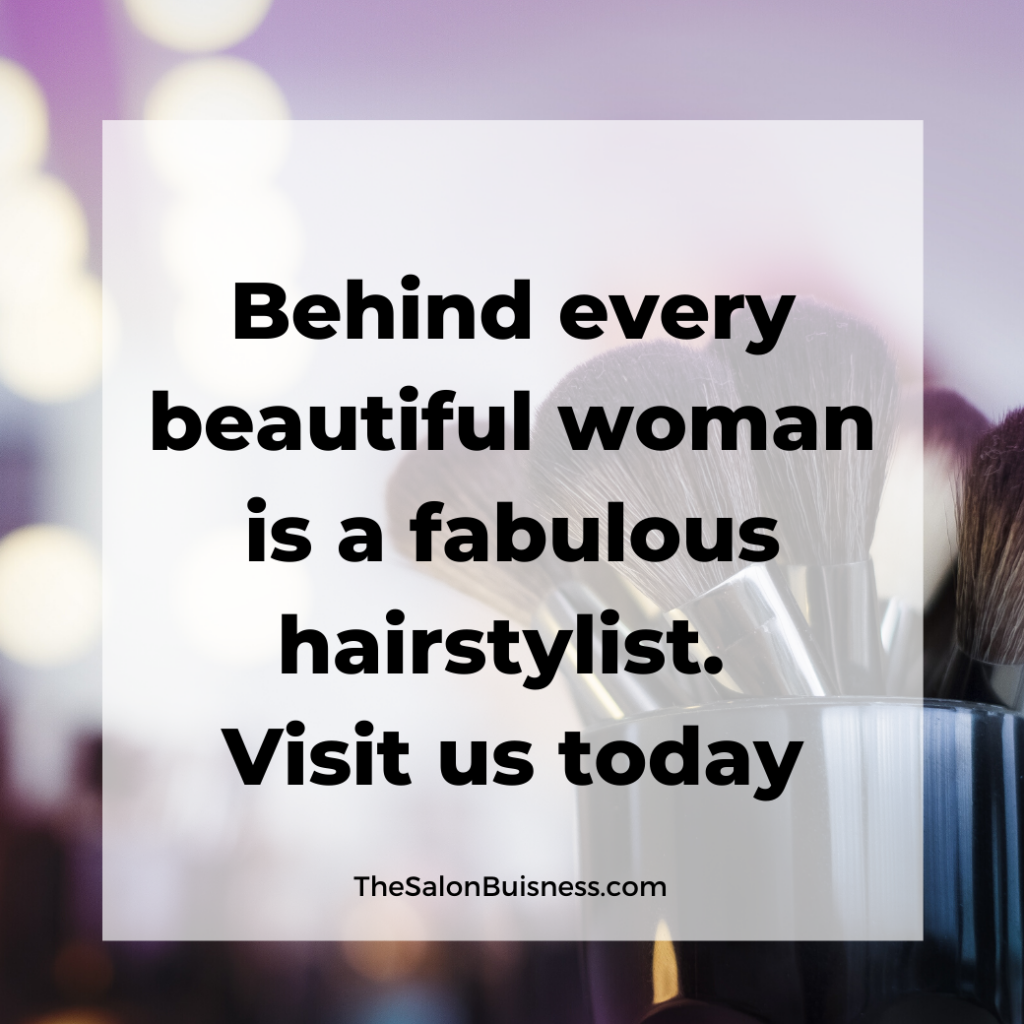 Famous Hairstylist Quotes
With all there is to understand about hair & beauty, I wanted to dedicate a section specifically to famous hairstylists who have mastered it all.
These people are the top gurus in all things cosmetology & hair, & have truly helped to shape what we know about hairstyling today. In case you're in need of a little extra inspiration or just some words of wisdom from the best of the best, here are my top five favorite famous hairstylist quotes that I'm absolutely living for!
"Hairdressers are a wonderful breed. You work one on one with another human being, and the object is to make them feel so much better, and to look at themselves with a twinkle in their eye." – Vidal Sassoon

Stylist quote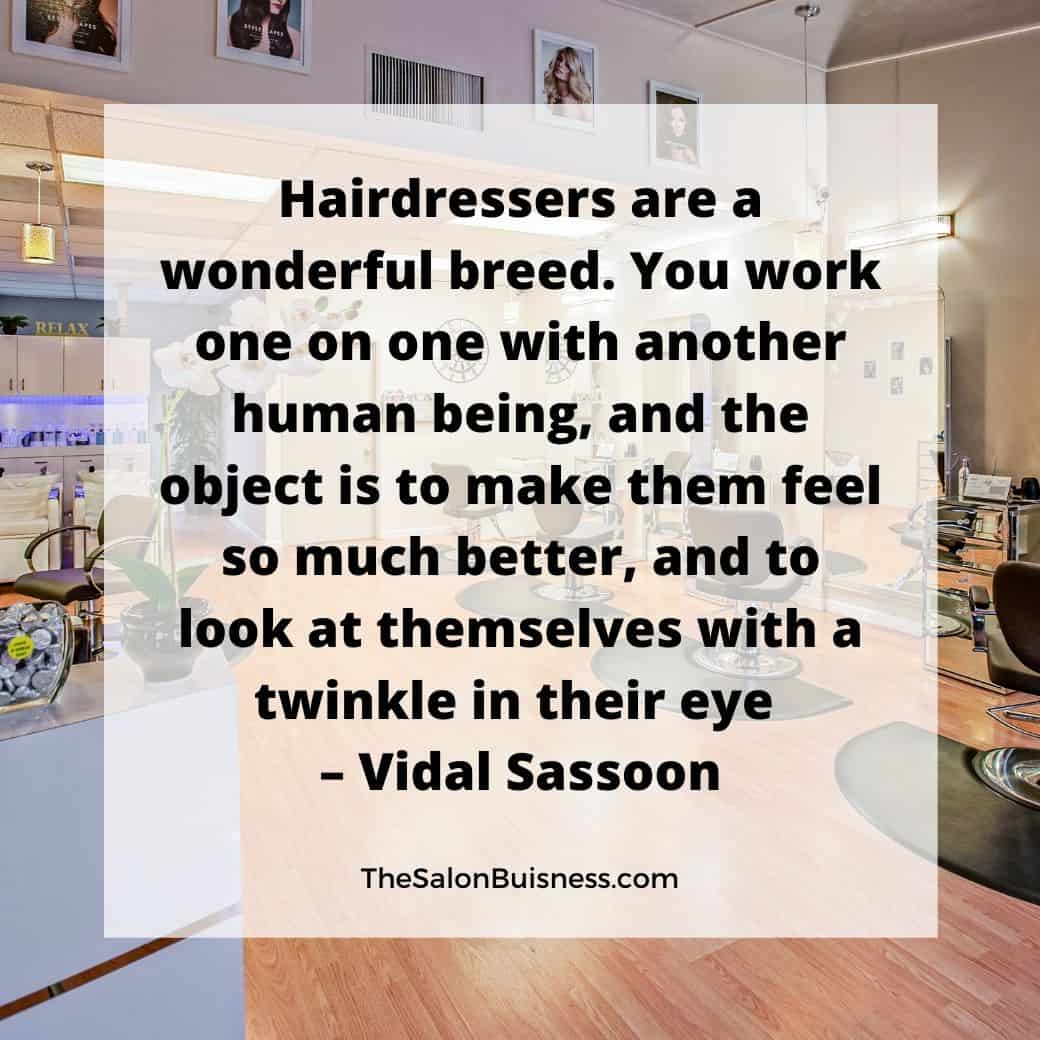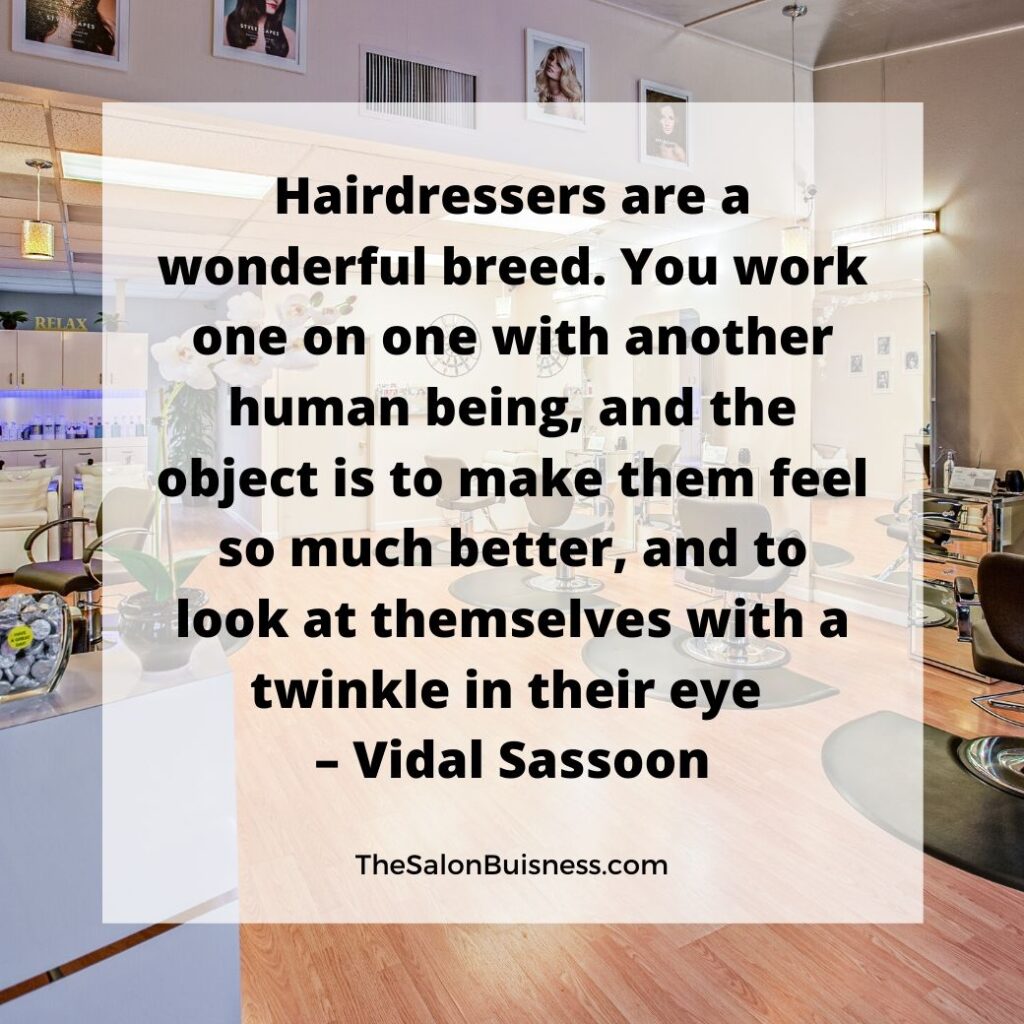 "It doesn't matter if your life is perfect as long as your hair color is." – Stacy Snapp Killian

Stylists quote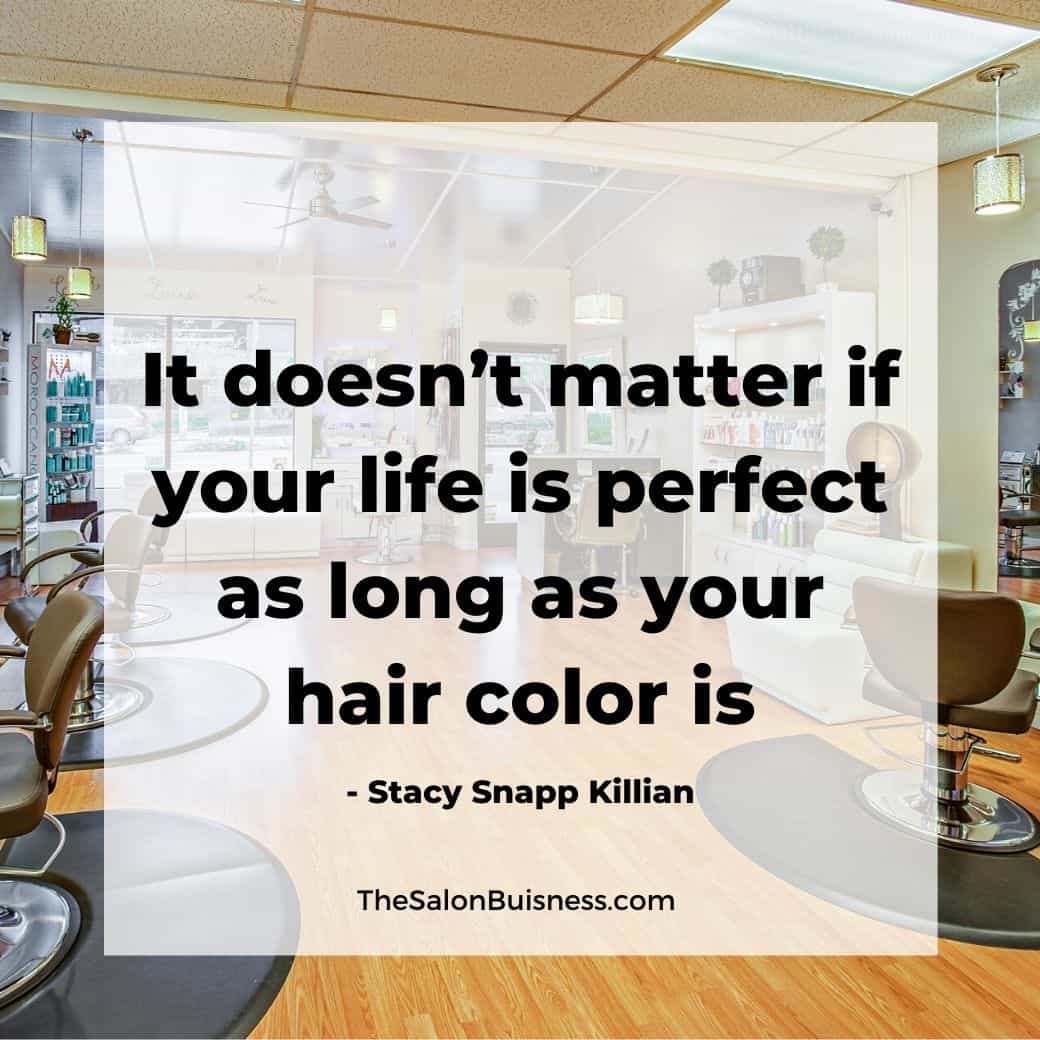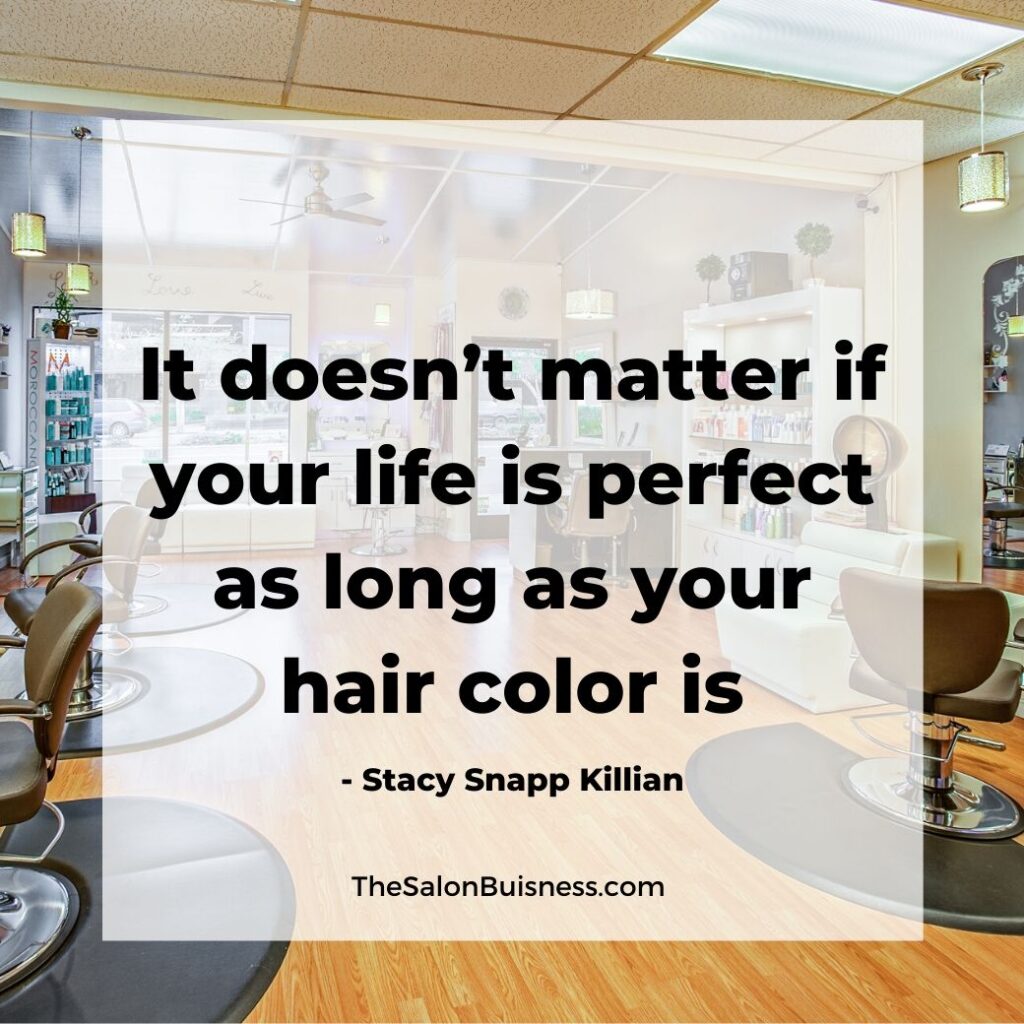 "I love the interaction with the people sitting in my chair. And I love the little twinkle in their eye that said, "Wow, I feel really good! I look great!" That was–and still is–quite powerful to me. It's an instant gratification! It doesn't matter how badly their day has gone, in that moment they feel amazing. And the hairdresser has made them feel that way." – Tabatha Coffey

Cosmetology quotes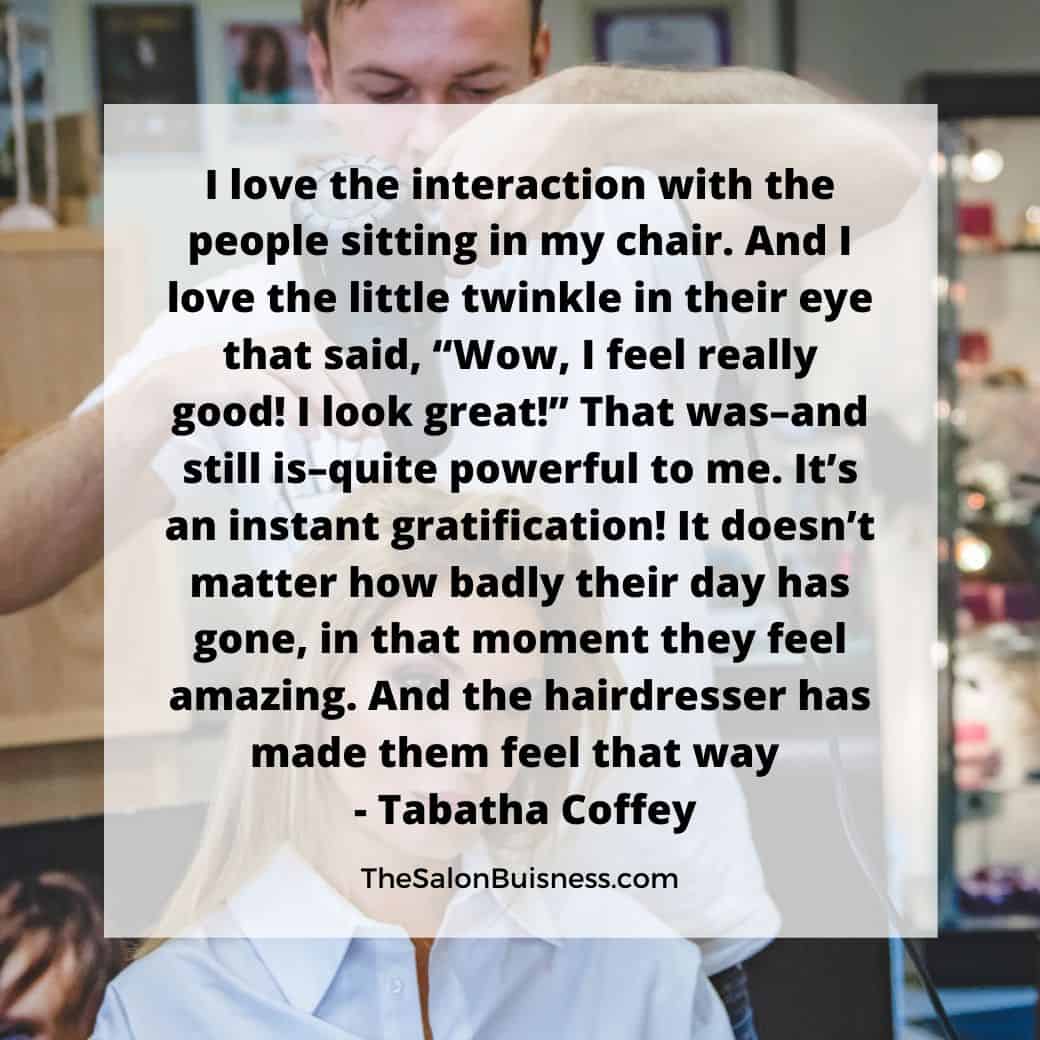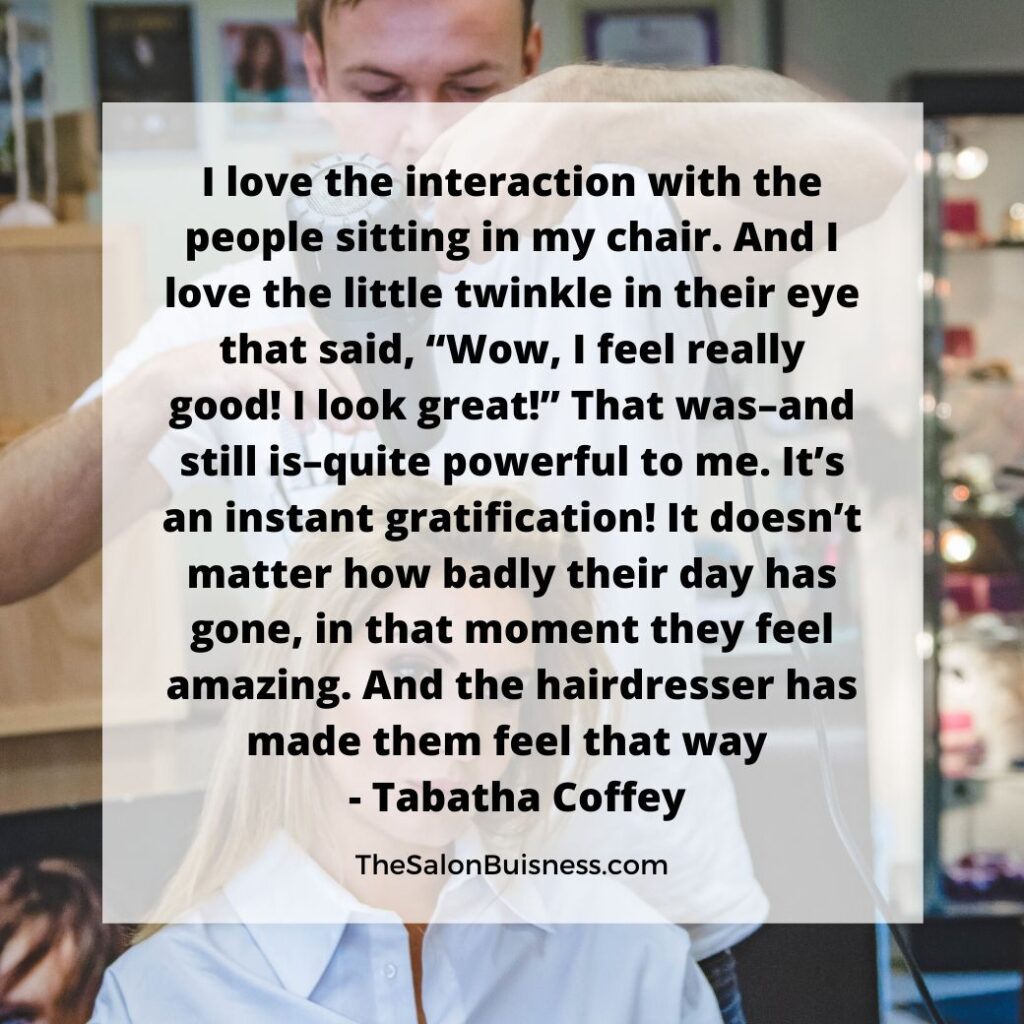 "You don't have to be a movie star for me to do your hair. When you sit in my chair, you're my movie star." – Vincent Roppatte

Quotes about hairdressing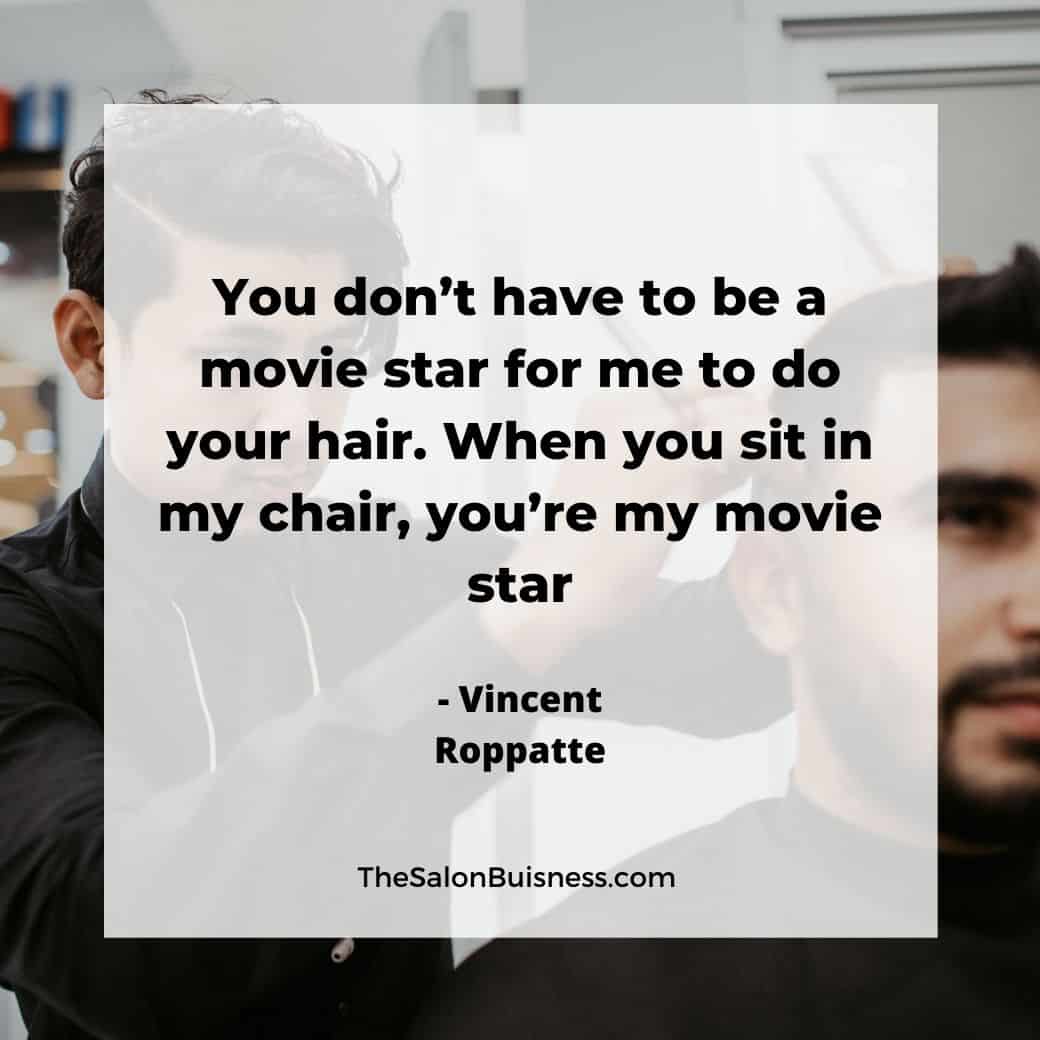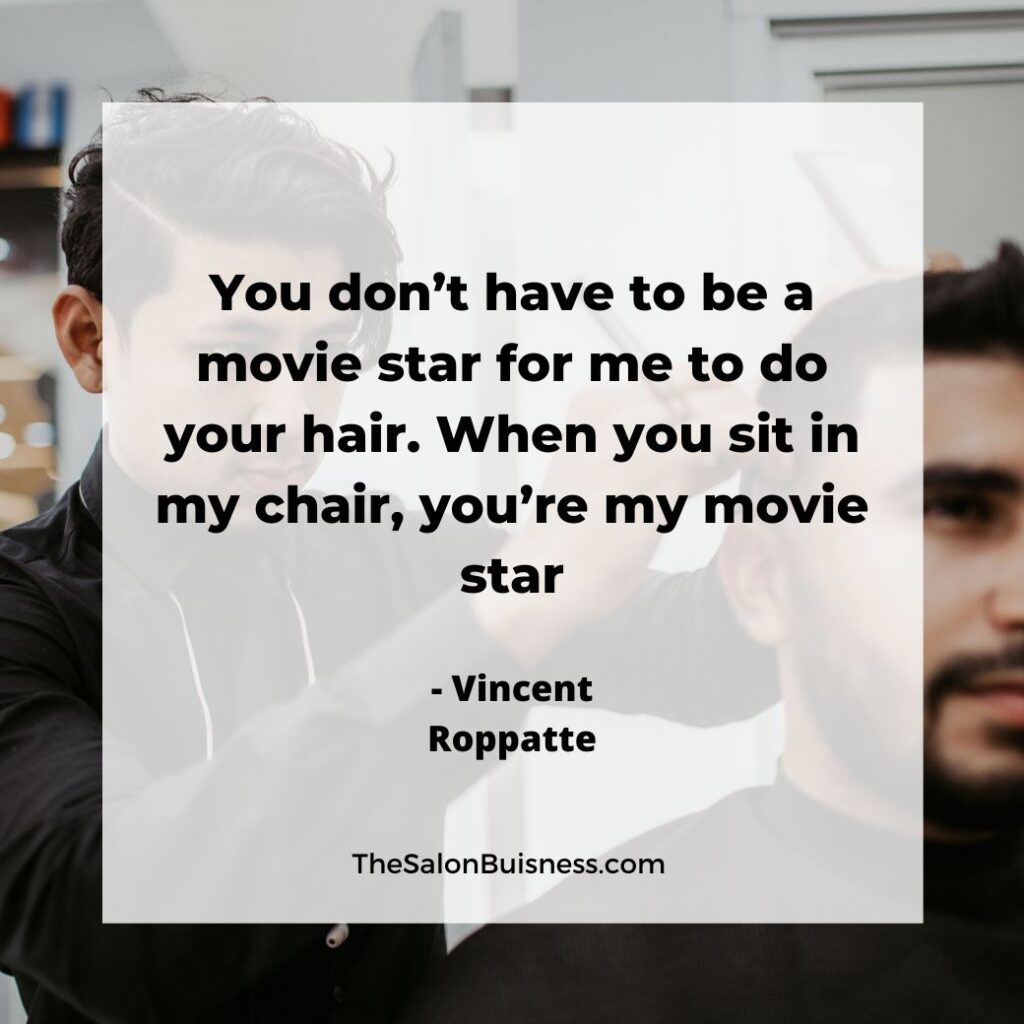 "For me, the working of hair is architecture with a human element." – Vidal Sassoon

Famous hairstylist quote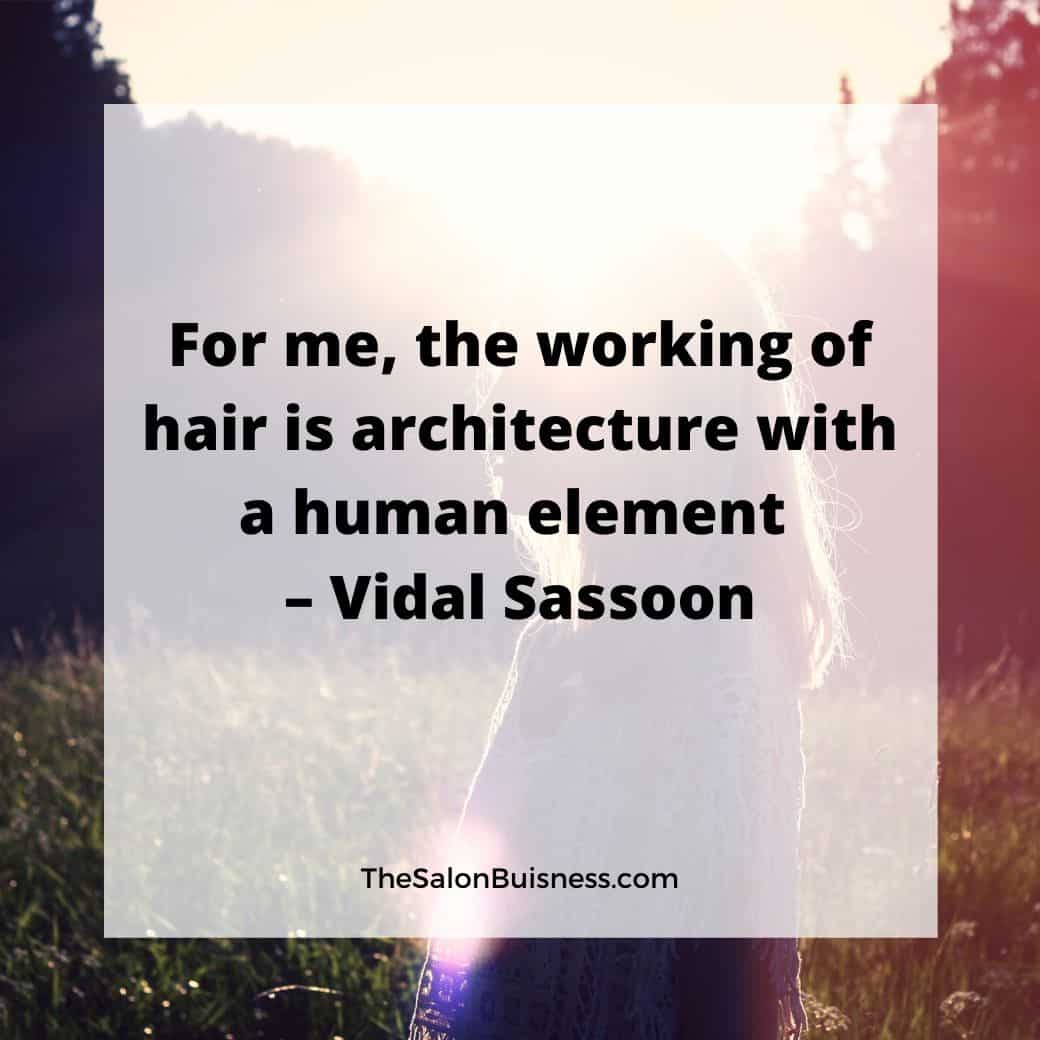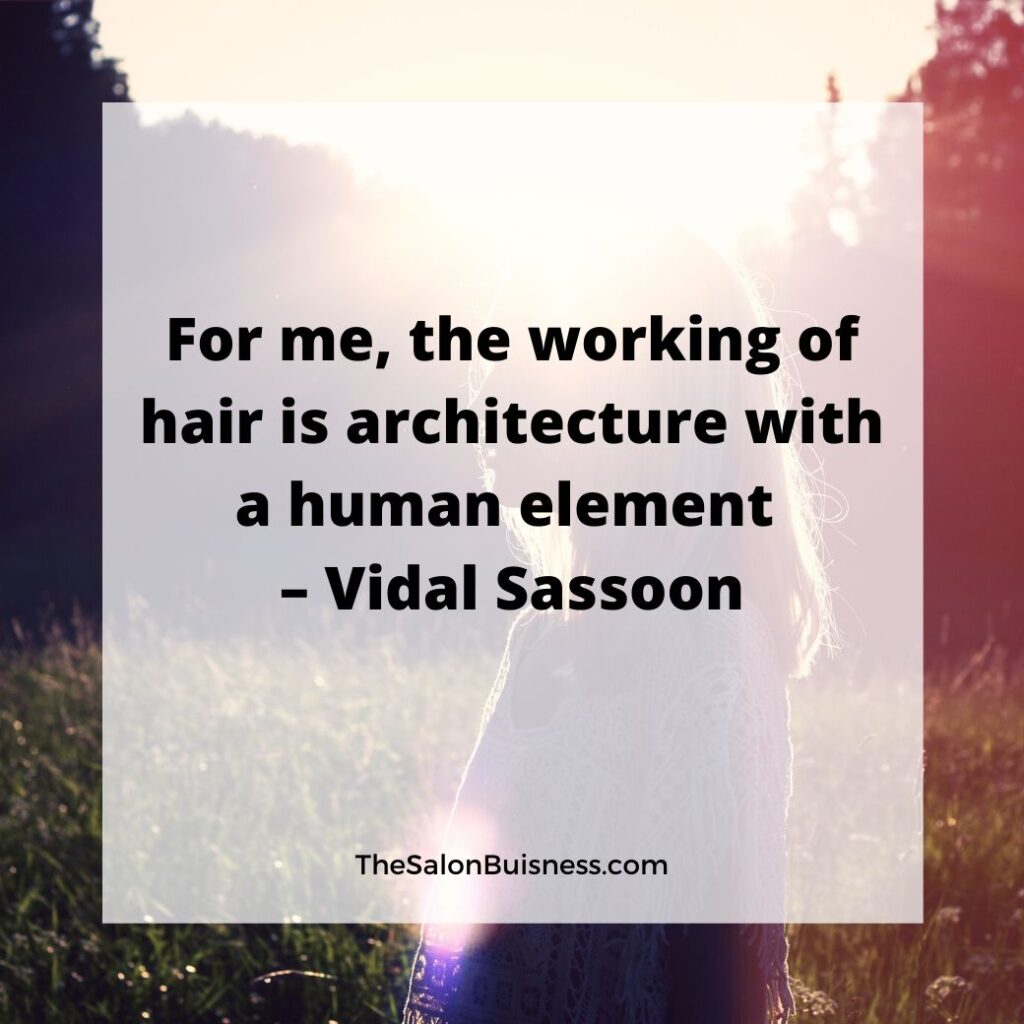 Hairstylist Appreciation Day Quotes
This section is in dedication of Hairstylist Appreciation Day.
These are quotes I've found online from real clients that smile a little brighter because of the work of an incredible stylist. These words are full of love, kindness, and gratitude that are definitely something all stylists should read from time-to-time to see how much of an impact they truly have on people.
And while there are many more appreciation words out there, these are the top quotes I want to share with you today.
So, if you've been feeling down & need a little reminder of how awesome you are, these quotes are dedicated to you & all the incredible work you do.
Hairstylist Appreciation Quotes Images
"Part artists, part therapist, part stylist, all fabulous!"

Cosmetology quote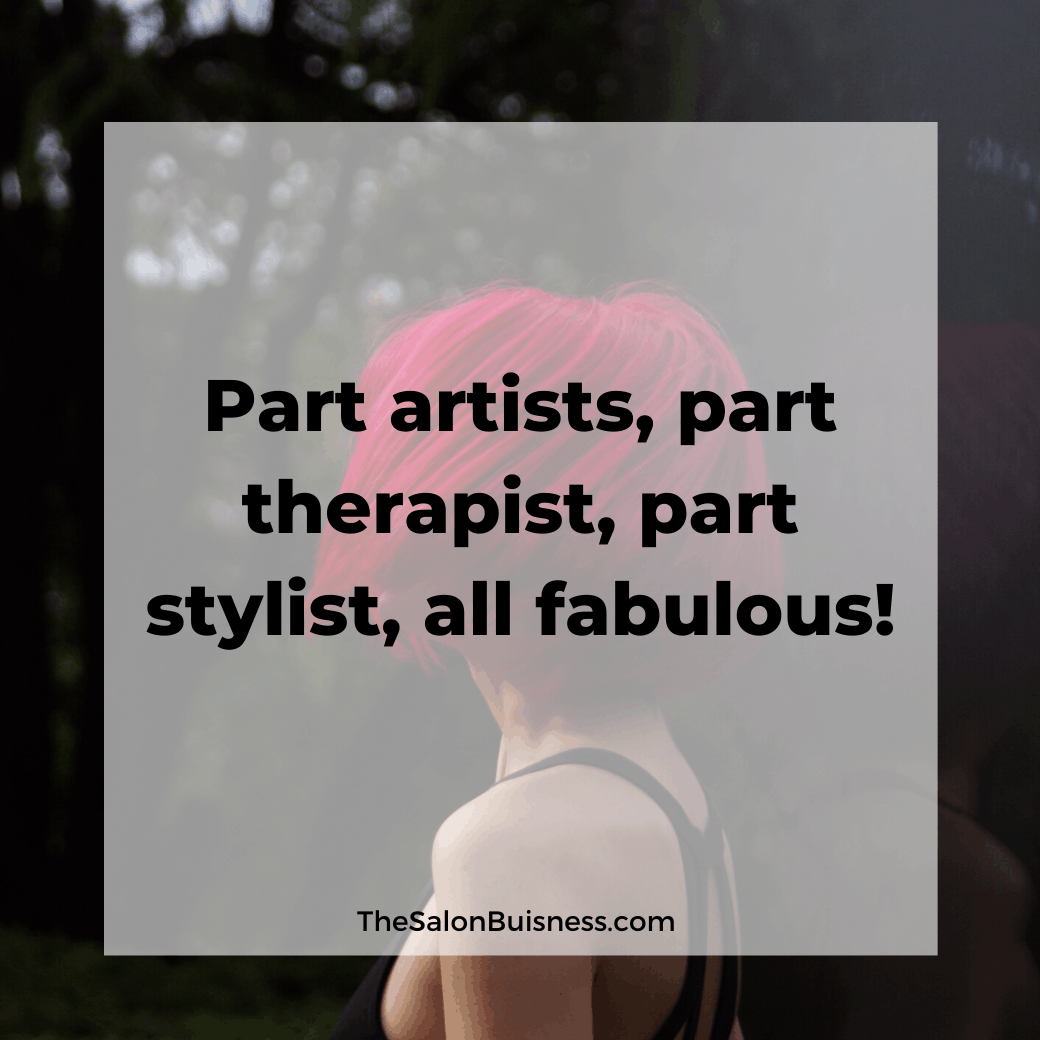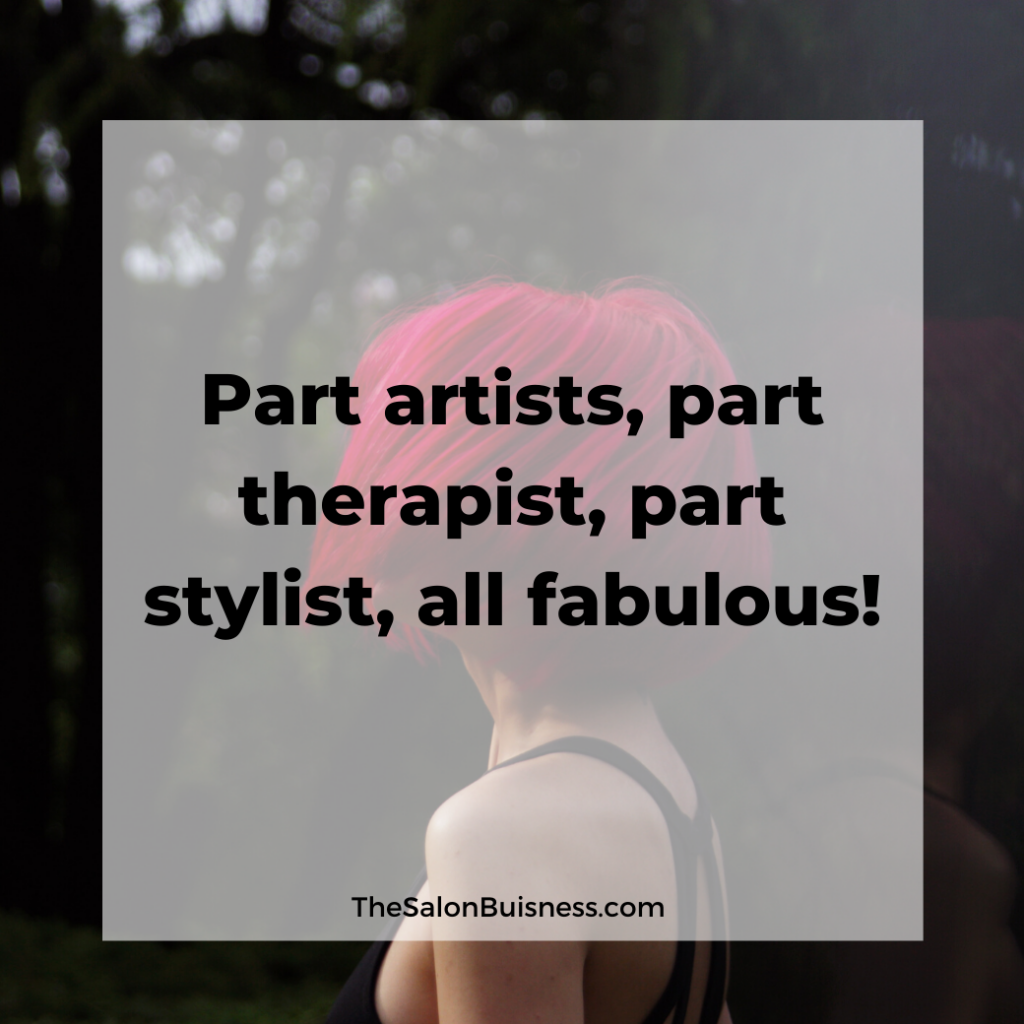 "A hairstylist is a wonderful person who touches more hearts than hair."

Quotes for hairstylist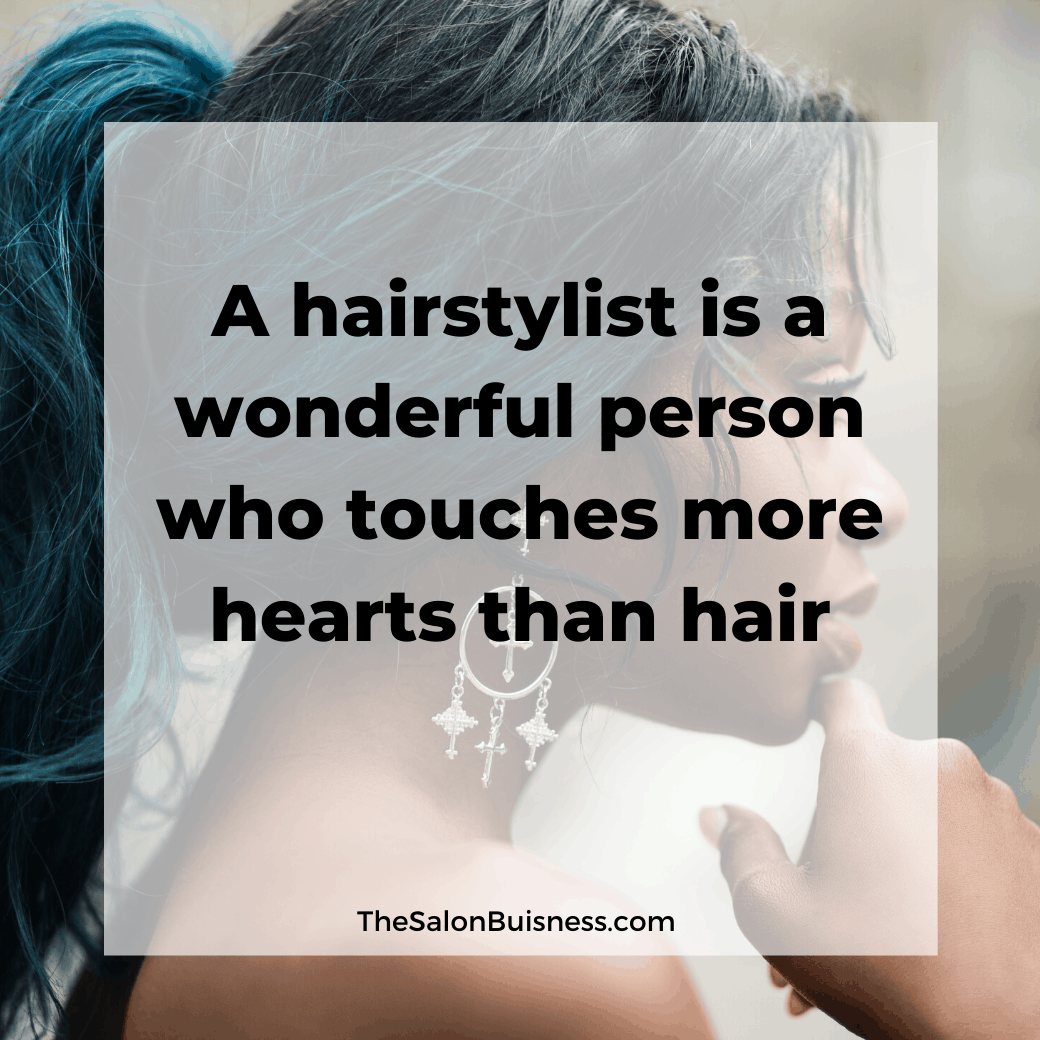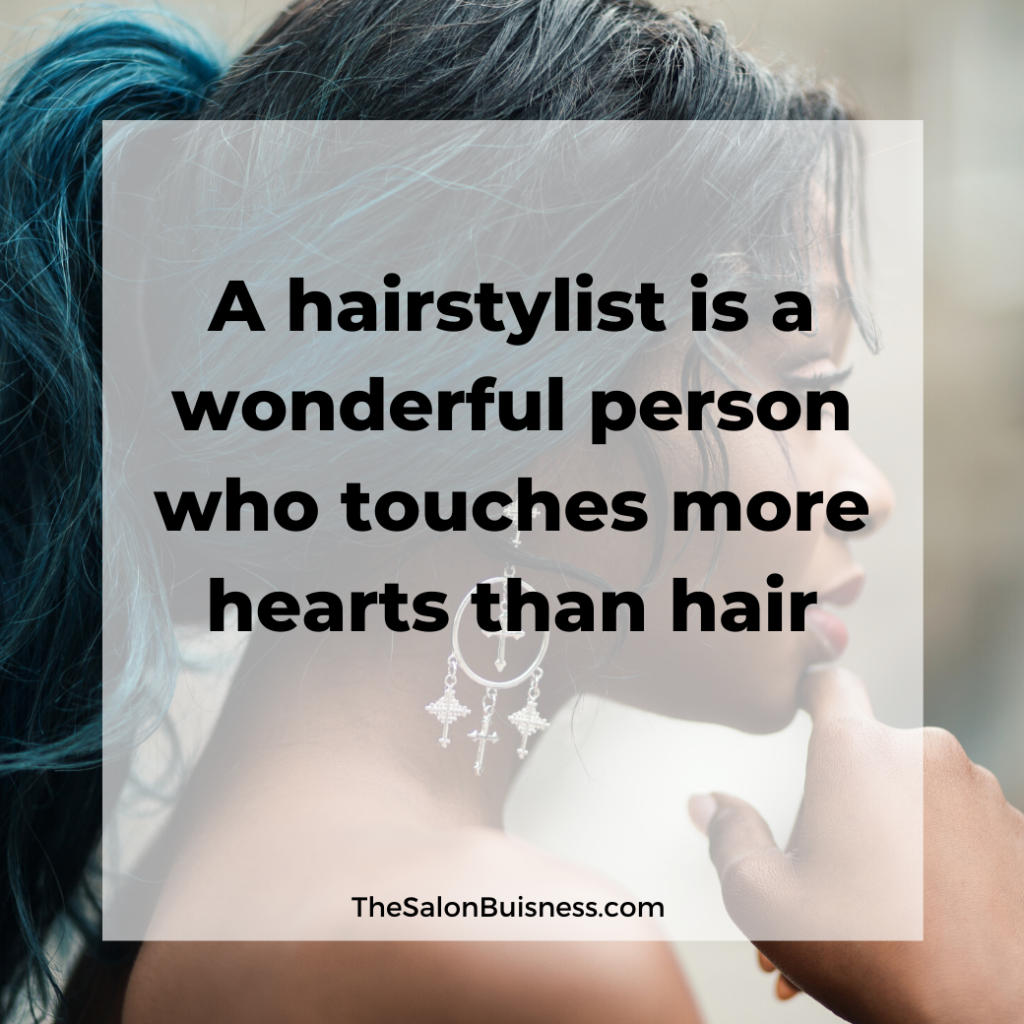 "Dear hairstylist – thank you for always making my hair & my life brighter."

Hairstylist sayings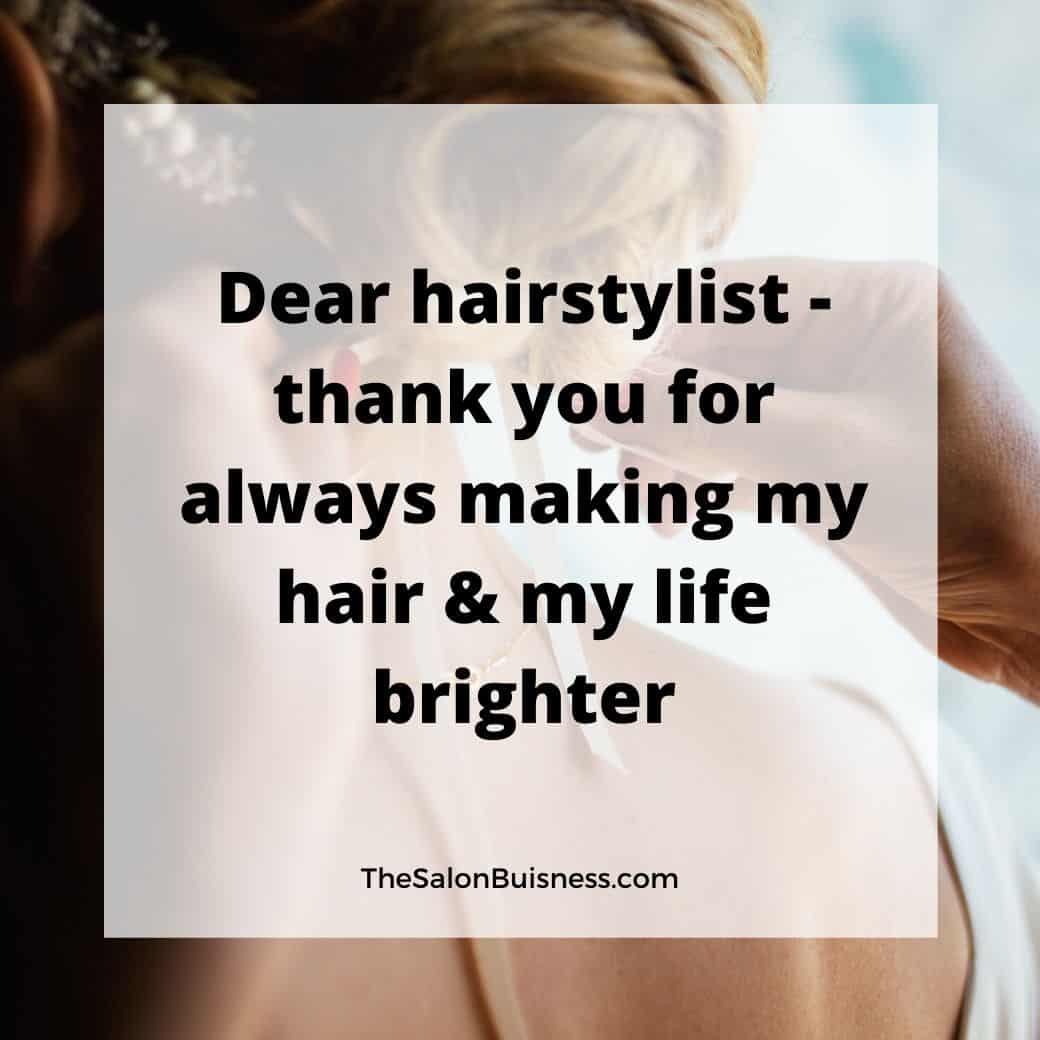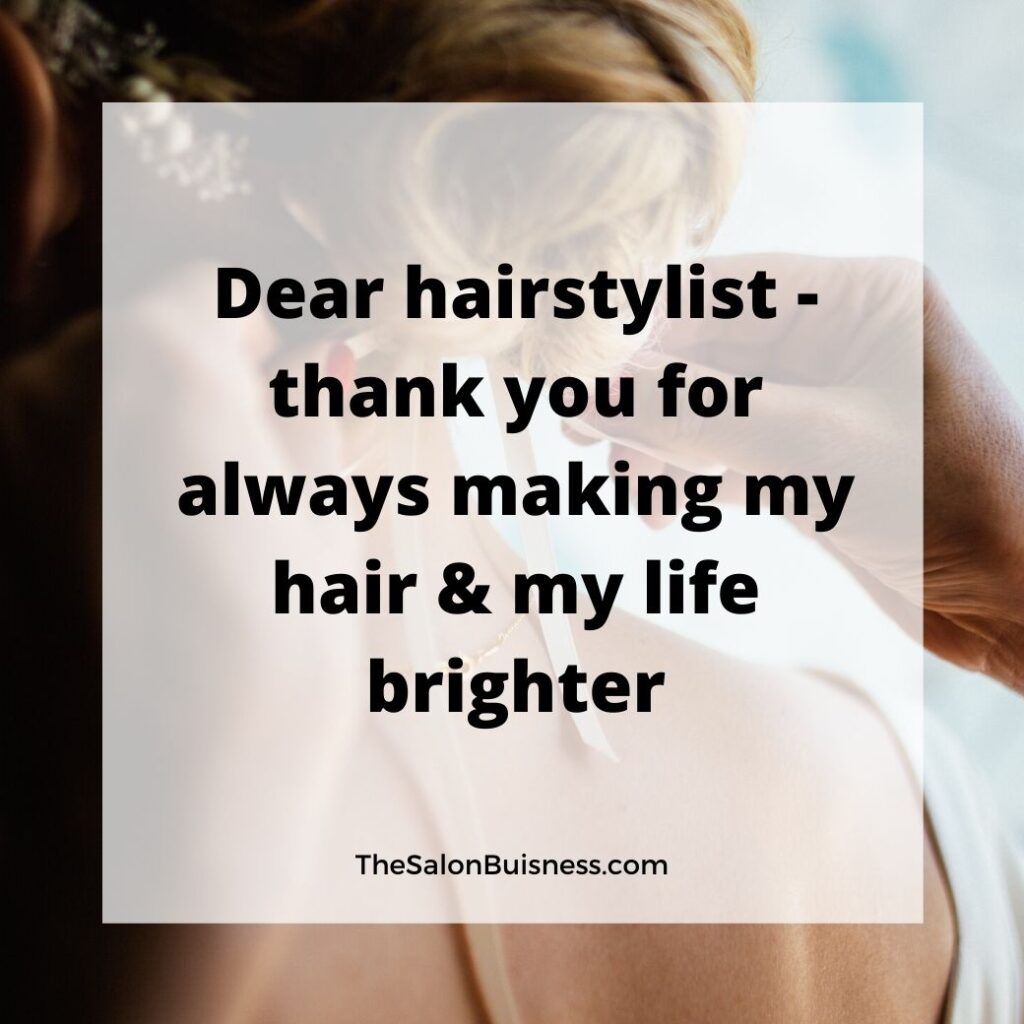 "A truly great hairstylist is hard to find, difficult to part with, & impossible to forget."

Hairdresser sayings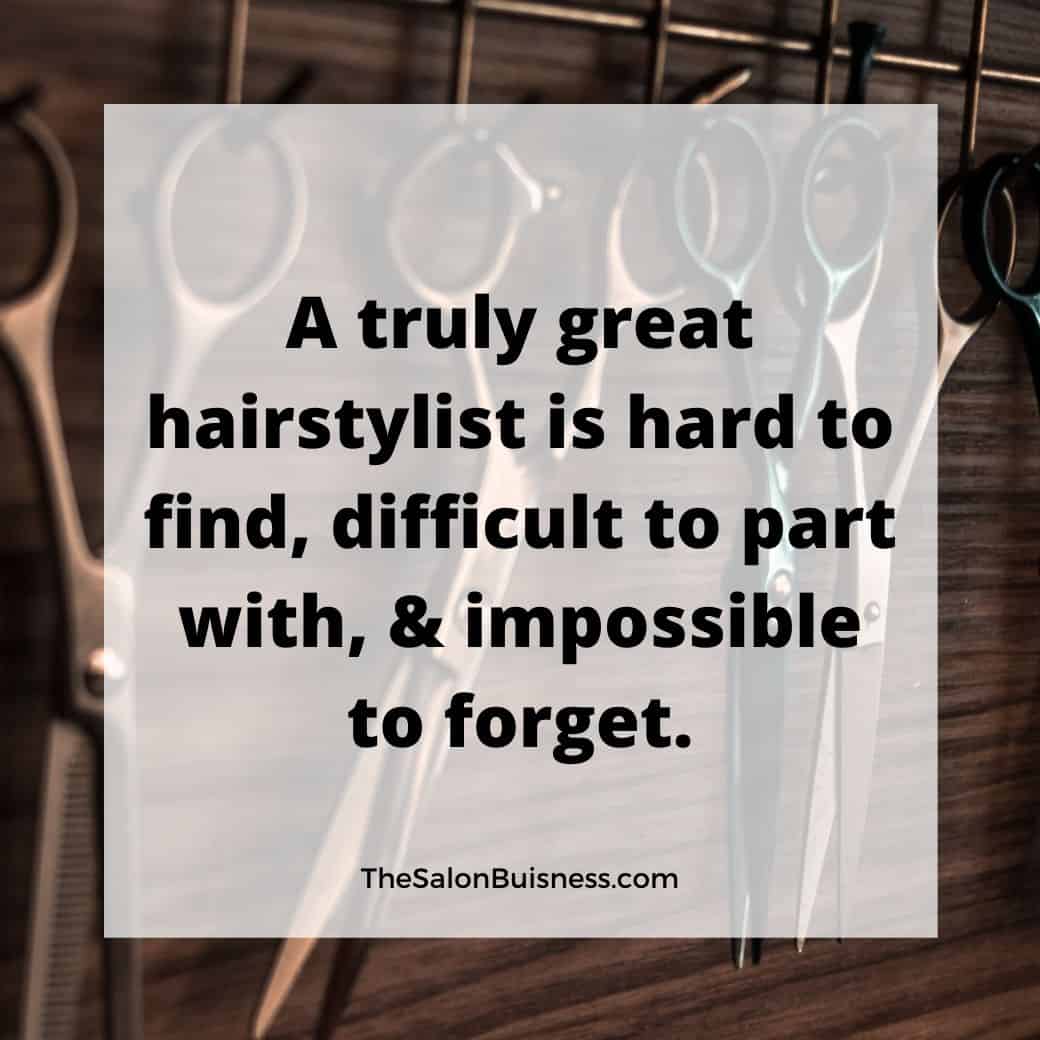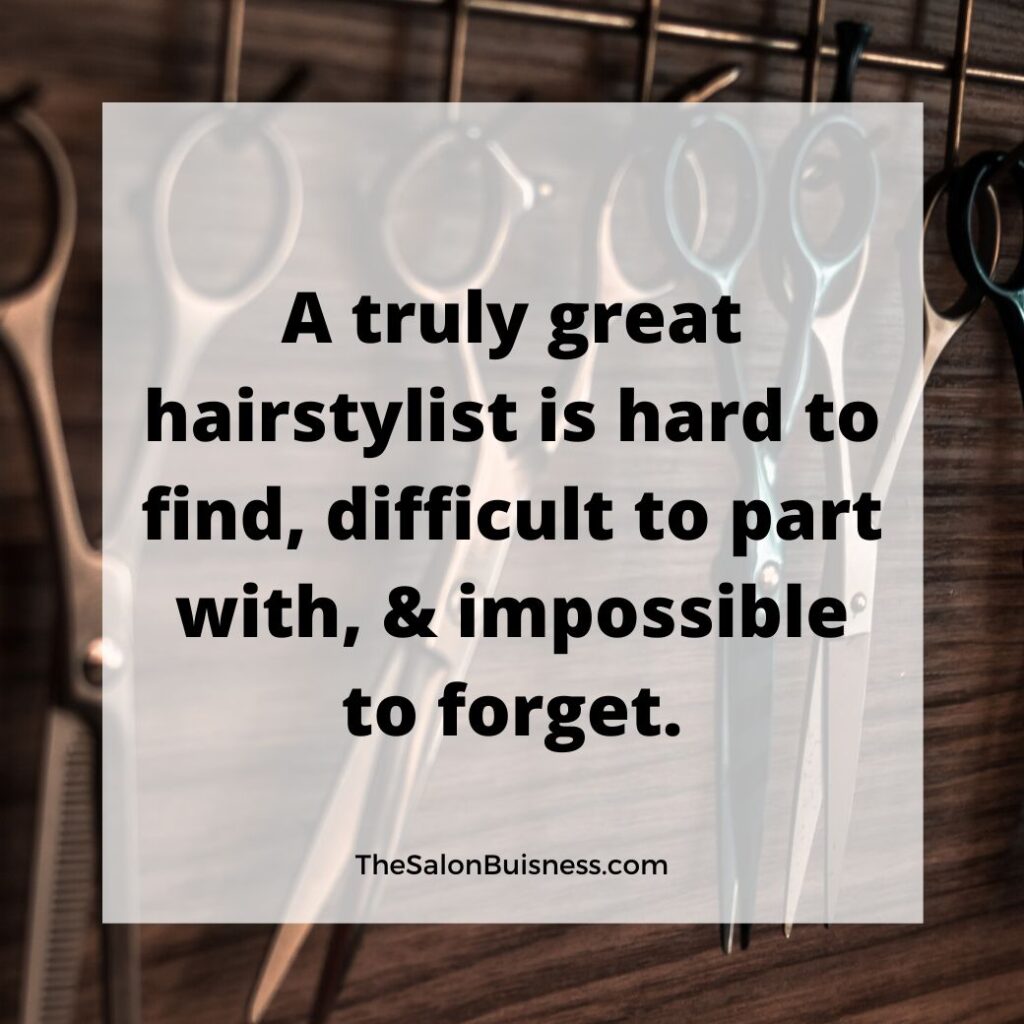 "Thank you for making me look beautiful on my wedding day."

Hair stylist quotes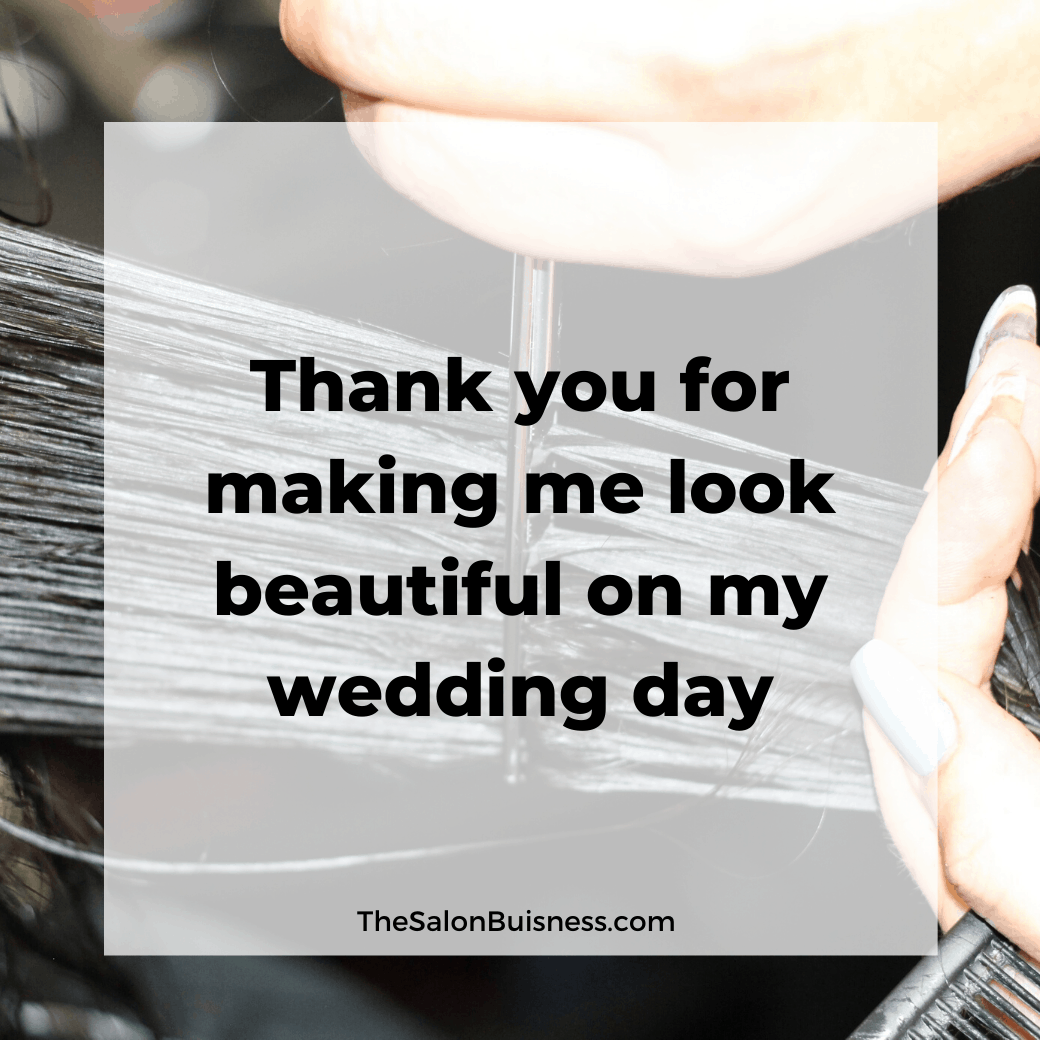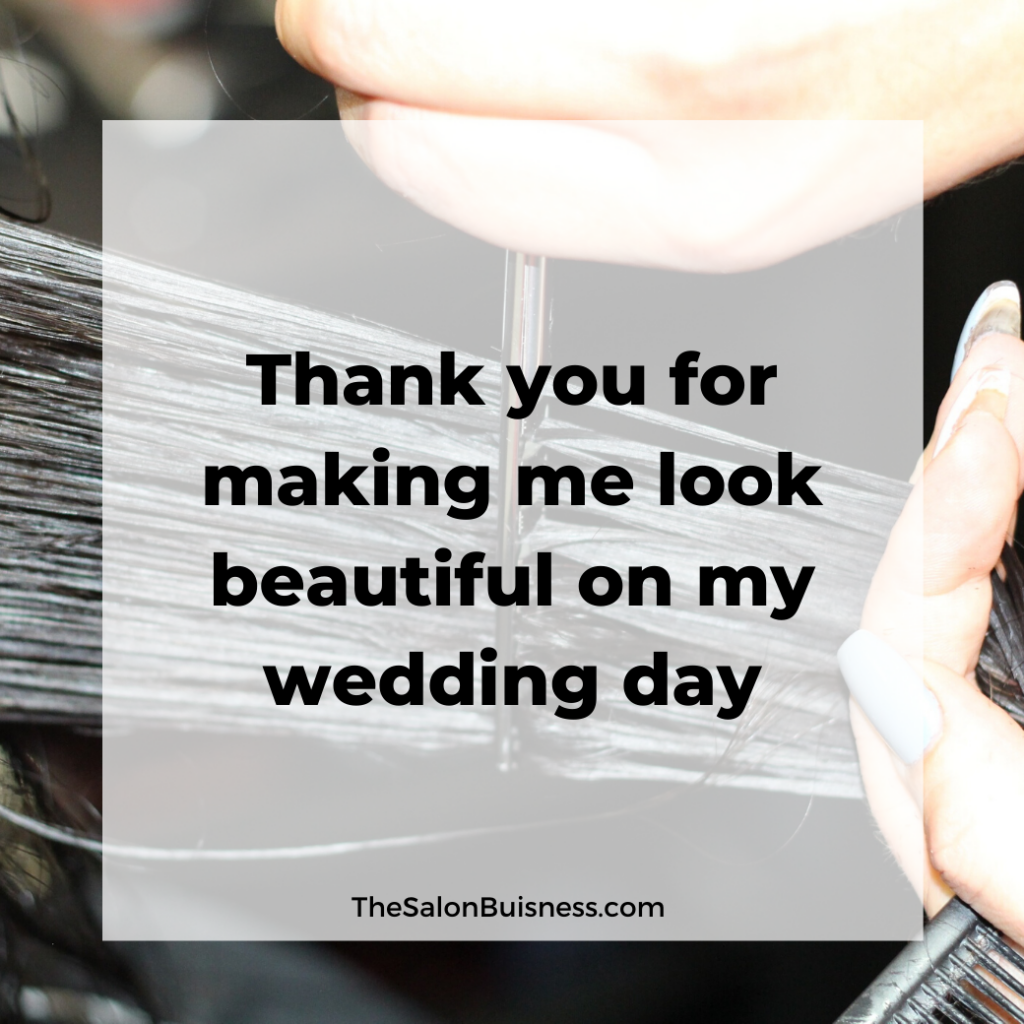 "Hairstylists bring out the beauty in you that you couldn't see before."

Beauty quotes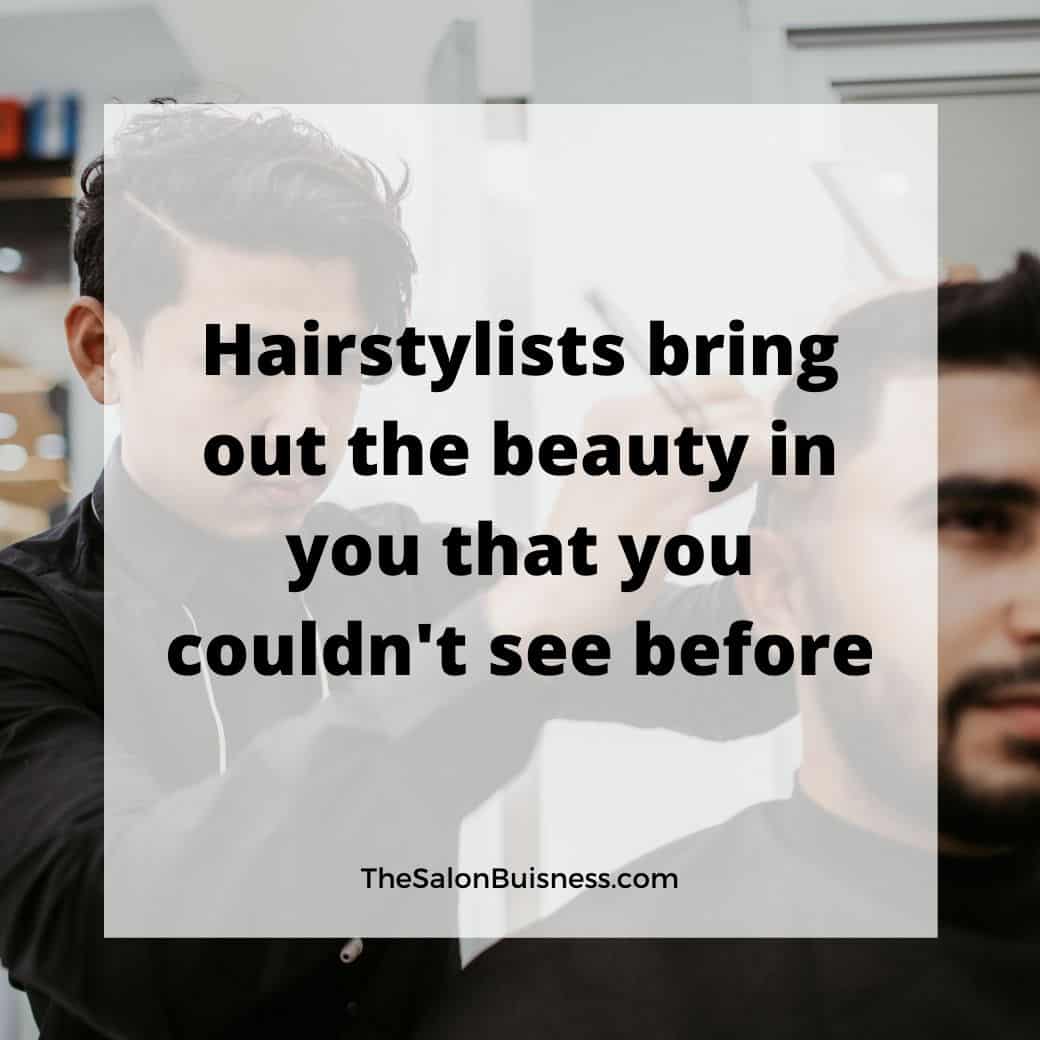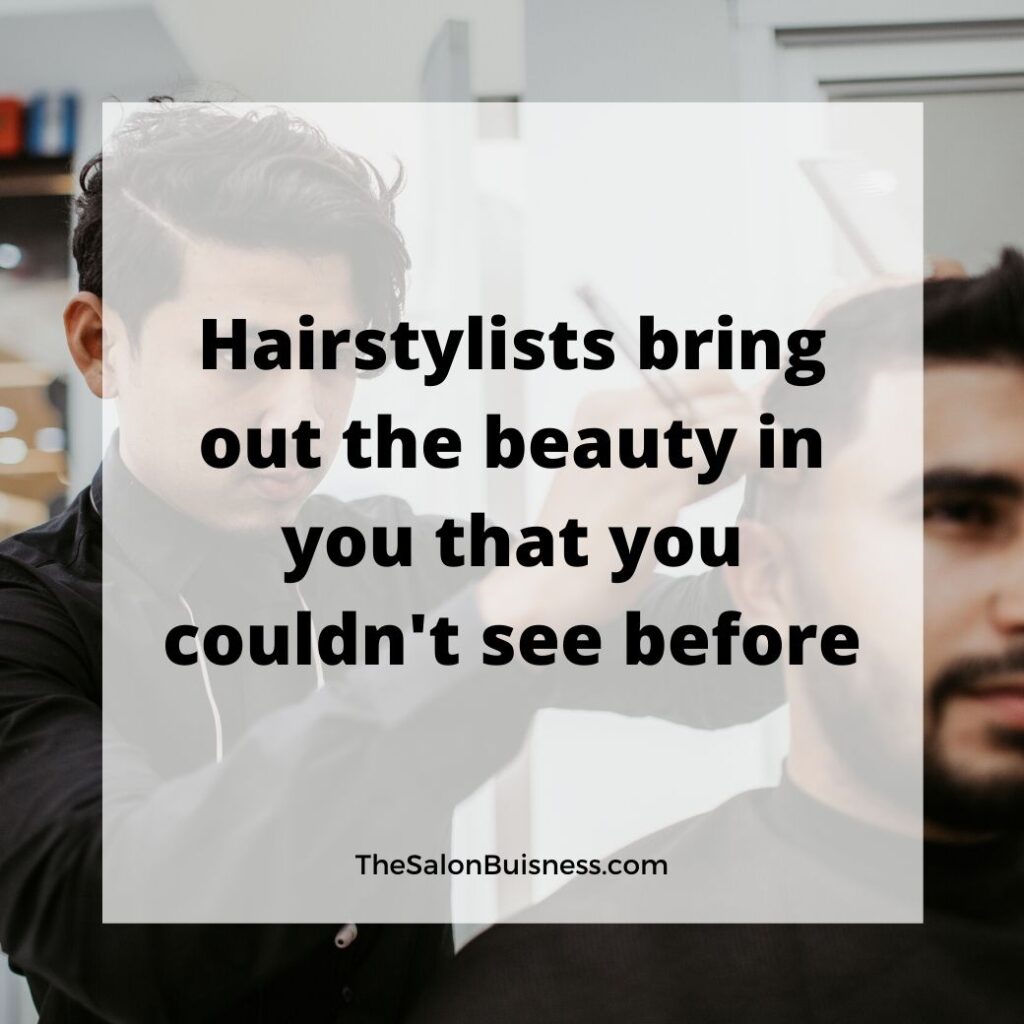 Hairstyle Quotes and Sayings
I've talked about the inspiration, I've talked about the funny moments, but what I haven't touched on is hairstyle quotes and sayings.
You know, the types of saying that you just stumbled upon here and there that get you thinking. These hairstyle quotes are relatable, fun, & perfect to hang up on a sign in a salon or in your home. Here are some of my favorite hair sayings that all hairstylists will understand. If you want even more hair style quote, I recommend you check out my (even longer list) of hair quotes here.
"If your hair is done properly and you're wearing good shoes, you can get away with anything."

Hair sayings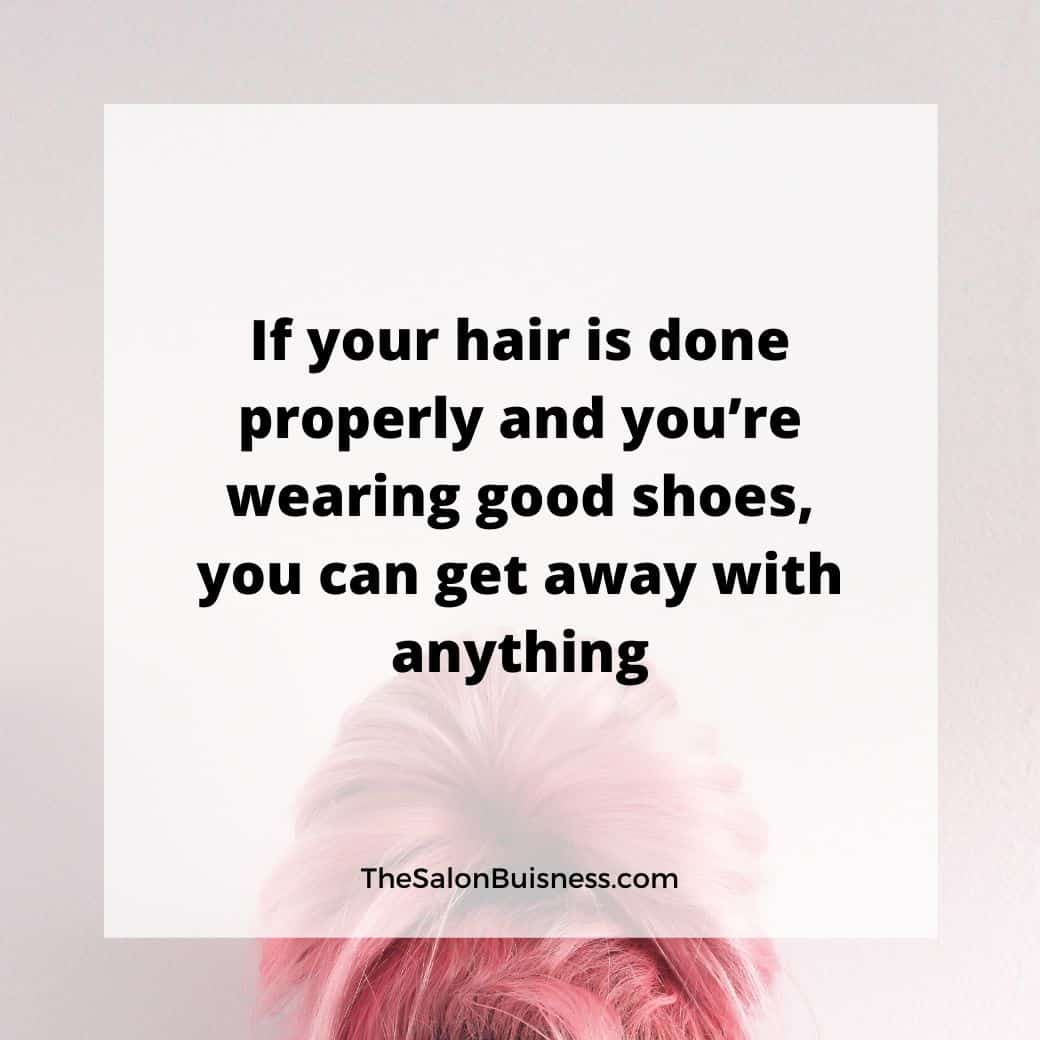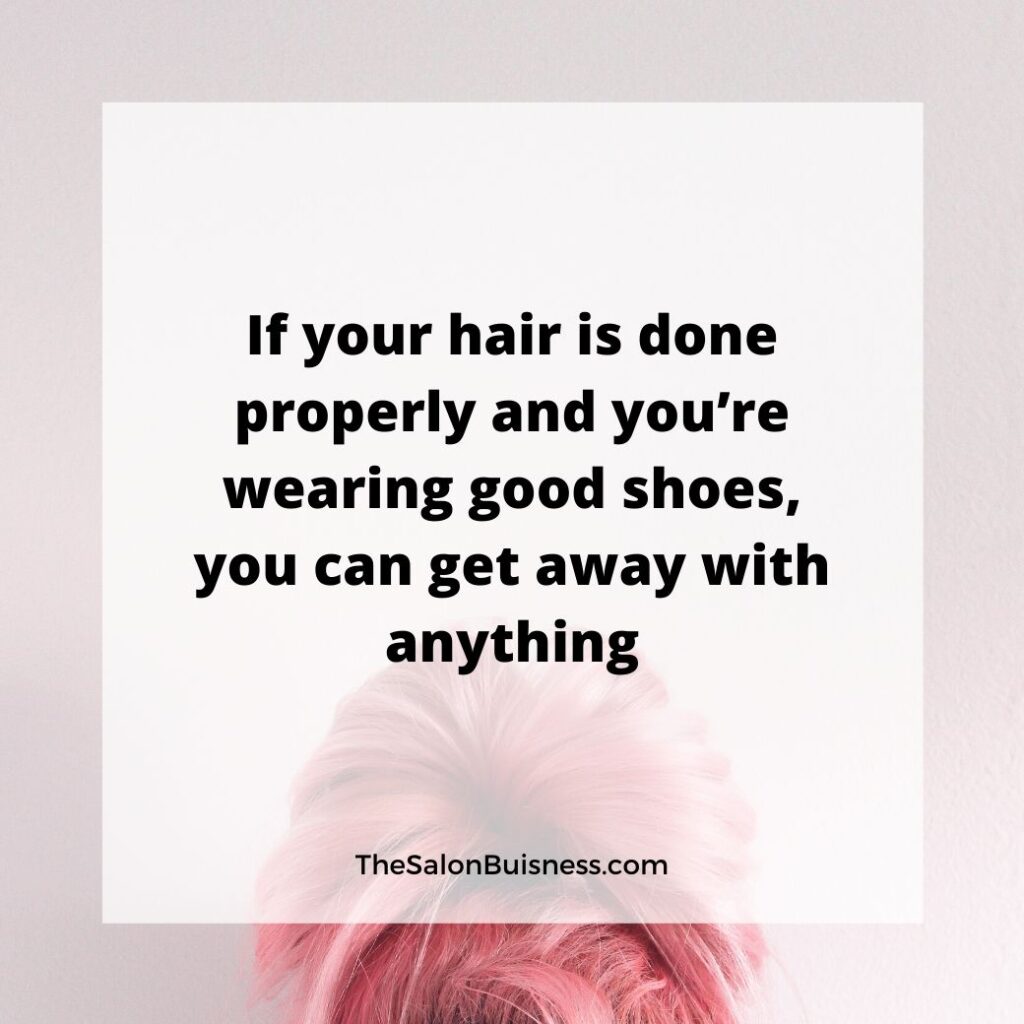 "Life isn't perfect but your hair can be."

Hair style quotes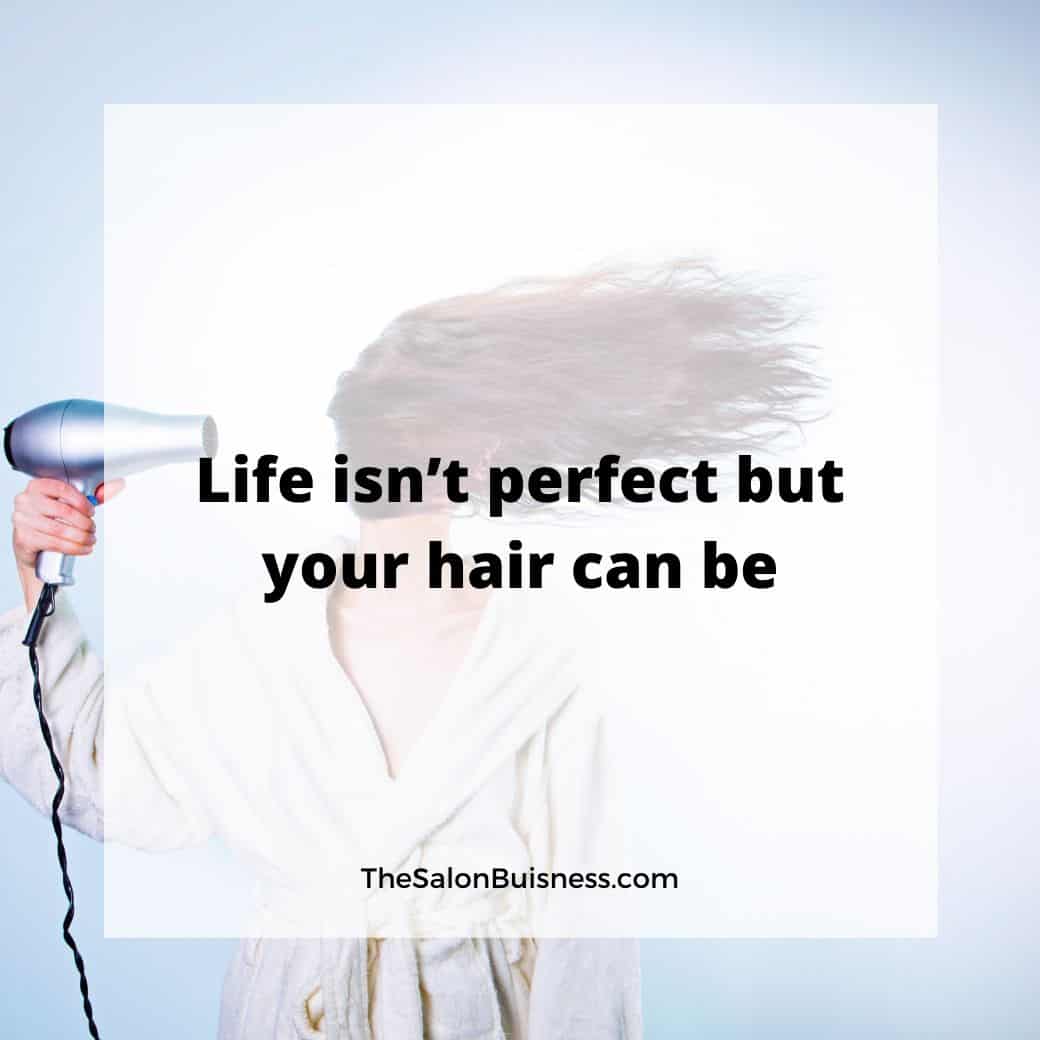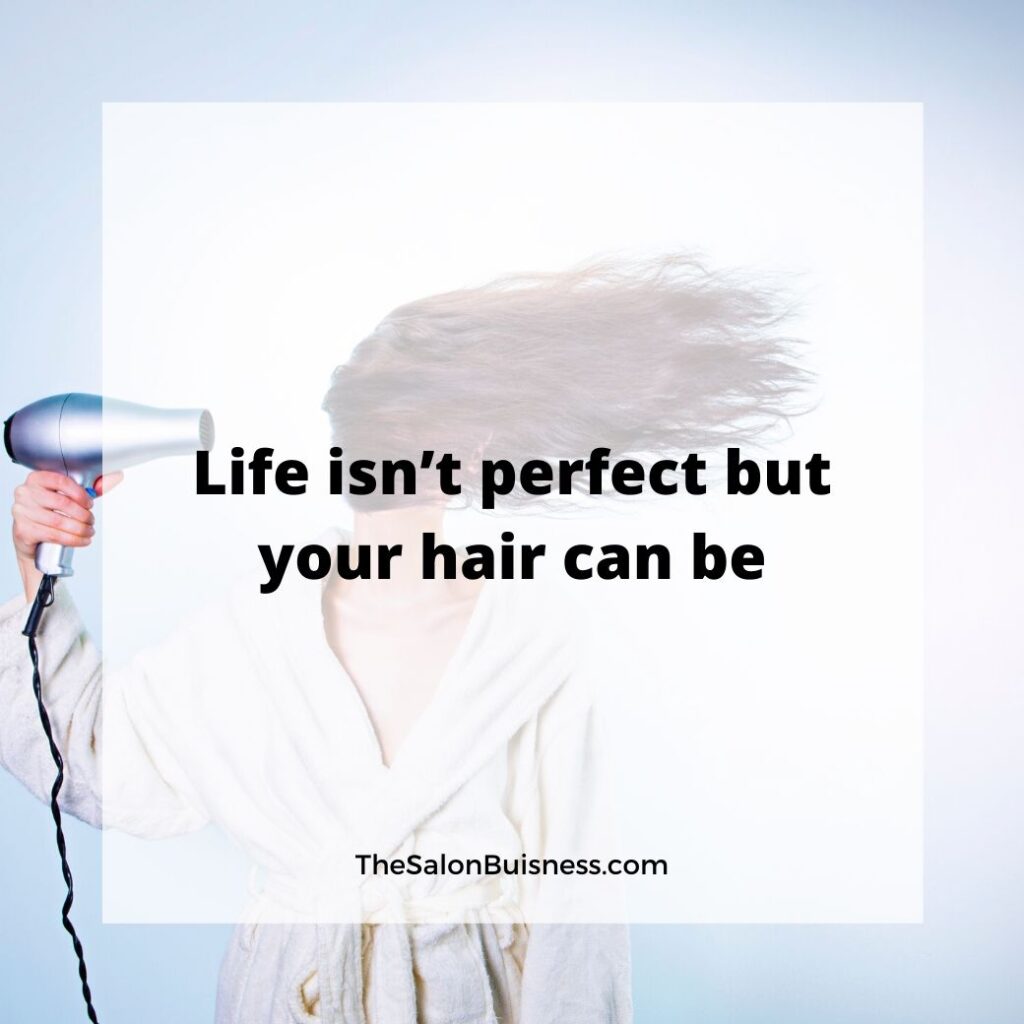 "Life is short. Make each hair flip fabulous."

Hair phrases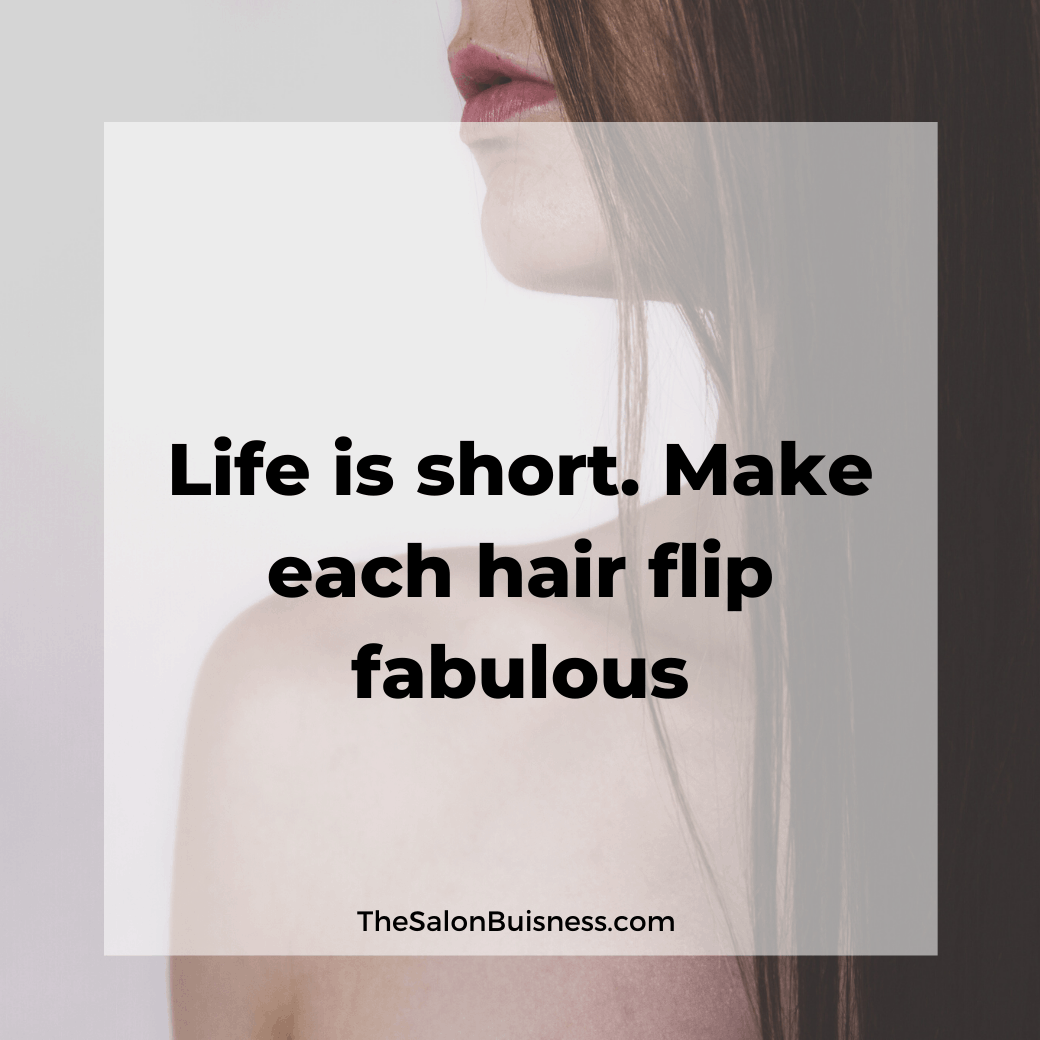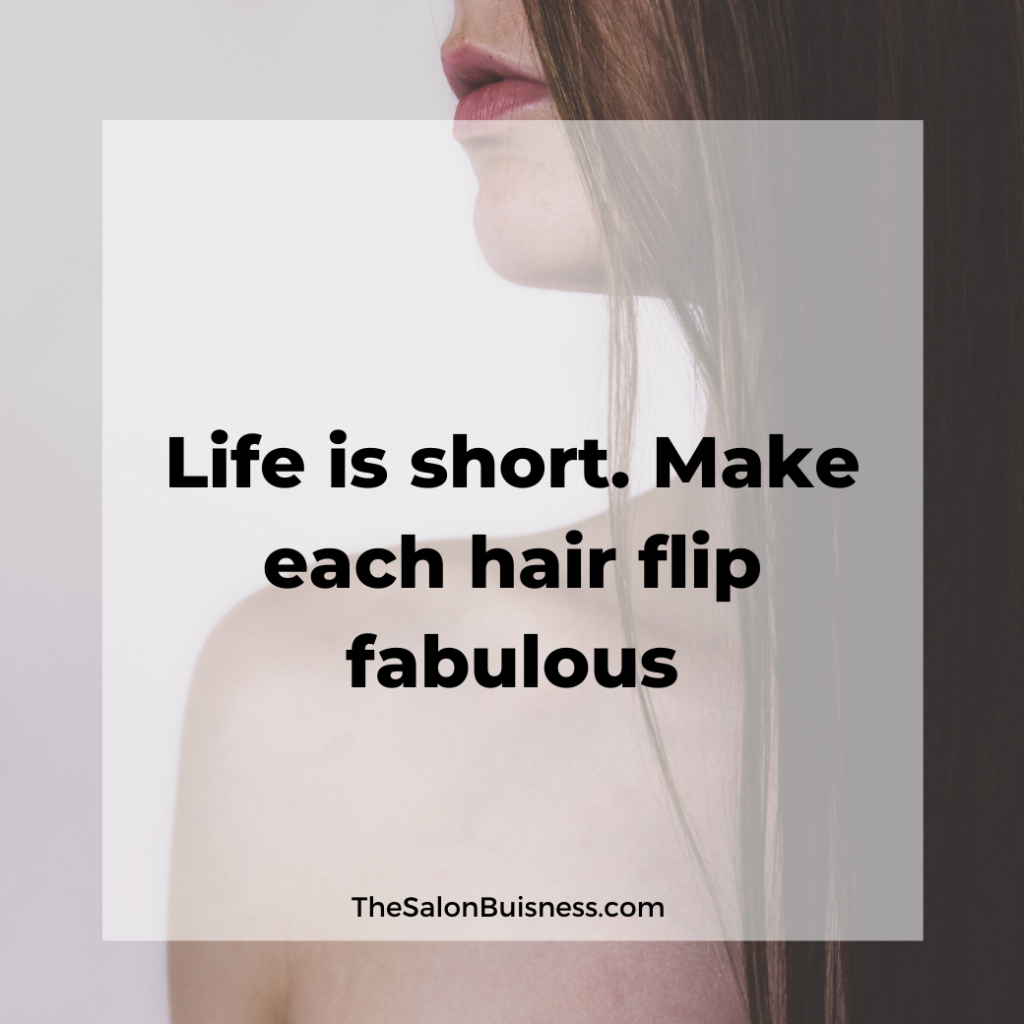 "Hair doesn't make the woman, but good hair definitely helps!"

Hairstyles quotes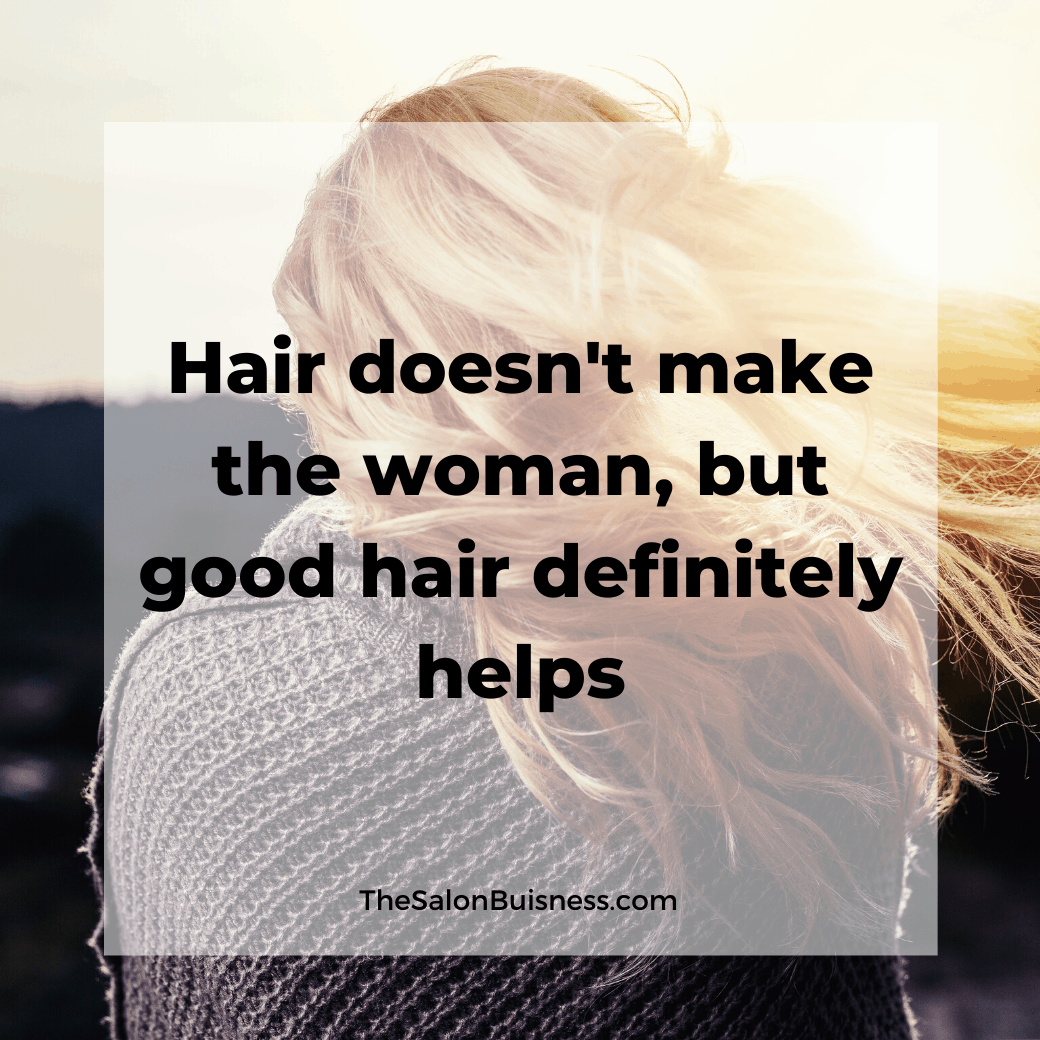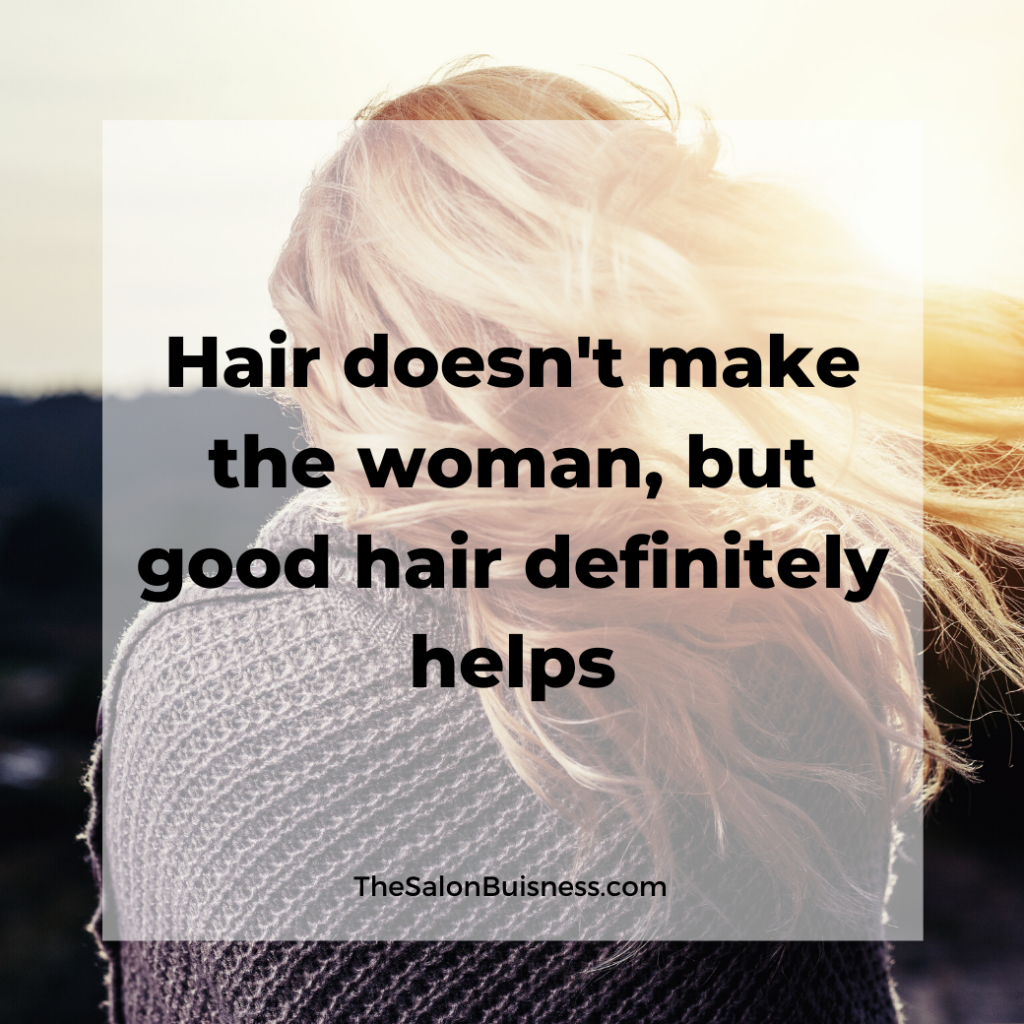 "Life is short. You might as well live it with really great hair."

Positive hair quotes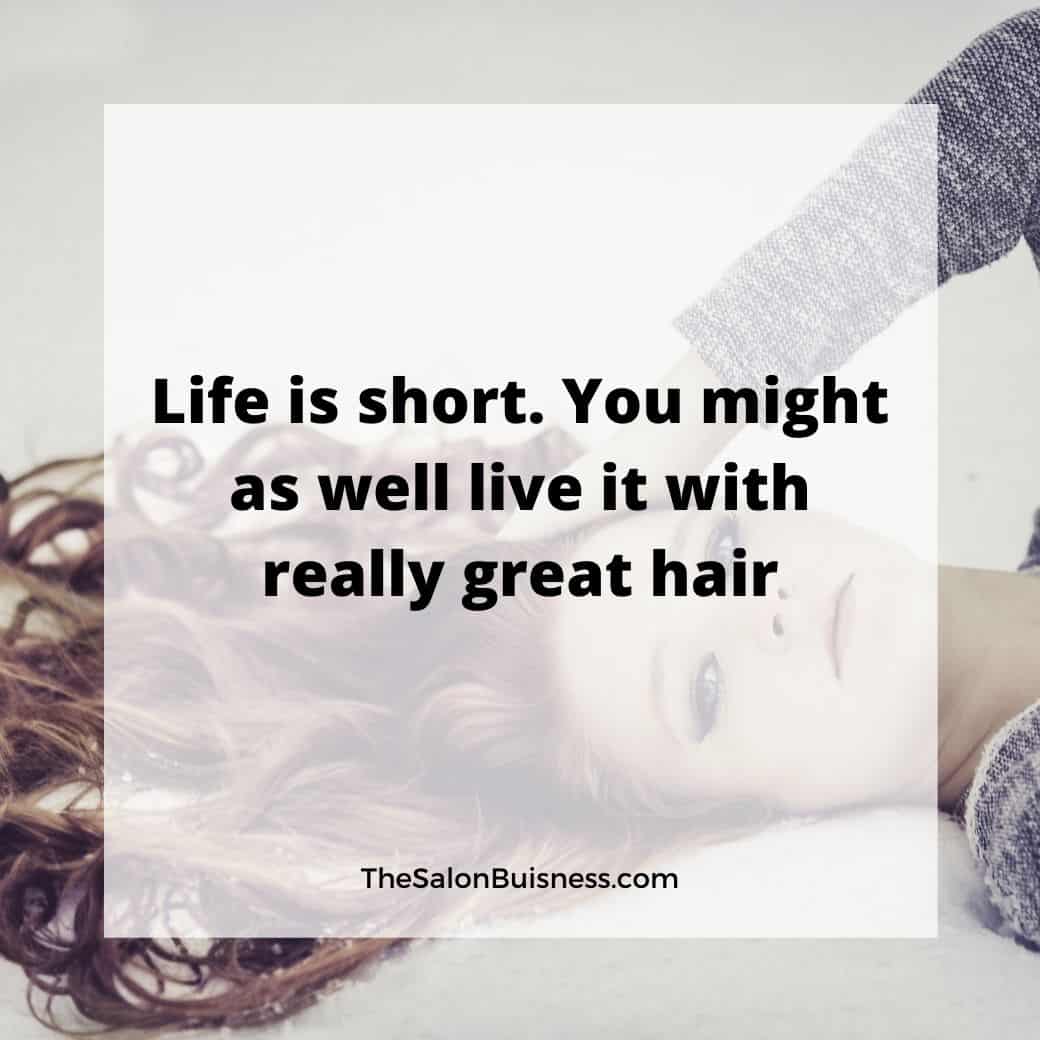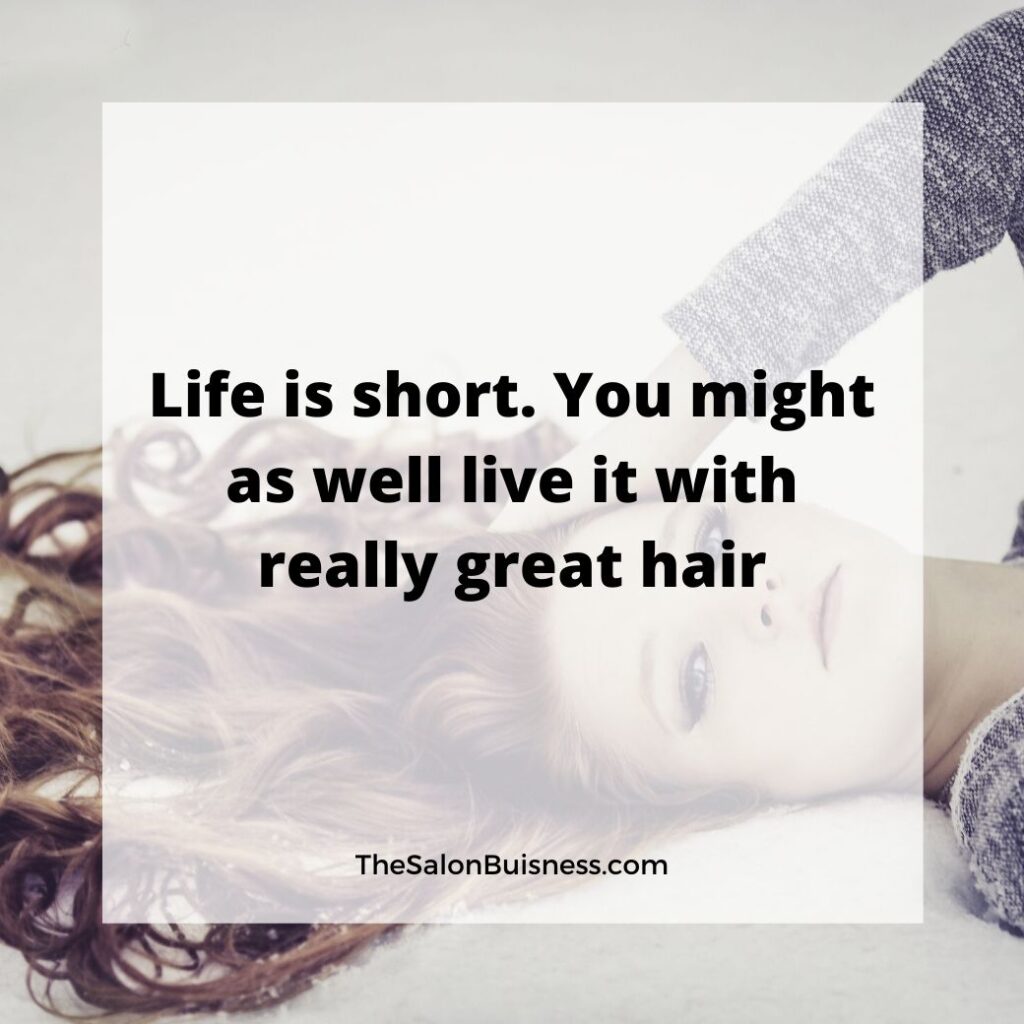 "Good hair does not stay home on a Friday night."

Good hair quote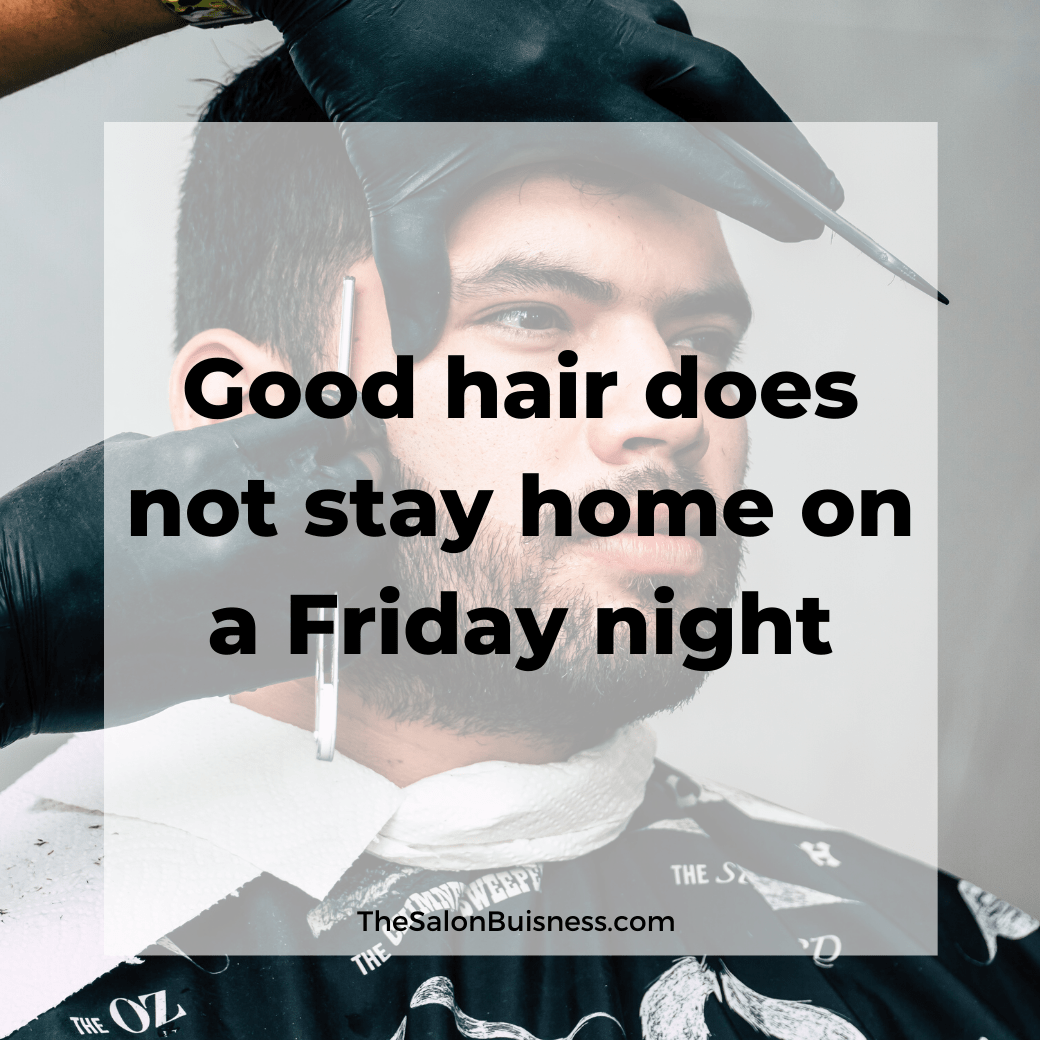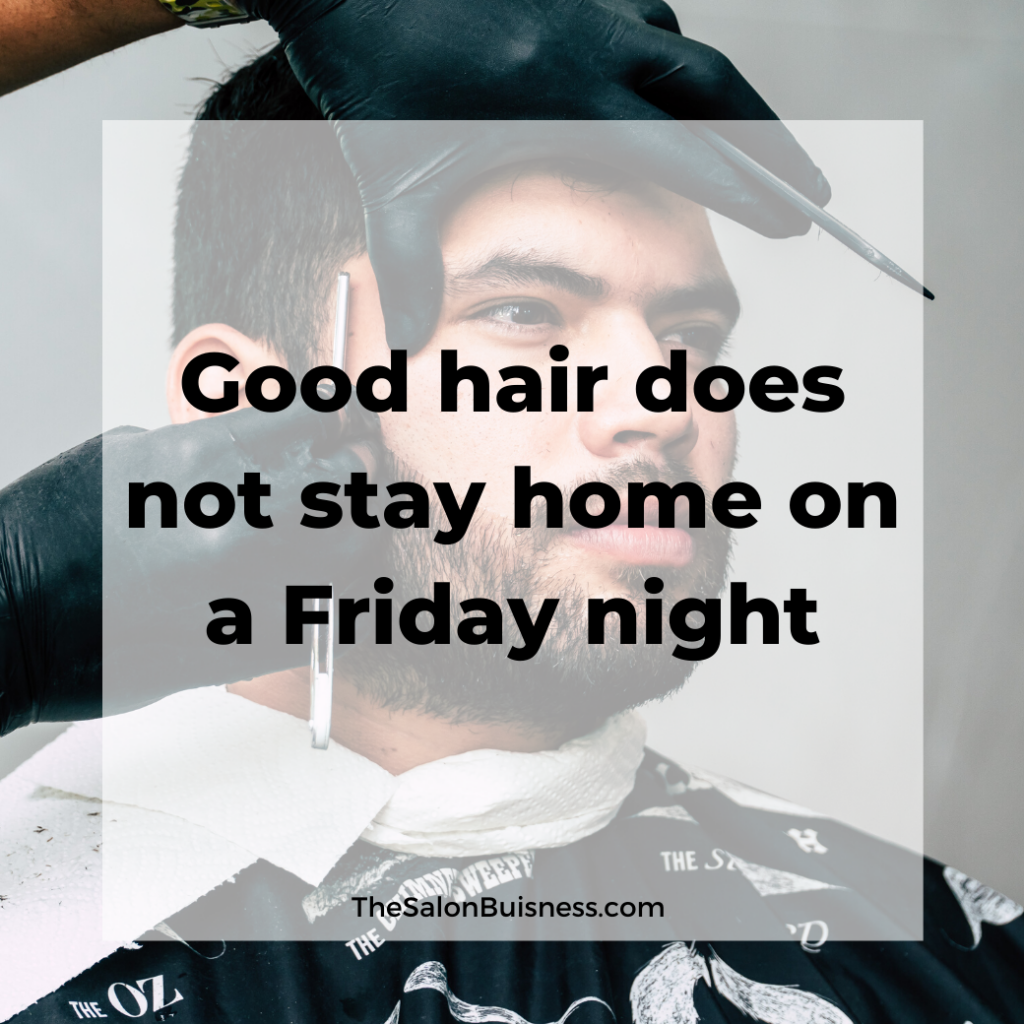 "Ivest in your hair, it is the crown you never take off."

Hair care quotes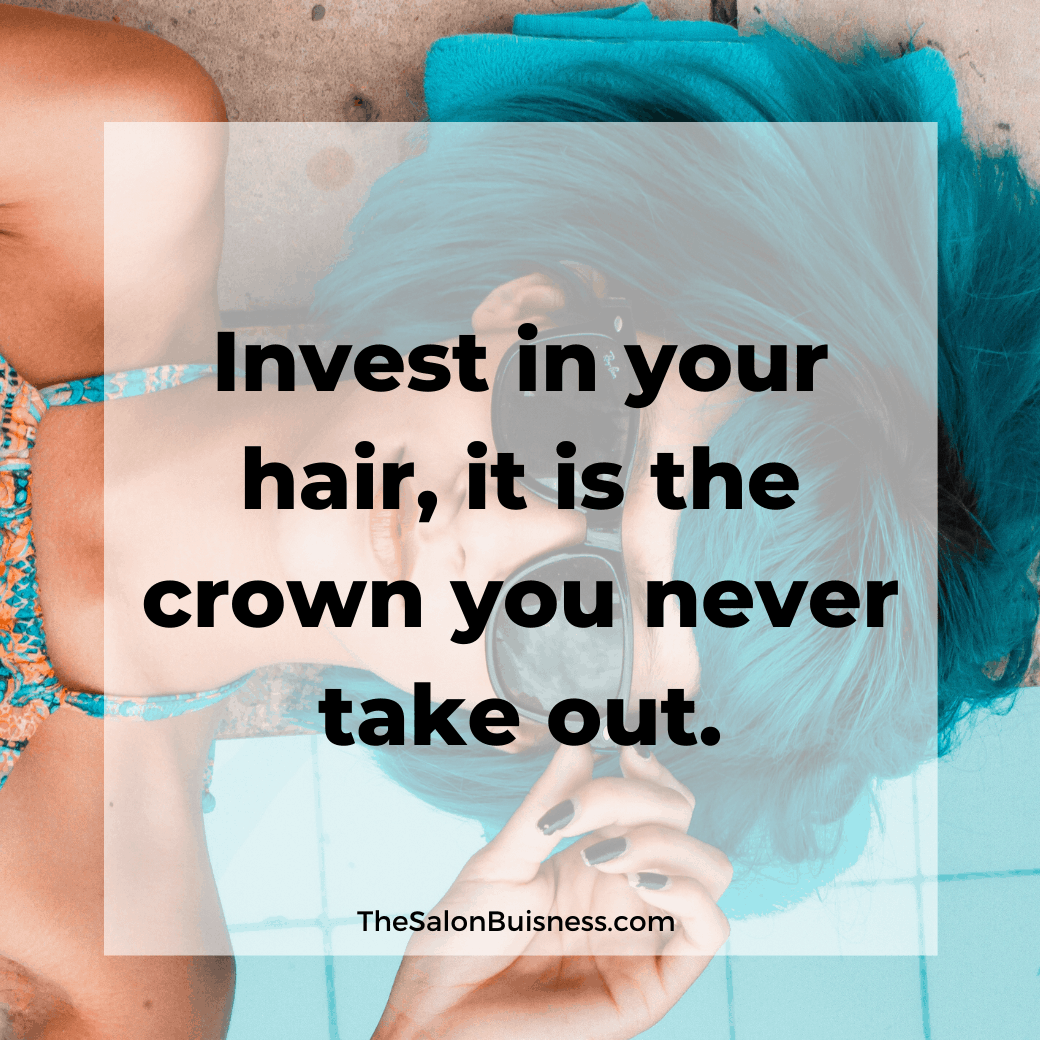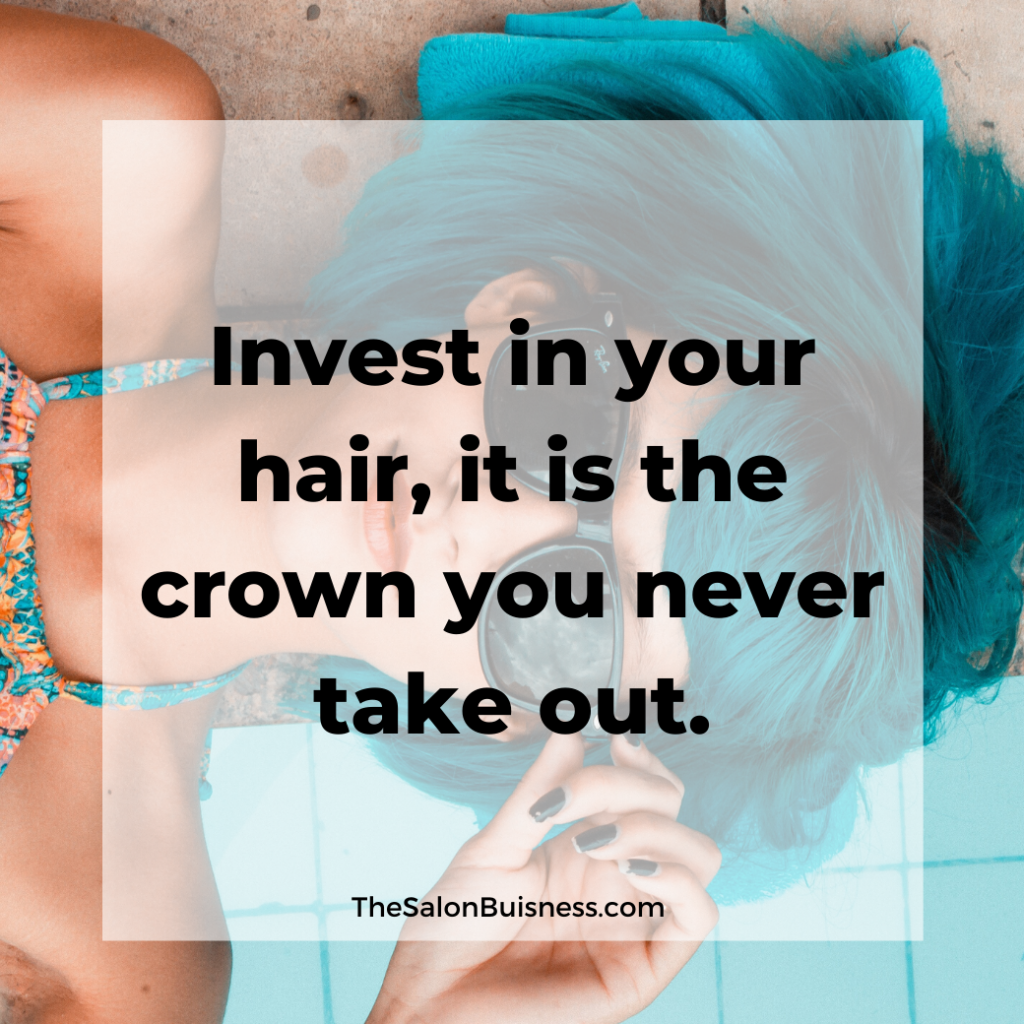 "I don't need a stylist. My pillow gives me a new hairstyle every morning."

Messy hair quotes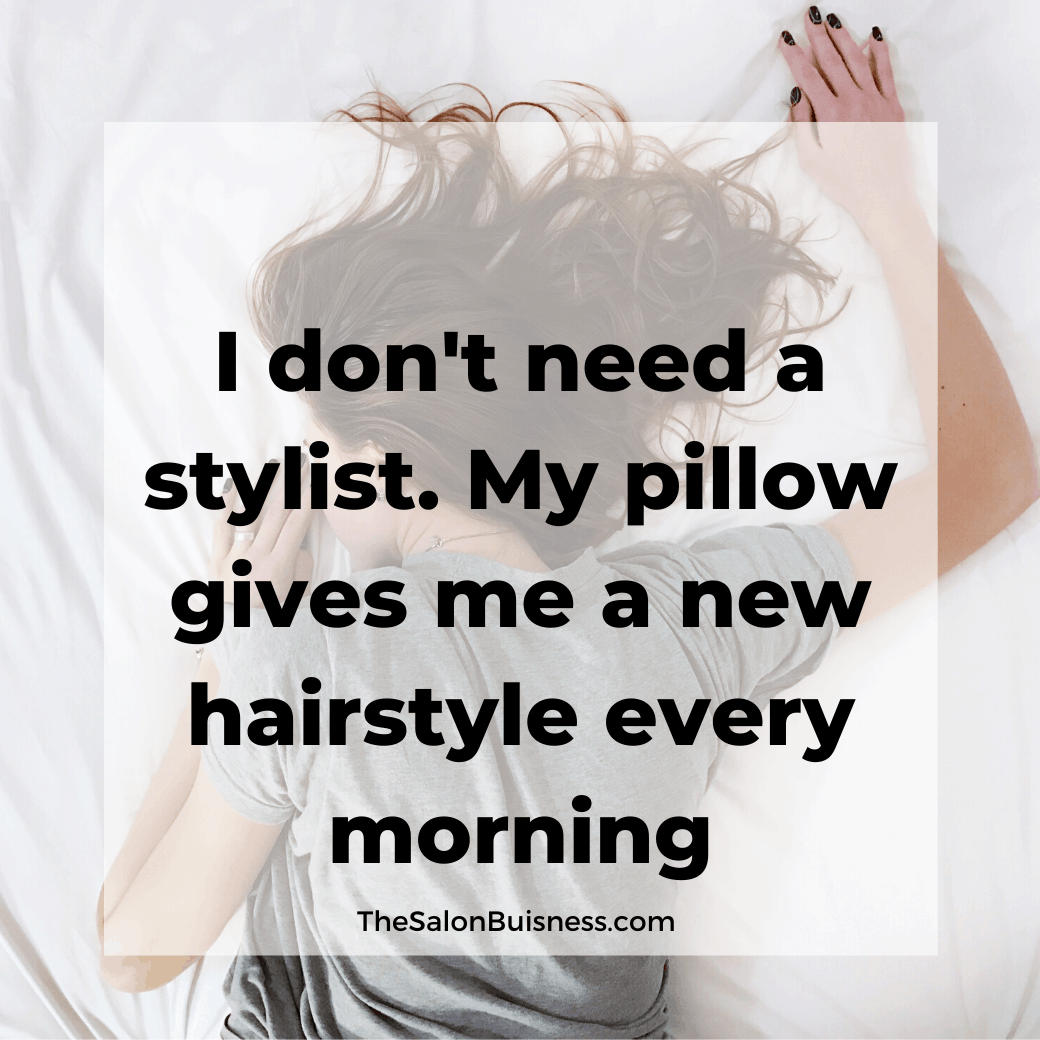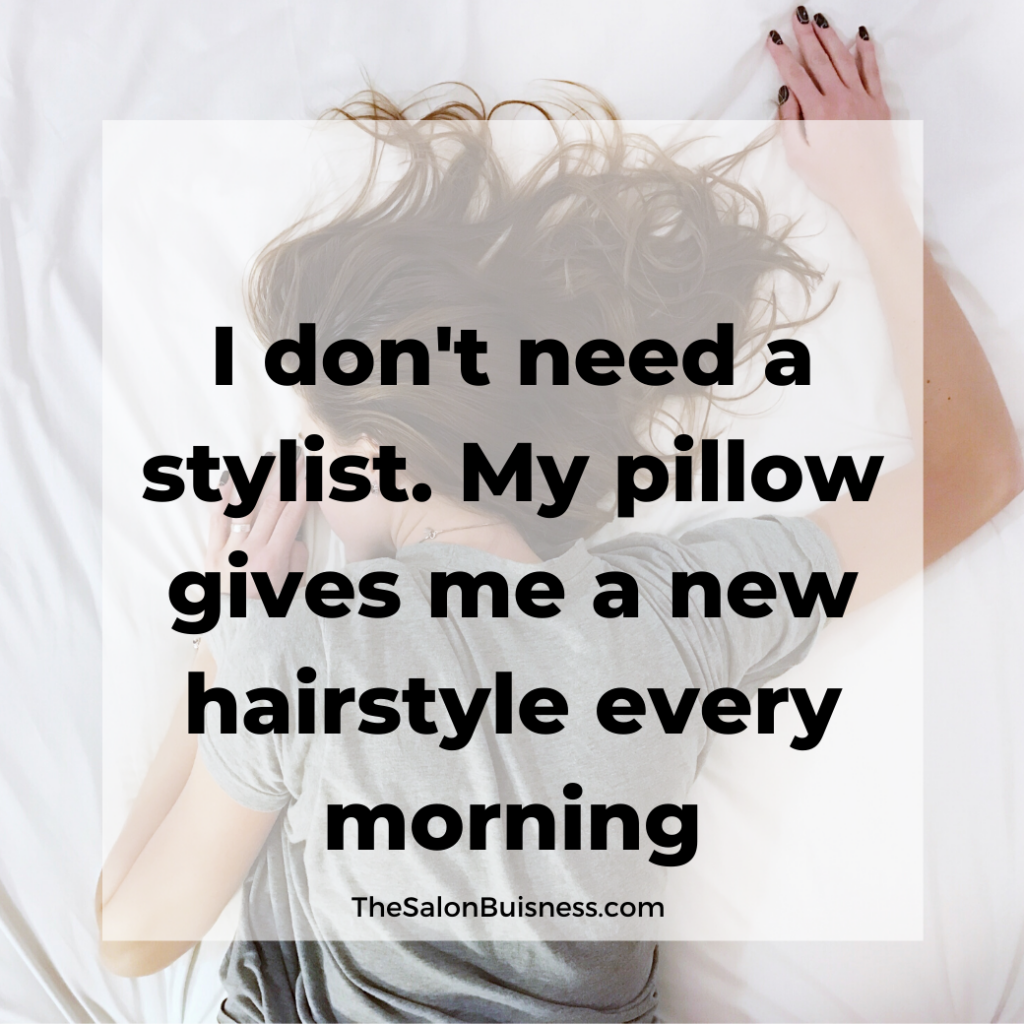 New Hairstyle Quotes
Believe it or not, when people get a new look, they tend to gravitate towards hair related quotes more so than ever before.
Whether this search is conducted as a confidence boost for your new style, to find your favorite new quote you're going to tell everyone, or for that perfect caption for your Instagram posts, these are perfect. If this is you, get ready to flaunt your sexy new hair do with these top new hairstyle quotes that we can all relate to.
You can find even more new hair style quotes in my article where I list 140+ hair quotes.
"For women, new hair is often done as a new way to look at life."

New hairstyles quotes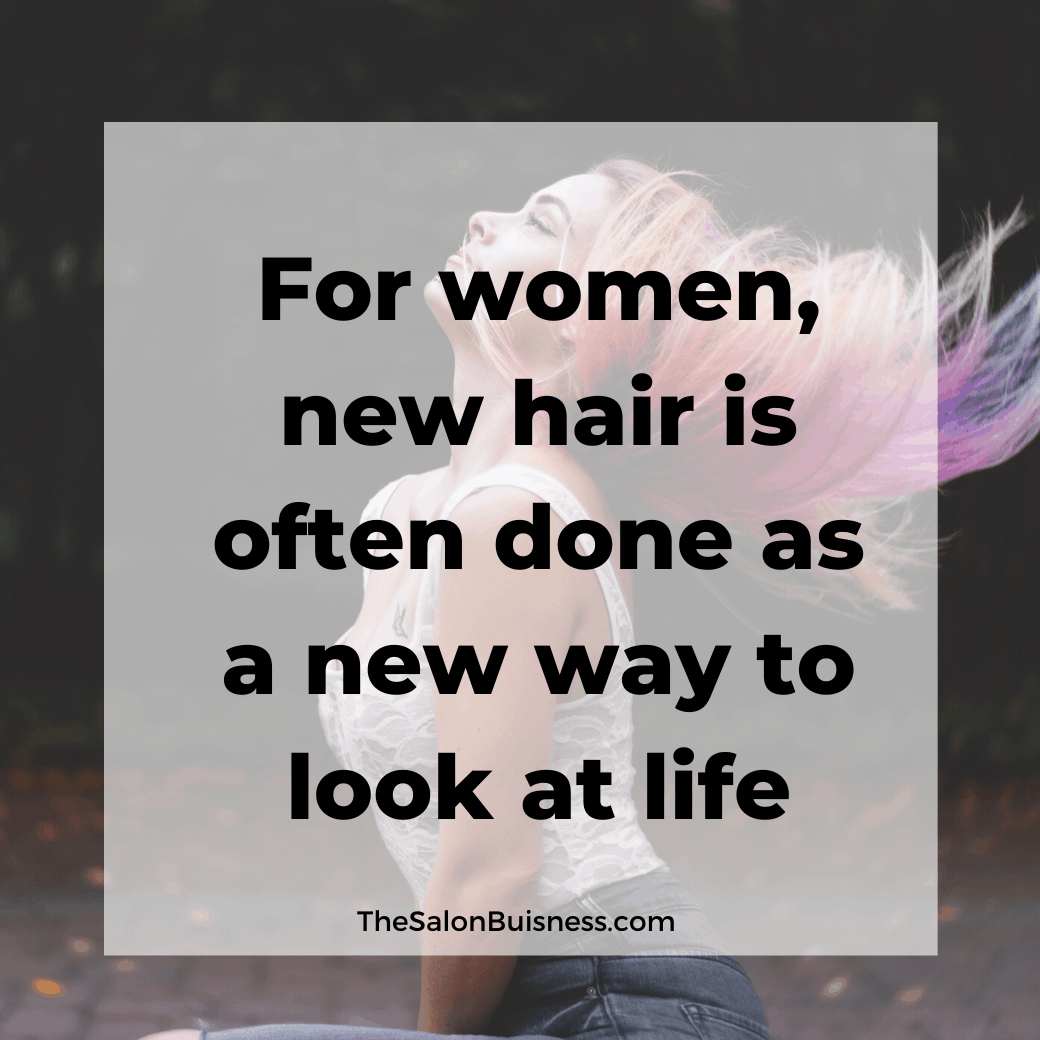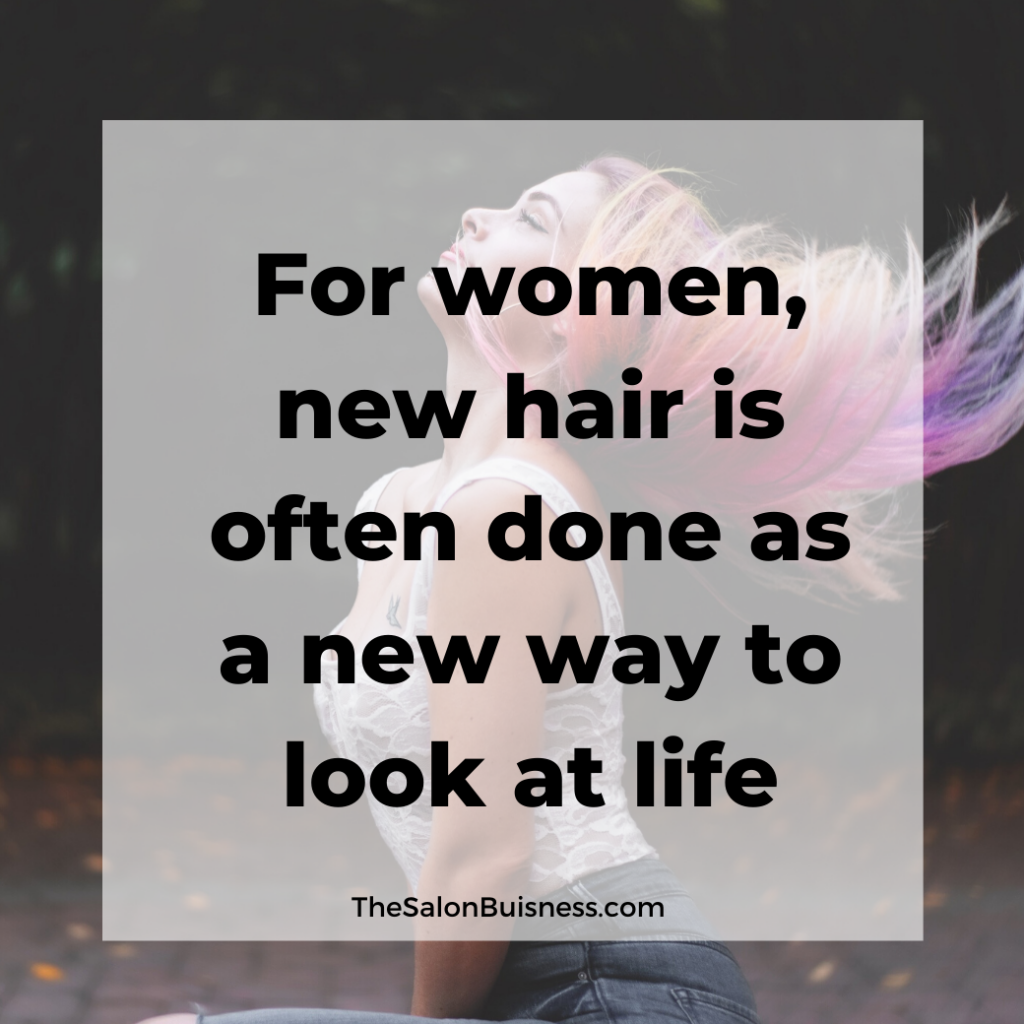 "Sorry, I can't hear you over the volume of my new hair."

New hairstyle quotes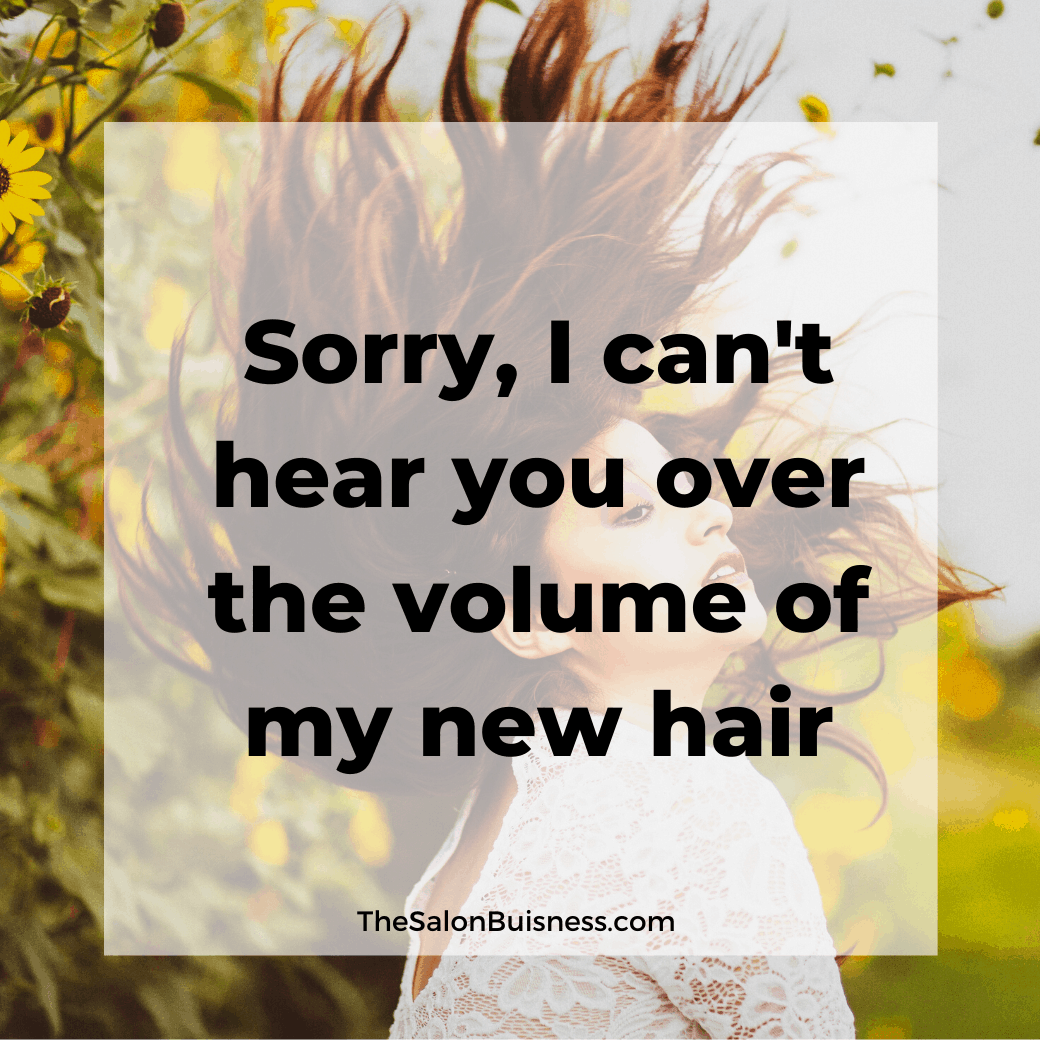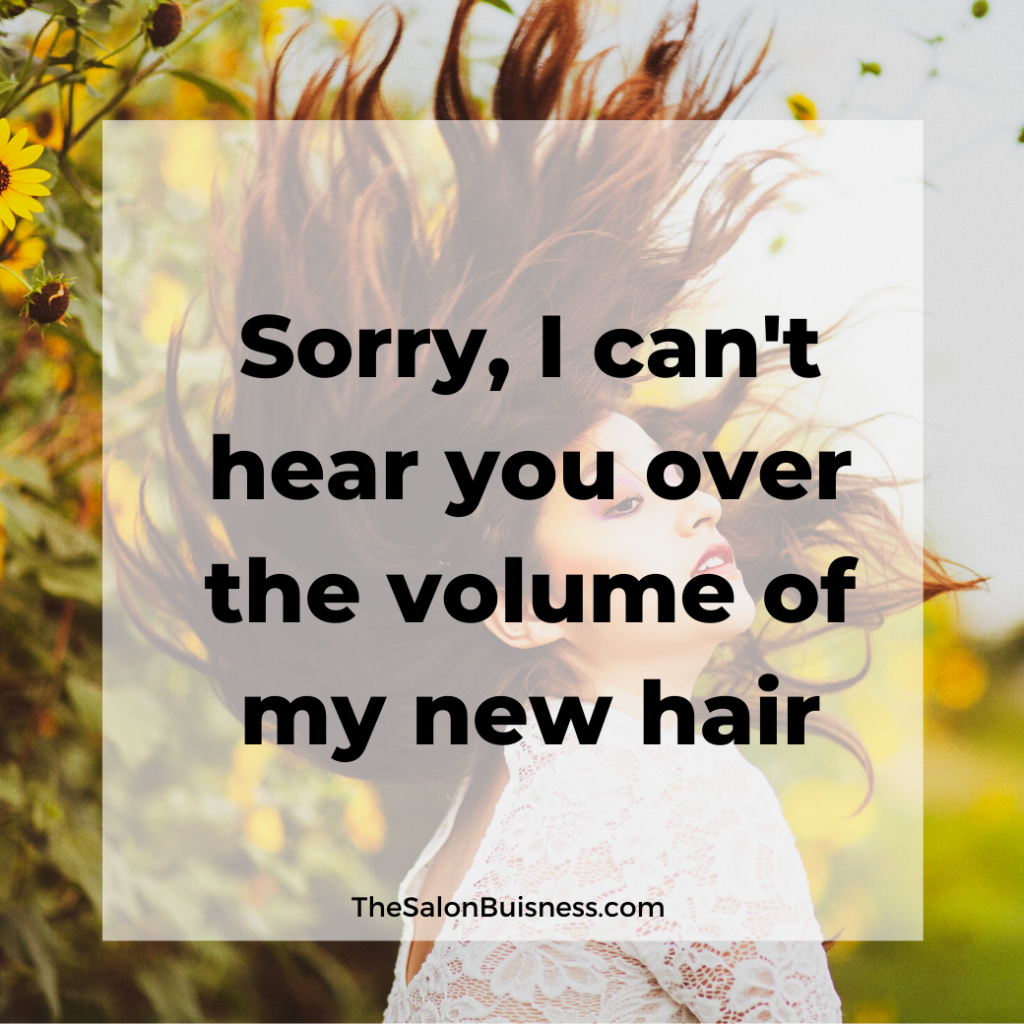 "Give a girl a new hairstyle & see will conquer the world."

Hair change quotes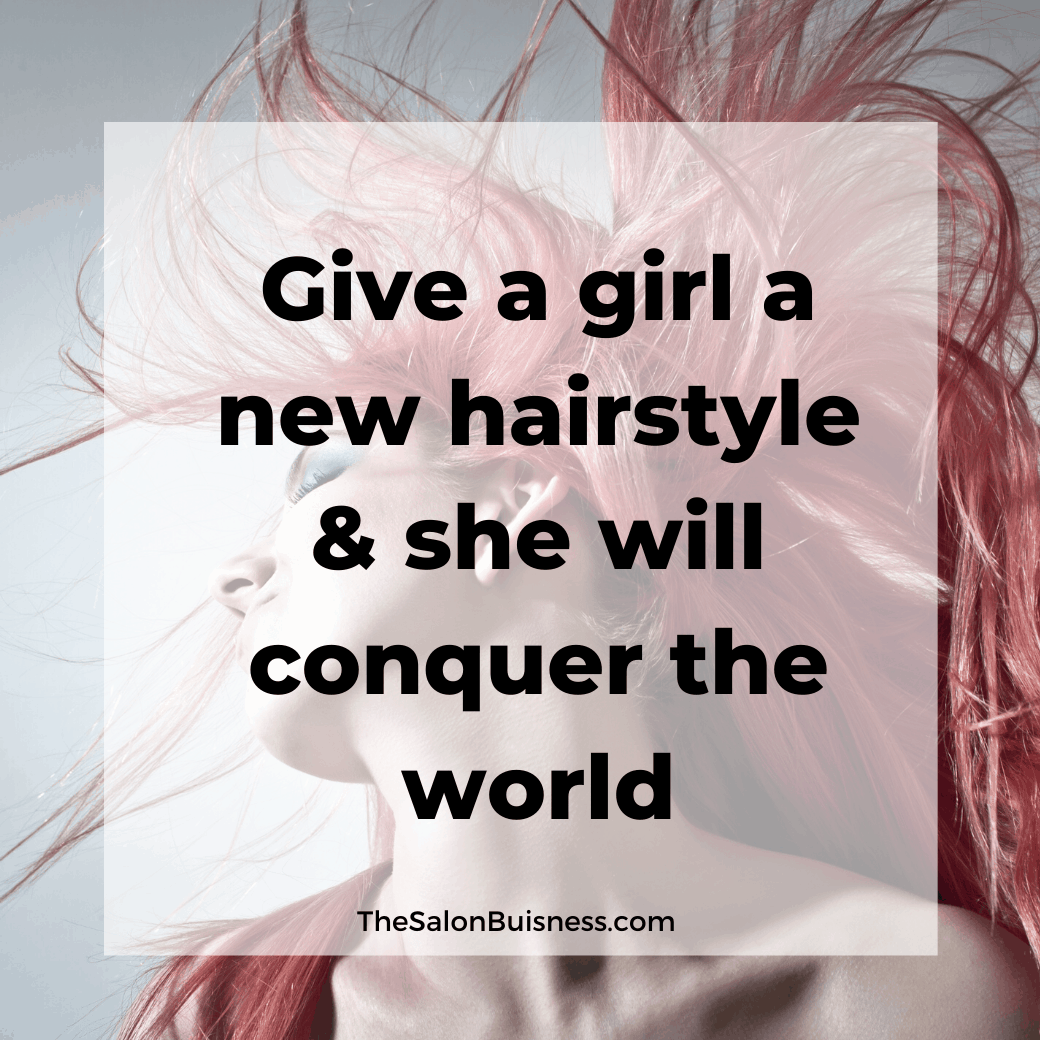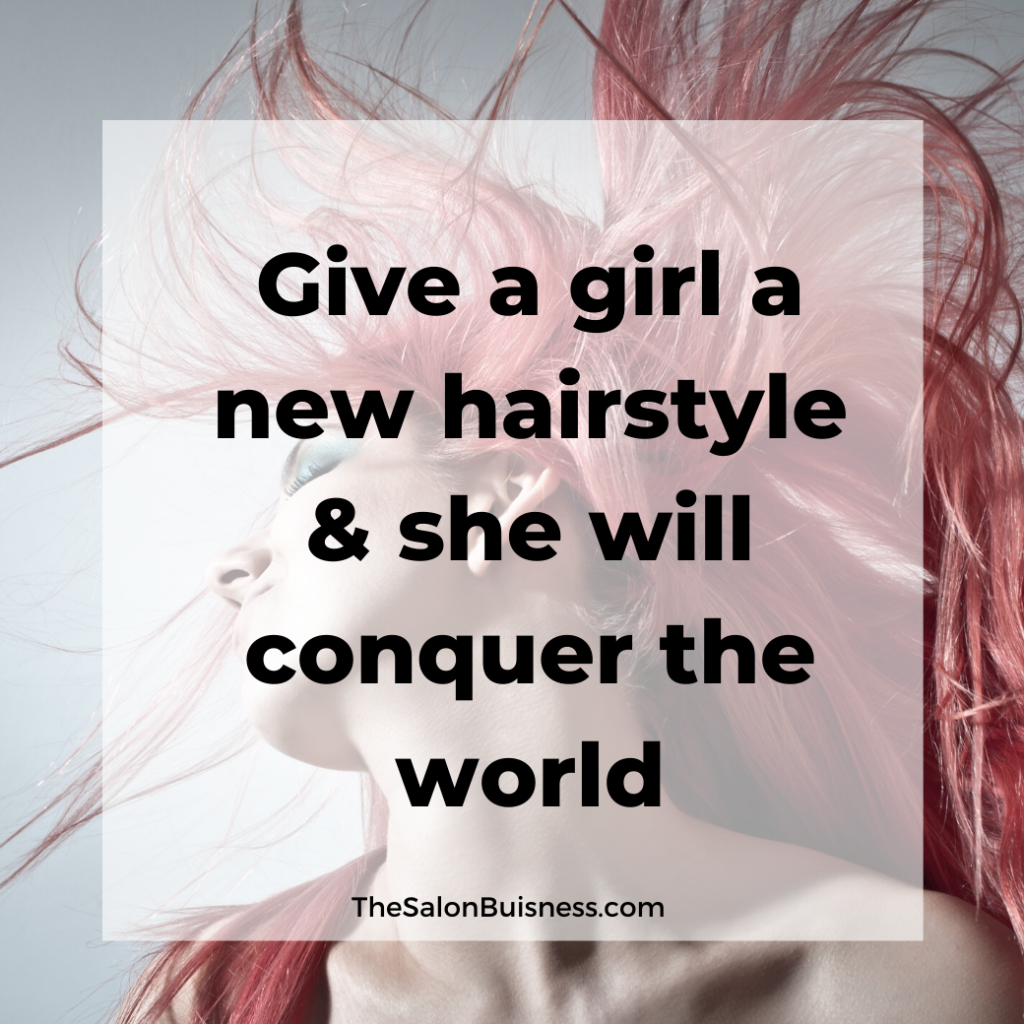 "If my hair looks good I can deal with anything."

Beauty quotes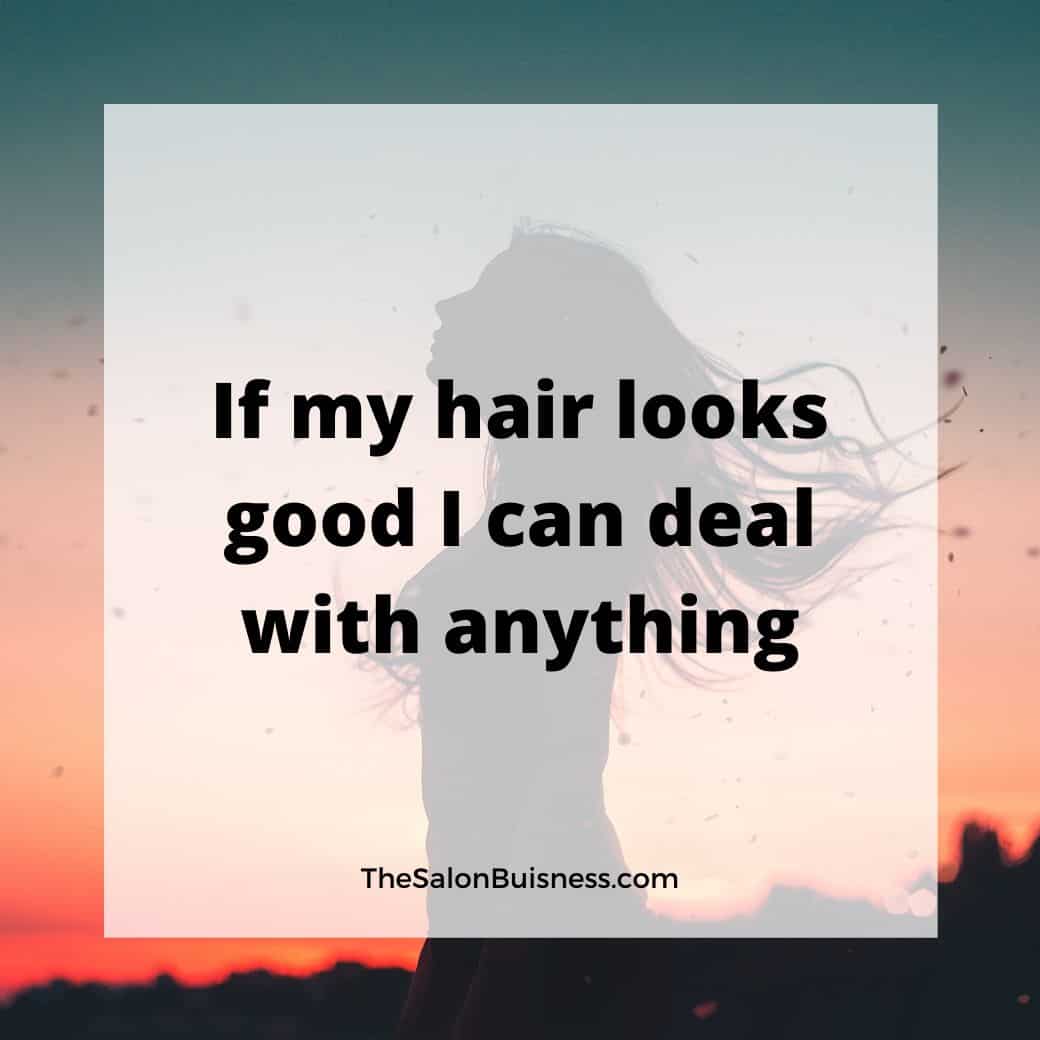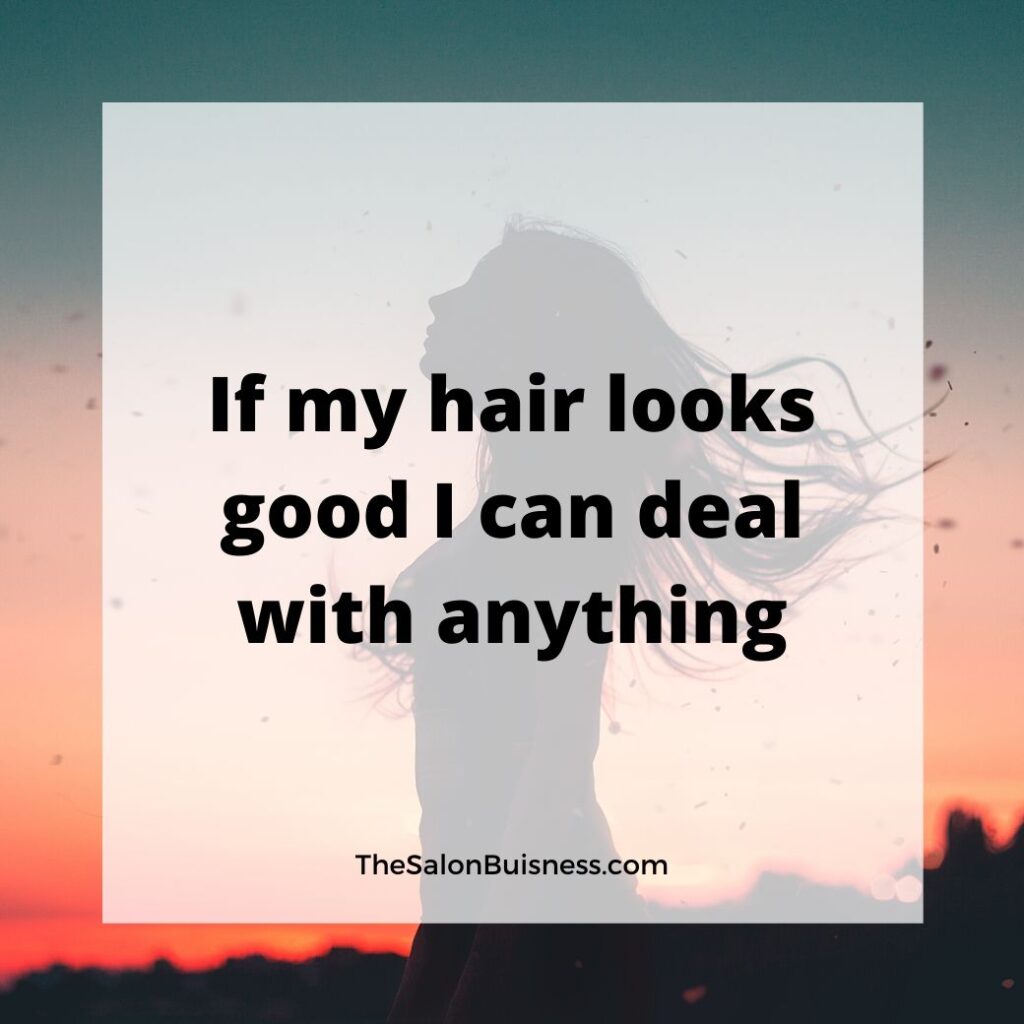 "If she dyed her hair after the breakup you aren't getting back together. New hair, new life, new man."

Quotes about beauty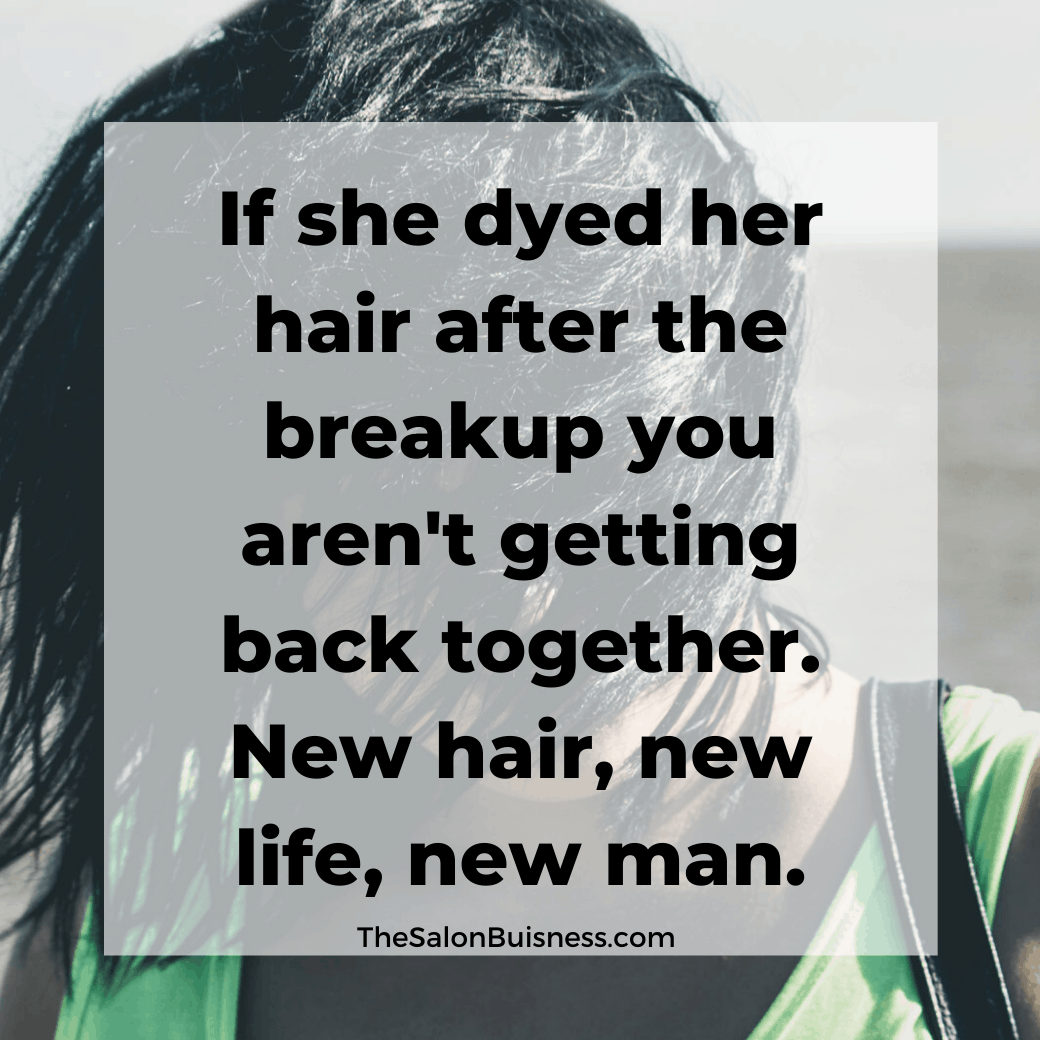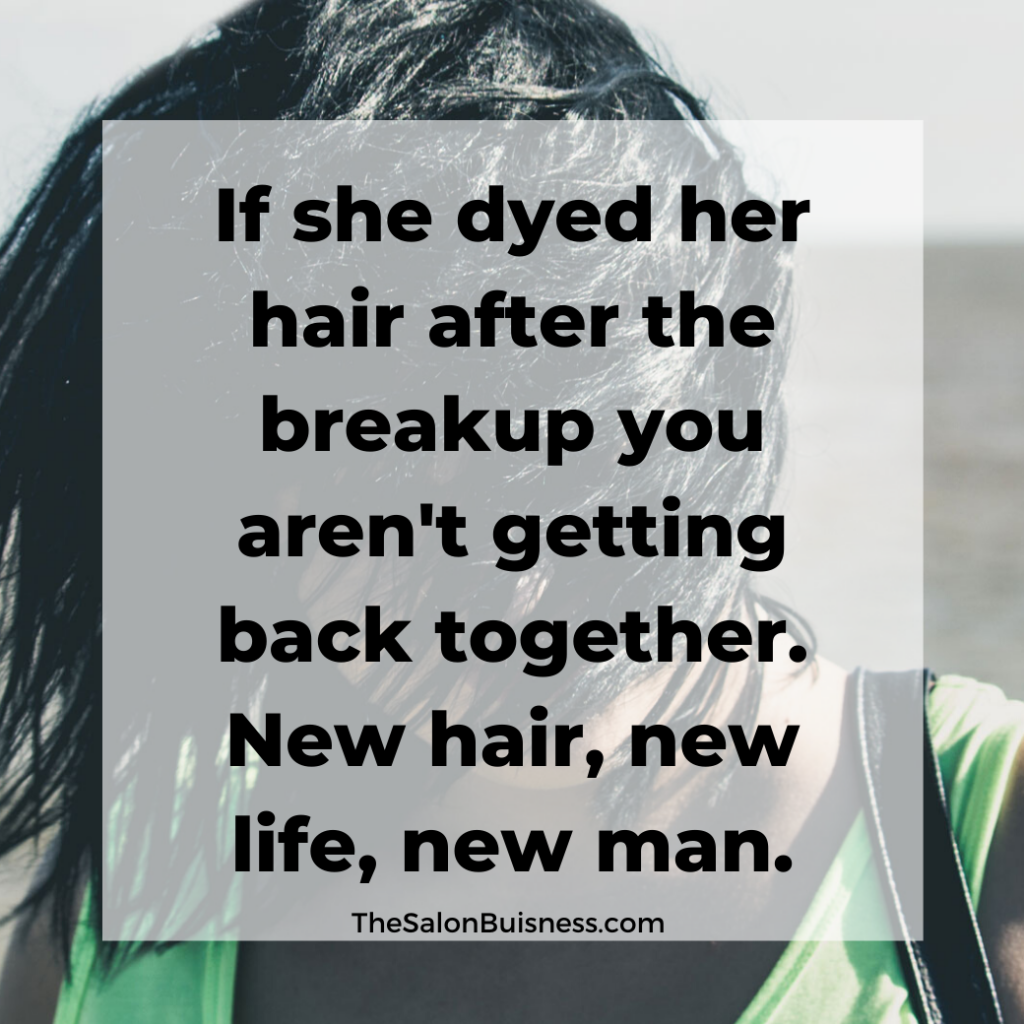 "I didn't want to go out, but my hair looked to good to stay in."

Good hair days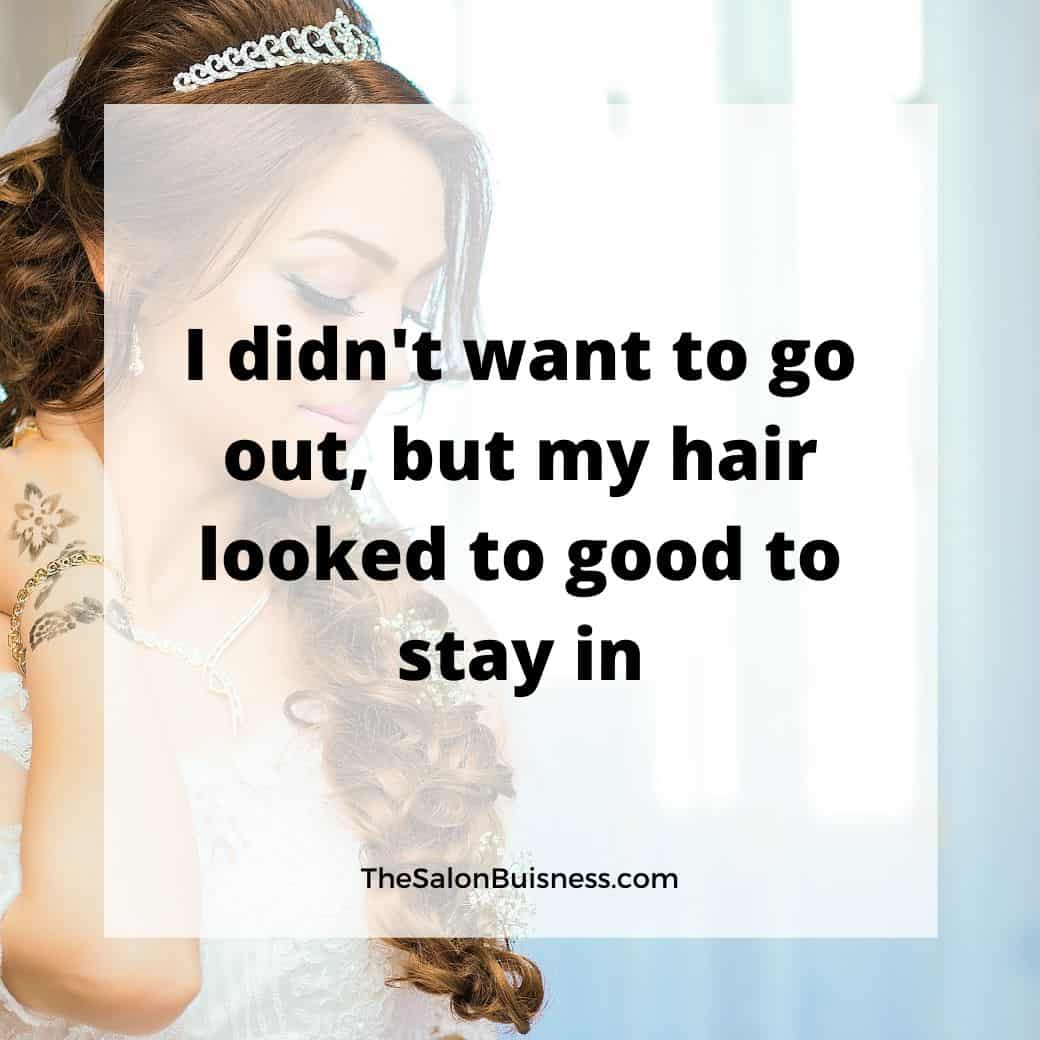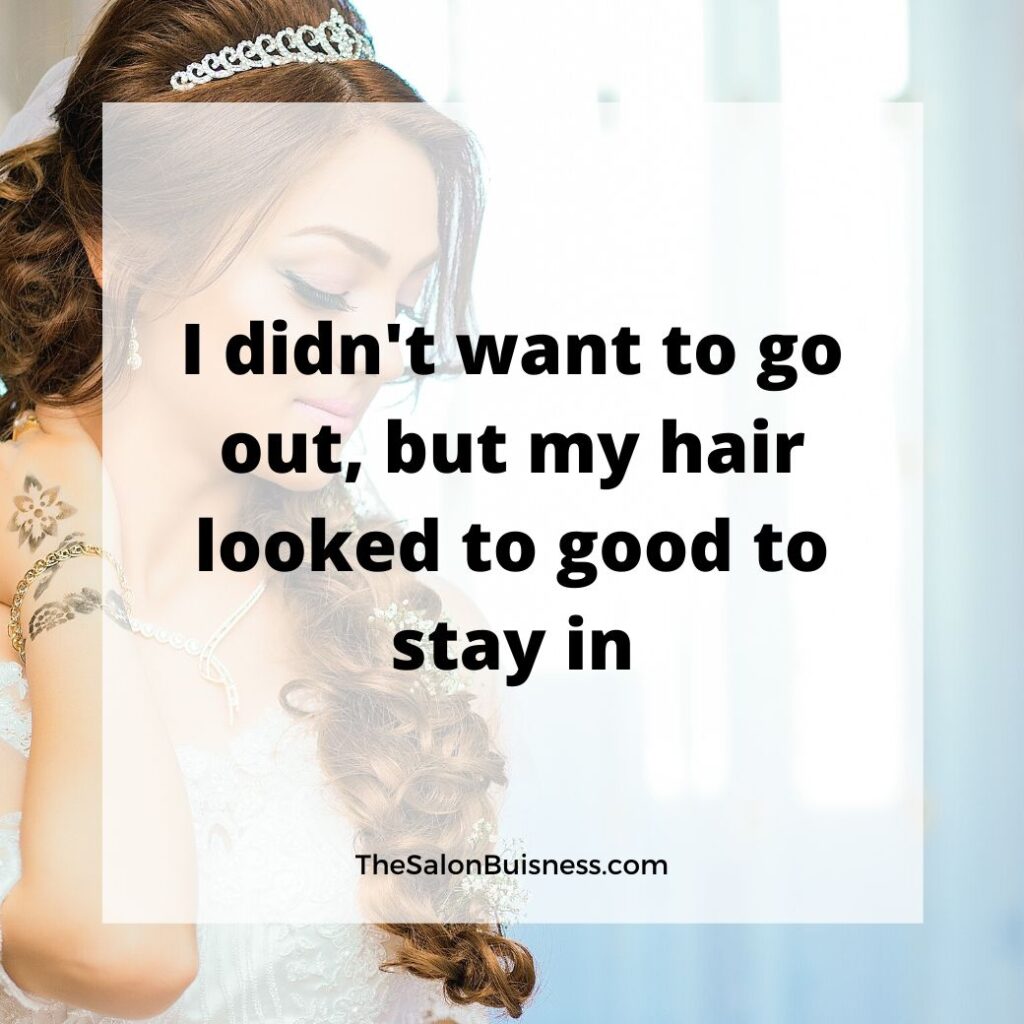 Haircut Sayings
This wouldn't be an article about hair if I didn't dedicate a section for haircut sayings.
We know the incredible effect a fresh new cut can have on your confidence. The right cut will have you feeling inspired and free. And to match that incredible feeling, you definitely need some relatable quotes that you can throw back in response when people ask why you cut your hair.
Here are some of my favorite haircut sayings that ring with inspiration & sass!
Haircut Quotes Images
"Curl it, cut it, dye it. At the end of the day, confidence is the best hairstyle."

Haircut sayings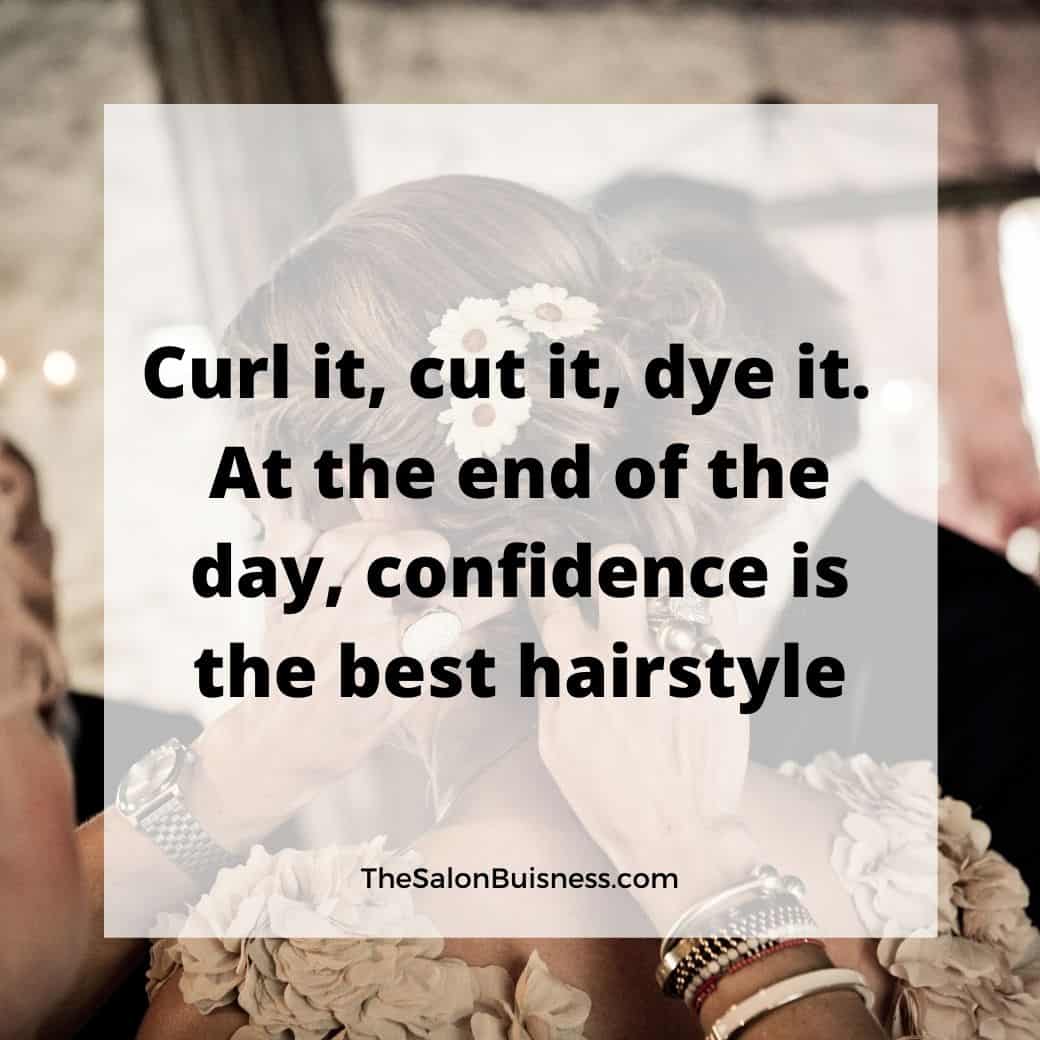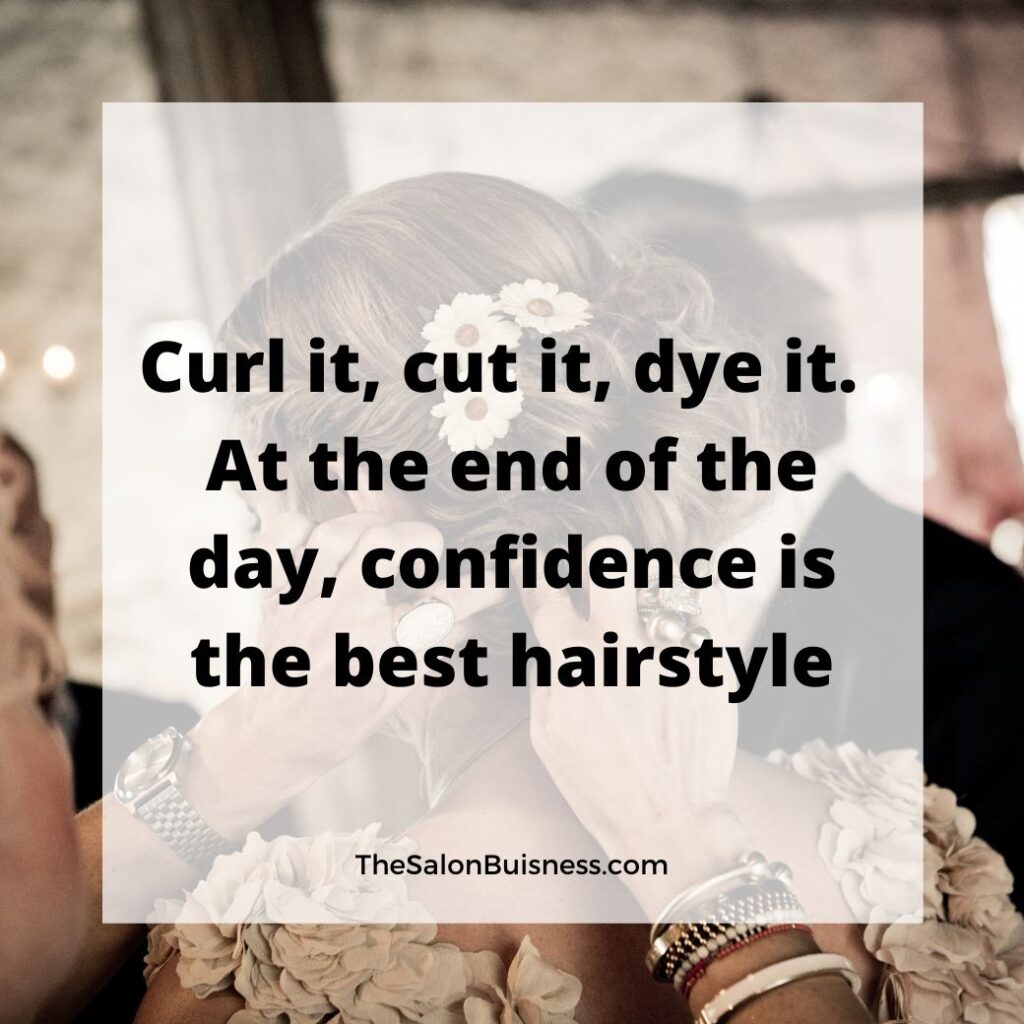 "Life is too short to have boring hair."

Haircut quotes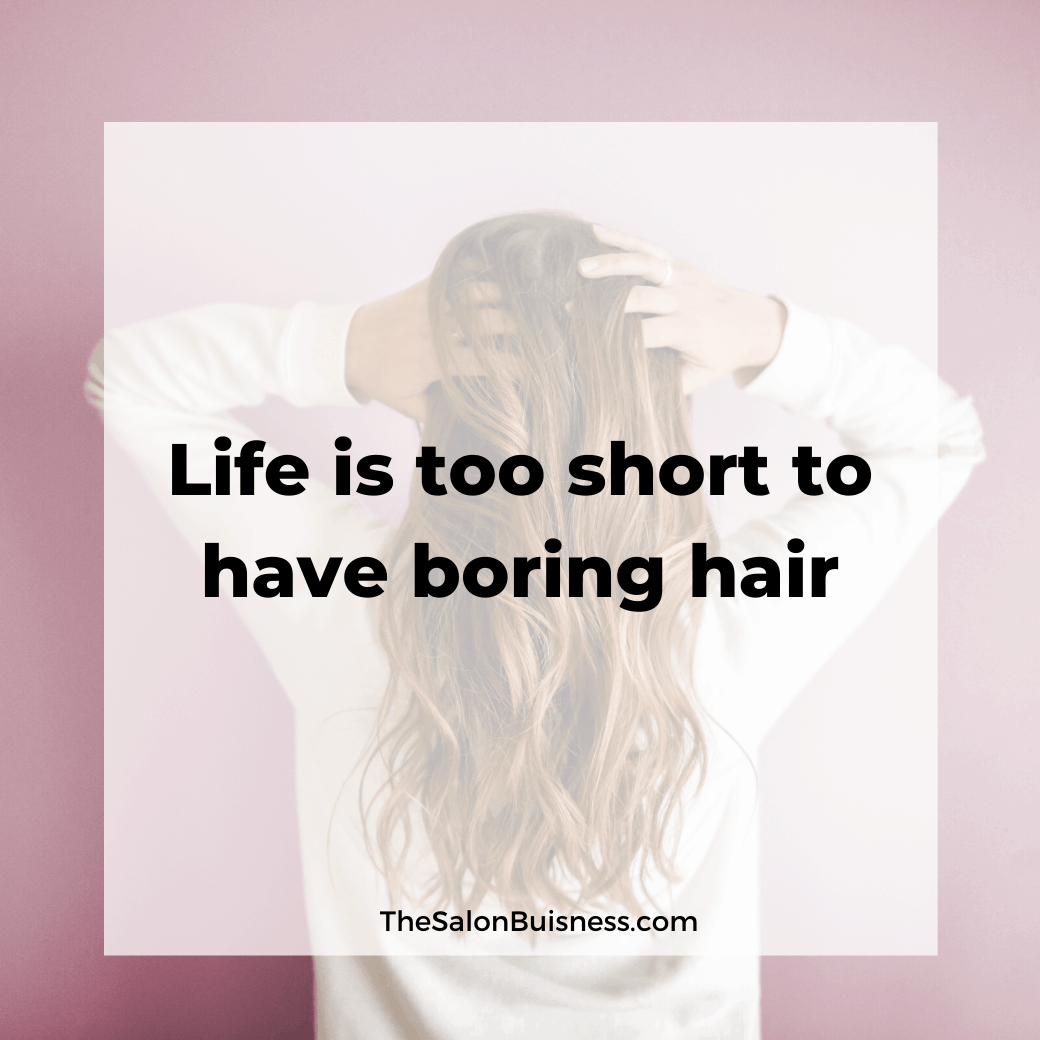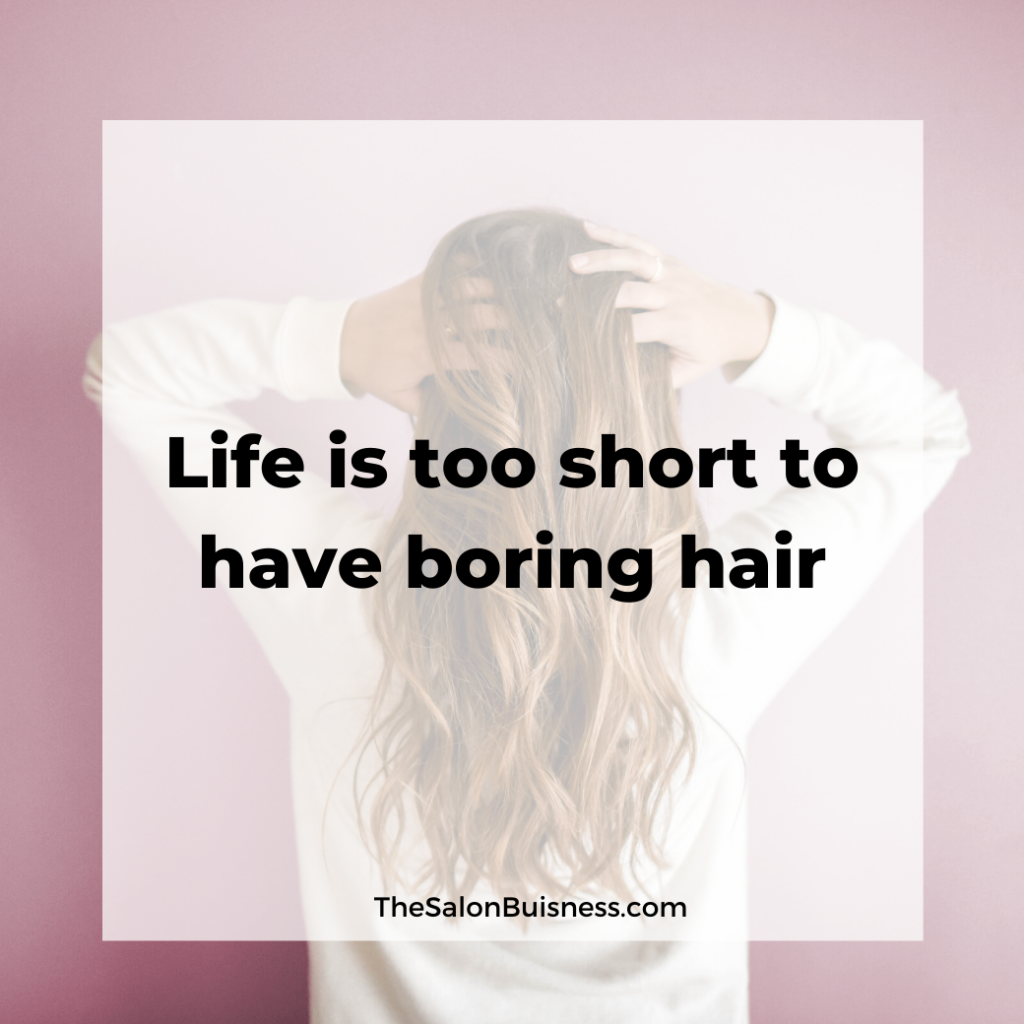 "Happiness is a fresh new hair cut."

Quotes about haircuts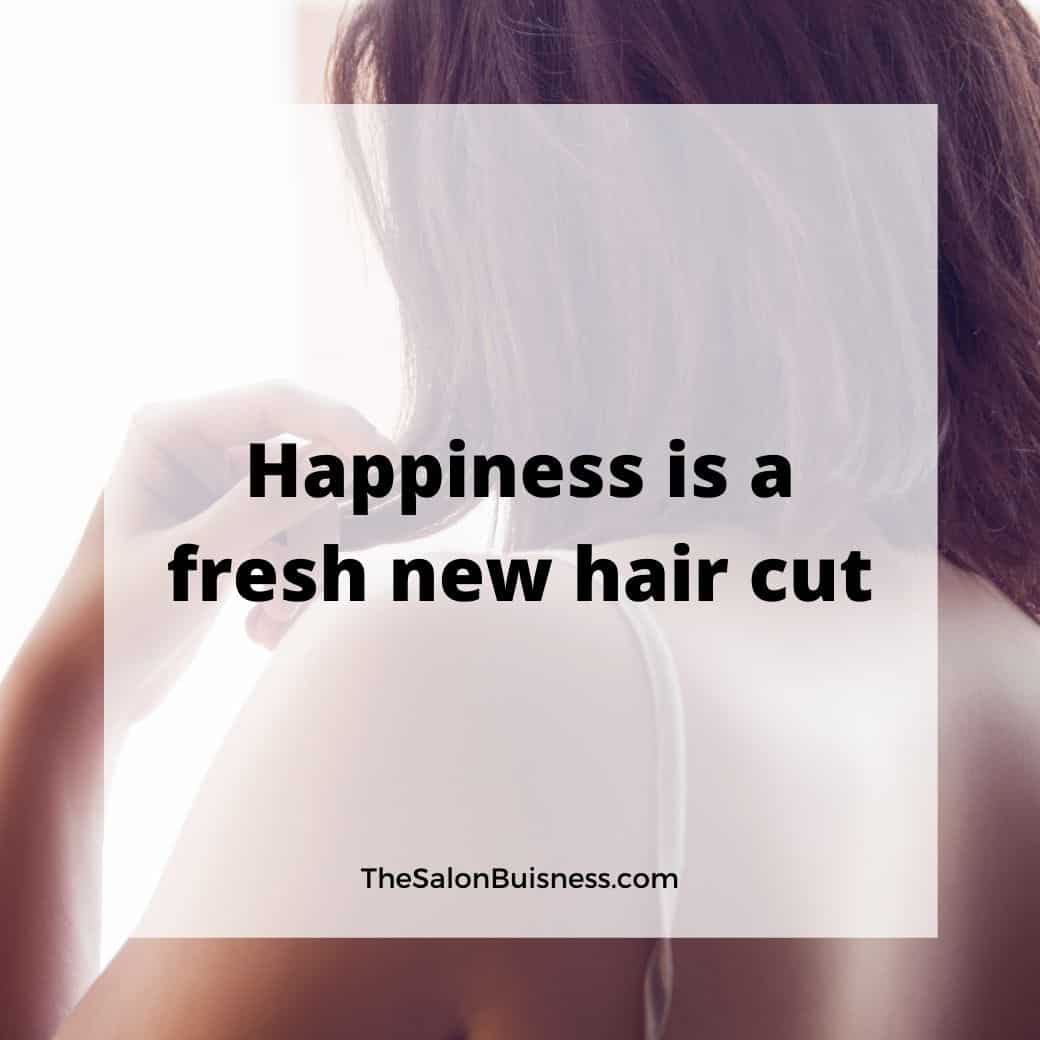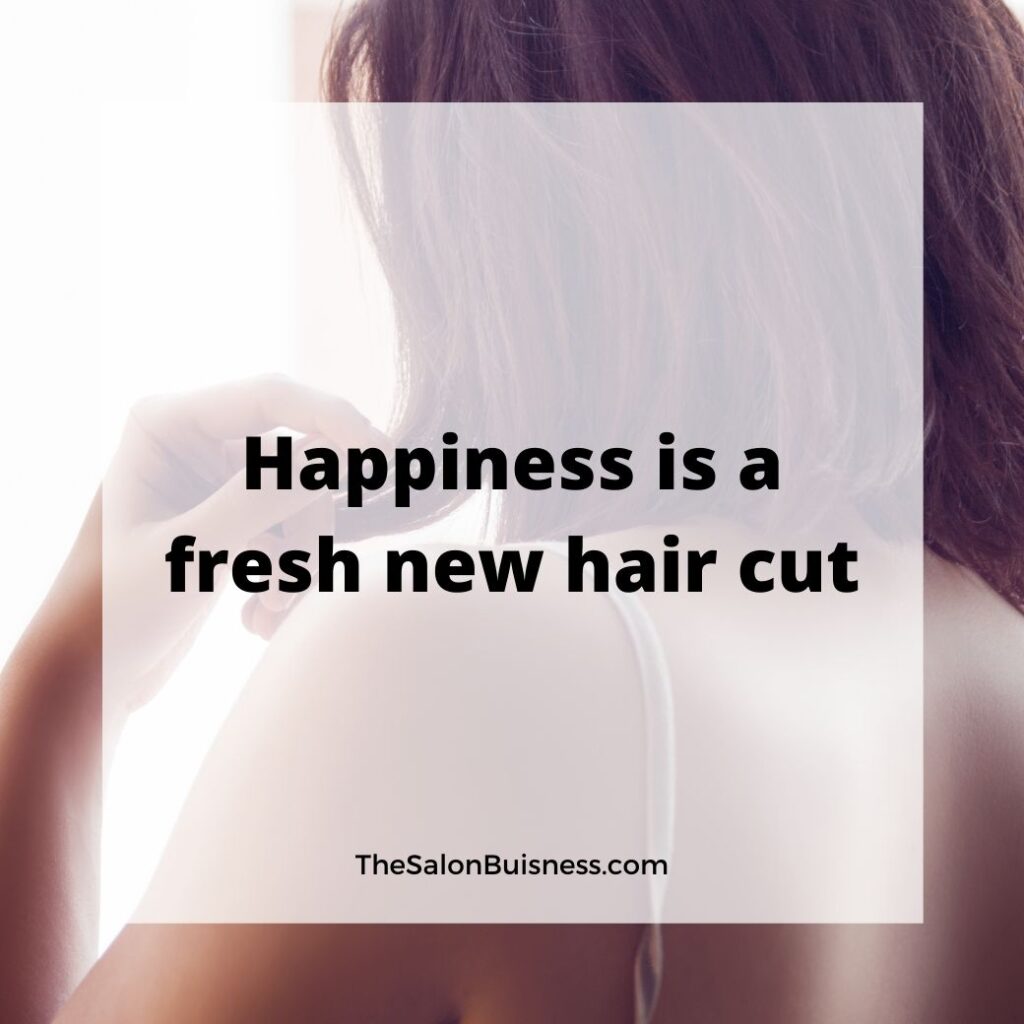 "Short hair, don't care!"

Short hair quotes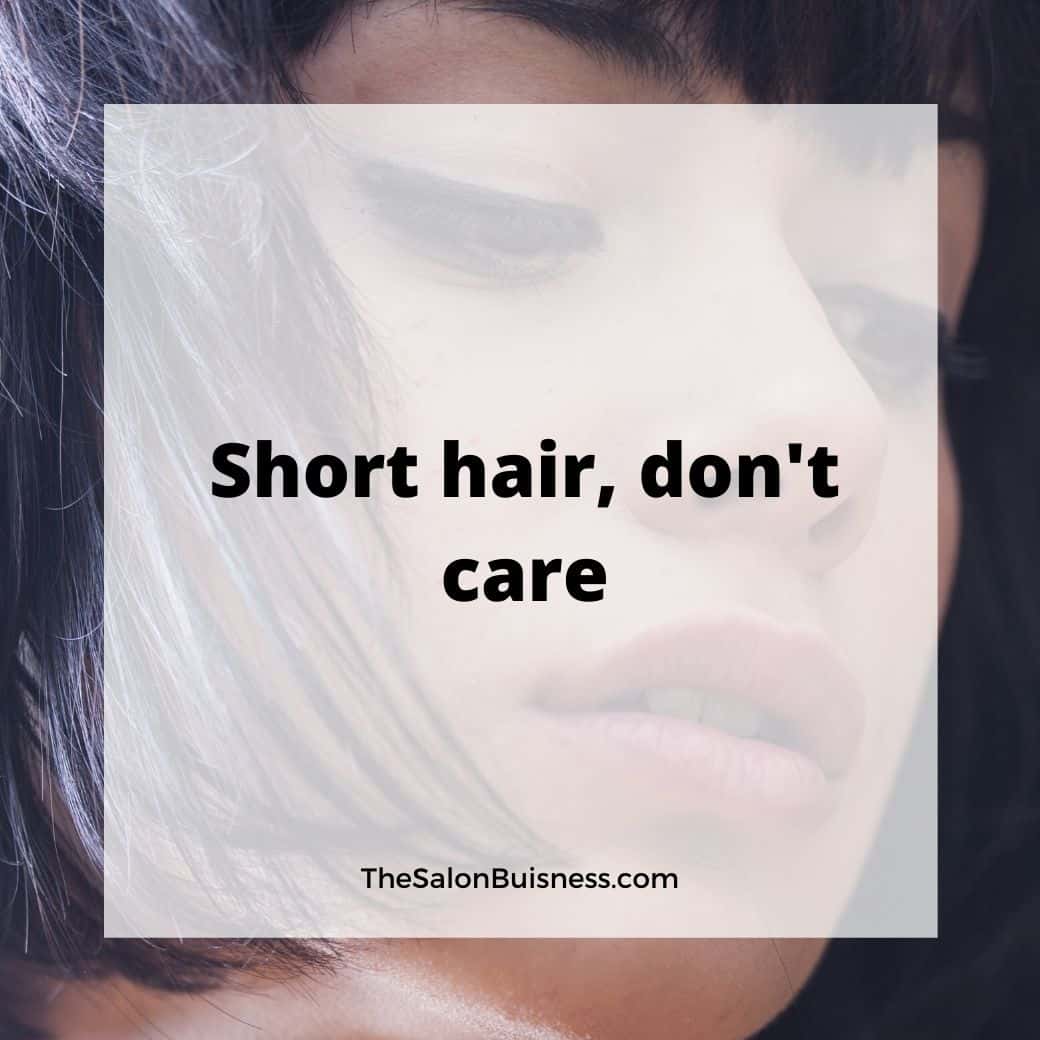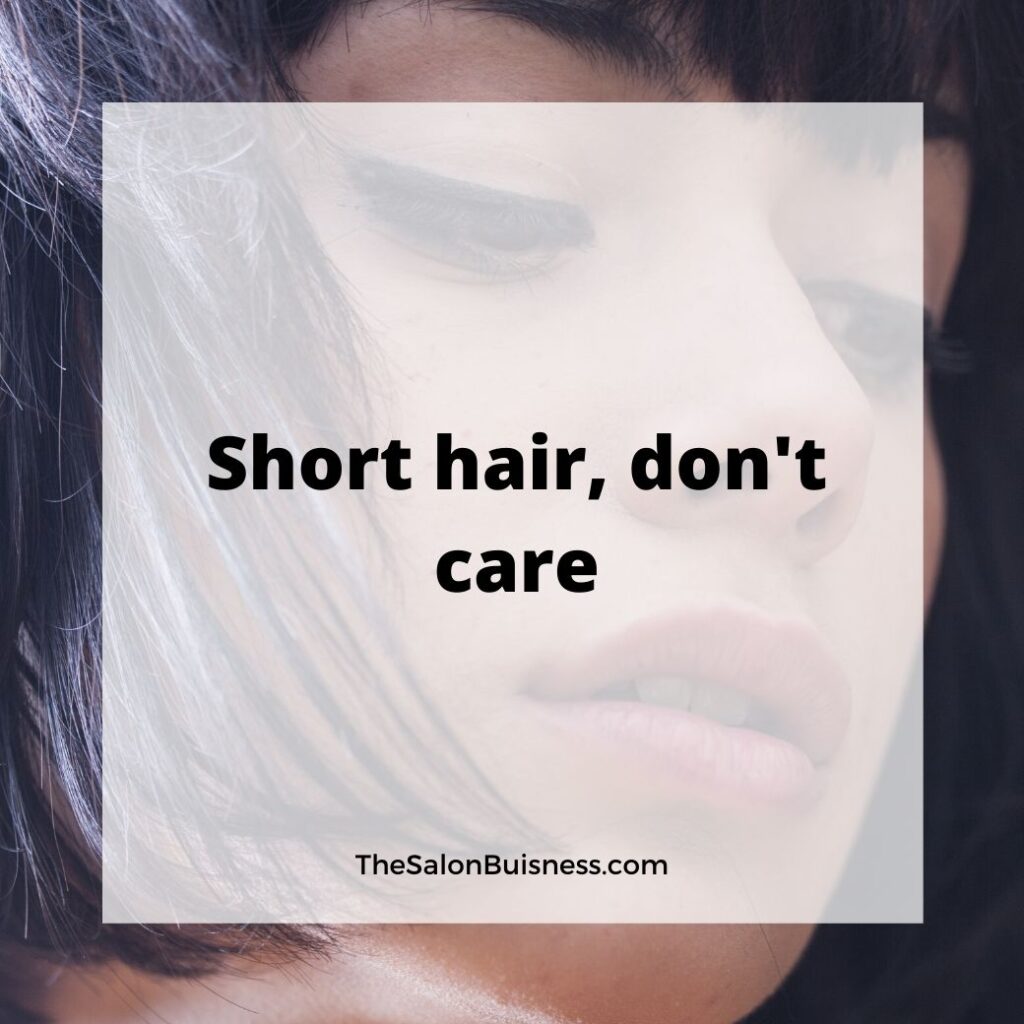 "When life does not allow you to change anything, get a new haircut."

Quotes about short hair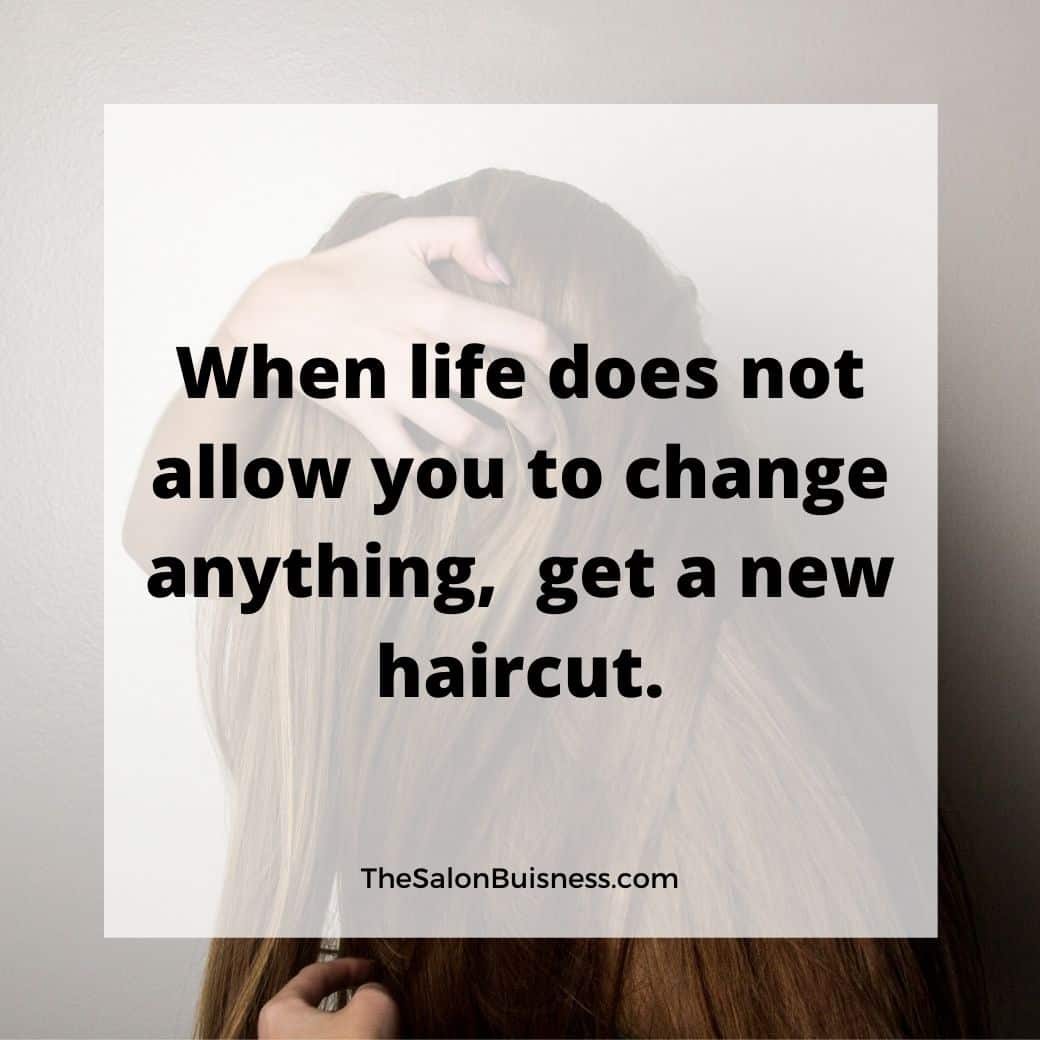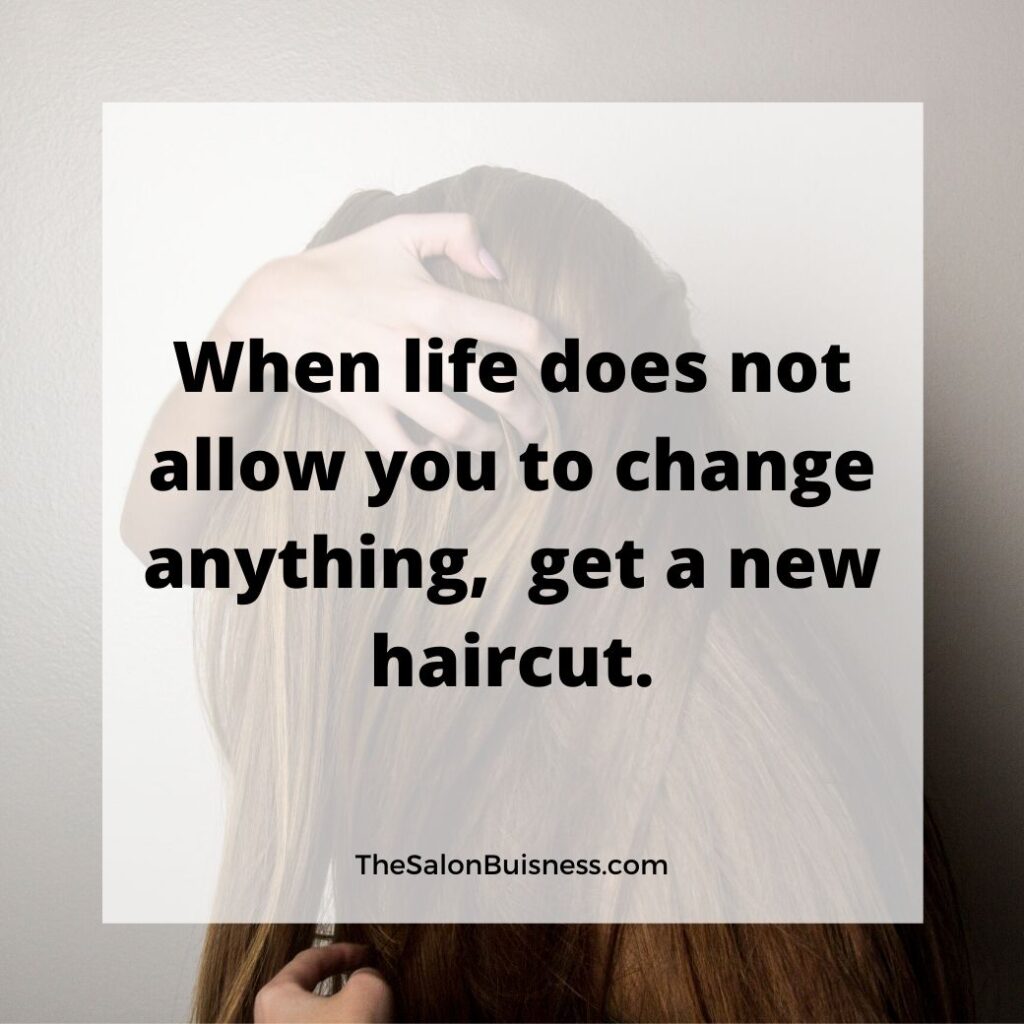 "It's something about a woman with short hair that screams power."

Haircut quotes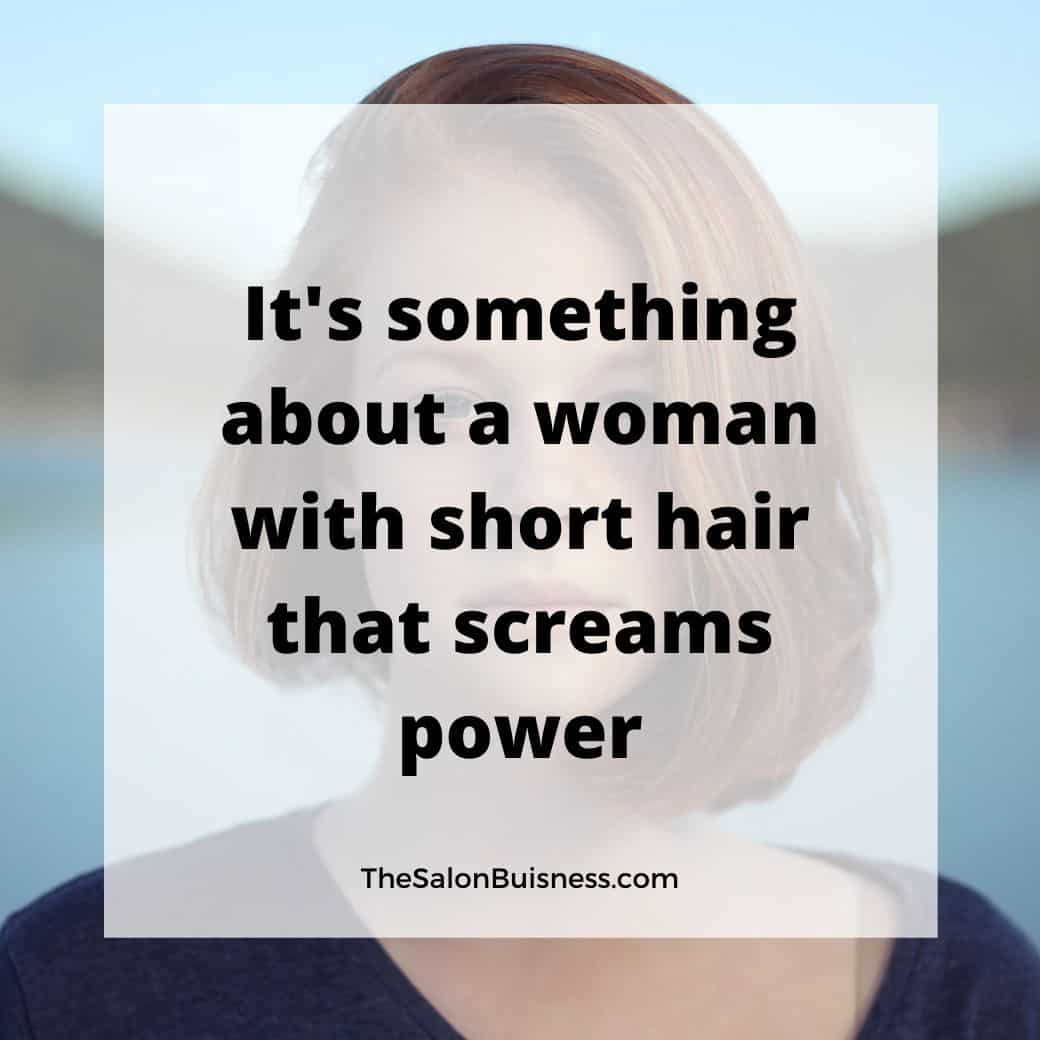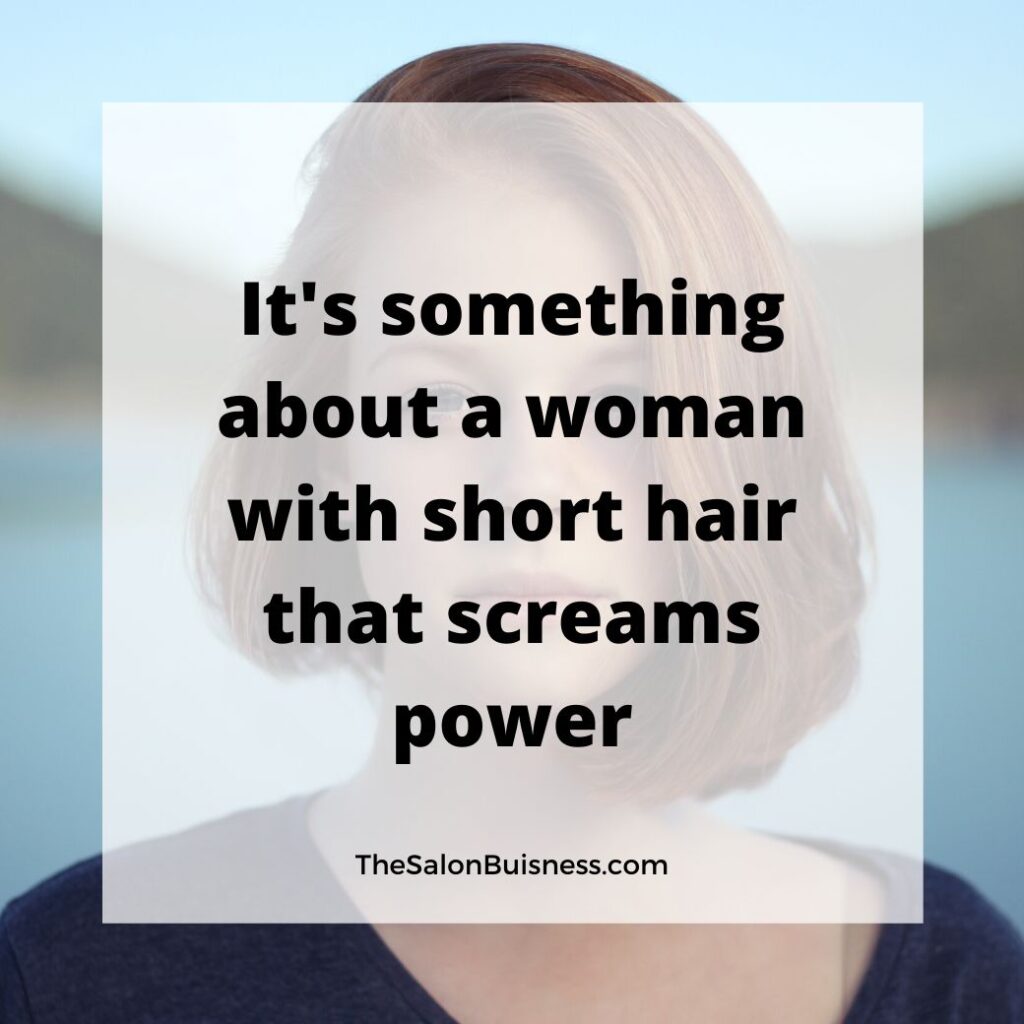 "For a girl – a haircut is not just a haircut. It means her life is changed."

Haircut sayings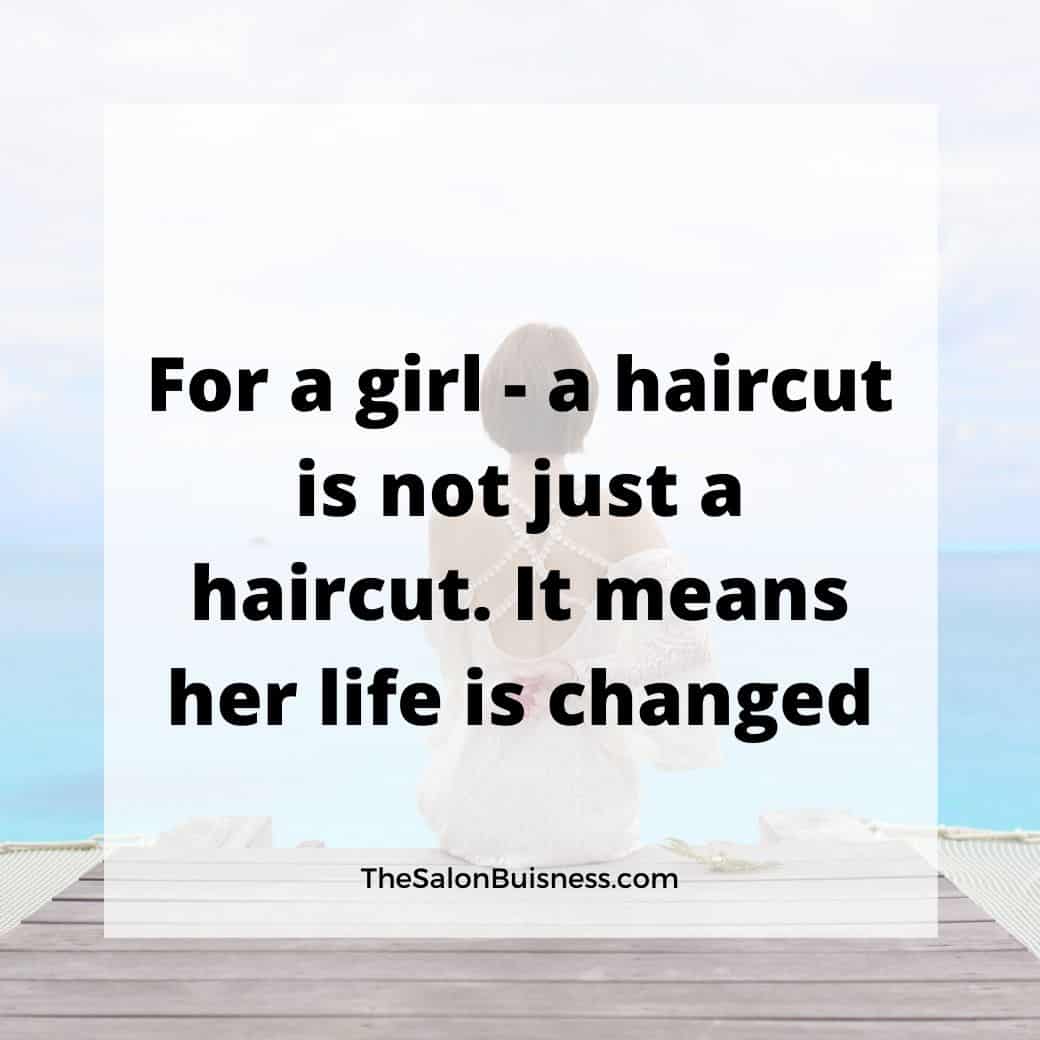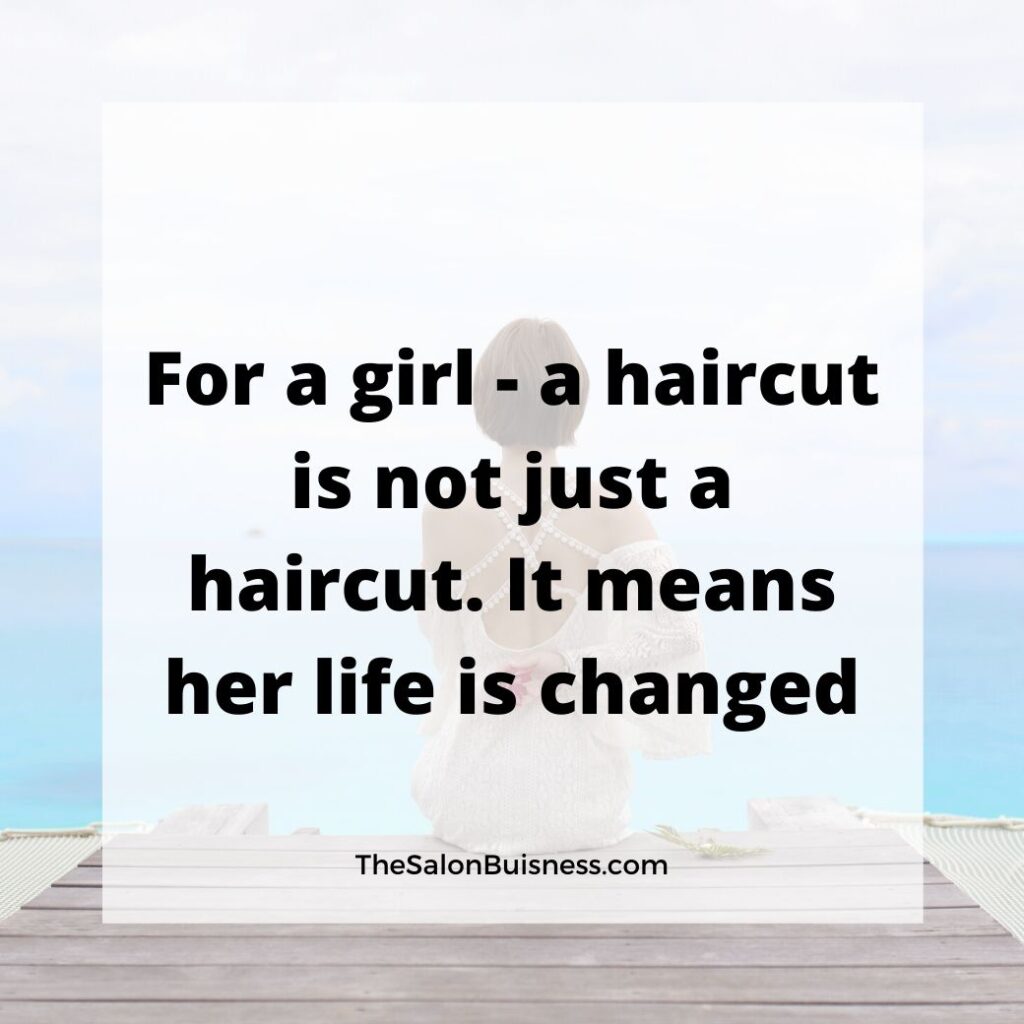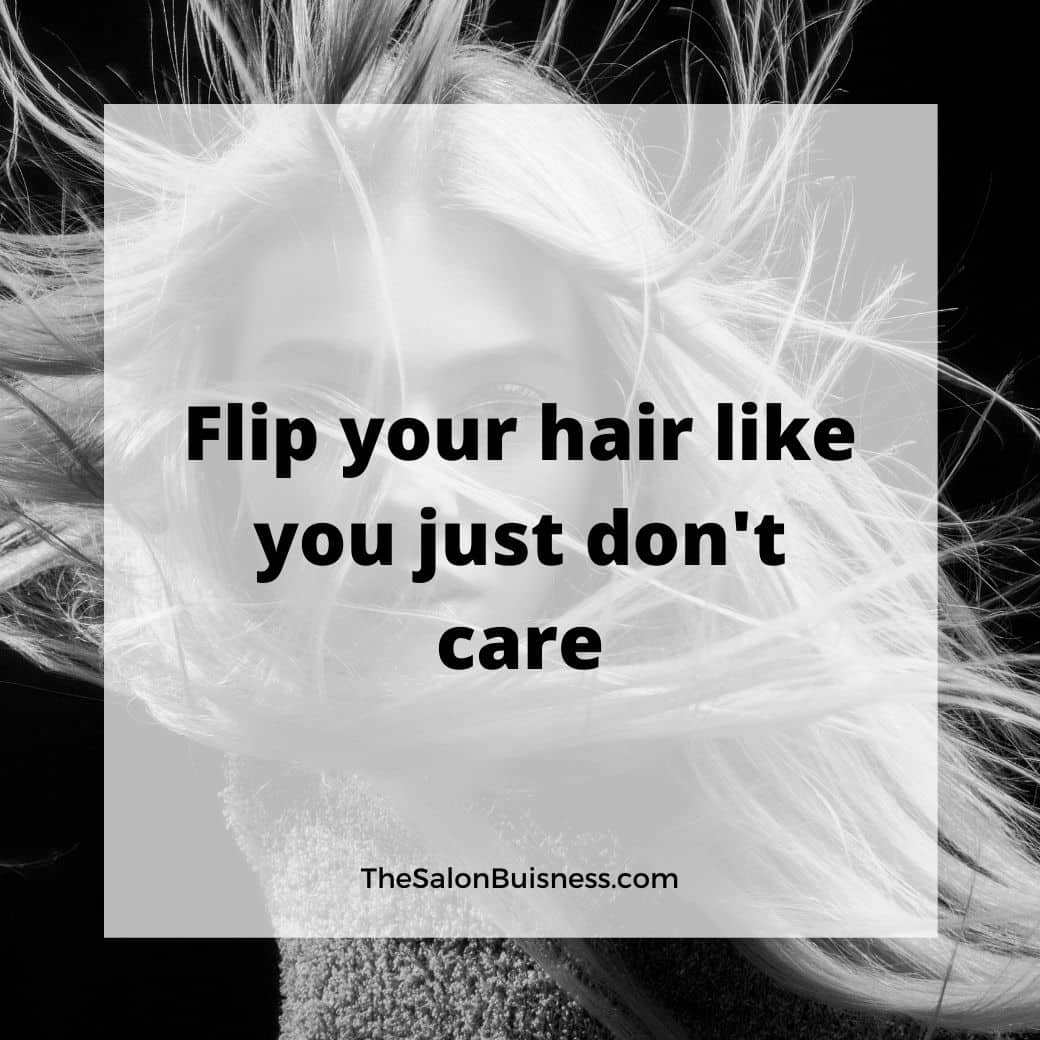 Good Hair Quotes
I want to finish off with quotes that make you feel good.
We all hope to achieve hair that wows and makes us feel confident and beautiful. And honestly, when you have a good hair day it can make you feel sexy, unstoppable, and as if capable of anything (because you are!).
Whether these lingering last few quotes are hair inspiration quotes, funny hair sayings, or good hair quotes in general, let's finish this piece of strong with some words that will leave you with a smile on your face.
Good Hair Quotes Images
"Invest in your hair. It is the crown you never take off."

Good hair quotes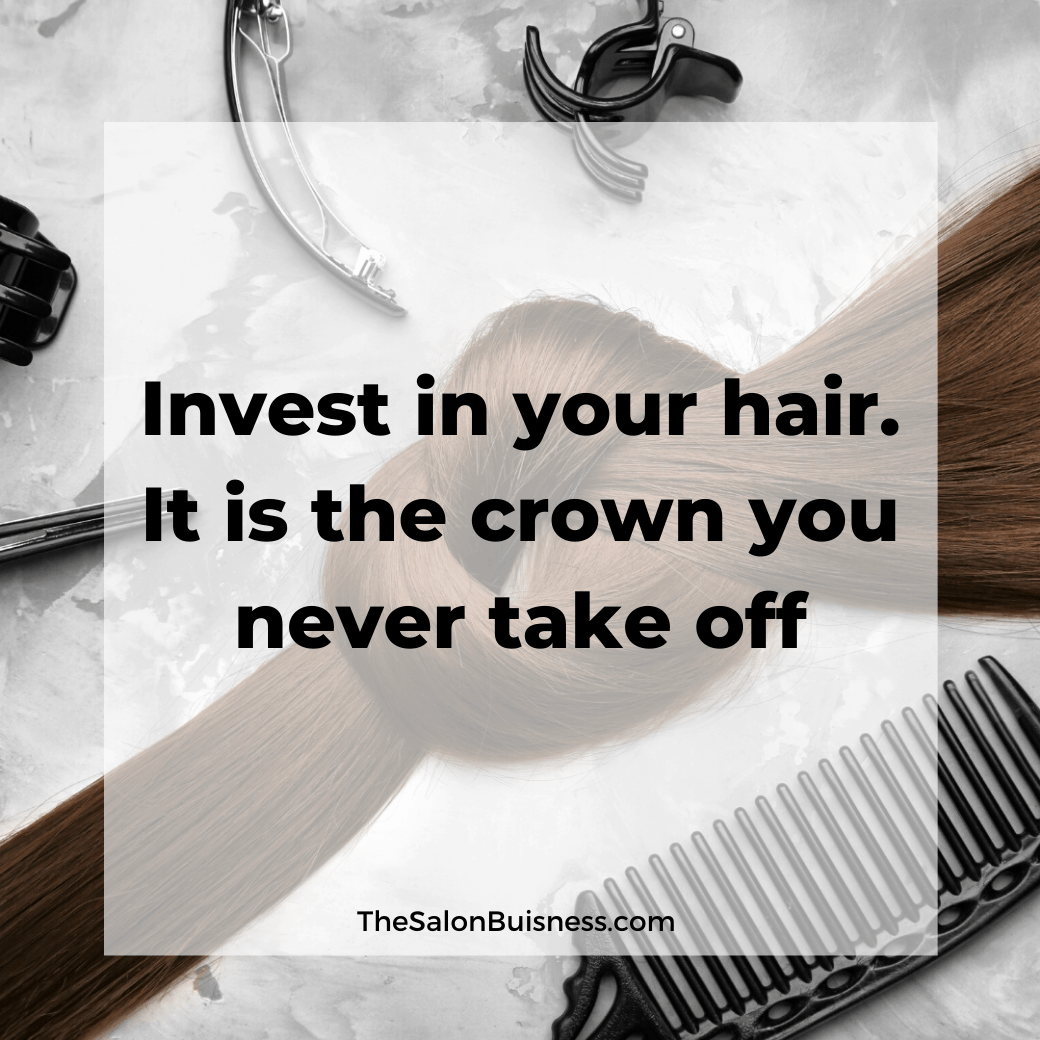 "Good hair days make me feel like I can rule the world."

Hair inspiration quotes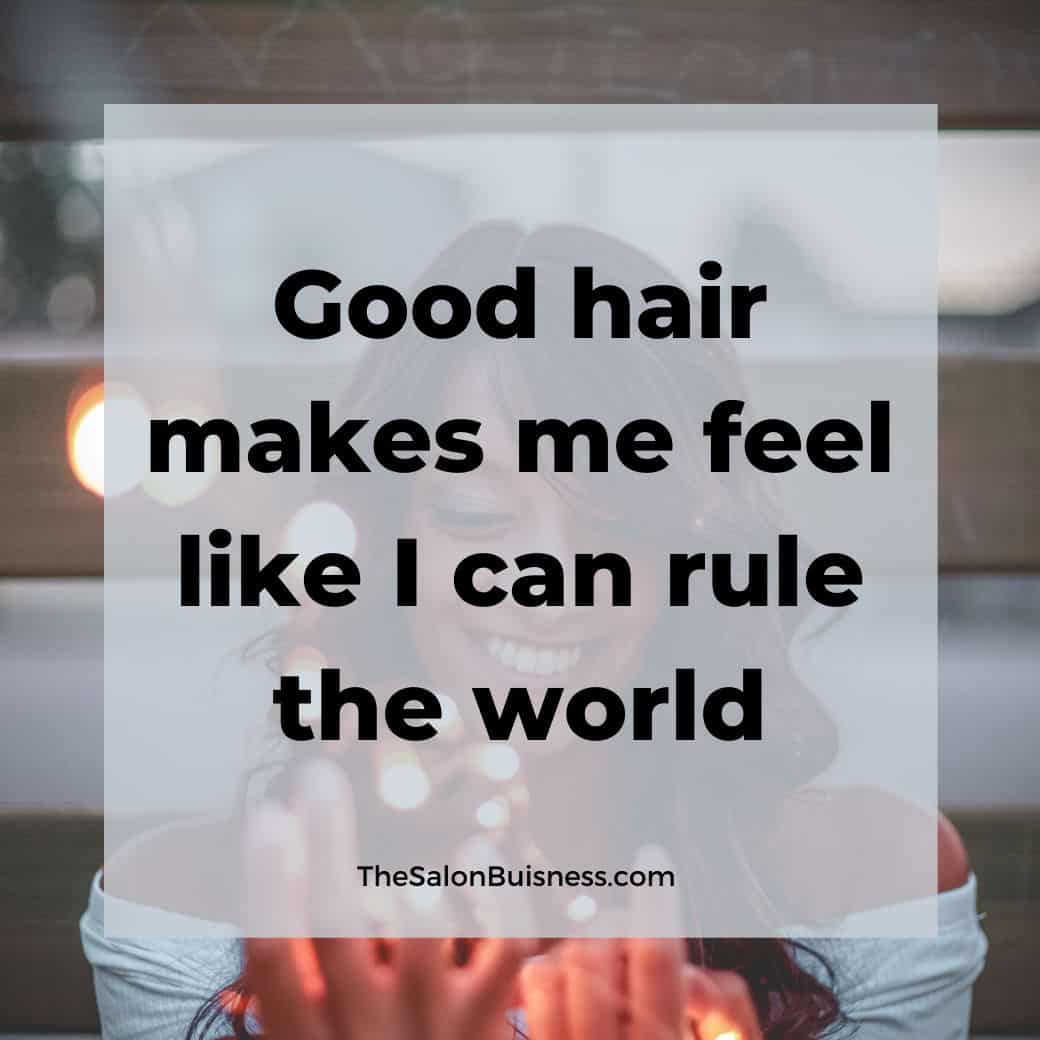 "Can we have a moment of silence for all those good hair days where no one important saw you."

Hair inspiration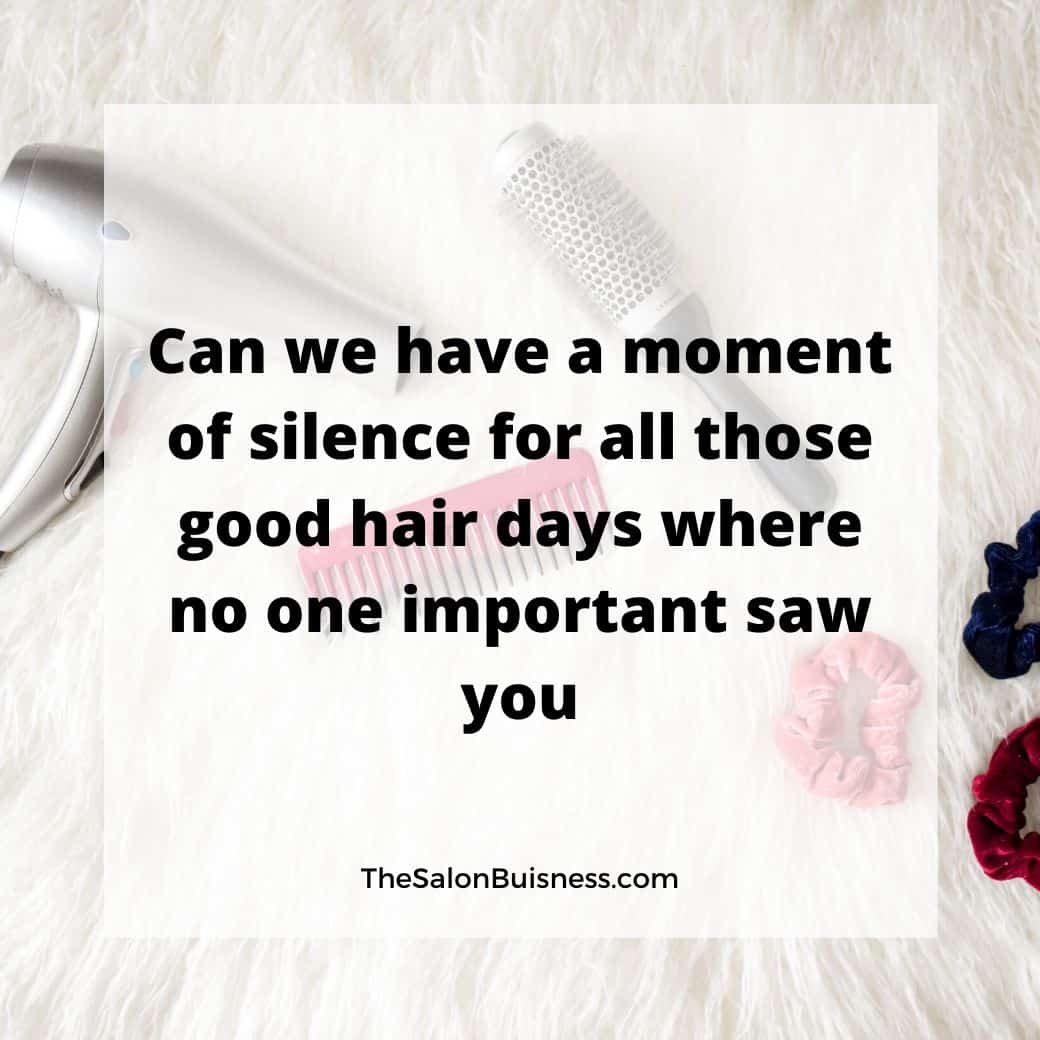 "Peace, love, & good hair."

Hair day quotes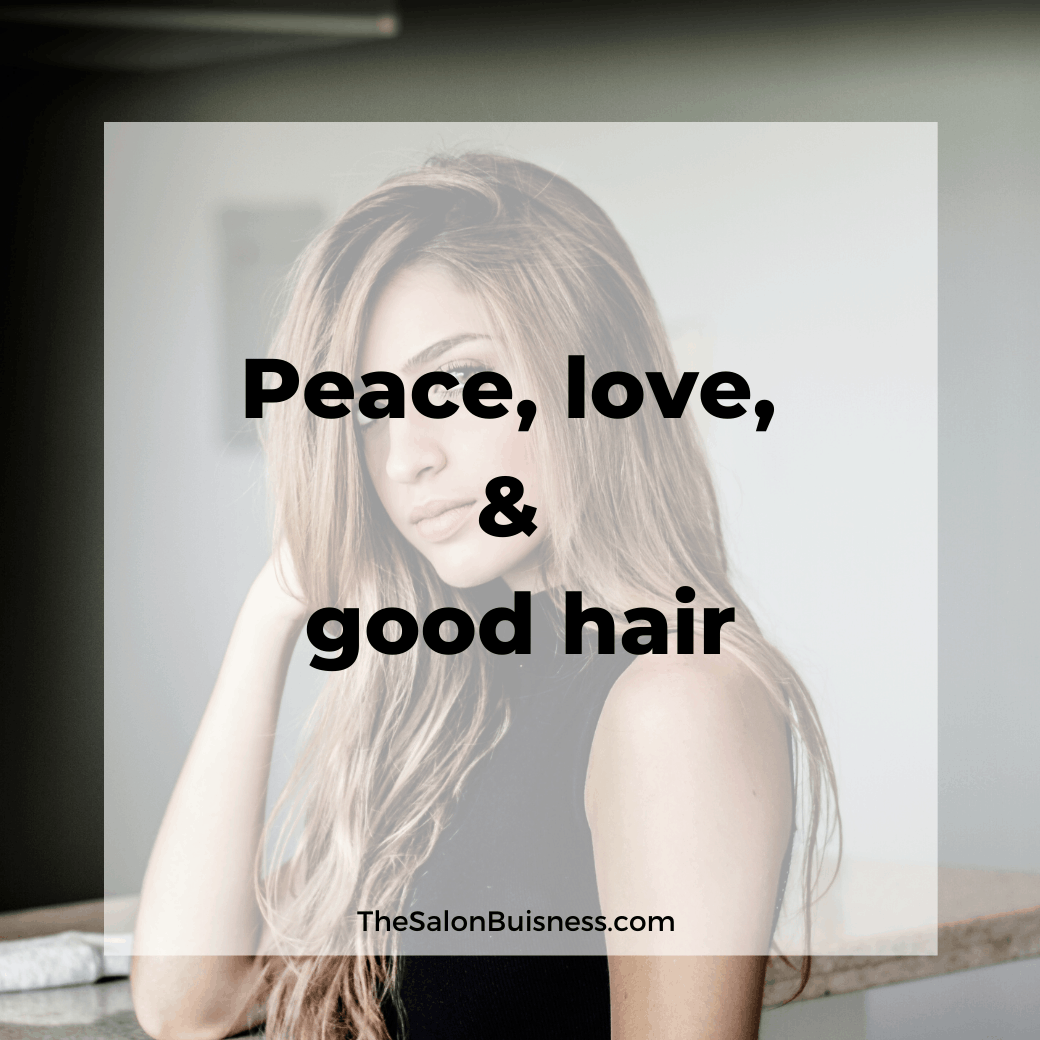 "Good hair speaks louder than words."

Good hair day quotes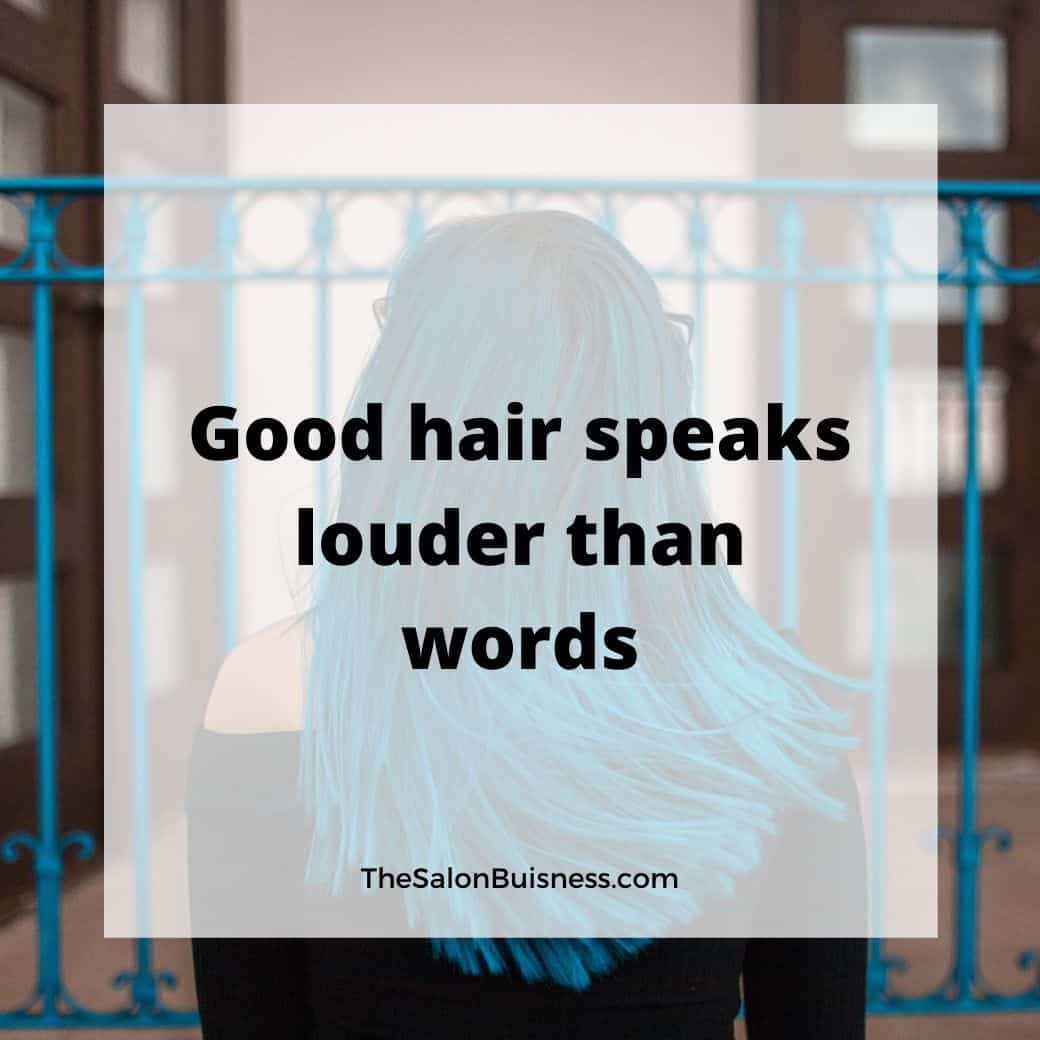 "I hope your day is as nice as my hair."

Hair day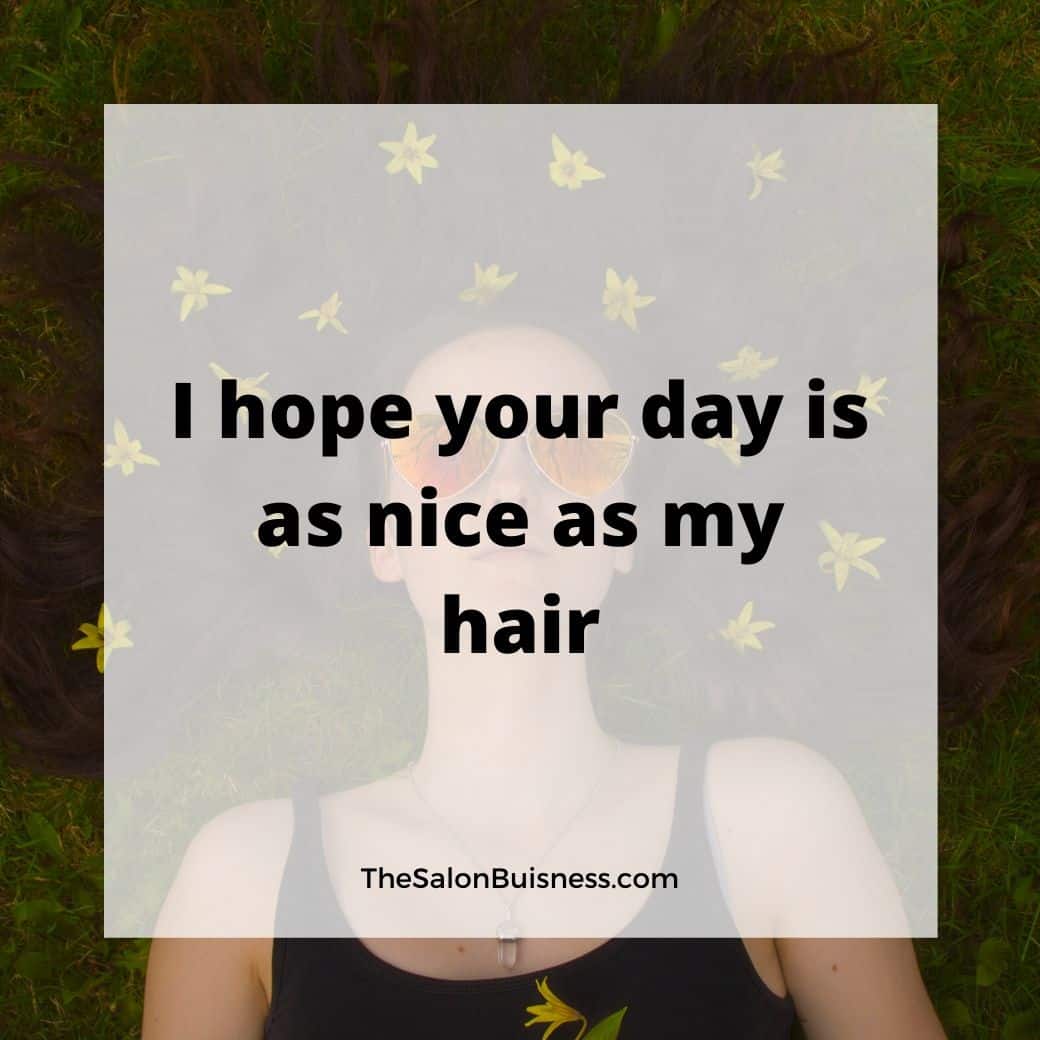 "That's why her hair is so big. It's full of secrets."

Big hair quotes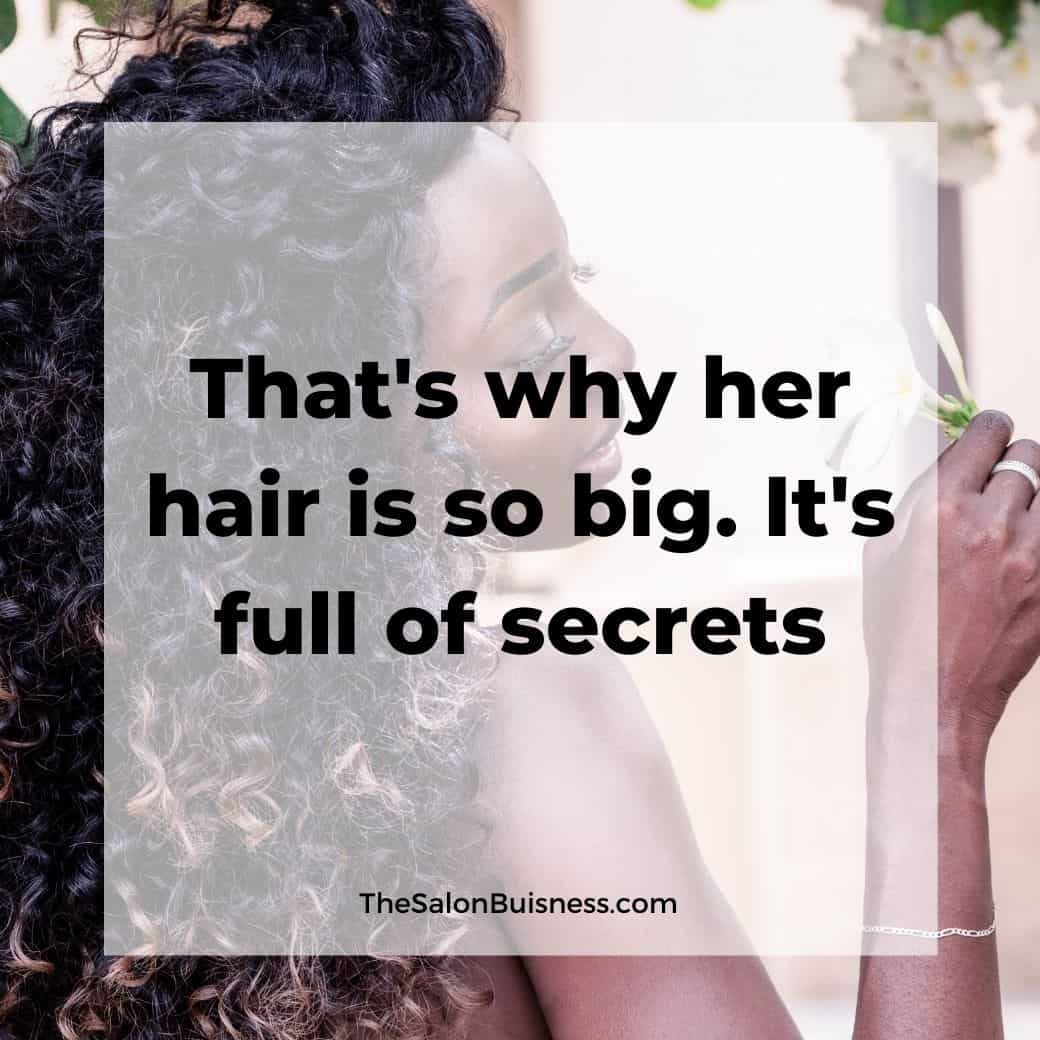 Conclusion
There are many different hairstylist quotes, salon quotes, or even cosmetology quotes out there, but these are some of my favorite quotes I was able to find.
For even more beauty quotes, I recommend you check out my list of spa quotes here. This list is packed with relaxation quotes that I'm sure you'll like even if your focus is hair. You can also find more general hair quotes with images on this list. I've also put together a list of nail quotes that you might find interesting in case you do nail services.
Finally, to level up your salon's social media, I also recommend you check out my social media guide for salons here as well as my list of salon marketing ideas here.