Vagaro and Phorest are two of the most popular salon software systems on the market.
But which one is right for you?
That's what we're going to figure out today.
In this article, I'm breaking down all the main differences between these two all-in-one salon software platforms.
I will lead you through:
A detailed, feature-by-feature comparison
My overall impression of the two platforms and the bigger difference between them
This should certainly clear your mind about your decision: Vagaro or Phorest.
To see how these options stack up vs. the highest-rated salon and spa software platforms in 2023, visit my top list of the best salon software here.
Let's begin!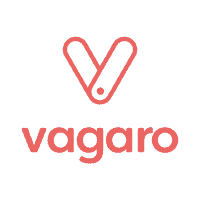 Vagaro – The "All-in-One" Salon Software for Any Small to Medium Size Salon (US, Canada, UK, and Australia)
Vagaro, headquartered in the US, is one of the most popular salon software options. It's the most feature-rich salon software I have come across. And I have reviewed A LOT of salon software 🙂
It's incredible how many features they've put into this software while still keeping it fairly easy to use.
Vagaro offers dedicated POS hardware, integrated payments, comprehensive payroll support, seamless online booking integration with your website, a client marketplace, and rich marketing tools.
And, even if the platform itself is incredibly feature-rich, they allow you to extend with some 3rd party tools that integrate with Vagaro.
Who is Vagaro For?
Vagaro's flexible pricing makes this a good fit for both smaller and more established businesses. Many independent professionals use Vagaro but also businesses with a team use Vagaro.
This also means Vagaro can grow with the needs of your business. I would recommend Vagaro to solo businesses or businesses with a small team that are looking for a solution with a lot of features under one roof.
However, if you have more than 5+ employees, I would consider an alternative for bigger businesses.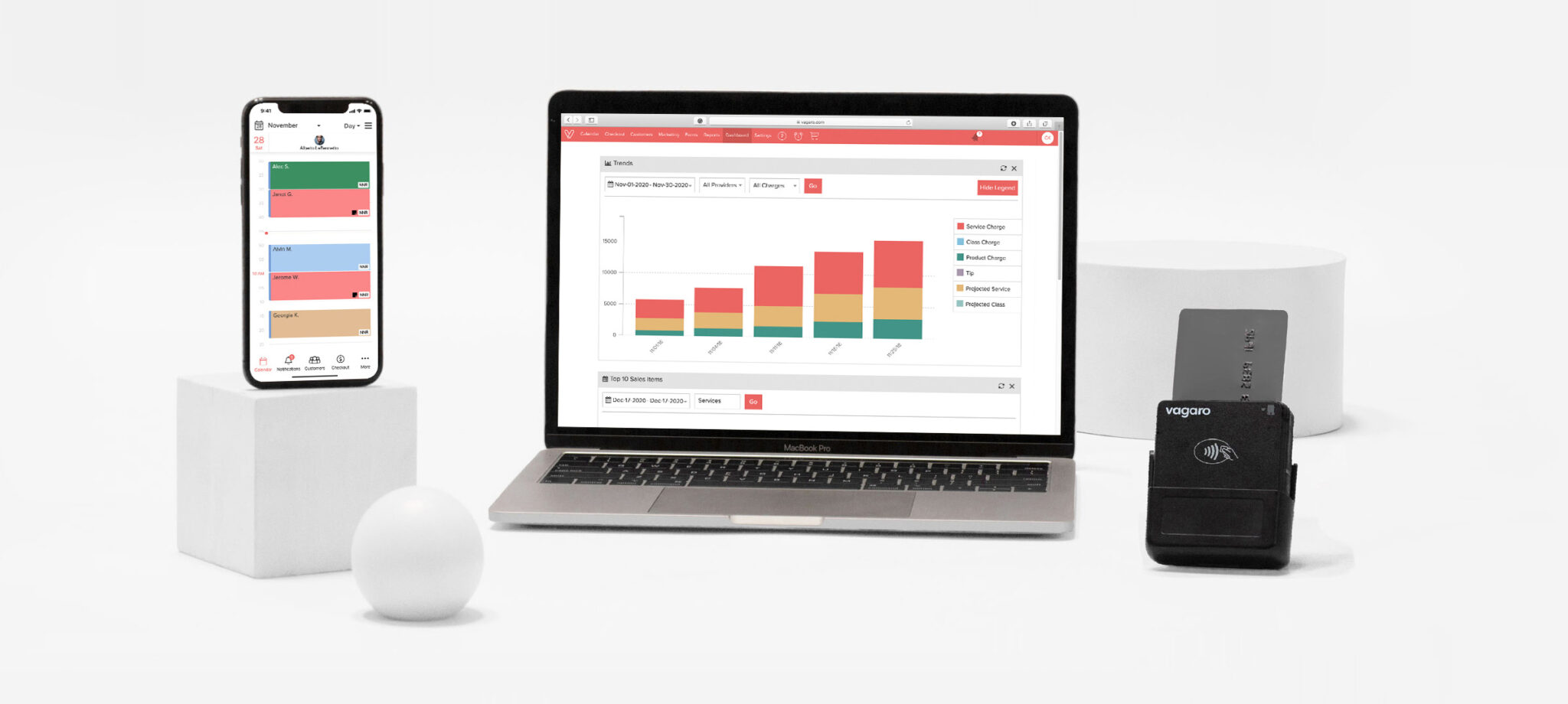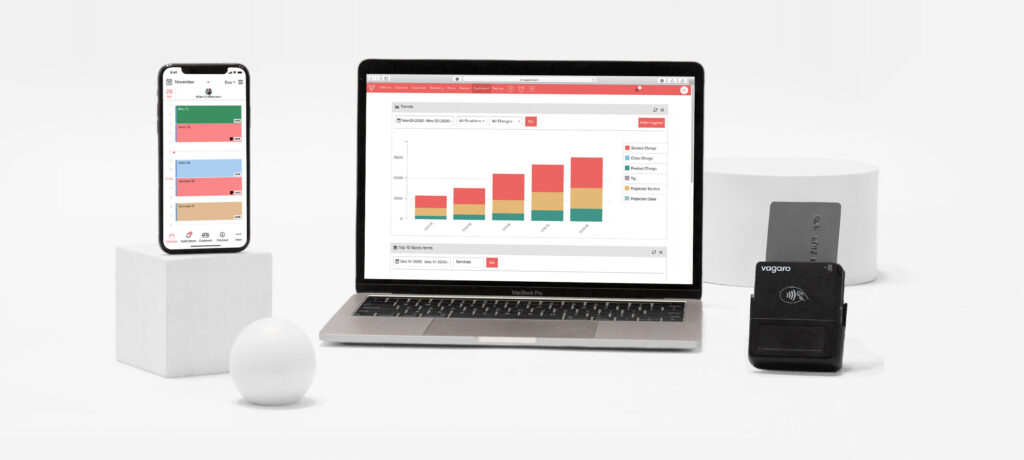 Key Features
Rich integrations support: Facebook, Instagram, Quickbooks, Xero, Gusto, Zoom and your website
A free client marketplace that helps you attract new clients
Vagaro branded POS hardware
Membership features and subscription payments
Payroll software and ability to charge booth renters
Basic website builder
Customer data tracking (including SOAP forms)
Easy-to-use, drag-and-drop calendar
Email and SMS marketing tools
Advanced business reporting
Free 30-day trial and very affordable pricing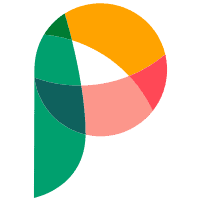 Phorest – The "All-in-One" Software Designed for 3+ Employee Salons (US, Canada, UK, Europe, and Australia)
Phorest, headquartered in Ireland, is one of the most popular all-in-one salon software solutions.
They offer full salon business support – point-of-sale, appointment management, reporting, inventory management, and go the extra mile with their sophisticated marketing features.
They do not have their own client marketplace but instead focus on providing industry-leading marketing features to salons that partner with Phorest. Although many of the marketing features they list can be found in other software, you'll see that they go a step further to support you with, e.g. a spell-checker, photo editor, and smart automations built into their marketing suite.
Who is Phorest For?
Phorest is for the salon with 3+ employees. You can use the software if you're a solopreneur or have a smaller team but their pricing also reflects bigger business support.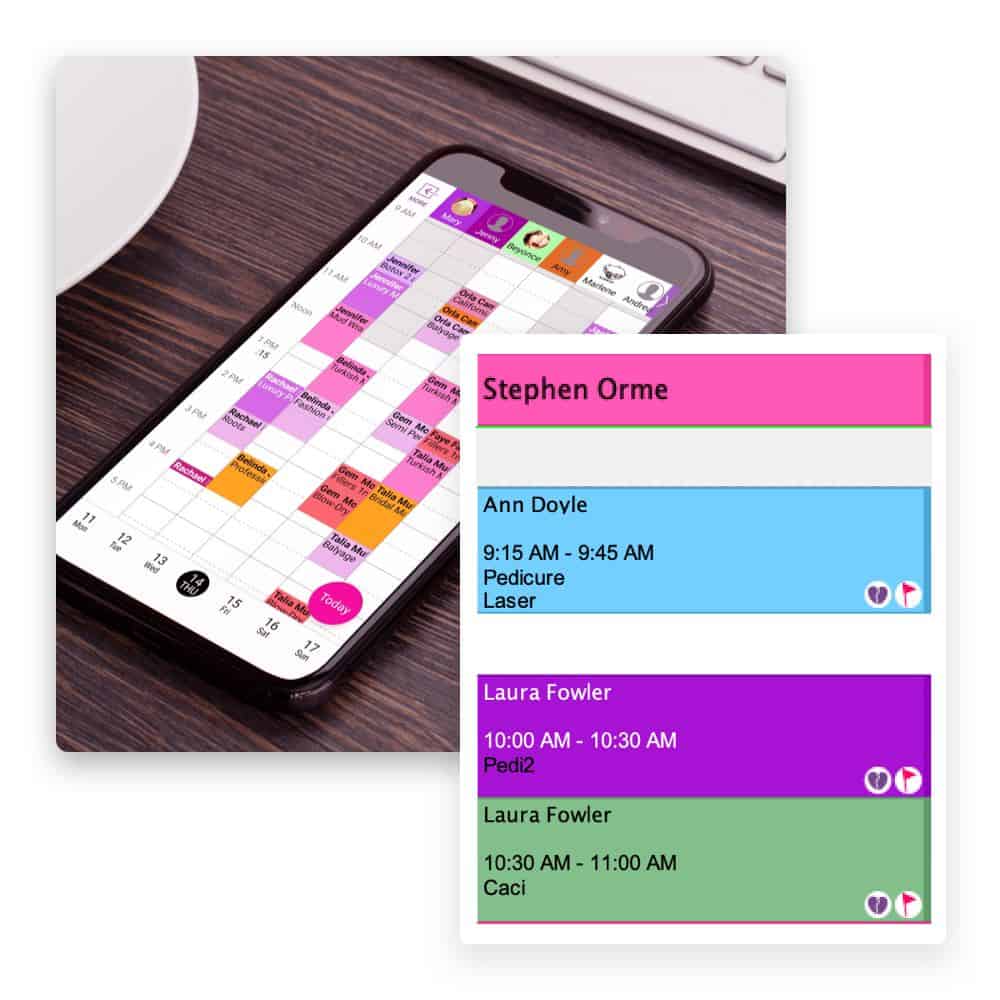 Key Features
Online reputation manager for getting reviews on Google, Facebook, and Yelp
A dedicated business advisor for helping users increase profits
Branded loyalty cards "TreatCard"
Client ReConnect for sending automated emails to customers based on their booking histories
Easy migration for transferring information from other salon software
Stocktaking app that can scan the barcode with a smartphone
PhorestPay payments and accounts powered by Stripe
Unlimited users at no extra cost
Feature-by-Feature Comparison
In order for you to understand how the different systems compare in features, I have created a table that summarizes what the platforms support and not.
Naturally, it would be impossible to list every single feature and nuance of feature here, but I've tried to focus on the core elements and features where the platforms differ.
Online Booking & Appointment Management
Deep-link stylist/ service
Sell video streamed content
Automated review requests
In-house design services (e.g. logo)
SMS & email notifications
Advanced business reports
3rd party payroll integration
My Top Salon & Spa Software Alternatives
Here's my salon & spa software top list for 2023.
To see more alternatives, visit my complete list of salon and spa software recommendations here.
Supported Countries & Cost
Deciding on the right system for your salon business is not only about features – pricing and supported countries will likely also be deciding factors for you.
Geographies:
Vagaro is available in the United States, Canada, Australia, and the United Kingdom, with all functions accessible. People from other nations can also use it as it is cloud-based but cannot take advantage of integrated payments or local support.
Phorest is available in the US, Canada, the UK, Europe, and Australia. Phorest Pay is connected to Stripe Terminal, currently available in the United States, Canada, United Kingdom, Austria, Belgium, Denmark, Ireland, France, Germany, Netherlands, Spain, Sweden, Australia, New Zealand, and Singapore. Stripe will be expanding to more countries in 2022.
Cost
Vagaro:
Free 30-day trial
Free personal demo and data import from any other software
Free live weekly training classes and 24/7 customer support
$25/month for individuals and $10 for every additional user up to 7 service providers. Everyone after the 7th user is free.
Some features cost extra and can be turned on or off
Phorest:
No free trial but you can book a free demo with a sales representative.
No publicly available price information. Our latest knowledge is that their pricing starts at $99/month. Contact Phorest for an exact price quote.
Overall Impression and Key Differences
Clearly, both Phorest and Vagaro are great software that both receive high user rating scores from their customers. So you'll be with a good partner whoever you choose to go with.
However, as you'll have seen in this comparison thus far, there are some key differences that I want to call out and draw your attention to.
Pricing
The starting price for the platforms is quite different. Our latest knowledge is that Phorest starts at $99/mo and Vagaro $25. But, given that Phorest is positioned for bigger salons (3+ employees) you get support for unlimited users. If you wanted unlimited users with Vagaro you would be charged $75/mo (which is not too far apart).
As Vagaro has fully transparent pricing visible on their website, you can see exactly what you would pay based on your size team plus any add-ons you need. With Phorest, you need to request a quote based on your needs. Thus, if you are considering Phorest, I recommend you do that so that you can make an informed decision based on the exact cost for your business.
Client Marketplace
Another key difference is that Vagaro offers a marketplace where potential new clients can find your business. What I think is really cool with Vagaro's marketplace is that it's free and they don't charge you if a client finds you there. Most other marketplaces will charge you a fee if they help you attract new clients.
Phorest has made the decision to not offer a marketplace feature. They explain this on their website like this: "Phorest doesn't run a salon marketplace or directory, like some other salon software providers. That means we won't pit you against other salons in your area, appealing to customers shopping around for the lowest price."
In the end, you always control your pricing but if you value access to clients on a marketplace or not may be another deciding factor between the two options.
Integrations
Both Vagaro and Phorest are doing a good job at offering a lot of features built-in to the platform. So you can really run your total business using only one of the systems. However, if it's important for you to be able to integrate with a 3rd party software (like Quickbooks), you'll find more integration support with Vagaro.
Both platforms allow you to integrate a booking widget on your website. But the way they do it differs. Phorest uses a floating booking widget, meaning you see a button for booking wherever you go on the website. When clicked, this pulls up the booking flow.
Vagaro allows you to integrate your booking experience directly inside your website. In fact, you can even integrate Vagaro gift cards and your online store. When linking to the booking page, you can also "deep link" a specific member of staff or service. This can be helpful if e.g. one of your team members wants to promote their service on social media.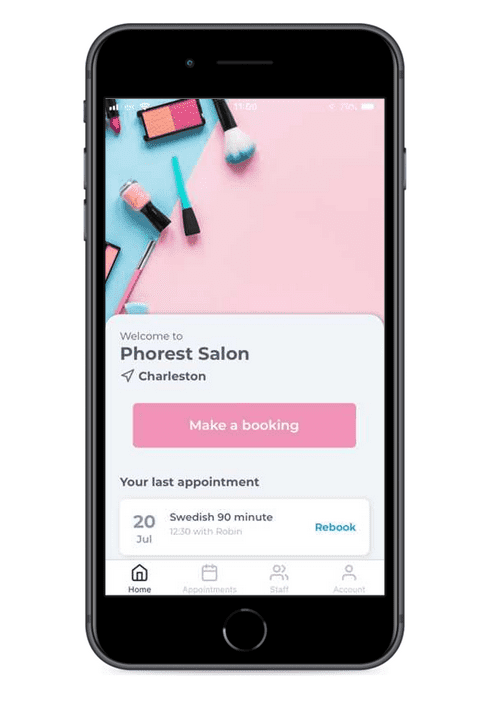 Hardware
Both Vagaro and Phorest run in your web browser or using an app on your tablet device. This is most likely how you will be using the system but if you want a more professional-looking POS unit, it would only be Vagaro that offers a specific PayDesk solution for this.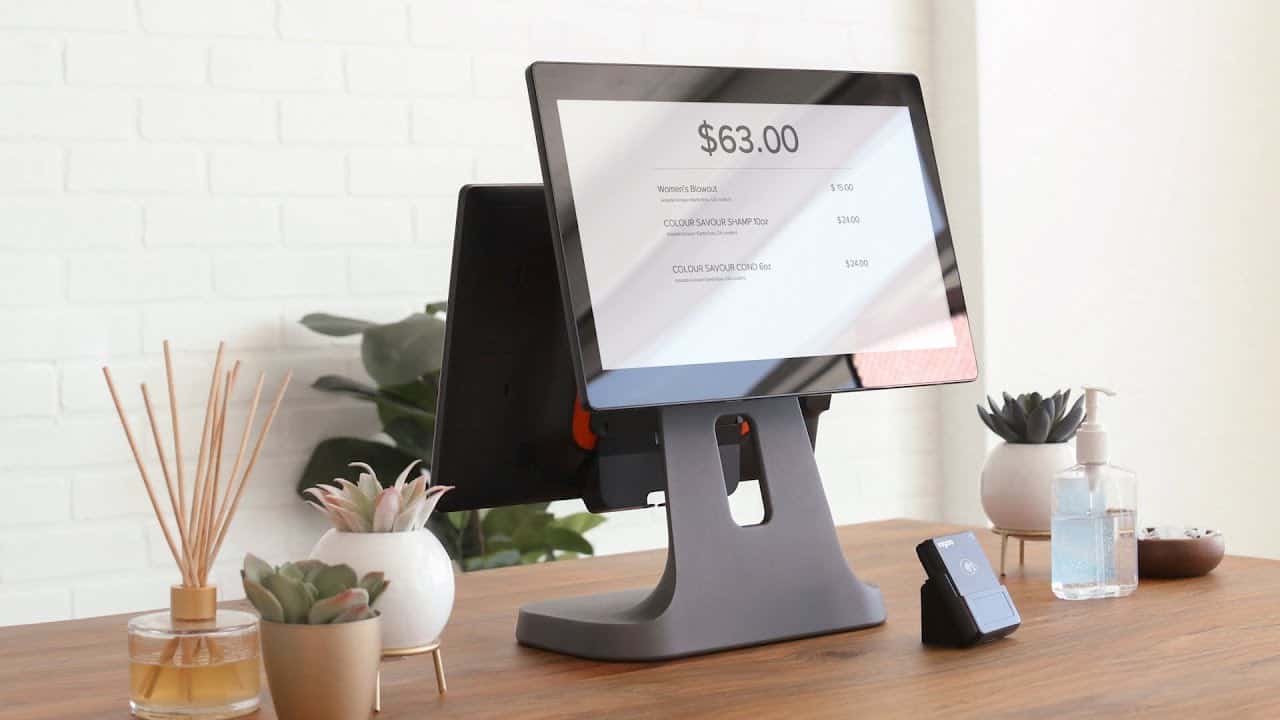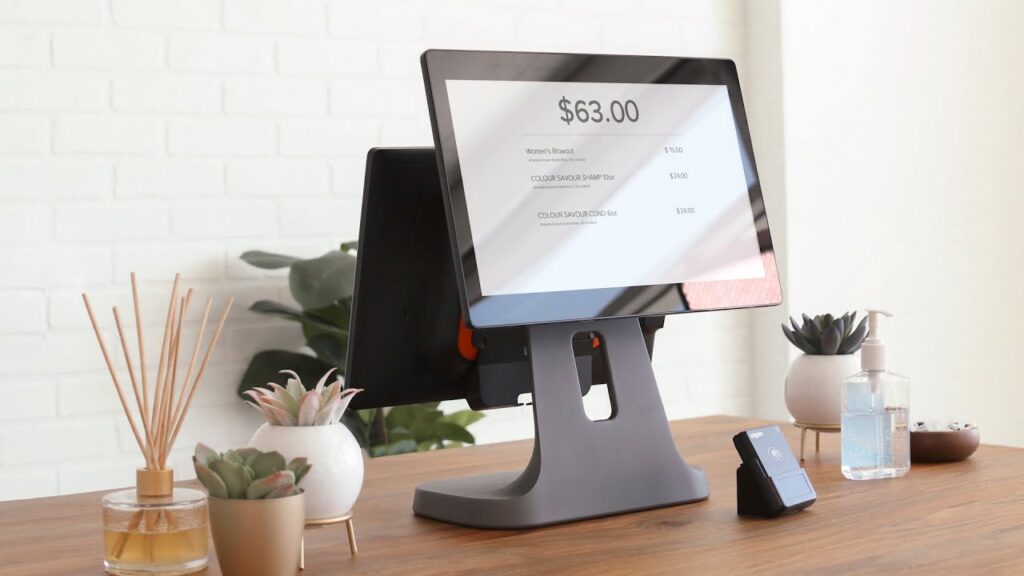 Summary & Conclusion
So, which program is suitable for you and your salon?
Vagaro is the platform I have worked with most, so I have more personal experience with Vagaro than Phorest.
However, they are both two robust platforms with high user reviews. This is also why I wanted to compare the two like this.
They both have their pros and cons, but I still favor Vagaro. The main reason is that it allows for integrations to a greater extent than Phorest, with other systems but also with my website.
Now, that is just me. Other features may be more valuable to you.
And Phorest is likely a better option for European salons, given their local presence there.
In any case, I hope this breakdown of features and support has helped you decide which platform you should go with.
I strongly recommend you also check out my list of the best salon software right now. In this list, you'll also be able to compare these options to the highest-rated alternatives.
It's time to get started and try out the tools for yourself.