Disclosure: This post may contain affiliate links, meaning we get a small commission if you decide to make a purchase through our links, at no cost to you. TheSalonBusiness.com is a subsidiary of Mangomint.
Learn more...
Imagine you wake up in the morning and your beauty salon business has already generated $200 without you opening the doors yet.
Wouldn't that be a relief?
Running a beauty salon is tough work. You need to work on your salon marketing, manage teams and clients, and perform superior service.
I'm sure you agree with me when I say this can be stressful at times. You need to make sure your business is generating more income than cost or you'll go bankrupt. A pressure that can be tough to carry…
But what if you could reduce that pressure?
What if you could find new, additional, ways to earn income without you having to be there 100% of the time? A side income that covers your fixed costs so that you can focus your attention on growing the business in the salon?
In this article, I'll take you through 5 salon business ideas that can achieve exactly that.
Are you ready?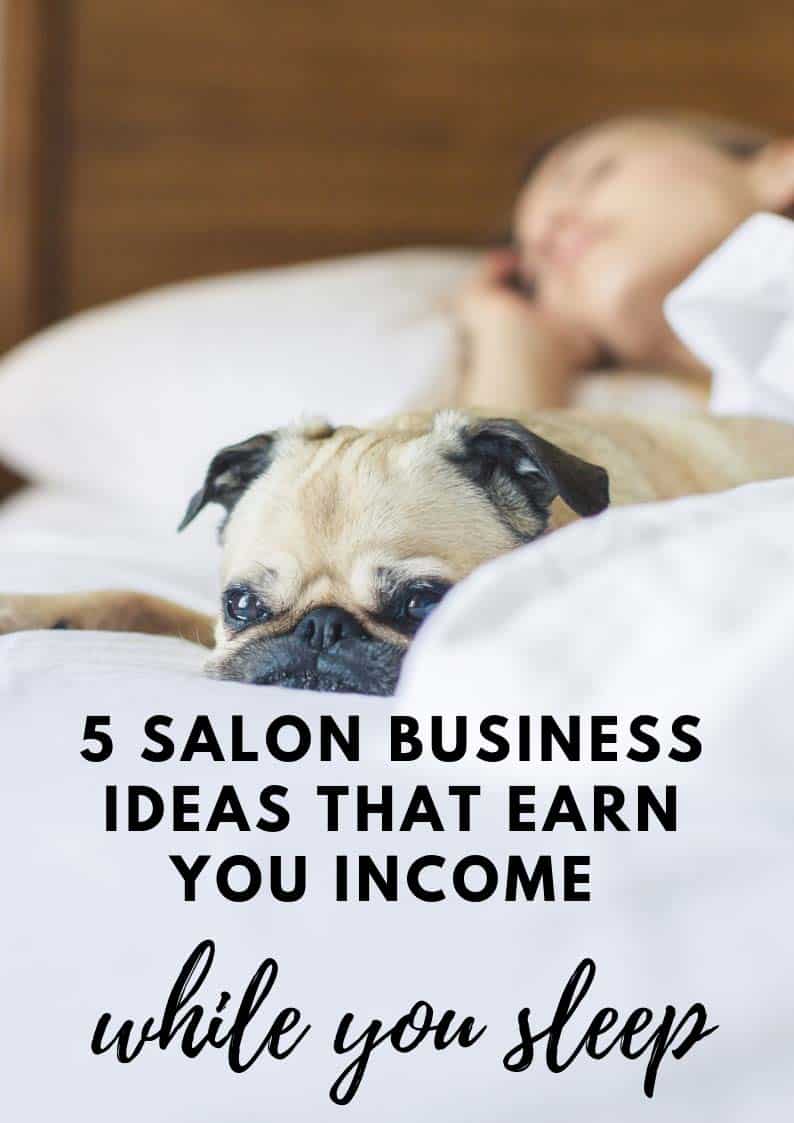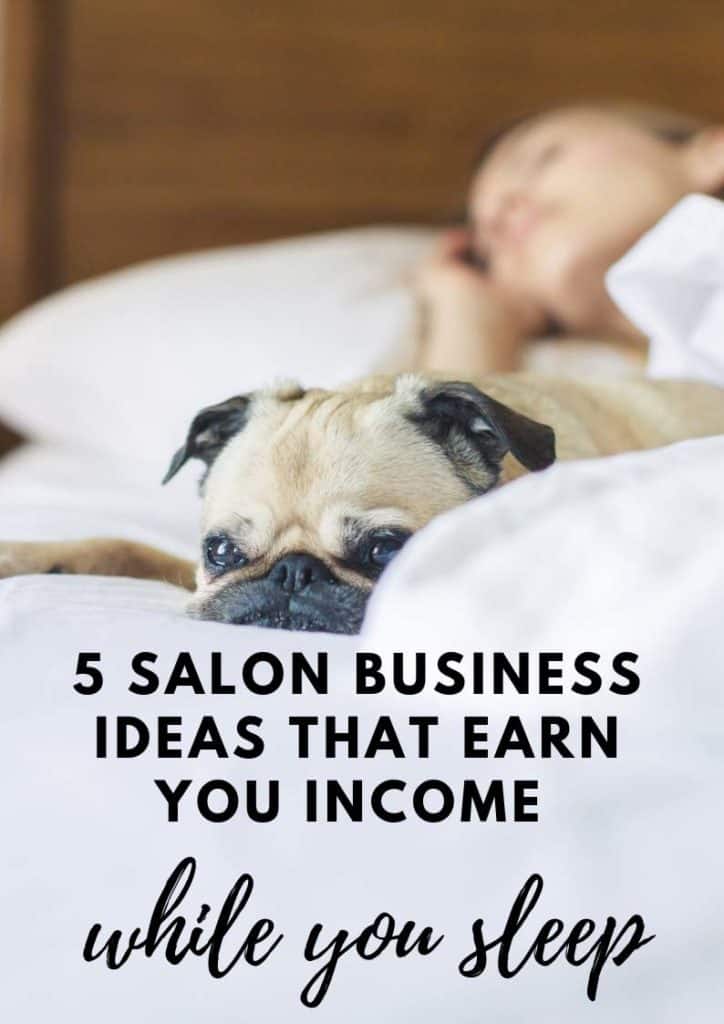 Creating Helpful Content in Your Salon
Are you able to answer the beauty-related questions that your salon clients keep asking you about?
Then you could earn an income online by producing relevant and helpful content in your salon. A big benefit of an online content business is that it can earn you an income 24 hours a day 365 days a year. People are always looking for answers and inspiration on beauty topics. So if you can help them get those questions answered, you can earn good money.
How Does it Work?
The idea behind an online salon content business is simply to give the best possible answer to beauty-related questions that people have. When people then view your content you can earn income by showing them ads.
As you build up more and more content, you'll get more and more people that'll view or read your content. This way you'll start to increase your income from your content.
Where Can I Publish My Content?
There are many different platforms out there that you can use to publish and monetize your content. You should pick the one that you feel most comfortable with. Here are some examples:
Salon Blog
This is what you're reading in this article right now. It's easy to get set up with a blog and to place ads on it that can earn you income.
I would recommend using a blog if you enjoy writing as you will be publishing a lot of text and photos on your blog.
The way you get people to come to your blog is typically via Google or other search and social platforms like Pinterest. At least today, these are the two biggest sources of traffic to blogs. So you want to make sure your salon shows up in search engines when people are asking questions that you have the answer to.
To increase your chances that your blog show up, you'll need to make sure the different posts you write are optimized for search engines and include the specific keywords that people will be searching for.
When you start getting traffic on your blog, you can monetize it by placing ads on it. Bombarding people with ads is not a good long-term strategy as the user experience will be bad and you'll start to lose traffic. So you need to strike the right balance here. The most commonly used ad provider is Google Ad Sense which is free and easy to use.
What you should be aware of if you go with a blog approach to earn an income is that it takes some time before Google and other search engines index your content. So you might be putting out a lot of content without seeing any traffic until 6-12 months later.
But when you finally start getting traffic from search engines to your blog you will benefit from it for a long time and that traffic will earn you money while you sleep.
To get started with a blog, you can read my article on my recommended salon website builders that you can use to create your salon blog.
Salon YouTube Channel
Are you comfortable being on camera?
Then creating a YouTube channel for your salon can be a very good idea. Video is the fastest-growing content on the Internet and you have a lot to gain from getting involved with video.
A lot of questions asked by your salon clients will be about how to do something. E.g. how to do a certain braid or how to do a specific nail art. These type of questions calls for a visual answer so which video is great for.
Video is also more personal than writing so you'll have a better chance of building a strong relationship with the person consuming the content than when writing.
I am sure you've noticed that sometimes you watch a video on YouTube, and you'll see a few-second ad before the actual video plays. This is one of the ways people earn income on YouTube. To get started with YouTube, I'd recommend you look for free training to learn the basics.
Getting Going with Online Salon Content
This salon business idea of creating content is about helping people by giving them the best possible answer to their questions. There are more ways you can do this than via blog and YouTube, but these are good places to start. 
Earning income on content takes some time in the beginning. You'll need to learn how to create good content, you'll have to produce it, and you'll need to have patience until your content is starting to show up in search engines and you receive the traffic.
It's not going to be an overnight success.
But if you work on it constantly over a period of time, you'll get there. You already have a lot of resources to do it. You have a salon to film in, you have desired beauty skills, and you may already have a social network of followers you can start promoting your content to immediately.
There's a lot that can be said about creating content for the web and I hope you got a good first introduction here to what it means. There's certainly a lot more you can learn about starting a YouTube channel or getting started with your blog. So I'd recommend you check out some of the free training resources for this on Skill Share.
Offer a Salon Service Subscription Model
Think Netflix.
Many industries have introduced subscription models and with that disrupted their industries. I'm sure you're subscribed to a service like Netflix for films or Spotify for music.
With subscription models, the consumer of those services feel they get more value out but at the same time, people are spending more money than they did before these services came out.
The membership and subscription model is also starting to find its place in the salon industry. Take the Rouge Make-Up Salon for example. They offer their client's a $250/month subscription service which entitles their clients to drop in at any time for a makeup or waxing service.
Another example is the Society Hair Salon which offers unlimited blowouts for $120/ month or unlimited haircuts for men for $80/ month.
The benefit of having a subscription-based business is that you know you will have a regular flow of income to your salon that is easy to predict. It's also still a unique approach that can set you apart from other salons in your area.
If you think memberships are a model that can appeal to your clientele, why not try them out?
Mangomint has a feature that can help your salon increase revenue and keep your clients coming back.
Mangomints membership feature is intelligently designed to help you create and manage custom plans, and automatically charge your clients on a monthly or annual basis.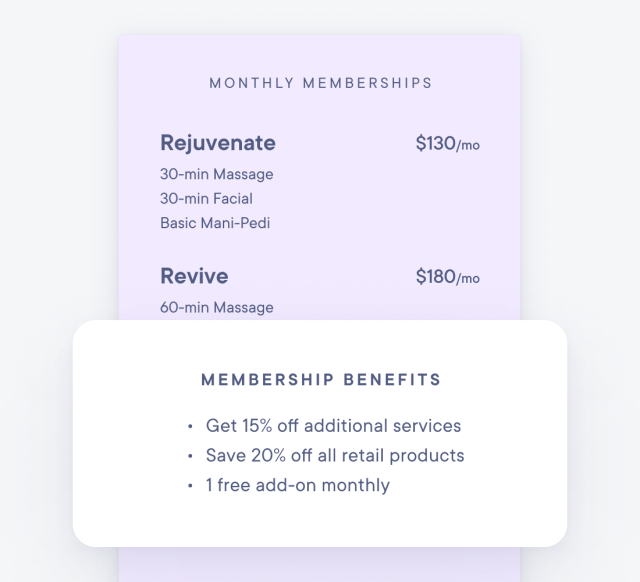 This means you'll have a reliable cash flow and improved client retention, resulting in increased profits for your salon.
Not only that, but Mangomint also offers support for both automatic and manual payments of membership fees. You can choose to enable automatic billing to charge your client's cards-on-file at the beginning of each billing period or opt for manual payments to generate a new sale that can be handled manually when payment is due.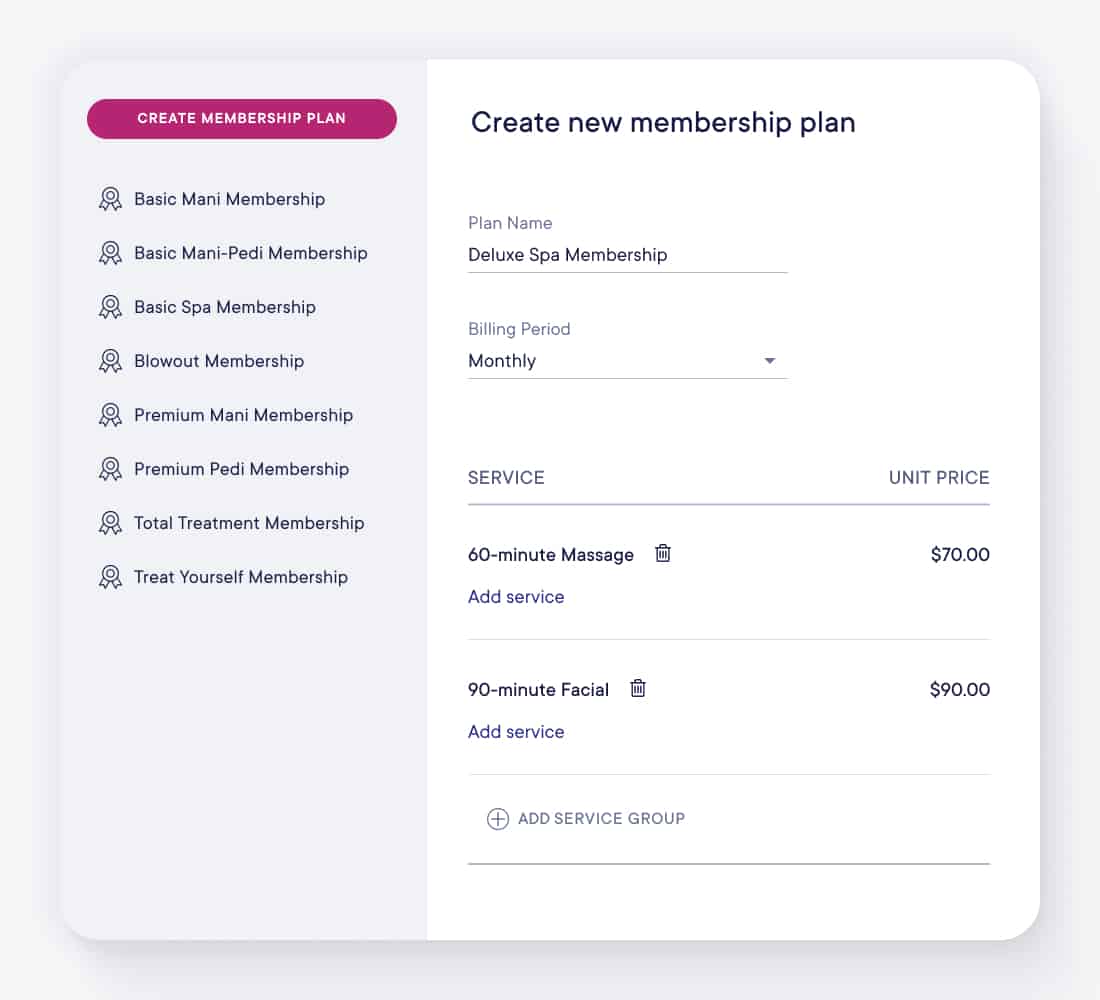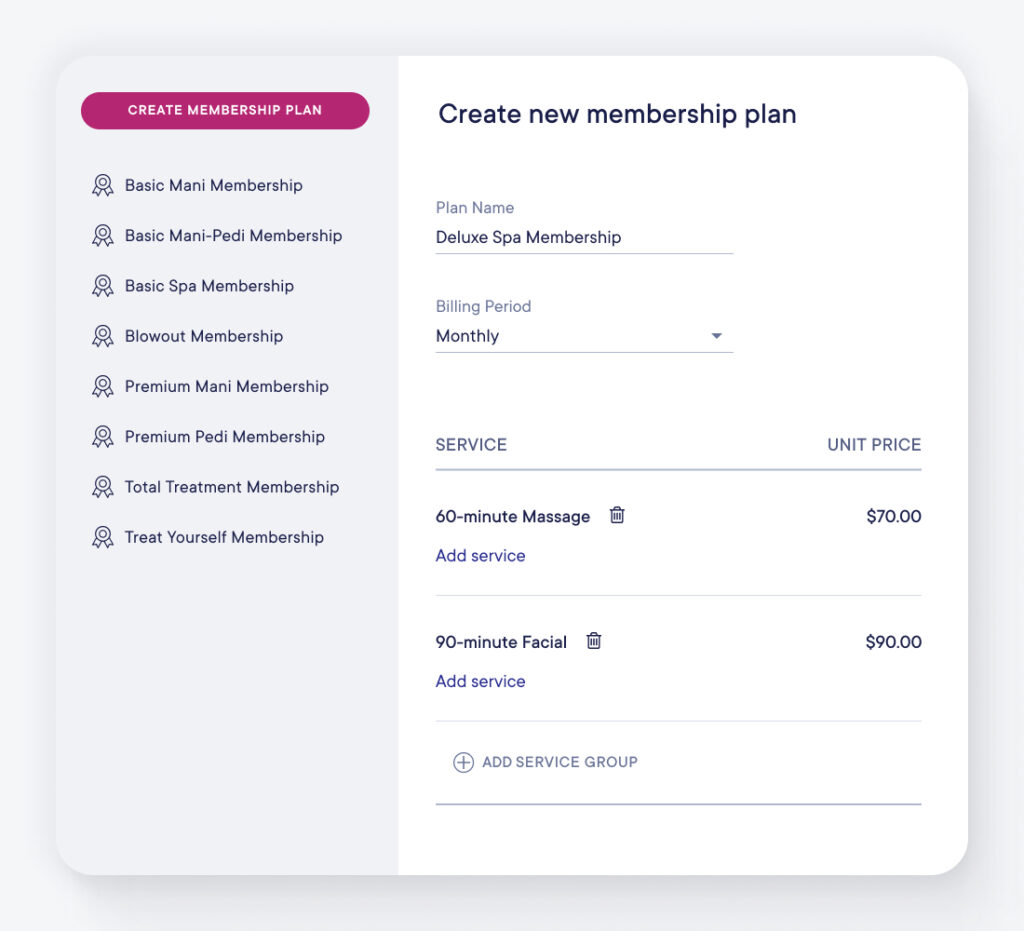 Become a Brand Ambassador
Many brands today are looking for endorsements from professionals who are experts in their field.
Let's say you run a barber shop and have proven that you're the go-to person for beard trimming in your area. You would probably be a good fit for a shaver brand looking to launch its next product line. Or maybe you're a dermatologist with the right fit and experience to promote a new skincare brand being launched.
Whatever type of salon you run, I am sure you or someone in your team sit on attributes that could be interesting for brands to partner with.
Working in partnership with brands related to your line of work is a very good way to earn some additional income without investing much of your own time. At the same time, if you're in a good partnership, the brand can help you build your reputation and the name of your salon.
On top, if you have managed to build a decent social media following for yourself or your salon, you'll likely be able to earn something on your community reach as well.
There are many different types of setups and arrangements when it comes to brand ambassadorship and influencer collaborations. What's important if you engage in one is that you believe in the brand or product you're promoting and that the brand's values are in line with yours.
This will make your work authentic and build both you and the brand in a sustainable way.
Sell Retail & Services Online
There's no doubt.
eCommerce will continue to take a bigger, and bigger share of all product sales happening on this planet. I'm sure you've been frustrated about the growth of eCommerce at some point. I have.
It's been taking away sales that previously were done in salons and it's not easy to compete with the prices available in some of those eCommerce stores.
This gives us two options.
Either we stand on the side watching what's going on or we act on it as a new opportunity for us. In the end, it's not what happens to us in our lives, but what we do with what happens that makes the true difference.
"You can't change the wind but you can adjust your sails"
The Internet is not going anywhere and it will only grow. If you don't have a good online destination for your salon and a digital strategy to grow it, it's time to roll up your sleeves.
It's not difficult today to create a good website and to add eCommerce capabilities to that. You can read my detailed guide here on the best salon website creators to get started.
If you have a good relationship and contractual terms with your supplier, you can start selling your retail products on your website. You can also add your services to your online store to allow people to purchase service gift cards on your website and also book their appointment directly online.
If you're not convinced about your current booking solution, you can read my article about the best online salon appointment booking systems.
You, of course, build out your online business as far as you want but if you're new to it, it can be a good idea to start on a small scale with some products and your own services. As you start to see that it works and grows, you can easily scale out later with 3rd party logistic solutions, etc.
Your eCommerce business income may over time even outgrow the income generated by your salon and completely change how you're thinking about your salon business.
And when you have it in place, you'll see sales coming without you even being there – even while you're asleep.
Rent Out Your Salon Space
Do you have a salon in a good city location today?
This is a great asset that you maybe can make work even harder for you. The cost is still there anyway, so any additional income that can come from it will only be a bonus.
There are many businesses that would be interested in renting your salon after closing hours or even a permanent space.
You're probably familiar with the booth rental model where someone rents a chair or room in your salon to perform similar services to you. This can be a good way to earn some additional income without you having to do much more work.
You could also open up partnerships with other types of businesses. Maybe there's room for a juice bar or barista in your salon? A different type of business doesn't only give you some rent income but can also add to the image of your salon. It can also attract more new people into your salon space who may become potential new clients.
You can also rent out your salon space as a center for beauty education after office hours or maybe for different types of events.
Make use of your network and stay alert on new partnership opportunities that can help generate this additional type of income for your business.
Conclusion
We've now covered 5 salon business ideas that can generate income without your presence. These salon business ideas can be a good complement to your regular salon business marketing and give you some new sources of revenue.
We've discussed both big salon business ideas such as eCommerce as well as smaller, tactical, opportunities like renting out your salon
The salon business idea that is right for you depends on where your business is today. What are your strengths and capabilities to support the new income source?
There are of course other ways you can improve your current salon business. I have summarized the 7 different ways you can grow your salon business here which I strongly recommend any salon owner to read.
I hope you got some inspiration and new business ideas for your salon from this post. But don't leave it at that. Decide already now which additional income stream you want for your salon business and take the first small step towards it already today.