Are you planning on starting a membership program for your salon or spa business
Awesome.
A membership program is a strategic way for beauty salons and spas to increase the bottom line by improving retention and creating recurring income.
The more actively engaged clients are with your salon, the less you have to focus on converting new customers.
In today's blog post, I wanted to cover the benefits of running a membership program, walk you through three different approaches salons and spas take on subscriptions, and show you practically how you can set it up using your salon and spa software.
What Is a Salon Membership Program?
A salon membership may be annual or monthly and usually provides members with discounts for various treatments and/or amenities. Members might also receive special offers, discounts, prizes, and perks not offered to nonmembers.
4 Benefits of Salon Membership Programs
Retain your clients. It's much easier to retain a customer than to find a new one. A salon membership program supports these efforts. Satisfied loyal clients also lead to more referrals.
Reliable and consistent revenue flow. A membership program for spas or salons could be an excellent way to help combat unreliable cash flows.
Customers pay upfront when they join a membership program. This guarantees you a fixed source of income that doesn't fluctuate, either between seasons or at different times of the month or week. This is important for an appointment-based business like a salon.
Increase revenue through upselling. A membership makes a customer likely to spend more time at the salon. This creates more opportunities for your staff to recommend additional services and products.
This also helps build loyalty to your salon through your team's knowledge and understanding of your customers. This leads to a more satisfied client and higher revenues.
Increase salon bookings. Salons without gaps in the schedule are a dream come true. Why? It means that your staff is being utilized to their full potential.
A membership program can help with this. Consider giving perks to members who book appointments at off-peak times. This decreases the idle time for staffers and boosts your average number of bookings.
The 3 Main Types of Salon Membership Models
1. Client Loyalty Membership System
This membership type usually means customers pay a monthly or annual fee for various services and/or products and then get a discount on all or some of the services and products at the salon.
Here is a well-written and designed membership pricing page from Gene Juarez Salons & Spas: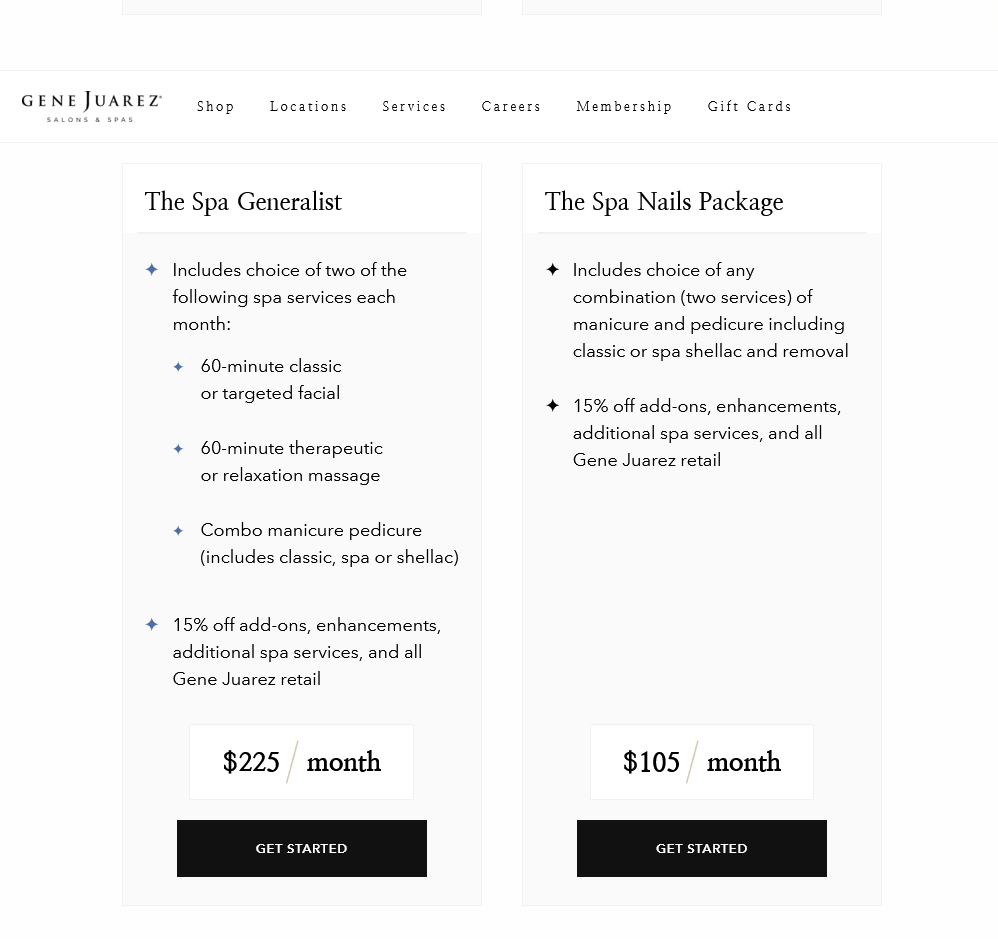 This type of membership is excellent for salon owners because the upfront payment helps with cash flow, and incentivizes client loyalty during the membership period.
Below is how I would set this up inside Mangomint.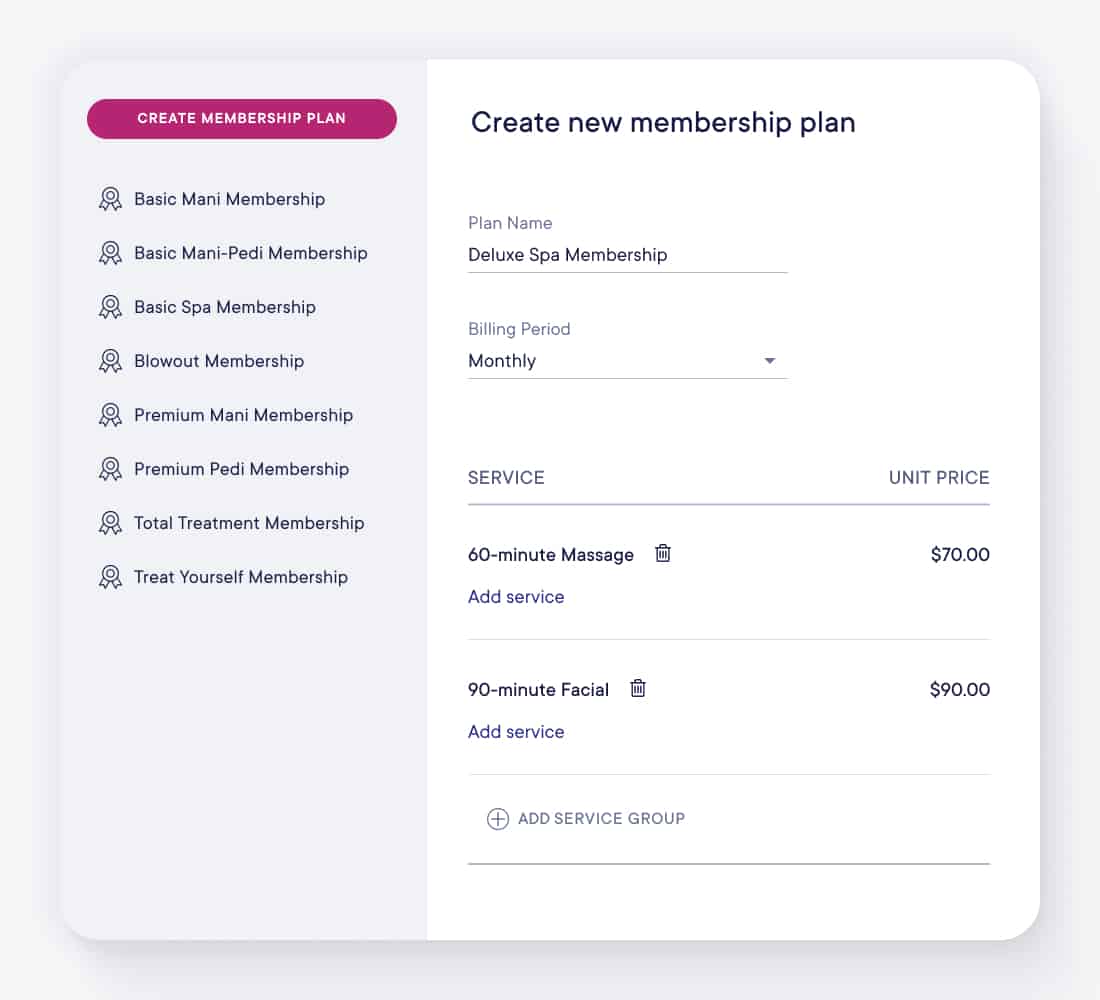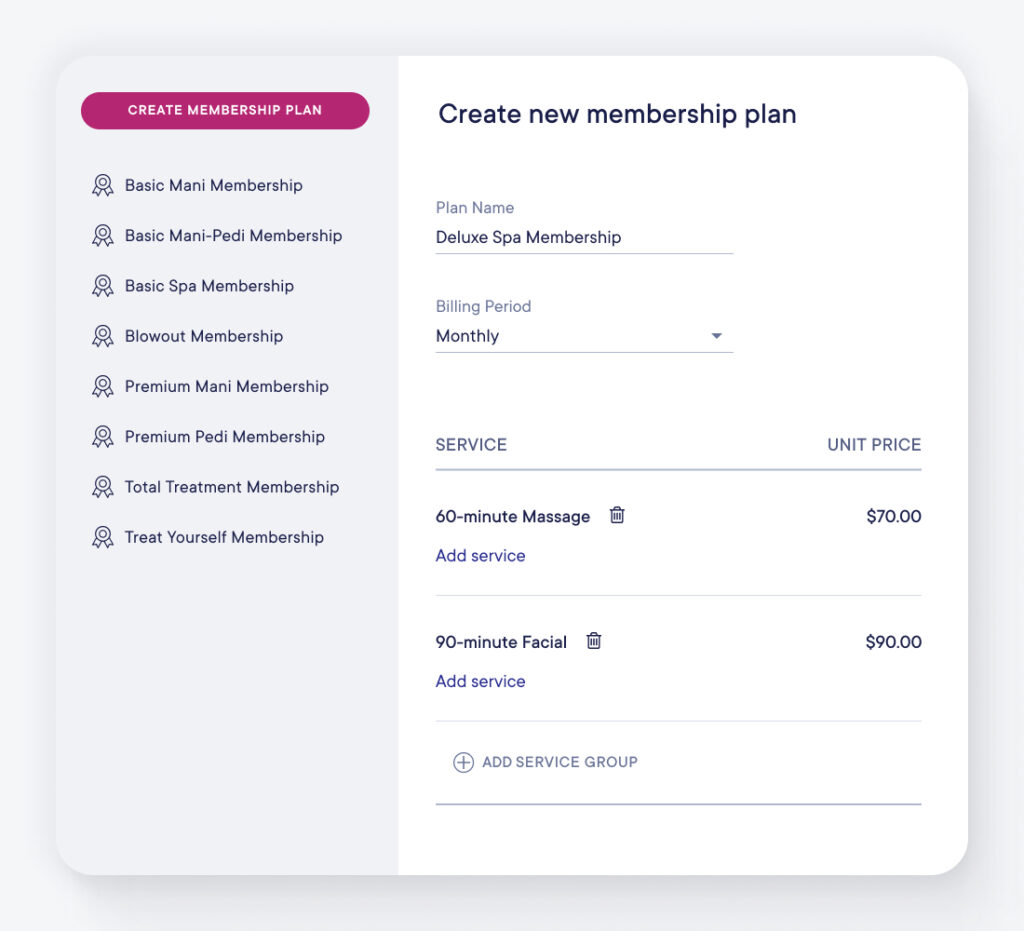 To set this up, you'll need salon software that supports memberships and recurring payments.
Mangomint is known for being a more advanced platform with sophisticated features, but basic membership support is becoming increasingly common in salon and spa software products so you should check if you have this support already.
2. Packaged Services With Discount Membership
A packaged membership service is a type of service that gives members a set amount of services for a one-off fee.
For example, you could give your customers one haircut, two blowouts, and one free bang trim per month for a year for a fixed price.
This type tells your customers they will get a lot of bang for their buck and creates loyalty.
Packaged services usually have your customer coming in more often to take advantage of all the included services.
A package membership offers its members a predetermined set of services. Combining different service types into one bundle makes them easier for clients to choose from.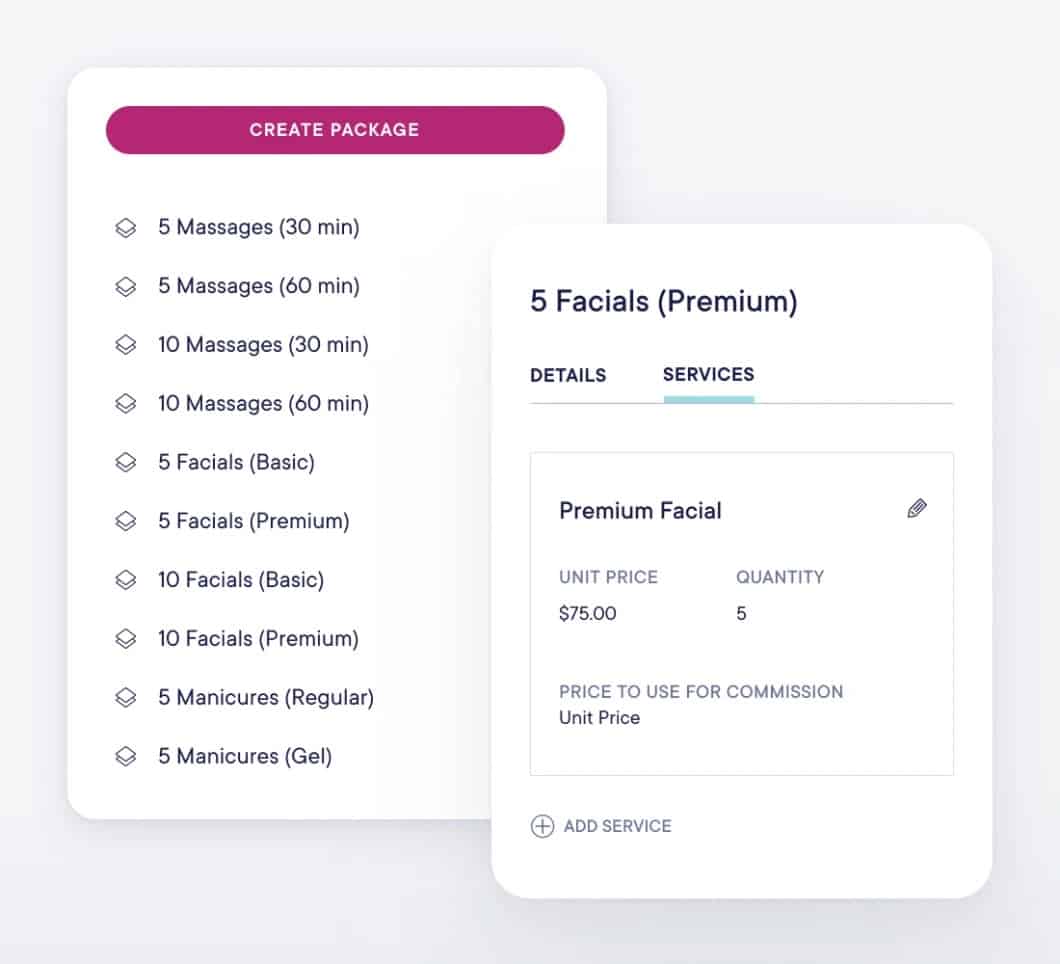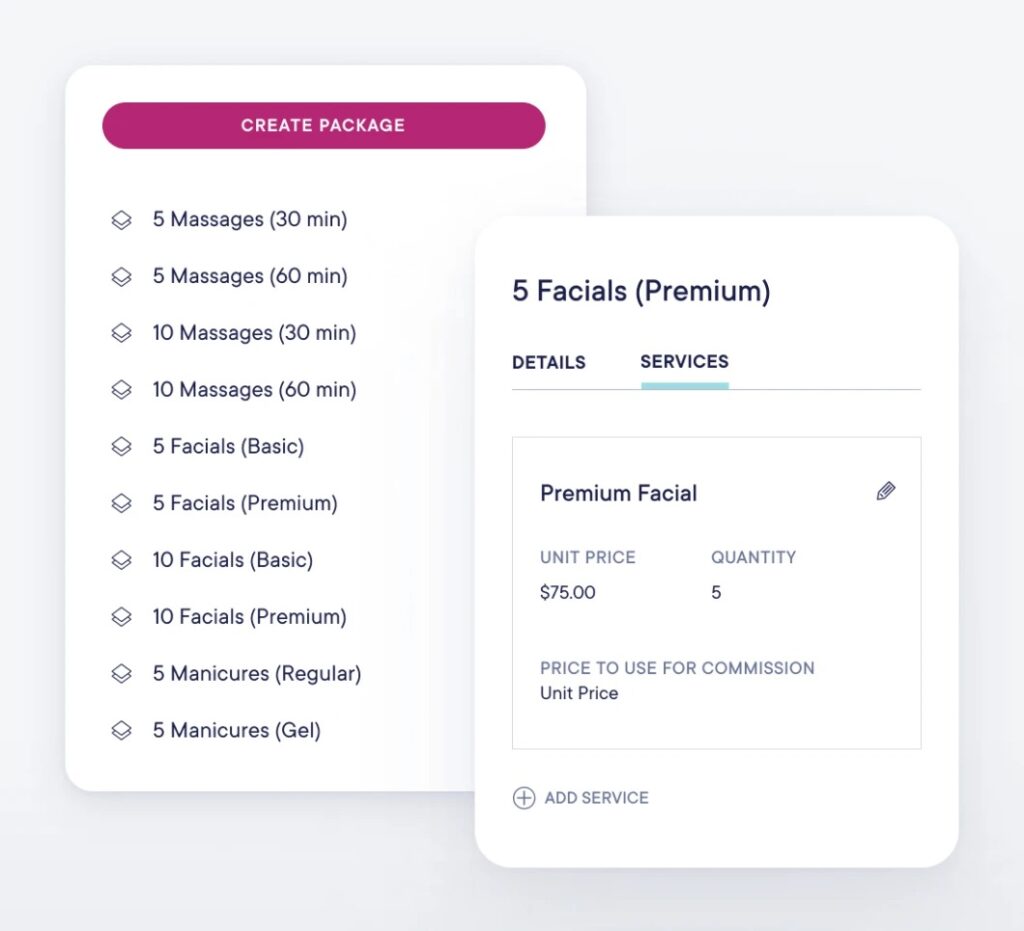 3. Unlimited Monthly or Yearly Membership Model
This membership charges a client a flat monthly or yearly fee for a specific unlimited service.
For example, you could give your customers unlimited haircuts, blowouts, and bang trims for a year for a fixed price.
This model gives your staff frequent opportunities to foster relationships with your most loyal clients and advise them on what upsells or add-ons best suit them.
Unlimited memberships are also easiest to administer since it doesn't require you to track how many services have been used.
Let's take a look at an example from Society Salons in LA: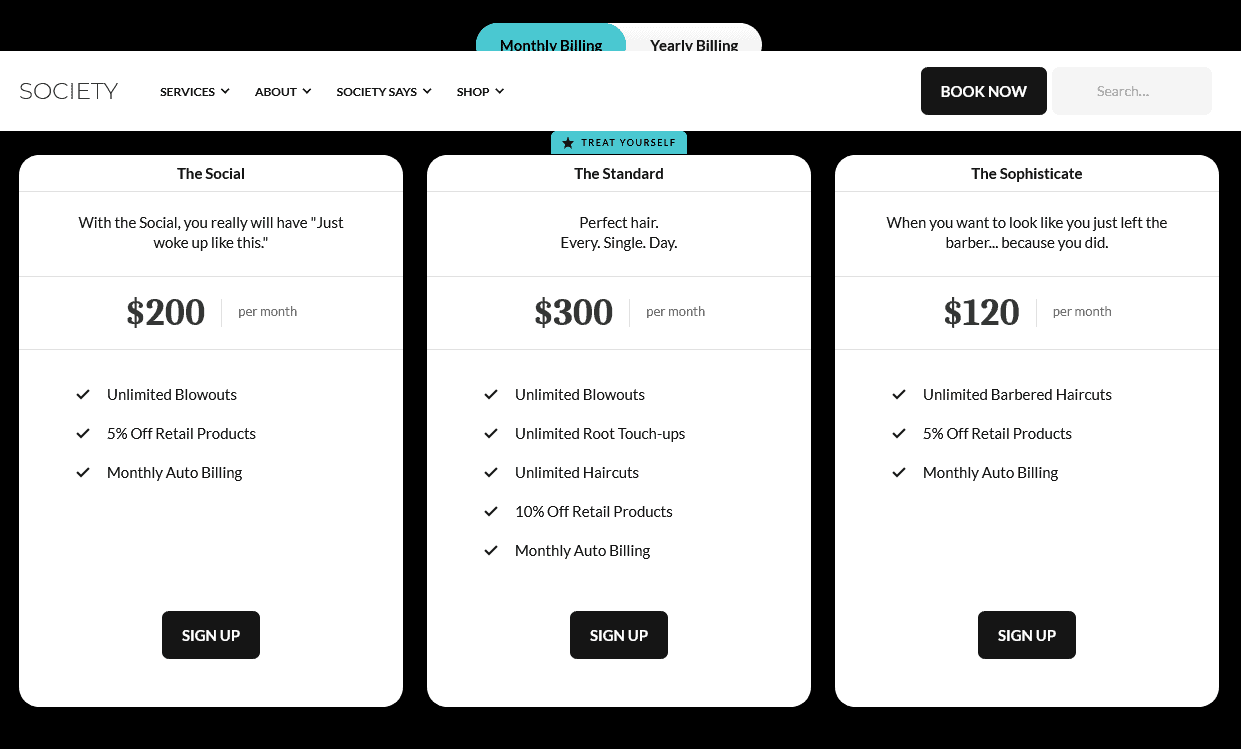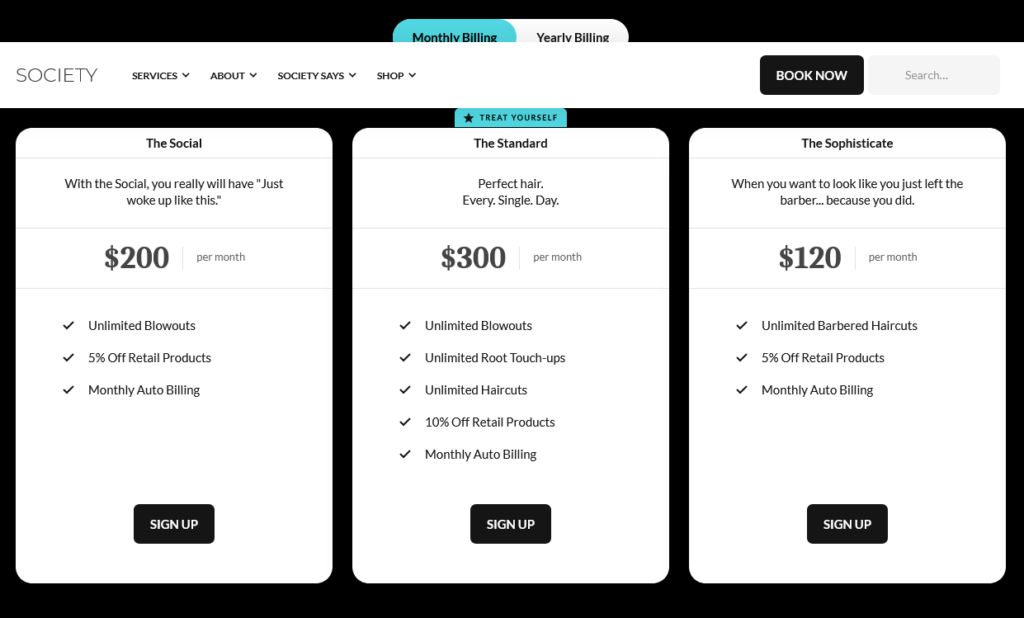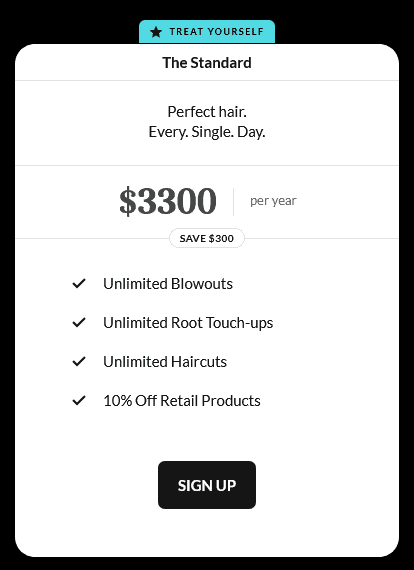 Automate Your Salon Membership Program using Salon Software
Creating and maintaining a membership does require software support. You probably could do it manually, but it would be a mess to keep track of and to ensure your clients are charged when they should.
In my list of the best salon software in 2023 I call out which systems support it. I've already shown how it works in Mangomint with some quick examples. If you want to dive deeper into Mangomint and how it deals with memberships and packages, you can watch my review of the platform below.
Easily Create Salon Membership Plans with Recurring Payments
Recurring payments are a great way to get your customers signed up for a membership or subscription plan that charges them a fixed fee at regular intervals.
In the memberships plans description section, let your clients know precisely what they'll be getting and how much they'll save by investing in a long-term plan. And make sure there is an easy way to keep track of the recurring payments in your software.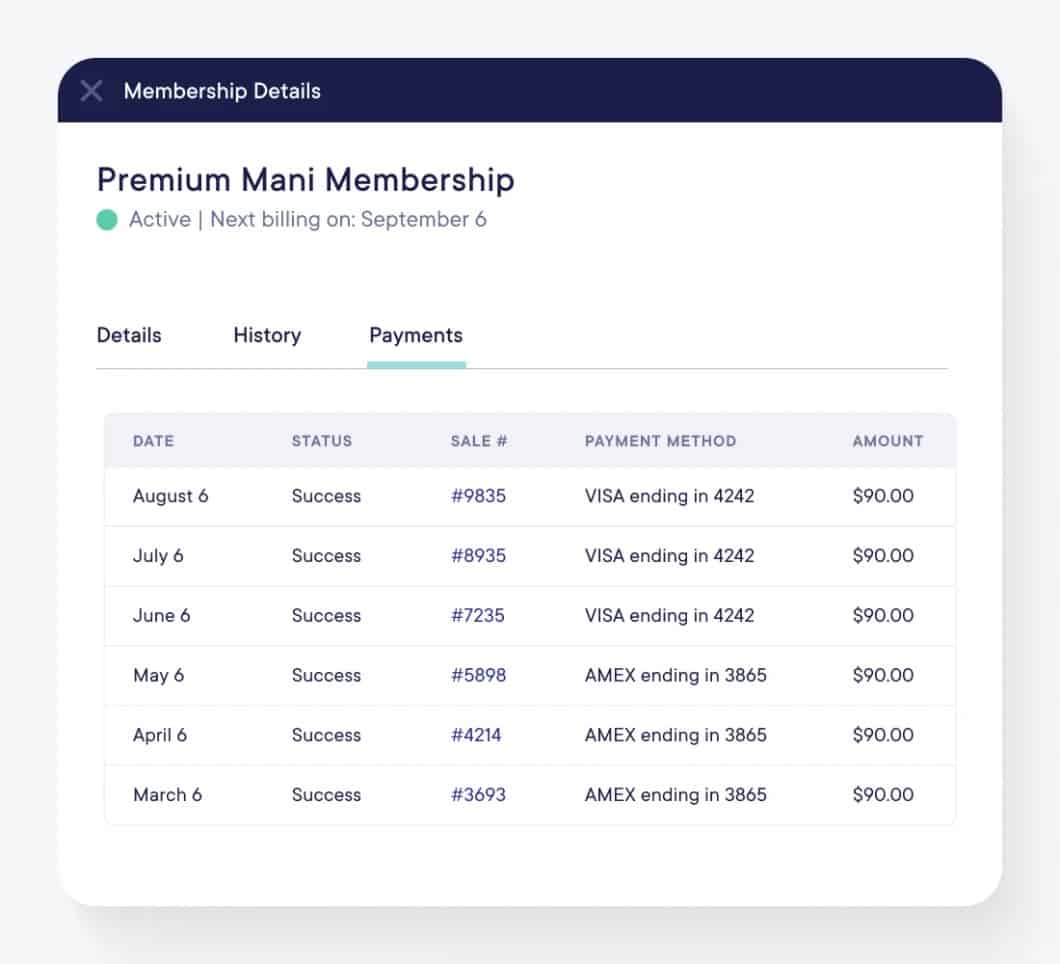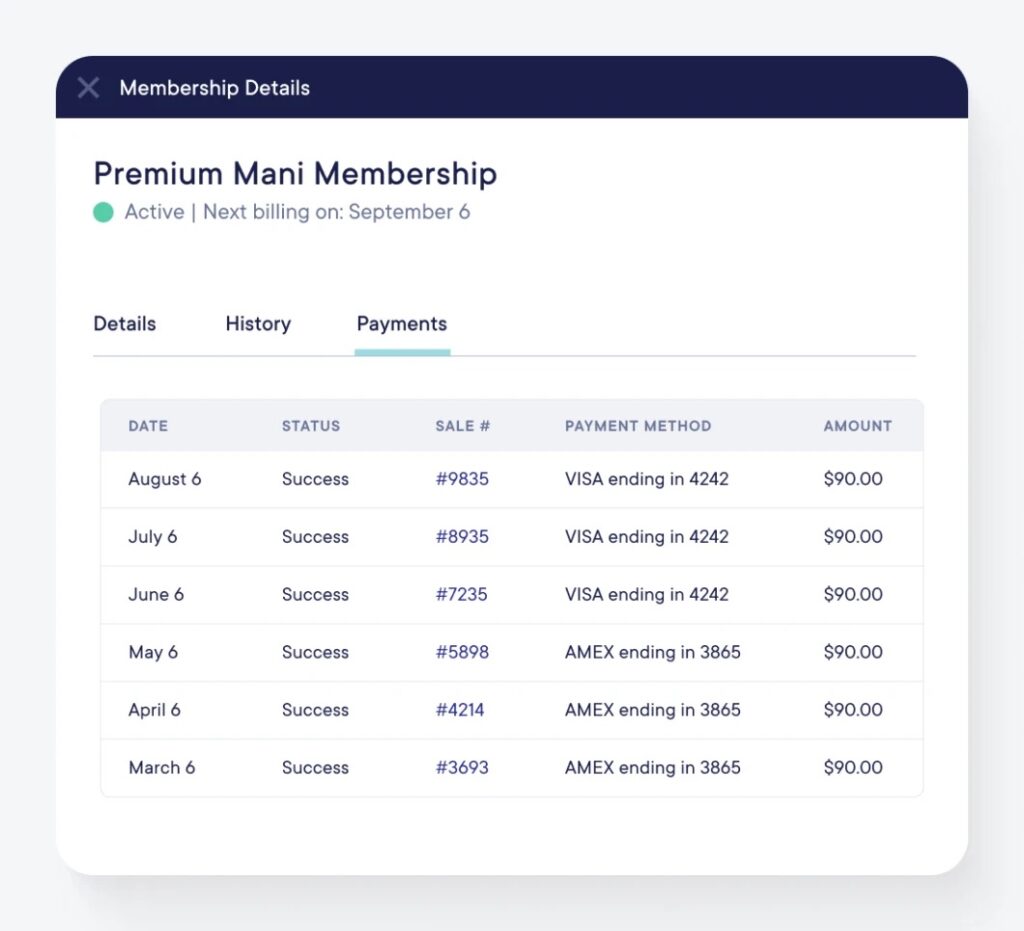 Conclusion
I hope you feel energized to go and setup a membership program in your business.
These programs are a good investment because they can contribute significantly to revenue and help build stronger relationships with their customers. It's also a way for you to increase the value of your business if you ever decide to sell it.
Any business with a recurring income business model is always higher valued.
To dive deeper into salons and spa memberships, I highly recommend you watch the video conversation with Addo Aesthetics on spa memberships.
In this video, Daniela Woerner breaks down how to use spa memberships strategically to increase prices, boost client loyalty, maximize retention, and fill up your books.