Are you looking for unique tanning salon name ideas?
Then you've landed in the right place.
In today's article, I'll take you through a tanning salon name list that is packed with good tanning salon names for you to choose from.
I'll cover both mobile spray tan business names and regular tanning salon names that are catchy, creative, funny, and unique.
I'd recommend you get a pen and paper out now (or your iPhone notes app) and make note of the names you like.
At the end of the article, I'll take you through some important techniques to help you choose the best tanning name for your wellness business.
Here are the different types of tanning names we'll cover today.
Unique Tanning Salon Names
Do you plan to open a tanning salon in an area with a lot of competition? Are you an up and coming salon trying to make a name for yourself and want to let your clients know that you do things differently?
Many salons are branching out by choosing a unique name that easily sets them apart from the others. Nothing catches a client's eye more than an edgy name that they're not likely to forget.
Tanning salons have always been popular and with the rise of spray tans, they aren't going anywhere soon. There will most likely be others in your area. It's important to consider naming your salon something that won't be mistaken for another around town.
I think you'll like the unique names I've listed below to give you some ideas for a name that won't be forgotten.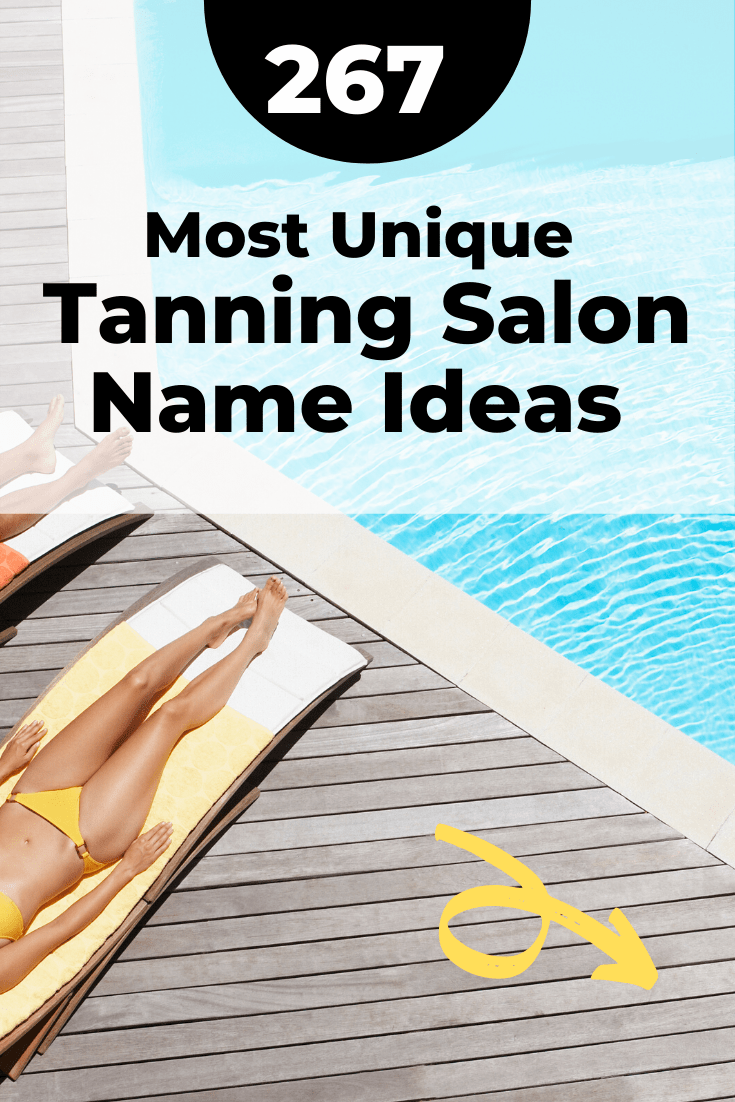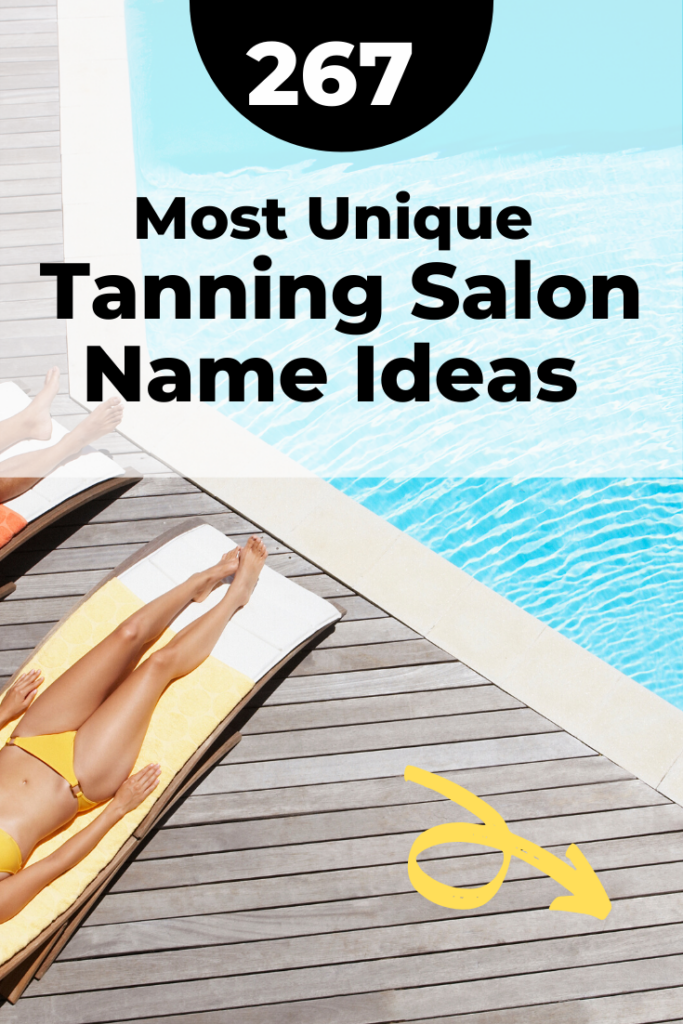 Unique Tanning Salon Name Ideas
Afterglow
The House of Sun
Glow Getters
Interstellar Tan
Day to Night Tanning Salon
Golden Sun
Summer Solstice
Desert Tan
Gold Bar Tan
The Glow Zone
Startruck Tans
Golden Paradise
Sunovation (like innovation)
Luminance Tan
Five Star Tan
The Sandbar
Setting Sun Salon
Staycation
Kiss of Sun
Glow On
Eclipse
Solar Tan
Touch of Sun
Sun Lounge
Majestic Tan
Sun Infinity
Sun Pros
Iconic Tan
Miss Sun
Bronze Bunny
Mystic Sun
House of Tan
Garden of Sun
High Noon Tanning Salon
Cloud 9 Tan
Supreme Sun
The Golden Gates
Showstoppers Tanning Salon
Sunshine Central
Flash of Light Tanning Salon
Sun Shocked
Paradise Found
Daylight Tan
Cocoa Tan
The Tan Touch
So Sun
Vivid Tan
Fantasy Tan
Paradise Tan
Big Time Tanning
Rockstar Tans
The Bronze Age
Sinfully Sun
Catchy Tanning Salon Names
Are you looking to name your tanning salon something that promotes itself? If you aren't quite sold on a more unique name, then choosing something catchy is another option.
The right name can do all the advertising for you. You can do this by choosing something that will stick with any potential clients that come across your salon's name.
When choosing a name for a tanning salon, going with something mediocre doesn't give clients any incentive to try your salon over the others. Try choosing a play on words or a catch phrase that's not only fun to say but fun to see.
Another great idea is choosing a name that references a beach or place well-known for being a sunny vacation spot. This simple trick will help catch the eye of people looking for a tanning salon.
Below I've listed some catchy ideas for a tanning salon that will be sure to stay on everyone's mind even after they've left.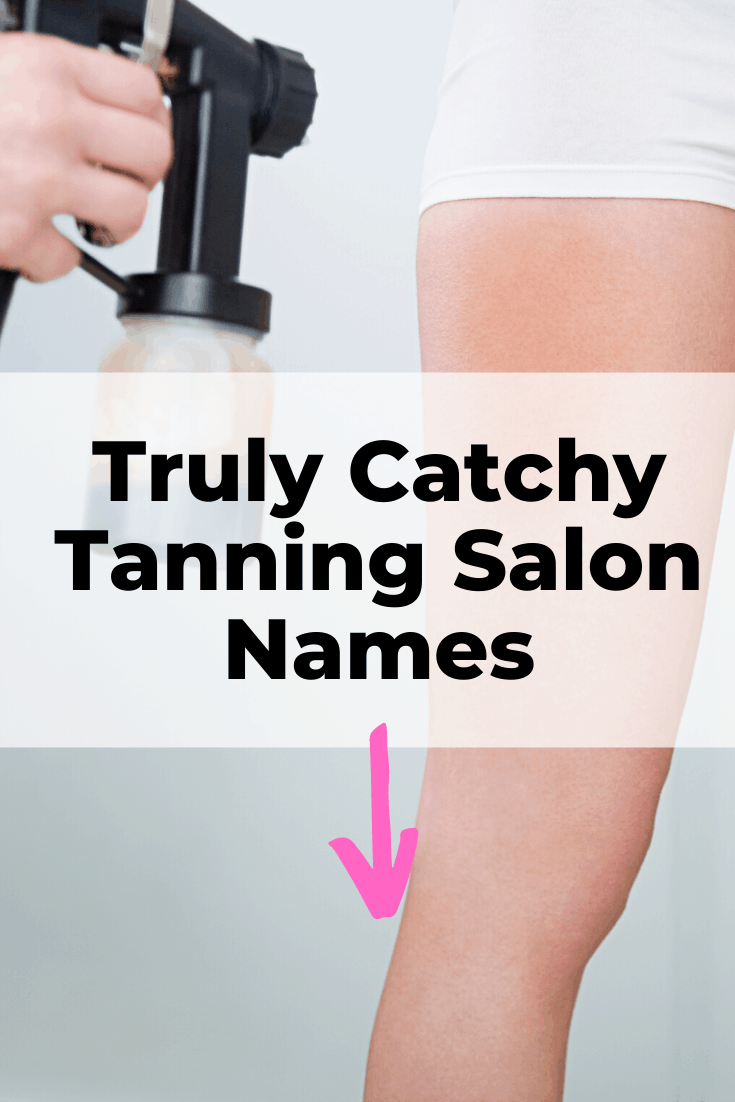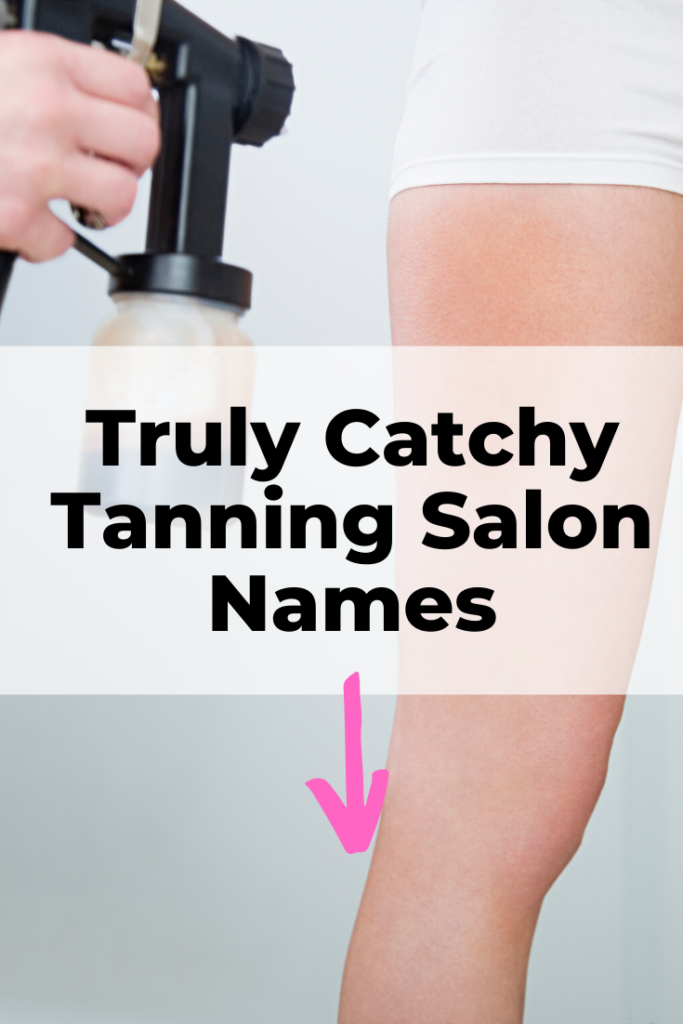 Catchy Tanning Salon Name Ideas
Miami Tan
Tropic Touch
Bikini Tan
Sunset Salon
Bahama Mama
South Beach Tan
California Sun
Destination Tan
Hawaiian Sun
Sun Beach Tan
Rio Tan
Sun Time Tan
Resort Tan
Eternal Summer
Poolside Tan
L.A. Tan
Temptation Tans
Sun City
Sun-o-mania
Sunshine Tan
Sun Nation
Seaside Tans
Viva Sun!
Sun Style
Gifted with Sun
Out of Time Tan (good choice if you are promoting quick service)
Tan Express (another choice for quick service salons)
Hang Tan (like the surfer phrase hang ten)
Out of This World Tans
Republic of Sun
Mad About Sun
The Tanporium
Sun Sensation
Sun to the Extreme
By the Boardwalk Tanning Salon
Beach Stand Tans
Under the Sun
Perfect Ten Tans
Nothing but Sun
Tanfiguration
Smitten with Sun
The Glow Up
Venus Tan
Brightlight Tan
Talk of the Town Tanning Salon
Glitz & Glam Tan
Relax & Tan
Creative Tanning Salon Names
Are you still looking for a different type of name to represent your tanning salon ? Perhaps you are a salon owner who wishes to show their artistic side.
Consider choosing a name with an artsy flair to symbolize your creativity. Choosing a name that lets people know that you are artistic builds confidence in your salon's ability to provide services that meet expectations and keep up with the trends.
If it's your artistic image you are trying to portray, check out the ideas below for some creative inspiration.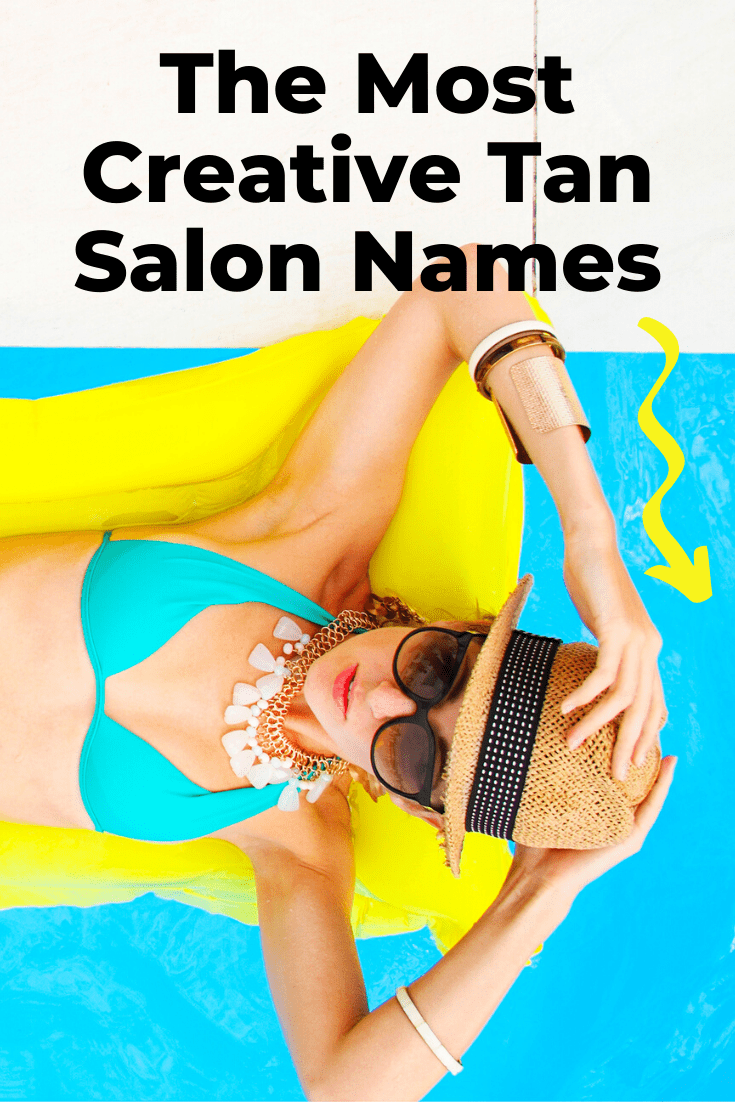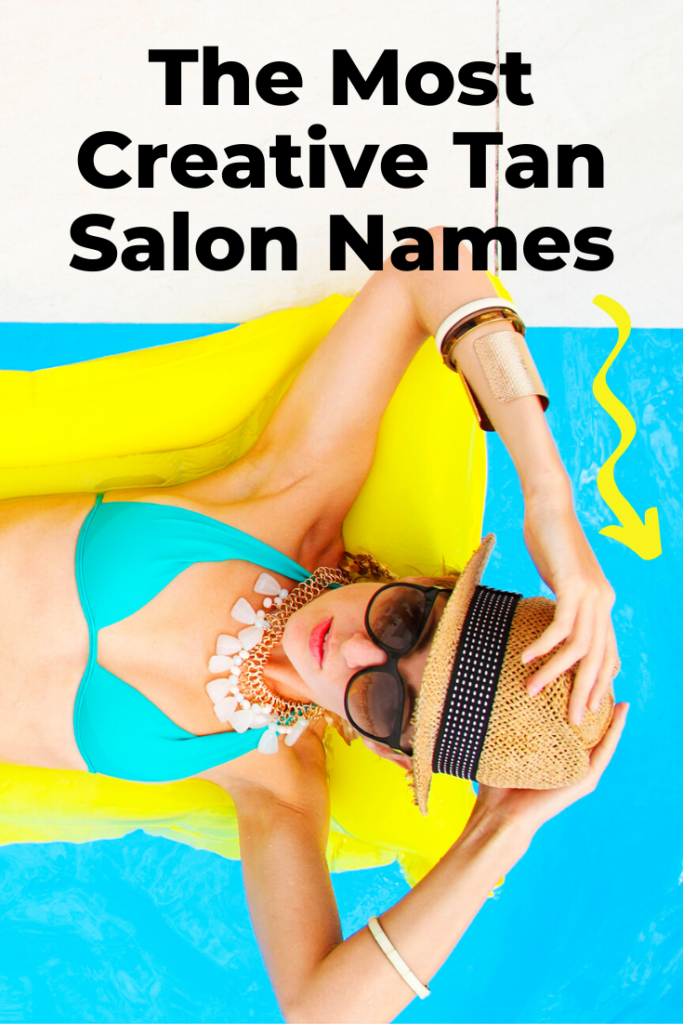 Mirage Tan
Painted with Sun
A Brush of Sun
Shimmer & Glow
Bronze Life
Sunspired
Sun Kissed Tans
Sun Theory
You Glow Girl
The Sun Lab
The Gold Standard
Planet Tan
Totally Tan
Extreme Tan
Pure Gold
Color it with Sun
The Sun Studio
Sun Spectrum
Ray of Light Tanning Salon
Say it with Sun
Passion for Sun
The Sun Palette
Sunstrokes
Tan Extraordinaire
The Sun Room
House of Gold
Pure Sun
Brushed by the Sun
Creative Contours (also great for a spray tans)
Sun Academy
Blush Rush Tanning Salon
Highlighter Tan
The Midas Touch (the Greek god who turned everything he touched to Gold)
Glow
Solid Gold
Bronzage
Sun Aesthetic
The Amber Zone
Lush Tanning Salon
The Fountain of Youth
Funny Tanning Salon Names
Do you want people to know that your salon has a laid back vibe? Choosing a name that's funny can help set you apart from other salons that may be perceived as pompous and higher-end.
A name that makes people smile is a great way to show that your salon is approachable. A name that's unique, creative, or especially classy may not be a good idea if you don't wish to come across as snobby and off-putting. If you want to appeal to the everyday person then going with something funny is a good idea.
Take a look at these funny salon names sure to get a laugh.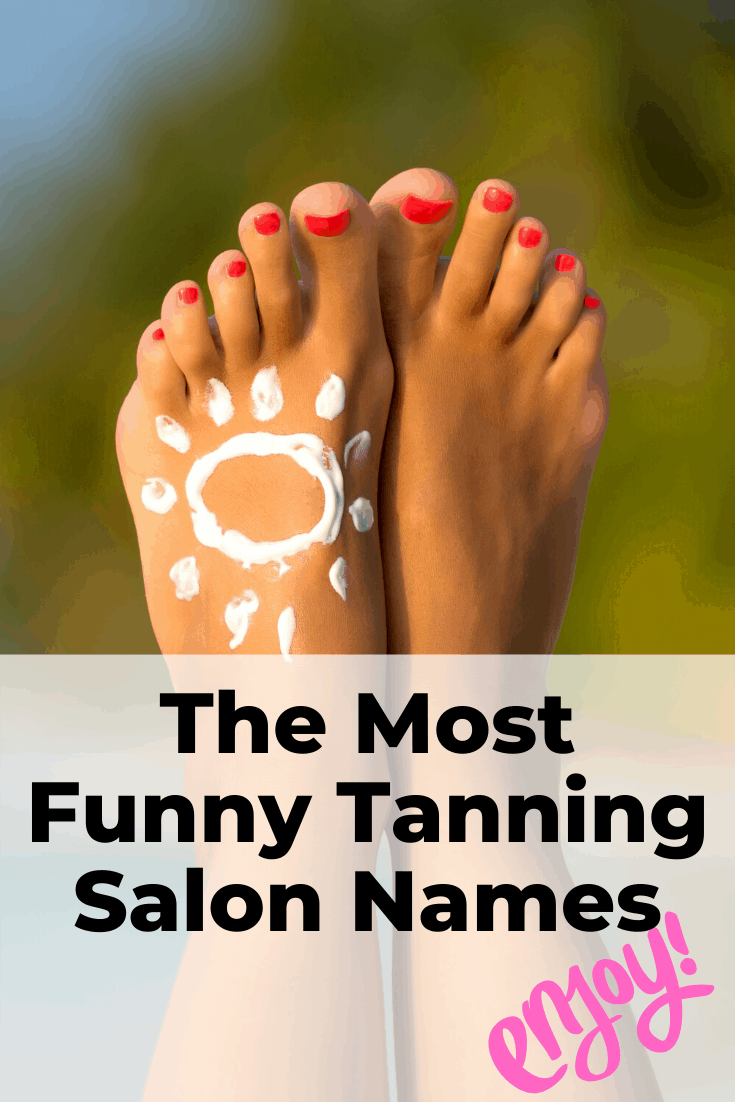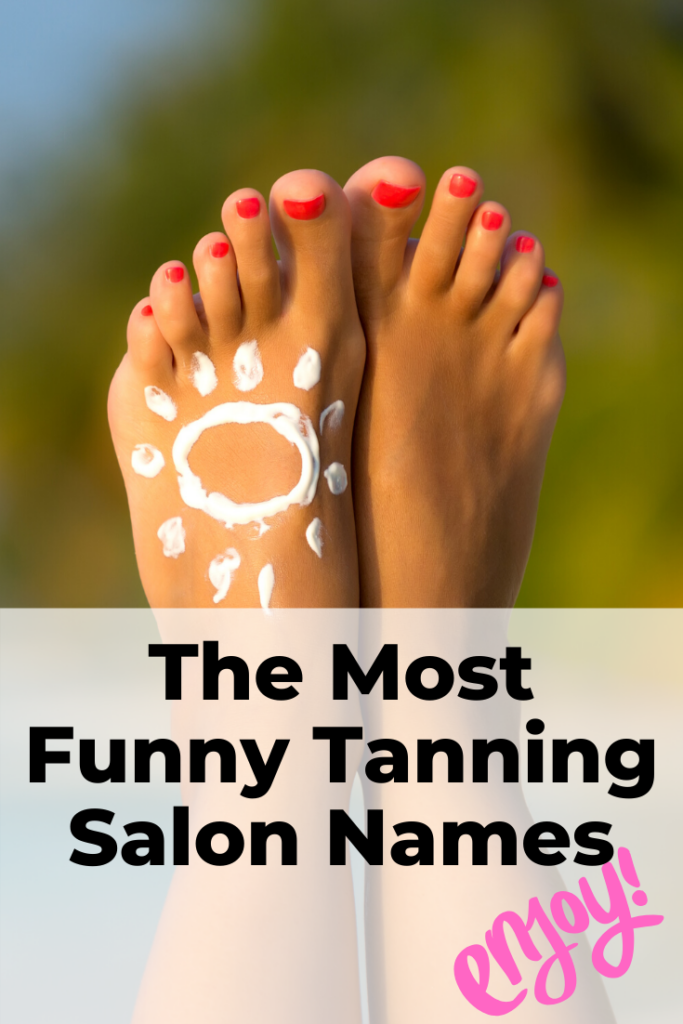 Sunny Side Up Tanning Salon
Tan O'Clock
Taniverse
Tanology
Tantastic
All About the Base Tanning Salon
Time to Tan
Get Your Glow On
Tan out of Ten Tanning Salon
Tip Top Tans
Under the Sun
Tan & Toned
Sunny with a Side of Tan
Tan-o-holic
Sunny Express
Tutti Frutti Tanning Salon (like the song)
Sun Addicts
Tan-talizing Tans
Suns Up Tanning Salon (like surf's up)
Sun-La-La (like the phrase sha-la-la)
The Gold and the Beautiful (like The Bold and the Beautiful soap opera)
Golden Girls (another TV show reference)
Sandy Buns Tanning Salon
Tan-on Salon
Beach Bums
Hold the Sun
Tan-possible
A Side-dish of Sun
Tell All Tans
Tantacular
Classy Tanning Salon Names
Maybe you are opening a tanning salon that wants to have a more serious and refined image. Maybe you are looking catch the attention of a higher-end clientele and charge more for your services.
Many people want to feel like they are being pampered when they go to the tanning salon. A classy name can let clients know these are the services you offer.
If these are the type of clients you are looking to attract, choosing something funny, catchy, or unique may not be in your best interest when wanting to appeal the crowd that set themselves apart from the rest.
Below you'll find some names that represent class and elegance.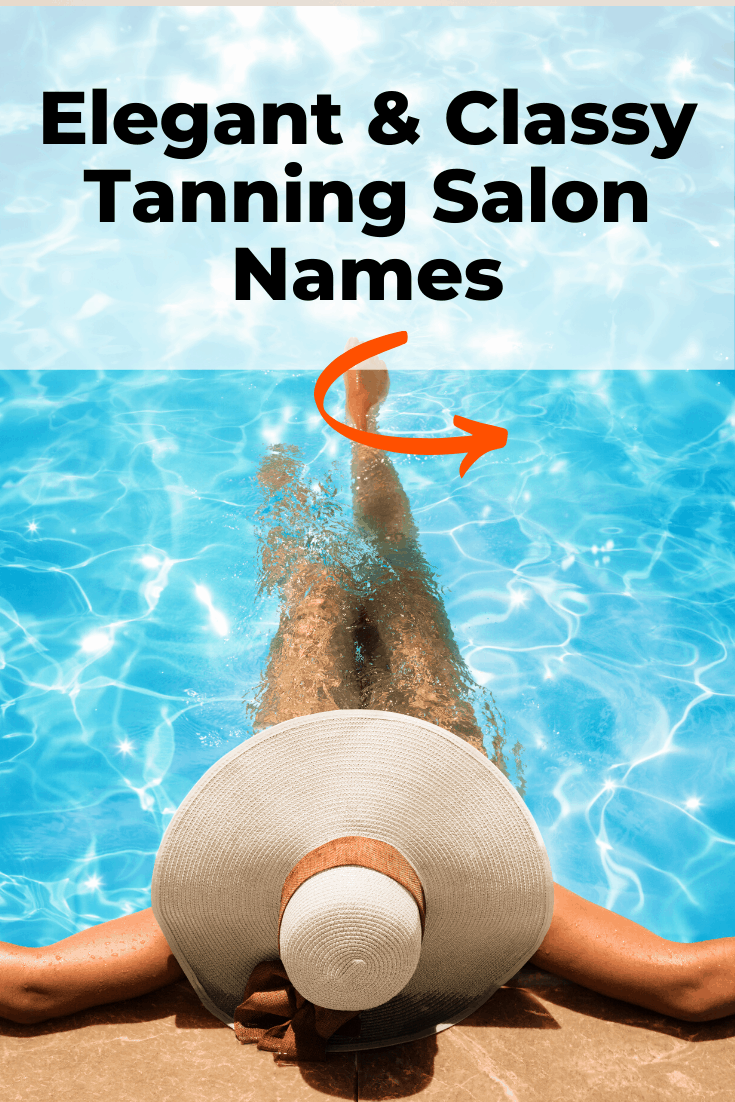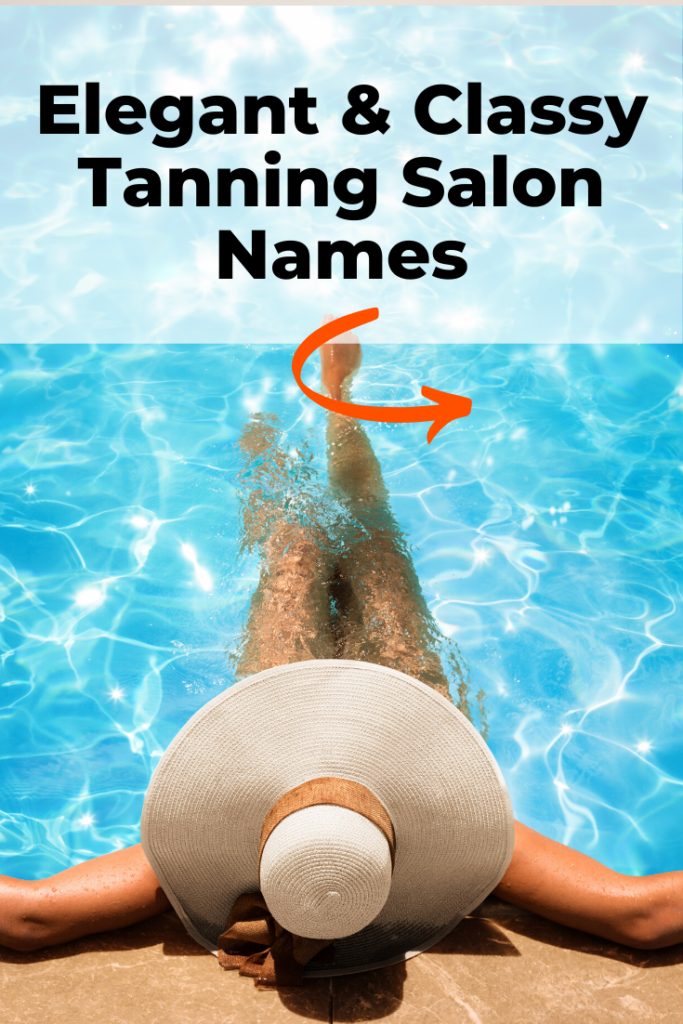 Classy Tanning Salon Name Ideas
Sun Couture
Lux Tan
Radiance
Bronze Goddess Tanning Salon
Luminescence Tan
Sun Divas
Glowing Goddess Tanning Salon
Salon de Soleil (like Cirque de Soleil)
On Trend Tans
Elegant Tans
Timelessly Tan
Sun Extravagant
Divaza Tan
Coutured Tans
Capucci Tan
Haus of Tan (German for house)
Coco Bronze
Sun Majesty
Signature Sun
Platinum Tan
Imminence Tan
Ethereal Tan
Diva Tan
Park Avenue Tanning Salon
Bronzed Beauties
Sunlux
Runway Tan
Elite Tan
Le Soleil (French for sun)
Royalty Tanning Salon
Uptown Tan
Belladonna Tanning Salon
Tan Palace
Ibiza Tan
Bella Tans
Get Glamorous
Rapture Tanning Salon
Ensoleillé (French for sunny)
Ambrage (like the color amber)
En Vogue Tan
Chic Skin
Suntan Palace
Le Petit Soleil (French for the little sun)
Mobile Spray Tan Business Names
Mobile spray tan businesses are an in-demand and growing opportunity for salon entrepreneurs who wish to expand their market.
Many clients who choose to get a mobile spray tan are looking for a personalized in-home experience that makes them feel like the queen (or king) of the castle.
A good name for a mobile spray tan business should flow naturally with mobile or spray, to differentiate yourself from a traditional tanning salon.
When choosing a name for a mobile spray tan business it is still important to keep your salon's image in mind, even if you don't have a the brick and mortar storefront displaying your name.
Below are some names for a mobile spray tan business that are sure to deliver service with a smile.
Mobile Spray Tan Business Name Ideas
Glow on the Go
Tans to Go
Gold on the Go
Sun-Kissed Spray Tans
Stellar Spray Tans
Airbrushed by Lisa (your name)
Sun and Sand Spray Tans
Brush and Stroke Spray Tans
Seashell Spray Tans
Ray of Sun Spray Tans
Solstice Spray Tans
Natural Glow Spray Tans
Sun Inspired Spray Tans
Blank Canvas Spray Tans
Serenity Spray Tans
Hue Spray Tans
Personalized Spray Tans
Sunny Coated Spray Tans (like sugar coated)
Natural Blush Spray tans
Sparkle Spray Tans
Custom Sun by (your name)
Genie in a Bottle Spray Tans (a play on the spray bottle)
Magic Brush Spray Tans
Bronze Me Beautiful
Liquid Sun Spray Tans
Bountiful Beauty Spray Tans
Dream Skin by (your name)
Perfect Picture Spray Tans
The Tanning Genie
Touchup Spray Tans
On Call Tans
The Tan Taxi
Blushing Beauty Spray Tans
Sun on the Run
Blessed with Blush Spray Tans
Subtle Sun Spray Tans
The Beautification Station
Total Tansformation
The Contour Queen
Subtle Shimmer
Trusted Tans
Sunside Service (like curbside)
High Shine Spray Tans
Sun at your Door
Shine On Spray Tans
Flawless Spray Tans
Great Touch Spray Tans
Sleek & Smooth Spray Tans
Supple Sun Spray Tans
Sun at your Side Mobile Spray Tans
Be Natural Spray Tans
Forever Young Spray Tans
Sunbaked Spray Tans
Sunward Bound Spray Tans
Pampered by (your name) Spray Tans
That's that tanning salon names I had to share with you today. For even more salon name ideas, check out my list of 2754 Unique Salon Names (Hair, Beauty, Barbershop, Spa, Nail).