Are you considering Versum salon software for your salon business?
Then you've landed in the right place. 
Versum was recently acquired by Booker.
If you've done some salon software research, you've surely come across Booker or Versum before.
But is it the right solution for your salon?
This is what you'll find out today.
This is an honest review of the Salon Software from Versum. I'll go over the pros and cons of the platform and also dive into detail on the features they offer so that you can make an informed decision. 
Now, let's look at an overview of the Versum salon software review.
Versum Salon Software Review at a Glance
Description
Versum is a cloud-based, full-featured, salon software that is serving over 37'000 beauty professionals in 56 countries. They entered the salon software market in 2010 and has since then won multiple awards and expanded their presence into more countries. They provide cost-effective plans for individuals up to large salons and spas.

Overall Score
4.7
Salon Software Type
Full-featured Salon Software
Cloud hosted and accessible in web browser, iOS App, and And
Pricing
Solo: €25/month (for single users)
Basic: €39/month (up to 6 users)
Medium: €69/month (up to 12 users)
Pro: €109/month (unlimited users)
Review Breakdown
Ease of Use (5.0)
Appointment Management (5.0)
Client Data Management (5.0)
Salon Marketing Features (5.0)
Point of Sale (3.5)
Business Management & Reporting (5.0)
Customer Service (4.5)
Pricing (5.0)
Review Summary
Versum is very easy to use and you also get a free, personal, training by the helpful and friendly support team when you sign up to get you up to speed on all features. All salon operation management features (payroll, inventory, business reporting etc.) is very rich and powerful.
The only area where I think Versum could do a better job is to make the online booking website customization more flexible rather than a standardized booking website. It looks very clean and modern but if you're looking to make it highly personalized and integrate it as part of your website you may find some limitations.
It's 100% cloud-based which means they do not ship a physical POS unit or credit card reader. This, on the other hand, enables them to keep start-up costs low and gives you the flexibility to use whatever solution you want (if you need a cash drawer, receipt printer etc.).
If you're fine with the cons mentioned here, you'll truly love Versum. You can, and should, of course, try it for yourself using their free trial.
Pros
Extremely easy to use with a well-designed user interface.
Attractive pricing (in particular with available discount)
Very helpful customer support (top-rated on user forums) with free personal training given at sign up to ensure a successful start.
Advanced and visual business reporting (best I've seen) and solid inventory management capabilities.
Highly customizable and rich client loyalty program (best I've seen).
Cons
No physical POS unit or credit card reader
Only U.K. support phone number so U.S. users need to plan their calls for the European time zone.
Limited flexibility of online booking website (need to use the standard template).
My Top Salon & Spa Software Alternatives
Here's my salon & spa software top list for 2023.
To see more alternatives, visit my complete list of salon and spa software recommendations here.
What is Versum Salon Software?
Versum is an end-to-end salon automation software for the hair and beauty industry. Versum was founded in Europe (Poland). The salon software was originally designed to serve salons in the UK and Europe but, as it is cloud-based, it works equally well all around the world and is today used by salons in 56 countries.
Versum deliver support for salons across all aspects of hair and beauty salon businesses: appointment & client management, salon marketing, salon business management, and salon point of sale.
Let's get into detail on what that means for you.
Who is Versum For?
Versum is for the salon or individual professional that wants a solid appointment management solution with good marketing and business support that can be accessed via mobile or any other device at a good price.
What Type of Salons can use Versum?
Versum is for small to large salons. The type of salons who use Versum are hair salons, nail salons, beauty salons, barbershops, and tattoo salons, and spas.
It's also a good salon software for booth renters, mobile salons, and individual stylists as they offer a low-cost plan for individuals and comes with a really powerful mobile app for iPhone and Android so that you can use it on the go.
Which Countries do Versum Support?
Versum is cloud-based which means you can access and use it anywhere in the world. Versum does not offer any hardware (like POS system). You manage everything in a web browser or on your phone which means you don't need to worry about your local technical platforms as Versum will work as long as you have a web browser.
Versum's focus is to be the best salon software in UK and its phone support is catered to UK time zone. So if you're in the US or Australia for example, you just need to be aware that you cannot reach their support throughout your regular office hours.
Their SMS service should work in all countries but it could still be a good idea to check this with their support first as well.
Versum Facts Overview
Before we go into detail, below are a few facts about Versum Salon Software.
Founded
2010
Salon Software Type

Full-featured Salon Software
Cloud hosted and accessible in web browser, iOS App, and Android App

Pricing

Solo: €25/month (for single users)
Basic: €39/month (up to 6 users)
Medium: €69/month (up to 12 users)

Pro: €109/month (unlimited users)

Right now, Versum offer The Salon Business readers a 50% discount when signing up which makes the cost of Versum extremely attractive.

Free trial
Yes (available here)
Main Country
Operating in 56 countries and works in every country but their focus is on Europe and United Kingdom

No of Salons Using It
37'000
Phone number
+44 203 393 7709
Versum Features Overview
Versum is a a complete, all-in-one, salon software. This means the salon software combines appointment support, marketing activities, business management, and point of sale into one. It's 100% cloud based which means it can be accessed from any device with a web browsers or using their mobile apps.
They also offer a salon marketplace where clients can find salons who are using Versum. However, the marketplace is only available in selected countries in Europe even if they do have plans to expand into US and more countries over the next two years.
Below is an overview of the features Versum offer. I'll go into detail on each part of the salon software in this review.
Salon Appointment Software

Online booking website
Appointment reminders (SMS/ e-mail)
Easy, drag and drop appointment schedule
Store detailed data, images, history and notes for each client

Salon Marketing Software

Automated and personalize sms & e-mail messages (e.g. on birthday)
Facebook Integration
Client loyalty program
Basic salon reputation management

Salon Management Software

Advanced inventory management with reminders when stock gets low.
Support for gift cards and membership products
Full payroll support
Manage multiple commission structures
Control access levels for each salon employee
Track vacation, sick days, and time off
Advanced business reporting: Live report, employee performance, product sales statistics, client metrics (retention etc.)

Salon Point of Sale System

Manage check out in web interface or via app. No physical hardware offered.
Support for various payment methods (cash, cards, online, and vouchers)

Salon Software App

iOS App
Android App

Cloud hosted (access from any web browser)

Salon Marketplace
Versum has a salon marketplace that is active in some EU countries. They're currently expanding it to more countries and U.S.
Versum Salon Appointment Software
Versum does a solid job at managing your appointments, online booking, client data and reminders. Let's take a closer look at each feature.
Salon Appointment Book
Versum's salon appointment calendar is easy to use via a well designed user interface.
You can drag and drop appointments around and quickly edit appointment details in the calendar.
You can switch between the daily, weekly, and monthly view to quickly get an overview of the appointments for the day.
Each employee gets his or her own view of the calendar when they log in.
Here you'll find a screenshot of what your calendar could look like in the iPhone salon booking app or when you view it in a desktop browser.
Versum's salon appointment book has all the feature you would expect for a good appointment scheduler.
The only negative I see is that you cannot color code appointments to give a clear overview without having to read. You can however use labels on each appointment which kind of does this but I think color coding would have been better.
I also want to give a special shout out to the mobile app which is awesome. Super easy to use and really well designed..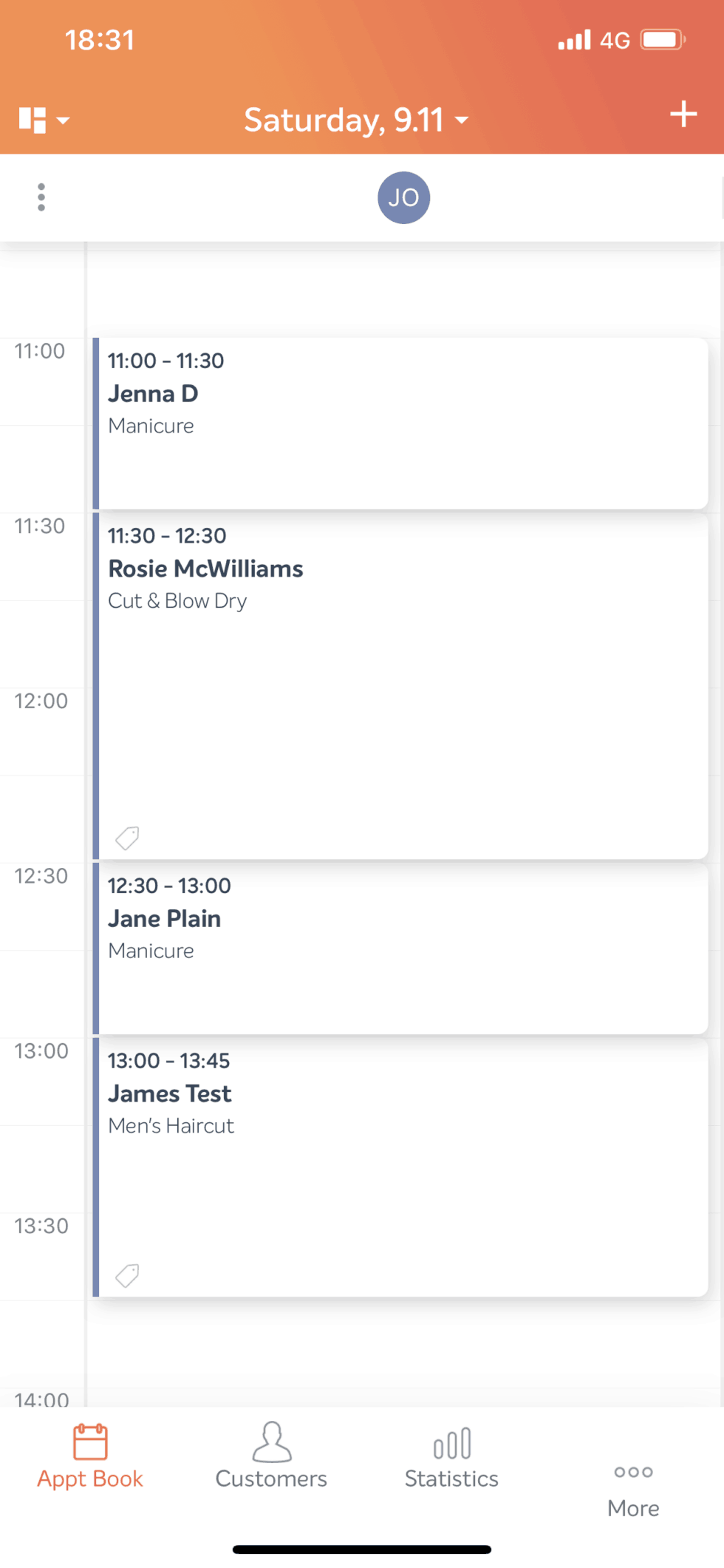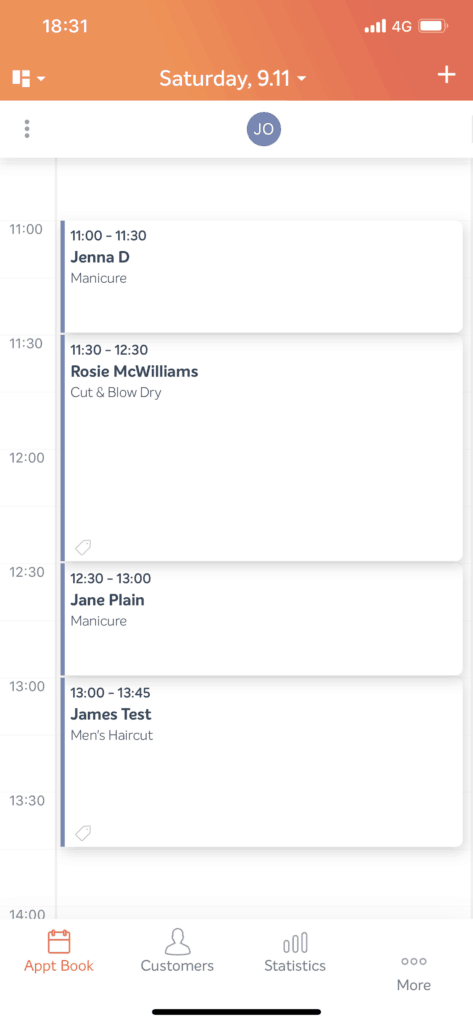 Versum's iPhone app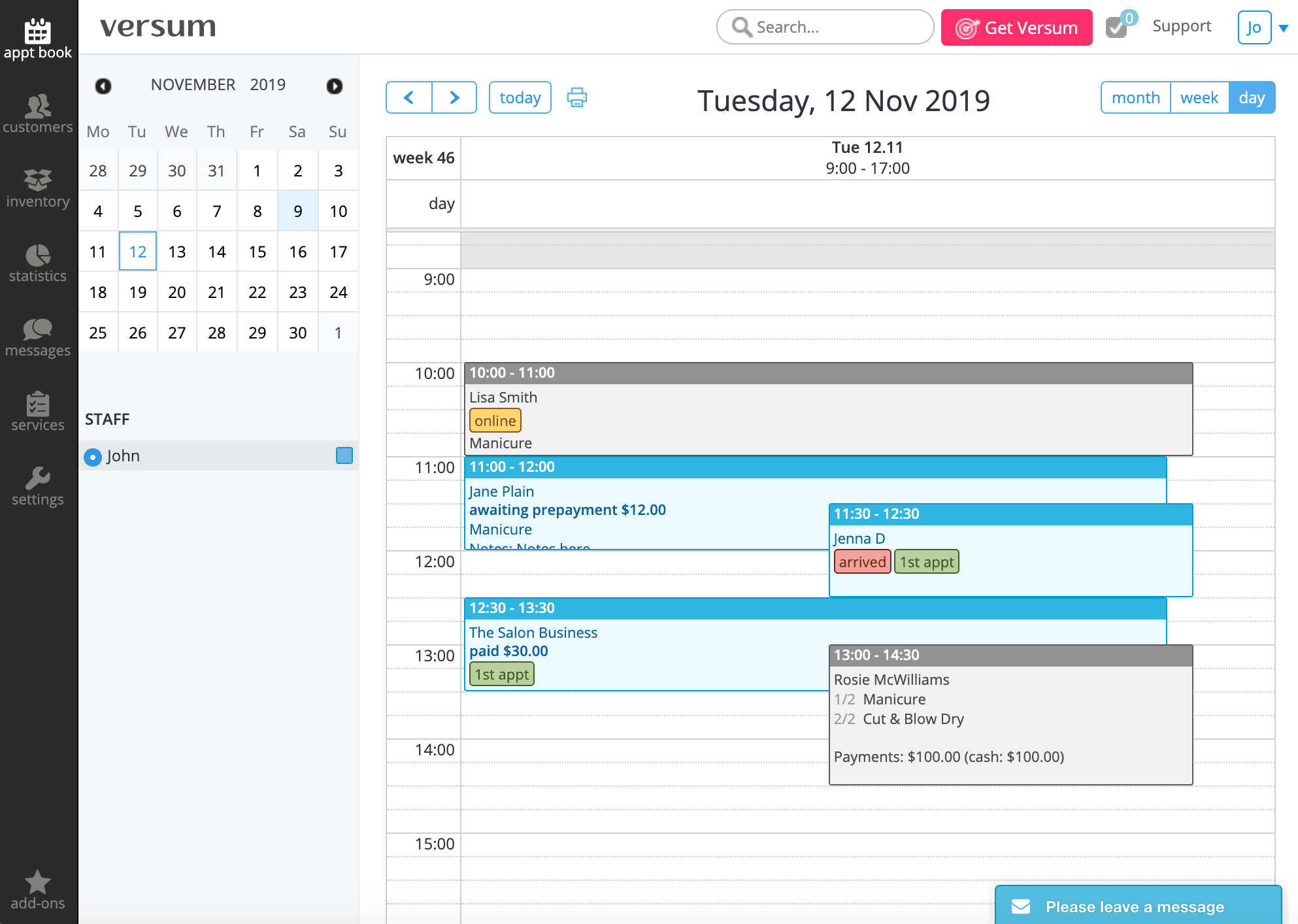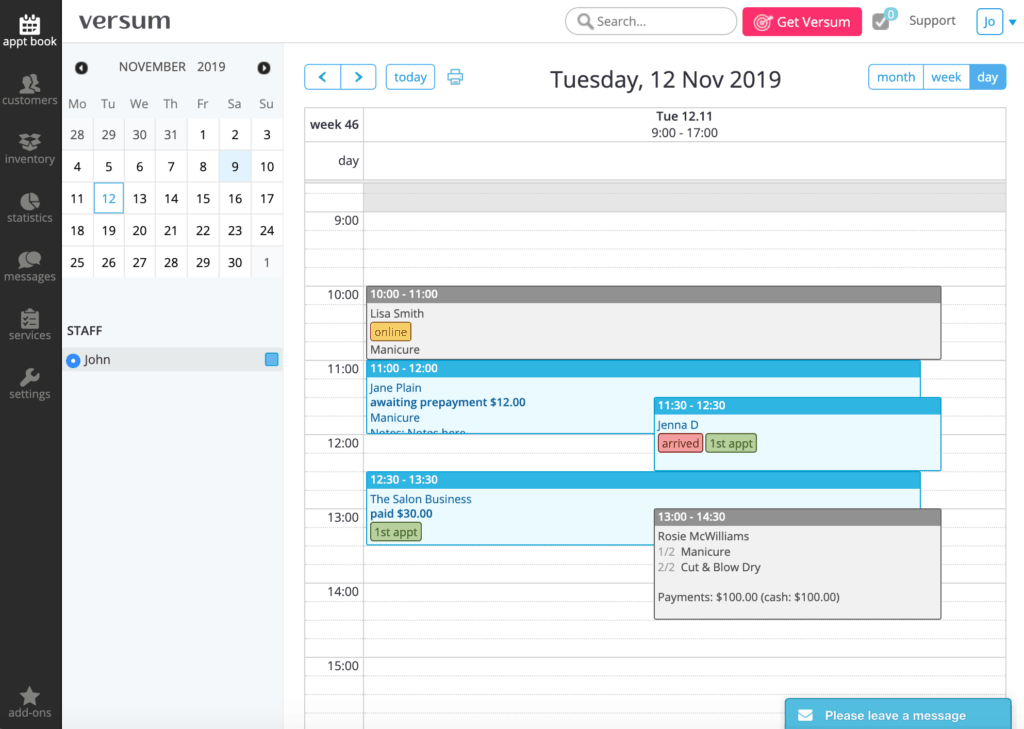 The Versum salon appointment book viewed in web browser
Salon Appointment Notifications
Versum allows you to send out automated messages via SMS or e-mail notifications to your clients. The SMS service from Versum should work independently on which country you're in. But I would still encourage you to check with their support in case you're from a small country to ensure it will work for you.
There are several different types of reminders and notifications you can automate with a customized message via SMS and/or e-mail.
As shown in the image here, you can send out a reminder ahead of the appointment (to reduce no-shows), as confirmation just after your client have booked, when an appointment has been canceled or rescheduled, or at birthdays and name days.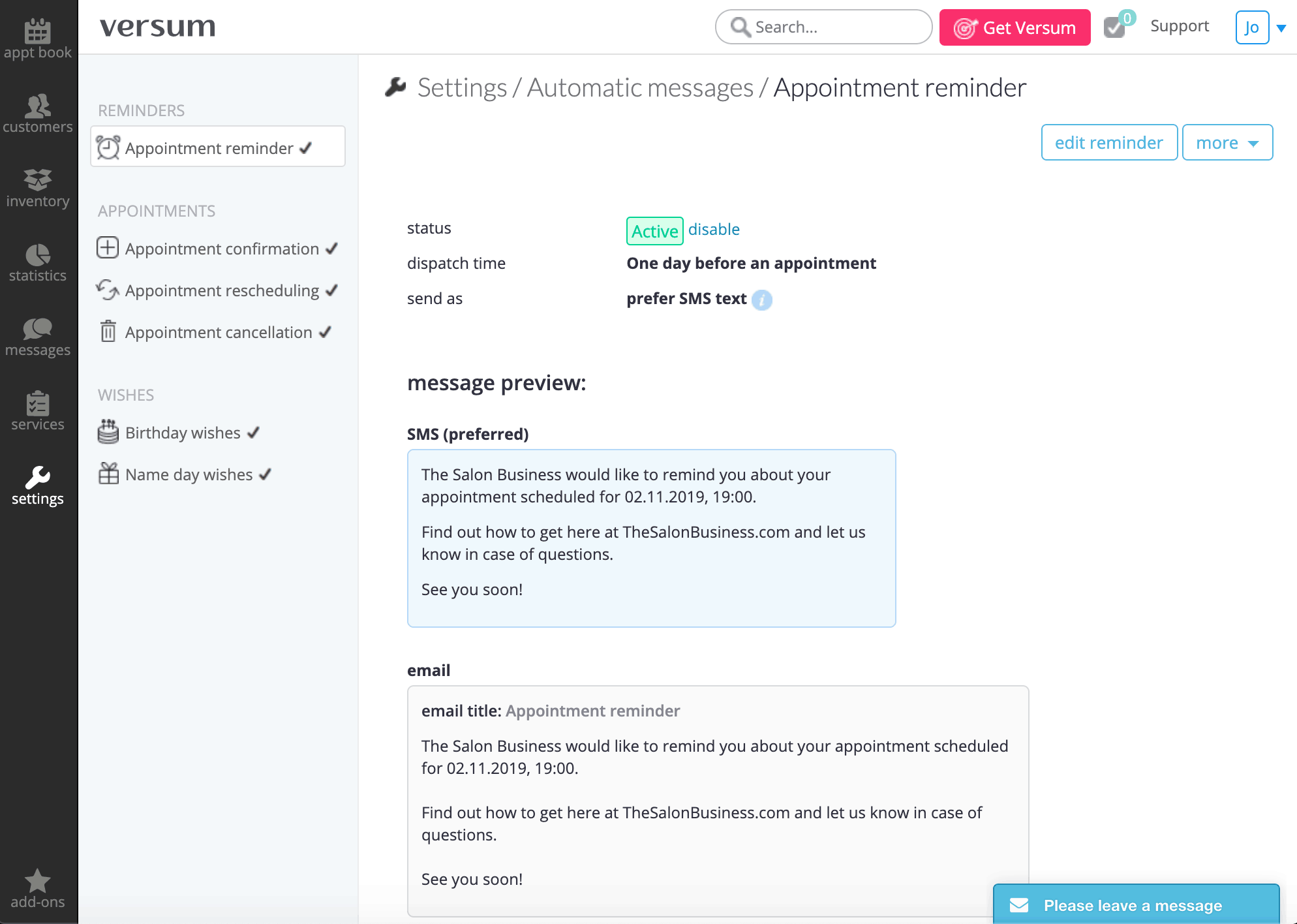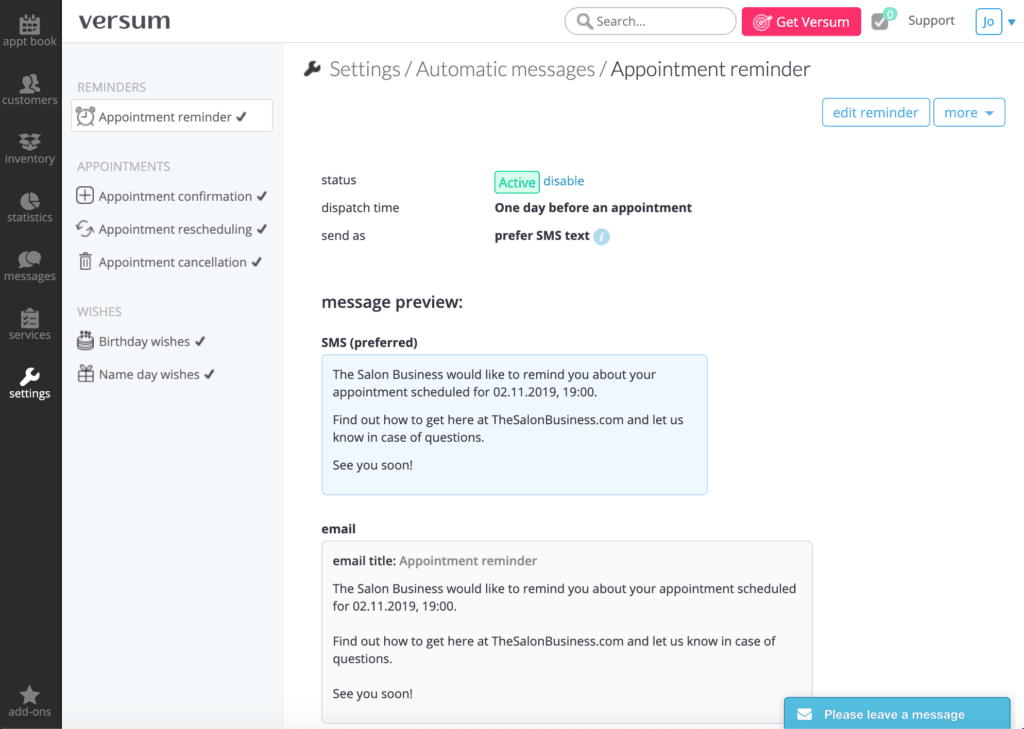 Making Your Online Booking Visible to Clients
It's really easy to enable online booking in Versum. It's basically just a click away to have a mini website generate for your salon that looks simple and clean that allow visitors to schedule their appointment.
You'll get a website URL that is https://yoursalonname.versum.com where your client can log in to access their profile details and book their appointment.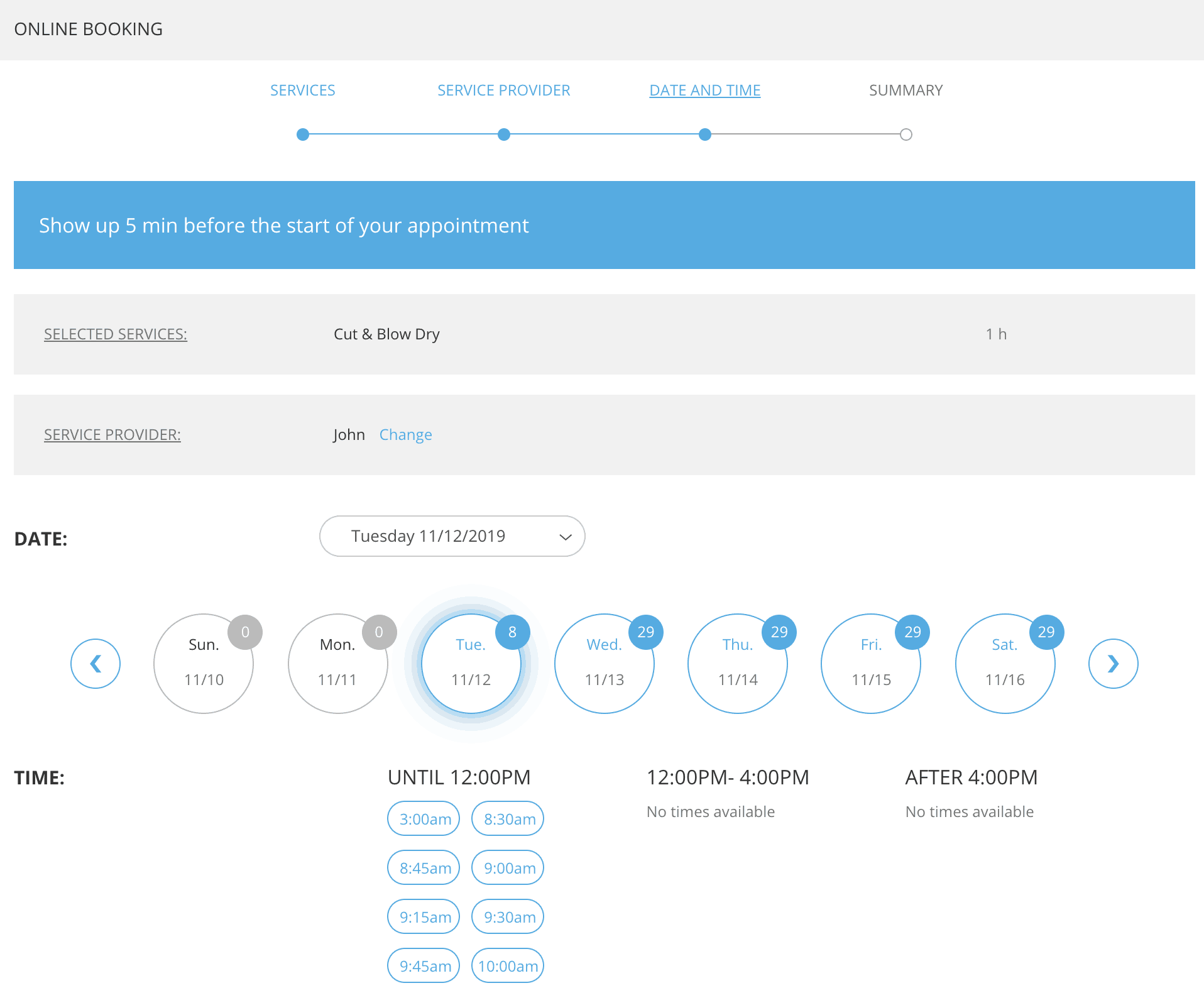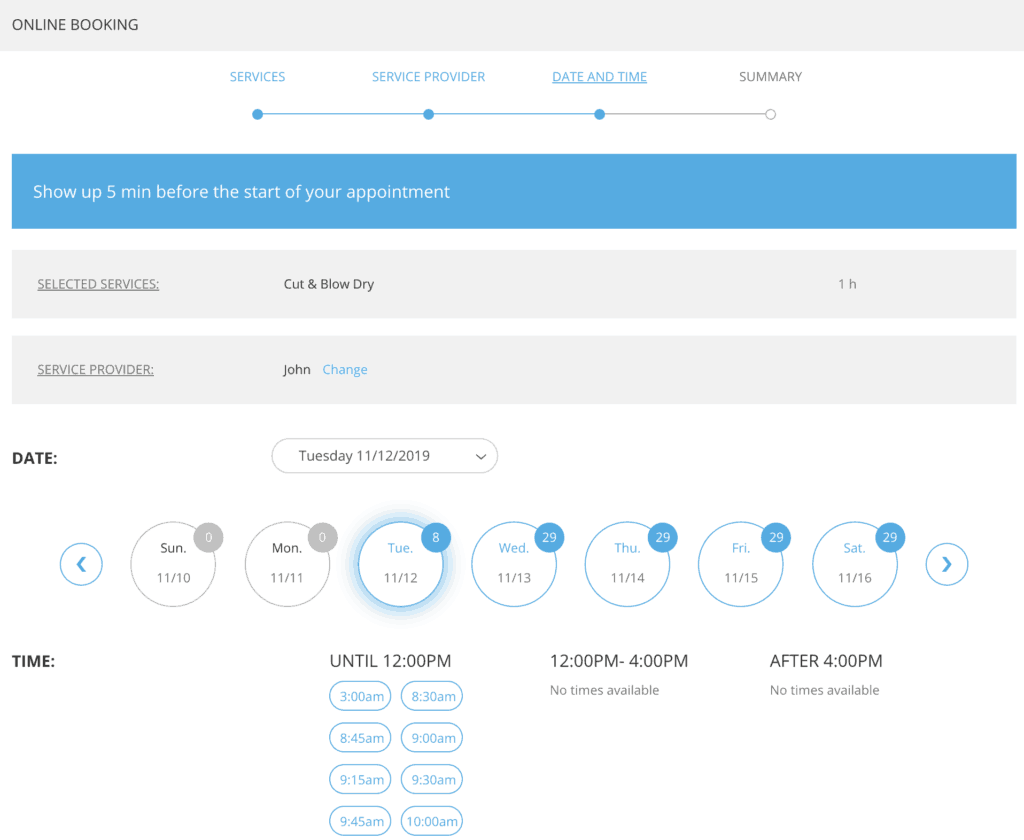 Example of what the booking page looks like
Whenever you want to allow your clients to book with you, you just link to this page.
You can add information about your salon on the mini website but I wouldn't say it replaces are "real" website. It's easy to create but that also means it is rather limited in how much you can customize it to make it look the way you want.
So if you're looking to create a website, I would rather use Wix or another website builder (like the ones I recommend for salons here) to create the website and then just link to the Versum booking page when your visitor wants to book with you.
Your visitor will then be taken to the separate booking site (which currently cannot be integrated on the website itself).
Managing Client Information and Data
Versum comes with rich support for managing all your client data. You can really store all information you can possibly need about each client, even before and after photos. You can also pull reports on each client so that you can get statics and relevant information about your client to serve her in the best possible way.
You can define preference for how and when she should be contacts and also make comments during her appointment that you can com back to.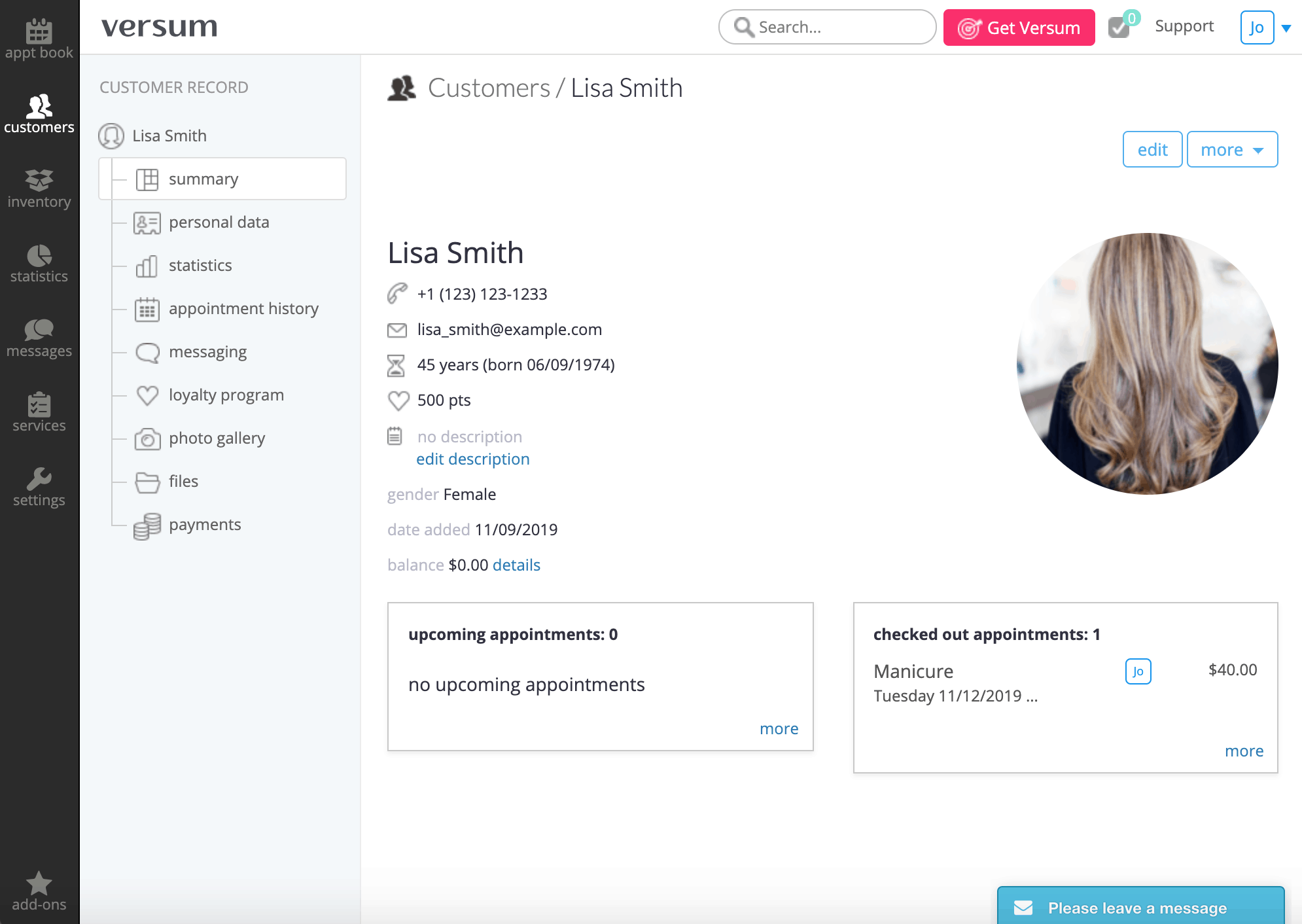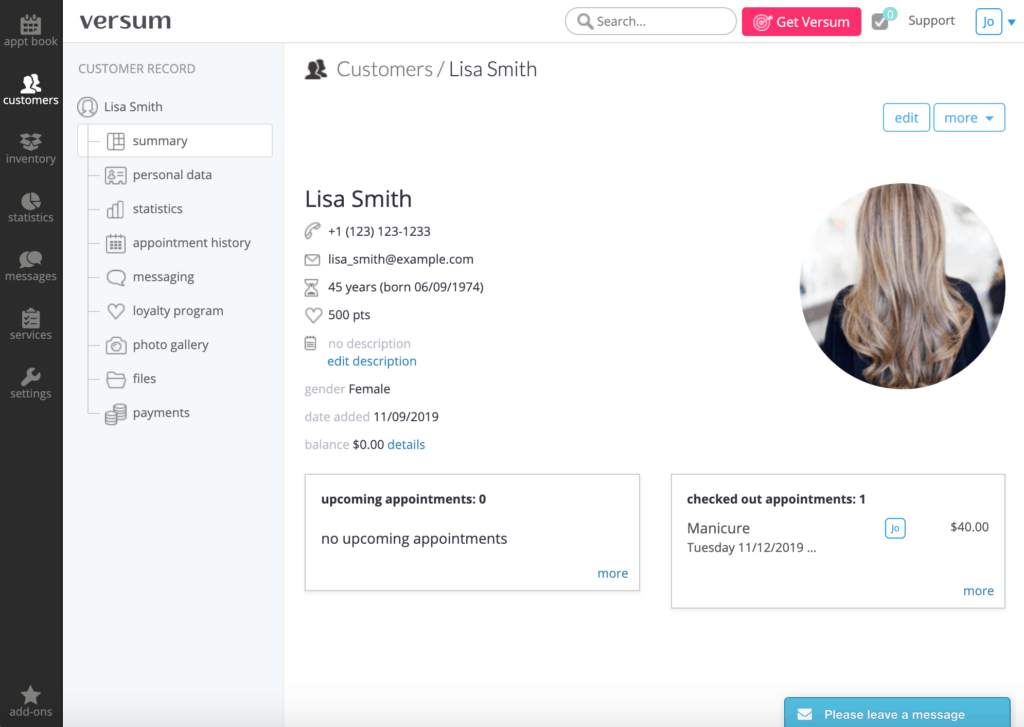 The way you manage client data in Versum is very complete. The only negative I found is that I could not easily get an overview of all the notes I've made on client but I need to go back to click on the specific past appointment that I want to see the note for. This is typically not a problem but just a missed feature.
Versum Salon Marketing Software
Marketing is crucial for the success of your salon and and your salon software can help you a long way here. Versum have understood this and provide a good marketing support.
Let's go over the key marketing features available in the software.
Email & SMS Marketing
E-mail & SMS marketing has been around for a while now. And despite the development of new social media platforms, it's still the most effective tool you have to reach your existing and new clients.
Versum comes with built-in e-mail marketing that allows you to send promotional emails and newsletters. You can also automate emails and SMS to client based on activities.
Versum makes it easy for you to design your promotional email campaigns and newsletters using one of their 40 predefined email templates that you can customize to your needs.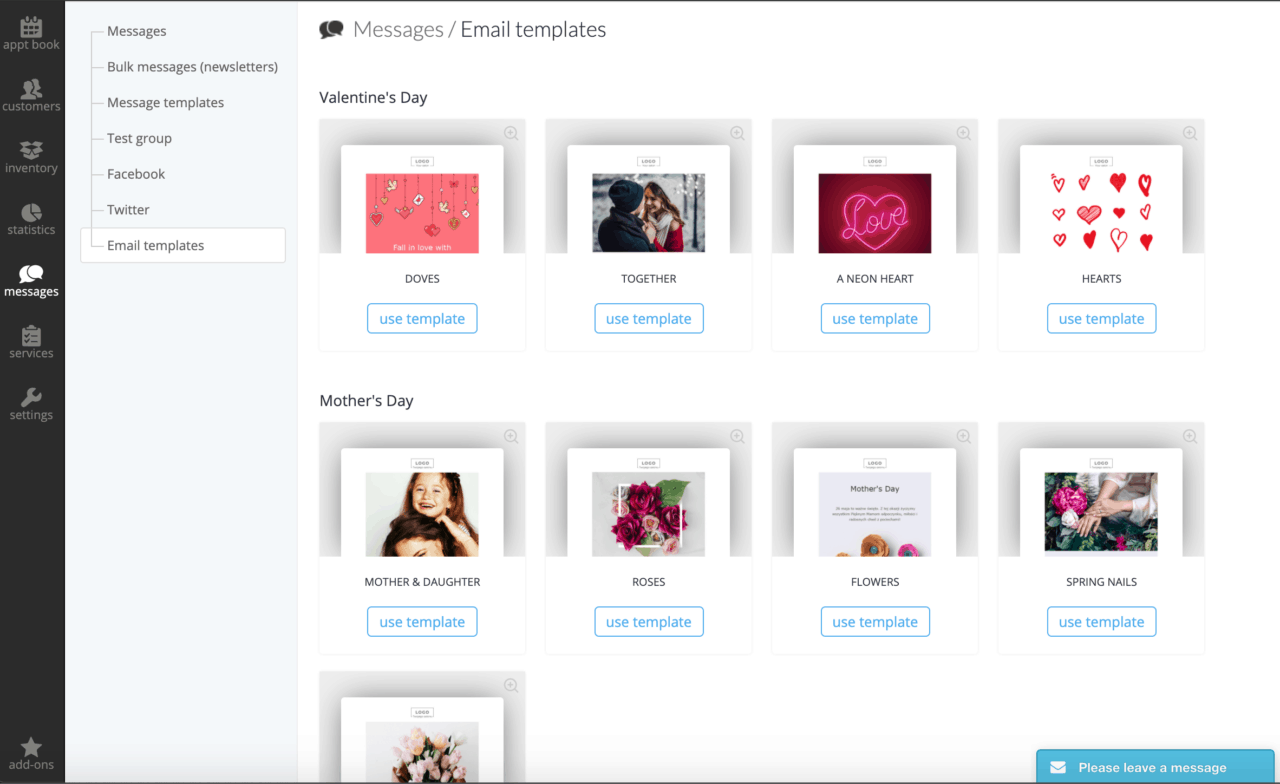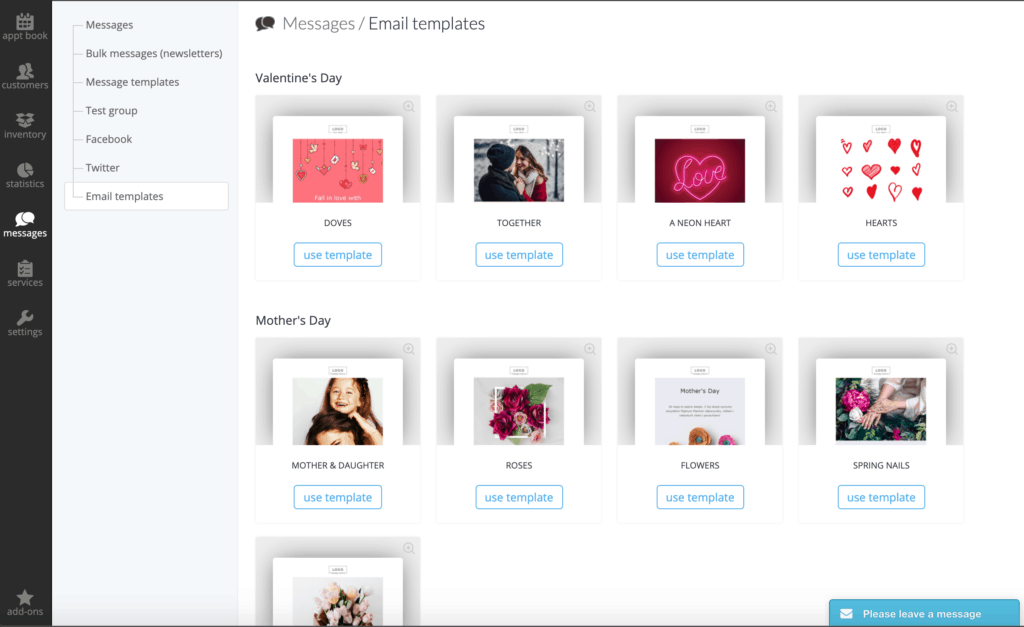 Not only does Versum allow you to send out individual e-mail and SMS messages. You can also automate a sequence of emails following specific events. You can, for example, send a specific message right after an appointment and then follow up with another email a few weeks later when it's about time for the client to book with you again.
You do the same thing via SMS as well and run the messages to SMS, email, or both depending on the preferences set by your client.
This makes your marketing campaign highly personalized to the client which ultimately makes it more effective.
And, best of all, you can easily track the effectiveness of each campaign right inside the software.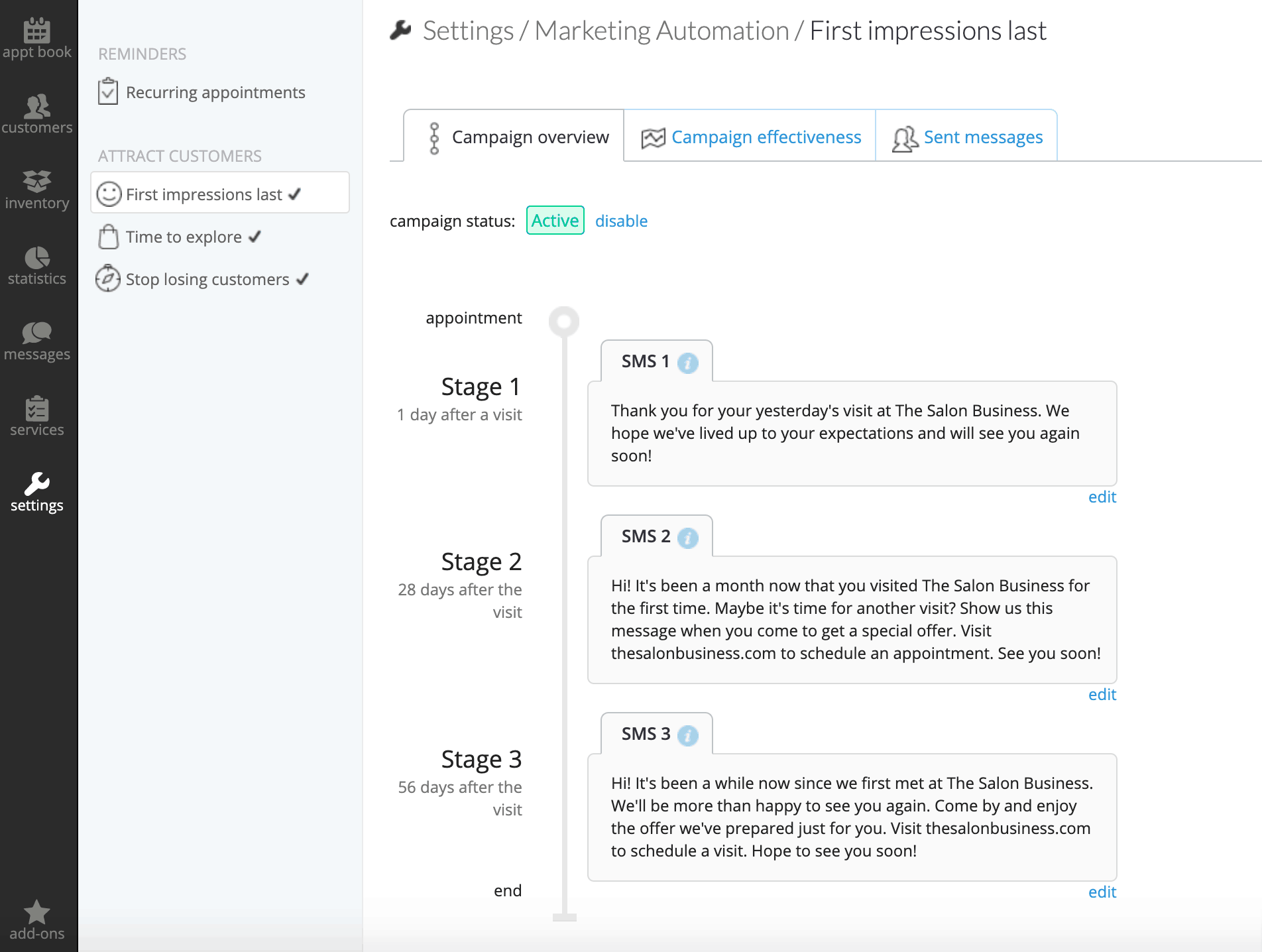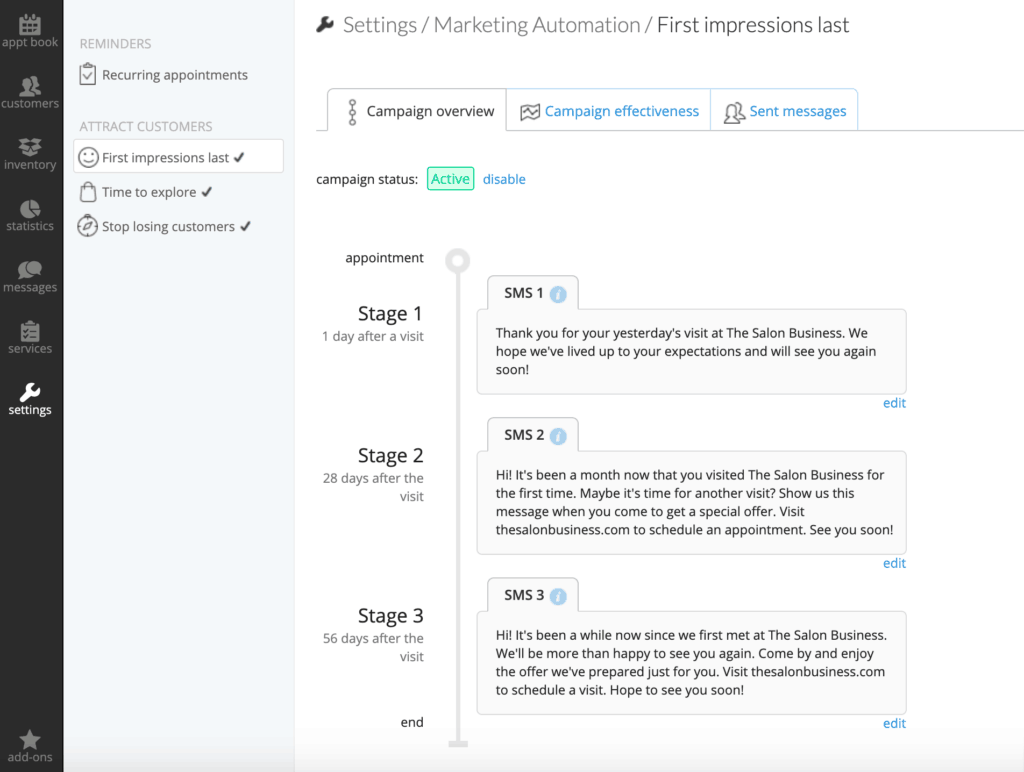 Salon Reputation Management
Ratings and reviews are becoming increasingly important for salons & spas. Like it or not, people research you online before they book and if you do not have any reviews, people are less likely to trust the quality you deliver.
Versum allows you to send a message after the appointment asking your client to leave a rating and review.
When clicking on the link in the email, they land on a page looking like the one shown here that allows them to write a review.
You can then use these reviews on your website and social media to promote your salon.
This is a simple and helpful feature. However, Versum does not include full reputation management. Meaning, it does not capture and monitor reviews made about your salon on other platforms than your website. If you want this more advanced feature, you'll need to sign up for a separate reputation management service.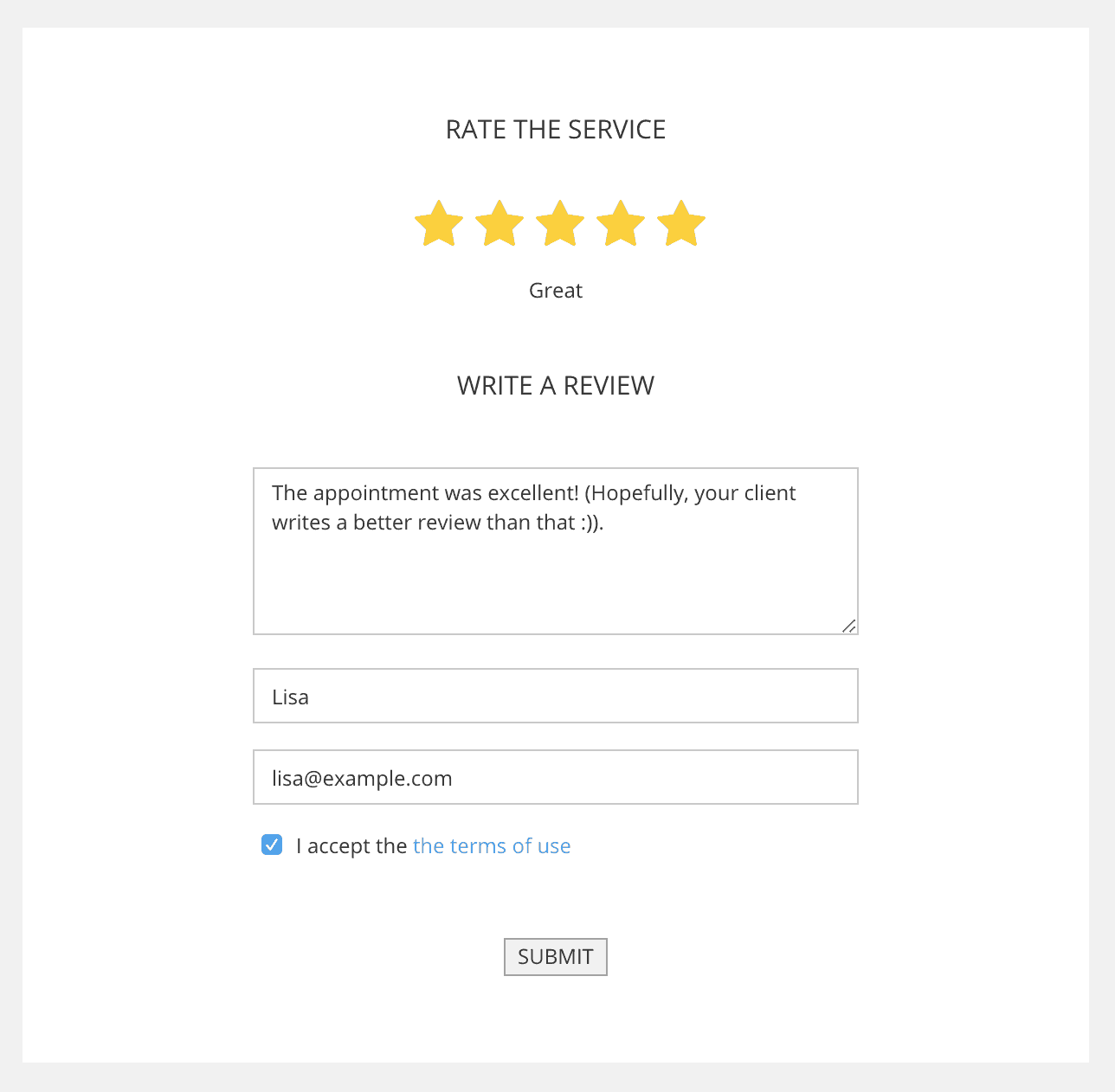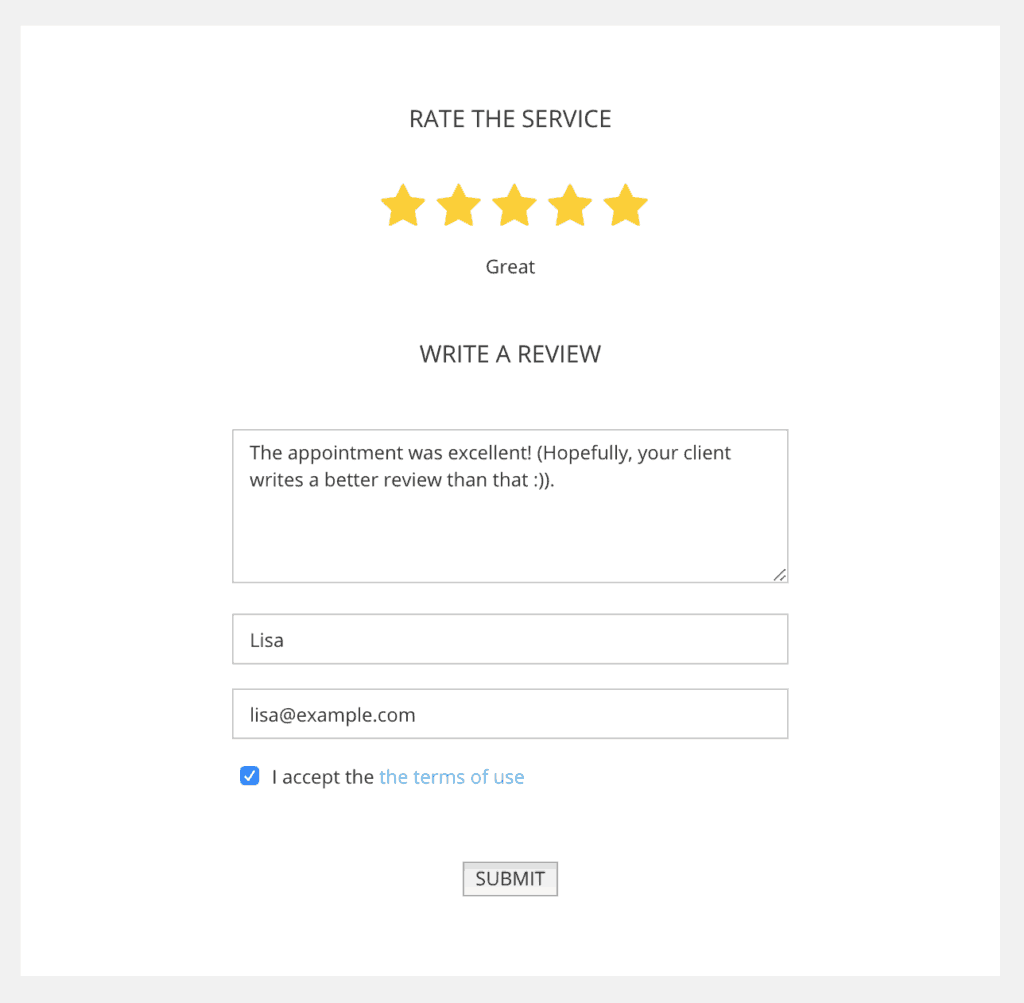 Salon Loyalty & Referral Program
Versum gives you access to an advanced loyalty program. You can really customize all aspects of the program and define what activities should generate loyalty points for your clients. This includes referrals which also incentivizes your clients to recommend you to their friends.
You're in control of the rewards you want to offer loyal clients. And clients can easily see their progress towards the rewards as they login to their profile on your salon booking website.
The loyalty program is really powerful and one of my favourite Versum features.
The image below shows you all the activities that you can configure to generate loyalty points.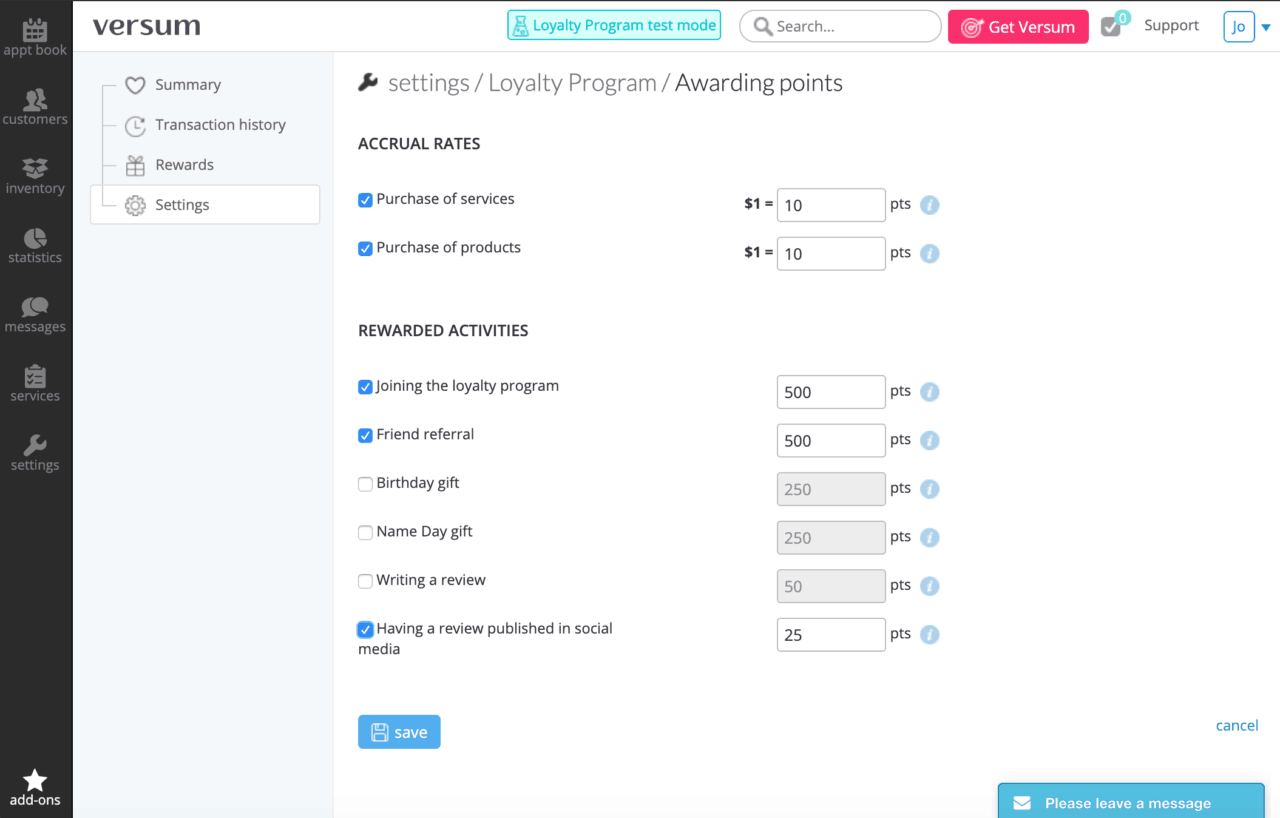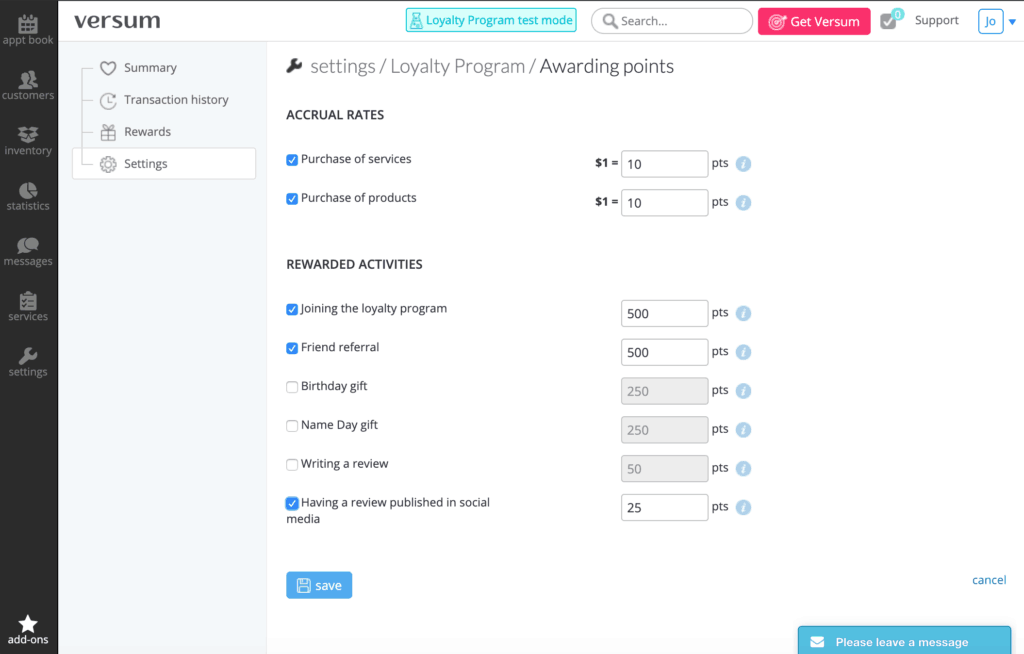 You have the freedom to customize all the messages that goes out as clients complete the activities that earn the loyalty points.
This is great and helps keep your clients motivated to do more business with you.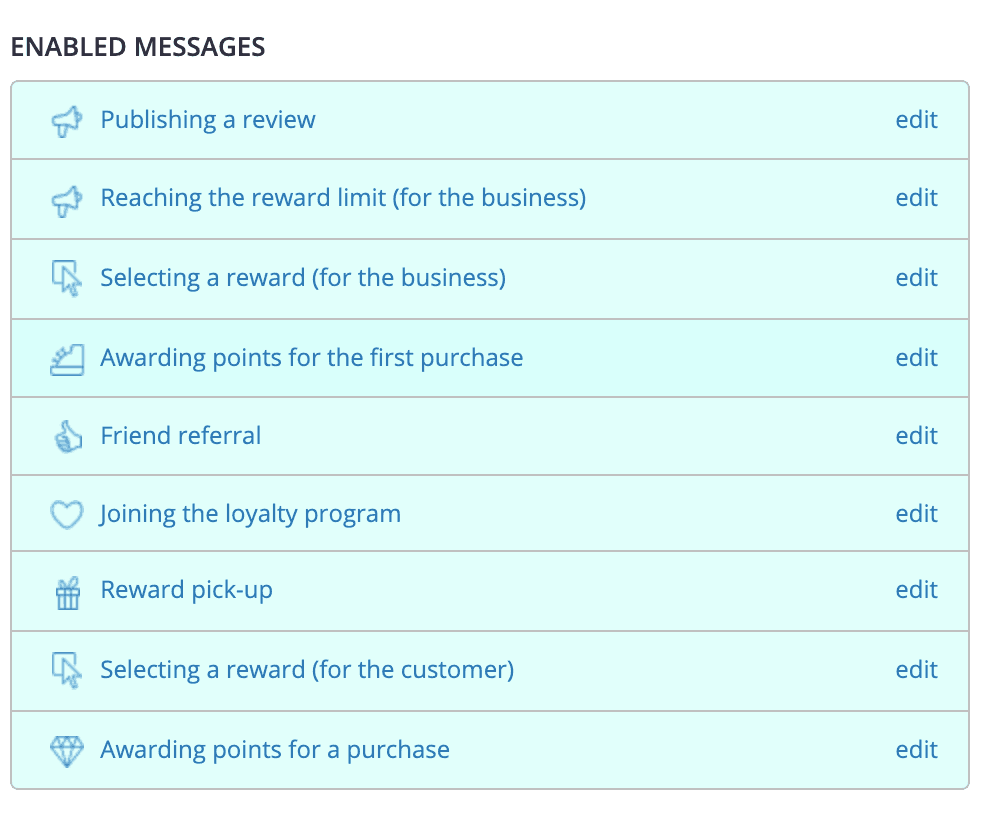 Versum Salon Management Software
Your salon software should not only help you with good marketing to grow your business. It should also help you streamline your operations and simplify your operational tasks so that you can spend your time on value adding activities.
Versum offer a lot of support to help you effectively manage your salon operations. Let' take a closer look at the specific features.
Salon Inventory Management
I'm really impressed with how sophisticated the inventory management function from Versum is. You can manage all the details you need about products and suppliers.
You can set minimum thresholds for how much stock you want to have of each product so that the system can notify you in case your stock levels are starting to run low.
You can also pull reports on product level so that you get a view on which products are performing well or not.
I cannot come up with any shortcomings when it comes to stock management with Versum.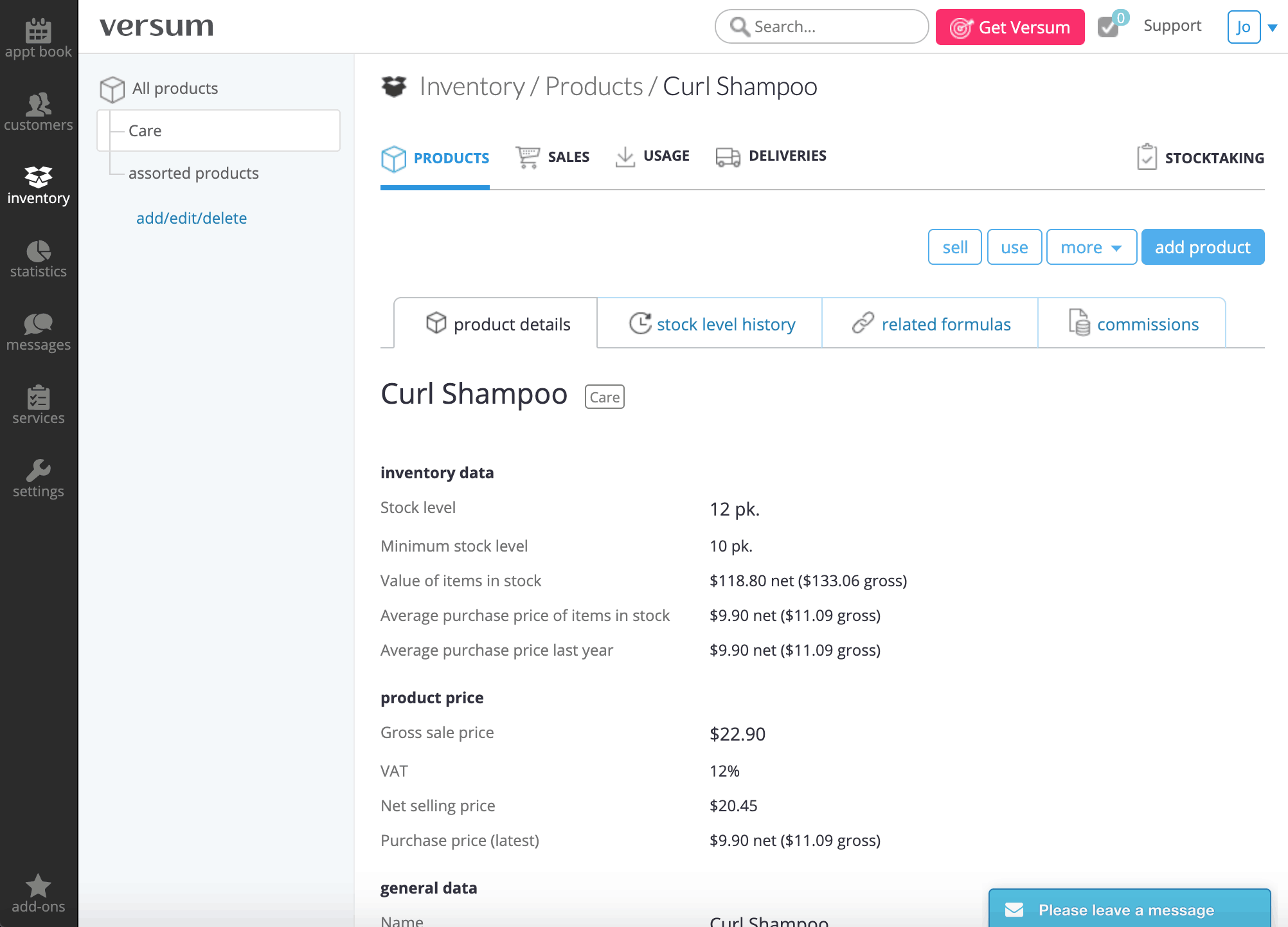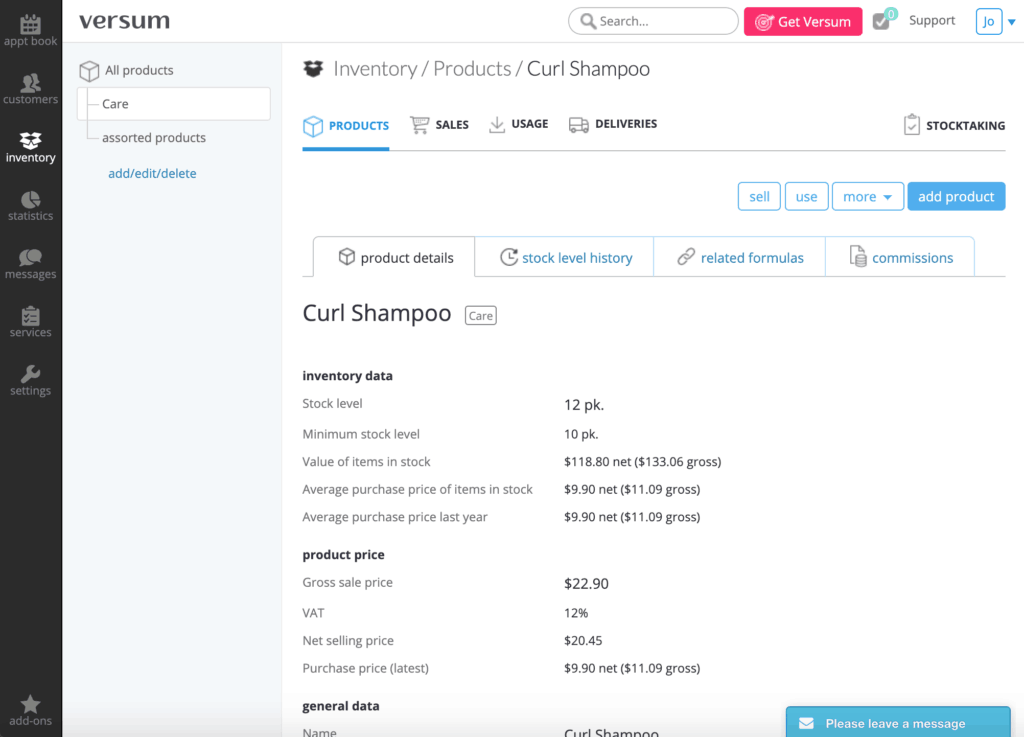 Salon Payroll
Versum offers a complete staff and payroll management solution for salons.
Set schedules for each staff member that synchronizes with the appointment calendar. Register sick leaves and holidays. Define commission rates by employee. Pull reports for payroll at the end of the period. And much more.
There's really no feature that I can say is missing here. You'll get all the support you need to manage your staff and payroll with Versum.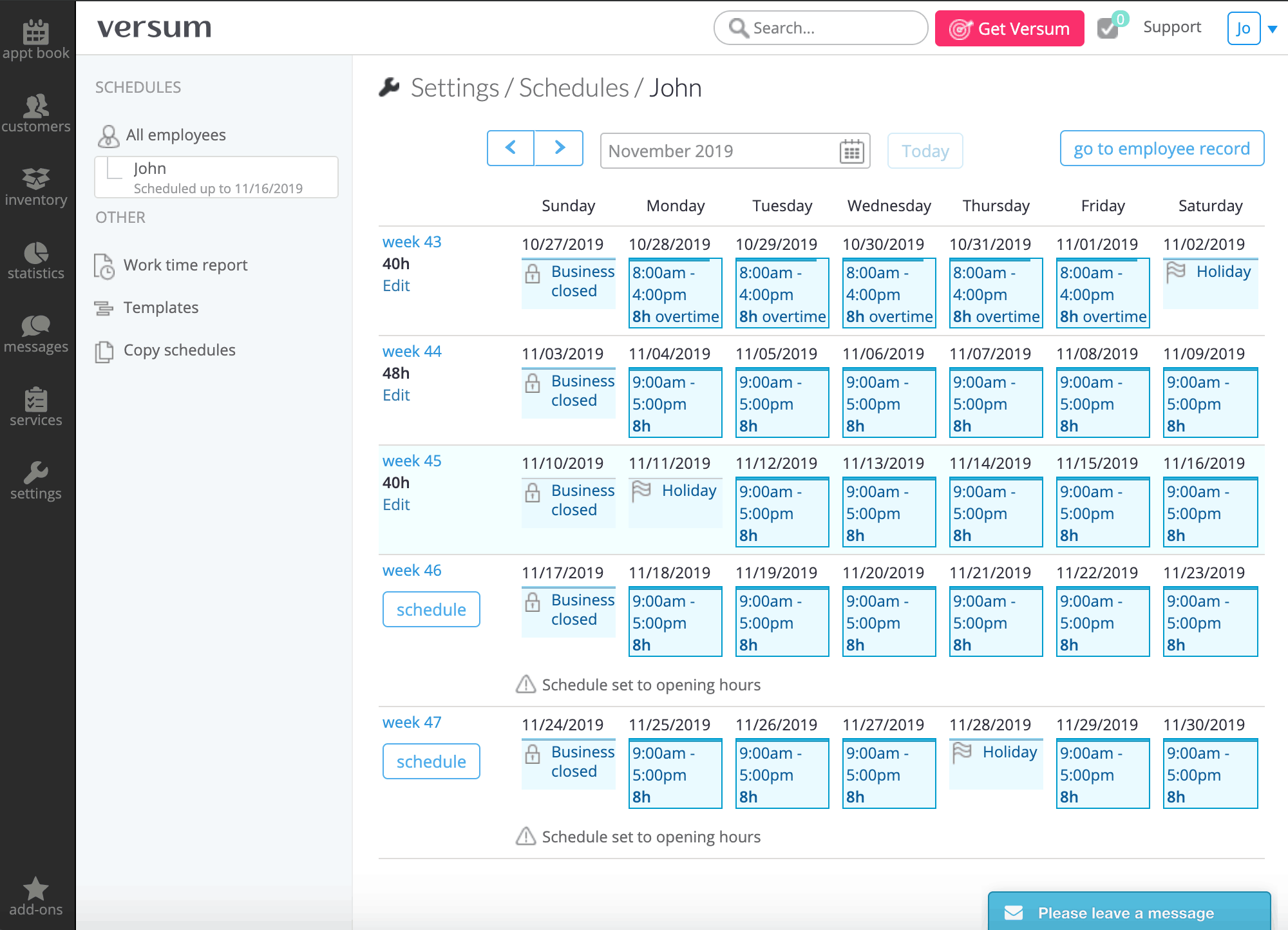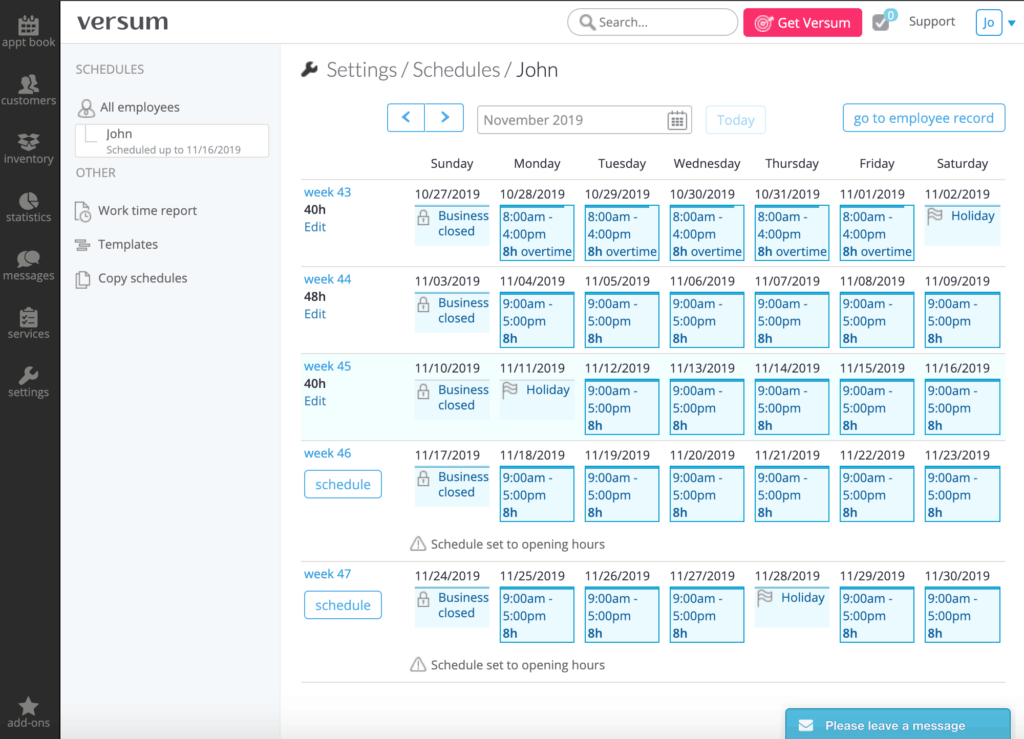 Salon Business Reporting
I'm sure you agree with me that being able to track and analyze your salon business performance is crucial to be successful.
And the team at Versum understands this too.
If you like numbers and being in control of your business, you'll love Versum.
Out of the Salon Software's I've reviewed on this blog, Versum really stands out with its business reporting capabilities.
You can produce beautiful and visual reports that give you key insights into your business.
You can slice and dice your data as you like. You can look at sales on employee level, product level, or client level.
You get key metrics to monitor like client retention rates which can alert you early in case you have an issue on your business.
There's really a lot to be said about reporting and probably the best is for you to try it yourself in a free trial.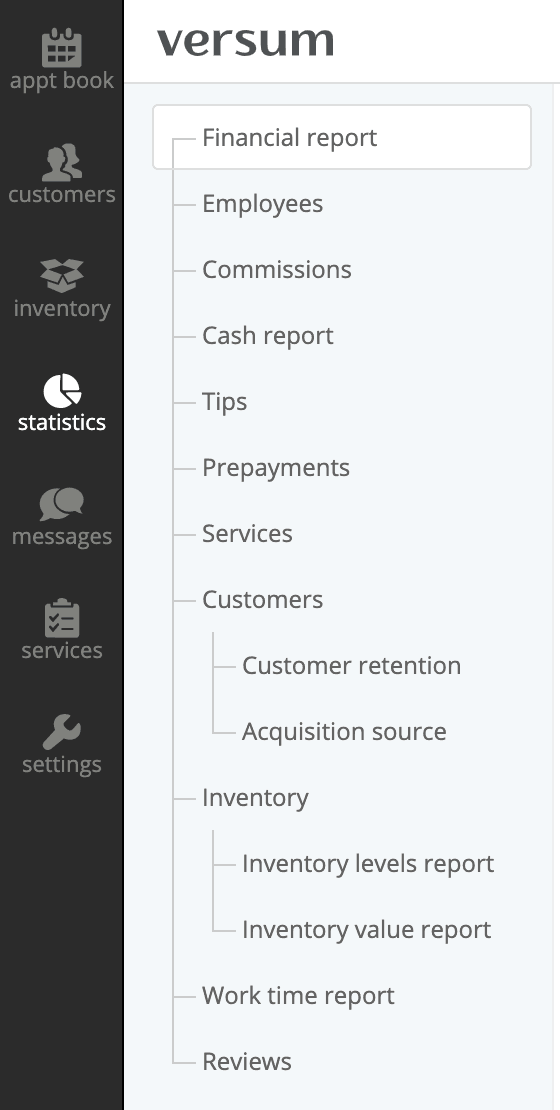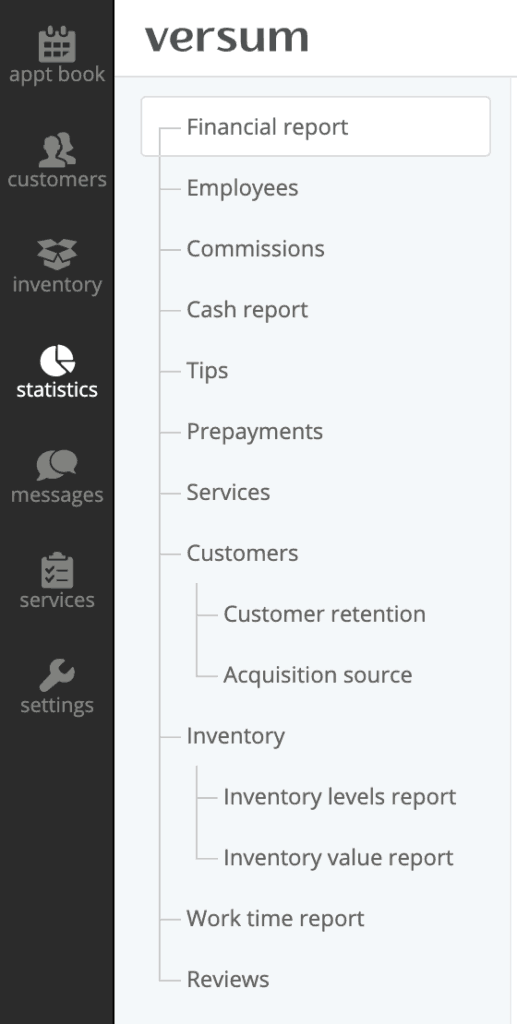 Versum Salon Point of Sale (POS) System & Checkout Process
Versum does not offer a physical point of sale unit or credit card reader to use during check out. Instead, you manage everything via the web interface or mobile app.
You can, of course, use any card reader you like where you just enter the amount. Or any receipt printer or cash drawer that you want. It's just that the systems aren't connected.
The check out process is very easy. You just open the current appointment, add in any further details needed (like additional services added), and select the payment method the client prefers.
Versum supports all the common payment types. You can even issue an invoice if that's what your client wants or setup a new payment type of you have special needs for that.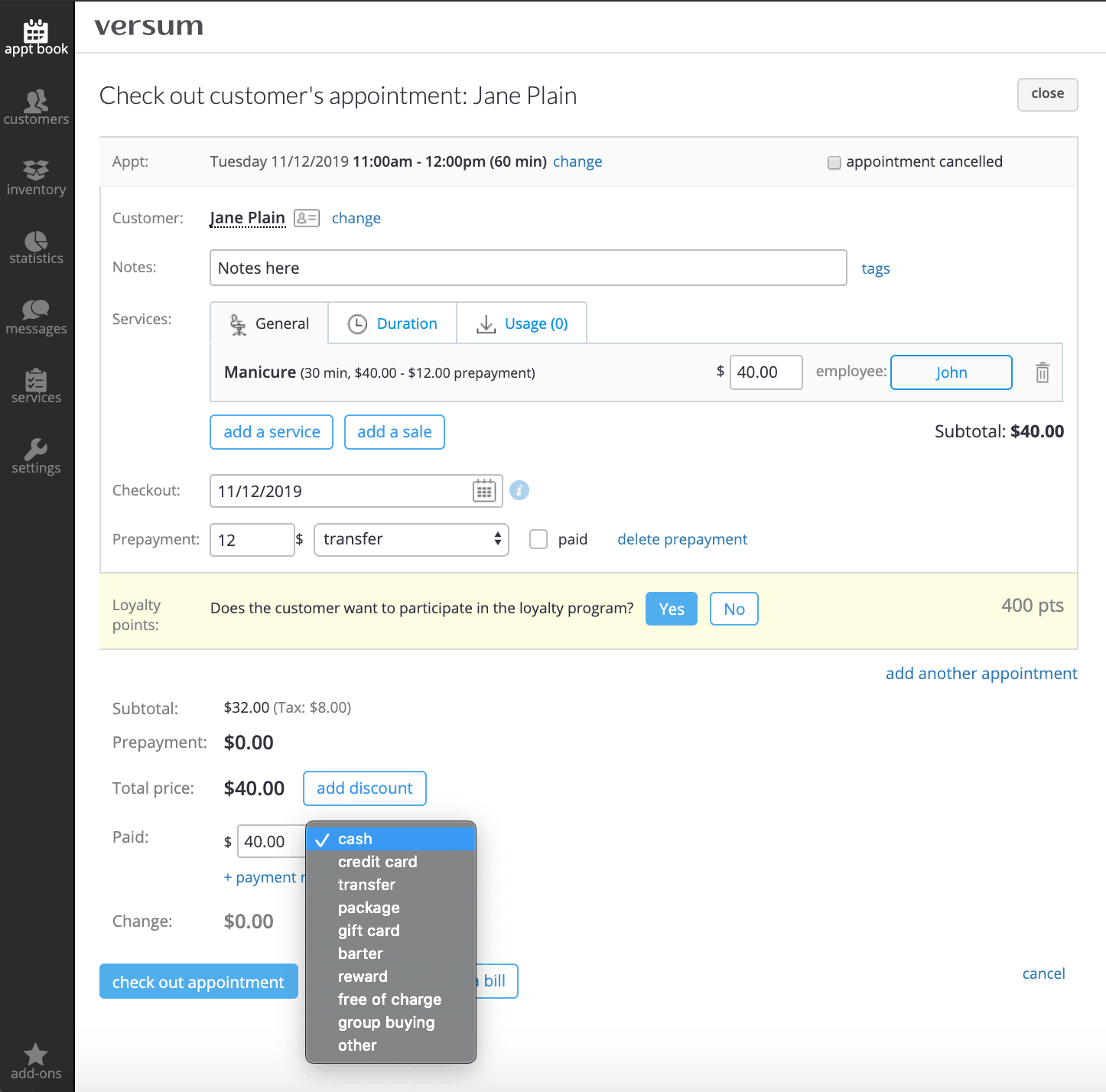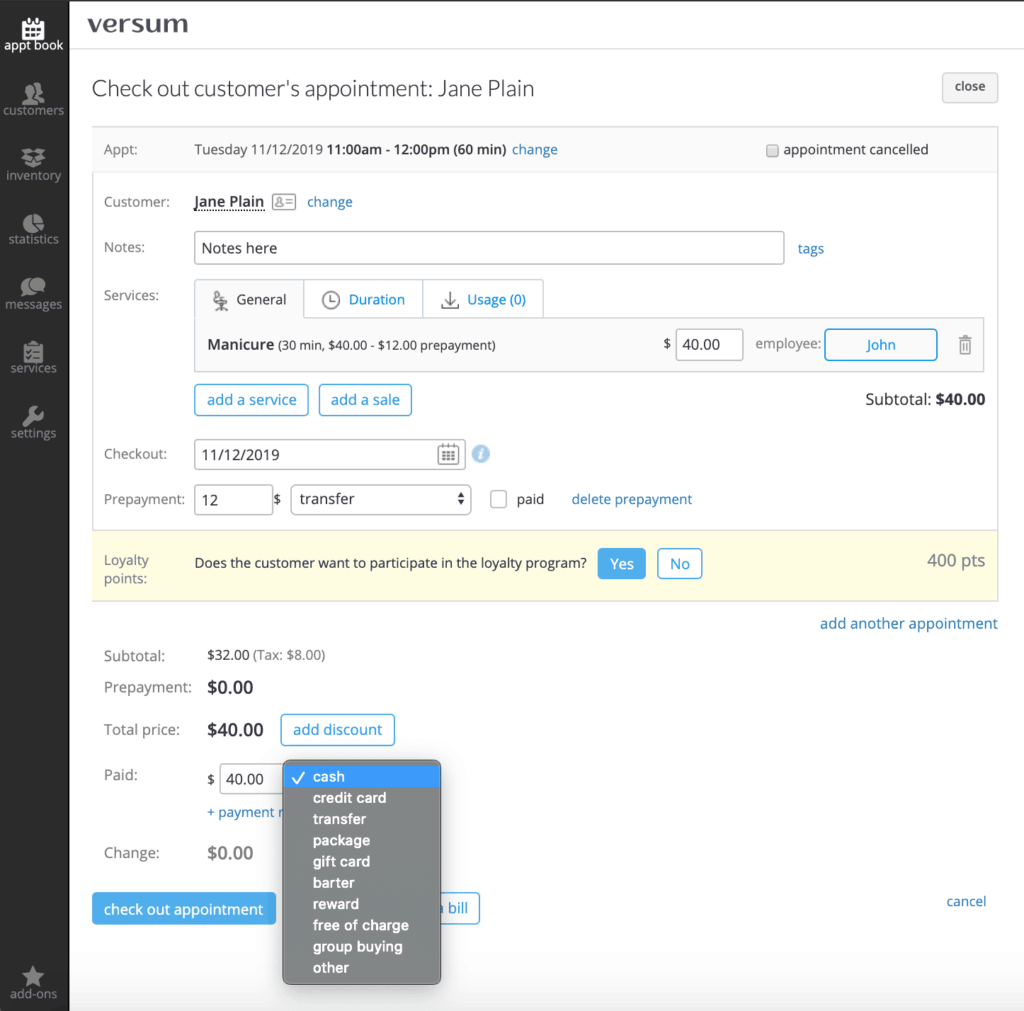 Versum Booking App
Versum offer a mobile app for iPhone and Android. I've only tested the iPhone app but I must say that I love it.
It has a nice and clean interface and allow you to access all information you need and even check out your client while you're at the chair.
This is another key strength of Versum which makes it a great platform for mobile stylists or even booth renters who want to manage client transactions directly without relaying on the salon's POS system.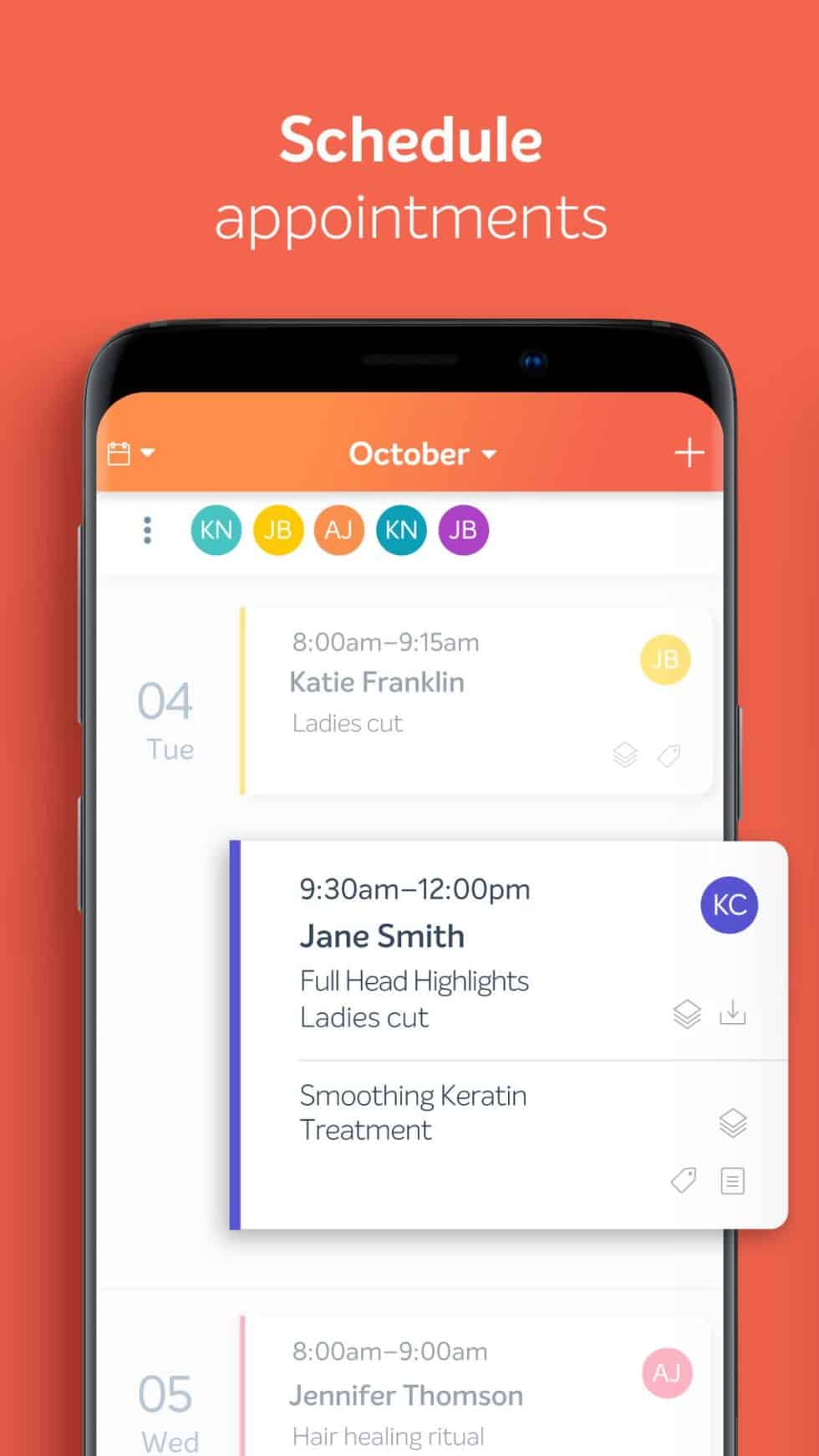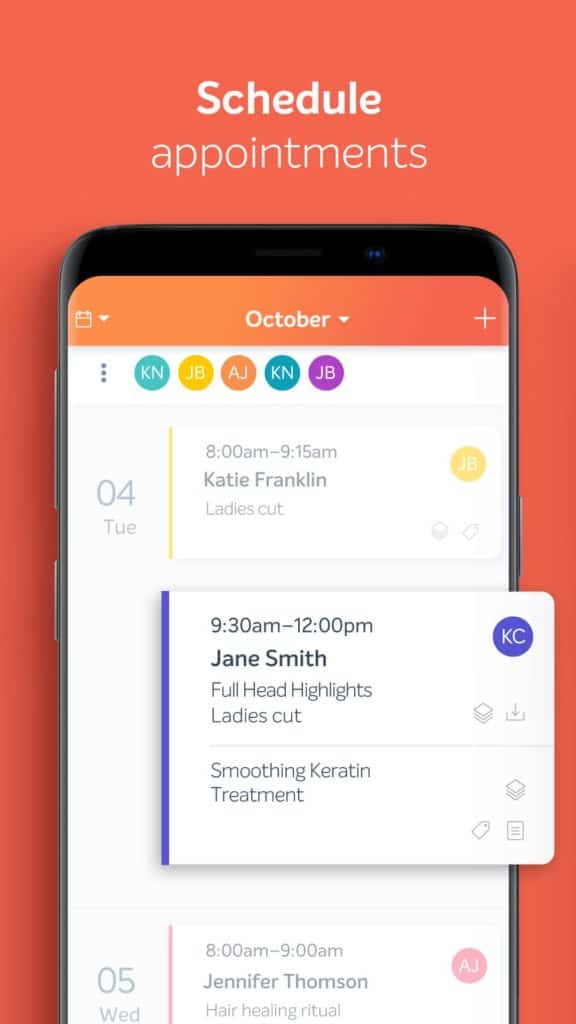 Versum Pricing
Versum is offered at a very attractive price point given the richness of features. You get a lot of value for the price you pay with Versum.
In the below table you have the prices (without discount). The additional cost you should expect is if you want to buy more SMS (cost €0.07/sms) or if you want to enable the marketing automation and loyalty program (which is not included in all packages).
SOLO For individuals
€25/mo
+ 1 User
+ Free setup and support
+ Online booking
+ Client communication (SMS/e-mail)
+ Statistics and reports
+ Inventory management
– No employee features (e.g. commission)
– No marketing automation
Medium 2-5 Staff
€39/mo
+ 6 Users
+ Free setup and support
+ Online booking
+ Client communication (SMS/e-mail)
+ Statistics and reports
+ Inventory management
+ Employee features (e.g. commission)
– No marketing automation
Large 6-10 Staff
€69/mo
+ 12 Users
+ Free setup and support
+ Online booking
+ Client communication (SMS/e-mail)
+ Statistics and reports
+ Inventory management
+ Employee features (e.g. commission)
– No marketing automation
Large 6-10 Staff
€109/mo
+ Unlimited
+ Free setup and support
+ Online booking
+ Client communication (SMS/e-mail)
+ Statistics and reports
+ Inventory management
+ Employee features (e.g. commission)
+ Marketing automation
Summary & Conclusion
I hope you found this Versum review helpful and that you've been able to decide if Versum is right for your salon business or not.
I strongly recommend you also see for yourself and sign up for a free trial.