Disclosure: This post may contain affiliate links, meaning I get a small commission if you decide to make a purchase through my links, at no cost to you.
Learn more...
Are you looking for a free online booking system?
Then you've landed in the right place.
The number of free appointment booking apps in 2023 has snowballed.
And I understand if some of these options have piqued your interest.
However, before I walk you through my list of the best free online booking apps, I just want to be clear that these companies still make money even though these options do not have a monthly subscription price.
There's no such thing as a free lunch, right? 🙂
I am saying this to ensure your expectations are set right and you're not later surprised about charges.
Exactly how they make money will differ by platform and is typically one or a combination of the below:
As part of the credit card transaction fee.
As a commission for new clients. For example, if they offer a marketplace where new clients book you, they'll charge you for new clients.
By introducing a subscription fee when you want to increase the number of staff or enable more than the basic features and customization options
And many times, because the real price is kind of hidden, it costs you more than if you paid an upfront, transparent, monthly subscription.
My personal go-to solution is Mangomint. It's simply the best out there for salons and spas. They don't offer any free plan. But you will save money, and frustration down the line, by setting your business up with something like Mangomint.
You can get an extra month-long free trial if you sign up using this link.
If you want to explore more paid options, you should check out this list of software.
If this is you, I recommend you also consider the paid subscription solutions by going to my list of the best appointment schedulers or, if you run a salon or spa, my list of the best salon software.
With that out of the way, let's go through this list of free salon software solutions and other free appointment-scheduling apps that aren't industry-specific.
Overview of the Best Free Scheduling Software
I will dive into each free appointment software in more detail following the table below.
Note: You may need to scroll the table to the right to see all details.
| Salon Booking Software | Free Plan | Primary Industry | Features | Ease-of-use | SMS | Prepayments | Website Embed | Google & Instagram | Geography |
| --- | --- | --- | --- | --- | --- | --- | --- | --- | --- |
| Fresha/Shedul | Subscription free at all levels | Salon & Spa Software | 3(5) | 5(5) | Yes | Yes | No | Yes | Global |
| Square Appointments | Free for individuals | Any local businesses (including salons) | 5(5) | 5(5) | Yes | Yes | No | Yes | US, Canada, Australia |
| Schedulicity | 10 free appointments per month | Salon & Spa Software | 3(5) | 4(5) | Yes | Yes | No | Yes | US, UK |
| SimplyBook.me | 50 free appointments per month | Any industry | 4(5) | 4(5) | Yes (at cost) | Yes (at cost) | Yes | Yes | Global |
| Calendly | Free for individuals | Online businesses & coaches | 4(5) | 5(5) | Yes | Yes | Yes | No | Global |
| Setmore | Free up to 4 users | Any industry | 4(5) | 4(5) | Yes (at cost) | Yes | Yes | Yes | Global |
| Picktime | Subscription free at all level | Any industry | 3(5) | 4(5) | Yes | Yes | Yes | No | Global |
---
This table should give you a good overview of the leading free online booking systems. Let's now take a closer look at the top 3 free appointment scheduling apps so that you can judge which one is right for your business.
---
1. Fresha: Best 100% Subscription Free Salon Scheduling Software (Worldwide)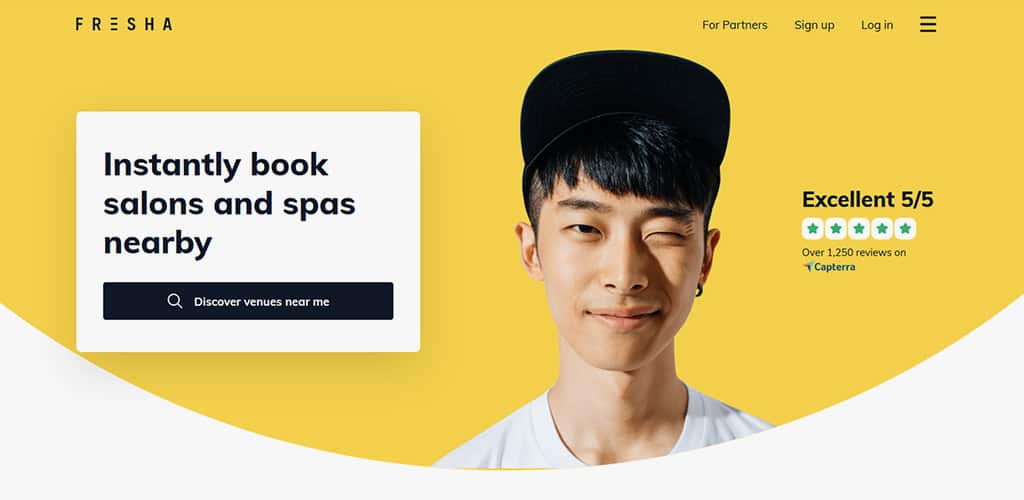 Fresha, previously called Shedul, is a complete system for salons with an easy to use appointment calendar. It's the only 100% subscription-free salon booking system, so for individual stylists or new salons that need to keep fixed costs low, this is the perfect option.
Apart from the robust salon appointment scheduling, Fresha features a point-of-sale system, staff scheduling, product, and stock management, payment processing, financial reporting and analytics, and a range of marketing tools.
Fresha makes it easy for you to attract clients online through your own website, the Fresha marketplace, or by connecting to their Instagram and Facebook business pages.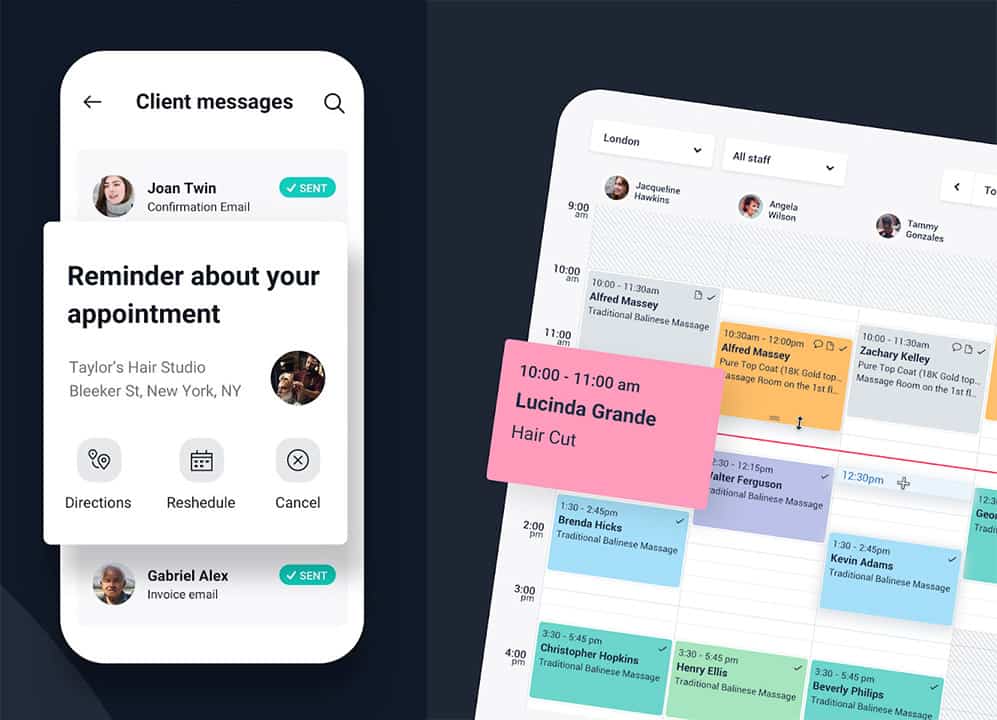 You'll be surprised how much you get with your free Fresha subscription. It's no wonder it's the fastest-growing salon appointment system with 250'000 stylists and therapists in more than 120 countries.
It gives you a lot of the advanced features you'd normally need to pay for – like free SMS, built-in no-show protection, and marketing automation (e.g. like client birthday emails).
An important difference with Fresha is that they offer a salon client marketplace. This allows you to promote your business and get discovered by new clients. Note that this is also where they earn their money back. When you market your salon or spa on the platform and you get a new client, they'll charge you 20% of the appointment. Also, as you'll be using their credit card payment gateway, you'll also be charged transaction fees when clients pay online (2.19% + $0.2).
This means you only pay when the platform is generating business for you which I think makes a lot of sense.
The main reason I like Fresha is that it's so easy to use and despite being subscription-free, you get many of the features that other companies charge for.
One thing to keep in mind with Fresha is that it works best as a complete system on their platform. If you already have an established website and other marketing solutions, other options might give you more control and flexibility.
Pros
Free subscription for unlimited staff

Integrates with Facebook, Instagram, and Google

User friendly and easy to learn
Available in many languages
Cons
Limited options to customize the appearance (default designs looks very good though)
Limited support for integration with other platforms. You're kind of locked into using the Fresha tools.
Fresha Pricing
Subscription FREE for unlimited staff
20% New client fee – applies only to the first appointment of new clients via the Fresha marketplace website and apps. Fees never apply to returning clients, or any appointments made via your own website or social media pages
2.19% + $0.20 Payment processing fee per transaction across all payment methods
---
2. Square Appointments: Best Scheduling Software in the US, Canada, and Australia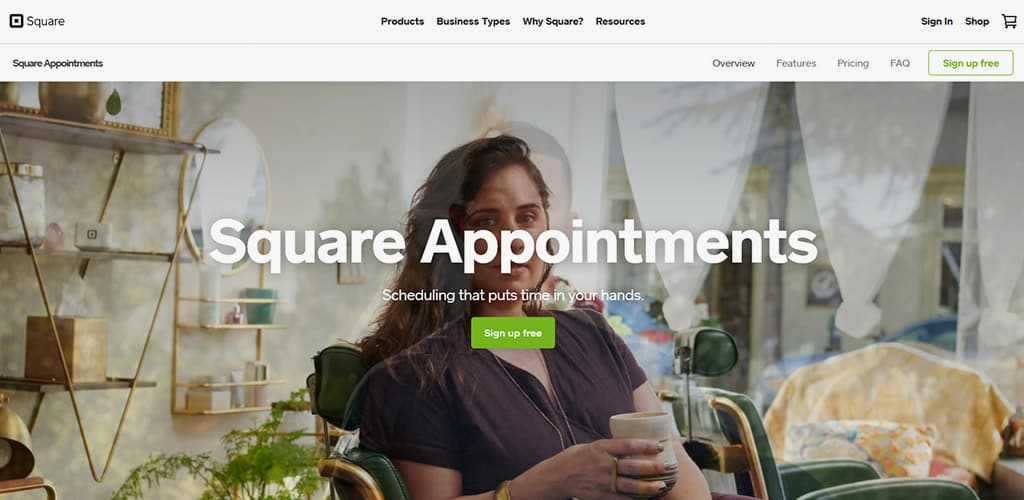 Square Appointments is beautifully designed and super easy to use. This is the go-to solution for many local businesses as it is rich in functionality, integrates with the full range of Square tools, and is free for individuals to start using.
When joining Square, you get access to so much more than "just" Square Appointments. Even if that might be the only feature you need right now, you can easily integrate their credit card payment tools, POS system, marketing features, online store, payroll & team management, and more when you need it.
Square is set up to grow with you as your business grows and is a complete business partner for small and bigger businesses.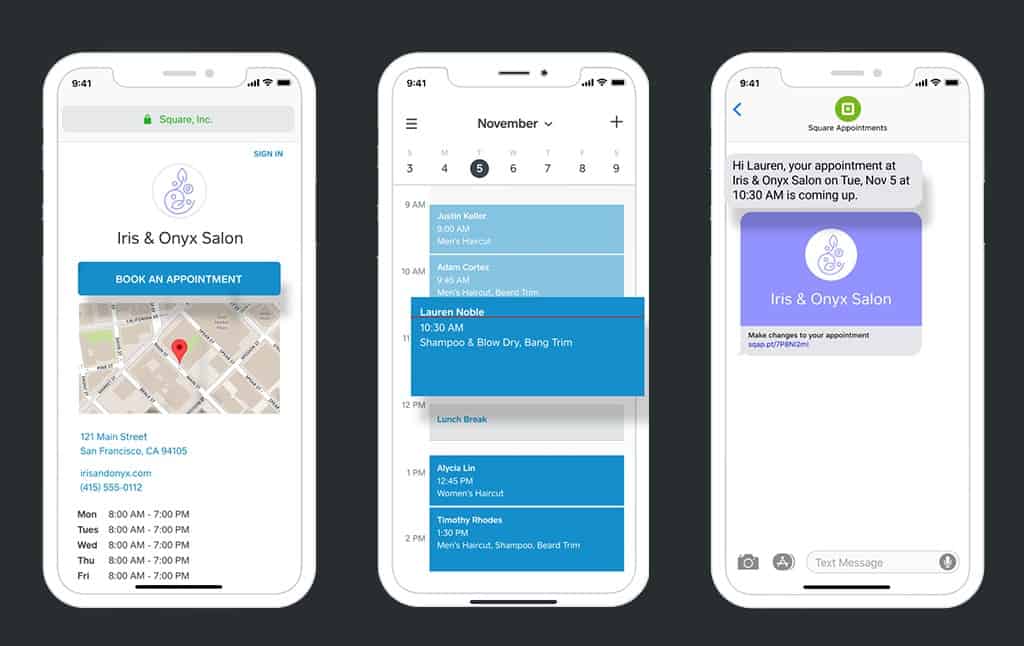 What I found most impressive is how well it supports client/staff notifications and online bookings. While you work in the simple calendar view and arrange appointments, your clients and employees are kept up-to-date with simple, customizable notifications.
You also have several options when integrating the booking feature on your website. You can embed it or link out to your booking page. This makes it very powerful vs. some of the competitors.
On top of that, Square Appointments is very strong at the business fundamentals (like inventory management and client data management).
I highly recommend Square Appointments for all-size businesses. Given you can start using it for free, I recommend you give it a try by signing up for a free plan here.
Pros
Free for individuals
Well designed, easy to use, interface
Very strong client notification support
Integration with the full suite of Square applications for endless possibilities
Robust core business management (inventory, reports, and client data)
Cons
Limited design flexibility
You can change colors but not completely make it fit your brand
Only available in the U.S., Canada, and Australia at the moment

Square Appointments Pricing
FREE for individuals
$50/month for a team of 5 staff
$90/month for a team of 10 staff
Credit card process fee of 2.6% + $0.1 when you allow clients to pay for appointments using the app. Note that you will always pay a credit card fee no matter which scheduler you use.
---
3. Schedulicity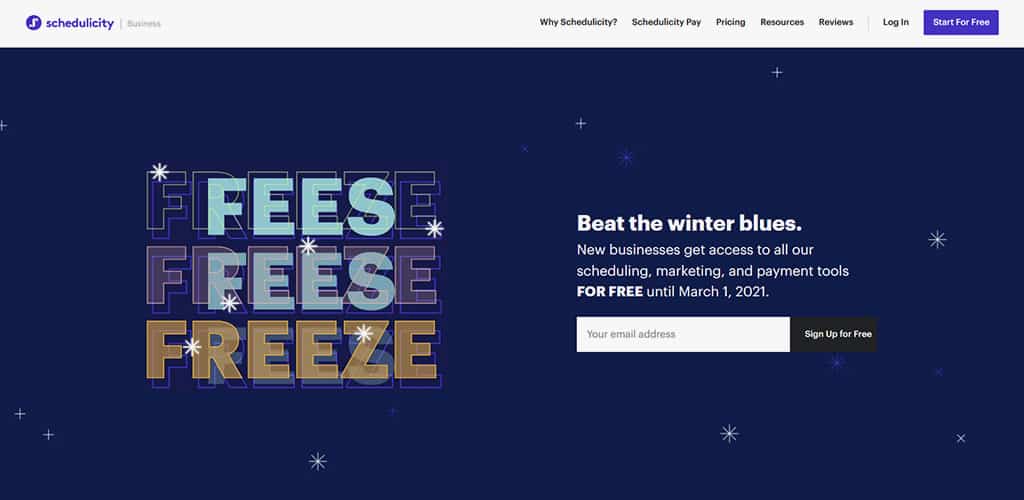 Schedulicity is another good salon appointment scheduling platform that has grown into an all-in-one system that now offers payment processing, automated email marketing, and a marketplace where local online customers can discover you.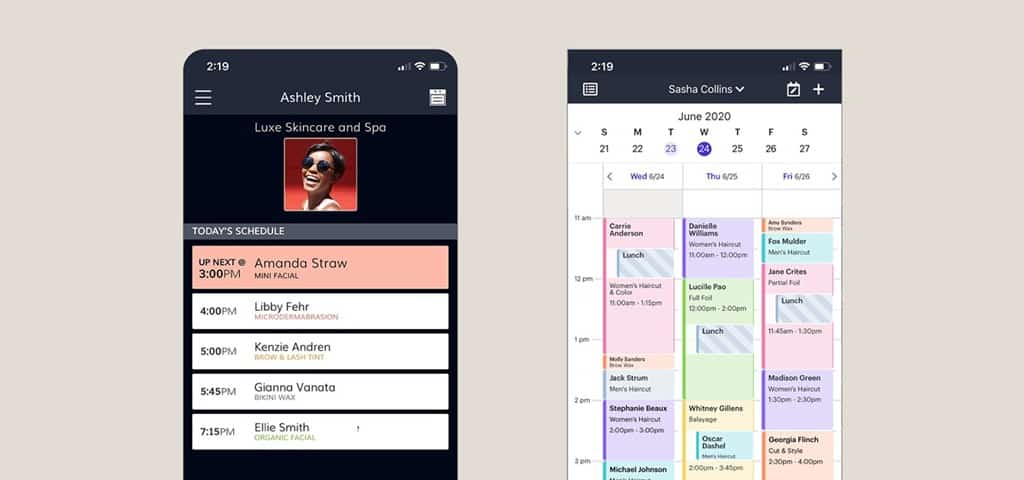 Users can process payments instantly through Square or Stripe or use the built-in payment processing with Schedulicity Pay.
The add-on pricing model means that you can pick and choose from the features you need and potentially save money. However, the fee for the communication/marketing piece can double your monthly cost.
Schedulicity is good for small businesses that later can grow into the system. It's a good all-in-one solution but doesn't offer many integrations.
Pros
No contracts, cancel anytime you want
Pay only for the add-ons you need
Good customer service
Option to block repeat no-show customers
Cons
Cost increases when adding add-ons
Limited integrations apart from calendars sync with Yahoo, Outlook, iCal, Hotmail, and Office 365
Limited to the US and Canada
Schedulicity Pricing
Free plan for 10 bookings per month
$20/month for a solo user
$30/month for 2-5 users
$40/month for 6-10 users
$50/month for 11+ users
Only choose the additional add-ons that you need. (See Schedulicity pricing).
---
My Top Salon & Spa Software Alternatives
Here's my salon & spa software top list for 2023.
To see more alternatives, visit my complete list of salon and spa software recommendations here.
Summary
As you'll have seen in this article, there are a number of great free appointment scheduling systems out there.
If your budget is limited, these will work very well for you can also grow with the solution and later move to a paid plan if you need more features or support for more staff than what's offered on the free plan.
Benefits of using a scheduling software
Save time. Fewer phone calls, text messages, and e-mails that disturb during client treatments
Automatic e-mail or text reminders helps avoid no-shows
Clients can book and reschedule 24/7
Get appointments via Google, Instagram, and Facebook
Take payments. Receiving payments during booking is convenient and helps reducing customer no-shows
A client can more easily review appointment details
Helps staff manage their appointments
---
Conclusion and my top subscription-free alternatives
Out of the ones I've tested, the below three are my top free online reservation systems.
My top 2 choices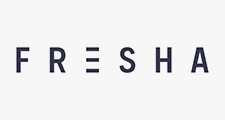 Fresha is a good all-in-one solution for salons and spas that is free and very easy to get started with.
However, more experienced salon owners might want more customization options and control over integrations than what Fresha offers.
---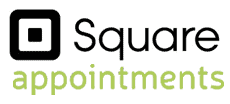 Square Appointments is perfect for users who want a complete business system that is free for solo owners and easy to use. You really get all you need with Square Appointments and the other tools from Square.
If you want more control and flexibility and already use other business tools, you might like to look at other scheduling systems that can integrate with your existing tool stack. Also, if you're located outside the US, Canada, or Australia, Square won't work for you.
---
I hope you found this review of the best free appointment-scheduling software.
If you're looking for more salon-specific tools, I recommend you read my review of the best salon software and check out my list of recommended tools here.